*FYI - this post may contain affiliate links, which means we earn a commission at no extra cost to you if you purchase from them. Also, as an Amazon Associate I earn from qualifying purchases. Check out our Privacy Policy and Disclosure. for more info.
Ever since moving to Germany, I've developed a mini-tradition of sorts to milk my birthday for all its worth: an annual Christmas market birthday trip, where I'm free to drag my boyfriend whatever scenic place my elfy heart desires.
Last year, we embarked a Christmas jaunt around Düsseldorf, during which I managed to point blank forget my entire suitcase at home, leaving me ONE sweat-caked Frenchie sweater to last a weekend.
This year, it was a pilgrimage to experience Christmas in Berlin, with a whirlwind tour of the Berlin Christmas Market scene.
Thankfully yes, this time, I brought a suitcase, and could wear more than one outfit. Thank Rudolph!
Berlin is a city famed for having over 70 Christmas markets throughout the Yuletide season, trumping most other major German cities through quantity alone. And despite being a sugar-crazed Energizer Bunny on most days, there was no chance I'd get to see that many… so I had to be choosy!
Save this post on Pinterest for later: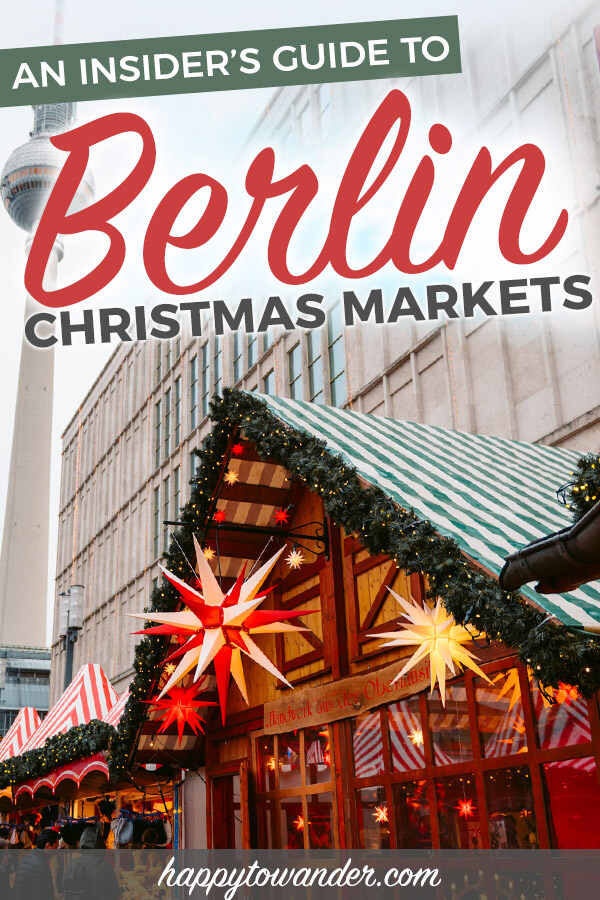 In this post, I'm gonna share with you a guide to the best Christmas markets in Berlin – the ones I loved, and the ones I didn't. Hopefully this can help you plan the perfect Berlin Xmas market trip for yourself!
Where to Stay in Berlin for Christmas Markets
If it's your first time in Berlin and you want to stay somewhere close to most of the city's tourist attractions and Christmas markets, I would recommend staying in Berlin's Mitte district, which would put you close to many of the markets listed above, including the Alexanderplatz Christmas Market, the Rotes Rathaus Xmas Market, the Lucia Christmas Market and Christmas Magic at the Gendarmenmarkt.
I stayed here this past visit and loved the sleek modern rooms and super central location!
If you want to experience the 'cool' side of Berlin and be close to a variety of the city's nightlife and food spots, then you should consider staying in Neukölln or Kreuzberg, which would put you closer to the Klunkerkranich Christmas Market and other markets in East Berlin.
I've previously stayed in this area twice, once at this cool but budget-friendly hotel and once at this hostel on my first visit!
Lastly, if you'd like a taste of classy and elegant West Berlin, a stone's throw away from the Kaiser Wilhelm Memorial Christmas Market, I can recommend this cool boutique hotel that I stayed at in the area!
Berlin Christmas Market 2023 Dates
The opening dates for Berlin's many Christmas markets vary from market to market. I'd recommend checking out this Berlin Xmas Market dates table for an updated list.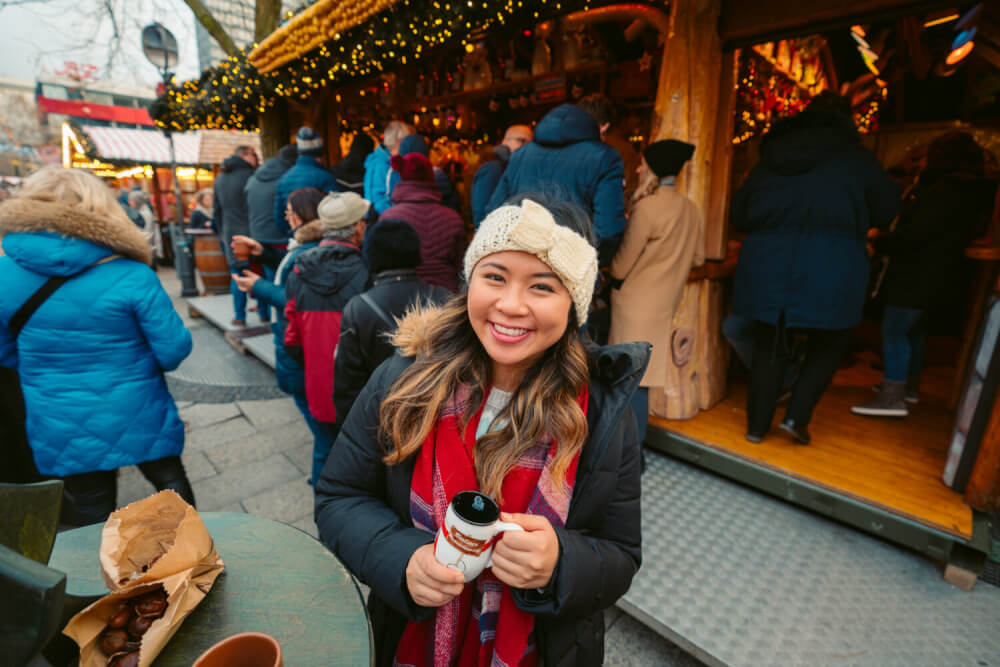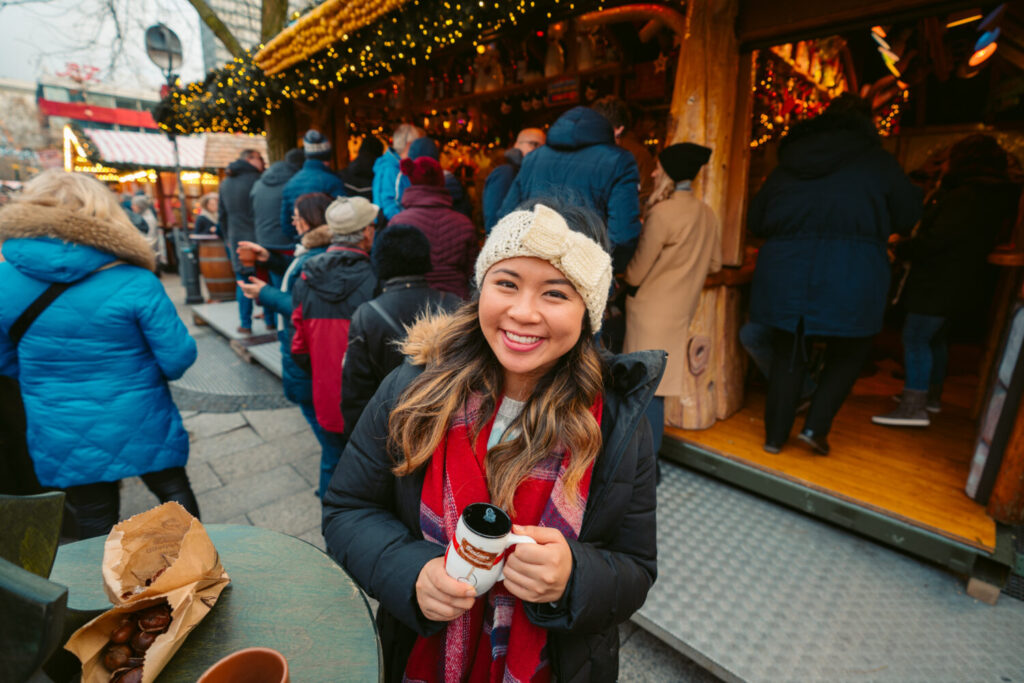 A Few Practical Tips for Visiting Berlin's Christmas Markets
Before your own trips to Berlin Christmas markets roll around, here are some important must-knows:
There are 70+ markets, but only a handful are open throughout the season
So I must admit, when I heard that Berlin had over 70 different Christmas markets to offer, I was equal parts terrified and excited.
This number gets a lot less overwhelming though when you actually consider the market dates.
Many Christmas markets in Berlin are only open for 1 or 2 days, with a select few big ones that are open throughout the season.
So, before you get too excited about one specific market, make sure you double check when it's on. You can click here for a full list of Berlin's markets and their dates.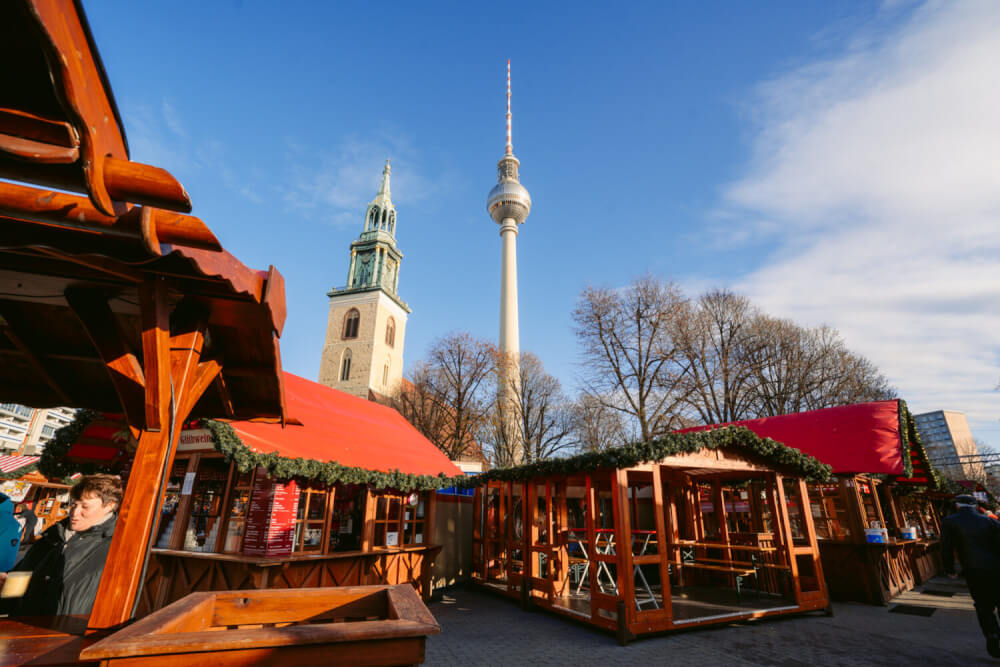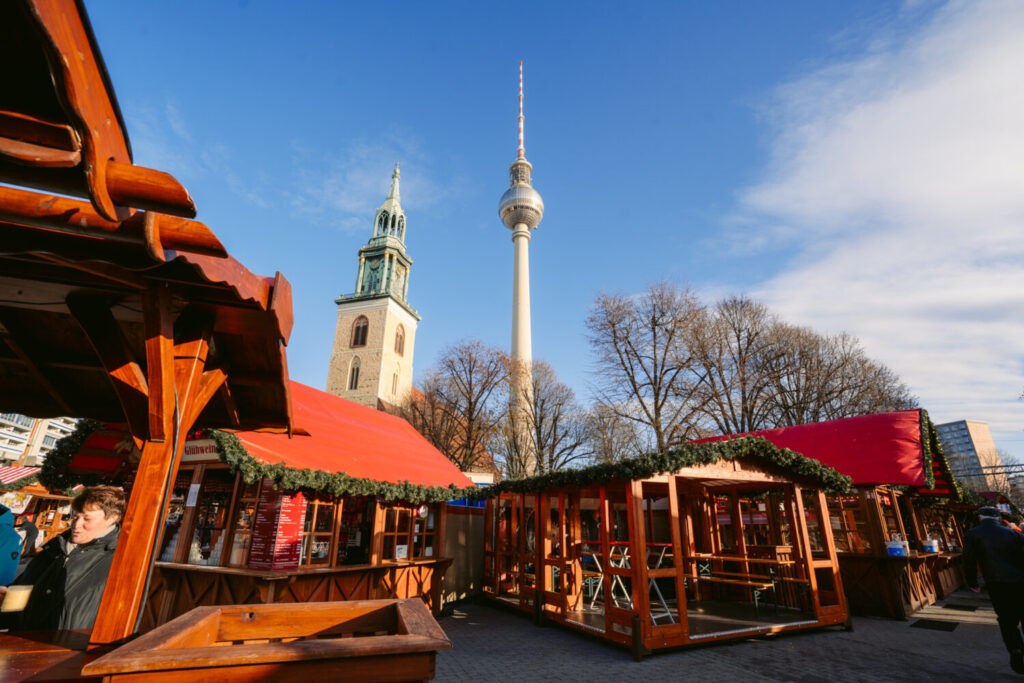 One thing I dislike about Berlin's Xmas market scene is that there are some markets that charge an entrance fee, including one of my favourites, the Christmas market at the Gendarmenmarkt.
While none of the entrance fees will bankrupt you, paying to enter a German Xmas market is fairly uncommon practice.
Having traipsed my way through more than a few German Christmas markets, I can count on one hand the amount of times (outside of Berlin) I've been asked to pay, but not to worry, there are enough free alternatives that you won't need to pay a cent if you don't want to.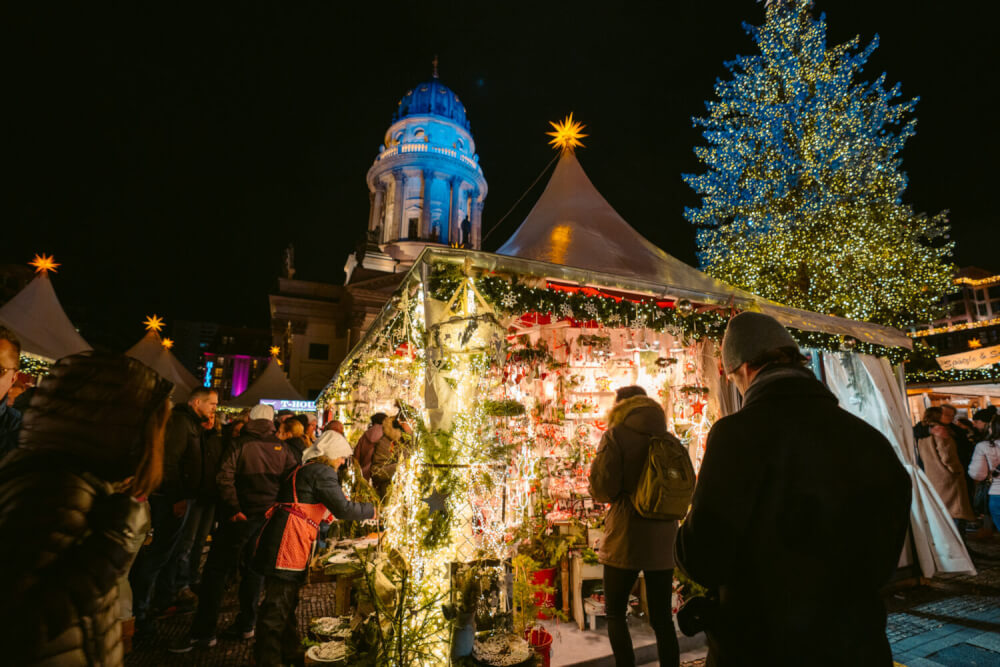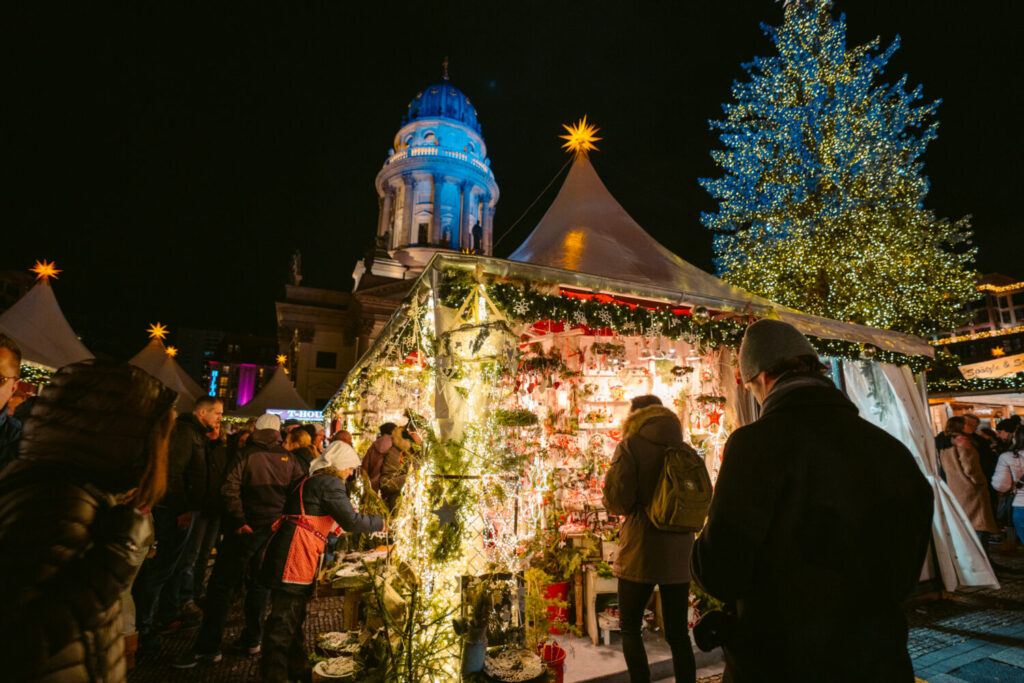 While public transport runs frequently and efficiently in Berlin, the vastness of this mega-city means that you need to get strategic with which markets you visit and when.
If you don't, you'll spend half your trip in transit, rather than doing as you should, spending it munching on hot nuts.
Hm… that came out wrong.
ANYWAY, the point is Berlin is massive so you should really use Google Maps to check how long getting from market to market will take and plan your trip according to which markets are clustered close together.
There are for instance several (supposedly beautiful) Christmas markets on the outskirts of Berlin's city zone. If your trip is a short one, making your way to these markets may not make much logical sense.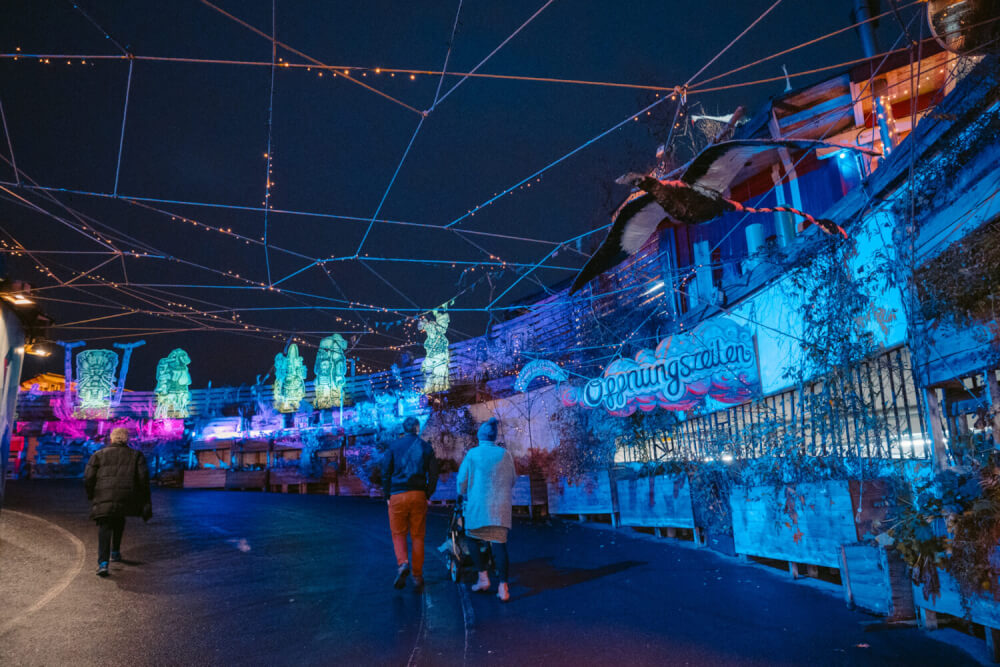 My 8 Favourite Berlin Christmas Markets
So where is Berlin's best Christmas market in my opinion? Choosing is the first world problem I'll never be able to conquer, so instead I'll list my top eight for you below.
Bear in mind however that this is not an exhaustive list, because I highly doubt anybody has ever actually been to every single Xmas market Berlin has to offer.
If you're interested though, I did make a list of all of Berlin's Christmas markets with their dates (created for my own research purposes!) You can check it out here.
1. Lucia Christmas Market (Lucia Weinachtsmarkt)
The coziest vibe and atmosphere for me goes to the Nordic themed Lucia Christmas Market, nestled in a courtyard of the Kulturbrauerei, a former brewery turned culture space that today is home to clubs, theatres, and even Berlin's largest indoor New Years Eve party.
Here you'll find classic wooden chalets and eclectic huts of all shapes and sizes, including a tiny cart selling absinth for those who want their Christmas to take a hardcore twist.
This truly charming Berlin Christmas market puts a Nordic spin on Yuletide fun, with warm Scandinavian string music bouncing off the venue's red brick facades and even an on-site Yurt.
The shopping is fun here too, with a diverse mix of goodies from around the world, from Finnish specialties and French salami to Icelandic sweets and Sami jewelry.
I'd highly recommend this Berlin Christmas market if you want a really warm, cozy atmosphere!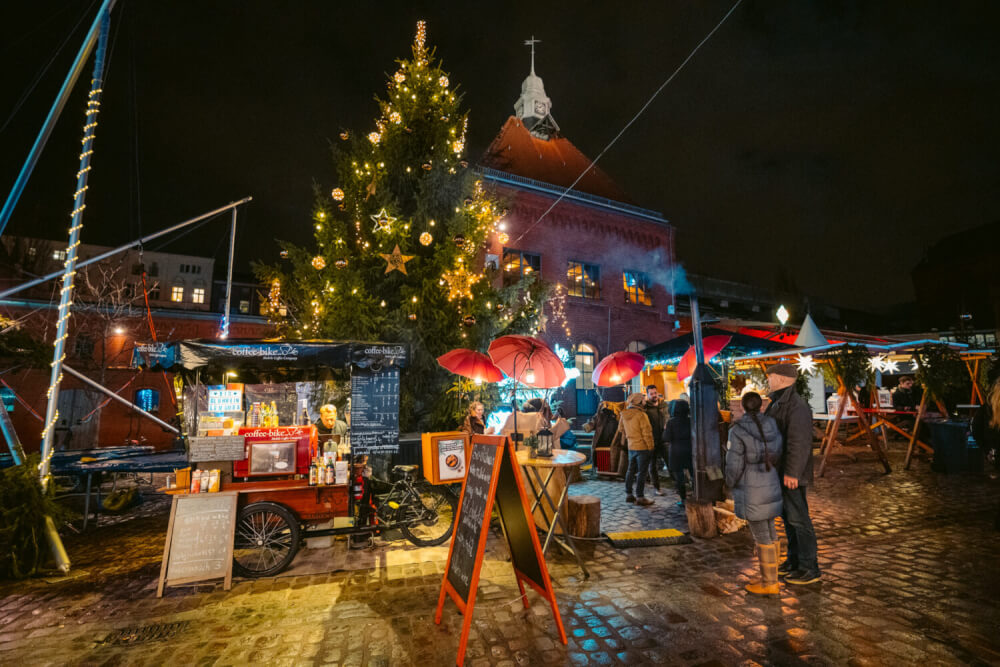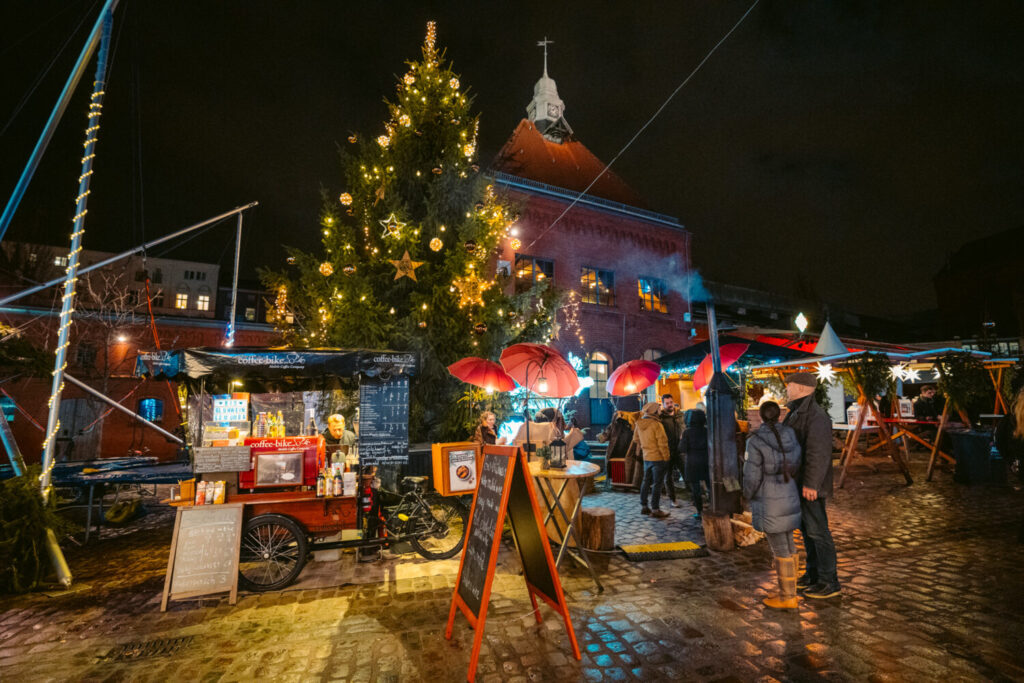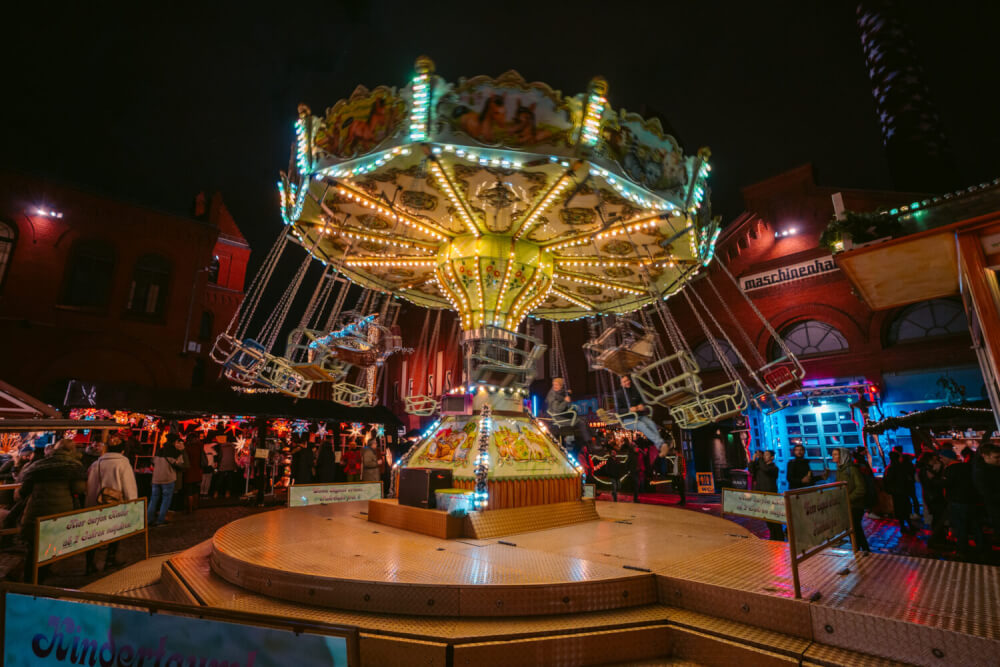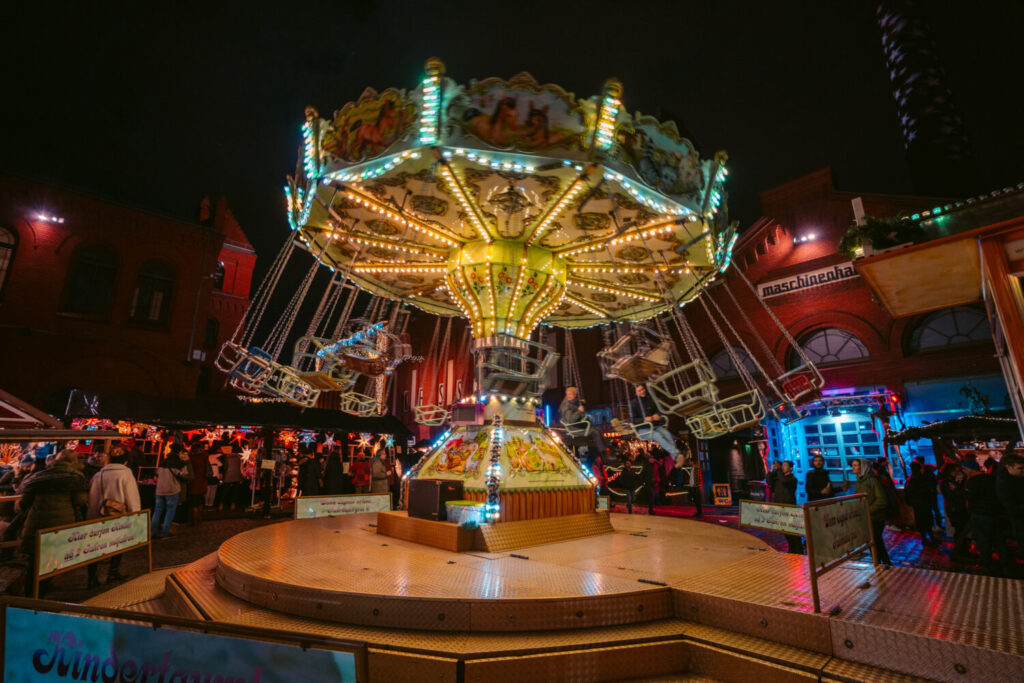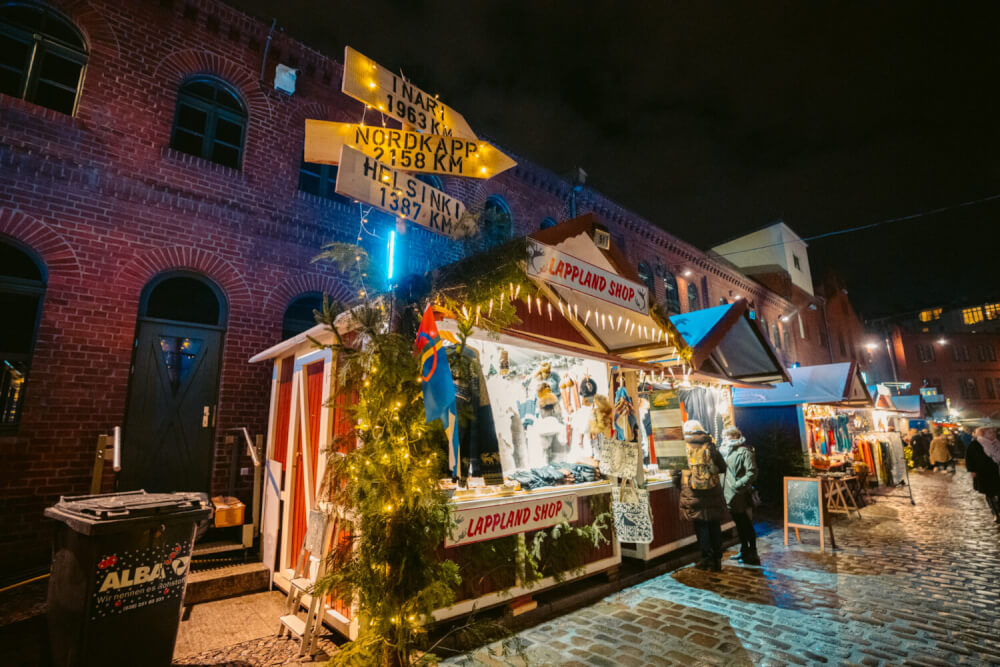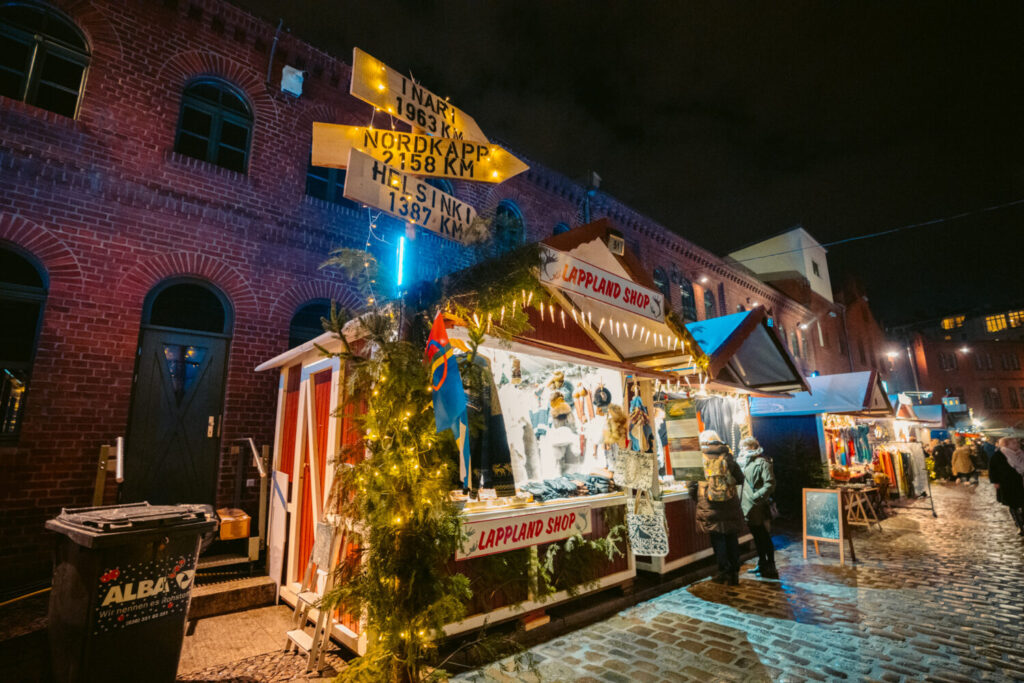 2. Christmas Magic at the Gendarmenmarkt (WeihnachtsZauber at Gendarmenmarkt)
A classic Berlin Christmas market that every visitor flocks to is the one at Gendarmenmarkt. For this reason, I was fully prepared to hate it, given my aversion to crowds.
But, popular markets are often popular for good reason, and the Gendarmenmarkt is no exception.
Despite the 1 euro entrance fee, it's a truly lovely market with a wonderful atmosphere, ticking all the right boxes for me: stellar food options, a huge variety of unique vendors and a magical venue lined with some of the prettiest buildings in Berlin – the German and the French Cathedral, along with Schinkel's Konzerthaus.
In fact, one of my favourite parts of this Christmas market was its stage, built on the actual steps of the Konzerthaus. We saw a fun circus performance and that was worth the 1 euro entry alone.
I would schedule plenty of time at this particular market – there's loads to do, including a few indoor mini-markets!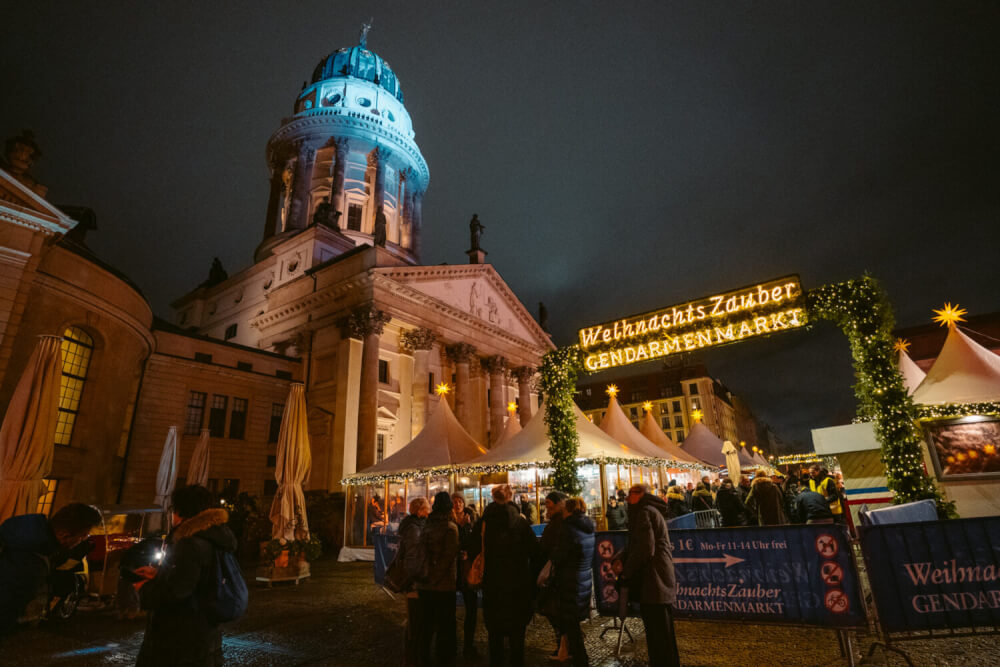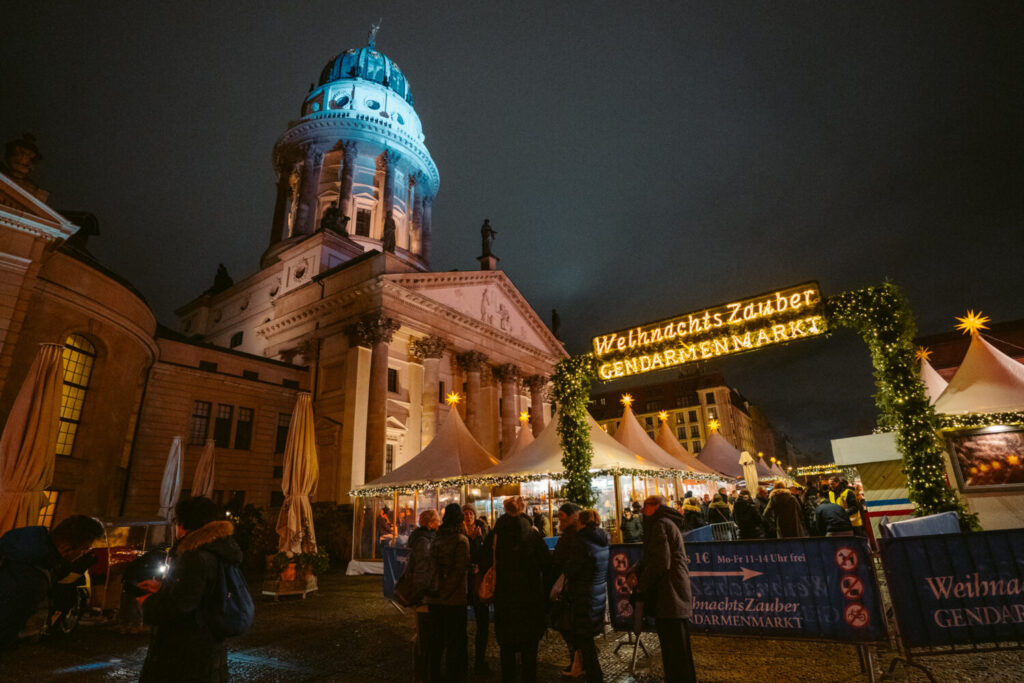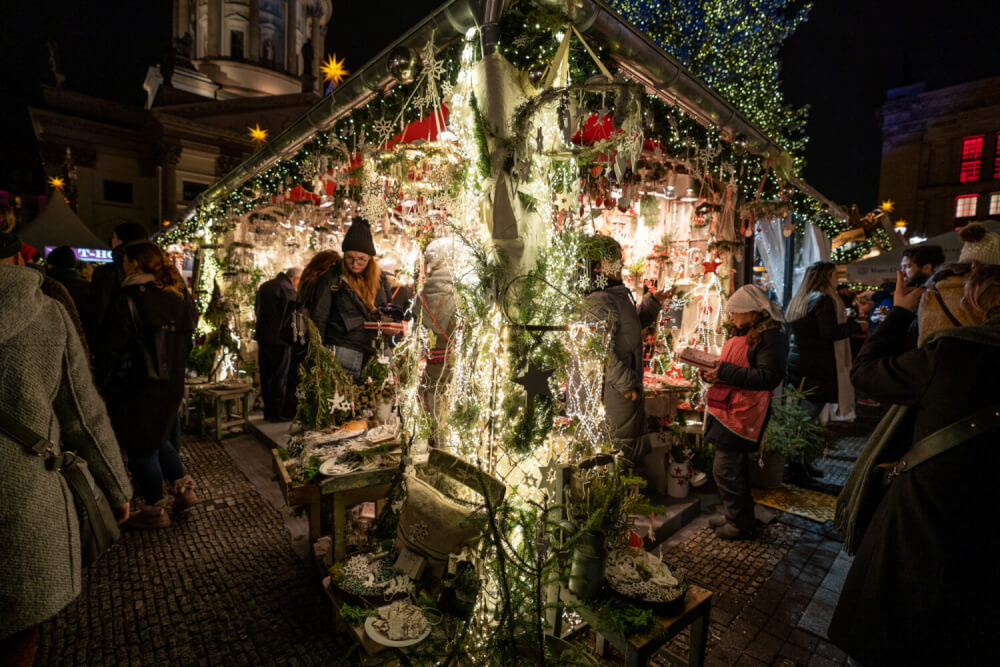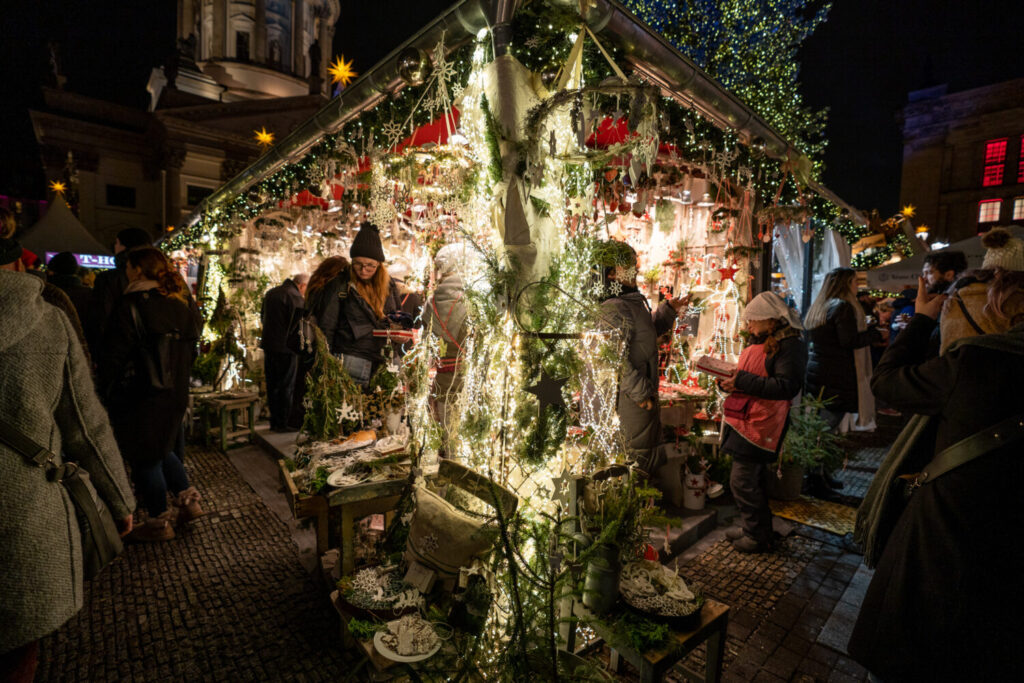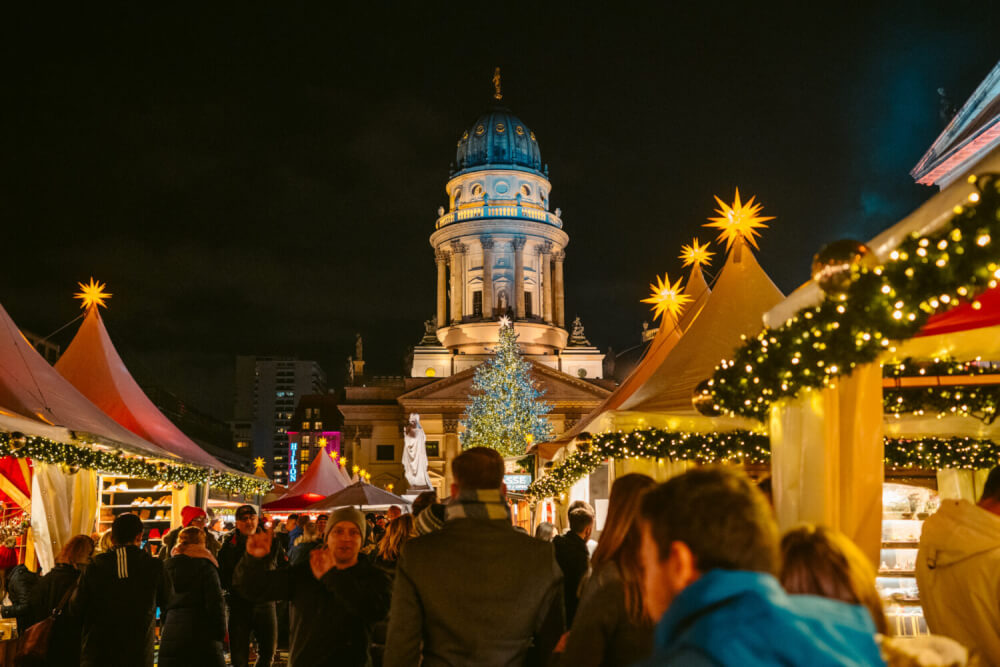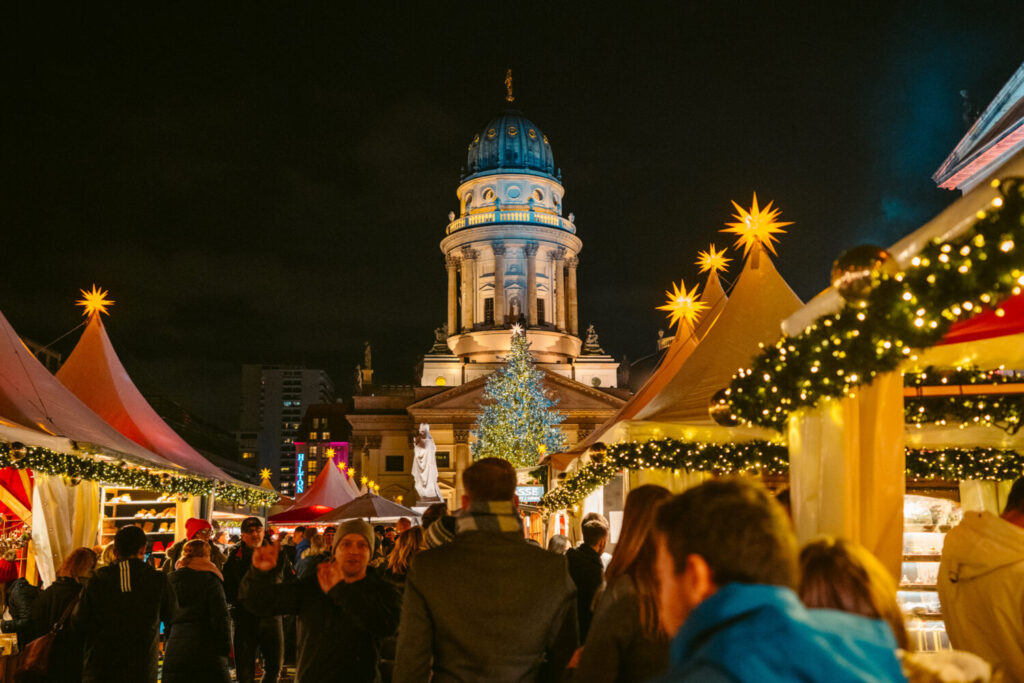 3. The Christmas Market at Klunkerkranich (Weinachtsmarkt im Klunkerkranich)
Berlin is a city known for the cool and alternative, so you can't come here without experiencing a bit of an alternative Christmas market that you wouldn't find anywhere else.
For this experience, I highly recommend the Christmas market at Berlin's Klunkerkranich. Why is it just "so Berlin" to me?
Well, it's located on the rooftop of a random shopping mall, and you can only access it via elevator to the 5th floor parking, where you follow a nondescript ramp up to the top.
Here, you'll find a rooftop Christmas market with a great view of Berlin's skyline, and an array of stalls selling everything from moonshine and cool light decorations to actual tattooed oranges.
You'll also find some cool art installations sprinkled throughout, including a giant balloon dog à la Jeff Koons.
Sadly, there is a small admission fee ranging from 1 to 5 euros depending on when you visit, but it's a very uniquely Berlin Christmas market that I think is more than worth the fee!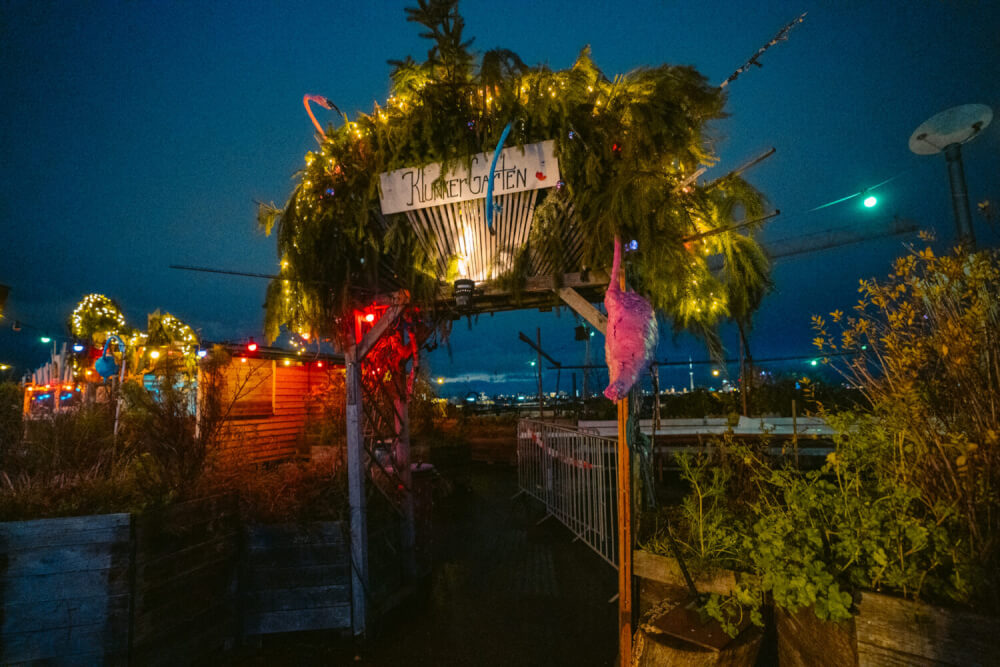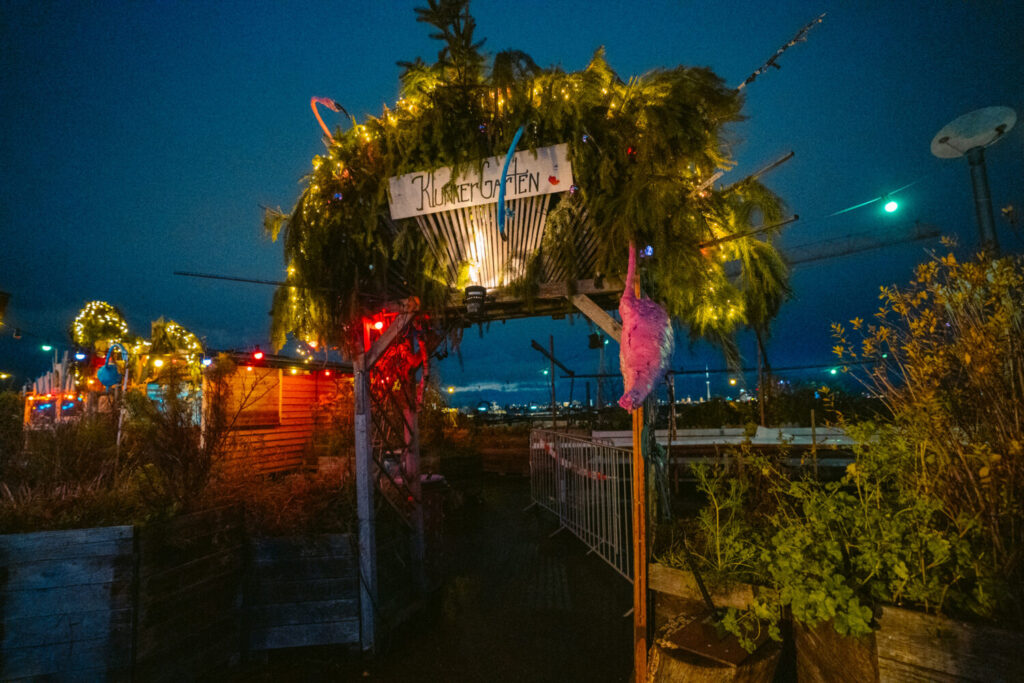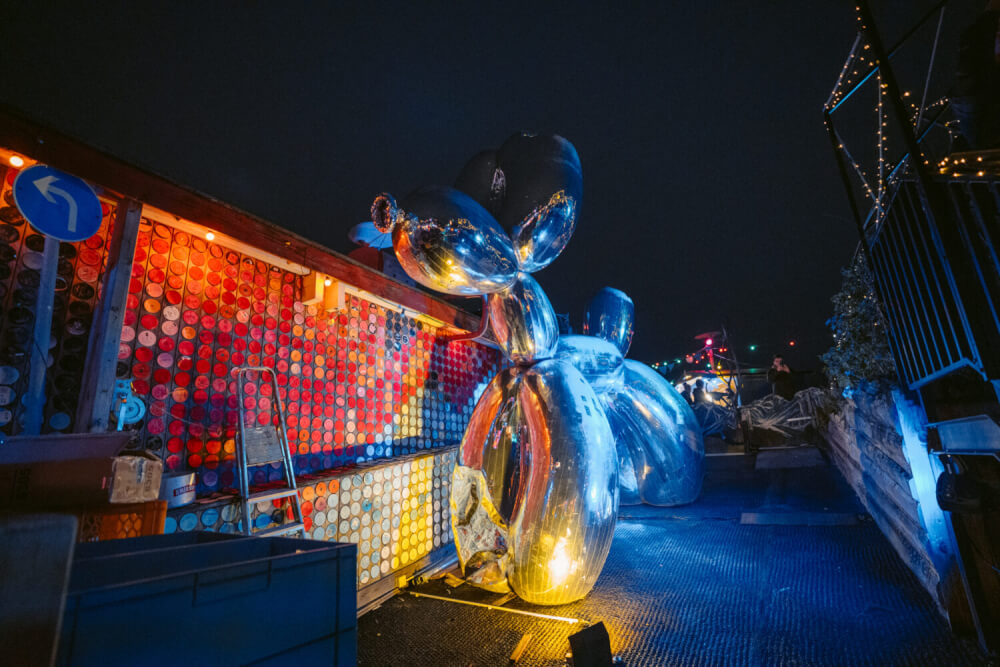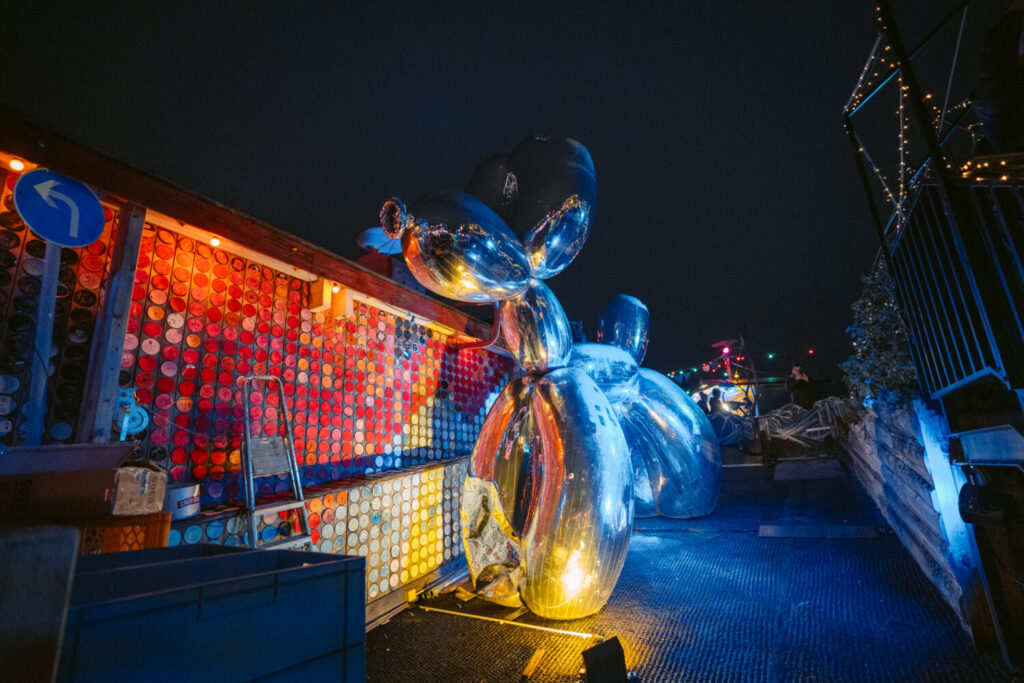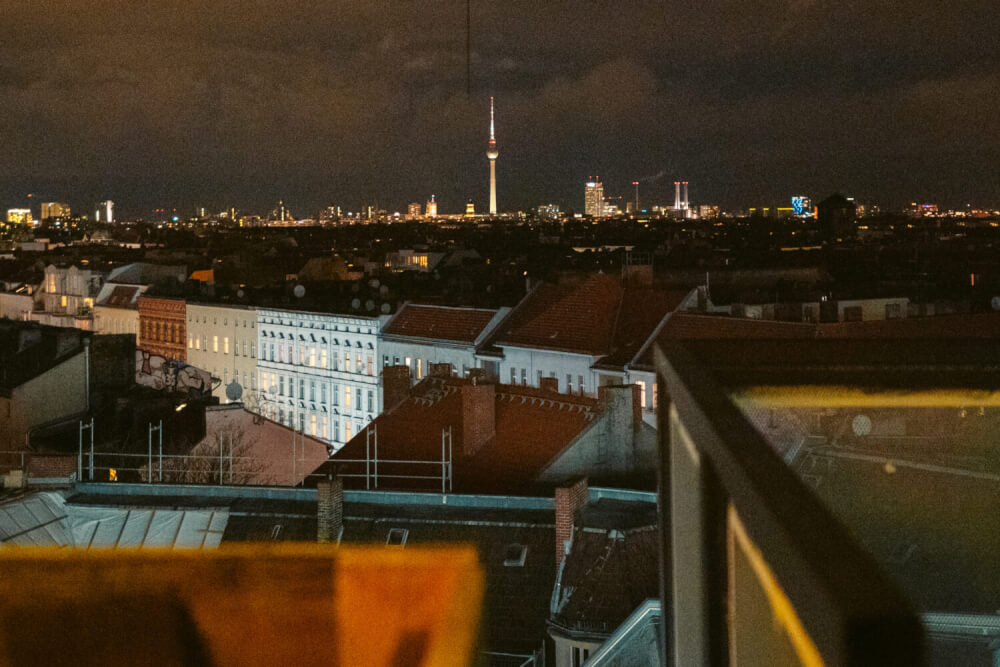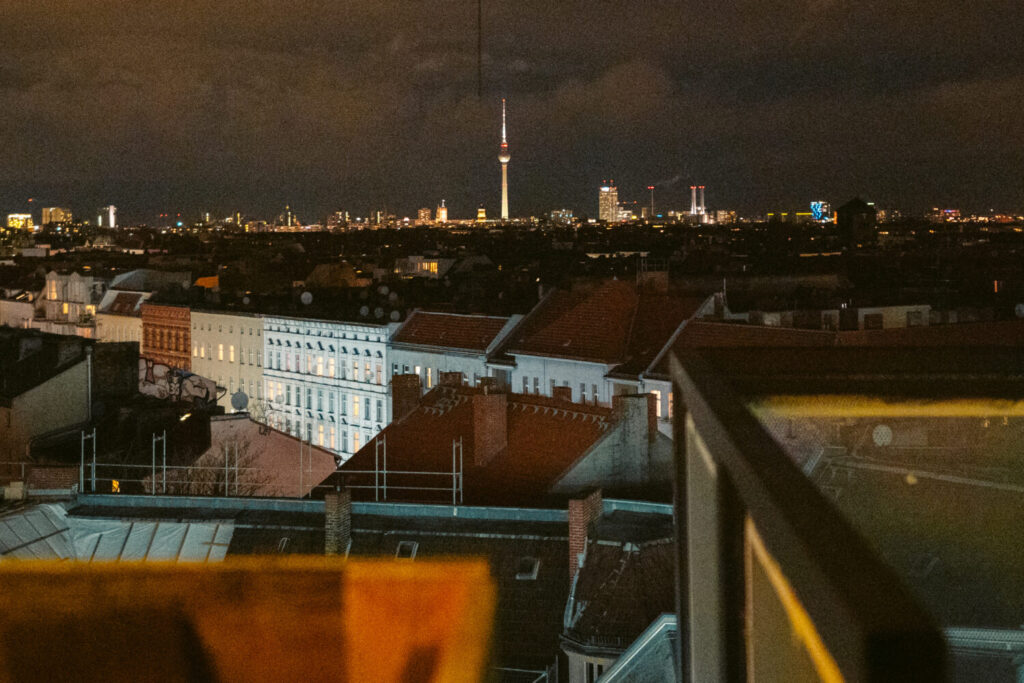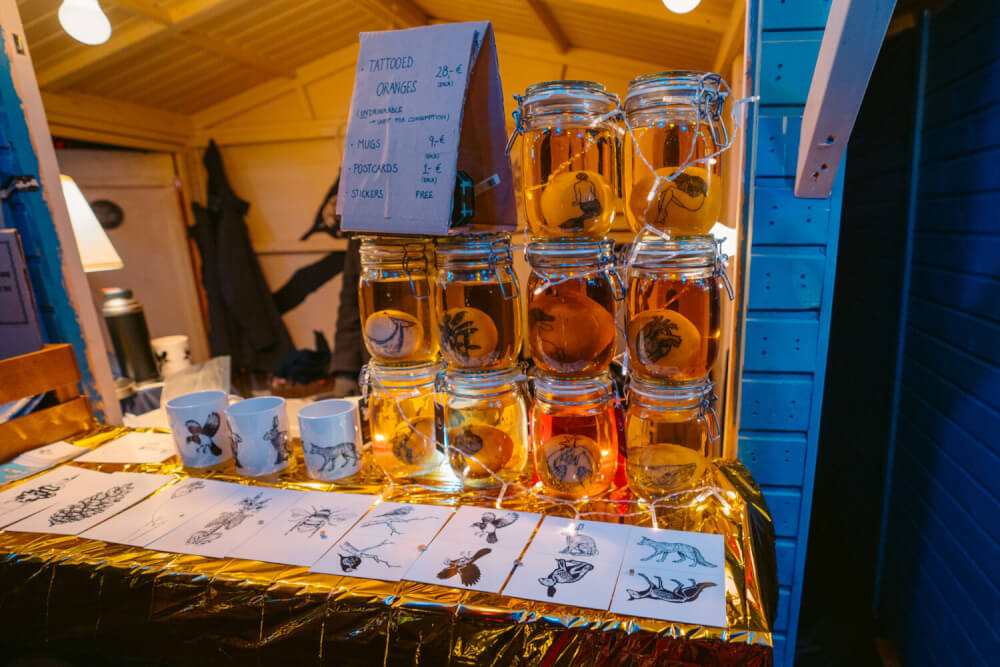 4. Kaiser Wilhelm Memorial Church Christmas Market (Weihnachtsmarkt an der Gedächtniskirche)
This was actually the first Christmas market in Berlin we visited and honestly? I was entranced by the drinkware alone.
There are chubby snowmen mugs! Frosted wine glasses! Glassy mugs carrying mulled rosé! If you are similarly thrilled by the prospect of adorable cups (I admit I'm easy to please), then this Christmas market in West Berlin is a must visit.
Admittedly, this market is one of the busiest in Berlin, but there's a wonderful variety of both food and craft stalls available – over 170 of them in fact.
I spotted some gorgeous "Made in Berlin" jewellery as well as cool engraved wooden phone cases, along with a diverse set of food options from Berlin classics like currywurst and VIP (Very Important Pommes haha) to pierogis and apple strudel.
I really enjoyed the atmosphere of this market, and while it was a bit busy for my liking, I'd recommend coming here if you plan to be in West Berlin.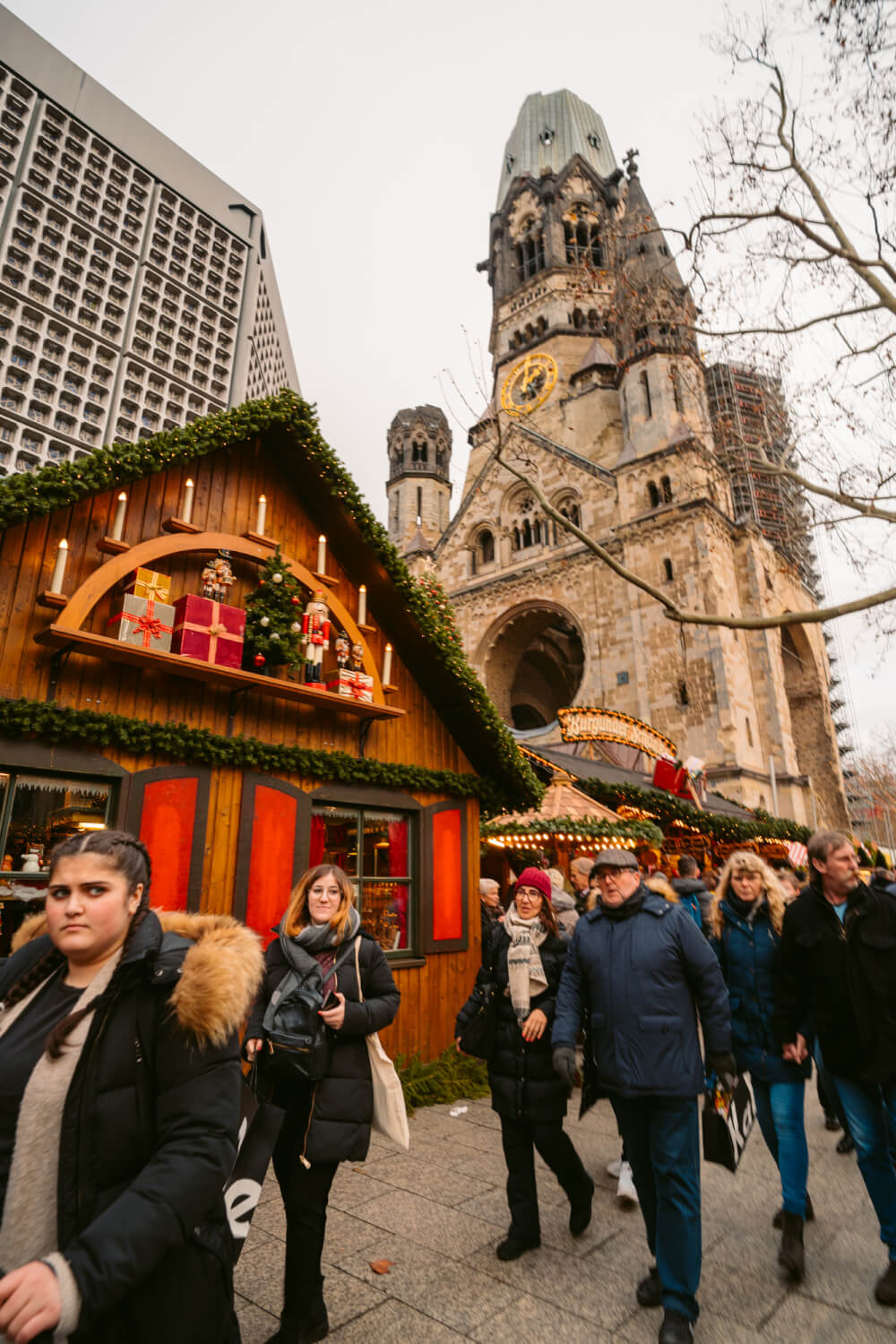 5. Charlottenburg Palace Christmas Market
I really enjoyed the romantic atmosphere of Berlin's Charlottenburg Palace Christmas Market, although its location served as both a blessing and a curse.
This market is separated into two main sections, the small cluster of stalls inside the actual palace courtyard, and a much larger outer zone filled with large wooden chalets selling food and several lines of star-tipped white tents selling all sorts of handmade gifts.
Many consider this to be Berlin's prettiest Christmas market, and while I agree it's an elegant setting, getting here can be a bit cumbersome as there's only one bus that gets you here, and on any weekend, the bus is bound to be stuffed with sweaty humans eager to see the same market.
BUT it's probably one of the nicest Christmas market backdrops you'll find in Berlin, with a huge selection of stalls to browse through. If you are looking for a Berlin Christmas market to spend several hours at, this would be a good choice.
PS: Be sure to take the stairs up to the free viewpoint on top of the Hungarian hut – it's the perfect spot for a nice photo of the market, although it can definitely get very crowded.
For a much less crowded experience, head across the street to the Bröhan Museum, which hosts its own super small market on certain dates, with very cheap bites and far fewer crowds.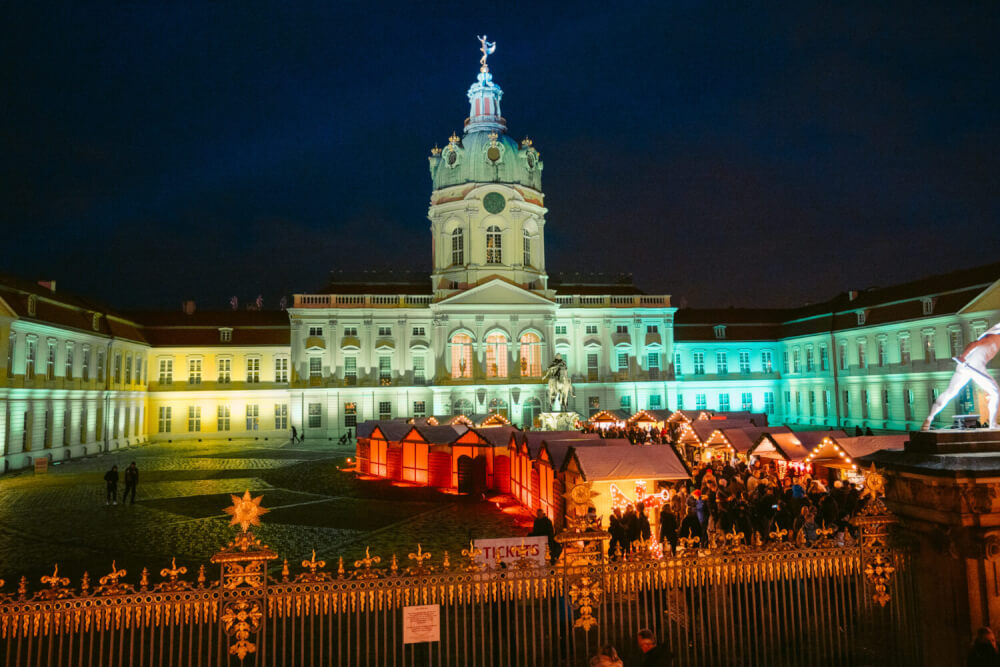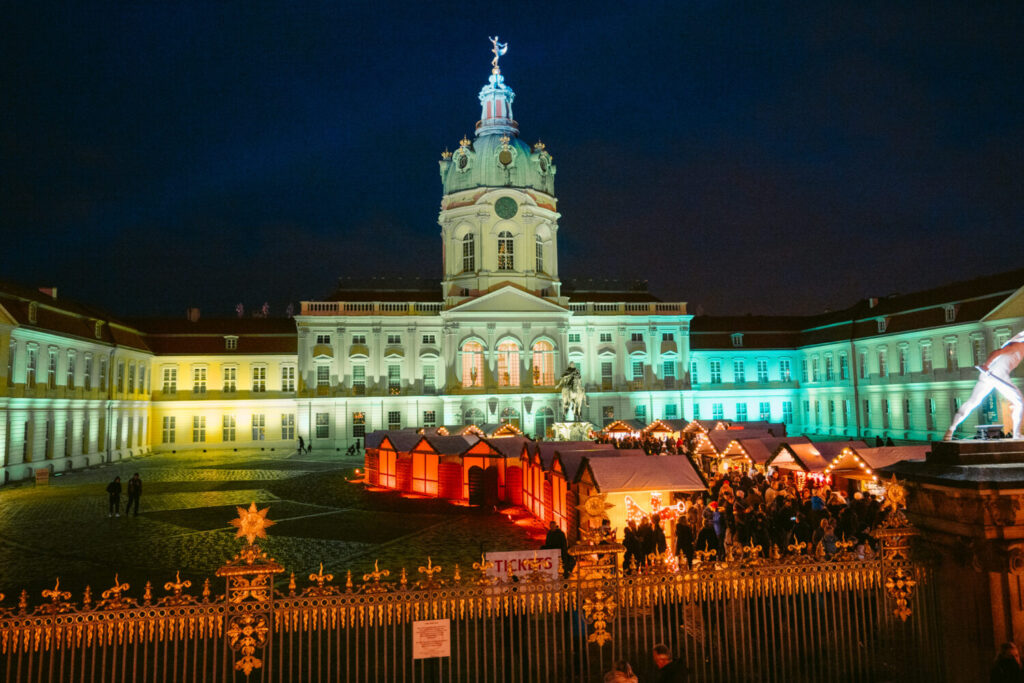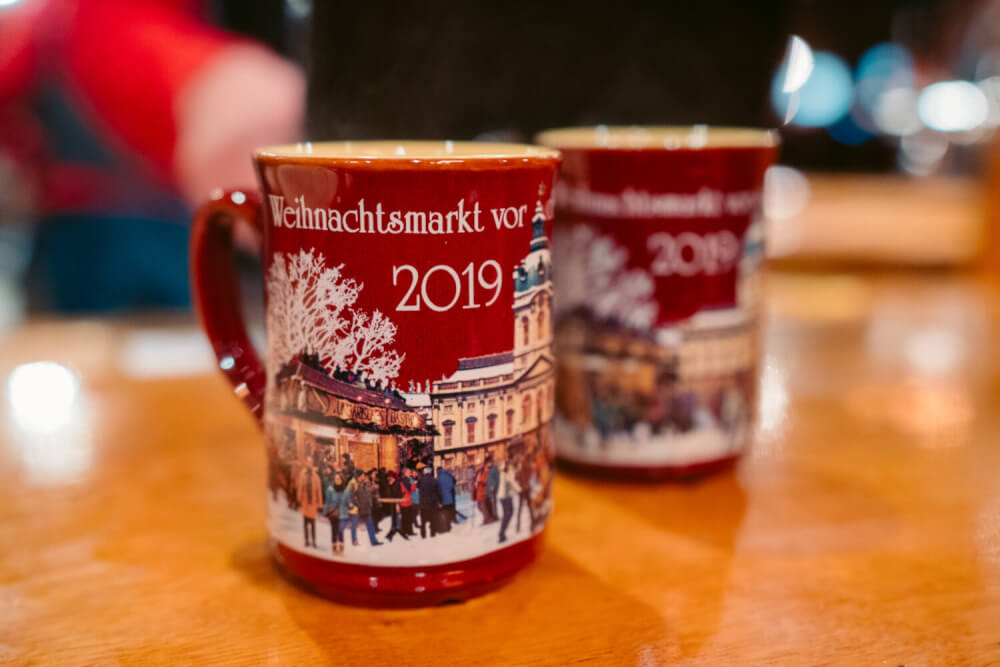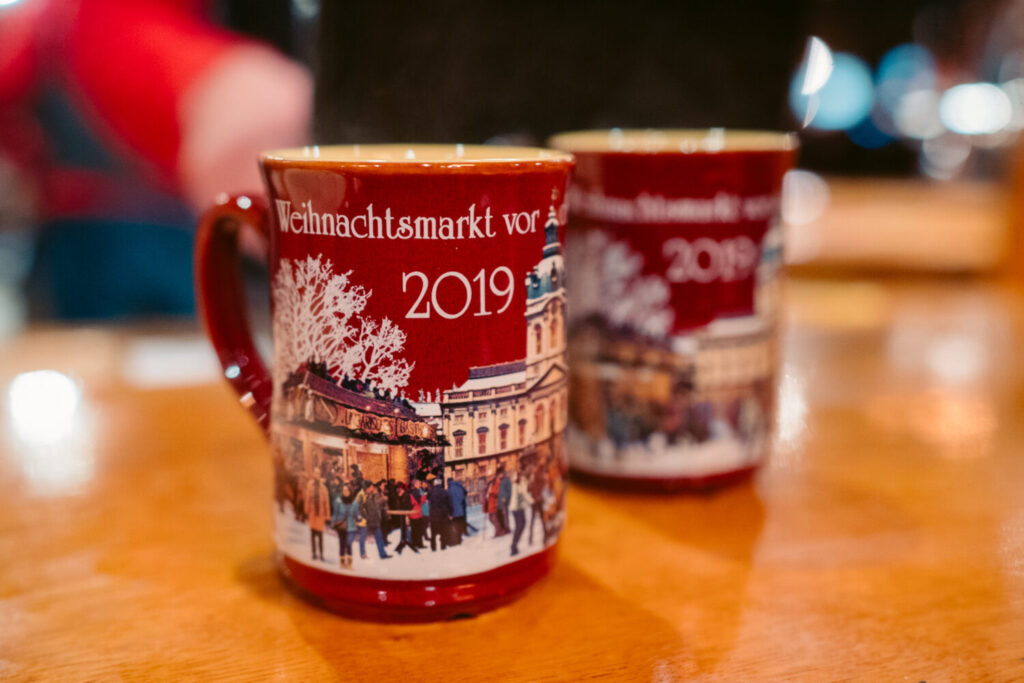 6. The Alexanderplatz Christmas Market
With the iconic Berlin TV Tower as its backdrop, the Alexanderplatz Christmas Market is among the most photographed in Berlin, and honestly, I wasn't expecting to like it here given its very busy location and the relatively lacklustre modern buildings that line the square…
But there's a skating rink! And delectable food options! I honestly wouldn't come here to shop -because most of the stalls are just organized versions of the tacky souvenir shops you see around town, but this is a great place to eat, drink, and be merry.
I especially enjoyed my (blurry) time inside the Partyhaus vom Nikolaus (yes, that's really what it's called) where my beer came with its own little sidecar of jäger. Needless to say, currywurst was wolfed down afterwards in celebration.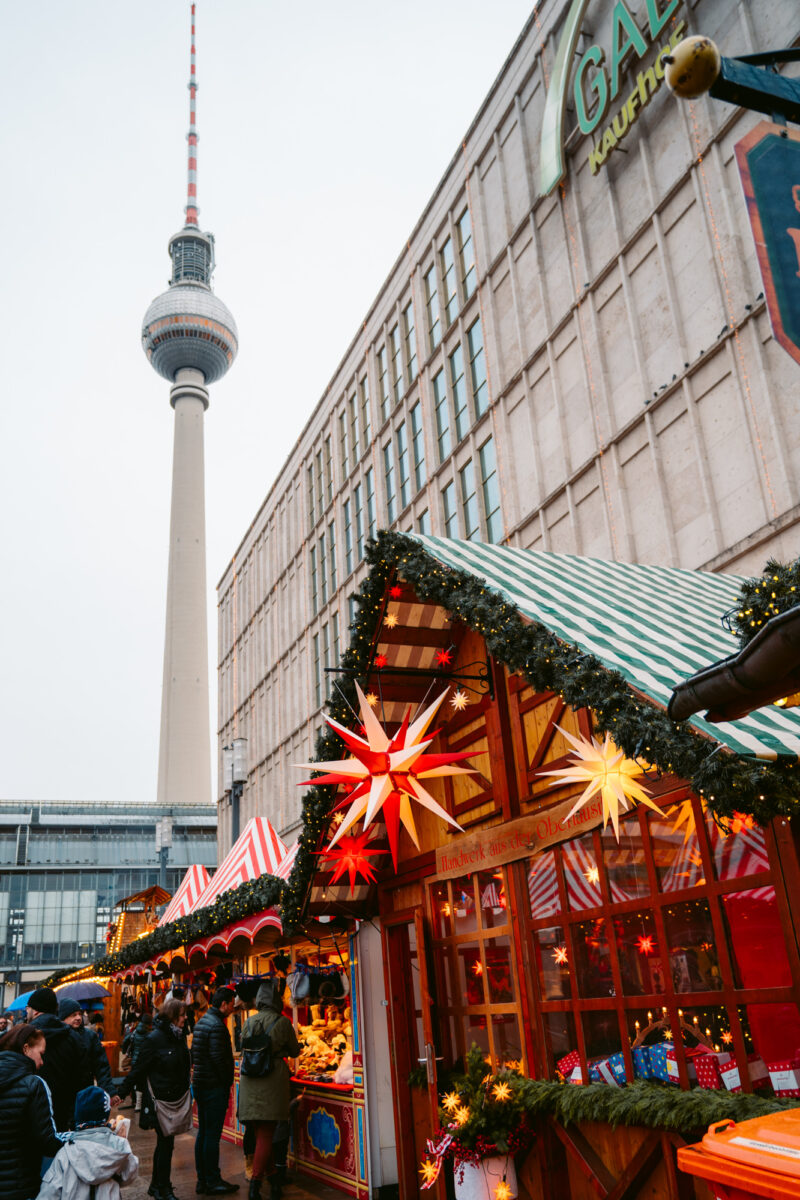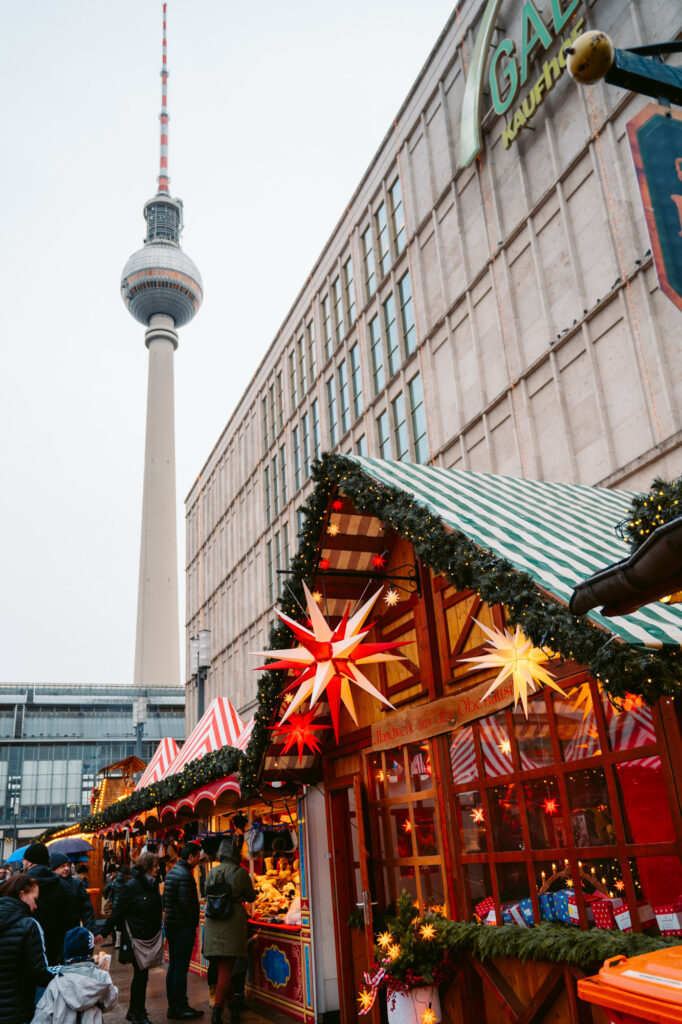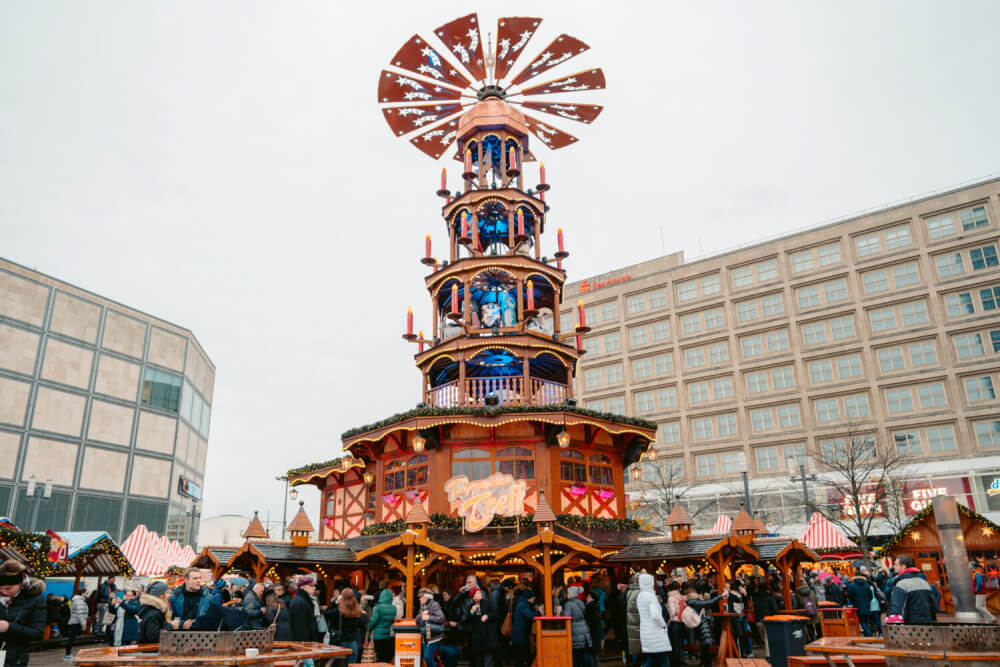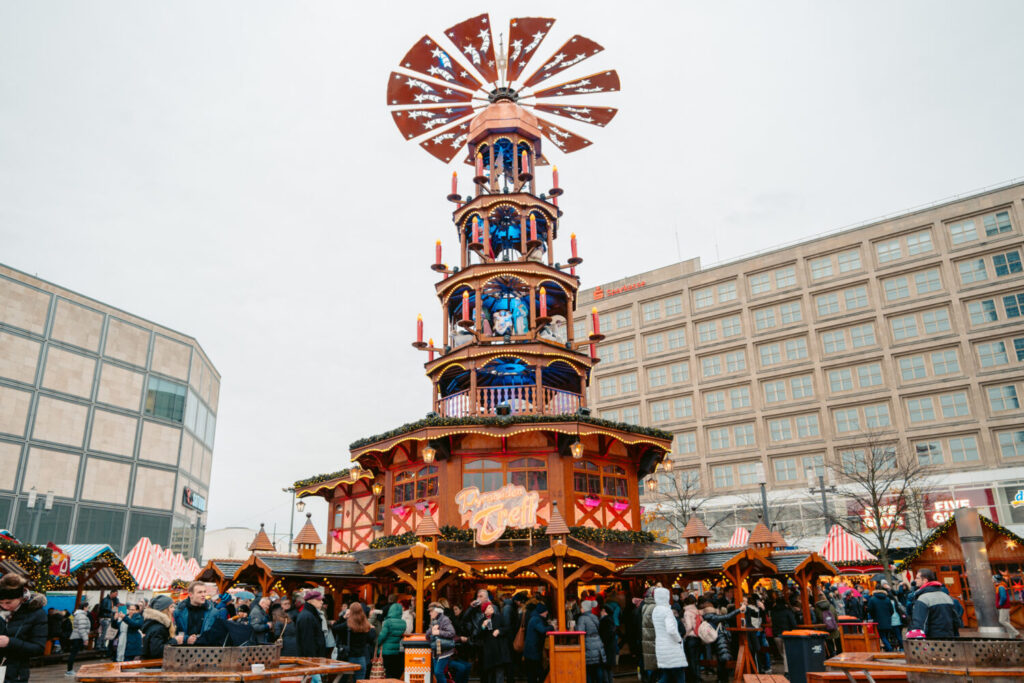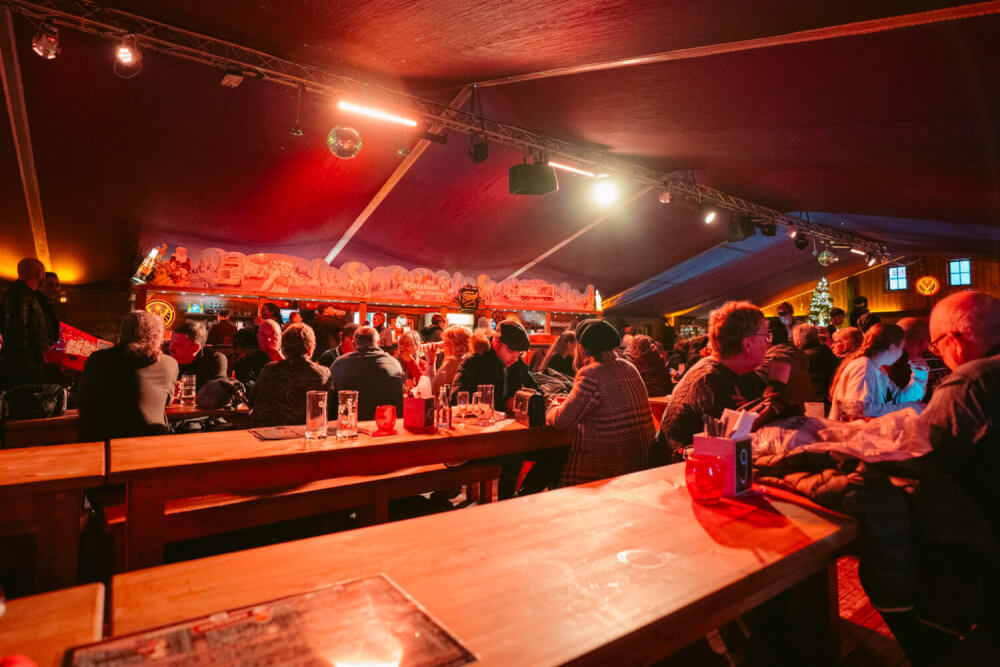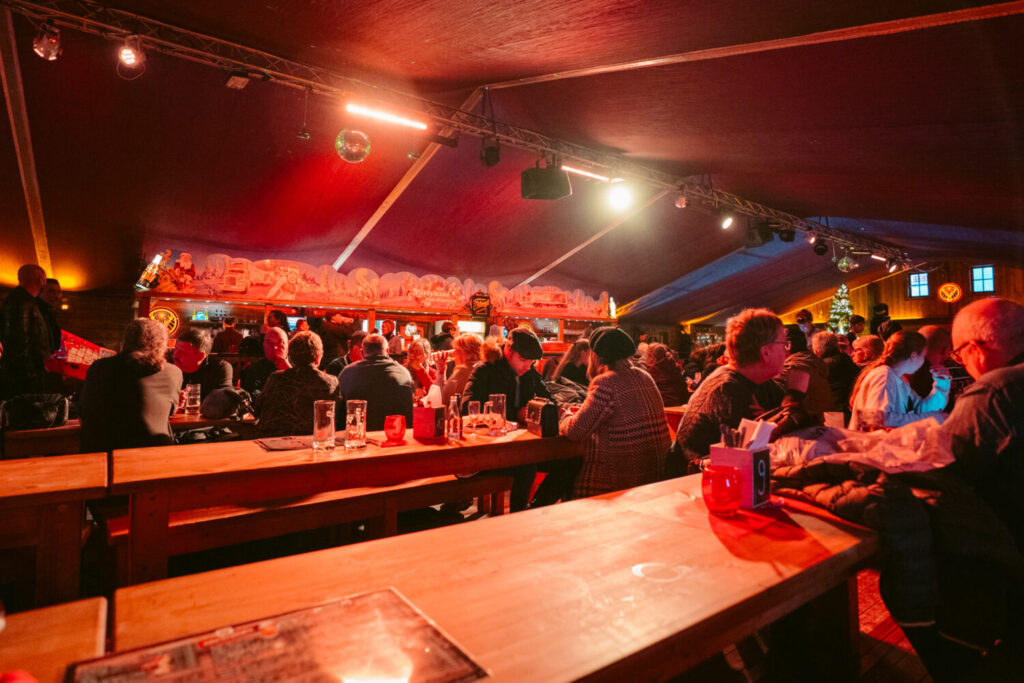 7. Rotes Rathaus Xmas Market
For an activity-packed Berlin Christmas Market, make sure you head to the Rothes Rathaus Christmas Market. Not only is the Rotes Rathaus a gorgeous backdrop, you also see the TV Tower from here, along with a giant ferris wheel too for optimal whimsy points.
Yup – you can even go ice skating around the majestic Neptune Fountain! When I visited this one in the middle of the afternoon, it was blissfully empty which made for the perfect strolling experience among the cozy wooden chalets sprinkled around the market.
8. Friedrichstrasse Christmas Market
The Friedrichstrasse Christmas Market is a very small market located just outside one of Berlin's busiest train stations, but I liked it for its pretty light installations and unique seating areas, where you can cozy into a little underground chalet and sip glühwein.
During my visit, it was one of those perfect 'hidden in plain sight' markets, which, despite its central location, wasn't swarming with crowds.
I mean, just look at some of the decor: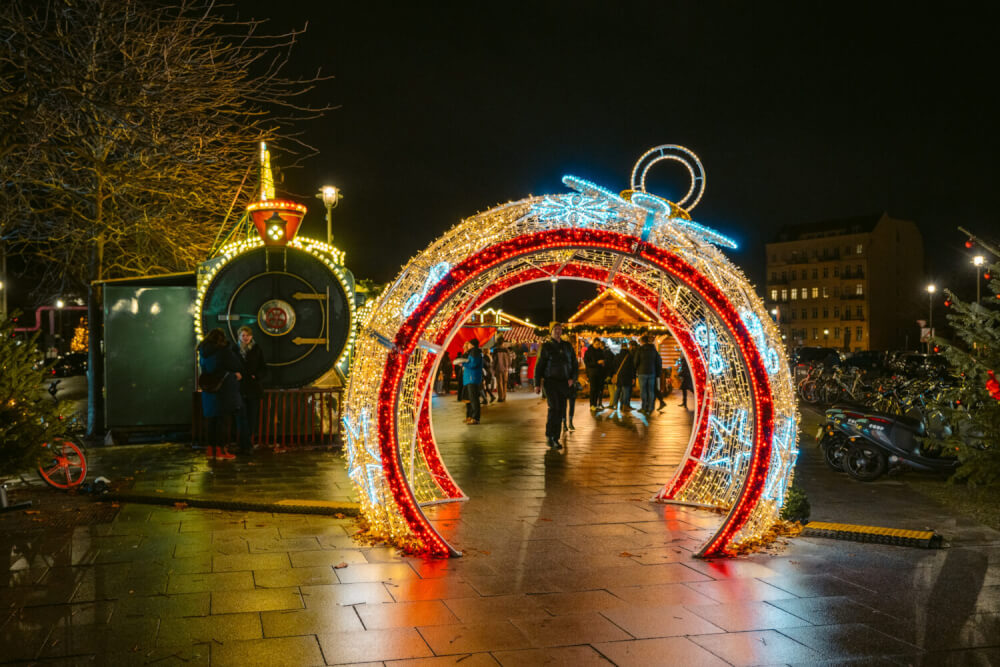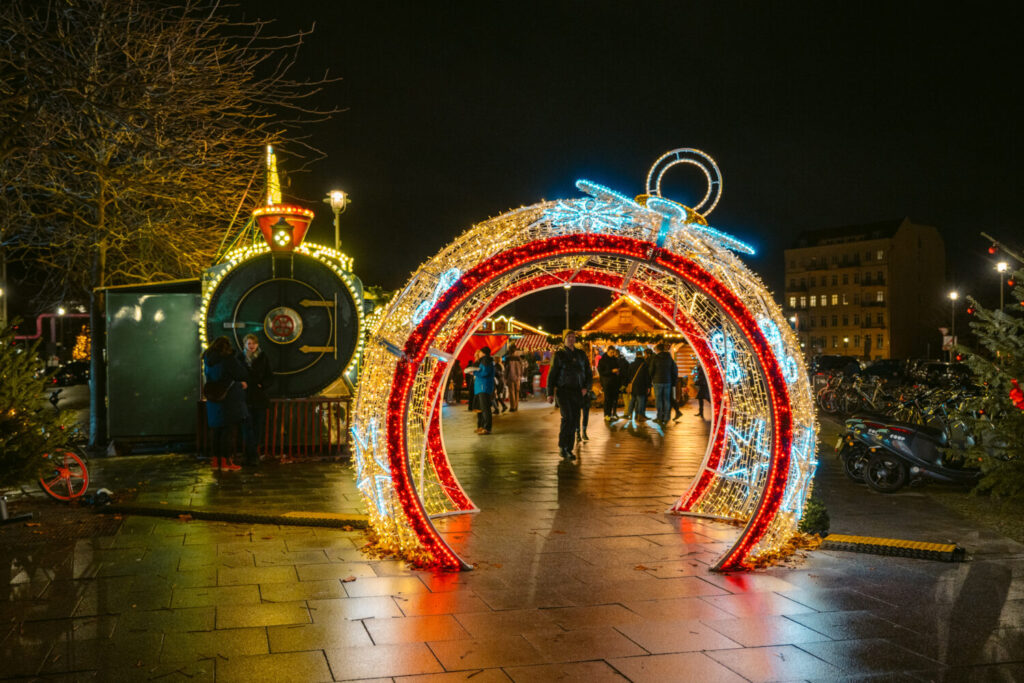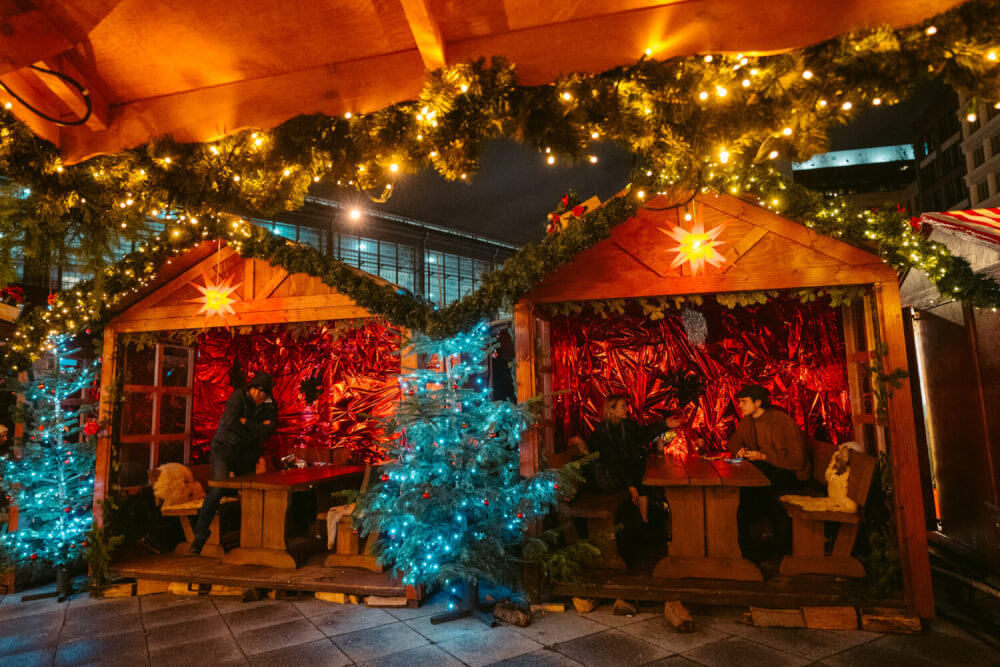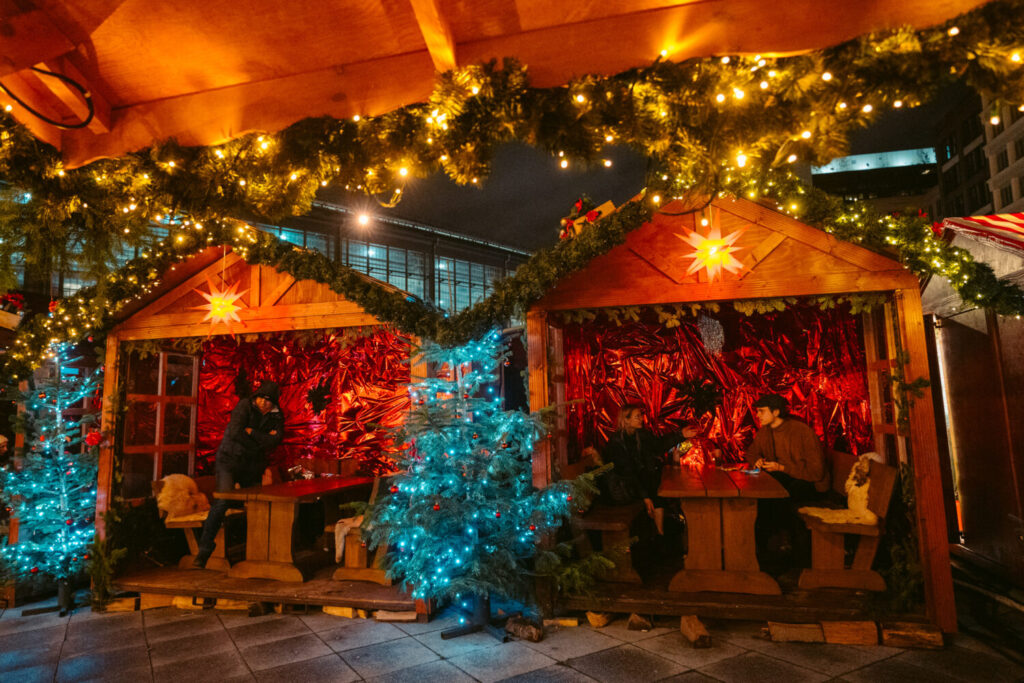 Other Unique Berlin Christmas Markets You Can Visit
Of course, if there's one thing that Berlin has to offer, it's sheer variety, so there are literally dozens of other markets you can visit throughout the season. Here are some of the others we visited/wanted to, just to give you a heads up about the options!
A Very British Christmas
I still laugh when I think about this market. Silly me thought it would be cute to bring my British boyfriend to the Very British Christmas Market in Berlin, a perfect idea given it was on for one day only, a day that coincided with our visit!
Held annually at St George's Anglican Church, we dragged ourselves to a highly residential area of Berlin, only to find ourselves basically gatecrashing a little community fair.
There were a small handful of stalls arranged around the church selling sweets, greeting cards and miscellaneous wares, plus a few folks dressed in bonnets and top hats… an adorable community affair to be sure, albeit one perhaps not so worth the trek for tourists.
It wasn't tough to find though… all we had to do was follow the bagpipes!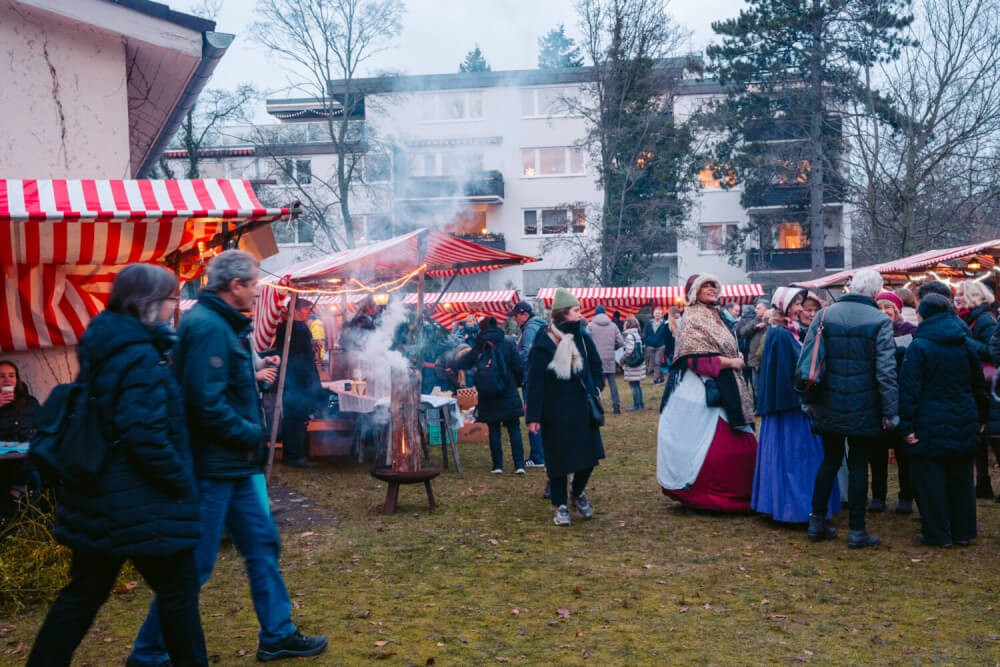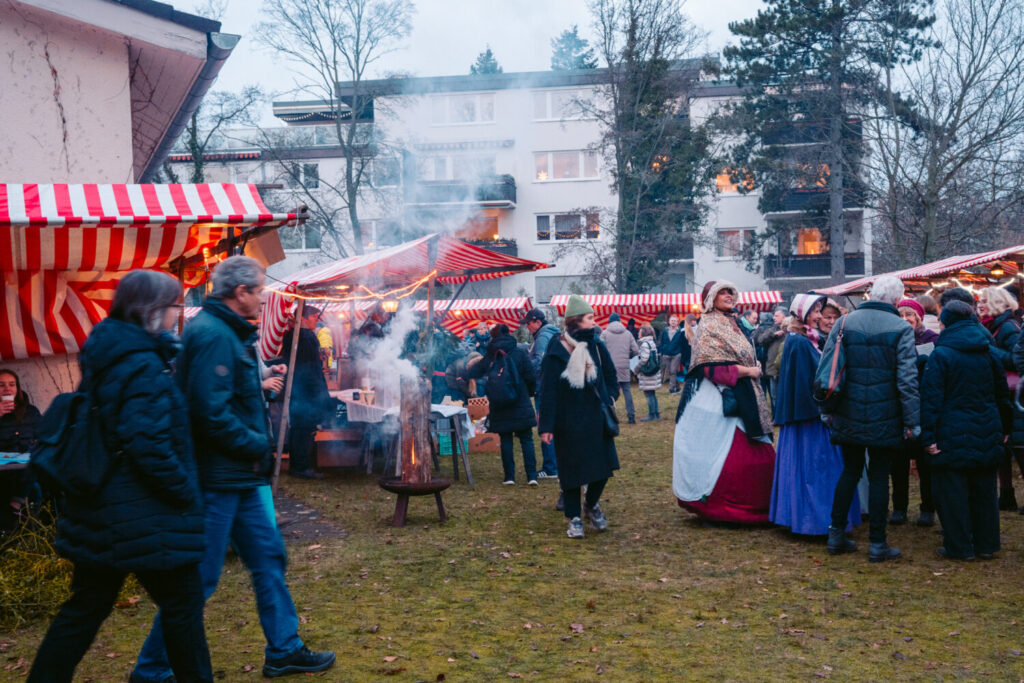 The Berlin Sweets Market
That's right – an entire market dedicated to desserts!
I so badly wanted to fit this in during my visit, but this was the day I enjoyed those aforementioned jäger beers and well… let's just say Tipsy Me would've no doubt just taken giant bites out of everybody's cakes and ruined everything.
Anyways, the Berlin Sweets Market is held at the Markthalle Neun, a delicious food market that has been serving the Berlin foodie community since 2011.
NOTE: Admission at this market is 3 euros.
Eco Christmas Market Sophienstraße
As a fan of alternative markets with some kind of unique angle, I was really looking forward to the Eco Christmas Market arranged along Sophienstrasse.
Unfortunately, it was just okay. With a sparse selection of food options and simple white tents set up along the street, it's far from the most atmospheric Christmas market in Berlin.
It seems to me like this market is more set up for shopping than "a nice cozy experience" so it might be interesting for those wanting to stock up on gifts… buuut it's otherwise not particularly special or interesting.
I wouldn't go out of my way to visit this market, although its proximity to other markets in Mitte might make it one to stop by in transit.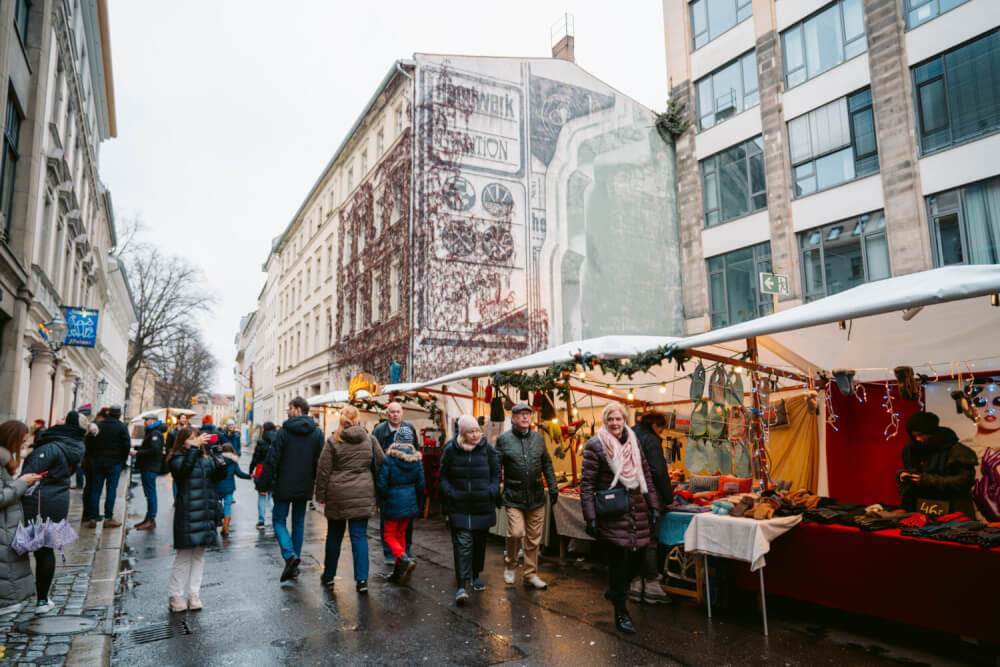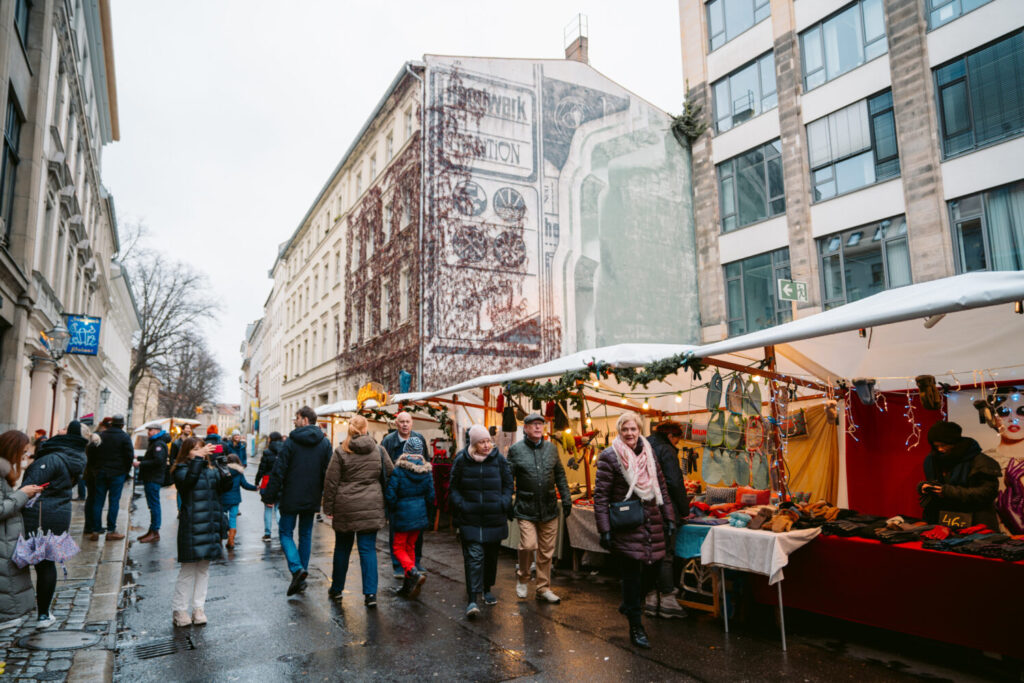 Other Christmassy Spots in Berlin
There are of course plenty of other festive areas to visit in Berlin besides Christmas markets. If just stopping by a few markets isn't enough Christmas joy for you, then here are some other spots to add to your list.
Potsdamer Platz
I wouldn't so much classify this one as a Christmas market. It's more so just a winter fun zone with a small handful of stalls and games.
The highlight here is probably the (very affordable) tube slide ride that sends you barrelling down an artificial hill in a tube! It's actually really fun, and only 1.50 per person.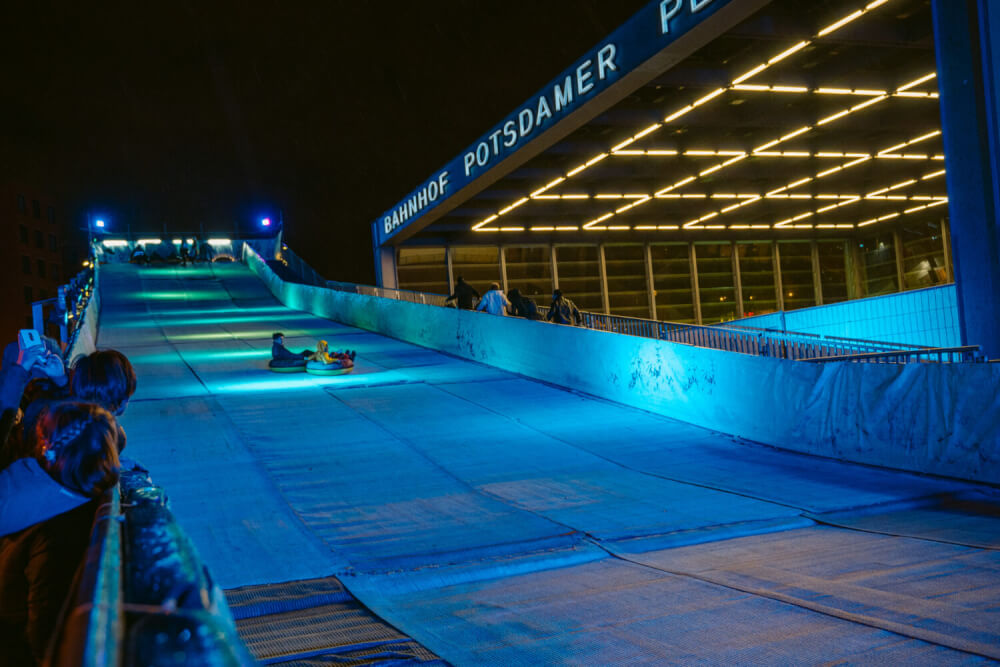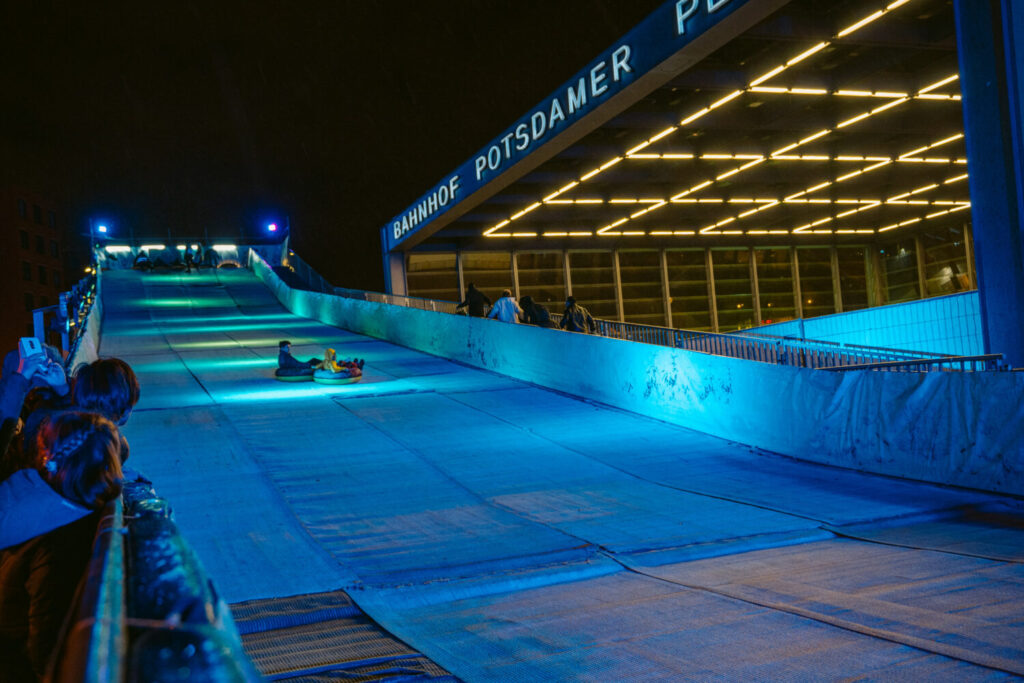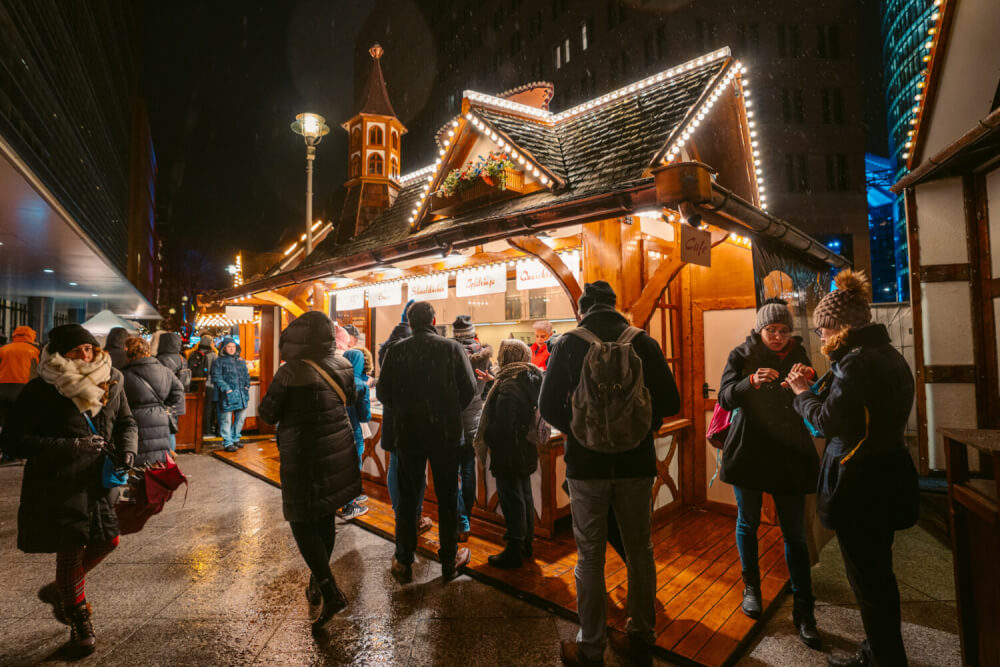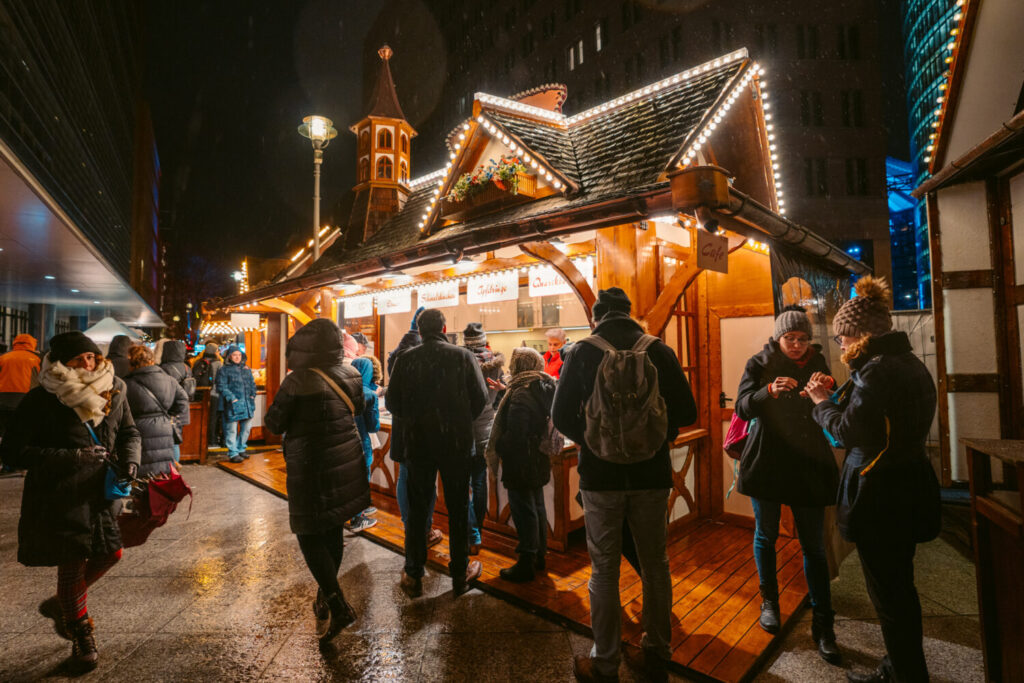 Sony Centre
While truthfully, its main purpose is a festive selfie factory, Berlin's Sony Centre has a few dazzling light displays set up for the Christmas season that I really liked.
With its prime location steps away from Potsdamer Platz, this is a nice spot to stop and enjoy some glittering lights strung up in a truly wow-worthy display, with an IG-husband approved light tunnel, a giant blue chandelier and a small sea of Christmas trees to fawn over.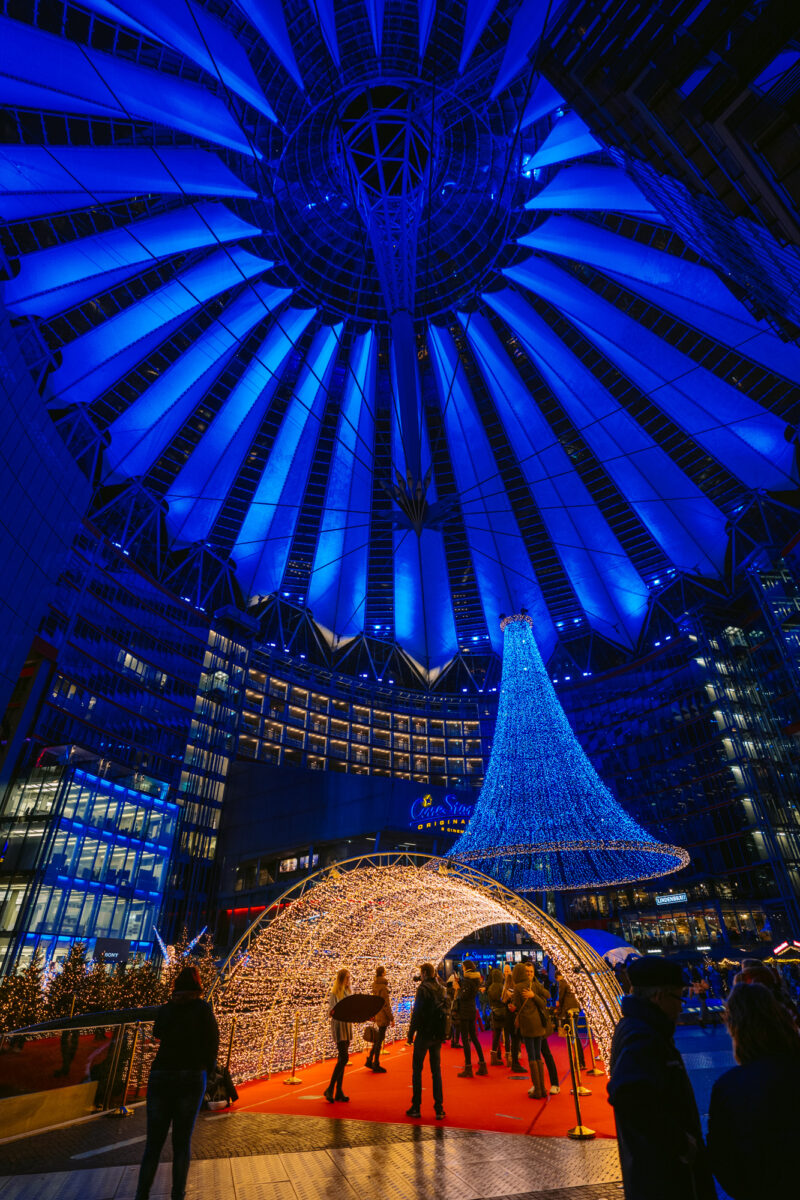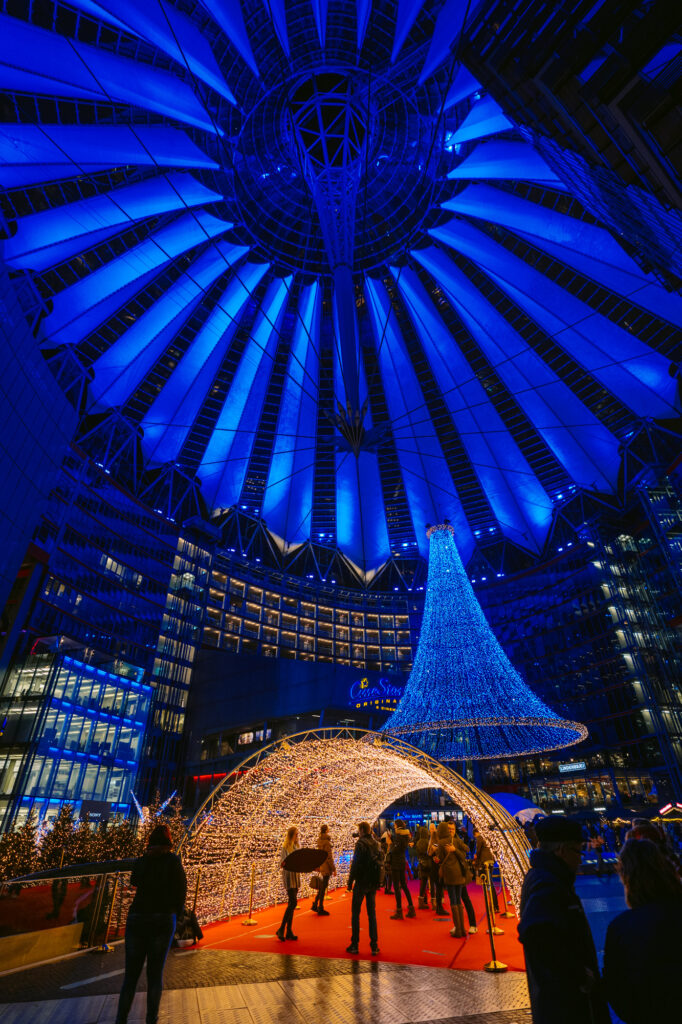 Brandenburg Gate
Of course, there is no attraction more synonymous with Berlin than the stunning Brandenburg Gate, which gets a nice little festive makeover during the holidays, with a big Christmas tree set up in front of it and a beautiful street lined with illuminated trees leading all the way to the TV Tower.
Especially if it's your first visit to Berlin, coming here at night is a must!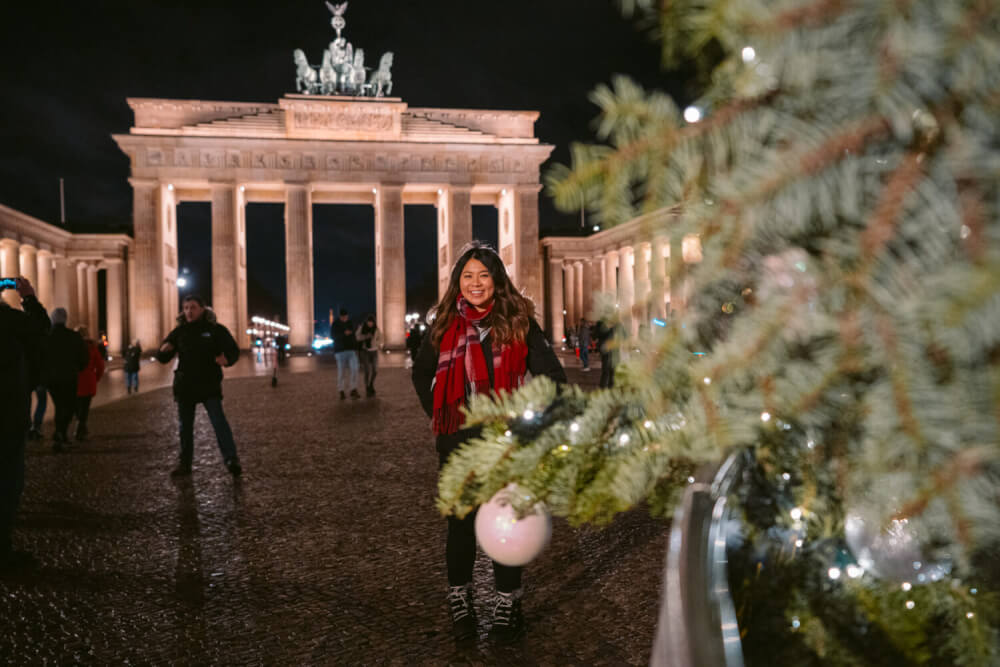 Any more questions about Berlin's Christmas Markets?
I hope you enjoyed this roundup of my favourite Berlin Xmas markets that I visited! Let me know in the comments if I missed any of your favourites or if you have any questions!
---
Watch my most popular YouTube video this week:
---