*FYI - this post may contain affiliate links, which means we earn a commission at no extra cost to you if you purchase from them. Also, as an Amazon Associate I earn from qualifying purchases. Check out our Privacy Policy and Disclosure. for more info.
NOTE: This Esslingen Christmas Market guide was written after my visit in 2018, but has been updated with the most recent info and dates I could find online. Do note that some details/locations may differ year to year though, so let me know in the comments if you notice anything inaccurate.
I'm no stranger to the magical wonders of German Christmas markets, but if I were to pick a single city last year that really wowed me and spun me into borderline obsession, it would be the Esslingen Christmas Market & Medieval Market, located near Stuttgart.
There's musical performers on stilts! There's liquor peddled in potion bottles! There's vendors decked in costume!
Mix that all with the half-timbered backdrop of Esslingen, and it's about the coolest and most unique Christmas market in the country.
I visited Esslingen last year and found myself immersed in a time-warp wonderland of feltmakers, blacksmiths and basket weavers.
But that's not all – Esslingen actually has two separate markets: the traditional Christmas market and the Medieval market, together offering hundreds of unique stalls selling everything you can imagine.
It's all a bit overwhelming, but in the most wonderful way. It didn't make my list of best Christmas markets in Europe for no reason!
So, what did I see? Where did I go? If you're interested in visiting the Esslingen Christmas & Medieval Market for yourself, here's a rundown of everything you need to know, including important dates, locations, what to eat and what to buy!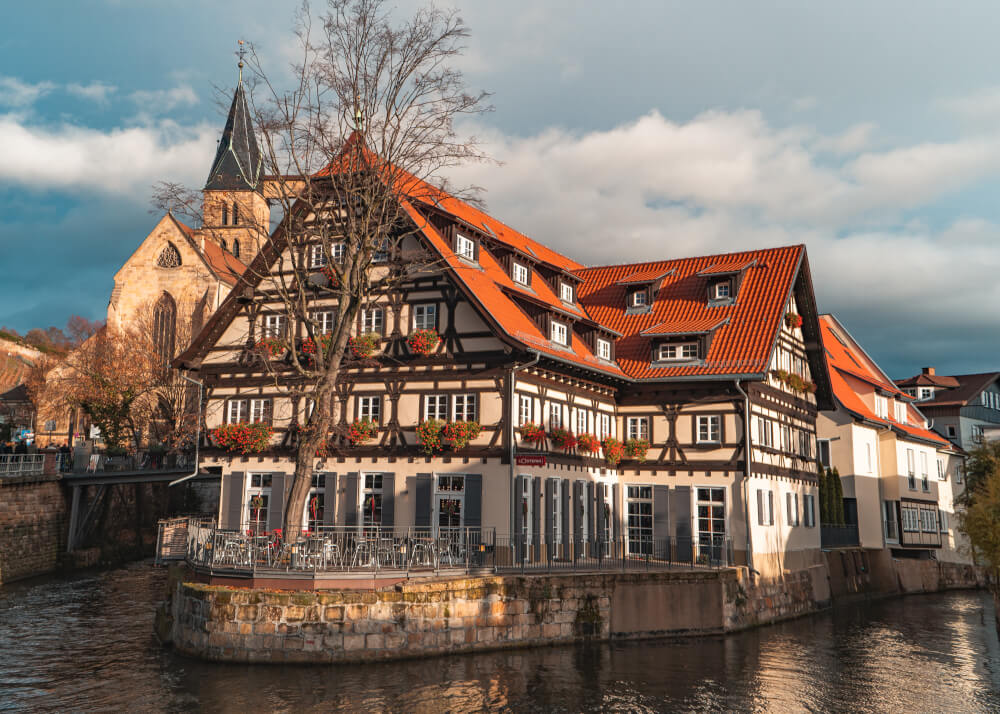 Esslingen Christmas & Medieval Market: Important Must-Knows
If you're plotting your own adventure to see the famous Esslingen Christmas Market for yourself, here is some basic and important information to get you started… and be sure to check out my full list of Christmas market tips for more info.
Where is Esslingen?
Esslingen (full name: Esslingen am Neckar) is a small city in southwest Germany located along the banks of the Neckar River, near Stuttgart.
For many centuries, Esslingen thrived as a market city and free imperial city.
It eventually became part of the Duchy of Württemberg in the early 19th century, and over time has developed a reputation for being one of the most beautiful examples of half-timbered architecture in Germany.
Today, a walk through Esslingen feels like a walk back in time thanks to its abundance of cutesy and well-preserved fairytale buildings, left largely undamaged during World War II. In fact, Esslingen even lays claim to the oldest row of half-timbered houses in the entire country, dating back almost 700 years.
One quick look at Esslingen and you'll understand exactly why wonder it took home the title of 'Best Christmas City' back in 2018 for its size category… and why it totally reduced me to a puddle of gleeful goo last year.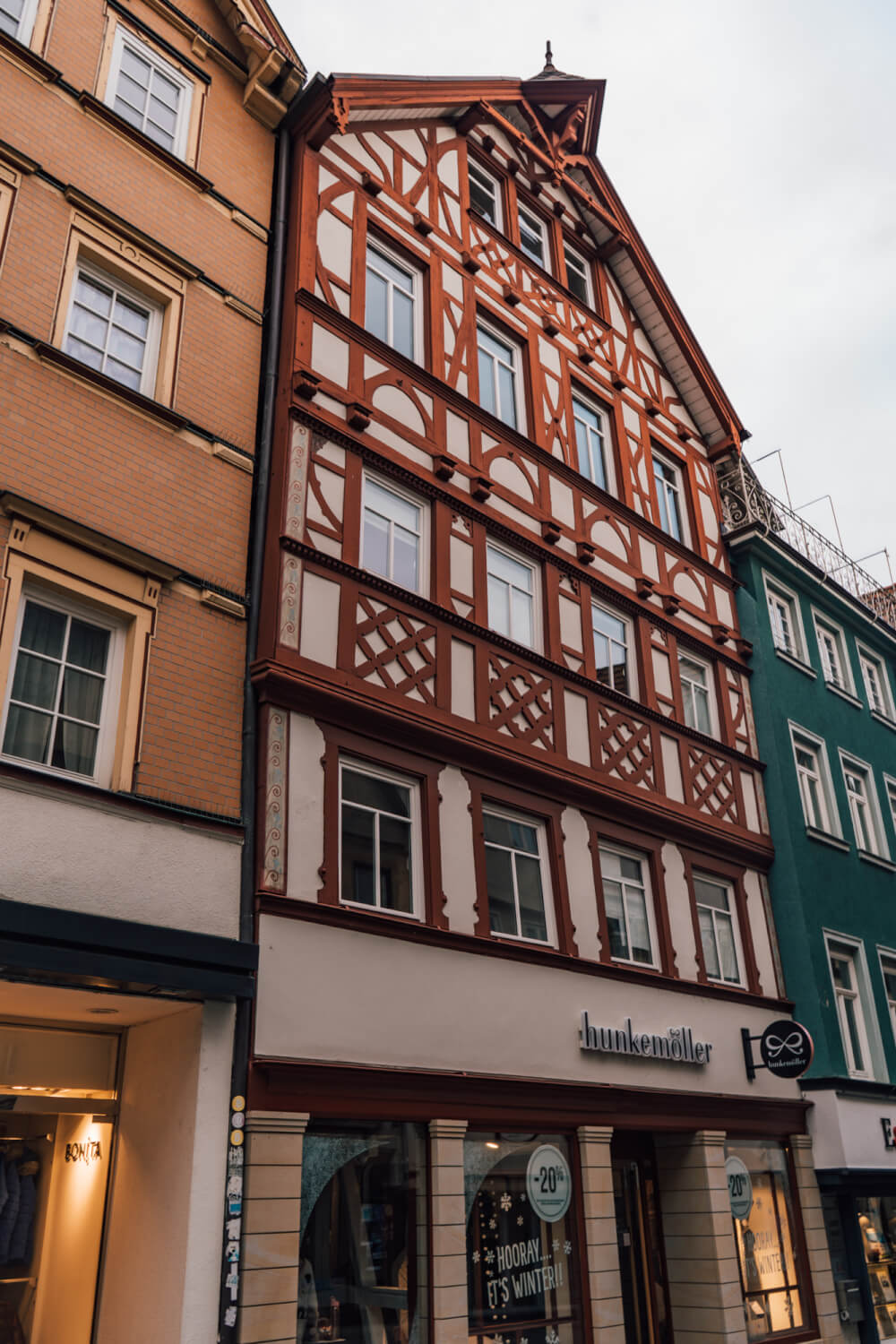 How to Get to the Esslingen Christmas Market
Esslingen is very easy to get to whether you're flying in or taking the train/bus.
Stuttgart Airport is actually only 12km away from Esslingen, so a taxi is the quickest way and takes about 20 minutes. Alternatively, there is the Bus 122 that leaves once an hour in front of Terminal 1 that will have you in Esslingen in under 40 minutes, or the S-Bahn which takes about 55 minutes.
Esslingen is also well connected by train to major German cities, including of course Stuttgart. From Stuttgart, the S-Bahn Line 1 stops in Esslingen and takes only 20ish minutes, so arriving by train is convenient and quick.
From the train station, a 10 minute walk will bring you to the city center area where most of the Christmas markets are taking place.
NOTE: If coming by car, on weekends, there is a shuttle bus offered by Omnibus Fischle that departs from two parking areas and only costs 2 euros. Click here for more info from the official website.
TRAVEL TIP: If you're coming from within Europe, I always use Omio to compare/book transport options and find the best deal. It's a free tool that shows you the different ways to get from Point A to Point B and lets you sort based on price, times and convenience and I highly recommend it!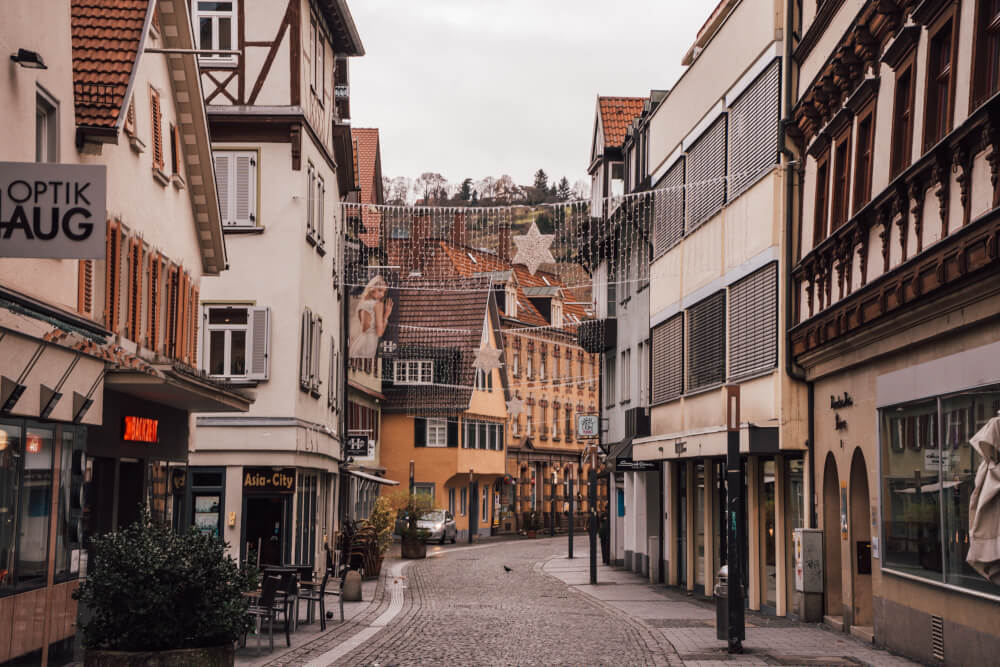 Esslingen Christmas Market Dates
Nov 23 – Dec 21, 2023

Esslingen Christmas Market Hours
The opening hours for the Esslingen Christmas & Medieval Market are as follows:
First day: 4pm – 8:30pm
Otherwise, Sunday to Wednesday: 11am – 8:30pm
Thursday – Saturday: 11am – 9:30pm
Last day: 11am – 6pm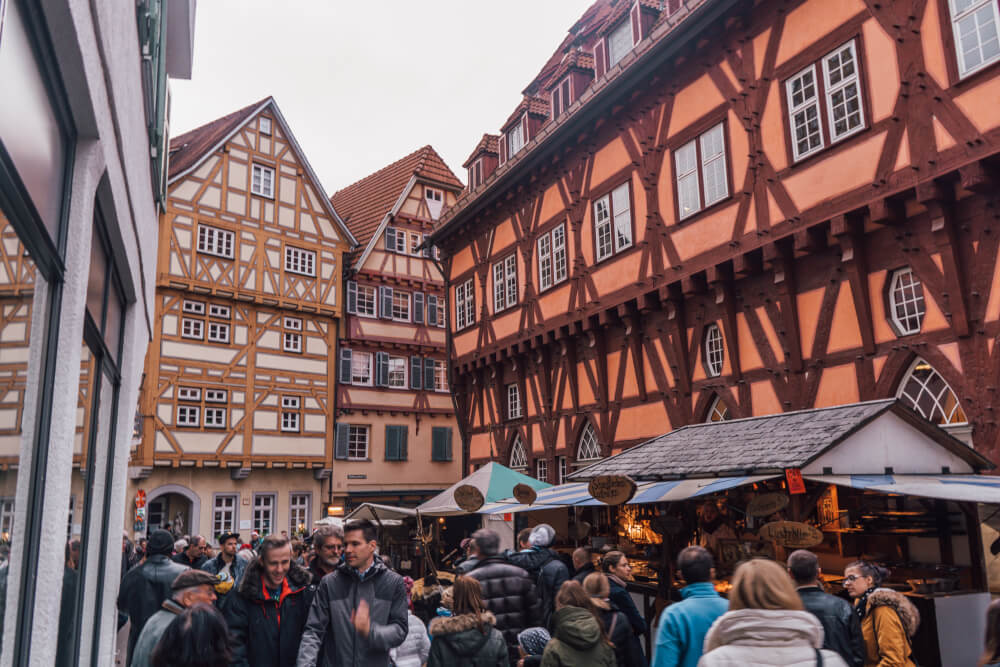 Hotels near Esslingen Christmas Market
While I think Stuttgart would be a great base for visiting the Esslingen Christmas Market (it's what I did!), there are a handful of hotels available in Esslingen itself if you want to stay for a longer period. Here are some options: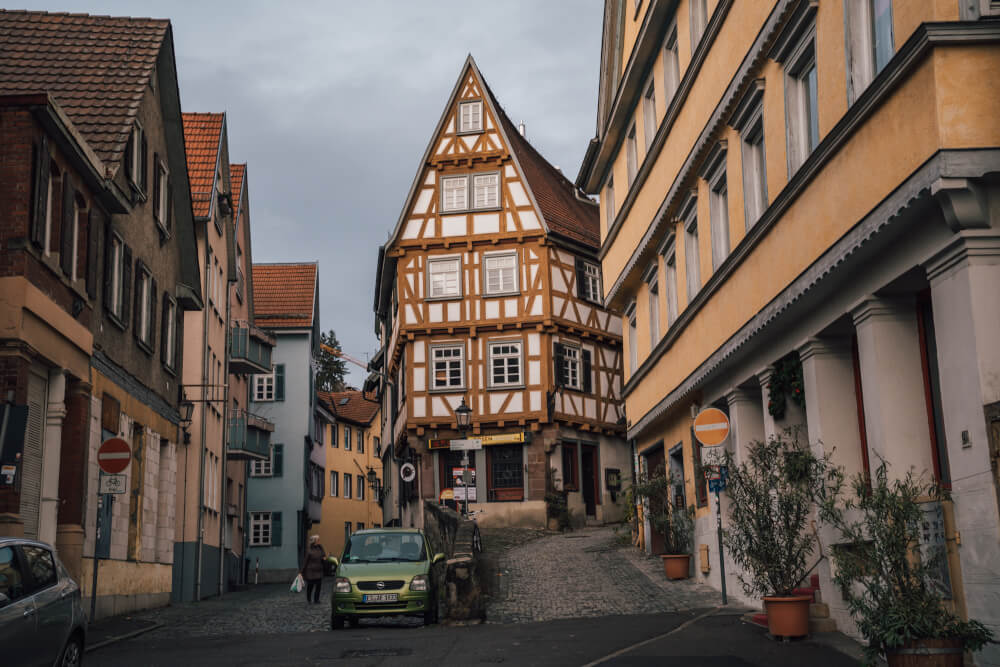 Esslingen Christmas Market Map Overview
As I mentioned earlier, Esslingen is home to two distinct markets: the traditional Esslingen Christmas Market and the Esslingen Medieval Market. Both are scattered across different squares and streets in Esslingen's city center. Below, I'll summarize the key areas you don't want to miss!
Europe Winter Packing Essentials:
Esslingen's Traditional Christmas Market at Marktplatz
For a traditional Christmas market experience without stilts, fire breathers and potion vendors, head to the traditional Christmas market at Marktplatz, which is home to over 80 stalls selling a variety of handmade goodies including Christmas ornaments, toys, and jewelry.
Besides plenty of shopping opportunities, this is the perfect place to sample a variety of classic Christmas market treats like roasted almonds, and of course, glühwein (mulled wine).
Just head to the towering Christmas pyramid and you'll be sure to find plenty of drinks available to warm you up.
PS: Another highlight of the festivities at Marktplatz is the historic carousel, built in 1905 in art nouveau style. Don't miss it!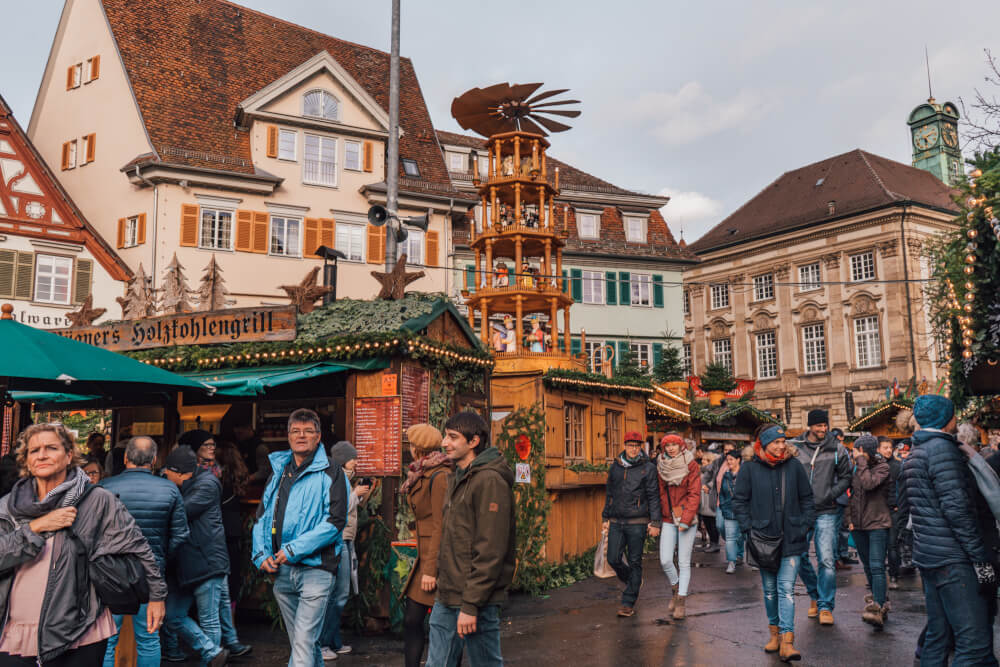 The Esslingen Medieval Christmas Market at Rathausplatz
After getting your fill of wholesome, traditional fun, head over to the nearby Rathausplatz to see the famous Esslingen Medieval Market in action.
The beautiful red Rathaus here makes the perfect backdrop for the dozens of food and market stalls available, with plenty of handicrafts to browse, performances to watch on the main stage, vendor demos, and more.
I cannot stress enough how much this city commits to their medieval theme – it's absolutely spectacular. I hope you're ready to meet vendors dressed in costume, stalls selling all kinds of wares from the Middle Ages, and even roaming performers to set the mood.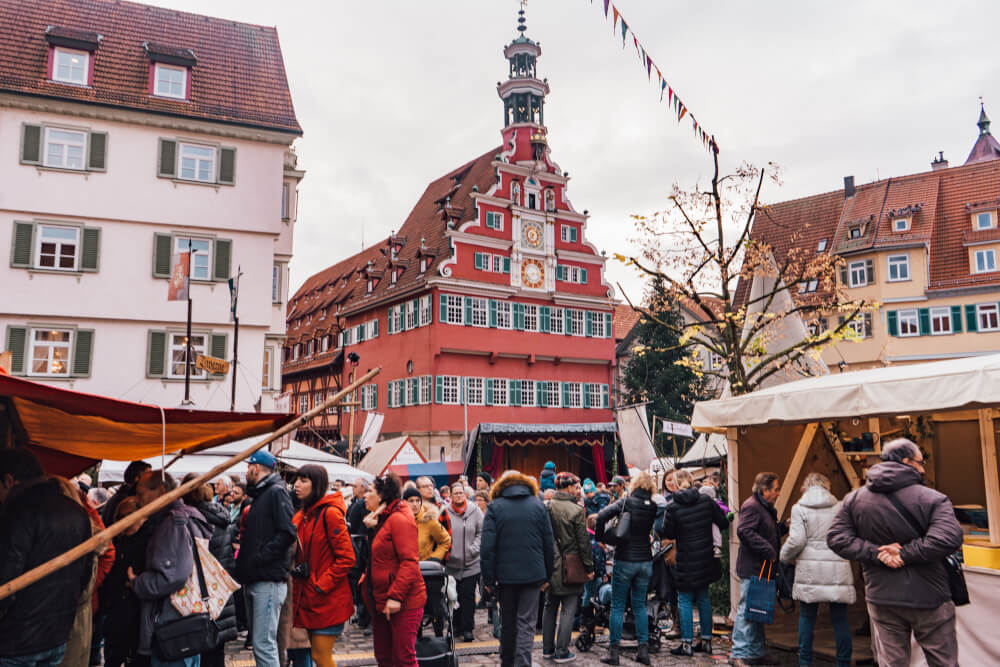 The Esslingen Medieval Christmas Market at Zwergenland
One of my personal favourite parts of the Medieval Christmas Market in Esslingen was the children's area at Zwergenland.
I may not have kids of my own, but visitors of all ages should be sure to pop into this section, which has a tiny hand-operated ferris wheel (they claim it's the smallest in the world!) along with fun medieval games like archery and crossbow shooting.
The chaotic frenzy of this area is super fun, and really makes you feel like you've stepped into a medieval fair ground from centuries ago.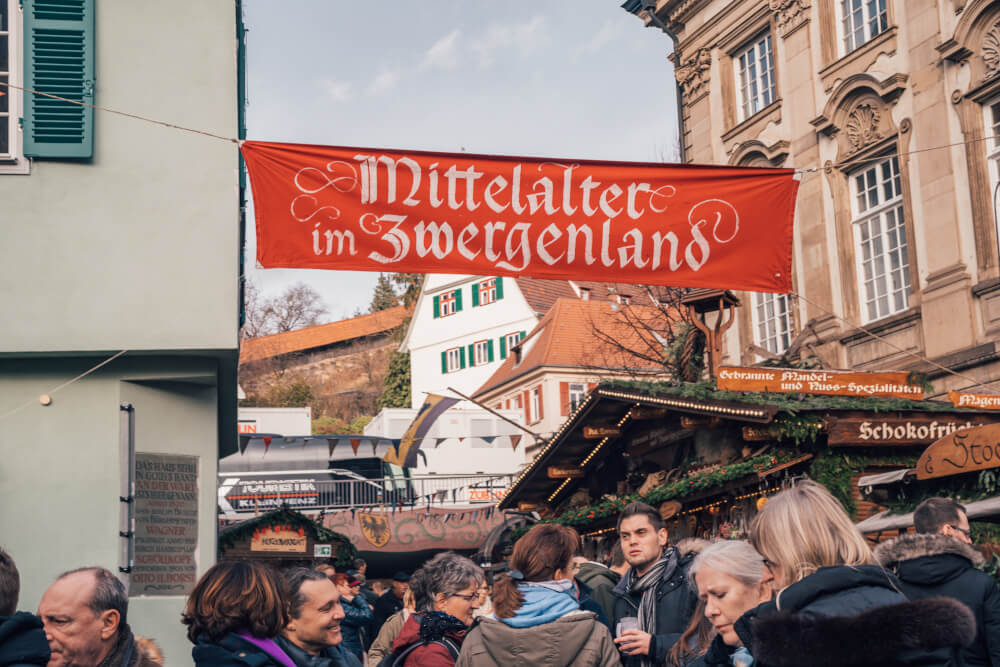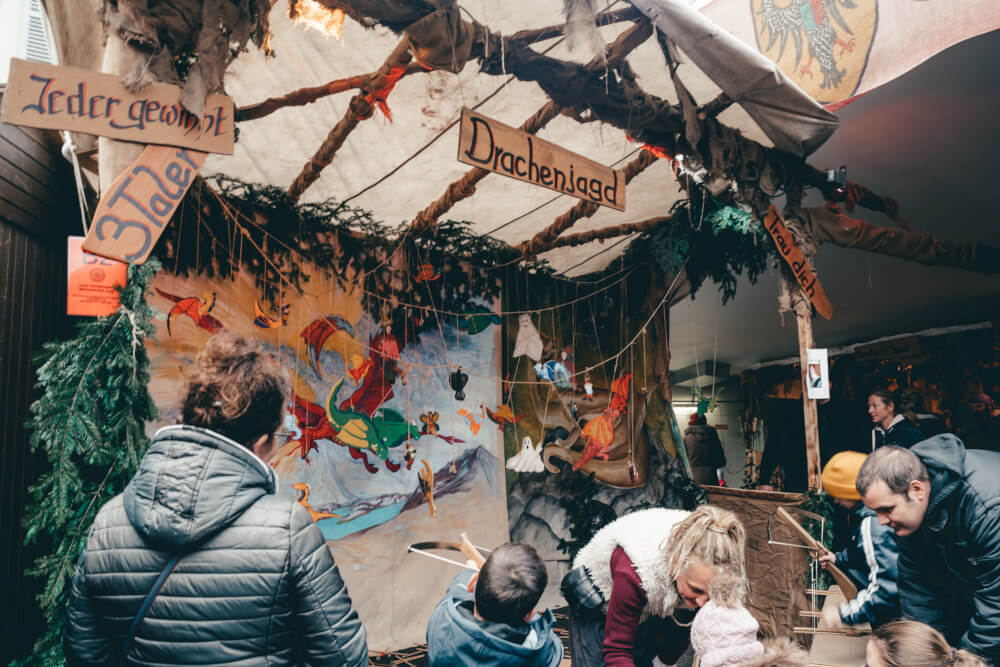 The Esslingen Medieval Christmas Market at the Hafenmarkt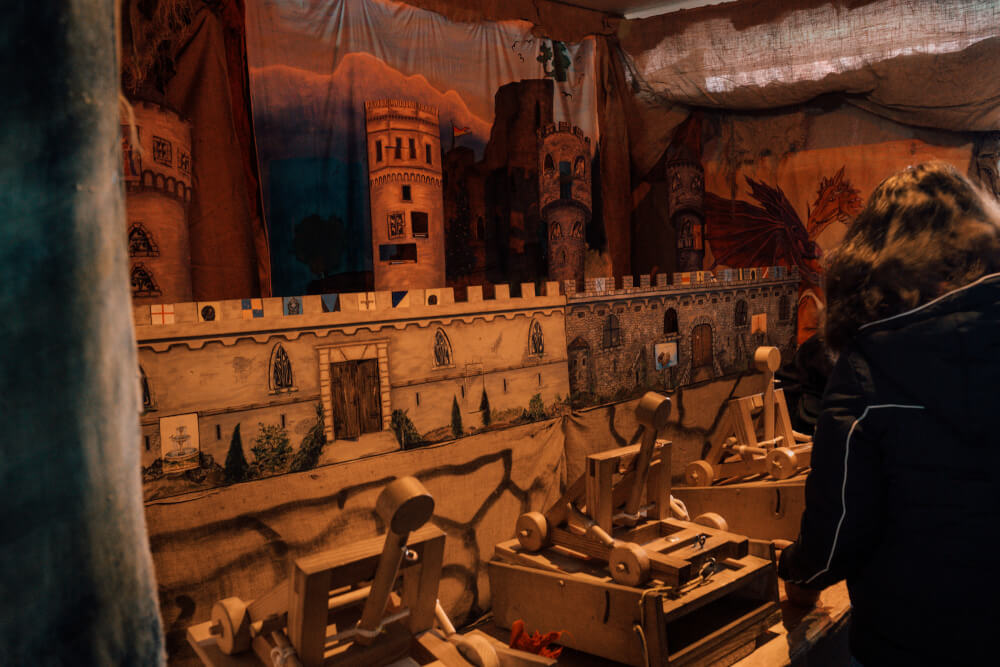 The Medieval goodies continue to extend into Esslingen's Hafenmarkt, where you'll find more stalls selling food and handicrafts, along with a Märchenzelt (fairytale tent) for kids.
Once upon a time, this square was a marketplace for herbs, and today it's lined with gorgeous half-timbered houses, so it's well worth a visit!
PS: Keep an eye out for the fountain the center of this square – it's well over 500 years old.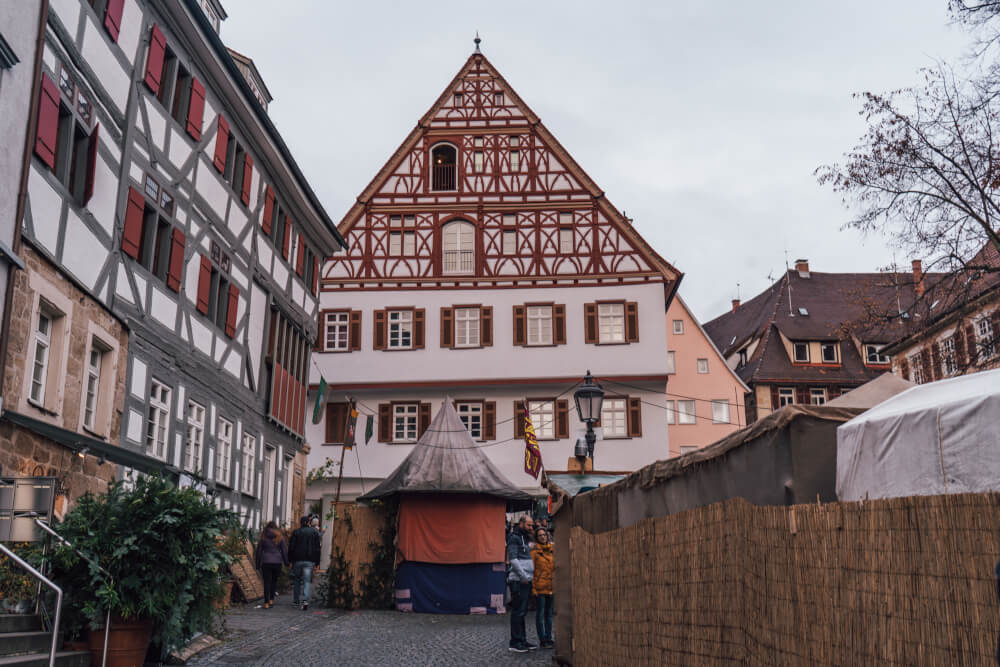 The Weinachtsinsel (AKA Christmas Island) at Fischbrunnenplatz
Another kid-friendly area in the Esslingen Christmas Market is the Weinachtsinsel, AKA the Christmas Island, which can be found in the Fischbrunnenplatz.
Here, you'll find a Living Nativity Scene with real-life farm animals, along with a small handful of cute huts selling glühwein, roasted almonds and other goodies.
This is a place where you can indulge with a good conscience, because proceeds become donations collected by the Eßlinger Zeitung, who have been raising funds here since the 60s to support social institutions around the city.
So yes, you have my permission to have that second, third, or fourth cup of glühwein.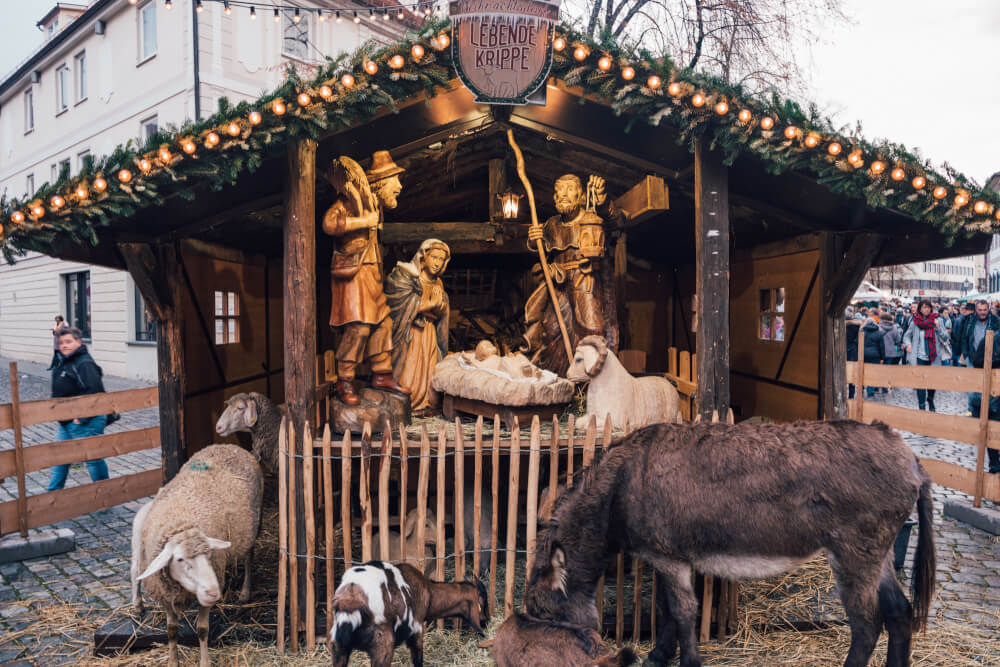 The Adventsmarkt (Saturdays and Sundays only)
Last but not least, if you happen to be visiting the Esslingen Christmas Market on Saturday or Sunday, there's a special Adventsmarkt that takes place on Advent weekends, with an additional 30+ stalls selling handmade goods that you might not find elsewhere at the market.
From painted porcelain and knitted accessories to glass jewelry and African masks, these artisans have a huge diversity of products to browse.
Best of all, the vendors rotate every week so you'll always find something different!
Esslingen Adventsmarkt Hours: Saturdays from 11am to 9:30 pm and Sundays from 11am to 8:30 pm
Special and Unique Things to do at the Esslingen Christmas Market & Medieval Market
So besides shopping and eating, what is there to do?
There's actually a lot.
In fact, one of the most distinctive things about the Christmas markets in Esslingen are their emphasis on experience.
Their program is by far the most intense I've seen in all the Christmas markets I've visited in Germany, with over 500 program points throughout the season and four stages with pretty much non-stop performances.
The full schedule for this year hasn't yet been released, but last year they had a full brochure available online of the full program, so keep an eye on the official Esslingen website here for that.
Generally speaking though, here are some fun things to keep an eye out for…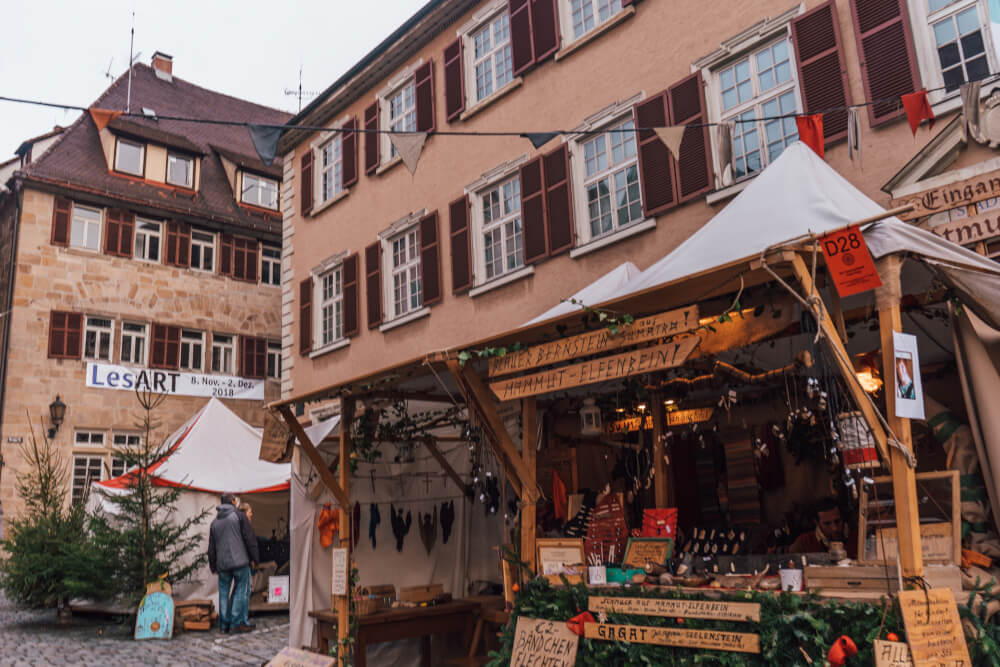 Medieval Performances
Fire jugglers, floating muses on stilts, Czech bagpipers, and Indian magicians…
THESE are the kinds of diverse performers you can expect to see at the Esslingen Medieval Christmas Market, which have a continual program of performances throughout the day to keep guests entertained. I know, it's a lot.
Medieval Workshops and Experiences
From fencing workshops and falconry demos to full-on archery tournaments, there are a lot of experiences that you can take advantage of at the Esslingen Medieval Market, usually subject to an additional fee. You can visit the official Esslingen website here for more details as they're released.
You can also catch a lot of demonstrations at the different stalls, where artisans showcase their work daily and even show you behind the scenes how their products are made.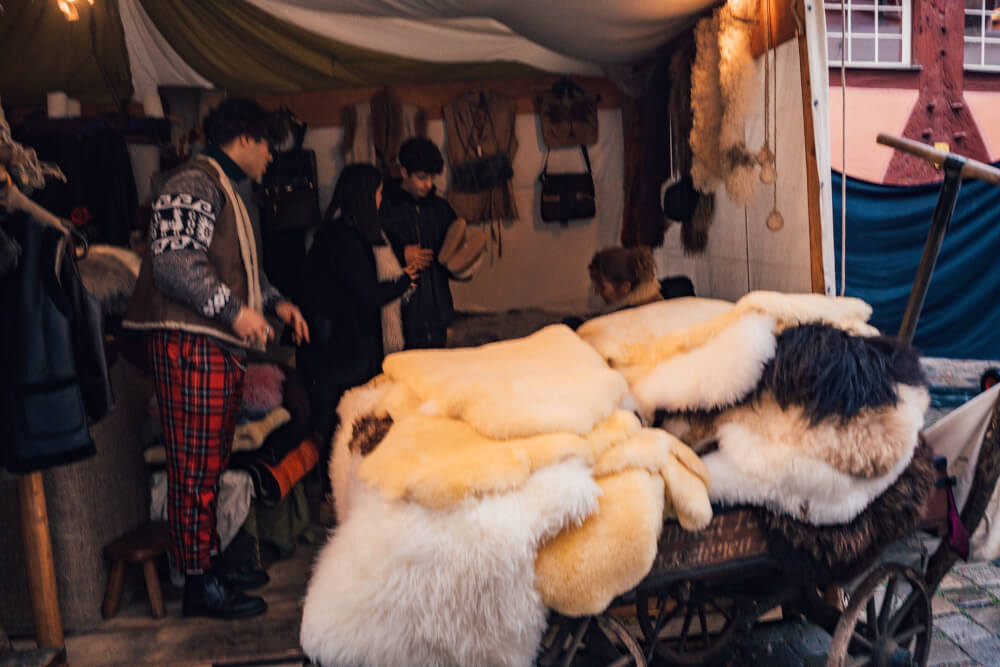 Special Clubs/Charity Tables
At the traditional Christmas Market in Marktplatz, you'll find a few special booths that are reserved specifically for clubs, charities and non-profit organizations.
Often they are simply there to introduce their work to their community, other times they might even be selling goods as a fundraiser or asking for donations.
Donations are of course always happily and gratefully accepted at these stalls, so be sure to stop by and take a look at some of the different organizations that are there during your visit.
Children's Craft Workshops
From candles and bracelets to tiny puppet making, there are a variety of hands-on workshops geared towards kids at the Esslingen Christmas Market, usually subject to an additional fee.
If you're looking for a fun experience that your kids will never forget, be sure to inquire about these workshops when you arrive!
The Medieval Bathhouse
Yes, this really exists! Another very unique feature of the Esslingen Medieval Market (that perhaps puts it miles ahead of its competition) is there's an actual medieval bathhouse on-site.
SO, if you fancy a nice little soak after spending all your riches at the market, you can get thee to the bathhouse, where it's possible to enjoy a warm barrel bath…. all in the comfort of an atmospheric medieval tent. Spots usually need to be reserved in advance, but you can learn more here.
Märchenzelt in the Hafermarkt
If you've got kids with you, here's another tip: one frequently praised highlight of the children's program at the Esslingen Medieval Market is the special fairytale tent (Märchenzelt) in the Hafermarkt, with a colourful daily program including puppet shows, story readings and more. You can learn more here.
Live Carillon
Lastly, if you happen to be in Essinglen on a Sunday, there's a weekly live carillon performance at 4:30pm in front of the Old Town Hall!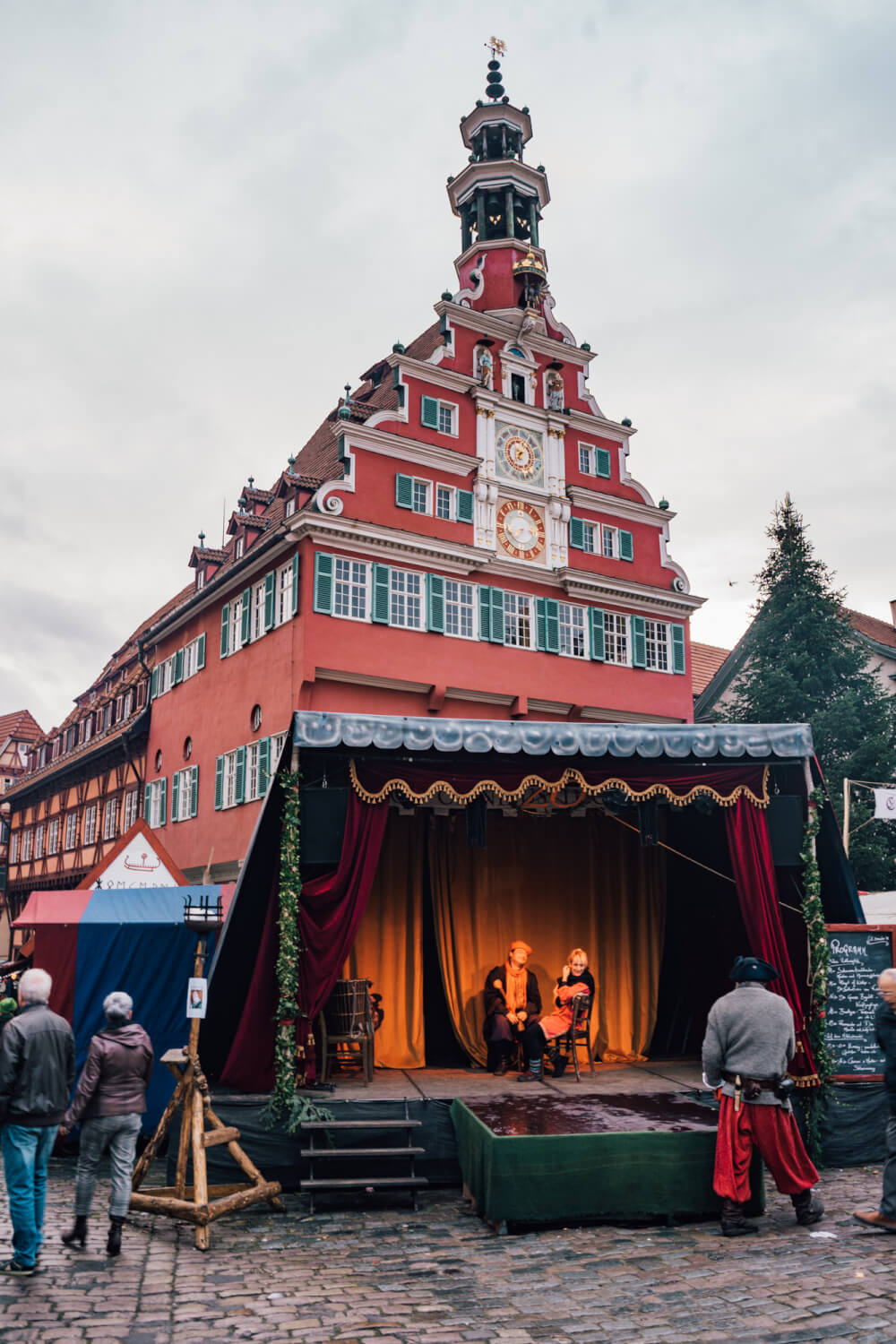 What to Eat and Drink at Esslingen Christmas Market: 10 Must-Haves
Okay, onto my favourite part – the food!! You can click here to read a full list of typical treats you should try at every German Christmas market, but here is a special list with goodies that are especially noteworthy in Esslingen.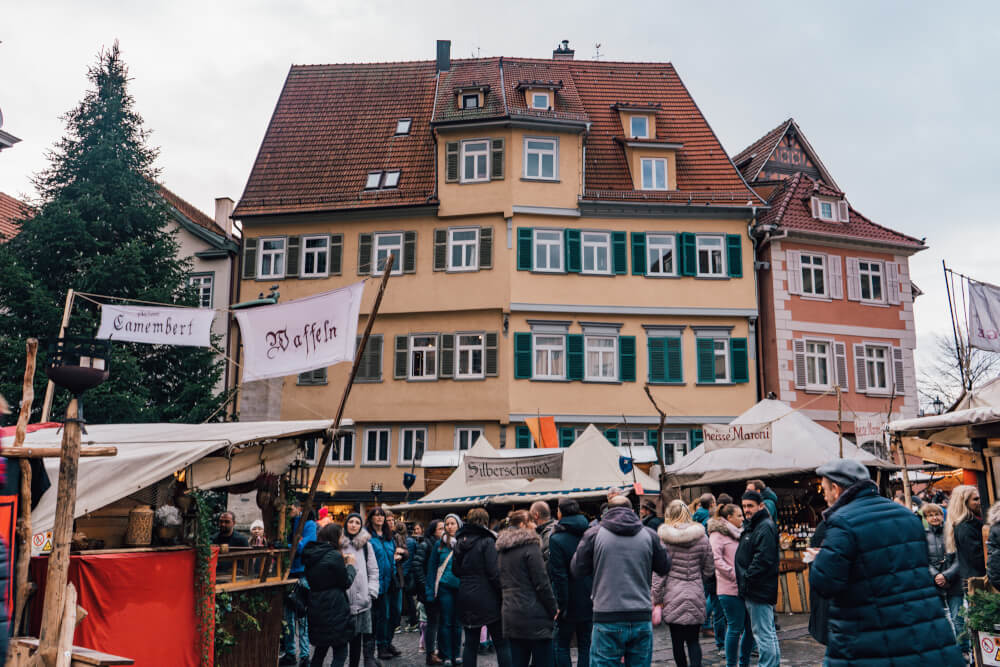 Apfelglühwein
The Esslinger region has an abundance of beautiful orchards, so apples really are the star of the show all around the market, with freshly bake apple pastries and apple glühwein to enjoy all over.
Admittedly, Glühwein is a must at any Christmas market, but while in Esslingen, be sure to try the apple variation too.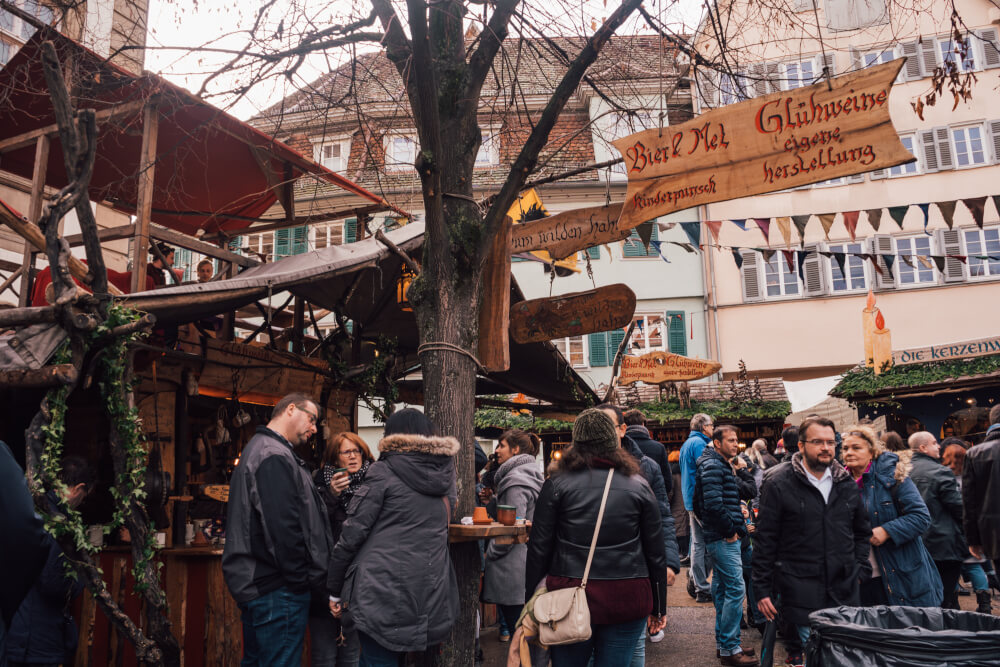 Maultaschen
One of my favourite German dishes ever is Maultaschen, an amazing ravioli type dish packed with a meaty, bready filling.
This dish is native to Swabia, and a must-try while you're in Esslingen. It makes for wonderful comfort food, and is guaranteed to satisfy! Speaking of comfort food, you should also make sure you try…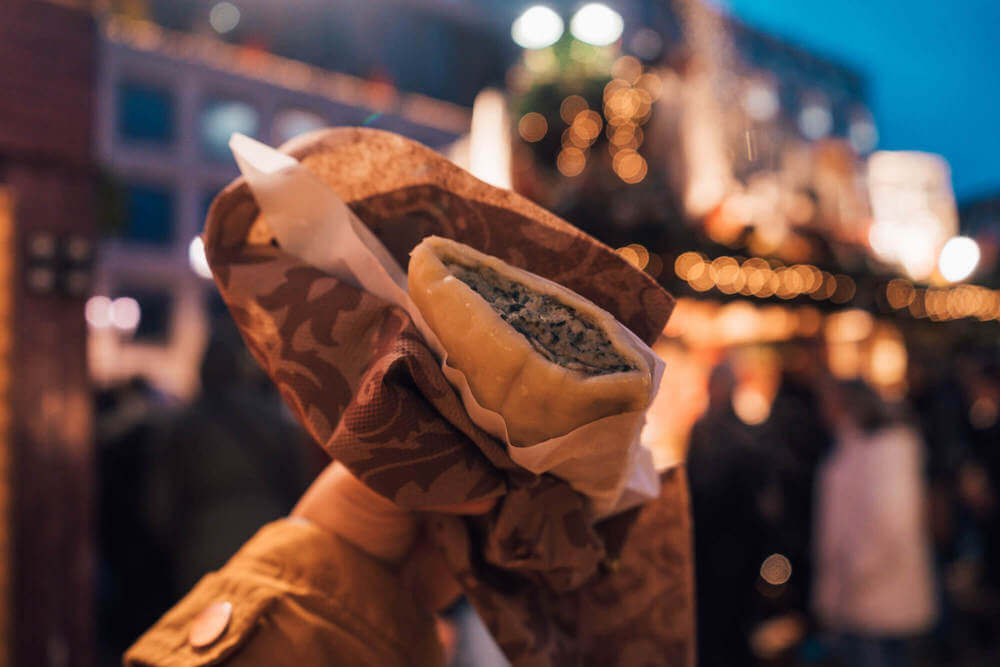 Käsespätzle
This. is. the. best. The BEST, you hear me? If you see a stall selling Käsespätzle (which you will), run to it and stuff your face on my behalf.
Long story short, this is like a German Mac and Cheese made up of bouncy egg noodles tossed with cheese and fried onions. It's simple, but amazing.
Usually you would have it as a sit-down meal, but thanks to its (understandable) popularity, many Christmas market stalls now sell takeaway versions… which you MUST take advantage of because this is one of the best meals on planet Earth.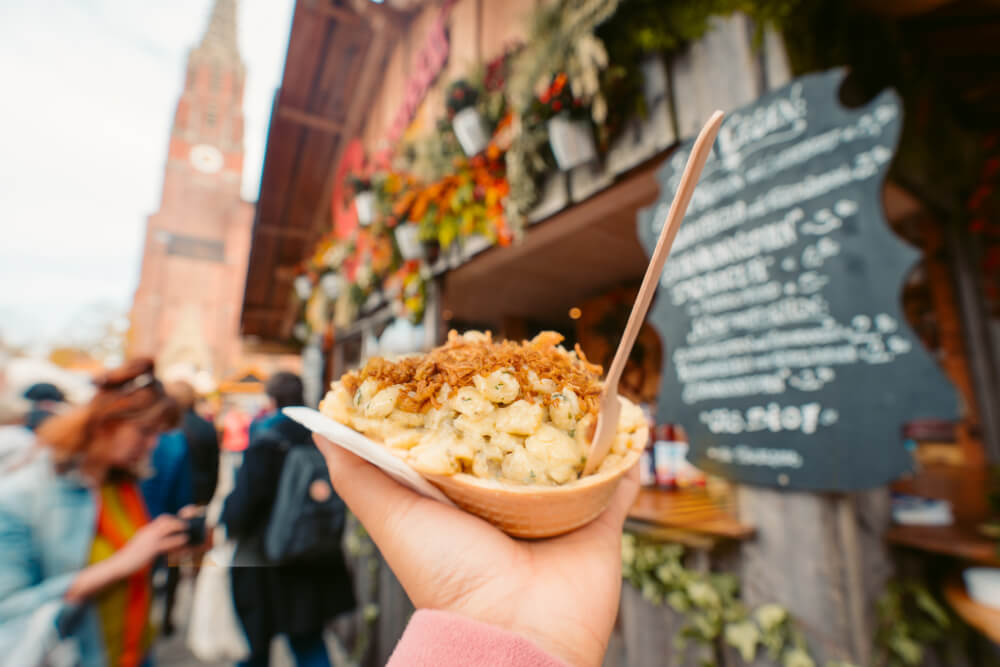 Venison Specialties
While not commonly a featured dish at German Christmas markets, Esslingen does things a bit differently, with a range of gourmet venison dishes available from Wildspezialitäten Göbel.
While I haven't tried these myself, I have heard great things! If you want something a bit more filling and unique, this would definitely be a good pick.
Magenbrot
Literally translated to "Stomach bread", Magenbrot is a diamond-shaped cookie that is very popular around German Christmas Markets.
This German answer to gingerbread is made with a variety of spices like star anise, cinnamon, cloves, and nutmeg, and is the perfect snack while you shop your heart out!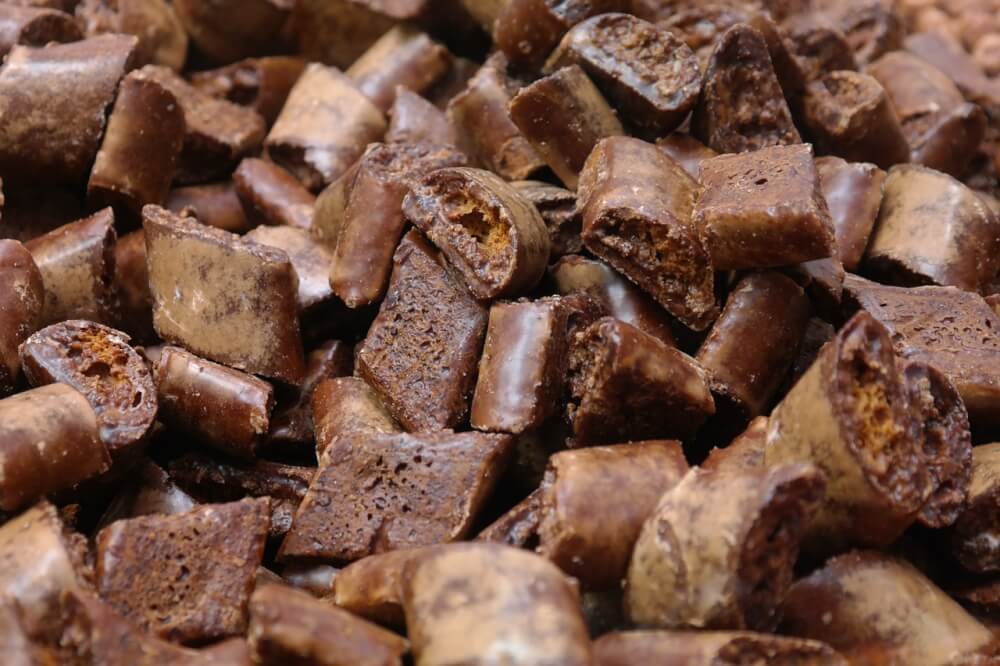 Heurekaner
As a popular favourite at medieval markets across the country, Heurekaner can be best described as rolls of stuffed bread filled with yummy fillings like cheese.
They're best eaten warm straight from the oven, and act as handy comfort food that will fuel you up for a long agonizing day of drinking hot wine and buying pretty Christmas trinkets ; )
Free for You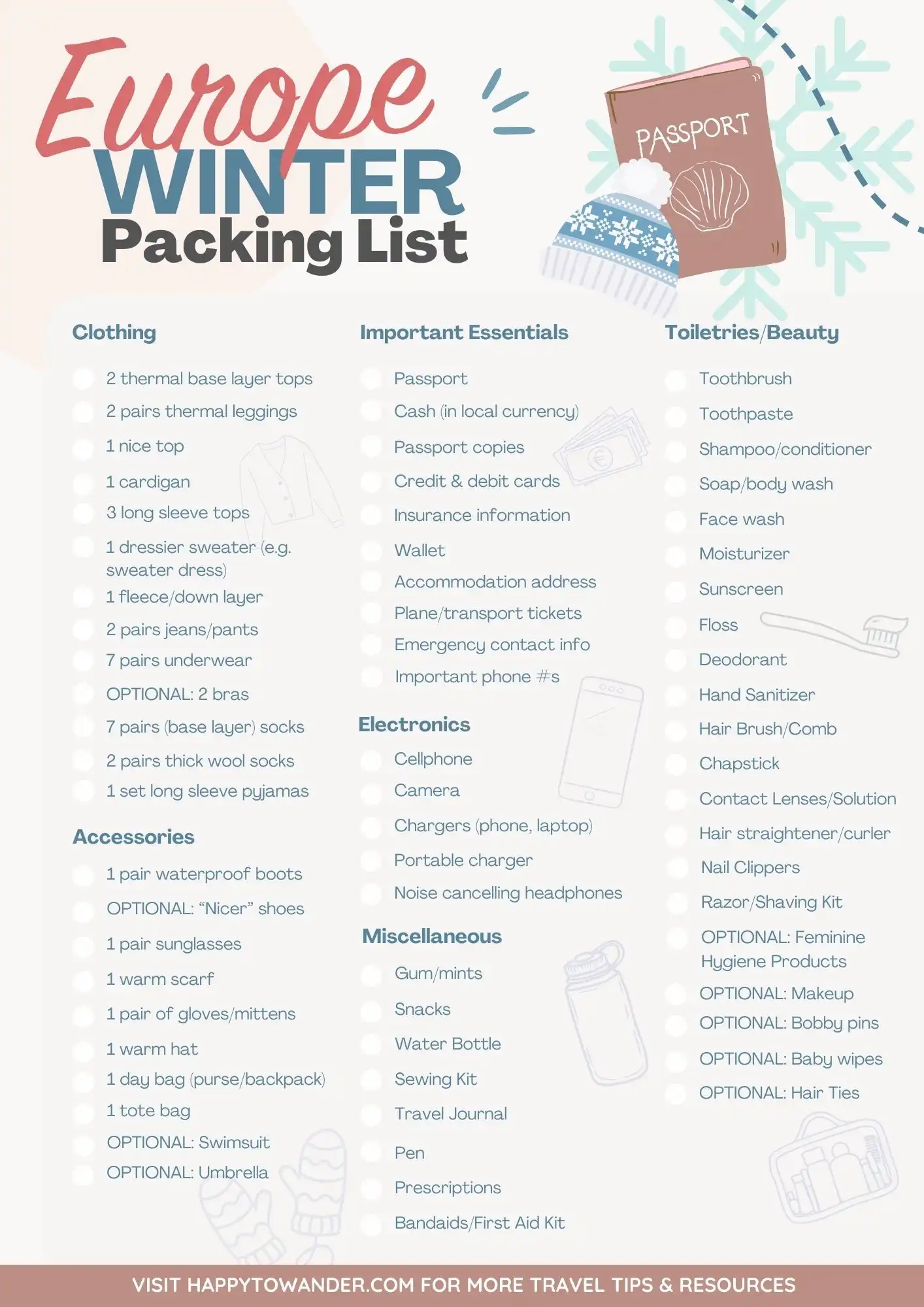 Honey Mead
Lastly, there's no drink more synonymous with the Middle Ages than mead, a type of honey wine made by fermenting honey with water.
Of course, it's a safe assumption that you'll already be chugging gallons of glühwein during your trip, but diversify a little with a goblet of mead if you can – after all, you're at a Medieval market!
What to Buy at Esslingen Christmas Market
Alright, now what is there to buy at the Esslingen Christmas and Medieval Market? Here are some ideas for you based on the different stalls that I saw last year.
I have a more thorough guide to shopping at German Christmas Markets here, which covers the more stereotypical must-buys that you find at most markets. Below you'll find a list more specific to Esslingen!
Regional Products
Regional products are always one of my favourite things to buy from German Christmas markets (click here for a full shopping guide!).
They're unique, make great gifts, and talking to local producers is always a treat in itself. From different oils and chocolates to special herbs, jams and mustards, there are plenty of stalls selling local goodies, so be sure to keep an eye out.
They're also typically quite liberal with samples ; )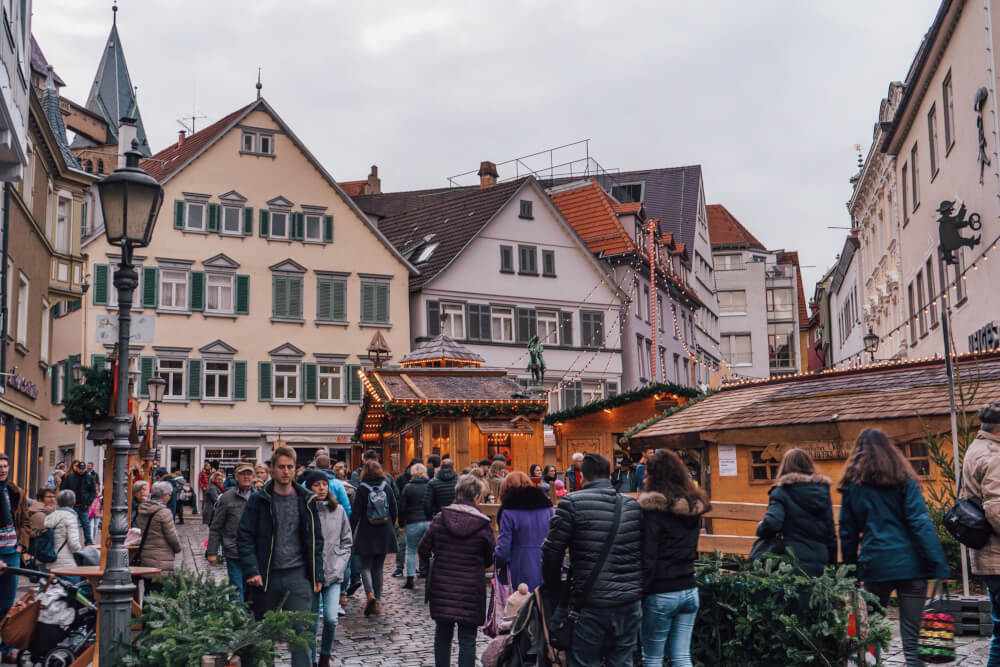 Cute Ceramic Kitchenware
Maybe a bit tougher to transport, but I found myself obsessing over the abundance of cute stalls selling ceramic kitchenware, like this one pictured below.
You'll find all sorts of different mugs, pots, jars, etc. around the market, usually with cute patterns and writing too. Definitely a lovely gift to lug home, or a homey souvenir for your own place.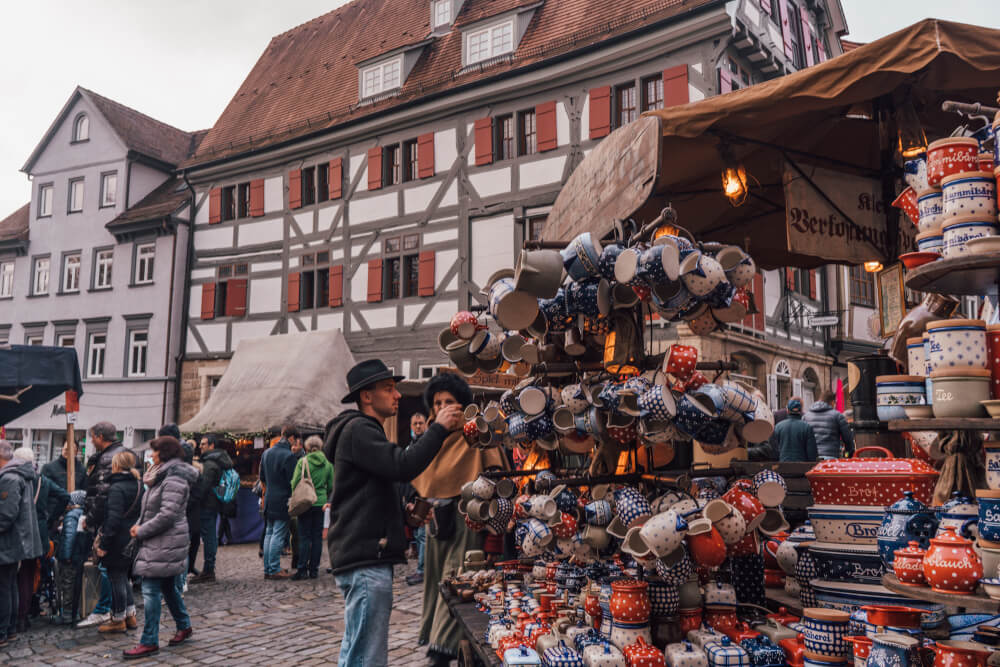 Local Wine and Liqueurs
My favourite stall presentation-wise was definitely this stall here selling local wines and liqueurs, all the better because some of them are bottled like potions! How awesome do these look?
The only downside is I'd never drink them…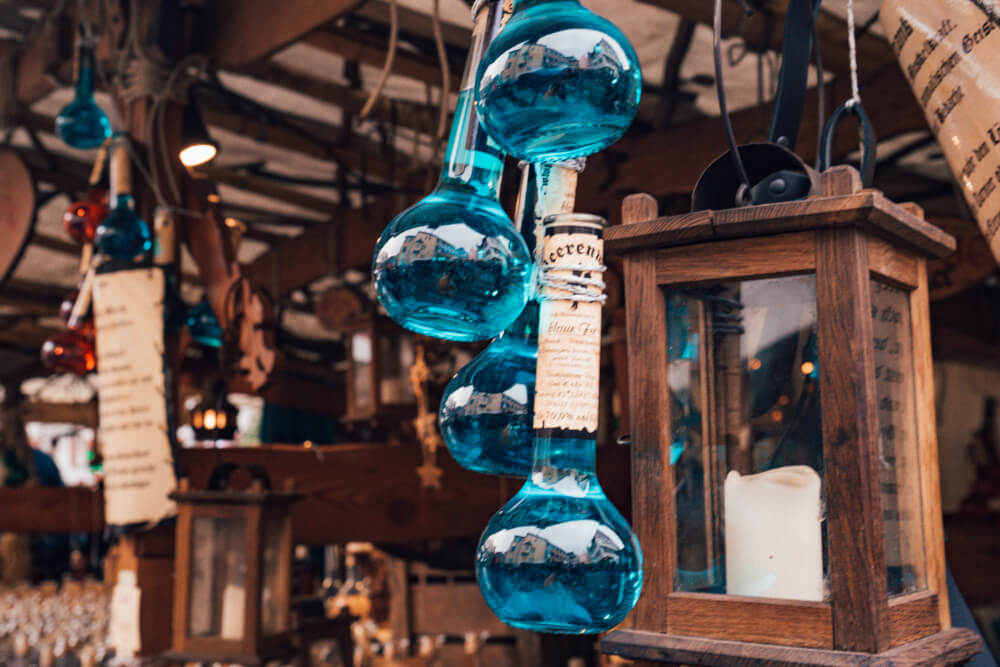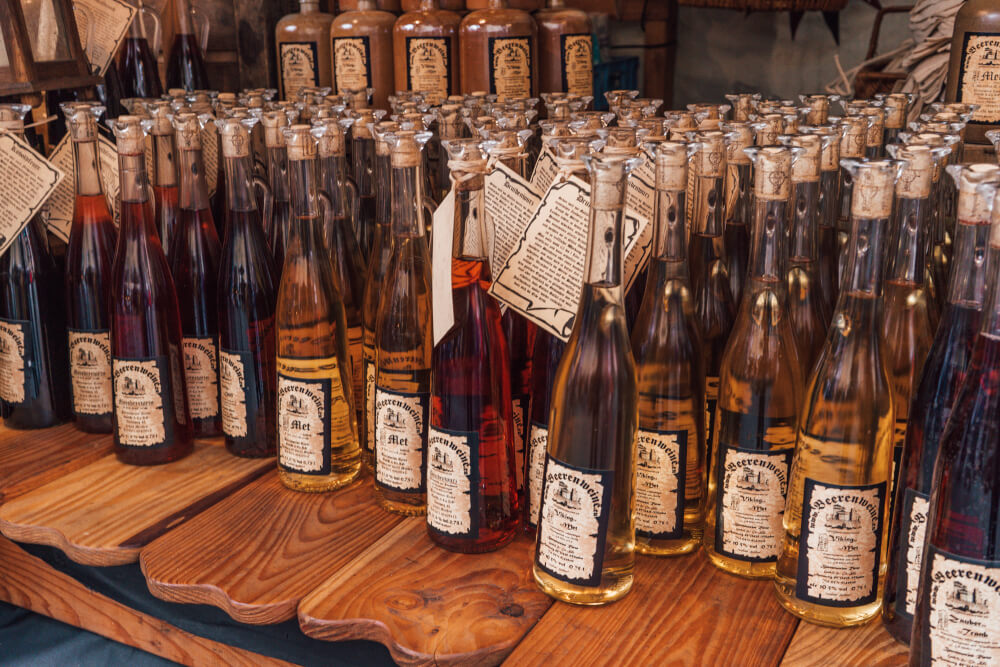 Leather Goods
The Esslingen Medieval Market puts a huge emphasis on handicrafts and some of the most charming stalls I saw involved leather work. You can get a lot of really nice handmade leather products here, including little coin purses, belts, bags, and wallets.
Handcrafted Ornaments
It's a cliche, but for good reason. One of the nicest souvenirs you can take home from the Esslingen Christmas Market is a handcrafted ornament for your tree.
You can find everything from glass baubles to hand carved wooden ornaments here, so don't worry – you'll be spoiled for choice. I had an especially soft spot for these mildly creepy little Santa figures: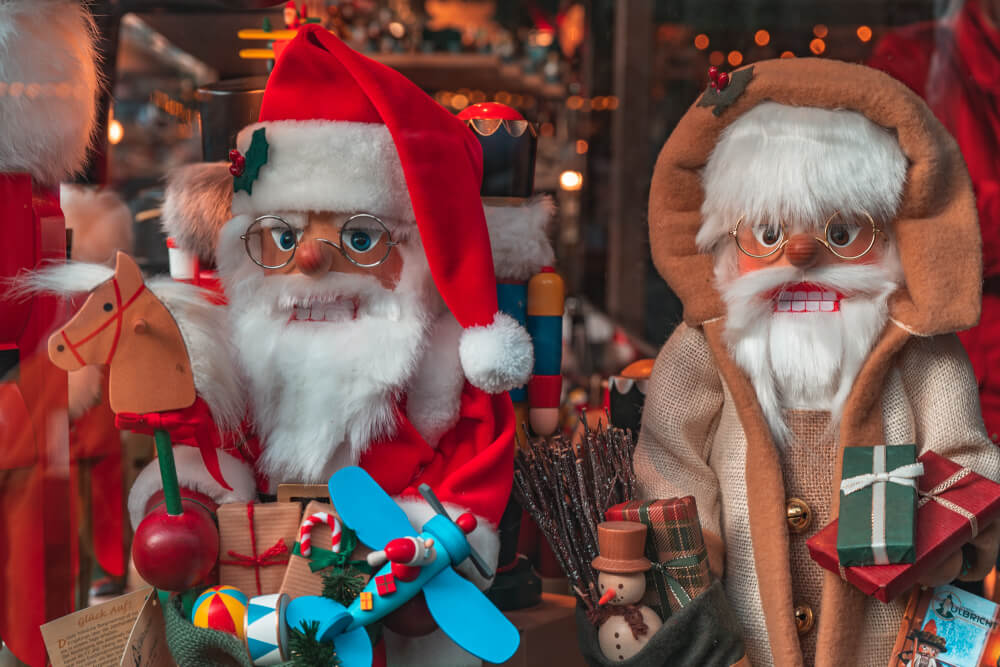 Fun Medieval Garb
Lastly, as a souvenir from your time at the awesome Esslingen Medieval Market, keep an eye out for stalls selling cool clothing items from the Middle Ages! I really had to resist my urge to purchase a dozen fluffy sheepskins to roll around on…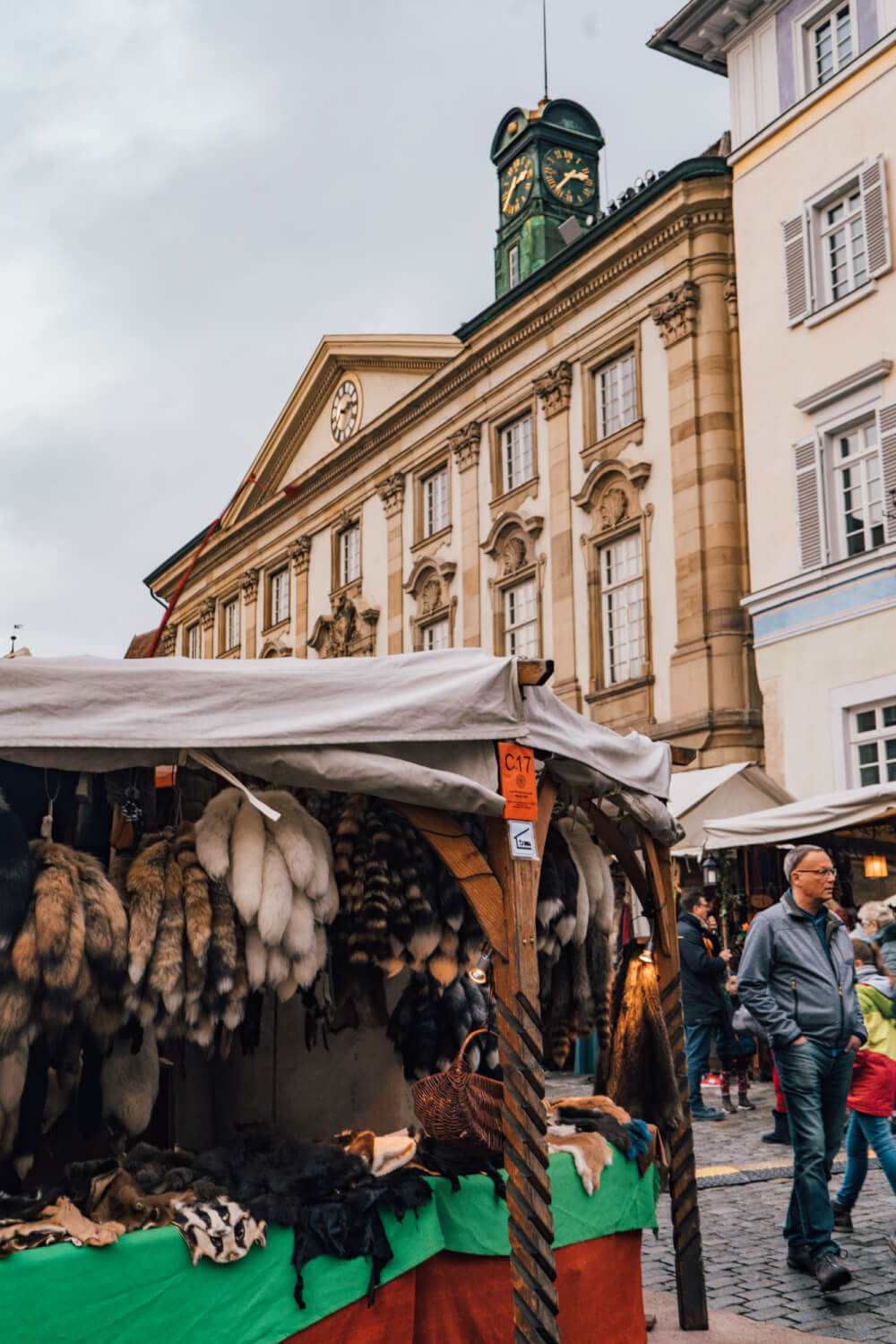 Any more questions about the Esslingen Christmas Market?
I hope you enjoyed this thorough review and guide to the Esslingen Christmas and Medieval Market!
This is truly one of my favourite Christmas markets in Germany and I'm so excited for you to experience it too. Let me know in the comments if you have any question and have an amazing trip!
My Go-To Travel Favourites: