*FYI - this post may contain affiliate links, which means we earn a commission at no extra cost to you if you purchase from them. Also, as an Amazon Associate I earn from qualifying purchases. Check out our Privacy Policy and Disclosure. for more info.
NOTE: This Cologne Christmas Market guide was written after my visit in 2019, but has been updated with the most recent info and dates I could find online. Do note that some details/locations may differ year to year though, so let me know in the comments if you notice anything inaccurate.
As a classic indecisive Canadian, I've always been mortified by the prospect of choosing my favourite Christmas market in Germany…
That changed this past year though.
Now, I'm confident there's no contest: the Christmas markets in Cologne take the cake, with market decor so sumptuous, detailed, and romantic that I was instantly zapped me into a state of childlike glee.
Okay, Dresden is also up there… but I swear those are my top two! You can see my full Xmas market countdown here.
Take the lengthy drool puddles I left behind as evidence: Cologne absolutely sleighs Christmas markets.
I can't even begin to compute how magical everything was. During my short visit, I saw angels on STILTS, cathedral-shaped waffles, and the cutest Christmas mugs I've had the pleasure of hoarding.
Any more magic and I would have been vomiting glitter.
So, in this post, I'll be showing you what it's like to visit the world famous Christmas markets of Cologne, along with practical tips about where to find the city's many markets, what to eat, what to buy and other fun festive things to do in Cologne during the winter time.
… I apologize in advance for the endless parade of photos. And be sure to check out my full list of Xmas market must-knows before you go!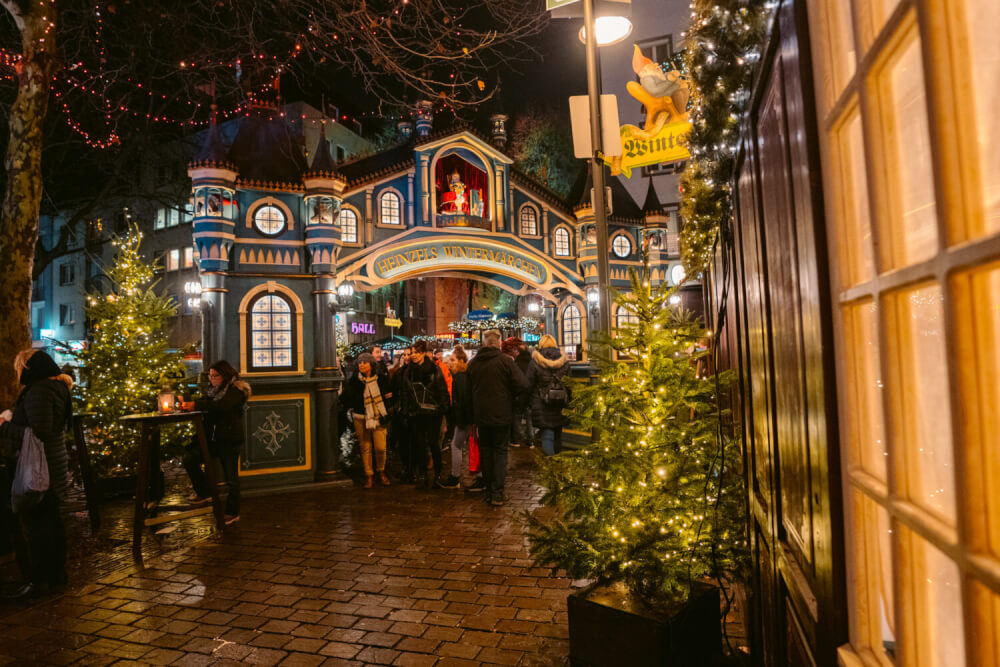 Cologne Christmas Market Dates for 2023
When is Cologne Christmas market taking place this year? Exact opening dates vary from market to market, but most main markets will be open between Nov 23 – Dec 23.
You can see exact dates for each market in this list.
Europe Winter Packing Essentials:
Where to Find the Best Christmas Markets in Cologne
Ready to be dazzled? There are several Christmas markets that you can visit in Cologne. Here they are!
1. Cologne Cathedral Christmas Market (Weihnachtsmarkt am Dom)
The most famous of Cologne's Christmas markets may well be my least favourite, so I'll get it out of the way first. NOTE: That doesn't mean it's a bad market, it's actually quite nice, but others are better… which speaks volumes at Xmas market quality here in Köln.
Anyways, back to the Weihnachtsmarkt am Dom.
Most visitors who flock to Cologne come for this particular Christmas market, located in the shadow of the city's iconic Cathedral, one of the most imposing structures in the entire country.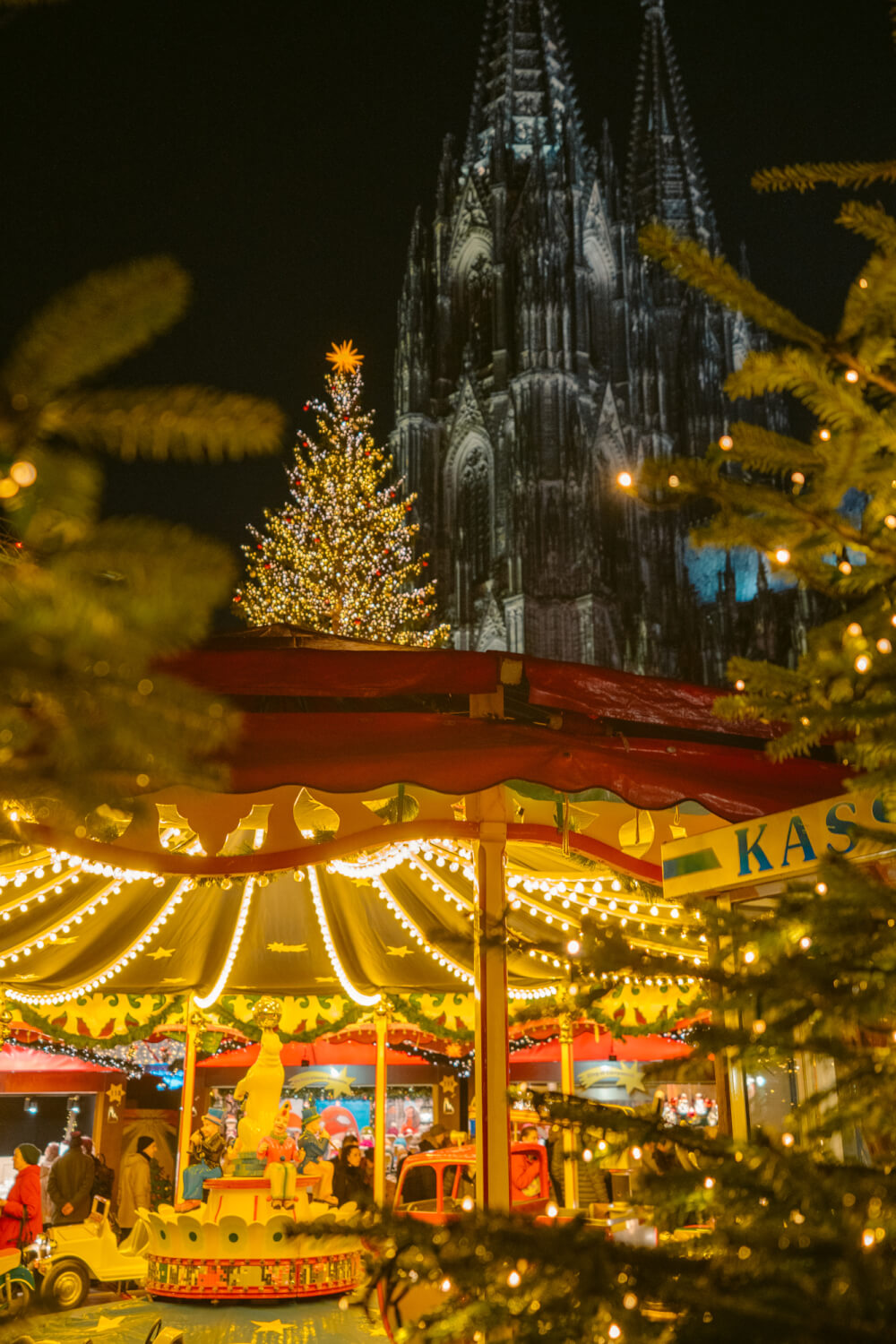 By night, this square is illuminated by a glittering canopy of lights emerging from a large central Christmas tree, with a maze of stalls twisting around selling a wonderful assortment of goodies, from German classics like Käsespätzle (bouncy little egg dumplings tossed in cheese) and Kaiserschmarrn (shredded pancakes with sugar) to churros, crepes, craft beer and even fancy fair trade coffee.
I would suggest coming to this market first to appreciate the grandeur of the cathedral, maybe sip on a glühwein and take a wander around the stalls, but then move on, because in terms of decor, it pales in comparison to the other main Cologne Christmas markets.
We tried the mulled rosé glühwein here, which was nice enough but I'm still loyal to the red!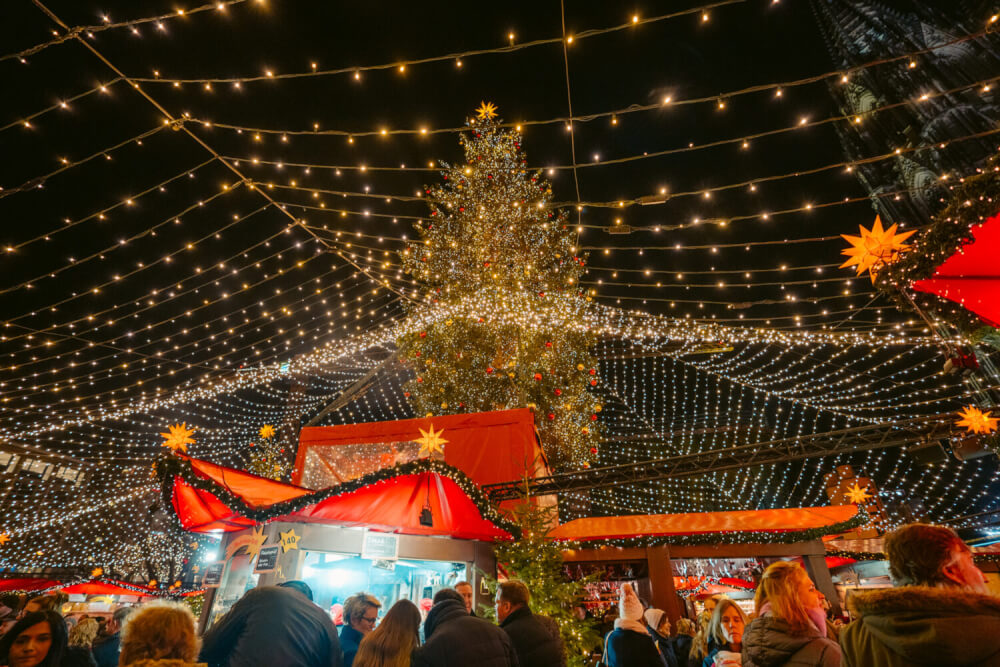 2. The House Elves' Winter Fairytale Christmas Market (Heinzels Wintermärchen)
This market right here is the one that made me realize Cologne does NOT mess around.
In this enchanted wonderland, organizers pay tribute to the city's famous Heinzelmännchen, whimsical house elves who, according to local legend, take care of locals' housework as they sleep.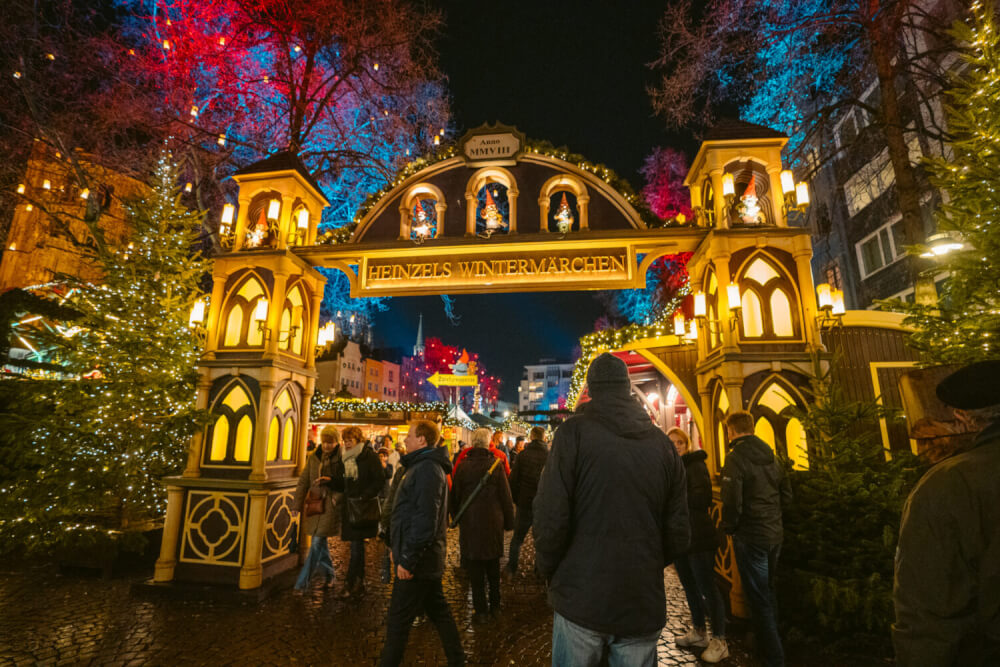 From the delightful bauble-esque mugs to the central skating rink and richly decorated chalets, this is one of the most elaborate Christmas markets I have seen in all my travels.
The details put into the various displays is spectacular – you'll see little Heinelmännchen everywhere, from whirling around on mini-ski lifts to the elaborate welcome gates that mark the market's entrances. I couldn't help but notice that even the toilets at this market were fancy.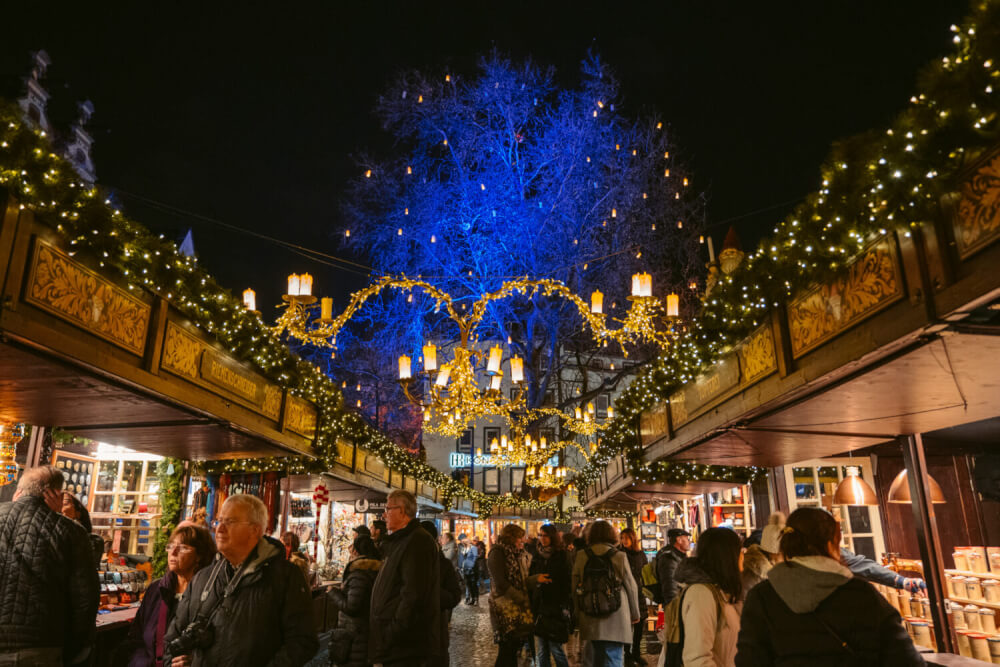 This is also a large market, split into various themed "alleys" that spill into both the Heumarkt and Alte Markt in Cologne's Old Town, so make sure to dedicate plenty of time to exploring it.
PS: Be sure to grab some glühwein here! The mugs (for 2019 at least) were shaped like adorable baubles.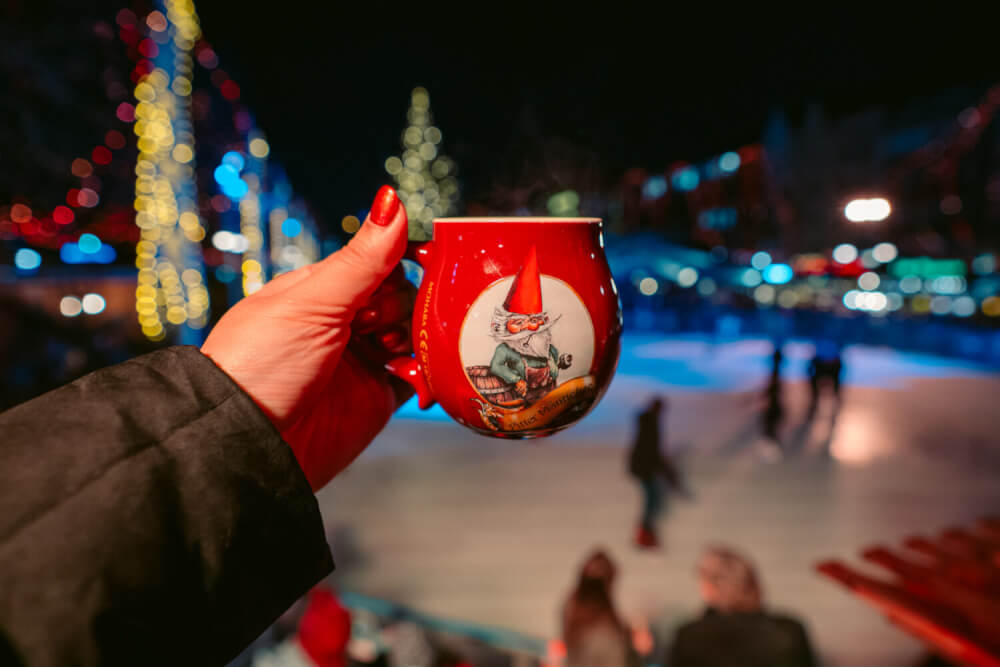 3. The Angels' Christmas Market (Markt der Engel)
This was the first Christmas market we visited in Cologne and the romantic atmosphere makes it one of my favourites.
This market can be found in Cologne's Neumarkt square, with clusters of beautiful stars suspended above in the trees, creating a magical atmosphere enhanced by performers dressed like literal angels….. yes, even on stilts!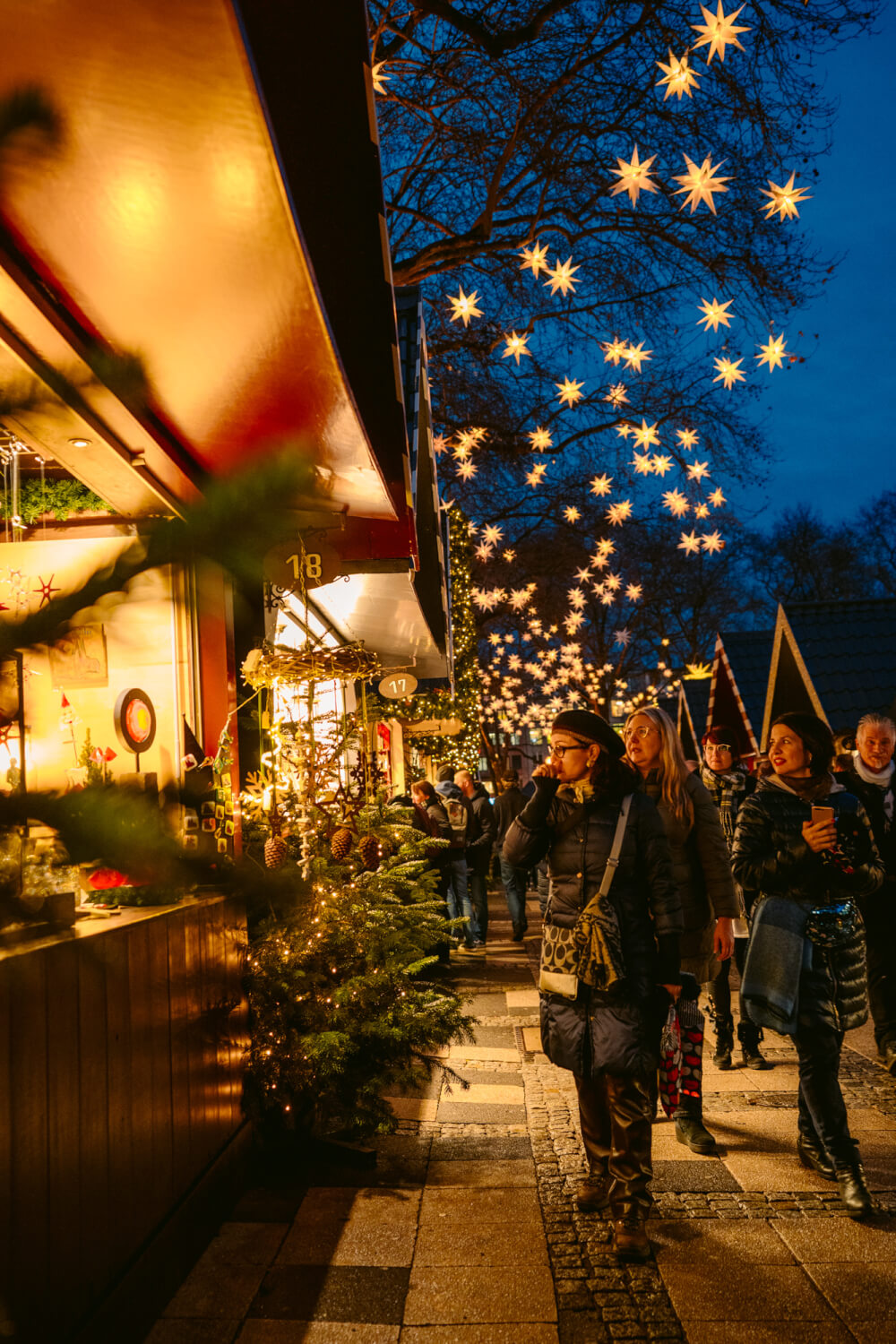 The stall decor here was beautifully rustic and minimalist, with wooden chalets painted white and simple overhead decorations made of natural materials like twigs. Even the backs of these chalets were beautifully decorated!
If you want a tasty treat, the Reibekuchen stall near the main entrance was delicious, with crispy potato pancakes fried to perfection, served plain or with apple sauce. For sweet tooths, you can even buy waffles shaped like Cologne Cathedral at this market as well!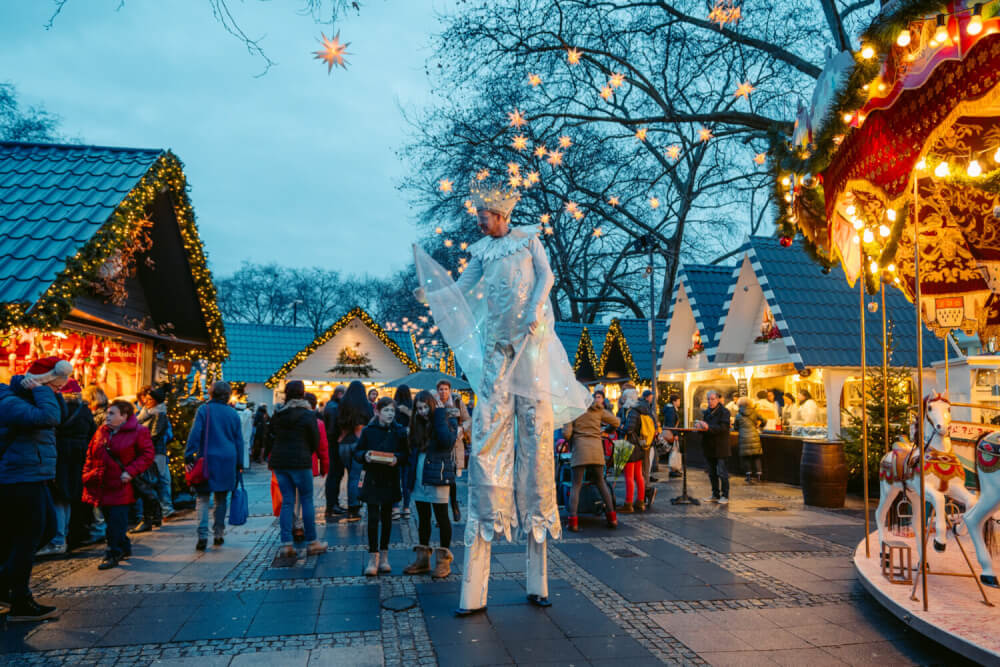 4. Heavenue Cologne – the Gay Christmas Market
Unfortunately cancelled in 2022 and not looking likely to return in 2023. Info from previous years has been left for your reference.
If it's a pop of glitter and colourful pizazz you're after, head down to Cologne's Heavenue (formerly known as Christmas Avenue).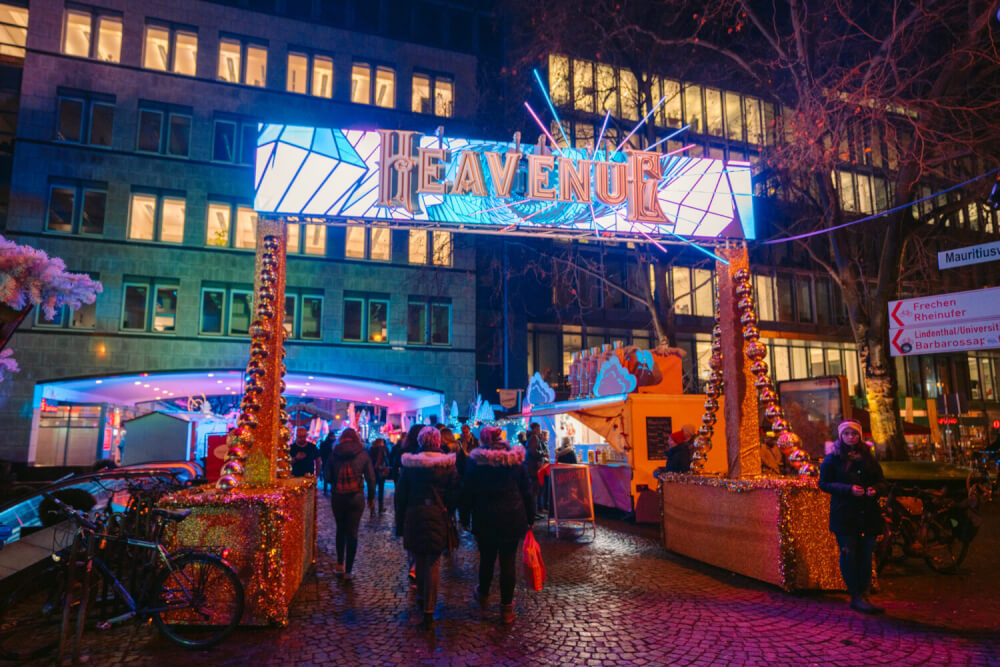 This little winter wonderland is characterized by dazzling LED lights, food trucks, white garlands, and glittery baubles. Fun fact: Cologne is commonly recognized as the gay capital of Germany, so this market very proudly bills itself as the city's gay Christmas market!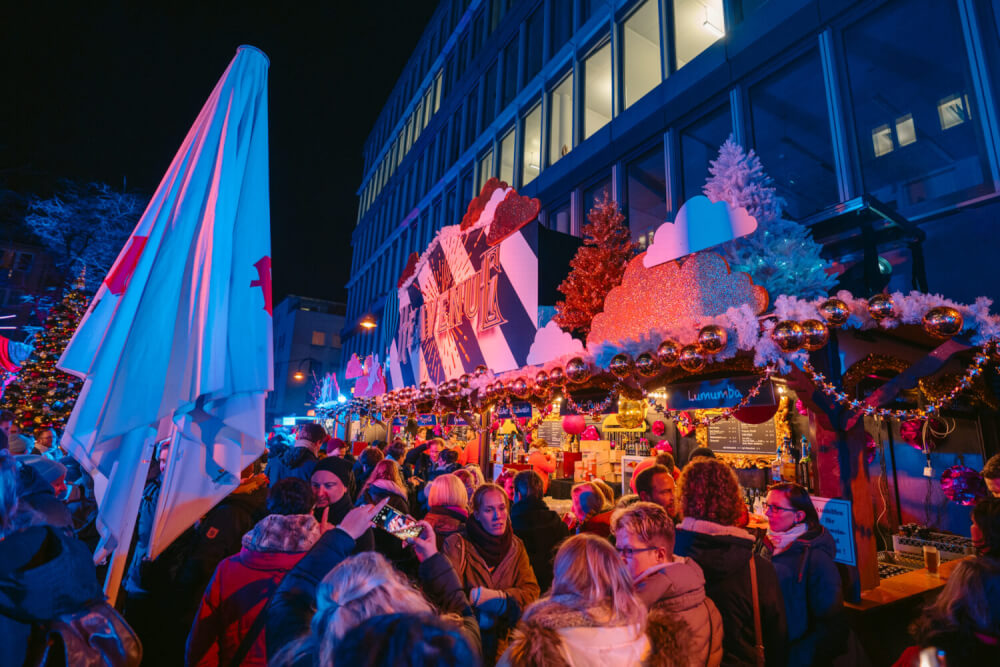 NOTE: This market may have some stalls selling products, but it's mainly a hotspot for music, dancing, and knocking back warm adult beverages, so be sure to come here at night when the market really comes alive.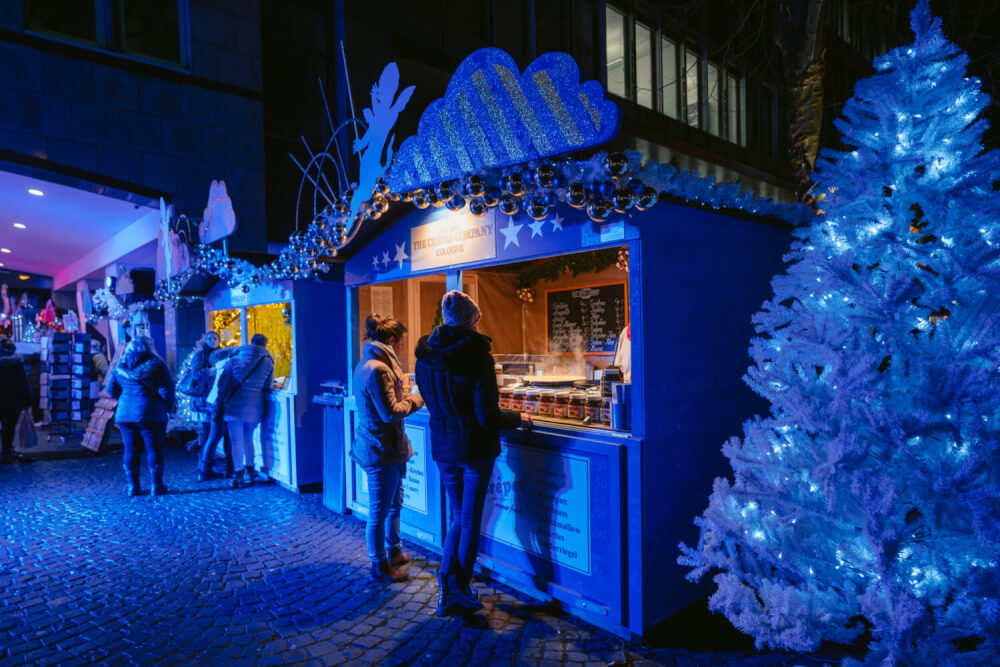 5. Nicholas' Village Christmas Market (Nikolausdorf)
This adorable Christmas village nestled in Rudolfplatz was one of my personal favourites in Cologne. Imagine a sea of half-timbered houses, pretty projections along the centuries-old Hahnentorburg and thoughtful decor sprinkled throughout.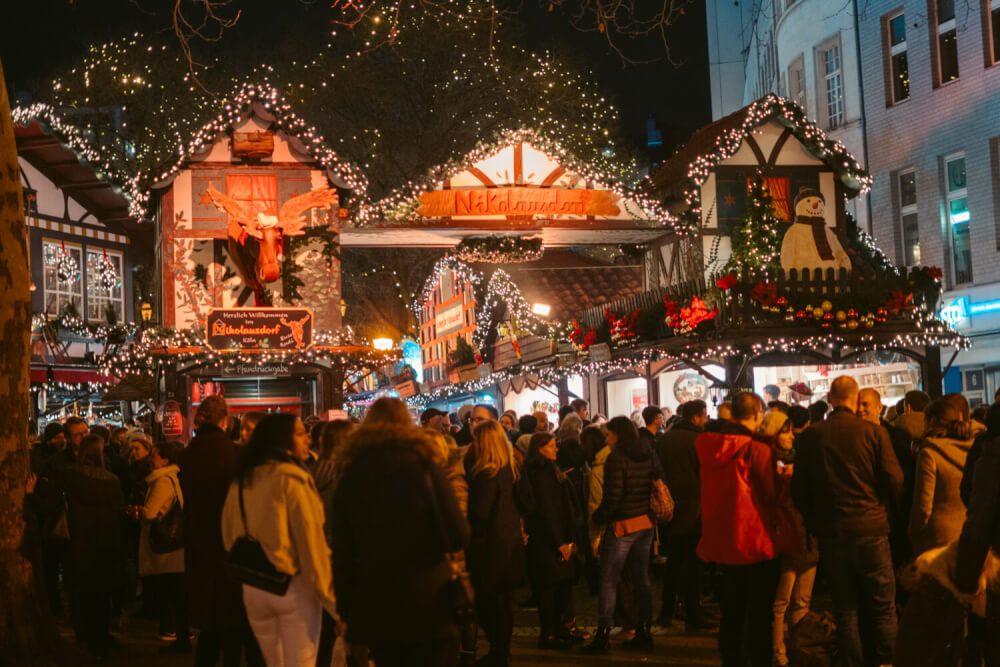 While you may be tempted to just grab a glühwein and mingle (as many locals do for a post-work tipple), be sure to keep your eyes open for some fun surprises.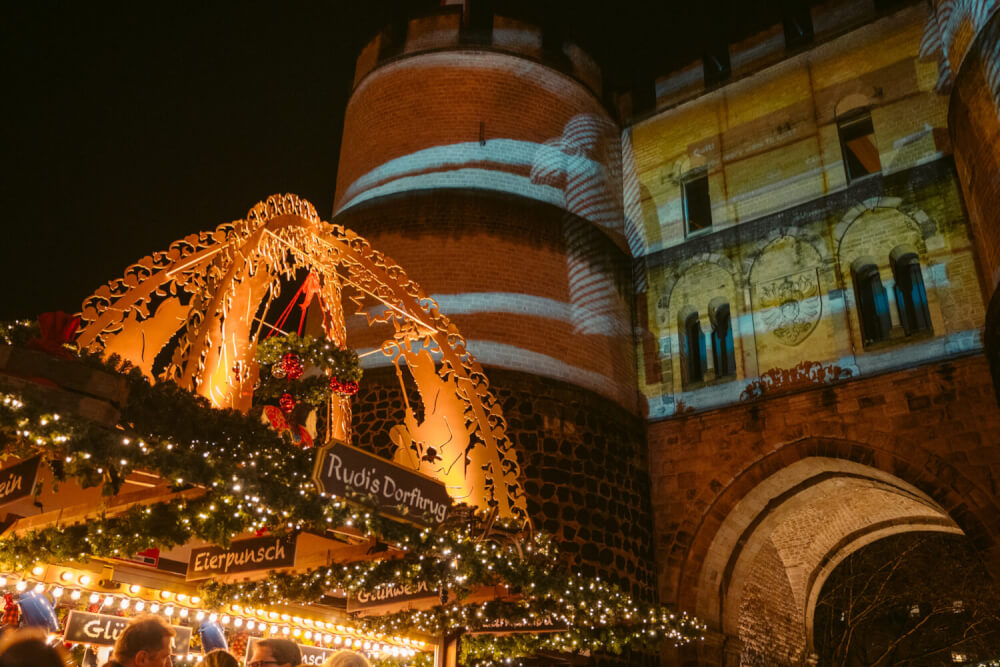 For instance, this mini-village actually has its own chapel (which is decorated inside with frescos), along with the Nicholas Haus, which offers a fun program for kids run by local artists and performers.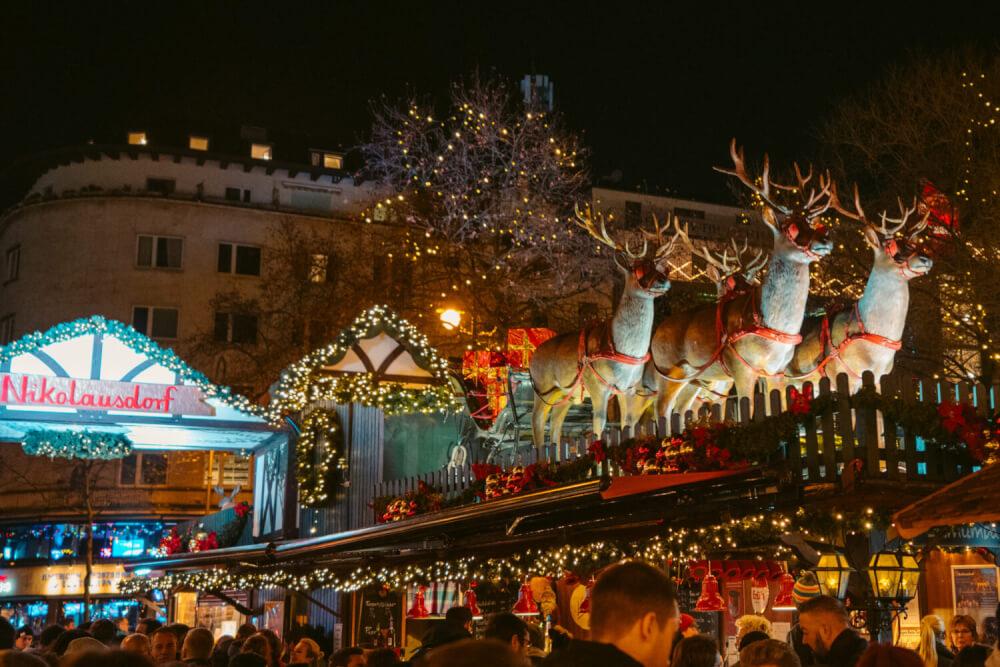 6. Stadtgarten Christmas Market (Weihnachtsmarkt Stadtgarten Köln)
For a more laid back and local feel, I'd recommend visiting the Stadtgarten Christmas Market, which seemed to be a go to place for the after-work crowd.
It was terrifyingly busy when we popped in, but I can see the appeal. Nestled in a city park in the Belgian quarter of Cologne, this little Christmassy haven had an enchanted forest vibe to it, except you know, with alcohol.
The product selection here felt a lot more geared towards locals than tourists, swapping mass-produced baubles and ornaments for artisanal salad dressing, honey and special Karneval hats.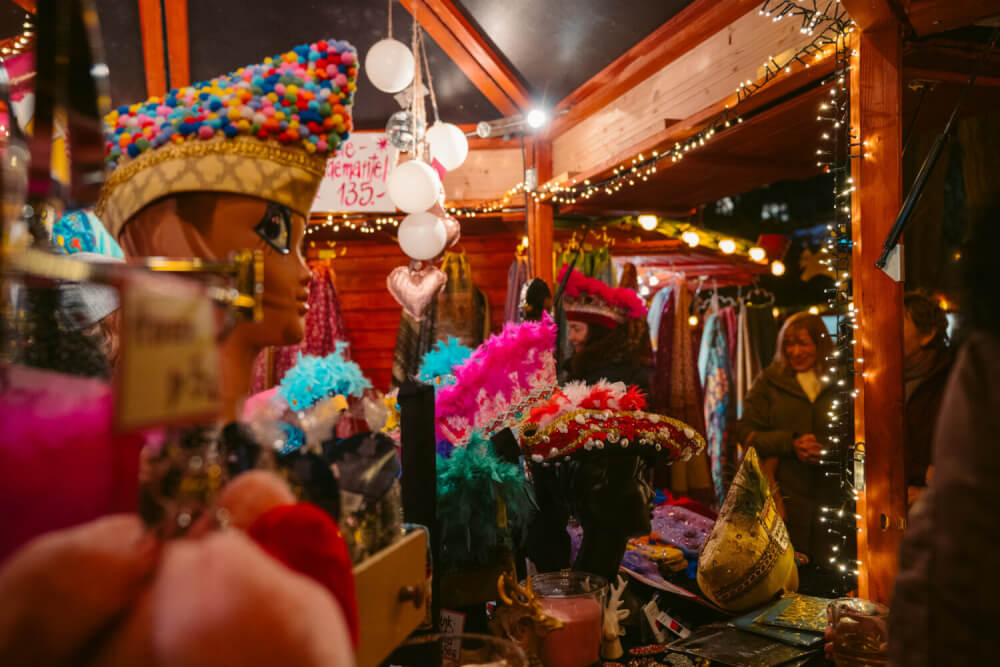 That said, by 7pm, there was hardly any space to walk in this market, so I would come here early to enjoy it with fewer crowds than we did.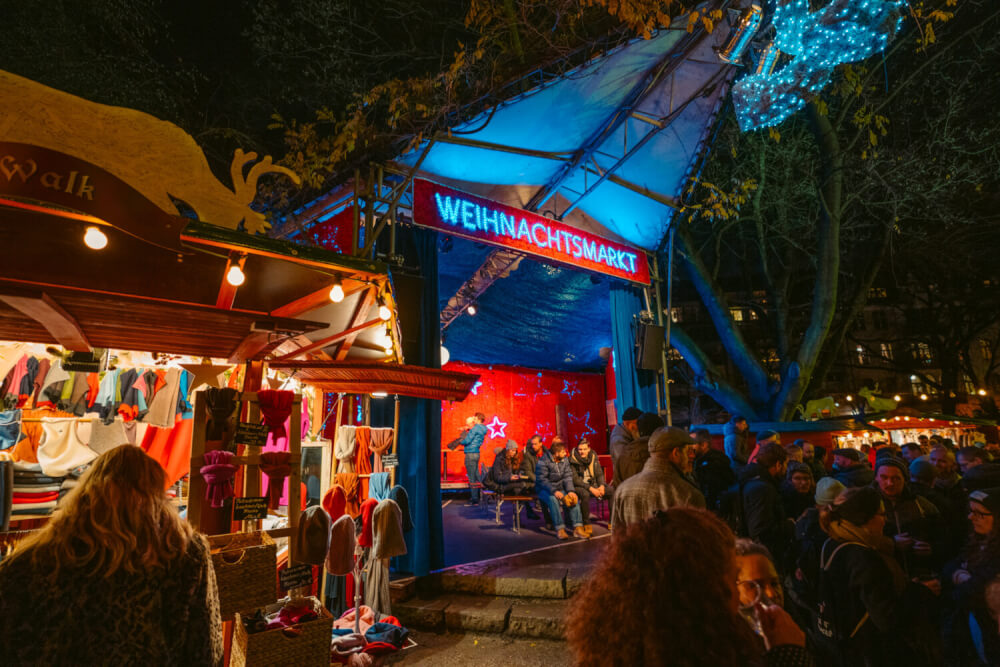 7. Cologne Harbour Christmas Market (Kölner Hafen-Weihnachtsmarkt)
Last but not least, we have the fun riverside Cologne Harbour Christmas Market, which has a cute nautical theme and a nice airy location along the Rhine.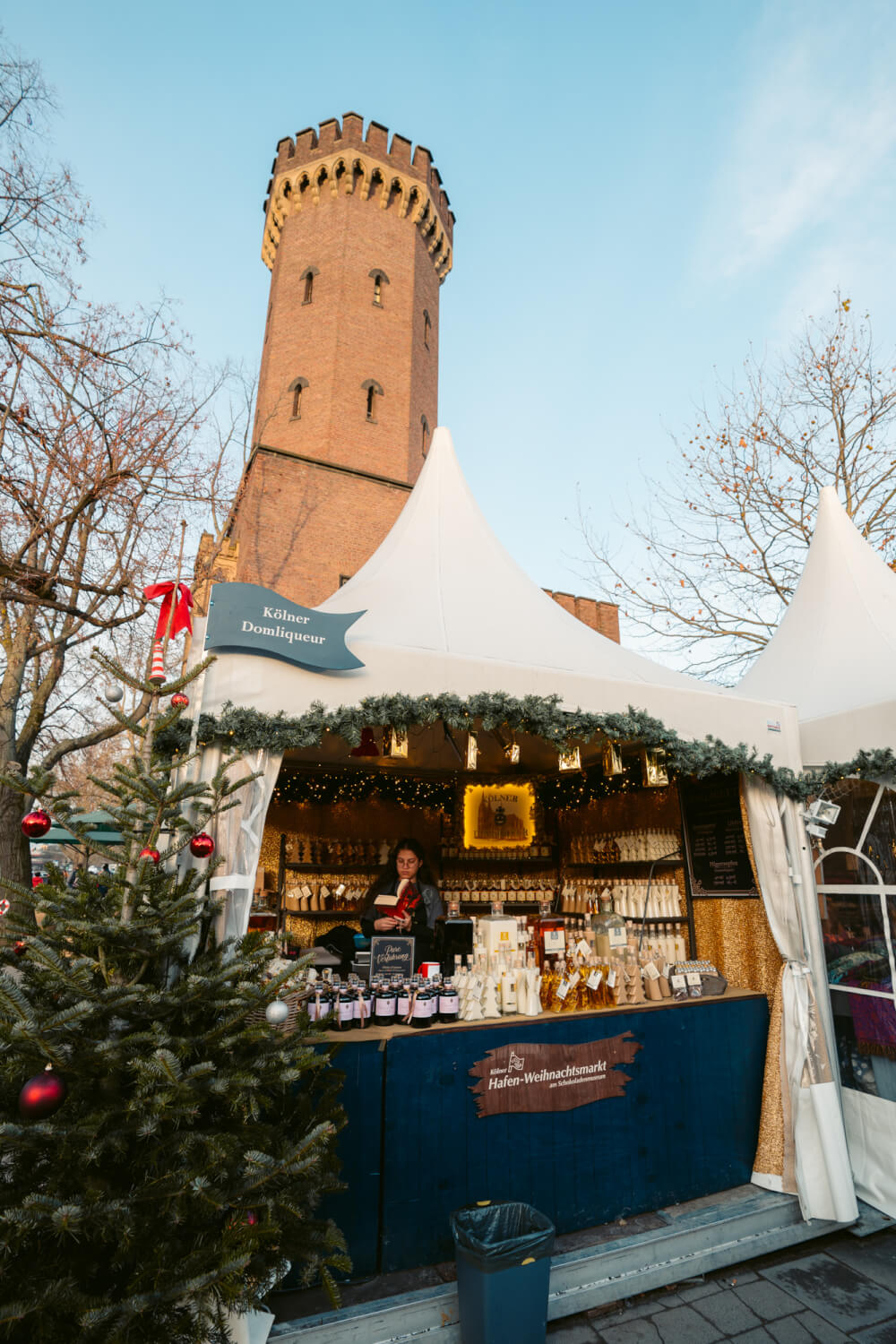 While this market is indeed smaller than the others with a more limited selection, its breezy theme and pretty setting make it one of Cologne's more unique Christmas markets, and definitely one to add to your list!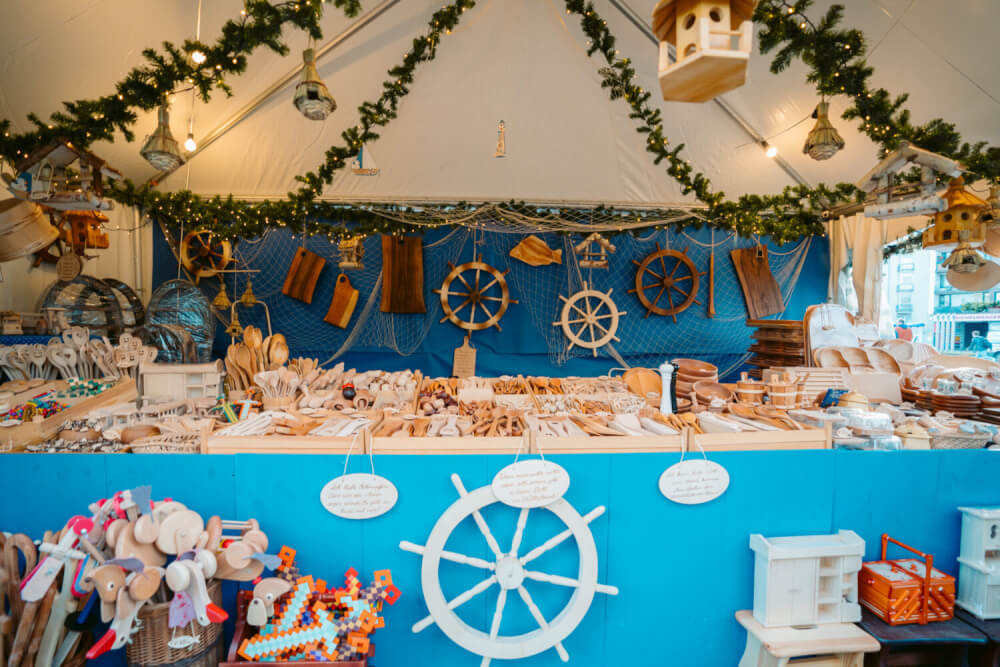 Free for You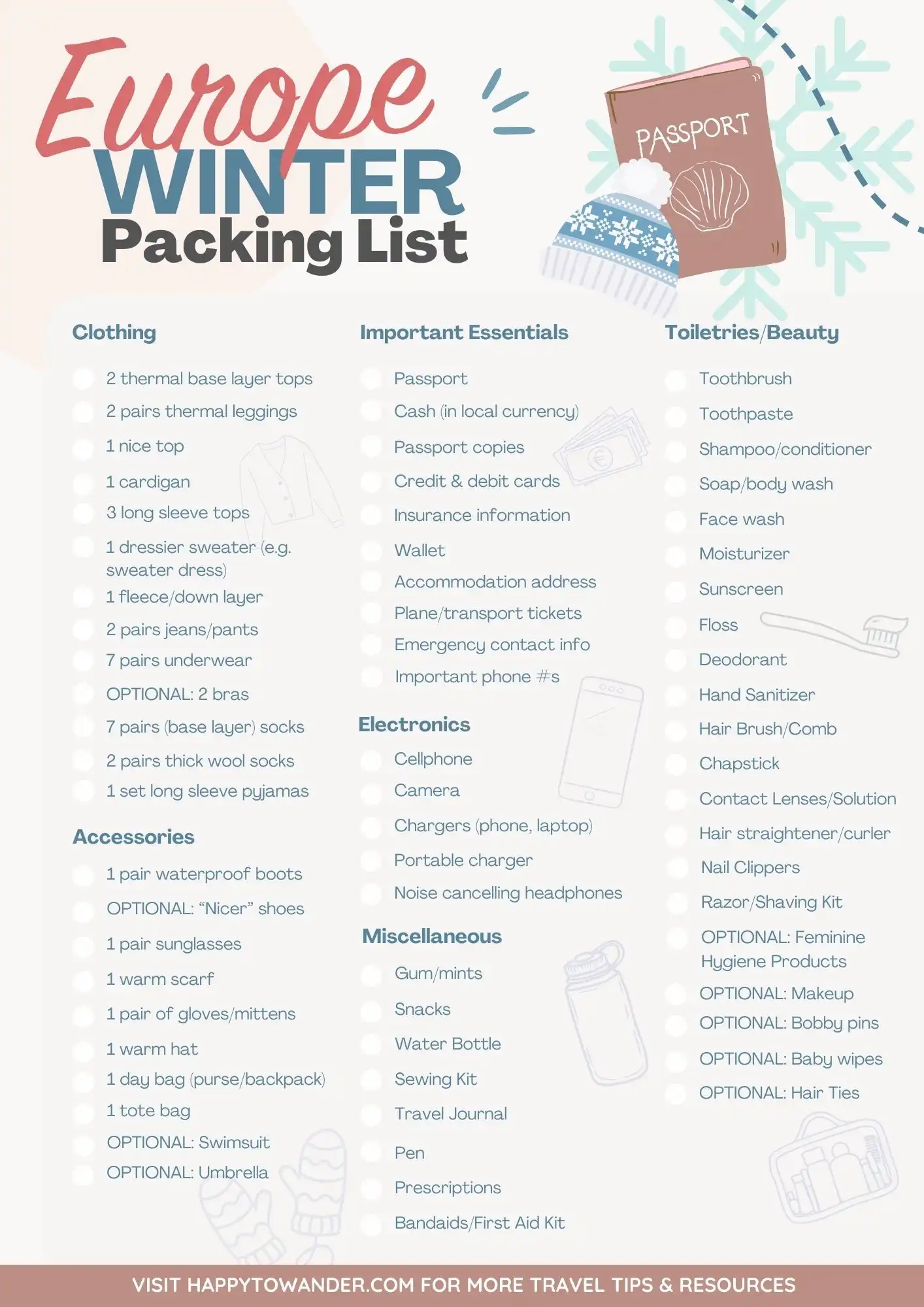 What to Eat at the Christmas Markets in Cologne
With so many different markets scattered around the city, there are countless food options that you will definitely be leaving a little doughier than you came.
But that's okay! All in the name of Christmas! You can click here for my general guide on things to eat around German Christmas Markets, but here are some recommendations specifically for Cologne:
Cathedral-shaped waffles: People in Cologne are so proud of their Kölner Dom that you can even get them in waffle form! I saw these at the Angels' Christmas Market
Glühwein: Glühwein is hot wine mulled in spices and it is THE official drink of every Christmas market in Germany. Of course, having one or a dozen is non-negotiable, but I would recommend pacing yourself and grabbing just one at each market because the mugs are all different, and you'll want to collect them all!
Reibekuchen/Kartoffelpuffers: These potato pancakes are definitely not unique to the Cologne Christmas market scene, but they are sooo delicious. I split a stack of three (with apple sauce!) with a friend and it was the perfect snack to tide us over between meals
Flammlachs: This grilled salmon treat can be found around different Christmas markets in Cologne, but it makes sense to grab yours at the nautical Harbour Christmas Market, which is right by the water. If you're a seafood fan, this juicy salmon is a must-try. We also had some fries nearby which were great.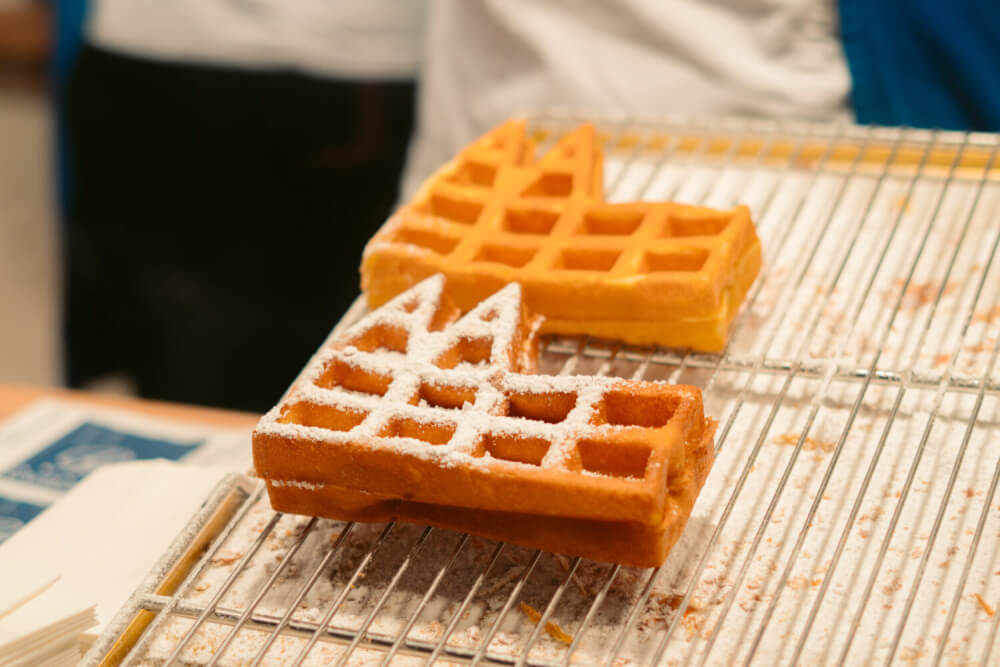 What to Buy at the Christmas Markets in Cologne
I would say if you're looking for more unique handicrafts or gifts to buy, the best markets for these were the ones in Stadtgarten and the Angel's Market.
These are the markets where I really noticed lots of unique, non-generic goods for sale. You can click here for a German Christmas Market shopping guide that details some of the products you'll be able to find at any market (as well as tips for shopping!), but here are some ideas for Cologne specifically:
Handmade ornaments: These are my personal favourite souvenirs to take home from any German Christmas market. You'll find loads of selection at Cologne's different markets, from handcarved wooden ornaments to more souvenir-esque ones that say "Cologne".
Local food products: Artisanal jams, cheeses and cookies can be found in abundance at all the different Cologne Christmas markets. Besides being delicious, these are great gifts and souvenirs to buy if you want to ensure you are directly supporting local Cologne businesses (many of the other stalls may be selling mass-produced goods).
Unique hats: One of my favourite stalls I saw was in the Stadtgarten Christmas Market, selling awesome handcrafted hats, including special ones for Karneval. Definitely a unique souvenir to take home!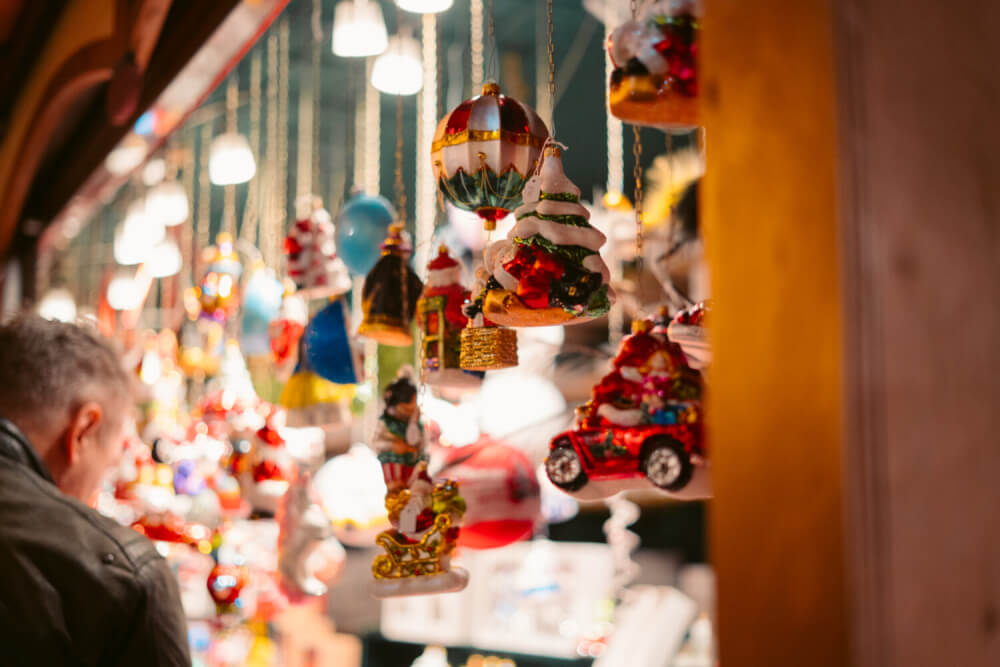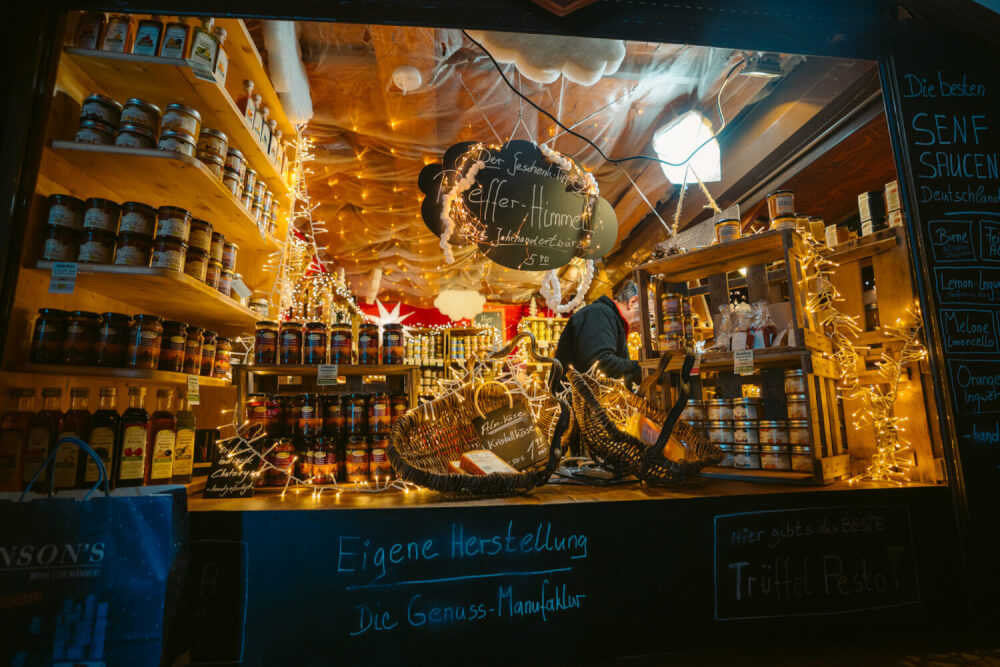 Other Christmas Markets to Visit Near Cologne
I have to repeat this again: Cologne (next to Dresden) has some of the most stunning Christmas markets in the entire country! If you're planning a multi-city trip, I would save this one for last because most others pale in comparison.
That said, one of the best things about planning a Christmas market trip in Cologne is that you're in close proximity to some other really magical German Christmas markets that you can visit as a day trip… as well as other destinations that are just cool to visit anyway.
So, below, you'll find some recommendations for nearby Christmas markets that I definitely recommend adding to your itinerary if you have a chance,
Bonn
Less than half an hour away by train from Cologne city centre, you'll find the beautiful city of Bonn, famous for being the birthplace of Beethoven and beloved gummy brand, Haribo.
Bonn is also well-known for its stunning cherry blossoms, which fill the streets with pink every Spring. Besides all those (admittedly very cool) claims to fame however, Bonn also has a really wonderful Christmas market that is spread across its city centre. If you're looking for a much less touristy (although less elaborately decorated) Christmas market to visit near Cologne, then this is definitely one to put on your list!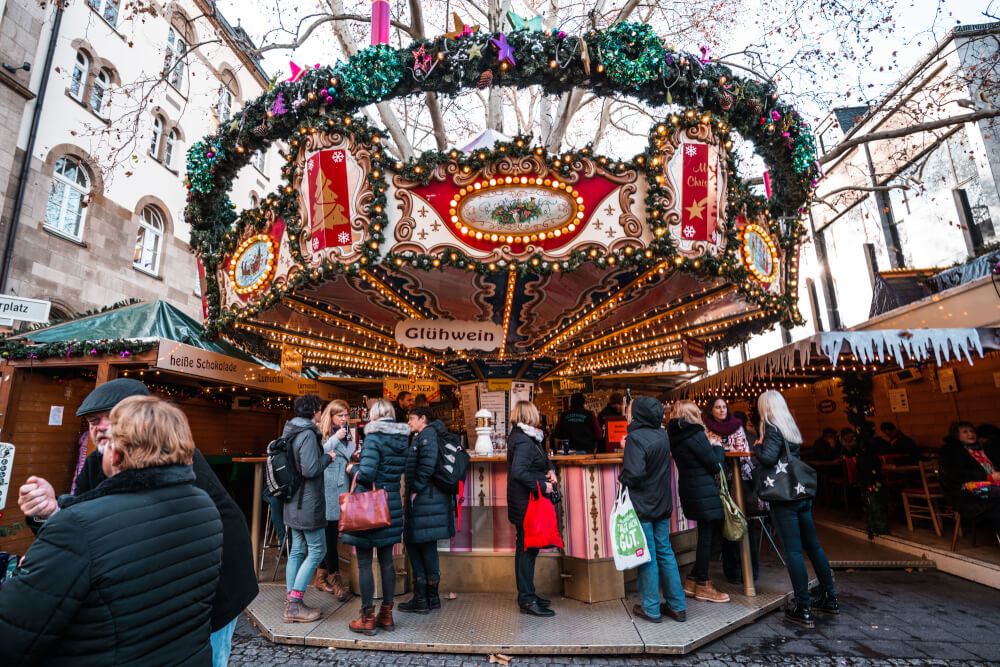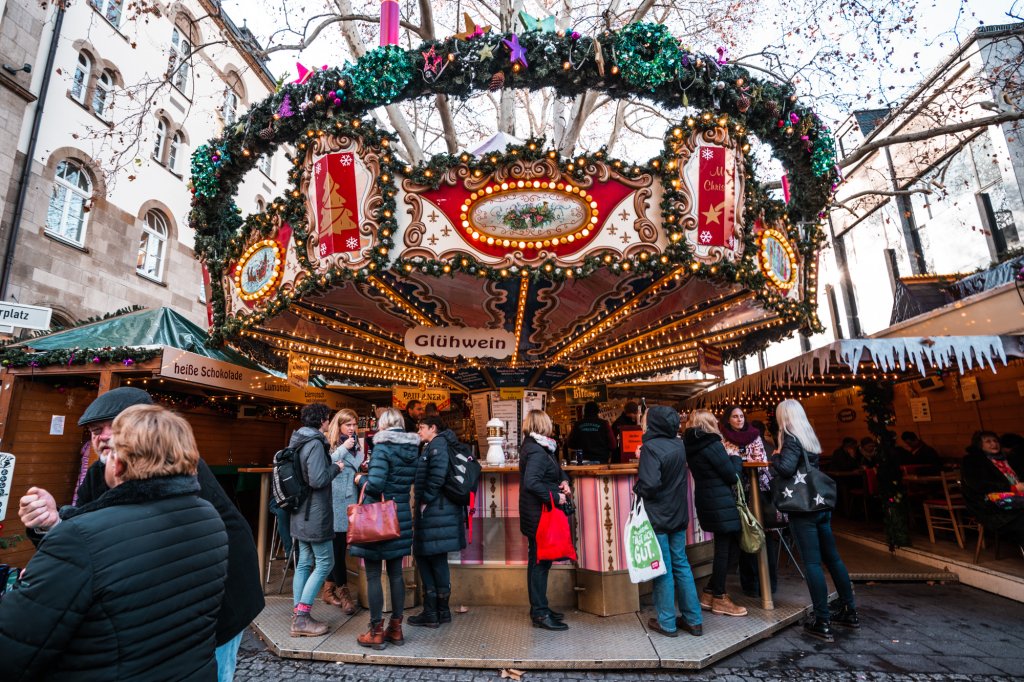 Siegburg
From Bonn, a 25 minute tram ride will take you to Siegburg, which is home to one of my favourite little Christmas markets in the area!
Granted, it's tiny, but with its medieval theme and truly local vibe (let's just say people seemed puzzled to see us tourists lurking around), this is a great Christmas market close to Cologne that you should visit if you're looking for something a little different. With fun medieval-themed games and entertainment for kids, along with a surprising selection of food stalls, this is one great place to escape the heavy crowds of Cologne's Christmas markets for a while.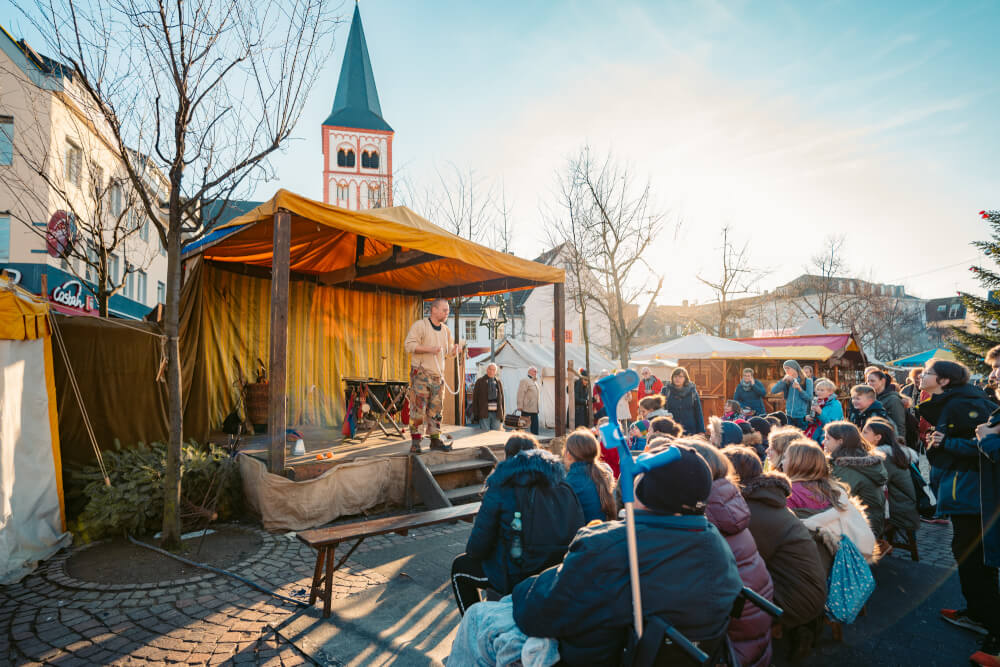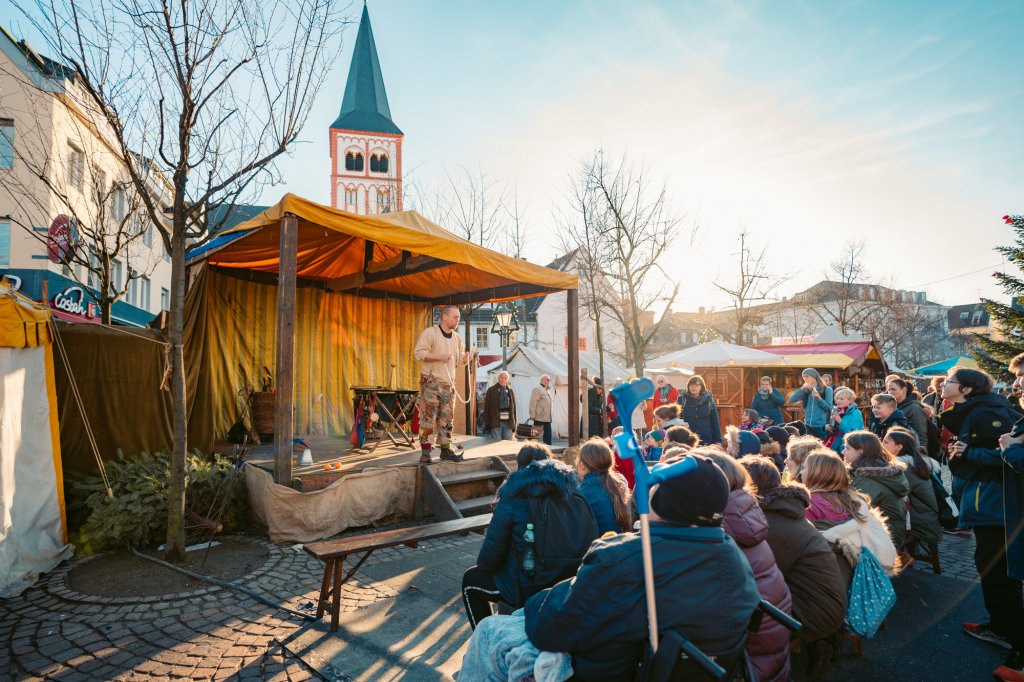 Düsseldorf
Düsseldorf is another city along the Rhine (accessible from Cologne in less than an hour by train or car) with a great Christmas market selection… and some of THE best Japanese food in Europe. Read more in my full Düsseldorf Christmas Market guide.
I really enjoyed my visit, but compared to Cologne, the stalls in Düsseldorf definitely aren't as elaborate or magical. Regardless though, Düsseldorf is a very cool city to visit, so if it's your goal to enjoy another interesting German city (actually – Germany's fashion capital!) while also partaking in Yuletide festivities, this is a great market to consider adding to your itinerary.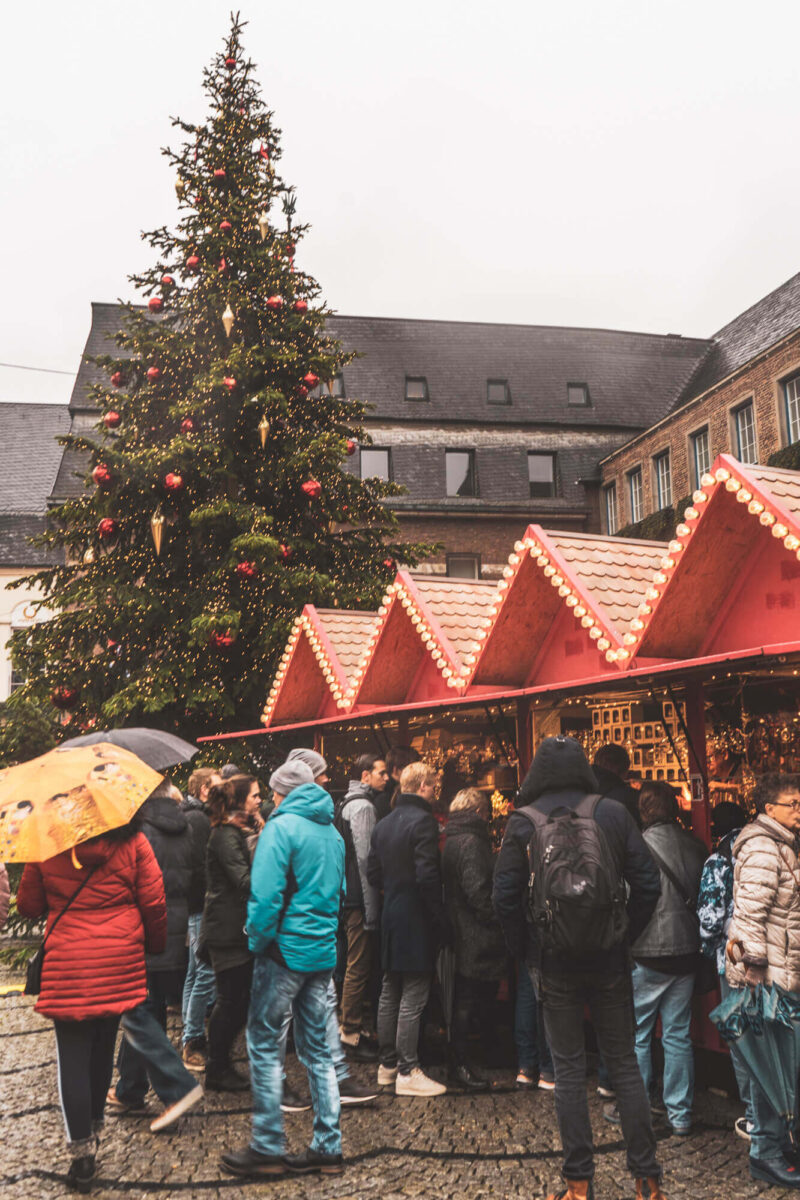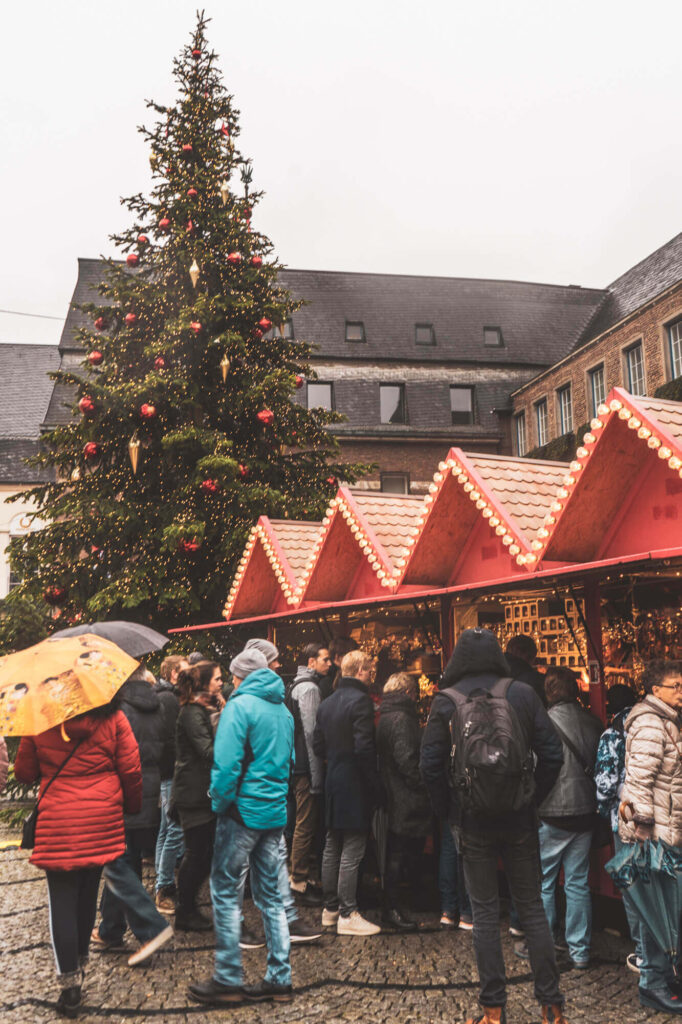 Essen
Located just over an hour away from Cologne by car or train, Essen is another cool Christmas market you can visit with Cologne as a base. Truth be told, this isn't one of the best known Christmas markets in the region, but I do contend that it's one of the most underrated! Read more in my full Essen Christmas Market guide.
With a few different markets around the city centre, including a fun medieval one that served me the best sandwich I've ever eaten to date, this is one market where you'll be able to escape tourist masses and of course, witness magical scenes like this: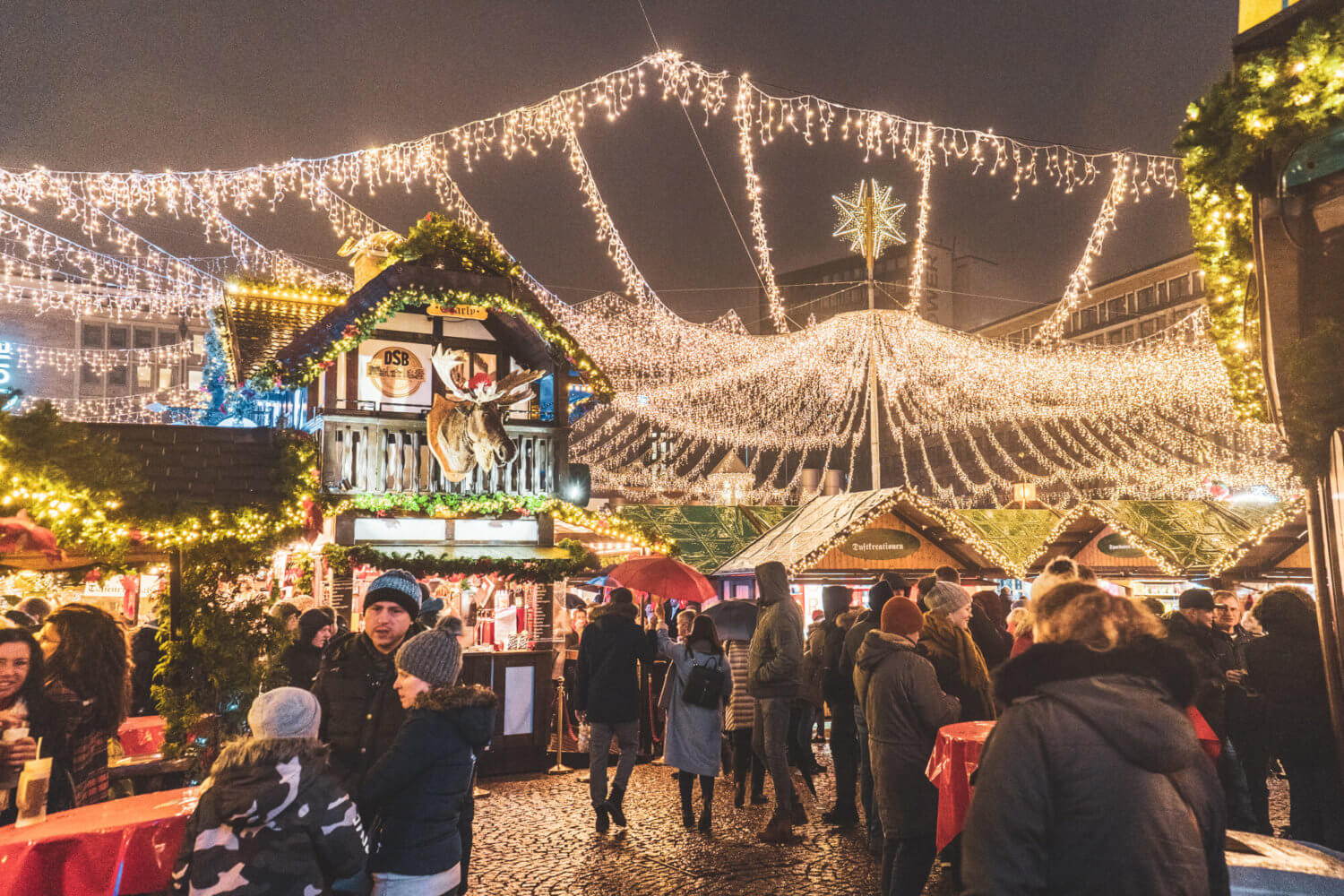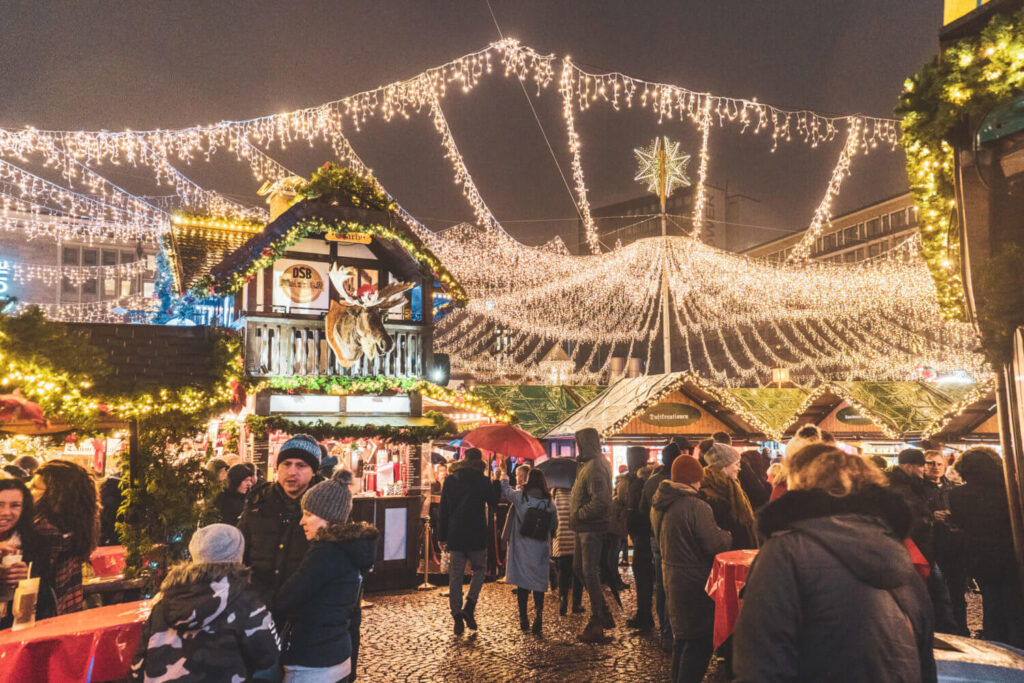 Dortmund
Dortmund is about 1.5 hours away from Cologne by train and car, but it's definitely a worthwhile Christmas market to check out if you're in the area. Why? This Christmas market is home to the world's largest Christmas tree! Learn more about it in my full Dortmund Christmas Market guide.
Besides a truly ginormous tree, you'll also find a great selection of food (some of the most diverse I've encountered in Germany) as well as loads of stalls selling unique gifts. I definitely enjoyed this market a lot, and would recommend it for sure if you're nearby.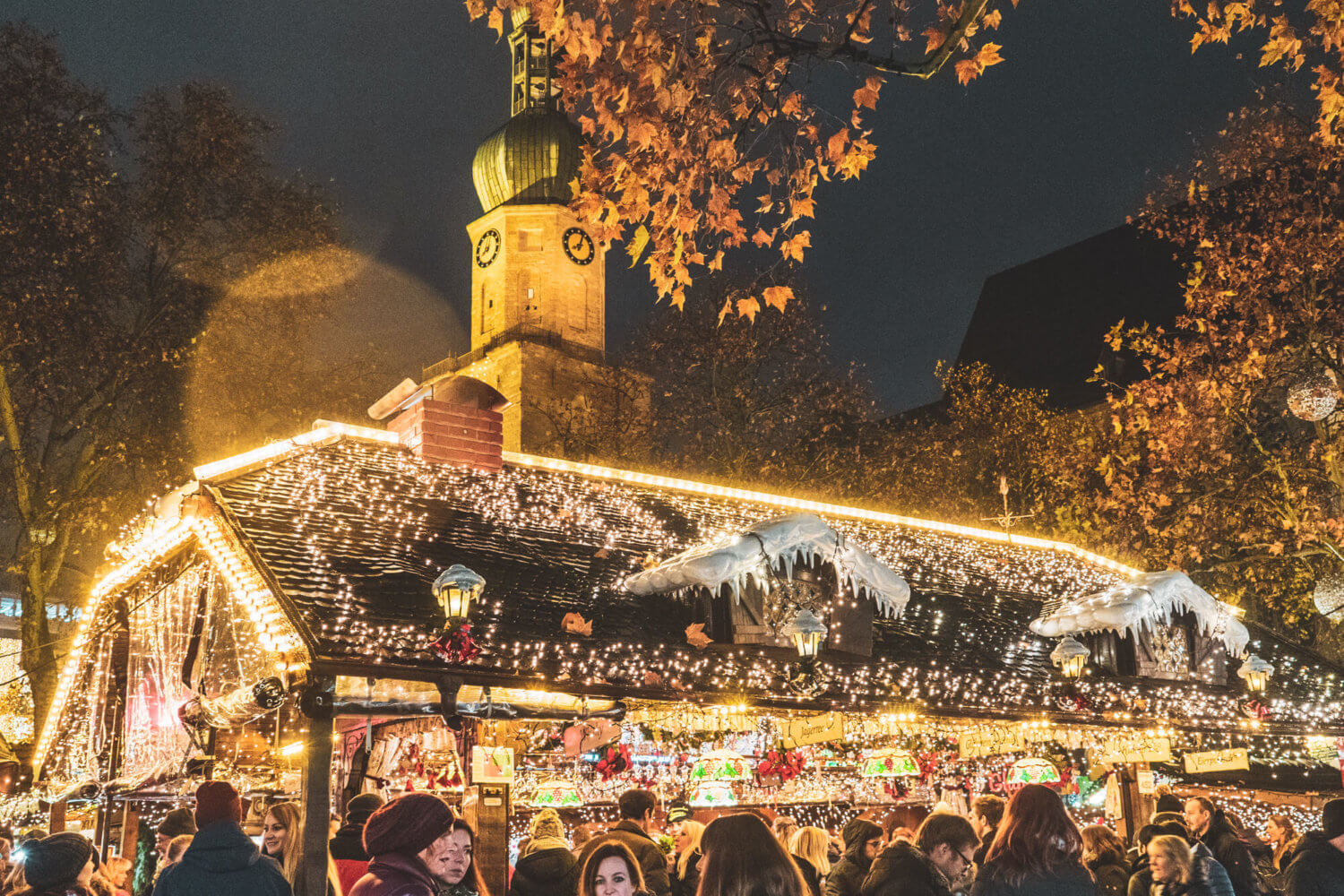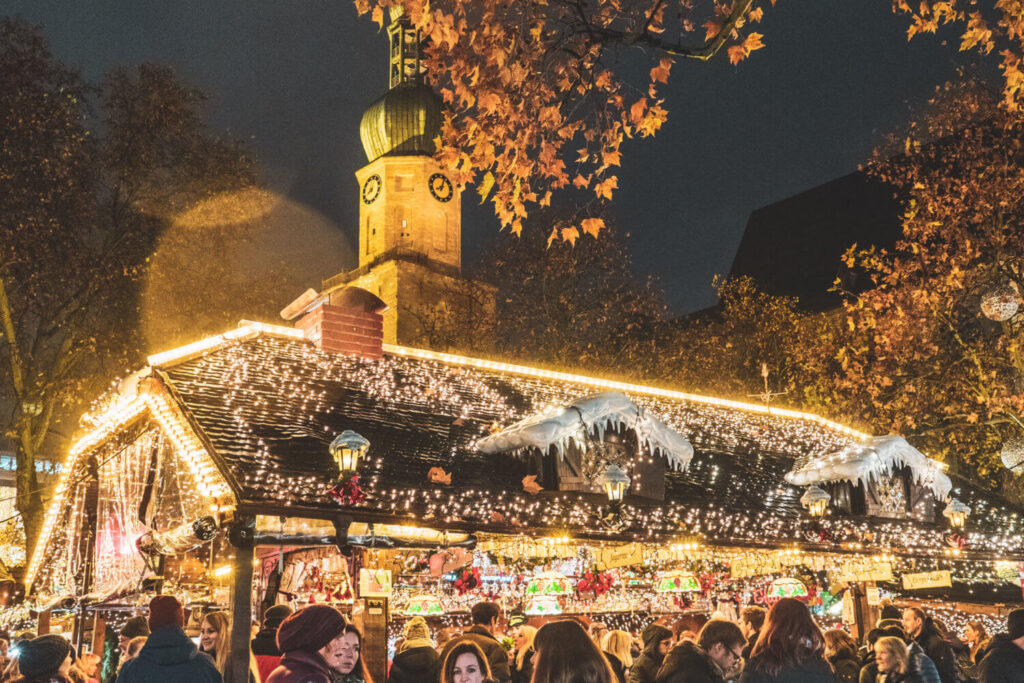 Aachen
If you hop on an ICE train from Cologne, you can be in Aachen in about half an hour… and besides being home to one of the tastiest Christmas cookies in the country (Aachener Printen – look it up!), it has one of the most beautiful cathedrals in Europe. The Christmas Market here is overall a lot smaller than what Cologne has to offer, but the backdrops, cookies, and vibes are truly magical.
PS: Aachen has some of the cutest glühwein mugs I've come across – tiny booties in all sorts of colours!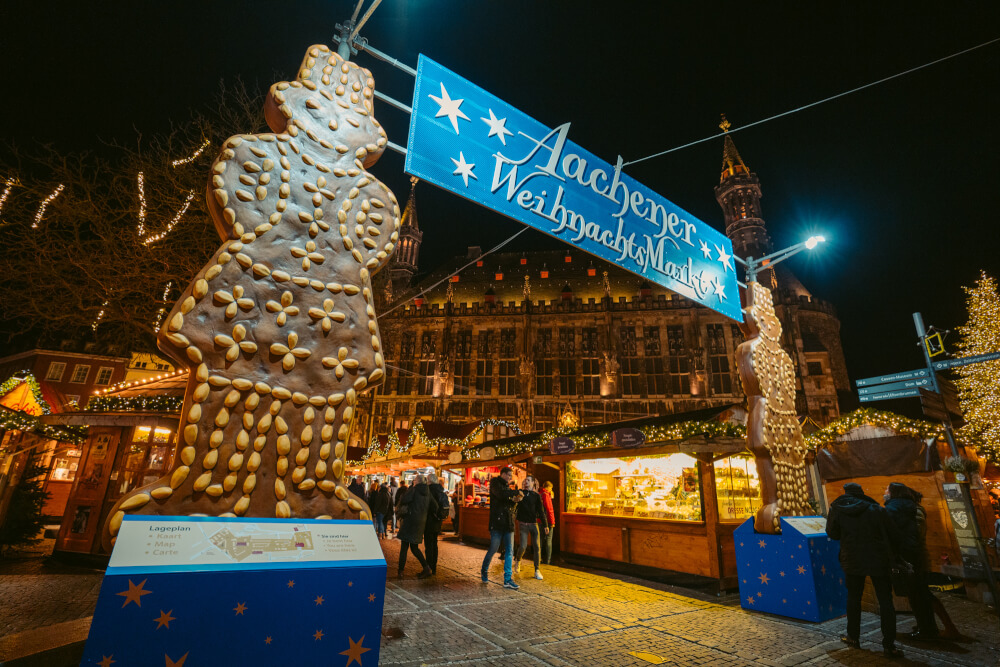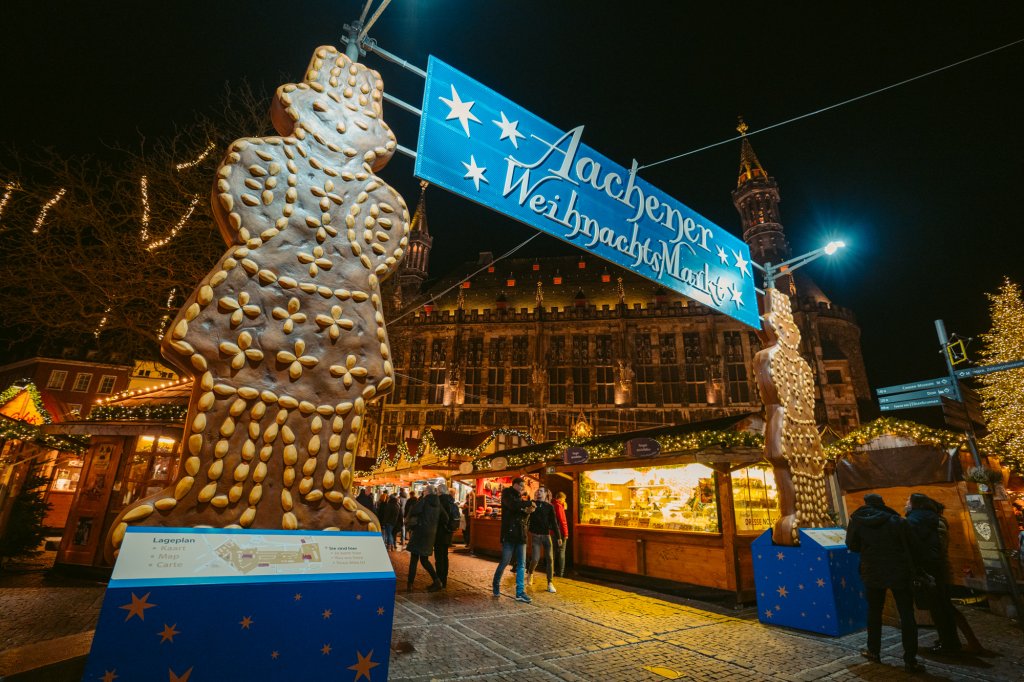 Other Christmassy Things to Do in Cologne
Needless to say, Christmas in Cologne isn't just about Christmas markets – there are lots of other festive things to do in the city besides market hopping. Here are some other fun winter things to doin Cologne that you should squeeze into your trip:
1. Check out the cute Christmas displays at Galeria Kaufhof
Galeria Kaufhof is one of the most famous department stores in Germany, and every year at Christmas, they go all out with their window displays. You'll likely come across the store anyway while exploring central Cologne, but if you spot it, be sure to sneak a peek at the adorable moving displays, usually starring teddy bears.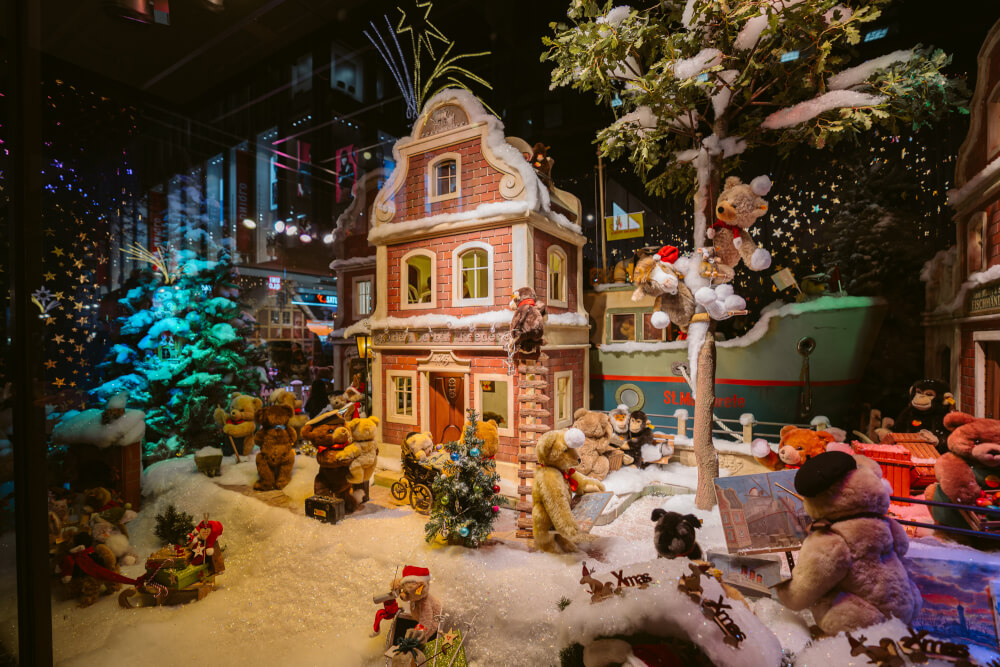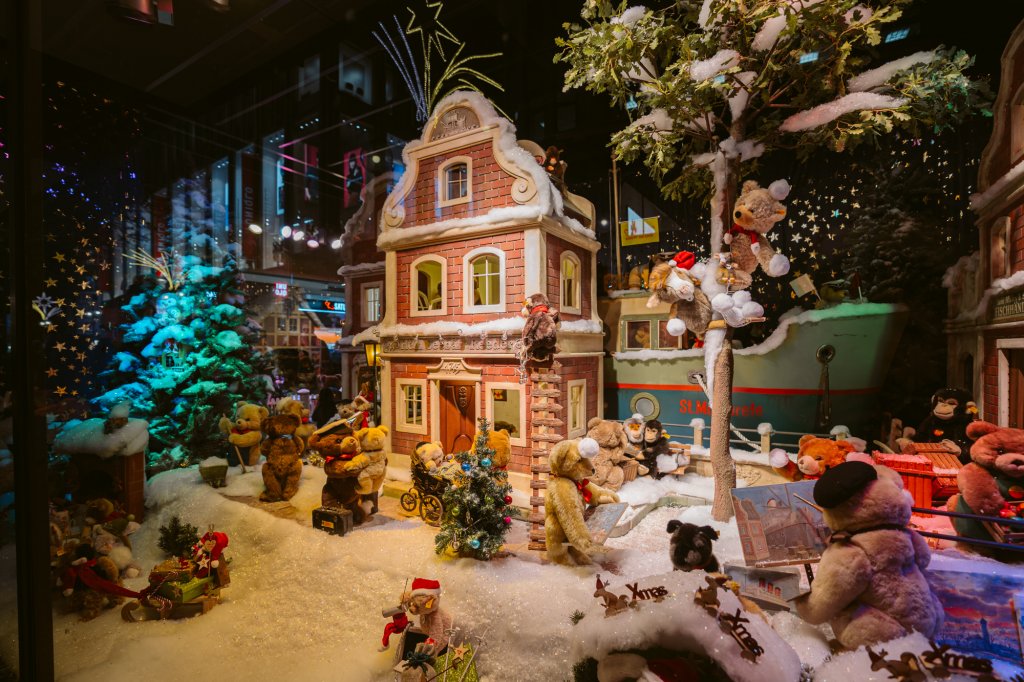 2. Go ice skating
One of the signature attractions at the Heinzels Wintermärchen is its central skating rink, the perfect place to soak in the magical ambiance if you're completely unlike me and can actually skate without half-murdering yourself. If you're not a confident skater though, don't worry – this rink is mainly a one-way track (spanning 110m)… so the margin for error is pretty slim!
PS: For those looking for something more unique to Germany, I noticed they also offered Bavarian Curling at this Christmas Market too!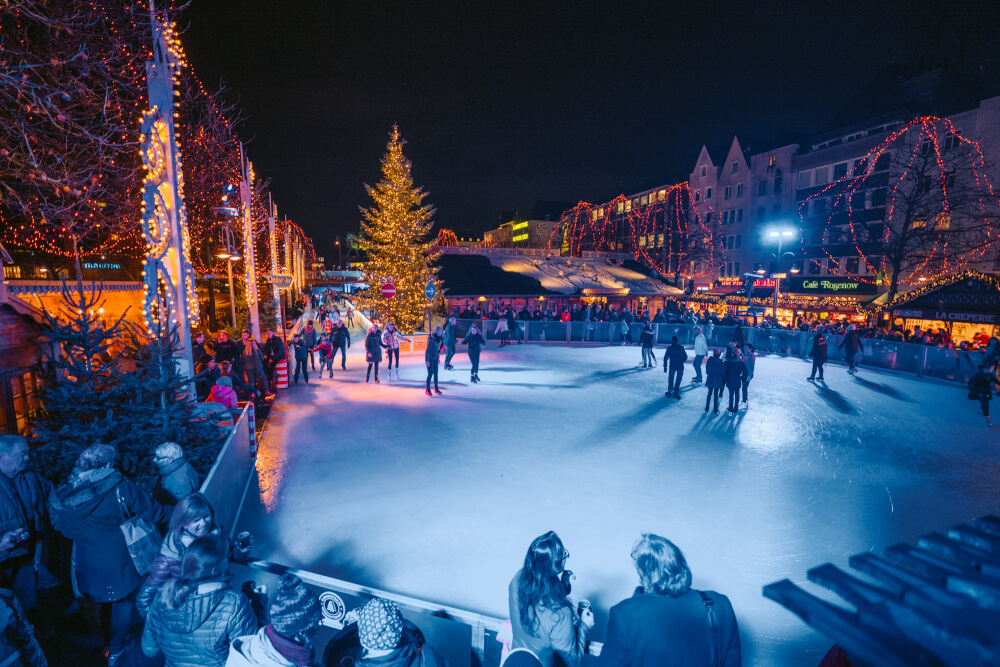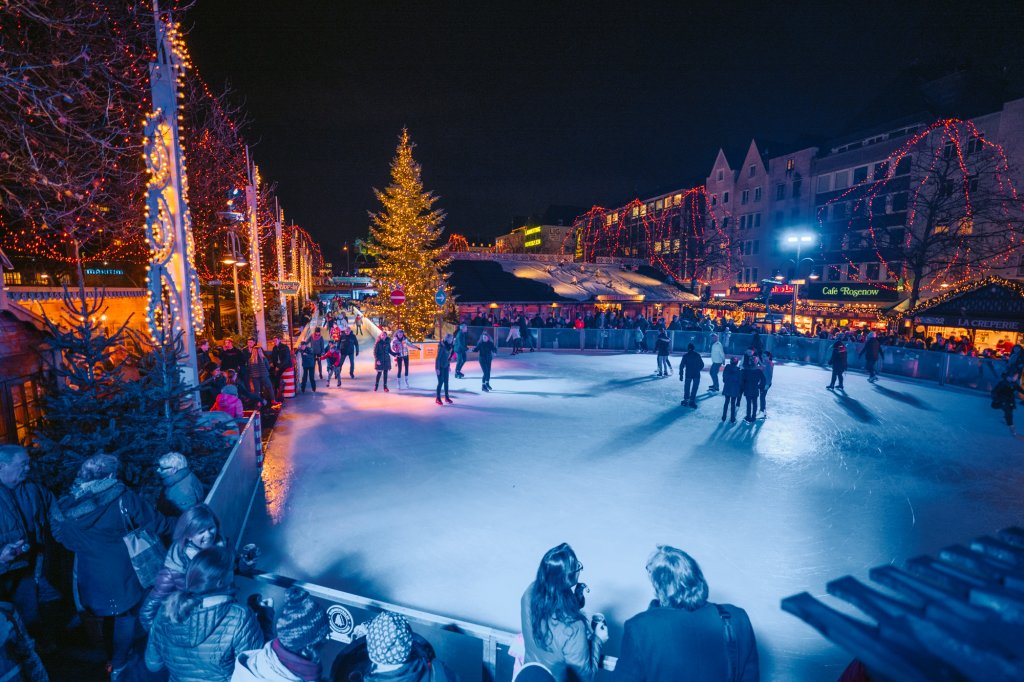 3. See the inside of Cologne Cathedral
It's the city's #1 attraction, but Cologne Cathedral does indeed get a little festive makeover during the holidays too. Besides snapping photos of the cathedral's impressive exterior, remember to check out the inside too. During my visit, they were just starting to string up all the trees inside with lights, and there were some nativity scenes set up as well.
Less festive note: the tombs inside are really cool. One is even shaped like a castle!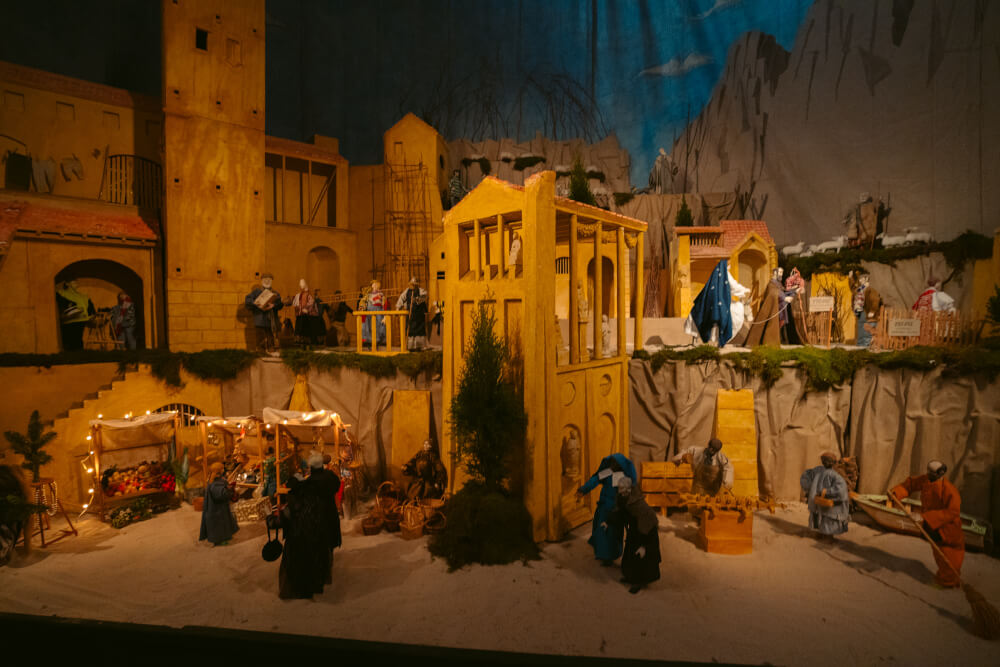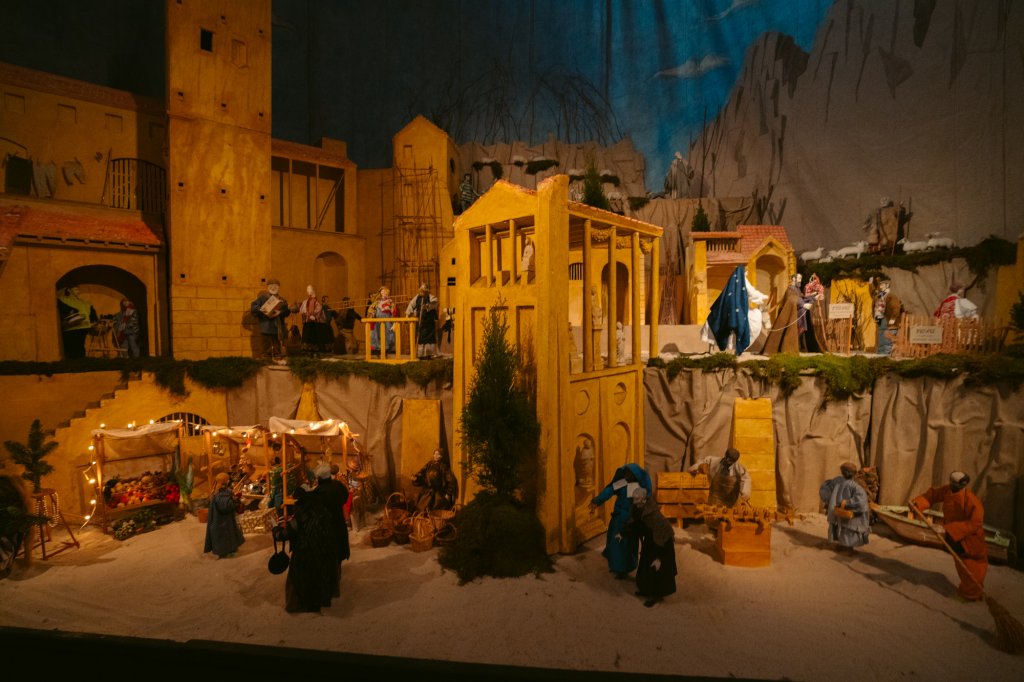 4. Enjoy all the wonderful photo opps
Being such a famous Christmas hotspot, it should come as no surprise that Cologne is full of adorable festive photo opps. Be sure to take advantage of these for the perfect souvenirs! In addition to pretty spots at all the markets, you'll also find designated photo areas like this one: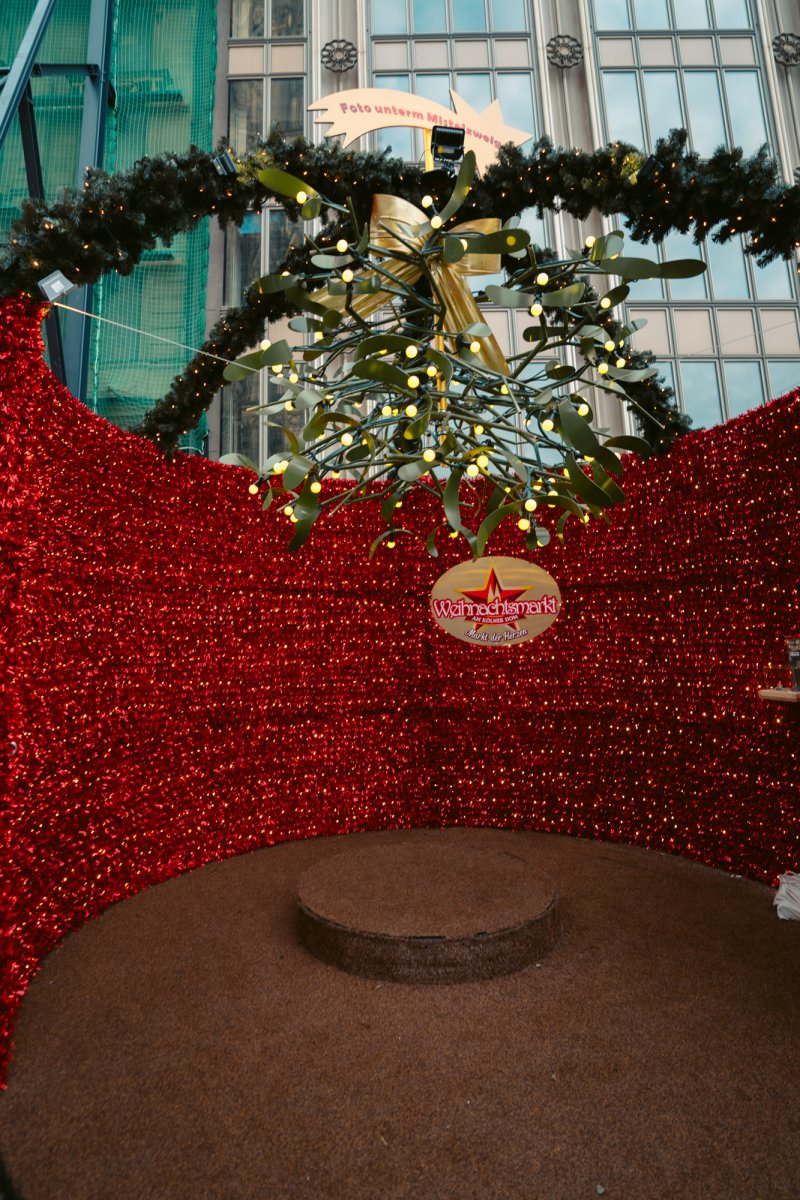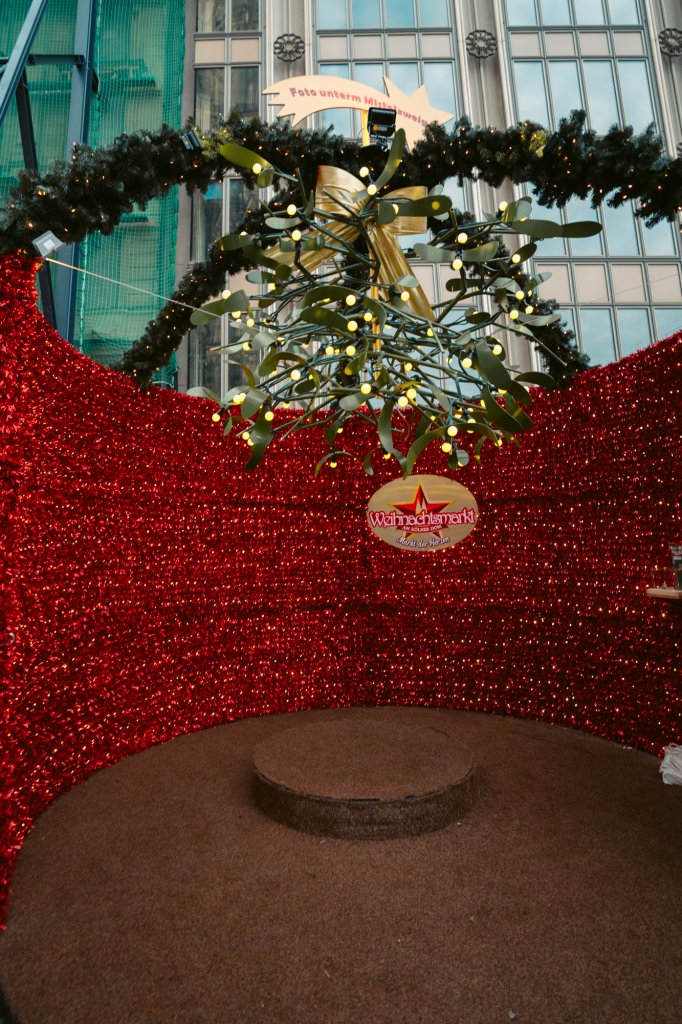 5. Admire all the Christmas light displays
Lastly, besides Christmas markets, there are also a lot of beautiful Christmas light displays to gawk at throughout the city center. You'll even find creative displays on the sides of tall modern buildings: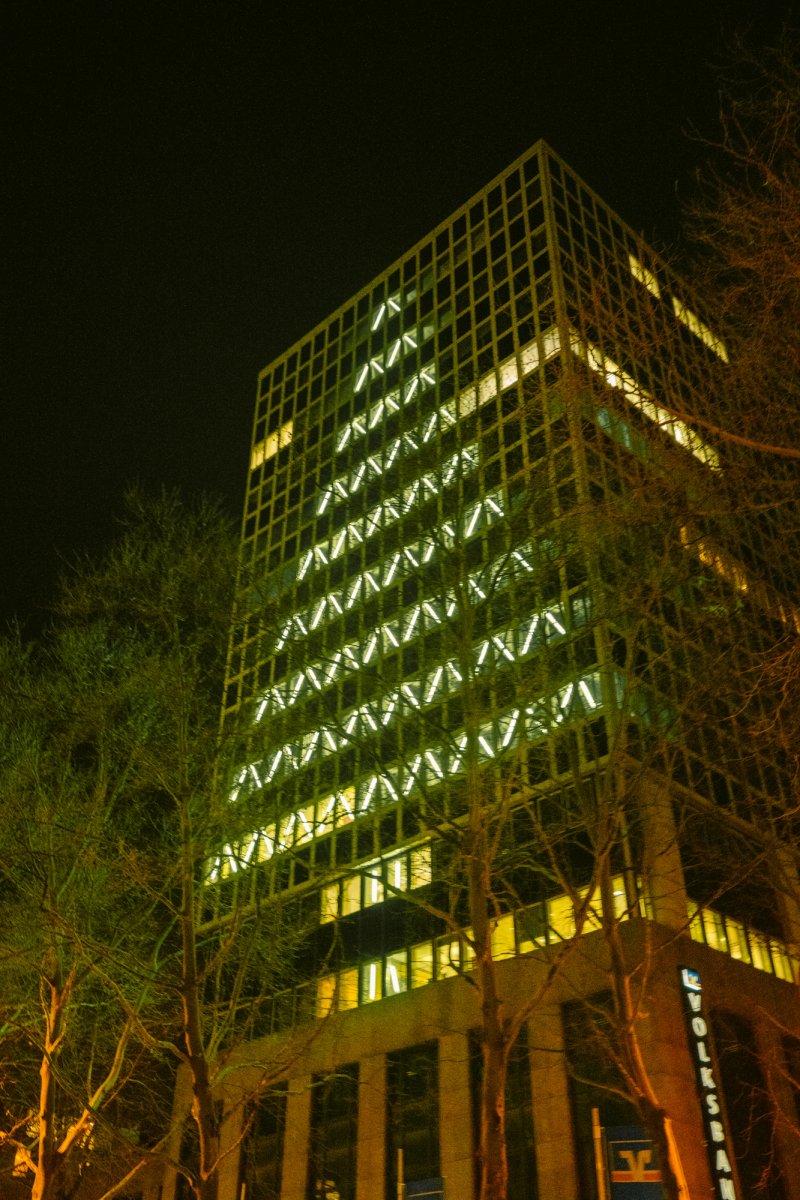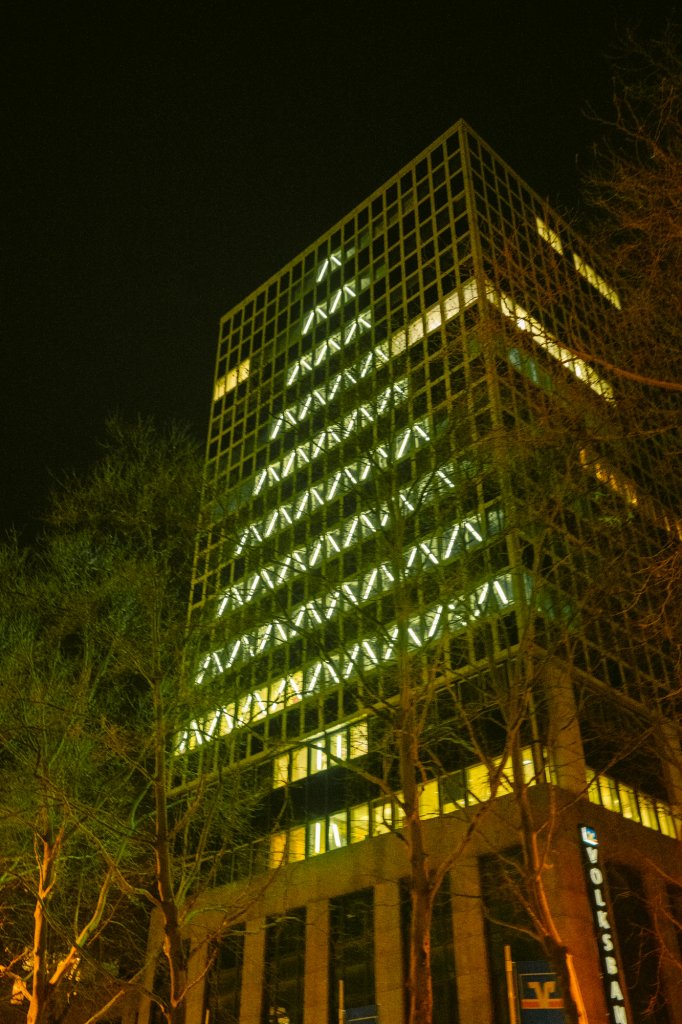 Any other questions about the Cologne Christmas Market scene?
I hope you enjoyed this lengthy guide to the Christmas markets in Cologne! I'll repeat it one last time, but these are definitely some of my favourite Christmas markets in Germany, so I hope you love them as much as I do! Let me know in the comments if you have any more questions. Have a magical trip!
My Go-To Travel Favourites: