*FYI - this post may contain affiliate links, which means we earn a commission at no extra cost to you if you purchase from them. Also, as an Amazon Associate I earn from qualifying purchases. Check out our Privacy Policy and Disclosure. for more info.
NOTE: This Dortmund Christmas Market guide was written after my visit in 2018, but has been updated with the most recent info and dates I could find online. Do note that some details/locations may differ year to year though, so let me know in the comments if you notice anything inaccurate.
Fact: the Dortmund Christmas Market is one of the most famous Christmas markets in Germany.
I mean, not only is it among the largest in the country, it also happens to casually house the largest Christmas tree in the entire world.
Knowing this, there was no possible way I could skip it during my recent Christmas market trip around the Ruhr region, and so I went out of my way to visit the market while I was at Düsseldorf Christmas Market (about an hour away by train).
And while Dortmund's giant tree makes it a must-see Christmas market in my books, I soon realized that all the info out there about this magical market was primarily in German, or lacked the important details I needed.
So, here is a rundown of everything you need to know about the Dortmund Christmas Market, including important dates, locations, what to eat and what to buy!
Dortmund Christmas Market: Important Must-Knows
Thinking about seeing the famous Dortmund Christmas Market for yourself? Here are some important things to keep in mind (and be sure to read my full list of Christmas market must-knows for more info).
Where is Dortmund?
Dortmund is a large city super famous in Germany for its football team, which is frequently ranked among the country's top teams. You can find it in the Ruhr region of North Rhine-Westphalia, nearby to other cities like Düsseldorf and Essen.
Europe Winter Packing Essentials:
How to Get to Dortmund
As a big city, it's no surprise that Dortmund is easily accessible by plane, train or bus.
While I chose to visit Dortmund as a quick day trip from Düsseldorf (about an hour by train), you could easily base yourself in Dortmund instead to visit other Christmas markets in the Ruhr Region, or perhaps visit as a day trip from Cologne, which has fantastic Christmas markets. The world's your oyster – it's Christmas after all!
To find the best deals, I always use Omio to compare/book transport options. It's a free tool that shows you the different ways to get from Point A to Point B and lets you sort based on price, times and convenience. I'd be lost without it!
Dortmund Christmas Market Dates
Nov 23 – Dec 30, 2023
Dortmund Christmas Market Hours
According to the official Dortmund Christmas Market page on the NRW website, the opening hours for the markets are as follows:
Monday – Thursday: 10am to 9pm
Friday & Saturday: 10am to 10pm
Sundays: 12pm to 9pm
CLOSED on November 26 and December 25, 2023
Special Christmas Eve hours on Dec 24, 2023: 10am – 2pm
Special Boxing Day hours on Dec 26, 2023: 12pm – 9pm
Free for You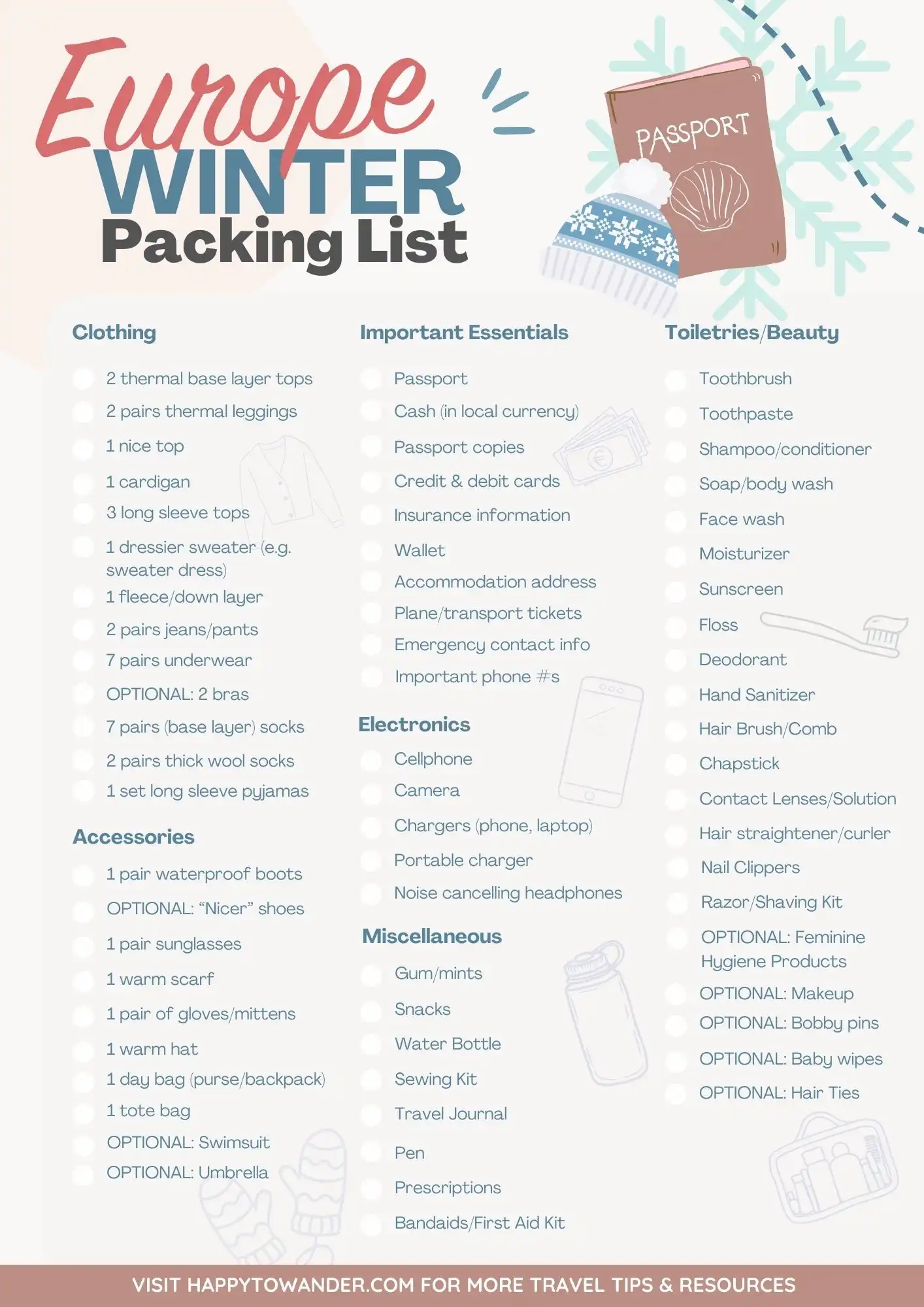 Dortmund Christmas Market Locations
The Dortmund Christmas Market is split across ten different sections, all within Dortmund City Centre.
Lucky for you, they're all close to each other and only about 10 minutes' walk from the Dortmund Train Station.
You can see below for a map overview and a list of the different squares you should visit!
Wait – The Dortmund Christmas Tree is the Biggest in the World?
Yes!
I know, right? Wild stuff.
Many overseas visitors are shocked to discover that the Dortmund Xmas tree is actually the largest in the entire world, and despite having visited German Christmas Markets 4 years in a row now, I still only learned about this a few weeks ago.
With a height of 45m, a weight of 40,000 kilograms and almost 50,000 lights, lamps and ornaments hanging from it, this gigantic attraction might be reason enough to visit the Dortmund Christmas Market for yourself 😉 Even the giant angel on top weighs 200kg.
How is such a massive tree even possible? Well, the tree is actually constructed from 1700 red spruces specifically planted for the occasion. This means no, the tree ISN'T actually a giant one they randomly found in nature. I naively didn't realize this was the case, so was a bit disappointed to see that the tree was built on a big metal frame, but nonetheless it's a beautiful sight.
PS: The tree is also not lit until Nov 26, which was a bummer because I visited on Nov 24, and therefore didn't get to see the whole thing lit up! Don't be me – look up the schedule properly before you go!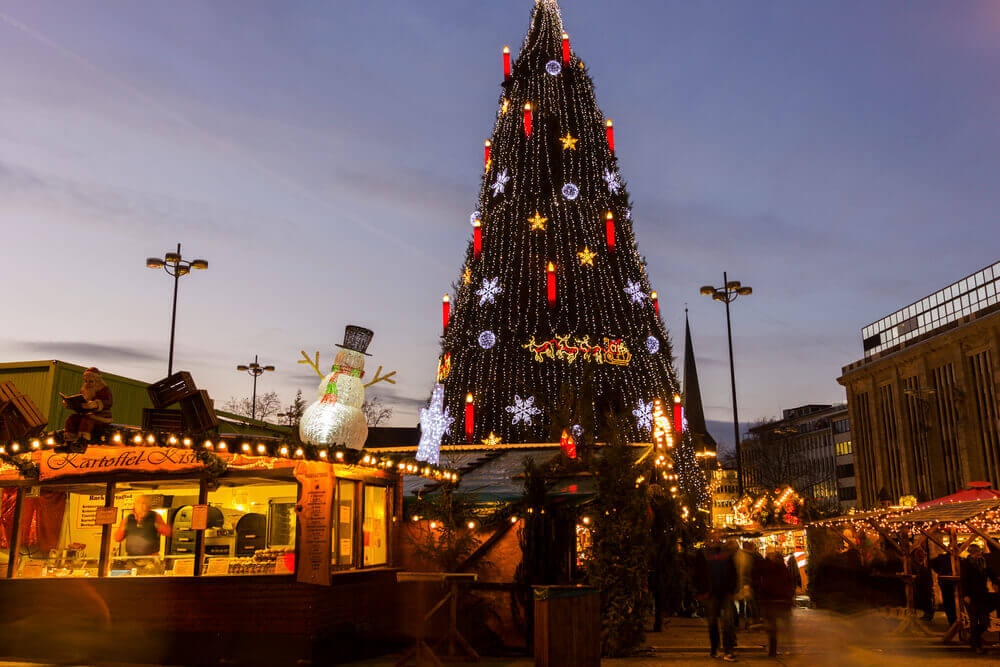 Dortmund Christmas Market Map Overview
So while Dortmund Christmas Market is often hailed as one of the largest Christmas markets in Germany, it's important to note that the market itself is actually split into a variety of smaller markets, and not just one big block of stalls.
You can see an overview and map of the different sections here: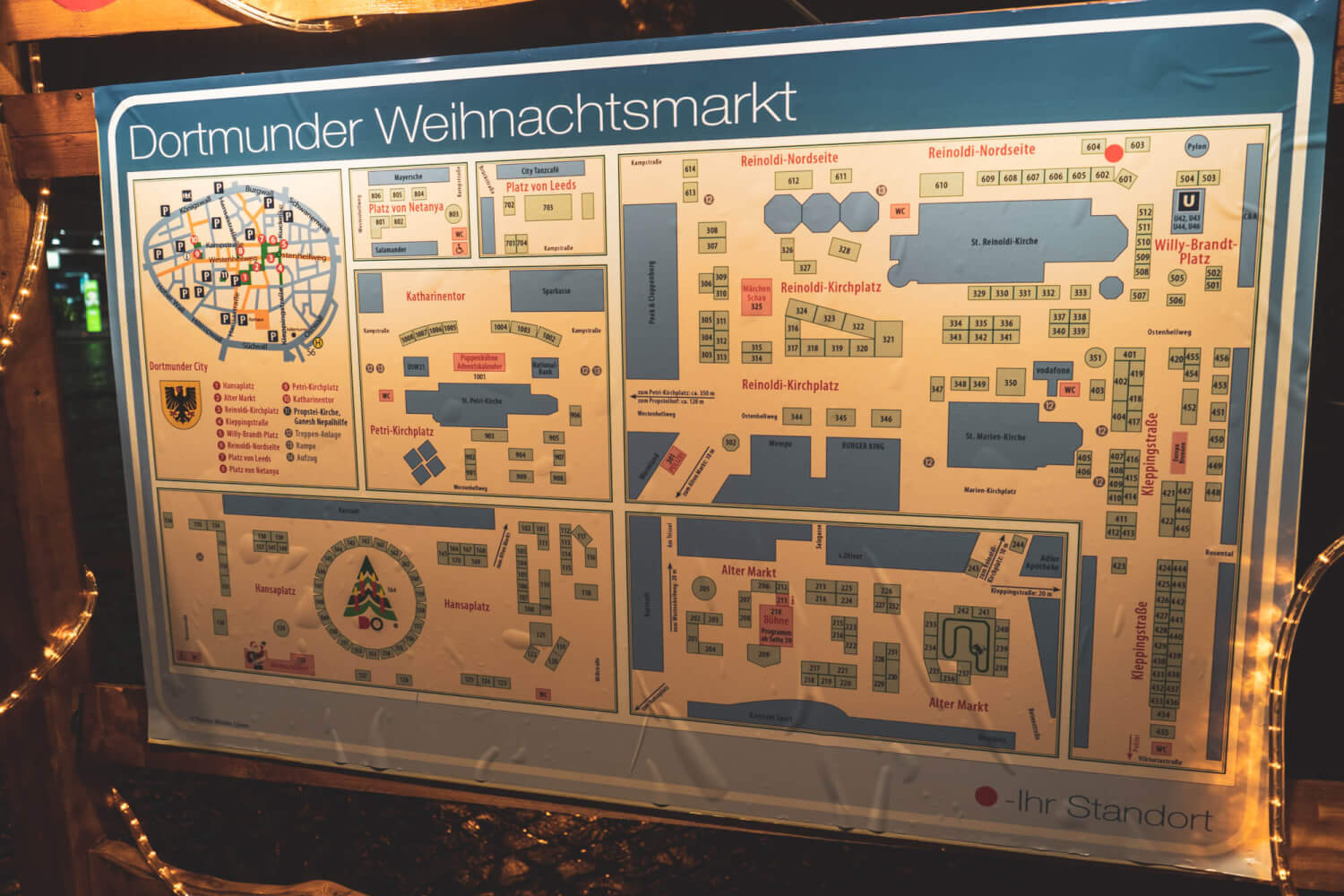 The Different Sections of Dortmund Christmas Market
While there's no one "Dortmund Christmas market address" thanks to the different sections, the good news is all the markets are within close walking distance of each other, and also within close walking distance of the Dortmund train station.
Here are the spots you need to make sure you visit:
Katharinentor
You will most likely walk through this area when you come from the Dortmund Train Station.
It's right along the way towards the main Dortmund Christmas Market. If you're anything like me, you'll quickly get distracted by the Pasta aus dem Parmesanlaib stall, which sells delicious creamy pasta tossed around in a giant wheel of parmesan.
It's DELICIOUS and I highly recommend trying it. There's also a little stage at the Petrikirche that does daily shows for kids.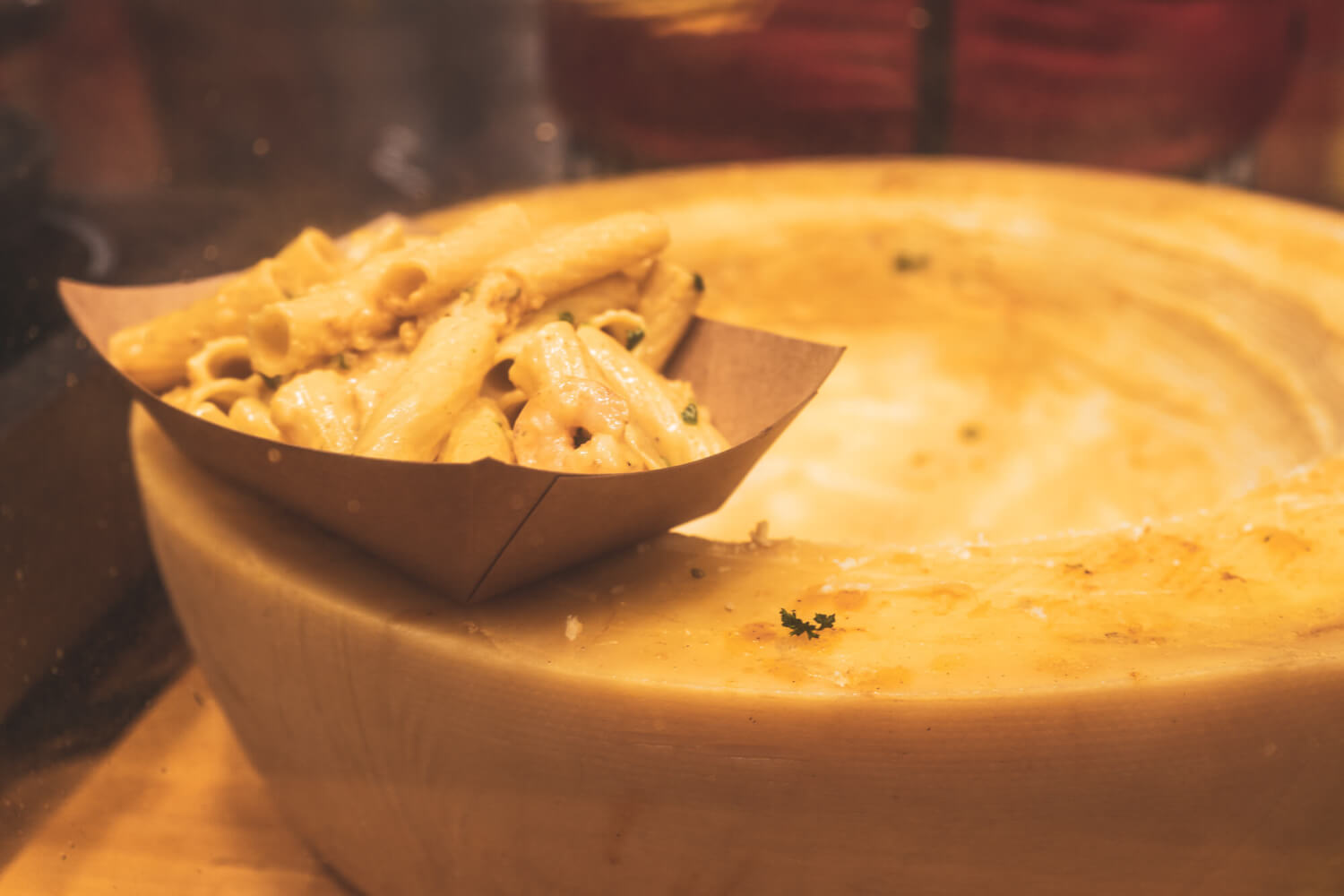 Hansaplatz
This is the main section of Dortmund Christmas Market and where the giant towering Christmas tree glows in all its glory (when it's lit up anyway!).
It serves as a centerpiece with countless stalls spread around it selling all kinds of Christmas market classics from delicious treats to handmade gifts and ornaments.
This was definitely one of the busiest parts of the market (after all, everyone is here to see the tree!) so prepare yourself for crowds!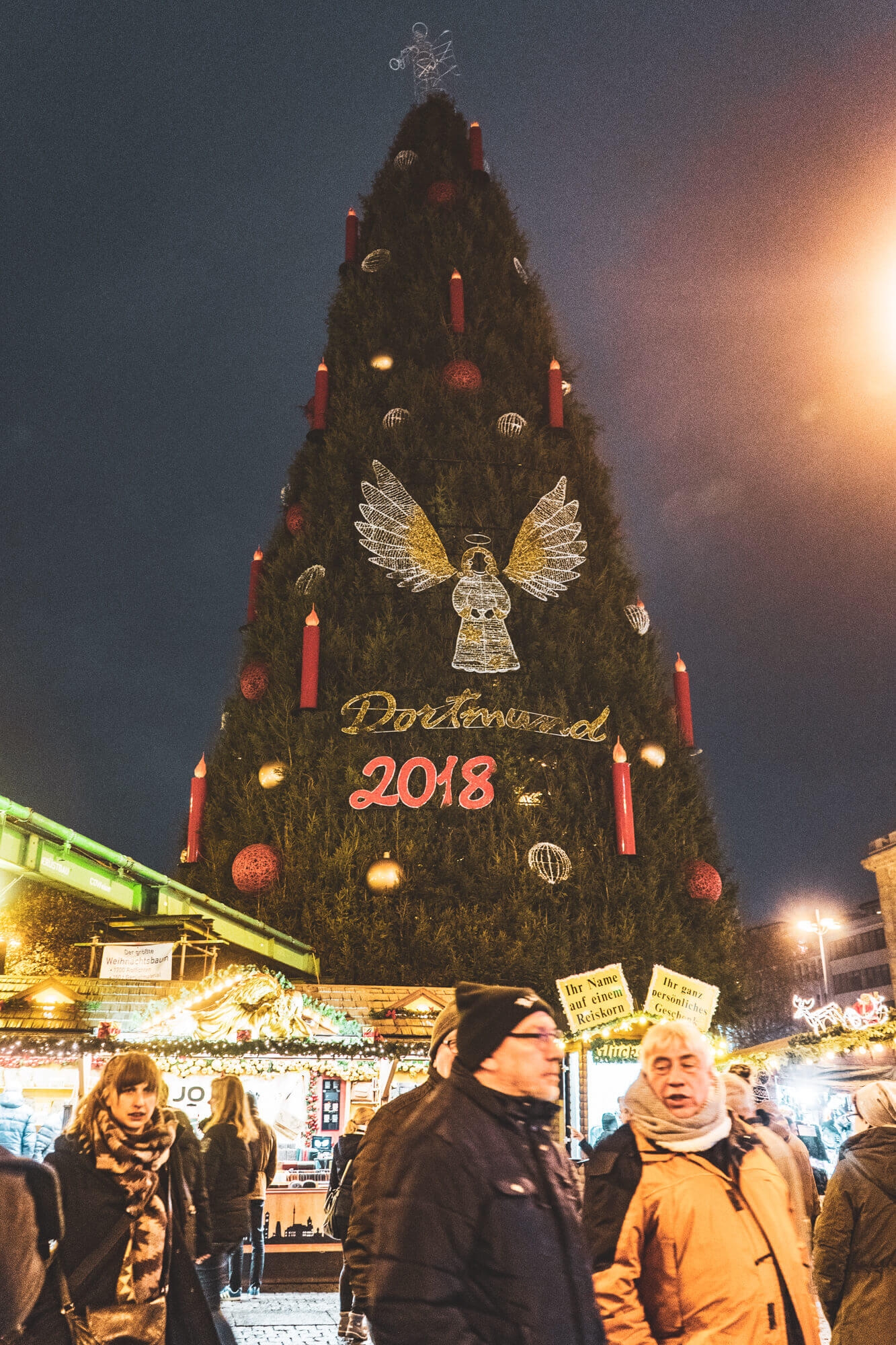 Kleppingstraße
If it's serious shopping you're after, I highly recommend the area around Kleppingstraße which had a huge variety of different stalls with goods from around the world.
From Japanese Bonsai trees to Italian cheese and food products, you'll find all sorts of wonderful gifts to bring home here.
They even have a few really unique stands I've not seen at any other Christmas market, like an iris photography stall for example!
Yes, people were getting photos of their irises taken… narcissistic or not, it did look super cool 😉
Alter Markt
This section of the Dortmund Christmas Market was definitely more food-focused than the others, with TONS of food options featuring Xmas market classics like grilled mushrooms, roasted nuts, fries, and more.
You could even get quite a lot of fresh produce here.
PS: If you're into live music, this is where you'll find a stage with musical performances throughout the season. You can access a full show program here (in German).
Reinoldi Kirchplatz
With the scenic backdrop of Reinoldikirche, this is one magical part of the Dortmund Christmas Market that you don't want to miss.
Especially right by the church, there's long strings of glowing lights that make the square especially atmospheric.
This was a very cozy market, and got fairly crowded, but it's mega-romantic if you don't mind sharing the romance with like, hundreds of strangers 😉
BONUS: You can quickly walk over to the big ferris wheel from here.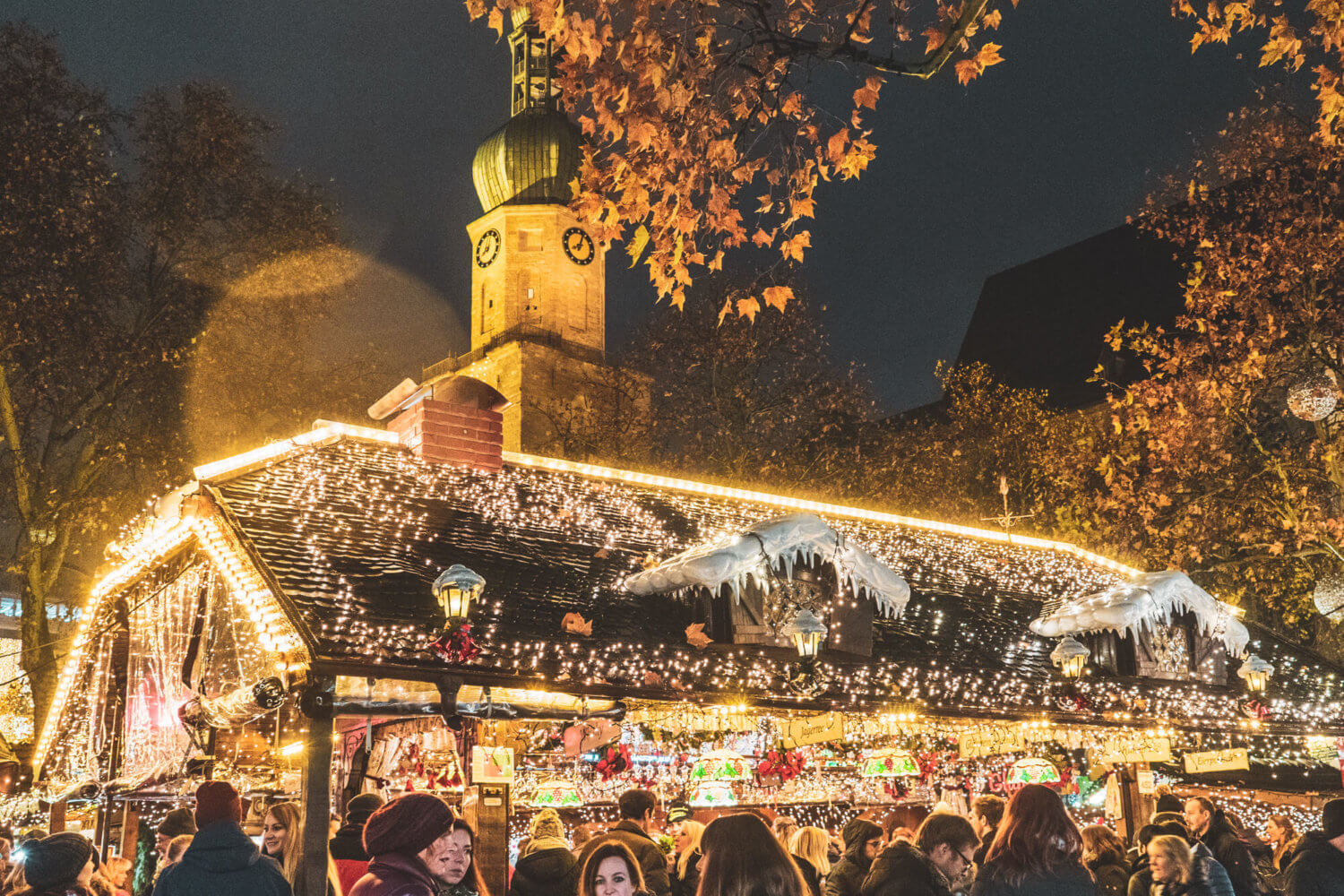 Reinoldi Nord-Seite
This was probably my favourite part of the entire market.
The stalls here just looked a lot quainter and cuter, with shabby wooden facades and all sorts of handmade goods.
Here's my tip: don't miss the incredibly charming Historisches Kerzenhaus, which is filled with amazing honey products and carvings that look impossibly real (have you ever seen a corn on the cob candle that looked so good, you could eat it)?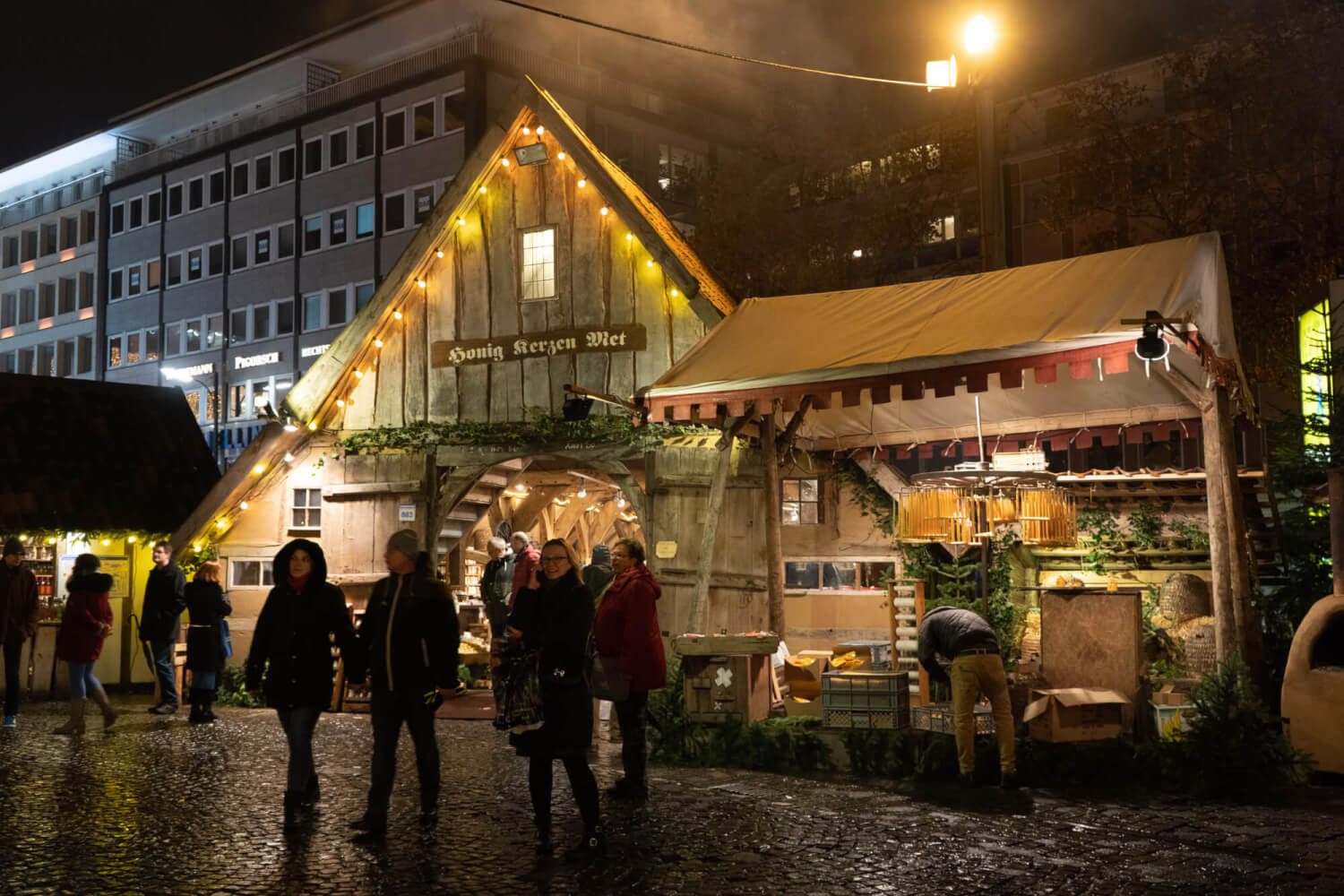 Platz von Netanya
Located a short distance from the big ferris wheel, you'll find a small cluster of stalls in Platz von Netanya.
One of the most notable of these stalls is the Dortmunder Weihnachts-Pyramide AKA the Dortmund Christmas Pyramid!
It's like a big glowing beacon of Christmas cheer… and of course, a sign that you're close to sweet, sweet Glühwein.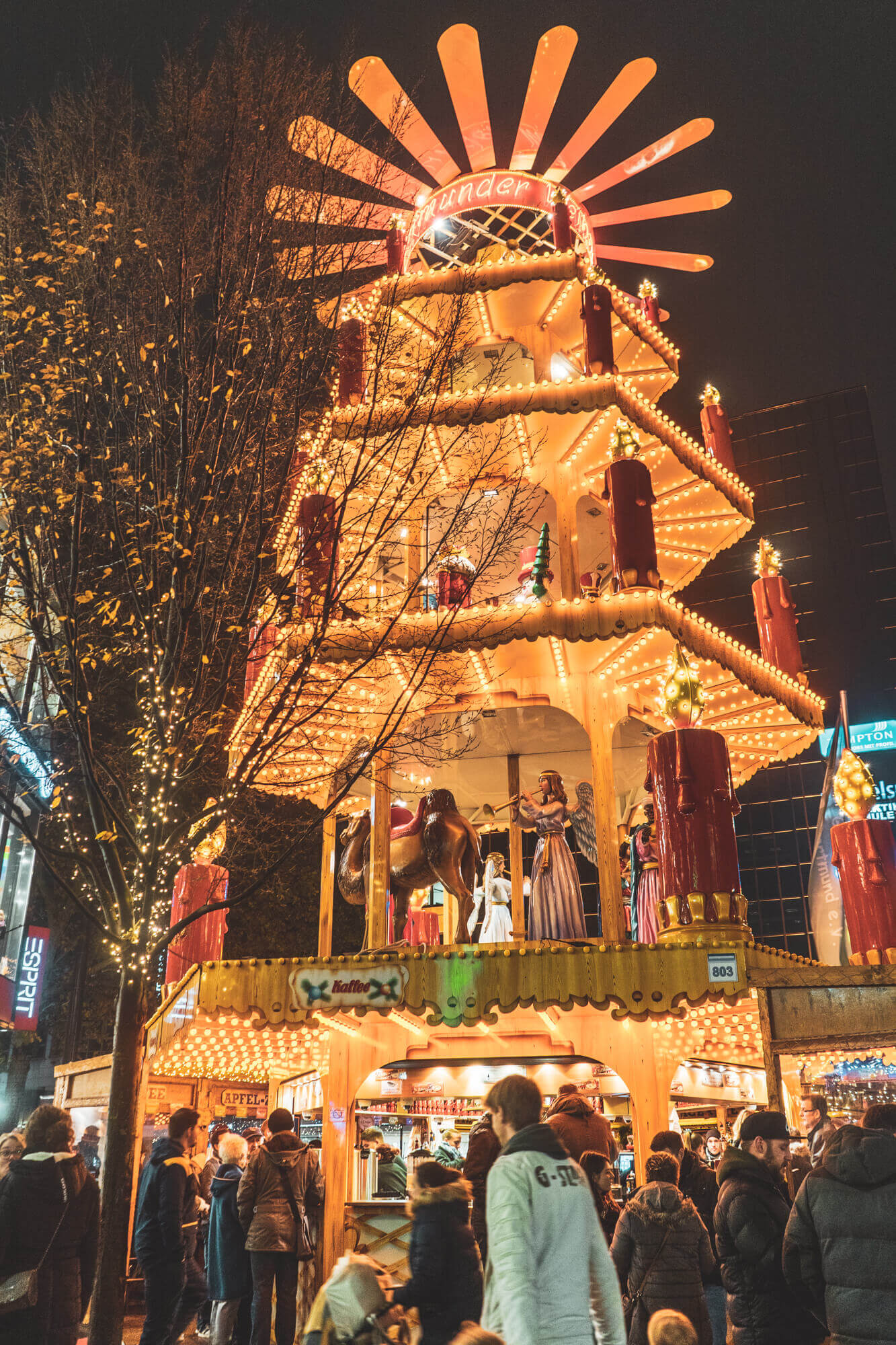 Last but not least, there are also a few stalls in Petri-Kirchplatz and Platz von Leeds, but they are easily linked with the other spaces mentioned above and are impossible to miss!
What to Eat & Drink at Dortmund Christmas Market: 10 Must-Haves
Unsurprisingly, one of the best things to do in Dortmund during Christmas time is to eat your face off. Here are some foodie musts for your trip.
1. Warm up with a Glühwein in a souvenir Dortmund Christmas Market mug
The Dortmund Christmas Market changes their mug design every year and it has become quite the collector's item.
The design for 2018 featured a white 3D moose over top a classic red mug. Very cute and the best souvenir you could take home!
If you're not so much into Glühwein, you can also opt for a hot chocolate (with or without rum!!) or simply a Kinderpunsch (a non-alcoholic version of Glühwein)… just get the mug. It's adorbs.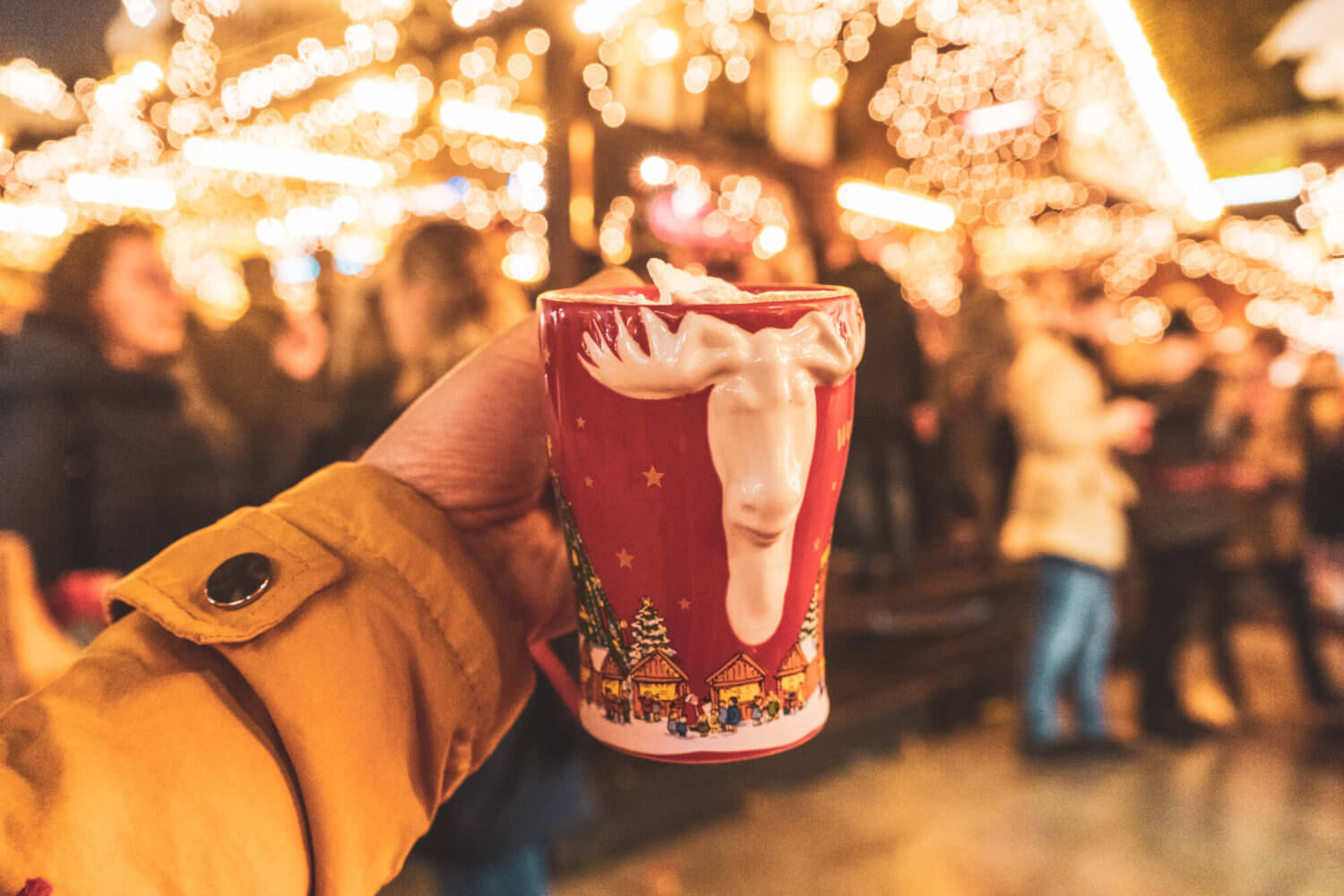 2. Sip on some Eierpunsch
If you want to try another very popular Christmas Market drink, go for "Eierpunsch".
Some compare it to eggnog, but I don't taste the similarity at all. Rather, Eierpunsch is made with egg yolks, white wine, spices (cinnamon & cloves), vanilla and citrus juice.
A highly unlikely and weird-sounding combination, but when served altogether with a big topping of whipped cream, it tastes like a blended apfelstrudel.
3. Munch away on Gebrannte Mandeln (AKA Roasted Almonds)
I hope you're ready to spend your life savings on nuts.
I warn you now: these goodies (which you'll smell from miles away) are incredibly addictive and impossible to resist.
4. Try some Reibekuchen & Kartoffelpuffer (AKA Potato Pancakes)
Kartoffelpuffer (or Reibekuchen) are potato pancakes, like hashbrowns but infinitely more delicious.
You can try them with apple sauce or gobble them plain (my personal preference).
5. Snack on a Schaumkuss
Of all the tempting treats on offer at Christmas markets around Germany, the adorable Schaumkussen are among the most irresistible.
They're essentially chocolate covered marshmallows available in a bunch of different flavours, but all stacked together, they're whimsically enticing to stare at (and consume).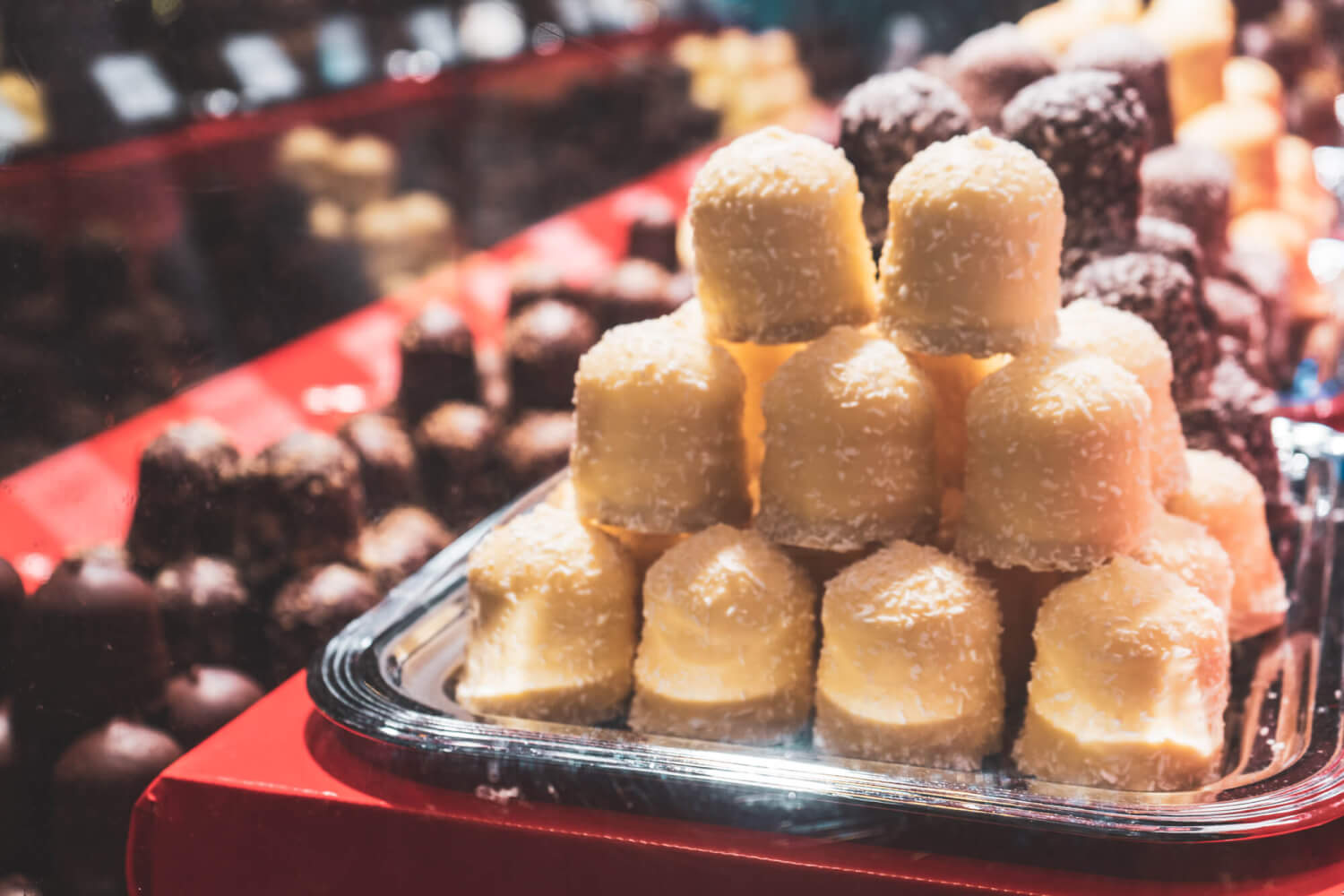 6. Chow down on some Champignons (AKA Mushrooms)
If you like mushrooms, don't miss the delicious roasted champignons that are on offer at various stalls around the Dortmund Christmas Market.
Rest assured, your nose will lead you right to them.
Often they're served with a nice garlic (knoblauch) sauce. Mmm!
7. Have some Pommes (AKA Fries)
I know that fries aren't the most exciting thing in the world, but there's something incredibly magical about strolling around under all the Christmas lights with crispy fries doused in mayo in your possession.
The Dortmund Christmas Market is the perfect place to indulge in this fried treat, just remember it's pronounced "pomm-es".
8. Bite into a juicy Bratwurst (AKA Sausage)
Can you even visit Germany without eating ten million sausages?
Bratwurst is a German Christmas Market classic, with a dizzying amount of variety on offer.
I follow a very simple rule of thumb: go by what looks good, and what everyone else is ordering.
Watching bundles of juicy sausages being cooked on a twirling Schwenkgrill is probably one of the most mesmerizing things you'll witness in your life, by the way… so resist the urge to order everything on the menu (though I'm partial to the classic bratwurst in a bun, drizzled with mustard).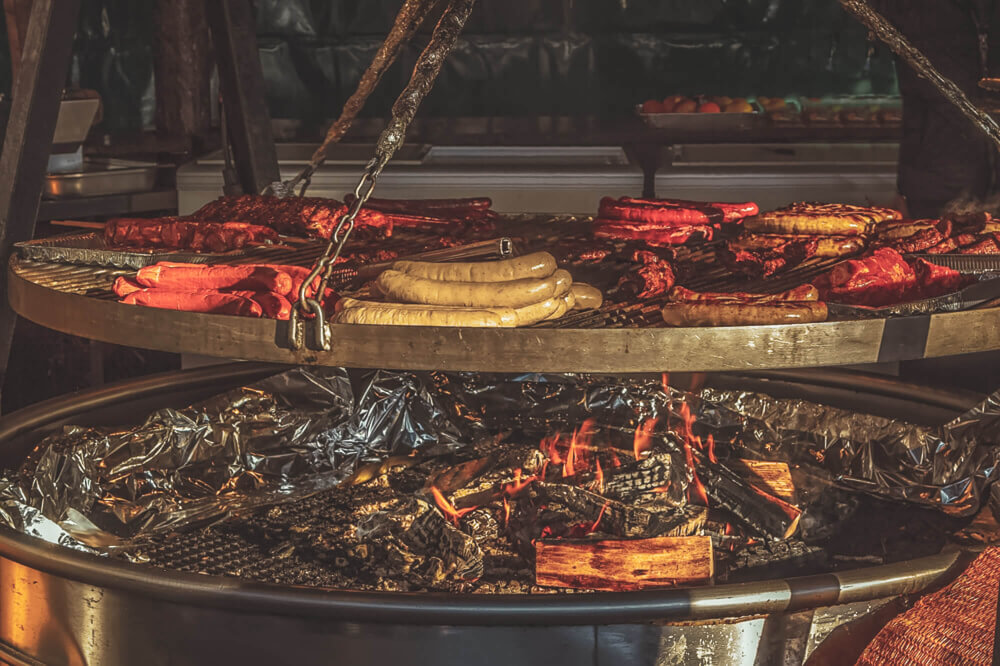 9. Indulge in Hungarian Lángos
Lángos (pronounced long-oh-sh) is a delicious piece of fried dough that's topped with all sorts of wonderful things like cheese, sour cream, or really, whatever you want!
Obviously it's not a traditional German Christmas Market food, but its deliciousness has ensured that it now features heavily in any Xmas market, in Germany and abroad.
If you've never tried Lángos before, tuck in! There's a stall at Kleppingstraße that sells them.
10. Eat pasta cooked in a wheel of parmesan
Okay, so I know that "pasta" is probably not one of the top things that comes to mind when you think of Christmas market food, but I need to tell you: the pasta from the Pasta aus dem Parmesanlaib stall near Katharinetor is SO GOOD.
Their marketing is also on point – they have HD food prep videos playing over their stall at all times, and it's honestly mesmerizing to watch them prepare your pasta in front of you, certainly when they toss the whole thing around in a wheel of parmesan cheese!
While it's a little overpriced for pasta (I had the one with shrimp for about 8 euros), it was really tasty.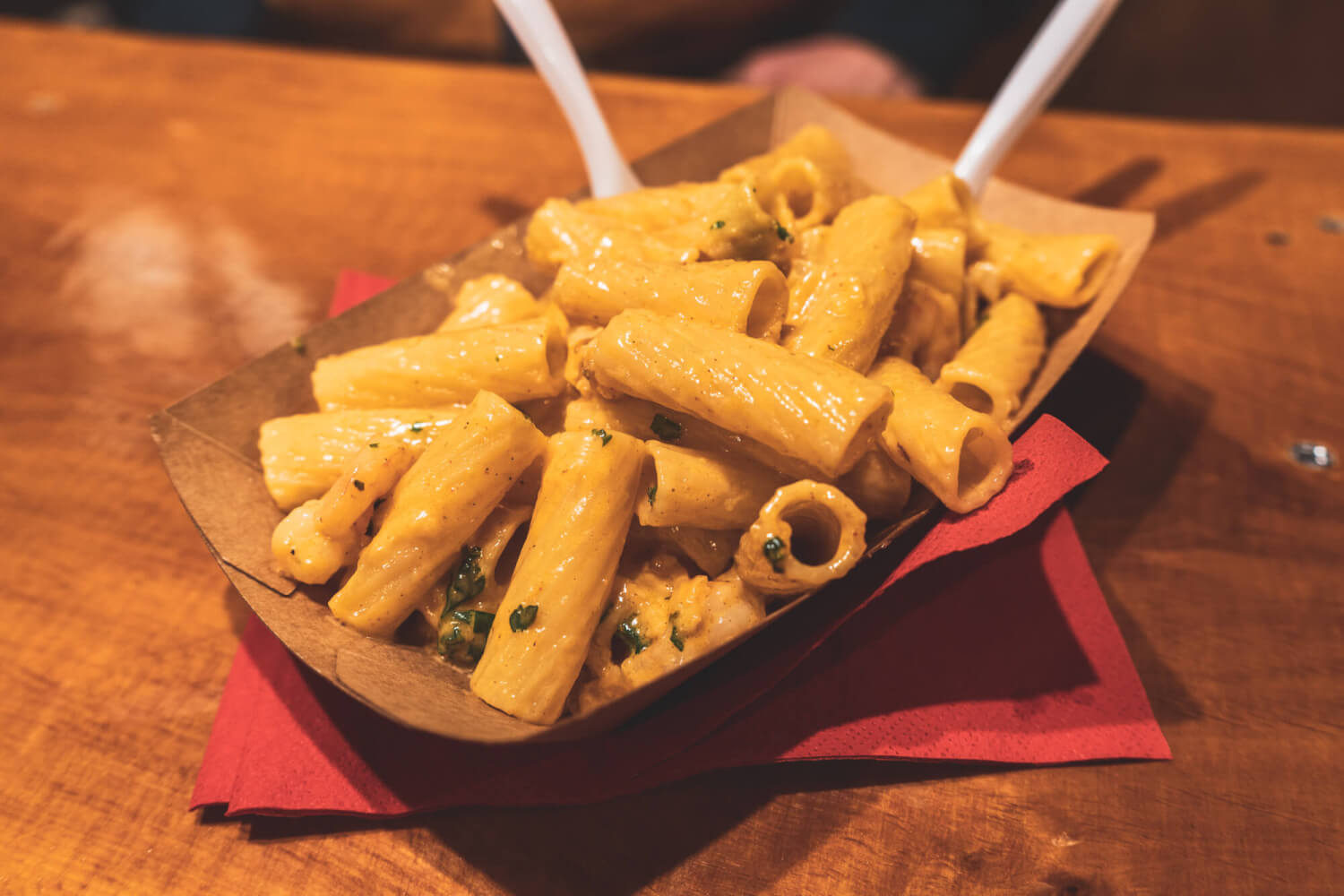 What to Buy at Dortmund Christmas Market
From what I saw this year, there was a HUGE diversity of stalls at the Dortmund Christmas Market, with everything on sale from classics like hand-carved candles and paper stars to more unique items like on-the-spot iris photography (no I won't stop talking about this because I honestly find it so cool/strange!)
You can access a full directory of stalls for this year via this link on the official Dortmund Christmas Market website.
Here are a few classic German Christmas Market must-buys for your list:
1. Christmas Ornaments
If there's one recurring product you'll see at German Christmas markets, it's beautiful handmade ornaments and Dortmund is no exception!
From hand-painted baubles to carved wooden angels, you'll find all kinds of wonderful ornaments to bring home to your loved ones.
2. Moravian Paper stars
These stars are so incredibly pretty and make the perfect souvenir to take home because they're made of heavy paper and easily foldable to fit in a suitcase.
NOTE: The light usually doesn't come included. Here's one gorgeous paper star stand I saw at the Dortmund Christmas Market, not far from the big ferris wheel.
3. Lebkucken (as a decoration/gift)
This may be a controversial opinion, but I think that German Lebkuchen (Gingerbread) is far prettier than it tastes (specifically the beautifully decorated ones, and the Lebkuchen hearts that you see dangling from the brightly lit candy stands).
I think they make amazing souvenirs and great gifts/ornaments, but definitely don't just buy one to just nom on.
That said, these are some of the nicest souvenirs you can bring home because they are just so quintessentially German (and cute too!)
4. Candles and candle holders
All around the Dortmund Christmas Market, you'll find different stands selling candle holders and even special candles.
From my experience, people always love these as gifts and they're relatively inexpensive (which is a plus for you!).
The Historisches Kerzenhaus is where you'll find these intricately carved candles: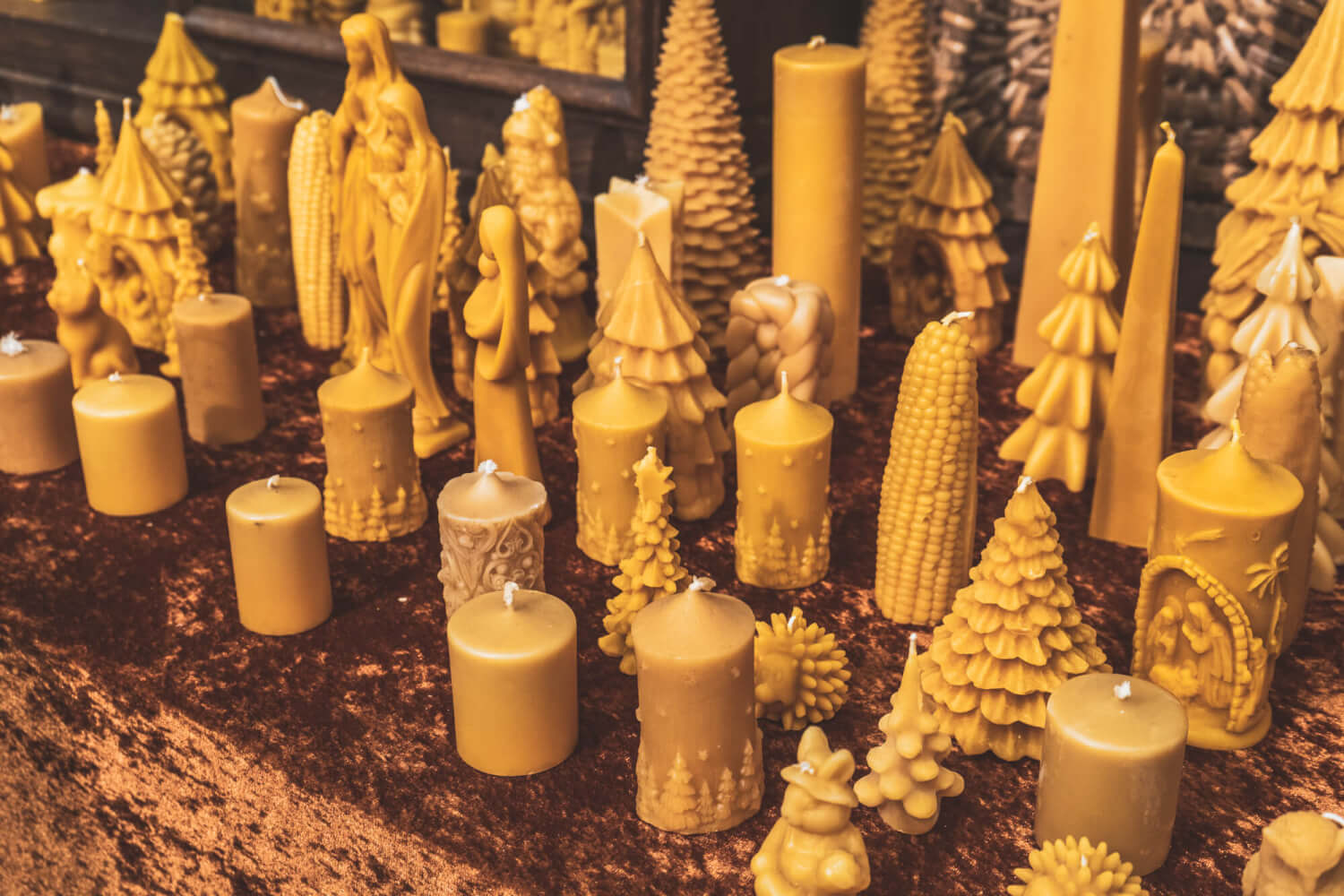 5. Food Products
One of the best things about the Dortmund Christmas Market for me was seeing the diversity of food products on offer, from actual fresh produce (something I didn't see at any other markets) to local delicacies like jams, honeys, and more.
If you're shopping for a foodie (or for yourself), there's no gift better than a local food product they can't get at home.
6. Liquor
On a similar note, local liquor is a great gift to buy from German Christmas Markets, whether for yourself or for a booze-loving friend. If this sounds up your alley, there's the Dortmunder Weihnachts-Likör stall in the Alte-Markt that has plenty of options.
7. Painted Porcelain Christmas Village Figurines (Lichthäuser)
Alright, not the most practical gift to bring home, but so charming I couldn't include them.
These porcelain Christmas village figurines are a ubiquitous sight around German Christmas Markets and they are a delightful souvenir to remember your trip by!
Often you'll find some that are modelled after famous tourist attractions, so they're a great way to remember your trip.
If you're tempted, I saw these beauties in Hansaplatz: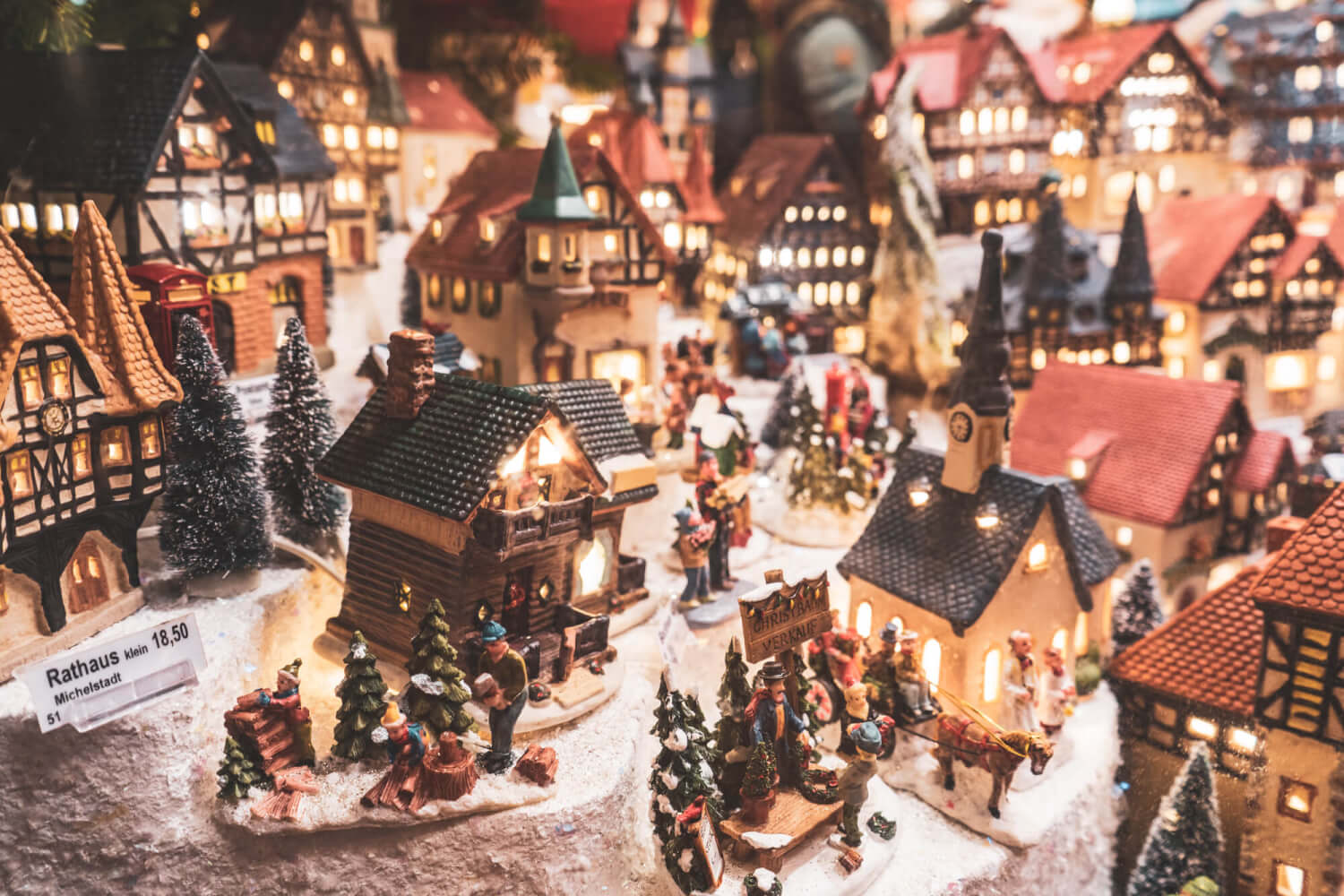 Hotels near Dortmund Christmas Market
The Christmas Market festivities are all around the Hansaplatz area, so if you're looking for a hotel that's within easy reach of all the Dortmund Christmas Markets, then I recommend you book something around there.
Alternatively, the Dortmund Train Station is only a ten minute walk from the Market, so if you want something a little bit cheaper, then that might be a good option.
HotelsCombined is a great tool for comparing hotels because it aggregates a bunch of search engines at once.
Click here to browse hotels in Dortmund with HotelsCombined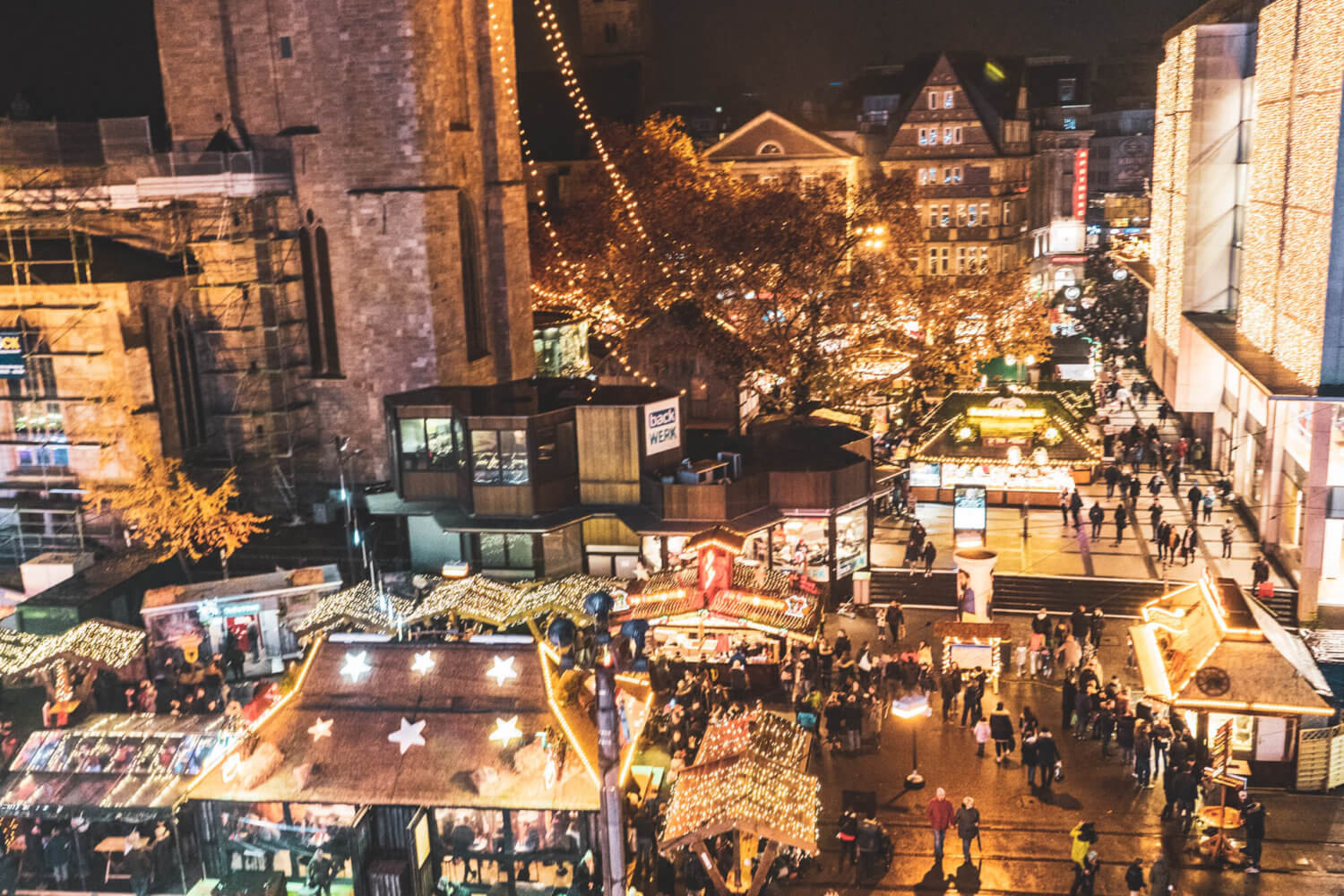 Any more questions about the Dortmund Christmas Market?
I hope you enjoyed this Dortmund Christmas Market review! It's a big market with a lot of overwhelming options, so I hope this broke everything down nice and clearly for you. Have a magical trip!
My Go-To Travel Favourites: