*FYI - this post may contain affiliate links, which means we earn a commission at no extra cost to you if you purchase from them. Also, as an Amazon Associate I earn from qualifying purchases. Check out our Privacy Policy and Disclosure. for more info.
I'm going to put this out there right now: if you're a shameless nerd (which I gather you might be, since you're here), then there is truly no better place in the world than Edinburgh, Scotland.
Packed from photogenic end to end with historic castles, dusty bookshops, cozy cafes and more museums than you'd know what to do with, Edinburgh is a dreamy, nerdy paradise, all wrapped in a fairytale package.
After spending a month in the city living out all my dorkiest dreams, I can confirm there's plenty to see & do in Scotland's idyllic capital.
So, keep scrolling for a list of the best things to do in Edinburgh, from swanky royal digs and hidden bars to viewpoints that'll leave you breathless (sometimes literally so).
And be sure to check out my Edinburgh Travel Tips & Scotland Travel Tips posts for more practical info!
1. Visit Edinburgh Castle
We'll start with THE ultimate symbol of Edinburgh – Edinburgh Castle, which sits atop its domineering perch on Castle Rock, turning every photo into a fairytale postcard.
Welcoming over 1.3 million visitors each year, Edinburgh Castle is the country's most visited attraction, with plenty to offer by way of views, royal history, and shiny objects like the 'Honours of Scotland' – Britain's oldest crown jewels.
But that's not all! Housing several museums, a large war memorial, a royal palace, a Great Hall & several other little stops/activities, Edinburgh Castle is a sprawling attraction that will delight any history nerd… although it's pretty heavy on the military history, so perhaps give it a skip if you're not interested in that kind of thing.
NOTE: If you do end up going, visiting this castle requires some serious strategy, so be sure to check out my full Edinburgh Castle guide and itinerary for tips on how to conquer it.
2. Pay a visit to the Palace of Holyroodhouse
Another royal Edinburgh thing to do is a stop at Holyrood Palace.
Formally known as the Palace of Holyroodhouse, this regal palace is Edinburgh's answer to Buckingham Palace. It's the British monarchy's official residence in Scotland, a fact that I got to know first hand when the Duke of Edinburgh himself (Prince Edward now, in case you're wondering) arrived in the middle of my visit.
… No, I didn't see him. I was too busy listening to an audio guide like the sad curious dweeb I am.
Anyways, the palace's most horrific highlight is a red stain on the floor, said to mark the spot where Mary, Queen of Scots' secretary/BFF David Rizzio was brutally murdered via 57 stabs one dramatic night in 1566. On a lighter note, this room also has some of Mary's finest embroidery, and a lock of her hair.
Besides the interior, there's also the ruins of Holyrood Abbey (where many historic weddings & special events took place), and beautiful gardens to frolic through.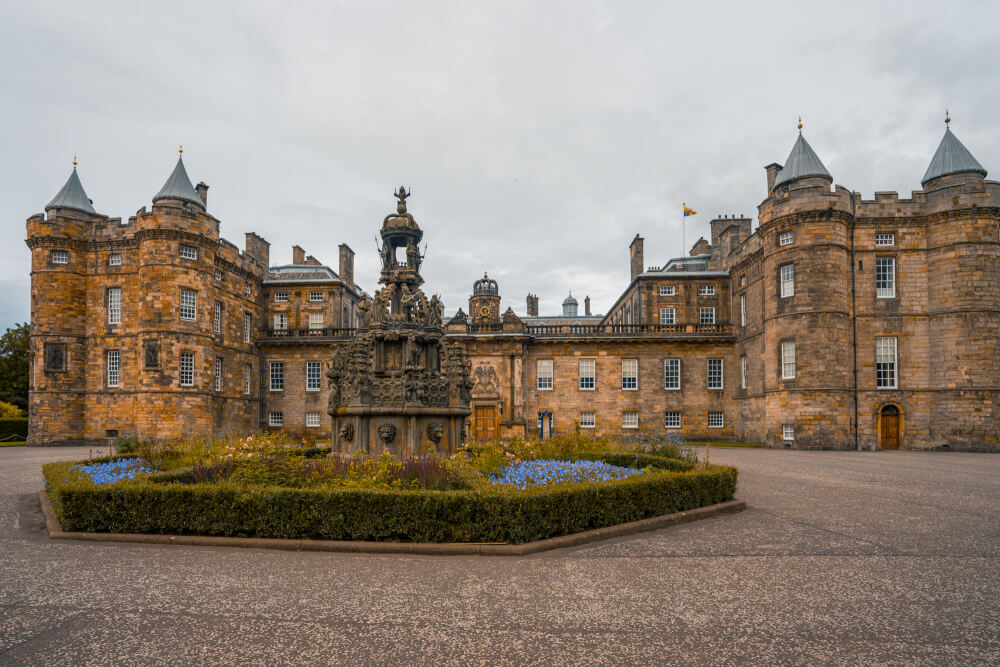 3. Take a stroll down the Royal Mile
The historic Royal Mile may be tourist central in Edinburgh, but there's a good reason for that – it's one of the prettiest streets in town.
Spanning just over a mile from Edinburgh Castle to the Palace of Holyroodhouse, this famous street is lined with all sorts of cheesy souvenir shops, pubs, restaurants, museums, crowds, and many a tartan-sporting bagpipe player.
I'd say a stroll from Edinburgh Castle to Holyrood Palace along 'the Mile' is a worthwhile Edinburgh must-do at least once. Many museums and historic sights line this popular street – just take note that better souvenir and food options can likely be found elsewhere!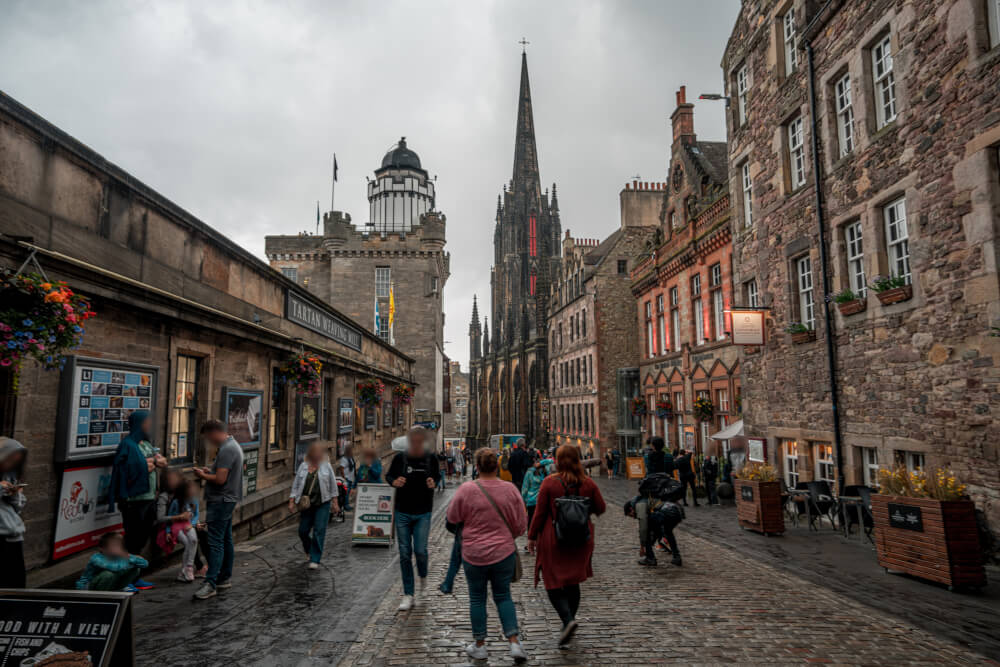 4. Admire the epic views from Calton Hill
And if you're looking for some of the best views in the city then a visit to Calton Hill is another delightful Edinburgh must-do.
From here, you have a perfect view over Edinburgh's iconic skyline, with Edinburgh Castle, the Balmoral Hotel and yes, even Arthur's Seat itself, all in view.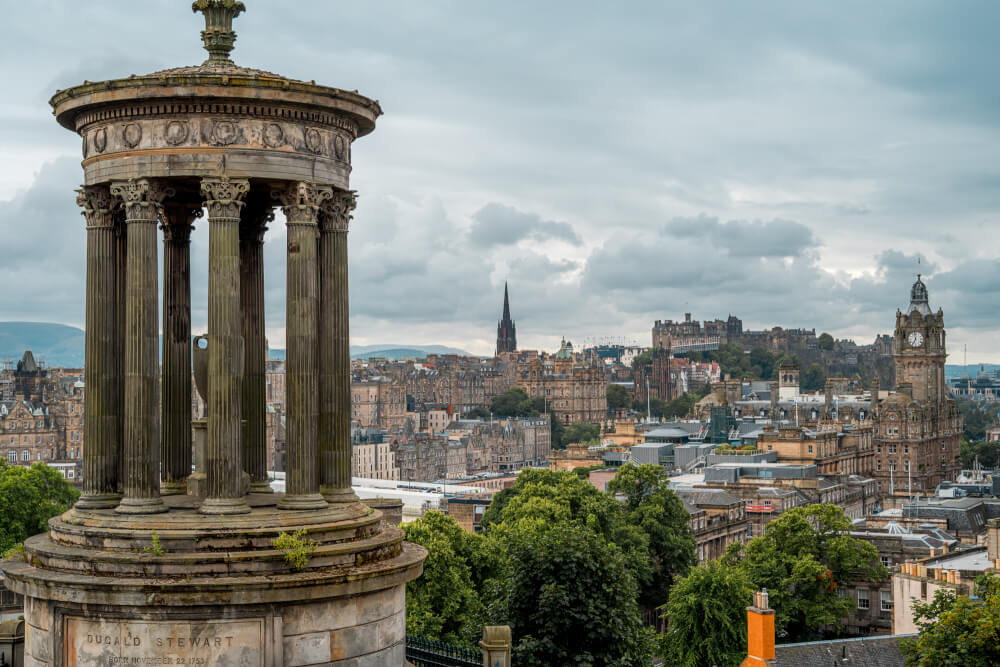 Of course, there's cool monuments to be admired on top of the hill too.
The Dugald Stewart Monument for instance was designed by William Henry Playfair, originator of the bar graph!
There's also the National Monument of Scotland, a Greek-inspired structure on originally intended to be a memorial for Scottish soldiers who died in the Napoleonic Wars. Due to budgetary reasons, they couldn't finish it, hence the structure's now very sad nickname "Scotland's Disgrace".
NOTE: To my fellow short people, do not climb this monument unless you're certain you can get down, because I definitely got stuck.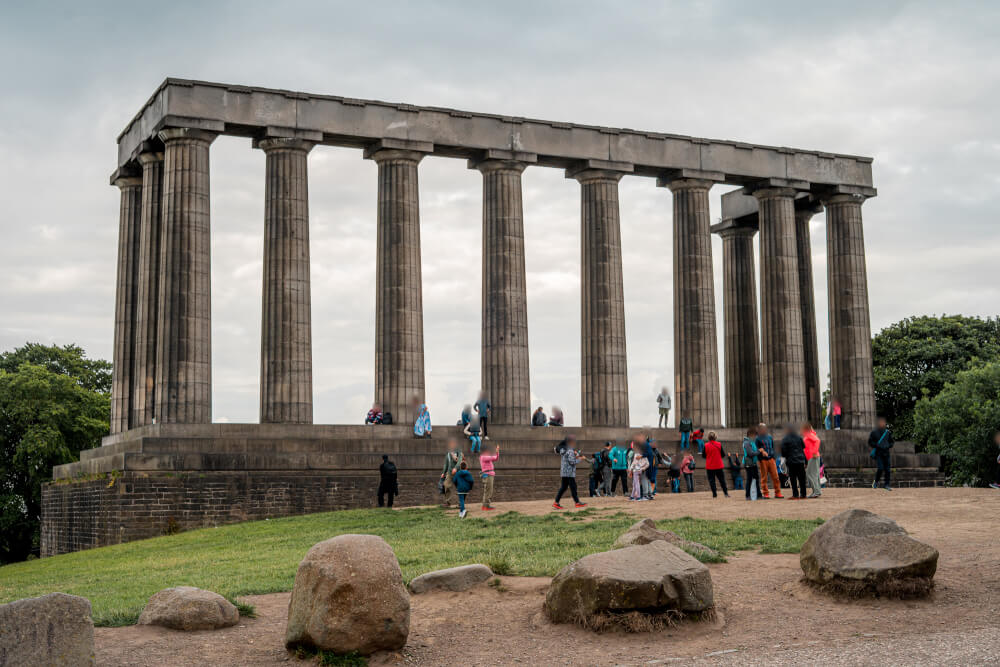 5. Go for a walk through Princes Street Gardens
Princes Street Gardens are two adjacent public parks located where there was once a Loch (Lake) next to Princes Street.
When the loch was drained, the basin area was converted into these two lowered garden areas, with The Mound (where the National Gallery of Scotland and Royal Scottish Academy are located) dividing the area in two.
East Princes Street Gardens run from The Mound to Waverley Station, with the Scott Monument and a number of statues within the gardens. During the festive season, these gardens are taken over by "Edinburgh's Christmas" with lots of rides, stalls and a Ferris Wheel for visitors to enjoy.
The larger West Princes Street Gardens runs from The Mound to the church of St Cuthbert's, which backs onto Lothian Road. There are a number of well-known statues and monuments here, including the Ross Bandstand and the Royal Scots Monument.
Besides the statue of Wojtek the Bear (an actual bear and WWII veteran), my personal favourite spot in the gardens is Ross Fountain, which makes the perfect photo with Edinburgh Castle looming behind: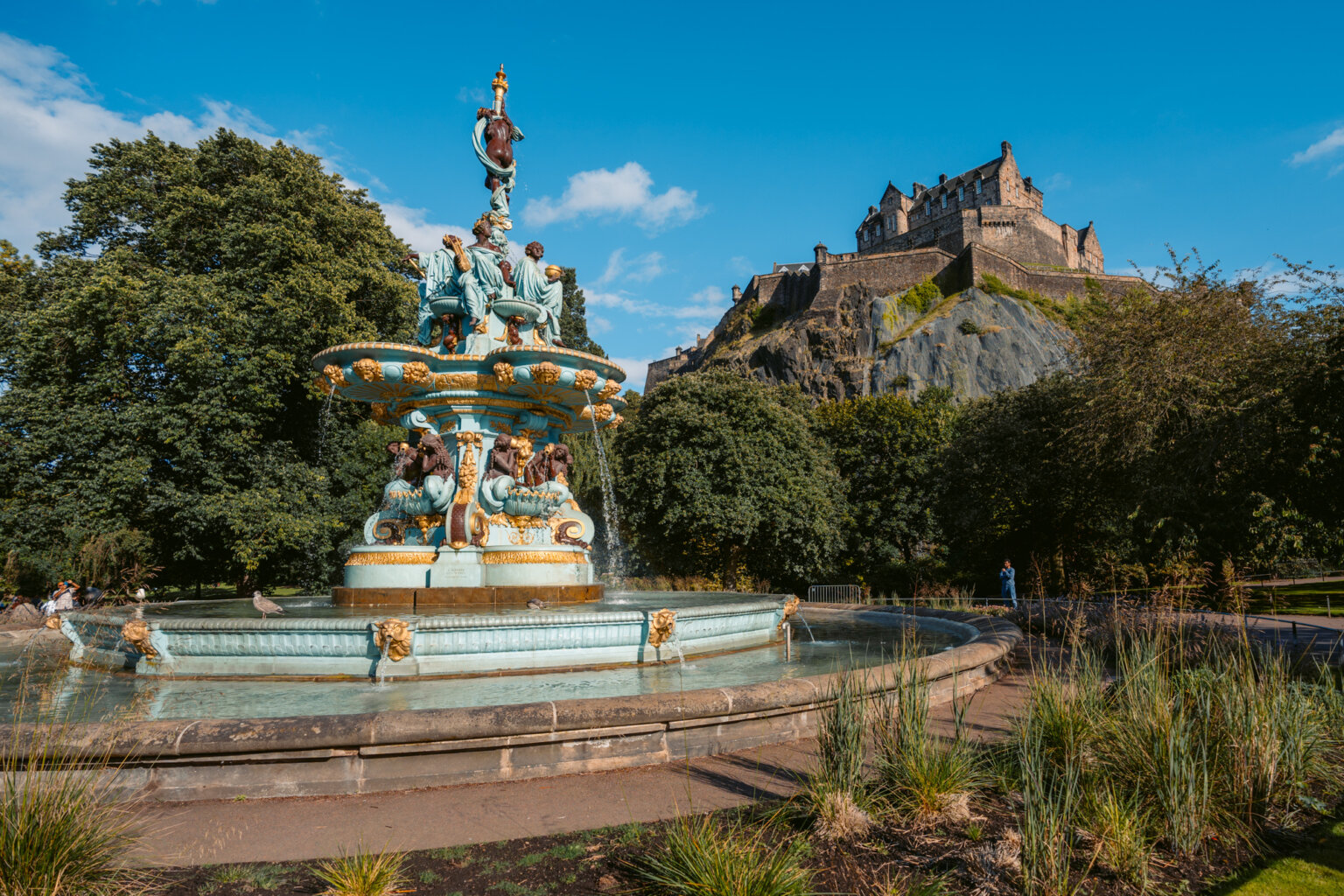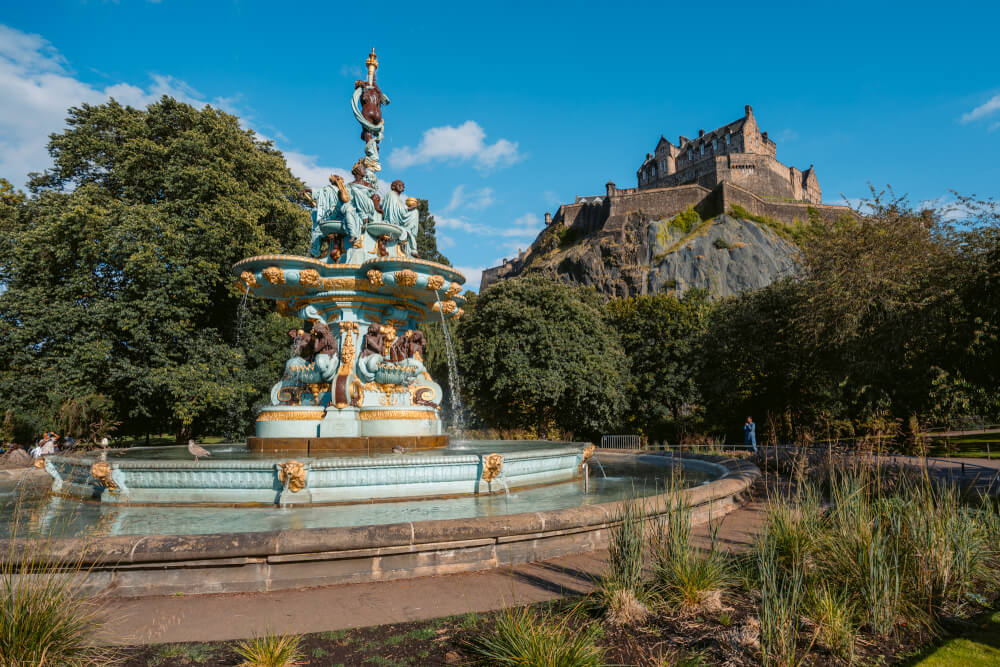 6. Check out the Johnnie Walker Experience
Shamelessly touristy as it may be, if you're looking for a fun whisky-related thing to do in Edinburgh, I can wholeheartedly recommend the Johnnie Walker Experience on Princes Street.
I decided to do their Signature Tour which was a great deal that included a tour through multiple interactive rooms and performances, along with three whisky cocktails.
As someone who didn't know much about whisky beforehand, I thought it was such a fun, dynamic and unpretentious introduction to Scotland's national tipple… and not to spoil anything, but some of the tour's surprises were so impressive that I walked out of there a brainwashed Johnnie Walker enthusiast.
… As my duty free purchases will attest.
7. Or enjoy another whisky experience
As you can probably tell, to me, enjoying whisky in some form is a must while in Scotland, so if you're not into the glitz and showiness of the Johnnie Walker Experience, then let me propose a few more options: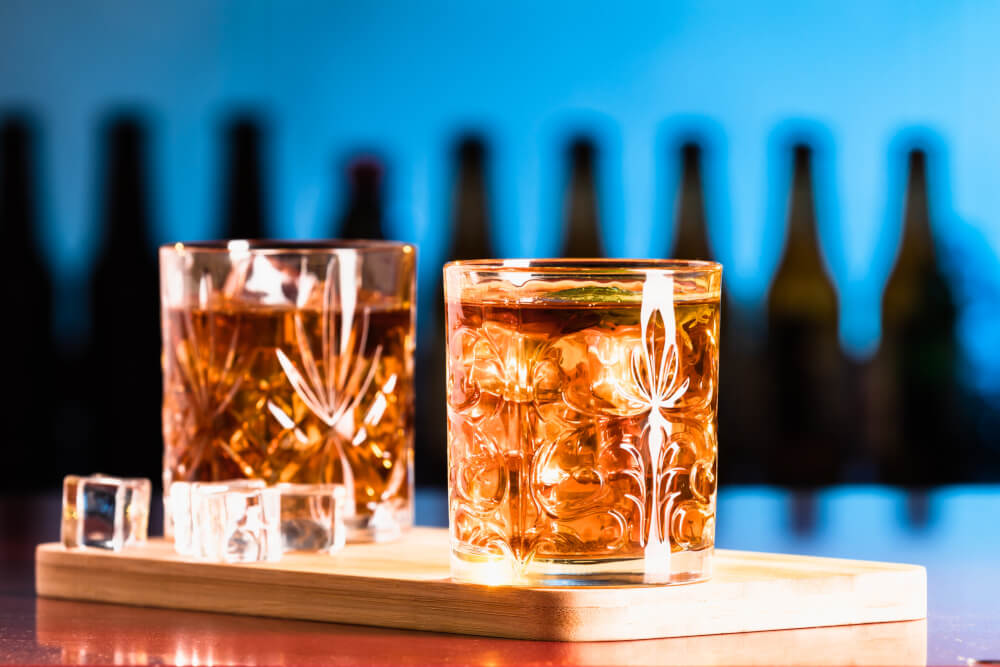 8. Dive into Edinburgh's unique foodie scene
The food scene in Edinburgh is as delicious as it is diverse, with everything from casual pubs and chippies to elevated high-end seafood restaurants.
If you're keen to experience this foodie side of Edinburgh, here are a few ideas:
To make the most of a short time, consider booking a food tour like this one
To try lots of Scottish delicacies in a historic setting, book a Scottish tasting platter like this at the Tolbooth Tavern
To try foods from around the world in a casual but cool atmsophere, visit Edinburgh Street Food
… Or really, just eat your way around the city! As I mention in my Edinburgh travel tips post, the best way to find recommendations is by looking up local foodies on social media.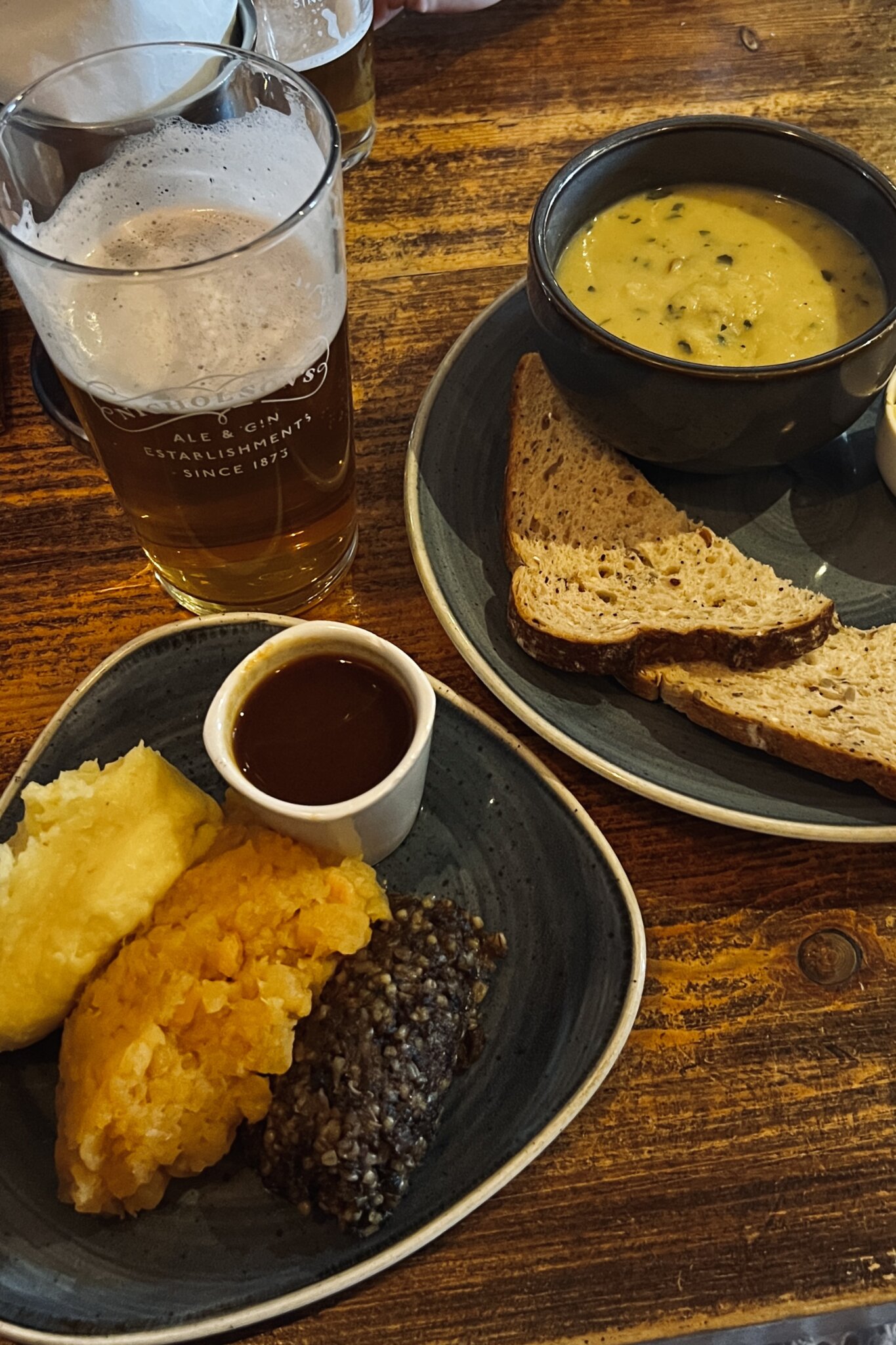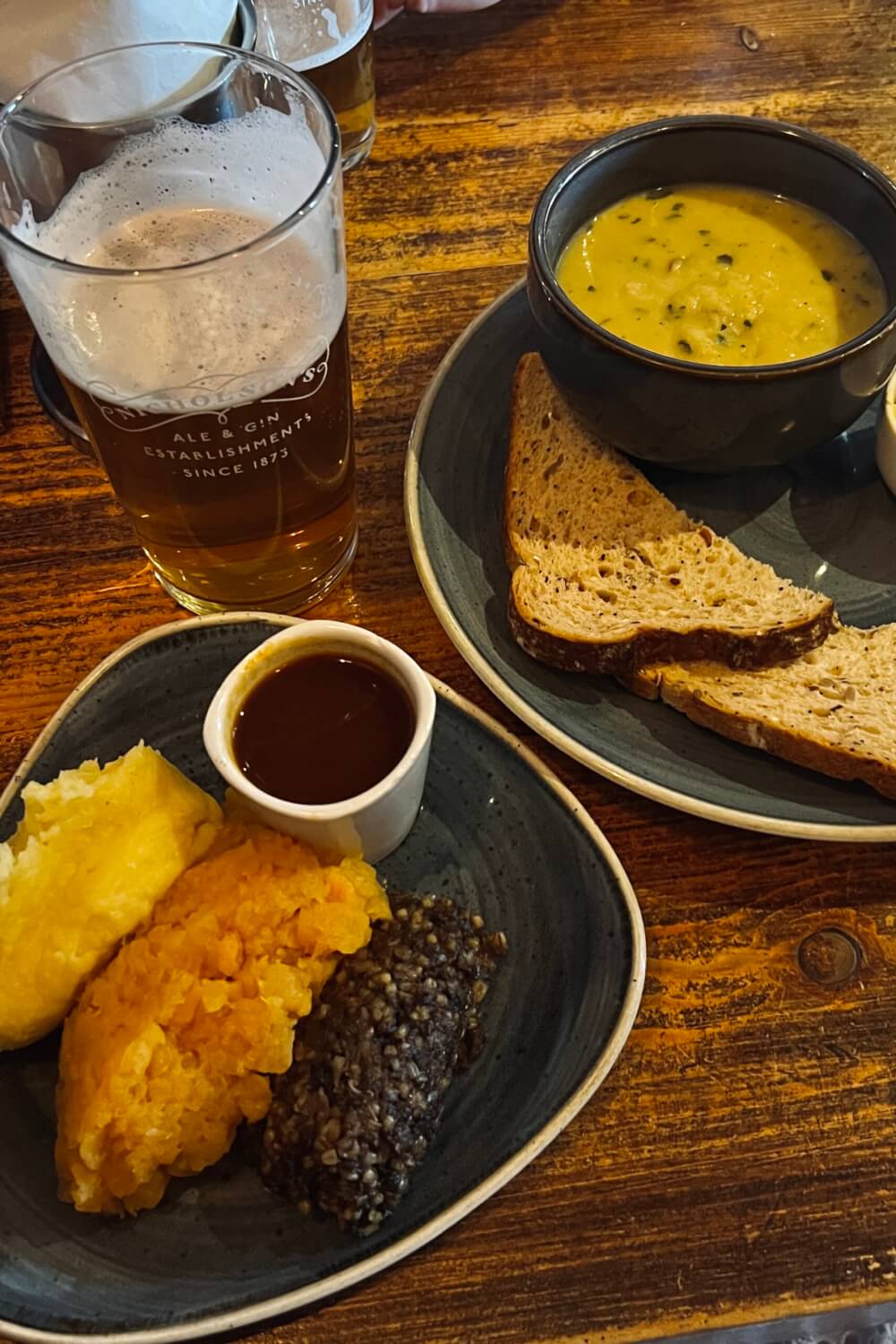 9. Try deep fried versions of food you didn't know they could deep fry
Of course, if you're looking for gluttonous things to do in Edinburgh, be sure to try some of Scotland's more infamous treats, like deep fried pizza or deep fried Mars Bars.
After hearing whispers of these monstrosities all around town, I found myself asking "Where do they serve these deep fried pizzas?!" and I soon found out the answer is: pretty much any chippy (small to-go places specializing in fish, chips & other fried goodies).
So, just find one that doesn't look horrific and see what they've got! You'll likely be greeted with a fried cabinet of curiosities like this: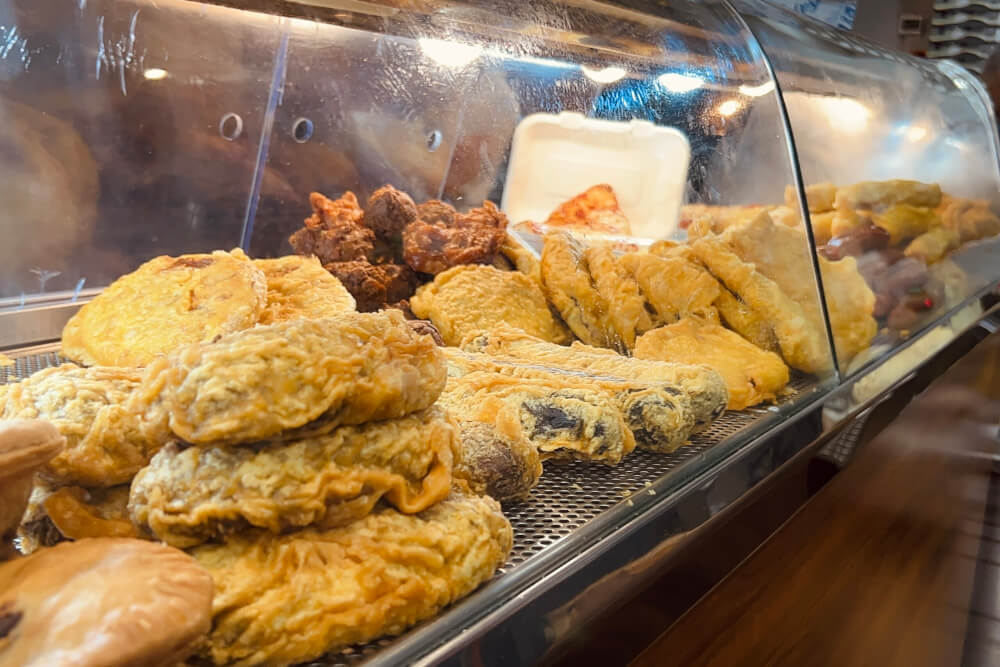 10. Hike up to Arthur's Seat
Now on the opposite end of the spectrum, another fun thing to do in Edinburgh is hiking up Arthur's Seat!
At 823ft above ground, Arthur's Seat is the highest point in Edinburgh, serving glorious views for those who can brave the climb and leg cramps.
For those who don't mind a bit of a workout, a walk up the extinct volcano of Arthur's Seat is definitely one of the best things to do in Edinburgh, so you can secure the most epic views in town and significant bragging rights, like me: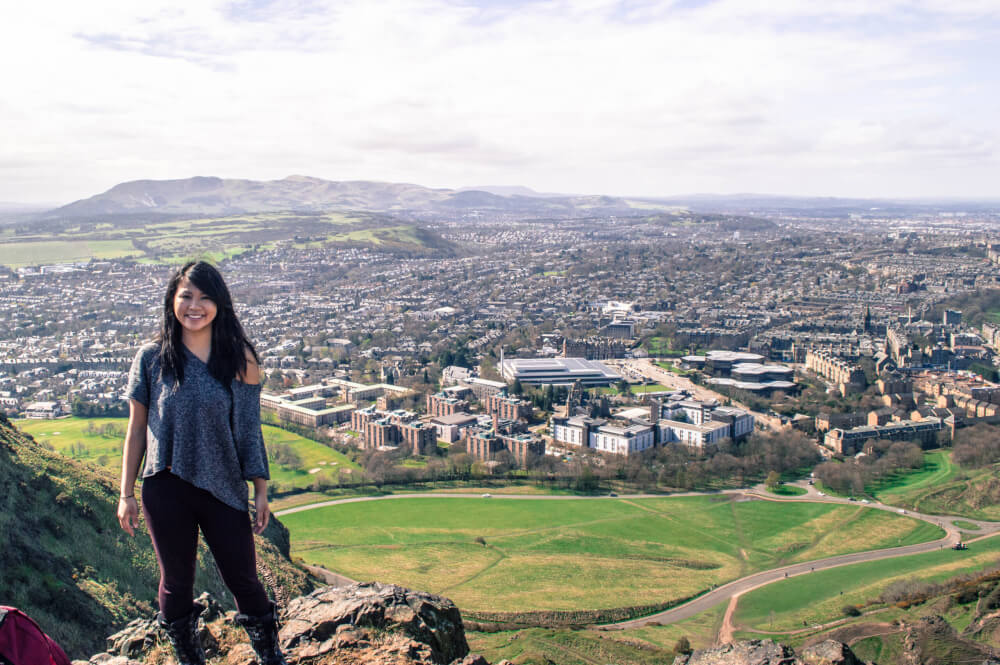 NOTE: If Arthur's Seat is the goal, be careful you don't actually just walk up Salisbury Crag – it's a pretty easy mistake to make, though the views from here are pretty good too. Keep an eye out for signs that point specifically to Arthur's Seat. And take note that this is a proper hike, so don't do it unless you're reasonably athletic.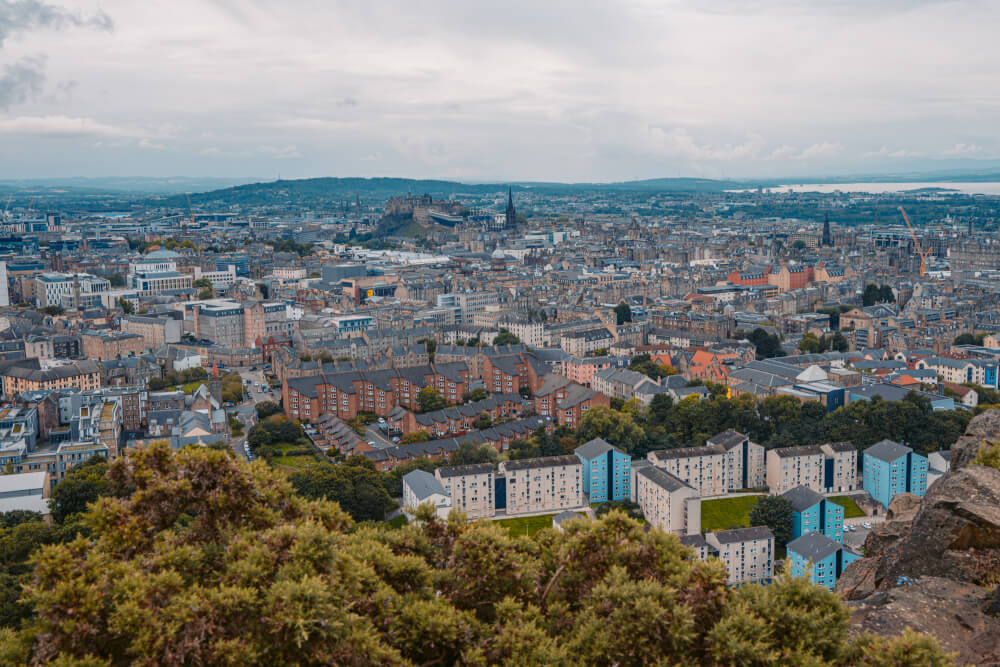 11. Visit the National Portrait Gallery of Scotland
Of all the wonderful free museums in Edinburgh, my personal favourite is the Scottish National Portrait Gallery which (as its name might imply) is an arty shrine to Scotland's most prominent figures in history.
Upon opening in 1889, it was the world's first purpose-built portrait gallery, and today it dazzles visitors with three floors of portraits & sculptures divided into eras, alongside brief explanations of each person's significance.
For those interested in Scottish history (or just putting some faces to names that you've probably heard many times during your time in the country), this is one of the top things to do in Edinburgh. Think the Hollywood Walk of Fame, but with context!
Plus, its design both inside and out is uniquely breathtaking. From the outside, the museum is a grand red sandstone palace that sticks out like a photogenic thumb among its plainer neighbours, and upon entry, you're greeted with a Neo-Gothic dream of pointed arches, hanging lanterns, stained glass windows and a ceiling bejewelled with stars and constellations.
Needless to say, this is one of the best Edinburgh activities to enjoy for history and art buffs – definitely don't miss it!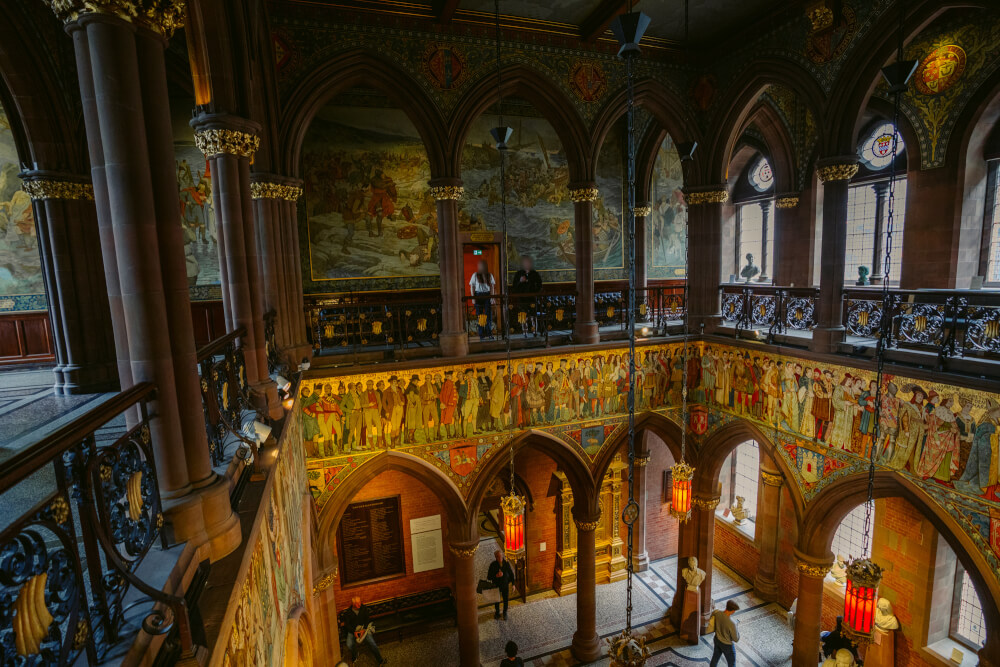 12. Pop into the National Museum of Scotland
For another gorgeous yet informative and free museum, be sure to visit the National Museum of Scotland, one of the most visited attractions in the country!
Once two separate museums (the Museum of Scotland and the Royal Scottish Museum), they were merged in 2006 to create a sprawling wonderland of exhibits, covering everything from science and technology, to natural history, art and world cultures.
One especially interesting highlight is the (stuffed body of) Dolly the Sheep, the first successfully cloned mammal who was born (and cloned) right here in Scotland!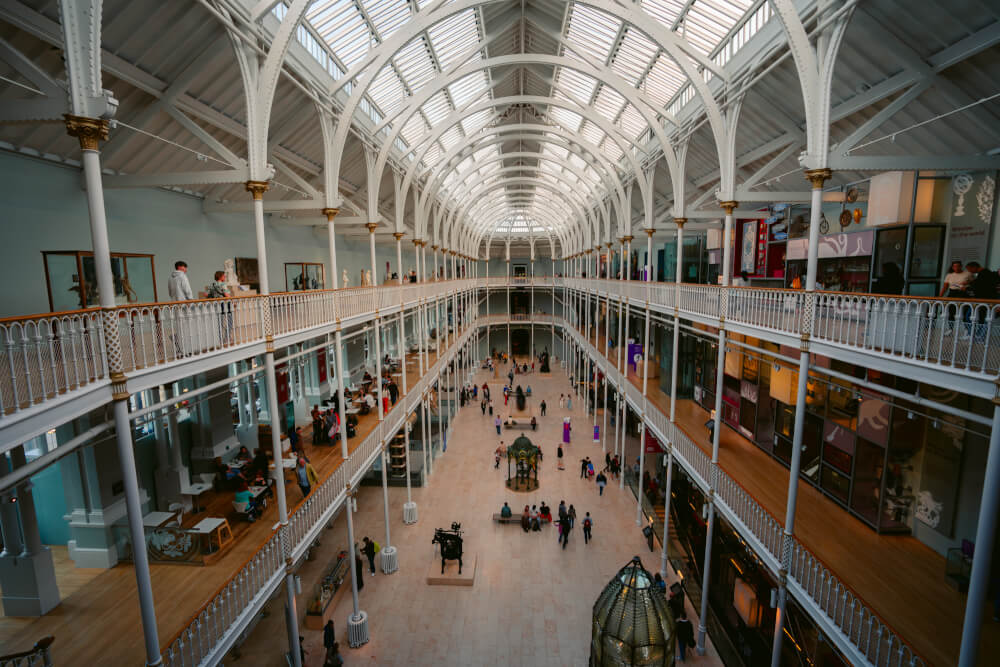 13. Visit the Scottish National Gallery
One of the two buildings located on The Mound in between East and West Princes Street Gardens is the Scottish National Gallery, a must-visit for art aficionados in Edinburgh!
The building itself is quite beautiful, constructed in the neoclassical style by the Scottish architect William Henry Playfair. Inside is Scotland's national collection (hence the name) of fine art, with lots of stunning Scottish and international art dating from the Renaissance until the beginning of the 20th century.
While there are, of course, plenty of pieces by Scottish artists on display there are also a number of artworks by renowned names from throughout art history. You can spot works by Van Gogh, Monet, Gauguin, Constable, Botticelli, Rembrandt, Titian, Degas and more. It's like a who's who of famous painters from history right in the heart of Edinburgh!
NOTE: They also have two galleries dedicated to modern art about 15 min away from Princes Street, if that's more your speed.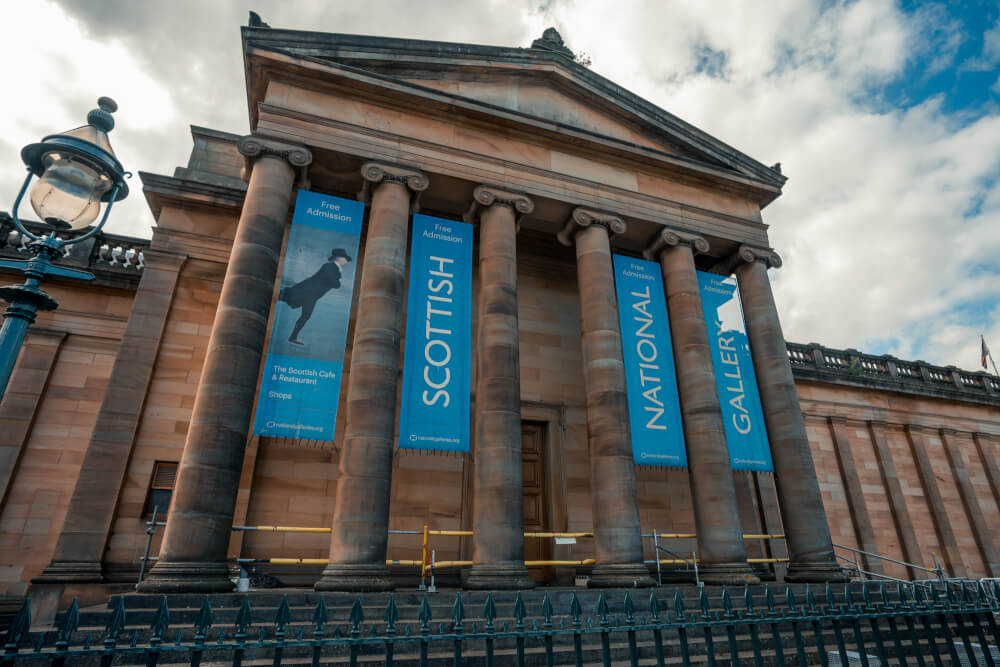 14. Give an air pat to Greyfriars Bobby
If you're looking for low-key emotional activities in Edinburgh though, one thing you cannot miss is a visit to Edinburgh's favourite celebrity: Greyfriars Bobby.
This little terrier is probably one of the city's most beloved mascots, and you can find a statue dedicated to him directly in front of a pub by the same name.
The story goes that when Bobby's human, John passed away unexpectedly, he spent the next 14 years of his life simply sitting at John's grave, sleeping by his side every night.
So moved were locals that they would bring him food, and eventually the Lord Provost (pretty much the mayor) gave him his own collar, making him a "licensed dog", which protected him from removal.
Bobby himself is now buried in the Greyfriars Kirkyard, near his human John. People still leave sticks, flowers & dog toys on his grave from time to time. Cue tears.
150+ years later, Bobby remains an Edinburgh celeb of the highest degree, and anyone who passes through learns of/falls in love with him and his lifelong loyalty.
There are of course some critics who claim the story is inaccurate, but hey, I choose to believe it. What would be the point in not…?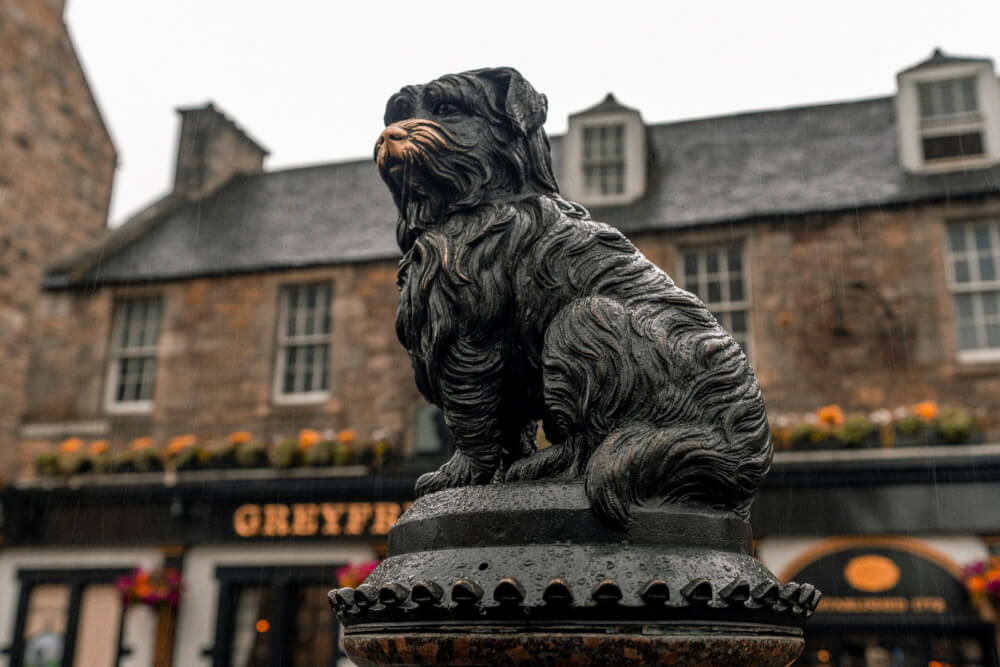 15. Go for a quiet walk around Greyfriars Kirkyard
Apart from the gravestones of Bobby and his human, Greyfriars is home to a number of notable Edinburgh residents, since burials have been taking place here since the 16th century, and it's quite a nice spot for a stroll.
Some of the names to keep an eye out for include the poet Allan Ramsay, William Smellie the creator of the Encyclopedia Britannica (who remembers using that growing up?!), the author Henry Mackenzie, and Matthew Hardie, a violin maker known as the "Scottish Stradivari."
More recently, however, the kirkyard has become a popular spot for Harry Potter fans, with multiple gravestones bearing names that are said to have inspired characters from the franchise. The connection would make sense after all, since JK Rowling famously lived in Edinburgh for several years.
From Potter and McGonagall to 'Thomas Riddell', Harry Potter fans can often be found snooping around this kirkyard to find recognizable names. And, if you're up for a nerdy/macabre mission, then a fun Edinburgh activity to add to your list is joining them!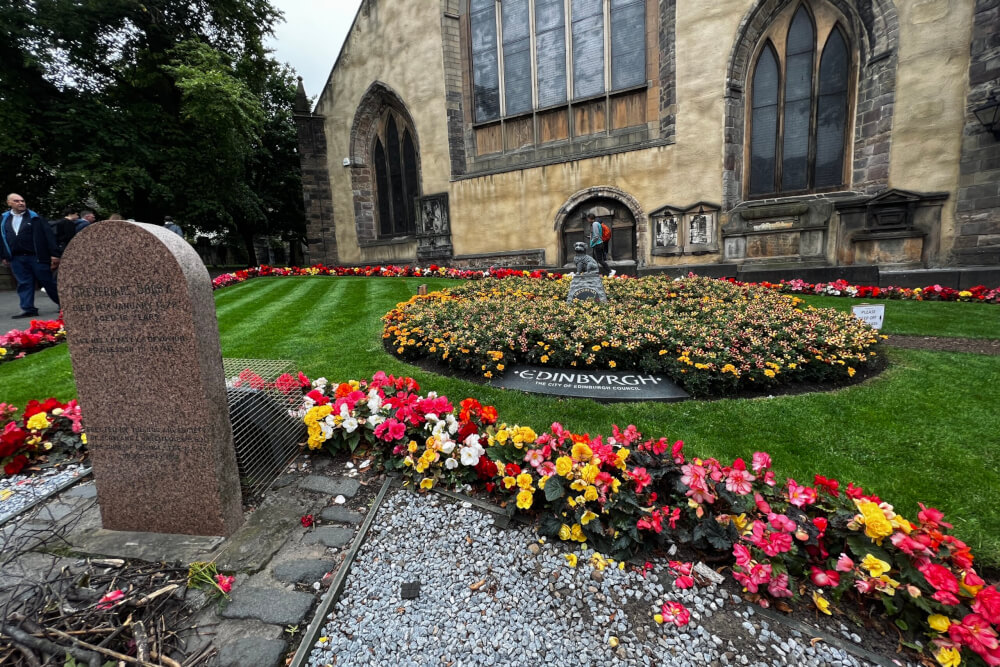 16. Book a unique tour
Edinburgh is one of the most visited cities in Europe, and as a result there's a silly amount of fun tours you can book for every interest, including…
And, I feel obliged to tell you this because it seems to be one of the most popular things to do in Edinburgh, so here we go: there ARE silent disco walking tours available as well.
During my time in Edinburgh, I found these tours to be an absolute menace, blocking streets and making life miserable for everyone but them… for what it's worth though, people on the tour always seemed to be having a good time, so there you go.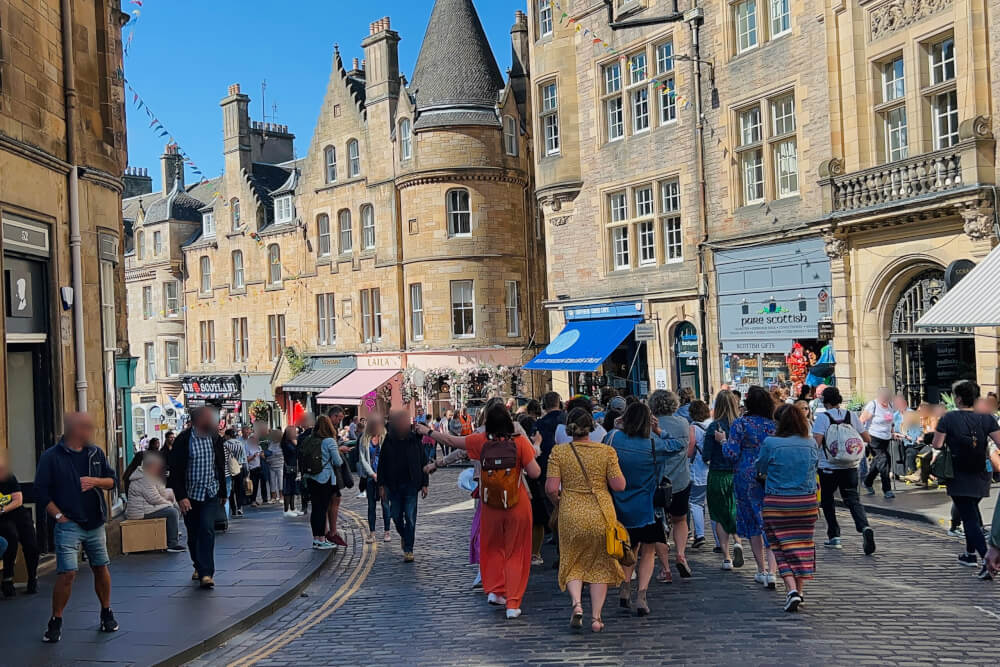 17. Enjoy a spooky experience
Of course, if you're looking for spookier things to do in Edinburgh, there are plenty of options.
After all, Edinburgh is very proud of its reputation as one of the most haunted cities in Europe, and if that kind of spooky tourism is your kind of thing, then consider booking something like…
18. Take a stroll along Victoria St
Another magical must-do in Edinburgh? A visit to the wildly photogenic Victoria St.
Edinburgh's Victoria Street has long been proclaimed as THE inspiration for Harry Potter's Diagon Alley, and while it's a believable and harmless claim, it's one that has officially been debunked by the author herself (through a series of brutally honest Tweets).
Still – it's a beautiful street to visit, especially if you have a thing for vaguely magic-themed shops.
This distinctly curved street was built between 1829-1834 as part of an ambitious plan to improve the city's Old Town. And improve they did!
With its charming and colourful mix of boutiques, restaurants, and bars, Victoria Street today is a thoroughfare oozing charm (and tourist enthusiasm) from every cobble. Well worth a stop during any visit to Edinburgh!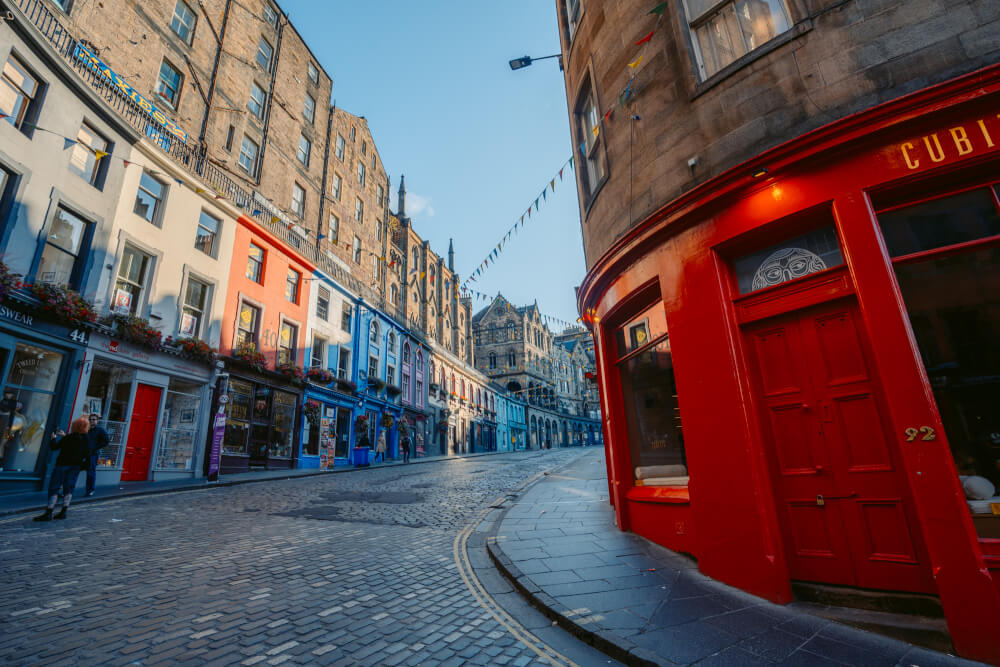 19. Visit the Real Mary King's Close
The Old Town of Edinburgh is filled with historic alleyways, many of which are called closes. Exploring these is one of the highlights of any visit to the city, although the Real Mary King's Close is one of the most unique ones to discover.
While most Edinburgh closes are steep alleyways leading off the main streets, some of them have been lost to time as they were walled off or built over. Mary King's Close was one of these closes, that was named for a merchant woman who lived there in the 17th century.
When the Royal Exchange was constructed in the 18th century, Mary King's Close was partially demolished and then buried.
Today, however, the Real Mary King's Close is now an attraction where actors take you (underground) on a journey back in time to see what the close was like and who lived there hundreds of years ago. It's a really interesting and fun experience, especially if you're into ghost stories!
If you're still not sold, THE Jamie Fraser once named this spot his favourite place in Scotland, so…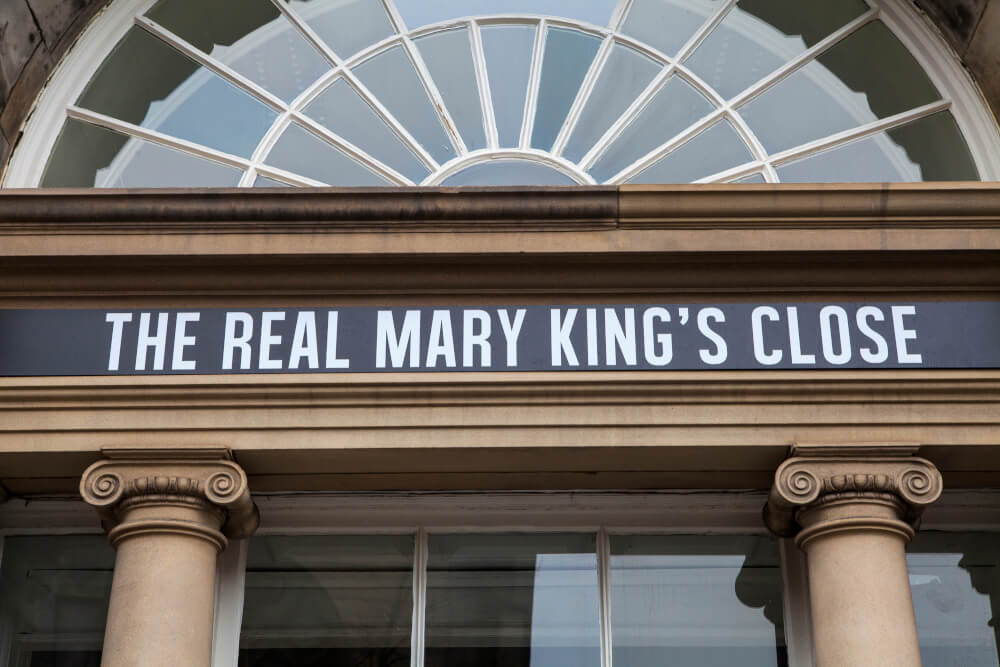 20. Relax in a hidden bar
If you're looking for a place to unwind after some relentless sightseeing, then lucky for you there are plenty of fun bars/speakeasies hidden around town.
One I can highly recommend is Hoot the Redeemer, a fun below-ground bar that's tucked away on a main street, with lots of unique features including a claw machine where you can play for your cocktail's ingredients!
Another bar I heard great things about was Panda & Sons, but I didn't get a chance to see for myself… so please go for me and let me know how it is.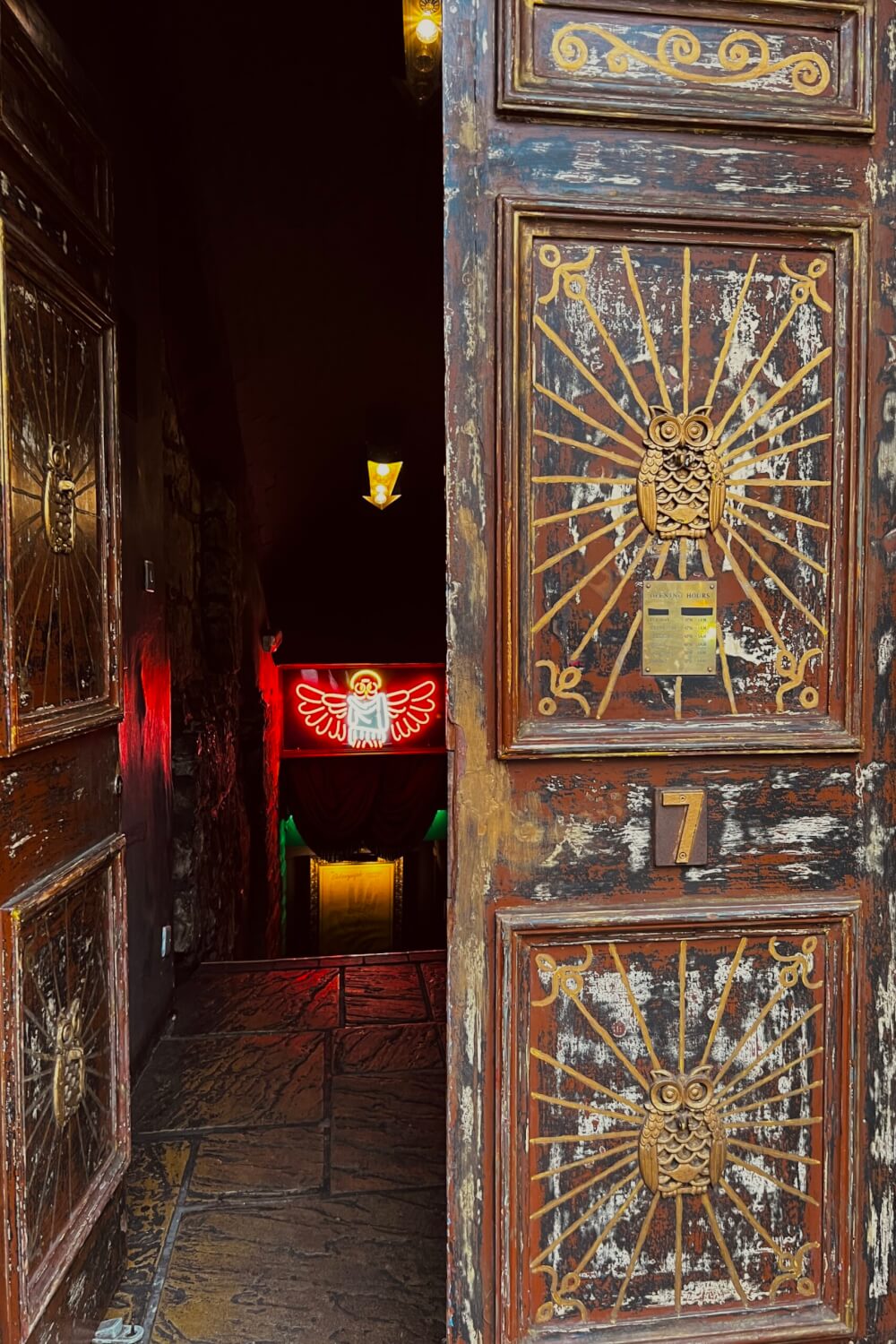 21. Go on a DIY pub crawl on Rose Street
And if you're looking for more fun things to do in Edinburgh at night, the pedestrianized Rose St in the middle of town is a great place to start.
There are a number of cute pubs on this street, but my personal favourite was Dirty Dick's: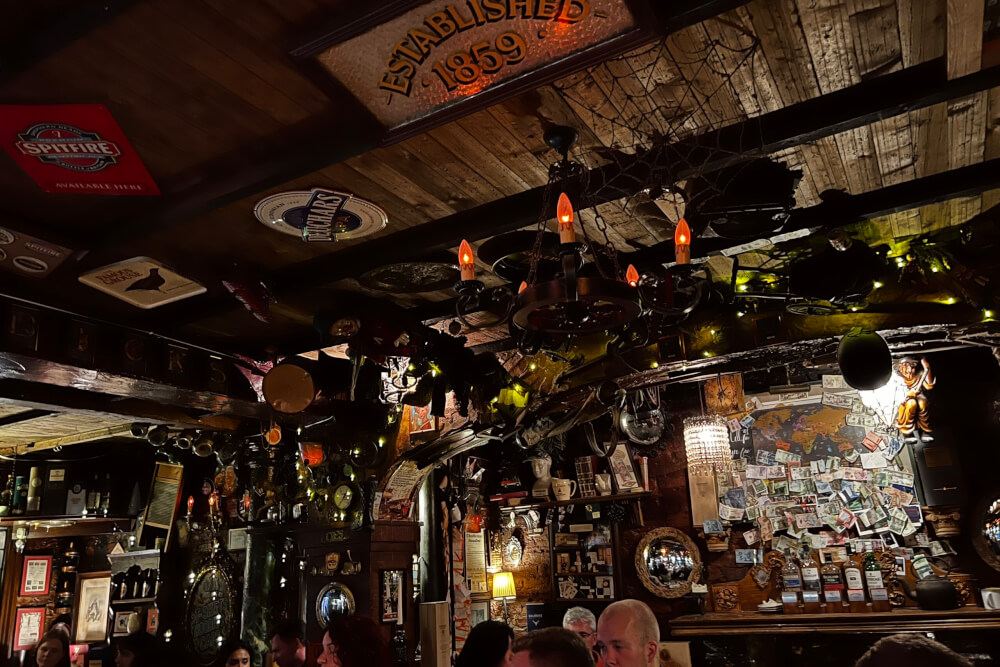 22. Scope out the epic view from Waverley Bridge
If you're a fan of gorgeous photo opps, then this next Edinburgh must-do is for you: a stop at the magical Waverley Bridge.
This bridge connects two distinct parts of Edinburgh's City Centre – the broody medieval Old Town and the (relatively newer, but still centuries-old) New Town, which is filled with beautiful Georgian era architecture w/ pops of Neoclassical too.
Together, these two areas make up a UNESCO World Heritage Site.
Overall, this view never ceases stop stop me in my tracks, even when there's hundreds of people trampling all over it (as there often are).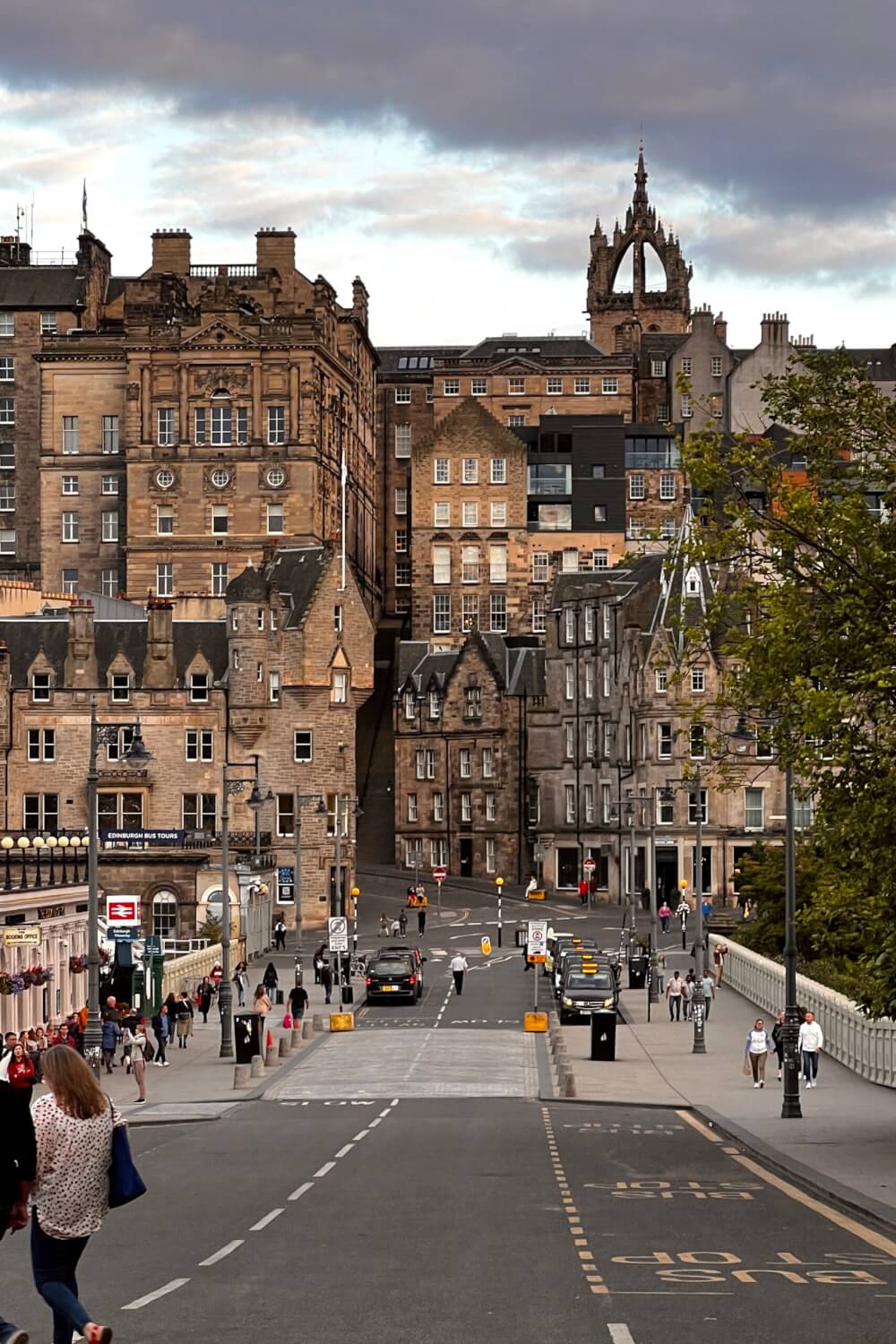 23. Step inside the Royal Yacht Britannia
For superfans of royal history (or for pop culture nerds, Netflix's The Crown), one of the best things to do in Edinburgh is hopping on board the Royal Yacht Britannia, best known for its stint as Queen Elizabeth II's royal yacht for 43 years.
HMY Britannia was constructed in Scotland, so it's fitting that she's now berthed in Leith for visitors to explore and get a taste of royal seafaring luxury! This yacht was used by members of the royal family when travelling between 1954 – 1997 and sailed more than a million nautical miles around the world.
Today the yacht is a museum where visitors can wander the five different floors and see how the royals travelled. Of course, a highlight is having a champagne cream tea in the Royal Deck Tearoom, where Queen Elizabeth II and Prince Philip themselves played deck games and entertained!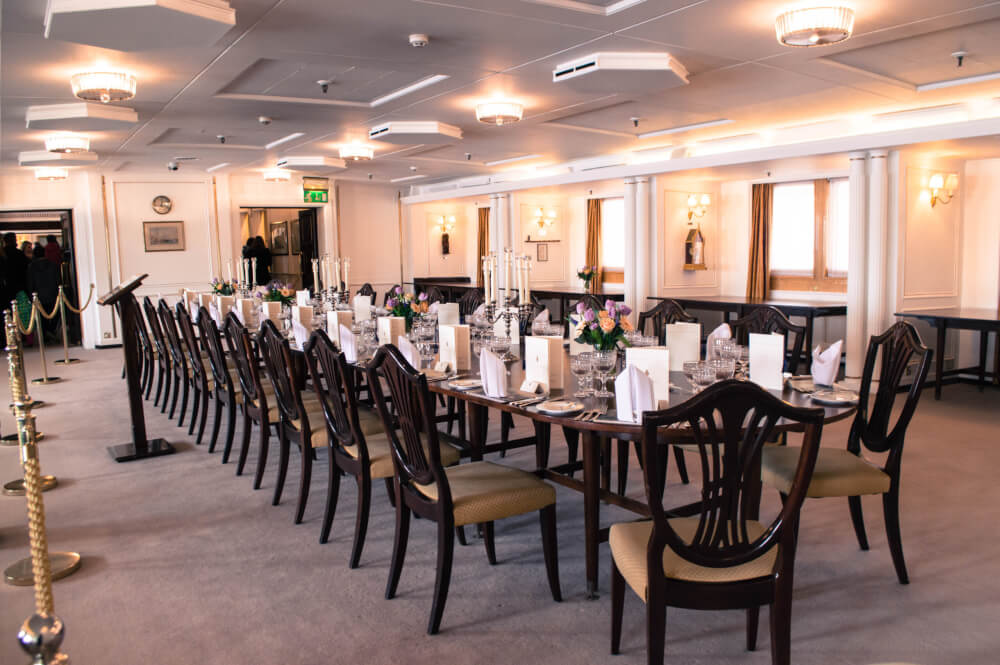 24. Eat & drink your way around Leith
After snooping your way around the former royal digs, another fun Edinburgh must-do is to explore the trendy neighbourhood of Leith, known for being one of the coolest neighbourhoods in the city!
Leith is the port area of Edinburgh, located where the Water of Leith meets the sea and used to be the city's centre of shipping and industry. It was also known for being rather impoverished at times; the events of Trainspotting (both the novel by Irvine Welsh and the film with Ewan McGregor) were largely set in Leith.
… But times have changed. Today, Leith is a hip neighbourhood packed to the brims with pubs, cafés, and restaurants, as well as being home to the colourful Leith Festival each June. If you won't make the Edinburgh Fringe, this is a cool alternative consisting of eight days of events celebrating theatre, music, arts and more.
PS: If you're looking for a unique pub to visit in Leith, I really enjoyed Teuchters Landing – they charmingly serve a lot of their snacks in mugs and have a cute game called the 'Hoop of Destiny' where you pay a small fee for a go at a ring toss where the prize is a dram of the whiskey you land on.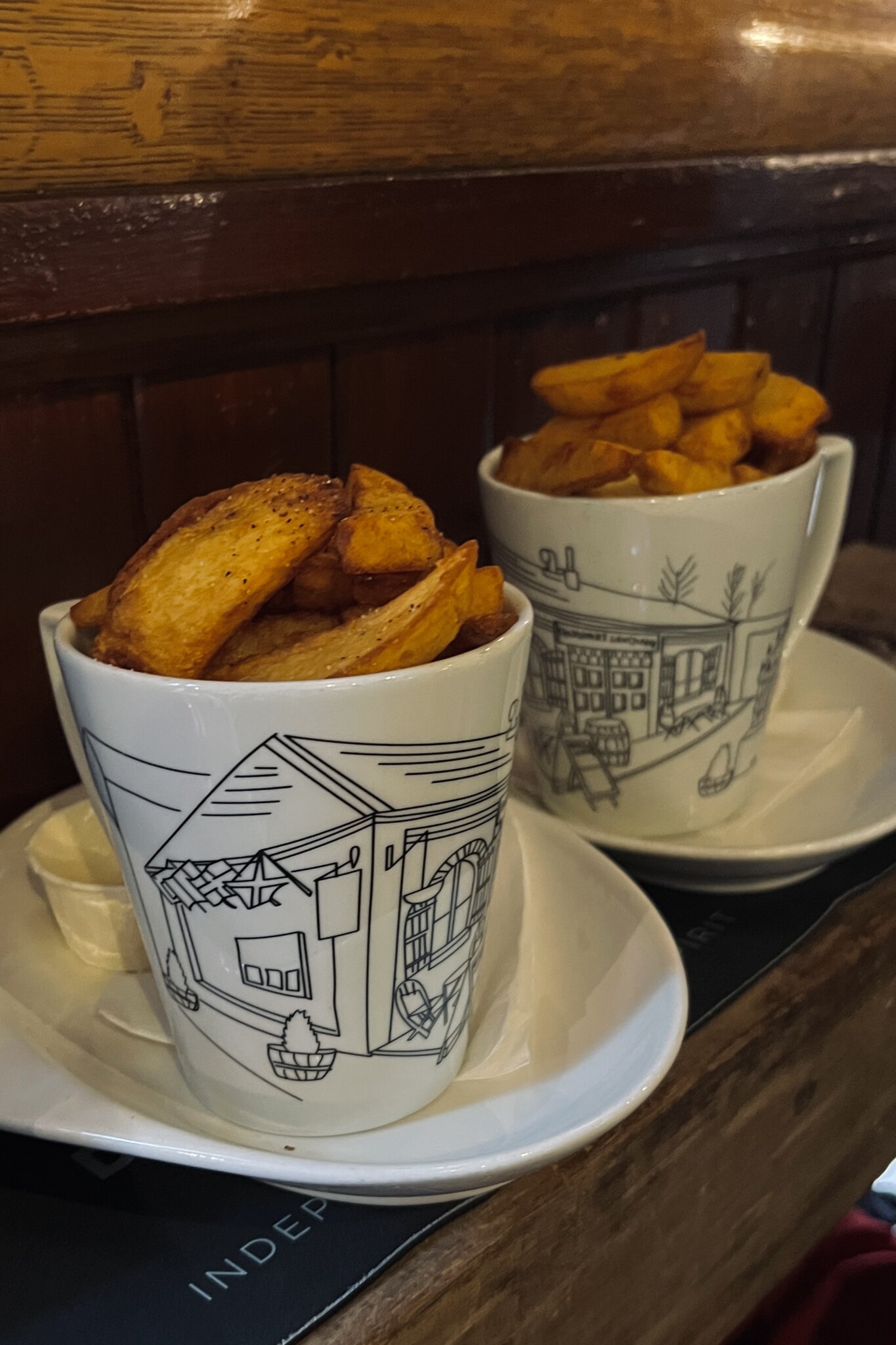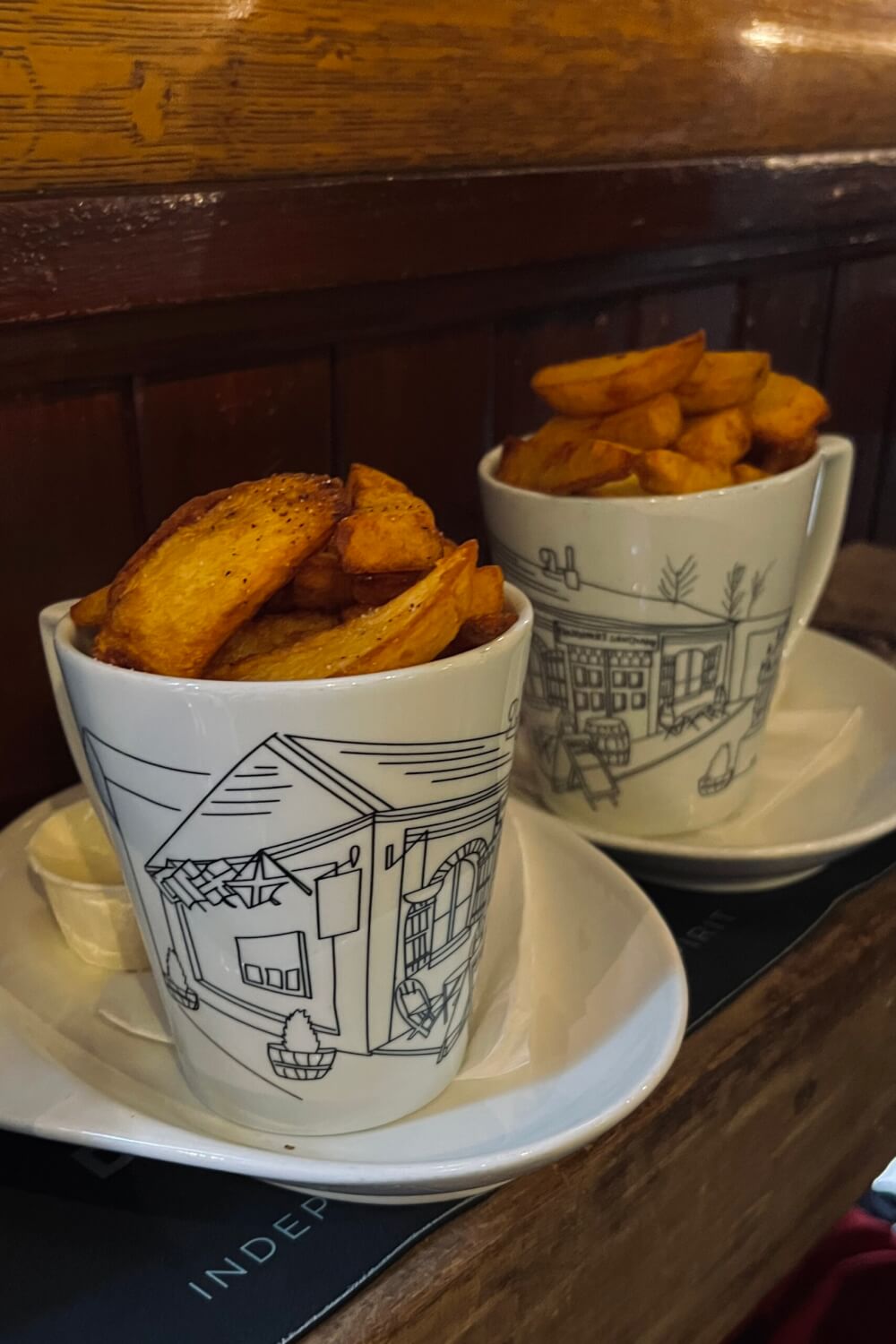 Otherwise, I can also recommend…
Malt & Hops: A very cozy traditional pub ideal for people watching
Mother Superior Bar: A friendly, more modern bar with live music in the basement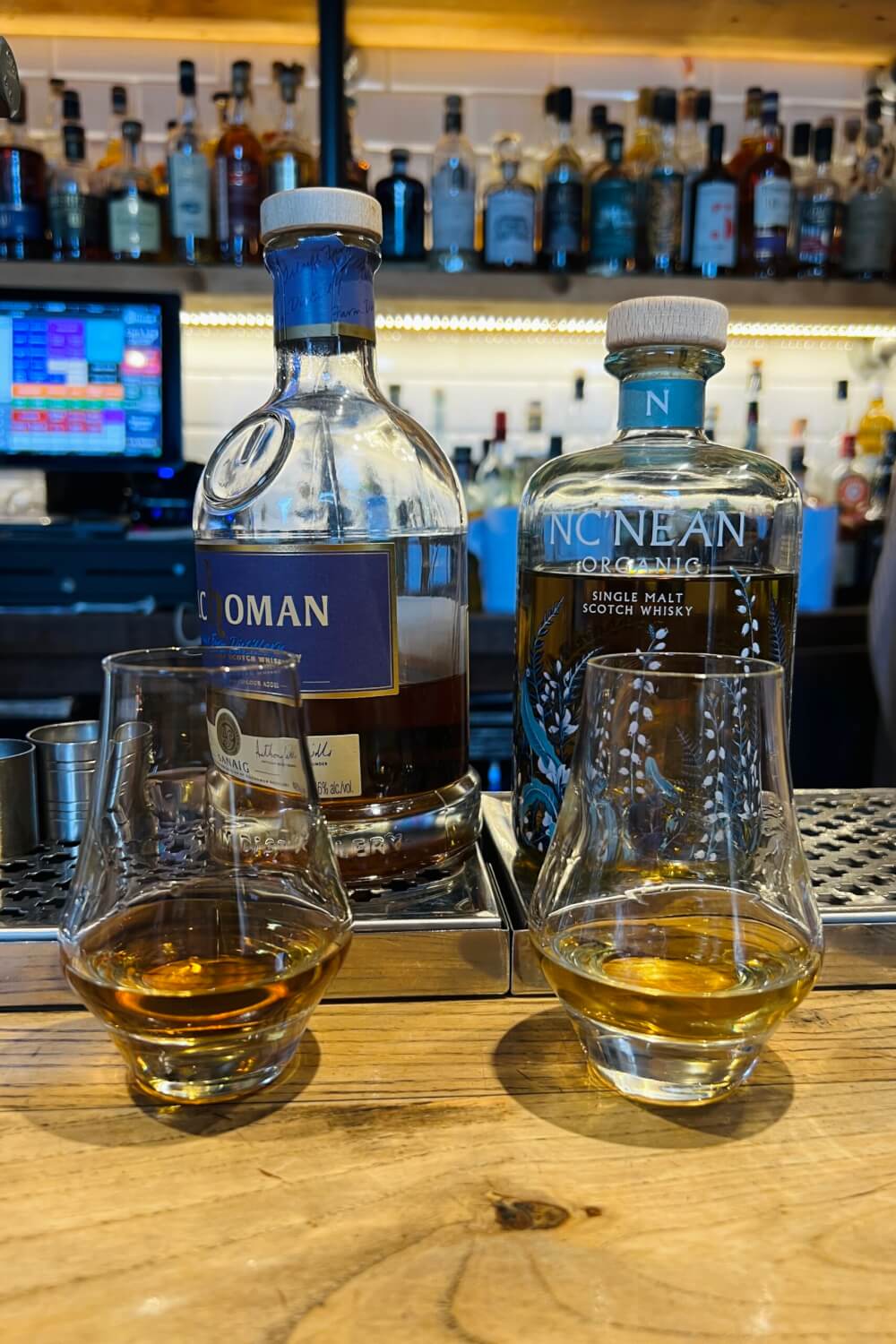 25. Check out the Scott Monument
This imposing monument is one of the most recognizable landmarks in the city, a satisfying fact to me because unlike many monuments of its size, it's not dedicated to former royalty, or a war hero, rather, it's dedicated to…. a writer!
In fact, some say that this is one of the largest monuments in the world dedicated to a writer.
The honouree in question? Sir Walter Scott, famous poet and once-anonymous writer of the famous Waverley novels.
Today, the monument is actually one you can pay to enter, and enjoy breathtaking panoramic views of Edinburgh from the third-floor viewing platform. Of course, you'll need to be able to climb up 221 very narrow, winding stairs, but if you can manage that then the views are definitely worth it!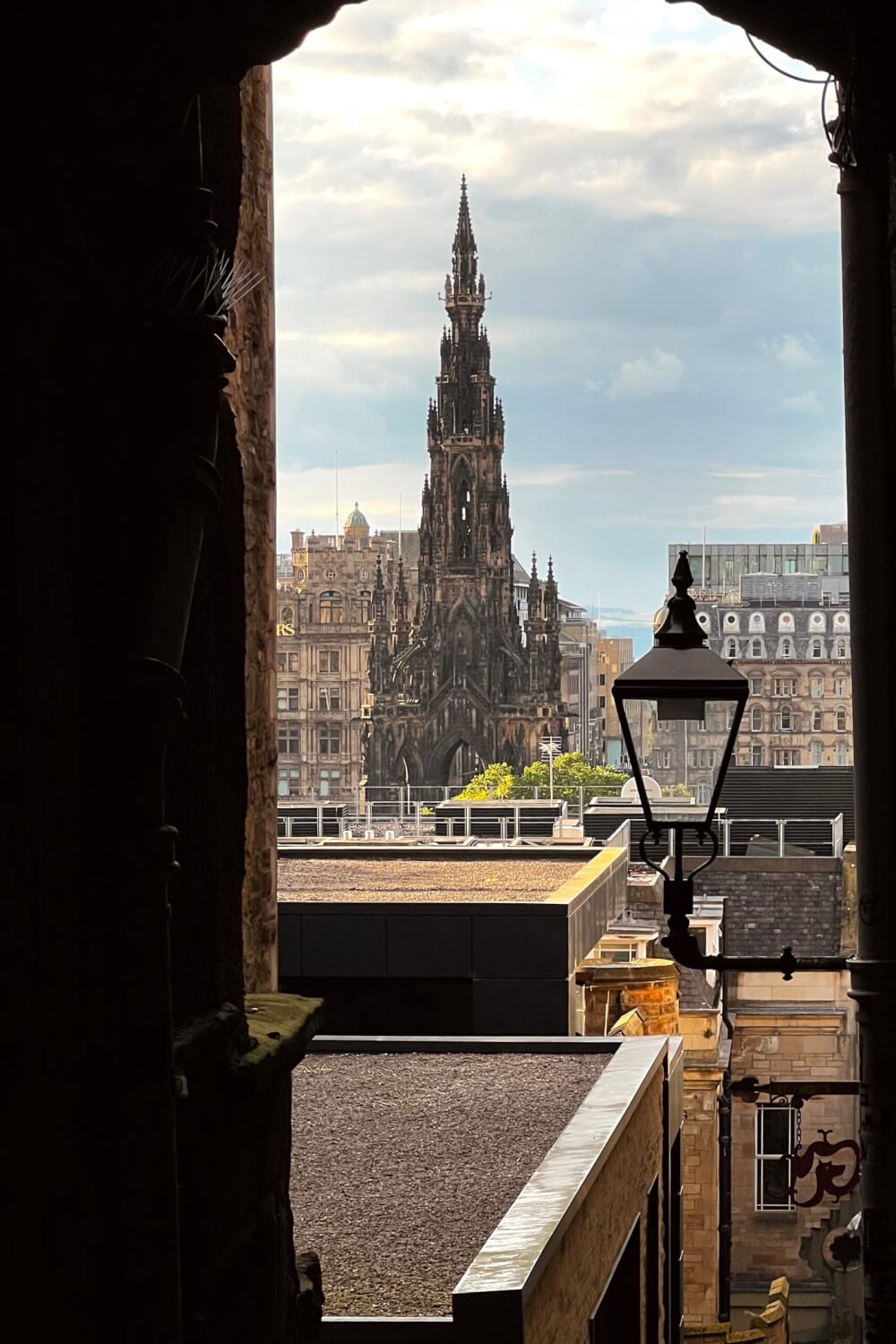 26. Cozy into an amazing bookshop
Another nerdy but wonderful thing to do in Edinburgh is sniffing your way through the city's bookshop scene.
There's no shortage of amazing bookshops to visit in Edinburgh, but if I had to pick a favourite, it might have to be a Armchair Books, one of Edinburgh's coziest and most beloved book shops.
Tucked away in a castle-adjacent area where there's practically a bookshop or two on every block, inside you'll find a maze of beautiful literary chaos filled with antiquarian (and modern) books. I truly wish you could smell this photo: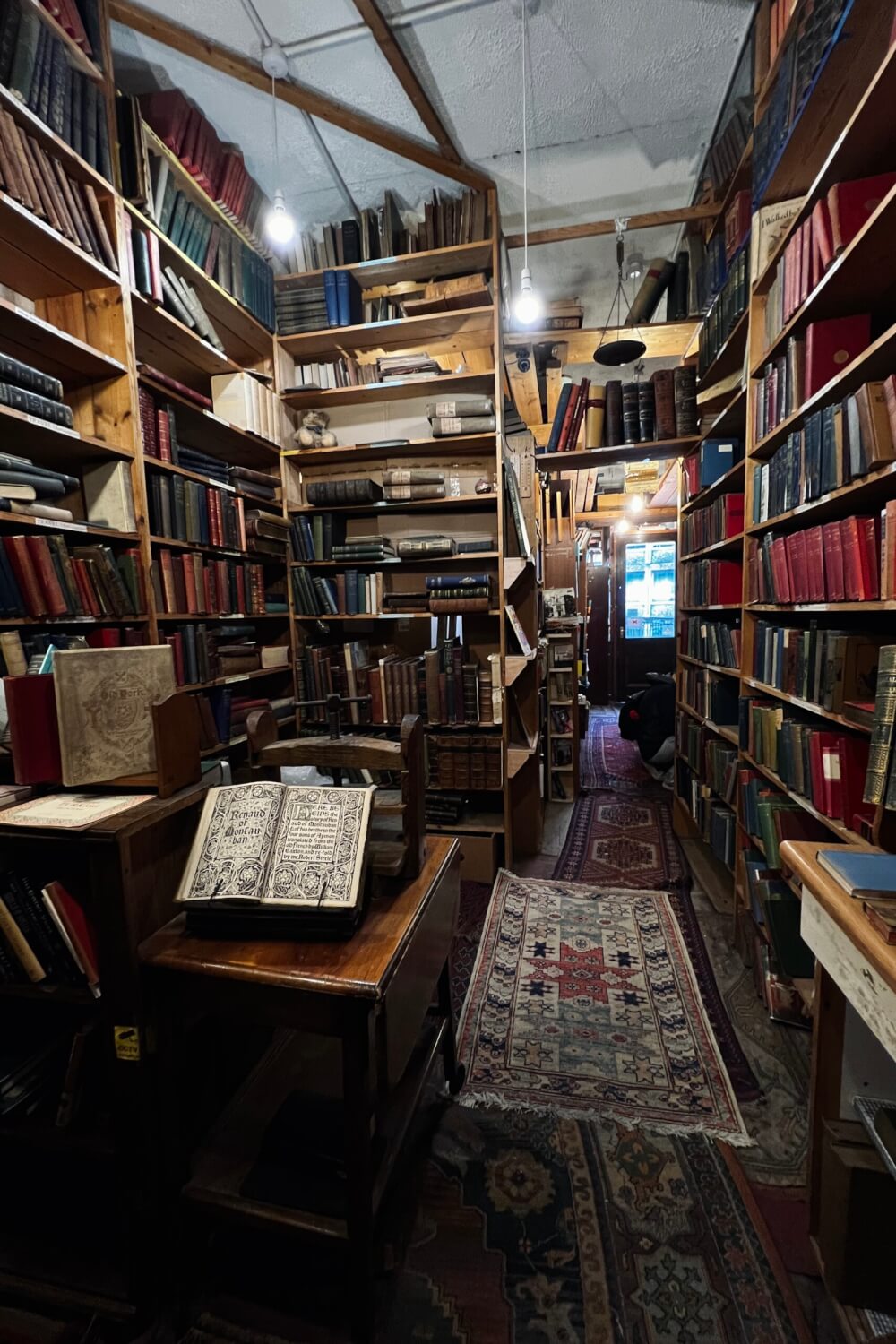 The Waterstones on Princes Street also has a pretty incredible view from their cafe: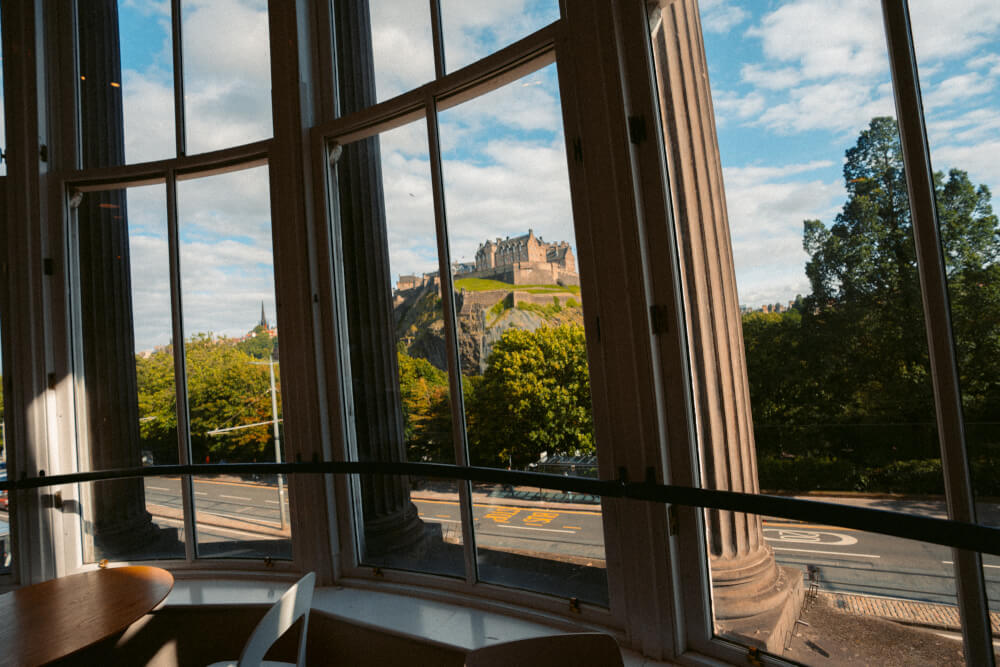 27. Browse for unique souvenirs at Tron Kirk
If you're looking for a fun shopping experience in Edinburgh, I'd recommend ducking into Tron Kirk on the Royal Mile.
This former church is now home to a lovely little Makers Market, where you can browse souvenirs and products from local designers, a great alternative to the mass-produced products being peddled elsewhere on the Mile.
Be sure to keep an eye out for it, because it's easy to miss!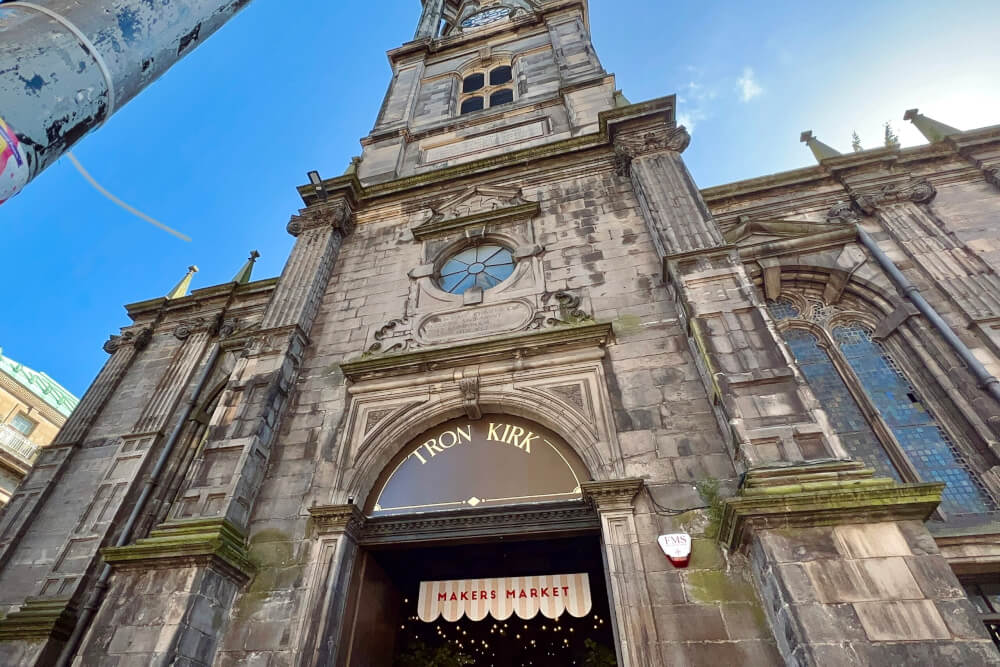 28. Step inside St Giles Cathedral
St Giles' Cathedral, also known as the High Kirk of Edinburgh, is a historic and iconic church located on the Royal Mile in the heart of Edinburgh.
Despite its name, it's not technically a cathedral as it doesn't have a bishop. What it lacks in bishops however, it makes up with a rich history dating back to the 12th century, when a church dedicated to St Giles was first established on the site. The present Gothic-style building was constructed in the 14th and 15th centuries, making it one of the most historically significant religious structures in Scotland.
The church boasts stunning Gothic architecture with intricate stone carvings, a crown spire, and a beautiful stained glass window known as the "Thistle Chapel." The interior is equally impressive, featuring a striking nave, a lovely choir, and various chapels.
Beyond its religious significance, St Giles also hosts various cultural events, including concerts and exhibitions, making it a hub for the arts in Edinburgh.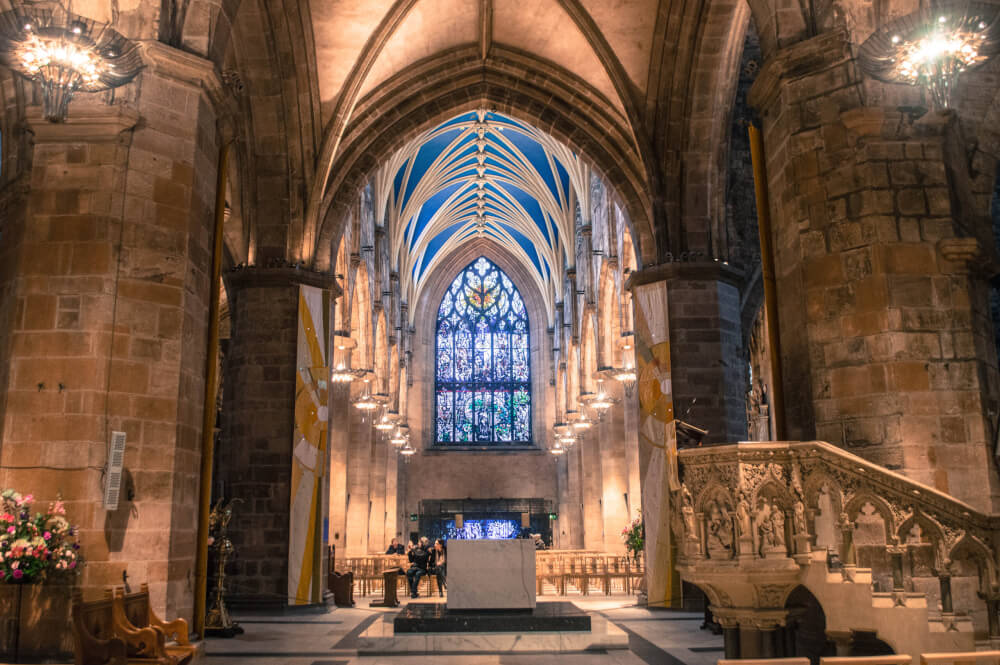 29. Wander around Dean Village
Dean Village is a fairytale hamlet found a short walk away from Edinburgh's city centre.
Because of it, the Edin-bros (unofficial term) of yesteryear could eat bread! That's because for 8 centuries, this area was a hub for grain milling, with just under a dozen mills grinding away at its peak, powered purely by the coursing river known as the Water of Leith.
Despite being one of THE most photographed sights in Edinburgh, there's not much to do here by way of activities (though there's a modern art museum close by). Rather it's more a place to froth at the mouth while admiring pretty postcard scenery. Probably my favourite activity of all!
PS: There was no guy named "Dean" (or maybe there was, but this isn't his village). The name comes from the Scots word Dene, which means small valley.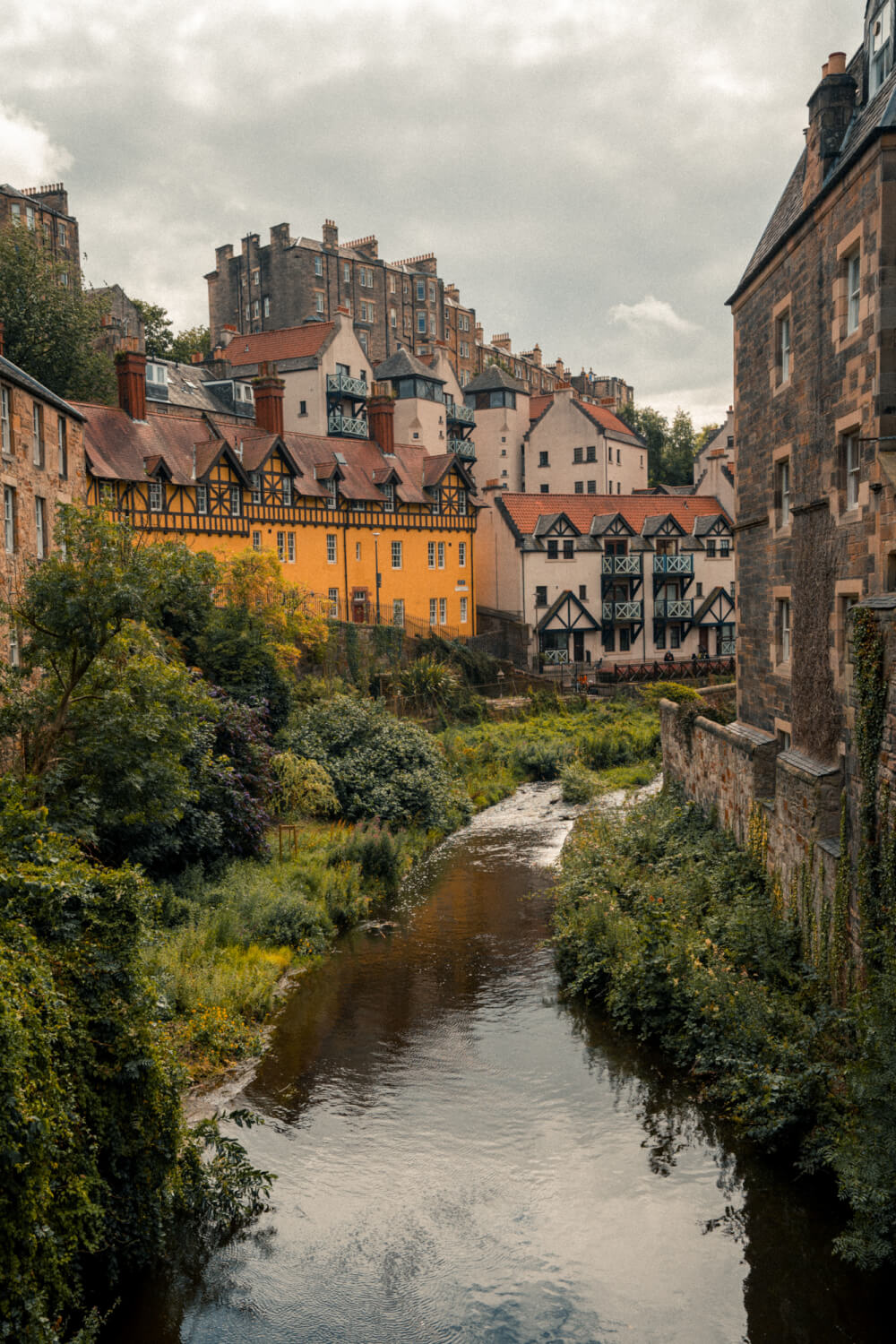 30. Enjoy a peaceful walk along the Water of Leith Walkway
Looking for a more low-key thing to do in Edinburgh? Don't miss the Water of Leith Walkway.
This lengthy walk spans from the town of Balerno (8 miles southwest of Edinburgh) to the port of Leith, next to the Water of Leith River. The entire route runs for 12 miles (19 kilometres) all the way through Edinburgh to where the mouth of the river meets the sea and makes for a delightful way to get some exercise while enjoying the sights.
There are a number of interesting sections worth exploring, including the Colinton Tunnel, a 140-meter tunnel section that's decorated with a mural inspired by Robert Louis Stephenson's poem From a Railway Carriage. The walkway also passes by notable Edinburgh attractions such as the Scottish National Gallery of Modern Art and Murrayfield Stadium, the home of Scotland Rugby Union.
If you had to pick and choose though, the section between Dean Village over to Stockbridge is definitely the most scenic: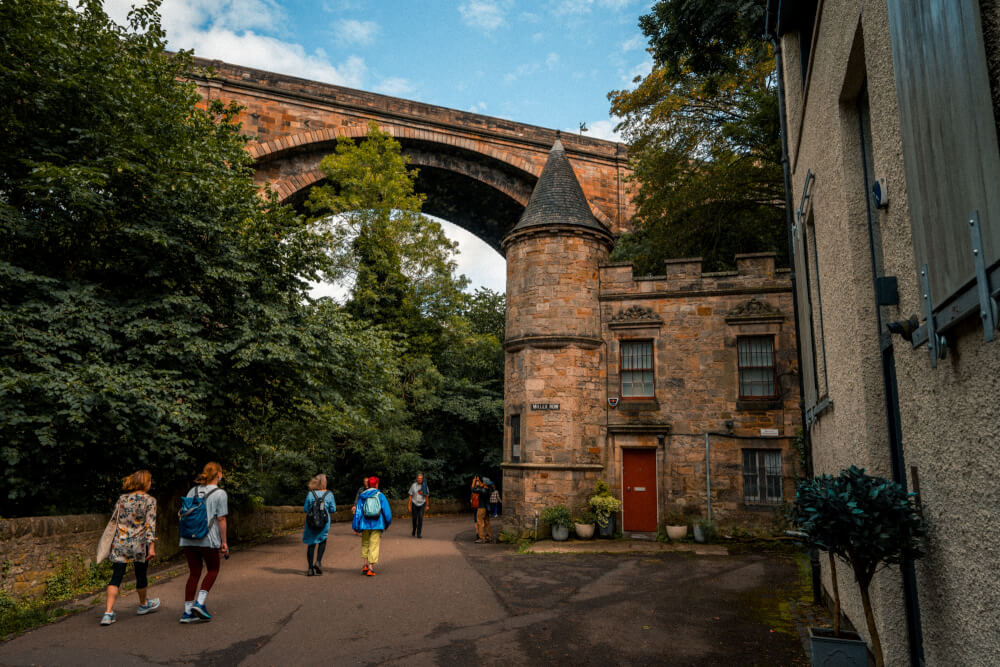 31. Explore Stockbridge
This is one the loveliest neighbourhoods to explore in Edinburgh and well worth a visit after walking along the Water of Leith Walkway from Dean Village.
While it's part of Edinburgh, Stockbridge has a more villagey feel to it, with cobbled streets, Georgian buildings, some beautiful parks and gardens as well as excellent shopping opportunities. There are plenty of independent boutiques, vintage shops, craft shops and homeware shops to explore, along with a weekly market.
Stockbridge is also home to the Royal Botanic Garden Edinburgh and Inverleith Park, both beautiful green spaces if you fancy some more time spent wandering around in stunning Scottish nature.
If you walk from Dean Village to Stockbridge you'll also get to see St. Bernard's Well, a natural spring that was believed to have healing properties and now features a statue of Hygeia, the Greek goddess of health.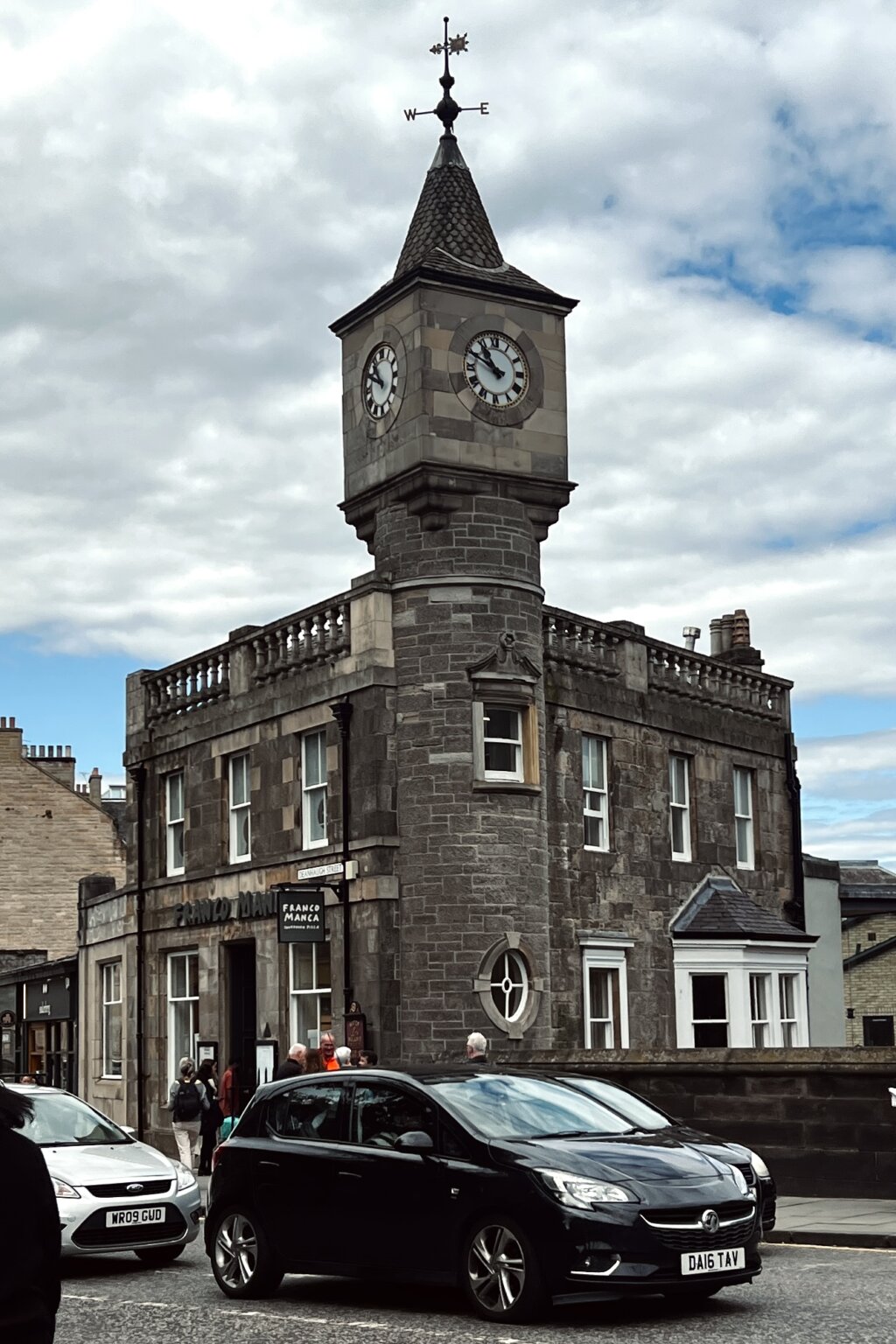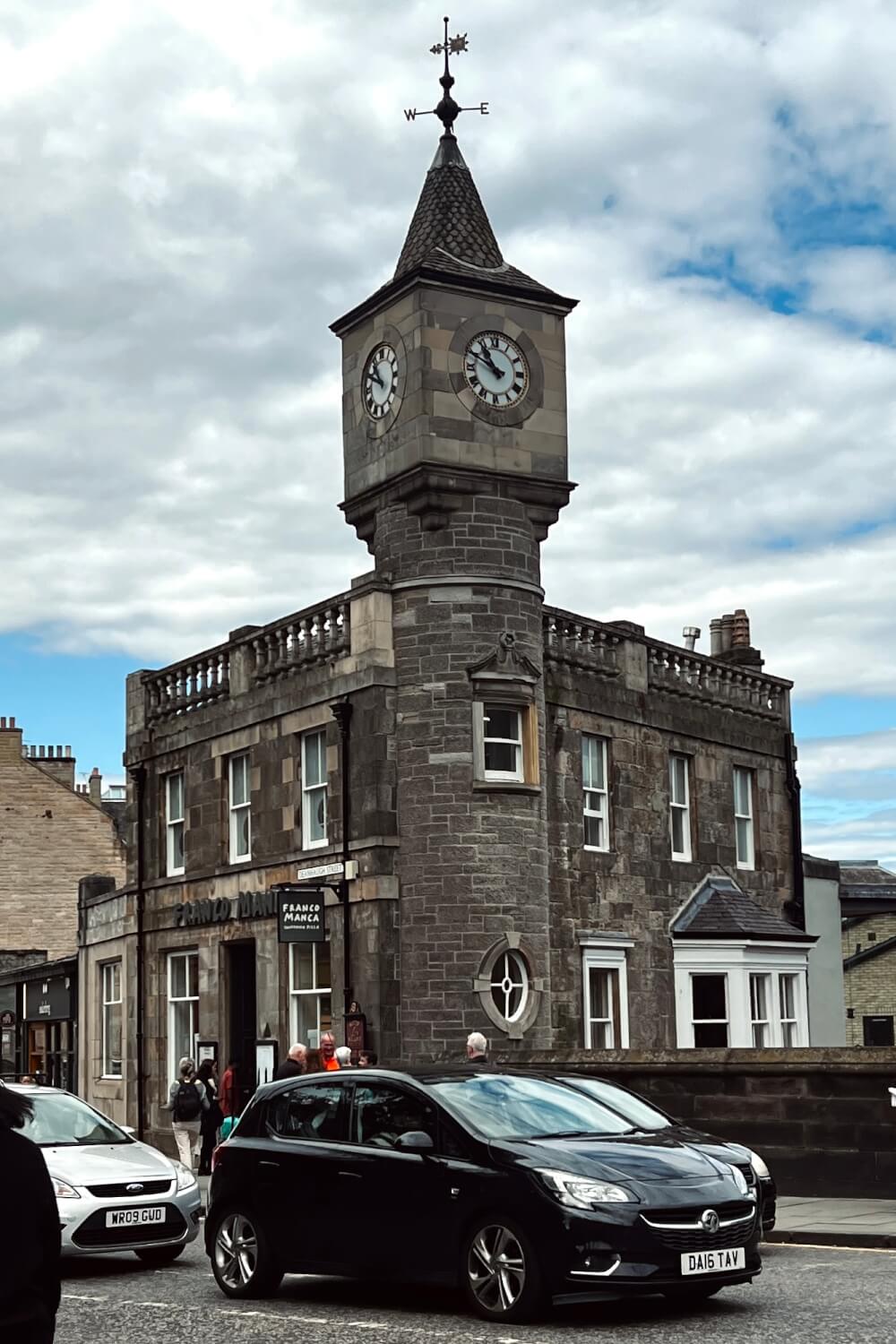 32. Take a stroll down Circus Lane
While in Stockbridge, a very quick (but pretty) stop to add on is a jaunt along Circus Lane.
This street is a bit of an Edinburgh legend, if social media is any indication, anyway. As one of the most photographed sights in the city, many are surprised to discover that it's literally just a residential street.
But hey, it's photogenic, and easy to bundle with time spent in Stockbridge, so if you want a cute detour or a pretty photo opp, then be sure to add this item to your list of Edinburgh things to do.
NOTE: As I often do when I'm roaming around nice neighborhoods, I got curious to see how much it might cost to actually live here. A swift Google later, I found just one house currently on the market – a 2 bedroom for a breezy £595,000! Do with that information what you will.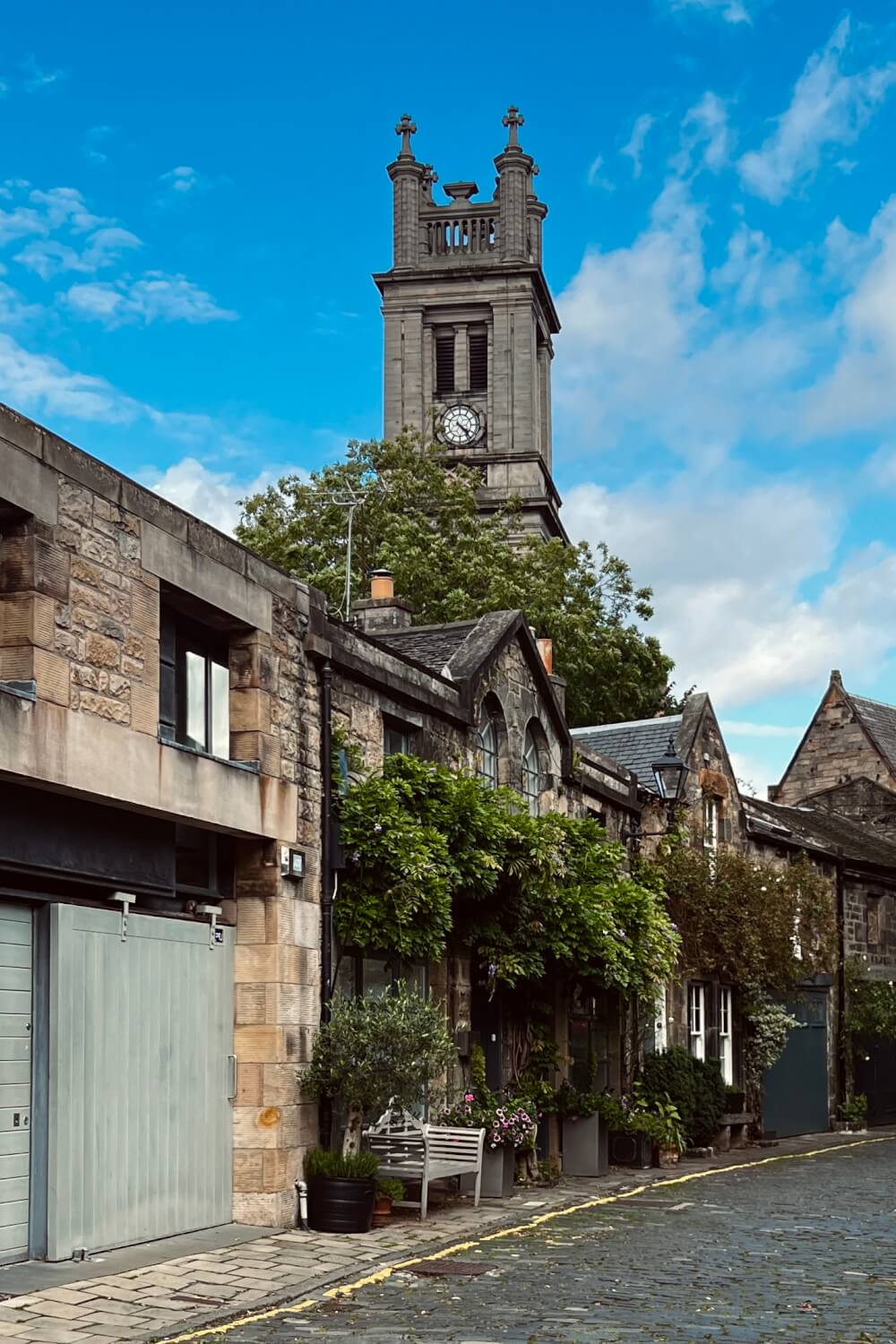 33. Embrace your inner kid at the Camera Obscura and World of Illusions
If you need a fun Edinburgh activity to distract kids (or kids at heart) for a few hours, the World of Illusions steps away from Edinburgh Castle is a fun choice.
Inside, you'll find an interactive wonderland interactive attraction of optical illusions, holograms, and a rooftop camera obscura cherry on top.
Is it cheesy, silly, and purely manufactured for tourist glee?! Of course, but it's a fun way to spend a few hours if you need a rainy day activity, or need a goofy break from the many historic/cultural attractions around town.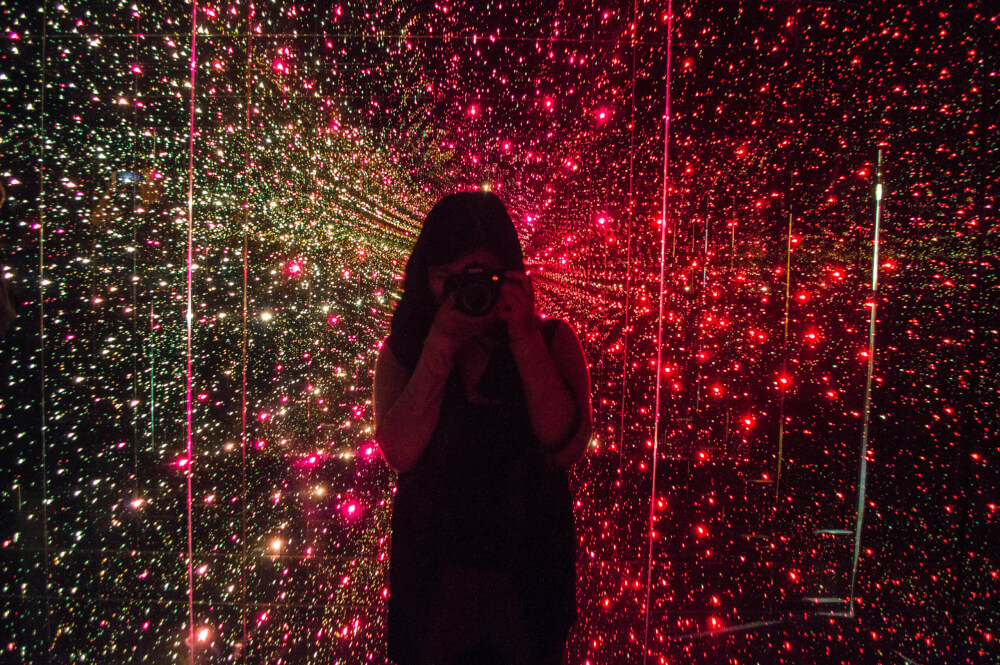 Of course, the view from the top is also pretty spectacular.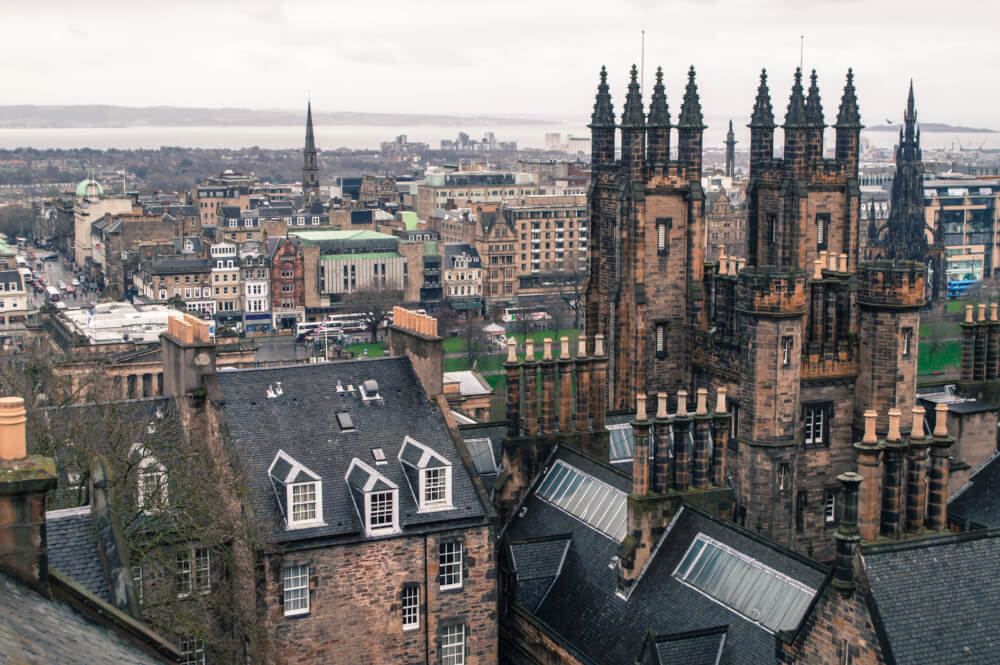 34. Step back in time at Gladstone's Land
Looking for historical things to do in Edinburgh?
Here's another recommendation: hiding in plain sight on the Royal Mile is one of Edinburgh's quaintest historical attractions: Gladstone's Land, one of the oldest surviving buildings on the Mile.
This small attraction offers a quick and compact insight into the evolution of houses on the Royal Mile, starting at the top floor with a 1911 era room when it was a modest lodging house, winding down and getting richer with every floor.
My personal favourite was the fabric shop on the 2nd floor, which offered insight into what it would've been like to be a lady of leisure in that era.
Of course, it's only right that you treat yourself to an ice cream after.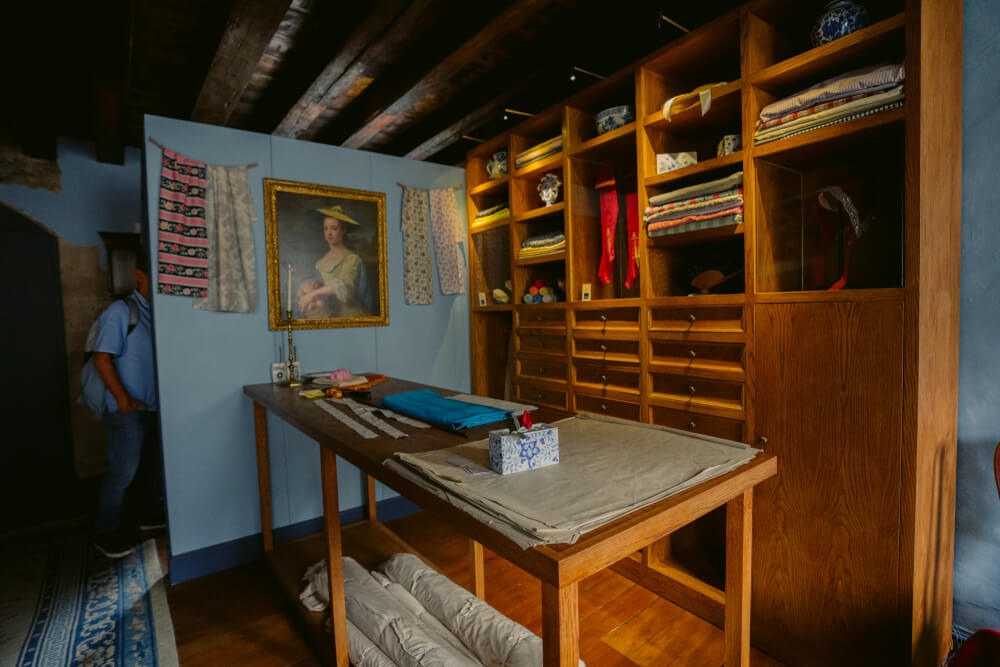 35. Wander around New Town
While many of Edinburgh's most famous sights are located in the Old Town area, the central and aptly-named New Town section is just as beautiful with lots of interesting things to explore.
A lot of the architecture in New Town is Georgian or neo-classical, and there are also quite a few beautiful parks, particularly the Queen Street Gardens. It's also much more obviously neat and ordered, as opposed to the maze-like streets of Edinburgh's Old Town.
New Town is packed with restaurants, cafés, bars, and shops, so this is where you'll likely find yourself during a night out in Edinburgh. Princes Street is the main shopping street in Edinburgh with many flagship department stores, while nearby George Street is home to many high-end luxury stores.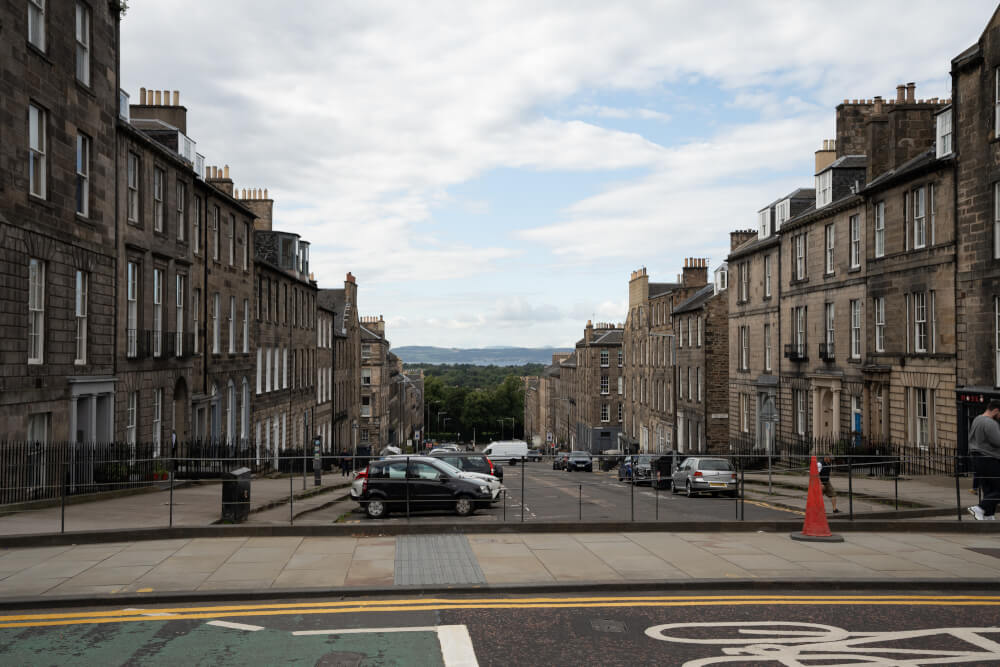 36. Visit the Georgian House
The Georgian House is an 18th-century townhouse that's been beautifully restored and now operates as a museum showing visitors how the different rooms would have looked when they were inhabited.
Most riveting of all was the (surprisingly long) introductory film on the top floor which to my surprise had its own bits of actual plot and character development… while illustrating what daily life might have looked like in this house back in the day.
I won't spoil anything but if you're curious about life in the era popularized by Bridgerton and Pride & Prejudice, you might want to stick around.
Aside from the intro film, the house won't take you too long to explore, with just a handful of rooms to mosey through, along with an interesting basement where you can see what daily life might have looked like for the servants.
Of course, the available rooms are well kept and give you a glimpse into the noble lifestyle of Georgian-era Edinburgh, so if you're interested in this period of history or simply looking for Edinburgh rainy day activities, this is definitely one to add to the list.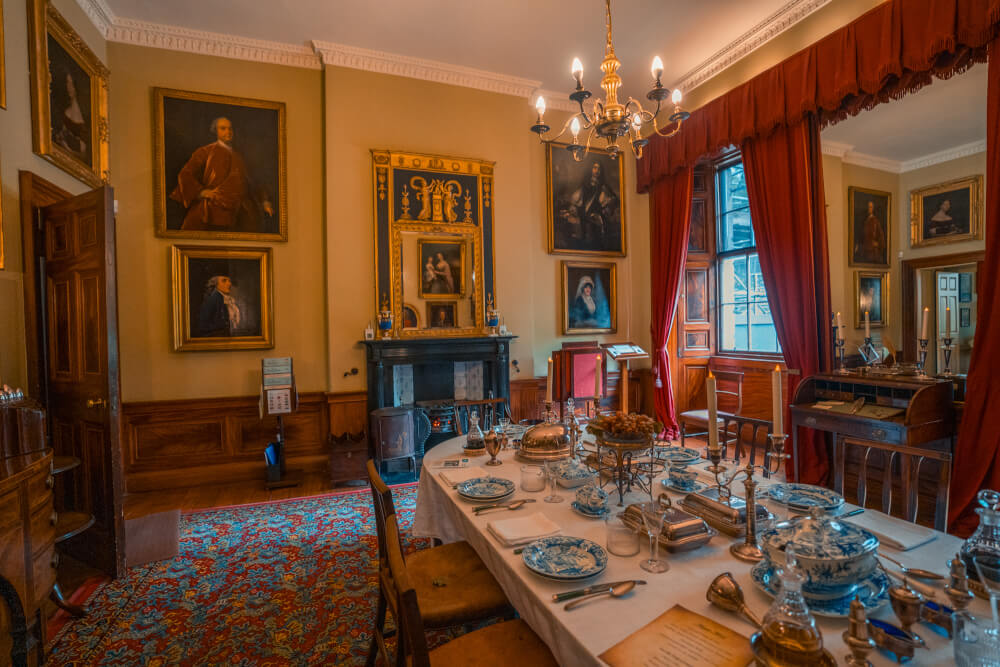 37. Tour the Scottish Parliament (for free!)
It might be a bit niche but for any democracy and parliament nerds (or those into architecture) a free guided tour of the Scottish Parliament Building will definitely give you a unique taste of the city!
The Scottish Parliament Building was surrounded by controversy during its construction, but you're sure to have noticed its unique design when visiting Holyroodhouse – it's the much more modern-looking building across the road.
You can join a free guided tour to learn all about the history of the building and explore the interiors, while also seeing the inner workings of Scottish parliament. I was pleasantly surprised by how cool and interesting the building is, as you can see in my cheesy photo below!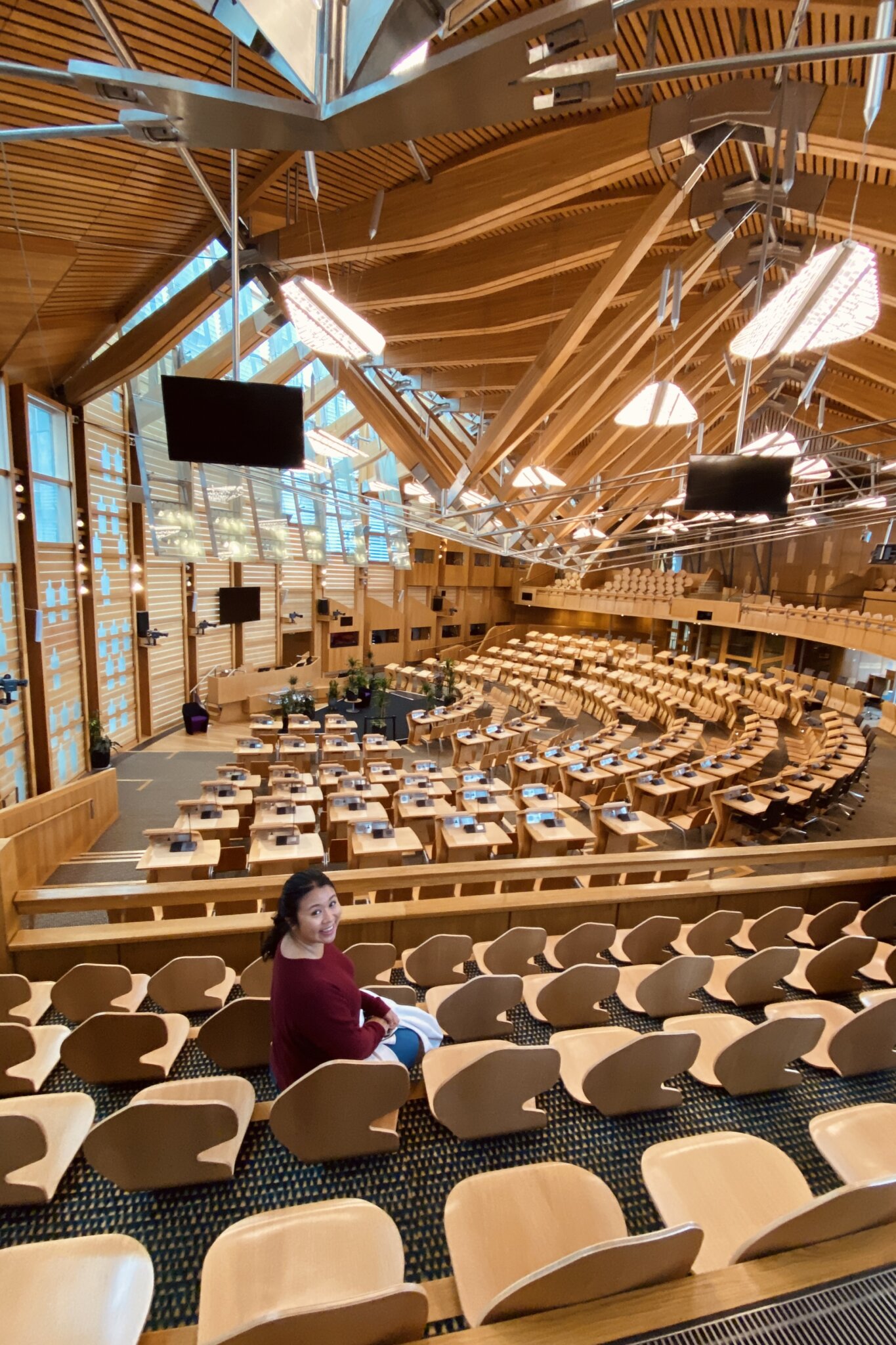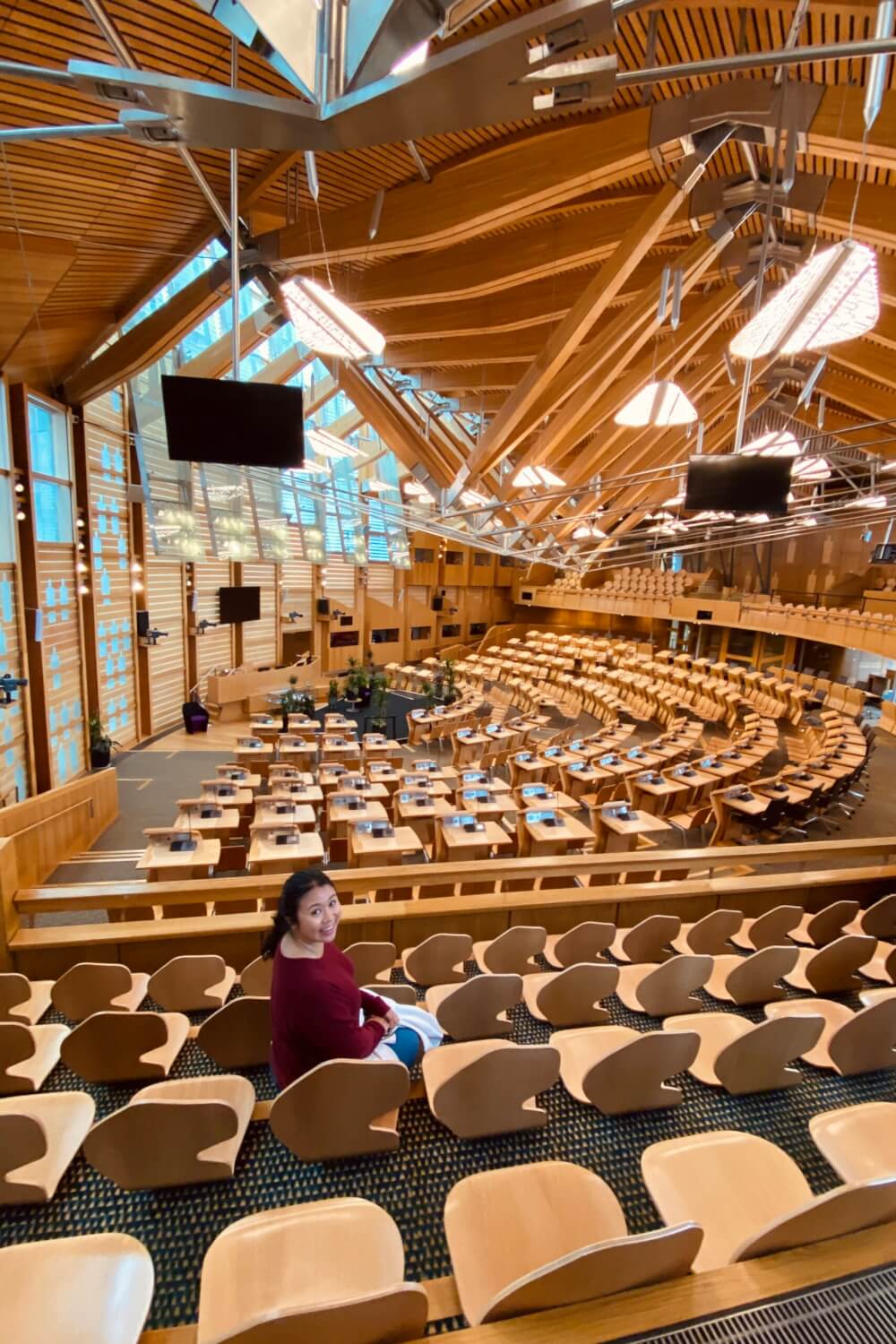 38. Visit some of Edinburgh's other free museums
Are you tired of me talking about museums yet? No? Because I still have more for you…
Yes, the Edinburgh City Council does run a number of free museums as well on a variety of topics.
Truthfully, these aren't the most exciting museums to visit – some of them are quite outdated in their displays, but if you find yourself particularly interested in what they cover, then it doesn't hurt to stop by, especially since admission is free at all of them.
The Writer's Museum
This museum showcases and celebrates the lives of three literary giants of Scotland: Robert Burns, Walter Scott and Robert Louis Stevenson.
In case you didn't know (or just need a refresher) Robert Burns was a Scottish poet who wrote, among other things, Auld Lang Syne; the song everyone sings at midnight on New Year's!
Walter Scott is most famous for his epic novels Ivanhoe and Rob Roy, as well as the poem The Lady of the Lake.
And, of course, Robert Louis Stevenson wrote (among others) the famous novels Treasure Island and Strange Case of Dr Jekyll and Mr Hyde!
The Writer's Museum is housed in a beautiful category A listed building and packed to the brim with portraits, personal items and manuscripts by these three great Scottish writers.
Any literary fan will love exploring this unique museum which contains really interesting artefacts such as Robert Burns' writing desk and a rocking horse that belonged to Walter Scott, as well as some rare first editions of their works.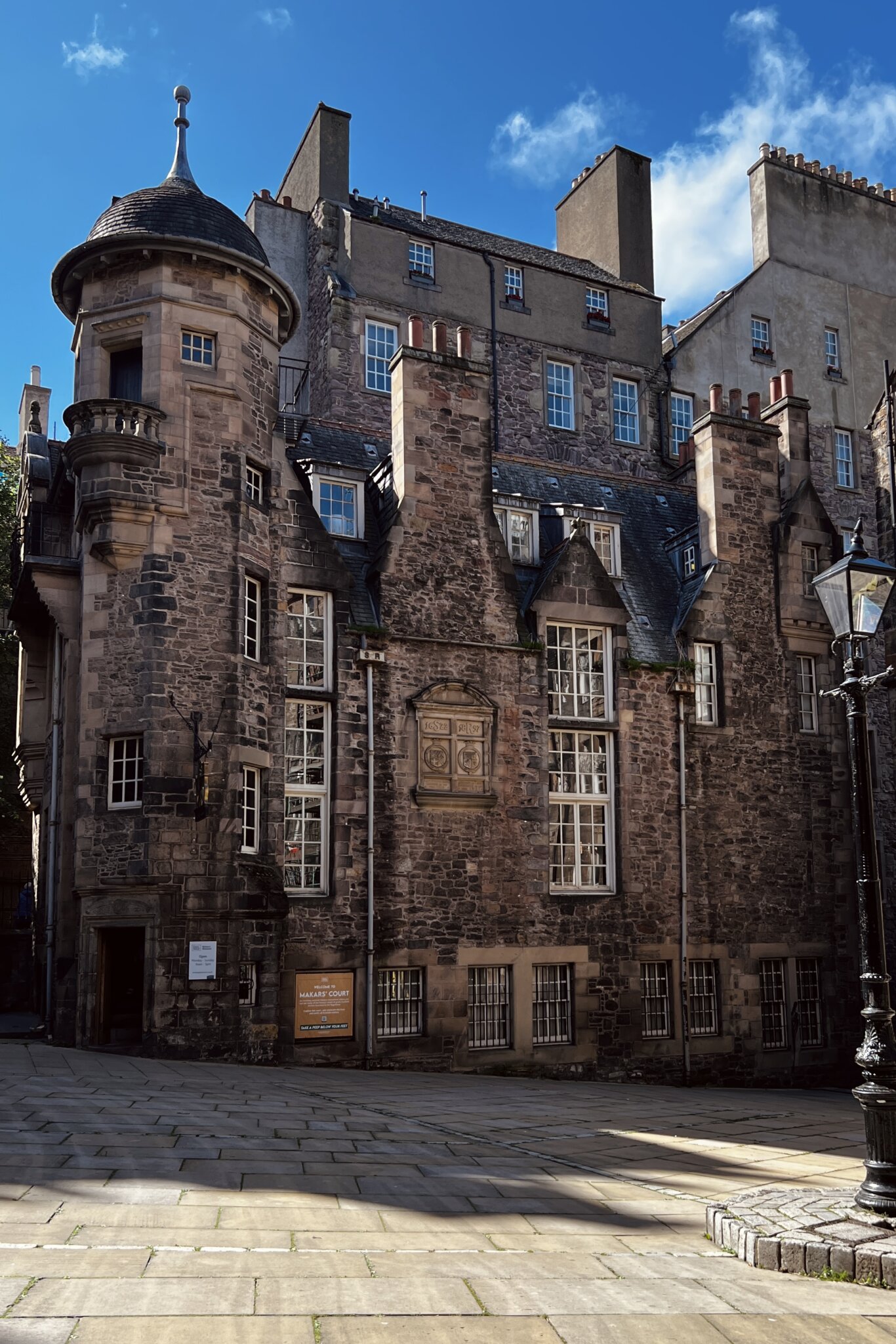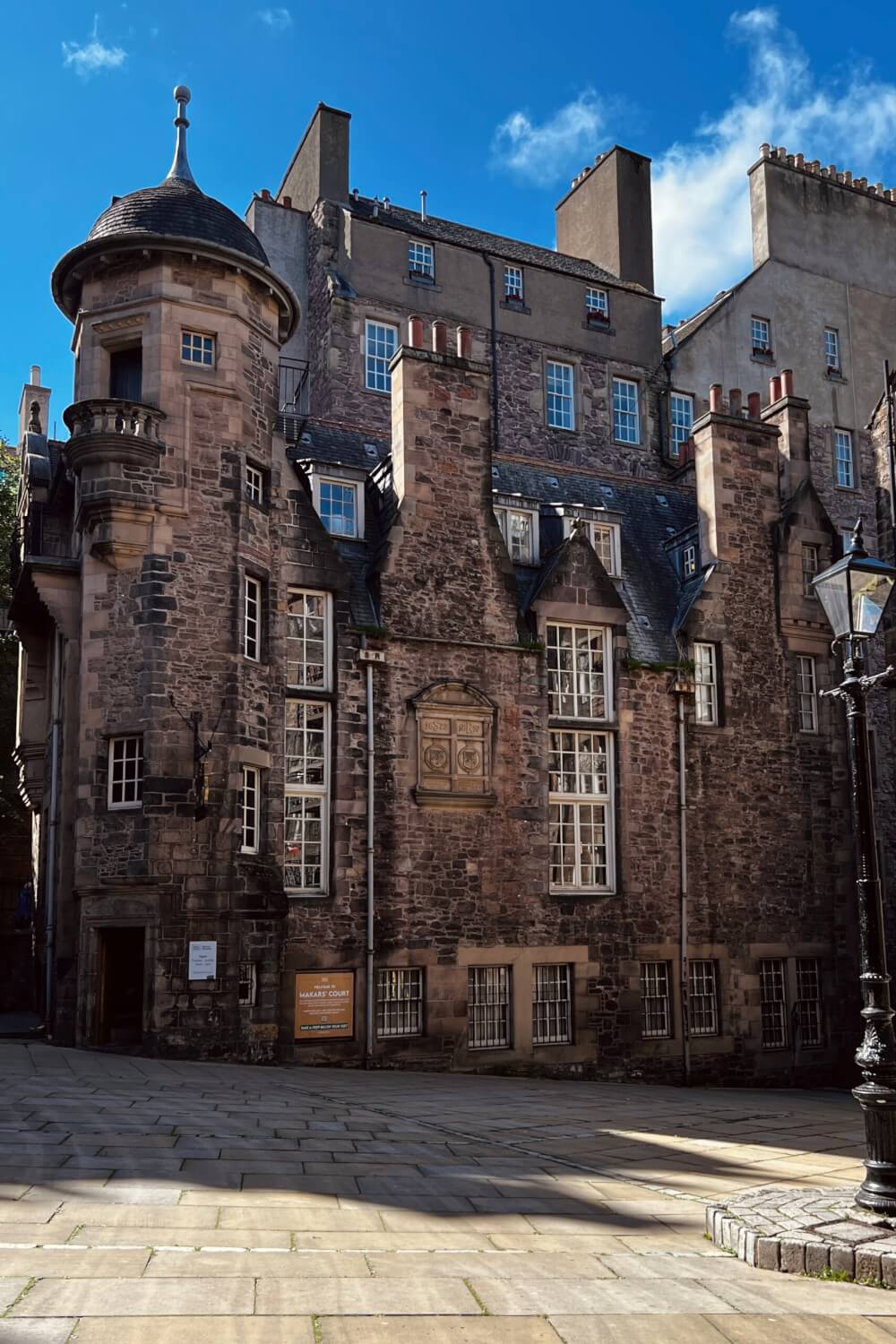 The Museum of Edinburgh
Curious to learn more about the history of Edinburgh? Of course, there's a (free) museum for that too.
The Museum of Edinburgh is a cute little find concealed in a courtyard just off the Royal Mile. Inside, you'll find a varied collection of items from Edinburgh's storied past, including the original plans for Edinburgh's New Town, with a key highlight being various items (including a collar and drinking bowl) belonging to the city's most legendary canine: Greyfriars Bobby.
This is a great museum to visit if you're interested in learning more about how Edinburgh became the great city we know today. Not all the displays are fascinating hits (the top floor is pretty heavy with glassware and ceramics) but it's worth a stop if you're in the area.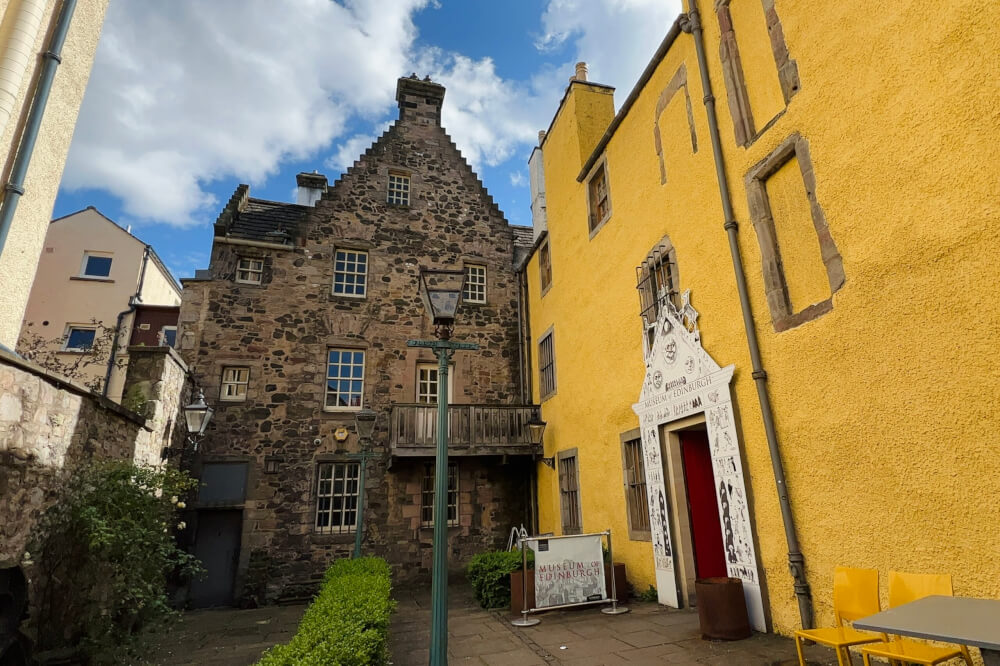 The People's Story Museum
Just across the road from the Museum of Edinburgh is another museum worth popping into: The People's Story Museum.
As you might guess from the name, this museum is all about telling the story of the working-class people of Edinburgh, from the 18th century up until the late 20th century. The displays here feel really vintage, with rooms set up to show how regular people lived in Edinburgh, whether they worked in a bookbinder's workshop or a tea room.
All the exhibits are based on oral histories of the city, with particular emphasis placed on Edinburgh trades, protests, trade unions and political reforms. If you're more interested in the 'everyday' history of Edinburgh, then you should definitely visit this free museum.
A highlight for me was seeing an original program from the city's first-ever Edinburgh Festival Fringe!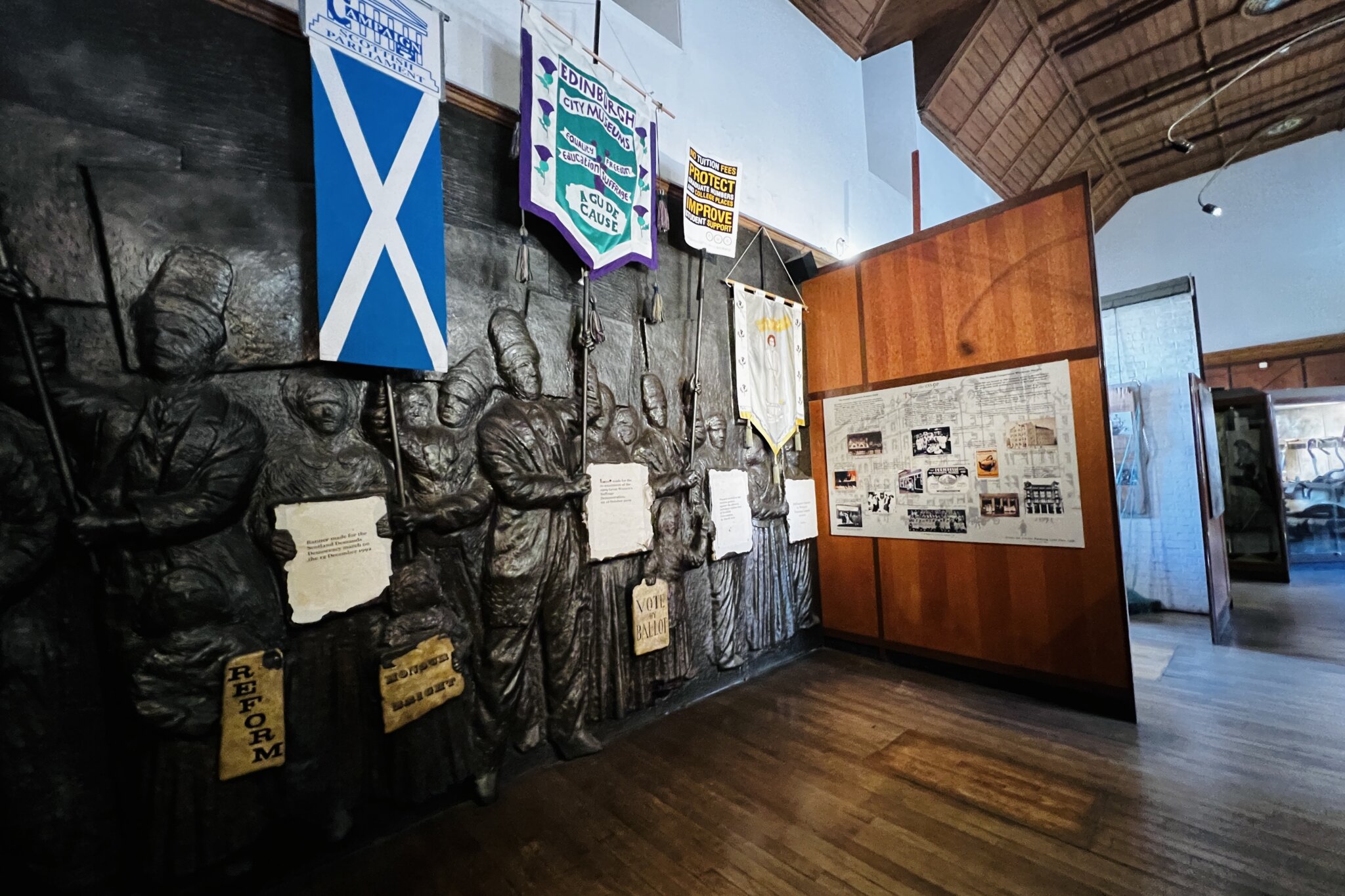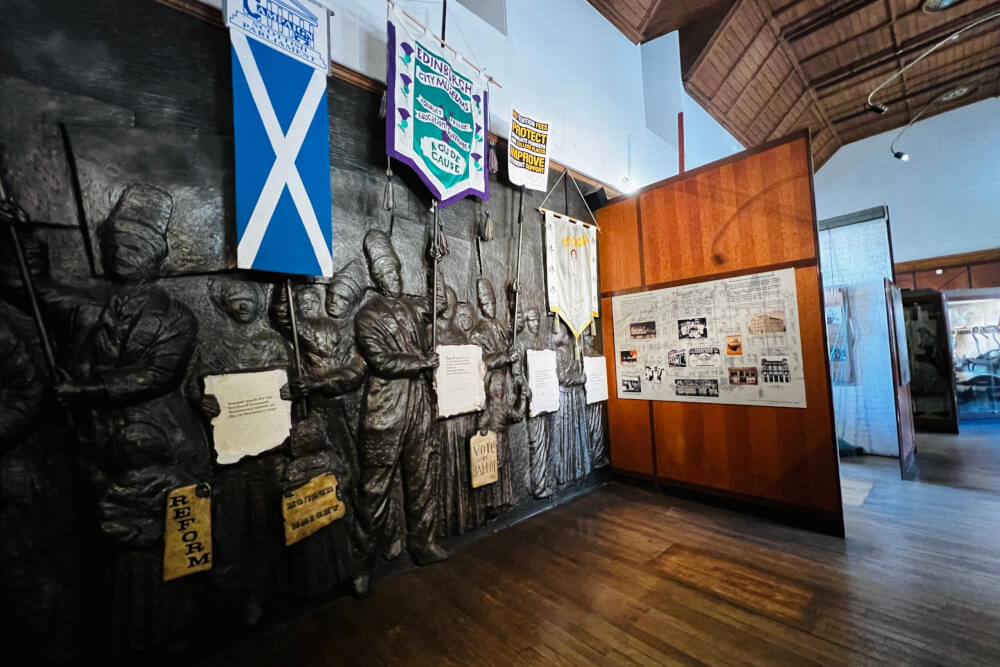 The Museum of Childhood
Billing itself as the world's first museum dedicated to the idea of childhood, this museum on the Royal Mile is another one of those Edinburgh attractions you don't hear much about.
Spread across several floors, the museum is home to curated displays about the development of childhood, showcasing toys, games, clothing and more from the past few centuries.
And apart from the upper floor's collection of (frankly) haunting dolls and mannequin children, this is a cute little museum with many nostalgic nods to childhood memories of the past.
Would I necessarily prioritize it as one of the must-dos in Edinburgh? Probably not… but if you're looking for something interactive to do with kids or a fun rainy day activity, then it's worth stopping by, especially since it's free.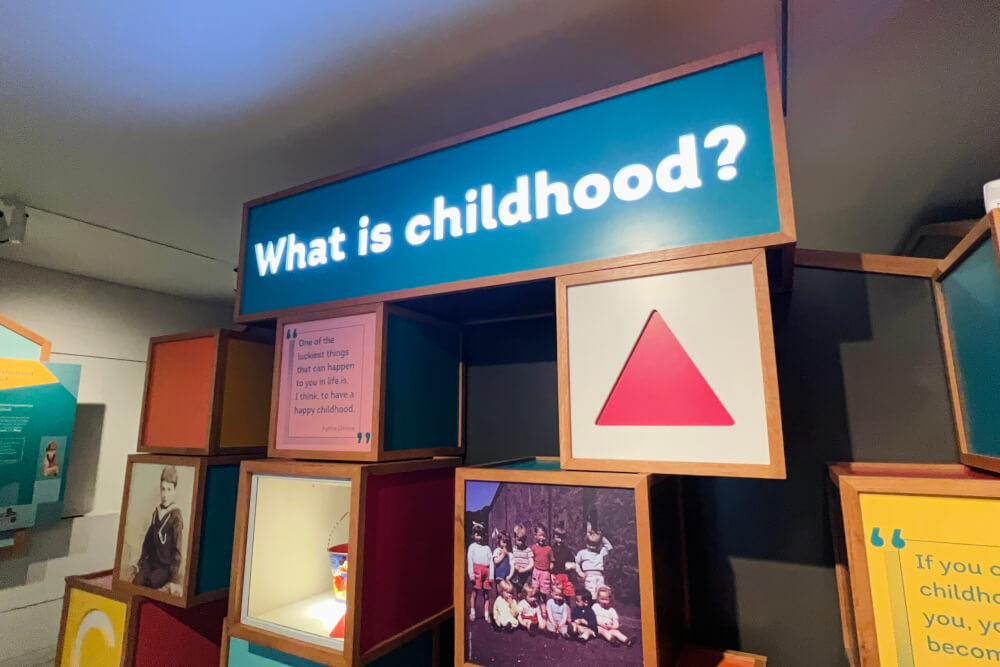 39. See a million GBP in real life
One of the more unusual (free) things you can do in Edinburgh is snooping around a glass case that could make you a millionaire……. kind of.
The Museum on the Mound is housed in the Bank of Scotland's Head Office building, with plenty of interesting displays all about money, including a visual representation of 1 million (sadly void) pounds.
At the museum, you'll find a comprehensive overview of the history of banking in Scotland, including the evolution of banking practices, currency, and financial institutions, from the early days of banking as barter up to the modern financial system.
While exploring, you can view a wide range of historic Scottish banknotes and coins, including rare and unusual examples, along with special collections and exhibits related to currency design and production as well.
It's a fun little side quest while you're in Old Town, but in case you don't make it, here's a photo of that million pound bounty: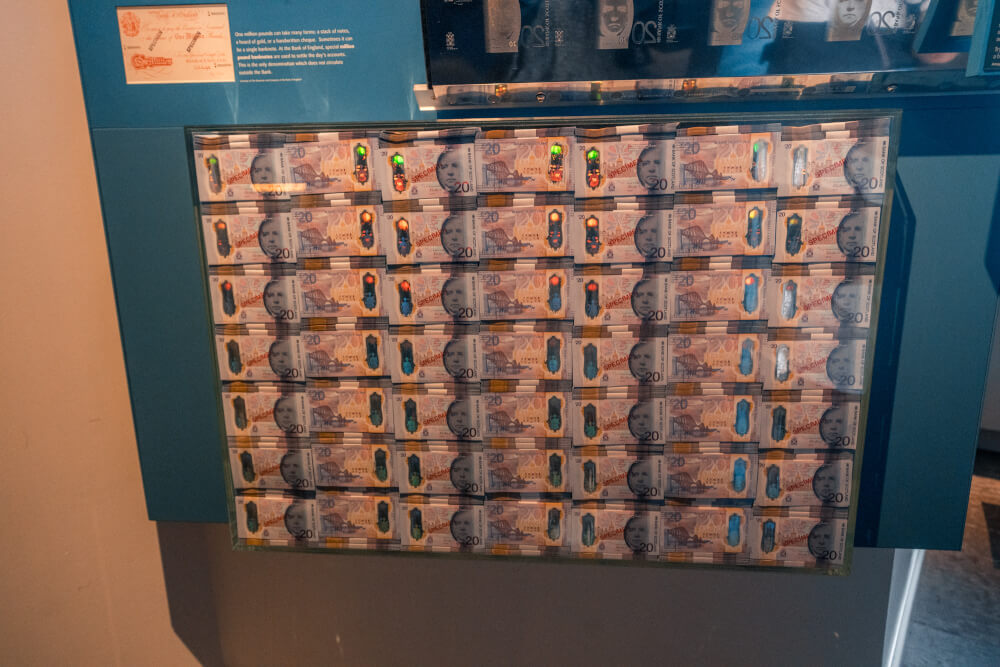 40. Embrace Christmas anytime of year
Okay is it cheesy? Yes… but is it a magical little place for souvenirs? ALSO YES.
The Nutcracker Christmas Shop on the Royal Mile is a festive little gem that celebrates the holidays in Edinburgh year round.
The store is tiny but inside you'll find some very sweet souvenirs, from terrier and highland cow ornaments to hand painted baubles depicting Edinburgh's most iconic landscapes.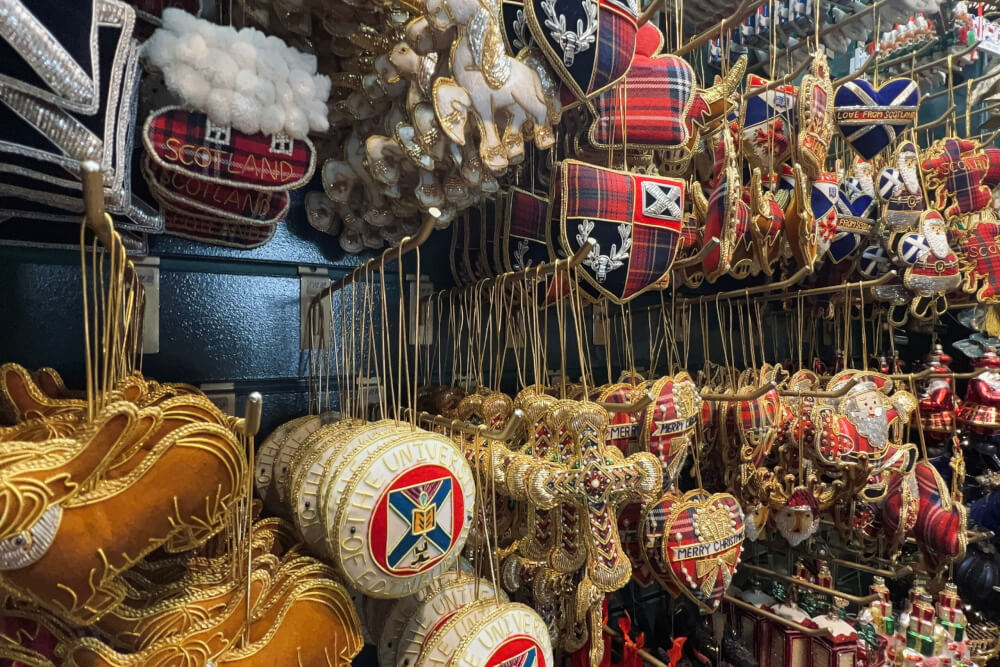 41. Venture out to Jupiter Artland
I don't have many regrets about my month in Edinburgh, but one that sticks out in my mind is that I never got a chance to visit Jupiter Artland, a magical contemporary sculpture park just outside of the city.
It's a unique and immersive art experience set within a 100-acre estate of woodlands, meadows, and sculpted landscapes. Jupiter Artland is known for its integration of contemporary art installations into the natural landscape. Since it's an outdoor attraction, it closes over winter, with regular opening times between May and September, plus a special Halloween weekend opening each October.
The art collection at Jupiter Artland includes both permanent and temporary installations created by renowned contemporary artists. Some of the artists whose work is featured include Anish Kapoor, Antony Gormley, Charles Jencks, and Phyllida Barlow, among others. The permanent installations are complemented by temporary exhibitions that change from season to season.
If you're looking for quirky things to do in Edinburgh and don't mind a little commute, then this is definitely an Edinburgh must-do (i.e. please go and tell me how it was!)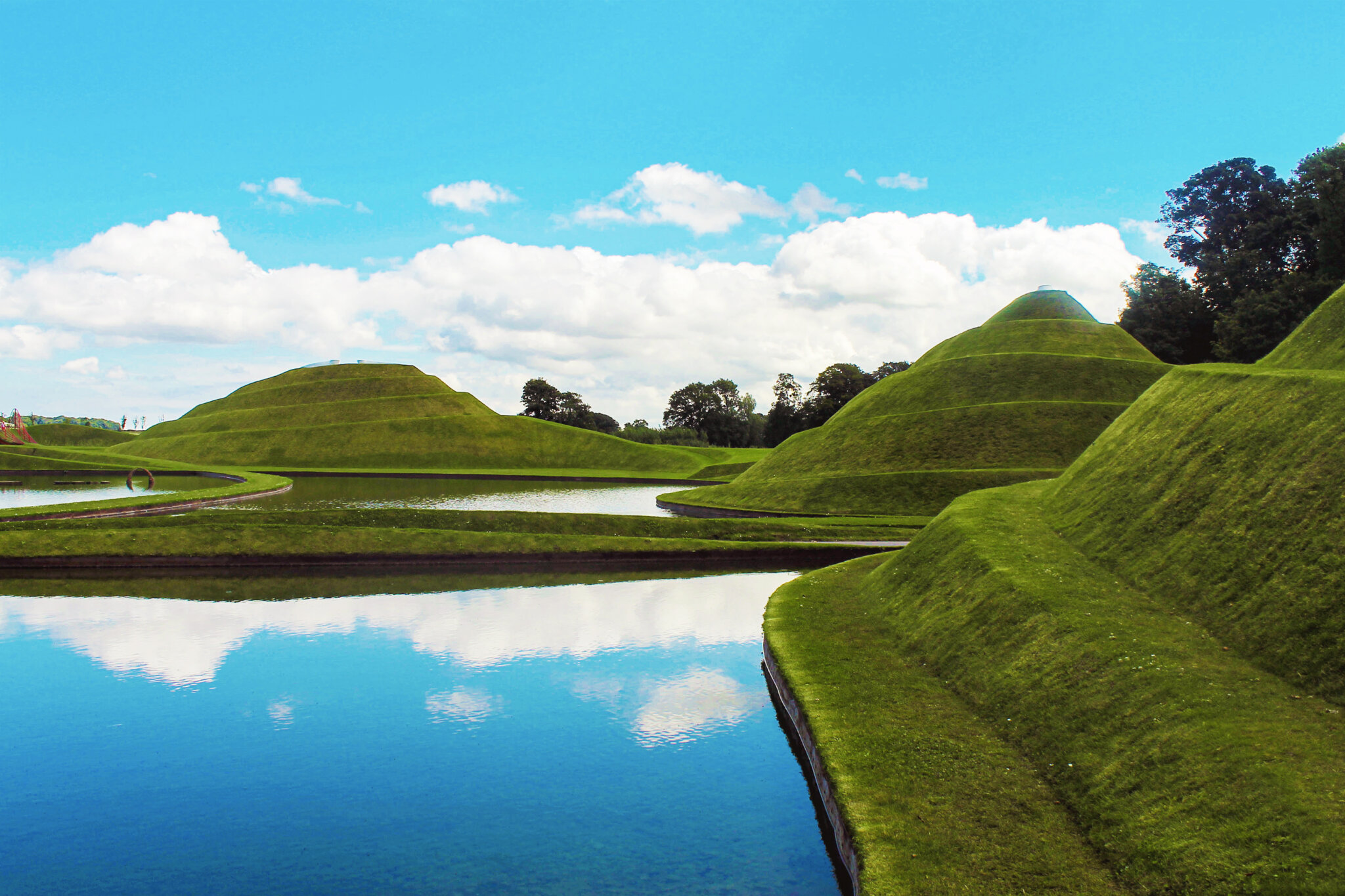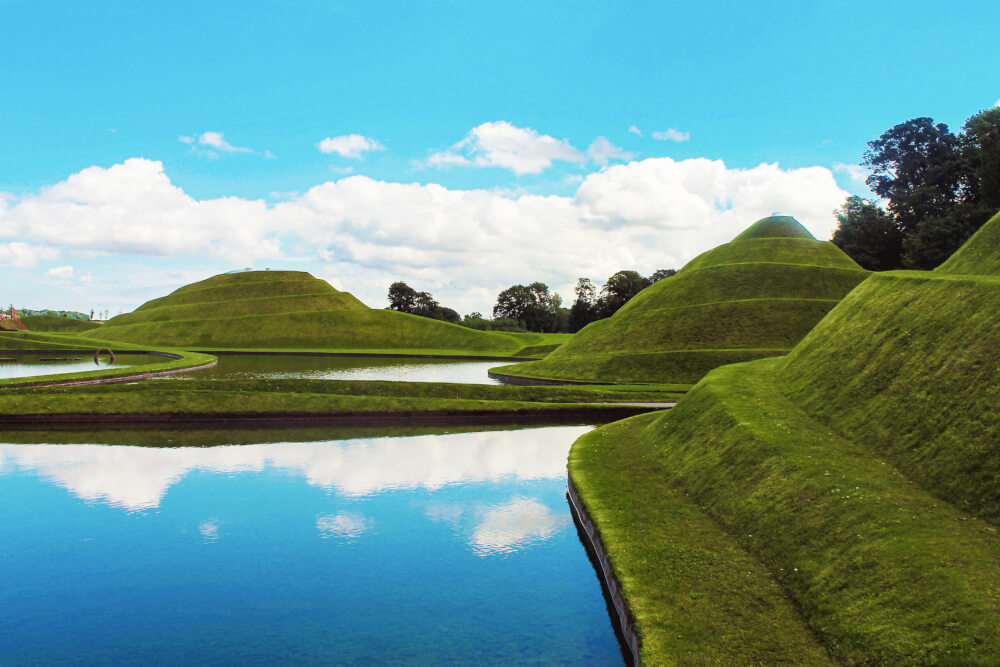 42. Attend the world's largest performing arts festival
The Edinburgh Festival Fringe (weirdly the official name) is the largest performing arts festival in the world, taking place for 3 weeks every August in Edinburgh.
During this time, 3000+ shows of every possible theme & genre pop up around town, with/ theatres, bars, clubs, restaurants & even hotel conference rooms becoming entertainment venues. The whole thing is a fever dream of unbridled creativity and there's truly nothing like it.
The motivation for this epic festival? My favourite justification: SPITE! Back in 1947, the first Edinburgh International Festival was organized to celebrate performing arts. Eight companies were so rattled by their lack of invite that they set up their own gigs on the fringes of the main event. The concept stuck, and these days anybody can put on a show (so long as they have the funds & venue, of course).
So, if you can time your visit for August, make sure you immerse yourself in all the Fringe craziness – it's spectacular.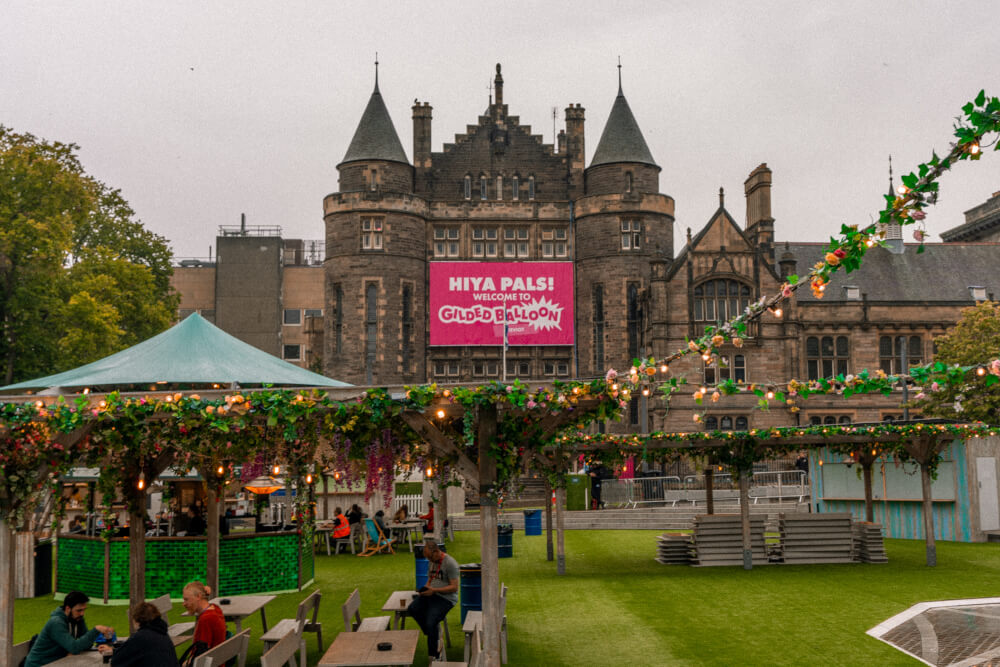 43. Watch the Royal Edinburgh Military Tattoo
This world-famous military show takes place for 3.5 weeks every August in Edinburgh, dazzling over 200,000 in-person spectators each year, with upwards of 100 MILLION viewers tuning in from abroad.
In addition to plenty of bagpipes and British flair, international guests take center stage as well, with over 40 countries participating over the years. When I saw it, the performance had colourful cameos from Trinidad & Tobago, Norway, Switzerland & the US (who came in playing the Rocky theme, because why wouldn't they?)
Throughout the show, they use Edinburgh Castle as a backdrop, projecting cool scenes and colours onto the facade, with 1000+ performers emerging from misty entryways like professional wrestlers entering the ring. It's exceedingly dramatic and wonderful. If you happen to be in town for it, this is hands down one of the best things you can do in Edinburgh!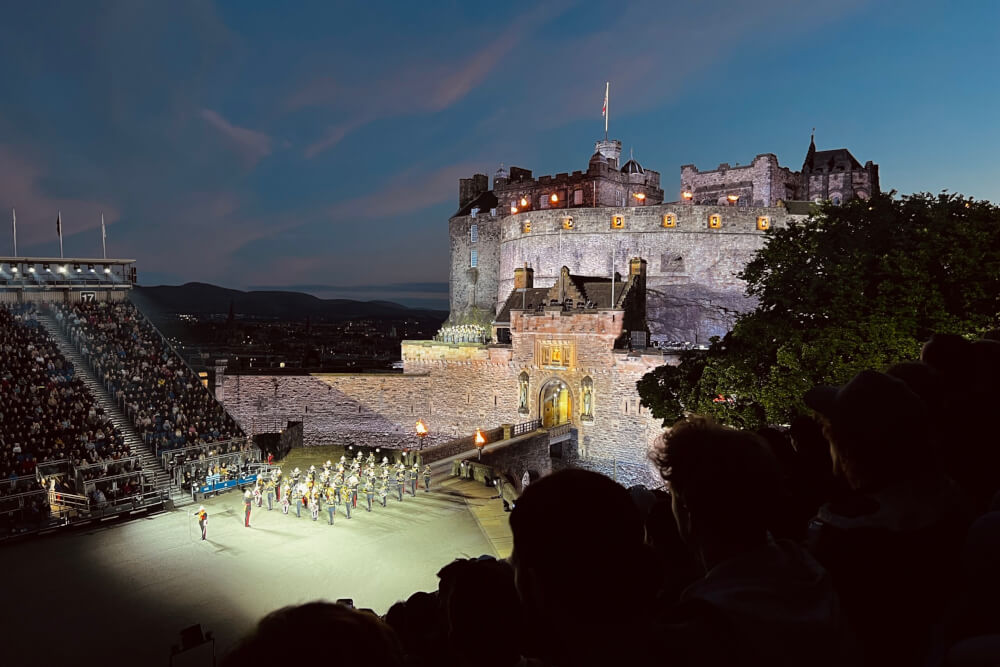 44. Book a day tour out
Finally, while I do adore Edinburgh itself, one of the best things to do in this city is undoubtedly hopping on a cool day trip from the city to see more of Scotland.
Edinburgh is a wonderfully tourist-friendly city with MANY many many tour options to choose from, whether you want to swoon over Outlander locations or head out to see some giant steel horses.
Here are some day tours from Edinburgh to consider: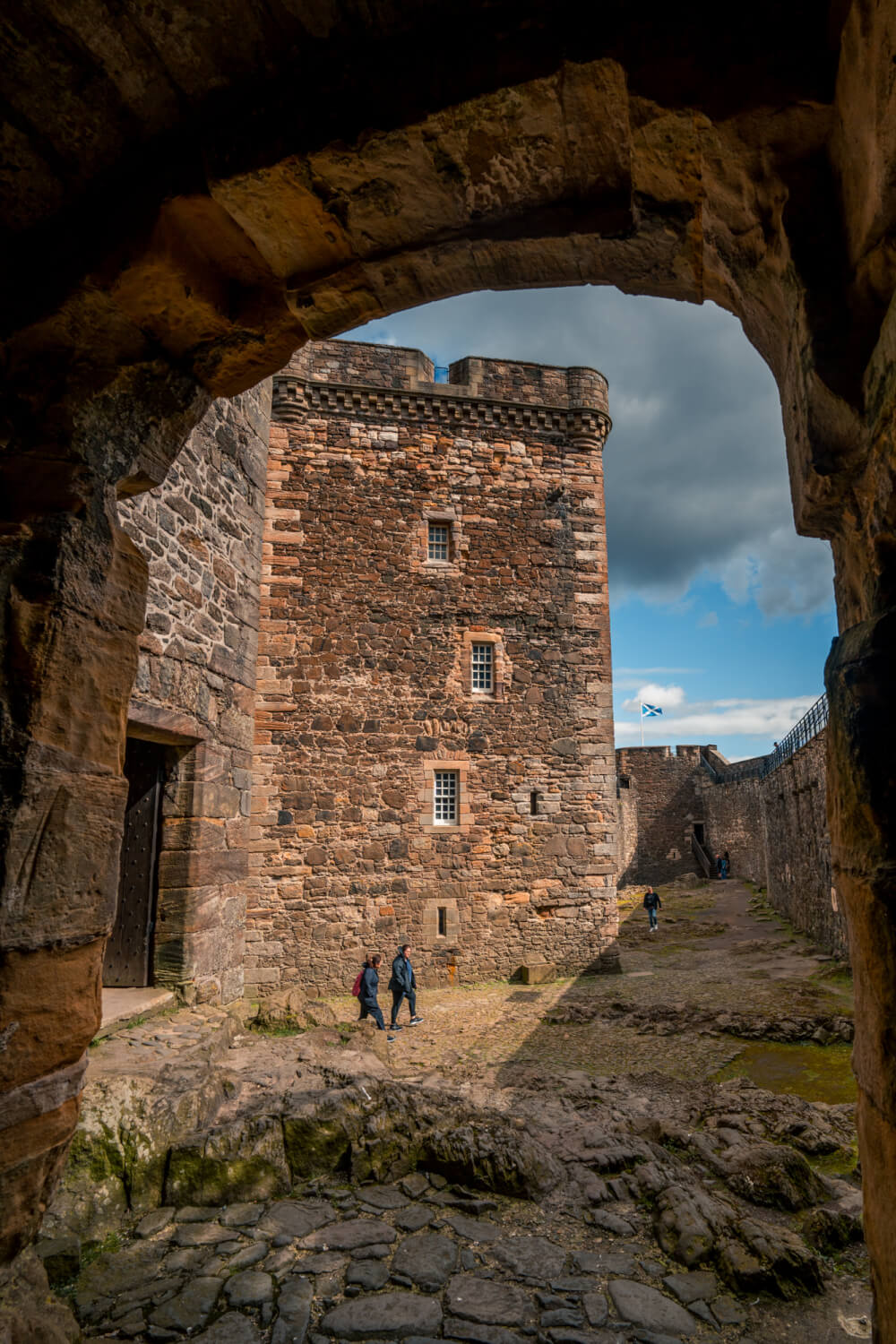 Did I miss any of your favourite things to do in Edinburgh?
Let me know in the comments! I hope you enjoyed this roundup of the best Edinburgh activities to enjoy on your next trip. Safe and happy travels! <3
My Go-To Travel Favourites: