*FYI - this post may contain affiliate links, which means we earn a commission at no extra cost to you if you purchase from them. Also, as an Amazon Associate I earn from qualifying purchases. Check out our Privacy Policy and Disclosure. for more info.
The Montreux Christmas Market in Switzerland, known locally as Montreux Noël, is hands down one of the most magical Christmas markets you can visit in Switzerland.
Located along the shores of Lake Geneva, this market combines Christmas magic with a glittering blue lake, Canadian maple syrup, and a statue of Freddie Mercury. Literally a cookbook recipe for Christina enthusiasm!
The craziest part? I fell in love with this market despite missing like, 90% of the cool things it has to offer.
Save this post on Pinterest for later: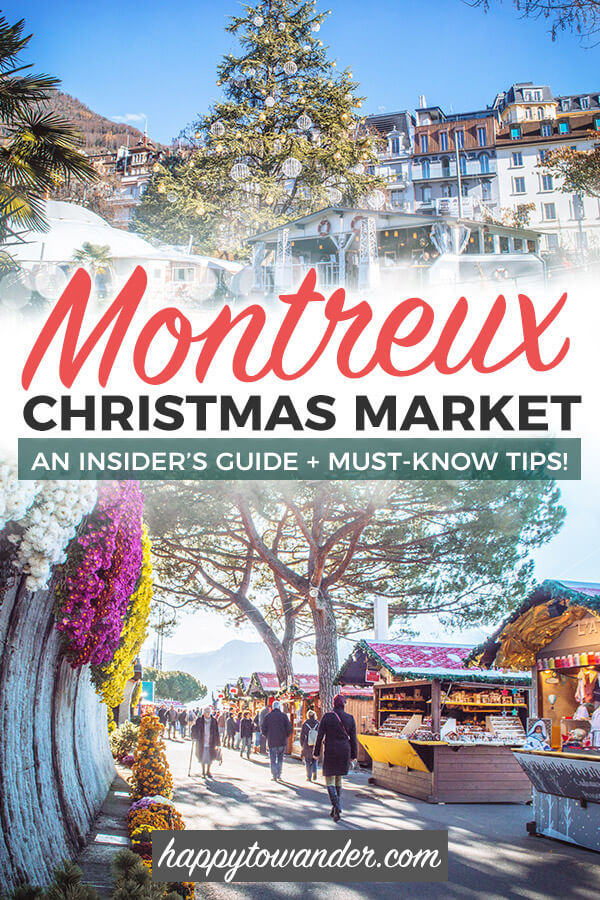 I mean for instance, did you know that the Montreux Christmas Market has a special 'guest of honour' country every year with own pavilion at the market?
Or, that they have an actual Santa dude glide across the sky every night?
Or that you can visit Santa's secret cave hideout in the mountains, accessible only by a badass cogwheel train?
OR that there is literally a medieval themed Christmas market a bus ride away, at a real life Disney castle?!?!
… I certainly didn't. I was actually just excited to see all the pretty stalls along the water…
SO, to ensure you don't miss out as much as I did, here is a lengthy guide to the wonders of Montreux Noël, AKA the Montreux Christmas Market.
Going into its 25th edition this year, this market is definitely one of the most underrated and surprising of all the Swiss Christmas Markets I've visited, so be sure to check it out if you get a chance. They're pulling out alllll the stops this year for their special anniversary.
Here's everything you need to know for your visit!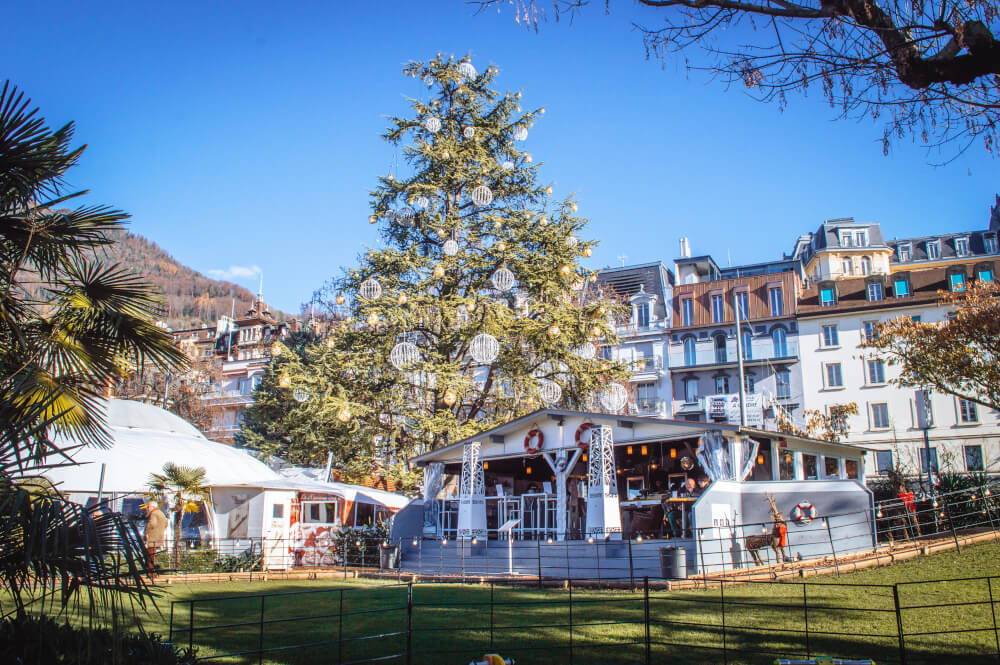 Montreux Christmas Market (Montreux Noël): Important Must-Knows
If you're contemplating your own trip to see the all-too-underrated Montreux Christmas Market, here is some basic information to get you started.
Where is Montreux?
Montreux is an idyllic little town in Northwestern Switzerland located along Lake Geneva.
Long known as a preferred escape for the affluent and artistic alike, Montreux is the epitome of picturesque perfection, from its mountainous backdrop (usually tinted with fresh snow) to its glittery blue waters.
It's little wonder why this town has acted as a muse for many of the world's greatest artists, including Lord Byron and Freddie Mercury, who came to Montreux to record the Queen album 'Jazz', and decided to stay because he loved it so much.
Today, Montreux is known for its famous music festival, and of course, its perfect lakeside Christmas market.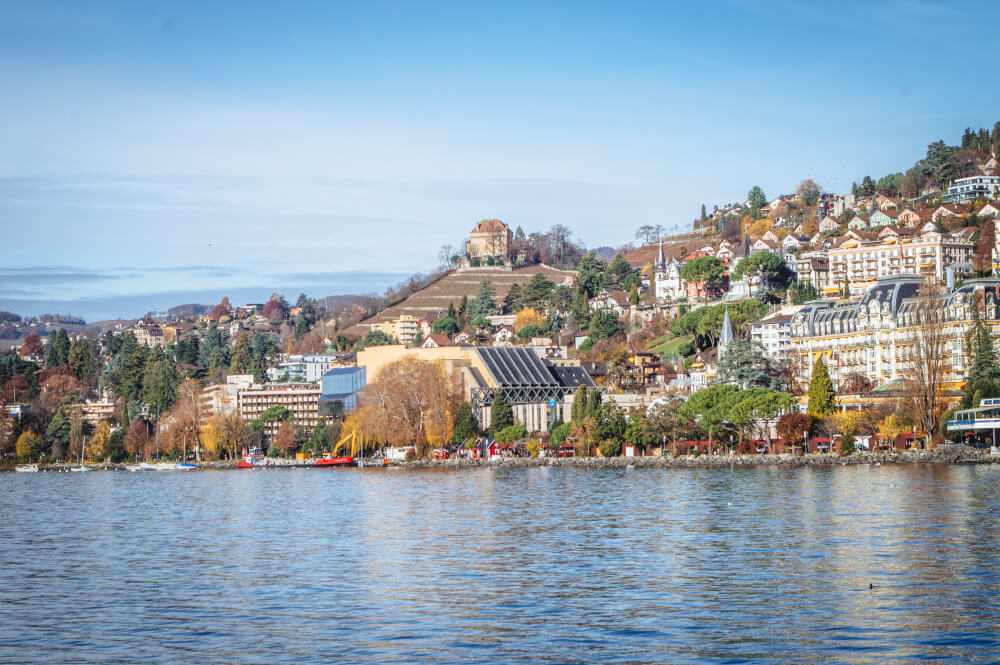 How to Get to Montreux
The nearest airport to Montreux is the Geneva Cointrin Airport, which is about an hour away by car/train and services many international routes.
Those looking to make a quick escape to Montreux needn't worry though – this town is extremely well-connected to the rest of the country's major transport hubs by train, and the markets aren't far from the train station either, making the commute sufficiently less painful than you might imagine.
If coming from within Europe, be sure to use Omio to compare/book transport options. It's a free tool that shows you the different ways to get from Point A to Point B and lets you sort based on price, times and convenience. It's super simple and I'd highly recommend it to find the best deal!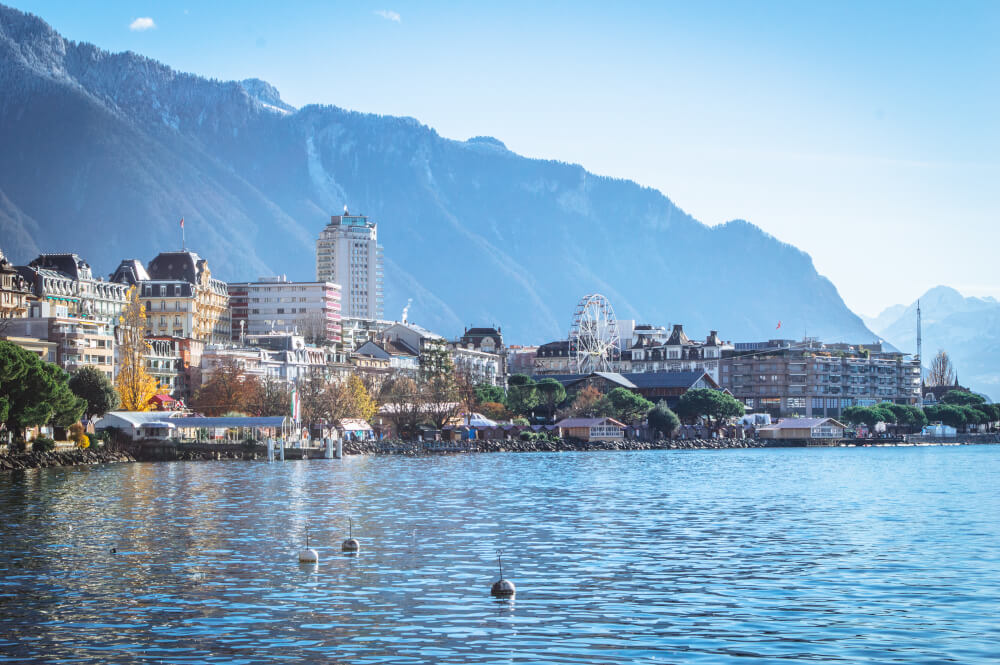 Montreux Christmas Market (Montreux Noël) Dates
The official dates for the Montreux Christmas Market this year are from November 23 to December 24, 2023, so make sure to organize your visit before Christmas!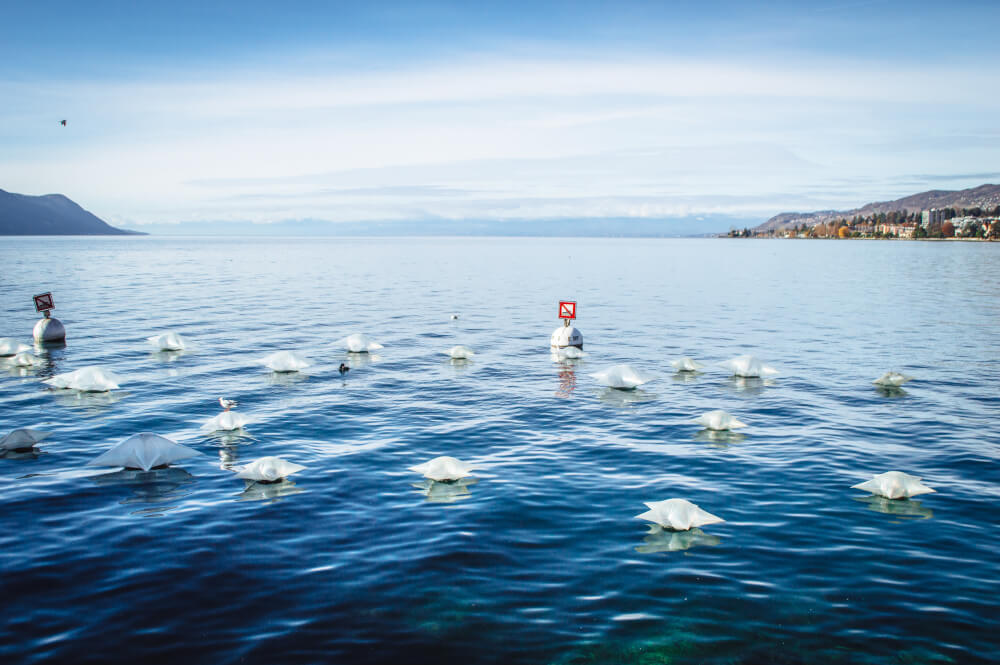 Montreux Christmas Market (Montreux Noël) Hours
For your trip, it's important that you take note of the fact that hours for Montreux Noël vary for the different activities and especially for artisans/traders vs. food and beverage vendors.
Hours for the Montreux Lakeside Christmas Market and Lumberjack Village
Artisans and traders opening hours:
Monday: 11am – 8pm
Tuesday: 11am – 8pm
Wednesday: 11am – 9pm
Thursday: 11am – 9pm
Friday: 11am – 10pm
Saturday: 10am – 10pm
Sunday: 10am – 8pm
***24 December: 11 am – 5 pm
Food and beverage opening hours:
Monday: 11am – 10pm
Tuesday: 11am – 10pm
Wednesday: 11am – 11pm
Thursday: 11am – 11pm
Friday: 11am – 11pm
Saturday: 10am – 11pm
Sunday: 10am – 10pm
***24 December: 11 am – 5 pm
Bar des Étoiles Opening Hours
Monday: 5pm – 12pm
Tuesday: 5pm – 12pm
Wednesday: 5pm – 12pm
Thursday: 5pm – 12pm
Friday: 5pm – 1am
Saturday: 12am – 1am
Sunday: 12am – 12pm
*** CLOSED ON DECEMBER 24 ***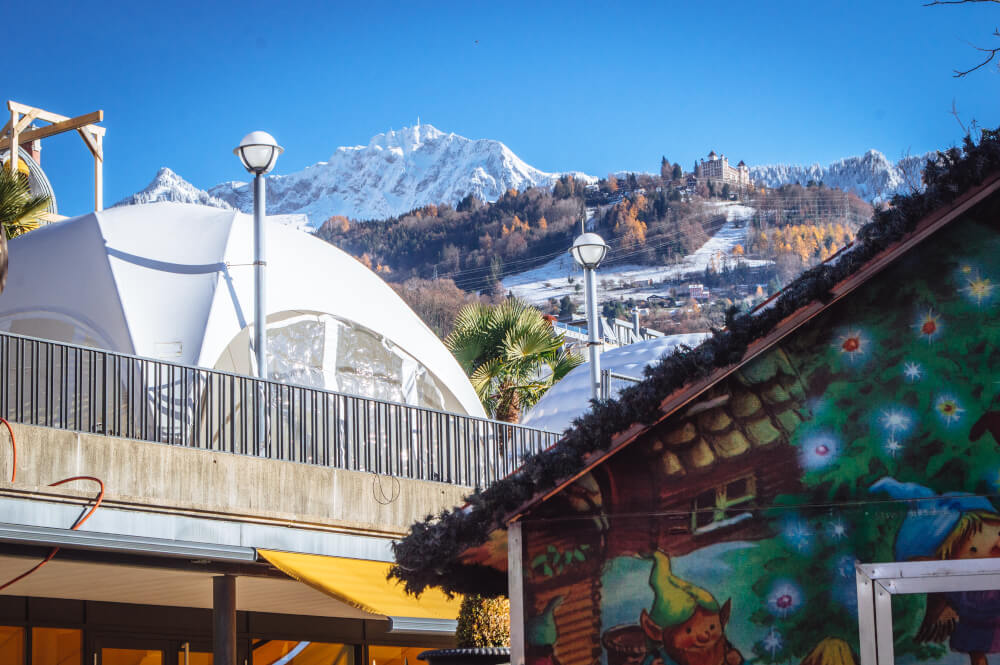 Hotels near Montreux Christmas Market
Looking for the perfect hotel to complete your Montreux Xmas market adventure? Here are some suggestions for you, all within close distance to the Christmas magic.
Budget Option: For a budget-friendly stay in Montreux, the Hotel Parc & Lac is located right by the train station, within easy walking distance to the lake (and its Christmas market). With many room options under 100 euros, this is a total bargain here in Switzerland. Click here to check reviews and availability.
Mid-Range Option: For a taste of luxury in Montreux without the price tag, check out the Eurotel Montreux, which offers glittering lake views for less than 150 euros a night. Due to its lakeside location, it's very very close to the main Montreux Christmas market, and offers that luxurious lake feel without breaking the bank. Click here to check reviews and availability.
Luxury Option: I'm a big fan of Fairmont properties and their timeless elegance, and the lakeside Fairmont Le Montreux Palace is no exception. This grand hotel is located right along the lake, and are so close to the Christmas market, they're practically part of them. Last year (and likely this year too), they even had a special nighttime light projection show right on the hotel. This is definitely a special place to stay for your Montreux Xmas market trip if budget allows. Click here to check reviews and availability.
Montreux Christmas Market (Montreux Noël) Map + Locations Overview
There are numerous attractions and areas that group together to form the Montreux Christmas Market, and if you don't come prepared, you might easily miss some key spots (just as I did!)
So, to help prepare you for your magical day of sightseeing, here are all the different locations and hotspots of the Montreux Christmas Market this year:
1. The Lakeside Promenade Montreux Christmas Market
Spanning 1km along the shores of Lake Geneva is the primary location of the Montreux Christmas Market, with over 170 chalet stalls selling everything you can imagine, from handmade crafts and gifts to food from all over the world.
This is THE #1 spot to check out if you're visiting Montreux for Christmas because all of the main Yuletide festivities are clustered around here anyway… plus the lakeside location is just too stunning to pass up. I mean… just look!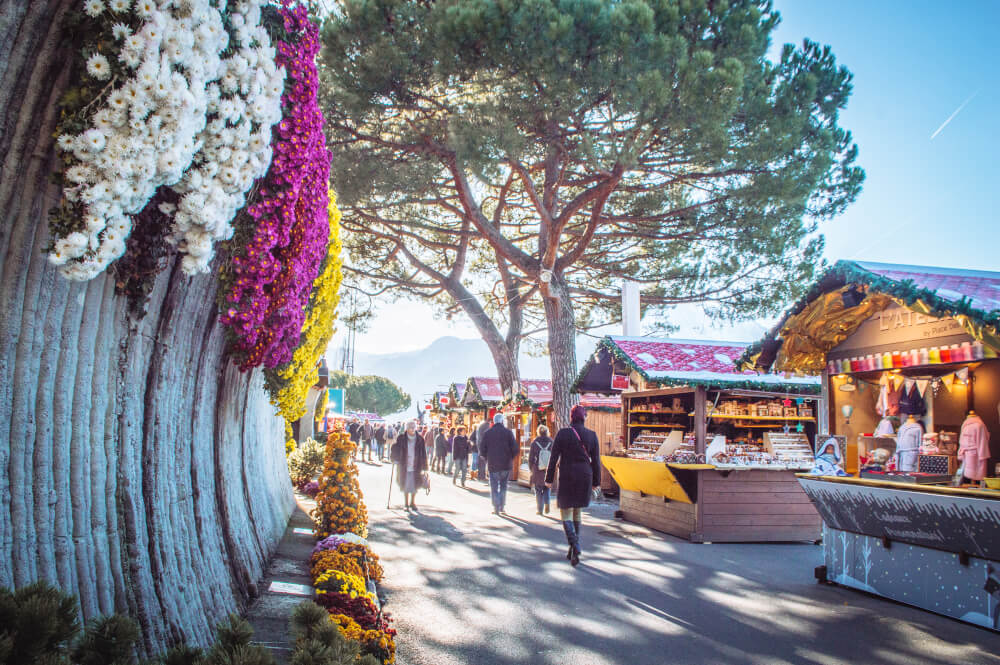 2. The Esplanade on the Lake
In 2019, they introduced a new special light installation at the Montreux Christmas Market, right in front of the famous Freddie Mercury statue.
Basically, it's an interactive attraction that allows you light up the world around you (literally) by burning some calories on a bike! The more you pedal, the more the trees and reindeer around you light up. Hopefully this is a cool attraction that will stay for the coming year.
… Seems like a pretty genius way to trick holidaymakers into exercising, so I'll allow it (if only to make more space for chocolate).
3. The Elves' Square, AKA the Children's Kingdom
Opening Monday to Friday: 2pm – 8pm, Saturday and Sunday: 10am – 8pm
For those who will be visiting the Montreux Christmas Market with kids, a visit to the Elves' Square is a must. This village can be found underneath the iconic market Ferris Wheel, offering a myriad of kid-friendly workshops for the fee of 10CHF each.
From candle-making and chocolate decorating, there are plenty of fun activities to keep you (and the kiddos) occupied. Wondering how to find this magical kid-friendly haven? Just look for Freddie Mercury, whose fist sorta points you in the right direction.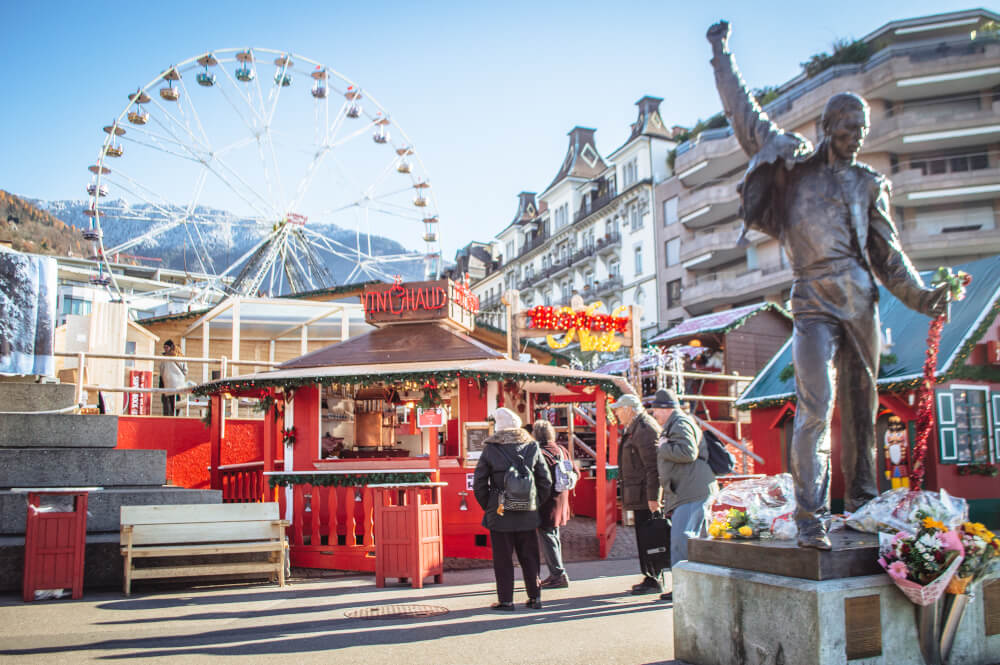 3. The Lumberjack Village
Known as the cozy meeting point of choice for most market visitors, the Lumberjack village is a scenic little part of the Montreux Christmas Market organized around a rustic log cabin serving up hot drinks and delicious treats like pizza and flammkuchen.
Need I say more? If you want a place to grab a casual bite to eat while soaking in the festive atmosphere, this would be it!
View this post on Instagram
4. Santa's Grotto
From Wednesday to Sunday throughout Montreux Noël, you can go visit Santa's secret cave lair 2000m above ground at the Rochers-de-Naye. The only way up (without ice axes) is by cogwheel train, a fun experience in itself which will transport you straight to Santa.
PLUS, as a special for this year, apparently Santa's Russian counterpart Ded Moroz (Grandfather Frost) will be in town too, so it's like a two for one special.
NOTE: Booking is required, so click here for more details.
5. La Redoute House of Wishes
Wishing for something special this year? Well, Montreux Christmas Market has an entire HOUSE dedicated to wishes, so be sure to stop by La Redoute House of Wishes during your visit.
All wishes will be forwarded to Santa himself, who is too busy greeting guests in his mysterious mountain grotto to meet you in person, but I'm sure he (and his army and elf secretaries) are on it.
View this post on Instagram
6. Medieval Christmas at the Château Chillon
And just an easy bus ride away from Montreux, you'll find the fairytale Château Chillon which (as Disney fans will notice) is the real life version of Prince Eric's castle from the Little Mermaid!
Besides its fairytale location, this Christmas market is also special because it's medieval themed, with characters, artisans, entertainment and even cooking demos all available to zap you back in time.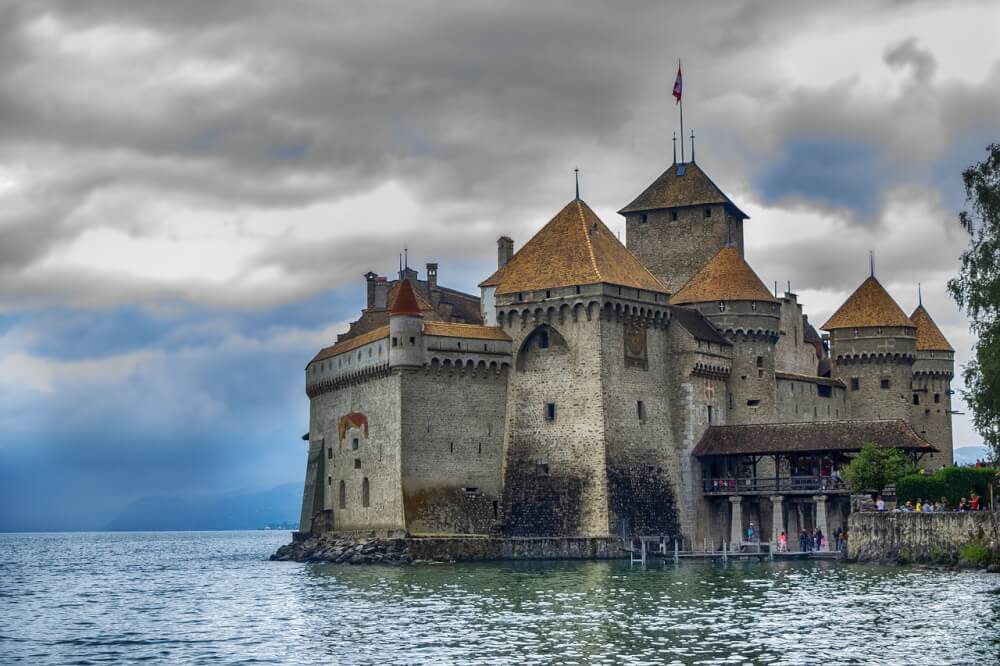 Special Montreux Christmas Events
Besides shopping and snooping around the market stalls of course, there is a full calendar and schedule of events to enjoy at the Montreux Christmas Market this year, many of which are brand new rollouts just in time for the 25th anniversary of the market.
Here are some events to keep an eye out for while you're in town.
The Flying Santa of Montreux's Lakeside Promenade
Location: Along the lakeside promenade between the Lumberjack Village and the Place du Marché
Time: Daily at 5pm, 6pm and 7pm, plus 4pm on Saturdays
Okay, so this may be primarily for kids but even the most jaded of adults can't deny the magic of a literal guy gliding across the sky in a Santa's outfit right? Well, this enchanting display is on three times a day (four on Saturdays!), so make sure you don't miss it.
The Santa's Run
Those looking for a more physical way to get involved with the Montreux Christmas Market will love the Santa's Run. This (relatively easy) obstacle course takes place on the waterfront, with costumes encouraged and even free elf hats provided.
Xmas Ride Les Avants
And if gliding down a hill is more your thing, a new activity this year is the Xmas Ride Les Avants, during which kids are welcome to a downhill ride in Santa's sleigh, and others (more adventurous) can soar downhill freely in costume.
Of course, craft stands and culinary tastings will be available too, in case scraping down a hill isn't enough to enticing you.
Lantern workshops
Times: Wednesday 2pm – 5pm and Saturday 9.30am -12.30pm and 2pm – 5pm
If you're looking for a fun hands-on activity to do with kids this year at the Montreux Christmas Market, they'll be hosting creative lantern workshops with renowned Swiss artists Nicolas Bamert and Julie Handloser during which kids will craft special lanterns of their own! For more info on how to sign up, visit their official website here.
Children's procession and sale of lanterns
And to continue on with the lantern theme, there will also be a big lantern procession on Saturday, Dec 21 at 6pm during which kids will be accompanied by actors from the Théâtre de Montreux-Riviera to walk with their lit lanterns between Maison Visinand and Place du Marché.
This will be followed by a sale of lanterns at Place du Marché on Saturday evening between 8pm and 9pm and on Sunday from 10am, with all proceeds going to the Fondation Planète Enfants Malades.
What to Eat and Drink at Montreux Christmas Market: 5 Must-Haves
One of the best parts of visiting any Christmas market is the food, and Montreux is no exception! Here are a few must-tries:
1. Food from the Guest of Honour Country
One of the most unique features of the Montreux Christmas Market is that they have a different Guest of Honour country every year that they spotlight with their own special section of the market!
Portugal was the guest country in 2017, Bosnia & Herzegovina in 2018, and the guest of honour in 2019 was none other than Russia.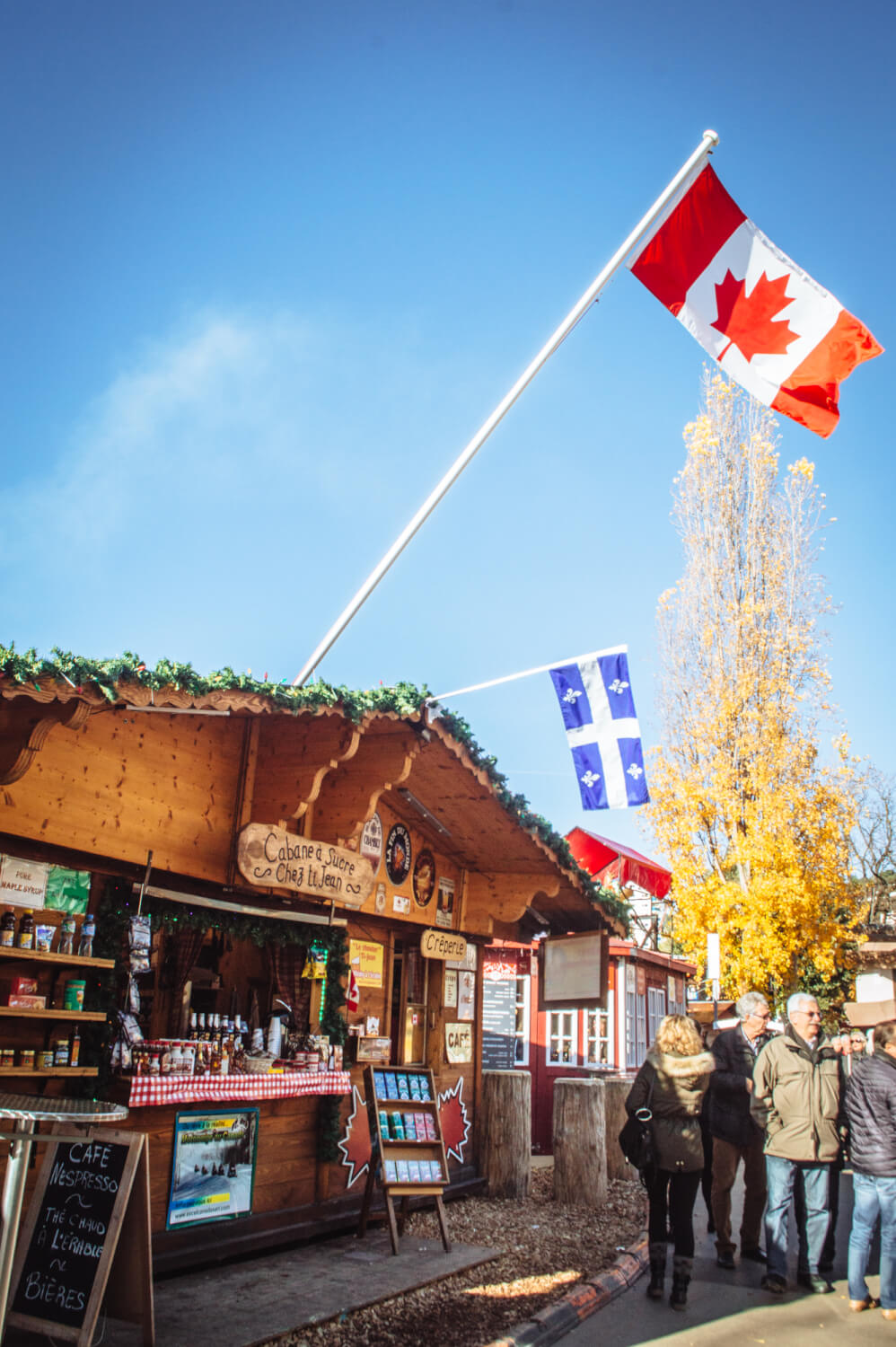 2. Fondue
It's a Swiss classic that can't be missed – a delicious pot of melted cheese that you dunk bread and other goodies into.
This is primarily a sit-down food, but the perfect way to warm your soul from the inside out after a chilly day of Christmas explorations.
There will be plenty of places scattered around Montreux Christmas Market offering fondue, but La Poya and Heidi are two restaurants you can keep an eye out for. Click here for a list of restaurants at the Montreux Christmas Market.
3. Flammkuchen
Flammkuchen is one of my favourite Christmas market snacks.
Think of it as a crispy flatbread topped with creme fraiche, fried onions and bacon. It's like a fancy little pizza that is every bit as addictive as it is comforting.
Just typing this, I'm salivating.
Make sure you indulge in some flammkuchen during your time in Montreux!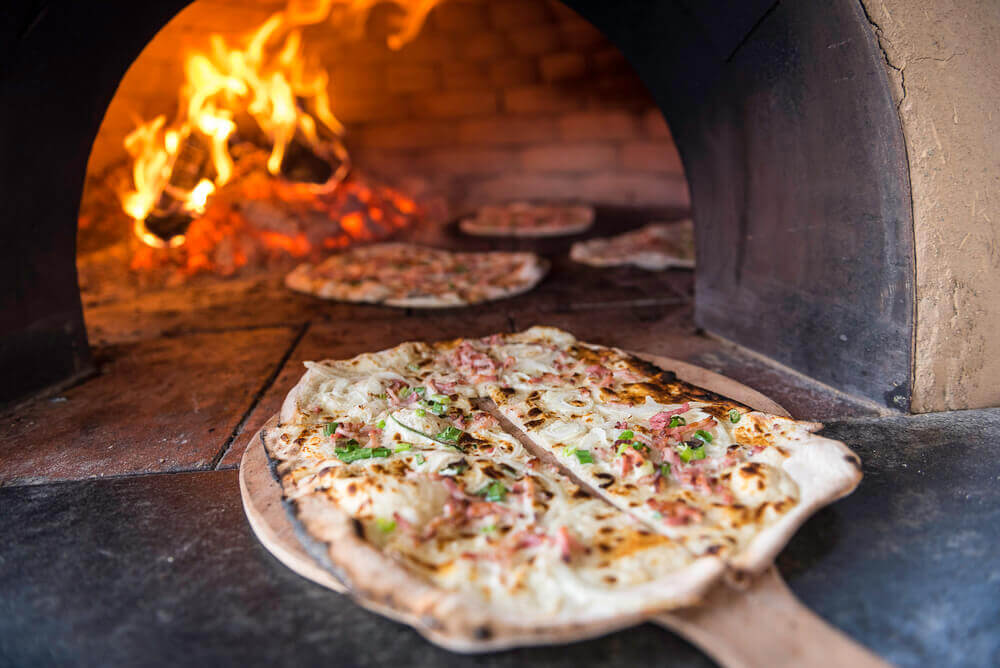 4. Vin Chaud (AKA Mulled Wine or Glühwein)
Of course, it should be no surprise that the official Christmas market drink – mulled wine, is a must have.
In French-speaking Montreux, you'll find stalls selling it as "Vin Chaud". I genuinely cannot imagine strolling through the markets without one of these bad boys in hand.
They truly make everything infinitely more delightful (and only partially because of the alcohol). Of course, there are non-alcoholic variations as well if you prefer!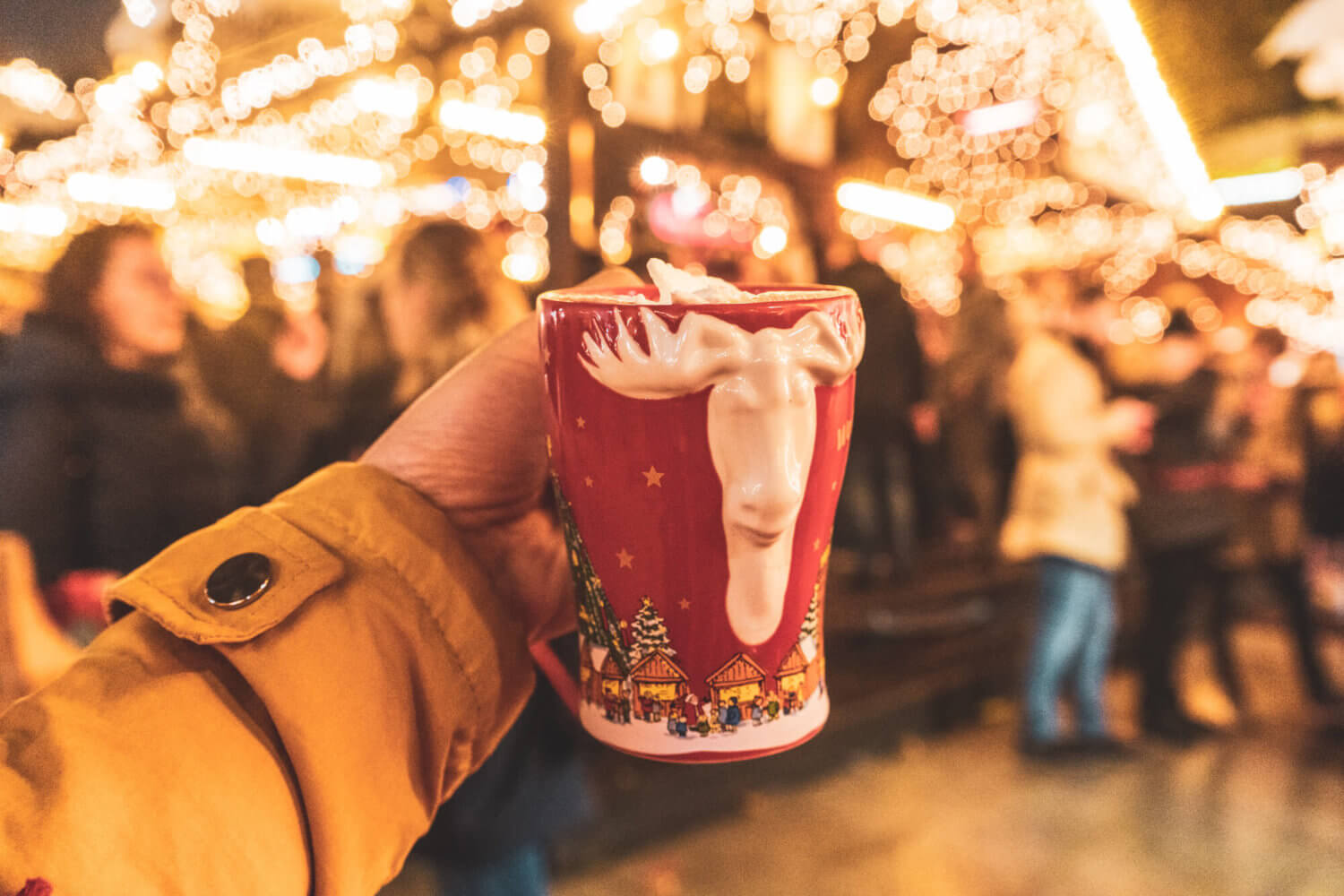 5. Rösti
Also known as Kartoffelpuffers or Reibekuchen, Rösti are crispy golden hashbrowns which are amazing eaten plain or with a side of applesauce.
These are hands down one of my favourite Christmas market eats, and are perfect for a quick snack while walking around.
What to Buy at Montreux Christmas Market
Alright, hoping to do some shopping? Here are some cool gift ideas that are available at the Montreux Christmas Market:
Unique Glass Baubles
Of all the many, many, many goodies you can pick up at the Montreux Christmas Market, none is more photogenic than these hand-blown glass baubles, which you can see being created before your own eyes.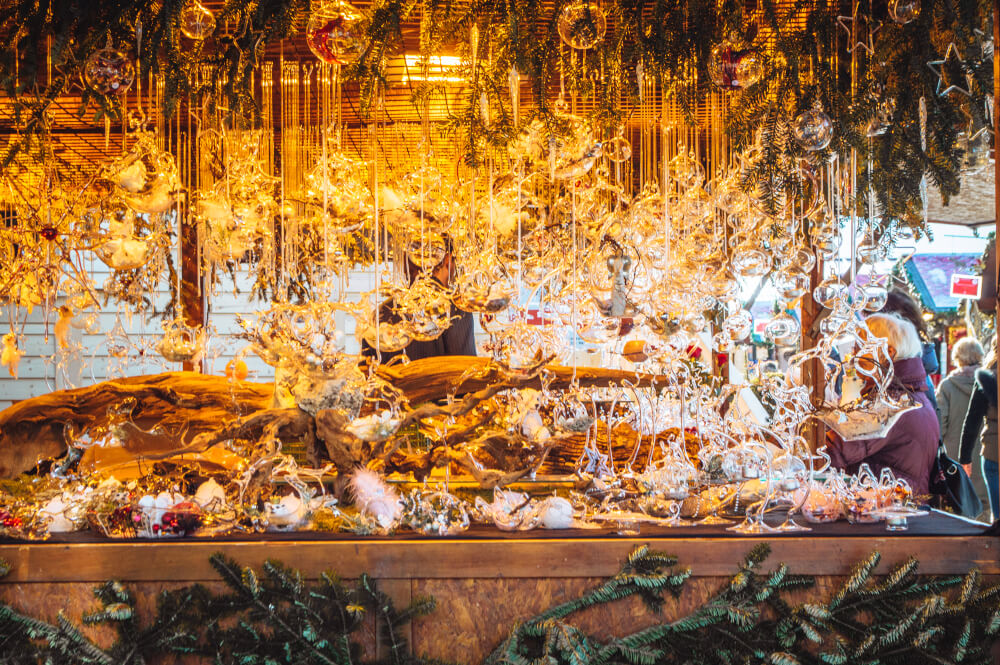 Badass Metallic Bookmarks
Another great, unique gift that caught my eye while exploring the Montreux Christmas Market were these special metallic bookmarks.
Coming in a variety of designs from fluffy feathers to badass dragons, skulls and the like, this is definitely the perfect gift for the avid reader in your life… or for yourself. Just look at them:
Local Products from the Vaud Region
And for the most authentically local gift possible, consider stocking up on local products from the Vaud Region.
From jams and wines to delicious spreads and honey, this would be the perfect foodie souvenir to bring home for yourself or for the hungry hordes of people waiting for you at home.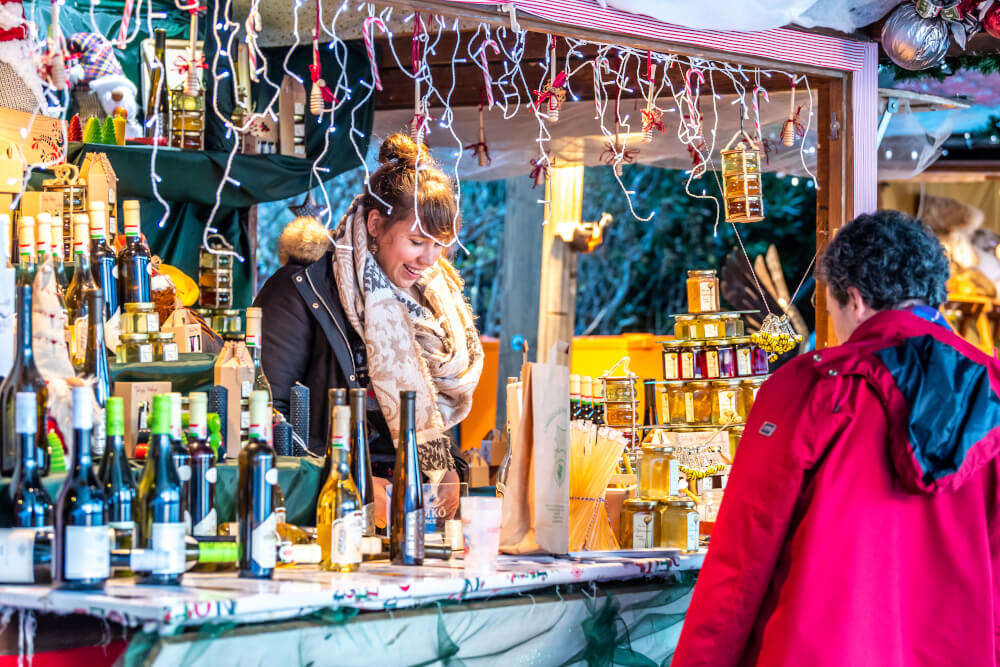 Any more questions about the Montreux Christmas Market?
I hope you enjoyed this Montreux Christmas Market review! It's a big market with a lot of overwhelming options, so I hope this broke everything down nice and clearly for you. Have a magical trip!
---
Watch my most popular YouTube video this week:
---