*FYI - this post may contain affiliate links, which means we earn a commission at no extra cost to you if you purchase from them. Also, as an Amazon Associate I earn from qualifying purchases. Check out our Privacy Policy and Disclosure. for more info.
NOTE: This Munich Christmas Market guide was written based on my experience living there up until 2021, but has been updated with the most recent info and dates I could find online. Do note that some details/locations may differ year to year though, so let me know in the comments if you notice anything inaccurate.
As a die hard Christma-holic, trust me when I say this: Munich Christmas markets are some next-level magic.
You can stalk me on Instagram for proof – here's a Highlight w/ my last year's Christmas Market explorations.
But seriously – let's put it this way, I love the holidays so much, I was probably made of gingerbread in a past life. And as someone who lives and breathes Christmas, I couldn't have picked a better city to call home.
Munich at Christmas time means cozying up with mulled wine (glühwein), eating one's weight in candied almonds and soaking up a delightful ambiance that could melt even the Grinch.
And sure, it may be the gallons of glühwein talking, but the Munich Christmas market scene is a true force to reckoned with, with countless options all over the city.
This (ridiculously) thorough guide will walk you through the wildly magical world of Munich Christmas Markets, from the beautifully traditional to the more offbeat and unknown.
I truly think Munich has some of the best Christmas markets in Germany (and even one of best ones to visit in Europe) so I hope you love them as much as I do. And click here for a video version of this guide!
TIP: If you are still doing research for your trip to Munich, here are some recommendations. I always use Omio to compare/book transport options in Europe. It's a free site that compares planes, trains and buses all at once and sorts them by price, convenience, etc. Also HotelsCombined offers a similar price check for hotels if you're still needing a place to stay 🙂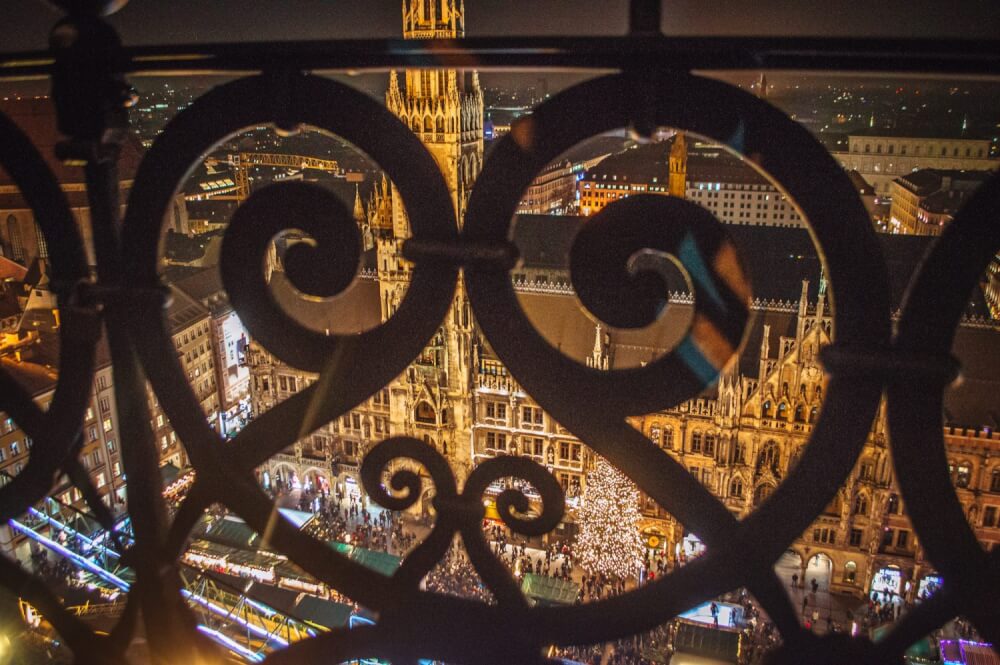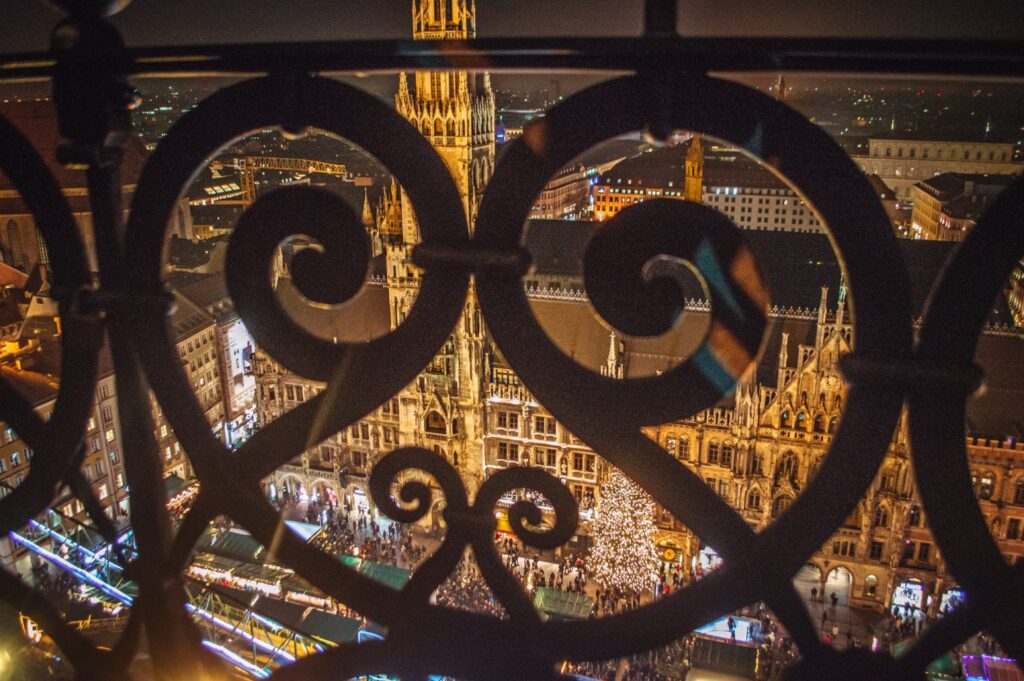 Munich Christmas Market Hotels
If you're looking for a place to stay during your Munich Christmas market visit, I'd highly recommend booking as soon as possible because hotel prices really skyrocket around this time! Below you'll find a dynamic map with different Munich hotel options.
For reference, the yellow point is Marienplatz, home to Munich's main Christmas market, right in the city center. Click here to browse Munich hotel deals and availability on Booking.com.
Munich Christmas Market Dates 2023
Opening dates for Christmas markets in Munich vary depending on the market, but the main Christkindlmarkt in Marienplatz will be open from Nov 27 – Dec 24, 2023.
Check out this list of German Christmas Market opening dates for more.
Europe Winter Packing Essentials:
The Top Munich Christmas Markets to Visit
The Munich Christmas Market scene is filled with a mega-diverse roster of markets to visit, from the classic and traditional to the quirky and unconventional.
This list covers some of the best, biggest and most interesting. Note that smaller ones do pop up around town as well, so check out the official Munich tourism website to get the full list.
Pssst, don't forget to pay attention to the Munich Christmas Market dates listed below – most of them will be closed by actual Christmas day, at which point all Bavarians kind of just hide in their homes and the streets are totally empty. You have been warned!
For more Munich tips, be sure to check out my full Munich city guide here.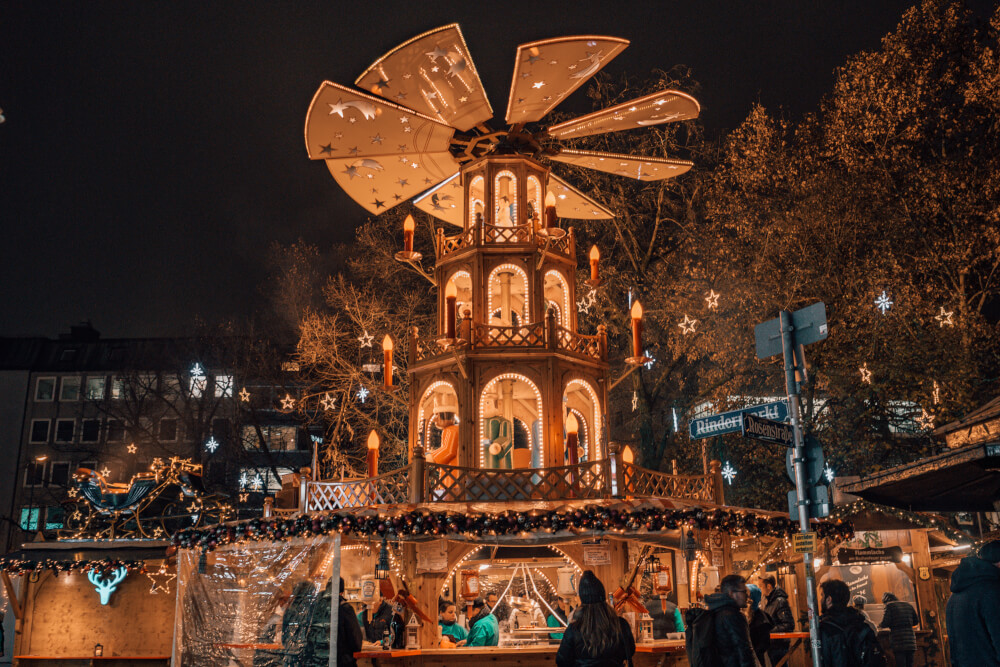 Traditional Christmas Markets in Munich
Looking for the classic wooden huts, beautiful handmade trinkets and a non-stop flow of glühwein? Here are the best traditional Christmas markets in Munich – all post-card perfect like you've always dreamed:
Marienplatz Christmas Market (Christkindlmarkt Marienplatz)
Location: Marienplatz
THE king of Munich Christmas Markets. This Christkindlmarkt can be found in Marienplatz, Munich's main square, with delightful stalls spilling out into the nearby shopping streets as well.
Because of its central location in Munich's Old Town, this has conventionally been the most touristy and crowded market by far, but it's popular for a reason: stall after stall of traditional handmade crafts, delightful snacks to be bought and the all-too-romantic backdrop of the Neues Rathaus.
Be sure to duck into the courtyard of the Rathaus to see more stalls and the Christkindl post office, where you can get a special Christkindl stamp for your postcards/letters.
PS: To get an extra magical view, be sure to climb up St Peter's Church Tower after sunset too!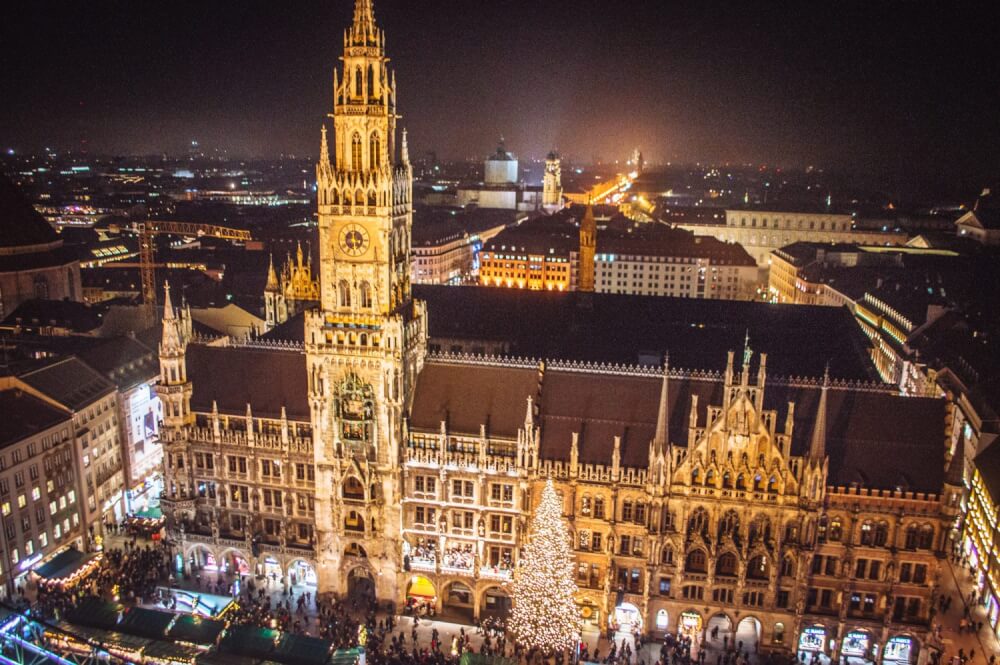 Sternenplatzl at Rindermarkt
Location: Rindermarkt
While technically still part of the Christkindlmarkt Marienplatz mentioned above, this little set-up at the Rindermarkt is a few minutes' walk away from the main square, so many miss it.
Trust me, you won't regret a stop here. It's one of my favourite little markets, offering up a super romantic and cozy vibe. All the trees are lit up with strings of star-shaped Christmas lights and (at least last year), they were serving up gluhwein in adorable little red boots.
PS: the Feuerzangenbowle here (complete with a MASSIVE block of sugar that they light on fire) was my favourite of all those I tried last year, so don't forget to give that a little taste test!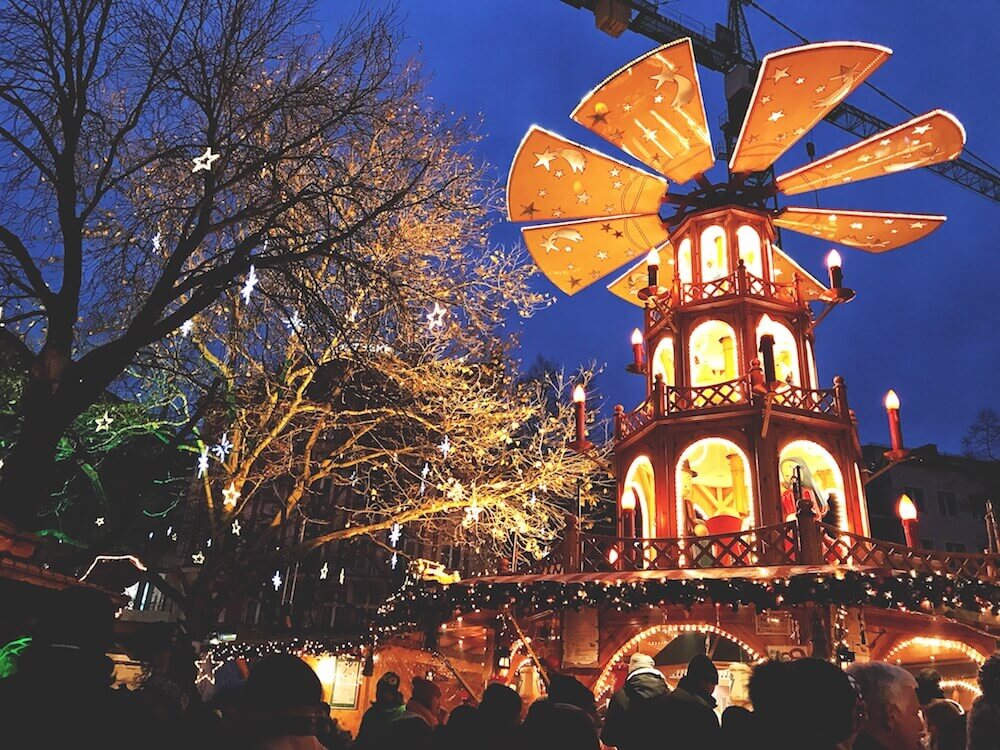 Residenz Christmas Village (Weihnachtsdorf im Kaiserhof der Residenz)
Location: Courtyard, Residenzstrasse 1 (right next to Odeonsplatz)
As far as magic goes, it's a little tough to beat a mini-Christmas village placed in the courtyard of a royal palace.
This small market has a cozy assortment of different vendors selling traditional craft items, ornaments, snacks, and oh um, how can I forget – there's a bunch of little doll displays that border on terrifying.
STILL, that doesn't take away from the market's magical vibes. Do note that this one gets really packed and busy, so claustrophobes beware.
You can view their full program of events here.
Winter Magic at Viktualienmarkt (Winterzauber auf dem Viktualienmarkt)
Location: Viktualienmarkt (just off of Marienplatz)
Munich's famous open air food market gets a Christmassy makeover during the holidays, with the addition of multiple new stalls and some seriously pretty decorations.
This year, they're even introducing curling to the mix, if you fancy getting destroyed by skilled Bavarians ; )
Those in search of foodie gifts should definitely stop by here – you'll be spoiled for choice with all of the delicious, local products.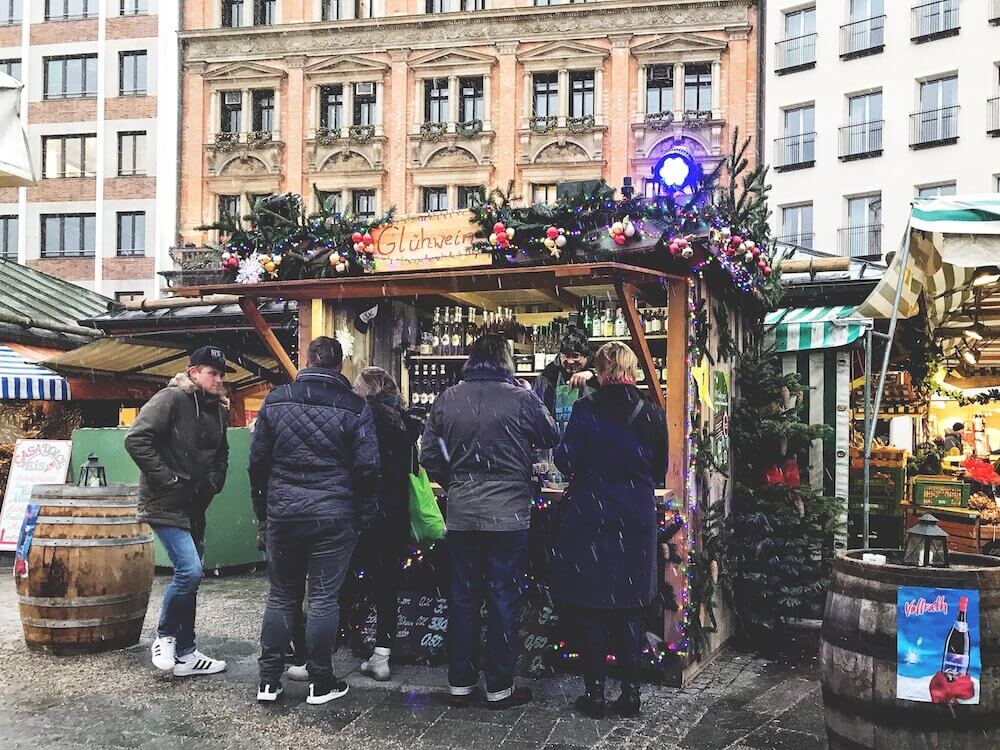 Chinese Tower (Chinesischer Turm) Christmas Market
Location: Chinese Tower (Chinesischer Turm) in English Garden
This enchanting little Christmas market can be found in the heart of Munich's English Garden (one of the world's largest city parks).
The stalls are similar to what you would find at other markets (handmade jewelry, ornaments, crafts, etc.) but the ambiance is really something else. Secluded, quiet and painfully romantic – it's perfect for a little date night. They even offer horse-drawn carriage rides on weekends so if you're looking to ball out a little – here's your chance.
BONUS ROMANCE TIP: Venture onwards through the English Garden towards the Universitat U-Bahn station and you'll find a little self-serve/takeaway kiosk selling snacks and gluwein (I'll mark it on the map below). They have these really cute cable car pods that you can sit in while you enjoy your endless stream of festive drinks. Definitely worth a visit!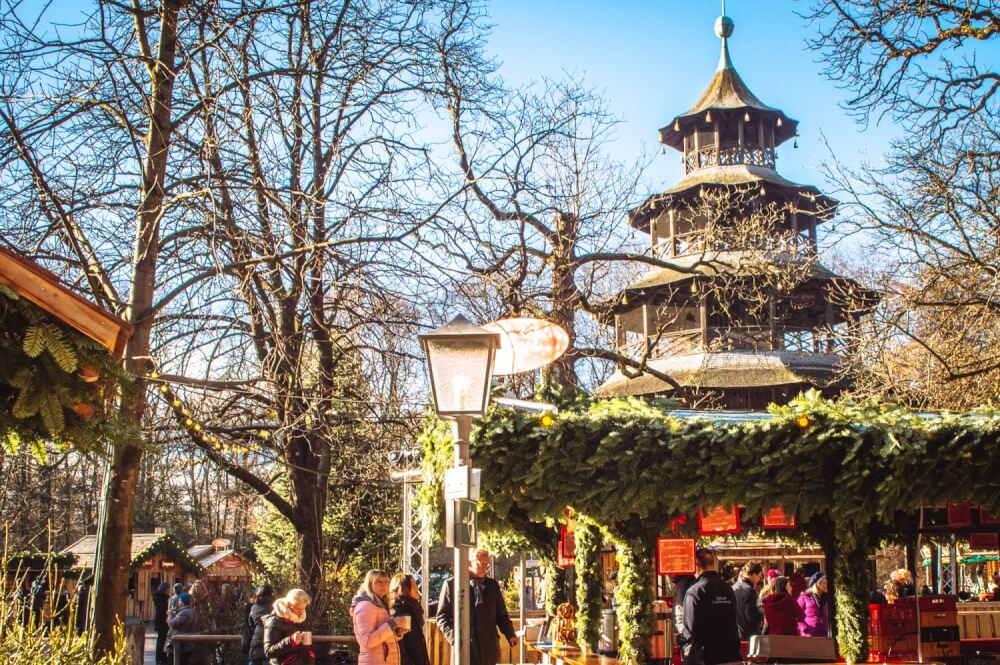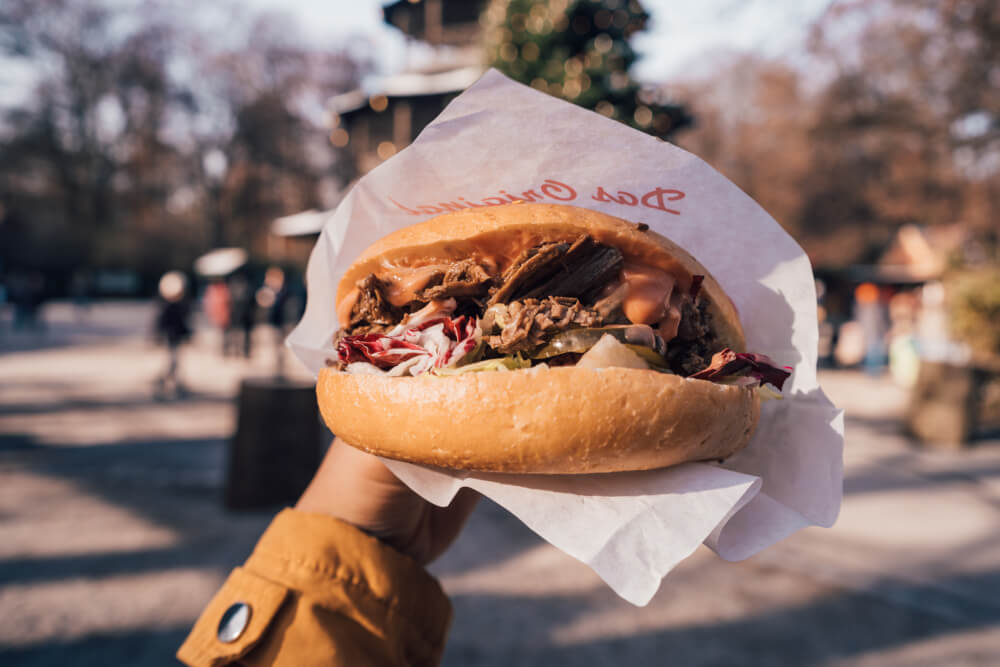 Sendlinger Tor Christmas Market
Location: Sendlinger Tor
Held at one of Munich's few remaining city gates, this market is a smaller one with a really cool and buzzing vibe, especially in the evenings.
This is an awesome place to shop for gifts because they have a wide range of vendors selling cool products from around the world (so more than just the typical crafts and stalls you would see at most traditional markets).
As a bonus, the neighbourhood around the market has a lot of cool bars and restaurants too, so it makes for the perfect evening out.
Neuhausen Christmas Market (Neuhauser Weihnachtsmarkt)
Location: Rotkreuzplatz
This charming, cozy and buzzing Christmas market has been open for over 20 years.
Imagine all the best things about Christmas markets and you'll find it here: festive huts crammed with enticing offerings of ornaments, jewelry, handmade toys, lie music and you know, even puppet shows if you're so inclined.
Free for You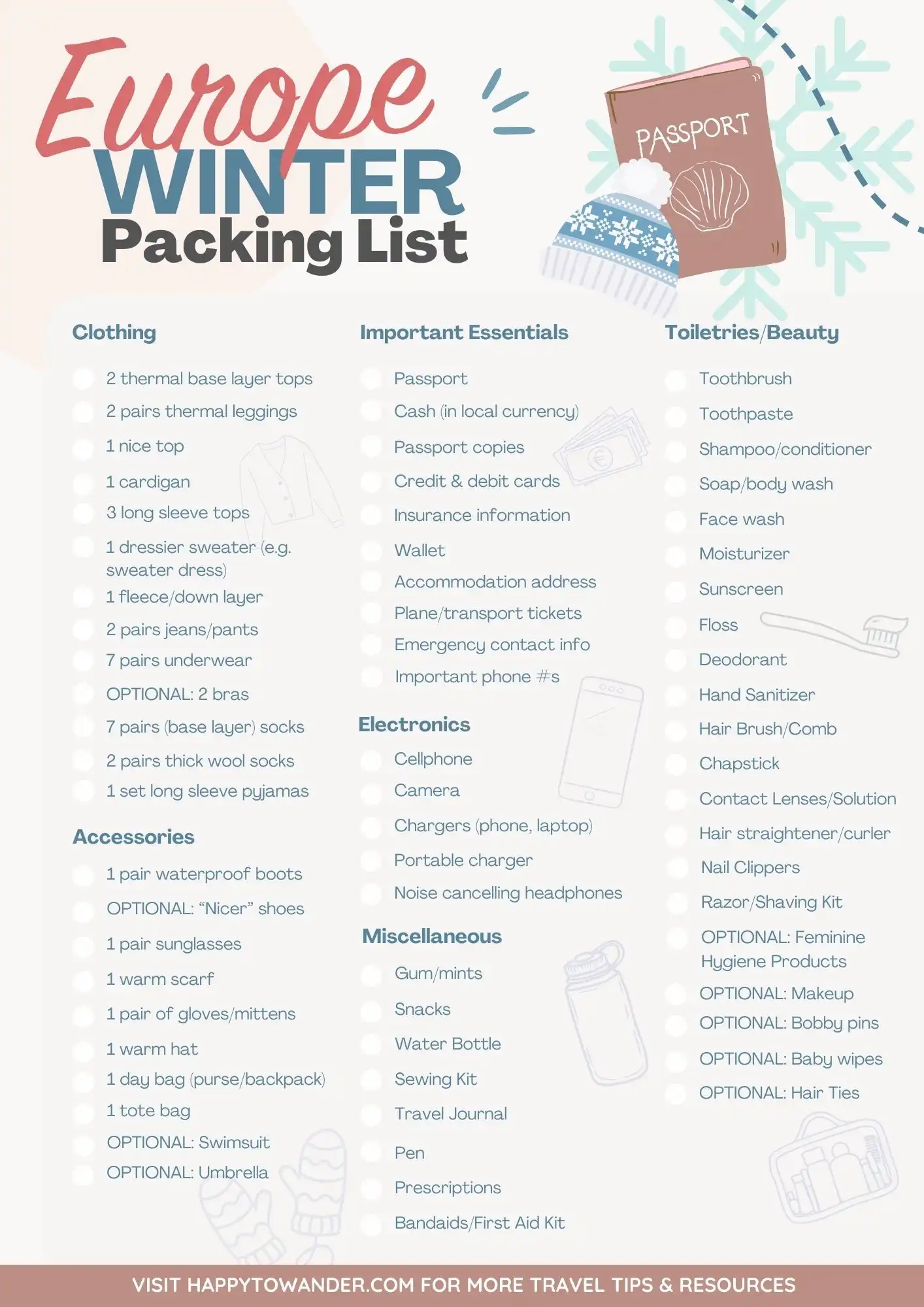 Haidhausen Christmas Market (Haidhauser Weinachtsmarkt)
Location: Weissenburger Platz
If you're looking for a cozy and romantic Christmas market with a very local vibe, this is it!
Despite being a small market, they have a wide selection of stalls to choose from this year, from traditional ones like wooden handicrafts and felt hats to geeky pop culture posters and memorabilia.
Keep an eye out for the mini Santa Claus on a bicycle who pedals on a wire above the market – he'll lead you to a tasty refreshment stand where you'll find a variety of special glühwein flavours like raspberry and cherry.
PS: The way the lights are draped over the trees and the Glaspalast fountain in Weissenburger Platz = beyond dreamy.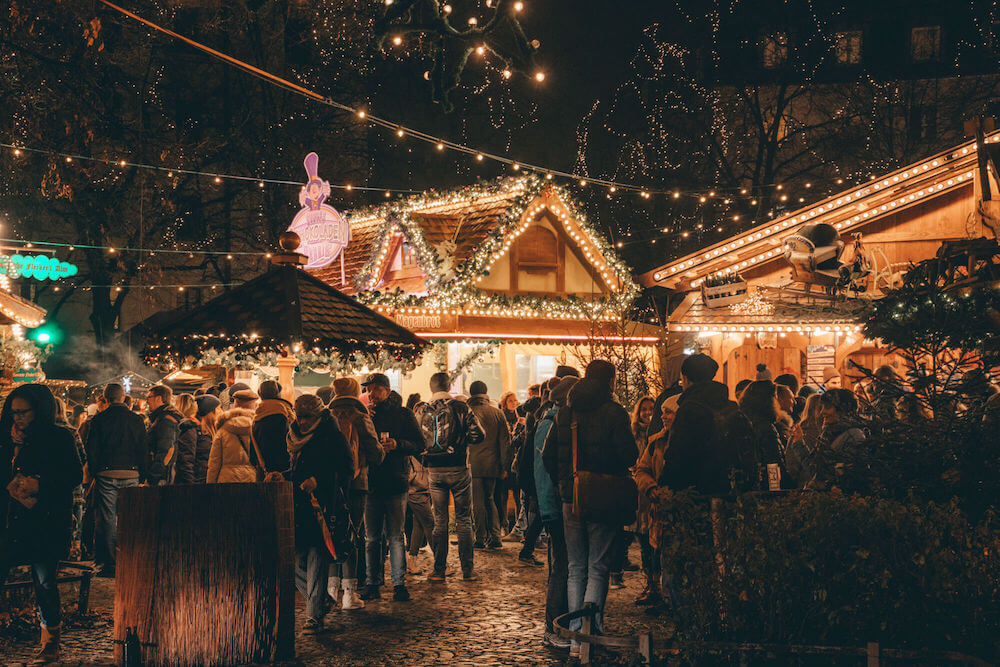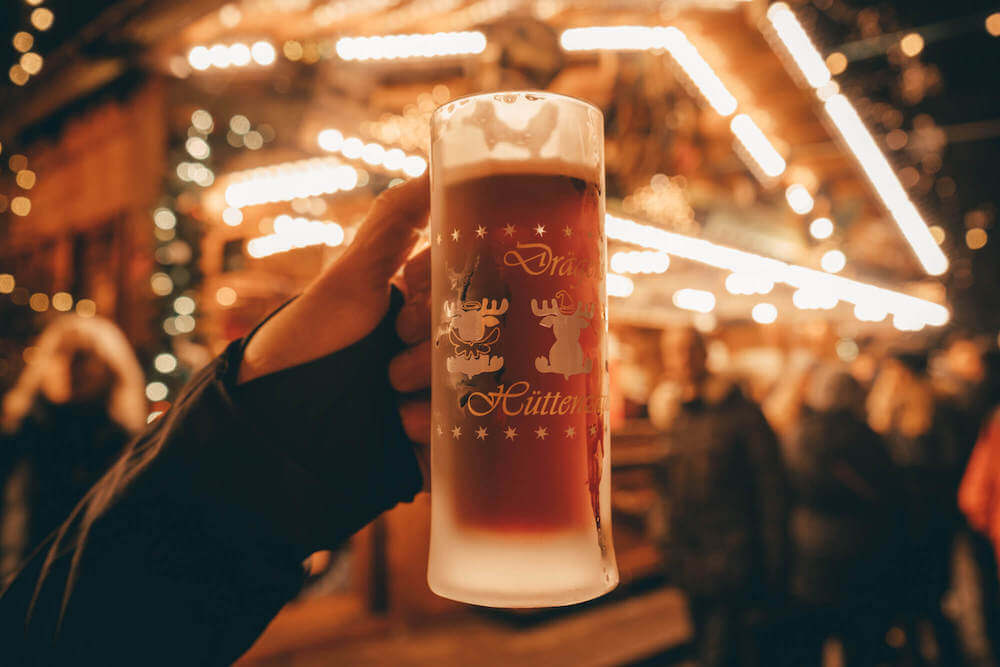 Unique and Offbeat Christmas Markets in Munich
Some of the best Christmas markets in Munich are the cool and non-traditional ones. Here are my favourites:
Wintertollwood Festival
Location: Theresienwiese
Held on the grounds of the world famous Oktoberfest, this massive alternative festival/market is comprised of a variety of tents, food stalls and shopping opportunities… but trust me, this is unlike any traditional Christmas market you've seen.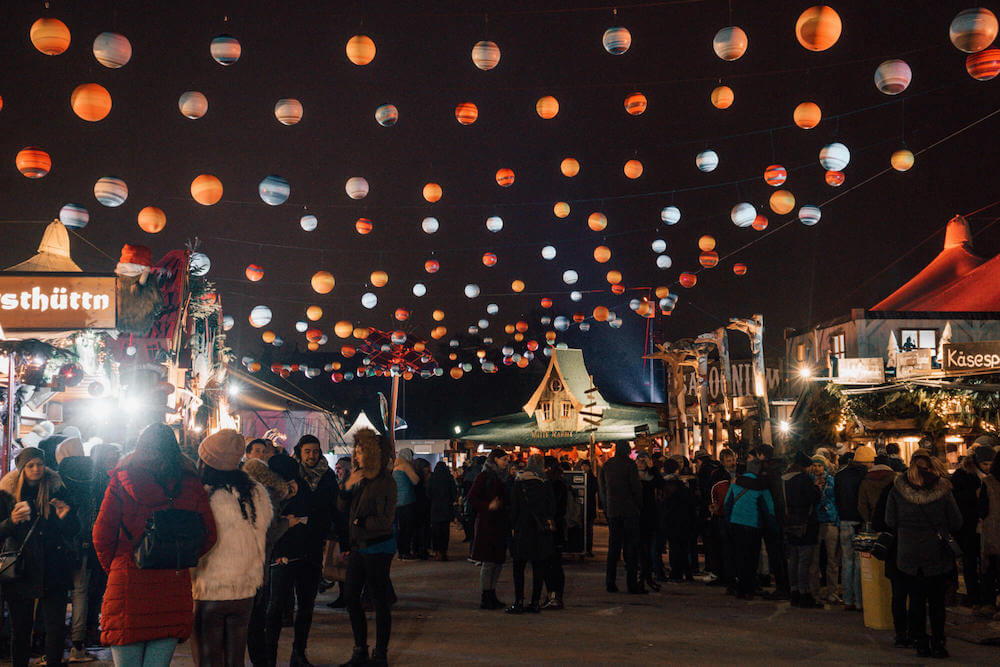 Here's the best way I can explain it: Tollwood is like that free spirit cousin of yours that went to art school, got into interpretive dance, loves to shop for fair trade, unique, handmade goods, and fills your feed with their worldly exploits.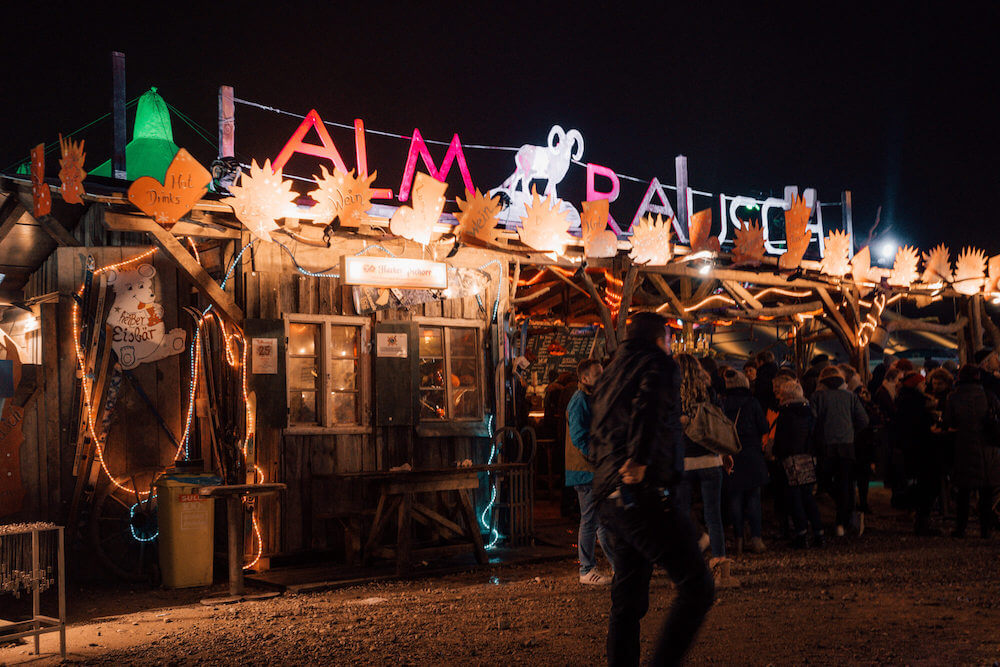 There's definitely more of a party vibe here, with the festivities extending to 1am every night, and a massive array of events, performances, art installations and international cuisine options. It's not a Christmas cliche by any means, but it's a very cool place to put on your list.
PS: Every year, Tollwood's decor and festivities reflect a new theme (usually connected to advocacy in some way). 2019's theme was "Werte Menschen".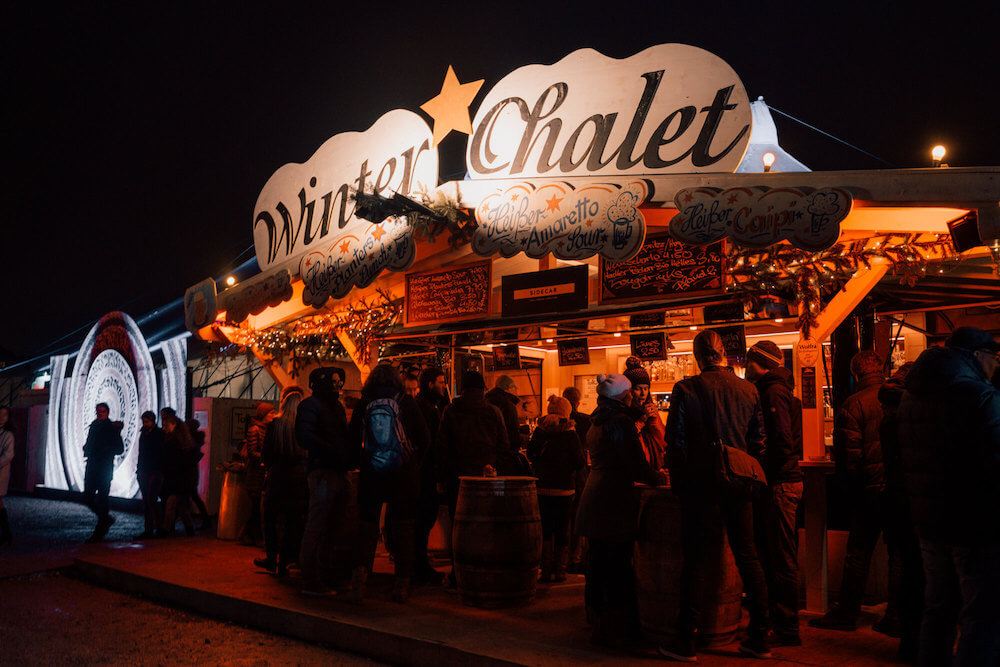 Medieval Christmas Market
Location: Wittelsbacher Platz
Out of all Munich Christmas markets, this one might just be my favourite.
Take a step back in time at this Medieval-themed Christmas Market at Wittelsbacher Platz, just a short walk away from Munich's famous Odeonsplatz.
Here, you can drink firey rum out of clay goblets, shop for authentic drinking horns and stock up on delightful handmade craft items.
If you're lucky, you might even catch entertainment from costumed jugglers and minstrels, who delight the crowds on weekends. Now, if you need to find me, I'll be that girl lurking around the knights in shining armour.
---
Looking for a live tour of Germany's best Christmas Markets?
Stalk me on Instagram this month – it'll be an explosion of Christmas magic. Watch this Highlight to see clips from Munich, Düsseldorf, Essen & more from previous years!
---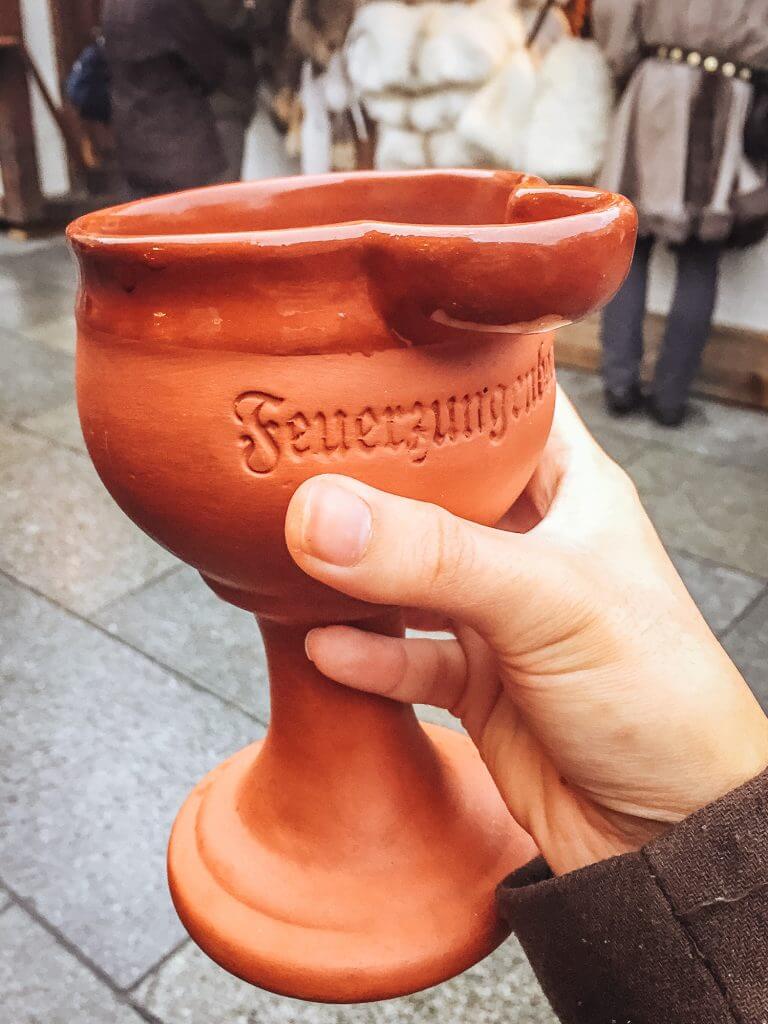 The Fairytale Bazaar (Märchenbazar)
Location: Olympiapark South (Formerly located at Leonrodplatz)
This artsy and grungy twist on the traditional Christmas market is one of my favourites in Munich!
Featuring a mashup of all sorts of wonderful things – from delicious international foods like vegan doner and crepes to a wide assortment of creative handmade goods, there's a little something for everyone.
Imagine a psychadelic and gritty fairground with a circus-like aesthetic, and that's the Märchenbazar. Beautiful twinkle lights, colourful street art and even a Weißwurst breakfast on weekends from 11am onwards… what more could you want?
Unlike most markets, this one is special because it's actually open on Christmas, and is where I went for Christmas day 2 years ago with a group of my Exchange friends!
RANDOM TIP: The butter chicken here is FANTASTIC. You'll find a little stall selling it inside one of the market tents.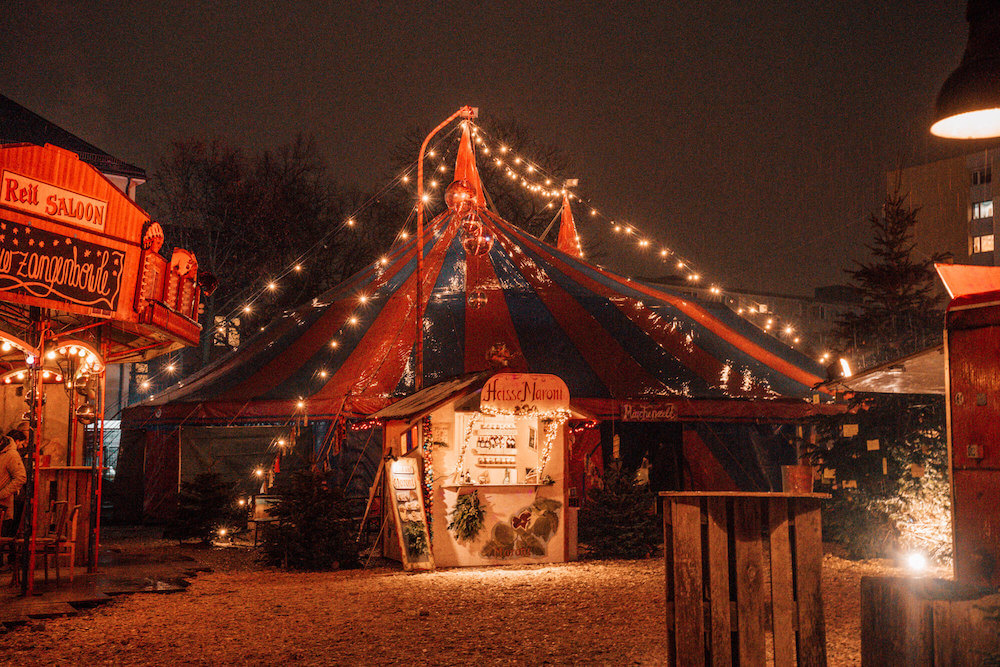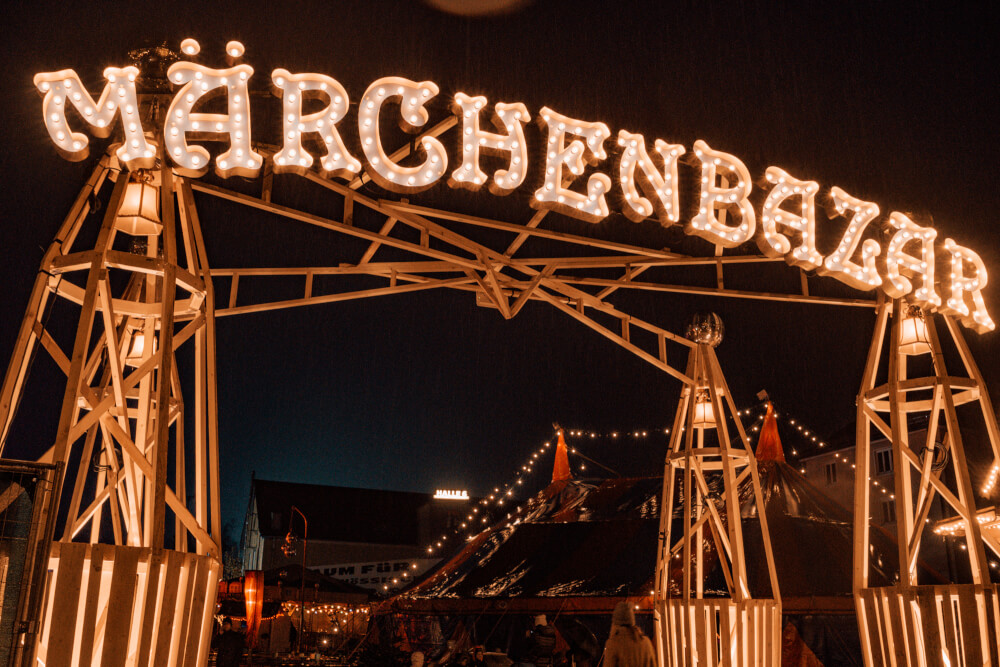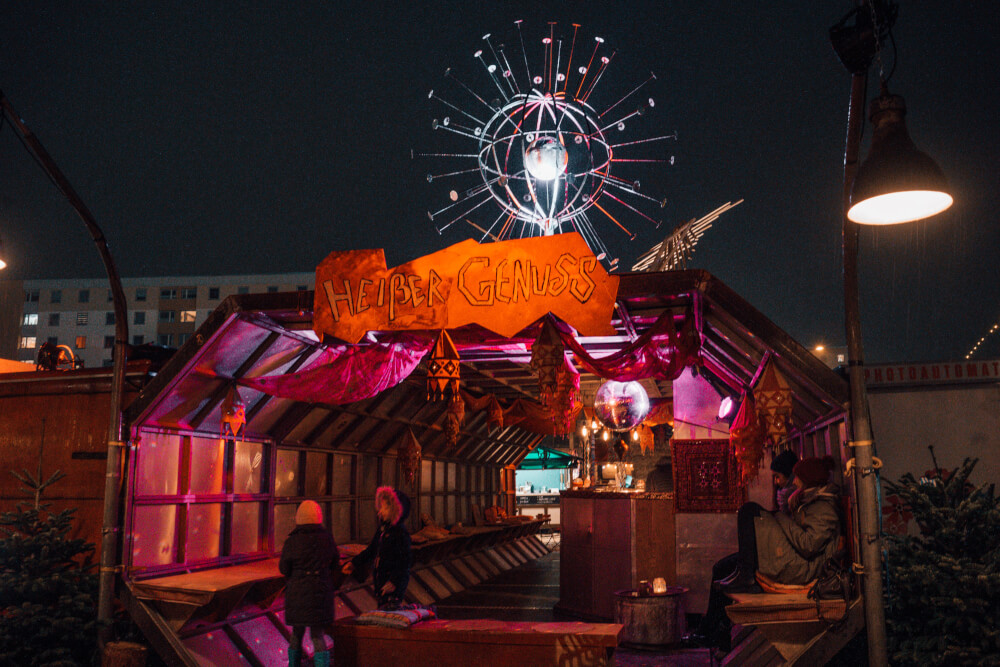 The Pink Christmas Market
Location: Stephansplatz
Kitschy, pink and 50 shades of wonderful, this is definitely not your traditional Munich Christmas Market…
Think less star lamps and Christmas carols and moooore cocktails and drag queens.
'Pink Christmas' is a friendly and inclusive market found in Glockenbachviertel, Munich's LGBTQ neighbourhood, decked out with plenty of pink lights and a bumpin' stage with all sorts of great performances.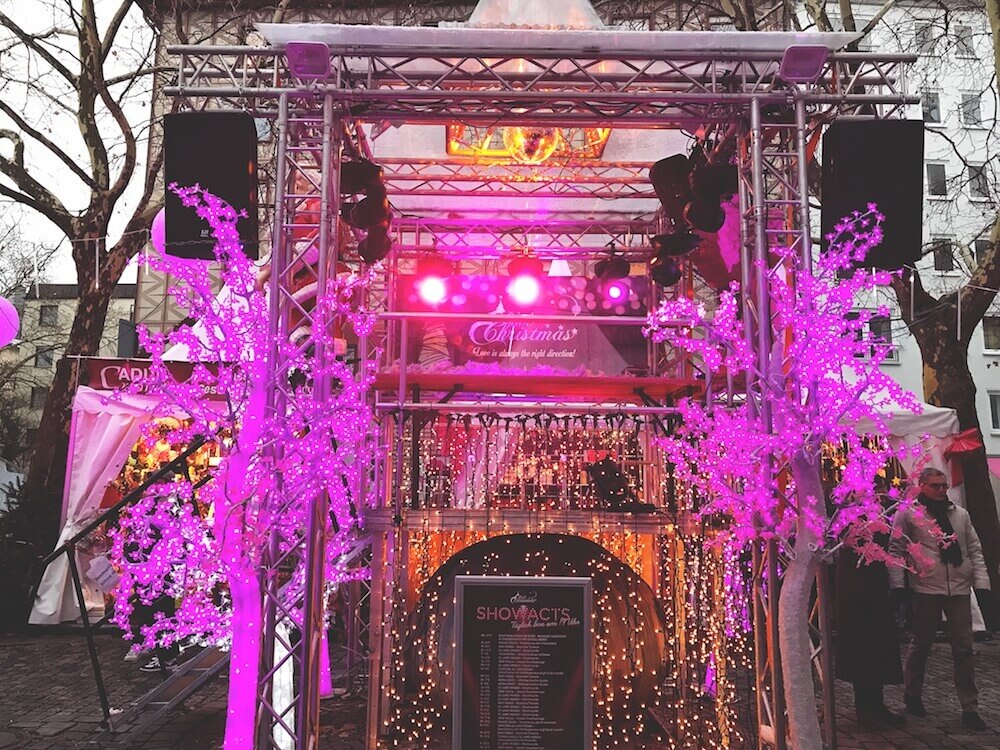 Everyone is welcome here, which results in a highly contagious enthusiasm. Definitely come here in the evening, when the bright pink glow can be seen from even far away.

Schwabing Christmas Market (Schwabinger Weihnachtsmarkt)
Location: Münchner Freiheit
Located right by the Münchner Freiheit UBahn station, the Schwabing Christmas market puts a bohemian twist on Munich's yuletide festivities, offering up a treasure trove of amazing artisan vendors, crafts, art installations and performances.
There's definitely more of a local vibe here than some of the more traditional markets. Well worth a visit – especially for the art tent.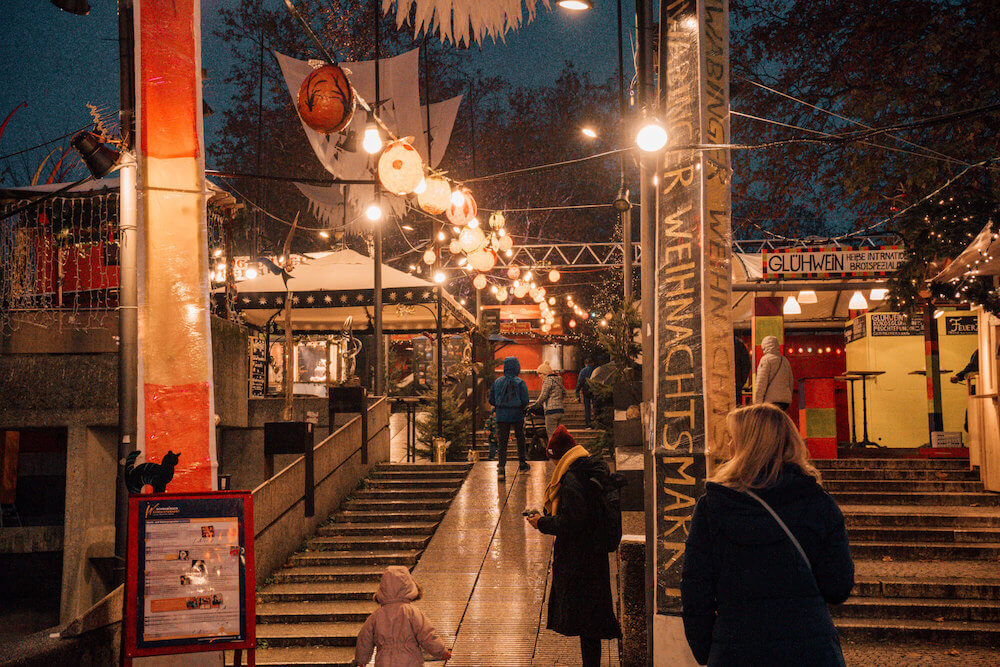 Zauberhafter Weihnachtsmarkt at the Werksviertel-Mitte
Location: Werksviertel Mitte (Behind Ostbahnhof)
Now here's a real insider tip for you: translated to the Magical Christmas Market, the Zauberhafter Weihnachtsmarkt is a brand new addition to the Munich Christmas Market scene. In fact, most locals don't even know about it yet!
Located behind Munich's East Train Station on the site of a former industrial area and dumpling factory, this market is a very cool one to visit if you're looking for a more alternative and hip vibe. All around you'll find cool shops built into shipping containers, unique murals and of course, Christmas market stalls selling all sorts of cool gifts. I'd definitely check this one out if you want a thoroughly local experience with a bit of a party vibe… I even spotted Santa on stilts!
PS: At this location too you'll find the Munich Hi-Sky, the largest mobile ferris wheel in the world, and another attraction that most people don't know about.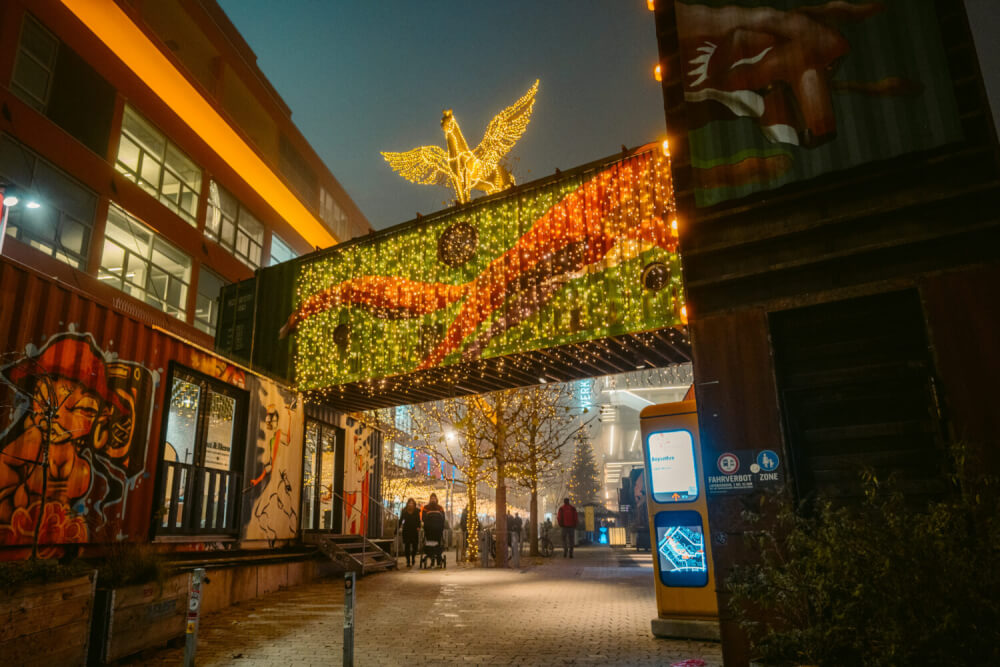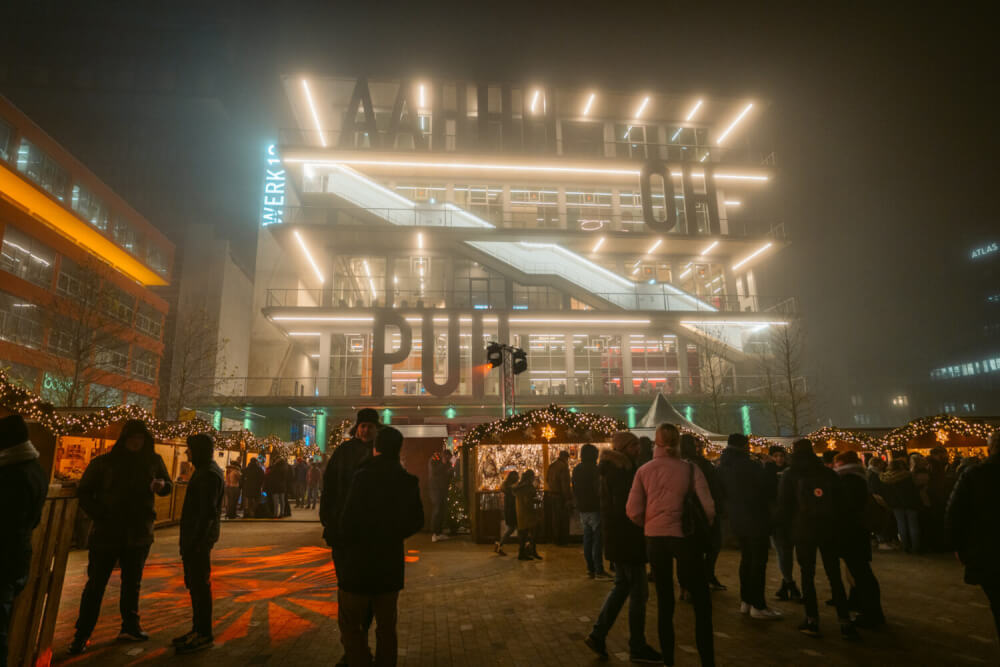 Sternenflotte Christmas Market on the Alte Utting
Location: Alte Utting
Another very new Munich Christmas Market is the Sternenflotte Christmas Market on board the Alte Utting, which wins hands down for most unique venue.
Hosted on an old passenger ship perched on a railway bridge, there's really no place like it in Munich. With a truly unique atmosphere complete with murals, performances and even a firepit, this is one of the coolest spots in Munich at Christmas time… with a variety of unique stalls to shop at, and plenty of diverse food and drink to choose from (including loads of vegan and vegetarian options!)
While it's not the most central Christmas market in Munich, it's more than worth the trek. I mean… it's hosted on a boat…. on a bridge. Berlin, eat your heart out.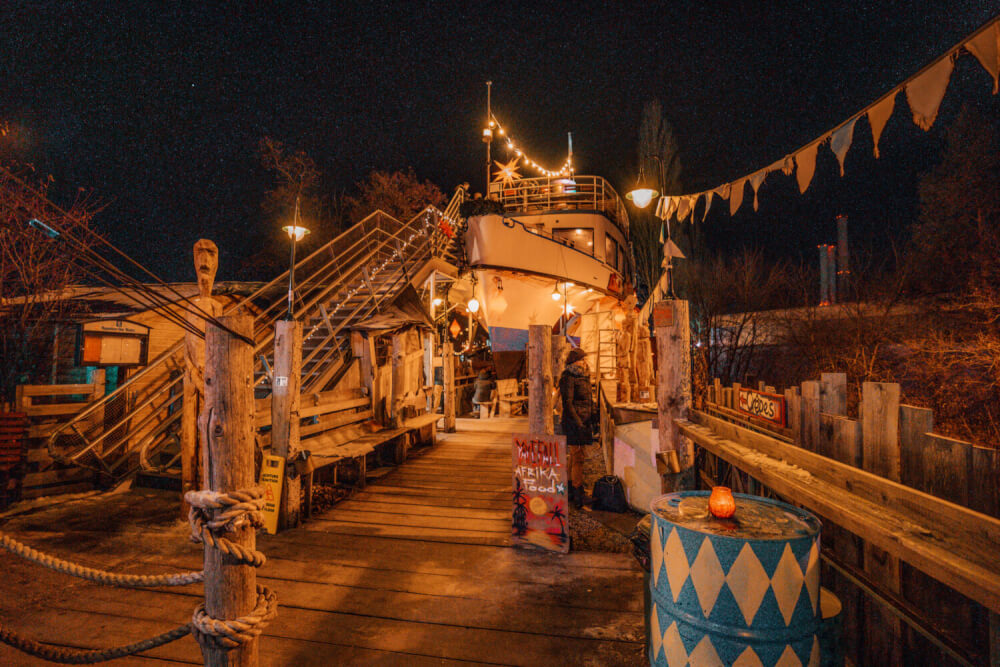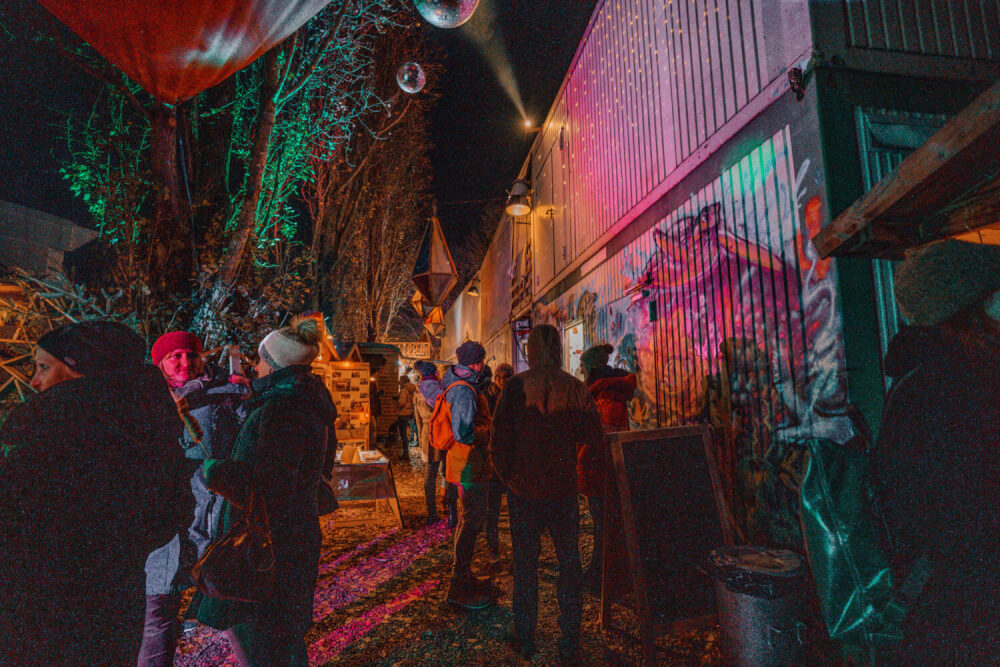 Other Christmas Markets Near Munich
Besides Munich's city center, there are a variety of cool Christmas markets to visit that are a little farther out. Here they are:
Munich Airport Christmas Market
Location: Munich Airport MAC Forum (Outside underneath the roof)
If you're arriving by plane, here's a fun fact: you can already get your fill of Christmas markets in Munich…. right at the airport.
That's right – fresh off the plane and you're already immersed in Xmas Market Magic. I remember the first time I came across it, when I landed at MUC last December after a dreary 3 months living away from the city. It was like getting punched in the face with Christmas spirit and that special brand of magic that Munich does best. This market has been going on for almost 20 years, and yes, it's simply magical.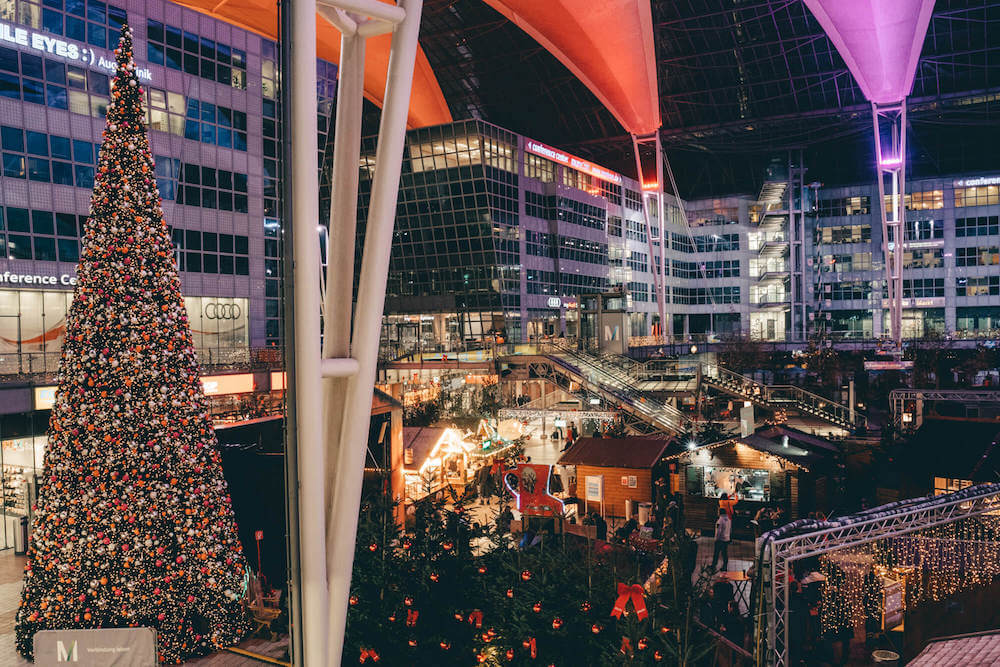 NOTE: I wouldn't plan on doing too much shopping at these stalls. From what I noticed, many sold mass produced goods that were on the cheap side (10-15 euro scarves for example). The market is really beautiful but you can definitely get higher quality gifts elsewhere in Munich!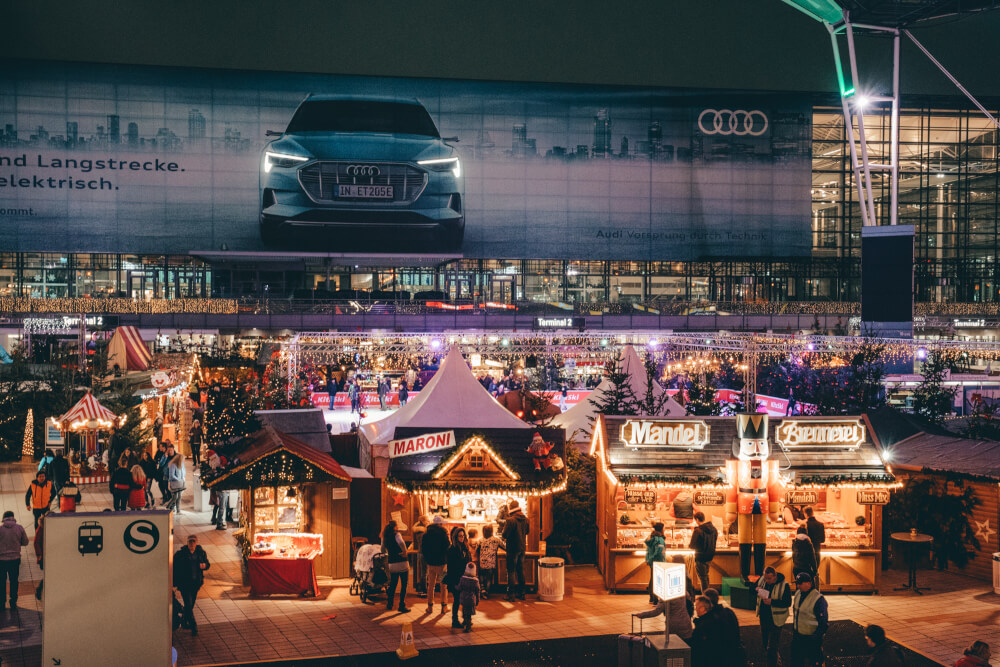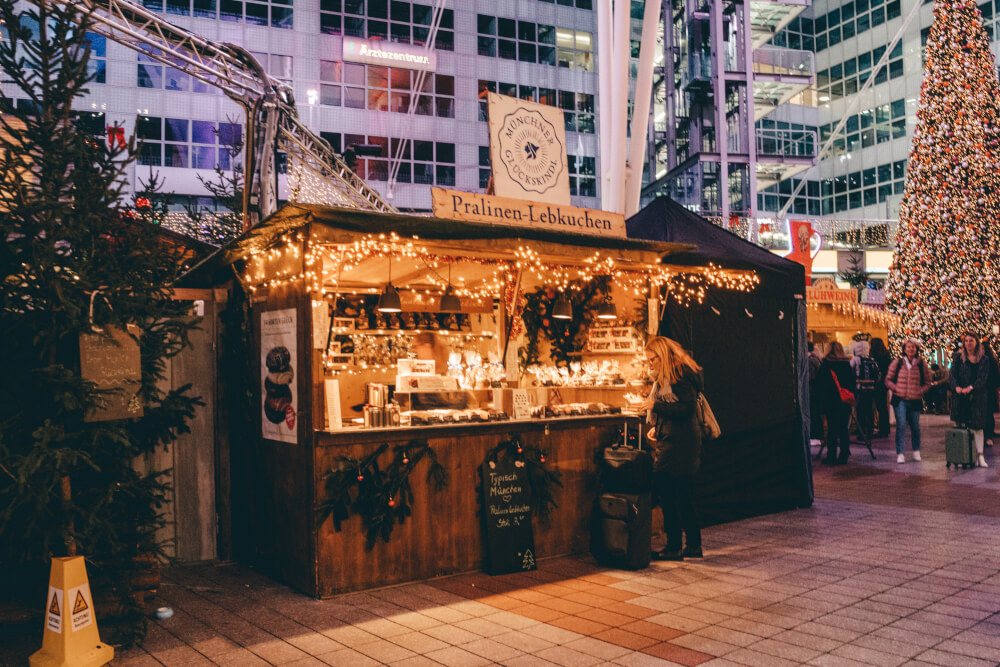 Dachau Christmas Market (Christkindlmarkt Dachau)
Location: Konrad-Adenauer-Str. 2, Dachau
A short train ride away from Munich, you'll find Dachau, a common day trip because of its concentration camp memorial site.
Lesser known though is that they actually have a wicked Christmas market! Located in front of Dachau's town hall is a wonderfully atmospheric market touting all the classic Xmas market fare – roasted chestnuts, candied almonds, grilled sausages, sweet gluhwein and much more.
From handpainted baubles and luxuriously soft sheepskin everything, there's plenty to shop for and enjoy here 🙂
PS: The Dachau Christmas Market is home to the largest advent calendar in Bavaria!
Salzburg Christmas Market (Salzburger Christkindlmarkt)
Location: Domplatzm, Salzburg
Salzburg, Austria is only an hour's train ride away from Munich and is home to its own droolworthy set of Christmas markets. My favourite is the Salzburger Christkindlmarkt, right in front of the city's main cathedral.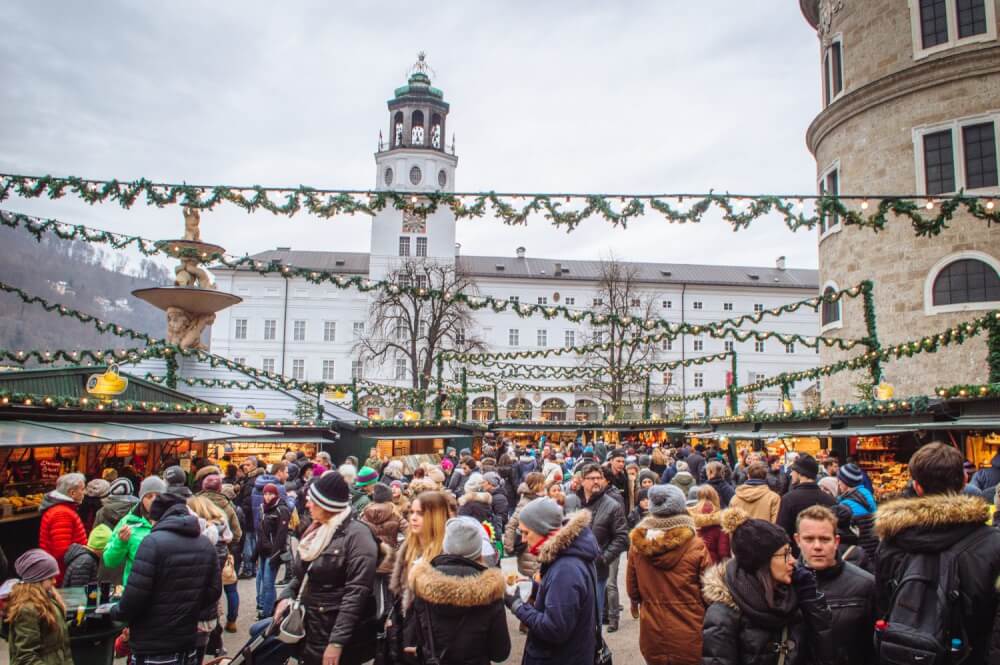 What to Eat and Drink at Munich Christmas Markets
One of the best parts of visiting a Munich Christmas market is duh – all the delicious food and drink!
If your head is already spinning from the sweet smells of cinnamon, grilled bratwurst and roasted chestnuts, here's a guide on what you absolutely must eat and drink. If you want a FULL list with 30+ treats, you can find it here.
Glühwein: Pronounced 'glue-vine'. AKA mulled wine. AKA heaven in a cup. Hot wine flavoured with delicious spices – there's no better way to warm up.! NOTE: You'll usually be required to pay 1-2 euros as a "Pfand (deposit)" for these cute little glasses, so be prepared to pay more than what the signs say, especially if you intend to keep them as souvenirs. Last but not least, I have to say: be sure to experiment with different flavours too – the ones made with white wine are AMAZING.
Feuerzangenbowle: Pretty much glühwein on steroids. In this drink, your glühwein is topped with a sugar cube soaked in rum, then LIT ON FIRE. It's strong, it's amazing, and it's pretty much the best part of Christmas.
Eierpunsch: Booze-tastic egg based drink similar to eggnog. A must try if your stomach isn't already full from all the glühwein.
Kinderpunsch: A hot drink made with a variety of juices and spices to get that nice warm, tingly feel without the alcohol. Perfect for kids and non-drinkers!
Gebrannte Mandeln (Roasted almonds): I think I once described these to a friend as "Christmas crack". That's how good they are. You'll smell them from a mile away and they are the yummiest snack to have in hand while browsing all the stalls. Get it – you won't regret it… but your waistline might.
Wurst (sausages): I mean, you're in Germany, soooo… The smell of wurst will lure you in from the get go, with all sorts of options to tempt even the strongest willed. Comically large bratwursts are a common sight, but I have a soft spot for the little Nürnberger Rostbratwursts, which are served in groups of 3, usually with a bun. So good!
Käsespätzle: Cheesy dumplings topped with crispy fried onions – a Bavarian classic and oh so comforting. Think of it like mac and cheese but infinitely better.
Rohrnudel: A sweet fluffy dumpling smothered in vanilla sauce. Sometimes with a fruity jam filling. Are you still breathing? I'm not.
Lebkucken: Gingerbread-esque cookies topped with icing! Often prettier to look at than they taste, but with how good they look, it's tough to resist.
Apfelkücherl: Spiced apple rings coated in batter then deep fried to perfection. Like apple donuts!
… and much, much more. Just follow your nose!
PS: If you're still hungry, check out my Munich restaurants guide for visitors.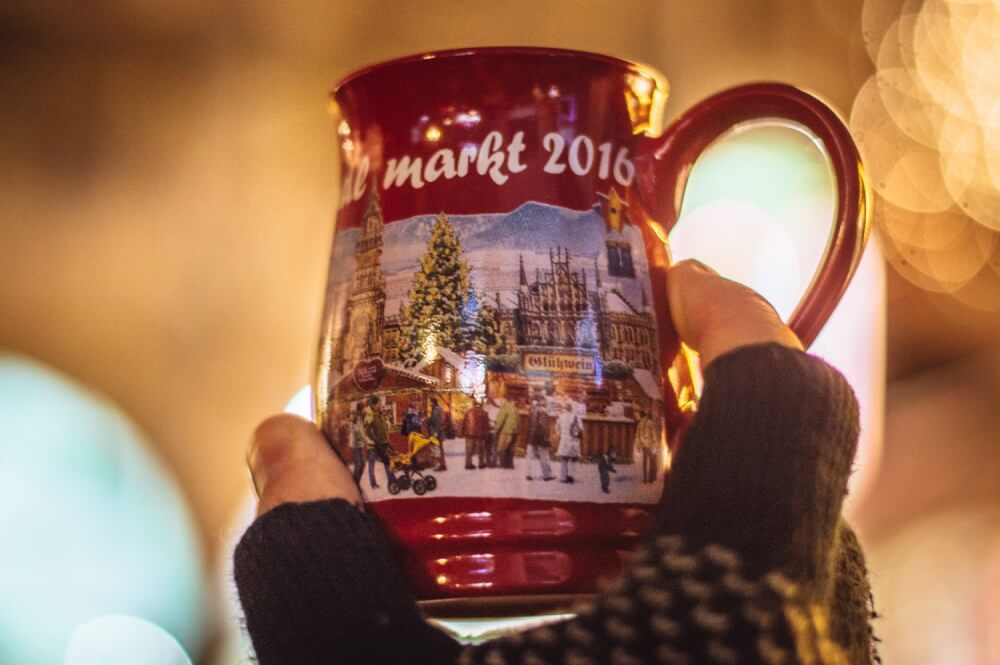 What to Buy at Munich Christmas Markets
Munich Christmas markets are packed with vendors and stalls selling beautiful, quality goods. For your inspiration, here are a few of the classic gifts that you can purchase, but you can find a full shopping guide here.
Ornaments: From hand-painted baubles to intricately carved wood pieces, there's no better place than a Munich Christmas market to grab special, handcrafted ornaments! Many of the stalls will even have demos of them being made, so you can watch the talented creators at werk werk werk.
Paper lantern Christmas stars: These are the prettiest things ever, and I would honestly cover my house with them if I could. I'm not sure of their official name, but you'll see them everywhere, sold as decorative lamps and even tree toppers.
Handmade candles and candle holders: Maybe I'm just attracted by pretty lights (and shiny objects, duh) but one of my favourite gifts to buy at Munich Christmas markets are candles and specialized holders. There's gorgeous wooden ones that look like tree trunks, some (kinda corny but still cute) holders with spinning metal charms in different shapes. Definitely an easy gift to bring home!
Sheepskin products: At Munich Christmas markets, you'll often see stalls that are selling fluffy sheepskin products, from cloud-like mocassins to big, stylish coats. These make for awesome, unique gifts and I highly recommend them! (The slippers are like walking on clouds)
Nutcrackers: So many shapes and sizes, so much detail! German Christmas markets take nutcrackers to a whole new level. Definitely worth buying a small one as keepsake.
… and again: so much more! Especially if you visit some of the more alternative markets, there are all sorts of incredible souvenirs and gifts to choose from. Word of warning: your wallet might struggle a bit.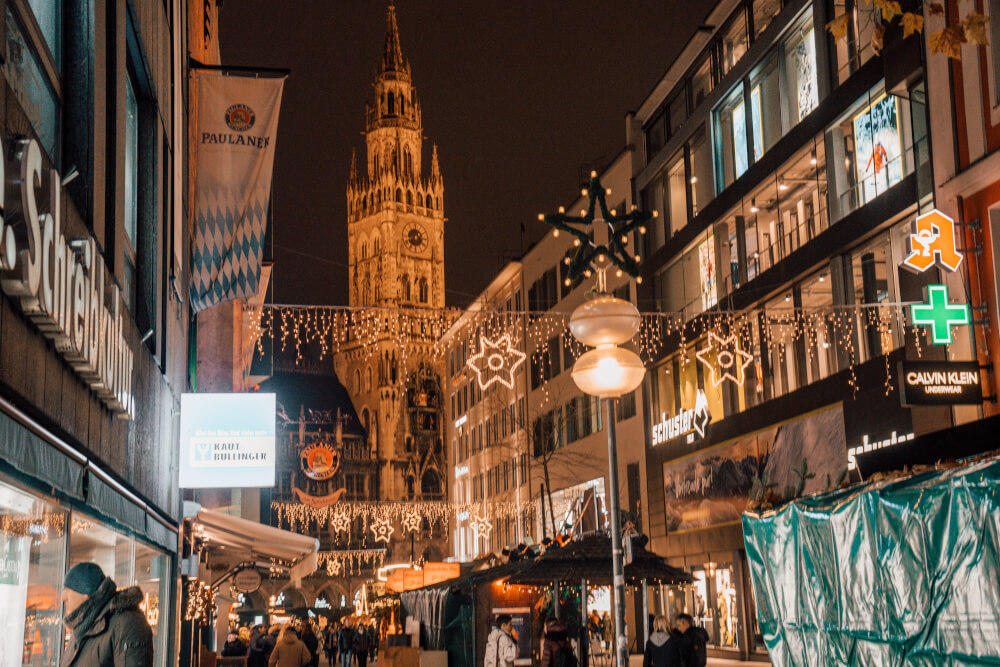 Munich Christmas Market Map
Wondering how to hit up as many Munich Christmas Markets as you can in one day? Or which ones to do together? Here's a handy map for you, with all the markets listed above. If you need help navigating Munich's public transportation by the way, I have a full guide on that here.
I hope you enjoyed this guide on Munich Christmas Markets, and that it has given you all the wisdom you need to make the most of Christmas time in Munich!
Have any more questions about Munich Xmas markets, ask away in the comments!
Looking for more Munich travel tips?
Click here to read my full Munich travel guide featuring tips on things to do, where to go, and more local secrets that most tourists don't know about.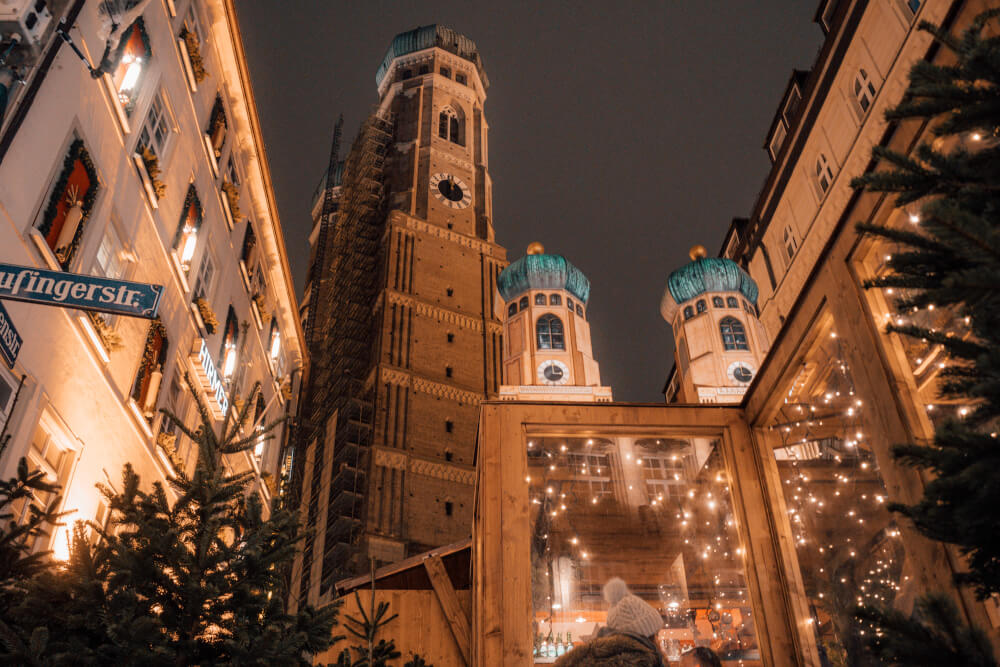 Visiting Munich? Here are some other articles you might like:
My Go-To Travel Favourites: