*FYI - this post may contain affiliate links, which means we earn a commission at no extra cost to you if you purchase from them. Also, as an Amazon Associate I earn from qualifying purchases. Check out our Privacy Policy and Disclosure. for more info.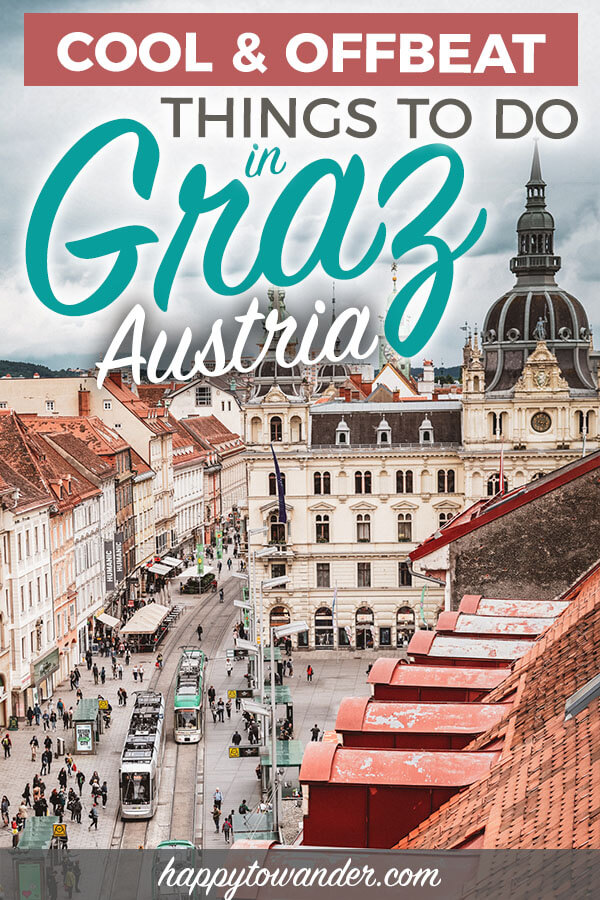 This quirky guide to offbeat things to do in Graz was produced in collaboration with Visit Graz, who hosted me on this trip as part of the Propel Conference by Captivate. All verbose oversharing is of course, my own!
As it begins with all stories of forbidden love, there are many reasons that Graz and I weren't meant to be.
For one, I was visiting a city known for its Mediterranean charm… during a cloudy bout of murdery rain.
For another, I was crunched on time. My main mission in Graz was to attend the Propel Conference, a professional event that would have me cooped up inside a hotel for most of the day… plus a jam-packed itinerary filling each moment in between.
And yet, in spite of all, in spite of the time crunch and spontaneous rain showers, the charming city of Graz found a way to wedge itself into my heart, one facade, side street and (admittedly) adult beverage at a time.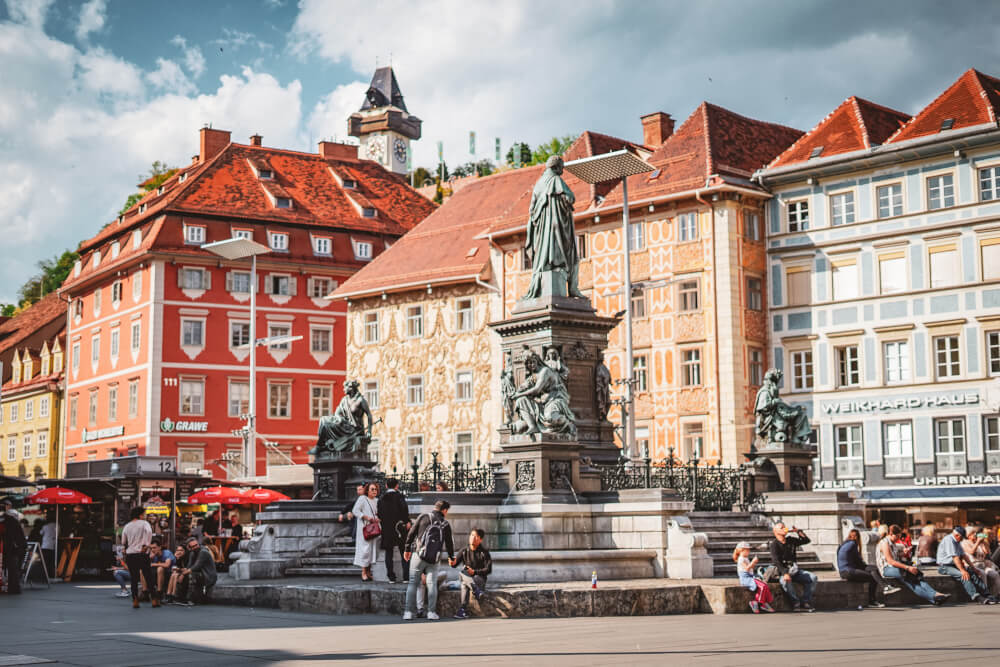 You see, what I quickly realized is that Graz isn't a city of top tens or must-dos. In fact, can I make a confession? In a power move that makes me (perhaps) the worst travel blogger in history, during my 72 hours in Graz, I neglected to even visit the #1 attraction in the city: the famous Schlossberg.
… but to me anyway, Graz isn't about hopping from attraction to attraction.
Instead, Graz is a city to be enjoyed slowly, through following the whims of curiosity, and in the case of those like me who lack any inner compass, a city best discovered while lost, stranded in the rain, but still loving every second.
Here are some of the unique activities that make Graz, in my mind such a charming and unique city. If you're looking for a few alternative things to do in Graz, you've come to the right place…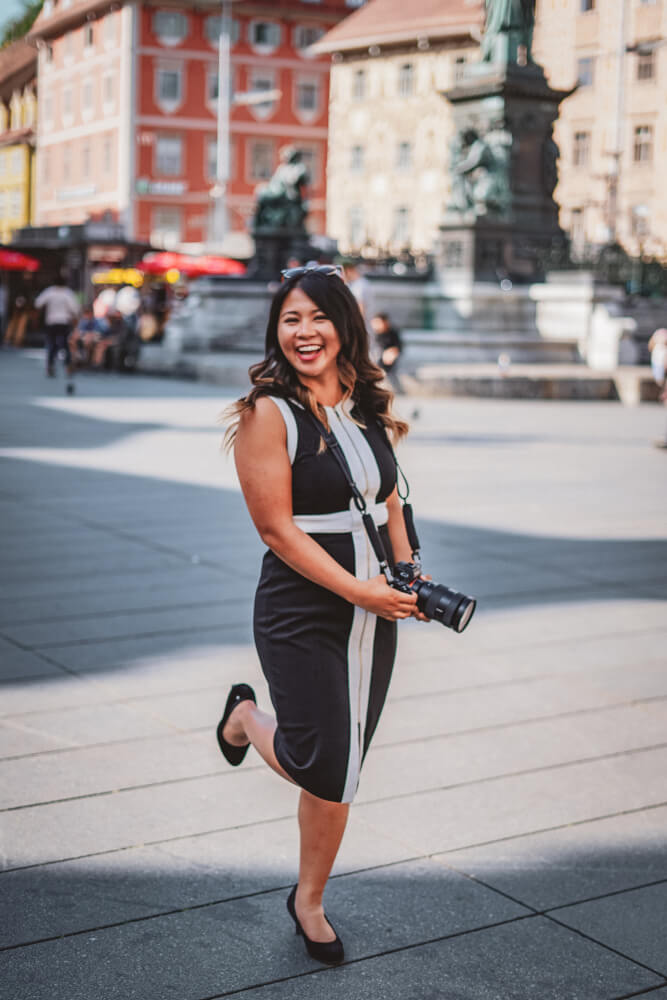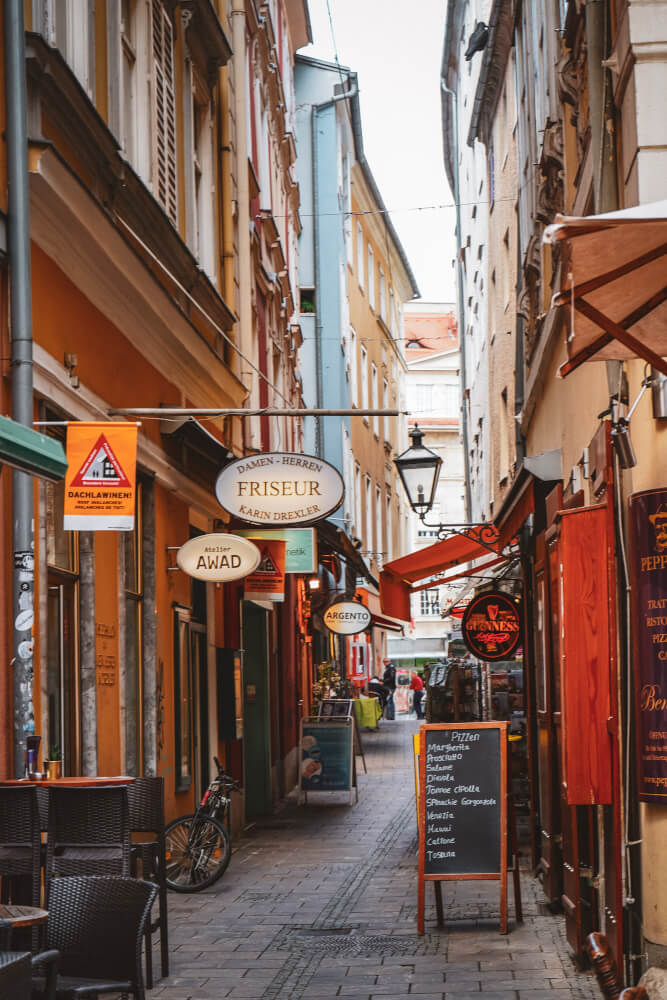 12 Wonderful Offbeat & Alternative Things to do in Graz, Austria
Because I didn't have much time alone in Graz, the moments I did manage to steal felt…. weirdly romantic? Like I was some lovestruck teenager sneaking final moments with my clandestine lover, or something equally worthy of a young adult novel. There were the short gaps in the itinerary that I'd steal to run out alone, camera in hand, getting so lost once I almost missed my ride to dinner. Or let's not forget the brief hour window between trains that I ran from the train station to get 'my last look at Graz', which meant I arrived at the airport a frazzled (and potently smelly) mess.
That said, it was through these moments in between that I got to appreciate Graz for what it is: a city of constant surprises… which I've lovingly assembled into this list.
So, here are some of my favourite alternative things to do in Graz….
---
---
1. Drink in the view at a department store
Address: Murgasse 8
No, I don't mean peering at colourful polo shirts or cargo shorts, although I'm sure that's also thrilling.
Instead, I'm referring to the best free view in Graz, all available without the leg-melting climb of Schlossberg. As it is with most hipster cities, Graz's best view is hidden in plain sight, on the rooftop of the glitzy golden department store Kaster & Öhler HOME. While the view is free and open to the public, it is of course best enjoyed with a cool drink and some extra time to watch the world go by (or at least marvel at the people sprinting after their trams).
I darted into this gold & white department store during my short stopover between trains. The moody sky threatened rain at any moment, so it felt like a low-stakes Mission Impossible as I hopped K&Ö's golden escalators to the top. 6 floors later, there it was: a glorious view over Graz's Old Town…… with a full rooftop of Spritz drinkers in spite of the impending death-rain. That's the thing about Graz – no matter the weather, people always seem to be drinking outside, and I am 100% on board with that.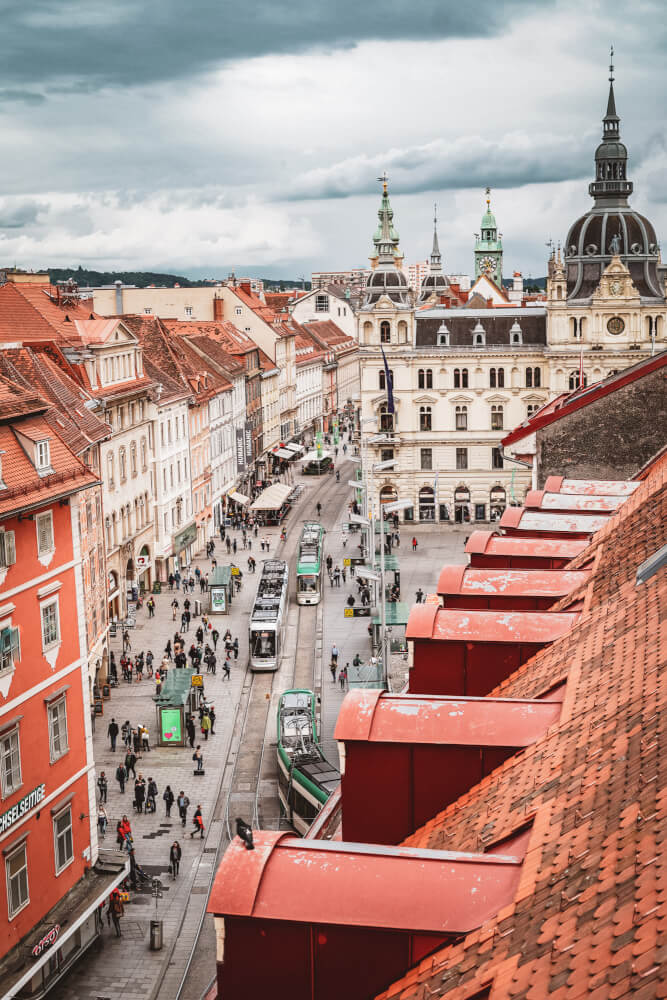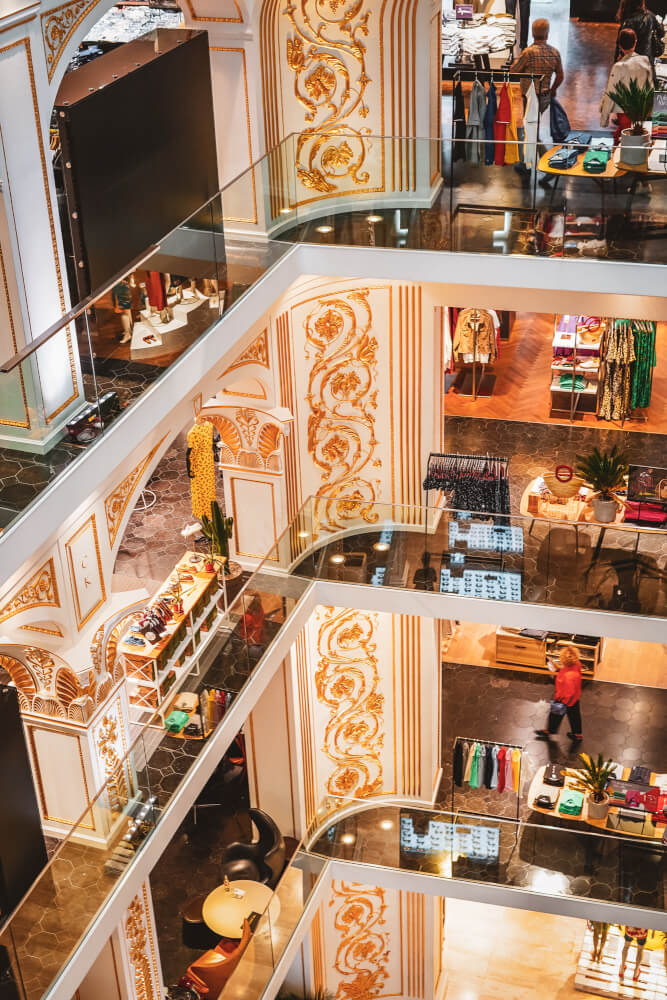 Besides K&Ö (which is admittedly no longer a well kept secret, largely thanks to blabbermouths such as myself), there are a lot of other cool rooftop terraces to enjoy in Graz as well. Here are a few I discovered through my Internet sleuthing:
La Place (on top of the Gigasport) | Address – Kaiser-Franz-Josef-Kai 8: For a nice view over the river and Graz's Friendly Alien, check out the La Place, a cafe located on top of Gigasport, which offers fresh homemade dishes daily, along with drinks best enjoyed on their huge new rooftop terrace.
M1 Café Bar | Address- Färbergasse 1: This iconic Graz institution is located on a rooftop in the center of town, offering cool drinks and 360 degree views. NOTE: Be warned, a lot of reviews criticize the quality of the food/service here, but the views can't be beat.
---
---
2. Search for the hidden faces of Hitler and Mussolini in a church window
Address: Herrengasse 23
… Now there's a sentence I never thought I'd say.
Nonetheless, one of the most interesting little secrets of Graz is tucked away in the Stadtpfarrkirche, located in the heart of Graz's Old Town. Eagle-eyed visitors might be able to spot a peculiar addition to the ornate stained glass work: the unmistakable faces of Adolf Hitler and Benito Mussolini in the crowd, witnessing the torment of Jesus Christ. Which window you ask? I don't want to take the fun out of the chase, so I'll simply say it's to the left of the altar.
Some backstory is necessary for this surprising addition to an otherwise humble church. These stained glass windows were crafted by Albert Birkle, a German artist whose work was once declared "degenerate" by Hitler. He obtained Austrian citizenship after the war ended, where he soon became known as an expert in stained glass artwork.
It was in the 50s that Birkle was commissioned to paint new windows for the Stadtpfarrkirche, whose original windows were destroyed during the war. Seeing an opportunity for ultimate pettiness, Birkle used this chance to immortalize Hitler and Mussolinis as betrayers of Christ, through painting figures of their likeness among the crowds witnessing Christ's torment.
Albert Birkle, ladies and gentlemen, renowned painter and master of shade.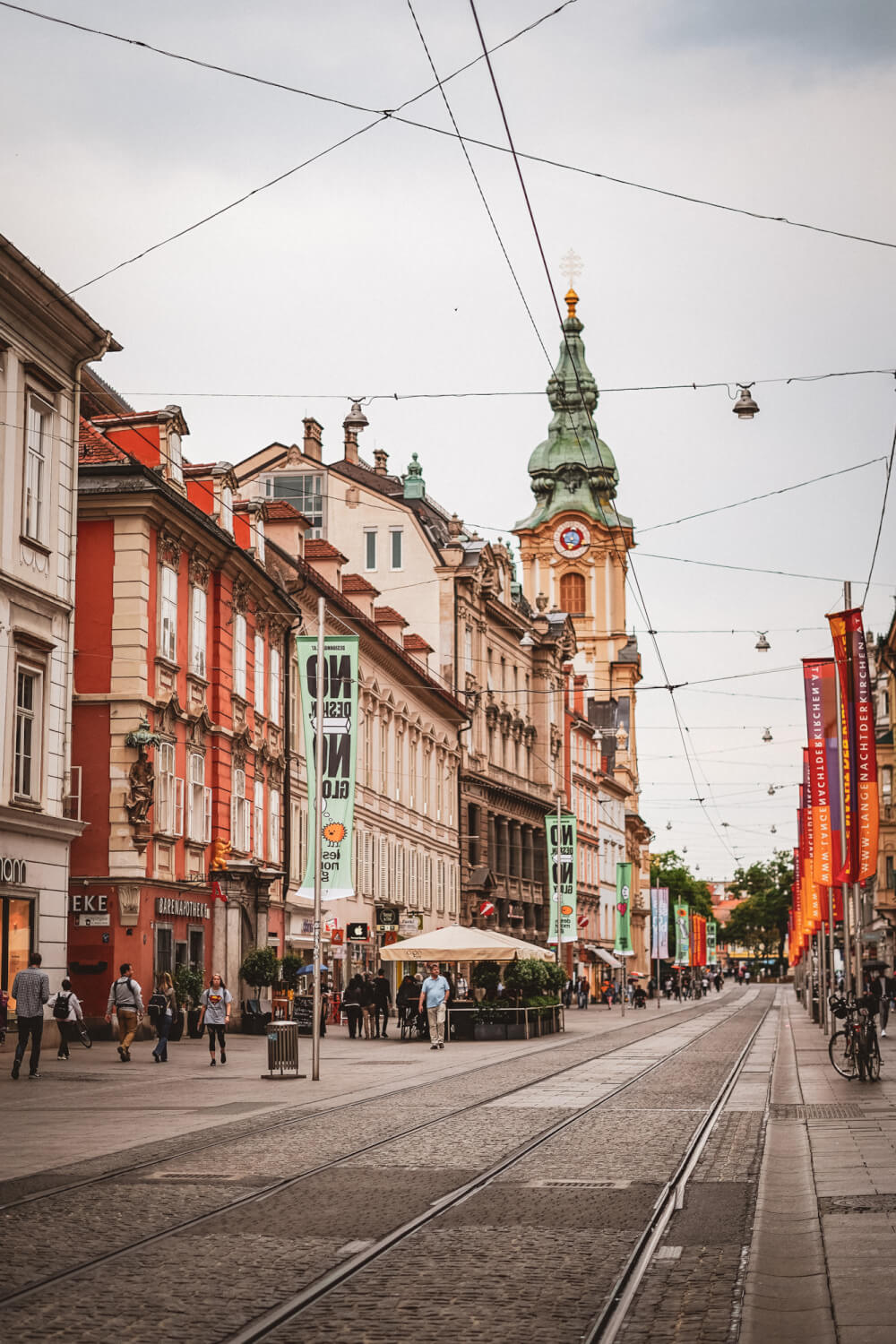 ---
---
3. Visit a functional church that moonlights as a contemporary art space
Address: Kernstockgasse 9
As I half-ran, half-waddled my way back to the Graz Train Station to catch my tight connection back to the airport, I passed a church that halted me in my tracks: the bizarre Kirche St. Andrä.
What caught my eye? Bold colourful fonts splattered across the outside of the church, spelling seemingly unconnected words like "FICTION", "SCIENCE", "AURA", and "PINOCCHIO".
Woah.
After some digging, I discovered just how unique this little gem is. Kirche St. Andrä is a fully functional church that has opened its doors (and facades) to artists, many of whom have come in and completely transformed the interior with creative, thought-provoking and at times, jarring displays of art.
And unsurprisingly, it has divided public opinion ever since. Some applaud the church's openness and desire to bring religion into the modern age, combining the importance of art and religion under one roof. Others consider it a tremendous eyesore and, according to several 1 star Google reviews, a disgrace to the church itself. Whichever camp you fall into though, this is one quirky and unique thing to do in Graz that's well worth a quick stop.
You can check out their official website to see installations from the past few years.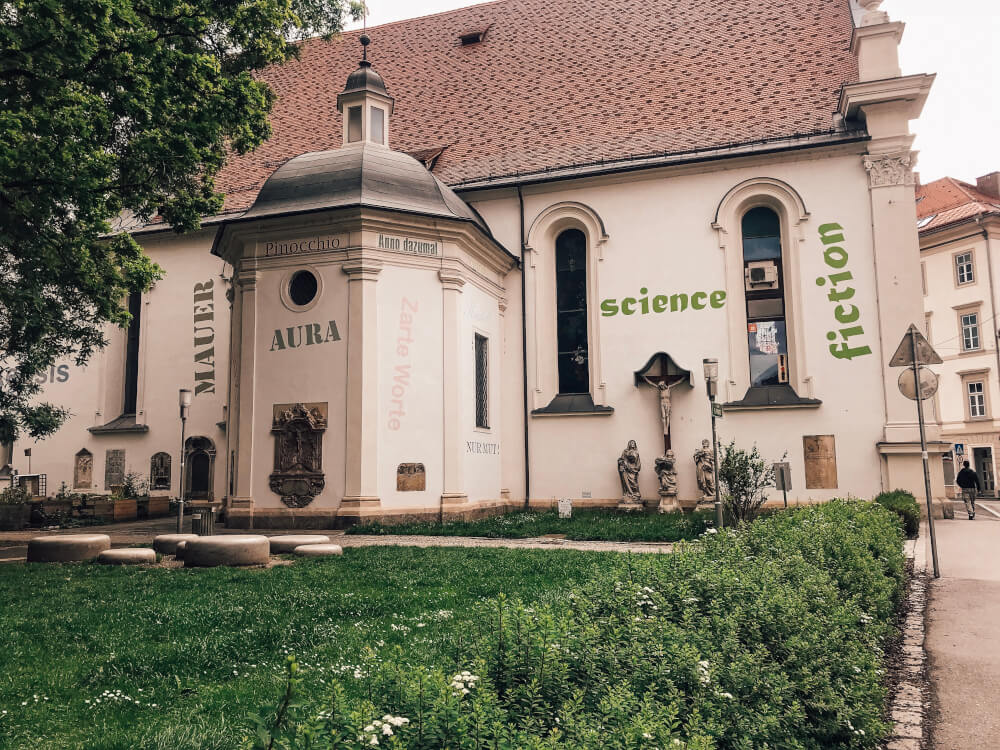 ---
---
4. Ponder the peculiarities of Graz's modern architecture
I love Graz's Old Town – I do. Walking around it is like getting punched in the face with pretty. Without hesitation, if Graz's Old Town were a person, I would be sliding real quick into their DMs…..
BUT the thing that sets Graz apart for me is not just its "prettiness". It's that its aesthetic appeal is dynamic, combining a historical postcard charm with a smidge of edginess, like that cousin of yours who went to art school and came back wearing only black skinny jeans.
And to me, Graz is a city that's delightful to wander through precisely because of these modern surprises. A few spots to not miss of course include…
The Friendly Alien, AKA the Graz Kunsthaus
Upon visiting Graz, you begin to hear whispers of "the Friendly Alien" fairly quickly. This nickname, given to the strange modern structure that houses the Graz Kunsthaus (Art Museum), is a fitting one, although I'm still not sure what makes it so "friendly". Probably the local wine.
Anyways, located right along the Mur, the Friendly Alien an iconic landmark that's impossible to miss, and even more impossible to figure out.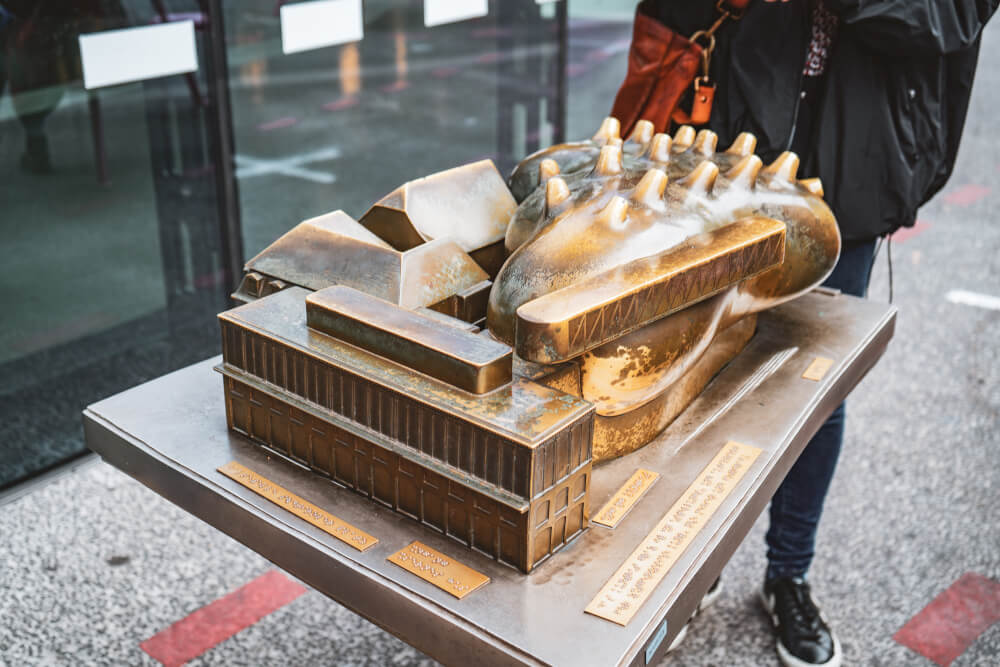 The Murinsel, AKA the coolest place to grab a drink
This artificial island, in addition to being an event space, cafe and shop, is a ridiculously awesome bridge that connects the two banks of the Mur. Artistically described once as "a bowl that morphs into a dome that morphs into a bowl…" (really, source here), the only thing that makes this warpy glass dome cooler is that it lights up at night.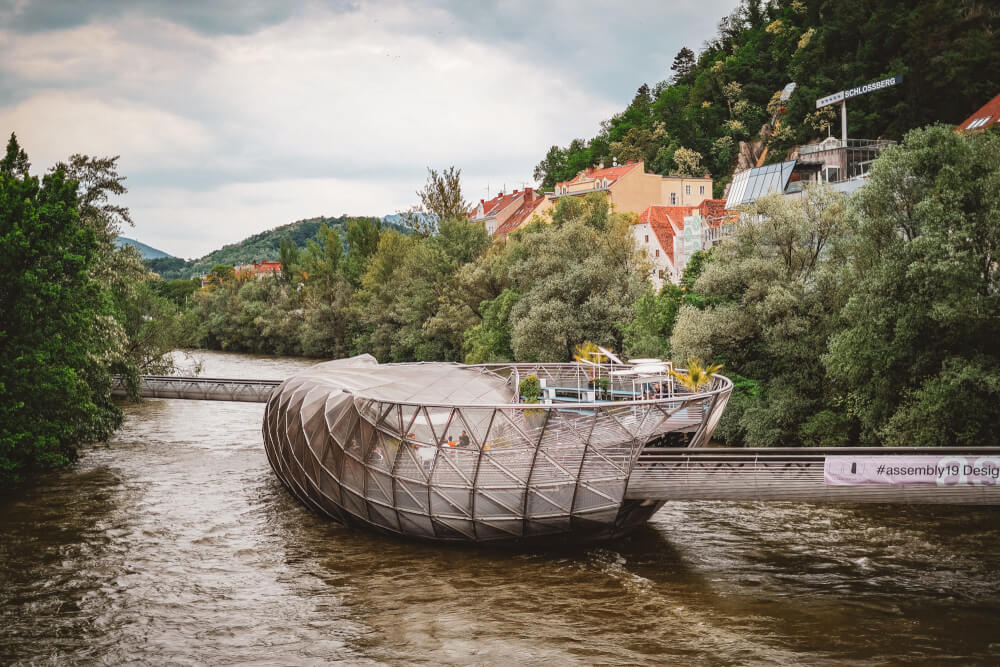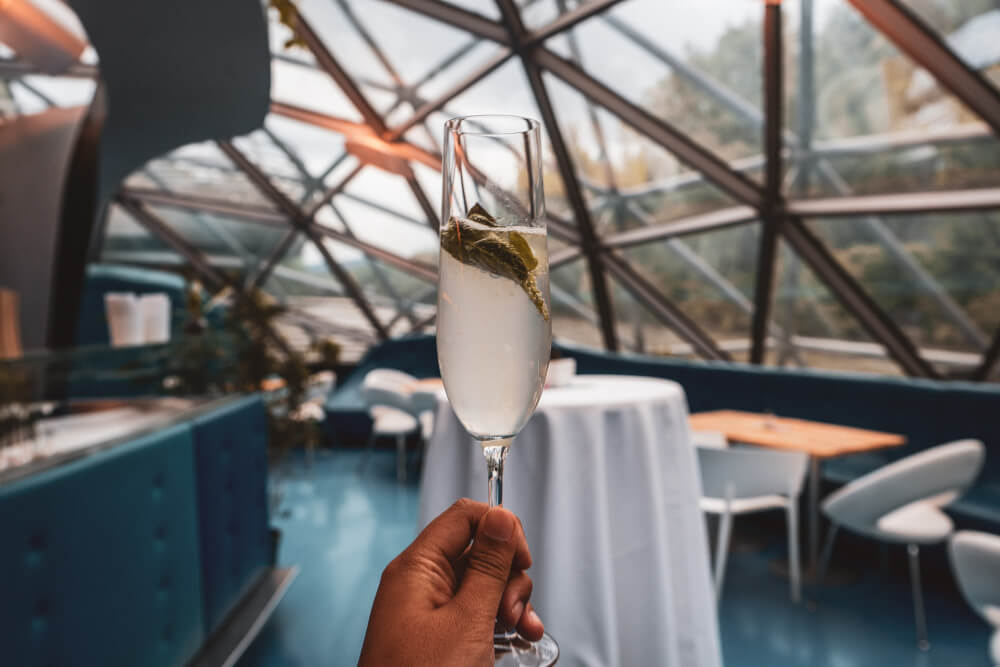 The ARGOS, AKA the new kid on the block
While not completely finished, I managed to blindly navigate myself to one of the coolest new modern buildings in Graz, the ARGOS, a project of famous architect Zaha Hadid. From the bit I've seen, it's a really interesting and bold design that reminds me a lot of a bunch of "EVEs" from WALL-E stacked together. It'll be interesting to see what it looks like when it's done!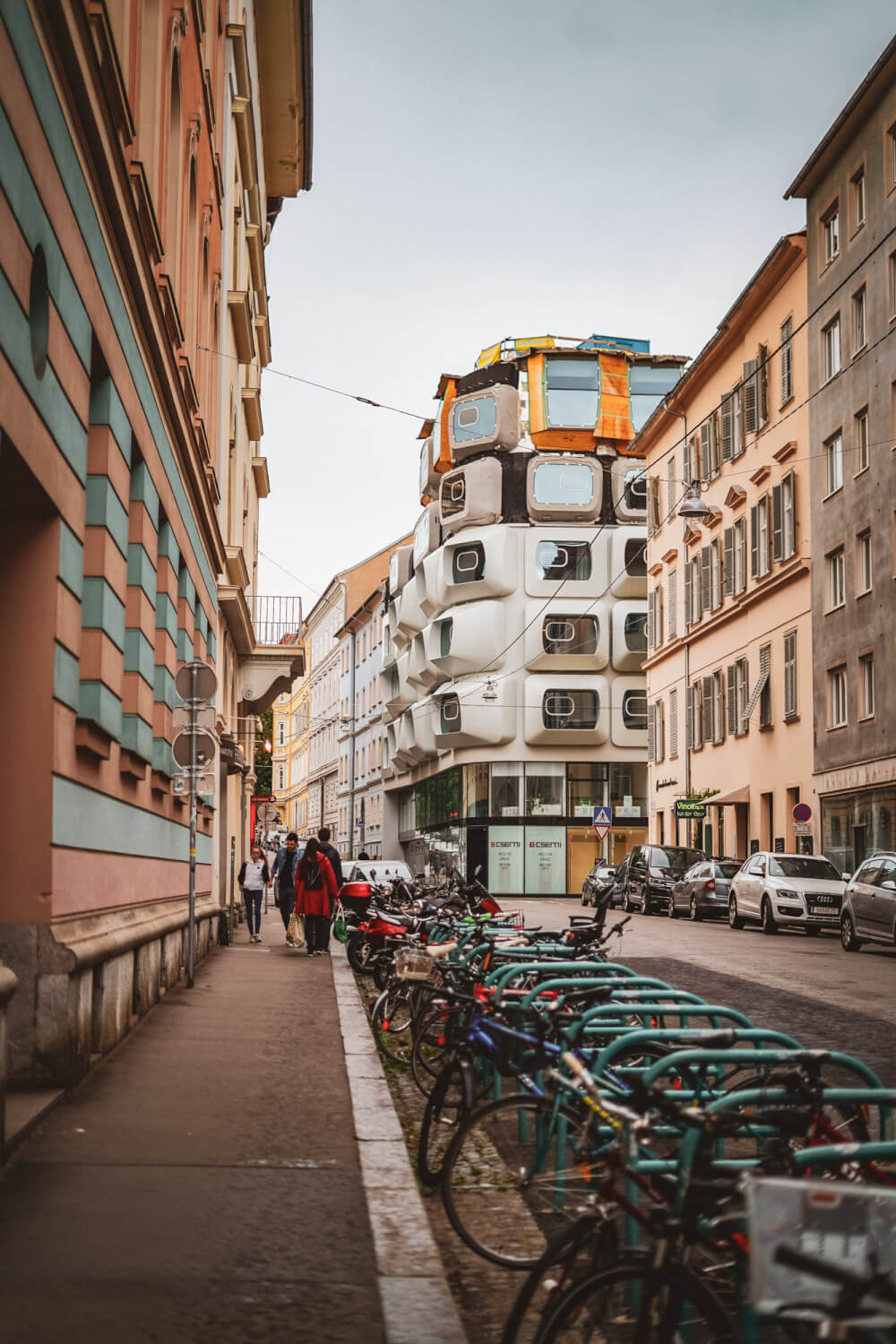 The Rondo, AKA the glitzy studio and tech hub
Last but not least, located a short distance from the Graz Central Station is the Rondo.
This shimmery metallic building caught my eye immediately as I navigated my way to the city center, and my first instinct was to assume it was a big important museum of some kind. Not so! This cool boomerang-shaped building is actually the humble home of various offices, residences and artist studios.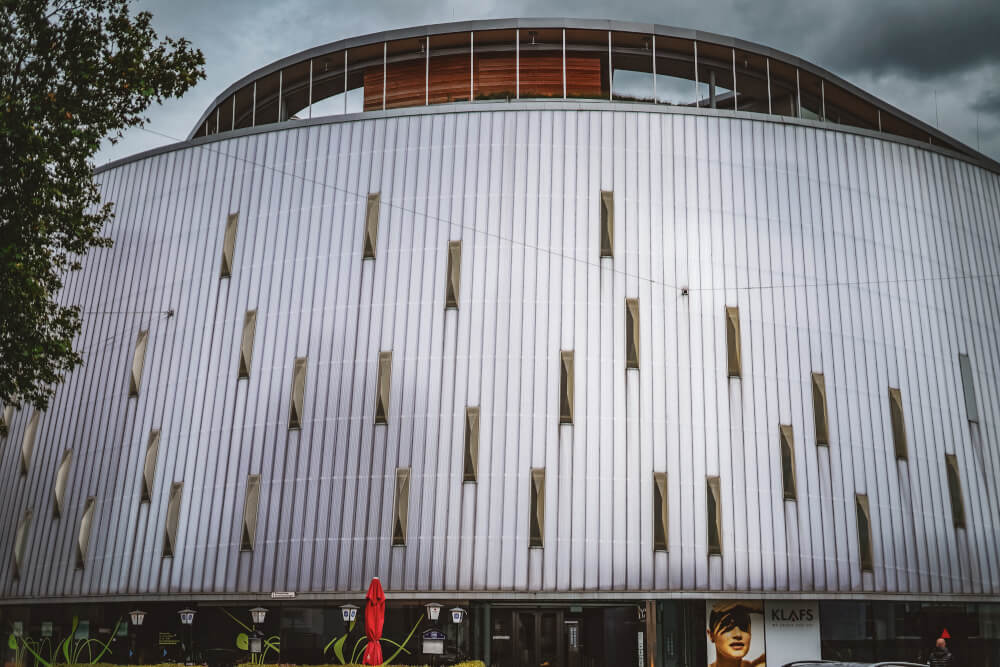 ---
---
5. Seek out murals and street art in unlikely places
Ducking into the courtyard next to the Mariahilfkirche, I was delighted to find a rainbow gradient mural made up of varied faces, vibrantly lining the wall. A colourful mural on a church? Alright, Graz… not bad!
The surprises continued as I walked around the hipster Lend District, which was bursting with cute cafes, vintage shops and of course, the occasional mural too.
That's the thing about Graz… it's a pretty city, but one with its fair share of 'cool' and street art if you know where to look. While due to the very nature of street art, murals are constantly changing, this post provides an excellent overview of different neighbourhoods and spots to check out for street art in Graz.
---
---
6. Head to a historic birthplace most people miss
Franz Ferdinand is a name that is firmly seared into my brain thanks to a high school fascination with wartime history, so, trust me when I say that I was completely caught off guard to see that very name inscribed on a wall as I ducked into Palais Khuenburg to escape from the rain.
My German may be terrible, but I understood enough: I was standing where the Archduke himself was born.
For a little context, Franz Ferdinand was the Archduke of Austria and the preumptive heir to the Austro-Hungarian throne back in the early 20th century. He was assassinated in Sarajevo by Yugoslav Nationalist, Gavrilo Princip and it was this assassination that created a chain of events that would eventually lead to World War I. For that reason, I always knew his name, but had no clue he was born in Graz.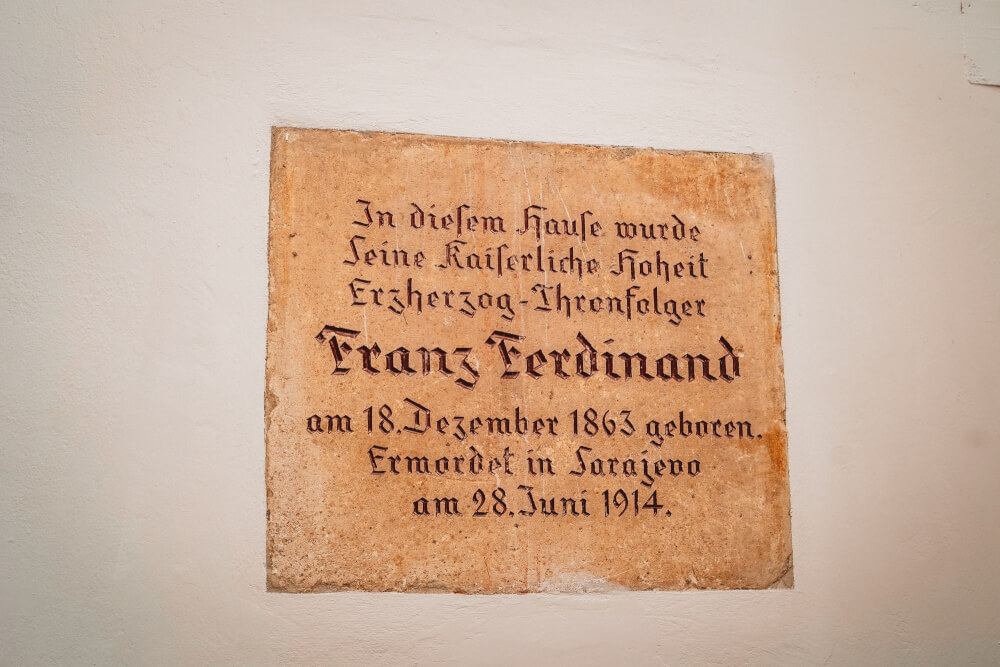 Today the palace is home to the GrazMuseum, one of the top museums in the city.
And even if you're short on time like I was, I would still make a quick stop here because the museum actually houses a little-known free exhibition on the ground floor, with some interesting historical tidbits about Graz. Well worth a stop, even to escape the heat or rain.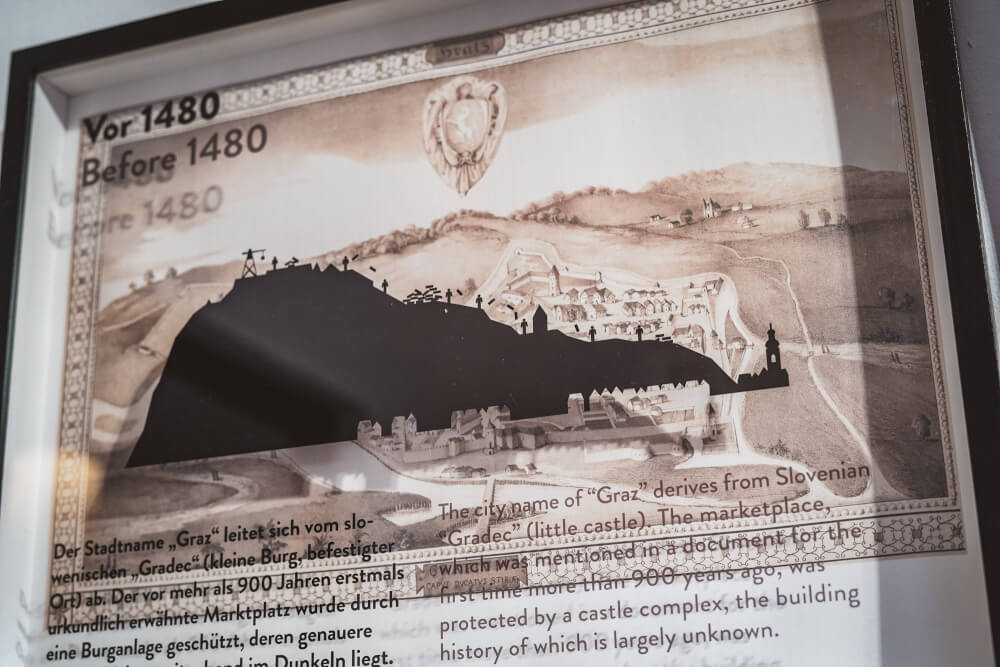 ---
---
7. "GET TO DA CHOPPA!!" and visit a museum dedicated to Arnold Schwarzenegger
While technically from Thal (located about 20 minutes away from Graz), the world-famous Arnold Schwarzenegger is still a name synonymous with Graz itself… and can I confess something? Visiting his birth home, which has stood as a museum in his honour since 2011, was probably one of my favourite quirky things I did in Graz. Scratch that – one of my favourite things I've done ever.
I managed to squeeze this visit in last minute after a few days chugging wine in South Styria… and it could have been the residual wine high, but this museum was a truly wonderful experience with fun tidbits, props and displays that would delight any fan. Click here to read a full article on my experience there!
---
---
8. Gallivant through a rainbow tunnel
One of my first glimpses of Graz's hidden 'cool kid' ethos was at the Schlossbergtunnel, a cool tunnel illuminated with rainbow lights and a variety of interesting installations, including one that reminded me all too much of Drake's famous Hotline Bling music video.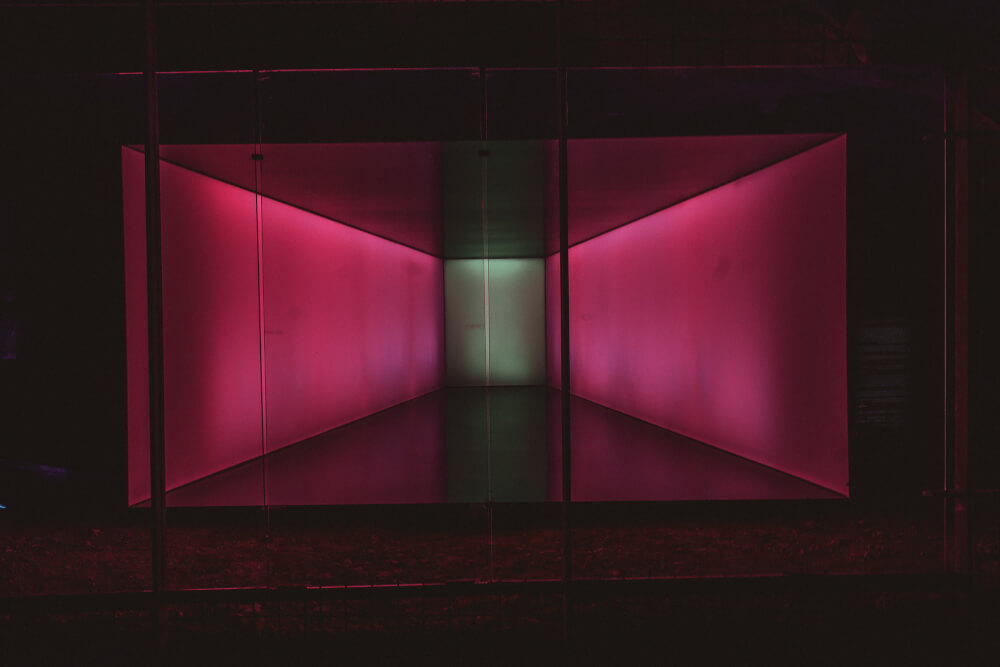 And while most people use this tunnel simply as a means of conveniently cutting through Graz, I loved it for its unique use of colour and light. I mean, just check this out: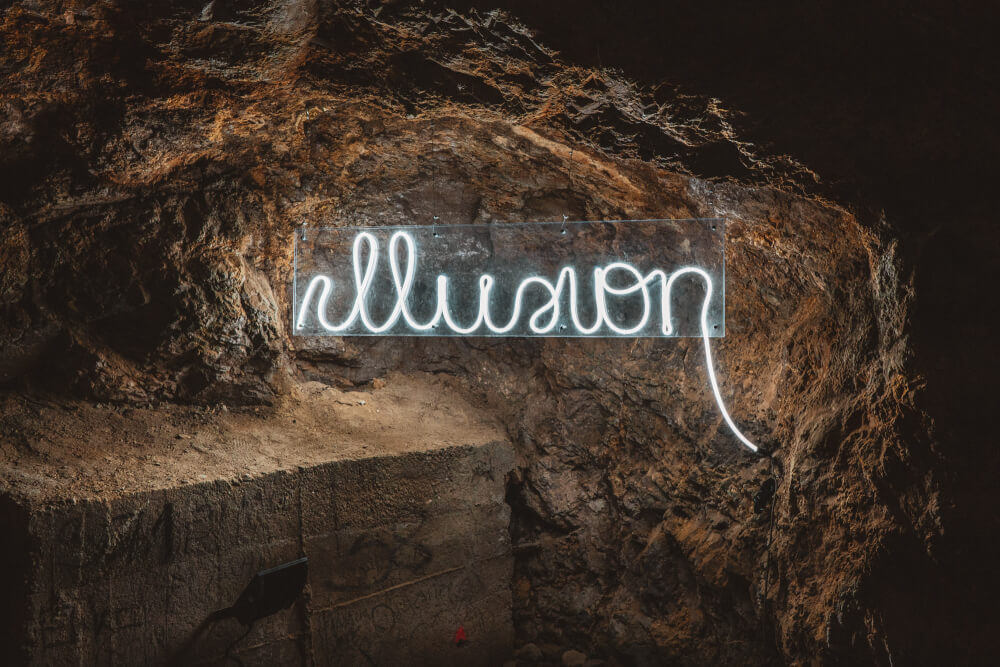 Of course, traversing this tunnel will also allow you to do the next must do, which is to…
---
---
9. Whoosh down the world's tallest underground slide
As a relatively new addition to Graz's vibrant cityscape, "The Slide" (as it's called) is an oft-missed attraction lurking beneath the famous Schlossberg… so if you hear violent screaming coming from beneath the clock tower, that's what's up.
As the tallest underground slide in the world, it is definitely not for the faint-hearted… and while I didn't have time to go on this one myself, I had a chance to gawk at its stomach-churning twists from below, and let me tell you: it looks like the best kind of terrifying fun.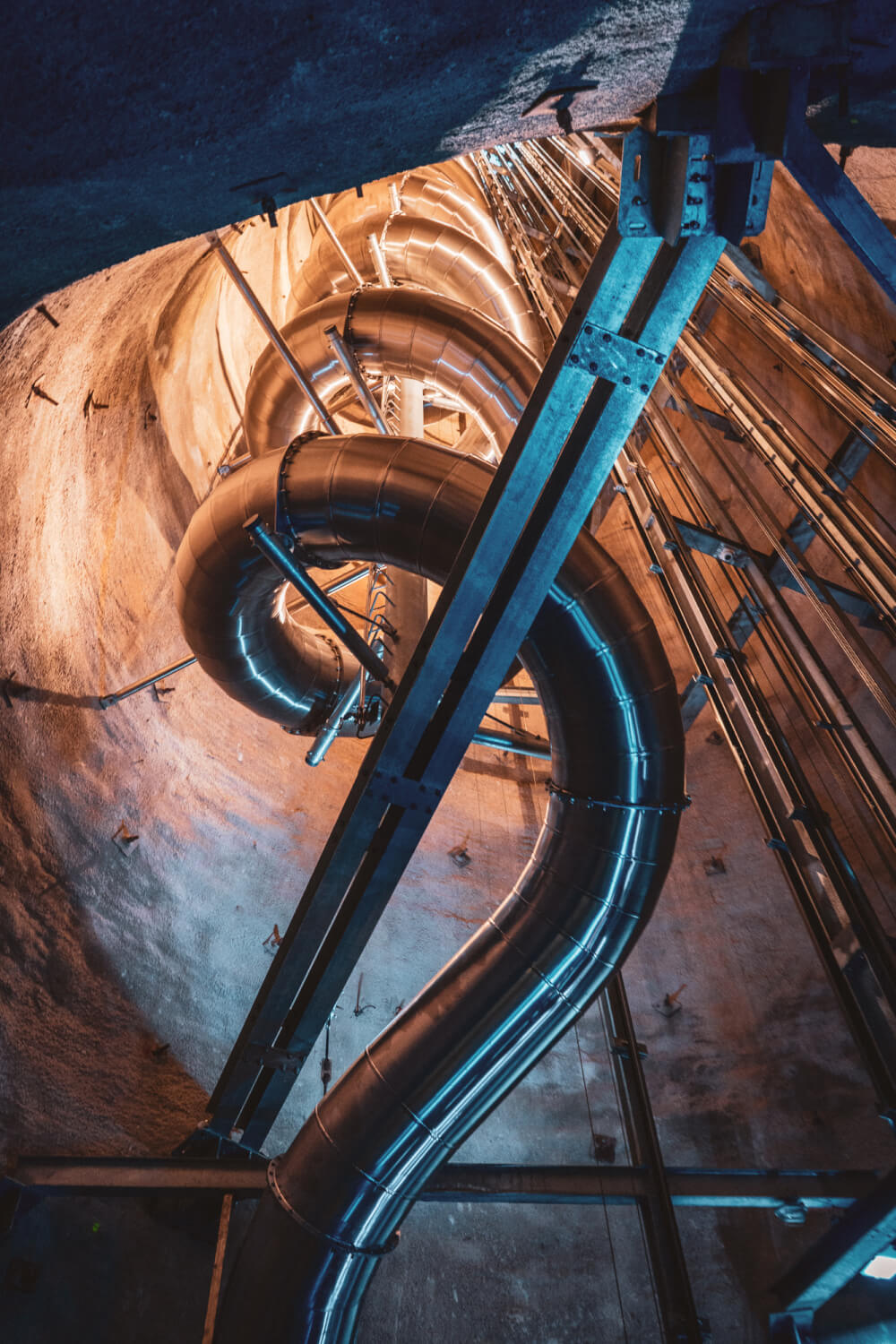 ---
---
10. Caffeinate somewhere adorable
One of the most charming things I found about Graz was that it is filled to the brim with adorable cafes and eateries with equally adorable terraces.
And while I would have happily stopped for a coffee every two steps, I was quite content with my head not exploding on this trip, so instead of consuming a death-defying amount of caffeine for "research", I took down notes on some of the cutest spots I managed to come across. Here they are:
Blended | Address – Mariahilferstrasse 24: An adorable cafe in the artsy Lend district of Graz. I almost died when I saw their outdoor seating area. which is charmingly decorated with red and white striped umbrellas. Stalkery photos ensued.
Ducks Coffee Shop| Address – Raubergasse 14: And if striped umbrellas aren't cute enough for you, up the ante at Ducks Coffee Shop, a rubber duck themed café in the Old Town, where happy yellow ducks can be seen everywhere, from the cups and tableware to the wall decor.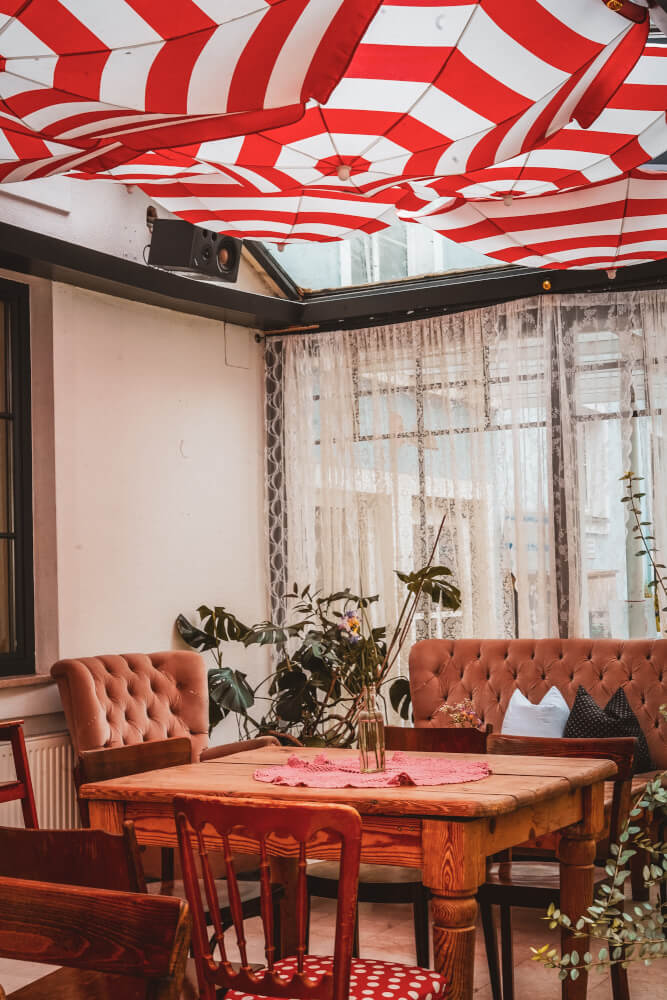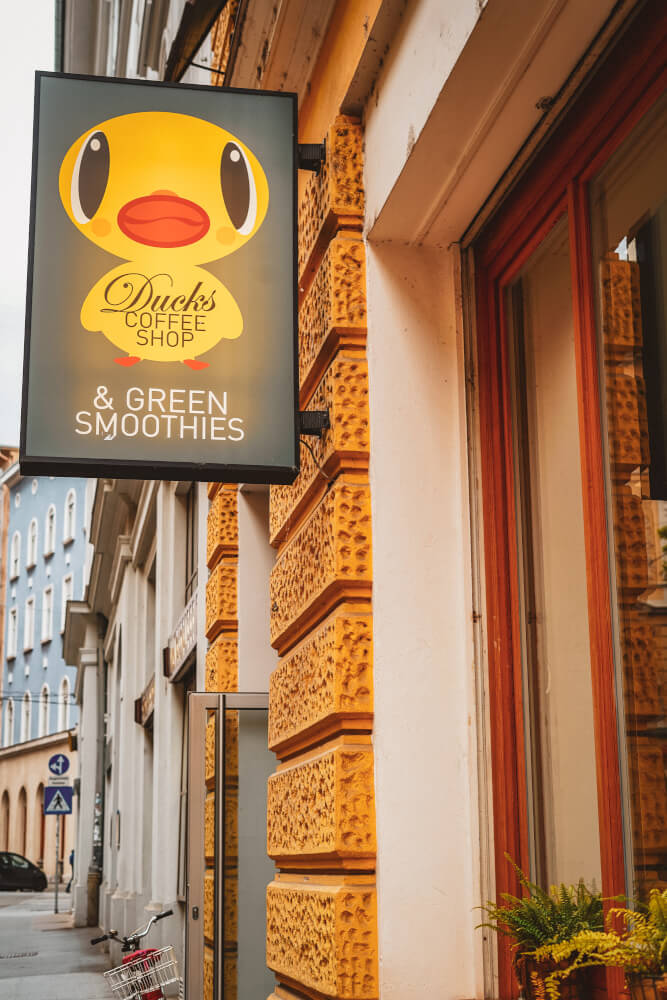 Restaurant Speisesaal Graz | Address – Grieskai 4-8: While less "adorable" and more in the chic and cool category, those into design can't miss a coffee at the gorgeous Restaurant Speisesaal. I was lucky enough to stay at the Grand Hotel Wiesler during my stay in Graz, and got to enjoy my breakfast here every morning. Wonderful!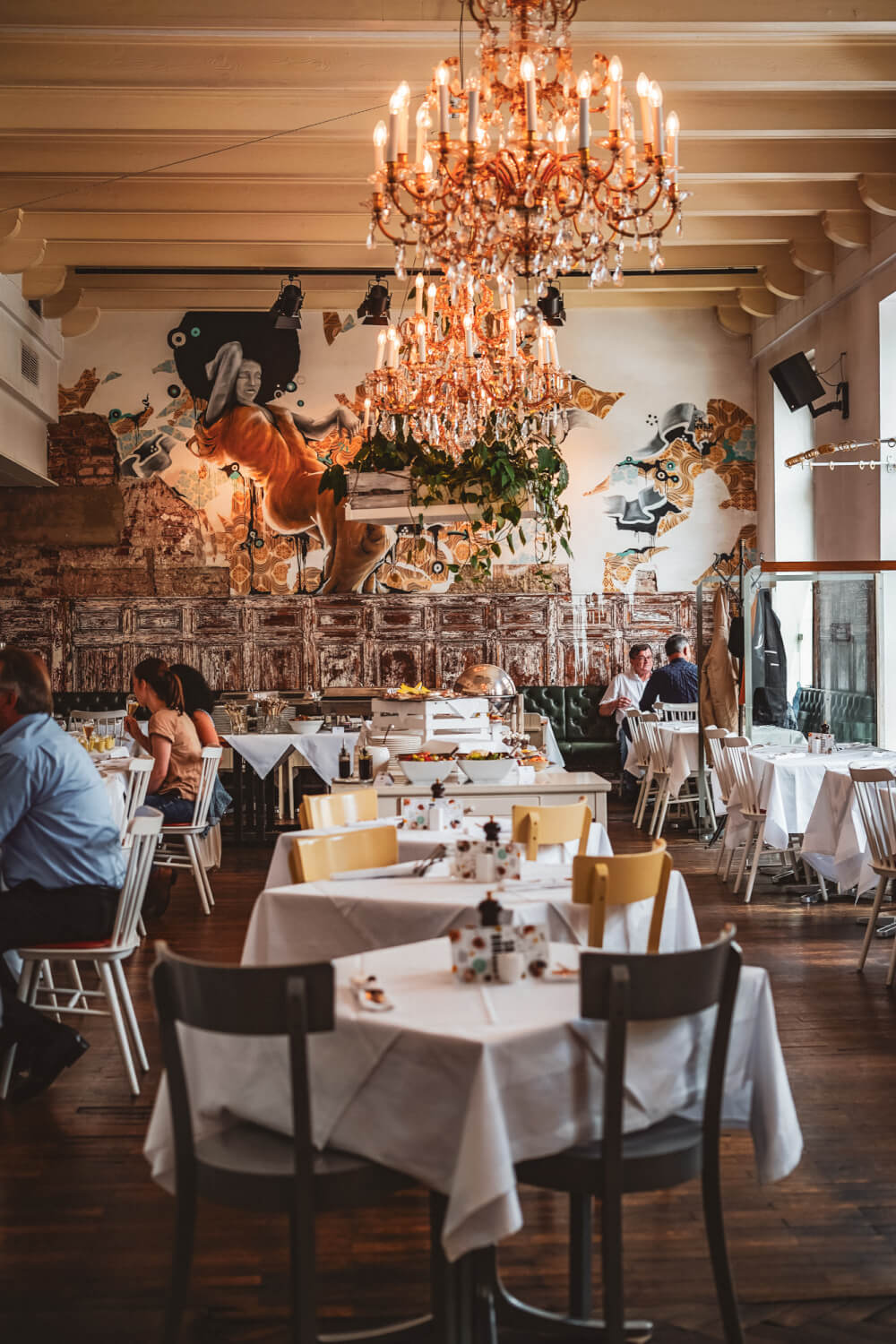 ---
---
11. Duck into some hidden courtyards
One of my favourite things to do in Graz, certainly as the rain began to pour, was to follow my every whim of curiosity and slink into every courtyard I could. The arcaded walkways were not just a pretty sight in this case, but a practical escape from rain (and reality).
This mischievous sleuthing led to a few awkward moments like disturbing a couple's romantic dinner and making stunned eye contact with an old Austrian woman watering her plants…
BUT, in surviving these awkward moments, I uncovered what I think is the most spellbinding feature of Graz: the countless courtyards scattered around the city, providing scenic hiding spots for cafes, restaurants, terraces, boutiques and even Christmas Markets when the season strikes.
Half the fun is finding these courtyards for yourself, but I'll start you off with some popular ones. While far from a hidden gem, the Landhaus is a stunning renaissance building with a droolworthy courtyard that looks like this: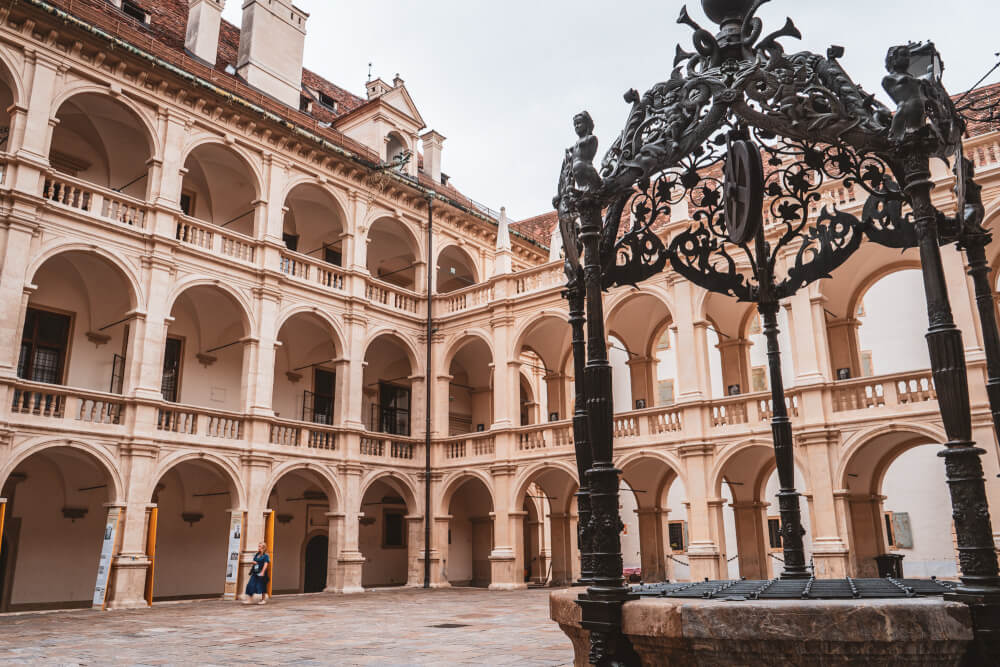 And a wander through the Altstadtpassage is a must, for little pockets of calm like this: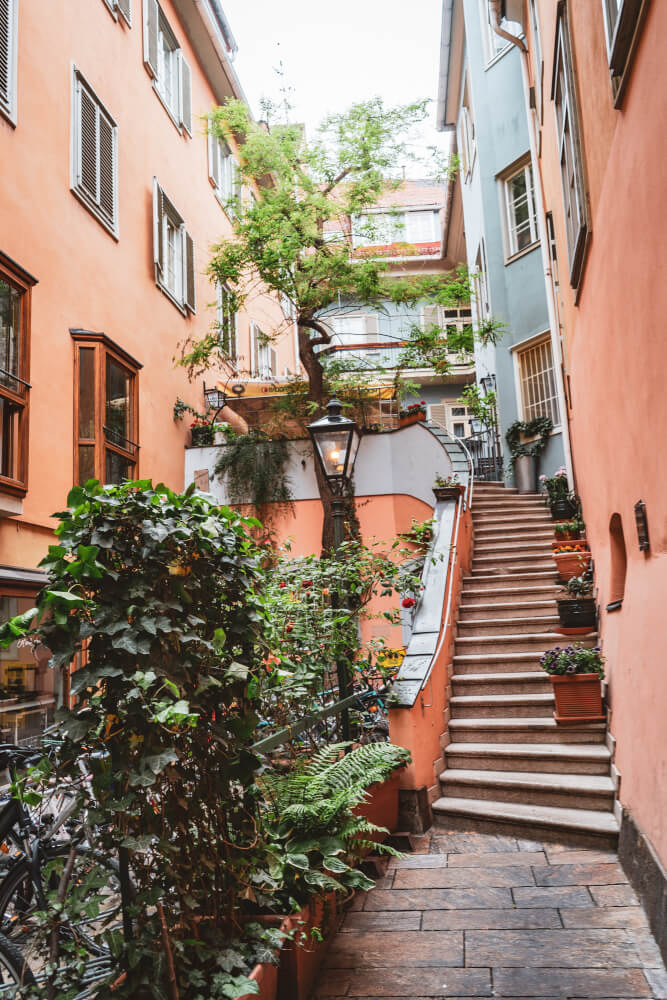 ---
---
12. … Last but not least, commit yourself to a few hours of aimless wanderings
Alright, time to smash open up a glittery, wanderlusty jar of travel cliches and implore you to *~ get lost ~~**.
Allow me to explain why.
Graz is picturesque – you figure that out quickly, but for me the most beautiful corners of the city were the ones not designated by any particular plaque or landmark status. Rather, they were the random little streets I entered when Google Maps' blue dot went AWOL, or when the smell of freshly baked pizza lured me down an unmarked alley.
… not that you should spend your days chasing pizza down unmarked alleys, but I think you get my point.
Graz is swimming in beautiful architecture. It's literally everywhere. Just remember to open your eyes and take notice…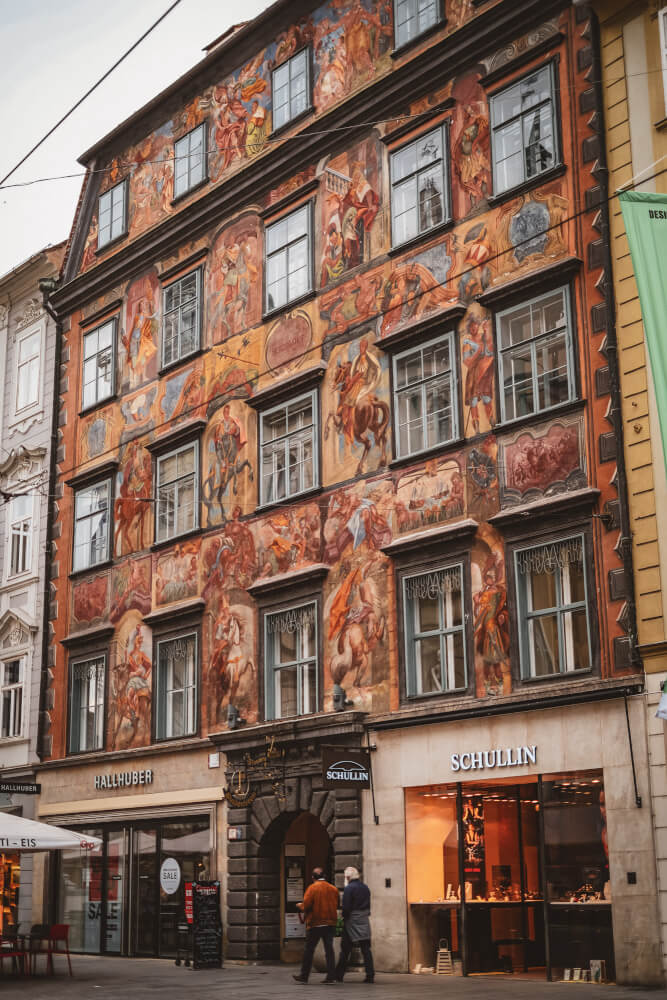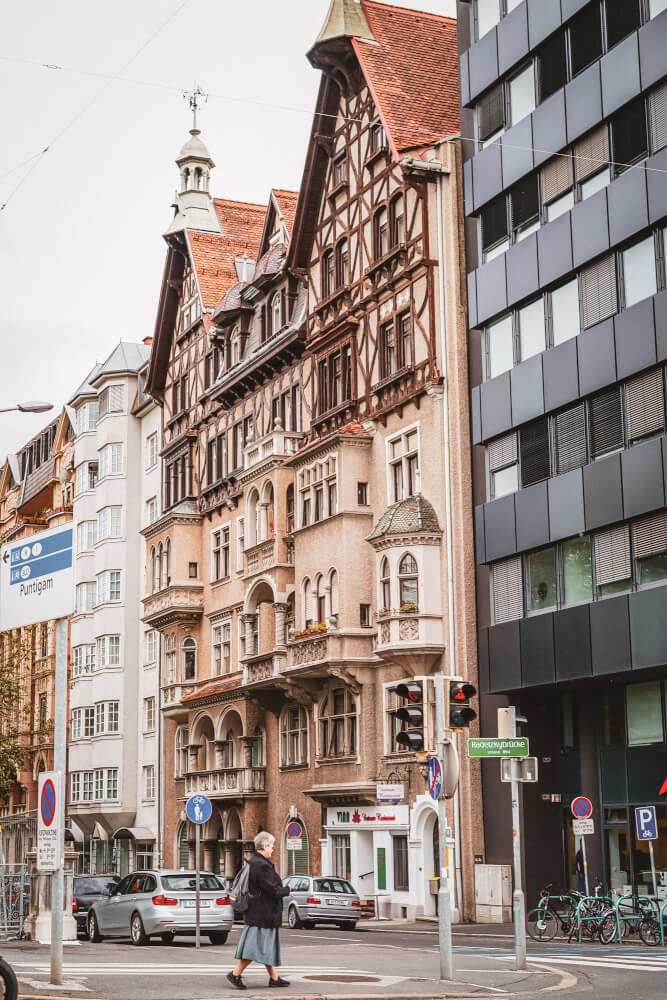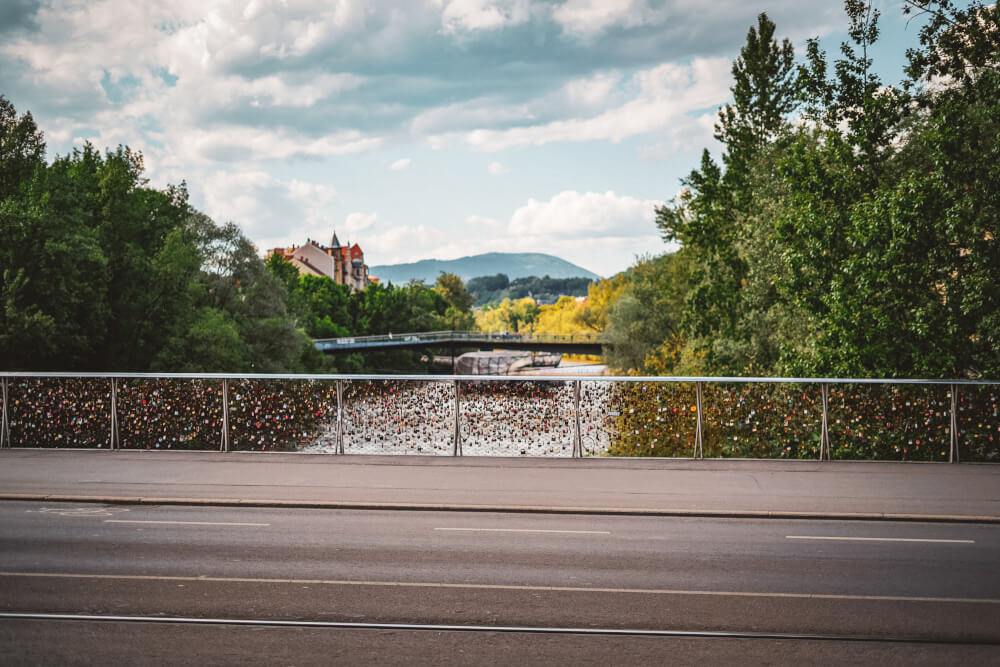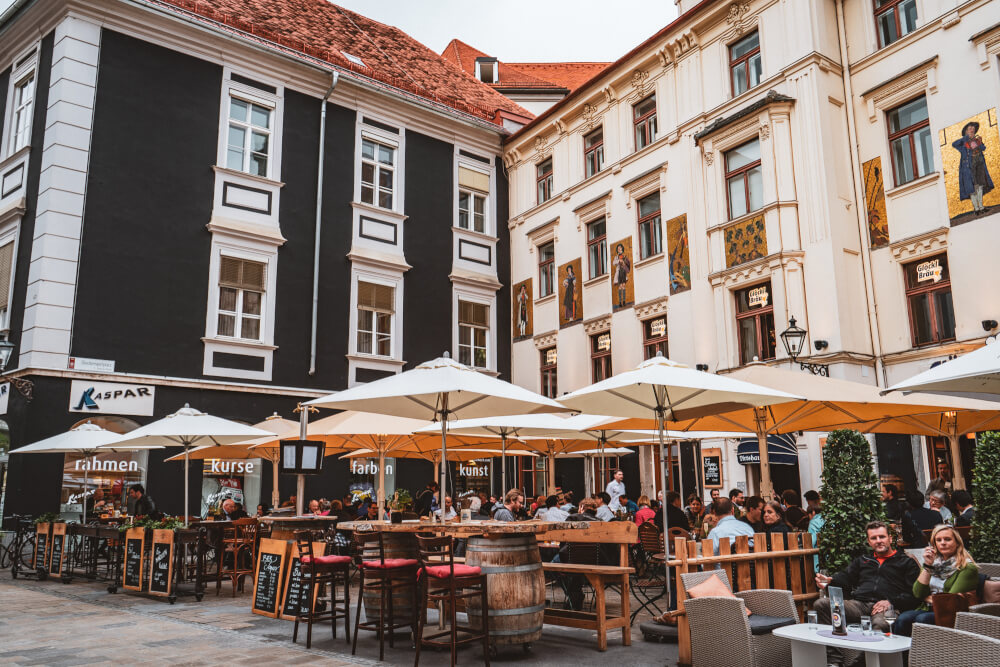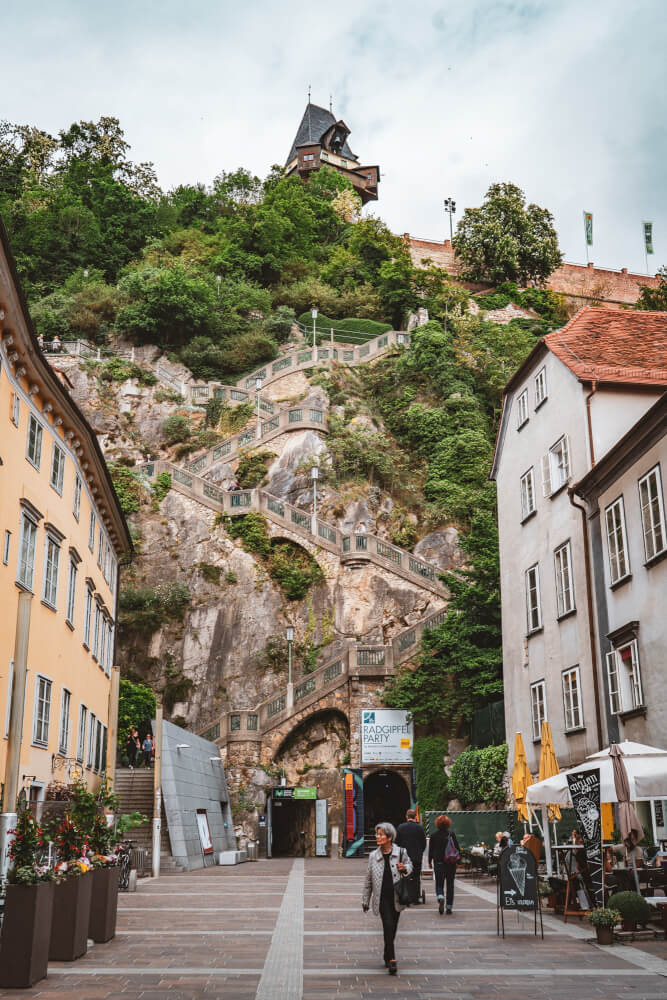 ---
---
A final word on beautiful Graz, Austria
Graz, as I'm sure you now know, is a very surprising city.
Against all odds, I loved it… in spite of dreary weather, a packed schedule, and a time crunch to beat all time crunches, I got to uncover the city and some of its hidden charms…… without even ticking the #1 must-do off my list!
For a while after my visit, I felt some regret about not making it up Graz's famous Schlossberg. As the reigning queen of FOMO, I scrolled moodily over photos of the clock tower and the city's orange-tinted rooftop views, dramatically pondering why on earth I skipped this #1 attraction.
But then I realized: the charm of Graz isn't one that's as easily tangible as other cities. It's not a vibe you can capture in a single photograph, or a single viewpoint. The enduring impression of Graz, for me, is a city that grows on you slowly, that reveals itself the farther off the beaten trek you go.
And so, in the words of Graz's most famous son, it's without a doubt I say to Graz "I'll be back".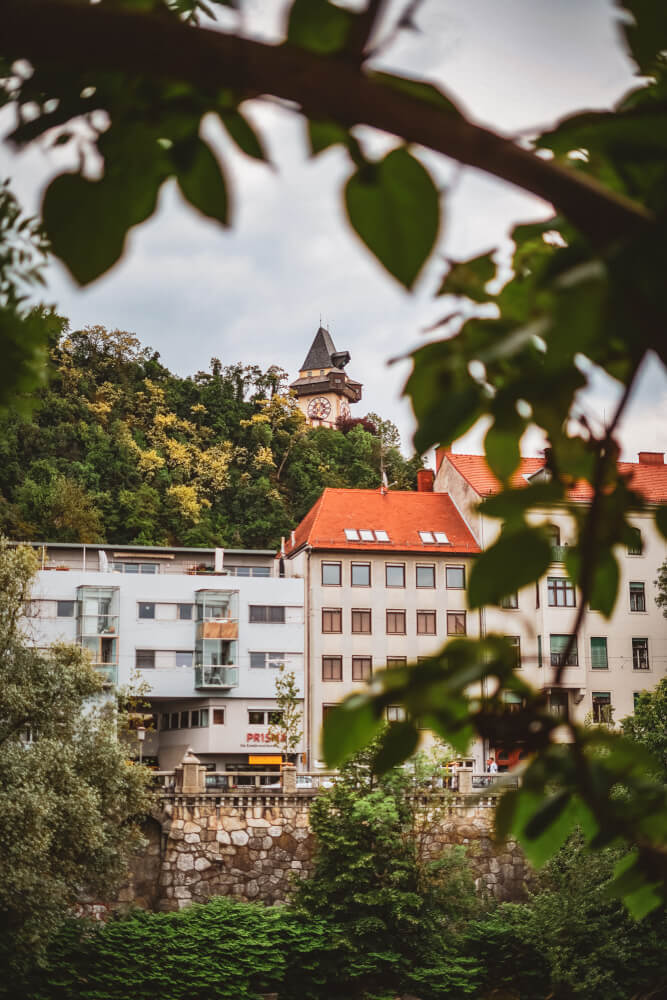 ---
---
Any questions or recommendations on more offbeat things to do in Graz?
Let me know in the comments so I can adequately prepare for my next visit!
---
Watch my most popular YouTube video this week:
---