*FYI - this post may contain affiliate links, which means we earn a commission at no extra cost to you if you purchase from them. Also, as an Amazon Associate I earn from qualifying purchases. Check out our Privacy Policy and Disclosure. for more info.
NOTE: This Essen Christmas Market post was written after my visit in 2018, but has been updated with the most recent info and dates I could find online. Do note that some details/locations may differ year to year though, so let me know in the comments if you notice anything inaccurate.
I've just returned from a whirlwind tour of Christmas markets around the Ruhr region, during which I visited Germany's longest Christmas market in Duisburg, saw the world's largest Christmas tree in Dortmund and ate my way through seven different markets in Düsseldorf.
And yet, among this sea of superlatives and big promises, my favourite of them all was one you might have never heard of: Essen Christmas Market.
See, Essen is a city halfway between Düsseldorf and Dortmund.
Longtime readers might remember my really random reason for visiting the city a few years back, and truthfully, I was going to skip it this time around due to time constraints.
We were trying to hit 3 cities in a day after all, an ambitious task on any day, but especially so in the wintertime when the sun sets at like, 4pm.
BUT, as our train came to a stop in Essen, and because we were standing anyway, we decided to hop off and check out the Christmas markets in Essen.
The photos looked impressive, and in the spirit of "why the heck not", we ended up discovering our favourite Christmas market of the whole trip… and (in my opinion) one of the more underrated Christmas markets in Europe.
So, because I have too many photos to share, allow me a few minutes to gush about this lovely Christmas market that happily whizzes under most tourist radars.
Here's why you should consider a stop at Essen Christmas Market, less than 30 minutes away from Düsseldorf or Dortmund by train, and doable as a day trip from either of these markets, or the world-famous markets in Cologne.
TIP: If you are still doing research for Christmas market trip, here are some recommendations. I always use Omio to compare/book transport options in Europe. It's a free site that compares planes, trains and buses all at once and sorts them by price, convenience, etc. Also HotelsCombined offers a similar price check for hotels if you're still needing a place to stay.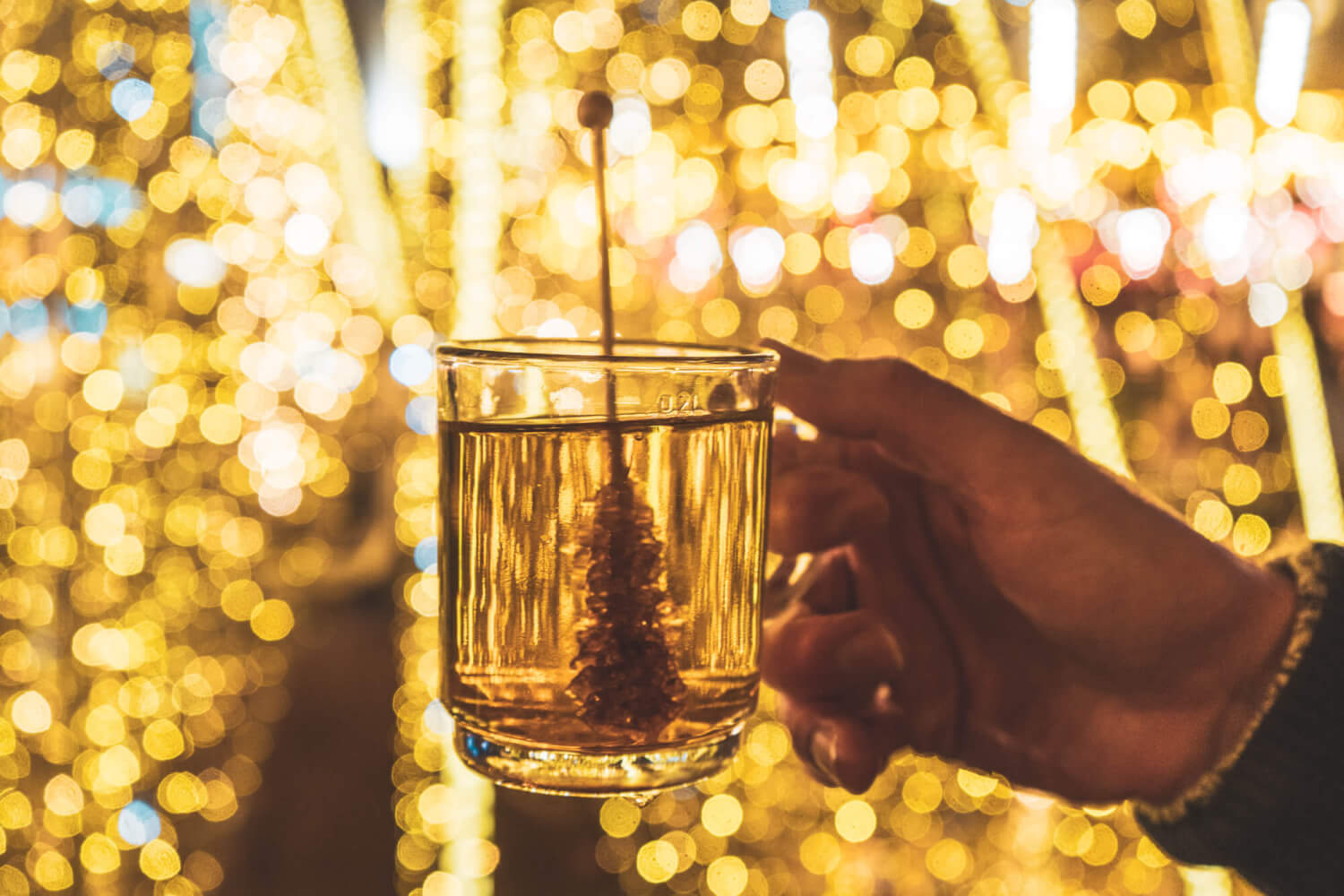 First – Essen Christmas Market 2023: Practical Information
Before we get into all the reasons you should consider visiting Essen Christmas Market, here is some practical info for you to plan your own visit:
Essen Christmas Market Dates
November 17 – December 23, 2023
Europe Winter Packing Essentials:
Essen Christmas Market Opening Hours
In previous years, the hours for Essen Christmas were as follows. Do note that they have not yet announced times for this year:
Sunday – Thursday: 11am – 9pm
Friday – Saturday: 11am – 10pm
Memorial Day: 2pm – 9pm
CLOSED on Totensonntag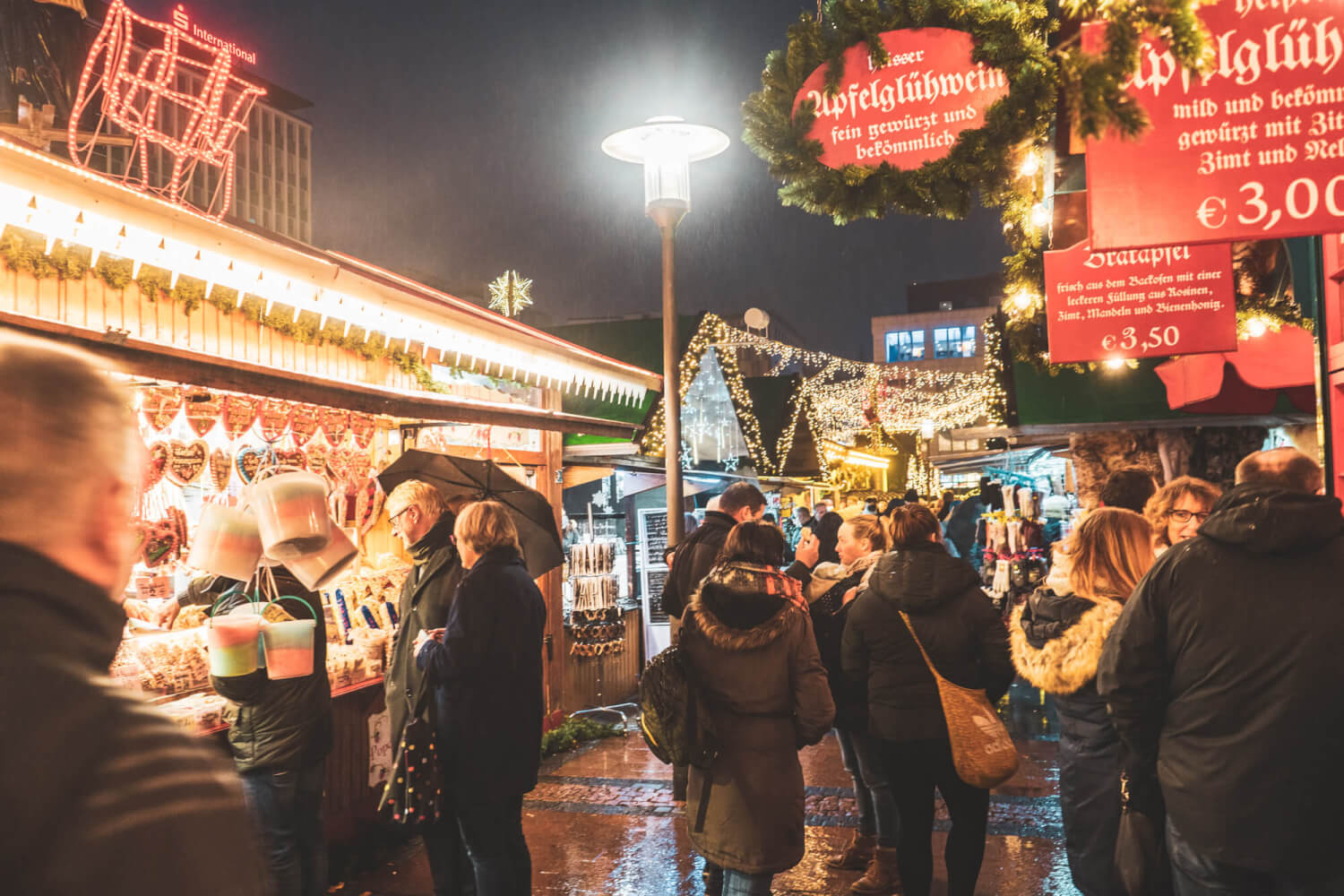 Essen Christmas Market Locations
According to the official Essen tourism page, market stalls can be found in the following locations this year:
Kettwiger Strasse | Theaterplatz
Kettwiger Strasse | Burgplatz | Kardinal-Hengsbach-Platz
Markt | Porschekanzel | Medieval Market
Kennedyplatz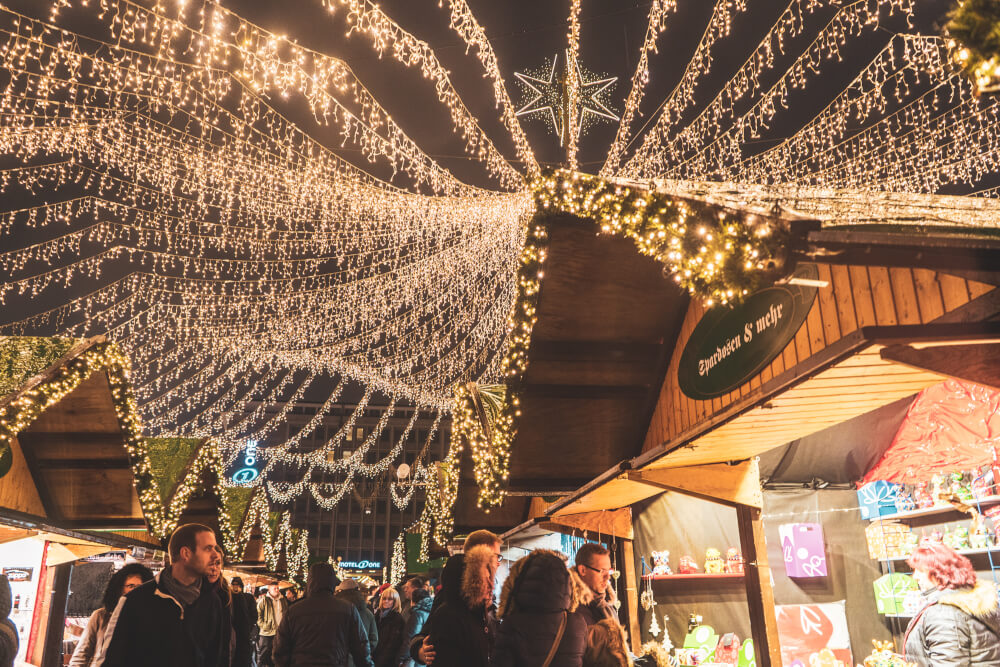 Unique Reasons to Visit the Essen Christmas Market
Why am I so obsessed with this Christmas market? Well…
The main market in Kennedyplatz is stunning
Essen's main Christmas market is located in Kennedyplatz and wow… just wow.
The center of the square is draped in this glittering canopy of Christmas lights, adding some serious drool-factor and pizazz to an already magical environment. I mean, just look at it: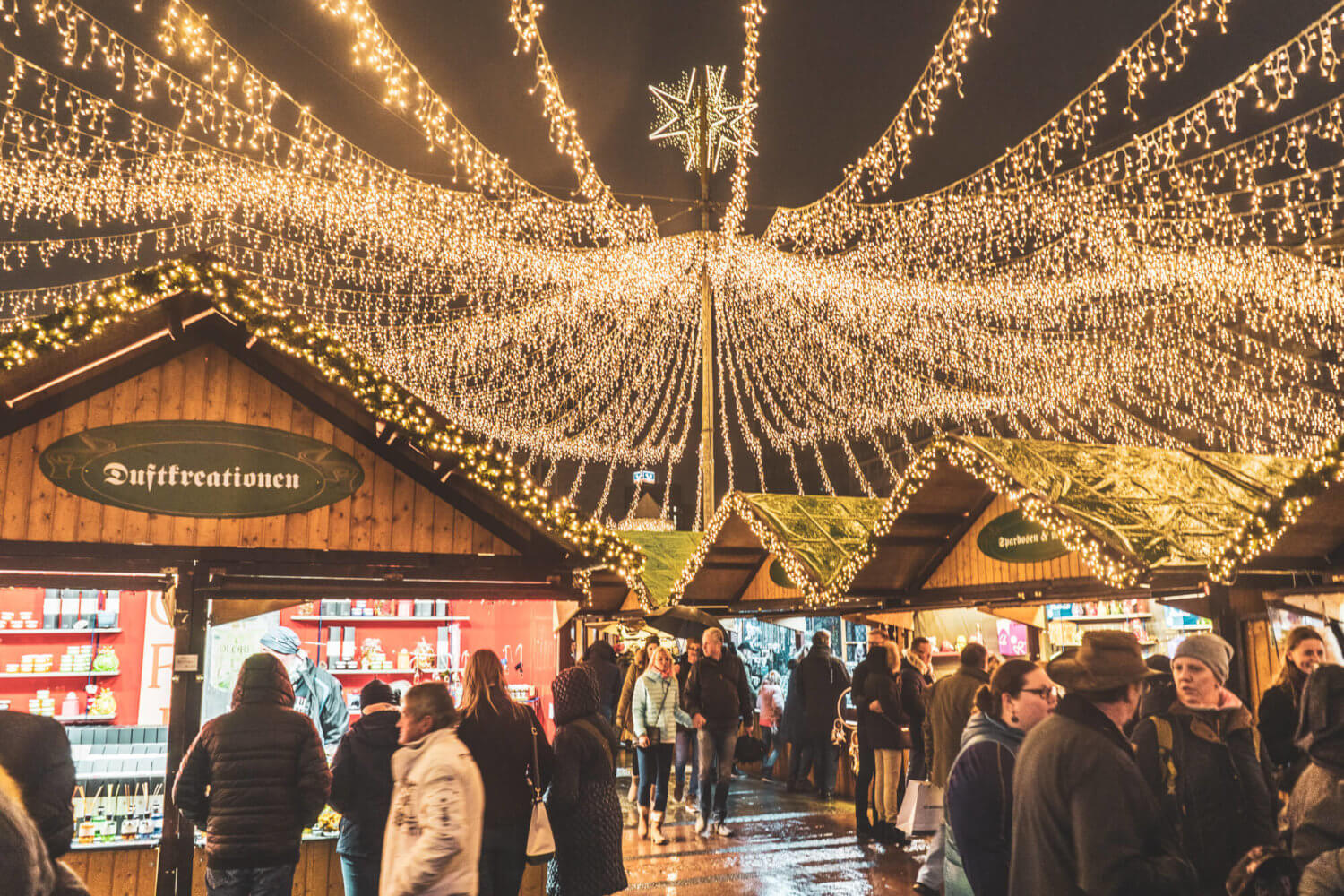 There's impressive lighting displays all around Essen
Okay, you know that one friend that goes ALL OUT for Christmas, blasting Xmas carols in mid-November and covering their entire being in lights?
In the Ruhr region, Essen is kind of that friend.
Trust me, this city goes hard when it comes to Christmas. For the entire walk from the train station to Kennedyplatz, you're surrounded by gorgeous lighting displays, from glitzy chandeliers to galactic swirls and lit-up "planets".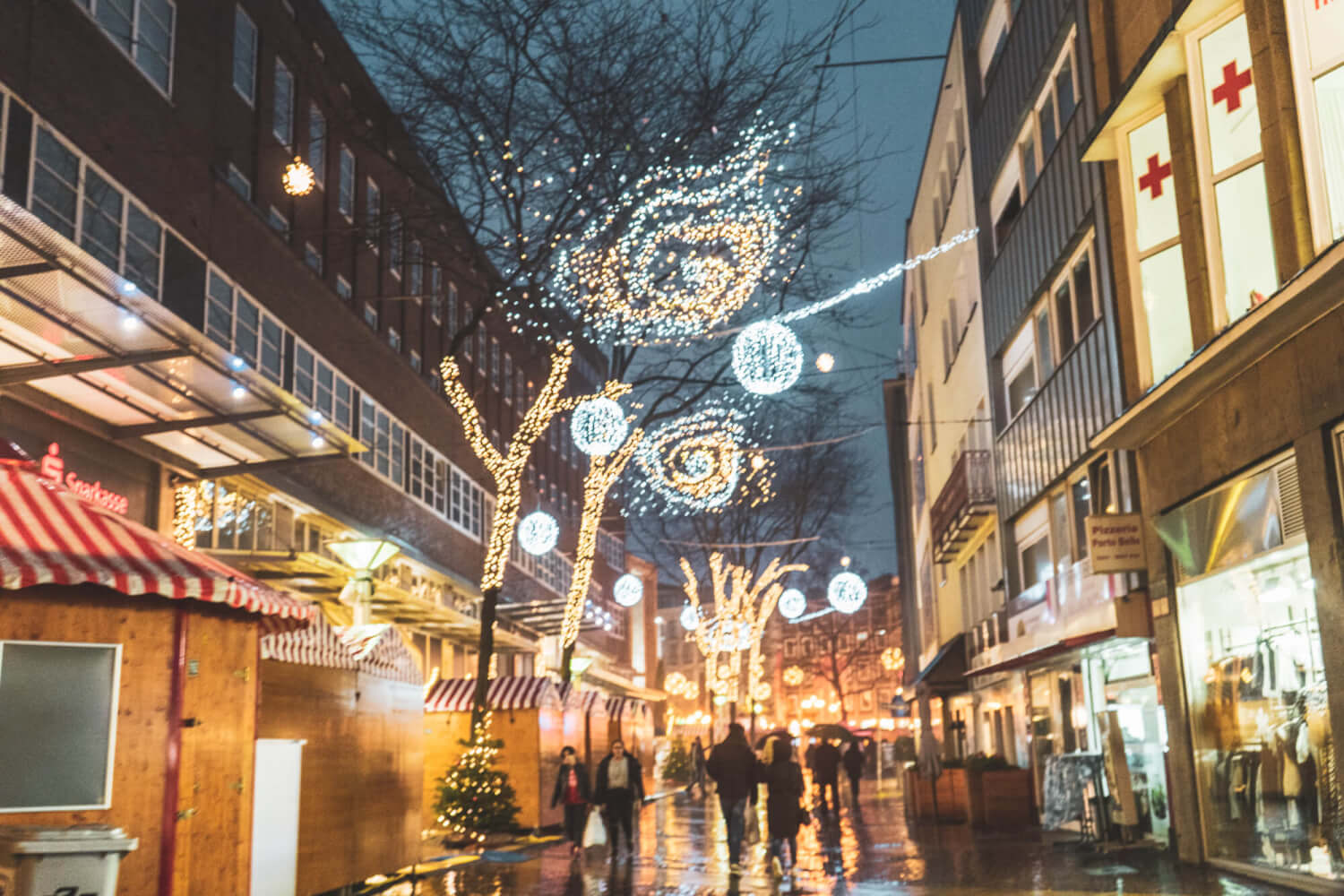 I especially liked this lovely light display in front of the Grillo-Theater: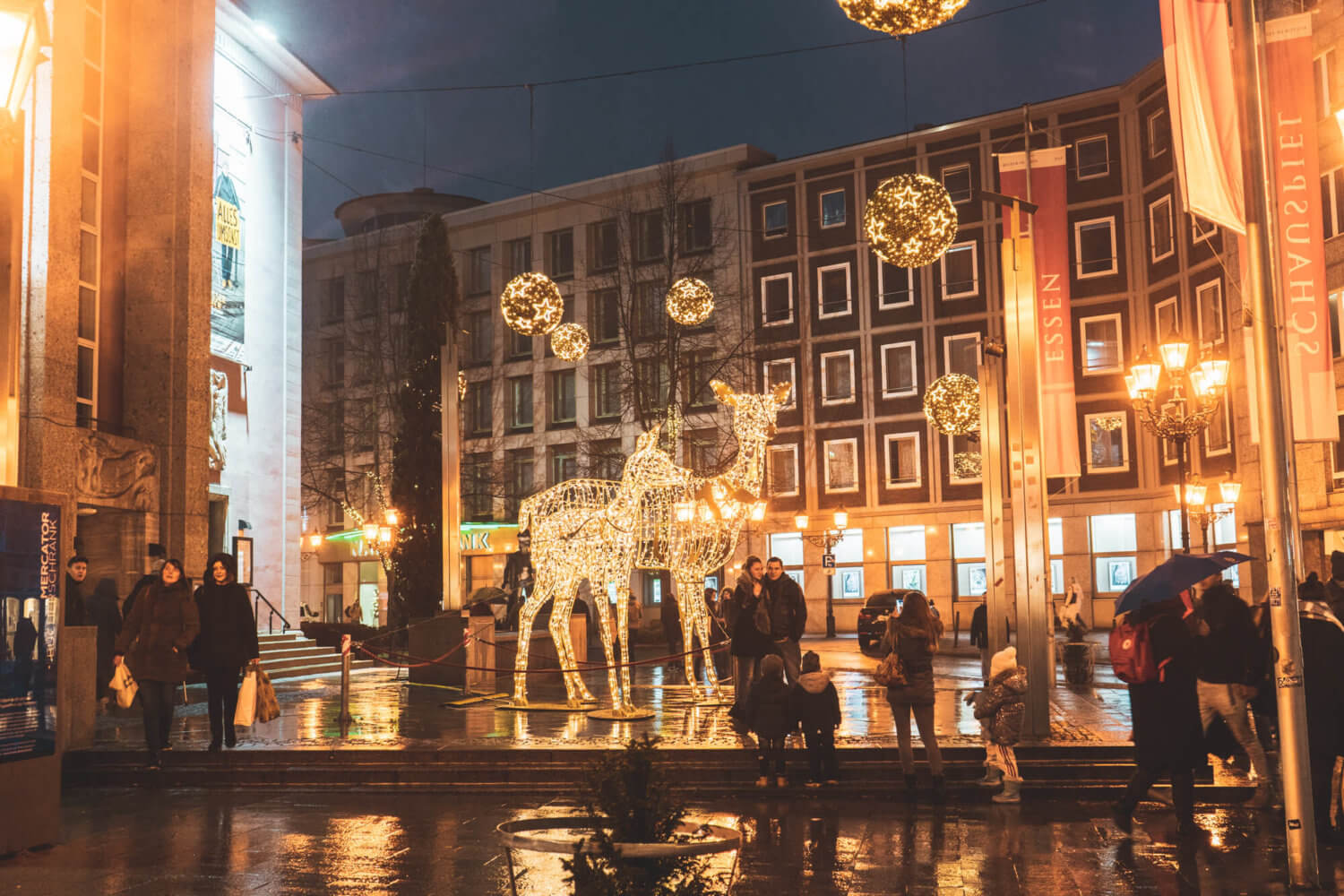 It's a lot quieter (at least among tourists) than other Christmas markets in the area
It could have been the rainy weather, but the Christmas market in Essen was substantially quieter than what we witnessed in Düsseldorf or Dortmund, which meant we had no trouble finding a place to perch and drink our grog.
There were also a few different cozy nooks like this Feuerhaus to take advantage of: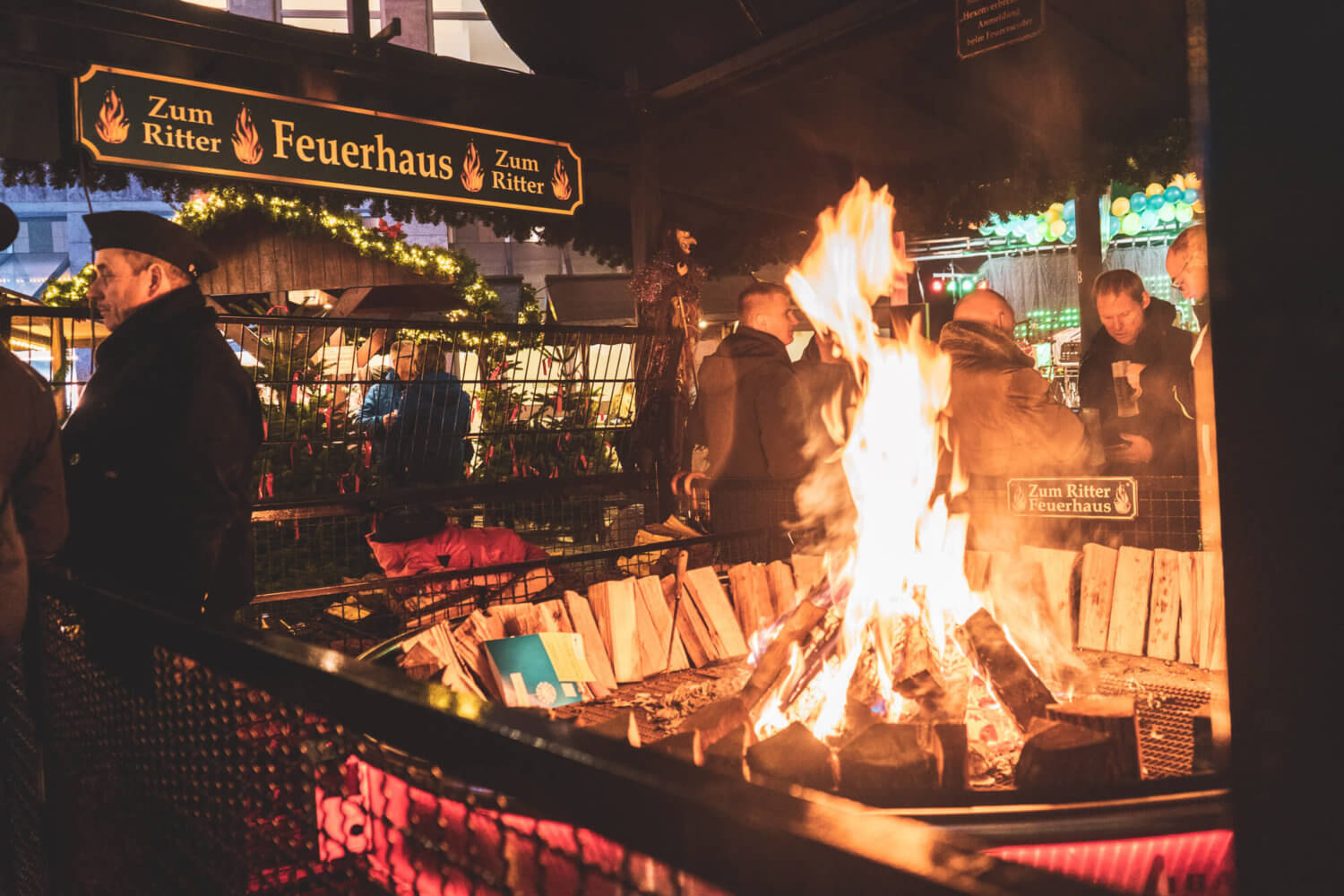 There's a medieval-themed market too
There are a few Christmas markets around Germany that include a medieval-themed market in addition to the standard markets, and Essen is one of them!
The Medieval market in Munich is one of my favourite Munich Christmas markets, and while the one in Essen is much smaller in comparison, it's still a unique opportunity to shop for special gifts like leather coin pouches, wooden treasure chests and um… these things?
(Yes, the vendors dress up too)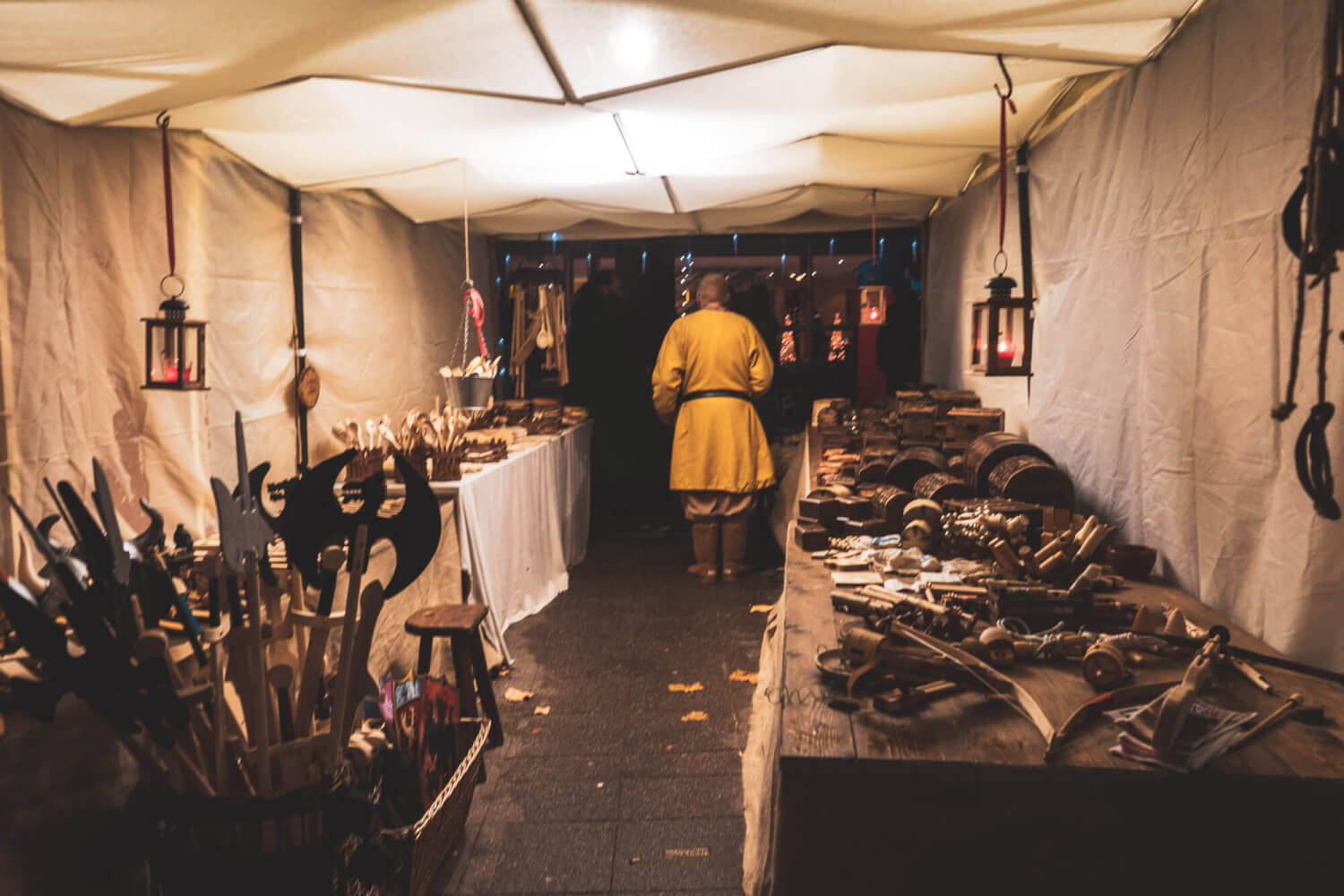 The Essen Christmas Market has a lot of unique gifts and international products
Branded as an "International Christmas Market", the Essen Christmas Market is home to over 250 stalls that represent goods and products from over 20 countries.
This means that in addition to the usual suspects of wooden ornaments, paper stars, etc., there are also things like amber jewelry from the Baltics or African handicrafts.
This gives it a definite edge over some of the more traditional markets in the Ruhr region.
Besides international flair, I also saw a lot of unique gifts that I haven't seen elsewhere at the Essen Christmas Market, including these super cool record clocks: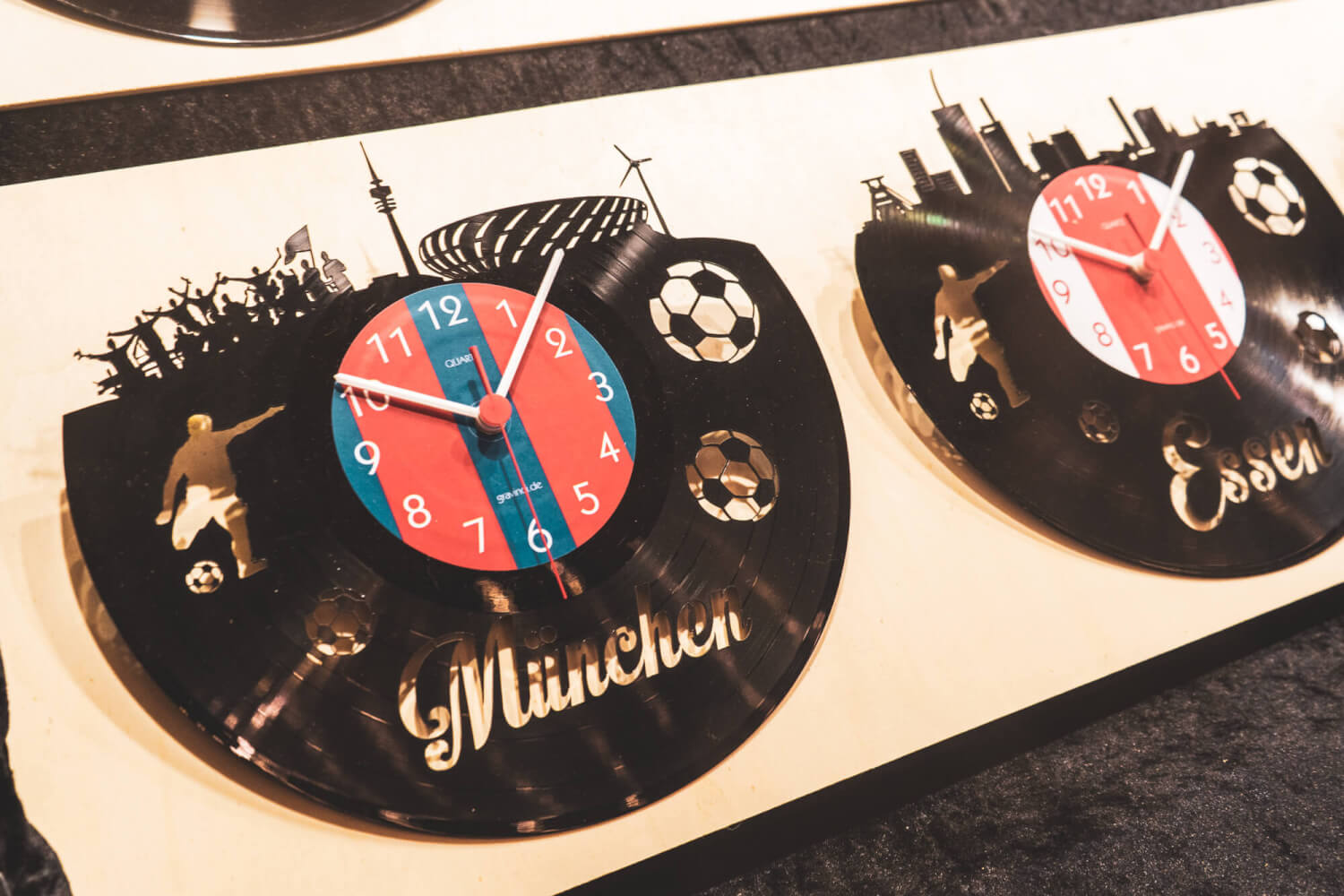 And these adorable customizable mugs: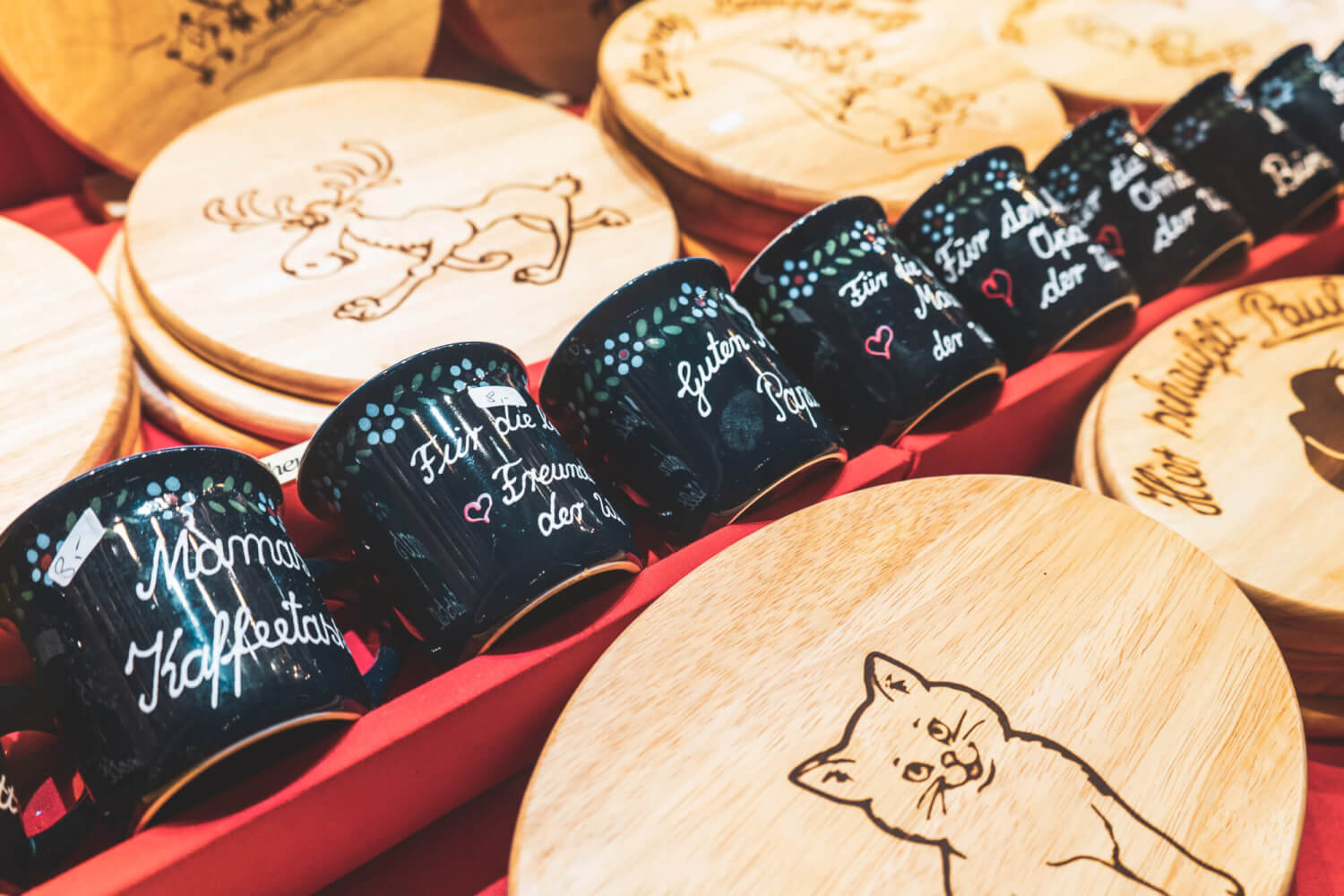 Essen Christmas Market is easily accessible from the train station
No joke, the Christmas magic starts in Essen right as you leave the train station.
Not only is the main market in Kennedyplatz less than 10 minutes away from the train station on foot, there are stalls immediately as you exit the station and pretty lighting displays guiding you the entire way.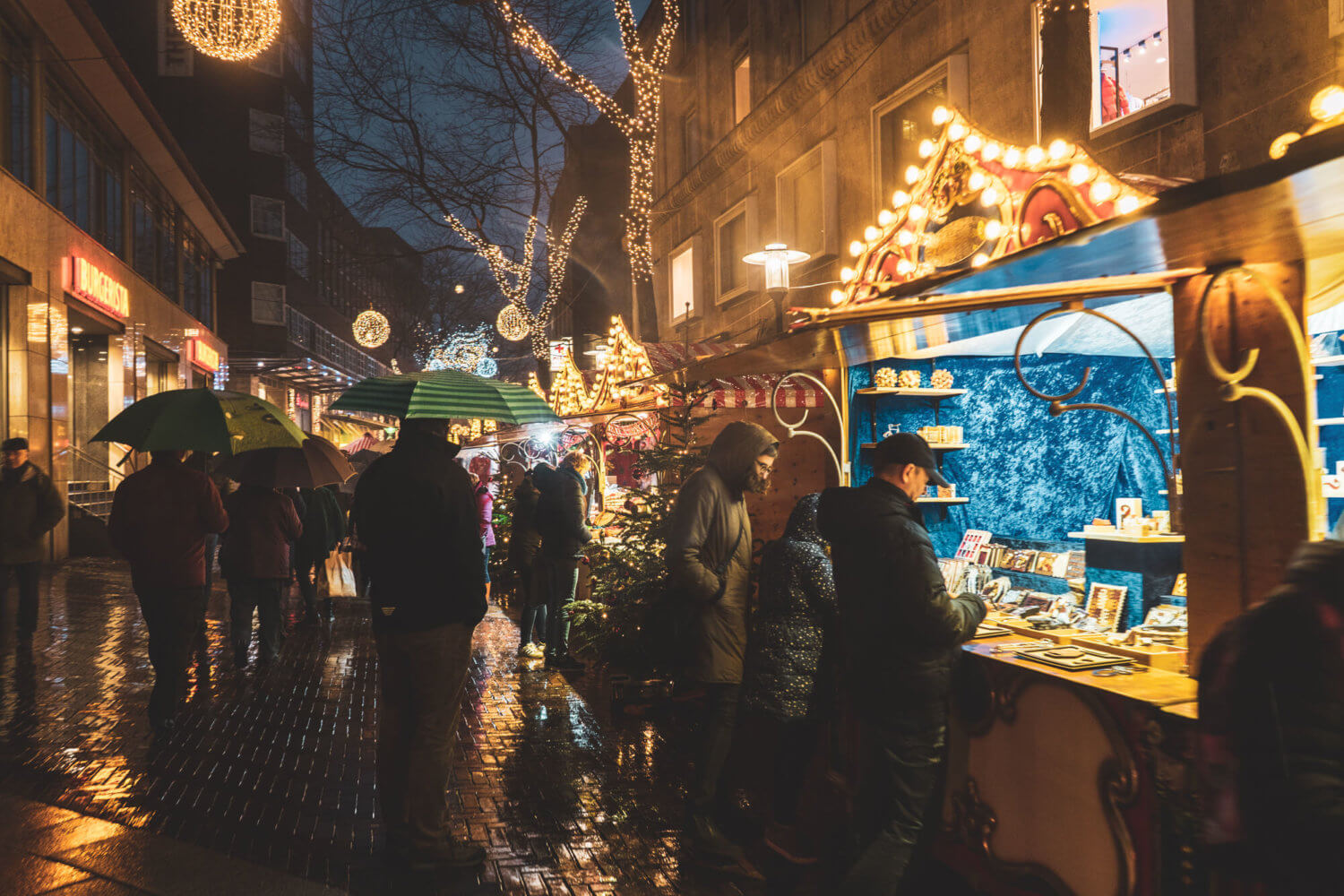 They have the most ridiculously delicious steak sandwich
I would literally visit Essen Christmas Market again for the SOLE purpose of getting this sandwich again. If you are in town, be sure to stop by the "Der Klopper" stall and get yourself a steak sandwich.
It's this juicy slab of steak that they shovel into a triangle of pogacha bread (I think).
They then douse it in this amazing garlic sauce and top it with onions. It's not a great date snack (I literally had garlic sauce in my hair) but wow oh wow is it delicious.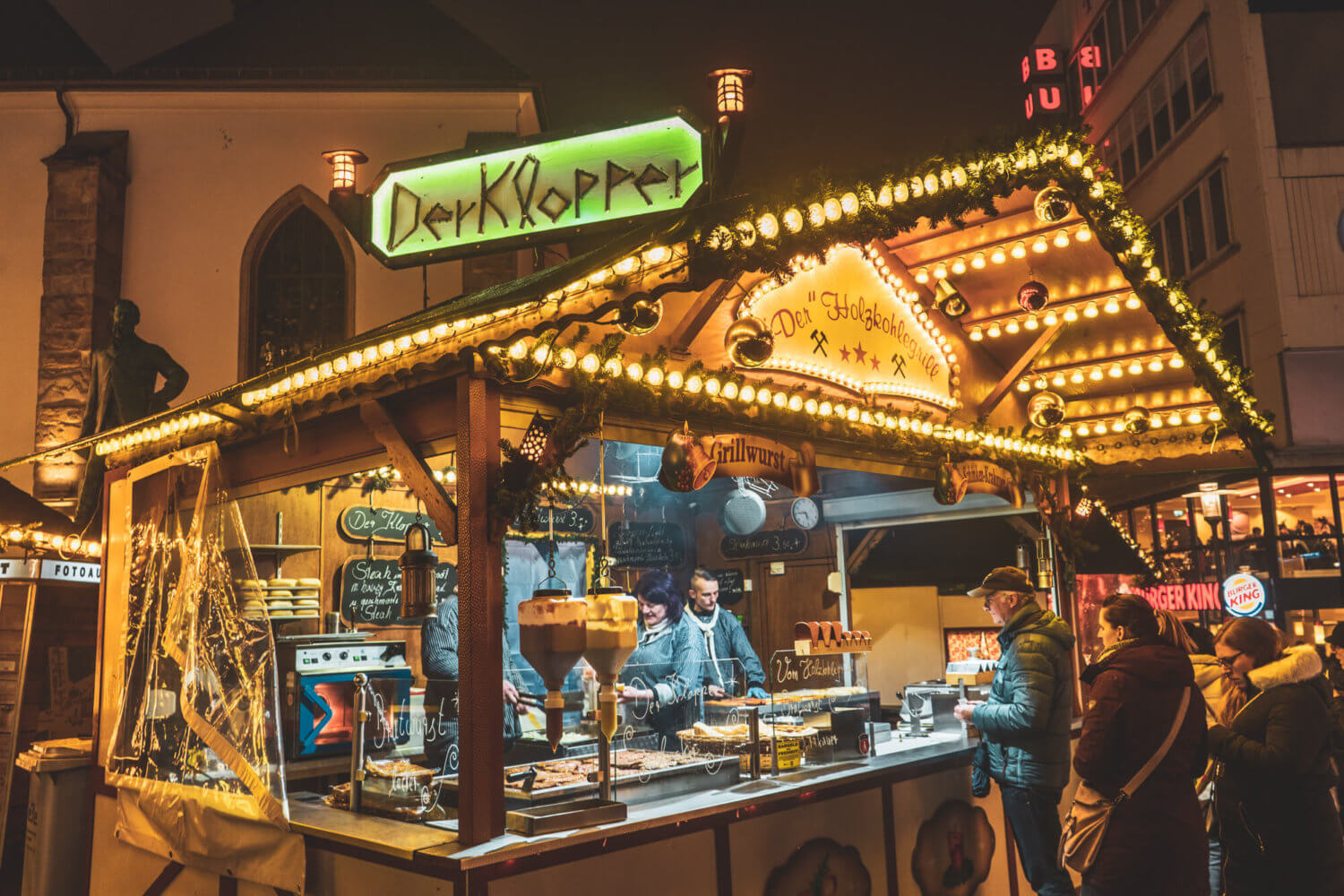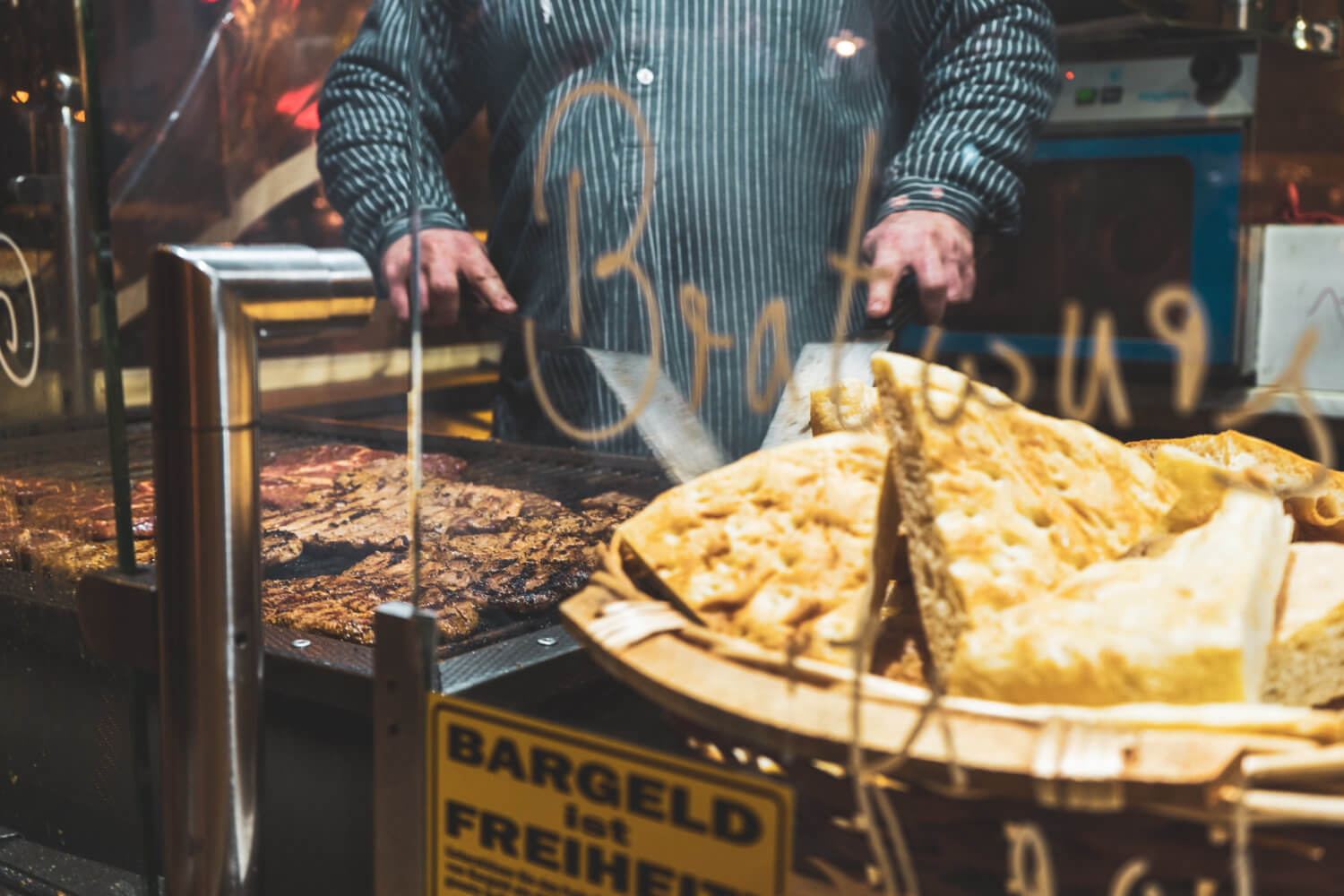 Oh, they also have a big ferris wheel
Not uncommon at all among Christmas markets in Germany, but I figured I'd mention it… (even just to show off this cool photo I took there!)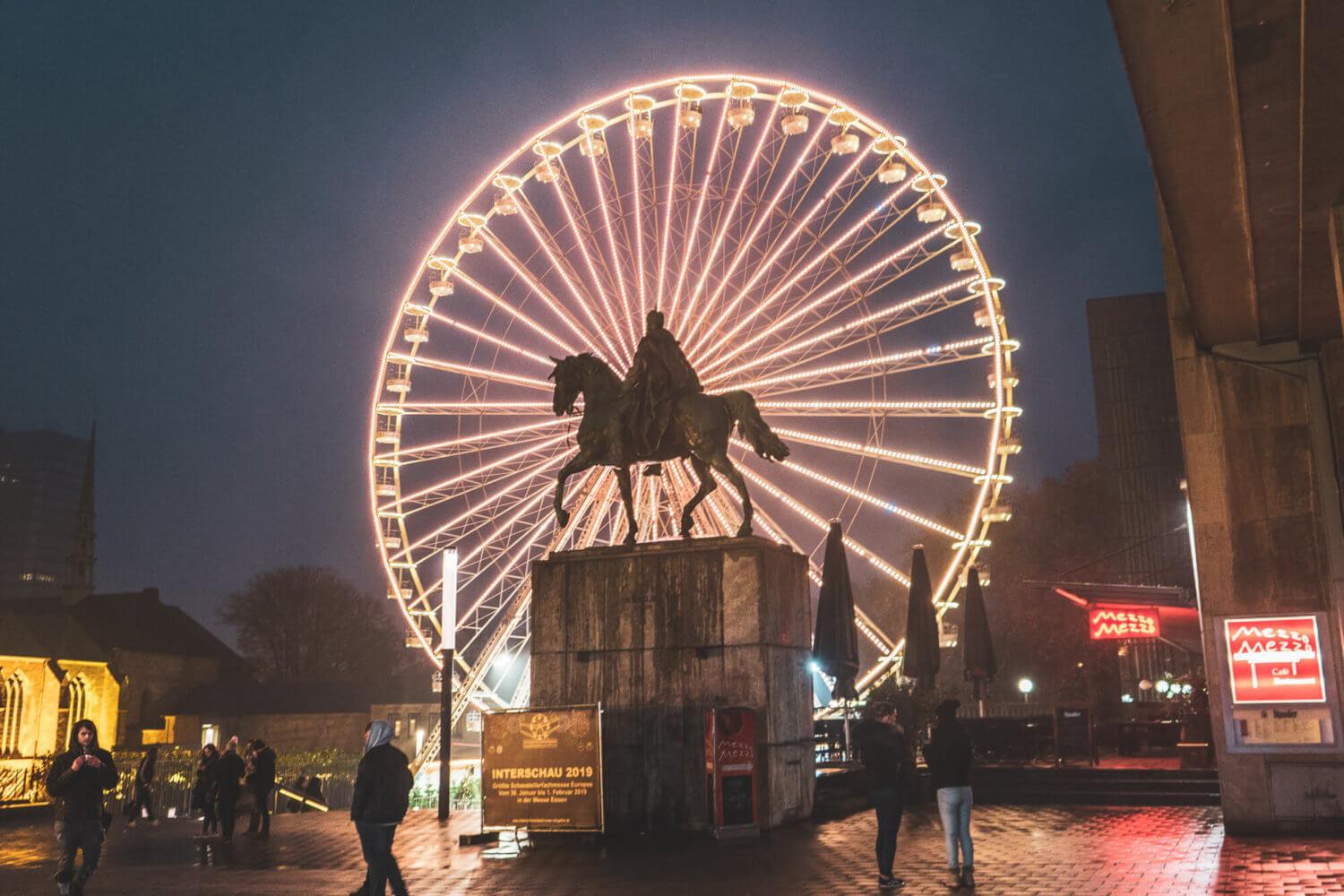 And okay, if none of the above has sold you, here's a final fact for you:
The Essen Christmas Market even has a talking moose
You'll find him atop a Glühwein hut in Kennedyplatz. You're welcome.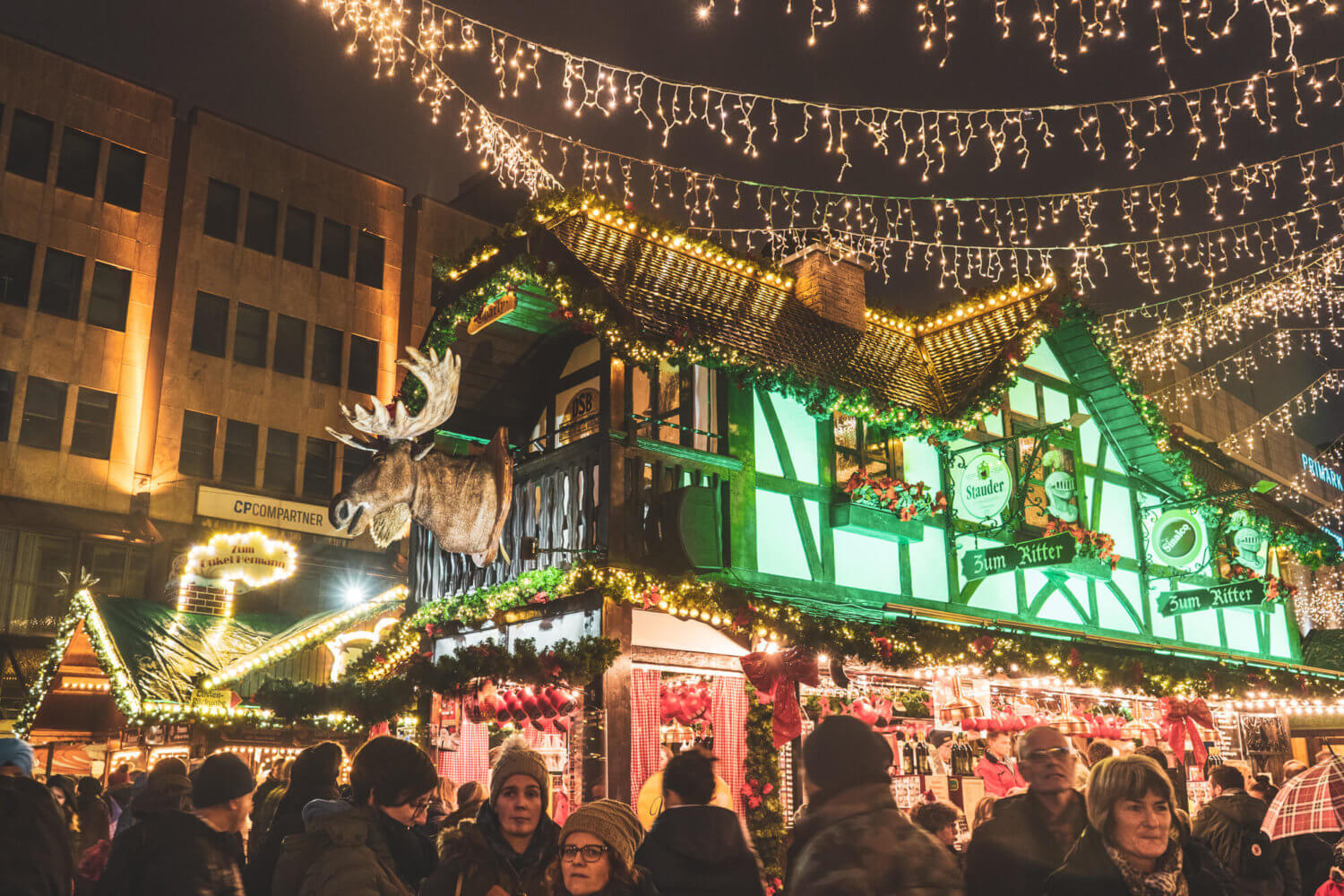 Free for You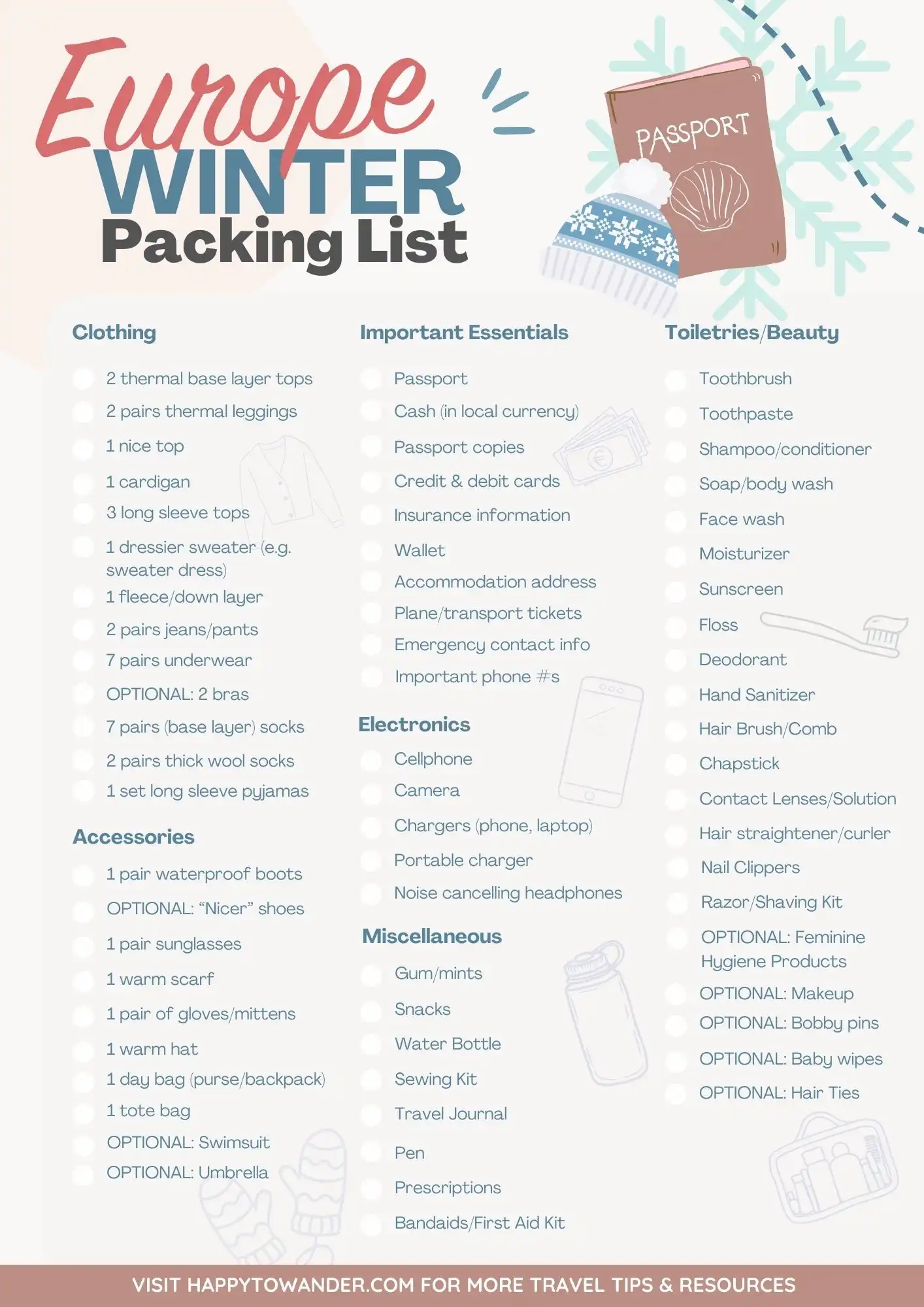 Any questions about Essen Christmas Market?
Let me know in the comments! Have an amazing trip 🙂
My Go-To Travel Favourites: