*FYI - this post may contain affiliate links, which means we earn a commission at no extra cost to you if you purchase from them. Also, as an Amazon Associate I earn from qualifying purchases. Check out our Privacy Policy and Disclosure. for more info.
Of all the Christmas markets in Germany, few can boast the worldwide fame of the Nuremberg Christmas Market, a tourist magnet that welcomes over 2 million visitors each year.
Why so popular? Well, the budget airline-servicing, close-to-the-city-center airport helps.
Nuremberg is an easy and affordable entry point to Germany for a lot of people, which makes it an ideal place for a quick Christmas market escape.
Another is simply fame – Nuremberg is a name that has become synonymous with Christmas itself, whether thanks to its world-famous gingerbread, its quirky little prune people or its delightful little sausages which are happily grilled up at German Christmas Markets around the world.
I'll always have a soft spot in my heart for the Nuremberg Christmas Market.
While I've explored dozens of Christmas markets across Germany over the past four years, the one in Nuremberg was one of the first I ever explored (and also where I held hands with my boyfriend for the first time. Shh – I know. I have emotions. Don't tell anyone).
That said, there are a lot of things I wish I had known before visiting the Nuremberg Christmas Market for the first time, things that no online guides really tell you.
For instance, did you know that the official Nuremberg Xmas market website has DIY stall trails you can do according to what kind of goods you're shopping for? Or that you can slurp from the largest Feuerzangenbowle in the world right here in Nuremberg? Or even that there are special Nuremberg Christmas stamps you can get for all your letters and postcards…?!
Well, if these are the kinds of tips you're looking for during your Nuremberg Christmas trip, I've got you!
Save this post on Pinterest for later: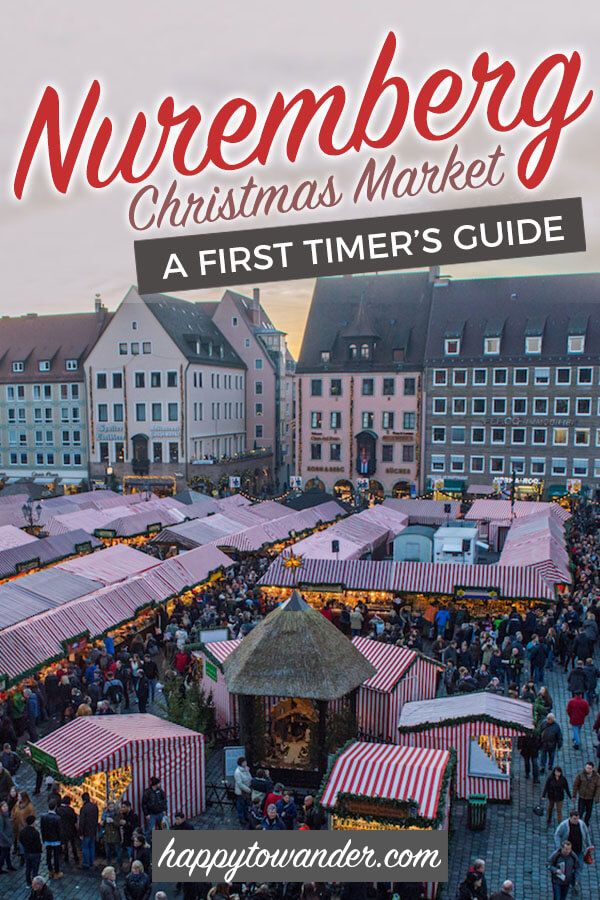 Here are my golden tips/review on how to visit the Nuremberg Christmas markets like a smartie.
NOTE: My visit to the Nuremberg Christmas market was before I got wildly into blogging and documenting every breathing second, so I only have like three non-blurry photos of my own… that's why I've recruited the help of some stock photos to supplement the post. Hope that's okay! Please don't throw tomatoes at me.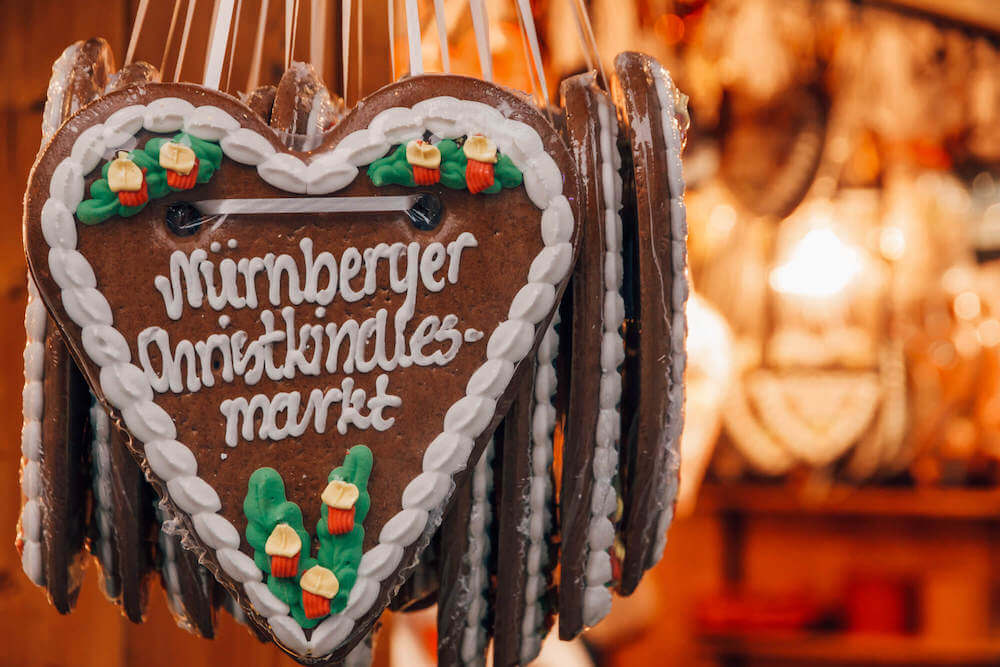 A Brief Introduction to Nuremberg Christmas Market
Dating back to the 17th century, the Nuremberg Christmas Market is not only one of THE most famous markets in Germany, it's also one of the oldest.
As a celebration of the traditional, Nuremberg offers up the quintessential German Christmas Market experience – the stuff that postcard dreams are made of (if you can get all the crowds out of the way).
If you're planning your own little trip to Nuremberg Christmas Market, here are the important must-knows you should know right off the bat.
Nuremberg Christmas Market 2023 Dates:
Dec 1 – Dec 24, 2023
Nuremberg Christmas Market Opening Times:
Opening Day: 10am – 9pm
Daily (Monday to Sunday): 10am – 9pm
Christmas Eve: 10am – 2pm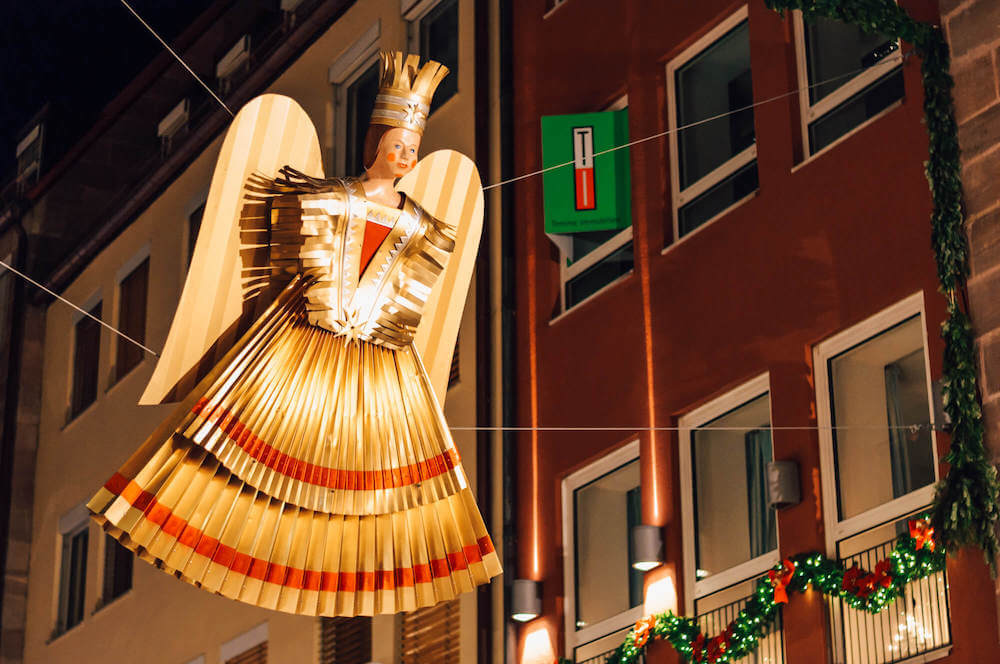 Let's Start With… Who is the Nuremberg Christmas Angel?
To really understand the appeal of the gorgeously traditional Nuremberg Christmas Market, we need to talk about the Nuremberg Christmas Angel, known in German as the Chirstkind.
Truly, one of the most unique things that sets the Nuremberg Christmas Market apart from others in the country is the Nuremberg Christkind: a symbol of the market and Christmas itself.
Whereas in North America, we tell kids that a fat, jolly red man is bringing the gifts, here – the kids are told the gifts are brought by a pretty little, blonde angel with ringlet curls and… wings. Dang it Germany, you've bested us again.
Now here's the fun part: the Christkind isn't just some mythical angel that exists in literature – she is a REAL PERSON, and she's elected every two years to basically be the ambassador of Christmas.
I find this process fascinating, so here's a quick digest of how it all goes down: applicants must be young women aged 16-19 who are above 160cm tall, and must either be Nuremberg-born or have been living there for a long time. The official site even stipulates she shouldn't be afraid of heights (which is… interesting).
Of all the girls who apply, twelve are shortlisted and their photos are published in the newspaper and online. The top six who get the most votes are then interviewed by a jury on things like their knowledge of Nuremberg, and then the Christkind for the next two years is chosen.
Isn't that amazing?! Imagine if we as a society elected a Santa Claus every year. That's how wild this is. I'm still mindblown. Anyways, moving on…
Nuremberg Christmas Market Location Breakdown: The Different Spots
With some history and context out of the way, let's move onto where you need to actually go. When we talk about the Nuremberg Christmas Market, generally we're referring to the collection of markets that take place in Nuremberg's city center.
There are three key markets to keep an eye out for:
The Nuremberg Christkindlesmarkt
Location: The Hauptmarkt
The Christkindlesmarkt in Nuremberg is the main Christmas market – the one with the candy cane esque rooftops that you see in allll the photos.
Here you'll find hundreds of stalls selling a non-stop stream of toys, treats, ornaments, gifts and more. If there's one place you need to check out during your visit to the Nuremberg Christmas Market, this is it.
TIP: (If the dates align), try to attend the opening ceremony of the Christmas Market.
Not a lot of Christmas markets in Germany go all-out with their opening ceremony, but Nuremberg does, and every year on the Friday before the 1st Advent, throngs of visitors and locals alike gather in the main market square beneath the Frauenkirche, eagerly awaiting a glimpse of the Christkind, who recites the opening prologue that essentially kicks off the Christmas market season.
There's trumpets, a little children's choir and everything. It's a pretty big deal.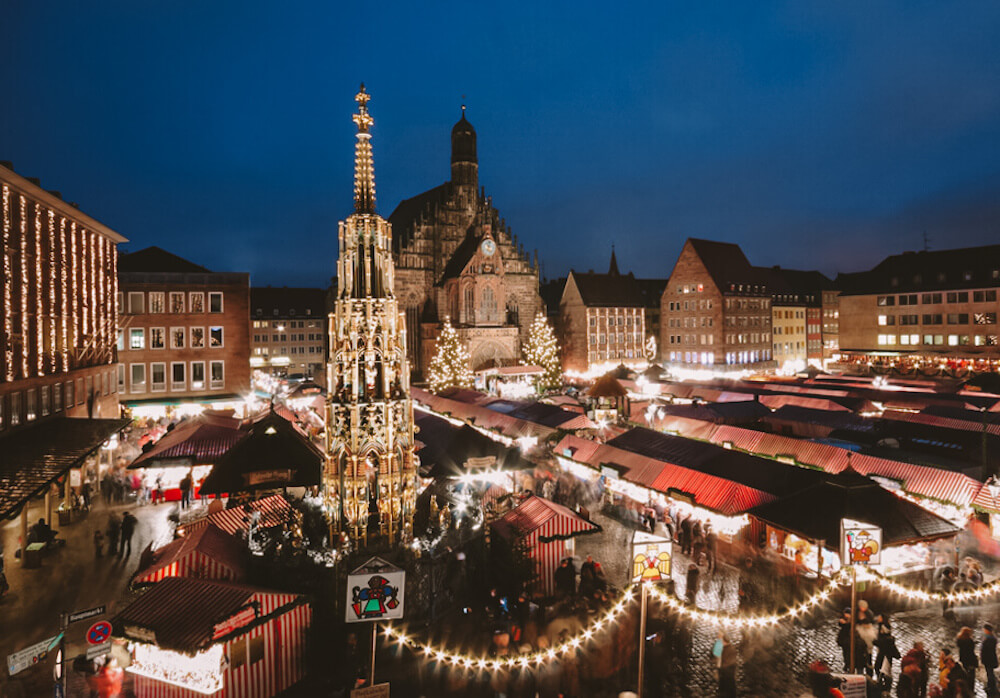 The Sister Cities Market
Address: Just north of the Hauptmarkt
Besides the main Nuremberg Xmas Market in the Hauptmarkt, one of the more popular stops in the city is the Sister Cities Market.
If you're looking for a break from traditional German goodness, the Sister Cities market is for you. Basically, this is a market with 24 booths with representation from Nuremberg's sister cities around the world.
This means in a single market, you can stock up on wool goods from Glasgow, textiles from Shenzhen and Nicaraguan coffee from San Carlos (among other things).
Here are some of the cities/regions represented at the Sister Cities market (either due to their status as official sister city to Nuremberg, or thanks to an unofficial but chummy relationship). At the Sister Cities Market, you can therefore expect to see goodies from places such as….
Antalya (Turkey)
Atlanta (USA)
Kharkiv (Ukraine)
Gera (Thuringia)
Glasgow (Scotland)
Kavala (Greece)
Krakow (Poland)
Nice (France)
Prague (Czech Republic)
San Carlos (Nicaragua)
Shenzhen (China)
Skopje (Macedonia)
Limousin (France)
Bar (Montenegro)
Brasov/Kronstadt (Romania)
Kalkudah (Sri Lanka)
Klausen+Montan (Italy)
Verona (Italy)
NOTE: According to the official Nuremberg Christmas Market website, 7 of the stalls in this market (including Brasov, Cordoba, Kavala, and Bar) are operated by non-profits, with proceeds going to charitable projects in the sister city. For instance, proceeds from the Sri Lanka stand go to support victims who continue to struggle after the 2008 tsunami.
Children's Market
Address: Hans-Sachs-Platz
If you're visiting the Nuremberg Christmas Market with little ones in tow, then don't miss the special Children's Market, which is complete with a dreamy double decker carousel, a cute little train and all sorts of kid-friendly shenanigans.
PS: Tuesday til Friday at 2:30pm is when the Christkind herself is meant to make an appearance.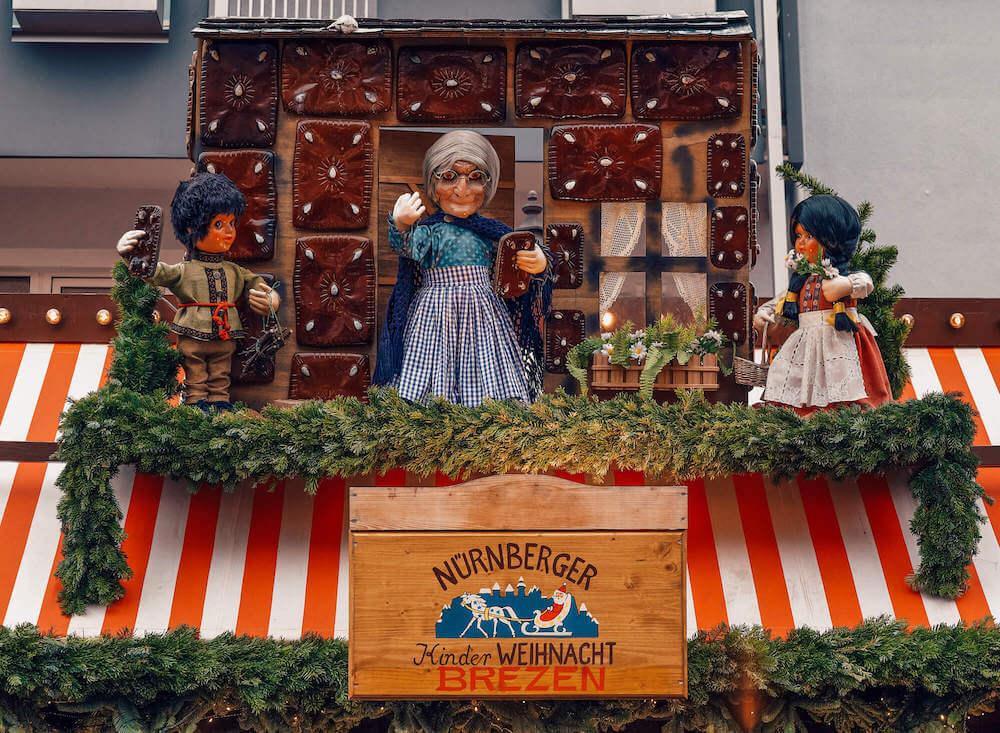 Hotels near Nuremberg Christmas Market
If you're wondering where to stay in Nuremberg for Christmas market frolicking, I would advise staying in the city center near the Hauptmarkt (which is where the main Christkindlesmarkt takes place).
This would put you in the middle of all the gluttonous action.
That said, Nuremberg is a small city well connected by public transport, so if you find a good deal that's a little farther from this main square, it's not necessarily a huge inconvenience.
I personally use HotelsCombined because it's a free search engine that compares deals across multiple sites so you can ensure you're finding the best prices.
Click here to browse Nuremberg Christmas market deals on hotels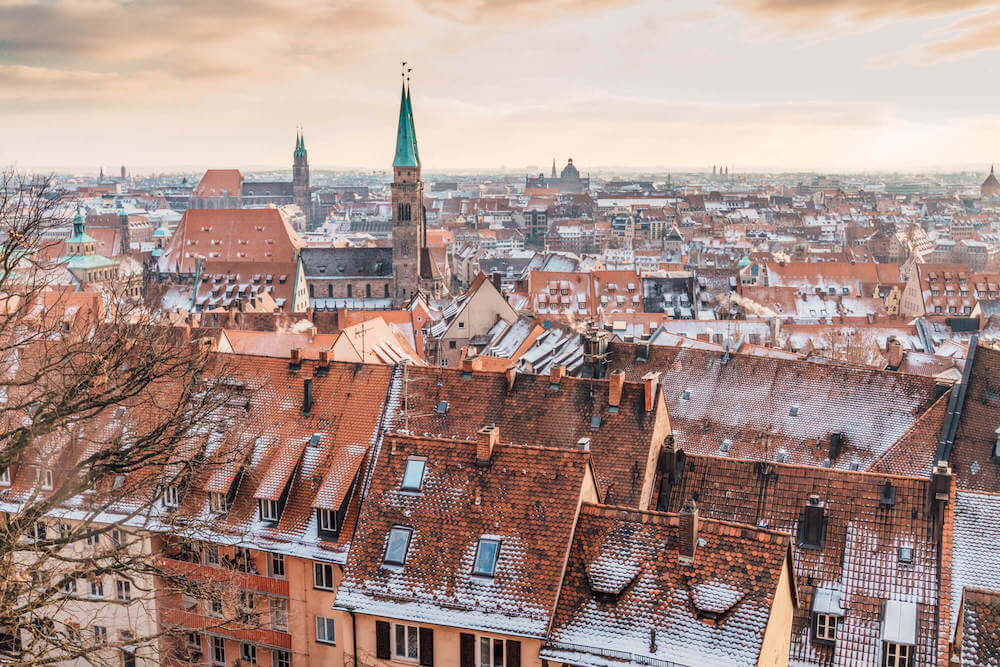 What to Eat and Drink at Nuremberg Christmas Market
Of course, one of the main things you should be doing while in Nuremberg is rolling through the streets like Pacman, chowing down on everything that crosses your path.
You can click here for a full list featuring 30+ delicious must-eats at any German Christmas Market, but here are a few that are non-negotiable eats when you're in Nuremberg.
Nürnberger Rostbratwurst
When I think of Nuremberg, I think of these tiny finger-sized sausages which are usually served "Drei im Weggla", in threes in a crunchy bread roll.
If I recall correctly, Nuremberg was where I had the first ever Christmas Market sausage of my entire life, and I can still remember that joyous feeling of wolfing down this addictive mustard-drenched sandwich, steps away from the stall because my impatient butt couldn't wait even two seconds.
There's a reason this stuff is so good.
After all, Nuremberg takes its sausage very seriously. In fact, Nürnberger Rostbratwurst has been awarded a Protected Geographical Indication (PGI) by the EU, which means the sausage MUST be made within the city limits according to a specific recipe.
Take a bite of that hard work and dedication, mmm mm.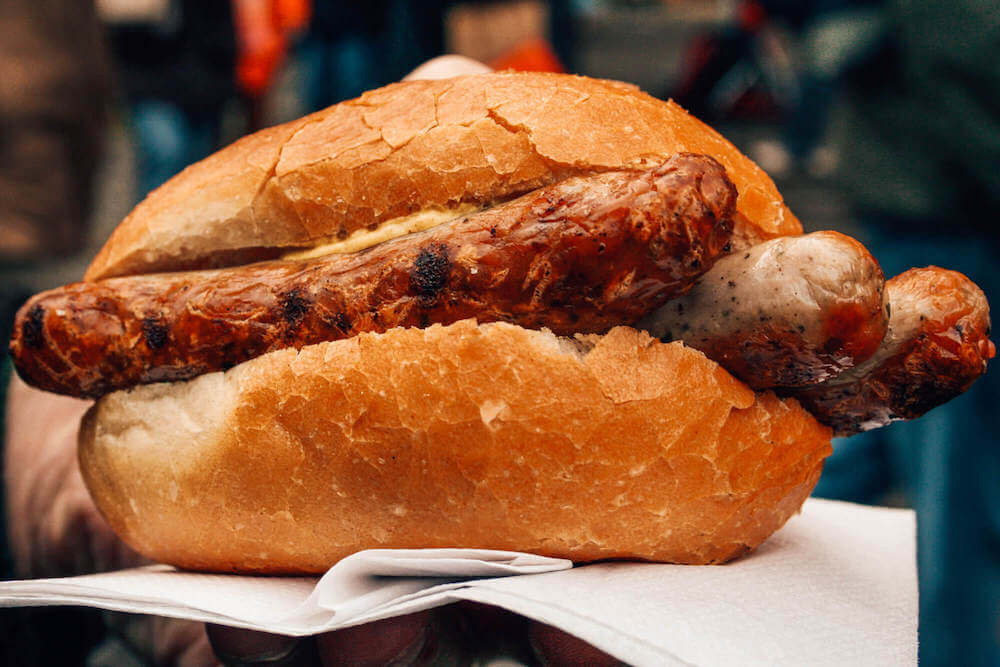 Glühwein
Glühwein, AKA hot mulled wine cooked with flavourful spices, is THE official drink most synonymous with Yuletide joy.
And okay, I know: isn't Glühwein a must-drink at any German Christmas Market?
Yes, but the stuff you get in Nuremberg is unique in the country because it's made out of pure blueberry wine. Mixed in with a melange of spices like anise, cinnamon and cloves, this stuff is a must-have for those chilly Nuremberg nights.
PS: The Nuremberg Christmas Market Glühwein mug is a hot collector's item – they change the design every year and they estimate about 80% are taken home. They also make wonderfully cheap gifts for loved ones at home!
Feuerzangenbowle
If you want to kick things up a notch, you need to get your paws on a hot Feuerzangenbowle.
A Feuerzangenbowle is pretty much a Glühwein but with a sugar cube on top that is soaked in rum then SET ON FIRE, which of course fills your drink with caramelized rummy sweetness.
Yes, it's as good (and potent) as it sounds. Plus, Nuremberg is where you can find the largest Feuerzangenbowle in the entire world, a pot which holds over 9000 litres and takes 48 hours to warm up. Type "Zwischen den Fleischbänken" into Google Maps and you'll find it there.
Nuremberg Lebkuchen, AKA Gingerbread
Nuremberg is well-known for its gingerbread, largely because many say this is where the treat was born! Once upon a time, Nuremberg sat at the crossroads of various spice trading routes, which meant the bakers in town had easy access to all the spices and exotic nuts they needed to create this Christmas-famous treat.
If you want something especially revered in the region, the well-respected Elisenlebkuchen is known as the finest of Nuremberg's gingerbread.
It's a (mostly) flourless variation of gingerbread with a high nut content, usually hazelnuts, honey and spices. Legend has it that Elisabeth, daughter of a famous baker fell ill one day and so he created an ultra-fancy and "fine" gingerbread without flour to heal her.
Today, bakers continue to make this gingerbread which is named after her (though sometimes a small amount of flour is added for stability).
NOTE: These are not the cutesy, iced gingerbread hearts you see at the different stalls. Those ones don't usually taste that great. You've been warned.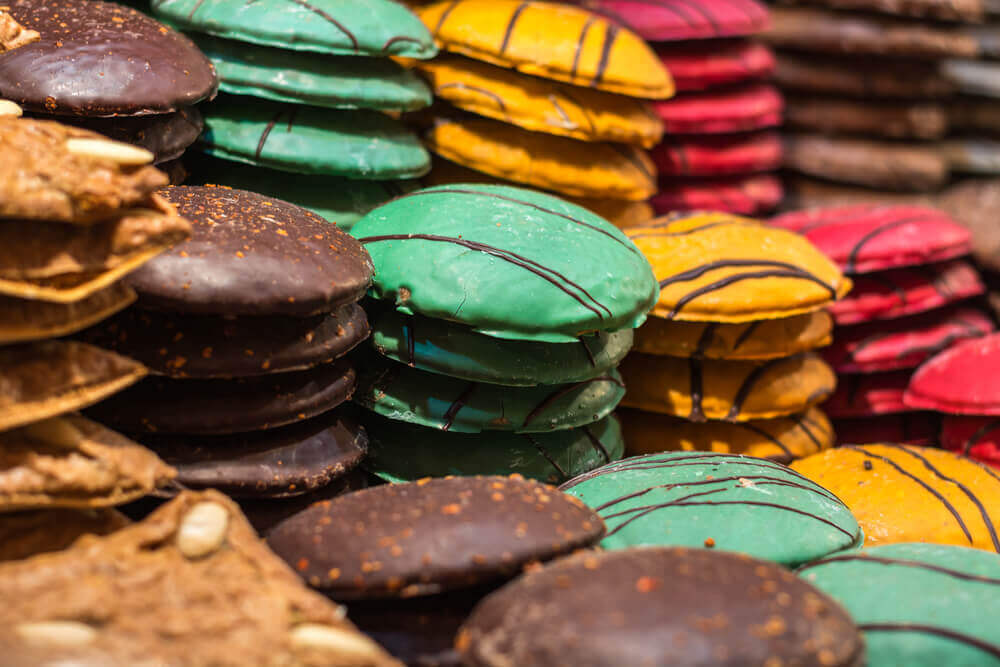 Gebrannte Mandeln (AKA Roasted Almonds)
Sometimes, when I feel really enthusiastic, I call this my Christmas crack. Truly, there is no snack more addictive in the German Christmas Market landscape than sweet Gebrannte Mandeln, with a smell so tempting you'll want to lather yourself in it.
They come in a variety of flavours but my personal favourites are the simple ones roasted with brown sugar and cinnamon.
Flammkuchen
This thin flatbread is what I would call a fancy pizza.
Typically covered in white cheese, creme fraiche, onions and bacon, you'll find Flammkuchen at pretty much every Christmas market in Germany, and around the Alsace region of France where it's known as Tarte flambée.
Nuremberg Christmas Market Map
Where is Nuremberg Christmas Market exactly?
I know, you want specifics, so here's a map with all the Nuremberg Christmas Market locations clearly marked, along with stall names, stall types, etc. The map is in both German and English.
Other Things to do in Nuremberg at Christmas Time
Visiting Nuremberg at Christmas is sure to be a magical experience. If you're looking for other things to do during your trip (besides popping sausages by the dozen), here are some ideas, and click here to check out my full (non-seasonal) list of great things to do in the city.
1. Drink from the largest Feuerzangenbowle in the world
Address: Zwischen den Fleischbänken (type this into Google Maps)
So by now you are probably aware of the incredible face-melting ferocity of Feurzangenbowle, AKA mulled wine on steroids. It's a drink created by soaking a block of sugar in rum then lighting it ON FIRE at which point the sugar caramelizes and drips into the wine.
Well, guess what? Nuremberg is home to the BIGGEST CAULDRON OF FEUERZANGENBOWLE IN THE ENTIRE WORLD.
… so like, you kind of need to have some… in the name of culture.
How big is this thing exactly? Well, it has a height of 2.5m and a height of 3.4m. It's so big that it requires 48 hours to actually heat the contents up thoroughly… and it's capable of holding up to 9000 litres of sweet Feuerzangenbowle… AKA in my books "enough".
This is a definite Nuremberg winter must-do!
2. Visit the world-famous Nuremberg Christmas store
Address: Königstraße 8
Käthe Wohlfahrt is one of the most famous brand names in the world of… well, Christmas, and since 1999, they've had a shop that is open year-round in Nuremberg.
While you'll definitely get your fill of glitzy ornaments around the different Christmas market stalls, this is still a nice, traditional stop to add to your Nuremberg trip.
3. Explore the beautiful architecture of Nuremberg Old Town
At times, visiting Nuremberg can feel like you've stepped into a little snow globe, with beautiful half-timbered houses and picturesque bridges made for strolling.
While you're in town for the Christmas markets, don't forget to take some extra time to explore the Nuremberg Old Town. A prance down Weißgerbergasse is an absolute must.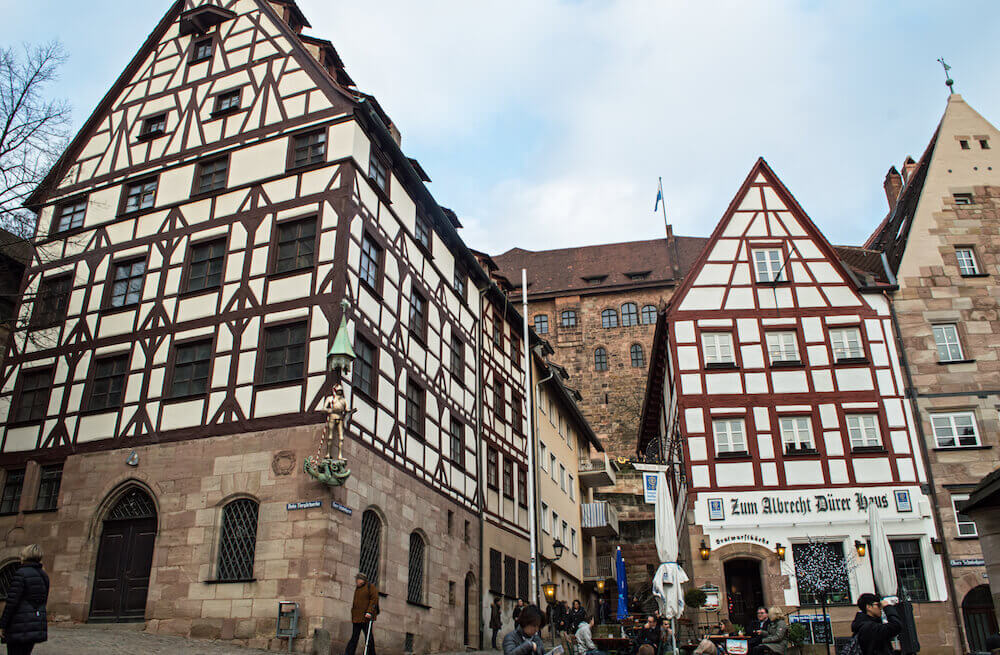 4. Get an overhead view from the Kaiserburg Castle
This is hands down one of the best views you can get in Nuremberg!
Kaiserburg Castle (AKA Nuremberg Castle) is the city's most important landmark, but most importantly, its advantageous location on top of a slab of sandstone gives you the perfect chance to peek at the red rooftops of the city. Not bad hey? Click here to read my full guide to the castle here.
5. Get an overhead view of the Christmas Market by climbing the Frauenkirche
While we're chatting about views…
Allow me to put on my Captain Obvious hat and tell you: I LOVE Christmas markets. I still remember researching them for my first winter in Europe, and drooling on Google Images over all those delightful overhead photos where you could see the glimmering lights and stall rooftops, like in a perfect, painted storybook.
I soon learned that you don't get this vantage point in most Christmas markets…… that is, unless you're in Nuremberg!
In Nuremberg, the main Christkindlmarkt is located right next to the Frauenkirche, and for a few euros you get to take the stairs up to an excellent view point and stare at all the candy-cane striped stalls.
This is the balcony where the Christkind does the opening ceremony, so you know it's good.
As a bonus, there's even a little exhibition detailing the history of the Christkind as well (though the view for me is the real winner).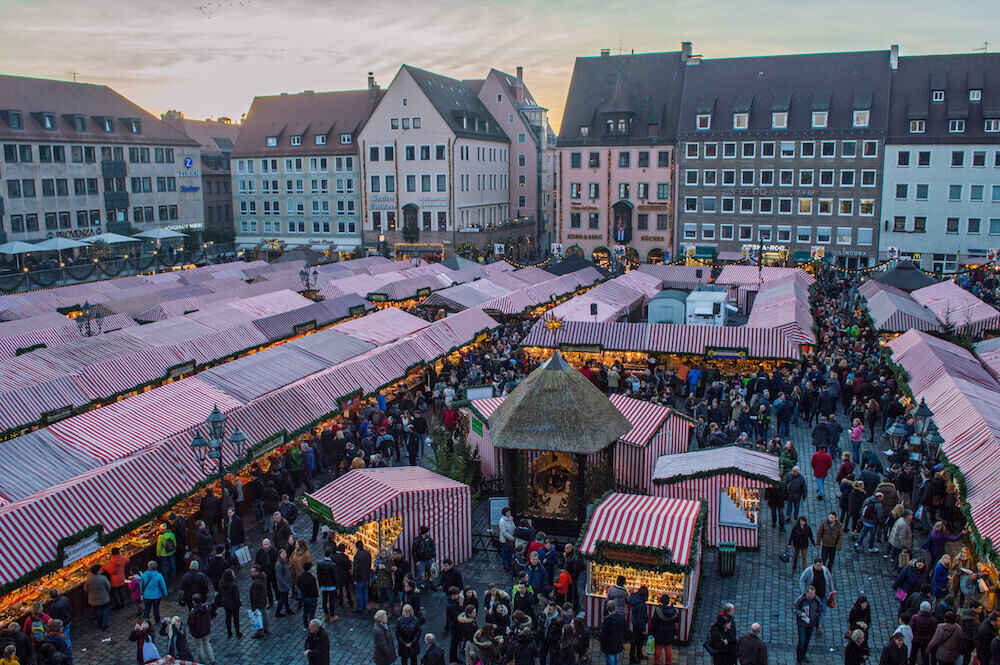 6. Send a Christmas card with the special Nuremberg Christkindlesmarkt postmark
Another lesser known Nuremberg Christmas activity is getting your postcards and letters stamped with the two special Nuremberg Christkindesmarkt postmarks! You can do this at the Post stall near the fountain in the main square.
7. Take a ride on the famous Nuremberg Christmas Market Stagecoach
If you want an especially bougie way of moving through the Nuremberg Christmas Market, why not hop on a bright yellow stagecooach and get carted around for 15 minutes?
According to the official Nuremberg Xmas market website, this activity has been led by Heinz Lehneis for 25 years! The ride is only 4 euros for adults. Click here for more info.
What to Buy at Nuremberg Christmas Market
During your Nuremberg Christmas market trip, it's only natural to assume you will be filling your suitcase with a LOT of souvenirs. Here are some ideas for gifts to bring home from your Nuremberg visit. You can actually download a full list of stalls here if you' don't mind spoilers 😉
PS: If you want some general tips on shopping at German Christmas markets, you can read my full guide on that here.
Cute Nuremberg Christmas Ornaments
If you've got a mild obsession with Christmas ornaments like I do, bring an extra tank of oxygen with you to the Nuremberg Christmas Market because I honestly don't know if your heart will be able to take it.
Whether it's pretty hand-carved wooden ornaments or elaborately painted baubles, the 200+ stalls at the market will have plenty of options for you.
Zwetschgenmännle, AKA Nuremberg Prune People
In Nuremberg, there's a saying that goes "Hosd an Zwetschga im Haus, gäid dir es Geld und Gligg ned aus." which translates to "With a prune man in your house, money and happiness stay, too".
So obviously, you need to get yourself a prune man.
These things are the epitome of the "so ugly they're cute" phenomenon, much like pugs or me passed out asleep after ten gluhweins.
You can find these figurines made of prunes in all sorts of amusing costumes in German Christmas markets around the country, but Nuremberg is where they originate from.
Legend has it that it all began with a Nuremberg wire drawer in the 18th century who had nothing but wire and a plum tree to create gifts for his kids with. I mean, if that doesn't melt your heart, you're made of stone, not prune.
NOTE: It seems like common sense, but you reaaaaally shouldn't eat these guys.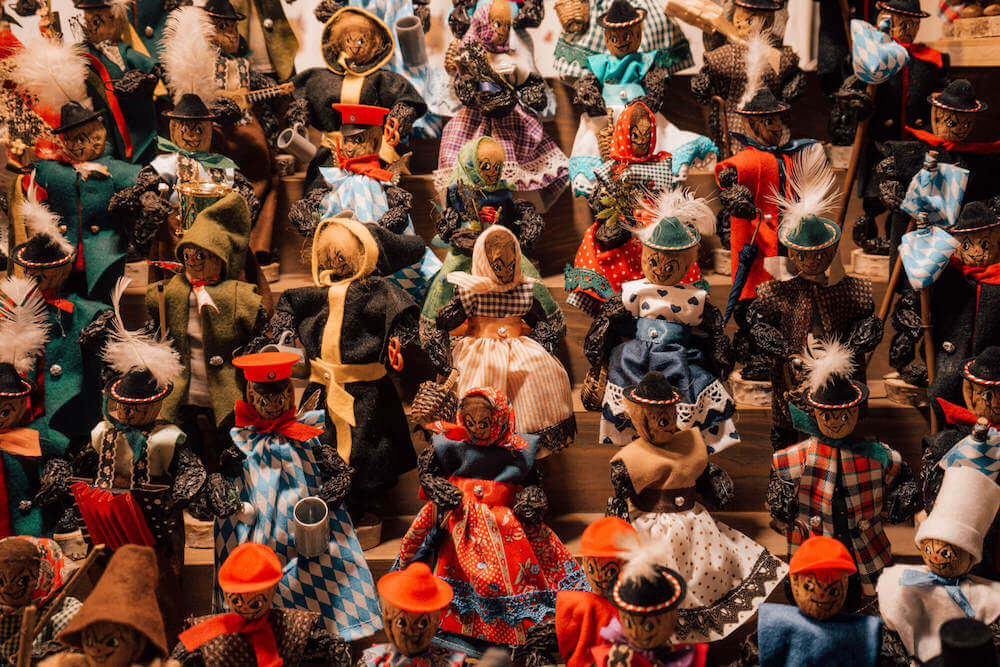 Franconian Specialties
Nuremberg is part of the Franconian region of Germany, and boy are they proud of their local products, so much that there's a cluster of specialty "Regional Original" stalls by Church of St. Sebald (across from the Historical City Hall) where you can stock up on regional goodies from around Franconia and the Upper Palatine.
Of course, that's not it! Elsewhere around the Nuremberg Christmas Market, you can stock up on yarn products from Regensburg, handmade teddy bears from Fürth, illuminated ceramic buildings from Rothenburg ob der Tauber, all kinds of yummy fruit jams and brandies… and really, the list is endless.
You can download a little DIY walking trail that guides you through the different regional specialty stalls here
Final Tips for Visiting Nuremberg Christmas Market
And last but not least, here are some final tips for you to make the most of your Nuremberg Christmas Market experience.
Avoid weekends
I went on a Saturday and it was honestly like a special Yuletide edition of the Hunger Games!
Especially after the sun sets (which is early in the winter), the crowds emerge en masse to enjoy the night time ambiance of the market. If you want to avoid crowds, try to visit on a weekday.
Understand that you'll need to pay a deposit on cups/tableware
Often you'll see gluhwein being advertised for 3 euros or so, then you end up paying 5 euros at the cash register.
Don't worry – you're not being scammed In fact, this is really common! The extra two euros is essentially a pfand (AKA deposit) that you pay for the mug and that you get back upon returning it.
Sometimes they'll give you a special token to return alongside the mug to ensure that you're not just…. randomly scraggling around the streets collecting mugs to return. Make sense?
NOTE: Sometimes a pfand is also charged for tableware, depending on where you eat.
Watch out for pickpockets
While Germany is a very safe country and the risk of pickpockets is far lower than other tourist hubs I've been to like Barcelona or Rome, opportunistic crime does tend to crop up anywhere there's many tourists, and Nuremberg has become one of them.
I've read a few reports online of people getting pickpocketed at the Nuremberg Christmas Market, so please just be careful, vigilant and mindful of your belongings.
Bring your own bag
One of your main motivators for visiting Nuremberg Christmas Market will no doubt be shopping, SO don't forget to bring something to carry your goodies in!
Most of the stalls will only have small envelopes/bags or will wrap their goods up for you but not give you an actual big tote to carry them around in.
Download some DIY walking trails beforehand
The official Nuremberg Christmas Market website actually provides self-guided walking tours of the different stalls according to various themes: traditional products, creative products, regional/local products and charity products.
This is a great way to ensure you don't miss any noteworthy stalls. You can download them here.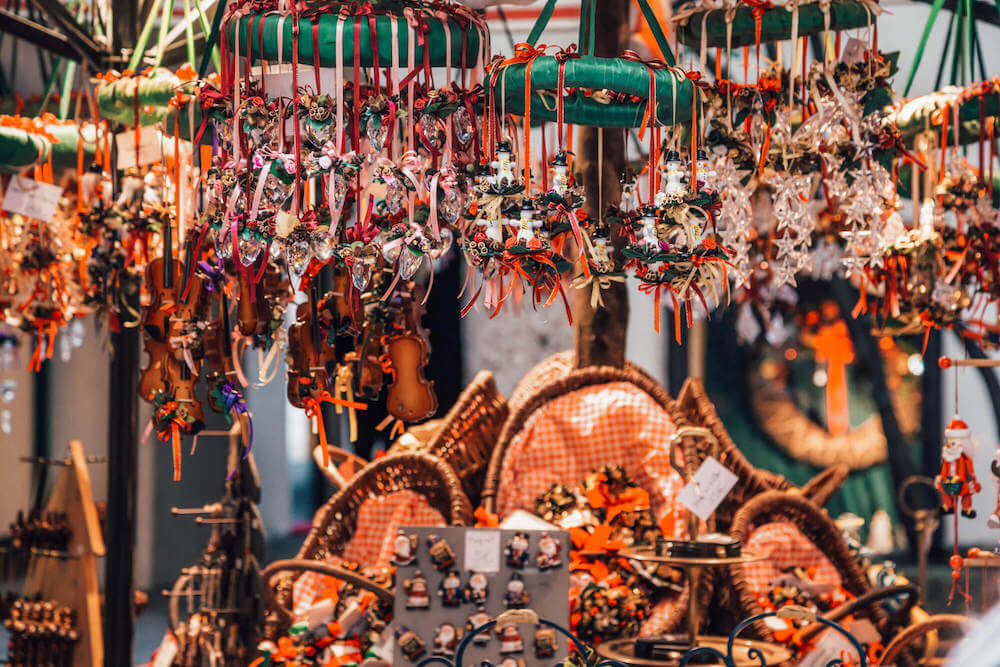 Any more questions about the Nuremberg Christmas Market?
I hope you enjoyed my very detailed Nuremberg Christmas Market review! If you have any more questions about visiting for yourself, feel free to drop me a comment.
---
Watch my most popular YouTube video this week:
---