*FYI - this post may contain affiliate links, which means we earn a commission at no extra cost to you if you purchase from them. Also, as an Amazon Associate I earn from qualifying purchases. Check out our Privacy Policy and Disclosure. for more info.
The Basel Christmas Market in Switzerland is often hailed as one of the country's largest and most beautiful markets, which is high praise considering Switzerland completely sleighs Christmas, with every city poppin' like a chocolate dipped snowglobe.
But it's true – Basel knows Christmas, and knows it pretty darn well. In fact, according to some sources, this market is even Switzerland's oldest, meaning plenty of time to perfect those stalls and fondue recipes.
Save this post on Pinterest for later: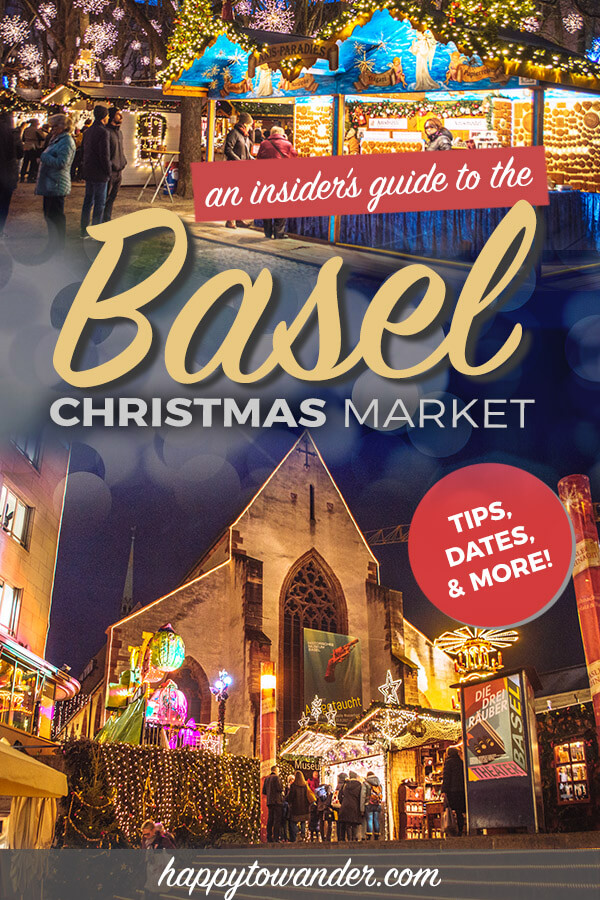 So as you can imagine, the Basel Christmas Market was one of my clear favourites during my fairytale Swiss Christmas Market tour (click here for a full list!).
With over 160 charming wooden chalets filled with local food and gifts, an impressive pre-Christmas program of events, and a unique set of culinary offerings unseen elsewhere in Europe, this artsy city sure knows how to Christmas their butts off…. and yes, that is a technical term.
So, if you're eager to Christmas your own butt off (sorry, started this weirdo phrase and now I must commit), here is a rundown of everything you need to know about the Basel Christmas Market in Switzerland, including important opening dates, market locations, the top foods to try and of course, what goodies to throw your money at.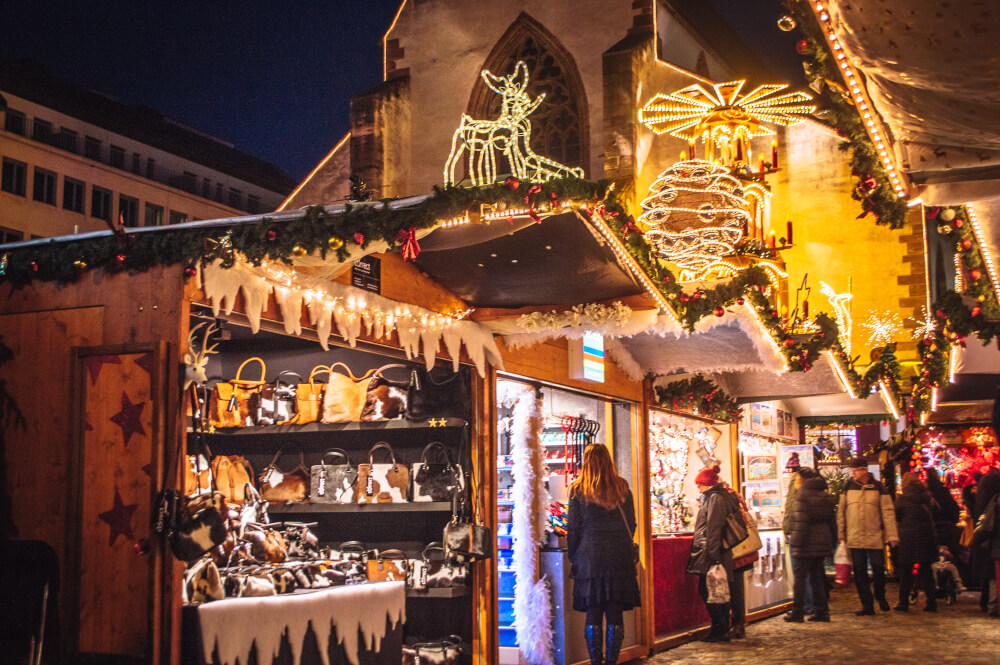 Basel Christmas Market: Important Must-Knows
Planning a trip to the wonderful Christmas markets in Basel for yourself? Here are the most important must-knows to keep in mind ahead of your visit.
First: Where is Basel?
Strategically perched at the meeting points of France, Switzerland and Germany, Basel is a city in Northwestern Switzerland located along the Rhine river.
Including suburbs, Basel is one of the few cities (perhaps the only one) in the world with the distinct honour of being split between three different countries, which gives the city its unique cultural identity – sorta Swiss, sorta German, and sorta French, all tied up in one photogenic package.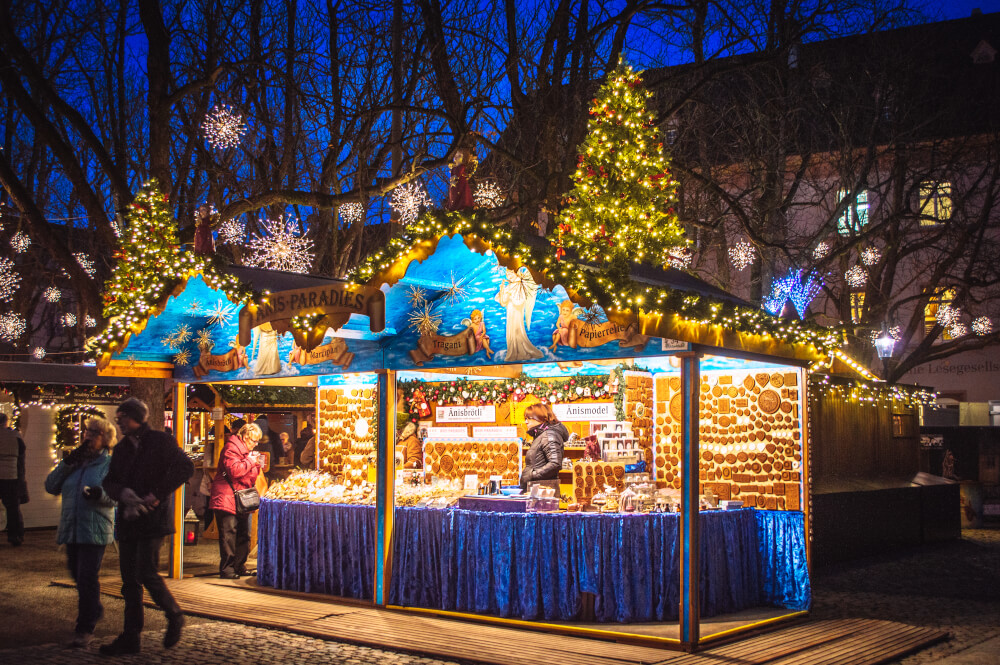 How to Get to Basel
Basel is an easy city to get to thanks to its international airport, the Euroairport Basel-Mulhouse-Freiburg, a mouthful of a name, but a necessary one because it's actually the only tri-national airport in the world! Technically located in France, this airport allows you to choose between French or Swiss customs upon arrival.
A lot of major airlines service this airport, so be sure to use Skyscanner to check for the best deal! There are also direct trains from the Zurich Airport to Basel.
And on that note, of course, besides flying, Basel is also an easy city to reach by train, with two major train stations: Basel SBB in the south and the Basel Badischer Bahnhof in the north.
Another option is to come by bus. Flixbus for instance offers a lot of routes to Basel, usually with rock bottom fares.
Of course, if you are coming from within Europe, I recommend using Omio to compare/book transport options.
It's a free tool that shows you the different ways to get from Point A to Point B and lets you sort based on price, times and convenience.
This way, you can see whether flying, taking the train, or hopping on a bus makes most sense for your grand Basel Xmas market adventure.
FUN FACT: You can also catch a tram into Basel – it's one of the few places in the world where you can cross an international border with a tram!
Basel Christmas Market Dates
This year's Basel Christmas Market is currently scheduled for November 23 to December 23, 2023. 
Of course, these refer to the main Christmas markets in Barfüsserplatz and Münsterplatz, with smaller markets/events taking place at different dates throughout the Christmas season. I will explain the different markets and their festivities/dates below.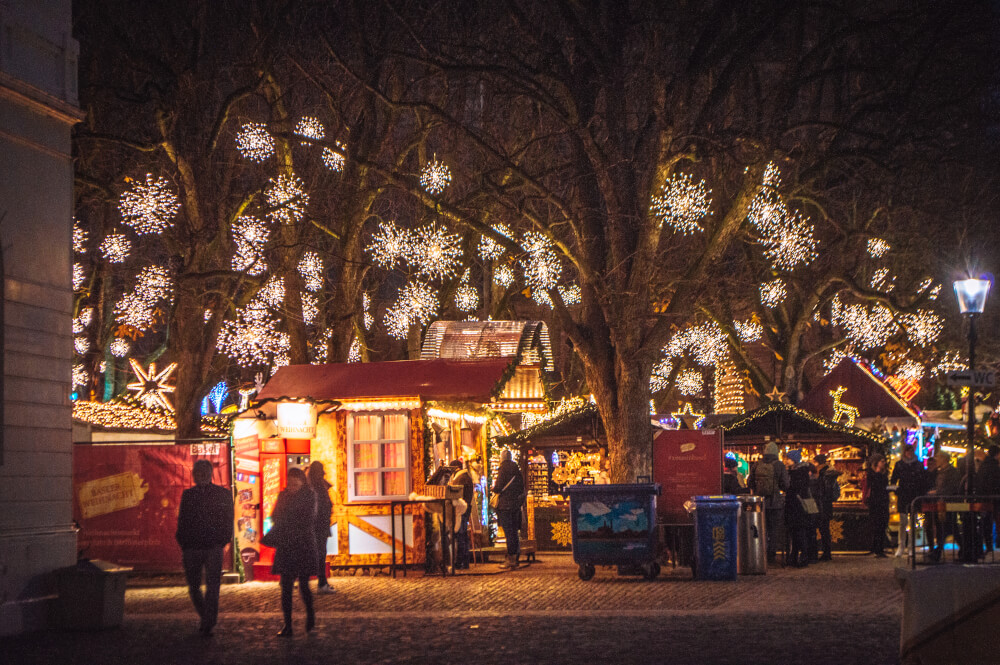 Basel Christmas Market Hours
According to the city's official website, the Basel Christmas Market is open daily from 11 am to 8:30pm, apart from exceptional hours on December 23, during which the Münsterplatz Christmas Market is only open from 11am – 6pm and the Barfüsserplatz Christmas Market is only open from 11am – 8pm.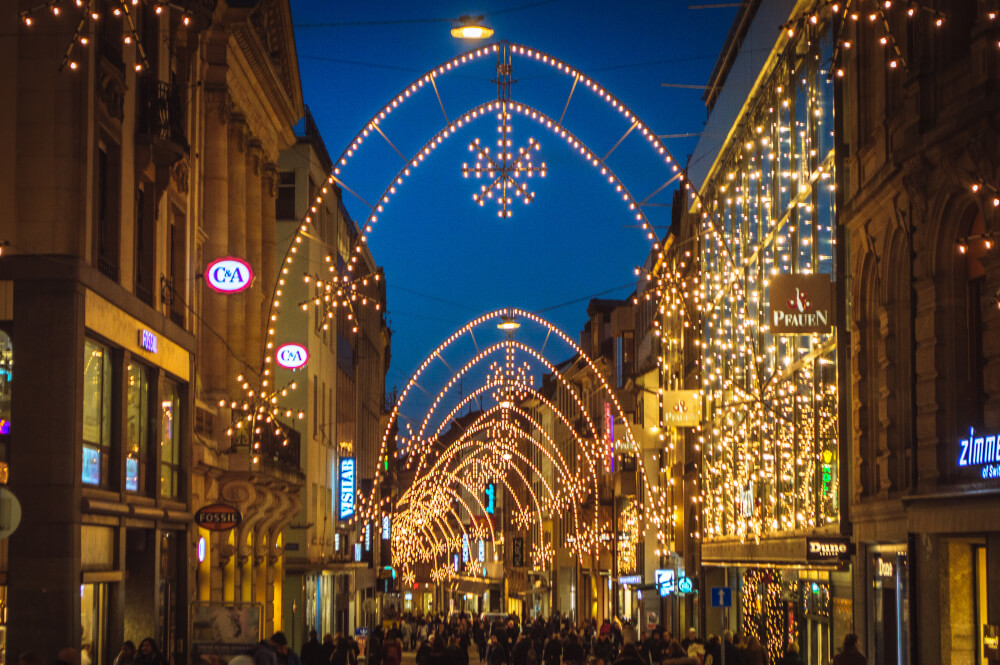 Basel Christmas Market/Christmas Activity Locations
The name "Basel Christmas Market" is actually a bit misleading, because there are actually several Christmas markets in Basel that you can visit… so, be sure to eat your way through as many as you can.
As I mentioned above, the Basel Christmas Market usually refers to the two big markets that take place in Münsterplatz and Barfüsserplatz. There are also plenty of stalls to explore in the Old Town streets between these squares, along with a variety of different Christmas programs around the city.
Below, I'll break down a list of Christmassy locations in Basel you can't miss!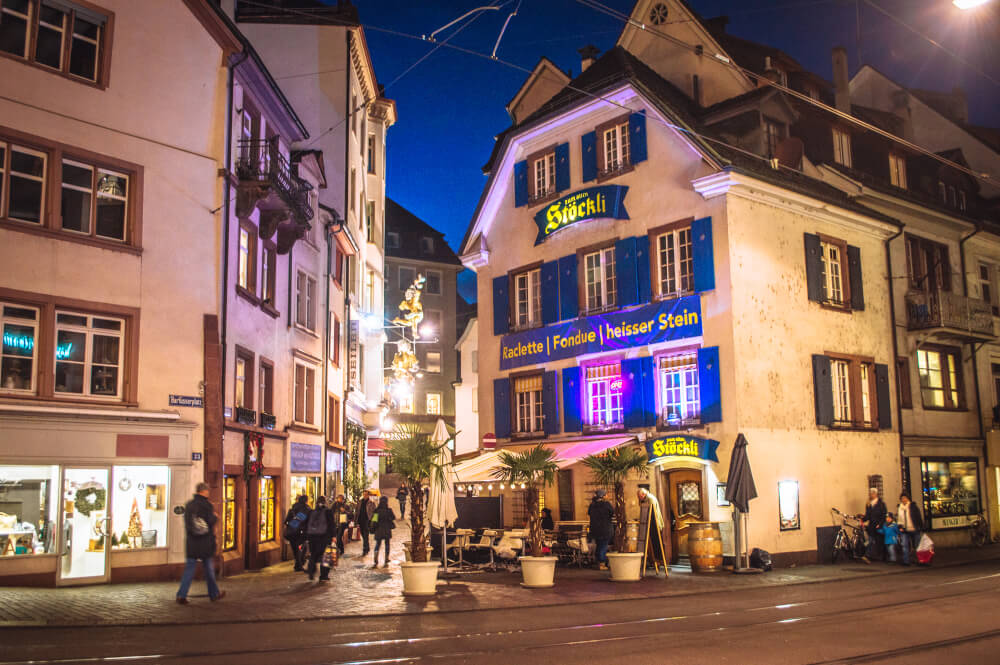 Hotels near Basel Christmas Market
And if you're looking for a place to stay near the different Christmas markets in Basel, here are some options for you:
Budget Option: Prices really soar in Basel during the Christmas season, so finding a good room under 100 euros a night can be a challenge. If you're on a budget, Hotel Alexander has very high reviews and puts you only an 8 minute tram from the city centre, and within walking distance of the Christmas activities on Rheingasse. Click here to check reviews and availability.
Mid-Range Option: Motel One is a reliable chain that offers clean and chic stays for surprisingly low prices. Their Basel location is just around the corner from Muünsterplatz which would put you in the middle of all the Christmas market action. Click here to check reviews and availability.
Luxury Option: And if you want a truly high end stay, check out Grand Hotel Les Trois Rois, which is one of the oldest city hotels in Europe, with a distinguished clientele list including the likes of Queen Elizabeth II and Napoleon. Rooms here aren't cheap, but they offer palatial decor and an unbeatable location in the Basel Old Town. Click here to check reviews and availability.
Basel Christmas Market Overview and Map
Wondering where to find the best Christmas activities and attractions in Basel? Here's a list of spots around the city, and a map to help you find them.
Münsterplatz
One of the most distinctive landmarks of Basel is its beloved red sandstone Münster, with its pointy twin towers and regal position above the Rhine.
Of course, this cathedral makes the perfect backdrop for Christmas Market festivities in Basel when the time comes, with its very own glittering tree!
The Christmas market here is set up in the large square directly in front of the church, with all the trees beautifully lit up with twinkling lights and dozens of stalls selling everything from glowing balloons and Russian handicrafts to silk scarves and Nativity set accessories.
Of course, there's plenty of food to enjoy here too, like Öpfelchüchli (deep fried apple donuts) and raclette.


The Fairytale Forest in Münsterplatz
If you're travelling with kids in tow, there's a special treat at the Münsterplatz Christmas Market waiting for you – the children's fairytale forest!
This little section of the magical Münsterplatz offers a variety of hands-on activities for kids including candle making/decorating, cookie baking, decoration workshops, and more, all under the canopy of sparkling lights.
Apparently, your kids will even have a chance to forge metal objects, which sounds a little bit extreme for me but hey, get them started early, am I right?

Barfüsserplatz
The other main Christmas Market in Basel can be found in Barfüsserplatz, one of the main transport hubs of Basel, where you'll find the intersection of eight different tram lines.
Naturally then, you can expect this market to be a lot busier (I certainly did!).
While this market is no doubt popular, it is for good reason, with a huge variety of stalls to browse through, along with unique food opportunities, including the iconic Christmas market snack of Basel: the Chäsbängel, a baguette filled with FONDUE.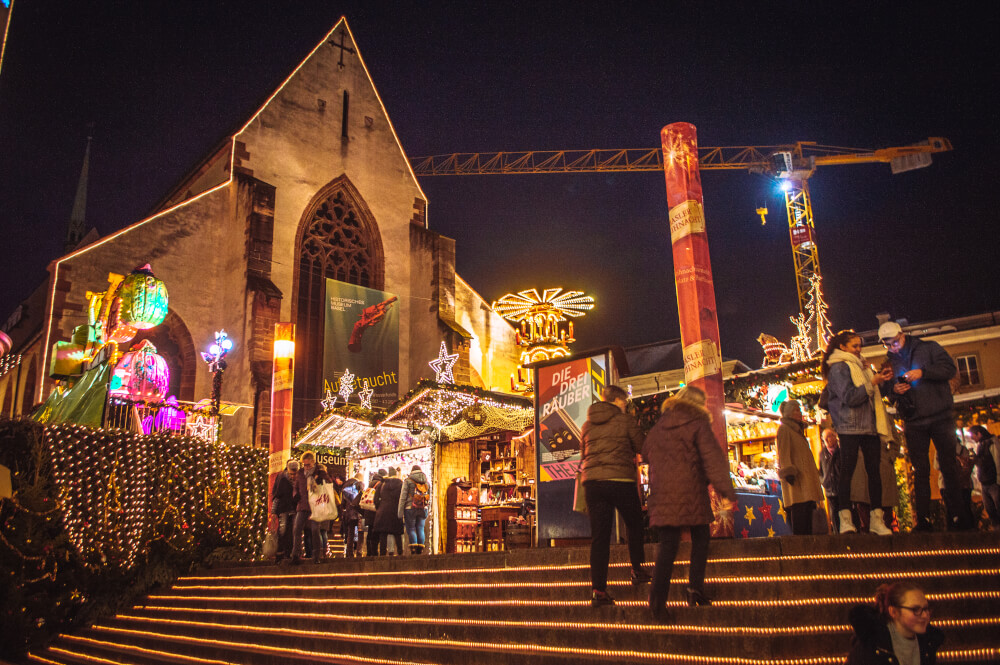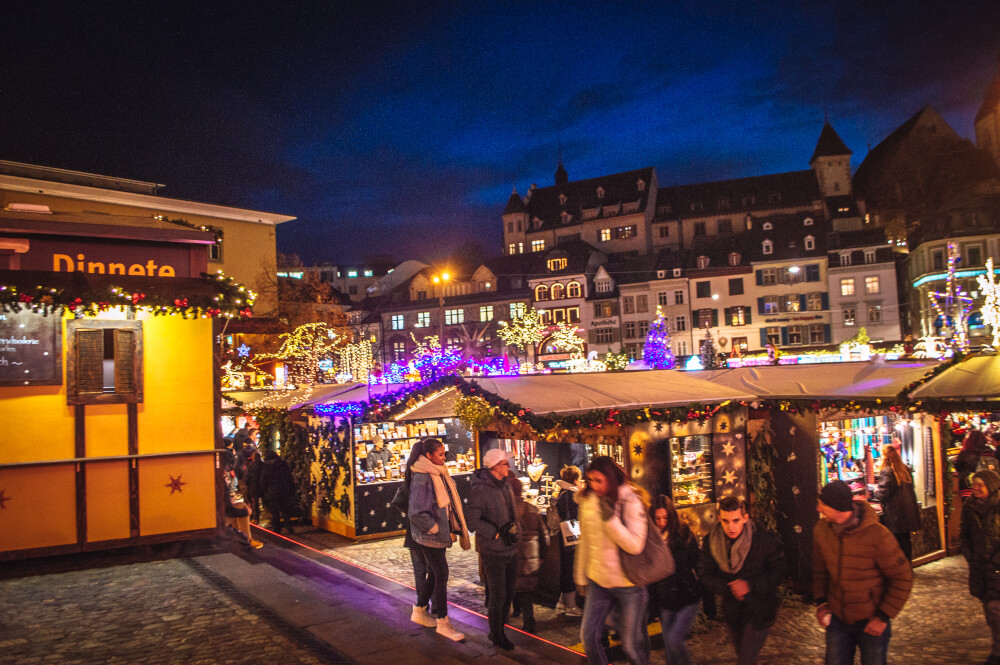 This is definitely the Basel Christmas Market to visit if your priority is shopping.
Their lengthy list of vendors includes global handicrafts from Laos to Peru, and of course many of the Christmas market classics like wooden toys, paper stars and candles.
The Basel City Market
While not specifically a Christmas market, the Basel city market is a must see during your visit to Basel, because its backdrop is the amazing 500 year old town hall, which is bright red and irresistibly festive.
This famous market is the gathering place of local producers, so you can expect to find plenty of fresh produce, baked goods and other foodie gifts like honey, jam, liqeurs and more.
During Christmas time of course, they even set up their own Christmas tree, and many vendors will roll out special Christmassy offerings to celebrate the season, so be sure to stop by here at some point.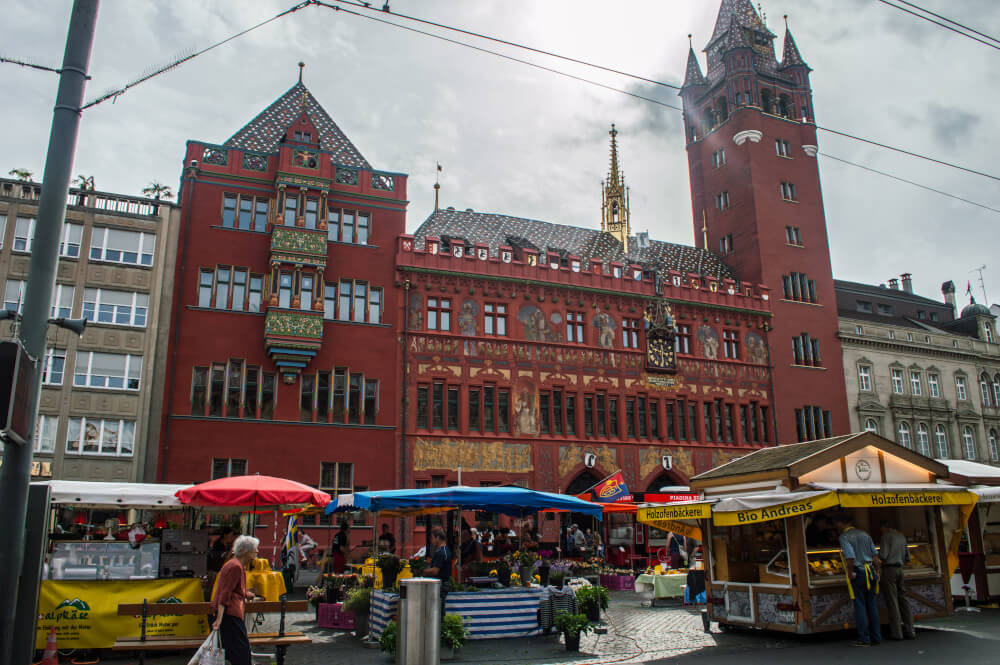 The Basel Wish Book
Hidden away in the Basel town hall courtyard is a giant book holding all the hopes and dreams of locals and visitors alike!
It's a bit cheesy, but if you want to immortalize your wishes (and like, get them sent to Santa or something), be sure to stop in here to sign the book for yourself – it's a Basel Christmas time tradition.
Adväntsgass in Glaibasel
Hours: Monday to Friday: 5-10pm, Saturday & Sunday: 2-10pm
For a cozier Christmas market in Basel with fewer crowds and a lovely local vibe, head over to Rheingasse in Kleinbasel, where they host Adväntsgass in Glaibasel every year. In contrast to the polished wooden chalets seen in the big Basel Christmas Market across the river, this celebration feels a lot more intimate, with a cluster of food trucks and unasssuming stalls filling the Rheingasse.
Check out this magical video from last year to see what I mean:
The Theater Basel Advent Calendar
Another incredible Christmas attraction in Basel is the Theater Basel Advent Calendar, which invites guests to come into the theatre's foyer (for free!) every day from Dec 1-23 to experience a short bit of performance art. Yup – free theatre!
While conventional advent calendars might conceal chocolatey treats, Theater Basel upstages them all with (maybe) the largest advent calendar in Switzerland, offering a new thrilling performance behind each opened door.
It's hard to explain how cool this is, so check out the video below! If there's one regret I have from my visit to the Basel Christmas Market, it's that I had no idea this was available to the public, so don't make the same mistake as me.
The Basel Wiehnachts-Drämmli, AKA Christmas Tram
One of my favourite little details about Basel is that the city trams are a foresty green – the perfect colour for Christmas anyway.
BUT guess what – because Basel is so on top of things, they even have a special Christmas tram – a 90 year old vintage tram fully decked out in Christmas decor that takes visitors on a scenic 65 minute trip around the city. Click here for more details.
The Basel Christmas Ferry
Another quirky detail of Basel's transportation system is its ferries, which connect Grossbasel with Kleinbasel, AKA the different parts of the city known as the left and right banks of the Rhine river.
During Christmas time, these ferries are also decorated with Yuletide enthusiasm, so if you're looking for a quick and affordable Christmas activity in Basel, be sure to take a ride – it's only 1.60CHF one way. Click here for more info.
View this post on Instagram
Cirque Noël de Bâle
New to the Basel Christmas circuit is the Cirque Noël de Bâle, a Christmas-themed circus which made its debut last year. Clearly, it was a hit success because they're back again for more, with circus performances throughout December in the Rosentalanlage. Click here for ticket info.
The Johann Wanner Christmas House
Last but not least, if you're not completely Christmassed out from visiting all these amazing attractions, be sure to make a stop at the Johann Wanner Christmas House, a darling shop in the heart of Basel's Old Town which actually celebrated its 50th anniversary in 2019!
Spread over 5000 square feet, this shop (open year round) is an explosion of quality artisanal Christmas decorations. In Basel, Johann Wanner is a inextricably linked to Christmas, so be sure to take a peek inside his amazing shop if you get a chance.
Important Basel Christmas Events
Of course, besides amazing attractions, one of the things that sets the Basel Christmas Market apart from its fellow Swissmas counterparts is its diversity of events and programming they run leading up to Christmas.
Here are some of the big events from previous years, but be sure to check the official event website for the full program for this year.
Basel Christmas Market Grand Opening
Location: Münsterplatz
At this special ceremony, the city's Christmas lights will be flicked on by Basel's Regierungspräsidentin (President of the Government), Elisabeth Ackermann, marking the start of the beautiful Christmas Market season in Basel!
The Basel City Run
For those more athletically inclined, you can register for the festive Basel City Run, which involves an organized run through the freshly decorated city center. Definitely a great way to justify the caloric indulgences that will soon haunt your holidays. Click here for more info.
Em Bebbi sy Adväntsbox
Location: Marktplatz
Every Thursday during the Advent Season, you can head to Marktplatz for Em Bebbi sy Adväntsbox, a free night time celebration with live music, dancing lights, food trucks and a cozy family-friendly atmosphere.
Harley Niggi-Näggi
This wonderful and unique holiday tradition has been going on for over 20 years in Basel, and involves a bunch of bearded guys dressed like Santa riding through town on decked out Harley Davidsons made to look like sleighs.
SERIOUSLY! This is real.
The only thing that makes it better is they go on to hand out gifts to children following their ride. Amazing.
Shopping Sundays
On these two Sundays, shops in Basel are open for business, meaning you can finally do your weekend panic shopping, unlike most of the year when Sundays are a day of rest with store closures all across town.
Now, granted, this might seem like a peculiar thing to celebrate for us North Americans who are used to shops being open every day of the week, but it's a pretty big deal in many parts of central Europe!
Plus, as a visitor, these are perfect Sundays to visit to ensure that shops will actually be open when you visit Basel!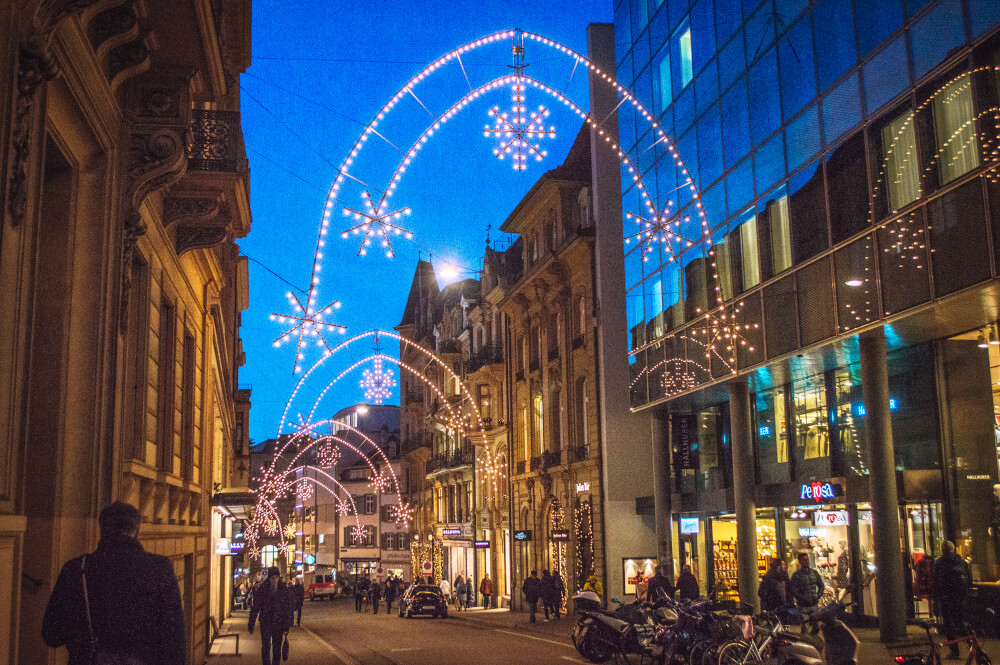 What to Eat and Drink at Basel Christmas Market: 10 Must-Haves
Another distinguishing factor of the Basel Christmas Market? The FOOD, you guys!
While a lot of Christmas market fare has become standardized over the years (read my full roundup of the best German Xmas market foods for more info), Basel is a treasure trove of unique treats that are local to this city only, that won't be found elsewhere.
So, here is a list of must-trys at the Basel Christmas Market, from unique local specialties to other more typical, but non-negotiable recommendations.
1. Chäsbängel (Fondue Baguette)
Where to find Chäsbängel at the Basel Christmas Market: Zihlmann at the Barfüsserplatz Christmas Market
Putting this decadently messy treat as #1 because I haven't actually seen it offered anywhere besides the Basel Christmas Market.
You can find these bad boys at Zihlmann in Barfüsserplatz, where they have (unsurprisingly) gained quite the cult following.
Eager copycats aside, I'm fairly certain these cheese-filled carb tubes are a rare treat exclusive to Basel, where it has been a prominent feature at the Christmas market and autumn fair circuit for over 12 years.
Finding them won't be tough – just follow your nose, or perhaps the messy trail of melted cheese that sloppy eaters have no doubt left behind.
2. Raclette
Where to find raclette at the Basel Christmas Market: Margot Raclette-Stube in Münsterplatz and Serieys Erlebnisgastronomie in Barfüsserplatz, but likely at a variety of other locations around town too
How can I make a list about things to eat at the Basel Christmas Market and not mention raclette, arguably the king of Swiss market food?
It offers the perfect opportunity to cram what is essentially a slab of cheese in your mouth, all without the restricted mobility struggles brought on by fondue pots. On that note though…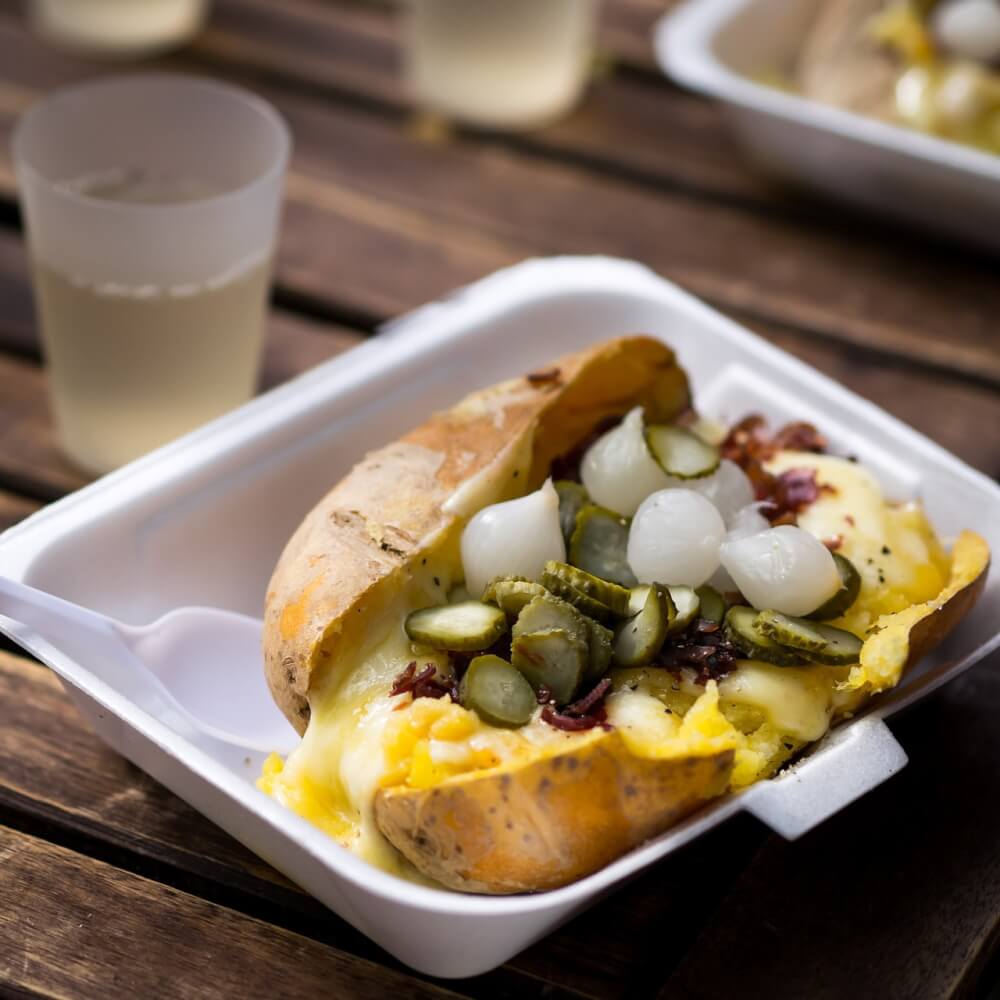 3. Fondue
Where to find fondue at the Basel Christmas Market: EVERYWHERE! A few special holiday 'pop up' fondue places though can be found at the special winter pavilion at Sorell Hotel Merian and along the Adväntsgass im Glaibasel on Rheingasse
I know, we're 1/3 down this list and all I've mentioned are variations of melted cheese, but welcome to Switzerland, where I assume babies are christened with melted cheese upon birth, and where cribs are (again, I assume) padded with cubes of soft bread.
Honestly, to visit Basel Christmas Market and not sample fondue in some form is a stone cold shame, so if you can't have it in baguette form à la Chäsbängel, be sure to cozy yourself into a little chalet and enjoy a sit-down fondue… because life is too short to not submerge your tastebuds in a gooey bath of cheese.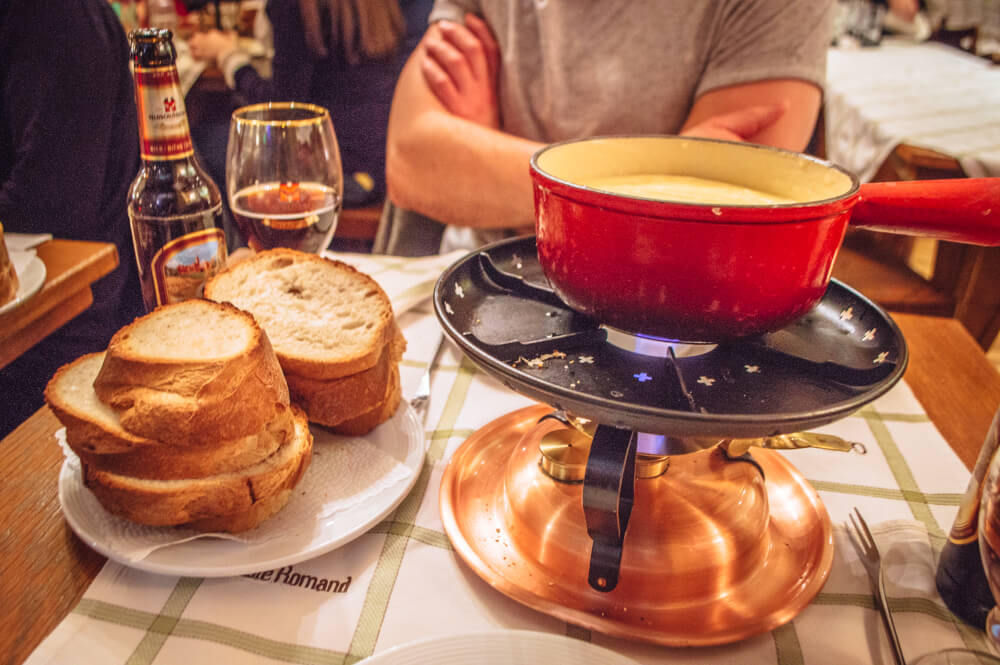 4. Basler Läckerli
Where to find Läckerli at the Basel Christmas Market: Läckerli Huus in Barfuüsserplatz
Another local specialty to add to your Basel Christmas Market bucket list is the city's most beloved Christmas cookie – Basler Läckerli, a spiced cookie made with citrus peel, crushed nuts, brandy and honey.
Doesn't that just sound like Christmas in a bite? Speaking of…
5. Grättimaa
Where to find Grättimaa in Basel: Konditorei Gilgen
These doughey little bread men (which can, admittedly, look quite terrifying with their morphed yeasty faces) are a Basel institution, and the local answer to gingerbread men.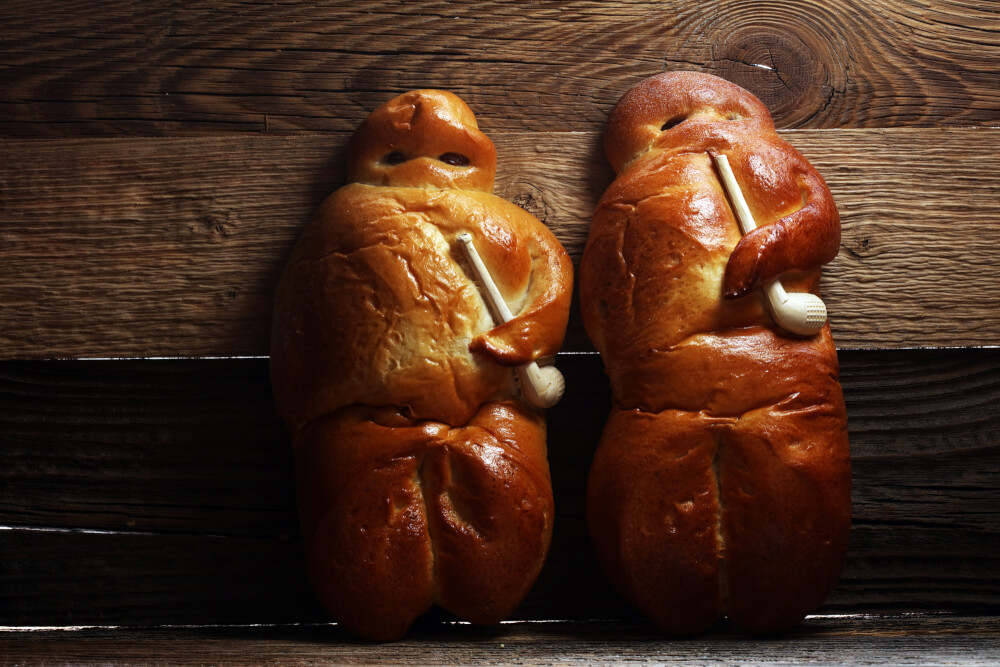 Made from a simple recipe of flour, eggs, butter and yeast, these dough-men are an especially sought-after treat during St Nicholas Day, during which it's said the Konditorei Gilgen churns out over 5500 of them in a single day.
Note: Grättimaa are known under a variety of different names around Europe, including Stutenkerl, Weckmann, Männele, Boxemännchen and more, but the concept is the same: bread men!
Sometimes shaped adorably like Santa Claus, sometimes terrifying morphed into nightmare fodder.
View this post on Instagram
6. Rösti
Known around Christmas markets elsewhere in Europe as Kartoffelpuffers or Reibekuchen, Rösti are one of my favourite Christmas market snacks.
Basically, they're thin crispy hashbrowns that are fried to golden perfection, often served with applesauce as a side.
Follow your nose to one of the Rösti stands at the Basel Christmas Market and you definitely won't regret it!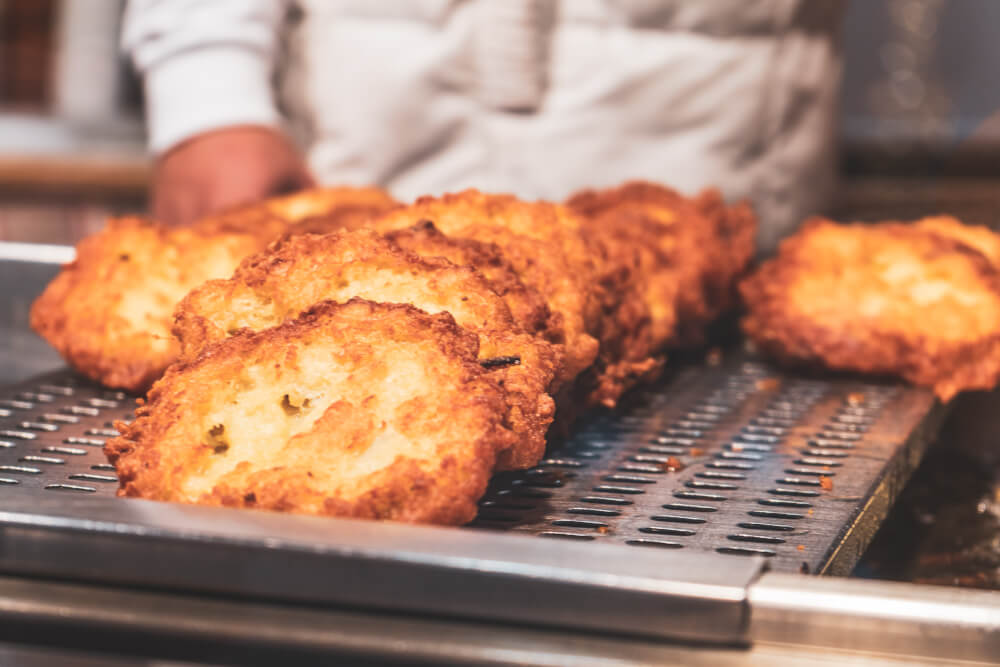 7. Flammkuchen
Where to find Flammkuchen at Basel Christmas Market: The Museumsbistro Rollerhof at the Münsterplatz Christmas Market
Commonly associated with the nearby Alsace region of France, Flammkuchen is a thin flatbread covered in cheese, creme freche, onions and all sorts of amazing toppings (usually bacon).
This fancy little pizza thing is one of my favourite Christmas market foods, offering just enough flavour in a thin package, meaning I don't fill up too much and still have space for more snacks!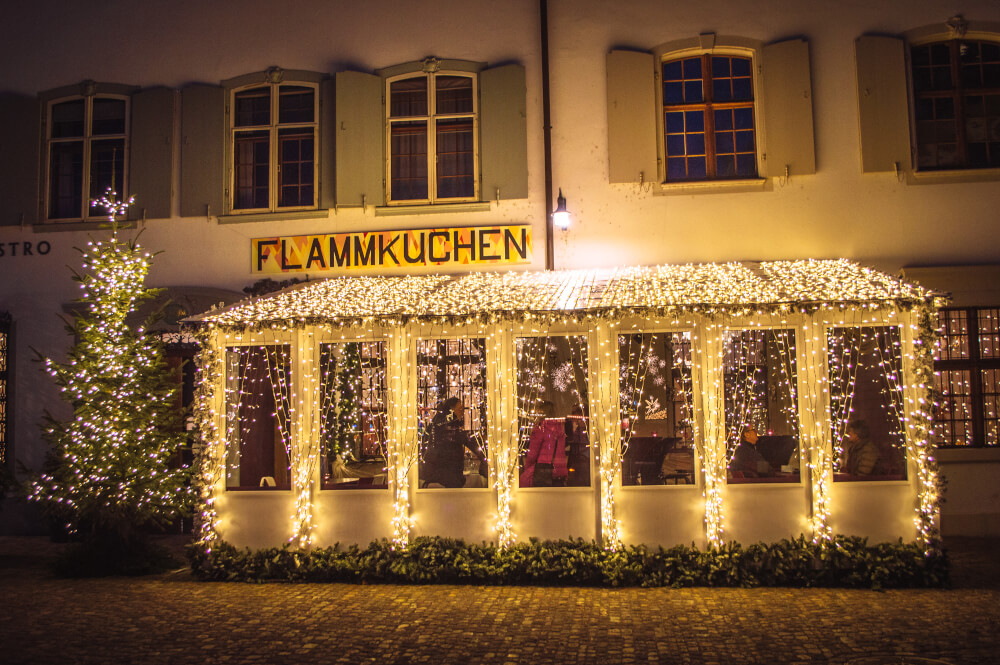 8. Glühwein
Where to find glühwein at the Basel Christmas Market: Everywhere
Known as mulled wine in English and vin chaud in French, glühwein is THE #1 Christmas drink at any Christmas market – hot wine mulled with spices, guaranteed to warm you right up from the inside out.
NOTE: Glühwein is typically served in adorable Christmas market mugs, for which you'll be charged a deposit along with the cost of the wine, so don't be shocked when your total price is really high. In my opinion though, these mugs make the perfect souvenir, so I'll happily trade a deposit for them!
I'm not joking when I say you will find glühwein everywhere at the Basel Christmas Market. When in doubt, just keep an eye out for a Christmas pyramid, which will always have a glühwein stall attached:

9. Feuerzangenbowle
Where to find Feuerzangenbowle at the Basel Christmas Market: Liechti in Barfüsserplatz
For a more extreme twist on the classic glühwein, treat yourself to a mouthful of Feuerzangenbowle, a mulled wine spiked with caramelized rum-soaked sugar.
There are a few different versions of this Christmas market classic.
Sometimes you are given your own little cup with your own little sugar cube, which is set on fire and you are left to your own devices with a scalding cup of fire booze.
Other times, there is a giant cauldron of Glühwein with rum soaked sugar cube dangling over top that's periodically set ablaze, with the caramelized drippings entering the Glühwein directly. Both are great.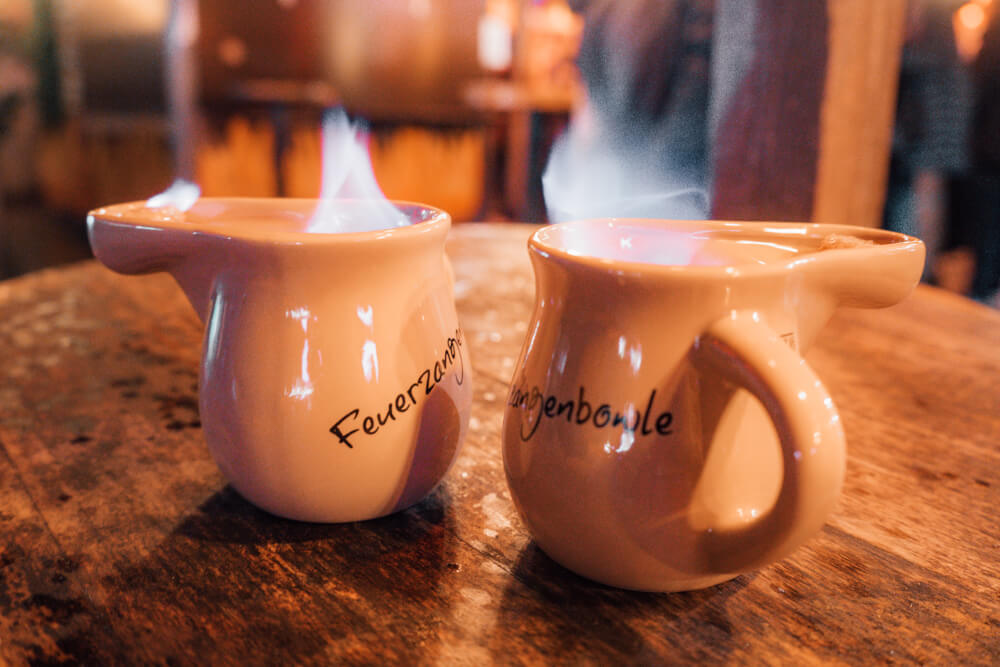 10. Glühbier?
Where to get Glühbier at the Basel Christmas Market: Thiersteiner Bräu at Barfüsserplatz
Not a wine person?
Don't worry, you can mull beer too. That's right, the madness never ends. Gimme a liquid and I'll find a way to mull it.
Regardless, Glühbier is an increasingly popular trend these days around Christmas markets and Basel is no exception. If you want to try a taste of this alternative Christmas drink (beer flavoured with Christmassy spices, honey and brown sugar), then grab yourself a Glühbier to try.
What to Buy at Basel Christmas Market
The various Christmas markets in Basel collectively boast over 160 stalls selling everything you can imagine.
Handmade Ornaments
If there's one special souvenir you should buy at the Basel Christmas Market, it's a beautiful handmade ornament that you can gift to others or keep as a memory of your trip!
You'll find plenty of stalls scattered around the city selling all sorts of wonderful ornaments, from hand-painted baubles and wooden stars to adorable knitted figures. You'll no doubt be spoiled for choice.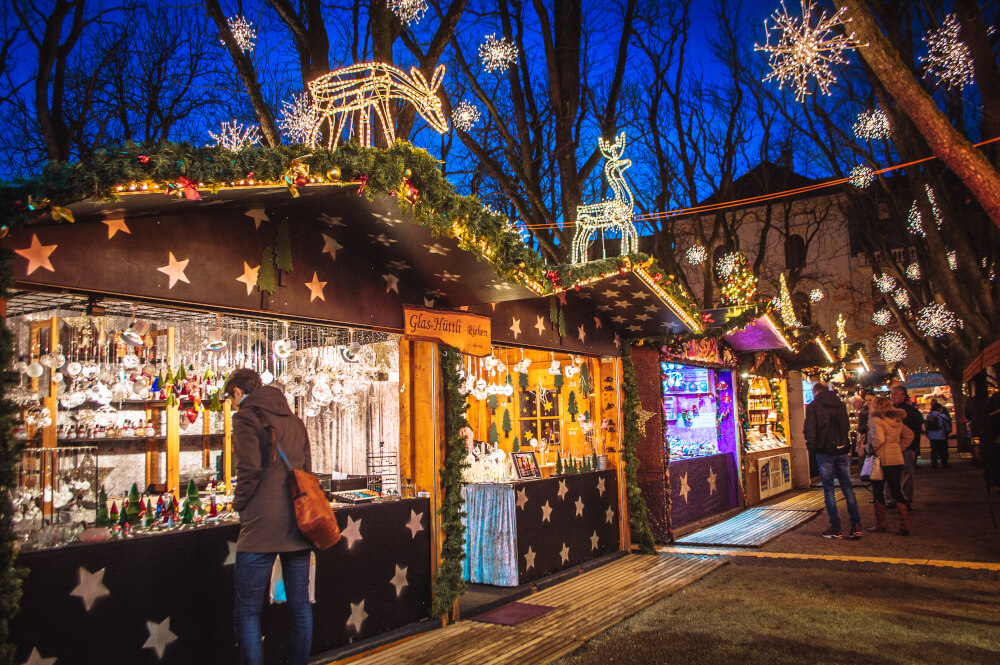 Unique Cookie Molds
At the Änis-Paradies stall in Münsterplatz, you'll be able to pick up a variety of really special and intricate cookie molds, traditionally used to make delicious Anise cookies at Christmas time.
The variety here is really special, and the stall itself is beautifully decorated, so make sure you stop by for a quick peek and some shopping!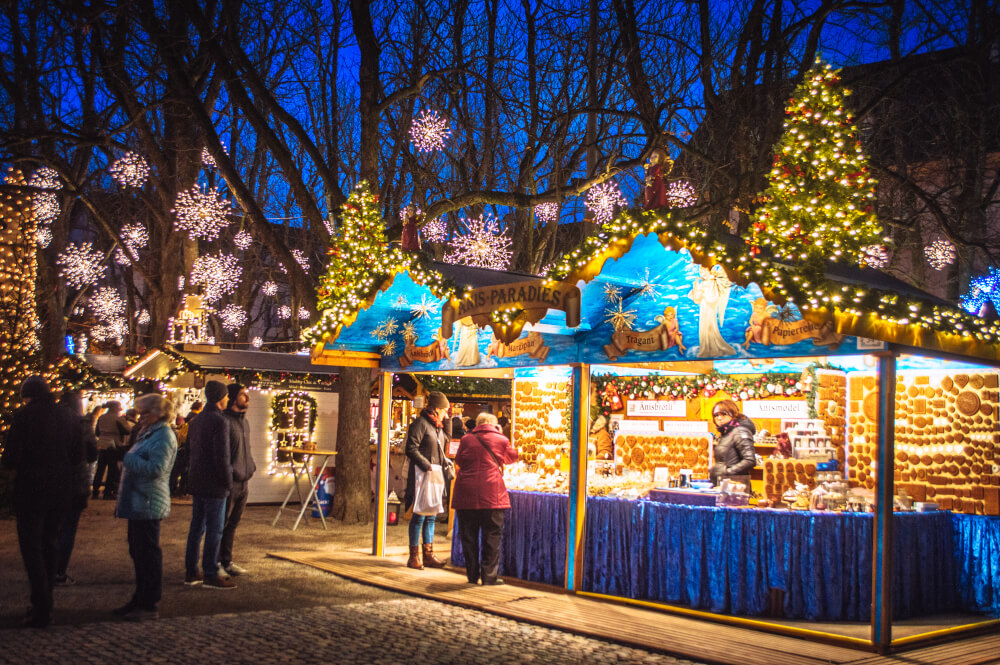 Handicrafts and products from around the world
One of the distinguishing features of the Basel Christmas Market is that they actually (at least from my perspective) have a lot of global goods to offer, with stalls selling Russian craft items, English fudge, Peruvian candles, Laotian handicrafts, and more. Be sure to keep an eye out for these global products!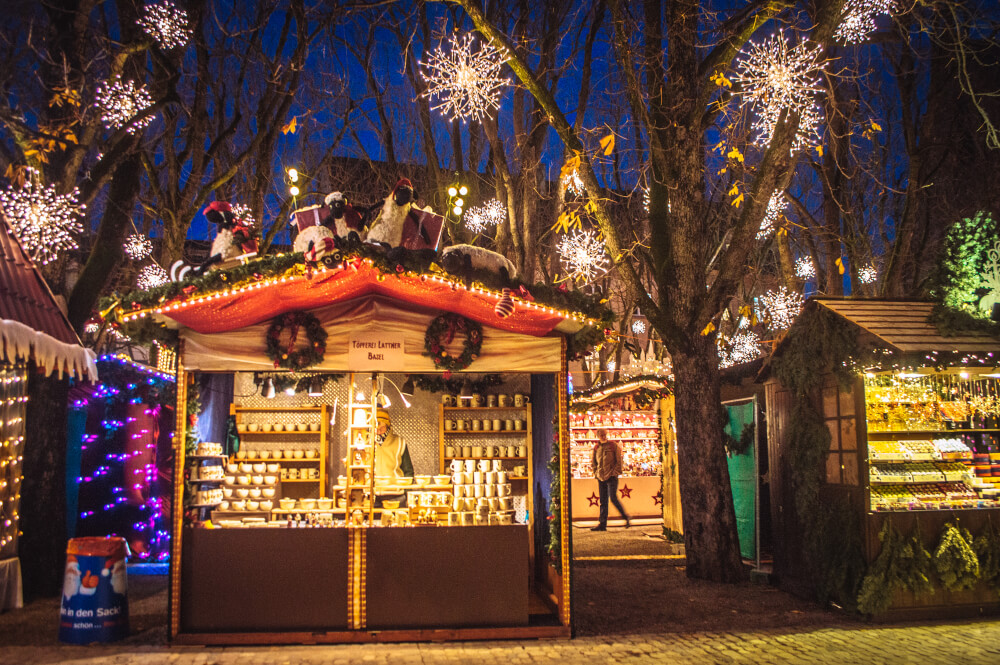 Candles
If there's one thing that sells like hotcakes at Christmas markets (well, besides actual hotcakes), it's candles.
Candles in every shape and form you can imagine… candles with candle holders, candles carved to look like trees, candles that have metallic carousels that spin above them when they heat up.
Name a candle type, and you'll probably find it at the Basel Christmas Market.
Speaking from experience, Christmas market candles always make a wonderful crowd-pleasing gift for folks at home, so be sure to stock up on some!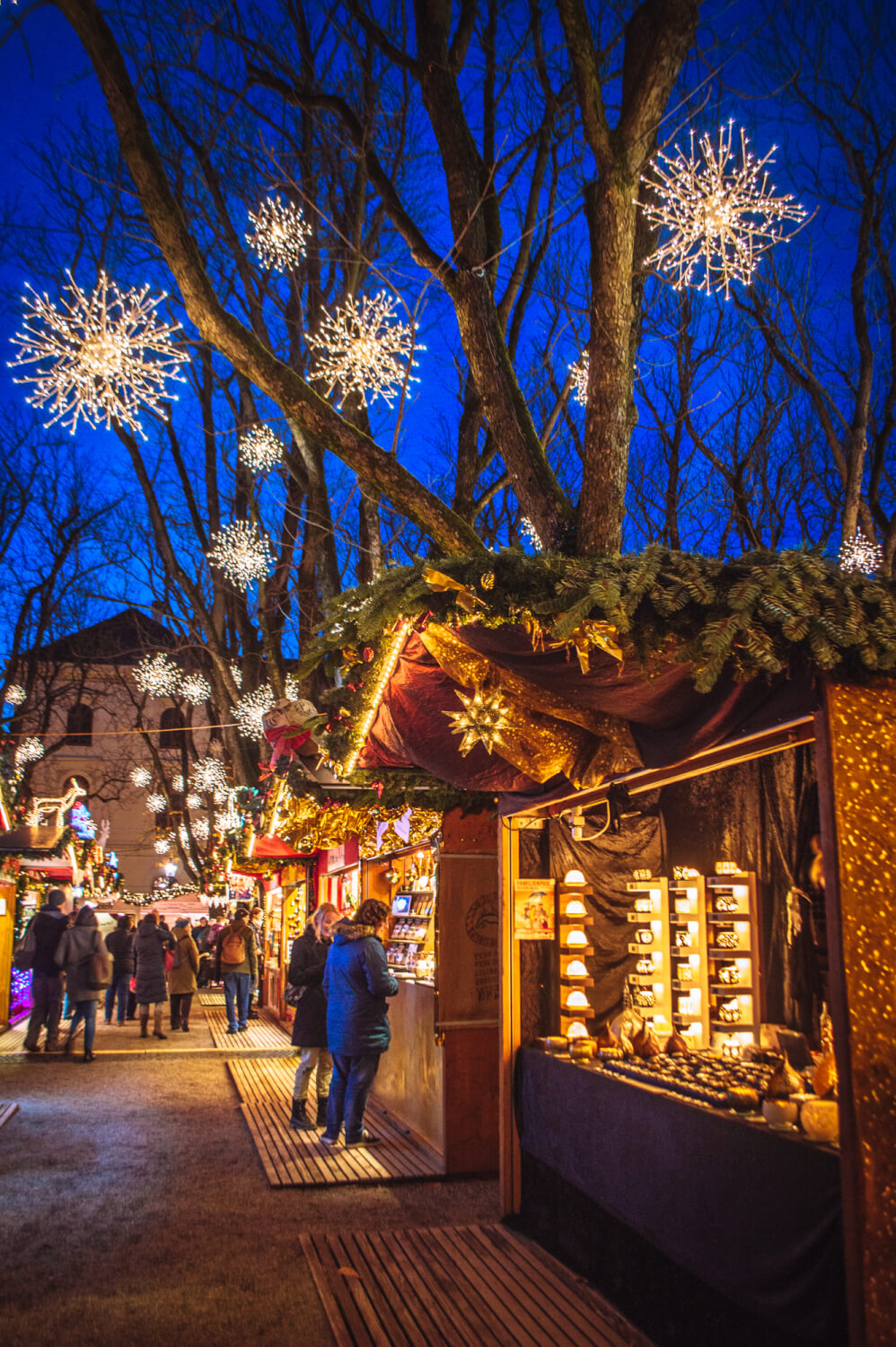 Any more questions about the Basel Christmas Market?
Whew – I hope you enjoyed this extensive Basel Christmas Market review and guide!
It's truly one of my favourite Christmas markets in Switzerland, and I hope you enjoy it as much as I do. Have a magical time!
---
Watch my most popular YouTube video this week:
---