*FYI - this post may contain affiliate links, which means we earn a commission at no extra cost to you if you purchase from them. Also, as an Amazon Associate I earn from qualifying purchases. Check out our Privacy Policy and Disclosure. for more info.
I've made it no secret that I love a good Christmas market. It's an obsession that some might call 'unhinged' and 'verging on pathological', but I'm happy to just call it what is is… 'absolutely delightful'.
I've already written plenty about my favourite Christmas markets in Germany and the best Christmas markets in Switzerland – two countries known for their epic selection of markets, but I'm here today to chuck praise at an underdog of a Christmas market destination in Europe: jolly old England.
Sure, England may not be as well known for Christmas markets as other destinations in mainland Europe, but with a growing selection of festive fairs taking place at castles, palaces, and some of the most vibrant cities in the country, England is quickly becoming a Christmas bucket list destination for visitors from the around the world.
So, in this post, I'll be showcasing some of my favourite Christmas market destinations to visit in England, after parading around over a dozen of them. Enjoy the spoils of my research, and I hope you enjoy learning about a few lesser known festive getaways.
And be sure to read my full roundup of top European Xmas markets for a continent-wide list.
DISCLAIMER: Before you come at me with pitchforks re: some glaring omissions from this list of top English Xmas markets, just know that I'm choosing to feature only the Christmas markets in England I've personally been to, with some shoutouts to others at the end. SO, please leave a comment if you have any recommendations for me to tackle next time!
Europe Winter Packing Essentials:
1. London
Let's get this one out of the way. When talking about the best Christmas markets in England, many will expect London to top the list… but I'll be honest with you: I don't really think the Christmas markets in London are all that great.
Don't get me wrong… The lights? Amazing. The decor? Spectacular. But the markets? …. Ehhhhh.
You'll find that many of the main Christmas markets in London offer the same selection of stalls, and overall the main thing to do is grab some food and drink, rather than shop.
But that said, if your goal is to enjoy a festive getaway and you're not focusing your trip on markets specifically, then London can be a truly amazing Christmas destination.
There's of course the famous Winter Wonderland in Hyde Park that is often counted as one of the top festive fairs in the country, all the dazzling lights around Central, a variety of fun activities and pop-ups, plus everything else mentioned in my guide on things to do in London at Christmas.
So yes, go to London for plenty of holiday cheer, but don't expect the Christmas markets themselves to blow you away. And be sure to read up on my ultra-specific London travel tips so you're prepared!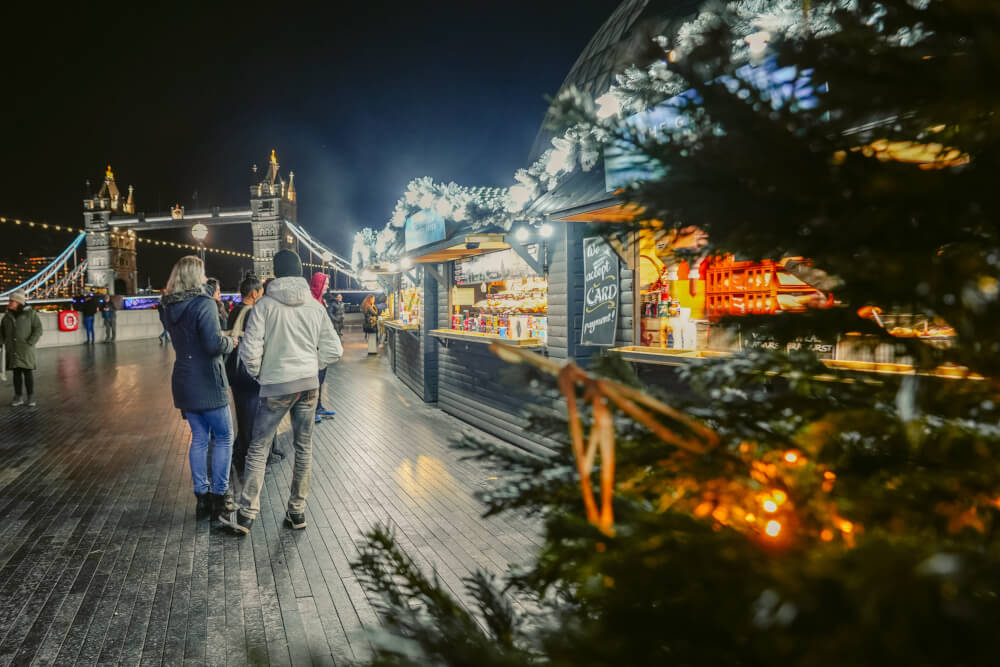 2. Birmingham
Okay, so if not London, then where should you go for Christmas markets in England? Well, if we're strictly speaking about the markets themselves, I can definitely vouch for Birmingham, which has plenty of fun activities to offer.
The crown jewel of the city's festive calendar is no doubt the Birmingham Frankfurt Christmas Market, also known as the largest authentic German style Advent market outside of central Europe.
This market welcomes over 5 million visitors a year, with almost 200 stalls selling a tempting range of Christmas market foods and classic Christmas market shopping like ornaments and toys.
The main section of the market can be found in Victoria Square, along with additional stalls spread out across New Street, stretching all the way to the famous Bullring shopping centre. In terms of decor and vibes, this is probably the closest thing I've found in England to the grand Christmas markets in Germany.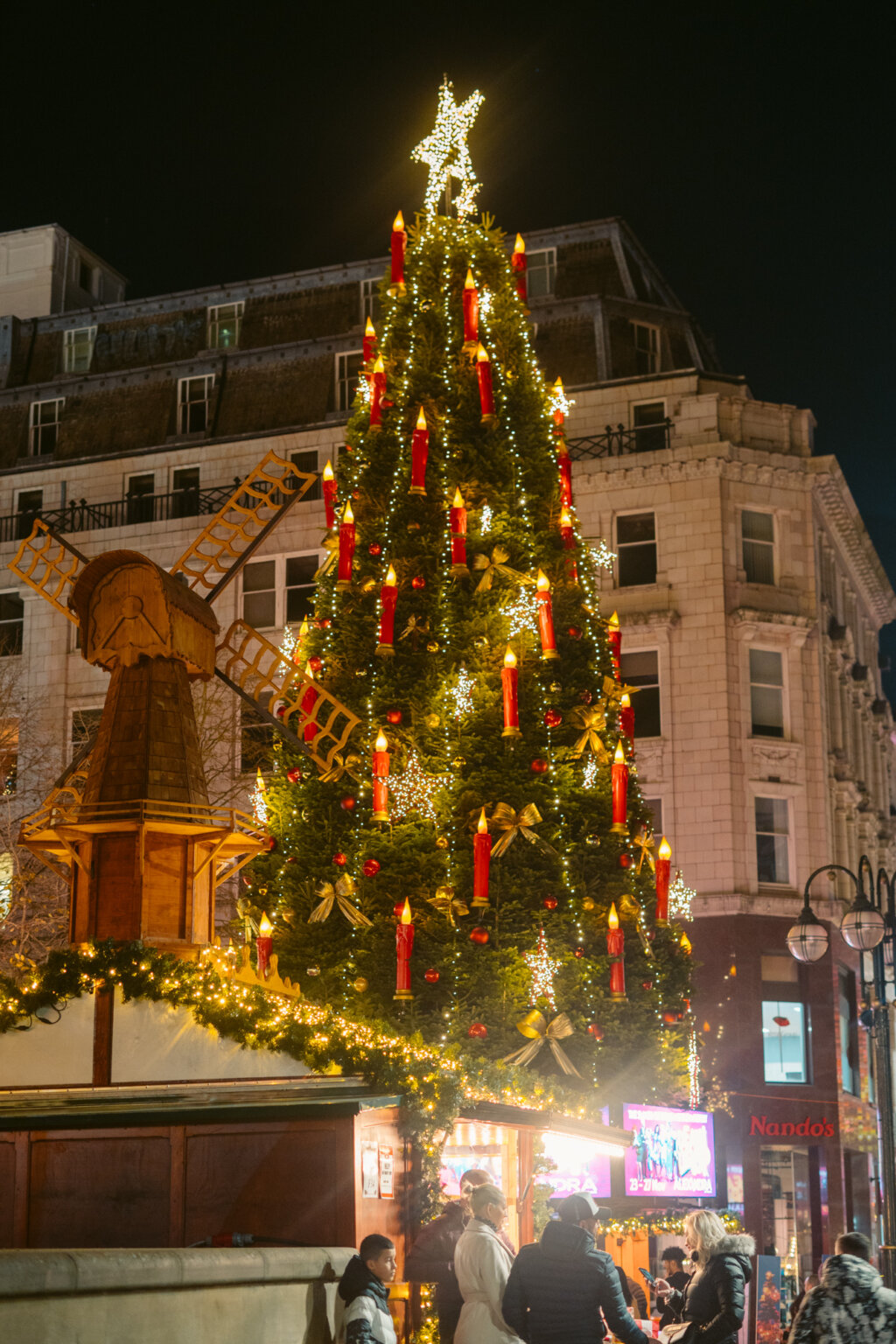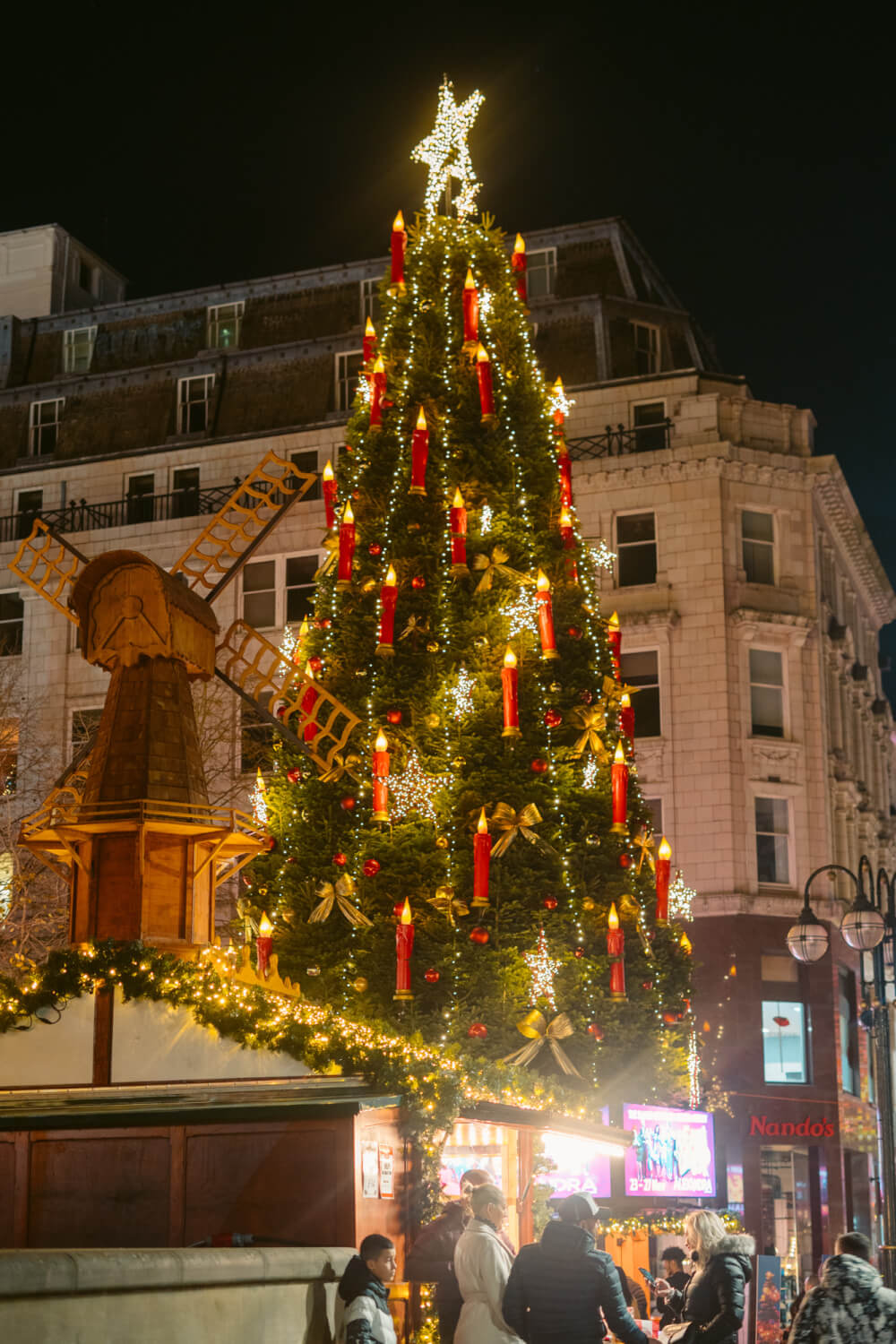 And while I'll admit the vendors at Birmingham's Frankfurt Christmas Market aren't the most exciting in terms of gifts, the city makes up for it with a second Christmas market in Cathedral Square, set against the gorgeous backdrop of Birmingham Cathedral, which has a focus on artisans from the local area.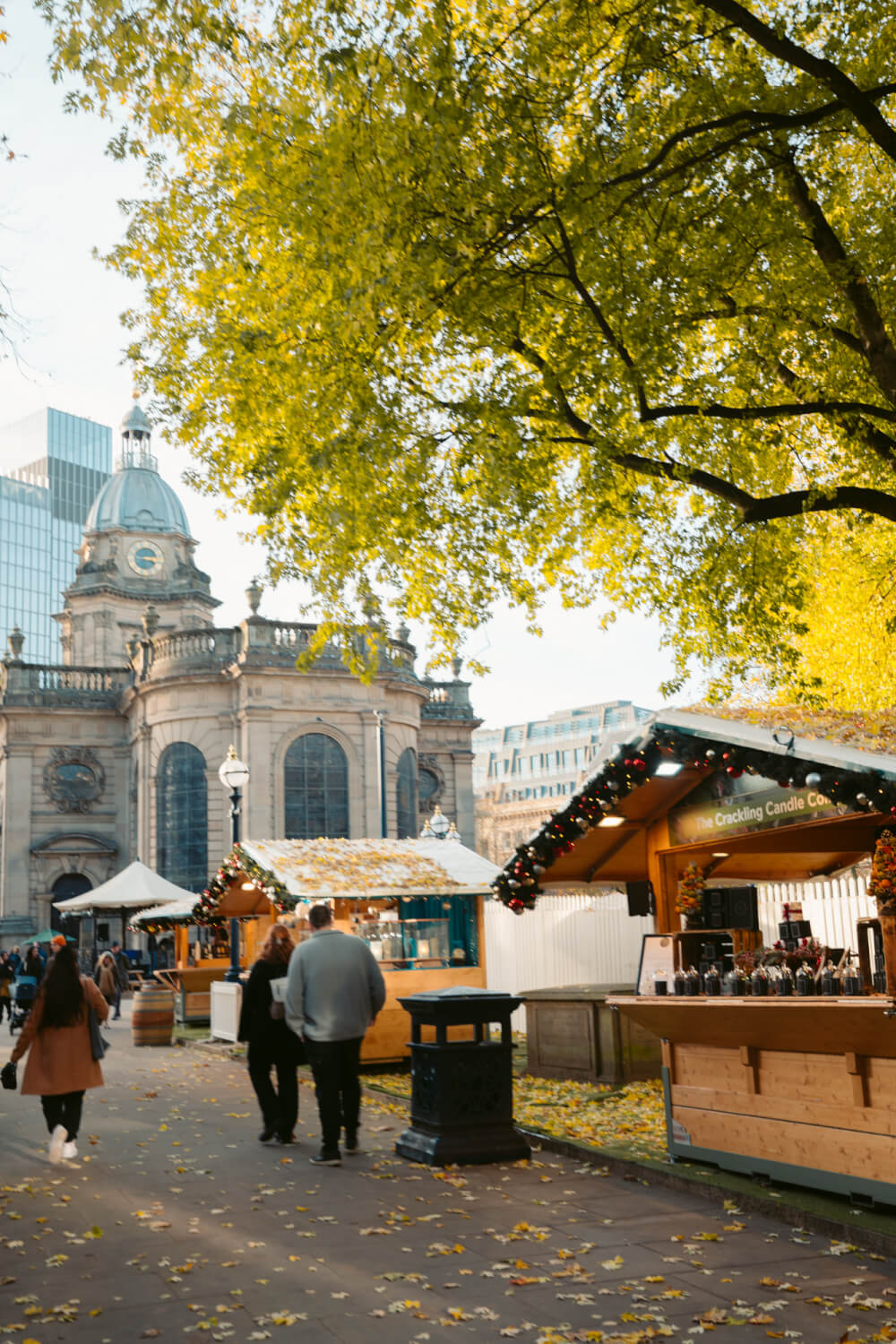 And for those looking for additional festive activities in Birmingham, there's also the Big Wheel which offers sweeping views of the city skyline, and Ice Skating Birmingham right next to it, complete with an on-site bar, in addition to many Christmassy trails and decorations scattered around town.
Overall, if you're looking for a festive destination in England with a solid Christmas market, Birmingham is a great pick.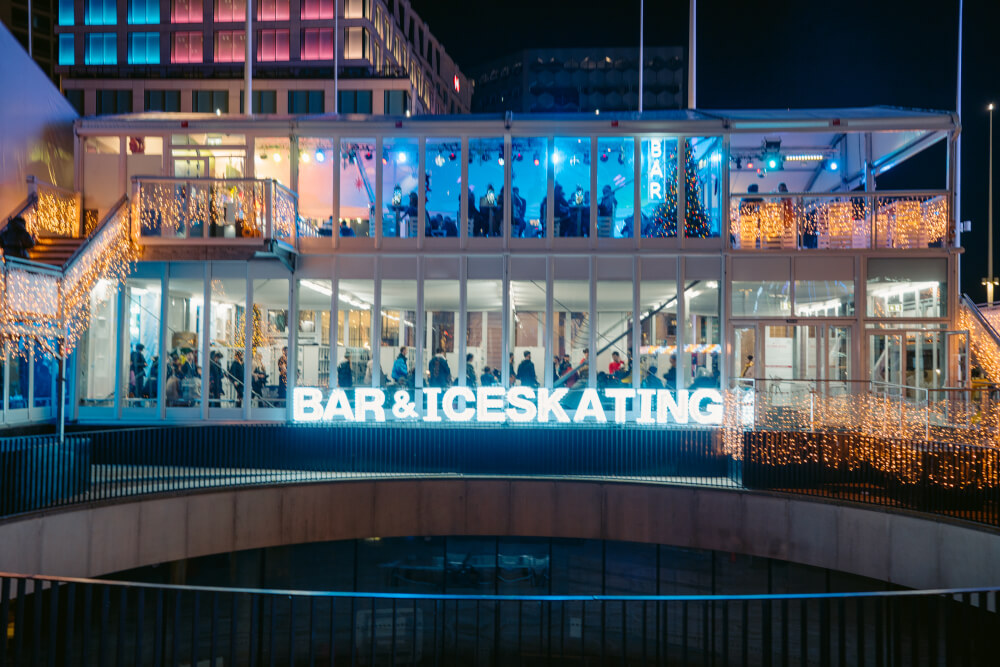 3. Bath
From biggest to most beautiful, another incredible English Christmas market worth checking out is the amazing one in Bath, which runs for just a few weeks, ending in the first half of December.
With over 150 stalls scattered around the historic centre of the city, the focus here is on local makers and artisans from around the Southwest, meaning a lot of unique options you won't find at other Christmas markets in the country.
Add on the spectacular backdrop of Bath Abbey, and the city's signature limestone streets, and you have what is probably my personal favourite Christmas market in England. Plus there are tons of other fun things to do in Bath too.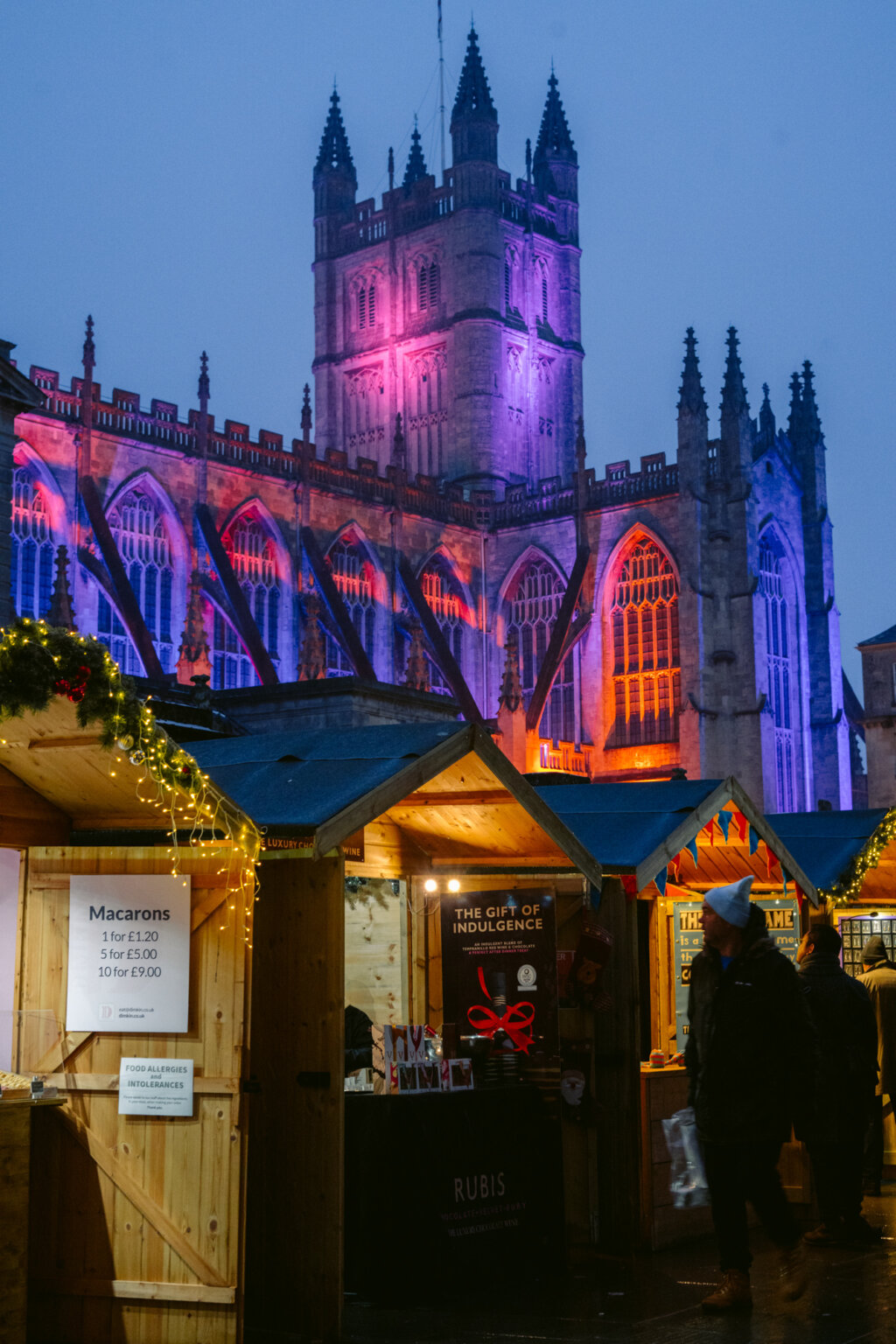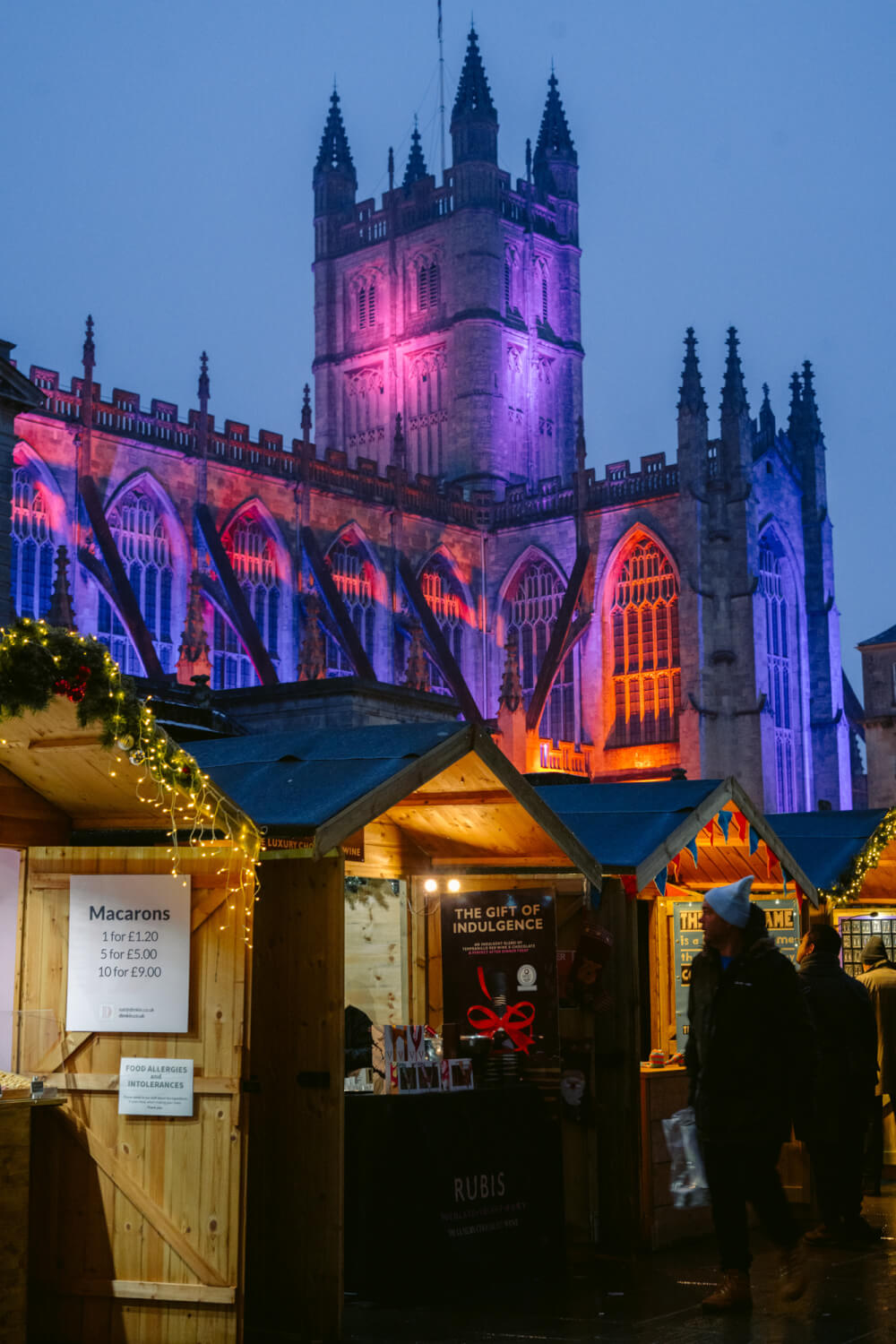 Besides the market, there's a variety of festive happenings over at Royal Victoria Park, like Bath on Ice, a large ice skating rink, and Bath Glow Golf, which is illuminated with colourful twinkling lights.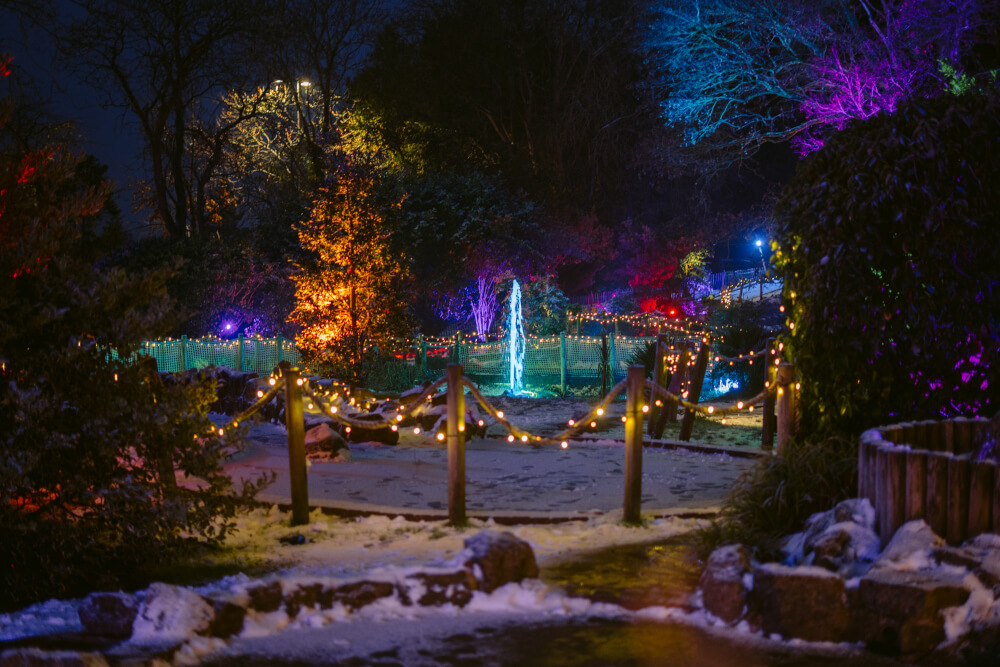 4. Bristol
A short 15 minute train ride from Bath is the vibrant city of Bristol, which is home to a Christmas market of its own around the Cabot Circus Shopping Center… although it's much smaller and more low-key.
I wouldn't necessarily visit Bristol just for the Christmas market, but if you're planning a full day out to do the many fun things to do in Bristol (e.g. visit the city's many incredible museums, sights, and shops) then stopping at the Christmas market is a festive way to end the day.
Of course, a visit to the aptly named Christmas Steps should also be in order, if even just to enjoy some of the truly droolworthy offerings at Ahh Toots Bakery.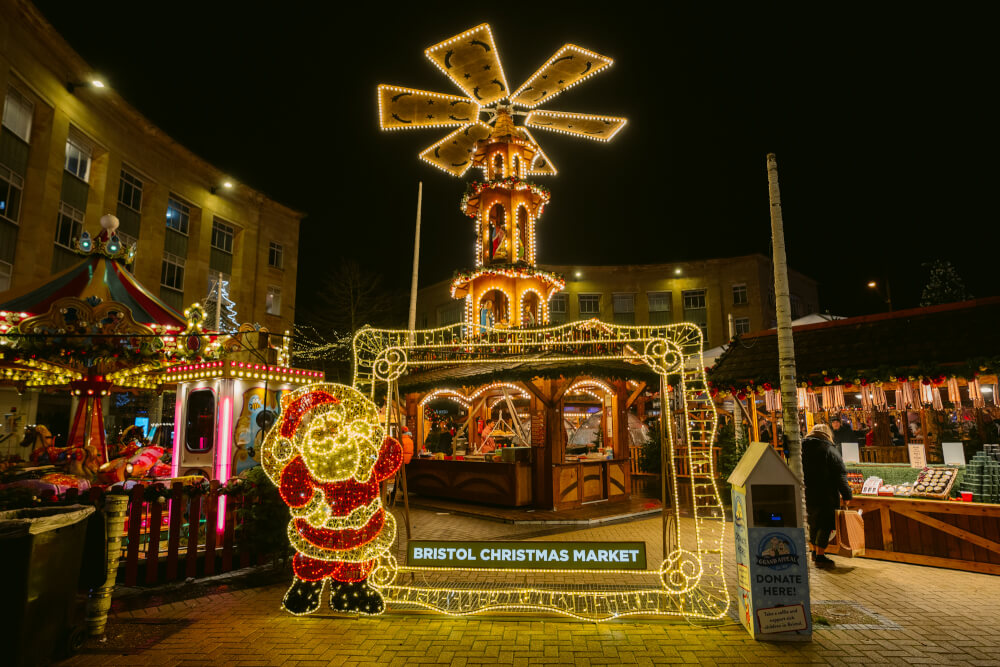 5. Winchester
For one of the coziest and most idyllic Christmas markets in England, I can highly recommend stopping by the lovely city of Winchester, which is beautifully decorated with lights even as soon as you leave the train station.
The Winchester Cathedral Christmas Market takes place every year in the shadow of the city's famous cathedral, with dozens of stalls to peruse, including a separate Makers' Market with handmade decorations, gifts, and clothing from local businesses.
In the middle of the market, you'll find an open air food court offering options ranging from fish and chips and burgers to hog roast and mulled wine, as well as a performance stage.
And if you need to warm up inside, the Cathedral itself hosts a variety of festive concerts and special events during the Christmas season.
Besides this main Christmas market though, there of plenty of fun things to do in Winchester for a Christmassy day trip. With twinkling lights adorning streets and storefronts, additional market stalls down the High St, and many cozy pubs and restaurants to enjoy, I really couldn't recommend it more.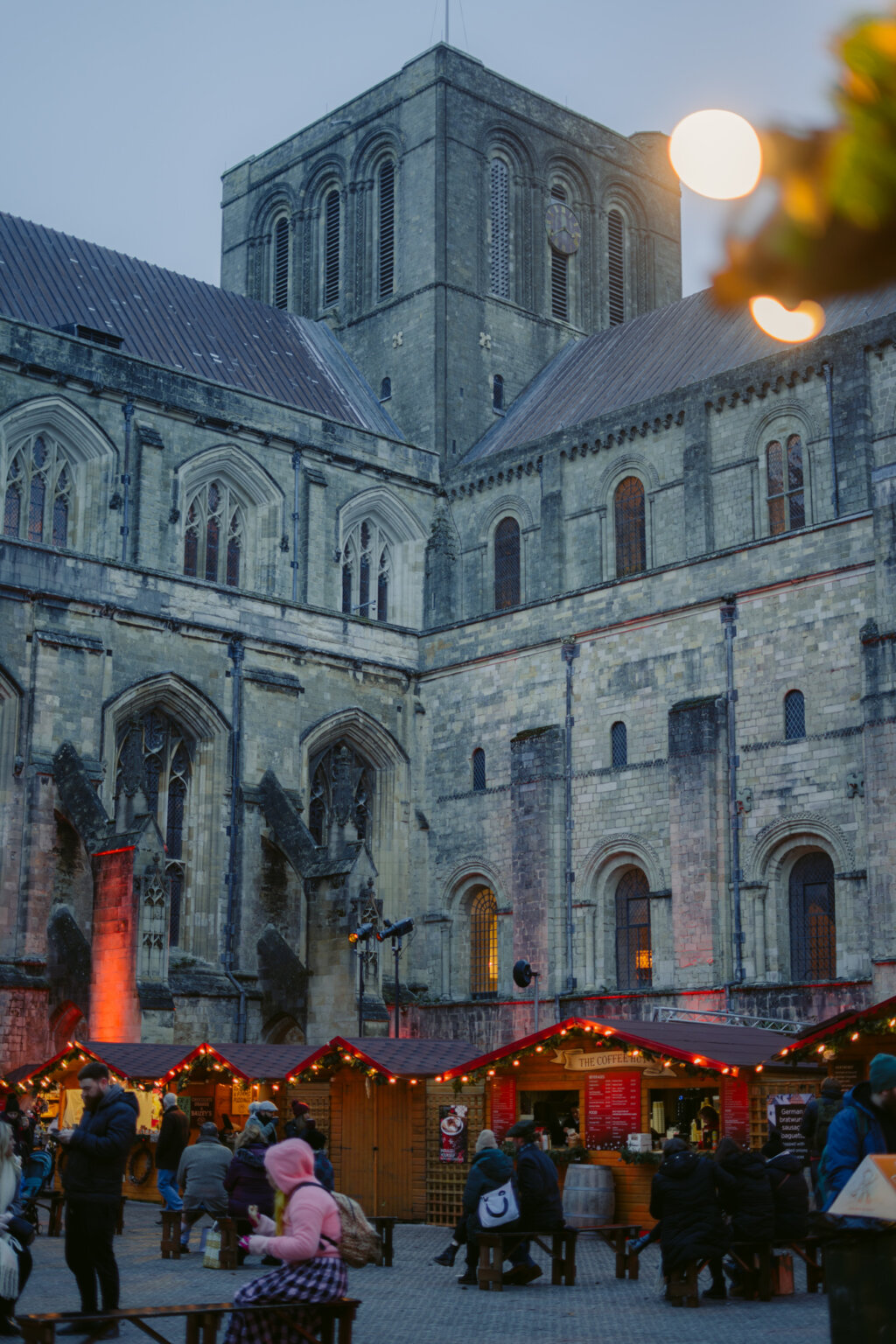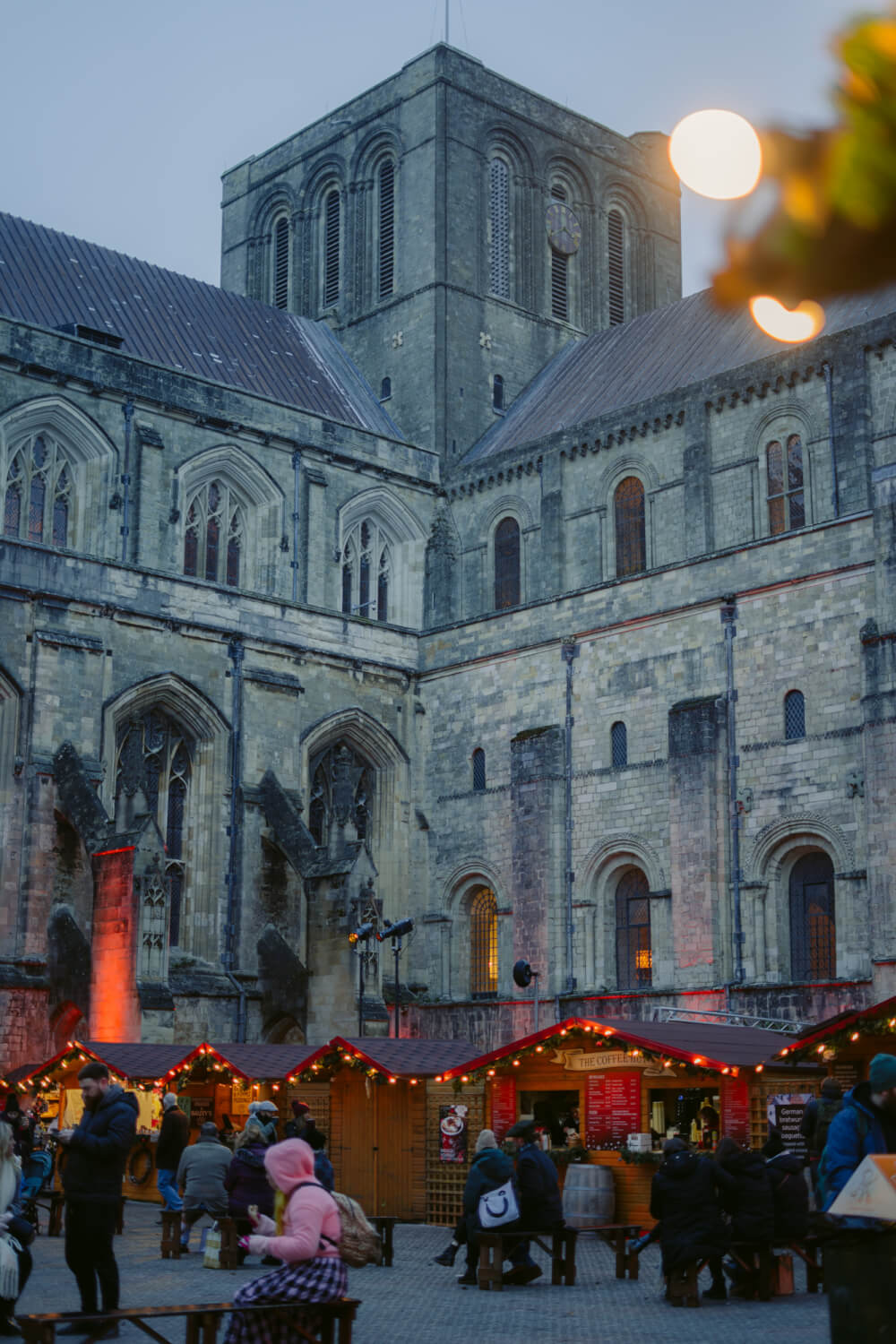 If it sways your decision, there's also Southampton a short train ride away, which has tons of great shopping opportunities, and a small Christmas market of its own.
While the market is really small and just a handful of stalls, the Westquay Shopping Centre is right next to it, with over 90 different shops to raid for gifts.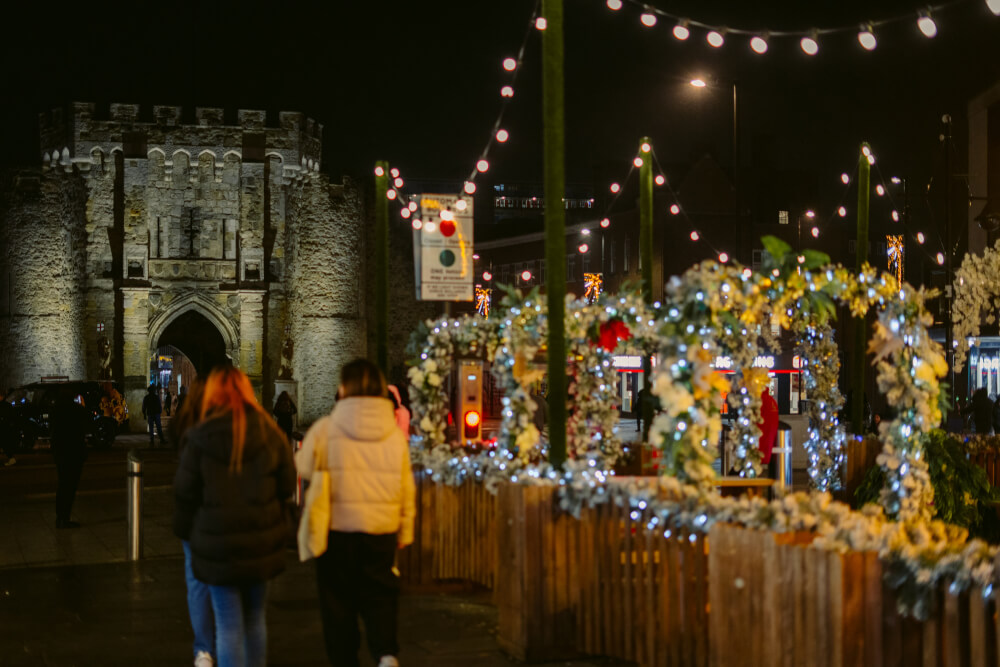 Free for You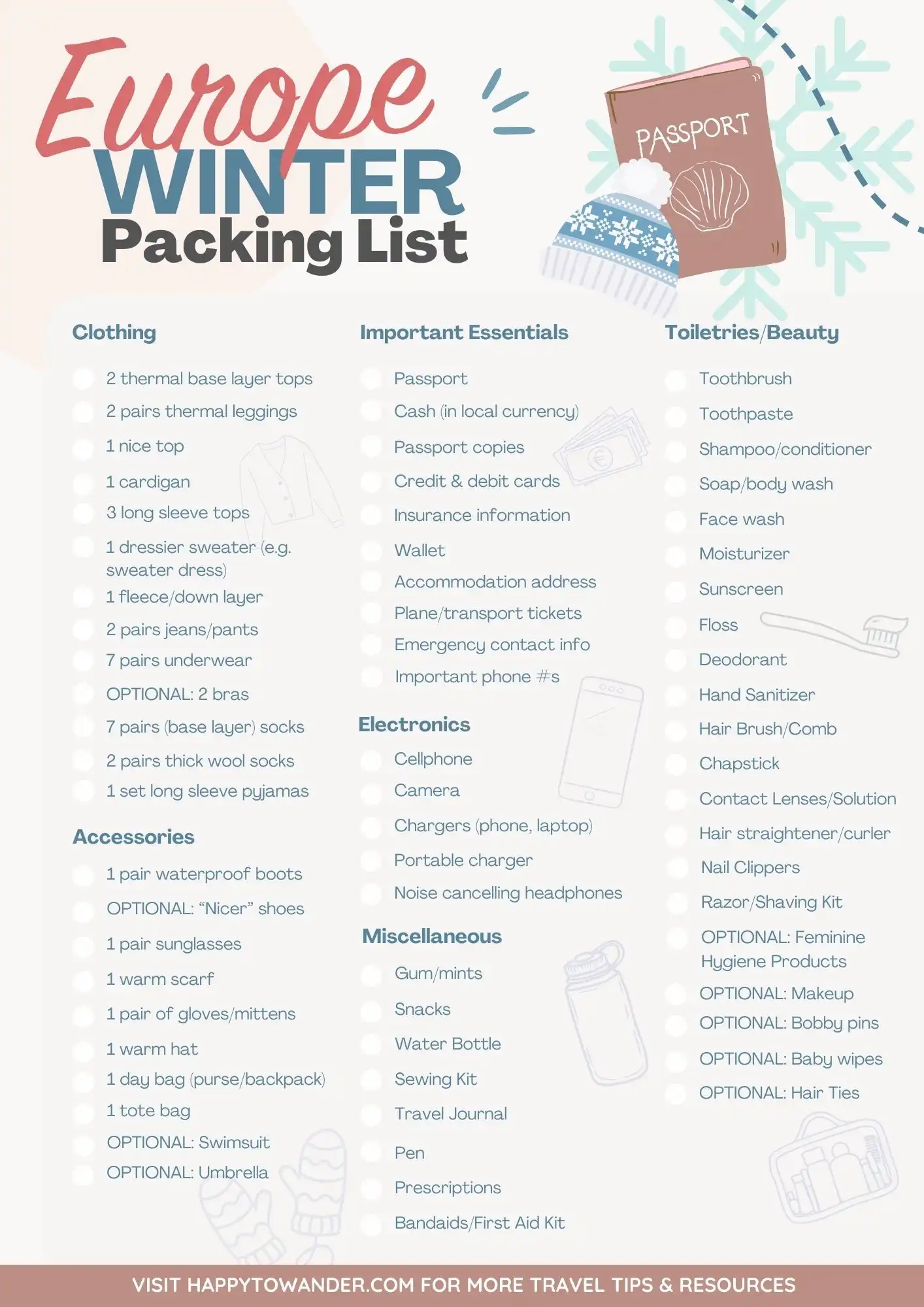 6. Stratford-Upon-Avon
Best known as the birthplace of William Shakespeare, Stratford-Upon-Avon is one of the most popular day trips from London, and an especially worthwhile one to do if you happen to time your visit for their annual Victorian Christmas Market.
Taking place only one weekend a year, the Stratford Upon Avon Christmas Market brings together over 300 vendors selling everything from handmade jewelry and gifts to locally produced alcohol… set against the town's beautiful half timbered backdrops all along the following locations:
High St
Meer St
Henley St
Wood St
Waterside
Of course, besides the market, there are many other festive experiences that await… especially for sweet tooths, like the legendary hot chocolate at Honey Blue, which you can get with a toasted marshmallow and the adorably decorated treats and shop over at the Cookie Cottage.
Even the birthplace of William Shakespeare is fully decked out with a Tudor-stye Christmas feast, so it's pretty safe to say this is one of the most gorgeously festive day trips you can do from London.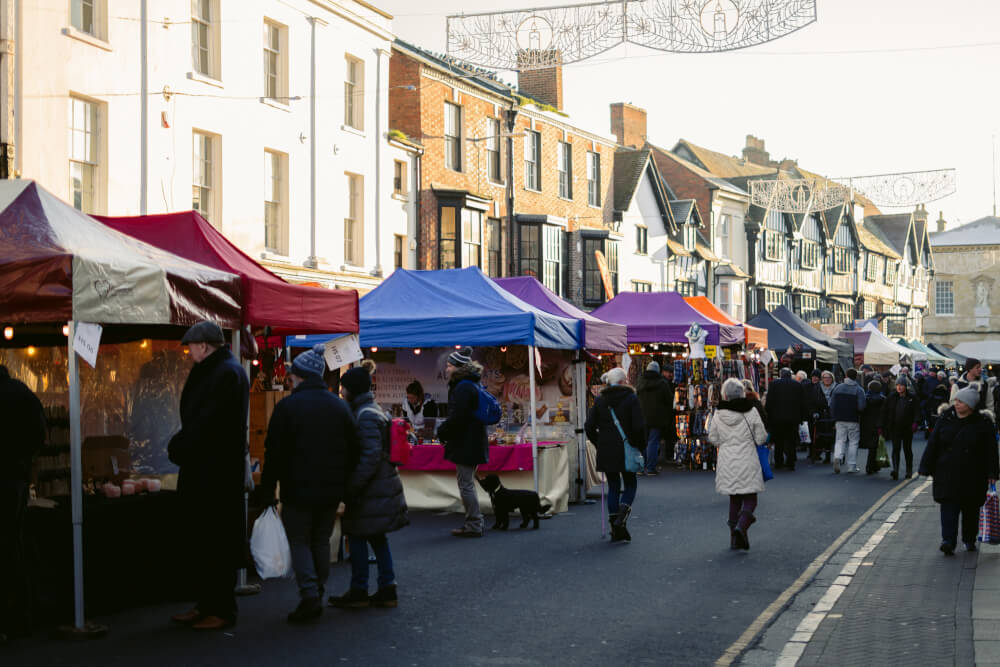 7. Rochester
With an epic backdrop like Rochester Castle, it's easy to see why Rochester's Christmas Market is considered among the best in the country.
Running for only a few weekends a year, visitors can expect a wide array of vendors, a mini Bavarian village selling tons of food & drink, a covered craft market with goods from local artisans, and plenty of cute photo opps along the way.
This is the perfect Christmas market to bring kids to, with a lovely assortment of mini fairground rides and a handful of games that they're sure to love.
The central Christmas tree even produces its own little snowstorm throughout the evening… making for a few moments of spontaneous magic.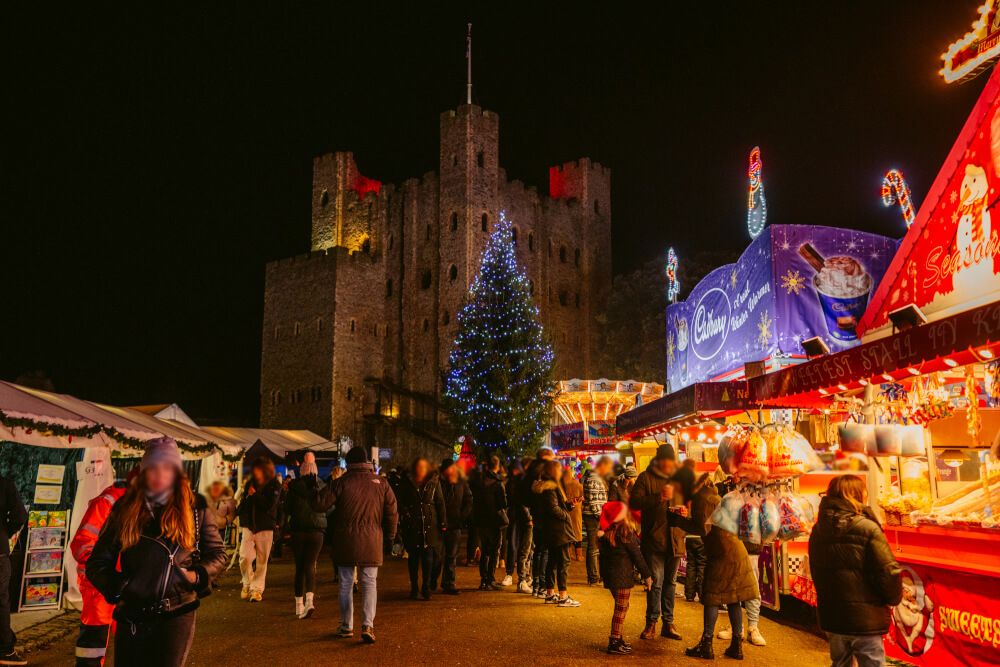 8. Canterbury
Home to possibly the most famous cathedral in England, Canterbury is a medieval walled city that pulls out all the stops at Christmas time, with a small month long Christmas market that runs from mid November until Christmas Eve.
At this market, about 60 festive stalls are scattered around the Whitefriars Shopping Centre, with options varying from knit hats and novelty gifts to handcrafted items made locally in Canterbury. There's also of course a few spots to warm up with a drink or two, and grab a bite to eat.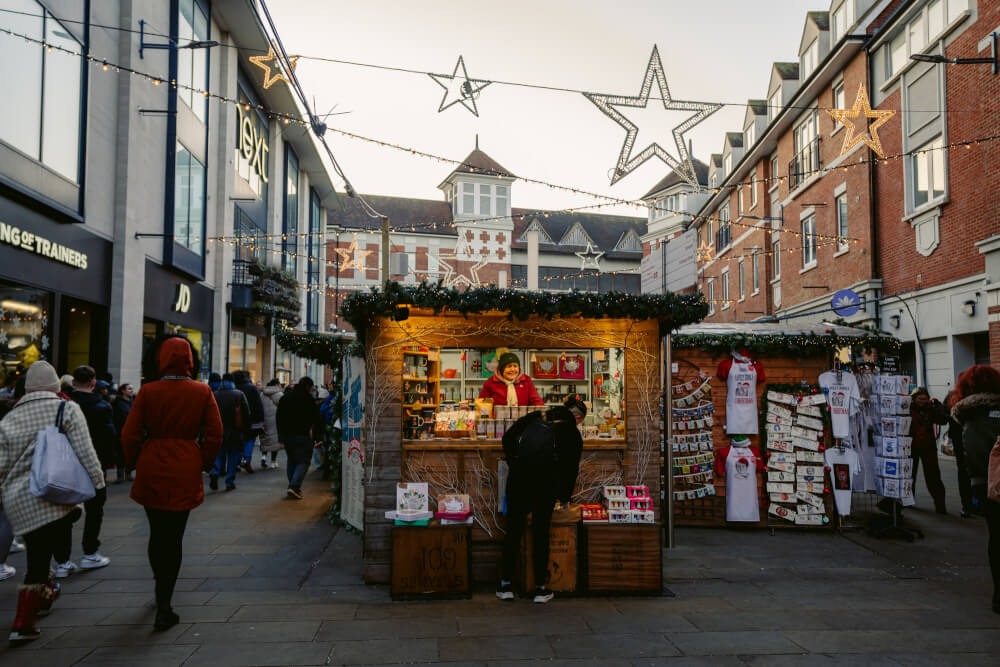 Besides Christmas market stalls, you'll also find festive vibes in the Marlowe Arcade, where there's a giving tree and letters to Santa… and also all around the historic town centre, especially in the Cathedral Quarter, where many storefronts are adorably dressed up in lights and holiday decor.
Canterbury's Christmas market is fairly small, so again, I wouldn't recommend making a trip with just that one mission in mind, but combined with other festive must-dos in the city, I really do think this is one of the most charming Christmas getaways you can enjoy in England.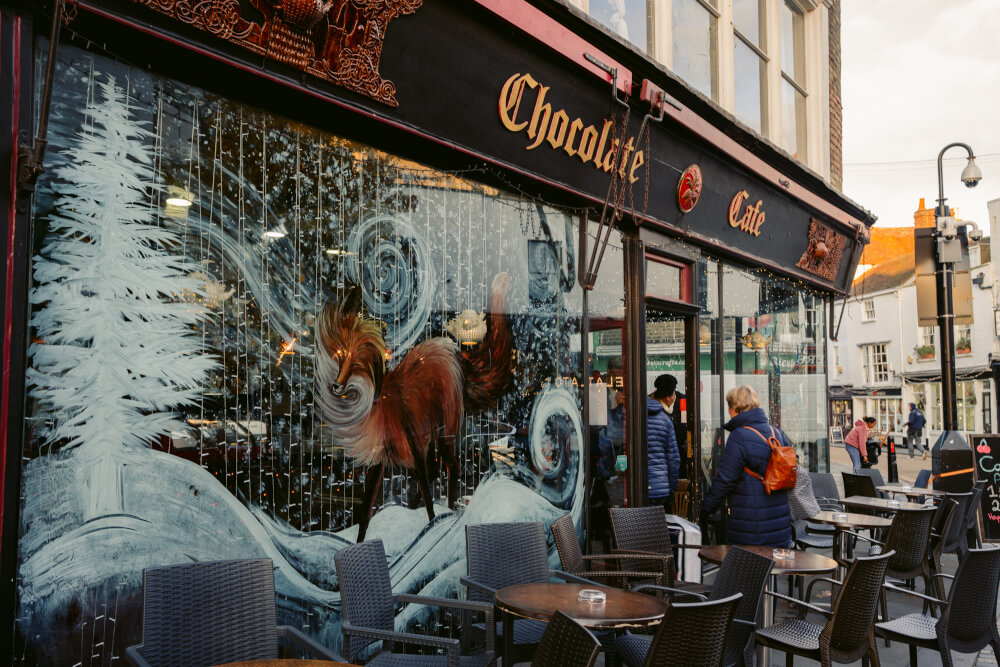 9. Hampton Court Palace
Spread across the scenic courtyards and gardens of Hampton Court Palace, another festive Christmas market near London awaits.
Unfortunately, I missed this market by just two days, so I wasn't able to see the offerings for myself, but I snooped on what I could, and saw stall setups for plenty of local artisans selling everything from Cornish peanut butter to handmade North Dorset ceramics… not to mention the truly gourmet selection of food vendors that had me drooling puddles on the palace floor.
Combined with the stunning historic backdrop of Hampton Court Palace, which I did get to enjoy, I imagine this is definitely one of the top Christmas Day trips you can do from London… especially if you book a slot in at the palace's skating rink, which runs throughout the festive season.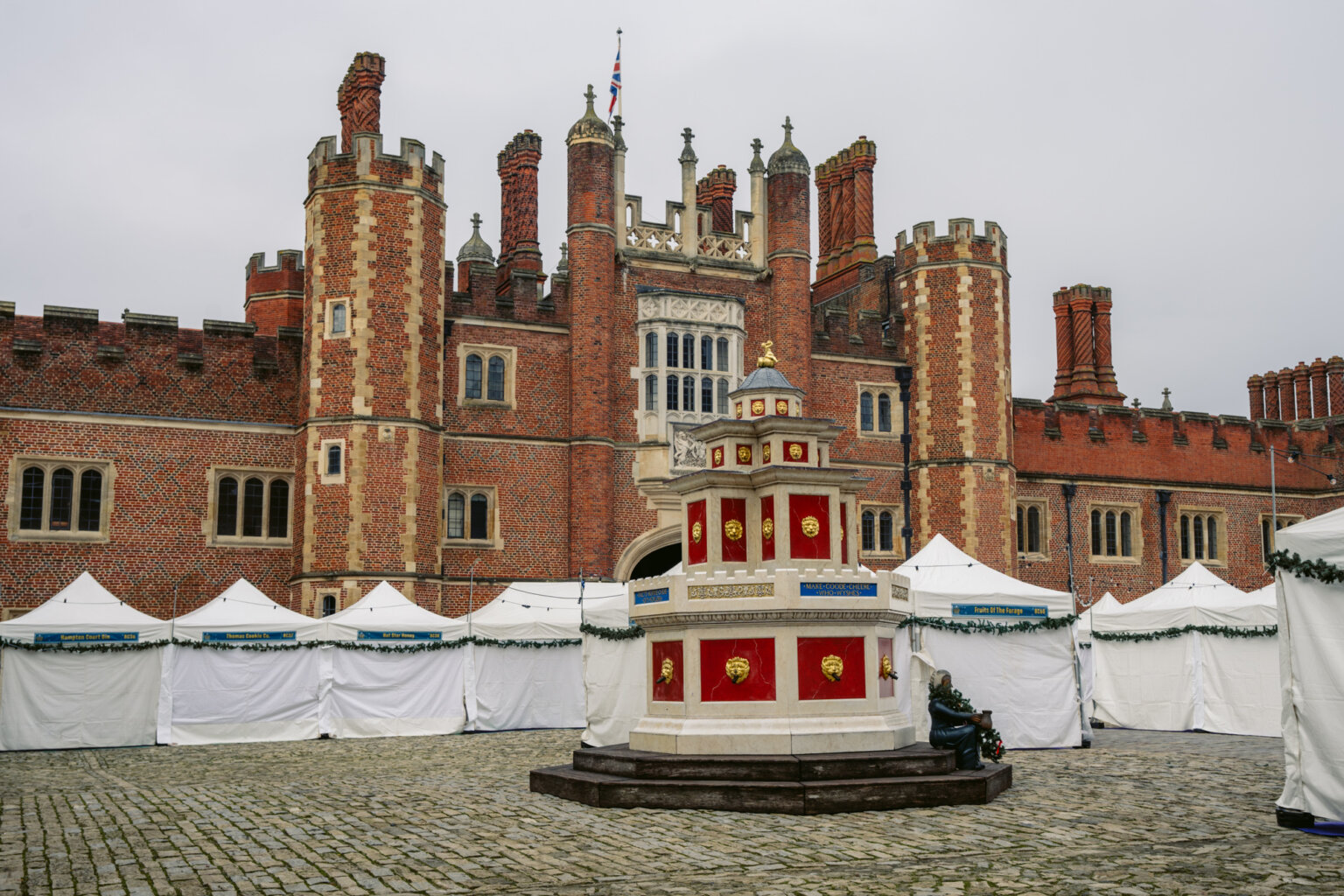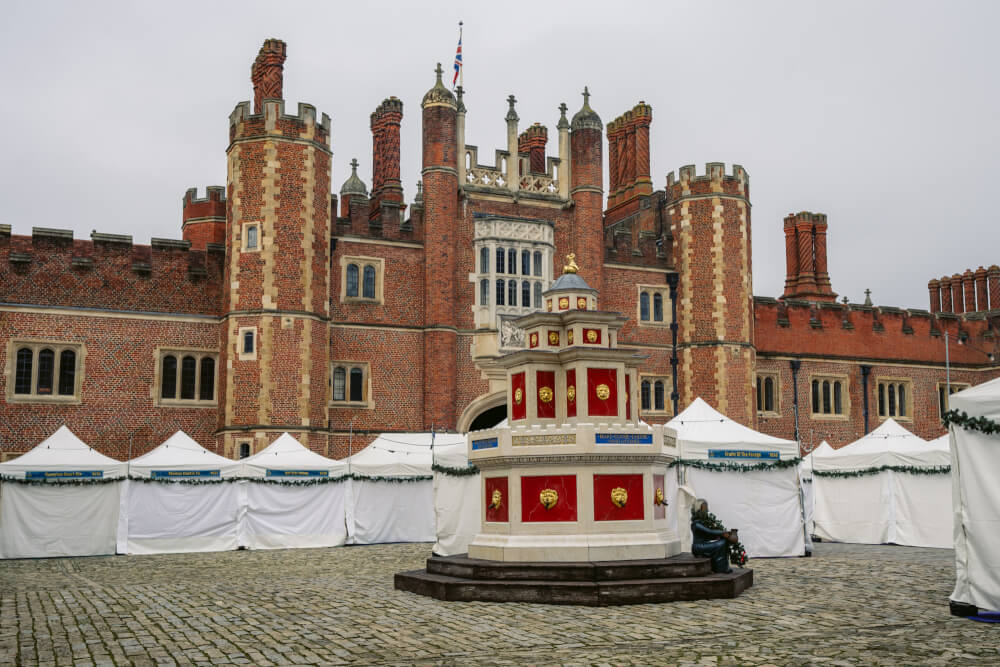 10. Kingston
And a short distance away from Hampton Court Palace, you'll find the Kingston Christmas Market, a small festive collection of market stalls combined with their usual street food vendors, selling everything from stuffed naan to sweet and savoury crepes.
The centrepiece of this market is the traditional German Christmas Pyramid which sells festive hot drinks, as well as a stall selling Christmas market classics like sausages of all kinds.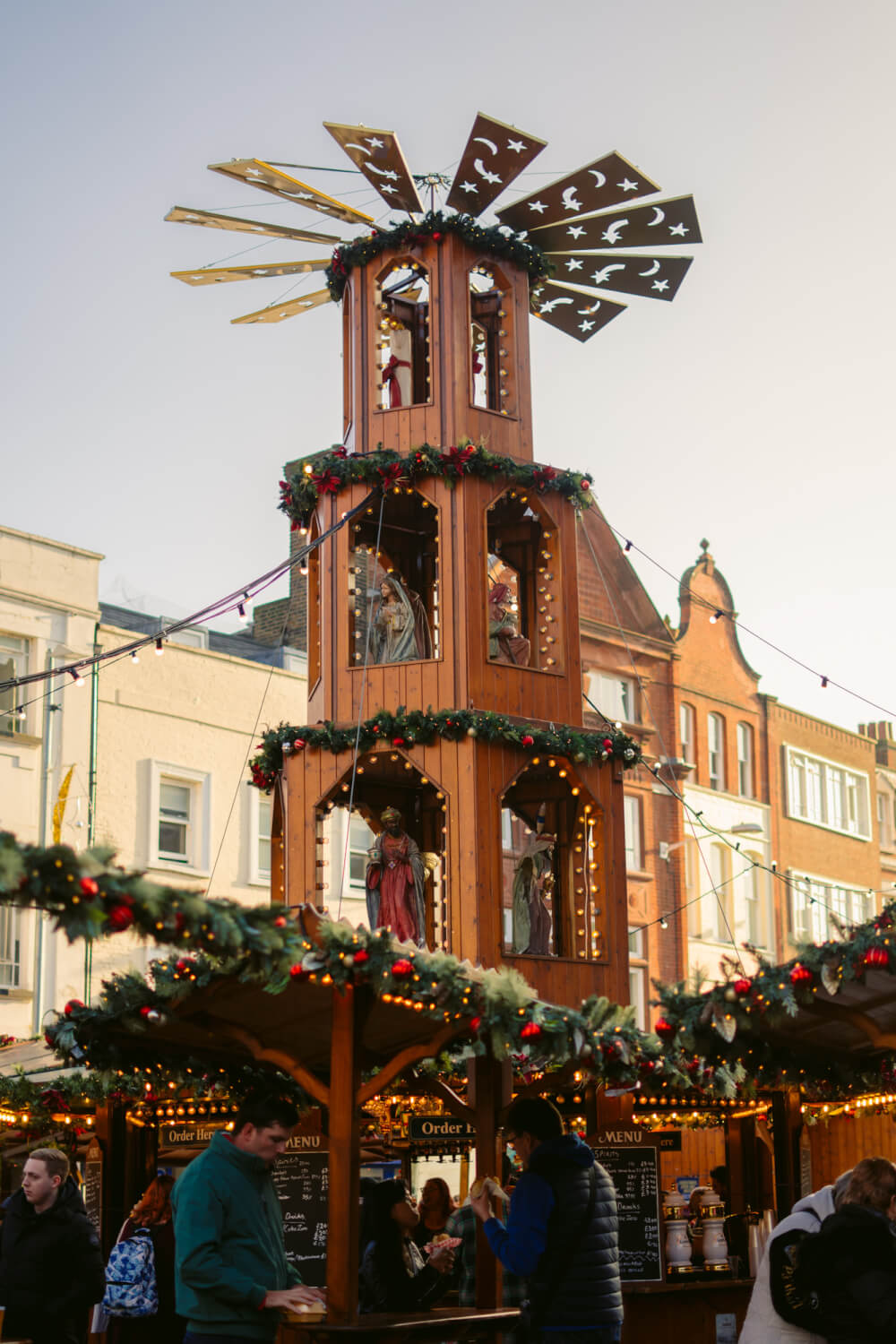 Of course, Kingston has a few other festive offerings up its sleeve, like its Alpine Village at All Saints Church, and festive decor around the town centre.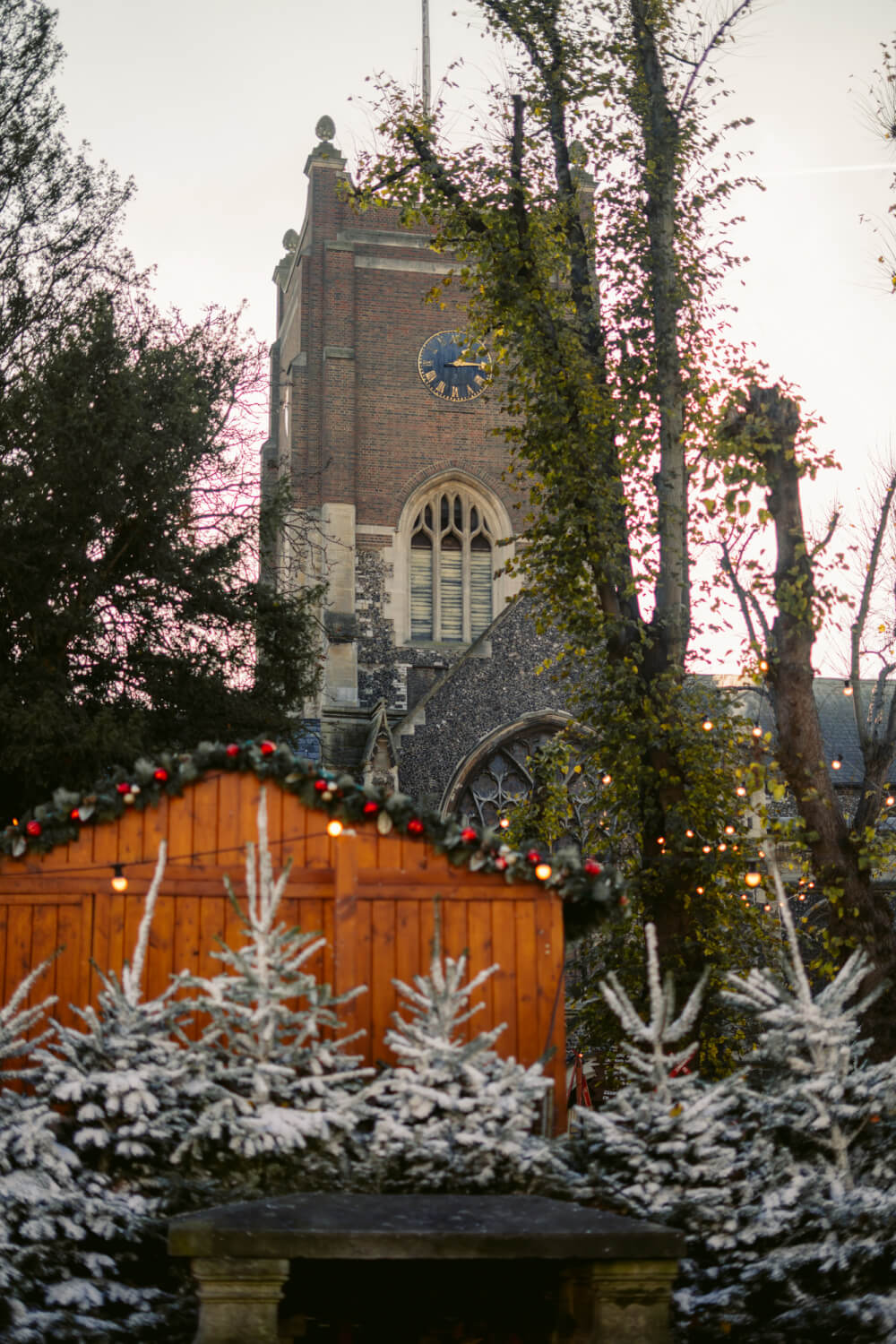 11. Blenheim Palace
And for one of the most extravagant Christmas experiences in England, be sure to put Blenheim Palace on your list.
Best known as the birthplace of Winston Churchill, this elaborate country home hosts a month-long Christmas market every year running from mid-November to mid-December.
With about 70 wooden chalets arranged in the palace's grand court, there's plenty of opportunities for shopping and general merrymaking… especially after the sun comes down, because the entire palace facade is lit up with a colourful light show that syncs with a score of fun, dramatic music tracks.
… I must have stood there and watched it five times… the 5th time while shovelling loaded Christmas dinner fries in my mouth. Yes that was a real food option they offered, and yes it was absolutely glorious.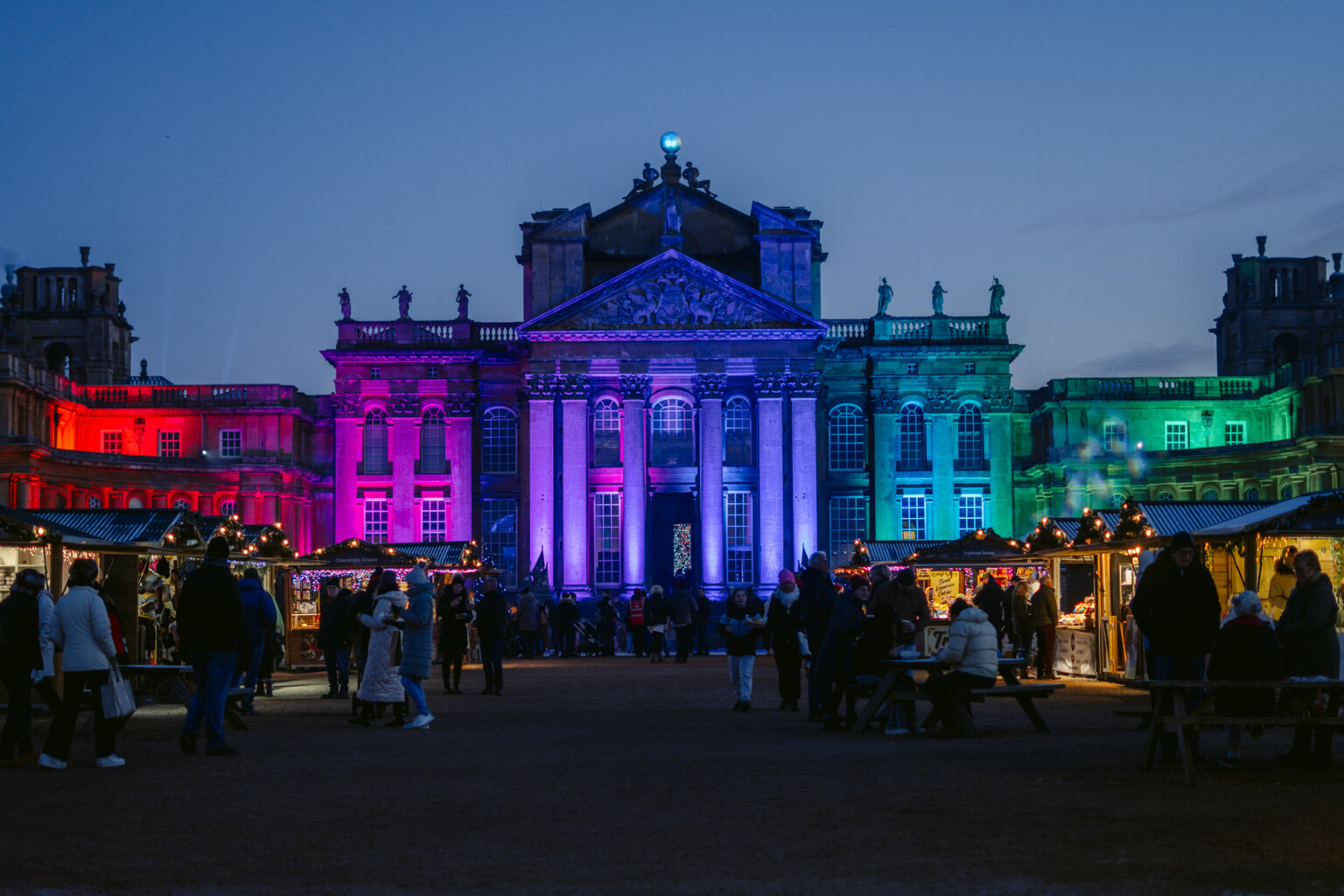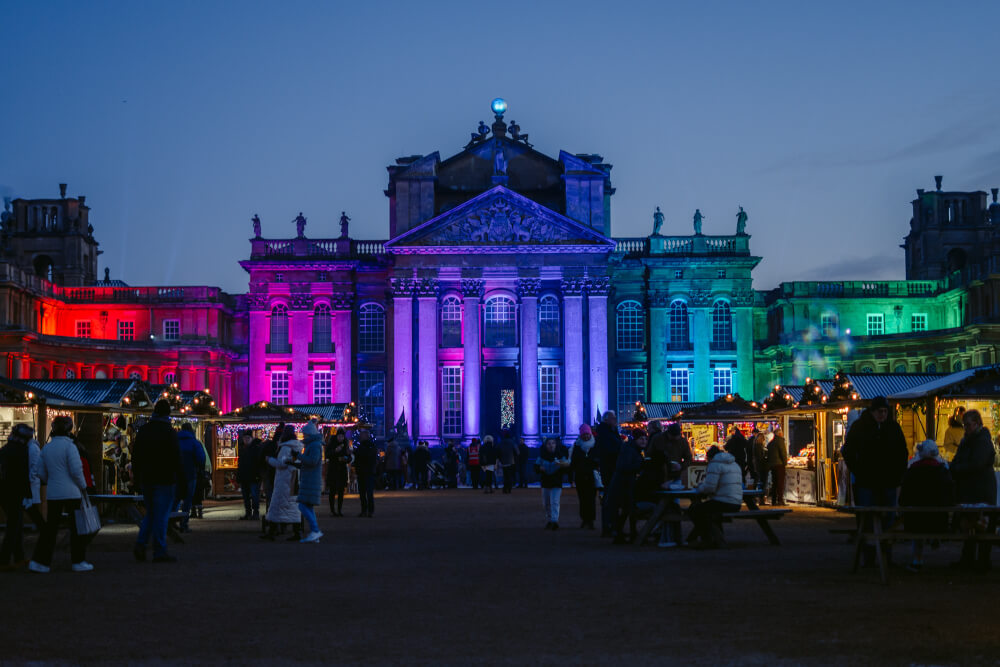 Loaded Christmas fries aside, the star of the show is really the interior of the palace itself, which gets dressed up for the holidays every year with a new theme, like the Kingdom of the Snow Queen this year, or Cinderella and Alice in Wonderland in years prior.
And wow. Just prepare yourself. The interiors here are mindblowingly festive and opulent, with an incredible attention to detail that will make you cry that you don't live here.
And for those willing to brave the cold, there's even a festive light trail in the palace gardens, which tends to sell out every year, hence why you're not seeing any photos of it… so plan early, and learn from my highly regrettable mistakes!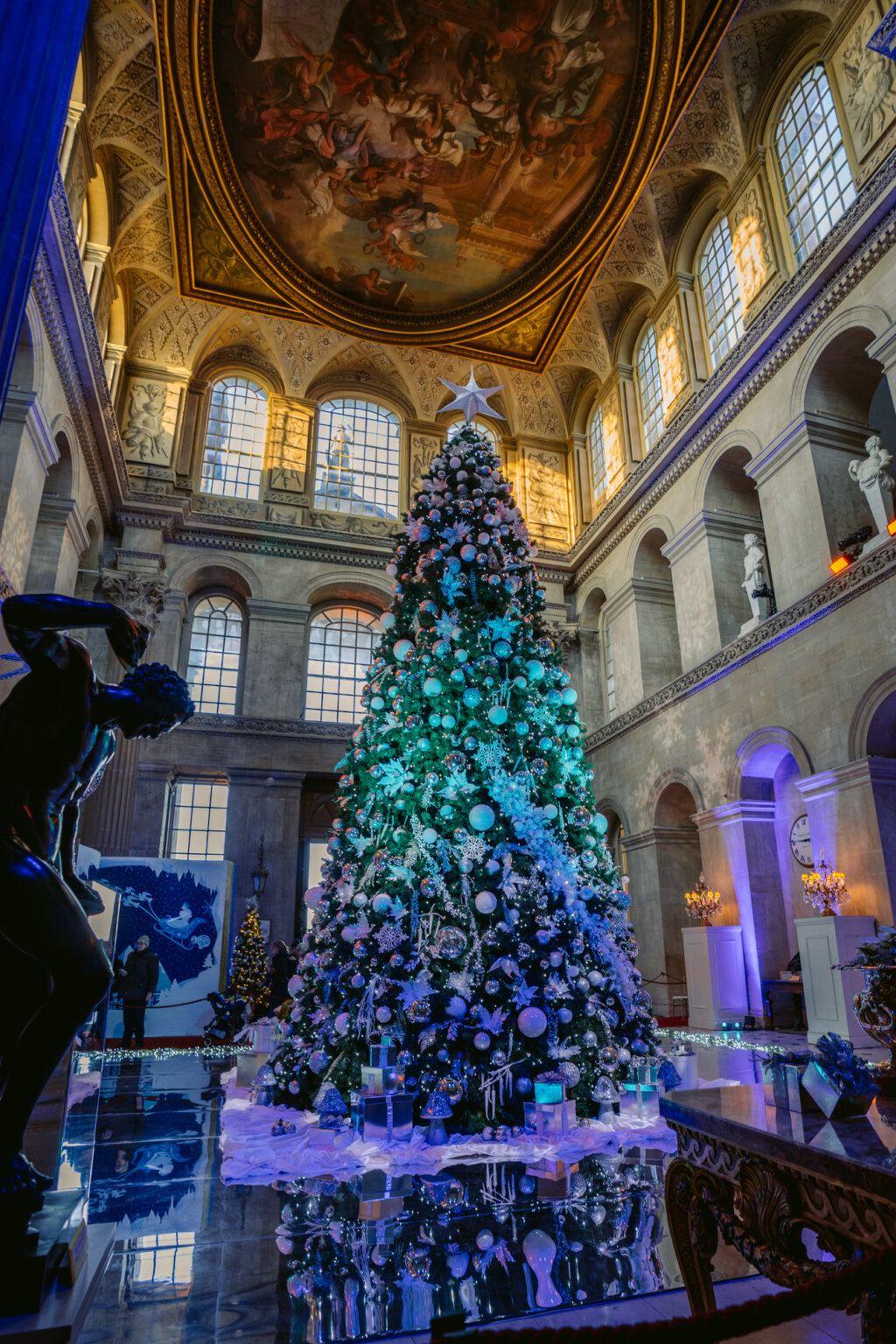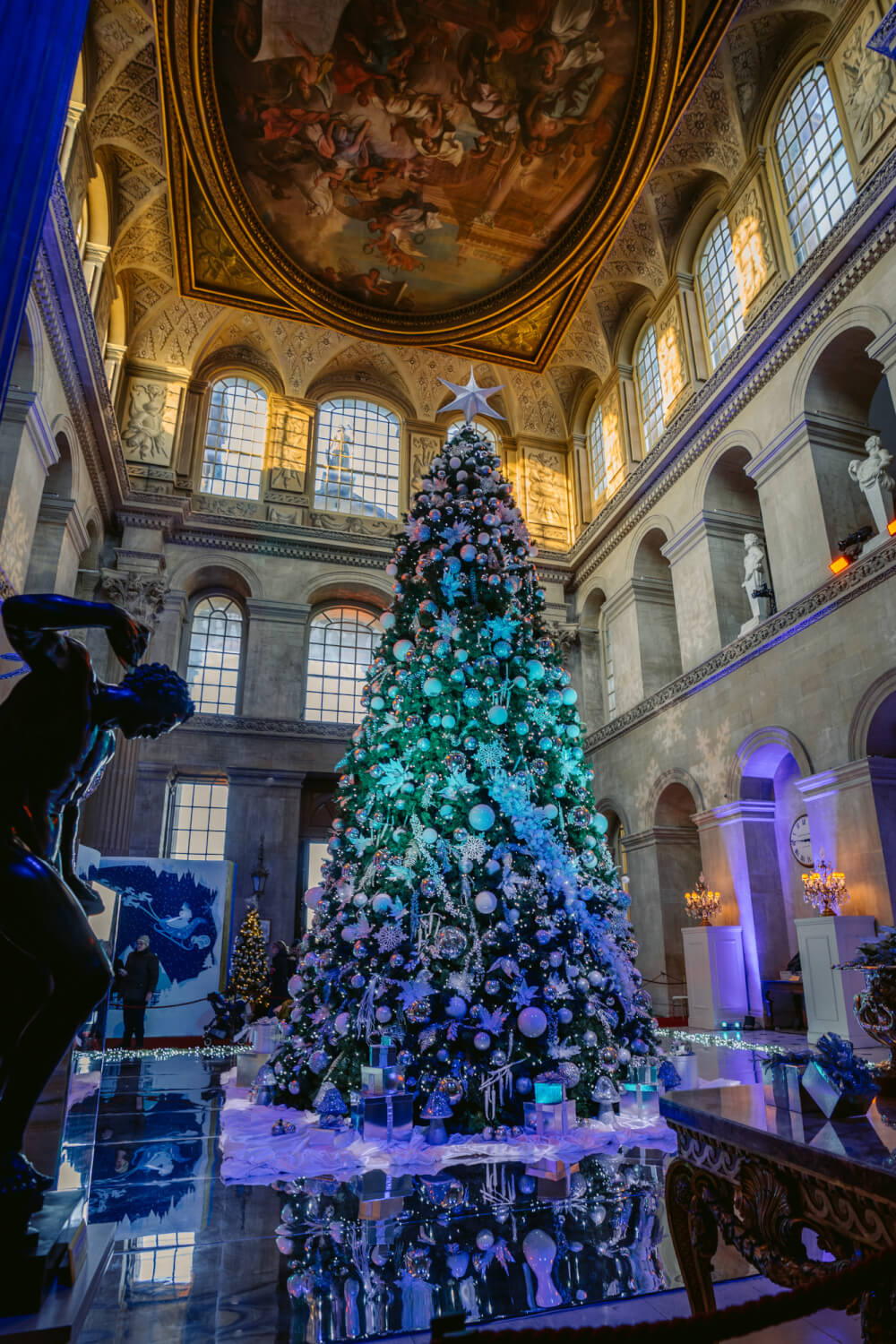 12. Oxford
In nearby Oxford, famed for its prestigious university, you'll find another small but lovely Christmas market that runs for 2.5 weeks every December along the city's historic Broad Street.
From unique jewelry pieces and bath bombs to beautiful gifts brought over from the Alps, the vendors here offer a range of products and goodies to enjoy… although it's fairly tiny, so I would recommend padding your day with other Oxford activities (and maybe even a day trip to Blenheim Palace?)
Luckily, there's a lot more magic to be found in Oxford than just the market. Wander around town and you'll see all sorts of beautiful, magical sights, including the ridiculously festive Covered Market, the Oxford Castle and Prison which has its own Christmas trail, and cozy pubs aplenty when you feel ready to warm up.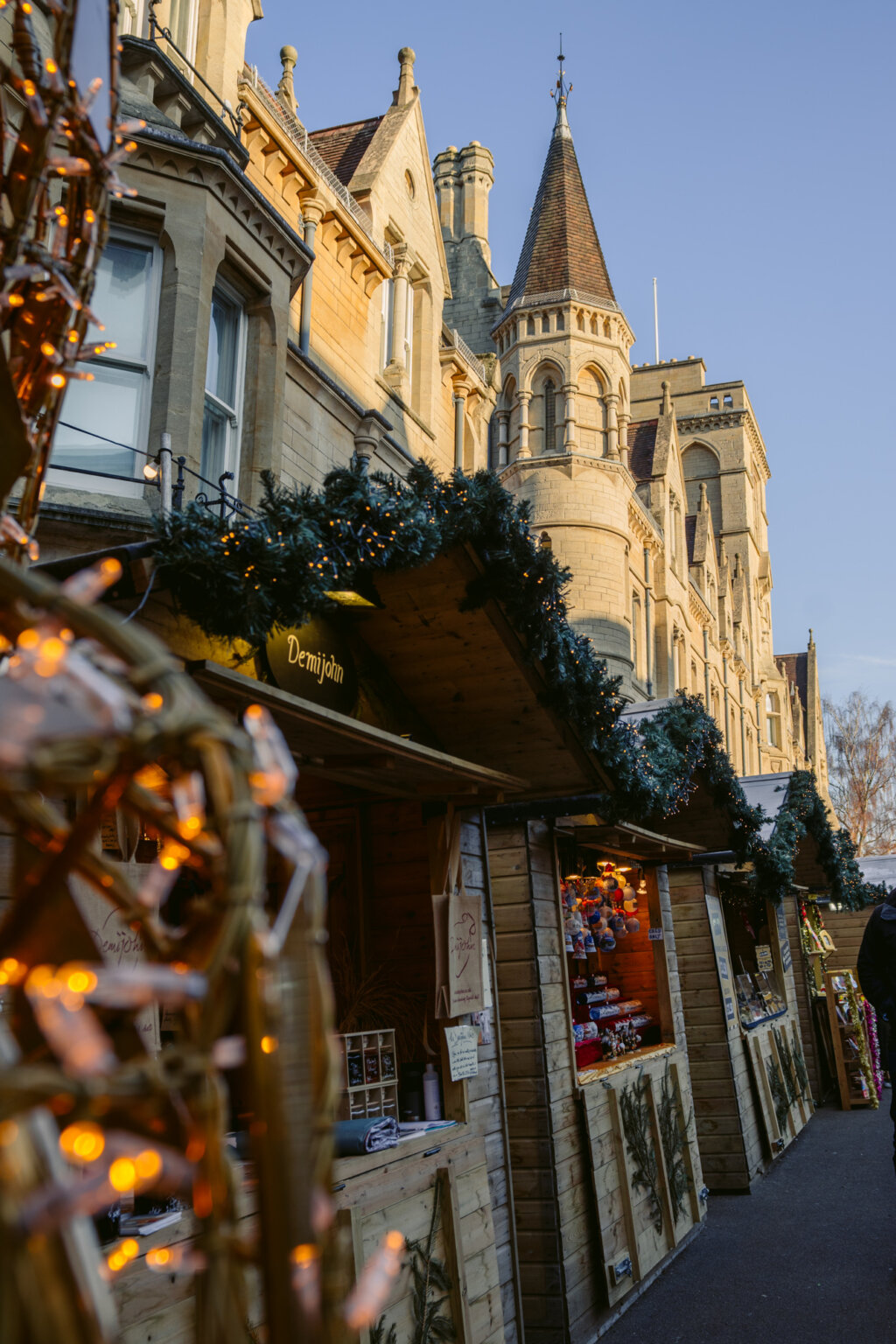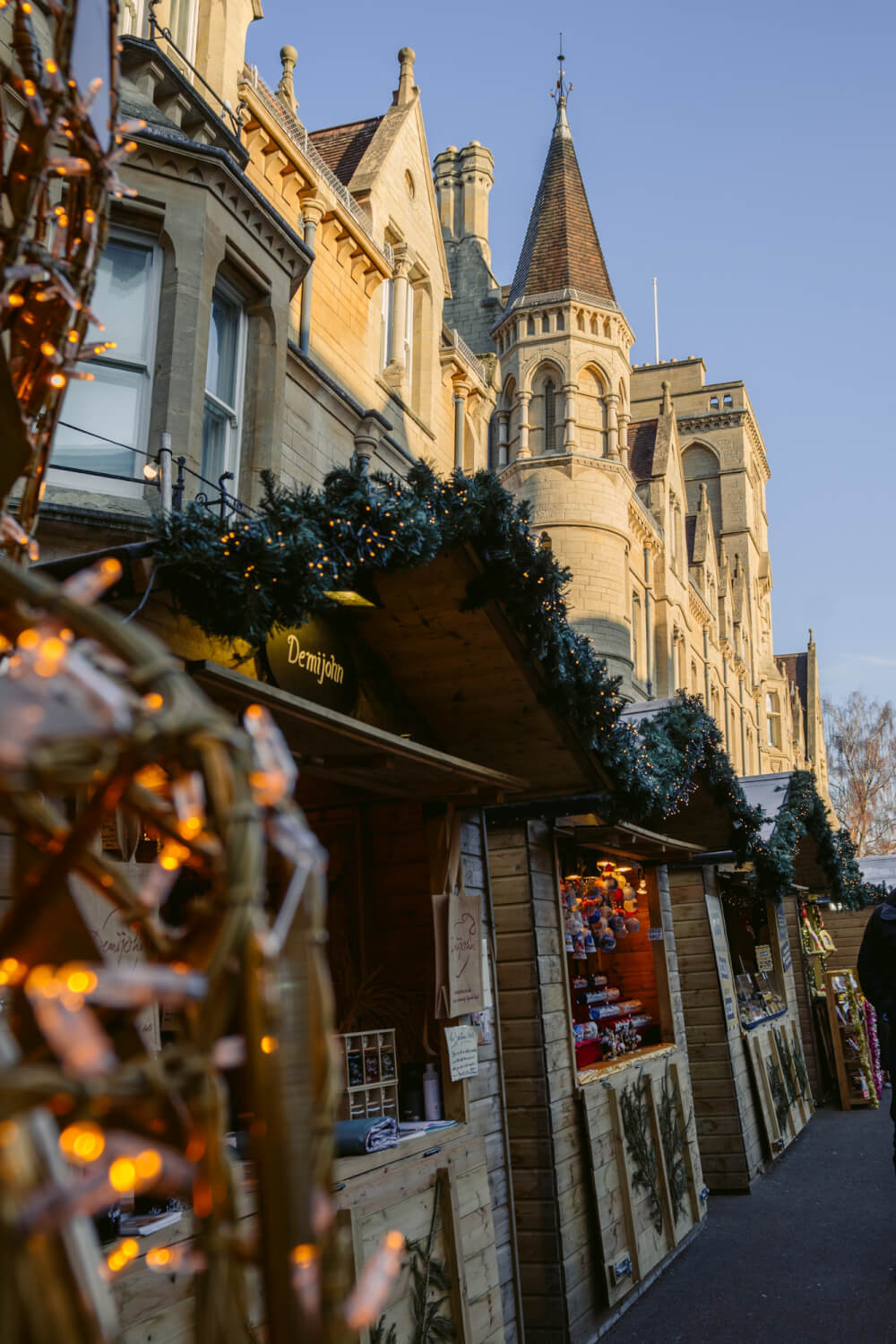 Other Beautiful Christmas Markets to Visit in England
Besides the festive destinations listed above, there are of course plenty more I didn't get a chance to visit. Just know that I do intend to visit many more in the future, so you can lower those pitchforks for now.
For instance, some other English Christmas markets I've heard great things about are…
Manchester
Liverpool
York
Nottingham
Brighton
… And wherever you recommend to me in the comments!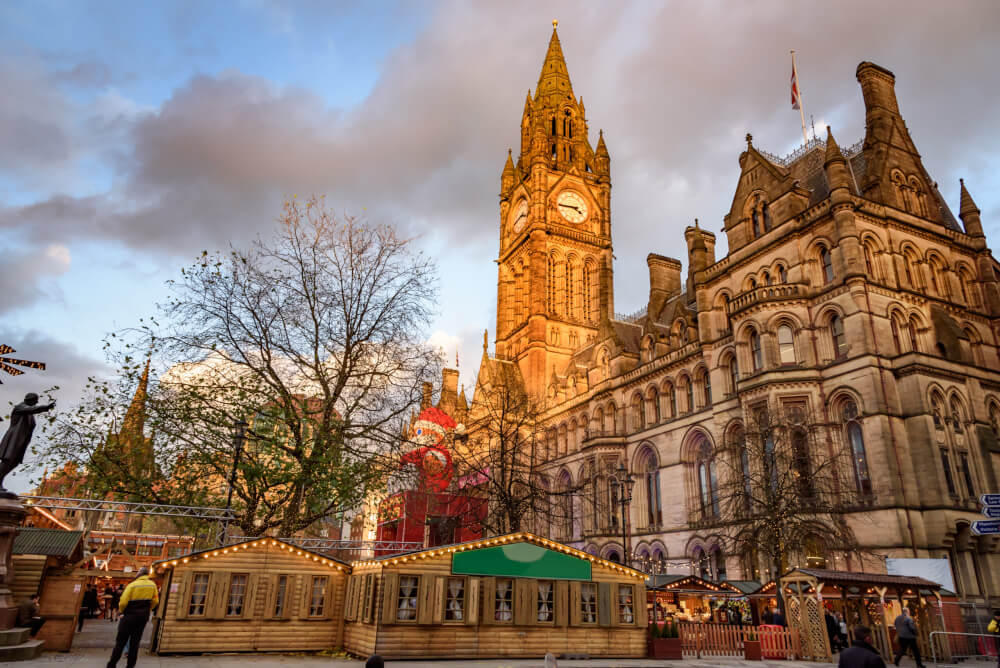 I Hope You Enjoyed This List of Top Christmas Markets in England!
Have I missed any of your picks for top Christmas Markets in England? Let me know in the comments so I can be sure to visit them next time!
My Go-To Travel Favourites: