*FYI - this post may contain affiliate links, which means we earn a commission at no extra cost to you if you purchase from them. Also, as an Amazon Associate I earn from qualifying purchases. Check out our Privacy Policy and Disclosure. for more info.
One quick peek at the Christmas markets of Alsace, France, and you might be convinced that fairytales really do exist.
And I don't mean modern fairytales like a bad Hallmark movie or whatever Netflix is spewing out these days… I mean straight-up Disney wizardry, like "wow Belle is really gonna come around the corner any minute and make some terrible life decisions".
Honestly, if I could pinpoint the most storybook-perfect region of Europe, it might be this one… and that's coming from a girl living in Germany!
Save this post on Pinterest for later: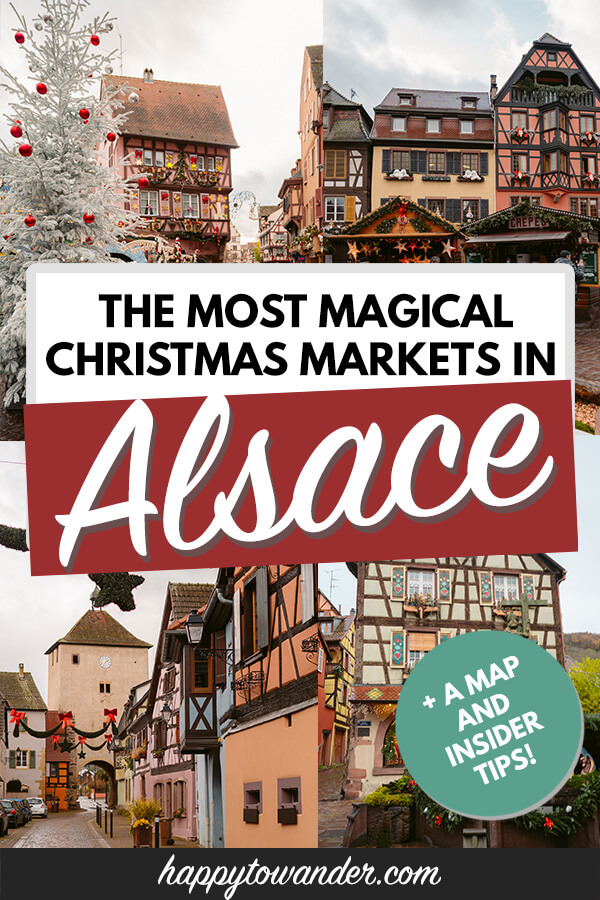 Huddled along the German border in Eastern France, Alsace offers an endless parade of adorable villages, each more charming than the last, with a hefty abundance of excellent wine.
As such, it's unsurprising that visiting Alsace at Christmas time has always been a huge bucket list item of mine. The difference? Well my friends, this year I finally got to do it!
And, as you have come to expect from me, I did meticulous research to ensure I visited the best of the best.
Well, after visiting over a dozen Alsatian markets over the span of a week, in this post I'm unveiling my top picks for the best Christmas markets in Alsace, including a few hidden gems I got to visit along the way.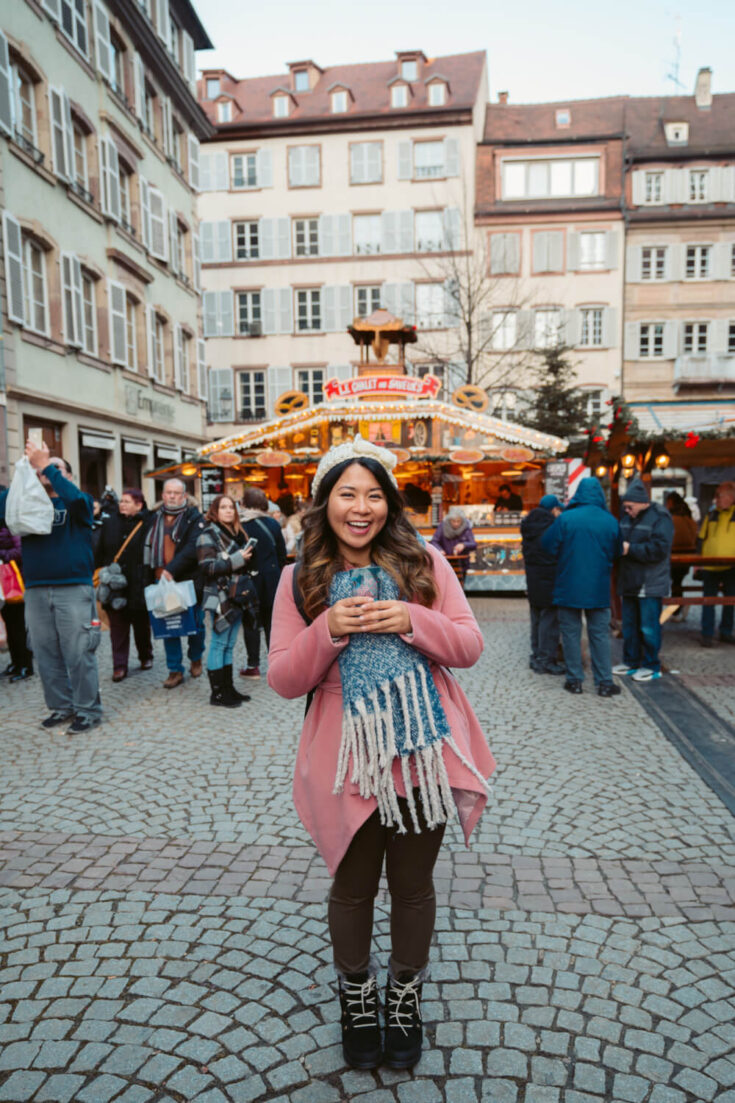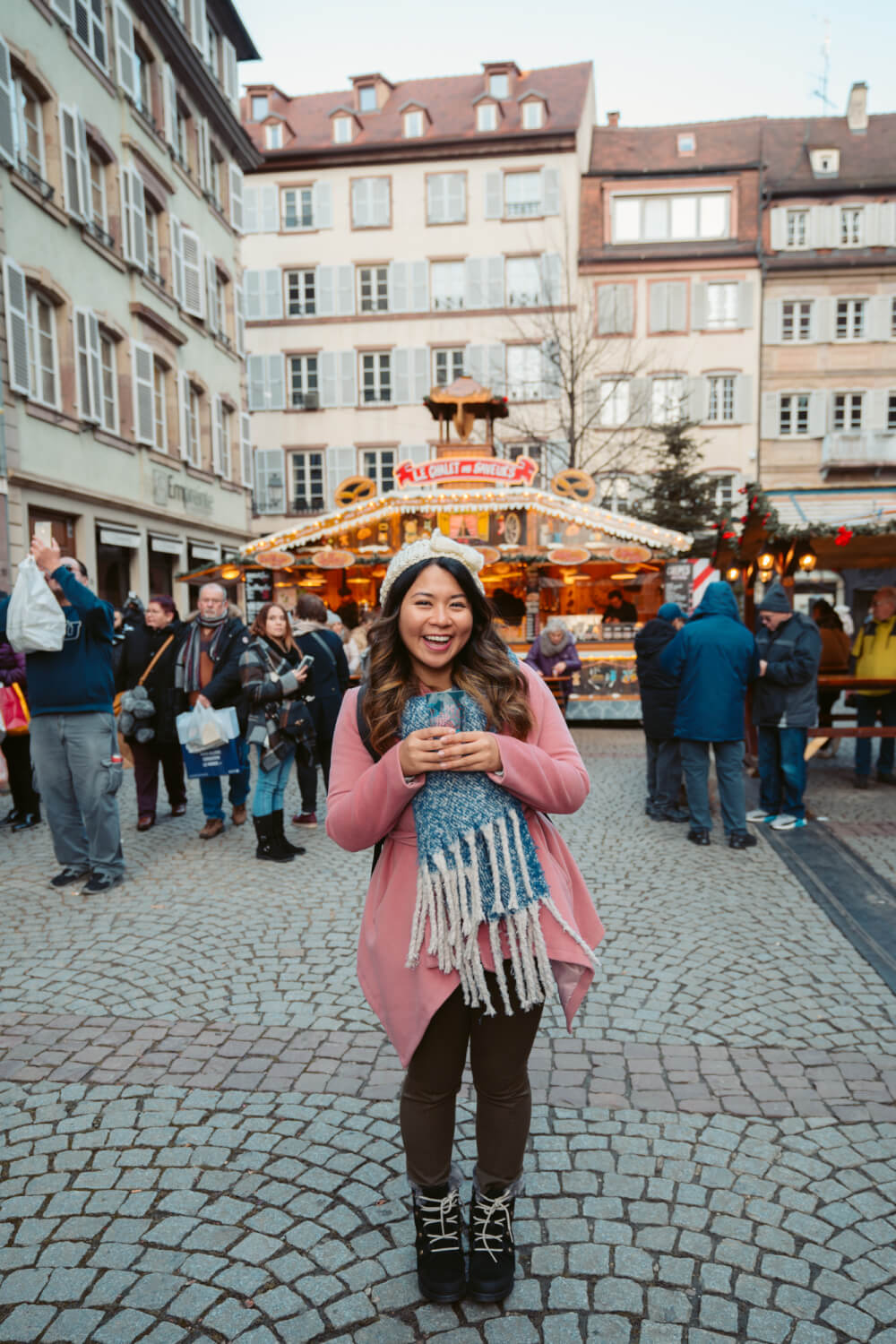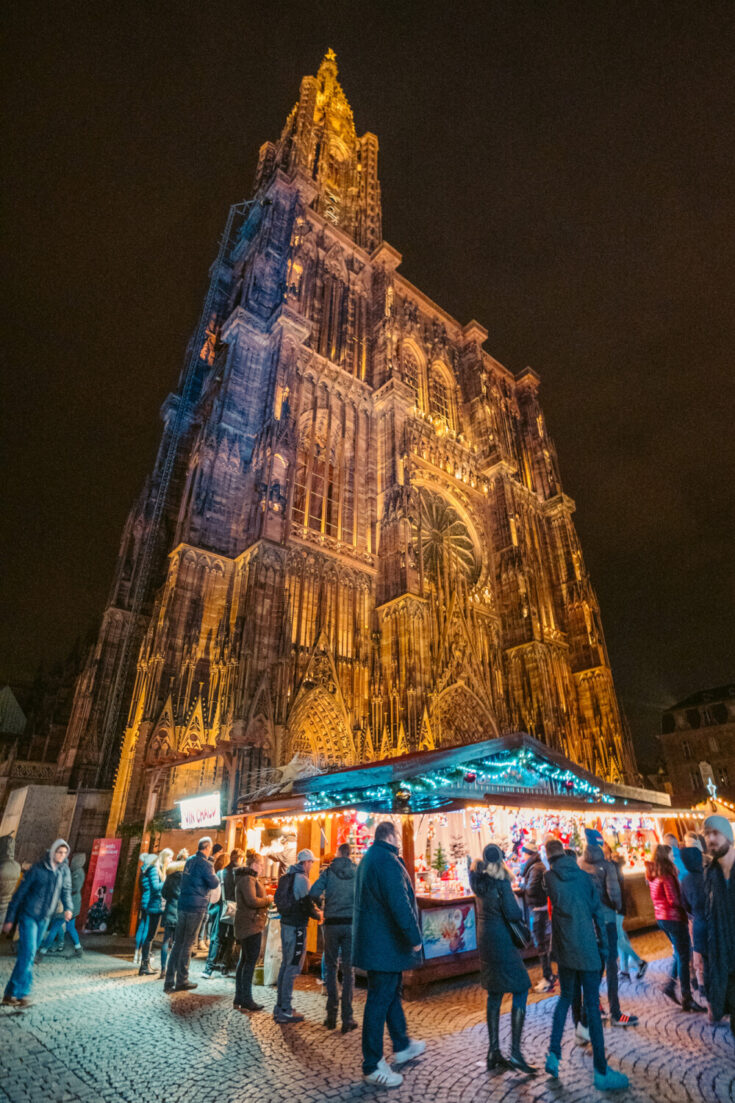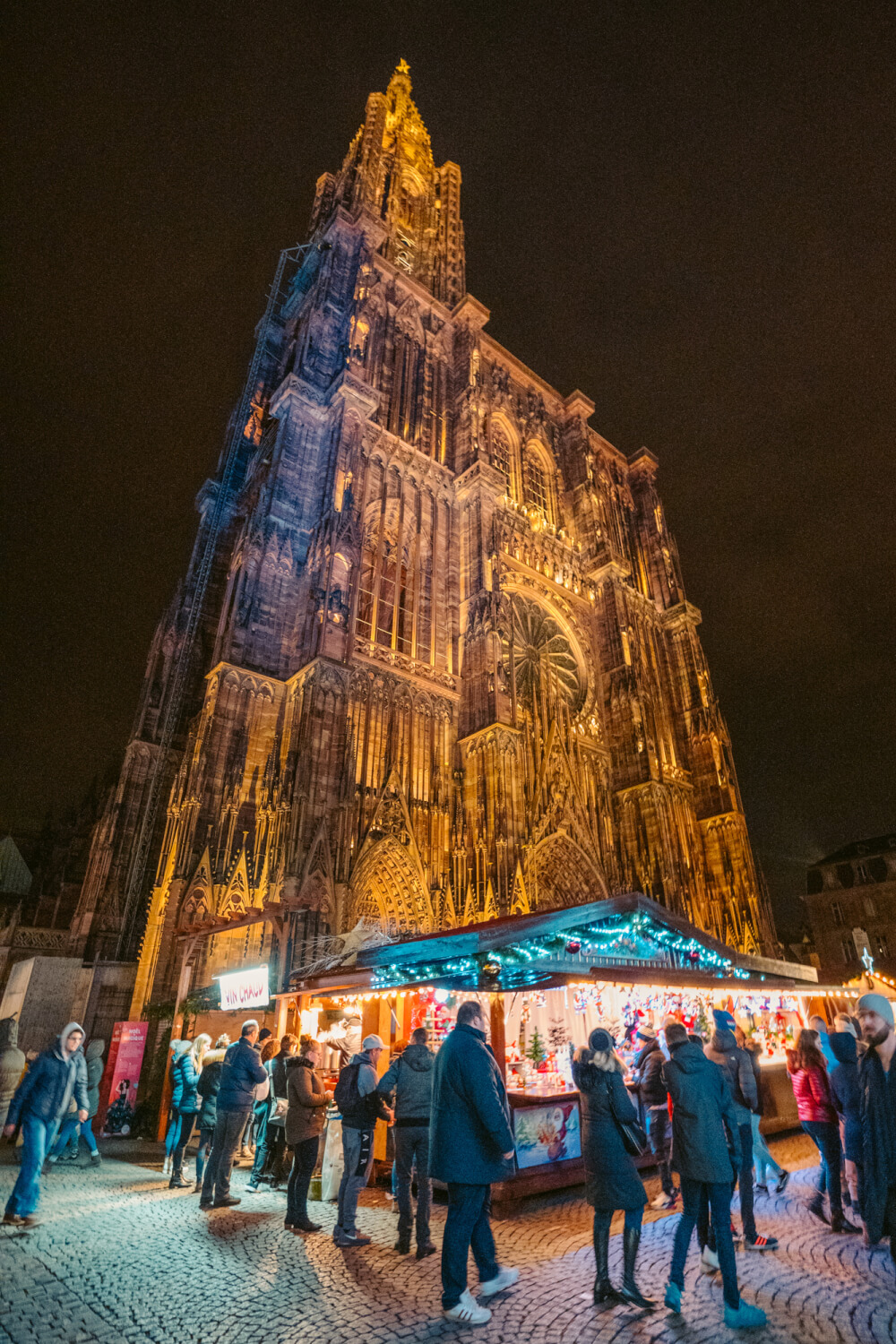 Magical Christmas Markets in Alsace (That You Must Visit!)
Out of all the different stops on our Alsace Christmas Market road trip, these ones were my favourites… with a range including big cities, small towns, and more alternative markets you probably haven't heard of. And if you prefer video, here's a vlog of the entire road trip experience.
1. The Christmas Markets in Strasbourg
Often hailed as the capital of Christmas, it makes sense that Strasbourg has snagged the top spot in this Alsace Christmas market roundup.
Its strongest asset? Sheer variety.
You'll find all kinds of markets nestled around the most scenic corners of this city, catering to every taste whether you're looking for local food products, beautiful handcrafted gifts, something alternative, or even goodies with an international flair.
In fact, Strasbourg is one of the few Christmas markets I've encountered in Europe that dedicates an entire square to a different guest country every year – this year's being Lebanon.
All this variety mixed with a glorious abundance of festive storefronts and lighting displays is what makes Strasbourg so special to visit at Christmas time.
The only downside? Strasbourg is hardly a secret amongst eager Christmas market trippers, so it can get extremely busy, certainly around the main market stalls around Strasbourg Cathedral.
That said, if you explore some of the more offbeat markets, you won't find the crowds too overbearing at all – the OFF Market for instance was a perfect spot for a chilled Sunday evening, with plenty of space to sit and slurp vin chaud.
So, if you want to plan a Christmas market break with plenty to do (and you don't mind some crowds), Strasbourg should definitely be at the top of your list. Read my full guide to Strasbourg's Christmas Markets for more info.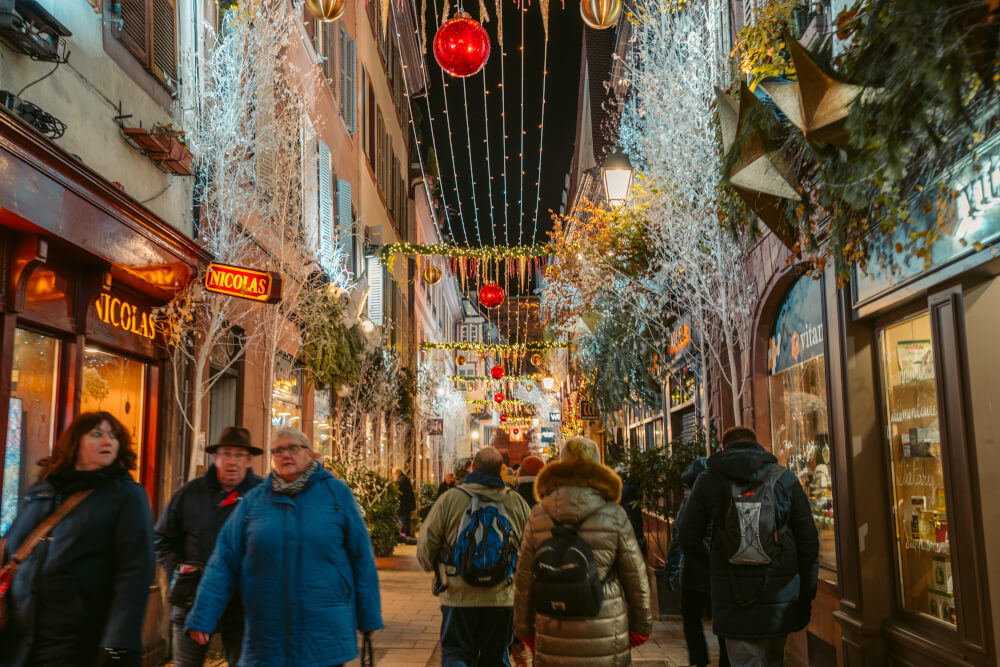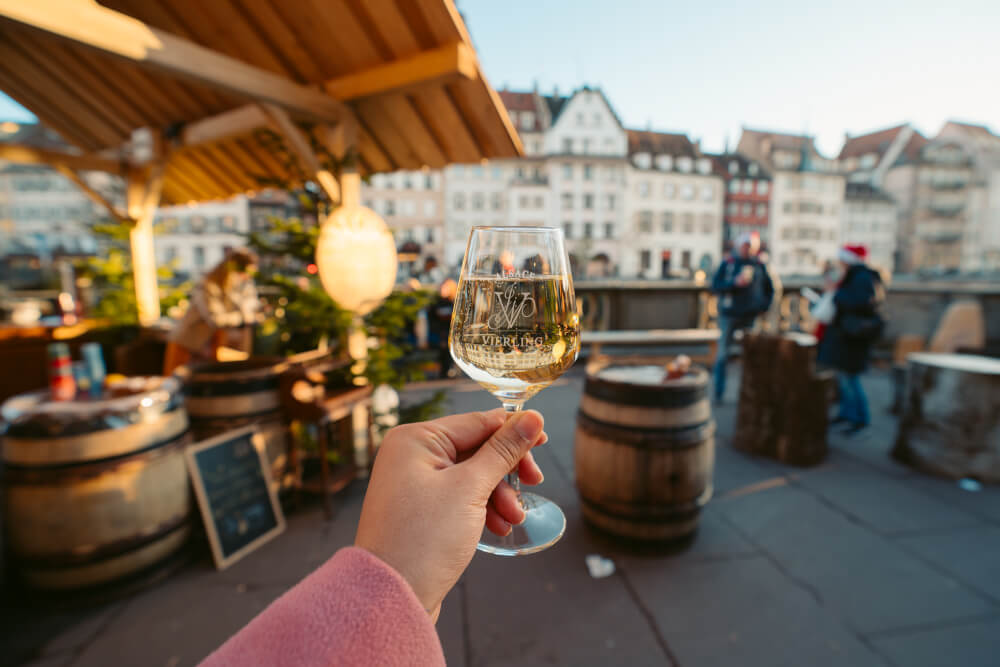 2. The Christmas Markets in Colmar
Next up: the irresistible fairytale city of Colmar.
Colmar has six Christmas markets for you to visit, all within easy walking distance of each other.
While admittedly among the busiest of Christmas markets in Alsace, I still contend it's worth braving the crowds for.
Why? Colmar is basically the Disneyland of France's Christmas markets.
Everything here genuinely feels cuter and more delightful, from the teddy bear decked facades and frosty white Christmas trees to the timber-clad pastel houses lining the city's famous canals. Trust me when I say your head will be reeling from all the postcard-perfect photo opps.
But there's something in it for foodies too.
One highlight of my visit this year was Colmar's brand new gourmet Christmas market, which features gourmet delicacies from local chefs that are actual meals and not just like, hot cheese fried on a stick like most other Christmas market goodies.
Nothing against hot cheese fried on sticks, but if you're craving something more substantial and delicious, tasty dishes like vol au vent with späetzle (Bouchée à la Reine) and black truffle risotto await at this market!
So, if you don't mind crowds and fellow tourists, Colmar is definitely a must-visit Christmas market in Alsace.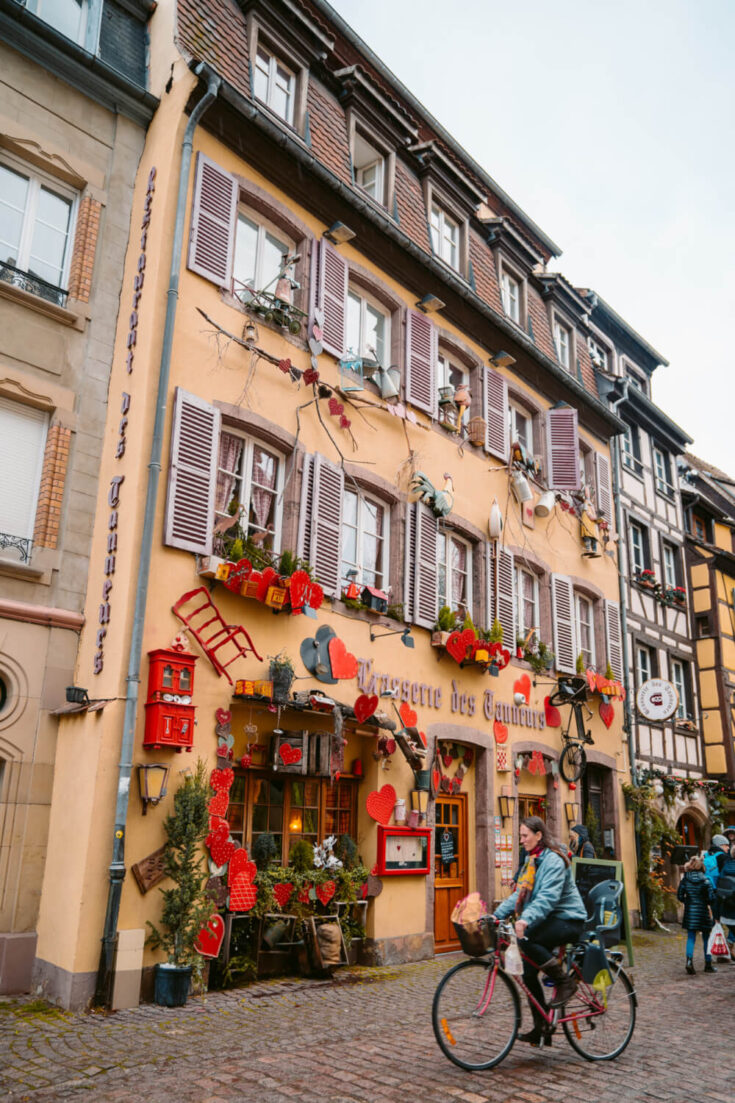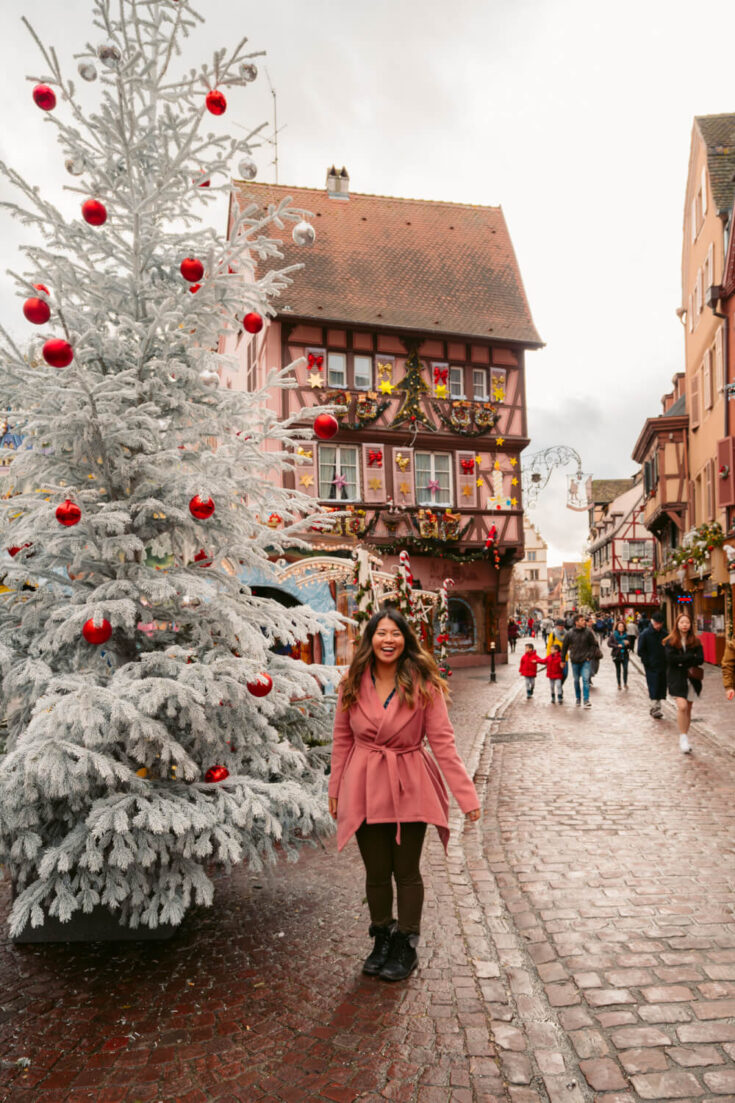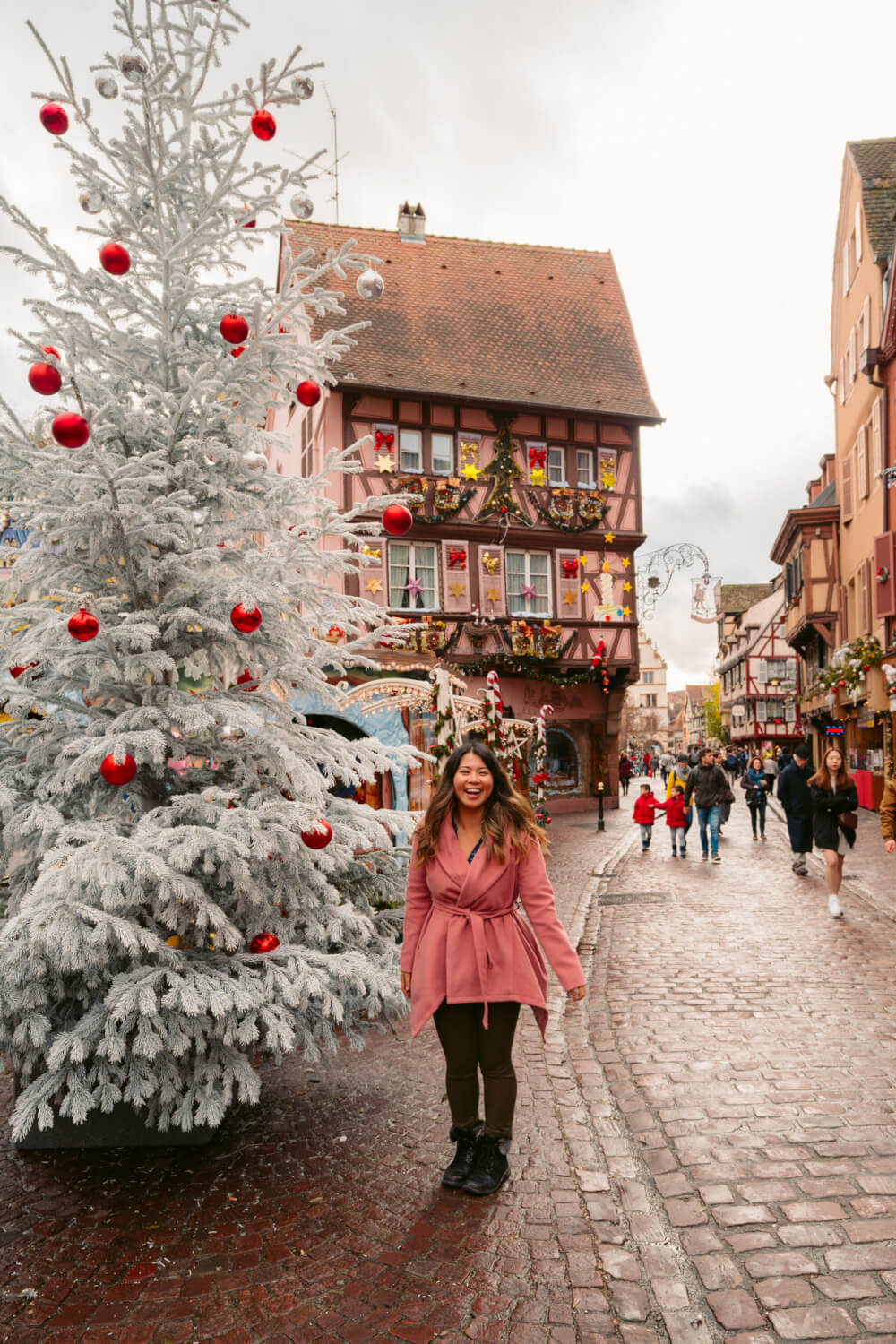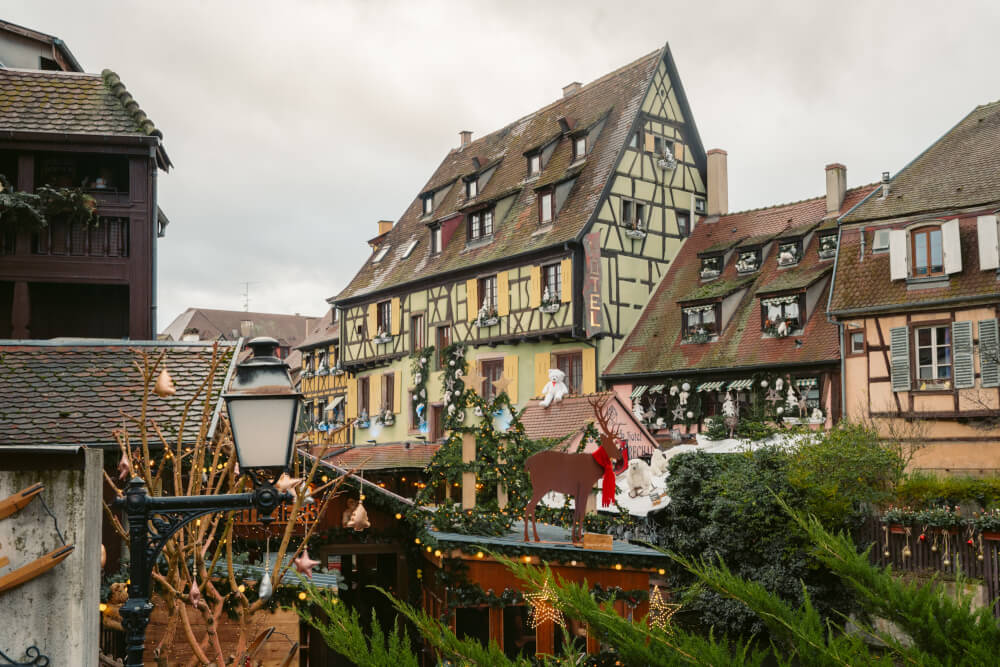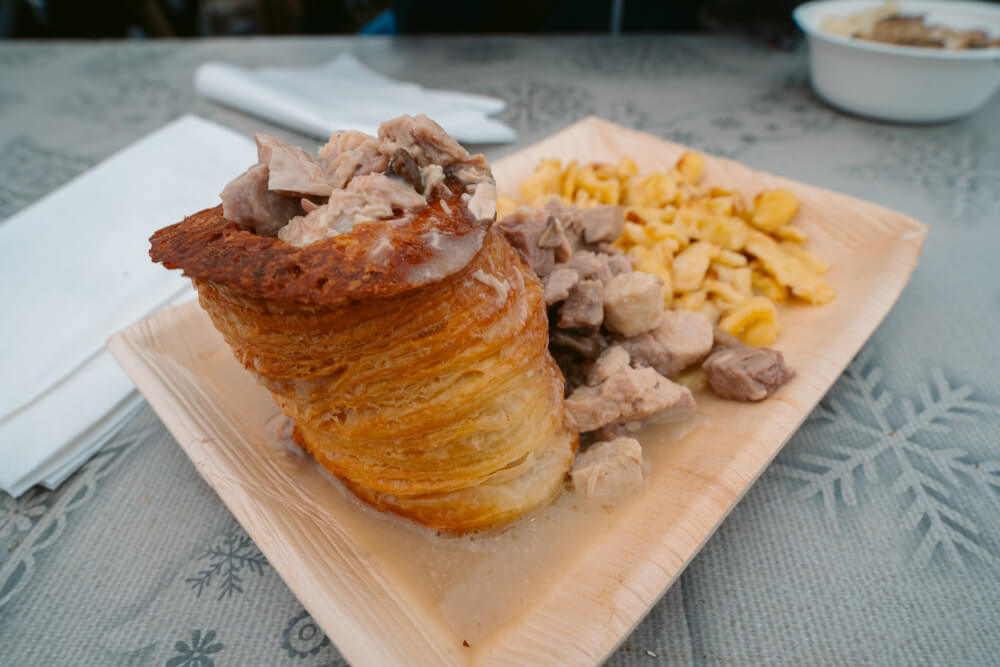 3. Obernai Christmas Market
Obernai was the first little town we chose to overnight in, and it offered the perfect idyllic escape from nearby Strasbourg.
Among all the beautiful small towns of Alsace, I would say Obernai is the most underrated.
While only 20 minutes away from Strasbourg, this gingerbread village is worlds away from the big city… with timber-clad houses lining narrow lanes, and just the perfect mix of Christmas cheer without flashiness or pomp.
The vendors here were also tremendously friendly – maybe as a result of fewer crowds than the big city markets nearby.
I basically ate my weight in samples at the Tapenades et antipasti Lansaque, located just off of the main square near the town's Belfry Tower, prompting me of course to grab some tapenade for the road.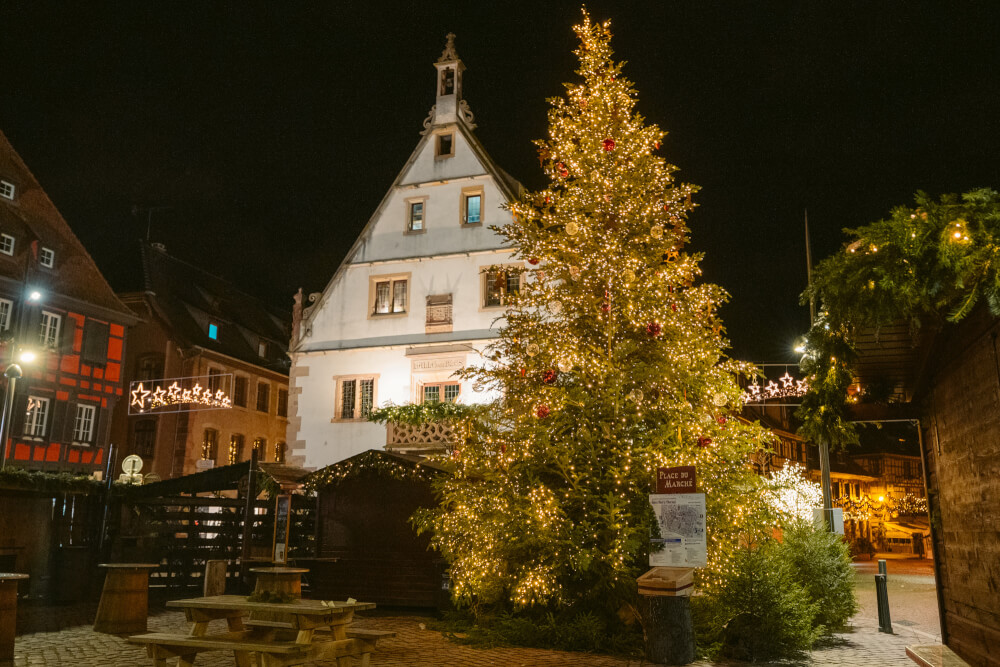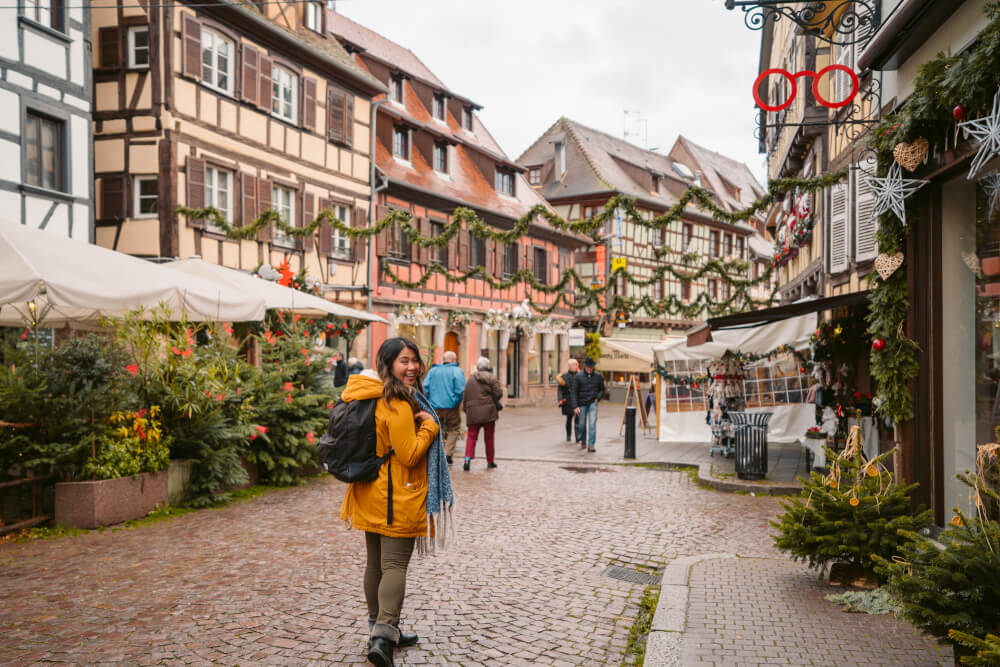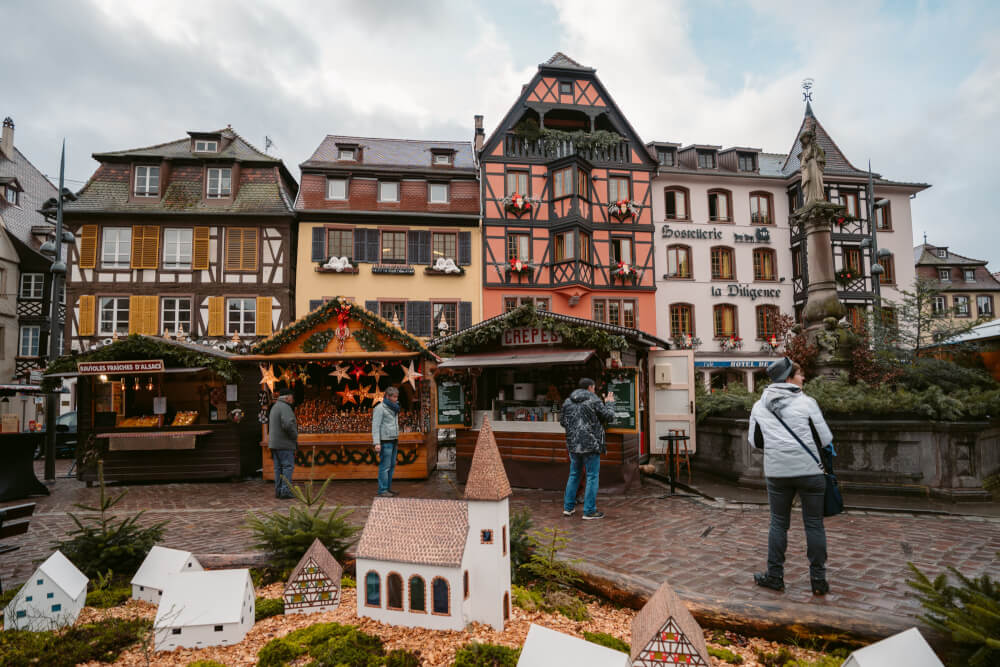 And while this Obernai's Christmas market scene is small, it makes for a beautifully relaxing Christmas stroll, with just over 30 stalls scattered around town, showcasing the prettiest corners of Obernai as you go! Click here to read my full guide to Obernai Christmas Market.
4. Mulhouse Christmas Market
If I could pick the most surprising 'big' Christmas market in Alsace I visited, it would be the one in Mulhouse.
Held in a city known for textiles, the Mulhouse Christmas Market has one very unique (and endearing) feature: a special Christmas fabric that they change annually!
This fabric is used to decorate the different stalls around the city, and even sold by the metre for eager fabric fans.
There's more to Mulhouse than just this one gimmick though – the city itself is filled with a wide array of stunning light installations, and a beautiful open-air ferris wheel that provides sweeping views over the Temple Saint-Étienne and Place de la Réunion, where the main Christmas market is held.
I also got to sample a few unique vin chaud flavours here that I haven't seen elsewhere, including vin chaud with saffron and vin chaud with calvados, a fruit brandy from Normandy.
Even without being drunk off spiked wine, I really enjoyed the atmosphere in this market, and think it deserves way more attention than it gets, especially considering its proximity to Basel, one of the most famous Christmas markets in Switzerland.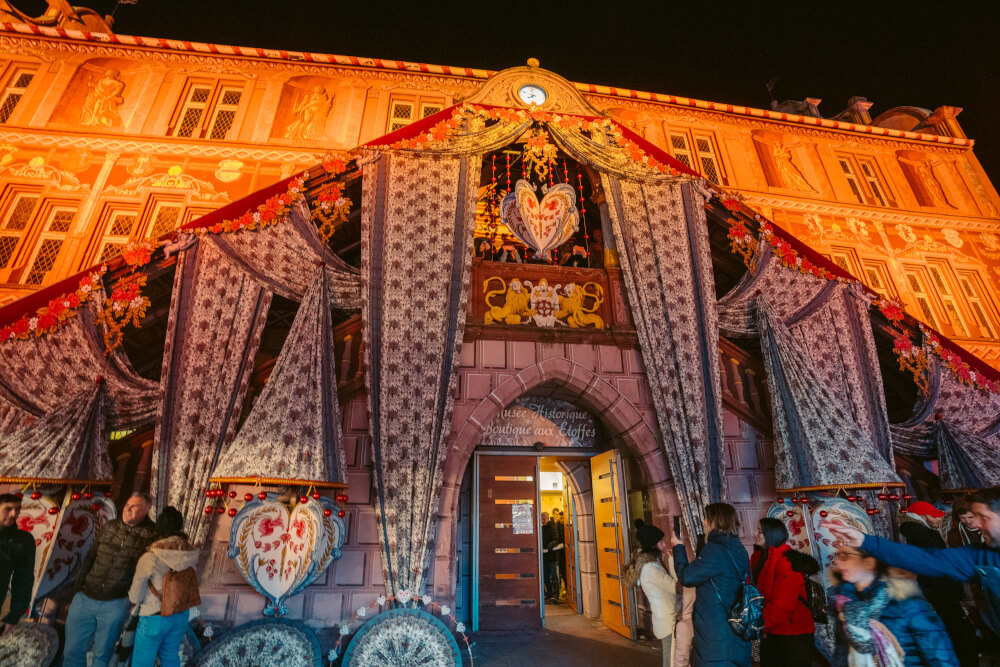 5. Eguisheim Christmas Market
The charming village of Eguisheim is often said to be the inspiration behind Belle's village from Beauty and the Beast, so you can imagine it might be the ideal setting for a Christmas market…
And wow. Really, wow – it's everything I imagined it would be: idyllic, charming, and at Christmas time – wonderfully festive, but in a quieter, more understated way than nearby Colmar.
This was another Alsatian town where we decided to stay the night, and while its market is relatively tiny compared to bigger cities nearby, Eguisheim shines with a special charm that you'll be hard pressed to find elsewhere.
There's garlands of twinkly lights draped gracefully over trees, quiet lanes packed with colourful timbered houses, and effortlessly scenic streets running in three concentric circles around the town's central square, Place du Château Saint-Leon.
While the crowds did begin to arrive in droves as the weekend began, staying the night allowed us to enjoy a quieter and quainter version of Eguisheim.
I highly recommend basing yourself here, even just for one night. We stayed in this three story timbered house on one of Eguisheim's most picturesque streets and it was incredible.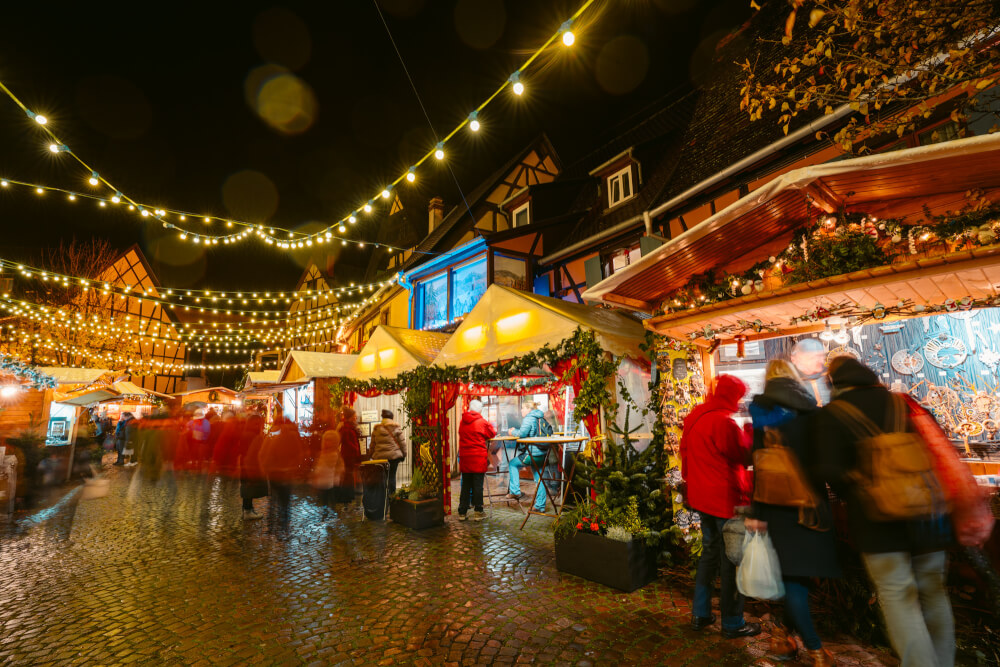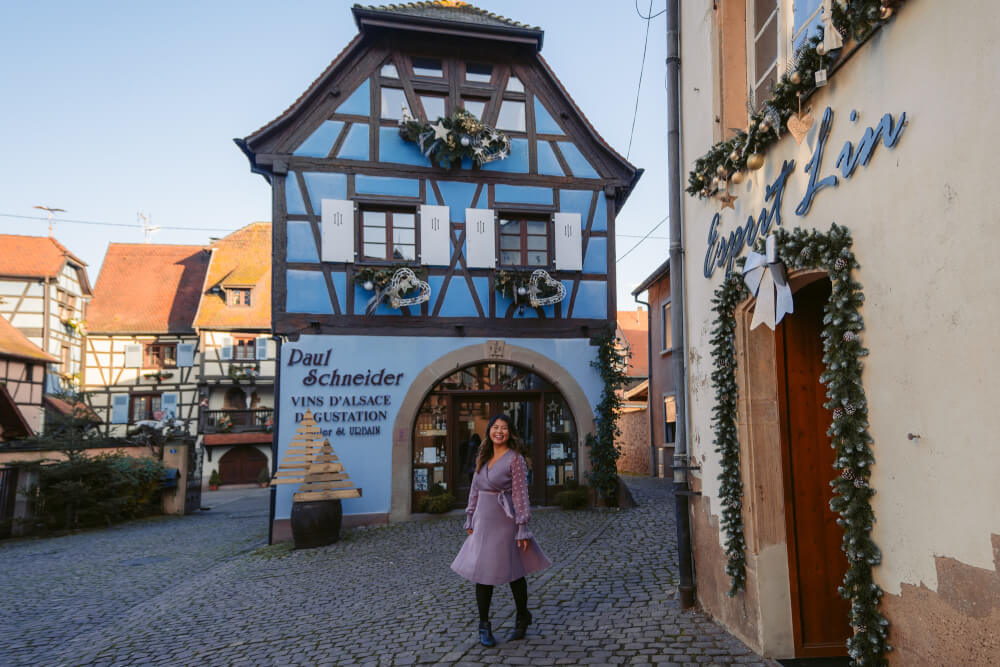 6. Kaysersberg Christmas Market
Out of all the beautiful Alsace towns I visited during my Christmas market binge, Kaysersberg felt the most aggressively Christmassy… in the best possible way!
In Kaysersberg, you don't just feel like you're visiting a Christmas market, you feel like you're visiting an entire village completely engulfed by Christmas, with an endless parade of beautiful market stalls and equally beautiful storefronts selling sweets, ornaments and everything in between.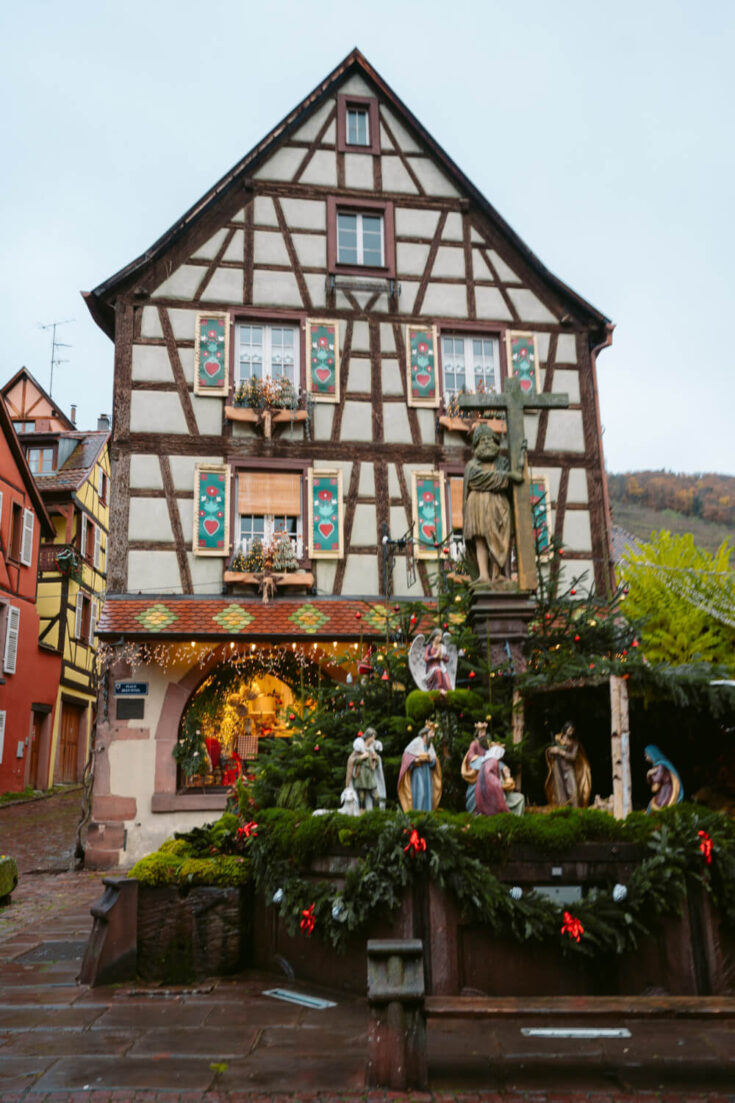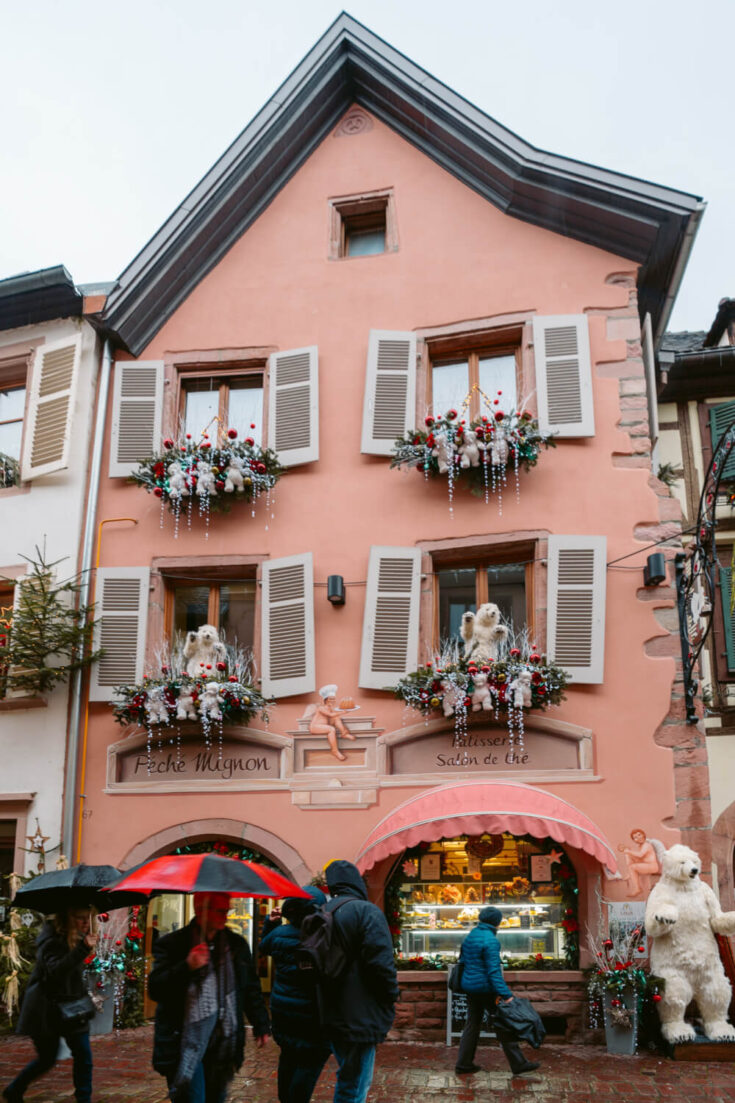 There's even a local farmers' market that focuses specifically on local food products, AKA a wonderful excuse to drink wine in the name of "culture".
One of the most unique characteristics of this beautiful medieval town though is its surreal setting – built on a rushing river, surrounded by lush terraced vineyards and overlooked by an imposing 13th century fortress.
I especially enjoyed the elaborate building facades, often adorned with colourful (and crooked!) shutters, sparkling baubles, and festive decor in the form of toys, greenery, and plenty of glitz.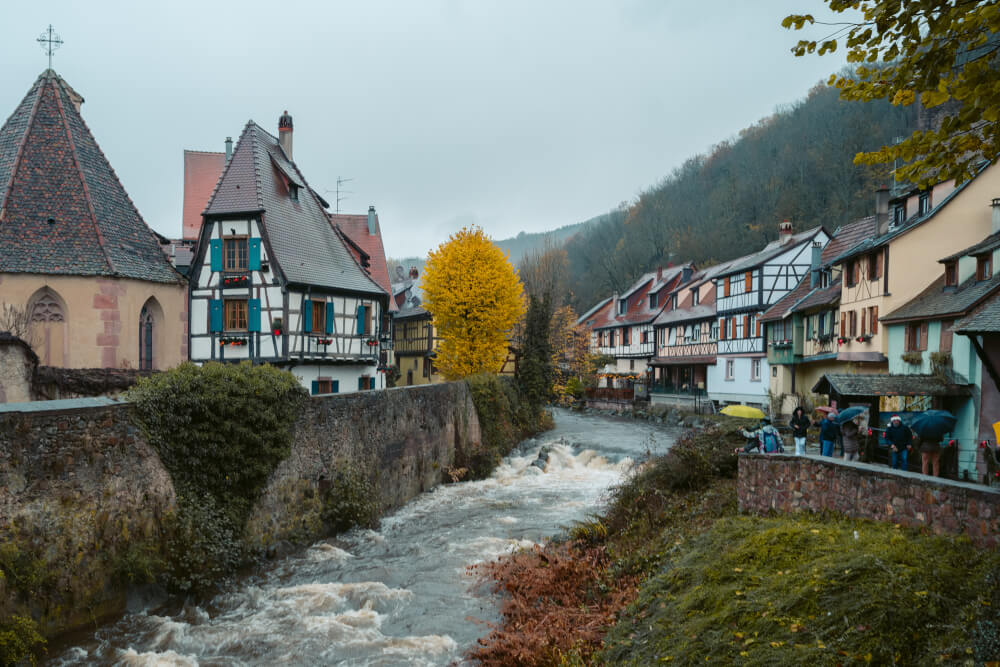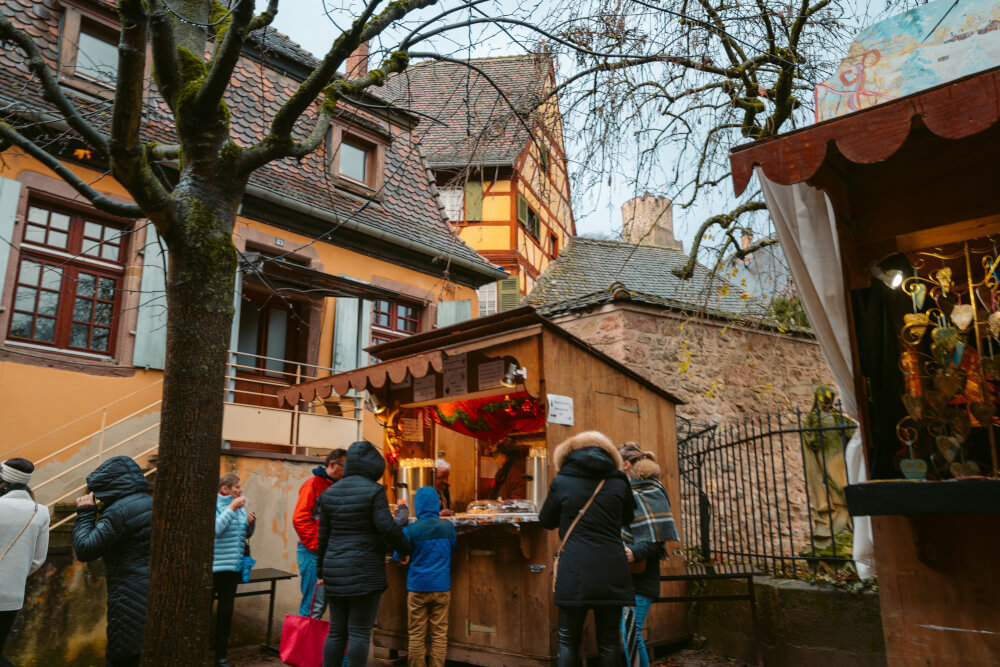 7. Turckheim Christmas Market
Known for its colourful 'Elves' Village, Turckheim is a town that puts a wonderfully whimsical twist on traditional Alsatian markets.
Stepping into this market is like walking into a colourful cartoon set, with vibrant chalets made to look like they were painted by elves, along with a full-on elves' wishing well where you can make your own wishes for the upcoming year.
Turckheim's most famous Christmas attraction though is probably its colourful advent calendar, which opens up a new window every day from Dec 1 – Dec 24.
I didn't get to catch this ceremony in action, but apparently every day at 5pm, the opening of each window is accompanied by a ritualistic lighting of the Advent wreath along with a mini story time about the Saint of the day or the special image revealed by that day's window.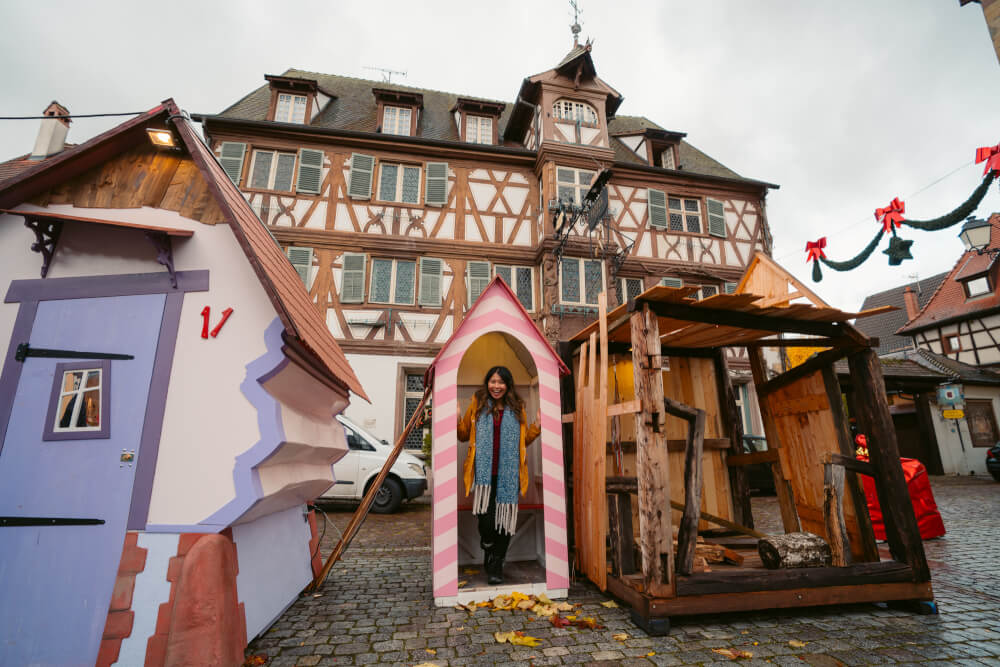 If you want an adorably whimsical place to do some Christmas market shopping, be sure to visit Turckheim!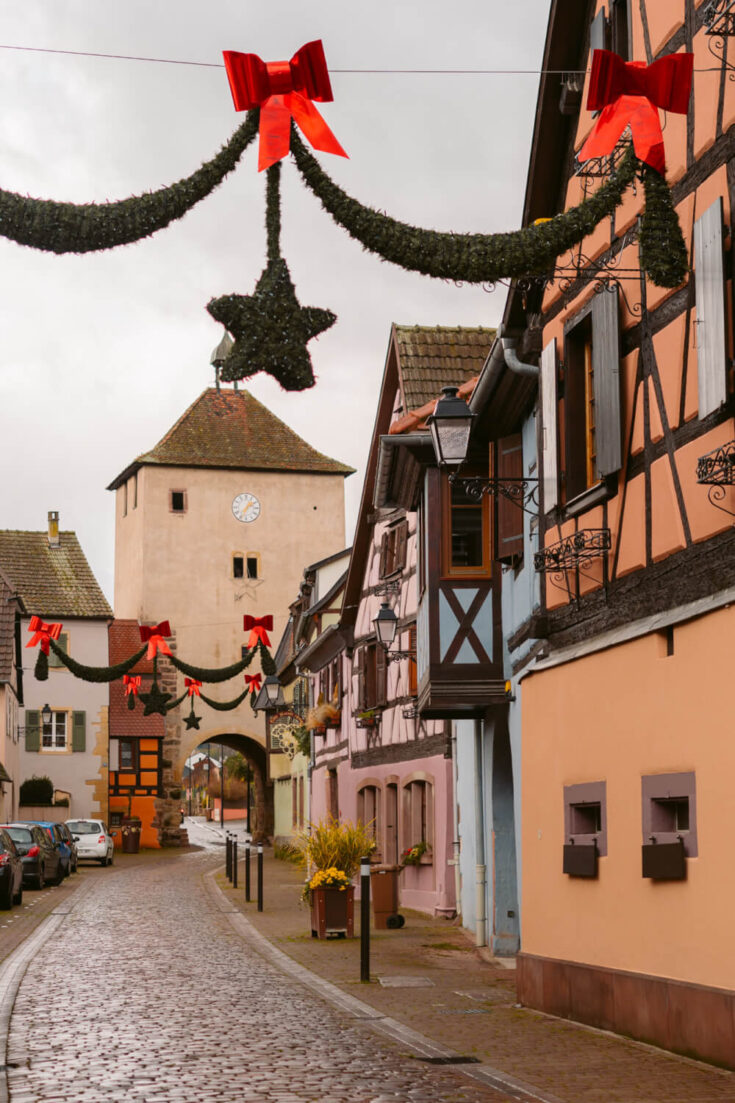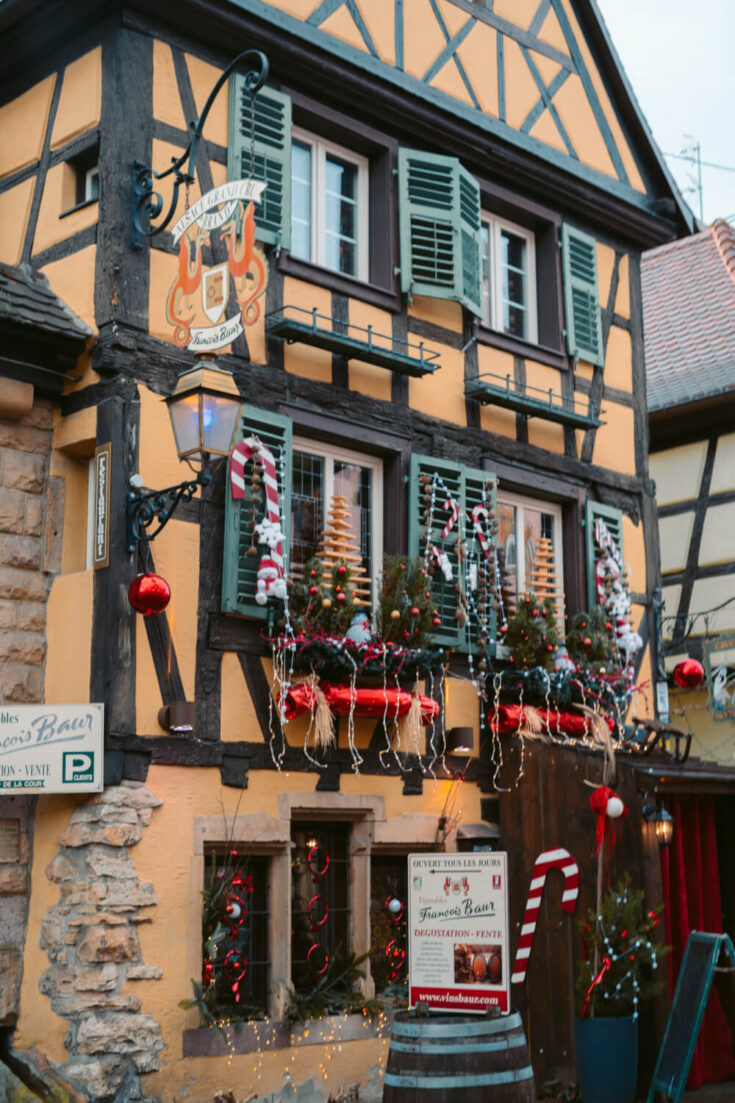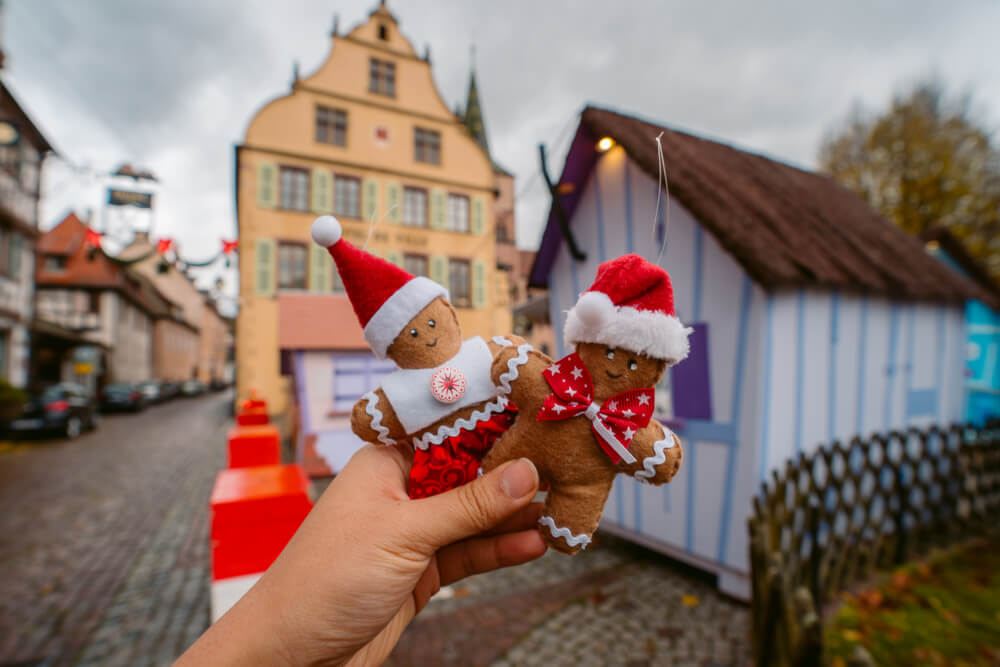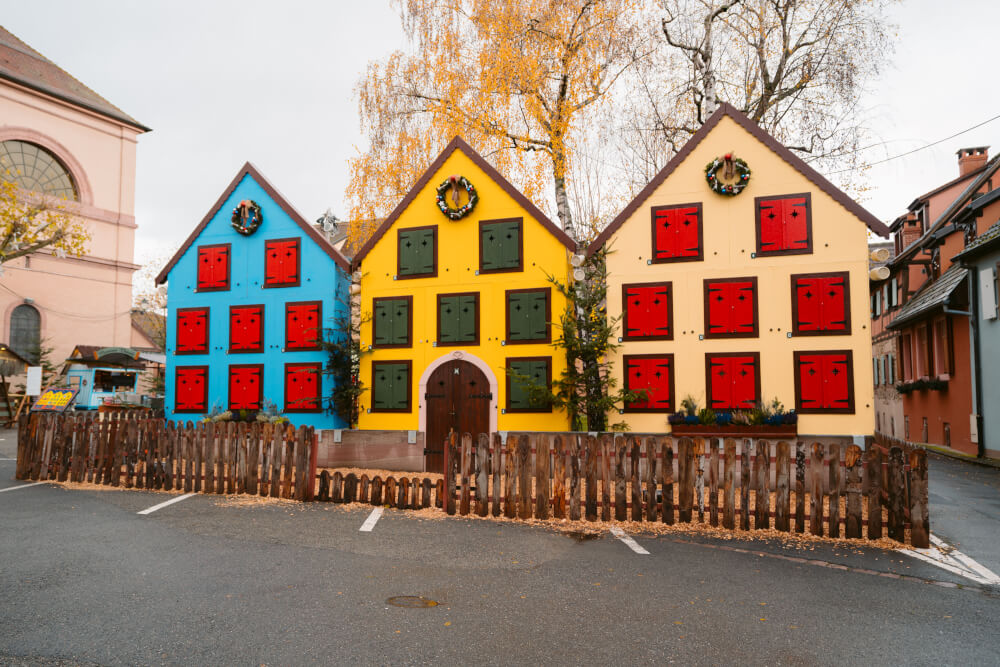 8. Thann Christmas Market
The best way I can describe the Thann Christmas Market is that it's small, but mighty.
If you're looking for a cozier, more relaxed, and infinitely more local Alsace Christmas Market experience, you should definitely check this one out.
Thann's Christmas market consists of about 30 stalls clustered around the St. Theobald's Church, and I found the shopping and food options to be really impressive in spite of the market's size!
I couldn't resist picking up a new knitted headband from Aux Chiffons de Maria, who has been selling her knitted goodies here for 6 years now, and I also spotted a variety of unique jewelry pieces (Shaman Creations had some beautiful ones!), as well as yummy smelling soy candles.
Food-wise, I basically inhaled a delicious Späetzi-Box, which was filled with the most indulgent käsepätzle, topped with mushrooms, bacon and more cheese.
My friends also grabbed some vegetarian spring rolls from Le Traiteur Vert, which had vegan/veggie Thai food. Definitely not your standard Christmas market fare!
PS: One very quirky and wonderful event they do here is something called Le Père Noël escaladeur, during which Santa literally abseils down the church tower with his elves and gives candy to the children. I couldn't make this up if I tried!
Click here for more info from the official Thann website.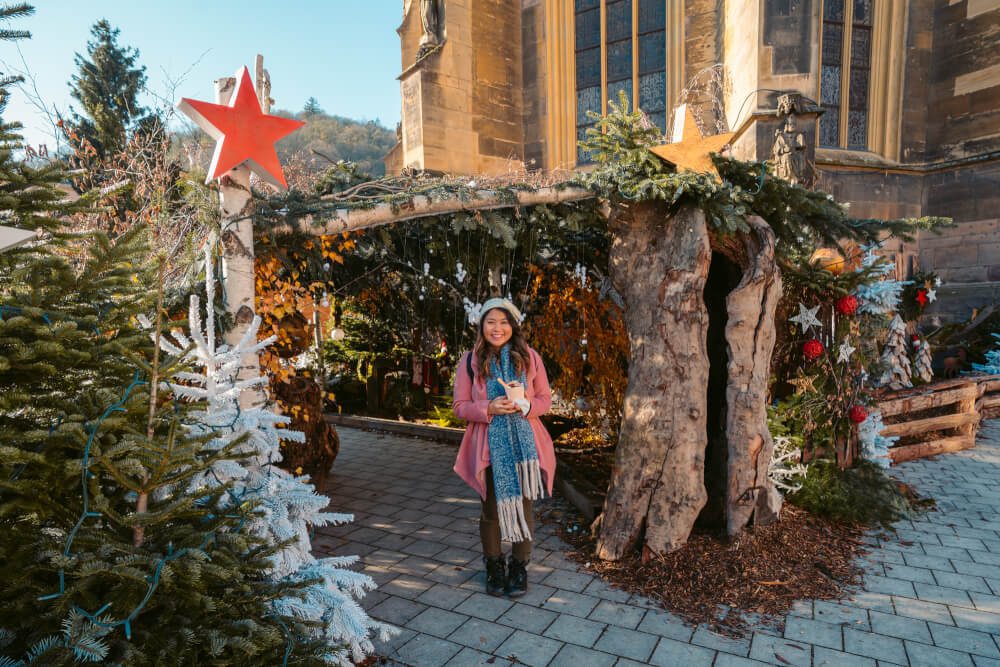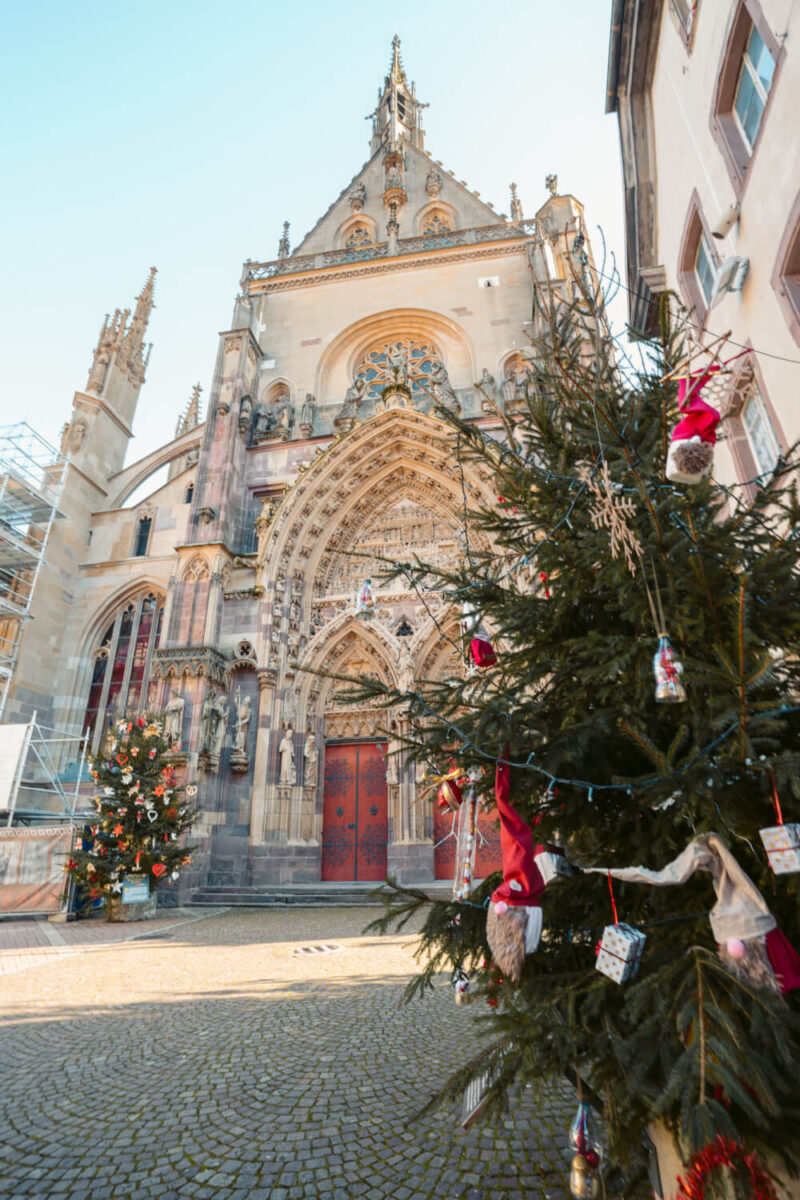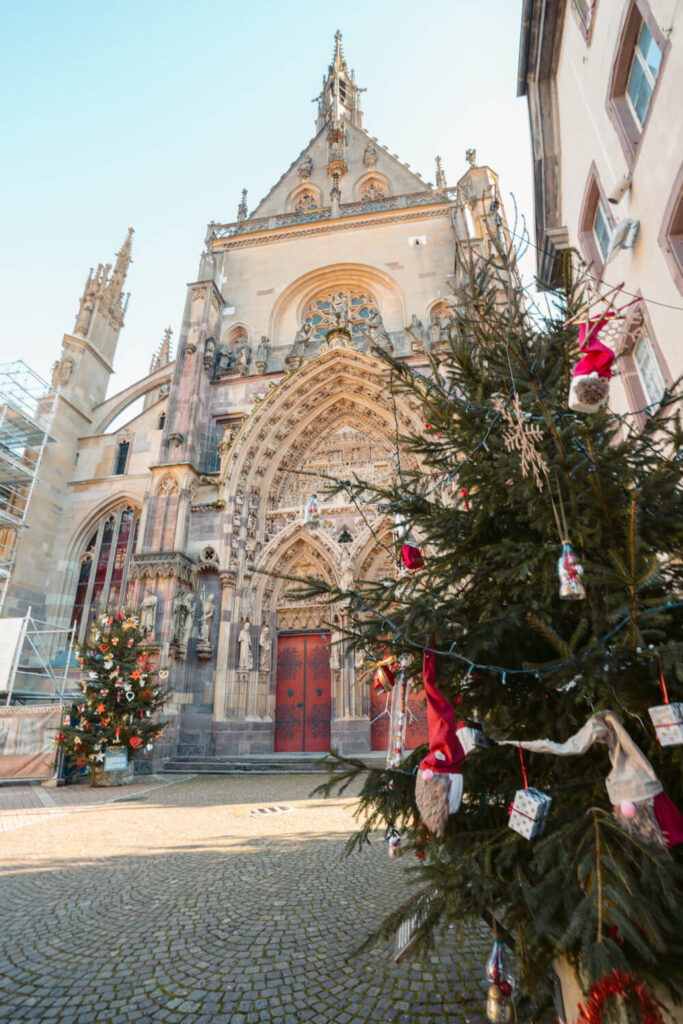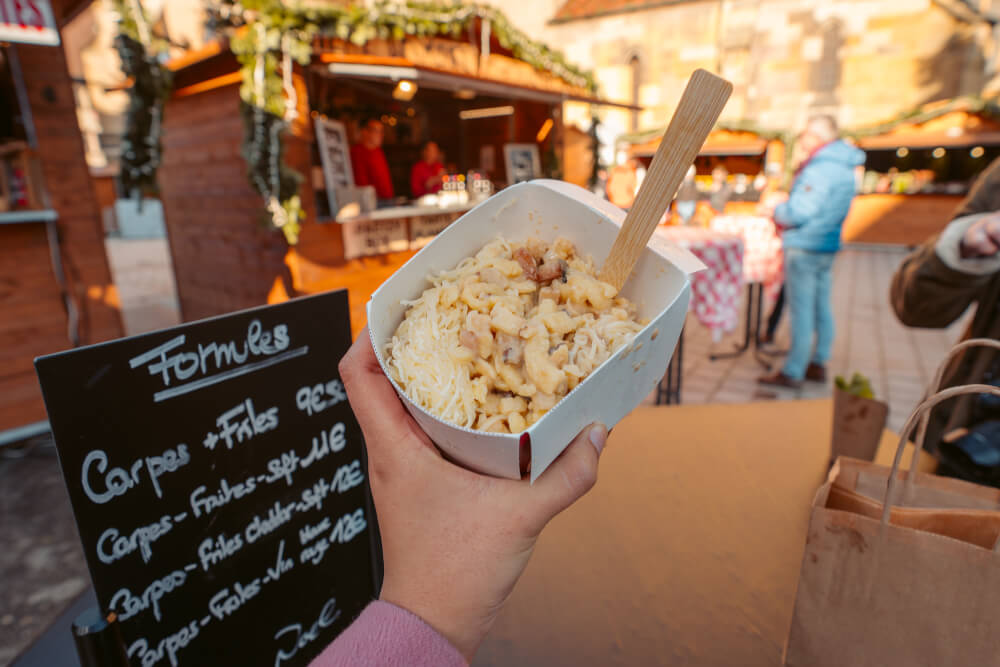 For an Alsace Christmas market with an eco-heart and alternative flair, be sure to visit the Kingersheim Christmas market, located just north of Mulhouse.
This market is a little different from the others thanks to its emphasis on eco-friendliness, with all their stalls offering beautiful items made from recycled and upcycled materials.
This theme carries on even to the decor of the market itself, with repurposed bike wheels acting as artsy dreamcatchers and mobiles suspended from the ceiling.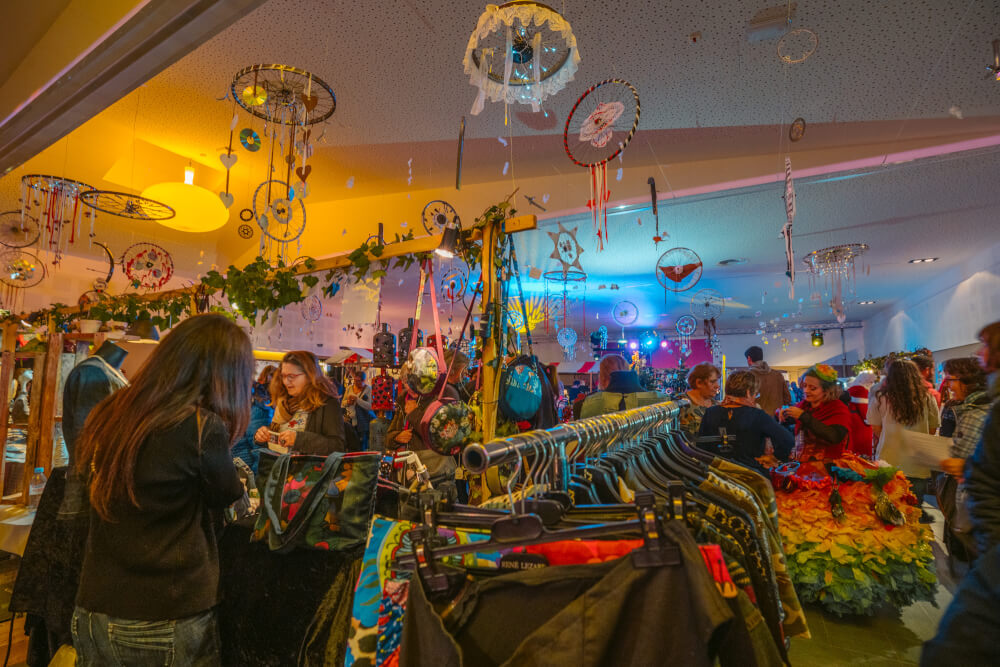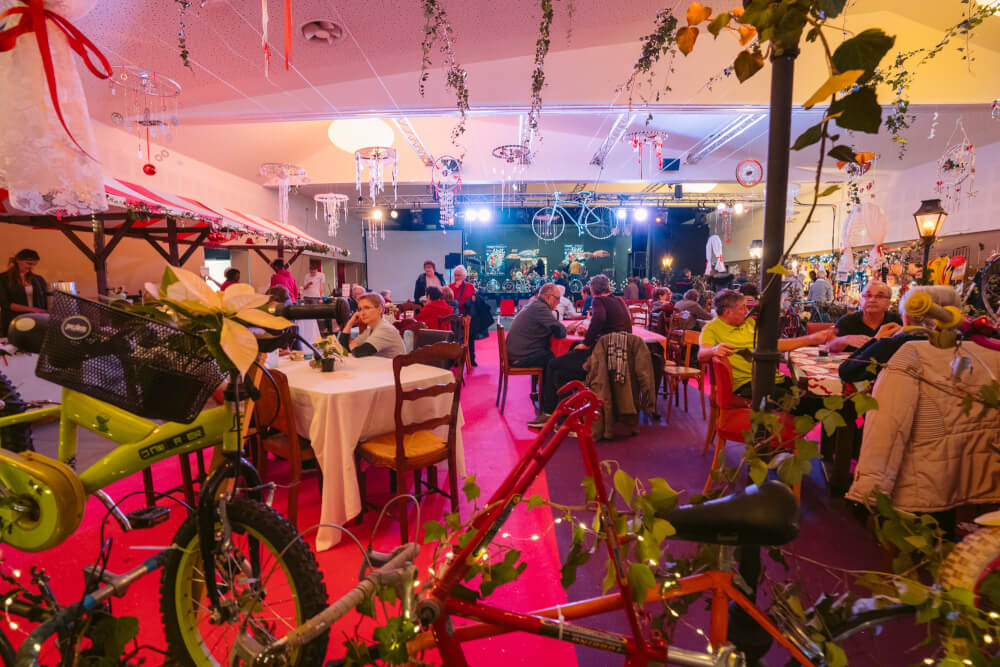 While small and primarily indoors, this market is amazing for shopping. I personally bought some gorgeous jewelry here, and spotted lots of creative and unique gifts, including adorable painted rock plants, whimsical papier mâché sculptures and all sorts of wonderful handmade creations. While it's only on for one weekend a year, I highly encourage you visit if you get a chance!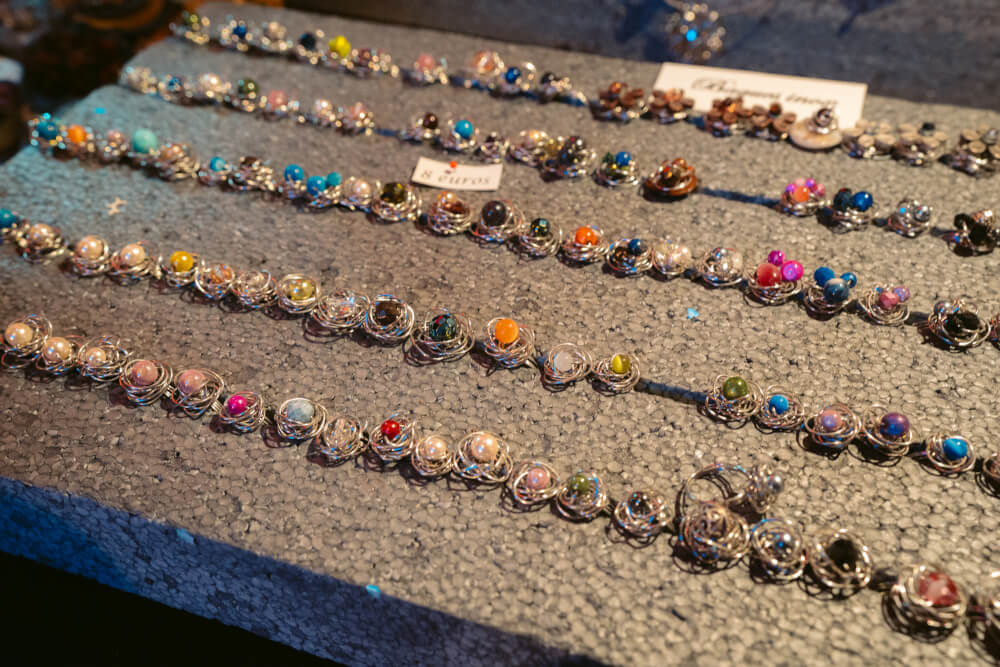 10. Pfastatt Christmas Market
The Christmas market at Pfastatt was one I never expected to fall in love with, but thanks to an insider tip from a jewelry maker in Kingersheim who called it her favourite one in Alsace, we knew we needed to go.
The best word to describe this tiny neighbourhood Christmas market is wholesome.
Sprinkled with cute figurines of elves and snowmen, this market is built along winding paths of a leafy square laced with trees, making the experience of browsing its 80+ exhibitors feel like a walk through an enchanted forest.
Everything about this market felt homier and friendlier than some of the more touristed Christmas markets we went to, with stall after stall of handmade products and friendly exhibitors along the way.
We even caught a game of unbelievably wholesome trivia, which everyone was actively getting involved in. The best part? The trivia was literally about the market itself!
If you want a really wholesome and quieter neighbourhood market, this one in Pfastatt is a must!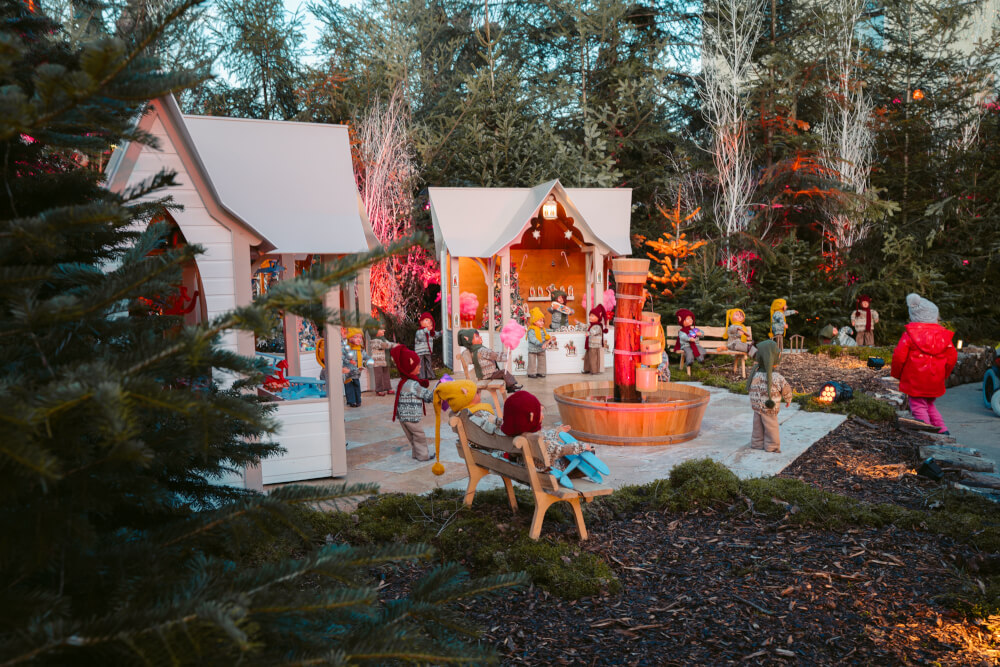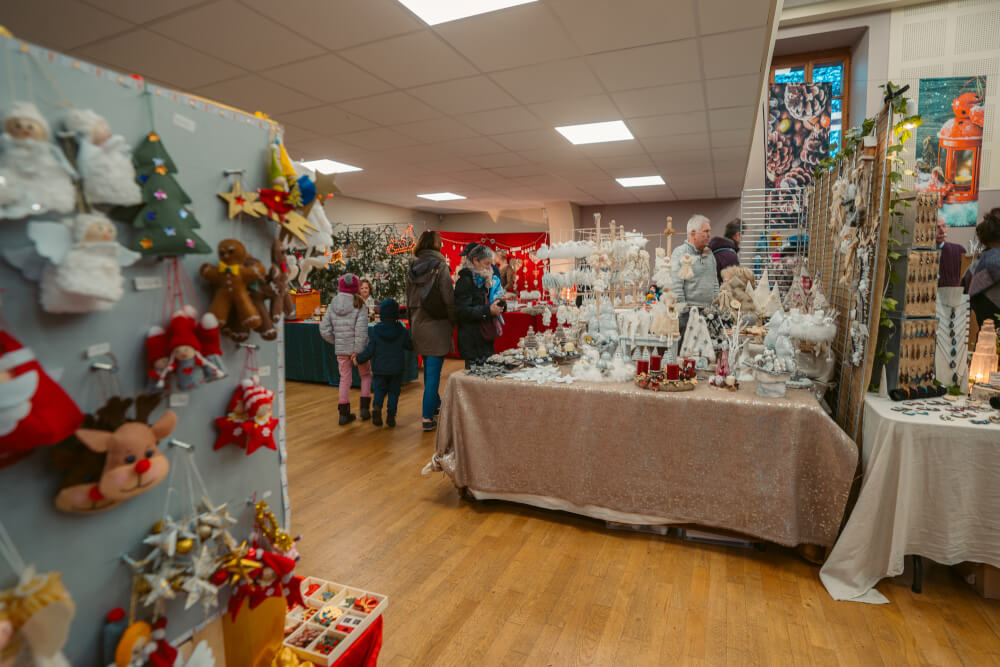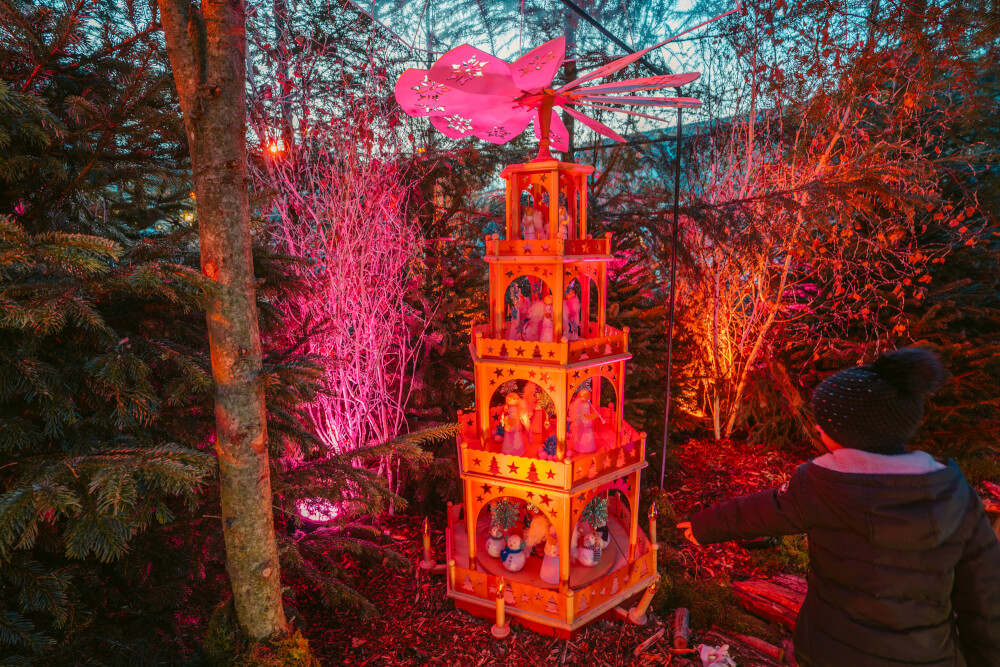 Other Unique Christmas Markets in Alsace
Of course, there are plenty other Christmas markets in Alsace that you can visit besides the ones listed above.
Here are a few other unique Christmas markets to put on your radar, including ones I didn't get to visit myself, or ones that I didn't particularly love but you might!
Sélestat Christmas Market
While researching the many different Christmas markets in Alsace, I wanted to whittle down our itinerary to ones that had something unique to offer.
In my search, I came across the small town of Sélestat, famed for being home to the oldest written record of the Christmas tree, dating back to the 16th century!
… I mean, the birthplace of the actual Christmas tree? I knew we had to go.
If there's one thing I'm certain of, it's that Sélestat is firmly obsessed with this whole Christmas tree theme. Besides a small Christmas market of their own, they also have a 'history of the Christmas tree' display in their main church, as well as a Christmas tree garden (supposedly).
Sadly, whether it was unfortunate timing or miscommunication, the Christmas tree garden wasn't open (despite its opening hours stating otherwise) and the town was ghostly quiet on a Sunday.
While the experience would have probably been a lot more pleasant if it were livelier and everything was open, I wouldn't recommend going out of your way to visit the Sélestat Christmas Market….. unless you LOVE the Christmas tree, in which case, knock yourself out.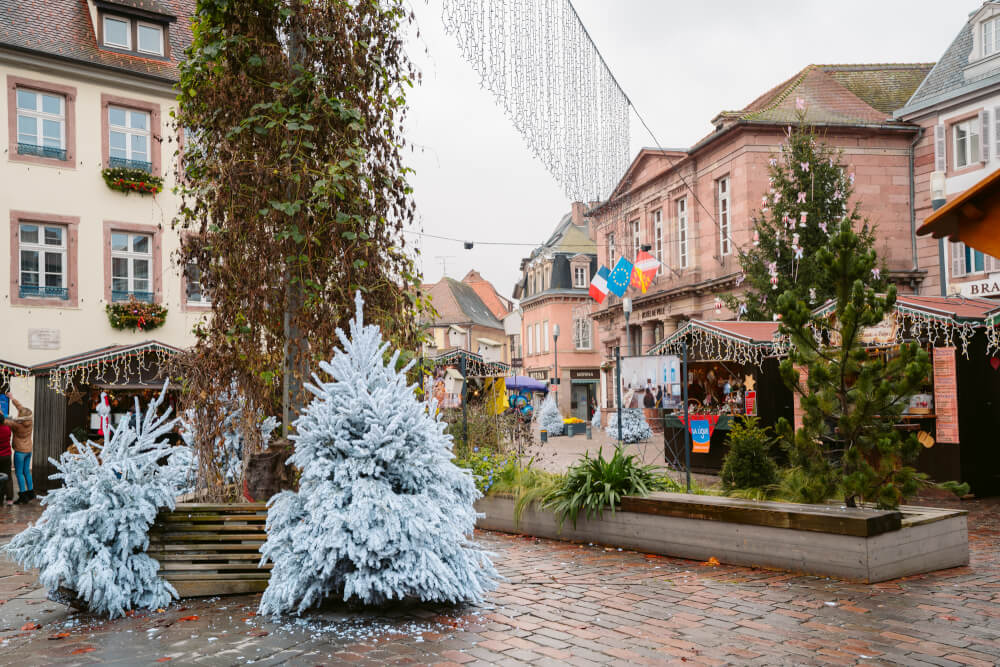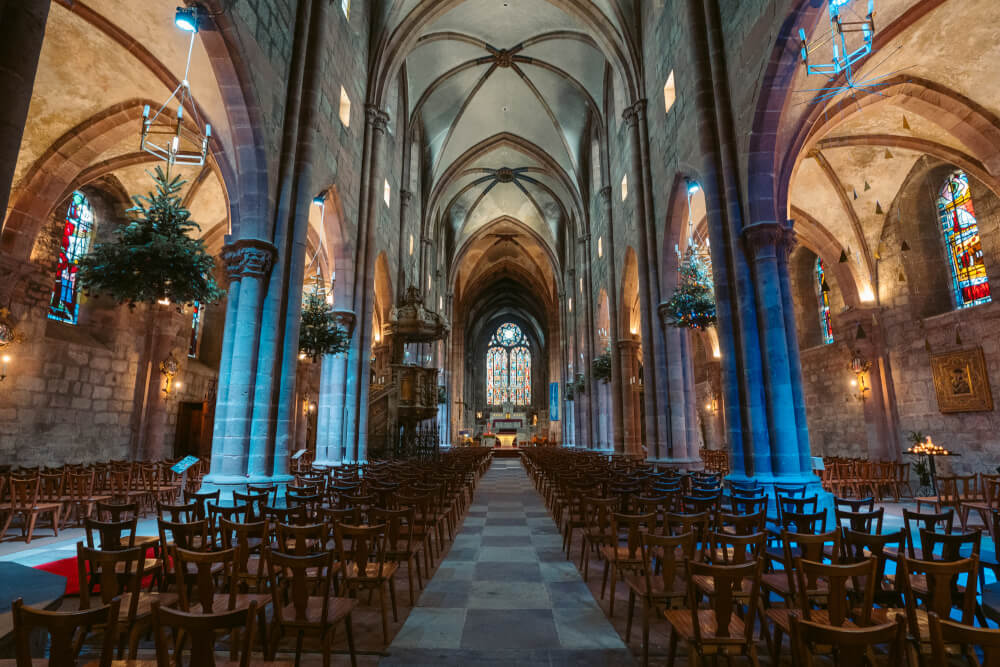 Guebwiller Blue Christmas Market
The Guebwiller Christmas Market, located halfway between Colmar and Mulhouse, offers a unique Christmas market experience in Alsace with their signature 'Blue Christmas' event, so-named thanks to the array of blue lights and displays that illuminate the city.
We arrived here just after sunset to discover a quaint set of Christmas market chalets sprinkled around the Guebviller town centre, with some blue-tiful backdrops including the Notre-Dame de Guebwiller church and the extremely magical Hôtel de Ville (which also had a large skating rink!)
If you're in the area, this is definitely a neat Christmas market to check out, particularly if you can be in town for the variety of different performances, parades and illuminations that they have on their holiday schedule, because they do look really cool.
But, quirky colour theme aside, I didn't think this was a particularly wow-worthy Christmas market, although it did make for some pretty photos: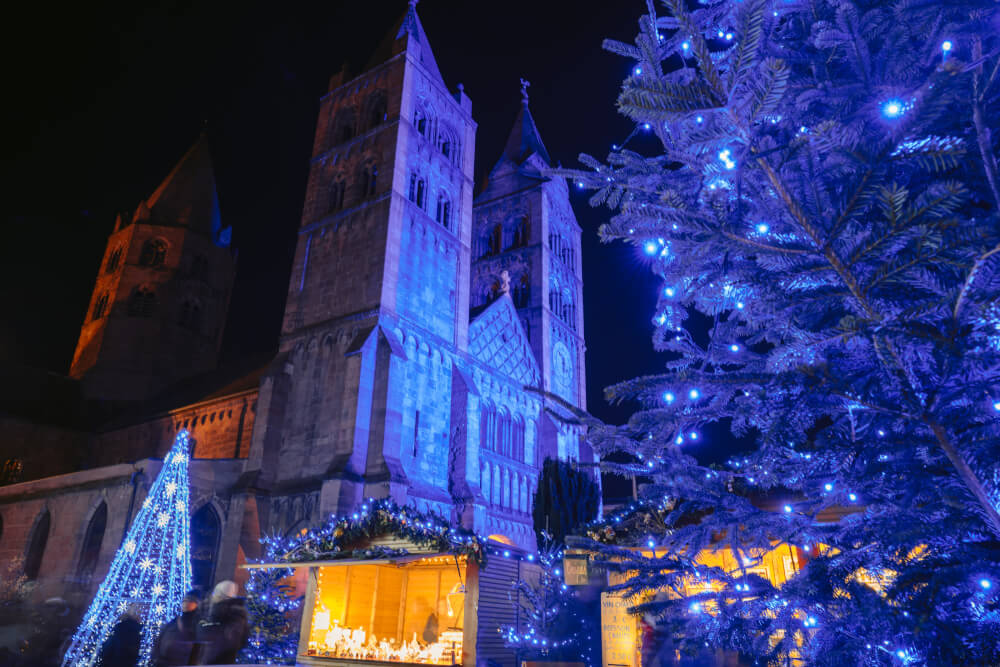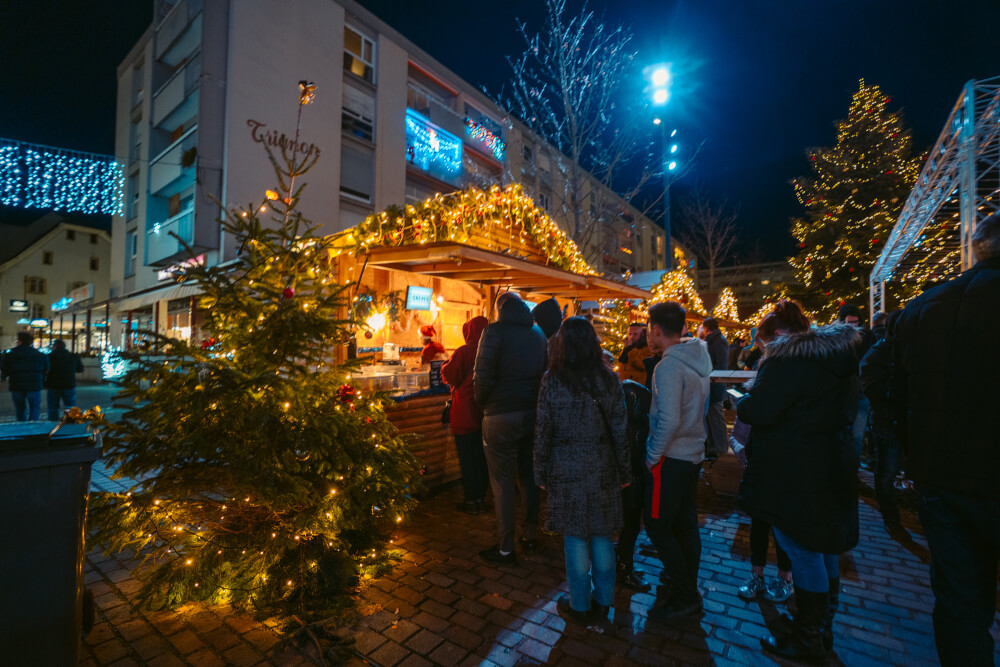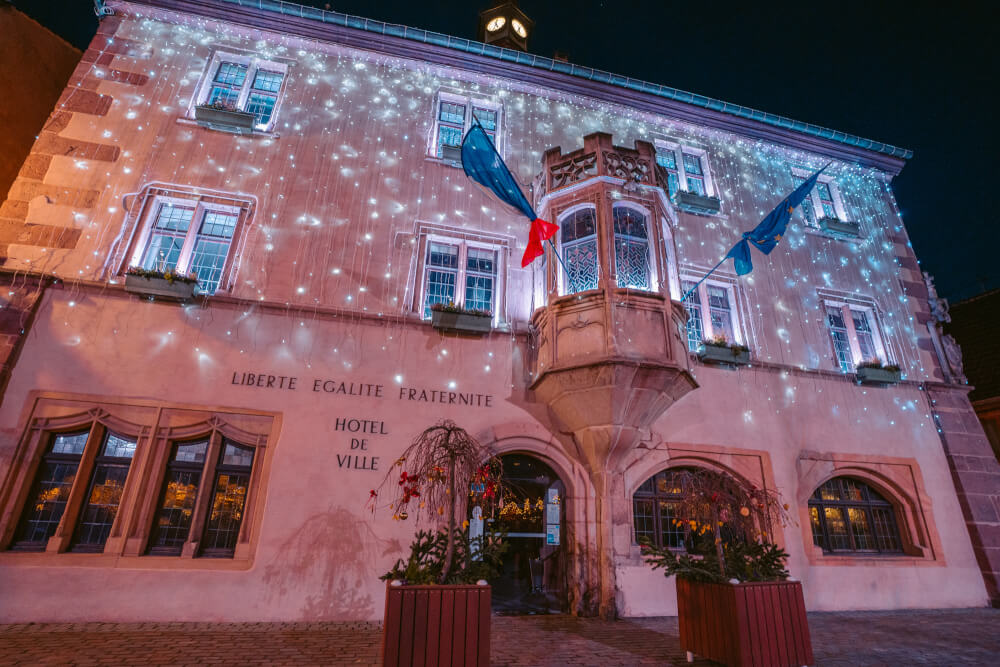 Ribeauvillé Medieval Christmas Market
Longtime readers will know I'm a sucker for a good medieval market – the Esslingen one in Germany being my ultimate idea of nerdy, time travelly fun.
BUT Alsace has a medieval Christmas market of its own – the Ribeauvillé Christmas Market, open only two weekends a year and unfortunately not the weekend I visited!
That said, I wanted to include it in this roundup because we stopped in Ribeauvillé during our road trip and I found the atmosphere there to be absolutely magical, even without the Christmas market going on.
There were decorations made out of charming Dickens-era lanterns, cutesy decorations made to look like cookies and pretzels, all with the beautiful shuttered houses so characteristic of the Alsace region.
I can only imagine how wonderful it gets here with the addition of street performers, jugglers, and plenty of carts selling old timey wares. I'd definitely put the Ribeauvillé Medieval Christmas market on your list if I were you!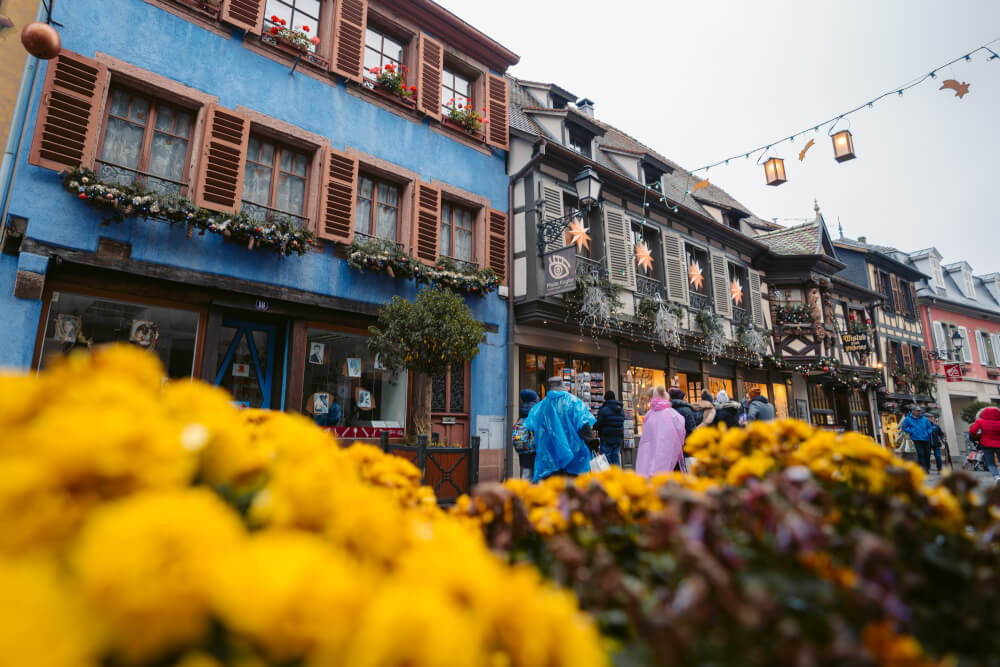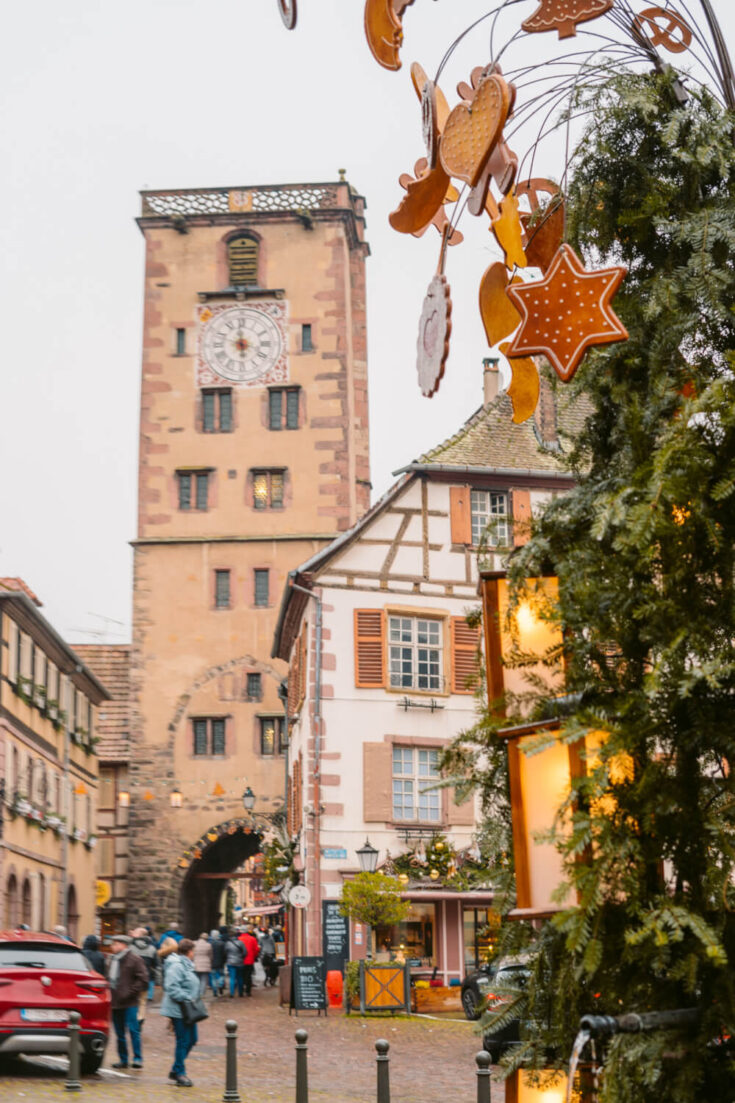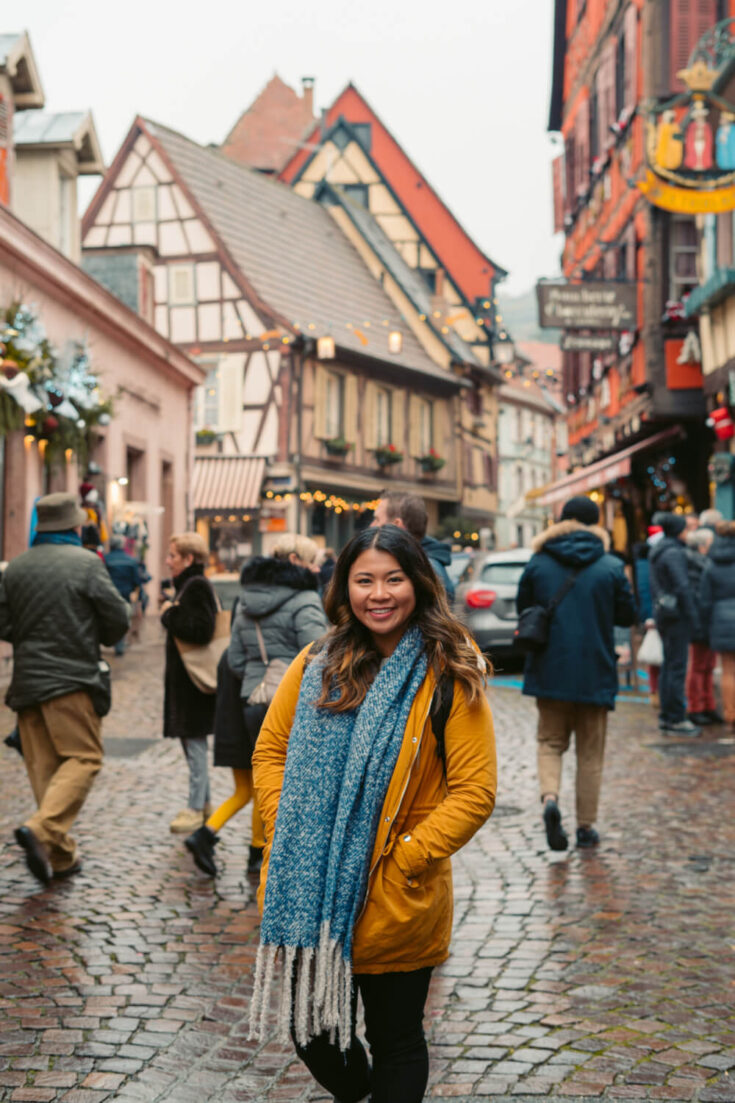 Riquevir Christmas Market
Last but not least, I have to mention an Alsace Christmas market that's so popular and beloved that we literally couldn't even get into it on a weekend.
The Riquevir Christmas Market is a market often touted as among Alsace's most beautiful, so I have to include it in this list, but I have to warn you that with great popularity comes great crowds and something that my friends and I dubbed "the Hunger Games of parking".
Pulling into this tiny walled town on a Sunday morning, we saw the most terrifying line-up of cars, parked on the side of the road almost 2km from the town center just because there was no space to park.
I've heard wonderful things about this market, and a friend of mine who went on Monday had no trouble… so just know that it's a market very popular with the bus tour crowd, so try to come in off-peak times.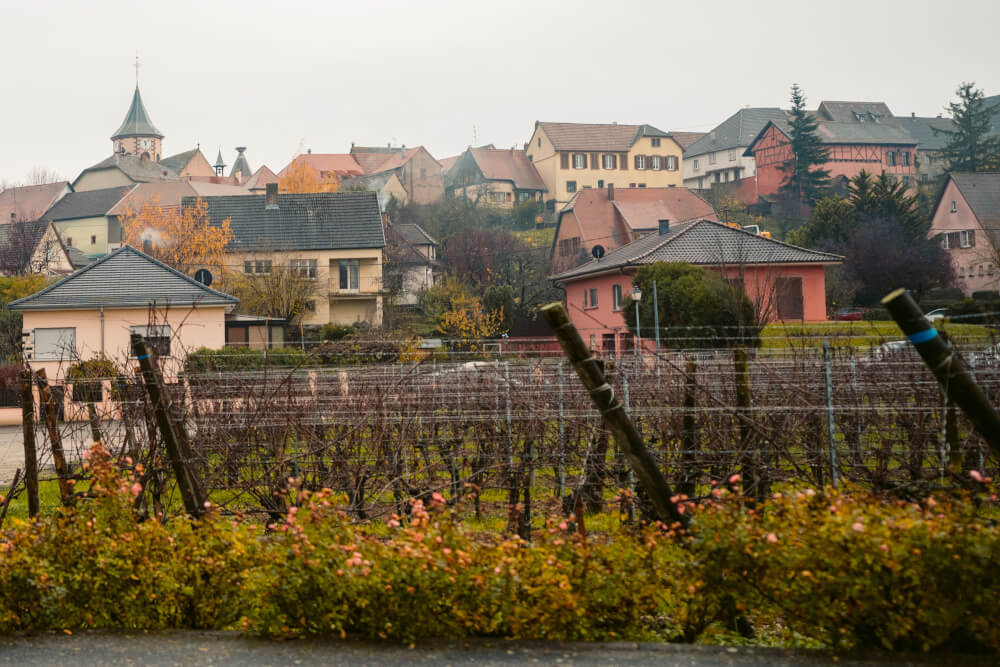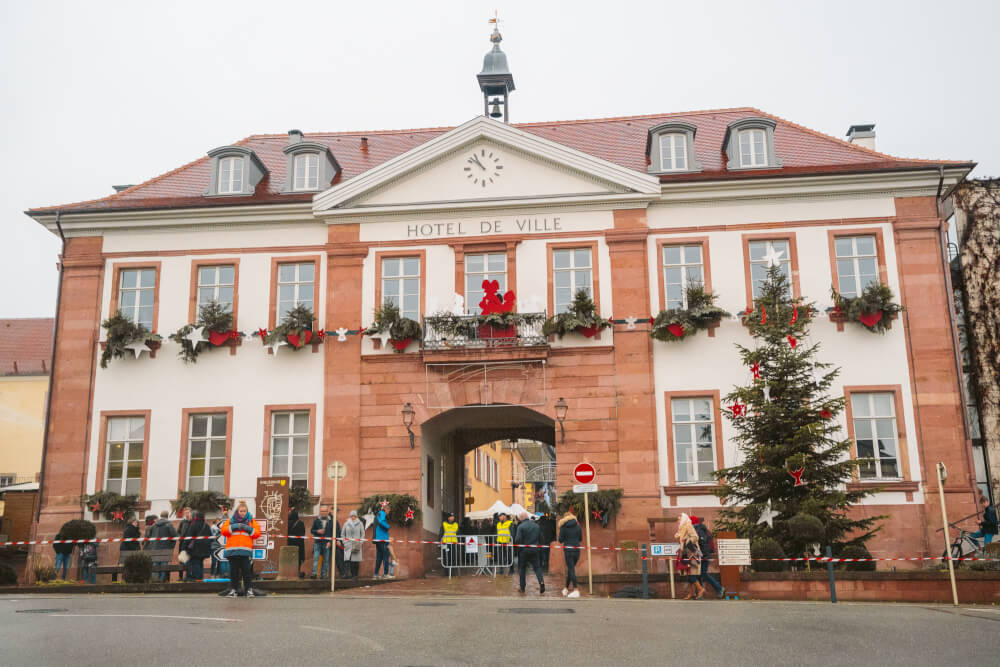 A Map of My Favourite Alsace Christmas Markets
Looking to see where all these spots are on a map? I've nerdily plotted that for you here. Hope it's helpful!
Tell Me: Did I miss any of your favourite Christmas markets in Alsace?
Let me know in the comments! I hope you enjoyed this festive guide to the best Alsace Christmas markets. If you're headed that way soon, just know that I am beyond jealous. Have a wonderful time!
---
Watch my most popular YouTube video this week:
---