*FYI - this post may contain affiliate links, which means we earn a commission at no extra cost to you if you purchase from them. Also, as an Amazon Associate I earn from qualifying purchases. Check out our Privacy Policy and Disclosure. for more info.
NOTE: This Copenhagen Christmas Market guide was written after my visit in 2021, but has been updated with the most recent info and dates I could find online. Do note that some details/locations may differ year to year though, so let me know in the comments if you notice anything inaccurate.
Known as one of the world's most magical cities, Copenhagen is truly a dream come true at Christmas time, with cozy markets, festive fairytale backdrops, and enough shimmery lights to make you forget it's dark by 3:30pm.
Last year, I spent a festive birthday getaway in the city, and embraced the holidays there in the best possible way: a little wine drunk, a little sugar high, and very, VERY emotionally unstable over turning another year older.
In this post, I'll be sharing the most magical things to do in Copenhagen at Christmas time, from outrageously lavish amusement parks to cozy Christmas markets and food halls. Oh, and I'll tell you about the hotel we stayed at, which had FREE WINE HOURS every evening, at each of their multiple locations around the city.
Read this and I guarantee you'll be Copen-havin' the most festive time of your life. Now, before I drive you away with any more cringey wordplay, let's get to the list.
1. Head to Tivoli Gardens
If there's only time for one Christmas attraction during your time in Copenhagen, make sure it's this one.
Tivoli Gardens is the world's 2nd oldest amusement park, and by far one of the most beautiful places to visit in the city at Christmas time.
Spread across 20 gorgeous acres, this park goes all out for the holidays, with thousands of sparkling lights, enchantingly elaborate decor and a variety of stalls selling festive food and drink… all of which make this spot more than worth the admission fee.
And for thrillseekers interested in a side of adrenaline with their sugar high, Tivoli is also home to some iconic rides, alongside plenty of fairground games and fun entertainment.
It does get busy here though, so my tip is to actually stay until the very end, when you'll almost feel like you have the park to yourself.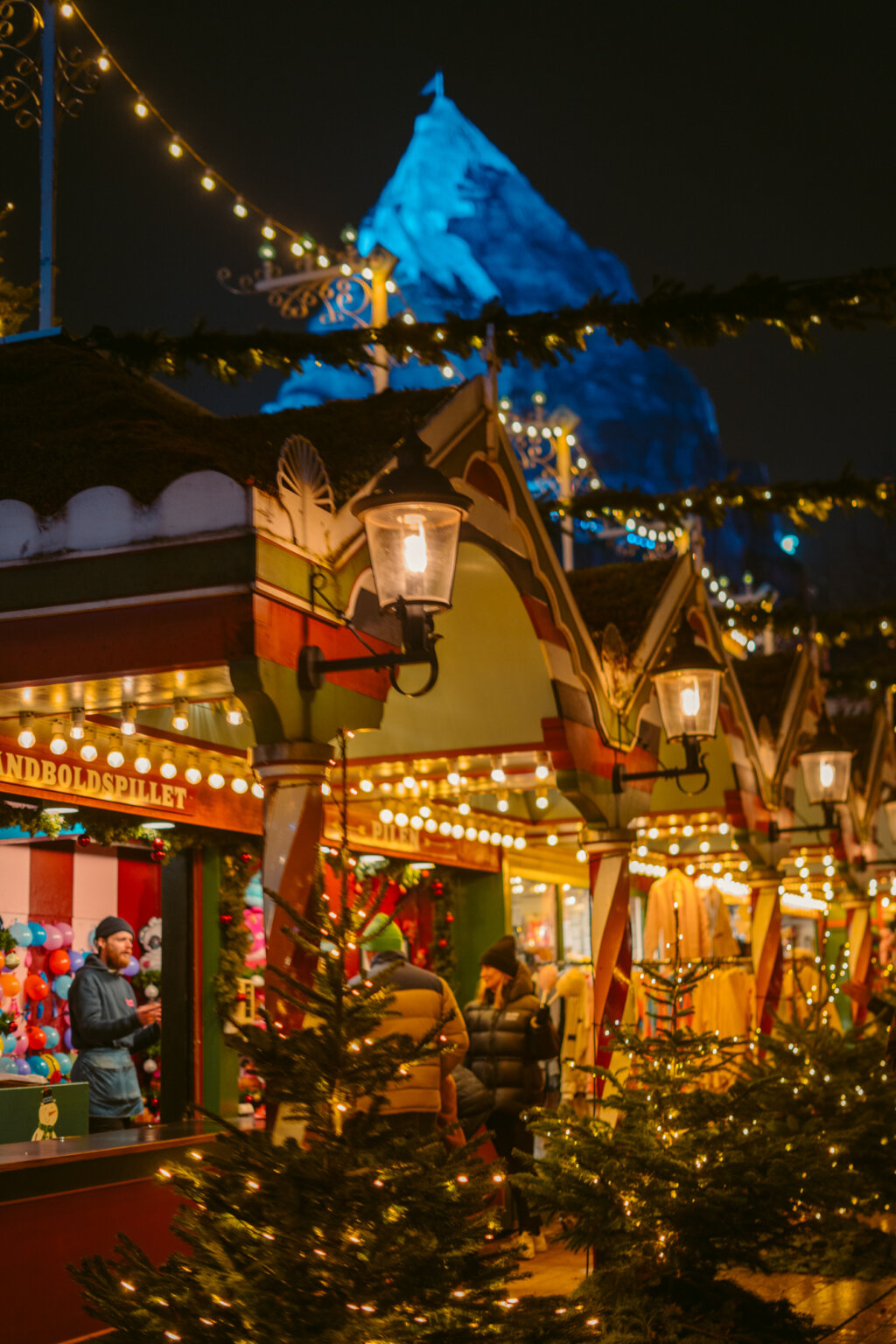 2. Bumble around Copenhagen's Christmas markets
Besides the market stalls at Tivoli, you'll find plenty of other Christmas markets or Julemarked scattered around the city.
Truthfully, I didn't find the main Christmas markets in Copenhagen ideal for shopping, with many of the same stalls appearing over and over… but I did find them lovely to wander through, and perfectly atmospheric for a warming cup of Gløgg. I mean, you're not going to visit Copenhagen at Christmas time and not see the markets, right?
So, here are some of the most popular (albeit touristy) Copenhagen Christmas Markets to add to your list… and I'll list out some better alternatives for shopping in the next bit.
🎟️ Book Activities & Tours:
King's New Square Christmas Market (Julemarked Kongens Nytorv)
One of the Copenhagen's larger Christmas markets can be found in the sprawling square of Kongens Nytorv, AKA King's New Square.
This historic square dates back to the 17th century, and is lined with some of the most luxurious buildings in the city, from the famous Magasin du Nord Department Store to the opulent Hôtel d'Angleterre (which is decked out with a new Christmassy facade every year).
This market offers a nice mix of decorations and wooden stalls selling a variety of gifts and delicious treats (of which the hot dogs, I can definitely vouch for!)
NOTE: The focus at this Copenhagen Christmas Market is definitely more on food and drink, rather than shopping, but the beautiful backdrops and plentiful lights make it worth at least a quick stop for a drink or bite to eat.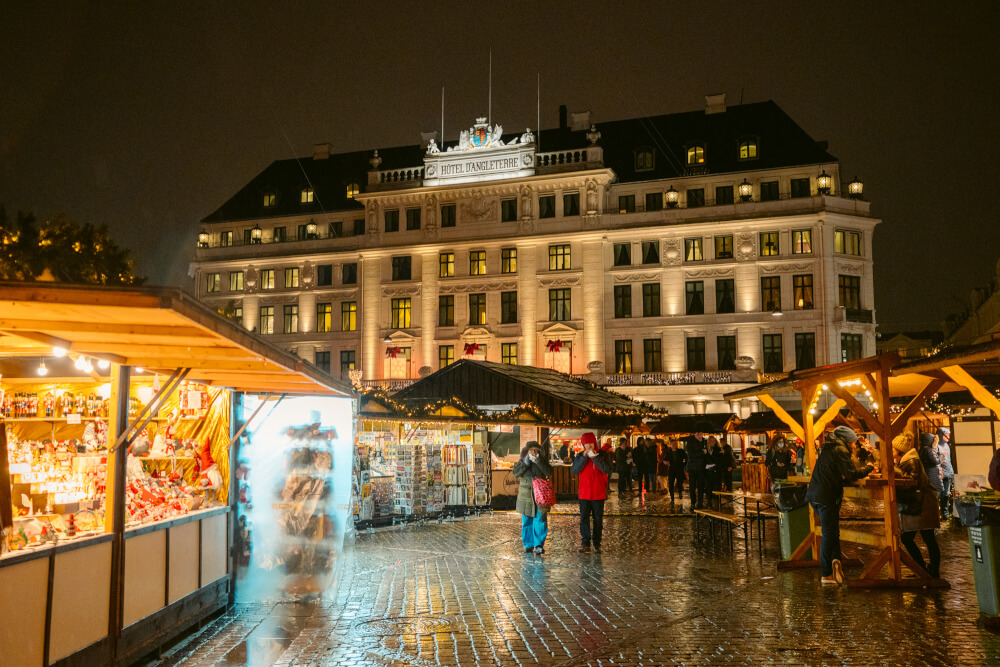 High Bridge Square Christmas Market (Julemarked Højbro Plads)
Google "Copenhagen Christmas Market", and odds are you'll be looking at a photo of the Christmas market at High Bridge Square (AKA Højbro Plads)… probably because of its aggressively unsubtle sign that says "CHRISTMAS MARKET" in all caps.
Subtlety aside, this market is actually really lovely, with a cozy Xmas market atmosphere similar to what you'd find in central Europe.
There's red wooden chalets selling gifts and typical Christmas market foods like sausages, plus plenty of (partially) covered spots to perch and enjoy a warming cup of something spiked and sweet.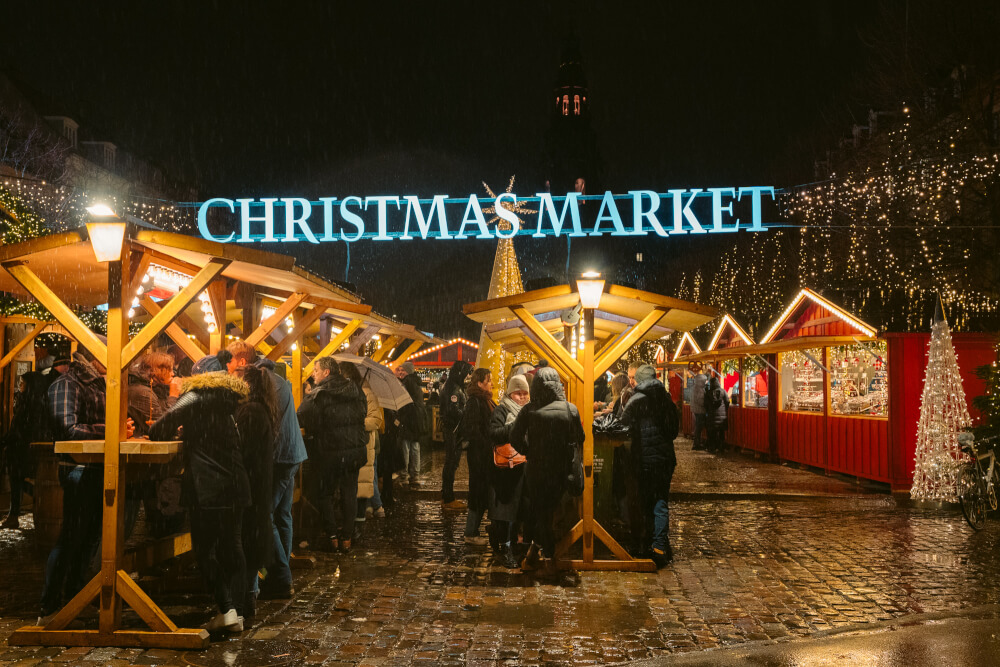 HC Andersen Christmas Market (HC Andersen Julemarked)
For a true fairytale experience, another Copenhagen Christmas Market you must visit is the H.C. Andersen Christmas Market in Nytorv Square, named after the famed Danish storyteller who brought us the original Little Mermaid and the Emperor's New Clothes.
This Copenhagen Christmas market can be found just off the city's famous Strøget shopping street, and is lined with festive little Christmas trees, and full of kid-friendly activities, as well as the classic wooden stalls selling food, drinks, and gifts.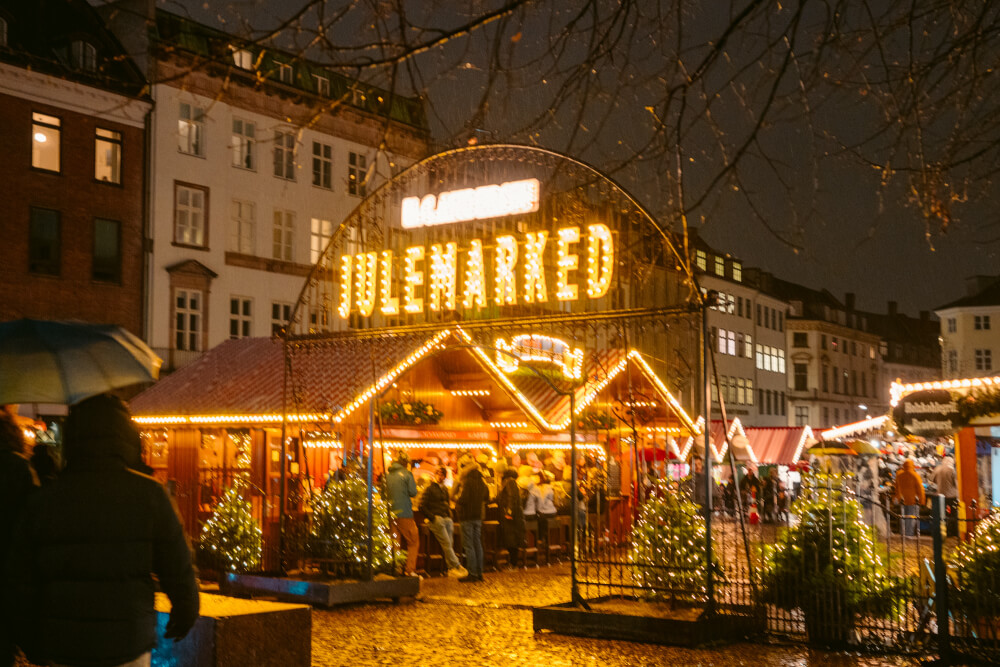 Copenhagen Zoo Christmas Market (Zoo Marked)
Another one of Copenhagen's top Christmas markets can be found at the city zoo.
I didn't get a chance to see this one during my visit (too busy chugging the free hotel wine), BUT if the official website is anything to go by, I missed out big time. There's 900 Christmas trees. 400,000 lights. Reindeer. Carriage rides. And market stalls – plenty of them.
Please don't repeat my mistake and go meet those reindeer for me.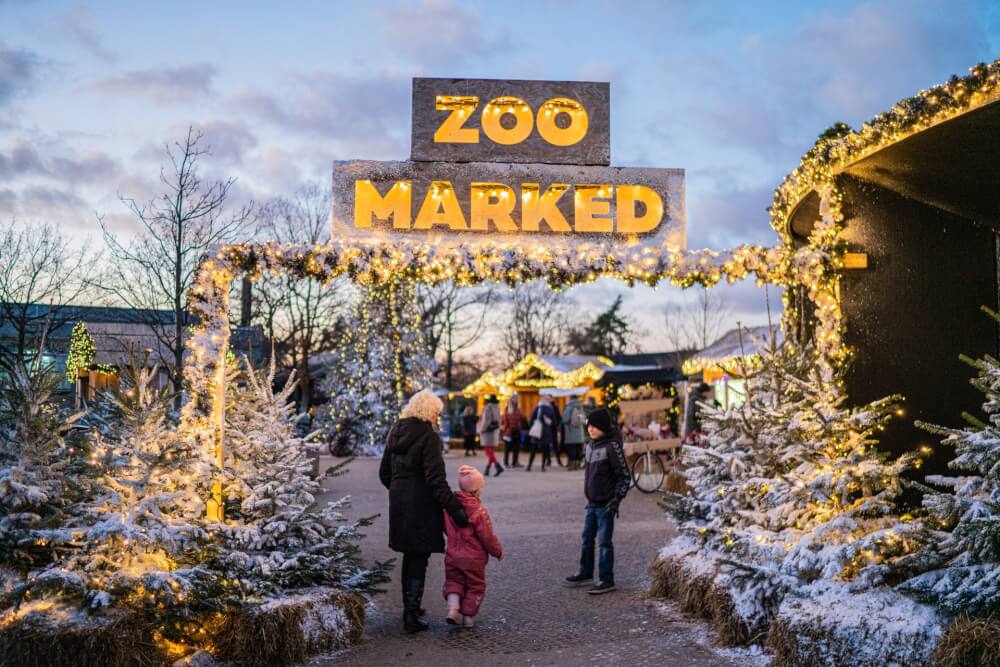 Freetown Christiania Christmas Market
Lastly, believe it or not, even Copenhagen's infamous Freetown Christiania (originally created when squatters took over a military base in the 70s) has their own Christmas market.
Photos aren't allowed in most of the area, so I can't show you much, but it's an interesting spot to visit, with some handmade gifts to browse like jewelry and candles, along with plenty of unique art installations and murals.
But, fair warning: don't come here expecting the typical European Christmas Market experience with elaborately decorated chalets and a million lights… and certainly don't take photos and video unless expressly allowed, like at the Christiania Art Gallery: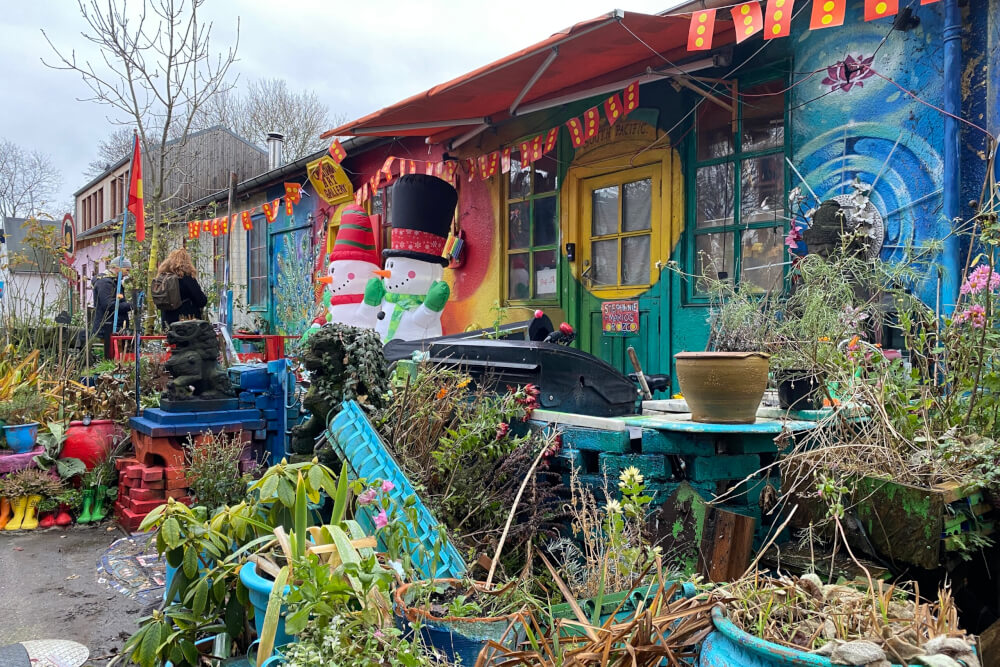 Europe Winter Packing Essentials:
3. Go shopping at some local design markets
Besides these main Copenhagen Christmas markets which are definitely better known for their atmosphere than their shopping, there are also various smaller, design-oriented markets in the city that are perfect for those looking to shop and grab unique gifts.
Be sure to research on local sites like this before your trip if that interests you, but here are a few of the most famous ones to take note of: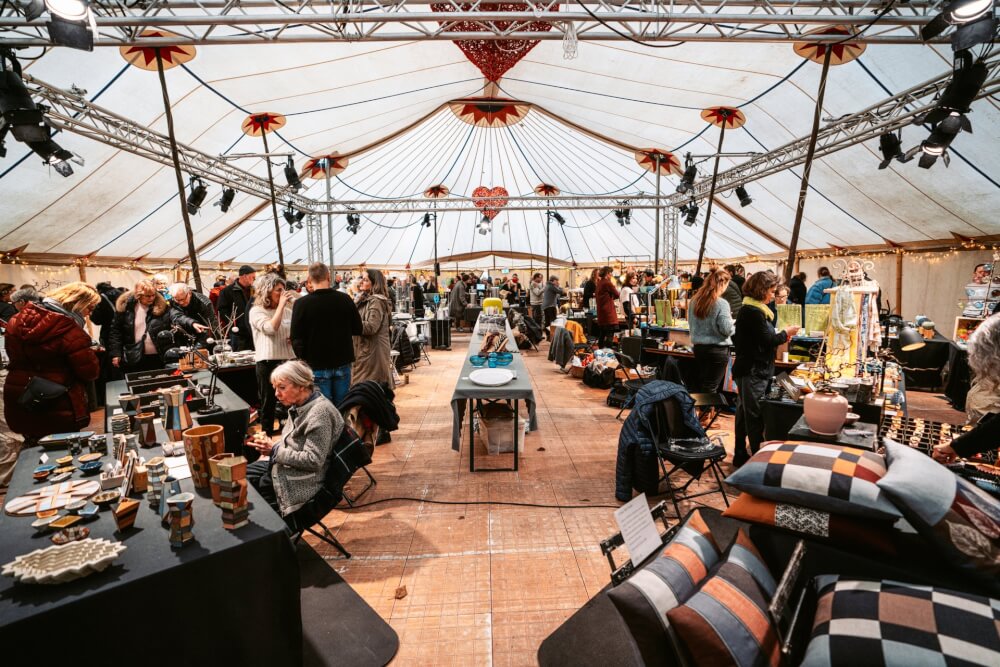 4. Stop by Nyhavn
Pronounced "Nee-hown", this colourful 17th century port is one of the most recognizable sights in Copenhagen, adorning every postcard, keychain and braggy Instagram post.
And against all odds, somehow Nyhavn becomes even more magical during the festive season, when photogenic Christmas market stalls pop up along the water, selling a variety of goodies to go with the picture-perfect views.
You'll also find many enticing restaurants and bars on this strip, but beware of inflated prices thanks to their hyper-popular location. My tip? Grab a gløgg to go and stroll around to appreciate the views, rather than dip into your life savings to afford a cube of cheese.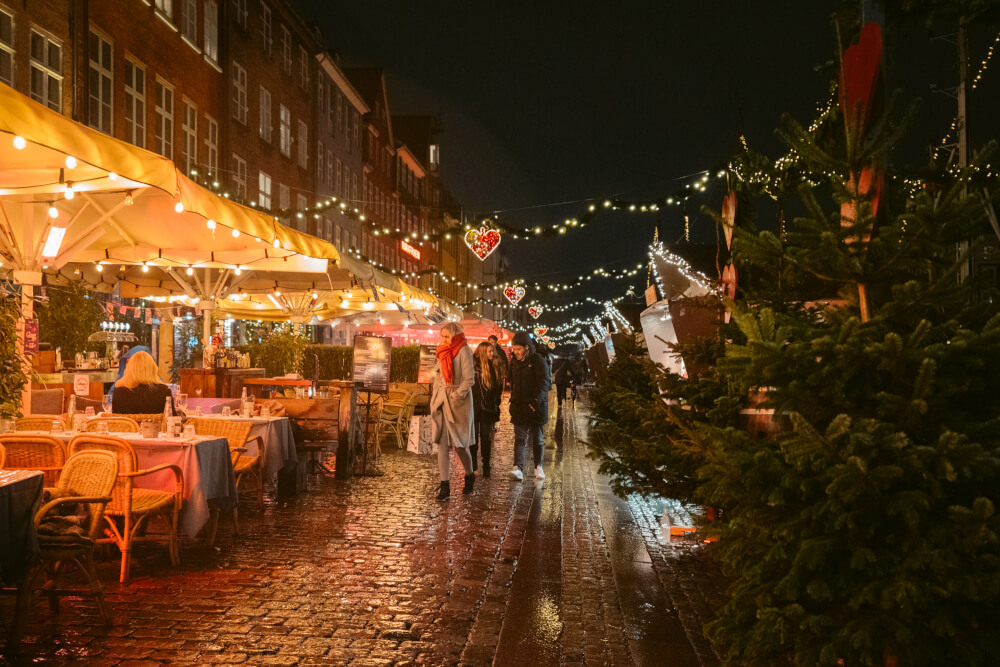 5. Get cozy in a hygge-centric restaurant or bar
The Danish concept of 'hygge' has taken over the world in recent years, championing a lifestyle that prioritizes coziness, comfort and contentment… often in the informal company of friends.
Honestly, it's a lifestyle I've cultivated all my life through fluffy socks and pyjamas, without ever knowing it had a name.
And the great news for my fellow cozy cultists is that finding hygge couldn't be easier in Copenhagen, with countless restaurants, bars, and cafes that ooze coziness from every corner.
Again, our hotel even had a free wine hour every evening… which was a perk I took thorough advantage of.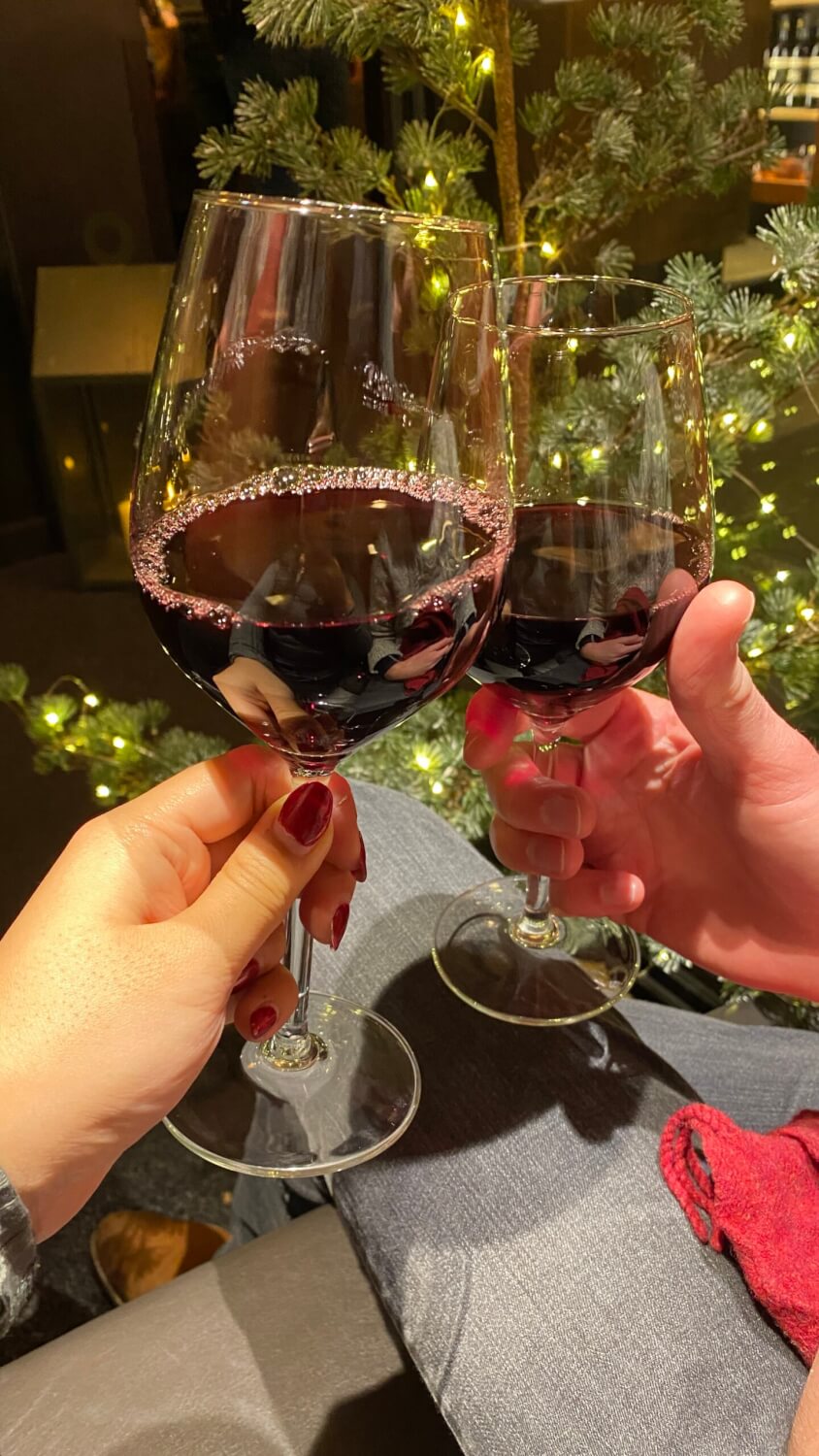 HOTEL NOTE: If you're looking for a cozy, reasonably affordable place to stay, I can definitely recommend booking with Brøchner Hotels. We stayed at this one and had SUCH a good experience and only 90% of that was due to the wine. Plus, you can take advantage of the free wine hour at any of their hotels in the city, which is wonderfully convenient.
6. Gorge on festive Danish treats
Another Copenhagen Christmas must-do? Eat. And drink. and eat again.
Some note-worthy must-tries include…
Gløgg (or Glögg): The Danish take on mulled wine – hot wine mulled with warming spices, usually served with some nuts and fruit on the bottom
Æbleskriver: Mini round puffy pancakes served with powdered sugar and jam
Risalamande: A cold and sweet rice pudding, often served with chopped almonds and/or a cherry sauce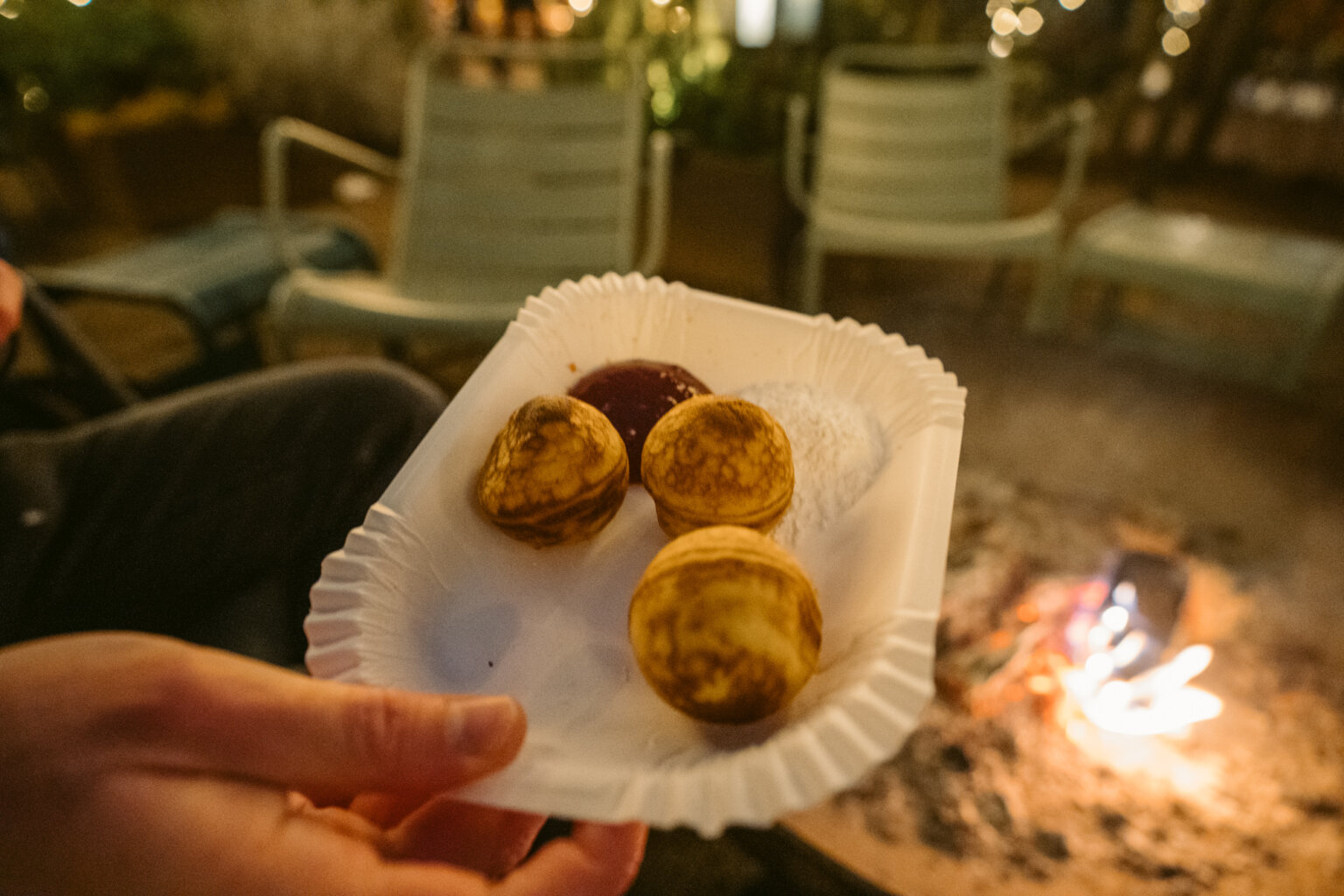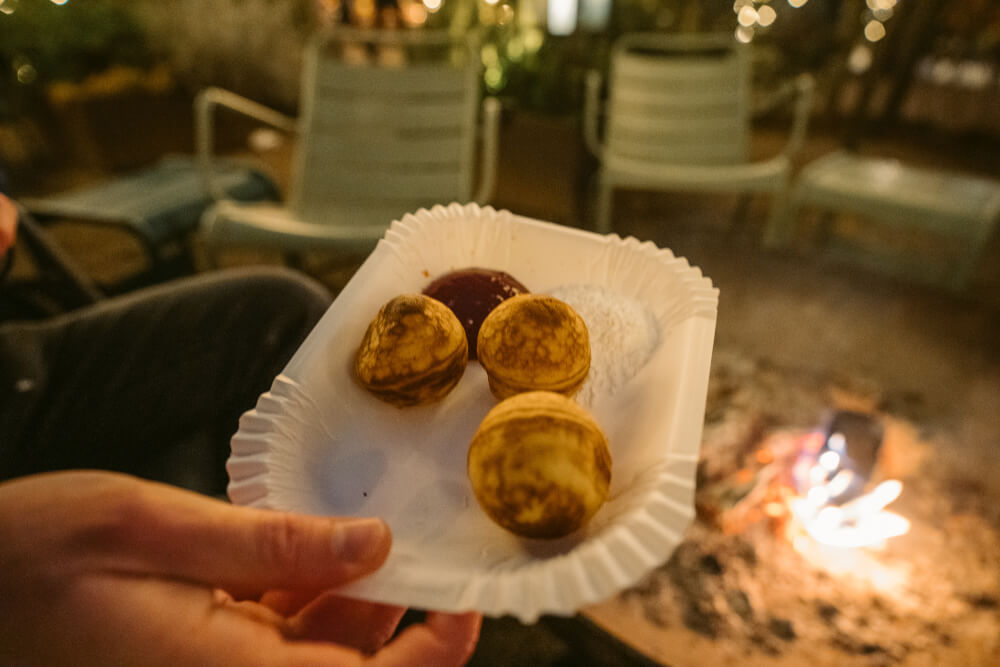 7. Feast away at the Torvehallerne
Now, combining the two items above, one place I can highly recommend to satisfy both Hygge and Hunger requirements is the Torvehallerne, a beautiful food market in central Copenhagen that is filled with amazing eats, and beautifully festive decor.
At this covered food hall, you can indulge your inner foodie with a variety of tasty eats, from the classic Danish Smørrebrød (open faced sandwiches) to international street foods from around the world.
They even host the annual Danish Gløgg Championship here, so you know they take the festive season pretty seriously.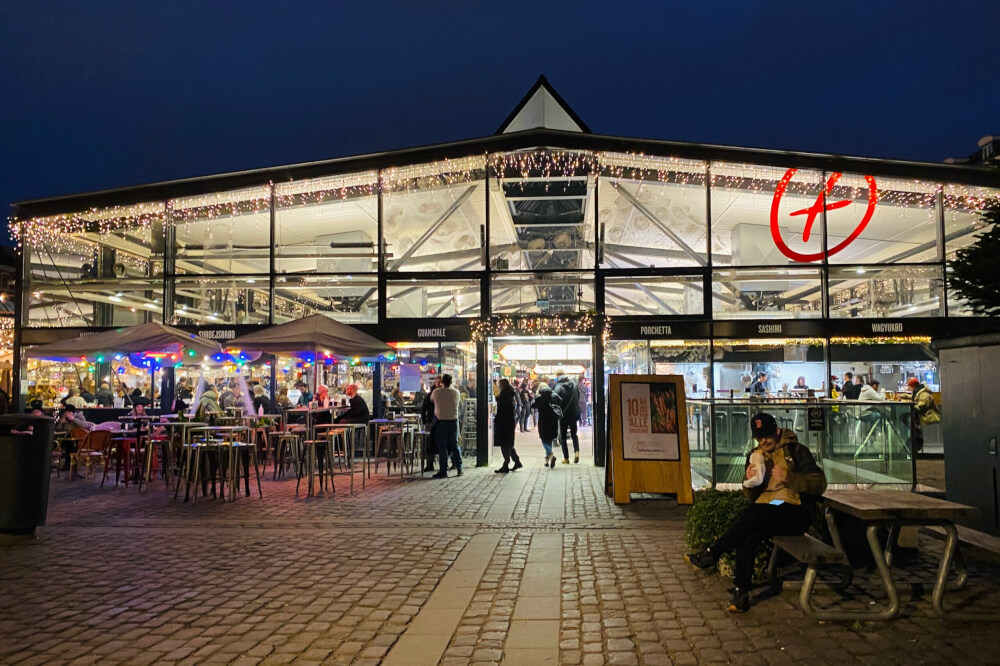 8. Go ice skating
Of course, another Christmassy thing to in Copenhagen is ice skating.
During the holiday season, there are several skating rinks that pop up around the city, including the Frederiksberg Runddel Ice Rink and Broen's Ice Rink, which is luckily lined with street food stalls to replenish those calories lost as you glided around, trying not to die.
But for those who'd prefer to not wipe out on the ice, a more low-key festive activity in Copenhagen is simply…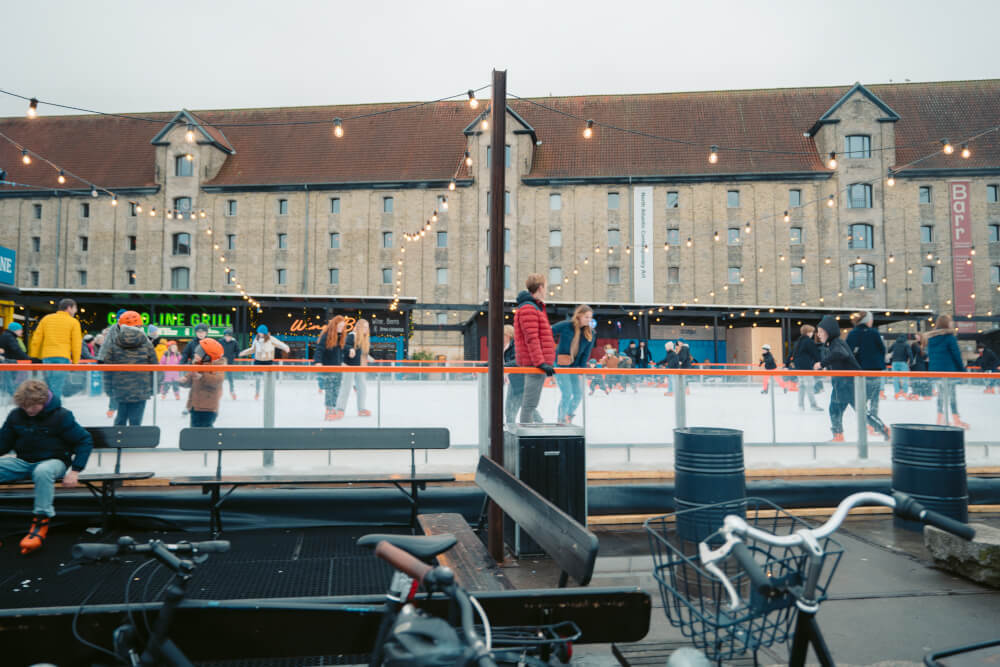 Free for You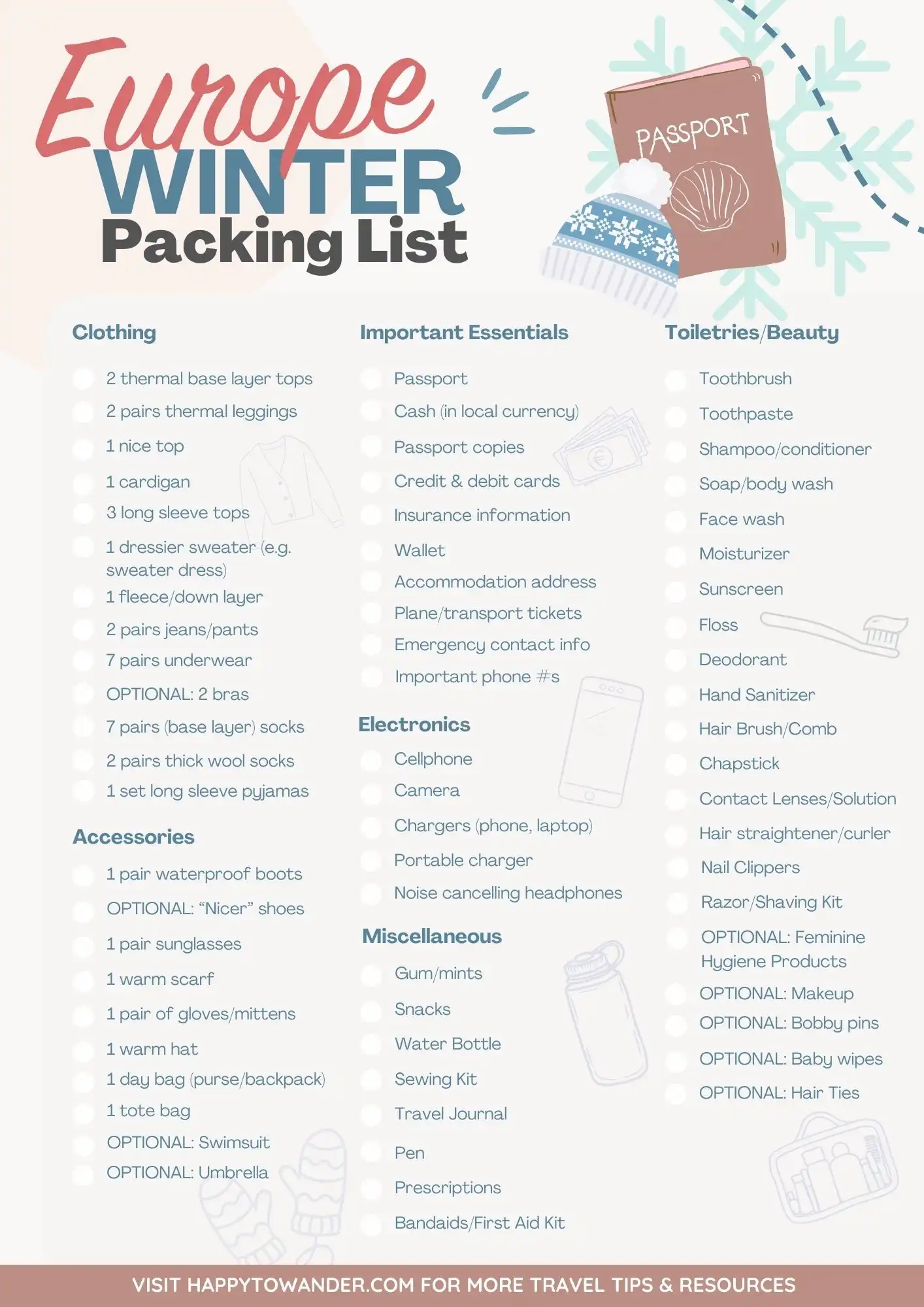 9. Visit Copenhagen's prettiest shops and department stores
Festive cheer can be found all along Copenhagen's centre in the form of trees and lights, but there are some shops known for doing it better than the rest, like the Magasin du Nord, a 19th century department store known for its glitzy offerings spread across five floors.
Of course, there's also the beautiful Chrismassy facade of the luxurious Hôtel d'Angleterre next door.
And Royal Copenhagen, who has held a special Christmas table exhibition at their Flagship Store since 1963.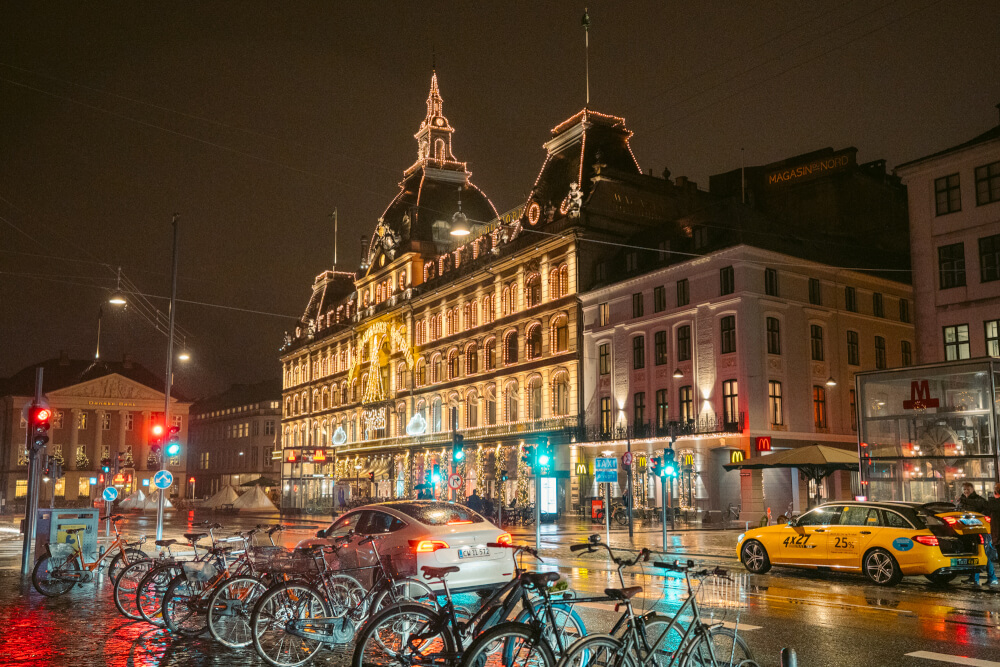 10. Enjoy a hot tub or sauna session
If you want to complete your Christmas in Copenhagen with an aggressively Nordic activity, then consider booking yourself a hot tub/sauna session with epic views of the city… and the option to plunge yourself in an ice pool to complete the wellness cycle.
Copenhot is one way you can check this item off your bucket list, with bookable hot tubs and saunas that offer sweeping views over Copenhagen. As a bonus, there's even a bartender on-site to serve you drinks while you soak.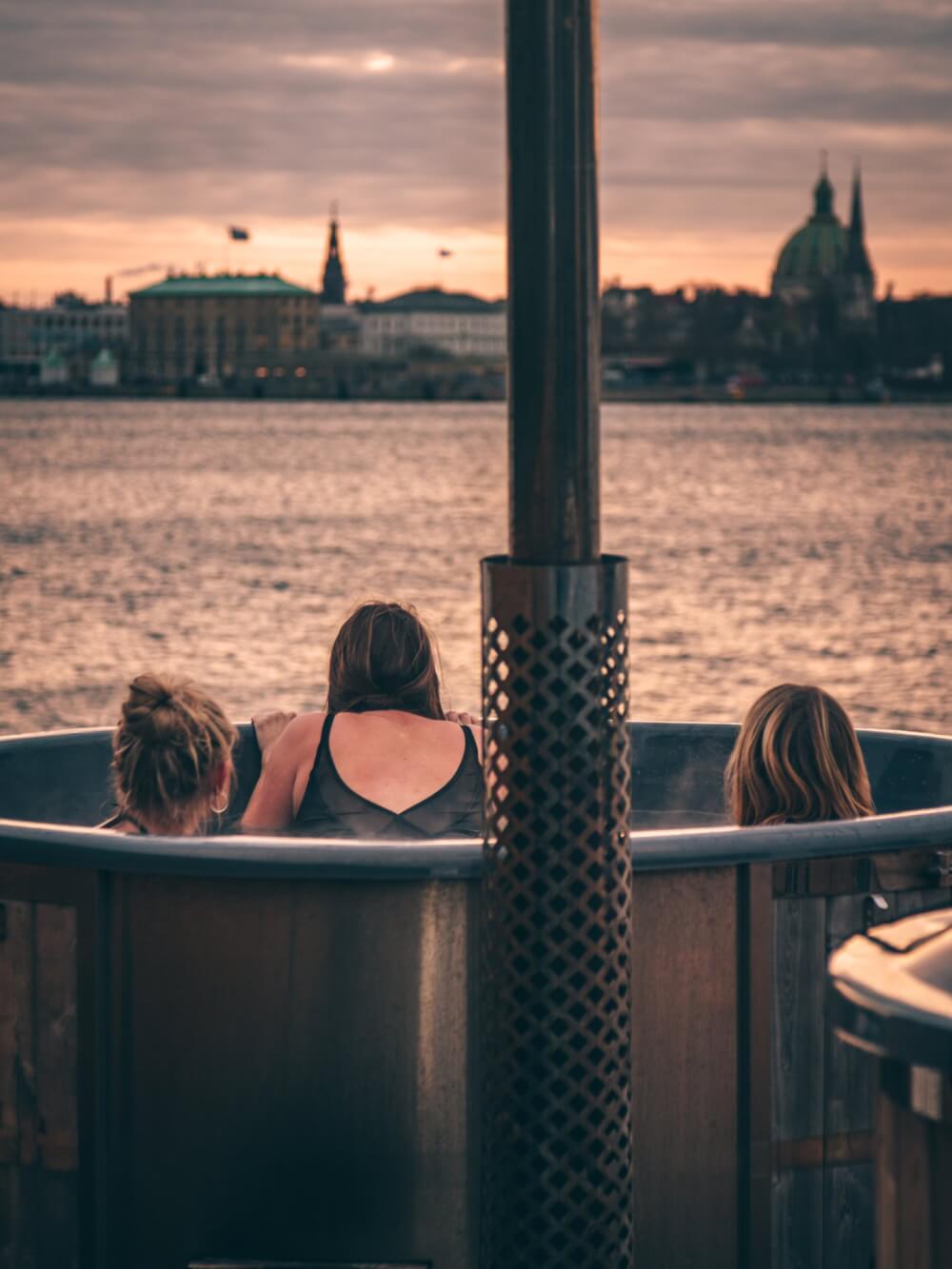 11. Venture out to a festive castle
If your Copenhagen Christmas visit is long enough to plan for a day trip (sadly, mine was not), then consider heading out to Kronborg Castle, famous for being the castle in Hamlet, but also home to one of Denmark's most beloved Christmas markets!
Failing that, there's also the Christiansborg Palace or Rosenborg Castle in the city, both of which deliver some magical vibes of their own.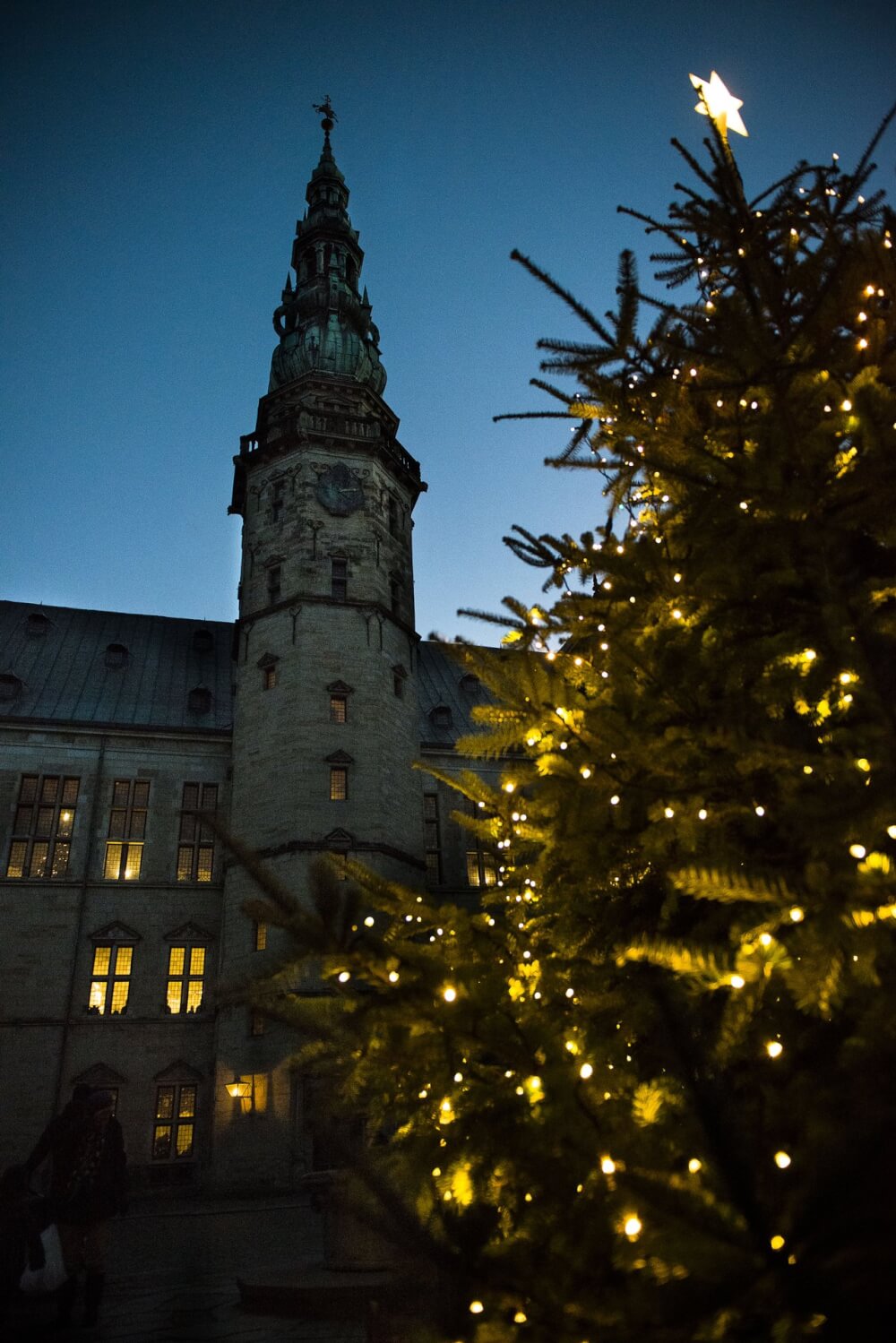 12. Check out the Santa Lucia parade
Lastly, if you're lucky enough to time your visit for December 13th, you'll be able to check out the famous Santa Lucia parade, where kayakers deck their kayaks out in lights and decorations, and take to Copenhagen's canals to sing carols and spread Christmas cheer.
Yes, that may well be the the most adorable tradition I've ever heard.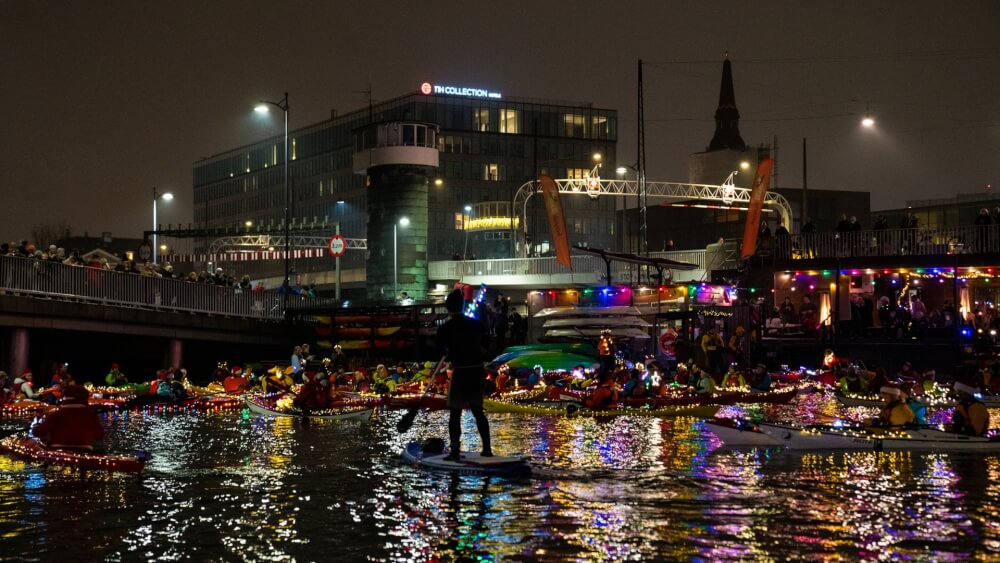 Did I miss any of your favourite Copenhagen Christmas Activities?
Visiting Copenhagen at Christmas is an absolute dream… and you're sure to feel festive no matter where you go… but let me know if there are any other must-dos you would add to the list!
My Go-To Travel Favourites: