*FYI - this post may contain affiliate links, which means we earn a commission at no extra cost to you if you purchase from them. Also, as an Amazon Associate I earn from qualifying purchases. Check out our Privacy Policy and Disclosure. for more info.
NOTE: This London Christmas guide was written after my 2.5 months stay in 2022, but has been updated with the most recent info and dates I could find online. Do note that some details/locations may differ year to year though, so let me know in the comments if you notice anything inaccurate.
Nobody does Christmas quite like London, and if your goal is to feel like you've been throat punched with festive cheer, keep scrolling.
As a hopeless romantic who can pretty much quote Love Actually from memory, it's little surprise that I've put in countless hours researching, testing, and photographing London's best Christmas things to do.
So in this post, I'll be sharing THE must-do holiday activities for those visiting the UK's delightfully over the top capital, from where to find all the best lights and Christmas markets in London, to festive themed bars, treats, and attractions.
Now, throw on some Mariah and let's dive into our top London holiday must-dos… because all I want for Christmas is yoOooUuU… to read my list of top festive things to do in London.
First: Tips for Visiting London at Christmas
Before you ready your sleigh and faceplant into a digital sea of London Christmas lights and cheer, let's first address some super important tips to keep in mind. Conquering London at Christmas can be stressful if you're not prepared, so keep the following in mind… and check out my full London travel tips list for more!
Book any experiences or restaurants in advance
Please for the love of Santa, if you want to visit any of the most famous Christmas things to do in London, make sure you book first.
I hate to admit it, but Christmas in London has no space for spontaneity, and many of the most festive experiences can get booked out weeks (or months) in advance.
I swear – the only thing Londoners love more than queuing and avoiding eye contact on the Tube is making bookings.
SO, if you have your heart on a specific restaurant or experience, be sure to book it as soon as possible, or go on a weekday/night to maximize your chance at doing a walk-in.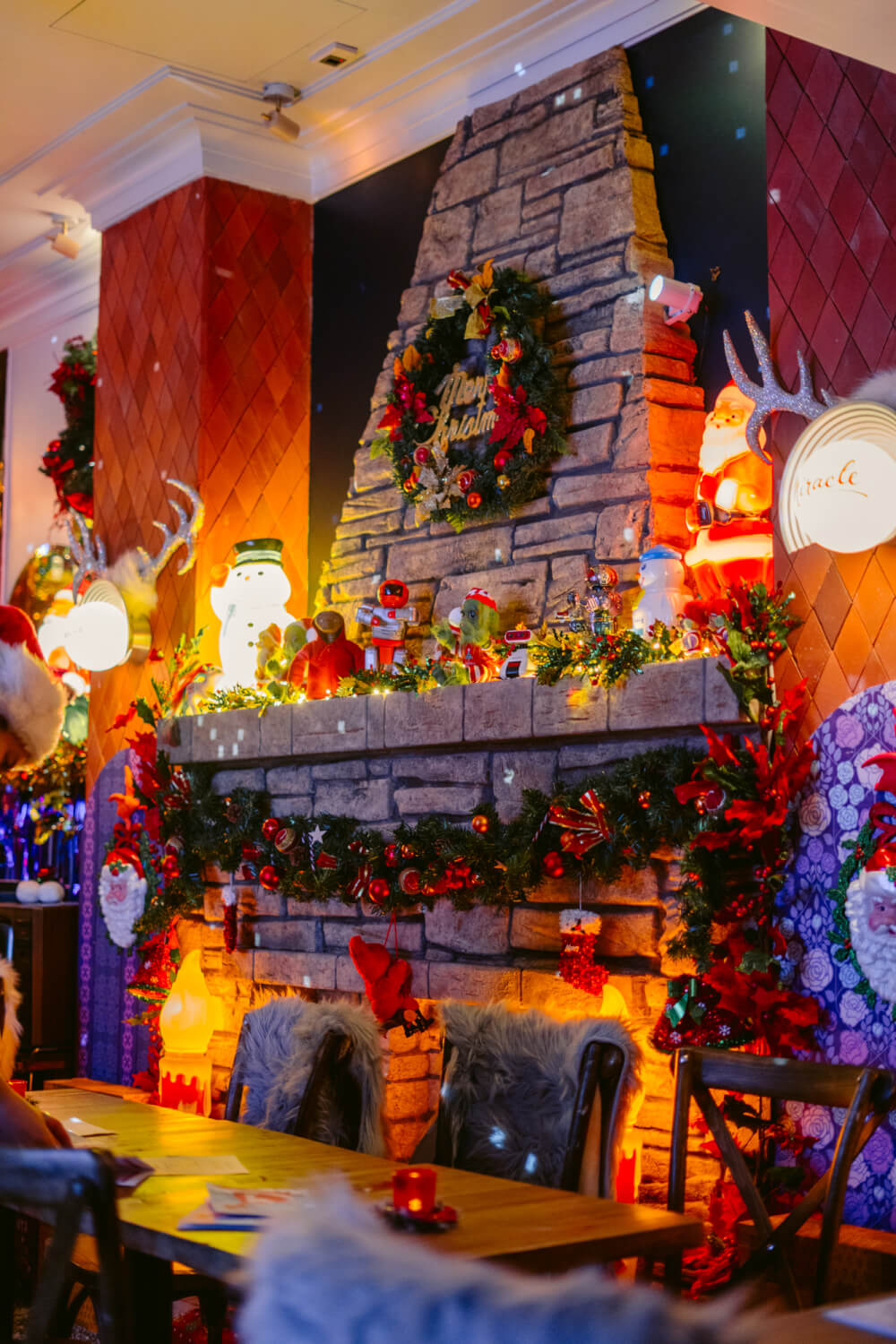 Visit at off-peak times
Weekends in Central London tend to be chaotic most times of the year, but at Christmas time, the chaos increases tenfold, with plenty of people coming into town to see the lights, do their Christmas shopping, and enjoy the vibes with thousands of their new best friends.
This means crowds, queues, and crying if you don't plan properly. The difference between a weeknight and a weekend is shocking, so if you're able to plan around peak periods, do it.
My strategy? Shop during the day if you can, and then admire the lights/decor after shops close. Crowds tend to clear out after this point, even on weekends!
I recently went to see Central London's Christmas lights on a Saturday after shops were shut, and was so surprised by how much calmer it was. I'd also recommend walking on Jermyn St instead of Oxford St (it's one block down and runs parallel) for a much quieter experience.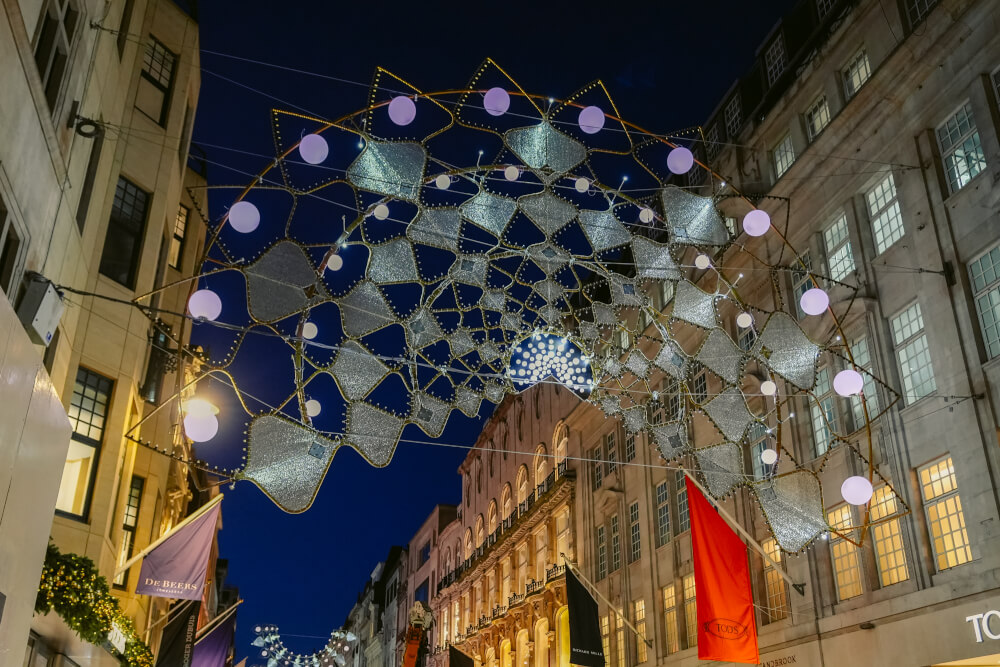 Beware of public transport on December 25
Lastly, it's worth noting that public transport does NOT run on Christmas day so plan accordingly.
Although I've heard that this is a delightful day to rent a bike and experience London at its calmest… so do with that information what you will.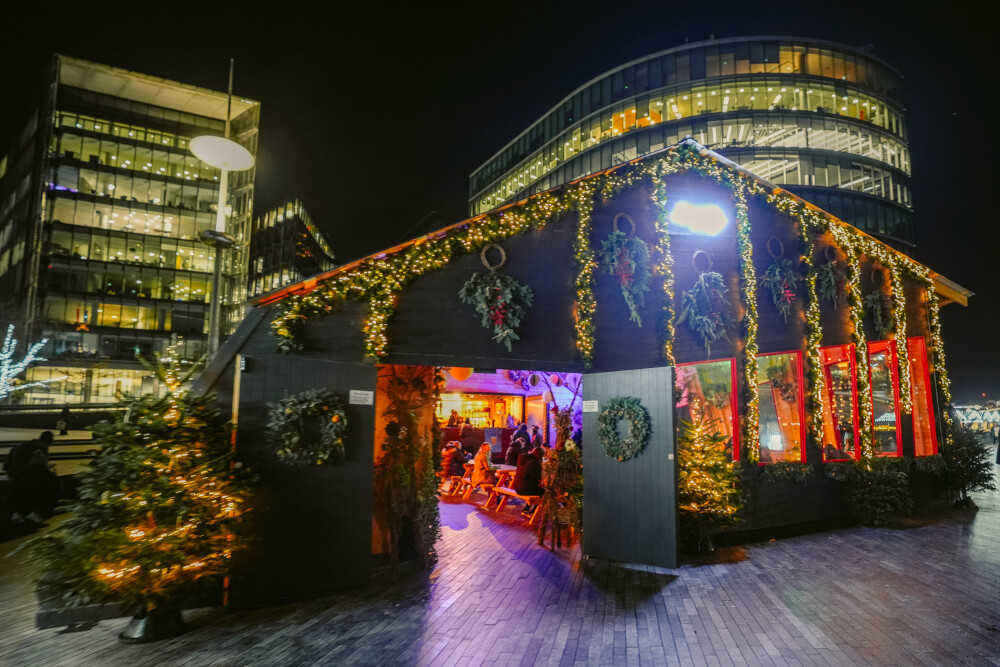 Alright, with those London Xmas tips out of the way, let's get to the good stuff. Here are the top must-dos when you visit London for Christmas.
🎟️ Book Activities & Tours:
1. Admire all the amazing lighting displays and decorations
Okay, this is an obvious one, but London is truly one of the most extravagant cities in the world for Christmas lights and facades, so for me, the #1 holiday activity in London is simply strolling around, frothing at the mouth, enjoying every single display.
The best part? They couldn't be easier to find (especially if you use this map I put together!)
Stroll into Central and you'll be assaulted with festive cheer, from a dazzling sea of lights along the main shopping streets, to delightful storefront displays that will leave you with absurd expectations for your home's festive decor.
All around the main shopping strip of Oxford St, you'll find a variety of iconic London light displays, including…
The Glittering Angels on Regent St (plus other smaller angel displays on nearby Carlton St & Jermyn St)
The creative displays on Carnaby St
The famous blue arches on South Molton St
The glittery installations at Covent Garden
The blue and golden bauble installations over the Strand
And the extravagant storefronts and lights on Old Bond St and New Bond St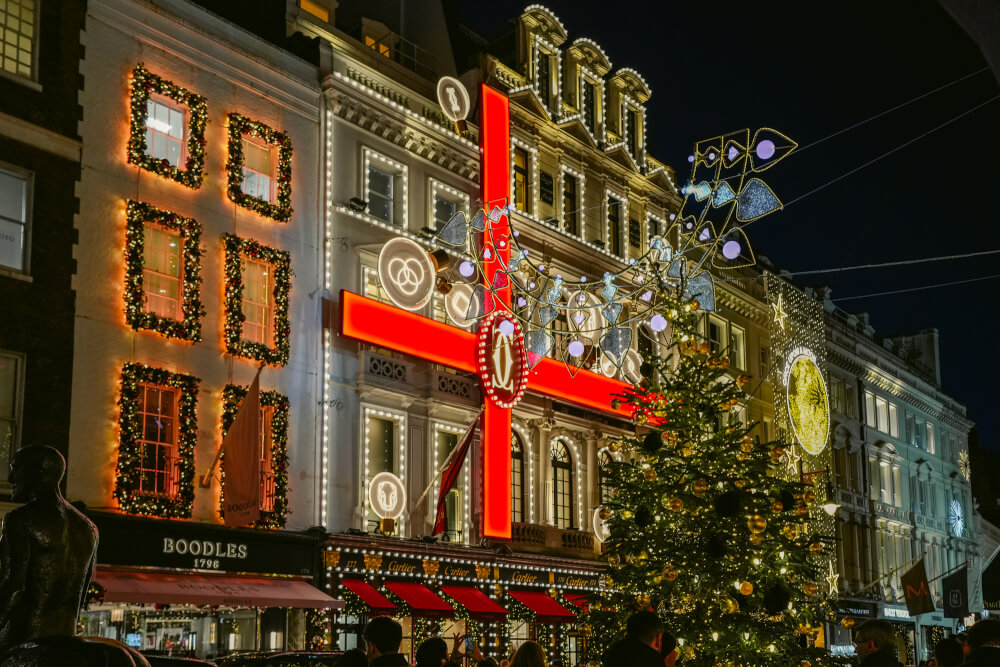 Wander more around Mayfair and you'll also discover some of London's most famous festive facades, like the advent calendar at Fortnum and Mason, the epic display at Annabel's and the pretty decorations at Burlington Arcade and the Royal Arcade.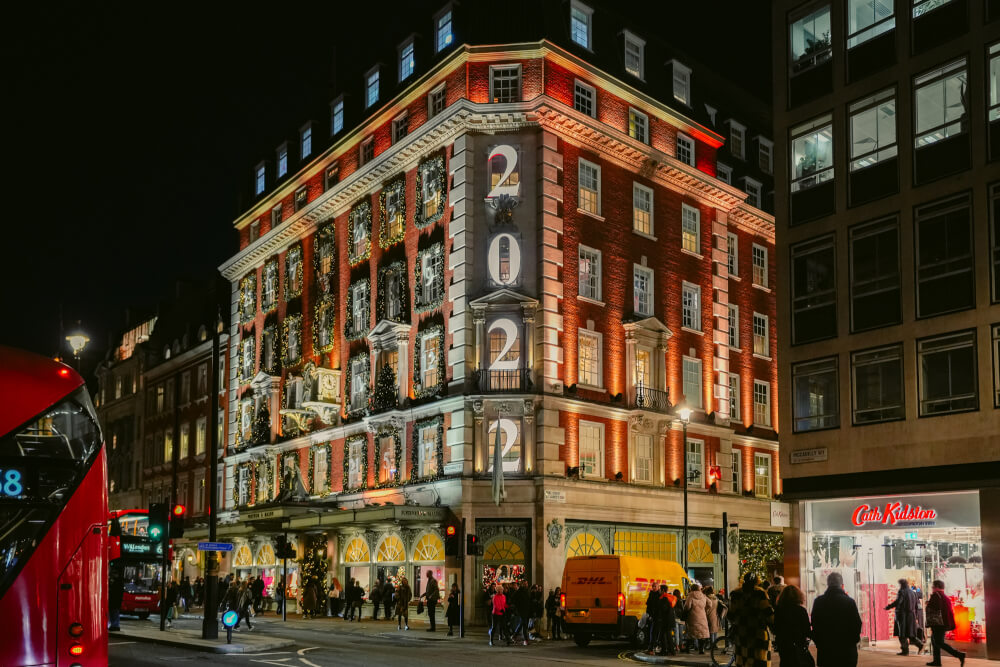 Now, if you don't mind paying for it, the easiest way to enjoy these lights up close on an open top bus tour.
I know, it's the shamelessly touristy option, but it's also the least stressful, because you don't need to bother navigating or hurtling through crowds, so you can pretty much just zone out and enjoy all the pretty lights while drooling puddles around your fellow revellers.
I did a general hop on/hop off with this company, and loved it, as I got to see some classic sights in addition to the lights on Regent St.
But there are tons of companies offering tours for JUST lights if that's what you're after, like…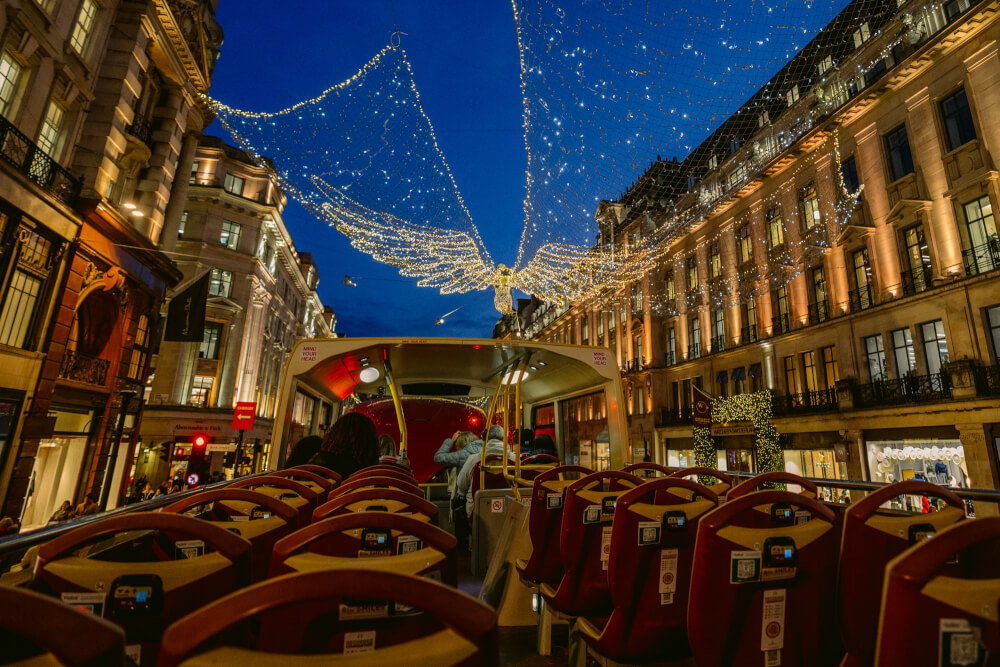 A much cheaper version would be to hop on one of the double decker buses that navigate Central London and try to snag a seat upstairs at the very front.
I'd recommend starting at the very first stop to maximize your chances. The #12 bus from Oxford Circus is a good bet because the first stop is on Oxford Street, but the 3, 6, 13, 23, 88, 94, 139, 453 & C2 also go down Regent St.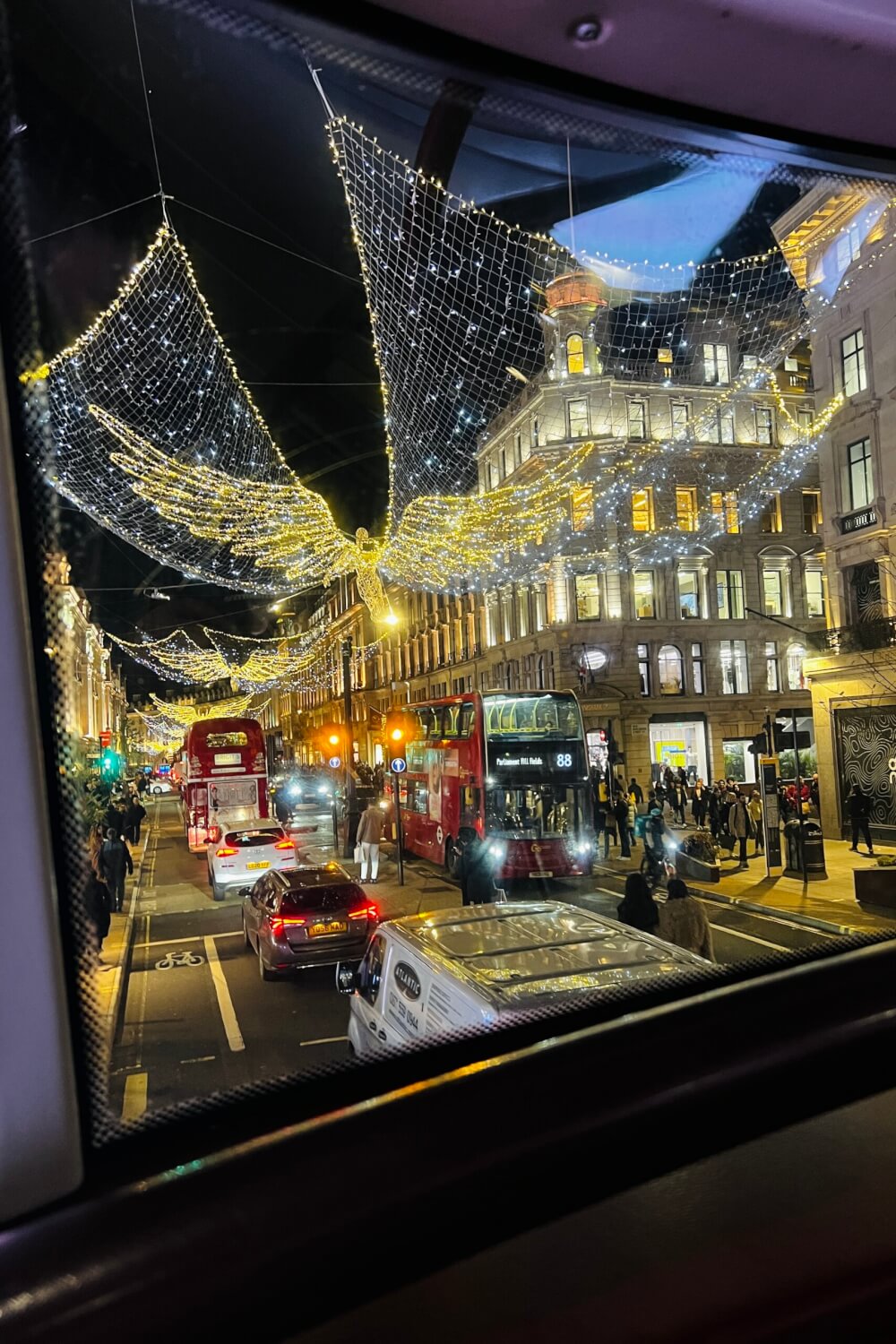 And if you're looking to escape the chaos of central London's Christmas decor, then you'll be pleased to know that there are many other areas outside of the ultra busy core that go wild with holiday spirit, the most notable being…
Chelsea and Belgravia, where glittering lights and extravagant storefronts await, especially at the Duke of York Square, and along Elizabeth St
Battersea Power Station, where there's lovely Christmas lights, a skating rink, market stalls, and a few fun fair games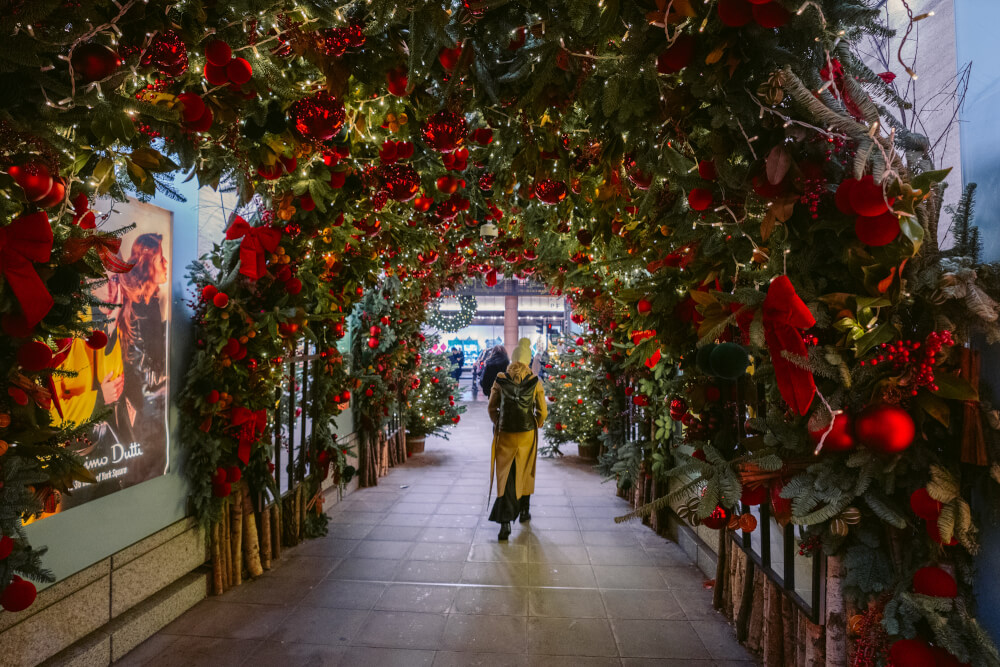 2. Visit some of the city's Christmas markets
While London's Christmas market scene is different to what you'd find in Central Europe, there are still quite a few markets sprinkled around town which are worth a visit.
Unlike at some of Germany's best Christmas markets for instance, I don't find the appeal of London's Christmas markets to be shopping. With a few exceptions, most of these markets sell a lot of standard, mass-produced goods for inflated prices, so they're not necessarily the best Christmas markets to visit in Europe for buying gifts.
Rather, I like them for their atmosphere… and can definitely recommend going for a stroll and grabbing a drink to get in a festive mood. Just avoid them at peak times because they get outrageously busy.
Europe Winter Packing Essentials:
Winter Wonderland
The crown jewel of London's Christmas market scene is no doubt Winter Wonderland in Hyde Park.
This massive fun fair meets market offers a mix of amusement park rides, carnival games, a beautiful Bavarian village, ice rink, and beautiful wooden Christmas market chalets.
Of course, this extravagance has its price. Winter Wonderland is one of the few Christmas markets in London to charge an admission fee, with notoriously high prices awaiting on the inside for food, drinks, rides and games.
Nonetheless, it's a staple of the London Christmas calendar, and well worth a visit once to see what the hype is all about.
For minimal tears however, I'd recommend booking well in advance, visiting during an off-peak period, and pre-purchasing game and ride tokens online when you buy your ticket, because when you spend more than 25 GBP, then your entry is free.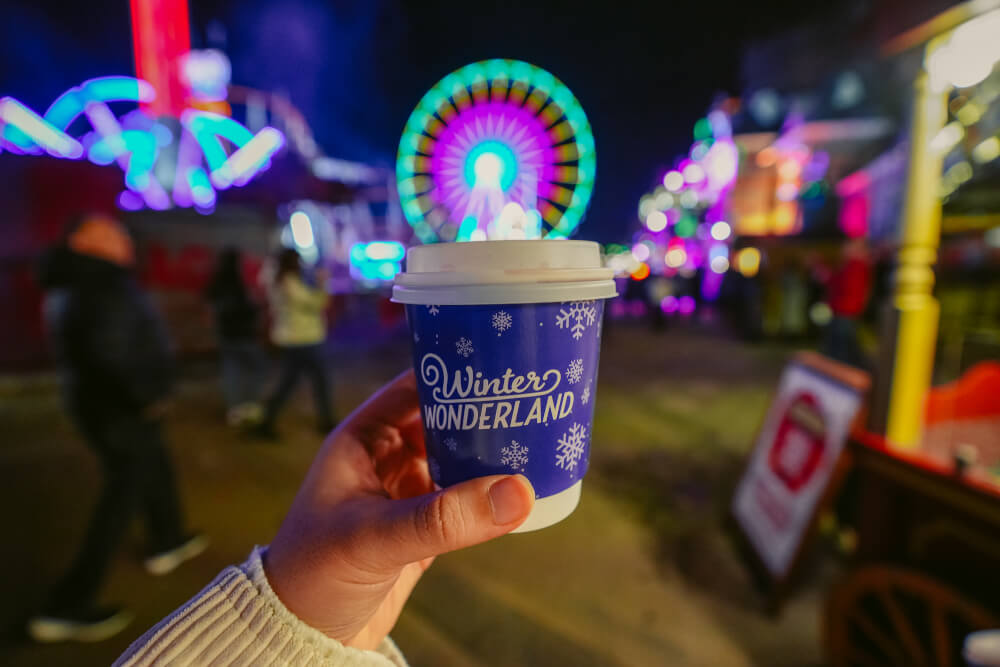 Christmas by the River
In terms of backdrops though, you can't beat Christmas by the River, an aptly named London Christmas market event along the Thames, between the iconic London Bridge, and the bridge everyone thinks is London Bridge (AKA Tower Bridge).
Here, you'll find a variety of food and gift stalls, along with a few covered seating areas to get warm.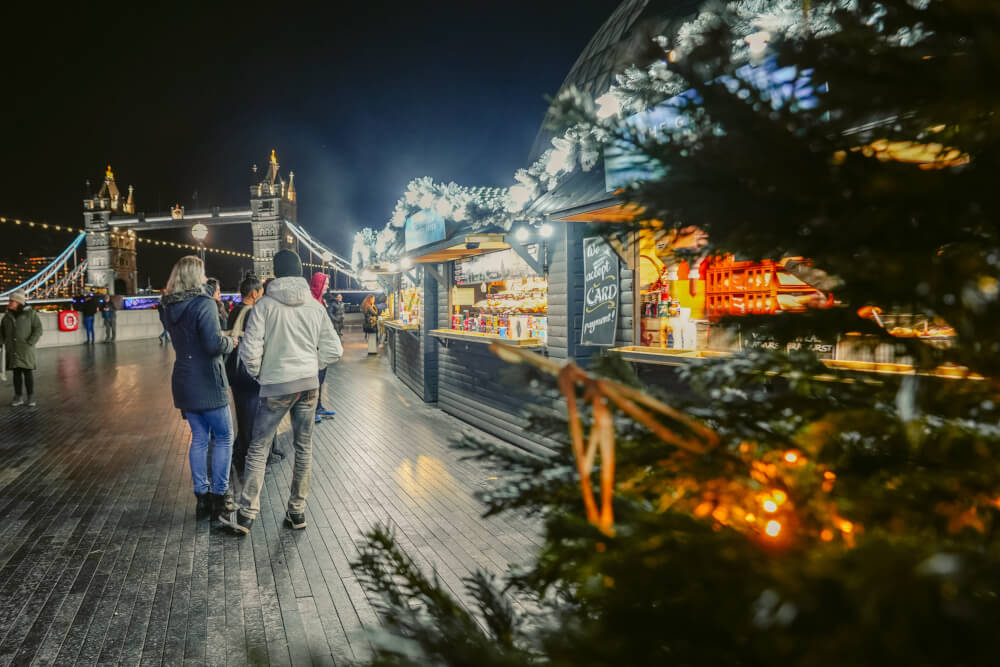 This market somewhat spills into Hays Galleria, which is also gorgeously decorated for the festive season.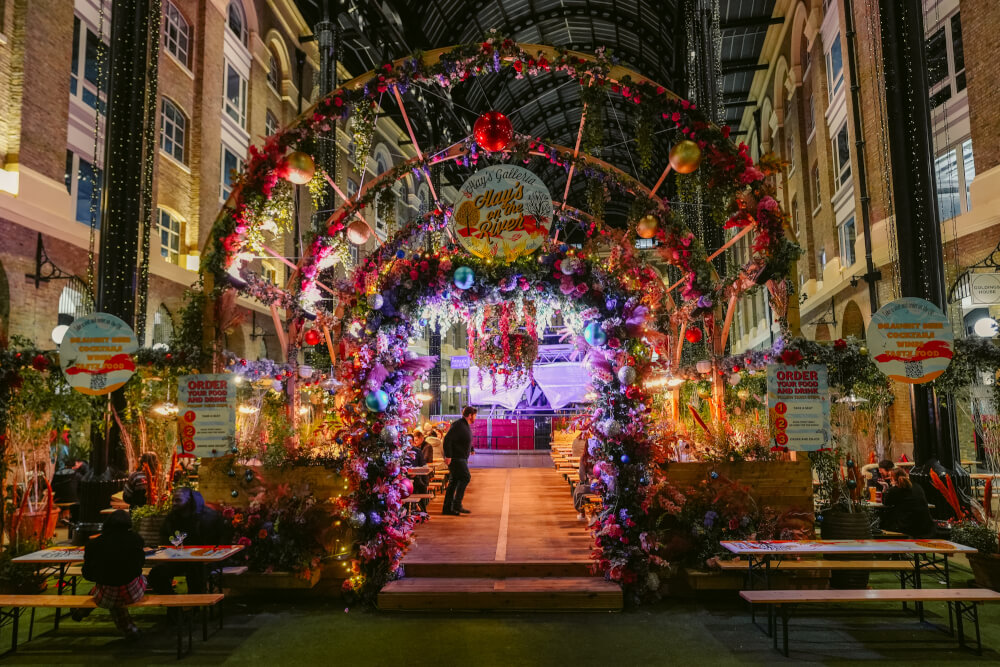 Trafalgar Square Christmas Market
But speaking of iconic locations, one of London's most famous squares is home to a Christmas market of its own.
Set in front of the famous National Gallery, the Trafalgar Square Christmas Market is a small London Christmas market with a handful of stalls and a seating area to enjoy your festive food and drink. The centrepiece is a tree gifted each year by Norway, where carollers sing every evening.
While there's not a ton to see here, the atmosphere is really lovely in the early evening, so stopping for a quick mulled wine is definitely recommended.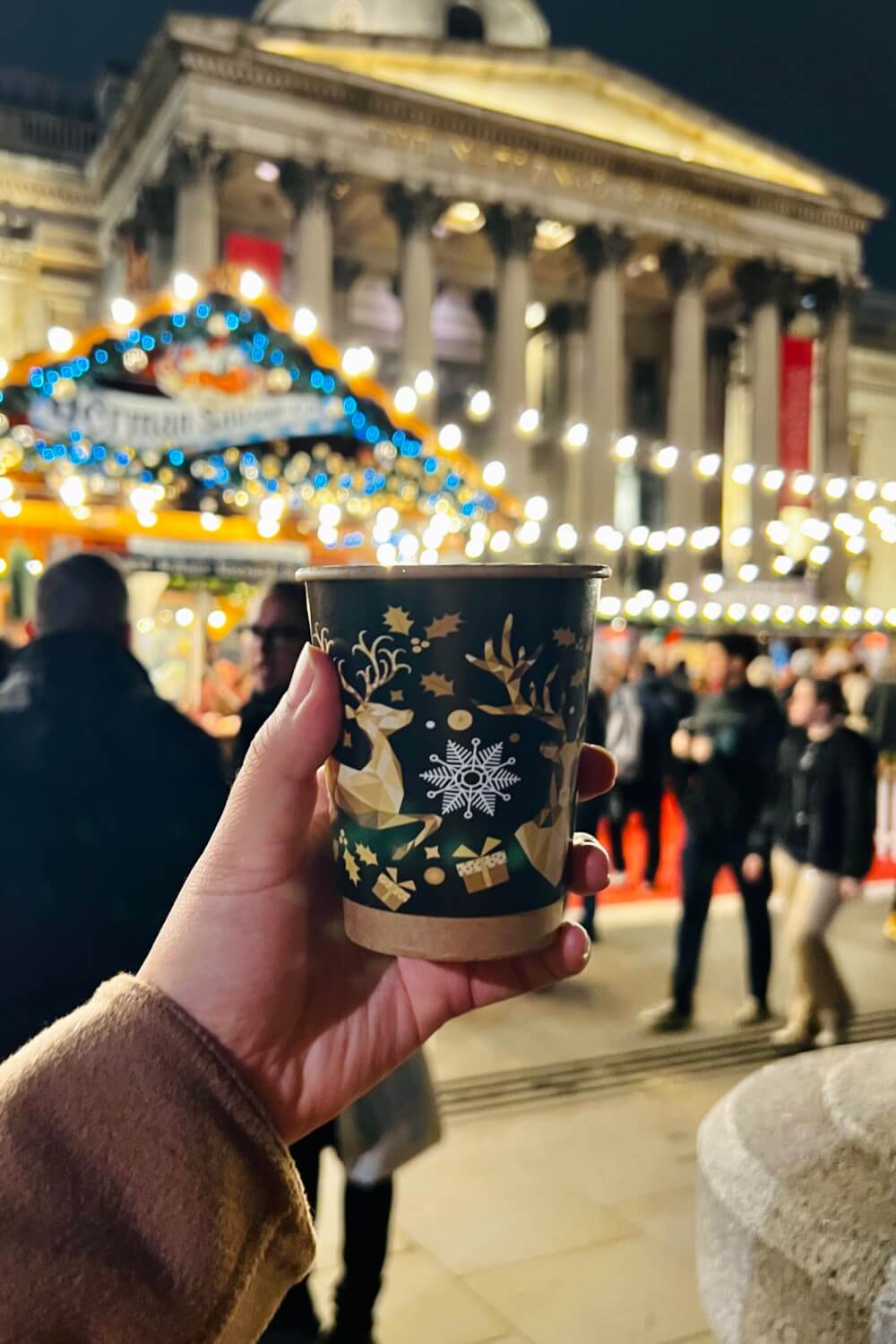 Leicester Square Christmas Market
Close by in Leicester Square, you'll find another Christmas market run by the same organizers, with similar vendors but a more immersive vibe thanks to its enclosed layout with string lights hanging from the trees above.
Here, you'll find more options for food and drink, as well as a handful of vendors selling ornaments and gifts.
This one does get busy though, so visit early to avoid the crowds. Because it's somewhat enclosed, it can start to feel very Hunger Gamesy in there.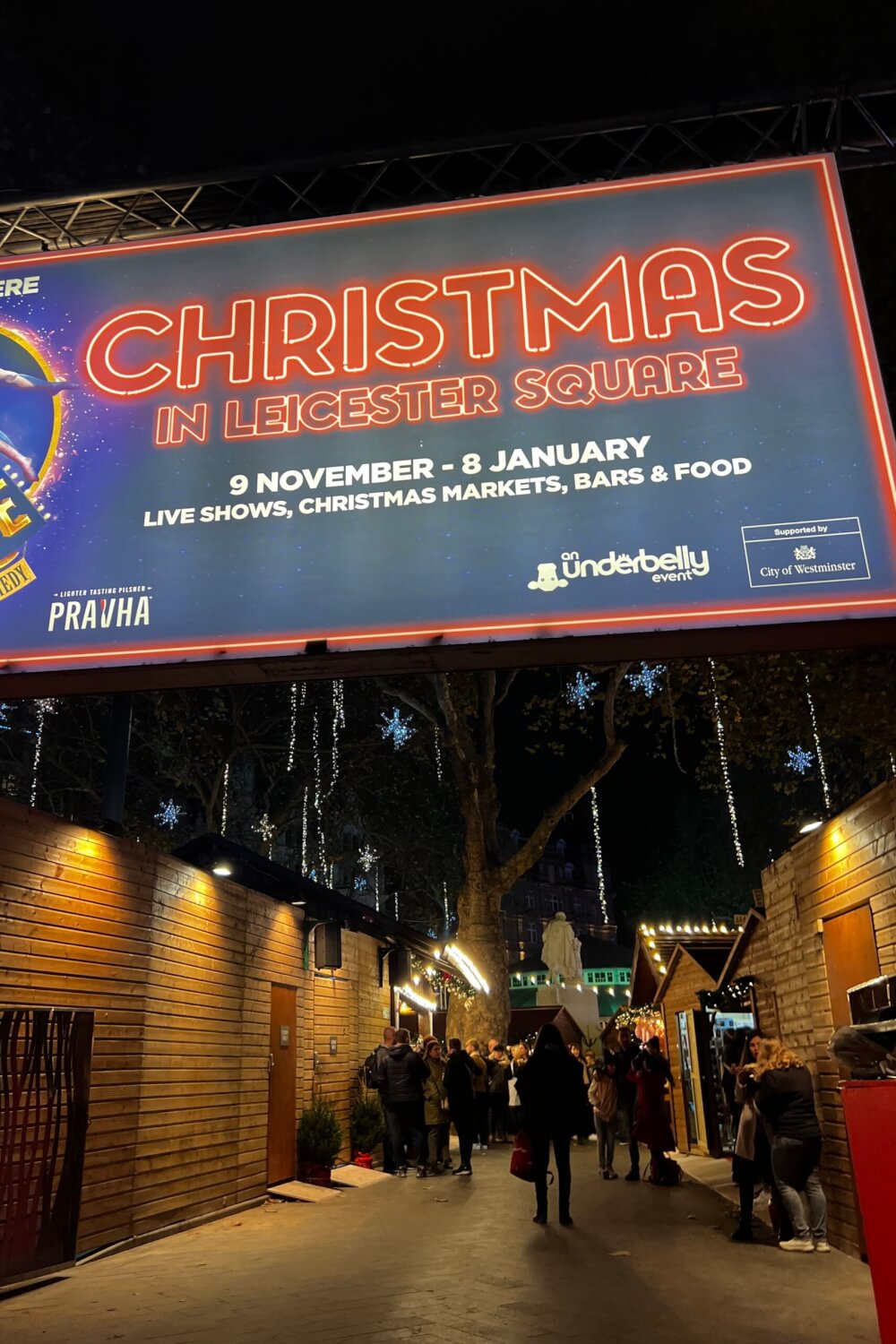 Southbank Centre Winter Festival
A bit more spread out is the Southbank Centre Winter Festival, which is another Thames side Christmas market, with vendors and activities sprinkled between the London Eye and Waterloo Bridge (with some additional stalls closer to Blackfriars as well).
Besides some electrifying light displays and an alpine curling pop-up, there's several nice spots to cozy up with a drink, and even igloos you can rent for fondue and raclette inhalation purposes.
This market is fairly small in terms of stalls, but the atmosphere if you manage to snag a cozy seat is pretty magical… especially if you're a "beer by the fire" kinda person.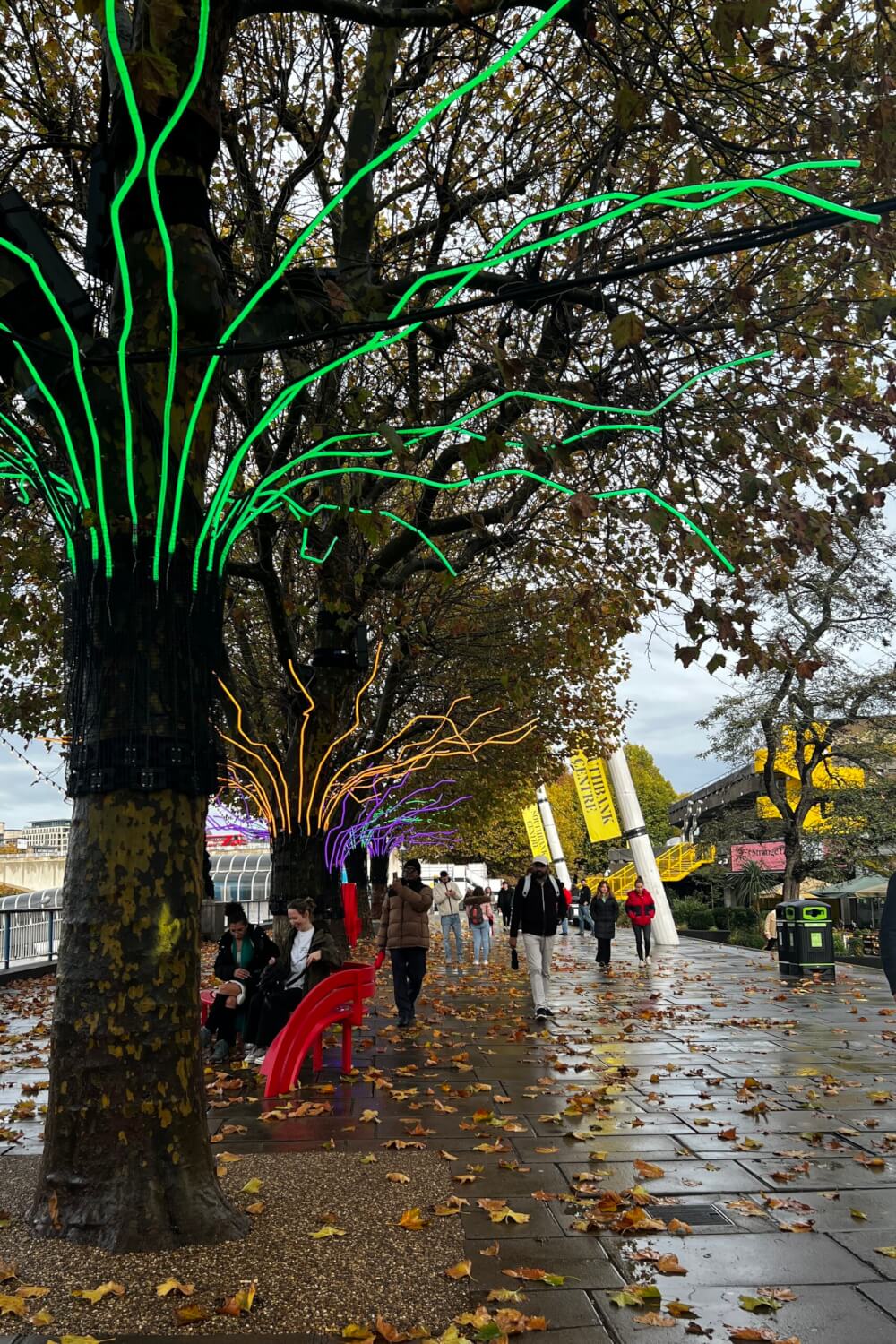 Battersea Christmas Market
At the newly reopened Battersea Power Station, yet another Christmassy market awaits.
The centrepiece of this London Christmas Market is definitely the Glide ice skating rink, but there's also a handful of fun fair games and rides, as well as a festive food market on the Coaling Jetty.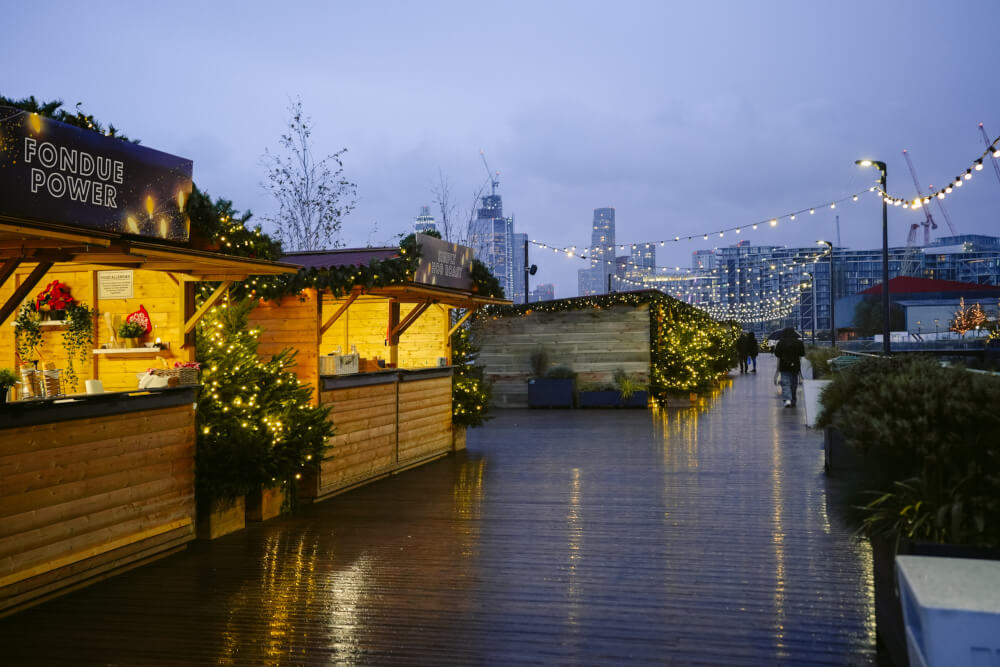 Kingston Christmas Market
A little farther afield is the Kingston Christmas Market, which takes place in the historic Kingston market square. While small, it's a great spot to grab a bite, and there's also the cute alpine village at All Saints Church nearby to peruse as well.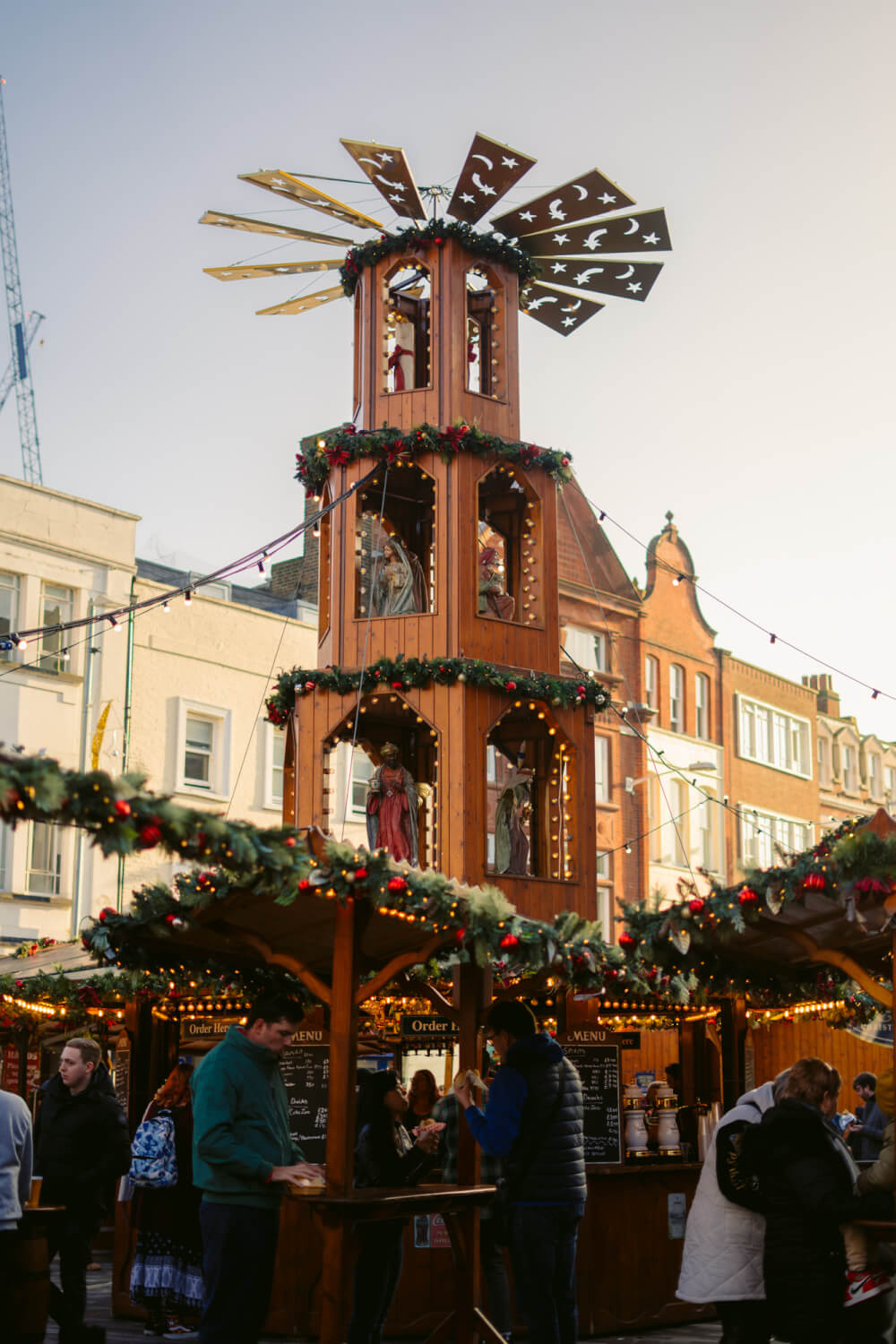 Other Christmas Markets in London
Besides these main events, there's also several smaller Christmas markets that take place for a few days here and there, like…
The luxurious Mayfair Christmas Market, complete with its own snow machine and gourmet food offerings
The Chelsea Physic Garden Christmas Fair, which takes over this famous historic garden every year with dozens of local vendors
Smaller pop-ups like the Festive Flea Vintage and Makers Market which offer special gift ideas that are handmade and/or secondhand
The best way to keep track of these would be to visit sites like Time Out London or Secret London, which share news on the latest events.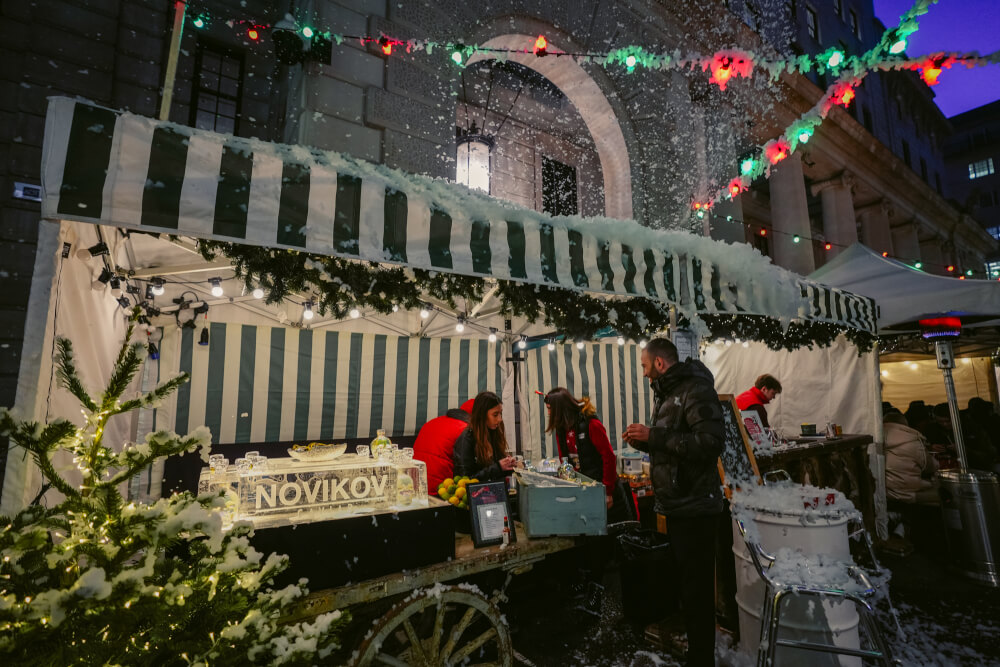 Of course, most of London's more famous markets will also be decked out in Christmas decor, so while they're not exactly proper Christmas markets, I'd still add them to a festive London itinerary.
Some famous markets that are perfectly festive this time of year include…
The ultra-popular Borough Market, which is decked out with baubles, garlands and lights
Greenwich Market, which has a glittery canopy of lights throughout the market space
Mercato Mayfair, a food hall housed in a former church, which offers plenty of festive flair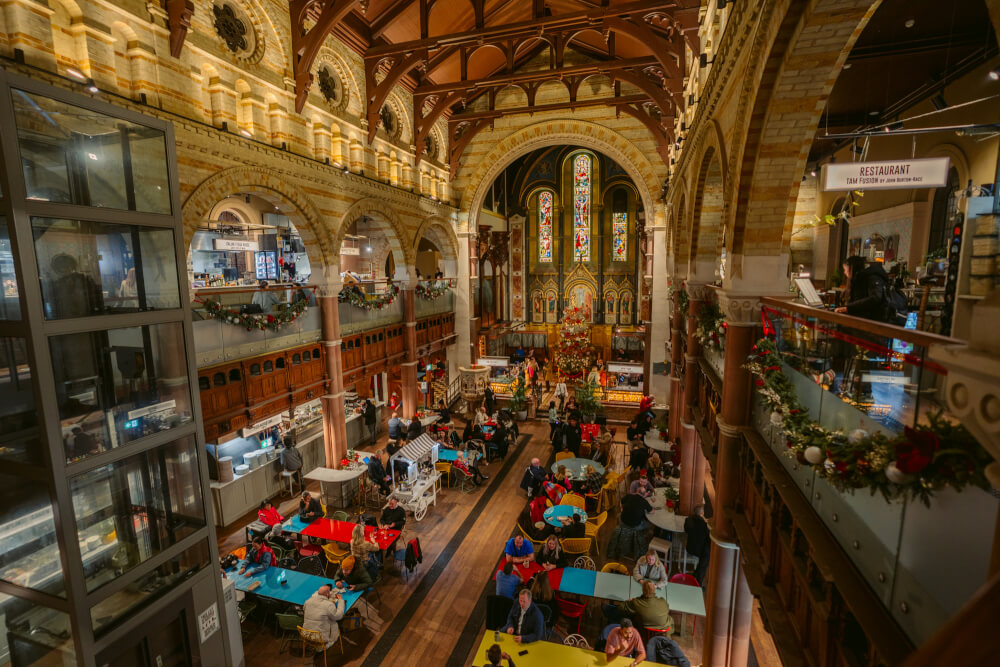 Free for You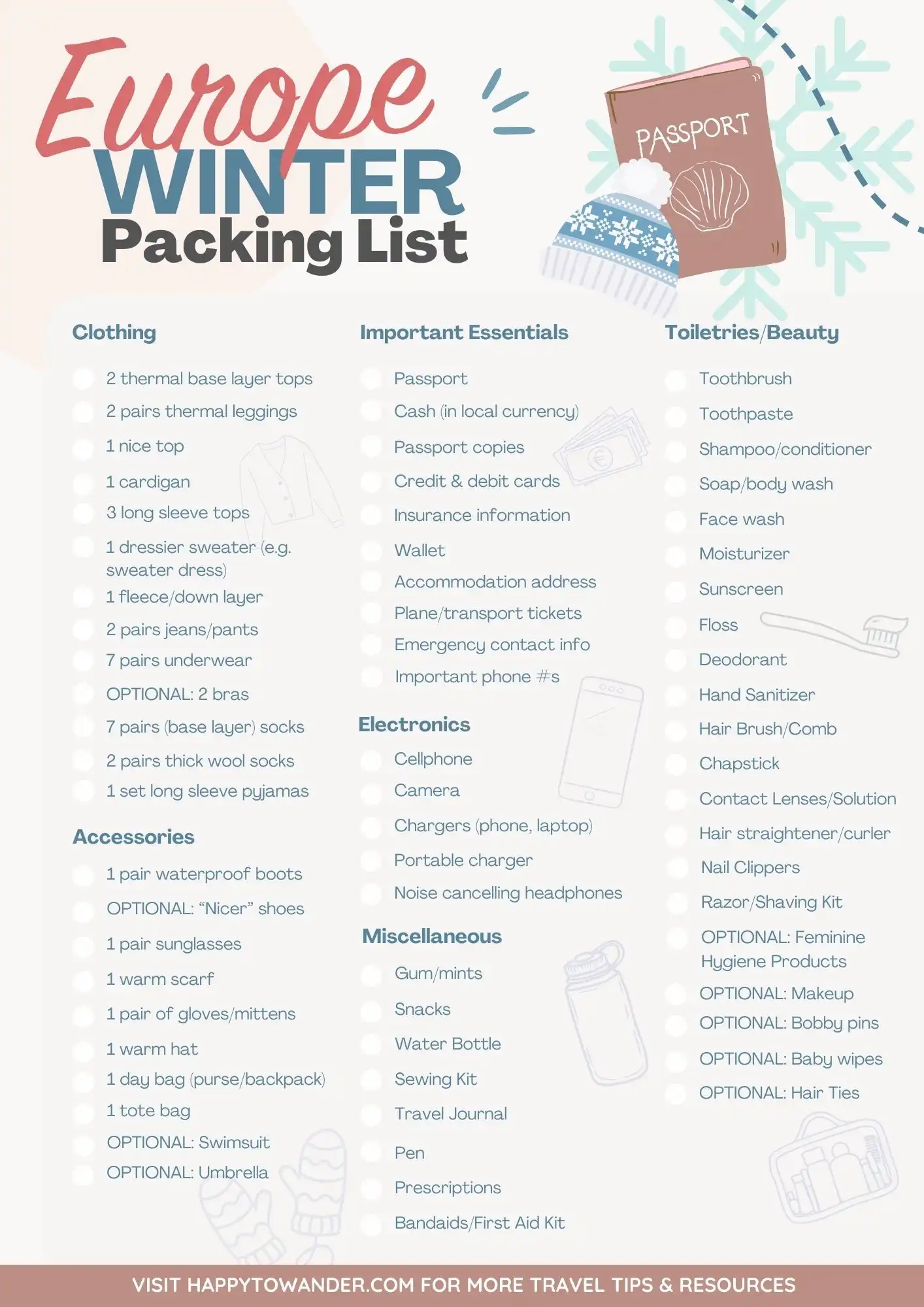 3. Visit the city's famous department stores
London is home to some of the biggest and best-known department stores in the world, with many of them fully decked out with festive displays…
Usually stealing the show every year is Harrods, an iconic London institution whose exterior is bejewelled with over 12,000 bulbs.
This year, they've even raised the stakes with an incredible gingerbread theme sponsored by Dior.
If you can brave the crowds, the interior is amazing as well, with its festive food hall and Christmas shop a more accessible alternative to the endless stream of designer names.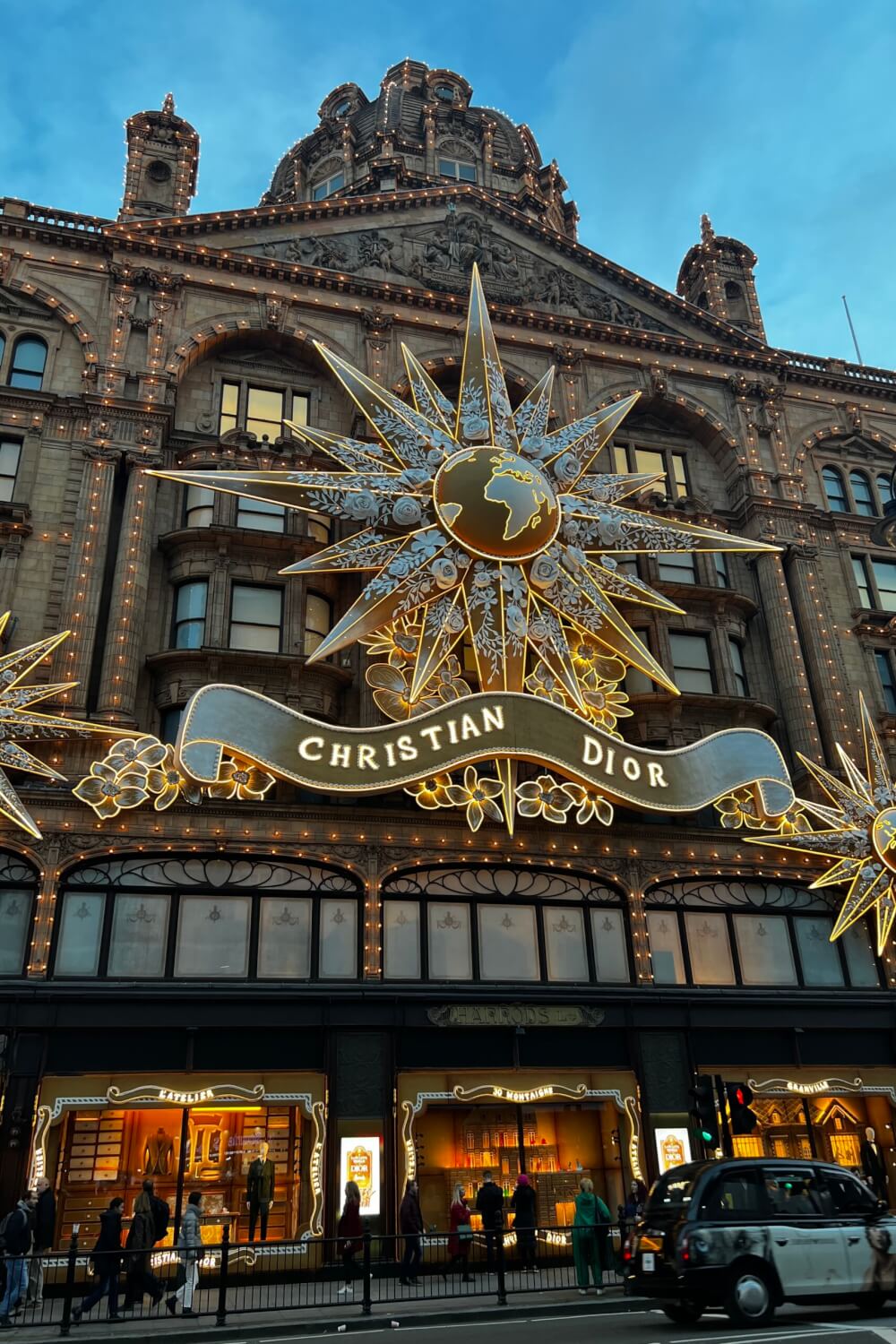 There's of course also Liberty, famed for its Tudor revival design, which has its own Christmas shop during the festive season that is filled with every kind of ornament you can imagine.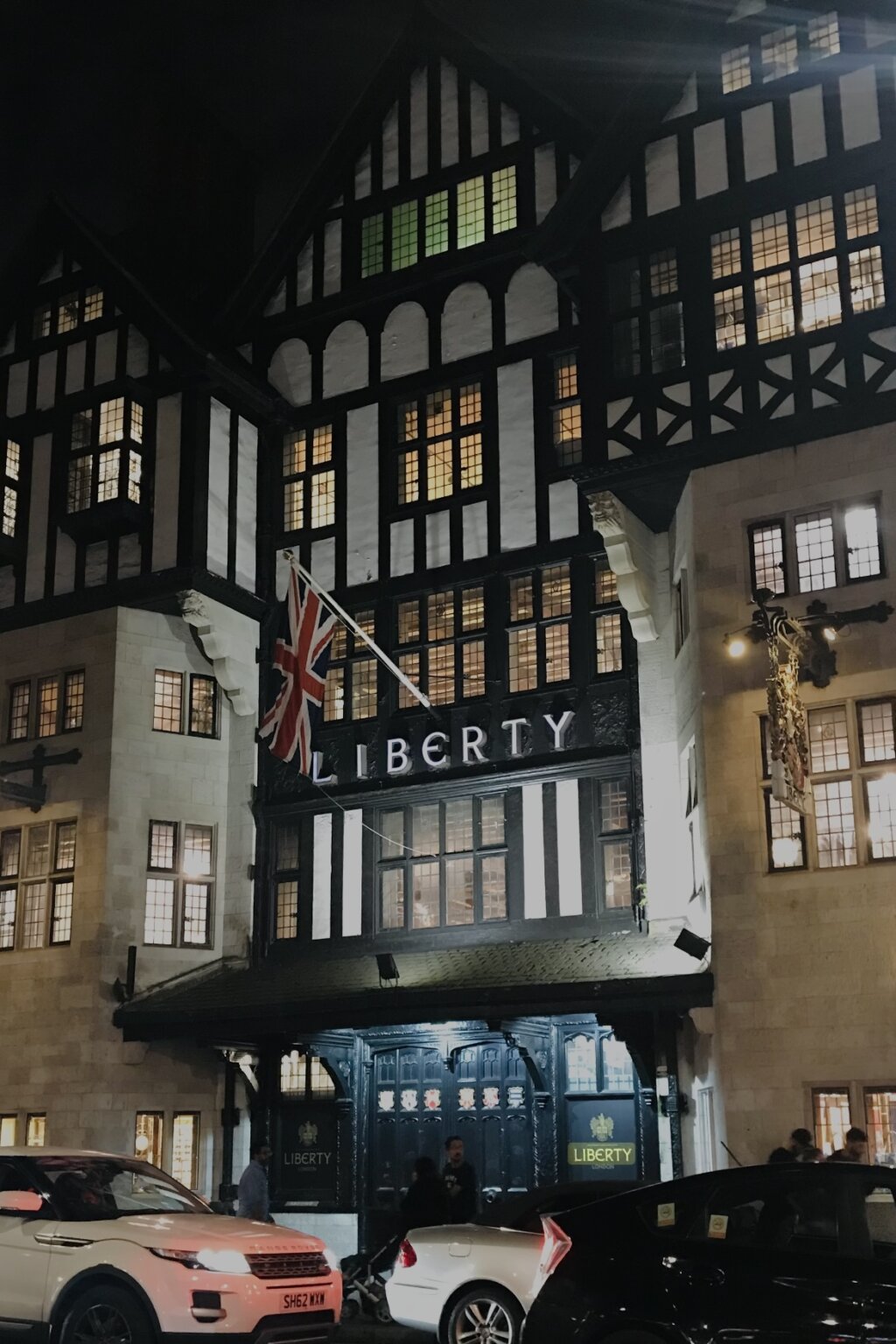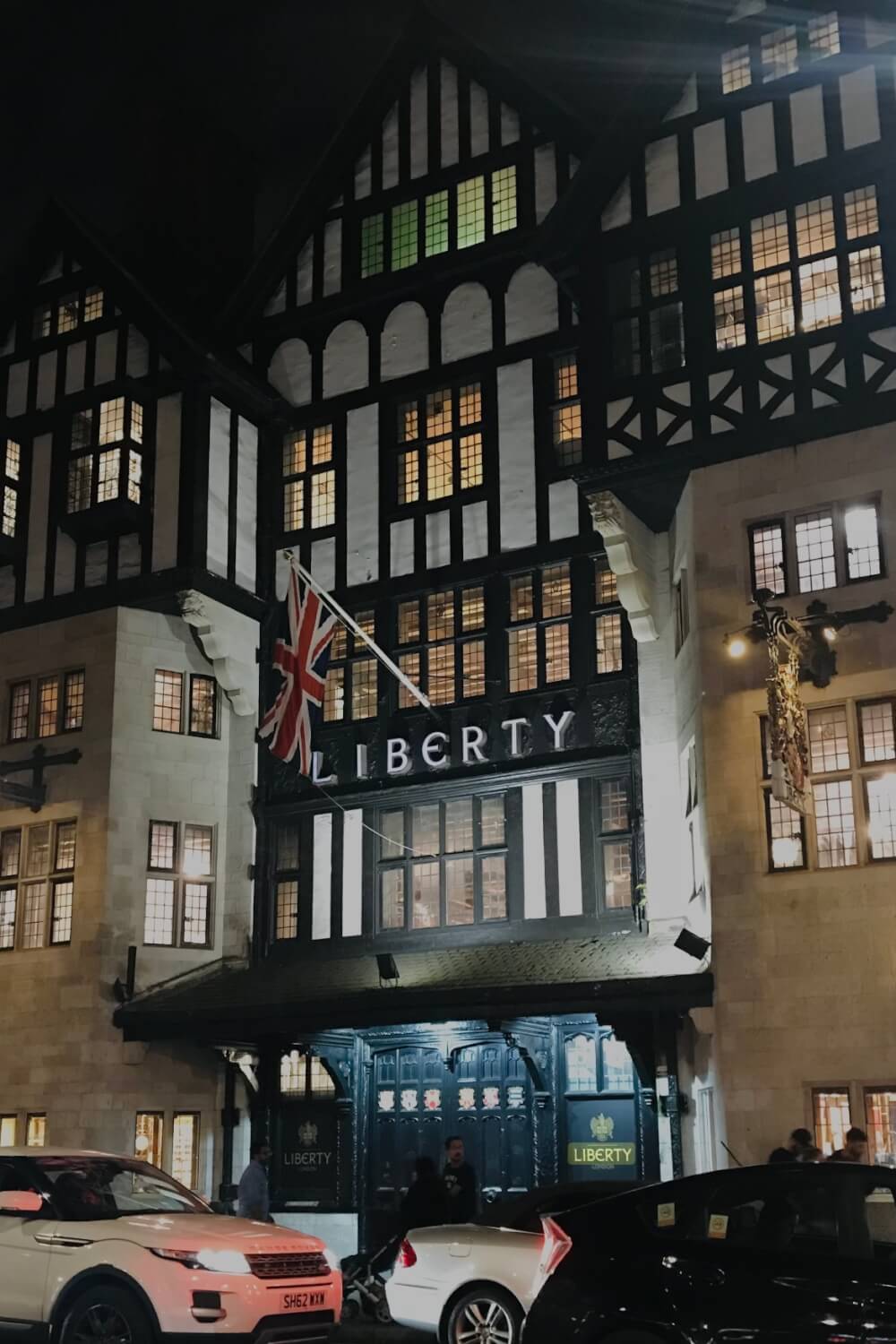 Another department store that goes all out is Selfridges, which has a dazzling Christmas shop on the top floor, and a new theme for its windows and interiors every year… much like fellow department store John Lewis, which has multiple locations scattered around the city.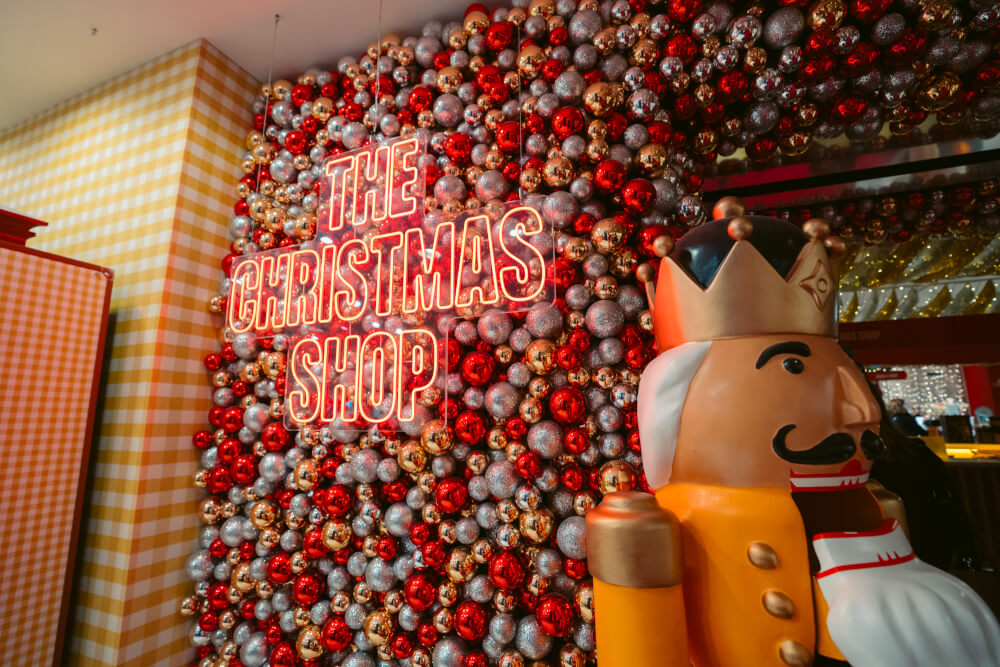 Lastly, it's not a department store really, but what it is is a massive toy wonderland complete with elves and every kind of toy you could ever want.
Hamley's is a London institution known as a joy emporium since the 1800s, and it's a must-visit if you are visiting London for Christmas with kiddos in tow.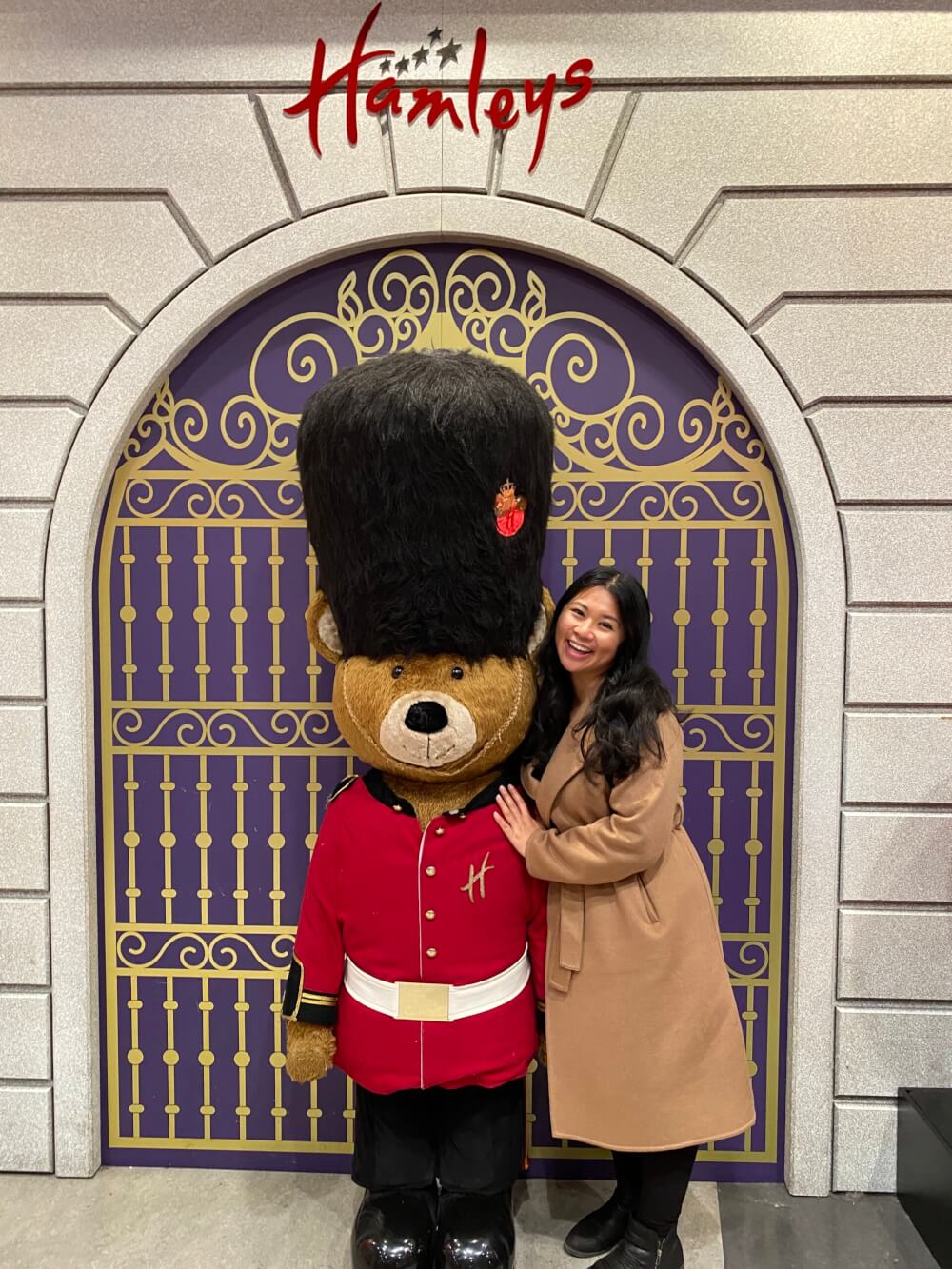 4. Go ice skating
Another staple of the London holiday calendar is ice skating.
Throughout the city, pop-up ice rinks offer a chance for locals and visitors alike to strap on some skates and try their best not to die.
There are many options to choose from, but they can book up quickly, so be sure to reserve a slot in advance. Here are the main ones:
Failing these pop-ups, there are also skating rinks at Alexandra Palace and QUEENS which are open beyond the festive season.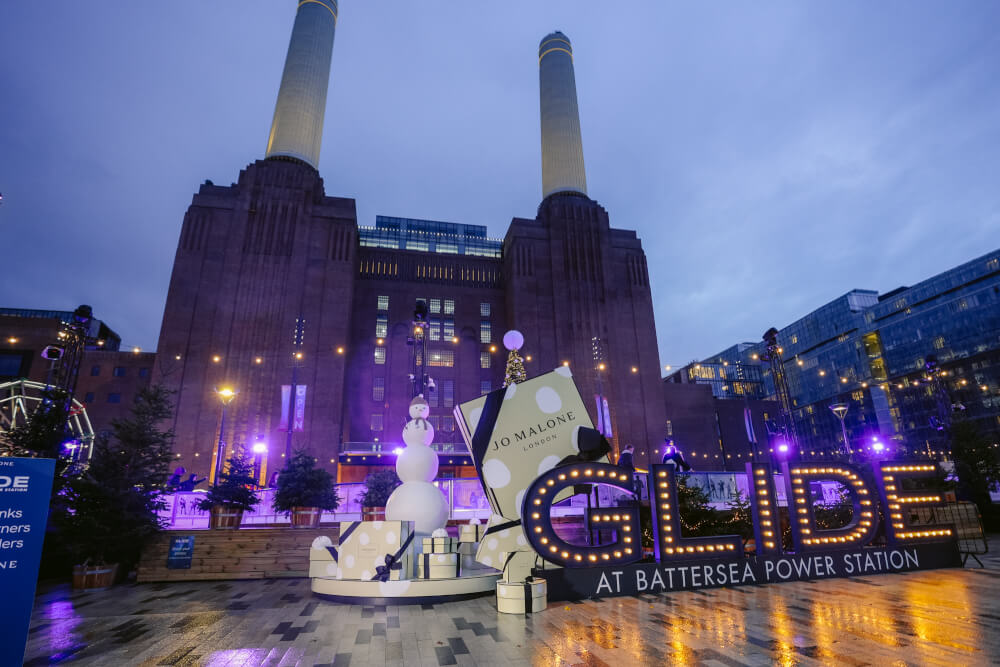 5. Taste test a bunch of festive treats
London knows how to celebrate, and as soon as November hits, the city is hit with a wave of festive food and drink specials everywhere you go… so logically, another Christmas must-do in London is taste testing a few for yourself.
From Christmas donuts and decadent festive drinks to savoury heavyweights like a full-on Christmas dinner sandwich, there's plenty of indulgences that await festive revellers in the city.
Some places that always roll out fun Christmas specials include…
Chestnut Bakery – the most amazing pastries, with a new special every month, including Christmassy flavours for December
Doughnut Time – the cutest Christmassy donuts
The Black Pig – an epic Christmas sandwich
And if you're looking for an especially luxurious treat, many hotels and restaurants across London also put on special festive afternoon teas, a perfect excuse to enjoy a bunch of tiny treats under the guise of cultural exploration.
Some famous places that do a Christmas afternoon tea include…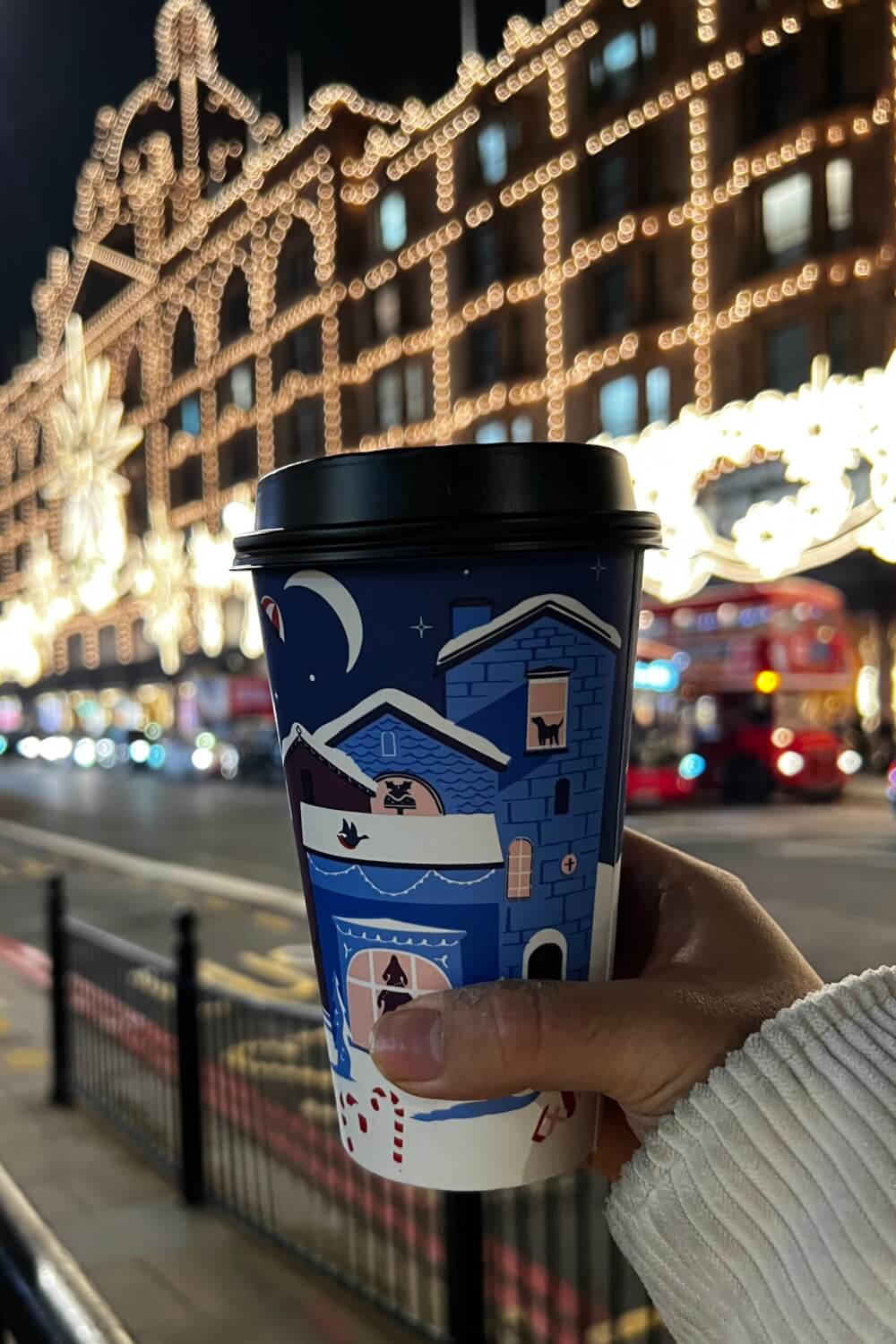 6. Visit a festively decorated restaurant or bar
Besides indulgent eats, another thing that London does spectacularly well is coziness, so make sure to treat yourself to another classic London Christmas activity: drinking and eating in a festive atmosphere!
Walk around town and you'll see restaurants bar of all cuisines and budgets studded with baubles, garlands, and an obnoxious amount of lights.
Admittedly, some places take it much farther than others, but some especially known spots include Miracle at Henrietta, near Covent Garden and Daphne's in Chelsea.
There are also multiple spots around the city where you can rent your own cozy igloo, like…
Or If you're looking for something more low key, simply choose a classic old style pub with a roaring fire for all the most wonderful Christmas vibes.
For one of the most photographed options, the Churchill Arms is famed for its Christmas display, with over 80 trees hung from its exterior walls.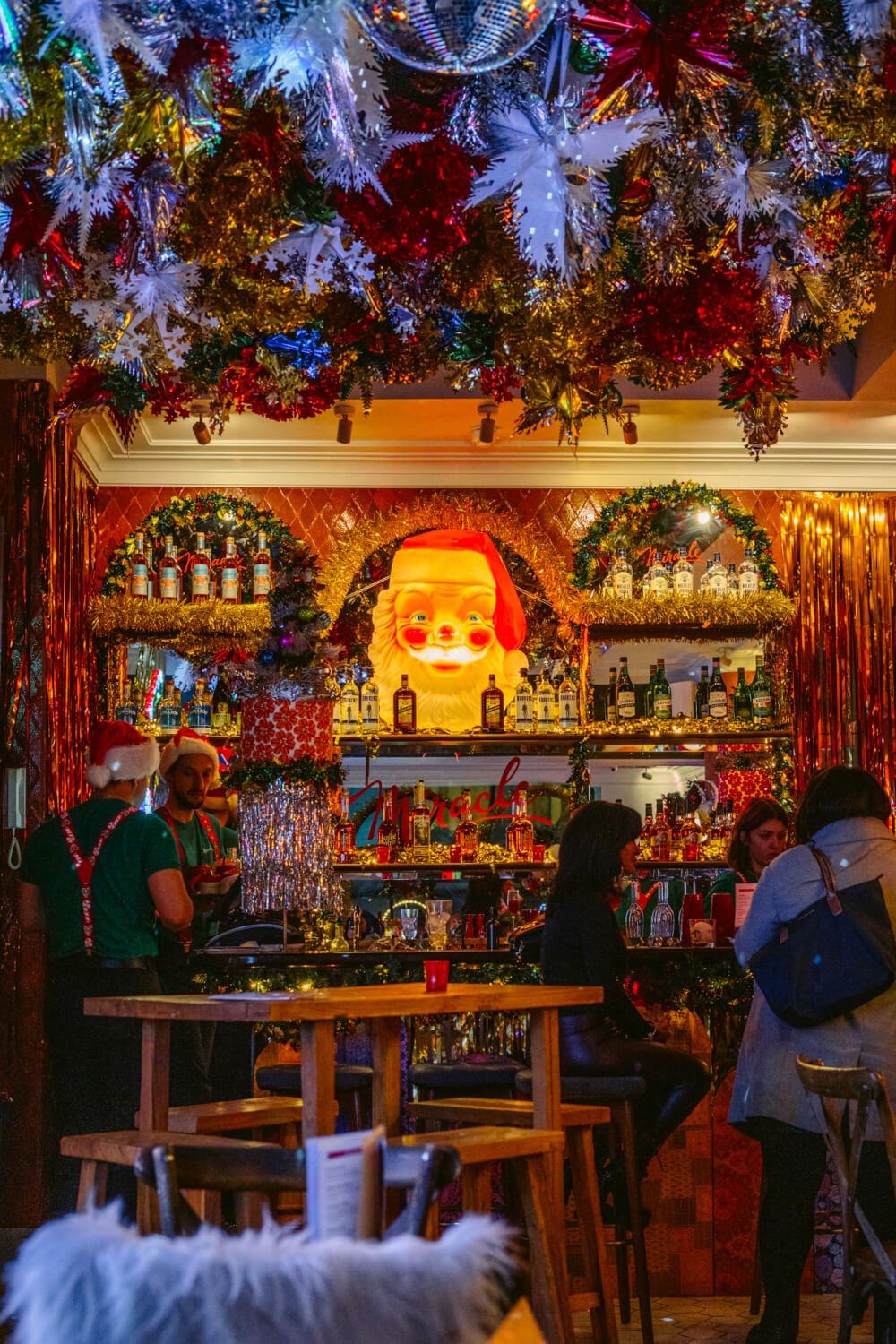 7. Go see a festive show or concert
London is famed for its cultural offerings, from shows on the West End to concerts from pretty much every big artist in the world.
But come Christmas, the cultural calendar in this city is packed to the brim. Some of the best Christmas things to do in London in terms of shows and experiences include…
Of course, a totally free option is going to see Christmas carol performances. At Trafalgar Square, they do this every evening at the base of the Christmas tree, and Saint Paul's also do free carol concerts (although pre-booking tickets is required).
Plus, there are unique Christmas events in London you can enjoy throughout the season. Some fun ones in the past include…
The Great Christmas Pudding Race, where teams dress up in costume and complete obstacles while balancing Christmas pudding on a tray…
The Peter Pan Cup, which is a swim in the Serpentine on Christmas day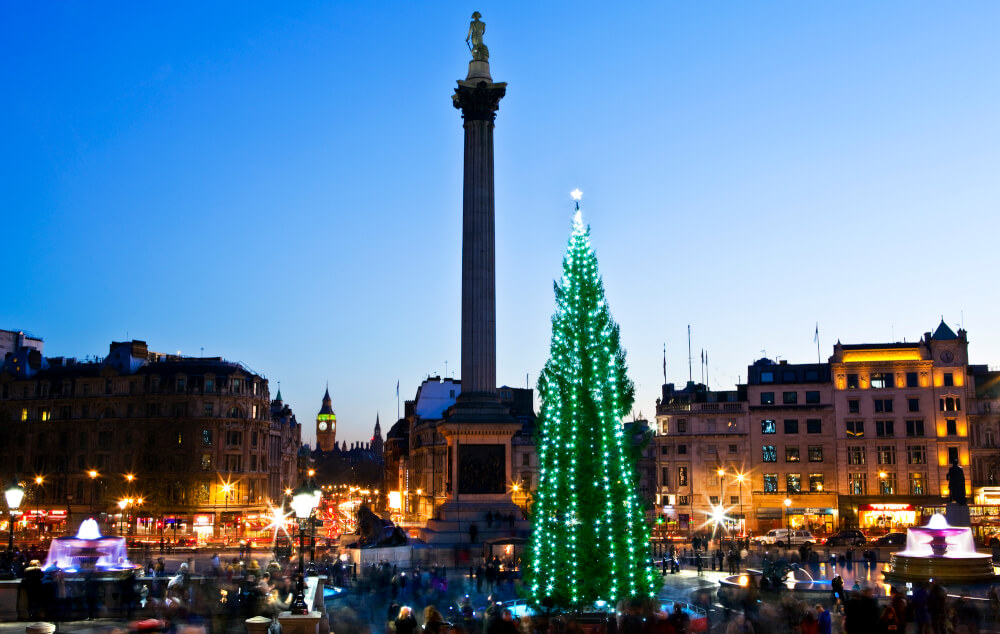 8. Enjoy a festive version of London's top attractions
Lastly, a very underrated Christmas thing to do in London is simply visiting the city's top attractions decked out for the holidays.
There's no shortage of amazing attractions to visit in London… but the festive season is a great time to see them, with far fewer visitors than the peak summer season, and many fun Christmassy touches sprinkled throughout.
Some of the most famous seasonal specials include…
Hogwarts in the Snow, which allows you to tour Harry Potter sets and props with festive flair
The famous Christmas at Kew, which turns London's epic Kew Gardens into an incredible light trail every winter
But don't worry – even regular London attractions commit pretty hard to the holiday theme. You'll find Christmas trees and decor at pretty much every single attraction, whether you're up at Tower Bridge or frolicking around the London Transport Museum.
My personal favourite though? The Tower of London, where we were greeted with Henry the 8th and his wives dressed up as Christmas trees.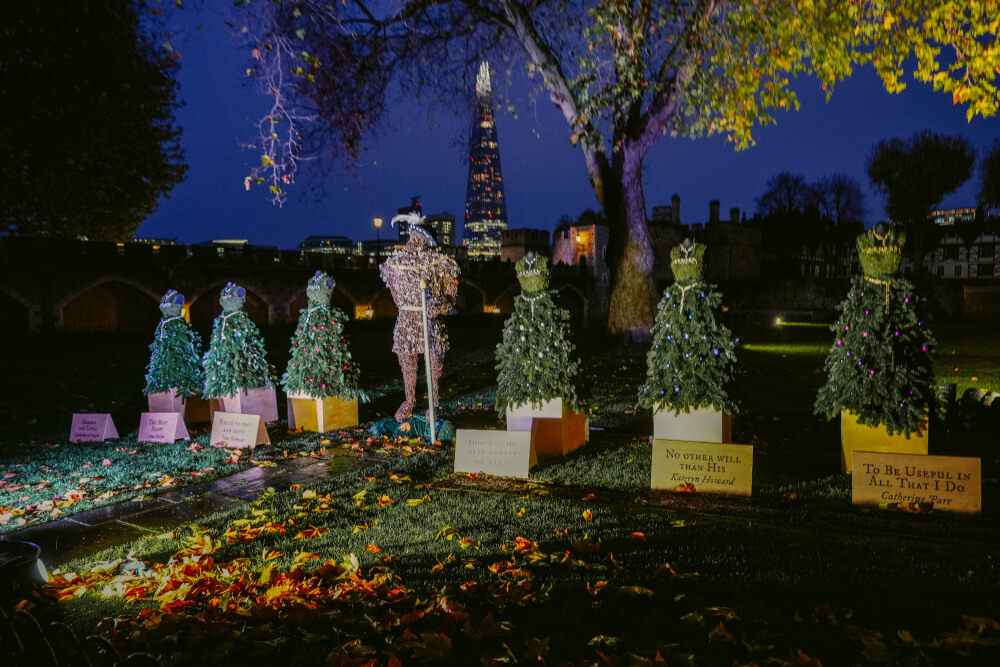 London Christmas Activities Map
🎟️ Book Activities & Tours:
Did I miss any of your favourite Christmas things to do in London?
Rest assured, no matter where you go in this city, Christmas is all around! But let me know if I've missed any of your top picks for holiday activities in London. Ho ho hope this article was helpful, and have a magical trip!
My Go-To Travel Favourites: