*FYI - this post may contain affiliate links, which means we earn a commission at no extra cost to you if you purchase from them. Also, as an Amazon Associate I earn from qualifying purchases. Check out our Privacy Policy and Disclosure. for more info.
As the birthplace of Roger Federer, Art Basel and… LSD (yes, really), it should surprise nobody that Basel, Switzerland is a city with plenty of stories to tell.
Basel is Switzerland's third largest city, and is divided into two distinctive parts by the river Rhine: Großbasel (Big Basel) and Kleinbasel (Little Basel).
I've visited the city three times now: once in the summer, once in the fall, and once for the world-famous Basel Christmas Market... and yet I'd still head back in a heartbeat!
So, if you're wondering what exactly has me so lovestruck, in this post, I'll be covering all the top fun things to do in Basel, from bathing in fountains to admiring robo-sculptures.
I hope you find it useful!
1. Check out the iconic Town Hall
Hands down, the top Basel must-do in terms of architecture is stopping by the uniquely red Basler Rathaus (Basel Town Hall).
This 500-year-old beauty is built in a Neo-Gothic/Neo-Renaissance style, and was constructed to replace the original seat of government for Basel which was destroyed in one of the most devastating earthquakes in recorded history.
Made of a distinctive and striking red sandstone, with playful fresco paintings all over the exterior walls and courtyard, this is truly one of the prettiest and and most unique town halls to visit in Europe.
It's of course free to gawk and gape at all the pretty frescos, BUT if you time your visit correctly, you may get to see more! On Saturdays at 4:30pm there are guided tours if you want to know more about this stunning building.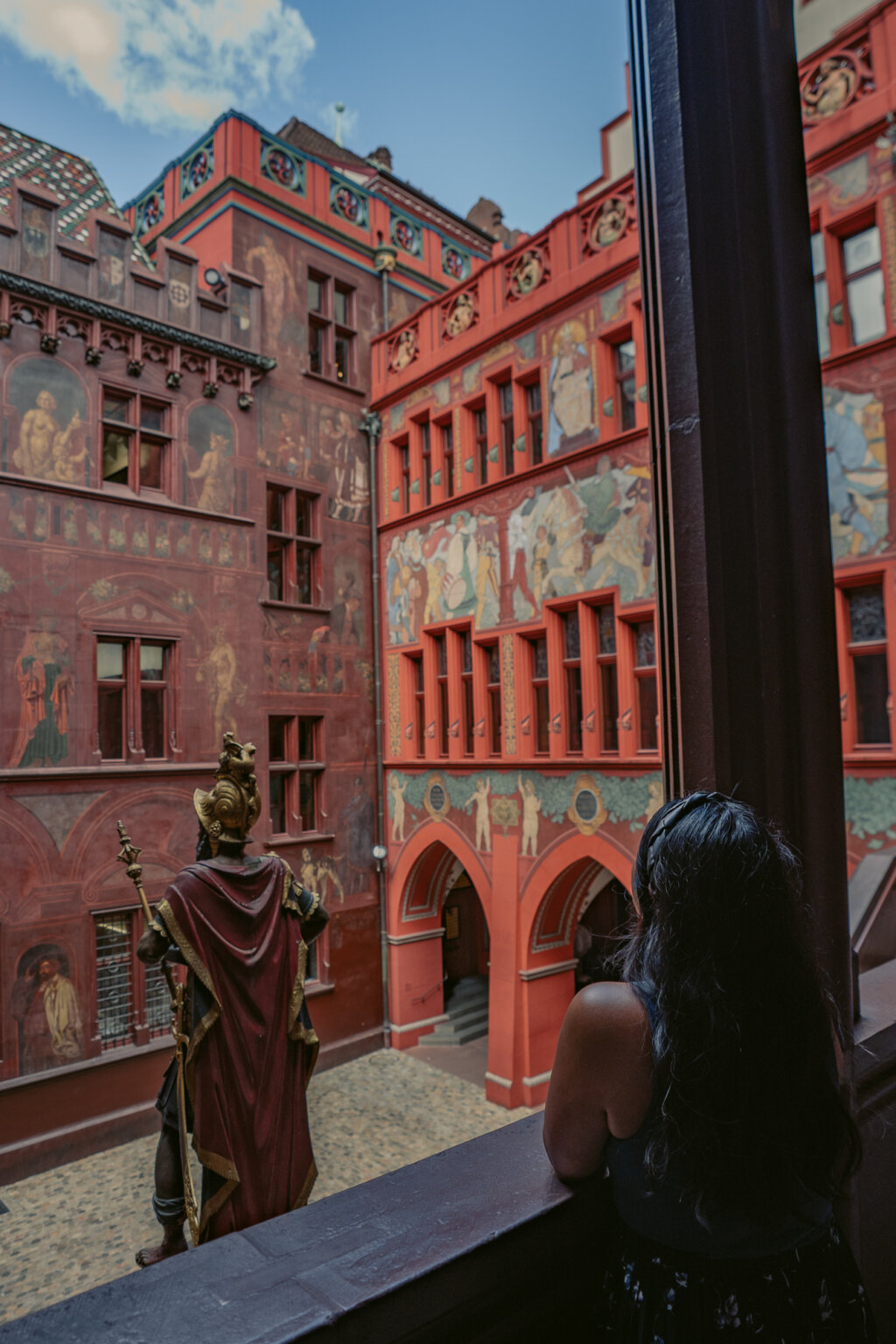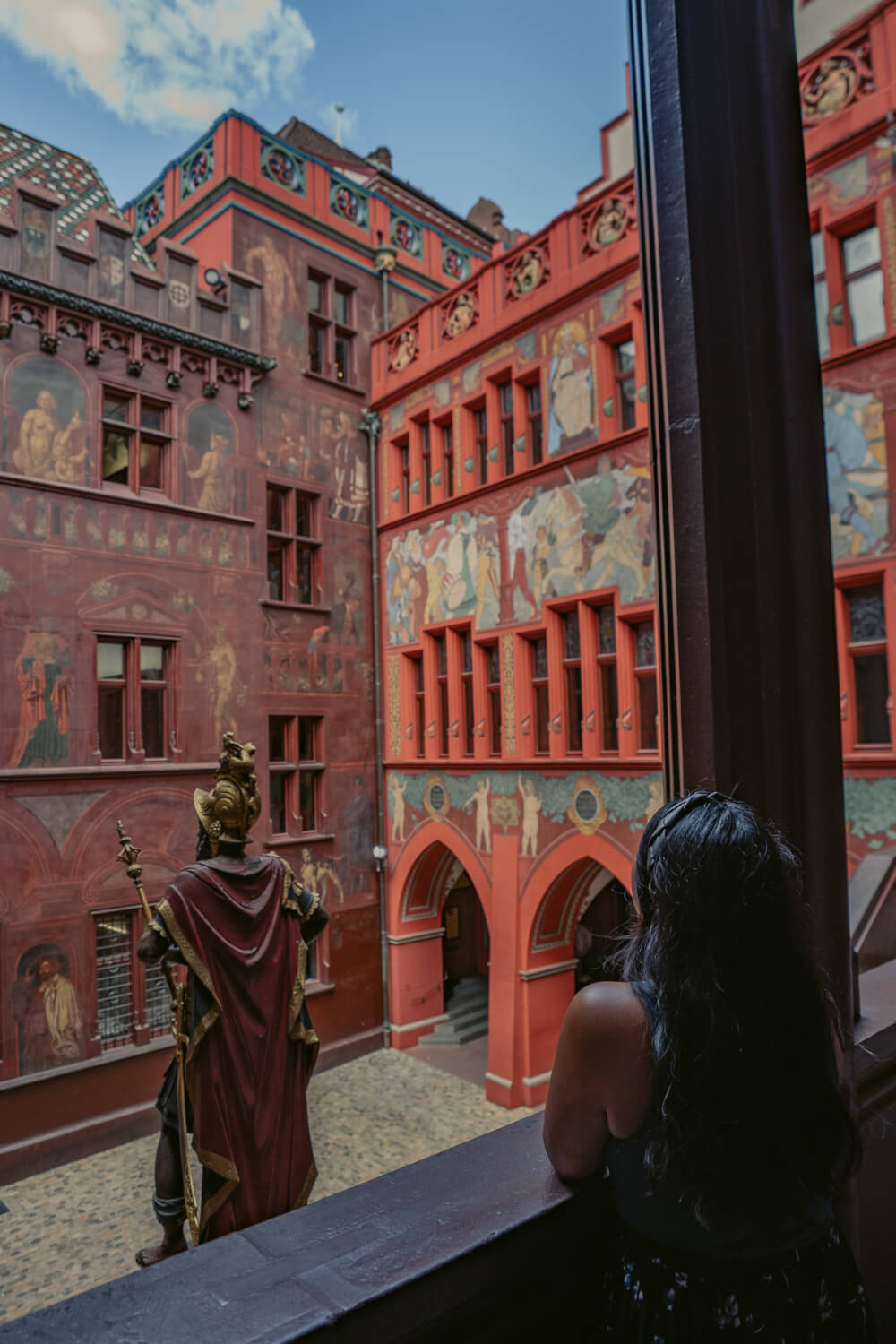 2. Stand in three countries at once
There are only a few places in the world where you can stand in three countries at once, and one of those is Basel!
The Dreiländereck is a monument in the middle of the River Rhine which marks the meeting point of the borders of Switzerland, France and Germany.
Technically, the monument is in Switzerland, and you'd need to swim out a bit into the river to actually be touching all three countries at once, but it's a much nicer photo opp on dry land… and one of the more unique things to do in Basel if your goals is to acquire random bragging rights.
3. Meander through the pretty streets of Altstadt (Old Town)
Basel's Old Town area is one of the most beautiful and intact in the world, with many gloriously historic buildings to explore amongst the winding cobbled alleyways.
Some of the major sights include the Mittlere Brücke (bridge), the Basel Cathedral, the Pfalz terrace, the Spalentor city gate, the Town Hall and the Marktplatz in front of it. There are also more than 300 pretty fountains to see in the area.
If you really want to get the most out of the experience, consider booking a guided walking tour like this one to get the full scoop on all the sights you're prancing past.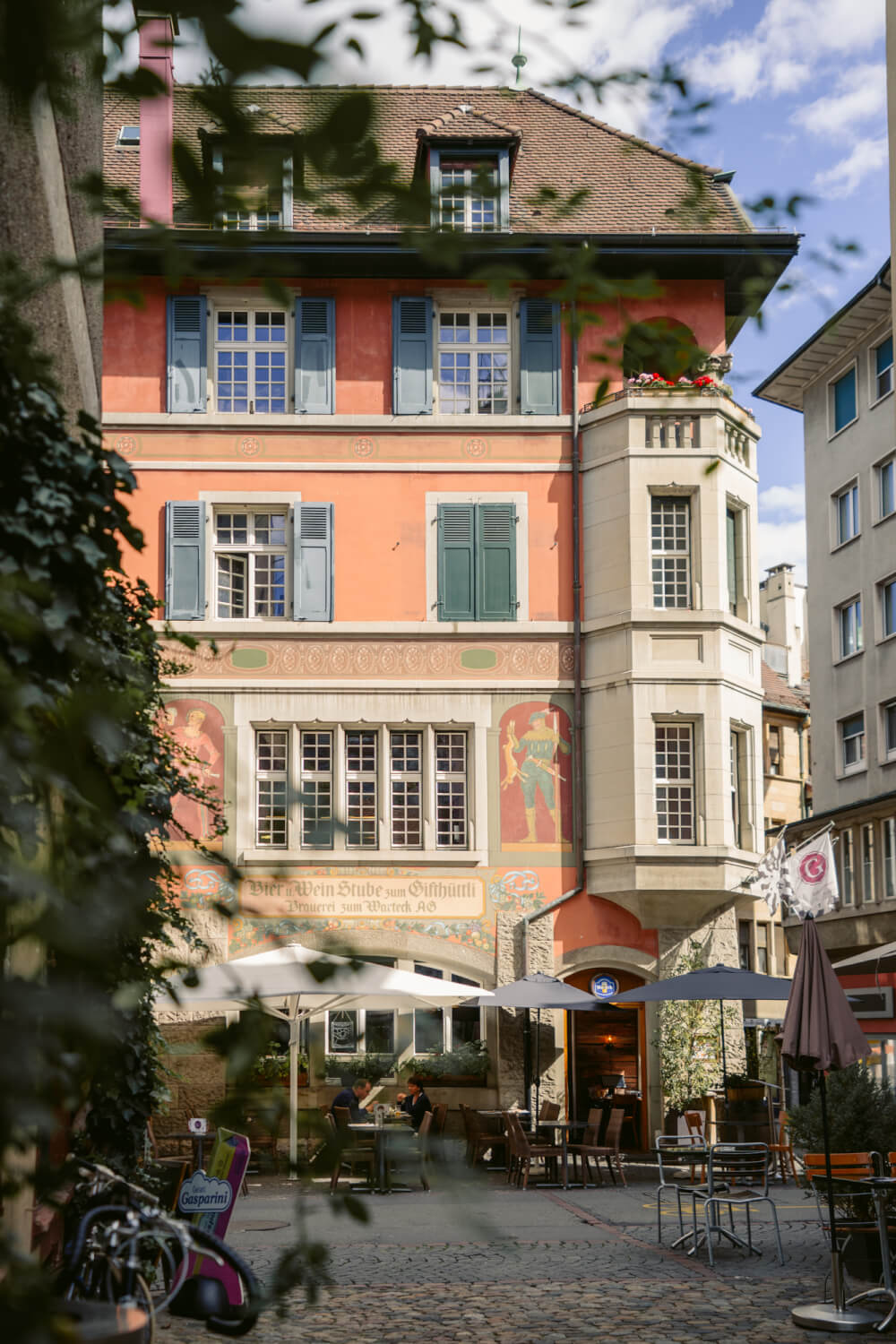 4. Admire Basel Minster and its beautiful cloisters
One of the most dominating parts of the Basel skyline is the Basel Minster, which has two towers named Georg and Martin, after the saints of the night.
One of the most significant sights in the Cathedral is the tomb of Erasmus, one of the most famous scholars in European history. So famous was his work that some say by the 1530s, his writing accounted for 10-20% of all the book sales in the entire continent, and his name is even used today for the EU's flagship international study/work program, which sends over 200,000 people abroad every year.
Like the Basel Town Hall, the Minster was built from red sandstone, and also has colourful roof tiles. Directly behind it is the Pfalz, a terrace which provides stunning views over Basel and the Rhine River.
If you're lucky, you may even catch a dashing violinist here whose music will make you feel like you're in a coming of age travel movie.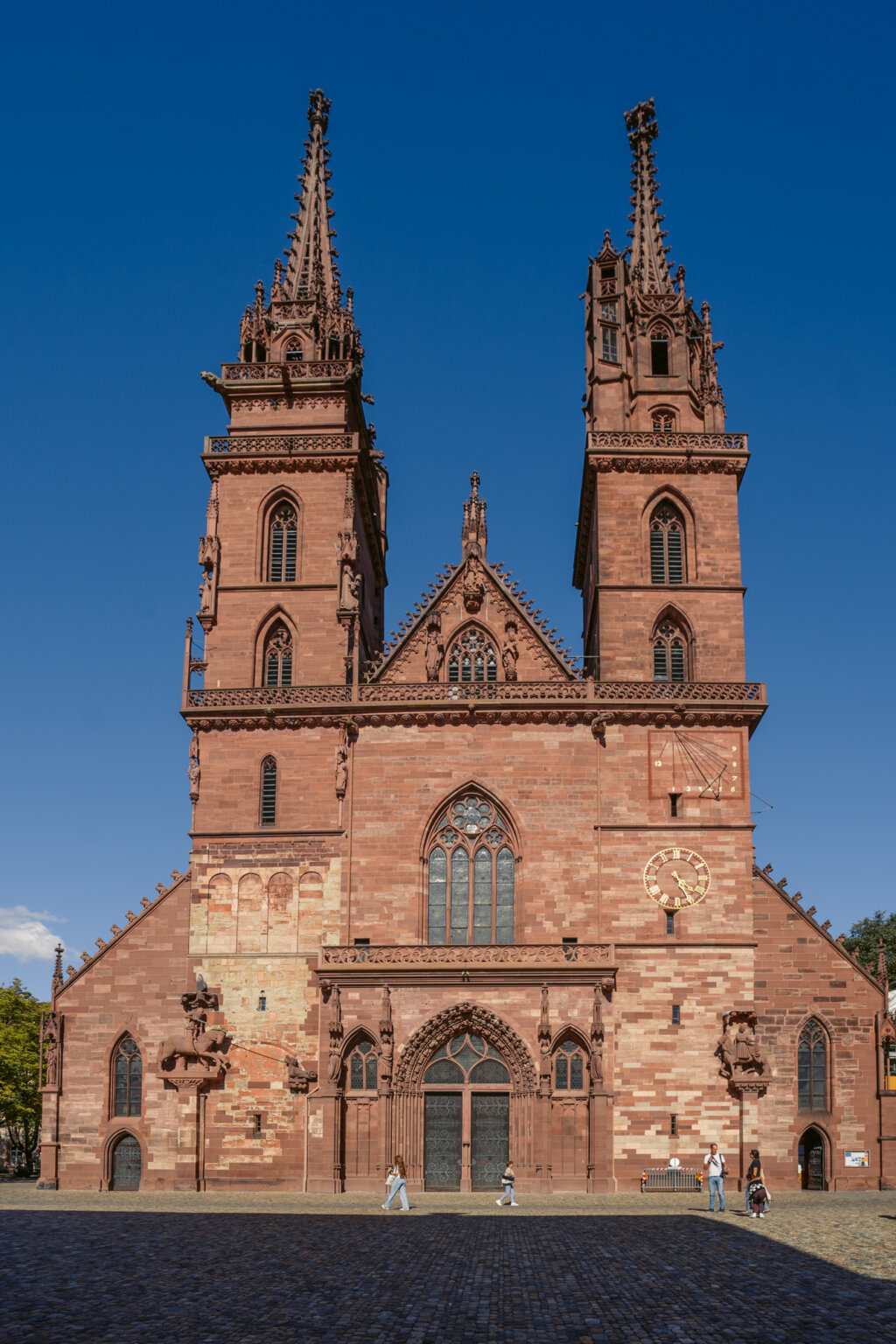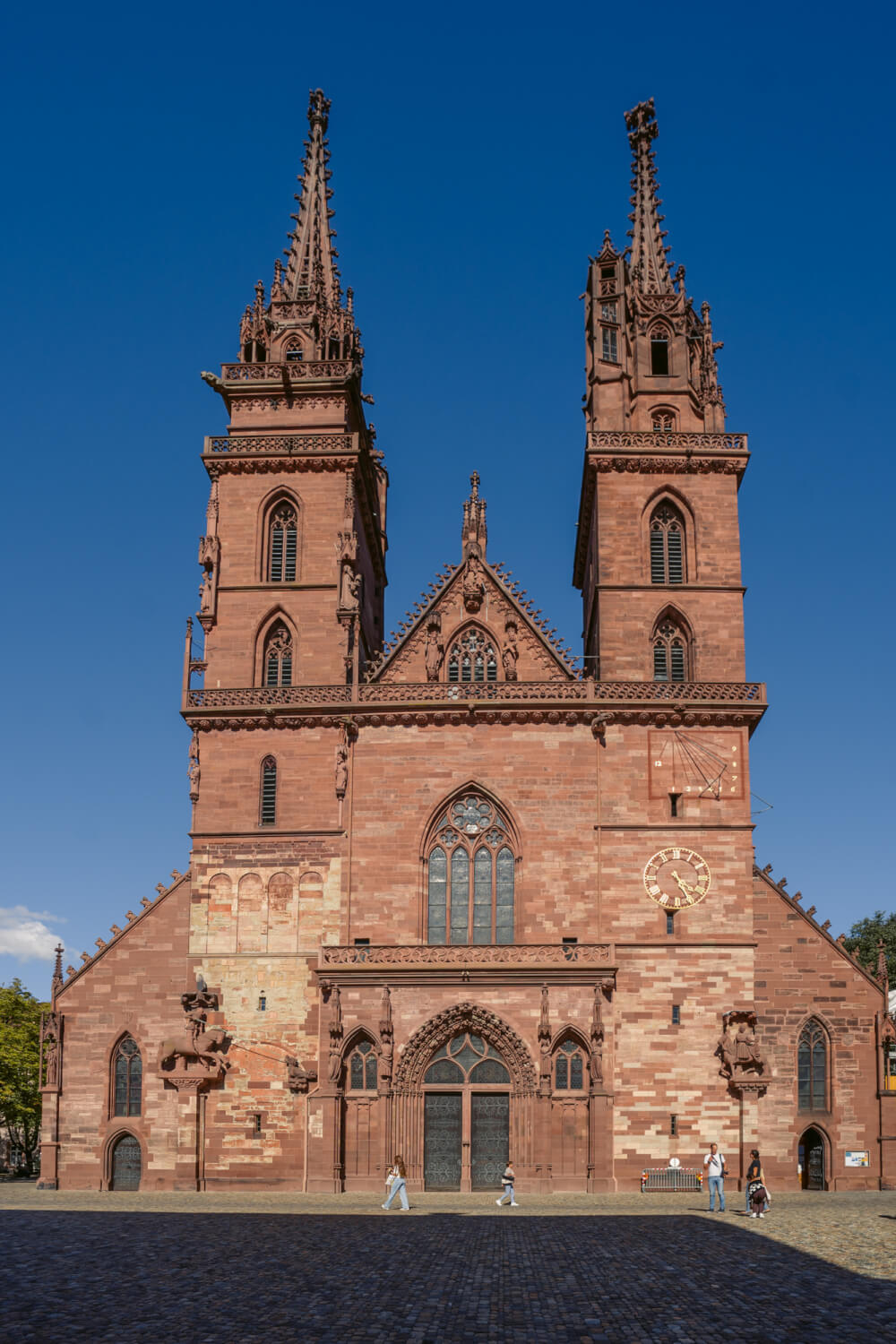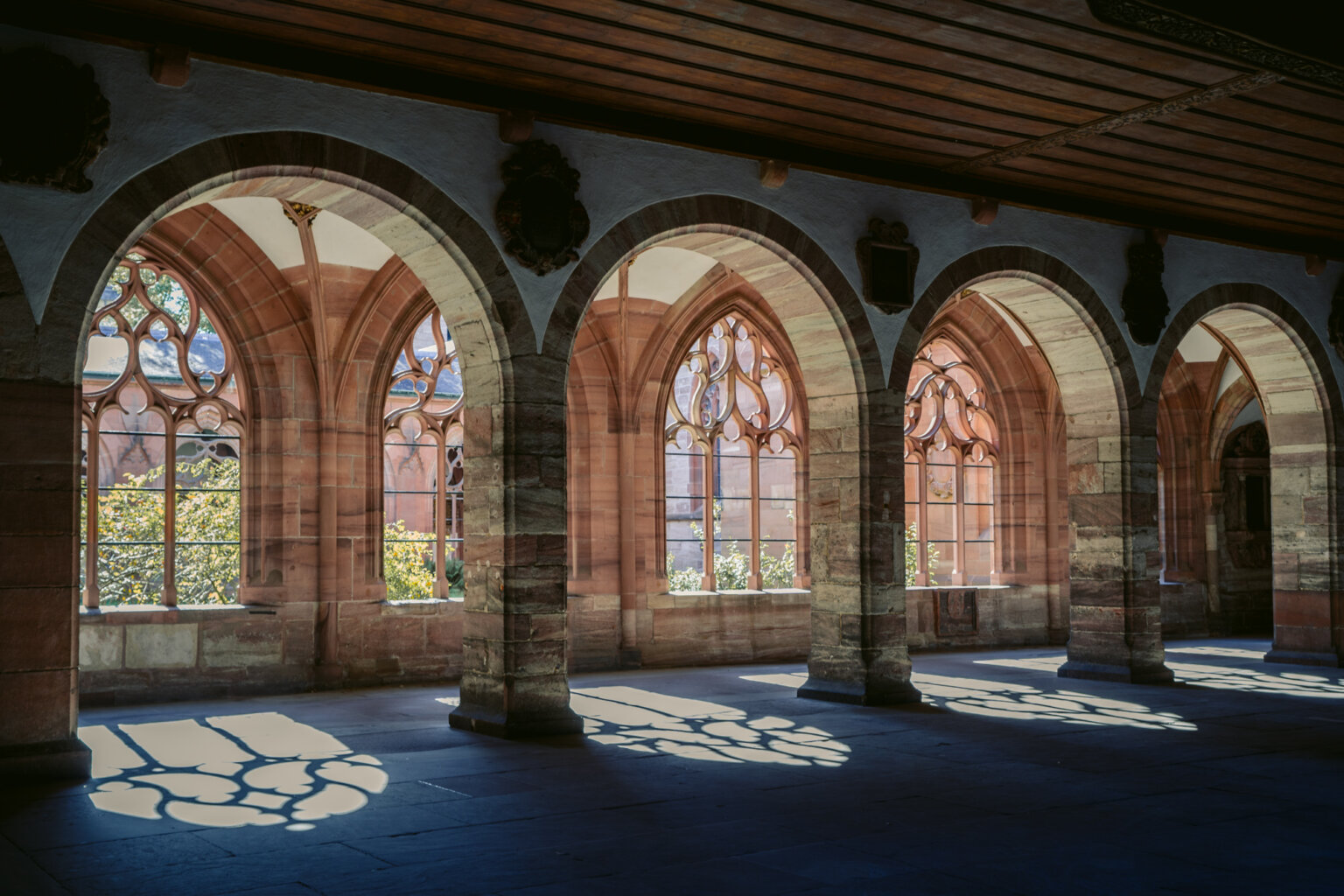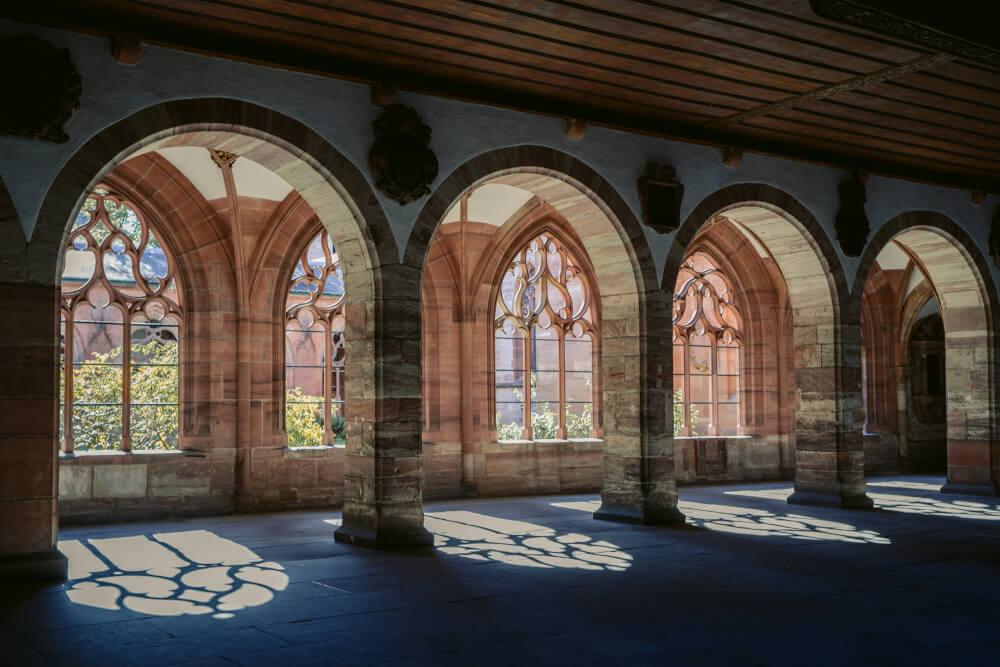 5. Pose with the old City Gates
Looking for historic and nerdy things to do in Basel? Luckily for you, there are three remaining city gates which date back to Basel's original city fortifications from 1400 that you can pose with. These are the Sankt-Johanns-Tor (Gate of Saint John), Sankt-Alban-Tor (Gate of Saint Alban) and the Spalentor (Gate of Spalen).
Spalentor is especially noteworthy and often called one of the most beautiful gates in Switzerland. While the other two are chunky square towers, the Spalentor is prettier, with two rounded turrets on each side and a colourful roof.
Make sure you go outside the gate (the side facing away from the city) to see the figures of the Madonna and two prophets.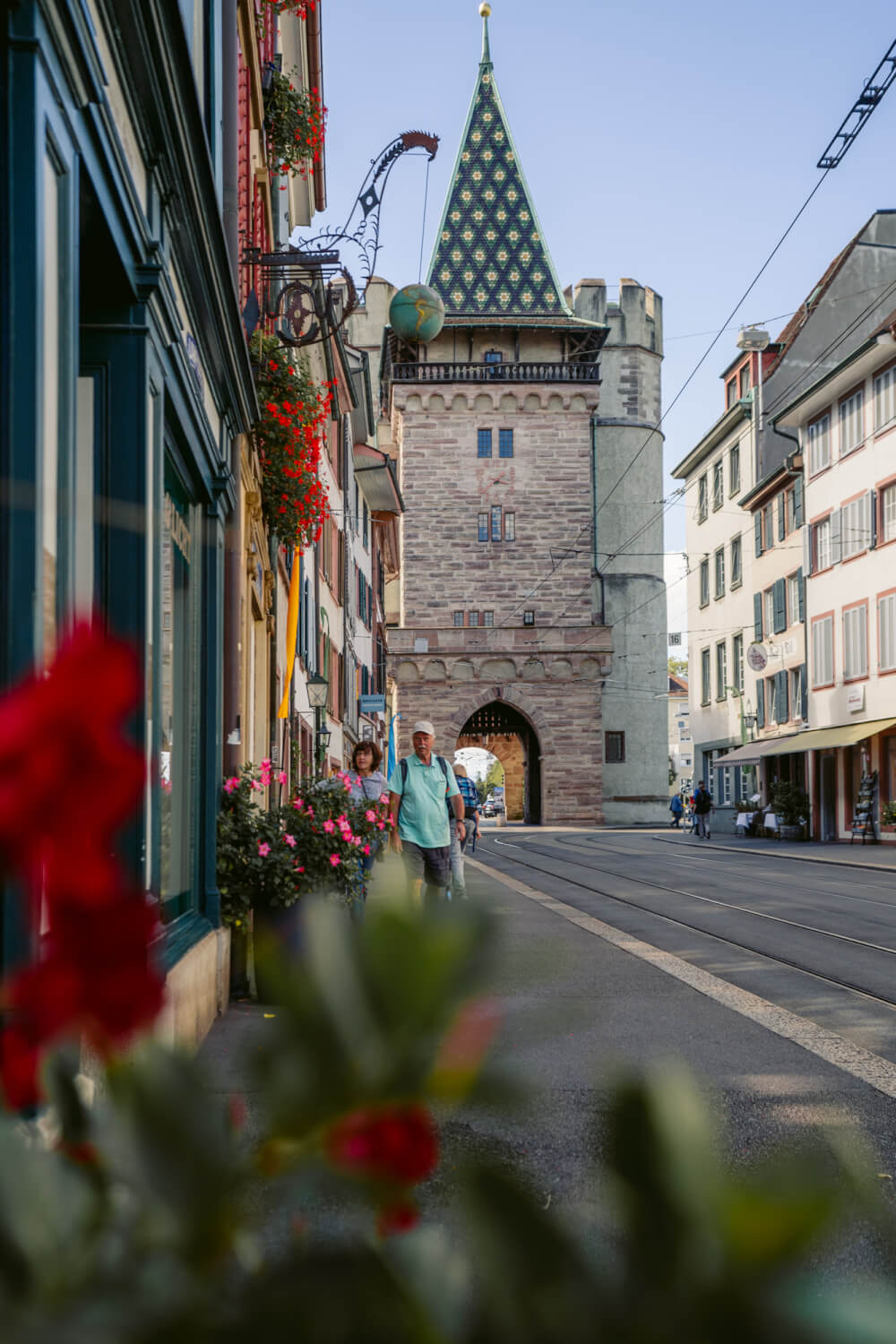 6. Go fountain bathing
Alright, listen up FRIENDS Fanatics – it's time to live out your fountain dancing fantasies because fountain bathing is a very real thing you can do in Basel!
That's right, it's perfectly acceptable in Basel to put on your swimsuit and hop into one of the many fountains to cool off in summer, perhaps with a nice drink in hand?
The fountains are cleaned regularly so that this tradition can continue and it's definitely one of the more unique things to do in Basel in summer!
7. And enjoy some fountain spotting too
As I mentioned, there are hundreds of fountains in Basel, so many in fact that it has earned the unofficial nickname "City of Fountains".
Unexciting as that may sound, it's a wonder for staying hydrated. Nearly all fountains are safe to drink from unless they have a sign saying "Kein Trinkwasser" – don't drink from those ones!
Of course, many of the fountains also feature unique statues standing within them, or the fountain itself is also a statue, so it can be a bit of a game to see how many different ones you can find and which are your personal favourites.
… yes, I admit I have strange taste in games.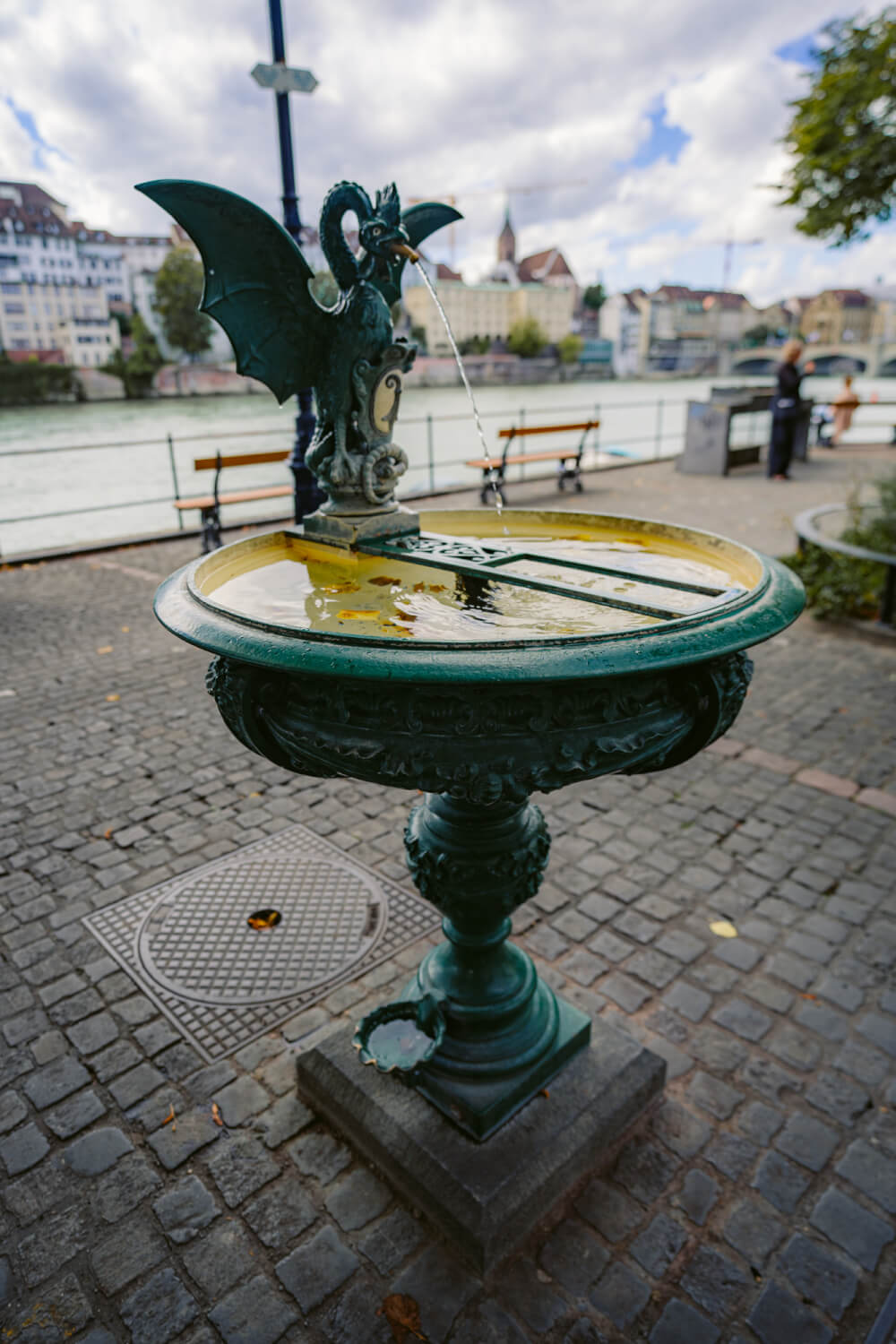 8. Go for a dip in the Rhine
Another unique Basel thing to do for those more athletically inclined is going for a swim!
As well as fountain bathing, it's quite common to see locals swimming in the Rhine with a little waterproof bag called a Wickelfisch (awww!) which keeps their belongings safe as they float down the river.
Just like the fountains, the Rhine River is clean enough to swim in and regularly monitored, so you can absolutely go for a swim, or just float along and see the sights from a different angle.
Looking to float like a local? You can even buy your own Wickelfisch swim bag at the tourist information office and bumble in peace knowing your belongings will stay dry!
Head to this page for more information on where to get in and out of the river, as well as the dates of the next official Rhine Swim, where you can see LOTS of swimmers with their Wickelfish bobbing along on the same day.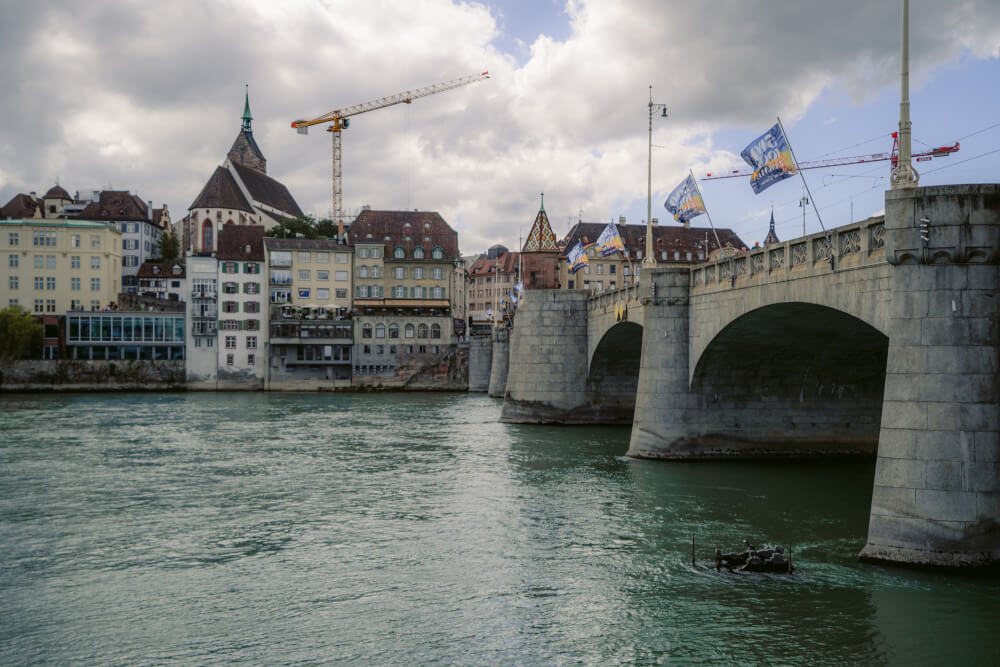 9. Or enjoy some time at a bathing house
As well as swimming in the Rhine, there are also a couple of bathing houses conveniently located on the river banks, for those of us who don't quite feel ready to hurl themselves into a river.
Rheinbad St. Johann was first established in 1896 and is located about a 20-minute walk north along the river from the cathedral. Here you can use lockers and change rooms before jumping in the water, or sunbathing on the decks. There's also a kiosk for snacks and drinks.
Rheinbad Breite is about a 20-minute walk in the opposite direction down the river from the cathedral and offers the same setup as Rheinbad St. Johann, although this one has a proper restaurant and bar, as well as a sauna in winter.
NOTE: Neither location is suitable for children as there are no railings or anything so this is a strictly adults-only thing to do in Basel! But what a glorious one it is.
10. Marvel at the epic collection of the Kunstmuseum Basel
Looking for cultural activities in Basel? A visit to the Kunstmuseum Basel is a must. This legendary Basel museum is nonchalantly said to be home to the world's oldest public art collection, which is… when you think about it, a pretty big deal.
Dating back to 1661, this museum's origin story began when the city of Basel and the University of Basel purchased a private art collection before opening it to the public every Thursday afternoon and then two days a week, about a decade later.
Today the museum is open every day except Mondays, and it's free on Wednesdays from 5pm.
These days, the collection has expanded to include many historic artworks stretching all the way back to the 15th century, including pieces by big names like Rembrandt, Manet, Monet, Gauguin, Cézanne, Van Gogh, Picasso, Munch, Warhol and many, many more.
So, if you're on the hunt for things to do in Basel for art buffs, make sure this one is on the list.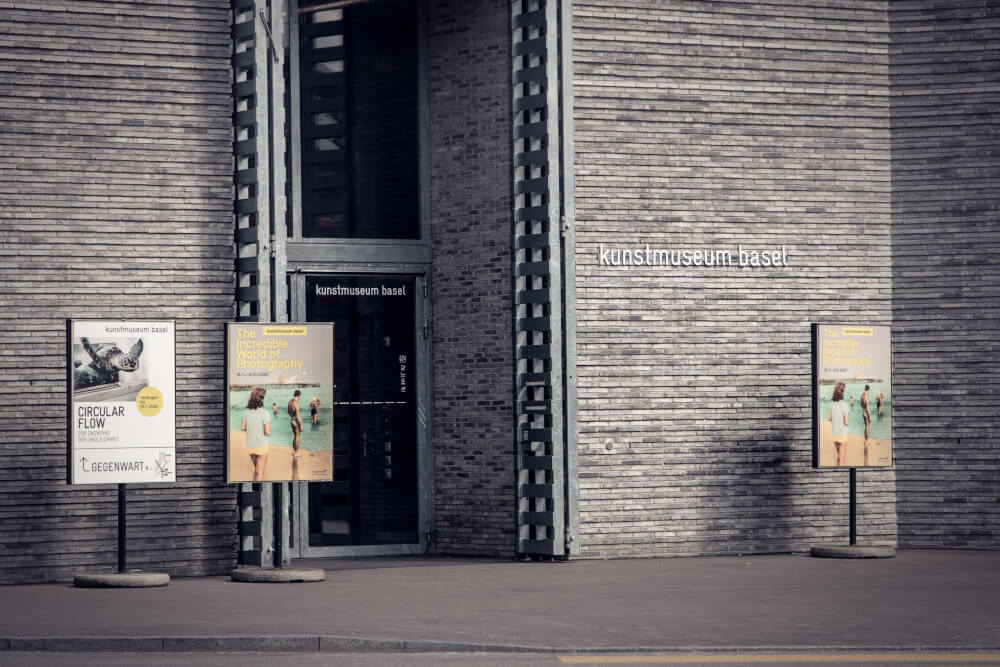 11. Scope out the Toy Worlds Museum Basel
Of course, not all museums are about art, and Basel has plenty of other fun museums to offer visitors, including one all about toys.
Spread across four floors, the sprawling 1,000m2 Toy Worlds Museum is a unique Basel museum that counts over 6,000 items in its collection, making it one of the largest museums of its kind in Europe.
From thousands of vintage teddies dating as far back as 1904 to a collection of handcrafted dollhouses, this museum is a must-visit for kids of all ages (and kids at heart).
You can easily spend hours ooh-ing and aah-ing at all the cuteness, then spend a fortune on adorable presents in the gift shop… all of which are wonderful things if you ask me.
🎟️ Book Activities & Tours:
Speaking of wonderful things, another wholesome must-do in Basel is to…
12. Stop by the cutest, tiniest museum in Basel
In addition to its delightful name, the Hoosesagg Museum (Pants Pocket Museum) in Basel lays claim to being the smallest museum in the city, with a rotating collection of exhibitions in a window spanning no more than 2 by 2 feet.
Once home to Basel's first midwife, this 600-year-old house is now owned by Dagmar and Matthias Vergeat, who decided one day to display some items in their window for the tourists who would come by on walking tours (and block their view while snooping on the inside of their home). You can catch a glimpse at all the exhibitions throughout the years here.
Since 1995, this 'museum' has displayed various everyday items, from hockey pucks and wooden spoons to miniature London double-decker buses. These days, anybody can apply to have their collection displayed in the window for a one-month period, so long as there are more than 30 items and they are no larger than the size of one's palm.
To find this quirky and cutesy spot, head down Imbergässlein in Old Town, and look for number 31.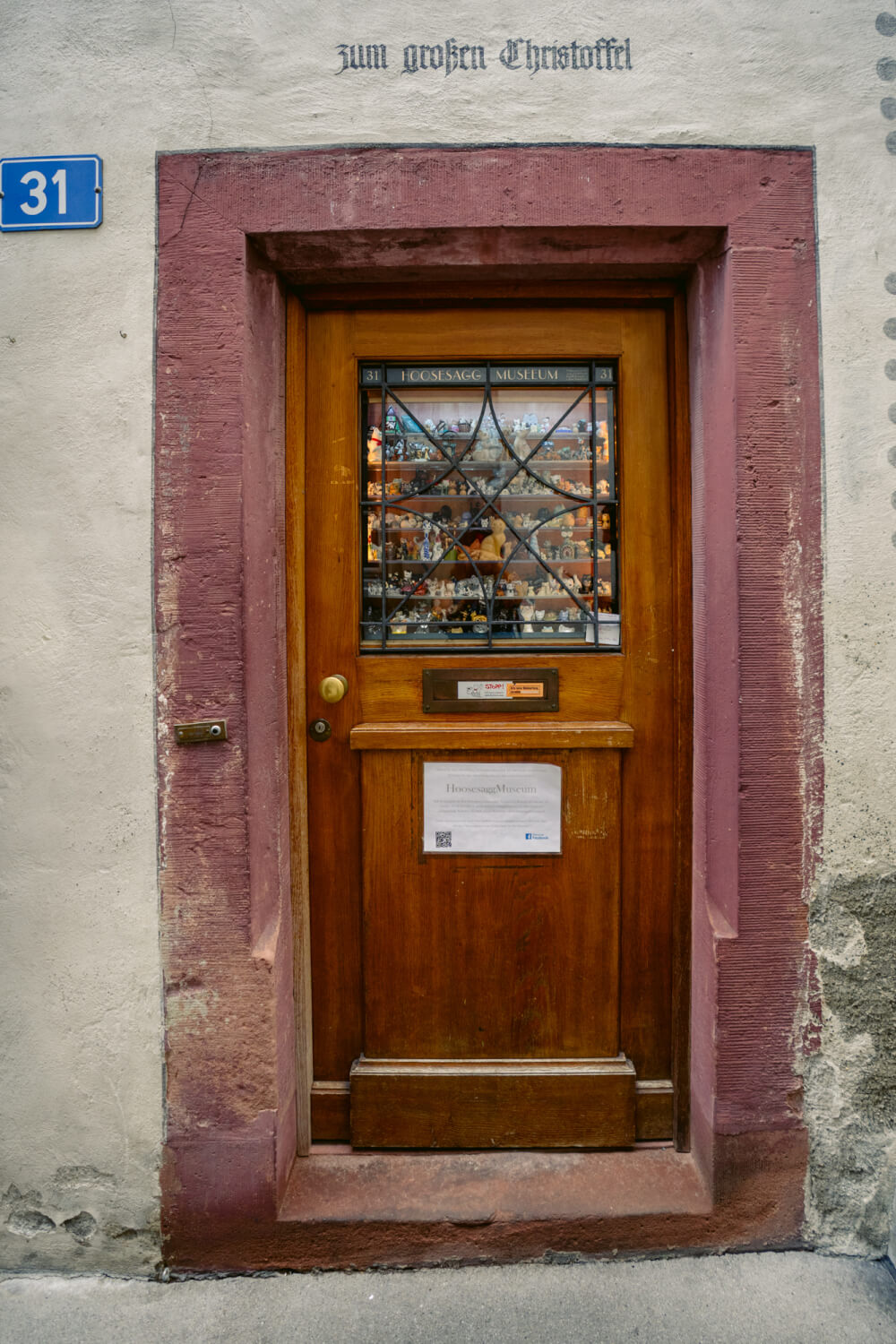 13. Admire the Tinguely Fountain
Speaking of quirky and unique things to do in Basel, be sure to add a stop to the Tinguely Fountain while you're in town.
I know, I know… why does this girl keep talking about fountains? But honestly, the Tinguely Fountain is one of the coolest fountains you will ever see, located where a theatre once stood and now featuring a series of figures in water which periodically move.
Created by Jean Tinguely in 1977, the ten characters in the fountain play with the water in ways that mimic the performance of mimes, actors and dancers.
And if you haven't succumbed to fountain fatigue, there's also another kinetic fountain outside the Tinguely Museum, located on the opposite side of the Rhine, about a half-hour walk from Tinguely Fountain… although be warned: it's not as impressive as this one.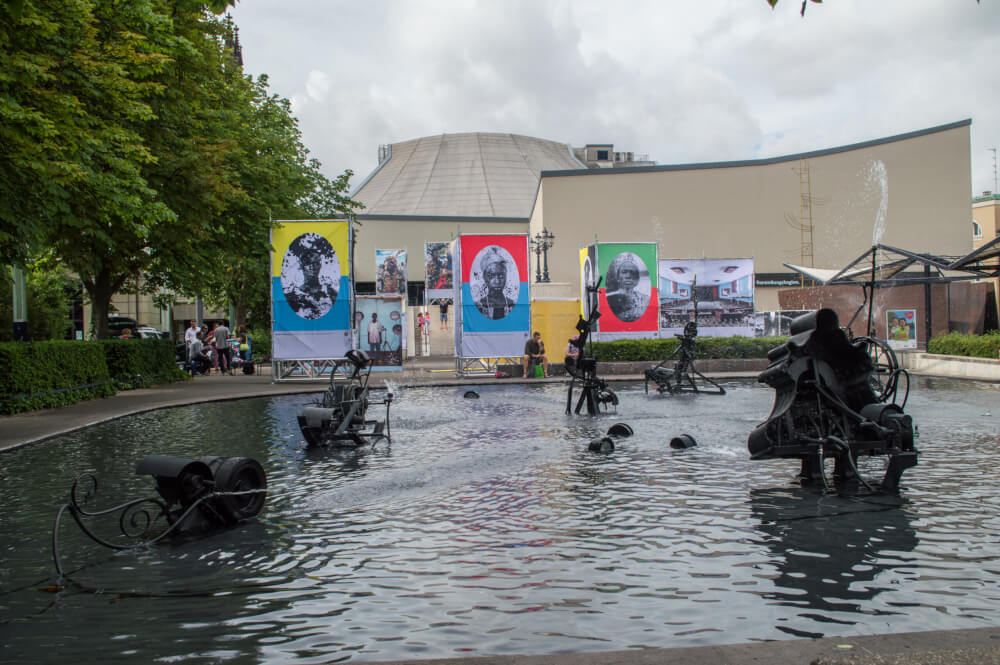 14. Check out the kinetic art at Museum Tinguely
Speaking of Tinguely, another very unique cultural thing to do in Basel is the Museum Tinguely, which (true to its name) casts a spotlight on Jean Tinguely, one of the most famous and influential artists in Swiss history.
His specialty? Kinetic sculptures.
Among his most famous works are the Stravinsky Fountain outside the Centre Pompidou in Paris (a collab with his wife, Niki de Sant Phalle), and Homage to New York, a groundbreaking 27ft self-destructing work that was engulfed in flames in front of its audience outside the Museum of Modern Art in New York.
Yeah, this guy was a little unhinged which makes for some seriously spectacular art.
I really enjoyed this museum, which is full of kinetic sculptures that you can activate with the press of a button, creating some really cool and unexpected surprises… some of which even made me jump (but I won't spoil anything on here).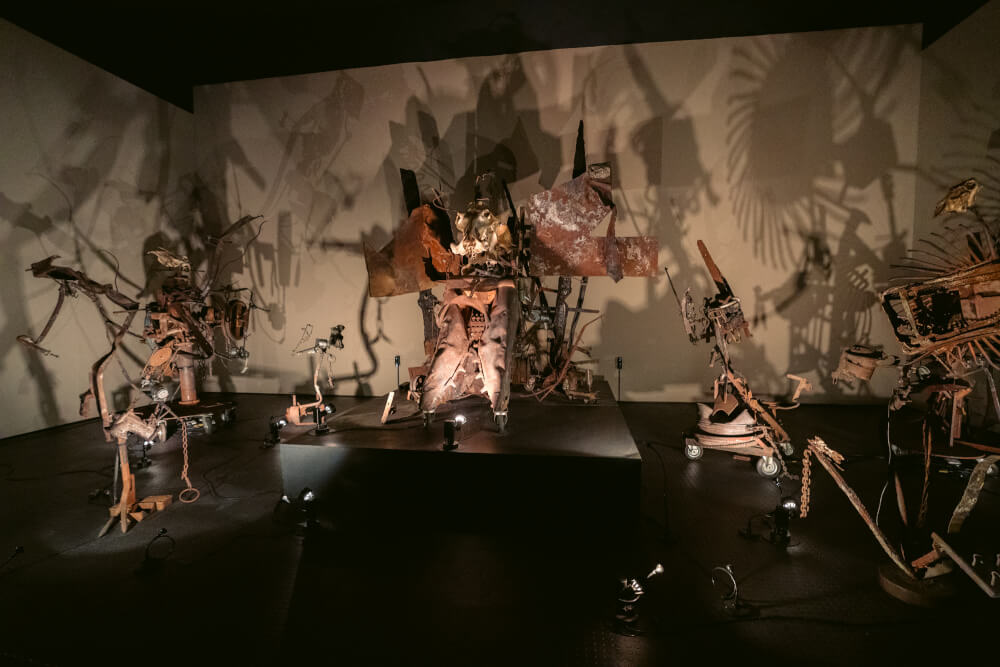 15. Enjoy a food tour
Looking for foodie things to do in Basel? Consider adding a food tour to your itinerary. While it might not be as famous globally as, say, Thai or Italian food, Swiss cuisine has some seriously delicious treats to discover.
After all, Switzerland is renowned for producing excellent cheese, chocolate and wine, all of which you can sample plenty of while exploring Basel.
This self-guided food tour takes you to four different local-approved spots, from Basel's oldest bakery to a zero-waste haven for organic goodies. It's a great way to discover the tastiest treats while also getting away from some of the more touristy areas of the city.
16. Go on a Rhine boat tour
After munching your way around town, one of the most relaxing things to do in Basel while digesting is to take a scenic boat tour along the Rhine.
From the comfort of your boujee watercraft, you'll get to see all the famous landmarks from a different perspective (and get some great photos) while not even needing to move. How glorious.
And if you're looking for an extra special experience, you can even bundle your cruise with brunch, afternoon tea or a romantic sunset excursion.
Near Christmas, they even have special festive evening trips with fondue! Yes, CHRISTMAS FONDUE! Find out more here.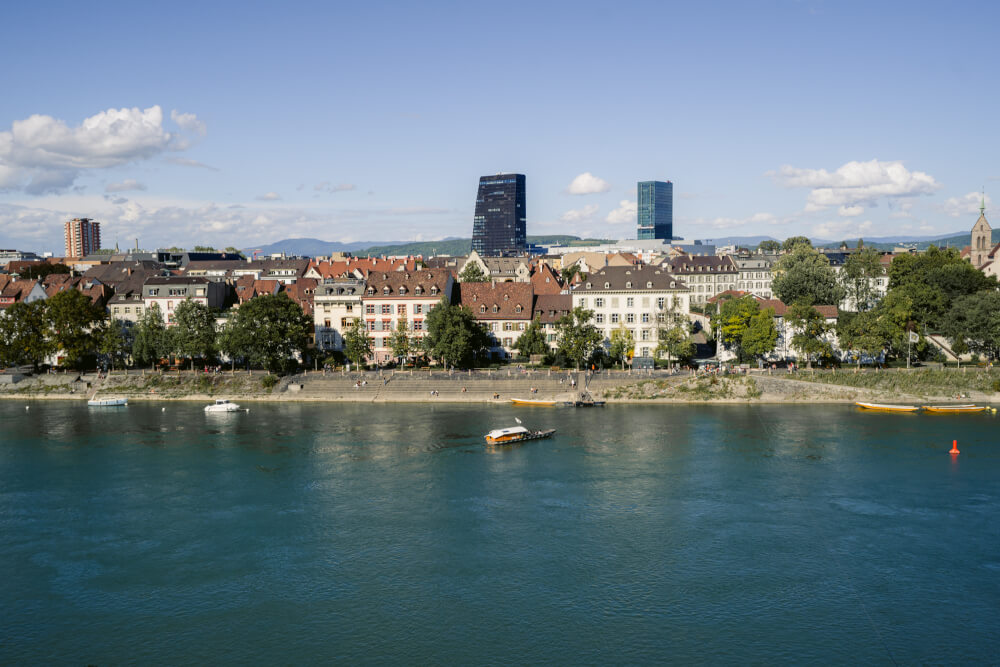 17. Or cross the Rhine with one of Basel's unique ferries
For a quicker journey on the Rhine, another option for a fun Basel activity is crossing from Grossbasel to Klein Basel via one of the city ferries, named "Wild Maa", "Leu", "Vogel Gryff" and "Ueli". Again, awwwww!
These ferries are unique in that they are attached to a long cable made of wire, and rely solely on the current of the river to take them where they need to go. It's a very interesting way to travel since these ferries are almost silent… and you're literally just getting carried away by the current.
Best of all, this is a budget-friendly Basel activity too! Ferry rides only cost CHF 2 per crossing (for adults) and you can also buy 20 trips for CHF 38 if you plan to become an utter river ferry maniac.
PS: If you're in Basel around Christmas, make sure you check out the Vogel Gryff ferry, as it is completely decorated to become a Christmas ferry!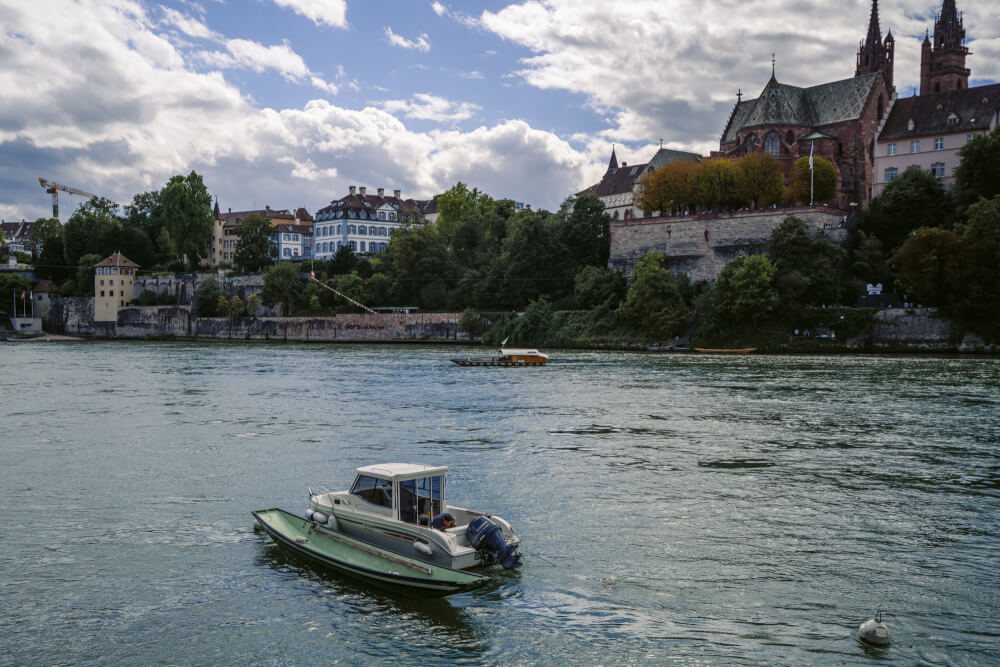 18. Stop by the Basel Paper Mill Museum
Another unique cultural activity to enjoy in Basel is a visit to the Swiss Museum for Paper, Writing and Printing.
Located in the building that housed the Basel paper mill over 500 years ago, it has now been restored and recognized as a heritage site of national significance.
Anyone who's interested in papermaking, book printing and writing will find this a fascinating and unique museum to visit. There are many interesting pictures and objects outlining the history of printing and bookbinding, but it's the hands-on exhibits that really shine!
Here you can try your own hand at making paper, writing with an ink quill, using an old typewriter and setting letters into a typeset. It's also a great change of pace if you've seen a lot of art museums already.
19. Head out to the German side of Basel and explore the Vitra Design Museum
Just across the border from Basel is the German town of Weil am Rhein and even though it's technically in another country, it only takes 15 minutes to drive from the centre of Basel to another one of the area's most fascinating museums.
The Vitra Design Museum is a privately owned museum which focuses on furniture and interior design. It contains one of the largest collections of modern furniture design in the world, as well as pieces from throughout history demonstrating all the major periods and styles.
If you're one of those people who actively enjoys visiting IKEA showrooms in their free time, this is the museum for you.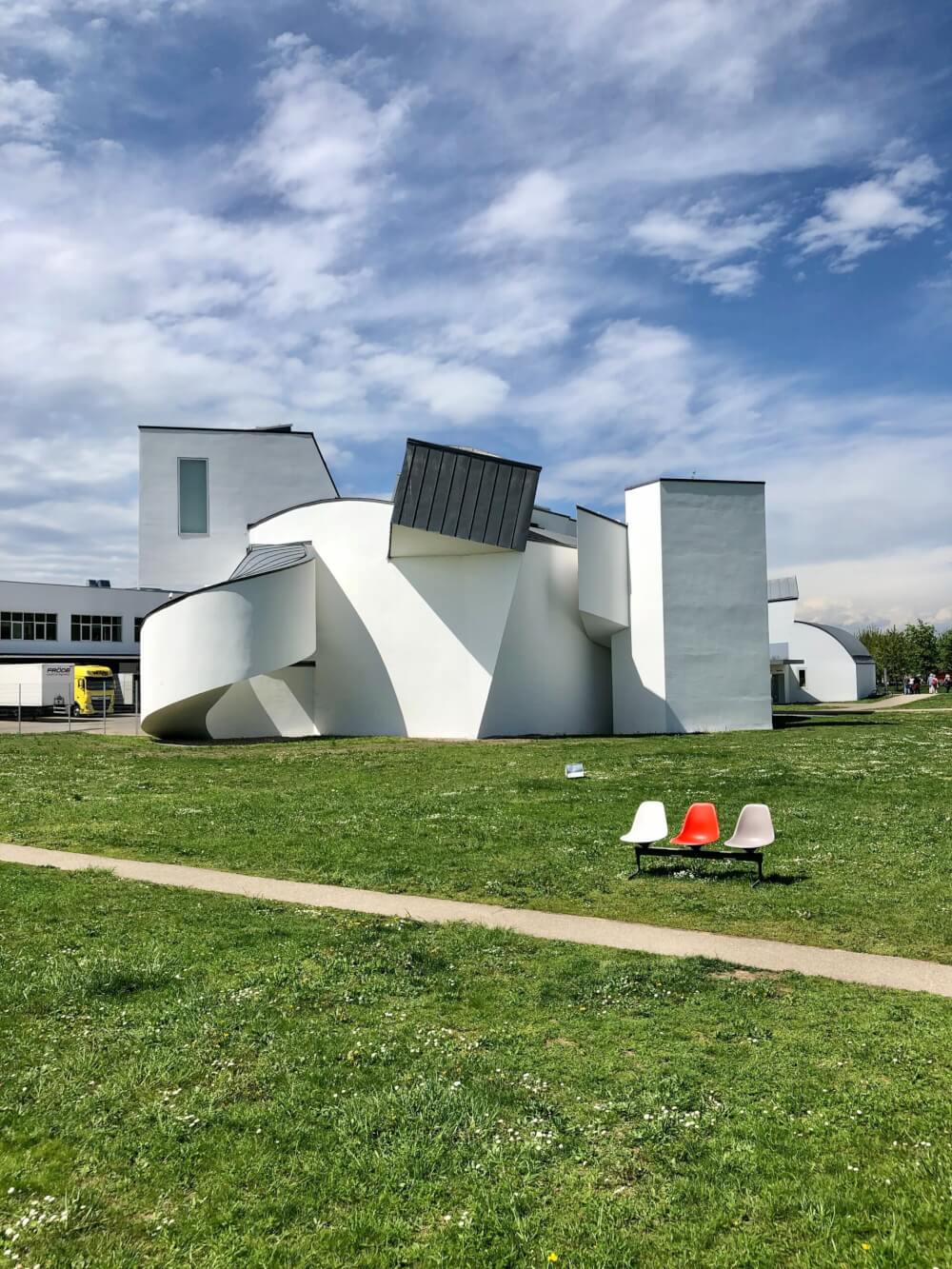 20. Admire pharmaceutical artefacts at Pharmaziemuseum der Universität Basel
Of course, in Basel, there's really a museum for everybody… so another unique museum to explore is the Pharmacy Museum of the University of Basel which is filled with a scientific cabinet of old apothecary and pharmacy objects.
First established in 1924, this museum was intended to be a collection of specimens for study purposes but has since become a fascinating display of pharmaceutical objects and the history of pharmacy.
Visitors can marvel at an alchemical laboratory, mortars, historical first aid kits, books, medications used in the past and ceramics, fixtures and fittings from historical pharmacies.
While people with a medical background would particularly enjoy this museum, it's really interesting even for a layperson like me to see all the weird and wonderful items on display!
21. Take a ride to the past at the Basel Tram Museum
Another quirky thing to do in Basel is a visit to the Basel Tram Museum, which might sound boring but I promise is more fun than it sounds.
Here, visitors can learn about the history of public transport and trams in Basel while even piloting a modern tram in a virtual reality simulator.
A guided tour also includes a ride in the vintage tram, so this is a great choice of Basel things to do with kids or just with someone who's a bit obsessed with trams, trains and the like!
🎟️ Book Activities & Tours:
22. … Or scope out one of Basel's many other museums
If I keep writing sections for every excellent museum in Basel we'll be here all week, so here is a brief overview of the other amazing ones that are worth checking out!
History Museum – The Basel Historical Museum actually has three sites within the city, it's also one of the largest and most important of its kind in Switzerland. The Barfüsserkirche houses an exhibition on the history of Basel from prehistoric times to the present, the Musikmuseum showcases 650 musical instruments spanning five centuries in a former prison and the Haus Zum Kirschgarten displays 18th- and 19th-century period rooms formerly inhabited by Basel's affluent bourgeoisie.
Jewish Museum – This was the first Jewish museum in German-speaking Europe to open after the Second World War, specifically in 1966. It now houses objects of ritual, art and everyday culture to do with the history of the Jews in Switzerland from the middle ages until the present.
Fondation Beyeler – Just outside of Basel in Riehen is the Fondation Beyeler, an art museum that focuses on the collection of Hildy and Ernst Beyeler. Ernst Beyeler was one of the most famous Swiss art dealers and collectors, so this is an excellent museum for those interested in modern art, although it also houses plenty of traditional art as well.
23. Venture out to Bottmingen Castle
About a ten-minute drive south of the city centre of Basel is Schloss Bottmingen, an early-Baroque country manor in the French style complete with a moat.
The castle dates from the 13th century and is one of the few surviving buildings of its kind in the whole of Switzerland, so it's definitely worth the short trip if you enjoy exploring beautiful castles.
It's now home to a renowned restaurant, but you can also wander the gardens and take photos if you don't feel like dining in.
24. Or enjoy a day trip out to another city
If you have the time then Basel makes an ideal base to explore some other Swiss cities nearby as a day trip. Lucerne and Zurich can both be reached by train in just over an hour, while Bern takes an hour and a half.
Lucerne – located on the shores of Lake Lucerne the city of Lucerne is a gorgeous destination with stunning views of the Swiss Alps. Top sights include the Chapel Bridge, a wooden bridge constructed in the 14th century making it the oldest covered bridge in Europe, the Lion of Lucerne monument and the Richard Wagner Museum. Check out my full guide on things to do in Lucerne for more.
Zurich – Zurich is the largest city in Switzerland, located at the northwestern tip of Lake Zurich and home to both the busiest airport and busiest train station in the country. There are many beautiful churches, parks, museums, art galleries and theatres worth visiting here, but if you only have a day I'd recommend wandering the old town, walking up Lindenhof Hill for views over the city, seeing the stained glass windows in the Fraumünster and exploring the Swiss National Museum.
Bern – as the de facto capital of Switzerland Bern is a beautiful medieval city. The old town area is a UNESCO World Heritage Site so wandering the pretty streets is one of the best things to do here. Must-see sites include the Zytglogge time bell (a 15th century astronomical clock), the Federal Palace, the Einsteinhaus museum where Albert Einstein lived and the Bärengraben bear pit. Don't worry though, there are no longer bears in the bear pit but there used to be, as bears are the symbol of Bern. Head to the nearby BärenPark to see the bears living in a much nicer home.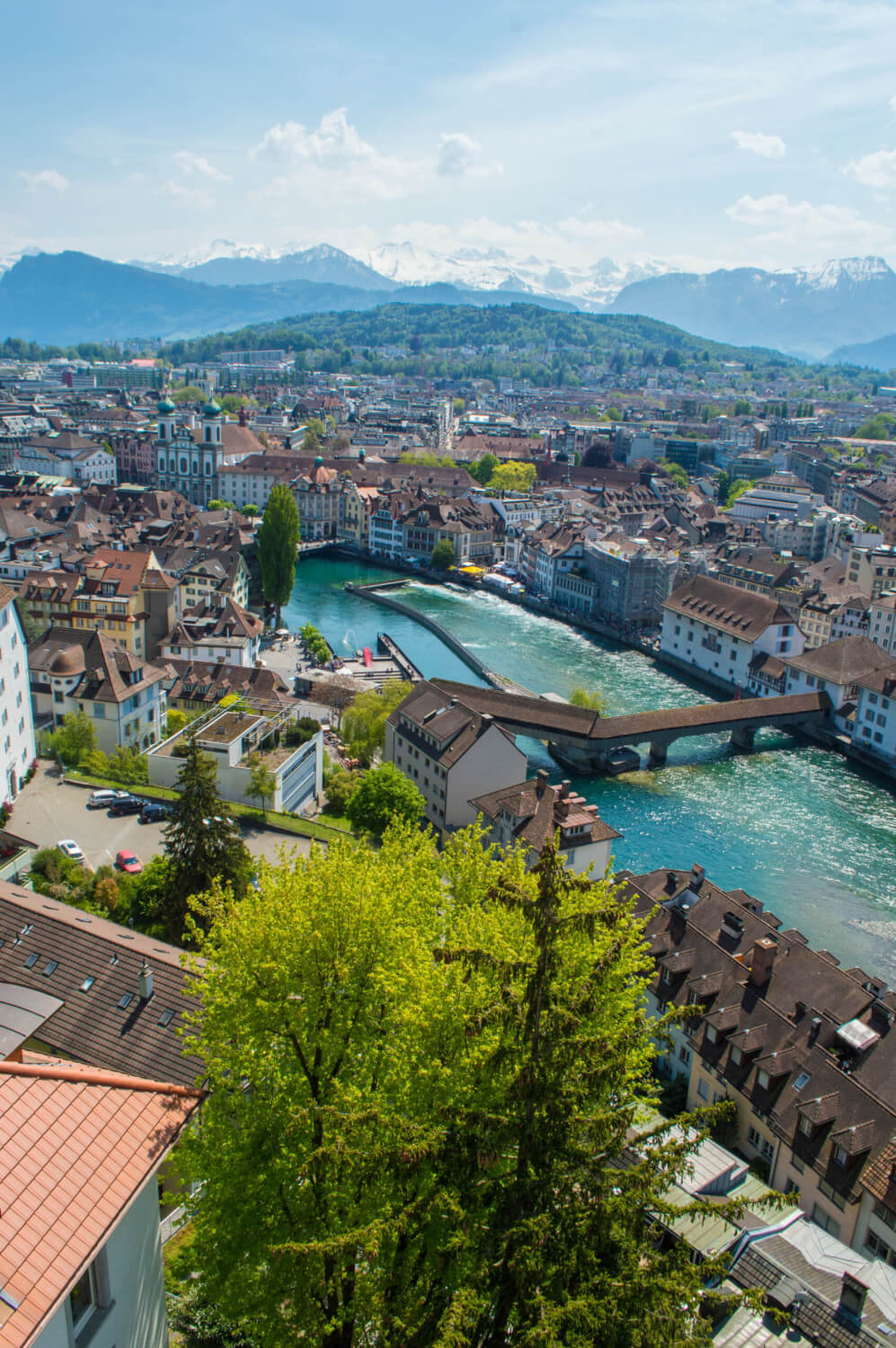 Did I Miss Any of Your Favourite Things to do in Basel?
Let me know in the comments!
My Go-To Travel Favourites: