*FYI - this post may contain affiliate links, which means we earn a commission at no extra cost to you if you purchase from them. Also, as an Amazon Associate I earn from qualifying purchases. Check out our Privacy Policy and Disclosure. for more info.
If you're looking for the best Switzerland Christmas markets to visit this year, you're in luck! This list will go through the best Christmas markets in Switzerland, from the traditional and cozy to the modern and more unique. Enjoy!
A huge thanks to the following amazing partners for making this Switzerland Christmas market trip possible: Visit Zurich, Hotel Baur au Lac, Lausanne Tourisme, Lausanne Palace, Lugano Tourism, Villa Castagnola and Switzerland Tourism. All experiences and opinions are (as always) my own.
Throw a beard on me and call me Santa, because I've been introduced to a ho ho ho'le new world.
And that my friends, is the world of Swissmas… the fondue-scented and hopelessly elegant iteration of Christmas I never knew I needed.
I have to be honest, after spending two Christmases in Germany, I thought that I had seen it all on the magical market front.
But as with many things, the Swiss have found a way to dazzle and impress. Having now experienced a Switzerland Christmas, I may never be the same.
Save this post on Pinterest for later: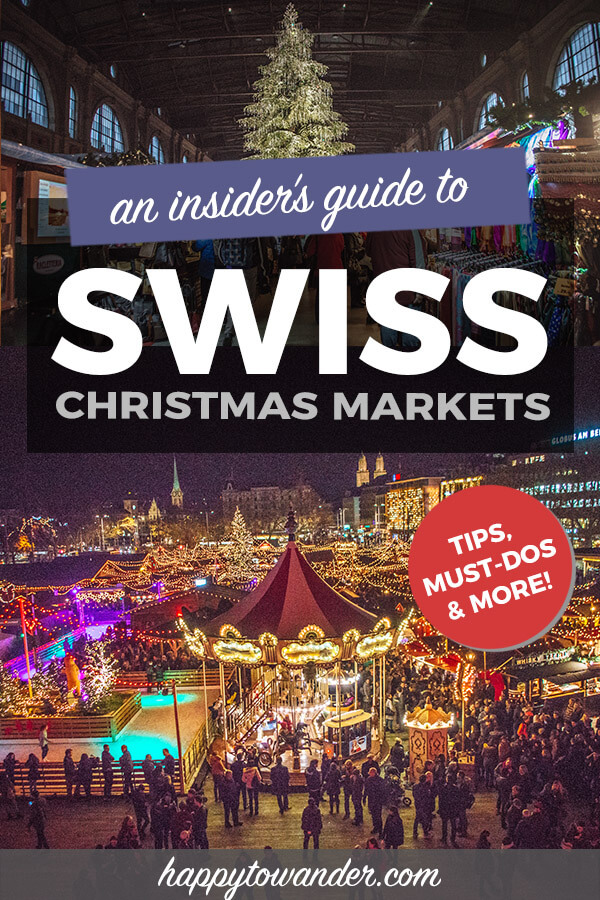 Here's why: Switzerland is a dynamic country wedged in the center of Europe. Bordered by no less than four countries, its cultural landscape is studded with cities boasting unique identities on all fronts – language, culture, cuisine and yes, even Christmas.
This exciting diversity has created the ultimate holiday destination with a charming roster of Christmas markets and activities, from mountain-top and lakeside venues to celebrations with a funky twist – all wrapped of course in a hyper-photogenic package.
Last week, in partnership with Switzerland Tourism, I took on the oh so difficult quest of exploring the best Christmas destinations in Switzerland. And, as you may have guessed, I fell head over heels in love.
If you're wondering what it's like to head to Switzerland for Christmas, here's a guide to experiencing the best of Swiss Christmas Markets this season.
Let me know in the comments if I'm missing any of your favourites! A week wasn't nearly enough to cover everywhere I wanted to go. Give me some tips for next time 😉
Where is the Best Christmas Market in Switzerland? My Top Picks
Christmas in Switzerland is magical no matter what – but where should you go if you NEED to pick just a few? Well, is a little Swiss Christmas bucket list for you:
1. Be dazzled by the endless lights at Zurich Christmas Market
If it's glitz and glam you're after, Zurich is the place to be. In this bustling city (the largest in Switzerland), a glittering 50ft Swarovski Christmas tree greets visitors as soon as they disembark the train at the Christkindlmarkt, found right in the city's main train station.
If you can pry yourself away from the sugary delights of this market (one of the largest indoor Christmas markets in all of Europe), your onward journey along the main shopping street, Bahnhofstrasse is equally glamorous – as the whole city center is decked out in a long trail of shimmery lights (which locals affectionately know as "Lucy").
Walking down this street will take you past some of the city's main markets, including the cozy market at Werdmühleplatz, with its singing Christmas tree and the City Christmas Market (wedged between the Jelmoli and Globus department stores).
With so many magical stops all within walking distance, Zurich is the perfect place to stoke that Christmas spirit. My personal favourites? The pretty market in Old Town and the Viennese Village (Wienachtsdorf) at Sechseläutenplatz, right by the picturesque Opera House.
Here is my full guide to the Zurich Christmas Market
PS: Don't miss ILLUMINARIUM, a special light show that takes over Zurich during the holidays. Click here for more info. Zurich is definitely one of my favourite places in Switzerland during Christmas, and I hope you love it as much as I do!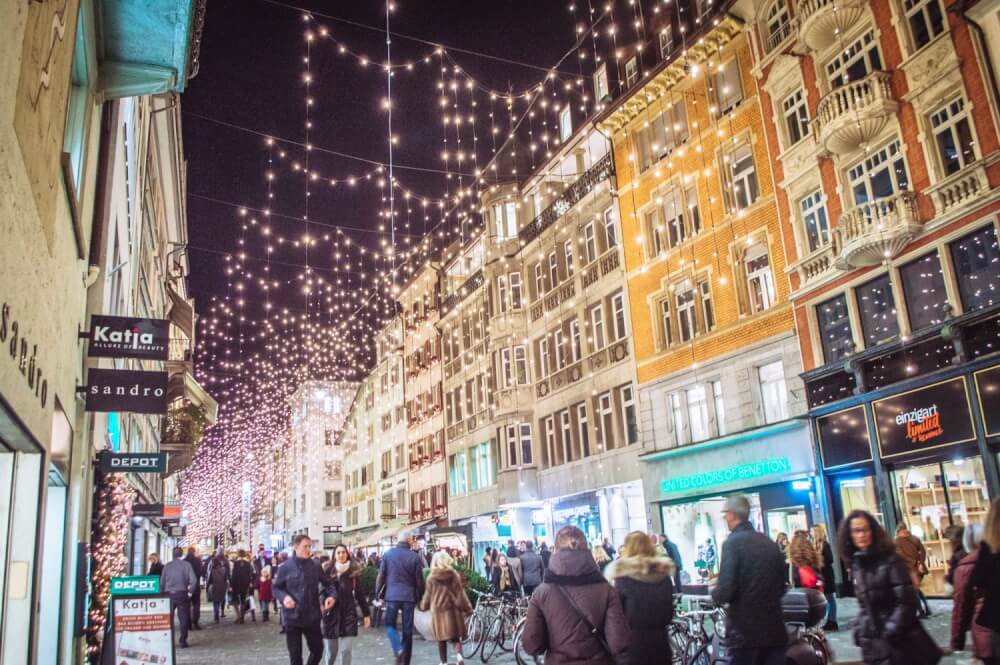 MY BONUS TIP: For the ultimate Switzerland Christmas experience, don't forget to pick a hotel that's equally oozing in holiday charm. I was hosted by the wonderful (and world-famous) Hotel Baur au Lac, tucked just off the end of Bahnhofstrasse by Lake Zurich.
Their Christmas decor was absolutely perfect, with massive Christmas trees, giant gingerbread houses and even a cozy fondue chalet of their own. It was also a short walk from the Wienachtsdorf by the Opera House, which made for convenient gluhwein stops throughout my stay 😉
2. Explore the stunning lakeside Montreux Christmas Market
The Montreux Christmas Market is known as one of the best Christmas markets in Switzerland, and rightfully so. Few settings can top the magic factor of the market's countless stalls huddled along the shores of Lake Geneva, with snowcapped mountains and posh castle-esque hotels acting as backdrop.
Visiting in late November, I saw snowy peaks next to golden trees, and stall after stall selling varied goods from golden bookmarks and wooden masks to candied nuts and crepes. There were even a handful of stalls peddling Canadian maple syrup, so you could say I'm smitten.
PS: While at the market, don't forget to stop by and say hi to Queen frontman Freddie Mercury, who has a 3m statue right by the water… oh and yes, there's a special wine-drinking igloo, soooo… #winning
MY BONUS TIP: Go here during the day if you can to make the most of the special lake views, at which point the market is much less crowded and the fluffy dog spotting is an absolute dream. The market is only a short distance from the train station, so you can quickly visit on a stopover like I did between city hopping.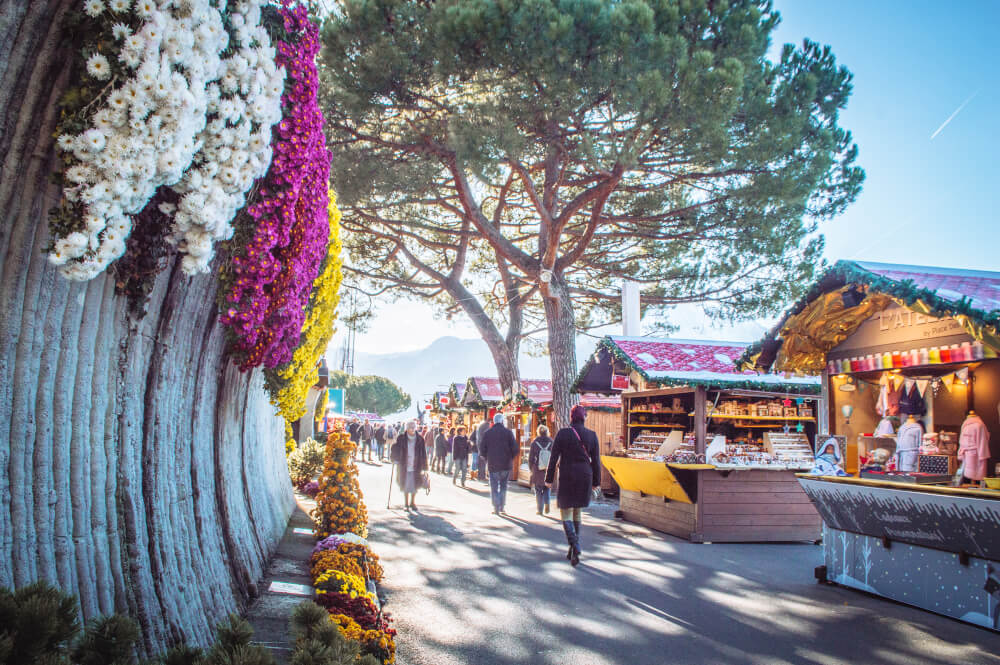 3. Catch a hipper take on the holidays at Lausanne Christmas Market
Yuletide joy gets a youthful makeover in student city Lausanne, where the streets are illuminated with artsy light installations for Festival Lausanne Lumières, with vibrant structures like glowing red elephants and glimmering archways making every corner a total joy to explore.
Sure, the city's hilly terrain can be a real workout, but it makes for stunning views every step of the way. Wrapped around a concept known as "Bô Noël", lively Lausanne becomes even more vibrant around the Advent season.
Don't miss the covered market at Place Saint-François, which keeps the Christmas spirit going rain or shine and the almost too-cool market at Place Pépinet, with stalls from local designers and *gasp horror* even craft beer (though gluhwein is still readily available).
Learn more about Christmas activities in Lausanne
And sure, while not strictly a Christmassy activity, I'd highly recommend a stop at the Olympic Museum too, a real treat for Olympic fangirls like me. In the interest of full disclosure, I maybe cried twice.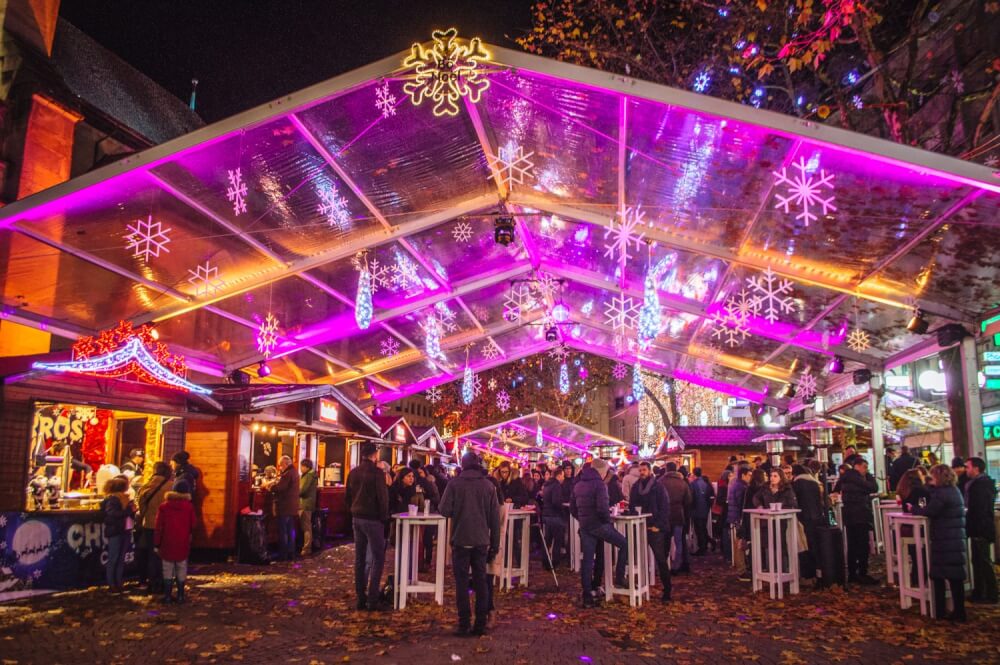 MY BONUS TIP: Because getting around can be such a workout, pick accommodations in the city center to minimize constant walking up and down. I was kindly hosted by Lausanne Palace, which couldn't have been more central, putting me within walking distance of every market and attraction I had my eye on. Plus, their Christmas decor is just as creative as the city's – check out their Mary Poppins-inspired decorations: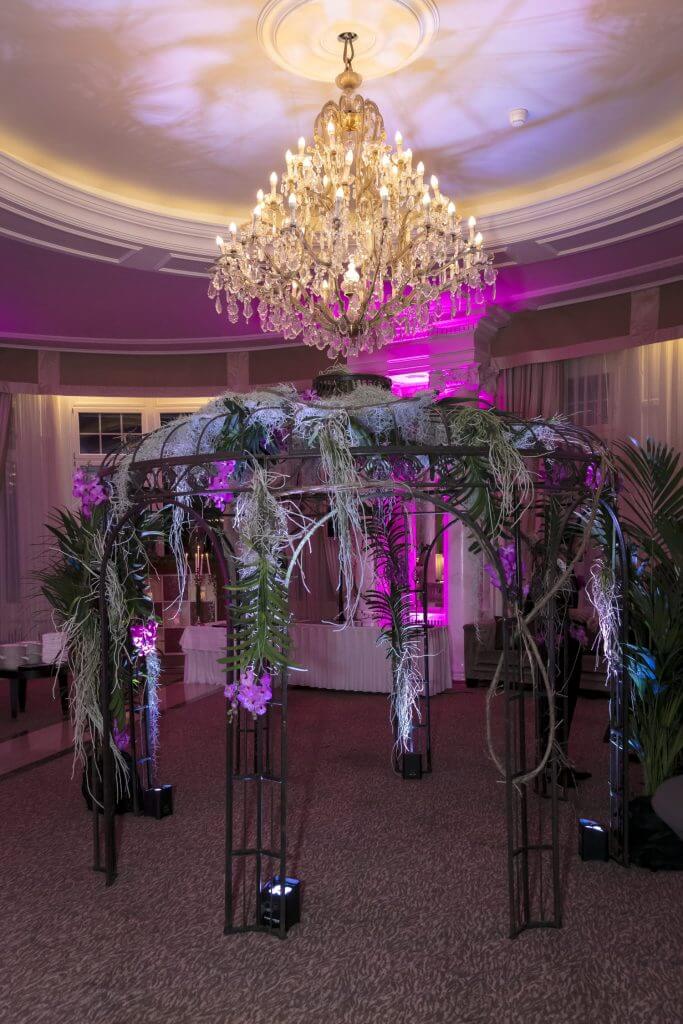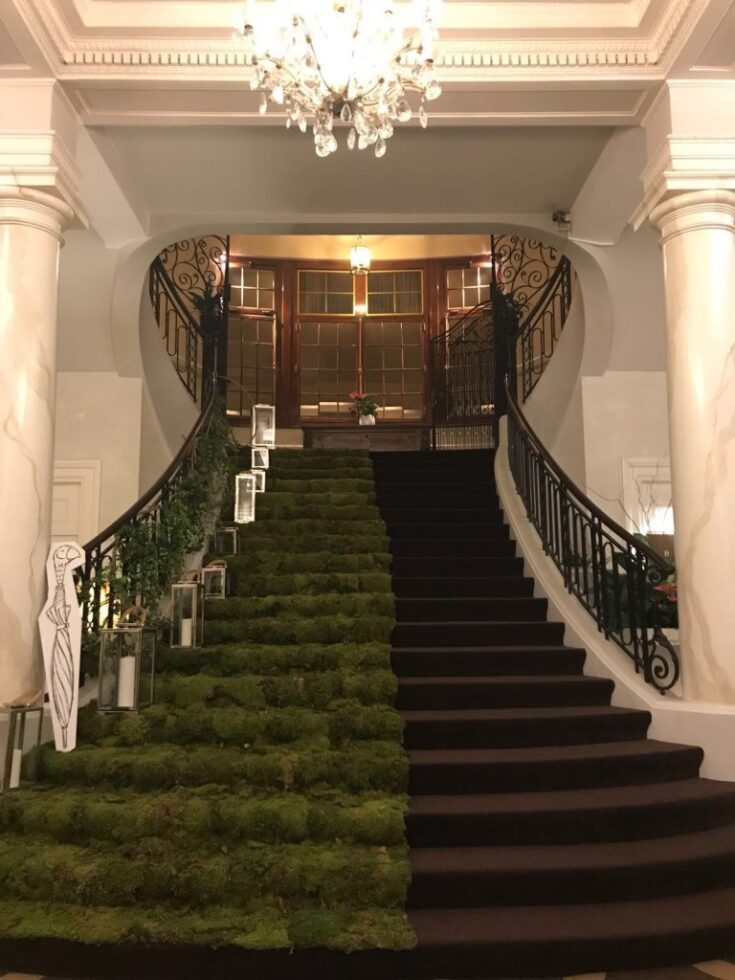 4. Enjoy a luxurious Christmas escape at the Lugano Christmas Market
Just a stone's throw from world famous Lake Como is Switzerland's answer to Monte Carlo, the beautiful resort town of Lugano.
Staying here feels distinctly more Italian than Swiss, which makes it the perfect place to soak up Christmas spirit while also indulging in the sweet dolce vita.
Lugano is the perfect Switzerland Christmas escape if your goal is to relax, enjoy and of course, treat yourself 😉 December in Switzerland is usually quite chilly, but the climate here is surprisingly mild and comfortable.
During the Advent season, Lugano's old town is filled with festive stalls touting the usual trinkets and treats for Natale in Piazza, a welcome addition to the many high-end shopping options already available.
Plus the towering Christmas tree in Piazza Riforma? SO magical that even the swans come into town for a peek. (This is not a joke – the swans in Lugano love walking around town and it's just the most darling thing).
As a bonus, its proximity to Italy makes for some surprisingly affordable prices. After all, when this is where the Swiss go to holiday themselves, you know it's gotta be good.
Learn more about Natale in Piazza and spending your Switzerland Christmas in Lugano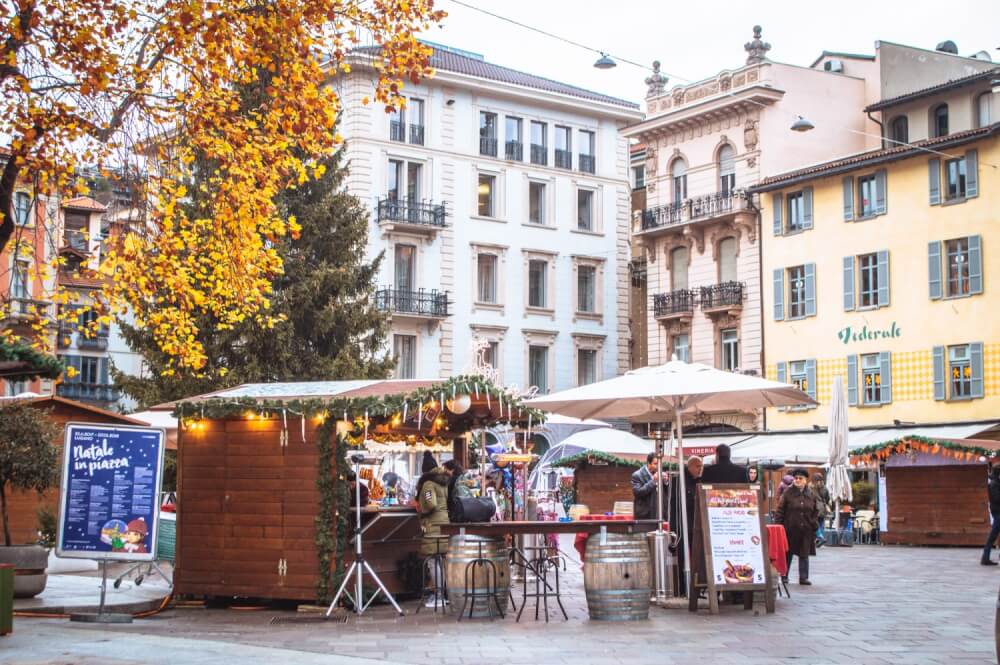 MY BONUS TIP: Some hotels and resorts offer Christmas packages that include accommodation and delicious holiday meals. I was hosted by the amazing Villa Castagnola, where Christmas is such a serious affair that it takes an entire month to decorate the posh resort, with the trees themselves changed twice during the season to ensure freshness.
With the only lakeside restaurant to boast a Michelin star in Lugano (Gallery Arté al Lago), this is a stunning property that sometimes feels more like a fancy museum than a hotel… and yes I can confirm, the food is absolutely amazing.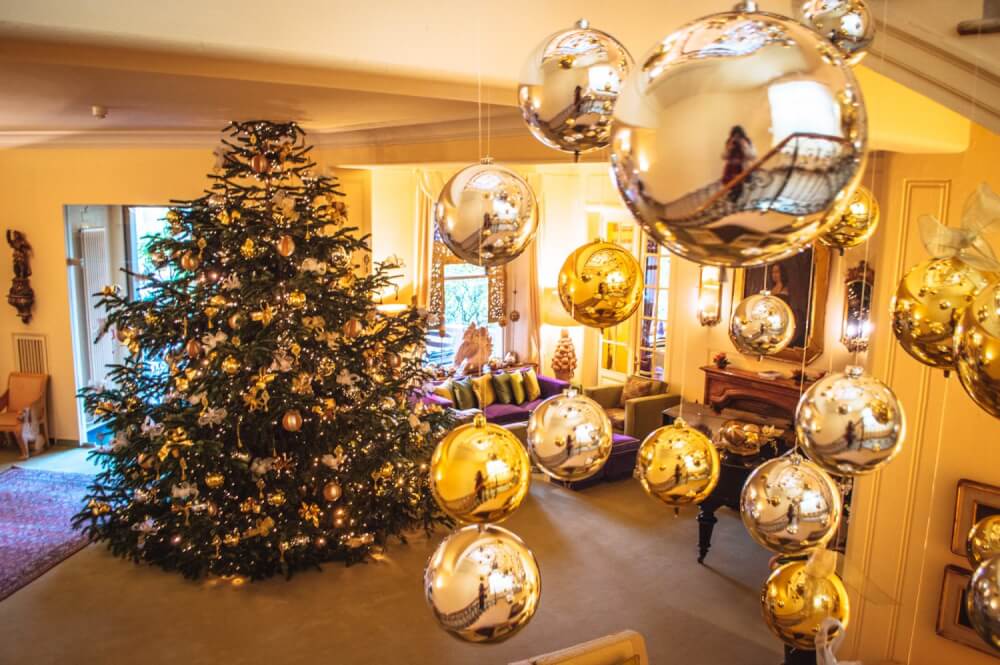 5. Escape to the Basel Christmas Market for artful coziness
Switzerland at Christmas time is already one of the most magical places on Earth, and Basel is no exception.
This city is known around the world for two things: 1) being a unique city at the crossroads of three countries (Switzerland, Germany and France) and 2) its thriving art and culture scene.
I already fell for this city during a summer visit 2 years ago, but after hearing it also has one of the best Christmas markets in Switzerland, I caught the first train out (no exaggeration).
Only a short walk away from the train station, I found myself in a cozy haven of clinking gluhwein mugs, hand carved trinkets, colourful star-shaped lamps and glittering archways of light.
The two main markets in Münsterplatz and Barfüsserplatz are collectively considered one of the biggest/best Christmas markets in Switzerland and yes I can confirm, they are simply swimming in Yuletide charm.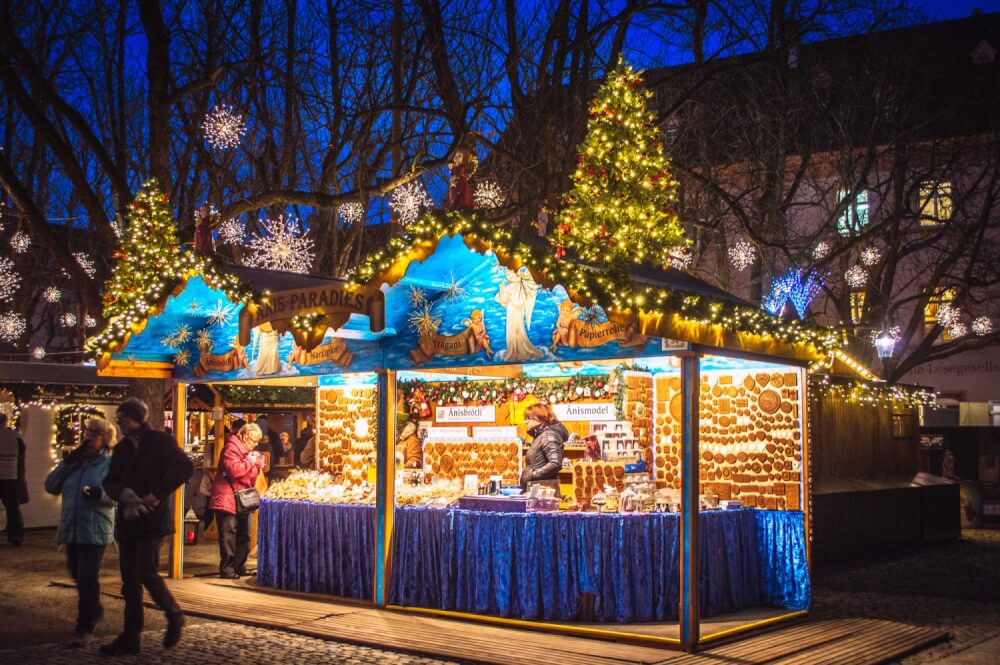 Don't miss the giant tree right by the Basler Münster and the towering Christmas Pyramid which serves as the centerpiece of the Barfüsserplatz market… they're both ridiculously photogenic.
PS: While it's a hotly debated topic, some consider Basel to be the oldest Christmas market in Switzerland.
Want more info? Read my guide on Christmas in Basel
The Best Switzerland Christmas Markets (That I Still Have on My Bucket List!)
I've already recapped some of my personal best places in Switzerland for Christmas… BUT of course, there were plenty of amazing Swiss Christmas markets that I didn't have a chance to check out during my trip, and ones that I'd love to visit the next time I get a chance. Since they still do sound amazing, I'll list them out for you below:
6. Find beauty and delight at the Lucerne Christmas Market
While I wasn't able to witness Lucerne's Christmas activities first-hand this year, I felt this list would be incomplete without a city I once (dramatically) declared the most beautiful city in Switzerland.
I did catch a glimpse of the Christmas magic from the train station, where the long strings of lights were already dazzling from behind glass doors, and where festive stalls just steps from my train taunted me from afar.
I've heard great things about the diversity of markets in Lucerne from those who have been, from the main market in Franziskanerplatz to the craft market at Mühlenplatz. A definite must for me next year!
MY BONUS TIP: Make it up to Mount Pilatus if you can while you're here. The views are stunning and if the timing aligns, you can even attend the highest Christmas market in all of Europe (over 2000m above sea level). Sadly, it's only open for one weekend a year (typically the last weekend that the cogwheel train is open), so this will have to be another bucket list dream (for now, anyway!)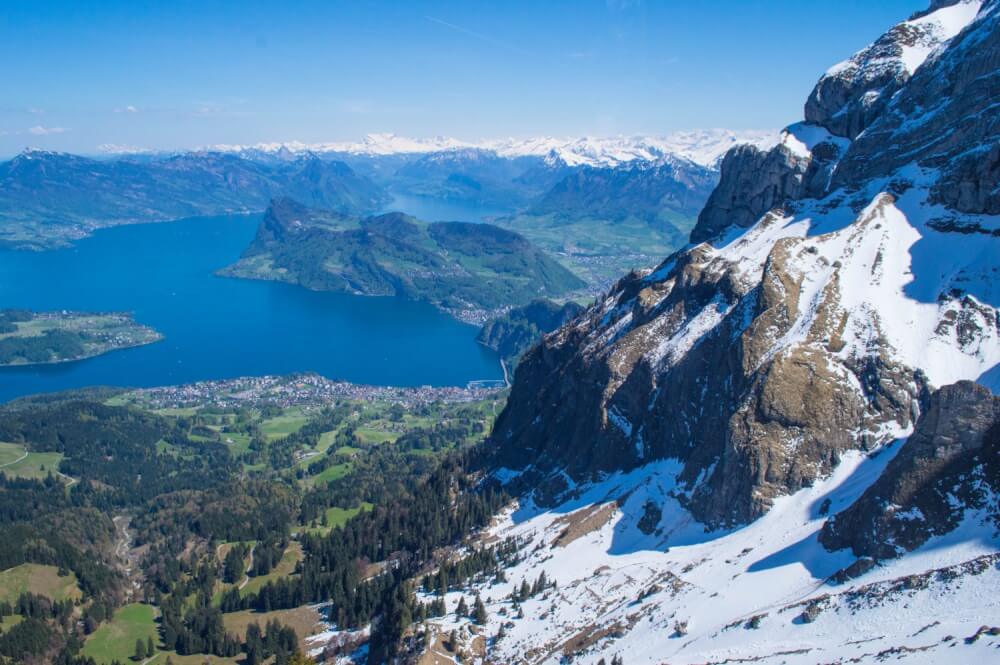 7. Experience pure magic at the Bern Christmas Market
Last but not least, I end this list with my biggest regret: not making it to the Swiss capital of Bern!
With only a week to visit all these amazing destinations (I know, first world problems), there were some I simply couldn't fit into my itinerary. Bern was sadly one of the casualties of my time crunch, but since then I've been nothing short of haunted by all the stunning photos and stories of this beautiful city and its markets!
Most recently, Bern won the title of most Instagrammable winter city in the world. SO, learn from my mistakes: if you have time to soak in the charm of Bern's various markets, do it.
Here's a list of the best Christmas markets in Bern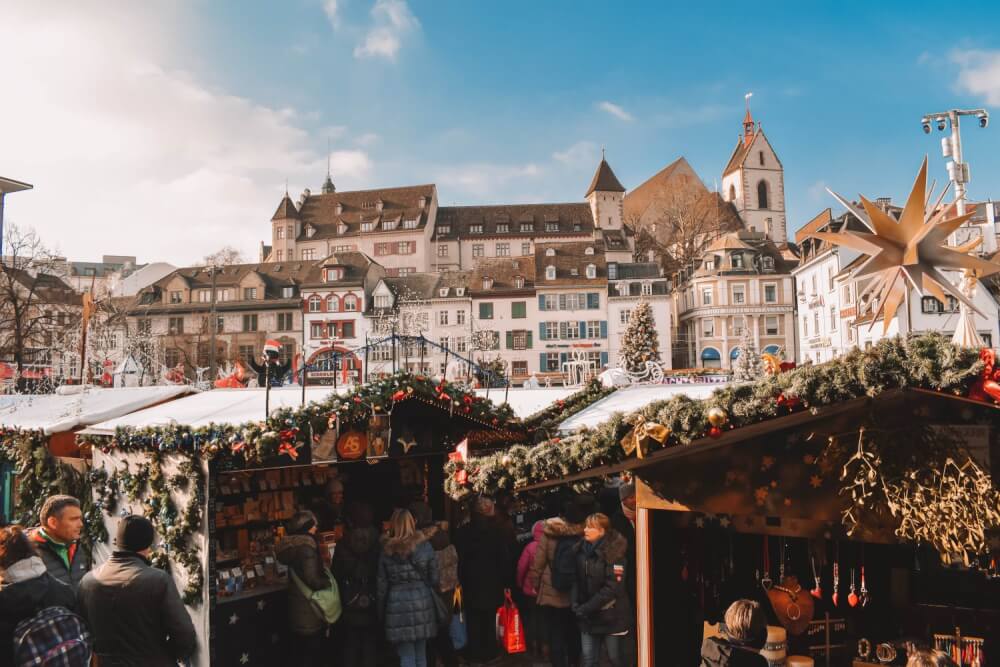 8. Enjoy the best backdrop ever at Einsiedeln Christmas Market
Set in front of the majestic Benedictine Einsiedeln Abbey is one of the most magical and intimate Christmas markets in Switzerland, the Einsiedeln Christmas Market, located next to the city's gingerbread museum (which also doubles as a bakery).
While only open for 1.5 weeks during the Advent season, this is one of the Swiss Christmas markets I'd love to visit someday, thanks to its spectacular location and (I've heard) even more spectacular gingerbread.

9. Check out the largest Christmas tree in Switzerland at St Gallen Christmas Market
Known as the City of Stars, St Gallen is a beautiful UNESCO World Heritage city near the German border that shines brightest during Christmas time…
And I mean that literally, thanks to 700 illuminated stars that glisten around the city, providing the perfect atmosphere for Christmas market fun.
They also lay claim to the largest Christmas tree in the country, which is decked out in over 18,000 lights every year.
PS: St Gallen is also home to one of the most spectacular libraries in the world – the Stiftsbibliothek St Gallen.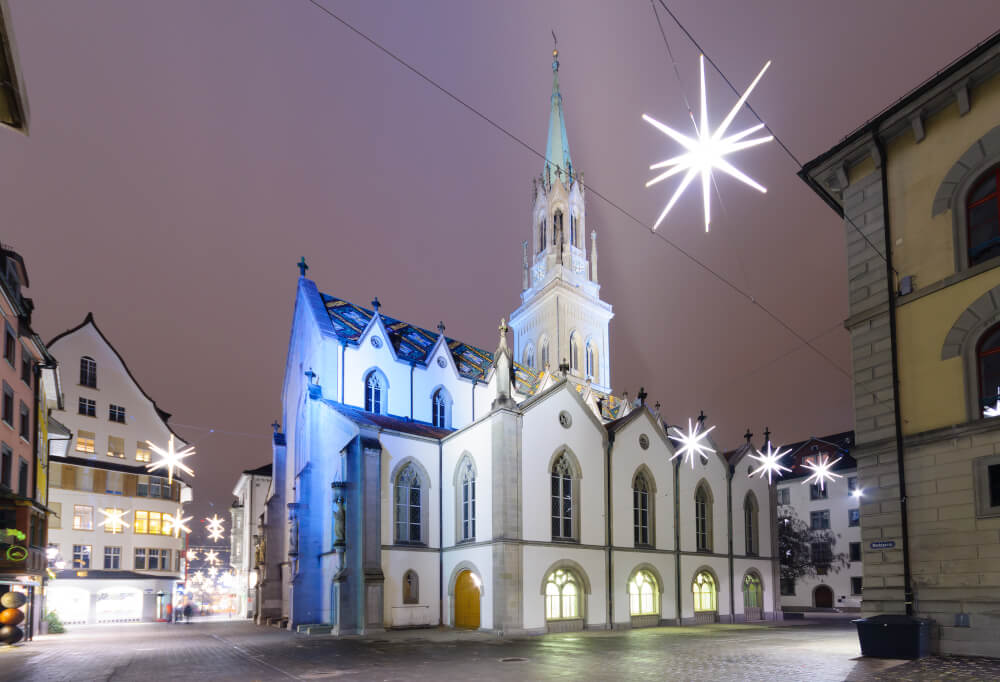 10. Enjoy incredible ice skating at the Interlaken Christmas Market
Long known as the adventure capital of Switzerland, it should be no surprise that Interlaken has some adventurous offers up their sleeves when it comes to Christmas.
In addition to having a beautiful market set along an ooh-worthy mountain backdrop, they also have their signature attraction: the Top of Europe ICE MAGIC which takes place in the heart of Interlaken with a variety of winter activities to enjoy like ice skating and curling.
In fact, visitors can weave their way through six different rinks as they enjoy some of Switzerland's most beautiful landscapes, and of course fuel up with an on-site lounge and restaurant.
I admit I'm a pretty terrible skater, but I'd be willing to give it a try with a setting like this! If you're looking for a Christmas market in Switzerland with a side of adventure, then Interlaken would be the perfect choice.
11. Explore Switzerland's oldest city at the Chur Christmas Market
Last but not least, I have to mention the oldest city in Switzerland: the all-too-underrated Chur!
I really enjoyed Chur during my visit earlier this year, and can see how its scenic Old Town would make the perfect backdrop for a Christmas market.
This charming city is one with a lengthy and fascinating history, along with easy links to some of Switzerland's most scenic train rides, so I would definitely recommend it as a more offbeat choice.
PS: My friend Sophie wrote a guide to this market if you'd like to learn more!
View this post on Instagram
So – tell me, are you dreaming of a Switzerland Christmas Market binge now too? 😉
I hope you enjoyed this list of amazing Christmas markets to visit in Switzerland! Let me know in the comments which Swiss Christmas market you'd want to visit most!
---
Watch my most popular YouTube video this week:
---