*FYI - this post may contain affiliate links, which means we earn a commission at no extra cost to you if you purchase from them. Also, as an Amazon Associate I earn from qualifying purchases. Check out our Privacy Policy and Disclosure. for more info.
With over 3500 pubs to choose from, London is a city where you could literally visit a different pub every day for 9 years… and still have options.
While great for Londoners, this startling statistic presents a major 1st world problem for visitors who only have one, two, or three days to spend in town. So… which London pubs should tourists visit?
As the city's most enthusiastic serial tourist, I sought out to answer this question.
Many, many pints later, my liver's loss is your gain, and I'm here today with a list of unique London pubs with quirk, charm, history & that indescribable "can you believe I'm in London?!" feeling.
Needless to say, every pub on this list is one I've been to personally, and I'm sadly not getting paid by any of them. What's that about?
Anyway, below you'll find my master list of unique pubs in London for visitors (presented based on location, not ranking). If you only have a short time in London, I can recommend DIYing your own pub crawl so you can see as many as possible, but um… don't forget to hydrate.
Keep scrolling for the full list of London's most unique pubs, or skip to the area you're looking for…
1. The Old Bank of England, Fleet Street
Let's start with a stunner. Housed in an old bank building in the heart of historic Fleet Street, the Old Bank of England is considered by many to be one of the most beautiful pubs in London.
This Italianate-style wonder is crammed with eye-candy, from its dramatic chandeliers and ornate ceiling to dark wooden detailing and lush pops of greenery.
Aesthetically, this is a gorgeous pub. The downside? When it's packed, it's tough to appreciate the architecture. So, my best tip is to go at an off peak time so you can admire the beauty of the pub instead of simply trying to sneak glances through the crowd.
For warm days, there's also a little beer garden to enjoy, complete with its own double decker bus, converted to accommodate further seating. So, if it has ever been your dream to demolish an Aperol Spritz on an iconic London bus, then this is your chance.
NOTE: I have tried the food here and it was just alright. To me, this is definitely a better place for drinks than for a full-on meal.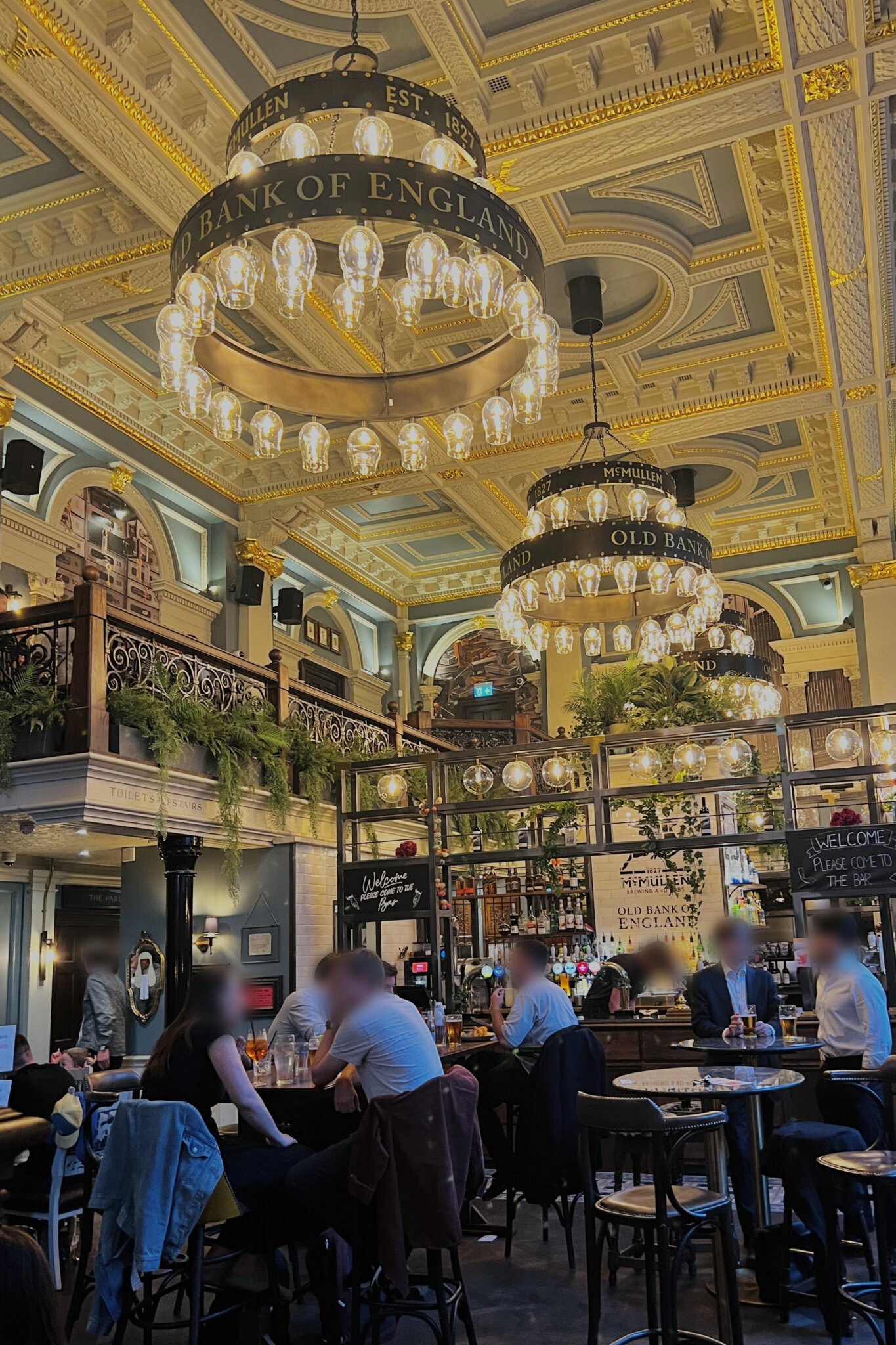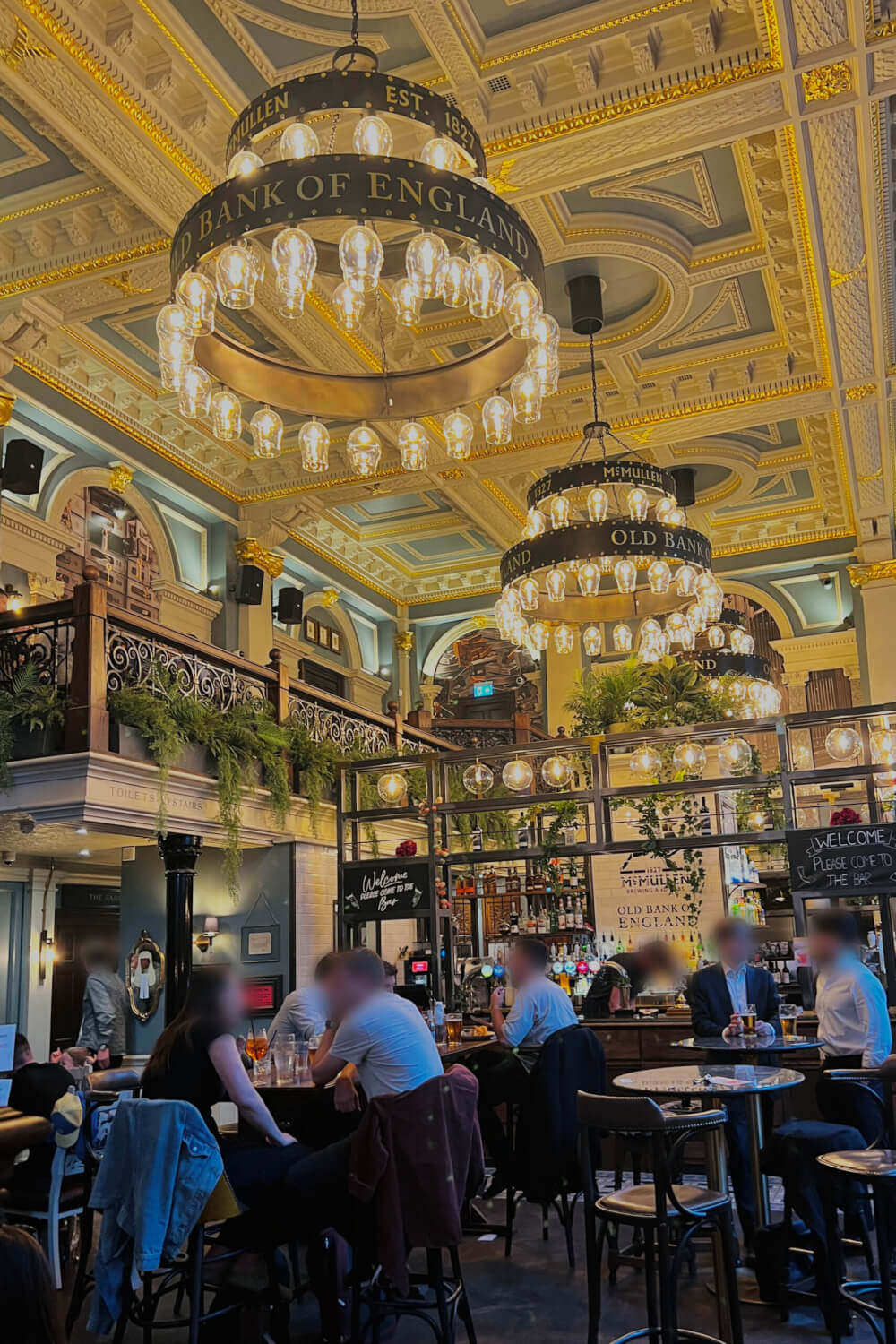 2. Ye Olde Cheshire Cheese, Fleet Street
If you're into old, creaky pubs that look like they're seconds away from imminent collapse, I can highly recommend Ye Olde Cheshire Cheese. And I mean that in the best possible way.
This maze-like pub is one of the oldest in London, and its "hidden in plain sight" location down a narrow alley off Fleet Street makes it feel all the more like a step back in time.
A pub on this location has existed since the 1500s, but today's present structure dates back to 1667… 16 sovereigns ago, during the reign of King Charles II.
It is said that when the Great Fire of London engulfed the area in 1666, this very pub was one of the first buildings to be rebuilt, so… there you go, clearly they had their priorities straight.
Today, Ye Olde Cheshire Cheese is dark, cavernous and confusing pub spread out across several crooked rooms and floors. Granted, it's a popular spot among tourists, which makes it a no-go zone for many locals, but it's a must-see at least once.
… And be sure to explore! This unique London pub is deceptively large once you get inside.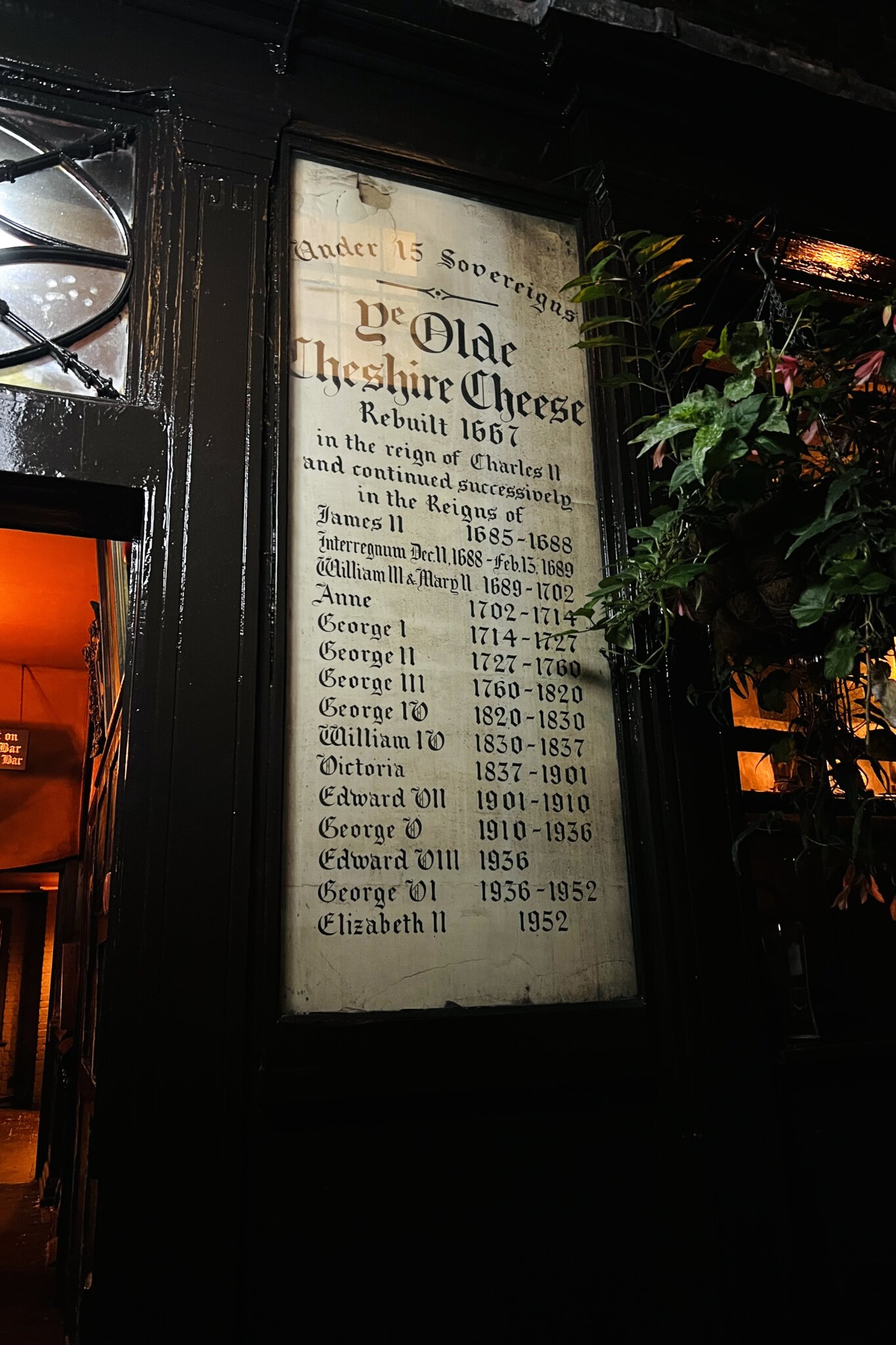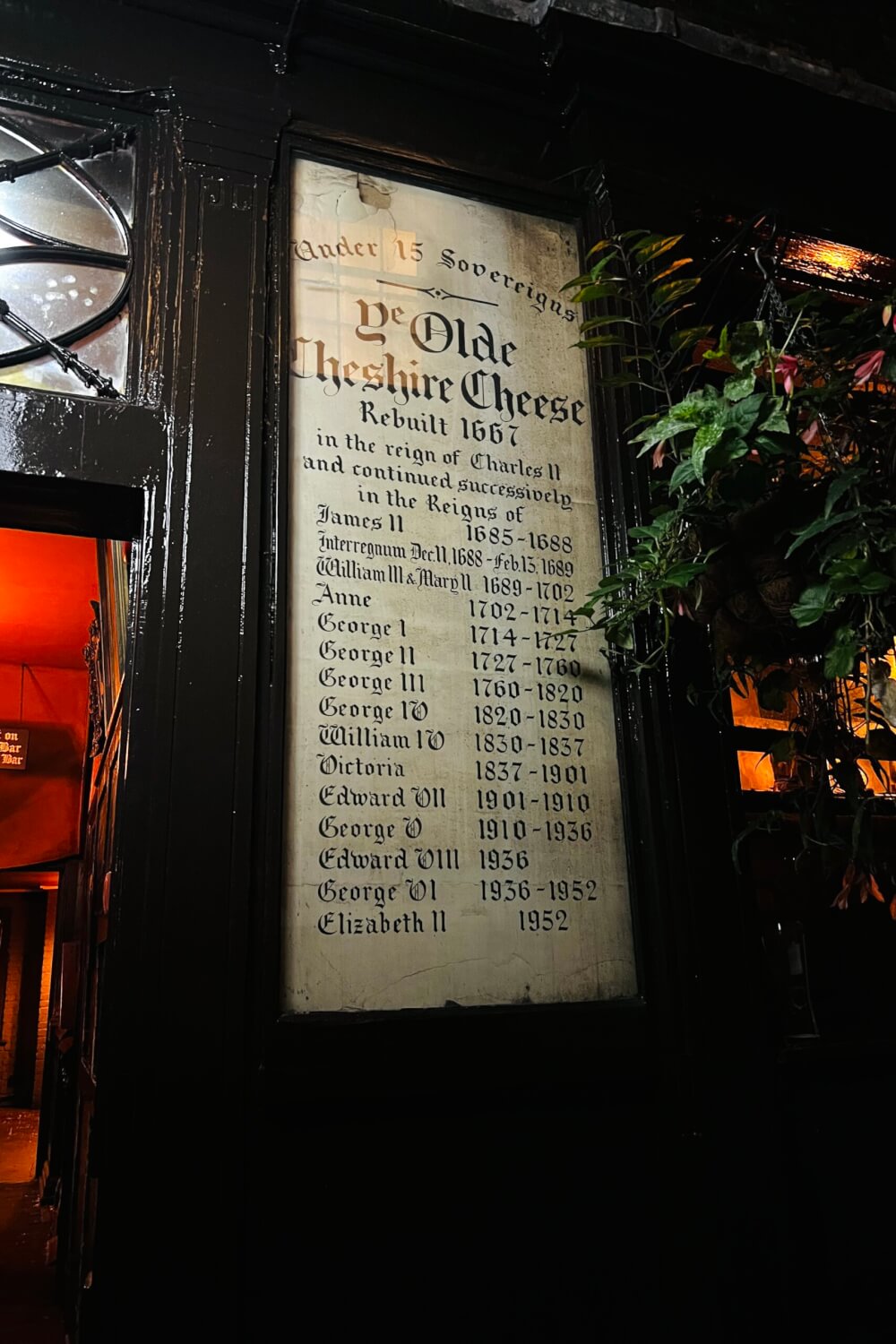 3. The Hoop and Grapes, Aldgate
But speaking of historic pubs in London, there's actually one that managed to escape the fiery blaze of the Great Fire altogether, and that is the charmingly crooked Hoop and Grapes.
We'll give their slanted facade a pass though, because this pub was constructed in 1593. 1593!!! That's the year of Shakespeare's (supposed) first publication.
So, as you slurp up your beverage of choice, be sure to also drink in the pub's centuries of history too… and take a moment to imagine what it must have been like here almost 400 years ago, when the Great Fire of London, an event that destroyed a third of the city, came to an abrupt end just 50 yards away.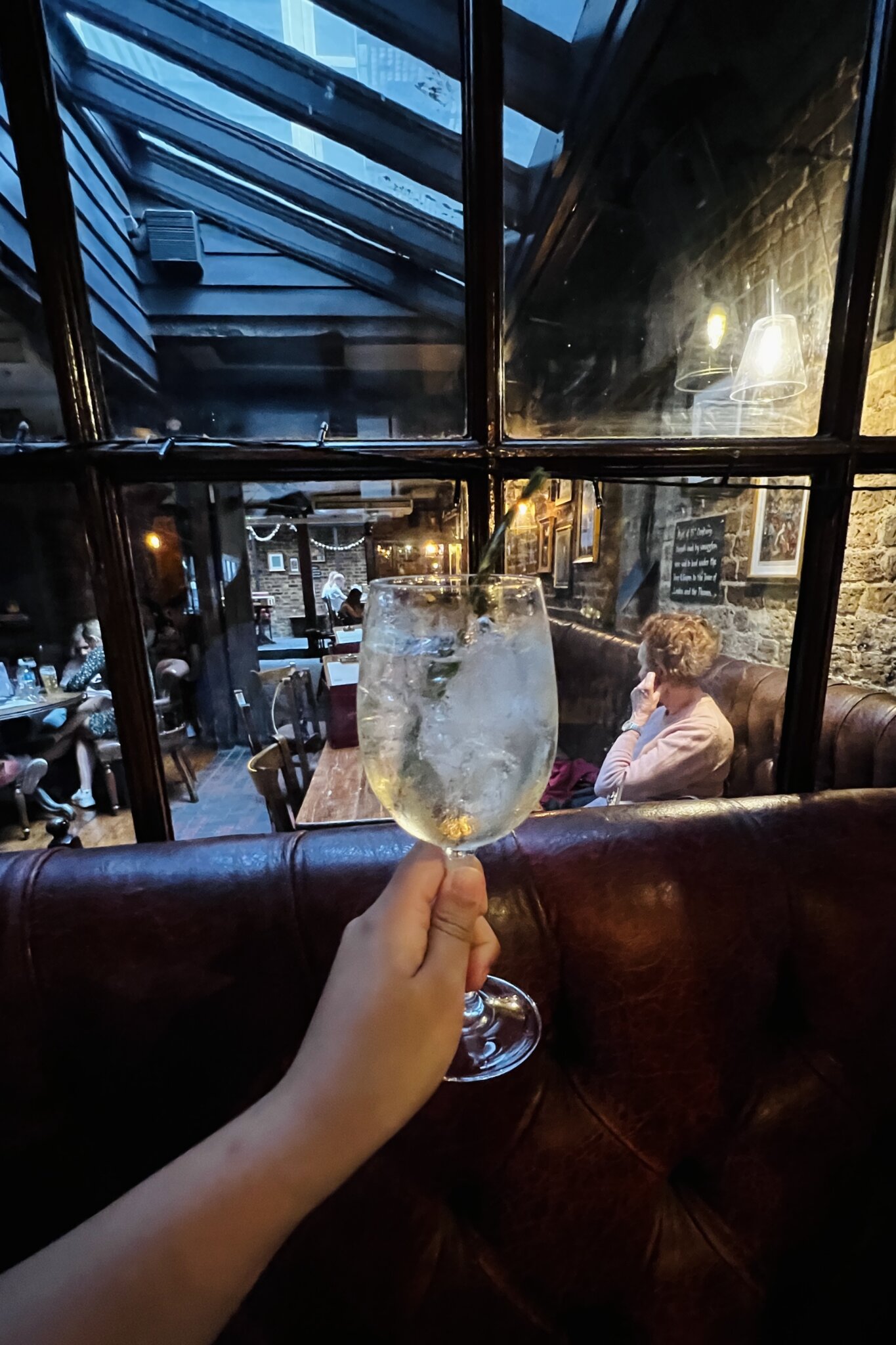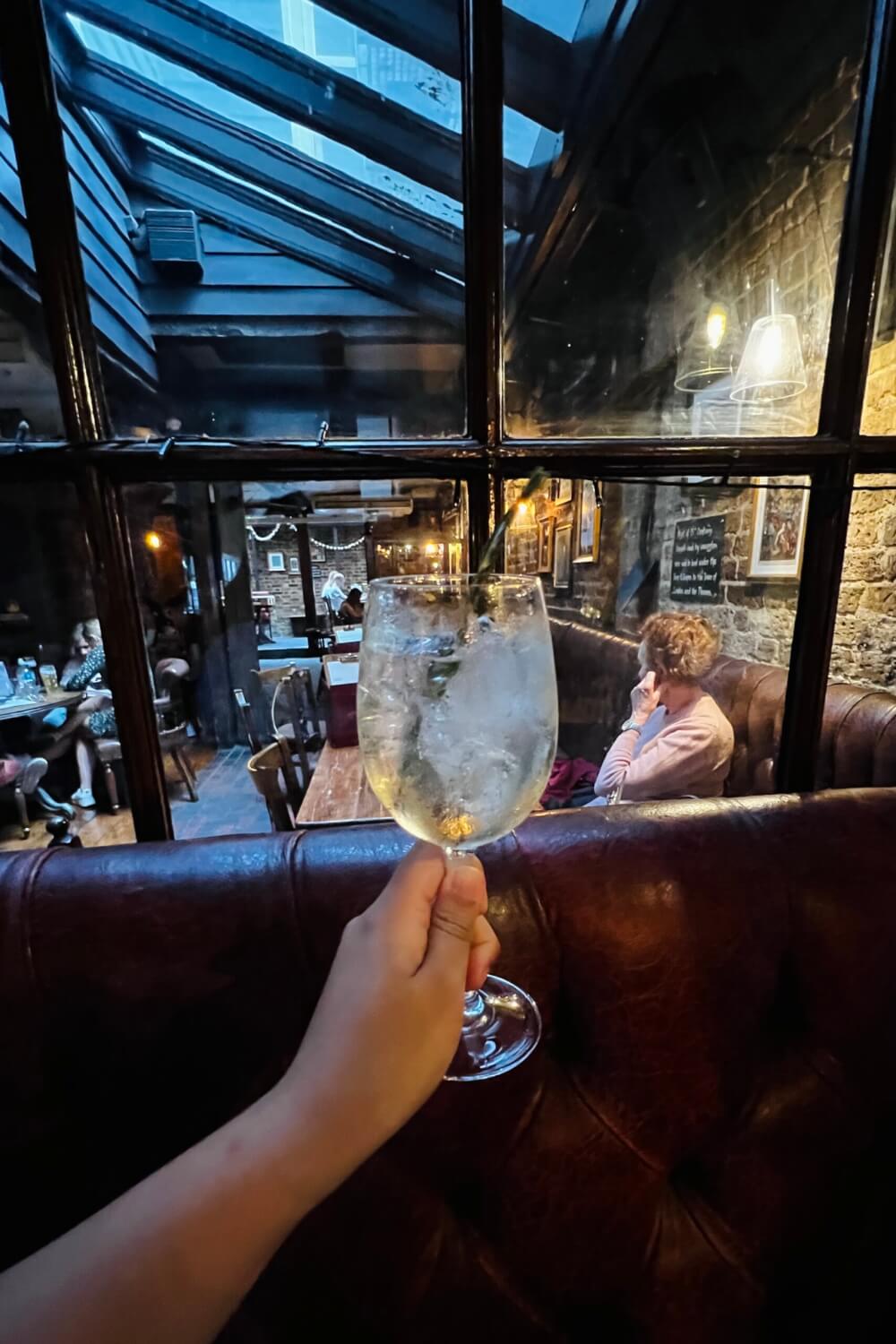 4. The Old Bell Tavern, Fleet Street
Licensed as a tavern for over 300 years, the Old Bell Tavern is another Fleet Street boozer that ranks among London's oldest pubs.
There's one thing that sets this one apart though: like large swaths of the City post-Great Fire, this pub was designed by Sir Christopher Wren…. perhaps better known as the mastermind behind nearby St Paul's Cathedral.
Don't go in expecting the architectural majesty of St Paul's though – this is still a pub after all, but one with enough historical street cred to earn its spot in my roundup of unique London pubs… plus with its stained glass window and dark wooden panelling, it's pretty cozy too.
That said, if you're limited by time, I would definitely prioritize the other pubs I mentioned above.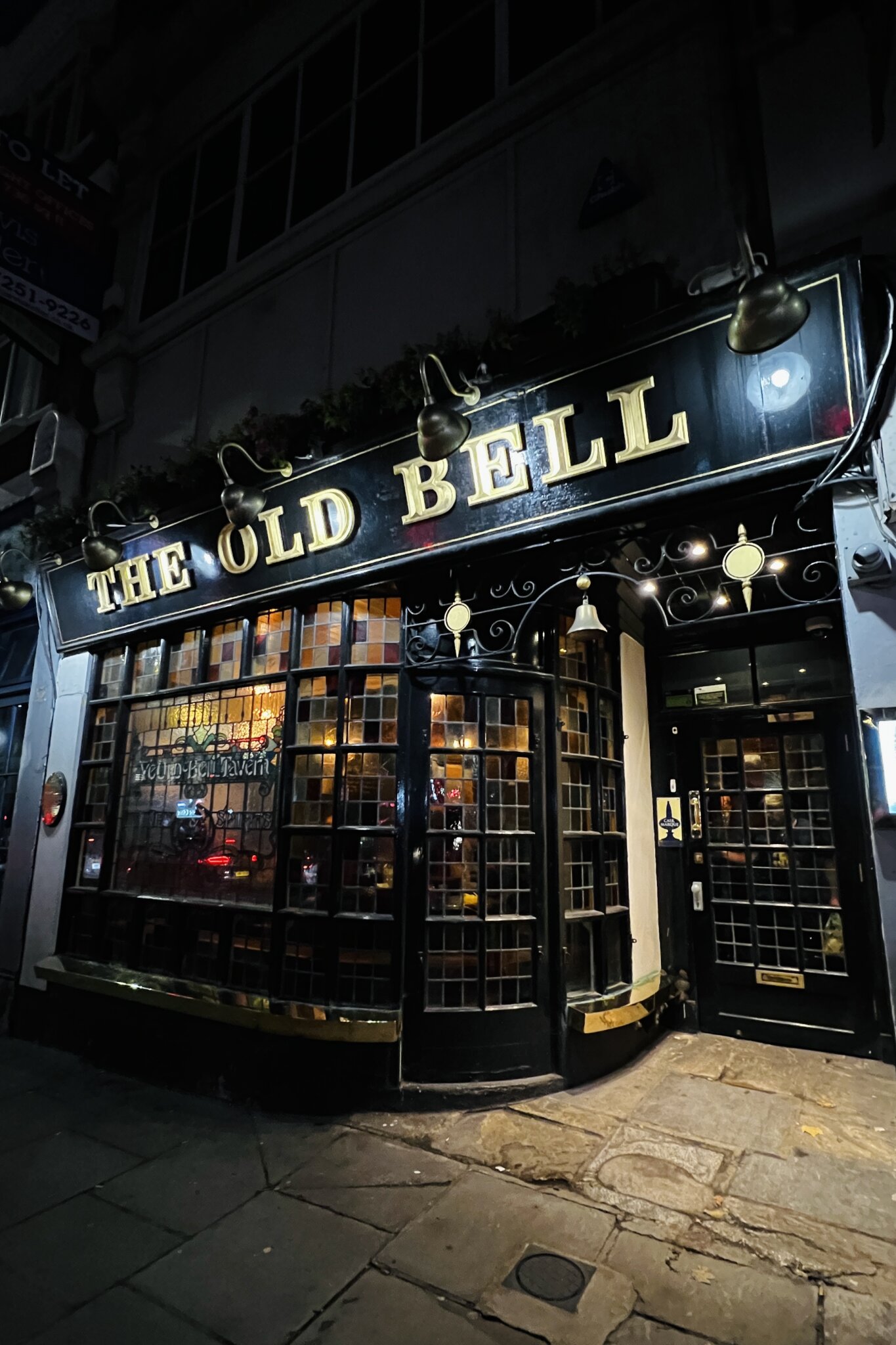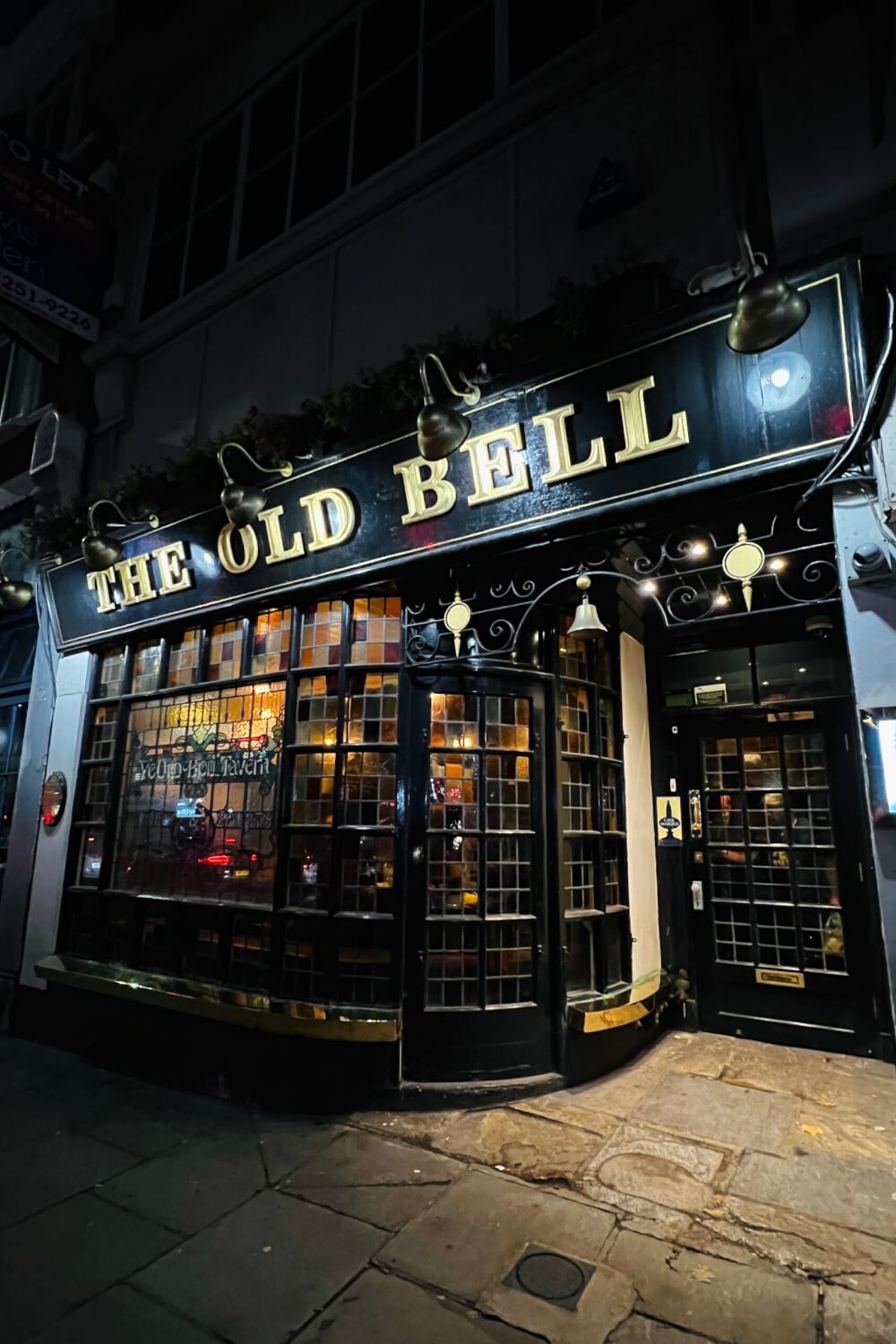 5. The Last Judgment, Holborn
And if you're looking for a classier, more upscale London pub to visit, then head over to the majestic Last Judgment, tucked away on Chancery Lane.
Not too long ago, this pub was a budget-friendly Wetherspoon's known as the Knights Templar.
These days, it's a much swankier, much pricier destination, but still in the same venue as its economical predecessor. With high ceilings propped up by elegant cast iron columns, dark wooden detailing, and atmospheric chandeliers, the building's history as a Union Bank branch certainly doesn't go unnoticed.
Today, after extensive renos, the last Judgment is one of the more refined pubs in the area to grab a pint or a bite to eat – definitely one to visit if you're looking for a unique and beautiful pub in London, minus the centuries' worth of questionable stains and smells.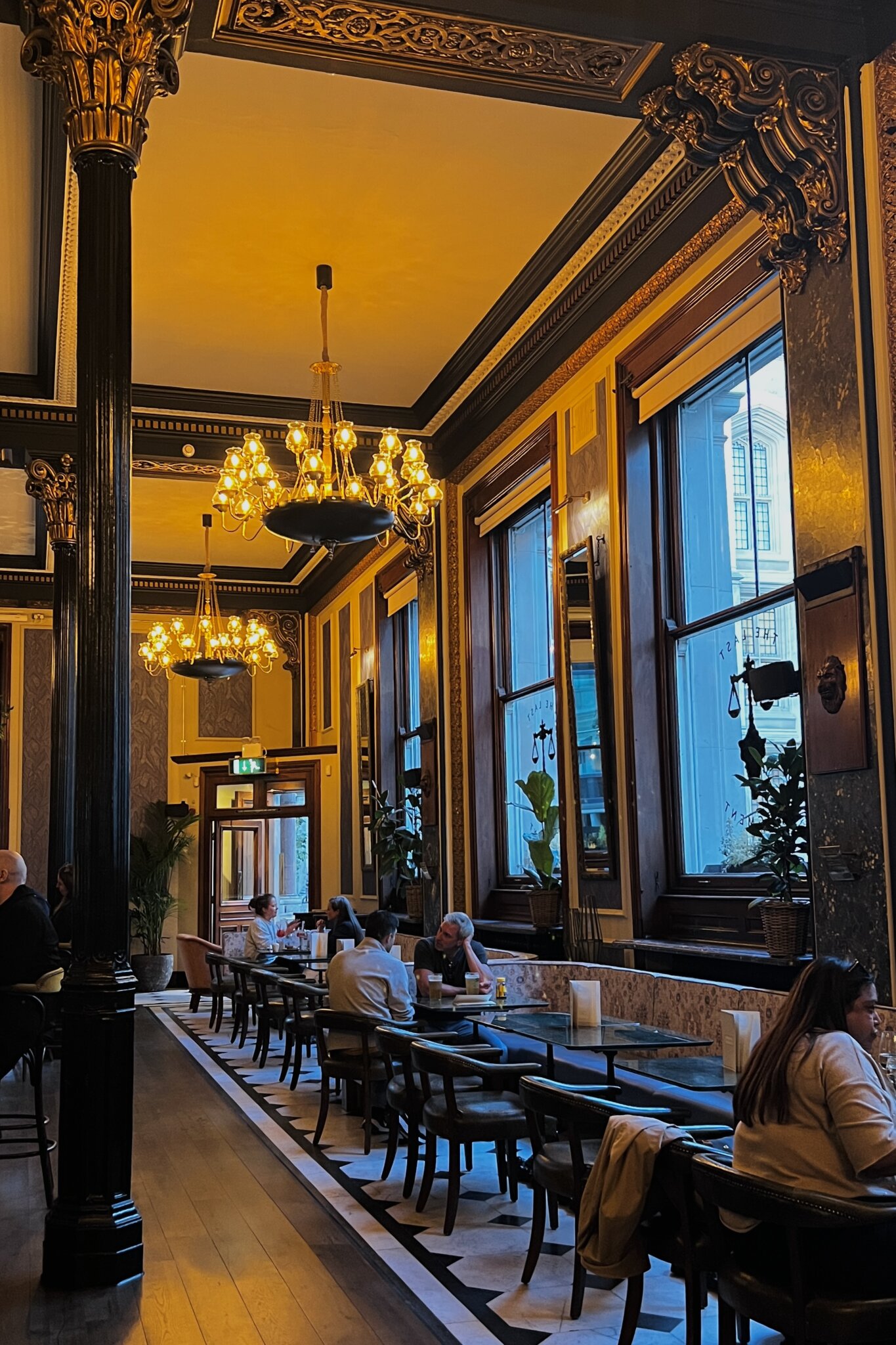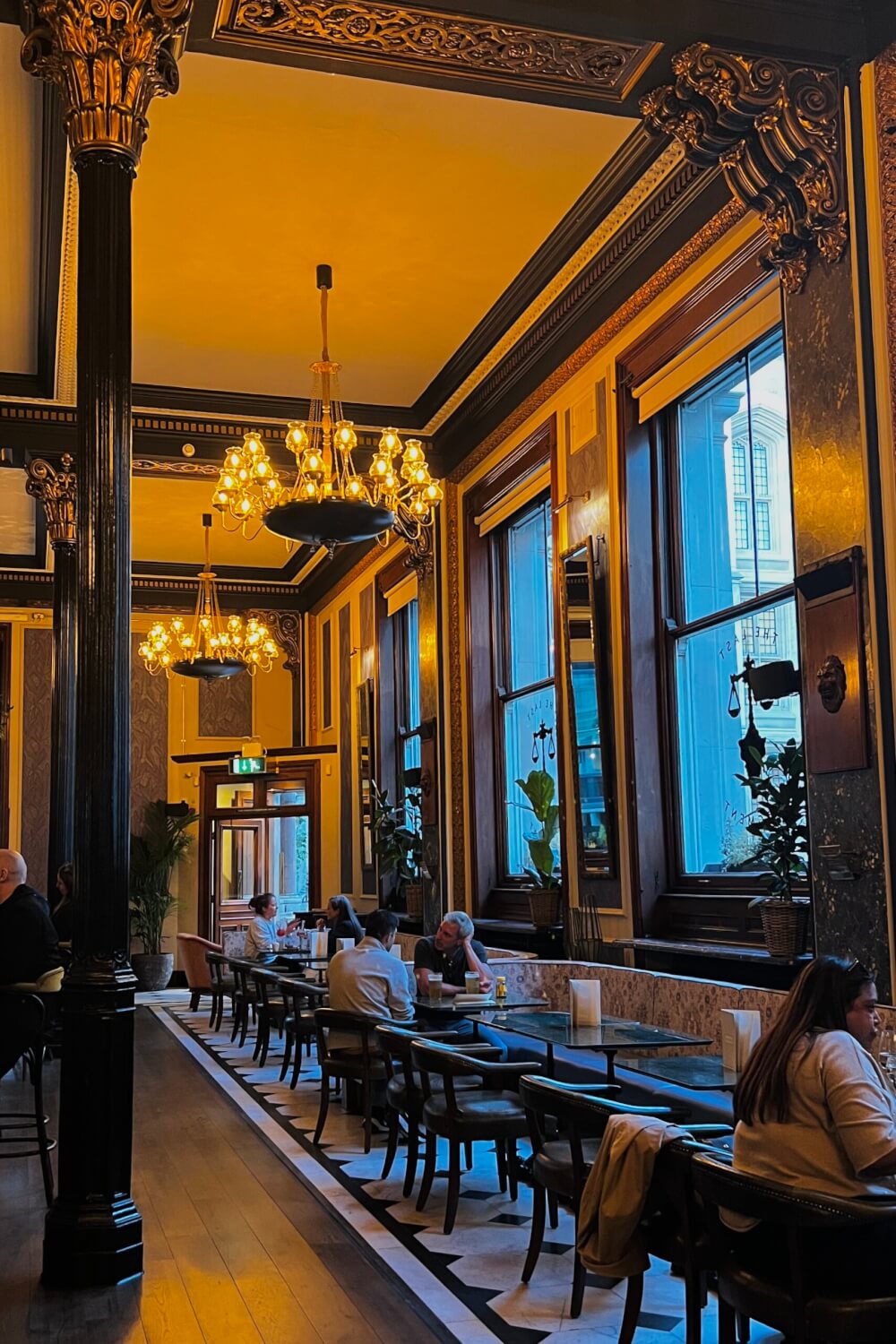 PS: The lounge area leading to the ladies' room is shockingly nice.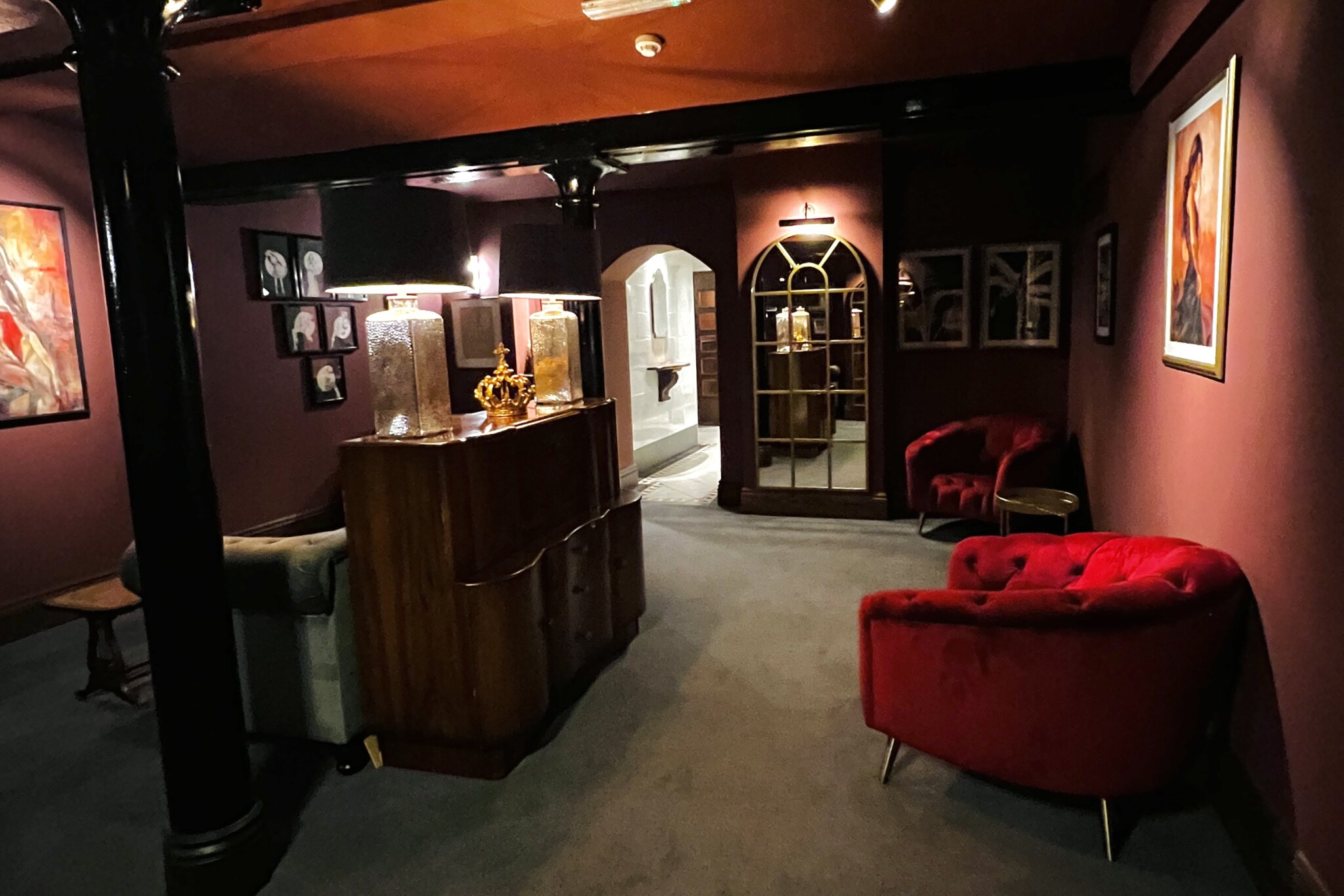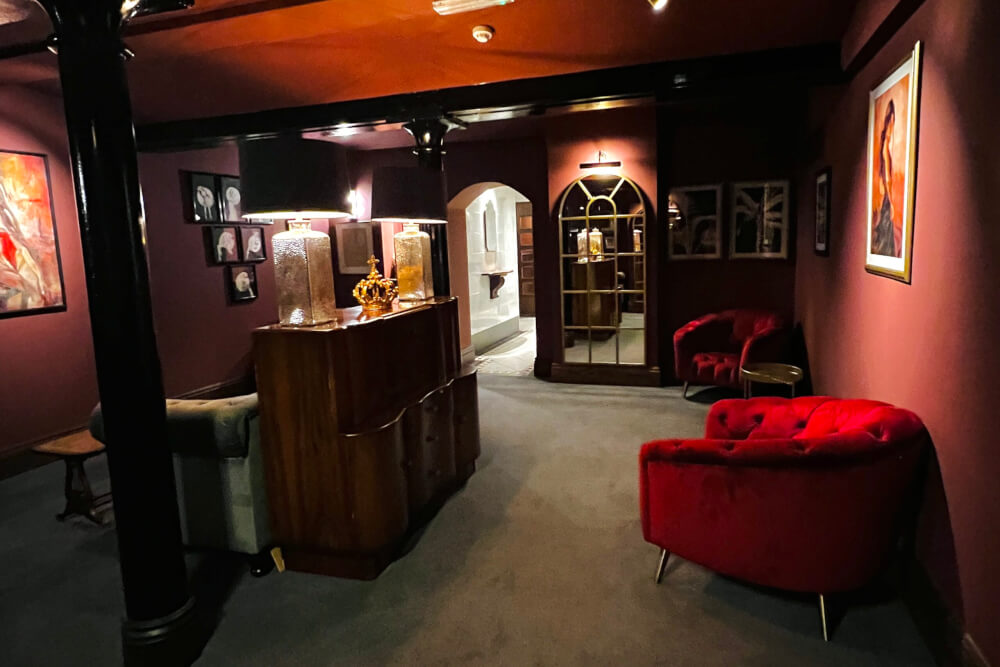 6. The Lamb and Flag, Covent Garden
There's no shortage of pubs to be found in Covent Garden, long considered to be one of London's premiere hubs for shopping and entertainment.
… although entertainment centuries ago would have looked a little different to 'Lion King' matinées, especially at the Lamb and Flag, a historic pub dating back to 1638, and also (casually) Covent Garden's oldest tavern.
Back in the day, the upstairs of this must-visit London pub was used for so many bare knuckled prize fights, it earned the not-at-all-ominous nickname "the Bucket of Blood".
Luckily for us, today the only buckets here are filled with ice for your wine. By virtue of its Covent Garden location, it gets absolutely packed here on evenings and weekends, so plan accordingly… lest you want to restore the place's reputation for fist fights.
PS: Like many pubs in London, it claims a particular connection to Charles Dickens, who supposedly enjoyed a good pint or ten here once upon a time.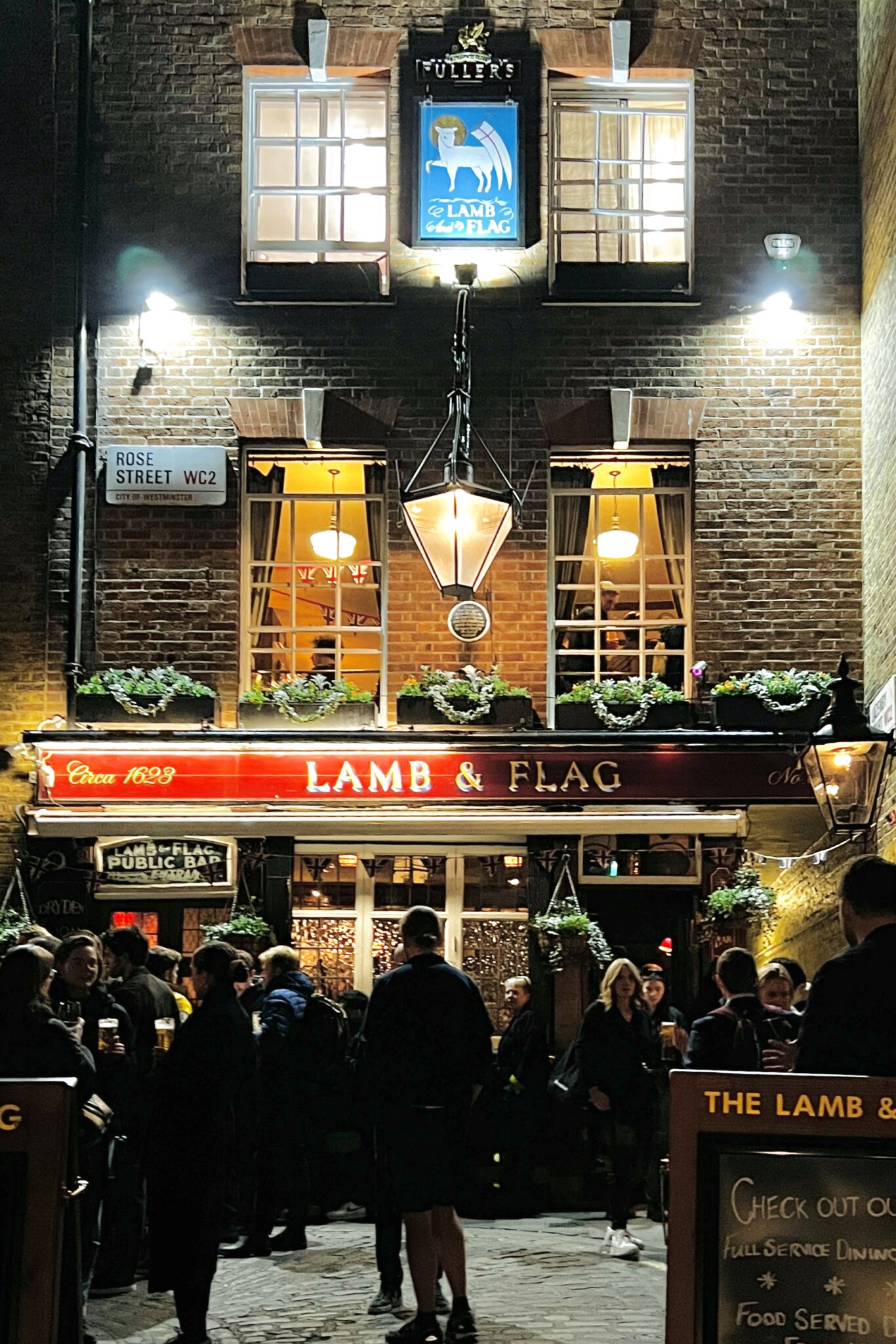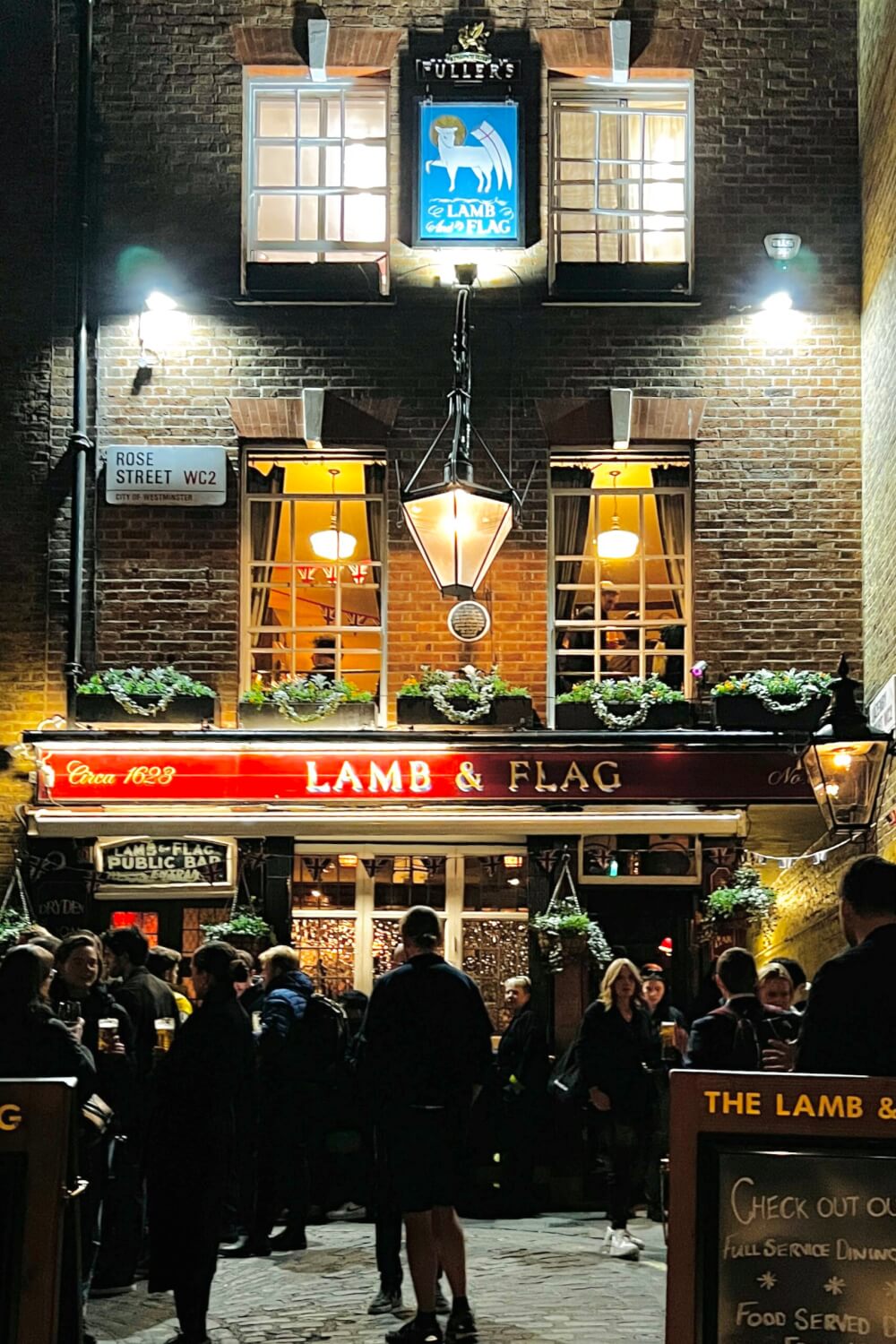 7. The Coach and Horses (Wellington St), Covent Garden
Often hailed as one of the best places in London for Guinness, this bright-red pub in the heart of buzzy Covent Garden is a great spot for drinks before or after a show.
The downside? It's compact and can get incredibly busy, plus nearby signs warning of pickpockets can dampen the mood a little. (Although if you internalize my guide on how to avoid pickpockets, you'll be fine).
Those bits aside, this pub does pour a very fine Guinness indeed, and I'd definitely recommend it as a pub to visit if you're a Guinness fan, or simply looking for a nice drinking spot while filling time between activities.
NOTE: The Coach and Horses appears to be a shockingly popular name for pubs, so there are quite a few. The one I'm talking about is the one on Wellington St in Covent Garden.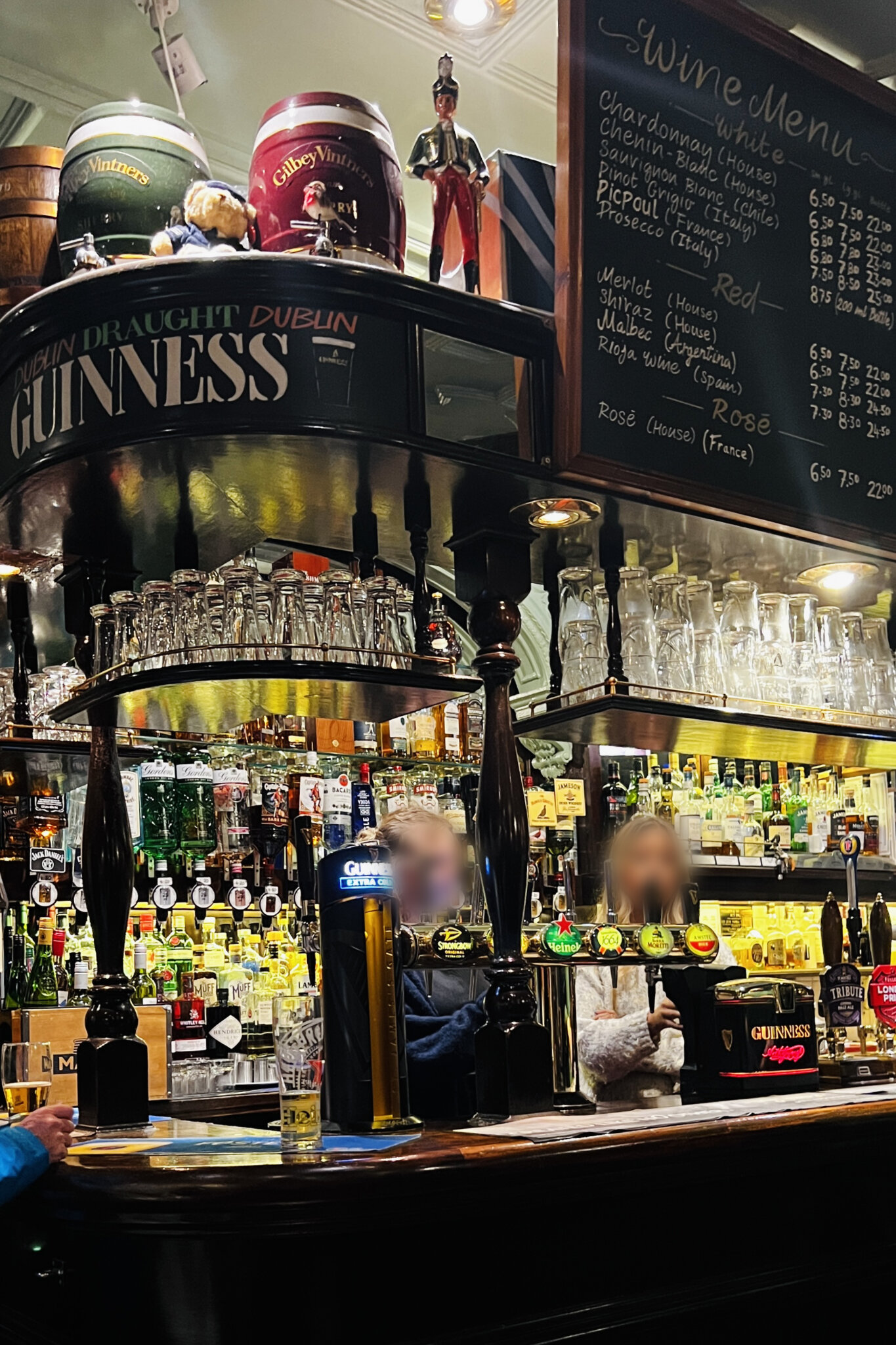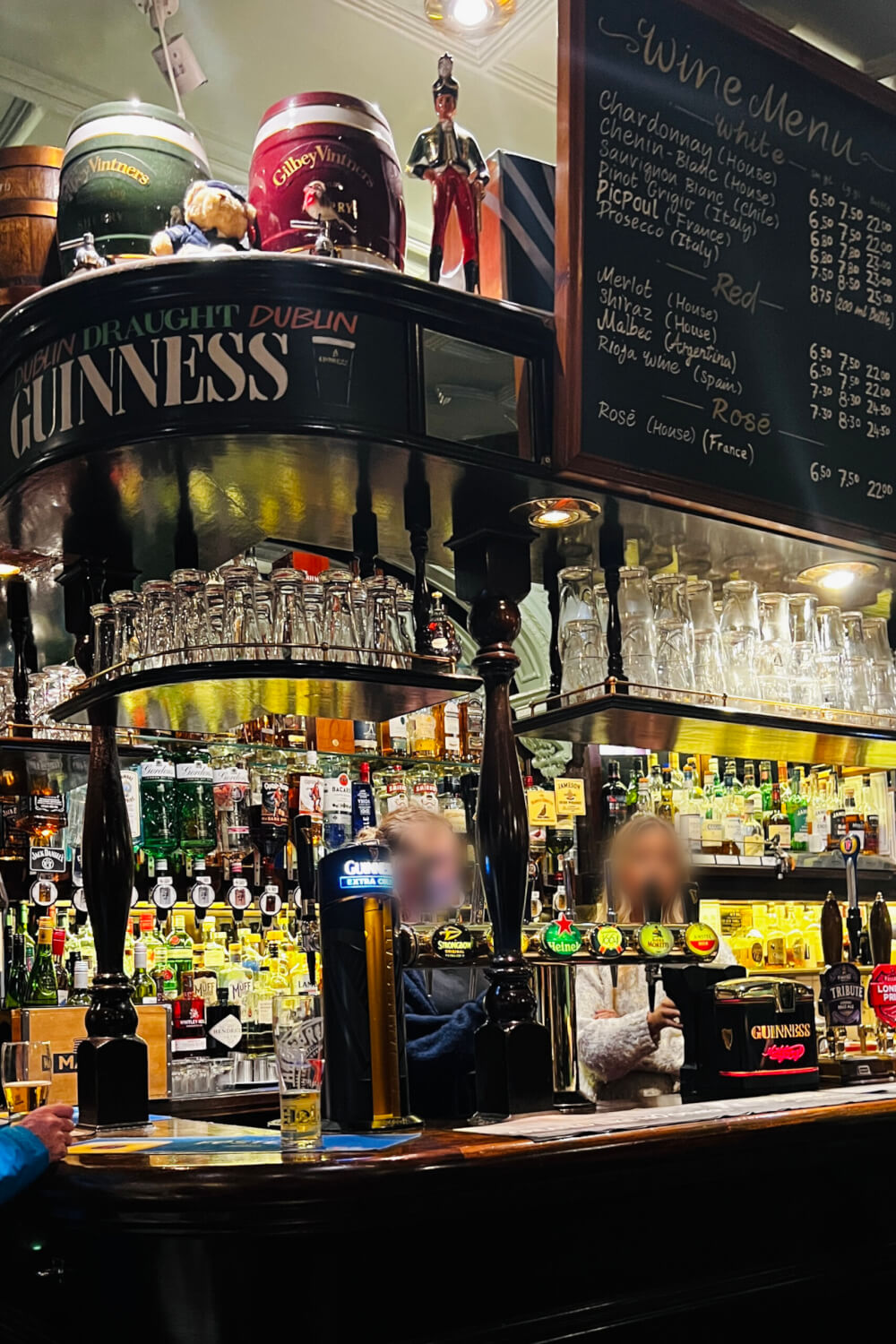 8. The Sherlock Holmes, St James
Located minutes away from some of London's top sights, the Sherlock Holmes may well be one of the most photographed pubs in London, with a red brick facade decked in charming flower baskets and a red postbox so perfectly placed, it looks Photoshopped.
But while it's a popular spot for photography, it seems (based on my research at least) that far fewer people actually go in for a drink/meal…. which is a real shame if you ask me, because this place is hands down one of London's quirkiest pubs, and a must-visit for anyone who likes Sherlock Holmes (AKA most of you, if you're nerdy enough to be reading my blog right now).
Yes, this pub doesn't just take its name from Sherlock Holmes, it has built its entire experience around him too.
Step inside and there's a TV showing black and white Sherlock Holmes classics, there's a Sherlock Holmes Ale on tap, the walls are filled with assorted Sherlock Holmes memorabilia…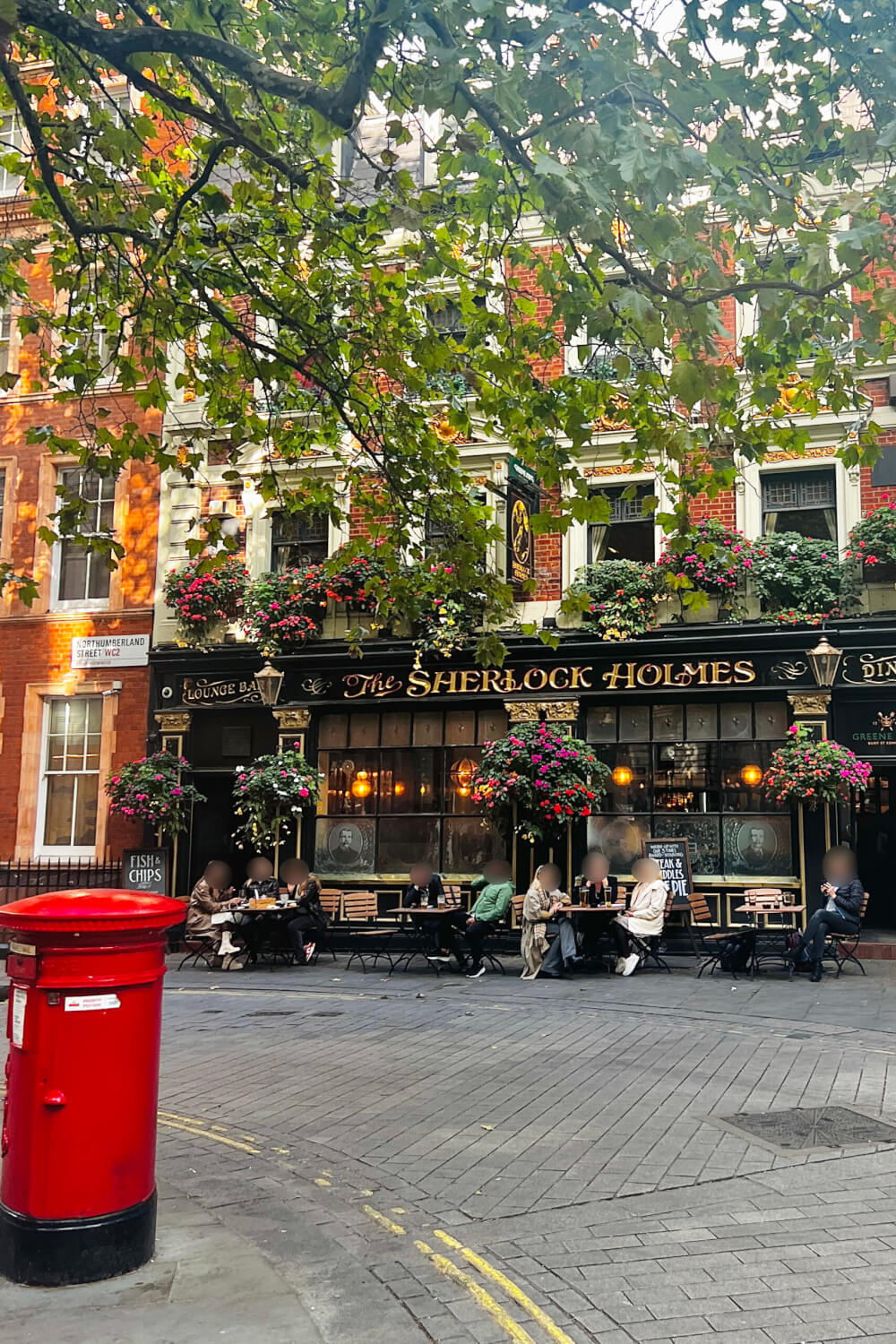 And, in a true show of commitment, upstairs you'll even find a reconstructed Sherlock Holmes' sitting room & study.
So yes, book a table to dine upstairs if you want to scope that out. The attention to detail is impeccable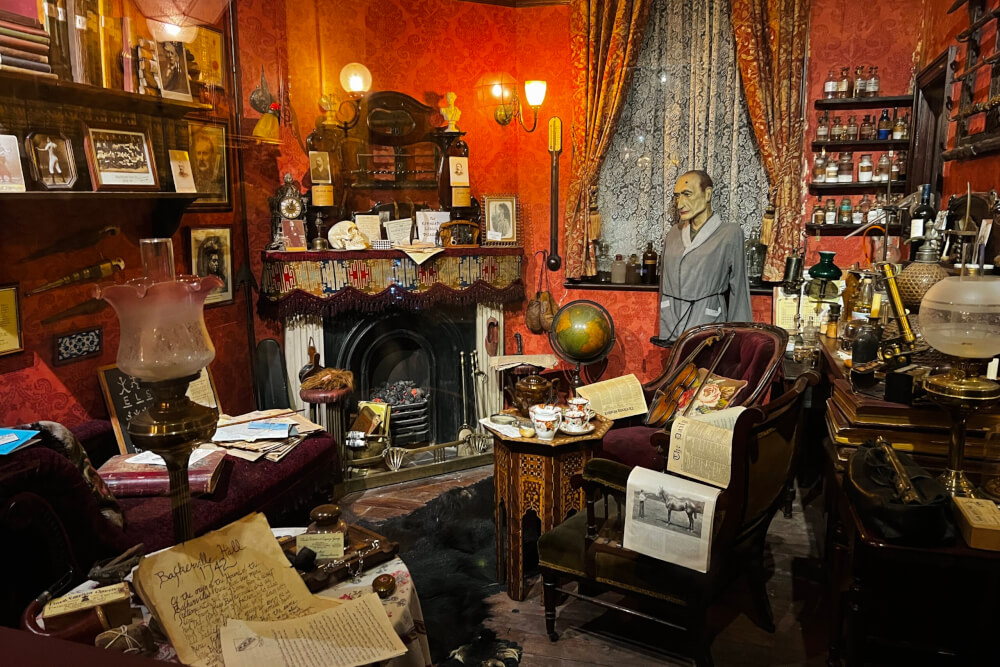 9. Waxy O' Connor's, Soho
Alright, so far I've showcased a lot of London's most historic pubs, but if you're looking for one of London's quirkiest pubs, then look no further than Waxy O' Connor's, the largest Irish pub in the city.
It's hard to explain what it's like in here. It's warm, cozy, earthy, and much larger than it appears from the outside.
Made up of six levels, stepping into this unique London pub is like entering a magical fantasy world, with an aesthetic that's part-church, part-treehouse, and part-Hogwarts.
Truly, this place feels worlds away from the chaos of Soho, and makes for a cozy retreat from the crowds with a pint of Guinness. Or three.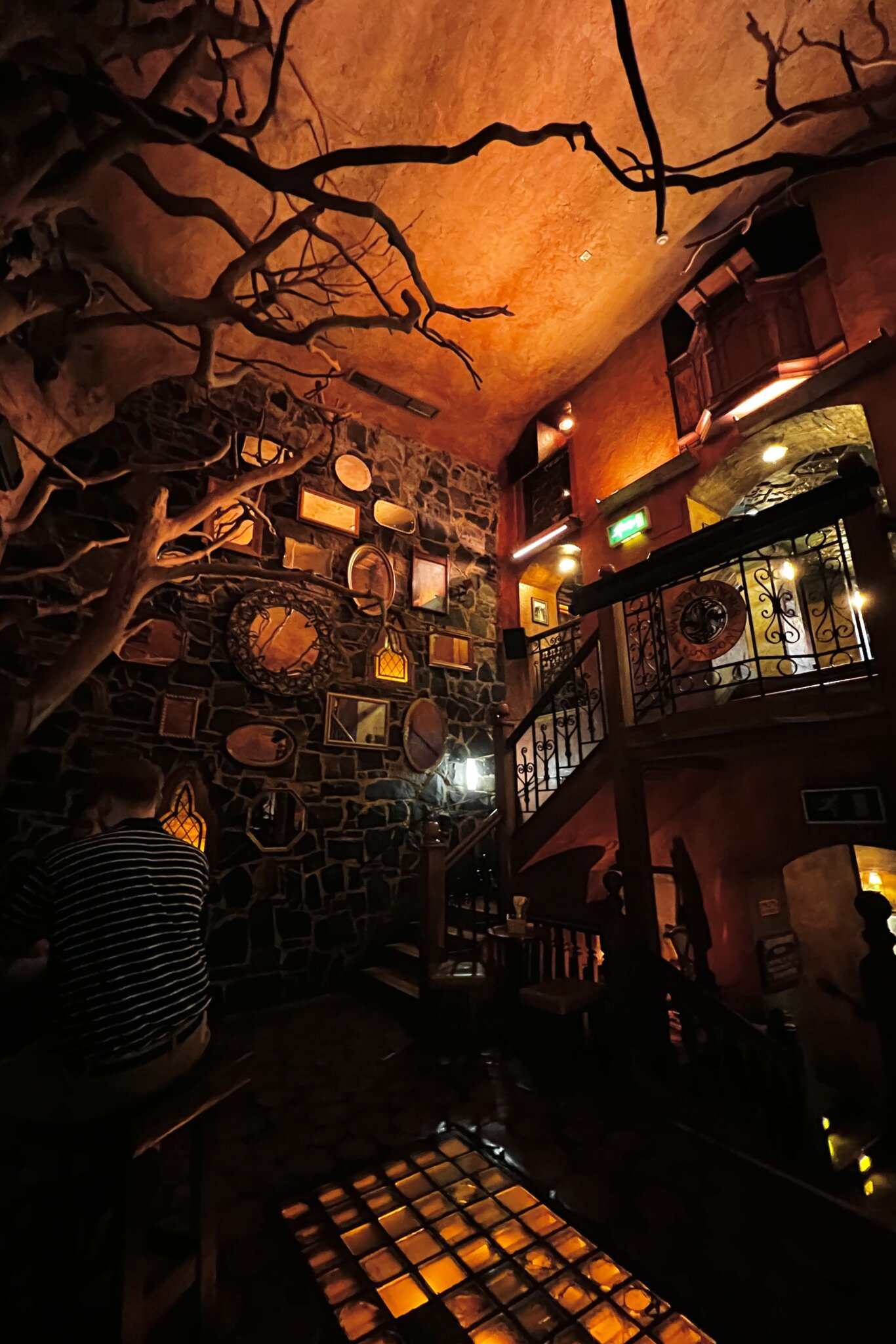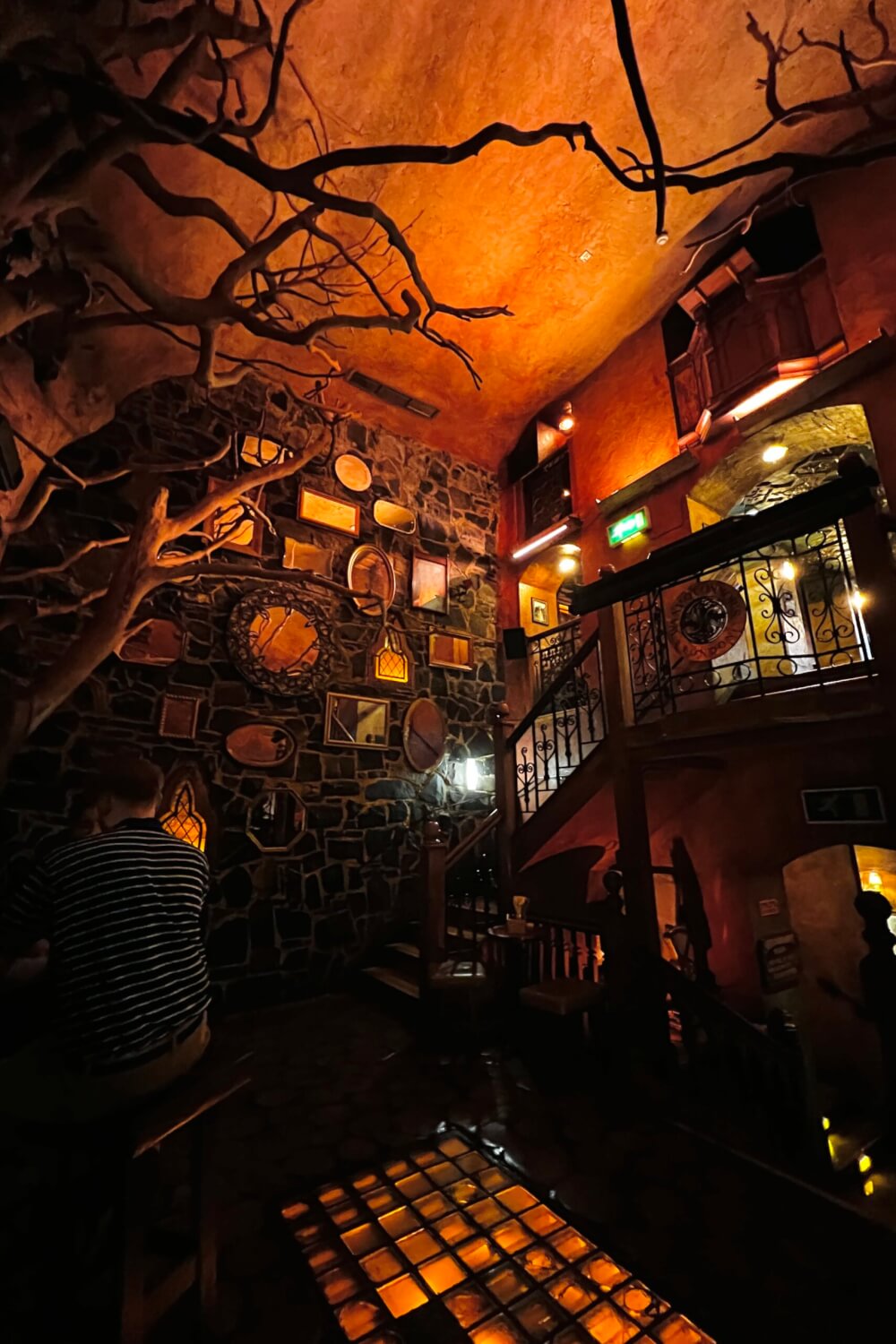 PS: If the hunger pangs dare interrupt your London pub adventures, I can vouch for the grilled cheese here! It's a little overpriced, but such is the way in Central London… plus it's fairly tasty, and well portioned.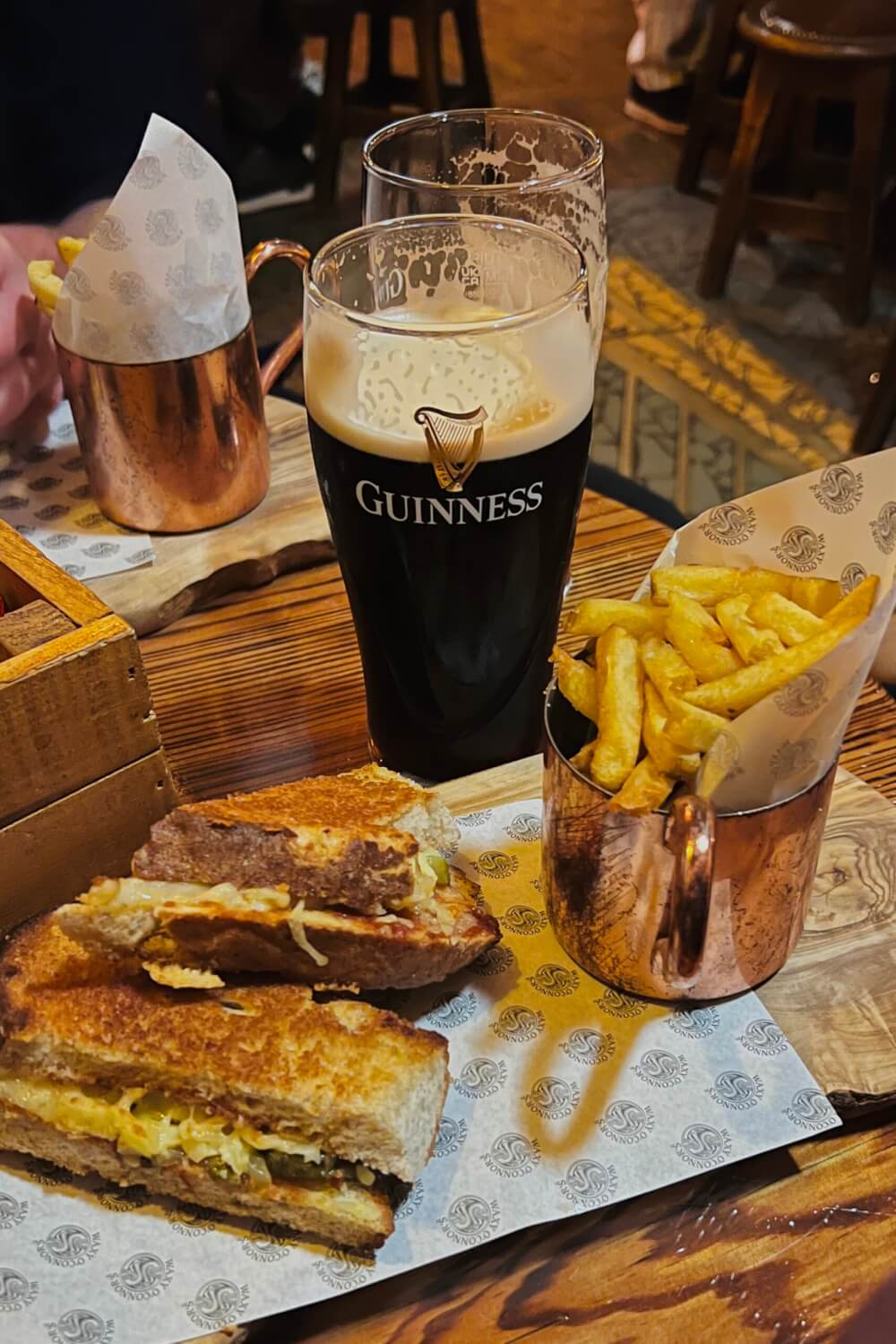 10. The George, Southwark
Search up historical pubs in London, and one name inevitably always comes up: the George in Southwark, just steps away from Borough Market.
As the oldest galleried inn still standing in the city, the George is definitely a London pub to visit for history and literature lovers, with mentions in not one, but two Dickens novels, and a location right next to the inn where Chaucer set the Canterbury Tales.
Its location in a courtyard just off of Borough High Street lends to its appeal as well, with its charmingly crooked structure (dating back to 1667) a welcome contrast to the Tesco Expresses and Costa Coffees just steps away.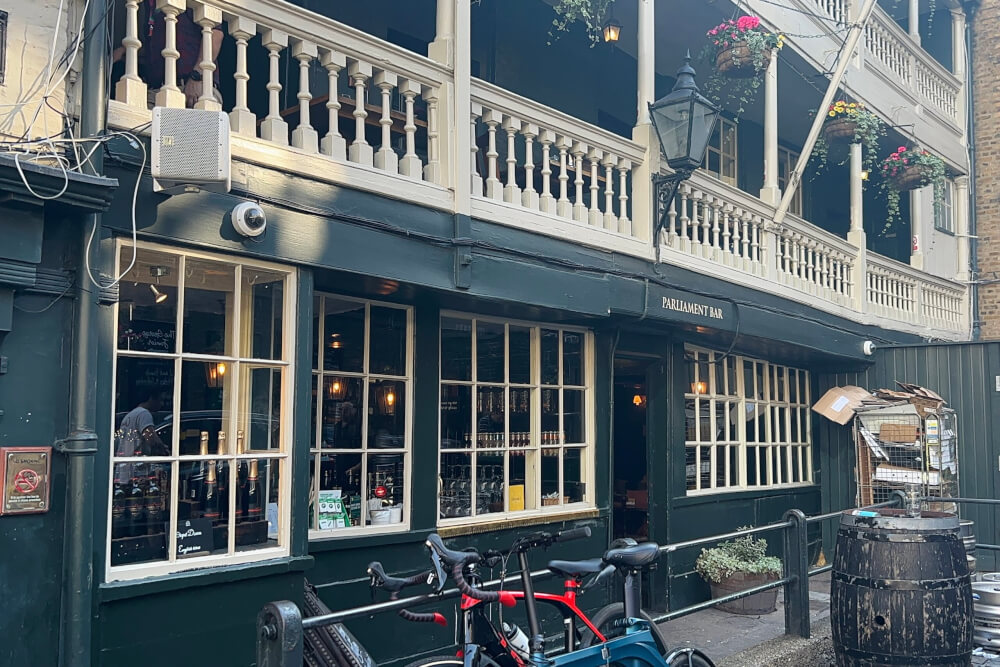 And while the George's creaky, dark wooden interiors lend themselves best to time travel daydreams, I can definitely recommend this historical London pub on a hot day as well.
Their beer garden is huge, and a great place for a pint with the Shard lurking in the distance.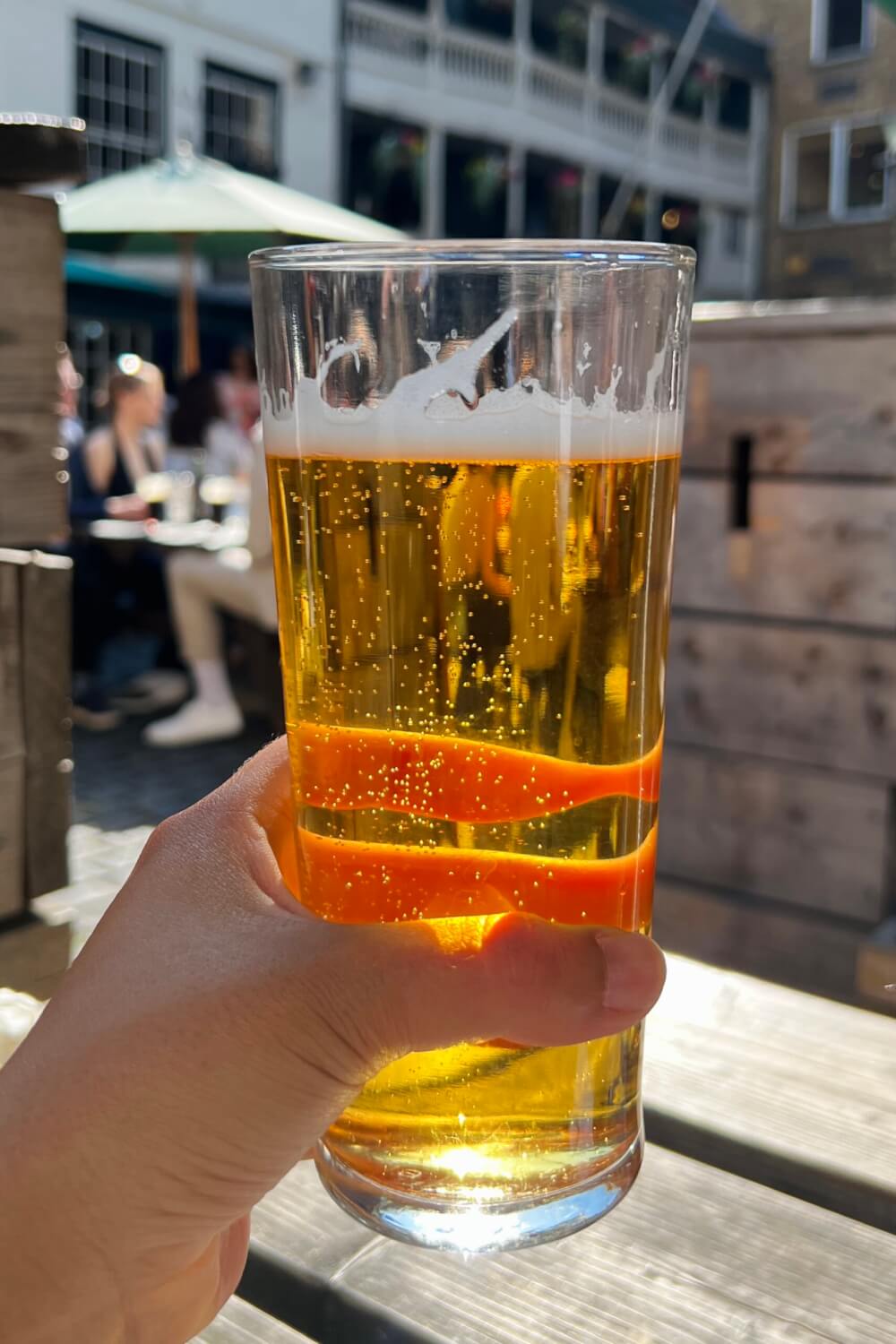 11. The Star Tavern, Belgravia
If you find yourself roaming around the idyllic neighbourhood of Belgravia, you may catch yourself dreaming of living there one day, soon descending into a rabbit hole of property searches, "just out of curiosity".
If that's the case, you may soon need a place to drown your sorrows.
And while you may not (yet) be able to afford a pastel mews house in Belgravia, there's an affordable consolation prize for you to enjoy in the neighbourhood: a pint at the cozy Star Tavern, known for decades as a beloved waterhole for the rich, the famous, and…. criminals. Smart ones, at that.
Yup – the cozy upstairs Library is said to have been the very place where plans were laid for the Great Train Robbery of 1963, AKA the biggest heist of the 20th century, where a band of clever thieves hijacked a train and absconded with the equivalent of £40 million today.
So yes, this is definitely a must-visit pub in London for avid fans of history and heists alike. Grab a seat upstairs and scheme away.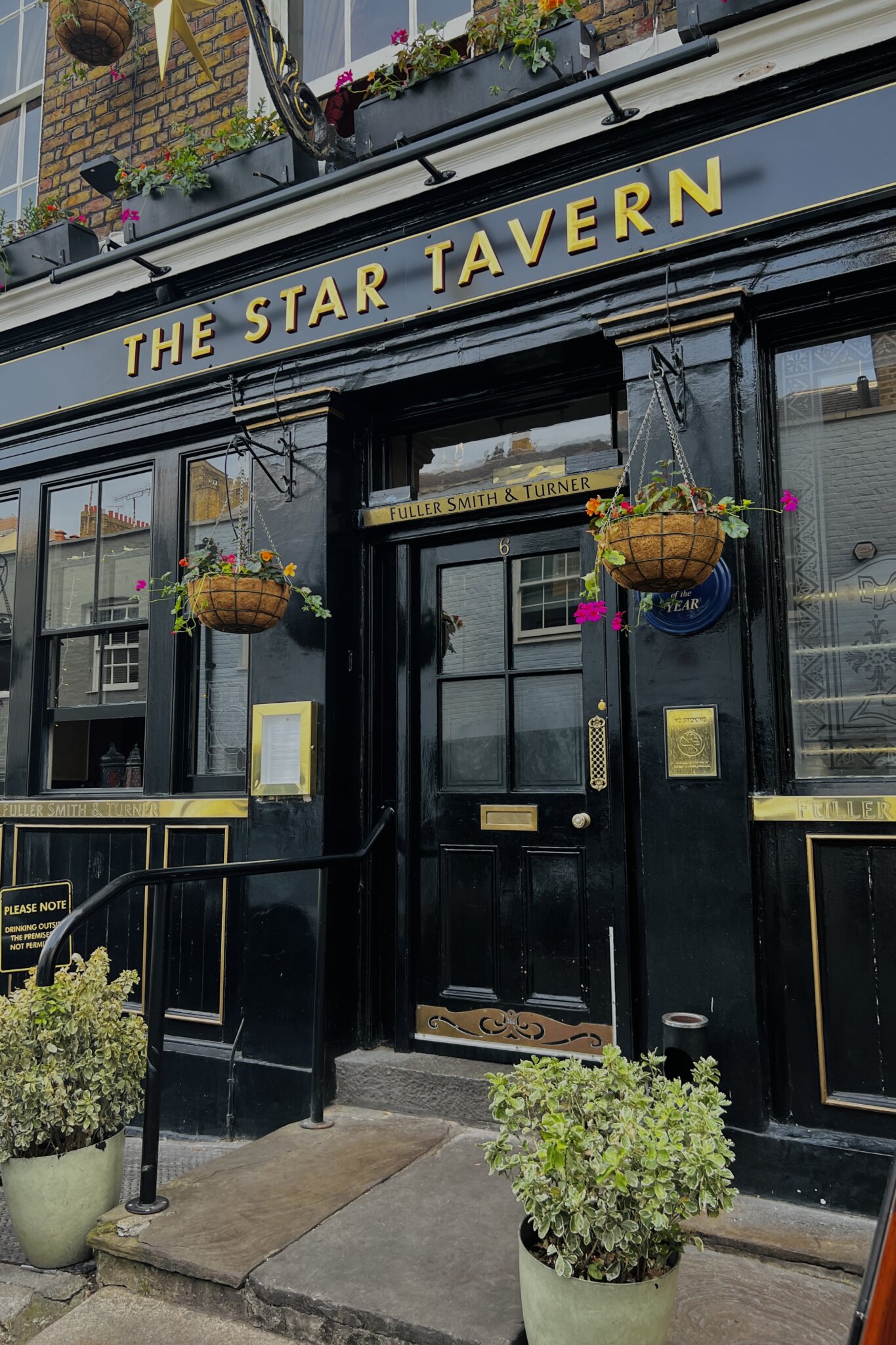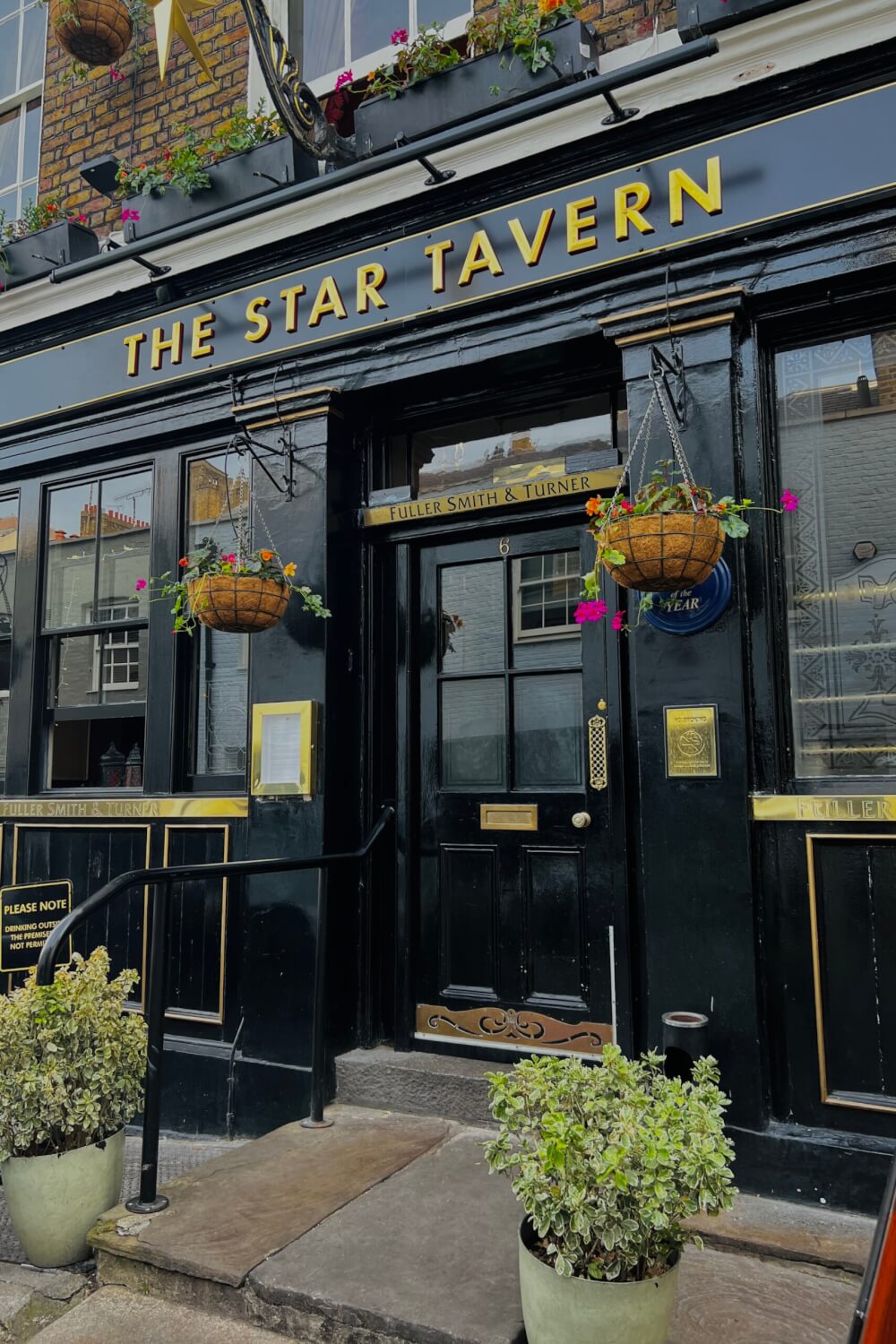 12. The Cadogan Arms, Chelsea
If we're talking about aesthetics, the Cadogan Arms is probably one of the most beautiful pubs in West London, especially after its costly 2021 refurbishment.
I wasn't able to get any good photos before (I kid you not) a literal mob of Newcastle football fans descended upon the pub and started putting up their flags, but let me try to paint you a mental image: embossed wallpaper, elaborate plasterwork, suspended chandeliers, mosaic tile floors, and elegant wrought iron details all throughout.
The Cadogan Arms has all the coziness of a luxurious hunting lodge, yet enough light coming through that it doesn't feel dark or stuffy. Plus, their impressive selection of beers on tap (and knowledgable bar staff) make them a firm favourite in my books.
If you're looking for a beautiful pub with historic flair, yet a refined and modern feel, this is a unique London pub I can highly recommend.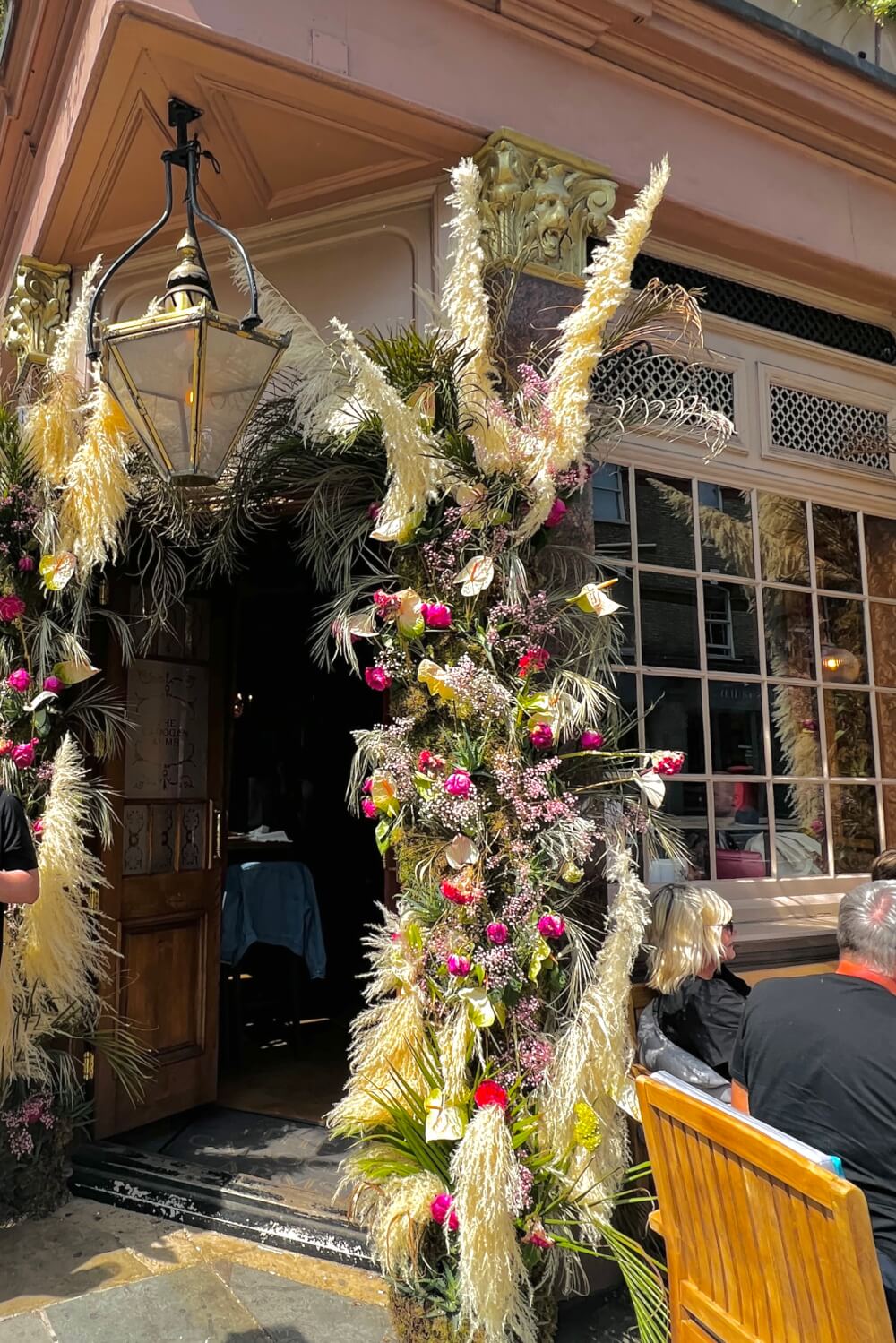 13. The Fox & Pheasant, Chelsea
This Chelsea pub, steps away from Stamford Bridge (home of Chelsea's famous football club) is a surprising little find for many reasons.
First off – it's owned by British singer-songwriter James Blunt, although there are no cheesy references to his ownership status (like, not even a "You're Beautiful" sign in the bathroom? Come on.)
But more surprisingly, what looks like any average boozer from the outside is actually one of the finer gastropubs the area has to offer.
Upon entry, the Fox and Pheasant might appear to be any old country pub (it dates back to 1846), with dark wooden panelling, leather loungers and a few cozy fireplaces… but its main draw card is actually hidden a level below, in a beautiful conservatory dining space churning out refined fare and, possibly one of the best Sunday roasts I've ever had in my life.
Needless to say however, you'll need to book weeks in advance for Sundays, as Mr. Blunt and his magical chefs have developed quite the reputation for their roast prowess. It's well worth it though!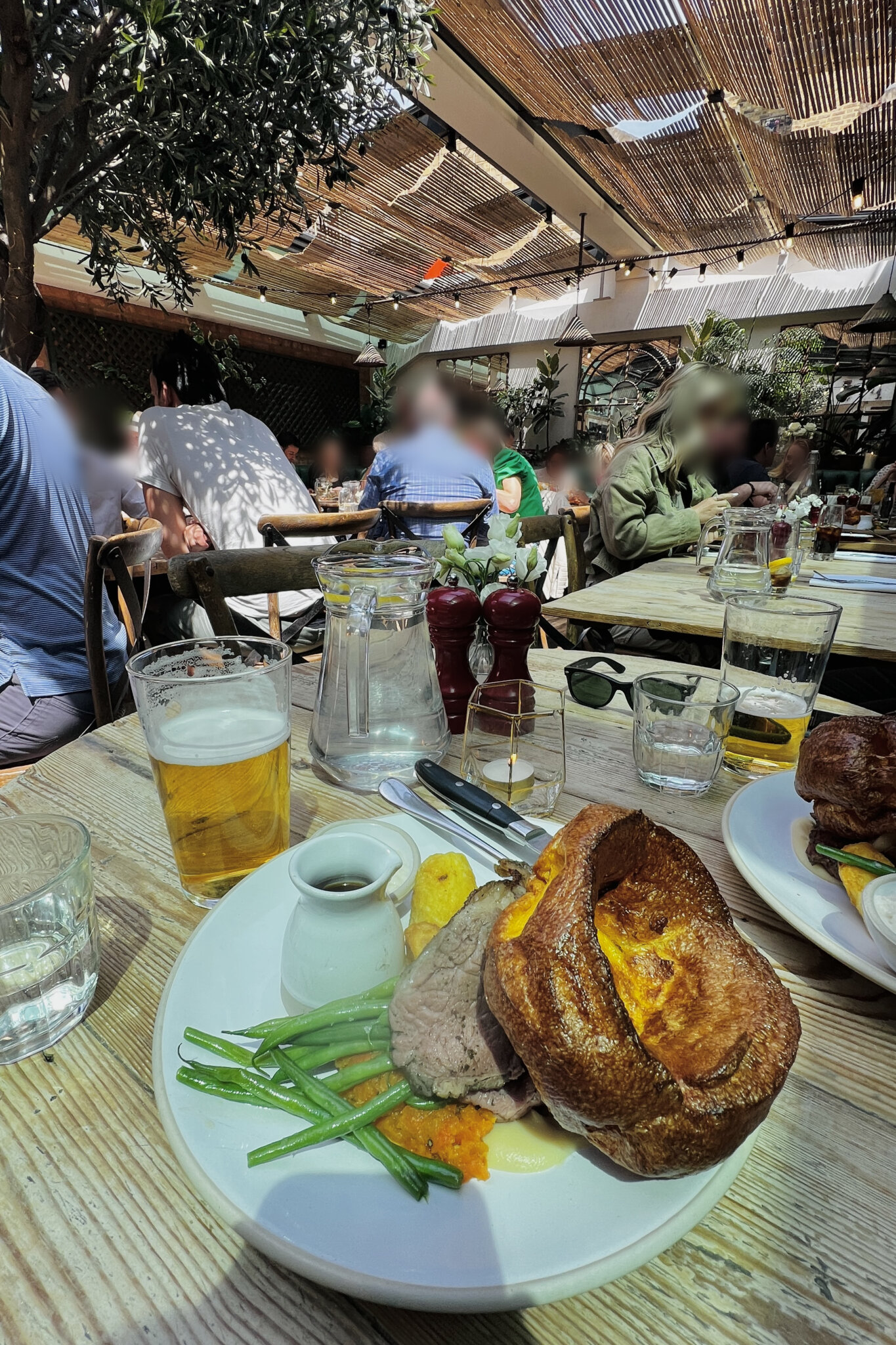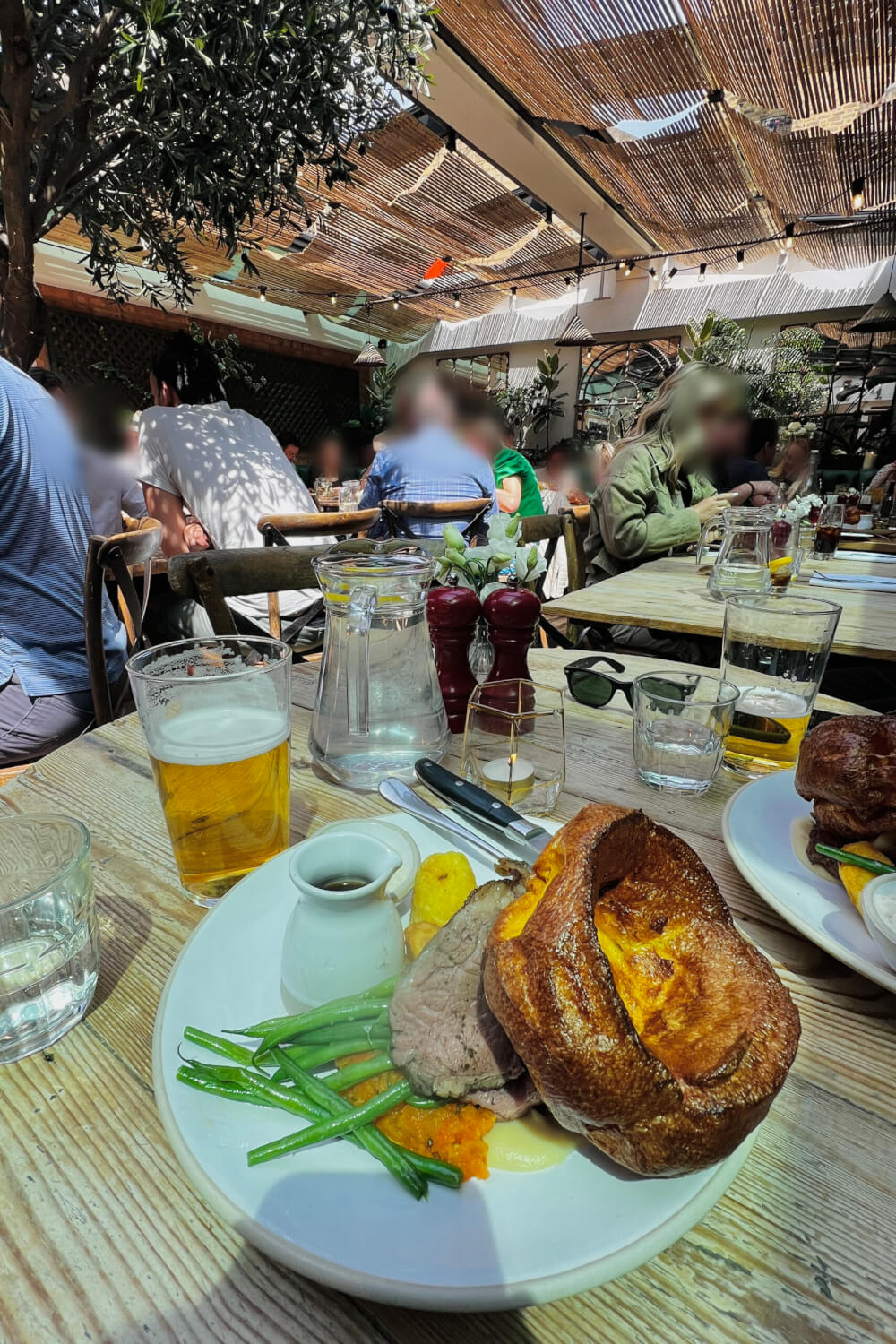 14. The Churchill Arms, Kensington
Best known for its elaborate exterior, the Churchill Arms in Kensington is hands down one of my favourite pubs in London.
It is said that Winston Churchill's grandparents were once regulars, which surely played a factor in the pub's renaming after WWII.
Even today, the pub pays homage to its namesake, with various bits of Winston Churchill memorabilia adorning the cozy pub interiors.
As for the outside, I think it's safe to say few pubs in London can compete.
In the warmer months, the facade is decked with 100+ flower pots, and dozens more hanging baskets and window baskets… then come Christmas time, the flowers are replaced with 90+ trees and over 20,000 twinkling lights.
I wouldn't often accuse an inanimate pub for being a show off, but I think it's well deserved in this case.
The fact that it contains a tasty Thai restaurant in the back is just the annoyingly perfect cherry on top.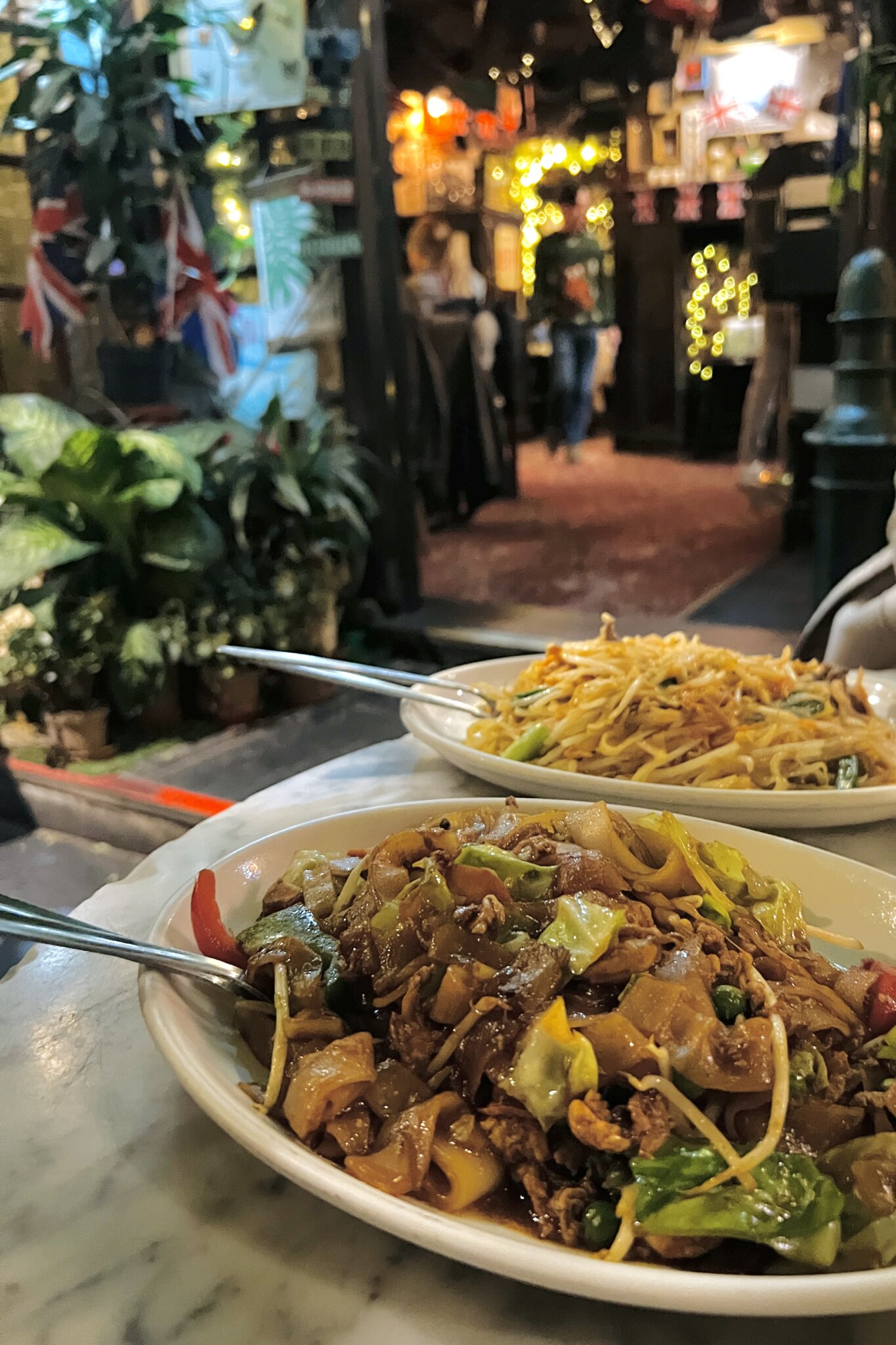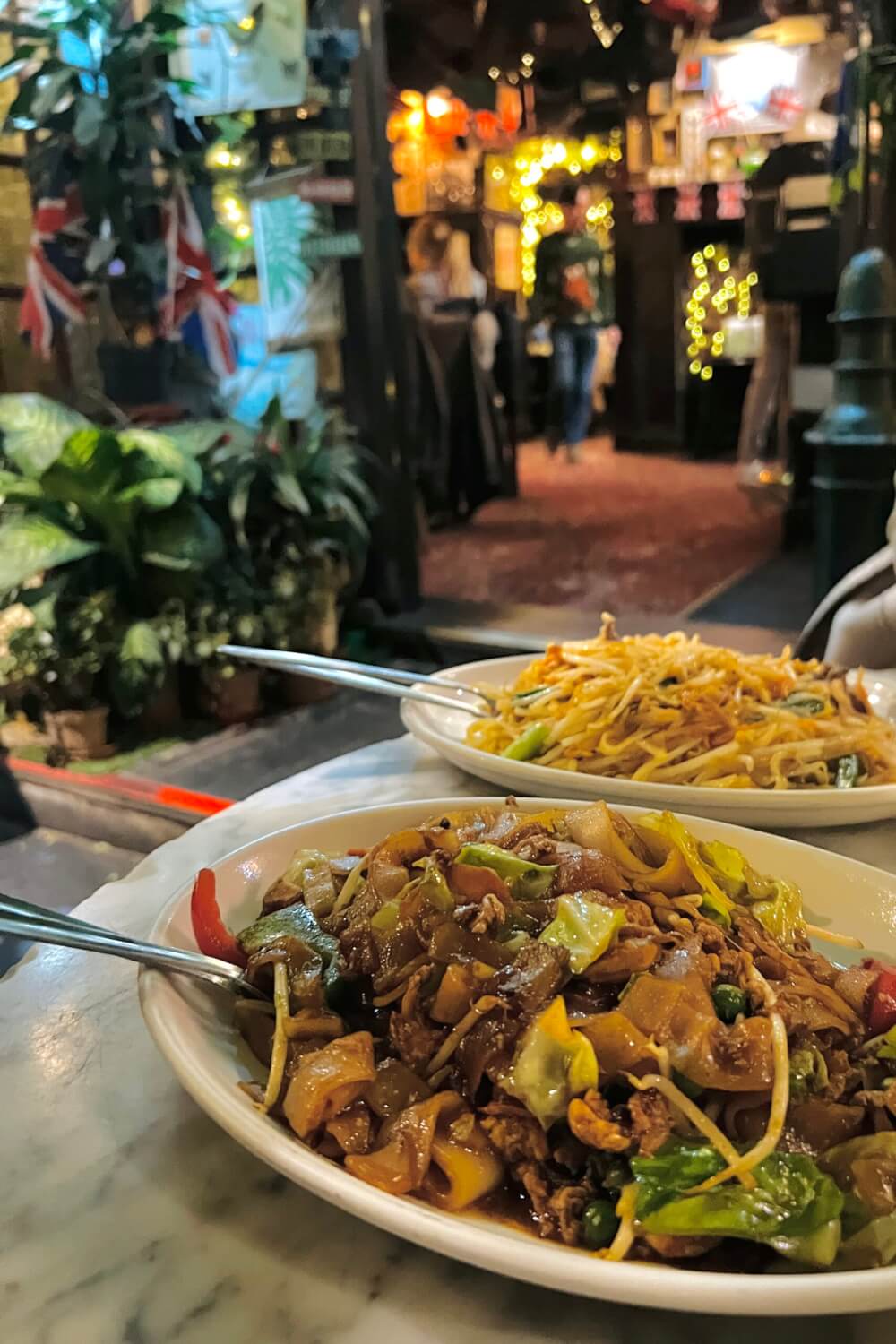 15. The Zetland Arms, Kensington
Looking for more pubs to visit in Kensington? Well, the Zetland Arms makes a fine choice. Built in 1846, this is a pub that (like many others in London) milks a famous connection for clout, and if its weekend crowds are anything to go by, it's a strategy that works.
The connection in question? Charlie Chaplin, who owners claim once purchased the pub for members of his family.
Famous former owners aside, the Zetland Arms is a classic corner pub with all the pretty trimmings – floral baskets in the summer and festive decor in the winter.
Besides its cozy atmosphere though, it has one major draw card that earned it this spot on my list of London's must-visit pubs for visitors: its proximity to South Kensington's amazing museums.
If you're looking for a nice place to unwind after your visit to the V&A or Natural History Museum, this is a great bet, but I wouldn't go out of my way to specifically drink here.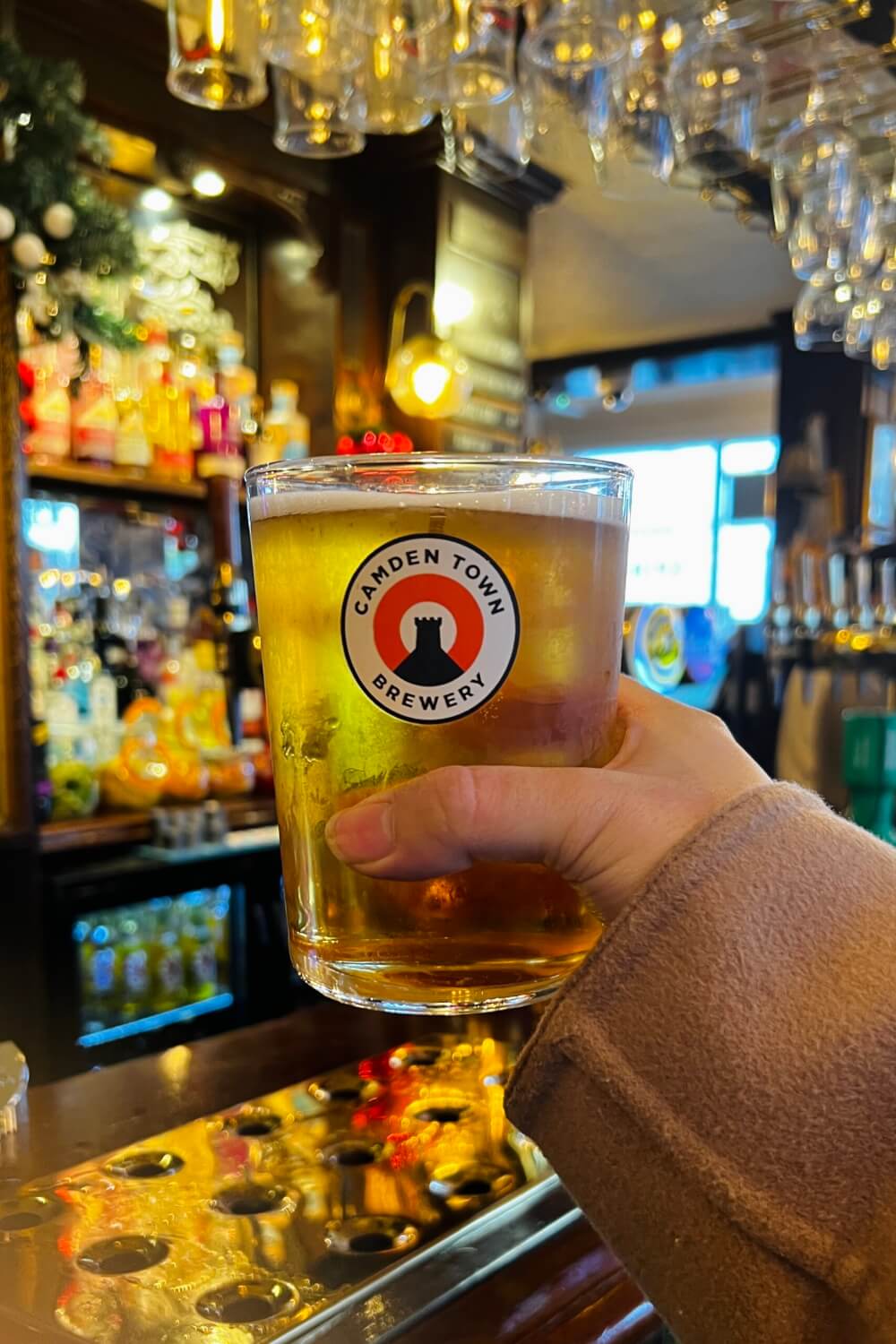 16. The Grapes, Limehouse
For almost 500 years, the Grapes has stood in its present location on Narrow Street, making it one of the oldest pubs in London, with a varied client list from world explorers and famous writers to A-list actors, aaaaand me! And hopefully you! Soon, at least.
Besides its centuries of history, this pub is a London legend thanks to its owner, none other than Sir Ian McKellen, AKA Gandalf.
In fact, behind the bar, you'll even find Gandalf's staff on display, like a glowing beacon of nerdy enthusiasm that attracts LOTR fans near and far.
In spite of the geeky memorabilia, the Grapes still feels like a thoroughly local place.
During our visit, regulars flitted in and out, shouting (lovingly) to the bar staff and each other. A Gandalf-owned pub that has escaped the clutches of shameless tourism? What wizardry indeed.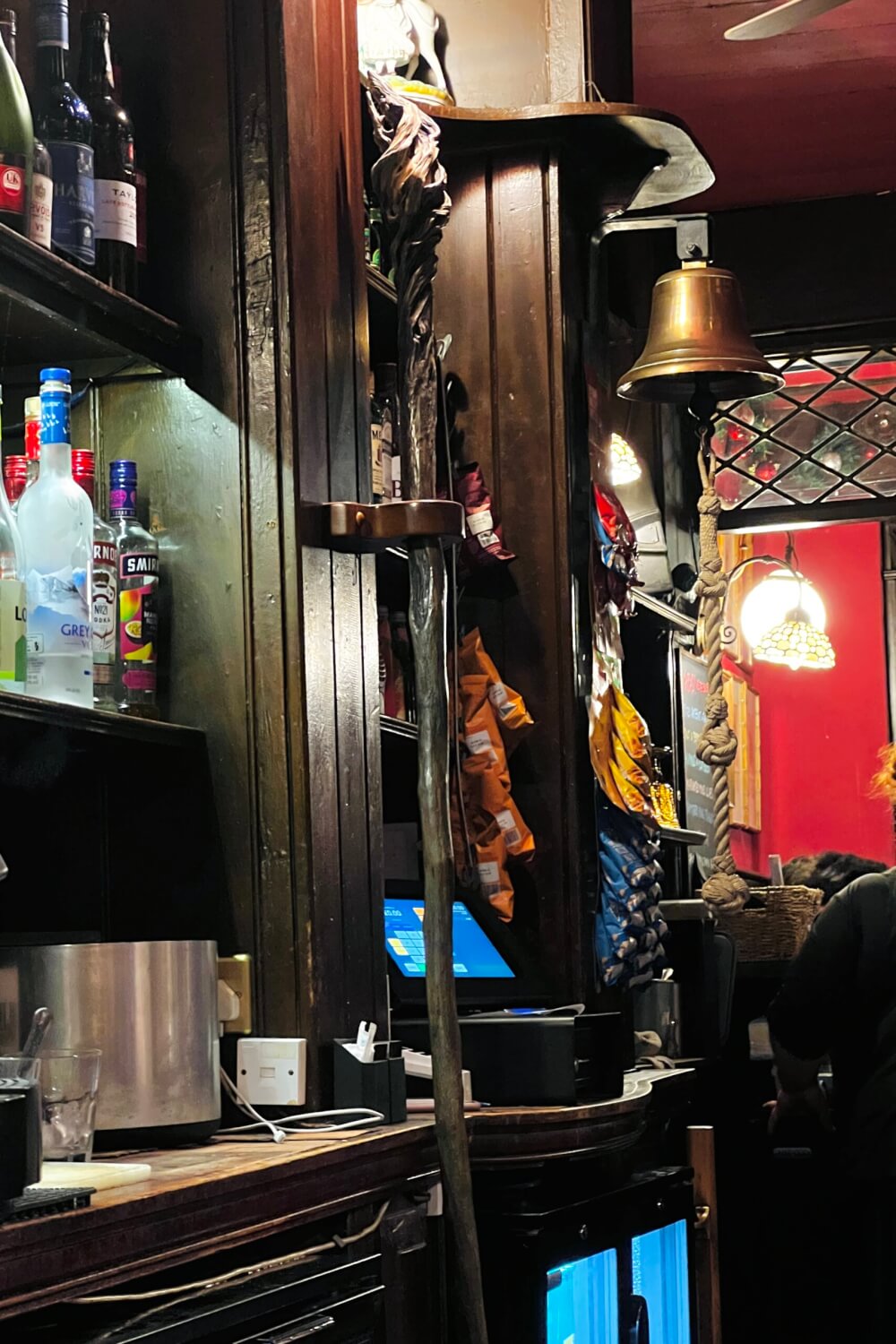 17. The Gun, Docklands
Looking for a unique London pub with a view? Head on over to the Gun.
This quirky riverside pub offers staunch commitment to its theme, from the big cannon hole in its sign to the various taxidermed animal heads displayed proudly on the walls.
Its starring attraction however is its location – right along the river with a rare view directly overlooking the O2 Arena, so close you can see the brave souls climbing the roof!
Whether you opt for the outdoor beer garden or a seat in its heated solarium, this view is a showstopper, and a great spot for a sundown pint as the sky slowly turns pink.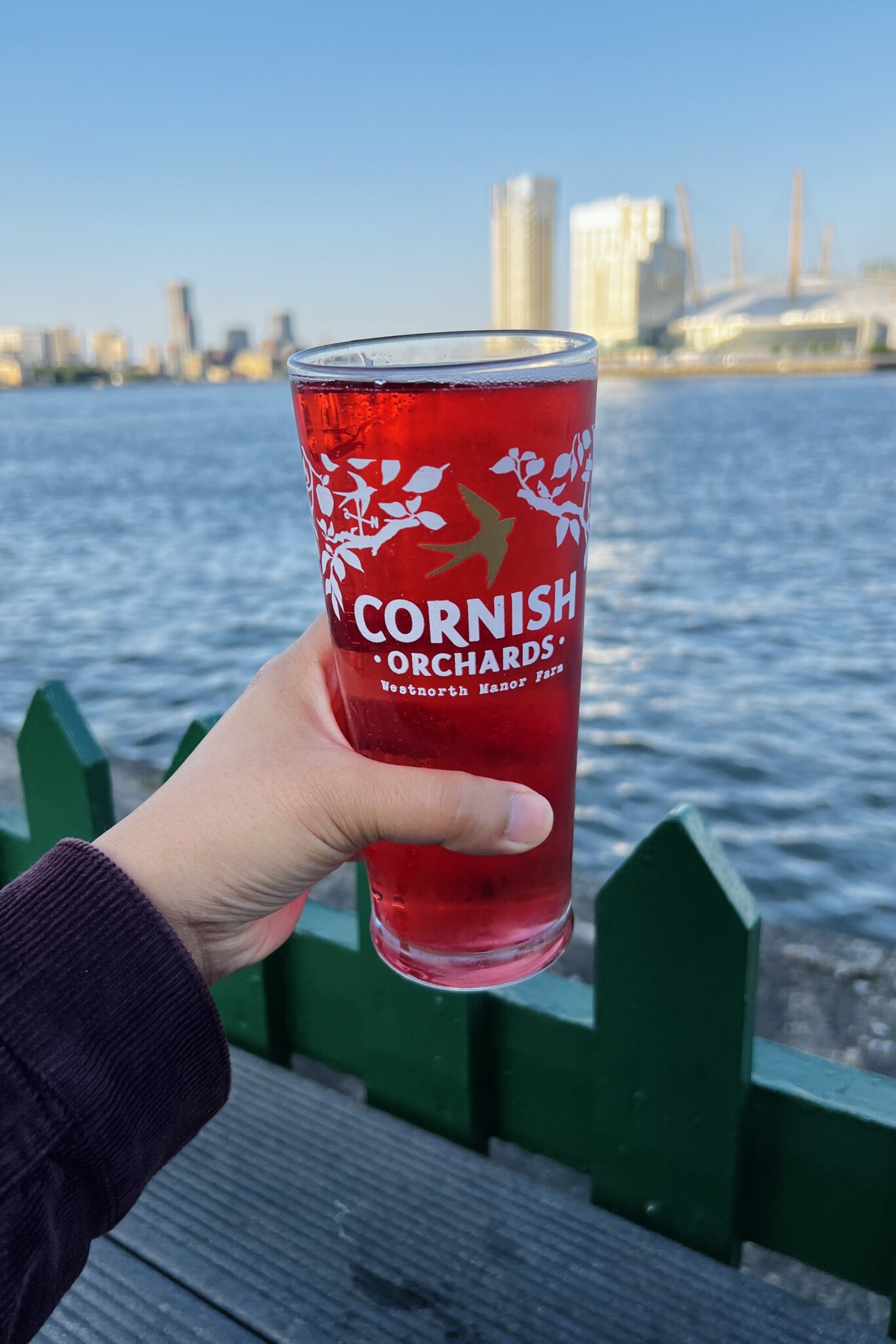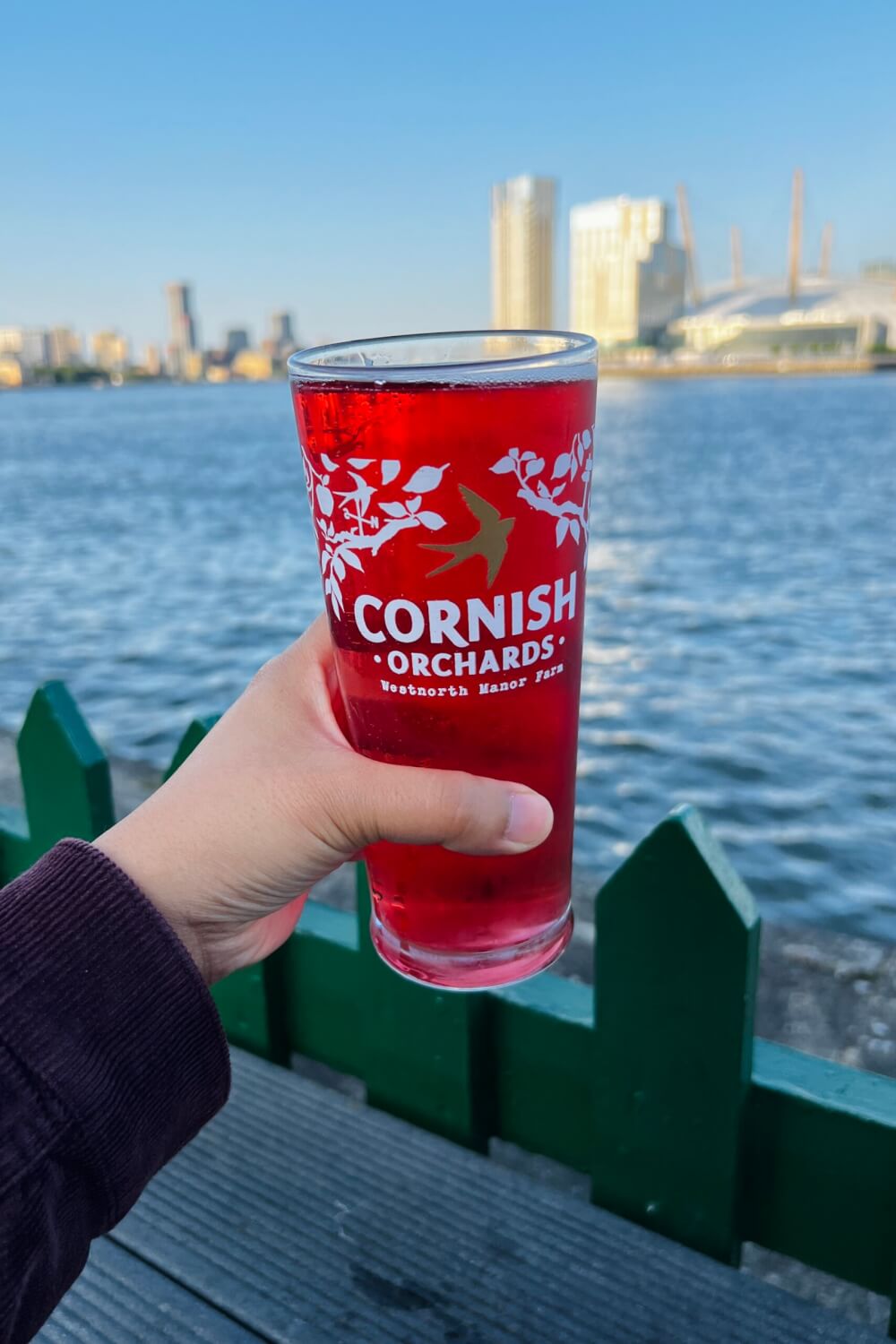 With the wind being as vicious as it is though, perhaps the solarium is a safer choice: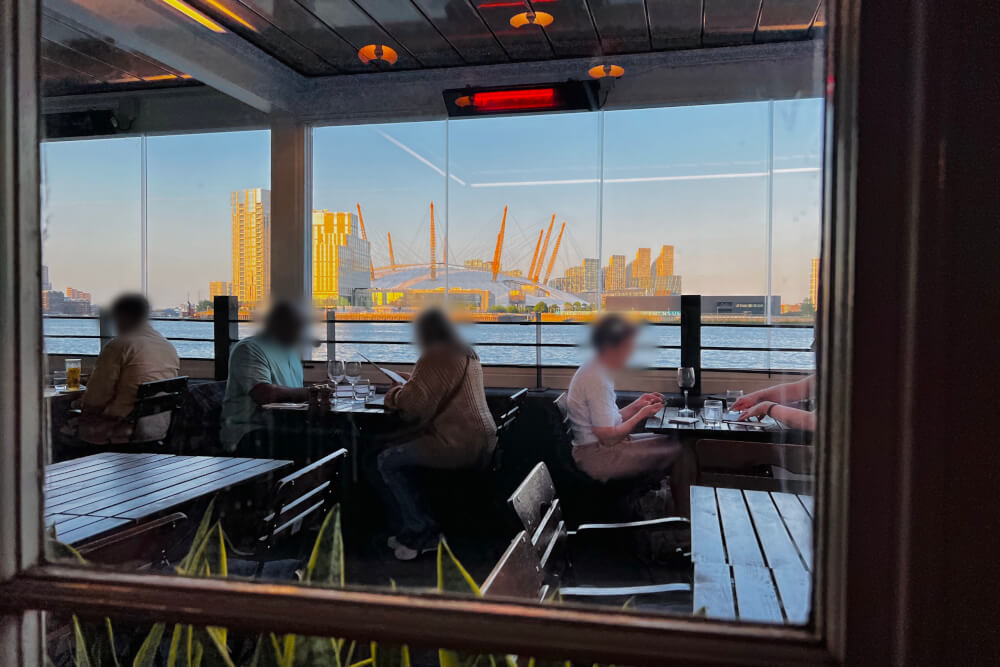 18. Trafalgar Tavern, Greenwich
Built in 1837, another one of London's must visit pubs is the iconic Trafalgar Tavern in Greenwich.
This pub is Victorian splendour at its finest. Period decor and obscene amounts of bunting lay the stage for one of my personal favourite pub interiors in the city.
Sure it's a little extravagant and over the top, but something about it feels perfectly London to me…. And the stalker-like devotion to Admiral Nelson (who is honoured through an entire cabinet of memorabilia on the upper floor) is really most admirable indeed.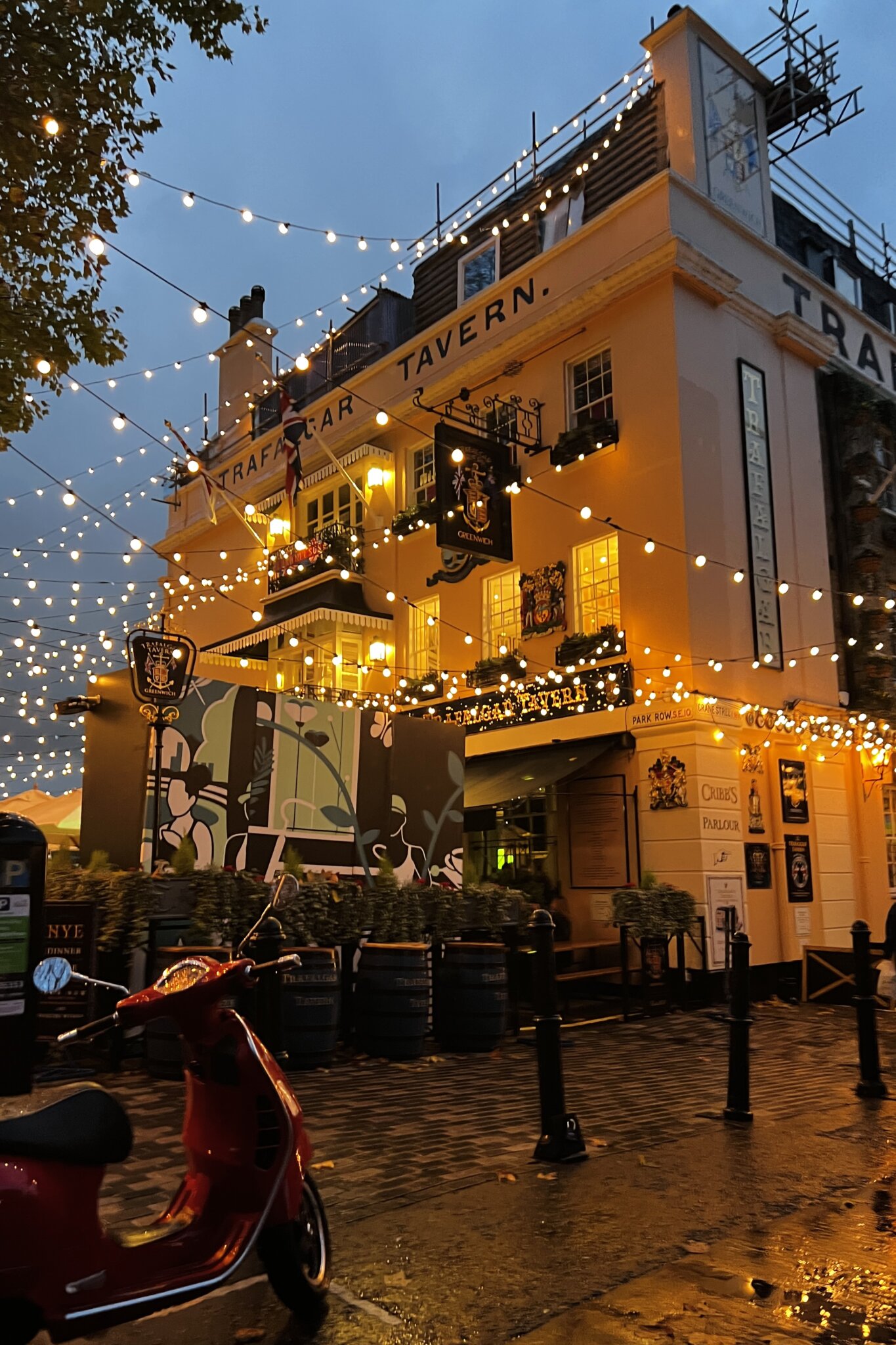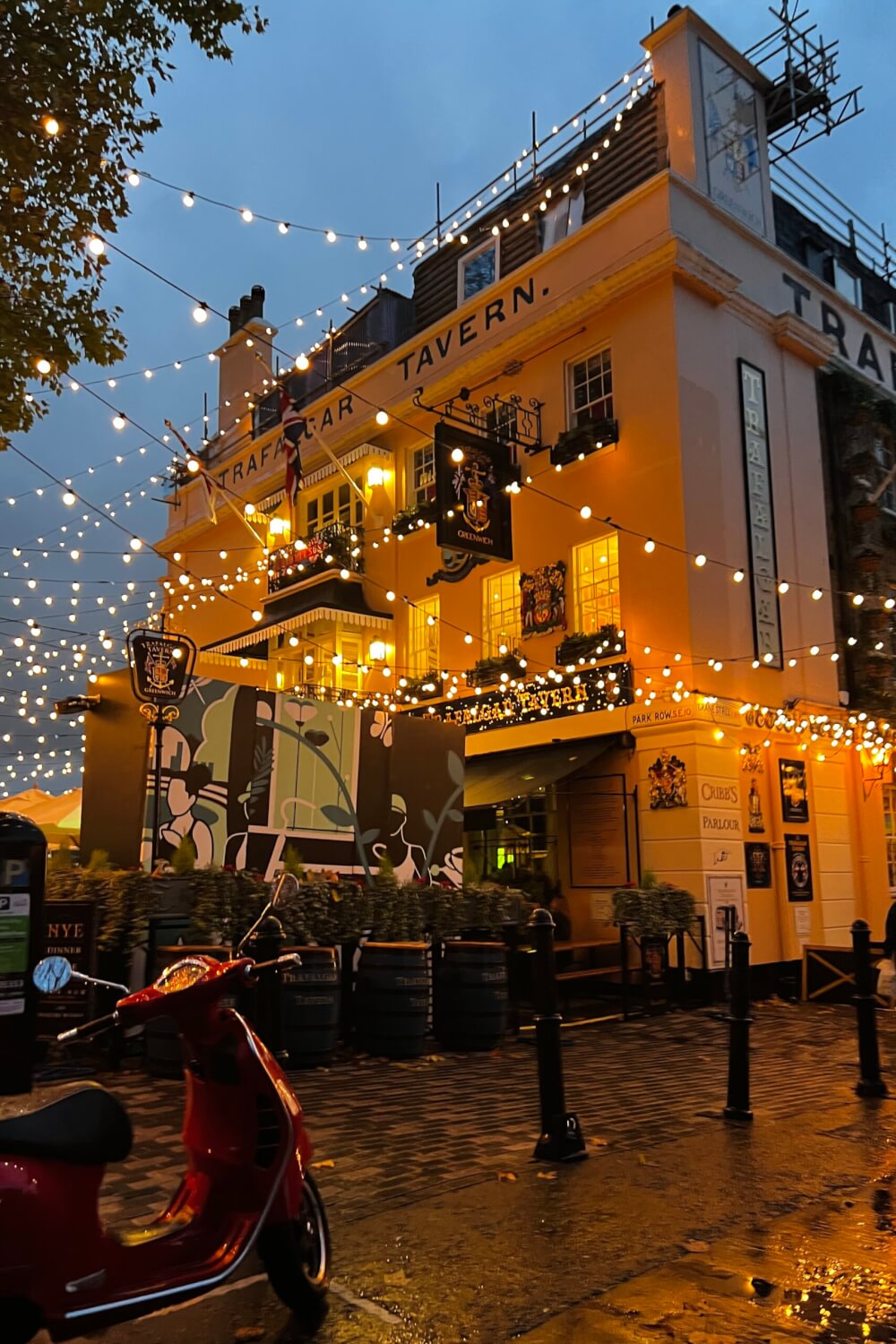 The service here can (admittedly) leave some to be desired, but the beautiful view, beautiful decor, and beautiful Sunday Roast more than make up for it.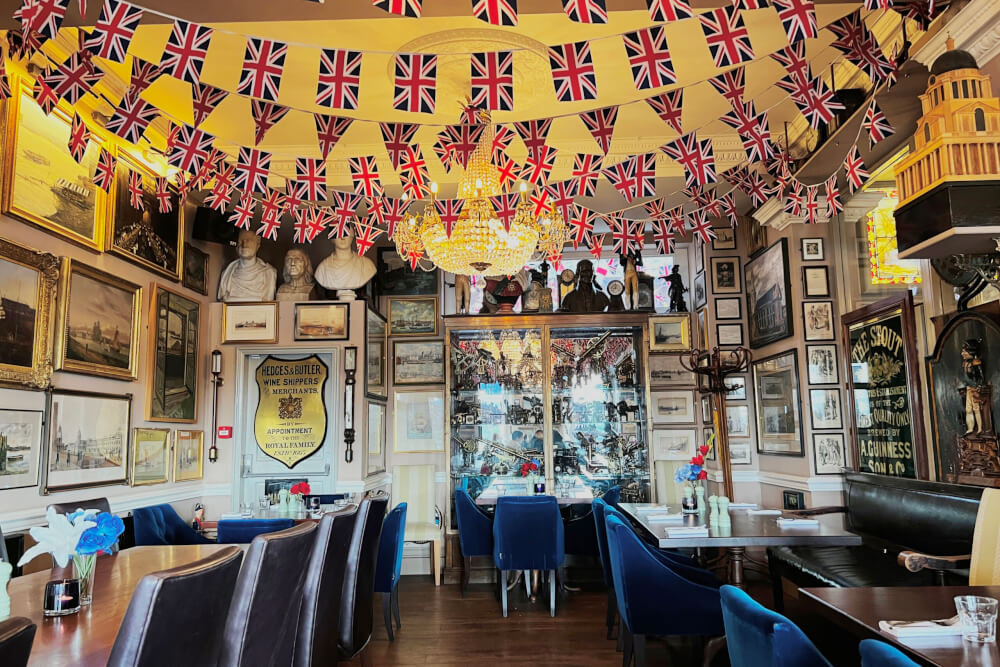 19. The Prince of Greenwich, Greenwich
Greenwich has no shortage of great pubs, but if you're looking for a true hidden gem, one of my favourite quirky London pubs is the Prince of Greenwich, a pub so packed with curiosities that it also bills itself as a museum.
This pub (hidden away on a quiet side street) is cozy in the best possible way, with candle lit tables crammed with comfort food, board games stacked into a corner shelf, and so much eclectic decor on the walls, you won't know where to look.
Best of all, this is the kind of place where the owner will welcome you like a long lost friend and hug every regular goodbye.
It helps of course that the food is such good value too, with comically lengthy pizzas that make for a perfect main to share. If you're looking for a delightful London pub near the sights of Greenwich, I can highly recommend this one for not just a drink, but a delicious meal too.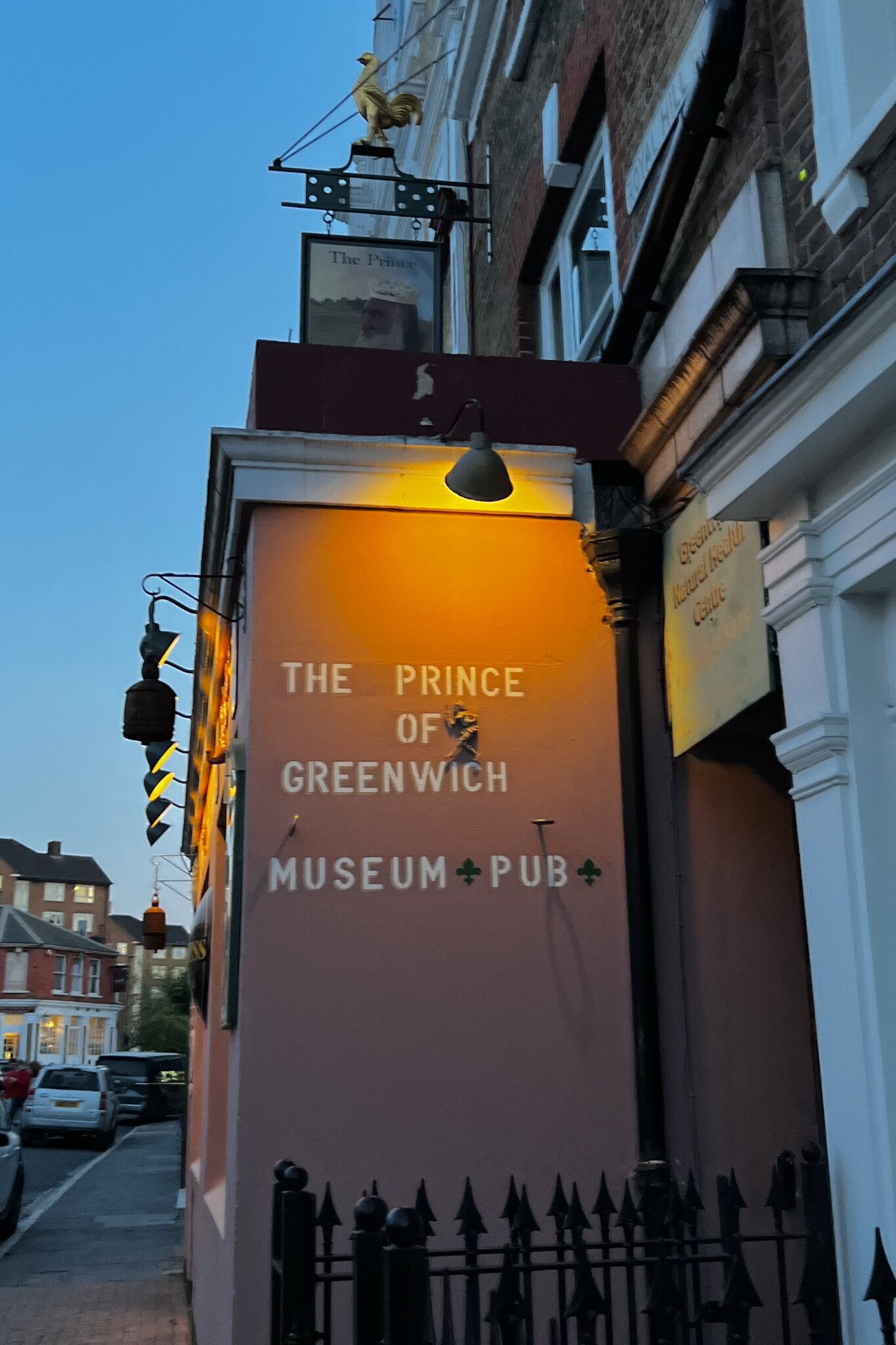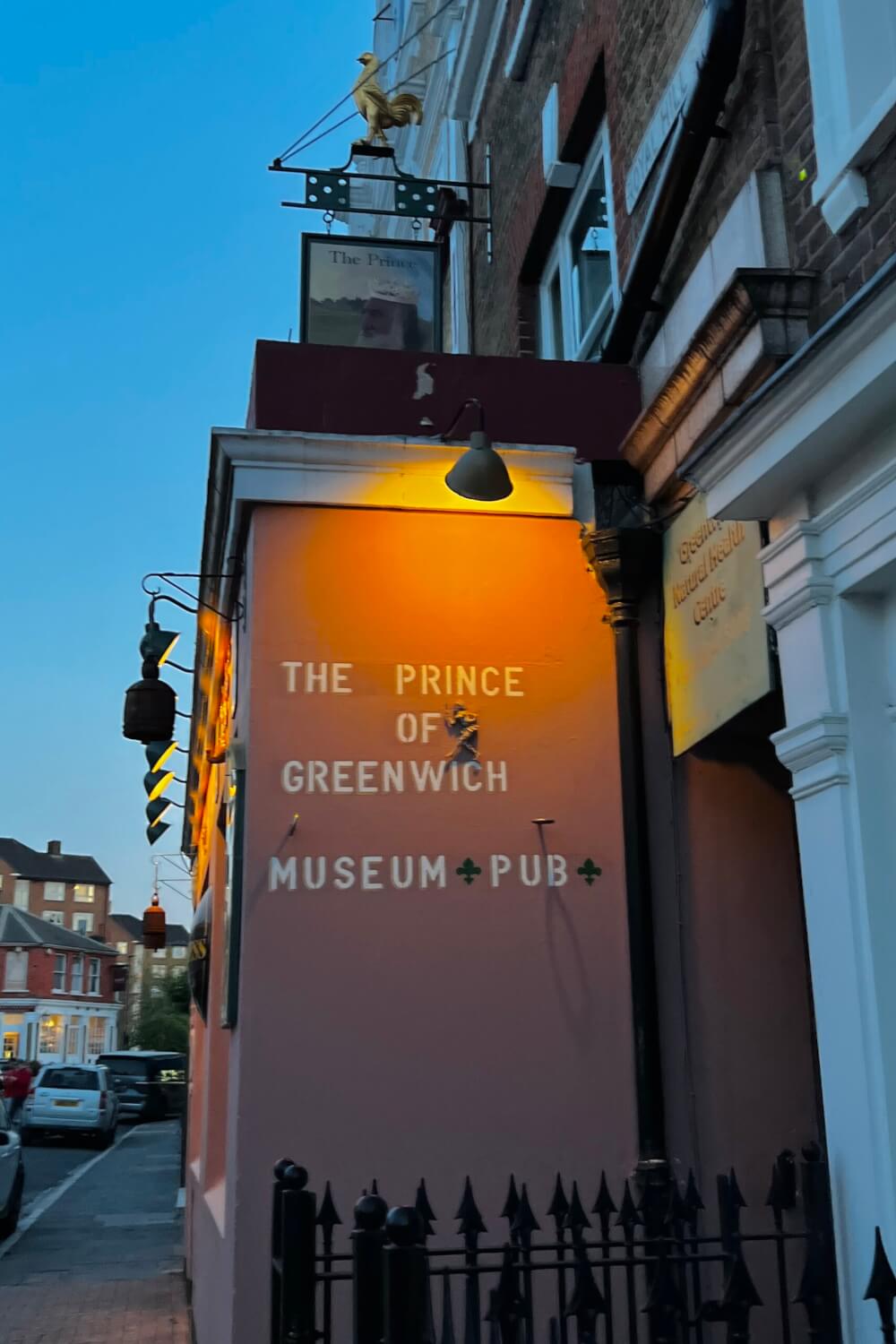 20. The Mayflower Pub, Rotherhithe
Billing itself as the oldest pub on the Thames, the Mayflower is no doubt one of the most historic pubs to visit in London, and ideal for those seeking a spot with river views.
The pub gets its name from the legendary Mayflower ship which set sail from Rotherhithe to Portsmouth in 1620, two months before its famous journey to America. Today, eagle eyed patrons can even look out to the supposed spot where the Mayflower was moored in advance of its journey.
And while its compact riverside beer garden is the pub's most famous selling point, to me the charm of this historic boozer lays in its interiors, which are fully decked with exposed wooden beams, hanging metal tankards, and an eclectic mix of nautical art and knick knacks. Snag a table and you'll even get to dine by candlelight!
This is one of the coziest and most atmospheric pubs in London, and while it's a bit tucked away from the city's main sights, it's a worthy little trip of its own.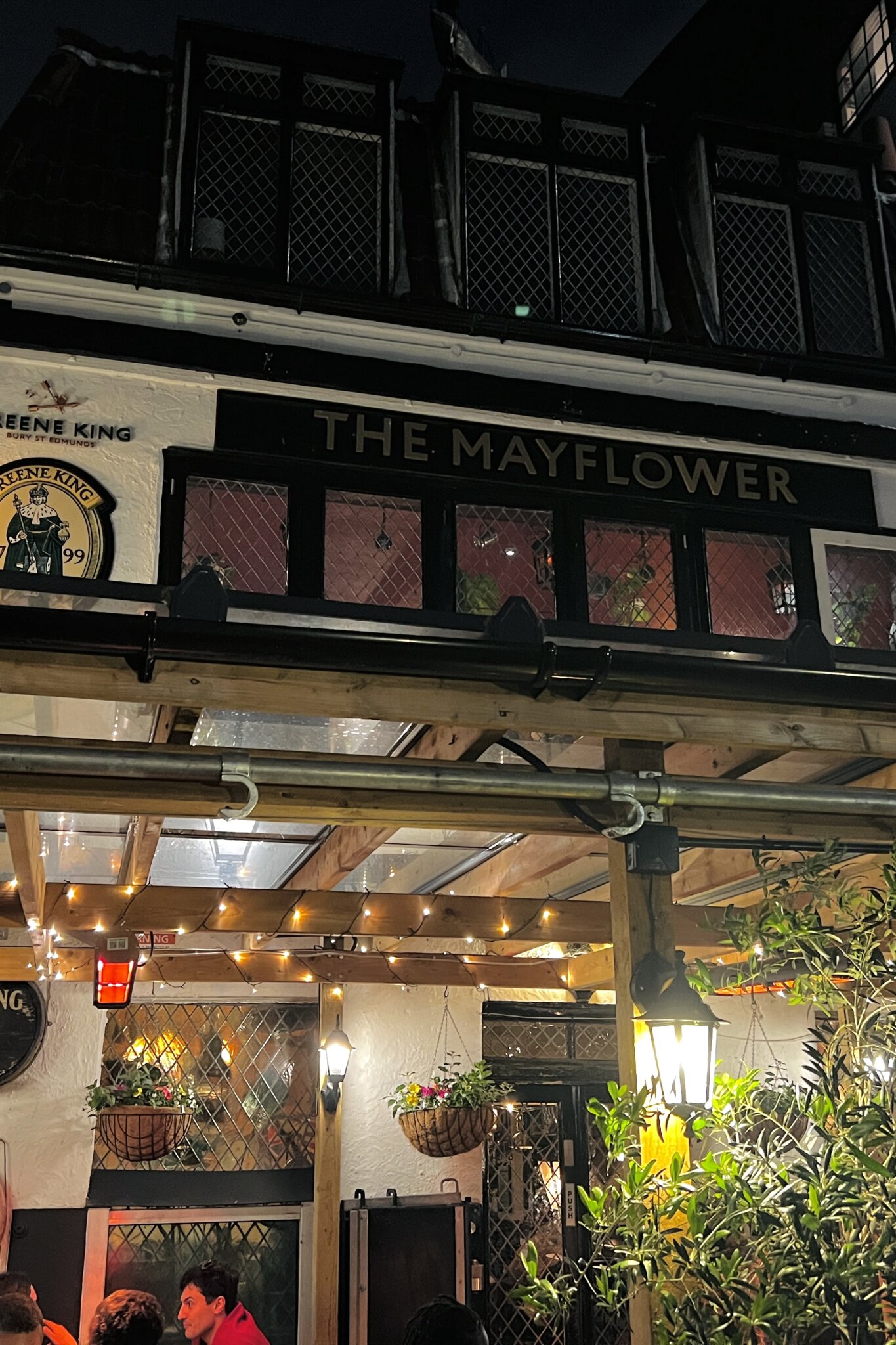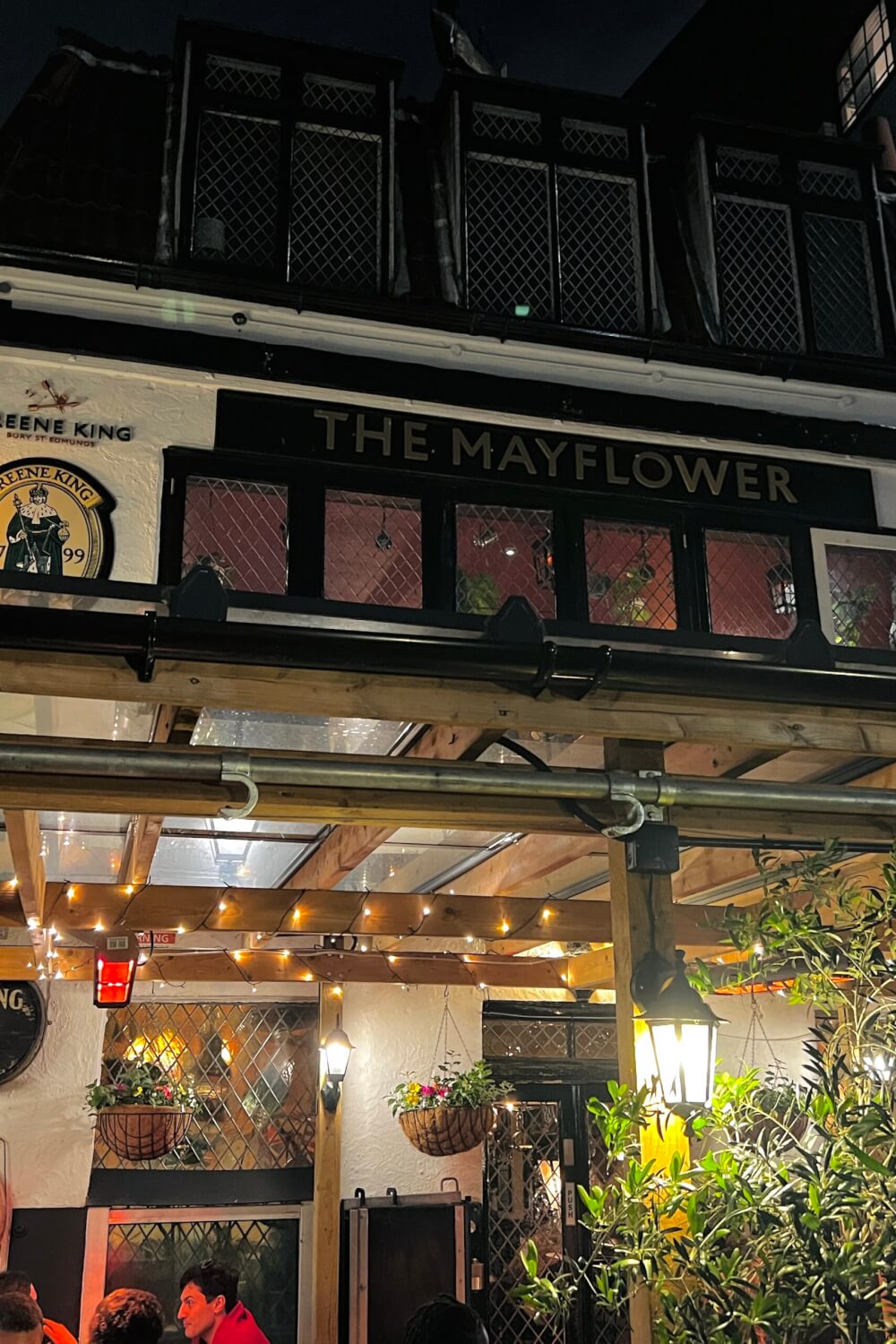 21. The Cutty Sark, Greenwich
If I had to pick the best pubs in London for sunset, this beloved Greenwich institution would certainly make the cut.
Built in 1795, the Cutty Sark has been a locals' favourite for over two centuries.
Though a 10 minute walk from THE Cutty Sark tea clipper in the heart of Greenwich's tourist core, the additional walk is more than worth it for a relaxing pint along the river, which is particularly magical as the sun comes down, with the loveliest views over Canary Wharf and the O2 Arena.
NOTE: The pub has a beautiful dining area up on the 1st floor as well, so book a table if you want to enjoy a nice sunset meal!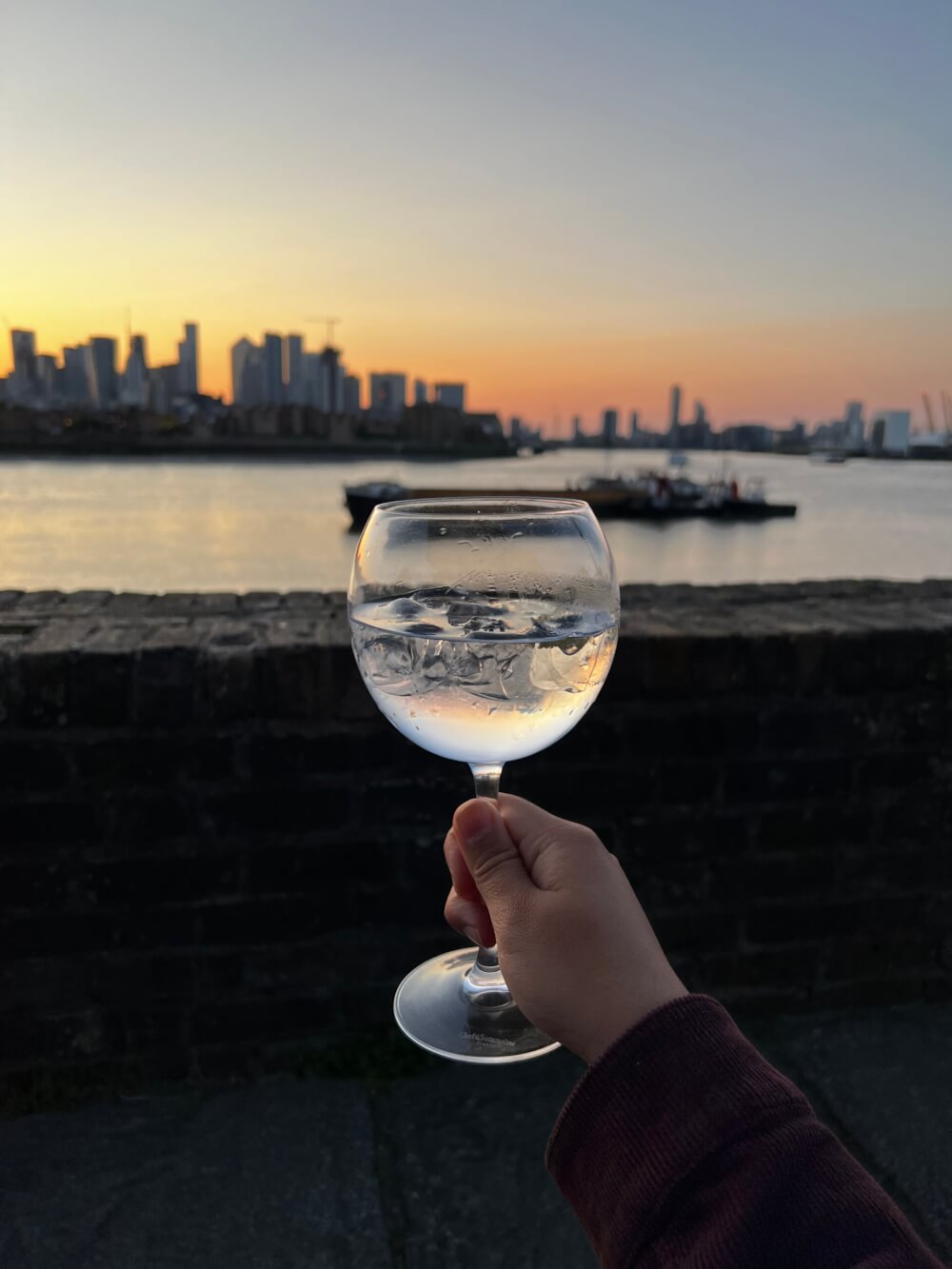 22. The Enderby Arms, Greenwich
To be honest, the Enderby Arms wasn't initially going to make my list of London's best pubs for visitors, but I decided to keep it in the end for one reason: its delightful sun terrace.
This would be my pick if you're trying to escape the crowds elsewhere in Greenwich and are craving a beautiful terrace overlooking the Thames.
The pub interior is quite beautiful as well, with elegant and modern finishings, but I'd advise getting here early, because the post-work crowds on a sunny day are fierce, and as are the queues for sunset spritzes.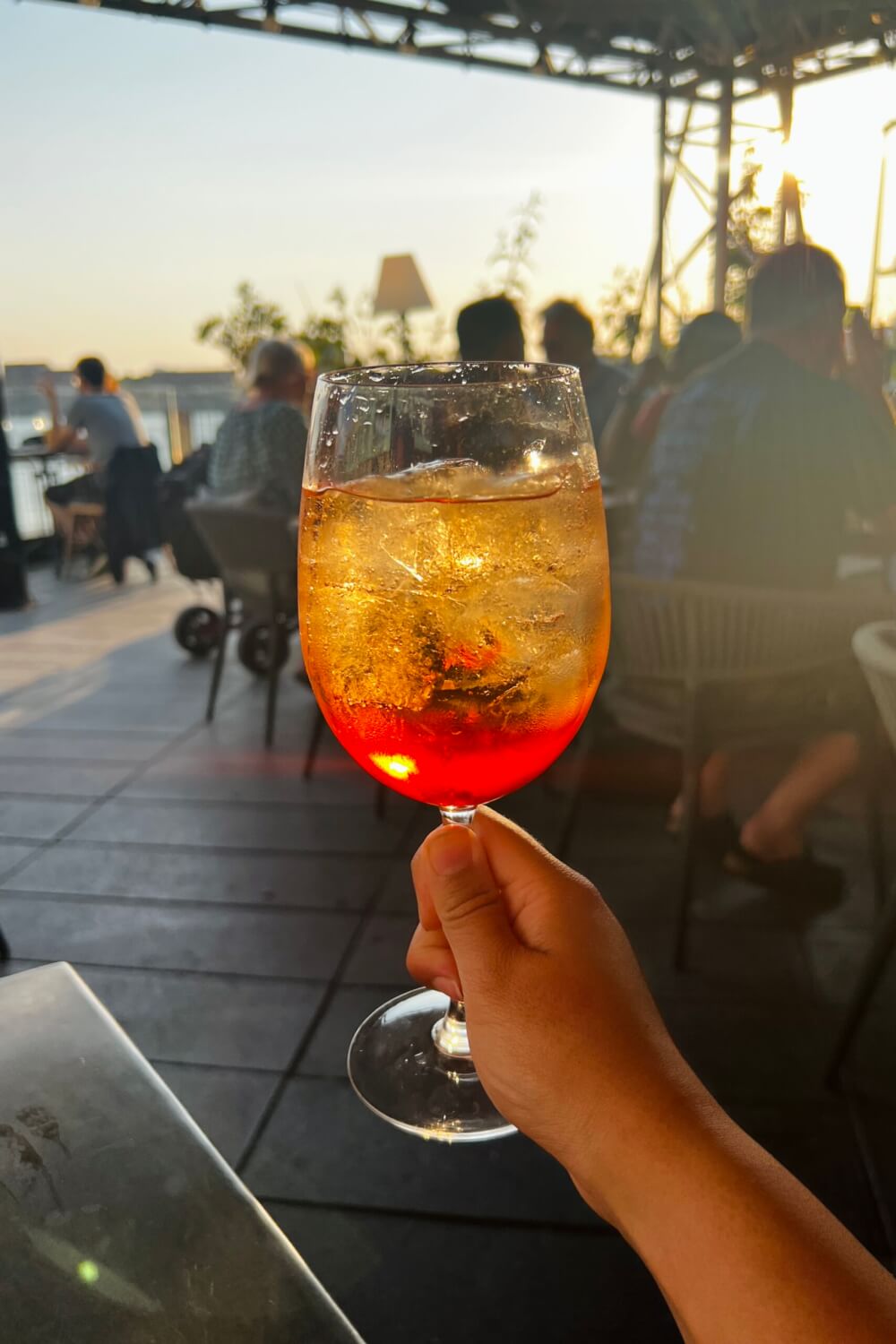 23. The Black Prince, Kennington
Okay – truthfully, on its own, this pub isn't THAT special. But it is to me – for one simple reason.
It's (the exterior) of Eggsy's neighbourhood pub in the Kingsman movies.
Yes! The setting of many an iconic scene. Although sadly, the interiors were not filmed here, that hasn't stopped them from shamelessly putting a Kingsman poster up inside for decoration.
So, overall, it's a great London pub for fans of the Kingsman movies, but not worth going out of your way for otherwise.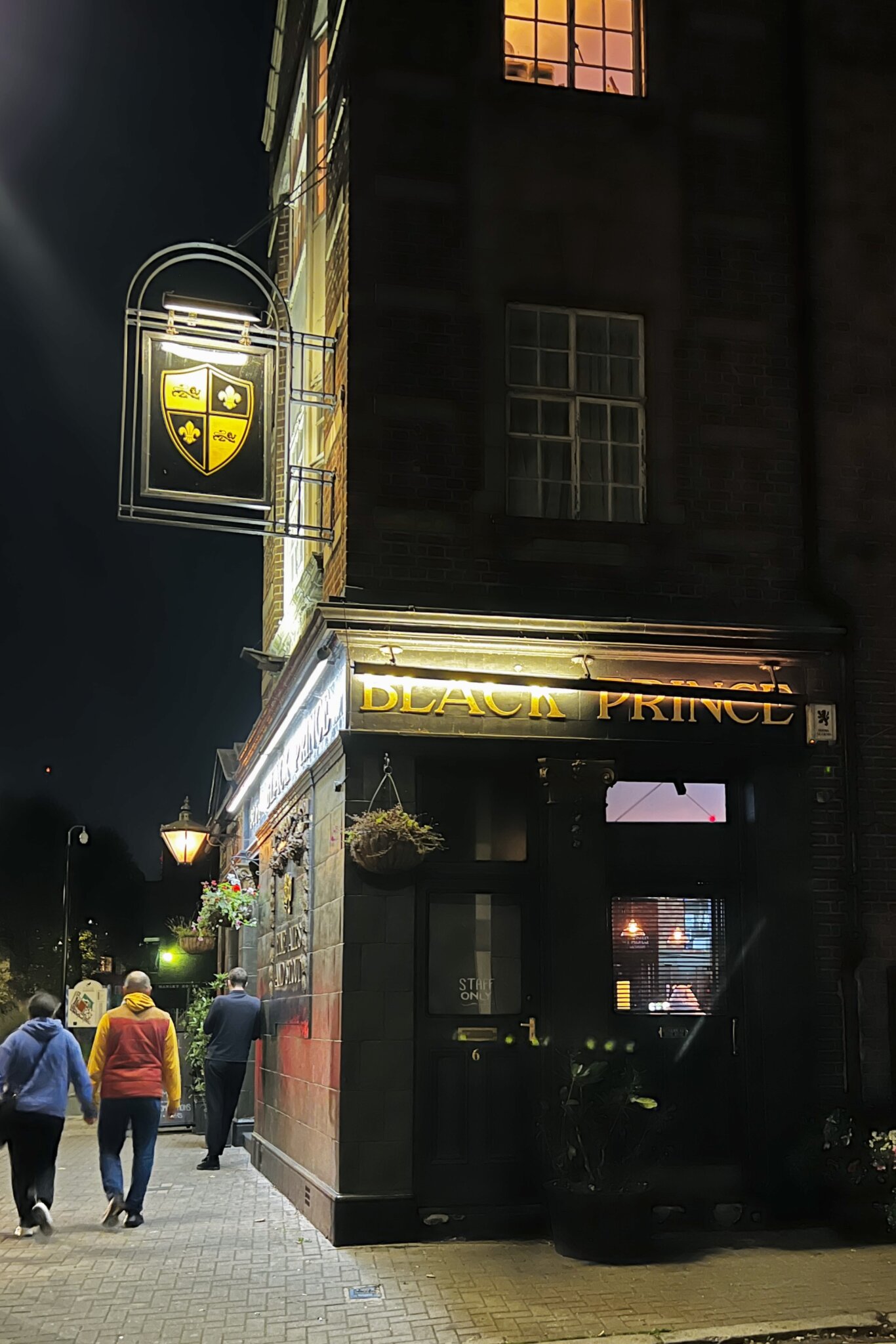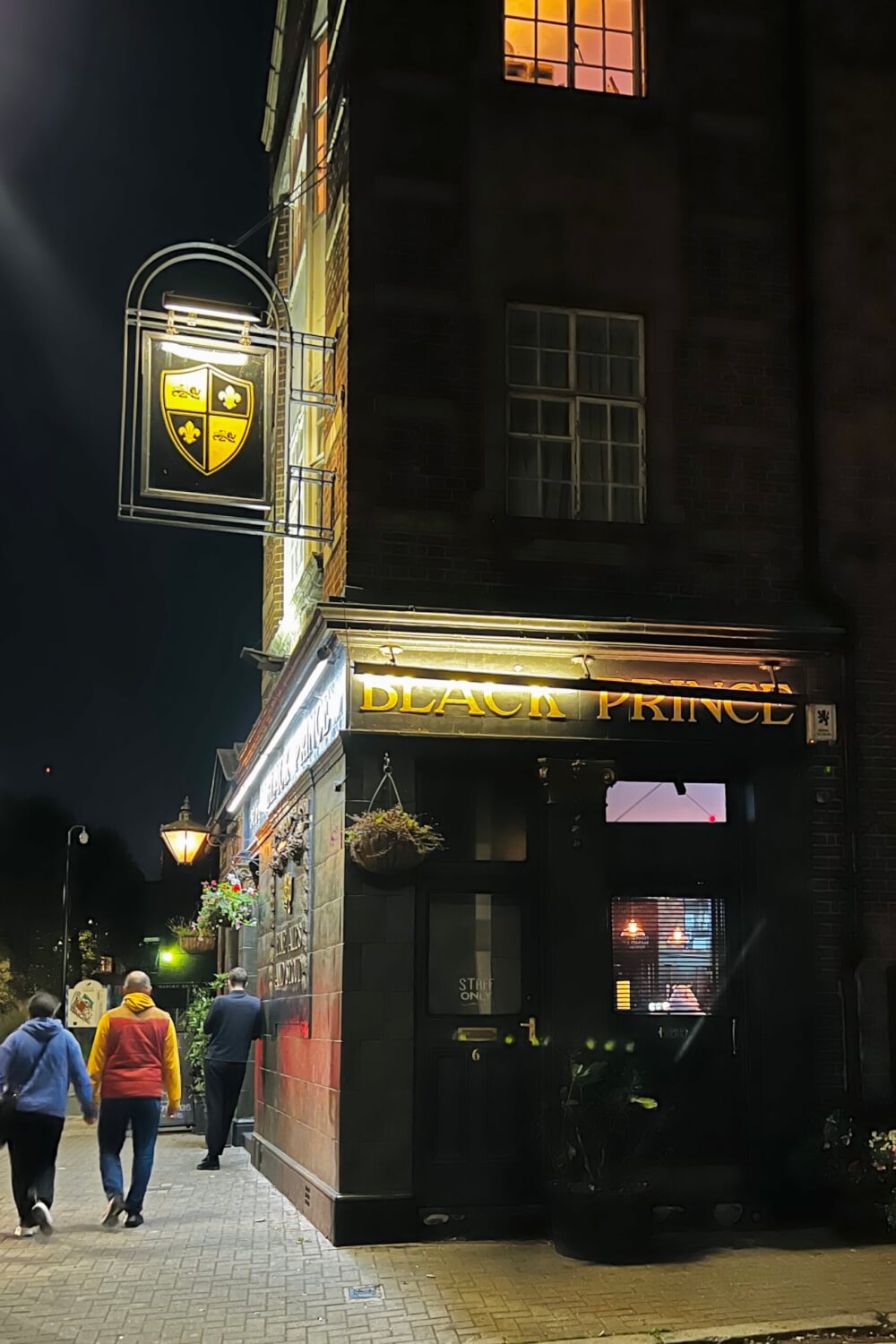 24. The Spaniards Inn, Hampstead
Now let's move onto the best unique pubs to visit in North London.
We'll start with a classic – the Spaniards Inn, known as one of the oldest pubs in the city.
Originally built in 1585 as a toll gate, this historic inn has enjoyed a storied past, steeped in centuries of legend. Its clientele list is as eclectic as it is extensive – from romantic poets to notorious robbers… and their ghosts.
This is a cozy dark wood, roaring fire kind of pub, with the weird bonus that the walled beer garden has a view of Harry Styles' house. Whether you opt for a seat inside or outside, this is one of the most atmospheric pubs that North London has to offer.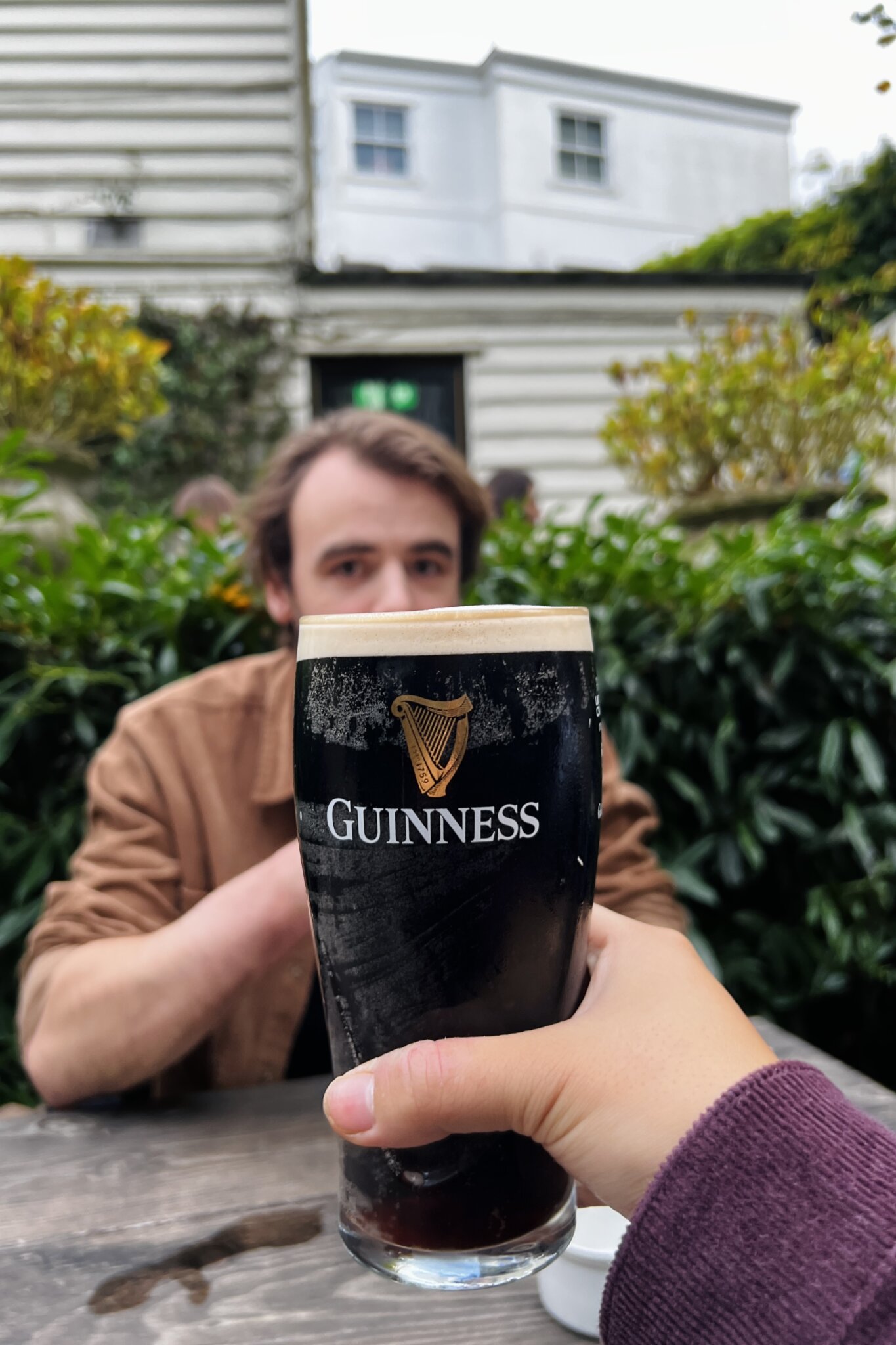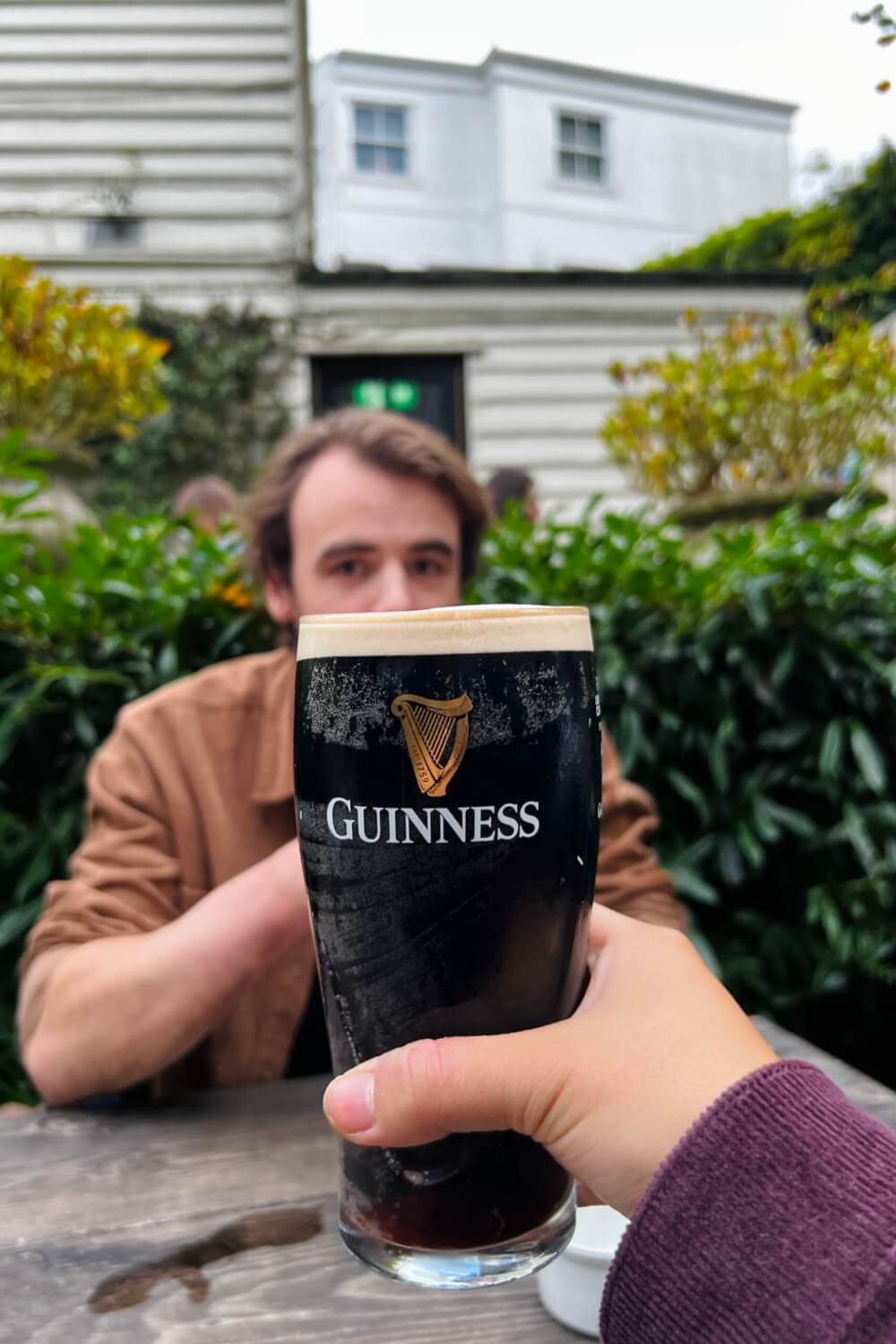 25. The Holly Bush, Hampstead
One of the most photographed sights in Hampstead is the Holly Bush, which (as it turns out) is also one of the most beautiful pubs to visit in North London.
Perched on a small hill along a narrow lane, this pub is a photogenic dream, both inside and out.
Before it became a pub, it enjoyed a stint as Assembly Rooms, and even today, the commitment to tradition is preserved through the pub's dark wooden panelling, leather buttoned seats and (in the right season) a cozy roaring fire.
If you want a cozy North London pub oozing with charm, I can think of no better place.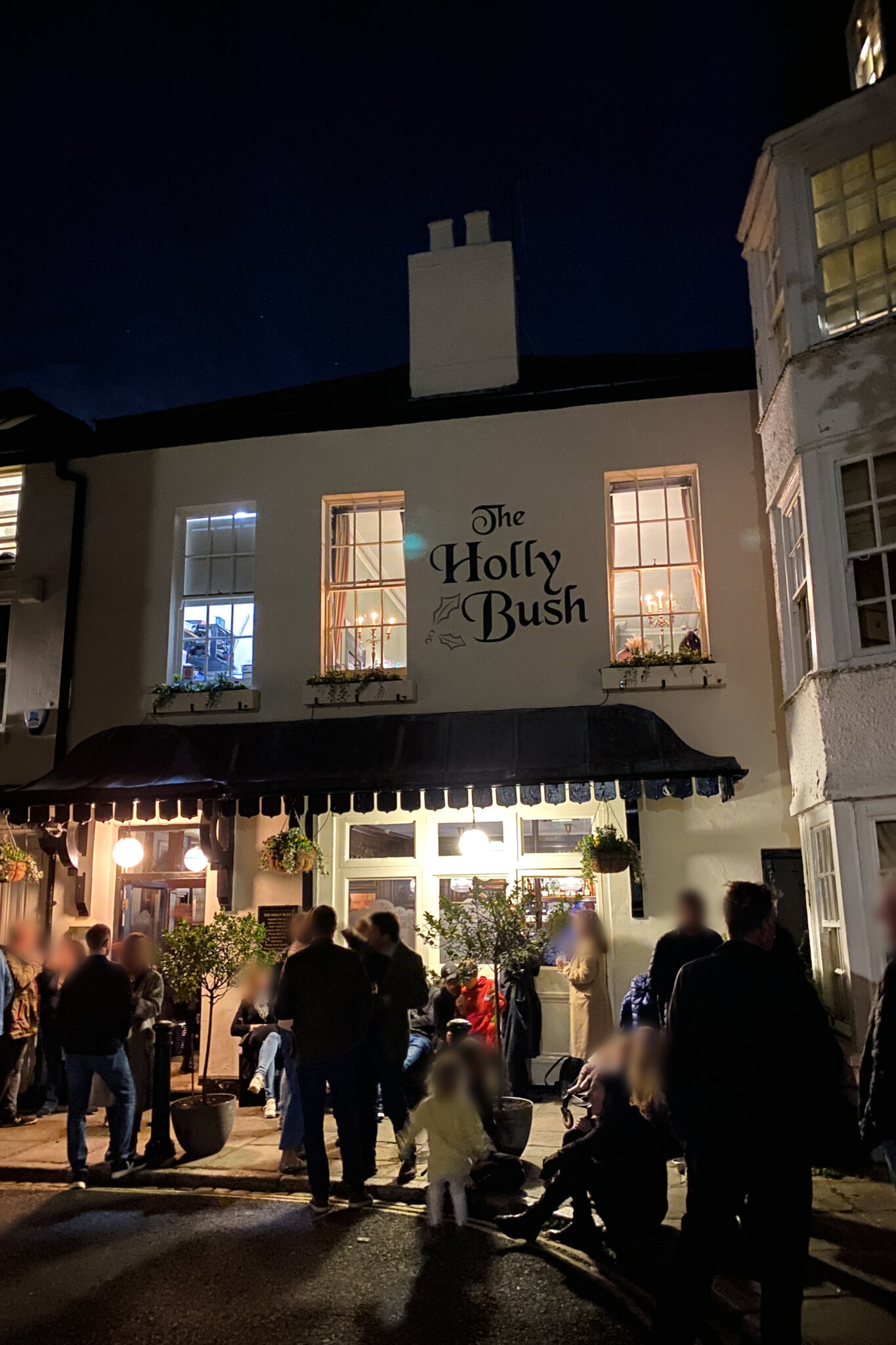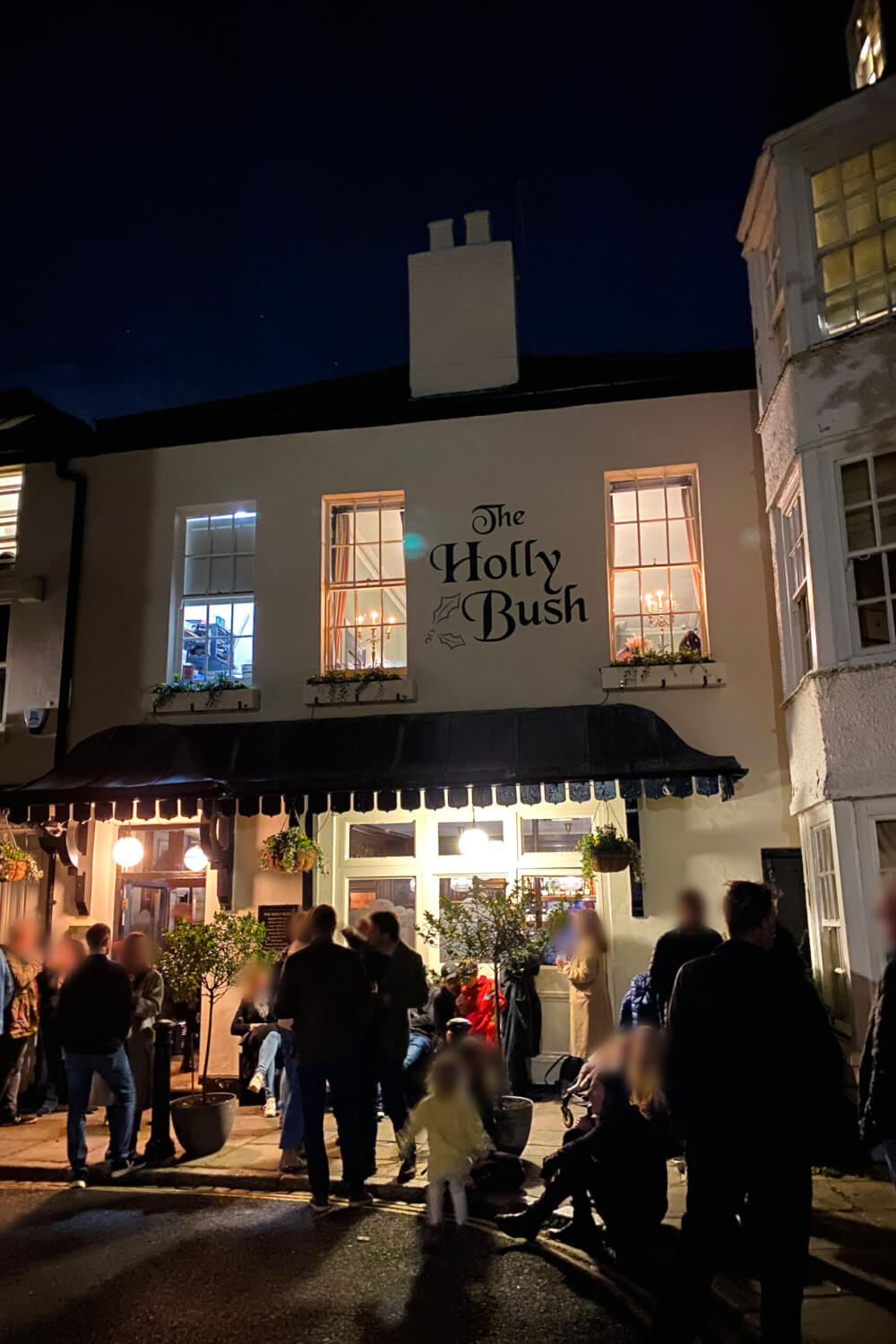 Did I Miss Any of Your Favourite Pubs in London?
Let me know in the comments because I'm (of course) always looking to add more historical and quirky London boozers to my list.
My Go-To Travel Favourites: