*FYI - this post may contain affiliate links, which means we earn a commission at no extra cost to you if you purchase from them. Also, as an Amazon Associate I earn from qualifying purchases. Check out our Privacy Policy and Disclosure. for more info.
Looking for free things to do in Paris? This list has you covered with amazing things to do in Paris for free, both year-round and during seasonal periods.
Paris on a budget might seem like an impossible dream, what with all the best pastries and attractions in the world taunting you from their pricey perches.
But where there's a will, there's a way! Over the years, I've visited Paris countless times as a broke student, broke intern and… well, overall cheapskate.
So if you're looking for some free stuff to do in Paris, here's a list of 50 free/cheap Parisian activities that don't disappoint… leaving extra room in that travel fund for treats!
… Or you know, more dough for dough.
Whether you have three days in Paris, or a week, these free things in Paris are guaranteed to keep your trip filled with (frugal) fun 😉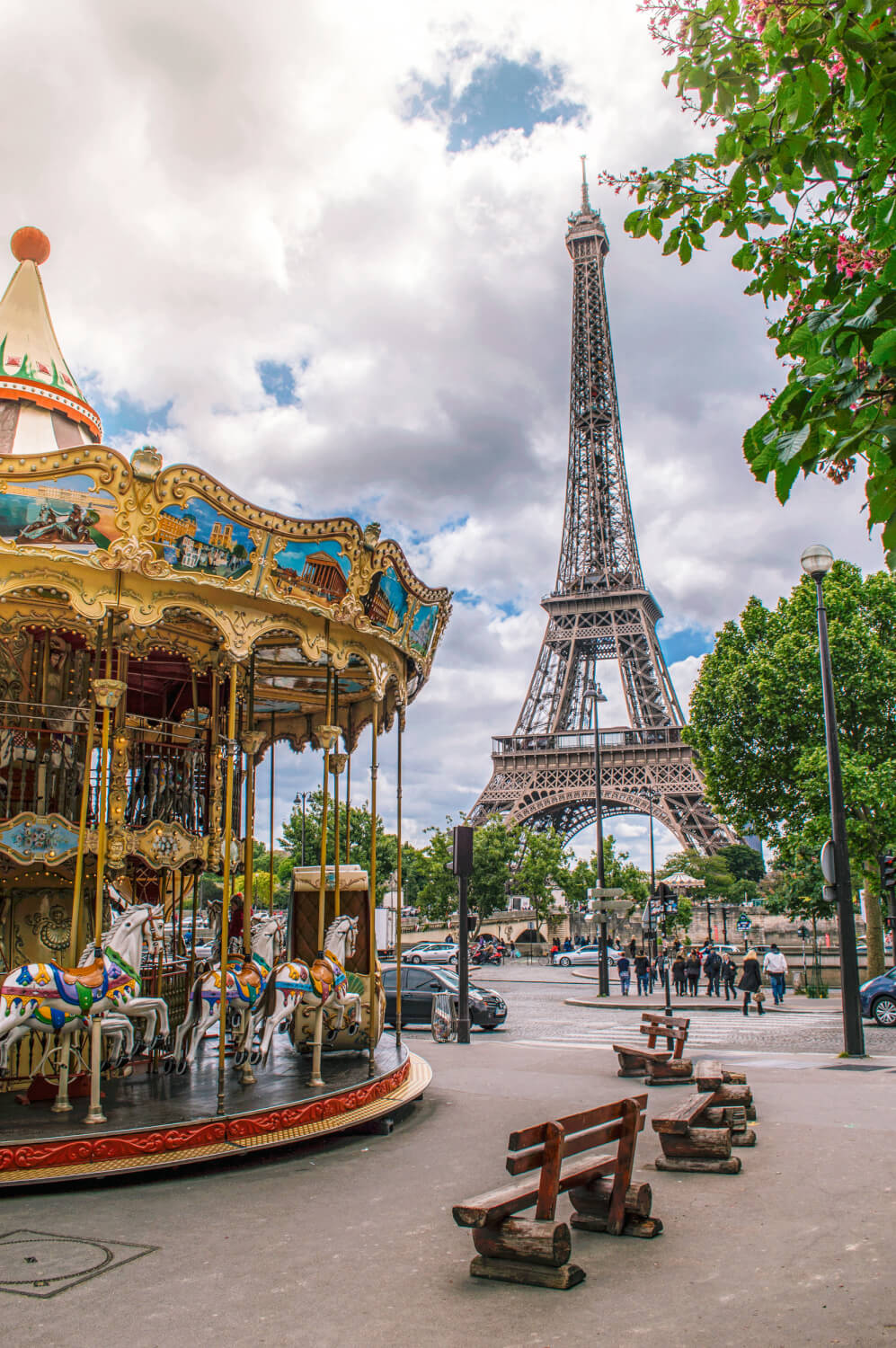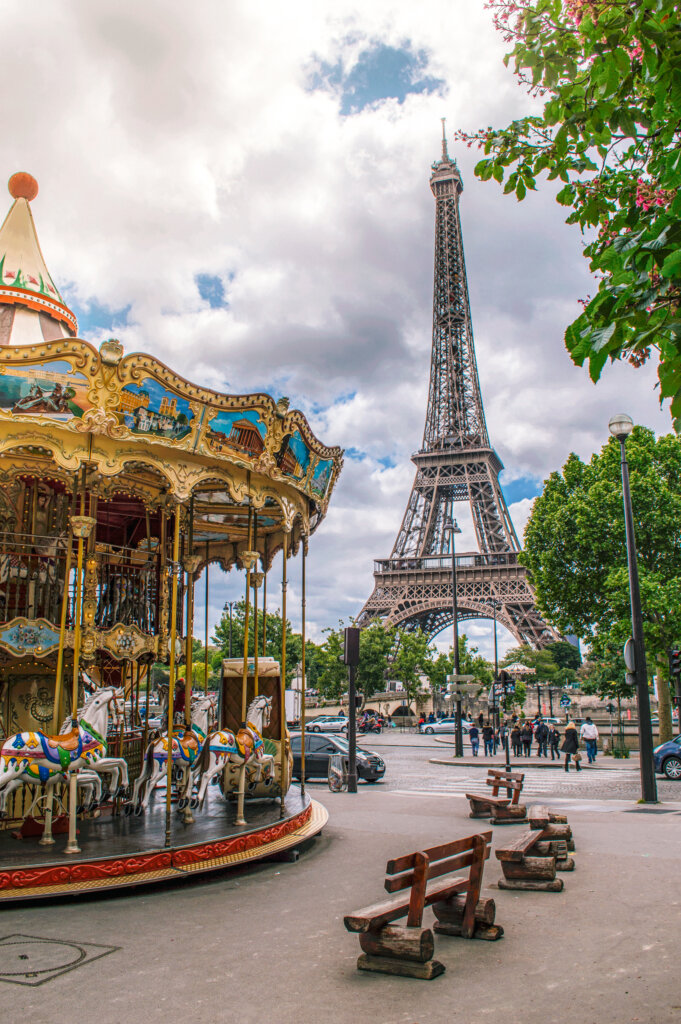 Free Things to do in Paris Year Round
Looking for free attractions in Paris that you can take advantage of year-round? Here are some wonderful things to do in Paris, France for free.
Take advantage of free museum days/discounts
Paris is world-renowned for its epic list of museums and monuments.
And here's one of my top Paris tips for you – many of them are free so long as you visit on the right day or fall under the right group, making museum hopping a surprisingly cheap thing to do in Paris if you plan properly.
For example. the first Sunday of every month is a hotbed of free, with big names like the Orsay and the Centre Pompidou on offer for zero bucks.
Also, admission for EU citizens under age 26 is free for many places! Click here for a full list, and take note that some of these discounts are seasonal.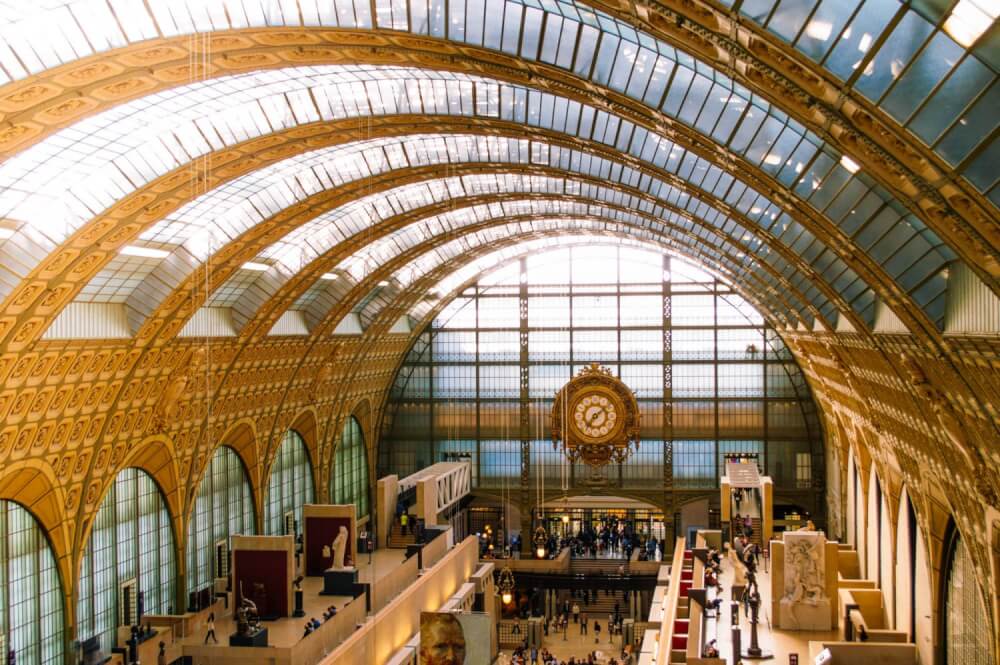 Have a picnic by the Eiffel Tower
A clichéd but classic must-do free activity in Paris is picnicking in the shadow of the Eiffel Tower.
The Champs de Mars is the most Parisian spot you could have for a picnic, with a glorious Eiffel Tower backdrop just like in the movies!
It's a pretty sweet view, but be on the lookout for pickpockets and scammers (and read my guide on how to avoid pickpockets in Europe just in case).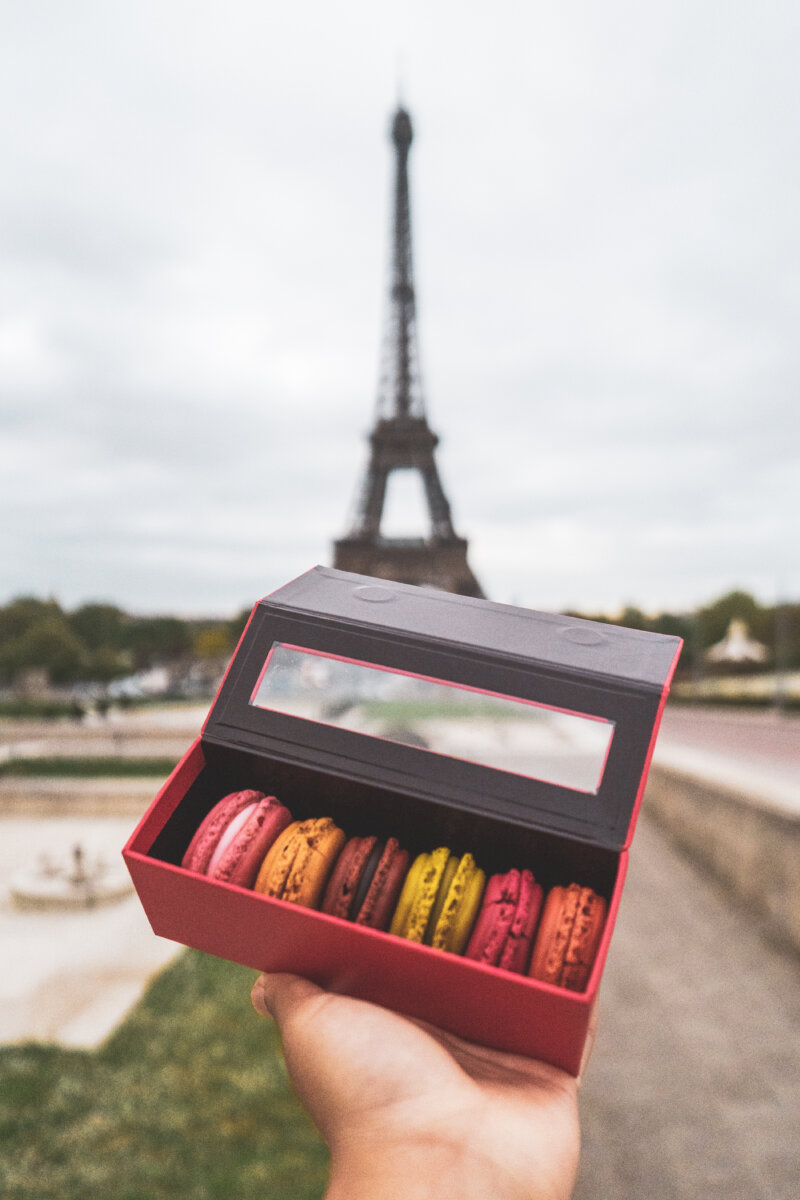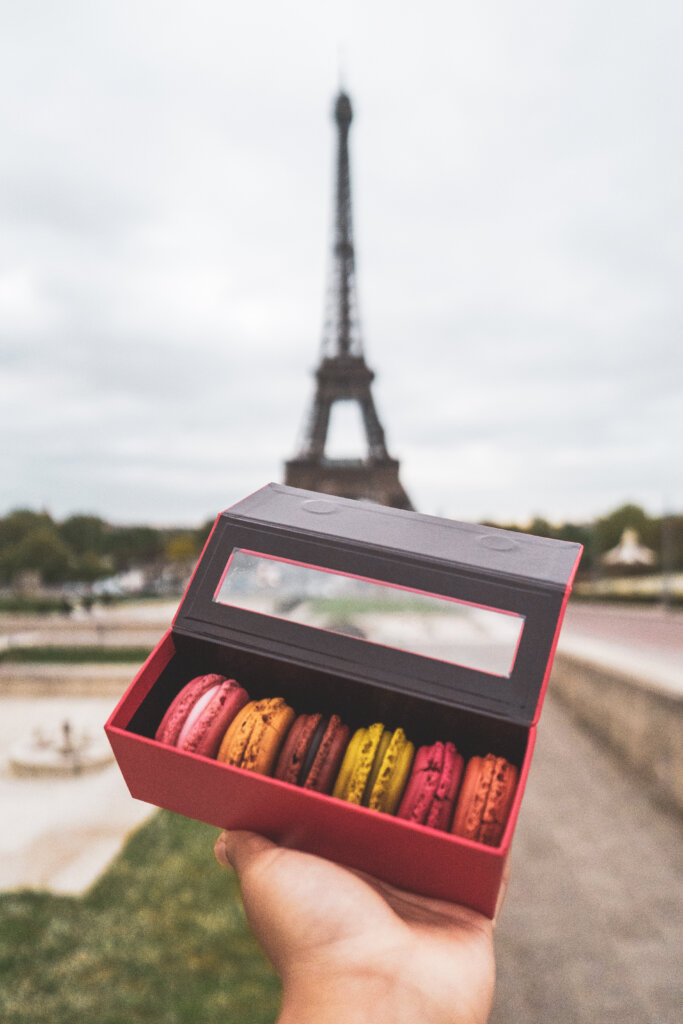 Open up a bottle of wine by the Seine
There's nothing more quintessentially Paris than watching the sun come down with a bottle of wine on the banks of the Seine.
And while this isn't necessarily a *free* thing to do in Paris – it's nonetheless a very cheap Paris activity that I consider bucket list material.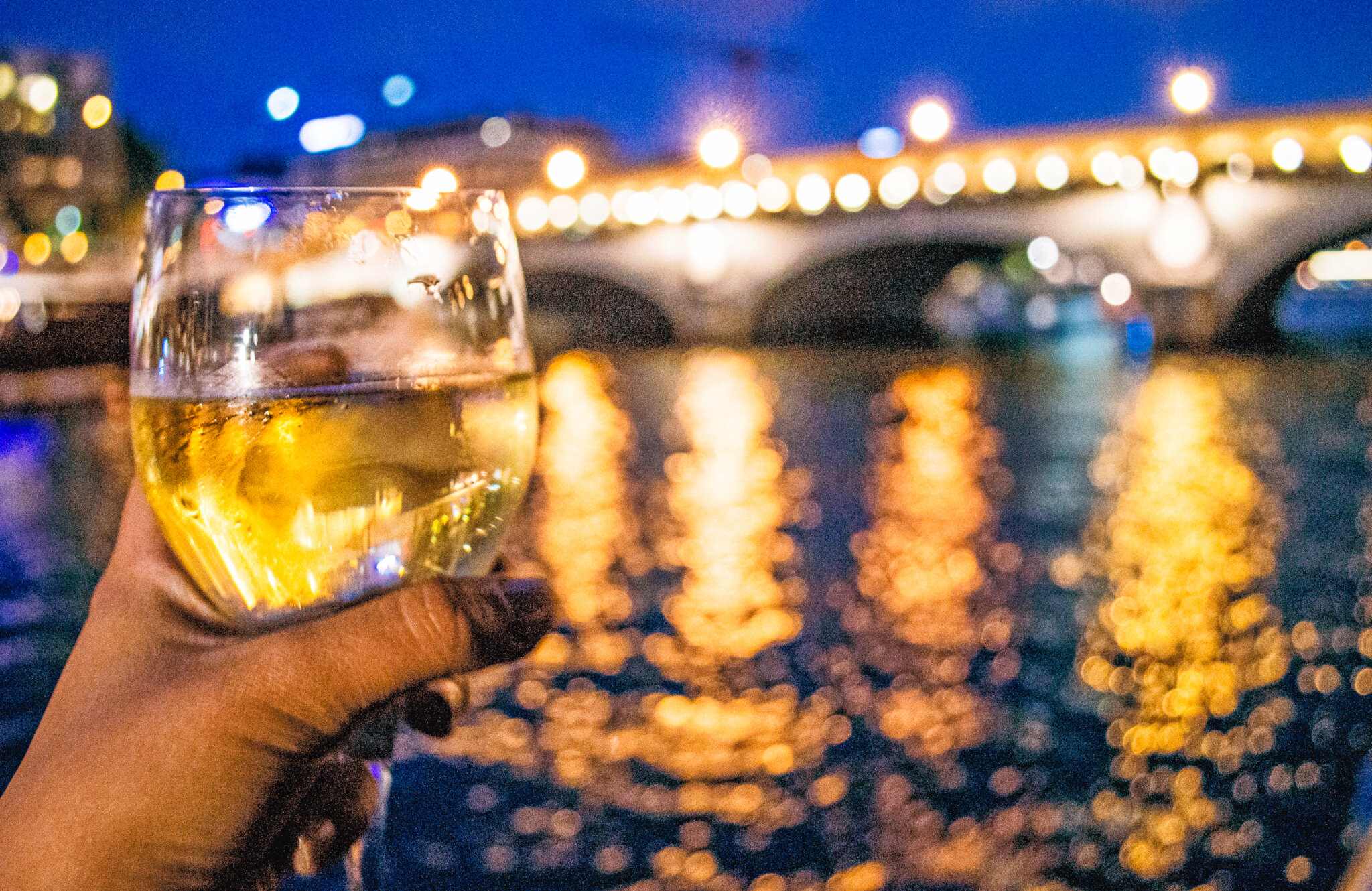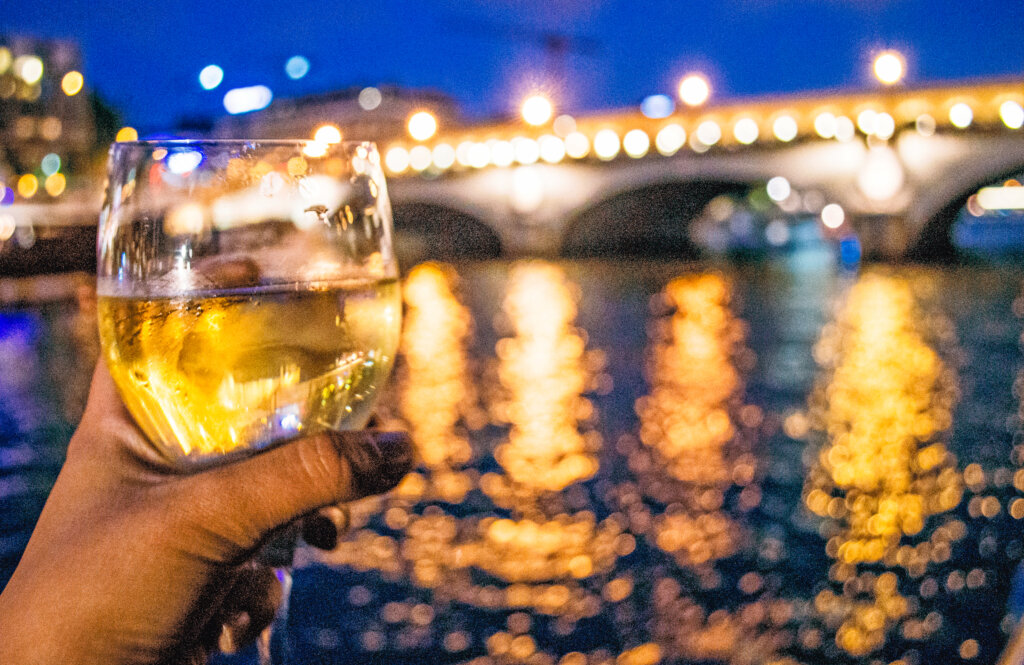 Scope out the best view of Sacré-Coeur Basilica
One of the best free things to do in Paris (as recommended by most guidebooks) is visiting the Sacre-Coeur Basilica, a monumental white stone church found at the highest point of the city.
And while the postcard view from the front of Sacré Coeur is alright, it's usually SO crowded that you'll be put in fetal position.
To avoid said fetal position, I recommend checking out the view from the back, from the Square Marcel Bleustein Blanchet.
This little courtyard is SO much quieter than the rest of the area and the view is just… wowza. Be sure to step inside too because admission is also free.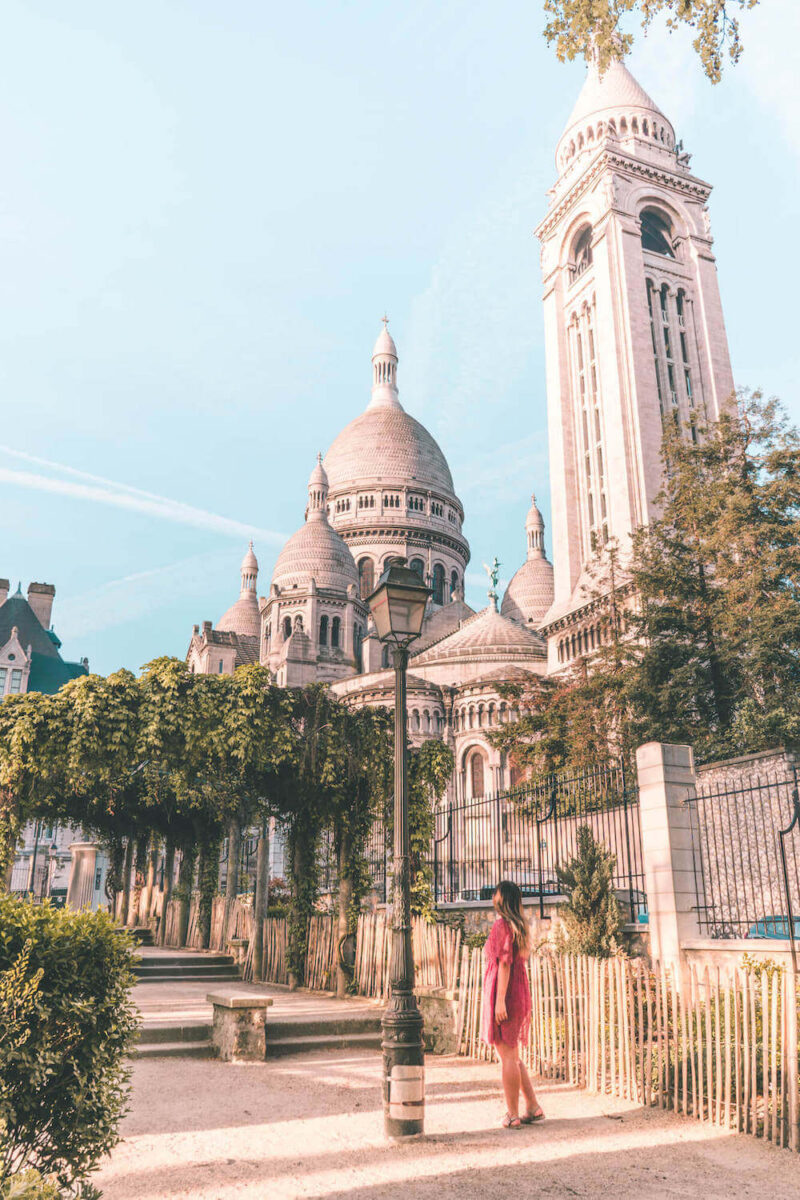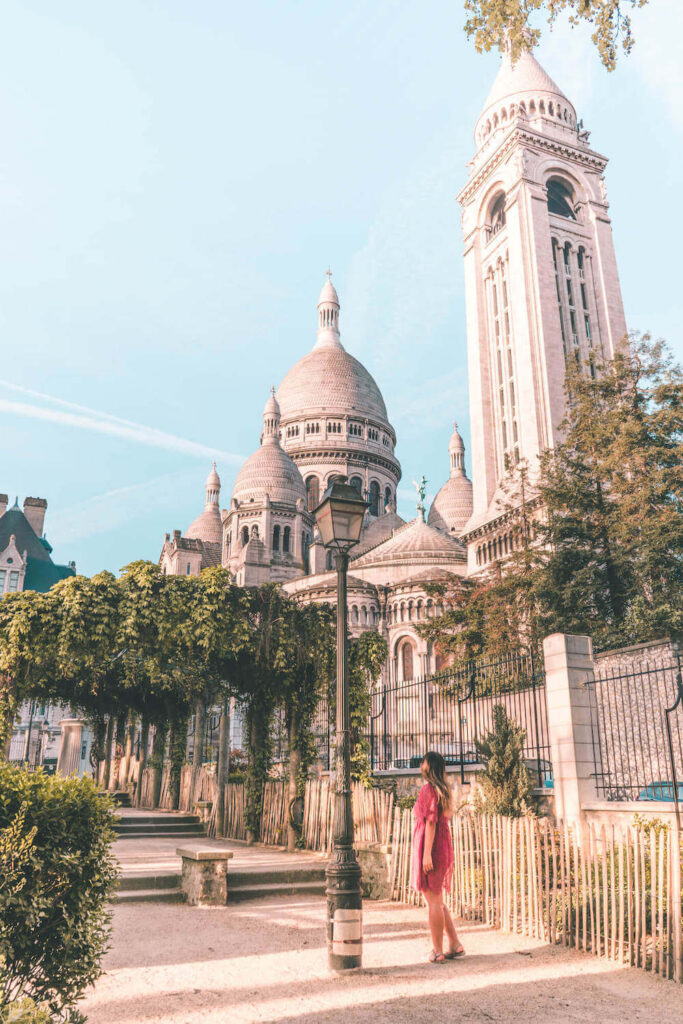 Enjoy the epic view from Sacré-Coeur
Another wonderful free thing to do in Paris is to simply sit and enjoy the view from Sacre-Coeur.
Perched high above the city, you really get an appreciation for the vastness of Paris from this perspective. It's especially lovely when you come at sunrise (empty!) or at sunset (atmospheric!).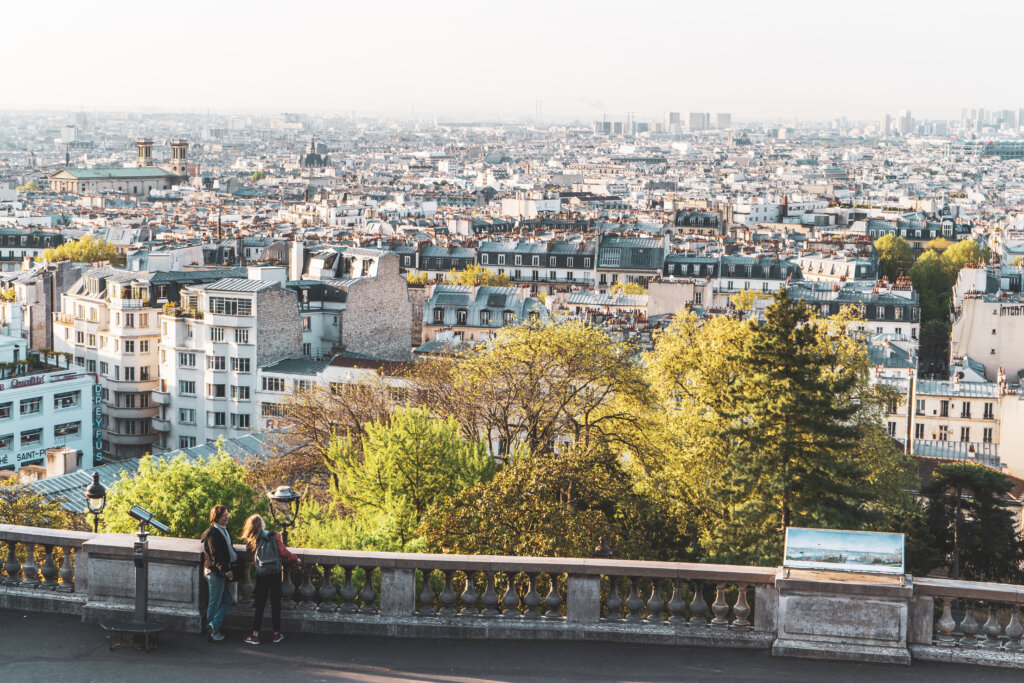 Get cozy at Shakespeare & Co
Another wonderful free thing to do in Paris? Stopping by one of the best known bookstores in the world, Shakespeare & Co.
This English bookstore near Notre Dame Cathedral is world-famous for its cameos in films like Before Sunset and Midnight in Paris, and has played host to thousands of writers and artists who have slept amidst its shelves (for free!) in exchange for reading a book a day, helping at the shop, and writing a one-page autobiography.
Fun fact that will melt you: These temporary guests are known as "Tumbleweeds".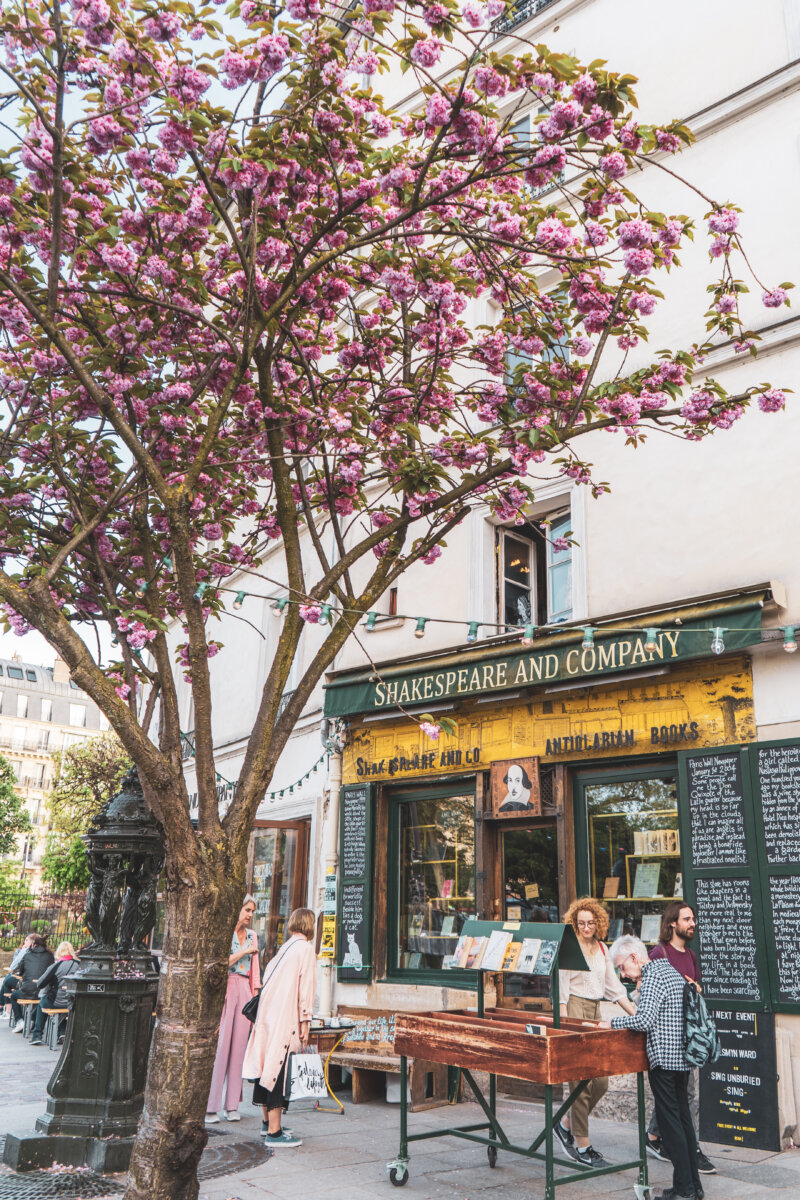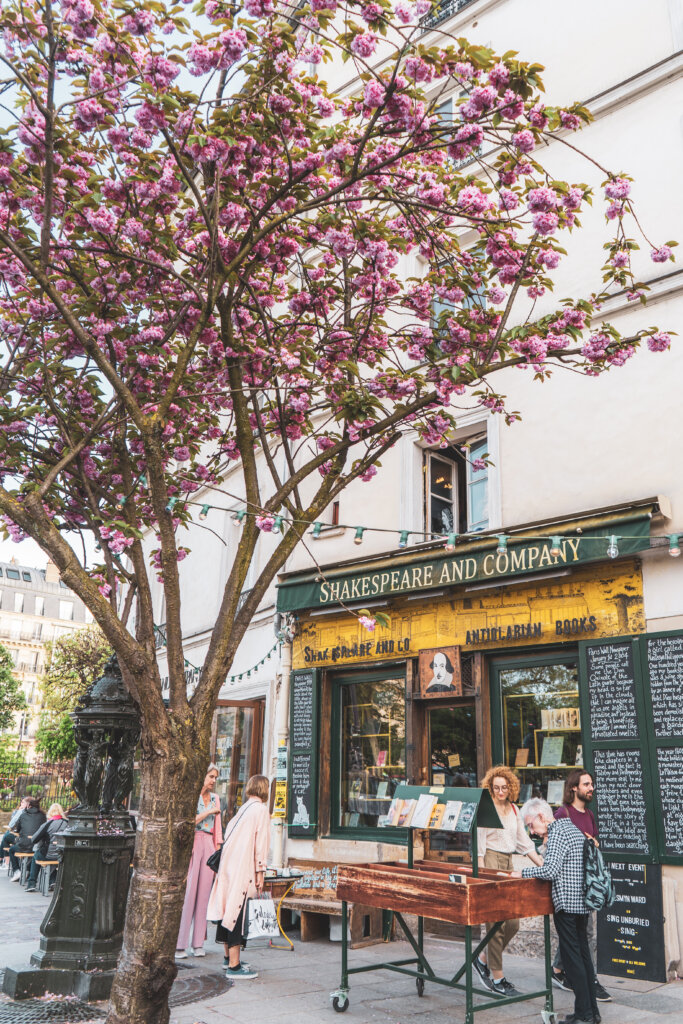 Frolic around the rainbow houses of Rue Crémieux
As far as free activities in Paris go, few beat visiting and photographing the most beautiful streets of the city.
Well, if you're a fellow member of Frolickers Anonymous, one of my top recommendations is for you to visit Rue Crémieux, AKA real life rainbow road.
This is by far one of the most atypical and photogenic streets in Paris, thanks to its gorgeous pastel houses. You'll feel like you've walked into a rainbow dream, just like in gorgeous Burano.
NOTE: Please be respectful when visiting Rue Crémieux. This beautiful Paris street has become a nightmare for its residents because of visitors who disrespect their property, make a ton of noise and even photograph them without consent. If you do choose to visit, be as quiet and respectful as possible so we can all continue to enjoy this street!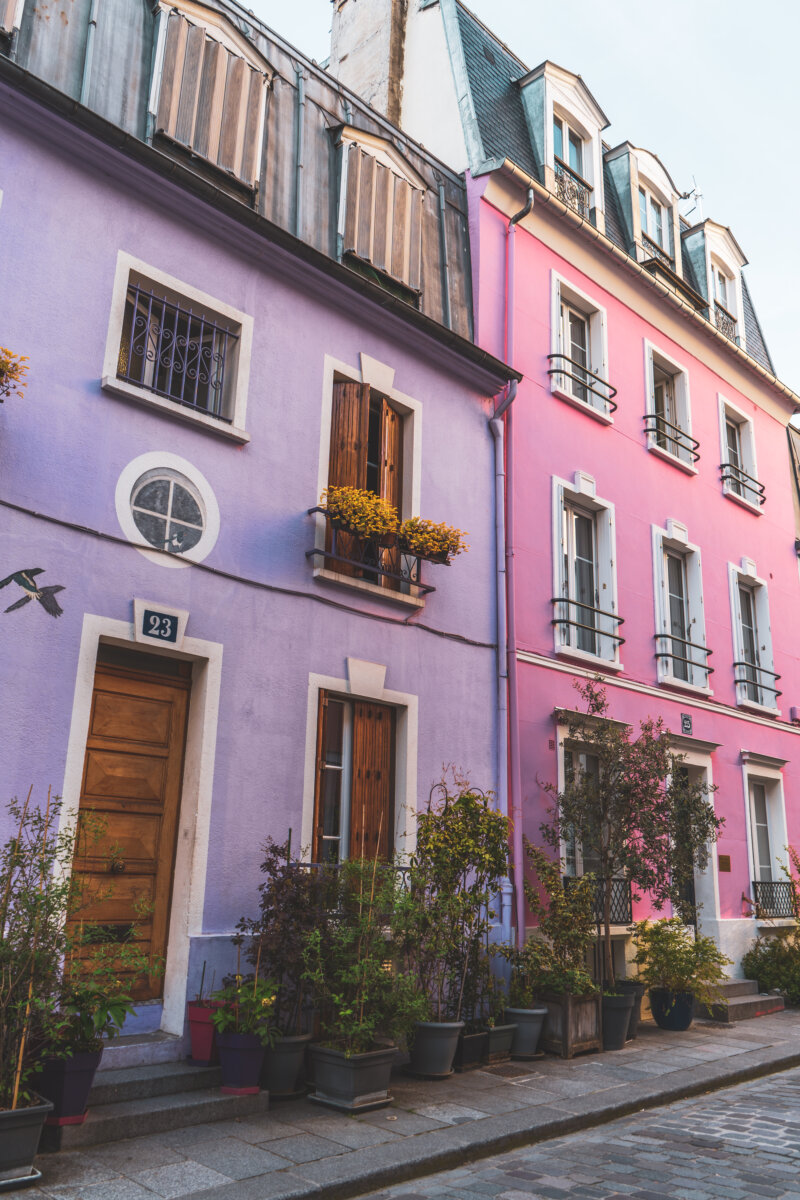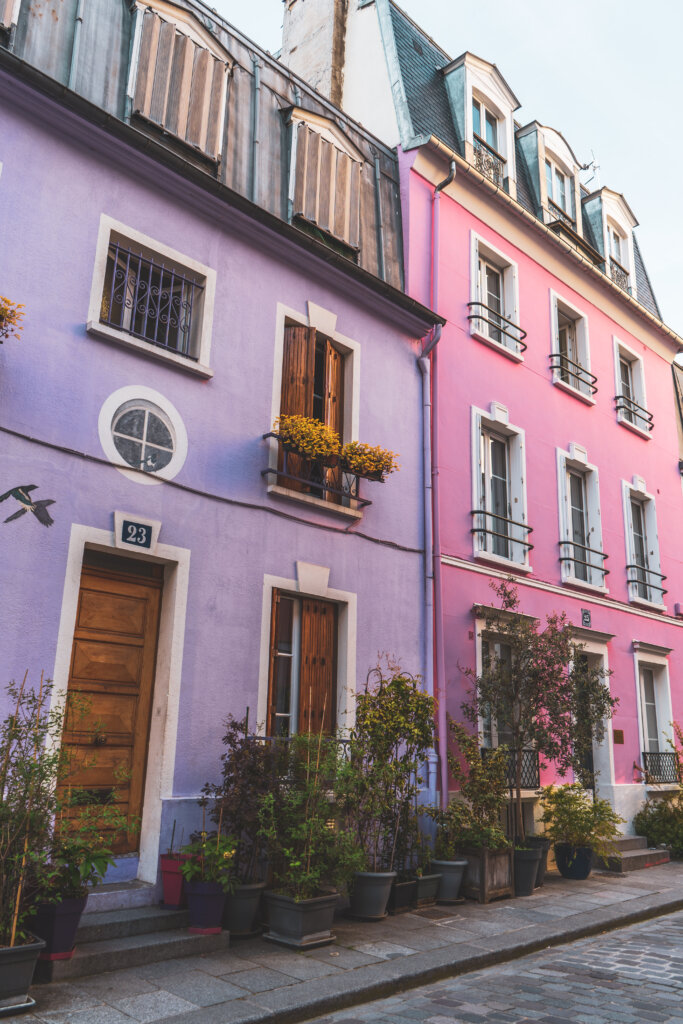 Take in the epic grandeur of Galeries Lafayette
While buying anything at Paris' famous department stores is the opposite of affordable, taking a look inside is one of the top free things to do in Paris… especially if you happen to visit Paris at Christmas, when they go all out with their decor: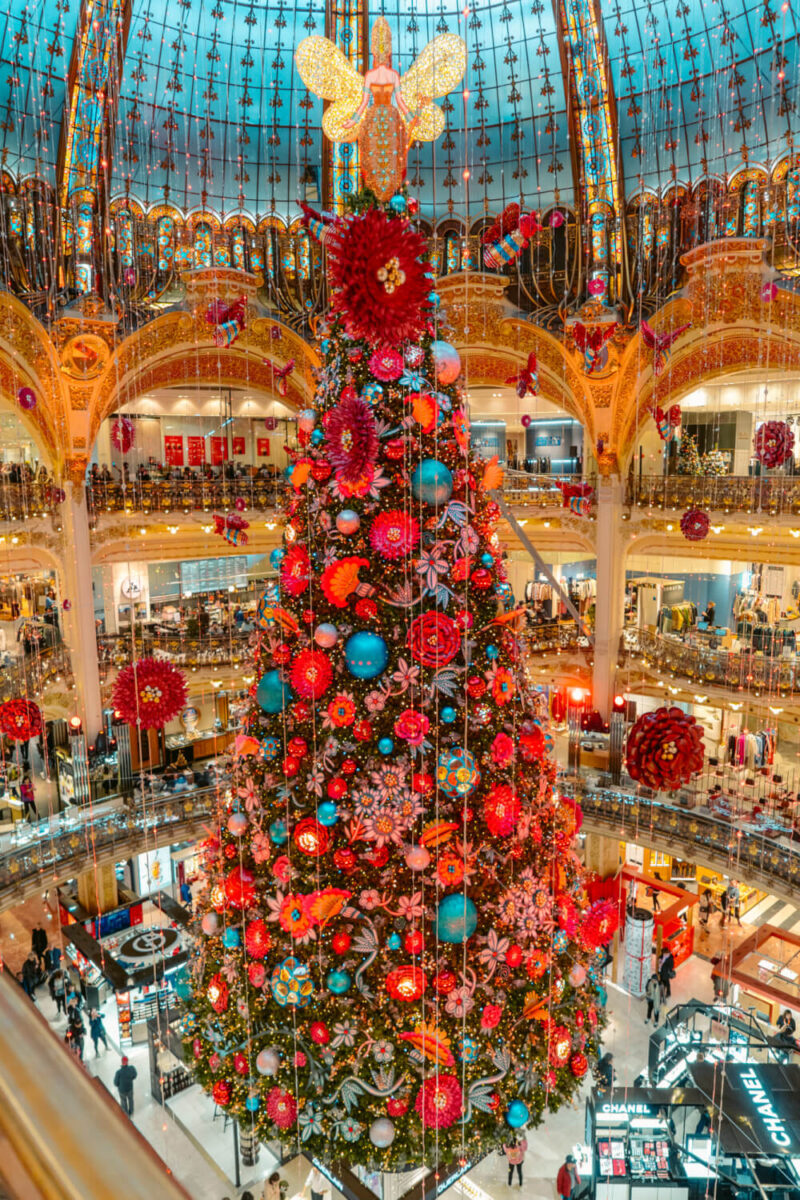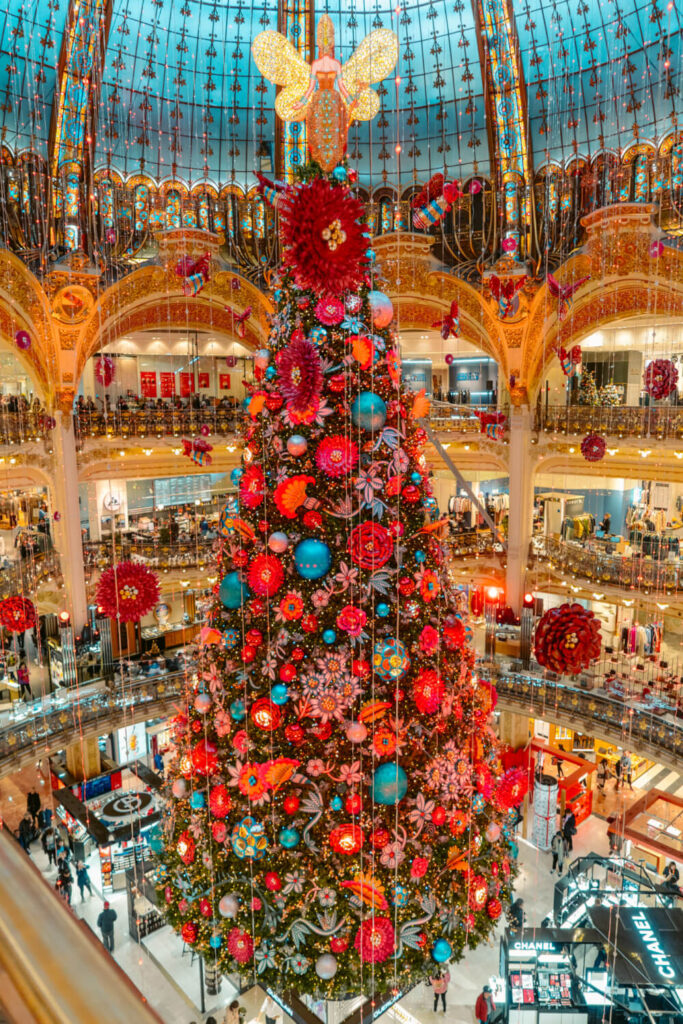 Soak in the charm of Montmartre
While hunting for free stuff in Paris to do, don't forget that exploring Paris' many neighbourhoods is completely free.
If you've never been, I highly recommend a stroll through Montmartre. It's by far my favourite neighbourhood in Paris!
Want more info? Check out my guide on things to do in Montmartre.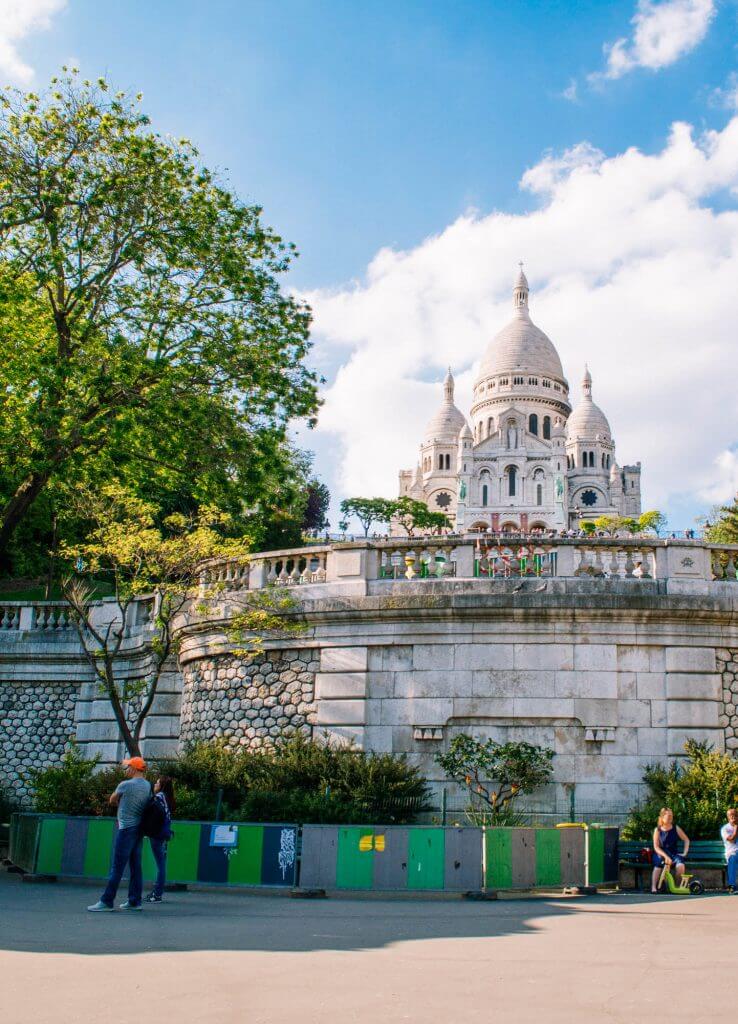 Discover Paris' covered passages
Looking for rainy day things to do in Paris that are free?
Architecture fiends can't miss Paris' "covered passages" – glass-roofed galleries that feel like a step back in time. There are about 20 scattered around Paris, and are a legacy from the 19th century when these passages were popular covered arcades used for shopping, wining, and dining.
Today, these passages hold a number of beautiful shops, bistros, teahouses, and more. Best of all, each one is unique!
Galerie Vivienne is probably the most popular one, but here's a full list for you to peruse.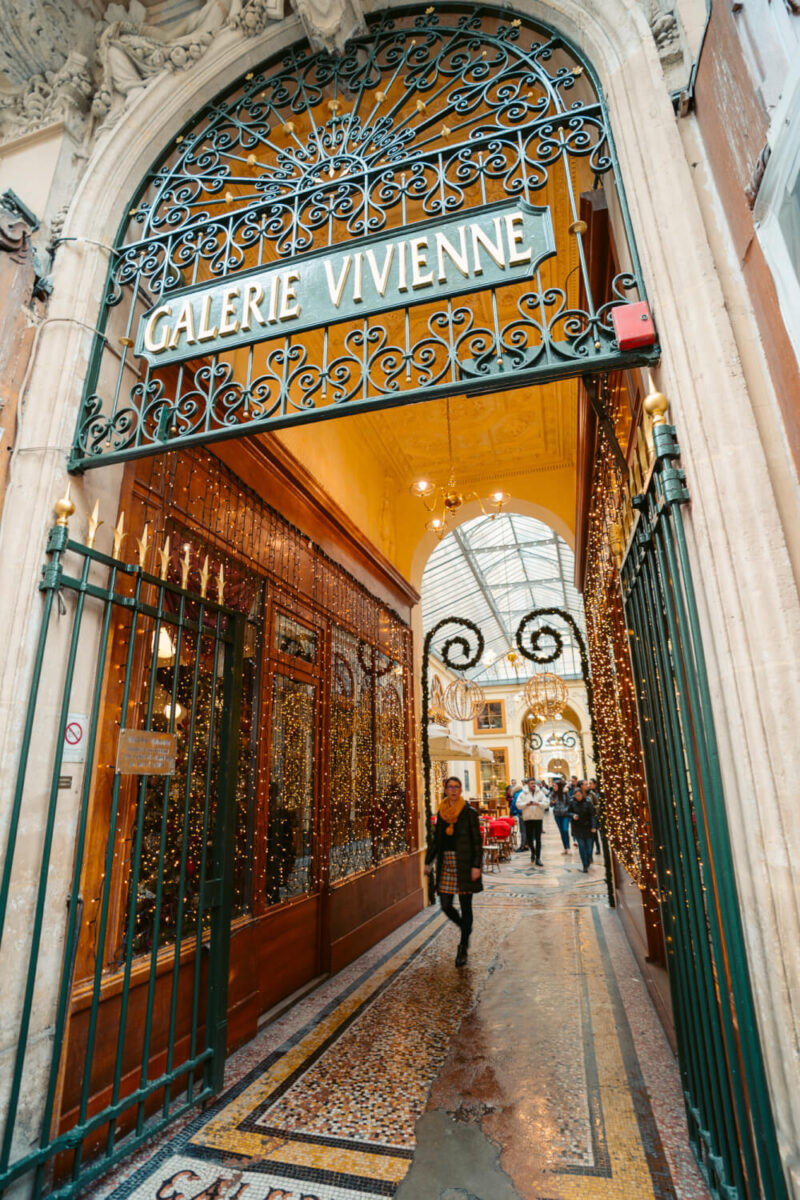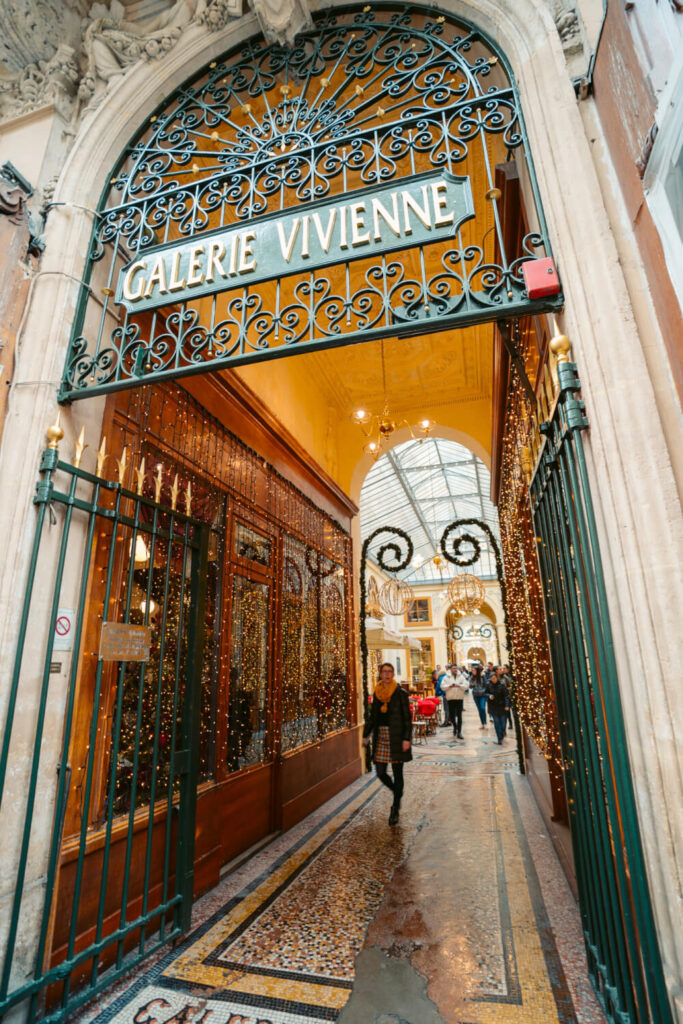 Admire the Notre Dame Cathedral
The Notre Dame de Paris is a classic Paris landmark and probably one of the most famous churches on Earth (shoutout to Quasimodo & Disney). No doubt, visiting this Gothic masterpiece is one of the best free things you can do in Paris.
While a horrific fire devastated the Notre Dame two years ago, it's still worthwhile to stop by and see the cathedral from the outside until it (hopefully) reopens in 2024, as is planned.
Fingers crossed!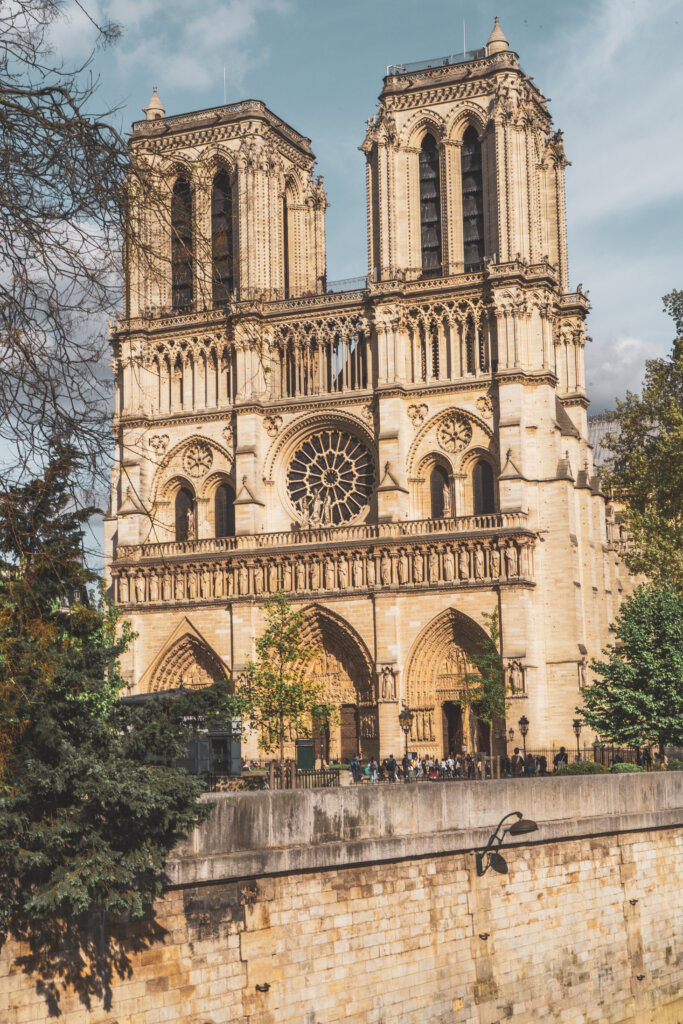 Pose at the Colonnes de Buren
This controversial candy-like art installation has been located in the courtyard of Paris' Palais Royal since the 80s, and makes for one of the best photo opps (and free places to see) in Paris!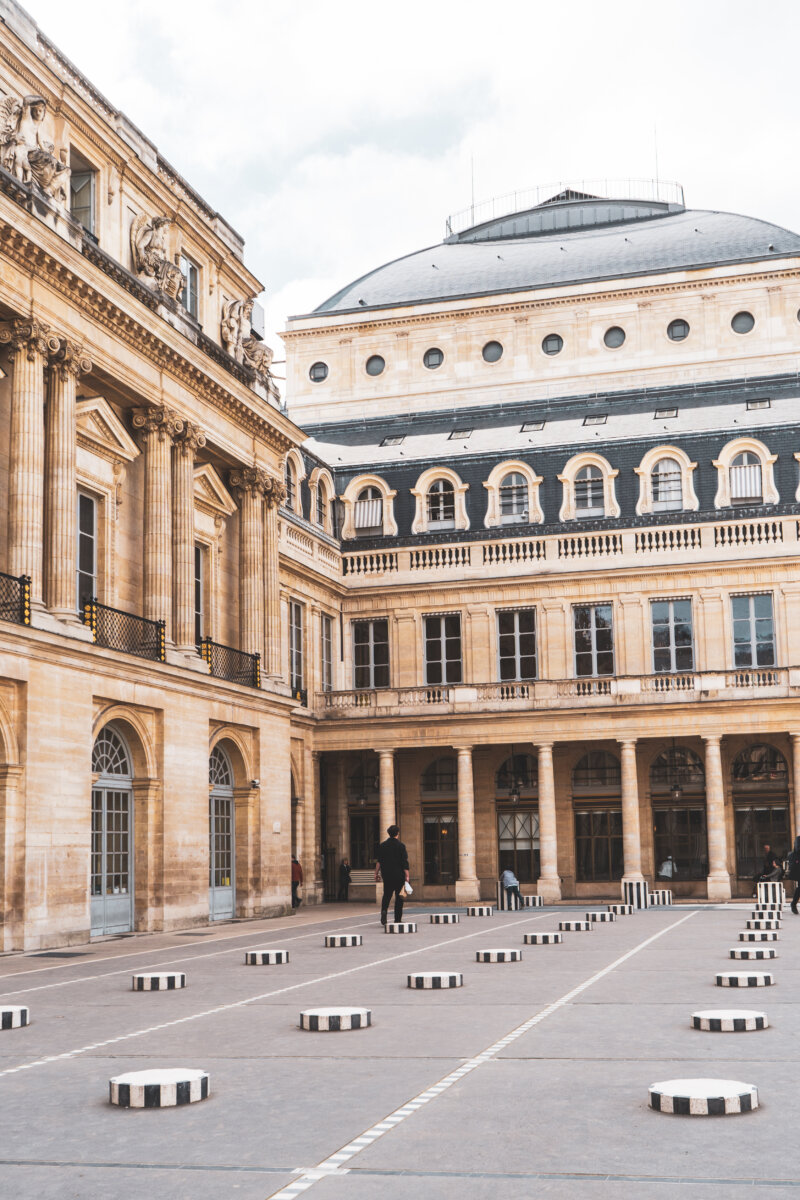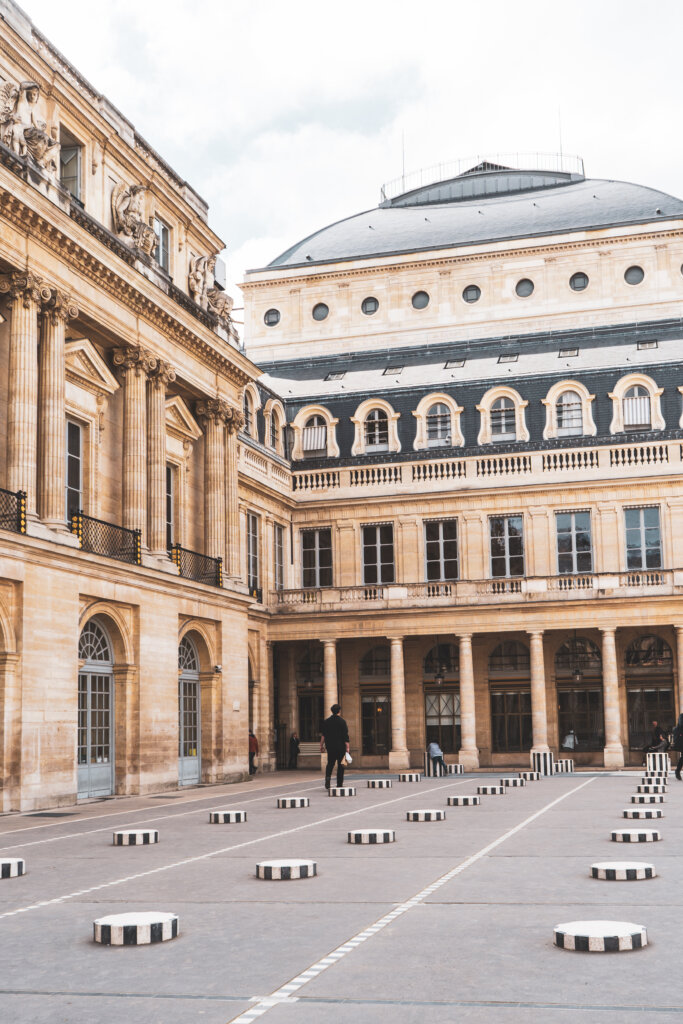 Visit Paris' largest square: Place de la Concorde
Fact: this is where the guillotine sliced off over 1000 heads during the French Revolution, but besides the brutal history (which is actually pretty cool), the fountains here are one of my favourite sights in the city!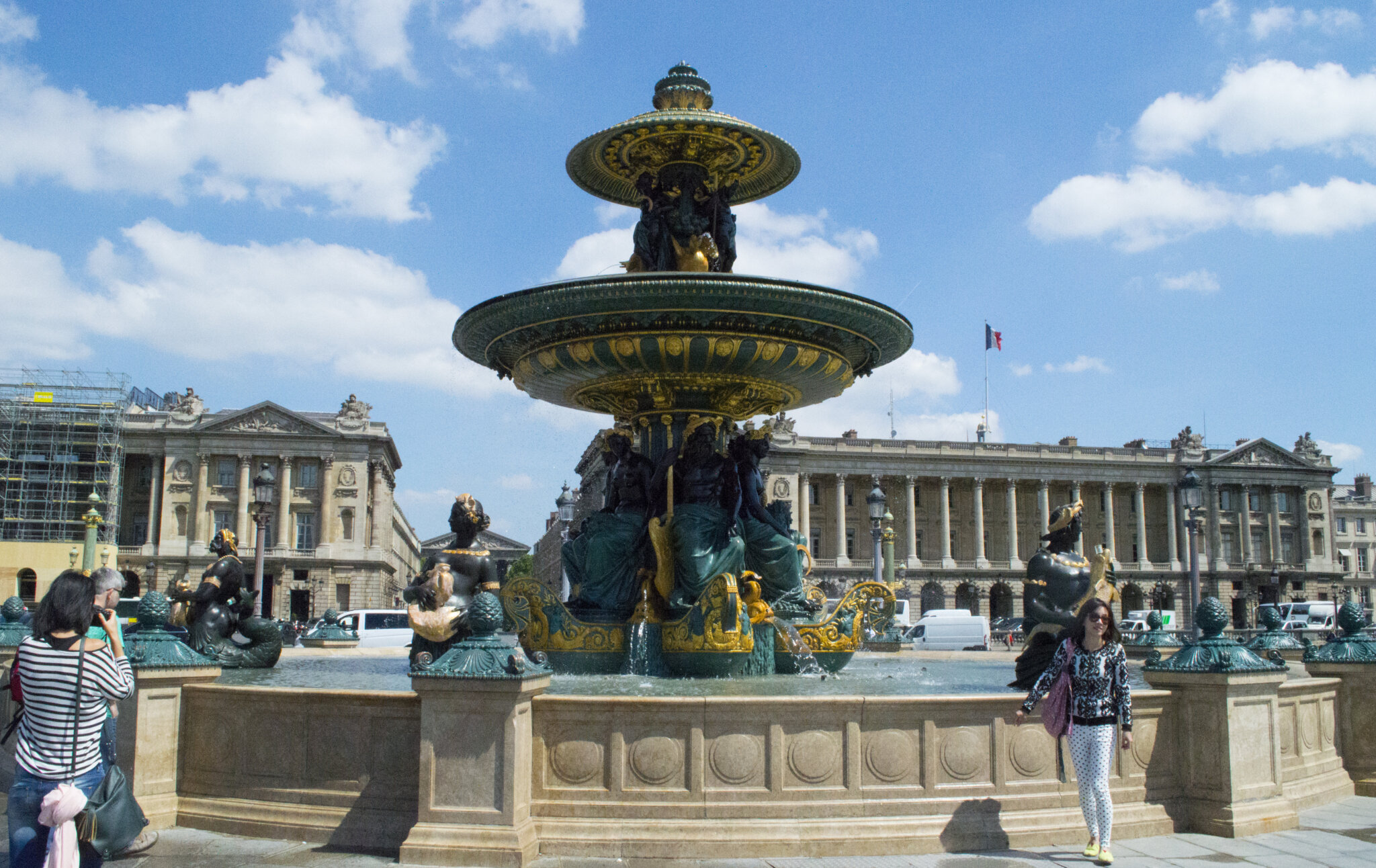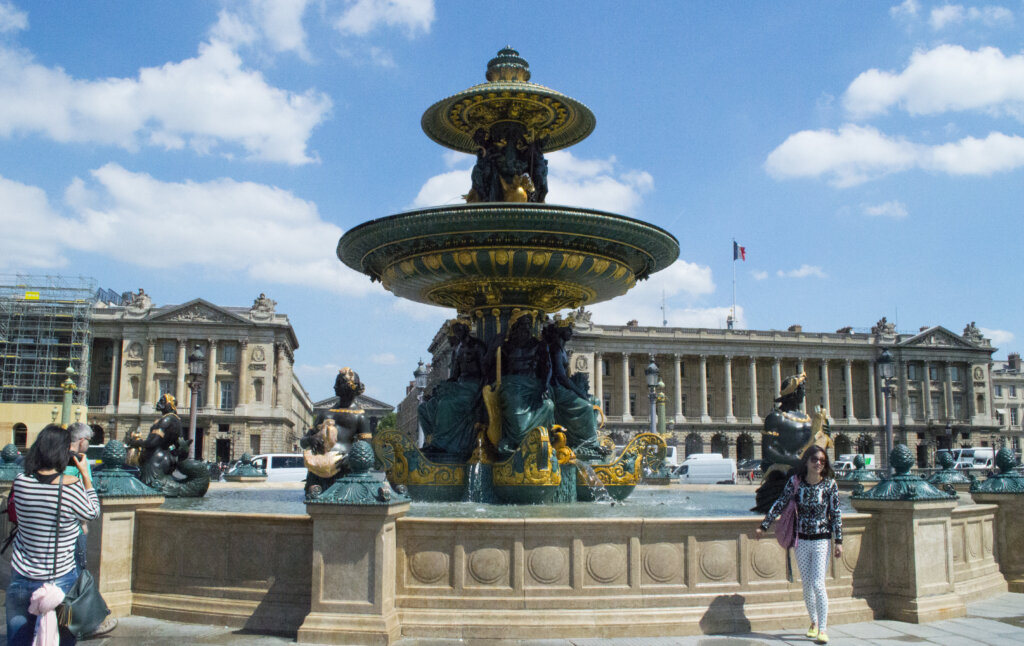 Pay respect to the greats at Cimitière du Père Lachaise
One of the most popular free activities in Paris that first-time visitors get confused by is visiting this cemetery, but the reason it makes for such an interesting visit is because it's the final resting place of Jim Morrison, Oscar Wilde, Édith Piaf, Molière and many other famous names.
It's definitely a peaceful escape from the chaos of Paris, and worth a visit if you're looking for a break from conventional sightseeing.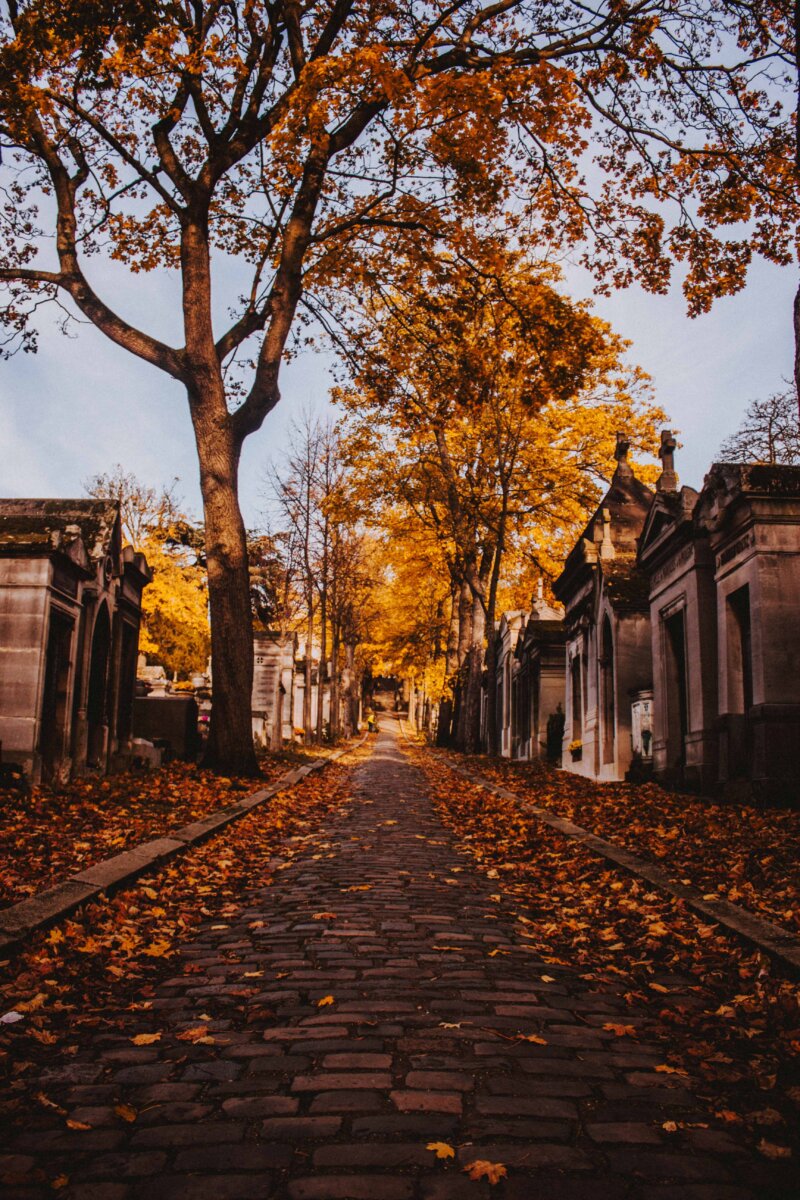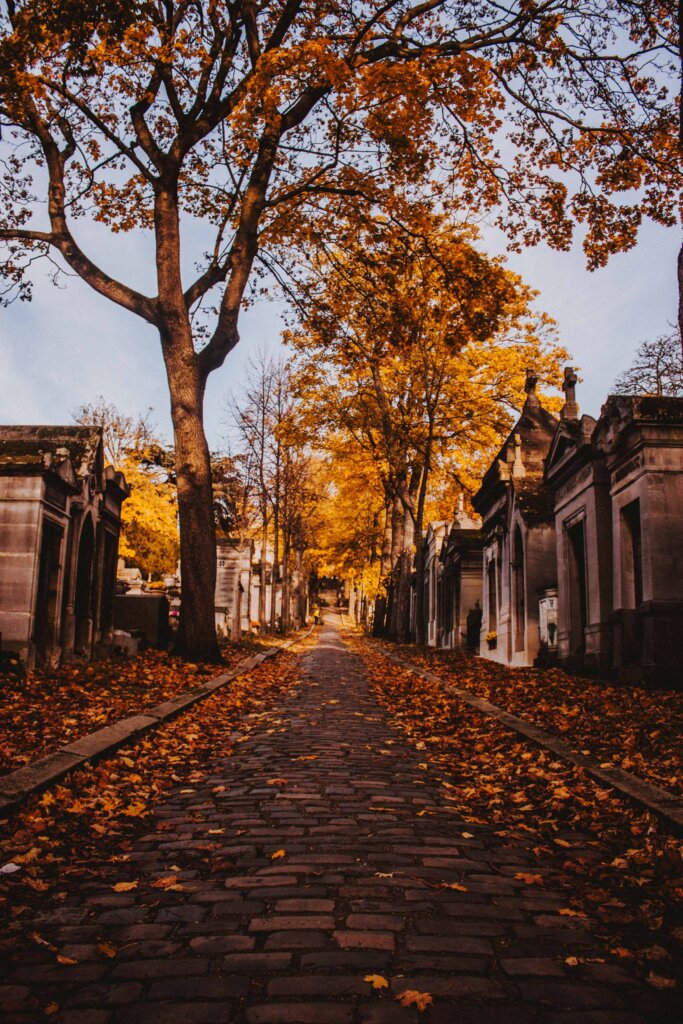 Go hunting for Amélie filming locations
As a girl with quirks, Amélie is one of my favourite movies ever, and guess what? Most of the filming took place in Montmartre so you, too, can retrace the steps of the ever lovable Amélie.
If you're a film buff (or just happen to love this film in particular), make sure to add this to your free Paris activity bucket list.
Here's a link to a self-guided walking tour.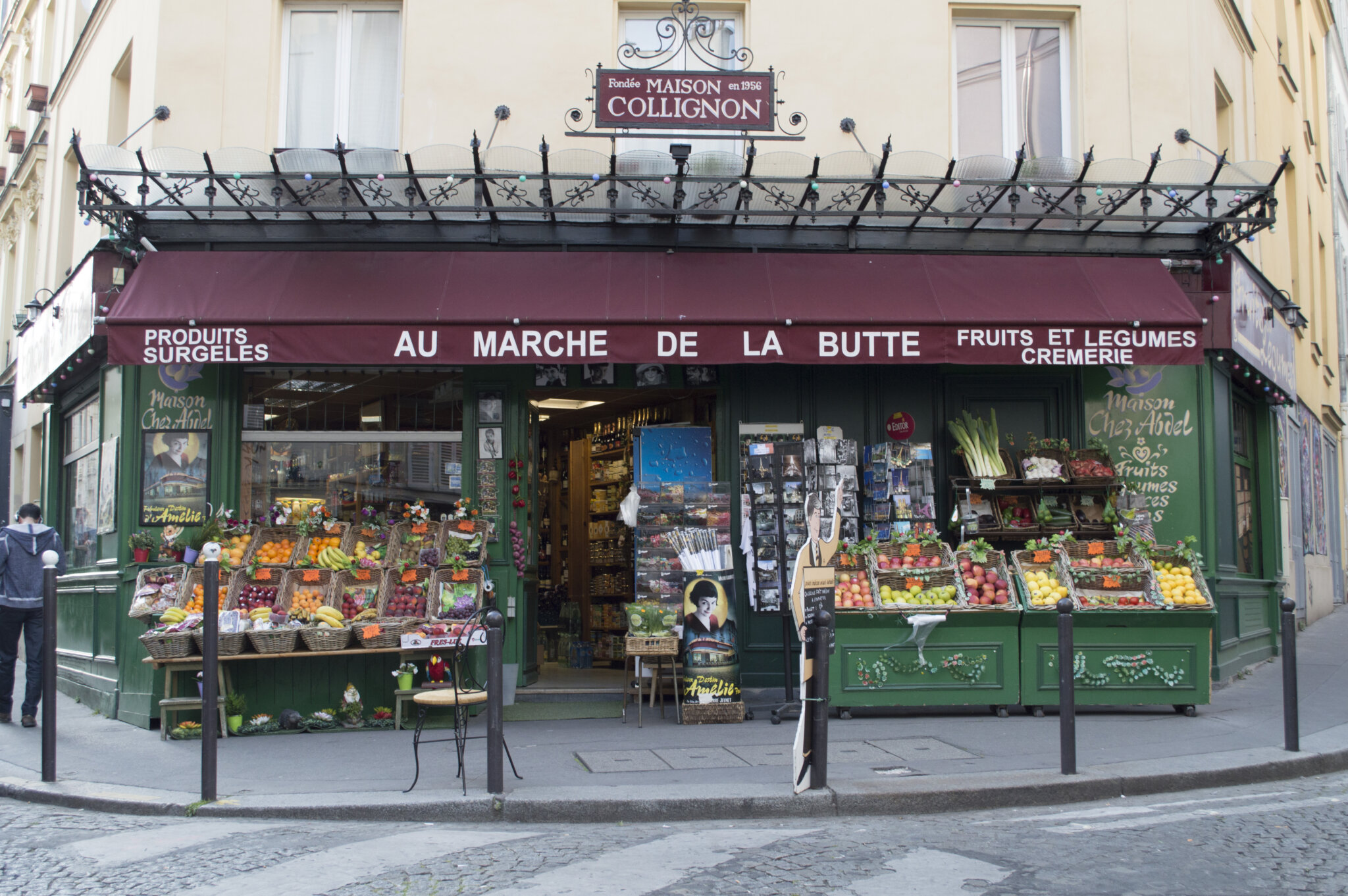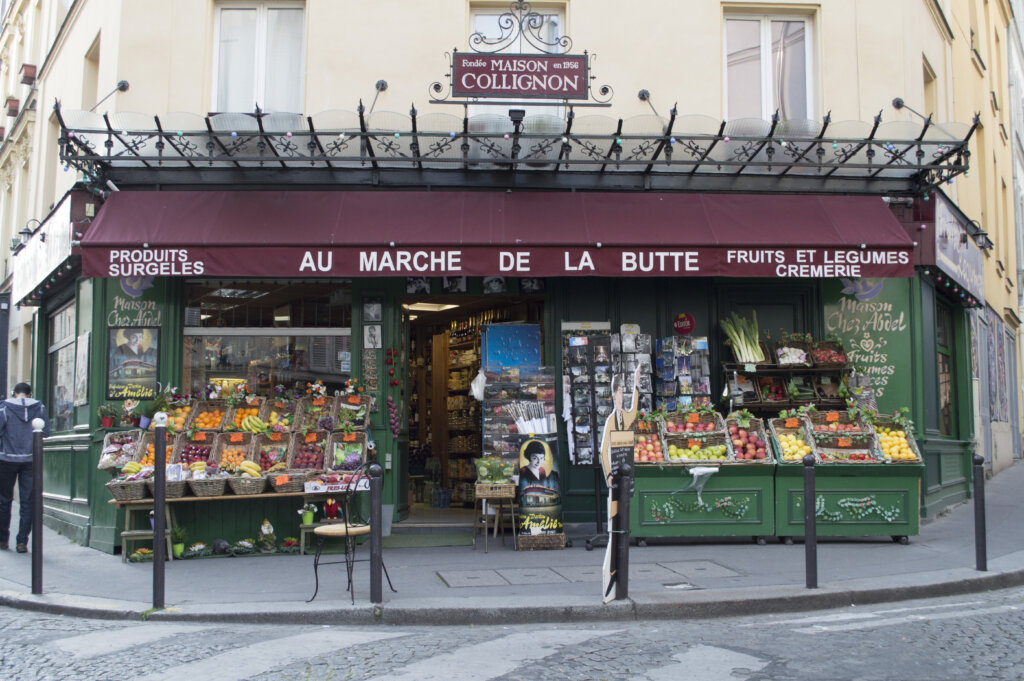 Or hunt for Emily in Paris locations!
Love it or hate it, this show featured some seriously dreamy spots in Paris… click here for a full list of locations from the show.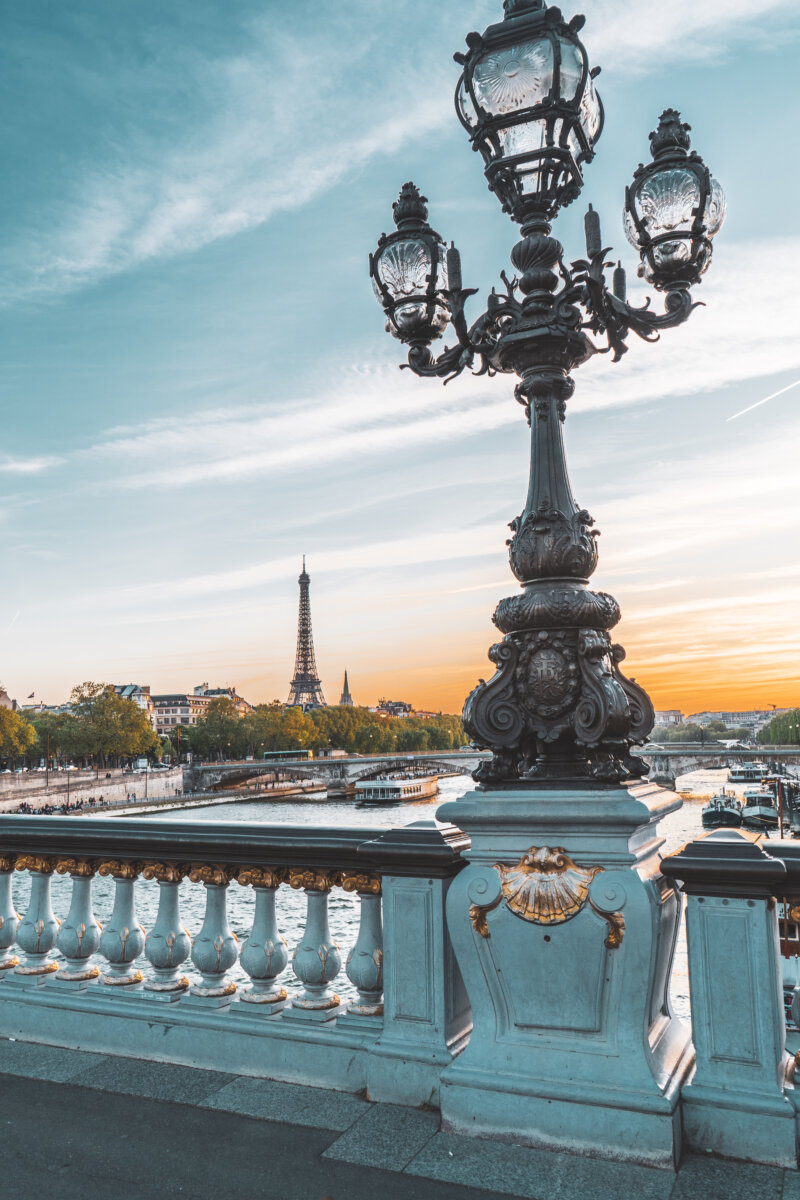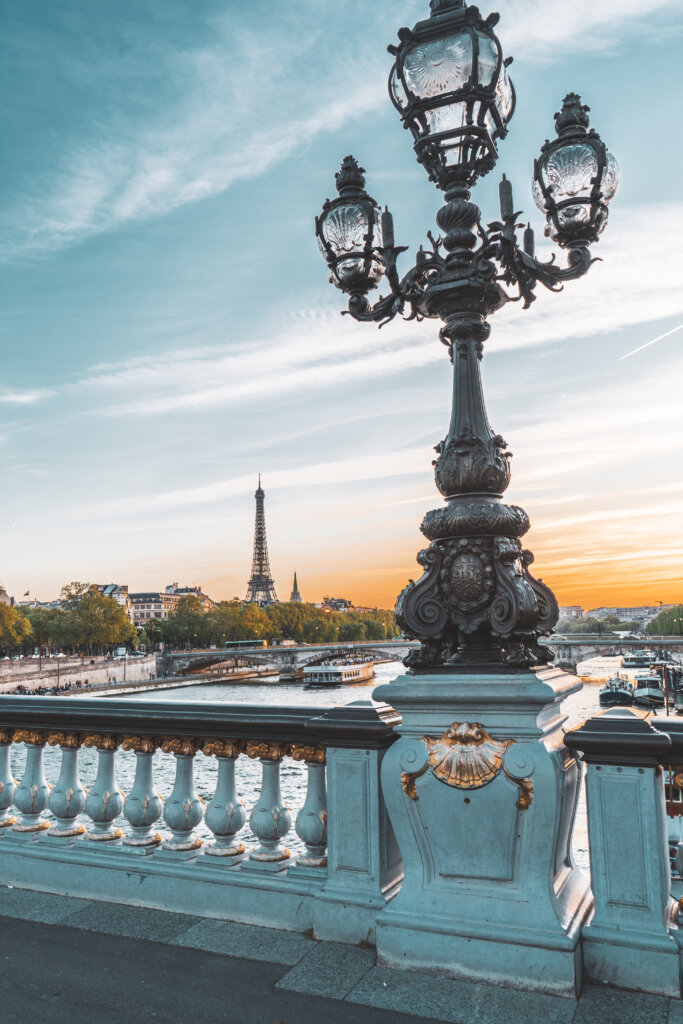 Go on a free walking tour
In my early days of travelling to Paris on a budget, I was addicted to Paris' free tours, mostly because there's SO many neighbourhoods to explore and always new ground to cover.
I had an awesome experience with Discover Walks, and have taken several tours with them during my time in the city.
Note: these tours are not "free" but rely on a "pay what you think it was worth" basis, so don't run off without leaving something for your tour guide.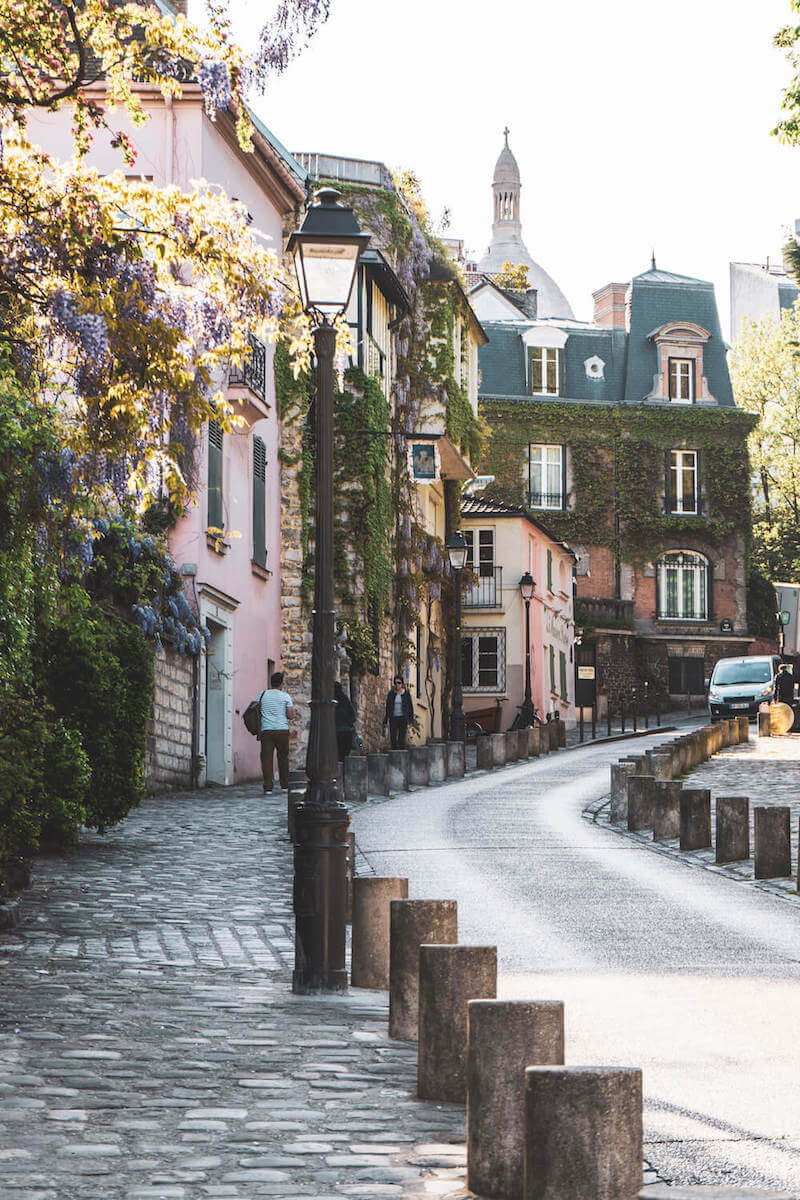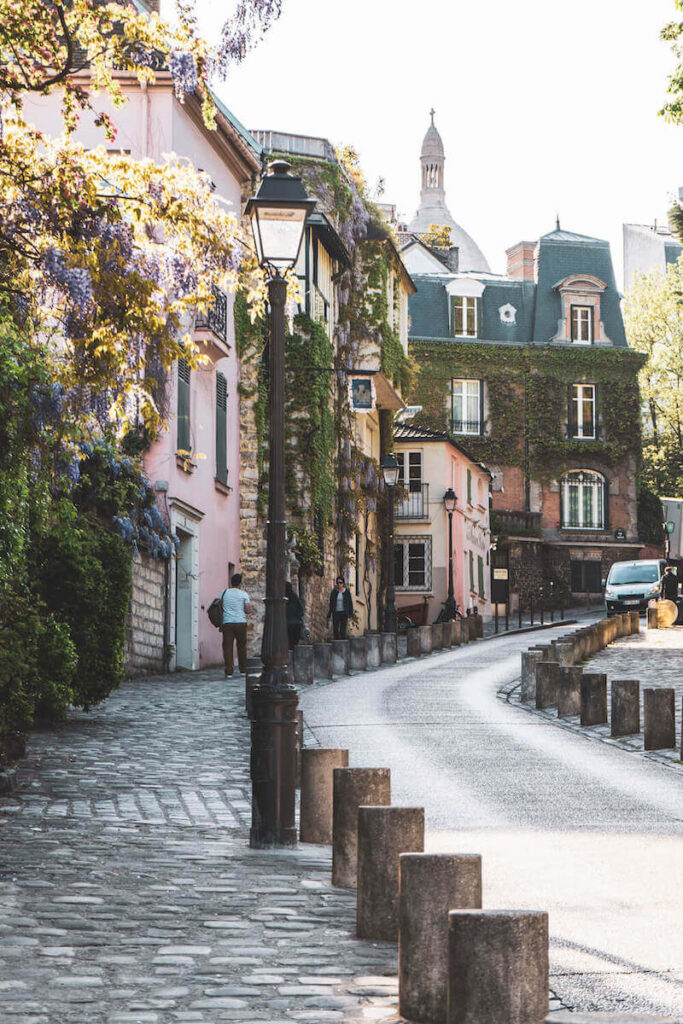 Catch the wonderful rooftop views at Printemps or Galeries Lafayette
One of my favourite cheap things to do in Paris is simply heading to a nice viewpoint and getting a drink. After all, if I'm paying a price, it migh as well come with a glass of wine, right?
Galeries Lafayette and Printemps both offer some of THE best free views in Paris for sure, and if you feel like treating yourself, a single glass of wine will still set you back less than most paid viewpoints in the city!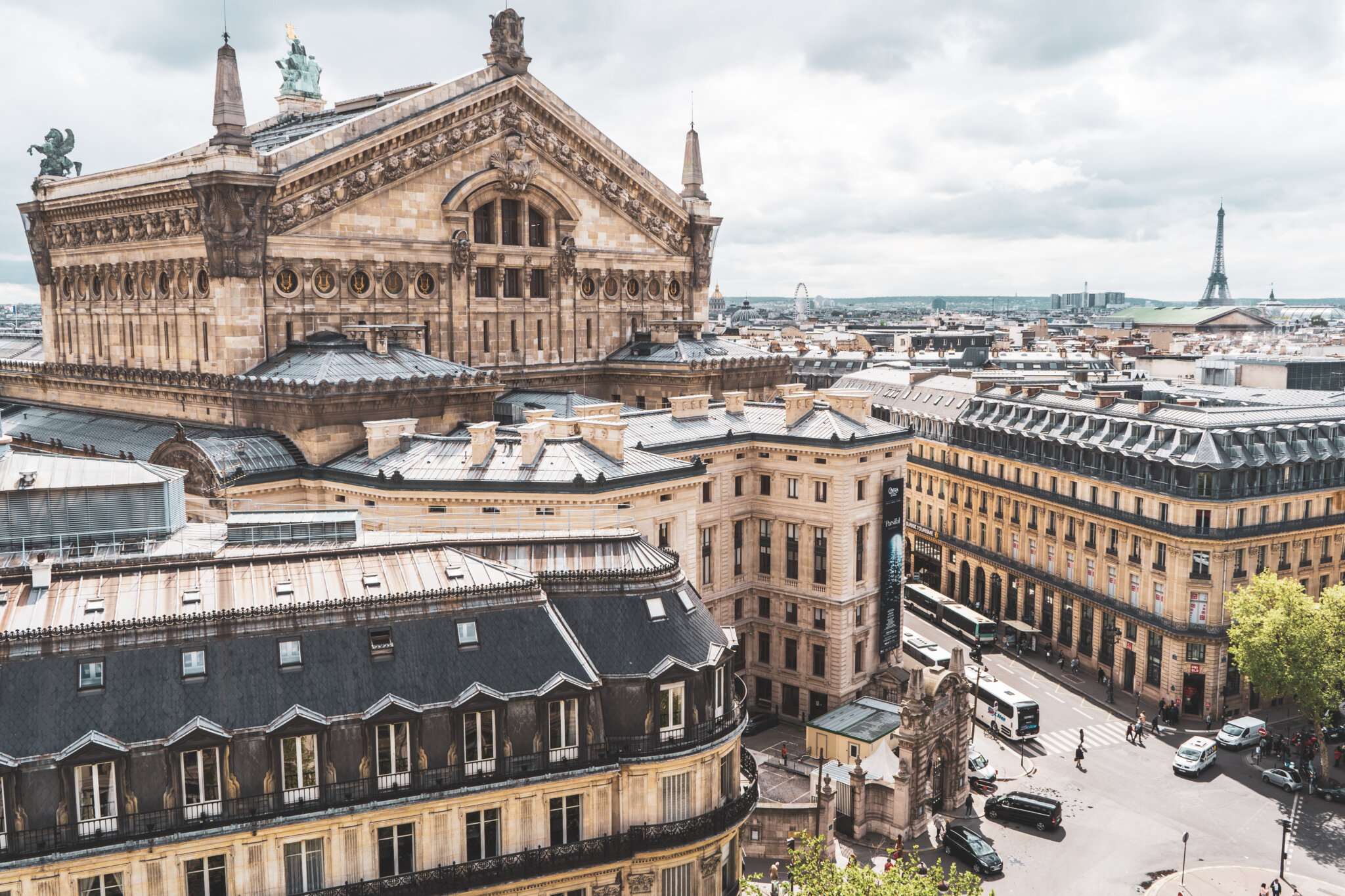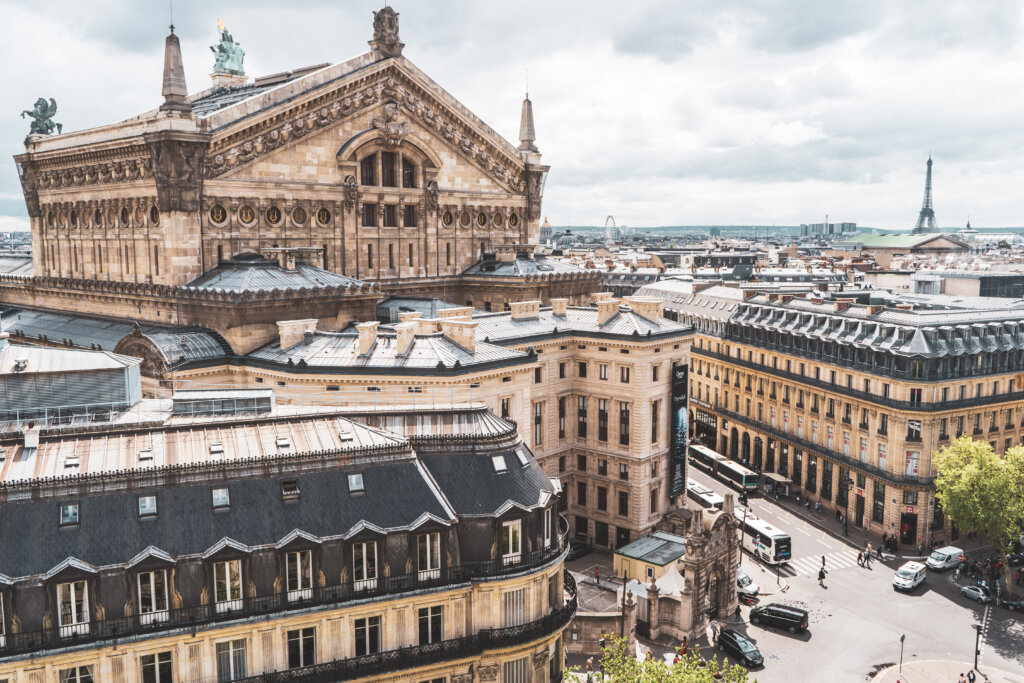 Enjoy a free fashion show at Galeries Lafayette
I gave up on any runway dreams long ago, but hey, that won't stop me from enjoying a free show when the opportunity presents itself!
A fun free activity in Paris for fashion lovers is attending the free fashion shows organized by Galeries Lafayette. Check out their schedule of events online here.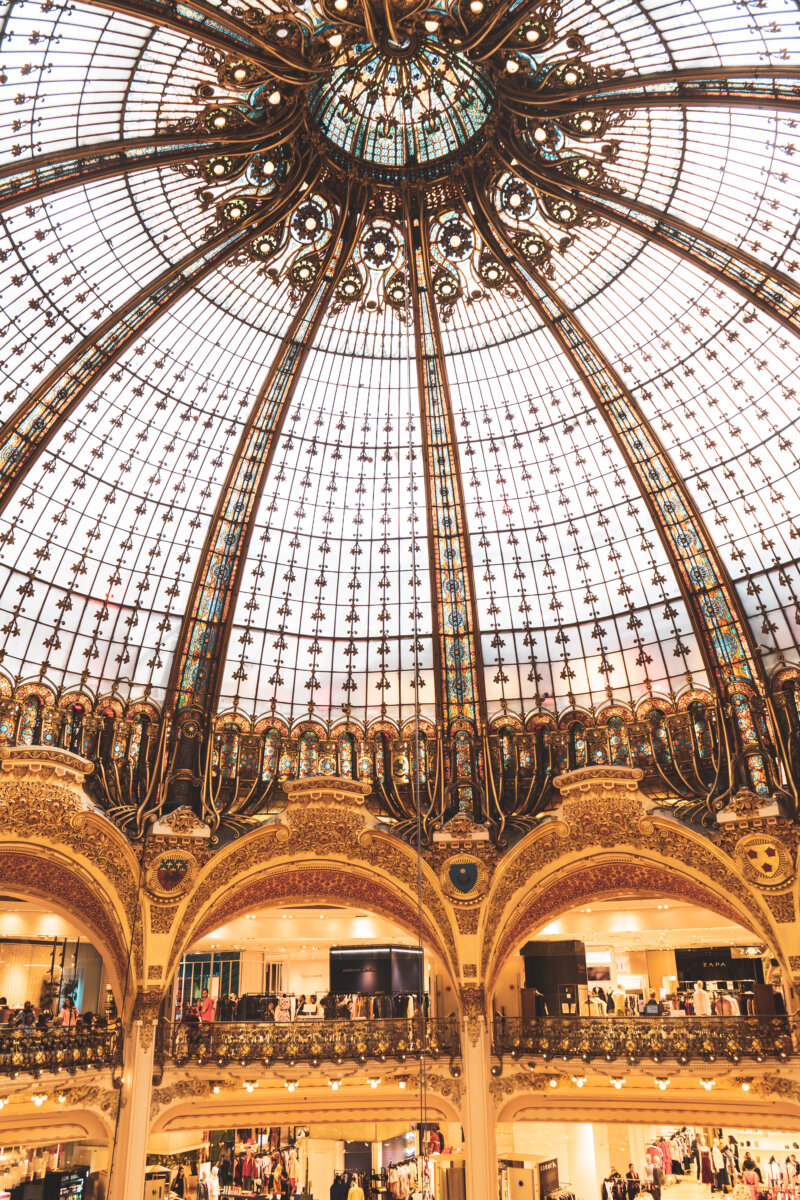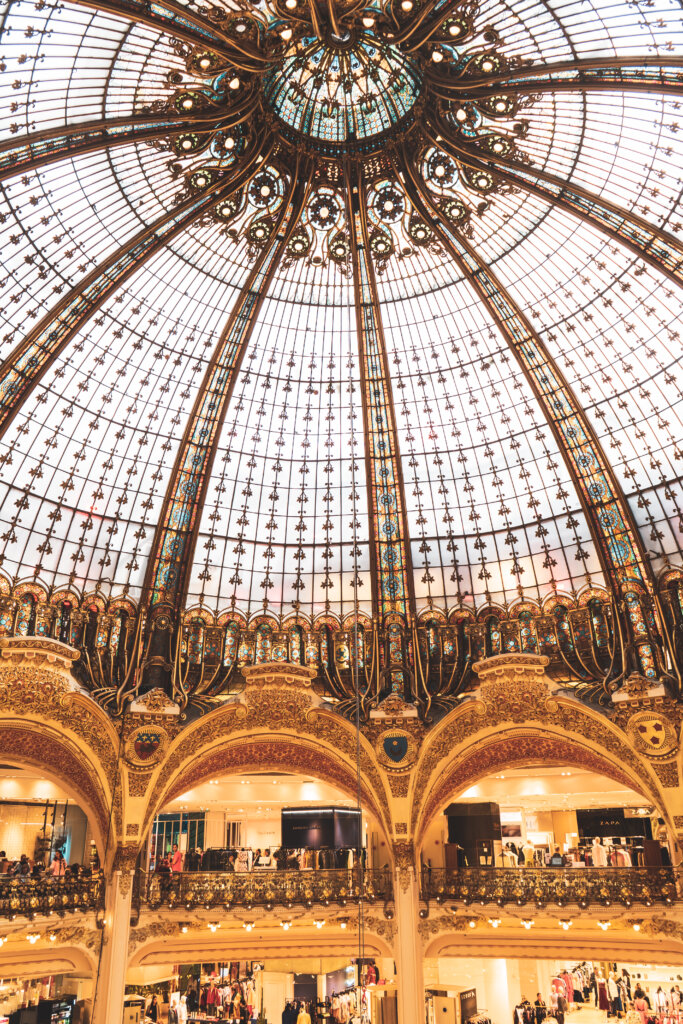 Pay a visit to the iconic Moulin Rouge
Show tickets are expensive but of course it costs nothing to scope out this very famous cabaret from the outside (and snap a cheesy photo or two in front of it).
Declare your love at the "I Love You" wall
For all you lame romantic folk (aka me), this wall in Jehan Rictus Square features "I love you" written in hundreds of languages.
One of the best gushily romantic & free things to do in Paris is definitely getting a photo here with your special someone… so go wild!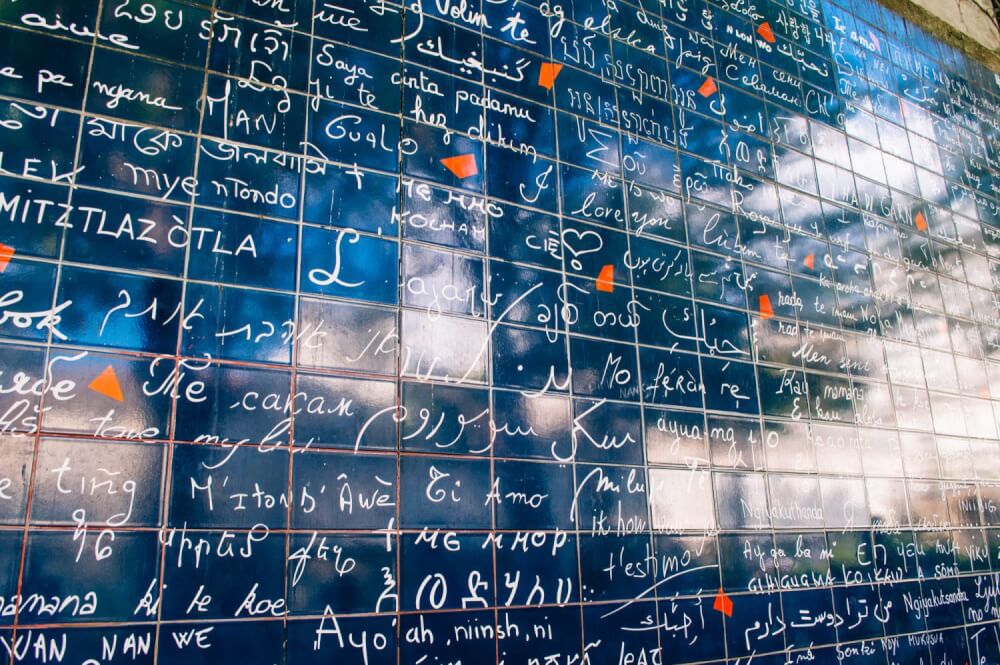 Take in the amazing ambiance of Paris' best parks
People watching is one of my favourite free activities in Paris, and there's no place better than one of the city's many parks.
The Jardin du Luxembourg and Jardins des Tuileries are popular favourites (for good reason), but another one worth mentioning is the Parc des Buttes Chaumont, found in the 19th arrondissement.
Its Temple de la Sybille (perched atop a high cliff above the lake) is ahh-mazing.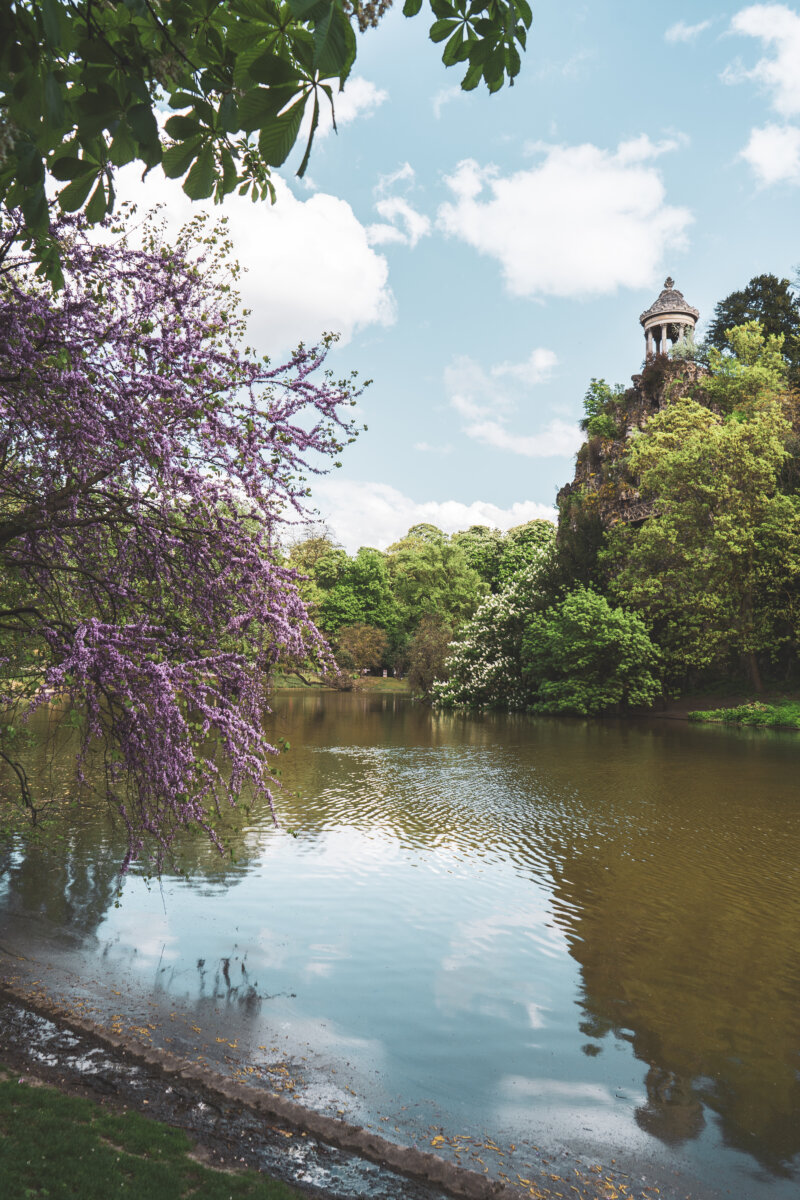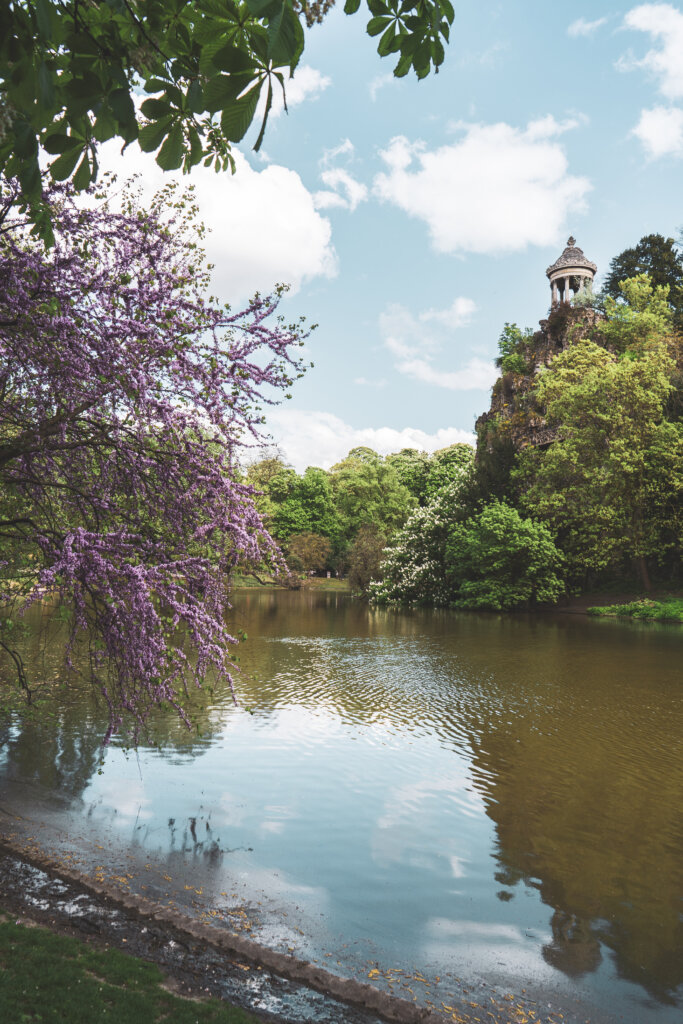 Take a stroll along the Promenade Plantée
For a more offbeat free activity in Paris, consider walking along the city's Promenade Plantée.
This unusual (but beautiful) park is built on top of old, elevated train tracks and spans about 4.5km through a range of manicured gardens, tunnels and other greenery.
Watch out for the bats though! (not joking. genuine concern.)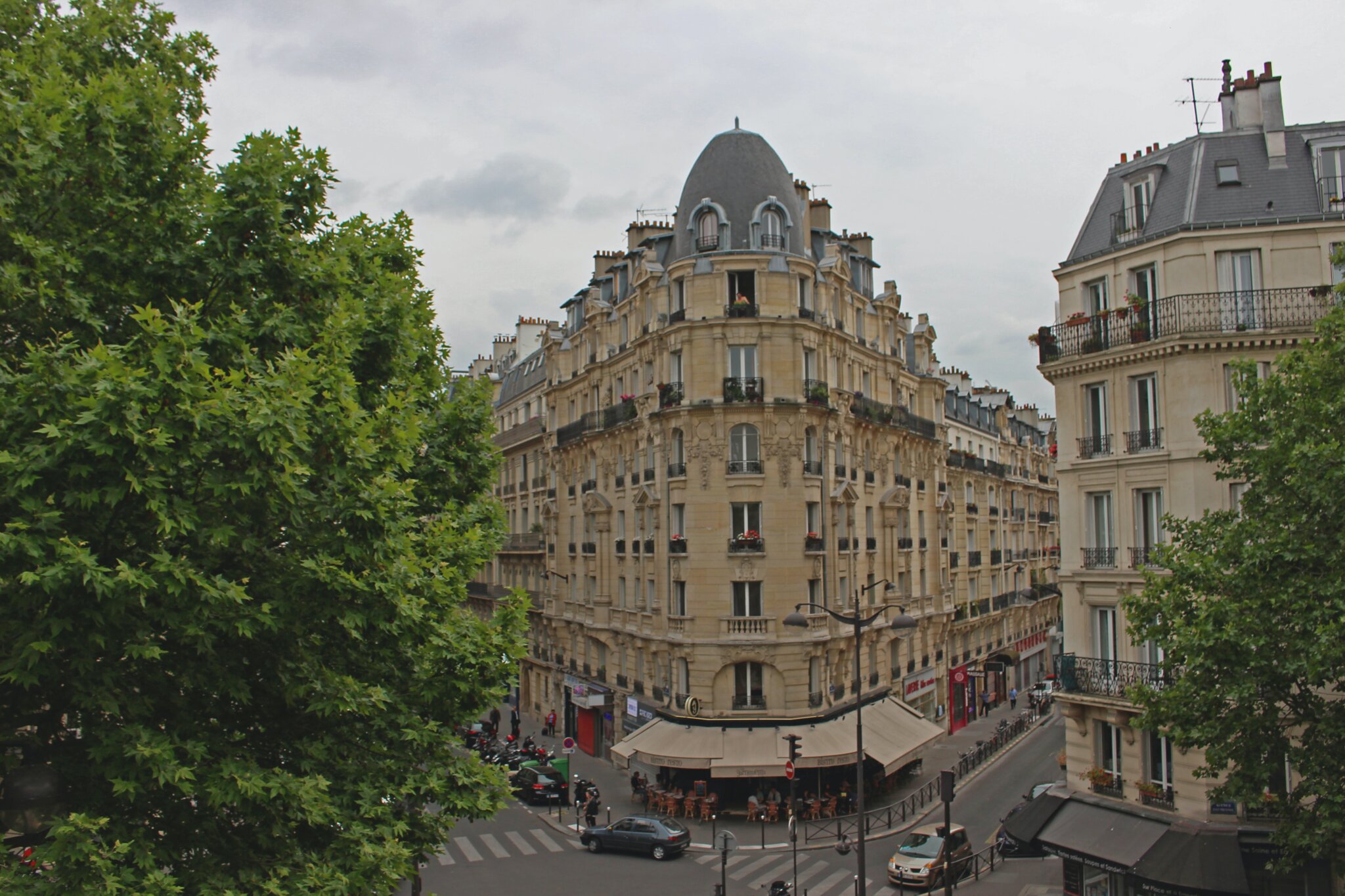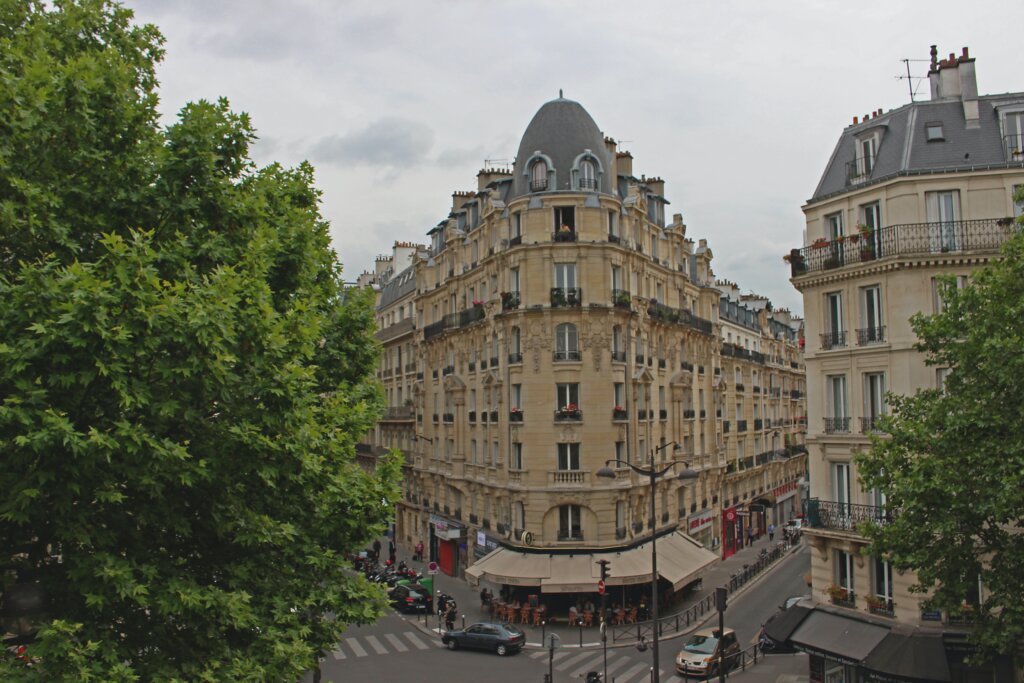 Enjoy the serenity of Place des Vosges
This gorgeous square is the oldest of its kind in Paris, and is genuinely what Parisian dreams are made of. A stroll through here is best enjoyed with a fresh coffee and buttery croissant, because why not?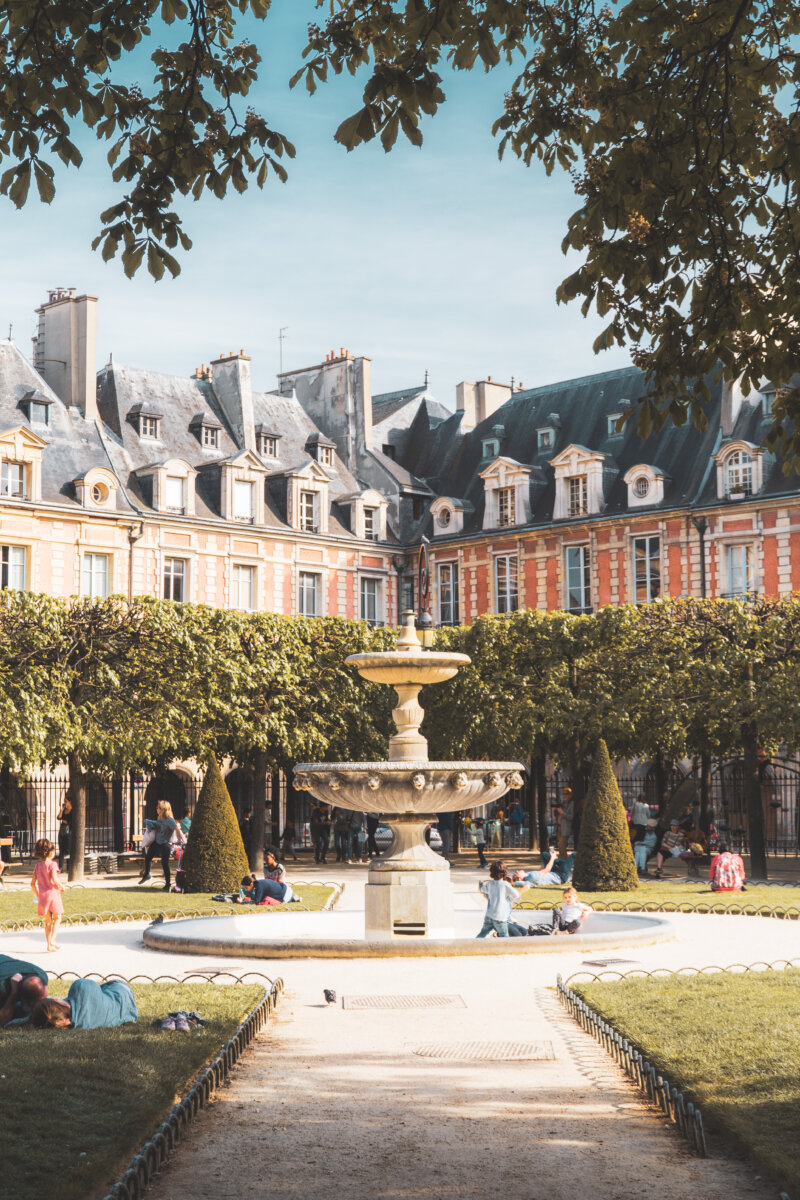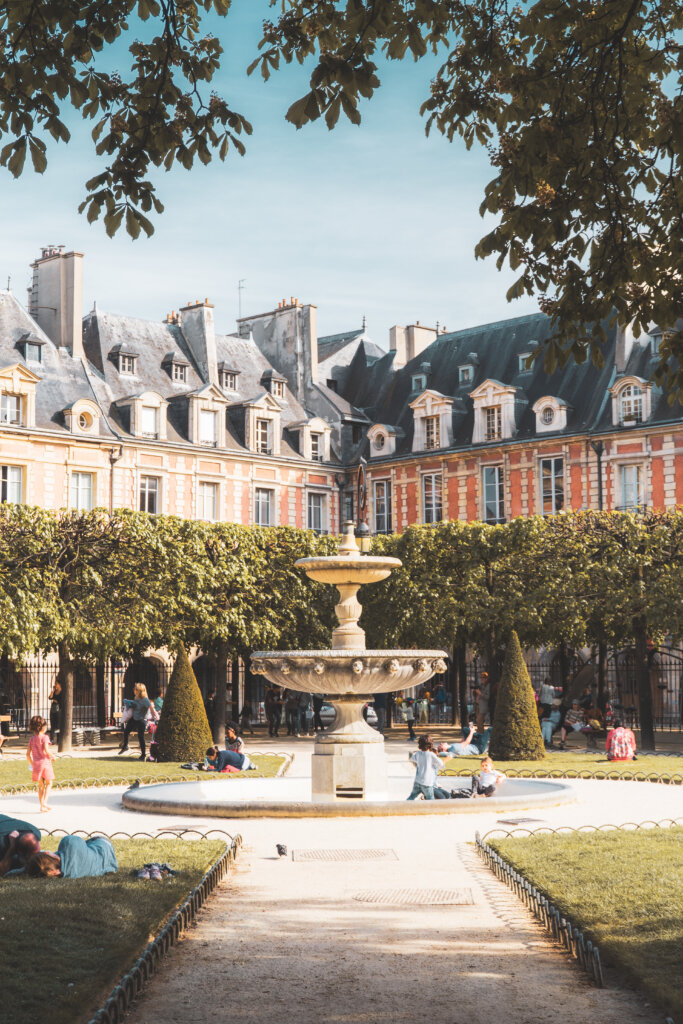 Tour the home of literary great, Victor Hugo – Maisons de Victor Hugo
This house is where Hugo lived for 16 years and conveniently, it's right in Place des Vosges.
Best of all, the entry for permanent collections is free.
Take in the modern art at Musée d'Art Moderne de la Ville de Paris
If you're looking for free museums in Paris, the permanent collections at the Musée d'Art Moderne de la Ville de Paris (ft. big names like Picasso and Matisse) are 100% free!
Get your history fix at Musée Carnavalet
Trace the city of Paris' journey to where it is today through a series of rooms, gardens, and displays that will whisk you back in time. Yes, another free Paris museum!
Trace Paris' Roman past at Arènes de Lutèce
You don't need to travel all the way to Rome to stand where the gladiators once stood… The Arènes de Lutèce (found in Paris' Latin Quarter) is an old amphitheater built in the 1st century AD, but is today hidden among large apartment buildings.
Feel free to stand in the middle and bellow "ARE YOU NOT ENTERTAINED?!" I won't judge.
Peruse the flower market at Ile de la Cité
Found in Place Louis Lépine between Notre Dame and Saint Chapelle, this lovely market is open 7 days a week and the perfect place to slow down and (literally) smell the flowers.
Admire the artists painting away in Montmartre's Place du Tertre
If you enjoy the look of your own face, you can even splash out for a portrait of yourself!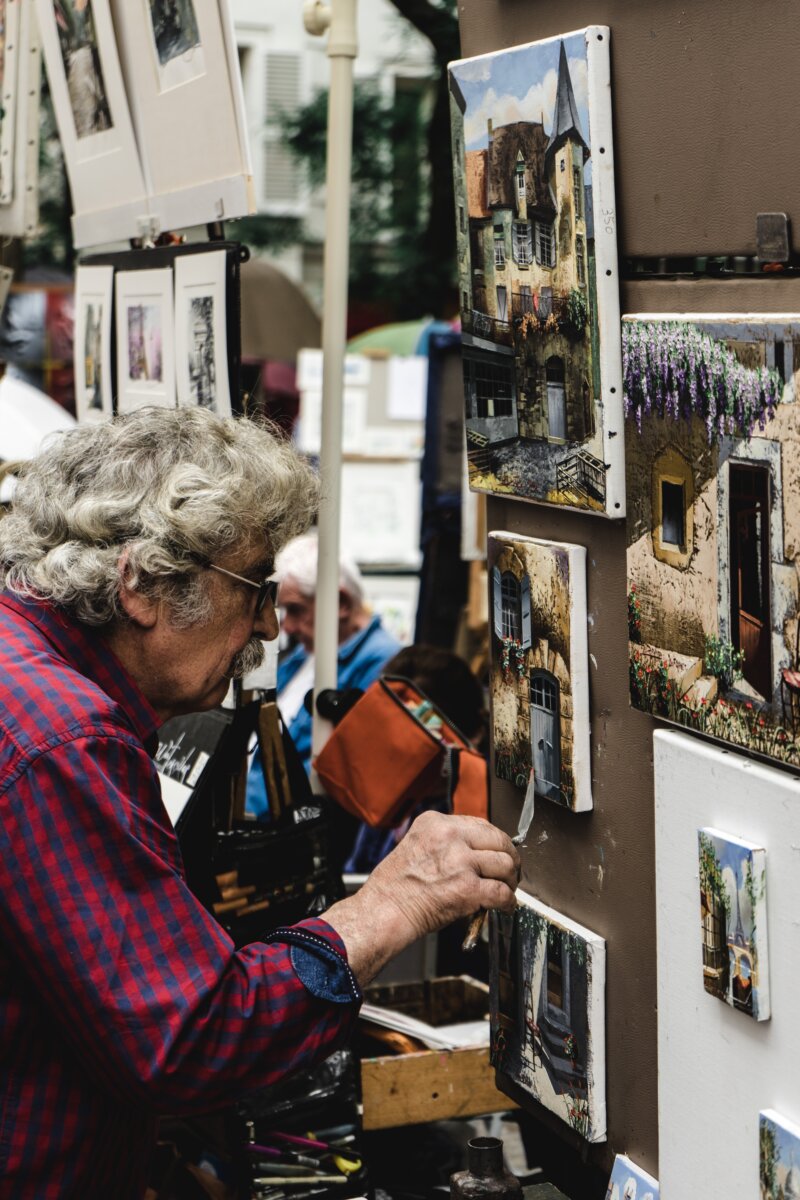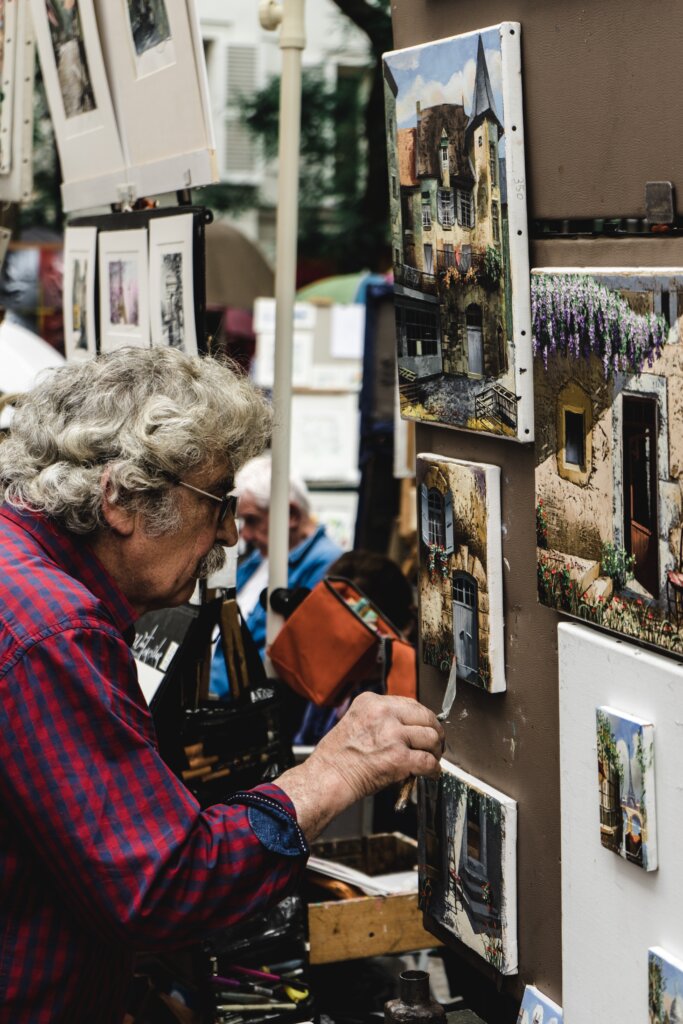 Walk under the Arc de Triomphe
While most are content to just snap a shot of this Parisian icon from afar, I think it's best appreciated up close.
The details and inscriptions are really something else, plus for just a few euros, you can even scope out the view from up top.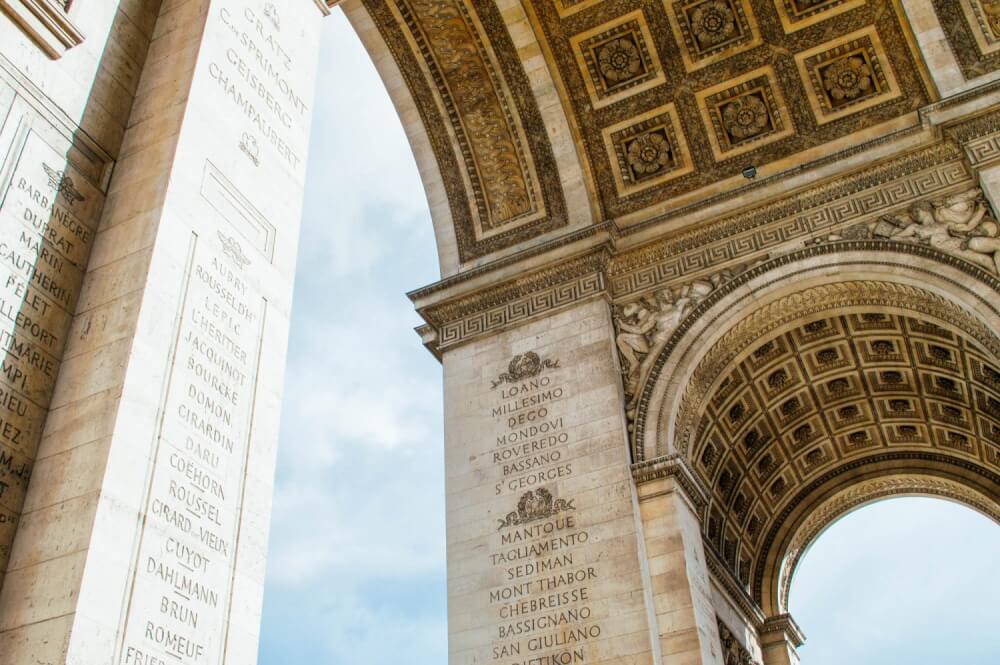 Enjoy iconic Paris by strolling down Champs Elysées
This long strip of shops, cafes and restaurants leads from Arc de Triomphe down to Place de la Concorde, and while it's very much a touristy strip filled with international brands you'd see in most other major cities, a walk here is a great free thing to do in Paris, and one you should at least check off your list.
Of course, it's best done with the Champs Elysées song blasting in your ears as you frolic down the street. Have I done that? Maybe. Don't judge.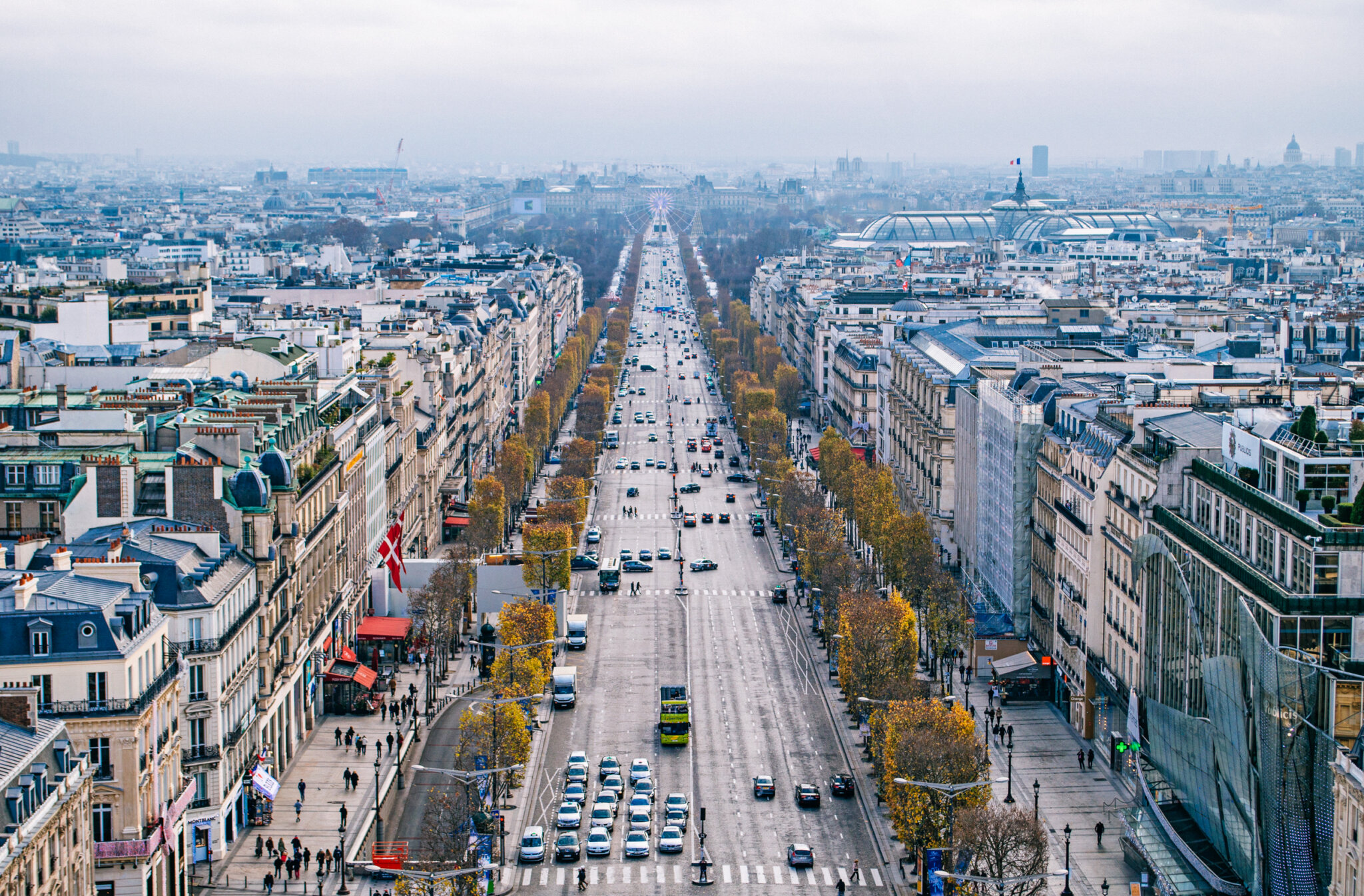 Free wine!
One of the best things to do in Paris for free? DRINK WINE!
Don't freak out. This is not a drill. Here's a list of 5 places in Paris that do free wine tastings.
*tries not to faint*
PS: If you love wine, you should definitely check out Alsace, one of the most beautiful wine regions in the country. It's also famous for Xmas markets. Check out my list of the best Christmas markets in Alsace for more.
Hunt for treasures at a flea market
If you have a penchant for ogling old (likely useless) treasures like I do, visiting a flea market while in Paris is a delightful free activity that I highly recommend.
With thousands of traders and goods to peruse, the Marché aux Puces de St-Ouen is probably the most well-known (and most charming!).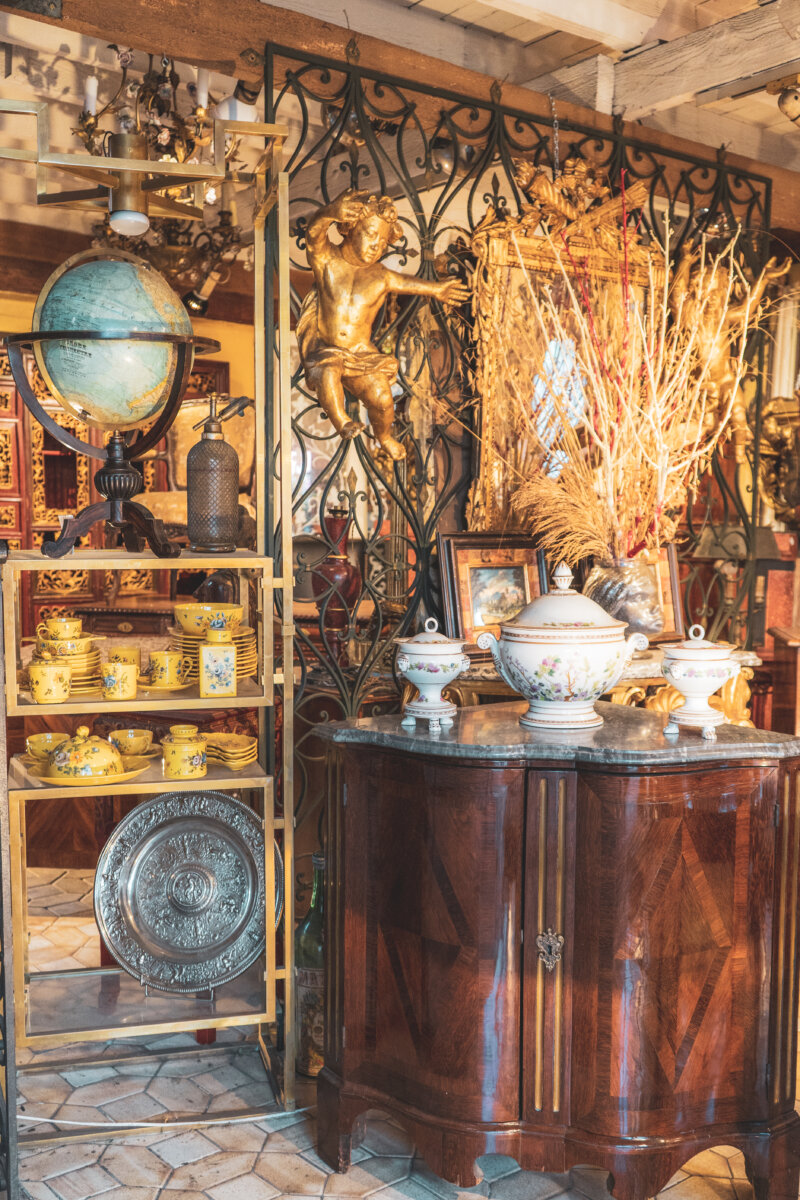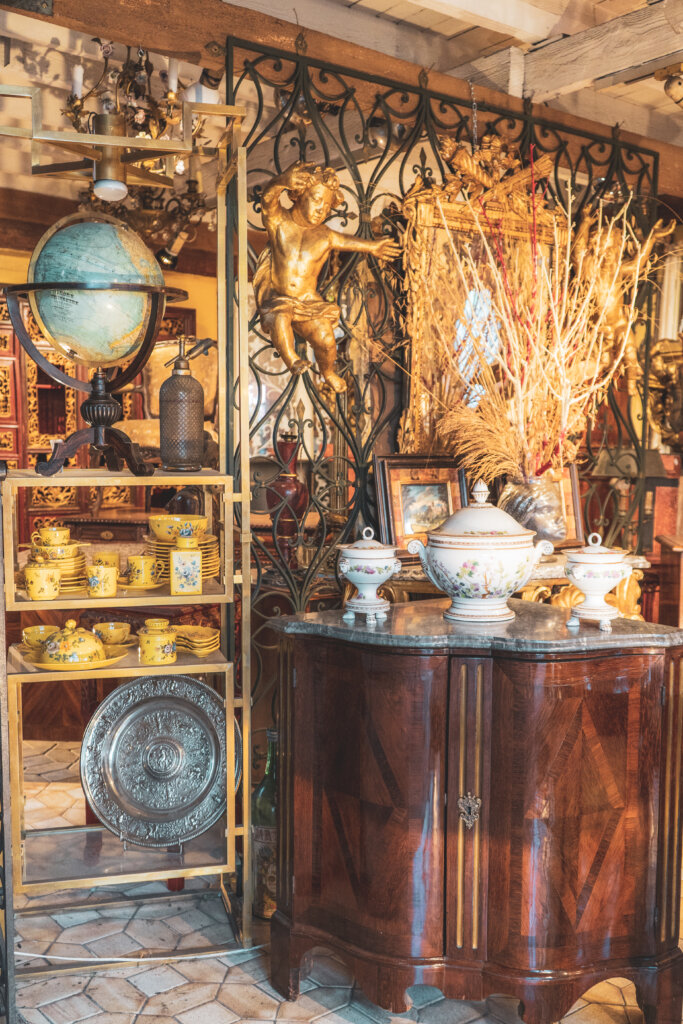 Scope out some free concerts
Whether it's choirs and organs or sweet cafe jazz, Paris has tons of opportunities for you to watch a free concert.
Here's a great list, and another from National Geographic (at the bottom).
Marvel at the dazzling architecture
You might think this is a lame one, but this city is genuinely SO beautiful that one of the best free things you can do in Paris is admire the gorgeous architecture all around you.
Here's a nice list from Architectural Digest to get some ideas flowin'.
PS: Don't miss the amazing bridges around the city too, like the oh so extravagant Pont Alexandre III.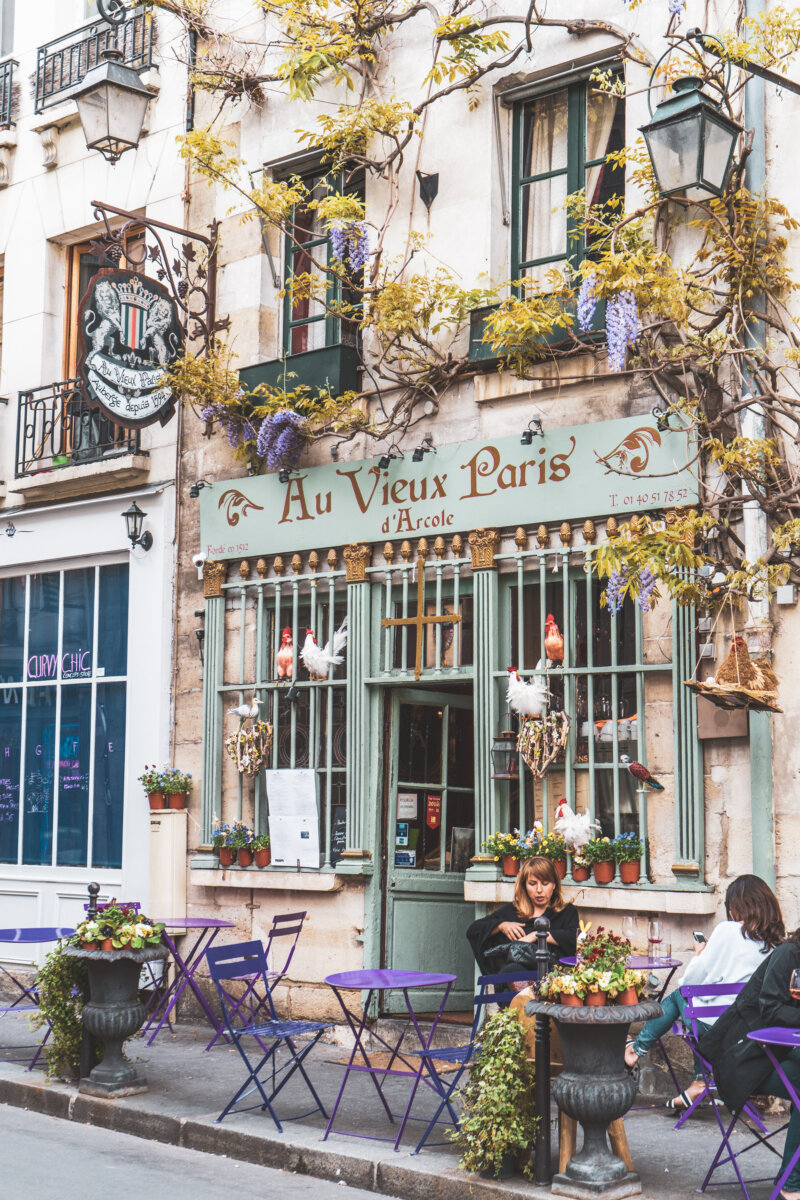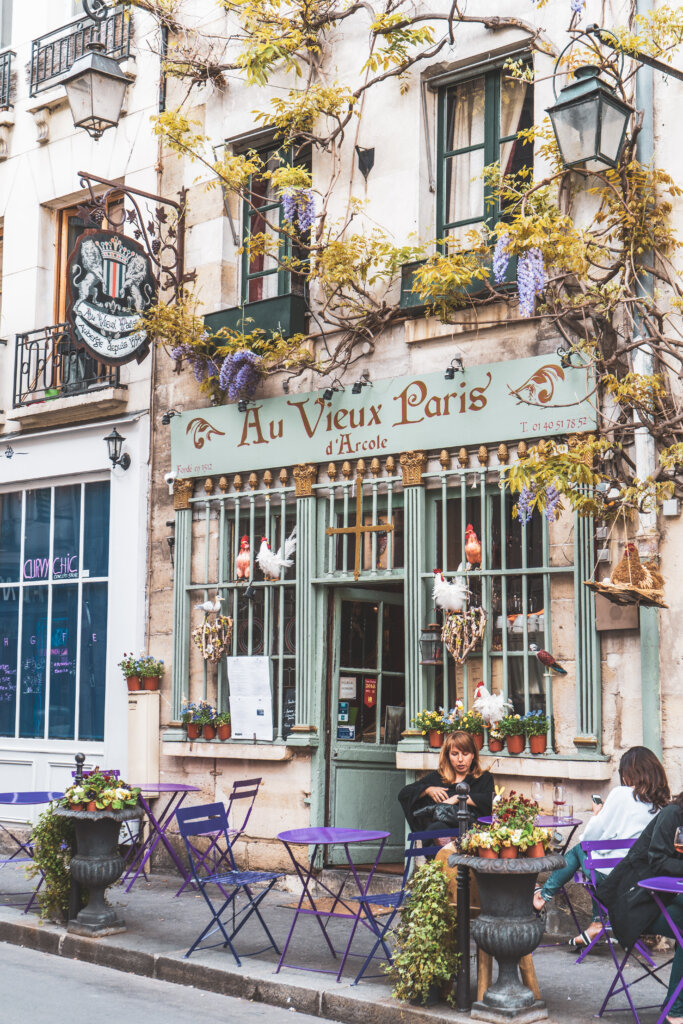 Catch the sunrise at the Eiffel Tower
This is probably the only time you'll ever feel like you have the city to yourself.
One day I forced myself out of bed and made it to Trocadéro before even the street cleaners did.
Watching the sky light up and seeing the (usually crammed) Parisian streets void of people was absolutely magical and unforgettable – definitely one of my favourite free things to do in Paris that I'd recommend to first time visitors.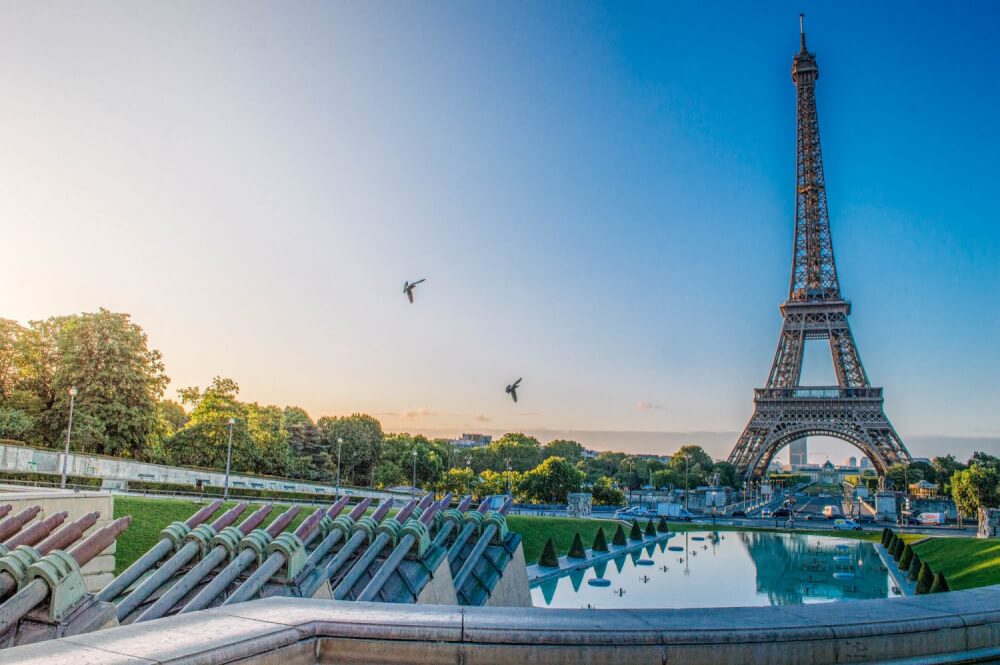 Gander at the street art of Canal St Martin
I know, I know, when you think of Paris, it's not often that your mind jumps to street art… but the Canal St Martin boasts some pretty fun pieces.
While this area was once known as a total hidden gem, today it's a fairly busy hotspot among tourists and locals like. Nonetheless, a visit here is a great free Paris activity, especially if you're keen to see what local life is like outside of the tourist center.
Here's a blog post I love that showcases some of the art you can find there.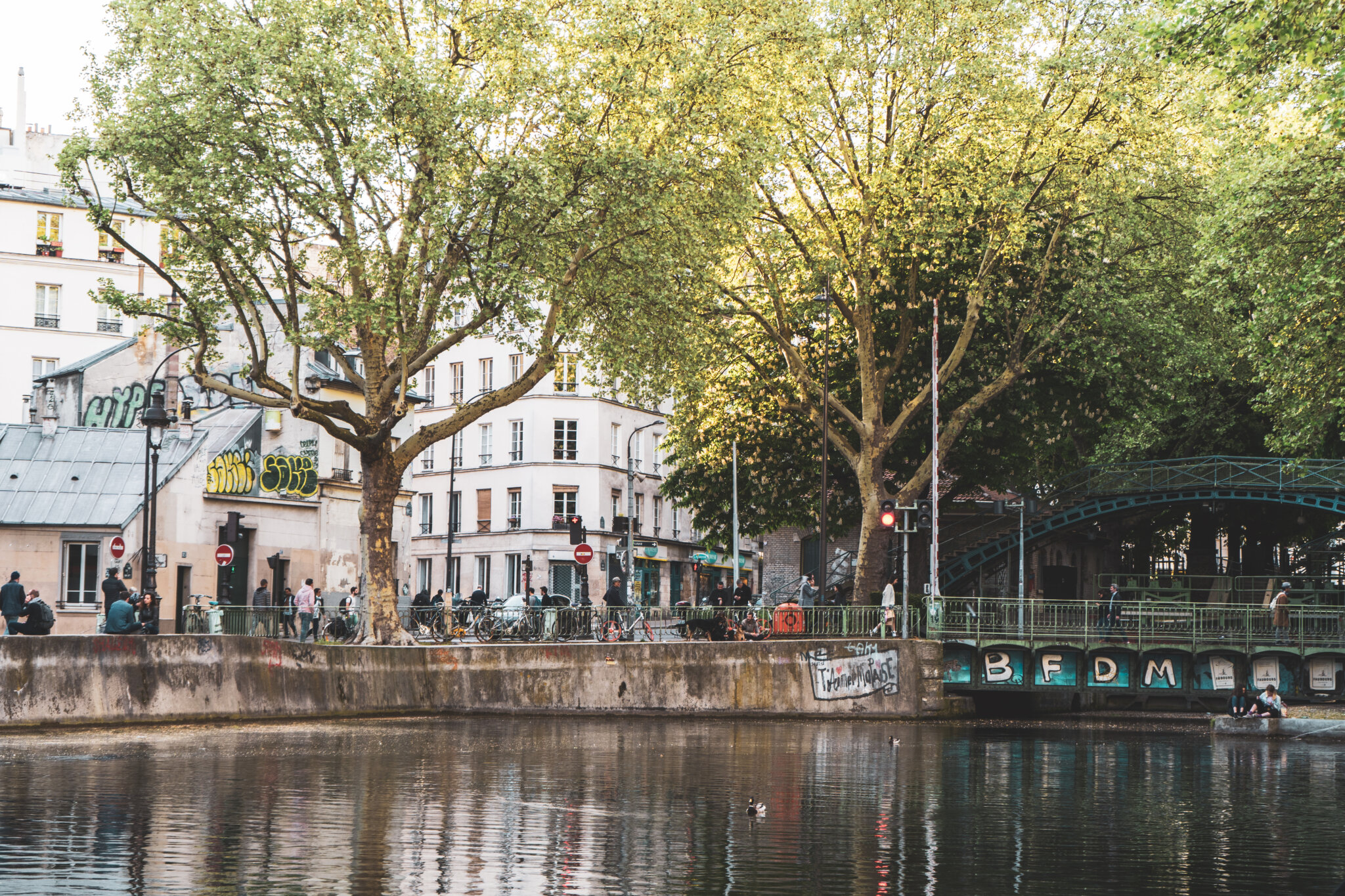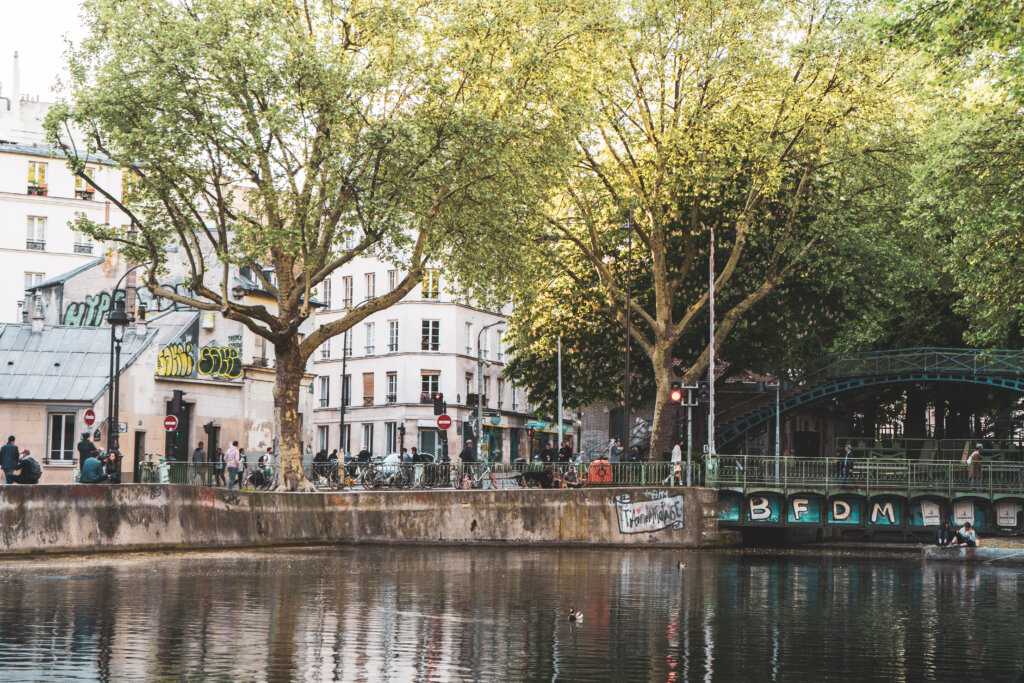 Go for a night time stroll
If Paris by day is magic, then Paris by night is magic on steroids.
Seeing all of Paris' landmarks it up (especially the Eiffel Tower which sparkles for 5 minutes on the hour) is one of THE best free things to do in Paris, so don't miss it.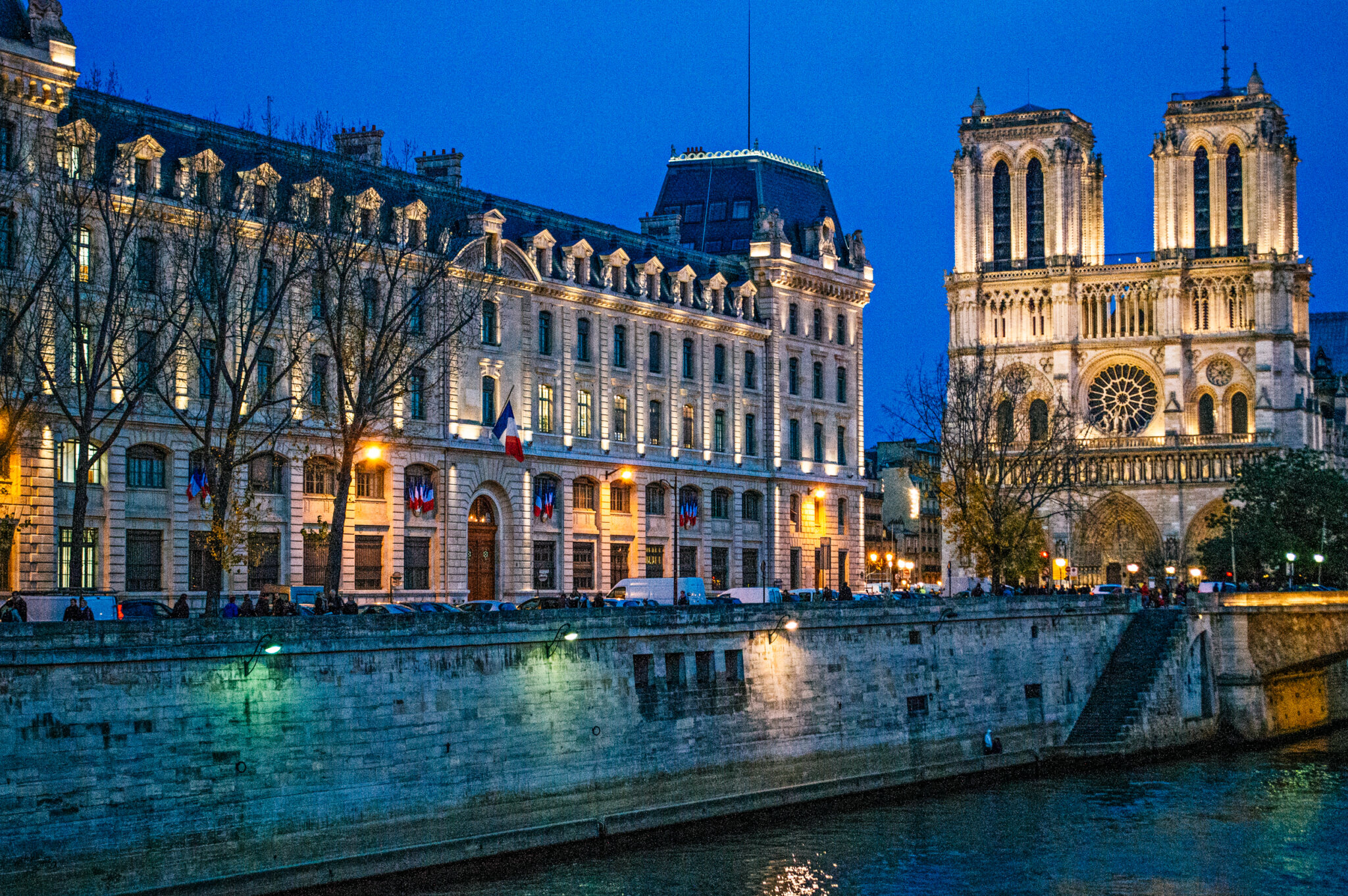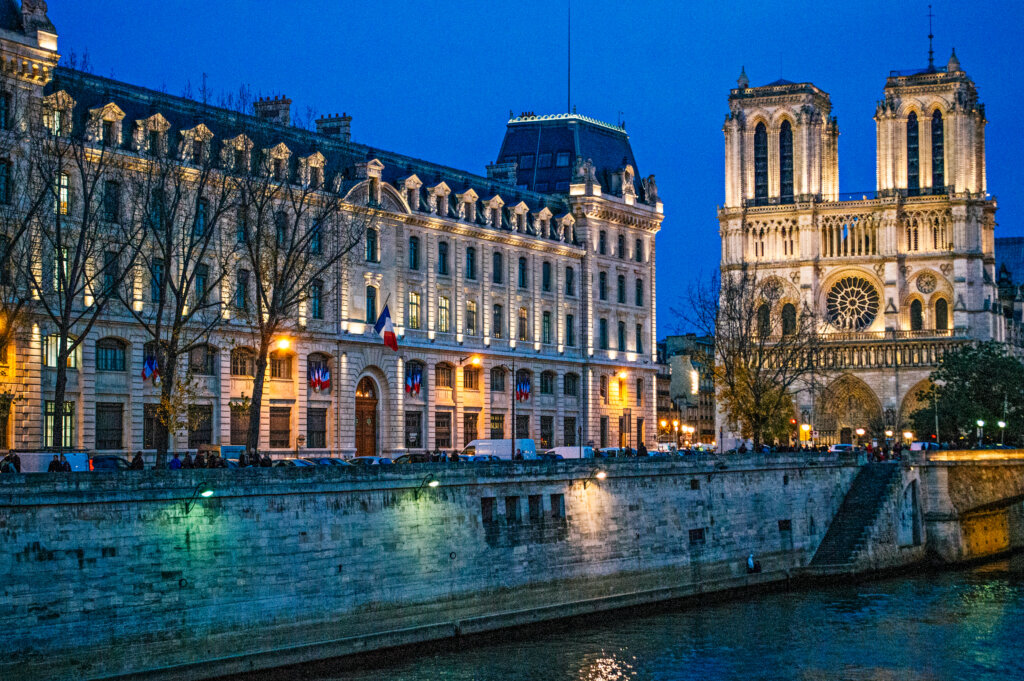 Scope out movie filming locations
TONS of movies have filmed in Paris over the years: Inception, the Devil Wears Prada, the Da Vinci Code, Midnight in Paris (duh) and many many more… including of course the Netflix series, Emily in Paris!
If you're a movie or TV buff, a very fun free activity in Paris is to explore some of these for yourself!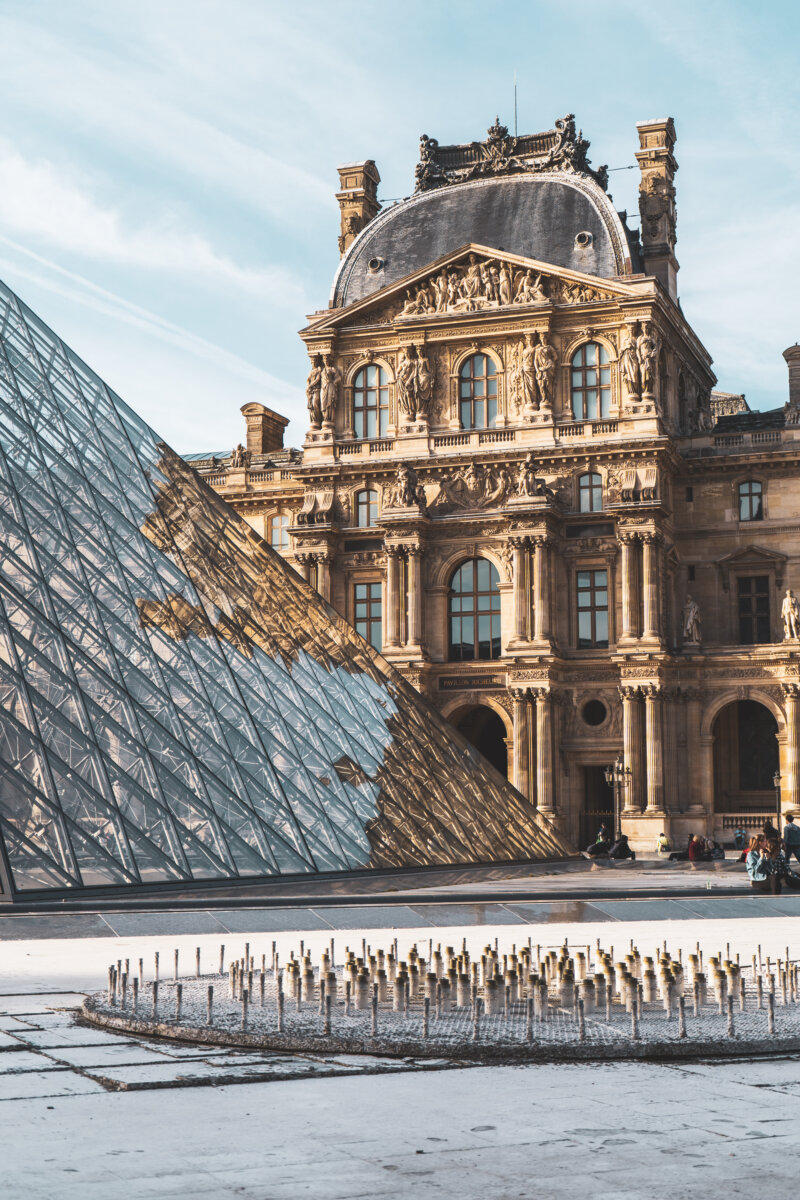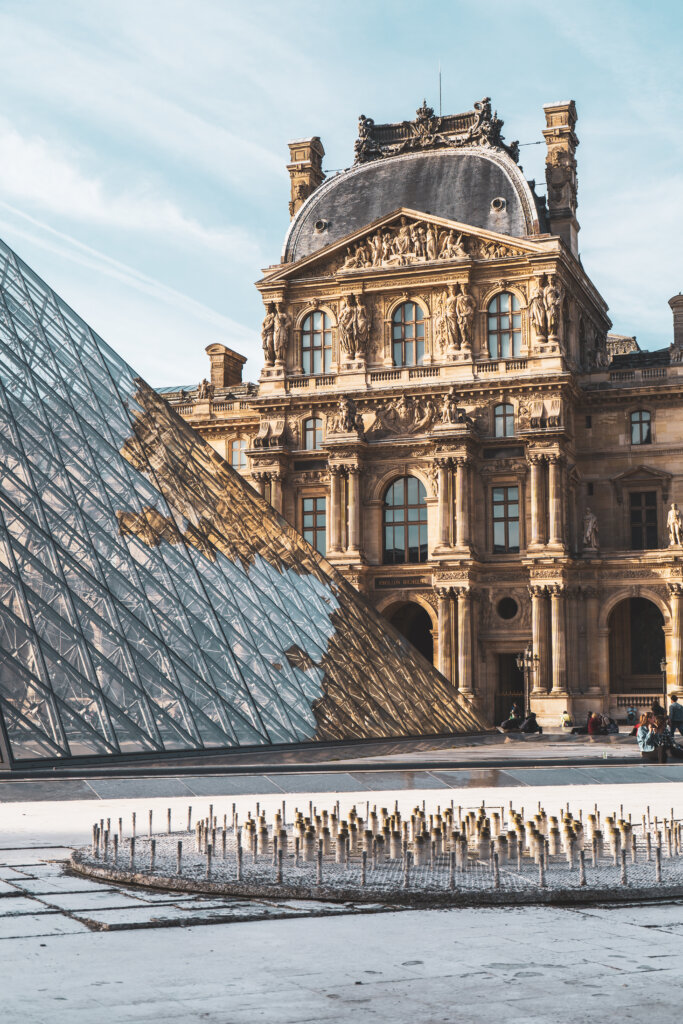 Check out the "interesting" art at La Défense
I would only recommend this free activity if you have a lot of time to kill in Paris because La Défense (the business district) is quite far from the rest of town, but there's tons of cool art pieces to be seen there, including a giant thumb.
Take a peek inside the Hôtel de Ville
Another free Paris attraction to check off your list is the Hötel de Ville, AKA the Paris City Hall building.
In the summer you'll find a charming vintage carousel in front of it, in the winter you'll find a big skating rink in front of it, and yes, visiting the inside is free too.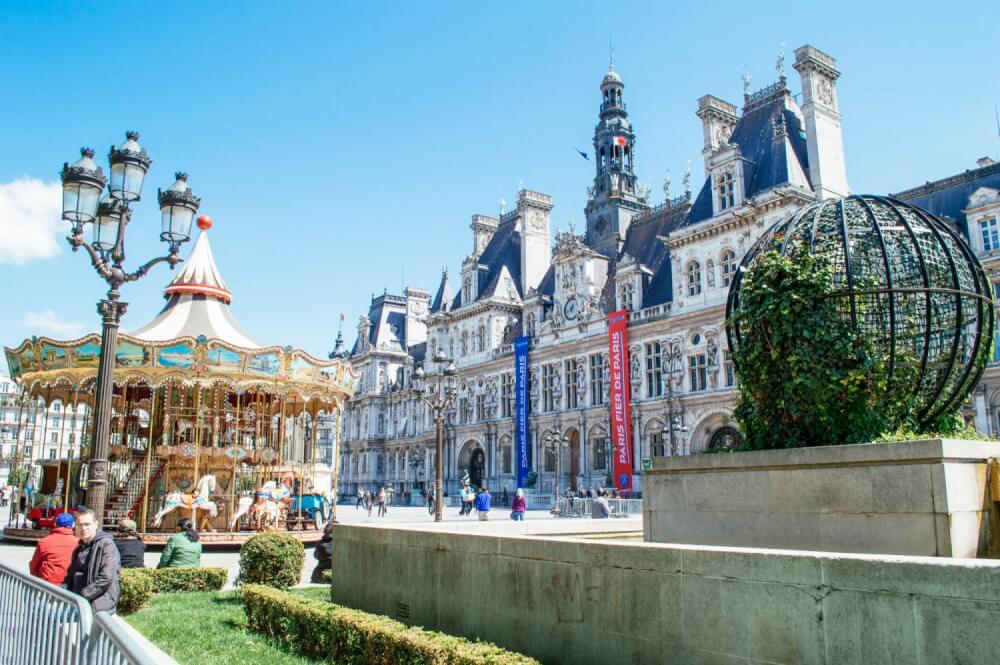 Visit Marie Curie's lab
Science geeks, you'll love a visit to the free Institut du radium where you can visit physics and chemistry labs run by Curie (decontaminated in the 80s, so don't worry!).
Plenty of photos, archives and scientific instruments can be found here, making it a must-do free activity in Paris for those interested in science.
Soak in local life at a food market
Fresh food and the happy buzz of daily Parisian life – what more could you ask for?
If you want to get a peek at Paris from a locals' POV, visiting one of the city's many food markets is a great (free) way to do just that.
Here's a list of great food markets to visit.
Last but not least: grab some free grub (with the purchase of a drink)
Free bites in Paris? Score! Fact: there are several bars/restaurants that offer free food alongside a drink purchase.
For instance, you can enjoy a free plate of mussels at Le Bouillon Belge on Wednesdays or try some couscous at Les Trois Frères (Thursdays) or Tribal Café (Fridays/Saturdays). Here's a more thorough list.
Bonus: there's also tons of free fountains with drinking water throughout the city, including YES ones that dispense sparkling water. A list of locations can be found here (in French).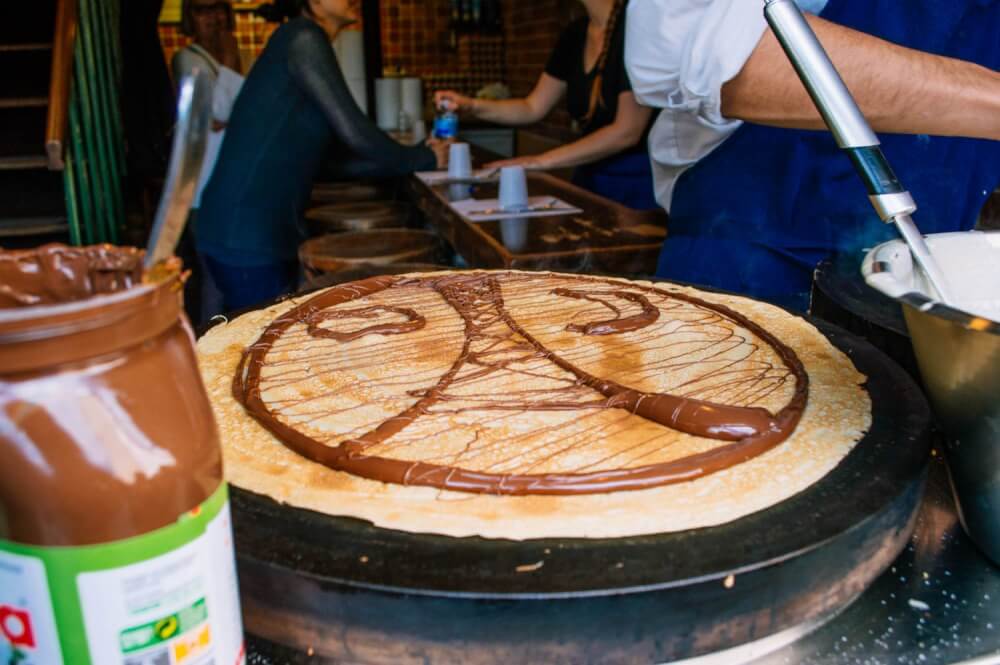 Seasonal Free Things to do in Paris
From free things to do in Paris in winter to free attractions in Paris during the summer, here are some more free Parisian activities to look out for.
Celebrate Fête de la Musique
In France, the Summer Solstice is celebrated with a night of free music and concerts – a chaotic (and sweaty) but very memorable event!
You can expect concerts all around town in bars, theatres, squares, on the street, pretty much anywhere, but for a list of official concerts, visit the festival's website.
Enjoy a summer night dance
During evenings in the summer (from June to August), dancers get together on the banks of Port Saint-Bernard at Jardin Tino Rossi to dance the night away. Got two left feet? No problem – anyone is welcome!
Catch an outdoor movie
During the summer, Paris becomes a haven for (free) outdoor cinema, so grab a cozy blanket and enjoy a night beneath the stars. Here's a list of screenings.
Spend a beach day right by the Seine
Summertime brings out the best in Paris, and since there are no nearby beaches, Paris Plages is where the locals gather to get their tan on.
Imagine makeshift beaches on the banks of the Seine, complete with sand, fun umbrellas and Frenchies letting it all hang out. Careful though, it does get crowded.
Pull an all-nighter at Nuit Blanche
On the first Saturday of October, Parisians celebrate the Nuit Blanche festival as art sweeps across the city from 7pm-7am.
This free event invites locals and tourists alike to enjoy the best of art and culture in the city (which means yesss free entrance to museums and the like).
Go for a skate at City Hall
During the winter, the space in front of City Hall becomes a free ice rink for you to glide gracefully on (or wipe out, like me). Rentals cost extra, but it's free if you bring your own skates!
Soak in the ambiance of Paris' Christmas Markets
Twinkling lights, the smell of hearty food, and the oh so magical ambiance of Christmas markets… Ah, Christmas in Paris is truly something special!
It's like getting punched in the face with Christmas spirit (in the best way possible).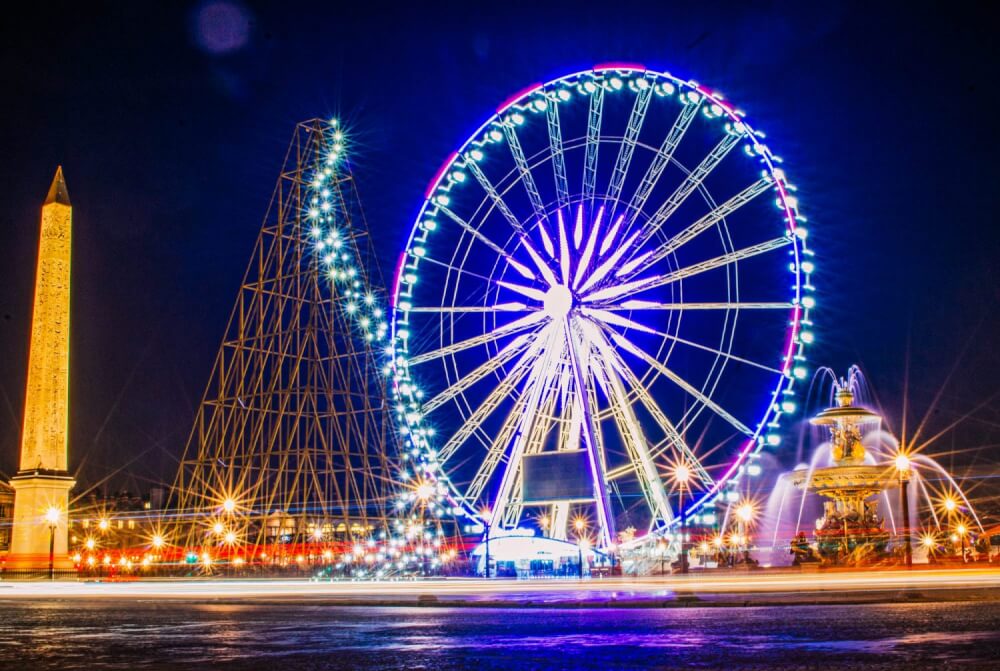 Did I miss any of your favourite free things to do in Paris?
I hope you enjoyed this roundup of free things to do in Paris! Let me know in the comments if I missed any of your favourites! Tell me: have you ever been to Paris? If so, what was your favourite part?
Further reading:
Tips for visiting Paris when you don't speak French
---
Watch my most popular YouTube video this week:
---