*FYI - this post may contain affiliate links, which means we earn a commission at no extra cost to you if you purchase from them. Also, as an Amazon Associate I earn from qualifying purchases. Check out our Privacy Policy and Disclosure. for more info.
This list of fun things to do in Lucerne was written in partnership with Mount Pilatus and Grand Hotel National, who both hosted me on my trip. I hope you enjoy these ideas for what to do in Lucerne, the most beautiful city in Switzerland!
Lucerne is one of my all-time favourite cities in Switzerland, maybe even Europe.
I still remember my first visit there a few years ago: my boyfriend and I had rented a car to visit Lucerne for a long weekend from Munich, and decided on a scenic route that would take us through Liechtenstein.
As we crossed the border and edged closer to our final destination, the sun began to set and the scenery became so ridiculously good looking that I threatened to dump him if he didn't pull over.
And so, we watched the sun come down from a quiet spot nestled in the mountains outside Lucerne, surrounded by the vibrant shades of pink and purple.
Right then, I knew I was in trouble. Switzerland already had me, and I had barely been there for an hour.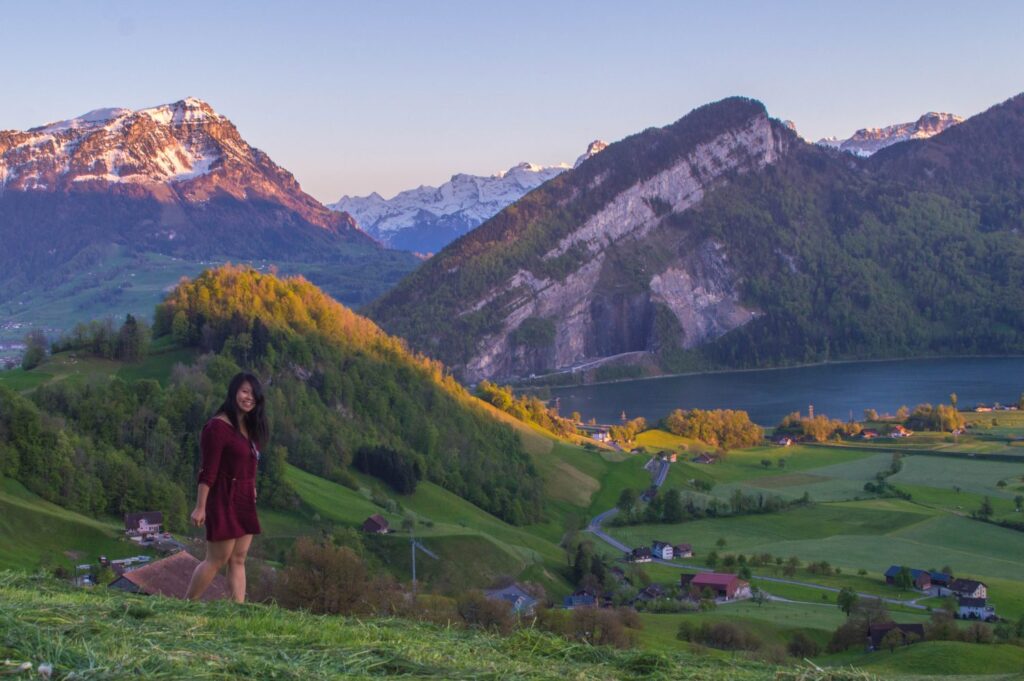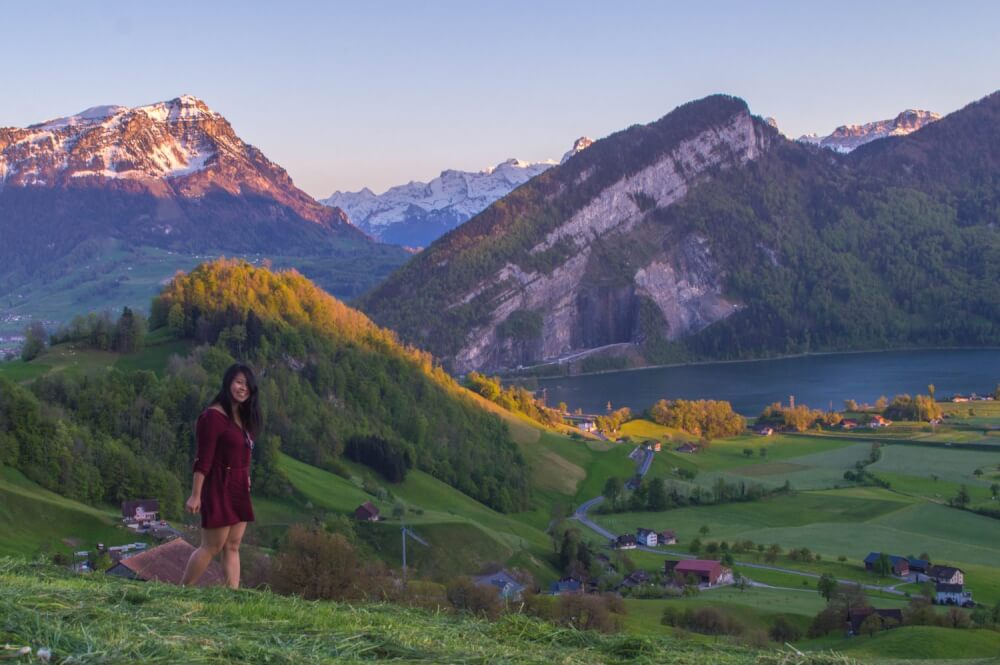 What I would discover in the next two days is that Lucerne is not just beautiful, it is ridiculously, jaw-droppingly gorgeous.
Since that first visit, I've been back to Switzerland multiple times to see the best Christmas markets in Switzerland, ride the most scenic Swiss train rides, hike around Lauterbrunnen, and even hop on board the viral Gelmerbahn.
Even after all that, Lucerne remains one of my favourite places in the country.
In this post, I'll share the best unique things to do in Lucerne, with tips on where to go in Lucerne, where to stay, and more, so hopefully you can fall just as in love.
Further reading: 50 Unique Things to do in Switzerland
1. Enjoy a Palatial Stay right by the Lake
It could be the bright turquoise water coursing through the River Reuss, or the gentle glide of swans over Lake Lucerne, but there is an unmistakably magical ambiance that emanates through this city.
And there's no better place to enjoy this ambiance than on the balcony of a 5* lakeside hotel.
I was kindly hosted by the Grand Hotel National in Lucerne during my visit, and I couldn't have imagined a more perfect base for our Lucerne explorations.
This historic property has been an icon of the city since 1870, and has hosted countless historic figures over the years, from Austrian empresses (like Sisi), to Indian Maharajas.
Swiss hospitality is truly the best in the world, and while splurging on a hotel here comes with a hefty price tag, it's a worthwhile once in a lifetime experience if your travel fund allows.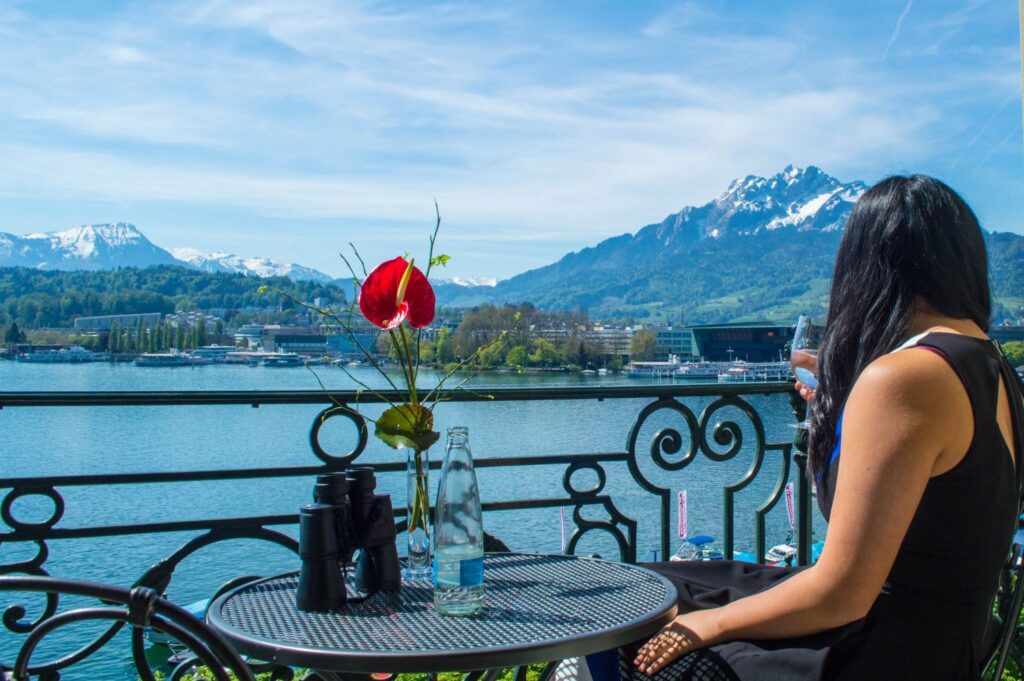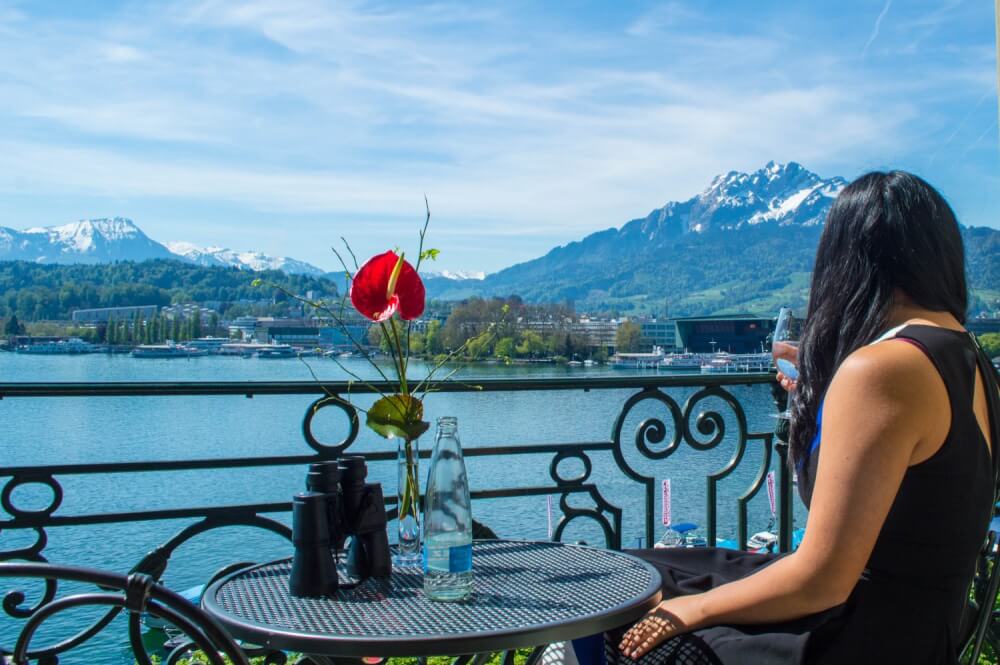 2. Visit the Chapel Bridge, AKA Lucerne's Own "Harry Potter Bridge"
After checking in to our hotel, we wasted no time in setting out for a night time stroll through Lucerne, one of the highlights being Chapel Bridge (Kapellbrücke), a sight practically ripped from the pages of Harry Potter.
NOTE: Lucerne is not an actual Harry Potter filming location, but Chapel Bridge does bear a striking resemblance to the iconic bridge of Hogwarts!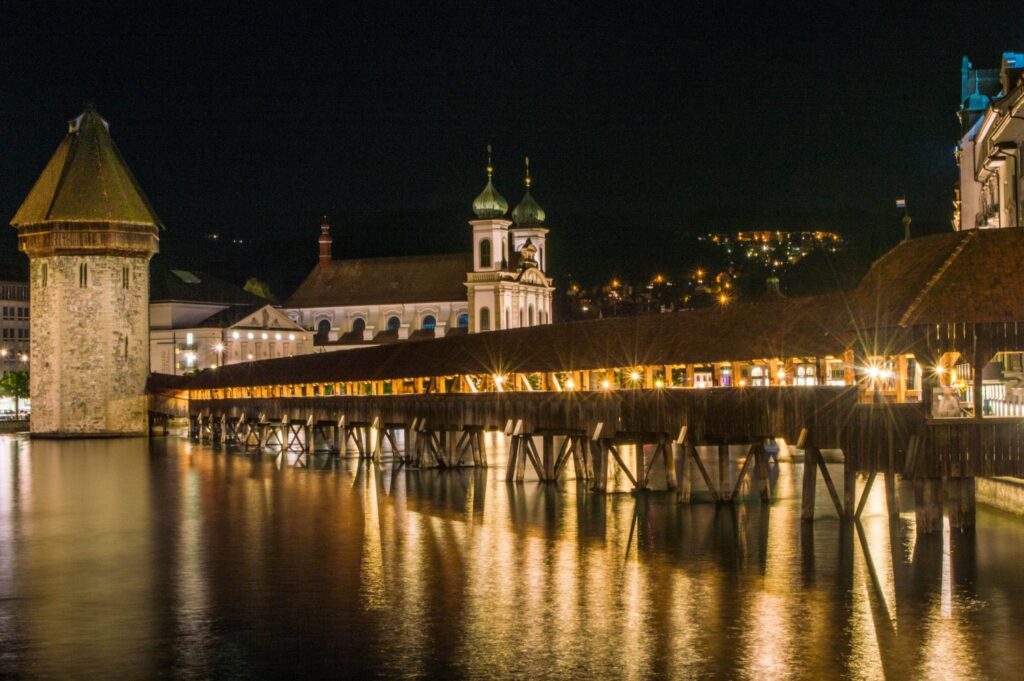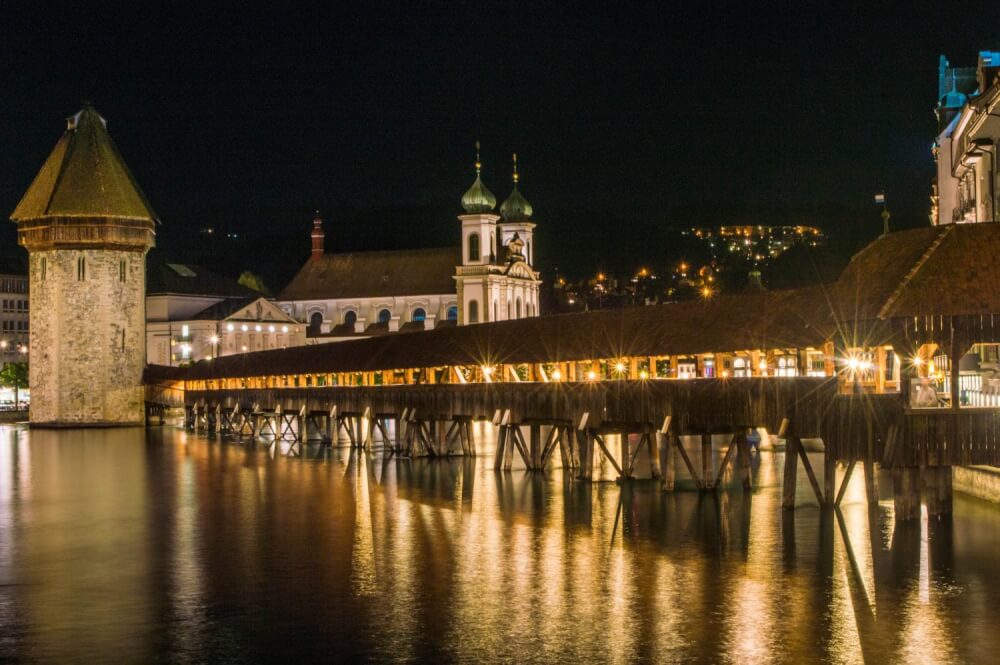 Wizarding similarities aside, Chapel Bridge is a historic and worthwhile Lucerne must-see.
Besides its unique look, this bridge is also the oldest wood-covered bridge in Europe, with a gorgeous interior lined with a variety of paintings (many of which were destroyed by a fire over 20 years ago).
Kapellbrücke is one of the best-known symbols of the city, and it's a gorgeous Lucerne attraction that is amazing to see both day and night.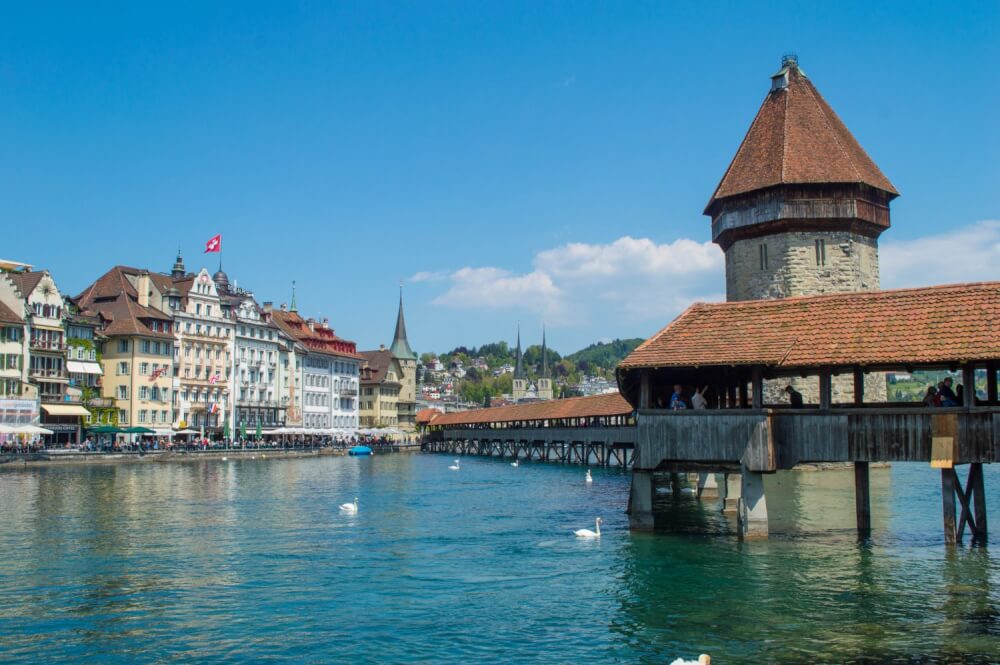 3. Take a cruise on Lake Lucerne
I've been fortunate enough to spend a great deal of time in Europe in the past few years, with plenty of charming cities that have caught my eye, but genuinely… Lucerne is something special.
Europe in the Spring can be a bit unpredictable, but we were blessed with two solid days of sunshine during our visit.
One of the best ways to enjoy the scenery in Lucerne is by taking a lake cruise. While Lucerne and the lake share a name, it's important to note that Lake Lucerne is actually 114 km², with 32 boat piers along its scenic shores.
… Kind of tough to walk! So, treat yourself and take a cruise instead.
There are a lot of different options – here are some unique ones: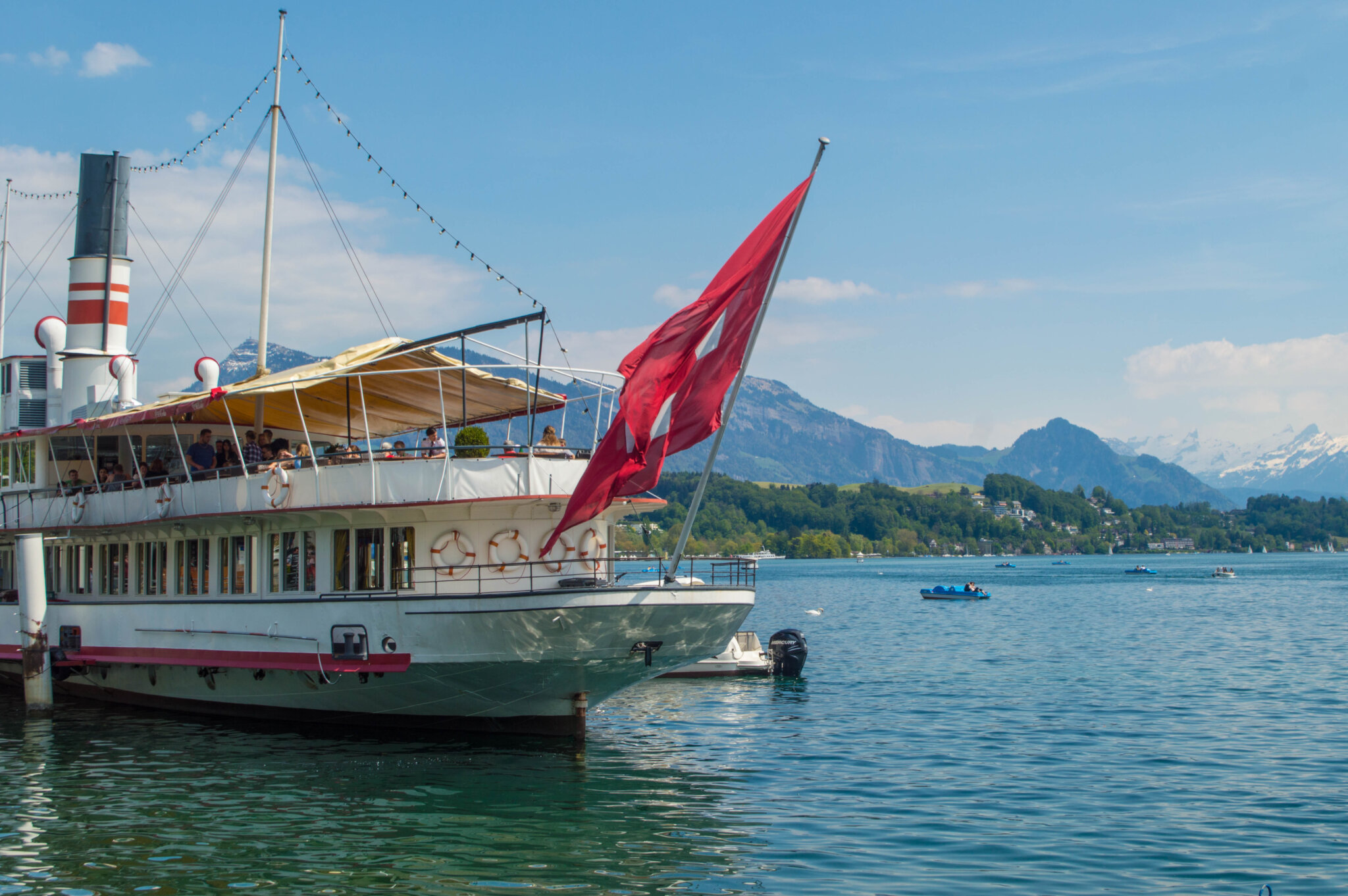 4. Head up Mount Pilatus
One of Lucerne's greatest perks is its proximity to nature, with its vast shimmering lake and its location surrounded by mountains.
With only a bit of time to spend in Lucerne we were faced with the tough decision of which mountain to explore.
After some research, our minds were made up: we'd be spending a half-day up Mount Pilatus, home to the world's steepest cogwheel train, the longest toboggan run in Switzerland and the less-official title of ultra badass mountain (as coined by me).
We had a car, but there are many options for heading to Pilatus from Lucerne without a car, such as: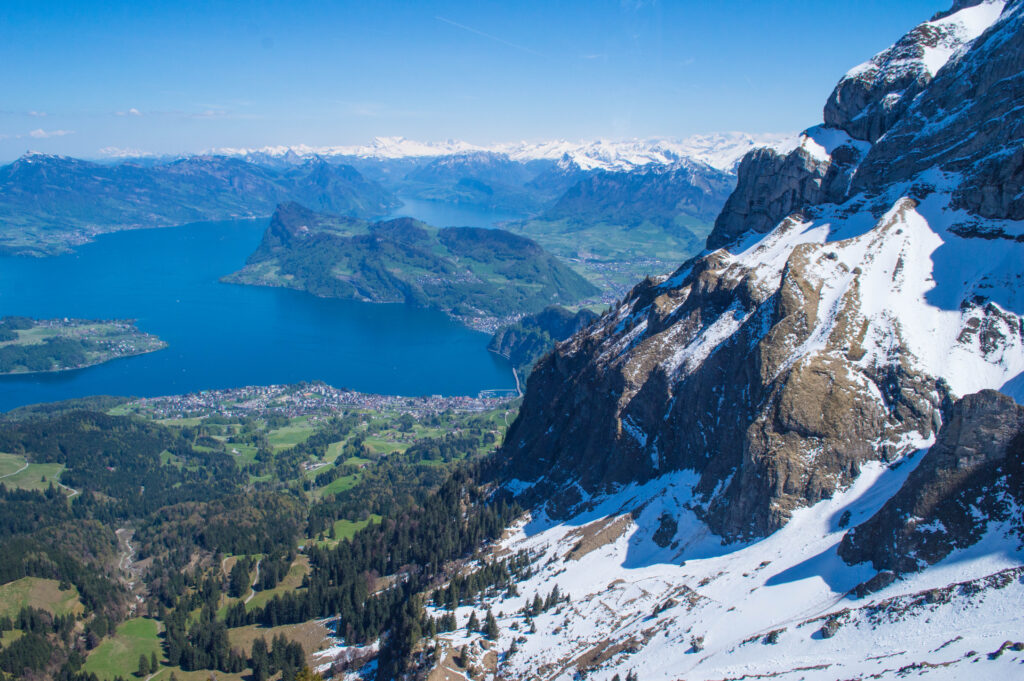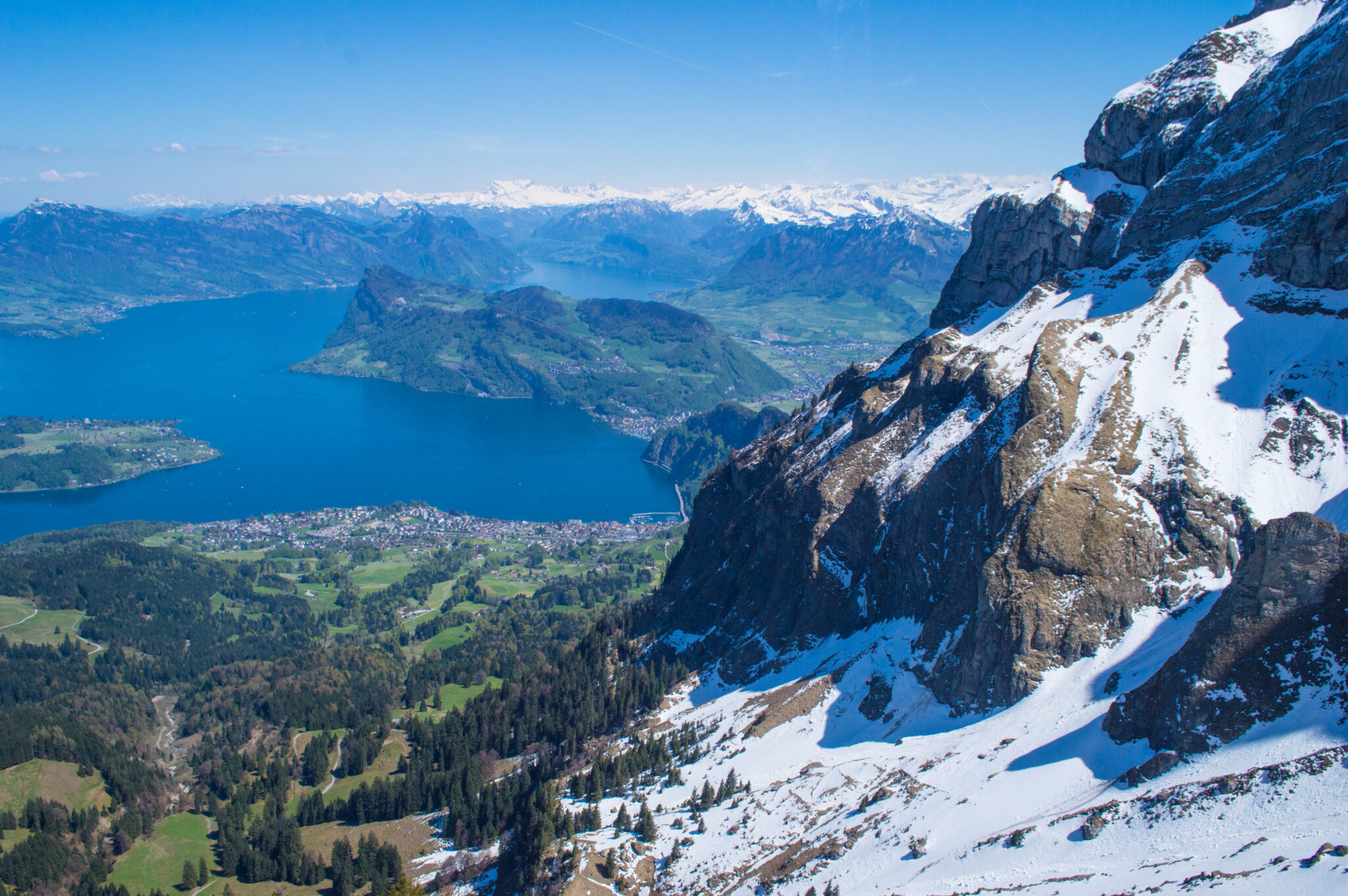 Our visit was marred by a bit of bad luck. We were beyond excited to ride the cogwheel train up Pilatus (again, the steepest in the world!) but were gutted to find out upon our arrival that its opening had been delayed by a few days.
Standing by the deserted cogwheel station, we let the disappointment creep in for a few minutes, but quickly bounced back to our Plan B: taking the gondola up.
After a long wait for parking (arrive early, folks!), we hopped into our adorable red car, which zipped us over 2000m up in the air, with stellar views as we climbed higher and higher.
If you're looking for things to do in Lucerne, I highly recommend the venture up Pilatus.
Even in May, there was snow, and plenty of cool activities for all ages, which brings me to another very fun thing to do in Lucerne…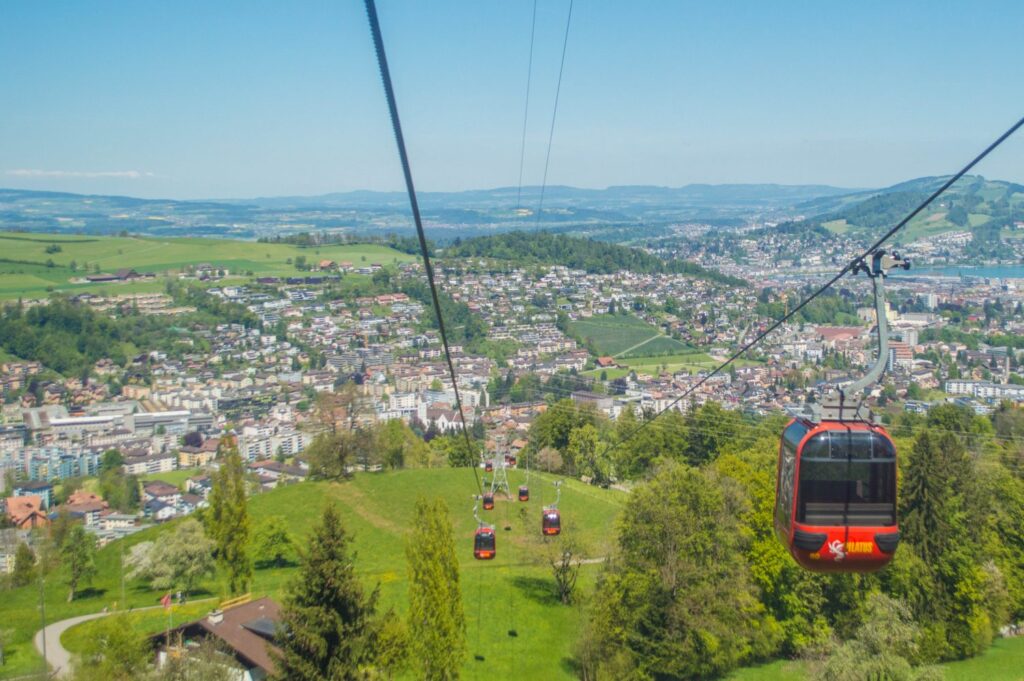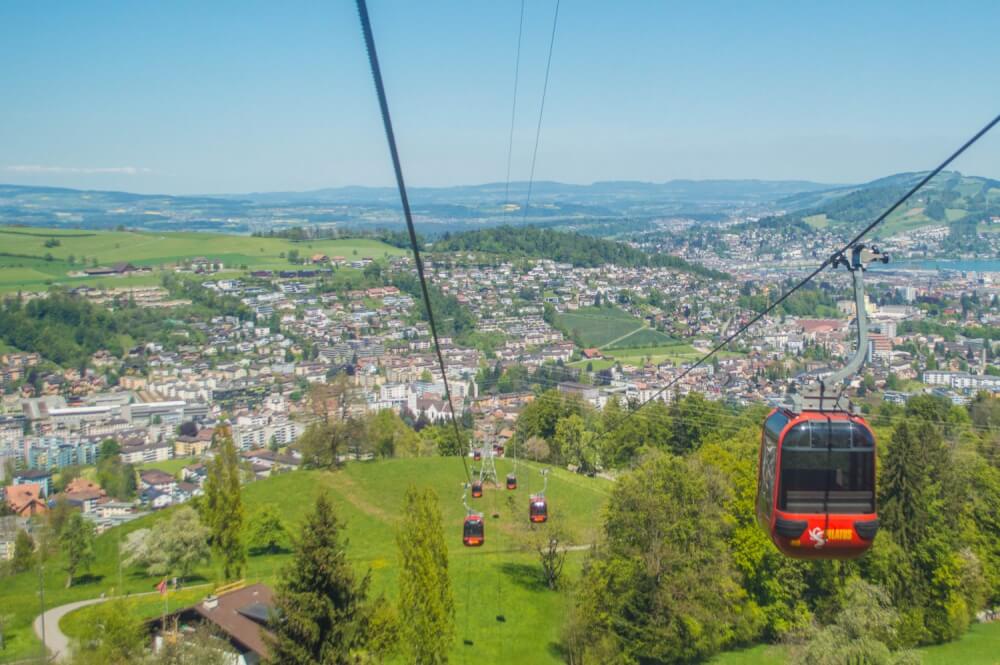 5. Ride the longest toboggan run in Switzerland at Mount Pilatus
For half the day we kept busy breathing in the fresh mountain views, walking through icy snow tunnels and even having a go at the toboggan run (yup, the longest in Switzerland!)
Now, although this was an activity that even kids flawlessly whizzed through, I was genuinely terrified (because I am me, and I am lame).
But luckily, you could control your own speed, which meant I was able to go at an (admittedly) grandma-esque pace while enjoying the gorgeous scenery.
Due to our time constraints, we weren't able to try every activity on the mountain, which is a real bummer because the giant ropes course looked like so much fun! Maybe it's for the best though… I'm not sure clumsy-me would have survived.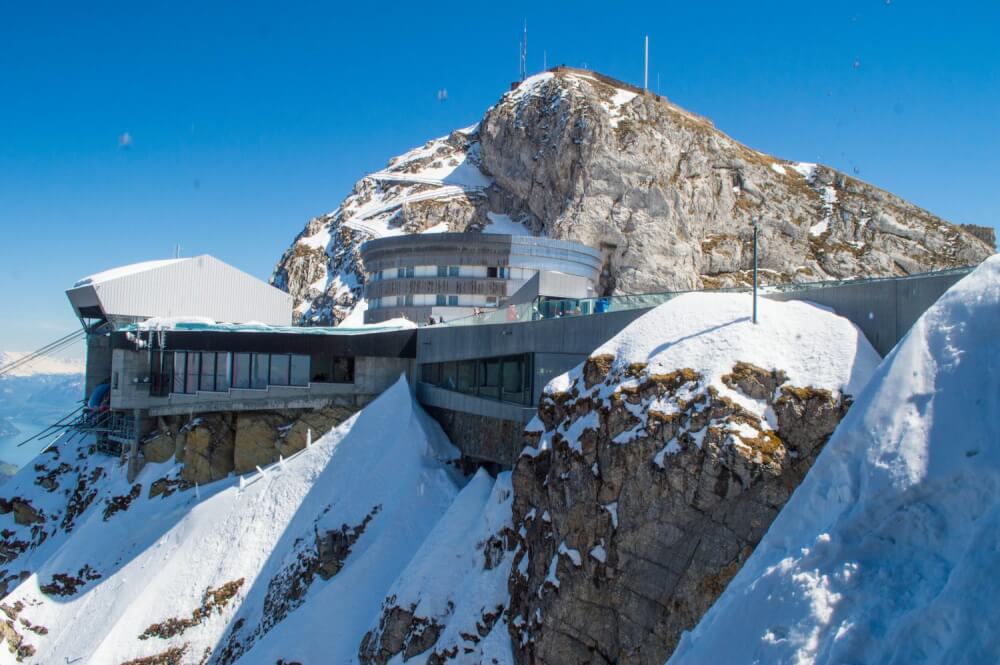 6. Or Head to Rigi Instead
I had an amazing time visiting Mount Pilatus, but I still have to mention another amazing thing to do in Lucerne that's highly popular with visitors: a day trip to Rigi, AKA the Queen of the Mountains.
If you're limited on time, I'd recommend just picking one of either Pilatus or Rigi, since both offer sublime mountain views and nature.
Here are a few options for Mount Rigi tours from Lucerne: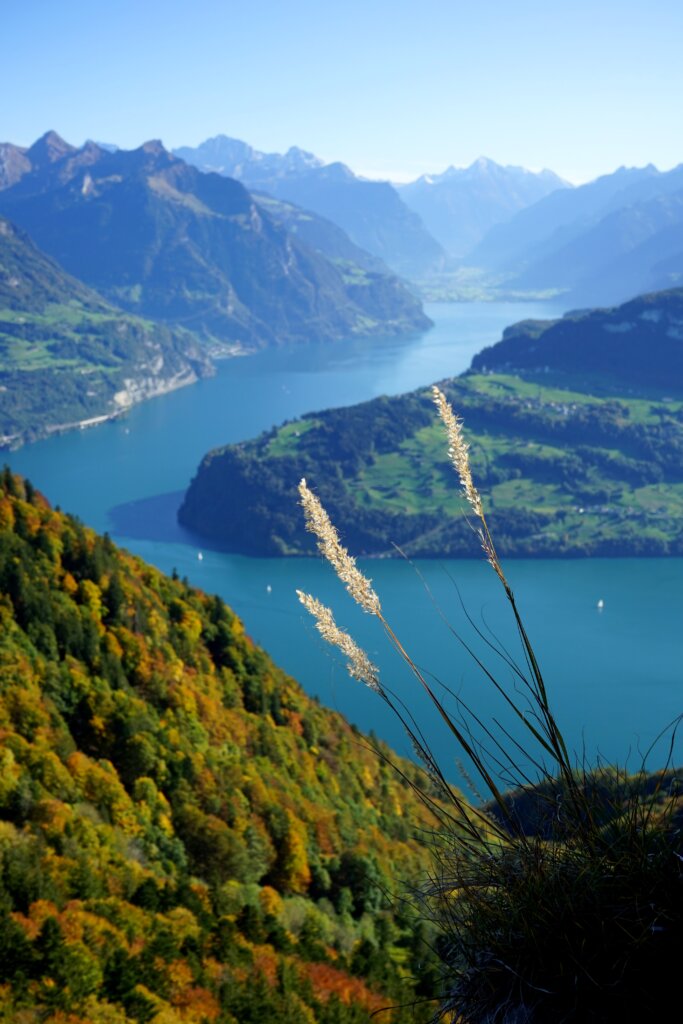 7. Enjoy a sunset stroll Around Lucerne
We capped off our perfect day with a sunset stroll through Lucerne, which glows the most incredible of colours when the sun comes down.
On this particular night, the city became awash in shades of light purple, which made the scene absurdly perfect. If you're looking for romantic things to do in Lucerne, this one is a must… plus it's free!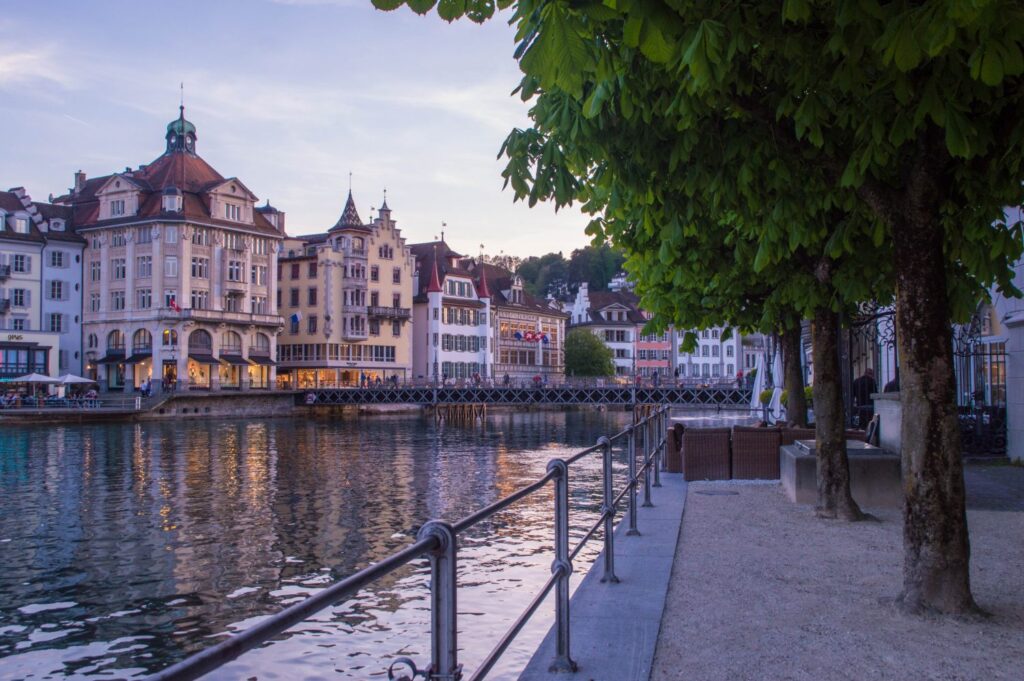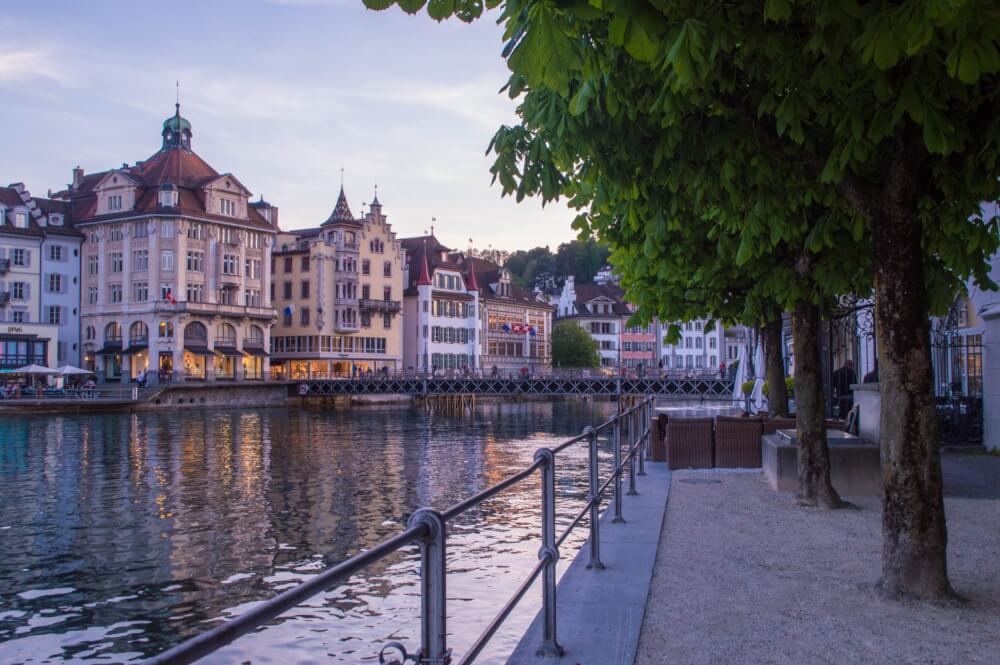 8. Explore Lucerne Old Town
After prying ourselves from our gorgeous hotel balcony, our second day was spent taking in some of Lucerne's major sights, ducking into quirky craft shops and snacking on ice cream along the way.
It was my idea of a perfect Sunday, strolling through the sunny streets of Lucerne, climbing the old city walls for idyllic views and ogling goods at the pop-up flea markets along the river.
If you'd prefer to see lucerne with a local guide, there are tons of options for that as well, like…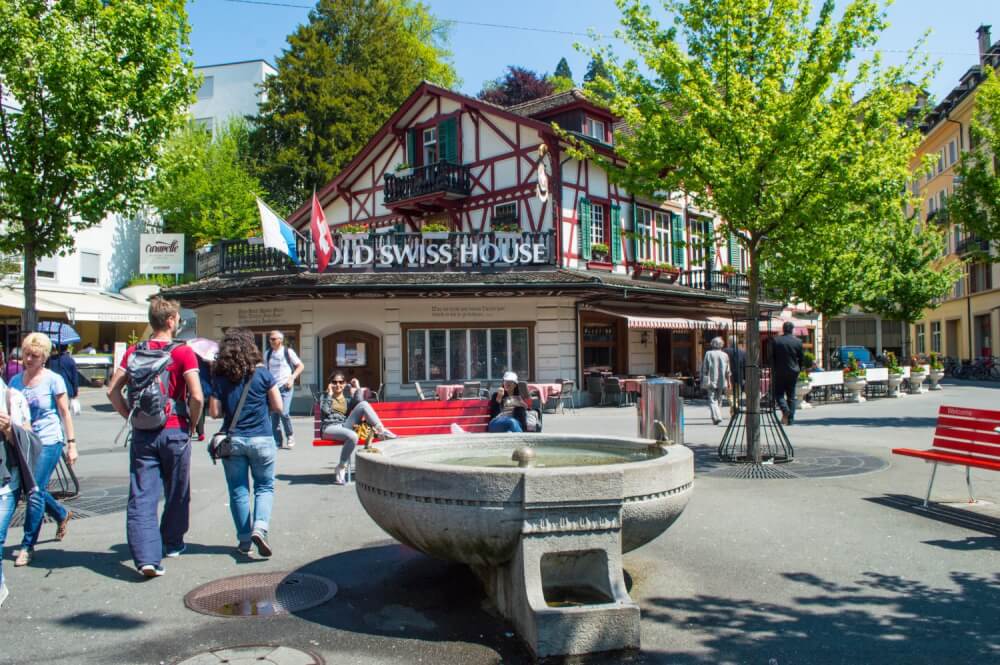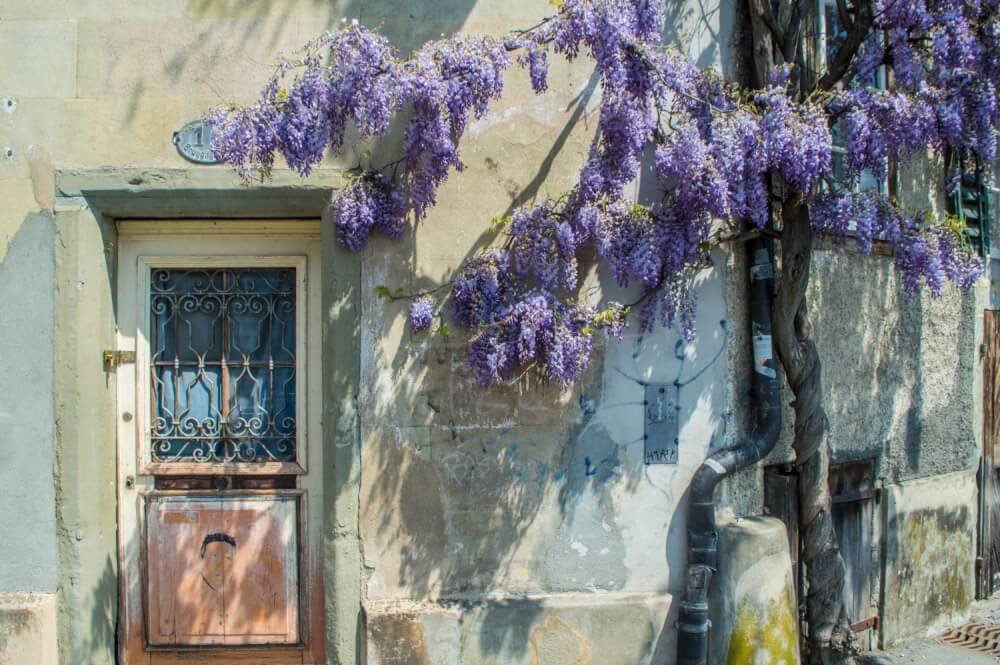 9. Visit Lucerne's famous Lion Monument
One of the top attractions around Old Town Lucerne is definitely the Lion Monument, a sandstone memorial for Swiss mercenaries who died during the French Revolution.
Laying dying under a Latin inscription saying "To the loyalty and bravery of the Swiss," this (incredibly sad) lion is carved directly into the sandstone, and was once described by Mark Twain as "the most mournful and moving piece of stone in the world."
Definitely a worthwhile sight to see in Lucerne!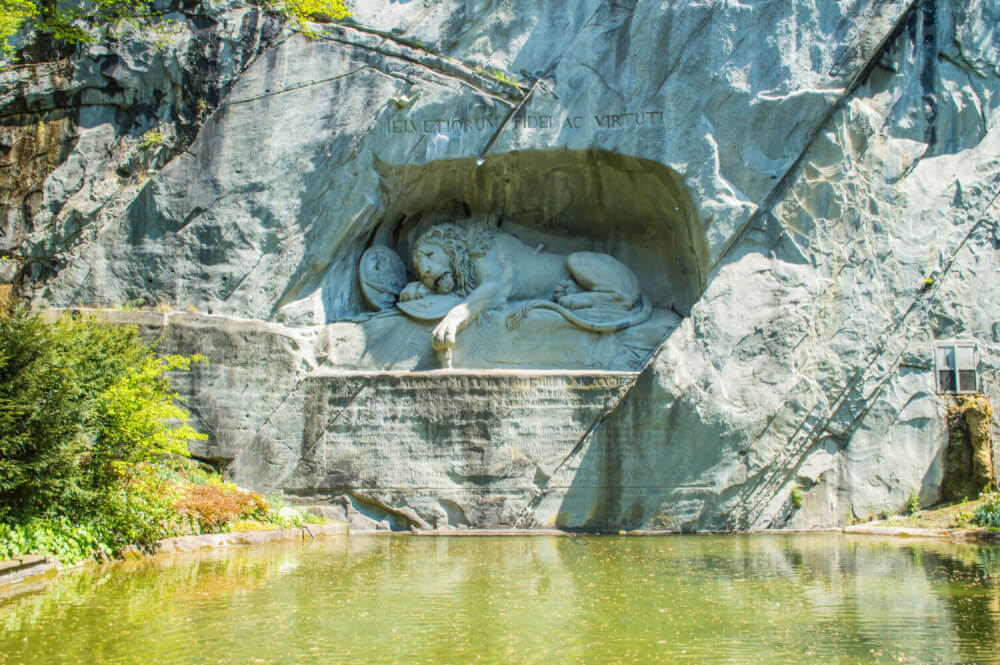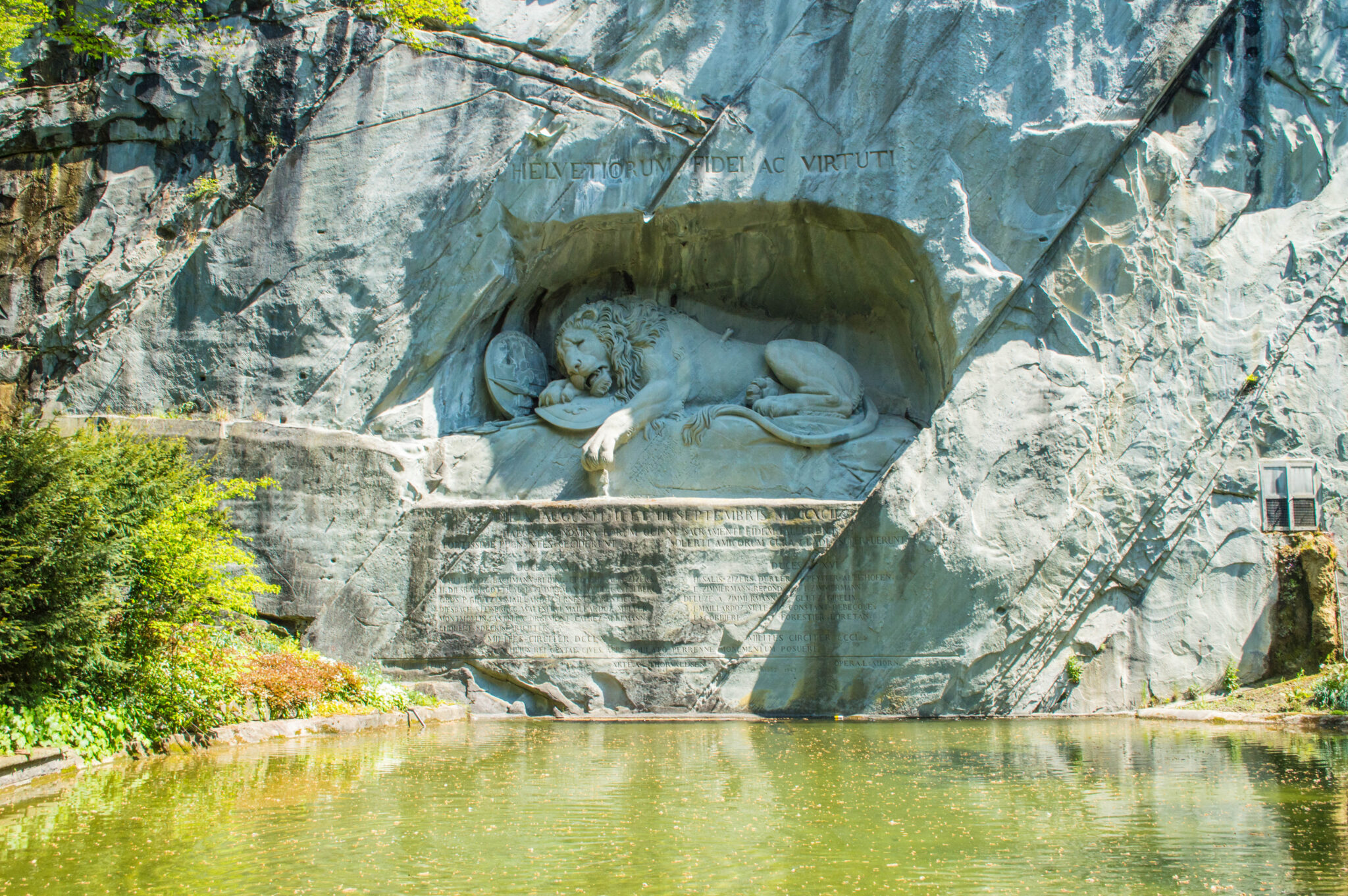 10. Get the best views over Lucerne at the Musegg Wall
As a sucker for amazing views, hands down one of the best things to do in Lucerne (in my opinion) is enjoying the city view from the Musegg Wall, which has four climbable towers open to the public.
This was probably my favourite Lucerne activity we did… I mean look at these views: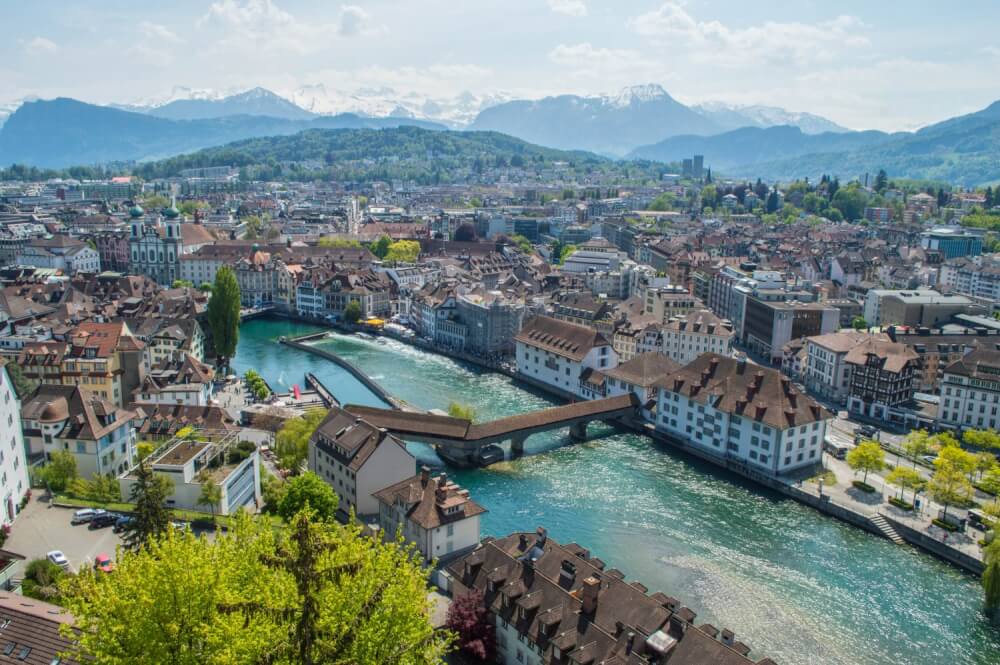 11. Go Paragliding
For a truly unforgettable bucket list experience in Lucerne, you can also enjoy some paragliding in the area!
This wasn't something I had time to do on my trip, but it's definitely something I'm saving for the future.
Click here for more info if you're interested.
I hope you enjoyed this list of fun things to do in Lucerne!
Here's the bottom line: Lucerne is gorgeous, and there's examples of this all throughout the city.
If you're looking for a place where you'll be mindblown by nature, where you'll fill up your memory card with photos and a place that you'll dream about for years to come, then this is it.
Add Lucerne to your bucket lists, because it is oh so worth it.
Until next time, beautiful city!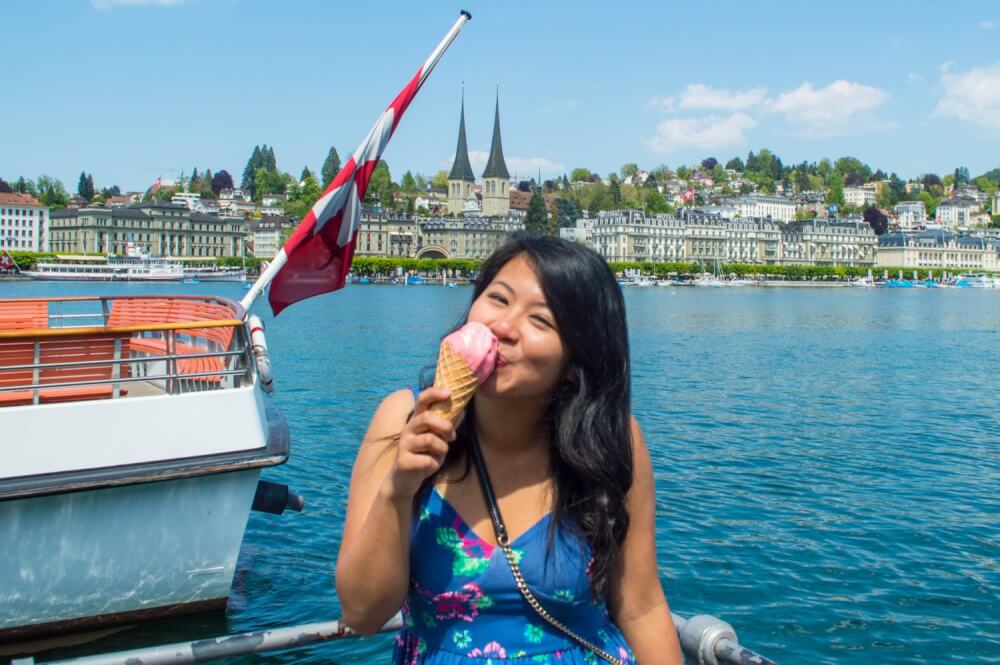 ---
Watch my most popular YouTube video this week:
---