*FYI - this post may contain affiliate links, which means we earn a commission at no extra cost to you if you purchase from them. Also, as an Amazon Associate I earn from qualifying purchases. Check out our Privacy Policy and Disclosure. for more info.
As a classic Canadian who's horrible at decisions and confrontation, the question of where to find the best Christmas markets in Germany often haunts me.
… You know, in a first world problemmy kind of way.
And after visiting dozens of Christmas markets in Germany over the past four years, picking a favourite certainly hasn't gotten any easier.
Instead, it has become a motherly habit of mine to pick up on the unique aspects of each market, cooing over the quirky details that make them special and different.
So yeah… the BEST Christmas markets in Germany? I still don't know!
Does "best" mean most traditional? Most unique? Most romantic? Best food?!
Because the title of "best" depends on so many different factors, I've done things the typical Christina way and made a long list punctuated with "ifs" and various scenarios.
So without further ado, here are the best places to visit for Christmas markets in good old Deutschland (organized based on what you might be looking for). Unsurprisingly, they are all best enjoyed whilst partially day-drunk and nursing a 5 month carbs-baby.
Save this post on Pinterest for later: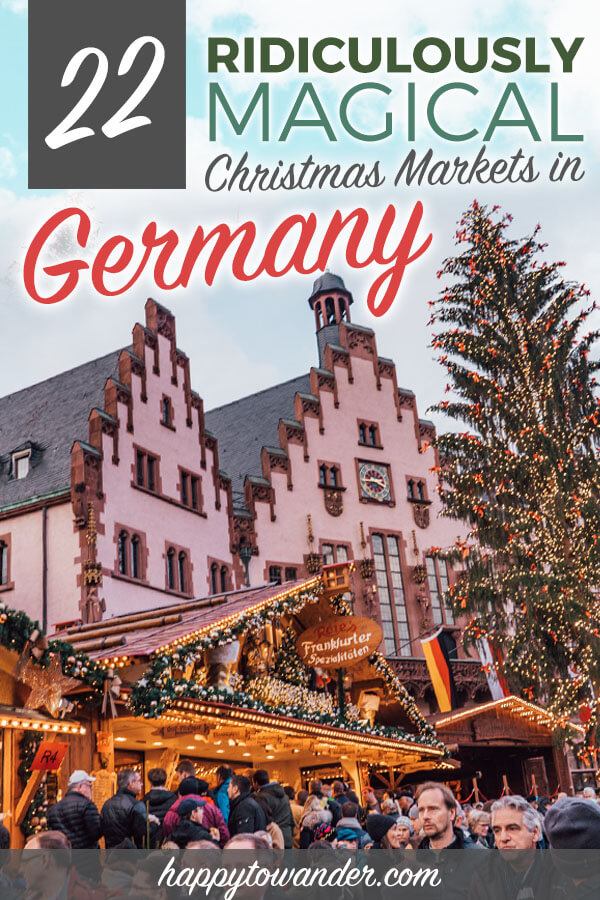 The Best Christmas Markets in Germany (VIDEO)
If video is more your speed, here is a video I made showcasing some of the picks from this list!
Germany's Best Christmas Markets: My Picks
Alright, are you ready to be assaulted with pure magic? Here are some of THE most magical Christmas markets you must visit in Germany!
1. Dresden's Christmas Markets
Perfect for: Devouring classic Stollen with perfect views
We'll start with one of the most breathtaking Christmas cities in Germany that I've ever visited: Dresden, home to the Striezelmarkt (one of the oldest Christmas markets in Germany), the world's tallest Christmas pyramid (at 14.62m according to the Guinness Book of World Records) as well as a stunning snack known as "Hand Bread" (Handbrot) that is basically just a bready pillow stuffed with cheese.
All this in one of Germany's most breathtaking cities. What's not to love?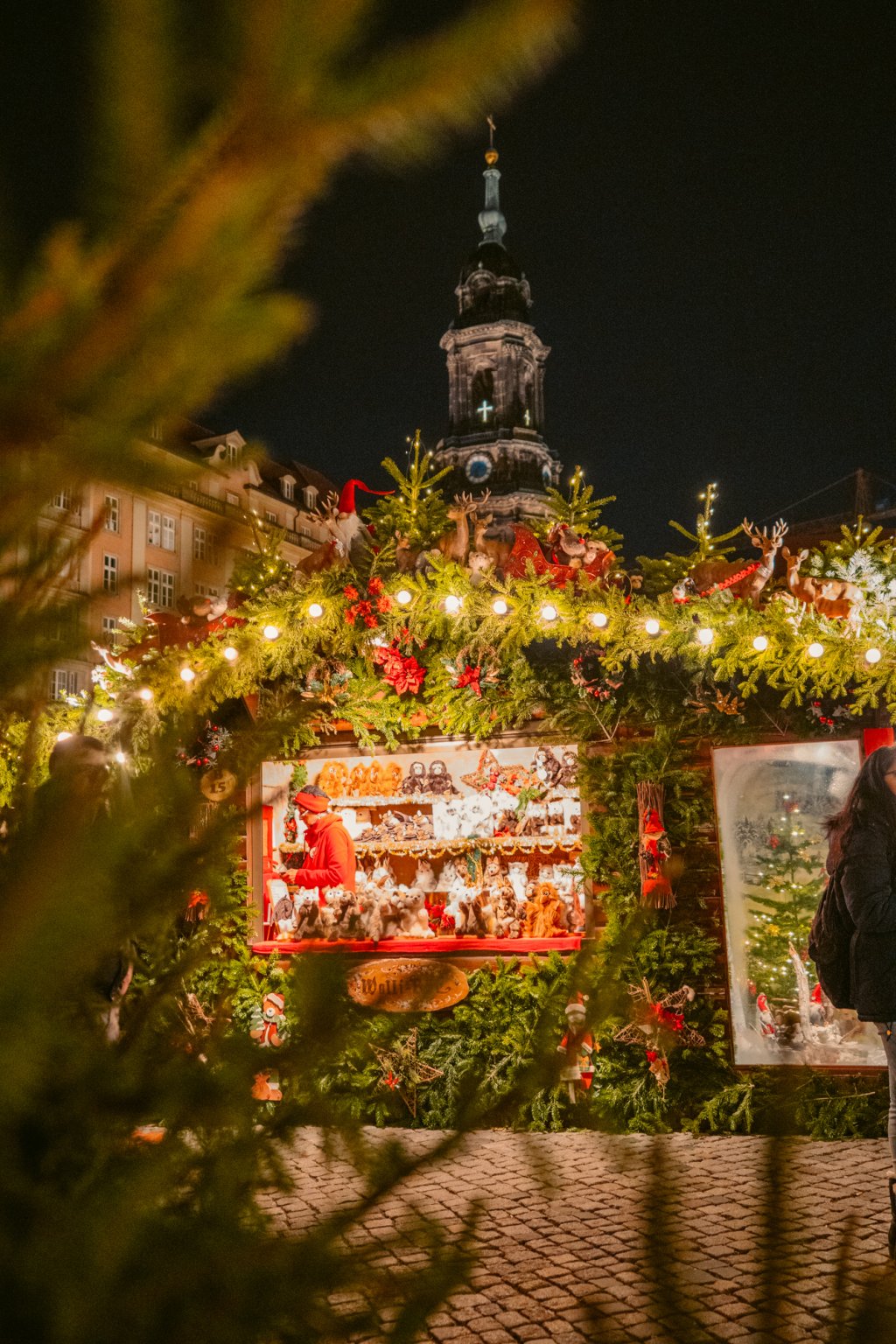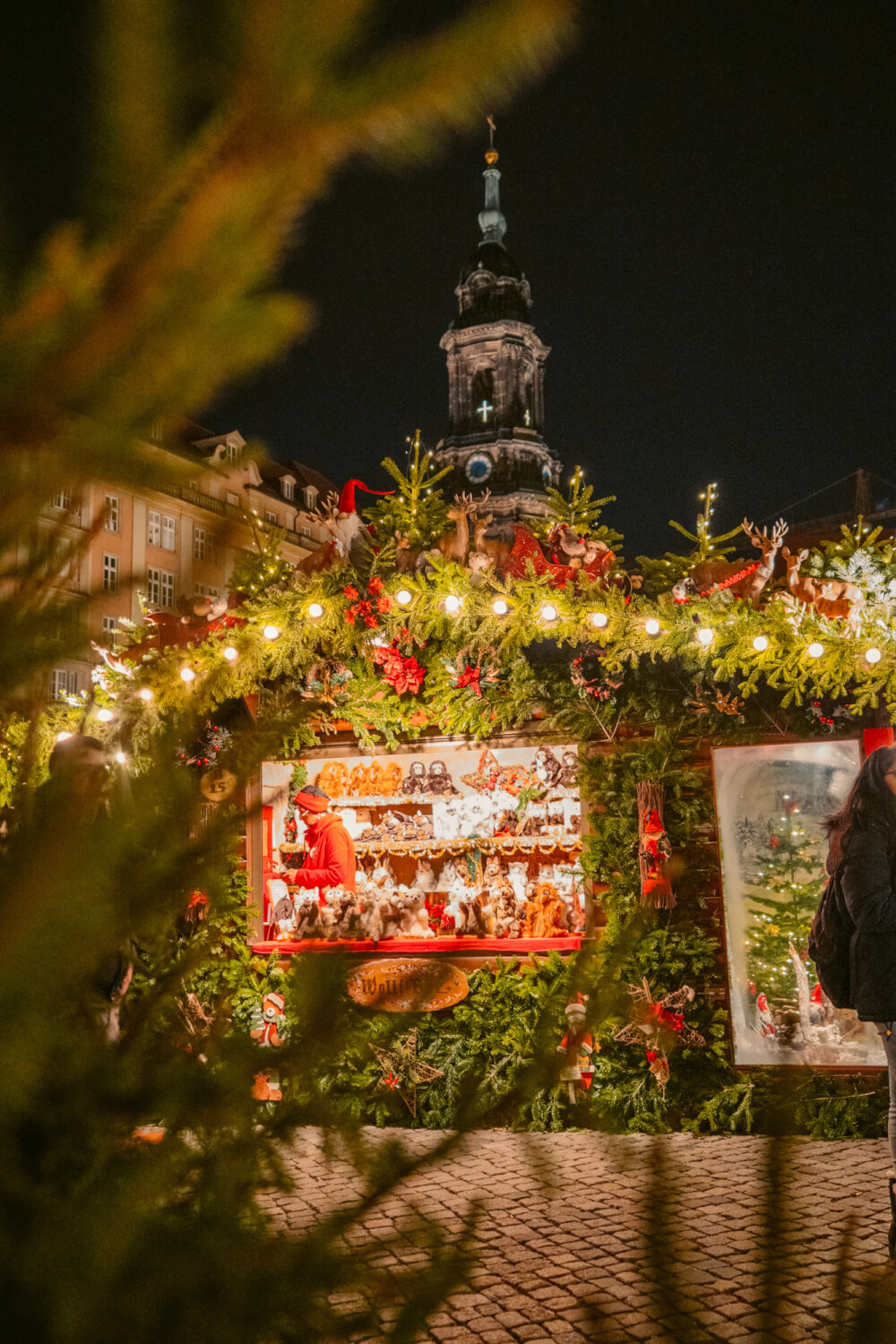 When I visited Dresden at Christmas time, it was love at first sight. The stall decor here, particularly in the Streizelmarkt, is extravagantly detailed, and probably among the best I've seen anywhere in Europe!
Add onto that a phenomenal medieval Christmas market, and I was sold.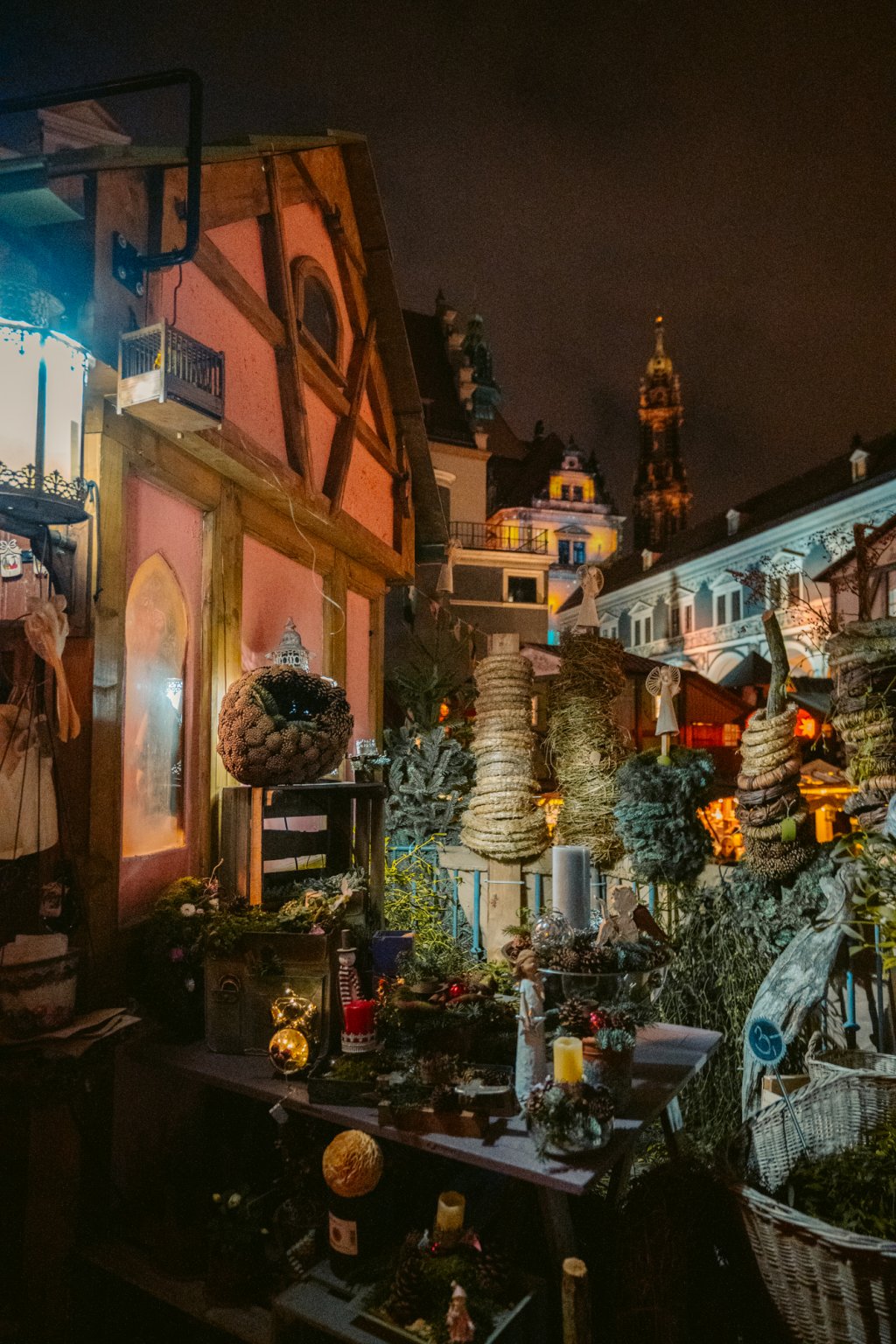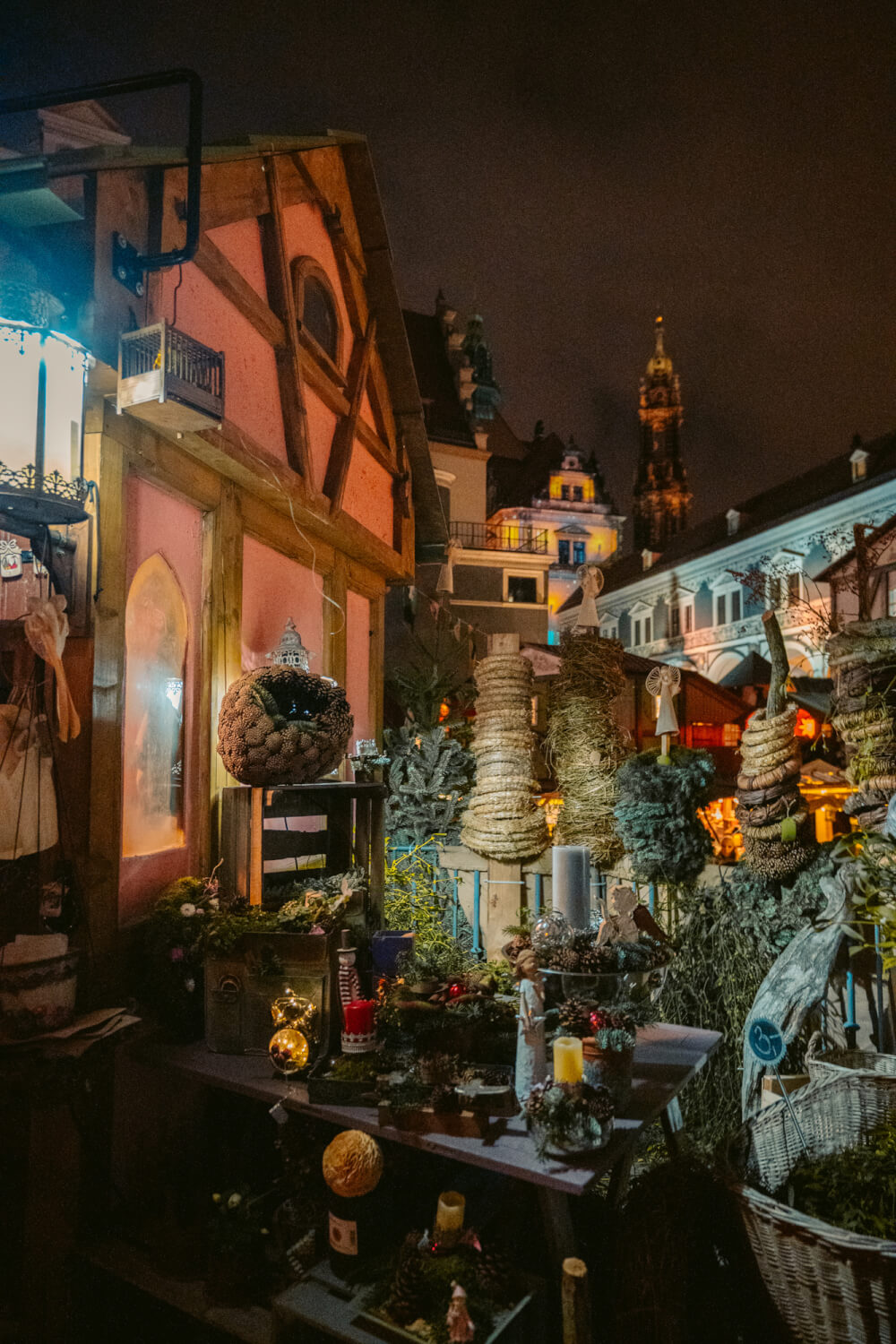 Besides these two main markets which are must-sees already, Dresden also has a handful of other niche markets to explore, including an international one with a never-ending row of food options from around the world!
… Not to mention, this is the home of Dresden stollen, the #1 German Christmas dessert that you'll find on every dinner table during the holidays. Dresden even has an entire festival dedicated to it! I think that's reason enough to book a Christmas trip here ASAP.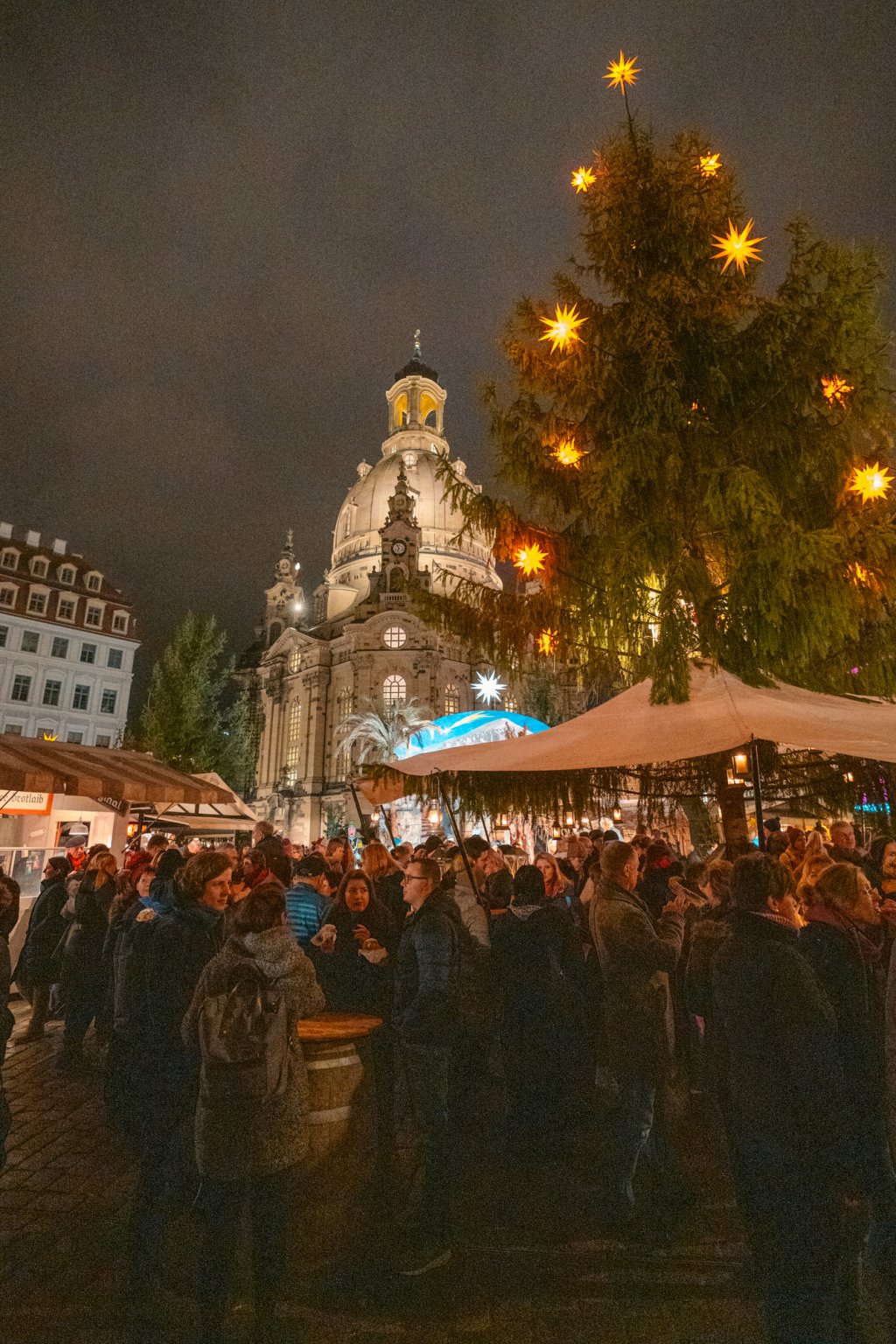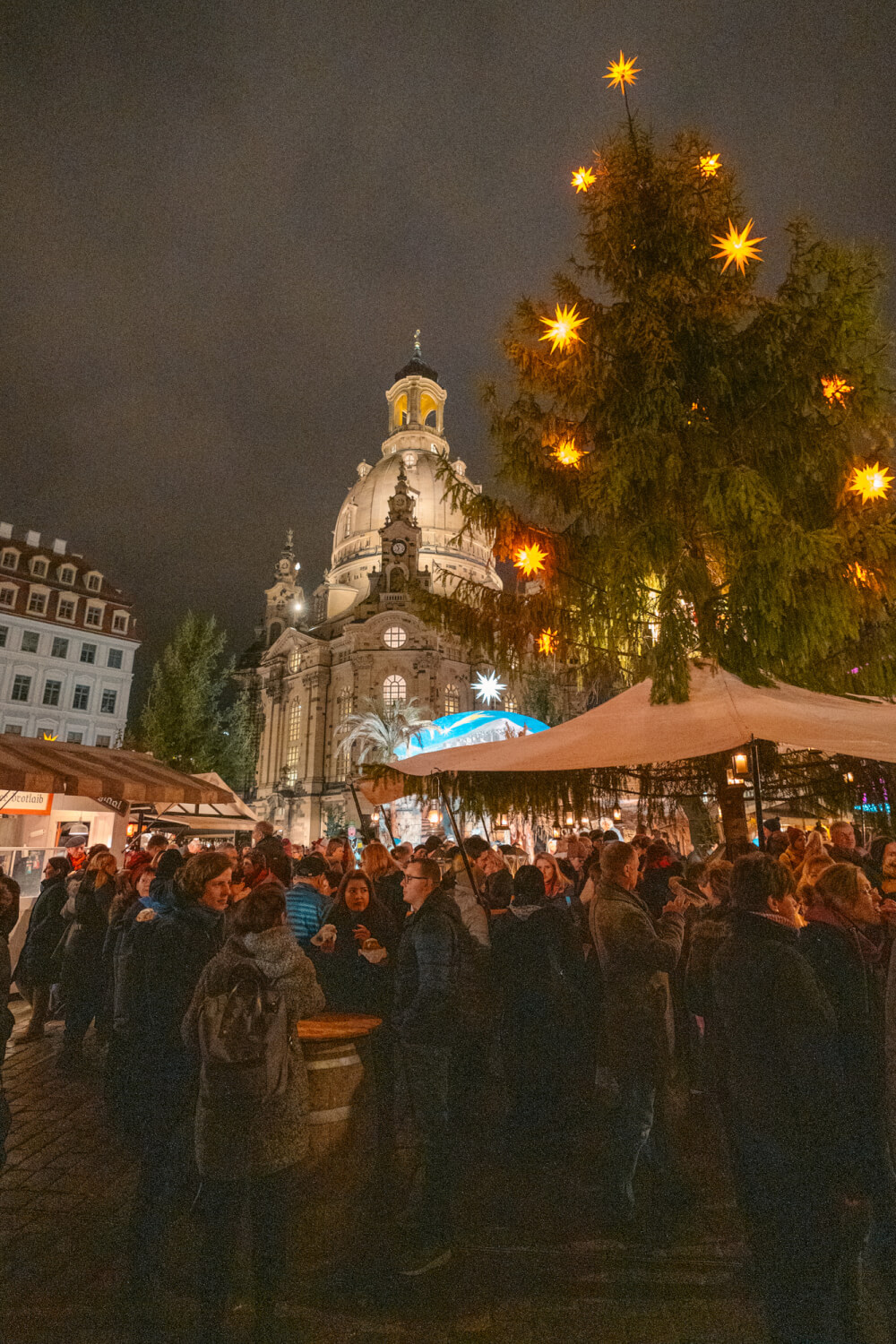 Perfect for: A surreal and magical Christmas market escape with some of the most epic decor in the country
Cologne is by far one of the most famous Christmas market destinations in Germany and one of my personal favourites. After all, it may just boast one of the most atmospheric and beautiful backdrops to a Christmas Market in the entire country: the stunning Cologne Cathedral, one of the tallest cathedrals in the world.
But beyond that, Cologne's Christmas markets go above and beyond in terms of decor, with an endless maze of glittering stalls scattered around the city's picture perfect Old Town. I warn you, your knees will be weak.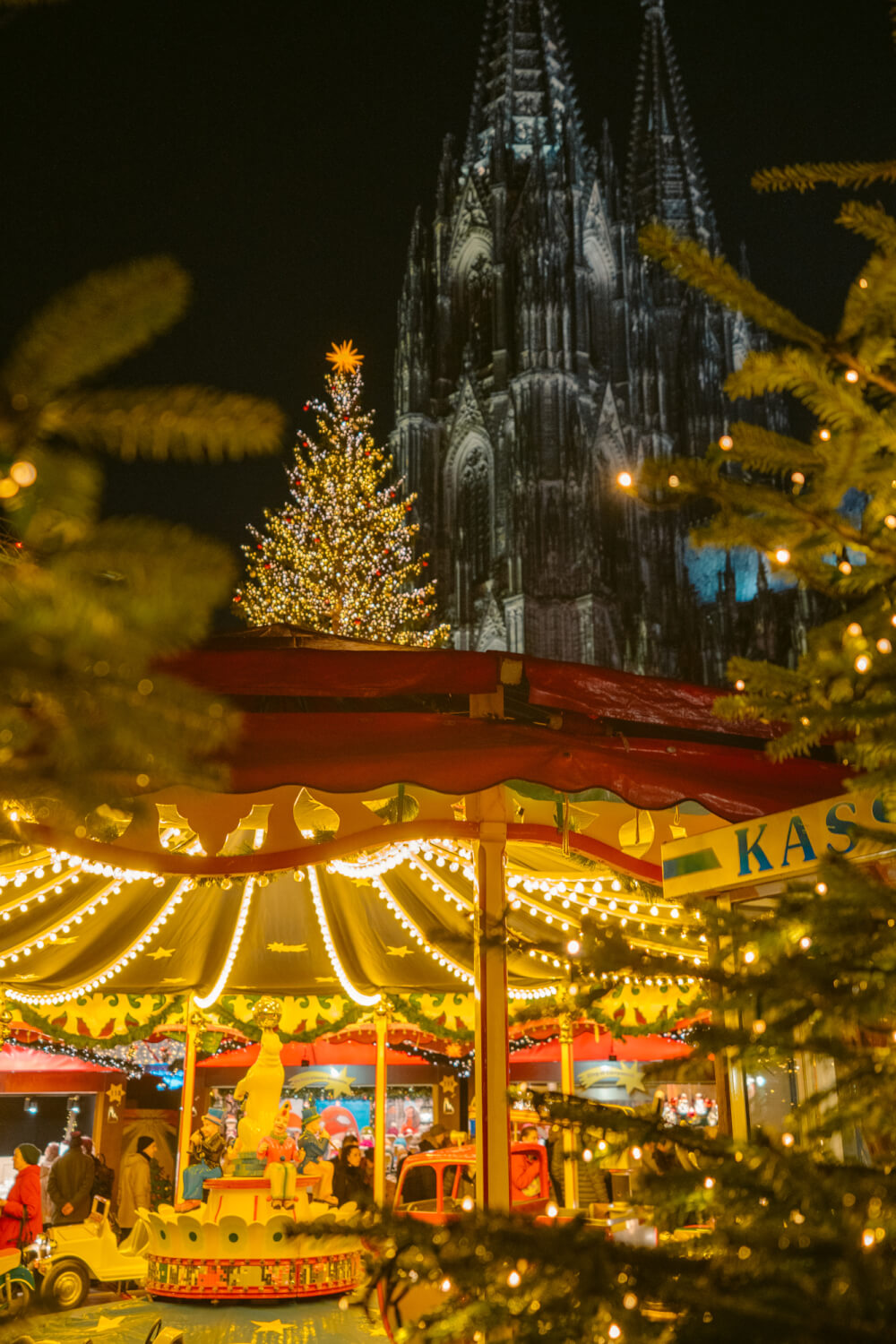 Perfect for: If you want a little bit of everything in a gorgeous package
Call me biased, but Munich is still my favourite city for Christmas markets because of the countless diverse markets that they have on offer.
Where else in Germany can you shop at a traditional Christmas Market one second, then visit a steampunk circus themed market another second, and then end the night at a glitzy, pink, LGBTQ friendly Christmas Market?
The best part is that's just three of Munich's 12+ markets. This endless diversity and (of course) the beauty of Munich as a backdrop is why I think it's the best place to explore a wide range of awesome German Christmas markets.
Curious about the best Christmas markets in Munich? Check out my guide here.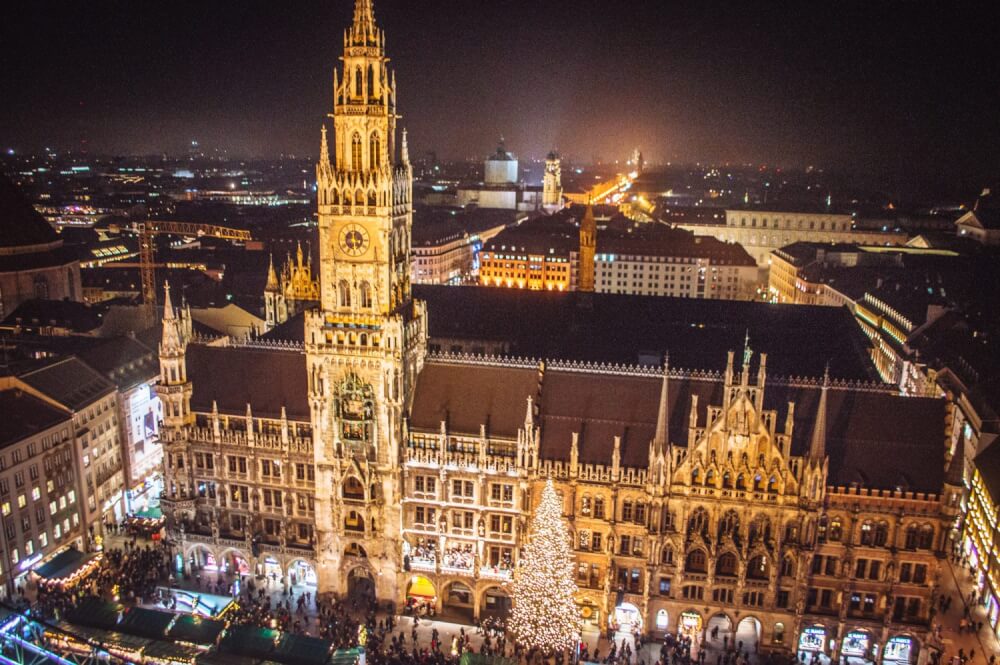 Perfect for: stepping back in time and prancing through the most perfect half-timbered town
This was a new discovery of mine recently and I am straight-up obsessed.
If you want to see a truly incredible Medieval-themed Christmas market, you need to visit Esslingen ASAP. I'm not usually one to hate on Munich in any way, but this market kicks the butt of our Munich medieval Christmas market… like, SO MUCH.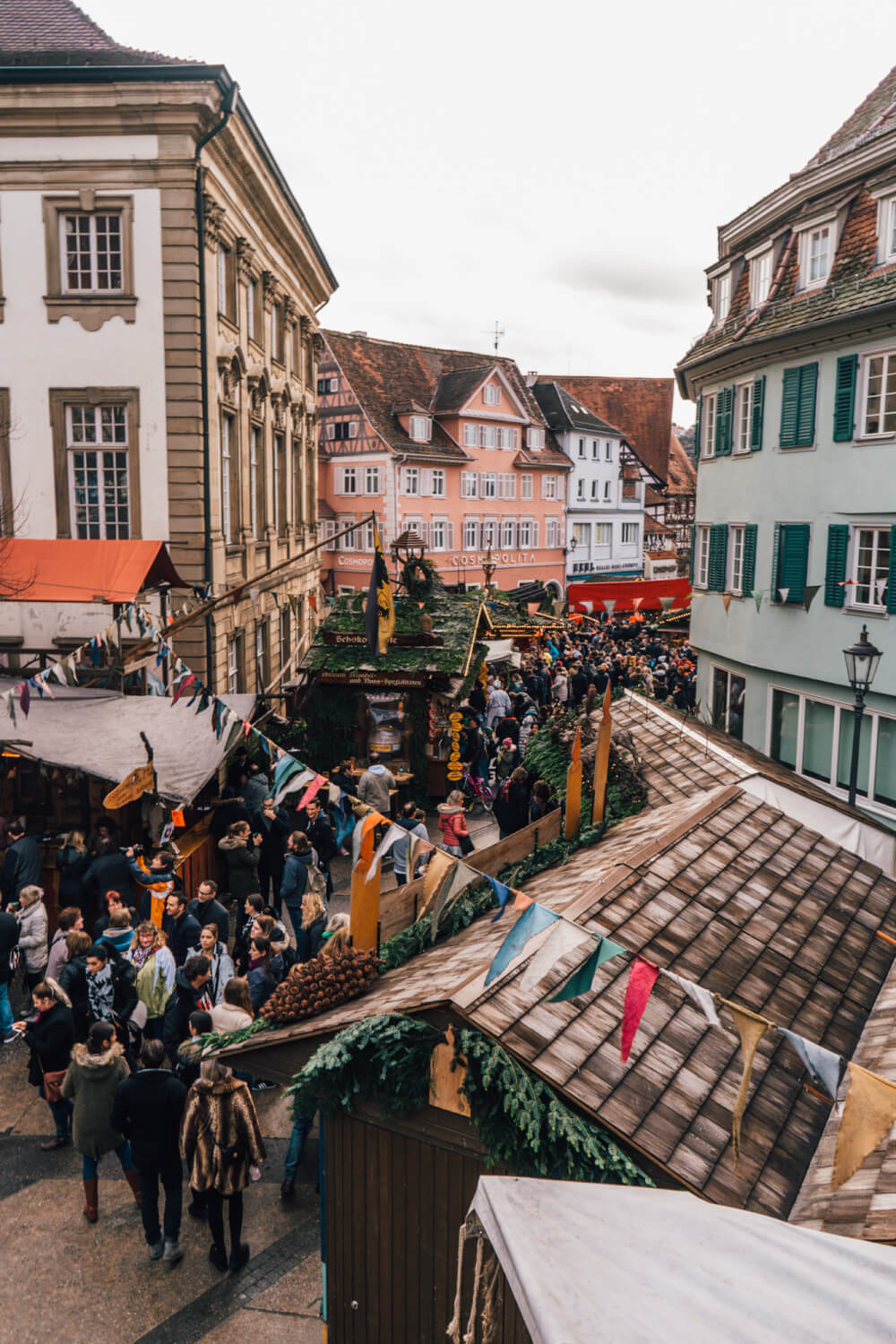 At Esslingen Christmas Market, you'll find the most authentic displays of medieval magic available in Germany. After all, there's a reason this small town attract so many Christmas Market visitors every year. Walk through picturesque squares crammed with incredible goods like furs, liquors in potion bottles, medieval toys, weapons and surprising amount of international food options.
NOTE: There are also different stalls where you can play medieval carnival games, a perfect treat for any kiddos that you might be bringing with you.
Click here to read my full guide to the Esslingen Christmas Market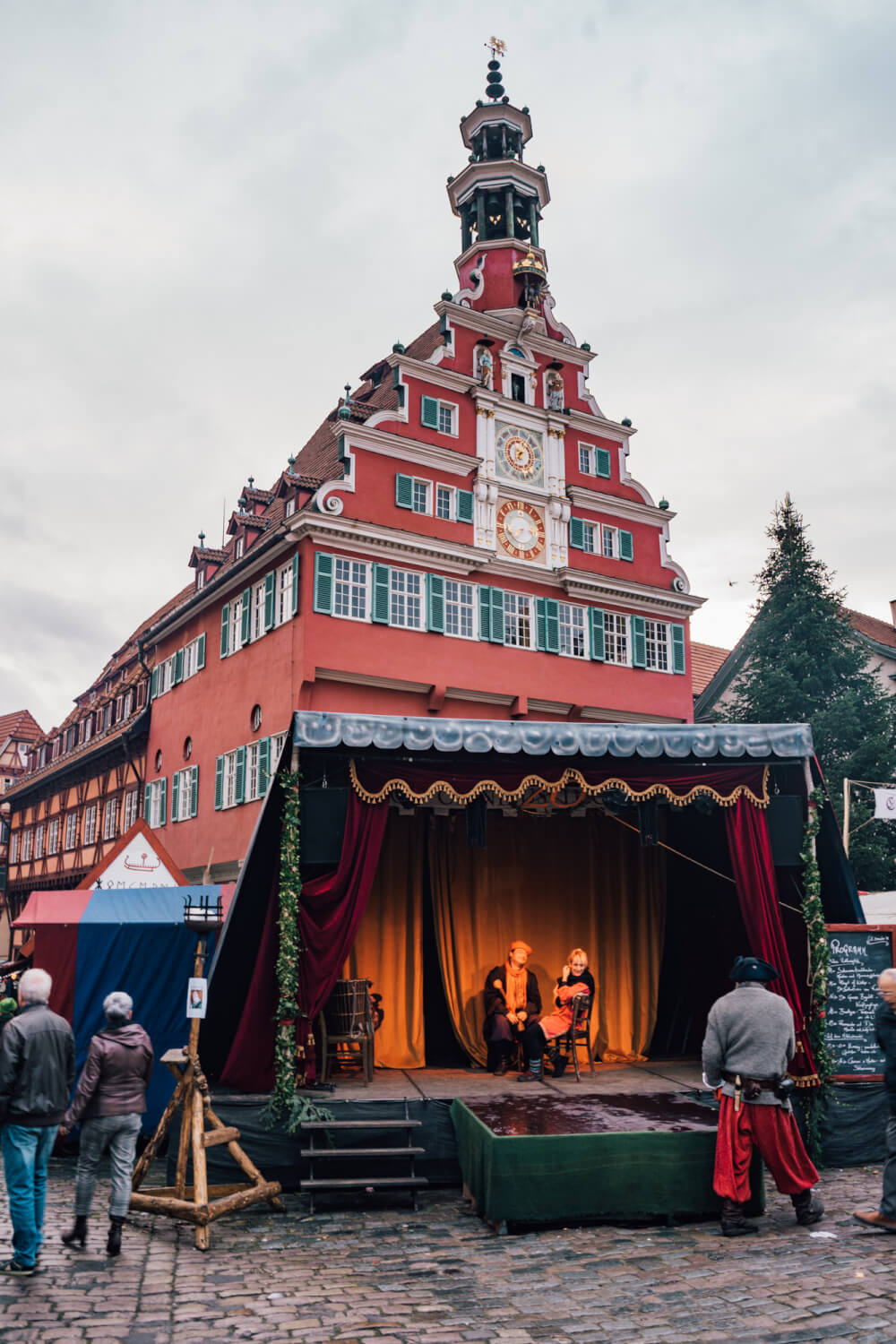 If you're looking for a variety of amazing Christmas markets to visit in one of Germany's most fashionable cities, then the Düsseldorf Christmas Market is a good choice for you open until the end of December.
You'll be able to gather all sorts of amazing goodies from the various themed markets around the city, but in particular the Big Wheel next to the Rhine is a must-see, as is the Lindt Chocolate Shop that is very liberal with their free samples. 😉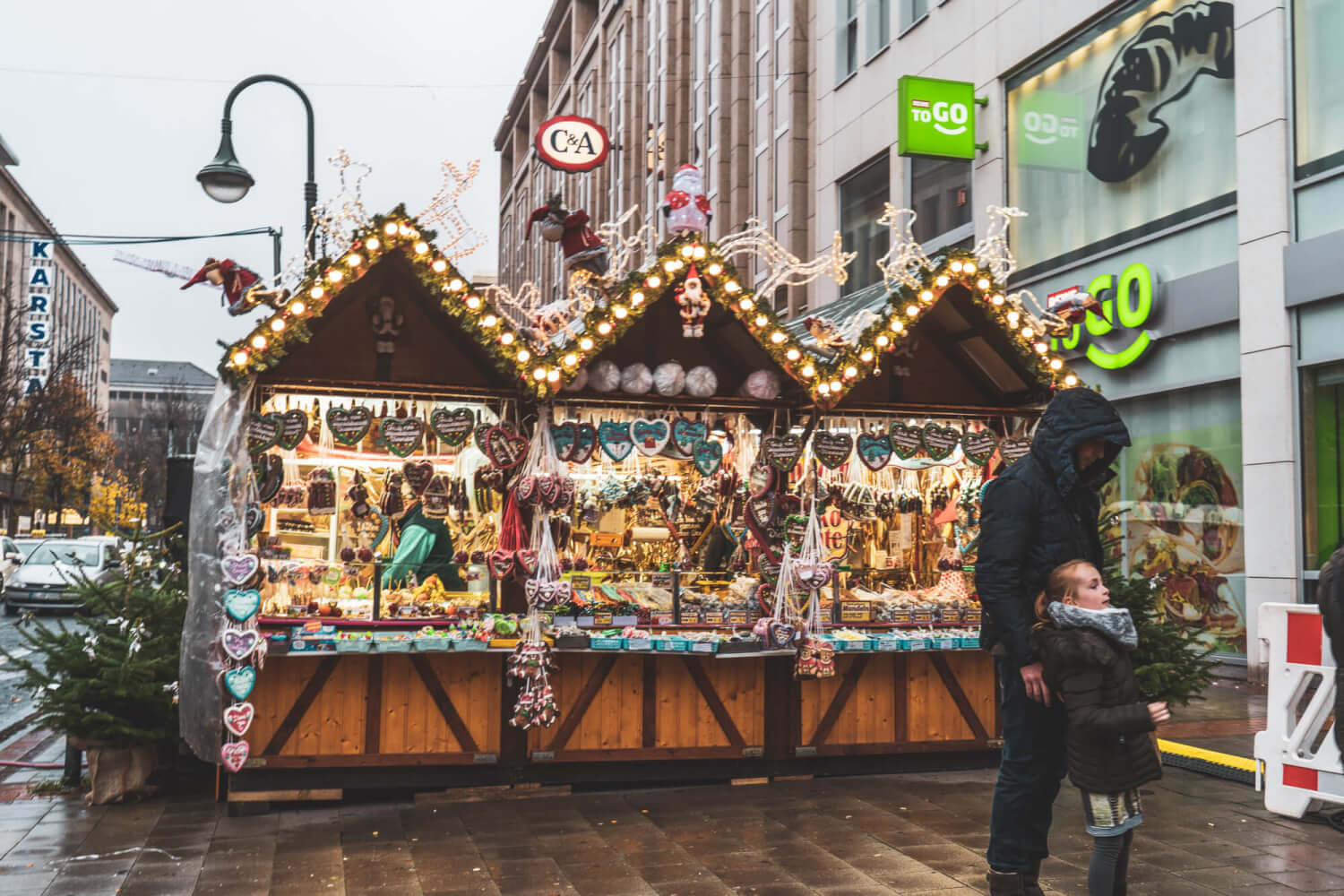 Of the different markets though, the Angels Market with his golden decorations and wrought-iron rooftops is especially scenic and my favourite one by far.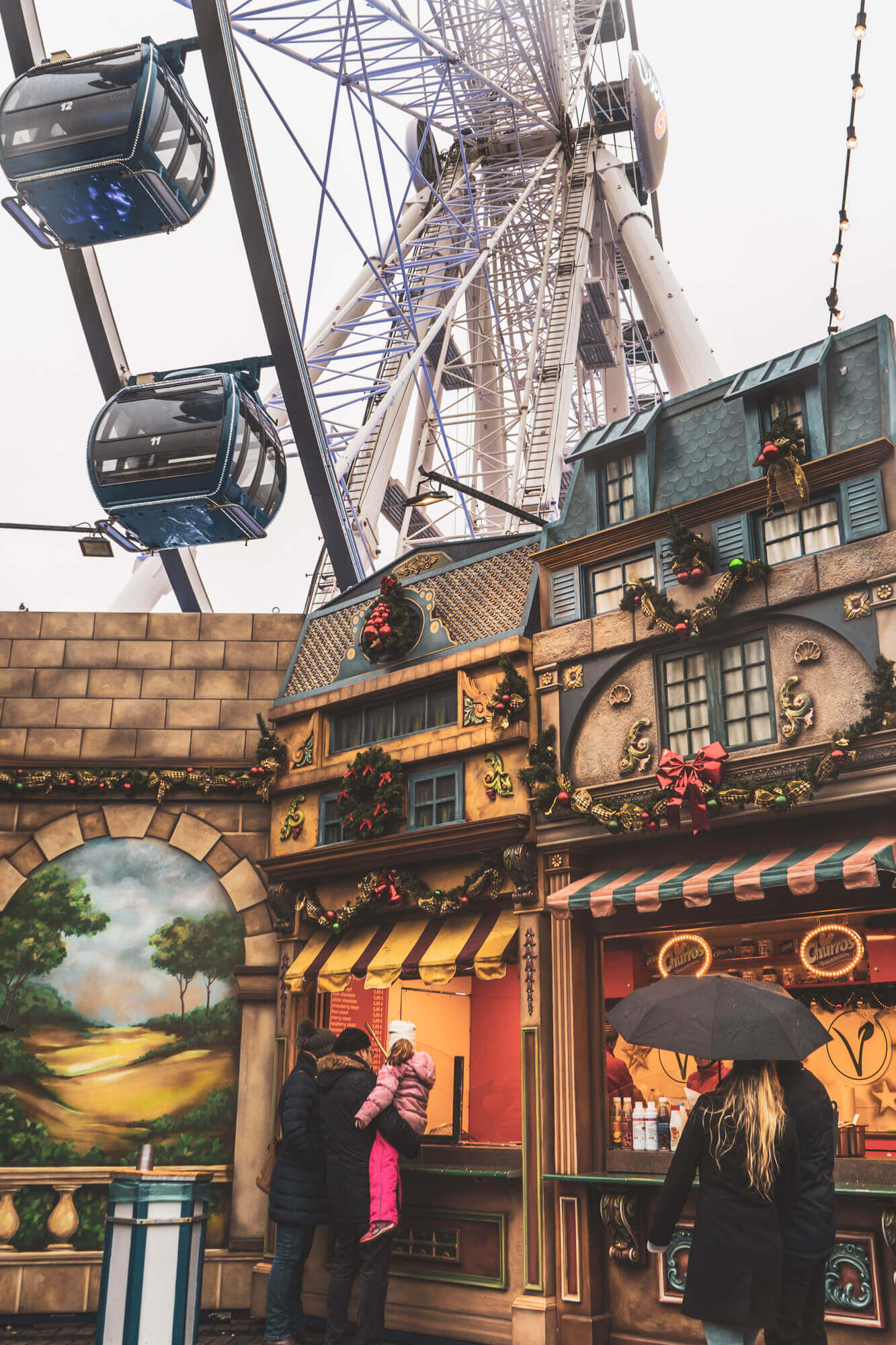 Some markets in the city open until December 31
Berlin has over 60 Christmas markets, which means you're spoiled for choice in Germany's capital when it comes to yuletide joy. Click here for my full guide to Berlin Christmas Markets!
From markets with royal backdrops like at the Schloss Charlottenburg to a Christmas rodeo and design market, you're bound to find someplace unique to chug your gluhwein. What's especially wonderful about the Christmas markets in Berlin though is that some are open past Christmas, including the most famous one in the city: the Christmas Market in the Gendarmenmarkt. Click here for a full list of Berlin Christmas markets for this year, along with dates!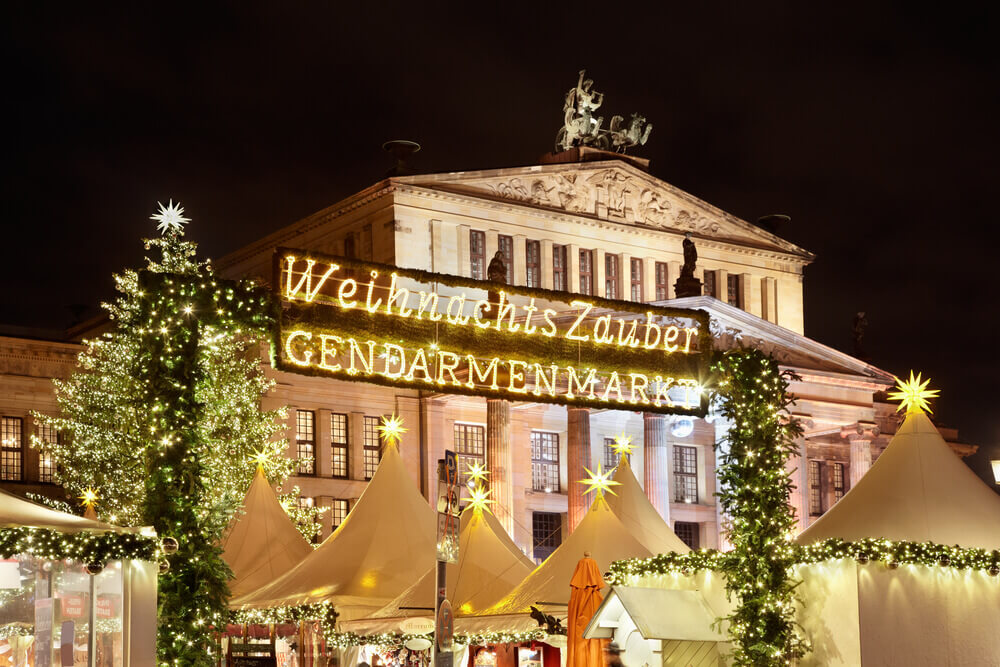 7. Hamburg's Christmas Markets
Perfect for: If you want a twist on the classic Christmas Market experience
I'll always consider Hamburg to be one of the best places to visit in Germany at Christmas, because this is actually where I experienced my first ever German Christmas market!
Not only is Hamburg a gorgeous city to explore, it's ideal for Christmas market browsing because it has SO many unique Christmas markets to offer.
For the more traditional experience, you can always stop by the main market in front of the Rathaus which offers Hamburg's gorgeous City Hall as the backdrop.
My personal favourite though is the Santa Pauli Christmas Market, which is what I like to call the Sexmas Market!
Imagine a provocative sex-themed Christmas Market located in Hamburg's Red Light District where you can shop for all sorts of interesting goodies such as NSFW ornaments among other interesting goods 😉 I promise it's fun.
Side note: The seafood in Hamburg can't be beat and is worth the trip alone!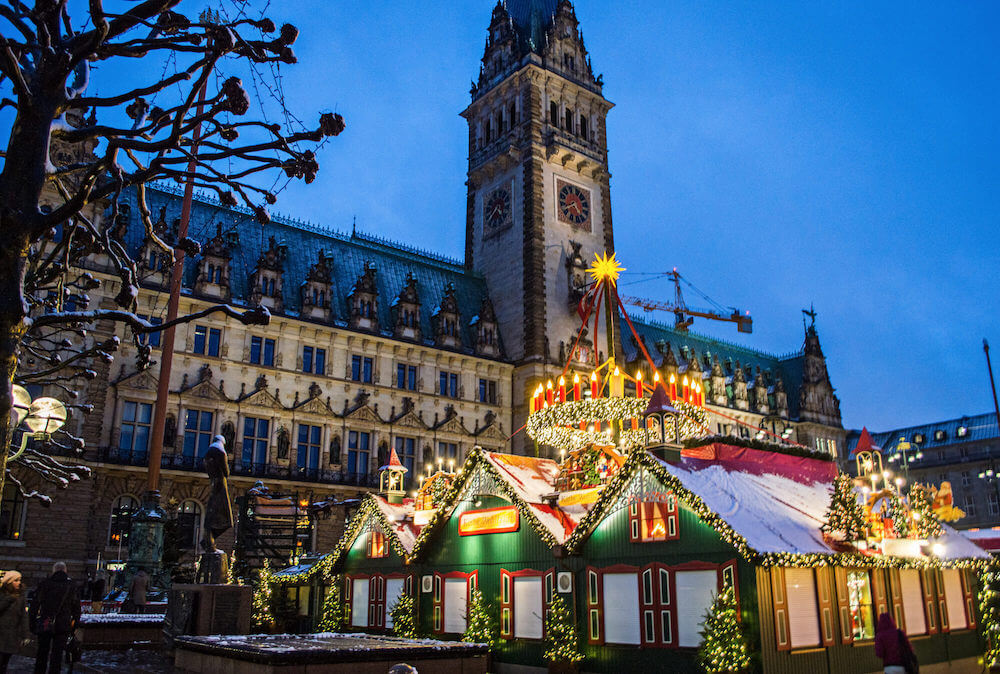 Perfect for: If you want an easy/cheap Christmas market to fly into, and don't mind crowds
The Frankfurt Christmas Market is definitely one of the busiest ones I visited last year (although it was a Saturday).
It's an ideal base for Christmas market exploration thanks to its cheap, well-connected airport, but it also offers a wide range of really excellent Christmas markets that most tourists don't know about.
I was pleasantly surprised by the Frankfurt Christmas Market – the classic one in the Old Town looks like it's straight out of a snowglobe, but there's also a pink LGBTQ one, a cool rooftop one with glassy skyline views and more.
If you want a guide to the Frankfurt Christmas Market with insider tips, be sure to read my full guide on it here.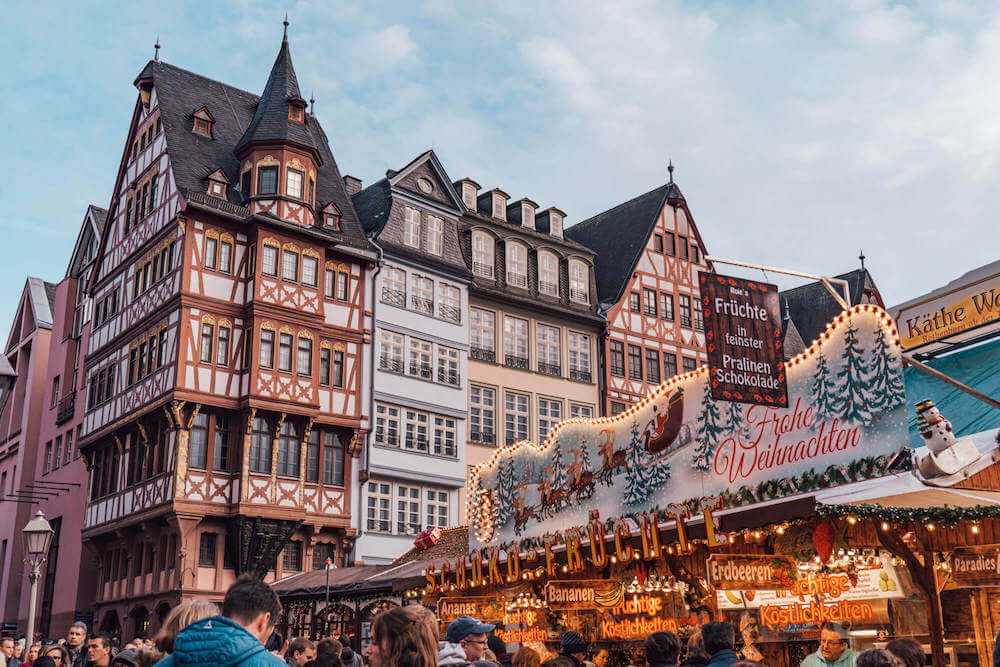 Perfect for: If you want to look at a huge azz tree
The Dortmund Christmas Market is a market of superlatives: not only is it one of the BIGGEST Christmas market in Germany (with over 300 stalls to browse), its centerpiece happens to be the biggest Christmas tree in the entire world too.
Click here to read my full guide to the Dortmund Christmas Market.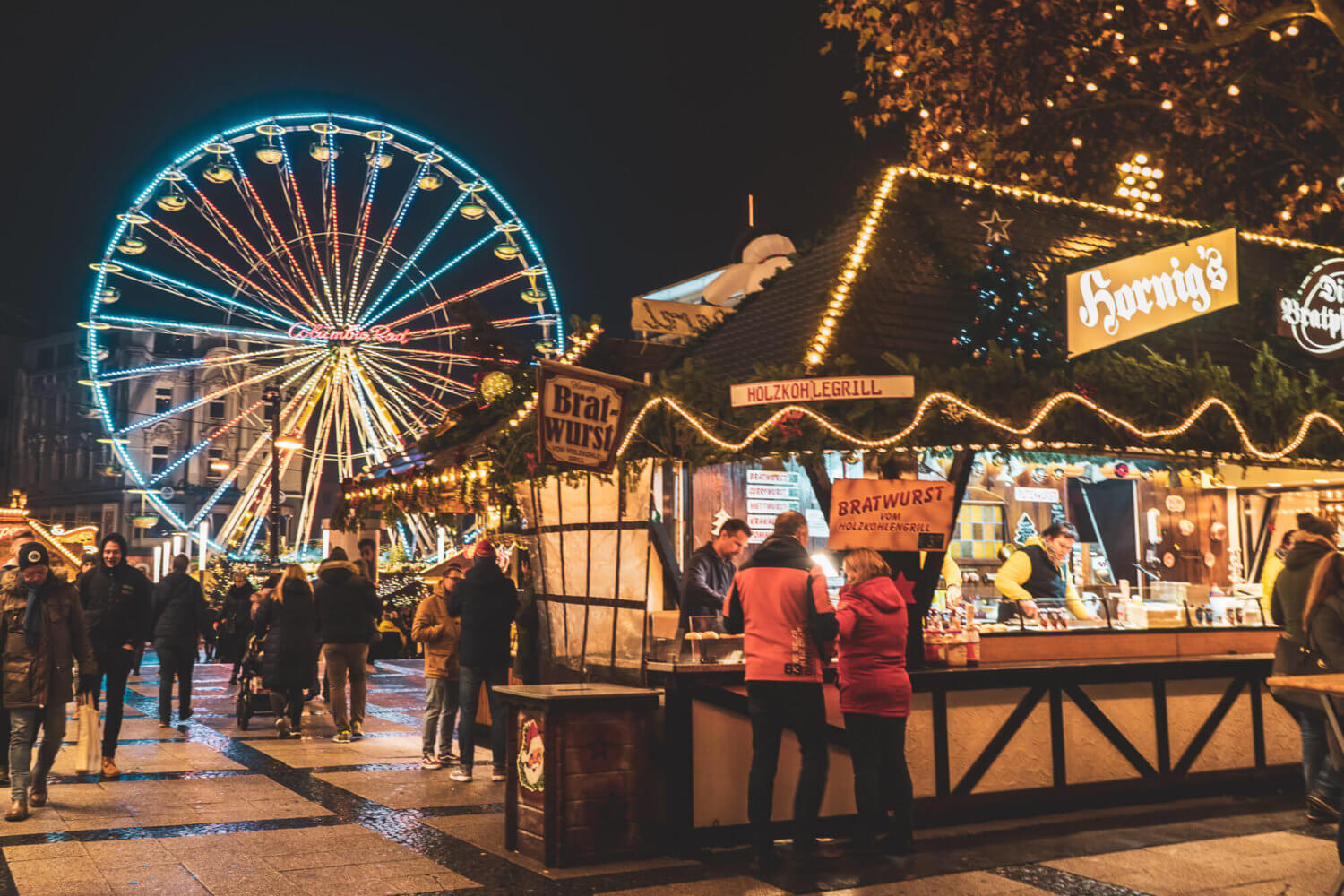 10. Rothenburg ob der Tauber Christmas Market
Perfect for: if you want to step into a fairytale
Rothenberg ob der Tauber is one of the most postcard-perfect cities in Germany.
I'm sure you seen its half-timbered cuteness fortified walls all over your Instagram feed, and with a Christmas Museum that I can confirm is absolutely magical and informative, it's no surprise then that also is a perfect destination for visiting Germany's Christmas Markets.
Be sure to walk around the city walls to get a unique perspective over the city, and if you feel like it, indulge in the local treat Schneeballen (AKA snowballs).
To be honest with you, I don't love them… they're kind of dry strips of pie crust rolled into a ball and dipped in chocolate, but hey, don't knock it til you've tried it!
If you're headed to Rothenburg ob der Tauber, click here to read my guide to spending a day there.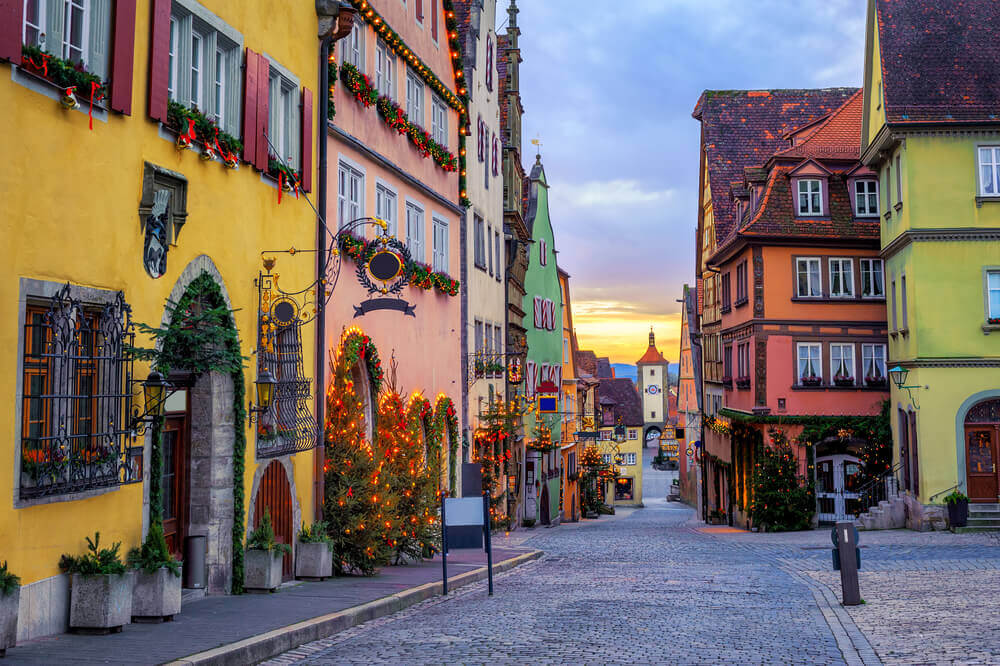 11. Heidelberg Christmas Market
Perfect for: a romantic Christmas market escape
Heidelberg Christmas Market might just have the most romantic ambiance of all the Christmas markets in Germany.
All along Hauptstrasse, you'll find glittering lights filling the streets with Christmas spirit… and of course it helps that you have the picturesque Heidelberg Castle acting as the backdrop while you sip and chug your gluhwein.
Because it's already one of the most atmospheric and beautiful cities in Germany, it shouldn't be surprising that it is also one of the best destinations for Christmas markets as well.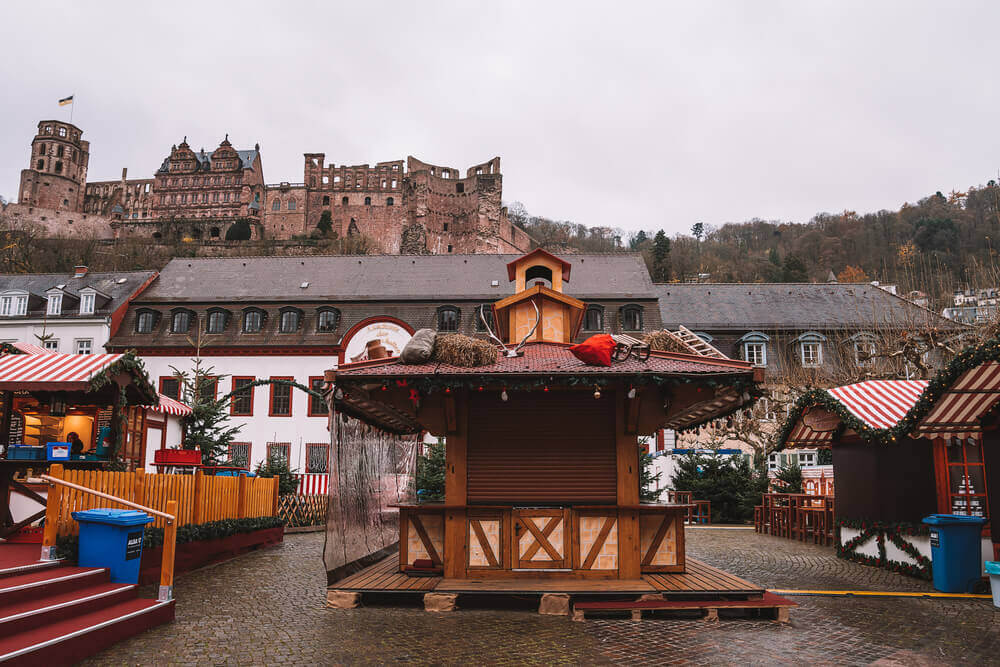 Perfect for: If you want a very traditional, quintessentially German experience in a world-famous setting
The Nuremberg Christmas Market is one of the most well-known Christmas markets in Germany, not only because it's extremely old, but because this is where the famous German Christkindl tradition stems from.
While this market is personally not my favourite as it's extremely busy and touristy, I do think it's a gorgeous city to visit, with a lot of unique activities going on during Christmas including a Sister Cities Market where you can browse goods from dozens of Nuremberg's sister cities from around the world including Glasgow, Skopje and a bunch of others.
PLUS, Nuremberg is also where you'll find the largest Feuerzangenbowle in the entire world, so be sure to savour a cup. All these elements combined with an exciting list of things to do, and a beautiful castle, and Nuremberg is definitely worth a visit.
Click here to read my full guide to the Nuremberg Christmas Market.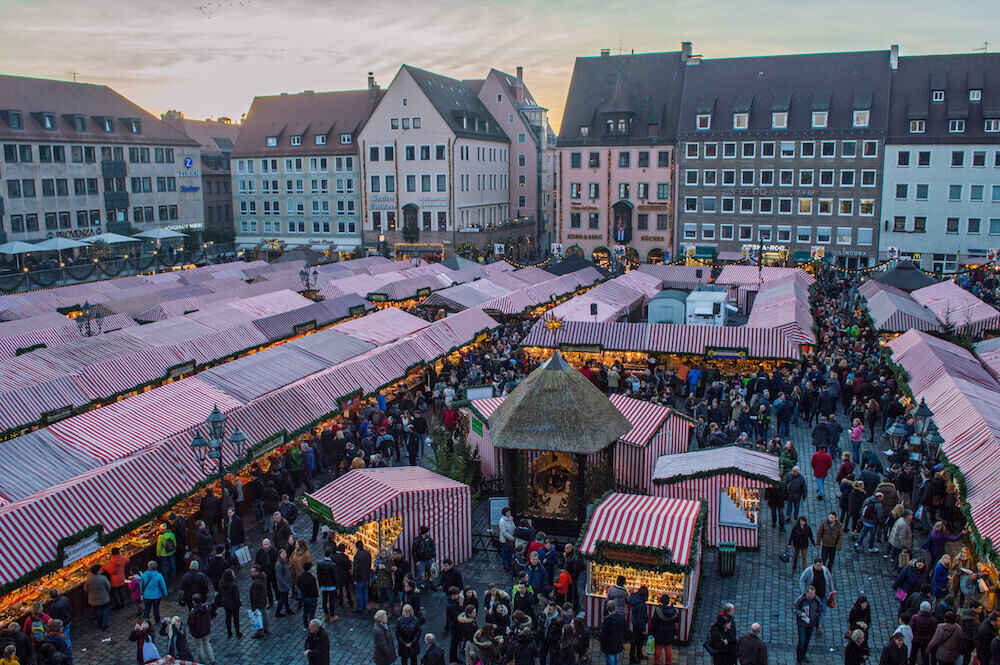 While definitely not a secret amongst local Germans, many international visitors seem to skip the Stuttgart Christmas Market, which I assure you is a huge mistake!
The Christmas markets in Stuttgart were a very pleasant surprise for me last year, thanks to a number of unique features.
First off, the City Hall becomes a giant advent calendar during Christmas Market season, and they're also one of the only cities in Germany to host competitions for shop stall decor, which has resulted in a number of gorgeously decorated stalls with unique rooftops!
… They also have a few unique markets scattered throughout the city, including a Finnish Christmas village and an antique market right next to it.
Click here to read my full guide to the different Christmas markets in Stuttgart.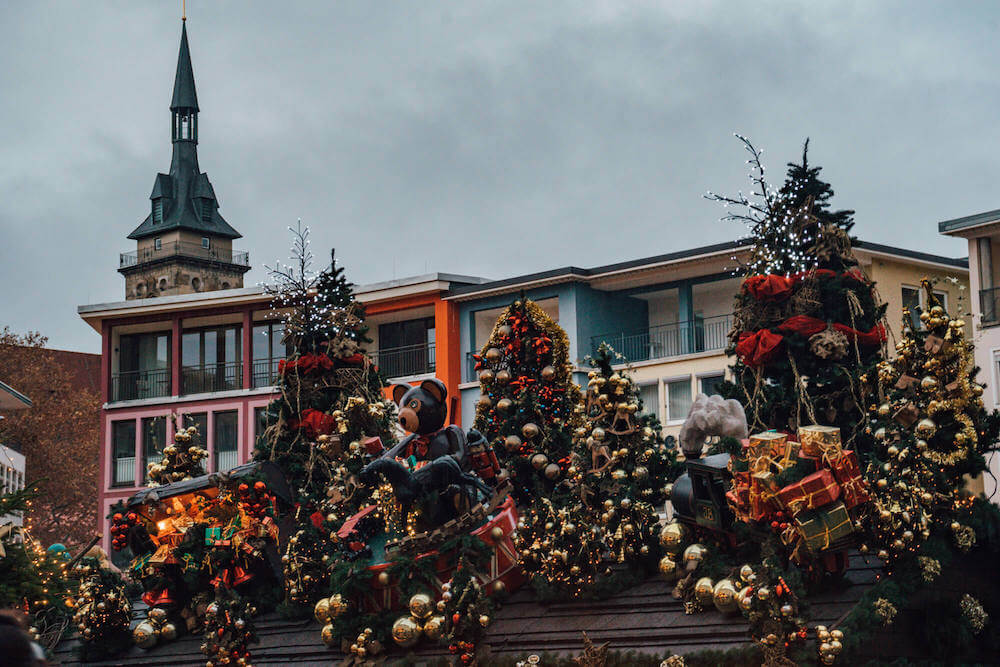 14. Duisburg Christmas Market
Marketed as the "longest Christmas market in Germany", it took me a little too long to realize that this indeed refers to the duration of the event, rather than the physical length of it.
Still, the Duisberg Christmas Market (a short skip away from Düsseldorf) is open from mid-November onwards, which puts it weeks ahead of most other German Christmas markets.
It's also a lovely market that is far quieter and more local than the nearby markets in Düsseldorf and Dortmund.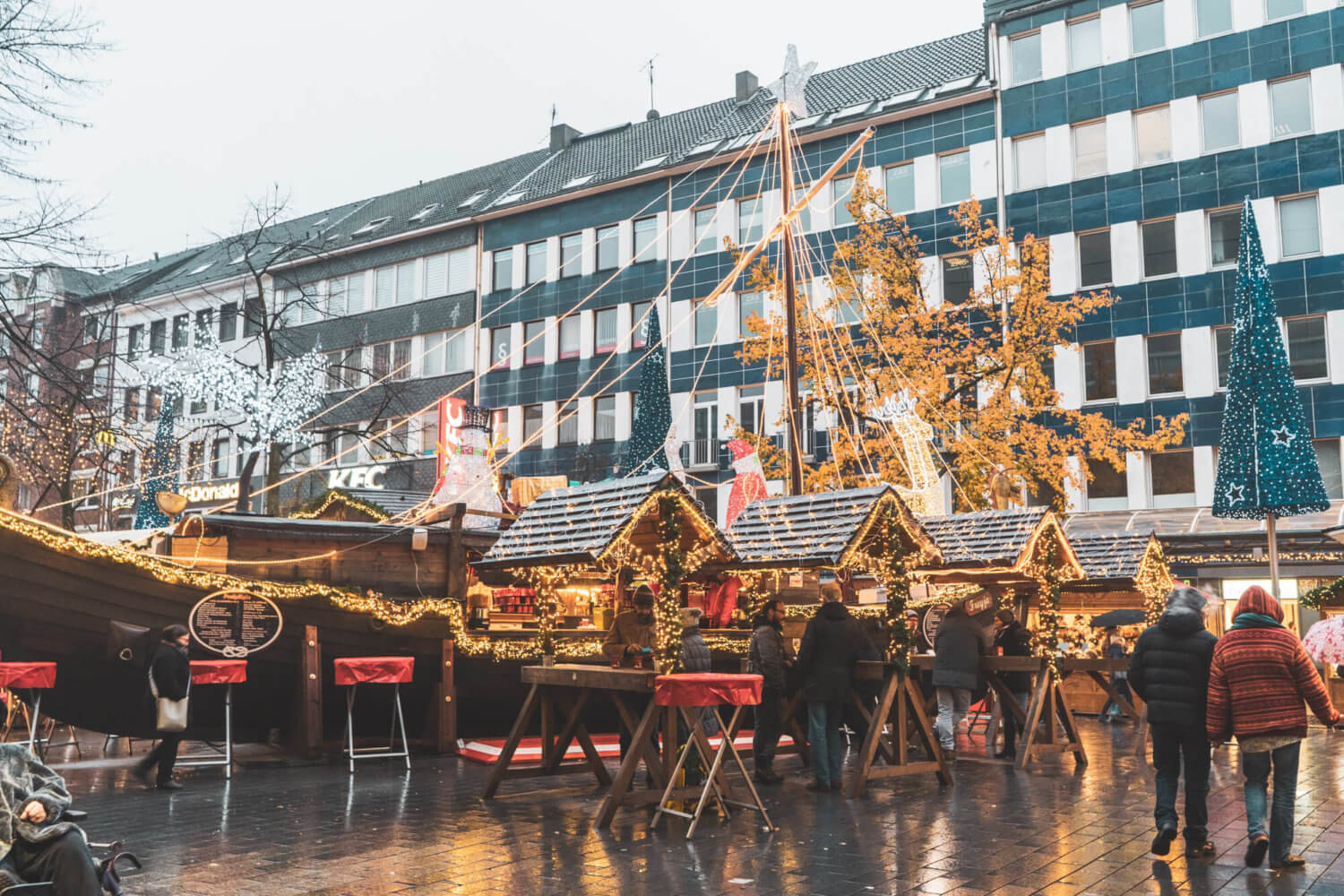 Perfect for: if you want to be dazzled by gorgeous lights and enjoy a more local vibe with lots of cool shopping
I recently declared this to be one of the most underrated Christmas markets in Germany, and I stand by it!
Essen is a superbly underrated city in the Ruhr region of Germany, with a Christmas market that opens in mid-November as well, making it one of the first to open in the country!
Not only are its lighting displays absolutely fantastic throughout the city, the main market takes place under a glittering canopy of twinkle lights.
The medieval-themed market nearby is also a unique selling point. I think the best part about the Essen Christmas market is that so few tourists comes here, the crowds are far fewer than some other cities. I highly recommend it! Click here to read my full guide to the Essen Christmas Market.
PS: Essen and Duisburg are rather close to each other, so you can even see both in one day!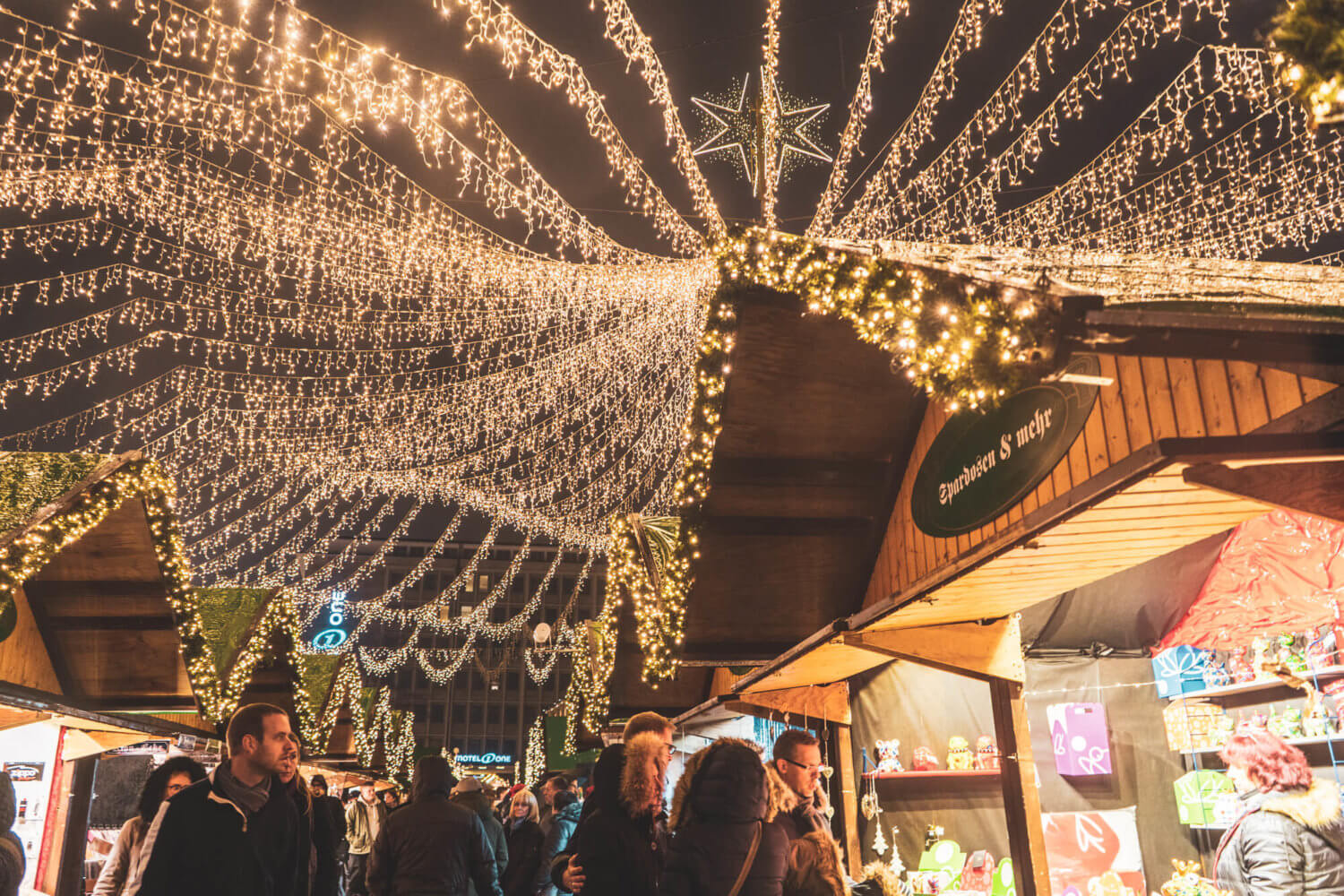 16. Tübingen Weihnachtsmarkt
Perfect for: if you want a quaint, postcard-perfect place to explore (and don't mind crowds)
Once upon a time, I visited Tübingen for their world-famous chocolate festival and it was there that I fell head over heels in love with his magical quaint underrated gem of the city.
And while I've never been to the Christmas Market (the chocolate festival takes place just before), I can attest to the magical vibes of Tübingen in the wintertime. The Xmas market here of course earns bonus points because it's one of the most elusive and exclusive in the country, being open only for one weekend a year. If you want more info on a winter-time visit to Tübingen, my friend Jordan wrote a great guide on it, which you can read here.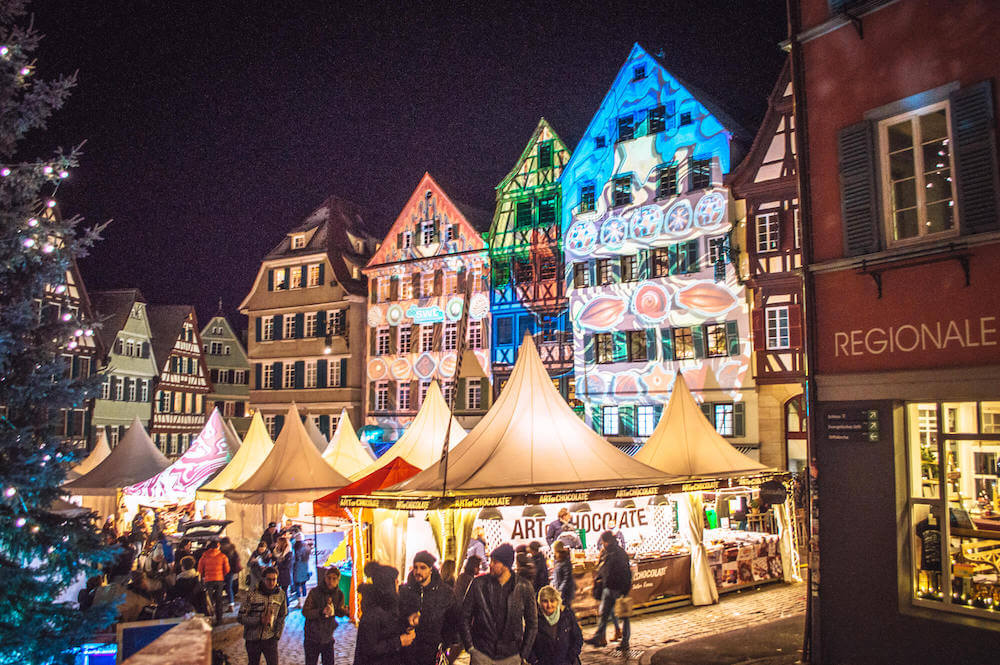 Perfect for: Stunning baroque architecture, local vibes and delicious food
The Ludwigsburg Christmas Market is one of my favourite new discoveries this year.
I first fell in love with Ludwigsburg last fall when I discovered that their palace hosts the world's largest pumpkin festival. This year, I discovered they also host one of the prettiest Christmas markets in Germany with a baroque theme to match the architecture of this stunning little town.
Not only is the town absolutely picture-perfect, the local vibe here is what really sets it apart for me. In addition to the typical Christmas market goods and products, you'll find countless stalls selling breads, meats, and cheeses. My favourite part was spying on the locals loading up on goodies to bring home for their Christmas parties.
Another standout here is the food. My personal fave was a stall selling Stockbrot, long sticks of gooey bread cooked over a fire, enjoyed both sweet and savory. The one I had came with cheese and pieces of bacon. It was like a bread sword and I wanted to challenge people to a duel everywhere I went. It was great.
Click here to read my full guide to the Ludwigsburg Christmas Market!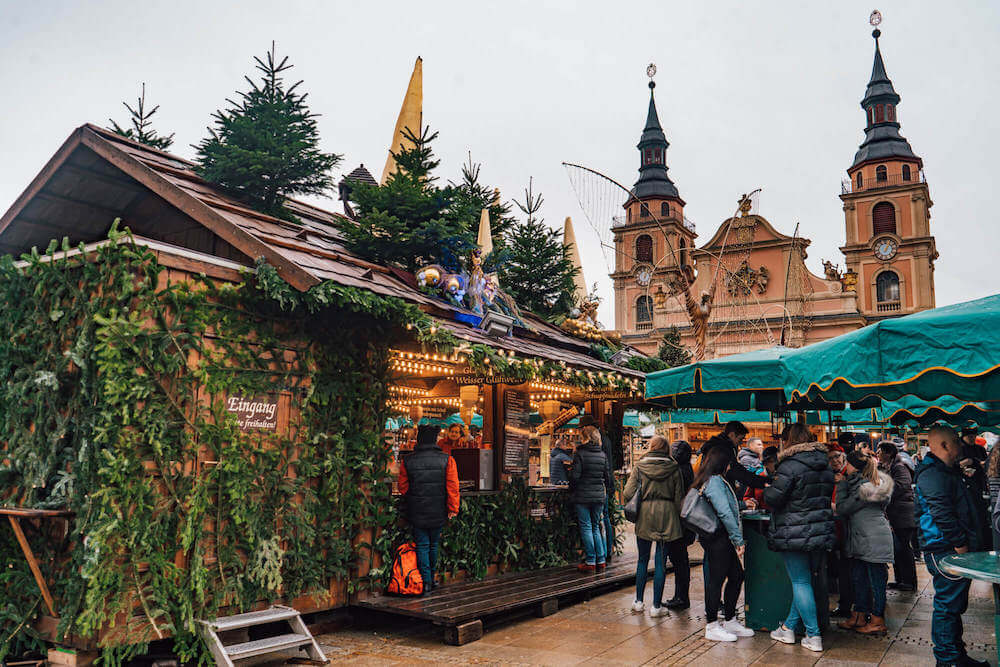 Perfect for: Gorgeously decorated market stalls and scenic skating
The Karlsruhe Christmas Market is an extremely underrated Christmas Market in Baden-Württemberg, with a few different markets scattered around town near the main shopping area, about 10 minutes away via public transport from the main train station.
A highlight for me was the main Christmas Market in Friedrichplatz. The rooftop decorations here were among the most opulent that I saw while I was exploring Christmas markets around Germany (and that's saying a lot!).
There's also an extension of the market at Marktplatz where you'll find a lovely pyramid and ferris wheel and last but not least, a stunning skating rink at Schlossplatz with a backdrop of the beautiful Karlsruhe Palace.
Click here to read my full guide to the Karlsruhe Christmas Market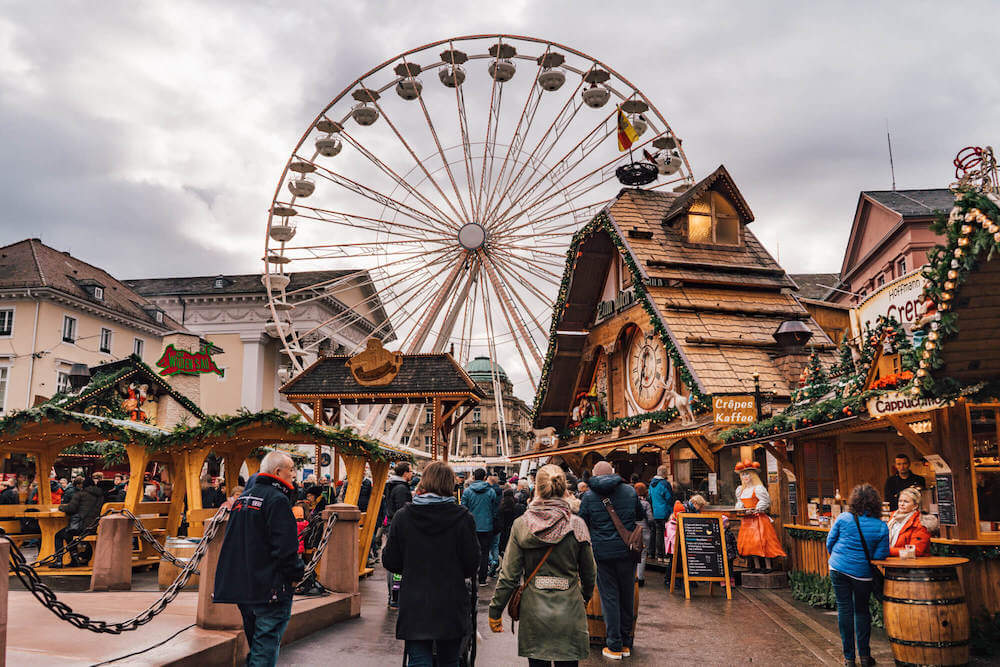 19. Winter Tollwood Festival in Munich
Last year open until December 31
I know I already talked about Munich's Christmas markets above, but I feel like this one deserves a special mention. The Winter Tollwood Festival is one of my favourite Christmas markets in the entire country, simply because it's nothing like any other traditional Christmas Market out there.
The best way to describe the Tollwood Winter Festival is it's like that alternative cousin of yours who ran off to art school and came back shopping fair trade, eating organic produce, and burning essential oils from around the world.
Yes, some consider it the 'alternative hippy' Christmas market in Munich and I love it. Not only can you feast on food from countries all around the world, everything is organic and there's a wide variety of vegetarian/vegan options too.
Best of all, they're open after Christmas and you can continue to browse the different art installations and food stalls even after the main market has closed. NOTE: Winter Tollwood is best known for its New Year's Eve party and it is by far the best place to spend New Year's in Munich.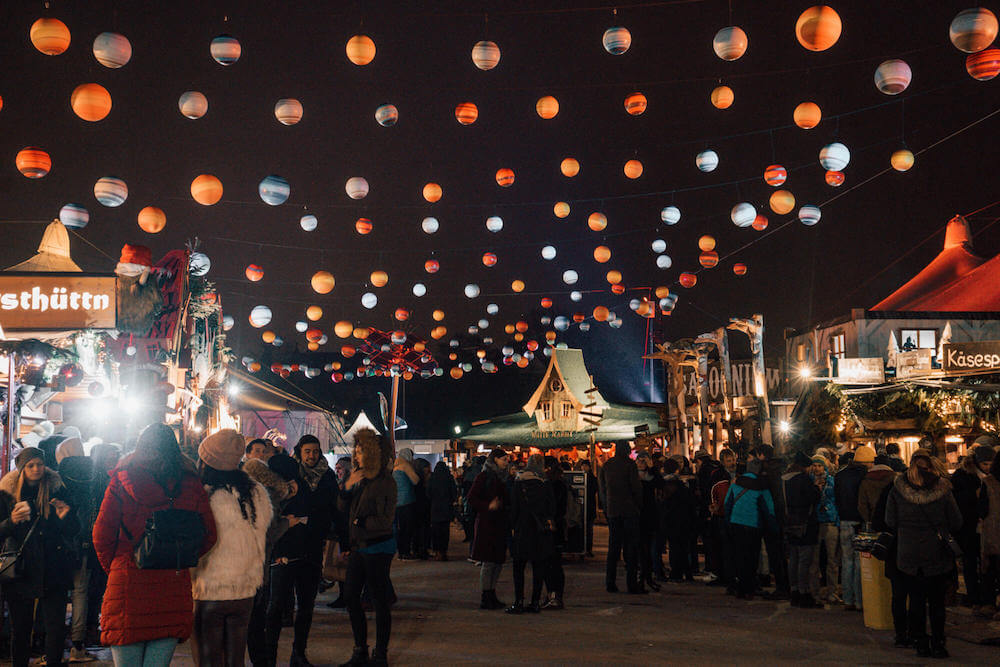 20. Baden-Baden Christmas Market
Open from late November to early January
While I've never been to the Baden-Baden Christmas Market, it's one I've wanted to visit for ages, mostly for its magical fairytale location surrounded by the Black Forest.
This city is a cultural gem known for its exquisite spas and glitzy casinos, so if you want to soak in one of the most elegant and romantic Christmas markets in Germany, feel free to do so, all the way up to January 😉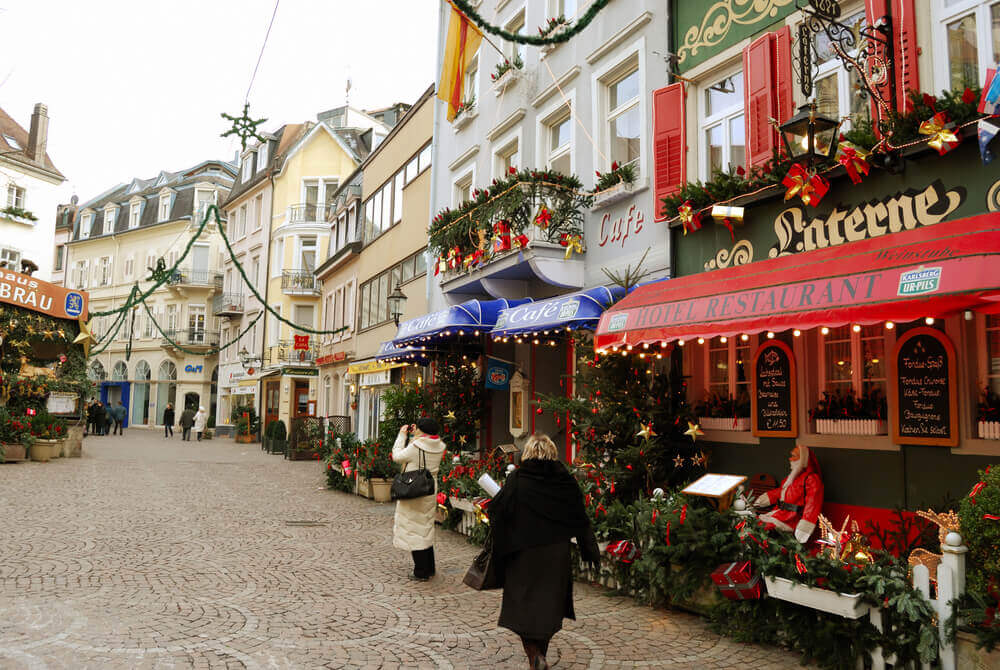 21. Europapark
Perfect for: a family-friendly Christmas market with a side of rides, thrills and adrenaline
What's better than just a regular Christmas market? A Christmas market at a THEME PARK! Well, Europapark may be one of the most well-known amusement parks in Germany, but a little known secret to many visitors is that they actually have a very incredible Christmas Market on their grounds every year.
So, if you're looking for a traditional Christmas market experience in a unique environment, this might be the market for you, especially if you want to combine your Christmas Market adventure with some thrills and screams.
22. Ravenna Gorge Christmas Market
Perfect for: a breathtakingly unique and magical venue
Last but not least, we have the Ravenna Gorge Christmas Market. This Christmas Market wins for its stunning and unique location at the foot of the Ravenna Bridge Viaduct.
It may not be super easy to access by public transportation, but I have this Christmas Market firmly on my list for next year!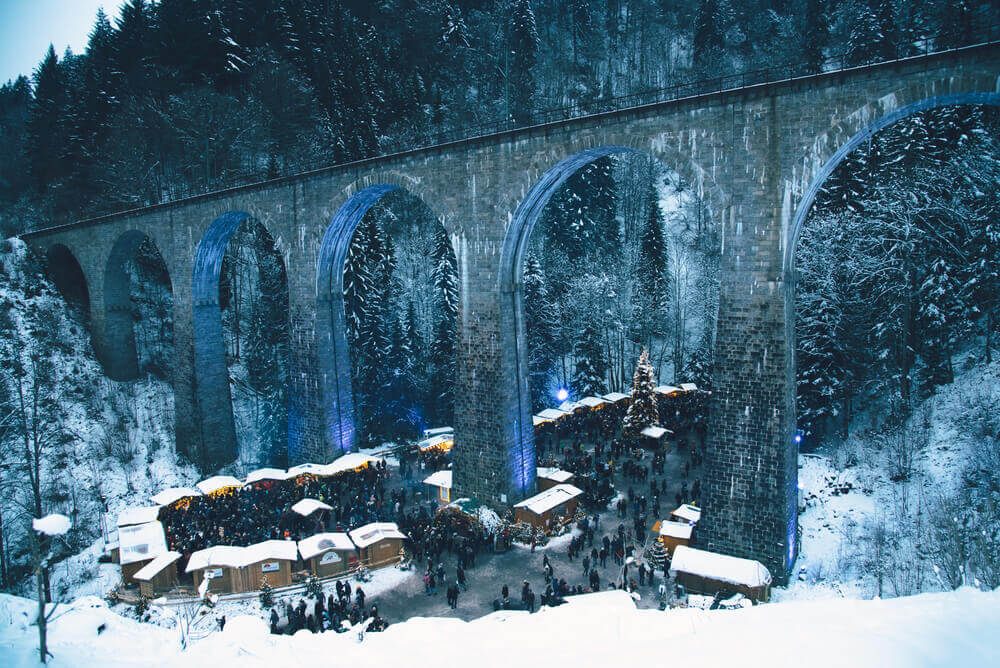 The Best Christmas Markets in Germany Open Early
If you're visiting Germany for Christmas markets in November, odds are you might face the problem that many of them haven't opened yet.
This is because traditionally speaking, Christmas markets in Germany open during the week before the first Advent Sunday, which usually falls at the end of November.
I found myself agonizing over timing last year, given that I was flying home for Christmas on December 6.
This left me with only two weekends to properly explore the best Christmas markets I could in a short time frame, and with many opening late, I was limited in my choices.
That said, from the list above, here are some of the best Christmas markets that are open early:
Duisburg Christmas Market
Essen Christmas Market
Düsseldorf Christmas Market
Dortmund Christmas Market
Aachen Christmas Market
Bochum Christmas Market
Bonn Christmas Market
Other Christmas markets in North Rhine-Westphalia: I'm not sure why this region in particular seems to have their Christmas markets open slightly earlier than the rest of Germany, but if you're looking for more German Christmas markets that are open early, start your search here.
The Best Christmas Markets in Germany Open Late
Conversely, another big problem that visitors face when visiting Christmas markets in Germany is they visit on or just after Christmas Day.
Unfortunately, many of the most well-known Christmas markets in Germany close up shop on December 23rd or Christmas Eve.
Don't worry though, there are still some Christmas markets that are open after Christmas. Here are a few:
Düsseldorf Christmas Market
Berlin Christmas Market
Winter Tollwood (one of Munich's Christmas Markets)
Baden-Baden Christmas Market
Aurich Christmas Market
Bielefeld Christmas Market
Braunschweig Christmas Market
Celle Christmas Market
Did I miss any of your favourite Christmas markets in Germany?
I'm sure it's not surprising, but I'm always on the hunt for more amazing German Christmas markets to add to my list. Let me know in the comments!
---
Watch my most popular YouTube video this week:
---