*FYI - this post may contain affiliate links, which means we earn a commission at no extra cost to you if you purchase from them. Also, as an Amazon Associate I earn from qualifying purchases. Check out our Privacy Policy and Disclosure. for more info.
This post was created in partnership with Movie Travel and the University of Malta. I hope you enjoy it!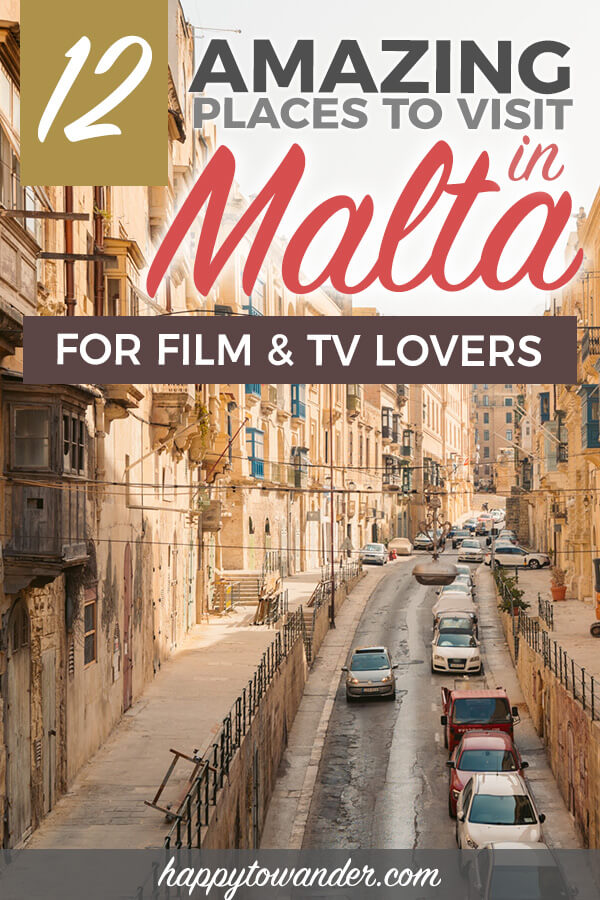 Can I let you in on a little secret?
After five years of frequent gallivanting around Europe, there's one little piece of this continent that I consistently find myself raving about – a gem that (admittedly) grows less hidden by the day, but remains a destination combining all my favourite things: sunshine, scenery, and wonderfully indulgent eats.
Of course, I'm talking about Malta.
With its glittering blue waters, grand honey-coloured architecture and endless diversity of landscapes, it's little wonder why film crews have been setting up shop in Malta for decades, transforming this blissful bite-sized country into epic locations like ancient Rome, Jerusalem, and fictional faraway lands.
Malta, in my mind, is the perfect place to feel utterly transported. So, if you want to be whisked away to a movie set of your own, here are 12 beautiful places to visit in Malta for film and TV lovers.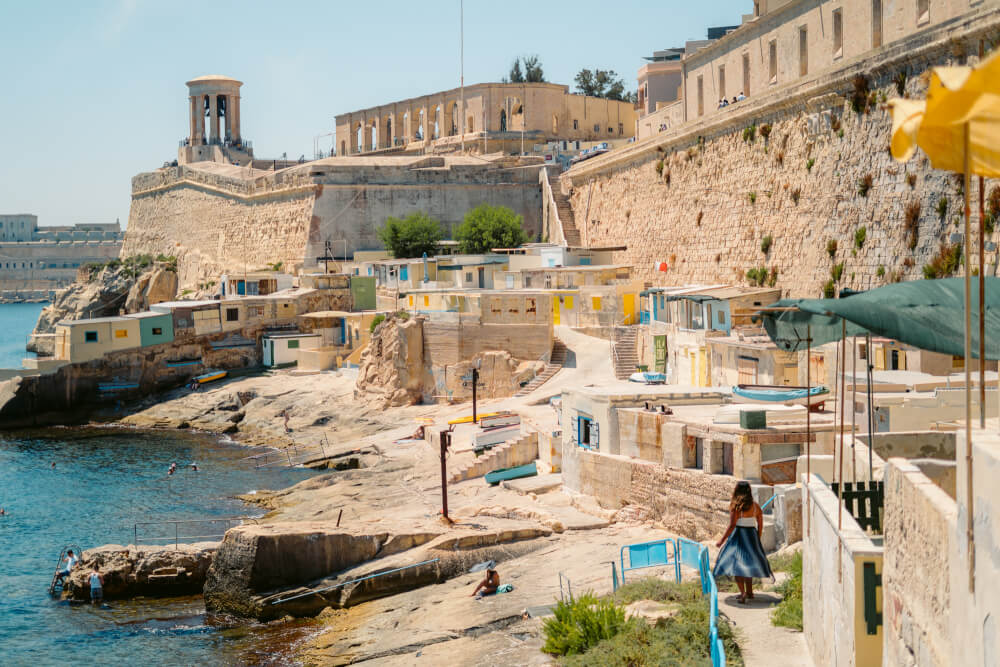 ---
---
1. The Streets of Valletta
With the entire city of Valletta being recognized as a UNESCO World Heritage Site, there's plenty of historical beauty to be ogled around every corner. In fact, Valletta (the smallest capital city in the EU) is rumoured to have the highest density of historical sites in any city in the world, so it's time to grab those cameras, and perhaps a bucket for your drool.
It's likely this city looks familiar too, since Valletta has played host to countless productions over the years, including Assassin's Creed (which used Saint Ursula Street, Saint Paul Street and the Basilica of Saint Dominic as parkour venues), World War Z (which filled Valletta with flesh-eating zombies), Munich (which filmed in Republic Square and the British Hotel), and of course, Midnight Express, a 1978 classic which shot exclusively in Malta, and transformed Valletta's various streets and courtyards into Turkish souks.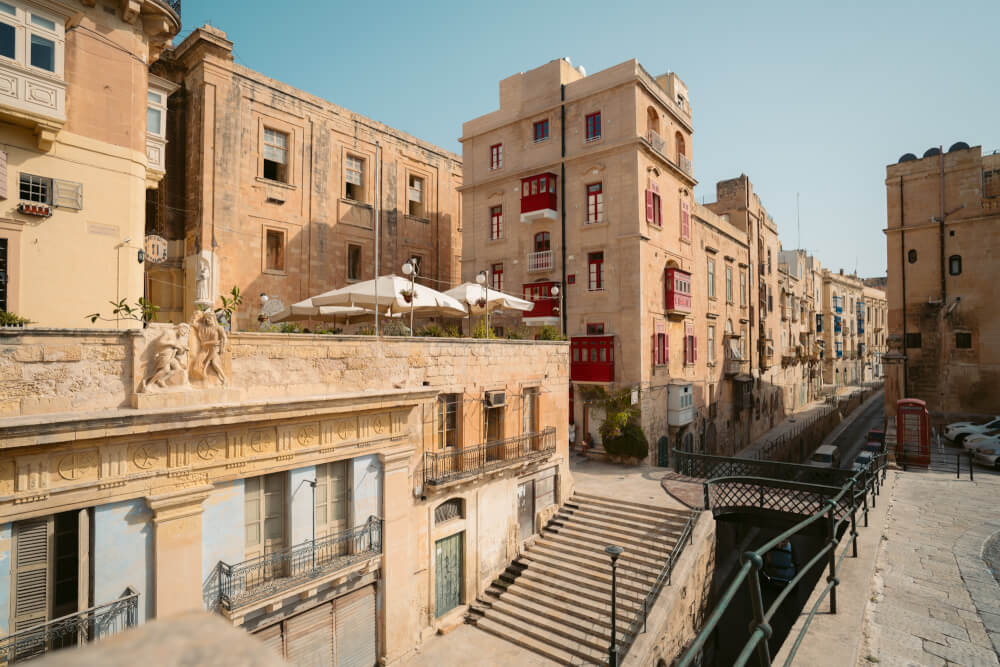 ---
---
2. Valletta Grand Harbour
Perhaps no part of Valletta has seen more action than its famous Grand Harbour, sandwiched between Saint Elmo Point and Ricasoli Point. Remains of megalithic temples date usage of this harbour back thousands of years all the way back to 3700 BC, with a tumultuous history ever since then, including world-known conflicts like the Great Siege of Malta and World War II.
… But besides being a backdrop to some of the country's most pivotal moments, the Grand Harbour has had its fair share of screen time too, as backdrop to many cinematic moments. In fact, the scenic limestone and blue sea combo at Valletta's famous Grand Harbour has made it a film set favourite for various local Maltese films, including short film Plangent Rain, a Maltese adaptation of Hamlet, and a film aptly named Malta Story (1953) which follows the story of British flight lieutenant Peter Ross during the Siege of Malta. You also spot it during the latest film adaptation of Murder on the Orient Express (2017).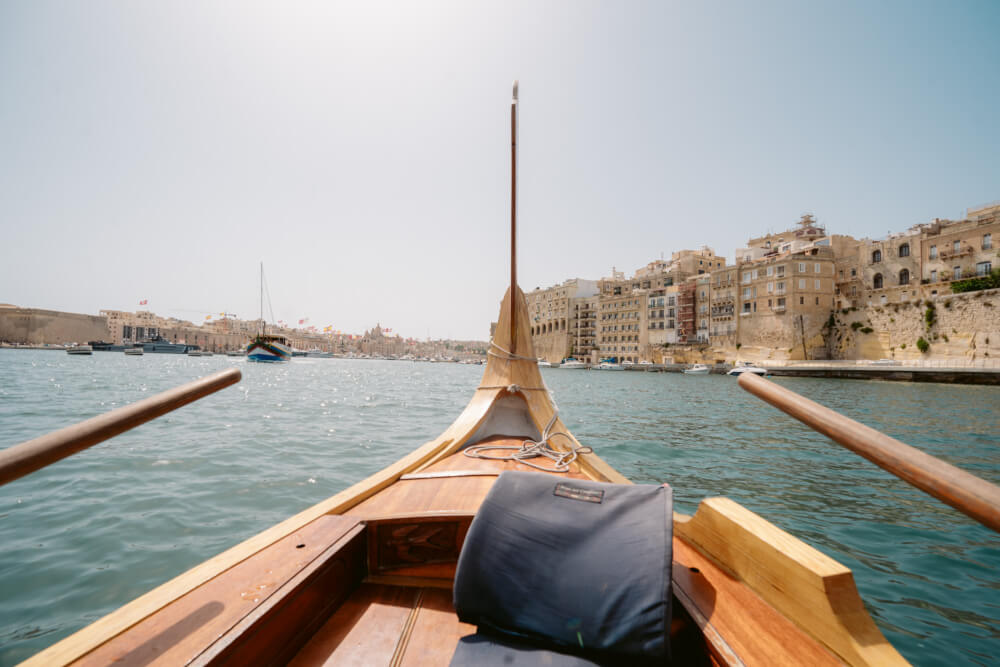 ---
---
3. Fort Ricasoli
While not open to the public, you can get amazing views of Fort Ricasoli from the fortifications of Valletta, specifically from the Upper and Lower Barakka Gardens. This fort has been used for several big name productions over the years, including Gladiator, which filmed about 45% of the entire production in Malta. During this time, Fort Ricasoli became ancient Rome for 19 weeks, with massive sets including recreations of the Coliseum and Forum, using 2000 actors and buckets of CGI in the process.
Besides Gladiator, Fort Ricasoli was also home to several main sets for Troy (2004) and Season 1o f Game of Thrones, notably as the gate to the Red Keep.
Fun-ish fact: The production of Gladiator made headline news when actor Oliver Reed (who played Antonius Proximo) died from a heart attack during a filming break. Prior to the heart attack, it is said he drank heavily at "The Pub" (a Valletta pub that you can still visit!), consuming 8 lagers, half a bottle of whiskey and 12 shots of rum before his fatal heart attack. Apparently the tab he left over has been framed and put on display.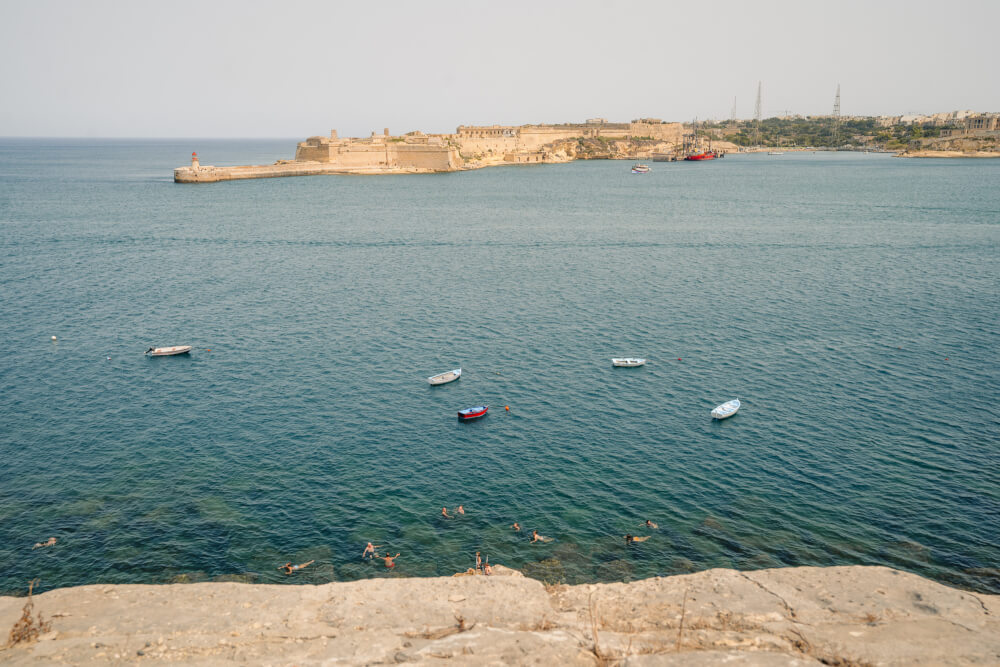 ---
---
4. The Upper and Lower Barakka Gardens
Every day at noon, a loud cannon blast pierces through the Valletta air, sending countless tourists (including me!) into brief bouts of terror. This daily gun salute is one of the top attractions in Valletta, and the Upper Barakka Gardens are where you'd go to observe this attraction close-up.
Of course, while there, you have the perfect viewing platform over some of Malta's most iconic filming locations. As previously mentioned, these gardens are the best spot to look over Fort Ricasoli (used in Gladiator, Troy, and Game of Thrones), the Three Cities (used in Count of Montecristo and the Da Vinci Code) and of course, the beautiful blue sea which has featured in countless productions, from local films like Simshar to more recent hits like Captain Phillips, and Brangelina's (not so good) By the Sea.
My personal tip? Be sure to visit the Lower Barakka Gardens too, which has far fewer visitors and just as great a view.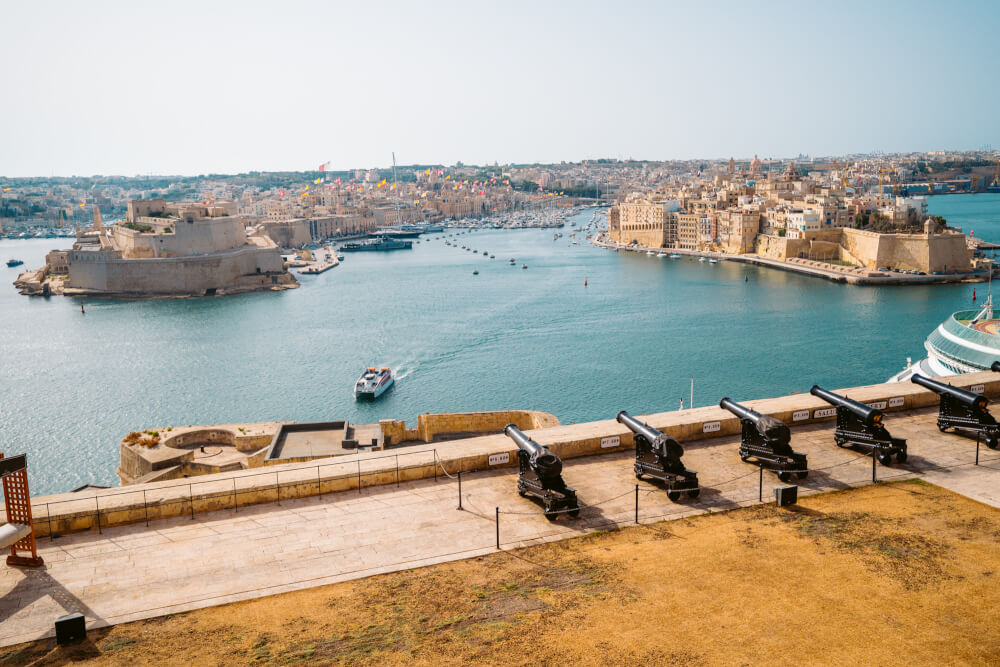 ---
---
5. Fort Saint Elmo
The imposing Fort Saint Elmo in Valletta (today home to the National War Museum and Malta Police Academy) has been quite the cultural chameleon over the years. For the Count of Monte Cristo, it became Marseille. In A Different Loyalty, it became Beirut. In Midnight Express, it was a Turkish Prison. And for Murder on the Orient Express, it was Jerusalem.
All this put together of course, you can expect the fort to be one epic place to visit, with massive historical significance in addition to its starring film roles. For centuries, Fort Saint Elmo has been the site of numerous battles and wars, including the Great Siege of Malta and World War II, evolving over the years through continual reconstruction and modification.
Today, after a 6 year long restoration completed in 2015, Fort Saint Elmo is looking better than ever, with a comprehensive war museum awaiting visitors. And pro tip: if you just want to snoop around without entering the museum, it's a little known fact that you can grab a free ticket at the box office to simply walk around the ramparts.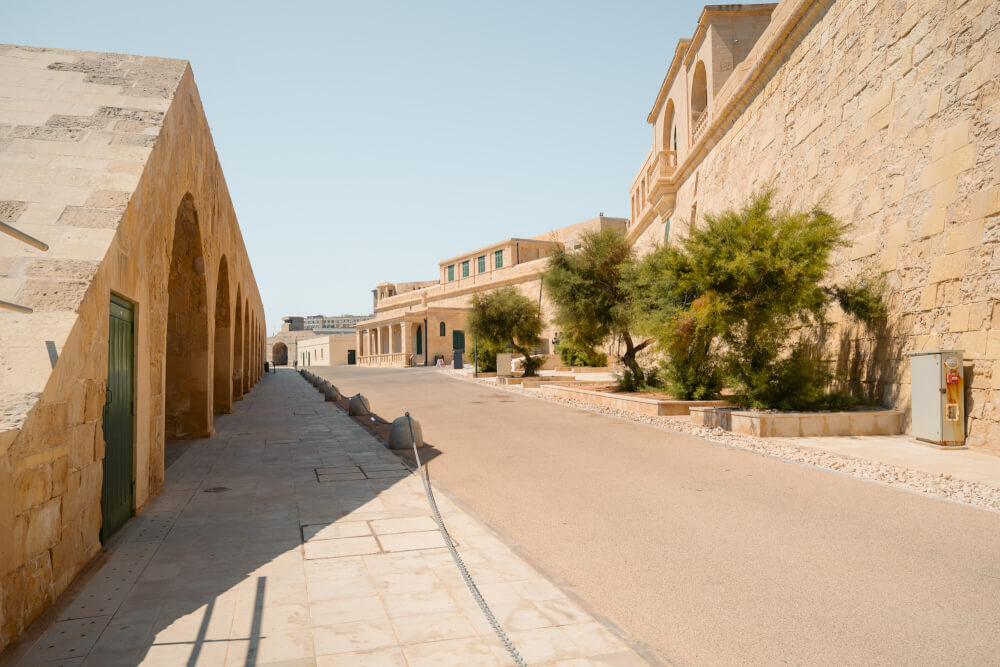 ---
---
6. Lascaris War Rooms
400 feet below ground is where you'll find one of Malta's most secretive attractions: the Lascaris War Rooms, a network of tunnels used as Britain's war headquarters during WWII. Used for important missions all throughout World War II and the Anglo-French invasion of Egypt during the Suez crisis in the 50s, today the tunnels are open to the public, with a special treat for cinephiles: scenes from Malta Story were filmed here, along with the Canadian documentary Bond of Strangers.

---
---
7. Popeye Village
The 1980 film adapation of Popeye starring Robin Williams and Shelly Duvall is a beloved 80s classic that shot entirely in Malta. The set took 120 workers and three months to construct, but over time Anchor Bay was transformed into colourful Sweet Haven, and has remained there ever since.
That's right, almost 40 years later, you can still visit the entire Popeye Village set in-tact today, as it has now been transformed into a quirky little amusement park! Curious about what you can find there? Click here to read more about Popeye Village.
Fun fact: Playing Popeye actually Robin Williams' first starring film role ever, and filming had to be delayed for a few weeks due to a spinach-related work incident, when a can of spinach hurled during filming hit Williams so hard on the head that he needed stitches.

---
---
8. Mdina
Home to a population of only 300, Mdina is the former capital of Malta, with a staggering 4000 years of history under its belt. Home to buttery limestone streets and a serene, timeless atmosphere, Mdina is a must-visit when in Malta, all the more so if you're a big fan of TV shows and movies.
Mdina has featured in numerous productions, but TV buffs will most likely recognize it as King's Landing from Season 1 of Game of Thrones. Roman Polanski's Pirates and The Count of Montecristo also filmed various scenes here, particularly around St Paul's Cathedral (for the Roman carnival scene).

---
---
9. Marsaxlokk
Famed for its daily open air market, delicious seafood restaurants and laidback seaside atmosphere, the colourful charm of fishing village Marsaxlokk is one that cannot be missed during your trip to Malta.
If you're anything like me, most of your time in Marsaxlokk will involve slurping fresh seafood straight from the baking foil, but a more graceful activity would perhaps be to track down some filming locations while you're here! Marsaxlokk has in fact featured in a few productions over the years, including Munich (2004), where it portrayed Athens, as well as Simshar (2014), a prominent Maltese film based on true events that unfolded in 2008, telling the simultaneous stories of a Maltese fishing family left stranded in the open sea at the same time as a Turkish merchant vessel carrying migrants on board. SPOILER: It does not end well.

---
---
10. Ħaġar Qim
Found along the Southern edge of Malta, the megalithic temples of Hagar Qim are ranked among the oldest known religious sites in the entire world, pre-dating even the Great Pyramids of Giza. Today, it's one of the most popular sightseeing spots in the entire country, flaunting UNESCO World Heritage status and growing visitor numbers in the hundreds of thousands.
While I feel the whole "5000 YEAR OLD GIANT TEMPLE" thing is a sufficient selling point in itself, it's also worth noting that the epic atmosphere of this temple complex has been represented in film as well, like back in the 50s, when it featured in Malta Story.

---
---
11. Gozo
Malta's second island Gozo is known for its more relaxed pace of life, stunning natural beauty and endless rolling green hills. If you have time in your itinerary, a visit here is a must! The scenery here was some of the best I saw in the country, with much fewer crowds than congested hotspots like Valletta and Mdina.
And while the island is well known for the starring role of the (now collapsed) Azure Window in Game of Thrones' Dothraki Wedding, Gozo has been used for a variety of other productions as well.
By the Sea for instance harkens back to the glory days of Brangelina. It was actually here that the two celebrated their honeymoon, while filming (ironically) a movie that follows the breakdown of a marriage. While this sad foreshadowing is a bit grim, Gozo is anything but. Want the full By the Sea experience? Grab a bite at Ta' Frenc, where the doomed couple share a meal together in the film, while trying to rekindle their romance.
PS: The League of Extraordinary Gentlemen (2003) [High five if you remember this movie!!] also set up shop here briefly for various submarine scenes.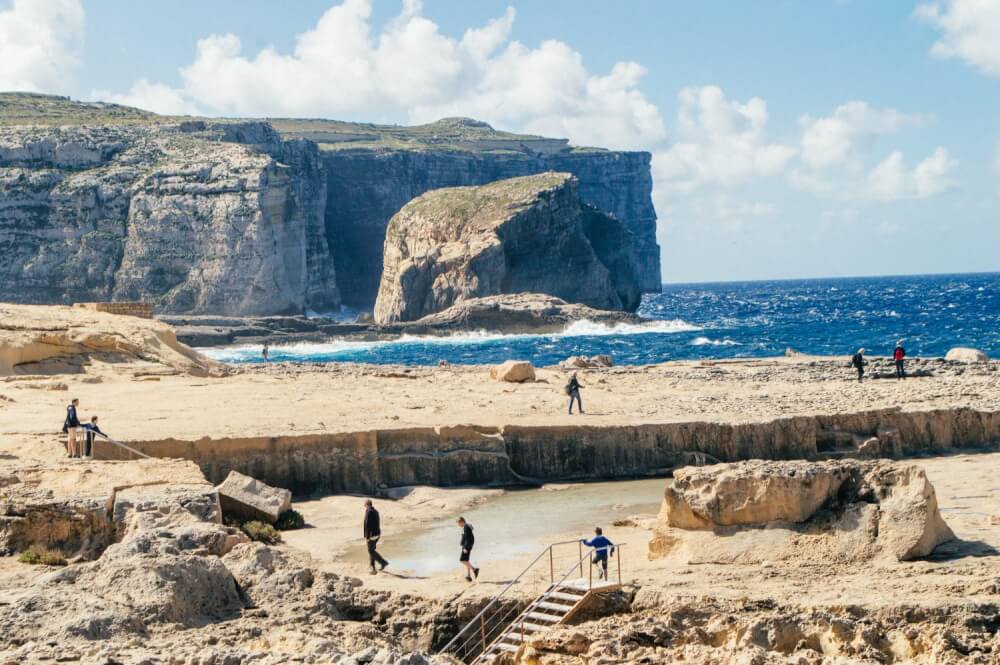 ---
---
12. Fort Saint Angelo and Birgu (AKA Vittoriosa)
Last but not least, across the water from Valletta are the famed Three Cities: Birgu, Senglea and Bormla, with Fort St. Angelo acting as crown jewel of sorts.
Fort Saint Angelo is easily one of the most famous landmarks in Malta, built originally as a medieval castle then later as a bastioned fort that served as the Order's HQ back in 1565 during the Great Siege of Malta. Today it serves as a state of the art museum explaining the fort's history and significance, and also a frequent destination for film crews! Fort Saint Angelo has appeared in Game of Thrones as the Red Keep prison and underground chambers, as well as in moody Maltese drama, Plangent Rain.
NOTE: The rest of Birgu is well worth some exploration as well. With significantly less crowds than Valletta, Birgu is a peaceful city where you can escape into your very own film set, which was once used for films like the Count of Montecristo, the Vinci Code, and notorious romantic comedy Swept Away (starring Madonna and Elizabeth Banks), which transformed the Birgu waterfront into an Italian port.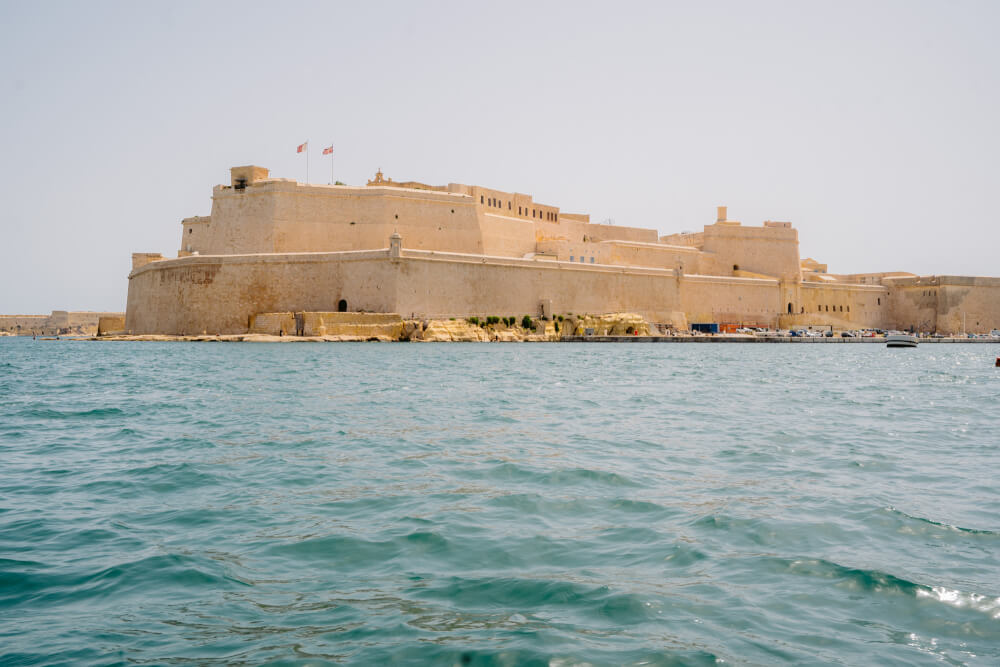 ---
---
---
Watch my most popular YouTube video this week:
---