*FYI - this post may contain affiliate links, which means we earn a commission at no extra cost to you if you purchase from them. Also, as an Amazon Associate I earn from qualifying purchases. Check out our Privacy Policy and Disclosure. for more info.
Looking for an honest Glacier Express review that holds nothing back? Here's a recap of my recent time on board!
The world-famous Glacier Express is a Swiss train ride often ranked among the greatest train journeys on planet Earth, lugging thousands of visitors each year across Switzerland's most decadent landscapes. End to end, it runs for 8 hours, with gourmet meals served on board, and huge panoramic carriages to fog up with your heavy breathing.
A bucket to catch your own drool however, is sadly not included.
… So what could possibly go wrong?
Well, after a painfully thorough sifting of Glacier Express reviews, I've found that this glitzy luxemobile is a train that polarizes its passengers: you either leave raving, foaming at the mouth (probably rocking a Glacier Express T-Shirt) orrrr you see it as a huge disappointment, and that drool-bucket is now being used for tears.
This is a pretty problematic divide when you consider the fact that the Glacier Express is (for many of us) comically expensive.
(As in, here are the prices:)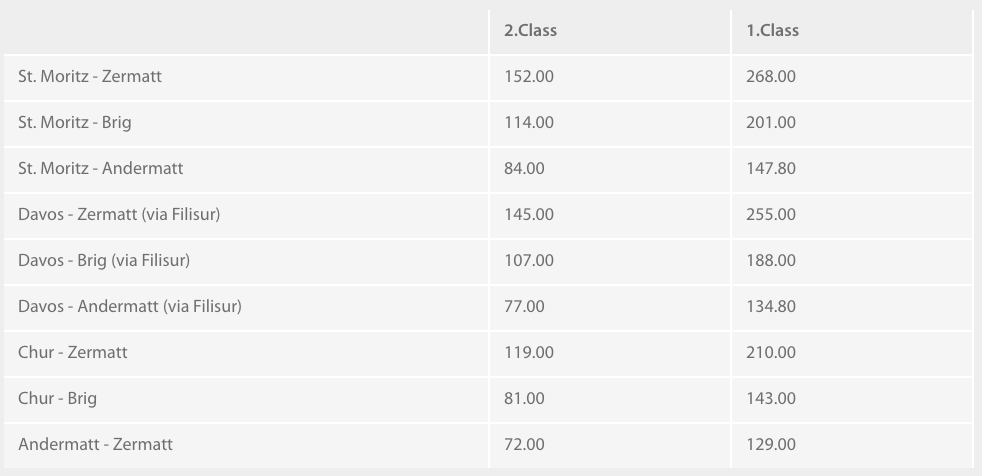 So, if you're a little squeamish about dropping 200+ Swiss Francs on a one-way ticket, I understand. After all, if you're planning a trip to Switzerland right now, you're probably already halfway to bankruptcy. Having done this trip recently (March 2019), I decided to write out a detailed review to help you decide if the Glacier Express is worth the high pricetag, or if you're better off doing another one of Switzerland's many scenic train journeys.
I hope you find this honest Glacier Express review helpful!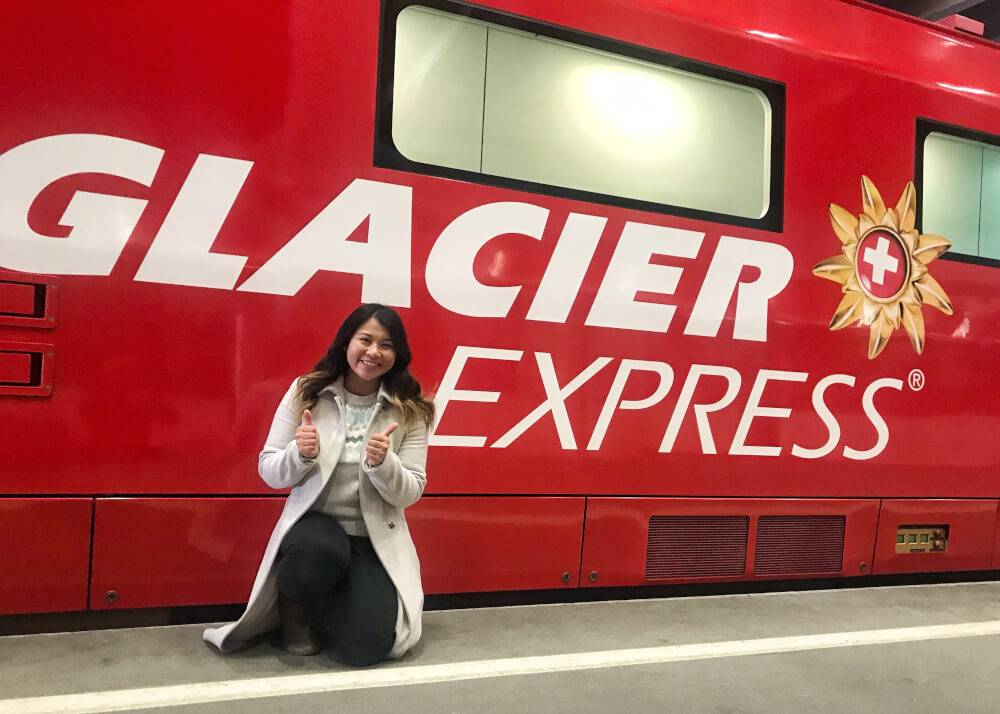 ---
---
First: here's how I got my Glacier Express 1st Class Ticket for 30 euros…
Before we get started with this review, I want you to know that I managed to scheme my way into doing a 1st class ride on the Glacier Express from Zermatt to Chur (usually 210 CHF) for only 30 euros. For comparison's sake, that's only about 34CHF. Adding on the mandatory reservation fee of 23CHF (which is applied additionally on ALL tickets by the way), my total savings still equalled over 150CHF.
How did I accomplish this?
Witchcraft, mostly.
And travel hacking!
Here's what I did: I took advantage of an excellent promo offer from Eurail which gave all customers a free 1st class upgrade if they purchased the ticket before the end of February. I ended up buying a 10 Day Global Flexipass for 306 euros (cheaper as I'm under 26), which, when all the math is done, evens out to roughly 30 euros per travel day.
What exactly is a travel day? A travel day means I am entitled to ride as many eligible trains in a 24 hour period as I want. In theory, this means I could ride like, 10 trains in one day and each one would cost me about 3 euros. My frugal ways have not yet made me THAT unhinged, so instead of taking multiple trains, I set my sights on the most expensive one I could do: the Glacier Express, which is included in the Eurail Global Pass!
So, ultimately, I had to pay the mandatory reservation fee (which I remind you, is required of all passengers anyway, Eurail or not), and after that, I got to ride the Glacier Express in 1st class for a fraction of the cost. While their promos are constantly changing, you should check out the Eurail website here to see if they are offering any good deals on passes, because using it for a Swiss panoramic ride will virtually guarantee you get your money's worth.
Okay, so with that humble-brag tale out of the way, let's get to the good stuff: my full Glacier Express review.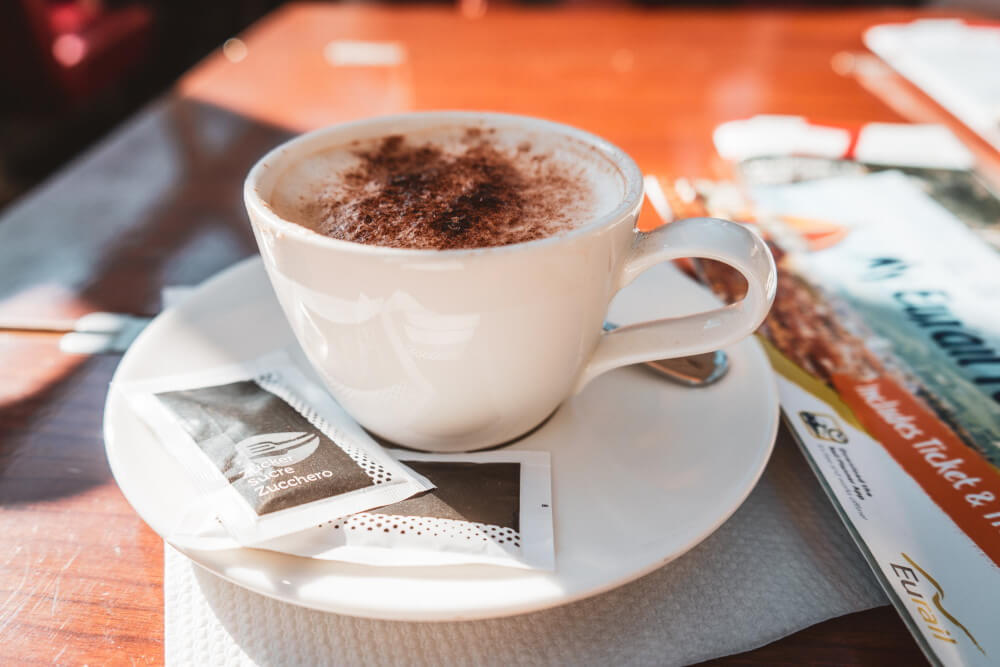 ---
---
A Brief Glacier Express Review: Pros and Cons
First – a quick one! I know that I am often unnecessarily verbose, SO if you're looking for a fast summarized review of the Glacier Express, below I list out my main pros and cons. A more detailed breakdown is provided below.
Glacier Express Pros
Gorgeous scenery: You can't fault the incredible route that the Glacier Express takes. This trip takes you past pass powdery snow-capped mountains, snowglobey alpine villages, terraced vineyards, rocky gorges, iconic bridges and even many, many castles. End to end, I would argue it provides you with the most comprehensive overview of Switzerland's varied landscapes.
Excellent on-board menu: Considering you're on board a moving train, the food options on board the Glacier Express are surprisingly gourmet and varied. In contrast to the takeaway sandwiches and chips you might get on a normal train, the Glacier Express has many hot meal options served in set menus or a la carte, including food you'd never think to find on a train, like tartar, smoked trout, fondue, and risotto.
Overall wonderful atmosphere and experience: The Glacier Express certainly doesn't get you anywhere quickly, but if you're looking to take a train as a nice experience rather than simply as a mode of transportation, then it offers a wonderful, luxurious experience, with comfortable chairs, large windows, actual cups/cutlery (in other trains it's mostly paper cups!) and useful commentary on board if you want it.
Attentive staff: The staff on board were all really nice and friendly. They really emphasize customer care on this train, as opposed to most others where staff simply come by to check your ticket and leave. I found every staff member I met to be very professional and kind, which definitely elevated the experience a great deal.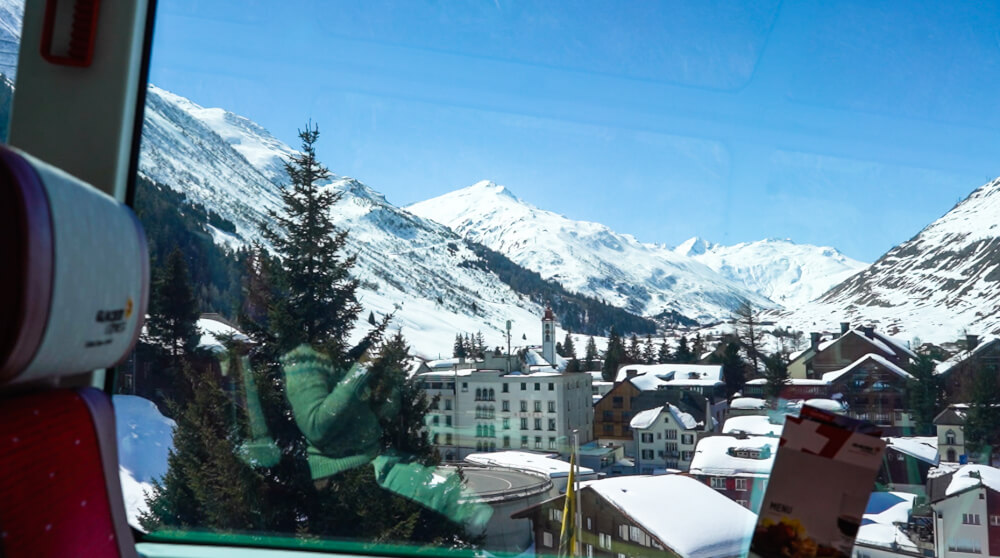 ---
---
Glacier Express Cons
Terrible conditions for photography: Ahhhh. AHHHH. I'm still mildly furious about this. So, here's the thing: while the big glass windows of the Glacier Express are nice for wistful glances at the views outside, they are in reality hilariously terrible for photography. Any photo you try to take (unless strategically angled) will end up with a reflection of the lights, your seat, etc. If you are taking the Glacier Express purely for photography purposes, odds are you will be very disappointed.
Really hot temperatures: Again, the Glacier Express' panorama cars have these beautiful giant windows which sound like a very promising idea, but let me tell you, when the sun is shining inwards, it turns the carriage into a boiling hot death machine. So, take note of this if your body overheats with the fervour of a menopausal woman's (like mine!!) Luckily I dressed in layers so could adjust accordingly.
Crowds: The Glacier Express is of course a major tourist attraction and so it is regularly booked out to mass tour groups and of course, tourists keen to see the beauty of Switzerland for themselves. This means you'll most likely be sitting in a full carriage with other camera-clicking tourists, which (if you enjoy peace and quiet) might hinder the romance and atmosphere a little bit.
Speed: They call the Glacier Express the slowest express train in the world and they are NOT kidding. This thing is SLOW! Sometimes, painfully so. If you're riding the Glacier Express for a nice "experience", then this is fine, but if you actually are relying on it as a mode of transportation, you might get antsy with how slow the train is going at times.
Food/Drink Prices: While I would say the cost of food on board wasn't terrible (relative to the usual cost of dining out in Switzerland anyway), the cost of drinks really made my eyes bulge. I paid 6CHF for a 0.5L of sparkling WATER which is a little outrageous and eye-watering. I would definitely bring your own drinks (this is allowed!)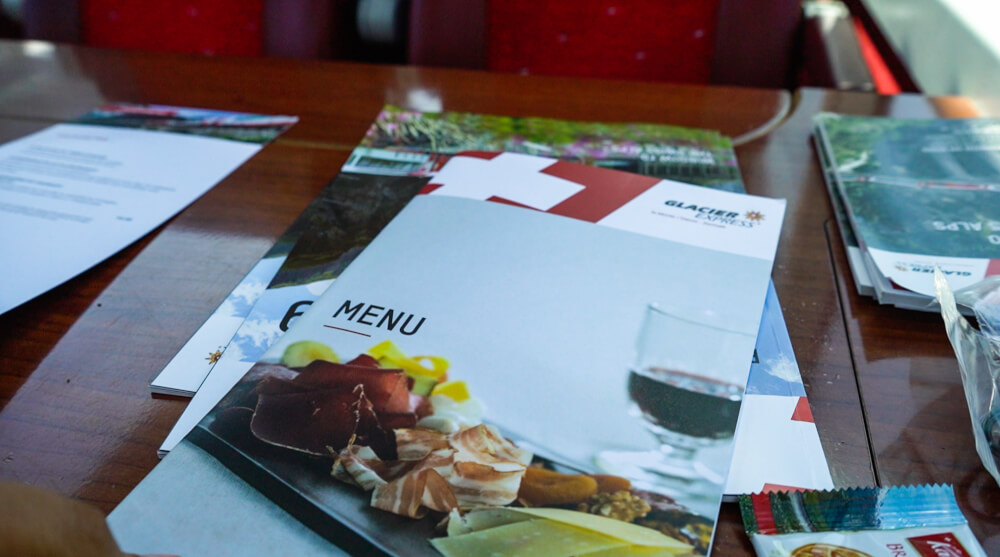 ---
---
Glacier Express 1st vs 2nd Class
Alright, before we dive into the detailed version of my Glacier Express review, I wanted to take a quick second to discuss the differences between doing the Glacier Express in 1st class vs. 2nd.
While I enjoyed my 1st class ride (*casually flips hair smugly*), I have compared notes with friends who have rode in 2nd class in the past and it seems the main difference really is that 1st class has slightly more space.
In first class, there are only three seats per row (a 2-2 configuration facing each other on one side, and a 1-1 on the other side). On the other hand, second class has four seats per row (a 2-2 configuration on both sides). This means that 1st class passengers get a bit more space, and solo travelers like me have a chance to sit alone without awkwardly sweating next to a stranger. Otherwise though, I believe 2nd class carriages enjoy most of the same perks as 1st class, including table service.
SIDE NOTE: An additional difference is that seats in first class are red while seats in second class are blue (a highly unimportant detail, but just for your information!)
So all in all, considering the gougey price difference that's sometimes over 100CHF, I'm not sure it's worth it to pay that much more for first class, unless you (like me) are leeching off of a great Eurail pass.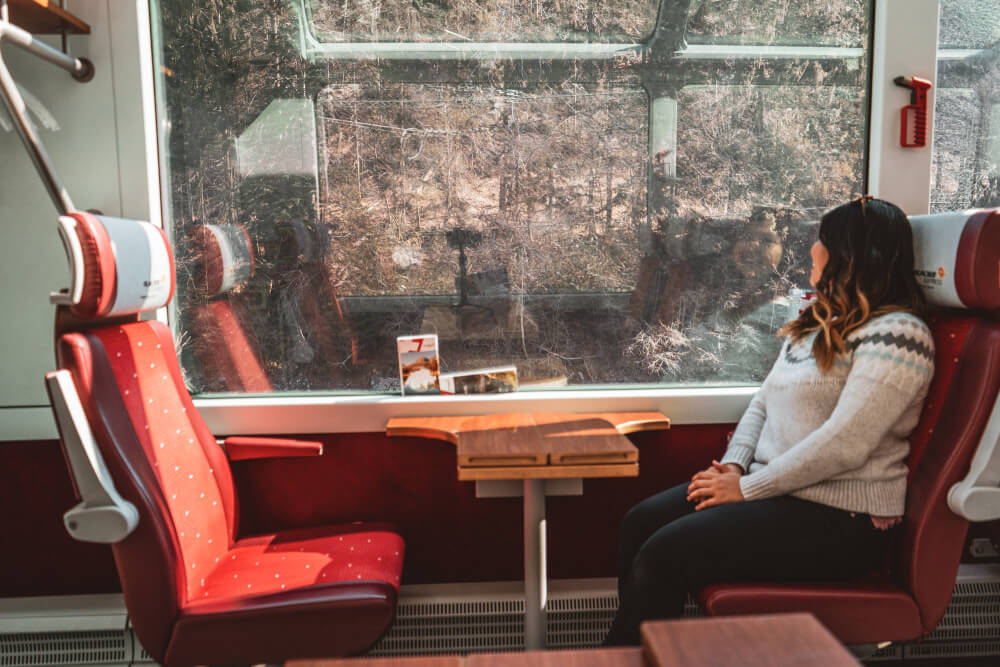 ---
---
My (Very Very Detailed) Glacier Express Review
Alright, now let's get to the good stuff. If you've read the brief review above and now want more details on each aspect of the Glacier Express journey, you can find all my enthusiastic oversharing below:
1. The Glacier Express Route
Ahh, the route. *eyes dreamily glaze over*
As I mentioned earlier, the highlight of the Glacier Express trip is really the variety of beautiful landscapes you get to pass. You can learn more about the Glacier Express journey in my full guide here, BUT here's a quick summary:
If you were to take the entire Glacier Express journey end to end from Zermatt to Saint Moritz (or vice versa), you would pass three different cantons of Switzerland: Valais, Uri and Graubünden.
You can start at either end of the journey (so, either Zermatt or Saint Moritz). Alternatively, you're able to hop on and off at Brig, Andermatt, Disentis, Chur, Tiefencastel, Filisur and Samedan.
End to end, the ride lasts for 8 hours, whizzing through 91 tunnels and 291 bridges in that time. For me, I did the journey from Zermatt to Chur, which brought me from the snowy alpine villages near Zermatt to the dramatic cliff faces of the Swiss Grand Canyon (AKA the Rhine Gorge). Along the way of course, you also pass a variety of cute towns and beautiful vineyards, with promises of beautiful castles and towns if you head all the way until the end. I did this final stretch with the Bernina Express and can confirm it was incredible.
So, all in all, I can't fault the picturesque landscapes that you pass while riding the Glacier Express. The scenic route is (naturally) the highlight of the trip, although this brings some downsides such as speed… but more on this later!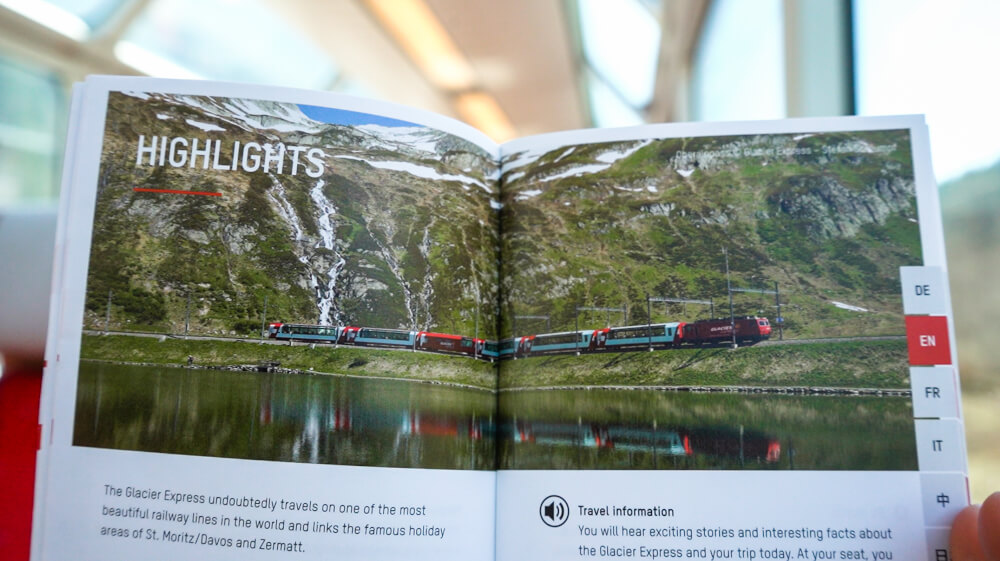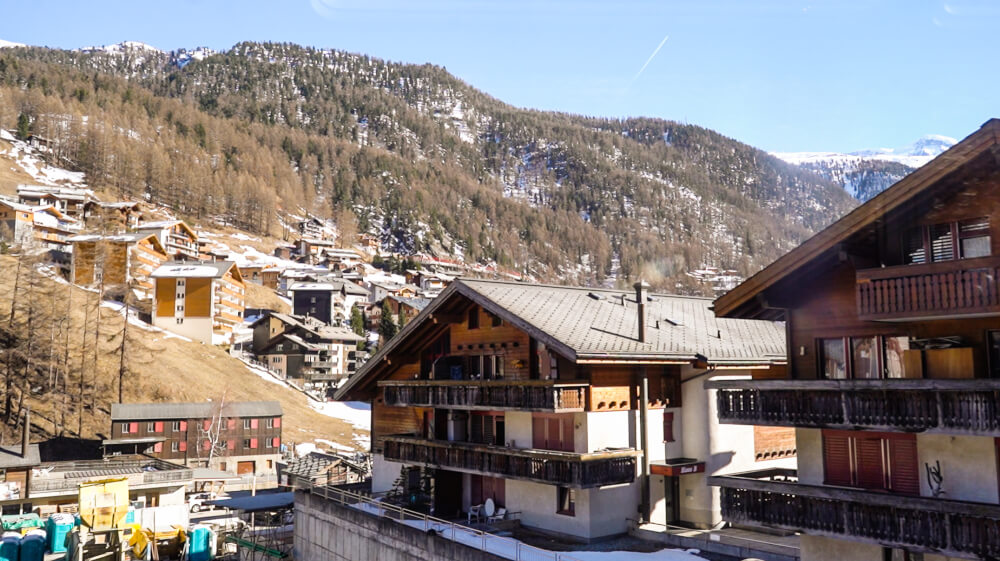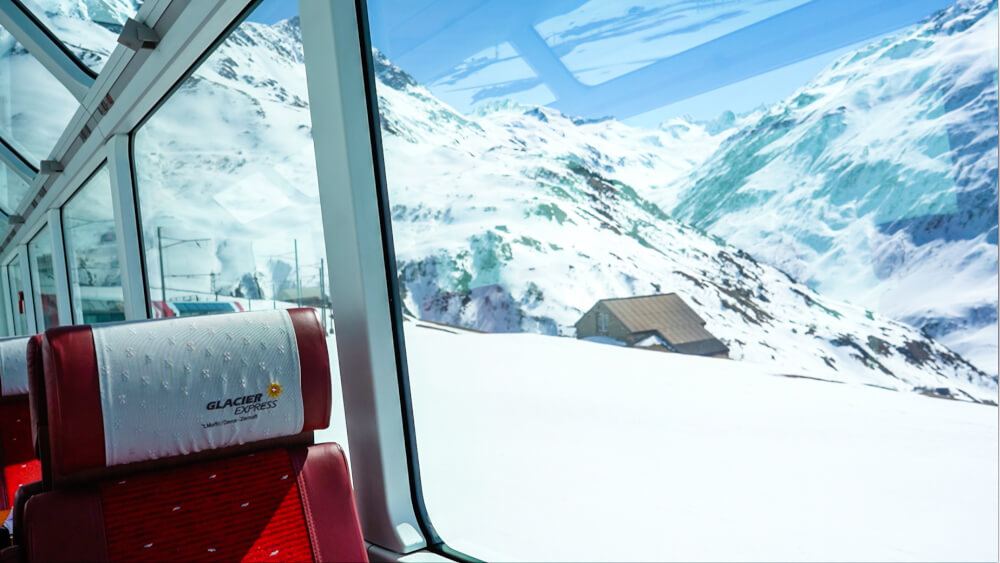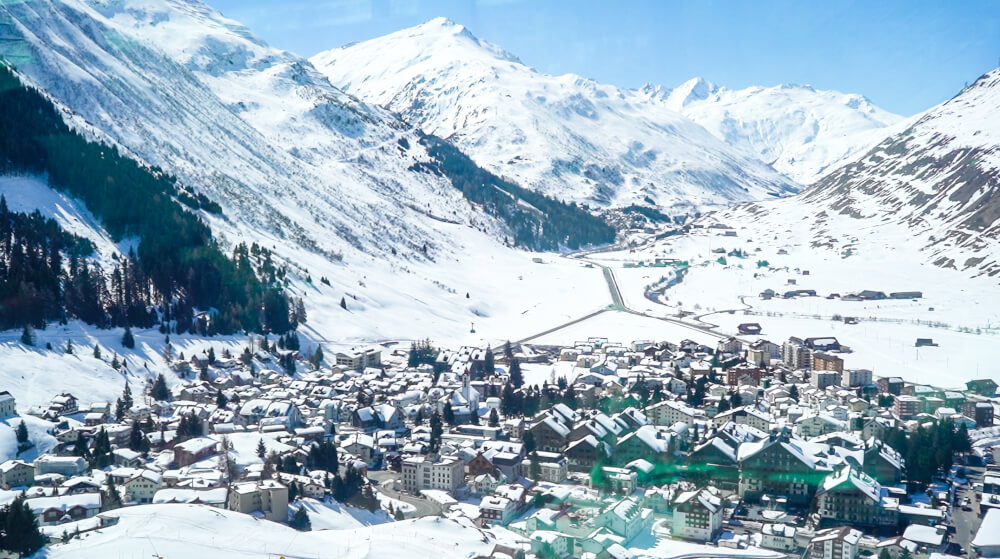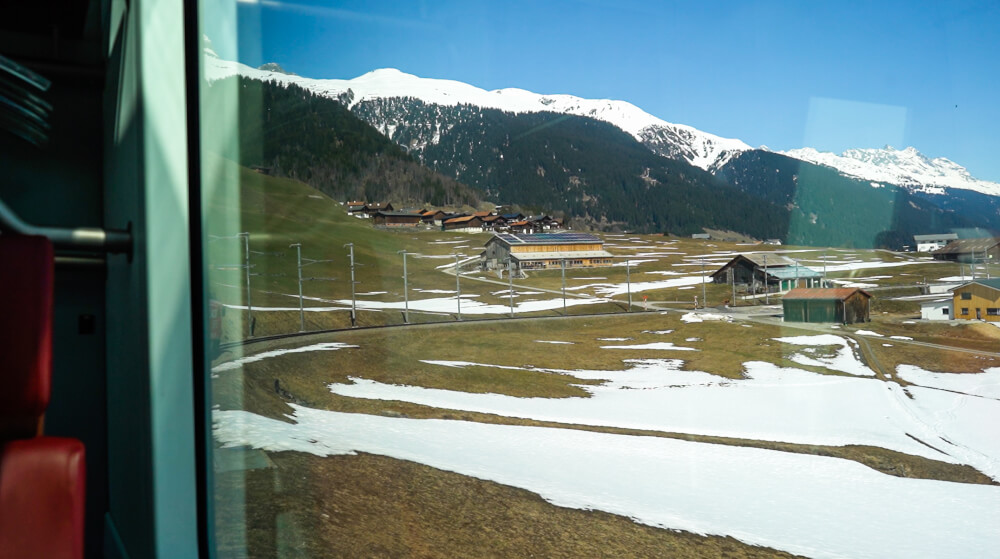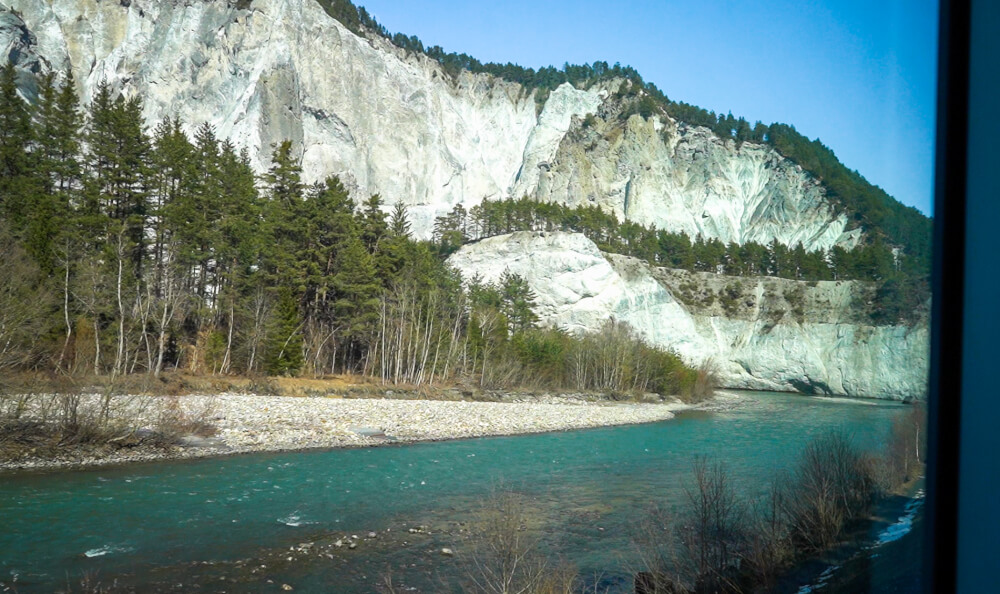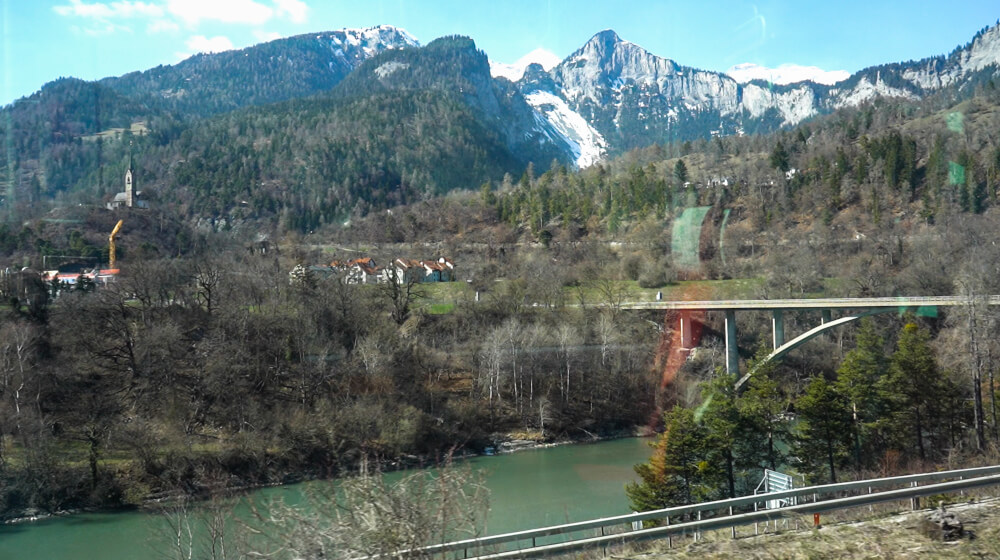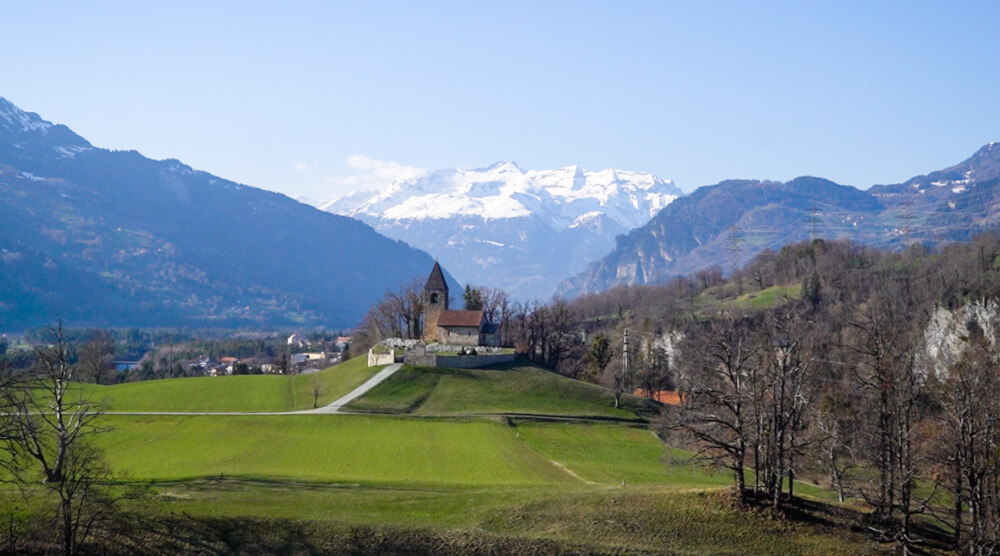 ---
---
2. The Overall Atmosphere on the Glacier Express
The Glacier Express bills itself as a luxury train, and having rolled my way around 1st class, I would say that luxe atmosphere was definitely one of the highlights of the trip for me.
After all, there are the large panoramic windows, ample leg room, very comfortable seats and attentive staff taking your orders/delivering hot meals to your seat with real tableware and cutlery. They even have an on-board magazine and an (optional) but decent info-program on board where you can plug in headphones and listen to commentary at select moments of the trip. I found this helpful for keeping track of where we were on our journey.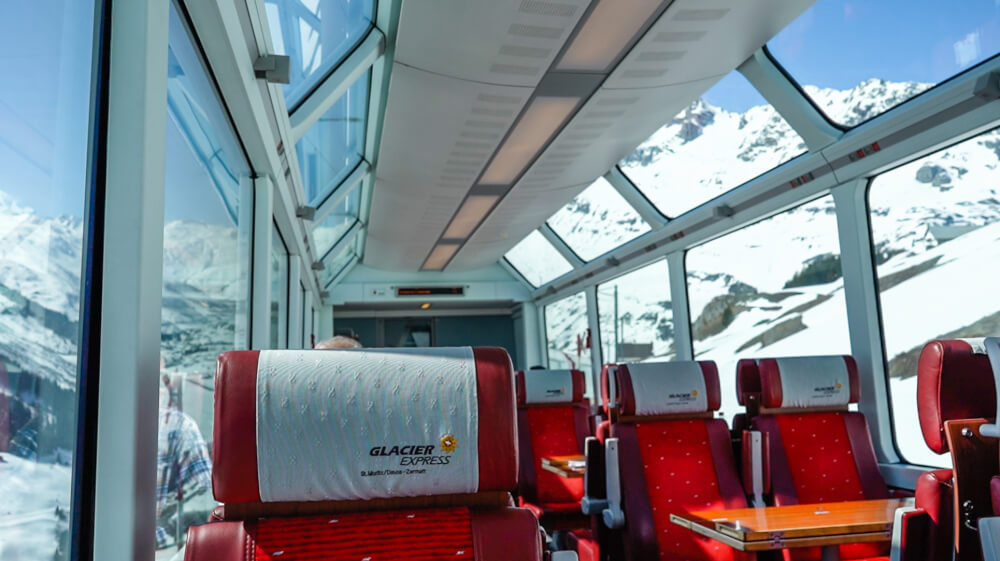 So, overall, as a hopeless romantic, I loved the experience of chugging (verrrry slowly) across various Swiss landscapes, nothing much to do but stare out the window and dreamily ponder how wonderful life is.
Honestly though, that said, if you are not susceptible to these kinds of dreamy wonderings, then you might get bored. There's no WiFi on board, and the train is indeed, very, very slow. I only took the train from Zermatt to Chur and thought "okay, that was a good amount of time". If I had taken the train all the way to Saint Moritz in one go, I feel like I might have gone a little crazy.
Another thing is that the Glacier Express is, at its core, a tourist train made for tourists. In peak season then, it is highly likely that your carriage will be full of other people, happily chatting and snapping away. This shouldn't be a big deal if your fellow passengers are courteous, but I had it on the first leg of my train from Zermatt to Andermatt that I shared my carriage with a large tour group, who overran the place and basically screamed the whole time. As Grinchy as this makes me sound, that definitely detracted from the experience a bit as they were very loud and disruptive… plus sharing a four-seat table with strangers is never not awkward.
Luckily though, they all miraculously disembarked at Andermatt and I got to enjoy the rest of my journey in total silence. It was bliss!! So, know that being on board this train, while a lovely experience, is still very much a touristic one and if you hate feeling trapped (like in a guided tour), this might not be a great option for you.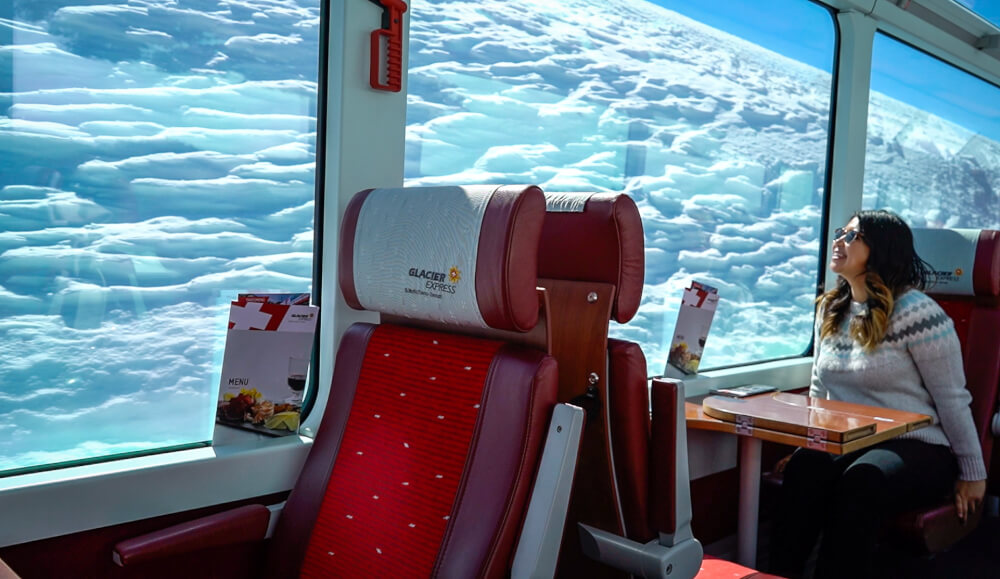 Also, this train gets HOT! Maybe it's very 1st world problemmy to complain, but with my blue sky/sunny weather, the sun shone directly into the car and I felt like I was melting. I would advise bringing suitable sun protection (sunglasses, hats, etc.) as well as dressing in layers so you can adjust your outfit as necessary.
Last but not least, I need to emphasize again the reflection on the windows. For simple viewing and enjoyment, this is of course fine, but if you're a photographer like me or intent on capturing any kind of nice photographs during your ride, you need to realize that you probably will not get many good shots, unless you recruit the help of some polarizing filters. Those reflections are no joke!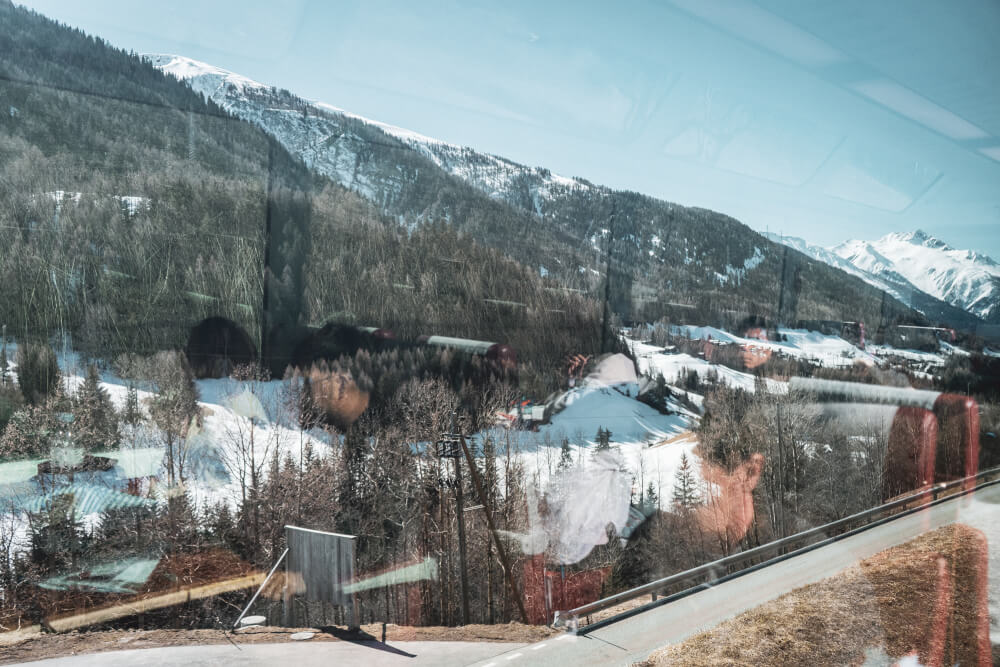 ---
---
3. The Food on Board the Glacier Express
So what's the food like?
Wanting the "full experience", I opted to dine on board the Glacier Express and pre-order the three course lunch.
Honestly, I know this sounds nutty, but the price of 45 CHF (for me) seemed quite reasonable for a three course meal considering how expensive Switzerland is. For context, a small poke bowl at the Zurich train station was going to cost me 20 CHF, so really, springing an extra 25 for a THREE COURSE hot lunch served on board a moving train felt like a worthy sacrifice of my coins. At this point though, I had been travelling through Switzerland for a few days, so perhaps my brain was fried from all the sky high prices.
Nonetheless, I felt like buying food on board was a worthy splurge for the experience of dining with real cutlery and tableware on board a luxurious train… and good food too!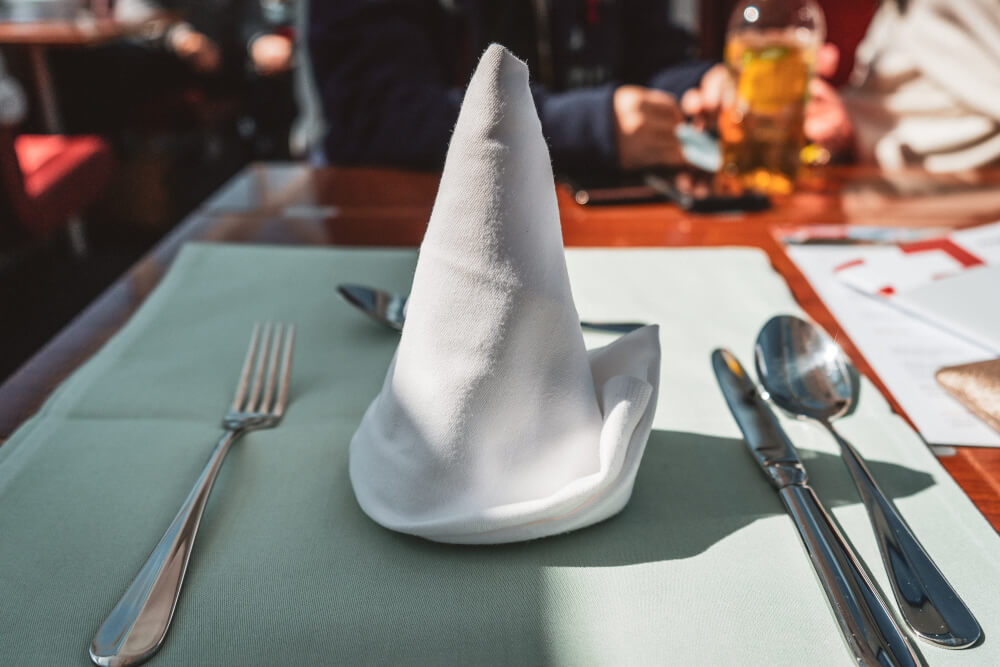 The Glacier Express three course meal deal comes with a starter, a main course and a dessert. I had a choice for dessert (between a cheese plate or chocolate mousse), but otherwise the options were fixed. This means it's a bit of a gamble if you're a picky eater because you don't get to swap your main course for something else if you don't like it. Those with dietary restrictions shouldn't worry though, there was also a vegetarian option that was a little less expensive, as well as very thorough allergen markings on the menu, so you'll likely be able to find something to suit your needs a la carte.
Anyways, for my meal, the first course was a pancake and carrot soup. I know it sounds weird, but pancake soup is a very common dish in Central Europe, and when the pancakes are sliced up, it's almost like having a noodle soup, so it's very warm and comforting. This was a simple starter, with a thin beef broth, but nonetheless it was tasty and a nice start to the meal, especially with the apocalyptic mounds of snow outside.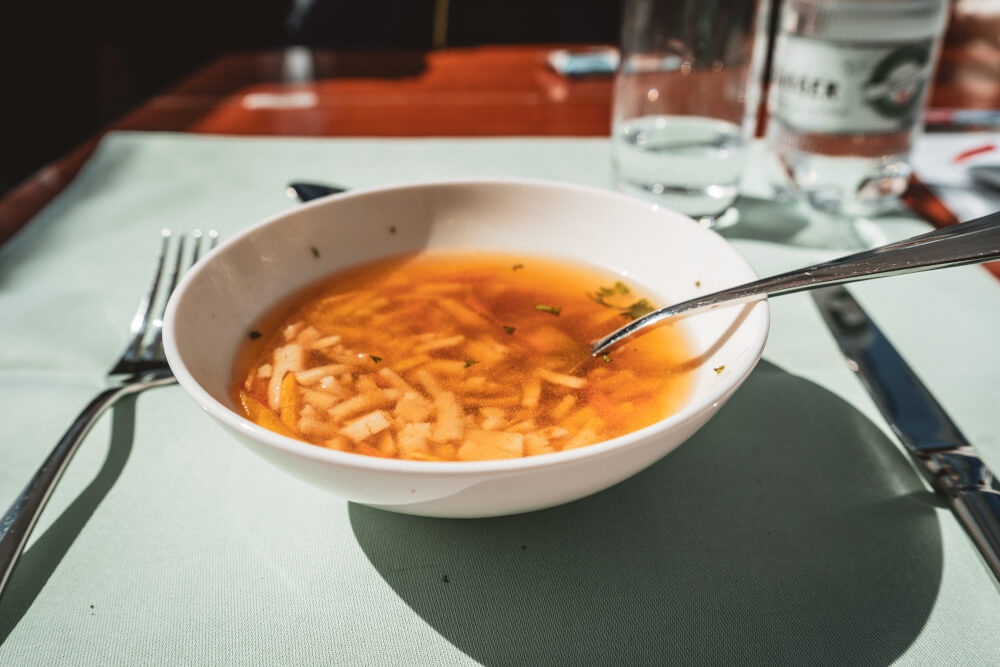 The main course was roast pork (schweinebraten) with cauliflower and spaetzle in a mushroom sauce. Since schweinebraten is my favourite dish ever, I basically did a happy dance in my seat.
The sauce was a little on the thin side, but the flavours were on point and the pork was delicious and tender. The way they serve the meals is quite interesting as well – the servers come by with serving platters and serve you directly onto your plate, so you can always ask for more or less depending on how hungry you are. I gobbled this dish right up and I really enjoyed it.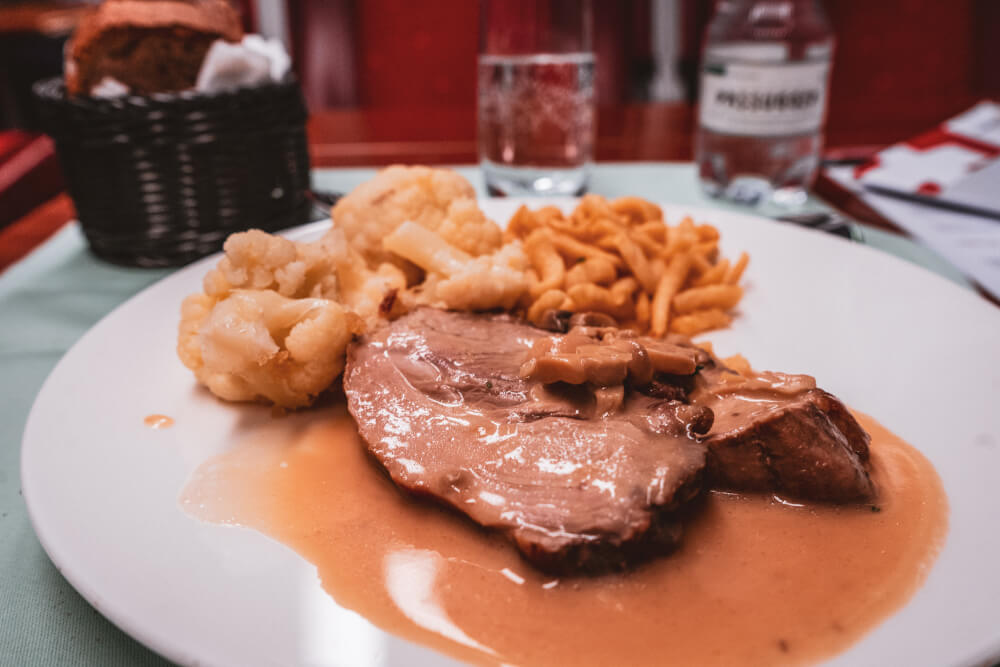 Lastly, there was dessert. I chose the chocolate mousse over the cheese plate because I have a soul. This was a pretty basic pudding (think a chocolate pudding cup) but it was delicious because how can you go wrong with chocolate pudding, really?
Overall I was pleased with the quality and not too heartbroken by the price of the three course lunch. The a la carte menu though is considerably more expensive. You can see some photos of the menu below.
---
---
4. The Glacier Express Menu
If you're curious about the different a la carte food options available, here are some photos of the menu. As you can see, it's not exactly cheap! For a full digital version of the menu, you can visit the official Glacier Express website here.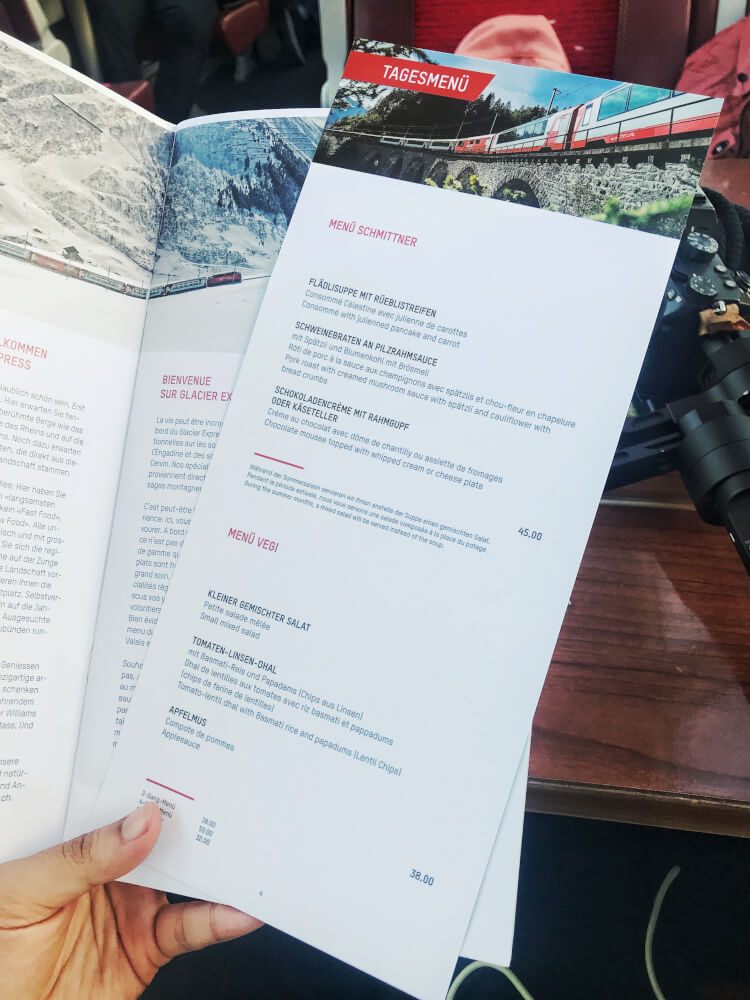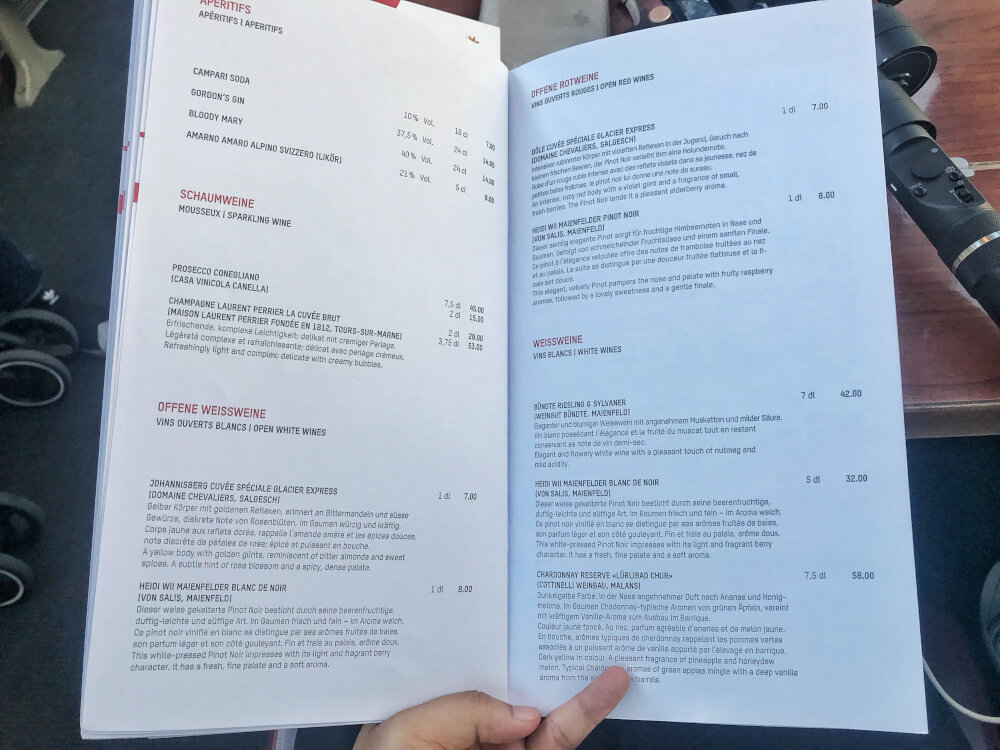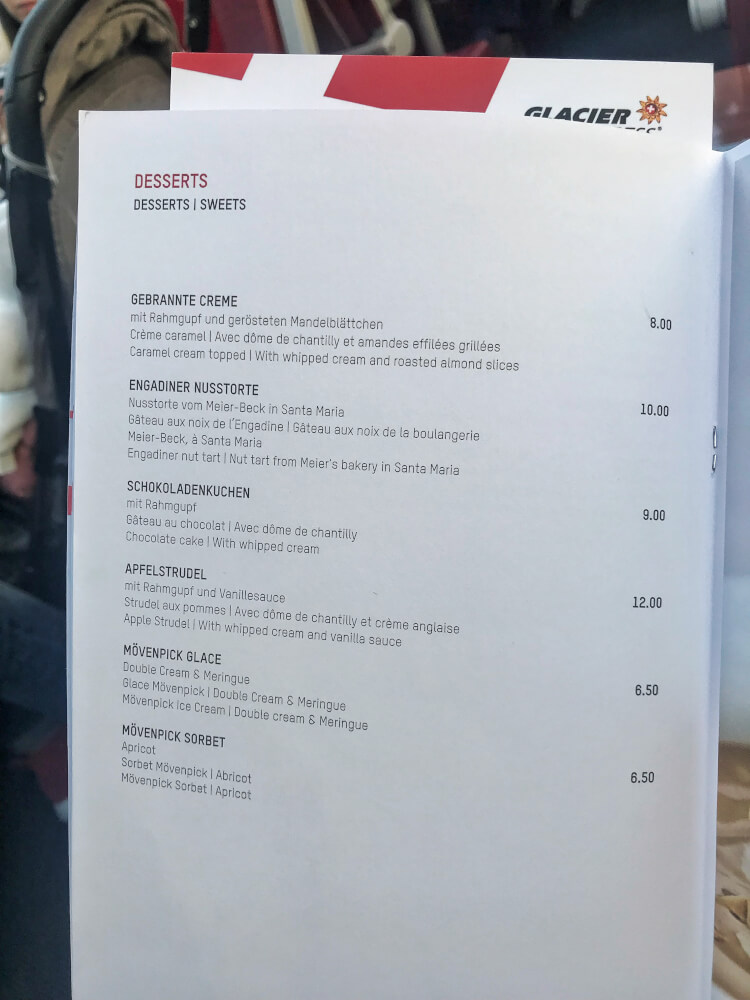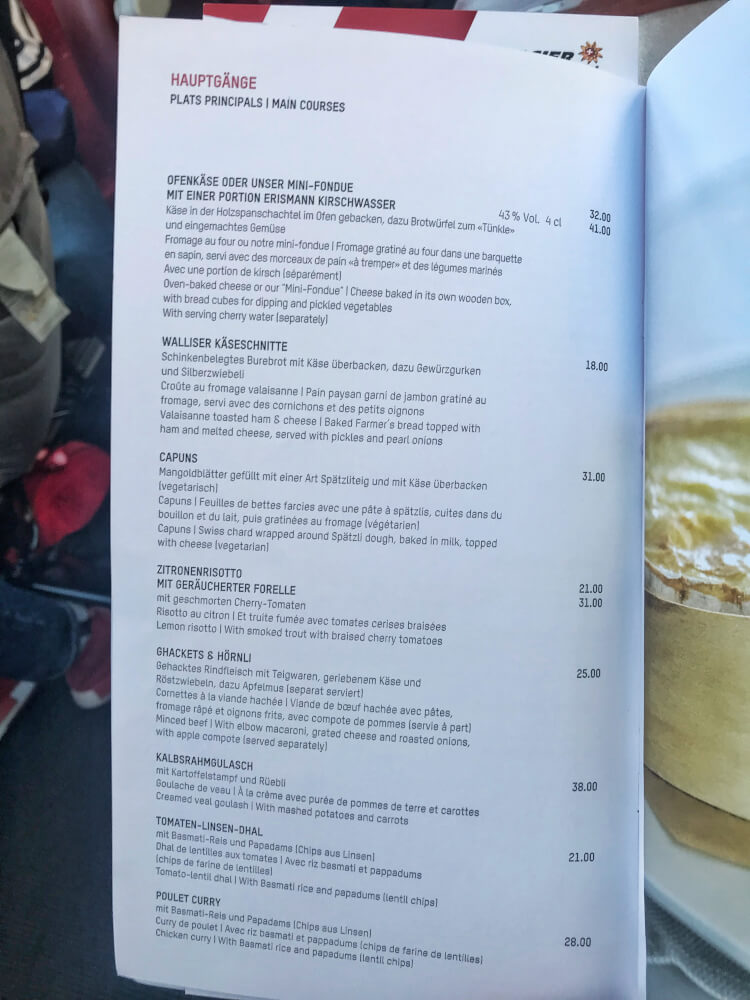 ---
---
5. Service on Board the Glacier Express
Last but not least, let's talk about the service.
I honestly thought the service on board the Glacier Express was excellent!
There were quite a few (I would say 4-5) attendants who circulated between the 1st class cars and were very on top of things, always making sure my meal was alright, always asking if I needed anything else, and most importantly: looking the other way when they saw me vainly recording myself eating chocolate pudding (true story) and taking endless photos of myself. They made an awkward situation as comfortable as it could have been!
The only comment I'll make is that the timing of my lunch felt a little strange. There was quite a bit of wait-time between courses and also they served me my 1st course (soup) right as we came to a stop so I had to awkwardly eat it in silence while the train wasn't moving. Other than that though, I can't fault the service.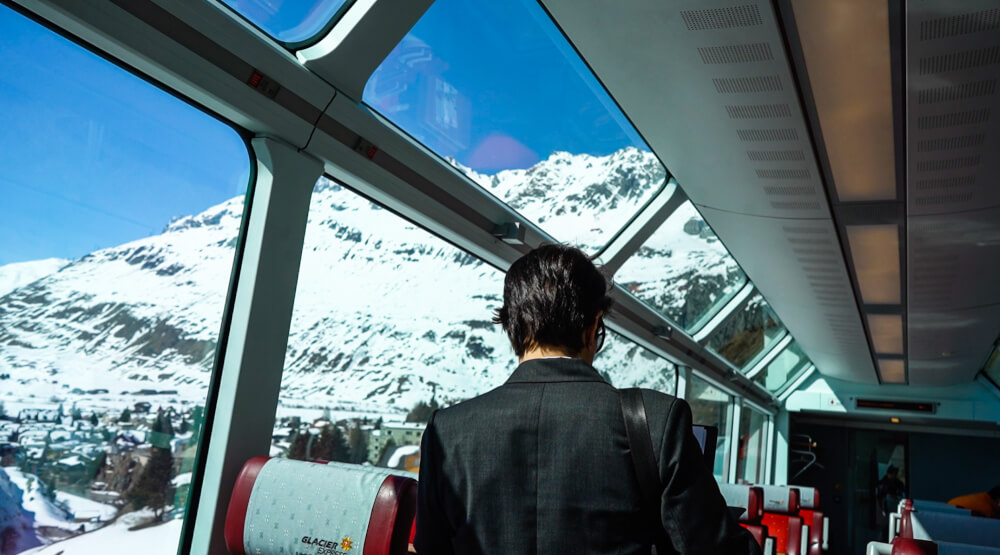 ---
---
So, is the Glacier Express Right for You?
In my opinion, the Glacier Express is a wonderful once-in-a-lifetime experience. If you love train travel as I do, you'll really love it. [As well as this roundup of other scenic train rides around Europe! #shamelessplug)
If however, you are on a tight schedule, spending 8 hours on a (very slow) train might not feel like the best use of your time. Plus, there are other ways to experience this gorgeous scenery, like doing parts of the leg on local trains for instance, which would not only be cheaper, but a lesser time commitment as well.
And, honestly, if you are a budget-conscious traveler, you might get a better bang for your buck riding some of Switzerland's other scenic trains.
BUT, all that said, I am tremendously thrilled that I got to check the Glacier Express off my bucket list. It was a wonderful experience for me, considering I got half the train ride with a carriage to myself, and as I was in no rush, I was able to just sit back, relax and enjoy. For someone who adores train travel and the sheer romance of it all, I couldn't have been happier.
Overall, I think I've given you plenty of information to decide whether or not the Glacier Express is right for you. As a final note, do try to do this ride in the off-season when you're less likely to be sharing the ride with a full carriage, and also you get the wonderful wintery landscapes and (much) cheaper reservation fee.
Regardless of what you decide, I hope you have an amazing time in Switzerland. Having criss-crossed much of the country myself, I know for a fact that you'll love it.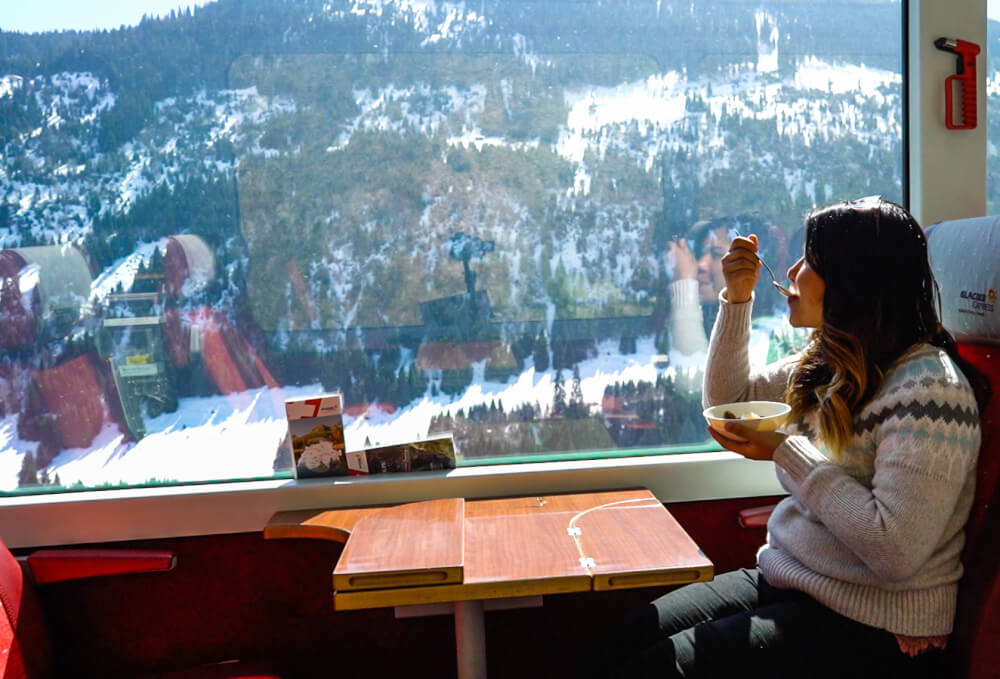 ---
---
Any more questions about the Glacier Express?
I hope you enjoyed this detailed Glacier Express 1st Class review! Let me know in the comments if you have any other questions about my experience, and safe travels!
---
---