*FYI - this post may contain affiliate links, which means we earn a commission at no extra cost to you if you purchase from them. Also, as an Amazon Associate I earn from qualifying purchases. Check out our Privacy Policy and Disclosure. for more info.
The iconic city of Venice, Italy is one of those few destinations that requires no introduction. Famed the world over for its dreamy gondola-filled canals, this historic city (built over 100 islands) is the stuff of pure bucket list dreams, with a legion of obsessed fans all over the world.
And I get the obsession. Venice and I go way back. It's the first city I ever visited in Europe, the first city where I ever missed a flight, and coincidentally where my boyfriend formally asked me to be his girlfriend… on Valentine's Day, no less!
So believe me when I say I take it personally when people call Venice overrated.
I mean… can it be crowded and smelly in the summer? Yes. Can some restaurants and shops be wildly overpriced? Absolutely… but it's still one of the most magical places in the world, so long as you do it right.
And after many repeat visits over the past decade, I think I've gotten a grasp on how to do Venice properly.
So, in this post, I'll be sharing all my best Venice travel tips for first time visitors to help ensure you love this city as much as I've grown to. (Boyfriends sold separately)
Read on for my top Venice must-knows before you go.
1. Venice in Italian is Venezia
First off, let's get one thing straight: the glorious city known to us as Venice is actually known in Italian as Venezia.
This is the name you'll see at train stations, bus stations, and scrawled across a staggering amount of souvenir shop hats.
SO, remember: Venice is Venezia, and they are not in fact two different places (a blunder that's more common than you think!)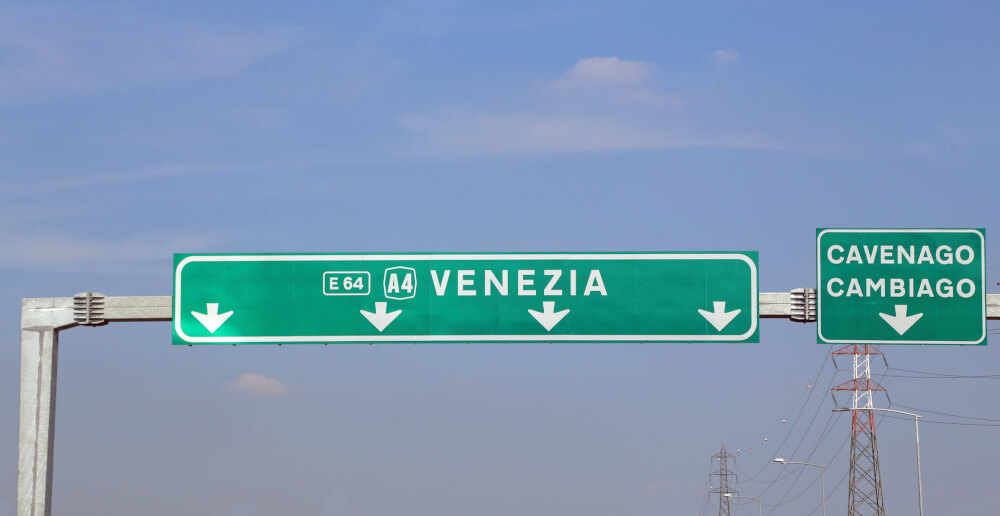 2. Learn some basic Italian before you go
On a similar note, I do think it's important to learn some basic Italian before you go.
Venice gets its fair share of rude tourists so locals often appreciate when you make the effort and knowing some basics can go a long way, like…
Hello (in the morning/afternoon): Buongiorno (Bwon-JOOR-no)
Hello (in the evening): Buonasera (Bwon-ah-SAY-ruh)
Thank you: Grazie (GRAHT-see-eh)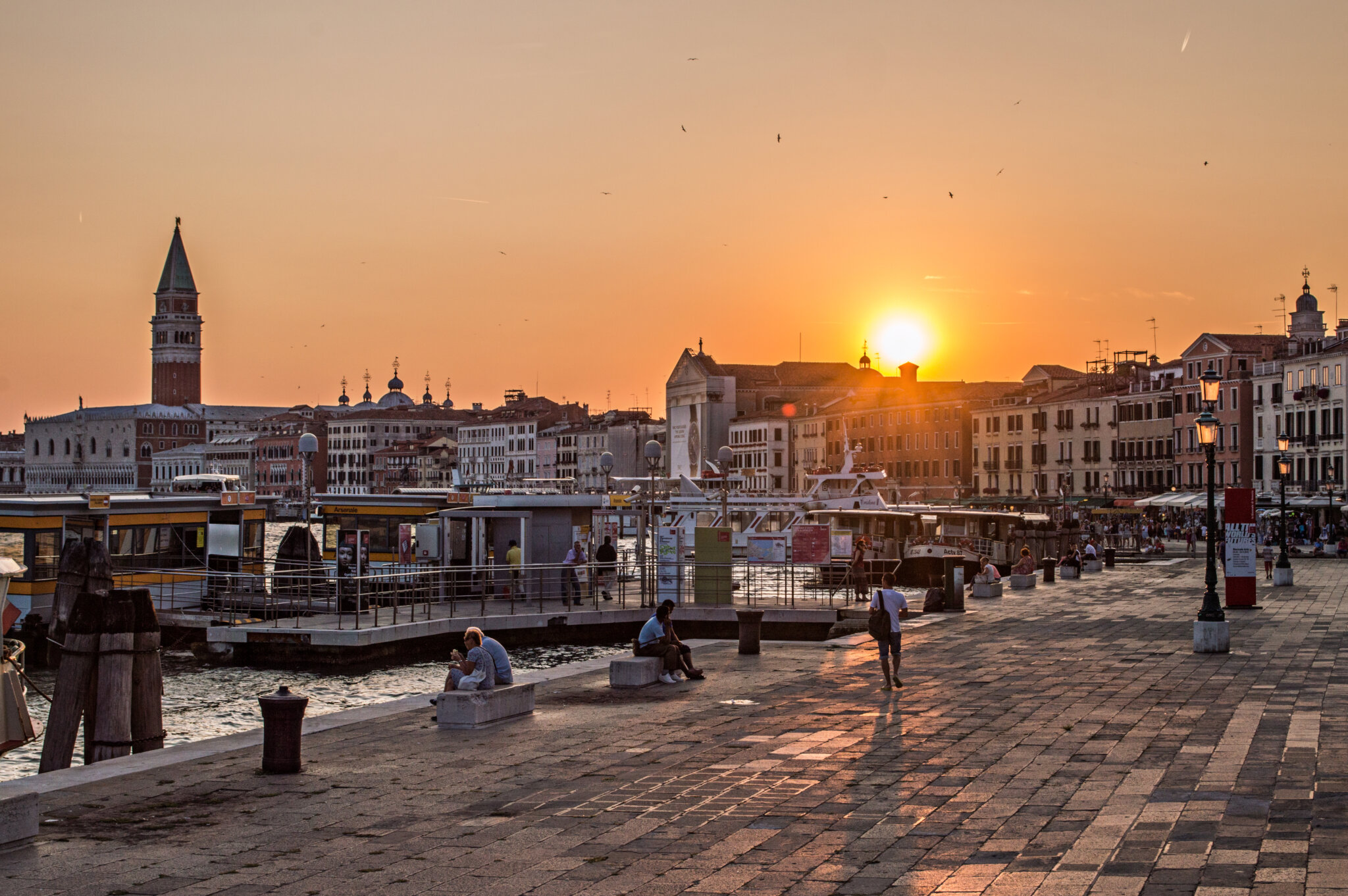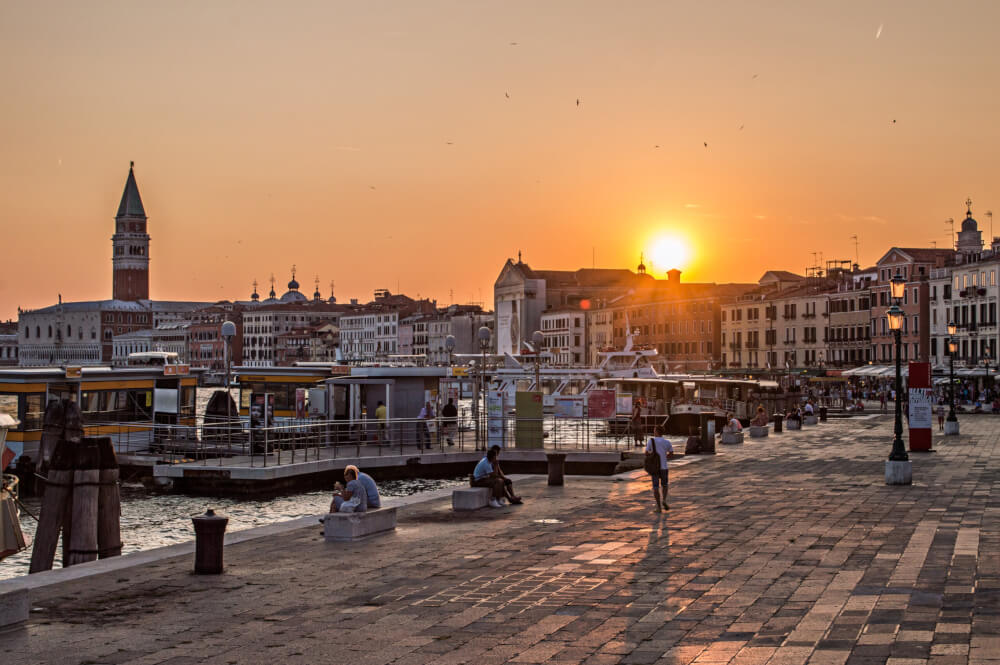 3. Stay overnight in Venice rather than do a day trip
Because of how pricey accommodation can be, many people opt to visit Venice as a day trip. 4 in 5 visitors in fact, according to some sources.
And if you're considering that as an option, please picture me with a pouty face, stomping around and insisting you don't.
Truthfully, 2-3 nights minimum is needed to get a feel for all that Venice has to offer, plus (even more crucially) staying in Venice overnight allows you to soak in the sights both early in the morning and late at night when crowds are at their lowest. In a city as busy as Venice, this bonus is invaluable!
Plus as of spring 2024, Venice will begin a trial of their controversial €5 entry fee for day trippers. So, save your money and your sanity – stay overnight! I promise it's worth every penny.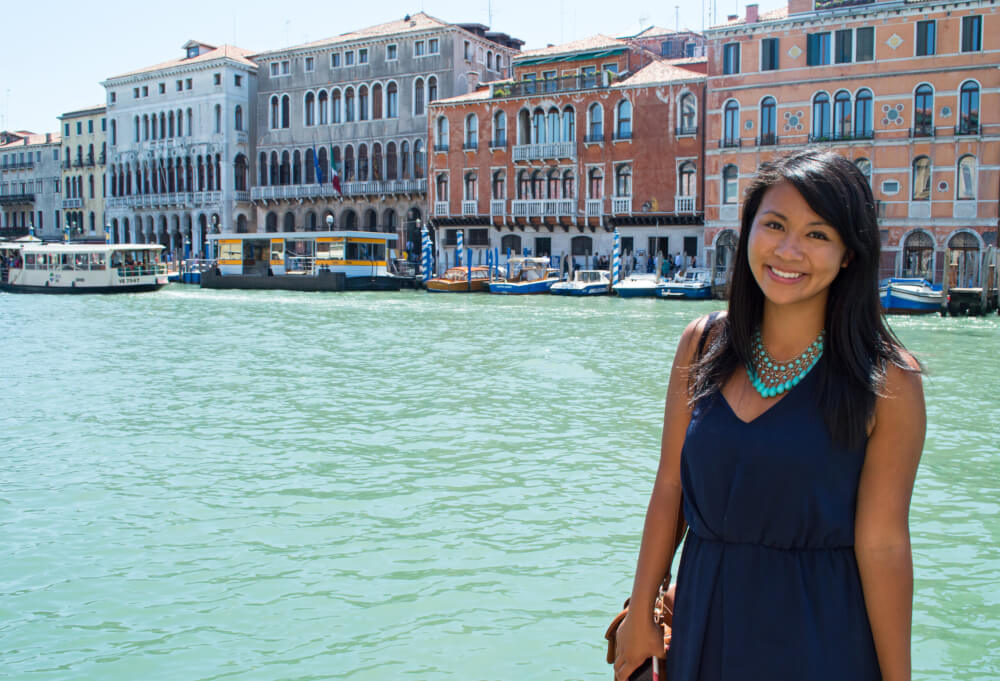 4. Avoid visiting Venice during peak periods
Now, In terms of when to visit, the bad news is Venice doesn't really have much of a quiet season at all.
That said, there are definitely aggressive peak seasons that I'd advise you avoid – namely summer, Easter & Carnival… unless your idea of a good time is waddling through narrow streets with a mosh pit of tourist-strangers .
Winter (outside of Carnival) is generally when you'll find the least crowds in Venice.
Unfortunately though, this season brings more potential for rain, gloom, and floods, so to be safe, Spring and Fall are probably better times to go.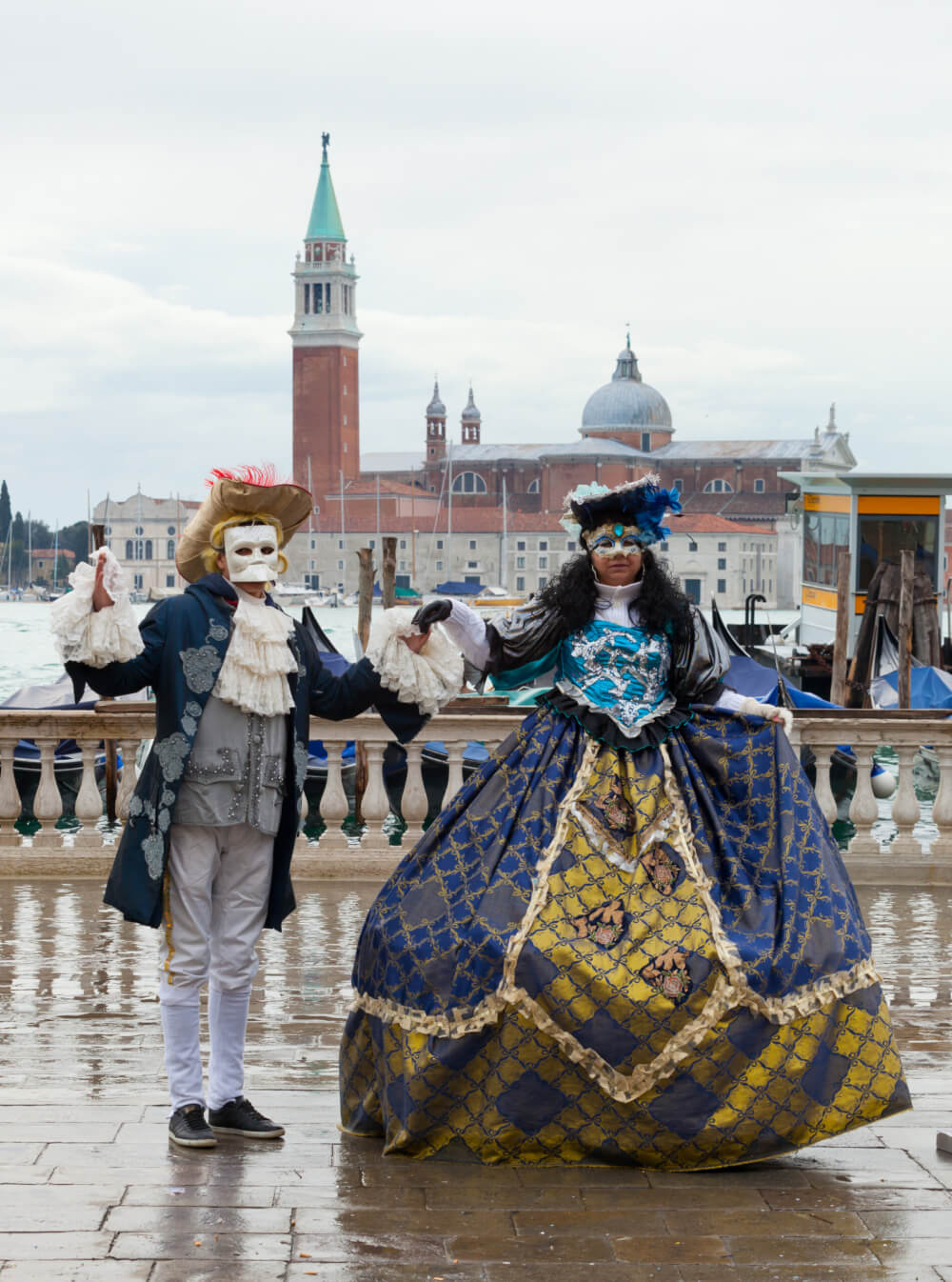 5. There are two airports close to Venice you can fly into
In terms of arriving in Venice, there is of course the Venice Marco Polo Airport which less than 5 miles away from the city centre, but there's also the much smaller Treviso Airport which is about 25 miles away, and services budget airlines like Ryanair and Wizz Air.
For that reason, you can often find cheap flights that fly into this airport from other European countries, so it may be worth looking into if you're visiting multiple countries on your trip.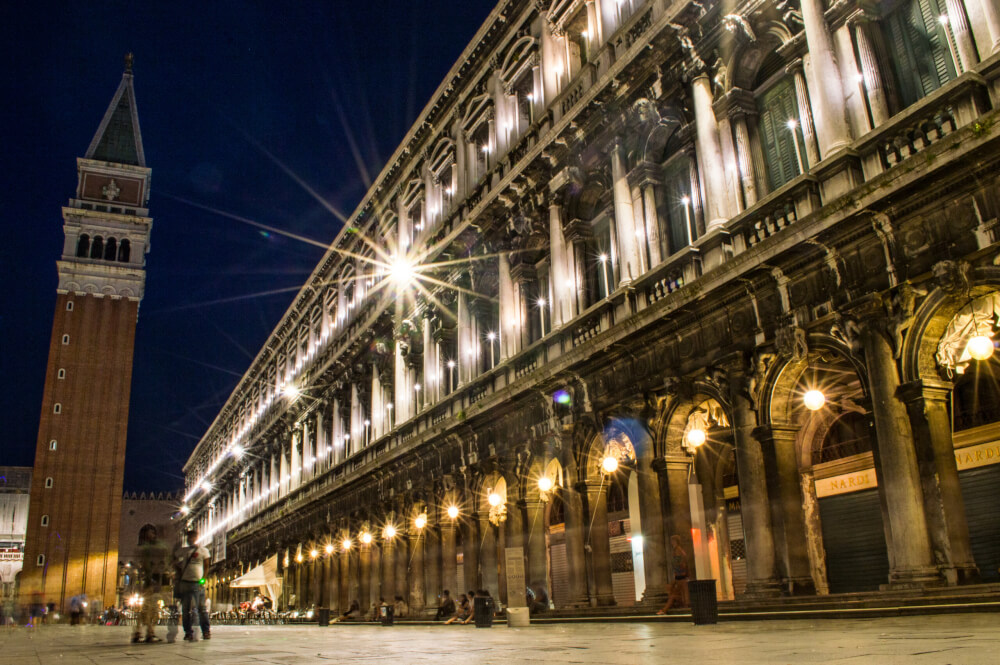 6. Know that there's many options for getting to Venice from Marco Polo Airport
From Marco Polo Airport, the quickest way to get into central Venice is booking a private water taxi, which comes at a hefty price tag starting at 120 euro minimum. For larger groups though, this might be worth it, especially because it only takes 30 minutes to get into the historic centre.
NOTE: If you want the airport water taxi experience for a cheaper price, you can also book individual slots here on a water taxi that you'll then share with others.
Another much cheaper but slower option is to take the Alilaguna water bus, or vaporetto which has three potential routes that go to central Venice for only 15 euro… but takes over an hour.
And the final option is to take either a bus or a taxi which is slightly cheaper. It's important to note though that the closest you can get to the historic centre on wheels is Piazzale Roma, and from there you'll either need to finish the journey on foot or hop on a water bus or taxi anyway, so it's probably not the best option unless you're staying super close to there.
In any case, I would ask your accommodation the best way to get there and they'll be able to advise.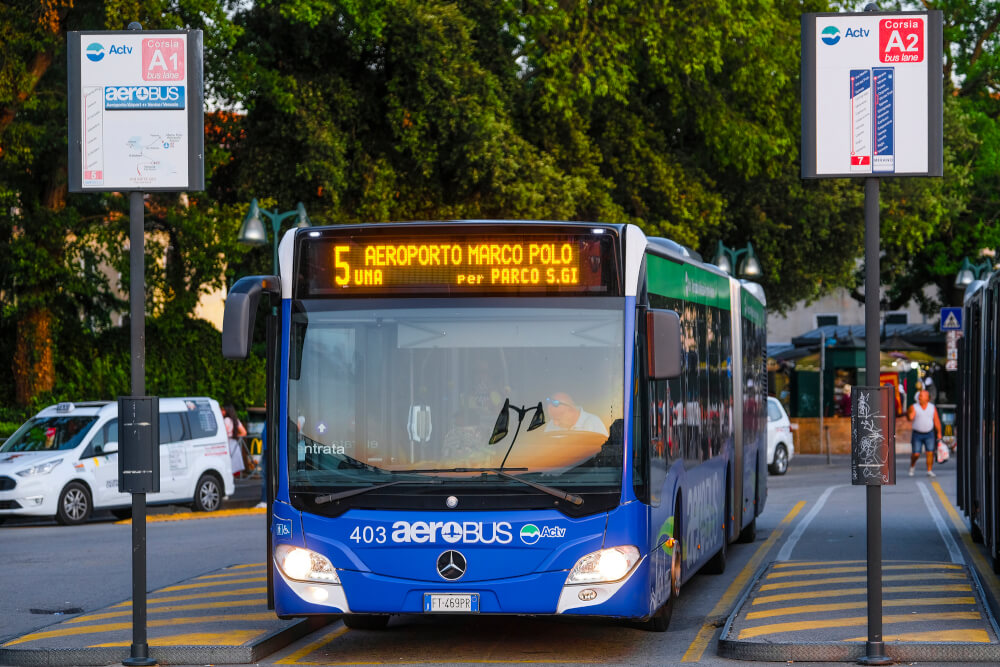 7. Know there's many options for getting to Venice from Treviso Airport
From Treviso Airport, while there are some buses and shuttles you can book, again the closest you can get to the historic centre will be Piazzale Roma. So, bear in mind you'll need a plan to get from there to your accommodation!
In any case, if you don't mind transferring, the cheapest option from Treviso is actually a combination of a bus and then train into Venice.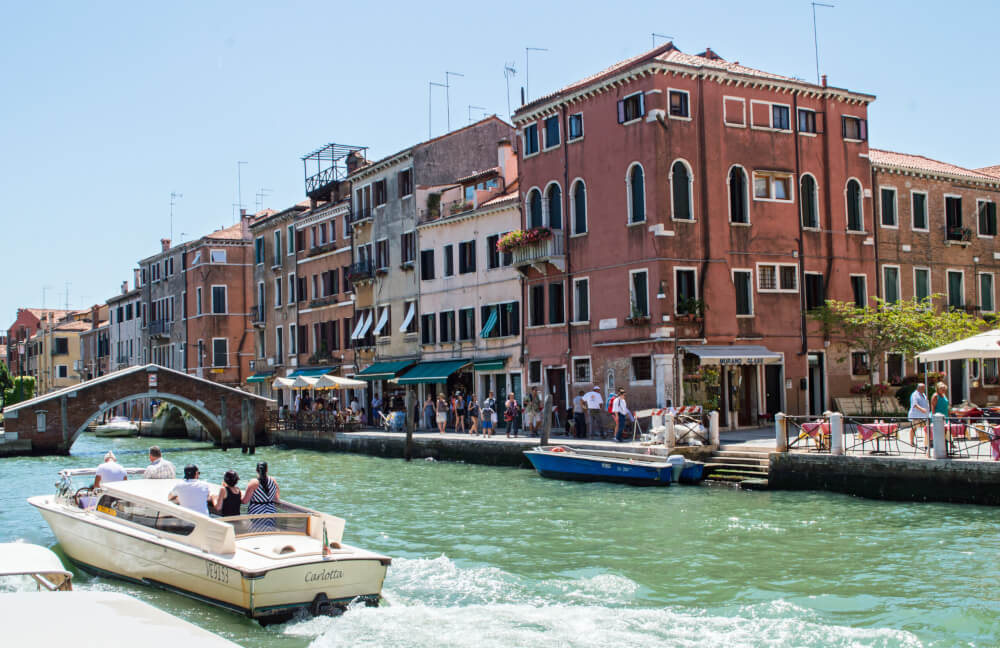 8. Beware of the two 'Venezia' train stations
On that note, apart from flying, an easy way to arrive in Venice is by taking the train. Venice is superbly well connected to the rest of Bella Italia through the Italian rail network which has an impressive 2000+ stations to choose from.
If you do take the train though, beware of a common tourist mistake that many first time visitors fall into: there are actually two stations that begin with Venezia – Venezia Santa Lucia and Venezia Mestre.
Venezia Santa Lucia is the central train station in Venice's historic centre, right by the Grand Canal. In most cases, this is the one you'll want to go to.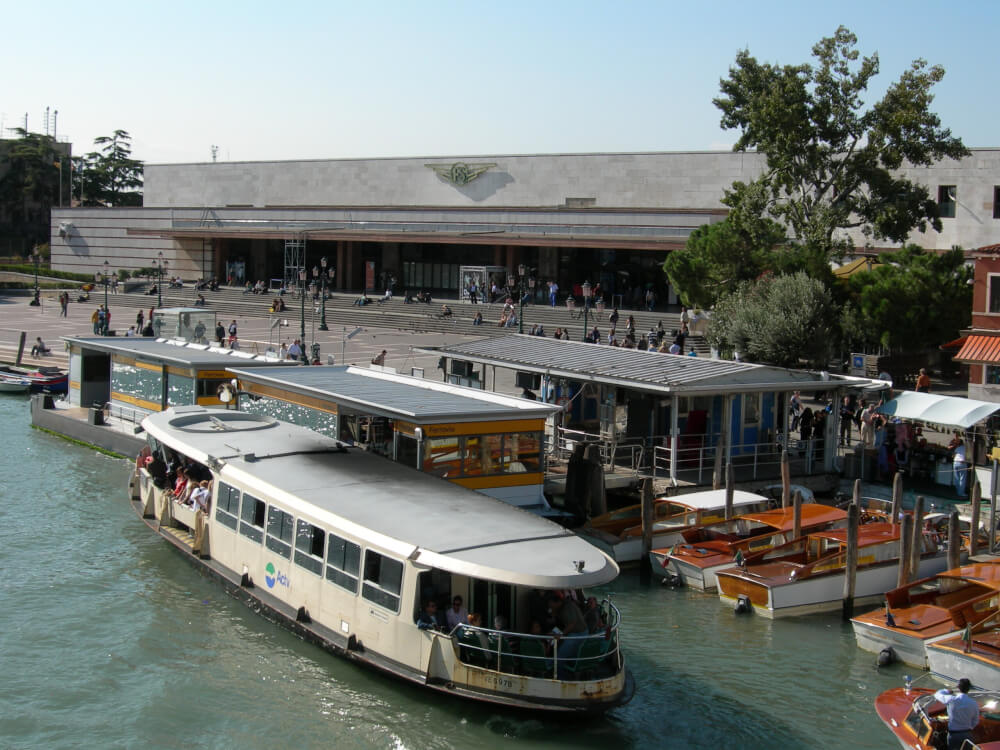 Venezia Mestre on the other hand is located on the mainland and is where you'll find a lot of admin buildings… but also locals, because (surprise!) it's much cheaper to live there.
Odds are, unless you're staying in Mestre, you won't have much reason to disembark at Venezia Mestre Station, so make sure you're looking out for Venezia Santa Lucia Station, and you don't accidentally get off early.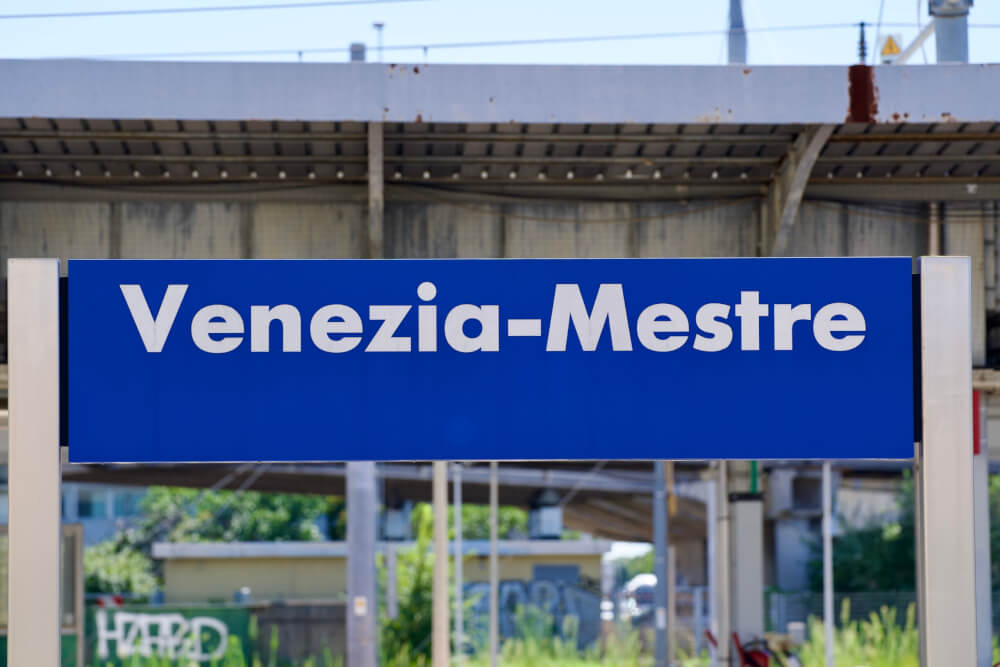 9. Remember you can't drive in Venice
Now, the last option for arriving in Venice is by car but again, remember: no cars are allowed in Venice's historic centre. It's part of what makes this city so aggressively charming.
SO, if you drive to Venice, you will need to leave the vehicle at a pricey parking lot on the outskirts of the city during your stay. So, it's not really an option I'd recommend unless Venice is just part of a big road trip you're doing that includes other destinations.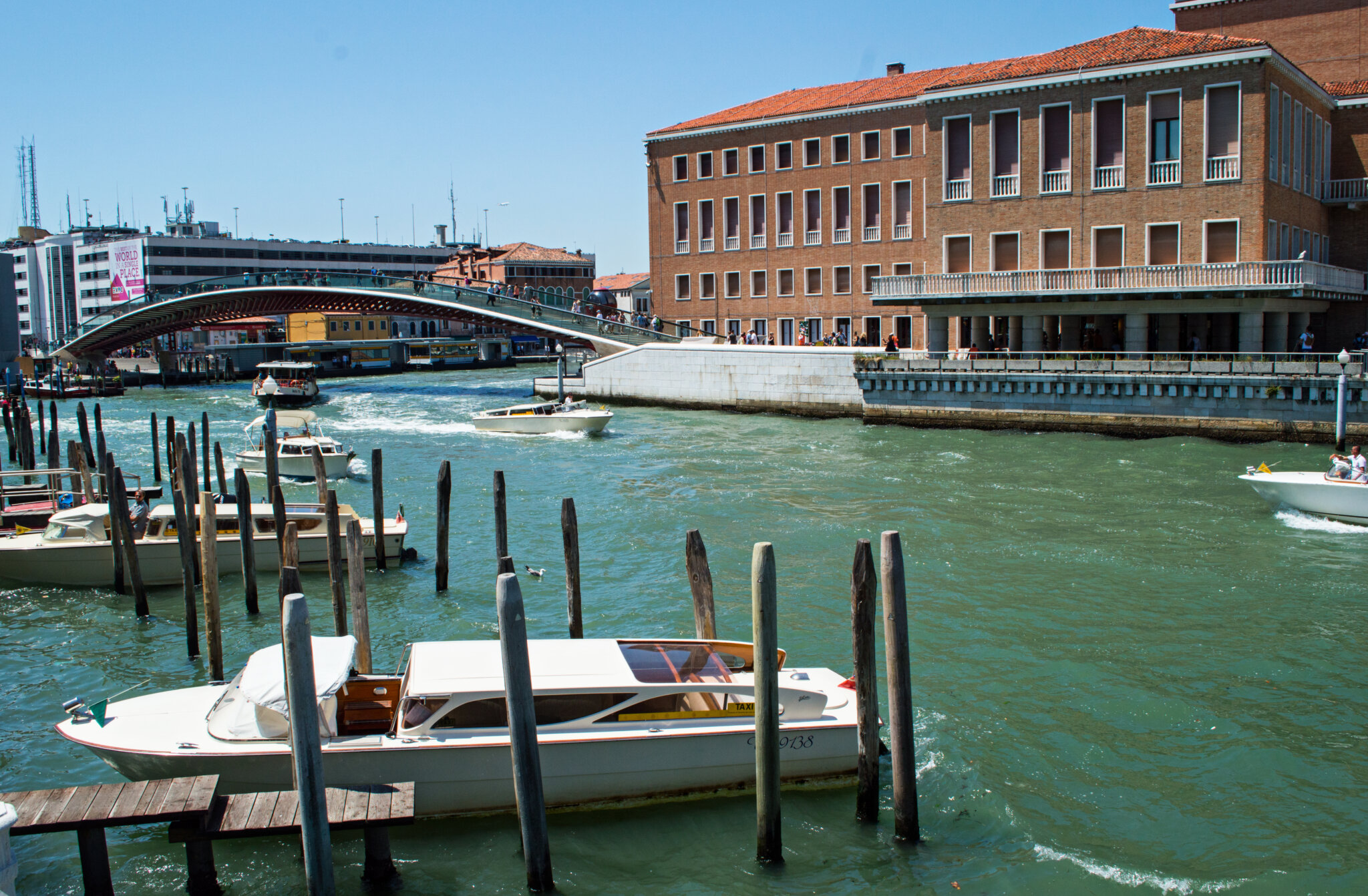 10. Know the pros and cons of staying in historic Venice vs. on the mainland
Now let's chat about where to stay.
When choosing accommodation, the two main areas to consider in Venice proper are either the historic centre or Mestre (the mainland bit where options tend to be cheaper).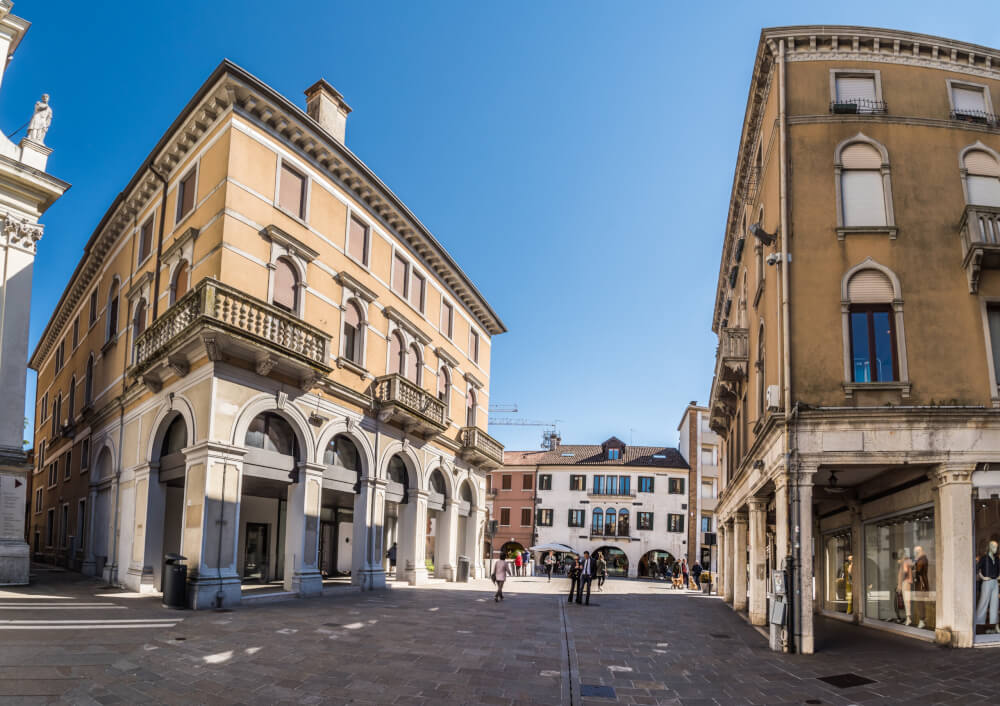 If budget allows, staying in the historic centre is ideal because then you can easily explore Venice before and after the day trip crowds. It's also much dreamier to be staying in the city, and is the option I'd recommend to any first timer.
… If you really can't resist a hotel deal in Mestre though, don't fret – you're only a short train/boat ride away from Venice proper.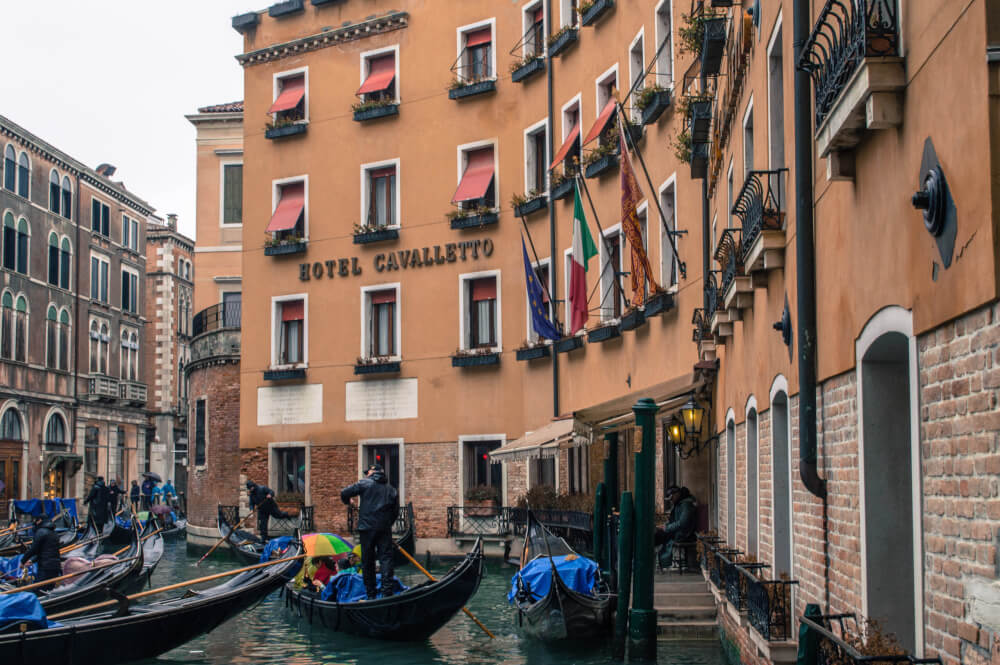 11. Understand the pros and cons of Venice's different neighbourhoods
Alright – now it's time to get our bearings with Venice's historic centre, which is actually more fun than in most cities, because this magical city happens to be shaped like an actual fish.
… Oh yes. What a plaice.
Anyways, this historic centre of Venice is divided into six districts known as sestieri, arranged fishily like so: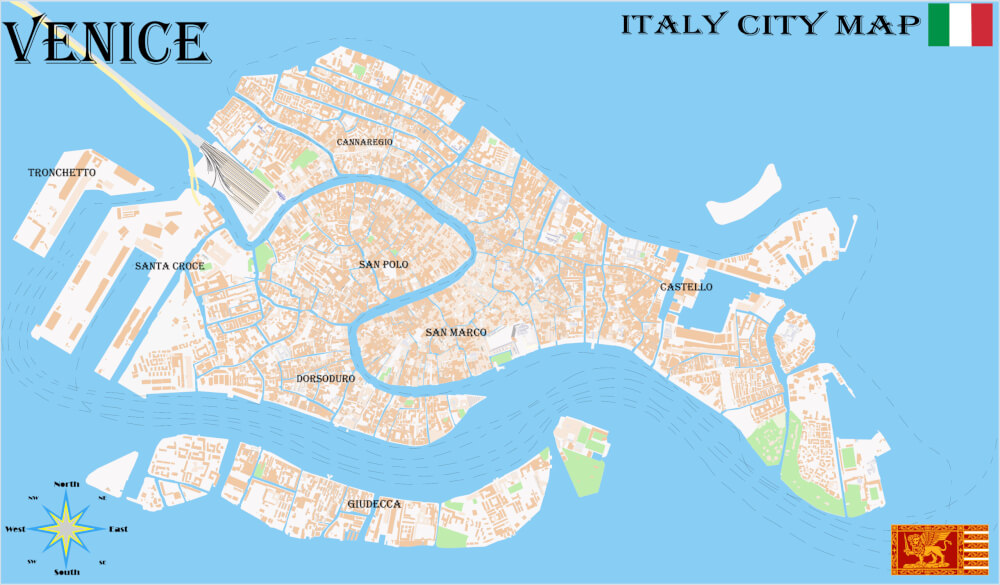 If money is no object, staying in the belly of the fish is going to put you in close proximity to most major sights, with San Polo and San Marco being the priciest and busiest neighbourhoods.
Dorsoduro (bottom belly, I guess) is also a great choice, with some more affordable options and some quieter pockets as well.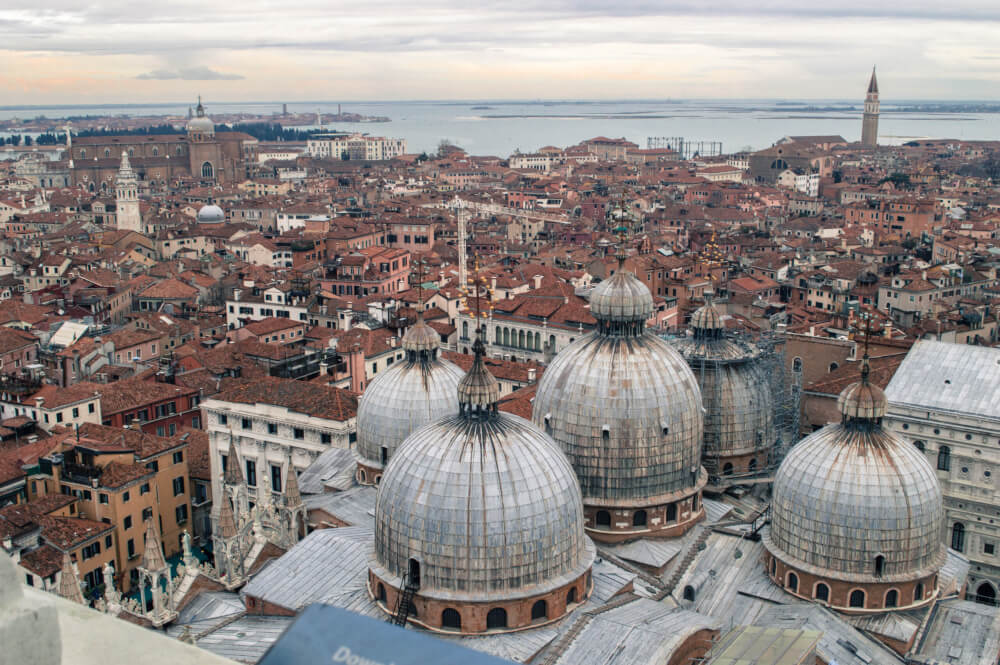 If your goal is avoiding crowds though, the tail of the fish, Castello, is the largest of the sestieri and also the quietest, relatively speaking.
And in terms of transport links, the most convenient areas are Cannaregio, the head of the fish which is home to Santa Lucia train station and Santa Croce, the fish nostrils, which is home to the transport hub Piazzale Roma… but of course, the vibes here may not feel as classic historic Venice as many visitors want.
NOTE: Some visitors may choose to stay at another island in the Venetian lagoon for a quieter and more affordable experience, but again, I'd really recommend staying in historic Venice for your first trip just to make the most of your time there.
Overall, there are lots of pros and cons to all these sestieri. If you're stuck on finding the best place for you, check out my guide to finding the best accommodation every time to help narrow down your choices.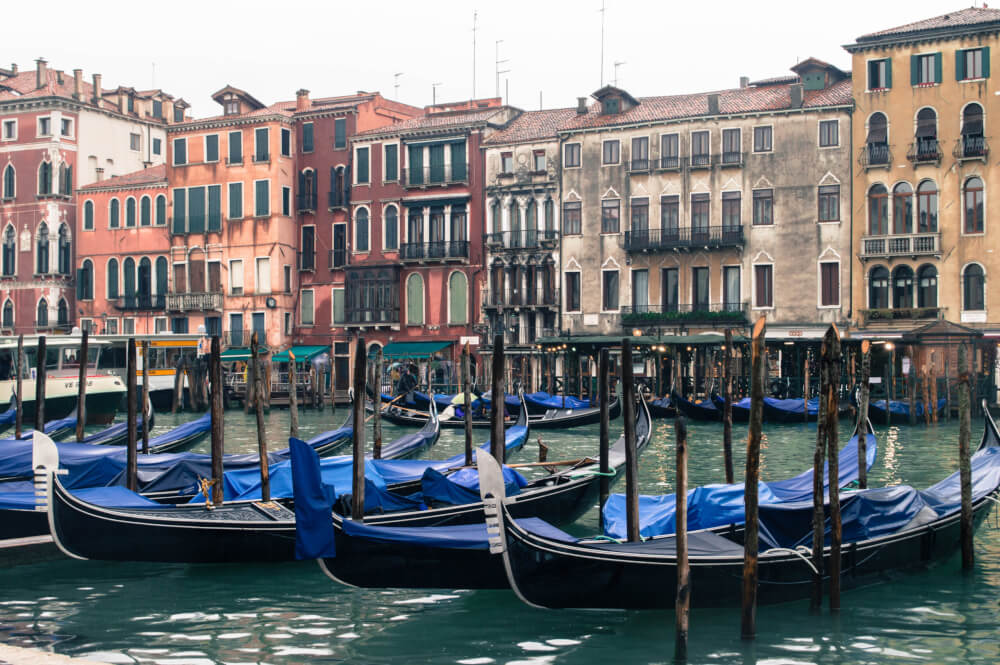 12. Pack light
Out of all the Venice travel tips I'm sharing in this post, packing light is possibly the most important.
I get it – maybe you want to bring a bunch of ballgowns for the most epic photoshoot of your life… or maybe you need space to hoard magnets. Either way, you might need to rethink how much you bring.
Not only do water taxis and boats have restrictions on how much luggage you can bring on board, you're almost always guaranteed to end up carrying your bags on your own at some point, whether to get up on a bridge, on or off boats, etc.
So, don't bring any bags you can't reasonably carry yourself.
13. There are many options for navigating Venice via boat
By now, you should realize there's only two ways to really get around Venice: on foot or on water.
In terms of water transportation, the cheapest option is to go by Vaporetto, which are like public water buses. One way tickets are quite steep at €9.50, so I'd advise buying a TravelCard that includes unlimited travel for set time periods like 24h, 48h, 72h or a week.
You can also book a Motoscafo or private water taxi that will cost significantly more, with trips within the city often going for 70 euro or more.
Of course there's the world famous gondolas too, but do note that these are more for sightseeing than actual transportation, so we'll discuss them later.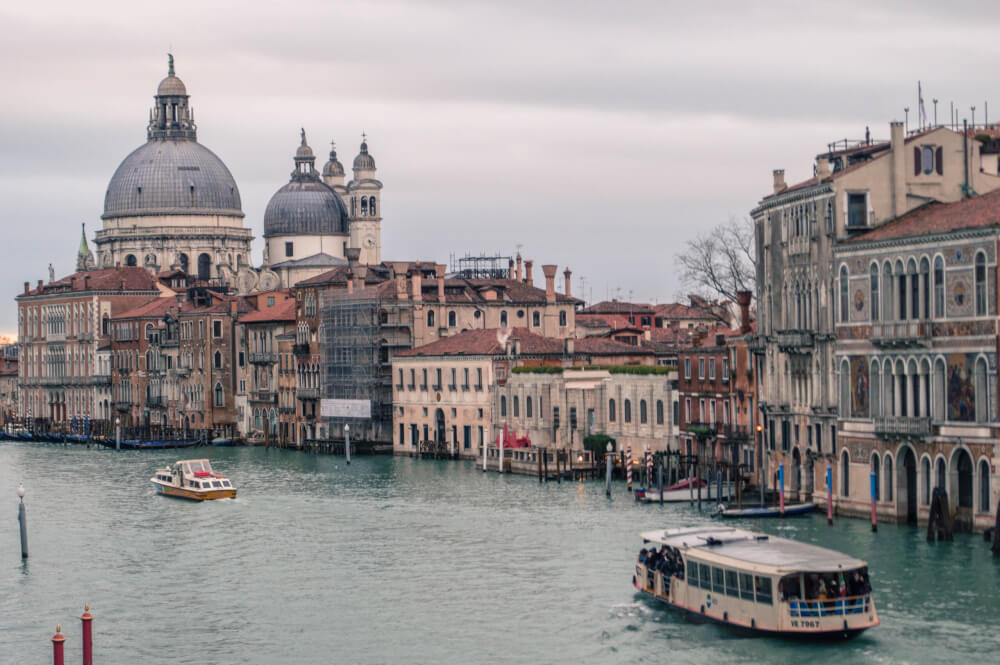 14. Don't be too reliant on GPS in Venice
For shorter distances, the better way to get around Venice is (in my opinion) on foot.
One important thing to note however is that GPS services like Google Maps don't work very well in Venice, with the blue dot often very confused as to where you really are amidst the city's sea of centuries-old buildings.
So, if you're highly Google Maps-dependent like me, it's time to practice some old school navigation skills. Plan your route with landmarks and street names! Take note of your route as you go! Leave a trail of breadcrumbs! (But don't.. because Venetian pigeons are scary)
In any case, remember to not rely on Google Maps, and plan your routes accordingly. Having a backup offline map downloaded or a paper map is also probably a good idea.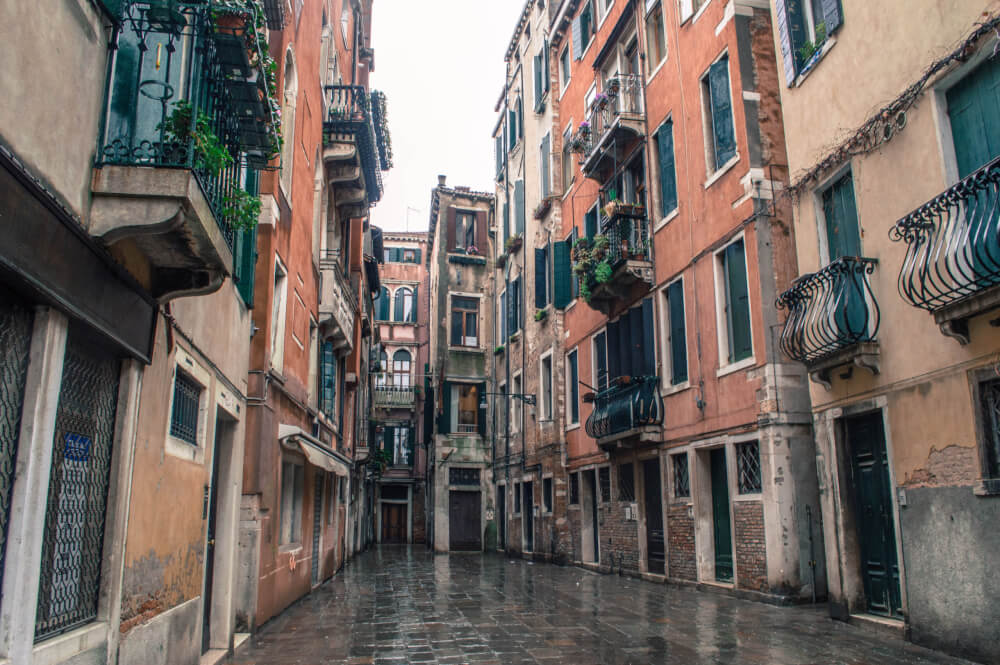 15. Add additional time buffers and assume you'll get lost
Another silly but helpful Venice navigation tip?
Just assume you'll get lost. Honestly. Because you will!
And if you assume it'll happen, then you'll ensure you have extra time buffers between booked activities, thereby minimizing stress and saving the family vacation. Yay!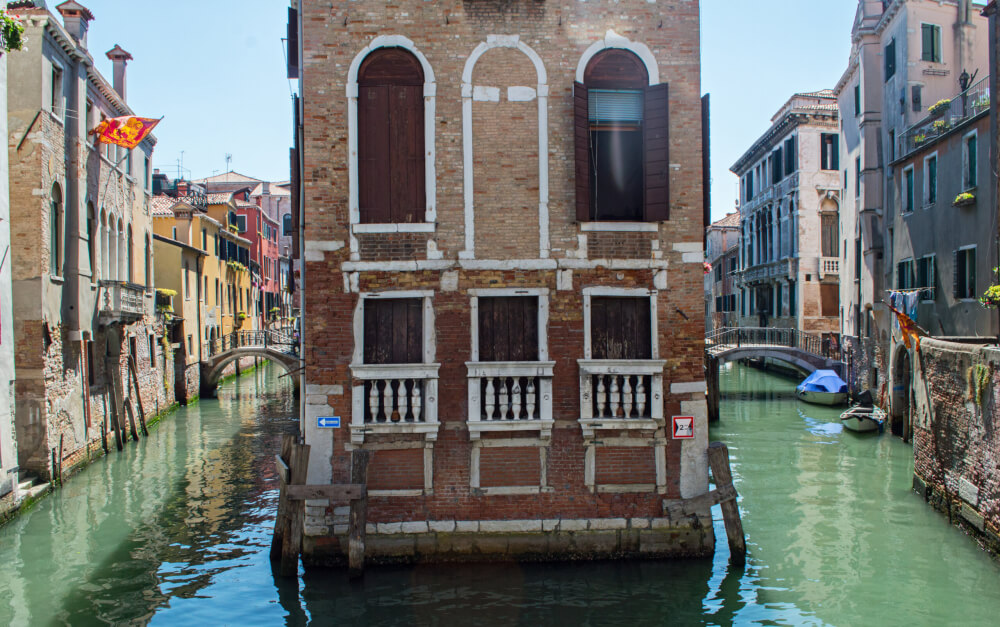 16. Get your bearings by using Venice's unique street signs
When trying to find your way around, your best friend in Venice (besides me, of course) will be the city's unique street signs, known as nizioleti, which are beautifully painted on the walls of buildings.
… The trouble? Nizioleti can be deceptively confusing, because Venice has many unique terms for streets and places that aren't familiar to most visitors.
So, here's a quick crash course!
The most common word you'll see is Calle which refers to a typical street. Some variations of this you might see include:
Calle Larga, which means wide street and
Calleta, which means a narrow street
In any case, this term generally applies to streets that have buildings on both sides.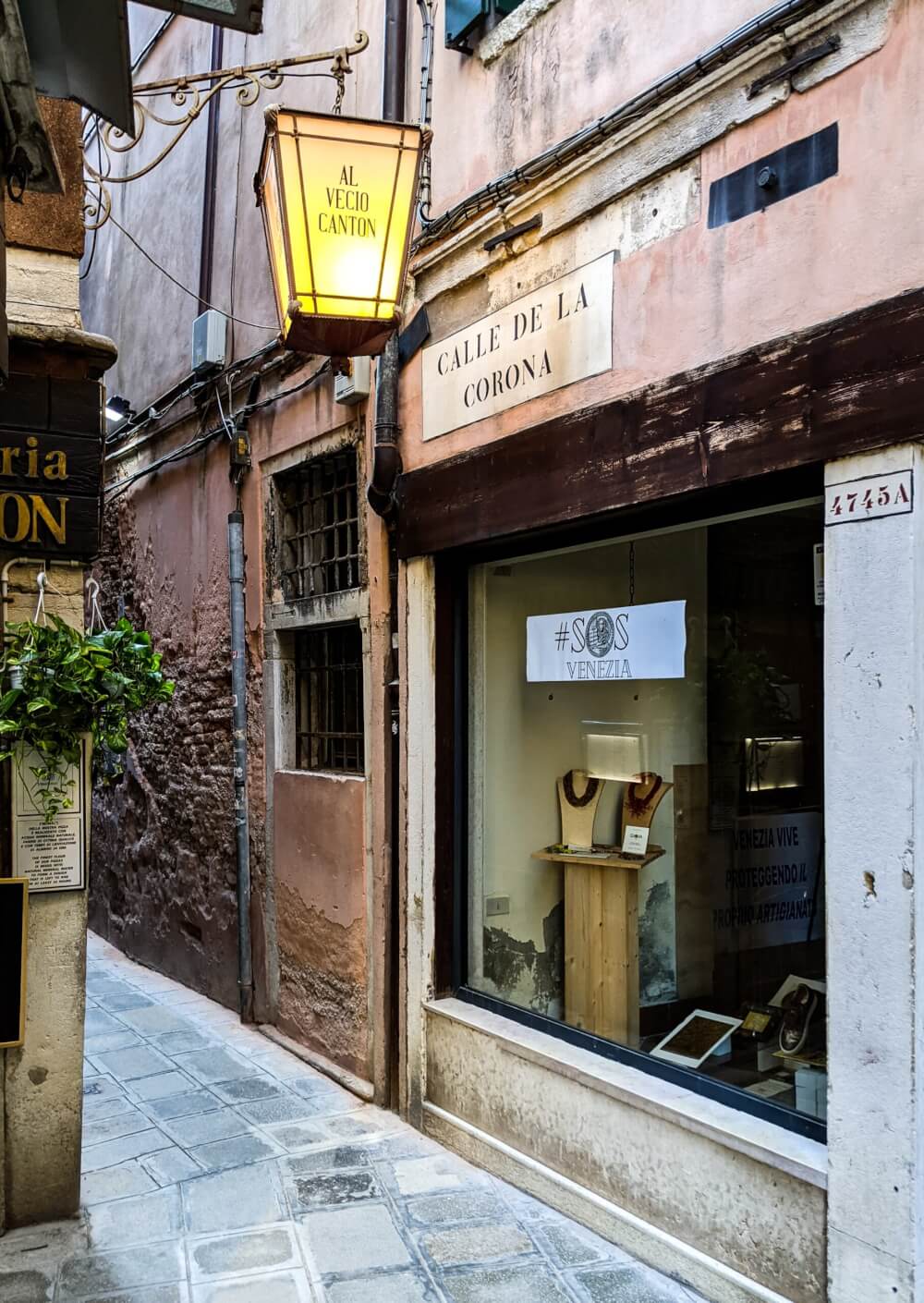 This is in contrast to a Fondamenta which is a canalside street that has a building on one side and a canal on the other.
Similarly, a Riva is a street that has buildings on one side and then a larger expanse of water on the other side.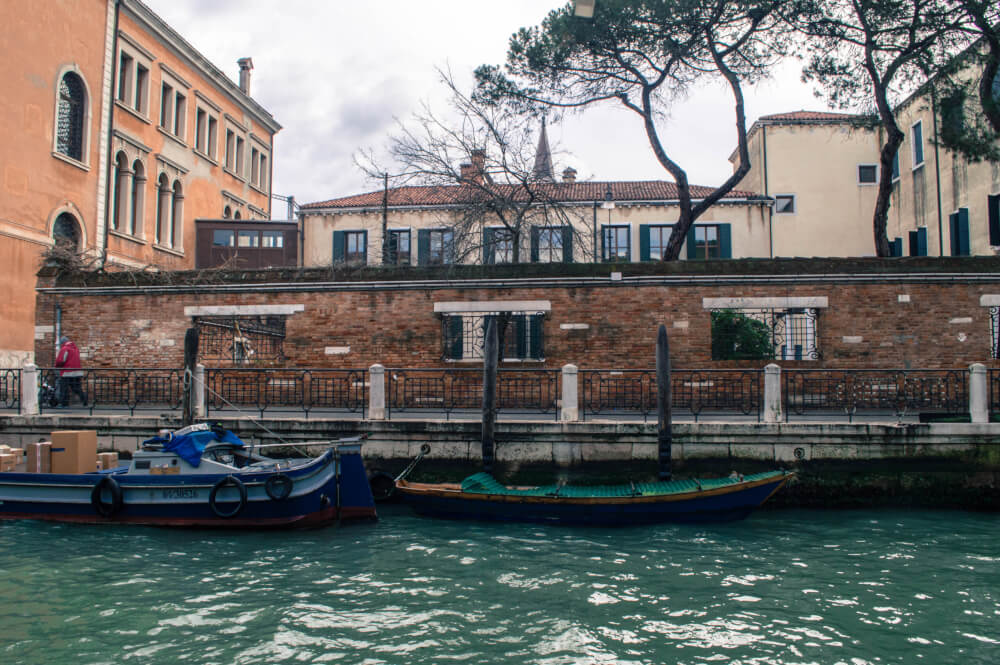 Ramo is a small side street that often leads to a dead end and Sotoportego are unique passageways that go under buildings.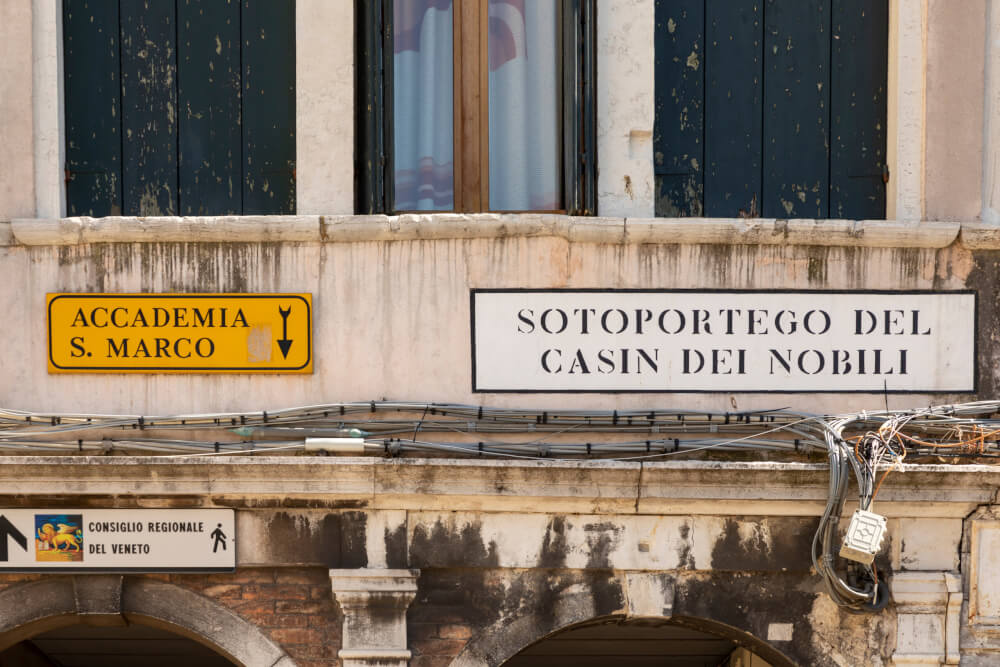 And you'll also see other terms used for street that don't really have as much to do with the physical properties of the street itself, but rather makes reference to its history, like…
Salizada for instance is a word used for some of the city's most historically important streets, and therefore the ones that were paved with cobblestones first
Rio Tera refer to streets that used to be canals before they were filled to make streets, and
Ruga are streets that used to be filled with compacted soil so your shoes wouldn't get dirty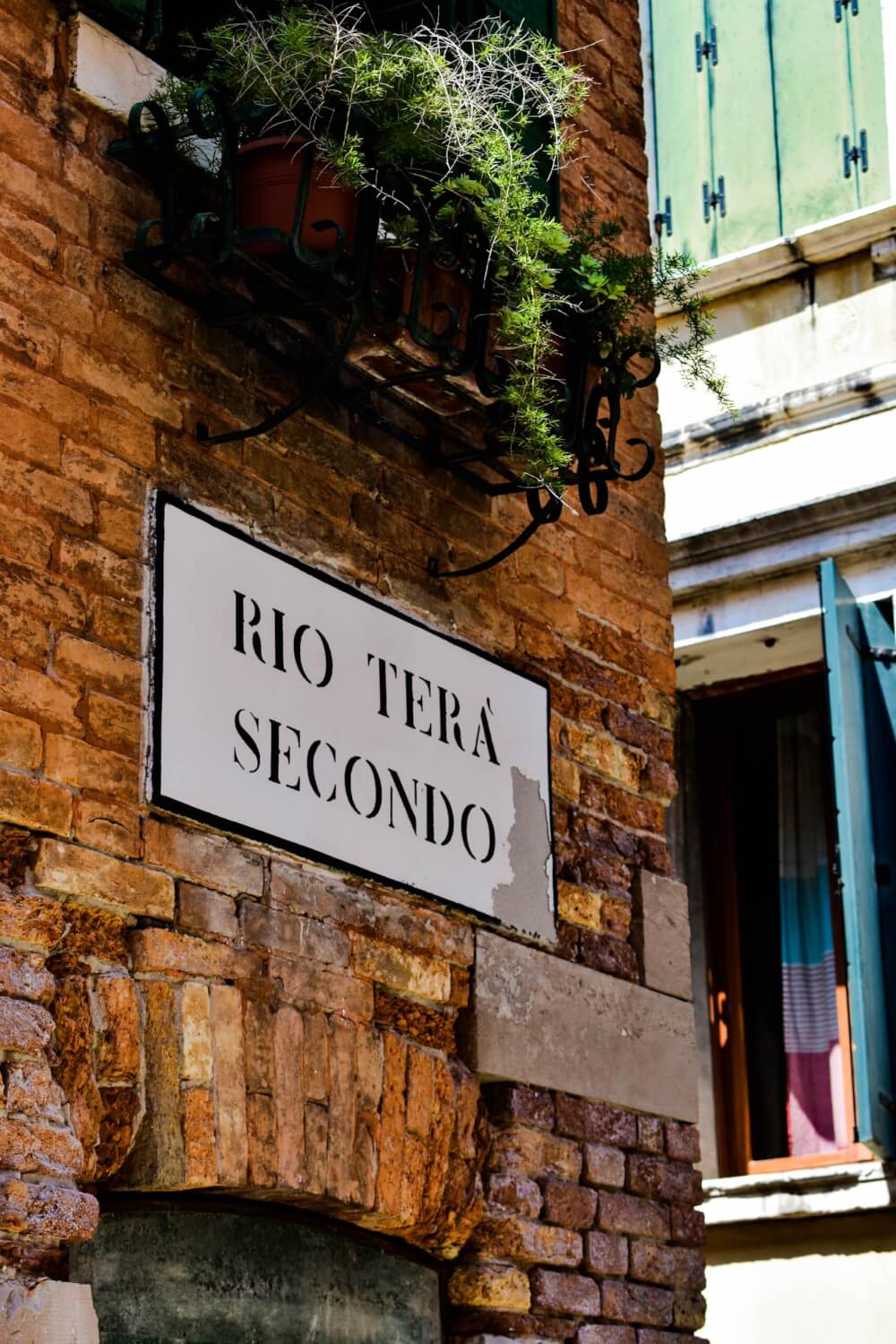 There's also Campo which refers to a typical Venetian square. Unlike other places in Italy where the word piazza tends to be used for Square, Venice has only one Piazza, Piazza San Marco or Saint Mark's Square.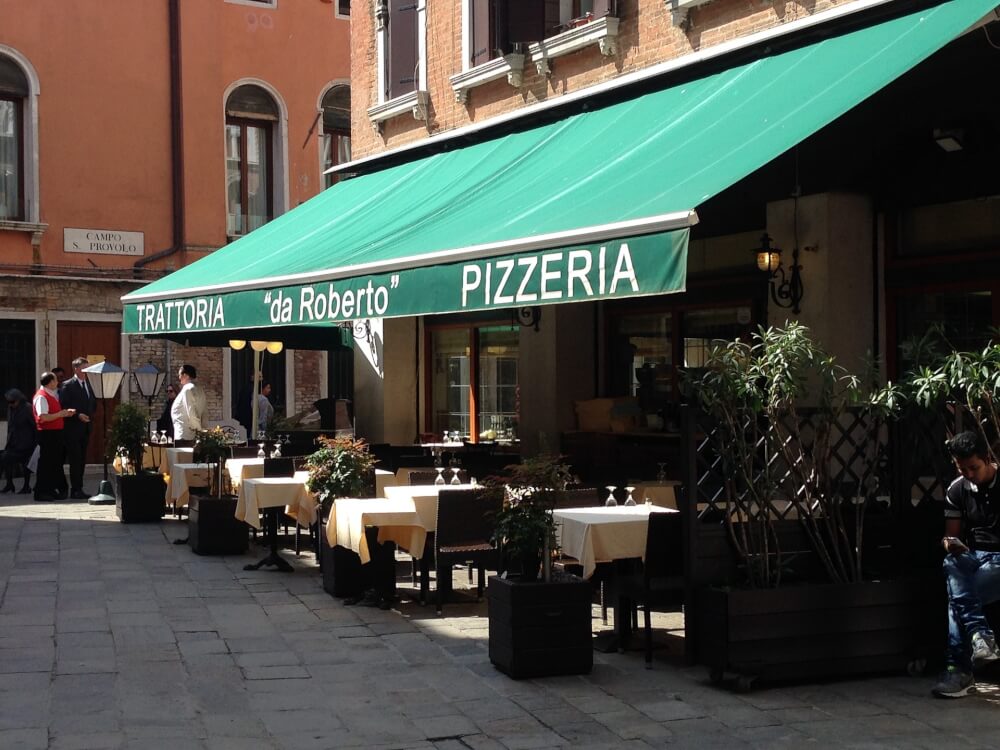 The word Ponte means bridge, and you'll see this one a lot because Venice has hundreds.
And lastly, the word used for most Venetian waterways is actually Rio, whereas Canal is reserved only for the big ones like the Grand Canal.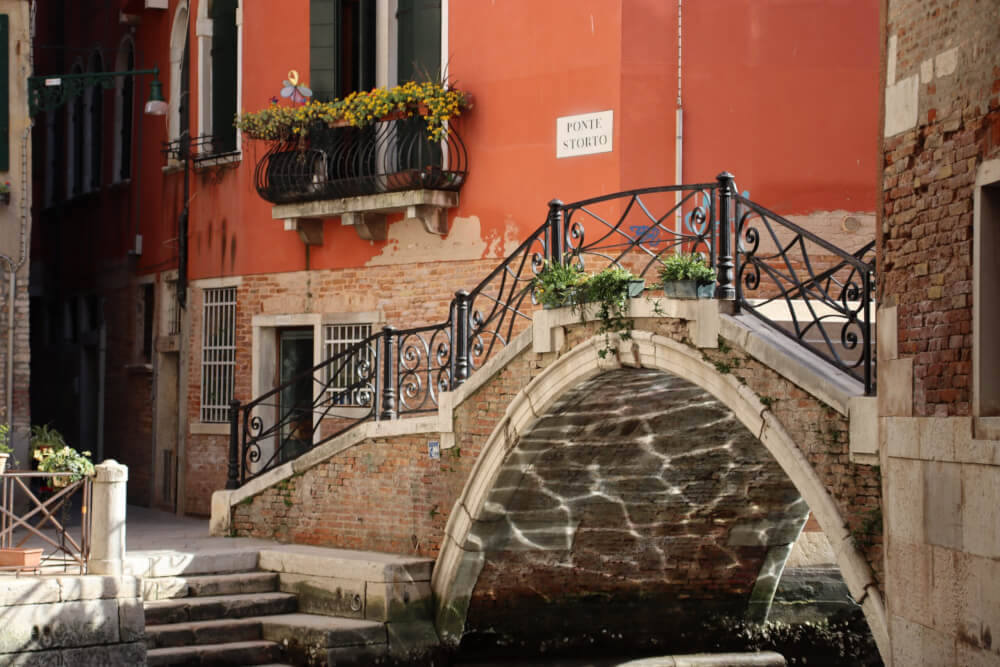 To get your bearings, you can look for signs with a red frame and lettering, which usually have an arrow pointing you in the general direction of famous landmarks. There are also some special yellow ones as well that do the same job.
The word "per" in these cases translates to "for" so, this way FOR Rialto Bridge.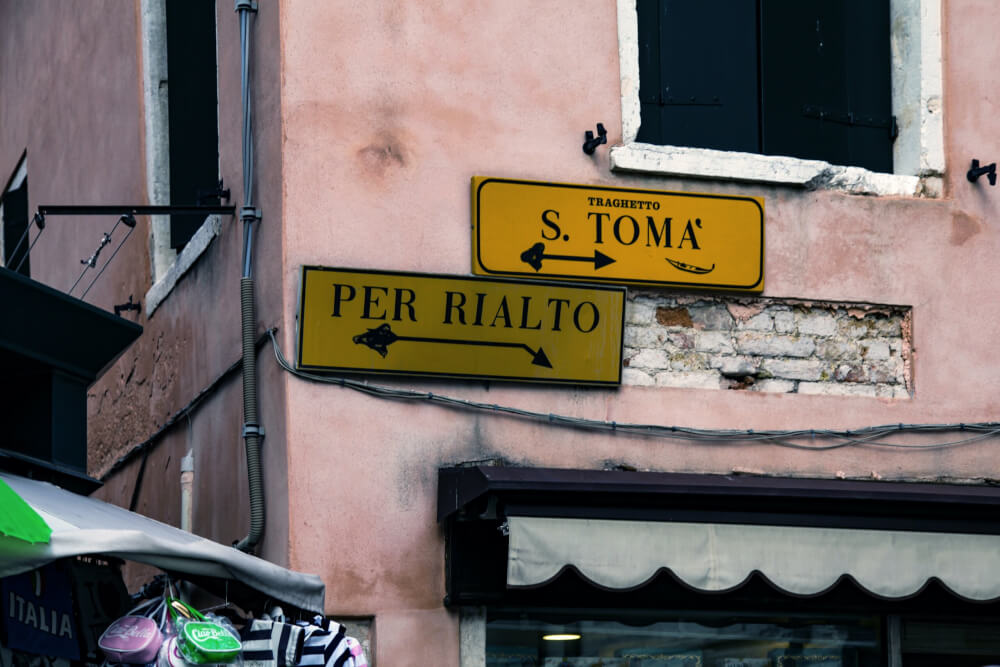 17. Book big must-do attractions in advance
Now, let's move onto Venice attraction tips!
As I mentioned before, no matter when you go to Venice, it'll be busy, so if you have your heart set on any attractions, pre-booking is essential. You can do so online at a variety of places, like here:
For timed attractions, I would advise booking either the first possible time slot or the final one if your goal is to minimize crowds.
For untimed attractions, I would aim to either be there when it opens or just before it closes, because the middle of the day is almost always going to be the busiest time.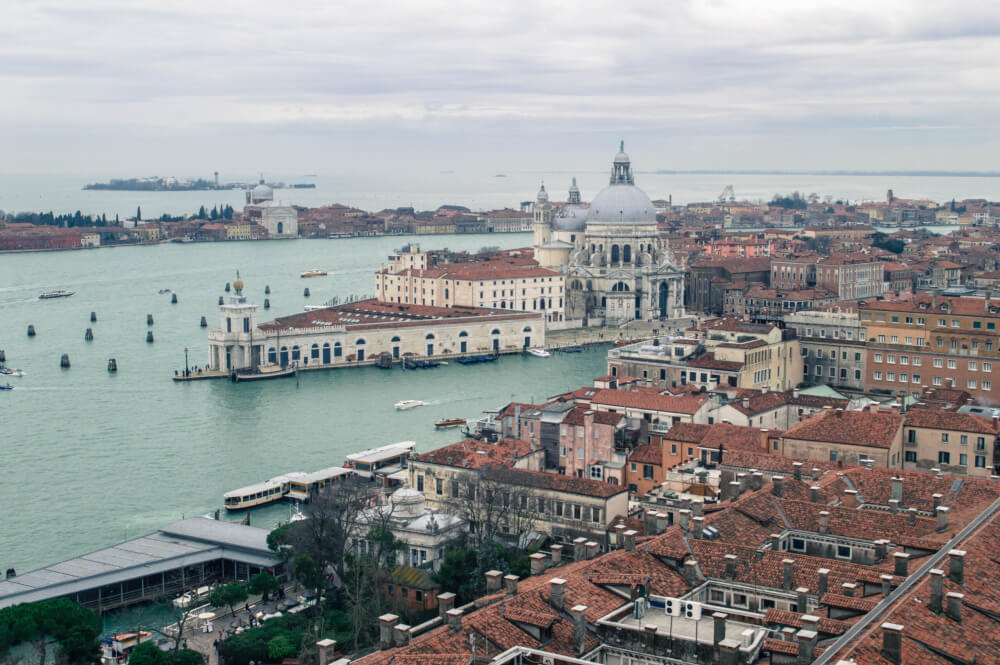 18. Book a sunrise tour
If your goal is to experience Venice like you own the place, walking around at sunrise is pretty much the only way to do it.
I booked a summer sunrise tour of Venice years ago and still think it's one of the best things I ever did in the city. Getting to see all of Venice's main squares and canals void of people was absolutely priceless.
And while sadly, the tour I took doesn't seem to be offered anymore, there's still a few alternatives, like this one that that includes breakfast.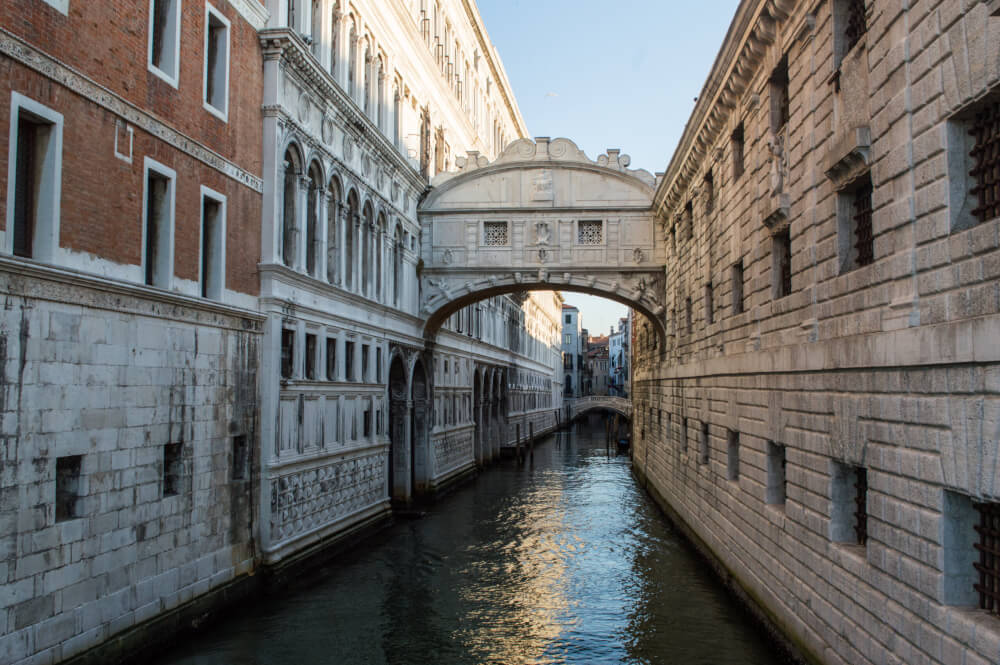 19. Or book an after-hours tour
On the other hand, if you're more of a night owl than an early bird, you can also look into after hour tours for certain attractions which get you entry after they close to the general public.
Here's one for instance that gets you into St Mark's Basilica after hours.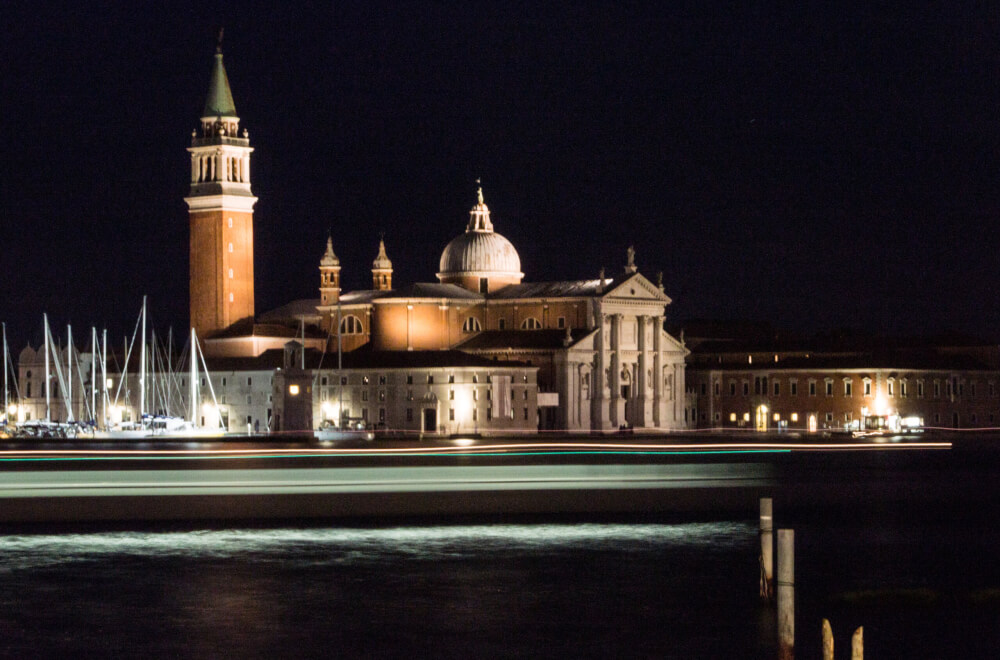 20. Choose the right sightseeing pass for Venice
Now if you're hoping to save money during your visit in Venice, one thing to consider is getting a sightseeing pass (you can browse some options here).
Confusingly, Venice has several and the best choice for you will depend on which specific attractions you'll see and how long you're going to be in the city.
Here's a quick breakdown of the most popular options:
Venice Pass: Probably the best deal for most 1st timers because it includes a lot of attractions like St Mark's Basilica, Doges' Palace and also a gondola ride, plus many other attractions.
Venice Discovery Pass: Includes key attractions plus public transport on Vaporetto boats, including to and from the airport.
Venezia Unica City Pass: Includes Doge's Palace, Bridge of Sighs and Armory, plus extra churches and museums
Overall, if you plan to do a lot of sightseeing, one of these passes would probably be worth it.
To choose which one, I would write down my top must-do activities and the duration of my stay, then see which pass fits those needs best.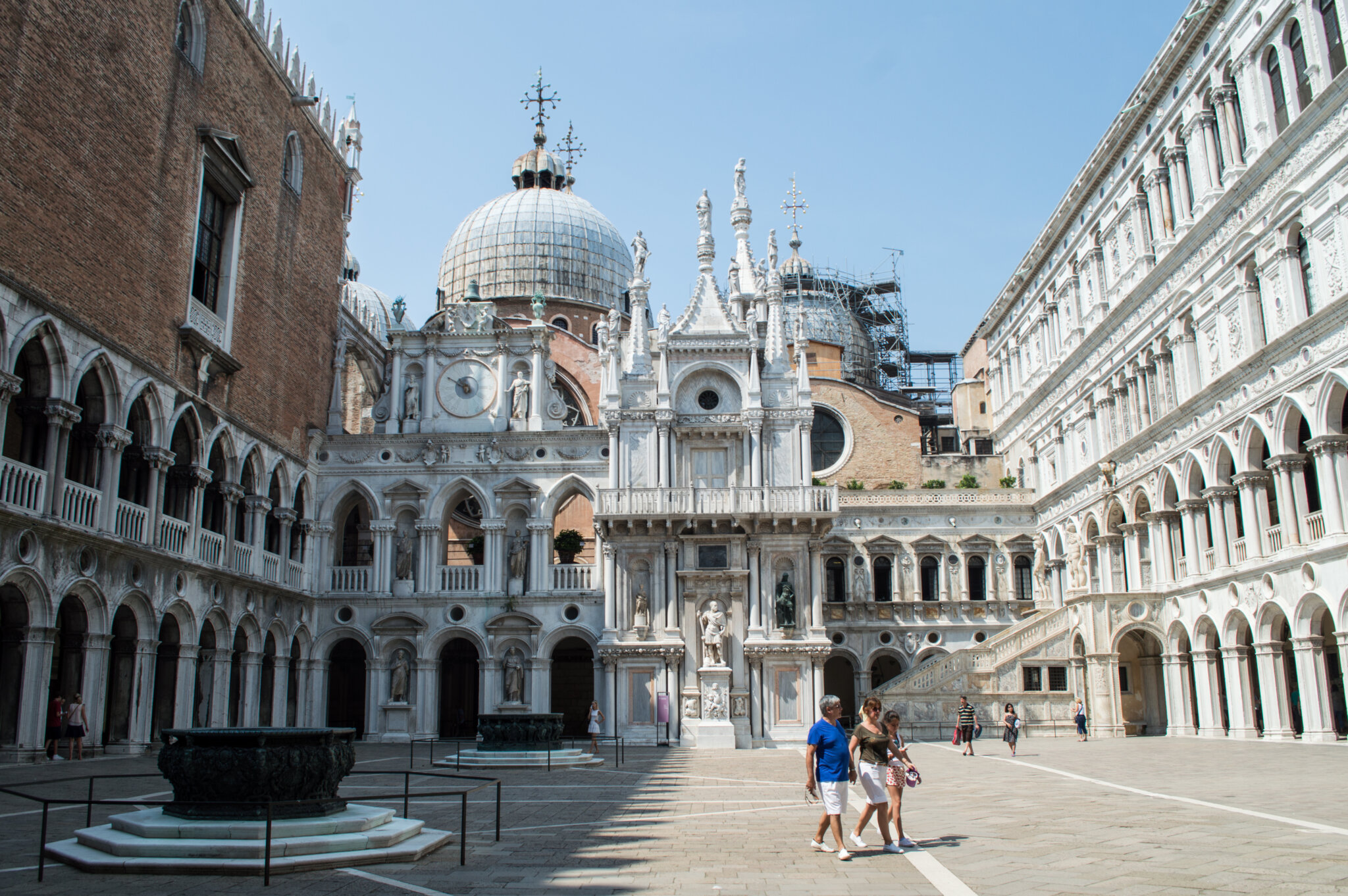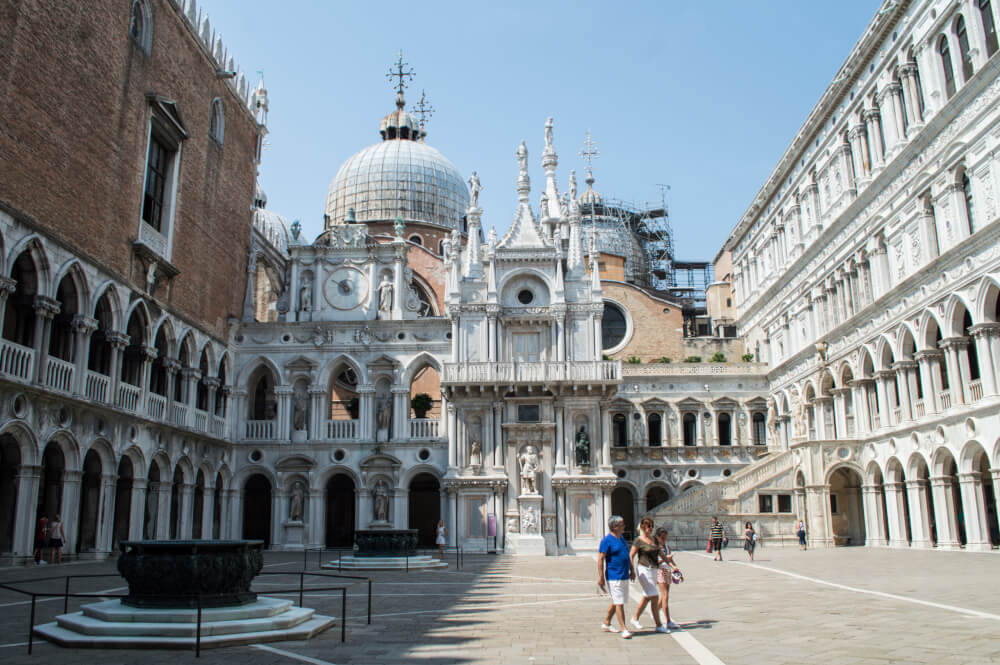 21. Go beyond the main popular attractions in Venice
Of course, like in many major cities, some of the most charming parts of Venice can be found beyond the most famous sights.
In Venice, some wonderful gems to explore include…
Liberia Acqua Alta: One of the world's most beautiful bookstores which has a really cool section in the back with displays made of ruined books. This isn't so much a secret anymore but it's still very cool!
Free rooftop terrace at Fondaco dei Tedeschi: Beautiful and free views that you have to book in advance here
… As well as plenty of museums that many visitors miss, so be sure to do a bit of extra research to find cool hidden gems!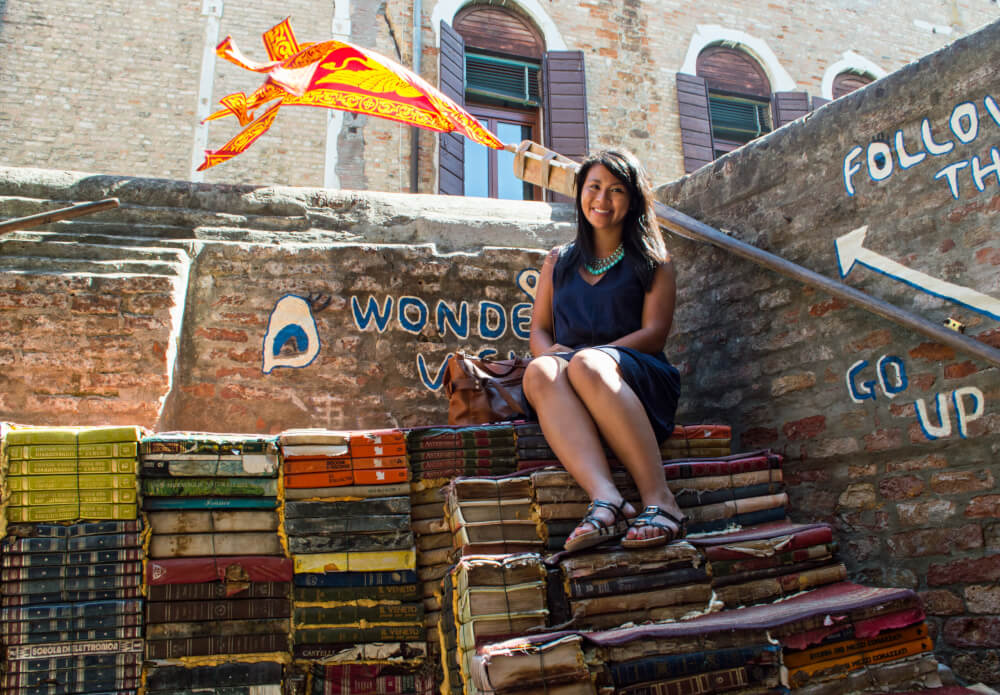 22. Remember: Gondola prices are fixed
Now, let's move onto gondola tips for Venice. The first thing to keep in mind is that prices for gondolas are actually fixed, so there's no room for negotiation.
According to the official City of Venice regulations, gondolas can fit up to 5 adults at once and as of October 2023 cost a fixed rate of €80 for a 30 minute ride during the day, and €100 at night.
NOTE: If you don't mind sharing with strangers, a more budget-friendly way to get a gondola ride may be booking a seat for yourself like through here.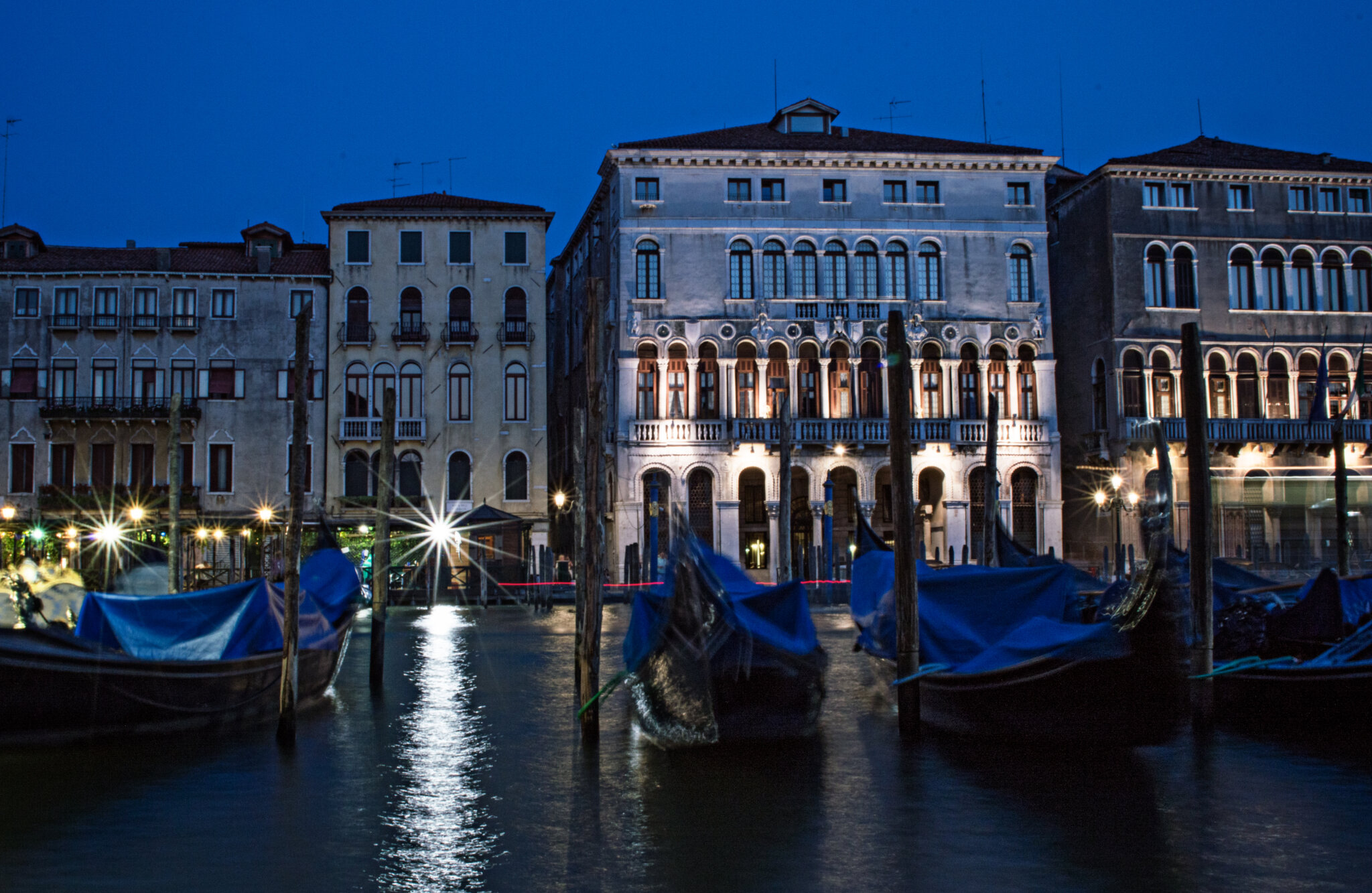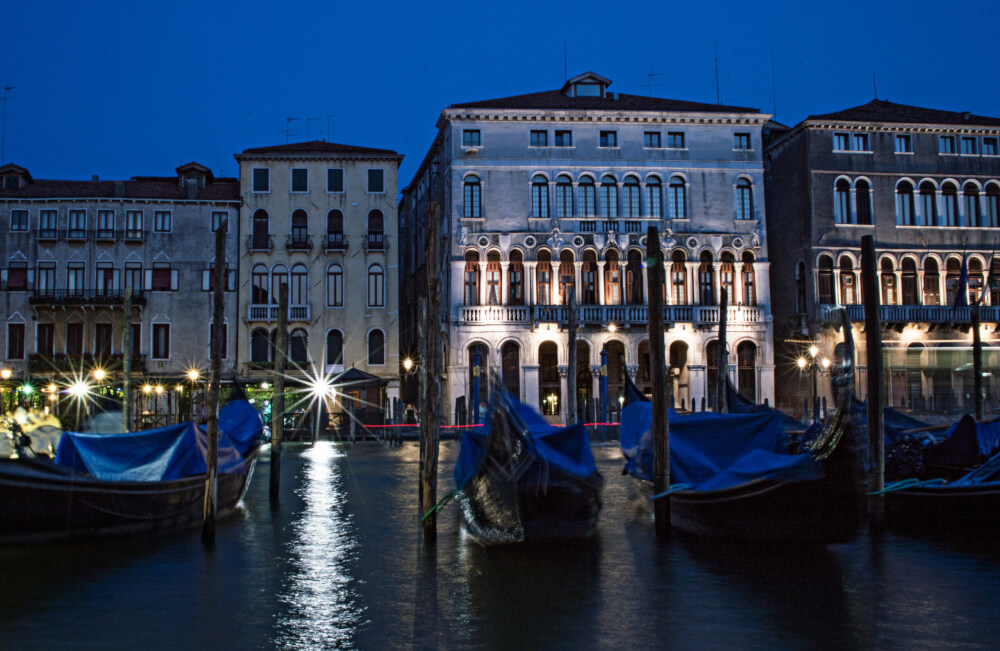 23. Gondolas take different routes so choose wisely
Now, while gondolas all cost the same, it's important to note that they don't take the exact same routes, so be sure to ask the gondolier beforehand where they go, and try to make sure it's a combination of both smaller canals and also the big iconic must-sees.
BONUS TIP: Be sure to also vet the vibe of your gondolier, because that can make a huge difference in your experience. The last thing you want is a grumpy gondolier that seems to despise everything about you…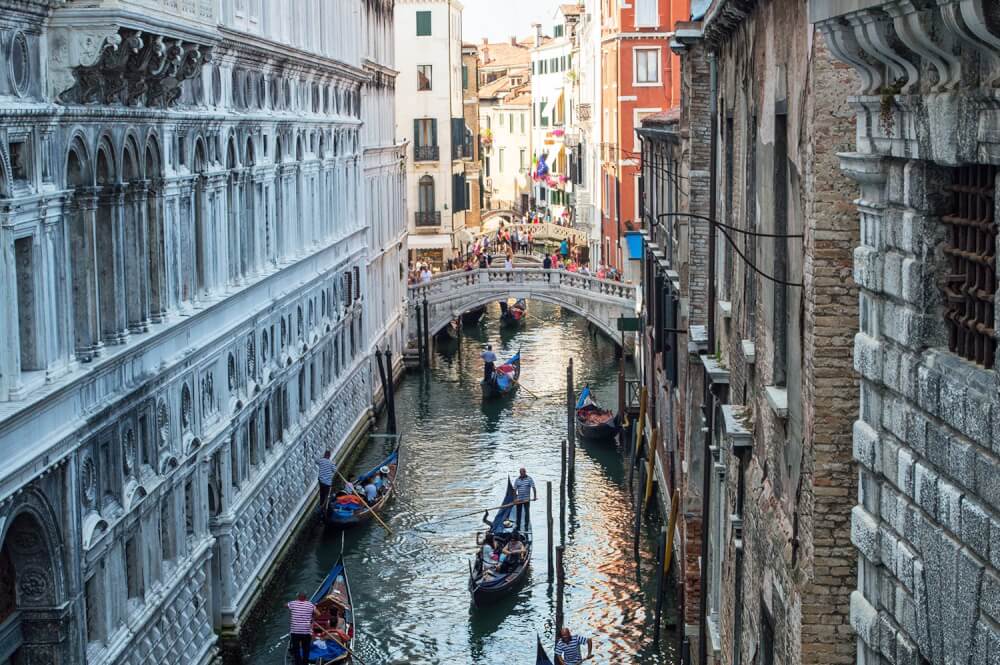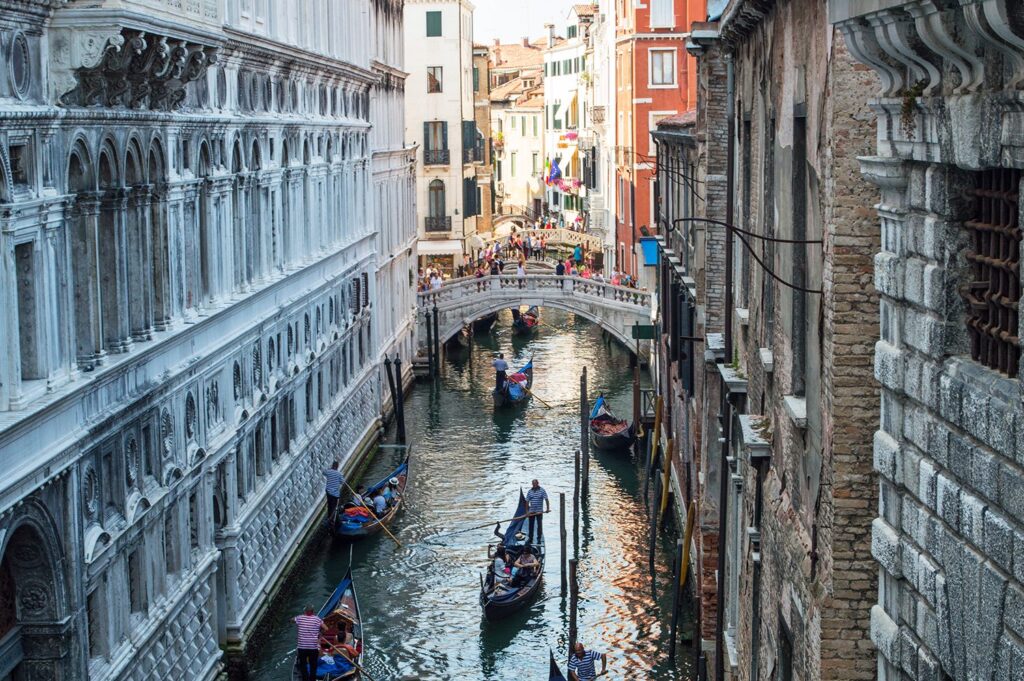 24. Try to time your gondola ride for the morning
Especially if you're visiting in the summer, I would time your gondola ride for the morning because…
a) It's the least busy time
b) It'll be less hot (there's no shade on these gondolas!)
c) Morning is when gondoliers will likely be in their best moods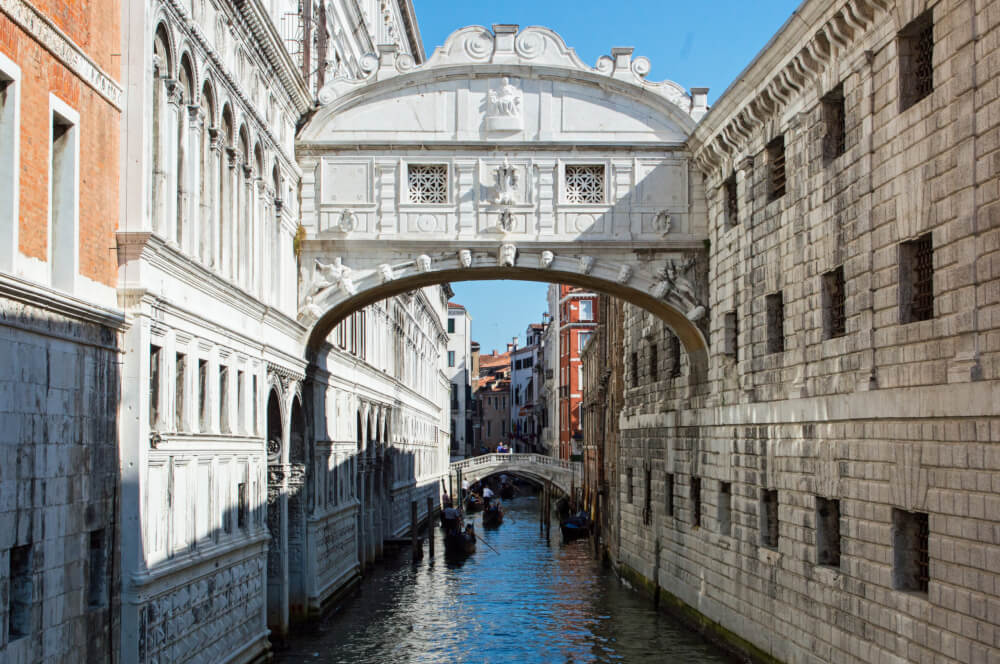 25. Consider boarding your gondola in a quieter part of town
Of course, you can expect that line-ups for gondolas around the Grand Canal area will be the worst, so if you don't mind visiting quieter less "famous" canals, then I'd advise starting your gondola ride elsewhere for a more peaceful experience overall.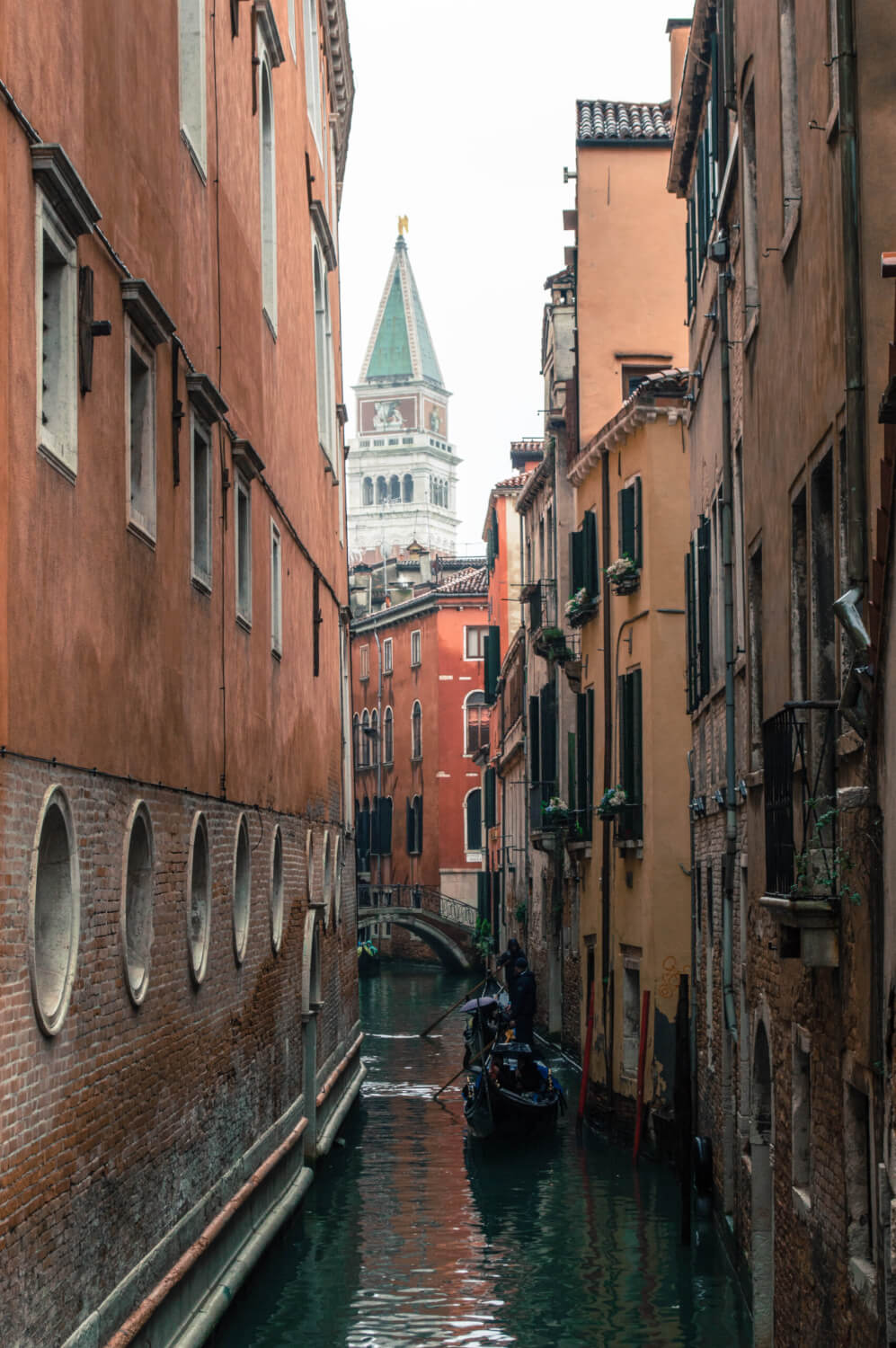 26. Board a Traghetto for a budget-friendly boat ride
Now, if gondolas feel overly pricey, then there's still another way you can get a boat ride experience in Venice for a fraction of the cost.
Enter the almighty Traghetto!
These boats whisk locals and tourists alike across the Grand Canal for the low, low price of €2. That's right, you could literally ride the Traghetto back and forth forty times for the price of one scenic gondola…
Now, is it the same experience? Obviously not. A Traghetto ride is fairly short, and involves a larger less opulent boat. But for the price of a bottle of water? It's not a bad budget hack at all.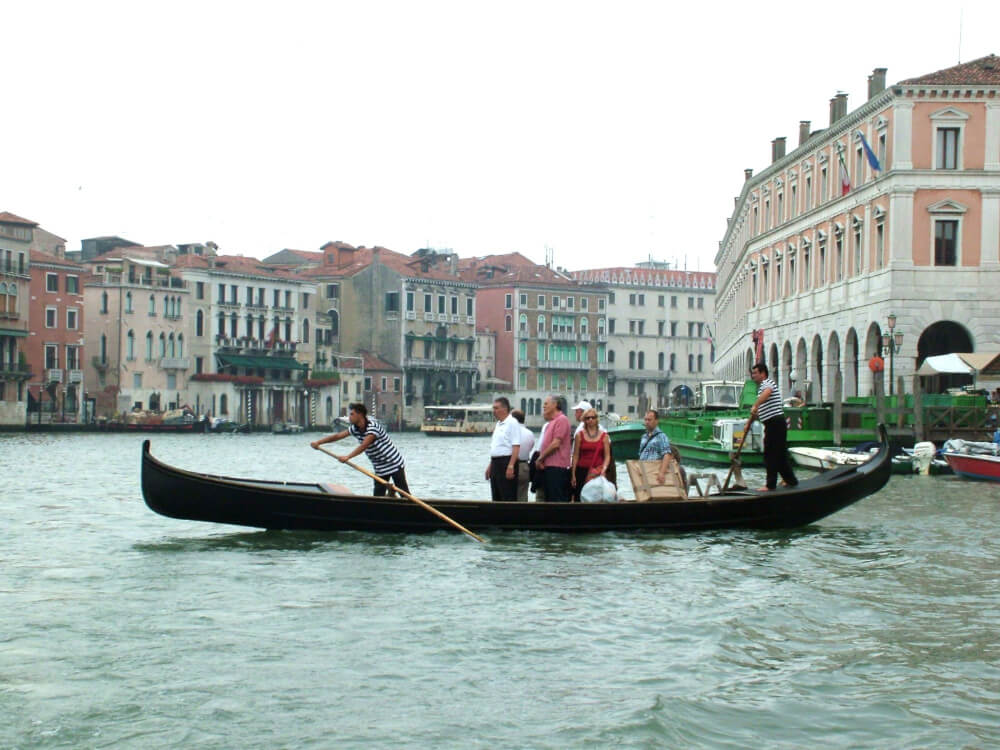 27. Consider booking a rowing lesson instead of a gondola ride
Lastly on the boat front (because wow, I didn't realize I had this many boat-related Venice tips), consider booking a lesson with Row Venice if you're hoping to get out on the water in a non-touristy fashion.
This unique (non-profit) company offers rowing lessons and tours that allow you to traverse Venice's iconic waterways in a way that most tourists never get to experience – with you in control!
The cost is on par with a regular day time gondola ride, except the lessons last 90 minutes so you're on the water for the triple the time. Definitely worth looking into if you're looking for unique things to do in Venice.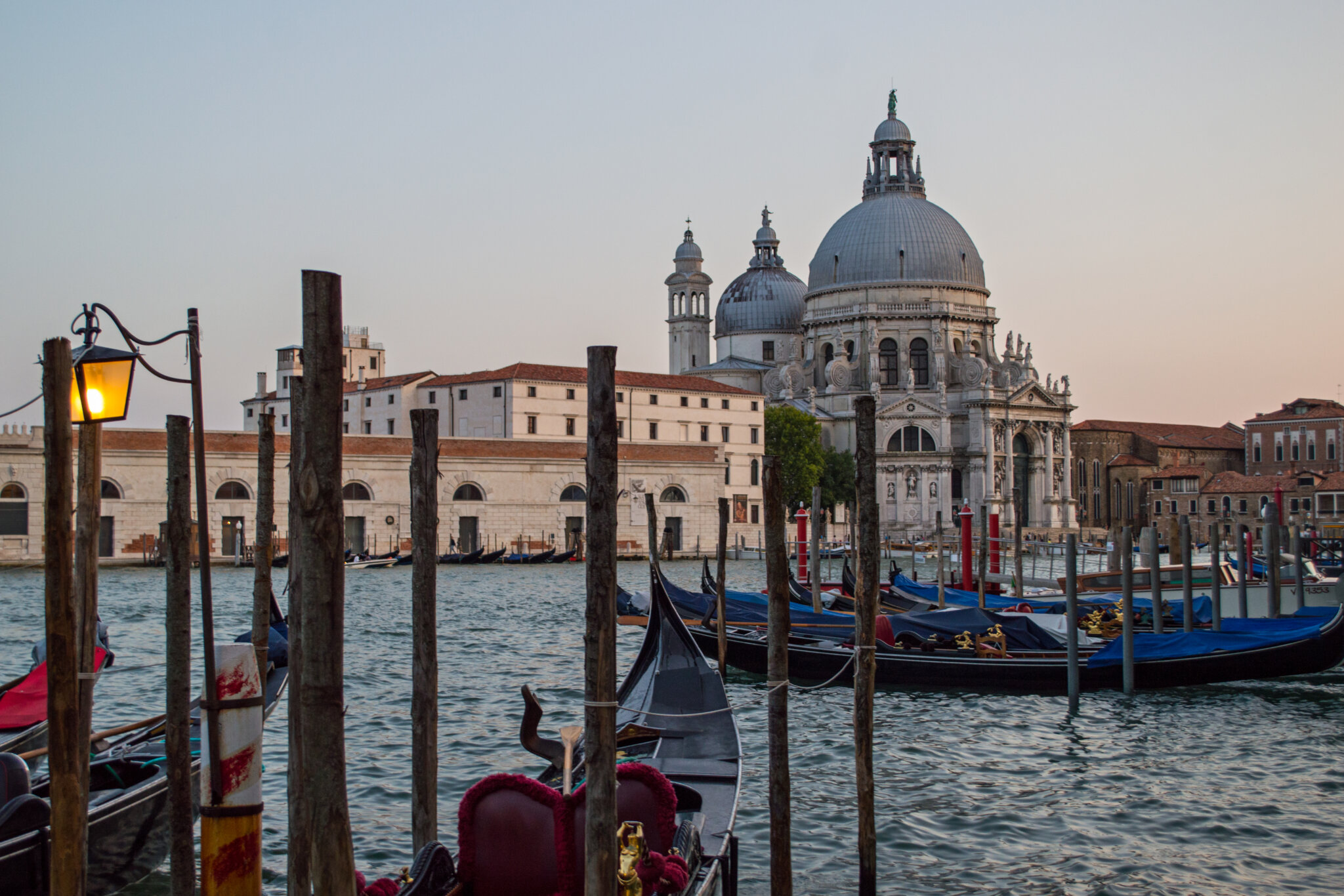 28. Avoid dining in St Mark's Square
Alright, now it's time to tackle Venice food tips!
First off – as enticing as they look, do avoid the fancy restaurants in St Mark's Square.
While the views and vibes are immaculate (with someone playing the Godfather theme on the accordion at all times, it seems), the restaurants here are well known tourist traps with inflated prices and often poor food quality.
If you do want to enjoy the atmosphere though, maybe opt for a coffee or drink instead, then eat elsewhere.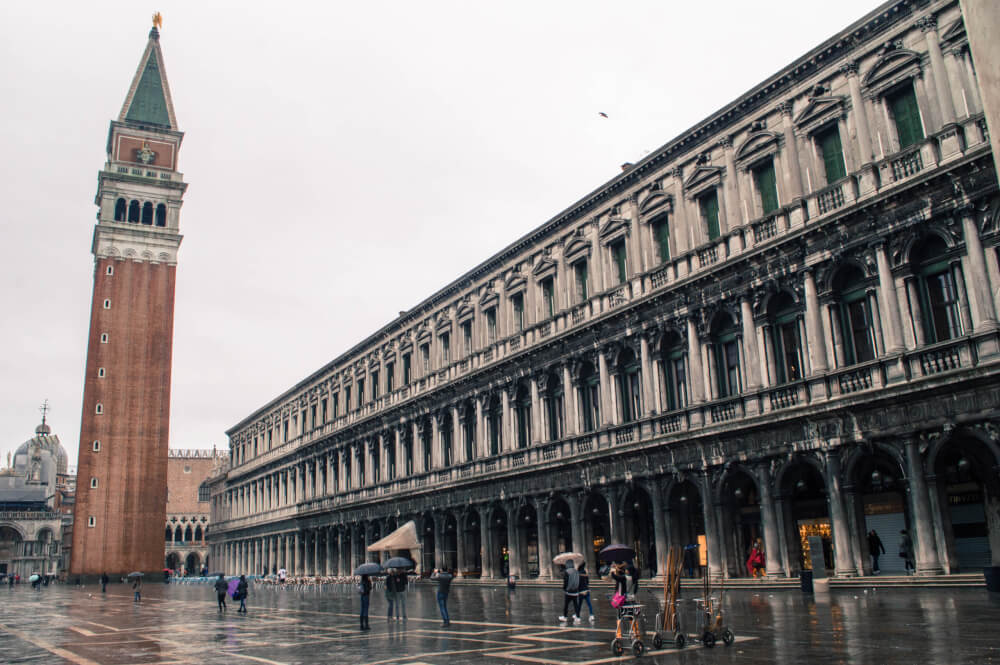 29. Dine far away from major tourist attractions
On a similar note, I would try to dine as far away as possible from major tourist attractions for the same reason.
Most of the time, these restaurants cater to tourists and don't prioritize good service or quality since you probably won't come back anyway.
I find that quality and prices tend to improve dramatically once you find yourself outside of the main tourist hotspots, so be sure to shop around and when in doubt, look at reviews.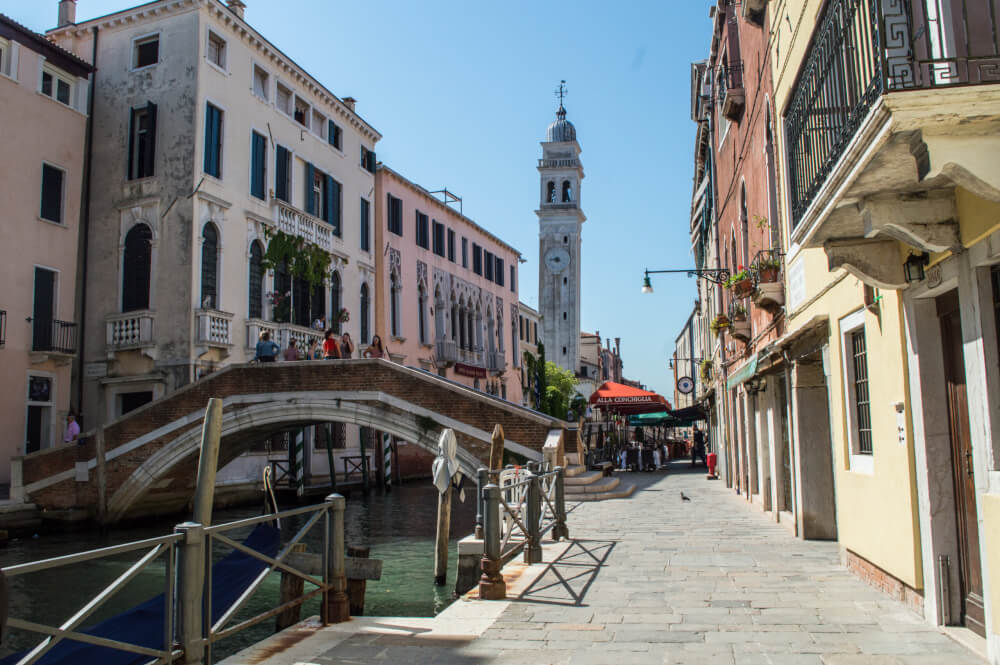 30. Only go to restaurants with prices
Another important Venice must-know? Always make sure prices are on clear display before you commit to a restaurant.
Over the years, there have been many headlines like this one about Venetian restaurants overcharging tourists for meals… and getting away with it. So don't let that be you!
A common trick is they charge pricey items like seafood by weight, so pay special attention to that.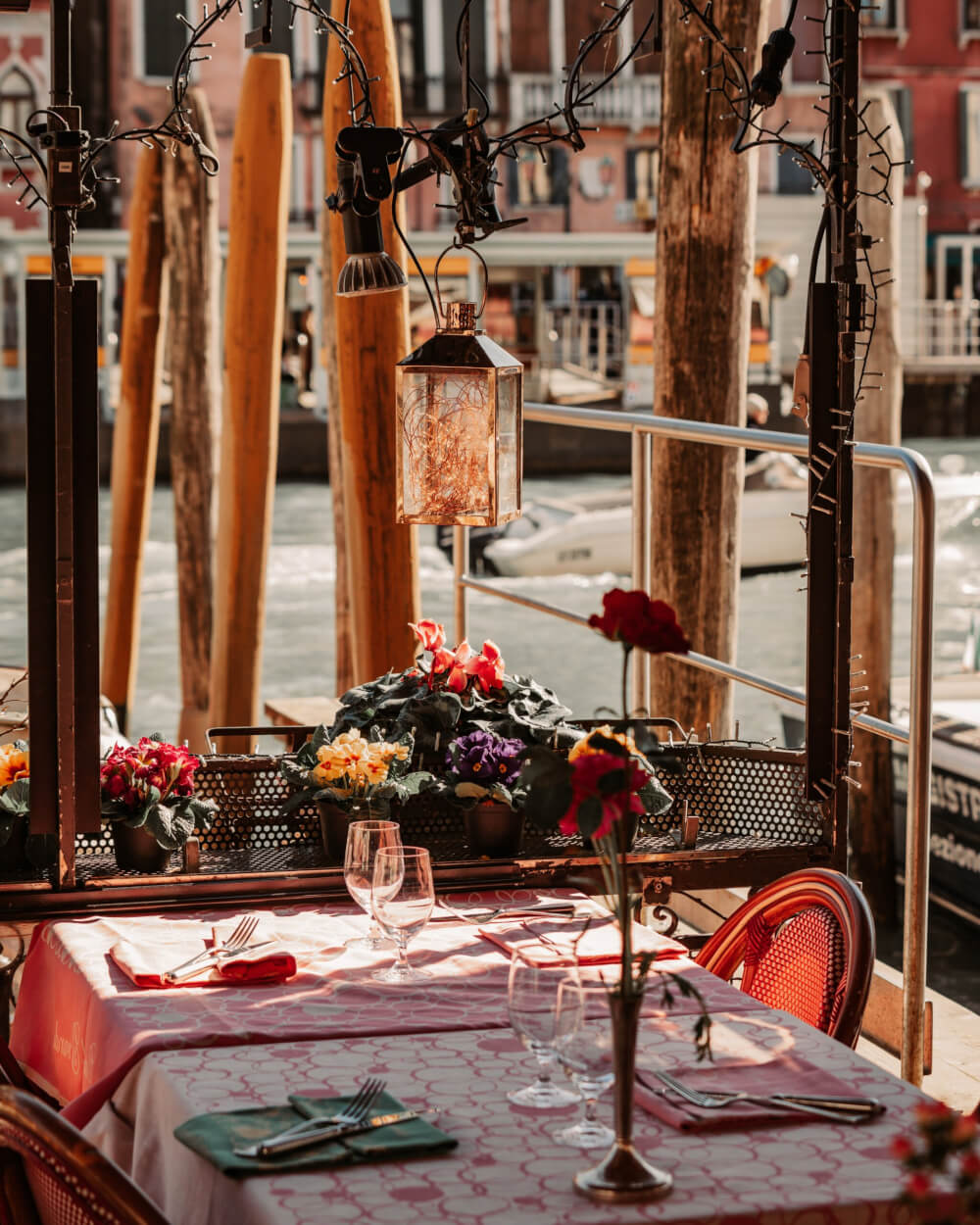 31. Look out for 'Venezia Autentica' restaurants/businesses
If you're stuck and need a quick frame of reference, there's an organization known as Venezia Autentica that aims to support and highlight authentic local businesses that are run responsibly.
So when in doubt, you can always look out for their stickers or browse their website for ideas.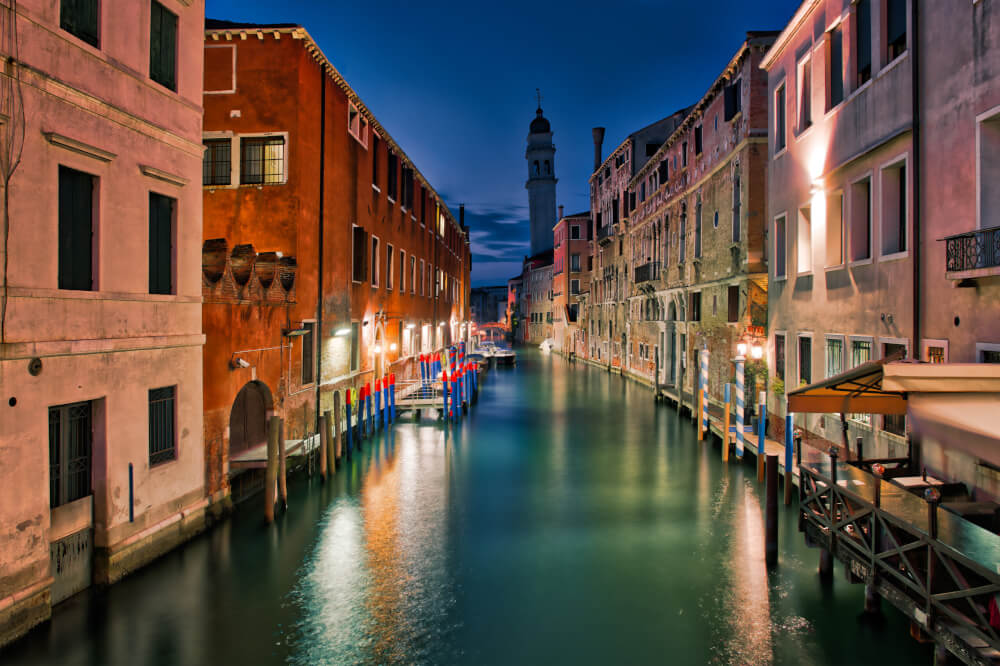 32. Try Venetian dishes while in Venice
Now another important Venice food tip is to try traditional Venetian cuisine over stereotypical "Italian foods" like pizza or pasta.
I know that sounds blasphemous, but hear me out: wood fire pizza ovens are for the most part banned in Venice, so good pizza is in pretty short supply… plus Venetian cuisine doesn't tend to focus much on pasta.
Instead, try some local dishes, like for instance…
Cichetti: These are little bite-sized dishes you can eat with your hands or a toothpick, usually for €1-3 each. They come in a huge variety so they're great for tasting lots of local flavours in one go and are common when you go to a Bacaro which are cozy traditional Venetian taverns.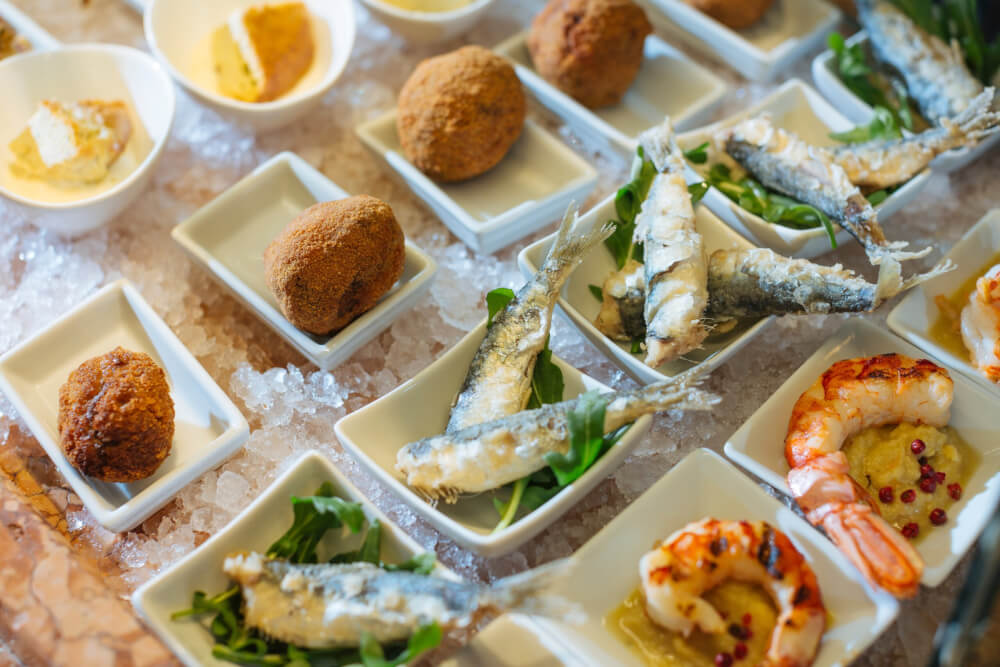 A popular dish commonly seen at a Bacaro is Sarde in Saor (Sardayn Sour) which are fried sardines served with vinegar and onion.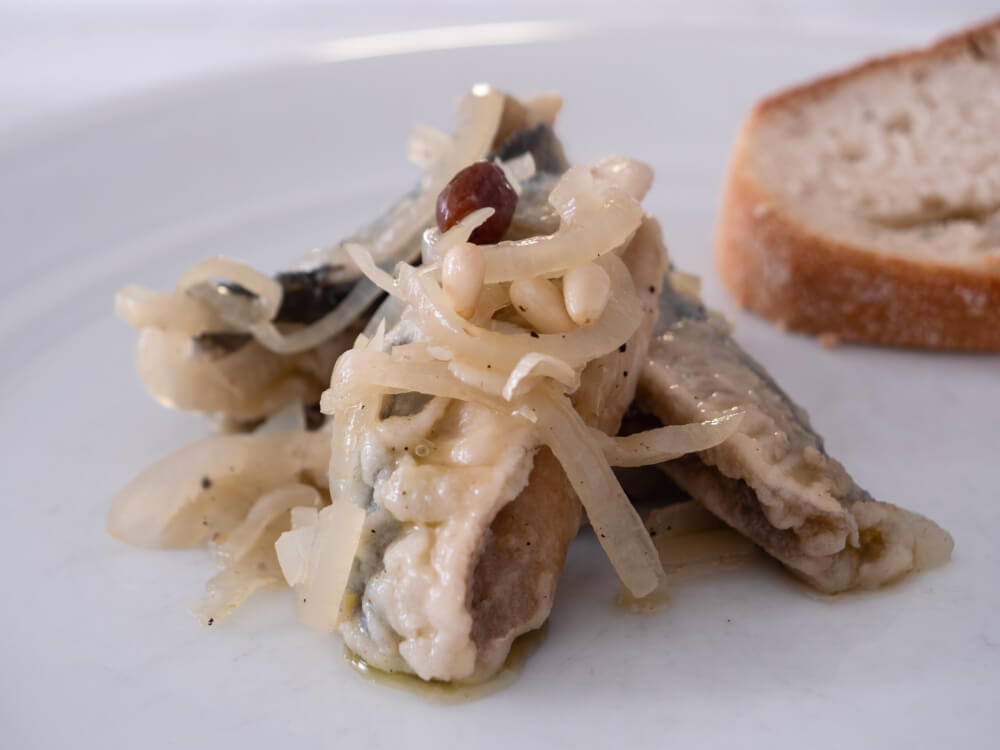 Venetians are also big on risotto, with a soupier iteration known as Risi e bisi which is rice and peas, that is very popular.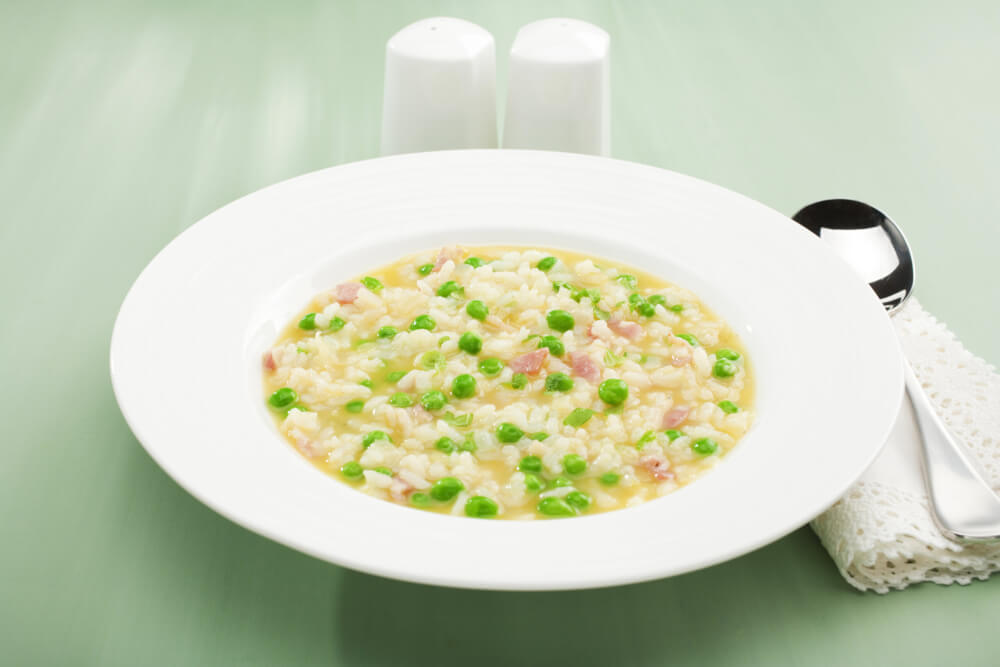 … Also very popular is polenta, which is paired with a variety of dishes like small lagoon shrimp (like in Polenta e shcie) and liver (like in Fegato alla veneziana).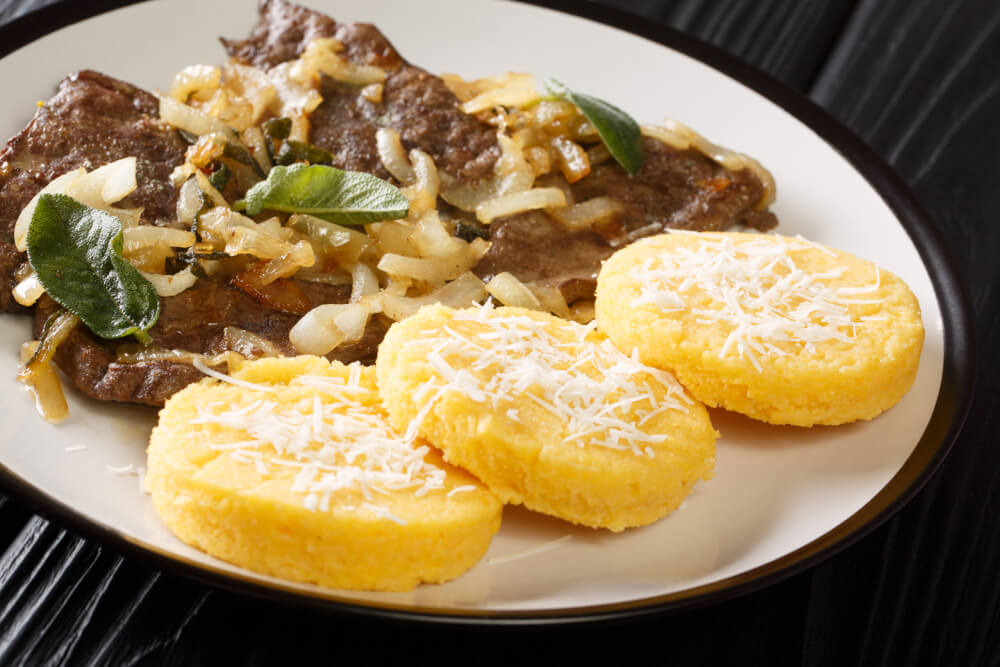 And if you feel you may combust without pasta on this trip (no judgement), try Bigoli which is a classic Venetian pasta that's like thick spaghetti, often served as Bigoli in salsa which means with an onion and fish sauce.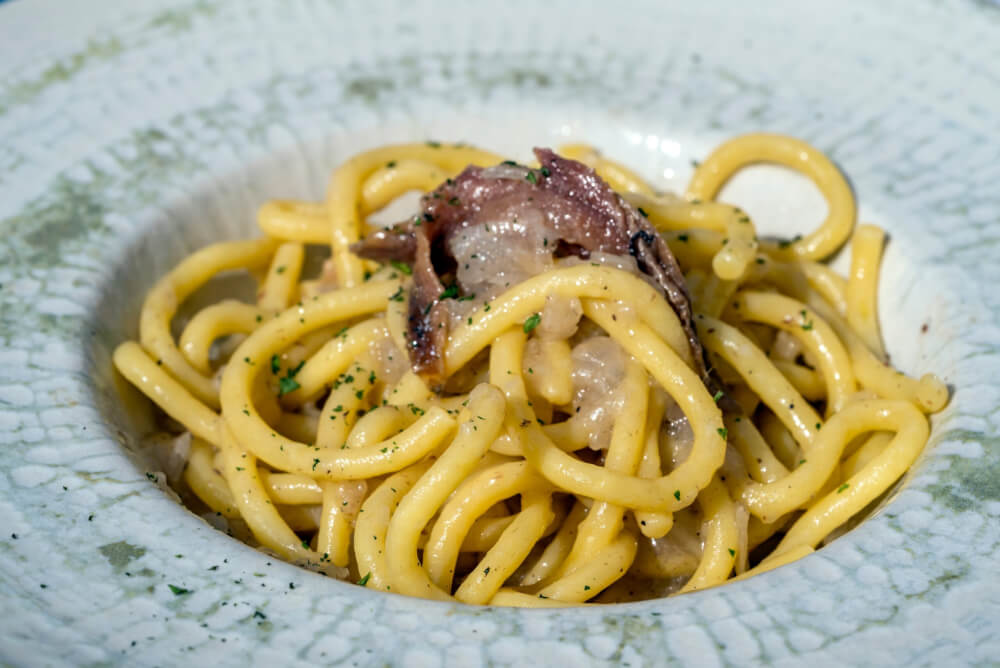 33. Bring a refillable bottle because there's free water fountains
If you have a free second between inhaling all those delicious Venetian classics, another important must-know is to stay hydrated.
Luckily, staying hydrated in Venice is free!
All over the city, you'll find many free drinking fountains offering clean and drinkable water, so bring a refillable bottle and take advantage.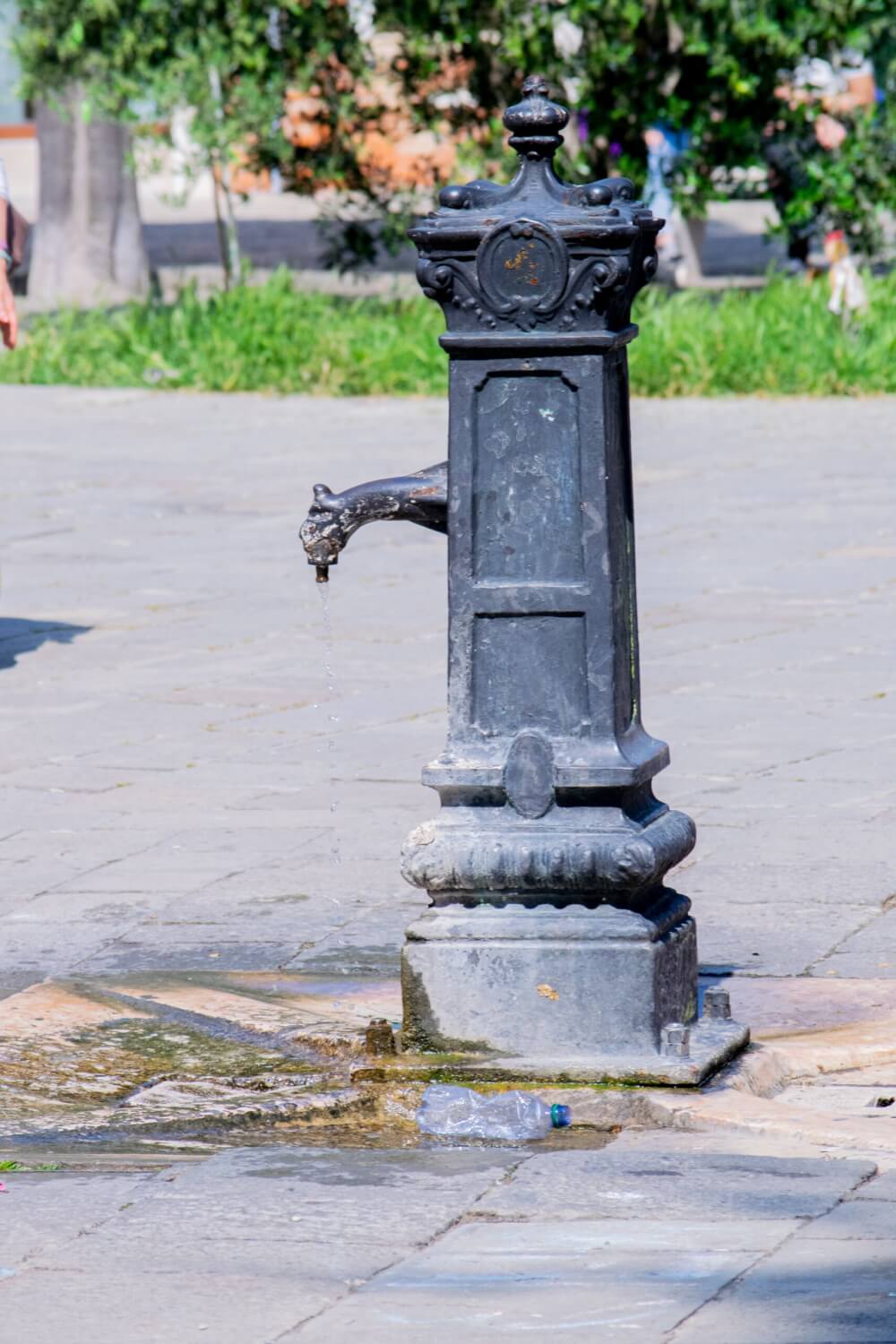 34. Read up on more general Italy food and drink tips
There are many more general food tips I could tell you about Italy, but then we'd be here forever.
SO I'd recommend reading my full Italy travel tips post for more info on things like coffee etiquette, the structure of a typical Italian menu, and many more delicious secrets.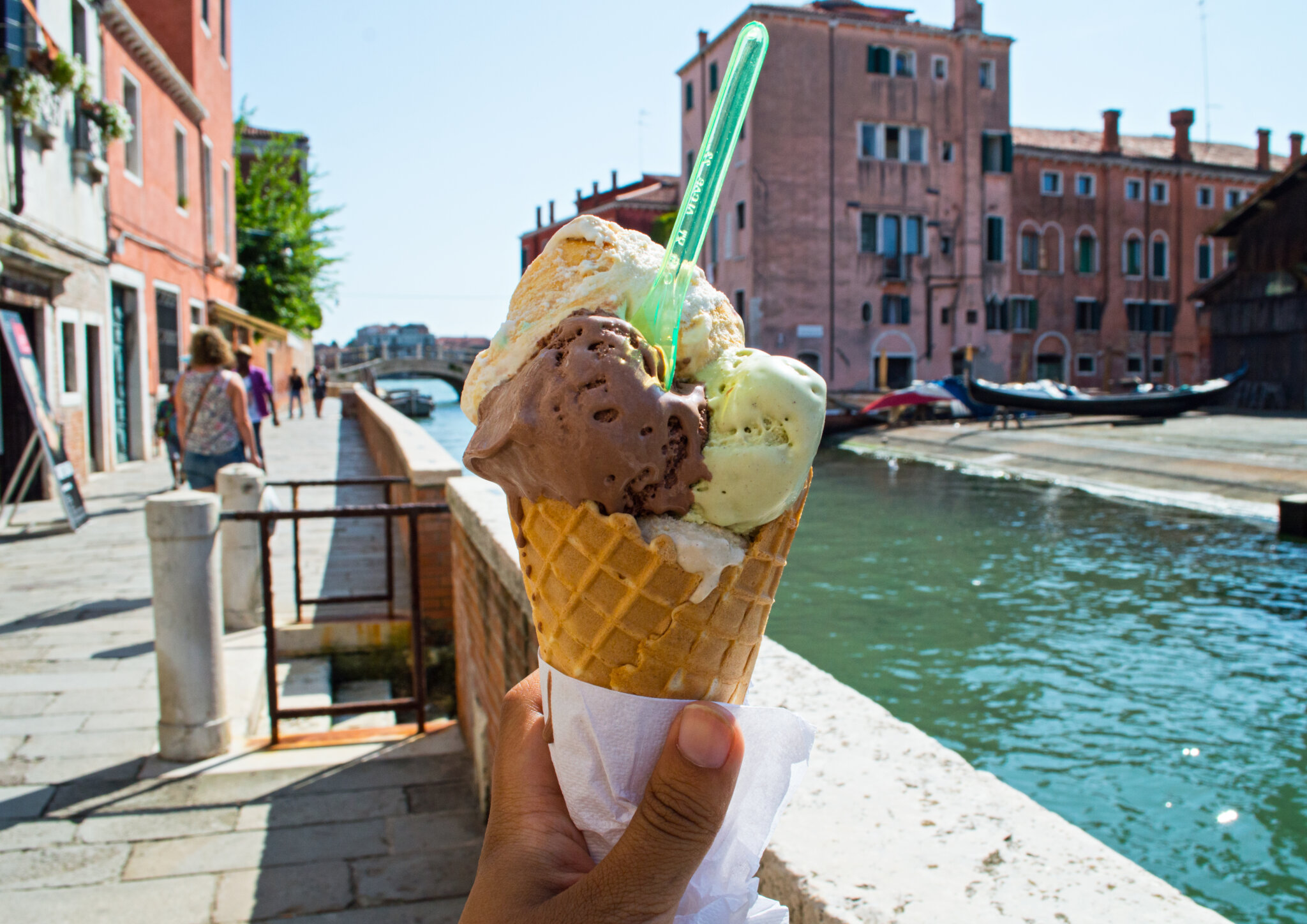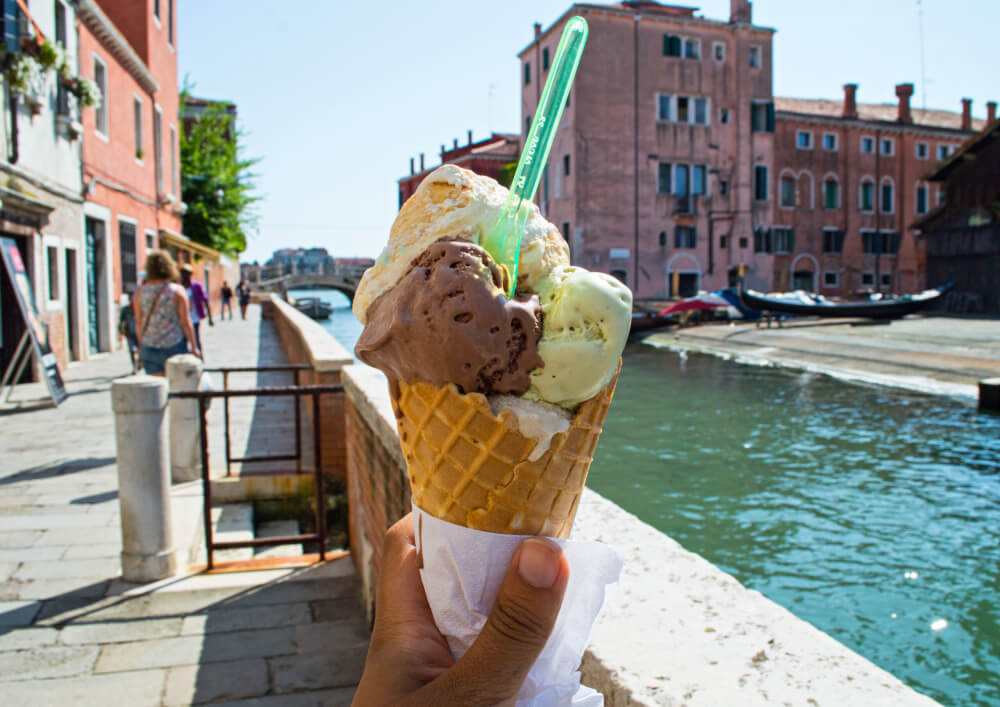 35. Take note of English/Italian names of landmarks and places
Now once you arrive in Venice, there are a few things you must know.
Firstly – keep in mind that the Italian and English names of places are often used interchangeably, so it's helpful to remember that these are indeed the same places, for instance…
Piazza San Marco = St Mark's Square
Palazzo Ducale = Doge's Palace
Ponte di Rialto = Rialto Bridge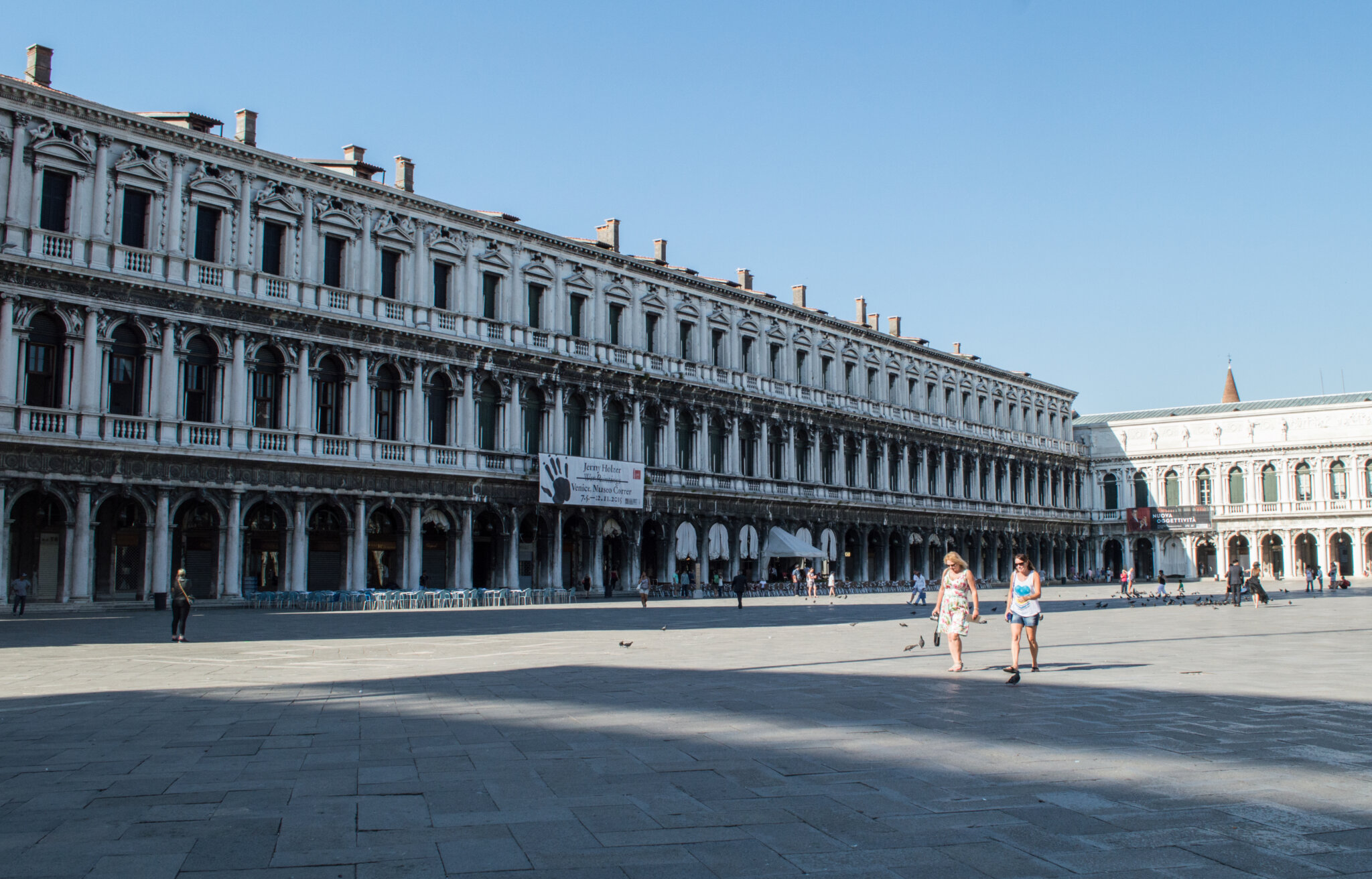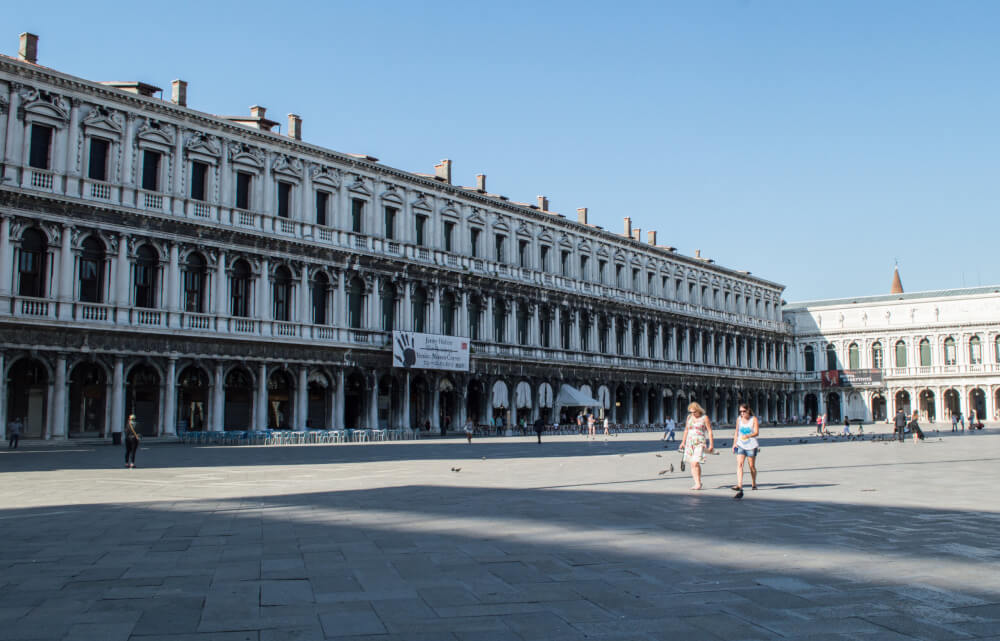 36. Be prepared to pay for public toilets
Public toilets in Venice can often cost as much as €1.50, so if you're a total cheapskate like me, remember to use the toilet whenever you have an opportunity to so like at the hotel, at a restaurant or at museums.
Also be sure to keep coins on you so you can pay for these public toilets when needed.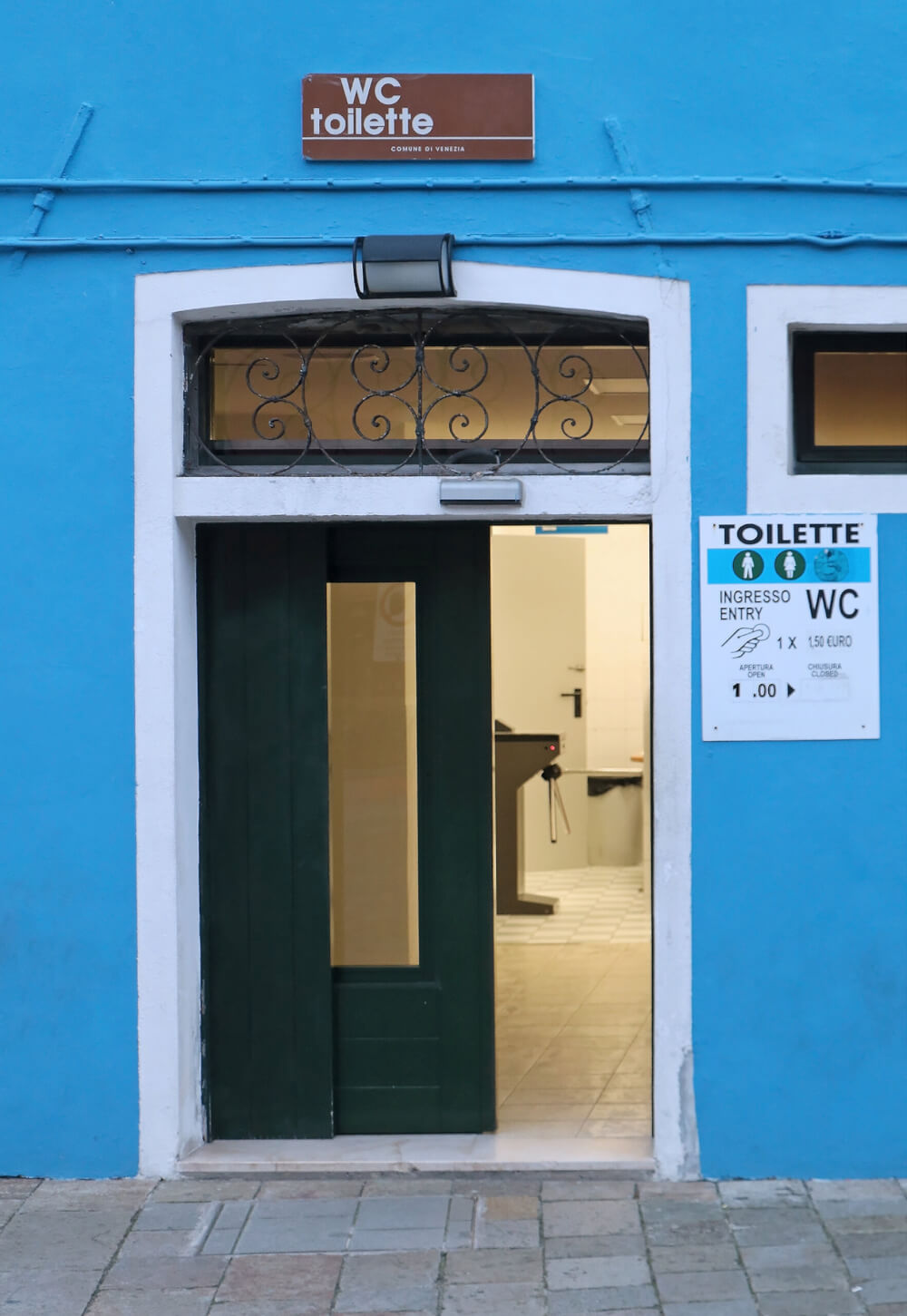 37. Beware of pickpockets
Unfortunately, Venice is a very popular city with many potential easy targets for pickpockets, so you'll encounter a fair few in busy areas.
So, be vigilant and make sure you keep a hand and eye on your belongings.
… And read my full guide on how to avoid pickpockets in Europe for more guidance!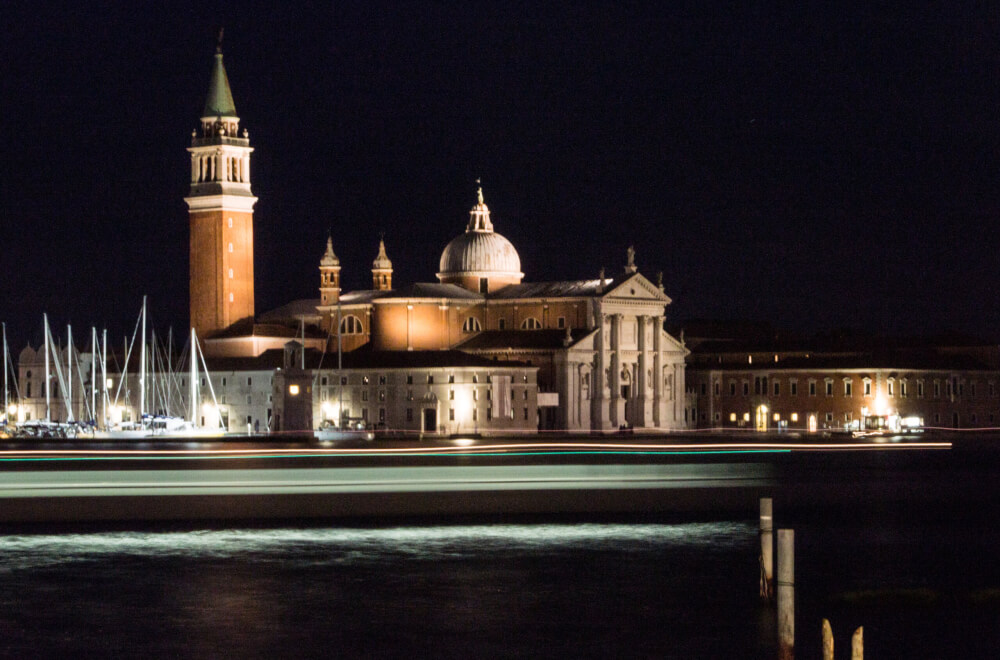 38. Don't feed the pigeons
Besides selfie sticks and sunburns, the most common thing you'll see in St Mark's Square is pigeons. And lots of 'em.
More than likely, you may also witness a tourist feeding and taking photos with said pigeons. Please refrain from doing this as it's a banned and fineable offense… which also happens to be fairly gross.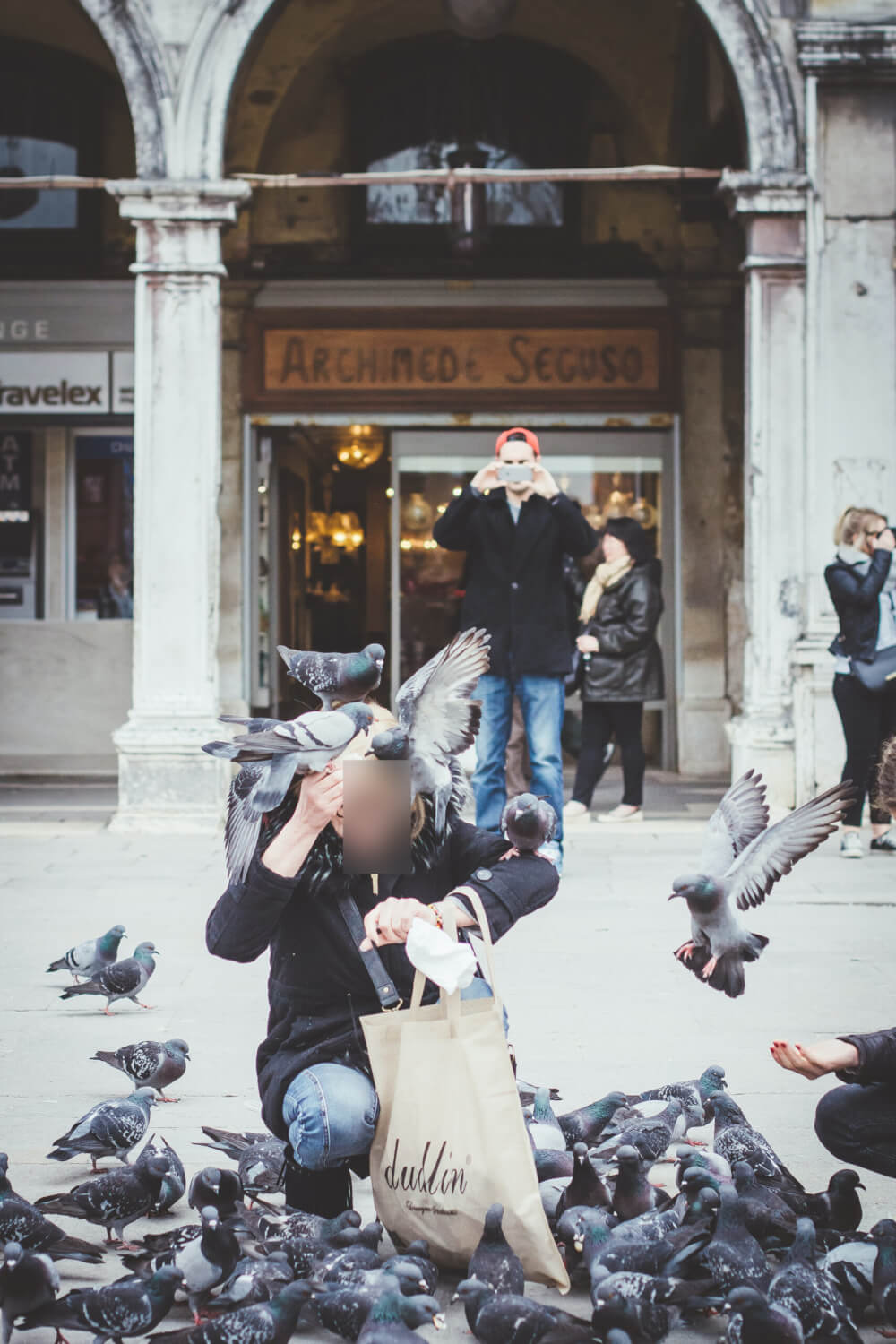 39. Don't swim in or touch canal water
Speaking of gross, another Venice must know is that you should never under any circumstance touch the canal water or try to swim in it.
Not only is the water really dirty and often laced with sewage, it's (also) a fineable offense of a few hundred euro.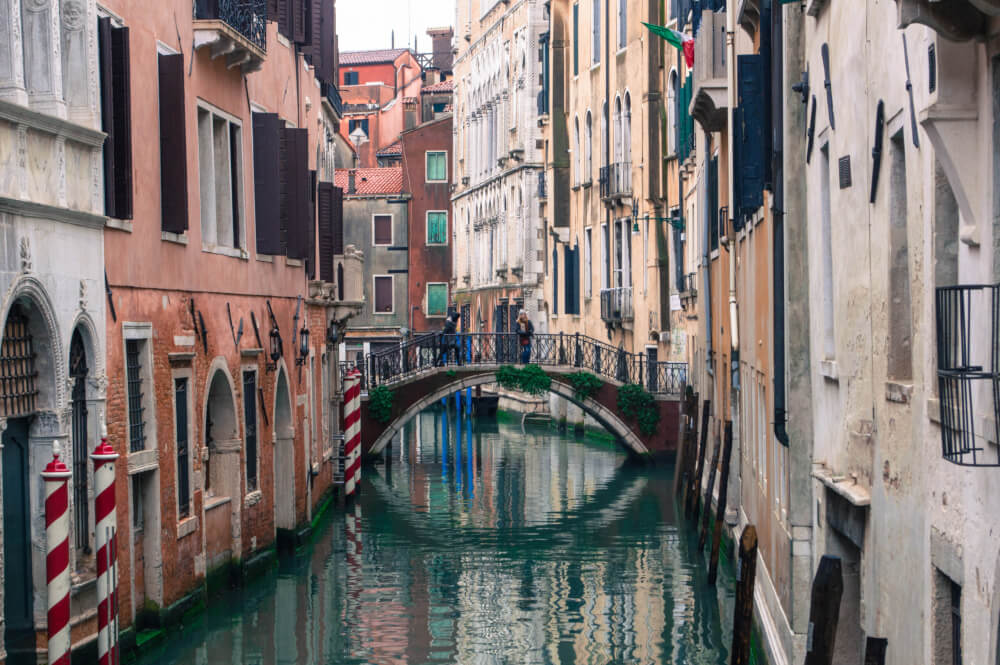 40. Look for artisan shops to support
Another important Venice tip? When shopping for souvenirs, do go to small artisan shops rather than buy cheap copies from typical souvenir stalls.
Anywhere really close to big touristy squares or attractions are likely to have mass produced goods that aren't of great quality. So, make sure you shop around for goods that are handmade – they'll definitely last longer!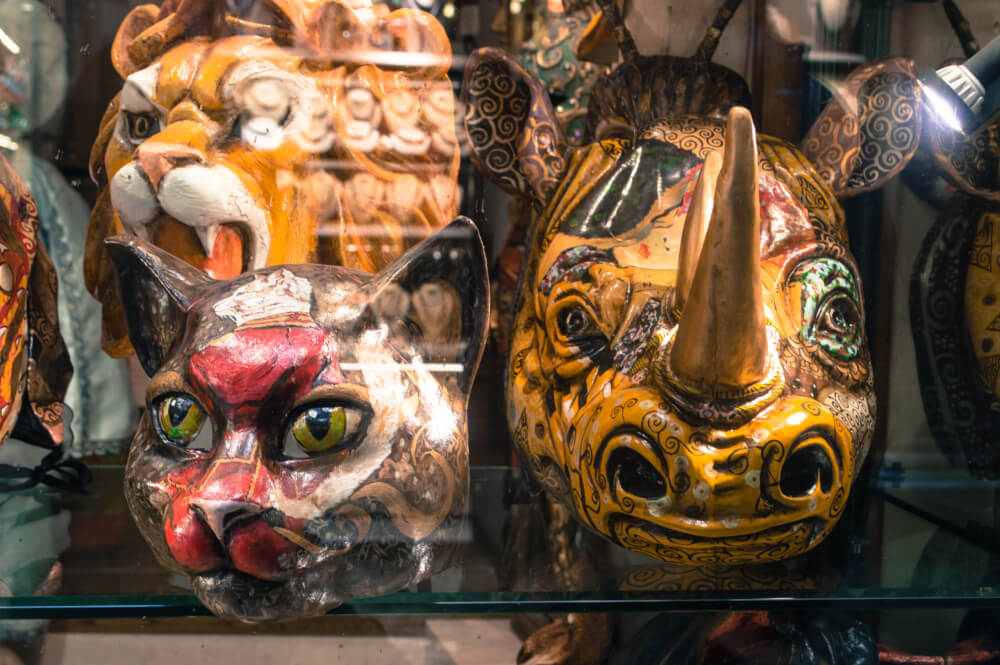 41. Don't be tempted by the fake designer goods
On a similar note, you may see some people in Venice selling fake designer bags on the street.
Not only are these (of course) low quality copies, it's also illegal in Italy to buy counterfeit goods, so beware of that.
NOTE: These salespeople can be very persistent, so the best course of action is to simply not engage at all.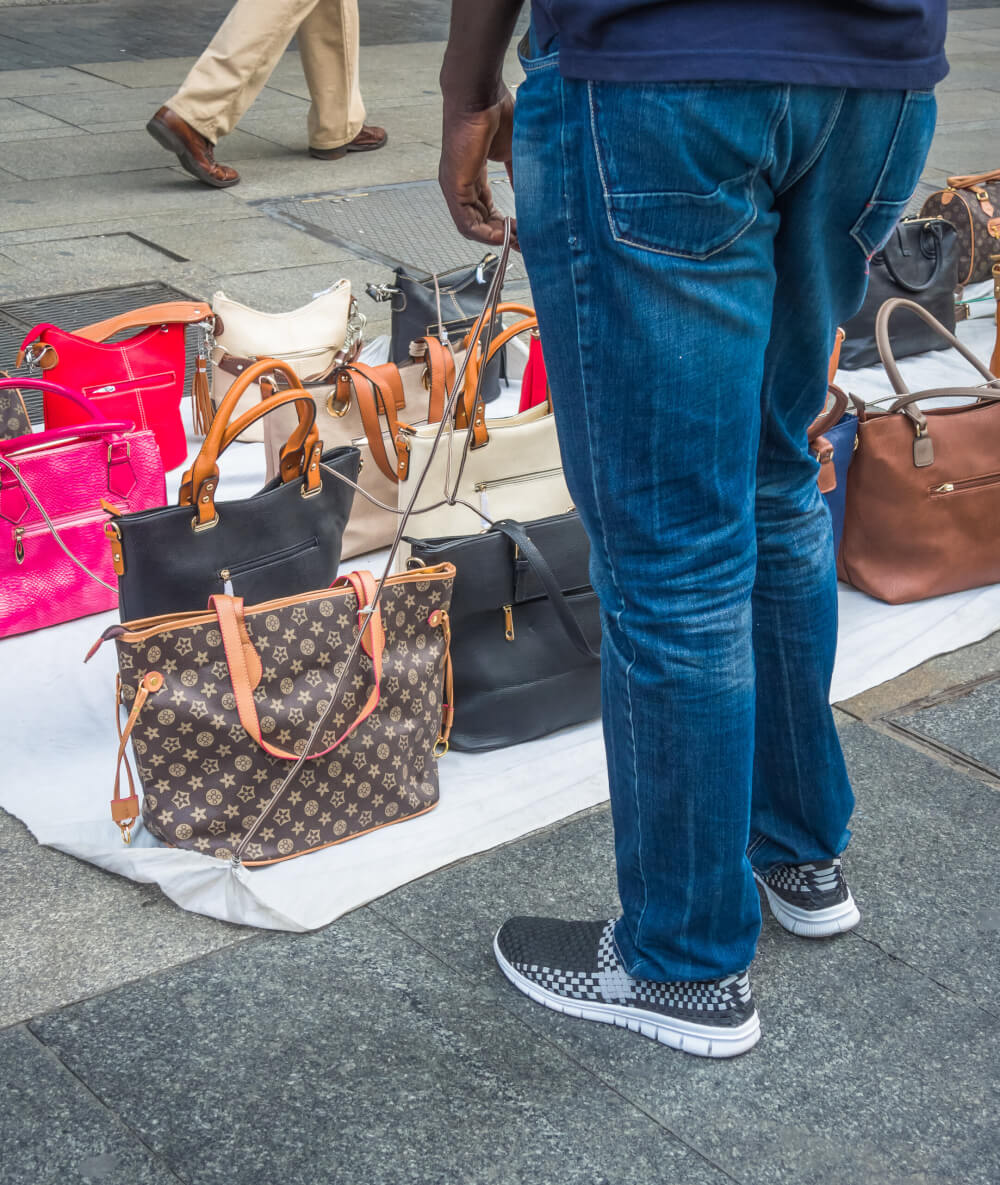 42. Don't randomly stop to take photos and block the way
This can be very frustrating for everyone involved, so just be mindful that you're not the only person in Venice and you should get out of the way if you want to stop for photos.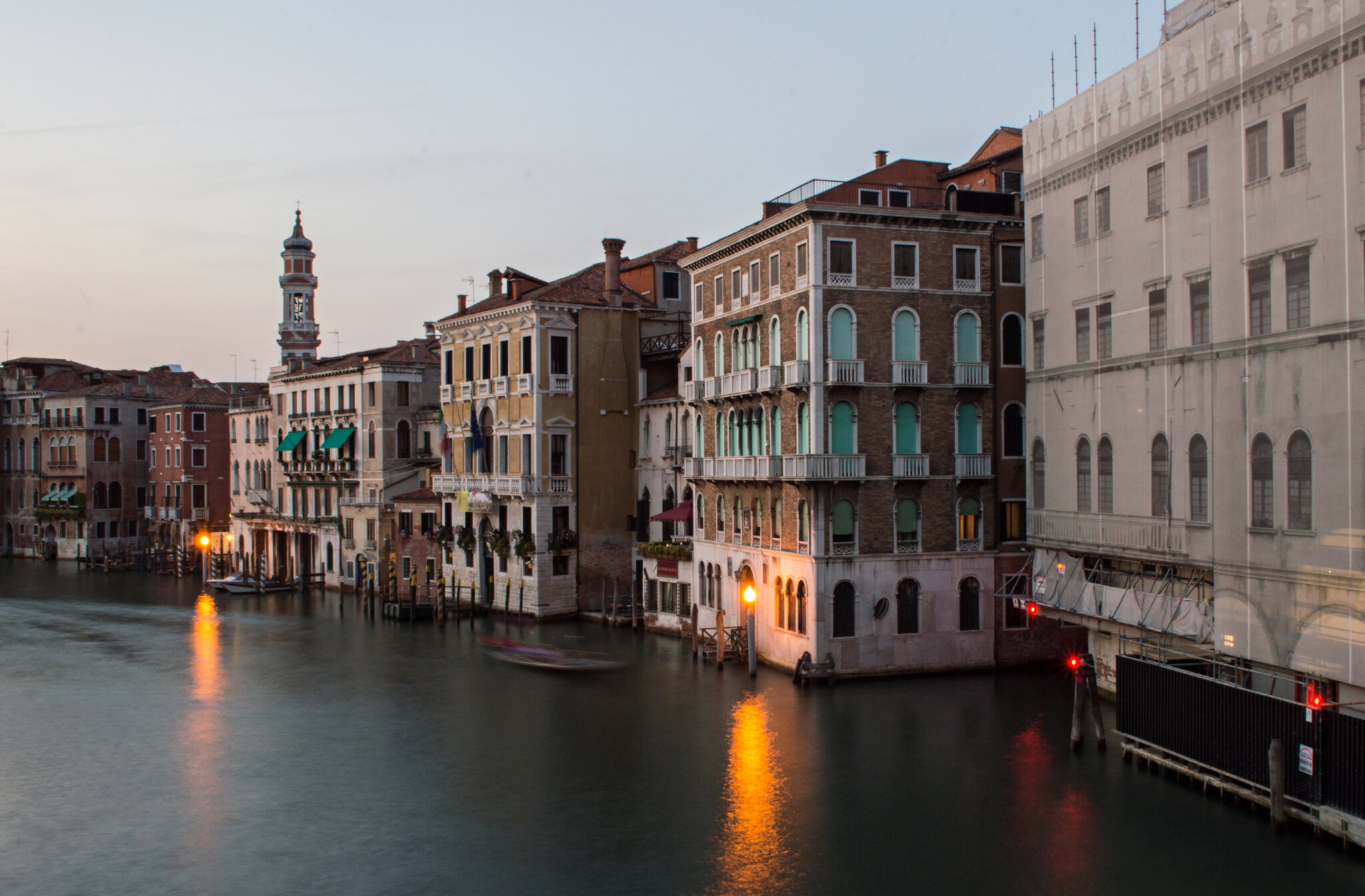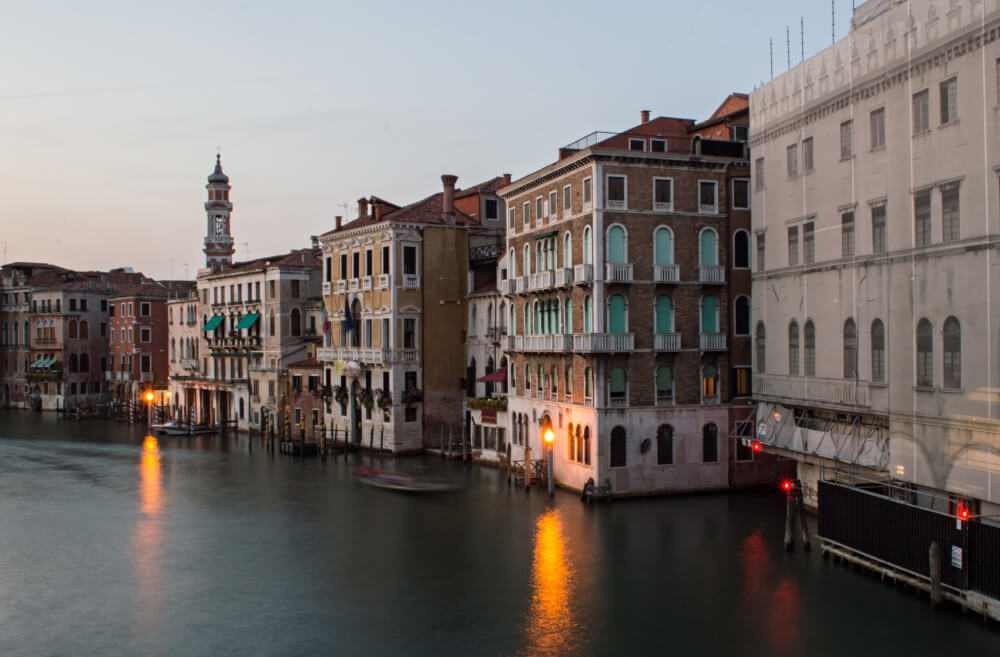 43. Do a day trip to the nearby islands in the Venetian lagoon
Lastly, if you have time, make sure you explore more of the Venetian Lagoon besides just Venice!
Burano for instance is this gorgeous rainbow island that is honestly one of the prettiest places I've ever been to. You can learn more about the best things to do in Burano in my full guide, or read my Venice to Burano guide for guidance.
There's also the similarly named Murano, which is well known for its artisan glass production, as well as several more islands with their own draws, so be sure to leave some room in your itinerary for exploring further!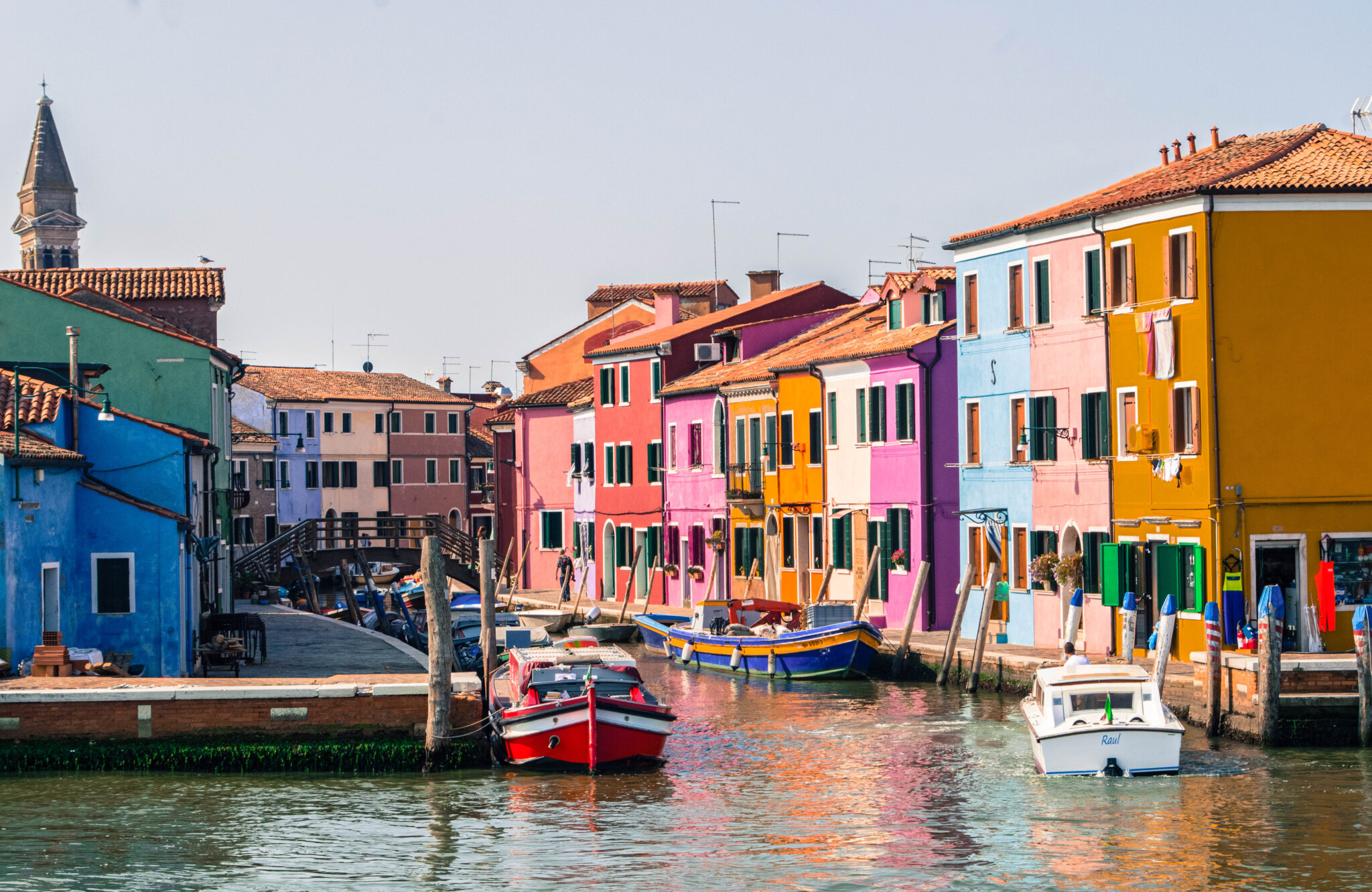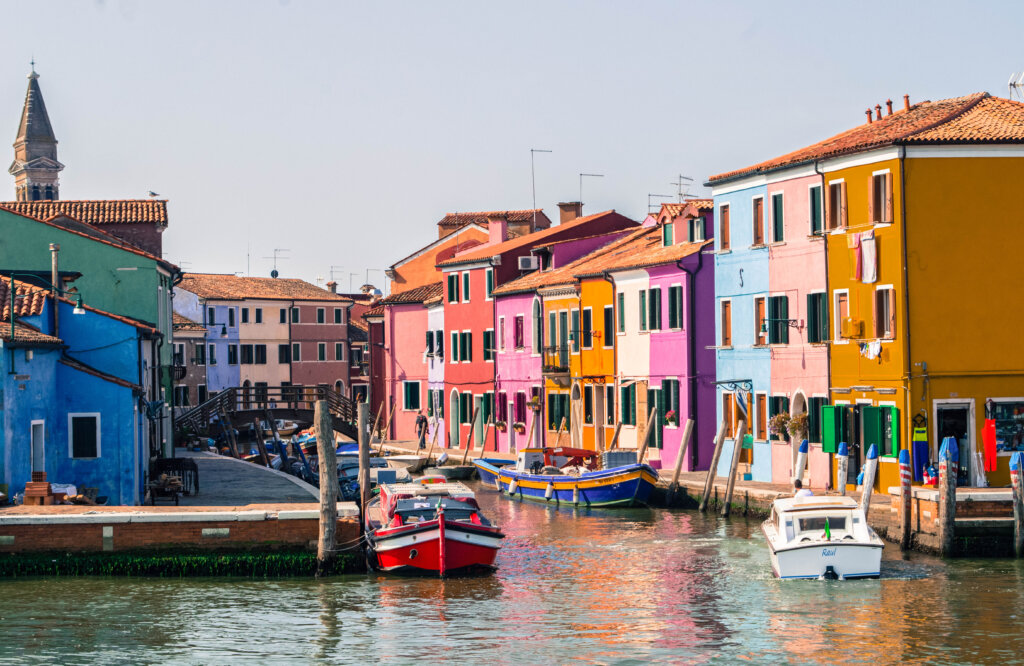 I hope you enjoyed those Venice travel tips!
Let me know in the comments if you have any more Venice must-knows to add. Safe and happy travels! 🙂
My Go-To Travel Favourites: