*FYI - this post may contain affiliate links, which means we earn a commission at no extra cost to you if you purchase from them. Also, as an Amazon Associate I earn from qualifying purchases. Check out our Privacy Policy and Disclosure. for more info.
Take a single glance at Portugal and you'll soon leap to the same conclusion as its millions of doting visitors: this is one of those destinations that seems to have it all.
From verdant valleys and golden beaches to fairytale castles and buzzy cities, visitors are swimming in choice as much as they are in sweet, custardy pastries.
But it's not all custard tarts and photo opps. The truth is, Portugal often catches first time visitors off guard with random culture shocks, unexpected tourist traps and (sadly) even pickpockets and scams.
Luckily, I've learned all these the hard way (over 3 week-long trips) so you don't have to.
So, from tactical tips for itinerary planning to assorted mistakes to avoid, here are my top Portugal travel tips and must knows for first time visitors. I hope you find them helpful!
1. Go beyond the most famous Portuguese destinations
We'll start with the basics: when planning your trip to Portugal, remember that there's a lot to see beyond the coastal hotspots of Lisbon, Porto, and the Algarve.
Portugal is a (satisfyingly rectangular) country composed of 18 districts and two autonomous regions, with a myriad of places to visit beyond the most frequented, from its many historic cities up North (e.g. Braga, Guimares, Lamego) and inland (e.g. Coimbra, Evora, Elvas), to its spectacular nature in Peneda-Gerês National Park and on their many islands.
SO, all that to say, if time permits, definitely expand your itinerary beyond the most famous sights, because this will allow you to experience a bit more of the country, while dodging some of the popular areas' notorious crowds at the same time.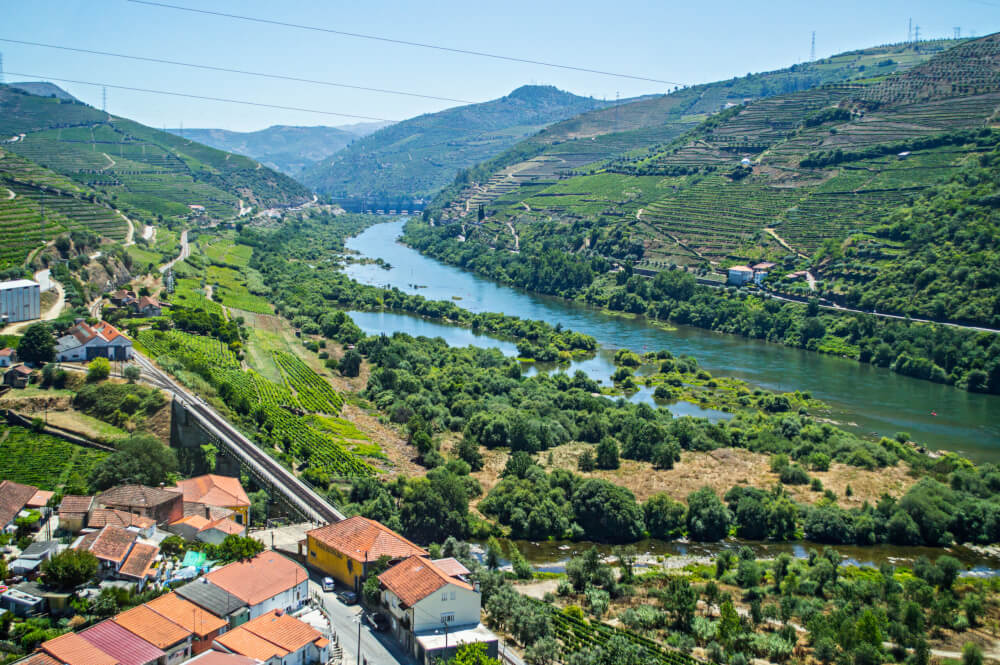 2. Public transport is fine for city to city travel, but you'll need a car for more remote areas
I've never rented a car in Portugal, and have found the public transport system to be simple and easy for getting from city to city.
But, truthfully, the most flexible way to get around and potentially explore off the beaten path is renting a car. Doing so will give you the best opportunities to control your own schedule, and find more remote areas like quieter nature spots or beaches (especially in the Algarve).
I did find the lack of car to be quite limiting when we wanted to get out to less popular areas, so if exploring more offbeat spots is a priority to you, then a car rental is something to consider.
This Portugal tip comes with a big disclaimer however: beware that driving in Portugal involves many tolls and a lot of close encounters with the country's most notorious danger….. Portuguese drivers.
For a potential 'in-between' option then, I'd suggest looking into taxis/hiring a driver. I've found these services to be quite affordable in Portugal, with Uber being an especially easy option.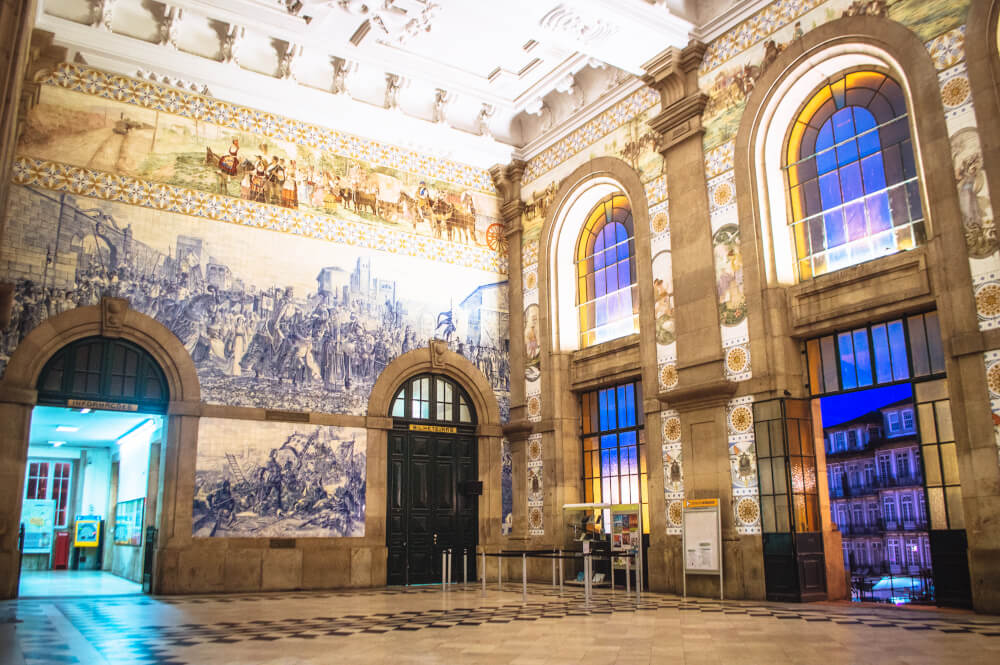 3. Consider flying in/out of different airports
In terms of arriving in Portugal, there are 3 international airports: Lisbon (LIS), Faro (FAO) and Porto (OPO).
And after personal experience at each of these airports, I have the following planning tip to offer: if you are visiting multiple destinations, consider booking flights into one city and then out of another (provided the price difference isn't eye-gougingly painful).
This is because Portugal is small, but many of its most popular destinations aren't that close together, so getting around does still take time, hence why you'd ideally want to avoid having to double back.
In the past, I've flown into Porto for instance and then spent 10 days going from there down to Lisbon, then down to Lagos in the Algarve and then departing via Faro Airport.
This made for a much smoother journey than going all the way back up to Porto, which meant more time spent soaking in views like these: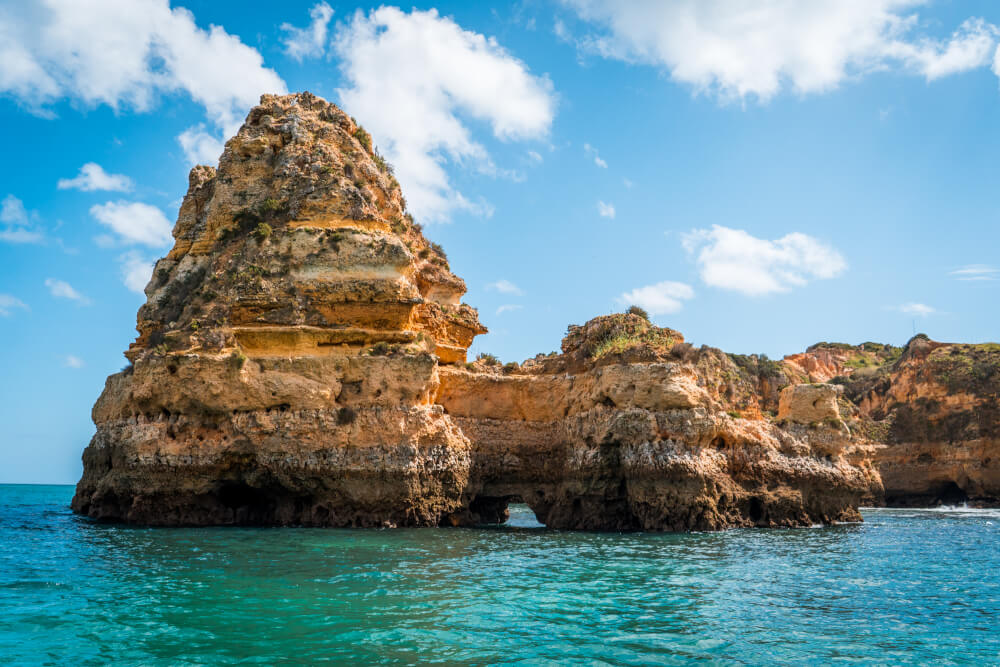 4. On a budget? Look into Europe's low cost airlines
If you're travelling Europe on a budget, then here's a big Portugal travel tip: Portuguese airports are very well serviced by budget airlines like RyanAir and easyjet.
SO, if you're planning a big Europe trip involving other countries, it may be worth looking into whether you can find cheaper flights into other European destinations, then flying into Portugal through a budget airline. This could potentially save you hundreds of euros!
You might want to check out my cheap flights to Europe guide for more.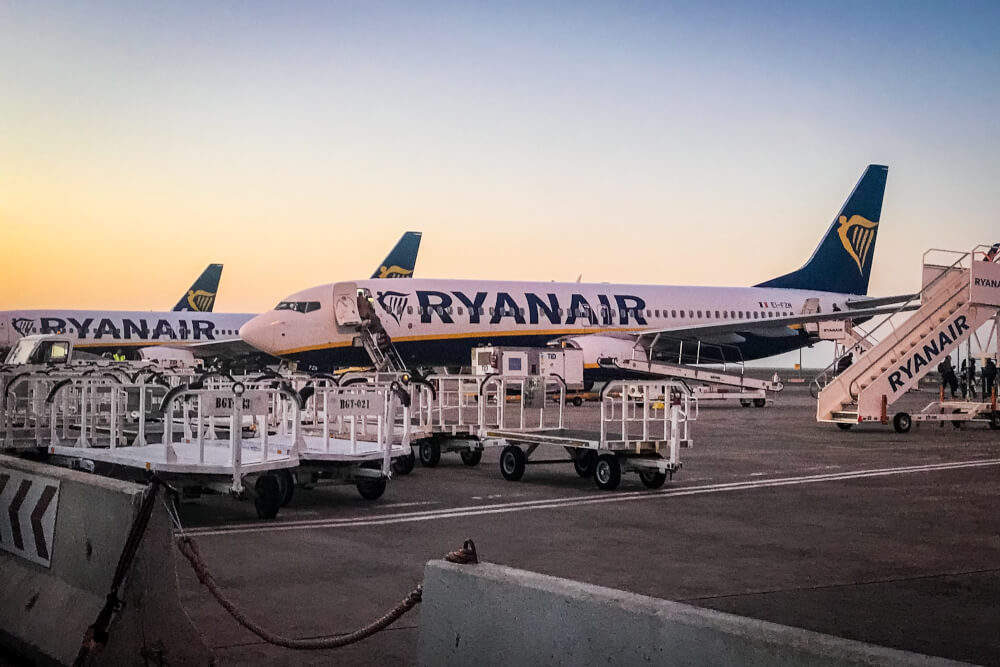 5. Use the TAP Portugal Stopover to Save Money
Another potential money saver is looking into a TAP Portugal Stopover.
TAP Portugal is an airline that offers a really great deal where you can organize a free stopover in either Lisbon or Porto for up to ten nights en route to another destination.
So, if you plan properly, you can essentially get two destinations for the price of one!
NOTE: While this tip could potentially save you money, beware that TAP Portugal doesn't have the best reputation, and is notorious for delays/other issues. One of my friends living in Portugal even told me that people say TAP stands for 'Take Another Plane' so be sure to keep these potential drawbacks in mind before booking.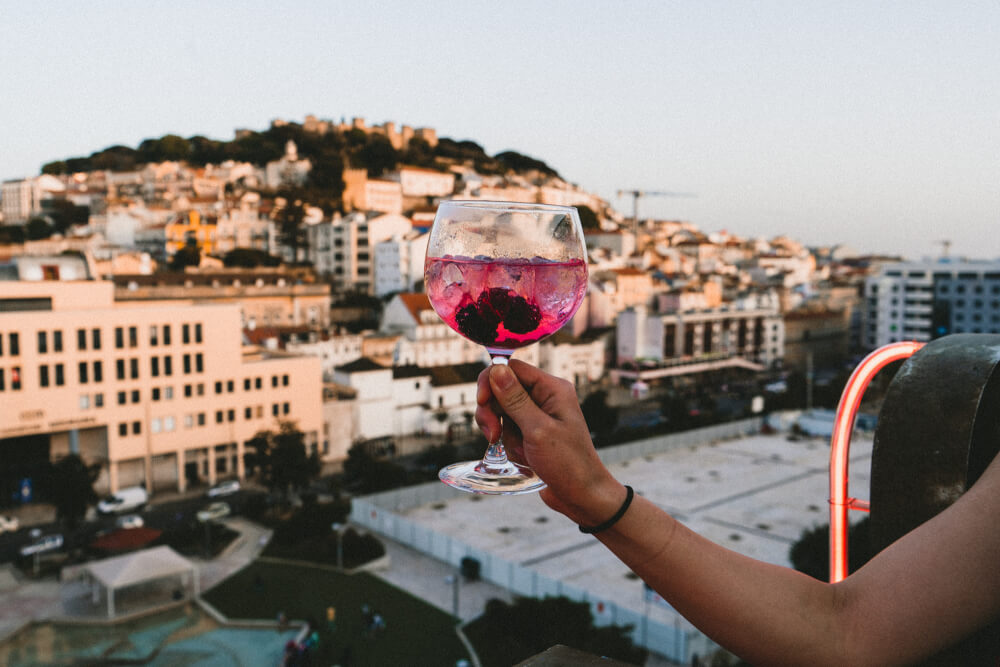 6. Avoid visiting Portugal in July and August
Now as for when to visit Portugal, a good rule of thumb is to avoid July and August. I say this in my general Europe tips post for pretty much every destination.
Why?
This is when the crowds and heat are at their worst, with hyper inflated prices to match.
The same applies for major school holidays like Easter because Portugal is a very popular family vacation spot among Europeans.
Instead, aim to visit between May – June or September – October. I've been to Portugal before in both March and April and found it to be quite rainy both times, so shoulder season would be more ideal for dodging both crowds and biblical downpours.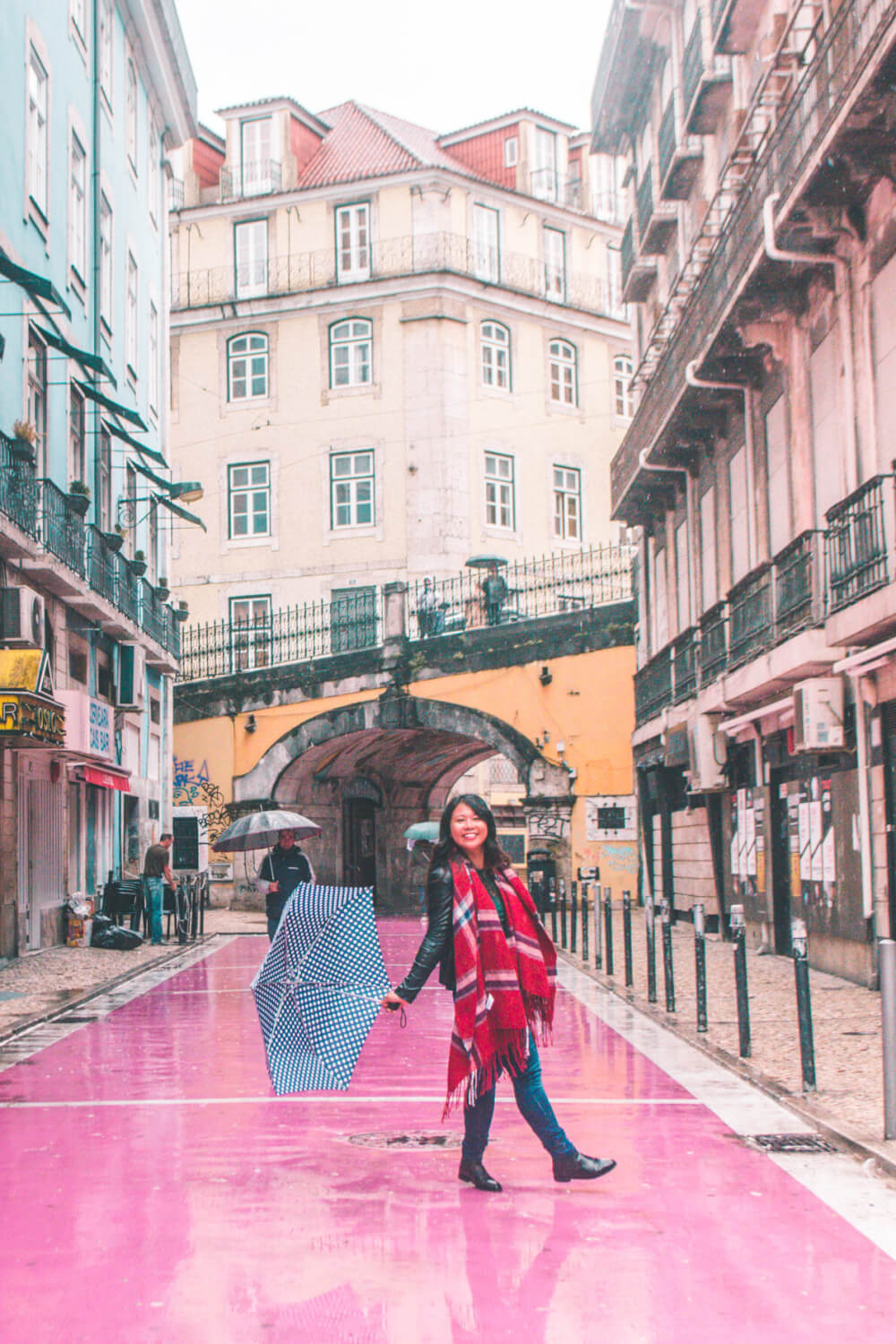 7. Beware that there will still be crowds in shoulder season
On that note though, I don't want you to underestimate how crowded it can get in Portugal, even in shoulder season.
Portugal may still be seen as an up and coming destination among North American travellers, but it has been a go-to vacation spot among Europeans for YEARS and years and years…
So don't be surprised when there's a lot of people around. Even in March. or April. Sadly, there's no true 'off-season' in Portugal these days!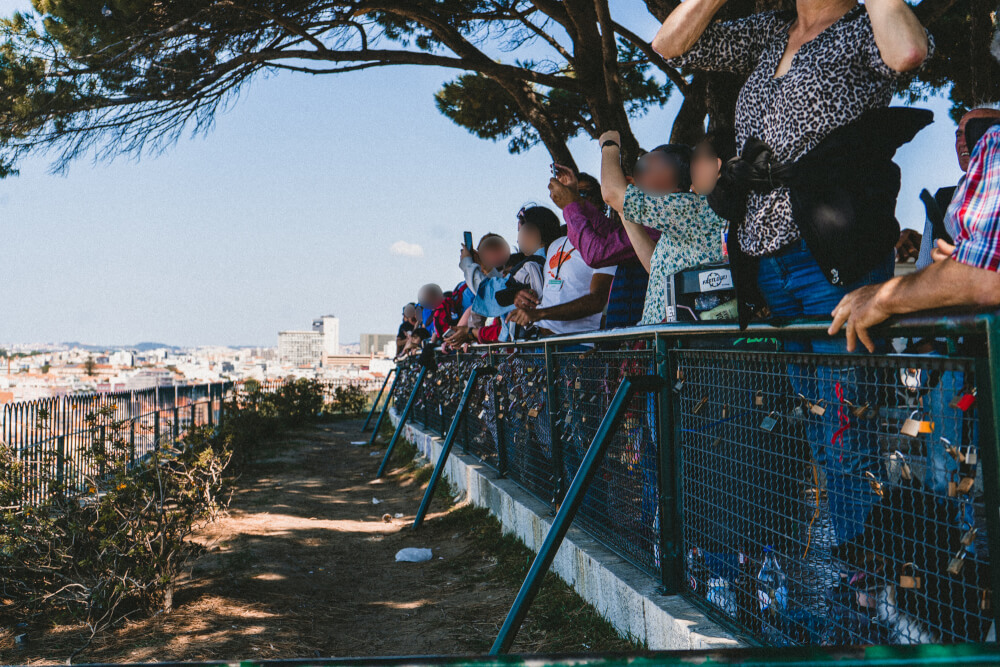 8. Book popular day trip destinations as overnight stays instead
Of course, in spite of the country's frightening popularity, there are still ways to avoid crowds and outsmart your fellow tourists.
One of my top Portugal travel tips for this is booking popular day trip destinations as an overnight stay instead.
This will allow you to wake up really early to see the busiest sites before the day trip crowds arrive, and then enjoy them properly after they leave.
I did this for instance in Sintra, opting to stay for two nights instead of going as a day trip from Lisbon as most visitors do. The result? I was able to enjoy many of Sintra's palaces without feeling like I was in a selfie stick mosh pit.
… So, I'd highly recommend doing popular day trips as overnight stays instead. Book early enough and sometimes accommodation in these areas is cheaper than in big cities!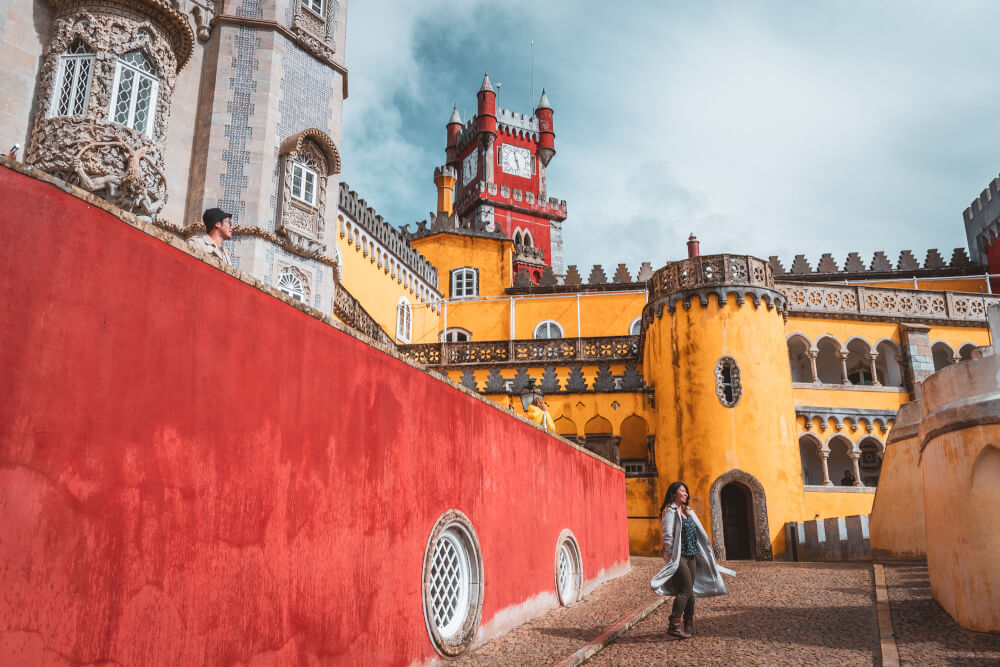 9. Learn some Portuguese basics & have Google Translate handy
For first time visitors to Portugal, an immediate culture shock is often that English is not as widely spoken here as other tourist areas in Europe, especially among older residents.
And while getting with English is usually fine in larger cities, once you venture out into smaller towns, speaking no Portuguese can be a challenge… so I'd advise having Google Translate (one of my must-have Europe apps) ready to go.
BUT more importantly: at the very least, you should learn how to say hello and thank you. So, memorize these! Tattoo them on your wrists:
Hello is Olá, but it's more common to greet according to the time of day so Bom Dia (Bong Dia) for good morning, Boa Tarde (Boa Tarht) for good afternoon and Boa Noite (Boa Noit) for good night
Thank you in Portuguese is gendered, and the way you say it depends on if YOU are a man or woman. So men say Obrigado, women say Obrigada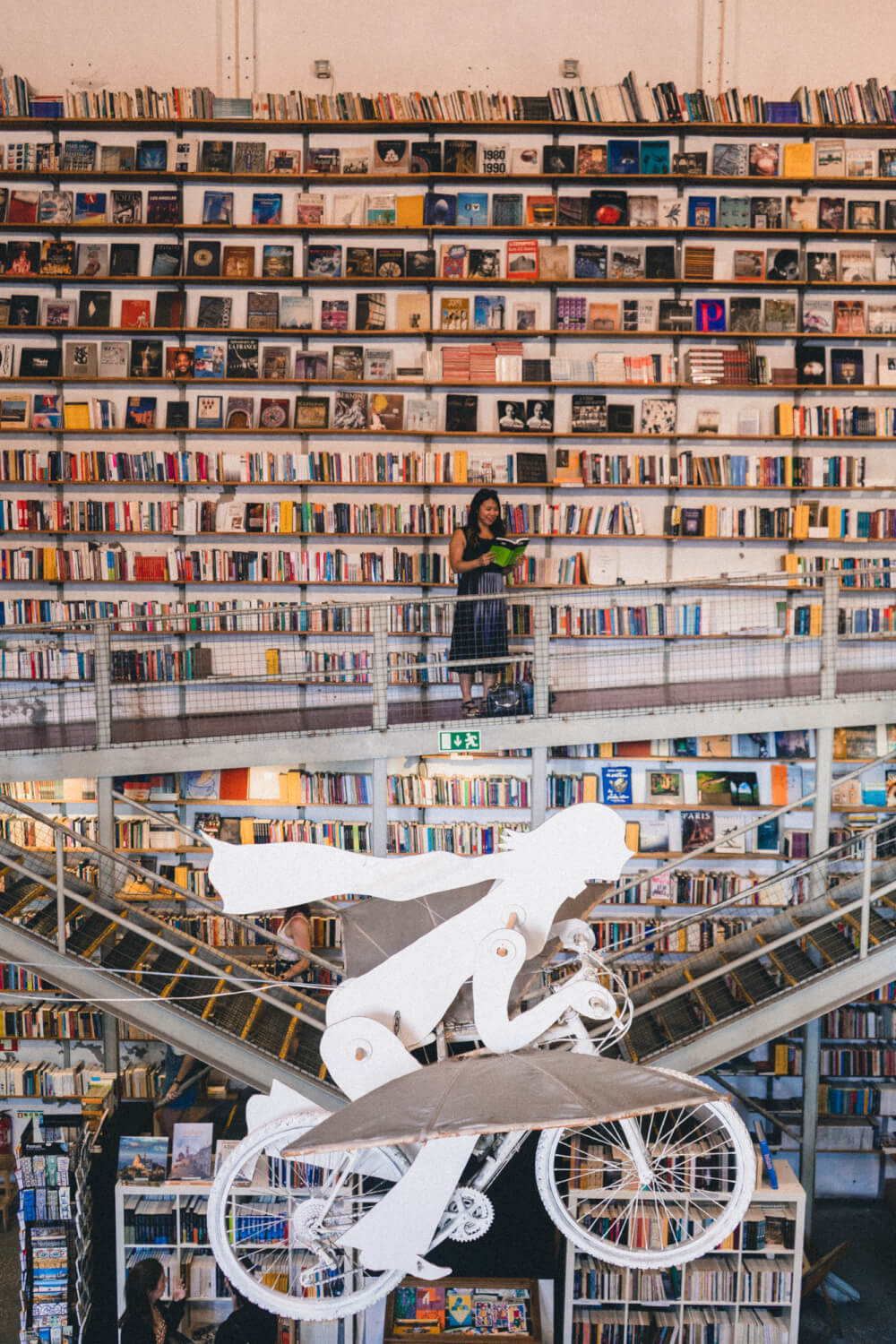 10. Note that there's differences between European and Brazilian Portuguese
Now, if you decide to go all-out and learn some Portuguese for your trip, it's probably a good idea to make sure you're learning European Portuguese pronunciation, as opposed to Brazilian Portuguese.
Like with most languages, Portuguese has various accents/dialects/variations, but I've heard the difference between European vs. Brazilian Portuguese can actually be quite stark, so to maximize your chances of being understood, try to make sure you're learning European Portuguese.
One channel I came across that was great for this was Practice Portuguese, so give them a watch.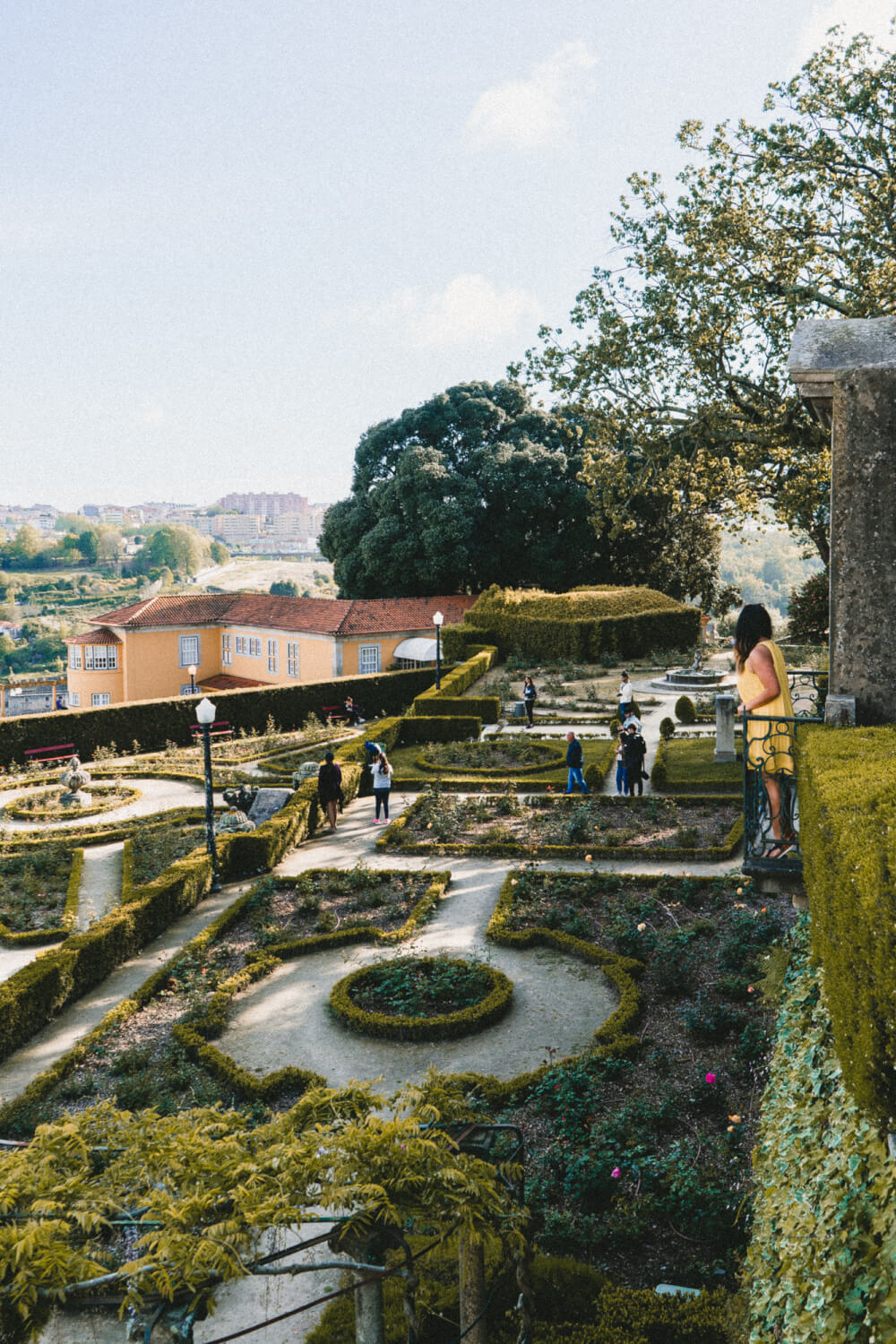 11. And… remember that Portuguese and Spanish aren't the same
It feels silly that I have to say this, but I've anecdotally heard of many visitors busting out Spanish in Portugal, expecting to be understood.
Therefore let me clarify this most obvious Portugal travel tip: remember, in Portugal, they speak Portuguese, which may share some similarities with Spanish, but is an entirely different language of its own.
So keep in mind that while you may be somewhat understood, it'd be pretty rude to just randomly speak Spanish at people. So… let's all just make a pact right now to not do that.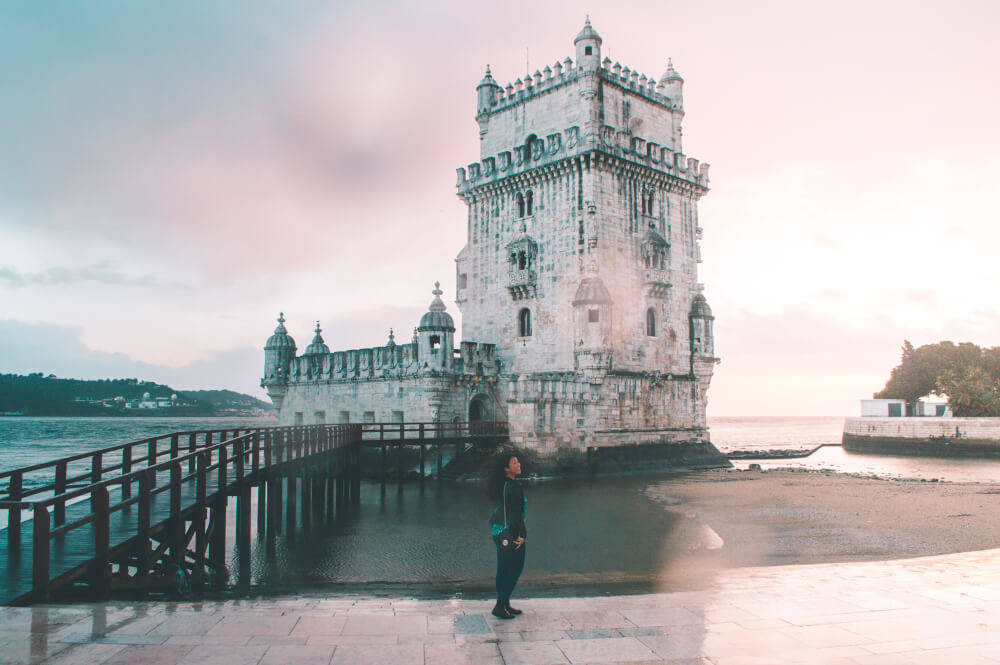 12. Learn to pronounce destination names in Portuguese
Apart from learning the basics in Portuguese, another important Portugal language tip is to learn how to properly pronounce your destinations in Portuguese.
This will save your life when it comes to asking for directions, because many places are pronounced differently to how they may be pronounced phonetically in English.
I found this video to be super helpful for this purpose.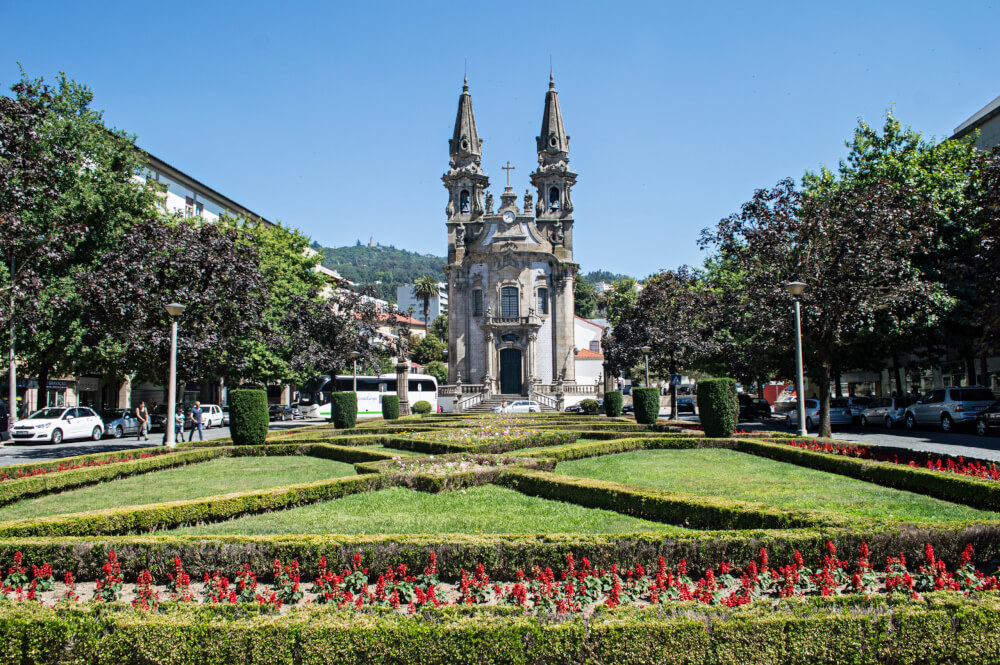 13. Beware of 'Portuguese Time'
Another cultural difference is to beware of Portuguese time.
Unlike in some central European countries like Germany, Austria or Switzerland, punctuality isn't really a huge priority in Portugal, and things tend to be more laidback in terms of time.
As a tourist, this probably won't impact you that much unless you're making plans with Portuguese friends, but just know that time is definitely a bit more flexible there, and so if you have tours that start a bit later than planned, just don't be too surprised.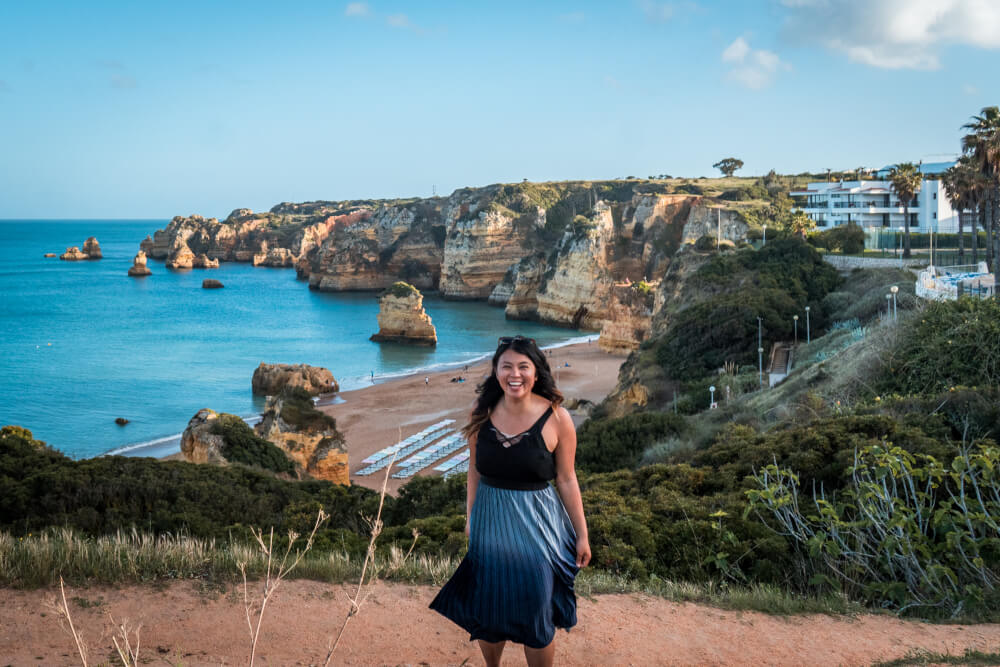 14. Be prepared to walk uphill a LOT
Now onto another Portugal travel tip that pretty photos fail to convey: prepare yourself for the leg workout of your LIFE.
Portugal is overall an incredibly hilly country, so you'll be encountering plenty of ups and downs during your visit, especially if you visit Lisbon and Porto.
The cobblestones are also very slippery, especially when it rains so make sure you have good, solid footwear. Don't say I didn't warn you.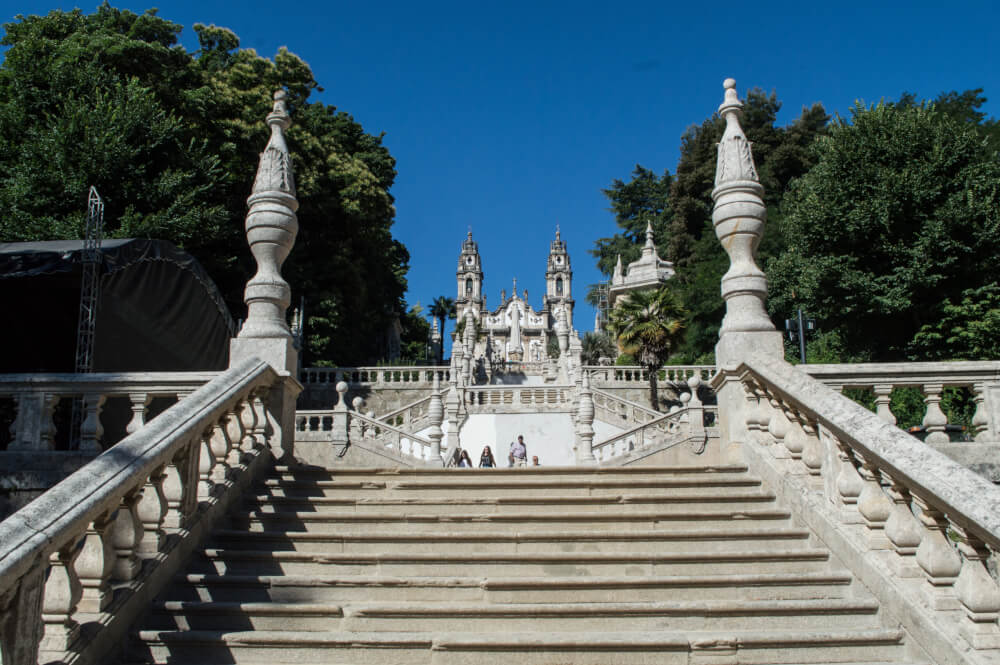 15. Consider attraction passes/cards to save money
If you plan to visit a lot of museums and paid attractions while you're visiting Portugal, you should also look into attraction passes like the Lisbon Card and the Porto Card which offer you unlimited public transport and also admission to multiple attractions for one set price.
This can work out to a lot of savings, although to be honest, I've found many of the best things to do in these cities are free!
Especially if you're not super into museums, this option may not be worth it, so just crunch the numbers and total up the price for your must-see attractions to see if the pass works out to be cheaper.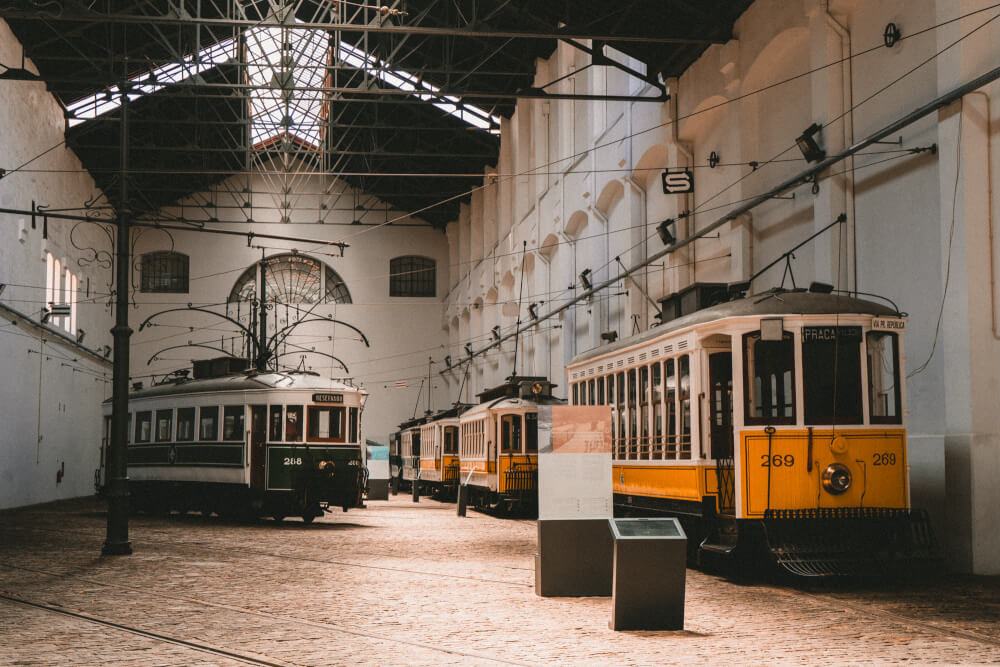 16. Beware of tourist traps
Okay, now it's time for me to get a little controversial. I love Portugal as a destination, but I have to concede there are a lot of tourist traps (many of which are perpetuated by online guides/influencers) so I'm going to quickly share my opinion on some to be mindful of in the country's most popular destinations:
Here are some tourist traps in Lisbon to keep in mind:
'The Pink Street': In real life, it's just a street with restaurants and bars, and the pink isn't nearly as perfect or vibrant as the photos make it look. It's also usually crowded in the evenings… so don't get your hopes up too much!
Tram 28: Super congested, super busy, lots of pickpockets, and you can enjoy the views much better if you just walk along the same route.
The Santa Justa Lift: Nice to look at, with great view from the top, but the lines are insanely long and you can easily walk up to the viewpoint for free and not have to wait in line. The best part of this attraction is really just seeing it and enjoying the view, so don't think it's a must do to actually ride it.
Here are some tourist traps in Porto to keep in mind:
Libreria Lello: Initially got famous because it was claimed that JK Rowling wrote Harry Potter there or was inspired by it (a claim she has now publicly denied). It is of course still a very pretty bookshop but unless you get there first thing in the morning or just before they close, it will not be magical at all because it is painfully crowded and almost impossible to get these nice photos without people in them because the shop is small.

There's also a 5 euro voucher you have to purchase to get inside, which gives you 5 euros off a purchase, but it's not free to go in to take a look.
Private Property Viewpoints: Unfortunately, irresponsible Instagrammers have made a habit of taking photos from areas that are private property, so many of the most sought after views in the city aren't actually open to the public. So, make sure you do your research before you set out!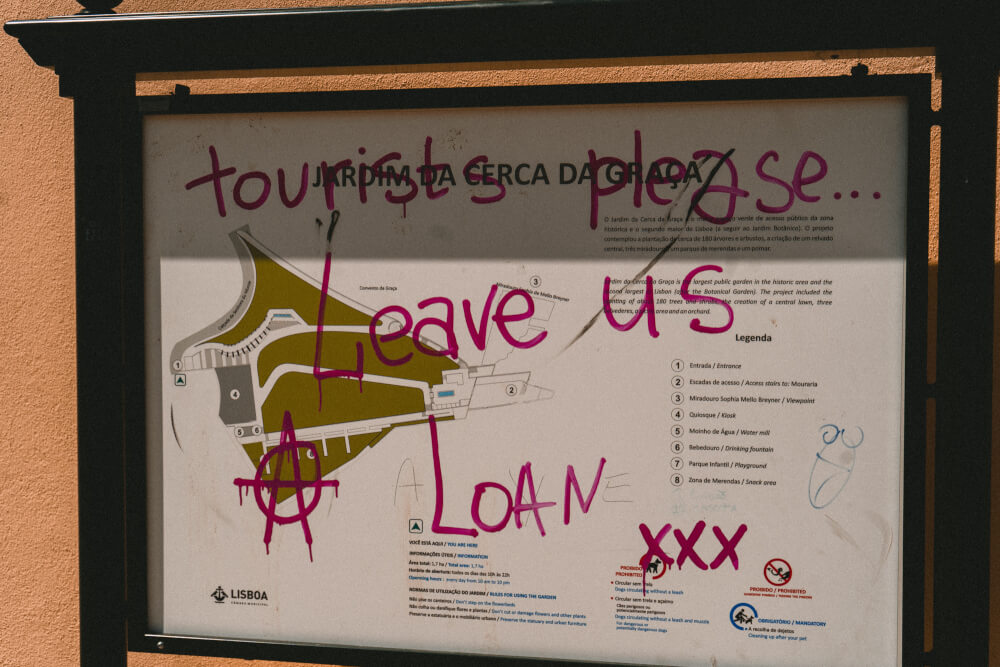 17. Look beyond social media to find unique hidden gems
So, on that note, it's important to look beyond social media to find fun places to visit and cool activities in Portugal.
Most travel content about Portugal focuses on the same spots over and over, but the flip side of that is there are TONS of cool gems just everywhere that you can kind of discover along the way for yourself.
I would recommend doing research on Portuguese language blogs or check out local Portuguese bloggers to get an inside scoop on more offbeat places because there are so many, and I can't wait to go back and see more for myself.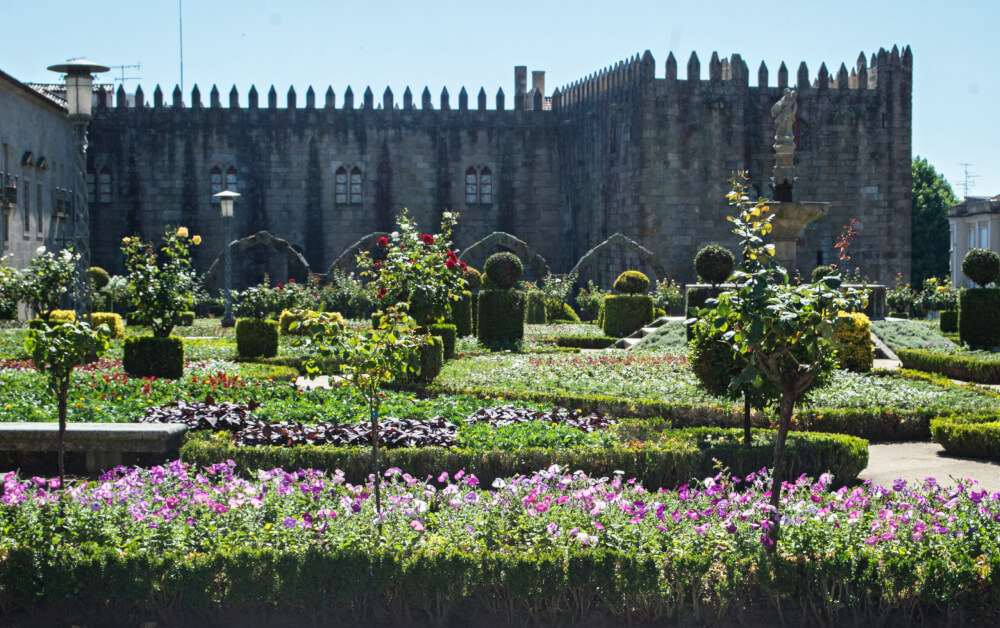 18. Seek out Miradouros everywhere you go
On that note, one really easy way to find beautiful places in Portugal is searching for Miradouros.
This is Portuguese for viewpoints and there are SO many of them especially in Lisbon.
So if you ever feel bored, just search Miradouro and go – guaranteed you'll find a good view.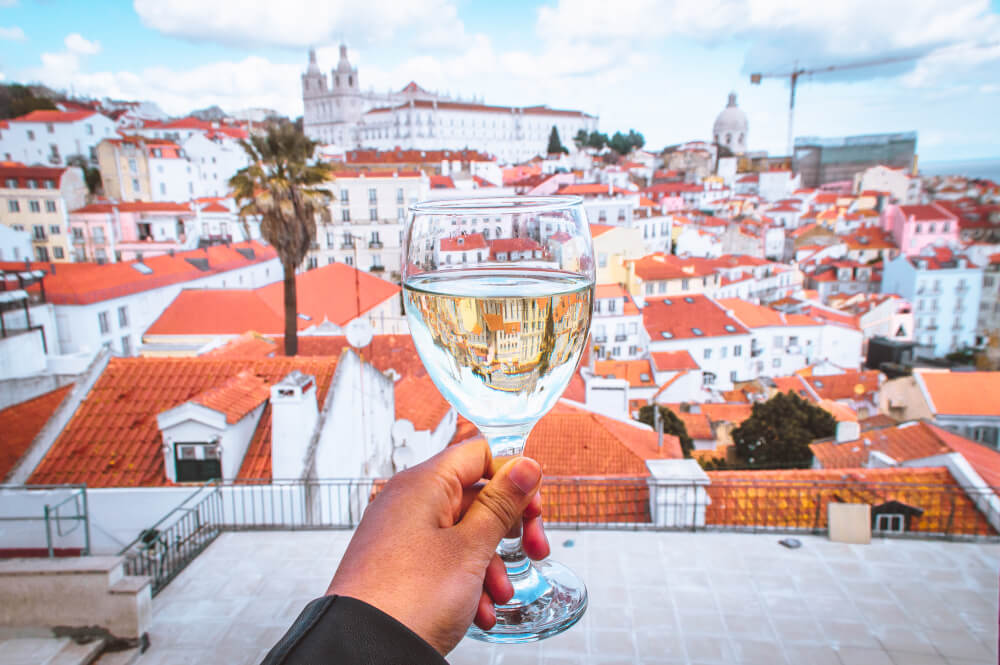 19. Beware that free museum days aren't free for everyone
A lot of travel guides online have been perpetuating the Portugal travel tip that many museums are free on the first Sunday of each month in Portugal…
BUT it's important to note that actually when you look at the fine print, many of these offers are only valid for residents of Portugal (e.g. here) so keep that in mind and double check on official websites before you head out expecting your freebie.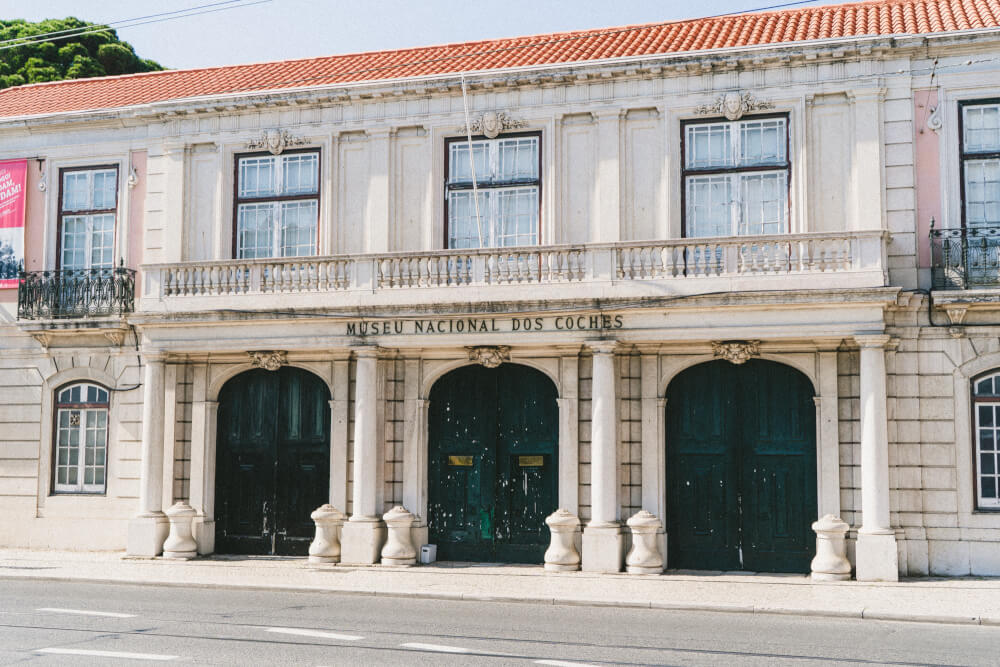 20. Make sure you try Vinho Verde
Moving onto Portugal tips for food and drink – AKA the most delicious and valuable section.
My first recommendation is to try Vinho Verde or green wine. I know it sounds weird, but the 'green' part of the wine has less to do with the wine's colour, and more with its age.
In short, Vinho Verde is a young drinkable wine that's not aged, and often a little fizzy, making it THE most delicious and refreshing accompaniment for a sunny terrace. I warn you though: this is some dangerously drinkable stuff, and you'll be swallowing it by the gallon throughout your trip.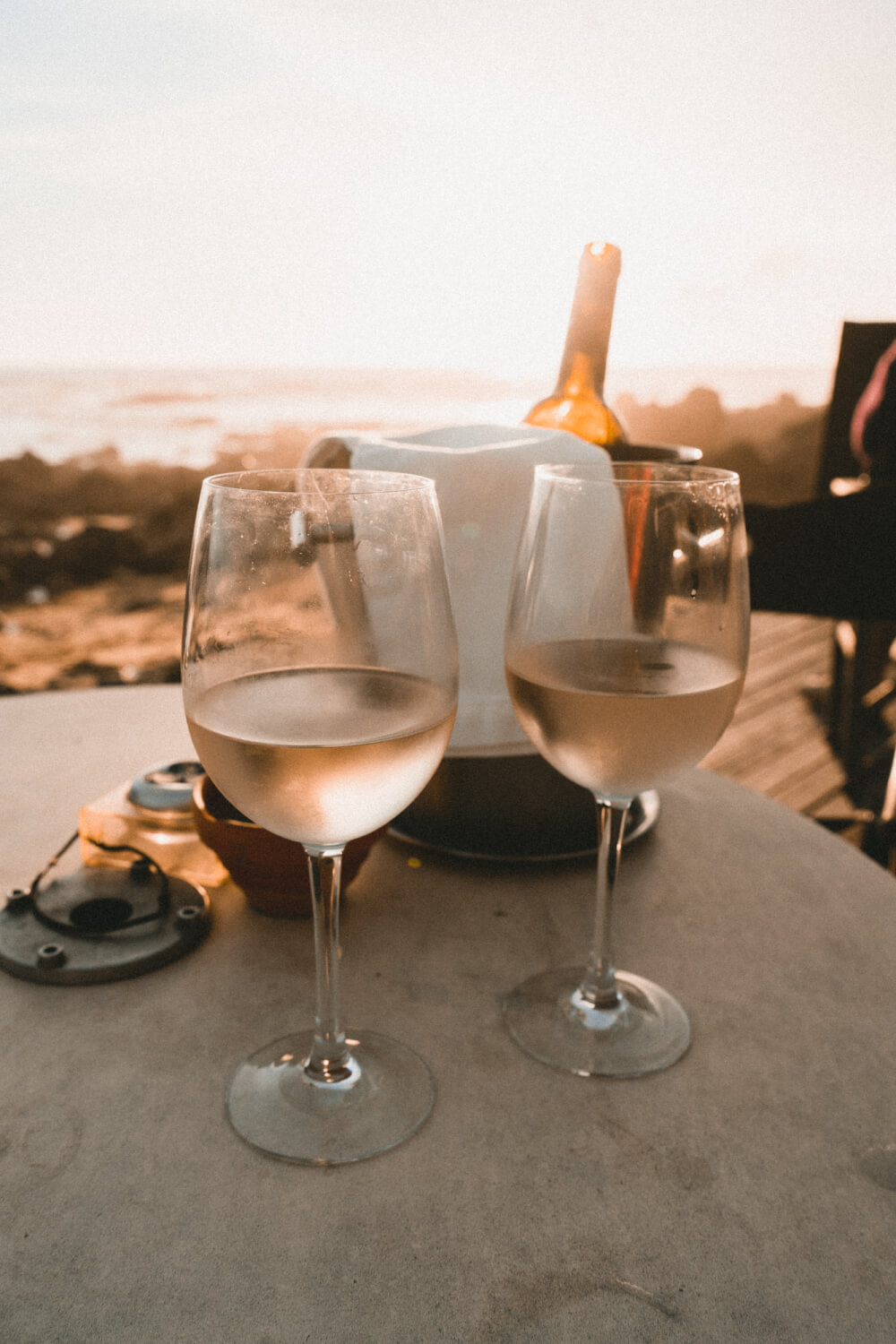 21. And avoid ordering Port wine with your meal
On the topic of wine, if you find yourself wanting to try the famous Portuguese Port wine, know that it's a very sweet dessert wine that is usually enjoyed on its own after a meal (though sometimes before) and not one you sip during your meal.
… So avoid pairing your dinner with Port. That's not the best way to enjoy it!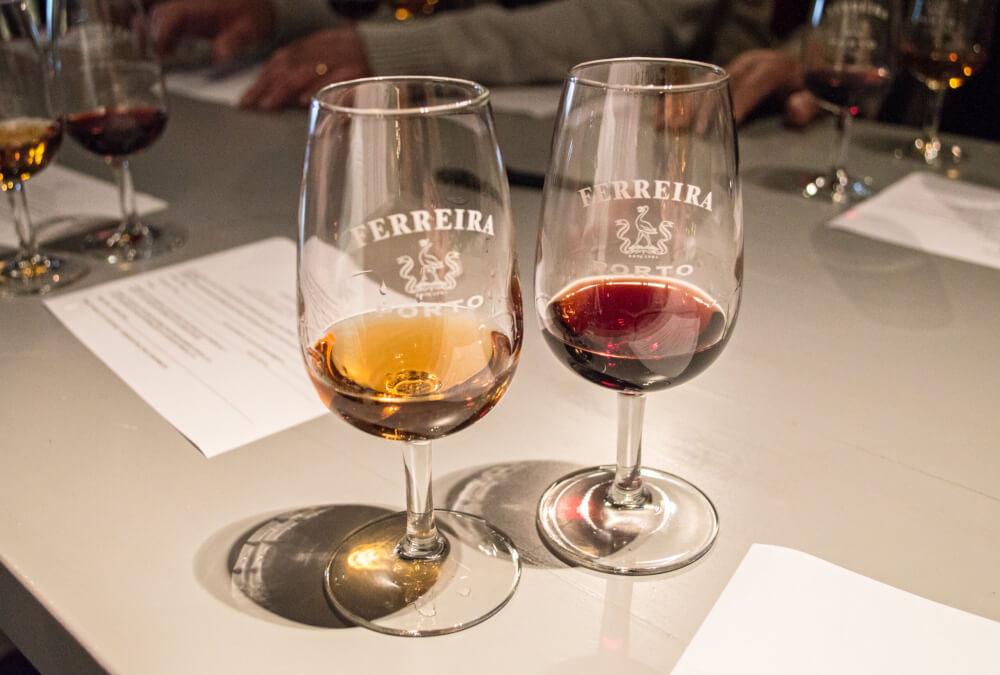 22. Research regional specialties before you go
Food-wise, Portuguese cuisine is super hearty and delicious, with many regional specialties depending on where you are in Portugal so be sure to Google the particular must-tries of your destination.
Of course, I can't resist sharing a few quintessential recommendations.
First off, if you're by the coast, fresh seafood is abundant and delicious, especially Bacalhau or Codfish which is available in literally hundreds of ways, including Pastéis de Bacalhau which are deep fried balls of potato and cod. So good!
In Porto, one very gluttonous must-try is the incomparable Francesinha – a thick sandwich stuffed with all kinds of meat and cheese then topped with more melted cheese, a dreamy sauce and often a fried egg.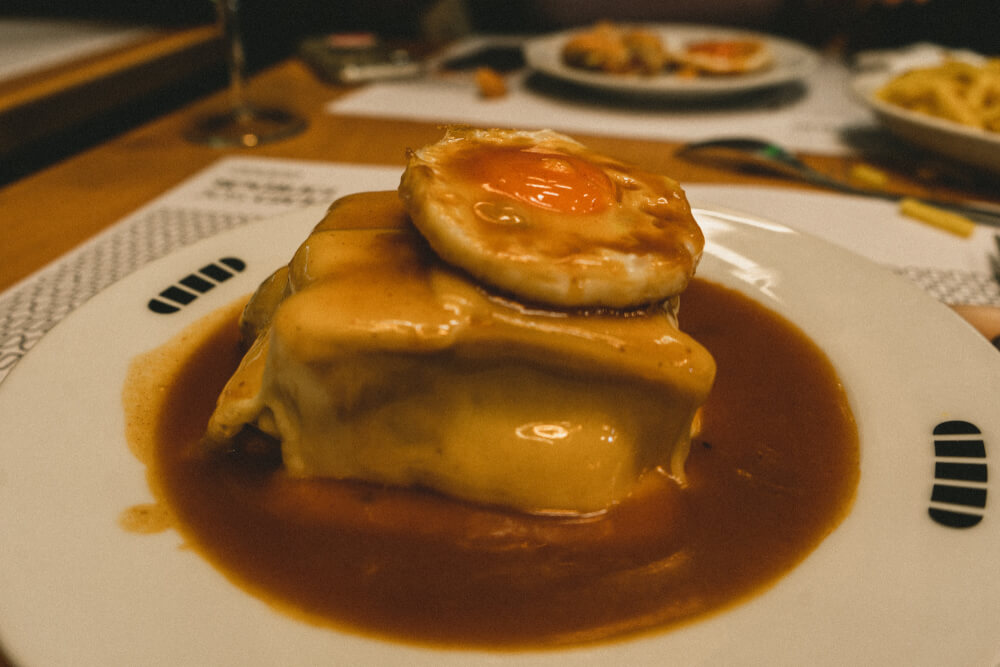 And, a specialty of Belem and Lisbon is the almighty Pastel de Nata. These are egg custard pastries that come in a crispy crust. They are absolutely incredible, and sure to be one of the highlights of your trip (and possibly life).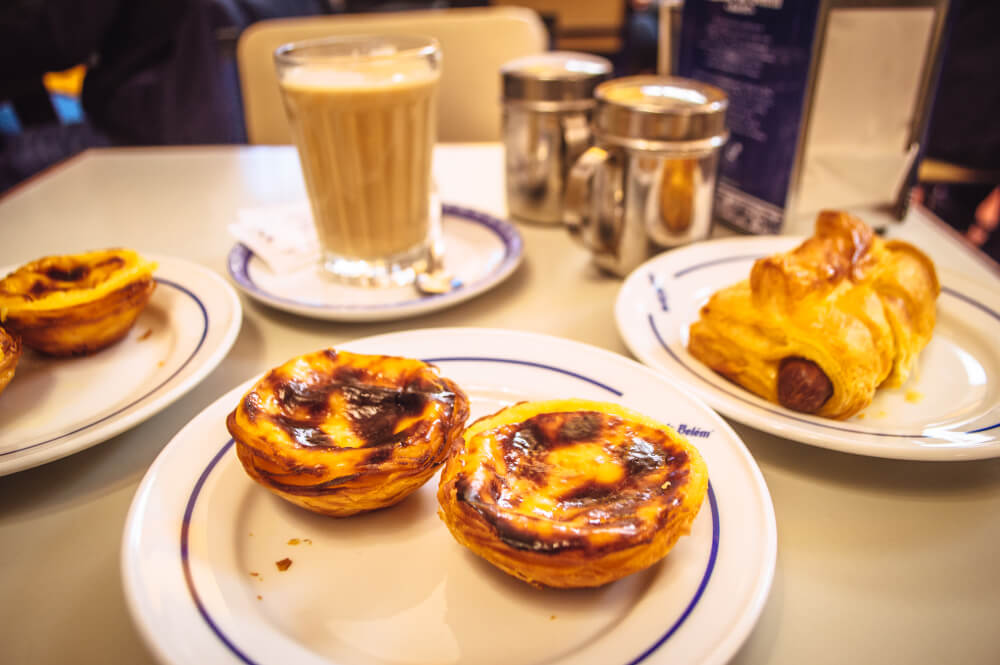 23. Consider ordering Petiscos to sample a variety of flavours
Not sure where to begin with Portugese cuisine? A great way to try a lot is by ordering Petiscos, which are small shareable bites similar to Tapas.
Of course, what is served as Petiscos can vary regionally as well, so be sure to do some research or ask for local recommendations, but overall, ordering a bunch can be a nice way to try a lot of different dishes and it can also be a more affordable alternative to getting full main dishes as well.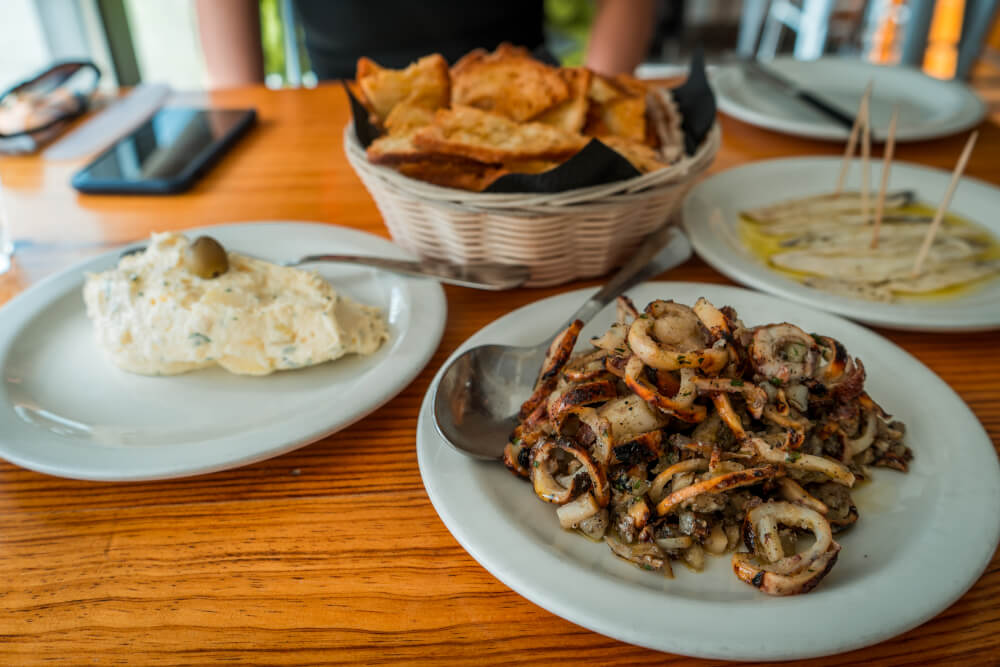 24. Prepare for late meal times
In terms of dining out, there are a few things you should know. First off – mealtimes in Portugal may be later than you're used to.
It's not uncommon for dinner time to be around 8 or 9pm or even later. Meals often last longer here too, taking several hours, so don't feel any need to rush. Remember, Portuguese time is relaaaaaxed and fluid.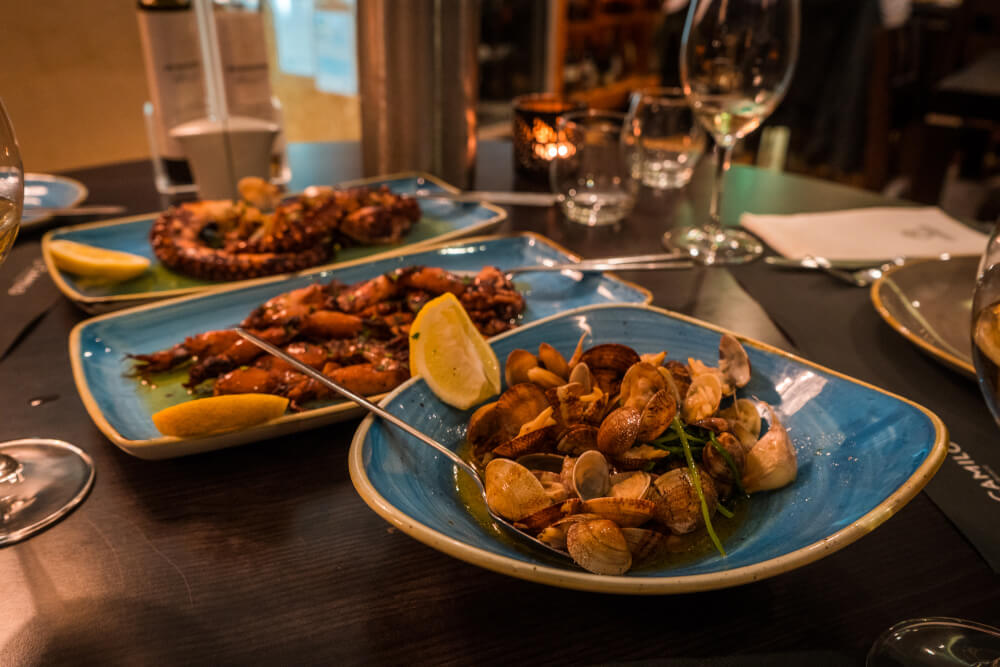 25. Do not expect continual service in restaurants
Another Portugal must-know is you should not expect continual service in restaurants here.
Often smaller local restaurants (or their kitchens) will be closed in the late afternoon to early evening, so from 2 or 3pm until 7pm, during which they only have some snack items or might not be open at all.
In larger cities, you'll probably still find some places open but often these will be the ones that cater more to tourists.
So, keep these timings in mind so you can manage your hanger accordingly.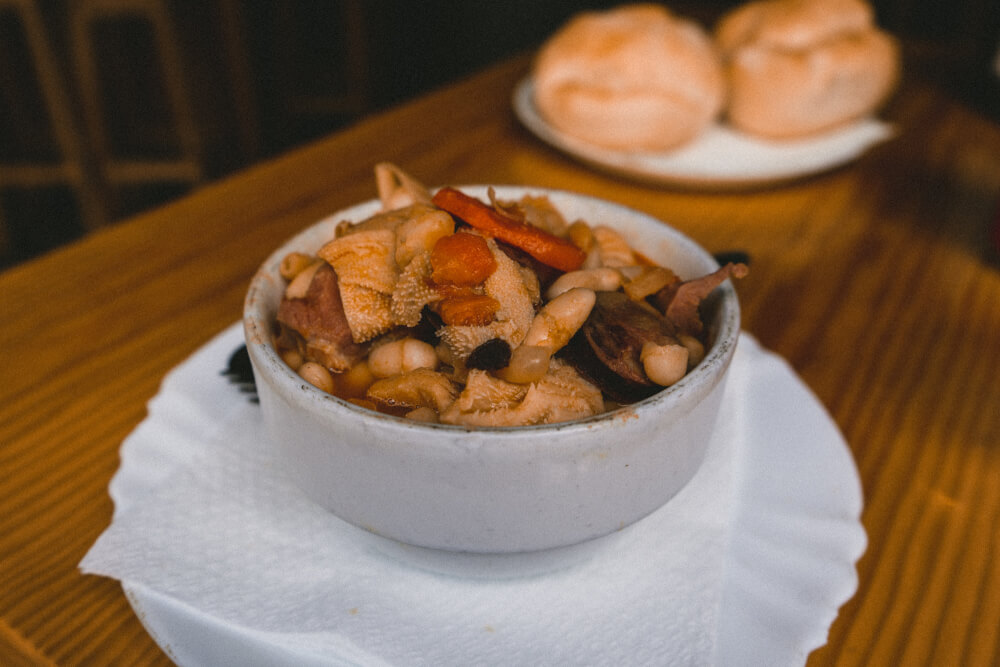 26. Learn how to spot tourist trap restaurants in Portugal
Speaking of restaurants that cater to tourists, there are a few easy ways to spot touristy restaurants in Portugal.
The first is if they're in a particularly touristy area near a big attraction, you can probably expect prices to at least be a bit higher, and the value for money to be worse. A huge red flag is any place where there's a host actively trying to get you to eat at their restaurant, as well as places with huge pictures or where the menu is a bunch of languages.
Often you can escape these by just walking a few blocks away from the main sights so be sure to look around a bit before committing.
Or if you want to enjoy the atmosphere because sometimes these touristy restaurants do have some great views and locations, just pop in for a drink, rather than a full meal.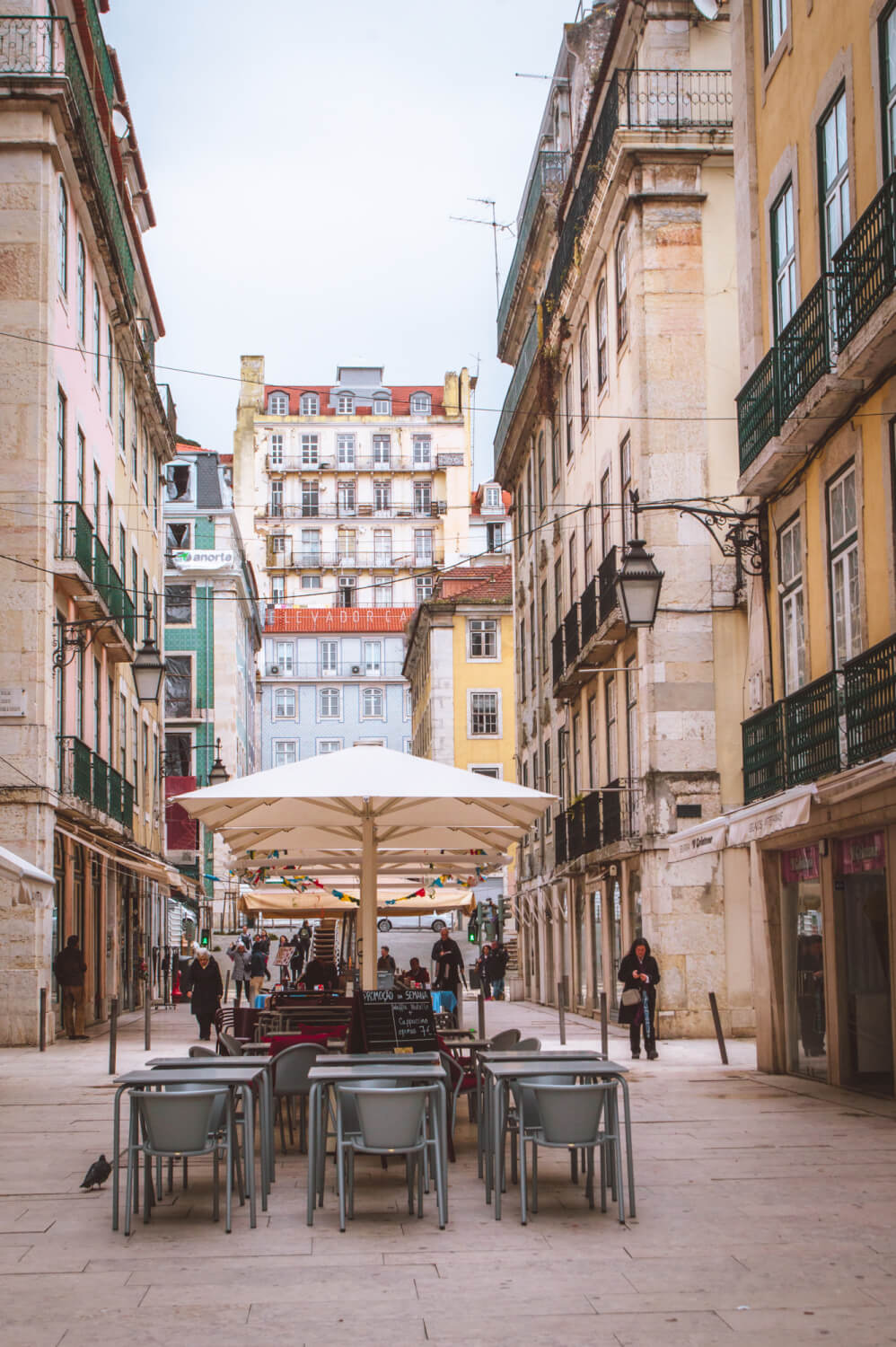 27. Know that your table snacks will probably cost extra
Another important Portugal must-know is that often when you arrive at a restaurant, there will be snacks like olives or bread put on the table.
To the surprise of many first time visitors, these aren't actually included and come at an extra cost, known as "Couvert", which is usually 1-2 euros per person.
Just know this isn't a scam, it's just a cultural difference in the way they charge for things so keep that in mind if you're eating at a restaurant, and feel free to say 'no thank you' if you don't want any, and you will not be charged for them. The price of the Couvert is also usually listed on the menu, so you can double check the cost before committing.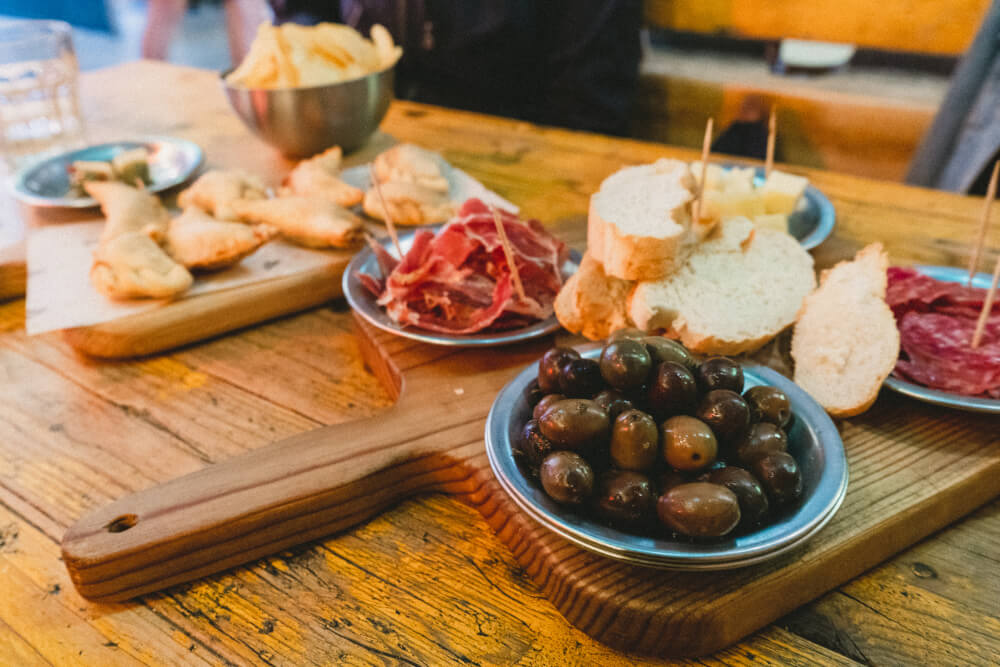 28. Learn Portuguese tipping etiquette
Tips aren't expected in Portugal to the same extent as in North America, but if you want to, usually rounding up or doing 10 percent is fine.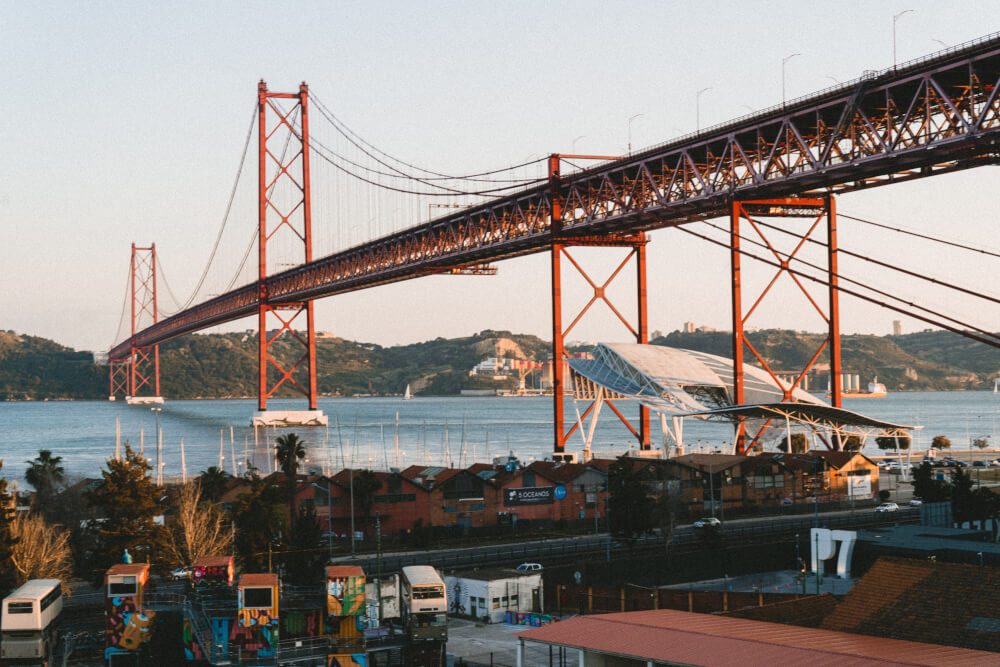 29. Bring cash (in smaller denominations)
Another important Portugal must-know once you arrive is that you should make sure you have cash on you.
While many places are taking card now, paying with cash is still the norm in Portugal, especially with smaller bills. The smaller the denominations you can get the better, because I've found that smaller places like cafes don't like to break large bills. Ideally, keep to ten euro bills or below.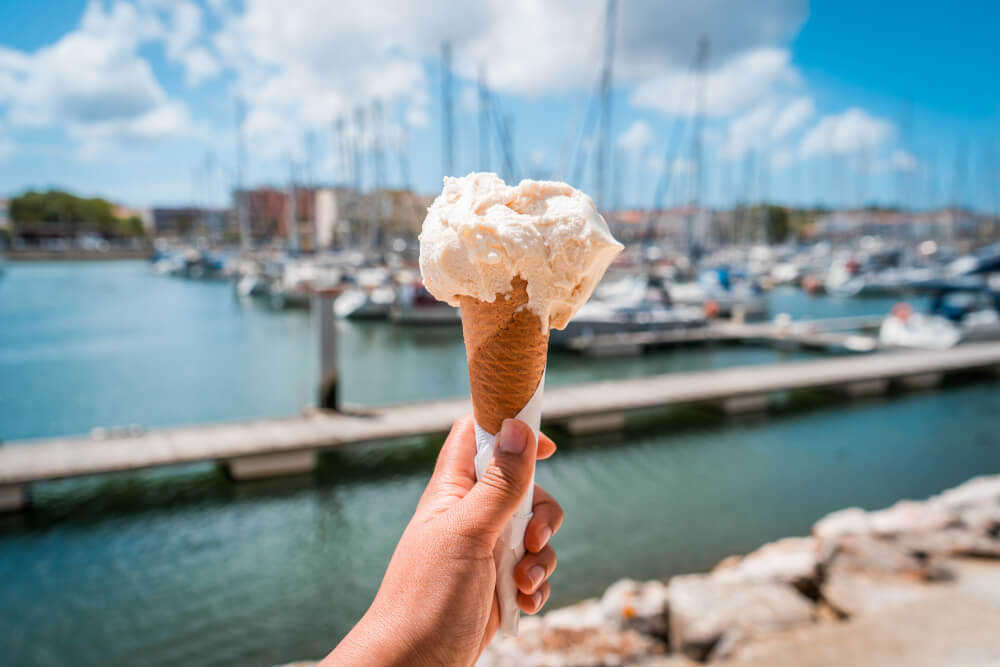 30. Don't carry too much cash at once
That said, do not bring too much cash out with you at once, especially in touristy and busy areas in Lisbon, because pickpockets can be a an issue.
I've only been pickpocketed twice in my life and Lisbon was one of them so I'm still a bit sore about that.
So, go by my rule of thumb, which is to not carry more cash than you can stand to lose.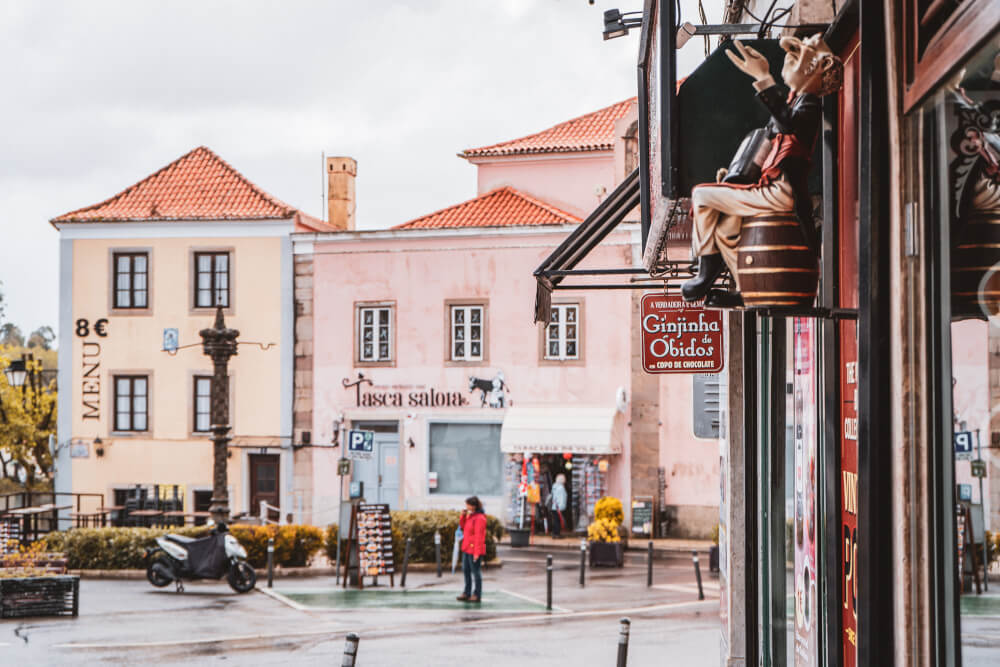 31. Beware of sketchy dealers
Another scam to look out for is dealers offering to sell you 'illicit substances' when you're just out and about, minding your own business on the street.
This is of course mainly an issue in high-traffic tourist areas, as they always target silly tourists who don't know better.
Here's how it works: someone will come up to you and ask if you want something innocent like sunglasses, then they'll follow up with whether or not you want said illicit substances. Apart from the fact that this already sounds sketchy, they're also not selling real illicit substances, so no matter what, make sure the answer is no.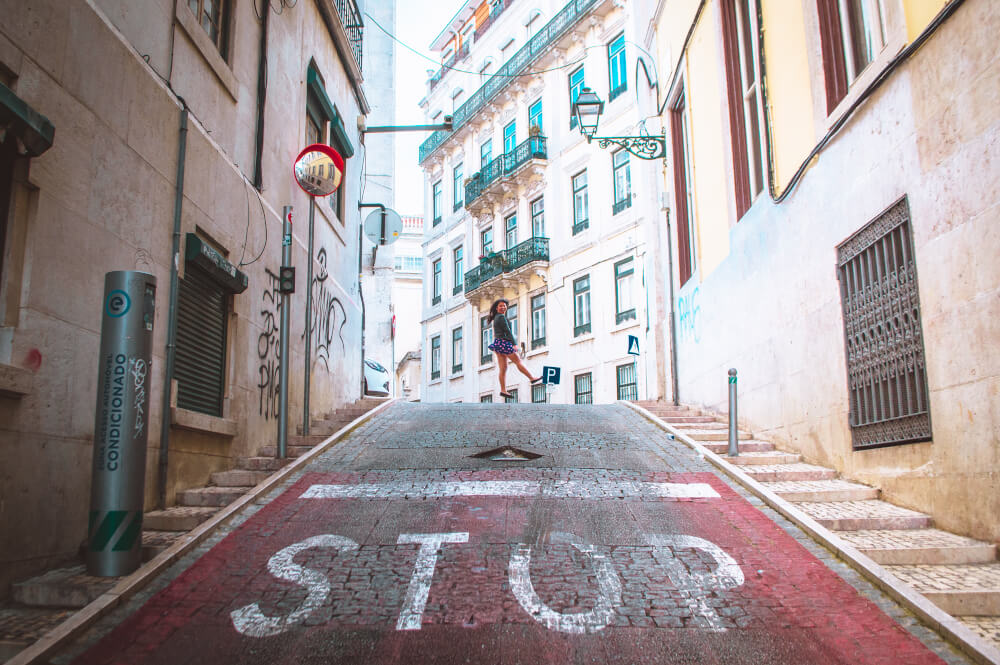 32. Be mindful of later opening times
Another thing to be mindful of when visiting Portugal is opening times.
(I'm talking of course about actual shops and restaurants, not those aforementioned dealers)
Overall, things run on a later schedule in Portugal relative to most of central Europe, so you can expect supermarkets to not open until 8am and close later as well, usually at 9 or 10pm.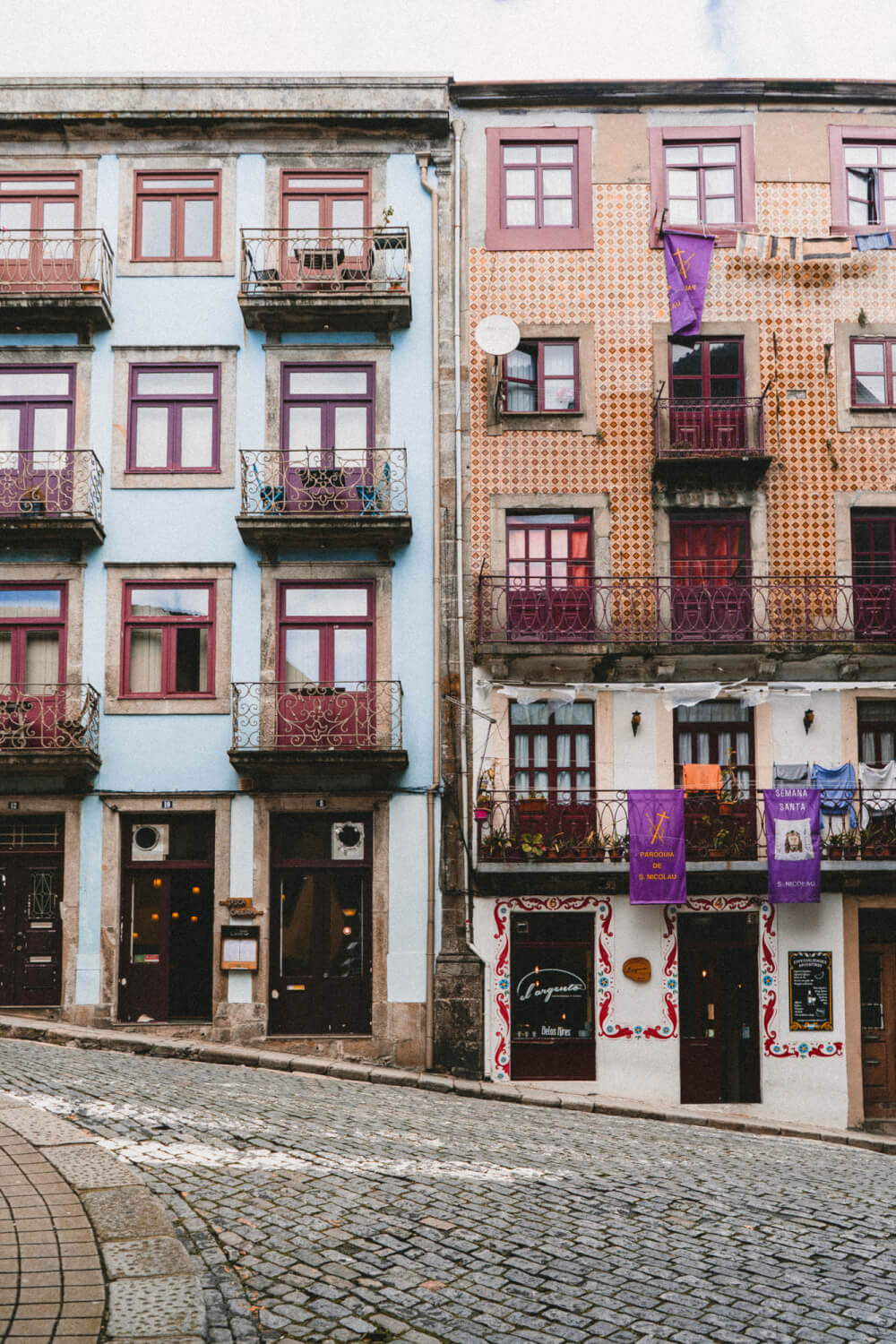 33. Pack warmer layers no matter when you visit
Okay final Portugal packing tip for you, be sure to pack some warmer layers, even if you're going in the summer because the wind in Portugal (particularly along the coast) is vicious.
No – seriously. My trauma can attest! Portuguese wind can be really biting, especially when temperatures drop at night, so having at least one warm layer in your suitcase is a must.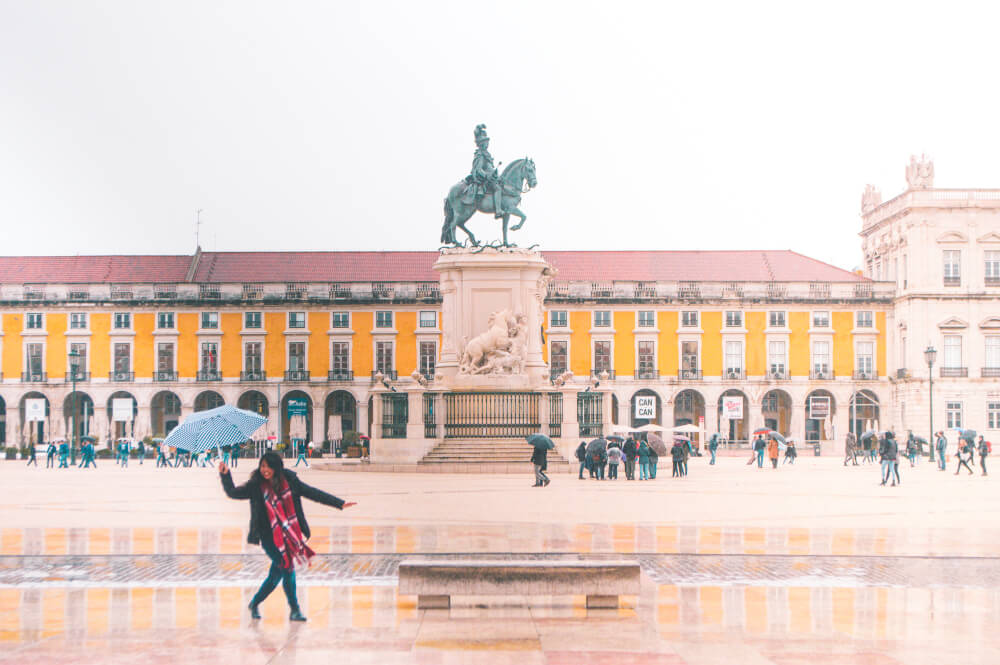 I hope this list of Portugal Travel Tips was helpful!
Congratulations on making it through the longest ever list of Portuguese travel tips. I admit this was already a VERY long list of tips for Portugal, but if you have any more questions, let me know in the comments.
My Go-To Travel Favourites: