*FYI - this post may contain affiliate links, which means we earn a commission at no extra cost to you if you purchase from them. Also, as an Amazon Associate I earn from qualifying purchases. Check out our Privacy Policy and Disclosure. for more info.
Until you see it for yourself, it's hard to believe a place like Iceland actually exists.
In fact, there are so many jawdropping places to visit in Iceland that some might say it's Mother Nature's 'best hits' album.
Staggering waterfalls mixed with milky blue water, mindblowing national parks next to glittering ice caves…
I could throw a million adjectives at you, but no word better describes Iceland's beauty than extreme, with a surplus of sights that are equal parts stunning and… totally able to wipe you out in a split second.
Iceland is certifiably badass, powerful, and photogenic… so in honour of this magnificent country (one of my favourites in the world!), I've rounded up some of the best Iceland places I saw during my epic Ring Road trip so you can plan your own dream vacation and see them all for yourself.
Enjoy!
PS: For your convenience, this list of places to visit in Iceland is organized in a counter-clockwise direction starting from Reykjavik, as I assume that's where you'll be starting your journey. I've also divided the must-sees into regions/areas so you can organize your itinerary more easily.
Reykjavik
Of course, we'll start with the obvious – Reykjavik, Iceland's tiny fun-sized capital that is home to many impressive feats of architecture, and some of the quirkiest museums you'll find in the world (like the Iceland Phallogical Museum).
While most visitors flock to Iceland for the natural sights, a stop in Reykjavik is a must to savour a completely different side of the country… with plenty to offer visitors even if ogling animal dongs isn't your typical idea of fun.
Some wonderful places to visit in Reykjavik include the Harpa and Hallgrimskirkja Church.
The Harpa is Reykjavik's main concert hall and conference centre.
Its glittering glass facade is filled with colourful geometric panels supposedly inspired by the distinctive basalt landscapes seen across the country. 
Definitely a must-visit when you're exploring Reykjavik… and in need of an epic photo opp or two.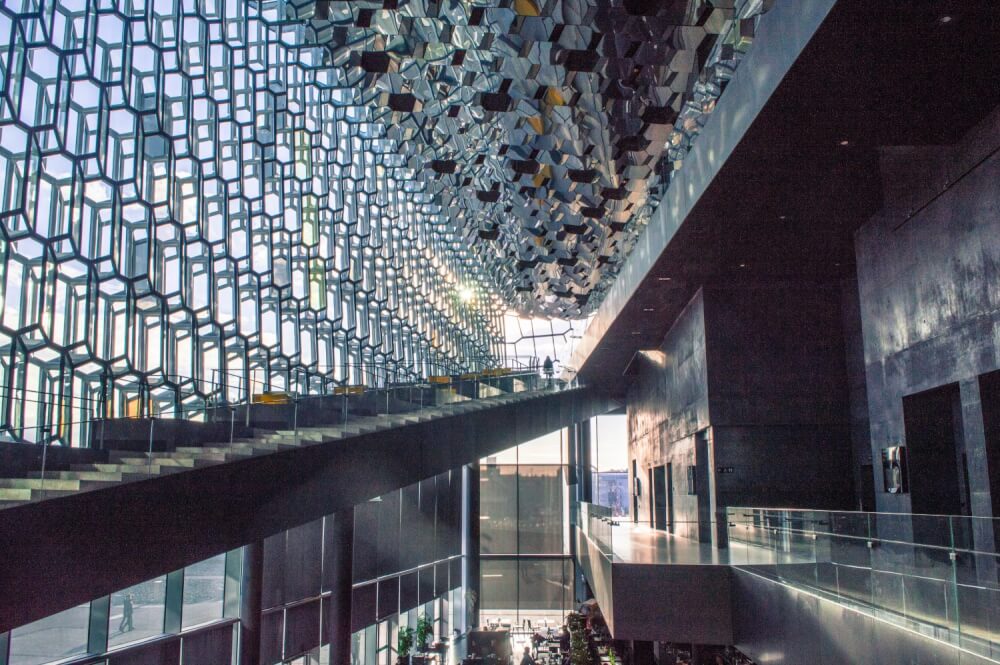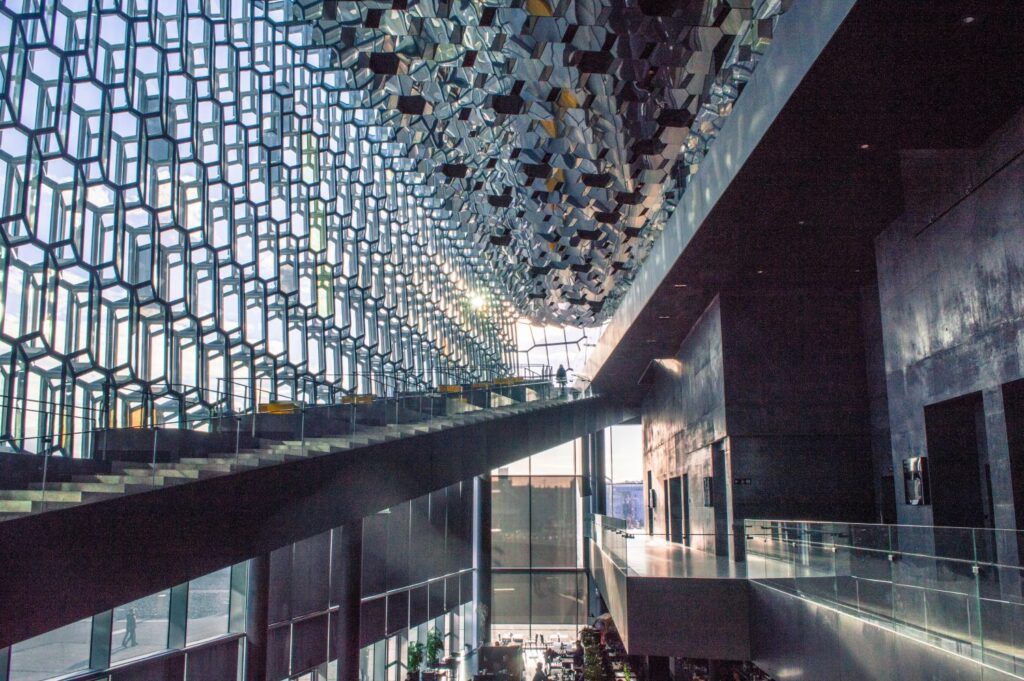 Another must see is the towering, Hallgrimskirkja Church, which is actually the largest church Iceland has to offer.
Similar to the Harpa, this church's aesthetic was also inspired by Iceland's unique landscapes, with an expressionist design that takes inspiration from Iceland's famous mountains and glaciers.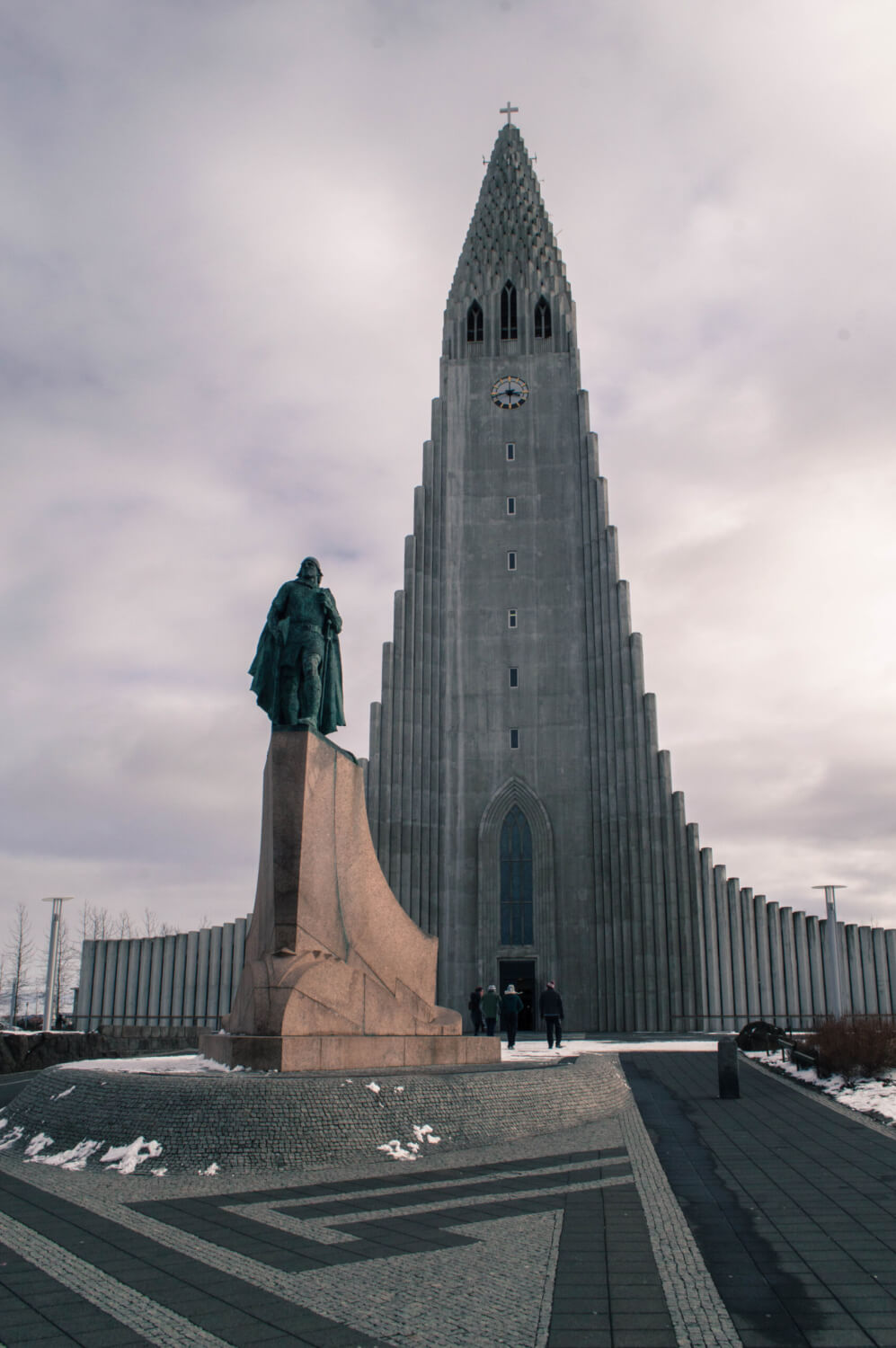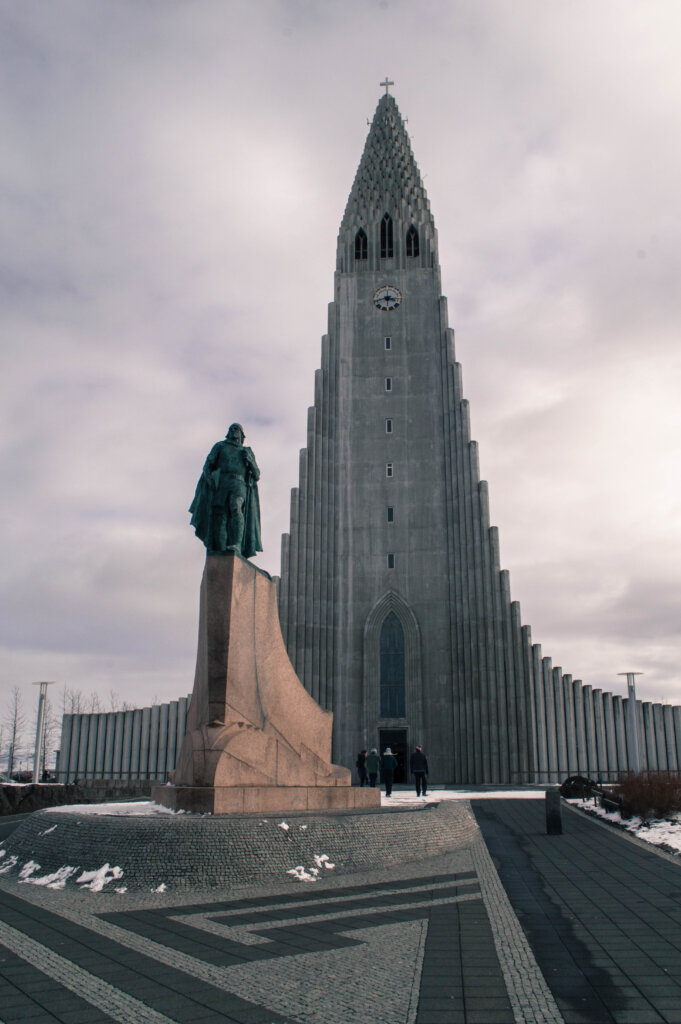 It took over four decades to properly complete this church, but today it's a true sight to behold, with the best views in town found on top!
Be sure to grab tickets at the church's shop for the ride up top. More info here.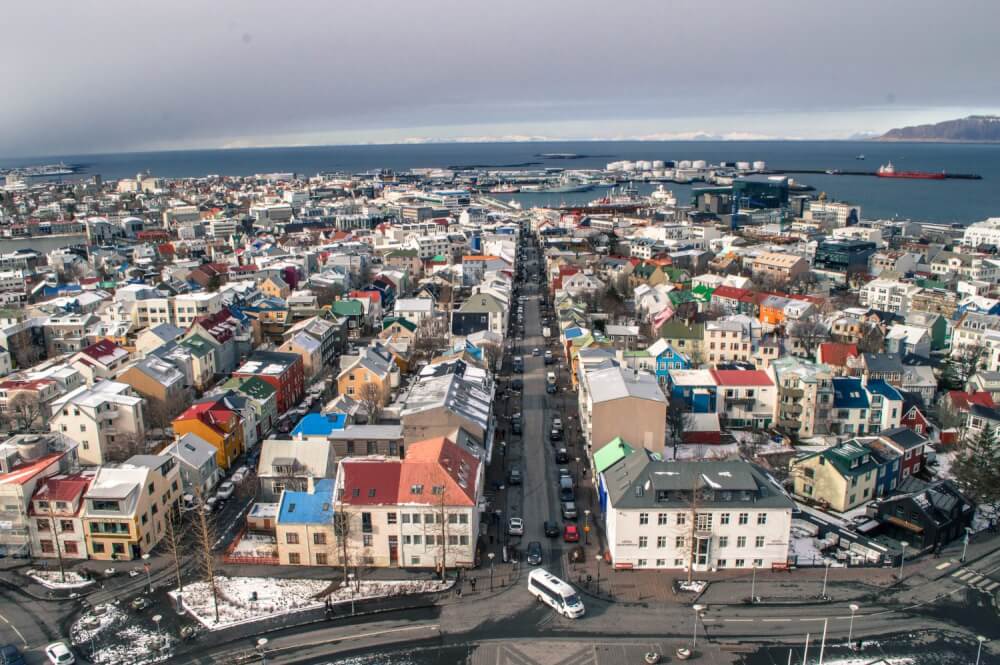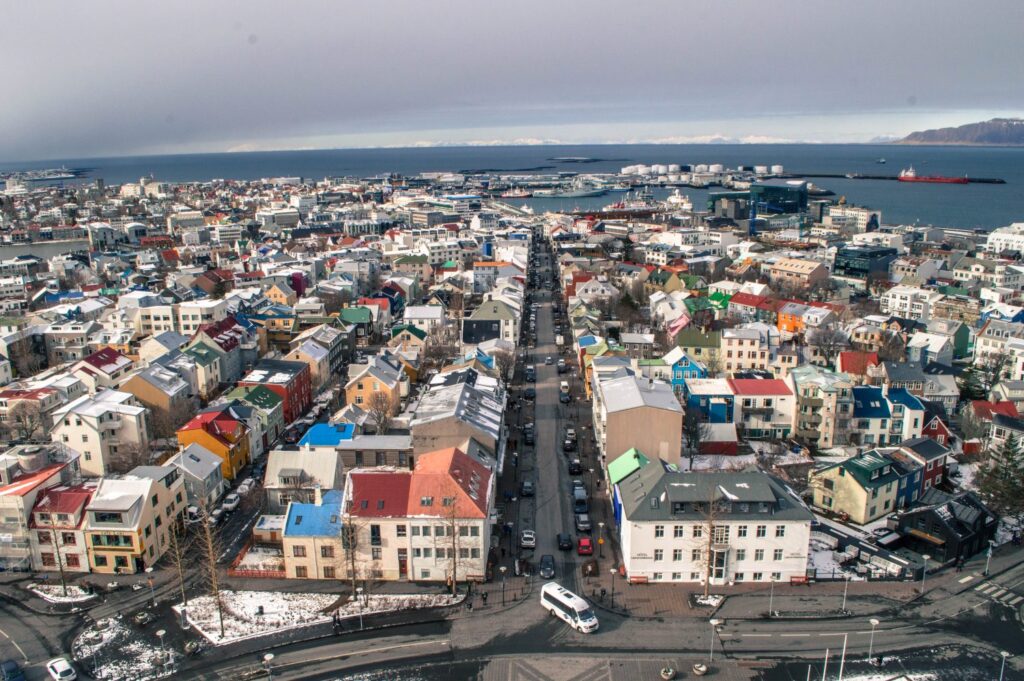 The Reykjanes Peninsula
This piece of Iceland southwest of Reykjavik is one you might have never heard of, but it's actually home to Keflavik Airport, and one of Iceland's most beloved attractions: The Blue Lagoon!
The landscapes here are perhaps lesser known than some of the more Instagrammed sights across Iceland, but take some time to explore this region and you'll find expansive lava fields topped in swathes of moss, bubbling hot springs and even a drift zone between continents.
Some must-visit sights in this area include the Blue Lagoon, which is of course one of the most famous attractions in the entire country.
This geothermal spa attracts millions of visitors a year thanks to its milky blue water (caused by silica), and while it's one of the most crowded and more expensive experiences in Iceland, I still had a great time and would recommend it.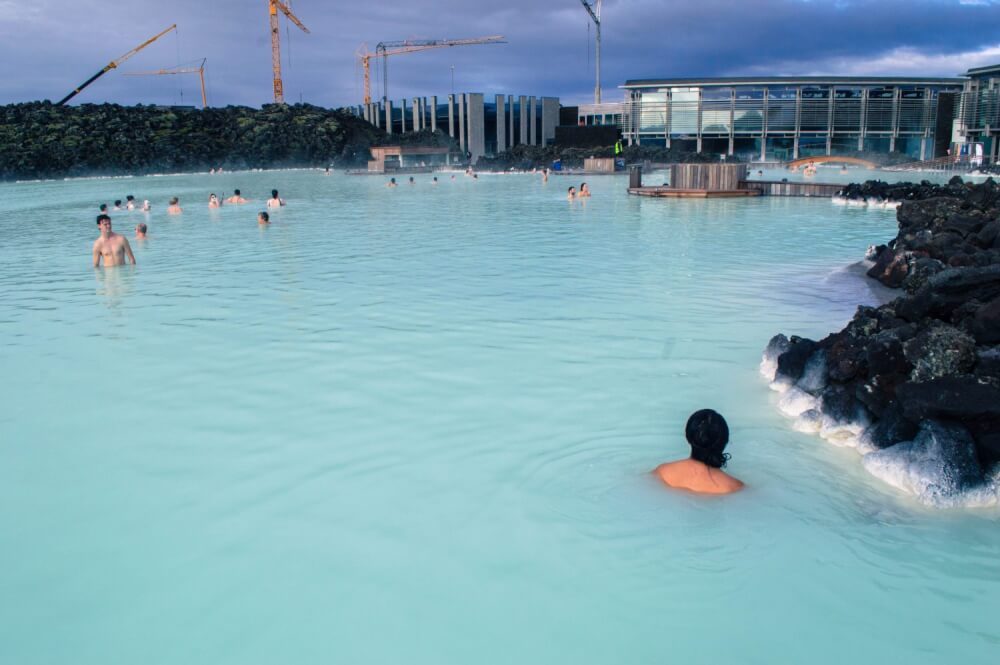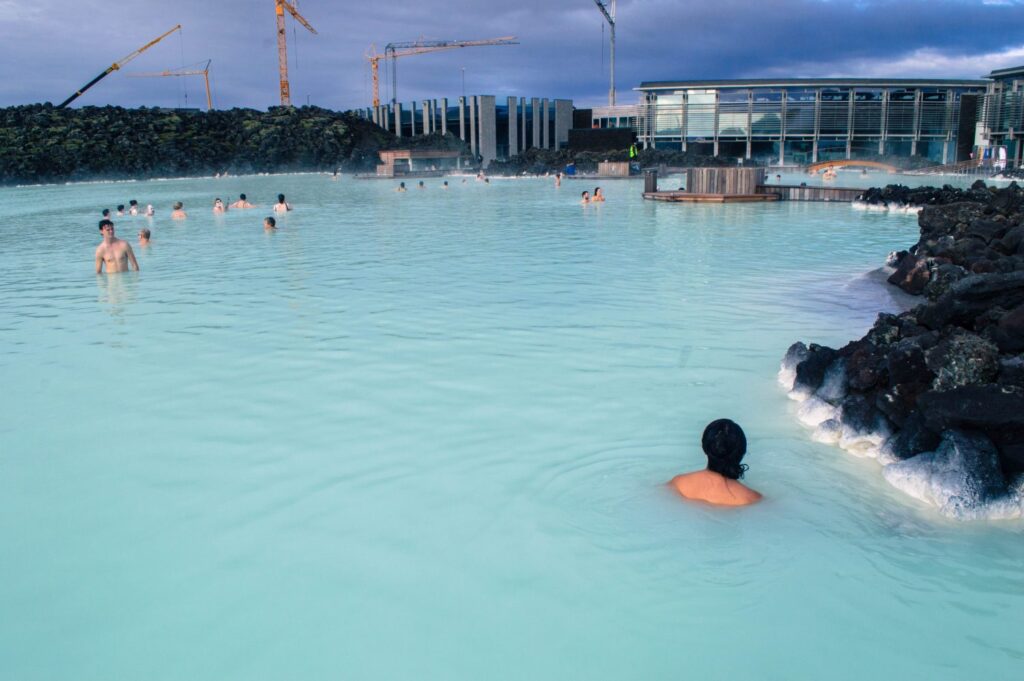 I saved this attraction for last during my road trip, simply because it was the perfect treat after a week's worth of grimy van living (with infrequent showers and many, sweaty layers of winter clothes).
The water is every bit as blue and spectacular as you see in all the photos, and there's even a swim-up bar if "getting drunk in a milky blue pool of tourists" is on your bucket list.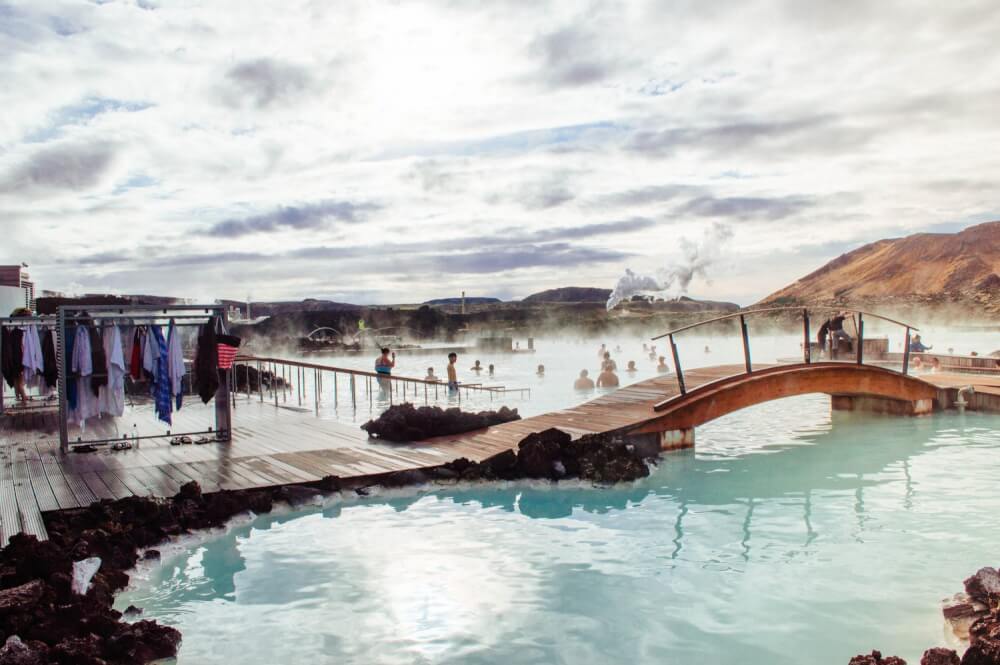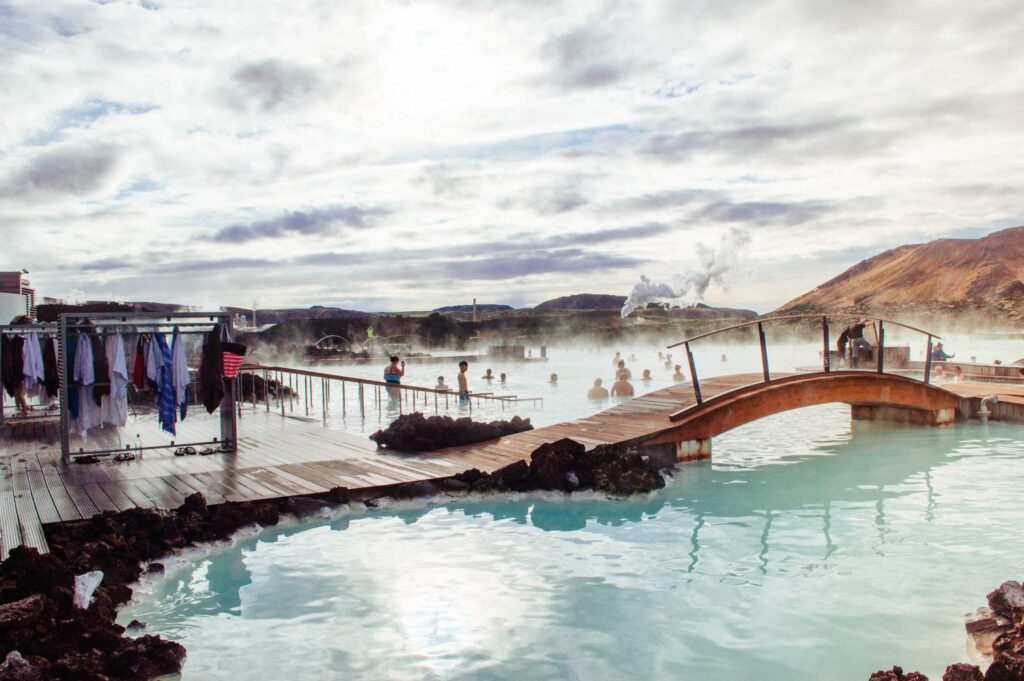 Besides the Blue Lagoon, there are also several cool attractions in the Reykjanes Peninsula, like The Bridge Between Continents, a footbridge where you can walk over a fissure between the Eurasian and North American tectonic plates.
Yes, there's even signs that tell you "Welcome to Europe" and "Welcome to America".
Fun fact: this bridge used to be called the "Leif the Lucky" Bridge, after Leif Eriksson, an Icelandic explorer who many consider to have been the 1st European to visit North America 500 years before Christopher Columbus did.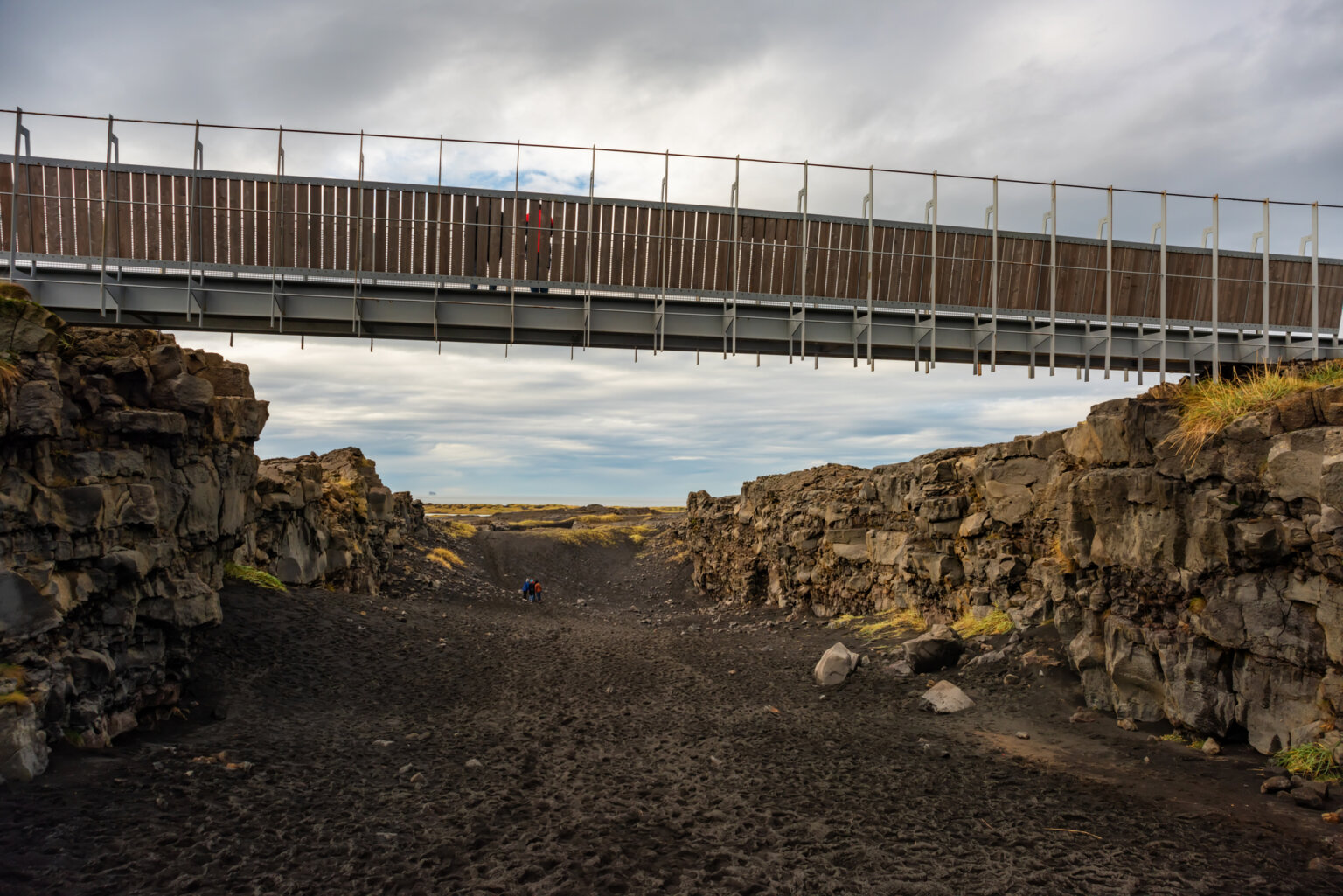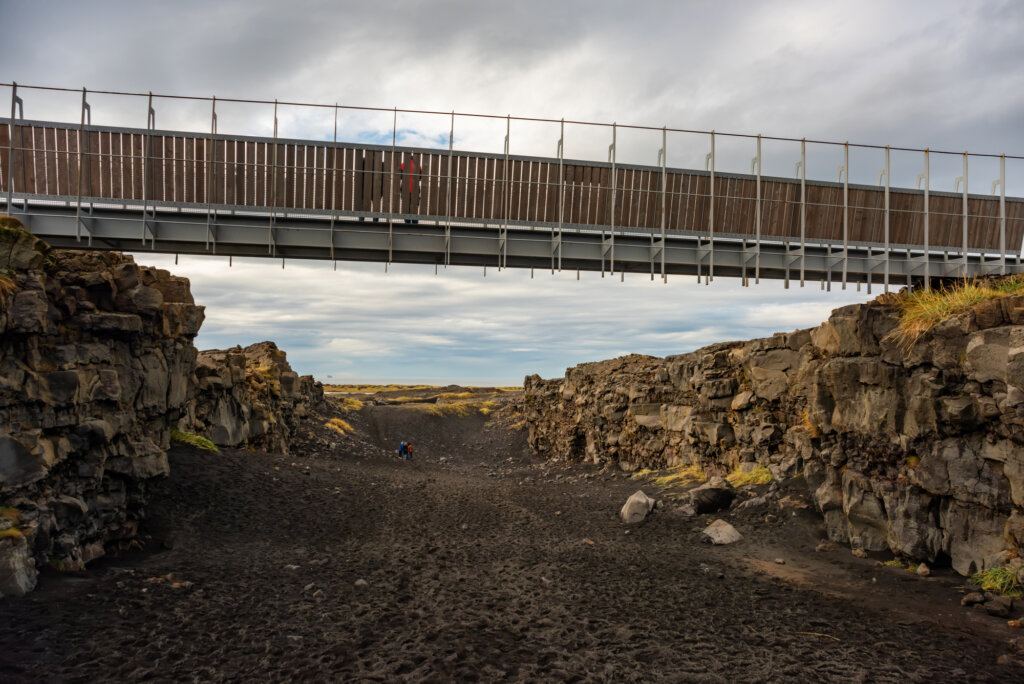 The Golden Circle
If you're looking for some of the most famous places to visit in Iceland, then the Golden Circle is where you need to head.
This scenic route encompasses three of Iceland's top natural attractions: Gullfoss, Þingvellir National Park and the Geysir Geothermal Area, all linked in a 230km loop that can be done in a day from Reykjavik.
This convenience is precisely what makes the Golden Circle THE most popular place in Iceland for tours and (of course) tourists.
Depending on your taste, this might make it a must-do thanks to the many tours that are offered, or a must-skip due to crowds.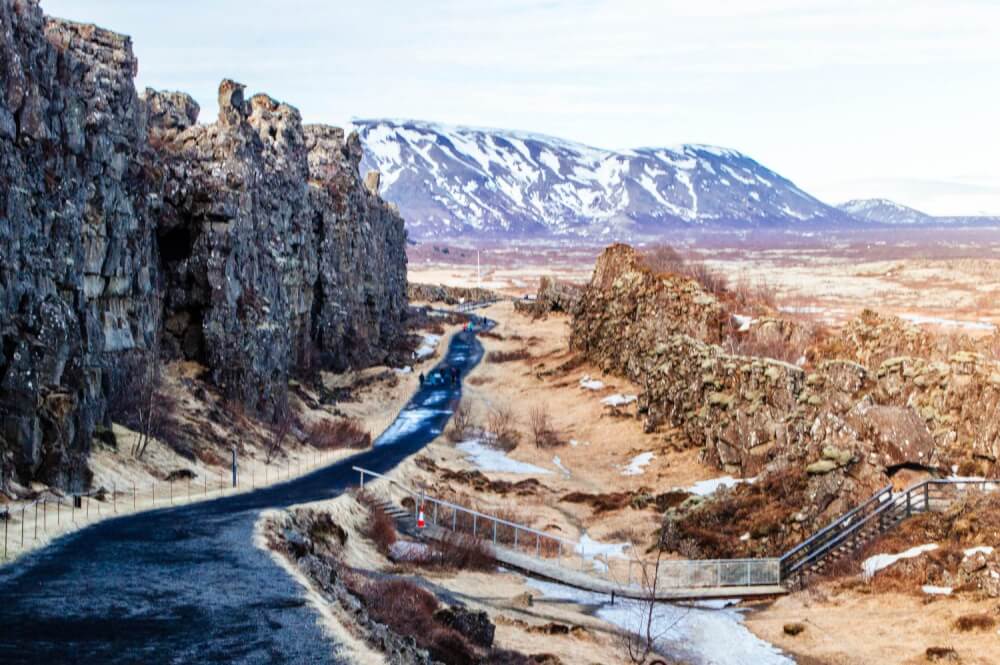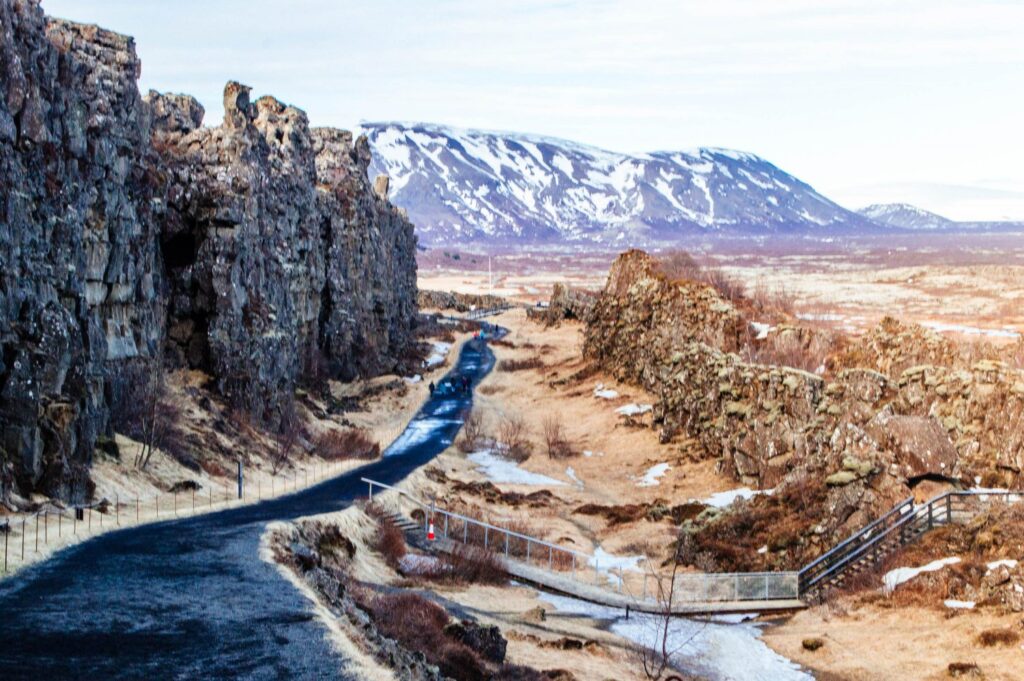 My honest opinion? I think any traveller should visit the Golden Circle no matter what, but maybe plan a self-drive route and visit early in the day to avoid the tourists masses.
Some of the highlights of the Golden Circle include Gullfoss ("Golden Falls"), a thundering two-tiered waterfall that dramatically spouts out water from the Langjökull glacier to the tune of 109 cubic metres PER SECOND in the summer: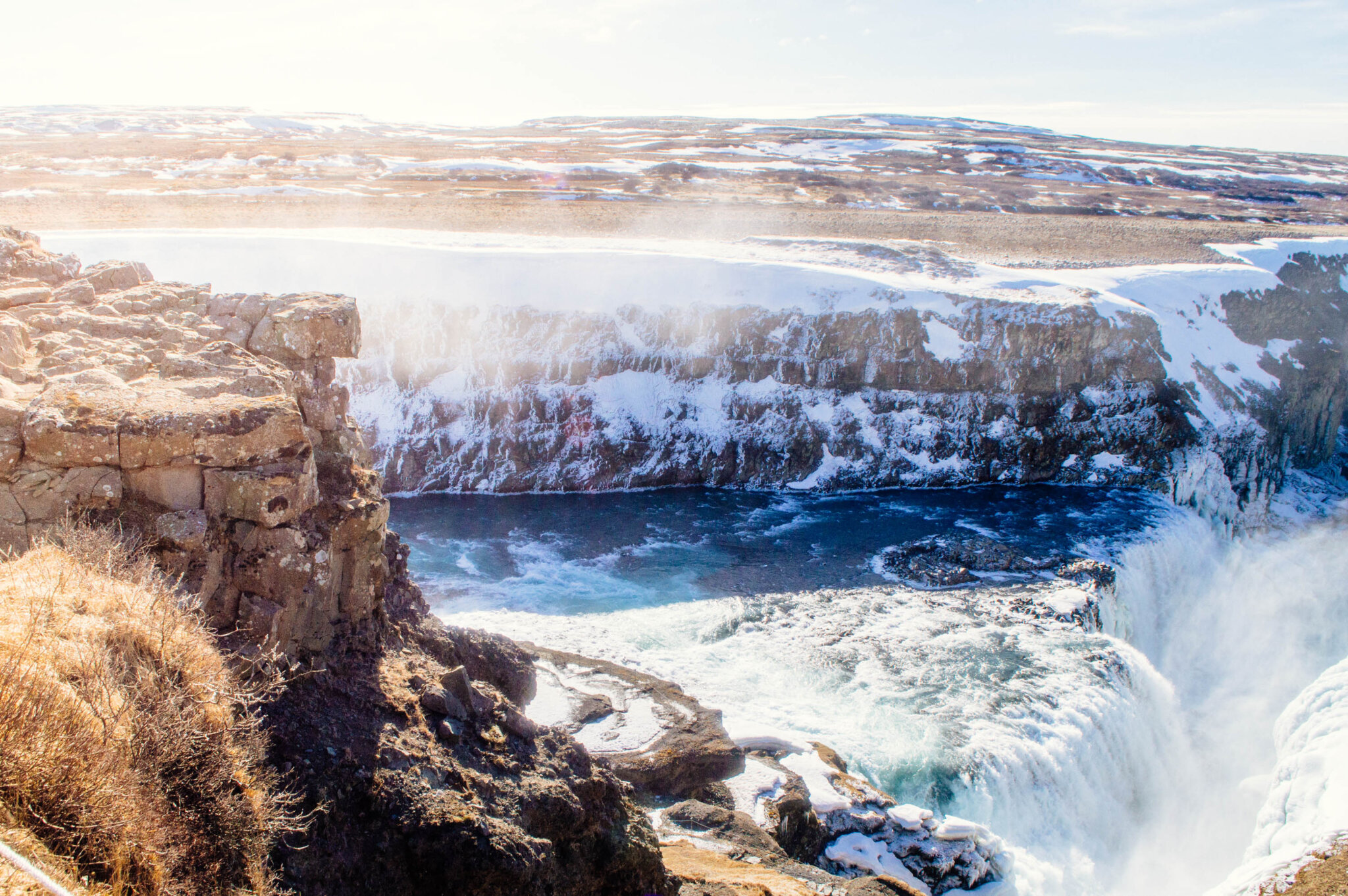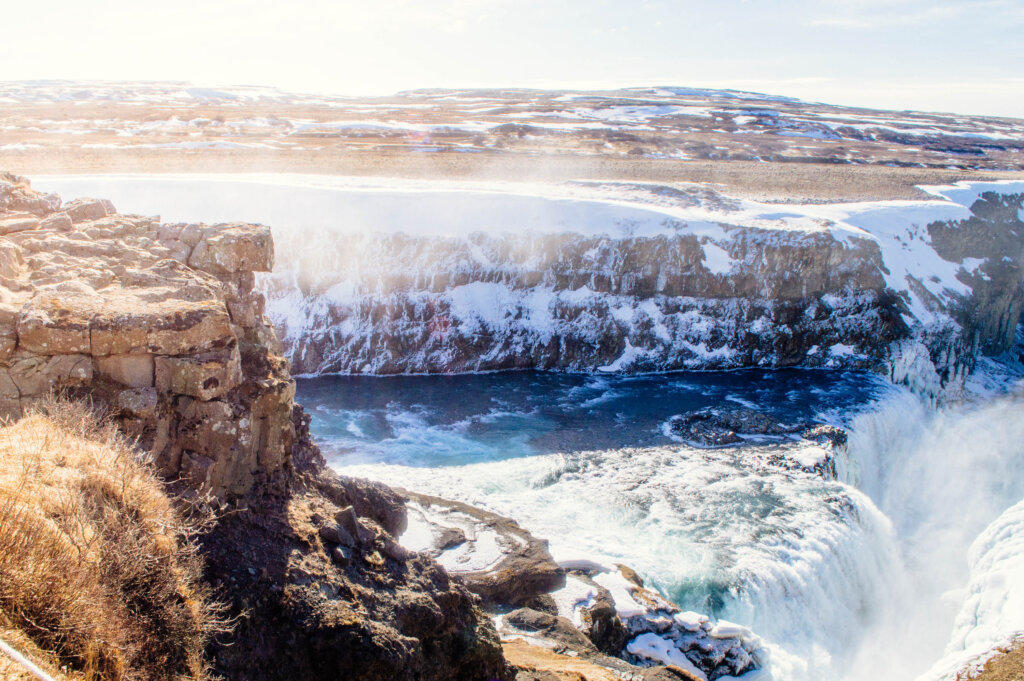 There's also Þingvellir National Park, one of only three official national parks in Iceland.
The rugged and exaggerated landscape of Þingvellir is more than reason enough to stop by, but don't lose sight of the park's historical significance either! It was here that the Icelandic parliament assembled for centuries and centuries, starting from the year 930 AD.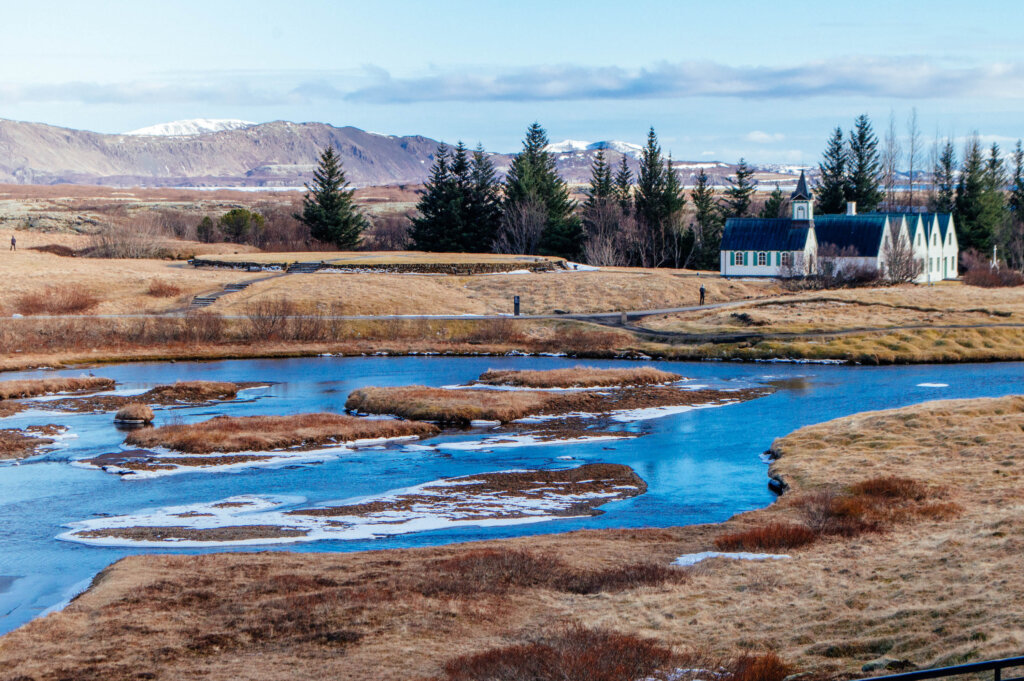 And of course, there's the Geysir Geothermal Area, a geothermal field spanning about 3km² filled with hot springs, boiling mud pits, and exploding geysers.
If watching scalding hot water gush over 70m into the air is your idea of fun, then this area is a must-visit. 
Fun fact: the English word "geyser" actually originates from the Great Geysir, which can be found here.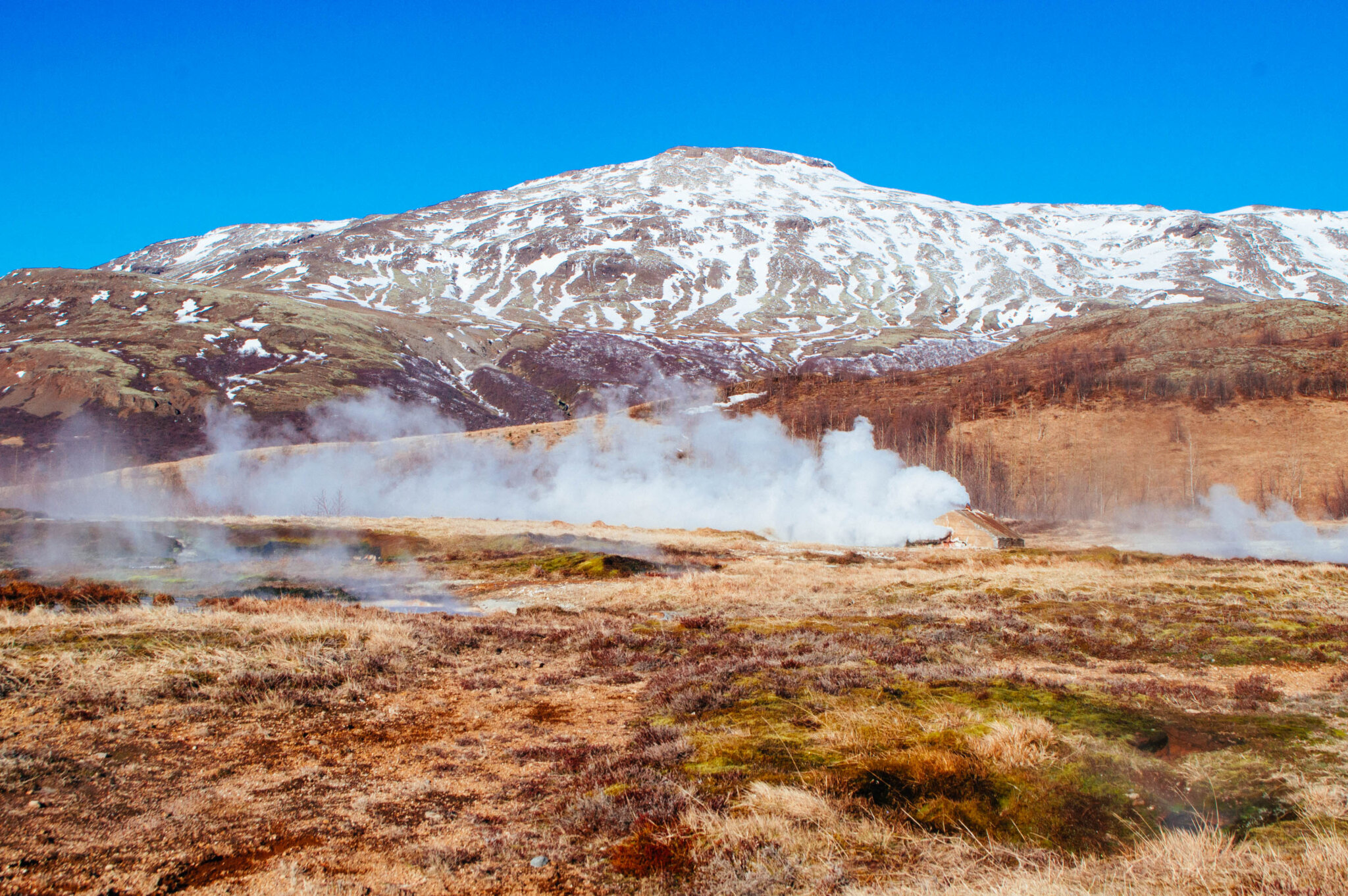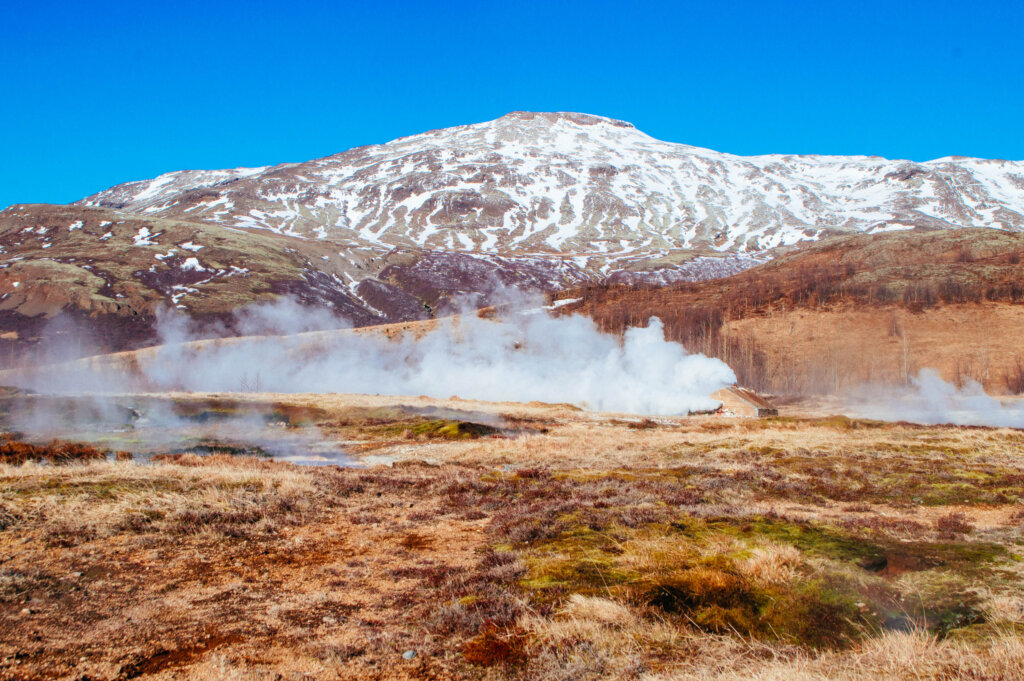 Of course, like anywhere in Iceland, it's possible to find more offbeat places too along the Golden Circle.
Looking for a less touristy spa experience than the Blue Lagoon? Laugarvatn Fontana is awesome.
They have warm geothermal pools (though sadly, not milky blue!), a series of steam rooms and a gorgeous lakeside location that makes for a great relaxing break: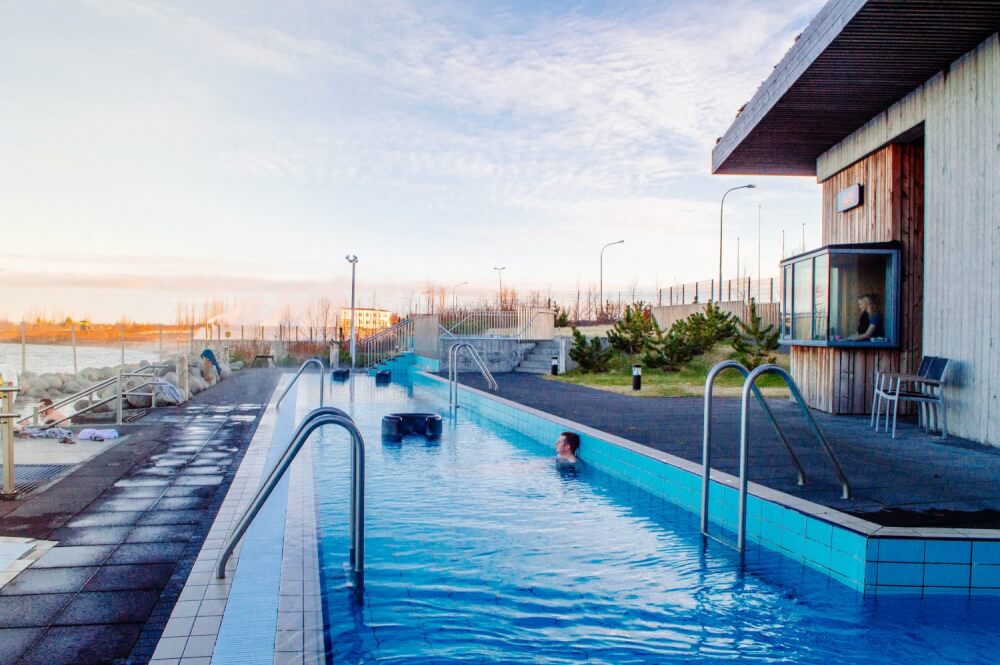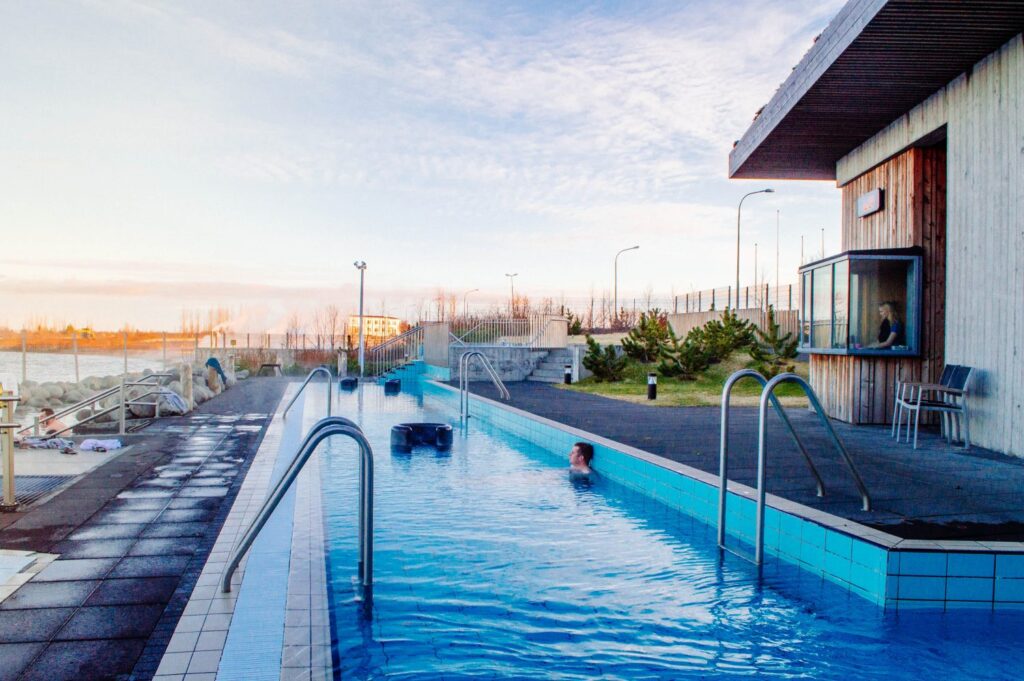 There's also Kerið Crater, a 3000 year old lake in a volcanic crater known for its red rocks and bright azure colour.
It's not part of all Golden Circle tours, but thanks to its proximity to the route's other main sights, it's often an extra add-on or easy stopover if you're driving the route yourself.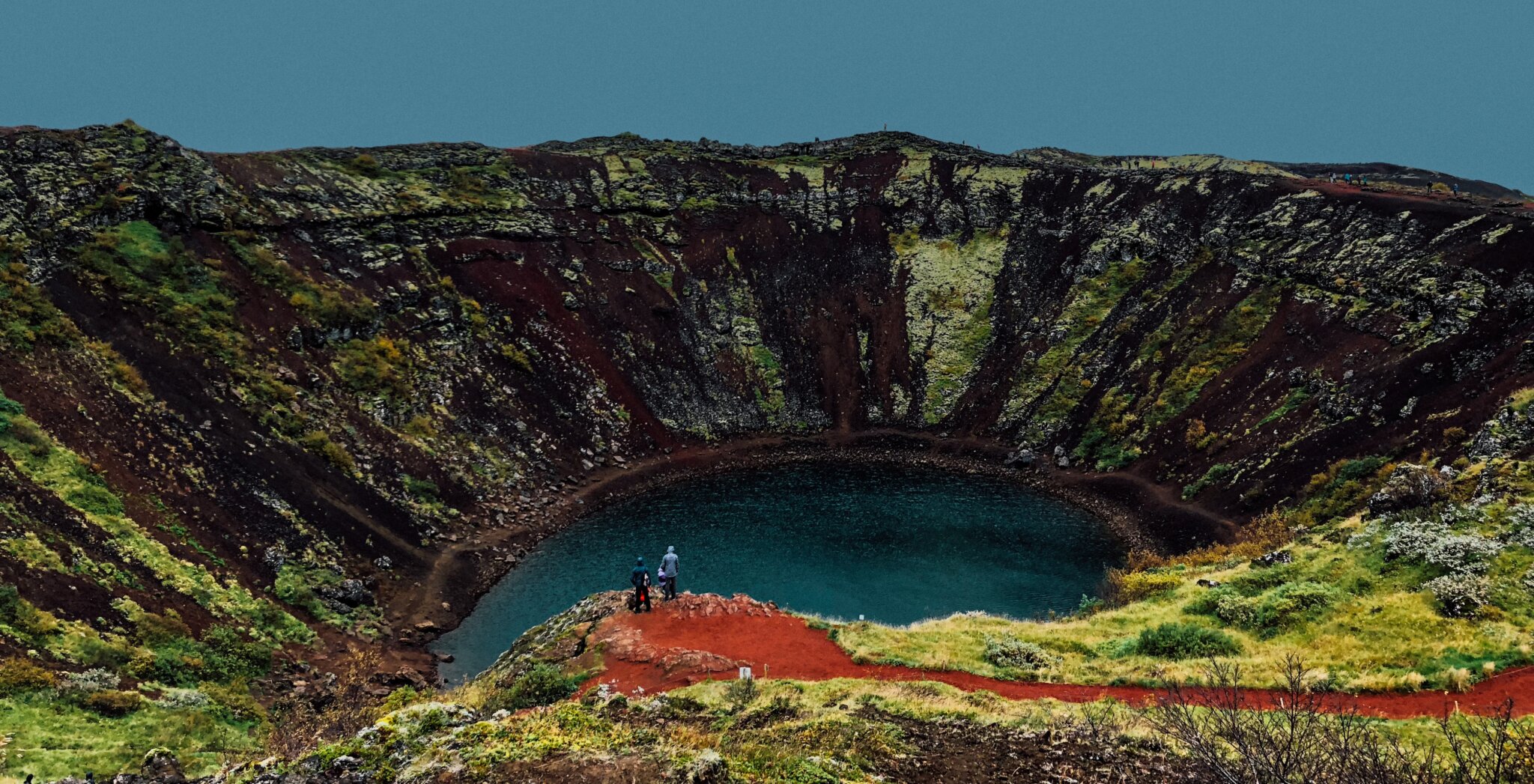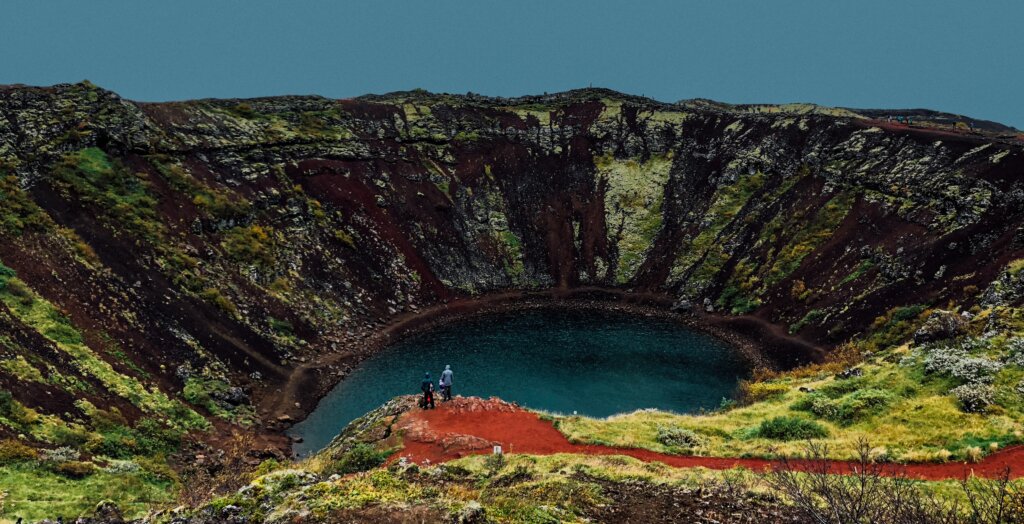 Seljalandsfoss
I consider Seljalandsfoss to be one of the best places to visit in Iceland for SO many different reasons. 
Found near Iceland's south coast, this striking 60m waterfall is one you can actually walk behind, with a clear path that takes you behind the falls for some unique, breathtaking (and misty) views.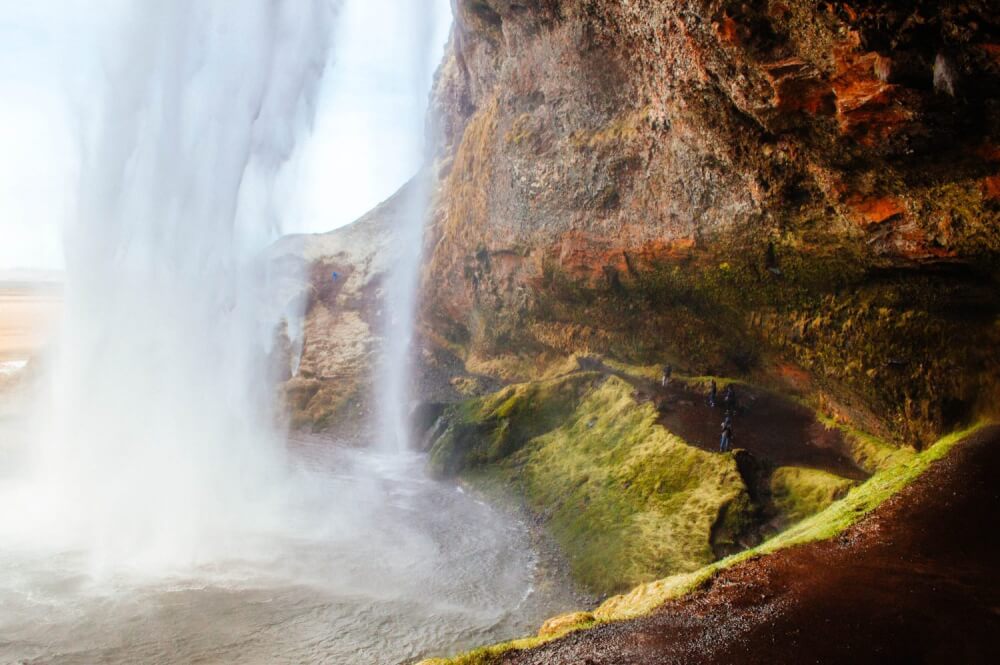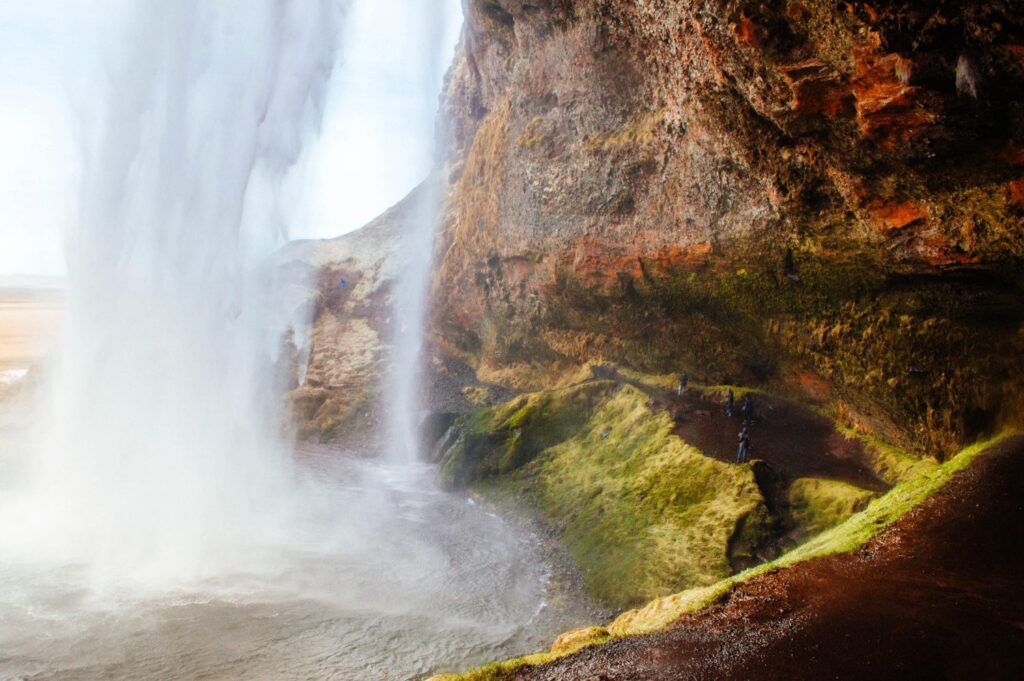 Get the timing right and you'll also be able to capture the falls with a perfect rainbow in front of it.
Last but not least, if you're a recovering Belieber, you might also recognize this waterfall from the iconic "I'll Show You" music video.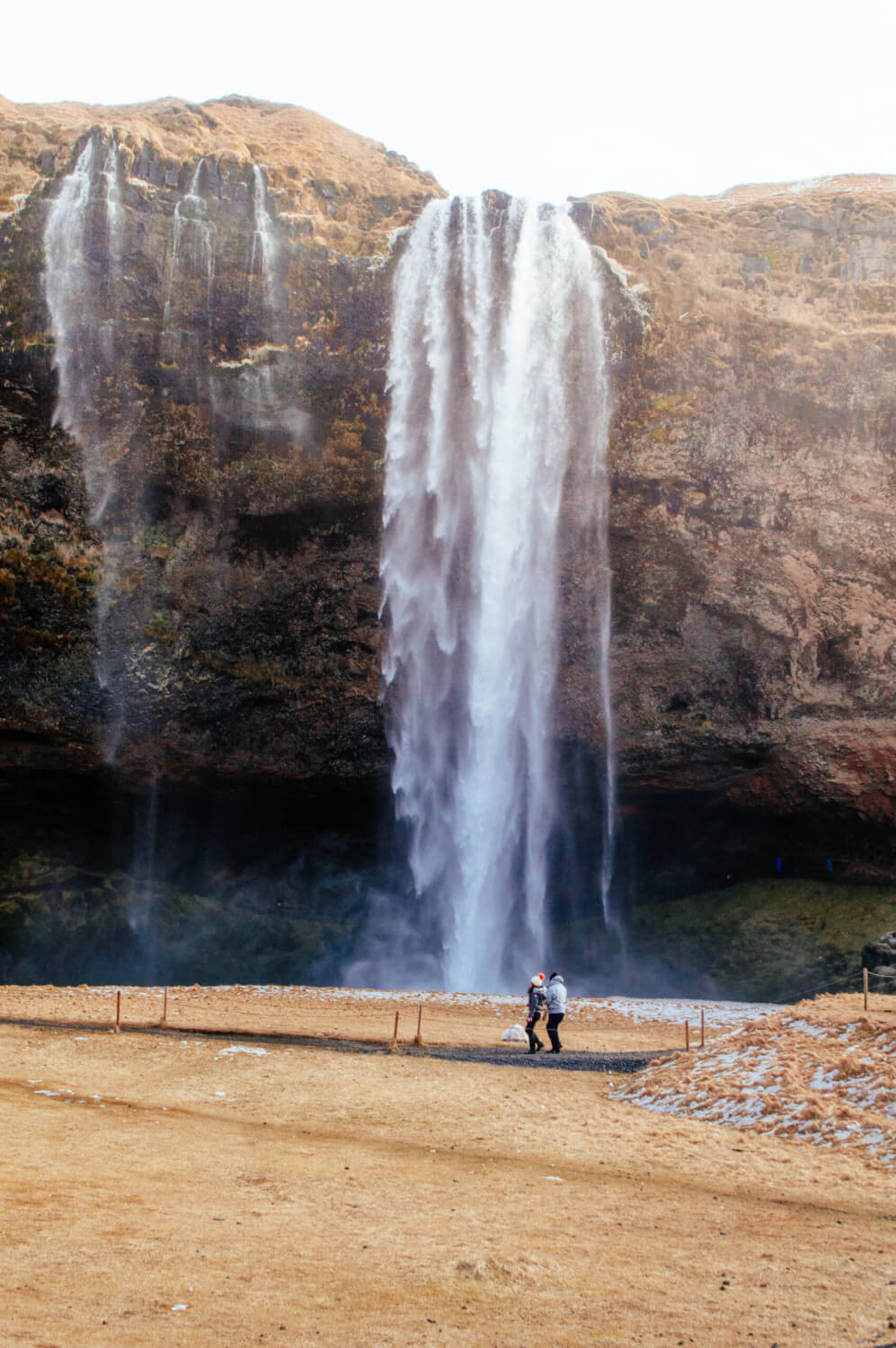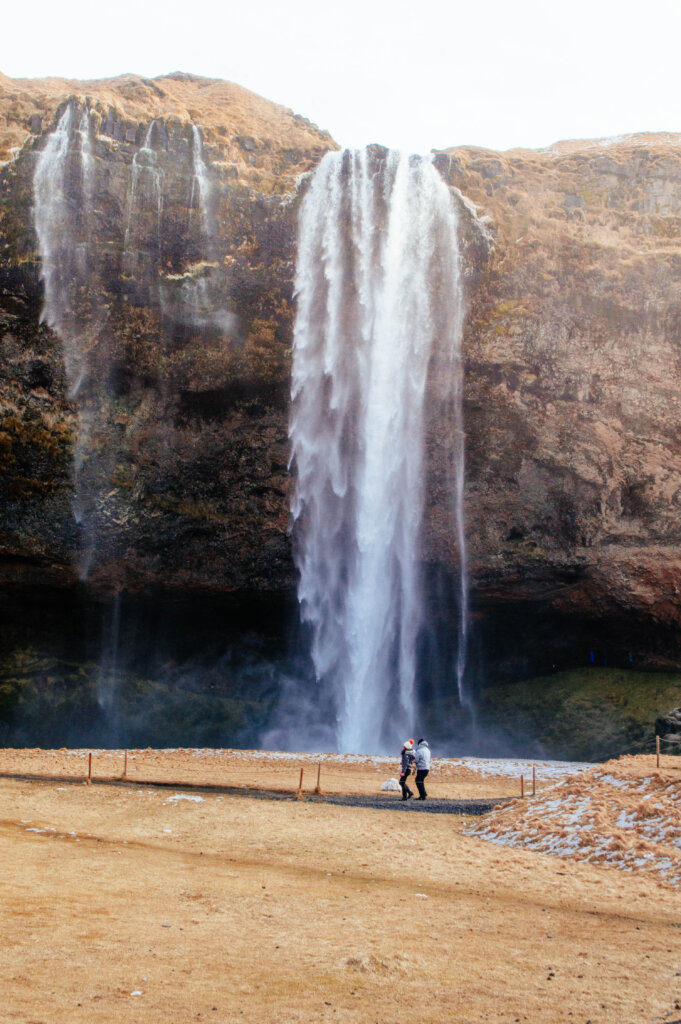 Skogafoss
Not far from Seljalandsfoss, you'll find another wonderful waterfall worth visiting – Skogafoss. With a width of 25m and a height of 60m, this is not only one of the most photogenic waterfalls to visit in Iceland, it's also one of the biggest.
And in case you think it looks familiar, that's because Skogafoss is another Icelandic waterfall that has been somewhat immortalized in pop culture, thanks to appearances in many movies and TV shows, including Game of Thrones.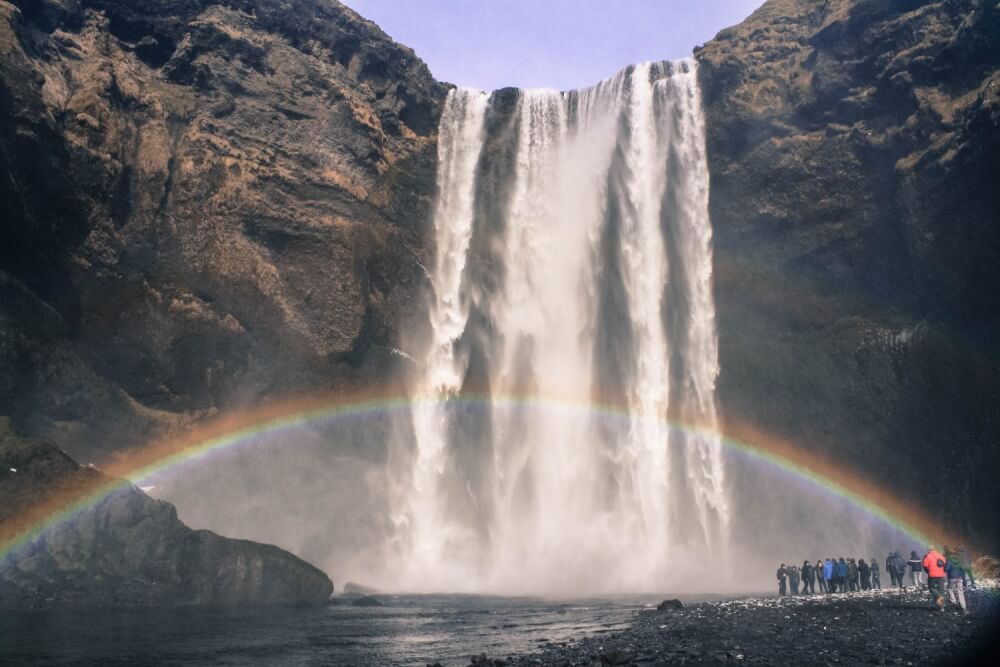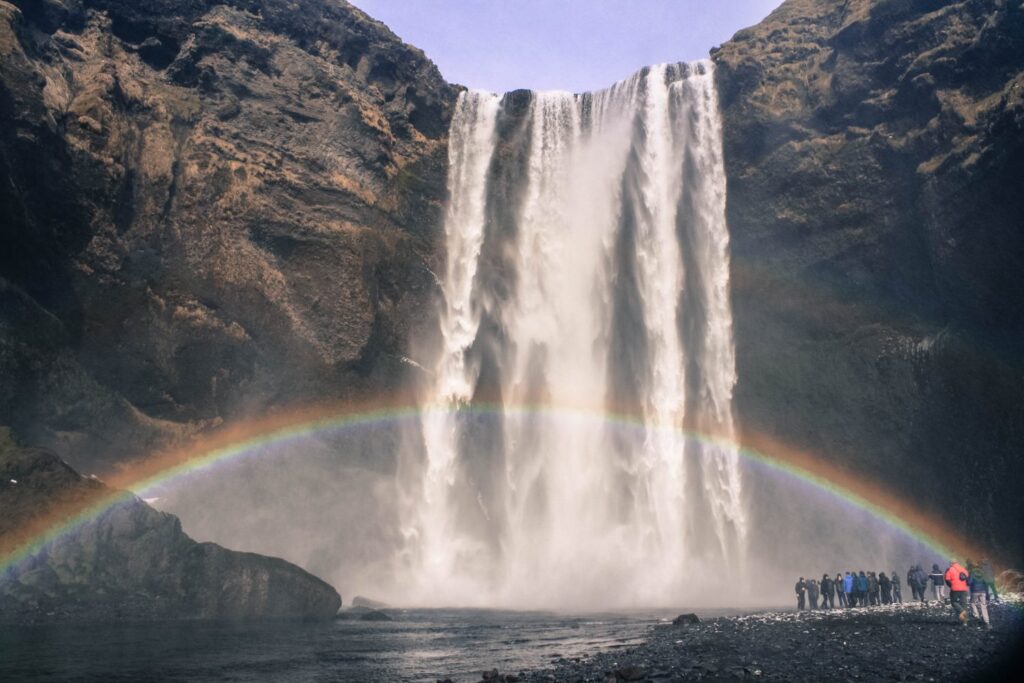 Vík & Reynisfjara Black Beach
Vík is Iceland's southernmost village, and is a must visit destination for many tourists thanks to its #1 attraction: Reynisfjara Black Beach.
This dark, emo beach is as alien as it gets, with pitch black volcanic ashes that create the ultimate moody atmosphere for your next album cover.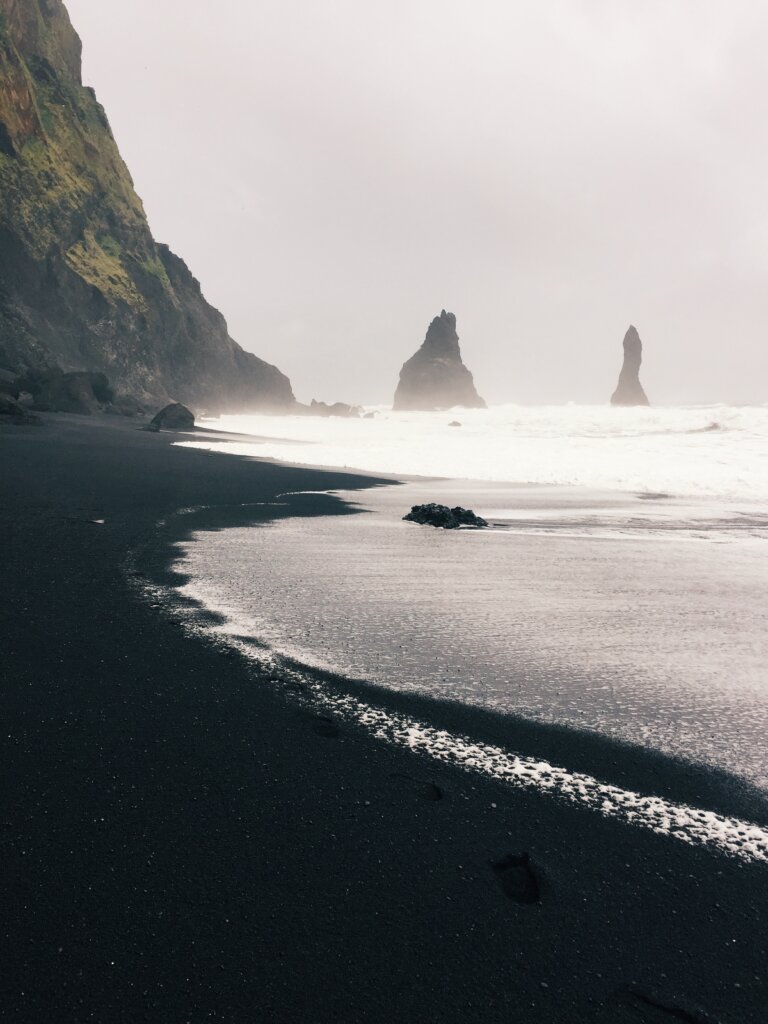 Completing the look is of course a slew of Iceland's signature basalt columns just off the shoreline. According to local legend, these rocks are actually mischevious trolls who were turned to stone.
One story posits that they were simply dumb trolls who stayed up until dawn while trying to pull ships from the ocean, whereas another claims that the trolls were frozen there as part of one man's vengeance plan for the murder/kidnapping of his wife.
Whichever tale you choose, be sure to think of trolls when you're posing by those big basalt columns!
NOTE: The ferocity of the waves at Reynisfjara Black Beach can't be understated. "Sneaker" waves in this area are common, and have swept many unsuspecting visitors out into the water over the years.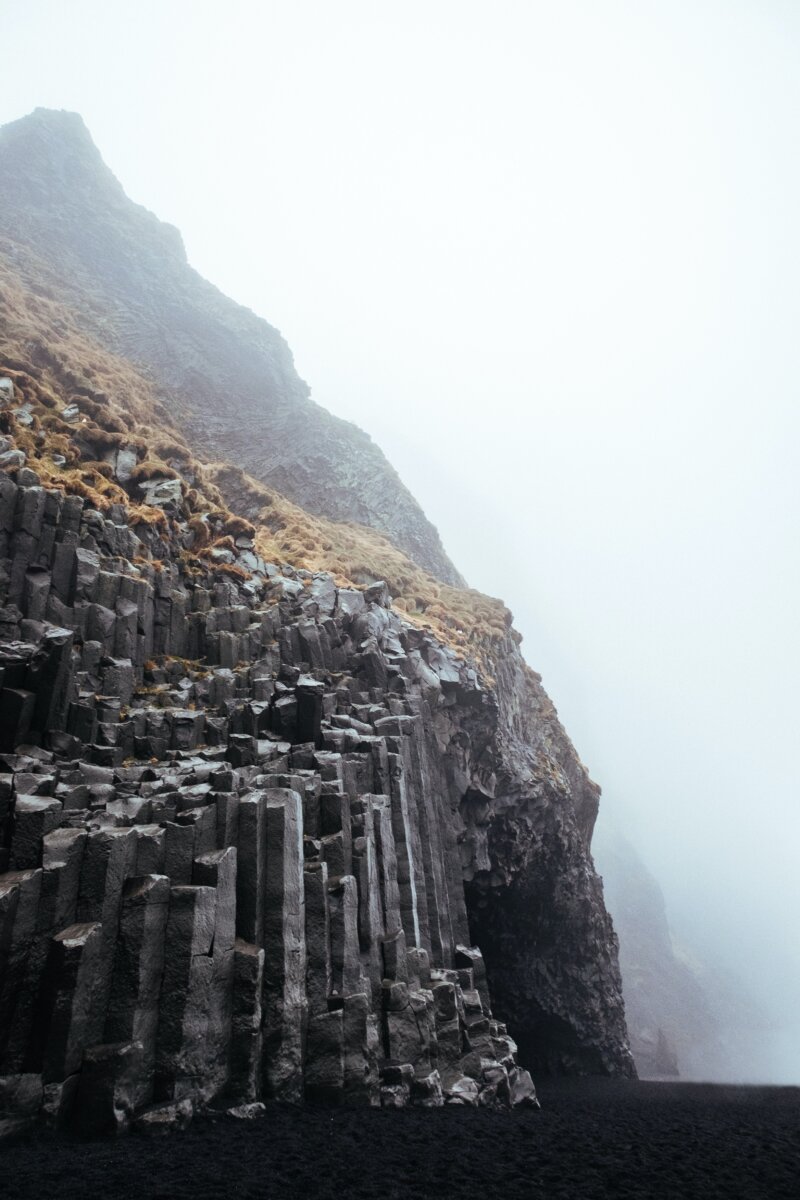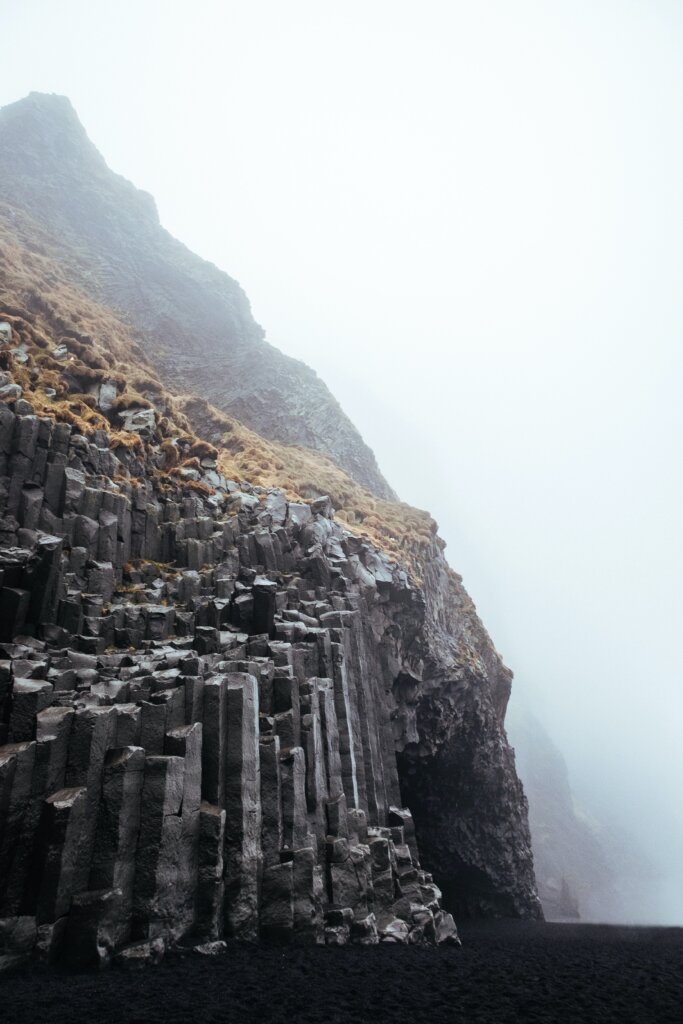 Vatnajökull National Park
This gigantic national park in Eastern Iceland is one of only three national parks in the country, and because it covers so much scenic ground, it's of course one of the top places you must visit in Iceland.
Vatnajökull National Park is so big in fact that it actually encompasses 14% of Iceland's territory, including two former national parks (Saftafell and Jökulsárgljúfur) within it, along with several iconic Iceland sights.
There is of course Vatnajökull, Europe's largest glacier found outside the arctic, whose glacial ice reaches almost 1km thickness at its thickest points, concealing numerous mountains and even active volcanos.
Today, visitors can tour this massive icy wonderland via jeep or snowmobile by booking a tour.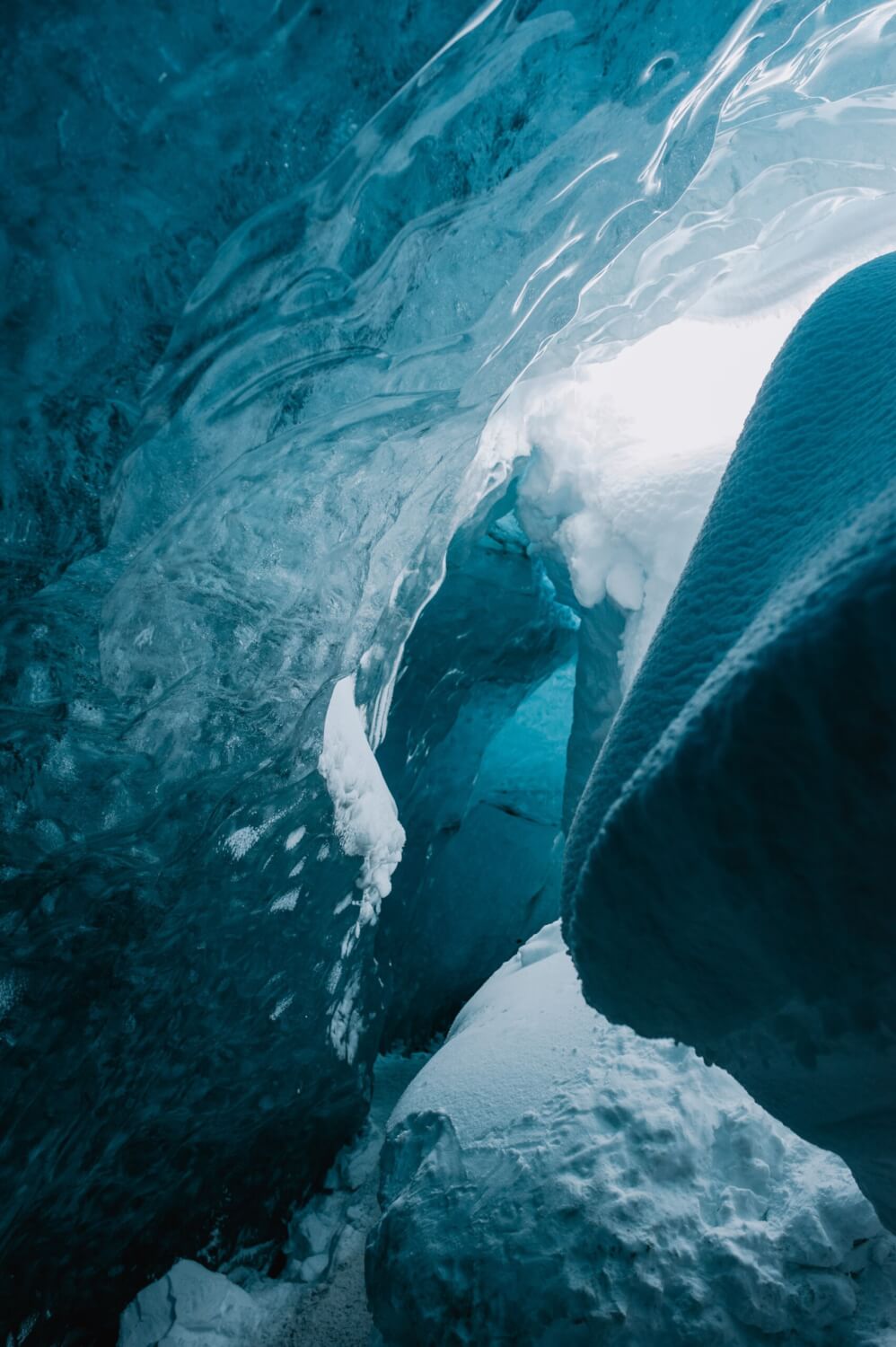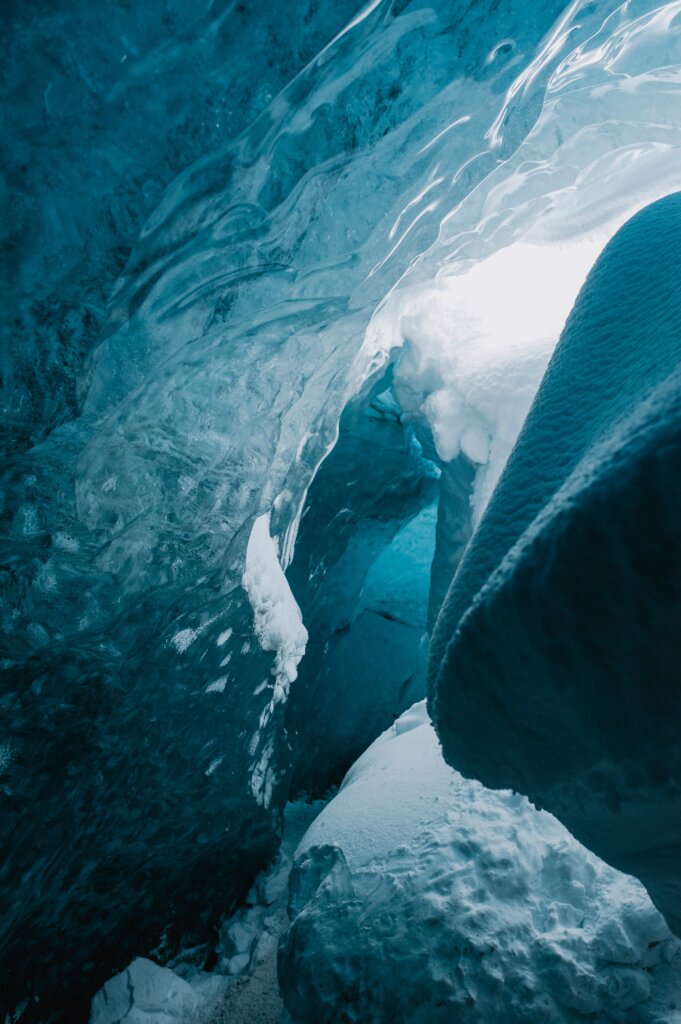 And while you won't be able to see it (it's subglacial and under an ice cap), you should know that this national park is also home to Grímsvötn, the most frequently active volcano in Iceland.
Another must-visit place in Iceland that's part of Vatnajökull National Park is Jökulsárlón (whose name means 'glacial river lagoon').
This massive glacial lake in the southern portion of the park has been popularized by plenty of movies and TV shows (Amazing Race included) and remains one of the most popular places to visit in Iceland for visitors from around the world.
Interestingly, Jökulsárlón is the deepest lake in the country, and one that continues to increase in size as years go on as nearby glaciers melt.
Unfortunately, the weather gods were hardly on my side when I visited (with fog obscuring most of the view), but it's nonetheless one of the most impressive sights in Iceland, and one that I would recommend visiting.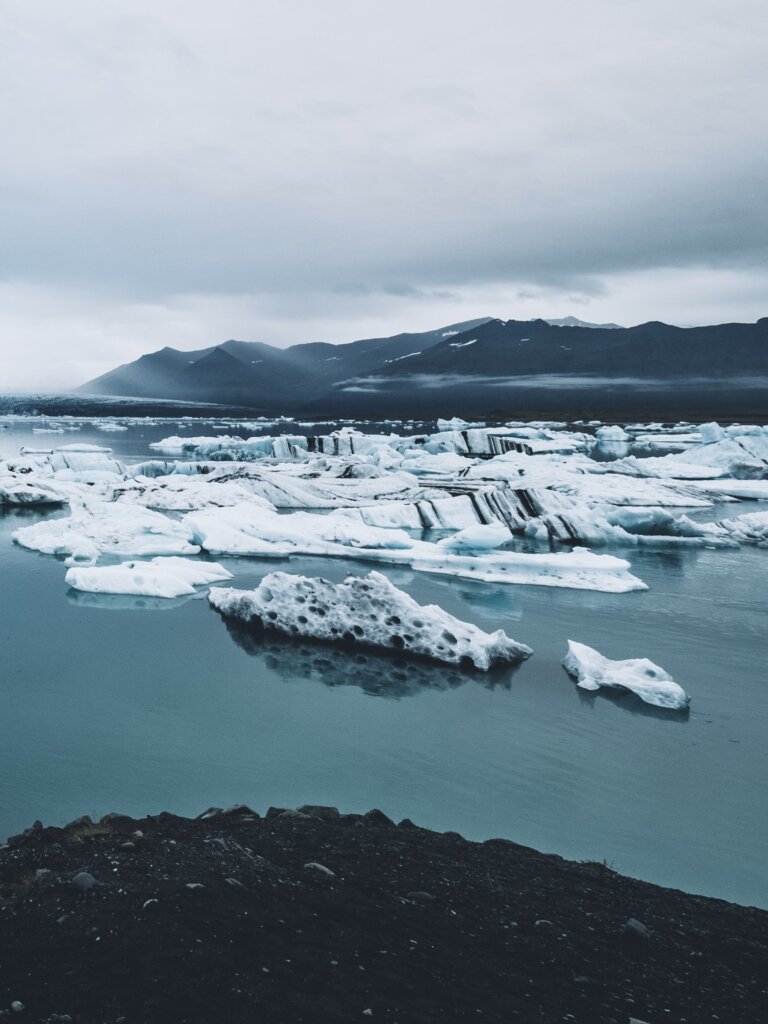 Another nearby Iceland attraction to visit is Breiðamerkursandur, known more coloquially as Diamond Beach.
This jet black beach is where jagged icebergs float in from Jökulsárlón, creating a glittering display of diamond-like ice shards.
If it's a uniquely Icelandic photo opportunity you're looking for, this beach is a must-visit.
As previously mentioned, Vatnajökull National Park absorbed Skaftafell National Park back in 2008.
This area is where you'll find Svartifoss, another must-visit waterfall in Iceland known for its unique aesthetic surrounded by towering lava columns: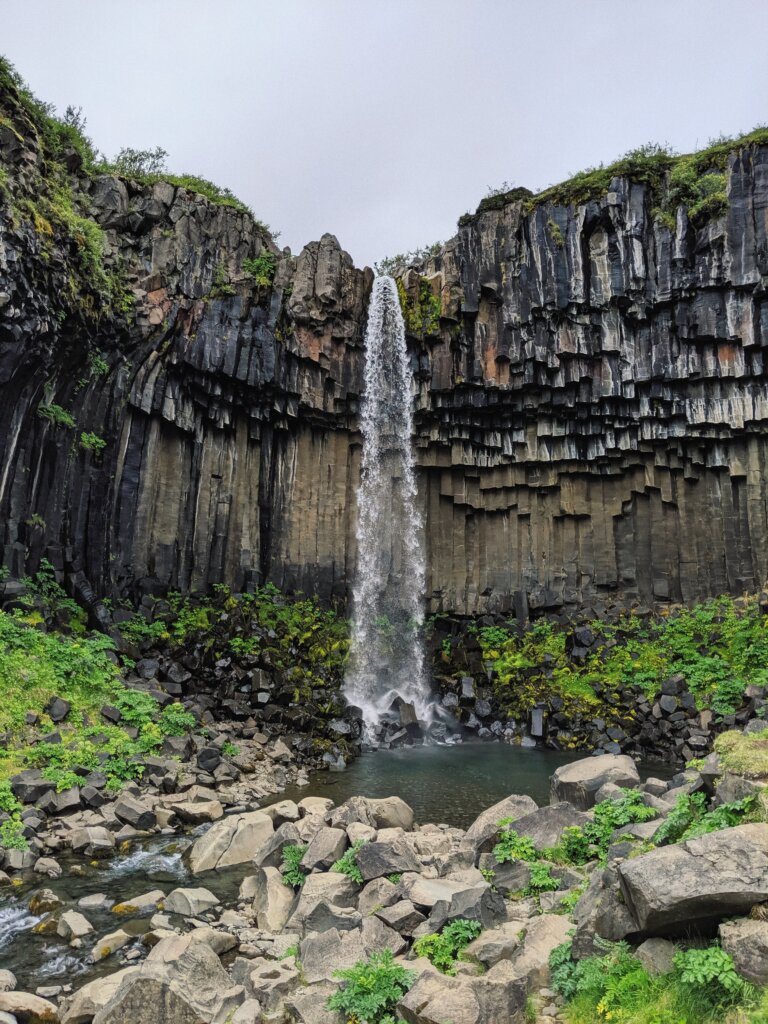 You'll also find Iceland's most powerful waterfall, Dettifoss here, but it's more in the Northeastern part of the country, so we'll expand more on that later.
The Viking Village
Looking for a really offbeat and quirky place to visit in Iceland? What if I told you there was an abandoned viking village film set left over from a production that never actually happened?
Because that exists, and you'll find it in Eastern Iceland, along with a "Viking Café" and adorable guesthouse.
Long story short, this Viking Village set was built in 2010 for a film production that (after many years of funding issues) never actually happened.
Today, the set still stands for your eager exploration, and has in the meantime picked up a few roles in productions as well, finally fulfilling its original purpose.
Read more about the visit here.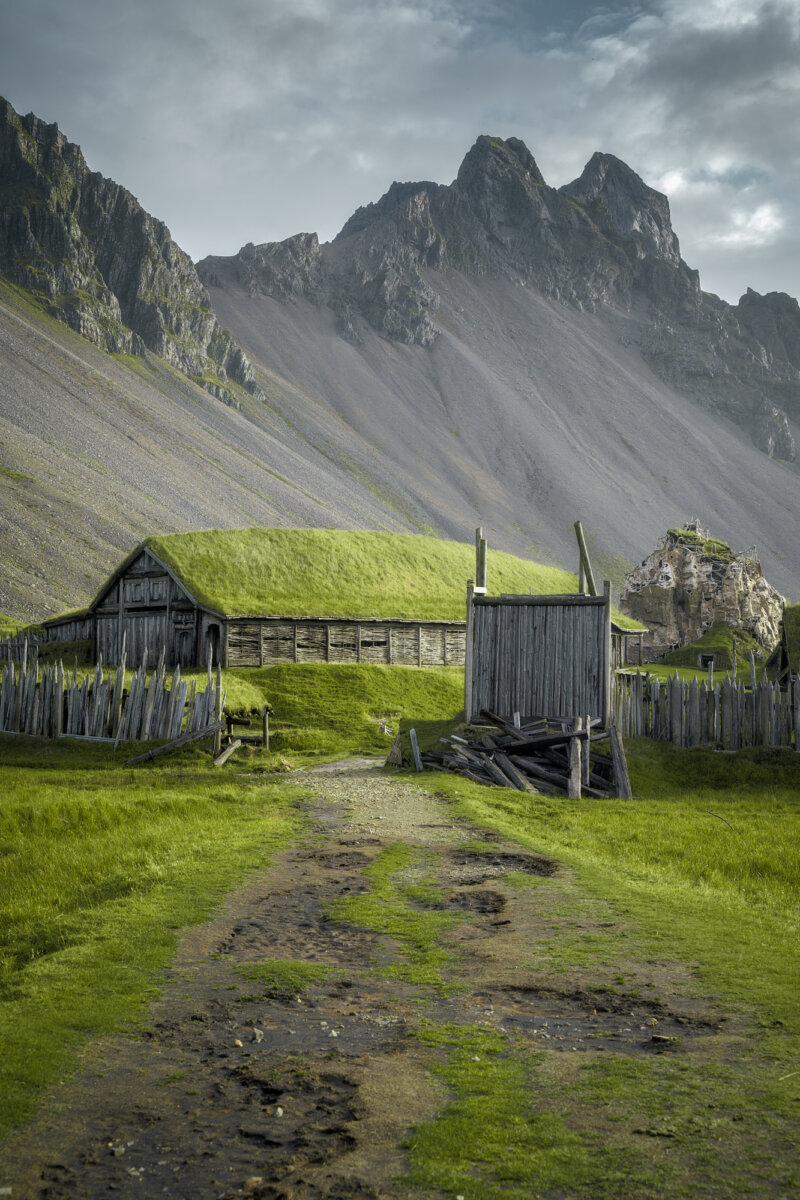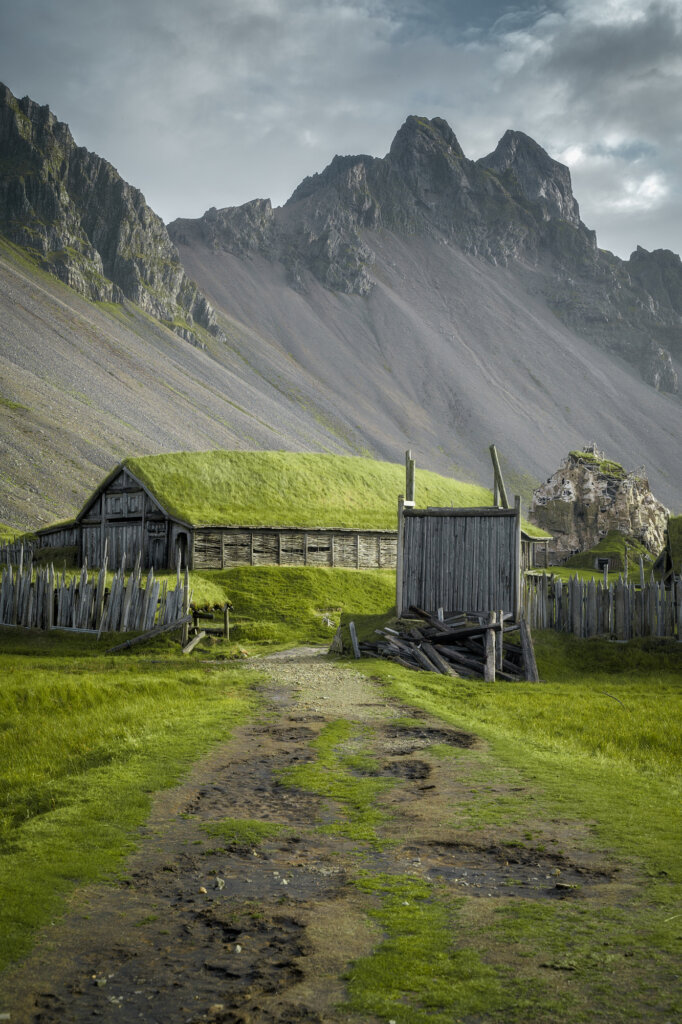 The Eastfjords
Iceland's Eastern coastline is definitely one of the best places to visit in Iceland if you're looking for a more remote (and more crowdless) travel experience.
The Eastfjords of Iceland refer to the (approximately) 120 km stretch of the country's Eastern coastline spanning from Borgarfjörður Eystri to Berufjörður.
Some interesting places to visit in this area are Seyðisfjarðarkirkja, a charming little town famous for its rainbow road church: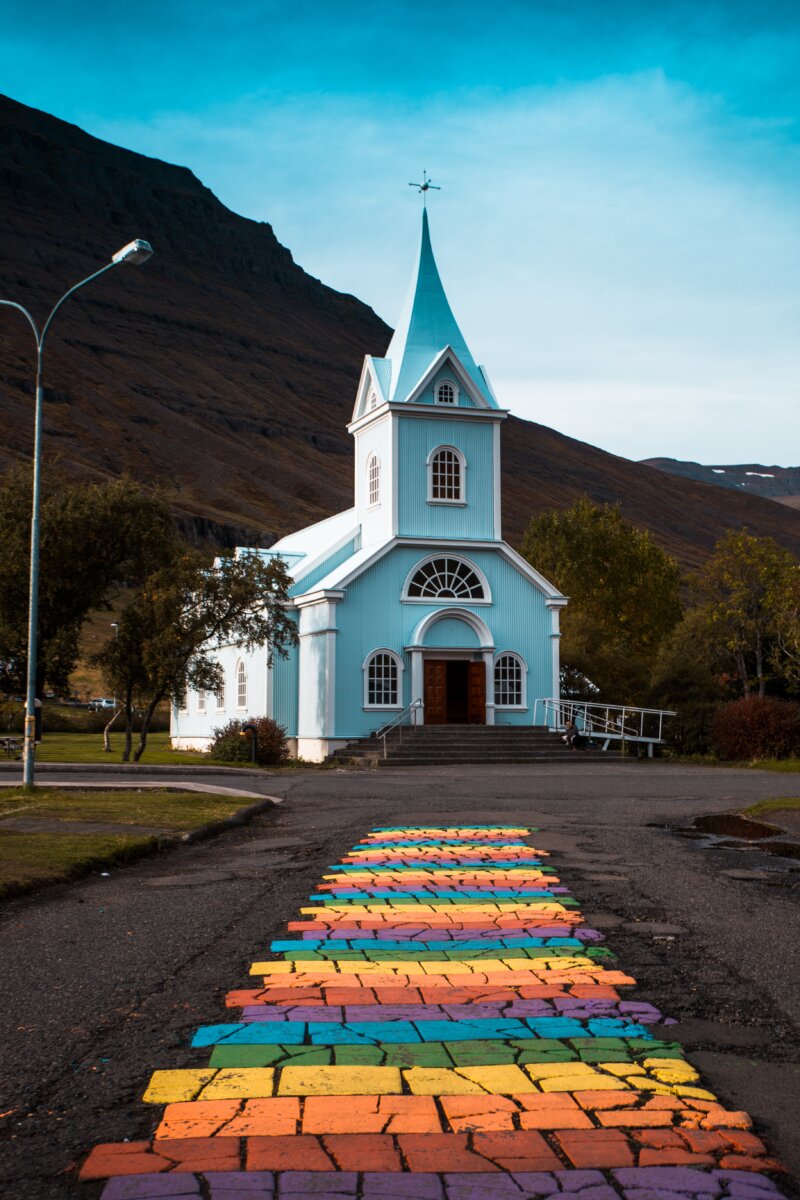 And Hengifoss, Iceland's third highest waterfall known for its distinctive red and black pattern.
Unlike some of Iceland's more popular waterfalls, this one does require an hour-ish hike, but it's worth it for views like this: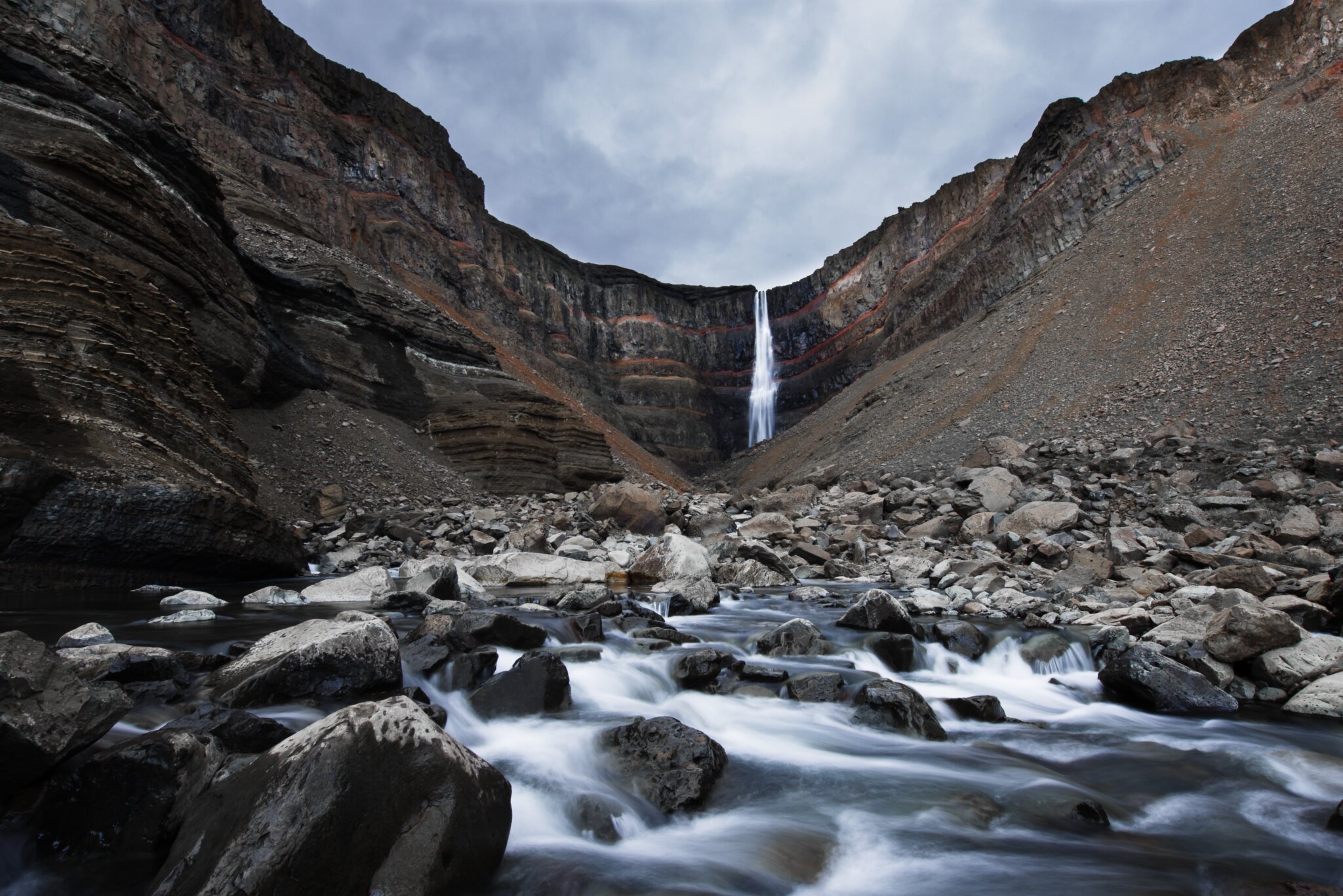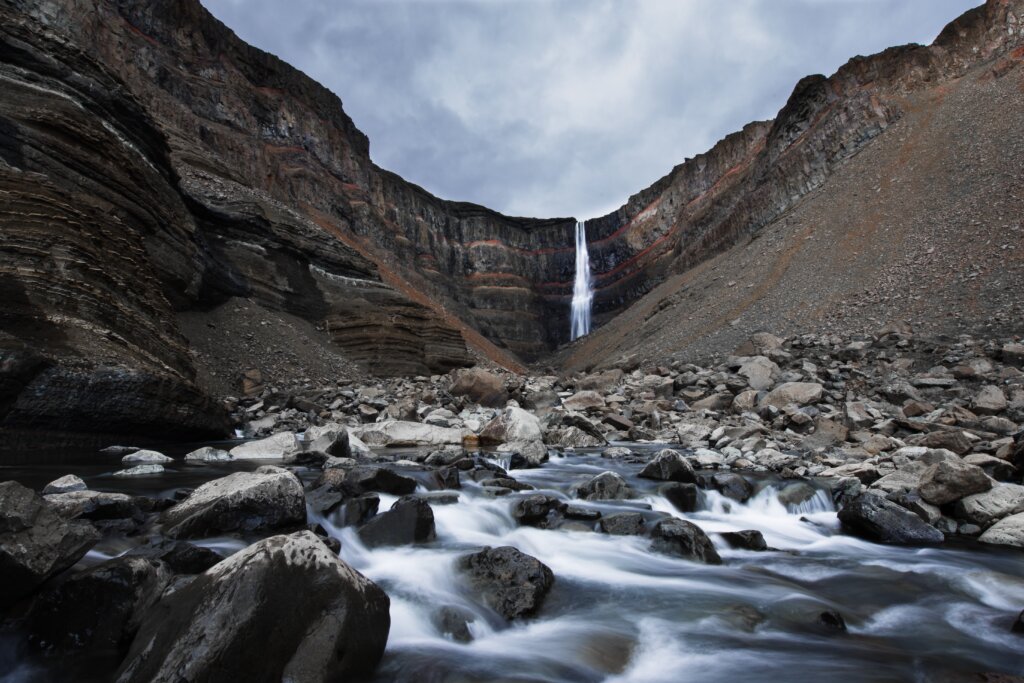 And gorgeous sights along the way like the Litlanesfoss, a waterfall gloriously framed by some of those towering  basalt columns we've come to obsess over: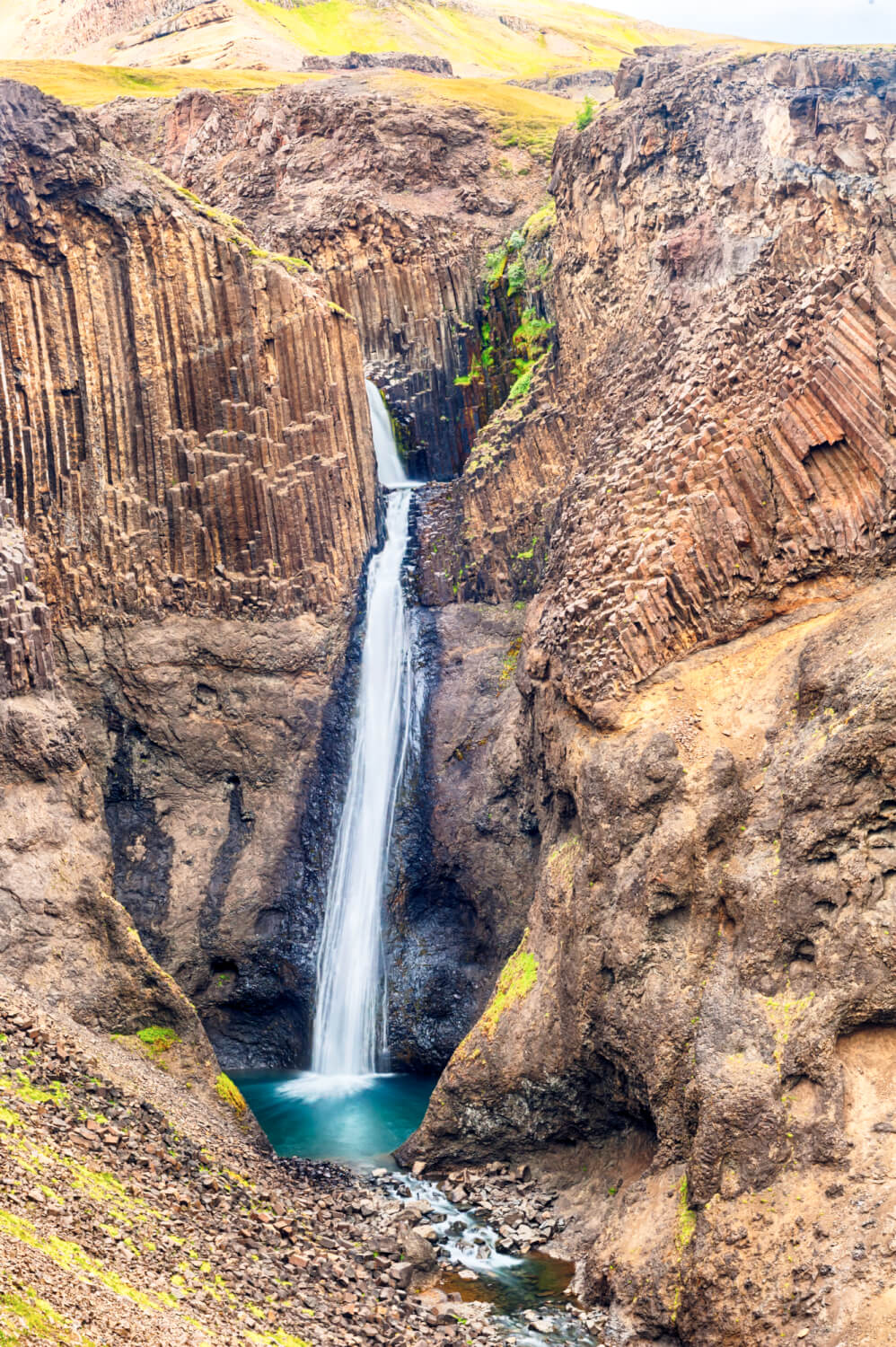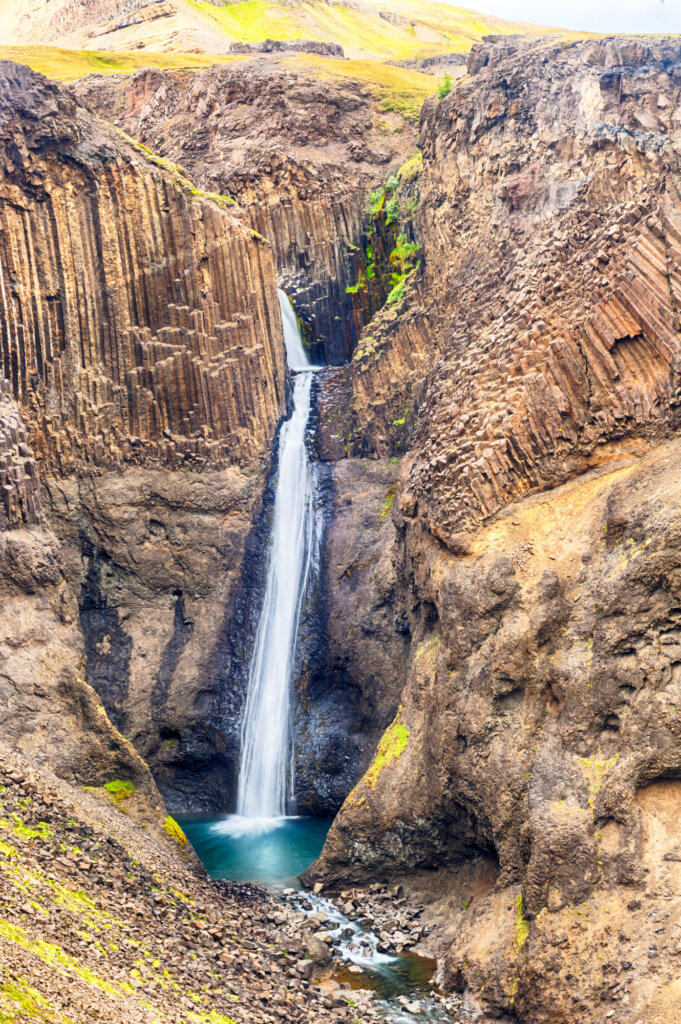 Arctic Henge
And if you want to go to Northern Iceland (very very far North), then another interesting place to check out is Iceland's Arctic Henge, where you'll find a series of arches and statues inspired by Norse Mythology.
You'll find it near the village of Raufarhöfn.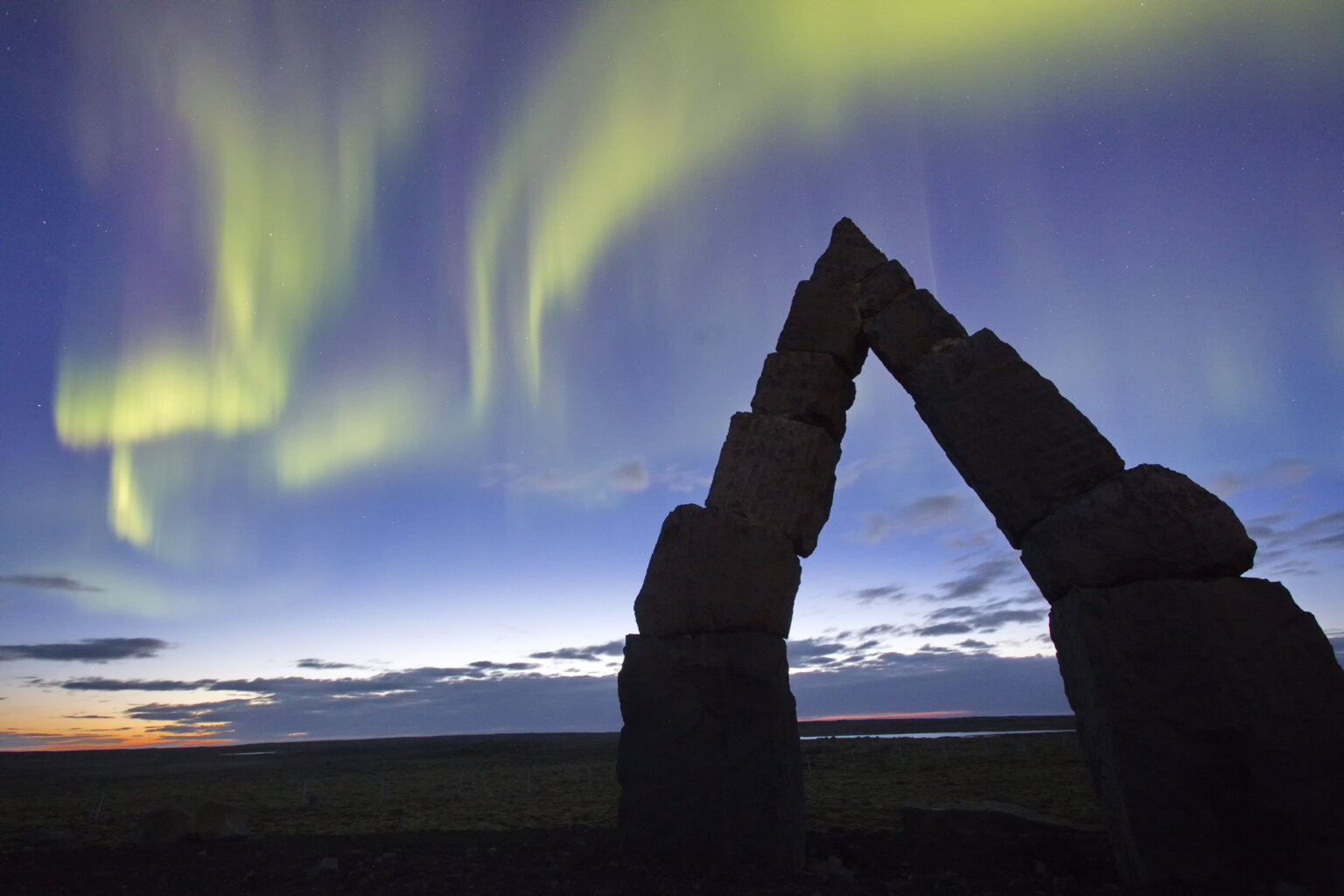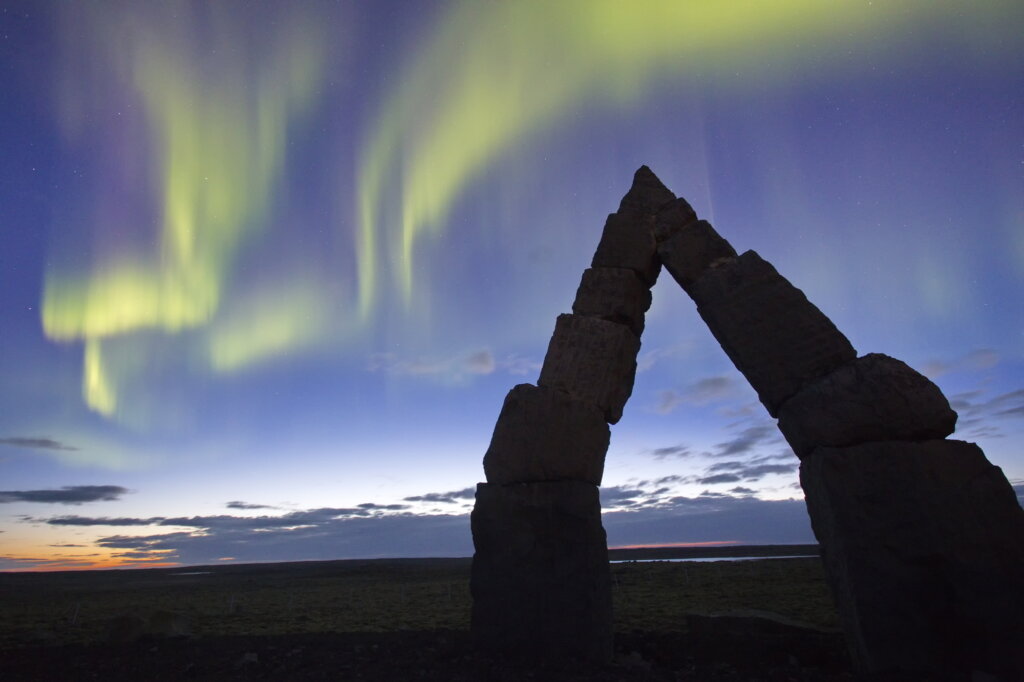 The Diamond Circle
Iceland seems to have a fondness for circles, from its famous circular Ring Road to its best-known tourist area: the Golden Circle.
Well, if you're exploring Northern Iceland, it should come as no surprise that they have a Circle for you too – the Diamond Circle!
This sightseeing route comprises of four main attractions: the famous lake of Mývatn, mega-waterfall Dettifoss, the epic canyon of Ásbyrgi and the adorable fishing town of Húsavik.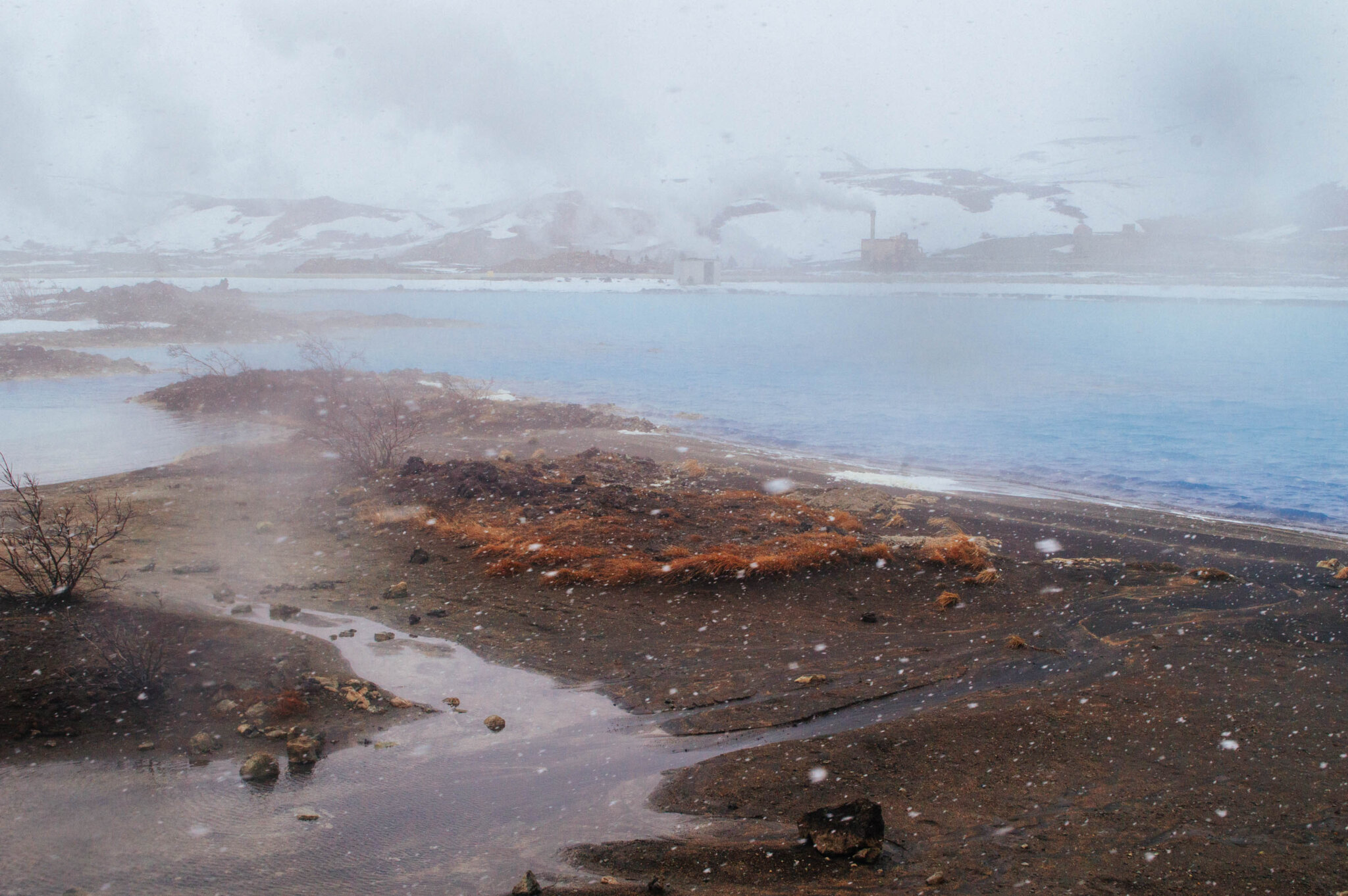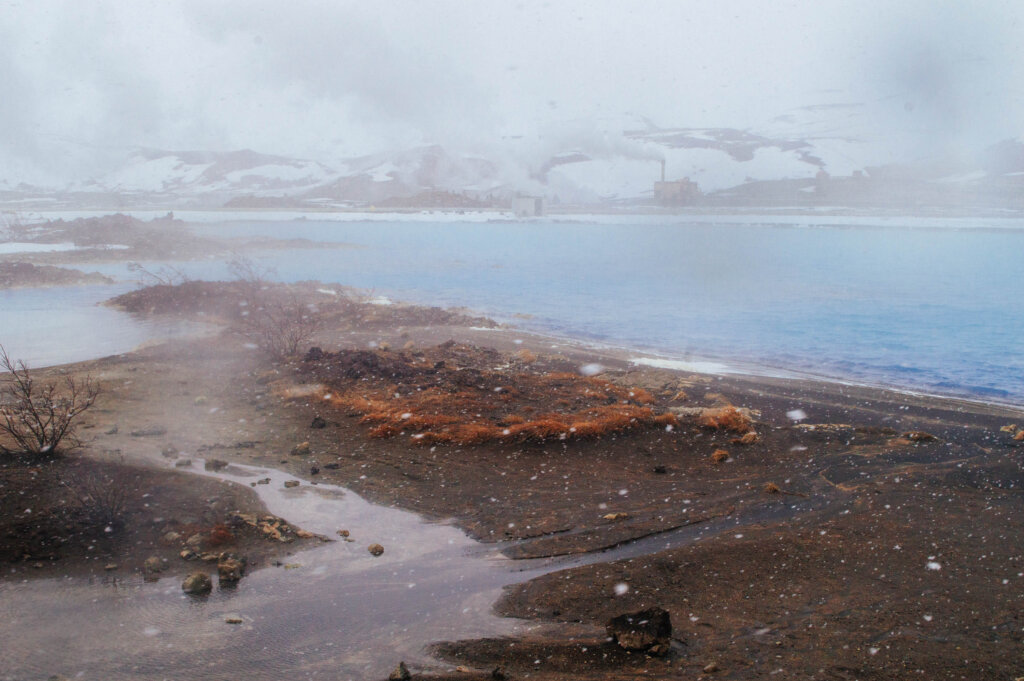 Lake Mývatn is one of the biggest lakes in Iceland, and the region surrounding it is known for its surplus of unique natural wonders, from striking landscapes and sizzling hot springs to an impressive roster of flora and fauna.
If you're keen on taking a detour to Mars, the sulfuric mud springs of Námaskarð (near Lake Mývatn) are as close to Martian landscape as you can get here on Earth (except Lanzarote, maybe).
Does the sulphur make the whole area smell of boiled eggs? Absolutely, but it's a stench worth braving for landscapes like these: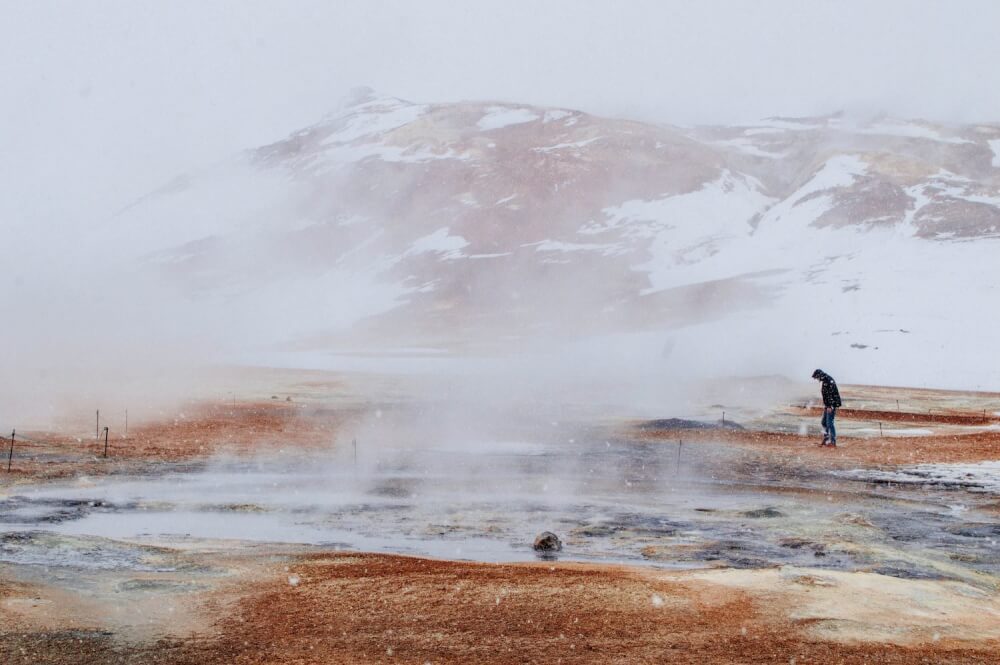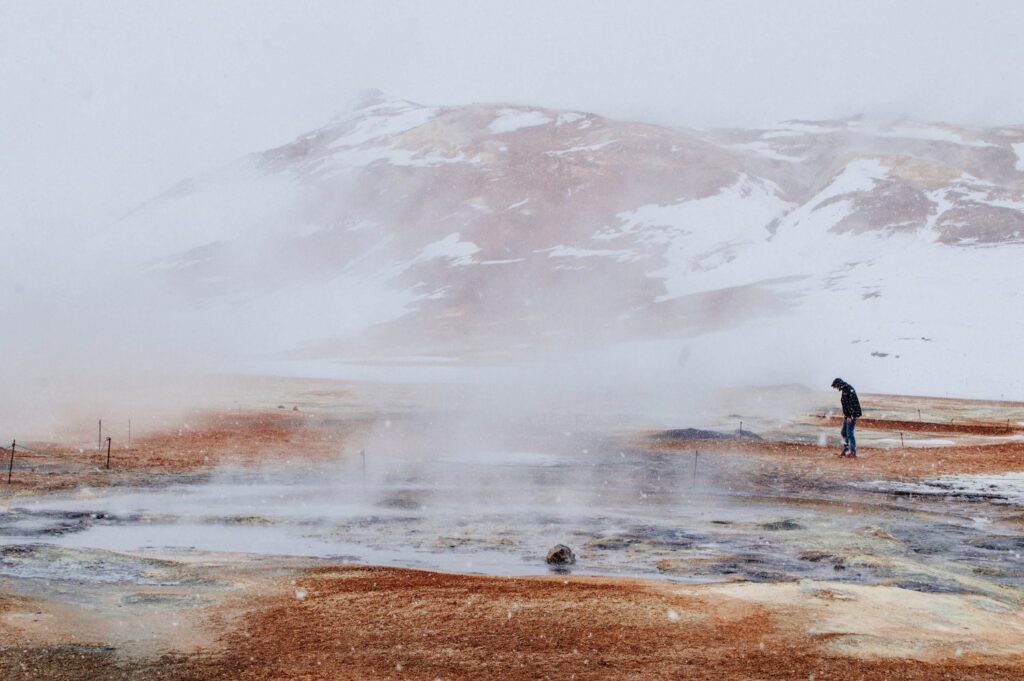 Another must-visit part of the Diamond Circle is Dettifoss, which is one of the most powerful waterfalls in Europe (and THE most powerful one in Iceland), with an average waterflow of 193 meters cubed per SECOND. 
Its muddy and dark greyish hues are thanks to a high density of sediments in the water, adding to the falls' apocalyptic charm: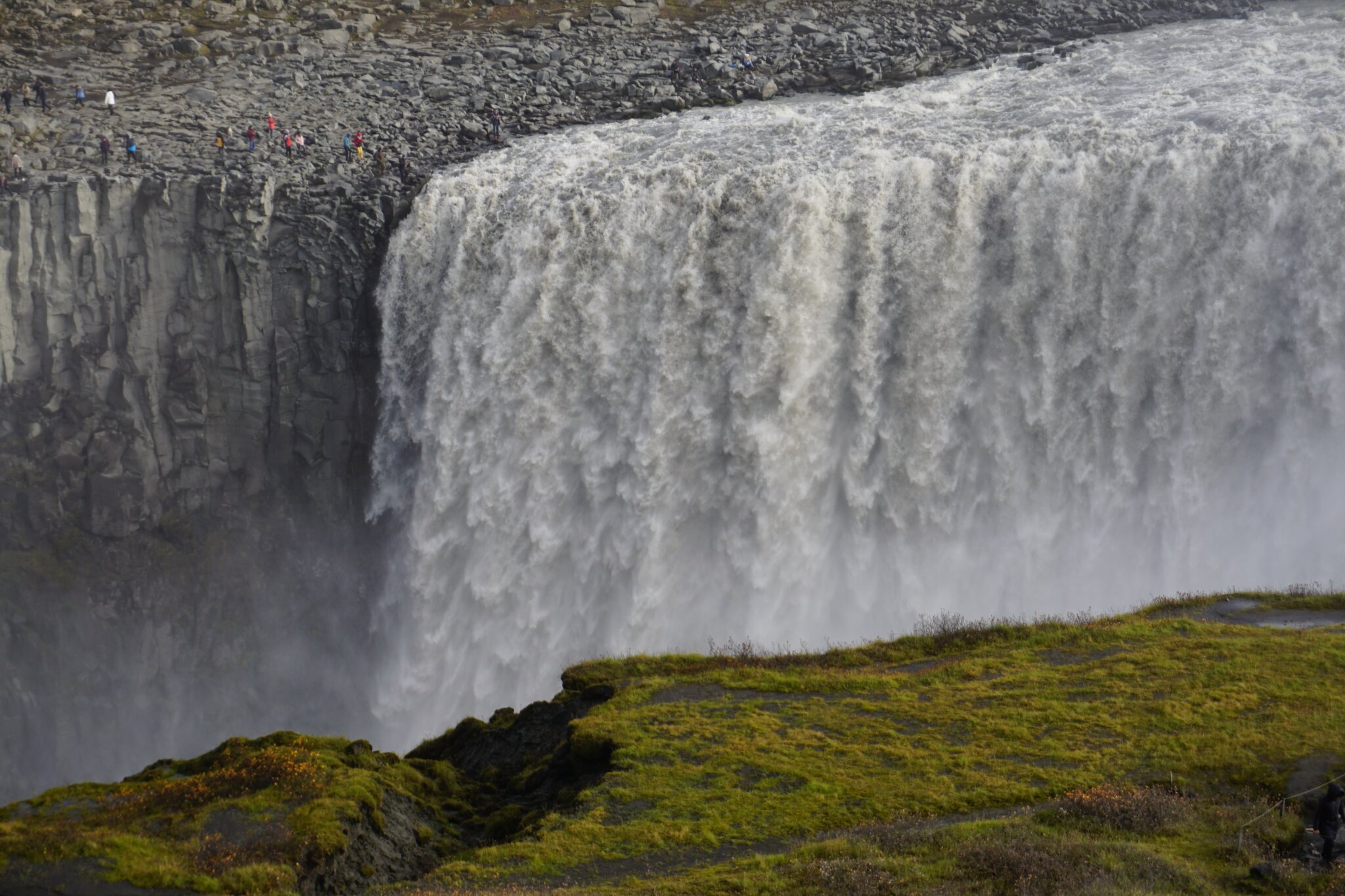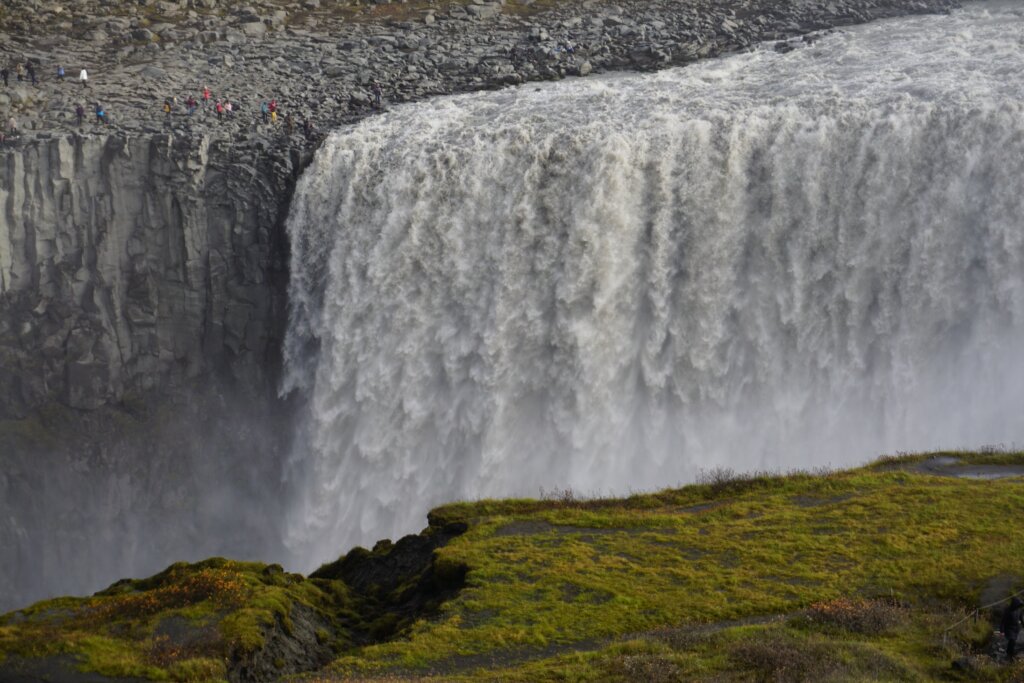 If you don't mind a short walk while visiting Dettifoss, consider walking to Selfoss too.
It's about 1km away, and offers some glorious views.
This is one of the few popular waterfalls in Iceland whose width (100m) far exceeds its height (11m), making it a nice stop for some variety.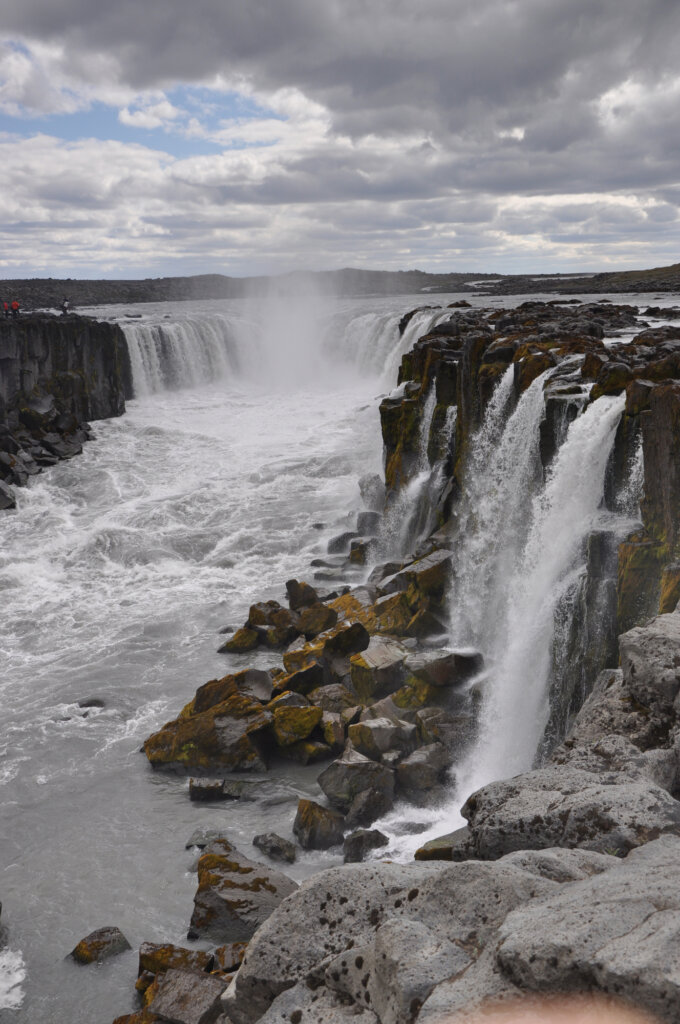 Another stop along the Diamond Circle is Ásbyrgi, an impressive glacial canyon shaped like a horseshoe, with a dramatic aesthetic upheld by steep cliff faces and an expansive woodland stretching far into the distance.
While this canyon isn't as famous as some of the other sights along the Diamond Circle, it's a worthwhile off the beaten path place to visit in Iceland, with plenty of hiking trails to enjoy. Click here for some more ideas on things to do in the area.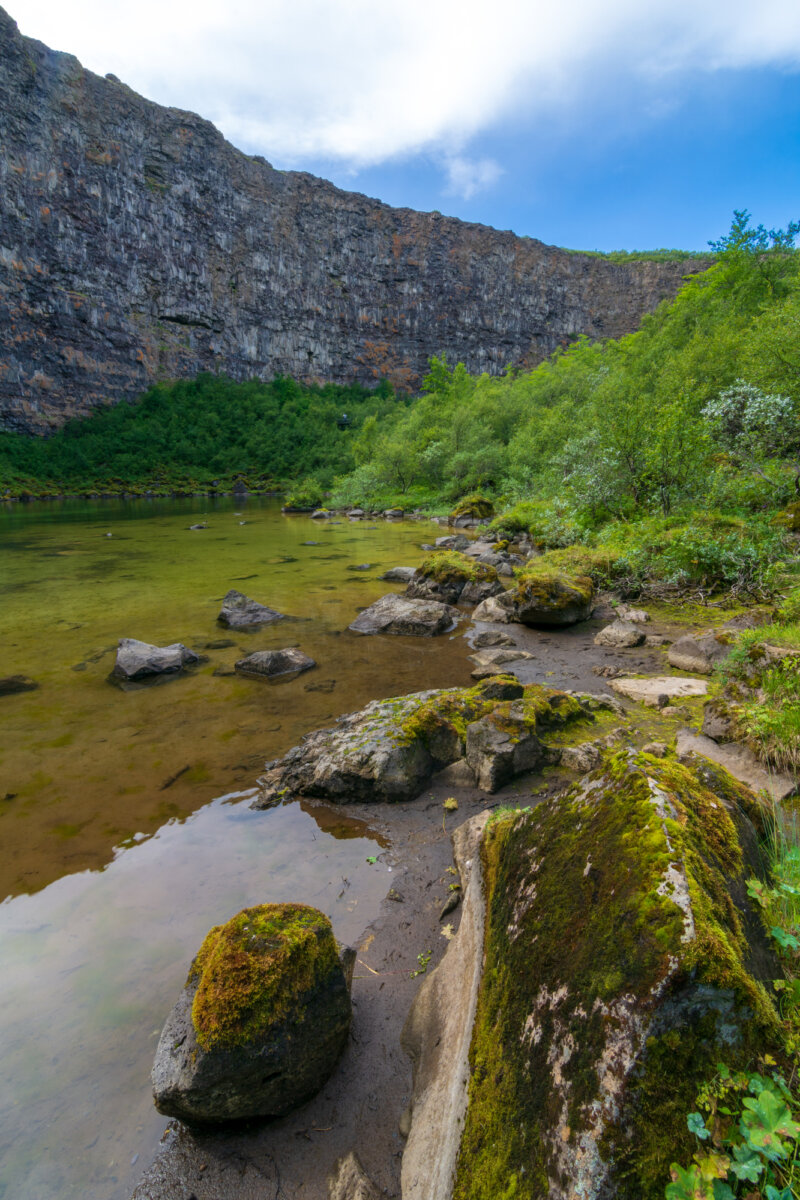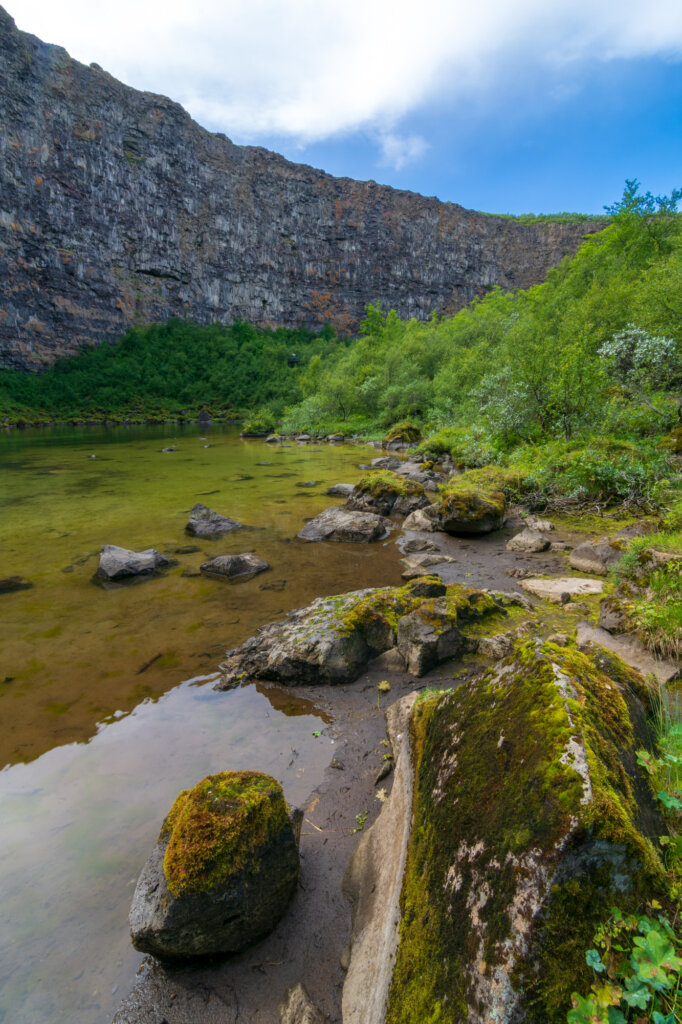 The final stop of the Diamond Circle route is Husavik, a small fishing town recently popularized by Eurovision Song Contest: The Story of Fire Saga.
Besides being the namesake for one of my favourite songs of 2020 (listen here), it's also the whale watching capital of the country, with various species of whales frequently spotted in the vicinity.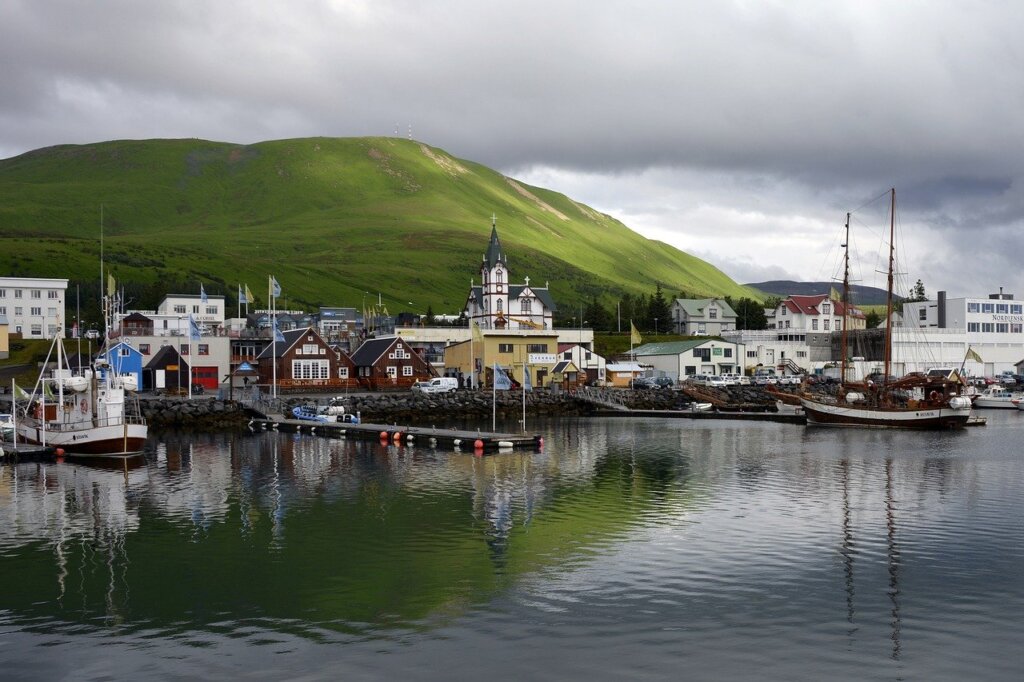 Goðafoss
With a name like "Waterfall of the Gods" in a country so renowned for waterfalls, you shouldn't be surprised that Goðafoss has made it onto my Places to Visit in Iceland list.
Found in Northern Iceland, Goðafoss is often considered to be one of the most beautiful waterfalls in Iceland, with a distinctive curved shape that stretches 30m wide: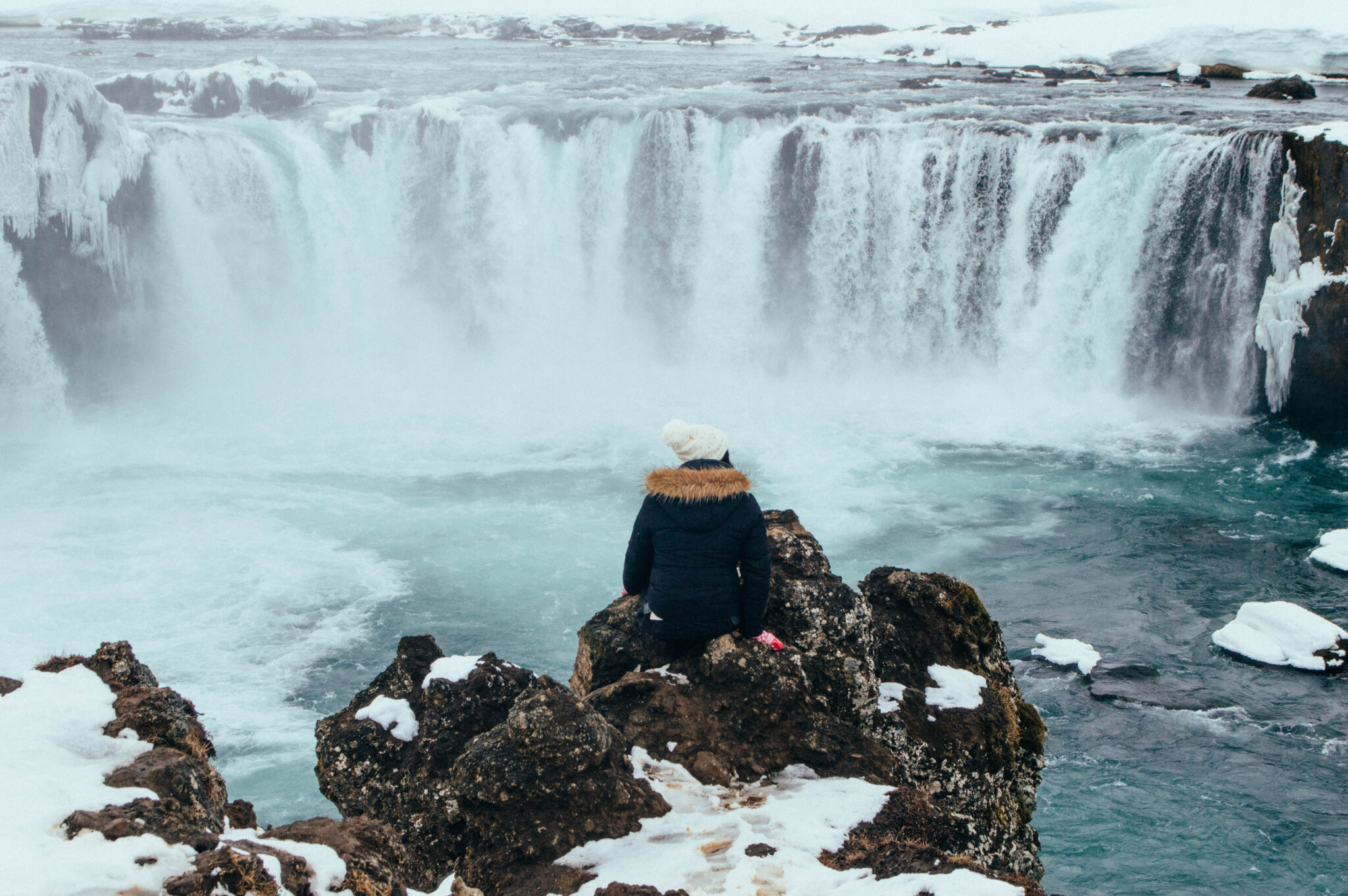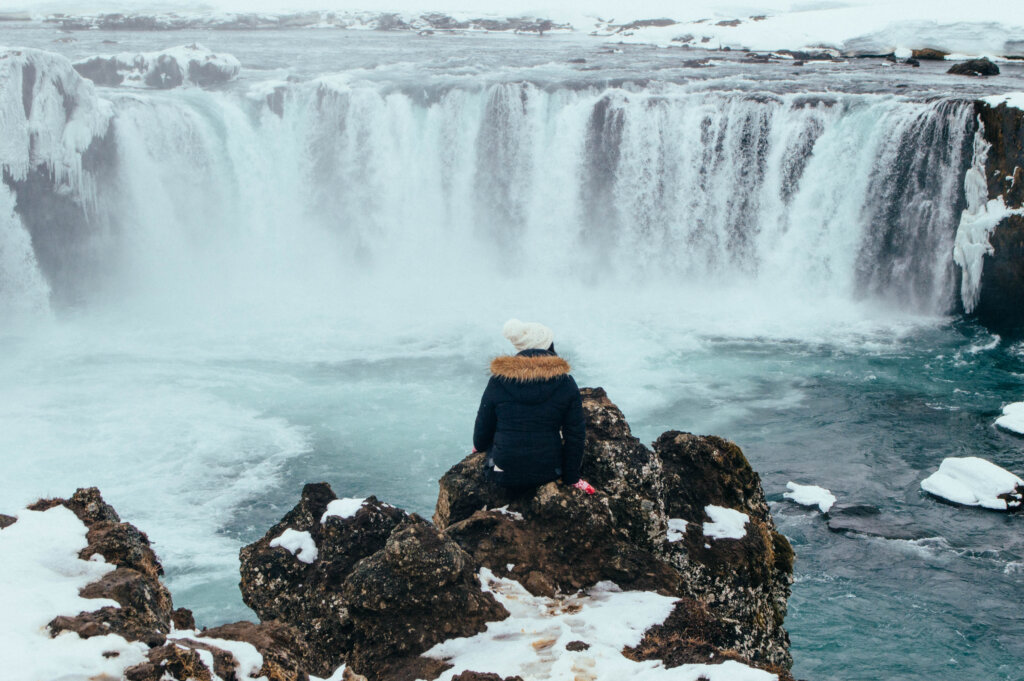 Aldeyjarfoss
This is a waterfall I sadly haven't been able to see for myself yet, but once I saw a photo, I knew it needed to be included in this list of Iceland's top places.
Found in North Iceland, this glorious waterfall has a dramatic drop of 20m, made all the more epic by its location surrounded by moody basalt columns: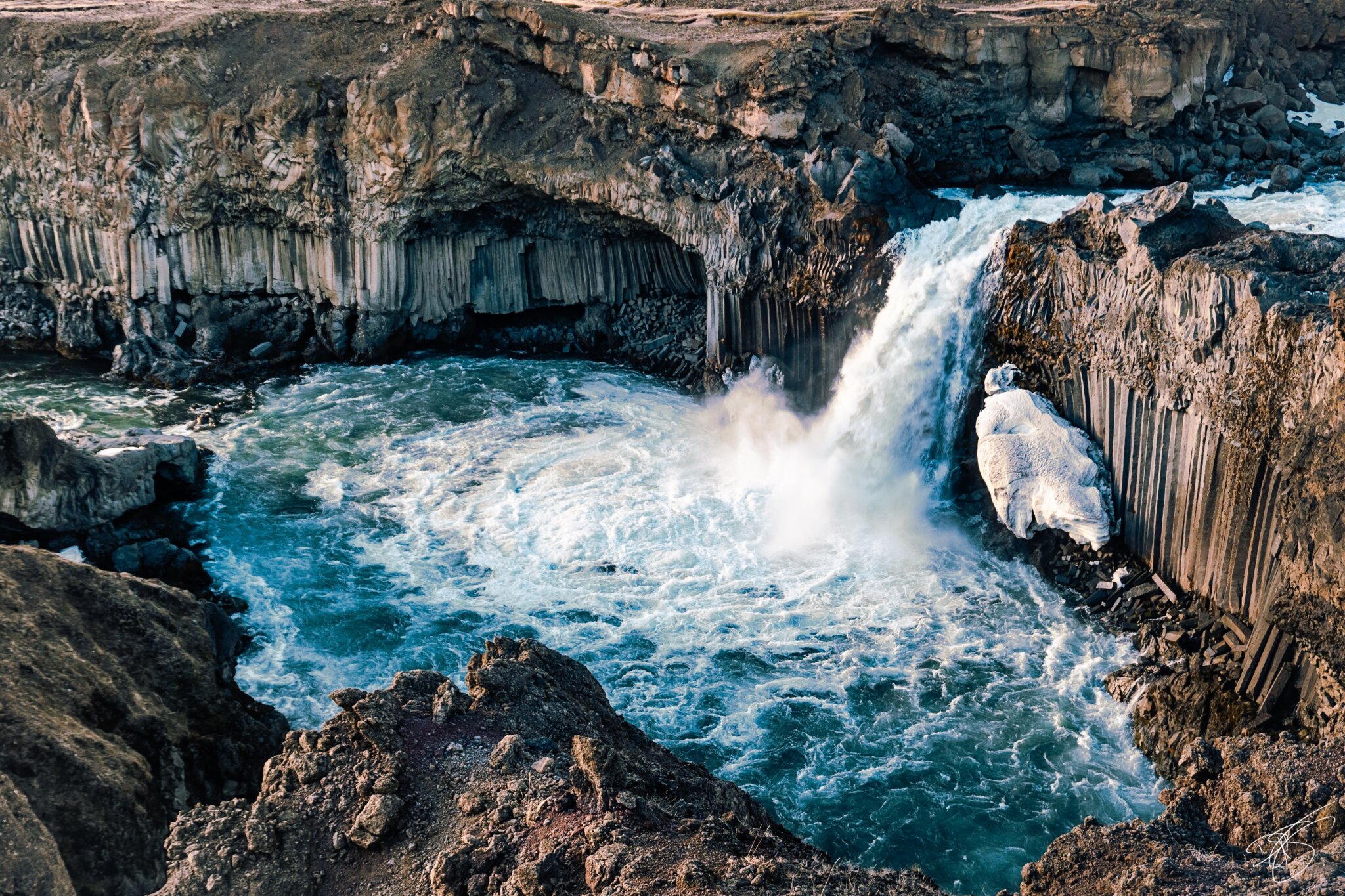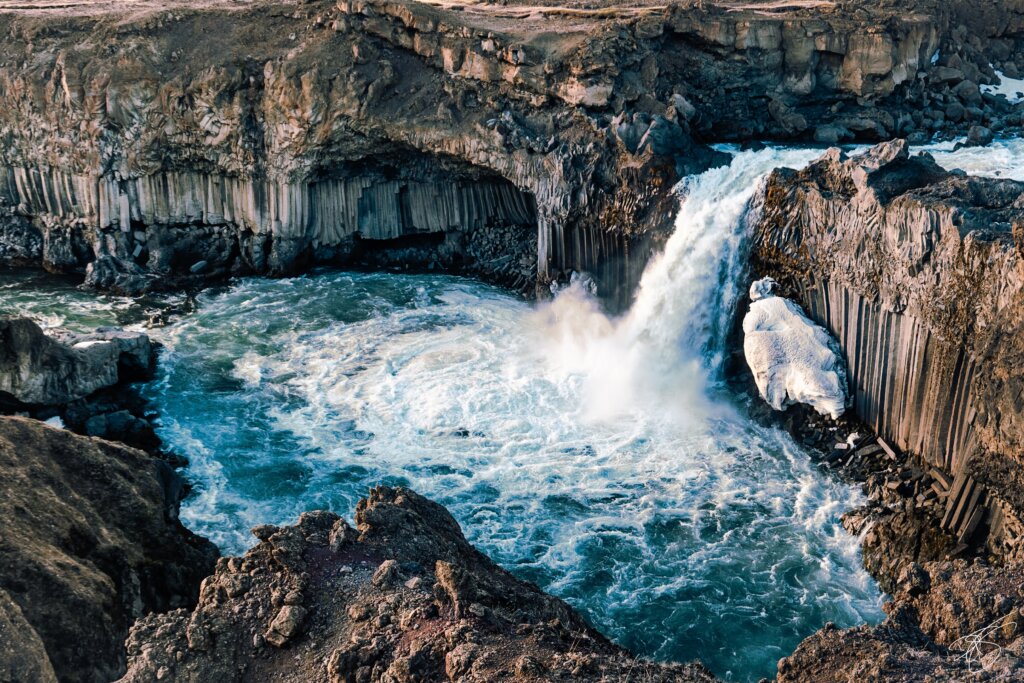 Akureyri
While Akureyri is the Capital of North Iceland, it often doesn't get a ton of love on "must-see places in Iceland" lists because it is, at first glance, a fairly ordinary town.
But while it doesn't have a ton of attractions to offer within the "city" itself, there are still a few points of interest that make Akureyri a worthwhile place to visit fo a few hours, or as a base for your other Northern Iceland adventures.
Some nice spots to check out in Akureyri include the Laufas Turf Houses, the Akureyri Church and (nearby), the adorable Christmas House in Jólahúsið.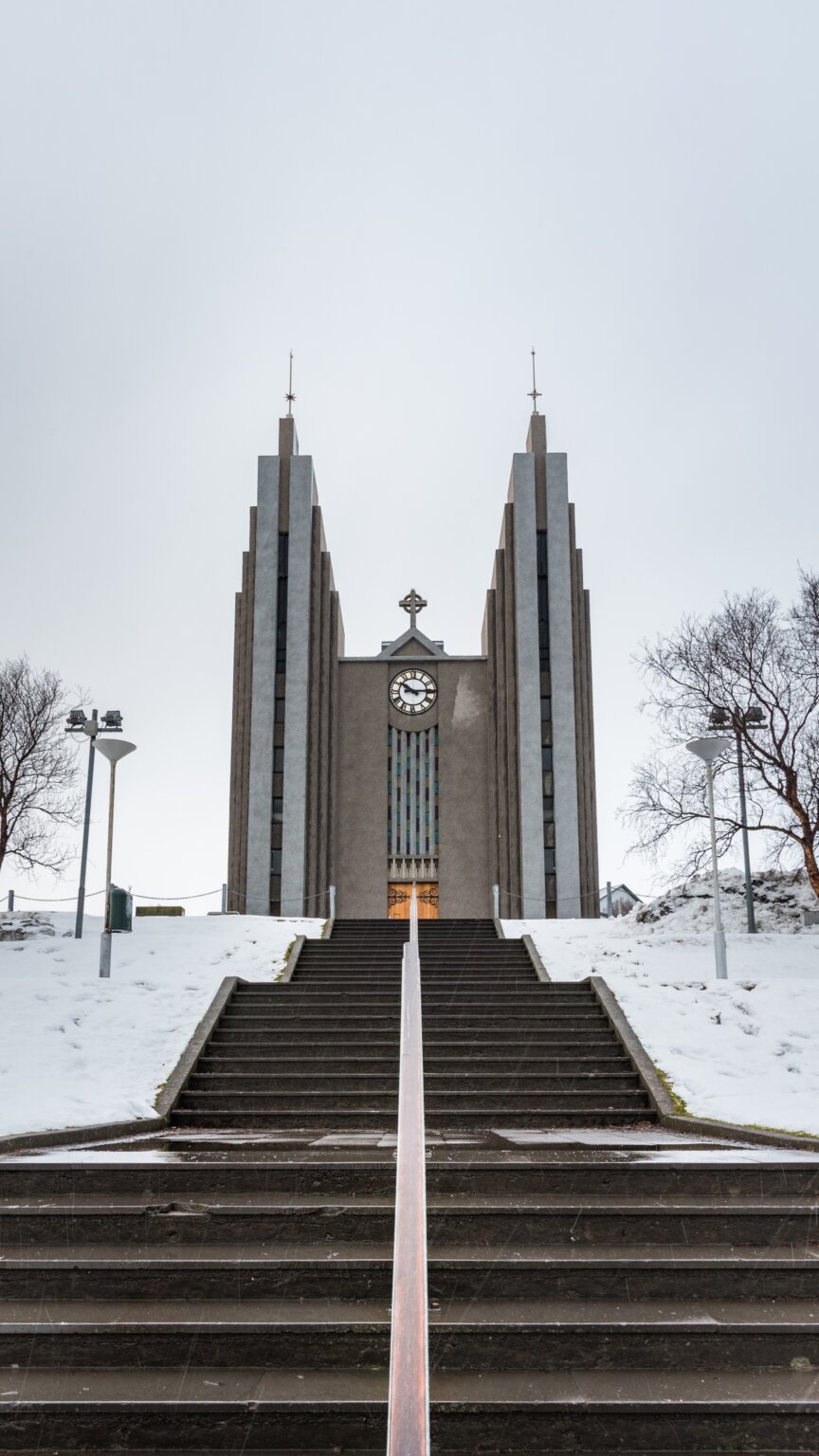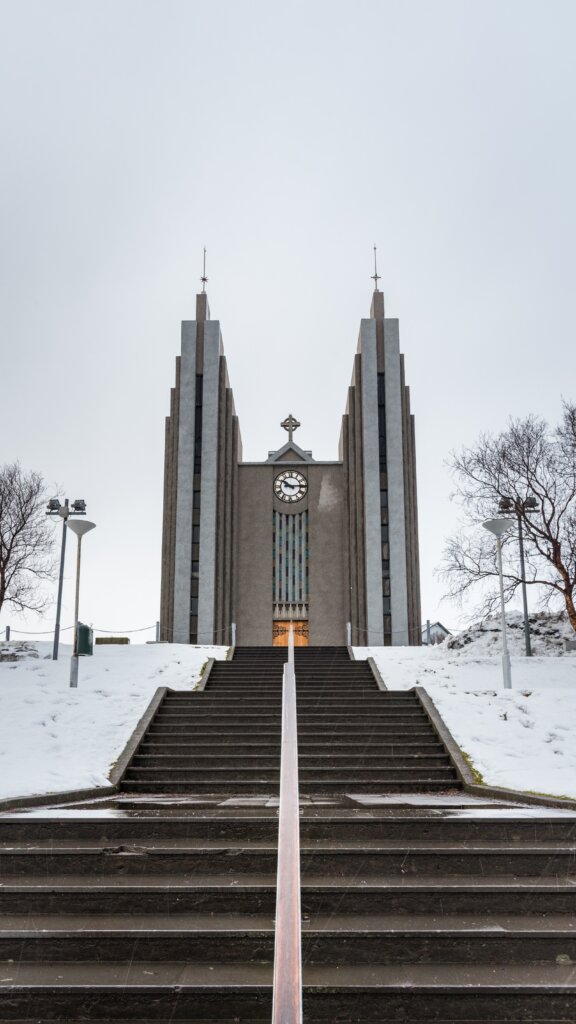 Tröllaskagi Peninsula
Another fairly offbeat place to visit in Iceland I'd recommend is the Tröllaskagi Peninsula.
We stayed overnight here during our van trip and it was honestly so raw and beautiful, I don't understand why it's not talked about more!
This peninsula in Northern Iceland is best known for its majestic Icelandic horses, so if you want to see some of those fluffy beauties in person, here would be a great place to do that.
You'll also find some of the tallest mountains in the country here, along with other iconic Icelandic landscapes like waterfalls and rock formations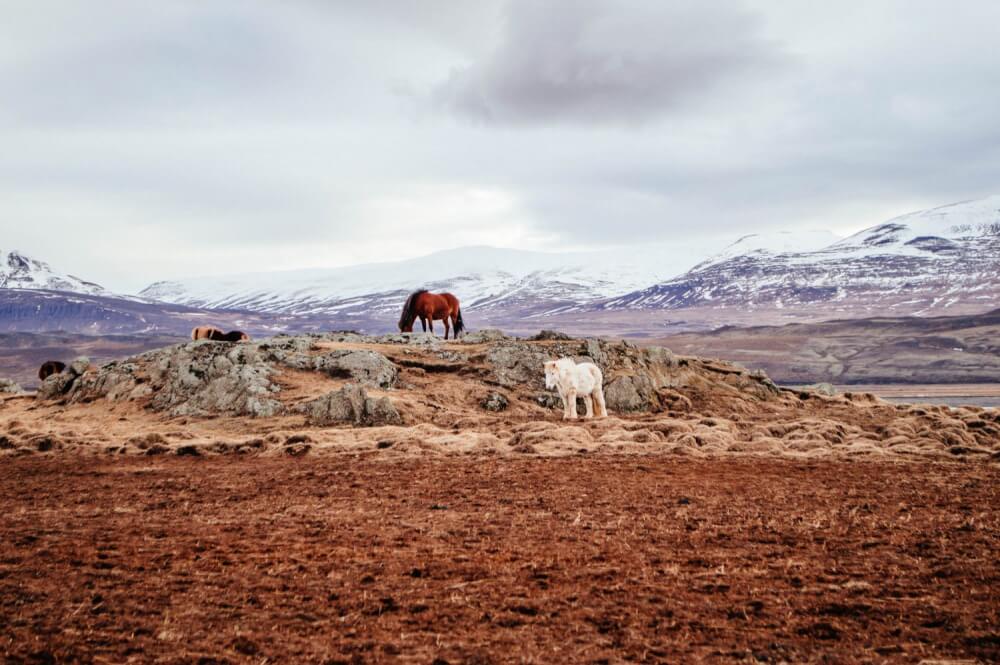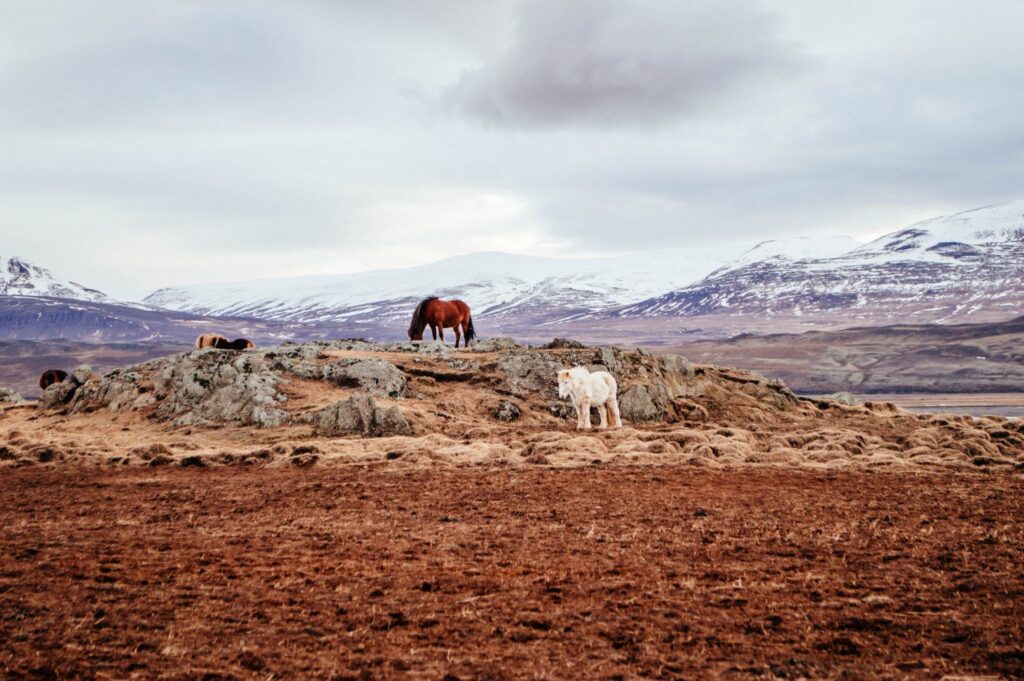 Vatnsnes Peninsula 
In Northwest Iceland, you'll find another beautiful peninsula that's a bit more off the beaten path for most visitors – the Vatnsnes Peninsula, best known for its abundance of seal colonies, and its many unique rock formations.
The most famous of these formations is the Hvítserkur, which stands at a tall 15m, and is often compared to a variety of animals, from elephants and rhinos to dinosaurs and dragons. 
Here's a photo – what do you think?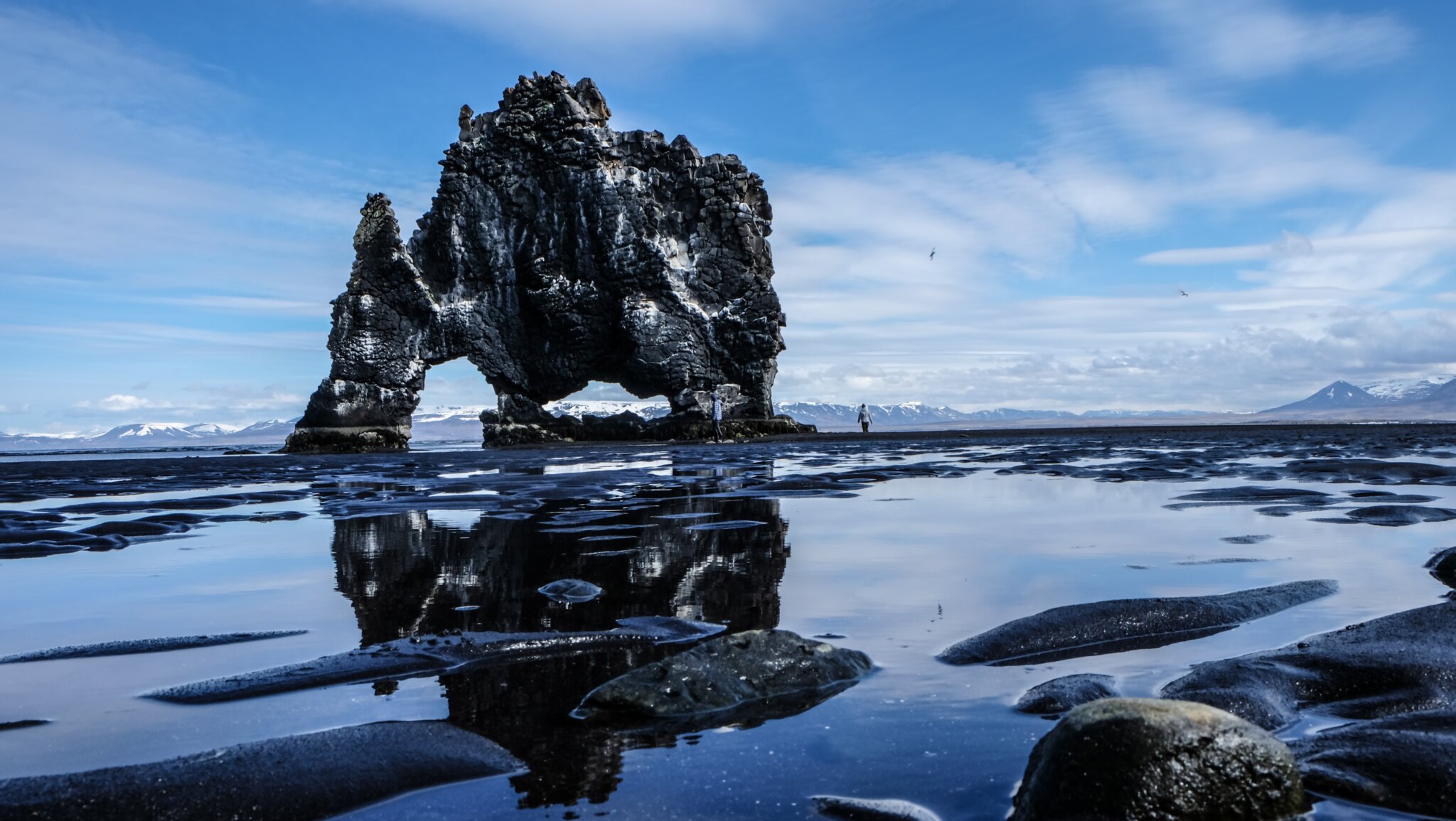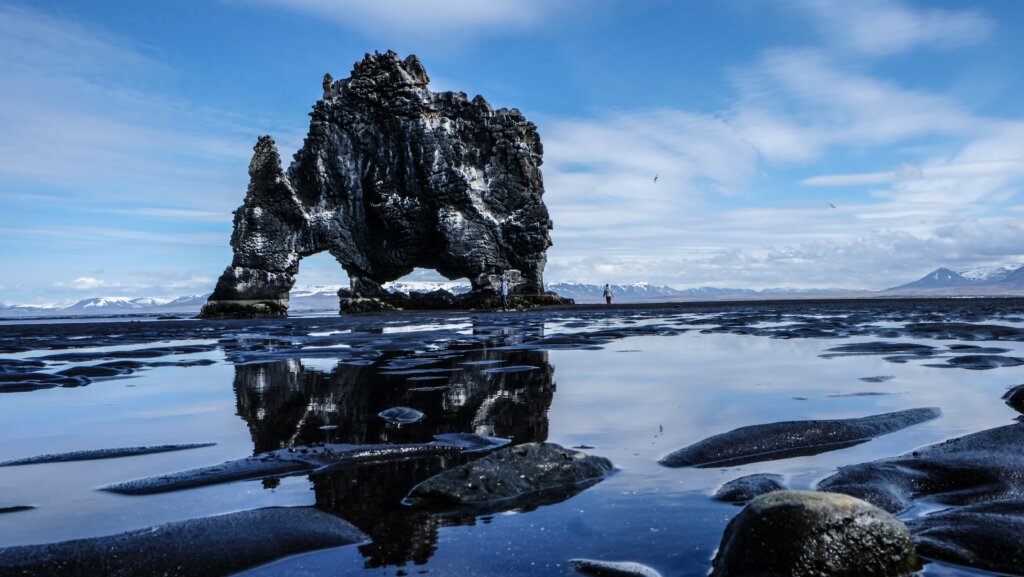 Kolugljúfur Canyon
Another offbeat place in Iceland I'd highly recommend visiting is the majestic Kolugljúfur Canyon, a dramatic and ruggedly beautiful gorge where you'll find the Kolufossar Falls (pictured below).
Of course, there's no shortage of wonderful waterfalls to admire in Iceland, but these are truly a breathtaking sight to behold: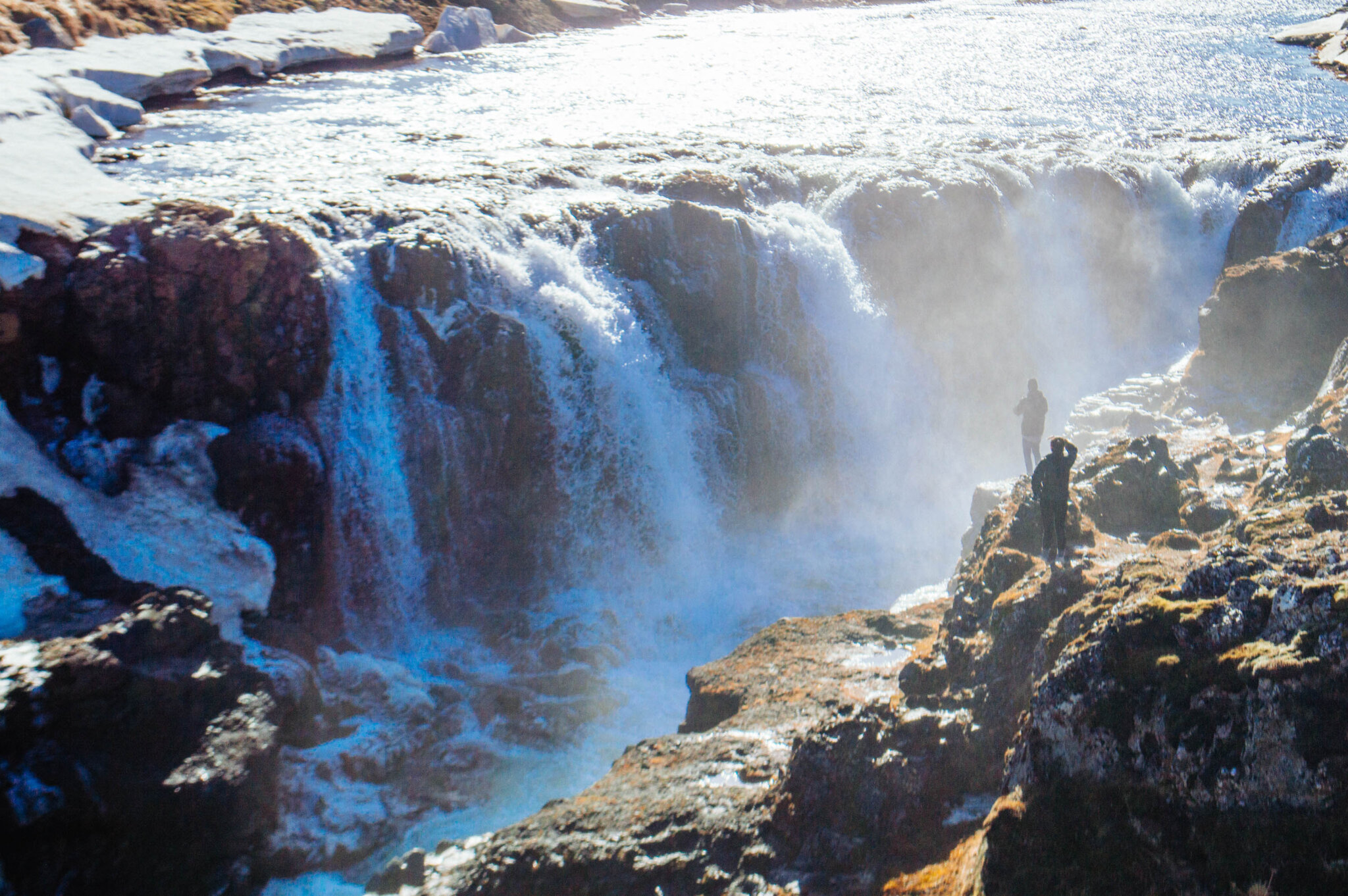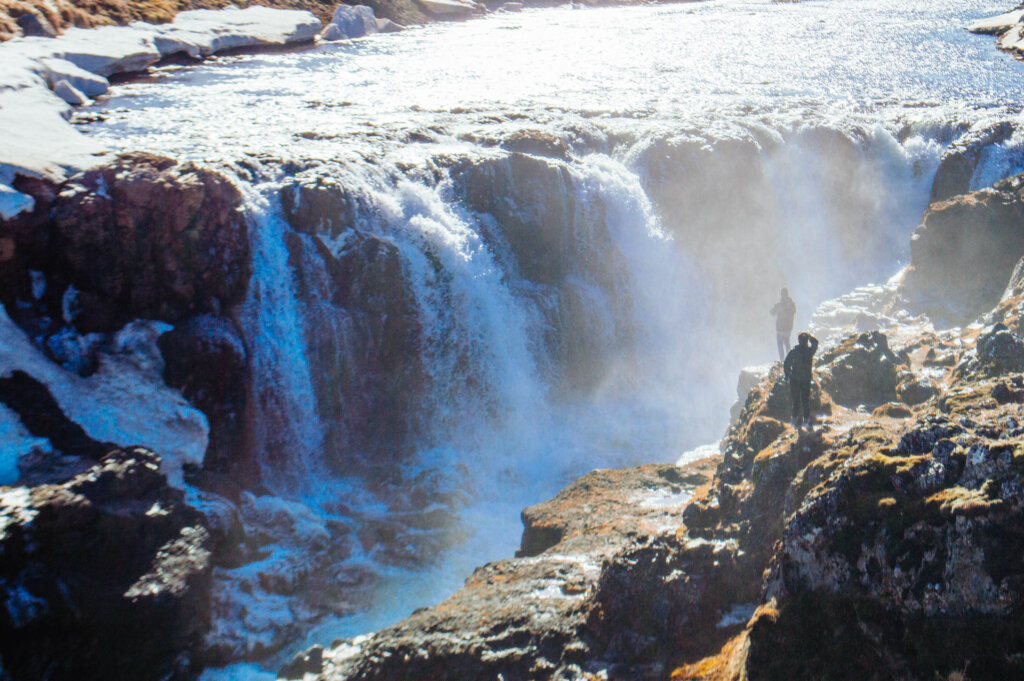 The Westfjords
Iceland's Westfjords refer to the scenic piece of Northwestern Iceland that juts out like a little claw from the northwestermost point of the Ring Road.
Because it's quite a lengthy detour from the typical Ring Road route, this is an area often missed by visitors, making it one of the quieter and more remote places in Iceland you can visit.
While for the most part, the Westfjords are only accessible in the summer, those who time their visit appropriately are treated to staggering landscapes with a fraction of the crowds seen elsewhere in Iceland's tourist hotspots.
What kind of sights can you experience in the Westfjords? Highlights include quirky museums dedicated to sea monsters and sorcery, Látrabjarg cliff, and Dynjandi, this epic waterfall right here: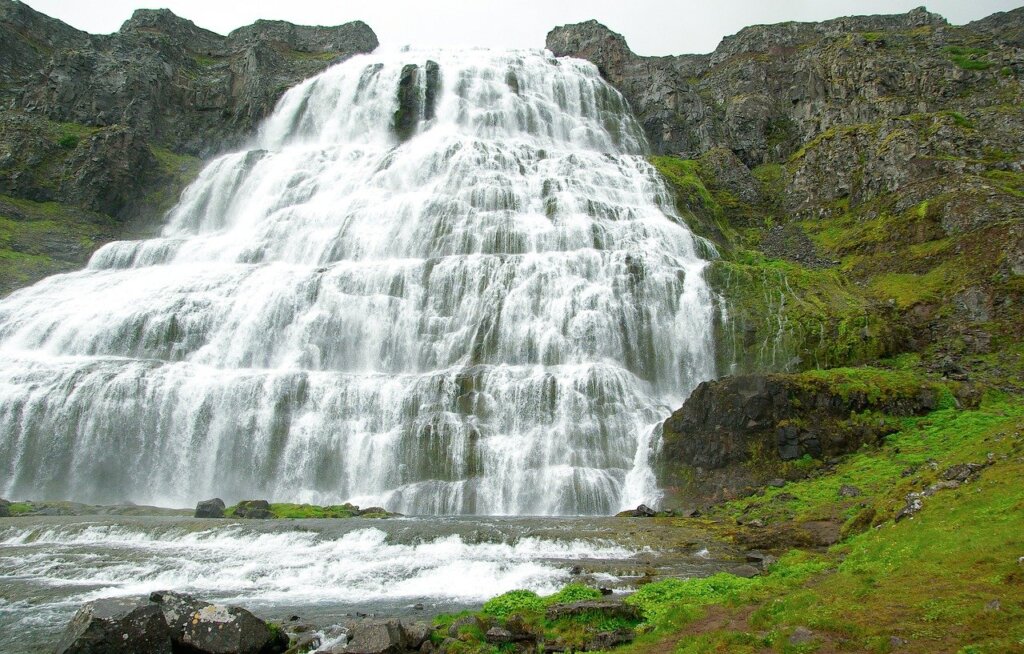 Snæfellsnes Peninsula
Of all the wonderful places to visit in Iceland, I think the Snæfellsnes Peninsula may have been my favourite.
This peninsula (located in Western Iceland) is often considered "Iceland in a nutshell" because it contains most of the incredible landscapes that make Iceland so special…
Imagine picturesque glaciers, endless lava fields, black beaches, jawdropping rock formations, cool wildlife and much, much more.
The Snæfellsnes Peninsula spans about 90km, so there's a lot of ground to cover, but it's definitely worth a spot on your itinerary.
After all, some of the most gorgeous places to visit in Iceland can be found right here, with (relatively) fewer crowds than some of the hotter tourist hotspots in the South like the Golden Circle.
One of the most epic places to visit in this part of Iceland is the iconic Kirkjufell (best viewed from the Kirkjusfellfoss).
This perfectly pointy mountain is ripped right out of a child's sketchbook.
I didn't get the chance to climb it, but it supposedly takes less than two hours and offers an (understandably) epic view.
Hankering for an amazing photo spot? The little Kirkjufellsfoss offers plenty of opportunities for that perfect capture.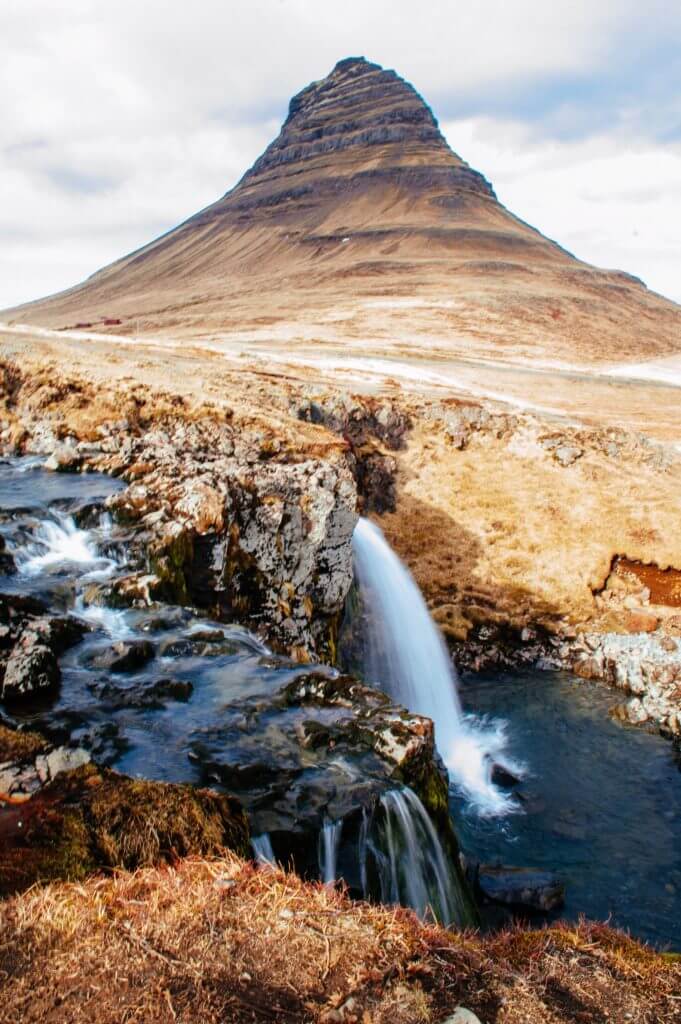 Another one of my favourite stops along here? Definitely the super cool Gatklettur (arch rock), a natural stone arch found between Arnarstapi and Hellnar: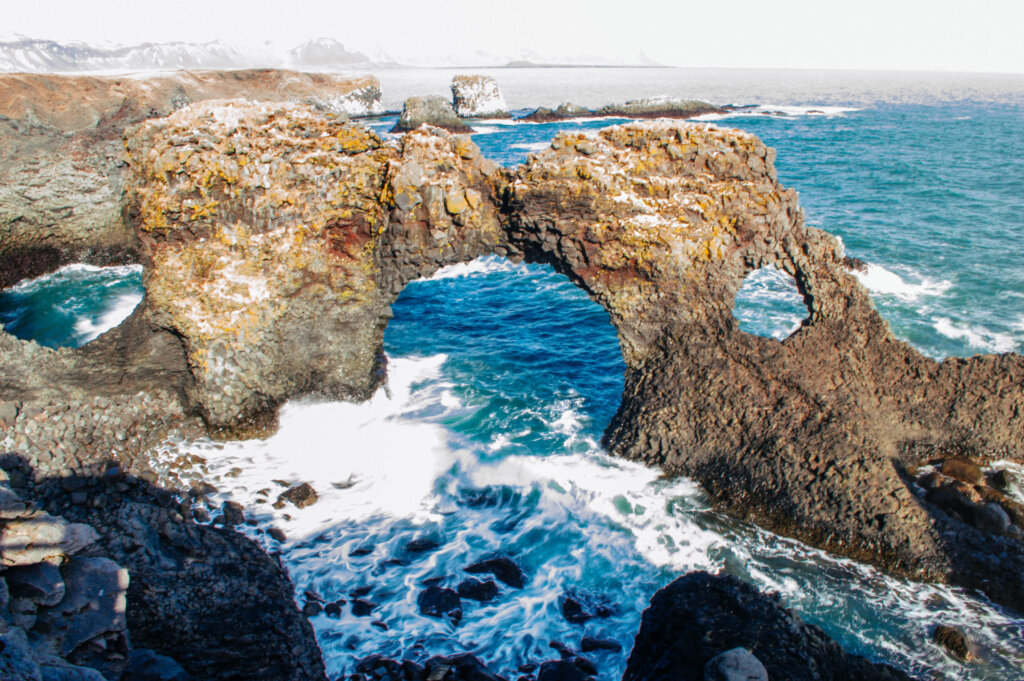 There's also the dreamy and surreal Búðakirkja, a picturesque black church found along the peninsula's south coast: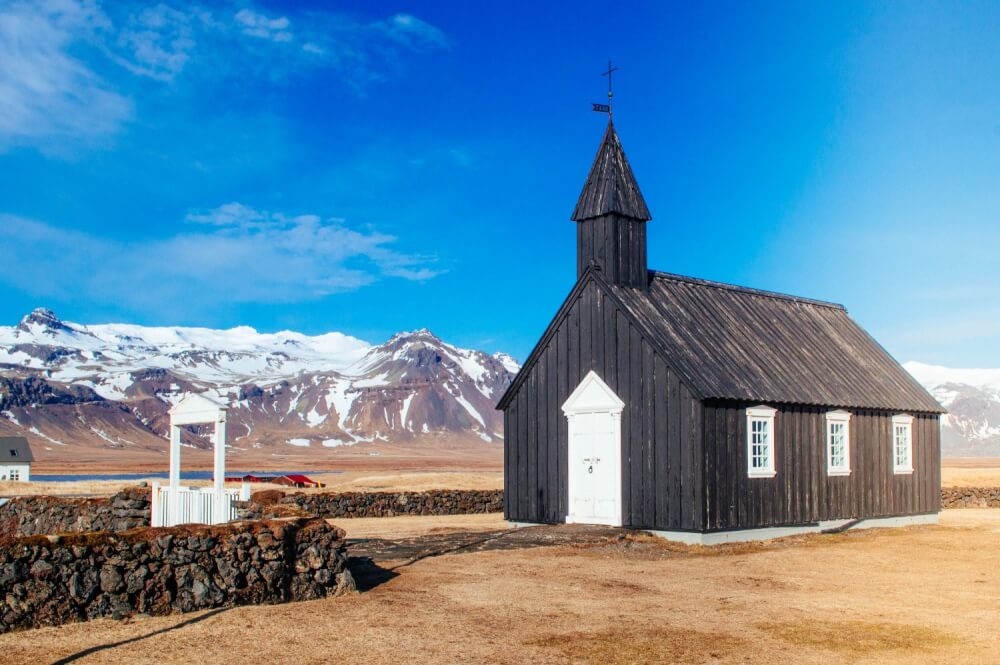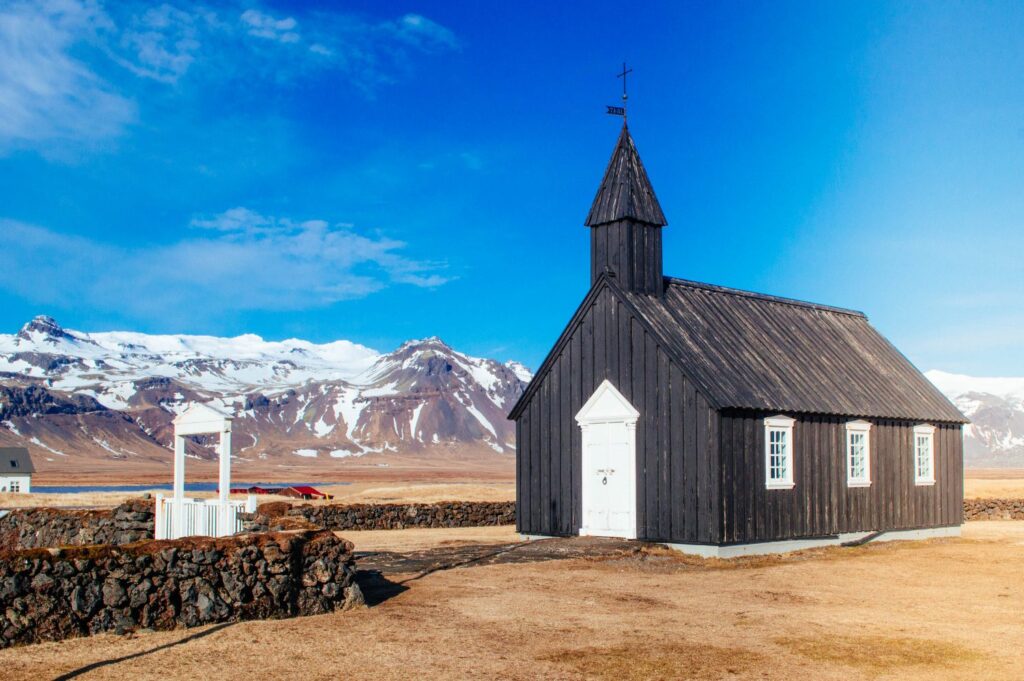 And the Djúpalónssandur Black Beach, which is dotted with bright yellow iron pieces from a ship wreck back in 1948: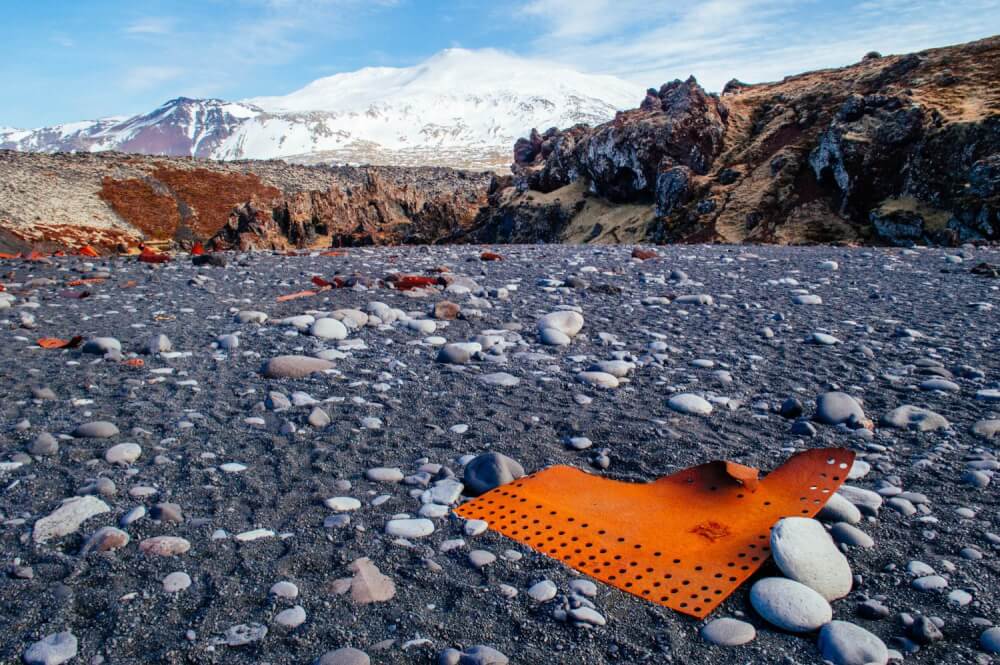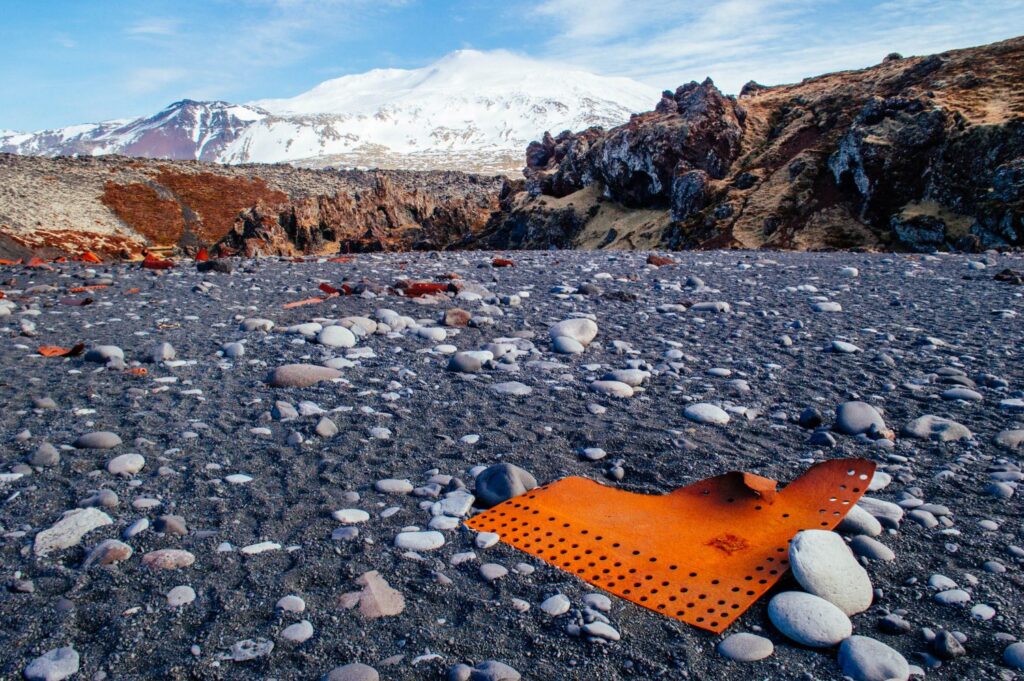 Of course, while exploring the Snæfellsnes Peninsula, Saxholar Crater (found on the peninsula's western tip) is a must-visit.
Its easy walking path allows you to scope out the crater up-close for spectacular views.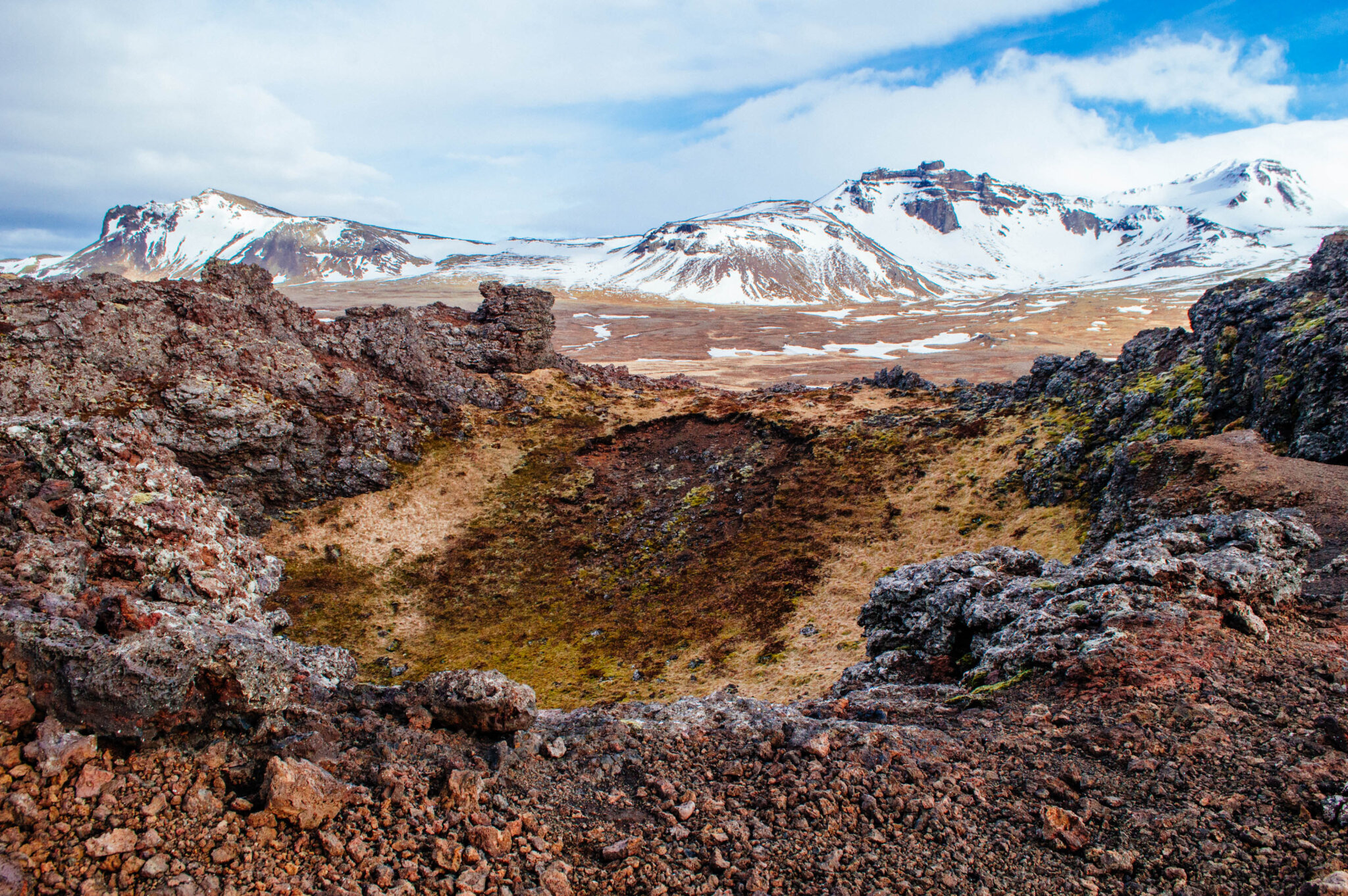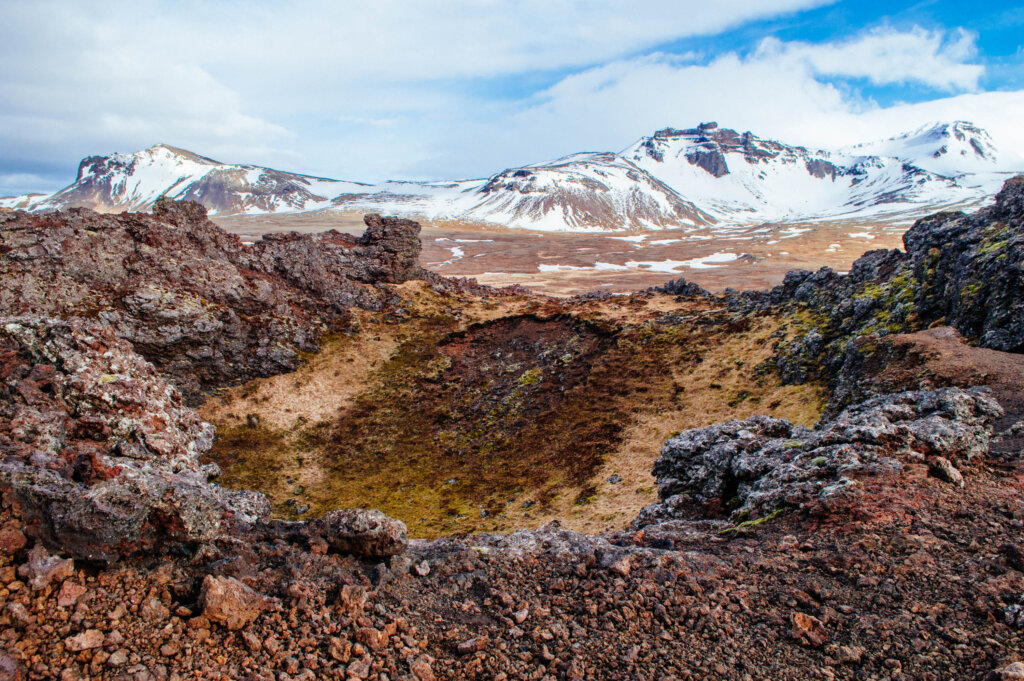 A short drive away you'll also find the Svörtuloft Lighthouse, which is a photogenic yellow gem with great coastal views and photo opps: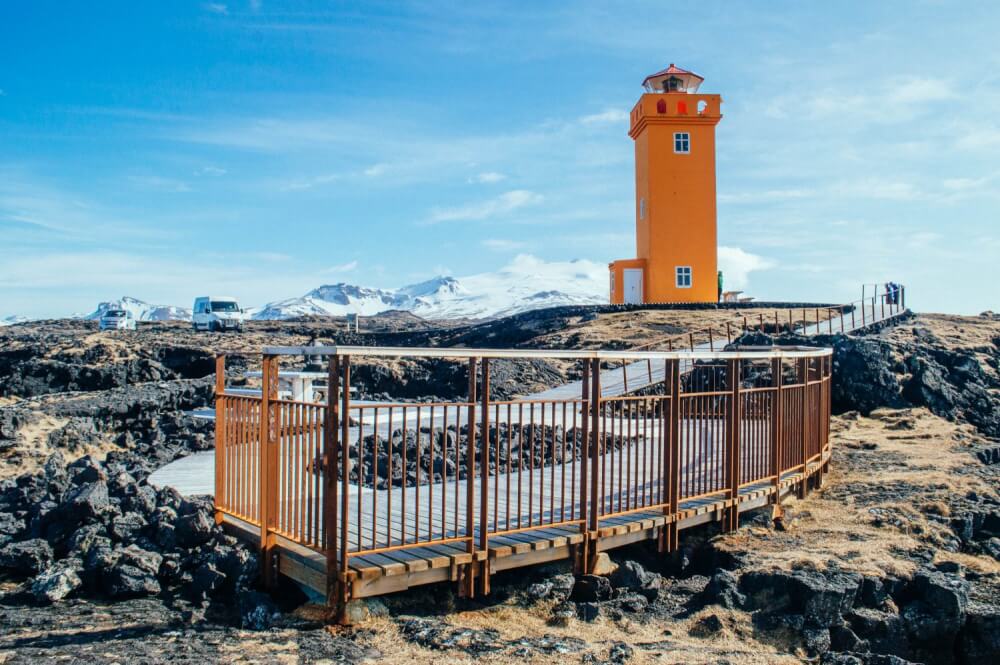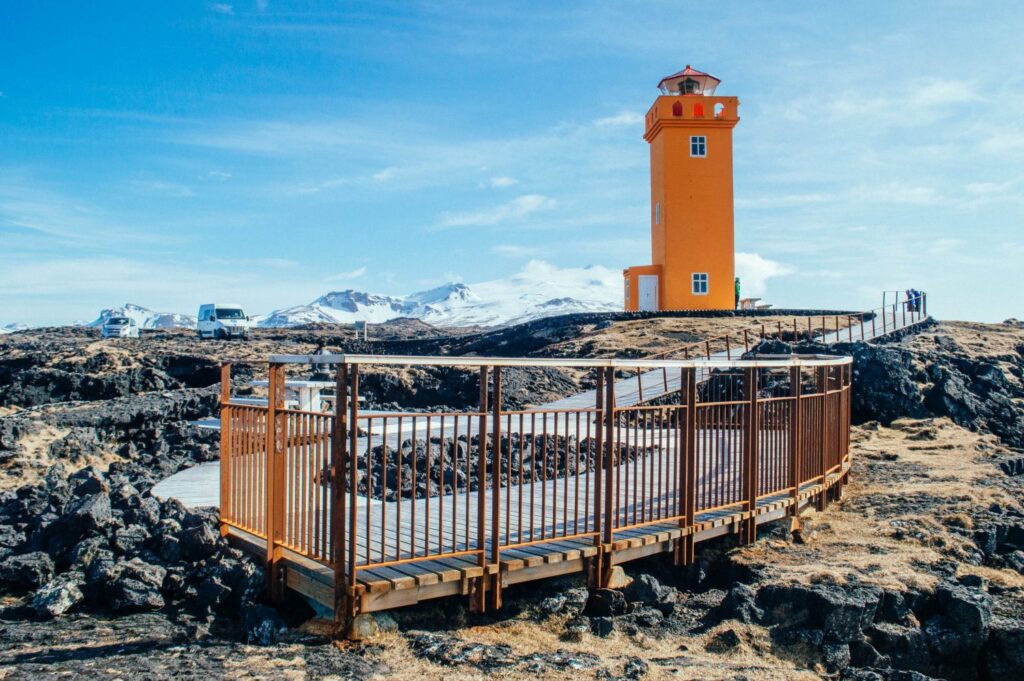 And lastly, there's the Gerðuberg basalt cliffs, which are a stretch of hexagonal columns that run for about a kilometre on the southern half of the peninsula.
Hraunfossar
Also known as "Lava Falls", Hraunfossar was one of my favourite waterfalls I saw during my trip.
You can find it in Western Iceland near Reykholt, with a gentler trickle than most of Iceland's more powerful waterfalls, but with an electric blue colour that makes it still among the most beautiful.
Real talk though: can you believe the colour of this water?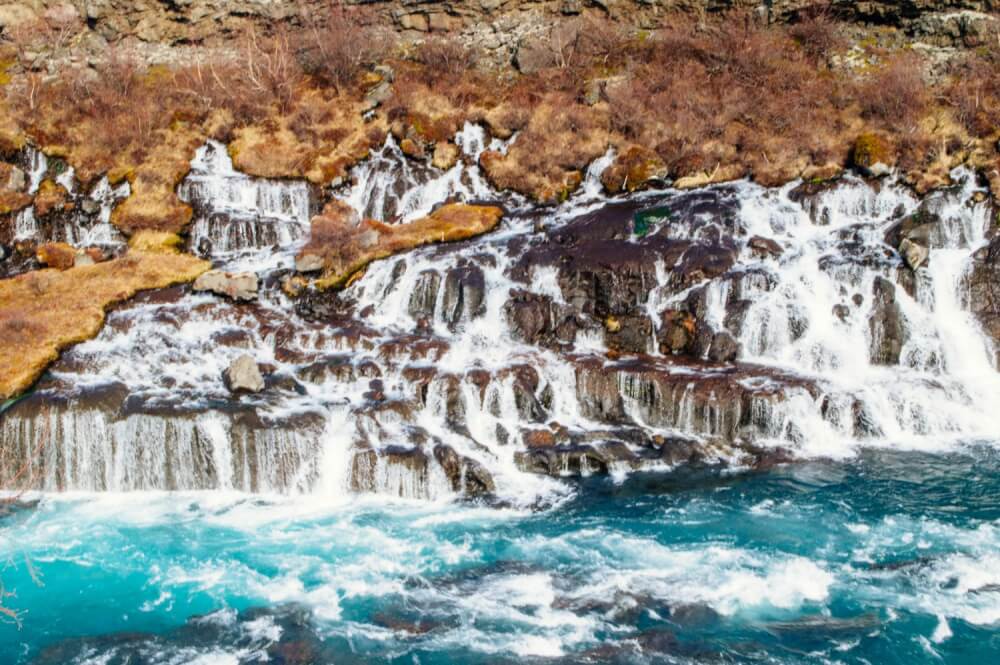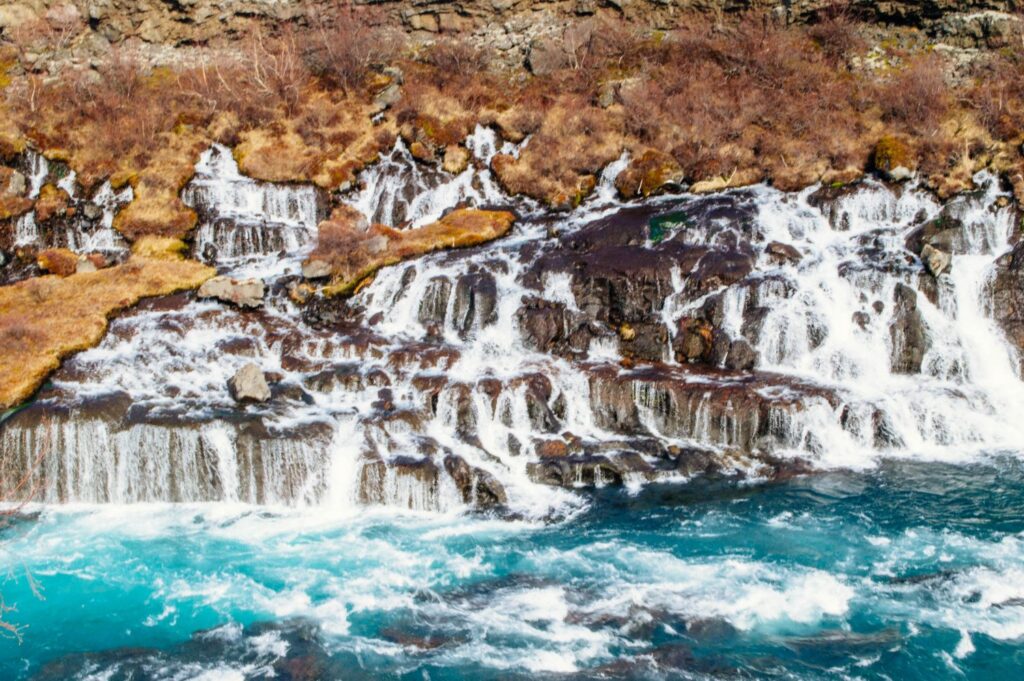 The Iceland Highlands
Dramatic landscapes are abundant in Iceland, but if you want to go really off the beaten path, then the Iceland Highlands (the 40,000km squared territory making up central Iceland) are a must visit.
From bubbling mud pots and natural pools to volcanic craters and colourful mountains, the Highlands have plenty to offer those who are adventurous enough to seek them out.
For a detailed guide on visiting this part of Iceland, check out this excellent guide from Anywhere We Roam.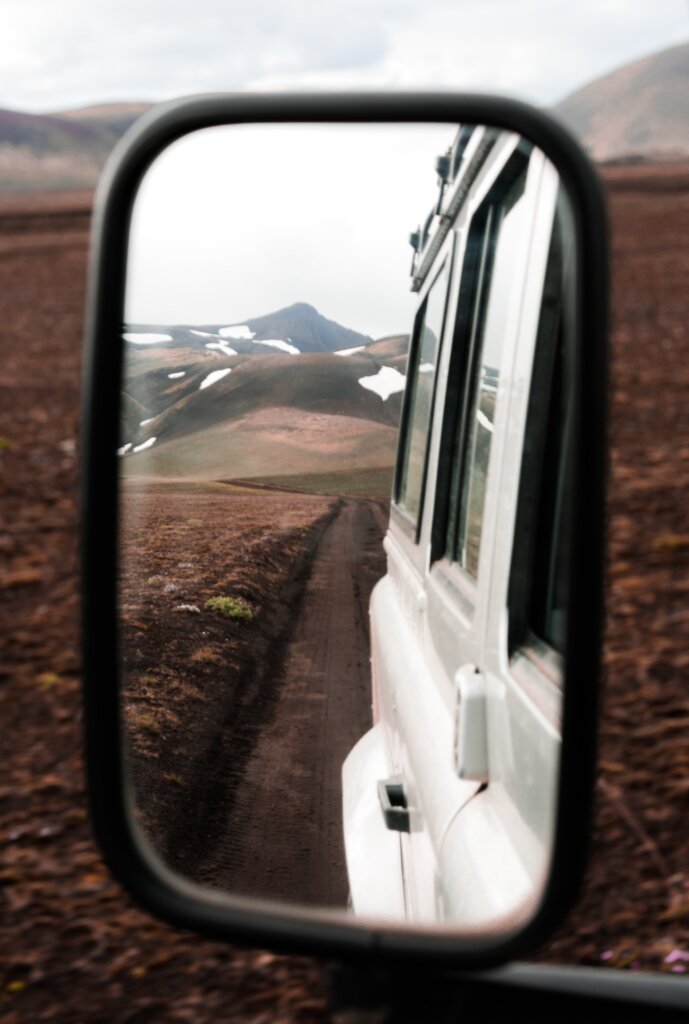 Westman Islands
Last but not least, let's finish off this list of great places to visit in Iceland with the Westman Islands, a set of islands found off the south coast of Iceland, often done as a day trip from Reykjavik.
While only one of the islands (Heimaey) is inhabited, those willing to brave the the dramatic weather conditions are treated to a quieter, more remote slice of Iceland that feels a world away from the mainland.
From steep windy cliffs and scenic hikes to unique museums and puffin spotting, the Westman Islands has a ton to offer, which is why many consider to be one of Iceland's best kept secrets.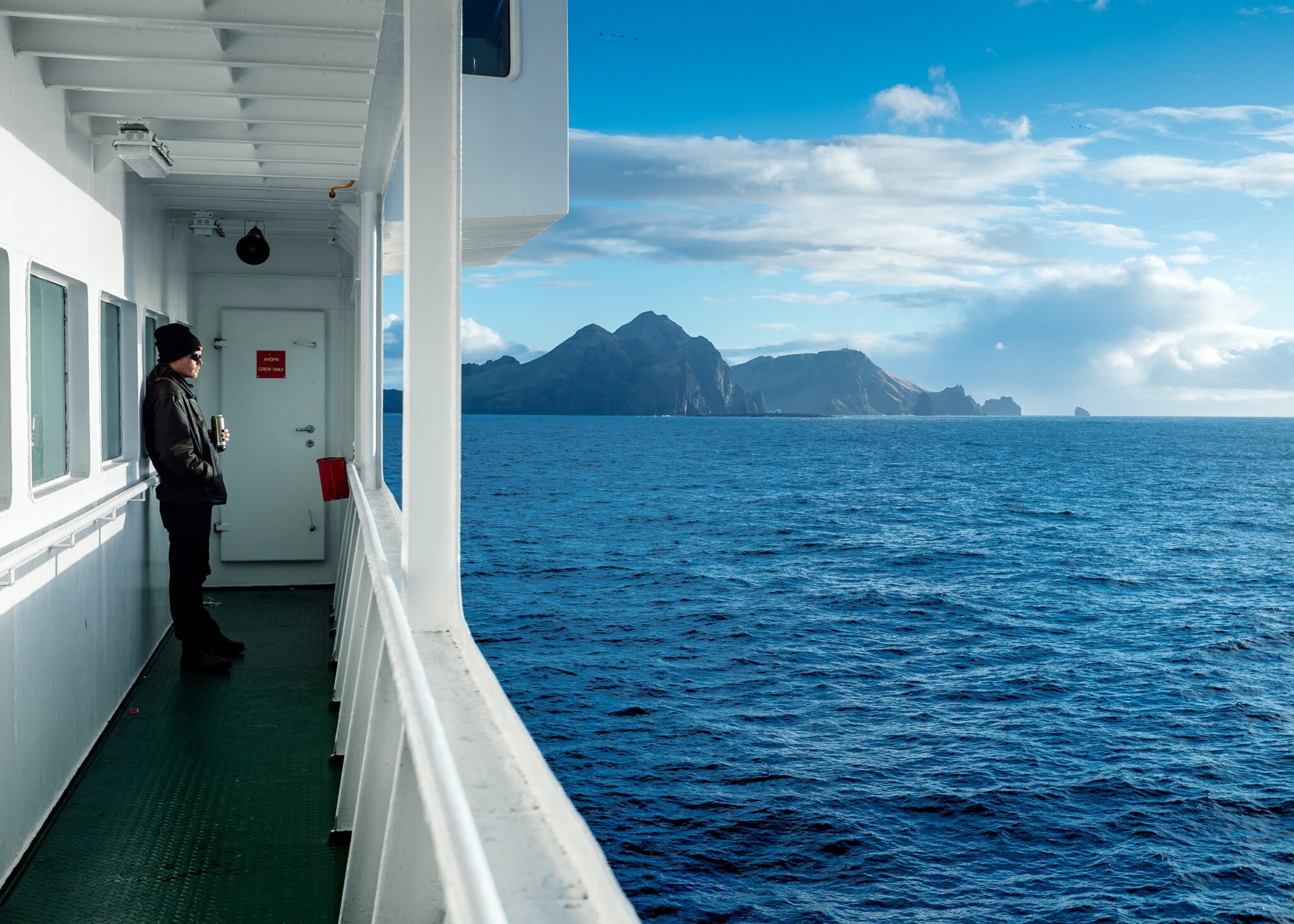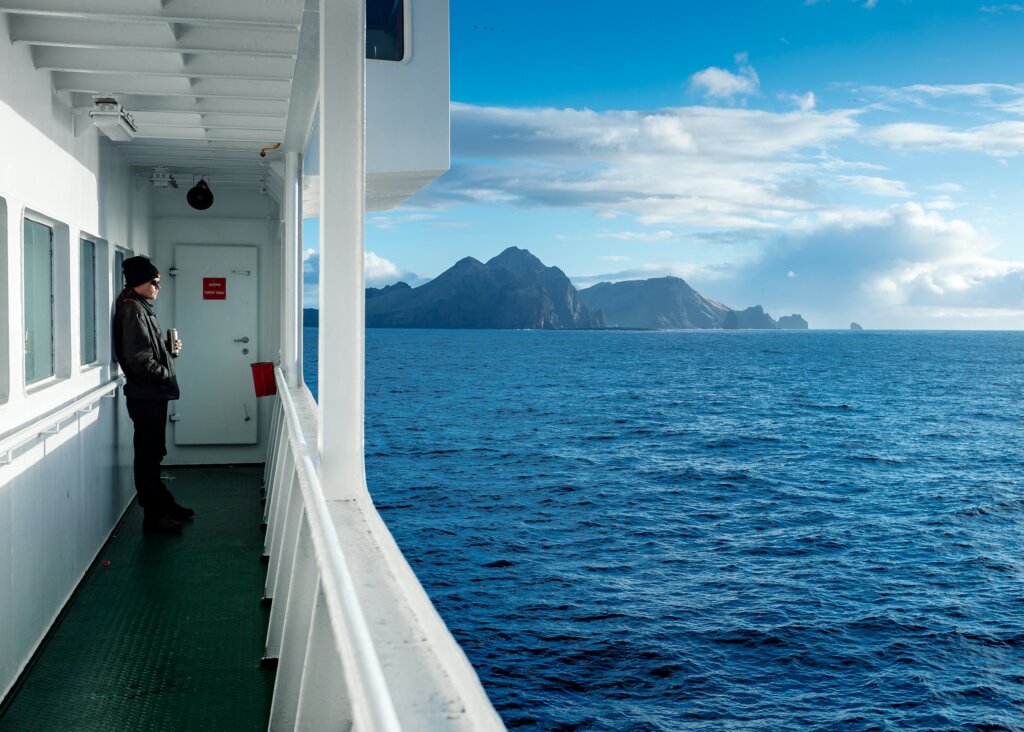 Did I miss any of your favourite places to visit in Iceland?
Let me know in the comments! I can't wait to go back.
---
Watch my most popular YouTube video this week:
---