*FYI - this post may contain affiliate links, which means we earn a commission at no extra cost to you if you purchase from them. Also, as an Amazon Associate I earn from qualifying purchases. Check out our Privacy Policy and Disclosure. for more info.
Picture this: it's Christmas time, and the smell of roasted almonds hangs thick in the air, tickling your nose and tempting your will power.
All around you there's bauble-studded garlands hanging from green-shuttered windows, stacks of wooden chalets fringed with festive decor and of course, annoyingly happy revellers drawing long sips of hot, belly-burning wine.
Golden angels spread their wings, unveiling long streams of twinkly lights that form a glittering canopy over the market's wooden chalets, and you think to yourself: am I trapped in a Hallmark movie?
If so, where is my generically handsome love interest? But no my friends, this is no Hallmark movie, it's real life magic, and you can find it at the Ludwigsburg Christmas Market, located a short train ride away from Stuttgart.
Save this post on Pinterest for later: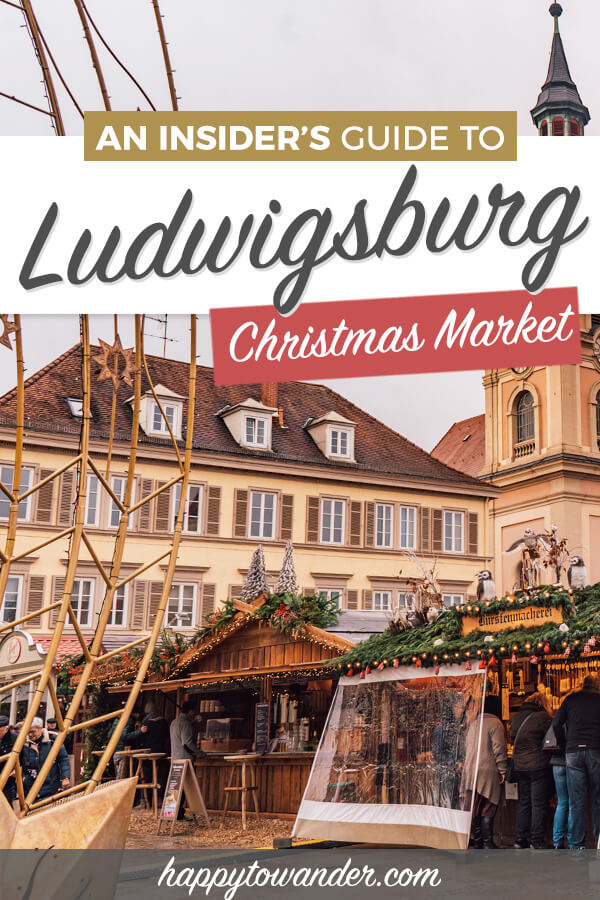 I've declared my love for Ludwigsburg before around here. After all, this charming Baroque city is home to the world's largest pumpkin festival, boasting hidden beauty in spades.
But, as I discovered last Christmas, Ludwigsburg is an absolute wonderland, even without the assistance of a million-pumpkin army.
Sure, the Ludwigsburg Christmas Market isn't huge like many of the other Christmas markets that you'll find in the country, but it's a special one that oozes with a small town charm missing from the metropolitan markets of nearby Stuttgart.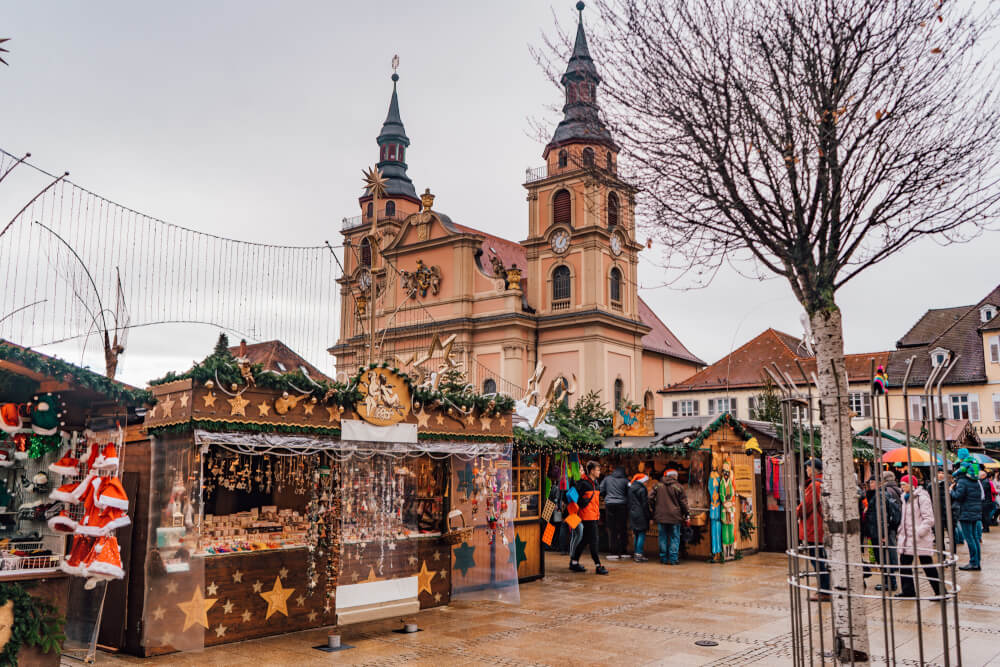 If you happen to be visiting Stuttgart for Christmas markets this year (click here to read my guide), do me a favour and stop by Ludwigsburg too – I promise you won't regret it.
So, if I've convinced you, here's a rundown of everything you need to know about the Ludwigsburg Christmas Market near Stuttgart, including important dates, locations, what to eat and what to buy!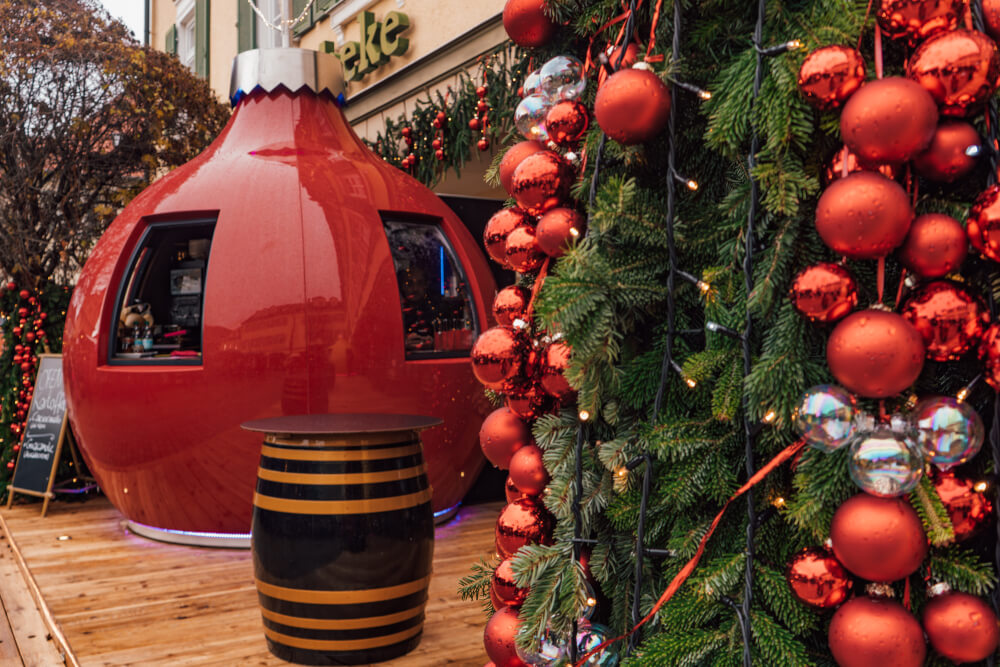 Where is Ludwigsburg?
Ludwigsburg is a city in Southwest Germany located north of Stuttgart. It's known best for its stunning Residenzschloss, which is built in the same elegant style of Versailles, with the whimsical bonus that it hosts the world's largest pumpkin festival every year.
Ludwigsburg may only be a 15 minute commute from Stuttgart, but it feels worlds away, with its beautiful Baroque facades and small town charm. Hands down, it's one of my favourite hidden gems in Germany!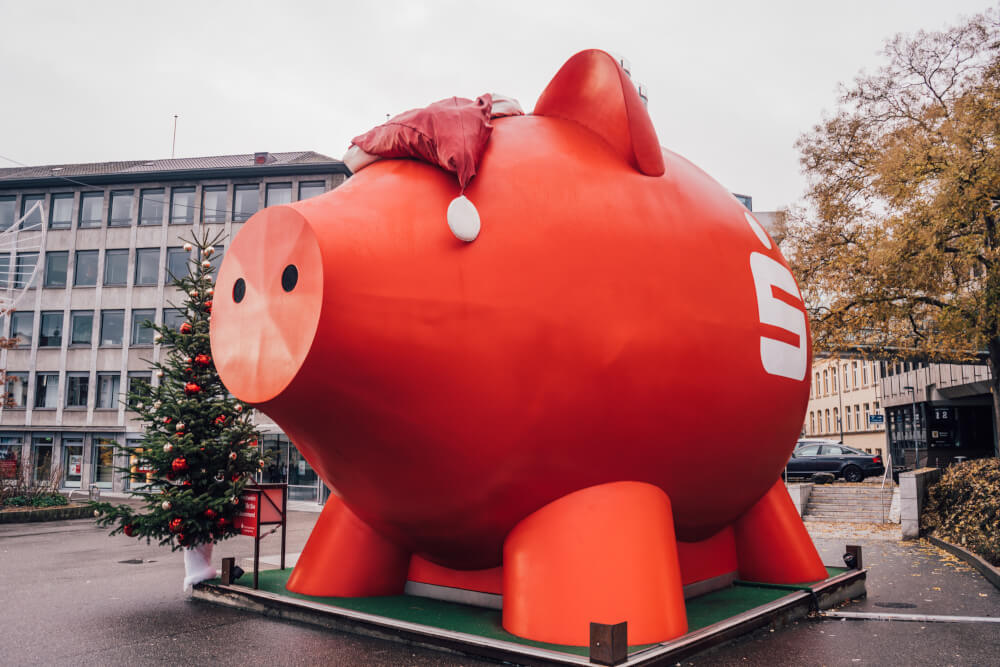 How to Get to Ludwigsburg
With its location close to Stuttgart, Ludwigsburg is easily accessed by plane, train, and bus.
The nearest airport is of course the Stuttgart Airport. Using S-Bahn trains, you can get from Stuttgart Airport to Ludwigsburg in about 45 minutes. A taxi would not actually be much faster (the route takes about 40 minutes to drive), so S-Bahn is the more cost-effective way, and also doesn't rely on traffic.
From Stuttgart city center, you can easily get to Ludwigsburg by taking the S4 or S5. You'll be there within 15 minutes!
TRAVEL TIP: If you are coming to Ludwigsburg from within Europe, I recommend using Omio to compare/book transport options. It's a free tool that shows you the different ways to get from Point A to Point B and lets you sort based on price, times and convenience, which makes finding the best deal much, much easier.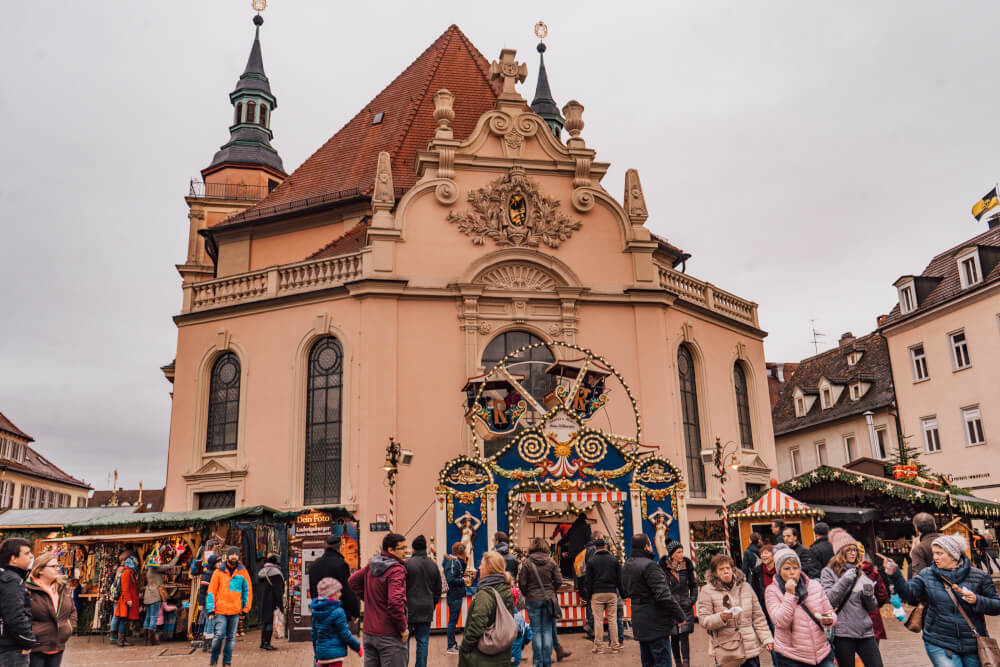 Ludwigsburg Christmas Market Dates 2023
According to this official website, this year's dates for the Ludwigsburg Christmas Market will be from November 23 – December 22, 2023.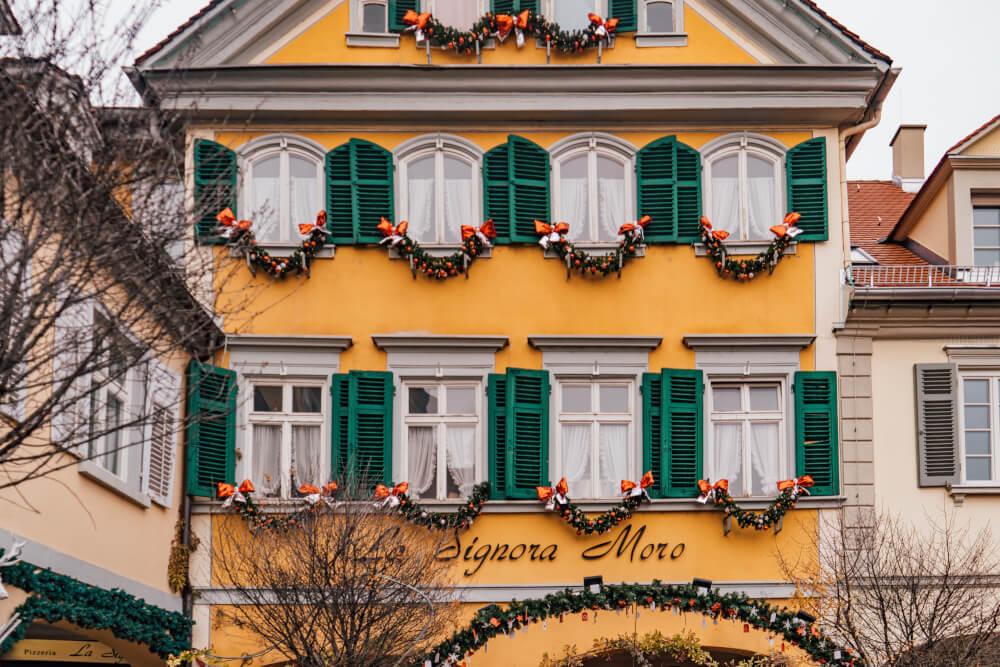 Ludwigsburg Christmas Market Hours
While this year's market is cancelled, in previous years the Ludwigsburg Christmas Market was open daily from 11 am to 9 pm.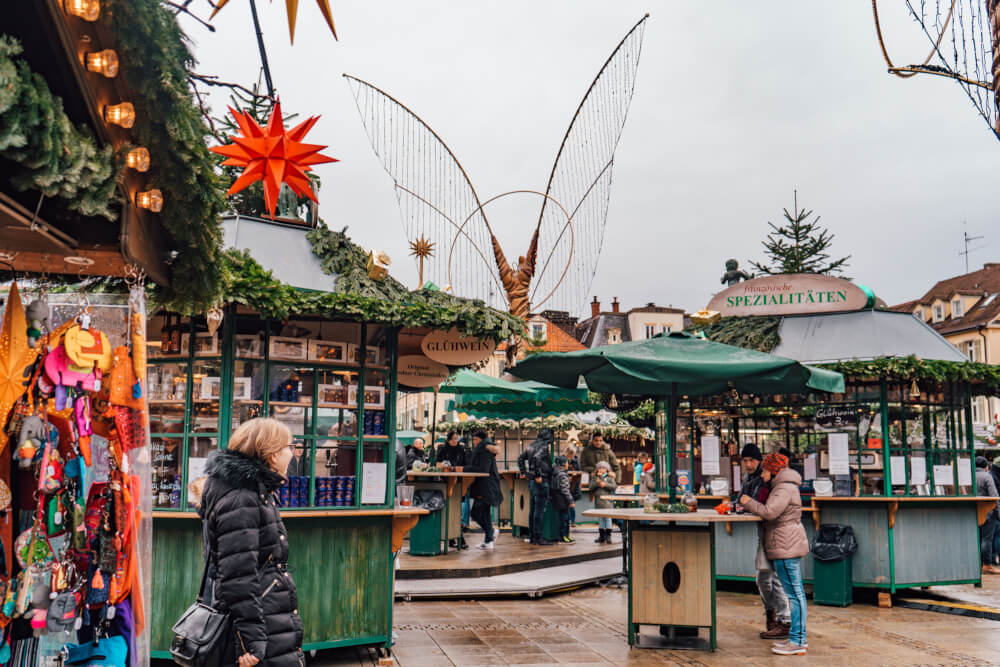 Ludwigsburg Christmas Market Location
The Ludwigsburg Christmas Market can be found at the Ludwigsburg Marktplatz, about a 10 minute walk away from the train station.
This is the city's main square, designed in the 18th century by Donato Giuseppe Frisoni, and lined with lovely arcade houses and two beautiful Baroque churches.
As far as market backdrops go, this one is pretty darn magical.
Unlike other big cities in Germany, the Ludwigsburg Christmas Market takes place only in this one location, which makes it an easy market to explore.
Despite its relatively small size though, there is still plenty to see, including over 170 stalls selling different gifts and food items.
For me, the standout quality of this market though is that it feels much more local and atmospheric than other markets I've visited.
You see bundles of locals waddling around, chatting with vendors as they load up on fresh bread and groceries to go with their market haul, you see smiley shopkeepers exchanging goods and swapping glühweins with each other, and of course, you see plenty of friends and families huddled around the wooden chalets, enjoying the market goodies with as much gusto as any tourist would.
Christmas markets in big cities can sometimes feel very commercialized, and packed with camera-wielding tourists (myself included!).
The vibe in Ludwigsburg was way different, and I even felt a bit out of place taking photos and creepily marvelling at how cute everything was.
I'd definitely recommend coming here if you want a more low-key, quiet market with a laidback atmosphere.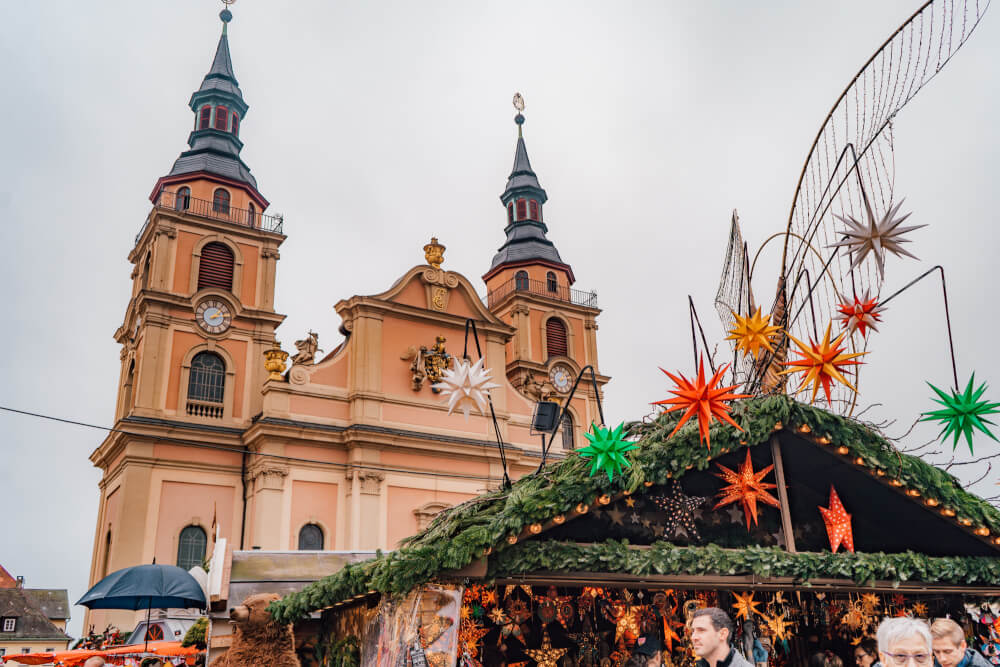 Hotels near Ludwigsburg Christmas Market
While Ludwigsburg is very close to Stuttgart and more than do-able as a half day trip, you might want to consider staying in Ludwigsburg itself to enjoy the quaint atmosphere throughout your entire stay. If that's the case, here are some options:
BUDGET OPTION: For the closest possible location to the Ludwigsburg Christmas Market in Marktplatz, consider booking at stay at Boutique-Hotel Kronenstuben, which is only steps away from the square and offers a lot of affordable options, including a budget economy room with shared bathroom that's great value for money. Click here to check reviews and availability.
MID-RANGE OPTION: Located midway between the Ludwigsburg train station and Marktplatz, the Best Western Hotel Favorit offers a reliable and comfortable option in a central location, plus with breakfast included! Click here to check reviews and availability.
LUXURY OPTION: And if it's a stylish but still central property you're looking for, the nestor Hotel Stuttgart-Ludwigsburg offers sleek and spacious rooms close to the Ludwigsburg Residenzschloss, with a sauna, steam room and fitness equipment on site. Click here to check reviews and availability.
What to Eat and Drink at Ludwigsburg Christmas Market: 5 Must-Haves
Of course, one of the best things to do at the Ludwigsburg Christmas Market is EAT! So, what food and drink options can you expect? Here were some of the stalls I spotted. You can also click here to read my general overview of foods you must try at every German Christmas Market.
Stockbrot
One of my favourite food revelations in Ludwigsburg was the majestic Stockbrot, a long stick of gooey bread cooked over a fire, served in both sweet and savoury varieties.
I had seen a lot of kids running around with these massive bread swords and knew instantly I needed one too… for duelling, and you know, for snackage.
The one I eventually bought came baked with cheese and pieces of bacon. It was simple, but oh so heavenly.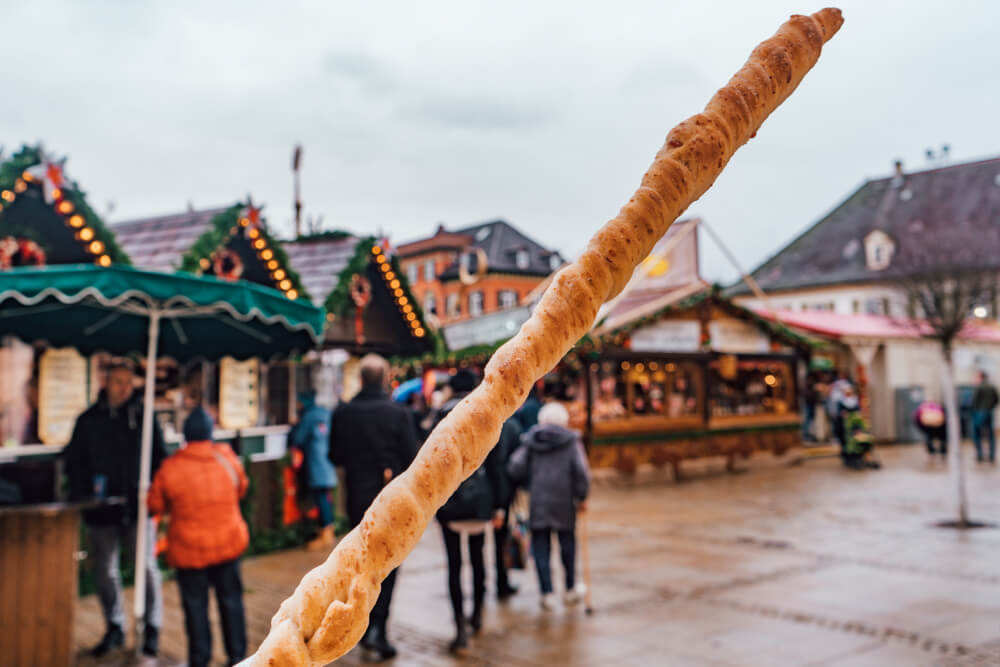 Knödel
Knödels are a classic staple of German cuisine – boiled dumplings typically made from potatoes, bread or yeasty dough.
While usually consumed as a side dish (potato knödel with roasted pork is my personal favourite), the Ludwigsburg Christmas Market had an entire stall dedicated to knödels of the sweet variety, including Germknödel (a fluffy dumpling filled with plum jam, topped with poppy seeds and melted butter), Hirsch-knödel (a jiggly dumpling filled with cherries) and my personal favourite, Dampfnudel, a big doughey loaf of bread drenched in vanilla sauce.
Regardless of which you pick, sampling knödel at some point is a must!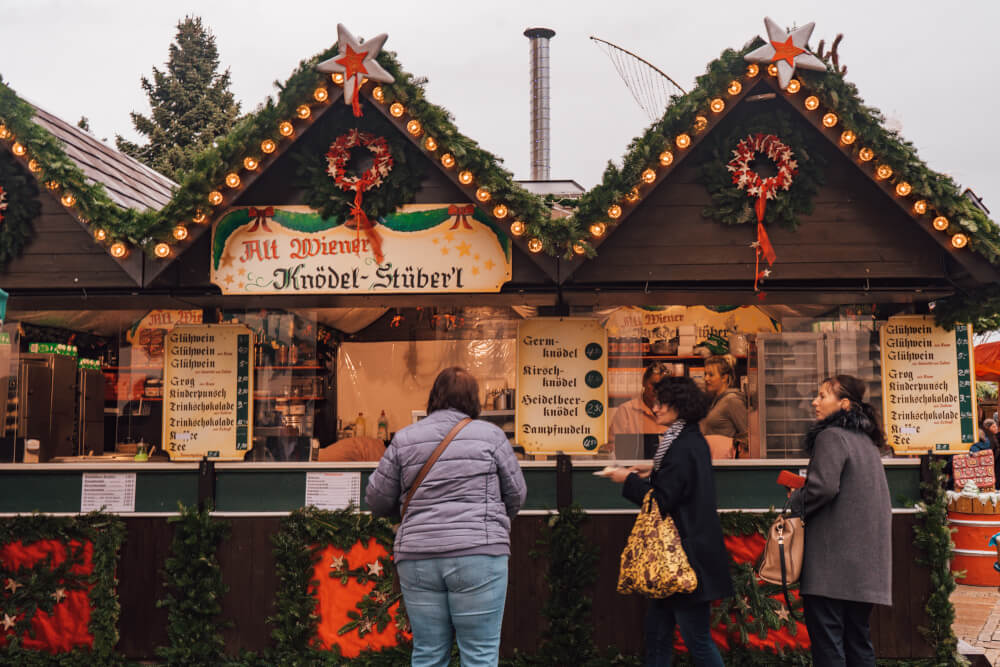 Maultasche
Maultasche is one of my favourite German comfort foods – think of it as a beautiful dumpling creation that tastes somewhere in between a juicy ravioli and a steamed Chinese pork dumpling.
They are delicious in broth, with sauce, or even plain as a a handhold snack, like I enjoyed at Stuttgart Christmas Market.
There was a big wooden chalet stall selling Maultasche during my Ludwigsburg Christmas Market visit, and if I were you, I'd head there ASAP for a taste: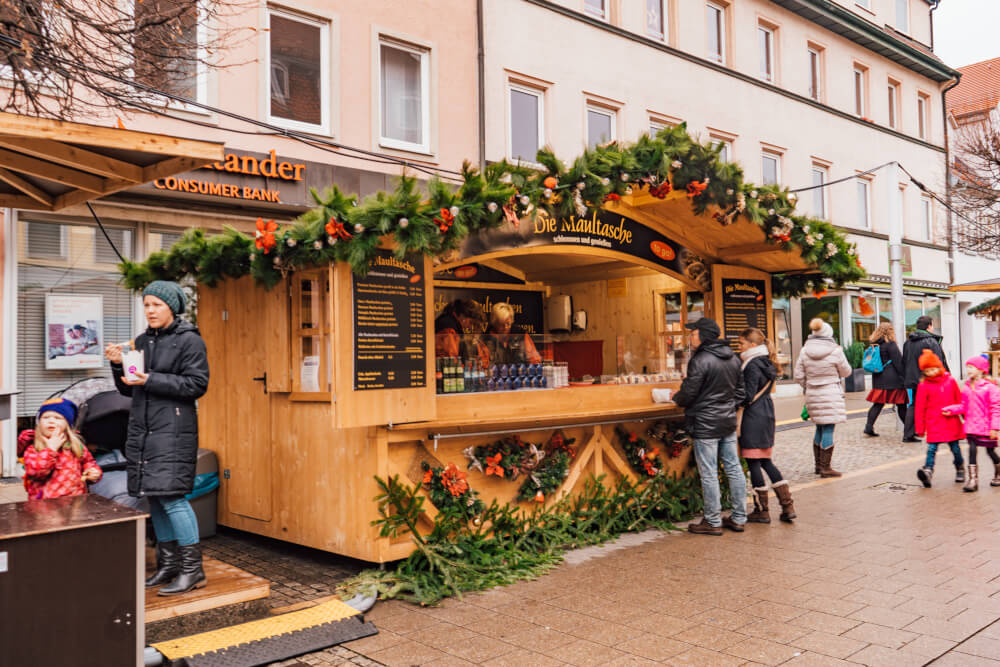 Grilled Everything
If there's one thing that Germans love, it's a good grilling party, and that definitely doesn't stop when the cold weather sweeps in – nope. I
n fact, grilled goodies like sausages are a staple of any German Christmas Market, and Ludwigsburg is no exception.
Finding grilled specialties at the Ludwigsburg Christmas Market is easy – just follow your nose, and the crowds.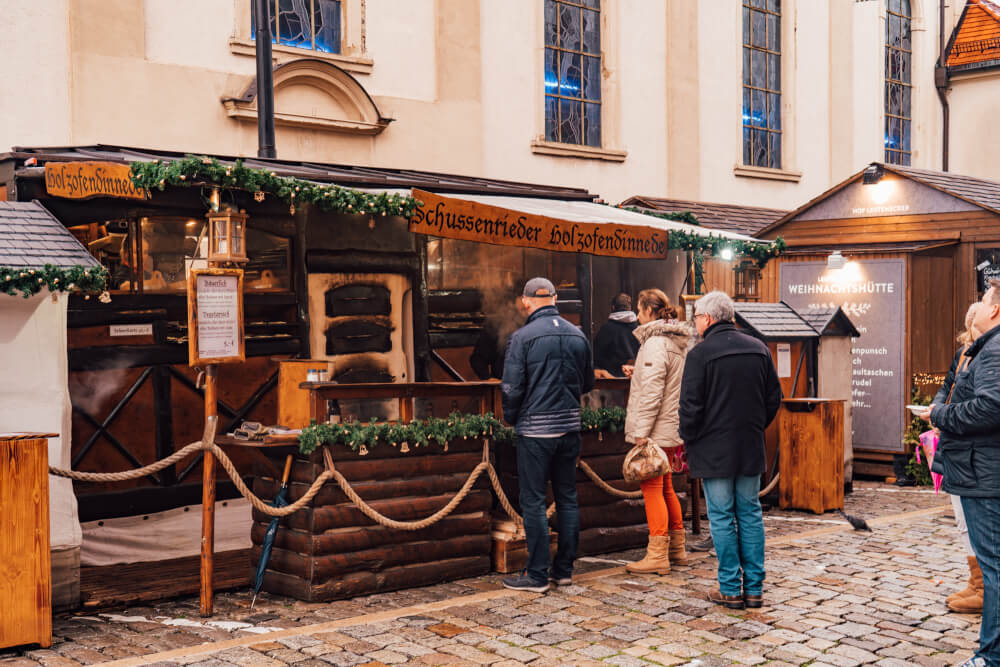 Glühwein
Last but 1 million percent not least is glühwein, AKA hot wine mulled with yummy Christmassy spices.
This is THE signature Christmas drink of any Christmas Market, and Ludwigsburg has their fair share of stalls selling addictive versions of it.
Definitely grab yourself a cup (or seven) to enjoy as you stroll around. It makes every day infinitely better.
What to Buy at Ludwigsburg Christmas Market
Another highlight of this market is the shopping you have available to you!
While many of the bigger city markets have stalls that sell mass-produced goods, I felt like Ludwigsburg was different and had quite a few unique stalls to offer. Here are some ideas for your shopping list.
Unique Candles and Candle Holders
If there's anything I've learned over Christmas market gifting from the past few years is that you can never go wrong with a candle, and the Ludwigsburg Christmas Market is FULL of candle vendors selling beautiful unique designs, both for candles and candle holders.
I also love bringing these home as gifts because they travel well, and are tougher to break than fragile ornaments.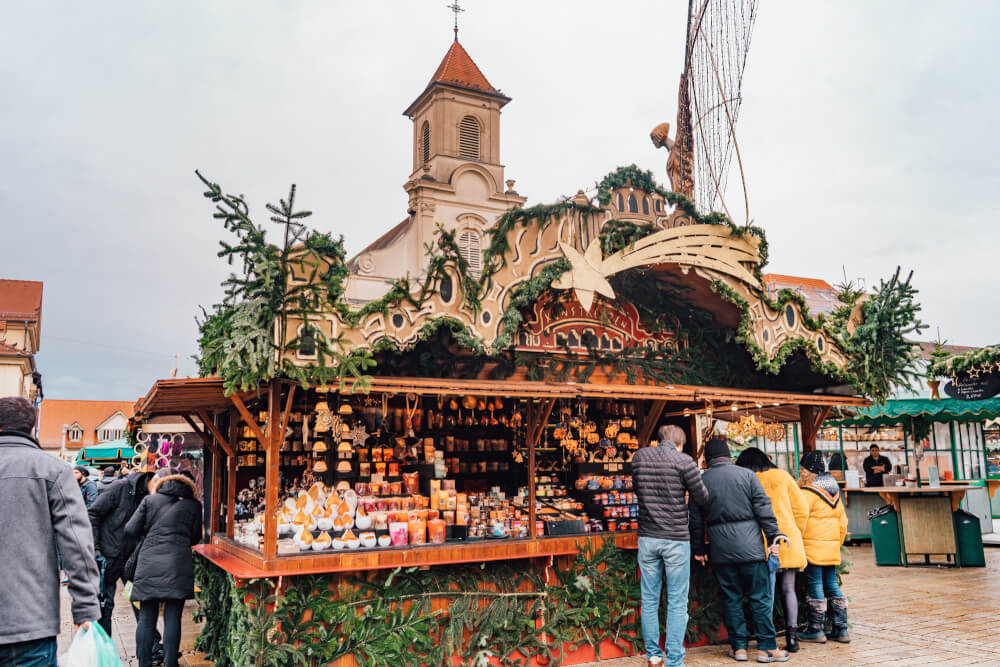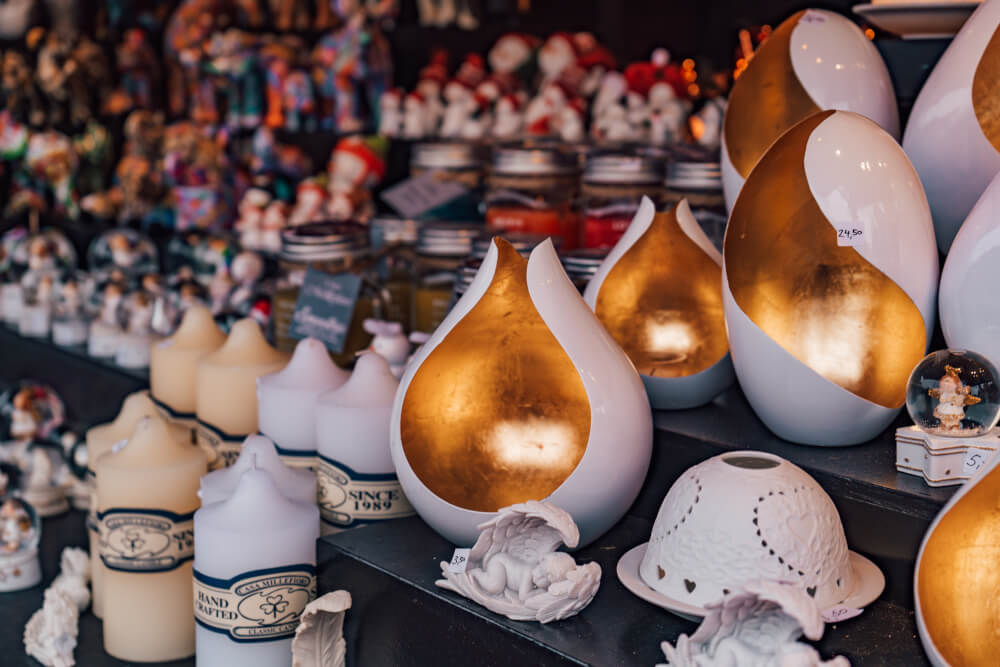 Christmas Ornaments
BUT hey, you can't exactly visit a Christmas market without at least ogling some beautiful ornaments for your own tree.
The selection of ornaments at Ludwigsburg Christmas Market is vast – they had some stalls selling bulk packages of baubles (like the ones below), they had some stalls selling hand painted and carved ornaments, and many others with unique offerings of their own.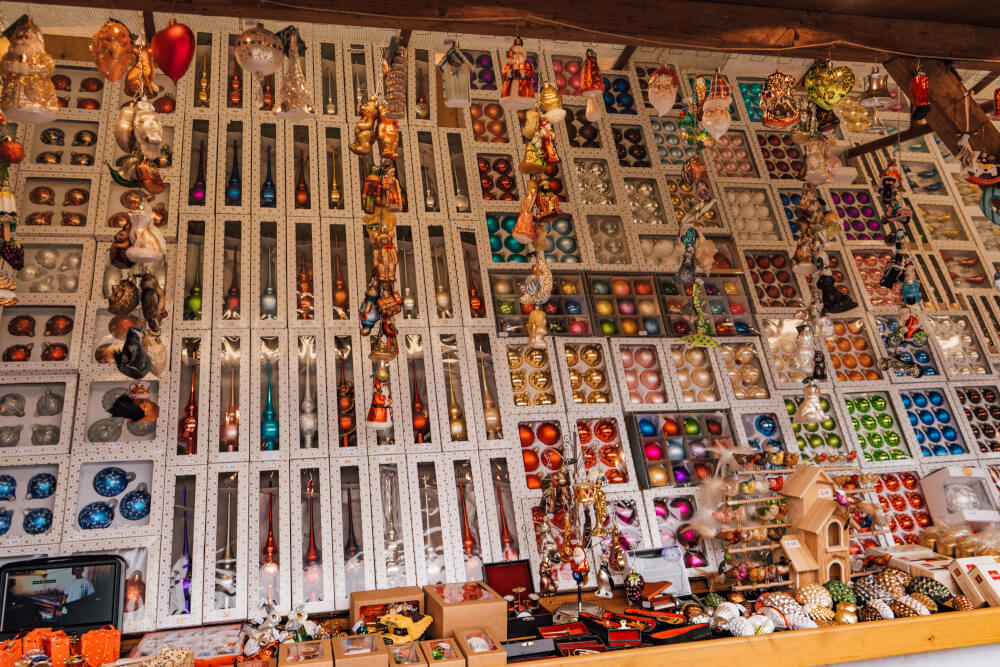 Cute Garden Decor
A very unique stall that I spotted at the Ludwigsburg Christmas Market was this cute chalet selling garden decorations, including adorable scarf-wearing animals that made me wish so badly that I had a garden to house them in!
This might not be the most practical gift if you're travelling long-distance with minimal suitcase space, but tell me this set-up doesn't just melt your heart?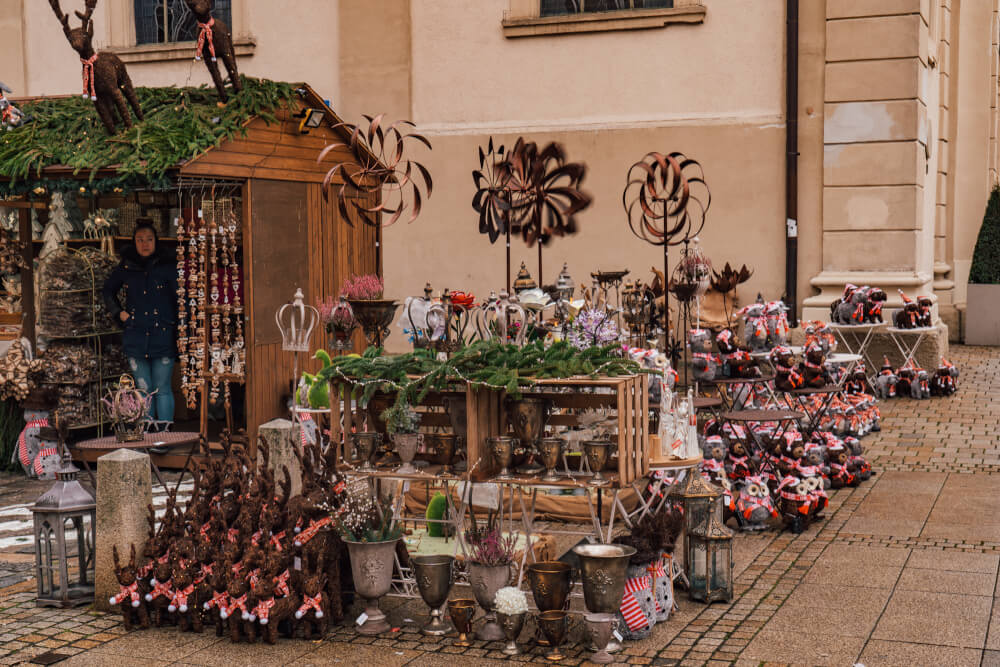 Local Food Products
Lastly, one of my personal favourite things to buy at any market is local products – think jams, liqueurs, wines, etc. and Ludwigsburg had no shortage of these kinds of vendors.
Definitely the most delicious souvenir you could get for yourself, and one that's guaranteed to be unique and local.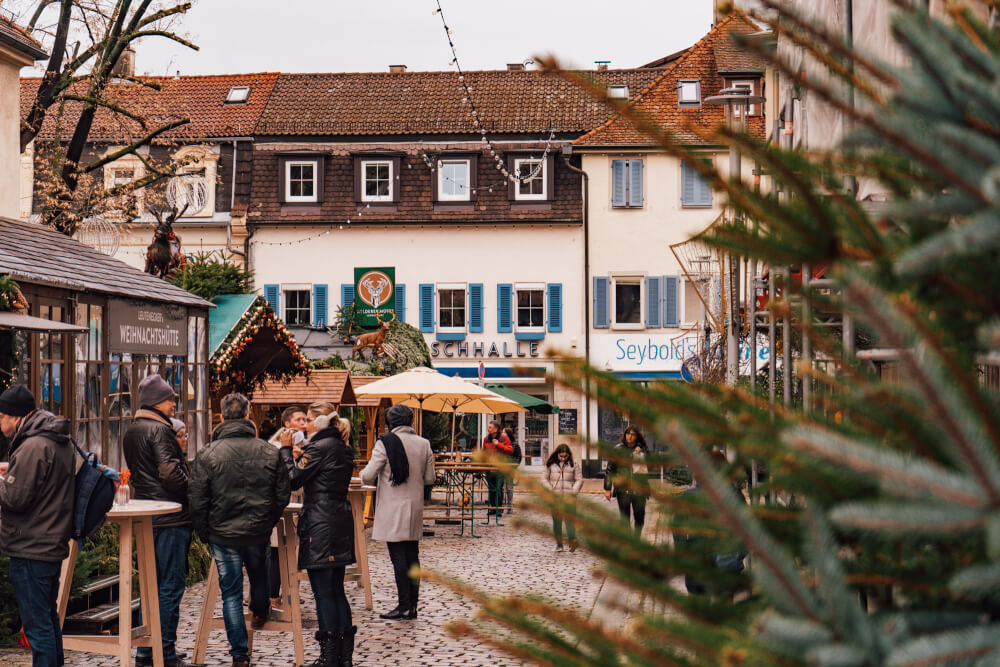 Any more questions about the Ludwigsburg Christmas Market?
I hope you enjoyed this detailed guide to the Ludwigsburg Baroque Christmas Market!
I hope you take my word for it and make a stop in this little town when you are visiting the nearby markets in Stuttgart. Regardless, I hope you have a magical trip, and enjoy a few glühweins for me ; )
---
Watch my most popular YouTube video this week:
---