*FYI - this post may contain affiliate links, which means we earn a commission at no extra cost to you if you purchase from them. Also, as an Amazon Associate I earn from qualifying purchases. Check out our Privacy Policy and Disclosure. for more info.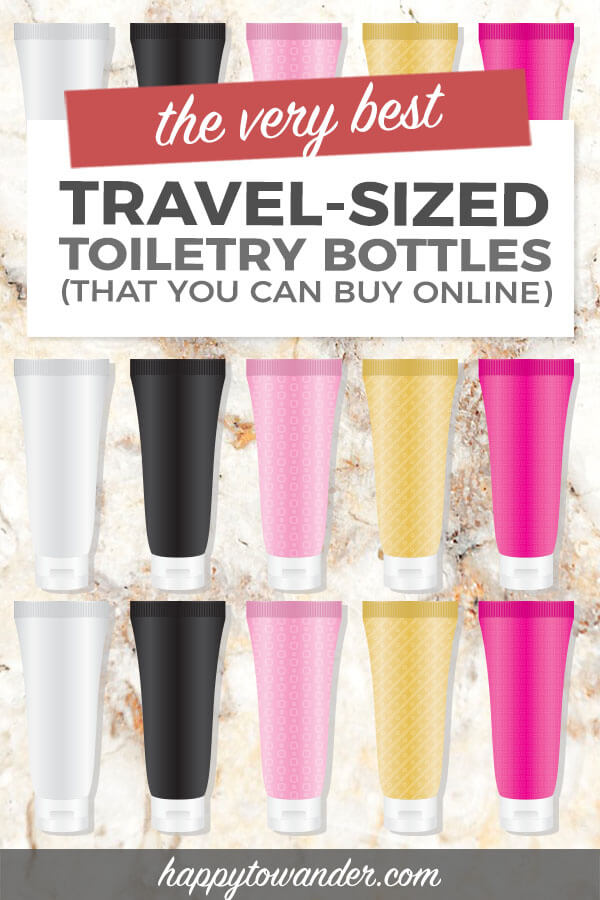 When it comes to basic, must-have travel items, one of the most overlooked purchases by newbie travellers is reusable travel size bottles!
At least for me, I remember when I was doing research for my first ever solo trip, one of the (admittedly silly) things I was stressed about was how I would wash my face.
I know. Newbie traveler problems…
But here's the thing: I had a special facewash I loved using. As a girl in her late teens recovering from horrible acne, there was only one facewash I felt comfortable using, and finding a mini-substitute seemed like an impossible feat for inexperienced old me.
So when I discovered that seasoned travellers actually have their own travel-sized bottles they re-use and refill, I was pretty mindblown.
Nowadays, travel bottles (and a good toiletry bag) are among the #1 things I could never travel without. I mean, the luxury of bringing my favourite facewash and shampoo everywhere in a convenient size, all without sending dozens of mini-bottles into the landfill every year?
Talk about a win-win!
So if you were like young naive Christina and had no idea travel size bottles were a thing, this guide will help you out with your first purchase!
Luckily, these days, travel containers for liquids are everywhere. This article will run down the best travel bottles you can buy online based on your needs, along with some key considerations to make when making your decision on which travel size bottles to buy!
Enjoy.
---
---
The Best Travel Size Bottles – Summary
The table below summarizes all my recommendations in the post! If you want a quick reference point, start here. If not, scroll down for a longer, more detailed explanation of the different types of toiletry bottles and what they'd be ideal for.
---
---
Benefits of Having Your Own Travel Size Containers
Freedom from constantly buying travel size products has a lot of benefits! If you haven't hopped on board yet, here are a few reasons why you should consider buying a set of travel size containers for yourself.
1. It's better for the environment
As much as I love to coo over the cute little shampoos and conditioners you get at hotels, I'm becoming increasingly conscious of how wasteful and unnecessary they are. By paying a tiny bit of money upfront for reusable bottles, you get one set that you can use on all your trips, which saves loads of tiny bottles from ending up in the landfill.
2. You have access to all your favourite products when you travel
Another perk of having your own refillable shampoo and conditioner bottles is you can fill them with whatever you want – from your favourite special shampoo (I need blue shampoo for my dyed hair for instance, and it's impossible to find a mini-version!) to your favourite moisturizers and even…. salad dressings. Okay, not that you would necessarily need that on a trip, but all the product pages for travel bottles seemed to mention that and I thought that was wonderful.
---
---
Considerations for Choosing the Perfect Travel Size Bottles
Alright, hopefully by now, you've decided that you'd like to invest in some personal travel size bottles. Noq the question is, what should you look for in your bottles? The truth is, the amount of travel containers out there is overwhelming, especially online. So, when choosing the perfect ones to buy, here are some considerations to make:
1. The size of your travel bottles
100mL travel bottles are the standard, as this is a sizeable amount for liquids while still under the usual carry-on limit, but if you travel often on short-term trips, sometimes 100mL might be too big. It doesn't sound like a lot, but things like facewash can go a long way when housed in one of those bottles! If you want to really cut down on your luggage space/weight, you might want to look into the size and capacity of your bottles and getting one less than 100mL.
2. What you'll be storing in your travel bottles
A second consideration is what kind of liquids you'll be storing in your bottles, because this will impact what kind of bottles you buyl.
Most reusable travel bottles are either made of plastic or of silicone. I've found plastic ones are usually sturdier and more versatile, plus they can be used for oil products like argan oil for your hair. On the other hand, silicone absorbs oil, so if you have a special hair oil or any other oil-based product that you need to bring with you, avoid silicon travel bottles because you'll end up with a ruined bottle and all your expensive product sucked up! True story, if you want a fun laugh, go read the 1 star reviews for silicon travel bottles on Amazon because 90% of the complaints have to do with this.
Also, if you are bringing things like cream/moisturizer, small travel sized pots might be a better option than bottles.
3. If you need any extras (e.g. a carrying case)
The last consideration you should make when purchasing your travel-sized bottles is whether you need any extras in addition to your bottles. Most of the options out there are just the travel bottles on their own, but many on Amazon offer bundle deals where you can purchase the bottles and also get things like a carrying case and labels included. So, if that's something you'll need as well, keep an eye out for bundle deals like thisl.
Alright, with all that information in mind, let's dive into a thorough list of the best travel bottles for toiletries, depending on your specific needs.
---
---
Best Overall Travel Sized Bottles
Recommendation: Klickpick Home Leakproof Squeezable Containers
These travel bottles are the ones that I have used for as long as I've travelled! Sure they might not be the cutest or sleekest, but they're cheap, do the job and I haven't had them leak once! Not only do they perfectly adhere to the 100mL limit for carry-on liquid items, they come in a set of all unique colours so you never get your stuff mixed up. Plus, they're very easy to fill and have held up in 5+ years of frequent travel. I'd highly recommend these if you're looking for sturdy and affordable 100mL travel bottles.
Click here to check reviews and prices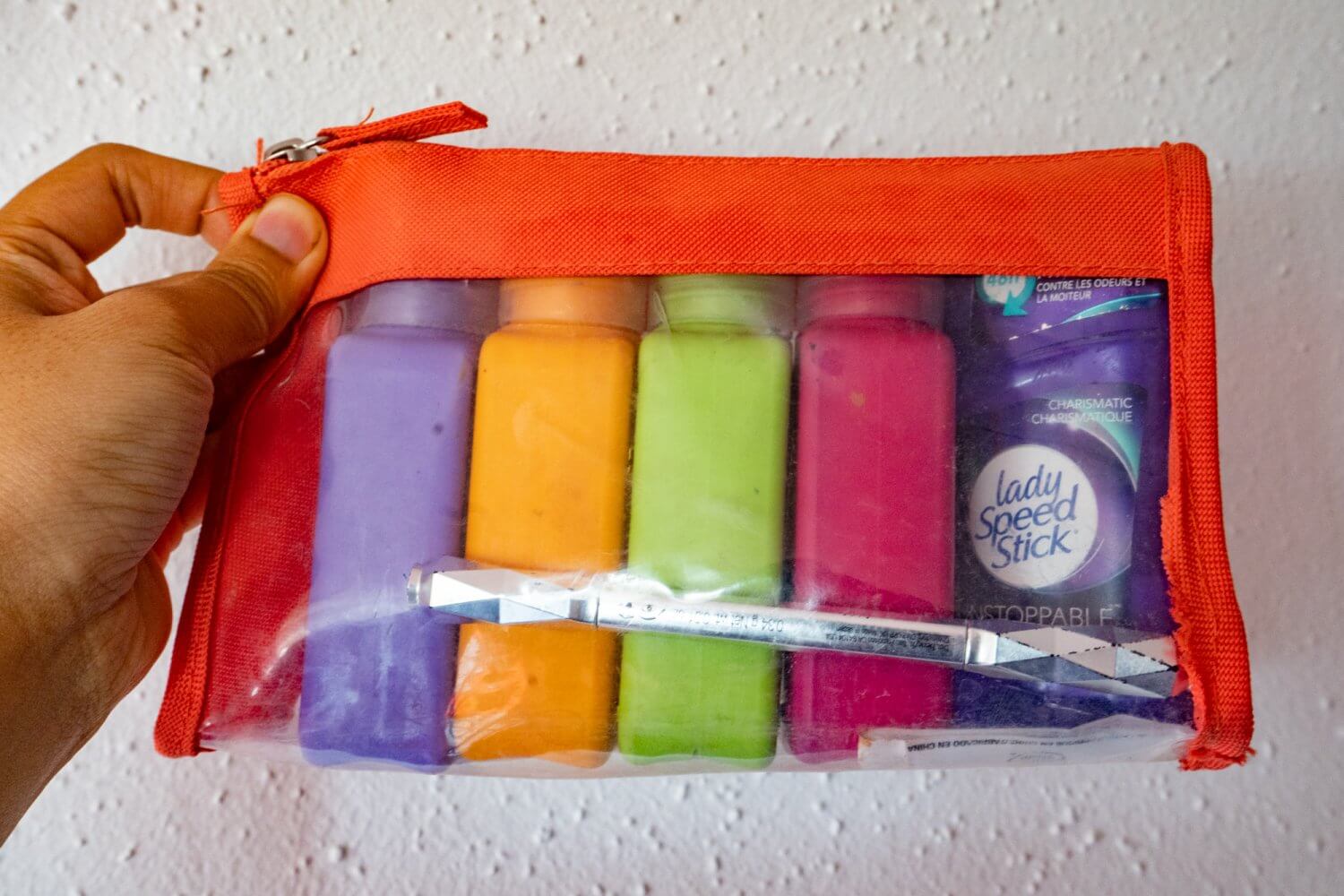 ---
---
Best Stylish Travel Size Containers
Recommendation: Luxury Leakproof Toiletries Set

If you're looking for something a little classier and more elegant, this luxury set of travel containers is for you. As a bonus, the set even comes with a clear TSA-approved carrying case, some cute little travel jars, and waterproof labels. Sure the price is a little higher than other plastic travel bottles, but the chic design and extra bonuses make it more than worth it.
Click here to check reviews and prices
---
---
The Best Jars for Mini-Toiletries
Recommendation: BARIHO Cream Jars for Travel
If it's travel-sized jars you're looking for, maybe to store special moisturizers and creams, then these little BARIHO silicone jars are a great alternative to the standard travel bottles on the market. This set is colourful, cute and compact – all the things you need in a staple travel item.
NOTE: Be careful with these if you intend to fly often. From my experience, jars don't tend to hold as well under cabin pressure as bottles do. Some reviews have reported leaks while flying, so if you'll be travelling often by plane, then one of the other bottles above might be a better choice.
Click here to check reviews and availability
---
---
The Cutest Travel Sized-Bottles You Can Buy
Recommendation: PERRTY Penguin Silicone Travel Bottles
Okay, but can we take a quick moment to squeal please?
Because these are penguins. TRAVEL BOTTLES SHAPED LIKE PENGUINS.
And while I don't feel like you need any more reason to put these in your cart and run, I will nonetheless give you some practical information. So, these silicon cuties hold 90mL of liquid each (3 ounces), making them under the 100mL limit and therefore perfect for your carry-on luggage. Each comes with a switchable label for Shampoo, Soap, Conditioner and Sunscreen so you can tell your goodies apart, and of course, they're made from a BPA free food-grade silicon, which mwans if you feel like smuggling some salad dressing into your next travel destination, you can do so safely and adorably.
Last but not least, the three-layered lids are designed to be leak-proof!
Click here to check reviews and prices
---
---
The Best Small Travel Size Bottles (for Short Trips)
Recommendation: 30mL (1oz) Travel Squeeze Bottles
If you're looking for an even more miniature solution for your travel needs, then these small 1 ounce (30mL) squeeze bottles will probably do the trick!
With a 1 ounce capacity, these bottles are well below your allowance limit for carry-on liquids, and are ideal for short-term trips like weekenders where you don't want to waste space lugging around unnecessary toiletries. They come in a pack of 6, and are of course made of food grade HDPE material which means you can bring not just toiletries, but your favourite erm… condiments? Too? I don't know – whatever floats your boat.
As a bonus, they also come with 8 kraft paper labels.
Click here to check reviews and prices
---
---
The Best Silicone Travel Bottles
Recommendation: AMMAX Silicon Travel Toiletries Containers
Hundreds of five star reviews back these leak-proof silicone travel bottles, which are made of food grade BPA free silicone which makes them usable for not just toiletries, but for things like sauce, salad dressing, and most practically, baby food. These things are geniusly designed as well – the rounded shape is to ensure that none of your liquids get stuck in the corners, which helps eliminate wastage.
Click here to check reviews and prices
---
---
---
Watch my most popular YouTube video this week:
---