*FYI - this post may contain affiliate links, which means we earn a commission at no extra cost to you if you purchase from them. Also, as an Amazon Associate I earn from qualifying purchases. Check out our Privacy Policy and Disclosure. for more info.
Want to save $50 CAD on your first booking? Click here for an AirBNB discount code!
I'll admit it – whenever I meet someone who's never tried AirBNB, I want to shake them like a maraca.
Kind of a weird thing to say, but seriously – if you haven't tried AirBNB yet, you are severely missing out.
My great love affair with this magical site began during my backpacking trip in the summer of 2014. From time to time, I'd get sick of roughing it in hostels and was way too stubborn to pay hotel prices, which is how I ended up renting a few apartments as I went. After discovering how mindblowingly cheap it was, 3 years later, I've saved thousands of dollars by renting properties on AirBNB, scoring amazing digs in some of the world's priciest locations. Are you curious about this magical way to travel? Well read on, friend!
This post will be a long one that details everything you need to know about using AirBNB when you travel. And no, it's really not as sketchy as some people think!
---
---
How does AirBNB work?
Long story short, AirBNB is an online community that connects hosts (who rent out their homes/rooms in their homes) to travellers (who stay in these spaces for a fee).
A number of questions may be running through your mind…
What if they run away with my money?
All payments are handled through AirBNB, so if for some reason the host attempts to scam you out of your money, there's systems in place to protect you. Plus, the robust review system allows you to perform the research necessary to ensure this kinda thing doesn't happen.
… What if they run away with my kidneys?
Don't fret, my paranoid parrot. Safety is (naturally) a key concern for first time users of AirBNB, and while there are of course horror stories out there of AirBNB experiences gone wrong, I believe that if you do the proper research (i.e. pick only hosts with stellar reviews!!), you'll have a safe and awesome experience.
Why would I ever want to do this?
Well, friend, I'm very glad you asked. There are SO many reasons to stay at an AirBNB when you travel…
---
---
Why you should stay at an AirBNB when you travel
1. It's cheaper! Seriously though – you can have your own apartment for the price of a hostel bunk. It's especially good if you're travelling with others, because then you can split the cost.
2. It's better value for money. AirBNBs can come with tons of awesome perks that hostels/hotels don't, like a private kitchen, pool, better view, etc. all for the same/better prices.
3. You're able to cook for yourself. If you're travelling long term or just on a budget, this will save you a ridiculous amount of dolla.
4. You can live like a local. Staying at your own place? Shopping for groceries at the local market? Look at youuu!
5. You can meet locals. If you decide to stay with a host, you'll get the opportunity to mingle with people who actually live there (and can give some stellar recommendations to boot)

---
---
How to use AirBNB for travel
Set up a profile. Hosts can choose whether or not to accept your booking, so make sure your profile looks legit. Have a nice, smiling profile photo (haha I'm holding a balloon in mine), basic information about you and if you can, do link it to your Facebook, Google and LinkedIn accounts. The more legitimacy you have, the more likely you are to get accepted. Again, click here for a referral code so you get some free money towards your first booking!
Search up dates for the location you're travelling to. The AirBNB search function is pretty straightforward (see for yourself here). Just enter where you're going, when and choose from a HUGE variety of filters (e.g. room type, price, amenities, host language skills, etc.) You can be as picky or unpicky as you want.
Sleuth around and shortlist some properties. You can use the "Save for Wishlist" function by pressing the heart that's on the upper right hand corner of each listing. Your strategy here will depend on what your priority is (e.g. location, price, privacy, etc.) For me, I usually zoom into the map around the area I want to stay in, and it shows me properties in that neighbourhood. I also tend to play with the price settings to make sure I'm only getting properties within a certain range.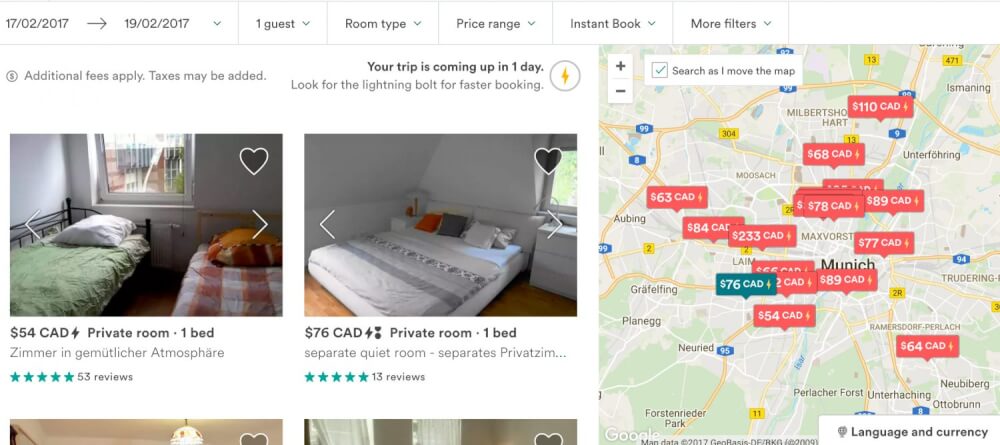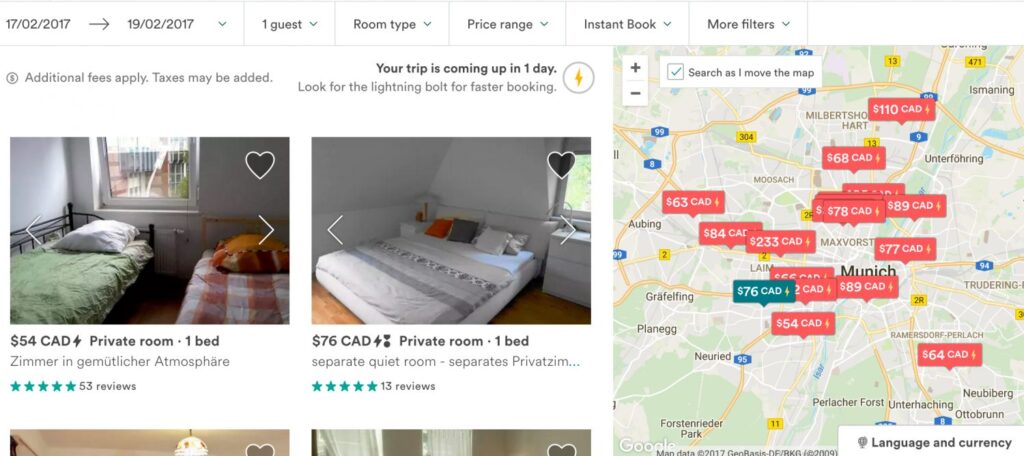 Examine your wishlist properties more carefully. Read the listing, see what's offered, see what's included (note that there is usually a cleaning fee and service fee added) and most importantly: read the reviews!
Clarify any questions/concerns and introduce yourself . Once I've found "the one", I tend to request a booking right away (because I'm impatient), but if it's your first time, it's worth contacting the host separately with questions or a brief introduction to why you're visiting that destination. This will likely increase the chance that the host will accept you. I like to make myself sound like the best guest possible (e.g. just visiting with friends to go sightseeing, etc.) Never give off the impression that you might be a loud, noisy, problematic guest.
Request a booking. Remember, just because you request a booking doesn't necessarily mean you'll get it. You should have a few backups in mind. Hosts tend to reply quite quickly, but at the very least include: who you are, when you'll be visiting, who you'll be with, why you're visiting and maybe a flattering comment or two wouldn't hurt (e.g. we love the cozy feel of your place!)
Get in fetal position and wait for the reply. If you've chosen one of the properties with a lightning bolt, then that's an Instant Book, and you'll be confirmed right away. Otherwise, you have to wait for your host to approve the request. NOTE: Your credit card is not charged until the request is approved.
If your booking is approved, do a happy dance! If not, move onto your plan B. You can find your approved bookings under the "Trip" tab, where you can access detailed check-in instructions. Every host does it differently – some meet you in person, others leave the key in a locked box, etc. so remember to give it a read before your trip!

---
---
How to make sure your AirBNB is not a scam
Full disclosure: AirBNB is not always sunshine, rainbows and fluffy unicorns. As with any websites of this sort, there can be scams, sketchy properties and deceptive hosts who try to run off with your precious dollars. Here's how to make sure that doesn't happen:
Look for stamps of approval/signs of legitimacy.
Some hosts will have a "Superhost badge" (a medal next to their photo) which means they've passed certain requirements in terms of 5 star reviews, response rate, experience and commitment. This is an easy way to tell whether the host is trustworthy. Otherwise, you can examine each of these factors yourself. How many 5 star reviews do they have? What's their response rate? Do they often cancel bookings?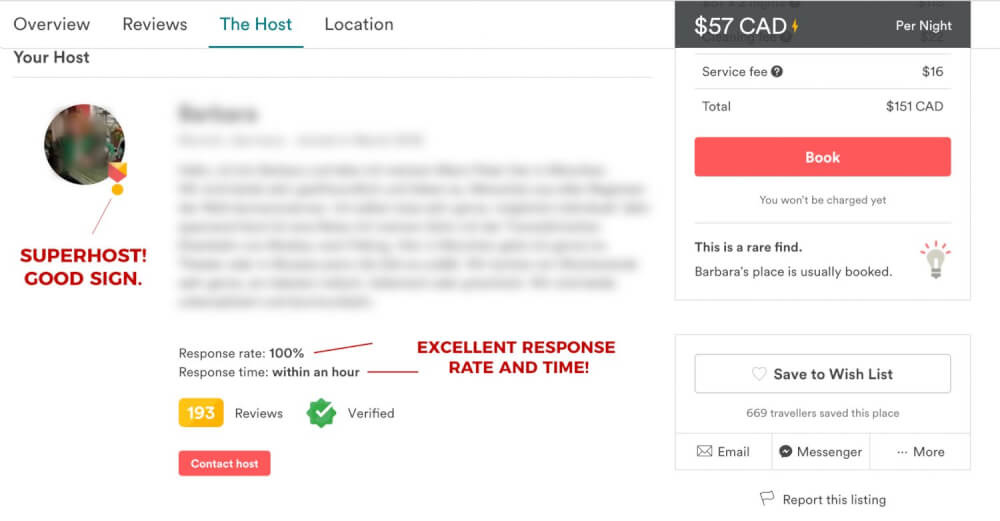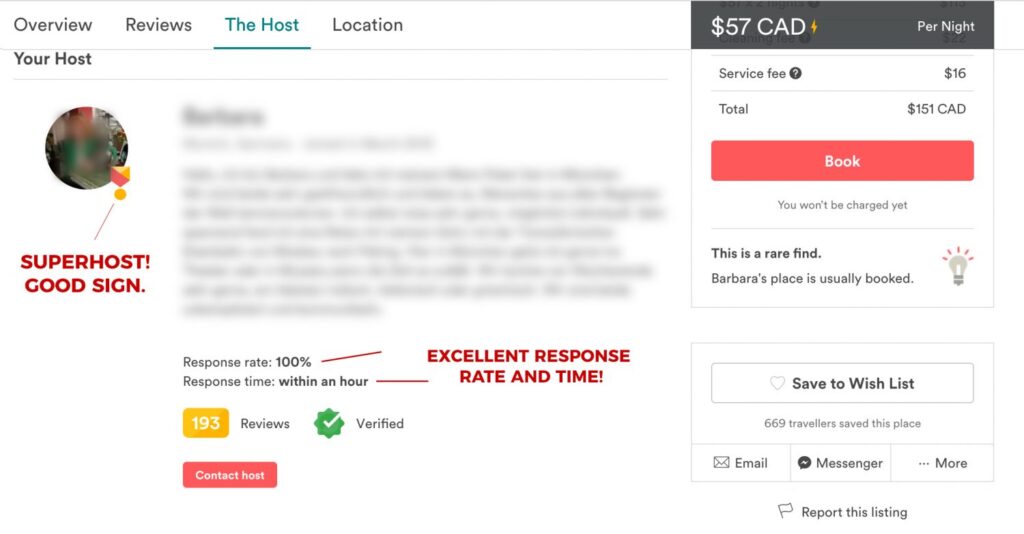 Read reviews like crazy.
Usually I don't go for properties unless they have at least 5 reviews and at least 4.5 stars. I know that's a pretty high bar, but it has never steered me wrong. With unrated properties, you simply never know.
If there are no reviews available for that property, check to see if that host has reviews for other properties, or at the very least, references.
Often, AirBNB hosts will have several properties that they're in charge of, so you can snoop around on their profile to see if they have reviews for other properties. There's also a section where you can get references from others (e.g. friends or family) to vouch that you're not a serial killer, so check to see if they have any of those.
Make sure you look at the total price, and also the cancellation policy.
I know, lots of reading, but it's important that you understand how much you're paying and what your options are if you want to cancel! Not all cancellation policies are the same, so do look into it before you confirm that booking.
---
---
Final tips for success
Clarify everything with your host prior to your departure.
Your arrival time, the check-in process, whether or not they'll provide towels/toiletries, etc. It helps to know these things in advance so that everyone is on the same page!
Make sure you have cellphone service or Internet on your phone.
You never know when you'll need to get in contact with your host. You can get lost, you might not be able to find the key, etc. There's a lot to consider! Also, it's very important to…
Keep in contact with your host.
Remember, an AirBNB is not a traditional hotel. Your host won't be waiting around for you all day. If you're going to be late, let them know… likewise if you're early. Otherwise, you might end up stranded!
Don't forget to leave a review.
Remember how obsessive you were about stalking reviews at the beginning of this process? Reviews are SO important to the AirBNB economy, so be sure to leave one (and the host will usually do the same). This can help a great host out, or warn other travellers to not book at the same place if you've had a bad experience.
Just be a decent human being, please.
Don't forget that hosts will be leaving you a review too! If you act like a complete jerk, making a mess, hosting parties, stealing donuts from the pantry, etc. then that could severely hinder your chances of getting bookings approved in the future. I've always tried to be a model guest, and have these lovely reviews to pad my AirBNB street cred.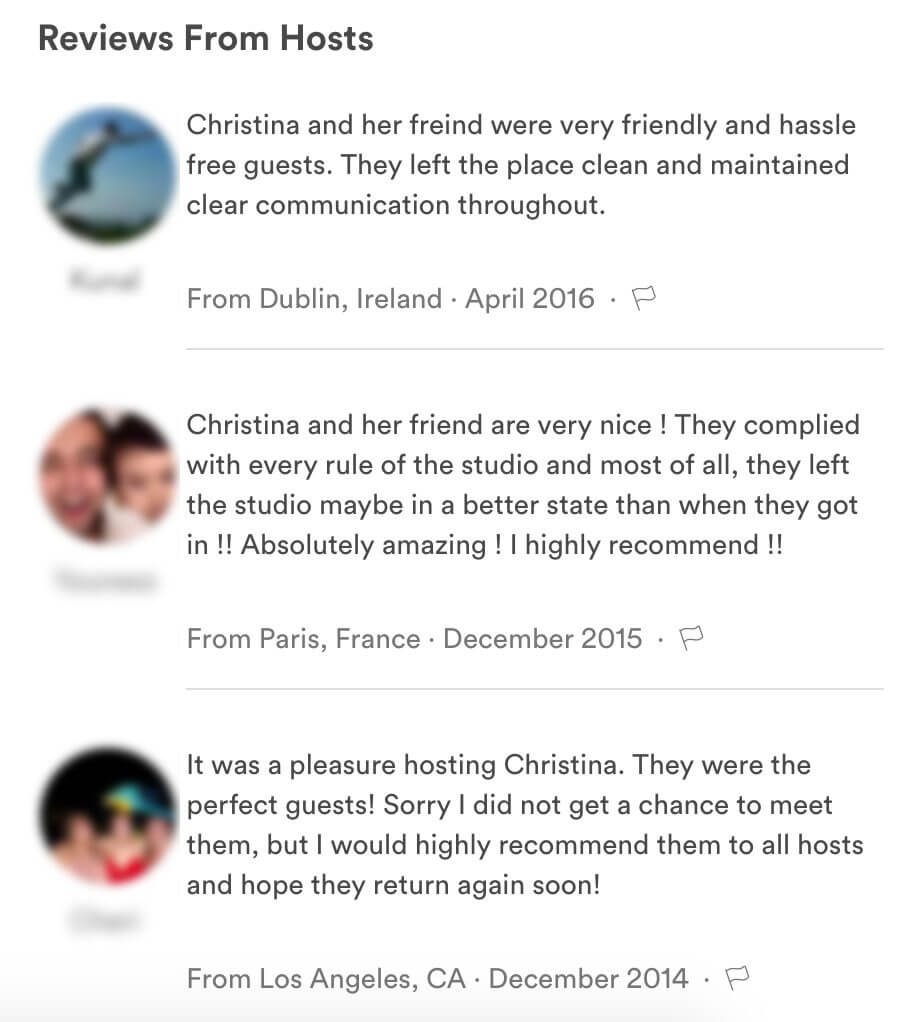 And… exhale!! There you go, hopefully now you're sold on the potential of AirBNB when you travel and are now fully equipped to make your first booking. Don't forget to claim your free $50 CAD discount (yes seriously!), and happy travels!

---
Watch my most popular YouTube video this week:
---