*FYI - this post may contain affiliate links, which means we earn a commission at no extra cost to you if you purchase from them. Also, as an Amazon Associate I earn from qualifying purchases. Check out our Privacy Policy and Disclosure. for more info.
Wondering what to do in Vancouver?
I have to admit something – I am a very annoying person when it comes to talking about my hometown.
The reason is simple: I love Vancouver a scary amount, and if you ask me about it, I will literally frantically shout suggestions at you for as long as you'll let me.
As such, I resisted ever publishing anything concrete about it – a very counterintuitive coping mechanism for my overwhelm.
There are so many great things to do in Vancouver, it's impossible to narrow the list down to something short and sweet.
So I stopped trying. This list is the opposite of short and sweet – it is in fact, rather long and painful… and likely to make you go "yikes" while virtually backing away slowly.
BUT, if you're looking for a comprehensive list of things to see and do in Vancouver, Canada, this might be the exact lengthy bucket list you're looking for, written with love by an overzealous local who is intense about you having a good time.
So… ENJOY IT. Every second! I'll be eagerly watching your enjoyment from the shadows over there. * points behind you *
NOTE: This list includes suggestions for not just things to do in Vancouver, but also things to do in 'the Greater Vancouver Area', including cities like Burnaby and Richmond. These are all within 20 minutes of Vancouver proper though, and are well worth the trek!
Save this post on Pinterest for later: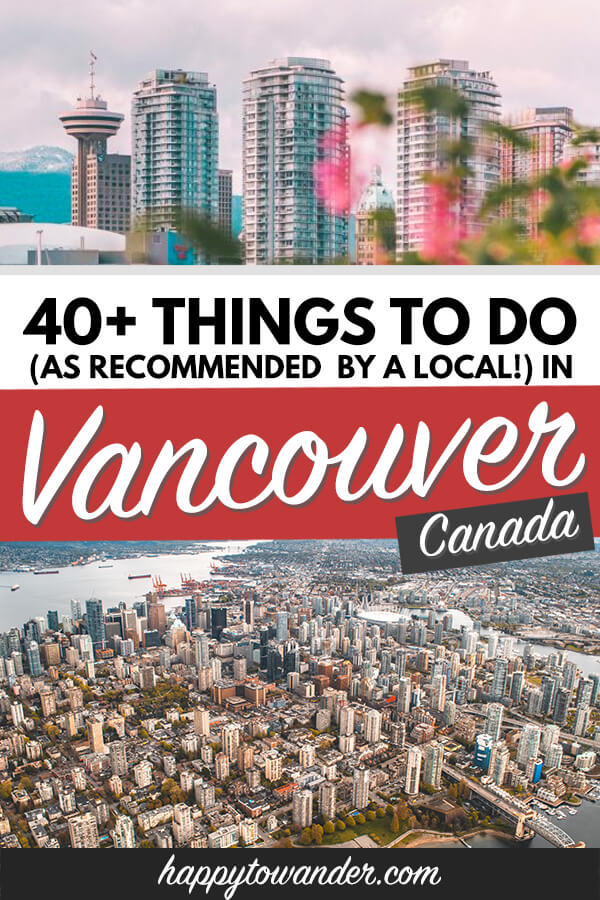 A Map of All These Vancouver Things to Do
For you convenience, here are all the activities listed below plotted prettily on a map:
The Top 7 Touristy Things to do in Vancouver (That Are Worth it!)
Okay – let's start with THE best things to do in Vancouver as recommended by every guidebook and website.
I'm a big fan of going off the beaten path, but the touristy things here are touristy for a reason, so be sure to check them off your list.
Not all attractions in Vancouver are made equal though, so here are the select few that have my personal seal of approval.
1. Ooh and ahh along the Stanley Park Seawall
If there's one thing I demand every visitor do in Vancouver, it's a jaunt along the Stanley Park seawall.
Seriously, this activity is peak Vancouver, and lovely even on a treacherous stormy day (as my boyfriend learned, when he visited for the first time and I wouldn't take "no babe, there's literal thunder striking down trees" for an answer).
Granted, exploring the famous Stanley Park seawall is best enjoyed on a beautiful day, but trust me when I say it has more than earned its stripes as one of the top things to do in Vancouver (as recommended in every single guidebook).
Stanley Park is an iconic slice of town located right in downtown Vancouver, featuring prominent attractions such as the Vancouver Aquarium, the city's famous totem poles, idyllic Prospect Point, and the towering Lionsgate Bridge.
Its famous seawall hugs the water and leads you all the way to English Bay, one of the city's best beaches, providing endless views of Vancouver's glorious mix of mountains, sea and lush, lush greenery.
Renting bicycles to traverse the Seawall is a popular activity, but exploring it by foot is just as fun… and less hazardous if you're a clumsy cyclist like me.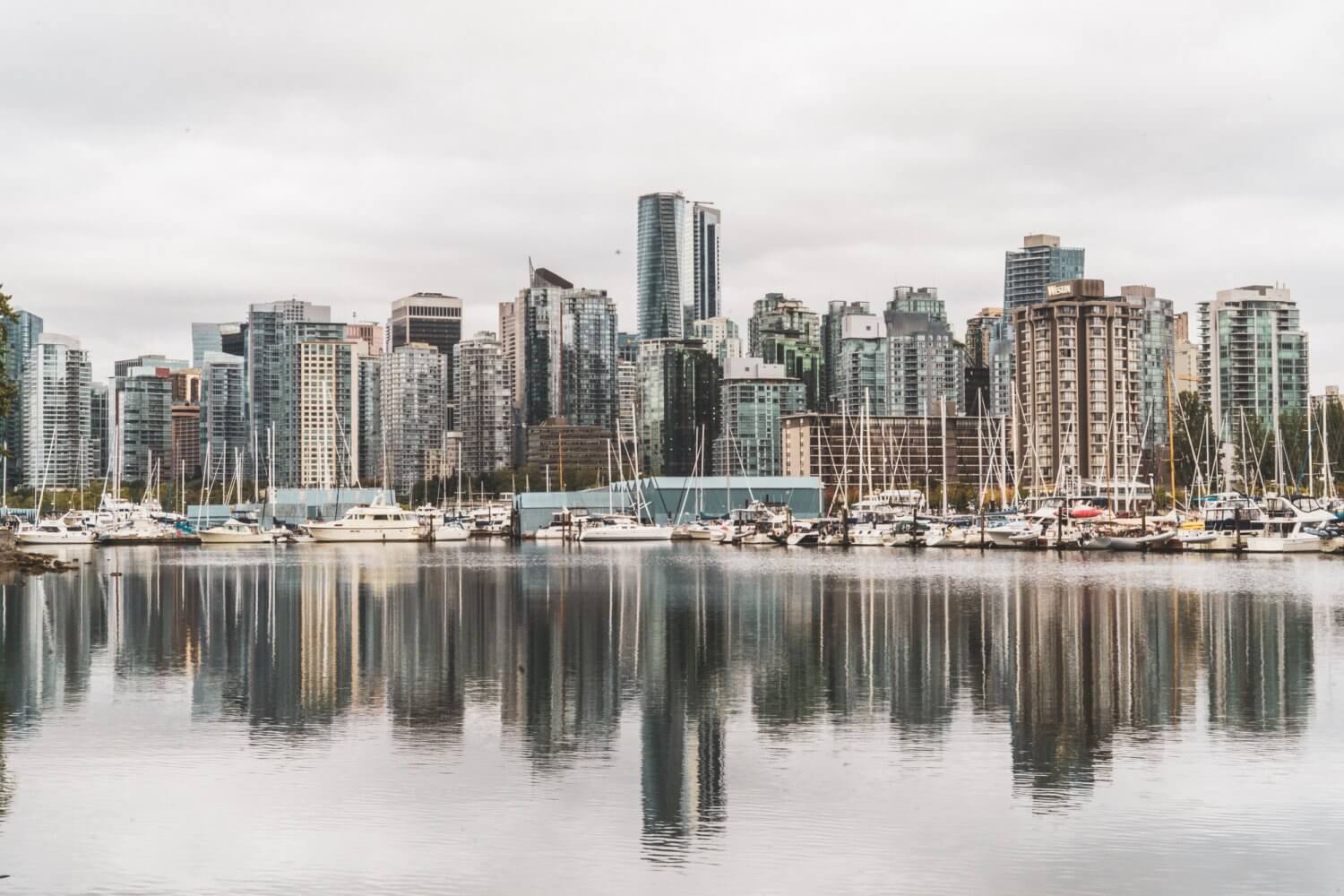 2. Stop by Jack Poole Plaza and Canada Place
If I ever feel like I need to fall in love with Vancouver (trust me, for some reason I get this urge often), I head straight to Jacke Poole Plaza and Canada Place.
This is where you can find stunning views of the mountains and water, plus plenty of Vancouver's most iconic public art pieces, including the pixellated whale, giant teardrop, and of course, the Olympic Cauldron which is a legacy from when Vancouver hosted the 2010 Winter Olympic Games.
For a unique perspective, look for a set of stairs to the left of Cactus Club, where you can climb up and look over Jack Poole Plaza and the glassy buildings of Coal Harbour… one of my favourite views in the city!
From Jack Poole Plaza, you can easily walk to Canada Place, one of the most iconic symbols of Vancouver with its five flag facade, which lights up with different colours at night.
Along here, you'll find the "The Canadian Trail", a fun little walk dotted with plaques sharing facts aboot Canada and various pieces of our history.
SIDE TIP: One of the best (lesser known) views of Canada Place is in Granville Plaza, and it's the perfect place to enjoy a picnic too as there's loads of seats and benches. On a weekday though, you can expect to share this space with plenty of hungry office workers.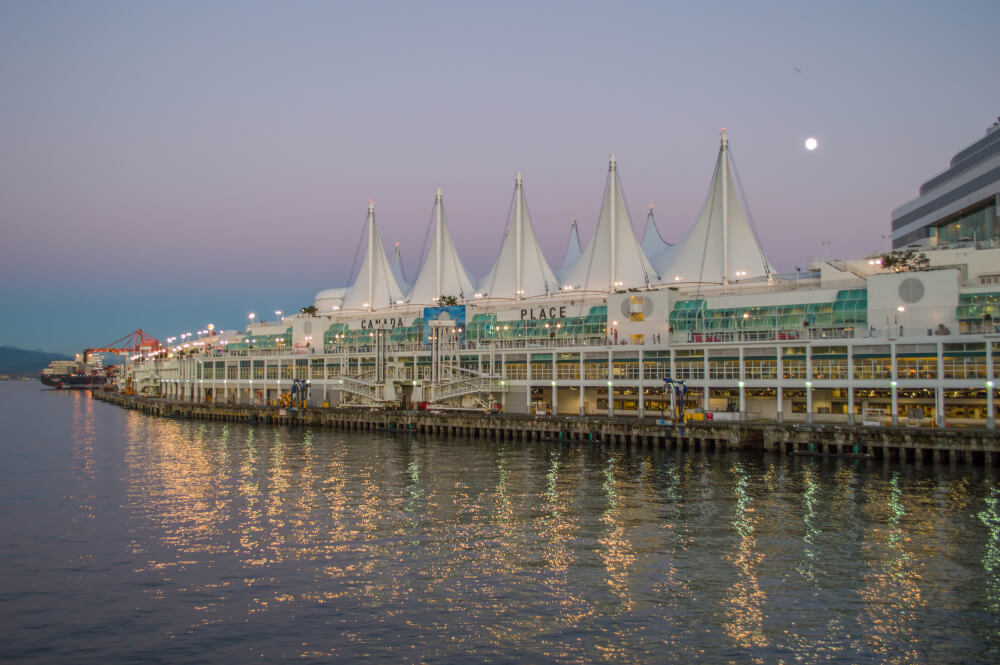 3. Hop on an Aquabus and explore Granville Island
Aquabus, you say?
Yes, what a fun, whimsical name… and I'm happy to confirm that the actual experience is just as delightful as its branding.
Yup – the Aquabus is a little rainbow boat that shuttles people all around False Creek… and it's awesome.
Sure, it's pricier than taking the bus, but riding it is a fun experience and I highly recommend trying it out for unique perspectives of Vancouver from the water.
While the Aquabus offers various routes, I recommend you take it to Granville Island, which is home to a famous food market, many food stalls/restaurants, a brewery and my personal favourite: Vancouver Theatresports, the best improv you'll ever watch.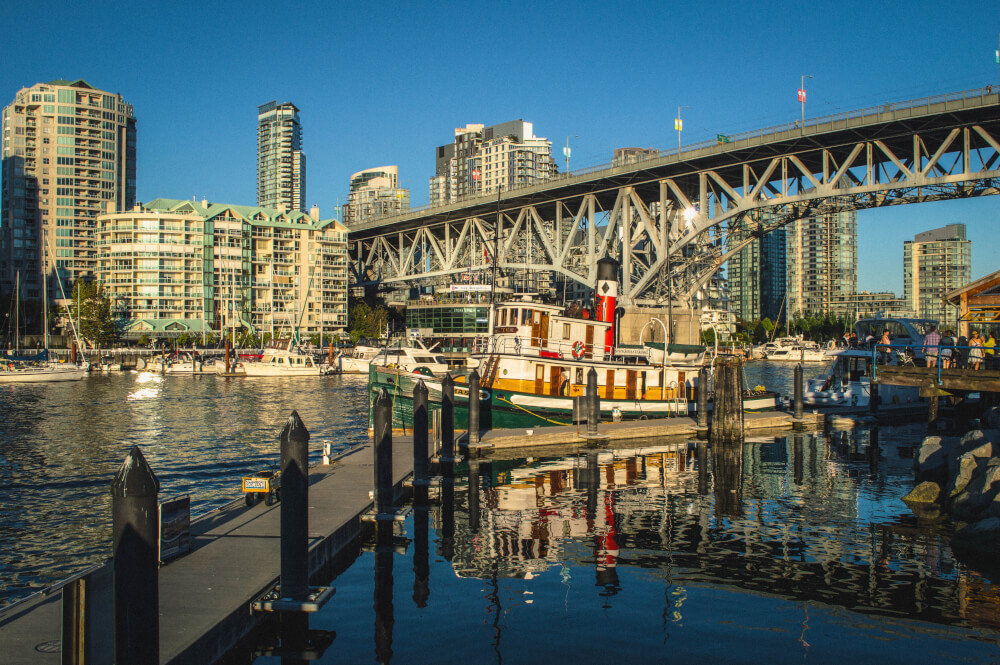 4. Meander around Gastown
As the oldest neighbourhood in Vancouver, Gastown is a romantic little slice of the city where you'll find pretty cobblestoned streets lined with a throng of independent shops, boutiques and restaurants for days.
While I admit, this has become one of the more touristy areas in Vancouver (you'll have no trouble finding MMM, Miscellaneous Moose Merch here), it is still a worthwhile place to visit… especially given its central location in the downtown core.
Sure, most visitors come here to drool puddles over the famous Gastown Steam Clock and the statue of Gastown founder, Gassy Jack, but there's much more to do here, including munching away at some of the city's best eateries and shopping at unique local boutiques.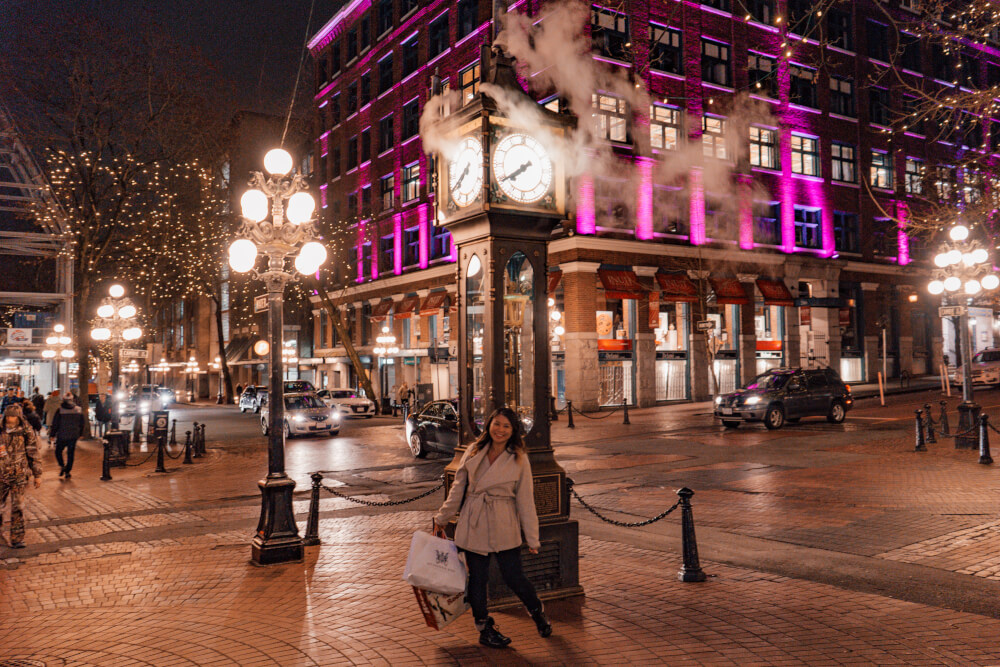 5. Enjoy the serenity at Queen Elizabeth Park
For some of the best views in Vancouver and a gorgeous park to boot, head over to Queen Elizabeth Park.
This is one of my favourite parks in Vancouver, mostly because every inch of it is gorgeous…. and best of all, it's free!
For context, this is where ALL the Vancouver youths go to take their prom pictures, so you can bet that it's scenic and picture-perfect.
The park's quarry gardens are a special highlight, with lush flora wrapped around pretty pathways, little bridges and even mini-waterfalls.
You'll also find a Pitch & Putt here, along with free tennis courts, picnic areas, dancing fountains and the Bloedel Floral Conservatory.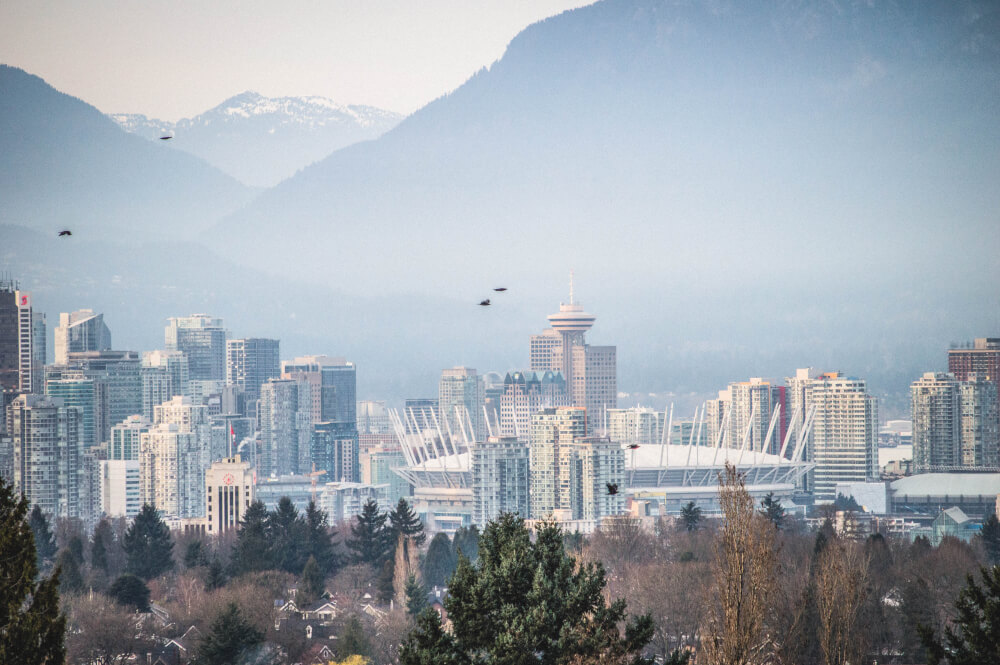 6. Swap continents for a few hours at Doctor Sun Yat Sen's Chinese Garden
While I don't think that Vancouver's Chinatown is an amazing experience for tourists (it's sadly one of the roughest parts of town), the one exception for me is Doctor Sun Yat Sen's Chinese Garden, particularly if you want to feel like you've been warped over to Asia.
This garden (which is next to an equally pretty free area, known as the Sun Yat-Sen Park) is the first Chinese garden of its kind of be built outside of China, with some gorgeous rock/water features, a lily pond, and covered walkways that hearken back to the Ming Dynasty.
You'll find this beautiful oasis in the center of downtown Vancouver! Click here to learn more on their official website.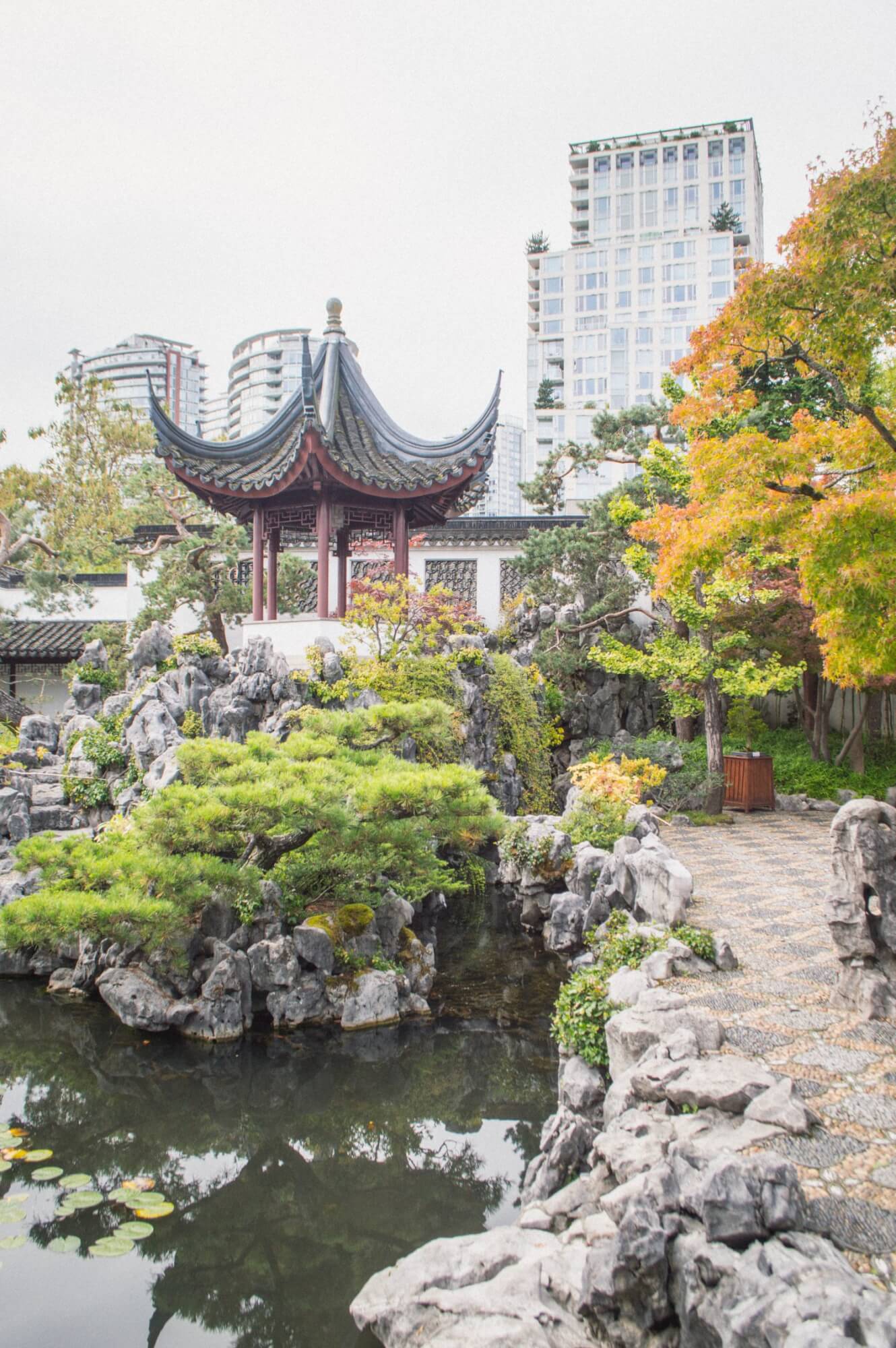 7. Get THE best Vancouver views ever on a seaplane tour
While I admit, a bougie seaplane tour definitely isn't the cheapest Vancouver activity, soaring above the city in style is still to date one of my favourite memories of Vancouver.
Really, getting to appreciate Vancouver during a scenic flight is a perspective like no other, and I highly recommend trying it out if you're looking to do something special while you're in town.
I booked a downtown panorama tour with Harbour Air and loved it. Their planes depart right at Coal Harbour, which makes access from downtown Vancouver a breeze.
Click here to check reviews and availability.
BONUS VANCOUVER MUST-DO: WHALE WATCHING! A lot of visitors come to BC for whale watching, and while I've heard it's very much a hit and miss activity (incredible if you see whales, very underwhelming when you don't) I figured I would put it on your radar. I can't personally vouch for a company myself as I've never done it, but here is one with consistent five star reviews.
Alternatives to Overpriced/Overrated Vancouver Things to Do
Alright, with the touristy musts out of the way, I now want to share some of my personal favourite things to do in Vancouver with you. Consider this your list of local Vancouver secrets.
Truthfully, there are a lot of "tourist must-dos" in Vancouver that I think are overrated or overpriced. Here are my alternative recommendations for these popular sights:
8. Enjoy the Lynn Canyon Suspension Bridge (instead of Capilano Suspension Bridge)
One of the coolest things about Vancouver is how you can find a rainforest 20 minutes away from the downtown core, and usually visitors will go to the Capilano Suspension Bridge to experience it.
I do think the Capilano Suspension Bridge is gorgeous BUT only worth it when it's not busy. Otherwise, the hordes of crowds make it pretty unbearable, and especially considering the hefty price tag, not really all that worth it.
Instead, there's another suspension bridge in North Vancouver called the Lynn Canyon Suspension Bridge. Not only is it free, many of the trails around the bridge are really fun and there's plenty of hiking to do in the area.
I won't lie, the Capilano Suspension Bridge is MUCH better than the one in Lynn Canyon (it's just way longer and more majestic) but Lynn Canyon is much less crowded with tourists and offers some great hiking opportunities for free.
If your main goal is to see the bridge, head to Capilano (and get tickets in advance here to make it more painless), but if you simply want to enjoy the best of North Vancouver's nature, then Lynn Canyon is a much better value.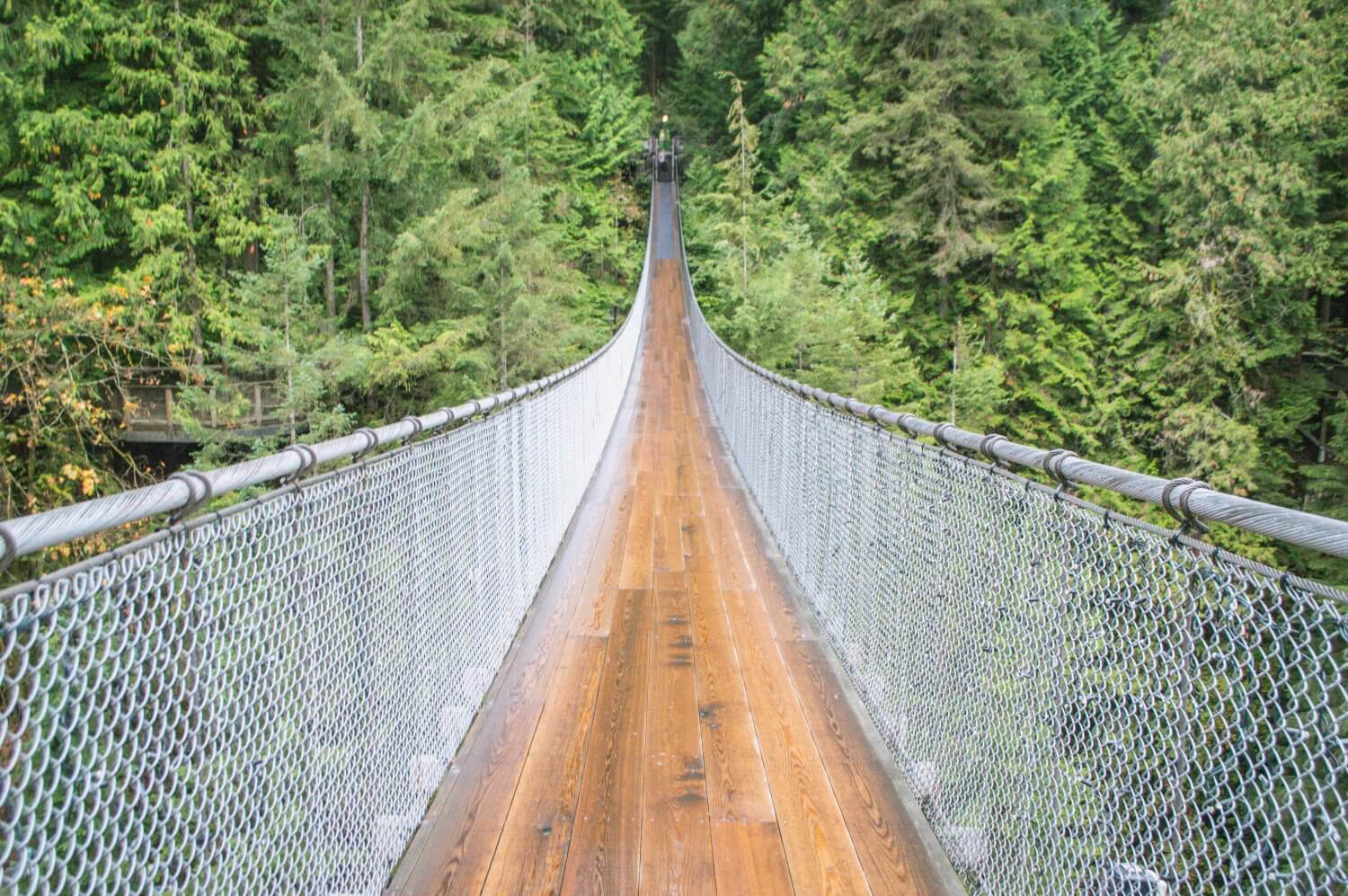 9. Do a Gastown food tour (instead of just staring at the Gastown Steam Clock)
Gastown is one of the loveliest (and most well-known) parts of Vancouver, but its main draw for a lot of tourists is the Gastown Steam Clock, which I've always found a bit baffling.
It's a pretty clock, but that's sort of it, and if seeing this clock is all you do in Gastown, you're definitely not getting the most of your visit.
Instead of coming to gawk at a clock then running away, I'd recommend grabbing some food/drinks to properly soak in the Gastown atmosphere.
A great way to do this would be through a Gastown food tour, which brings you to a lot of the area's best spots.
This Gastown food tour instance has rave reviews and hits up many of the most popular spots to eat in the area. Click here to check reviews and availability.
If you'd like to add some booze to your tour, there's also this food, craft beer, and wine tour of Gastown that includes a variety of courses and drinks at different spots around Gastown.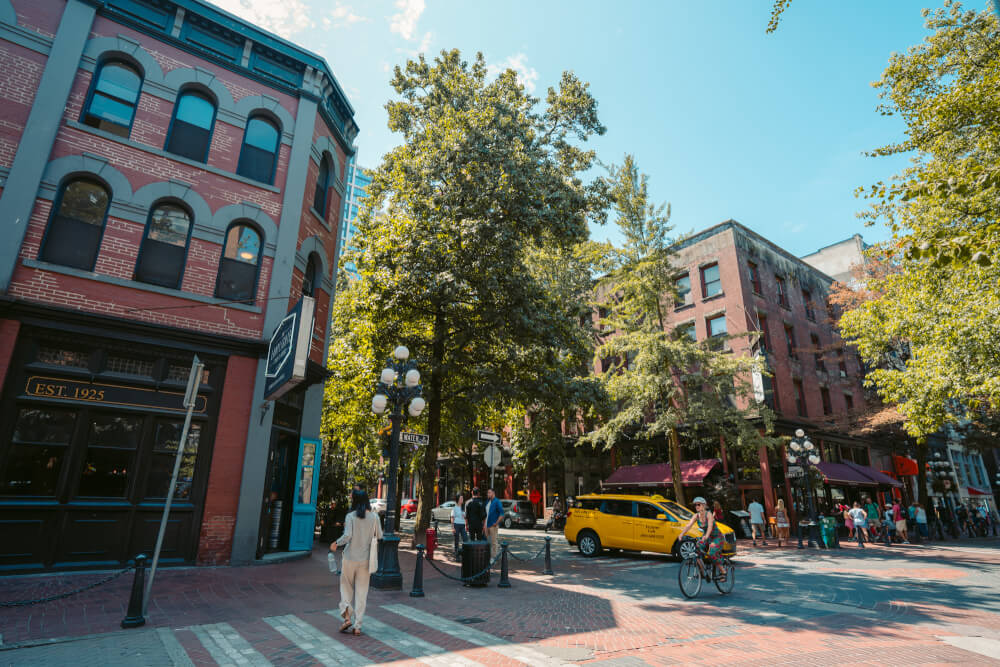 10. Take a boat tour to see Vancouver (instead of Fly Over Canada)
I've done Fly Over Canada several times thanks to hook-ups from friends of mine, and while it's pretty fun for a quick thing to do in Downtown Vancouver, I find it very overpriced ($30 per adult!!) for a short 12 minute attraction.
If you have ever done the Soaring over the World (formerly Soaring over California) rides at the Disney parks, this is exactly like that except with Canadian landscapes.
Overall, it's fun and might be one of the more exciting things to do in Vancouver with kids, but I do find it's very overpriced for a mild thrill ride.
INSTEAD, I would take that money and opt for seeing the real deal: take a boat tour and experience the gorgeousness of Vancouver from the water!
You can find quite a few (like this one) for less than $50 per person, so for only 20 additional bucks, you get an hour long boat ride instead of a 12 minute ride that goes by in the blink of an eye.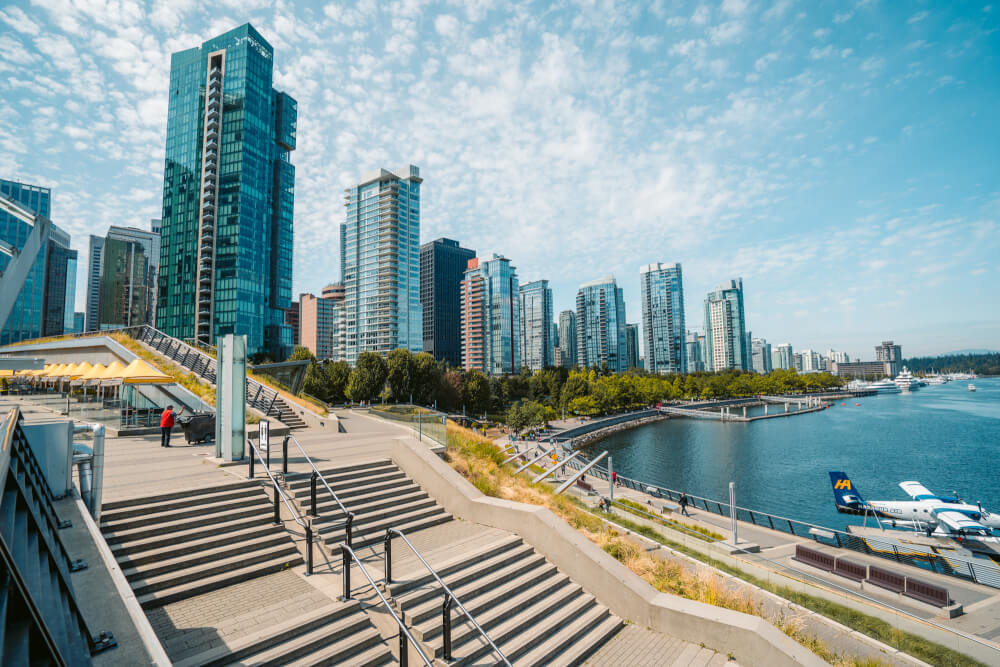 11. Visit Deep Cove and hike Quarry Rock (instead of doing the Grouse Grind)
A lot of people (Vancouverites included) are obsessed with the Grouse Grind.
It's a steep set of stairs that brings you all the way up Grouse Mountain, and is like the ultimate flex when it comes to Vancouver hikes.
Doing 'the Grind' is a rite of passage for many, and doing it regularly is the mark of an athletic AF person with loads of discipline.
BUT, I don't think the Grouse Grind is that fun for tourists.
For one – it is genuinely very difficult and unless you're in good shape, it's a bit torturey. Second, and most importantly, even when you hike up, you still need to take the gondola down and PAY FOR THAT PRIVILEGE.
Yes, your reward for a torturous climb is the privilege of paying $15 to ride back down without crying.
Granted, on top of Grouse Mountain there are some very Canadian experiences to enjoy for free, like the Grizzly Habitat and Lumberjack shows, plus other things like ziplines at additional cost, BUT I do still think this isn't one of the best things to do in Vancouver.
Insteaaaaad, I recommend heading to Deep Cove, an adorable little town in North Vancouver.
This picture-perfect spot has lots of cute boutiques and places to eat, scenic harbour views, PLUS what I consider to be the best "value" hike in the Greater Vancouver Area: Quarry Rock.
This short hike will take you no more than 2 hours roundtrip, and offers up stunning PNW views. Bring a picnic lunch to enjoy up top and soak in the views alongside alllll the locals, who can't resist the view themselves.
This is a much nicer experience overall than the Grind, and you might even catch me up there sometime 😉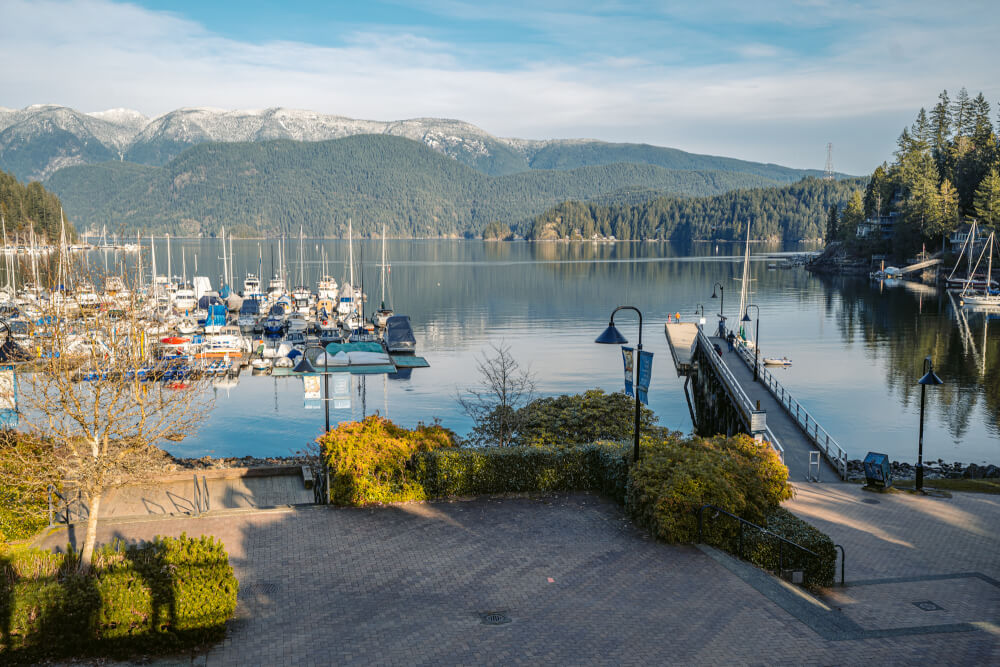 12. Enjoy the views from Cypress Mountain (instead of Grouse Mountain)
So while we're talking about Grouse, I have an alternative to the mountain that is both free and in my opinion, better.
As I mentioned, most visitors will head to Grouse when they visit North Vancouver, but the gondola ride up is 60 bucks roundtrip, which is a lot considering many of the most exciting things to do come at additional cost.
There are some activities included of course like the Lumberjack shows, Grizzly habitat and bird demos, but overall, I find the ticket overpriced for what you get.
Instead, if it's an incredible view you're after, the one from the Cypress Mountain Highview Lookout (in neighbouring West Vancouver) is my favourite in the city.
While it's only accessible by car, the sweeping views over the city center, from Lions Gate Bridge to Stanley Park, is honestly breathtaking and especially magical at night – way better than the one at Grouse!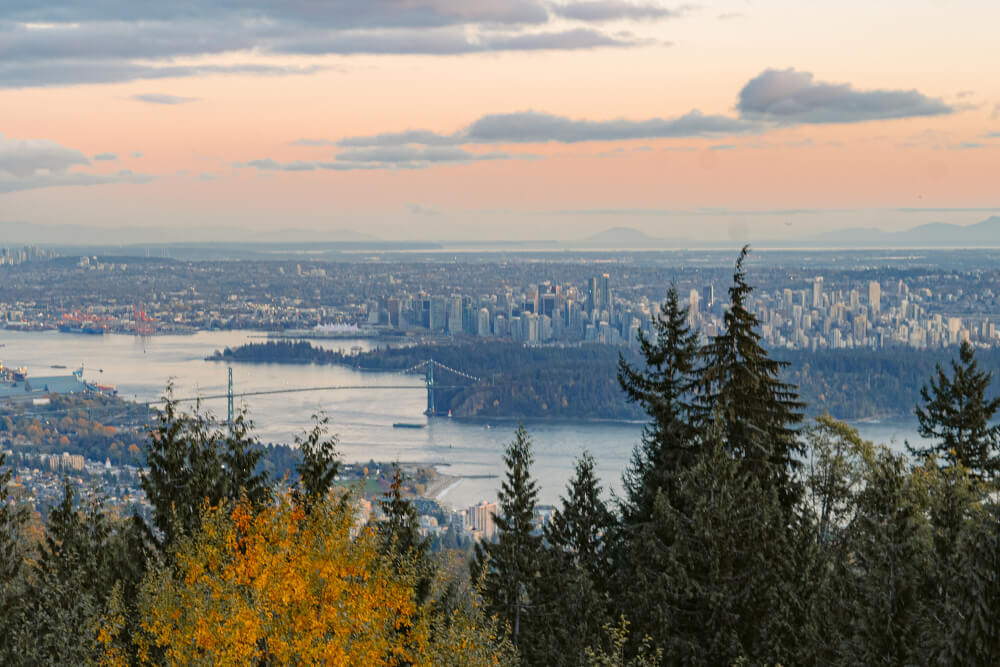 13. Head to Richmond (instead of hanging out in Vancouver's Chinatown)
One of the highlights of visiting Vancouver is experiencing just how global a city it is, with plenty of incredible restaurants and shops representing cultures from around the world.
Vancouver's Chinese community is particularly huge (hi!!) which means you'll find some of the best Chinese food in the world right here.
But lots of tourist guides recommend you visit Chinatown for that purpose, which I don't think is the best suggestion.
As I mentioned before, apart from the Doctor Sun Yat Sen Chinese Garden, there's not a lot to enjoy for tourists in Vancouver's Chinatown, which is unfortunately very interlinked with the roughest part of Vancouver, the Downtown East Side.
Instead, if you want to experience Asian culture, I suggest you head to the city of Richmond (accessible from downtown Vancouver by only 20 minutes on Skytrain).
This place is straight-up teleportation to Asia itself, with an endless parade of Asian restaurants (everything from traditional HK diners to Korean BBQ!) and shops too.
Feeling overwhelmed? One great place to start is the Aberdeen Centre food court on the top floor. Trust me.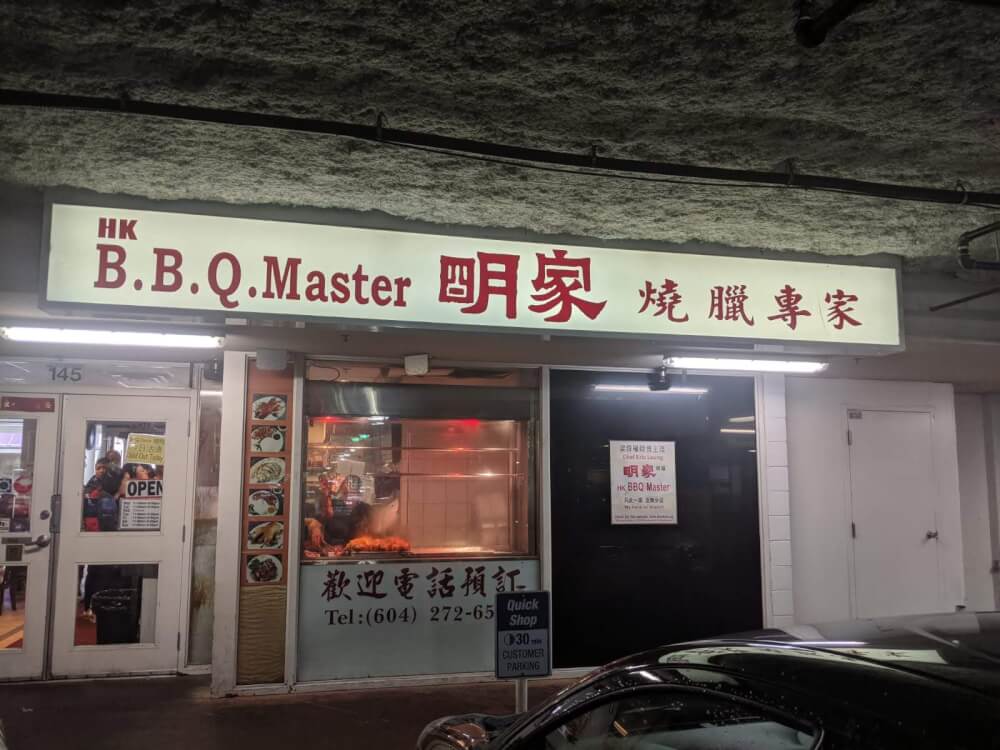 14. Enjoy the local craft beer scene (instead of partying on the Granville Strip)
As a Vancouverite, my memories of the infamous Granville Strip mostly involve 19-year old me stumbling down the puke-stained pavement, waiting too long in line, paying too much cover to get in, only to end up with sticky shoes and a shamey McDonalds coma.
I don't love the nightlife scene in Vancouver to be honest, and overall I find the Granville Strip to be rather gross, but if you're looking for clubs, this is known as the "it" place to party and often recommended by guides as the best place for a night out.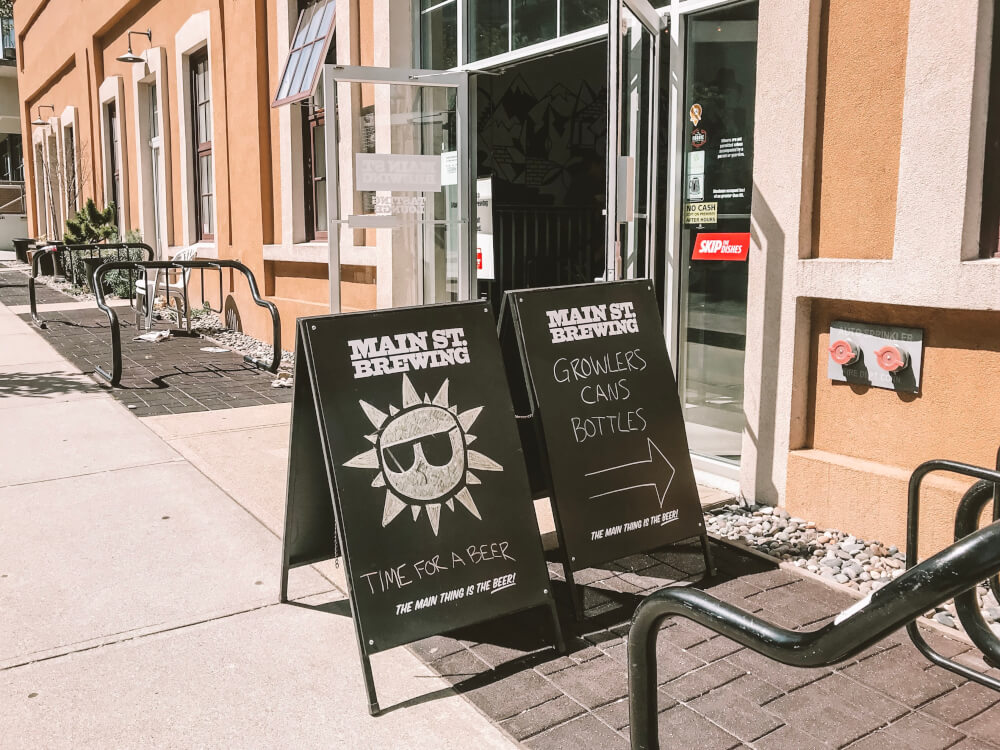 If clubbing is your thing, then suuuure I guess you get to experience the same sorta expensive, clubbing-induced misery as elsewhere in the world, but for an experience that's much more 'Vancouver', I recommend sampling your way around the wonders of Vancouver's craft beer scene, which has been hoppin' (heh) for the past few years.
Mount Pleasant is one of the best neighbourhoods for brewery hopping, so be sure to check out this list of their top breweries to get started!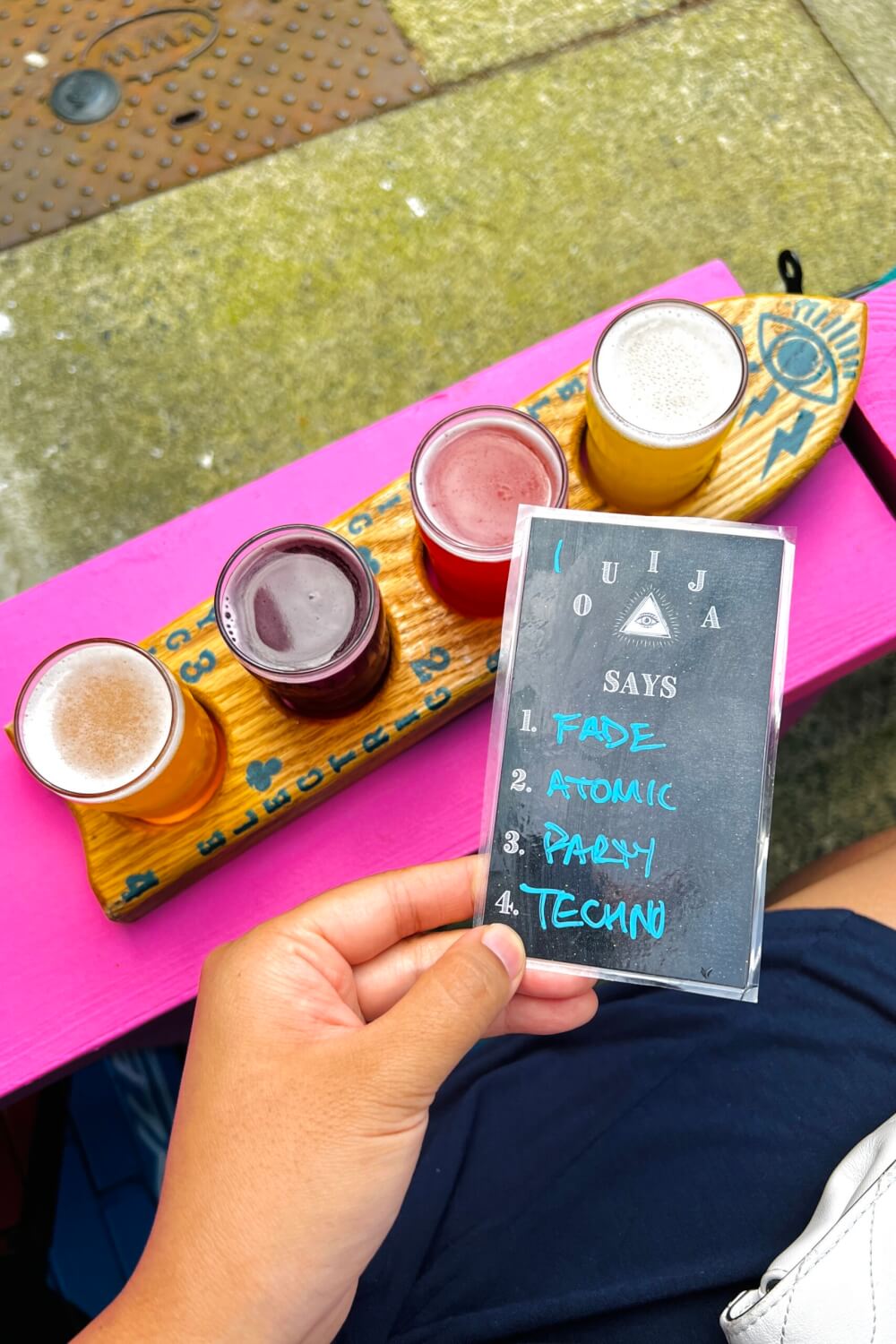 15. Go shopping in Kerrisdale (instead of Robson Street)
Kerrisdale is this super adorable neighbourhood filled with fun boutiques and places to eat, only a 20 minute commute from downtown Vancouver.
If you want a unique shopping experience, this would be much better than the (relatively dull) Robson Street in downtown Vancouver, which is filled with a mix of chain shops you can find pretty much anywhere (e.g. Zara), along with tacky gift shops.
Everrrrybody and their mom seems to recommend Robson as THE shopping destination in Vancouver, but if you want something that's more unique and special, then head elsewhere.
If Kerrisdale doesn't sound like your jam, I also love West 4th, Main Street and Gastown for more independent/local shopping.
16. Take the seabus to North Vancouver (instead of paying for the Vancouver Lookout)
The Vancouver Lookout is an attraction in downtown Vancouver that offers beautiful 360 degree views of the city.
I do actually enjoy the view from here a lot, but you just take an elevator up and stare at the city from behind glass windows, which to me isn't the most exciting experience if you only have a bit of time in Vancouver.
Instead, a 2 minute walk from the Vancouver Lookout, you'll find the Seabus terminal. I'd recommend coming here and hopping on the seabus to North Vancouver.
While the Seabus is simply an extension of Vancouver's public transportation system, this 15 minute ride across the water from downtown to Lonsdale Quay is one of my favourite things to do in Vancouver when I have visitors.
Not only do you get a sublime view of Vancouver's glassy skyline, it's the same price as a regular bus ticket (except cooler, because you're on a boat).
The view of downtown Vancouver from Lonsdale Quay is stunning as well, and there's plenty of good food to enjoy on the other side.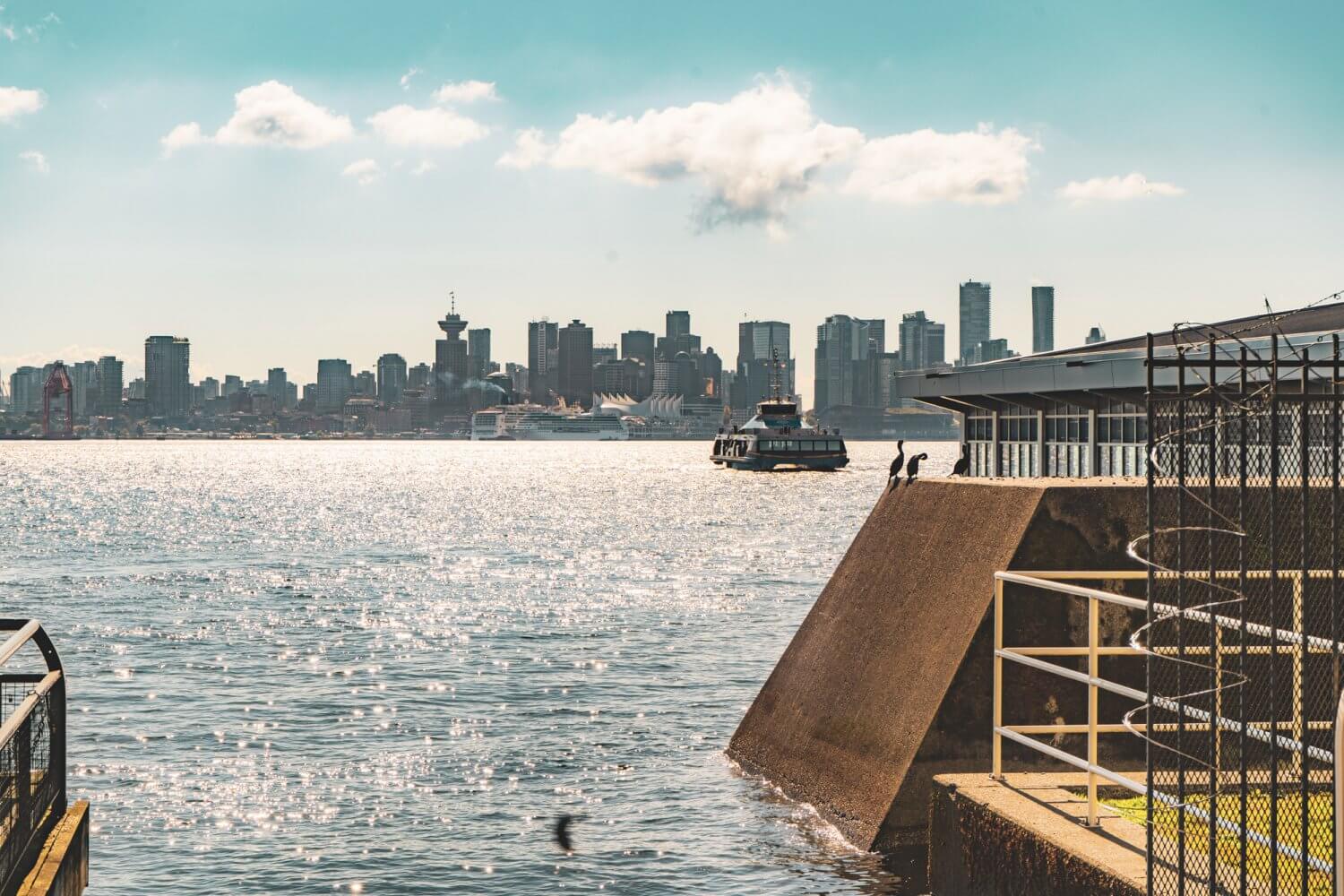 17. Watch sunset at Sunset Beach (instead of at English Bay)
English Bay is the most popular beach in Vancouver because of its location – it's easily accessible by public transportation and smack dab in the downtown core.
It's a nice enough beach, but it gets very crowded in the summer (especially with rowdy teenagers out of school!) * murmurs Get Off My Lawn *
So if you're a grumpy granny in disguise like me, instead of hanging out at English Bay, I would recommend waltzing over to Sunset Beach, which is a short distance away, and one of the most breathtaking places in Vancouver to watch sunset.
The beach here is just as nice as English Bay, but there's a few interesting public art sculptures like two giant engagement rings and a giant Inukshuk.
It's also usually less crowded and as hinted in the name, phenomenally beautiful at sunset.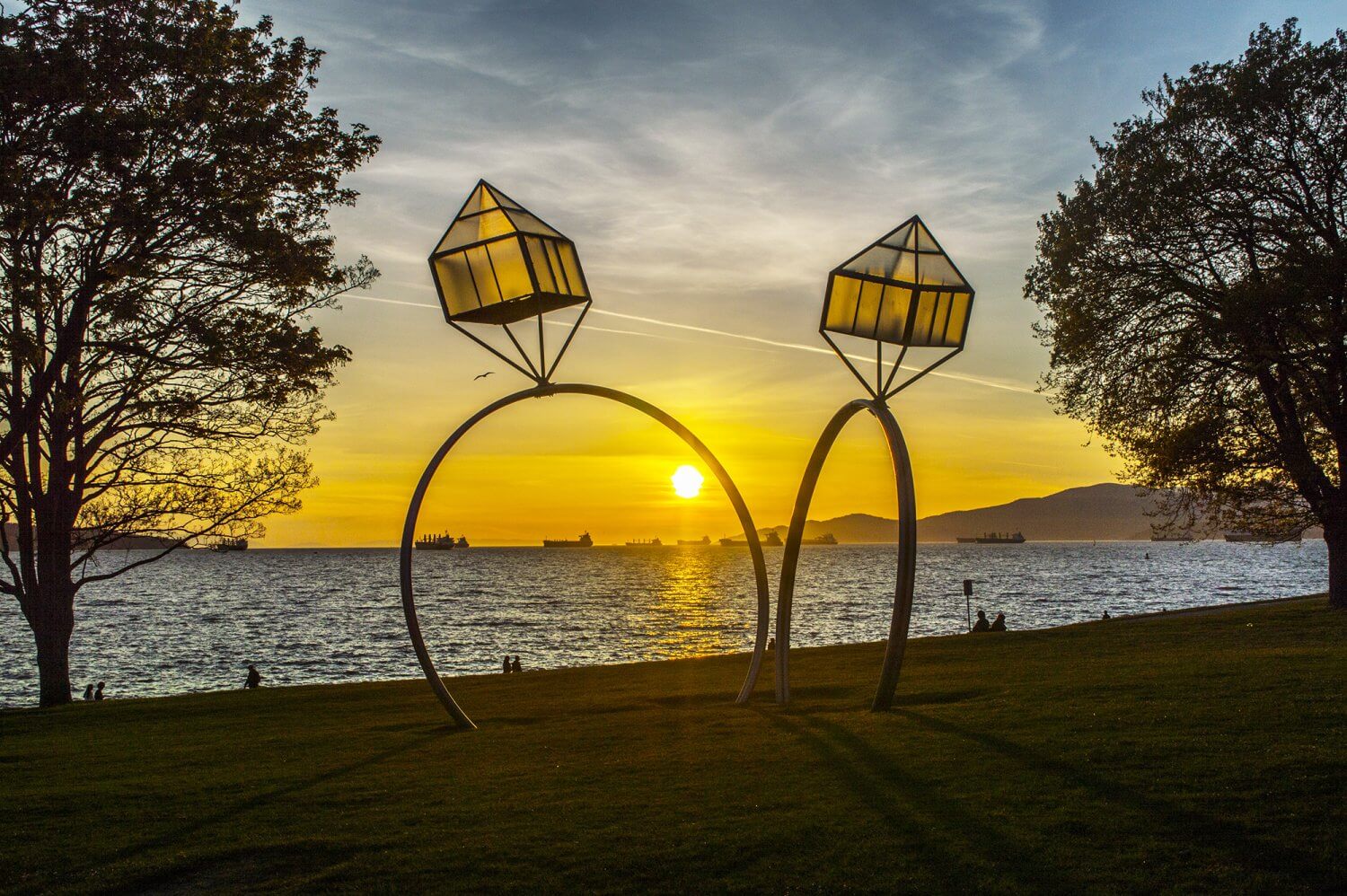 18. Take a stroll along the False Creek seawall (instead of just walking around the Stanley Park seawall)
While I love Stanley Park (it was, after all, #1 on this list!), another personal favourite seawall walk of mine is False Creek, by Science World.
Whether you do the route from Science World to Granville Island or the route from Science World over to Yaletown, the people watching is great, and you can spend your day ogling fluffy doggos while taking in unbeatable views of the City of Glass.
NOTE: I must stress though that the Stanley Park seawall walk is amazing and you should still check it out. I'm just letting you know there's a second lesser known seawall walk that is amazing. Both are amazing. Vancouver is amazing. YOU'RE amazing. Okay? We good? Now, moving on…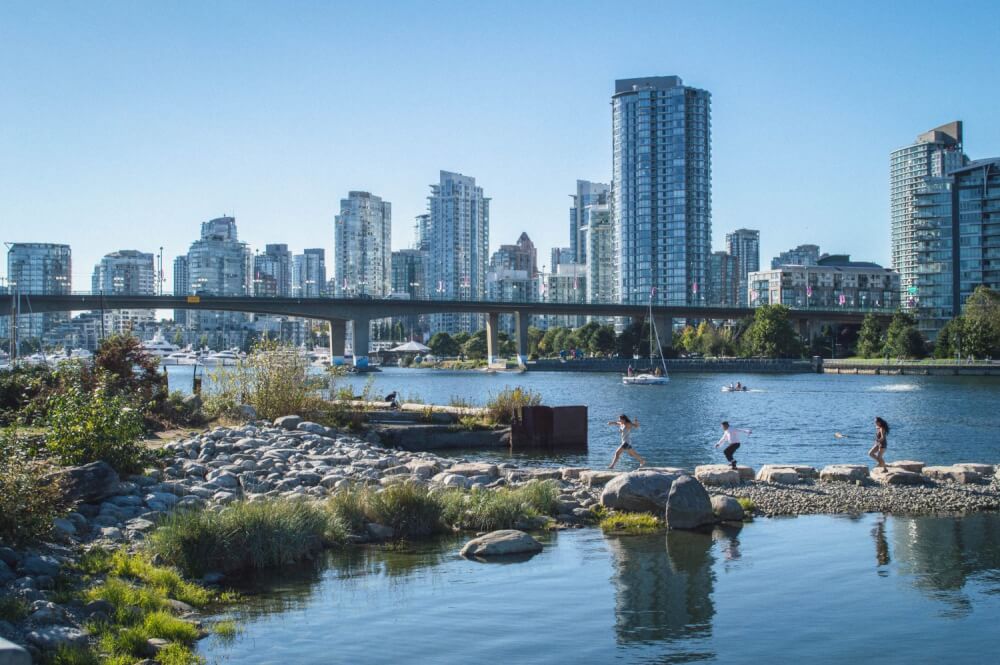 19. Spend some time in Mount Pleasant (instead of just staying downtown)
One of my favourite summertime things to do in Vancouver is hanging out in the Mount Pleasant neighbourhood, filled to the brim with cool shops, street art, cafes and more.
This up and coming (or I guess it has been coming for a while? Sorry if that sounded dirty) is a neighbourhood just outside of the downtown core, making it quickly accessible by foot or by public transportation.
You won't find a ton of guides recommending it to tourists, but Mount Pleasant is an unmistakably hip part of town swimming in food and shopping options and I honestly feel MUCH cooler every time I hang out there… and if it can revitalize an uncool pyjama-living grandma like me, imagine what it can do for you!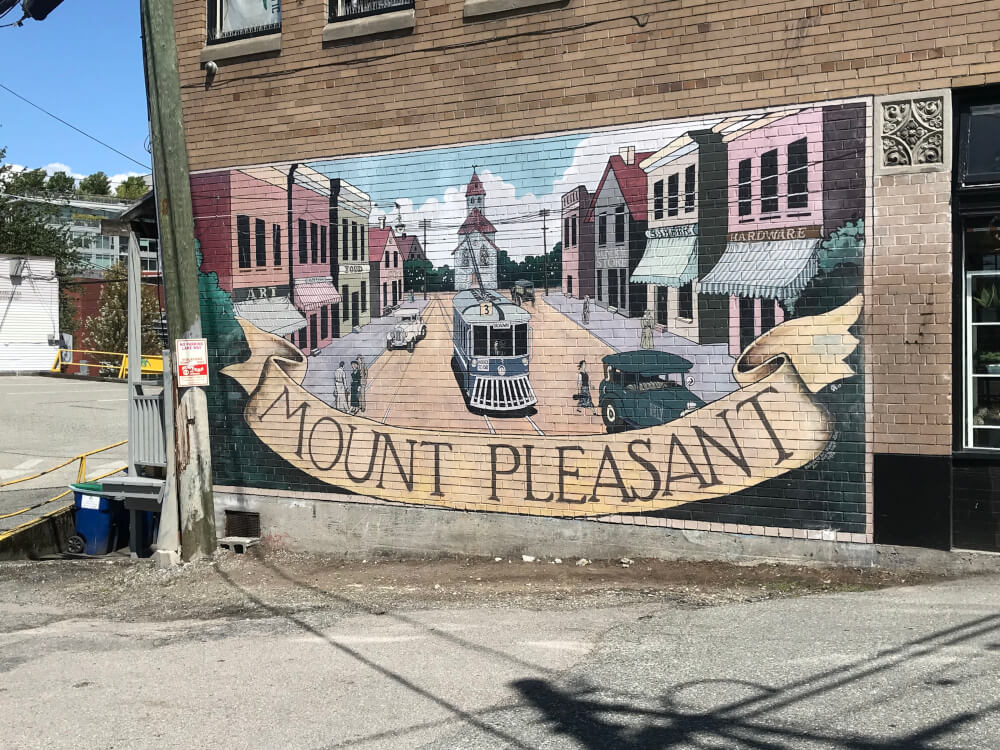 20. Do a bike tour (instead of a Hop on Hop off bus)
While I have the cycling abilities of a demented horse, I still have to admit that biking is one of the best ways to enjoy Vancouver (when you can do it without crying).
This is why I'd highly recommend doing a bike tour/bike rental instead of those Hop on Hop Off buses.
That's because I feel like some of the nicest parts of the city (namely the seawall paths) are missed by these buses, so it'd be a huge wasted opportunity to miss them.
There are several bike tour options in Vancouver, but here's one with consistent five star reviews. Click here to check reviews and prices.
Foodie Things to do in Vancouver
I'm gonna let you in on a local secret right now… every Vancouverite is straight-up obsessed with food.
Like, honestly, we eat as often as we breathe.
So, without hesitation, I can say that one of the BEST things to do in Vancouver is eat. I'd recommend clearing your schedule for some of the following quintessentially Vancouver food activities…
21. Sob while eating a Japadog
Listen, I'm not crazy… I know it sounds weird: a Japanese-inspired hot dog, but trust me when I say that this Vancouver classic street food is like tasting dreams come true. In less hyperbolic terms, it's delicious. So delicious.
I always bring visitors here and ye old Japadawgz are a hit every time. What started off as a lone street cart in 2005 is now one of Vancouver's most beloved chains.
You can't go wrong with their signature dog: the Terimayo, a classic sausage smothered in teriyaki sauce, Japanese mayo and topped with seaweed. I'm drooling over my keyboard just thinking about it.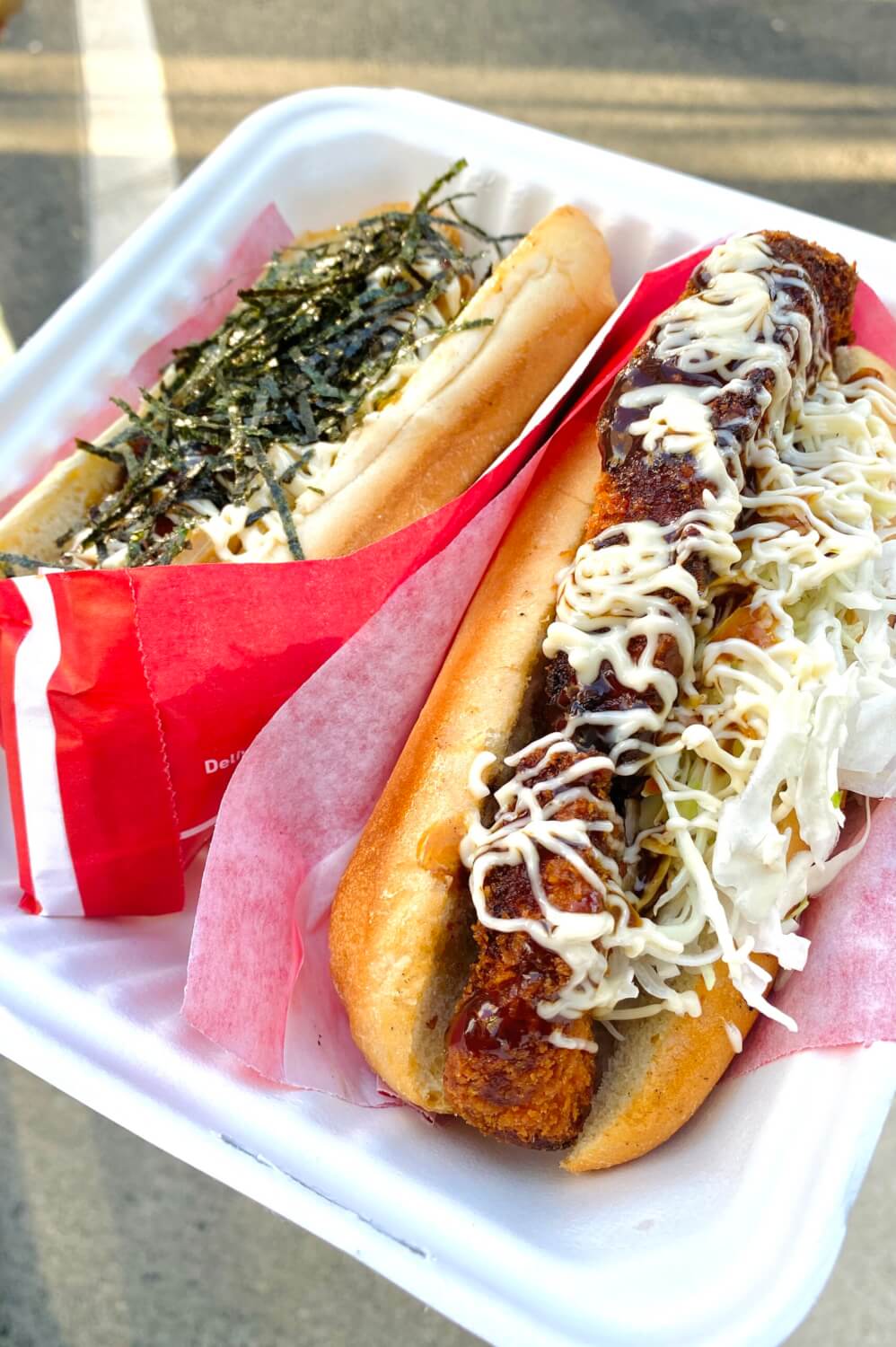 22. Feast on sushi
It's a commonly known fact among foodies that Vancouver has some of the best sushi in the world outside of Japan.
Our abundance of fresh seafood has given us the hookups, what can I say? There's pretty much a sushi place on every block, so you're spoiled for choice, but here are some of my favourites:
Miku: If you have a higher budget and want to truly indulge in some bougie sushi, Miku's aburi sushi is what you need in your life. It melts in your mouth. Nothing compares. It's SO good, but a little pricey compared to other options in Vancouver.
Sushi Garden: This is a no frills kind of place, but the sushi is awesome and the prices are SUPER low. It's a local favourite in Burnaby, so expect long lineups and highly mediocre service (they can get away with it!)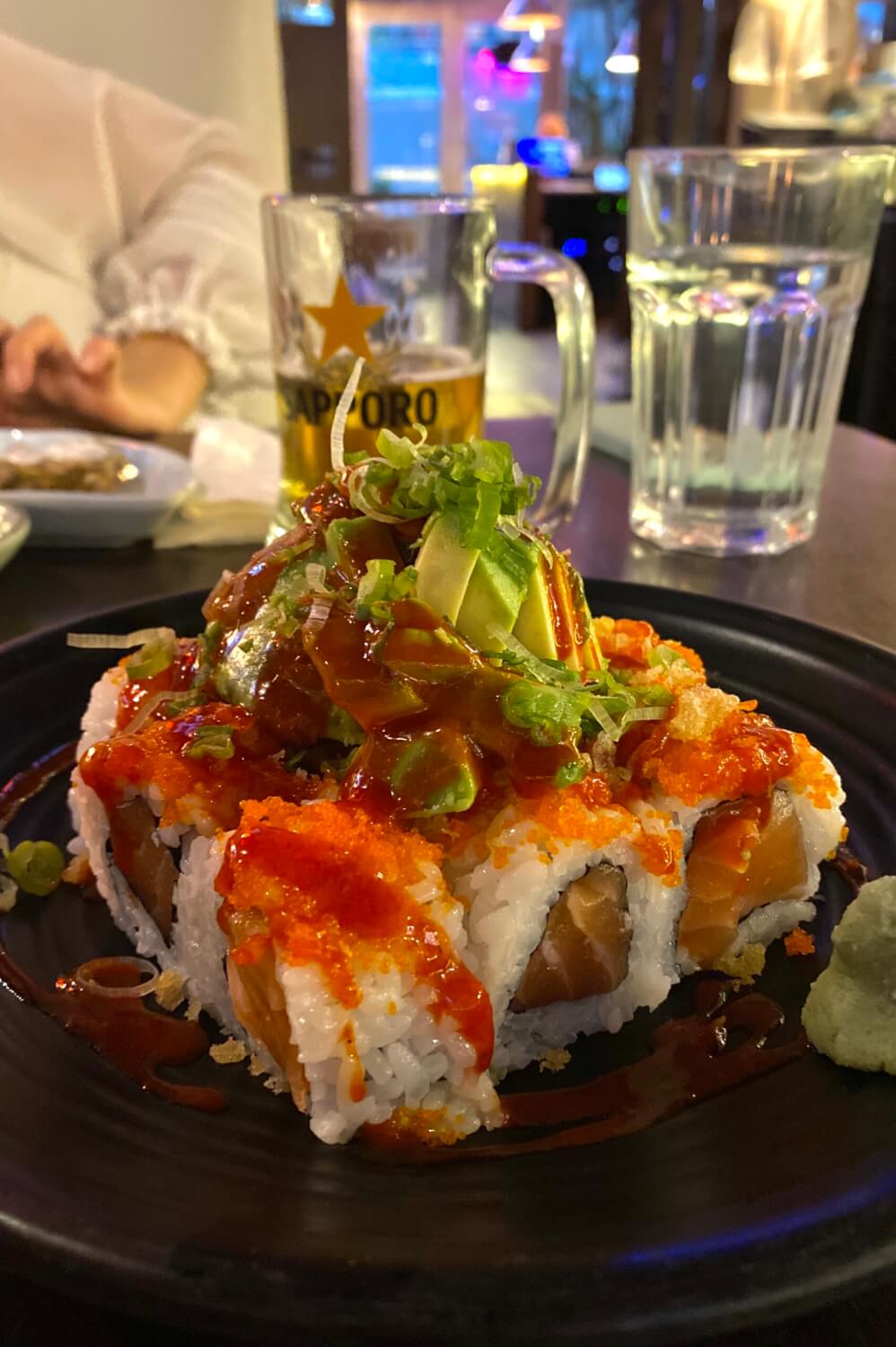 23. Try Canada's favourite drunk food: poutine
Poutine is Canadian comfort food on steroids. Imagine crunchy french fries soaked in gravy and topped with squeaky cheese curds. Super healthy. I have two places in the city I usually hit up for poutine:
La Belle Patate: My favourite spot for poutine in Vancouver. It's a little bit of a trek from the very downtown core but it's worth it. Loads of different toppings to choose from and I've heard they import their cheese curds from Quebec. If you're up for it, they even have a terrifying All You Can Eat option.
Smoke's Poutinerie: More of a fast food type poutine, but still good. They're conveniently located on the Granville Strip, close to all the clubs so it's pretty packed with drunkies in the late hours of the night, but I've had it sober before and it's still good! In particular, the pierogi poutine is lifechanging.
You canNOT visit Vancouver (or Canada period) without eating poutine until you want to throw up. You just can't.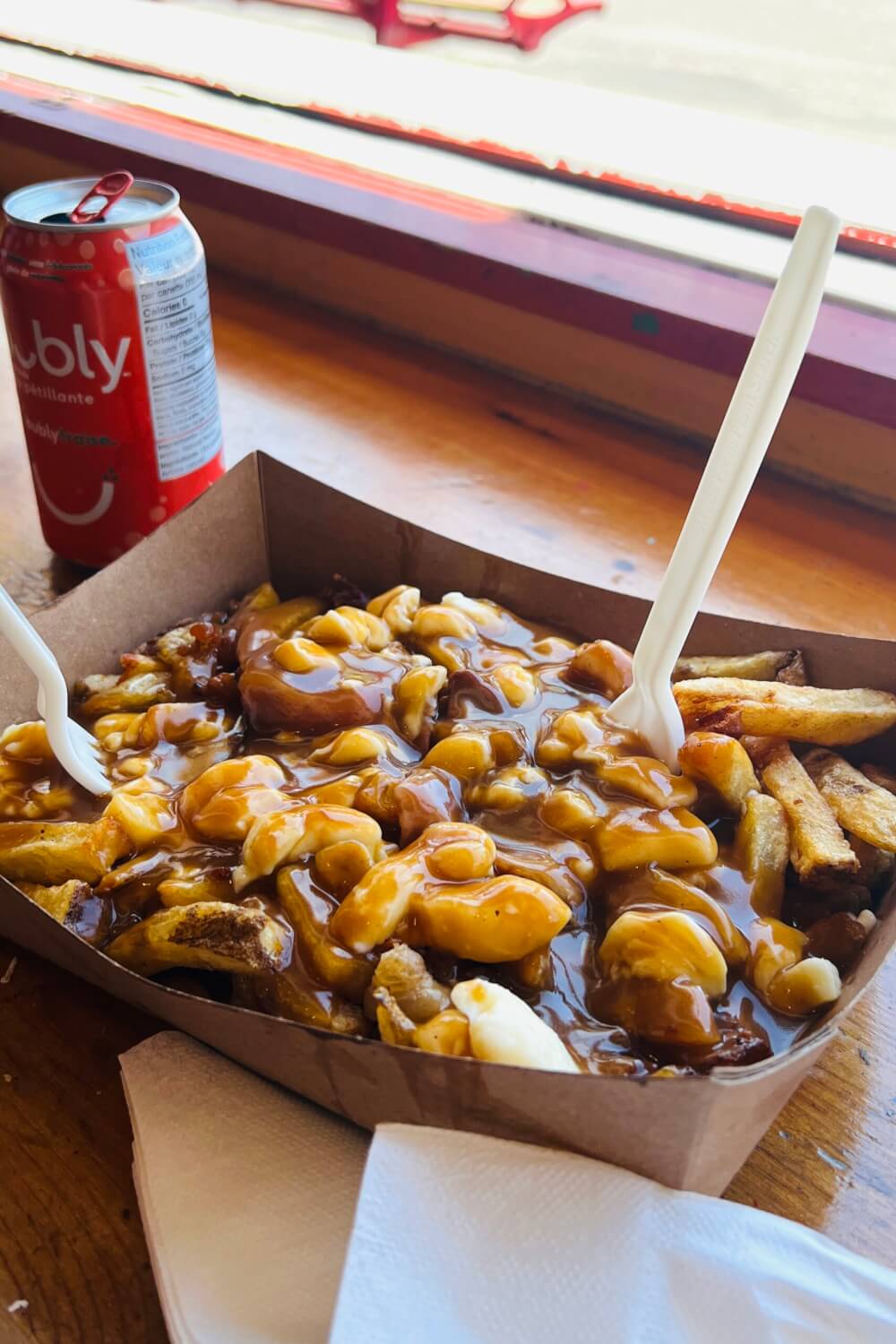 24. Have the best Asian food ever
If you like Asian food, Vancouver will be like a crazy food utopia for you. What's your poison? Love Chinese food? Well take your pick from Shanghai, Szechuan, HK diner, Cantonese, and Hunan…
Want to slurp up umami-explosive ramen? We have a million ramen houses.
Prefer pho? WE HAVE 24/7 PHO. That's not even a joke.
You can also eat your face off at Korean BBQ, Korean Fried Chicken, a myriad of bubble tea houses, straight-outta-Asia style food courts, and gosh… just really anything you can imagine.
Vancouver is to Asian food like Ryan Gosling is to abs. Take advantage of this delightful fact. Don't worry – a food guide is coming soon!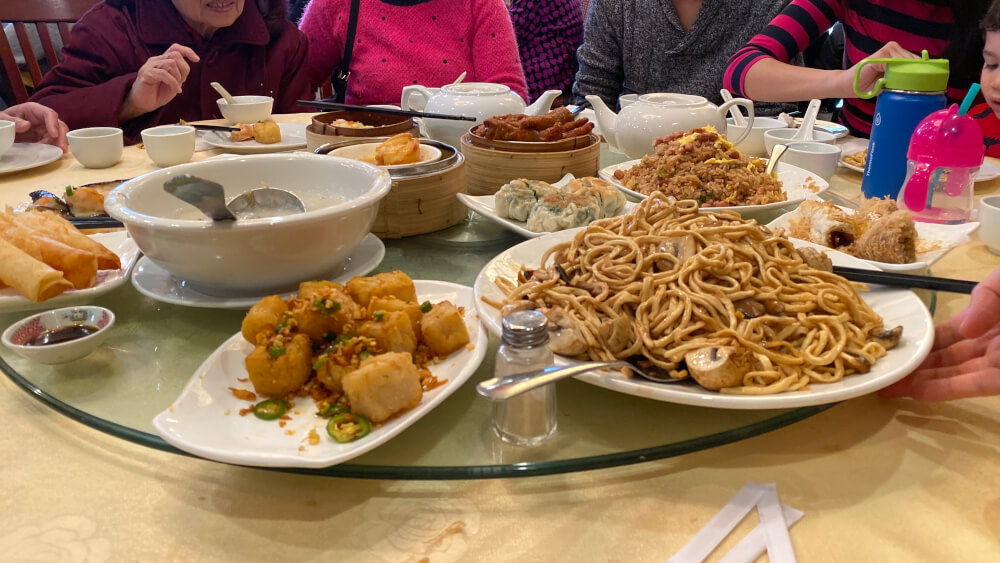 25. Booze up at happy hour
Okay, so you want to enjoy Vancouver like a local? Well… Vancouverites LIVE for Happy Hour. We really do…
Why? Well, alcohol isn't the cheapest here, so when we get a chance to booze up for cheap, we take it.
So, if you find yourself in need of a sightseeing break around 4-7pm, be sure to duck into a place for a happy hour special.
The ones at West Coast chains like Earl's and Cactus Club are especially popular… but here are some of the best happy hours in Downtown Vancouver to get you started.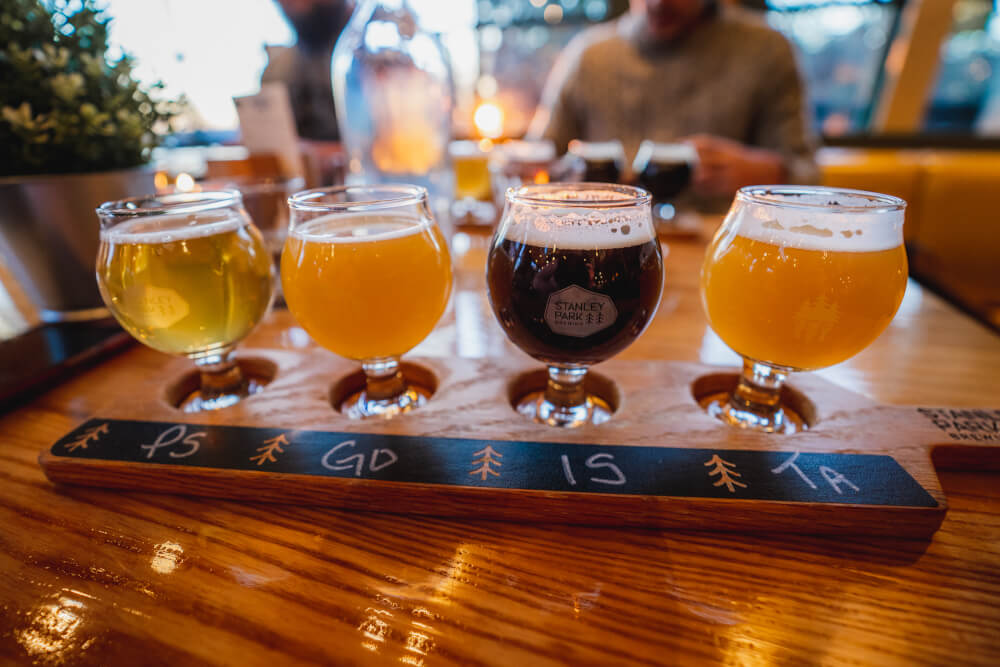 26. Go dodo for donuts
Vancouver, like any major city, goes through weird little waves of "popular" desserts…
I remember froyo being huge in my high school days, followed by cupcakes having their 15 seconds.
WELL, a few years ago, donuts were the it thing and a variety of amazing donut places popped up around the city.
Luckily, they're here to stay, and Vancouver is now a bit of a donut lover's paradise. Here are some places to check out:
Honey's: This gem in North Vancouver's Deep Cove serves up my favourite donut in the history of the universe. It's a bit out of the way from the downtown core, but served hot and fresh, these bad boys are the epitome of deliciousness, so much that celebrities like Kate Winslet have praised their virtue.
Lucky's: For big fat doughy donuts, Lucky's is your place. They have a few branches including one in downtown Vancouver. Paired with 49th Parallel coffee, you have THE perfect treat. They have lots of different ones but the sourdough original is still my favourite.
PS: While not directly downtown, the 49th Parallel on Main St is one of my favourite places to hang out and have a coffee. Their cold brew will change you.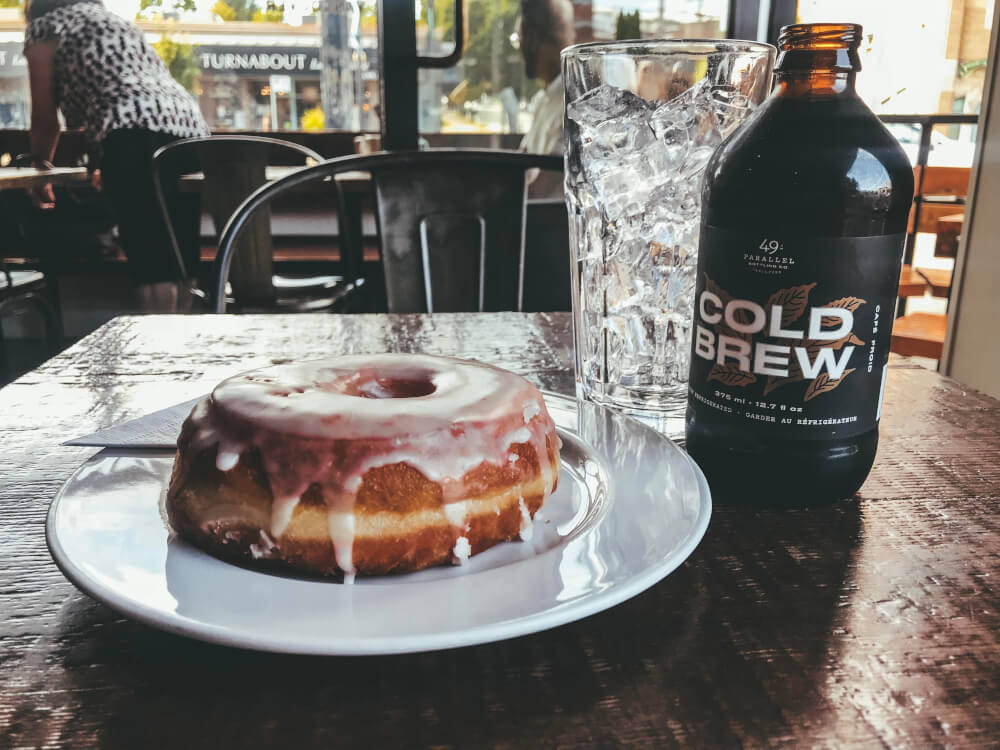 27. Have AMAZING ice cream
Sure Vancouver is notorious for its gloomy weather, but that doesn't stop us from having some seriously delicious ice cream options.
There are some places in particular that are super famous… here are some recommendations for you:
La Casa Gelato is a Vancouver institution. It's a bit hidden away in the (mostly residential/industrial neighbourhood of Strathcona) but you'll quickly find it once you look thanks to its bright pink facade. Inside lurks 200+ different flavours of ice cream, ranging from the terrifying like Viagra to the delicious, like Passionfruit Mango Sorbetto. Without a doubt, you are sure to find something you like here.
Earnest Ice Cream is a city-wide favourite (and my personal fave) that has the cutest minimalist branding and the most delicious ice cream – perfectly rich and flavourful with simple classics done incredibly like salted caramel and earl grey. Be sure to treat yourself to a few giant scoops or you'll be hauling out fifty pints (in adorable mason jars) for later.
Bella Gelateria is a hugely popular gelato place downtown that always has a line up down the block during summer months. I mean, they did win Best Gelato at this fancy Gelato festival in Florence a few years ago, so you can expect q u a l i t y ! Not to be ~ that person ~ but this is the closest to authentic Italian gelato I've found in Vancouver, with that amazing whipped texture you won't usually find in regular ice cream.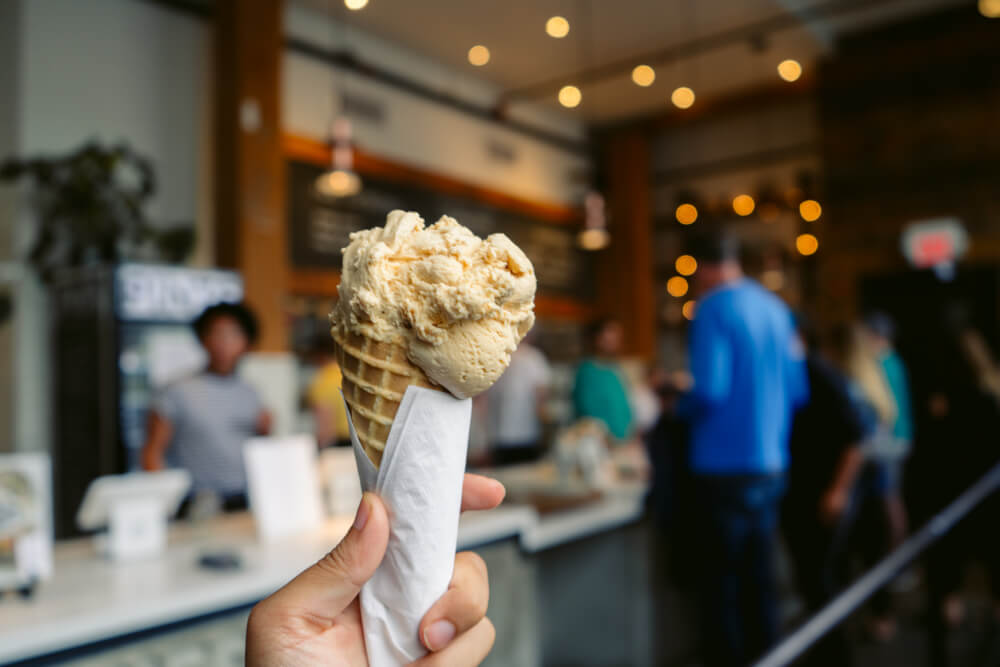 28. Try an outrageously garnished caesar
Okay – cultural lesson time! The caesar is Canada's most beloved cocktail. It is also one that both shocks and horrifies international visitors.
Its ingredients? Delicious "Clamato" (i.e. clam/tomato) juice, vodka, hot sauce, Worcestershire sauce and plenty of celery salt along the rim of your glass. Imagine a bloody mary with clam juice – that's basically what it is…
Most horrifying is perhaps the garnishes that come with it – sometimes a humble celery stalk, sometimes a stick of pepperoni or bacon, and other times, like they do at my favourite spot The Score, the caesar comes topped with a full roast chicken, BBQ pork sliders, a mac and cheese hot dog, onion rings and a brownie. No, I'm not joking. Yes, this IS real.
… Don't worry though: they have some more modestly garnished caesars on the menu too. It's a cool West End bar with a great vibe, so my top recommendation for trying a caesar!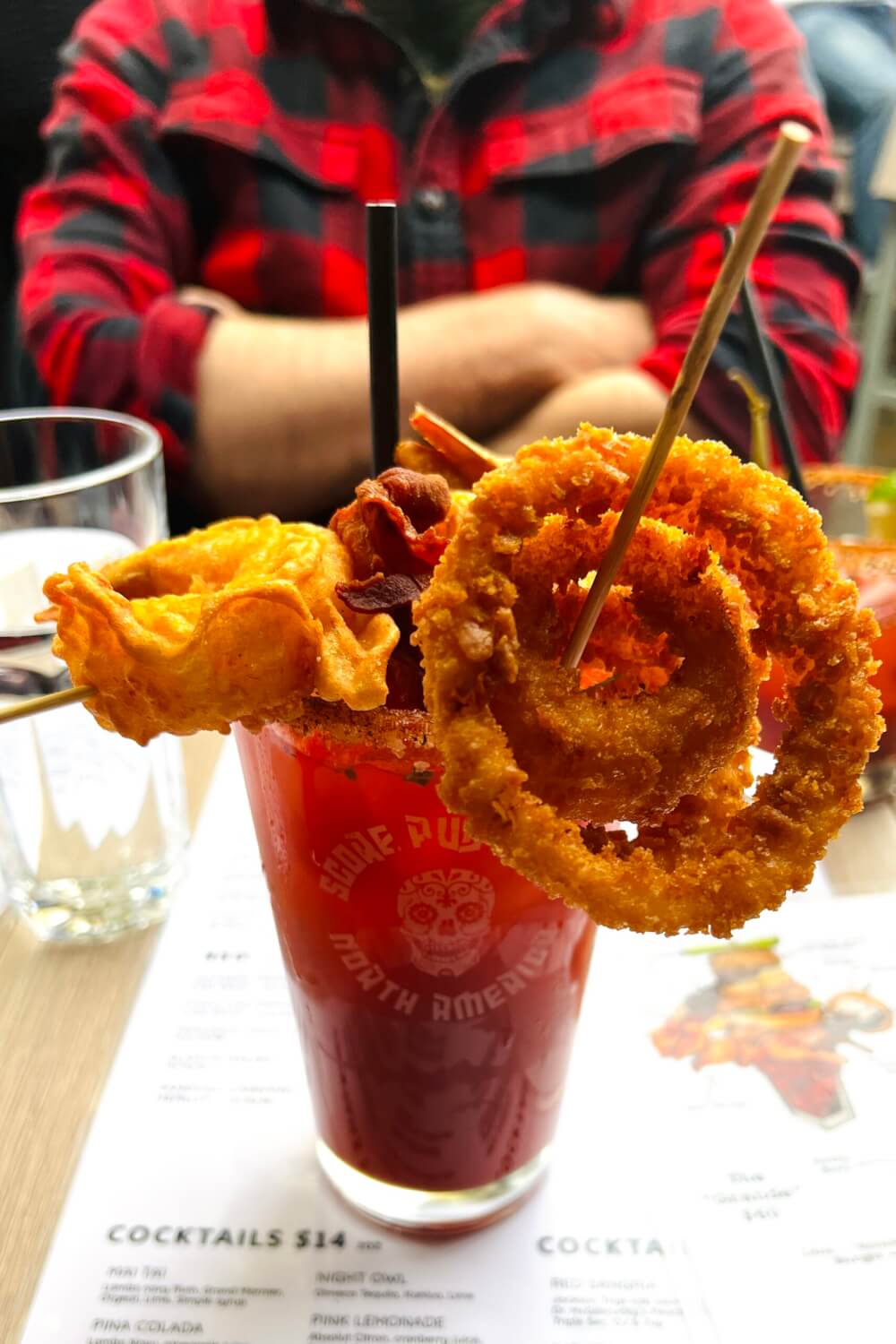 29. Indulge your inner coffee snob
Vancouver has been hit hard by the third wave coffee craze, which means there's an abundance of hipster coffee joints, especially downtown.
If you're a coffee fan, make sure to caffeinate like crazy and enjoy this beloved part of our city's food and drink culture. I'll admit, while coffee is as much part of my lifestyle as sleeping or breathing, I'm not much of a discerning coffee drinker – I'll drink anything, but I am especially partial to Parallel 49.
This article sums up a lot of the city's most beloved coffee spots.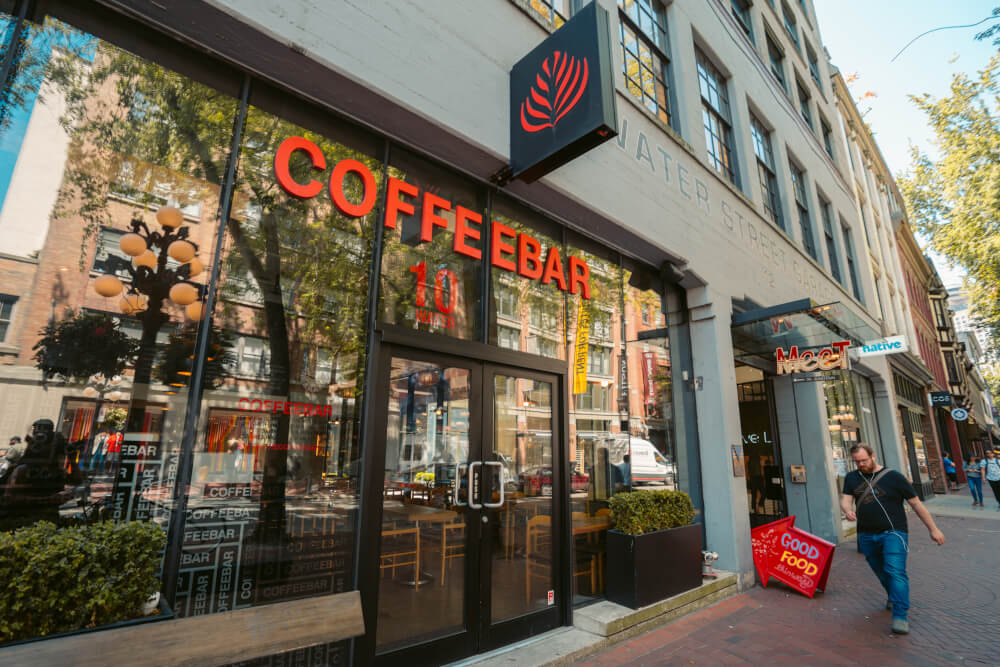 30. Grab lunch at a food truck
Growing up in Vancouver, I always thought that food trucks were the most normal thing….. that is, until I moved to Munich where there were none at all to be found.
I soon began to miss them and their quick but delicious bites, and now see them as a quintessential part of downtown Vancouver's bustling charm.
SO, if you are entranced by the ~ exotic ? ~ appeal of food trucks, then be sure to add lunch at one to your Vancouver itinerary!
After all, if you find yourself in the downtown core on a weekday, odds are good that you'll encounter countless food truck anyways, eager to feed and please the thousands of people who work in/around the financial district.
There are too many unique and delicious food trucks for me to name, so I would recommend following your nose (and following the line-ups!). My personal favourite is Eat Chicken Wraps though – their wraps are unreal.
The locals know what they like. Usually, you'll find a ton of food trucks around the Art Gallery area. Click here for an app that shows you which ones are open!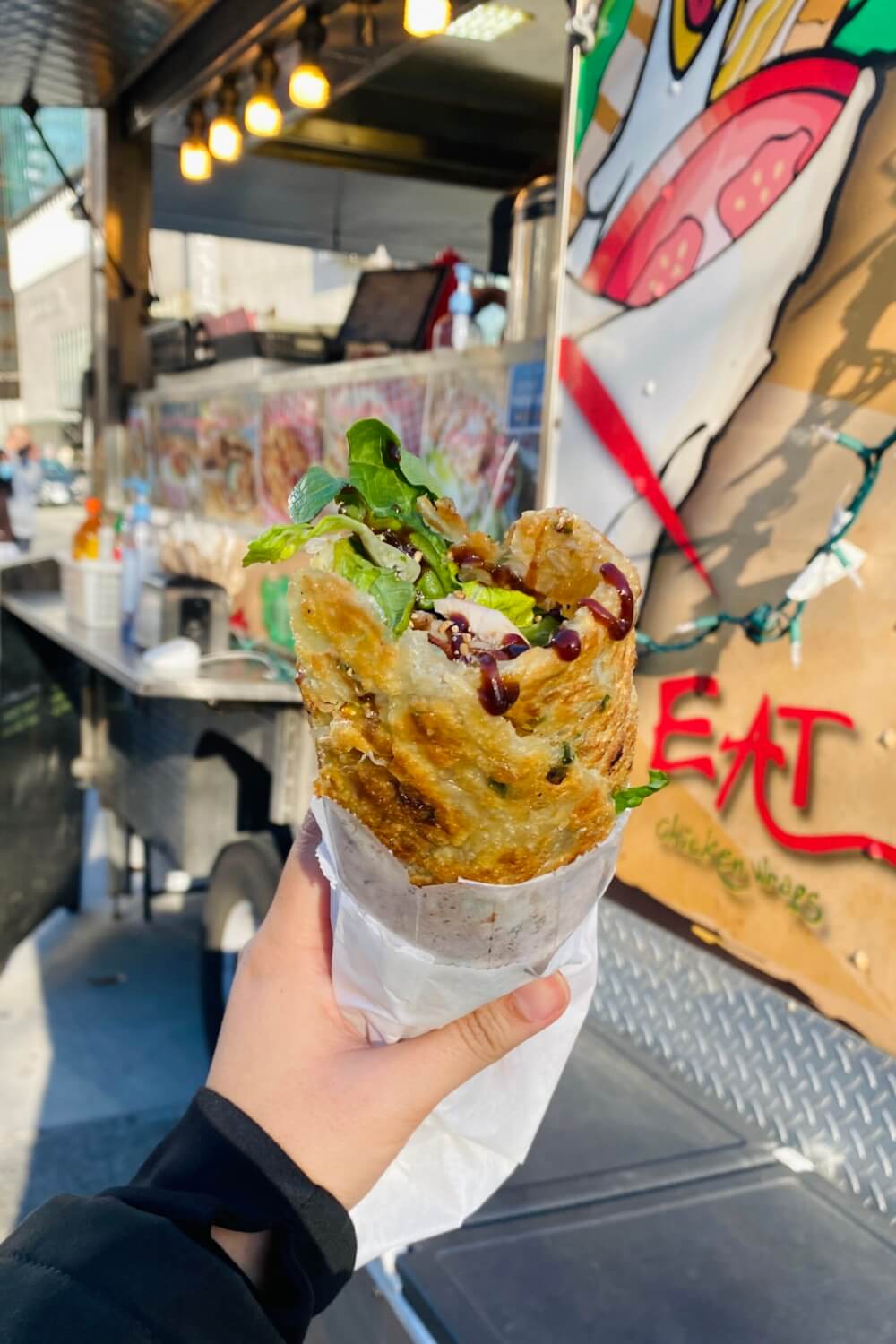 Quirky and Fun Things to do in Vancouver
Alriiiiight now time to get weird. Okay, not too weird, but if you're looking for something a bit out of the ordinary to do in Vancouver, here are some fun activities that are perfect.
31. Go mural hunting in Mount Pleasant
I've already gushed about the wonders of ultra-hip Mount Pleasant, but it's worth mentioning again because of their fun, colourful murals. 
This little neighbourhood has giant murals plastered all over its various restaurants, shops, and office buildings, mainly thanks to the fact that it hosts the Vancouver Mural Festival every year.
The murals change often so be sure to use this official map here to keep tabs on where to go!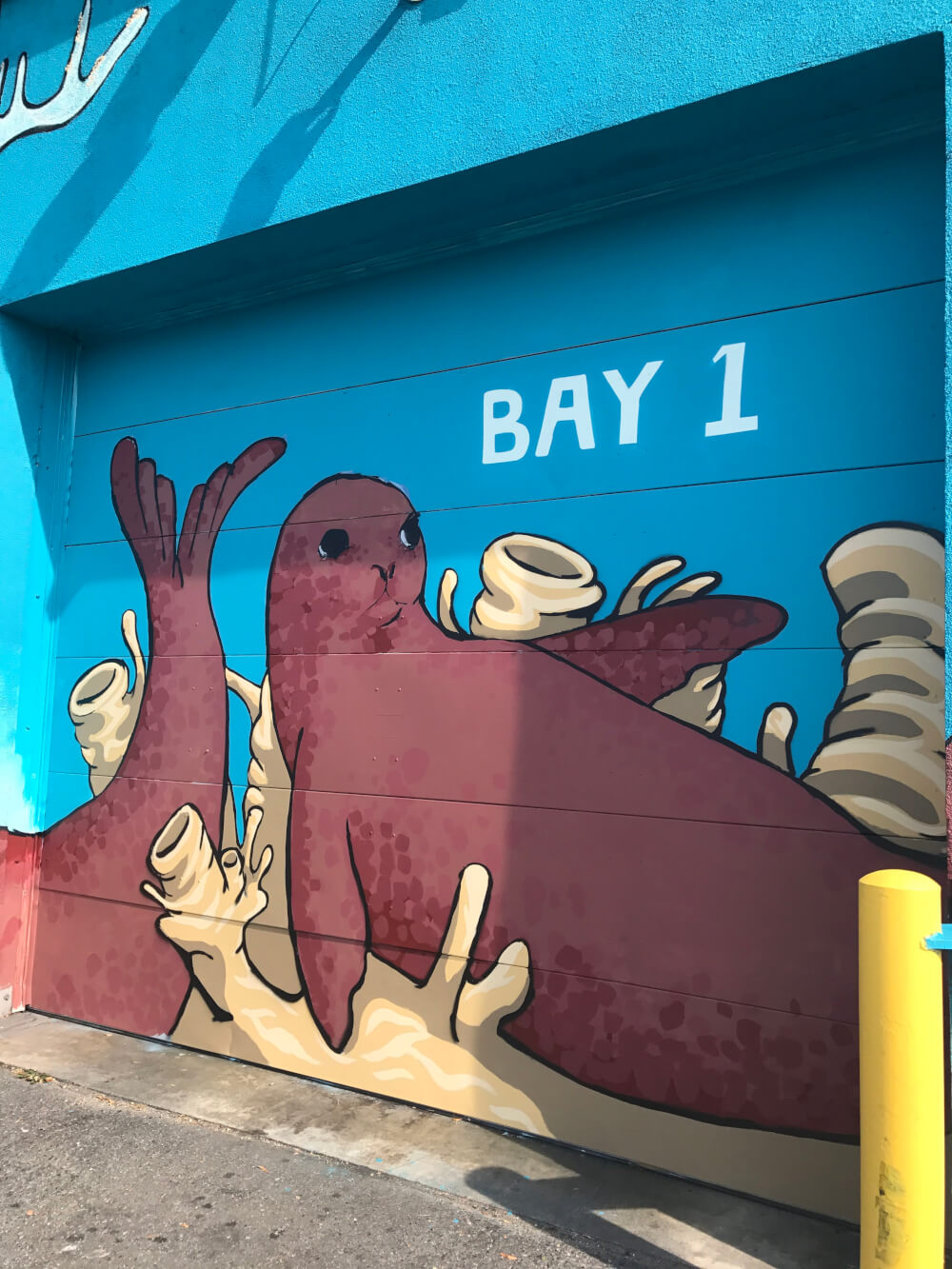 32. Check out a pink alleyway
Vancouver's pink alleyway (AKA Alley-Oop) was quite literally made for Instagram, and while it's nothing more than just an alleyway painted in bright pink and yellow, it's guaranteed to put a smile on your face.
You can find it on West Hastings between Seymour and Granville, although don't expect much more than just a regular alley that's a bit cuter….. and filled with people from all walks of life snapping photos and videos (true story, apparently a K-Pop group even filmed a music video here?)
PRO TIP: If you love snarkily people watching as much as I do, make sure you duck into Tree's Organic [Granville St location], which is home to some of the city's best cheesecake and grab a window seat overlooking this alley entrance. It's really fun to eat cheesecake and watch all the people come do their photoshoots and all the people who walk past it and instantly light up.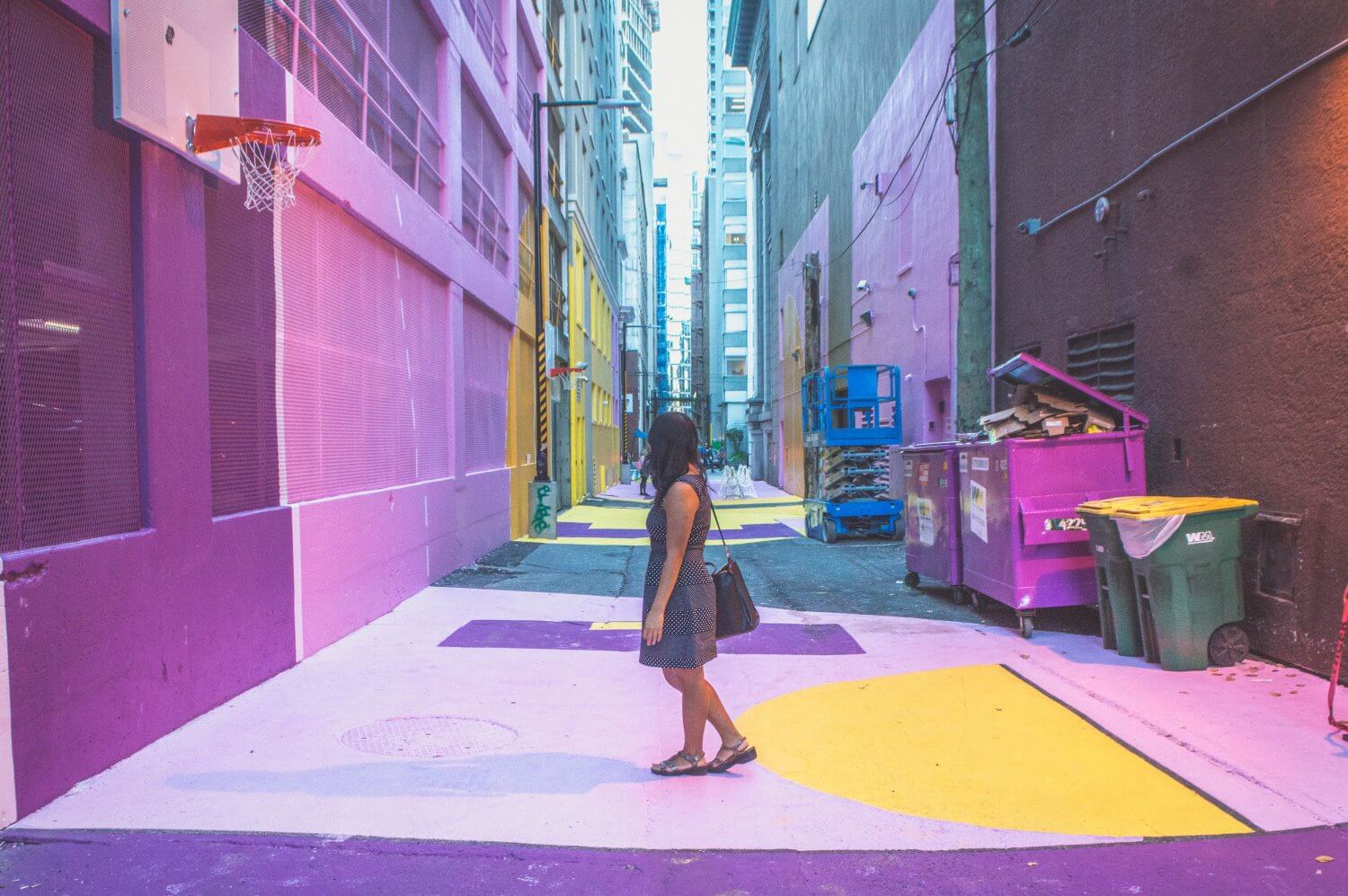 33. Lose yourself in Asian culture at Aberdeen Center
It feels so weird to be recommending this place since I spent SO many weekends of my childhood here, but if you'd like a quick jaunt over to Asia, hop on the Skytrain and get yourself to Aberdeen Center in Richmond.
Not only do they have the BEST food court ever, touting everything from curry fishballs and bubble tea to soft serve crepe cones and crispy chicken wings, they also have lots of adorable shops and Asian arcades where you can get Japanese sticker pics (a great souvenir).
PS: Don't forget to stop by Daiso, a Japanese (2) dollar store on steroids, which has a surprising range of goods available for only a toonie each. This is a really fun place to spend an afternoon (and eat your face off of course).
34. Chase famous filming locations
If you didn't know already, Vancouver is a HUGE player in the film industry and is often called Hollywood North for the countless productions that have shot/continue to shoot here.
You might have never realized it before, but our versatile little chameleon of a city has been transformed into New York, Seattle, and countless fictional cities over the past few decades.
So, odds are very good that you'll know a movie or two that filmed here, so consider doing a bit of research to see if any of your favourites have filmed here, and track down some iconic locations!
Off the top of my head, big TV shows that have filmed here include Once Upon a Time, Riverdale, any CW Superhero shows (e.g. Flash, Arrow, Supergirl, Legends of Tomorrow), Deadpool, and way more. Here is a good place to start your research!
SIDE NOTE: There is a very high chance that there will be some productions filming during your visit too! If you're a major film geek and are curious about who/what might be in town at the same time as your trip, this site is a great place to start.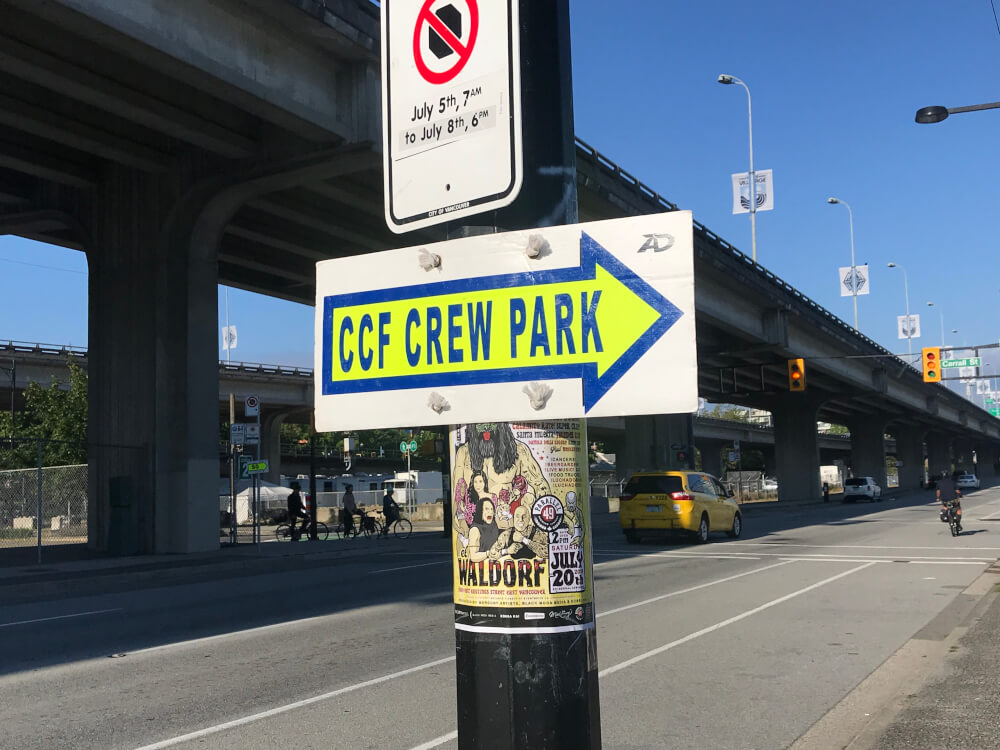 35. Cheer on the Vancouver Canucks at a hockey game
If there's one Canadian stereotype that is 1000% true (besides the fact that we are constantly saying sorry), it's that people really love their hockey around here.
If you've never experienced a live hockey game, I'd recommend giving it a try in Vancouver – the energy is a lot of fun!
Tickets can be quite pricey but sometimes you'll be able to find a deal here on Groupon, which cuts costs substantially.
36. Bounce around at a trampoline park
Trust me, you don't know joy until you've trampolined into a pit of foam blocks.
It's like faceplanting into a cloud, getting a group hug from mashmallows, etc. Sure, this isn't a uniquely Vancouver activity, but if you're from a place that doesn't have a trampoline park of its own, this is a REALLY fun activity that you should try out.
My favourite go-to for all this jumping around this is Extreme Air Park, where there are not only trampolines all over, but trampoline dodgeball too, some blacklight time, and more.
Plus, their Richmond location is actually the largest indoor trampoline park in the country. Click here to learn more.
NOTE: Be sure to wear athletic gear though – you'd be surprised at how quickly you can work up a sweat.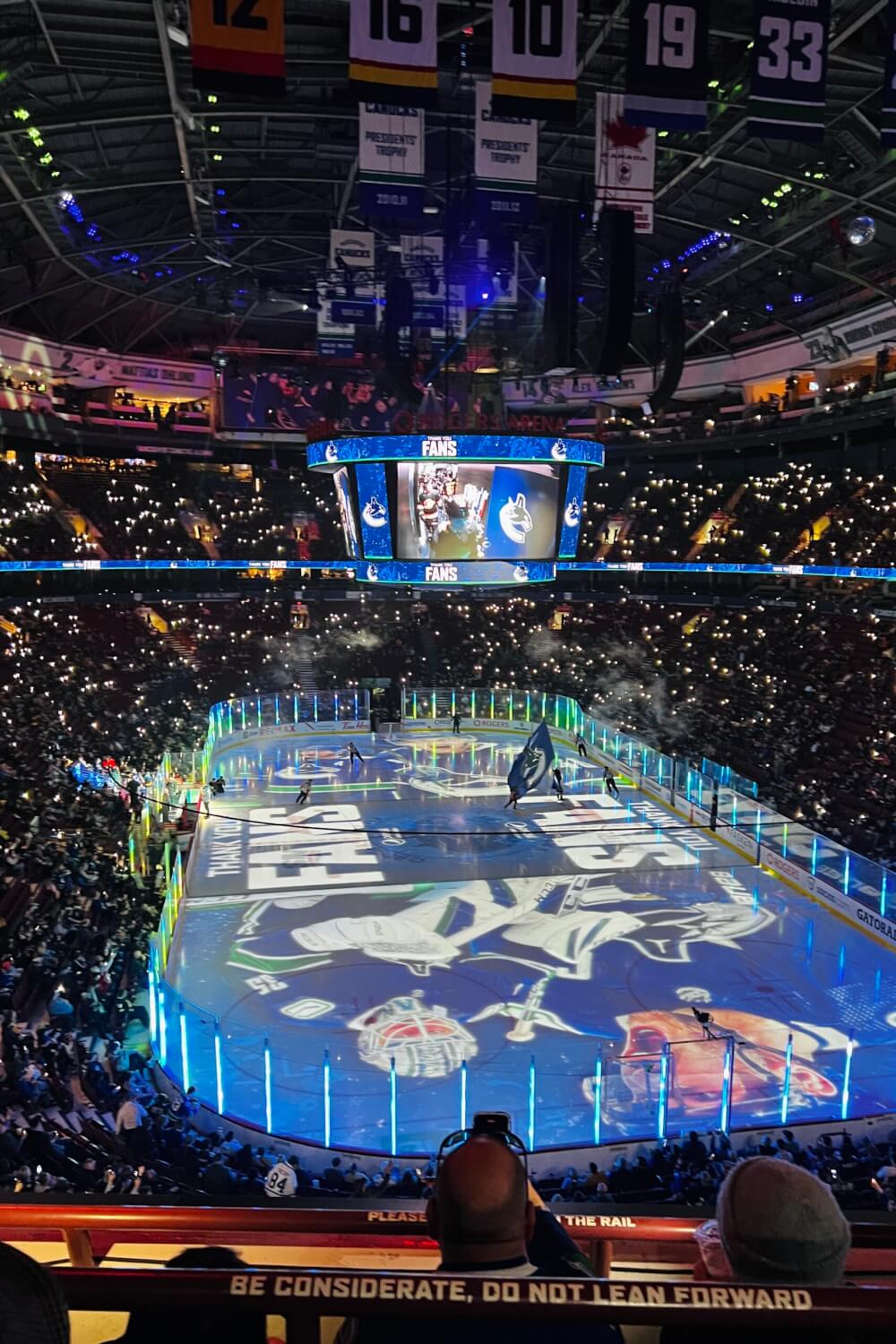 37. Try out an escape room
I don't know when "getting locked in a room" became such a popular Vancouver past time, but it is.
Escape Games are now all over the city, and having done a few myself, I can confirm they're a lot of fun. This would be a great rainy day or family activity.
Again, not exactly the most Vancouvery thing to do, but a fun activity if you've gotten tired of conventional sightseeing.
38. Chill like a dude at Dude Chilling Park
I honestly feel like half the joy that this place sparks is just from the knowledge that it exists.
Yes guys, Dude Chilling Park is a REAL place in Vancouver that you can visit!
Okay – truth be told, it's a rather average and mediocre park, but that sign though? Gold.
A side trip to Dude Chilling Park makes most sense if you're exploring Mount Pleasant. Otherwise, don't go out of your way to see it. Trust me – it's a very lackluster park….
That sign though!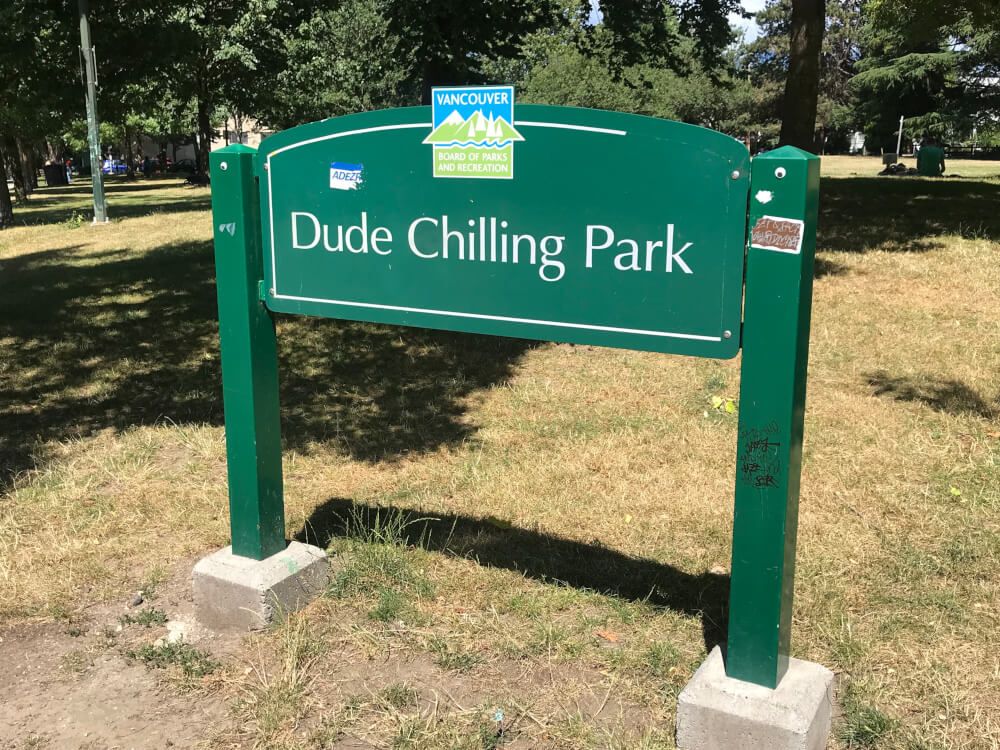 Cultural Things to do in Vancouver
Looking for more cultural activities to try in Vancouver? Here are some spots I like to go when I'm feeling particularly cultured. *twirls moustache*
39. Visit the Vancouver Art Gallery
Wonderfully acronymed as the VAG (heh), this art gallery can be found in the very heart of Vancouver's downtown core and is a bit hit or miss depending on the exhibitions that they have on.
I caught an exhibition of fashion powerhouse Guo Pei here a few years back and it was awesome, but (honestly) I don't think that the permanent collection here is necessarily worth going out of your way to see.
That said, if you find yourself looking for a fun rainy day activity, this is definitely one to consider. Note that Tuesday evenings, admission is by donation, so if you don't hate crowds, you can save some money by going then. Click here to learn more on the official website.
40. Head to the Museum of Anthropology
UBC's Museum of Anthropology is definitely one of the city's best hidden gems, located about 20 minutes away from downtown Vancouver.
If you want to see some of the best examples of First Nations art in the city, this gorgeous museum (with sea and mountain views no less) is a great place to go.
From cedar wood carvings and special Indigenous weavings to an award-winning ceramics gallery, this is a huge museum that deserves a visit if you have the time. Click here to learn more.
Plus, I hate saying this since I went to their rival university, but the UBC Campus is trulyyyyyy gorgeous.
41. Check out all the public art pieces
Whether you consider yourself into art or not, Vancouver is a really fun place to go hunting for public art. Mainly because it's all SUPER weird.
From a massive pixellated whale and a stack of vintage cars to weird giant laughing men, you'll find all sorts of oddities scattered around downtown Vancouver.
Once upon a time, there were even giant jellybeans! JELLYBEANS, I SAY! Sadly, those giant fun beanz are gone now, but you can find a detailed guide to different public art pieces in the city here.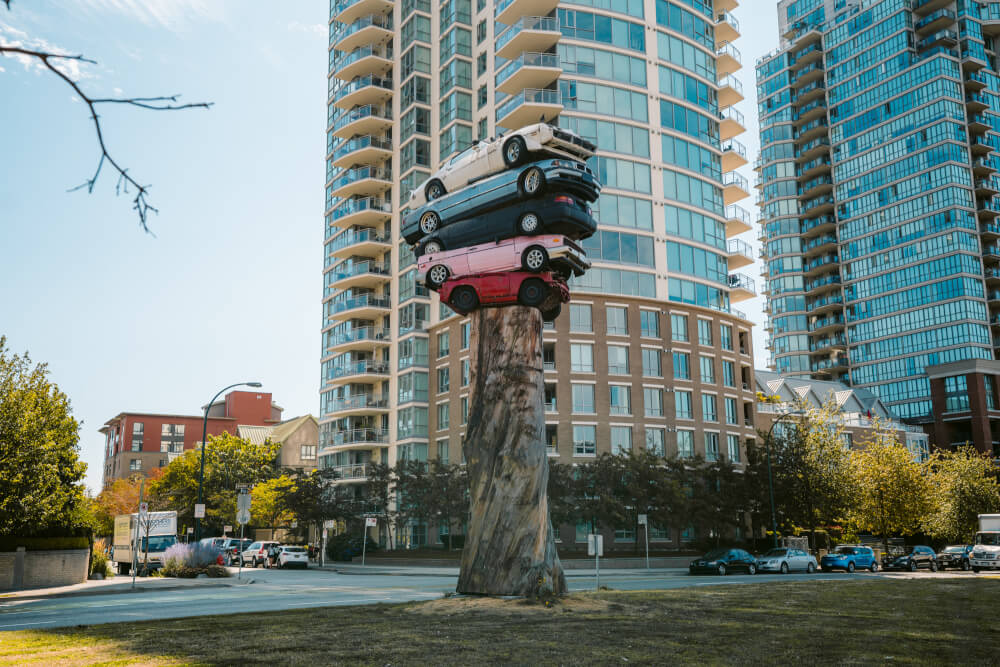 42. Watch improv on Granville Island
Improv at Granville Island is hands down one of my favourite things to do in Vancouver, and my boyfriend loves it so much, he requests we go multiple times when he visits. If you're looking for a laugh, Vancouver Theatresports never disappoints.
Their themed shows are my favourite, and they change them every few months.
Once they had a Game of Thrones theme improv that was so hilarious, I still sometimes quote it. I know, I'm lame.
43. Enjoy open mic night at Cafe Deux Soleils
For a very Vancouver experience that most tourists don't know about, head to Cafe Deux Soleils on Thursday night, THE place to be for the city's hipsters, poets and artsy types.
This open mic has been running for years and is widely considered to be the best in the city.
Come to enjoy some live music, slam poetry and whatever other artsy talents are on offer that week. No one open mic is the same, which is what makes it so much fun to attend!
Who knows… maybe you can even flaunt one of your own talents?
Seasonal Things to do in Vancouver
Lastly, I want to run through some of the special highlights according to season! Everything listed above can be done year-round, but there are some quintessentially Vancouver experiences that you shouldn't miss out on depending on the time of year you visit:
Vancouver Winter Highlights
Skiing, snowboarding, hot chocolate festivals, food festivals, Vancouver Christmas market and more. Winter-time, despite the chilly weather, is a truly glorious time to be in the city.
Click here for a long list of Vancouver winter activities to take advantage of.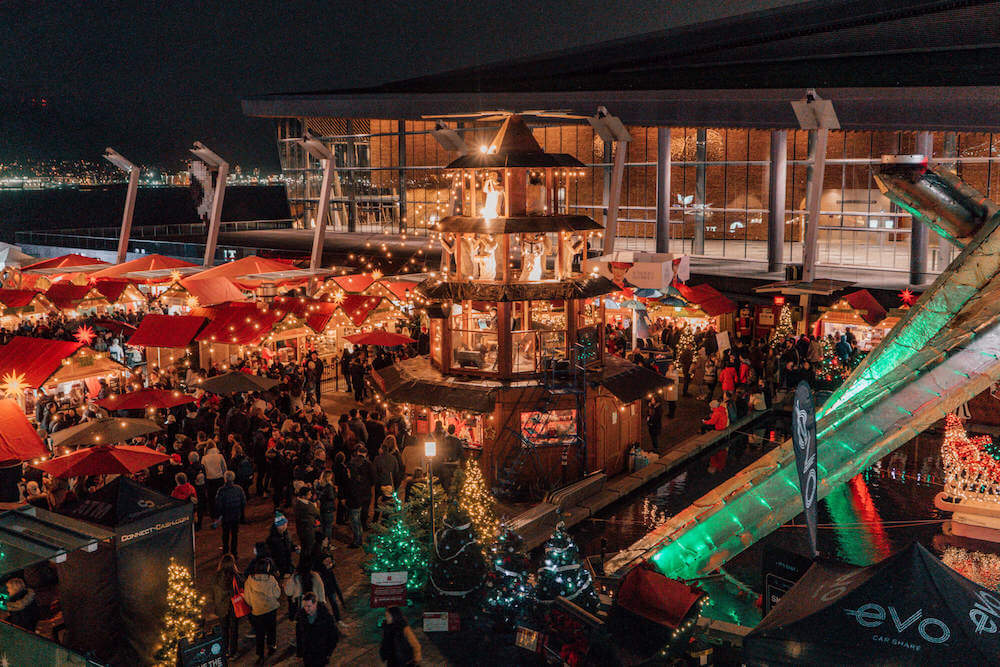 Vancouver Spring Highlights
If you happen to be in Vancouver in late March or early April, you might just spot some of the city's world-famous cherry blossoms!
Vancouver's incredible cherry blossoms are one of the city's best kept secrets.
Outside of Japan, I truly believe this is one of the best places in the world to frolic under bright pink blossoms that paint the streets of Vancouver pink every Spring. Click here for a full guide on where to find the best cherry blossoms in Vancouver.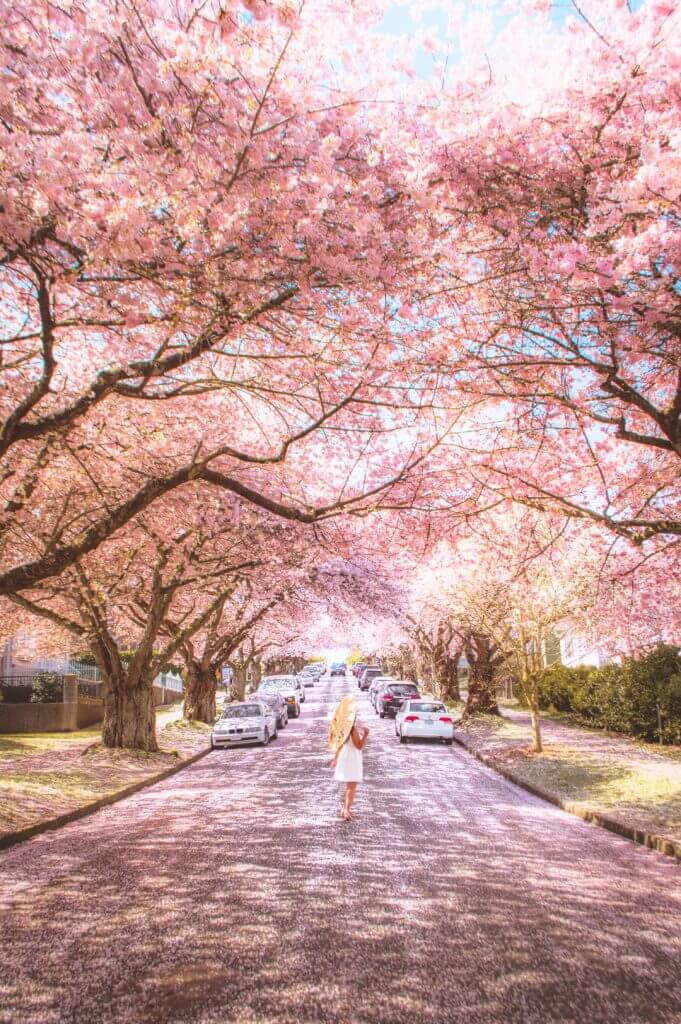 Vancouver Summer Highlights
For obvious reasons, I think summer is the perfect time to visit Vancouver.
There's the beaches, the street festivals, the music festivals, food truck festivals, and SO much more… name a random niche and we probably have a festival for it.
Plus, the great outdoors are part of the reason that Vancouver is such a wonderful place to visit so be sure to take advantage of this by going on a hike, enjoying a beach day, enjoying Pride, listening to jazz during the Vancouver jazz festival and just enjoying the sweet west coast lifestyle by bumming around on a patio.
Click here for a great summary of summer activities in Vancouver
Vancouver Autumn Highlights
Autumn is a stunning time to visit Vancouver thanks to its abundance of wonderful, colourful foliage!
I love Fall in Vancouver (when weather cooperates) because you get beautiful weather, mild temperatures and wonderful ahh-worthy photo opps around every corner. Definitely an underrated time to visit!
You can click here for some Fall ideas on things to do in Vancouver.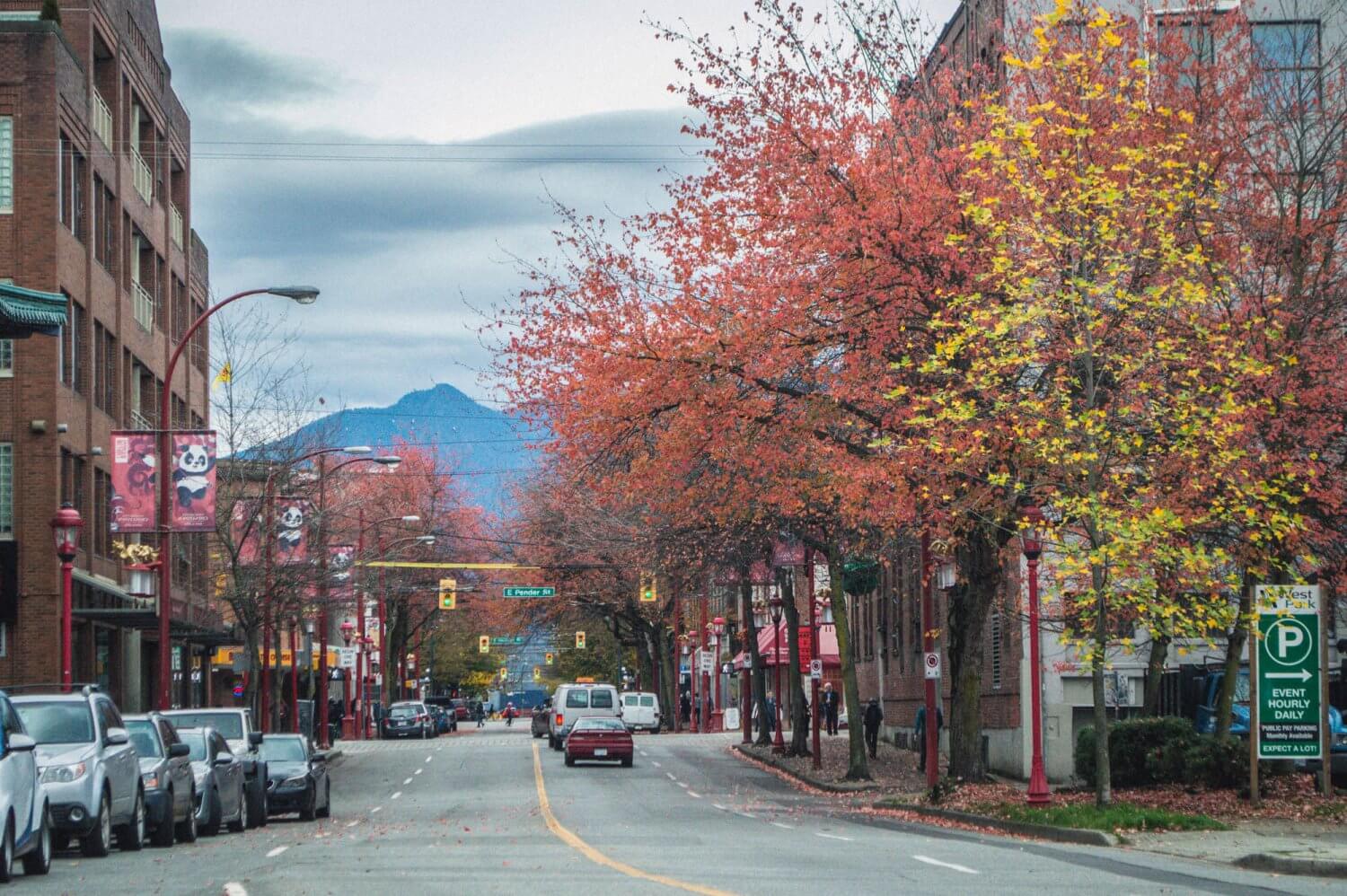 What to do in Vancouver Today and This Weekend
Besides the evergreen activities listed above that are mostly available year round, one of the great things about being in Vancouver is that there's loads of interesting events at your finger tips!
If you're looking for special events happening today/this weekend in Vancouver, click here for a city events calendar and be sure to check out the most popular local sources for things to do include Daily Hive and Narcity.
Did I miss any of your favourite things to do in Vancouver?
I hope you enjoyed that thorough guide on what to do in beautiful Vancouver, BC. Did I miss any of your favourite activities? Let me know in the comments!
---
Watch my most popular YouTube video this week:
---