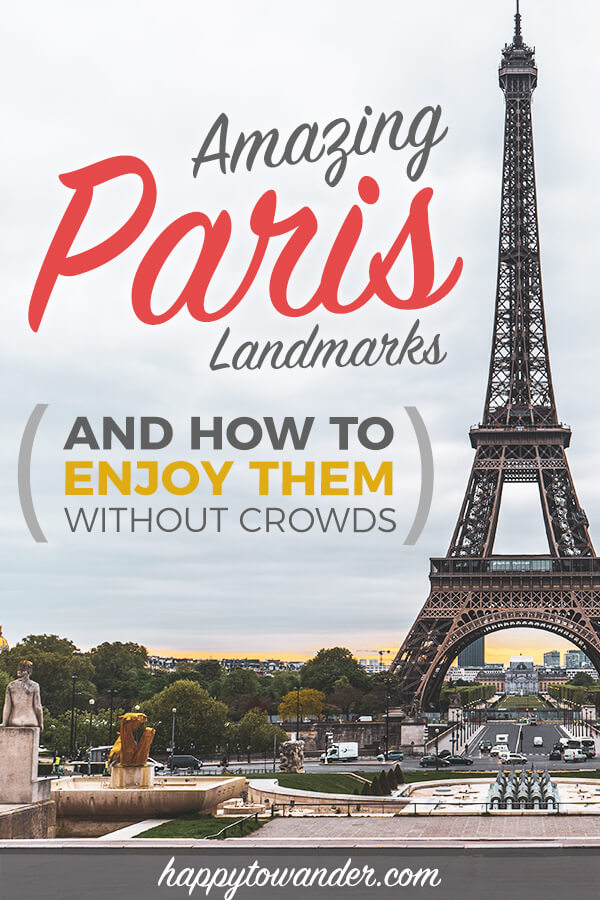 If I challenged you to name a few Paris landmarks, odds are you probably wouldn't struggle. After all, this is the city of the Eiffel Tower and the Arc de Triomphe… virtually every second block, you come across a historical masterpiece guaranteed to blow your mind.
The main issue is, of course, that while you may feel like a modern day Indiana Jones scouting out all these incredible locations, there are in fact millions of others who have come to the city in search of these exact same Paris landmarks.
So what can you do? Well the solution is simple: read this blog post, duh 😉 This guide will show you around some of the best Paris landmarks to enjoy during your visit, but best of all some hot tips how to see them without any crowds. Enjoy!
---
---
The 9 Best Paris Landmarks and How to See Them Without Crowds
Touristy and cliched as they may be, these Paris landmarks are some of my favourite spots in the entire city. If you're looking for quintessential postcard Paris, this is it. Sooo, buy yourself a 10-pack of SD cards (yes this is a real thing), strap on your comfiest shoes and get those fanny packs ready… it's time to be the cheesiest tourist on earth.
1. The Eiffel Tower
I feel like writing an intro to this would be insulting your intelligence, so I'm just gonna move on.
Why it's one of the "must see" Paris landmarks: Is this even a question? It's the Eiffel freaking tower.
Tips for seeing the Eiffel Tower without crowds:
Get up early to see it at sunrise. This is pretty much the only way to guarantee that you'll see the Iron Lady at her best – void of the million selfie sticks and souvenir peddlers that impede her loveliness throughout the day. Sunrise is by far the most peaceful time to go, and while you'll definitely see many couples doing wedding photoshoots at this time, it's still your least crowded option.
Embrace alternative viewpoints. Champs de Mars and Trocadero are the two main spots that people go to take photos of the Eiffel Tower… and yes, they're amazing, but everyone knows about them. If you don't mind wandering off a bit, you can find plenty of great views of the Eiffel Tower throughout the city. My personal favourite? Passerelle Debilly, it's a footbridge close to Trocadero that is amazing for photos.
Walk up. If you don't want to wait for a stuffy elevator, you can book this 2 hour guided tour that lets you WALK UP the entire thing, all 700+ steps of it. This will keep you away from the crowds because nobody is crazy enough to do that… except you maybe. You can also do this without a guide and book tickets for the walk up online, but I think for this experience it would be better to have a guide there to entertain you with commentary/save you when you think you might pass out.
Extra tips for visiting the Eiffel Tower:
Think critically about whether or not the ascent is worth it. Honestly, in my opinion, going up the actual Eiffel Tower isn't the best use of your time or money. When you consider the line-ups, the elevator wait-times, etc., you'll easily be spending 3-4 hours total for this experience, and while the views are nice, they're not the best views you can get in Paris (which in my mind, NEED the Eiffel Tower to look complete). If you do go, absolutely 1000% buy your tickets in advance, which you can do on the official website.
If tickets online are sold out, go with a guided tour instead. Often (especially in peak season), tickets on the official website will sell out far in advance. If this happens to you, don't crawl into fetal position just yet, there are lots of guided tours you can book that come with priority access. Obviously you'll be paying a (hefty) premium, but you do get a guide so it's not the end of the world. Click here to see some of the options. 
Want a seriously unforgettable experience? Bundle your visit with a meal. The main reason I dislike ascending the Eiffel Tower is it makes you feel like total tourist cattle. You're stuck in sweaty line-ups the whole time, and even when you get up there, it's really crowded. A better way might be to book a nice relaxing meal at the Eiffel Tower restaurant instead (yes, there is one!) For less than 50 euros, you get a 3 course lunch, a drink, a coffee, plus elevator access to the to restaurant. Considering a regular ticket to go to the top is already 25 euros, 50 really isn't a bad deal since you get a comparable view, AND food. I haven't eaten there myself, but most of the reviews are actually really positive. Read them here.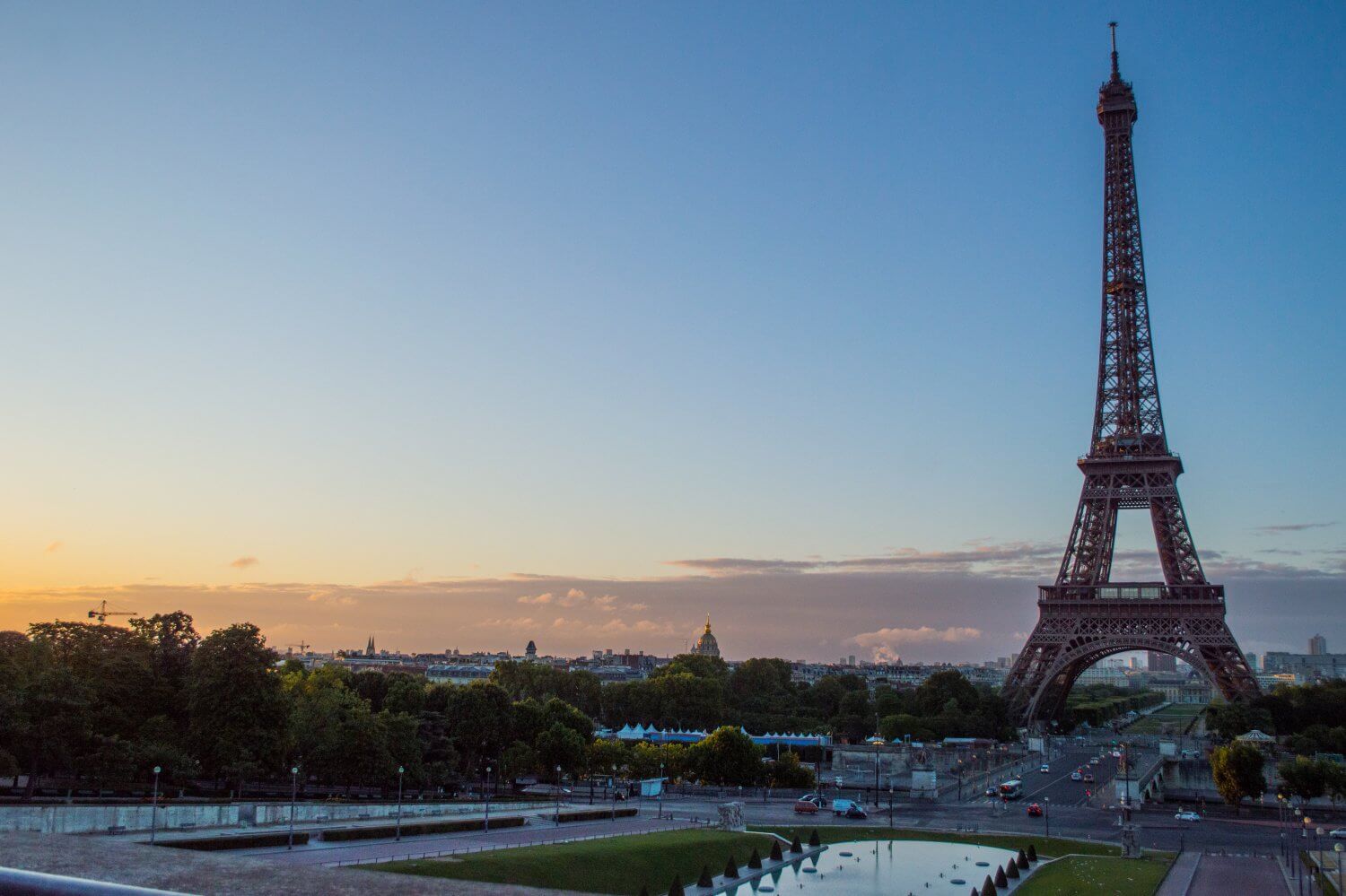 ---
---
2. The Arc de Triomphe
Why it's one of the "must see" Paris landmarks: It's massive, dominating and the view from up top is so worth the wait.
Tips for seeing the Arc de Triomphe without crowds:
Embrace alternative angles. The Arc de Triomphe can be found in the middle of a roundabout, surrounded by 12 avenues that branch out from it. It's honestly comical how many people congregate around the "front" view (at the Champs-Élysées end) while totally ignoring the other streets. If you want to get some good photos with less people in the background, just walk around the big roundabout and find a quieter section. Easy peasy.
Go early in the morning. As with many Paris landmarks, coming here early in the morning is the best way to ensure you get the view (mostly) to yourself, although "early" in this case would mean early-early, probably before 9am.
Extra tips for visiting the Arc de Triomphe:
Don't freaking jaywalk through the roundabout. Oh my gosh. SUCH A PET PEEVE OF MINE. A lot of people turn the roundabout at the Arc de Triomphe into a self-made death trap because they think it's cool or necessary to run across to the center bit. No. Don't. There is a tunnel underground that brings you there. Granted, it's not well marked, but it's on the Champs-Elysees side. Just look for stairs that go into the ground.
Go up during golden hour/sunset. Once you're up there at the Arc de Triomphe viewing platform on the roof, you can stay as long as you want. The way they've set it up, there's even bathrooms and little seating areas with displays on the inside. Sunset here is absolutely stunning, and then you get to stay to watch the city light up. Definitely worth it!
Buy a skip-the-line ticket in advance. While I've never had to wait too long in line, buying a ticket online doesn't cost much more and is excellent for peace of mind. Here's an option that's only 12 euros.
Be prepared for strikes. Can I tell you the truth? I used to LOATHE the Arc de Triomphe, because it literally took me five attempts to ascend. On my first backpacking trip, I tried three separate times to go, only to find it closed for random strikes, or for other undisclosed reasons. It was frustrating to say the least. They then randomly changed the operating hours on my subsequent attempts. In the past two years though, I've never had trouble, but I just felt like warning you just in case.
---
---
3. Sacré-Coeur Basilica
Perched on the highest point in the city, the gorgeous Sacré-Coeur Basilica is one of the most well-known sights in the city. Besides being the cherry on top of my favourite neighbourhood, Montmartre, it's also a sight that dots almost every Paris postcard you can get your hands on.
Why it's one of the "must see" Paris landmarks: While this church often divides locals, I think it's honestly one of the most beautiful and distinctive churches in the entire world… from the outside. The inside is fine, but it's really the facade that packs in that wow factor.
Tips for seeing the Sacré-Coeur Basilica without crowds:
Go early in the morning. When I went, I slept through my sunrise mission and was certain I had missed my chance, but even around 8:30am, the crowds hadn't quite arrived yet. Plus, as a bonus, a bunch of Parisian firefighters were doing warm-up drills, so…
Check it out from the back. One of my favourite perspectives of Sacré-Coeur Basilica is from the back, in the peaceful courtyard of Square Marcel Bleustein Blanchet. It's a gorgeous shot, and I guarantee 95% of people who are crowding around the front of the basilica have no idea there's this alternative spot 😉
Scope out other alternative angles. And on that note, there are plenty of ways to see Sacré-Coeur Basilica without being directly in front of it or peering up from the crowded stairs. After all, it's a pretty massive church, so walk around Montmartre and discover some awesome, alternative angles for yourself.
Extra tips for visiting Sacré-Coeur Basilica:
Be very careful with your belongings. This area is a hotbed for pickpockets.
Beware of guys trying to put a bracelet on your hand. They'll tie it on you and then demand you pay. This is one of the most common scams in Paris and unfortunately the stairs in front of Sacré-Coeur are a popular spot for them.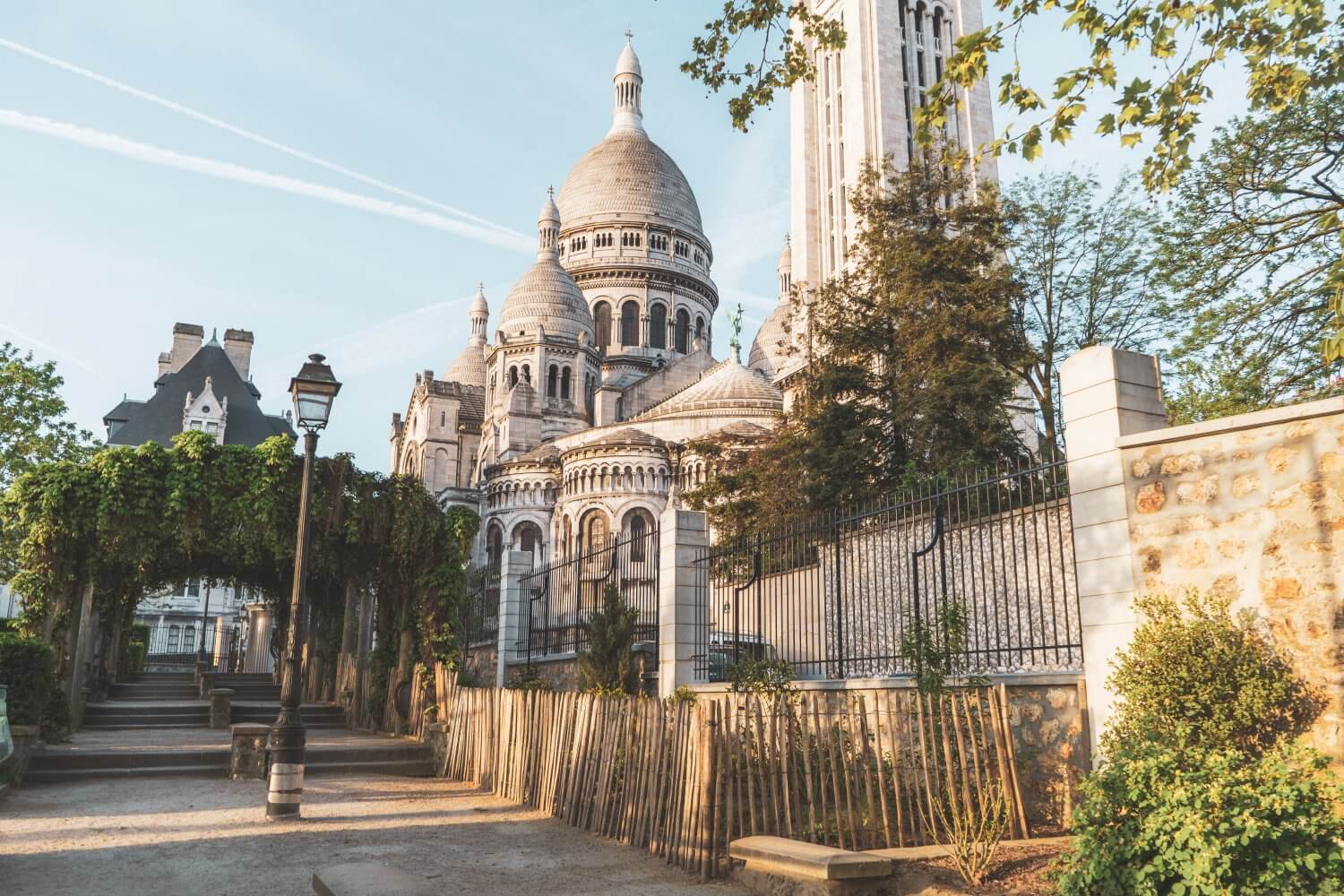 ---
---
4. The Louvre
While I don't necessarily think going to see the museum on the inside is necessarily a "must do" (this depends entirely on whether or not you're a museum person or not), I do think at least stopping by the Louvre is a must see as far as Paris landmarks are concerned.
Why it's one of the "must see" Paris landmarks: Touristy or not, it's still the biggest museum in the entire world and of course the most visited attraction in Paris. Plus the pyramids make for great photo opps (and people watching of others pursuing said photo opps).
Tips for seeing the Louvre without crowds:
Buy a timed entrance ticket online in advance. This will allow you to breeze through the regular line-up and go to the line-up for those with tickets, which moves much quicker. You can get one here for less than 20 euros.
Visit on Wednesdays and Fridays after 6pm. The Louvre is open until 9:30pm on Wednesdays and Fridays, which many people still don't know about. If you come during these times, it'll feel much less like museum Hunger Games and more like…. Hunger Games lite. You know?
Visit the museum about an hour before closing. This is a trick I swear by. Everyone always says "go early in the morning" but with museums, EVERYONE and their mom does this, which ironically makes it busy AF in the morning. I prefer to go about an hour before closing because crowds have thinned out by then. I even recently did this on Bastille Day (a free admission day, so it's extra busy!!) and I didn't have to wait in line, I just walked right through. Sure, an hour is a little rushed for the Louvre, but it was enough for me to get a feel for the place/see the highlights.
See the courtyard when the museum is closed. If you only want to stop by and take a look at the beautiful courtyard, then before/after the museum opens is a great time to come because there's way less people. NOTE: The museum is also closed on Tuesdays, so the courtyard area will be less busy then as well.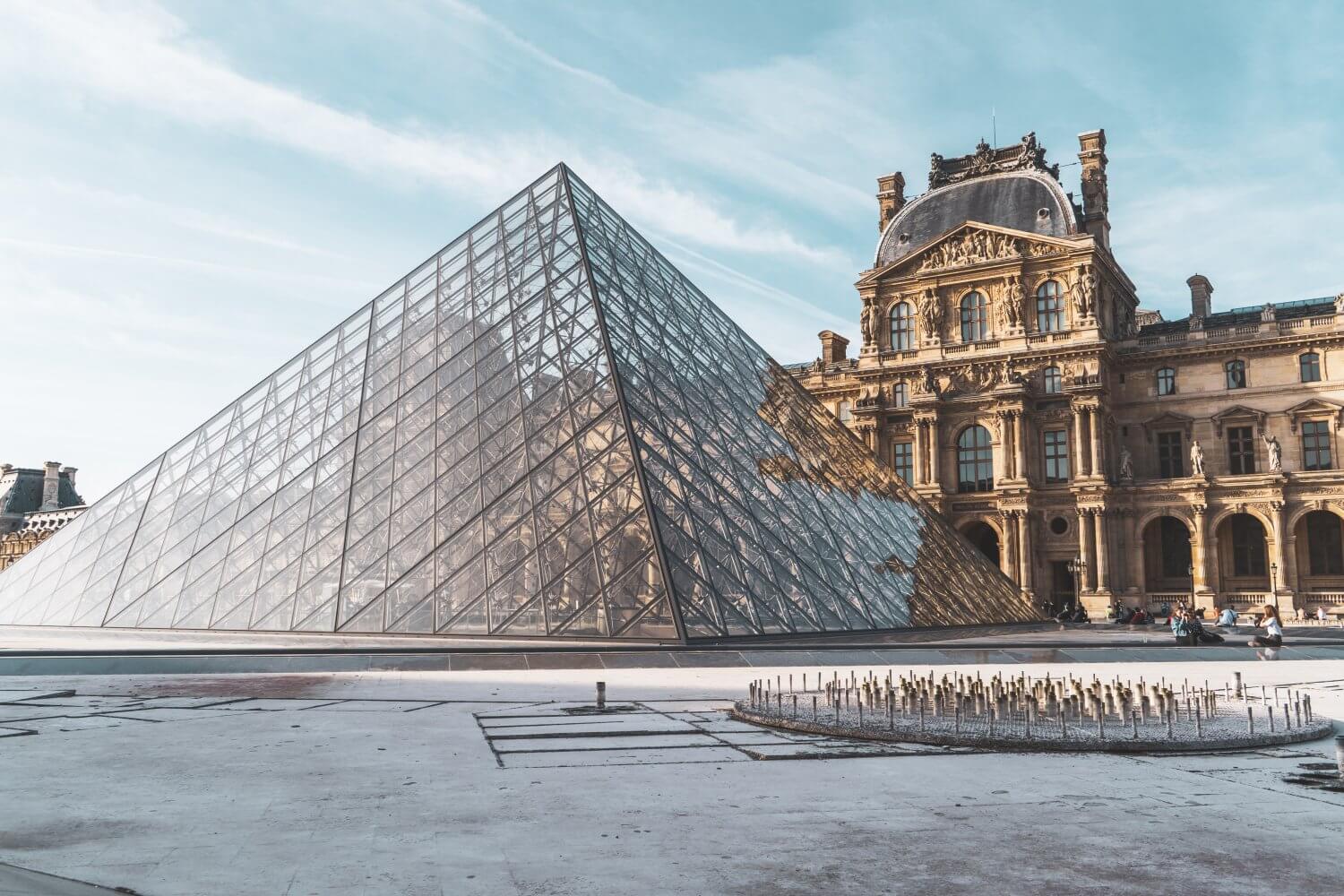 ---
---
5. Palais Garnier
AKA the Paris Opera House. Okay, maybe my Phantom of the Opera phase is starting to creep out again, but I insist that you add this gorgeous opera house to your Paris itinerary, especially a tour of the inside.
Why it's one of the "must see" Paris landmarks: Just refer to the photo below. It's honestly such a stunning building, inside and out. It's Parisian opulence at its finest, and has been featured in many movies and TV shows like Emily in Paris.
Tips for seeing the Palais Garnier without crowds:
Buy a "skip the line" ticket to tour the inside. Weirdly, while hordes of tourists will congregate outside and on the steps of the Palais Garnier, the amount of people that make it inside for a peek is relatively few. So, pay for a ticket to explore the inside (which is impossibly grand and gorgeous) and you'll be able to dodge the bulk of crowds. Even better, get a ticket in advance that secures you priority access! This ticket allows you to walk right to the entrance.
Book an "after hours" tour. After the sun sets, crowds thin out and the Opera House is illuminated in the most magical way. On my recent visit, people were even ballroom dancing in front of it. You can even book a guided tour for less than 20 euros that happens at night, and if the reviews are any indication – it's spectacular.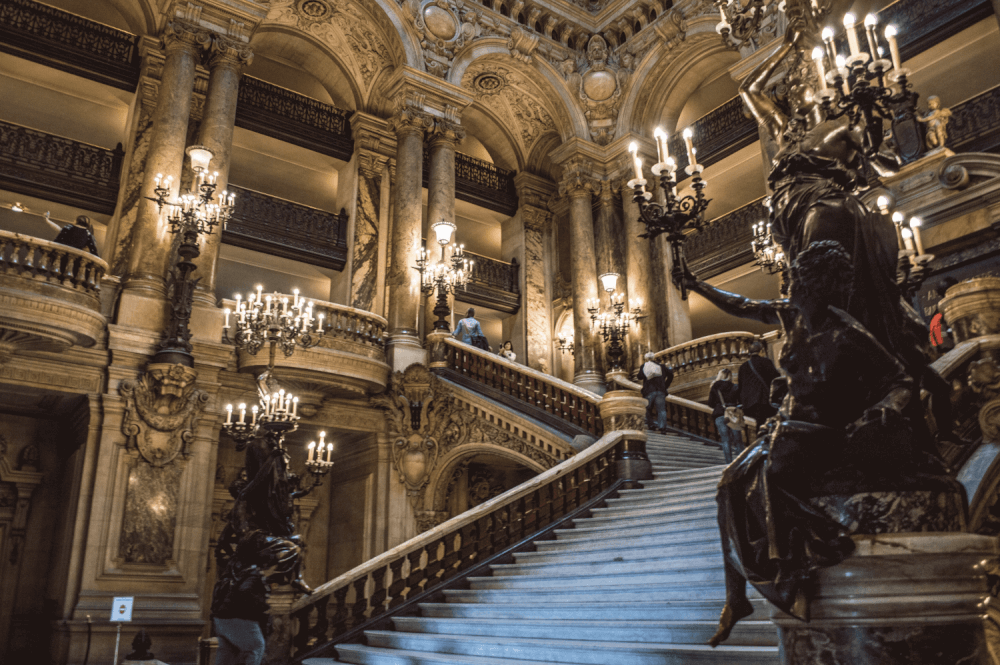 ---
---
6. Les Invalides
The glittering gold Hôtel Royal des Invalides is one of the most recognizable parts of the Parisian skyline, and marks a complex of buildings in Paris known as "les Invalides" which includes a few different buildings, museums and churches. Of course, it's also here that you'll find Napoleon's oversized tomb.
Why it's one of the "must see" Paris landmarks: If you're at all interested in the military history of Paris, you need to come here. Honestly though, I'd come here just to see the comically oversized tomb of Napoleon "Overcompensation" Bonaparte.
Tips for seeing les Invalides without crowds:
Book a "backstage tour". This guided walking tour takes you to spots that are typically closed off to the public, so it's a great way to be antisocial and avoid people while learning some interesting facts 😉
Buy tickets in advance for the army museum visit. Like any major museum in Paris (fun fact: this is one of the top 5 busiest museums in France!), you're going to encounter queues… luckily you can easily avoid them by buying tickets in advance. You can do that here.
---
---
7. Place de la Concorde
Sandwiched between the Champs-Élysées and Jardins des Tuileries, Place de la Concorde is the biggest public square in Paris. With its all-too-imposing obelisk and picture-perfect fountains, a stop here is a must, even if just en route to some mad shopping sprees on Champs-Élysées.
Why it's one of the "must see" Paris landmarks: Besides the sheer historical significance (gosh, think of all the beheadings!), Place de la Concorde is also absolutely gorgeous. The fountains here are some of my favourite things to photograph in the entire city, and that's saying a lot.
Tips for seeing Place de la Concorde without crowds:
Visit early in the morning or late at night. Honestly, because of its central location, crowds don't really die down here unless it's early in the morning or late at night. Luckily, Place de la Concorde is a massive square, so the crowds never feel too overwhelming.
---
---
8. The Panthéon
This neoclassical beauty is one of the most picturesque buildings in Paris, but of course lurking beneath the ground is what truly makes this landmark special, its mausoleum, the final resting place of many unimaginably famous French citizens.
Why it's one of the "must see" Paris landmarks: While gorgeous from the outside, the inside of the Pantheon is swimming in stunning details, and so worth a visit. I promise, your neck will hurt from all the staring. Plus, the crypt houses probably the most awe-inspiring collection of famous people I've ever encountered… names you'll recall from all your textbooks growing up – like Voltaire, Rousseau, Victor Hugo, Marie Curie and more. #NoBigDeal
Tips for seeing the Panthéon without crowds:
Buy your ticket in advance. It's a popular attraction, so it's always a good idea to just buy your ticket online beforehand so you can skip right through the lines. Here's an option for less than 10 euros.
---
---
9. Notre Dame Cathedral
Of all the Notre Dames in the world (and yes, there are seriously a bajillion), the most iconic one can be found here in Paris. Besides being one of the most famous churches on Earth (shoutout to Quasimodo & Disney for that), this Gothic masterpiece is also a must-do for one simple thing: its epic view over Paris.
Why it's one of the "must see" Paris landmarks: Gorgeous facade, gorgeous view, what more could you want?
Tips for seeing the Notre Dame without crowds:
Scope out its Eastern facade in Park Square Jean XXIII. Okay, so this little park is literally right next to Notre Dame but a lot of people miss it for some reason. Don't miss it! There's lots of benches for you to sit on and it's a great place to appreciate an alternative view over the Cathedral. Plus, during the Spring, this place is cherry blossom central.
Know that the line moves quickly. If you're super keen on seeing the inside, don't despair. While the line-up can often reach the other end of the square, it moves really fast because of how huge the church is. On a busy afternoon during peak season, I only waited five minutes.
Buy a skip the line ticket/tour. If you are planning on climbing the towers for that amazing view though, the line will NOT move as quickly. What you can do instead is book a tour that includes skip the line access and a walking tour of the nearby area, which is a great value considering you cut your wait time by so much.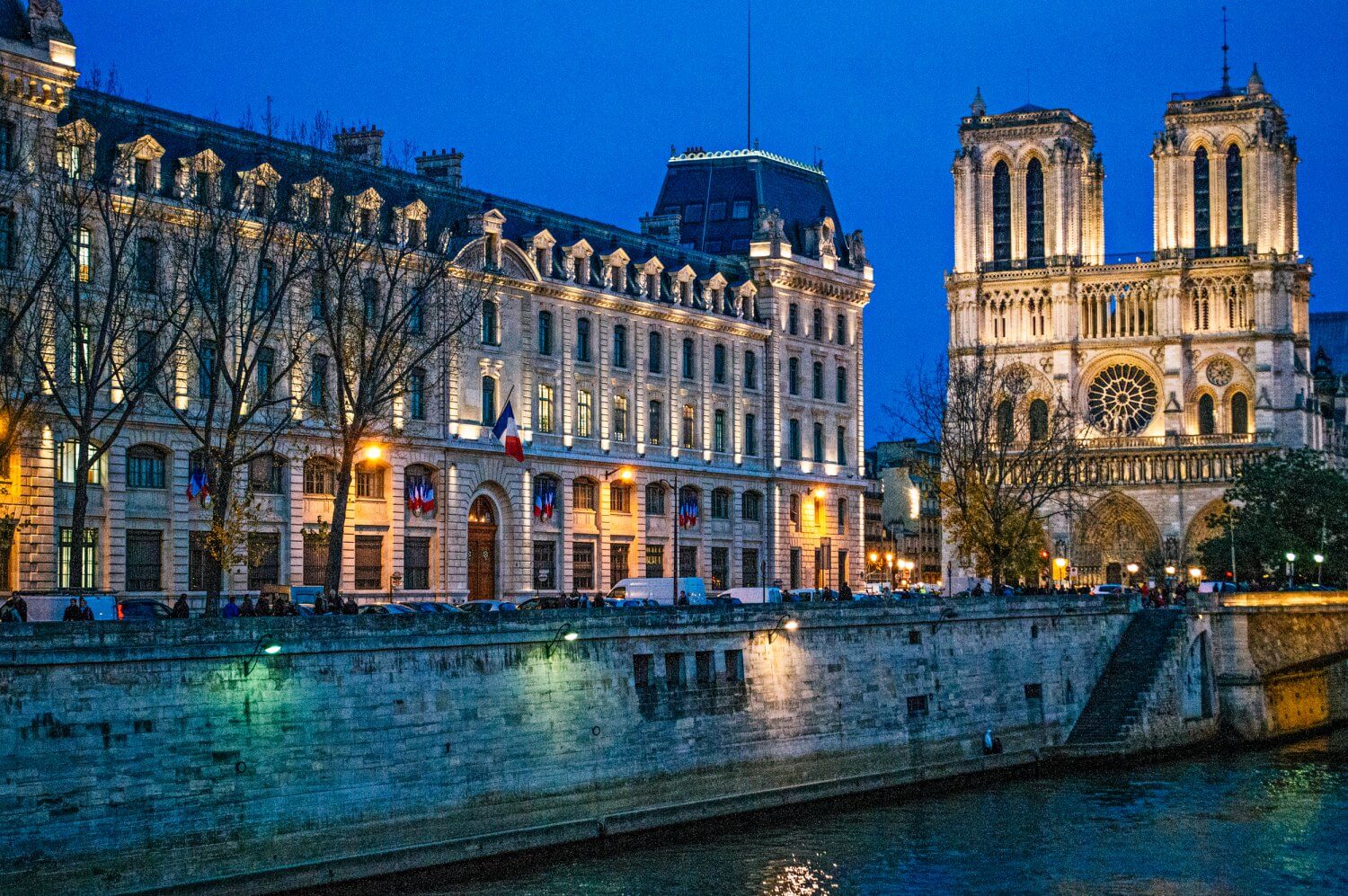 ---
---
I hope you enjoyed that super, super long guide to the best Paris landmarks! Any more questions? Feel free to ask away in the comments!
BONUS: A Paris Landmarks Map!
Looking for the spots mentioned above? Here they are for you on a map: