*FYI - this post may contain affiliate links, which means we earn a commission at no extra cost to you if you purchase from them. Also, as an Amazon Associate I earn from qualifying purchases. Check out our Privacy Policy and Disclosure. for more info.
I was welcomed graciously hosted by Hôtel Le Pavillon and Green Pearls during my stay. All photos, experiences and stories however are my own. 
Like many aspiring writers, I admit I've wistfully daydreamed about living in Paris.
I guess it makes sense then that my travels have brought me back to the mecca of croissant consumption countless times over the past few years.
This ardent love affair with Paris has flung me through all sorts of accommodation in this buzzing (and pricey) city – from river cruise cabins and shoebox AirBNBs to murdery red light district hotels and wherever else I could rest my stubby legs…
But, finally, on my most recent visit, I found the perfect base worthy of my grand Parisian dreams: the boutique gem of Hôtel Le Pavillon. 
Now, in a city whose beauty is so coveted by tourists, hotels themselves aren't exactly rare.
What IS rare however is finding one that is comfortable, well-located, friendly and won't cost you 3 limbs and a kidney.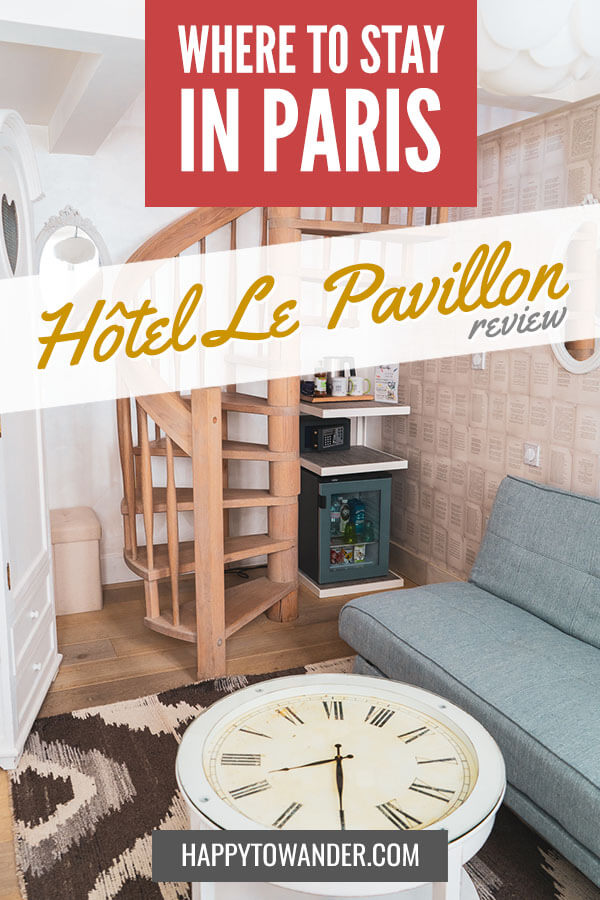 And that's how Hôtel Le Pavillon (in many ways) achieves the Parisian impossible – it's a hotel that's wonderfully comfortable without pretentiousness, offers friendly service that defies all negative Parisian stereotypes, puts a focus on sustainability, and all this without being horrifically expensive. 
All around Paris, there are thousands of potential crash pads to choose from, forcing hoteliers to scramble and define their own USP, a way to stand out from the masses… and Hôtel Le Pavillon is one that has managed to do so with grace and a splash of fun.
SO, if you're looking for a wonderful place to stay in Paris, read on for a full review of Hôtel Le Pavillon.
PS: Be sure to check out my full Paris travel tips post for more info!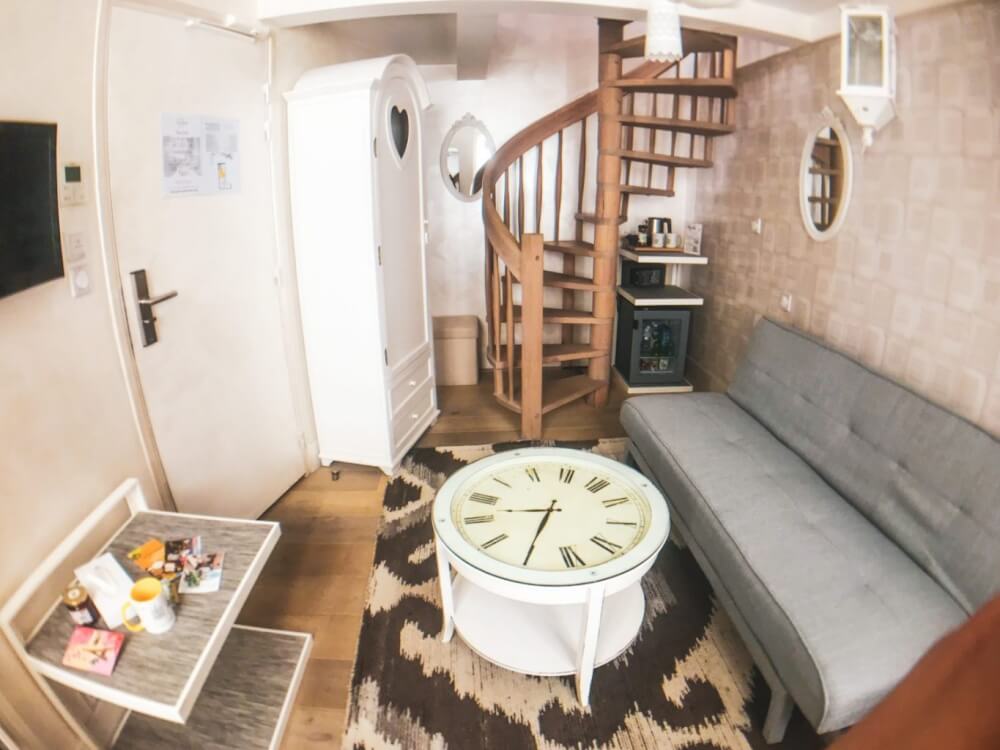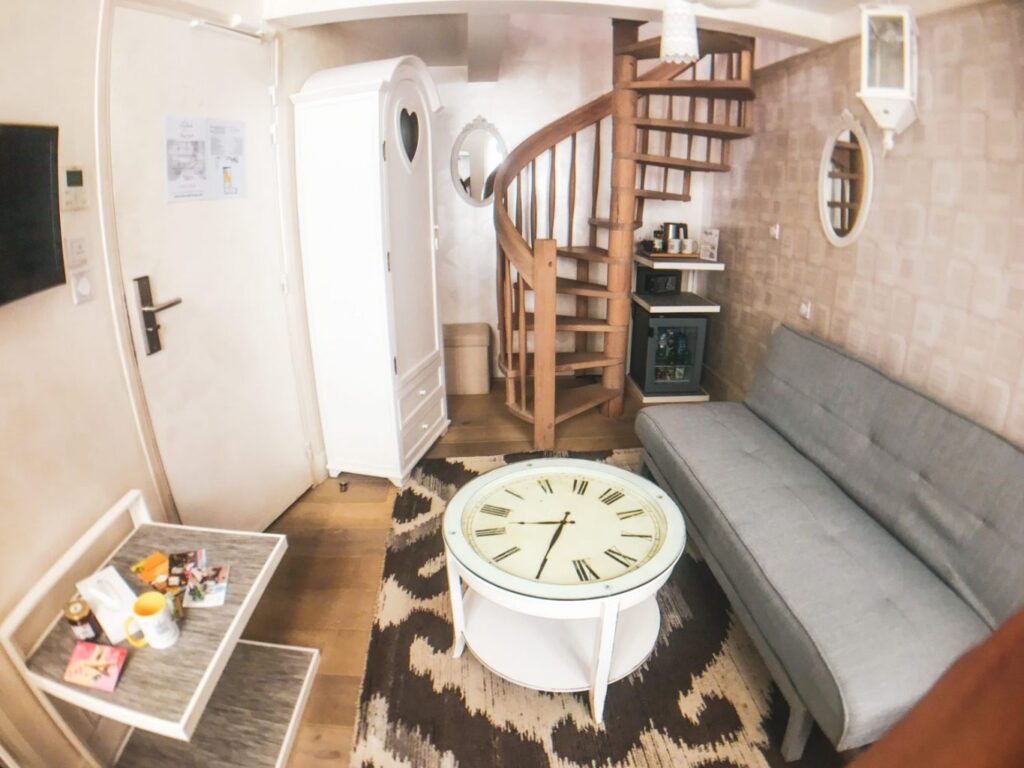 Hôtel Le Pavillon Paris: An Introduction
Housed in a former convent in the 7th arrondissement, Hôtel Le Pavillon is a swishy little boutique property tucked away in a courtyard on Rue Saint Dominique.
Just down the road is a friendly and famous face – the Iron Lady herself, providing the perfect backdrop for your Parisian getaway, whether you're indulging in a romantic weekender or simply in town to pad your waistline with patisserie treats.
Offering up only 15 rooms, all of which are individually designed, this hotel is a small, boutique alternative to some of the gargantuan chain hotels in the city, but that's precisely what makes it such a special and unique place to stay while flouncing through the City of Light and all the Paris landmarks you've no doubt dreamt about.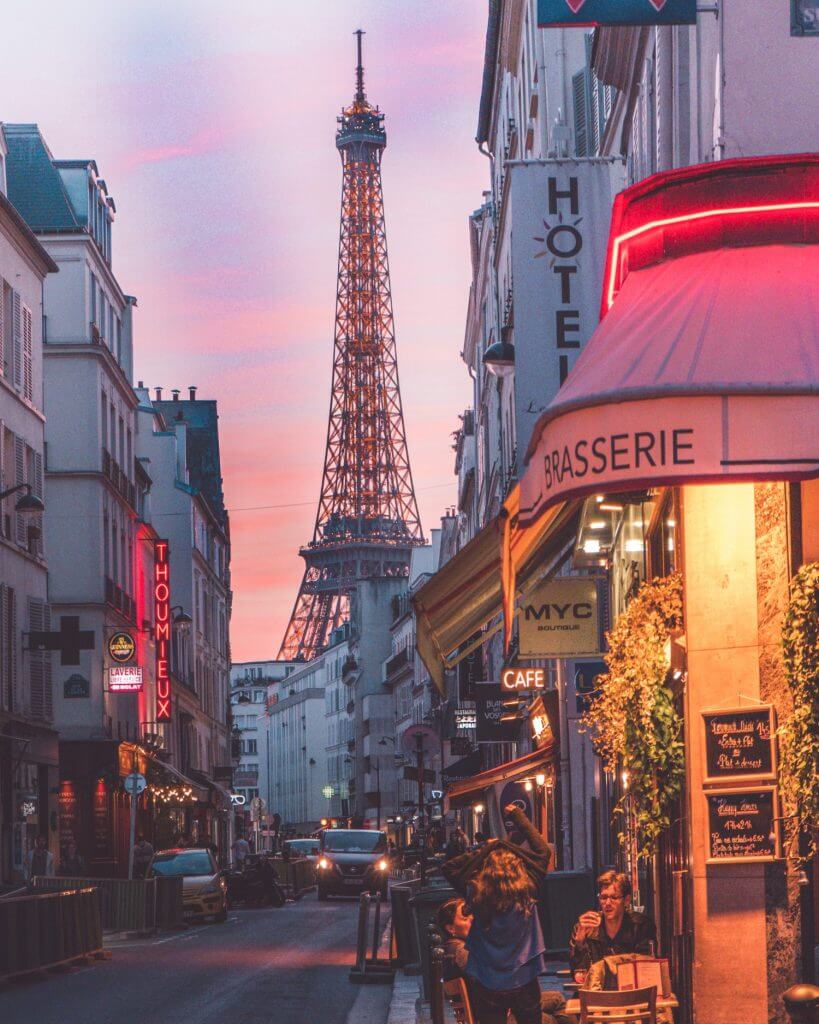 Location, location, location
Of course, one of the most important considerations when choosing a place to stay in Paris is the location. How can you strategically place yourself close to the sights, without being smothered by sweaty, incessant crowds?
For me, the location of Hôtel Le Pavillon was perfect.
I mean, when a glittering Eiffel Tower features as a permanent fixture on your walk home, it's tough to not melt into a puddle of fangirly goo.
Hôtel Le Pavillon is tucked away in the 7th arondissement, within close walking distance to les Invalides and La Tour-Maubourg Metro stations.
I loved the location especially because it was perfect for both sunrise and sunset.
The Eiffel Tower is only about 20 minutes away on foot, which made my sunrise missions ridiculously easy. Of course, really close by is my favourite sunset spot in the city – the beautiful Pont Alexandre III, a bridge frequently acknowledged as one of the world's most beautiful.
(And THE place to take glam wedding photos, as evidenced by the approximate twenty million photoshoots happening on the day I went).
Plus, surrounding the hotel were lots of bakeries, cute boutiques, takeaway food options and well-stocked grocery stores, so it was impossible for hangry-me to ever starve.
What I most appreciated was that the location, while close to main sights, never felt overly touristy.
Many of the bars and restaurants nearby were packed with locals until the late hours of the evening, and there wasn't a single kitschy souvenir shop in sight. What a dream!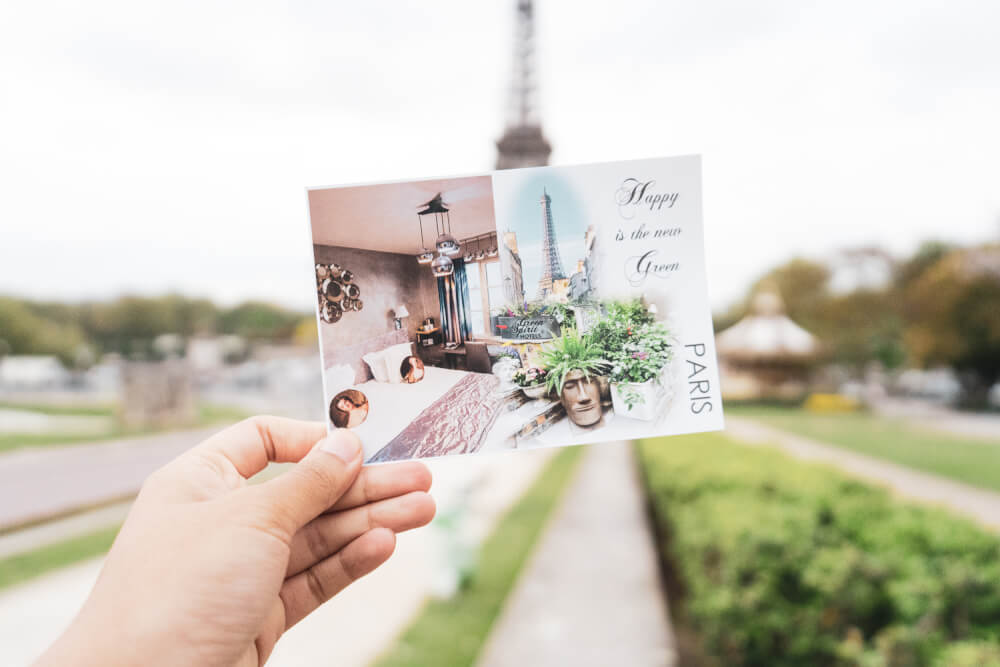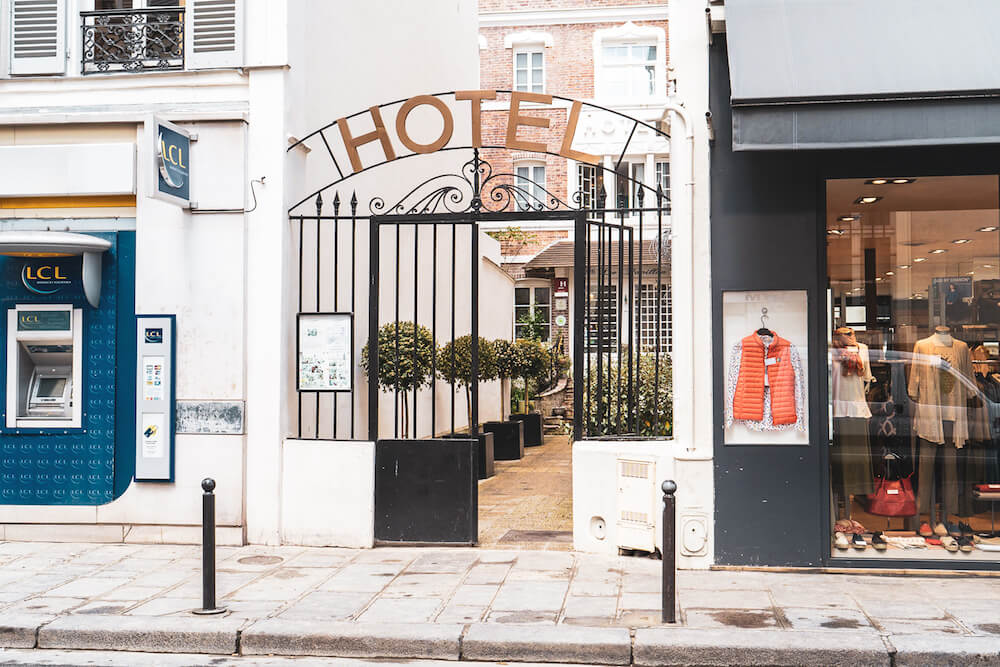 Friendly service
With only 15 rooms, I would have never expected such a little boutique property to offer 24/7 reception…. But they do! Dutifully, day and night, a staff member was on hand to take care of me, whether to print my boarding passes at 1am, question my life decisions when I woke up for sunrise at 6am or to lend me an umbrella at 3pm (the staffer's personal umbrella, because they didn't have any extras at the hotel).
Yes, seriously!
I know that Parisians don't typically have the best reputation when it comes to service, and to be honest with you, my personal experiences have always confirmed the "rude Parisian" stereotype… but this was happily not the case at all with Hôtel Le Pavillon.
All the staff members were super sweet and lovely, with none of the subtle sass and judginess I've felt from other hotels in the city.
My Room at Hôtel Le Pavillon
I had the pleasure of staying in one of the hotel's four superior VIP rooms on the top floor, complete with a beautiful wooden spiral staircase. (Yes, my OWN wooden spiral staircase. I think I might have cried a little)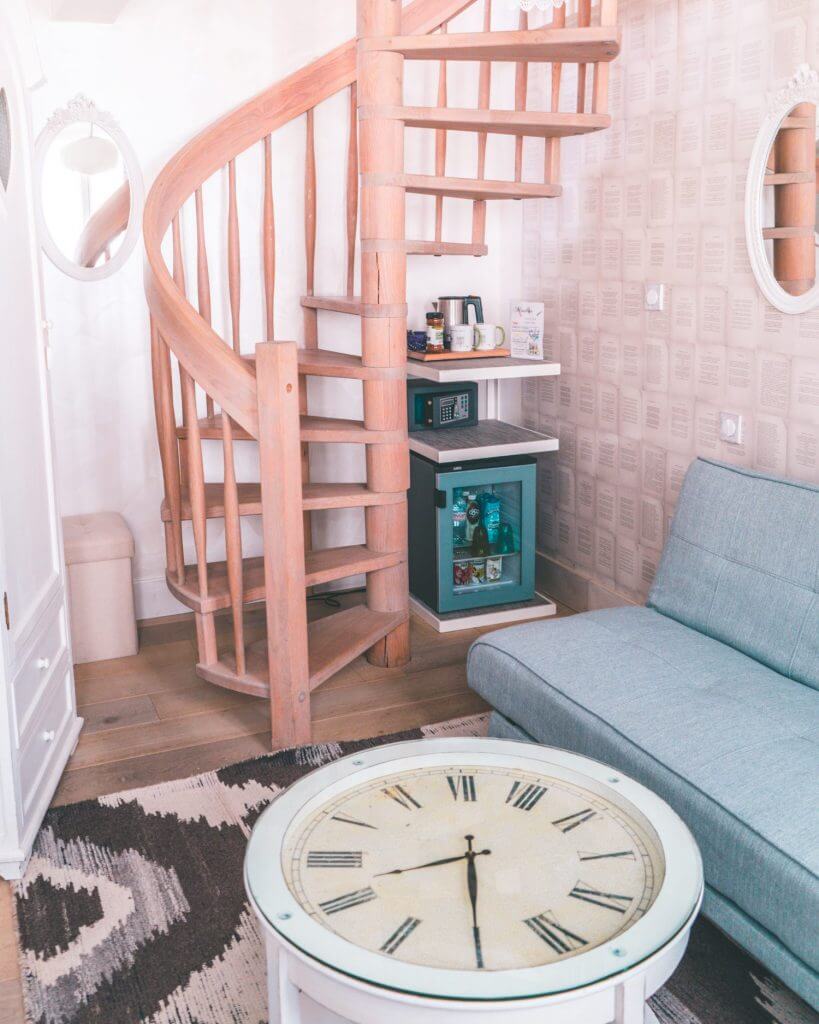 As I mentioned before, each room in the hotel is individually designed. I stayed in the "Symphony in White" room, hence the beautiful artsy touches like French poetry covering the entire back wall.
Um, where do I even begin with this room?!
Can I admit that I squealed a little when I first saw it?
It's not often you step into a hotel room and start taking notes for the decor of your future home. Immediately upon entering, you're met with a nice seating area with a comfortable couch (which can pull out to accommodate an extra sleeper), next to a giant coffee table designed like an elegant old timey clock.
The whole suite feels less like a hotel room and more like an artsy apartment, perfect for a wistful daydreaming writer… complete of course with a mini-bar and complimentary tea/coffee 😉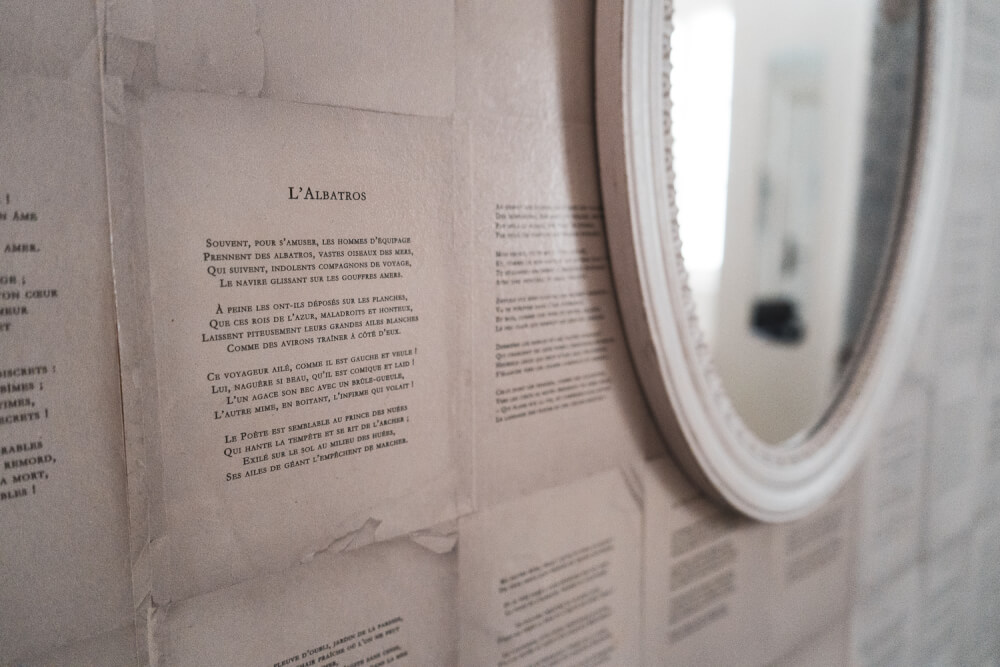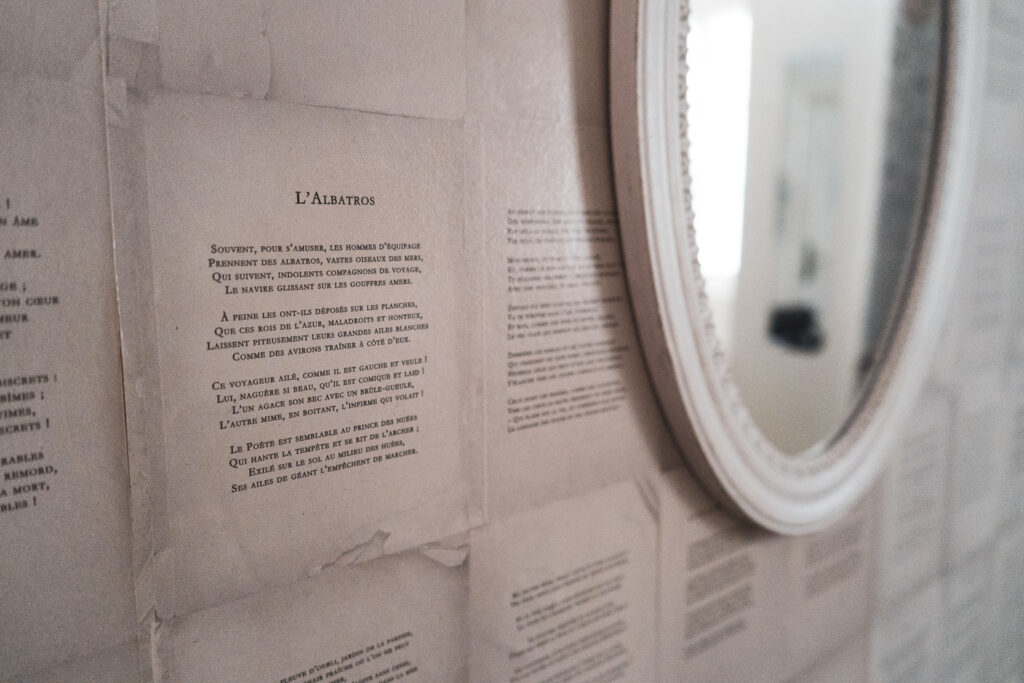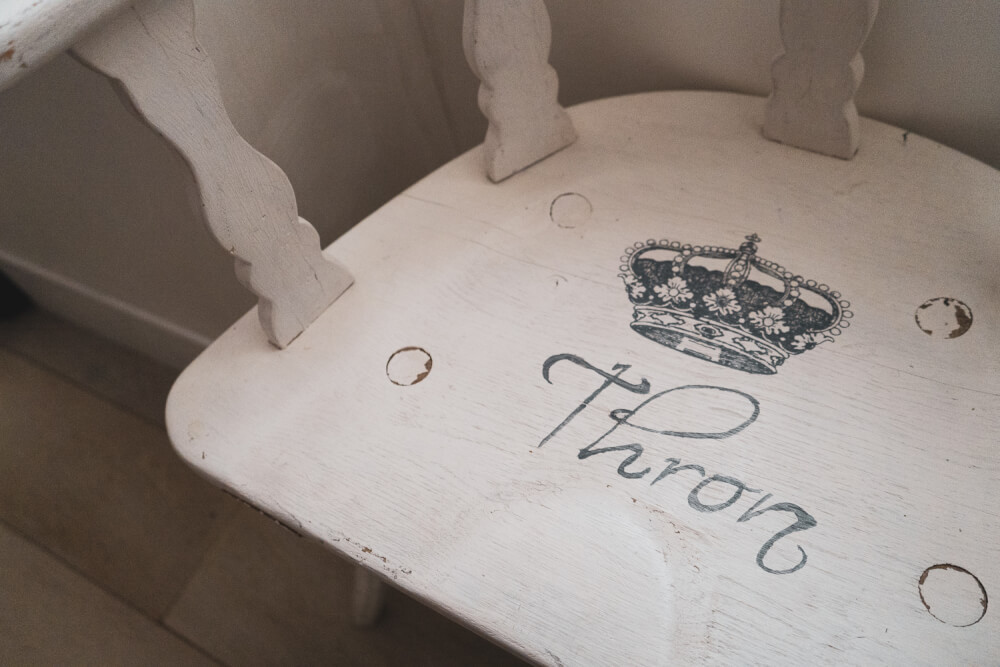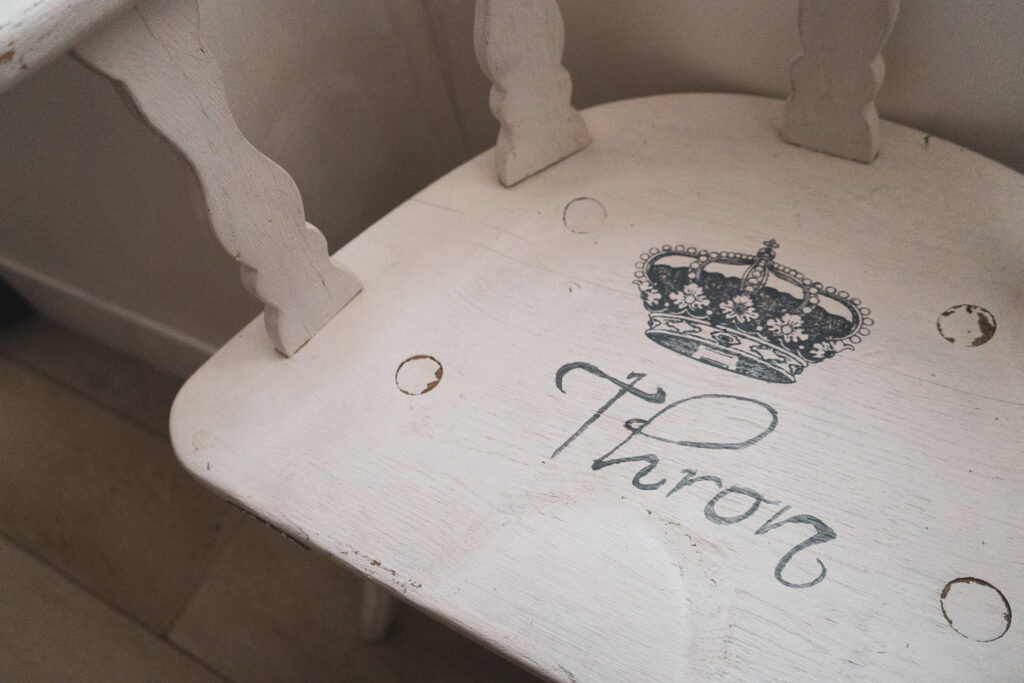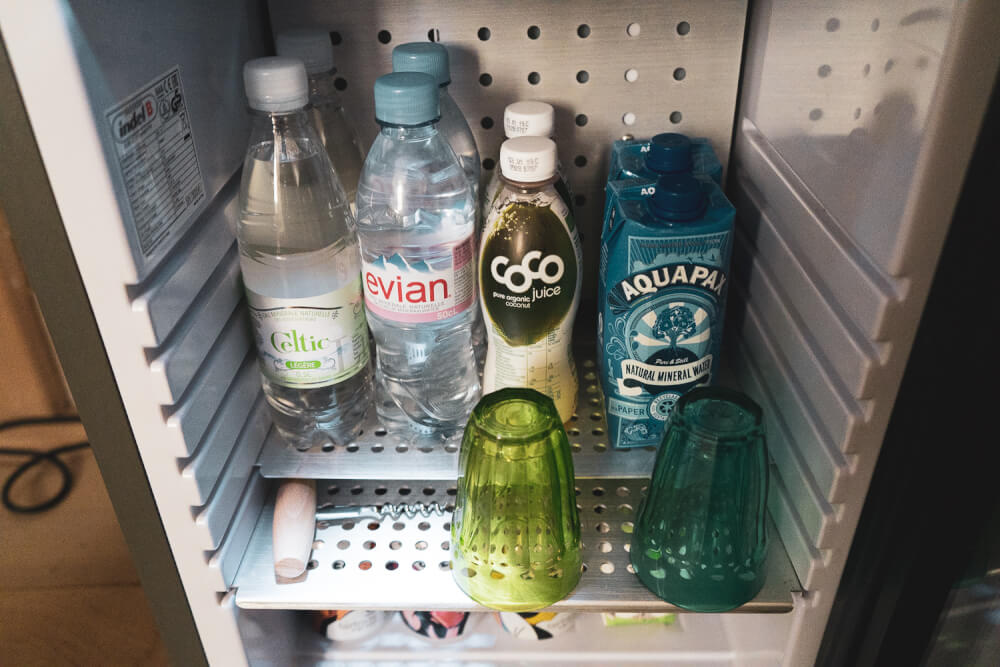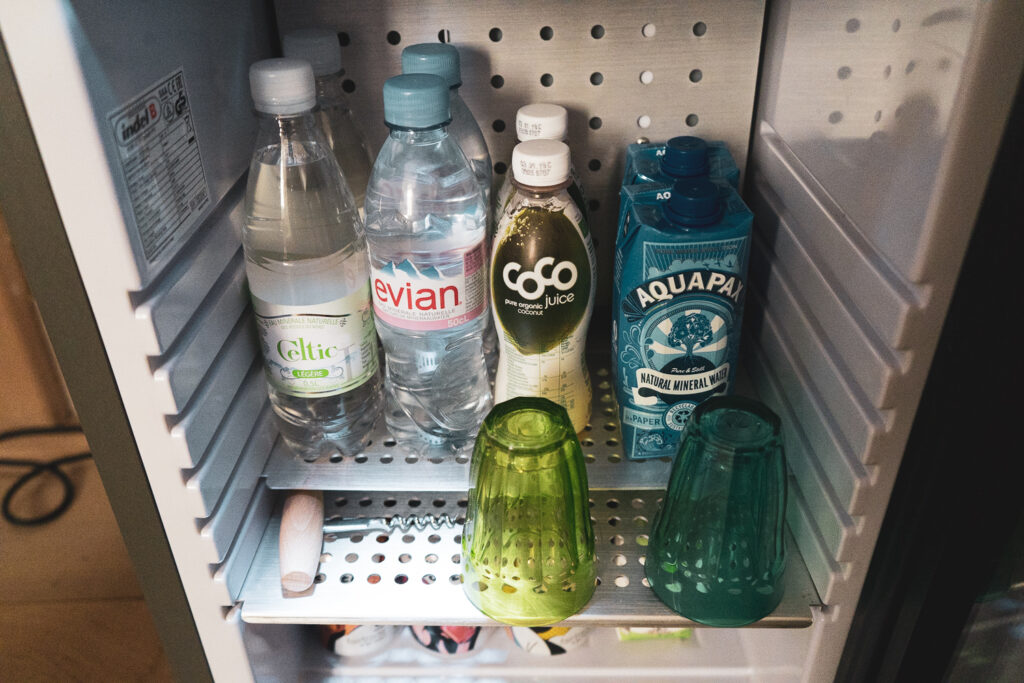 The upstairs housed a fluffy cloud-like bed with quirky accent pillows, a TV, little reading nook, and desk/working area, with a bright overhead window that let in all sorts of gorgeous natural light.
If I had even a smidge less willpower, trust that I would have needed to be dragged out by security at check-out time. I was that keen to stay.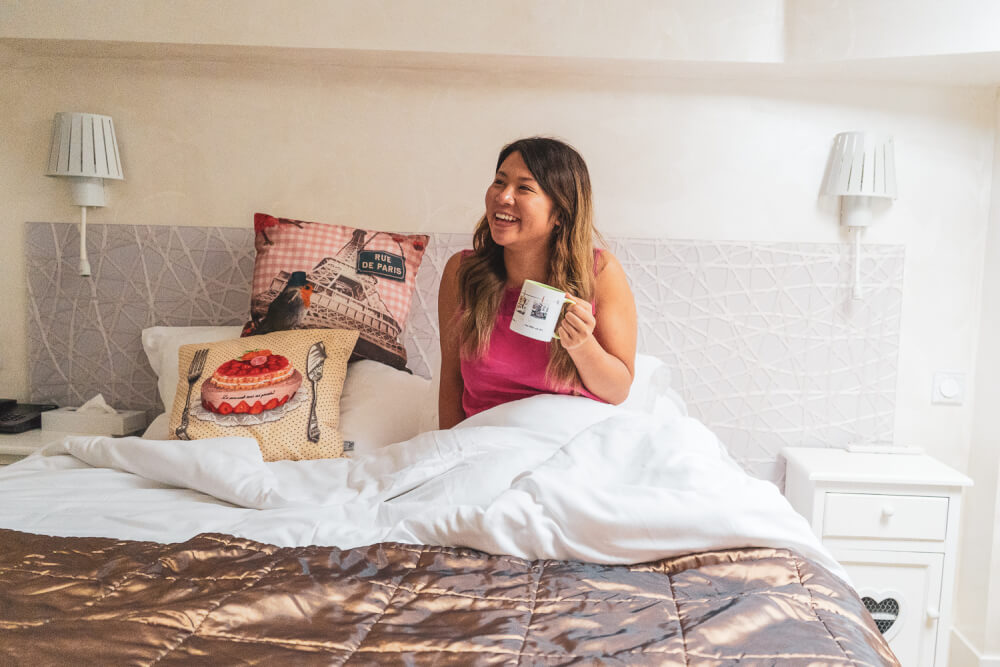 Breakfast at Hôtel Le Pavillon
Of course, this swishy hotel boasts an equally swishy breakfast buffet (at additional cost), which can either be consumed in the funky downstairs salon, complete with plush armchairs and floral napkins, or eaten outdoors in the hotel garden from 7am-10am each morning.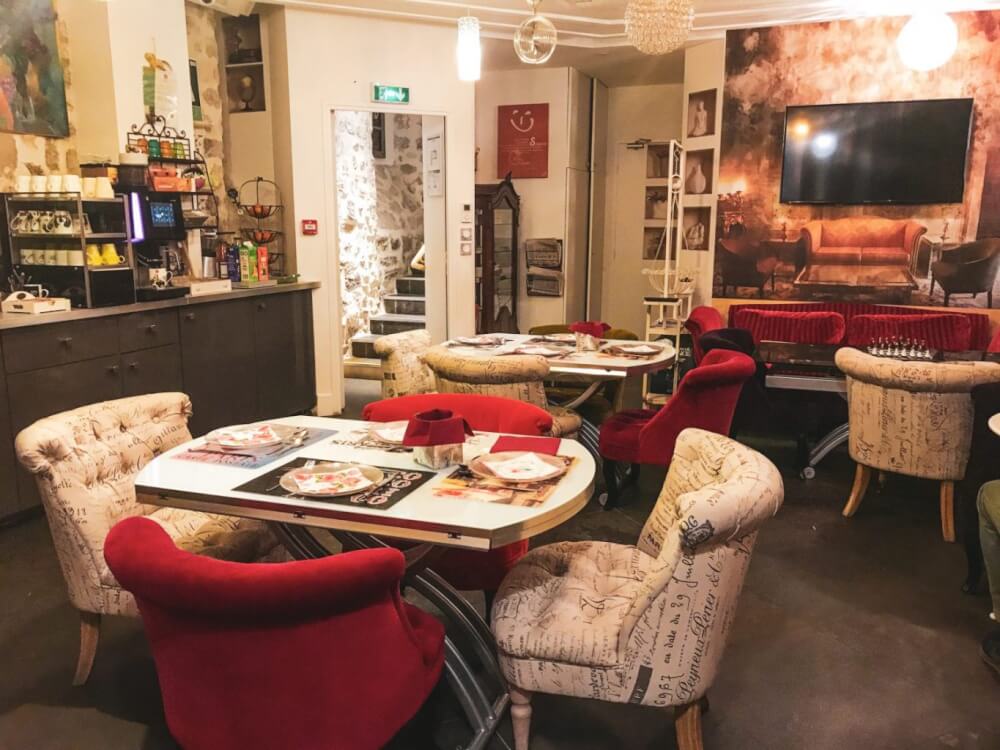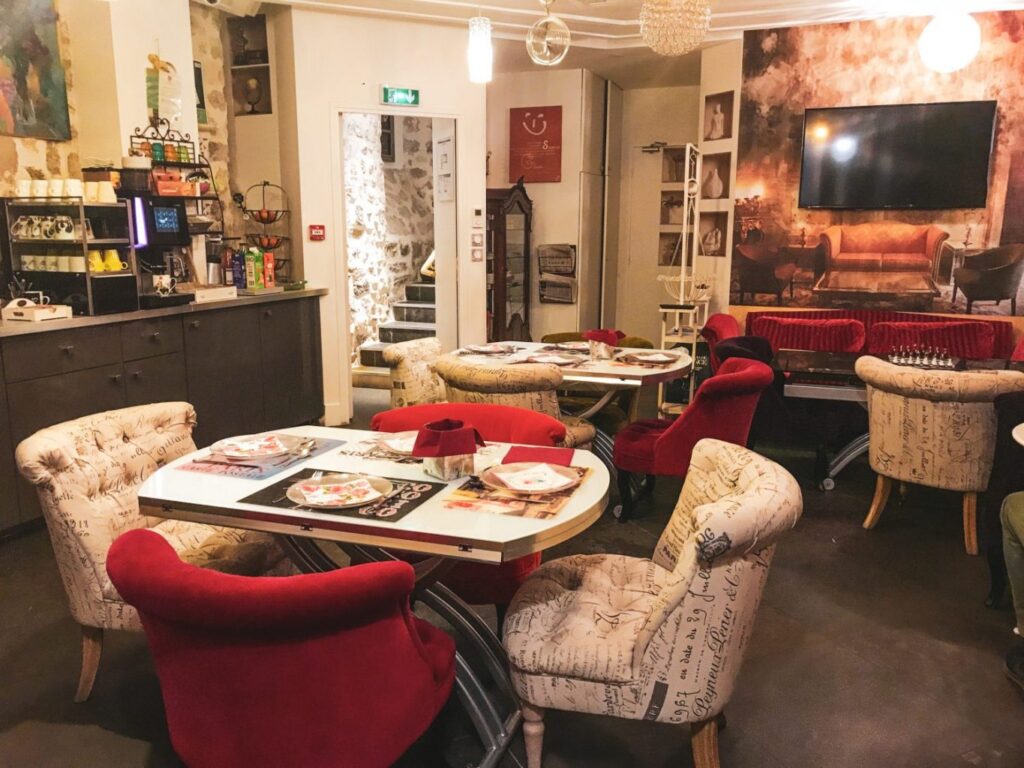 To fuel you up for a day of selfies and non-stop drool, you get to take your pick from a typical European breakfast spread – a basket of pastries, various breads, yogurt, cold cut meats, cheeses, cereals, spreads and fruit.
The selection of spreads and toppings were especially impressive – it was a true indecisive eater's nightmare because of all the choice 😉
They even had my ultimate guilty pleasure – Dutch sprinkles (hagelslag) which Dutch kids (and me apparently) love smothering over toast.
PS: All goods are bio and locally sourced from shops in the city, with organic coffee, tea and honey. There is also a super fun juicer that I couldn't stop playing with, which meant I got to start my freshly squeezed OJ every morning. Bliss.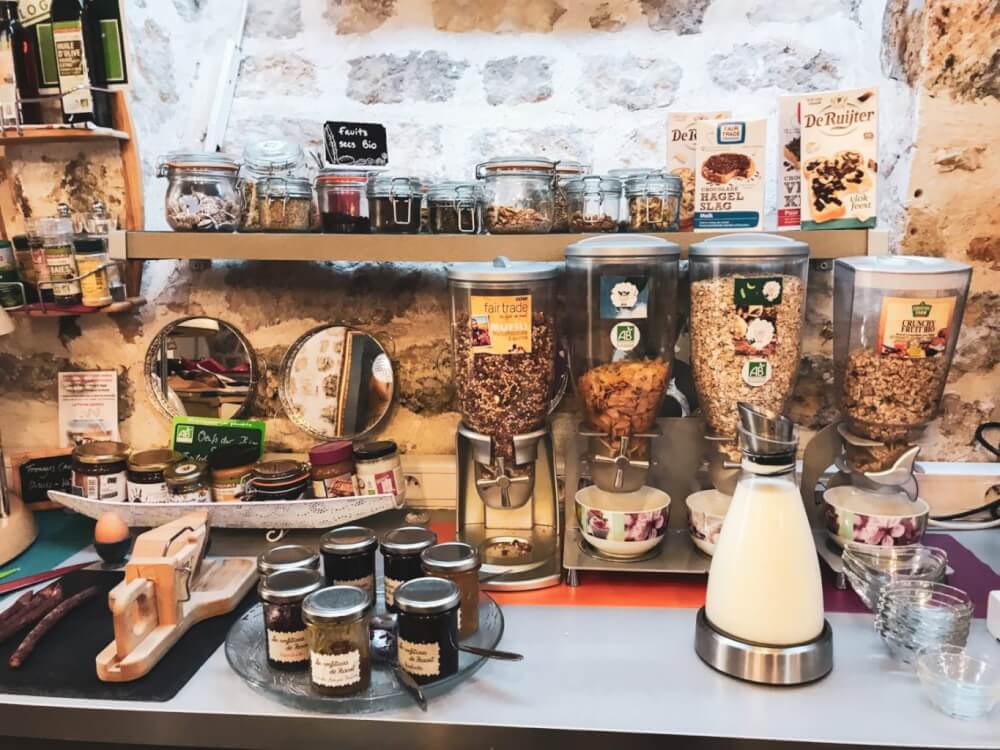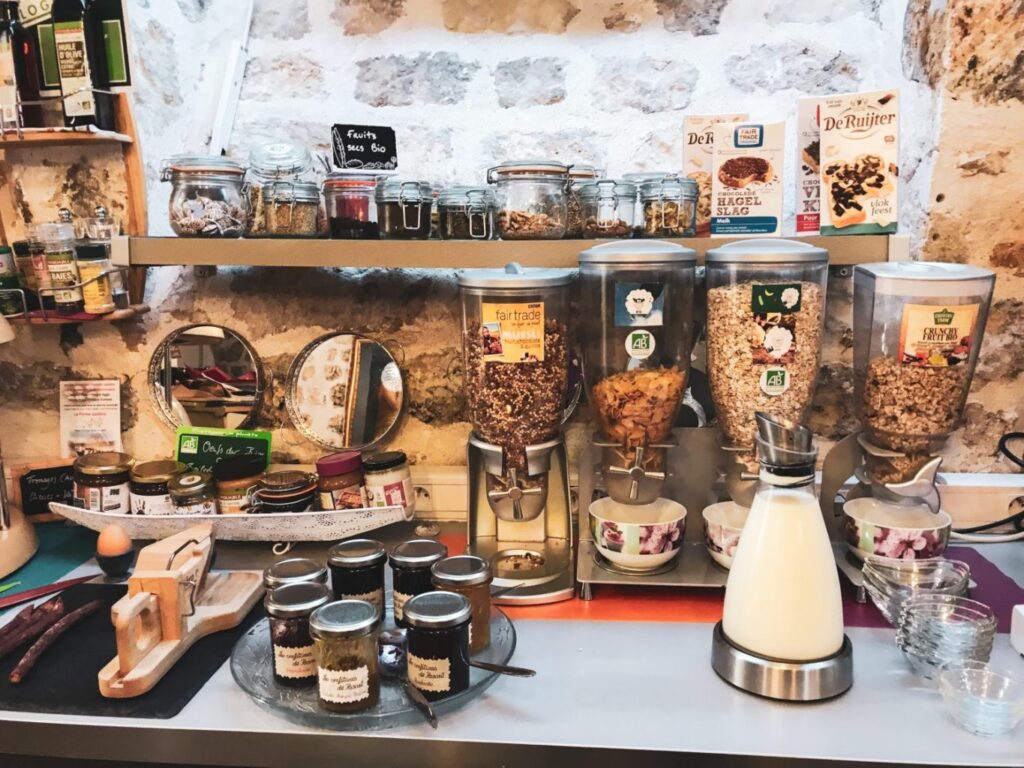 A Sustainable Focus
Last but not least, I need to mention that one of the most unique parts of Hôtel Le Pavillon is their focus on sustainability.
As part of the Green Spirit Hotel Group (a family business that emphasizes sustainable development in day to day hotel operations), the hotel is packed with thoughtful touches aimed to maximize customer well-being, all while employing eco-friendly practices and innovative technologies that have Mother Nature's best interest in mind.
From special filtration systems that purify the air/water in the hotel to special LED lights and eco-friendly materials, Hôtel Le Pavillon offers up all sorts of innovative approaches to creating the ultimate zen atmosphere.
As someone who is trying more than ever to live and travel sustainably, I was thrilled to see all the eco-friendly products on offer, including a bamboo toothbrush (which I've been meaning to buy for ages!)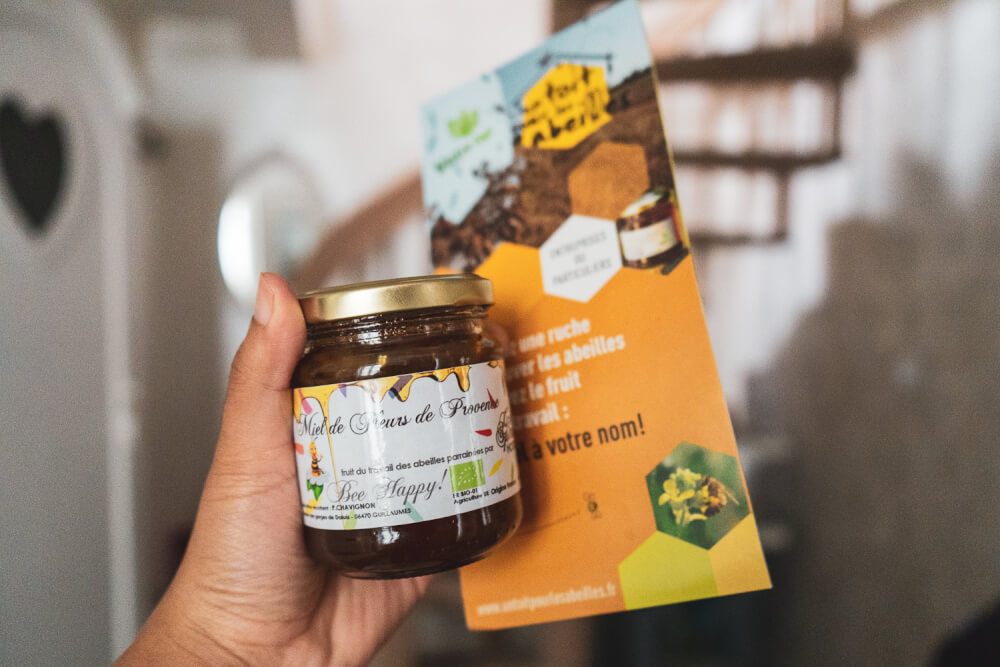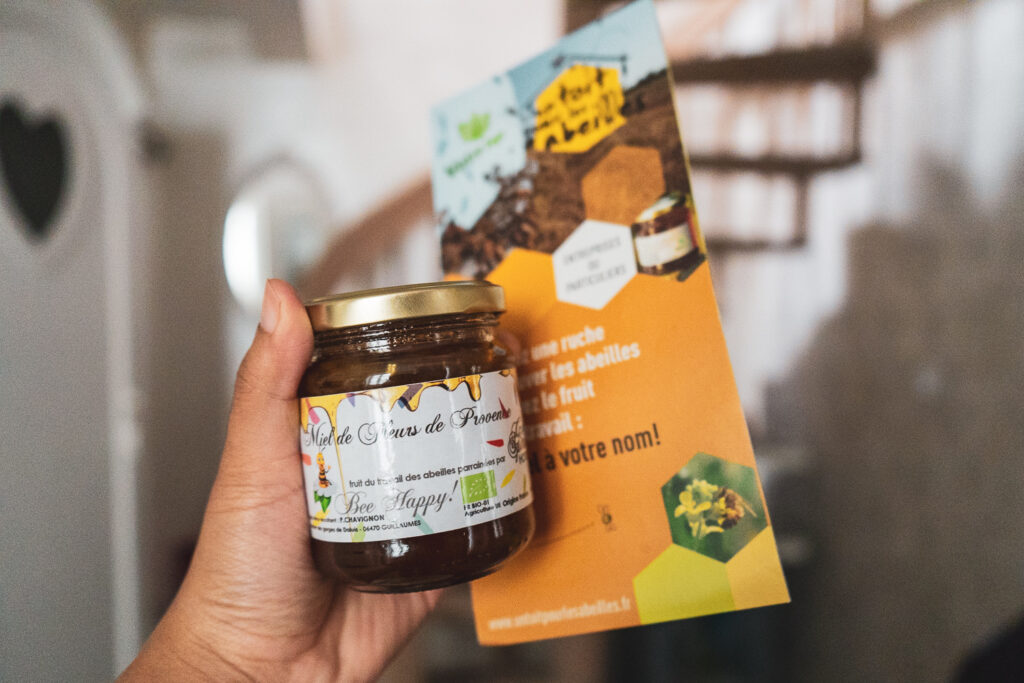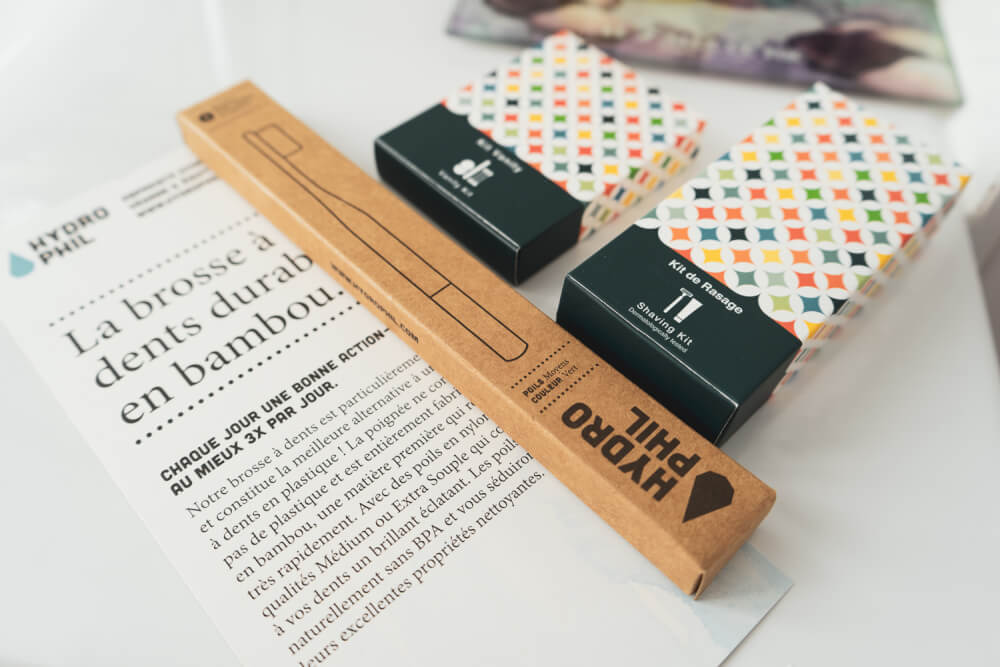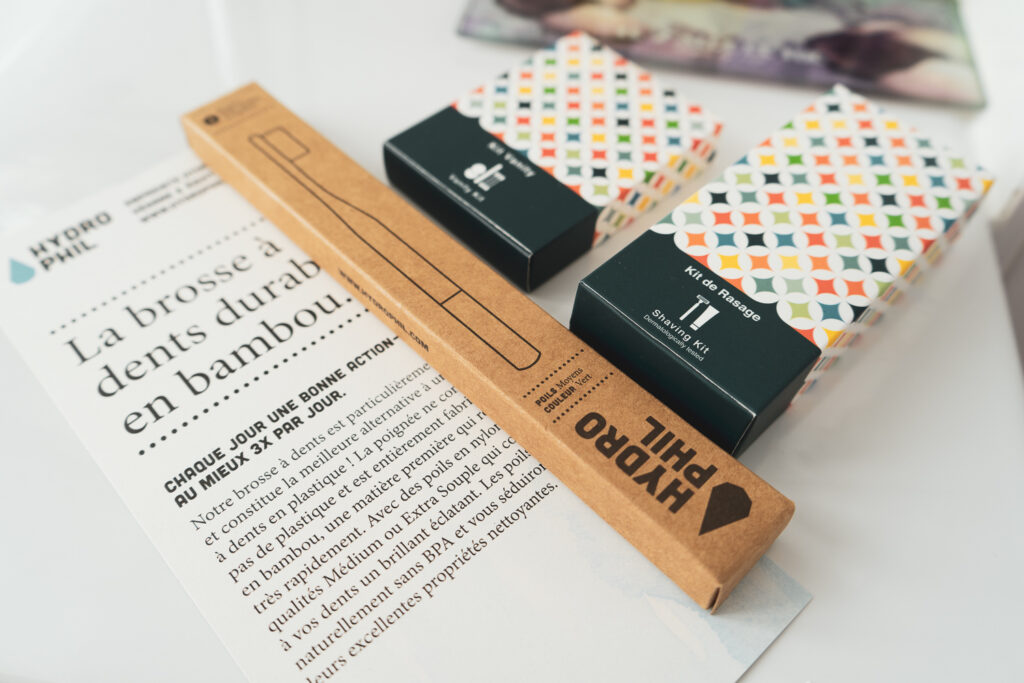 Hôtel Le Pavillon Paris Review: The Final Word
So, clearly I'm smitten.
If you're looking for a hotel in Paris that is comfortable, friendly, sustainable, all with a splash of charm and unique quirkiness, then this is it.
While Hôtel Le Pavillon hotel doesn't have big box amenities typical of larger hotels like a hotel pool or spa, you shouldn't be wasting time at a hotel pool in Paris anyway.
If you're after a homey, comfortable and relaxed place to rest your head after a few long days of sightseeing, then I have no hesitation in recommending Hôtel Le Pavillon as the perfect choice.
Honestly, it's a miracle I found the willpower to leave this place!
You can learn more about the hotel and check availability on their website here.
A huge thanks to Green Pearls and Hôtel Le Pavillon for sponsoring my stay.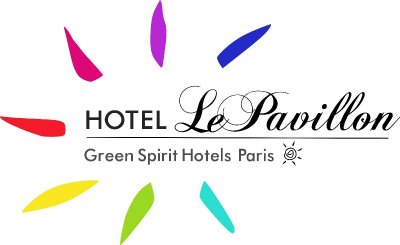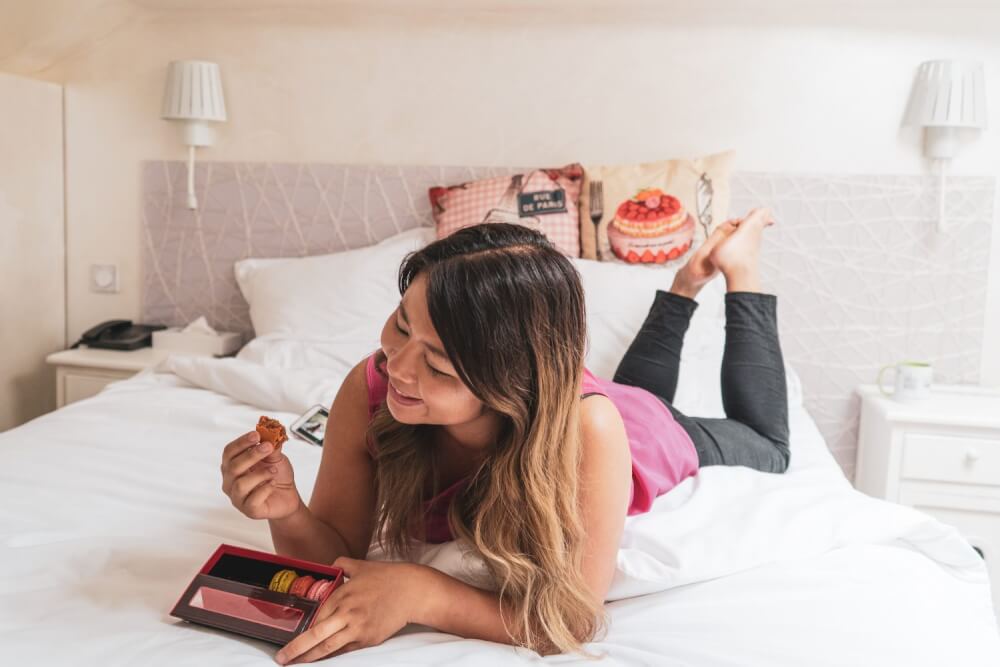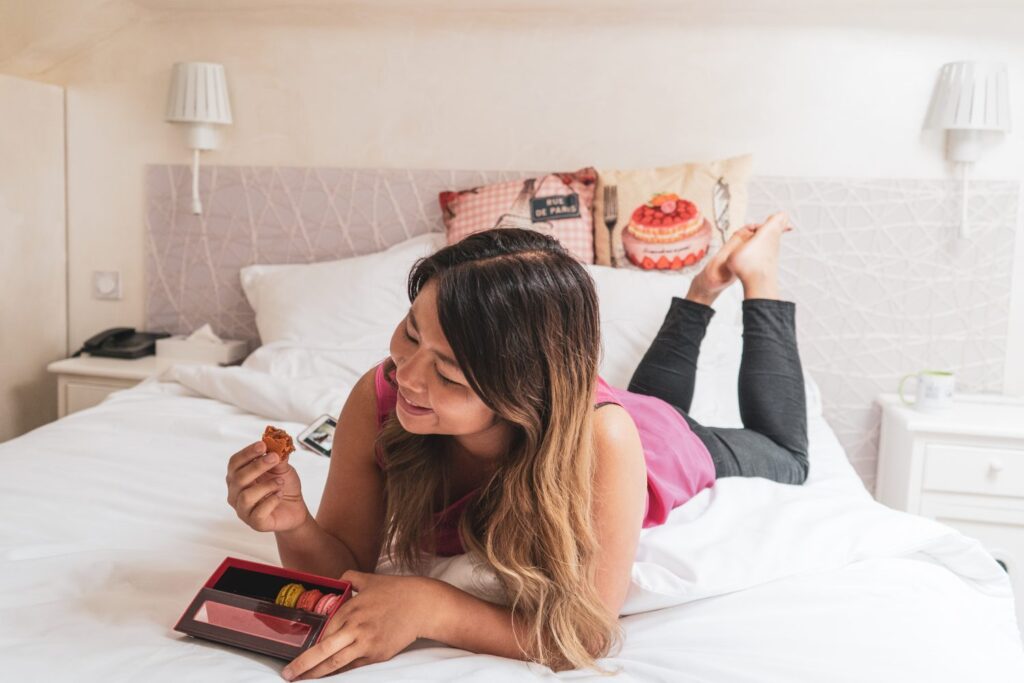 ---
Watch my most popular YouTube video this week:
---