*FYI - this post may contain affiliate links, which means we earn a commission at no extra cost to you if you purchase from them. Also, as an Amazon Associate I earn from qualifying purchases. Check out our Privacy Policy and Disclosure. for more info.
Looking for tips on how to find the best last minute Oktoberfest deals for this year? This guide will show you step by step how to plan a last minute Oktoberfest getaway.
This post is dedicated to the serial procrastinators among us. 
Hands up!
With my beloved Oktoberfest looming just around the corner, I find myself in my annual state of shock and despair at how quickly the year has passed. One of the consequences of this is of course that I realize another year has rolled by and I have managed to once again miss some of my annual bucket list experiences (La Tomatina or King's Day for example). I know this feeling of regret all too well, so today I'd like to share a guide with you that will combat that panick-FOMO for Oktoberfest. Contrary to popular belief, it's actually possible to plan a last minute escape to Oktoberfest… you just have to be smart and crafty about it.
Will it be the cheapest trip of your life? Probably not. But trust me when I say it'll definitely be the most memorable.
SO, this is the pep talk you've been looking for! If you've always wanted to attend the largest beer festival in the world but think it's too late – it's not! There are ways. So seize the day, seize that beer, and let's go get wasted and eat pretzels.
Here is a step by step guide that will hand-hold you through the process of booking a last minute trip to Oktoberfest. I hope you find it helpful!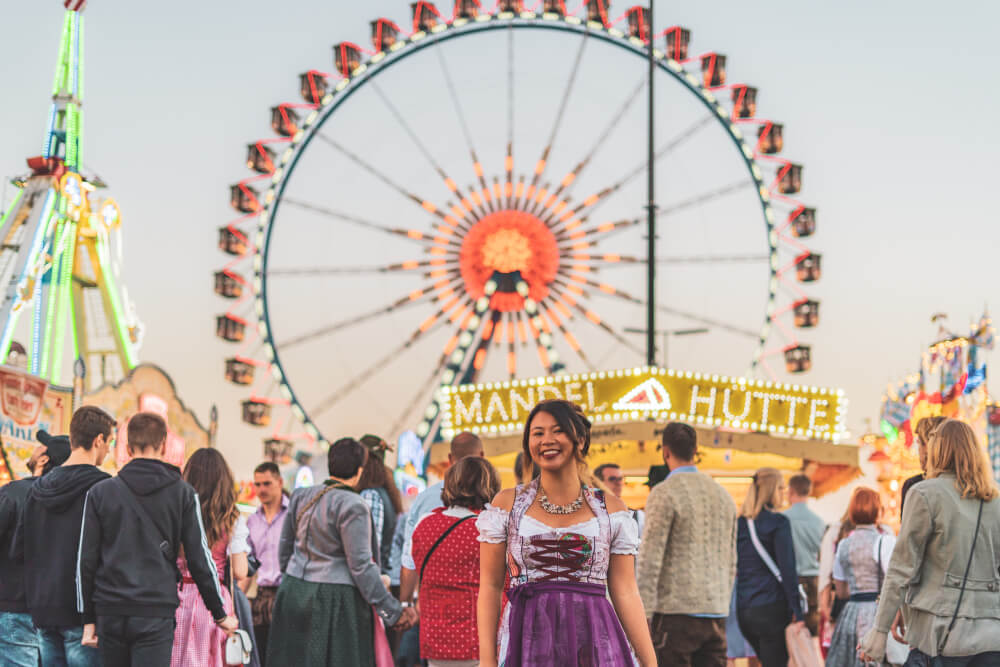 ---
---
STEP ONE: Choose the dates for your last minute Oktoberfest adventure
To maximize your chances of finding reasonable transportation/accommodation last-minute during Oktoberfest, you should 100% be avoiding weekends and aiming instead for mid-week dates like Tuesday to Thursday. This is because most people do Oktoberfest as a long weekend, so Thursday to Monday tend to be much busier.
Don't worry – Oktoberfest is such a big party that it gets absolutely wild even on weekdays, so don't think you're sacrificing your experience one bit by going mid-week. In fact, I usually prefer to go mid-week because it's the perfect balance of rowdy and fun, whereas weekends are… let's just say, you're a lot more likely to get puked on.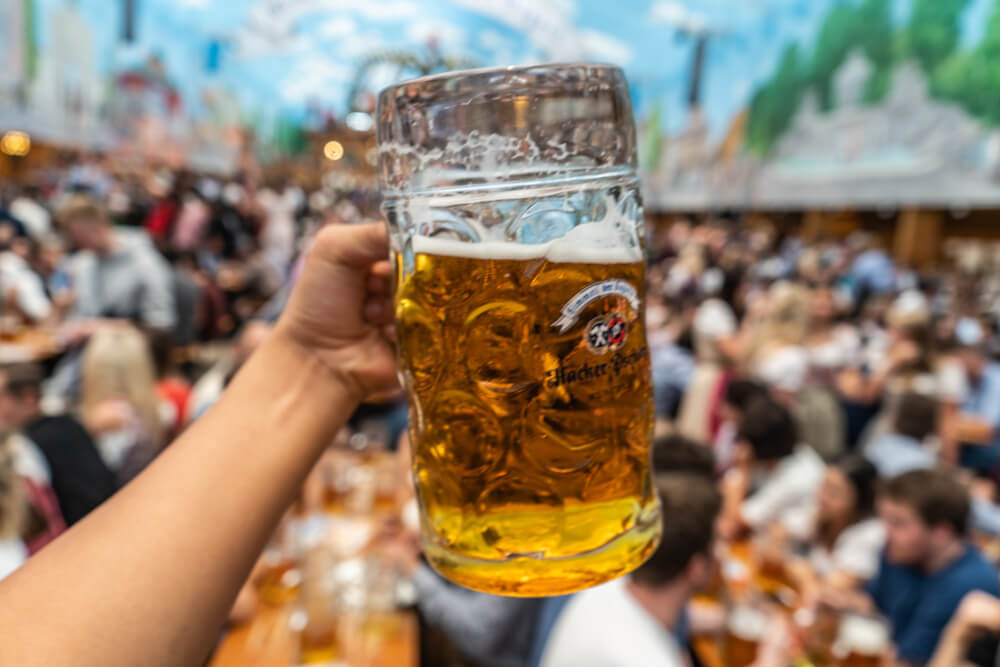 ---
---
STEP TWO: Find cheap last minute Oktoberfest accommodation
Your first major hurdle when it comes to planning this little spontaneous adventure is finding a place to sleep after a long day of belting 'Angels' and dancing on benches. I would recommend starting with your accommodation search before looking up transport deals because let's face it: sleeping on a murdery park bench isn't fun, no matter how drunk you are.
Luckily, there are a few promising options when it comes to finding a last minute place to crash in Munich for Oktoberfest. Here they are.
OPTION A (Best Value!): Go camping with Stoke Travel
Cost: 65 euros per night (tent, breakfast and dinner included)
This is pretty much a guaranteed way of having a place to crash for Oktoberfest because Stoke Travel has historically always had space even after Oktoberfest begins.
Stoke Travel offers camping packages just outside of Munich. Their rates are very low and include tent accommodation, breakfast/dinner and parties for 65 euros a night.
The pros? It's cheap. Very very cheap. 65 euros a night including food is a deal you will not find elsewhere and if you click here, I'll even set you up with free unlimited beer and sangria! Plus, it might be one of the few remaining options that won't cost an arm and a leg.
The cons? It's definitely not glamorous, and is more intended for budget backpackers. Remember, you WILL be sleeping in tents, it probably WILL get cold, there WILL be a lot of people, a lot of noise, and a lot of drunken debauchery. Depending on the kind of traveller you are, this either sounds like your personal hell or the best time ever. Make that choice for yourself, but this is by far the best value you can get as a last minute Oktoberfest deal.
Click here to learn more and check availability!
---
---
OPTION B: Try to find a last minute hostel or hotel deal
If you want to stay in Munich-proper and are hoping to do so in comfort, then you can try your luck at a last minute hostel or hotel deal. For hotels, I love using Booking.com and for hostels, I love using Hostelworld.
I wouldn't have high hopes for finding super cheap last minute deals, but cancellations do happen all the time, so I would keep checking. While writing this for example, I was able to see some hostel dorm rooms for less than 100 euros a night, and some hotels for less than 200 a night. These are pretty standard prices for Oktoberfest, and not bad at all for last minute.
To maximize your chances of success, try to go for mid-week dates because weekends are absolutely like the hotel Hunger Games and I would not want to volunteer as tribute.
ANYWAYS, I have a full Oktoberfest accommodation guide here if you need guidance on where to stay. You can also click here for my roundup of recommended hotels near Oktoberfest and click here for my roundup of recommended hostels near Oktoberfest.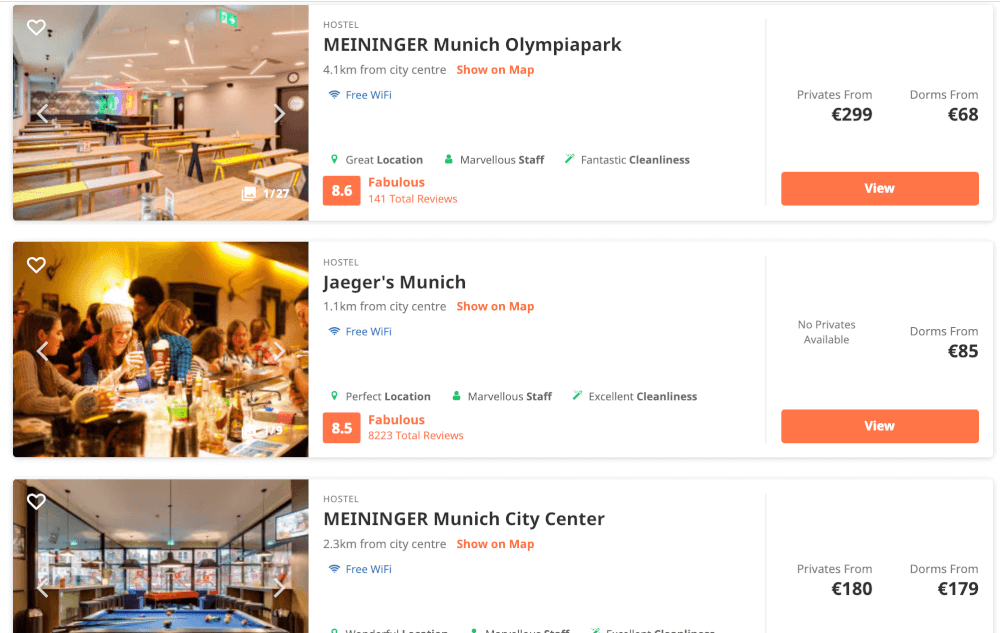 ---
---
OPTION C: Try your luck on AirBNB
Again, I wouldn't have super high hopes for finding an amazing and cheap last-minute AirBNB, but many locals do rent out their places during the festival to make some quick and easy dough, so it's worth clicking here to check out the options regardless.
While writing this (one week before the start of Oktoberfest 2019), I see some single room options for less than 150 euros. Keep in mind though that safety is #1, and that you should always vet the property before you go. If it's your first booking, click here to save $50!
I also have a 1st timer's guide to AirBNB that you can read here.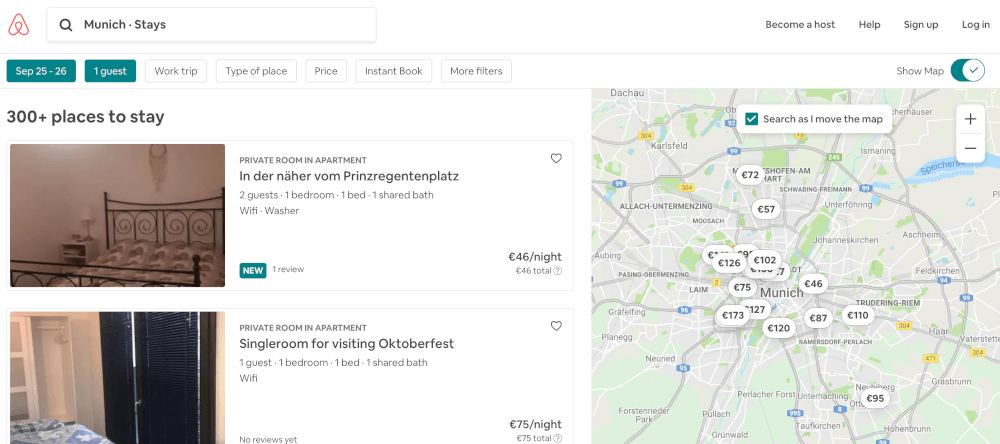 ---
---
OPTION D: Stay outside of Munich and commute in
This is not an ideal option, and I would avoid it if possible.
Honestly, commuting home after a long day at Oktoberfest is not fun, and drunk-you will probably struggle a lot to do it. If you stay too far from Munich itself on your own, odds are pretty good that you might fall asleep at the train station and get adopted by a family of pigeons.
BUT, if there are no other options, then you can try to find a place outside of Munich, whether that means suburbs or genuinely another city. Being far is better than not being there at all! Plus, thanks to a magical thing called a Bayern Ticket, you can score unlimited train travel on regional trains for one day for one low, fixed price. These are prices that do not go up because of Oktoberfest, and have great discounts for groups, so if you are really on a budget, you can try to find accommodation in a nearby town, village or city in Bavaria, then commute in…. although really, I'd recommend staying as close to Munich as possible!
You can use Booking.com to look for cheap properties around/outside of Munich – just click the map view of results and keep zooming out.
---
---
STEP THREE: Find last minute transportation to Munich for Oktoberfest
Alright, let's say you've found a place to stay, now it's time to make sure there's a cheap way to get there. Unsurprisingly, flight and train prices surge around festival dates, especially on weekends. I'd recommend doing some detective work with two of the following options. Keep in mind these tips are more for those of you who are in Europe already, BUT if you're coming from farther afield, you can still give them a try – you never know!
OPTION A: Find cheap deals to Munich itself
My favourite tool for comparing different options for travel is Omio. It's a free search engine that allows you to plug in your current destination and where you hope to go, and then allows you to sort and book the many options for trains, planes and buses. While flights are usually VERY pricey around Oktoberfest time, you might luck out with a cheap bus or train. Click here to search up options to Munich on Omio.
For flights, you can also try to look on Skyscanner if you're flexible with your dates. I recommend doing this: for your departure date, click to the tab on the right that says "Whole Month" and choose September or October. This will show you on a calendar the cheapest flights on any given day during the Oktoberfest period. As I type this (the week before Oktoberfest), I see that there are still flights from London to Munich for instance that are less than 100 euros one way! Click here to check your options on Skyscanner.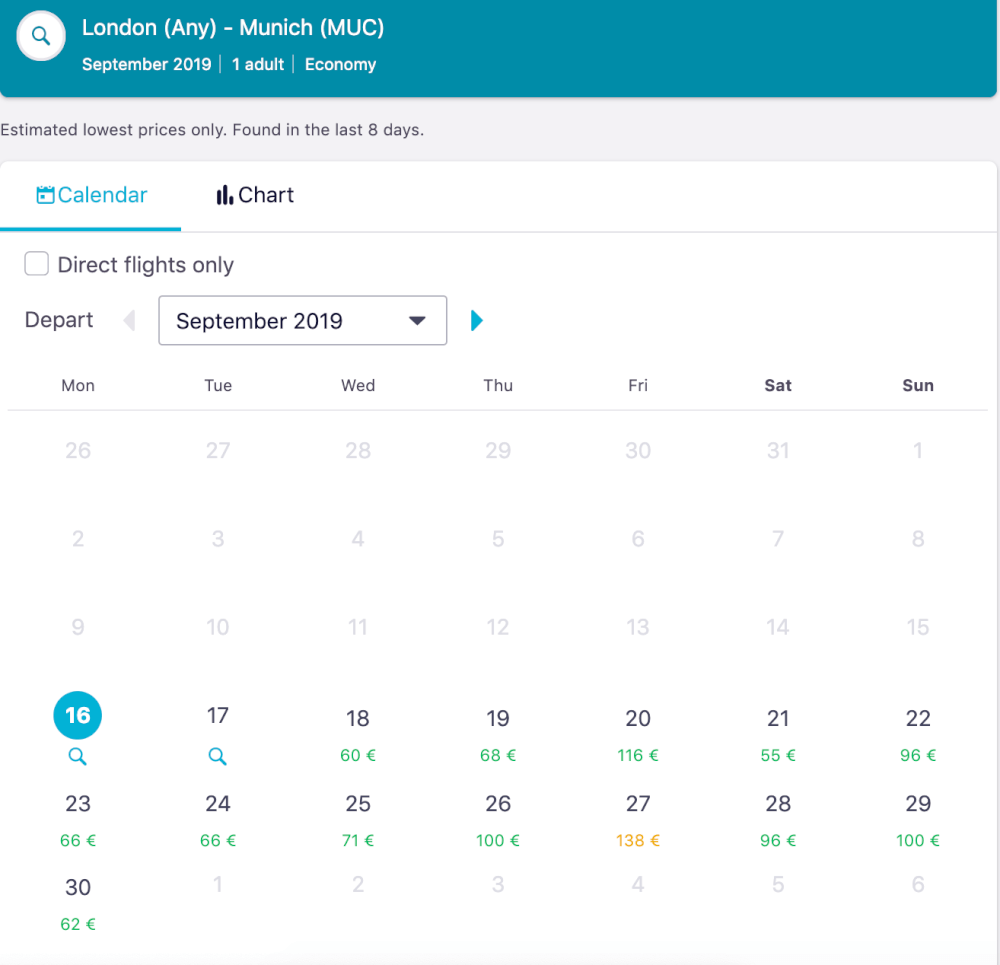 I also recommend looking into flying to OTHER nearby airports besides the main Munich International Airport. There is for instance the Allgäu Memmingen Airport (occasionally known as Munich West Airport) which services many low cost airlines like Ryanair and Wizz Air. Sometimes you can find great deals going to that airport, and while it's actually a 1.5 hour drive away from Munich's city center, they have an easy shuttle bus that takes you straight to Munich Central Station.
You can also try to fly into Nuremberg Airport. Nuremberg and Munich are easily linked by both high speed and regional trains, plus the Nuremberg Airport is super nice and close to the city center. Just remember to account for the additional cost of getting to/from Munich from Nuremberg.
On that note, your second option in finding last minute transportation to Oktoberfest via another city nearby. I'll explain that more below…
---
---
OPTION B: Find cheap deals to a city near Munich and then commuting
So given that flights to Munich itself are in high-demand around Oktoberfest, one of the ways you can combat these high prices is by flying into another city close by and then completing that last leg of the journey by bus or train.
To see if this makes sense, here's what I would do:
Go on Skyscanner and enter your departure airport, then set the destination as "Germany". Look to see if there are any good deals within the country for you.
Go on Omio and enter the German city you can fly into cheaply as the departure point, then enter Munich as the destination.
By doing this, you might be able to find a cheap DIY way of getting to Munich just in time for Oktoberfest!
If you are fielding additional options, try to see if there are any affordable routes to any cities/towns in Bavaria. This is the German state that Munich belongs to. As I mentioned before, within it, you can buy a magical thing called the Bayern Ticket that gives you unlimited train travel on regional trains for one day. These prices are fixed, which means they won't go up as a result of Oktoberfest, and the price is AMAZING considering the value you get. Using it, you can get from any place in Bavaria to Munich (using regional trains) for a cheap rate.
---
---
OPTION C: Hitchhike
This isn't a joke. Some of my very broke friends did this one year in order to visit me during Oktoberfest. It took over 12 hours from the Netherlands to get here, but it was 100% free. If you have a more adventurous spirit, this might be a good option 😉
---
---
STEP FOUR: Start planning your Oktoberfest experience
OKAY so if you have managed to pull it off and booked your tickets and accommodation for this year's Oktoberfest… woah – congratulations!
No, seriously. A million high fives for you, my spontaneous friend.
Now, it's time for the real stuff: the preparation… because trust me when I say that Oktoberfest is a million times bigger, wilder and more fun than you can imagine.
I've written extensively about what to expect, so here are some of my top Oktoberfest resources for you to mull over as you sit on your 248 hour journey to Munich. Just kidding. Maybe. My full Oktoberfest guide can be found here, but these are also worth a quick read:
Things to know before attending Oktoberfest: This short post lists out my top tips and important must-knows before you come.
Oktoberfest tents guide: There are SO MANY different tents at Oktoberfest, so to prepare yourself properly, check out this extensive guide with photos from each tent as well as their "vibe".
What to wear to Oktoberfest: Oktoberfest is 100% more fun when you're dressed up. Here's a detailed breakdown of what to wear and where to get it!
What to eat at Oktoberfest: Bavarian food is the shizz, but you'll only have so much stomach room (and budget), so this post breaks down the must-trys at Oktoberfest.
Oktoberfest drinks guide: Don't get me wrong, Oktoberfest is ALL about the beer, but there are other options too. This guide breaks down what to expect at Oktoberfest drinks-wise and what to do if you're not a fan of beer.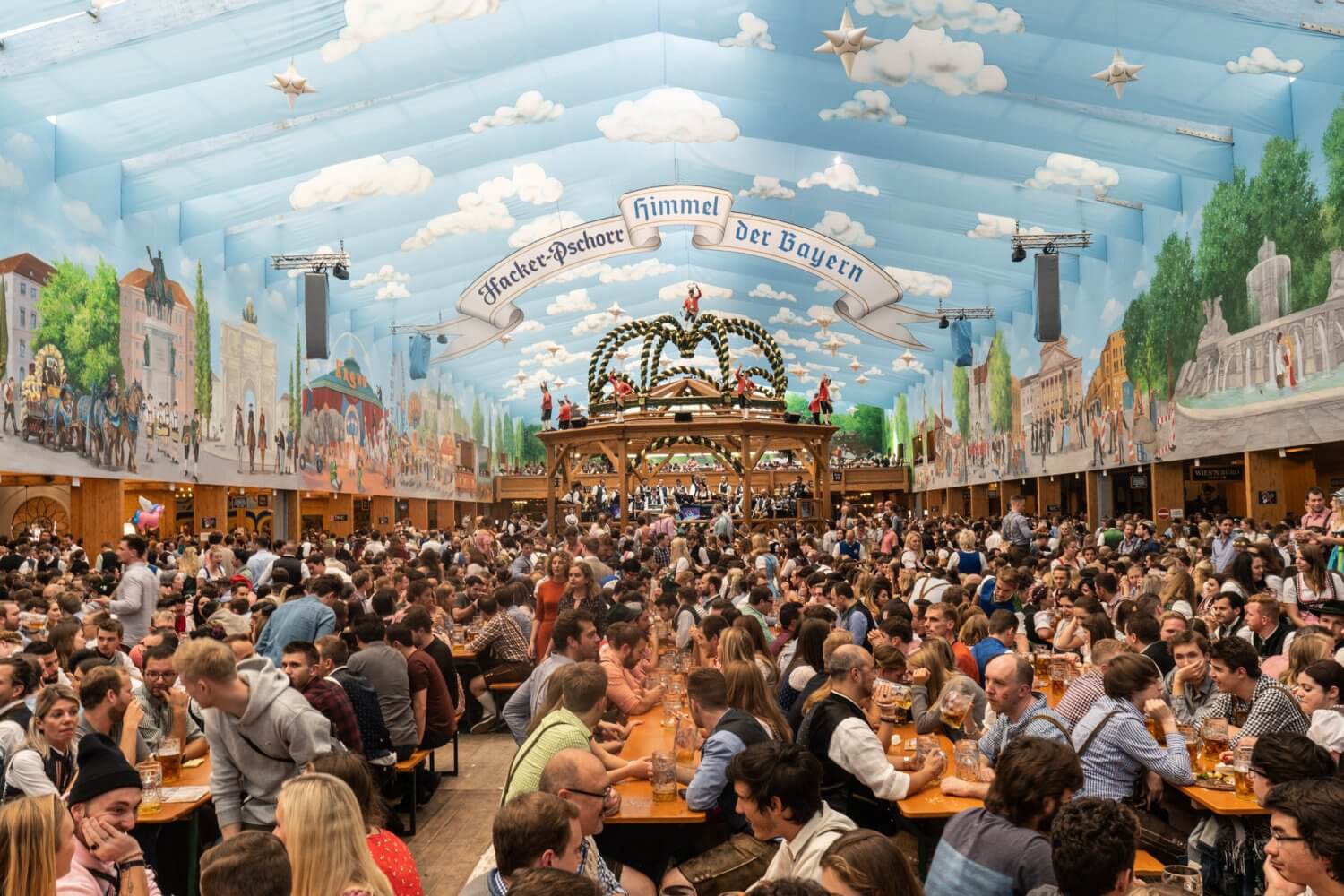 ---
---
STEP FIVE: Get details sorted for the rest of your Munich trip!
If you have some additional time in Munich besides Oktoberfest, then I also have you covered.
Munich public transportation guide: No lie, Munich's public transportation system is ridiculously confusing. I wrote this guide to help visitors understand it, so give it a quick read before you come!
Munich train and bus stations guide: If you are arriving to Munich by train or bus, this guide to the different stations might help you out.
99 things to do in Munich: Pretty self-explanatory but I once sat down and wrote a detailed list of the many, many amazing things you can do in this city!
Munich restaurants guide: From budget-friendly and traditional eats to quirky finds and recommendations for every cuisine, I share all my top picks for Munich restaurants in this guide.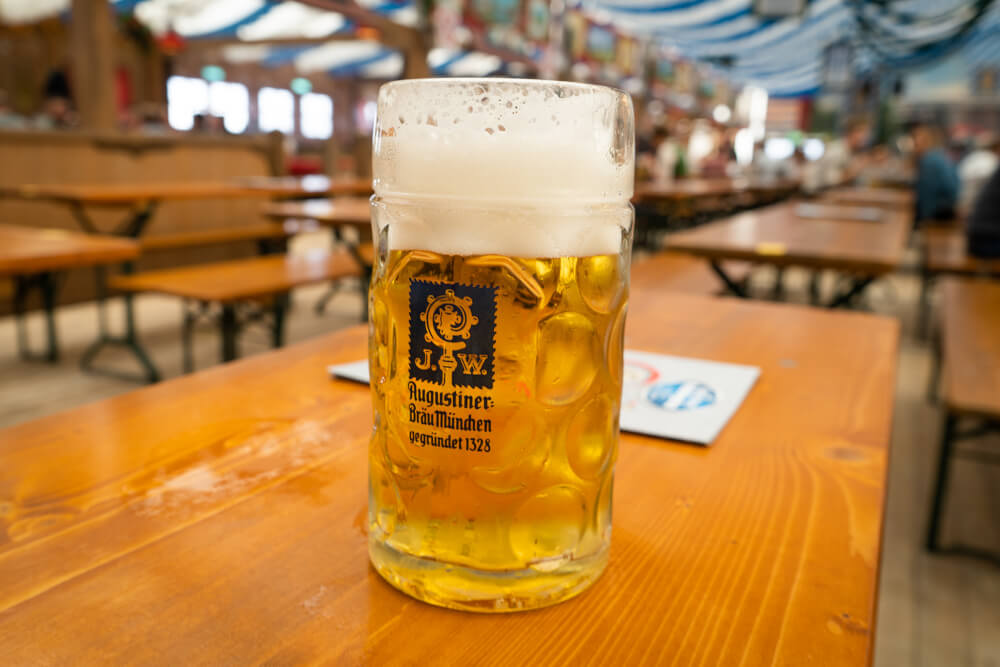 ---
---
Any other questions about planning your last minute Oktoberfest getaway?
I hope you found this post helpful! Let me know in the comments if you have any more questions. Hope to see you here soon!
---
---