*FYI - this post may contain affiliate links, which means we earn a commission at no extra cost to you if you purchase from them. Also, as an Amazon Associate I earn from qualifying purchases. Check out our Privacy Policy and Disclosure. for more info.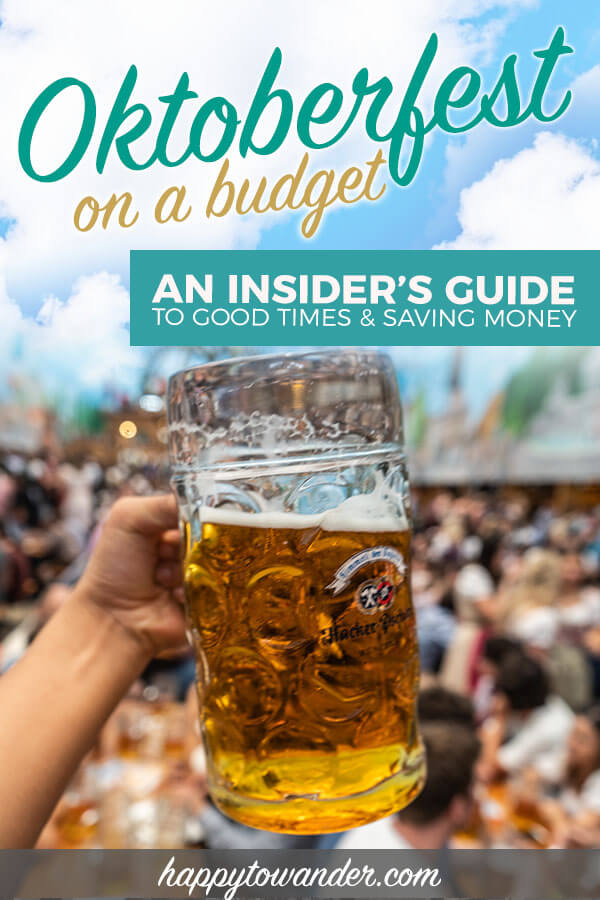 It's March and I'm out here publishing a post all about how to do Oktoberfest on a budget… a little early, you think?
*slams beers on the table*
NEIN! Not too early… never too early.
The truth is, Oktoberfest, the biggest beer festival in the world, is an expensive investment to make. Just as it occupies a spot on your bucket list (I assume), it equally tops the bucket list of millions of others around the world, so hotels book up quickly and the prices, well… they get eye-watering real quick.
I remember waking up the morning after my first ever night at Oktoberfest. I hesitantly opened my poor student wallet to see the damage that had been done… "how much money did I spend at Oktoberfest last night?" I wondered. I pried the wallet open. It was empty.
ALL OF IT. I HAD SPENT ALL MY MONEY.
With that anecdote in mind, I know that doing Oktoberfest on a budget is by no means easy… but after four years at the festival, I ALSO know that doing Oktoberfest on a budget is far from impossible.
If you're curious about the costs of Oktoberfest, I have a full breakdown here, but in this article, I'll be giving you a comprehensive guide on saving money while attending Oktoberfest, and conquering the festival even with a small budget… AKA Mission Impossible 8. I hope you enjoy this super long guide!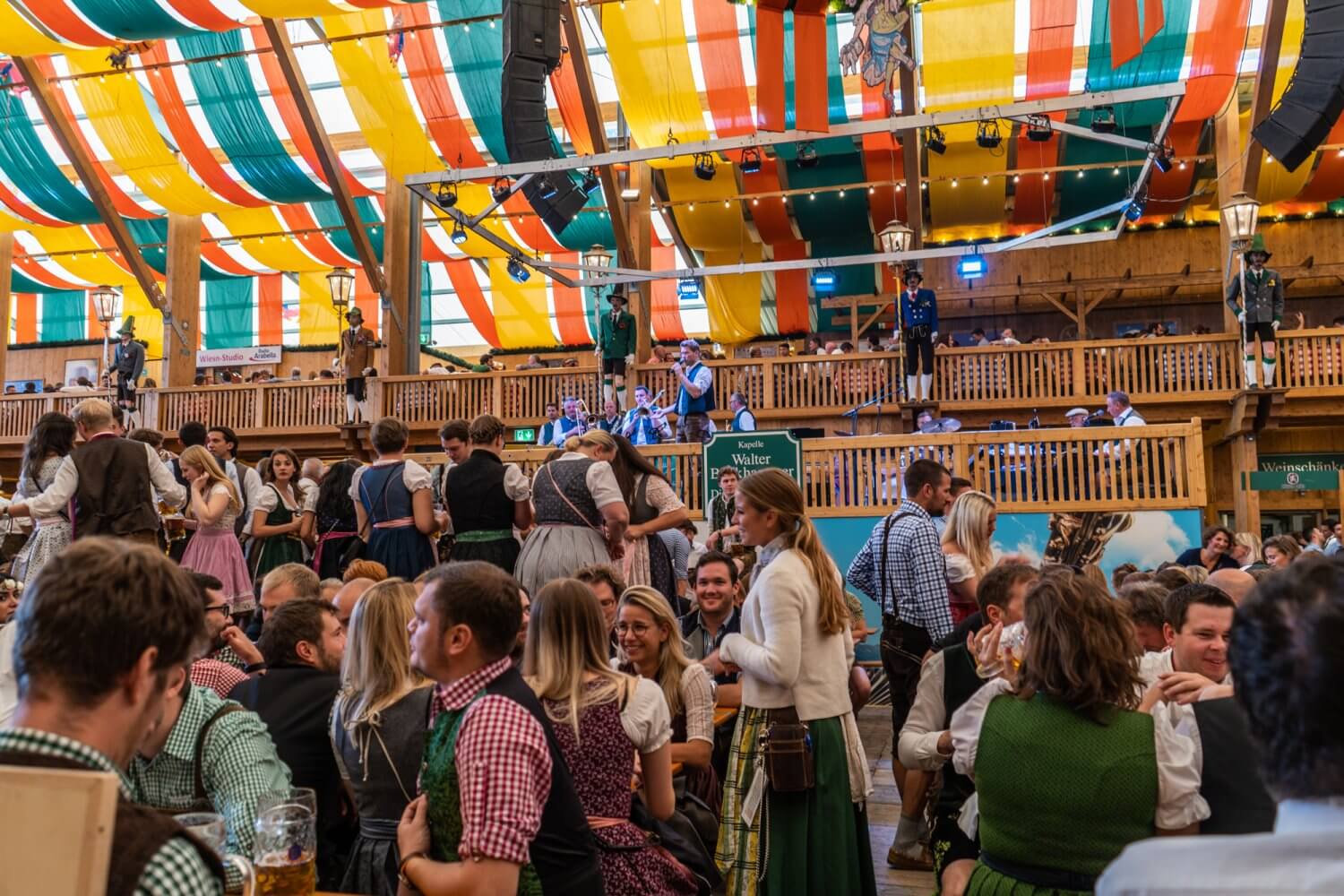 ---
---
Last Minute Deals for Oktoberfest
While generally speaking, the early bird saves the dough for Oktoberfest, there is one exception when it comes to finding a last minute but still cheap deal for Oktoberfest, and that is to attend Stoke Travel Oktoberfest (AKA Stoketoberfest). You can even unlock a special deal for free unlimited beer and sangria on me by clicking here. Really!
Stoke Travel is a company that caters to young, adventurous travelers who are keen on racking up epic memories and bucket list experiences on a budget. They offer Oktoberfest packages for 60 euros a night and often you'll still find space on their campgrounds even after Oktoberfest begins. Click here to check their current availability.
While camping during Oktoberfest is far from the Four Seasons, it's a great way to meet a lot of likeminded travelers, have an amazing party and all for a rock bottom price. NOTE: This experience is NOT for you if you're not the kind of traveler that goes with the flow and doesn't mind some noise, cold, mess, etc. but if you're up for a good time and don't mind slumming it a little bit with your fellow travelers, then you won't find a better deal.
---
---
Finding Cheap Accommodation for Oktoberfest on a Budget
First thing's first, we need to tackle your Oktoberfest accommodation. If you haven't booked anything yet, this is the first thing you should look into because it is so hopelessly expensive, even when you book months in advance. Your main options are: hotels, hostels, AirBNB or camping. All of these will be pretty pricey and your best defense is to simply book as early as possible.
Cheap Hotels for Munich Oktoberfest
Sadly, there isn't really such thing as actually cheap hotels for Oktoberfest… BUT there are nonetheless some Oktoberfest hotel options that are not as eye-gougingly expensive as others.
Here are 5 budget-friendly accommodation options within a 20 minute walk of the Oktoberfest grounds. Basically, I picked the 5 cheapest hotels in the area that still had at least an 8 rating on Booking.com:
---
---
The Best Hostels in Munich for Oktoberfest
Another option for budget accommodation during Oktoberfest is hostels. Now, I need to warn you, hostel prices during Oktoberfest are like hotel prices anywhere else… dorms that regularly go for 10 euros get inflated to 10x that price. You can click here to read my full guide to the best hostels in Munich near Oktoberfest, but below is a list of all the hostels in Munich sorted by rating, amenities and proximity to the Oktoberfest grounds:
---
---
Finding an AirBNB for Oktoberfest
If you book early, you can often find an amazing deal for accommodation on AirBNB. This is especially handy if you're travelling as a group and need space for multiple people… plus there's extra savings if you book a place with a good kitchen where you can prepare meals instead of dining out! Overall, if you want to save as much money as possible, AirBNB is a great comfortable option. You can even click here to save big on your first booking.
Click here to browse AirBNB options in Munich.

---
---
Consider a Munich tent hostel… AKA camping!
Last but not least, if you're looking for THE most cost-effective option for doing Oktoberfest on a budget, consider camping!
Stoke Travel Oktoberfest as I mentioned before offers the best deal on backpacker-style camping accommodations for Oktoberfest. 60 euros a night gets you breakfast, dinner, parties and tent accommodation during Oktoberfest. If you're happy to be camping and don't mind slumming it a bit (sacrificing comfort/cleanliness for fun times and money saved), then you won't find a cheaper deal – trust me. Click here to check their current availability, and click here to score unlimited sangria and beer for free!
---
---
Basic Tips for Doing Oktoberfest on a Budget
If you want to save money while attending Oktoberfest this year, I have a LOT of tips for you. The first time I ever did Oktoberfest (I'll be going on year 4 now), I was a broke student so I learned to cut corners where necessary. Here are my best tips for doing Oktoberfest justice without emptying your savings account:
1. Book everything as early as possible
When it comes to Oktoberfest, there is pretty much no benefit to booking last minute. I repeat: last minute deals don't really exist, so make up your mind ASAP and make your travel and accommodation bookings as soon as you're able to.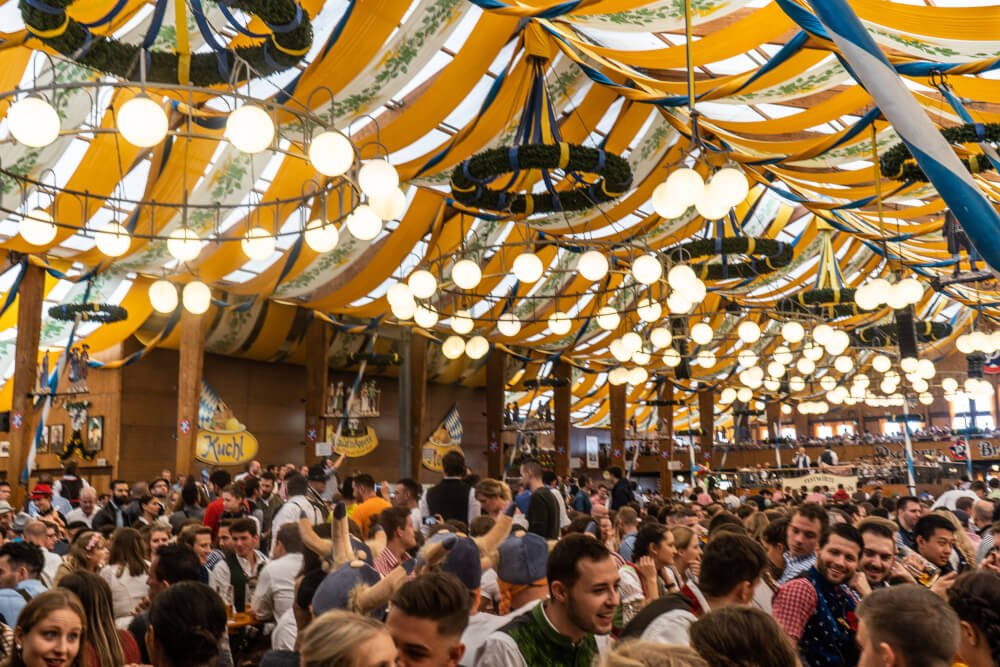 ---
---
2. Know where you should and shouldn't skimp
Accommodation (in my opinion) is one of the least important parts of your Oktoberfest experience. I mean would it be nice to have somewhere super luxurious and swishy to lay your head after a day of drunken shenanigans? Yes, but to state the obvious, you're also gonna be like… drunk, so you won't notice. Drunk people can literally sleep on a mountain of garbage and still get a good night's rest, so if you're trying to save a little and stay on budget, I would say cut for accommodation.
Where SHOULDN'T you skimp? Anything experience-related at the festival, namely on beer and to a certain extent, rides. For many, attending Oktoberfest is a once in a lifetime experience, so you gotta do it right. Unless you're a lightweight, don't just nurse a single beer the entire day for budget reasons – it won't be as fun.
Oh, and what is 1000000% non-negotiable is tipping. Do NOT try to skimp and save on your budget by skipping out on tipping your server…. unless you're happy to not get served again lol.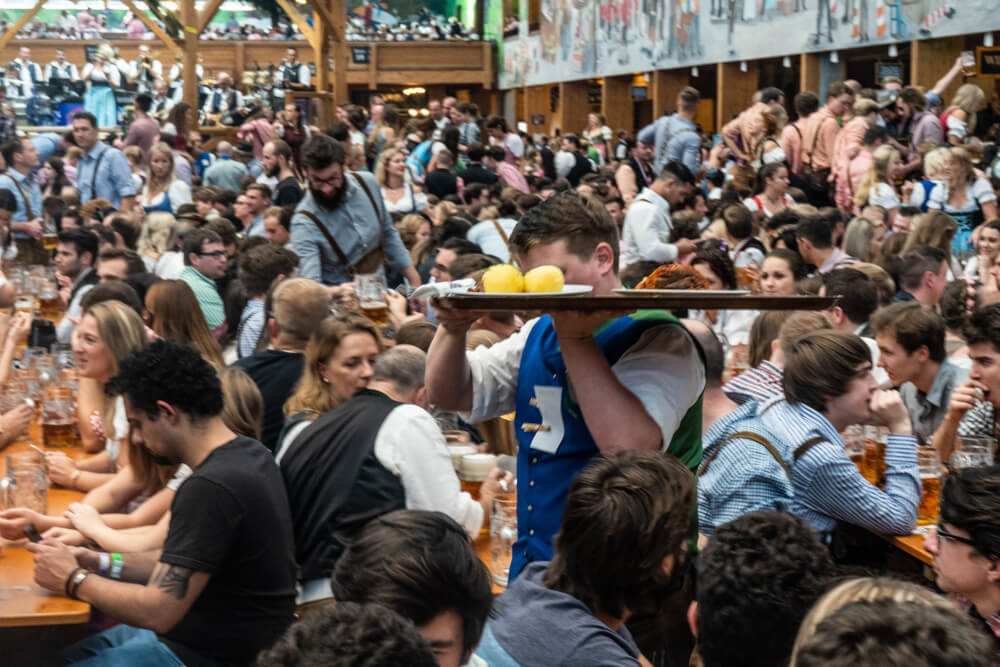 ---
---
3. Take cash only so you can cut yourself off
The best way to not spend too much money at Oktoberfest? Don't BRING more than you're willing to spend.
I'm not sure what you're like after a few beers, but me personally I start acting like I'm freaking Bill Gates and just make it rain money wherever I go. If there is money in my wallet, I will probably spend it. I don't need more beers? Maybe I'll buy a round for someone else. I'm not hungry? HOW BOUT SOME FRIES FOR THE TABLE?! I (for whatever reason) become Mother Theresa when I drink, so cutting myself off is a must-do. And that's my tip to you – don't bring more than you're willing to spend.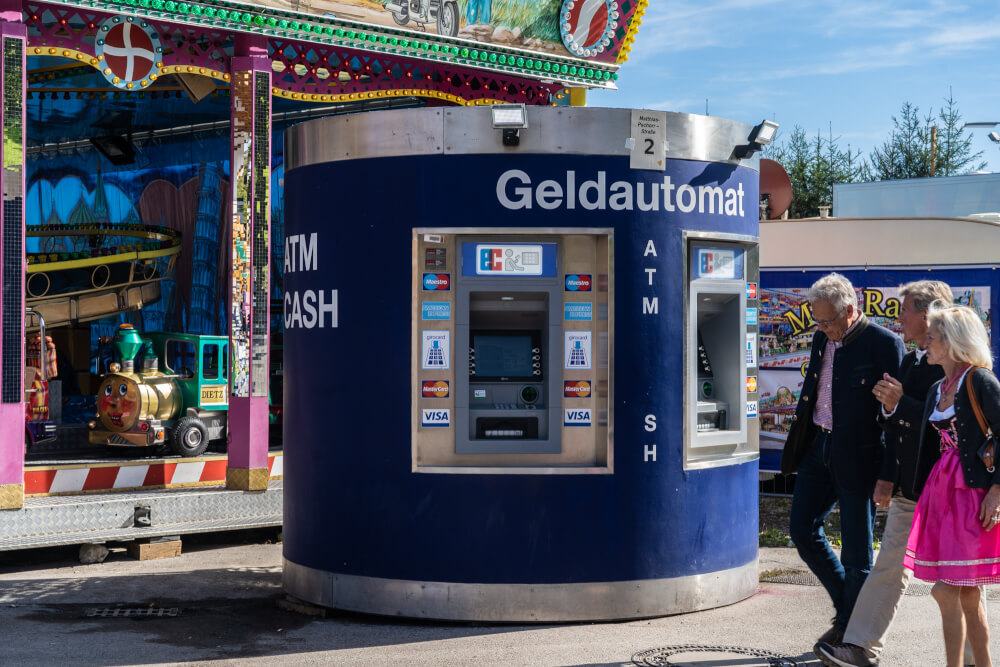 ---
---
Finding Cheap Flights for Oktoberfest on a Budget
Finding transportation to Munich during the Oktoberfest period is a pricey feat indeed. Flight prices usually surge around this time, and all the cheap options sell out quickly. That said, here are some options for you in terms of flying to Oktoberfest on a budget.
OPTION A: Book flights to Munich far in advance
I know it's obvious and common sensical, but in the case of booking flights for Oktoberfest, booking early isn't just about being organized/paranoid, it's a necessity! It's not uncommon for people to book their flights to Munich over a year in advance because prices get SO inflated leading up to the event dates.
I would advise looking on Skyscanner and checking out the "Calendar" view so that you can see when the cheapest flights are.
NOTE: If you are coming from within Europe, Munich also has a budget airport that not too many people know about: the Memmingen Allgäu Airport in Memmingen (about 1.5 hours from Munich by bus). Often the flights here are MUCH cheaper than to the main airport, so try typing that into Skyscanner as well.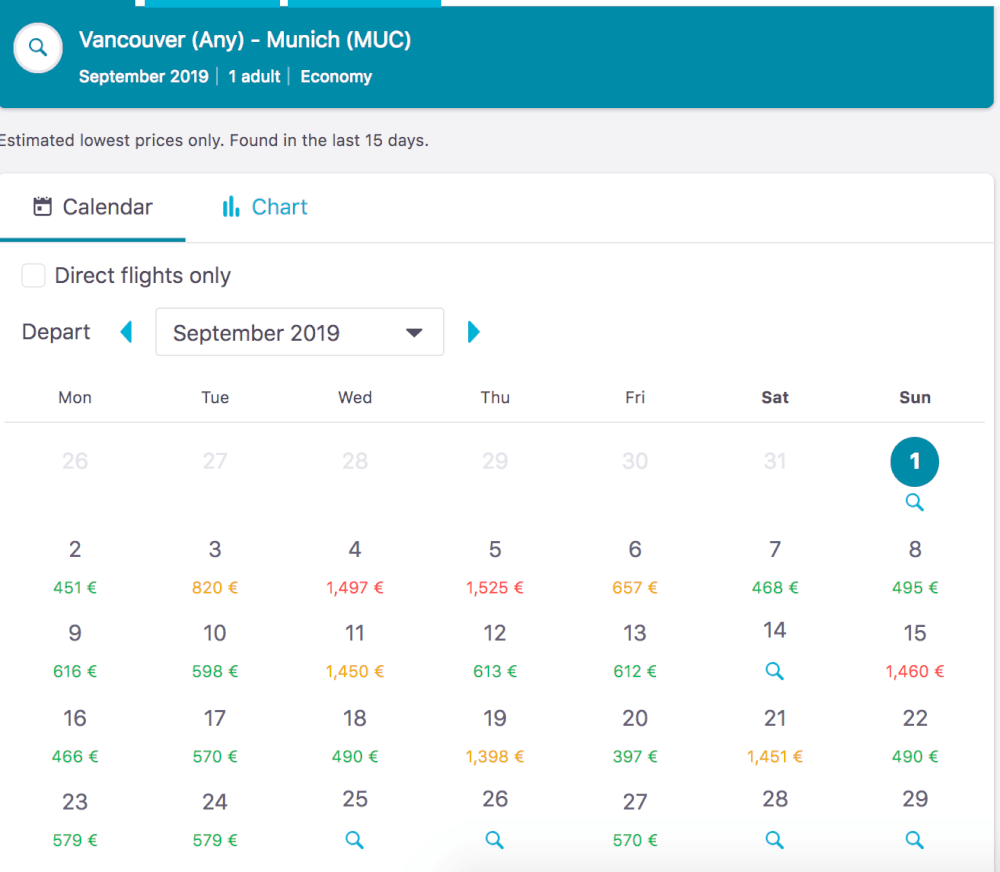 OPTION B: Finding the cheapest flight somewhere in Europe, then taking a bus or train to Munich
This is a potential hack for getting around the extortionate flight prices to Munich around Oktoberfest time. As you probably know, travelling within Europe can be extremely cheap if you know all the tricks. This is why it might be worthwhile (if you're coming from overseas) to book a flight into the cheapest European city you can find, and then taking a train/bus to Munich afterwards.
Step by step, here's what you can do:
STEP ONE: Go on Skyscanner, type in your departure point and then select "everywhere" as the destination for the month you're planning to visit.
STEP TWO: Scroll down the list for a European country and then click it to find cheap flights
STEP THREE: Go on Omio and research the buses/trains you can take from this city to Munich
This process is a little tedious but you can find amazing deals this way… and also squeeze in another cool city to your trip for cheap!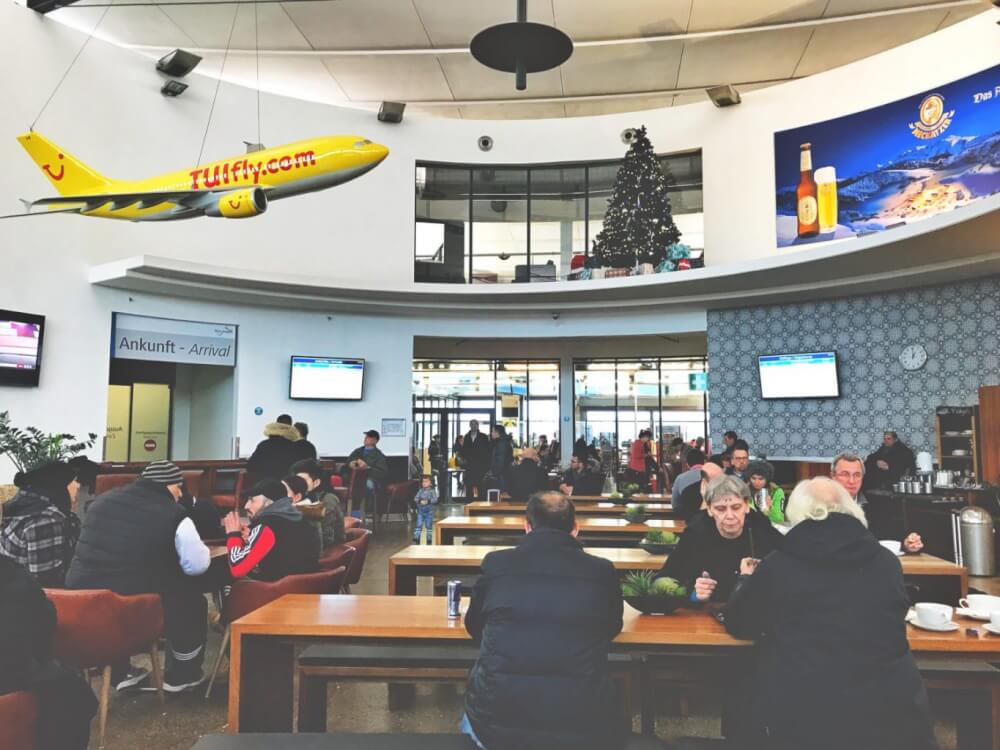 ---
---
How to Dress Up for Oktoberfest on a Budget
Wondering what to wear to Oktoberfest when you're pinching pennies? The hard truth is real trachten (AKA the lederhosen and dirndls that are worn at Oktoberfest) are expensive.
I'm not just talking "100+ dollars expensive", I'm talking Bavarians can pay over a THOUSAND euros on their outfits when they want to look extra fly.
Since you're currently slumming your way through this article about how to do Oktoberfest on a budget, I think it's safe to assume that such pricey get-ups are….. not feasible, so here are some ideas on how to dress for Oktoberfest without spending too much.
OPTION A: Visit second-hand shops or flea markets in Munich
If you have the luxury of time, this is the option I would recommend. The best places to find decent quality dirndls/lederhosen are second hand shops and flea markets. ReSales is a chain that always has 50% off trachten during Oktoberfest, with lots of locations in the city center. The Olympiapark flea market is one of my favourites as well, but a little hit and miss as it is a flea market… but if you get there early, there are lots of deals to be found!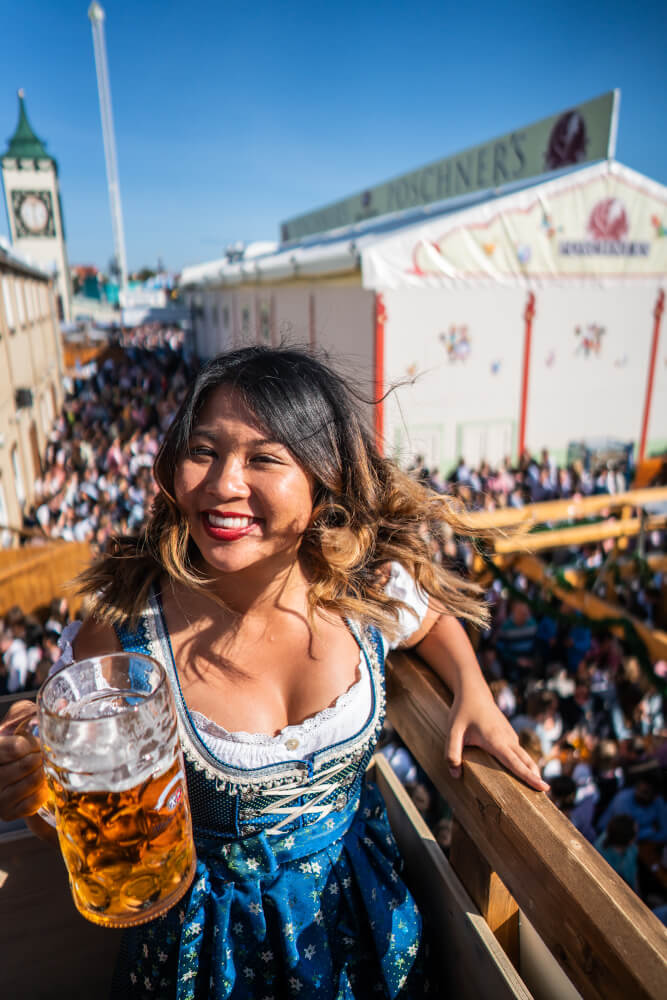 OPTION B: Get some cheap Trachten in shops around town
During Oktoberfest, there are shops around every corner (especially in the Munich Hauptbahnhof area) that sell cheap, mass-produced dirndls and lederhosen for okay-ish prices (50-70 euros per dirndl).
At first glance, these are passable and will allow you to blend in, but the material is really cheap and not at all like what locals would wear. If this doesn't bother you, then there are many shops, even at the Central Station itself, selling cheap options.
My tip is to shop around! Because these outfits are mass-produced, almost all the shops sell the same ones, but with extreme price variations… You really shouldn't be paying more than 70 euros for a dirndl at one of these cheap shops, so if one is charging more than that, just keep shopping.
Fellas, another option for you is simply buying a checkered shirt and wearing that. After a few beers, you'll be a blur to most people and they won't notice if you're wearing regular pants instead of lederhosen 😉
PS: For ultimate ease/convenience, you can actually book a dirndl or lederhosen set as an add-on when you book a package with Stoke Travel. The cost is only €70 extra for a Dirndl Set or €90 for a Lederhosen set which is comparable to what you'd find in town, except minus the stress of shopping! Click here for more info.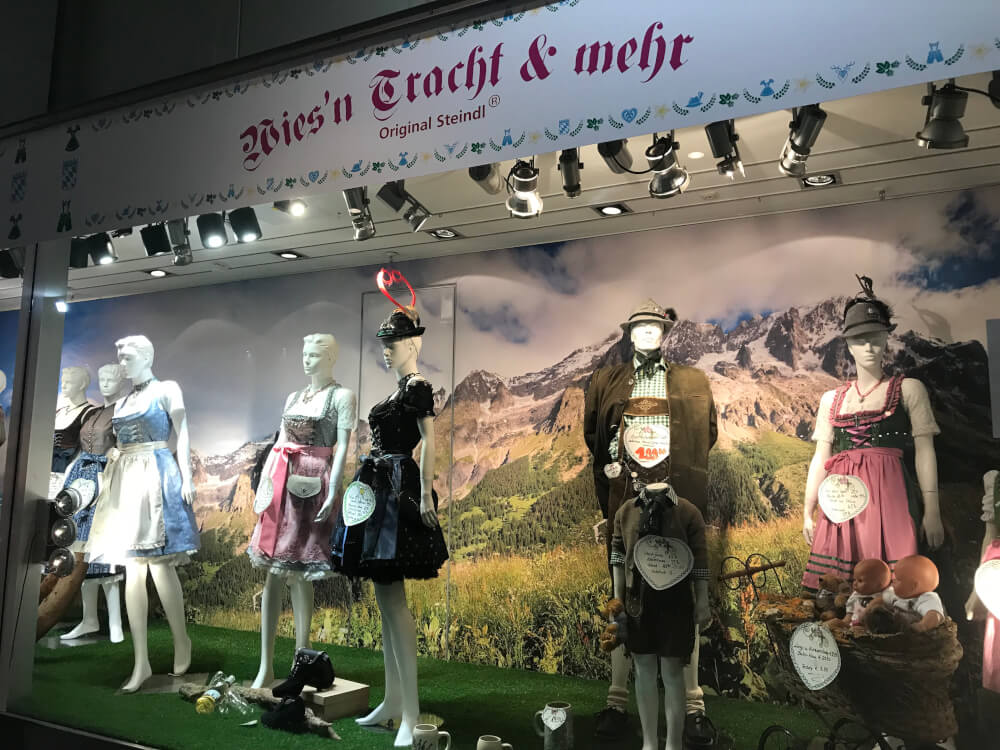 OPTION C: Go as you are
Dressing up for Oktoberfest is fun and encouraged, but it's by no means mandatory. Even locals don't always go in trachten, so don't think you need to dress up to have a good time. Will you feel left out? Honestly… yes. BUT will you also be able to afford more beers? Yes to that as well. As with any kind of budget travel, priorities and choices need to be made, but don't feel like you absolutely NEED to buy a new set of trachten, especially if you're only attending once.
PS: Not dressing up at all is (in my eyes) better than buying costumey versions of real trachten, like costume dirndls off Amazon or lederhosen-looking swim shorts. These will flag you as an ignorant tourist much more than not dressing up at all, and if you run into any particularly grumpy Bavarians, they'll have no trouble telling you off (this happened to some friends of mine!)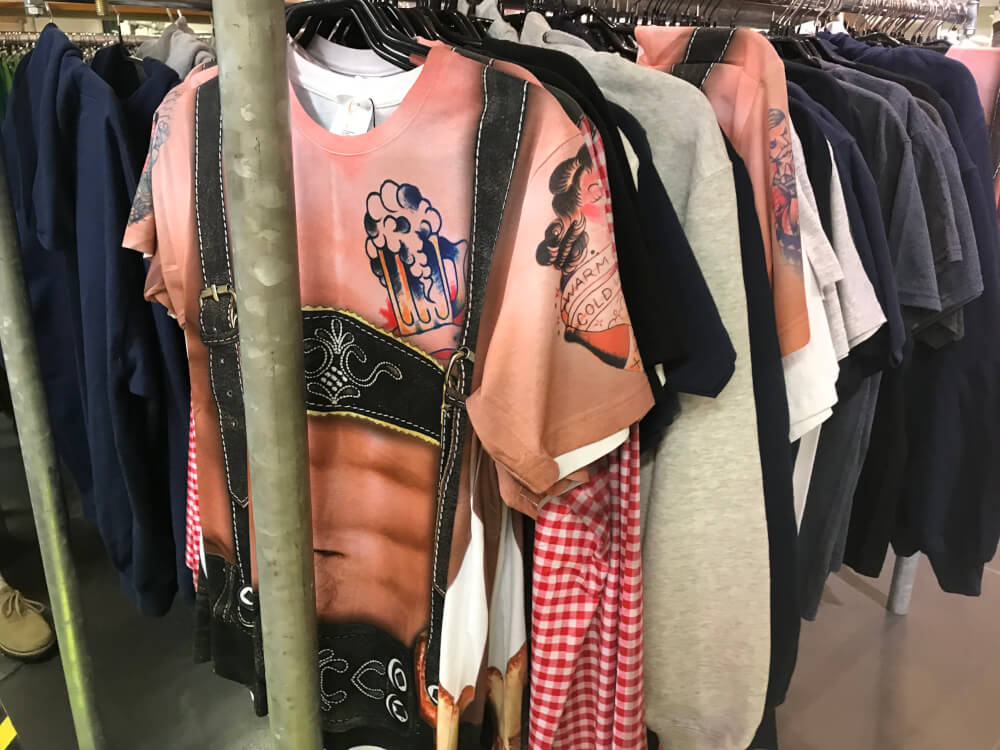 ---
---
Getting to the Grounds of Oktoberfest on a Budget
So when it comes to getting to Oktoberfest, you should know that the festival grounds are located at Theresienwiese (there's an U-Bahn stop with that same name). Getting there is very simple, but you can find more details about the precise location and the different ways to get there in this post.
What you must be wondering though is… are there ways to save money on actually GETTING to Oktoberfest? Yes there are! Here are some tips/must-knows for you:
BEST OPTION: Take public transit and get a group three day ticket if you have a group of people
First thing's first, if you're on a budget, forget about taxis and Ubers. Those will set you back a great deal because of traffic and Munich's regularly high fares.
Instead, you can EASILY get to the Oktoberfest grounds at Theresienwiese with public transport.
In terms of tickets, you should know that the amount of savings you get from buying group tickets for public transportation in Munich is truly ridiculous. So, if you're travelling with a few friends, I highly recommend you buy a group day or 3 day ticket, depending on how long you're in town.
To illustrate how much you can save, know that a one-way ticket in Munich for an adult is normally 2.90€. BUT if you purchase a Group 3 Day Ticket for the Inner District (which is valid for 2-5 Adults), that's only 29,60 €! That then grants you unlimited rides for 3 days in the Inner District (where all the touristy stuff is, anyway).
Guys, if you get this ticket for 5 adults on one ticket, that's literally less than 6 euros per person to ride UNLIMITED in Munich for three days. So much cheaper than buying single tickets!
And if you're riding solo, you can also get an individual day or three day ticket for significant savings. Check out my Munich public transportation guide for a full scoop on how to scam the system for cheap fares 😉
---
---
TIP: Ubers are cheaper than taxis (but they still can't drop you off THAT close)
If for whatever reason, you DO need to get to Oktoberfest using a taxi or Uber, know that Uber is always cheaper for some reason. That said, Munich doesn't have that many vehicles (long story) so make sure to leave extra time to get a ride.
---
---
Know that those bike taxis are more expensive than you think
You might see those bike taxis/pedicabs lurking around and think they're a cost-effective option of getting to Oktoberfest. This is definitely not the case! While they do have upsides compared to taxis (they can weave through traffic much easier and the experience is actually super fun), these can cost up to 60 euros per ride during peak hours. I know this because my boyfriend's German teacher does this as a side hustle and that's how much he charges. So, before you drunkenly hop onto one of these bike taxis, make sure you ask for the price first.
---
---
How to Eat Your Way Around Oktoberfest on a Budget
There is SO much amazing food to be devoured at Oktoberfest (click here for my full list of must-eats).
That said, eating everything in sight at Oktoberfest is a quick and easy way to drain your budget. So, here are some of my best tips for eating and indulging at Oktoberfest….. on a budget.
Eat something carb-heavy before you get to the festival
Line your stomach before you arrive! Seriously, the fuller you are, the better you'll be able to pace yourself with your beers as well, and you'll also be less likely to hangry-splurge on expensive food once you get to Oktoberfest itself.
---
---
Get your meals outside of the tents, on the festival grounds
My main rule of thumb for eating at Oktoberfest on a budget is that you should get food to-go at the stalls outside of the tents. Sit-down meals inside the tents can add up quickly and eat away at your budget.
This doesn't mean you should starve when you're inside the tent! I usually get some fries to tide me over while I'm inside – it's quite often the cheapest hot food item, and what drunk person doesn't weep happily over a plate? Once I'm out, that's when I go on a maniacal rampage of hunger.
PS: Many of the tents will also have sandwiches being sold or sandwich stalls located inside, which will offer an affordable food option if you're really starving.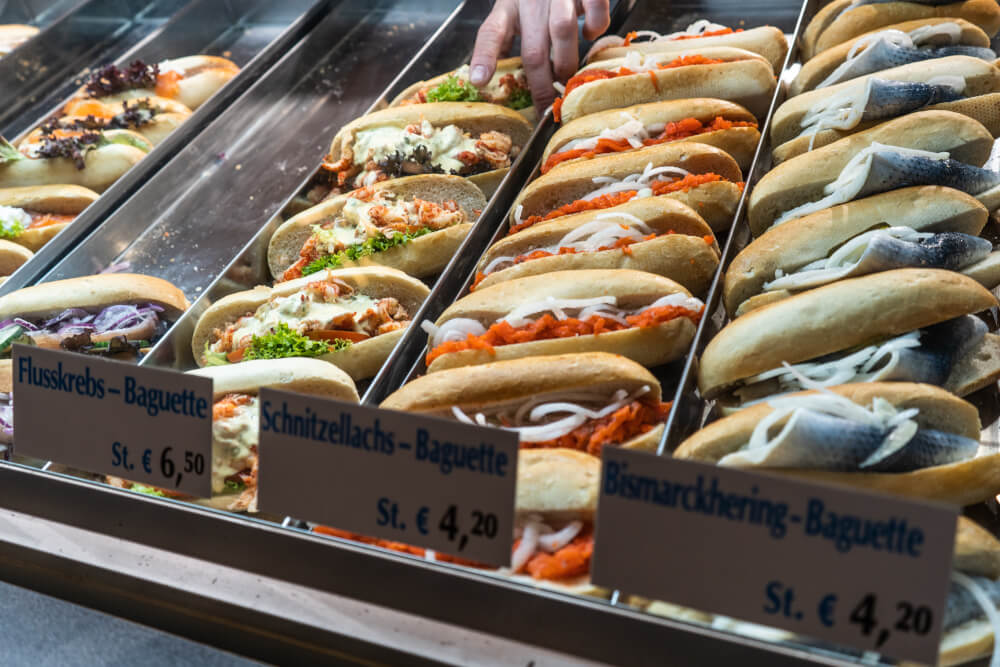 ---
---
Seek out lunch specials
Want to get something delicious, but don't want to pay full price? The good news is many of the tents will have lunch specials where you can sample traditional Bavarian delicacies for a fraction of the cost.
The super fancy Käfer tent for example (AKA the tent where celebs like Justin Bieber and the Clintons hide away at) has a relatively affordable lunch special where you can get a soup, 1/4 duck, potato dumplings, and coffee for only 25 euros. Other tents will have similar deals for much less – just look for something called a "Mittagsmenu".
---
---
Arrange with friends to share dishes so you can try a lot of Bavarian specialties at once
Bavarian food is my FAVOURITE. Like, it's heavy and terrible for you but it's the best beer buddy you can possibly imagine. I personally think it would be such a shame if you came to Oktoberfest and subsisted on nothing but pretzels you smuggled under your skirt, you know what I mean? SO, here's what I would do: if you're with a group of friends, arrange that all of you order a different dish so that you can try a little bit of everything.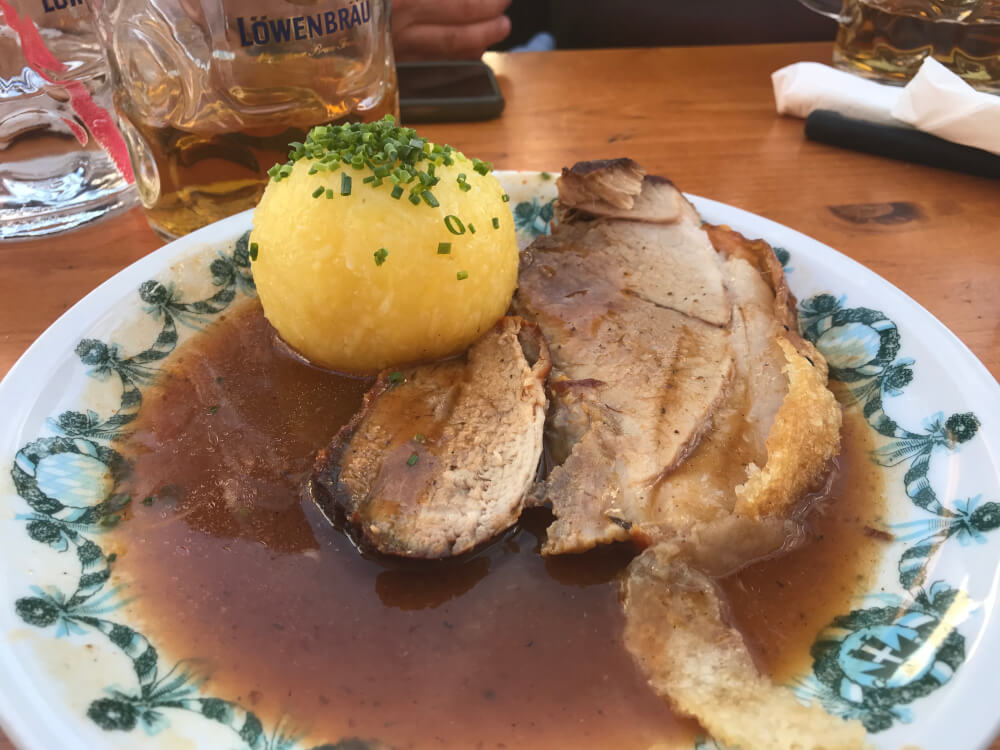 ---
---
How to Drink Your Way Around Oktoberfest on a Budget
Now we get to one of the biggest and most important expenses of Oktoberfest: beer! Is it possible to save money on drinking at Oktoberfest? Well, anything is possible, my friend. Here are my tips on cultivating a nice buzz at Oktoberfest without cultivating severe debt.
Take a road beer (but know that you can't bring it in)
Beer at Oktoberfest is 12 euros including tip for one litre.
Beer at a Munich supermarket is about 80 cents per 0.5L.
… So yes, I'm not joking when I say that beer at Oktoberfest is almost 10x more expensive than beer outside… but you obviously can't lug your own beers into the festival, so what can you do?
Allow me to introduce you to the wonderful German art of the road beer, a beer consumed on the road, usually en route to a drinking event where you're too broke to afford too many drinks. Yay!
Unlike most places in North America, drinking in most public places in Munich ISN'T illegal, even on trains and stuff. It's super common to just see someone sipping a beer in transit (I know, it's weird) but it's something you can take advantage of to save a little more money on booze when attending Oktoberfest. Crack open a road beer or two, but make sure you finish it before you get to security, because they won't let you in with it.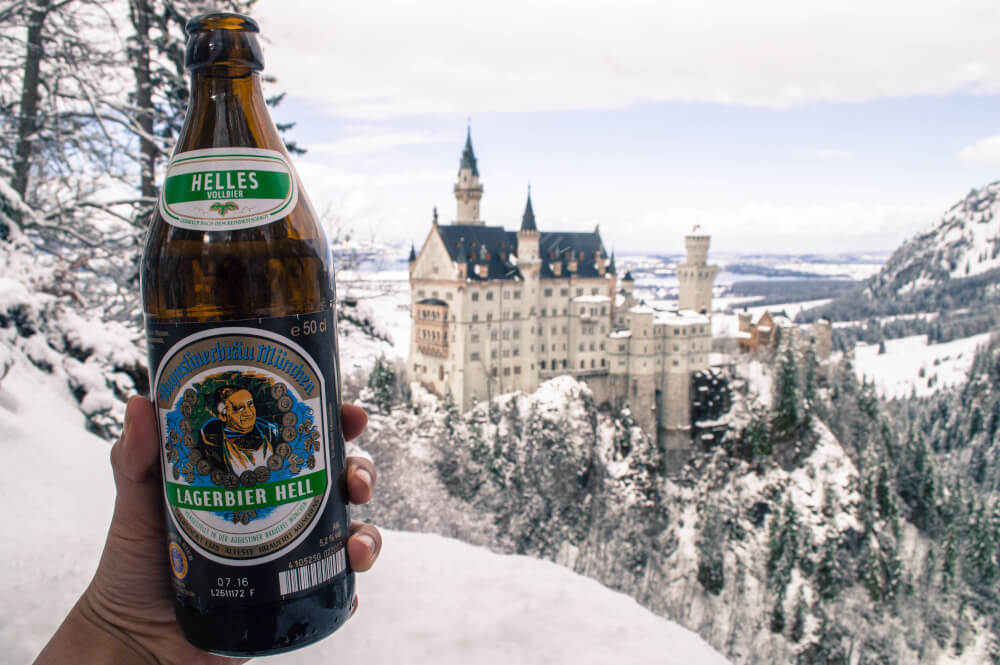 ---
---
Drink Helles, not radler for the most bang for your buck
I explain the different drinks that you can order at Oktoberfest in this post here, but you should know that some drinks will simply get you a better bang for your buck (in terms of inebriation). If you get Radlers for instance, those are half mixed with soda, which means you get only half the buzz for the same price. Instead, go for Helles and you get it all!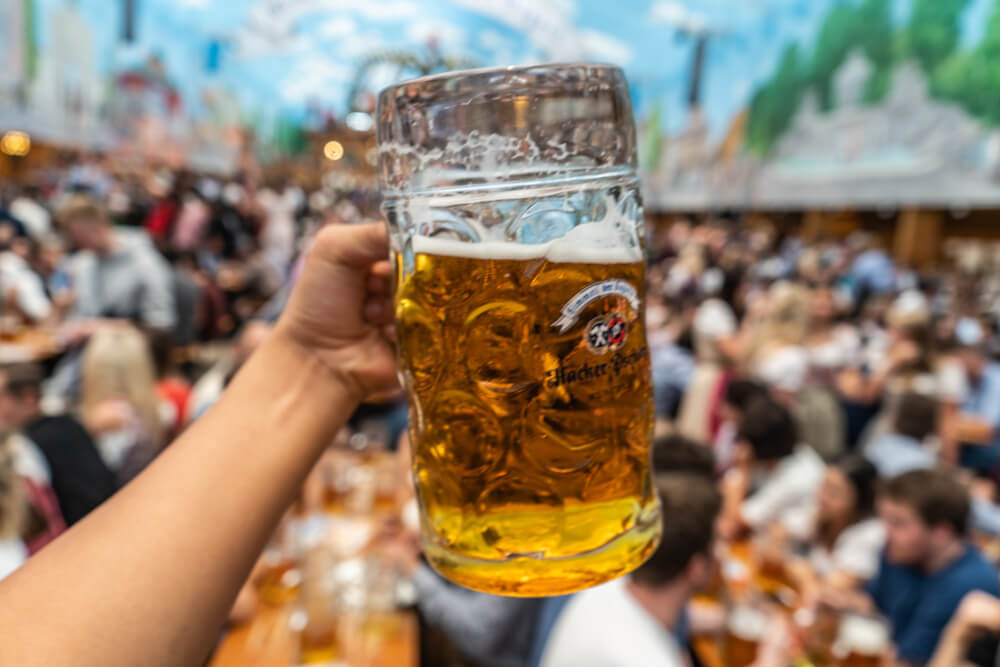 ---
---
Drink at the cheapest tents
Different tents at Oktoberfest have different prices, and while usually they don't differ more than a euro between them, if you're really crunching your numbers on this trip, you could always organize your tent choice based on where you can get the cheapest drink.
Here's a list of Oktoberfest beer prices from last year. As you can see, the little food-focused tents often have cheaper beer, and the Augustiner-Festhalle and Ochsenbraterei have the cheapest beer among the large tents.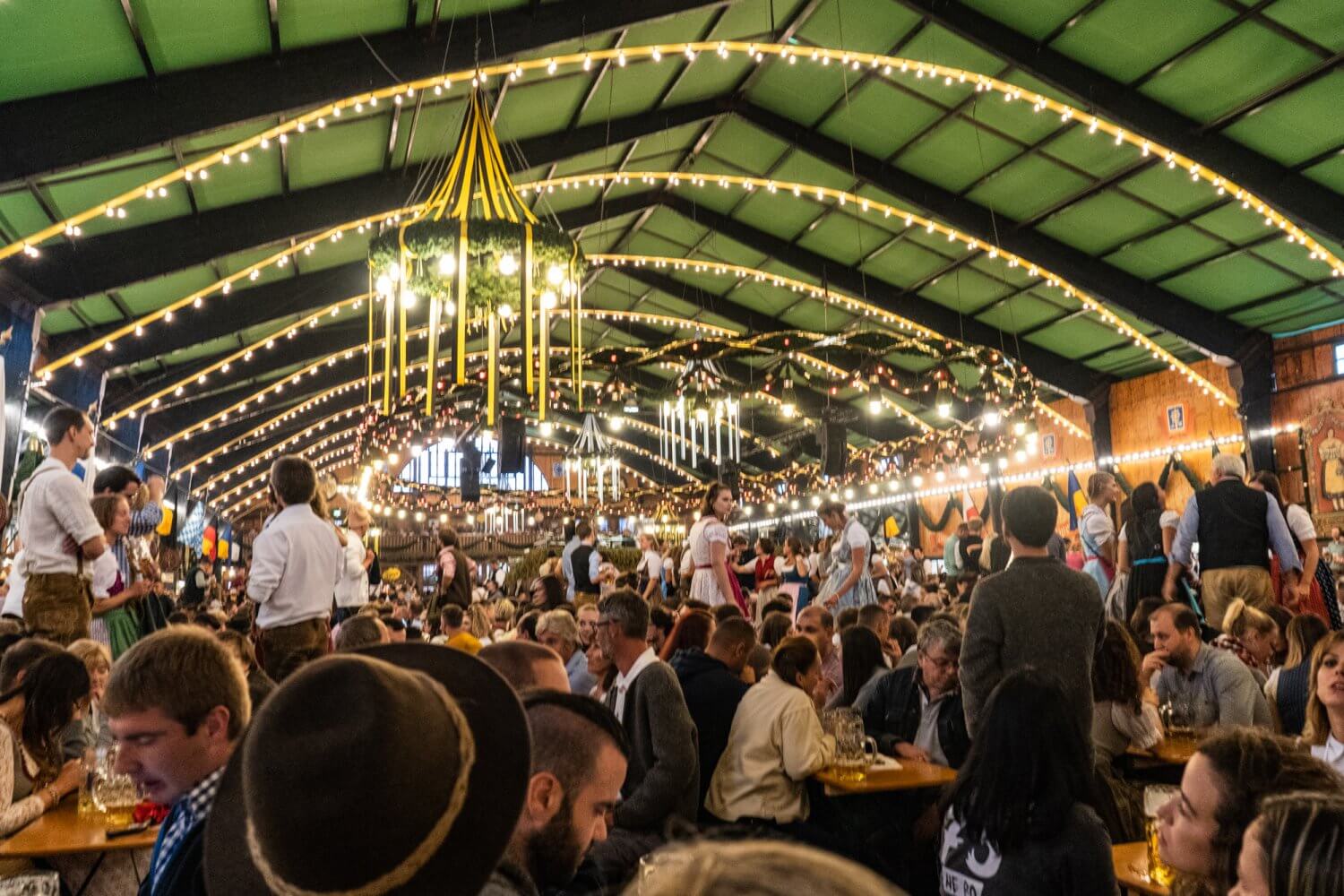 ---
---
How to Enjoy Different Experiences at Oktoberfest on a Budget
Of course, there's more to Oktoberfest than just drinking and eating. Oktoberfest is a massive festival with plenty of great activities on offer (click here for my full list). To make the most of Oktoberfest activities on a budget, here are my best tips:
1. Resist going on drunk rides
Okay, so I know I said that you should splurge on experiences at Oktoberfest, and included rides in that mix, but here's where I would say you should cut yourself off: if you're completely drunk off your face and think riding the giant rollercoaster 10 times is a fun idea, stop! You won't even remember the ride (which I can sadly, personally confirm).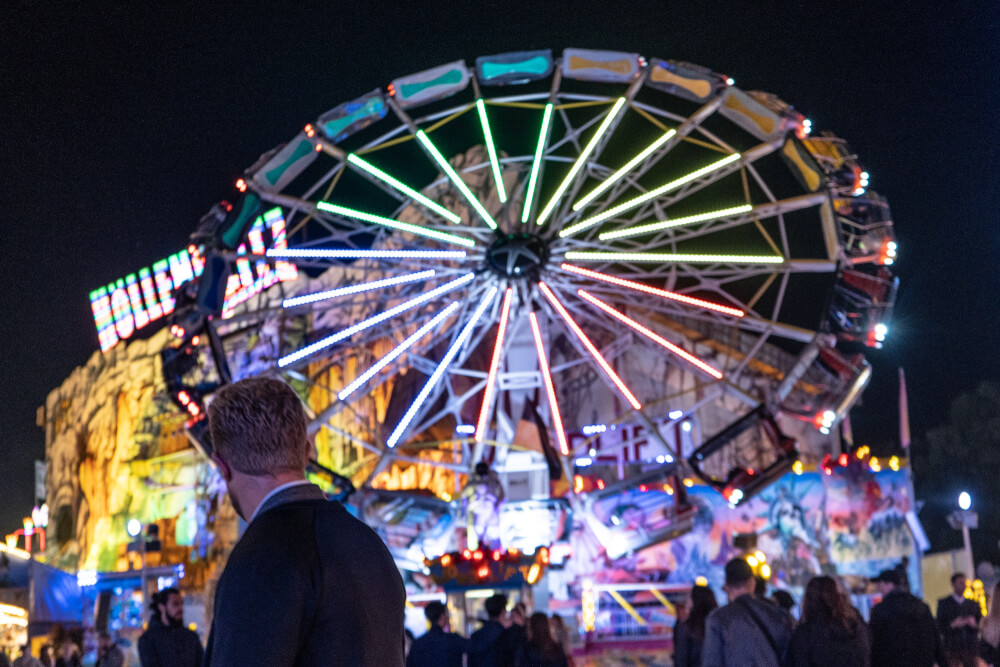 ---
---
2. Go watch or hop on the Devil's Wheel (Teufelsrad)
Instead of hurling yourself on drunken rides, go for some limitless fun and entertainment at the Devil's Wheel for only 4 euros. This is an amazing little tent where they play the most entertaining game ever, and you're free to stay as long as you want to watch.
What is the Devil's Wheel game exactly? Well, imagine a spinning disk in the center of the tent where participants are called up and given the simple task of trying to hold on as long as possible, while the disk spins faster and faster. It's honestly hilarious to watch. They call people up in groups "e.g. all women over 50! all men wearing blue shirts! all kids under 15!", and then this mob of people are placed in the center as the disk begins to spin, clinging hopelessly onto the disk (and their dignity). It's limitlessly entertaining, and a total bargain for only 4 euros.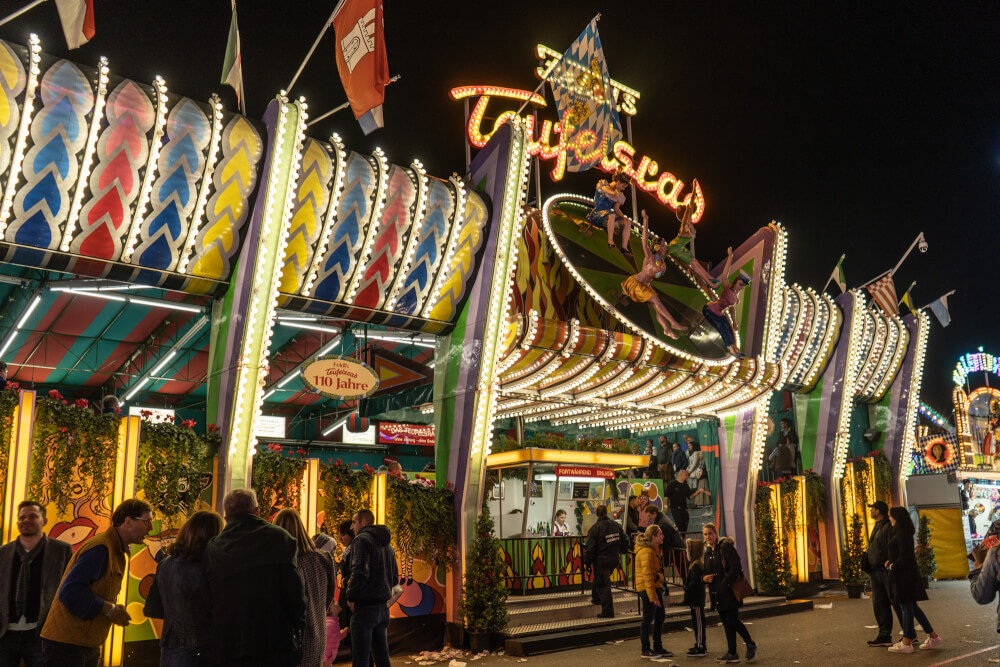 ---
---
3. Resist the temptation of dumb drunk purchases like dancing chicken hats
Drunk people love to spend their money on stupid crap. That's just science.
The organizers of Oktoberfest know this……. hence why the festival is literally packed with an endless parade of stupid crap for drunk-you to throw money at.
After a few beers, a dancing, musical hat shaped like a cooked chicken will sound like a good idea. Yes, a good idea even worth 30 euros.
I am here to be the voice of reason and tell you this is not the case, so remember, if you can try to plant some thoughts into your brain right now Inception-style for future drunk you, remember that these drunk purchases are an excellent way to blow through your budget quickly.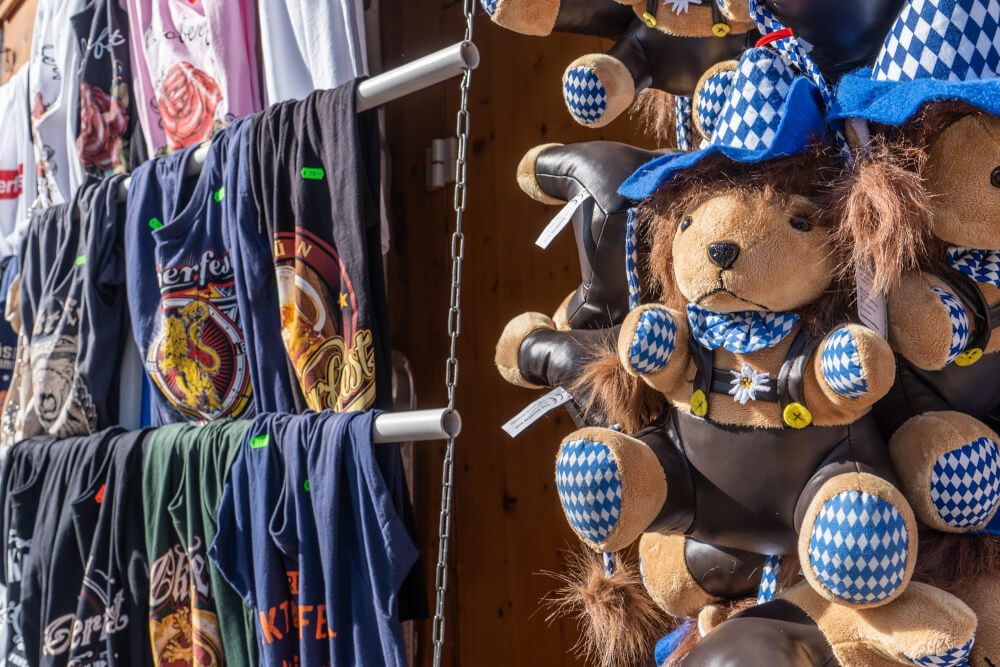 ---
---
4. Make friends!!
Okay, I'm not saying you should take advantage of your fellow drunkies, but based on personal experience, the people you meet at Oktoberfest tend to be the mega-generous types who would happily buy you some ride tickets if they're keen to go on a rollercoaster but it's out of your budget. There's no predictable way to take advantage of this tip, but hey, meet some friends, be in the right place, and maybe you'll get to score free ride tickets or goodies for free (yes, I've been randomly handed ride tickets by passing strangers, so it does happen haha).
---
---
Any more questions about doing Oktoberfest on a budget?
Whew! I hope after this guide, you feel better equipped to tackle Oktoberfest on a budget. If you have any more questions, feel free to leave them below. Have an amazing time!
---
Watch my most popular YouTube video this week:
---