*FYI - this post may contain affiliate links, which means we earn a commission at no extra cost to you if you purchase from them. Also, as an Amazon Associate I earn from qualifying purchases. Check out our Privacy Policy and Disclosure. for more info.
I hope you've packed your stretchy pants and drool bucket, because in this post, I'm sharing with you my favourite Munich restaurants.
And yes, this list has been three years in the making. Admittedly, as a creature of habit, I tend to visit the same restaurants over and over, which is why I never thought I was "qualified" to make a list like this. But hey, after bringing visitors from all around the world to these restaurants, I've gotten a pretty global seal of approval.
Below, you'll find a list of the top Munich restaurants I recommend for visitors. Why do I stress it's for visitors (rather than maybe locals?). Firstly, when I eat out, it's mostly to have traditional Bavarian or German food. I don't love the international options here in Munich (especially compared to my hometown of Vancouver), and so I usually stick with Bavarian options, which I can't get enough of.
Secondly, these are all restaurants close to the city center, and offer good food at affordable prices, alongside decent service and patience for English-speaking guests. What I'm saying is, these are restaurants you can visit for a good meal without feeling totally weird and out of place… always a bonus for an awkward potato like me.
And so, with so many good restaurants in Munich to choose from, here are my top picks for a 1st time visitor. There's no shortage of delicious things to eat in Munich, so I hope you enjoy this list!
Save this post for later on Pinterest: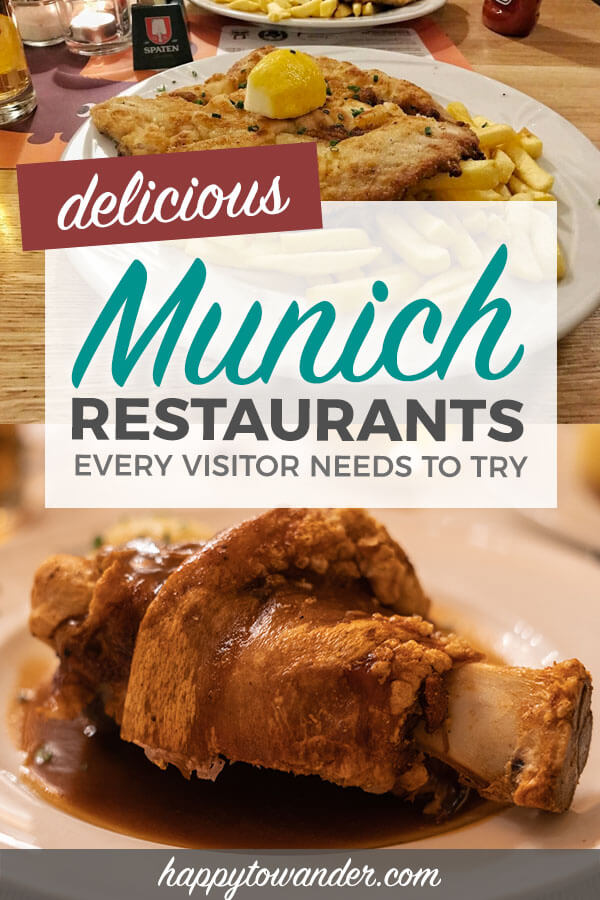 What are your recommendations?! This list is ongoing and I'd love to add to it. Let me know in the comments if you have any Munich restaurants you'd like to recommend.
Pssst… Looking for more Munich travel tips?
Click here to read my full Munich travel guide featuring tips on things to do, where to go, and more local secrets that most tourists don't know about.
The Best Bavarian Food in Munich
One does not simply travel to Munich, Germany without faceplanting into a pillow of carbs and potato.
If that sounds like your idea of heaven, then good news: traditional food in Munich is ridiculously easy to come by. Here's a list of where to eat in Munich if it's local Bavarian delicacies you're after:
Augustiner Klosterwirt
Address: Augustinerstrasse 1
In my opinion, this is one of the best restaurants in Munich city centre.
If you're looking for a traditional Bavarian restaurant in Munich, look no further than Augustiner Klosterwirt. It's smack dab in the center of town, literally in the shadow of the Frauenkirche and my favourite place in Munich to get Schweinsbraten. I don't know what they put in their gravy but it's like angels made it. If I were to name one must try food in Munich, it would be Schweinsbraten, hands down.
The Augustiner Klosterwirt is a cozy restaurant boasting a hefty mix of locals and visitors, but the red-faced Bavarian regulars are a testament to the quality of this place. While it may be in a touristy location, it's the real deal, I promise! I always come here for a meal if I'm leaving Munich for a long period of time, or as a celebratory meal when I come back. It goes without saying, I think they serve some of the best German food in Munich.
NOTE: Don't confuse this for Augustiner am Dom, which is really close by. I'm sure it's nice too but my heart belongs to Augustiner Klosterwirt. Restaurants near Marienplatz have a reputation for sometimes being overly touristy, but this one is awesome. Don't miss it.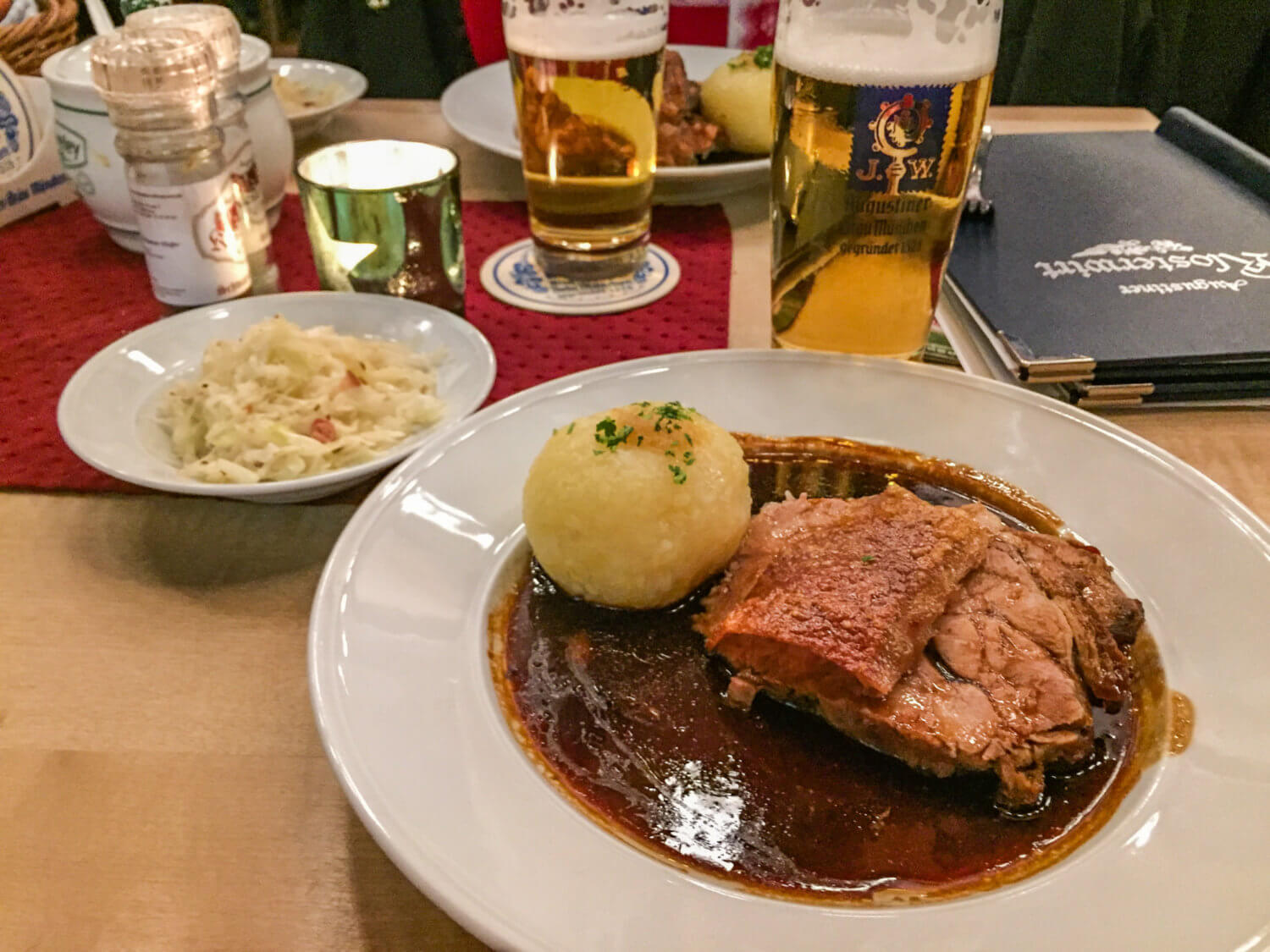 Haxnbauer
Address: Sparkassenstraße 6
Click here to visit their website
Similar to my beloved Schweinsbraten, Schweinhaxen (pork knuckle) is a must eat in Munich. If you fancy ripping into one of these delicious delicacies, then look no further than Haxnbauer, where giant pork knuckles are the starring attraction.
Haxnbauer is a beloved institution that features in every guidebook for good reason: its juicy, juicy pork knuckles. You can even watch them slowly spinning in the window, taunting you with their gorgeousness. It's practically hypnotic.
And while restaurants in Marienplatz (and around) can often be overpriced and touristy, Haxnbauer is no tourist trap. Truth be told, it's not a secret by any means, and there will be plenty of other tourists around, but if you want some delicious pork knuckle in a homey atmosphere, this is a good place to go in the center of town. Definitely only get the 1/2 pork knuckle – it's served with two wiggly Knödels (potato dumplings) and is plenty.
Liebighof
Address: Liebigstraße 14
Click here to visit their website
If you find yourself in Munich during the Christmas season, you 100% have to eat at Liebighof. The decor here is incredibly festive and the atmosphere alone is worth a visit. There's beautifully wrapped gift boxes decking the ceilings, lovely bauble arrangements all around and… oh yes, you're probably wondering about the food. It's awesome too.
It's Bavarian, but not the typical mainstream Bavarian dishes you might find in other restaurants. Instead, the star of their menu is their Pfanne dishes, which consists of pan fried potatoes with a bunch of other goodness. My personal favourite is the Liebighof Spezialpfanne which comes with steak, bacon, potatoes, and fried egg on top. Drool. top One of the top places to eat in Munich, in my humble opinion 🙂
Andy's Krablergarten
Address: Thalkirchner Str. 2
Click here to visit their website
In my opinion, this place does the best schnitzel in Munich.
What seals the deal for me? TONS of choices, massive portions and relatively friendly staff. My go-to order is the schnitzel with mushroom cream sauce, with a side of rice. Be warned though – the portions are absolutely huge. Restaurants in München don't get more filling than this.
NOTE: They do get really busy so I recommend calling ahead if you're coming at peak times like weekends.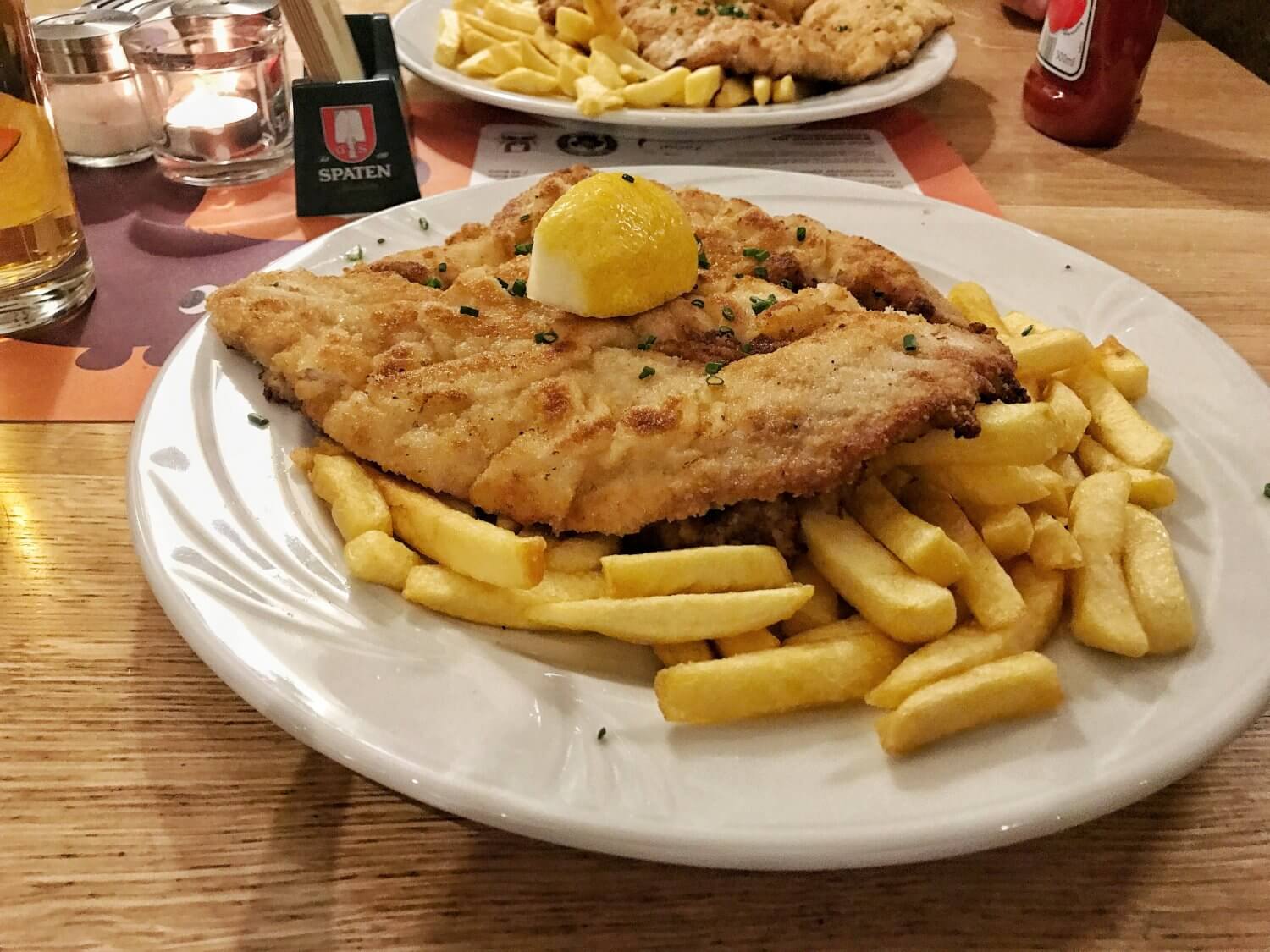 Where to Eat in Munich on a Budget
Cheap food in Munich isn't too hard to come by, you just need to know where to look! Having started my days here in Munich as a broke student, I know a thing or two about dining on the cheap. Here's a roundup of the best cheap restaurants in Munich (plus other options for saving money on food).
Augustiner Bräustuben
Address: Landsberger Str. 19
Good food in Munich can come cheap, but what's even better than that? Cheap beer! I'm putting Augustiner Bräustuben as my #1 Munich cheap eat recommendation because this place has dirt cheap beer, like… literally half the price of Oktoberfest.
The food isn't AS cheap, but if you want the quintessential beer hall experience without breaking the bank, this is a good one.
They have all the classic Munich food specialties on offer, from roast pork to kasespatzle. Considering how much you'll save on beer, this is a no-brainer.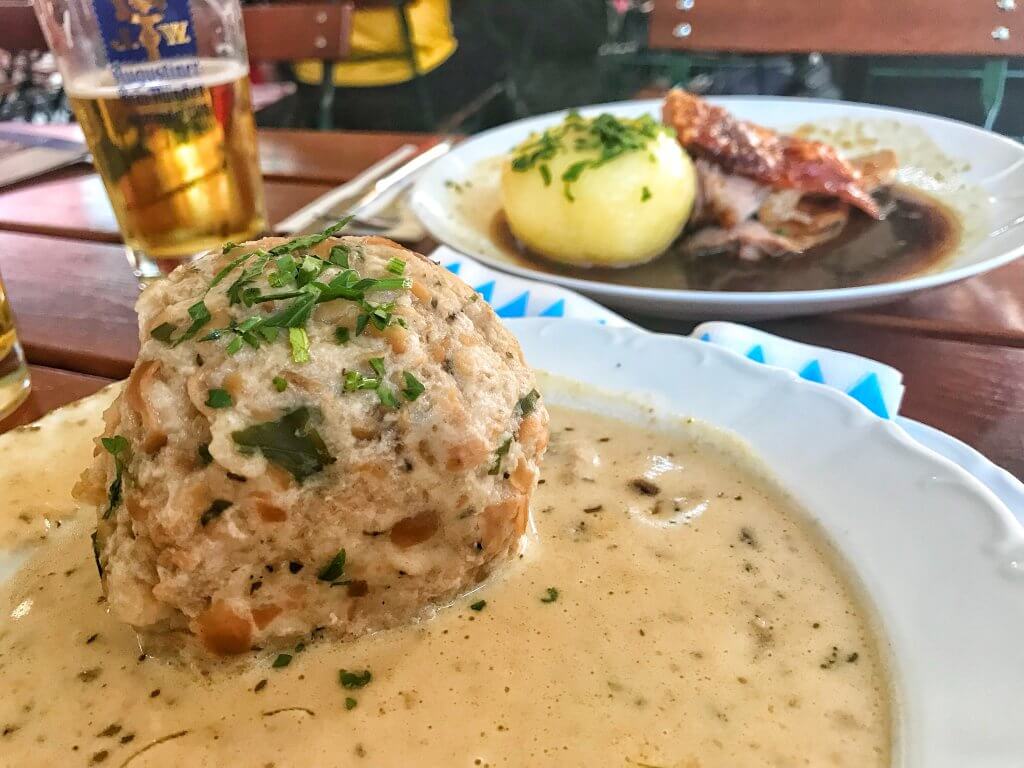 Steinheil 16
Address: Steinheilstraße 16
Wondering what to eat in Munich without breaking the bank? Steinheil 16 may be a good solution.
It may not be in Munich's city center, but it's close to the museum quarter and the technical university. It's no coincidence then (probably to feed the hordes of starving students), the prices here are wildly cheap.
The giant schnitzel though is of course the star of the show – it's so massive you could easily share one, or eat it over two meals.
Pretty much everything clocks in at under 10 euros, except the schnitzel (10.90) and the steak, for obvious reasons. Definitely one of the best cheap eats in Munich.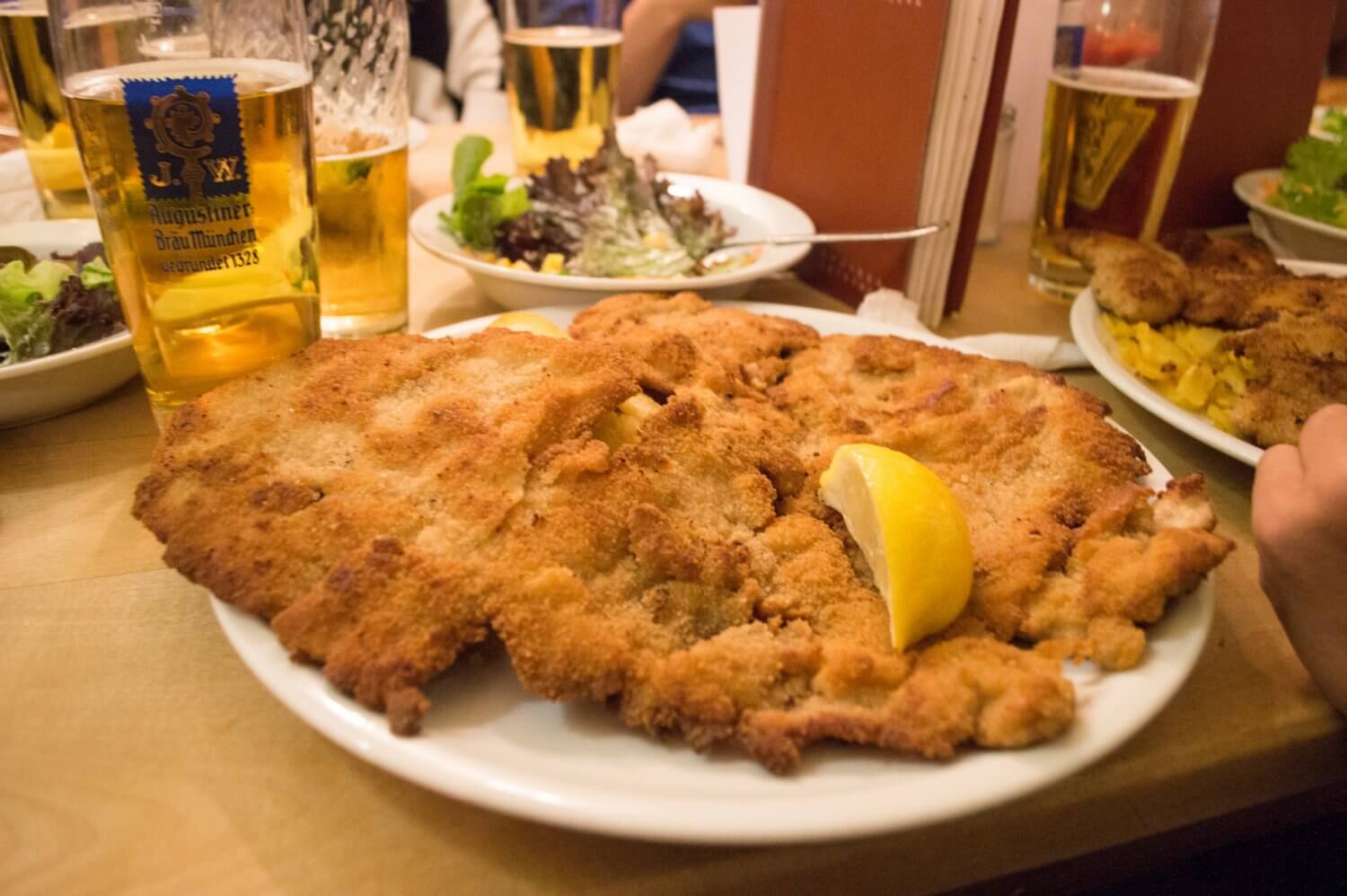 Pepe Nero
Address: Multiple locations, my preferred one is Thierschplatz 6
Click here to visit their website
Pepe Nero is an Italian chain with multiple locations in Munich, serving up hefty portions of pasta and pizza for very cheap prices. Yup, most of the dishes cost no more than 10 euros.
I mean, it's definitely not the best pasta in Munich, but it's tasty and the atmosphere of their restaurants (especially the one by Lehel) is actually really nice.
At this location, they have a nice date night-esque ambiance (think low lighting, candles, etc.) except at a cheap price. This is my go-to for lazy "don't wanna cook" nights.
Beer gardens
If the weather is good, definitely grab yourself a nice breezy outdoor lunch at a beer garden.
This is a great chance to sample some cheap food in Munich with a delightful ambiance to match.
Most beer gardens will have the same food on offer, and will be self-service. I would recommend you definitely get a big pretzel and Obatzda (this orangey cheese dip), it's a Munich must eat.
PRO TIP: It's 100% okay to bring your own food to beer gardens too, so long as you buy a drink! So, if you're really on a budget, you can grab some stuff from the grocery store, eat in the beer garden and enjoy the awesome atmosphere with a beer in hand.
OR, for a more gourmet option, I recommend you go to the fresh food market, Viktualienmarkt in the center of the city. Here, you can grab random little things for a picnic then eat them at the beer garden there. This, in my opinion, is the best lunch in Munich!
L'Osteria
Address: Multiple locations, click here to browse
Click here to visit their website
This is a restaurant chain with locations in all of Munich's hotspots, but I love them because they combine delicious pizza with a surprisingly "nice" ambiance AND cheap prices.
Trust me when I say the pizzas here are more than enough to feed two people – they are the size of a planet, and they're happy to cut them in half and serve them to you.
With most of the pizzas being between 10-15 euros, this means you can get yourself dinner in a nice, atmospheric place for just over 10 euros (once you add drinks and tip).
I honestly consider it some of the best pizza in Munich.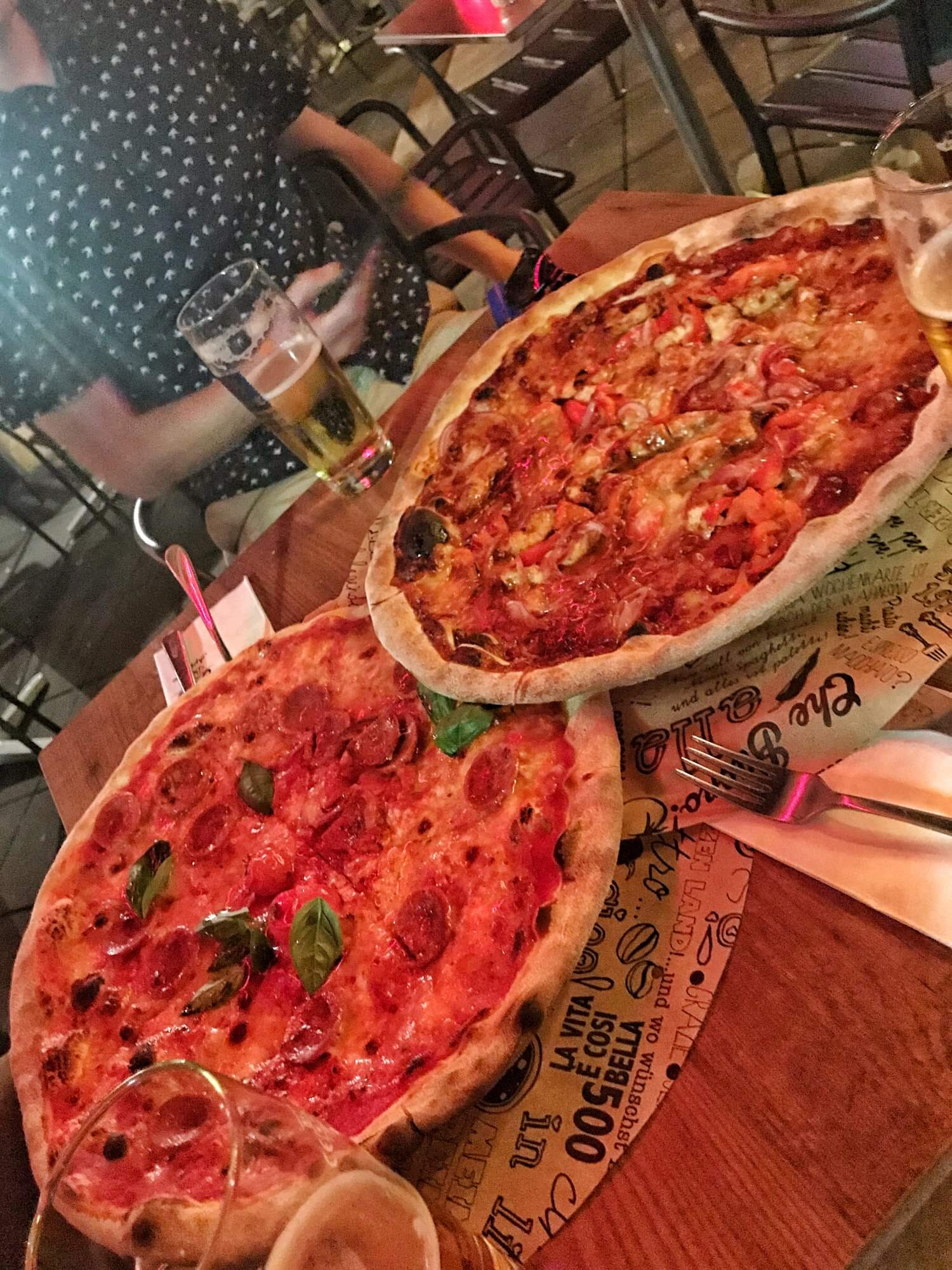 Download the app TooGoodToGo
So this is an app that I think is really cool and if you're on a tight budget, it's a great way to score rock bottom cheap eats in Munich.
Basically it's an app where you can sign up to purchase the leftover food from a restaurant that day, all for under 5 euros.
So let's say you wanted sushi, you could pay 5 euros through the app then pick up your food at a designated time.
The food you get will depend on what's left over that day, but it's an excellent way to minimize food waste and save a few bucks.
Food prices in Munich aren't cheap, but if you order in advance with this app, then you can easily get a good feed for less than 5 euros.
There's a lot of different cuisines available, and I've heard bakeries in Munich are really generous with what they give away at the end of the night, so if you're curious, click here to check out the app.
The Best Asian Restaurants in Munich
I can't lie to you, finding good Asian food in Munich has been no easy feat. While there are a lot of good places to eat in Munich, I've struggled to find anything that matches up to the quality and price of my hometown, Vancouver. Anyways, here are a few places that have been pretty good (if you need a break from all the Bavarian food).
LeDu Dim Sum & Bar
Address: Klenzestraße 62
Click here to visit their website
I've been hunting for a good Chinese restaurant in Munich for ages, but haven't been too successful so far.
LeDu is good, and while it offers more of a Westernized take on Chinese cuisine, it's tasty nonetheless. They are one of the few places you can get "dim sum" in the city.
Although it's definitely not the traditional kind of dim sum I would enjoy in Vancouver, you do get a variety of tasty plates for a cheap-ish price (their lunch special is 3 plates for 9.90).
Plus, their dumplings are delicious (and incredibly photogenic).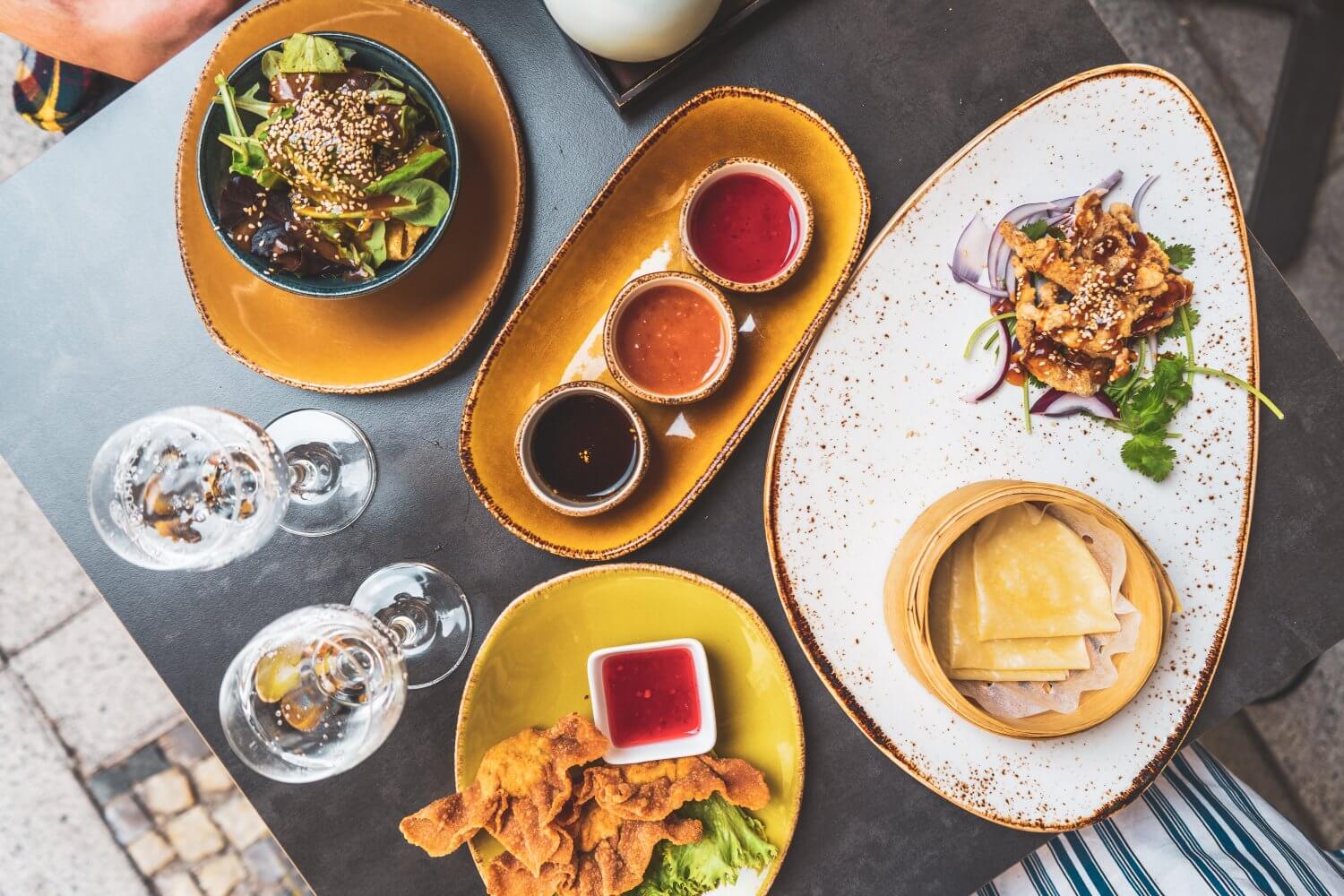 Bami House 1976
Address: Schellingstraße 20
Click here to visit their website
This is a chain that popped up in the past two years with Vietnamese street food in a colourful, fun atmosphere. This is my go-to Vietnamese restaurant in Munich.
The prices are reasonable, the dishes are tasty and their Vietnamese iced coffee is the best I've found in Munich so far. Plus, the ambiance is really upbeat and nice.
If you're looking for an especially photogenic plate, check out Auntie Ha's Flying Noodles.
They're served as an optical illusion and taste awesome too. If you are craving Vietnamese food to eat in Munich, I definitely recommend checking out Bami House 1976.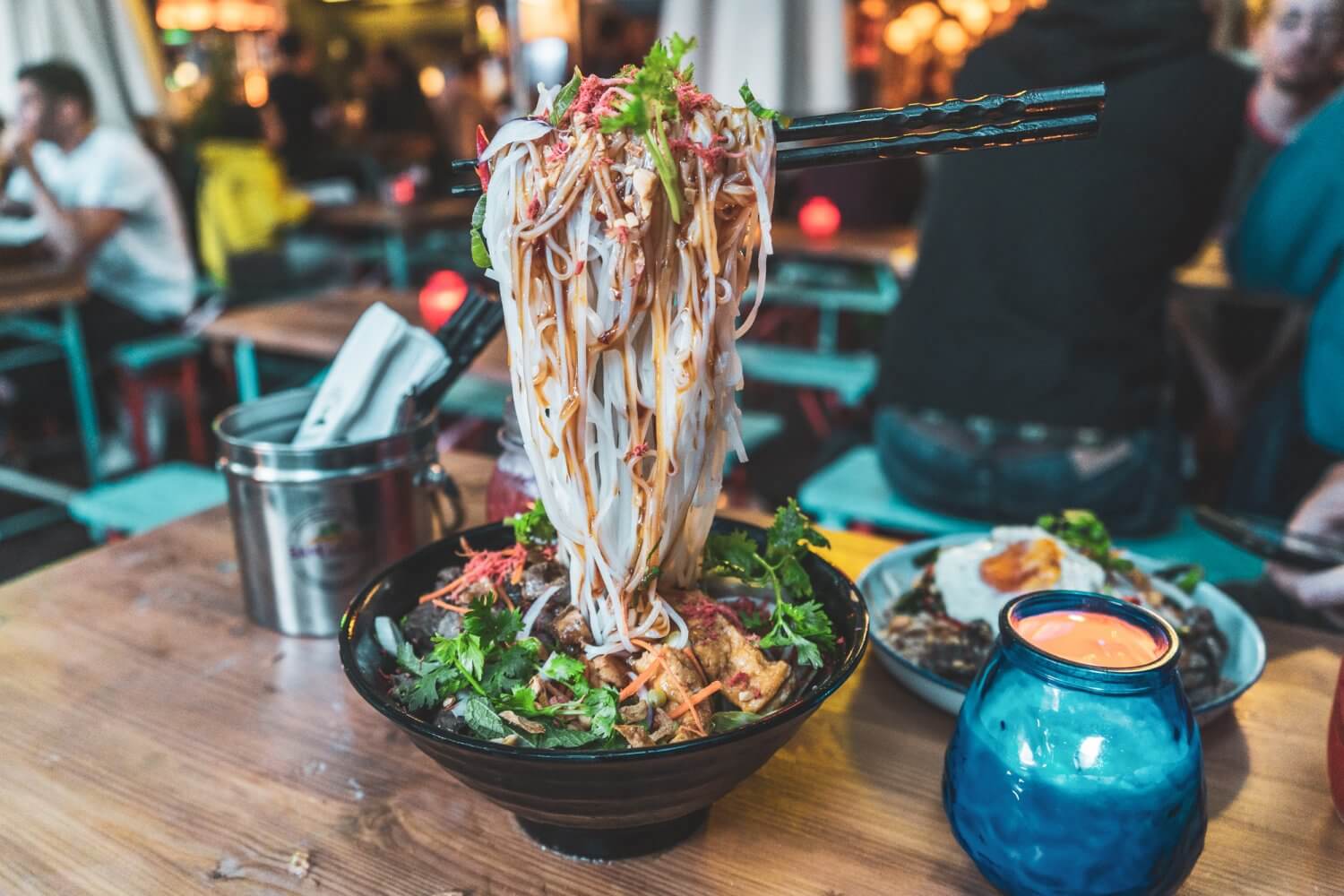 Brunch in Munich
I can't lie to you, the brunch scene in Munich is pretty sad compared to some other major cities. Unlike New York, London or Vancouver, you won't find a hipster brunch place on every second block here, but there are still a few good places to get your brunch fix. Here is some of the best brunch in Munich I've enjoyed so far.
Cafe Westend
Address: Ganghoferstraße 50
Click here to visit their website
This is a nice place for a relaxed brunch!
The space is nice and airy, with an outdoor terrace if you want to eat outside.
Basically they have lots of breakfast options named after iconic worldwide cities. The food is good and the portions are decent.
It's also right across the street from one of Munich's most IG-friendly spots, the Infinite Staircase.
Cotidiano
Address: 4 locations in Munich
A favourite among Munich hipsters, Cotidiano has a few locations scattered around the city, all-day breakfast being a highlight.
Naturally, they do avocado toast. A great spot for a nice brunch or lunch in Munich.
Best American Food in Munich
In my opinion, if you're going to be eating out in Munich, you should be trying as much local cuisine as possible because it's delicious. That said, I know sometimes the cravings from home hit hard and one needs an adequate break from all the sausages and potatoes.
So, if you have a hankering for some good old American food, please, step away from the Hard Rock Cafe and try one of these spots out:
Mr. Pancake
Address: Two locations, I prefer the one at Emil-Riedel-Straße 21
Click here to visit their website
If you are looking to satisfying a craving for big, fluffy pancakes, then definitely stop by Mr. Pancake.
Their menu is super minimalist, with just a few options (pancakes + sides of your choice) but they're darn good.
My favourite is the Mr. Bacon, which comes with bacon, eggs and droolworthy syrup. One of the top Munich restaurants for breakfast – that's for sure.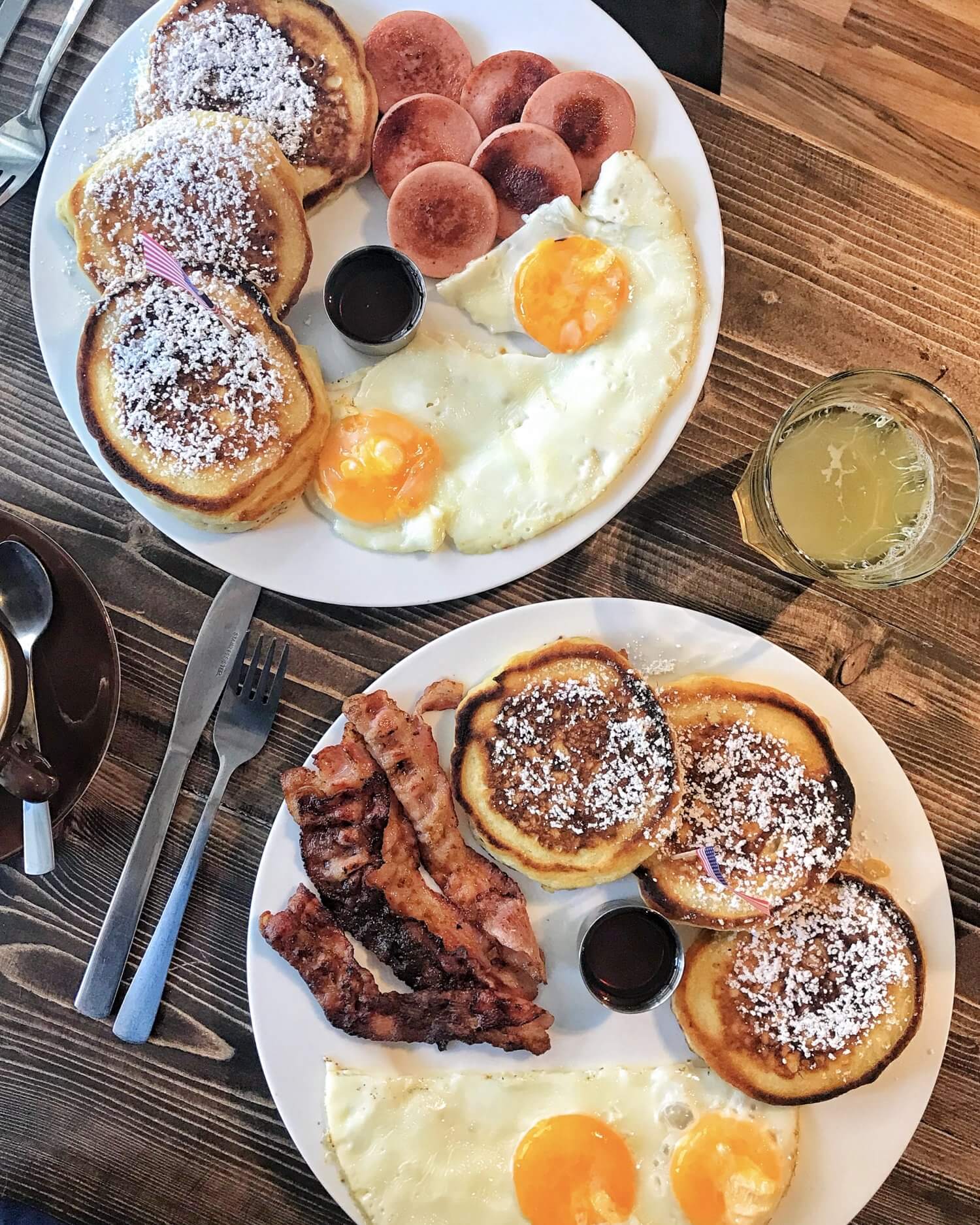 Jones – K's Original American Diner
Address: Karlstrasse 56
Click here to visit their website
Like stepping back in time, and a walkable distance from Munich's Central Station.
This is a classic American diner, serving up baskets full of burgers, fries and of course, delicious, delicious milkshakes.
If you're looking for a good burger (the pulled pork here is awesome) with a side of nostalgia and friendly service, this is a cute place to go.
Taste My Burger
Address: Augustenstrasse 16
Click here to visit their website
Really tasty burgers, a friendly owner and a central location! This is a great place for burgers in Munich, way better than Hans im Gluck, the most popular burger chain the city (which is way overrated in my opinion).
If you want a really good deal, they have a lunch special where you can get a burger, drink and fries for 8 euros! Not bad at all.
Best Cafes in Munich
The cozy cafe craze has yet to hit Munich, but things are improving slowly! I still haven't found many cafes that I adore, and I have yet to find any that tick ALL my boxes (good coffee, cute vibe and excellent WiFi), but if you need a place for a caffeine fix, here are some of my favourites.
Lost Weekend
Address: Two locations, I prefer the one at the 25hours Hotel Munich The Royal Bavarian (Bahnhofplatz 1)
Click here to visit their website
They have two locations now, and I far prefer the one in the 25hours hotel because the university location is more often than not filled with people studying, and the ambiance isn't nearly as nice.
Plus, the 25hours Hotel location is right across from the Hauptbahnhof and is gorgeous, like a hipster jungle. Check it out: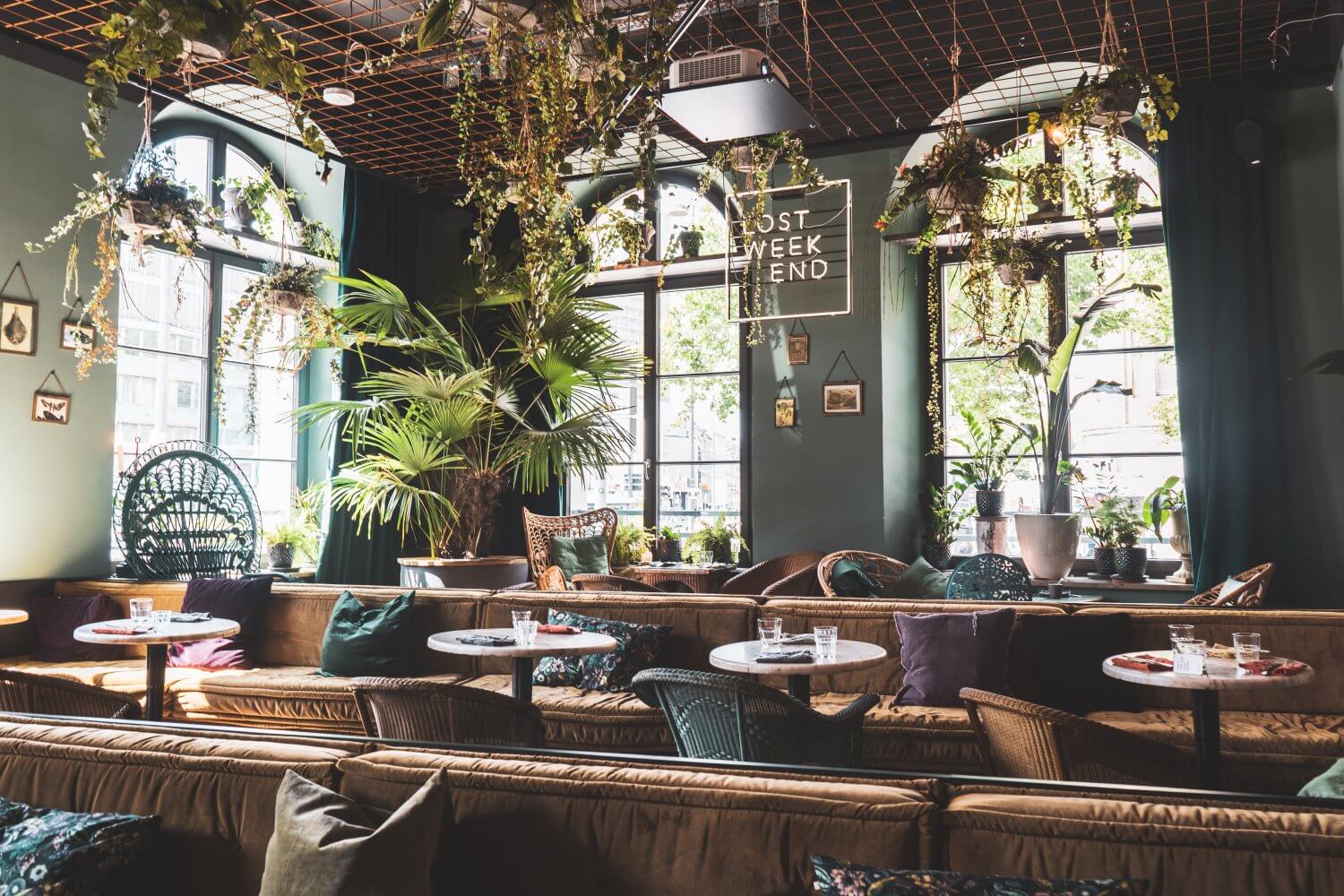 Man vs. Machine
Address: Müllerstraße 23
Click here to visit their website
Some of the best coffee in Munich + a super hipster-y vibe is what you'll find at Man vs Machine. If you're looking for a 3rd wave coffee shop in Munich (complete with man bun baristas), then this is your place.
This is often hailed as one of the best coffee shops in Munich (and go-to spot for awkward Tinder dates. Just kidding. Kind of.)
Daddy Longlegs
Address: Barer Str. 42
Click here to visit their website
Daddy Longlegs is a cute place close to the museum quarter, making it a nice stop for refreshments after some museum hopping.
The acai bowls are small but tasty and the overall vibe is quite nice. It's also very popular with students.
Café im Vorhoelzer Forum
Address: Arcisstraße 21
Click here to visit their website
Last but not least, I present to you one of Munich's best kept secrets: Café im Vorhoelzer Forum.
Munich doesn't have too many rooftop bars, but this rooftop cafe (concealed inside a university building) is one of the best.
Yes, you need to awkwardly enter a university building to get there, but the views (and cappuccinos) are more than worth it.
Once you enter the building, just follow the signs for "Vorhoelzer Forum", then look for an elevator and take it to the top floor.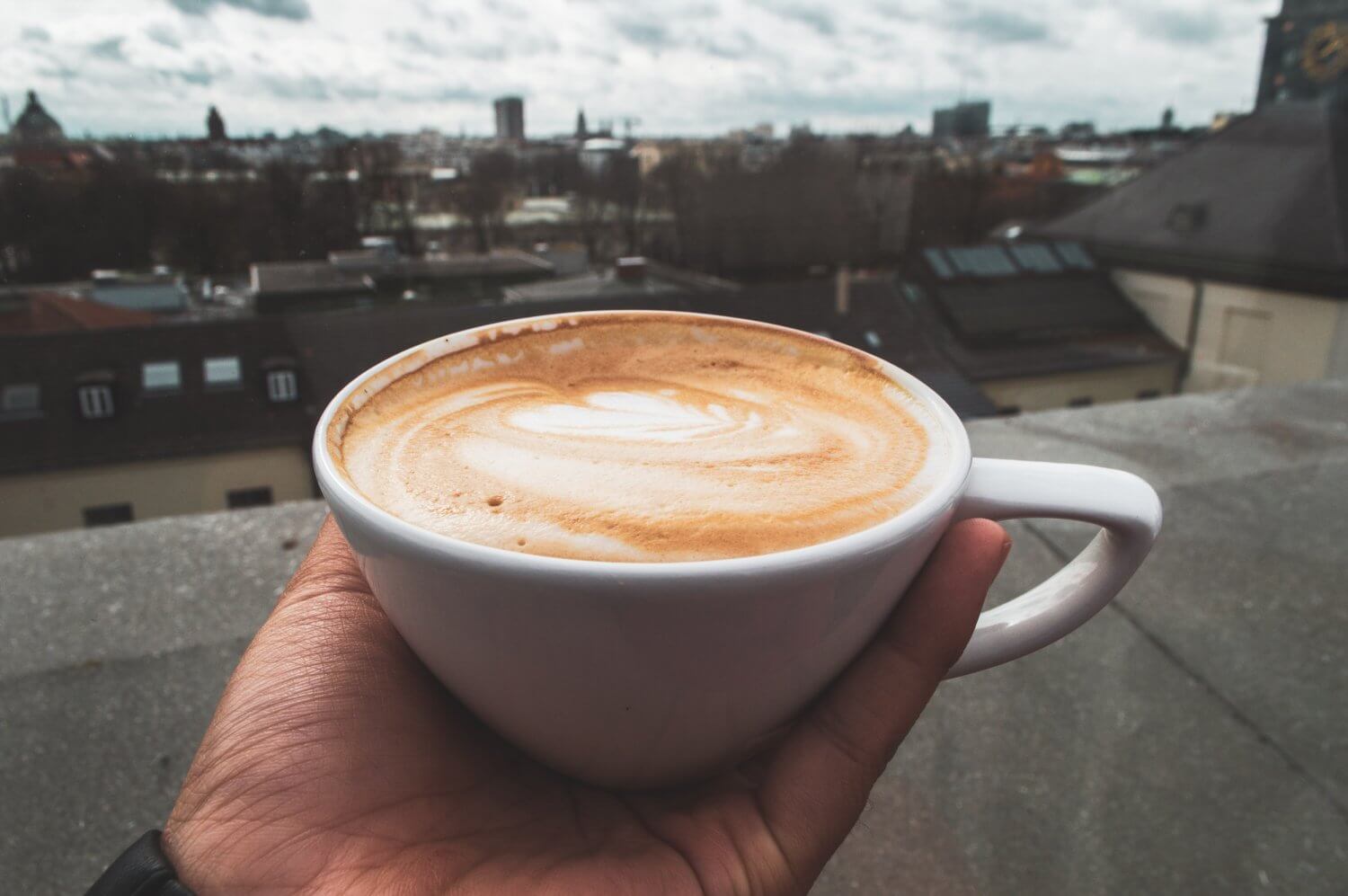 Munich: Where to Eat Sweets
Alright, my fellow sweet tooths, this section is for you.
Munich doesn't have a ton of places that serve up exclusively desserts, but here are a few spots that I love visiting when I'm in the mood for something sweet.
Chocolaterie Beluga
Address: Viktualienmarkt 6
Click here to visit their website
The hot chocolate here is to die for. Like, I would happily fill a pool with it and splash around on board a giant marshmallow.
… That was weird, but yeah, you get my point: the hot chocolate is damn good.
And while I haven't heard spectacular things about their other offerings, the hot chocolate (which comes as a chocolate block on a stick that you melt into your own frothy cup of hot milk) is amazing.
They come in all sorts of yummy flavours like salted caramel, and picking your own little chocolate block on a stick is an exciting little task on itself.
This is located right by the main food market (Viktualienmarkt) in the center of town, so a worthwhile stop for a cup of hot choco.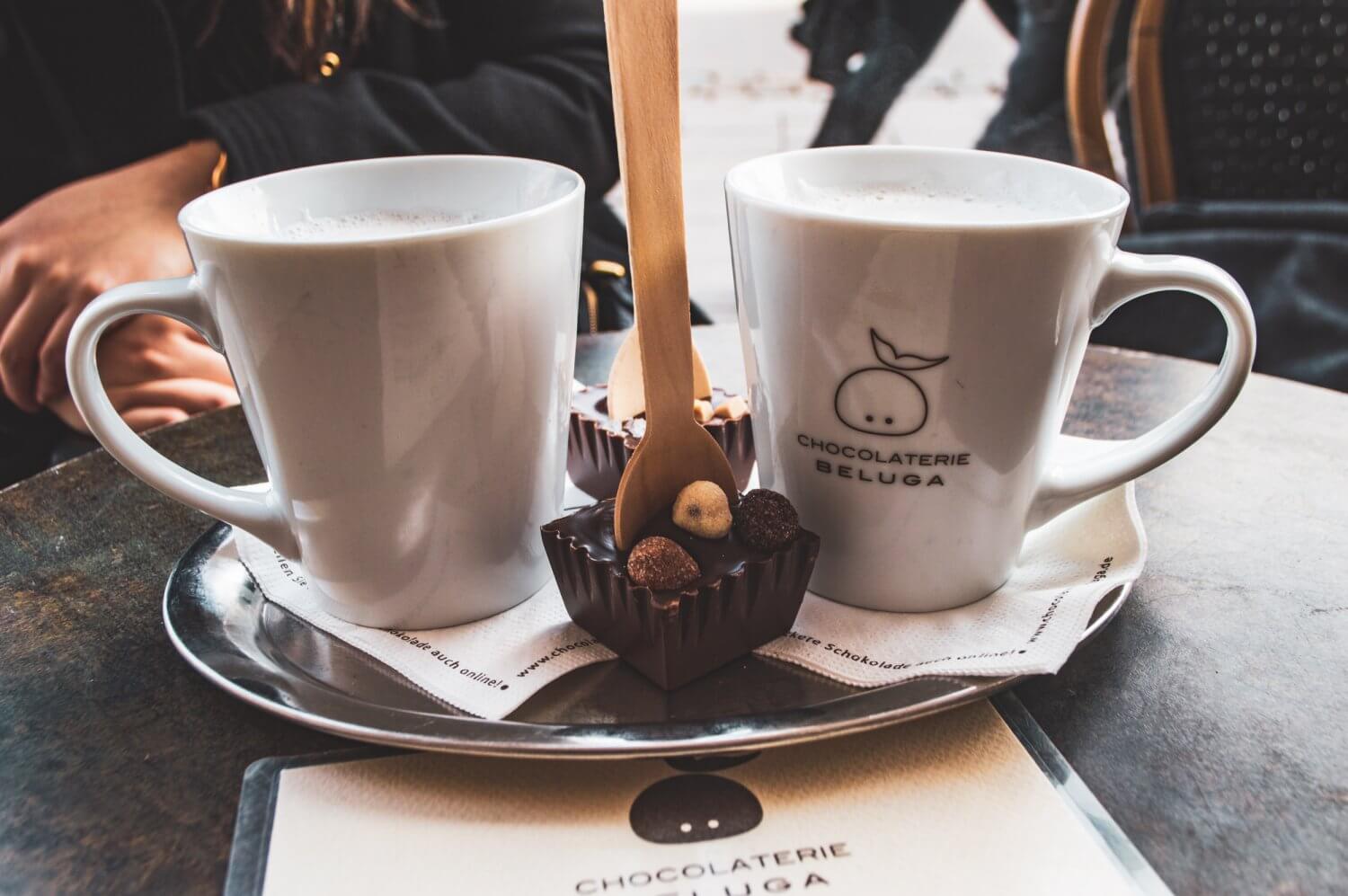 Der Verrückte Eismacher
Address: Amalienstraße 77
Click here to visit their website
Located directly behind the university, this ice cream place is truly cray cray and I love bringing friends here when they visit. Its name does translate to "The Crazy Ice Cream Maker" after all.
Imagine a whimsical Alice in Wonderland themed ice cream joint with super friendly staff and a rotation of scary-weird flavours like sauerkraut, doner kebab and yes, BEER. I've tried it and it's….. interesting.
It literally tastes just like Munich's beloved Augustiner beer, except creamy and milky? An odd experience, but their regular flavours are tasty too.
If you fancy a splurge, get their berry champagne flavour – it costs extra but is super yummy. The staff will even give you a free sample scoop of it on top of your cone if you ask.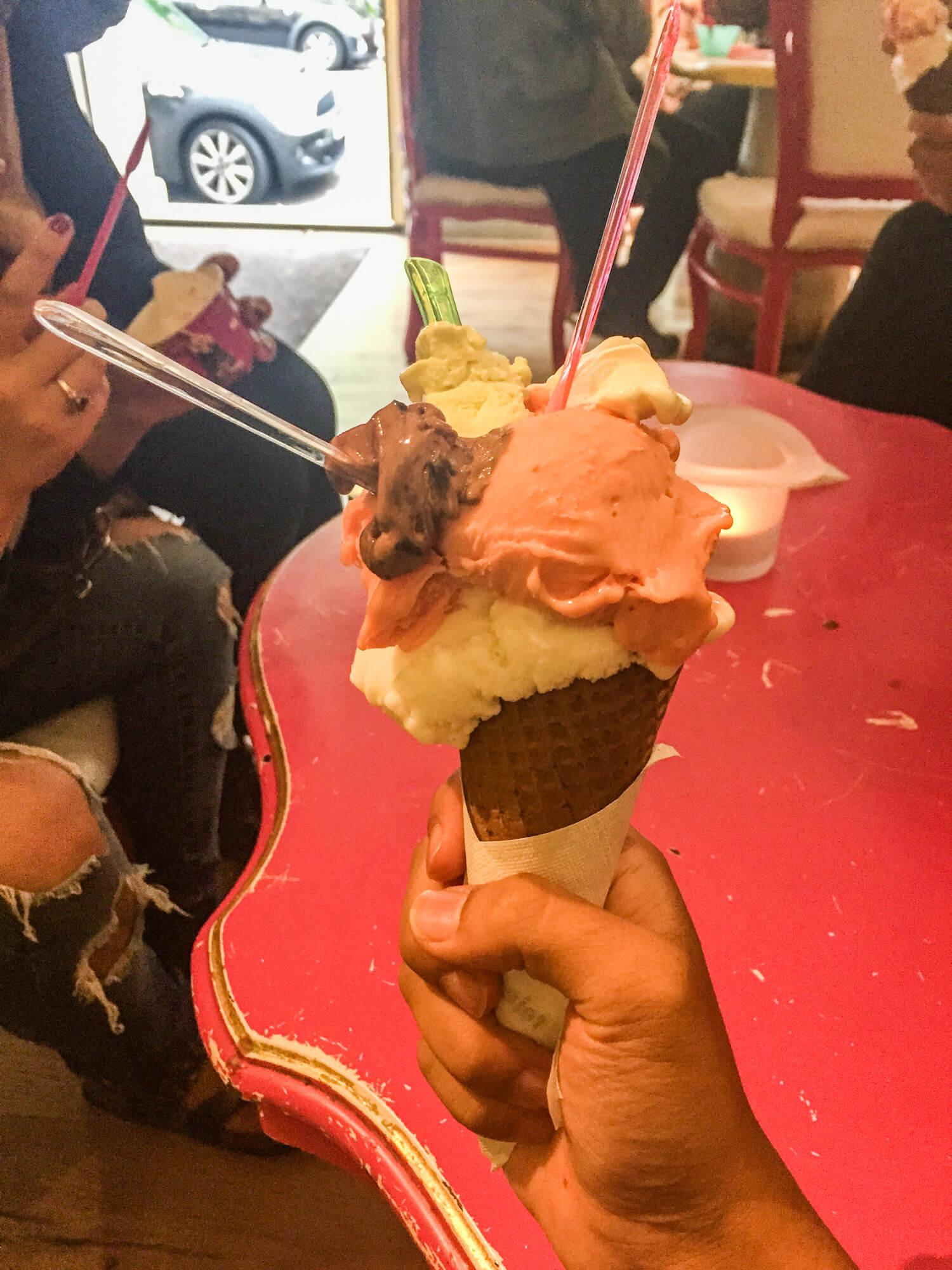 Rischart
Address: Marienplatz 18
Click here to visit their website
Very pricey for what it is, but it scores points for me in terms of people watching and atmosphere. Rischart is one of Munich's most beloved brands and bakeries. 
They have multiple locations across Munich, but the most popular is right in Marienplatz. Sitting here and enjoying an (expensive) ice cream sundae is one of my favourite things to do on a hot day.
Their ice cream creations are super decadent, and they also serve Dampfnudel, which is one of my favourite Bavarian desserts. Hard to describe, but imagine a fluffy cloud of sweet bread sprinkled with cinnamon and soaked in vanilla sauce. IT'S SO GOOD.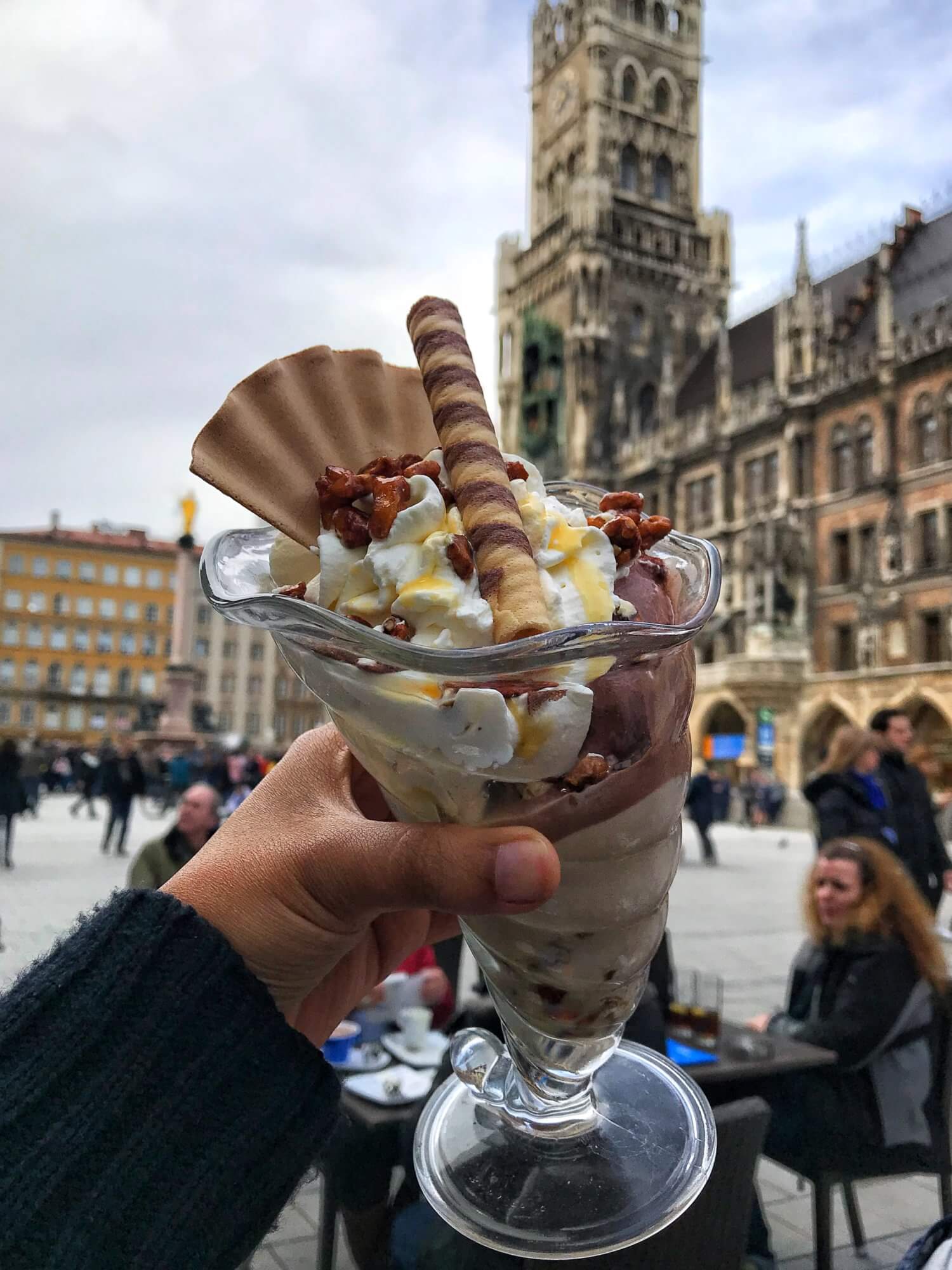 Nice Restaurants in Munich
As I said before, I'm not fancy, but if you're in the mood for some of the best places to eat in Munich that are a little nicer, here are my recommendations.
El Gaucho
Address: Frauenstraße 7-9
Some consider this to be the best steak house in Munich (within a reasonable price range) and while I haven't been balling out at multiple steak houses around the city, this place was awesome and hit the spot for a slightly nicer birthday dinner. Some of the best steak in Munich I've had so far!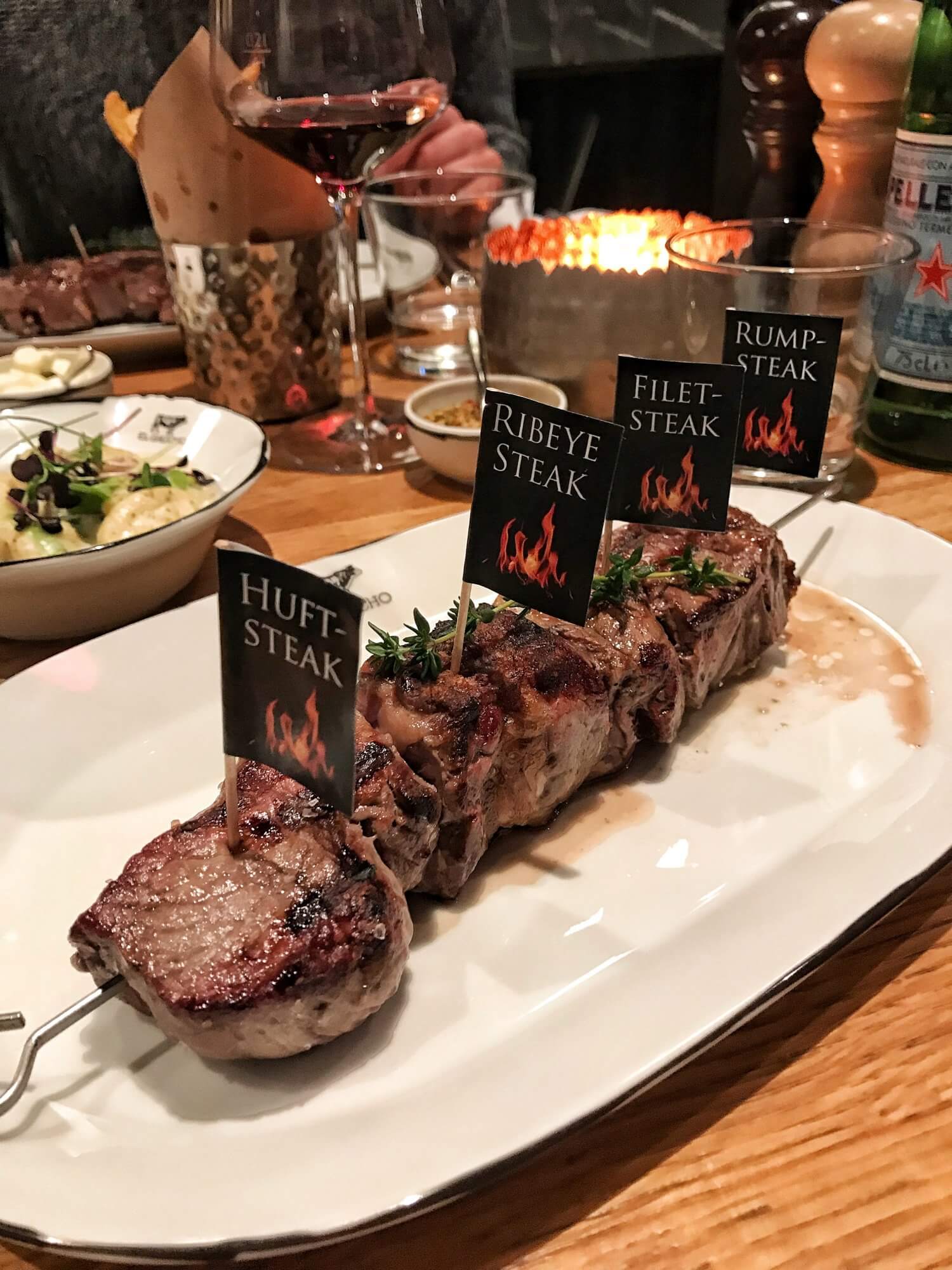 Restaurant 181
Address: Spiridon-Louis-Ring 7
Click here to visit their website
I've only had lunch here but the food was nice and of course you can't beat the views. The prices are a little higher than average but not outrageous considering the "experience" of it.
At lunch time, most main courses are under 20 euros and you can even get a three course lunch menu for 36.50. If you are looking for a romantic and unique dinner in Munich, then their sunset menu (54 euros for a 3 course meal, not including drinks obviously) is a good choice.
Obviously, reservations would be smart because I'm sure they book up quickly (especially for the sunset time slot).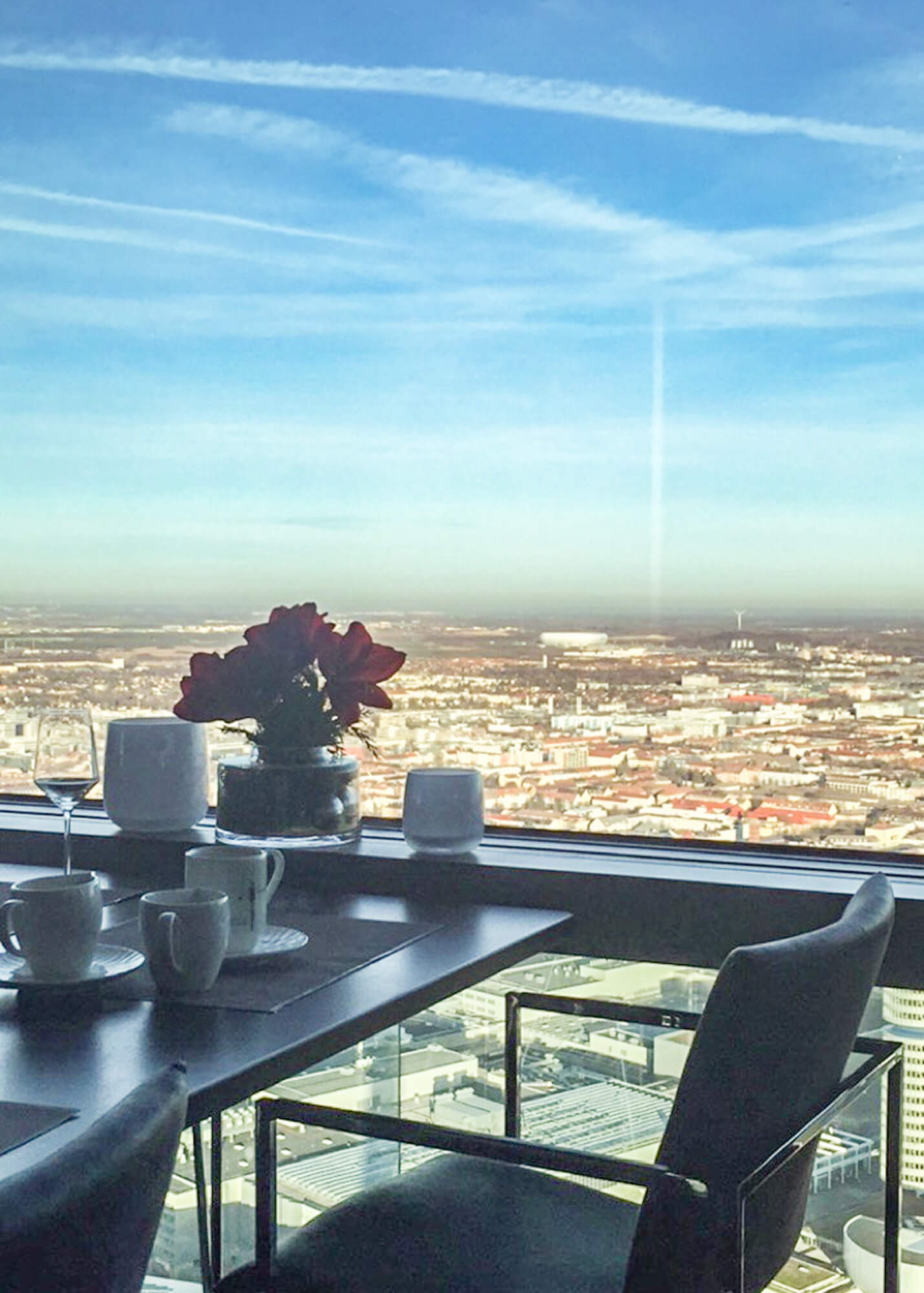 Esszimmer ($$$$)
Address: BMW World, Am Olympiapark 1
Click here to visit their website
Last but not least, if you REALLY want to ball out and treat yourself, there's Esszimmer. Full disclosure: I have never eaten here but some friends of mine have and raved that it was the most amazing meal they've ever had.
Located in Munich's fancy BMW World building, its fine dining menu has earned it a regular spot in lists for the top ten restaurants in Munich. Seriously, every Munich restaurant guide mentions it, so it must be kind of good at least, right?
If you're on the hunt for romantic restaurants in Munich, know that this one often tops the list and is sure to dazzle and impress 😉
Now, go enjoy the best food in Munich!
As you can see, there's no shortage of delicious things to eat in Munich, so I hope you enjoyed this list of the best restaurants in Munich. Now go out and experience it. Guten appetit!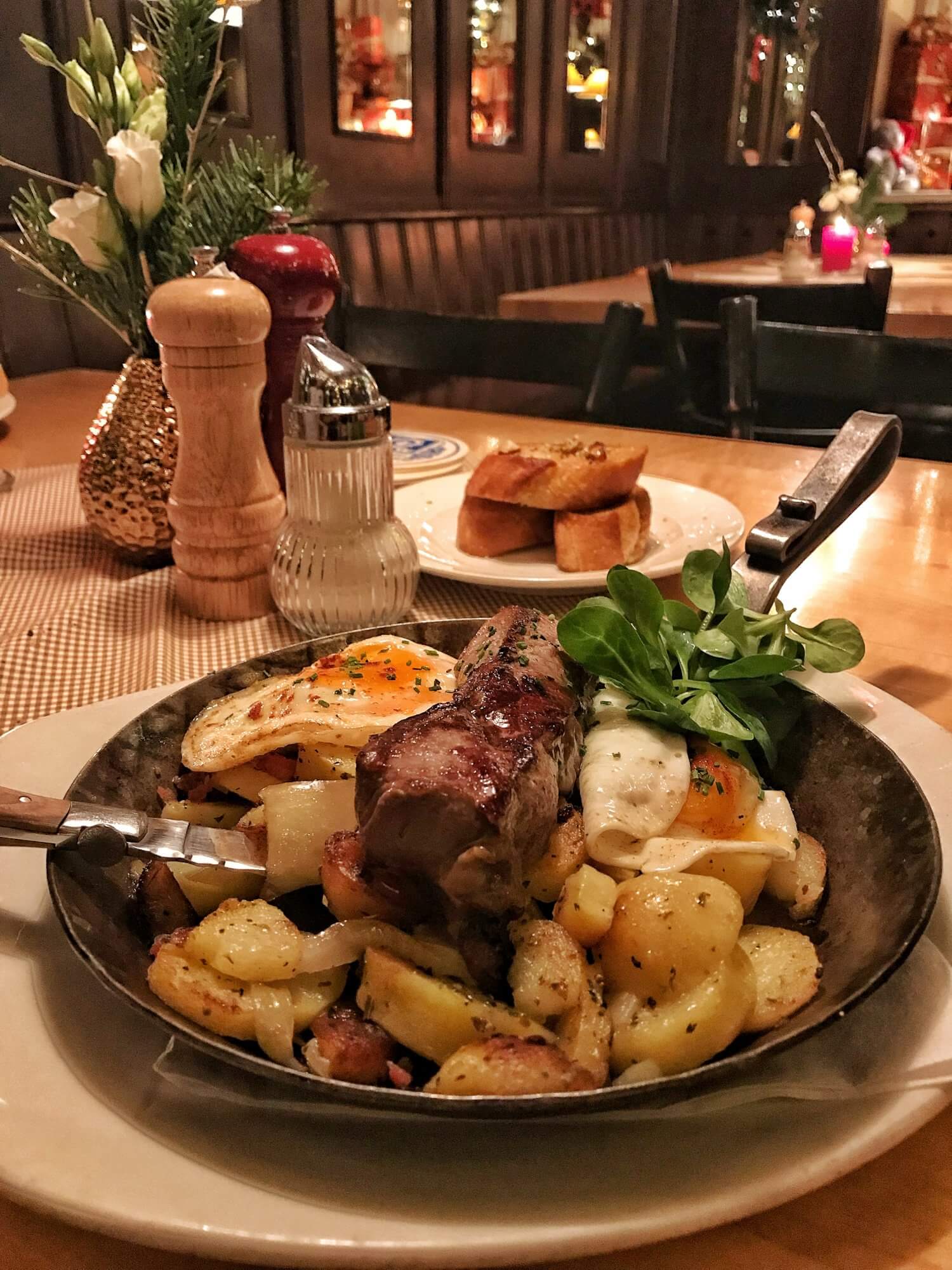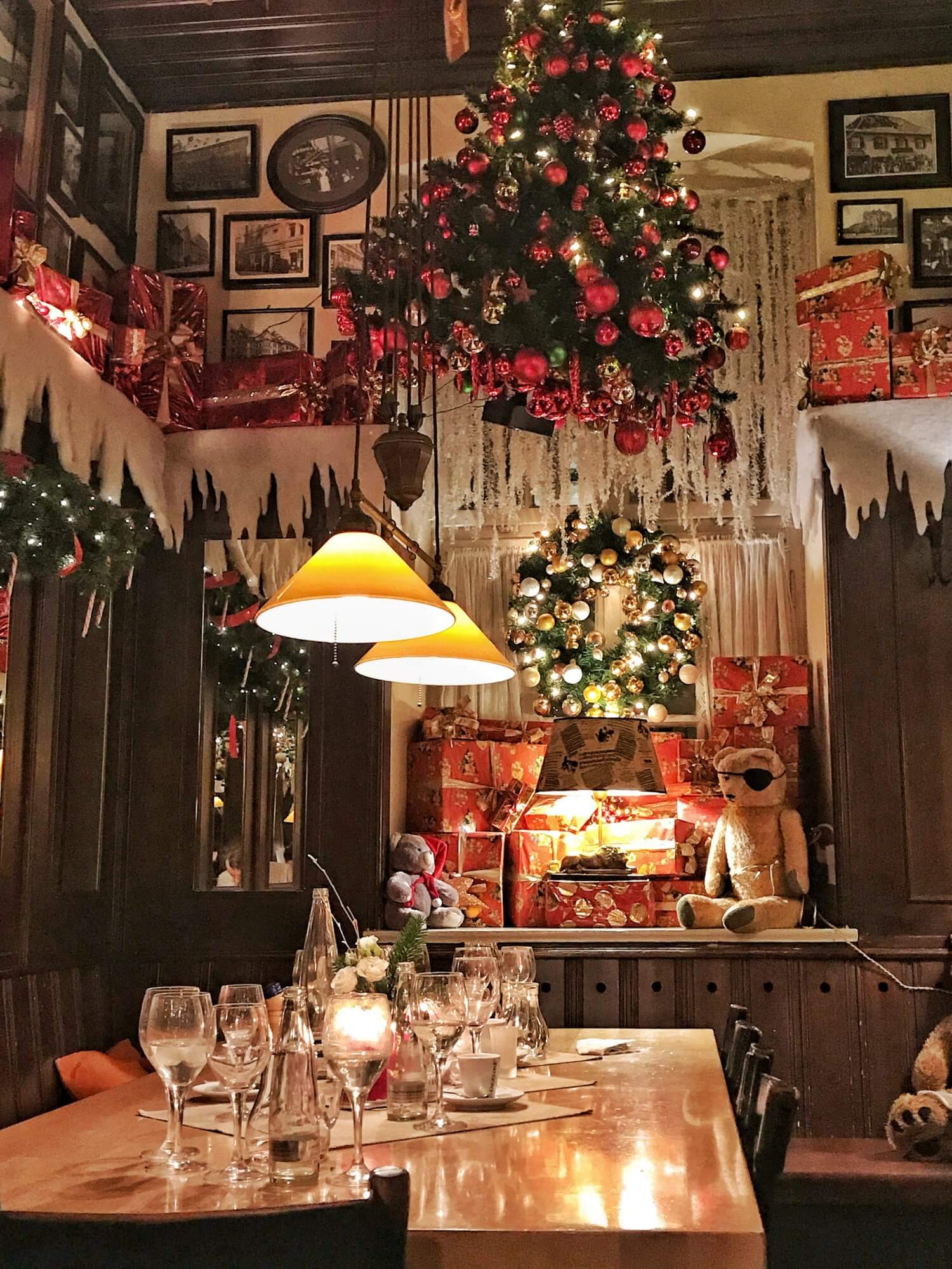 My Go-To Travel Favourites: