*FYI - this post may contain affiliate links, which means we earn a commission at no extra cost to you if you purchase from them. Check out our Privacy Policy and Disclosure. for more info.
Call me vain, but I think dressing up in Oktoberfest clothing is one of the best parts of the entire experience!
And, as I've learned, these outfits are serious business.
I mean from an outsider's perspective, it's easy to think that these are just "Oktoberfest costumes" and any cheap outfit from a Halloween shop will do, but that is 1000% not the case. The traditional clothes worn at Oktoberfest are actually traditional Bavarian attire, and the variety of styles/prices is mind-numbing.
If you're wondering what to wear, what to buy, where to buy it and some serious dos and don'ts, here is a guide on Oktoberfest clothing that you don't want to miss.
---
Oktoberfest Clothing Guide for Women
This is just a brief overview of Oktoberfest outfits for women. If you want a more thorough post with plenty of examples/extra considerations, check out this guide.
At Oktoberfest, ladies wear dirndls!
The must-haves:
A dirndl: Made up of a blouse, bodice and apron. These can usually be purchased in a set. The bodice is meant to fit like a glove and accentuate your 'assets', so be sure to try yours on before buying if possible. A key consideration is length. Traditional dirndls tend to be at knee-level or longer. Only tourists really wear the very short dirndls. Check out this full guide to learn more about what to look for in a dirndl.
Comfortable shoes: Heels are a no go, unless you want to be hobbling home by the end of the night. Comfy shoes are a must because you'll be on your feet a lot more than you might think. The festival grounds are huge and you should be dancing on the benches by 8pm if you play your cards right. Close-toed and comfortable are what you should go for.
Small purse: Big bags over 3L aren't allowed at Oktoberfest, and you wouldn't want to bring a big bag anyway because there's no coat check. Most dirndls will have a pocket, but a small cross-shoulder purse is perfect for holding your cash, phone, etc. Don't bring anything you wouldn't mind losing/getting dirty. My best tip is to just bring a small purse and wear it at all times, that way you don't need to worry about keeping your purse on the ground/getting beer spilled on it.
Optional add-ons:
Flower crown: Forget Coachella, flower crowns are totally a thing at Oktoberfest too. You'll find a lot of them for sale at stalls around the festival.
Cardigan/coat: There's a lot of really beautiful traditional coats and sweaters that you can buy that look really elegant over a dirndl. That said, it's a pricey addition and probably not worth it if you're only going to Oktoberfest once. Here's a nice example from the official Oktoberfest website.
Pretty braids: It's very common to see girls dressed up with some elaborate braided hairdos. It really helps complete the look! That said, if you're hopeless with hair like me, braids aren't mandatory.
---
Oktoberfest Clothing for Men
At Oktoberfest, men wear lederhosen (literally meaning 'leather pants').
The must-haves include…
Lederhosen: Most lederhosen looks similar, but make sure you get one of good quality (especially if you plan on wearing it more than once). Men are said to only need one pair of lederhosen for life (until the beer belly starts to creep in, of course). Two main considerations are length and whether or not you want suspenders (the answer is yes! They look awesome). Lederhosen typically come in shorts-length and 3/4 leg length.
A shirt: You'll see a lot of checkered shirts (usually red or blue) but white is more traditional (and in my opinion, looks much sharper/smarter). Usually these shirts are button-up or 'smarter' looking tops. Don't you dare wear a t-shirt under your lederhosen or prepare yourself for some death stares.
Good shoes: Something that you will not mind spilling beer all over. Should also be very comfortable so that you can dance without getting tired 😉 Check out these beer/vomit repellent ones from Adidas!!
A felt hat: Class up your outfit with one of these bad boys (but never one of the stupid chicken or beer hats… those are ridiculous).
Cool belt: Feeling fancy? You can jazz up your outfit with a cool leather belt that has a super manly buckle (like animals fighting or something). Here are a few.
Vest/waistcoat: To complete your Oktoberfest bro outfit, consider getting a nice vest/waistcoat to complete your look. Many locals will have one.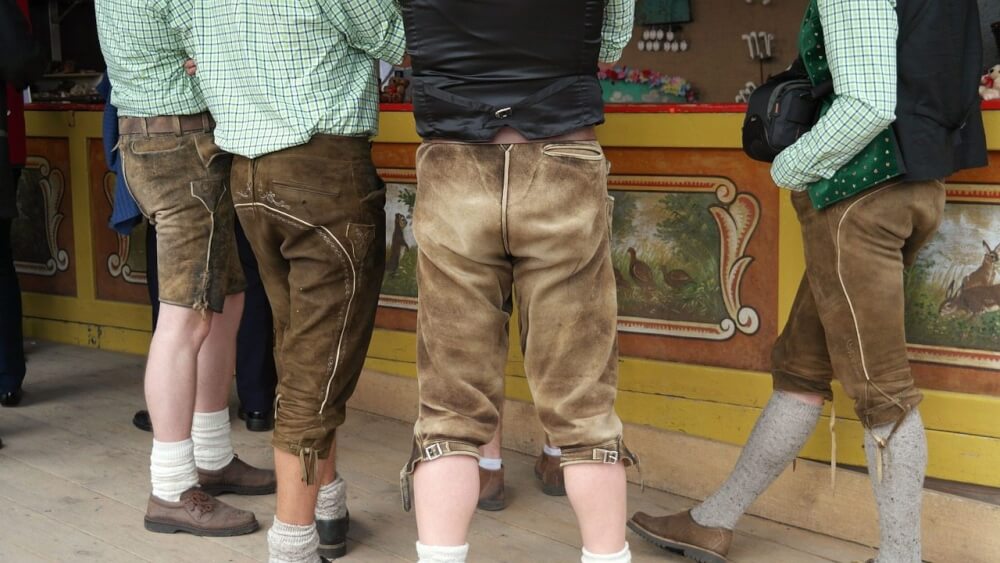 ---
Oktoberfest Clothing Do's and Don'ts
FYI: It's important to remember that these outfits aren't "Oktoberfest costumes", they're actually traditional clothes worn in Bavaria (AKA trachten). Like, it's not just a weird stereotype thing… I've genuinely seen men in the countryside mowing lawns in lederhosen, and you'll see these outfits worn at all sorts of special, formal events besides beer festivals. So, treat them with some respect and don't make a mockery of them. Here are few things you must avoid:
Ridiculous hats.
You will see a lot of ridiculous hats for sale in Munich around Oktoberfest time. Ones that are shaped like beers, for instance. Wearing these will immediately flag you as an obnoxious tourist. Don't do it – it looks dumb and people will judge you. Bavarians do love hats, but classy felt ones. They also love judging. Don't give them the satisfaction 😉
Lederhosen or dirndl 'shirts'.
You know, the ones that have lederhosen or dirndls printed on them to make it look like you're kind of wearing one. No, no no. These are the laziest things ever! You are better off just wearing regular clothes!
Overly short dirndls.
Traditional dirndls should go past the knee. The really short ones look very costume-y and are typically only worn by tourists.
---
Where to buy Oktoberfest Clothing Online
I would definitely advise against buying your outfit online because trying it on for the perfect fit is very important! But, in a pinch, here are some online options:
Rare Dirndl: My new (favourite) dirndl ever comes from Rare Dirndl, run by badass designer, Erika Neumayer. Her dirndls are super cool, modern, different AND she offers free shipping & returns. Check out some of her amazing creations here.
Amazon
: There are a lot of options on Amazon but be careful, many of them are the costumey/cheap. If anything seems too good to be true in terms of price, it probably is. You should expect to pay at least $100 for something of passable quality.
TrachtenShop.de: Really beautiful selection of trachten. Fast shipping. Higher end though – dirndls are around $150+.
---
Where to buy Oktoberfest Clothing in Munich
Here are some options for buying Oktoberfest clothing in Munich once you're there. For your convenience, I've ordered them from the most affordable to the most expensive, and have mainly chosen places that are easily accessible within Munich's city center. You can also click here for my full guide to doing Oktoberfest on a budget.
Flea markets: Munich is full of awesome flea markets that will carry second hand/new dirndls and lederhosen. There is a great one at Olympiapark on Fridays and Saturdays.
Second hand shops: Second hand shops in Munich will almost always have some trachten in stock, even new ones with the tag still in tact! The difference? It's much cheaper. NOTE: Many of the second hand shops in Munich (e.g. ReSales) have special discounts for students on certain days or even on special holidays. I got a spring dirndl for 50% off on International Women's Day one year – scooore.
Facebook groups: There are many Facebook groups meant for people in Munich buying/selling things like clothing, furniture, etc. Often you'll find people selling their dirndls and lederhosen for bargain prices. You can see some of these groups here, here, and here.
eBay: In Germany, eBay works kind of like a Classifieds/Craigslist and there are often people selling used dirndls/lederhosen here. My boyfriend recently got an amazing pair of lederhosen and a shirt for 25 EUROS! Unbelievable. The catch is you usually have to go pick it up, which is a hassle but it's a great way to get your outfit for cheap. Click here to check it out (and turn on Google Translate because it's all in German).
C&A: this is a department store with several locations in Munich. It's a good middle ground place to get your Oktoberfest clothing. The quality is okay and the prices are fairly affordable (relatively speaking).
Trachten Rausch: Beautiful selection in the 100 euro+ range.
Galeria Kaufhof: A higher end department store with several locations in central Munich. Pricier than C&A but decent quality. You can browse some options online too.
Loden Frey: Ridiculously beautiful outfits but at a very high price (the dirndl I had my eye on was 800 euros!). Supposedly where many high class folks do their shopping 😉
Angermaier: Huge range of beautiful designer pieces from 100 euros to a thousand! One of the most well-known names in Munich.
BONUS TIP: Not finding anything at these shops? Just keep your eyes open and be on the lookout for shops that have signs saying "TRACHTEN". Around Oktoberfest time, most boutiques/stores in Munich will be selling some.
---
Where to rent Oktoberfest clothing in Munich
Since you may never wear your trachten again, you might want to consider renting. Bavarian Outfitters allows you to make a reservation online without paying anything, but it's actually not THAT cheap considering you have to return the outfit eventually. Dirndl rentals are around 50 euros a day (with 50% discount for subsequent days). Browse your options here.
---
Do I need to have special Oktoberfest clothing?
As you probably know by now, getting good quality dirndls and lederhosen can total up to a massive expense.
So, is it really necessary?
Well, the truth is: wearing dirndls and lederhosen are not officially mandatory. There will definitely be people there who are not wearing them – visitors and locals alike. A warning to fellow FOMO sufferers however, they are a very fun part of the experience, and you will inevitably feel a bit left out if you don't have them.
That said, it IS a pricey purchase for a one-time thing, so don't feel pressured to buy something "just because everyone else is doing it". If you value your money more than fitting in for a few days, then there's really no need to buy any special outfits for Oktoberfest. Plus, as previously stated, sometimes it's better to just wear normal clothing rather than buy a cheap outfit or lame imitation.
---
Rock it and have an amazing time!
Remember, at the end of the day, the most important thing is that you have fun. Don't stress too much about your outfit – people won't notice after a few beers anyway 😉
If you still have any questions about Oktoberfest clothing, feel free to ask away in the comments! I'll try my best to help.
Thanks again for reading my Oktoberfest Clothing Guide! Please note that this post does contain affiliate links which means I earn a small commission when you purchase through my links. They come at no extra cost to you however 🙂 Feel free to ask if you have any questions.
---
Pin for later:
Snag a free copy of my printable Oktoberfest ebook guide!
Just enter your email and you'll get a free copy of my Oktoberfest Insider Survival Guide for free! PLUS access to my VIP library of resources 😉
---
Watch my latest video:
---