*FYI - this post may contain affiliate links, which means we earn a commission at no extra cost to you if you purchase from them. Also, as an Amazon Associate I earn from qualifying purchases. Check out our Privacy Policy and Disclosure. for more info.
If you've been following my stories on Instagram, you probably already know that Munich is one epic place to be.
And while conventional wisdom around the Bavarian capital circles more or less around giant beers and tight leather pants, I'm here today to inform you that Munich is really a whole lot more than that.
Between the lush green spaces, the beautiful architecture, the quirky public art pieces and of course, the flawlessly pretty people, I've grown to love Munich for far more than its beer.
After living there for over two years, I can confirm: Münchners enjoy a pretty swishy lifestyle, one that any visitor or expat should thoroughly take advantage of.
So from typical tourist must-sees to fun activities off the beaten path, I've slaved over this massive list with ridiculously fun things to do in Munich, including what to see and eat.
Take this as inspiration for your next visit, or hey, for you lucky ones living there, consider this your big, bad Munich bucket list.
Save this Munich Bucket List for later!
This is a ton of info, so be sure to save this post and refer back to it later.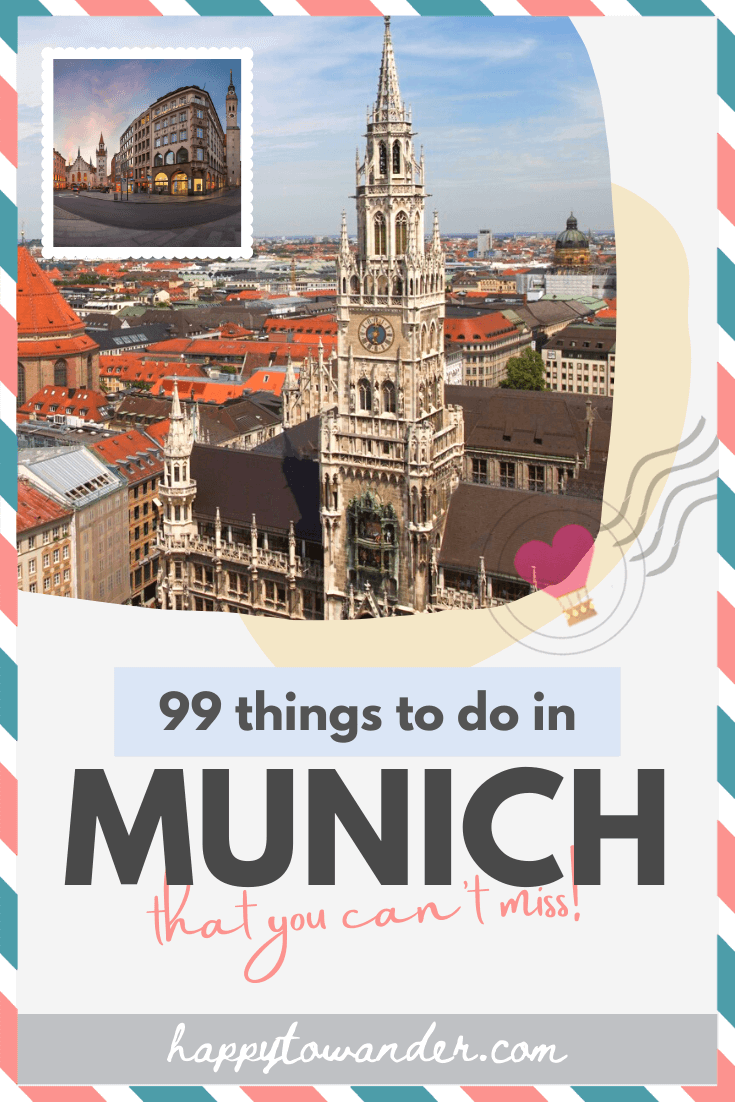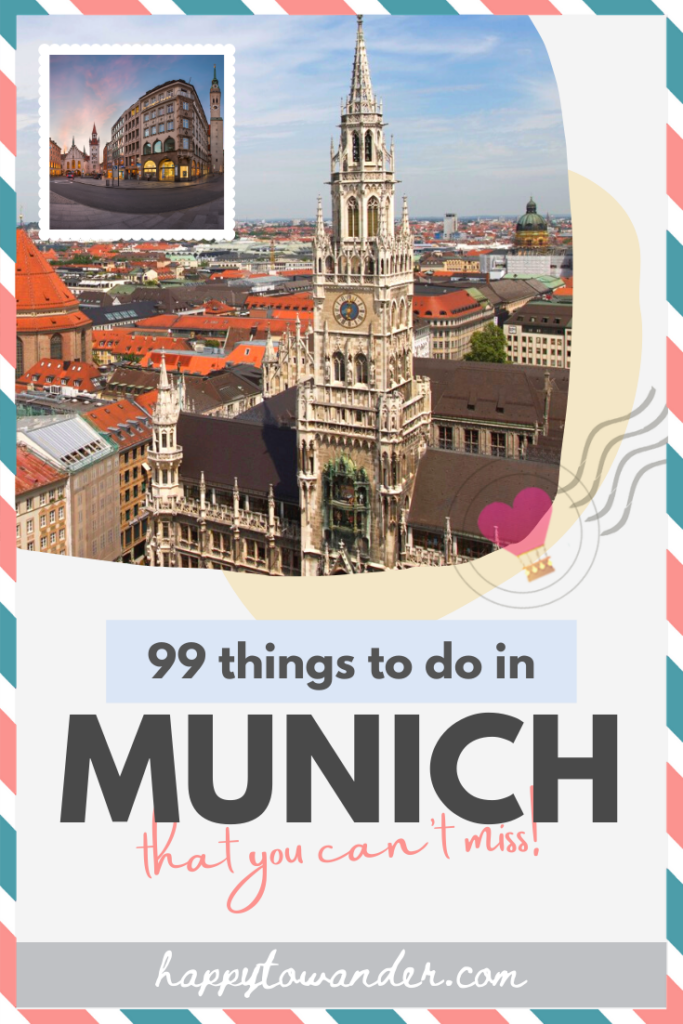 Note: these recommendations and tips are written from the perspective of an English-speaker in Munich, so most (if not all) activities are English-friendly, anddd I might be missing some more classically Bavarian recommendations. If so, let me know in the comments!
PS: Looking for more local insider recommendations for cities around Europe? Check out Omio's free Facebook group, the Locals, designed to connect travelers with local tips!
Visiting Munich? Here are some other articles you might like: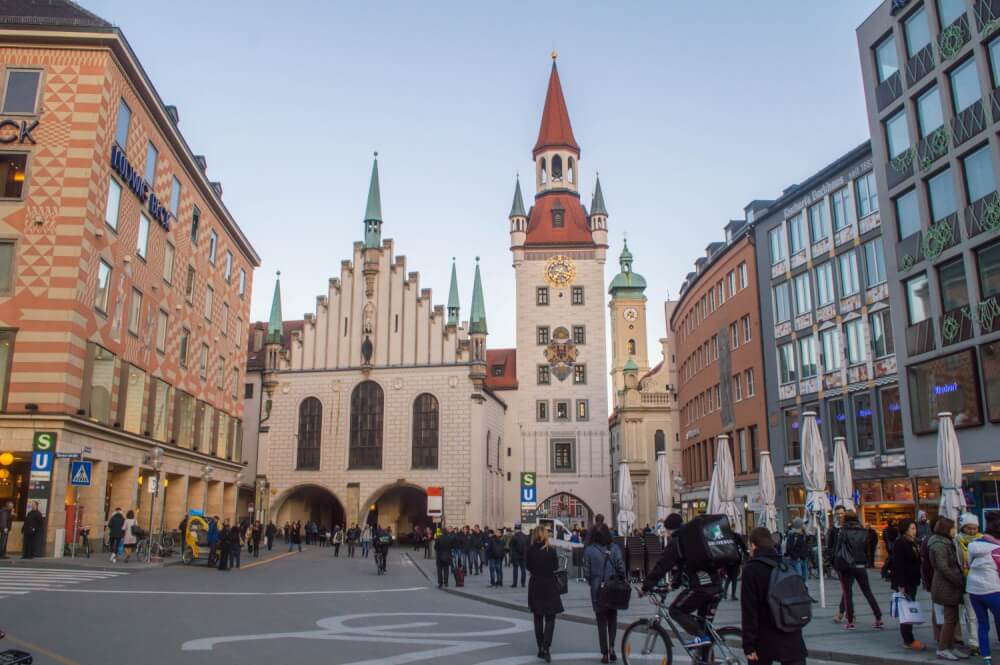 Touristy Things to do in Munich + Must-See Munich Sightseeing
Let's get some sightseeing out of the way first! If you want to experience some of the most gorgeous spots in Munich, here are some of my top picks on places to go.
1. Get the best view of Munich's Old Town by climbing St Peter's Tower
Address: Rindermarkt 1
It's a long climb (299 steps), but the view is unbeatable. This postcard view is Munich sightseeing at its finest 😉
If you're visiting during a peak period like the summer or a weekend, I would recommend getting here early when it opens to avoid crowds… it can be pretty claustrophobic when there's dozens of others climbing with you!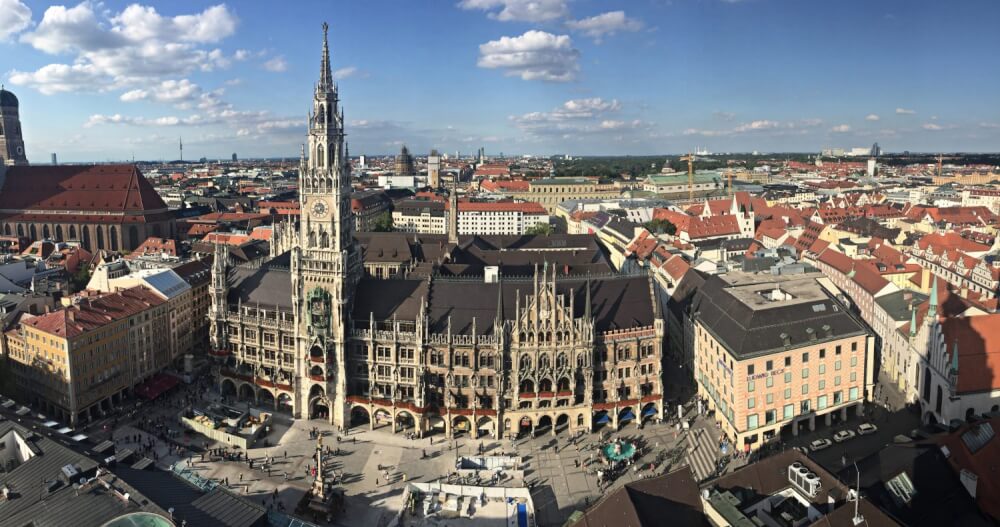 2. Stalk surfers on the Eisbachwelle (or you know, give it a try yourself)
Despite its landlocked location hundreds of miles from any coastline, Munich is such a badass city that it offers prime surf opportunities anyway.

One really fun thing to do in Munich is watch the pros rock the wave from street level on Prinzregentenstraße.
This wave is on my walk home, so I can confirm they are genuinely there at all hours of the night, rain or shine!
For a lesser known Munich surfing experience, you can also venture further down the Eisbach to peek at the beginners wave (who might make you feel a tad better about yourself).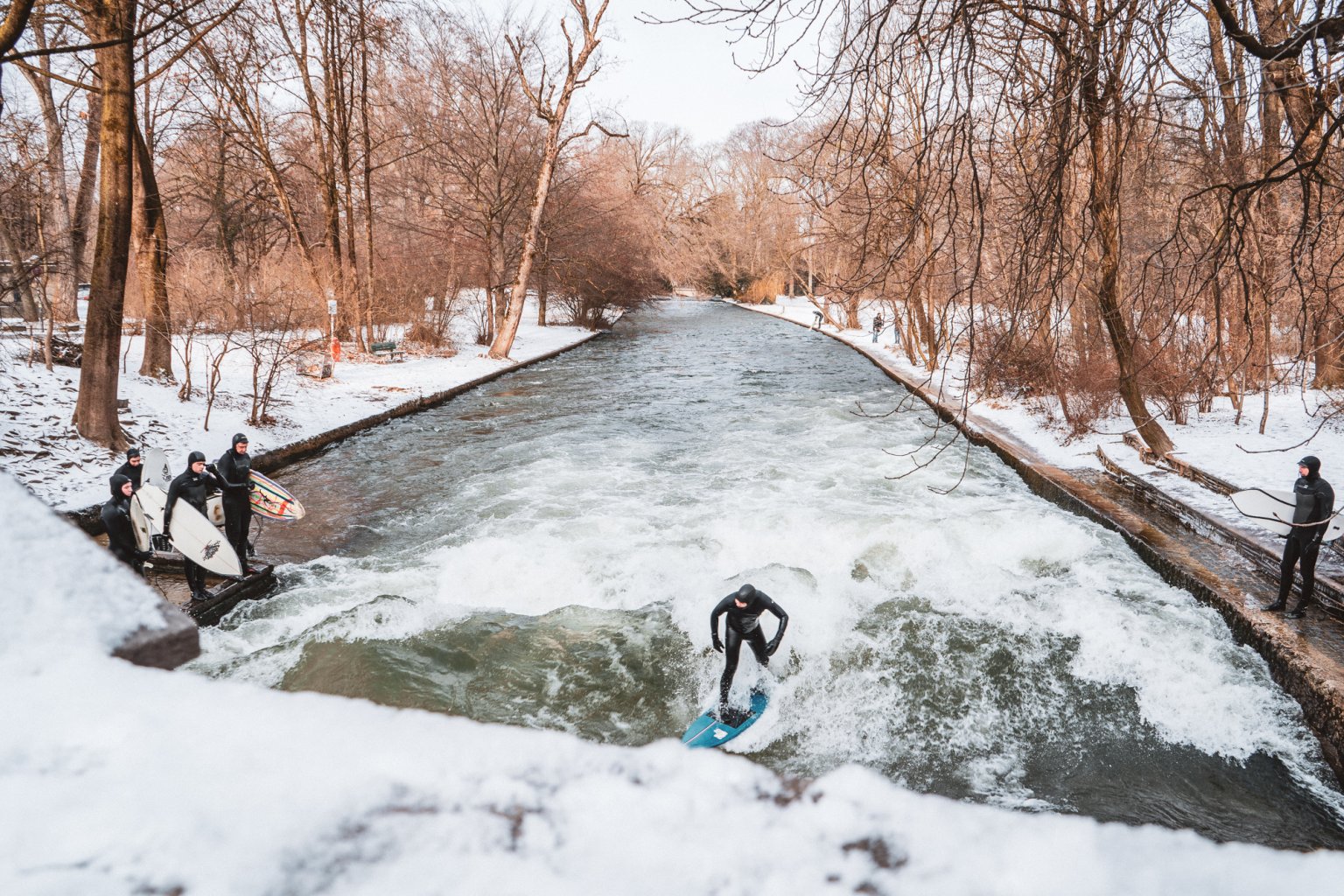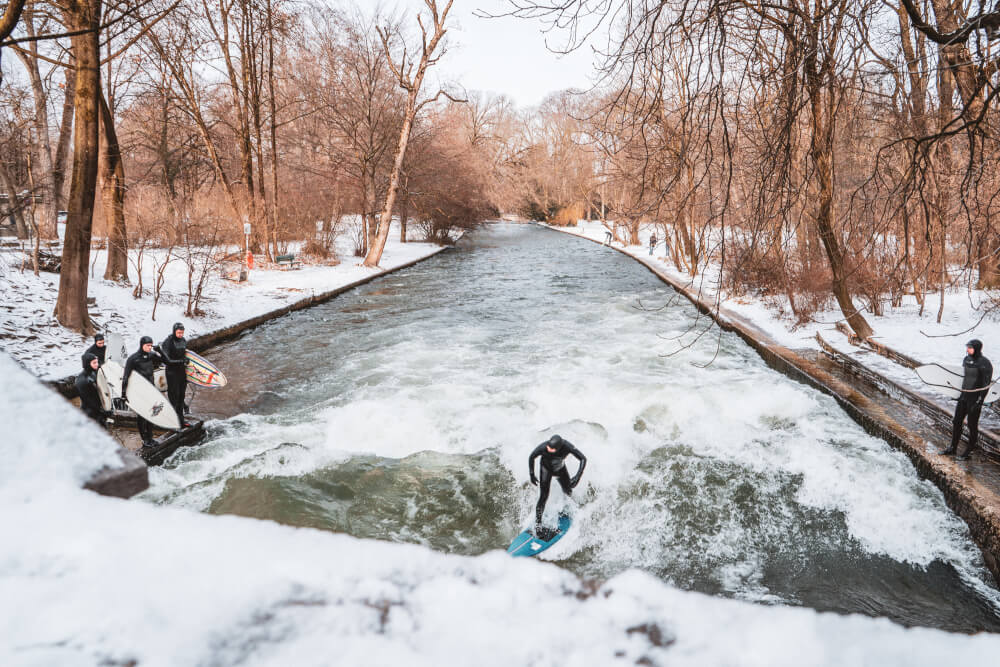 3. Walk in the footsteps of Bavarian royalty at the Residenz
The Residenz is the largest city palace in Germany, located right in Munich's city center. Imagine 10 courtyards, 130 rooms and an epic Hall of Antiquities.
This is one of the most well-known things to do in Munich, and I'd highly recommend it especially on a rainy day.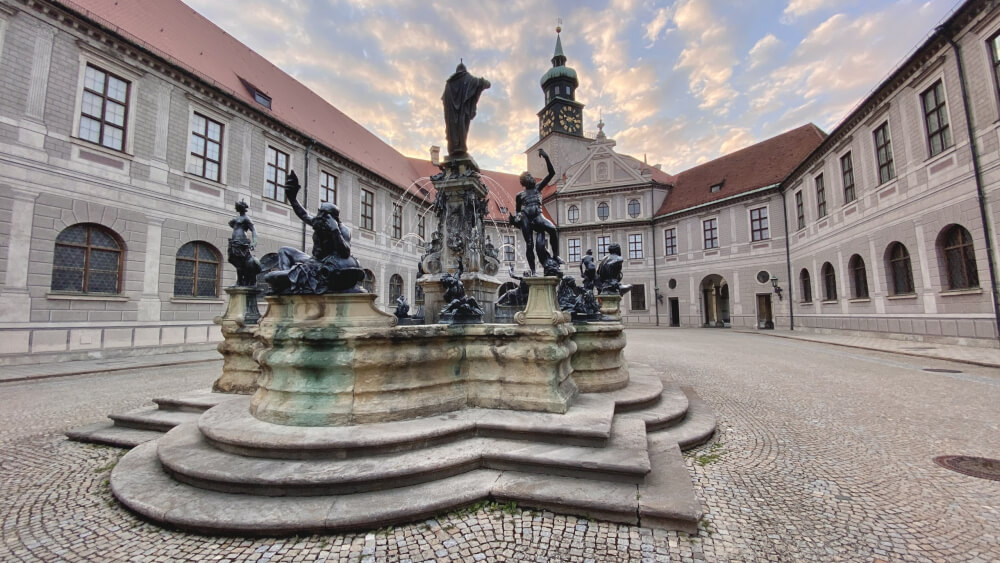 4. Enjoy the quaint ambiance at Hofgarten
Located right behind the Residenz, the Hofgarten is a gorgeous public garden with plenty of benches and calming fountains. It's one of my favourite places in Munich, and a great place to rest your feet between sightseeing missions.
This spot is a photographer's favourite for romantic photoshoots – all the better if there's a violinist or cellist performing (which there usually is inside the Dianatempel).
So, if you're wondering what to do in Munich on a beautiful day, a visit here is always a good choice!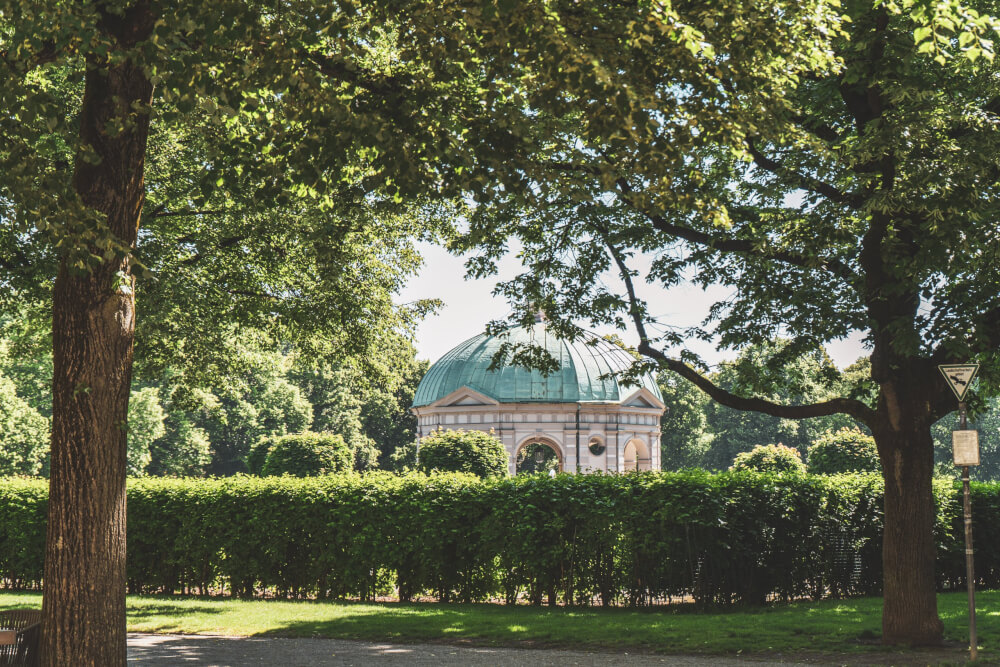 5. Snag an awesome view and sunset from Olympiaberg
This is hands down one of the most underrated of all Munich attractions and viewpoints. Sure, it's a bit of a climb to reach this hill in Olympiapark, but the view is spectacular, free and very much worth it.
Come for sunset, bring a bottle of wine and enjoy! On a clear day, you can even see the Alps.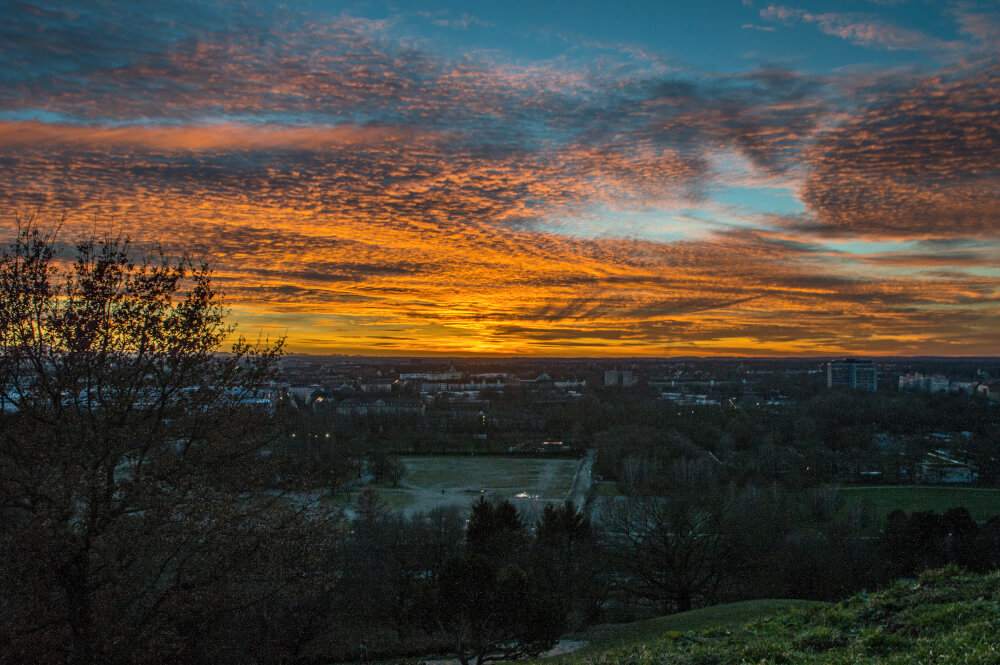 6. … Or splash out and get an even higher view from the Olympiaturm
At 181m above ground, it's crazy to see the city from this perspective, and it'll only set you back 7 euros. There's also a lovely restaurant and quaint little rock & roll museum up the tower to enjoy.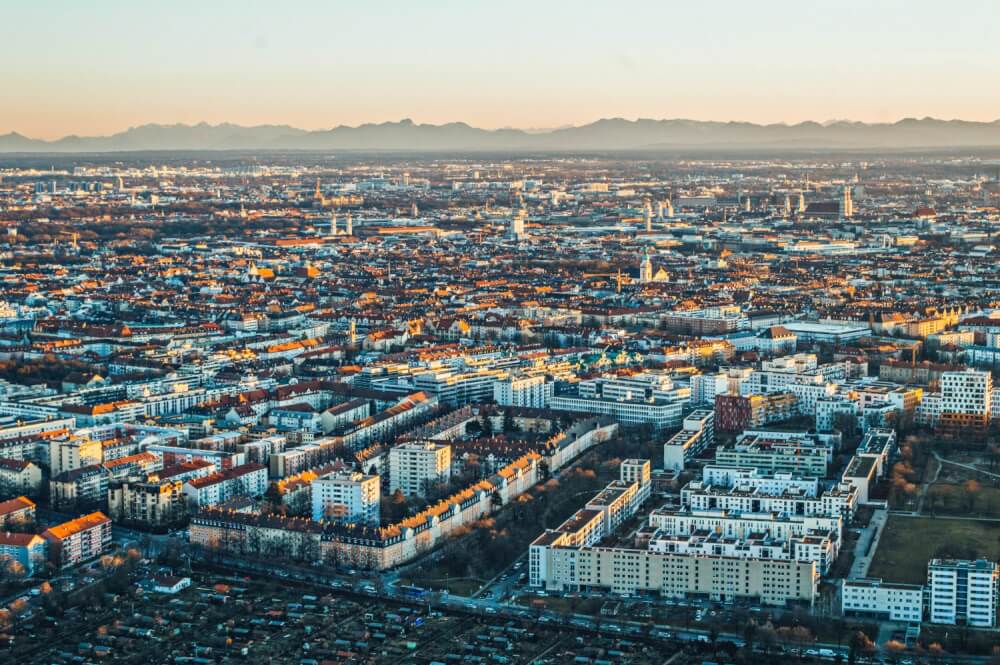 7. Indulge your inner car & motorcyle geek at BMW Welt
Okay, so this is shamelessly touristy but it's always a highlight for anyone who comes to visit me, so I wanted to include it here. BMW Welt (or BMW World) is a free attraction with an awesome collection of cars and motorcycles on display, plus you can even hop inside a vehicle of your own to get a taste of the glam life.
…. just don't touch the Rolls Royce.
Address: Am Olympiapark 1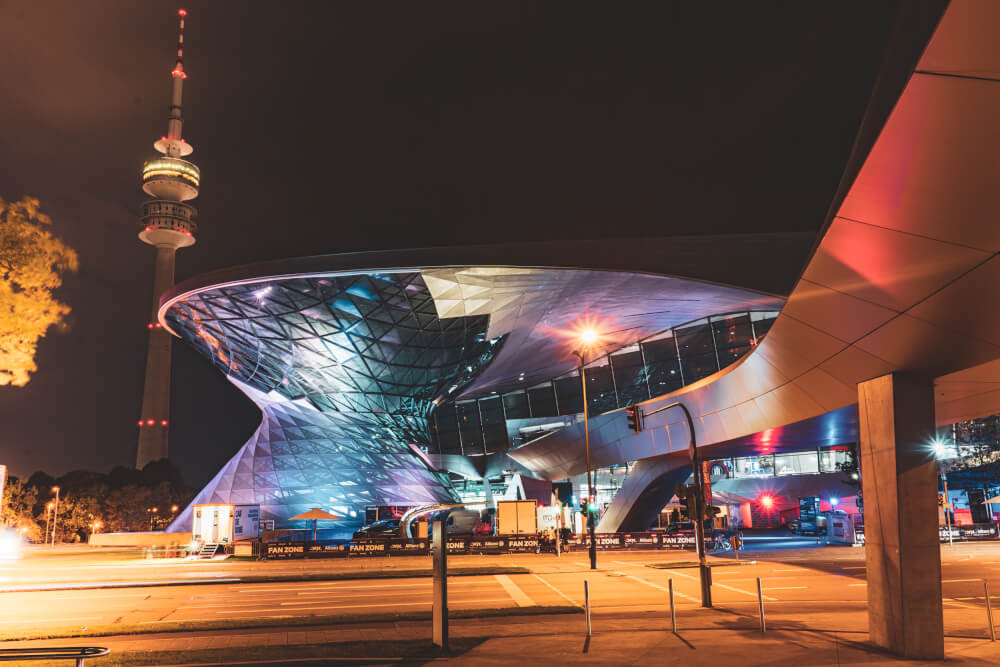 8. Climb the roof at the Olympic Stadium
Address: Spiridon-Louis-Ring 27
The ultra modern design of the Olympic Stadium is a stark contrast to the pretty buildings of Old Town, but you can't deny that its wavy acrylic glass canopy is pretty cool.
It's not cheap, but if you want to channel your inner Spiderman, it's possible to climb the roof through a guided tour that lasts two hours.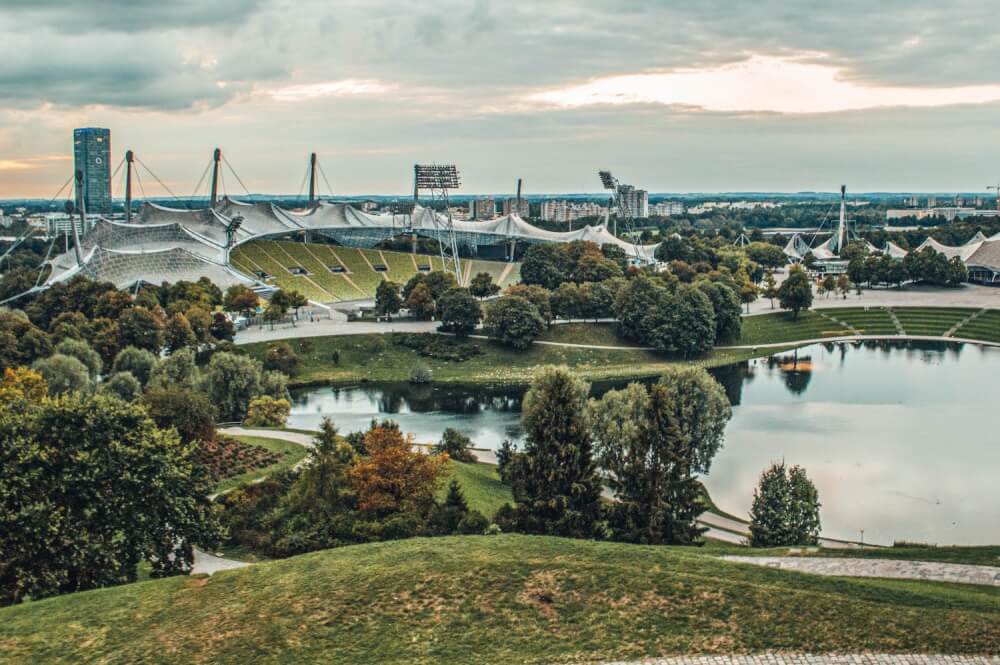 9. … or even go ziplining
Oh and for those far braver than I, you daredevils and adrenaline junkies can actually zipline across the stadium on their 'Flying Fox' attraction.
10. Go for a walk or bike ride through the English Garden
One of the top fun things to do in Munich (for locals and visitors alike) is enjoying the English Garden, one of the largest city parks in the world.
While I love coming here for walks and sunbathing, one of the best ways for a visitor to see the most of it in a short time is by going for a bike ride.
Just don't fall off your bike and cry (true story that may or may not have happened to me).
PS: If you're just visiting the city, consider taking a bike tour to soak in all the sights! Here are the best deals.
11. Feel like royalty and roam the gorgeous grounds of the Schloss Nymphenburg
Address: Schloß Nymphenburg 1
Formerly the summer palace of Bavarian rulers, this gorgeous estate (with its massive park) is one of Munich's most visited sites.
Take a tour of the beautiful interior, or frolic through the 200+ acres of French-style gardens, which are a tad reminiscent of Versailles.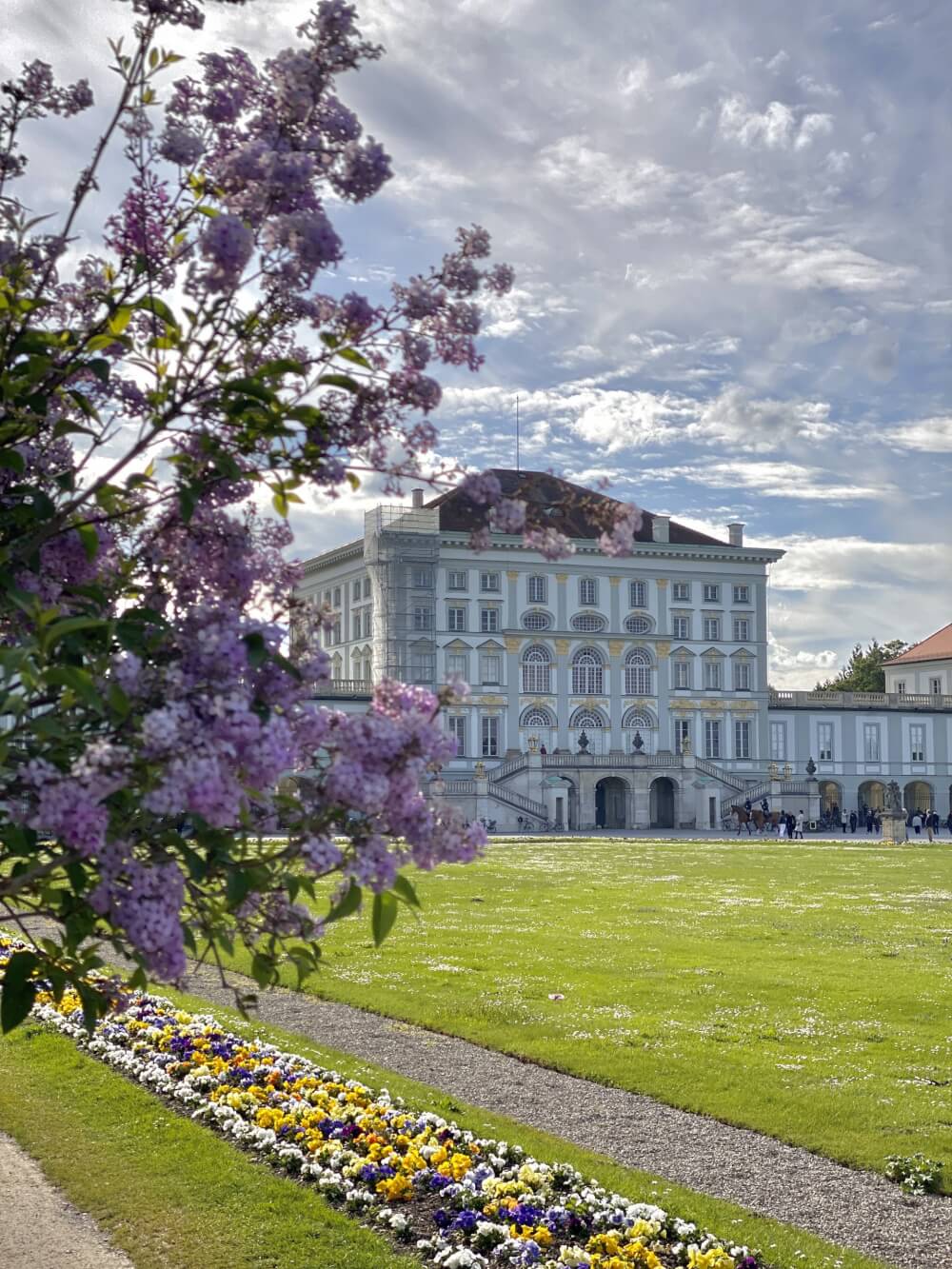 12. Prance around flowers at the Munich Botanical Garden
Address: Menzinger Str. 65
This hidden gem located right by Schloss Nymphenburg, is an oft-missed attraction that is well worth your time if you love gardens.
Having been there a few times now, I can confirm that Munich's Botanical Garden is absolutely gorgeous in the Spring (and is one of the reasons I consider Munich a must-visit Spring destination in Europe).
It is however open year round (with only a closure during the last week of December), with a relatively cheap entry fee of 5.50 euros per adult.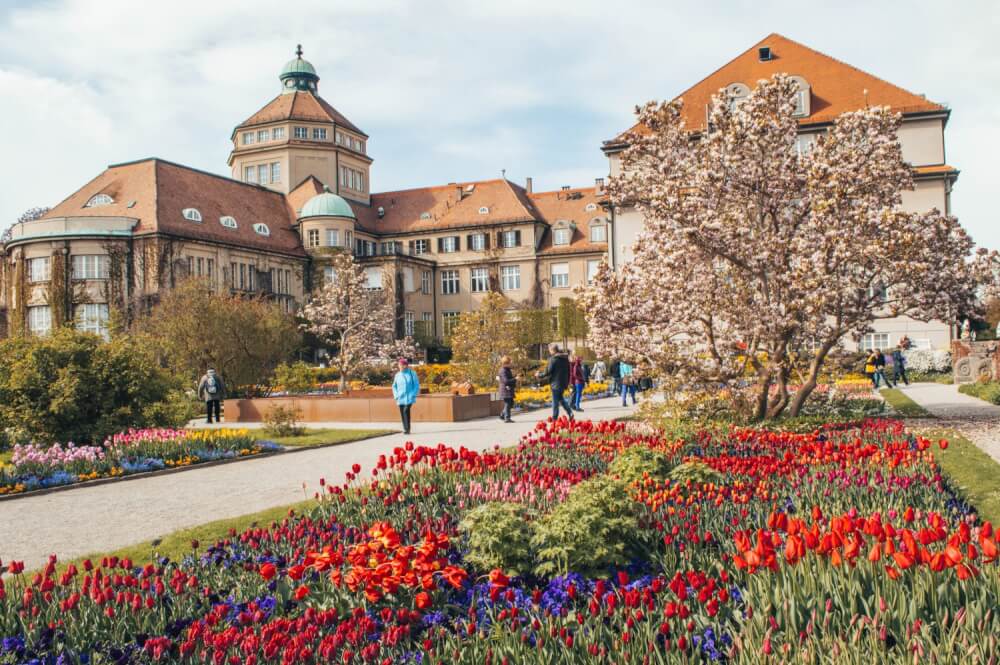 Cool museums to visit in Munich
Munich is full of amazing museums to visit, ranging from palatial art museums and historical documentation centers to sprawling science museums that rank among the world's largest.
Here is a selection of museums I recommend checking out!
13. Get your geek on at Deustches Museum
It'll probably take you days to get through this museum, which is the largest science and tech museum in the world!
Still, the exhibits are awesome and it's the perfect place to go full-nerd.
14. Appreciate modern art at Pinakothek der Moderne
Address: Barer Str. 40
This modern art museum is by far my favourite out of all the museums in Munich's Kunstareal (museum district). The exhibits are very bold and fun to browse through, even if modern art isn't typically your thing…
That said, there's plenty of other great museums close by, like the Alte and Neue Pinakothek, the Glyptothek, the Staatliche Antikensammlung, and Museum Brandhorst.
15. Walk through the past, present and future of BMW – Munich's most beloved brand at the BMW Museum
Address: Am Olympiapark 1
I already mentioned the free BMW World attraction in Olympiapark, but just nearby you'll also find the brand's fascinating BMW Museum, a must if you're interested in BMW or cars in general.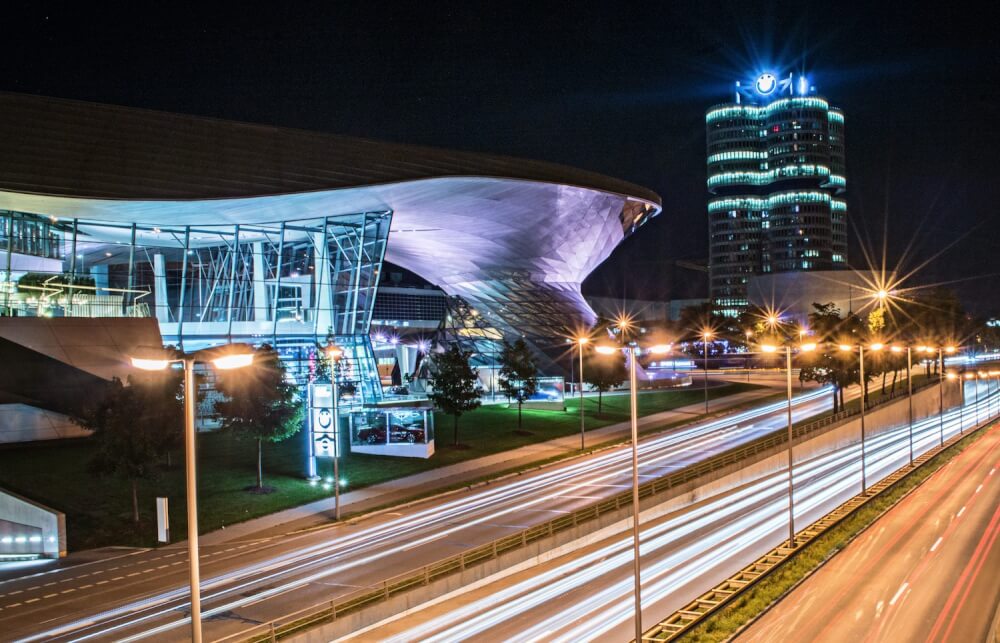 16. Learn about the dark side of Munich's past at the NS-Dokumentationszentrum
Address: Brienner Str. 34
If you only have time to visit one museum in Munich, I would highly recommend this one if you are interested in history, especially Munich's Third Reich past.
This documentation center is dedicated to the rise and fall of the Nazi Party (which was in fact established right here in Munich), with several floors of photos, documents and quotes that shed light on this important piece of city's past.
The displays are available in both English and German, with engrossing audio guides that take about 2 hours to complete, but are absolutely fascinating.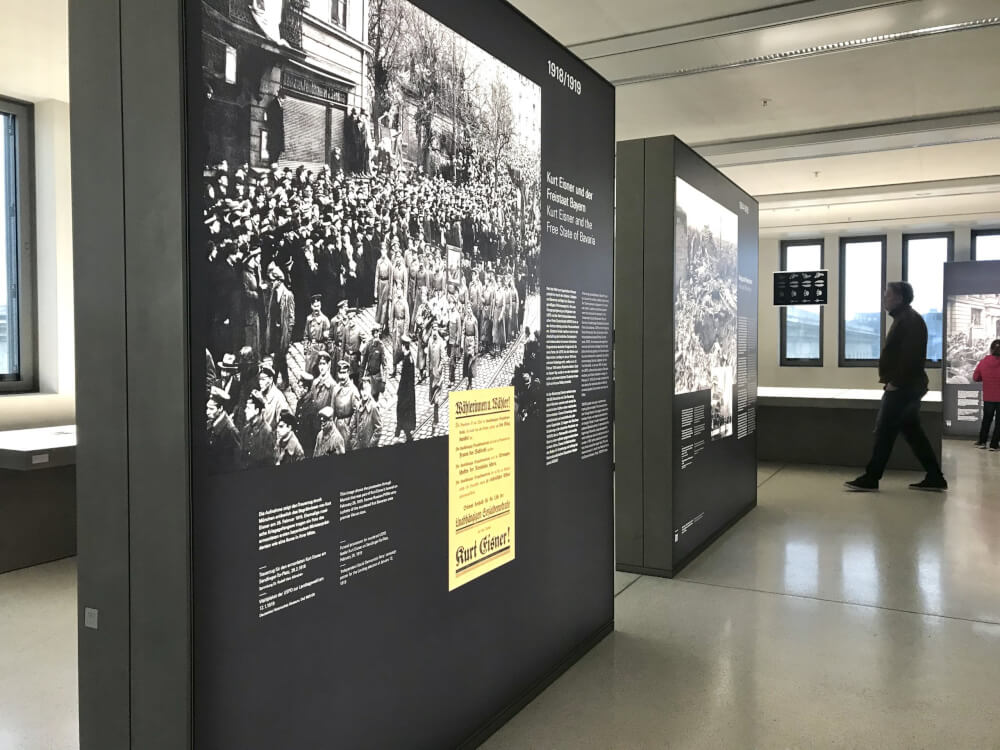 17. Drink up some knowledge at the Beer and Oktoberfest Museum
Address: Sterneckerstraße 2
Learn about the history of beer and what it is exactly that makes Munich's offerings so special. A must for any beer fanatic!
18. Immerse yourself in history at the Bavarian National Museum
Address: Prinzregentenstraße 3
Housed in one of my favourite buildings in Munich, this museum carries a massive collection of European artifacts and decorative arts.
Beware though, it's not the most English-friendly museum, as much of the signage is in German only.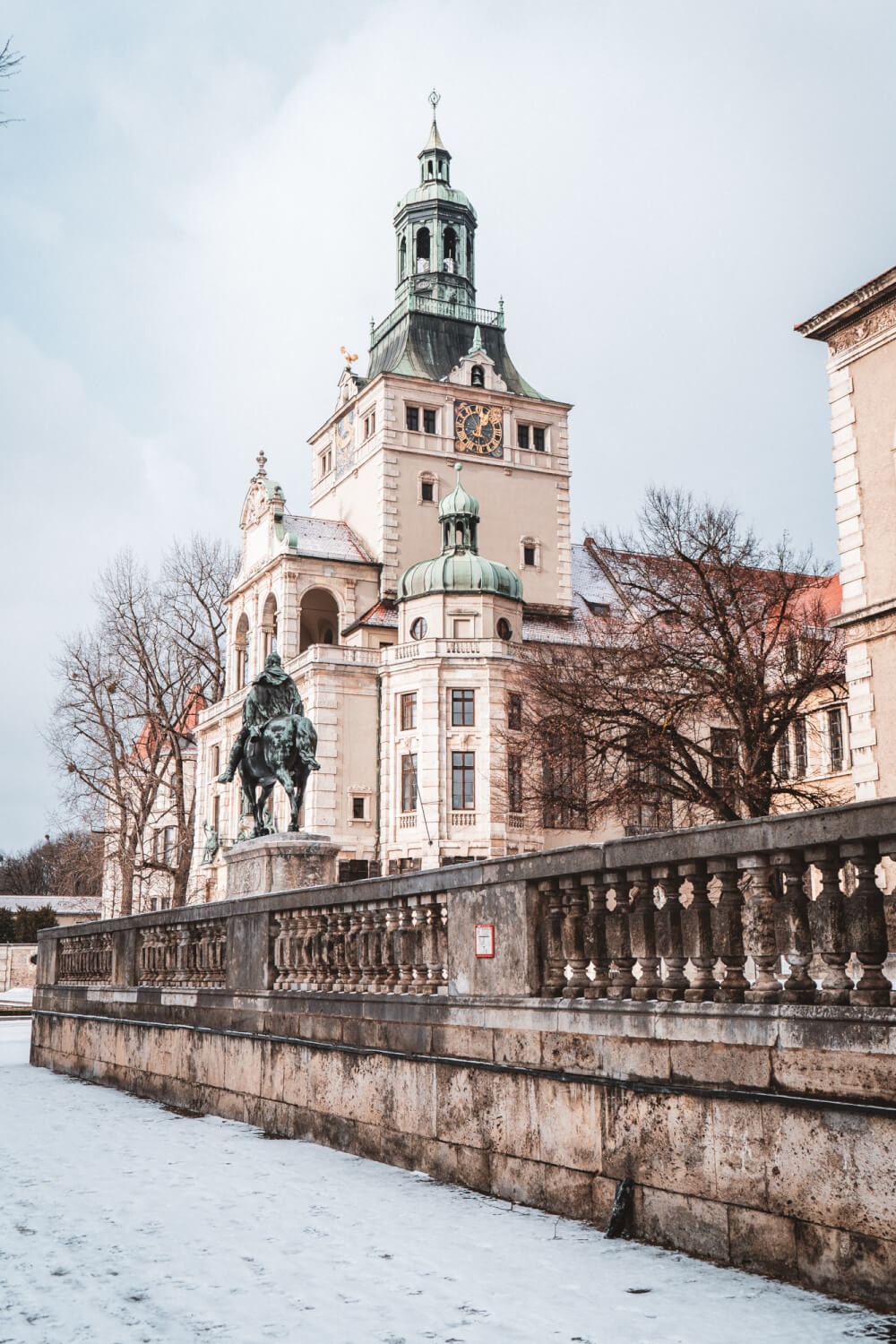 19. … or soak in all the culture you want for only 1 euro on Sundays!
For a lot of Munich's museums, admission is only 1 euro on Sundays! Hallelujah! If you're wondering what to do in Munich on a rainy day, this is always a great bet. Check here for a list.
Awesome Foodie Things to Do in Munich
If you're wondering what to eat in Munich, here are some quintessentially Munich food experiences. You can also check out a list of my recommended places to eat here.
20. Try a giant schnitzel the size of your face at Steinheil 16
Address: Steinheilstraße 16
A massive slab of deep-fried meat….. This thing will feed you for days. Don't feel too guilty, it comes with a side salad too. 😉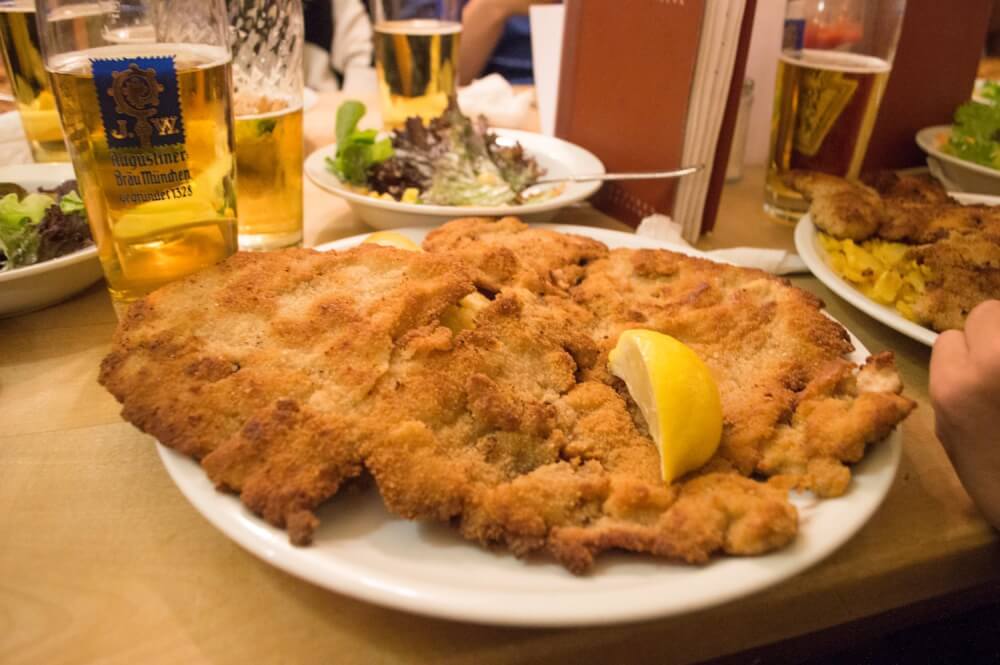 21. Enjoy some questionably flavoured ice cream at Der verrückte Eismacher
Address: Amalienstraße 77
With flavours like Augustiner (beer), sauerkraut and the much more palatable champagne, this wacky ice creamery is found right behind LMU, and has adorable pink decor to boot.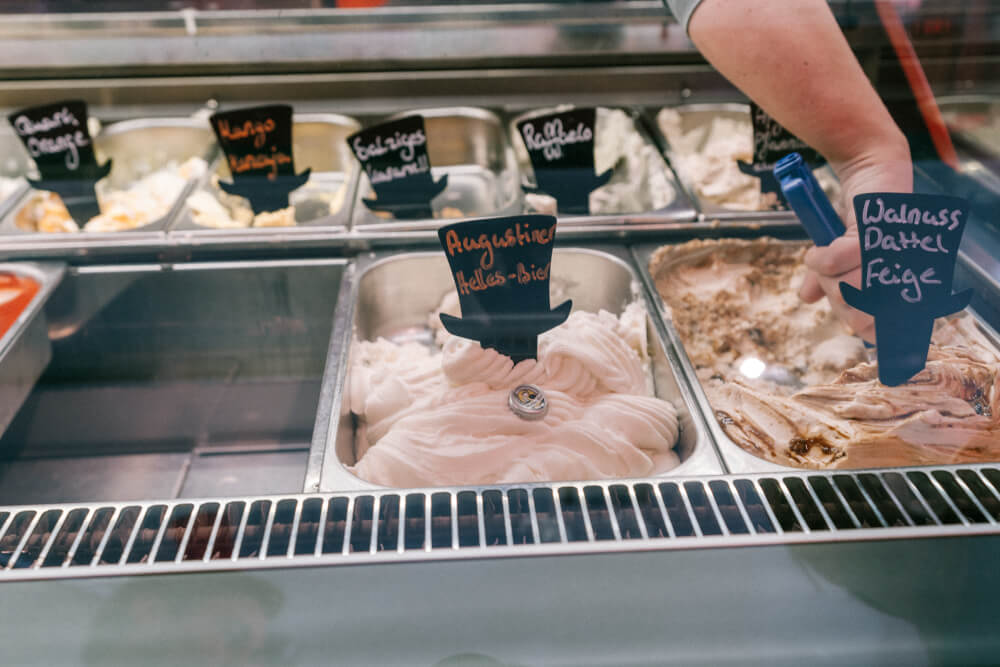 22. Devour a Schweinshaxe (pork knuckle with crispy crackling)
Best. meal. ever. After trying this, your life will never be the same.
All the better if it's doused in a dark beer gravy and served with a chewy yet satisfying Knödel (potato dumpling).
My go-to place for this is the Augustiner Klosterwirt, right by the famous Frauenkirche.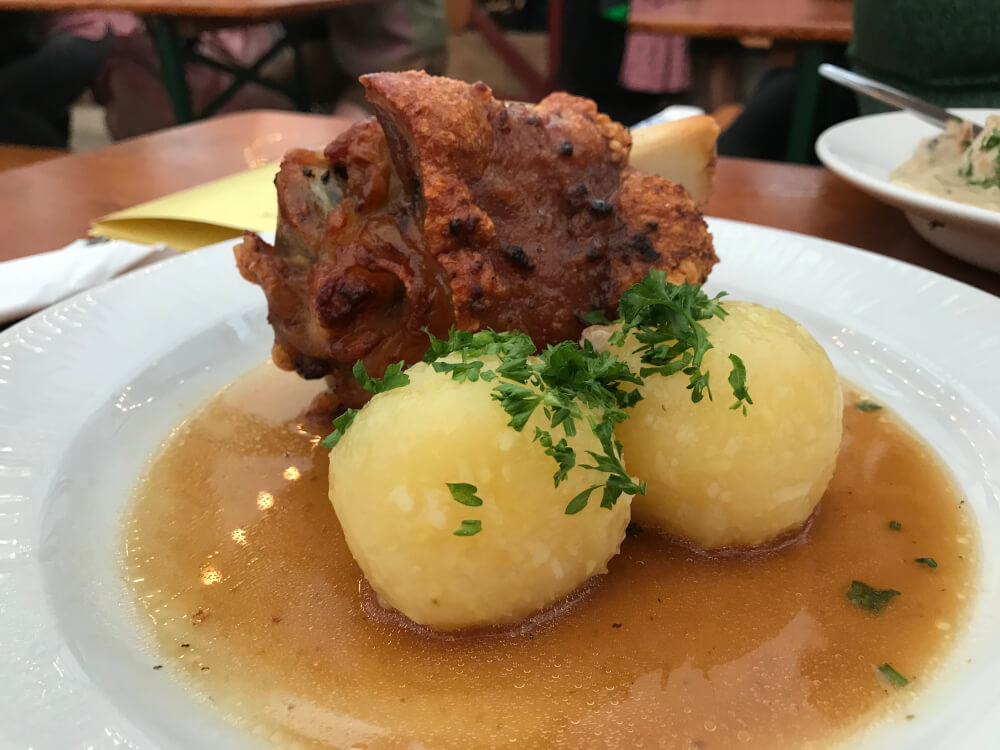 23. Go to any beer hall, knock back a few and then enjoy a roasted chicken
Bavarians know exactly what an inebriated person likes – and let me tell you, there are few post-beer snacks better than a roasted chicken you pick at with your bare fingers.
If you're ever stuck on what to do in Munich, a beer hall/chicken combination is a pretty good bet.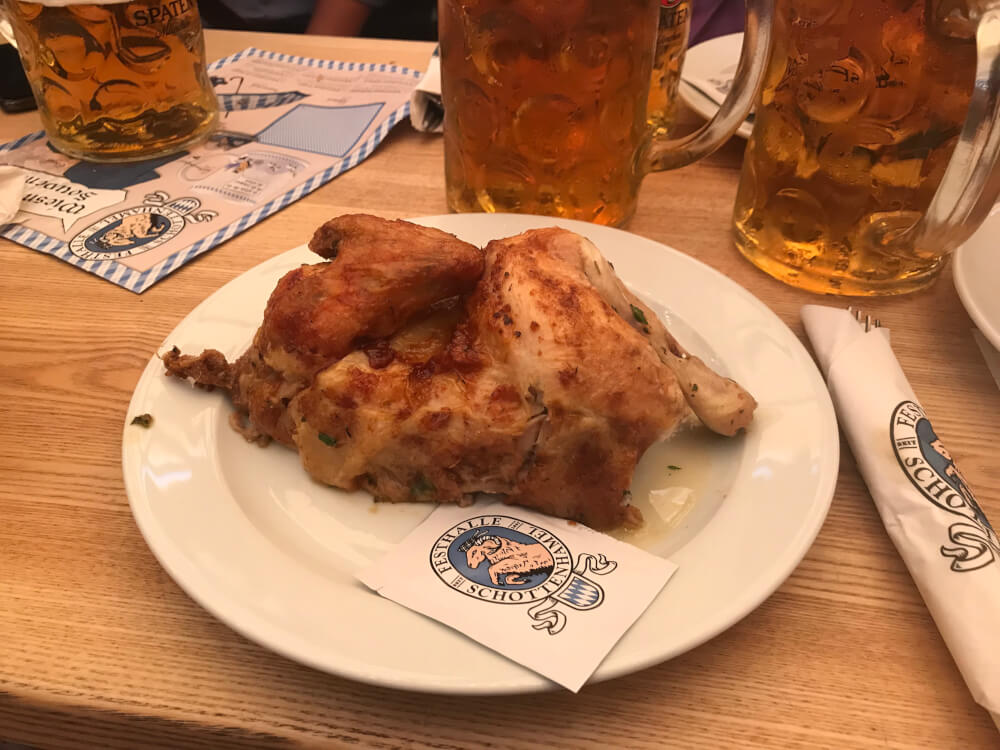 24. Shop for fresh produce like a local at Viktualienmarkt
The atmosphere is magical, and there's so much cool stuff to peruse through. If the weather allows, grab some snacks (there's a stand that sells amazing stuffed peppers and olives) and have a picnic at the beer garden.
In Munich, bringing your own food to beer gardens is fair game, so take advantage of all the fresh and delicious food around you! FYI foodies: you can even book a tasting tour through the market.
25. … or for a quieter alternative, check out the Markt am Wiener Platz
Located in Haidhausen, the daily food market here is a quainter, quieter and less touristy alternative to the Virtualienmarkt. This neighbourhood is also one of my favourites in Munich! Not many tourists come here but it's known locally as the French Quarter and it's by far one of the prettiest places in the city for a stroll. Click here for a self-guided walking tour of Haidhausen.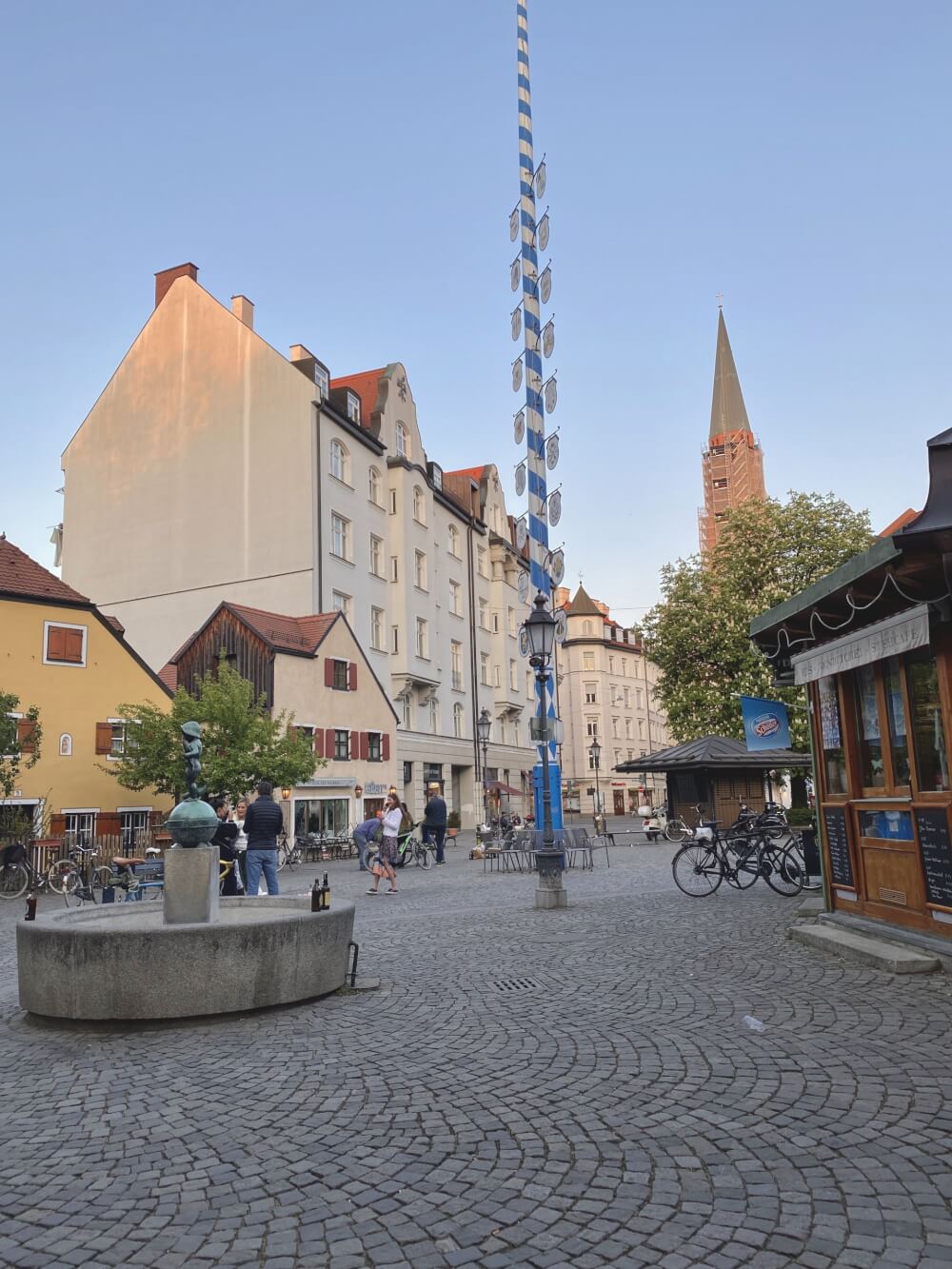 26. Wash down your beer with a giant pretzel
Munich brezn are the fuel of dreams. You will find them being sold everywhere, but make sure you get the full experience by enjoying it with an ice cold beer in hand.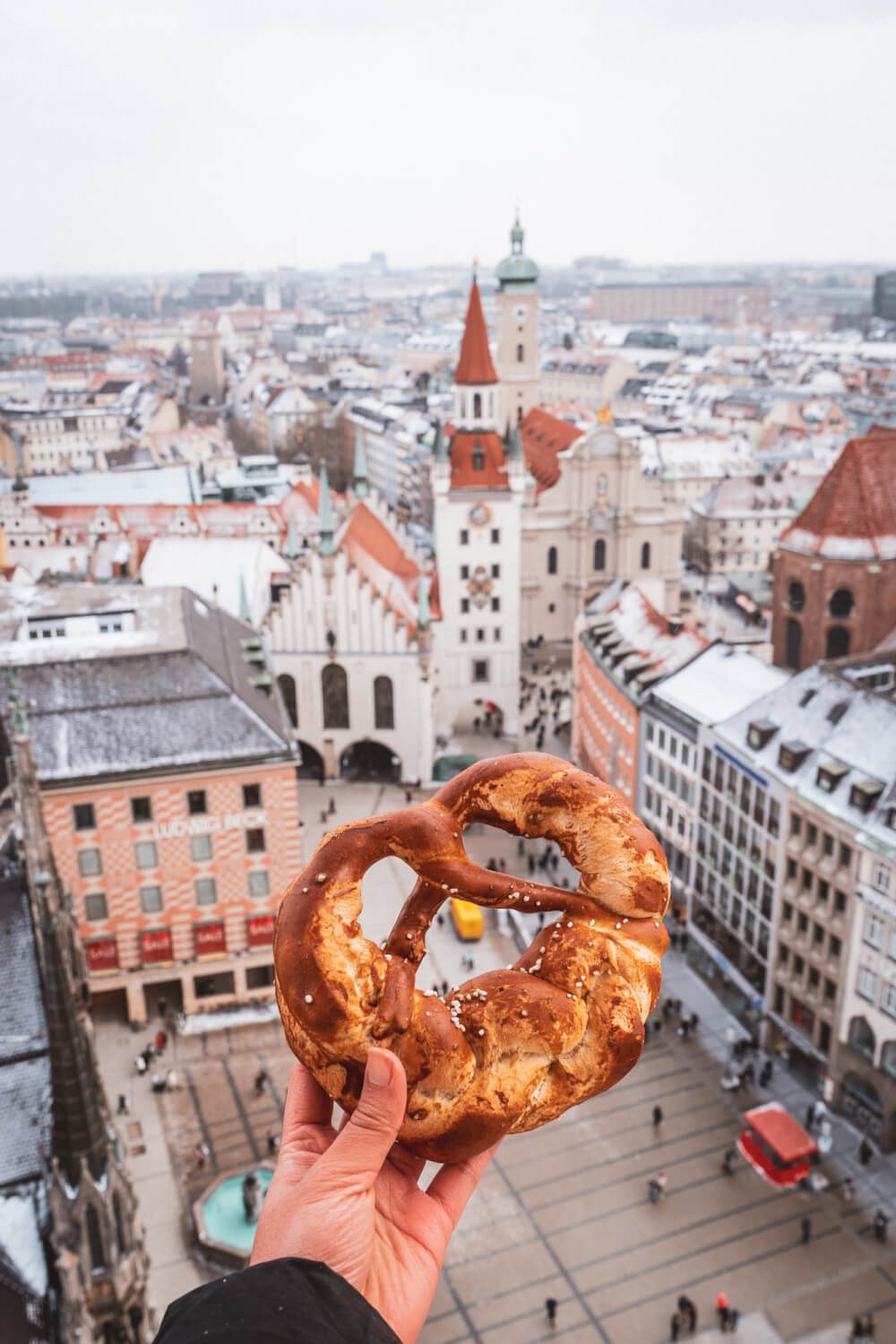 27. Eat some Weißwurst with Bavarian sweet mustard
Weißwurst are indeed an acquired taste, but undeniably a Bavarian classic that you have to try.
Don't let the greyish white colour put you off – it's meant to look like that! Be sure to roll off the skins and dip your slippery treat in some special Weisswurstsenf (sweet mustard) to enjoy them fully.
28. Or just indulge in a full Bavarian breakfast
Weißwurst not enough? Well, get yourself a full Bavarian breakfast then.
A traditional Bavarian breakfast is where all the greatest Bavarian stereotypes come alive, and it's a thing of beauty.
It's where Weißbier (yes, beer), Weißwurst (sausages of course) and delicious pretzels come together to form the perfect, boozy breakfast of champions.
Beer for breakfast? Yes, welcome to Bavaria.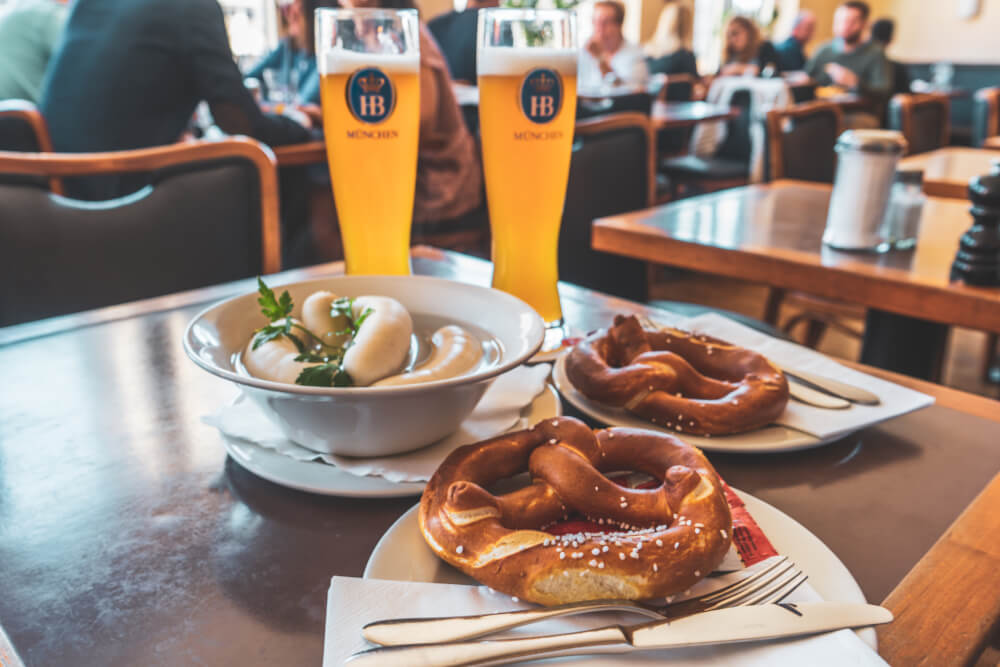 29. Sip a cappuccino (or a beer) from one of the city's nicest vantage points
Address: (Inside a TUM campus building] Institutsbau, Arcisstraße 21/Raum 5170
Ready for a hidden gem? Cafe Vorhoelzer Forum is an awesome (and affordable) rooftop cafe in the middle of the city.
The reason it's such a secret though is because it's actually housed inside a university building, although anybody can visit.
The view up here is really lovely, and I've heard they do great brunch on Sundays. Settle into one of the comfy lounge chairs on the roof and… well, never leave.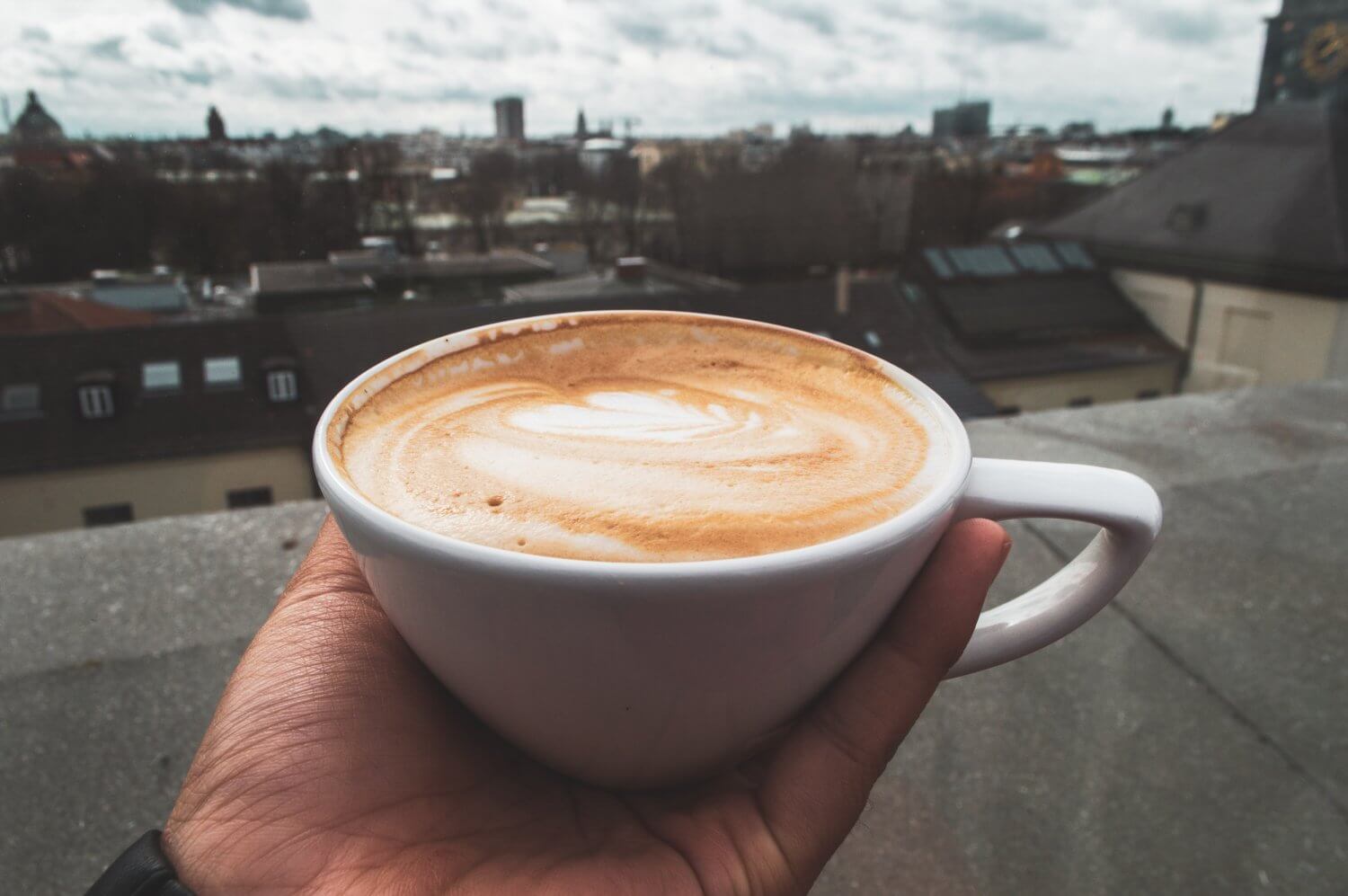 30. Enjoy some Leberkäse
It's basically a badass version of meatloaf, usually served warm with a bun. Bavarian food does not mess around.
31. Sink your teeth into some fish on a stick (Steckerlfisch)
Found at most beer gardens and markets! When in doubt, follow your nose.
32. Try some of Munich's most beloved soft drinks: Spezi and Apfelshorle!
While I'm not the biggest fan of Spezi, people here seem to adore it. It's basically half Fanta and half Cola, and you'll find it everywhere, from supermarkets to beer gardens.
Apfelshorle is another popular one, and it's an apple spritzer drink that's half apple juice and half sparkling water.
33. Nibble on some satisfying Brotzeit
Literally translated to "bread time", Brotzeit is the German answer to charcuterie. Imagine pretzels, breads, cold cuts, sausages, boiled eggs, spreads, pickles and more. It's the perfect picnic food and oh so satisfying.
34. Meet the best dip in the world: Obatzda
Soft cheese mixed with butter and plenty of paprika/spices? That combo could 1000% do no wrong.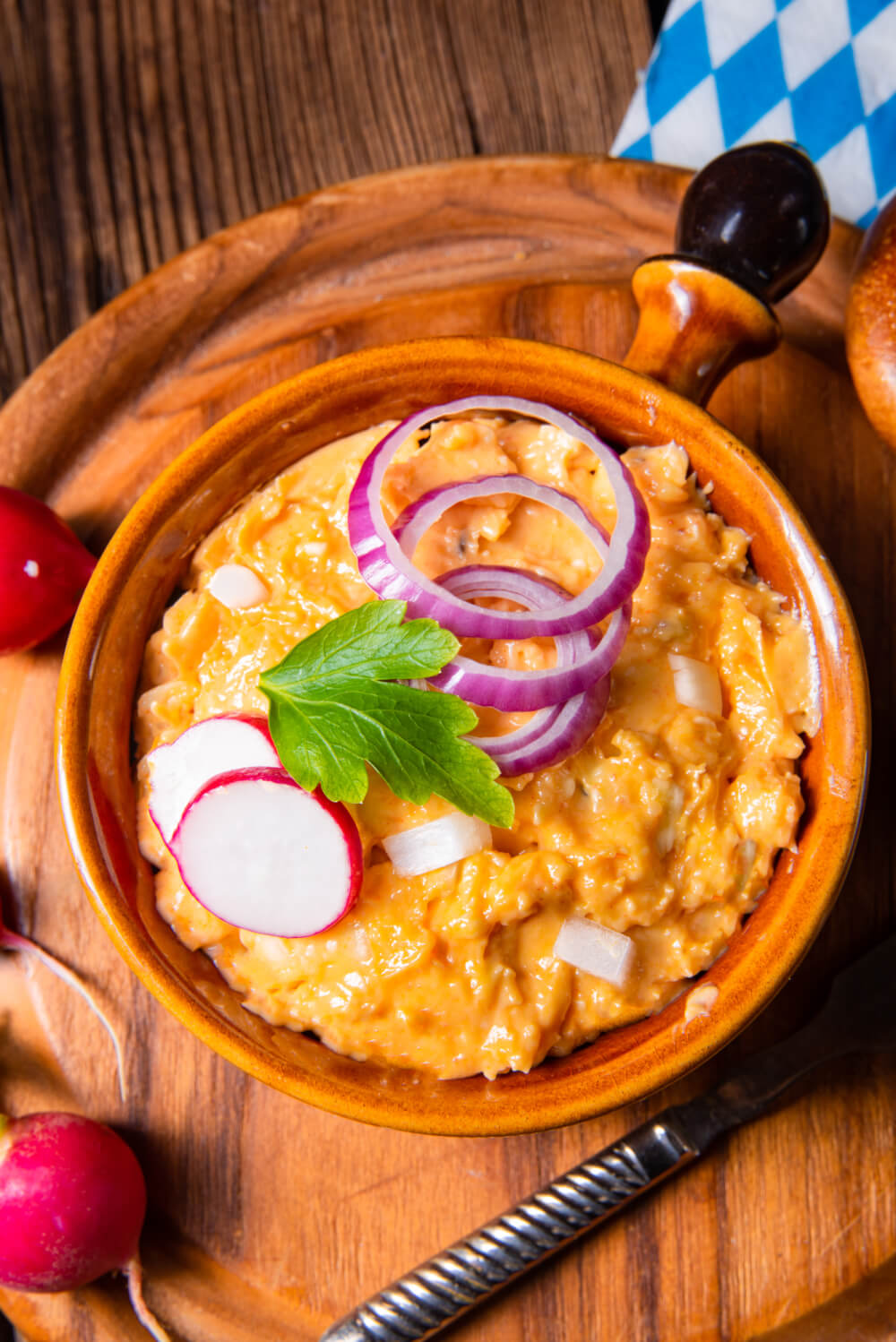 Great Ways to Enjoy Munich's Beer Culture
Wondering what to do in Munich besides sightsee? Soaking in the beer culture is an obvious must.
35. Attend a beer festival
While your mind will immediately go to the world famous Oktoberfest (during which over 6 million litres of beer are consumed at Theresienwiese alone), there's actually a lot of awesome (less crowded) beer festivals that happen throughout the year in Munich and in nearby surrounding towns.
For those in Munich during the end of February/early March, there's the Starkbierfest (strong beer festival) during which the beer is, you guessed it, even stronger than what you'd normally have in Bavaria!
This festival is a lot less touristic than Oktoberfest, with no dedicated fair grounds but rather individual parties at different beer halls and breweries. The biggest of these parties is at Paulaner "Nockherberg" brewery. Just be careful with the starkbier… it hits you quickly!
On the other hand, Frühlingfest is a springtime mini-Oktoberfest, hosted on the same grounds just on a significantly smaller scale. It's much less crowded, but the age limit is lower than at Oktoberfest, so don't be surprised if you're rubbing elbows with 16 year old locals!
Check out this website for more info on beer festivals around Bavaria.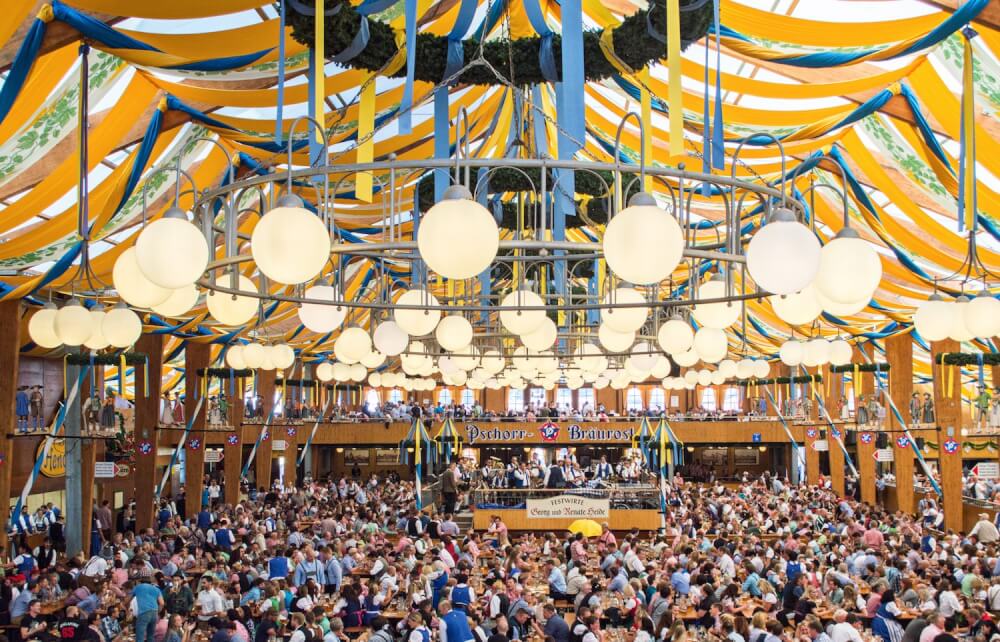 36. Enjoy a beer and sunset at Seehaus
Set right by a big glassy lake, this beer garden is the perfect spot to enjoy the sunset (and the beer is pretty decent too!)
On a hot summer day, don't hesitate to put your bench in the lake so you can keep your feet cool as you drink.
I'm not sure how 'frowned upon' that is, but I've seen tons of people do it (myself included) and the staff never seemed to mind! Click here to learn more about this awesome beer garden.
37. Deer & beer!
Address: Kleinhesselohe 3
One of Munich's best beer gardens is a little way's out from the city centre, but it has a wonderful deer sanctuary so it's worth it!
Drink up and then marvel at the cute woodland creatures over at Hirschgarten (literally translated to, you guessed it, Deer Garden).
38. Take in some traditional Bavarian music at the Chinesischer Turm
This beer garden is a classic Munich sightseeing spot, and the wooden pagoda focal point makes it one of the most popular stops in the city.
When the weather is nice, you'll find a band playing live Bavarian music up at the tower… though their repertoire isn't the most diverse, so expect plenty of repetition.
One awesome event that happens here each year is the Kocherlball, which takes place on the third Sunday of July from 6am onwards!
The Kocherlball is a celebration of traditional dance, so you'll be sure to see a variety of incredible traditional dirndls, lederhosen and other cool outfits as well… if you're able to wake up early enough! For a proper wake-up, beer is (of course) also consumed.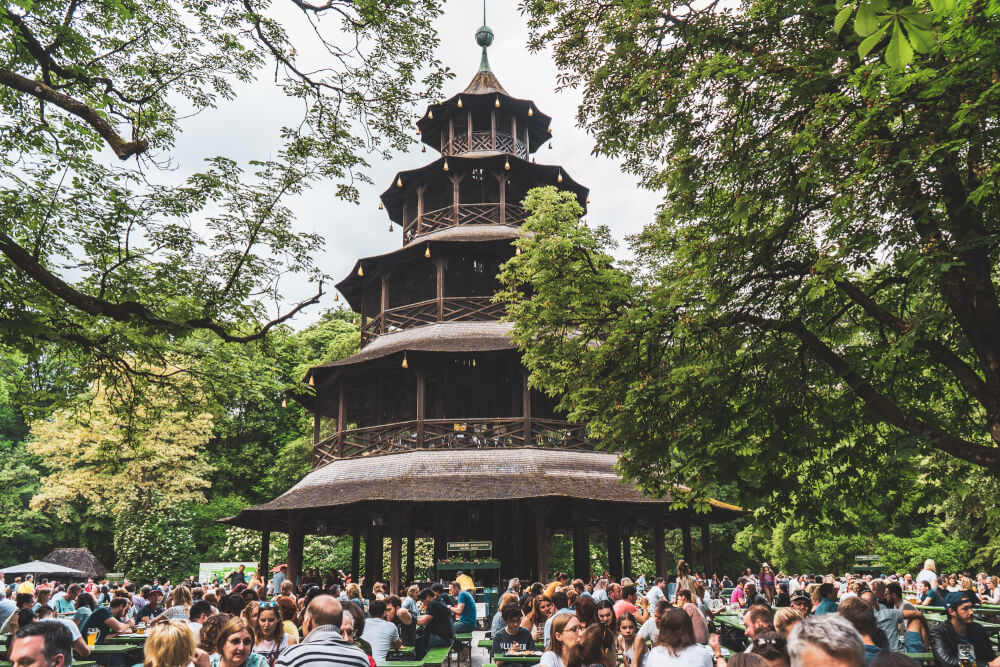 39. … And be sure to visit a quiet, off-the-beaten-path beer garden too
The thing about Munich is that there's beer gardens everywhere. You could throw a rock in a random direction and probably hit a beer garden. That's why you should venture out from the popular sites and find one to call your own. Unsurprisingly, MunichBeerGardens.com is a pretty good resource. If you're looking for a challenge though, this DIY beer garden crawl might be for you.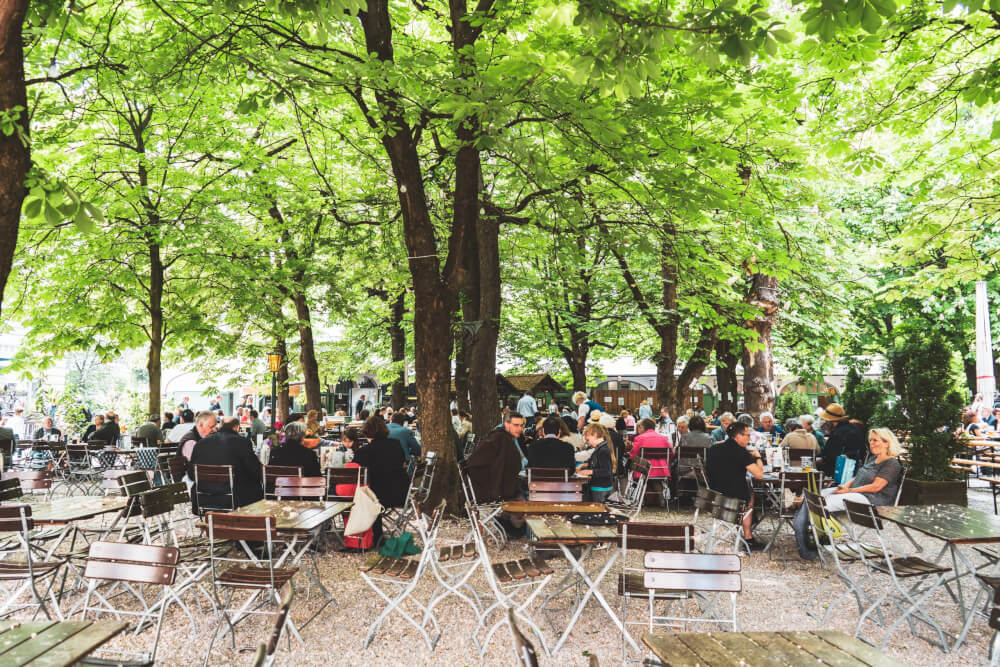 40. Try beers from all of Munich's 'big 6' breweries
Löwenbräu, Hofbräu, Augustinerbräu, Paulaner, Hacker-Pschorr and Spaten… Which one's the best? Only one way to find out! These are the big six breweries of the city, and you'll find that different bars around town will pick just one to serve. Plan your drinks strategically so you can sample all 6!
Again though, if you want to be a total badass, you can attempt this DIY beer garden crawl that allows you to taste all six of Munich's city breweries in one day. Warning: this mission is not for the faint of heart!
41. … Better yet, host a blind taste test
You'll find that people often have snobby attitudes about which Munich beer is the best. Settle the argument once and for all by grabbing bottles of each and conducting a blind taste test. I don't want to sound like clickbait, but the results may shock you.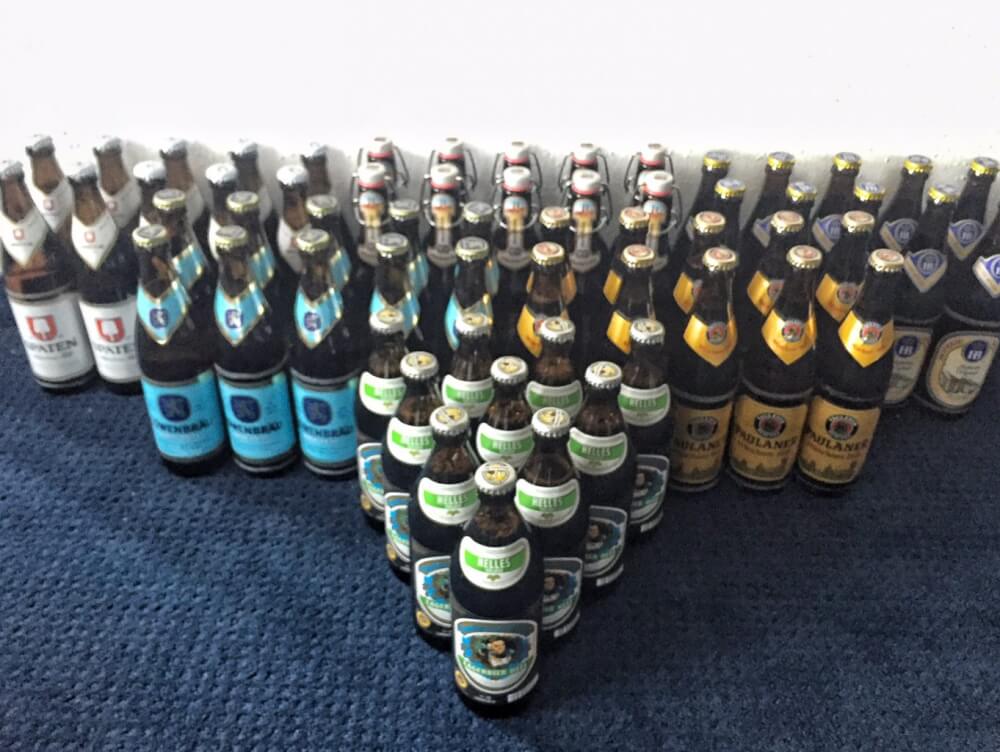 42. Tour a brewery
If you're gonna be drinking beer all the time, might as well learn some of the science behind it… do so easily with a brewery tour like this one.
43. Brave up and try some starkbier!
Literally translated to strong beer, starkbier is a special kind of German beer traditionally consumed during Lent.
Essentially, the brewing and consumption of this beer was a cheeky way for monks to get through their fasts (since to them, consuming liquids didn't count!).
Beware their higher alcohol content though! This stuff goes down surprisingly smooth and will hit you quickly.
NOTE: If you're in town in March/April, you might want to look into attending the Starkbierfest, a festival dedicated to this beer.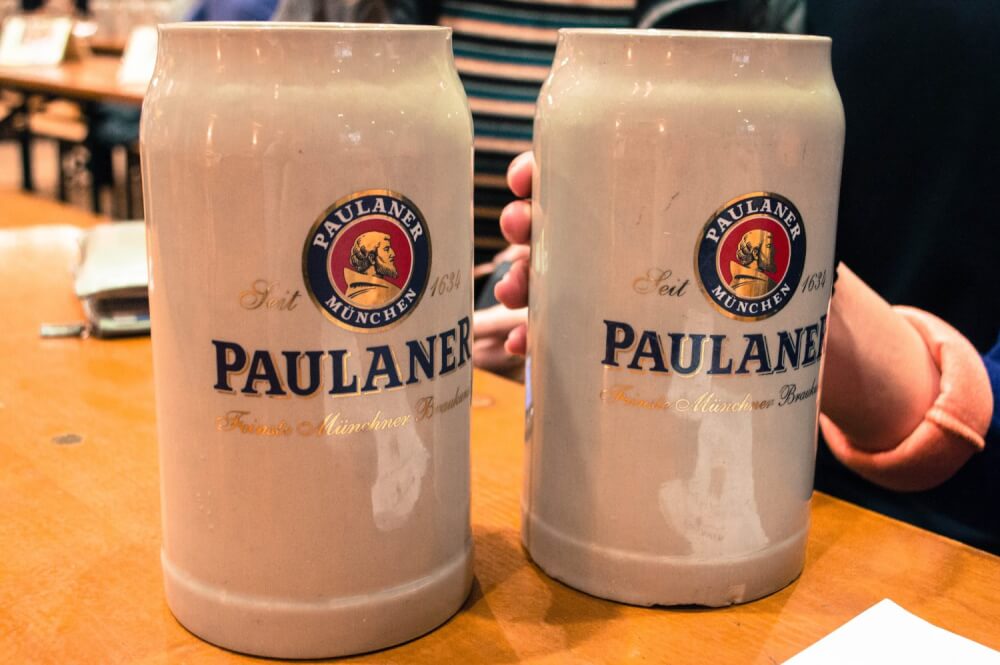 Munich Off the Beaten Path: Offbeat and Quirky Things to do in Munich
Now onto my favourite section – the hidden gems and things that many visitors don't see. If you enjoy finding unique activities like me, don't worry – there are plenty of quirky things to do in Munich off the beaten path. Don't miss these:
44. Pay your respects to the King of Pop at the Michael Jackson memorial
Right behind the luxury hotel Bayerischer Hof, there is a statue of composer Orlande de Lassus which (strangely enough) today stands as a memorial and shrine to King of Pop, Michael Jackson.
It has been this way since Jackson's death in 2009, when local fans plastered the statue with photos, candles, fresh flowers and more to preserve his memory.
The shrine, which is meticulously maintained by adoring fans, still receives new gifts each day.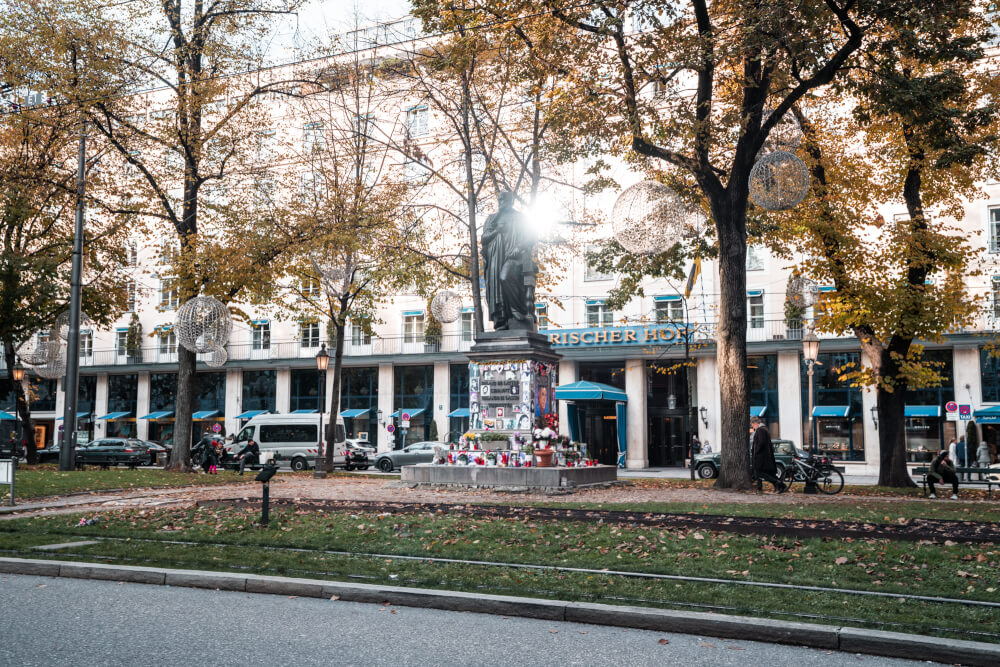 45. Take a little tour of Munich's coolest UBahn stations
Munich sightseeing wouldn't be complete without stopping off at some of the city's most decked out UBahn stations!
Sure, I know it's crazy that I'm recommending UBahn stations as one of the best top things to do in Munich, but trust me, this is an off the beaten path attraction you don't want to miss!
Many of Munich's UBahn stations boast colourful and unique designs. My personal favourites are the colourful rainbow gradient at Candidplatz and the ultra-modern geometric design at Olympiaeinkaufzentrum.
Check out this article about a photographer who captured the simple beauty of his favourite Munich UBahn stops.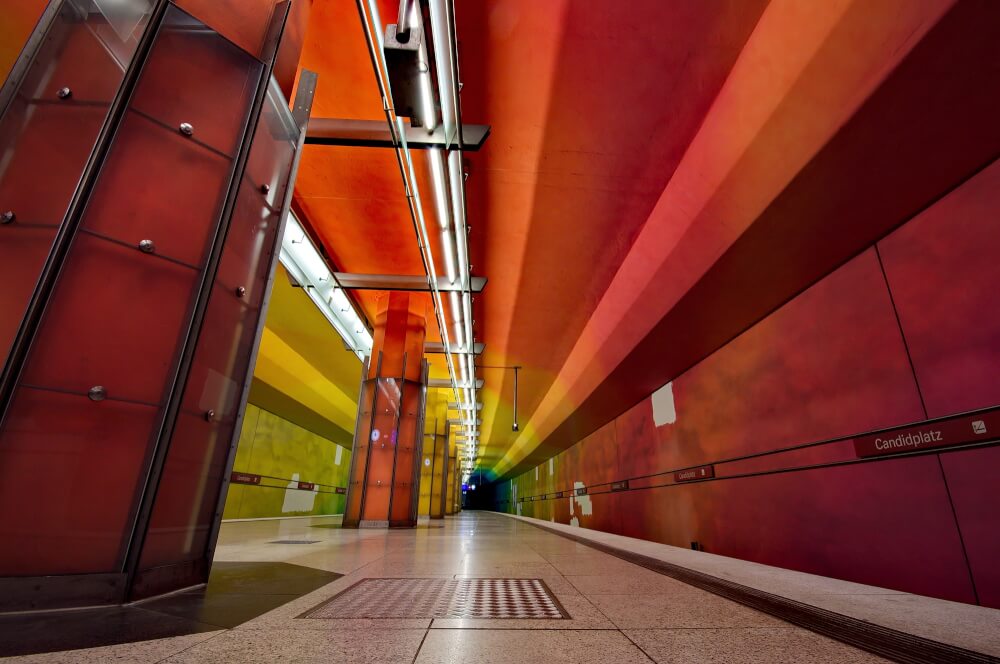 46. Have your mind blown by the detail at Asamkirche
Address: Sendlinger Str. 32
One of the lesser known Munich attractions, but still well worth a visit. Boasting Baroque design at its finest, the tiny Asamkirche is easy to miss if you're not looking for it.
This small church was originally built by two brothers who intended to keep the space for their private use. Joke's on them though, because the church hierarchy refused, and demanded that the church be open to the public (aka us!)
Bring a camera and revel in the fine details of its opulent baroque interior, which many consider to be one of the best examples of late German baroque architecture in the world.
47. Marvel at the Infinite Staircase, a Munich sightseeing (and Instagram) icon
Address: Ganghoferstr. 29
This awesome piece of public art is over 9m tall and leads… nowhere… but hey it's pretty cool to look at.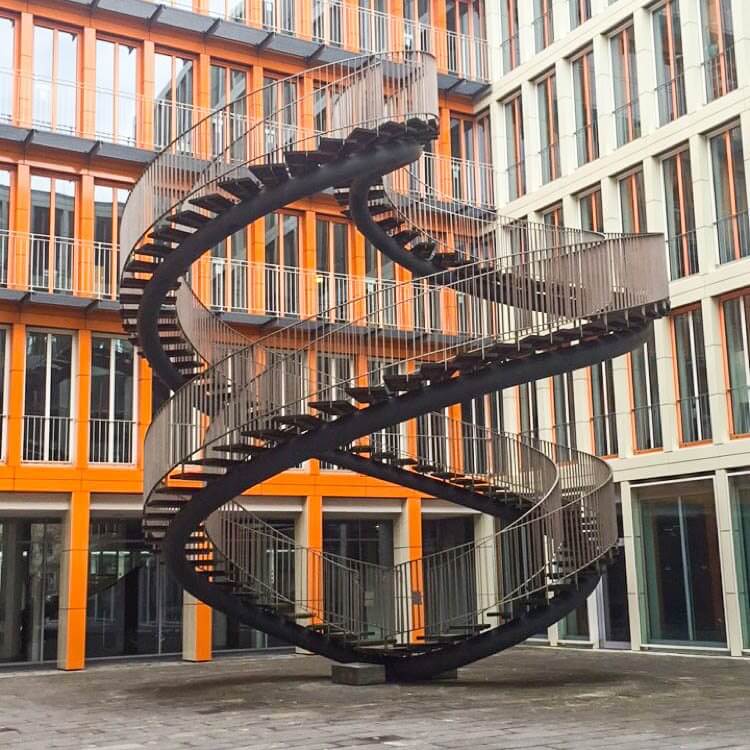 48. Shoot some hoops at a groovy 3D basketball court
Located close to the Olympiaeinkaufzentrum UBahn stop, this curved basketball court is an interactive piece of public art that you can actually play on! It's located outside a vocational school and a pretty decent place to bounce around.
Address: [Outside] Riesstraße 50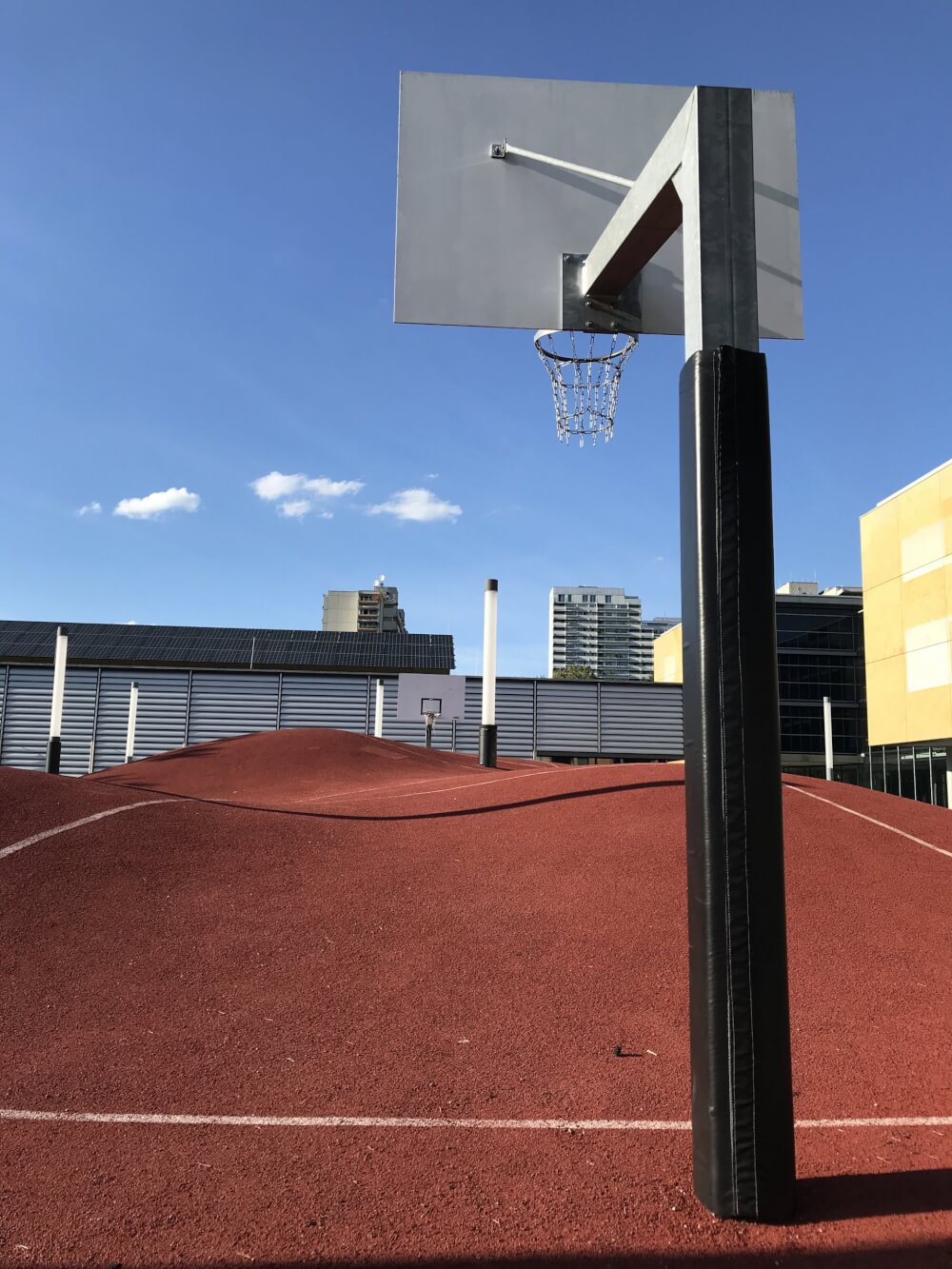 49. Watch the Rocky Horror Picture Show at a Guinness World Record-holding cinema
Address: Lilienstraße 2
Museum Lichtspiele is one of the oldest cinemas in Munich and is a quirky local spot known for the distinct honour of having shown the Rocky Horror Picture Show every week for the past 30 years. They even have the Guinness World Record to prove it!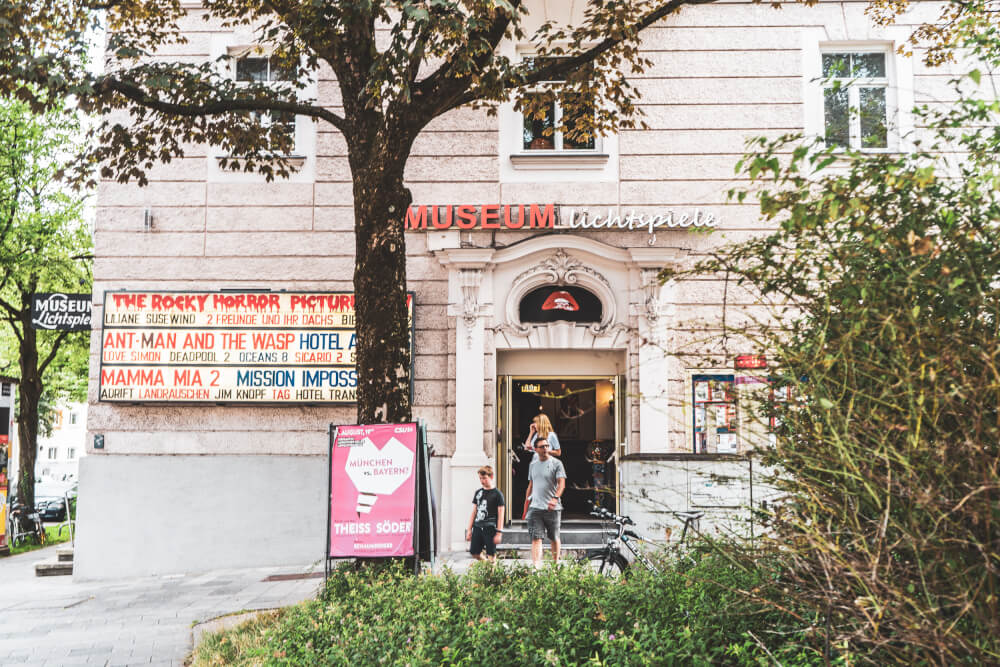 50. Have dinner (or party) in a schoolbus
Dinner Hopping is an insane Munich-based company that offers a 3 course meal experience that happens while you're cruising around town in a classic yellow school bus.
Not feeling too hungry? There's also a  party hardy alternative (that yes, also takes place in a school bus).
51. Go down several stories on a giant slide at TUM
Speaking of school, are you headed to class? Yeah no problem, just take a slide. This mode of transport is legitimately a thing for students at the Technical University of Munich's Garching campus.
These massive slides are located in the Math and Computing Science building, and will get you to the ground floor in speed and style. It's one of the most unique things to do in Munich (though a little out of the way).
Note: the building isn't open on weekends!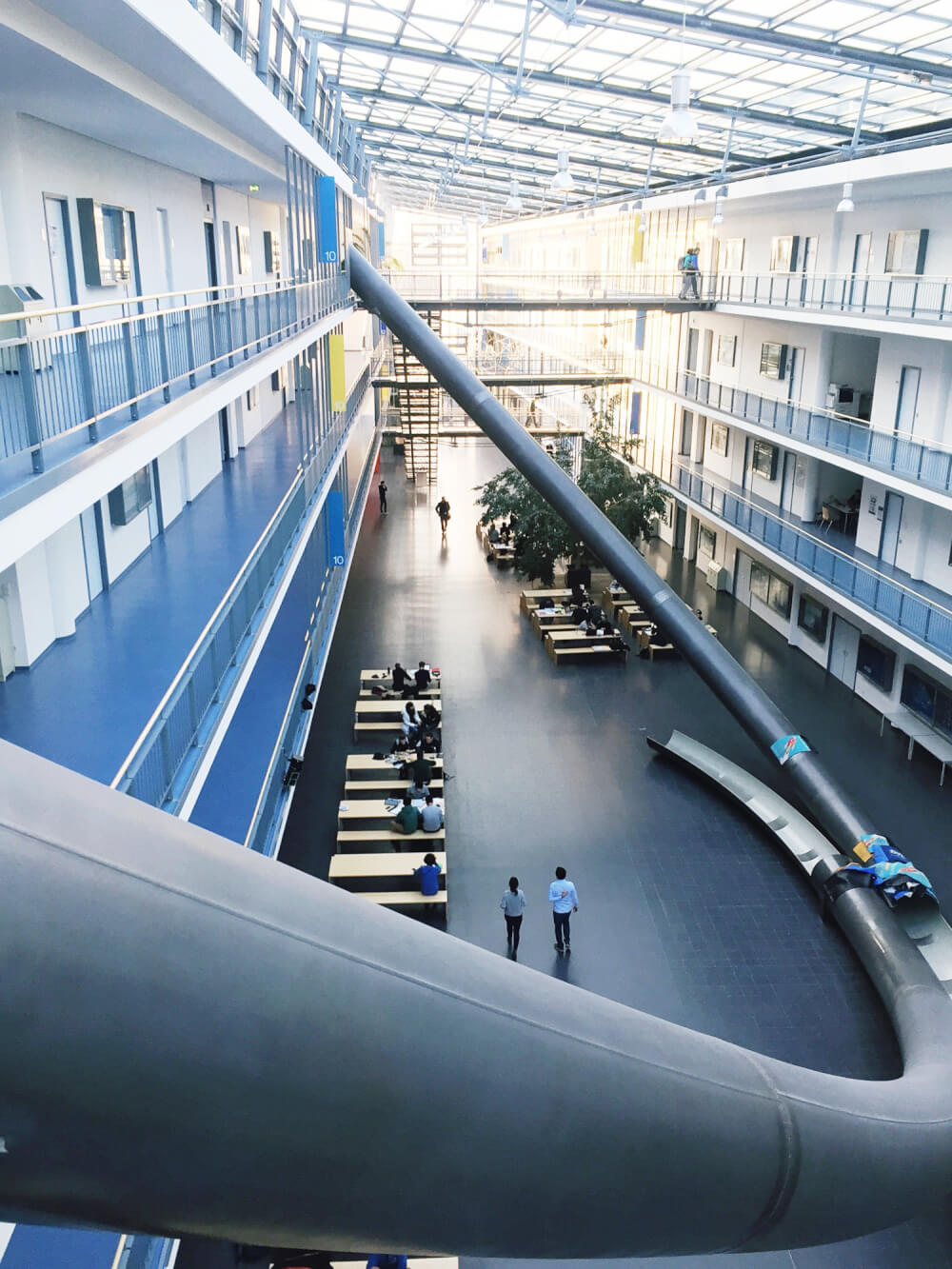 52. Walk along the golden steps at Viscardigasse
Gold-laced cobblestones can be found in this alley as an homage to those who took this alternative walking route as an act of protest against the Nazi Party.
The nearby Feldherrnhalle was declared a national landmark after the party came into power, and it was required for passerbyers to do the Nazi Salute as they came past it. The Viscardigasse offered a path for the badasses who refused to do so.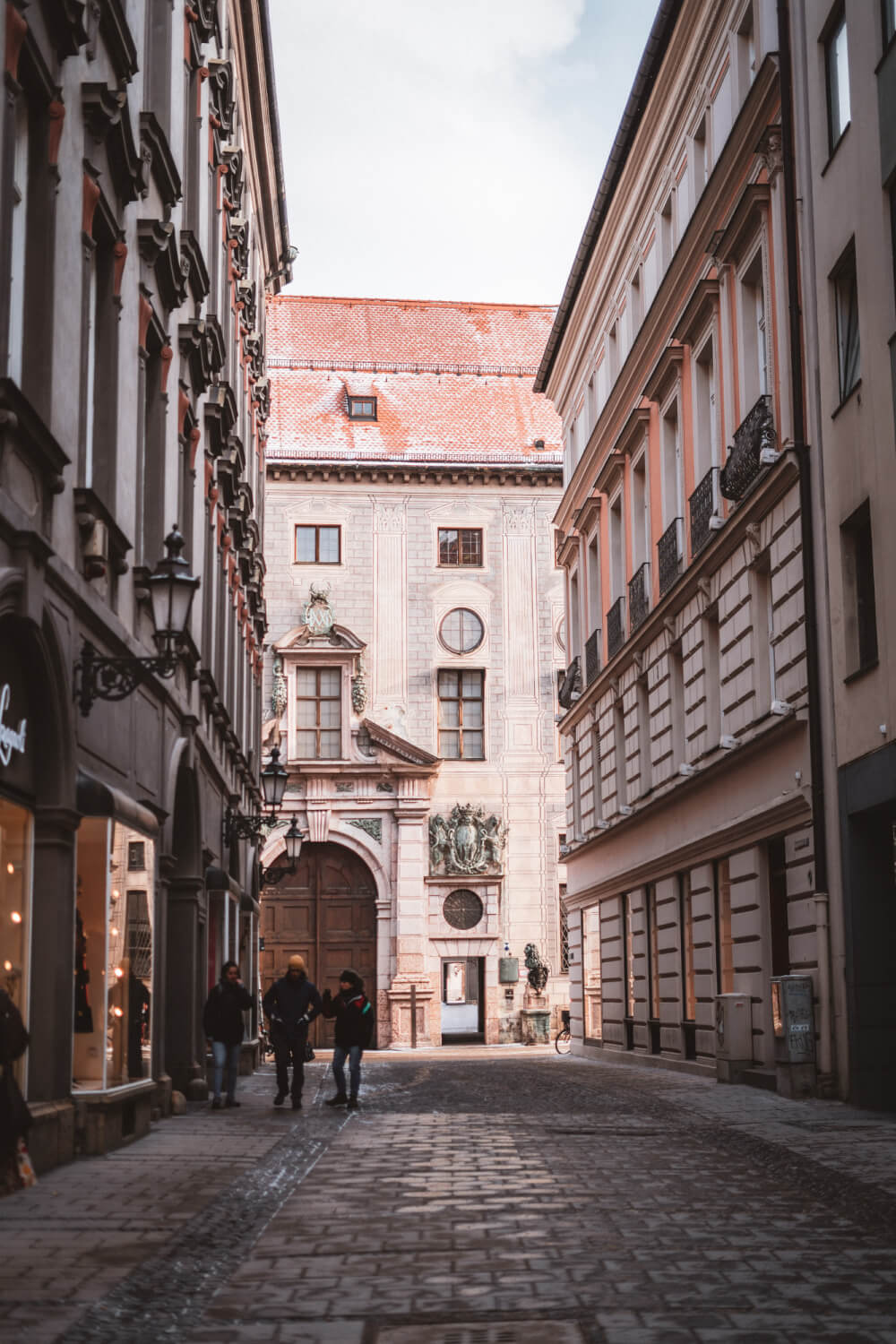 53. Gander at Munich's spectacular art nouveau
This splendid architectural style can be found in abundance around the city, and in fact the term (Jugendstil in German) was coined right here in Munich.
Here's an awesome guide on where you can find some of the best art nouveau architecture in Munich.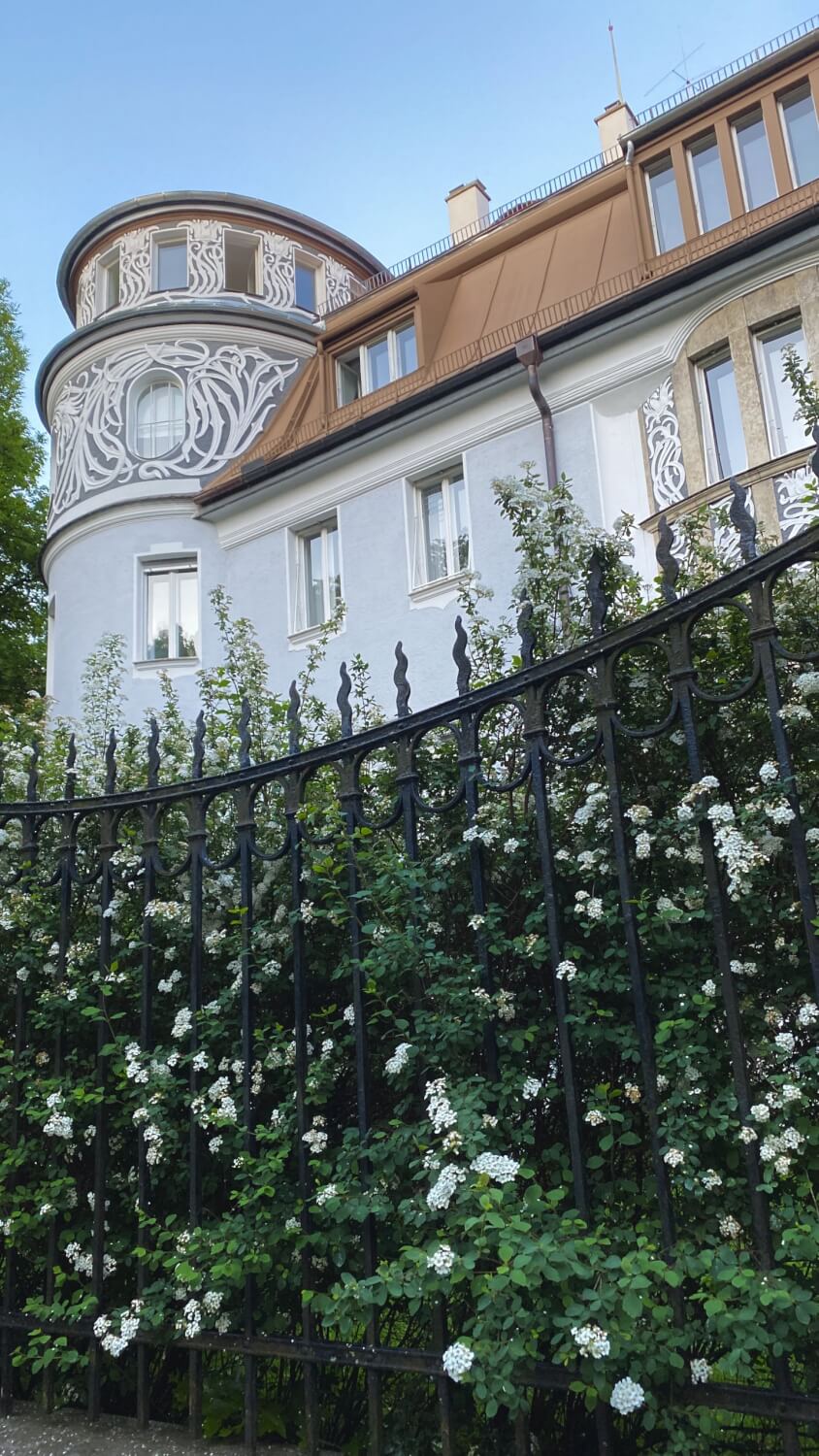 54. Enjoy some student 'street art' at one of the world's coolest student villages
Munich's Olympiadorf is one of the coolest student residences in the whole world. In the bungalow section of the village, there's hundreds of mini cube houses that students call home, and they're given free reign to paint the outside however they want! This means tons of amazing painted works of colourful art, filled with in-jokes and plenty of nods to pop culture.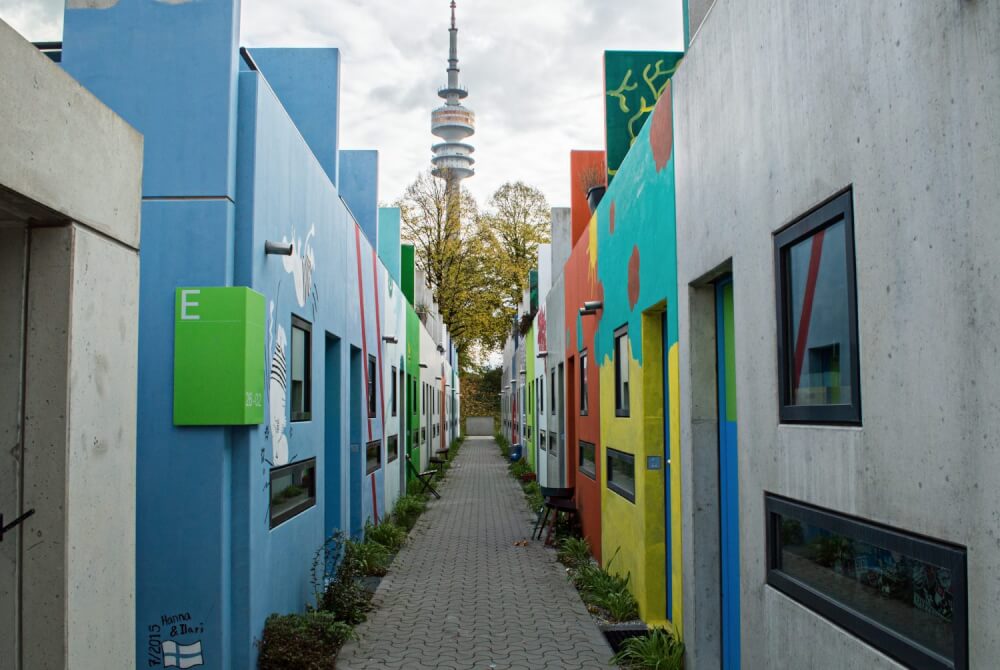 55. Take a stroll down Ludwigstraße & Leopoldstraße
If you want a scenic walk that's right by all the most touristy sights in Munich, be sure to take a walk down Ludwigstraße and Leopoldstraße. Strolling down these two streets that join Giselastraße and Odeonsplatz takes you past significant landmarks like the bizarre Running Man sculpture, Siegestor (the Victory Gate) and Ludwig-Maximilians-Universität (one of Germany's most prestigious universities).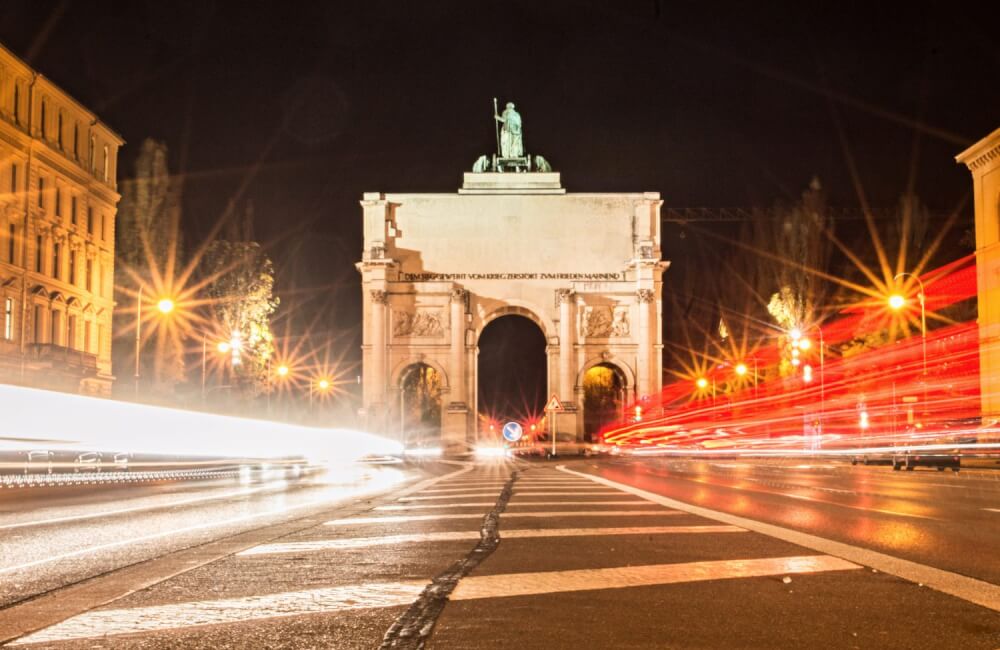 Fun Things to do in Munich (In the Summer)
Alright, now what are some fun things to do in Munich during summer time? Here are some of my top picks:
56. Picnic in the English Garden
We'll start with a classic!

Munich is home to one of the largest urban parks in Europe, and well whaddya know, it's right in the middle of the city. You can't visit Munich without seeing the Englischer Garten and its 3.7km2 worth of lakes, beer gardens, trails and green spaces.

Pack yourself a ridiculously good looking picnic basket and enjoy the people watching and killer atmosphere.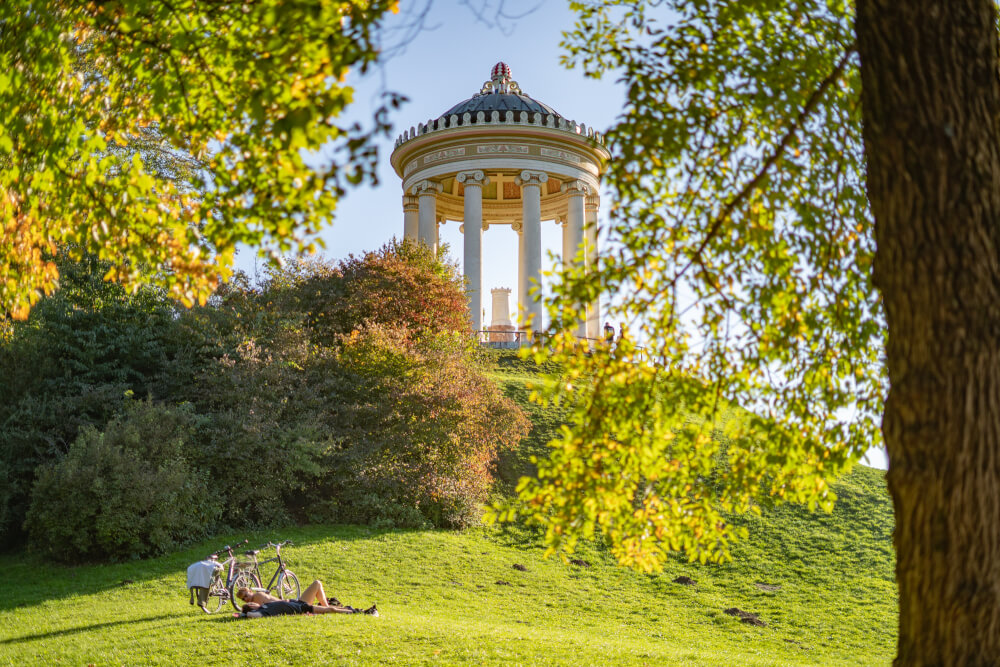 57. Float down the Isar on a raft
Yes, this is an actual thing. You can also DIY a fun floating trip down the Isar or some of its side arms with an inflatable raft, tube (and of course) plenty of beers

PS: This would probably be the most turbulent game of beer pong ever, but you can actually buy a floatie with build in beer bong these days. What a time to be alive.
Of course, if you want to have more fun, be sure to float down on an inflated pretzel. Buy one on Amazon for cheap!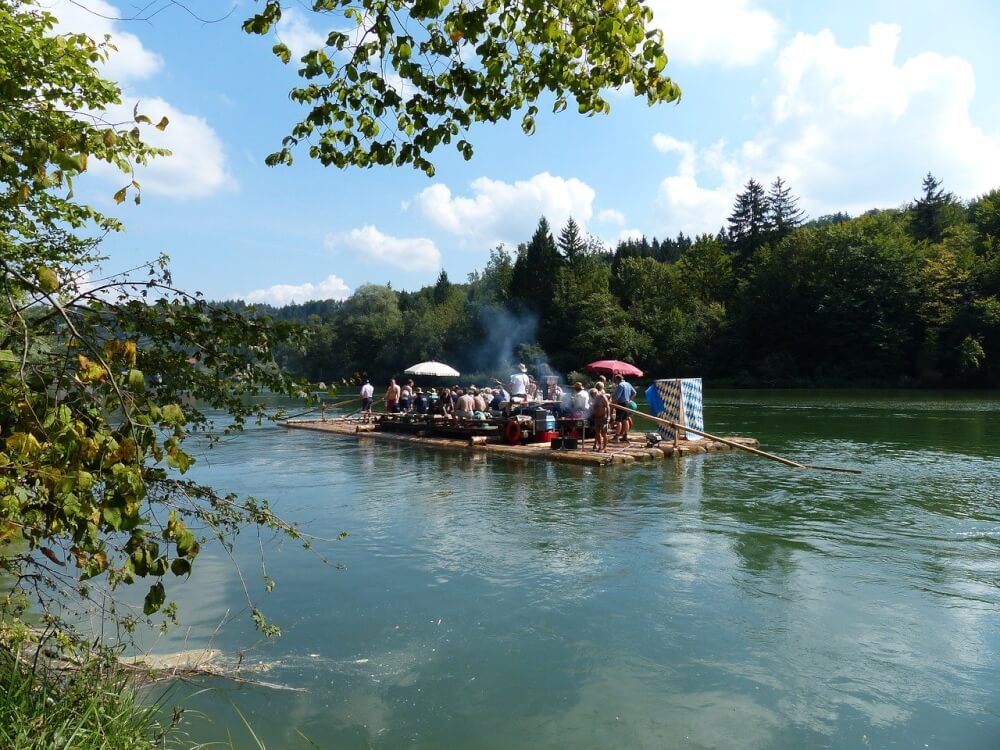 58. Enjoy a sunset by the Isar
Summer in Munich is the absolute best, and a sunset by the river is one of the best ways to experience it. If you're looking for the ultimate Munich experience (as locals would do), find one of the designated grill zones along the Isar and have a BBQ!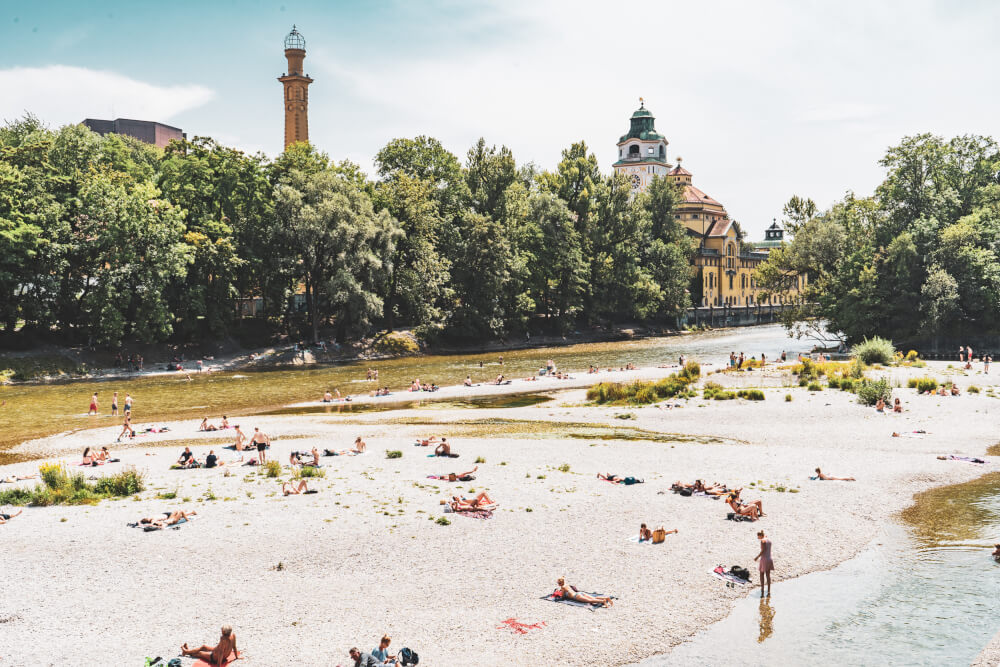 59. Strip down and sun-bathe as the locals do!
Bavaria is known for its love of tradition, which is why it's shocking to some that they'll encounter many people of the naked variety!
Scared? Nah, feel free to let it all hang out, because Munich's got 6 'urban naked zones' where it's totally A-okay to don your birthday suit. +1 for no tan lines, right?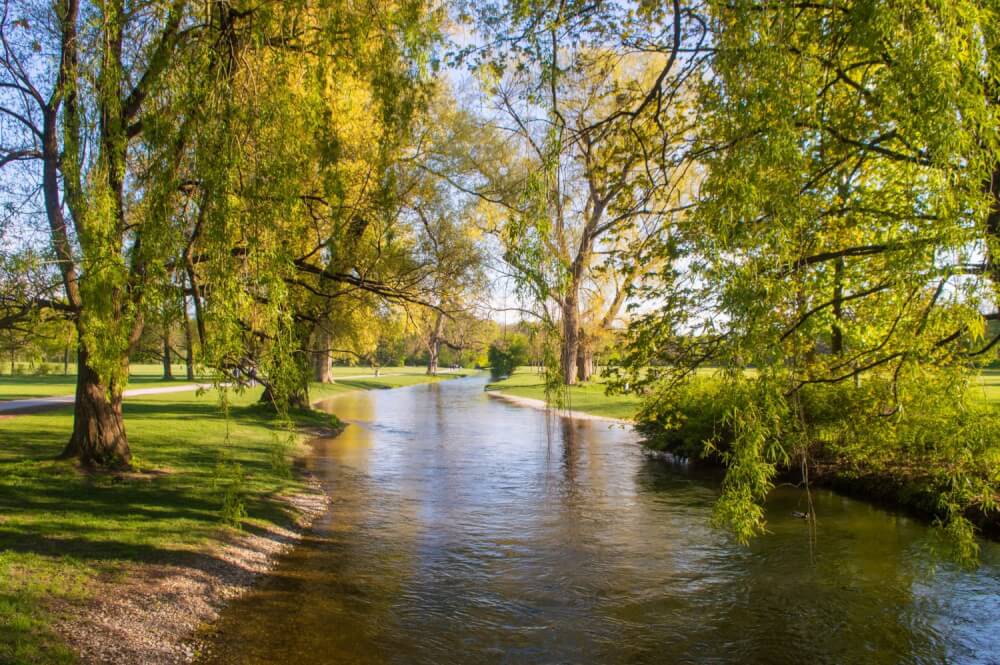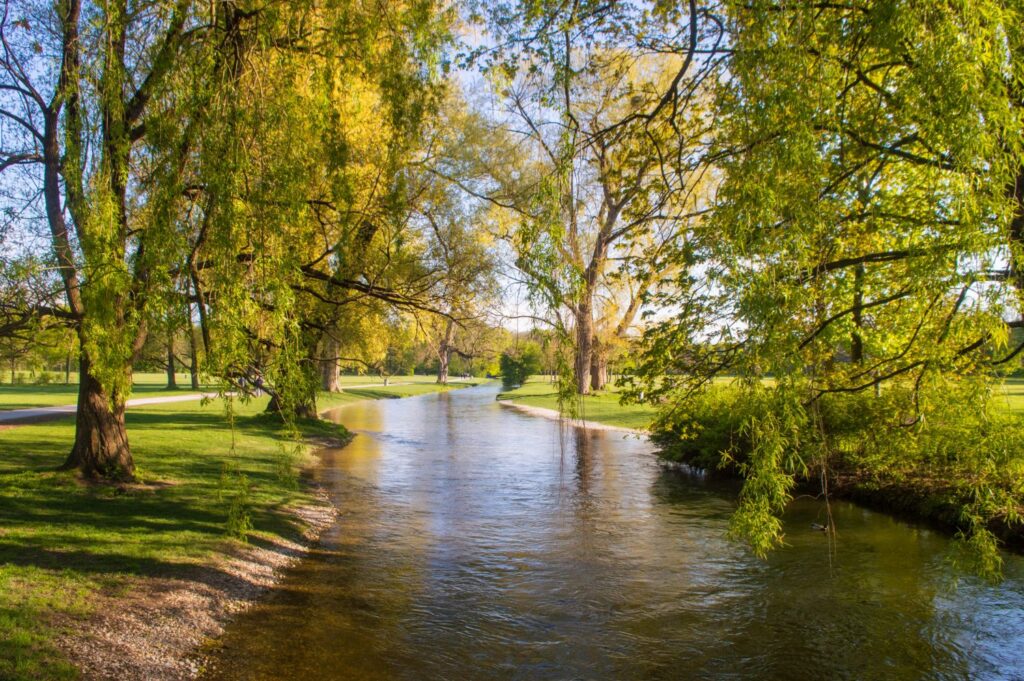 60. Attend a street festival
There are so many fun things to do in Munich during the summer, but street festivals are an absolute highlight for me.
The annual Streetlife Festival on Leopoldstraße is the biggest and most famous, but check here for a more robust list.
61. Enjoy an outdoor movie
Outdoor movies are extremely popular during the summer, with plenty of different screenings throughout the season. The open air cinema at Olympiapark even offers cozy loveseats for two! Note: most of these screenings will be in German.
Winter Things to do in Munich
Winter is a magical time to visit Munich! Here are some fun things to do in Munich during winter time:
62. Live out the magic of the holidays at one of Munich's Christmas markets
There's nothing more magical than shopping in Munich with a warm glühwein in hand, admiring the beauty of all the stalls' handmade crafts.
Munich has tons of markets open during the holidays, my favourites being Tollwood (a massive market/festival held at the site of Oktoberfest), the Medieval Christmas Market near Odeonsplatz (where you literally drink wine out of goblets) and the ever so quaint market at the Chinese Tower. Click here for my full guide to Munich's Christmas markets.
PS: Be sure to try a Feuerzangenbowle if you see them! While impossible to pronounce, this awesome treat is a traditional alcoholic drink in which a rum-soaked sugar cube is SET ON FIRE and then left to melt into your gluhwein. In other words, yes your drink will be on fire! It's really cool, and quite delicious (though very potent). Click here for my full guide to German Christmas market food & drink.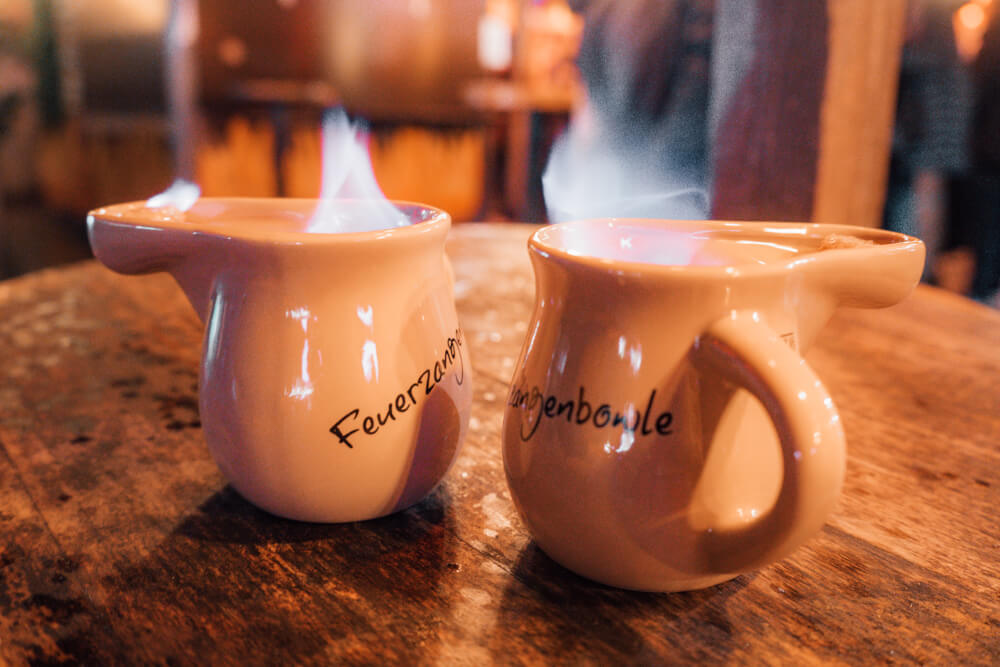 63. Experience genuine fear at the annual Krampus Parade
While in North America, we threaten naughty kids with black coal around the holidays, Germany takes it one step further with the threat of Krampus: a half goat/half demon figure that takes bad children away and punishes them.
Every year, there's the Krampuslauf (the Krampus Run) in the city centre, where there is a literal endless parade of people dressed up as Krampus storming the streets, scaring children and grabbing scared spectators out of the crowd to give them a tough time.
It's hilarious to watch, but only if you don't get grabbed…
The ultimate protection of course is to have your own Krampus costume! Here's a scary option.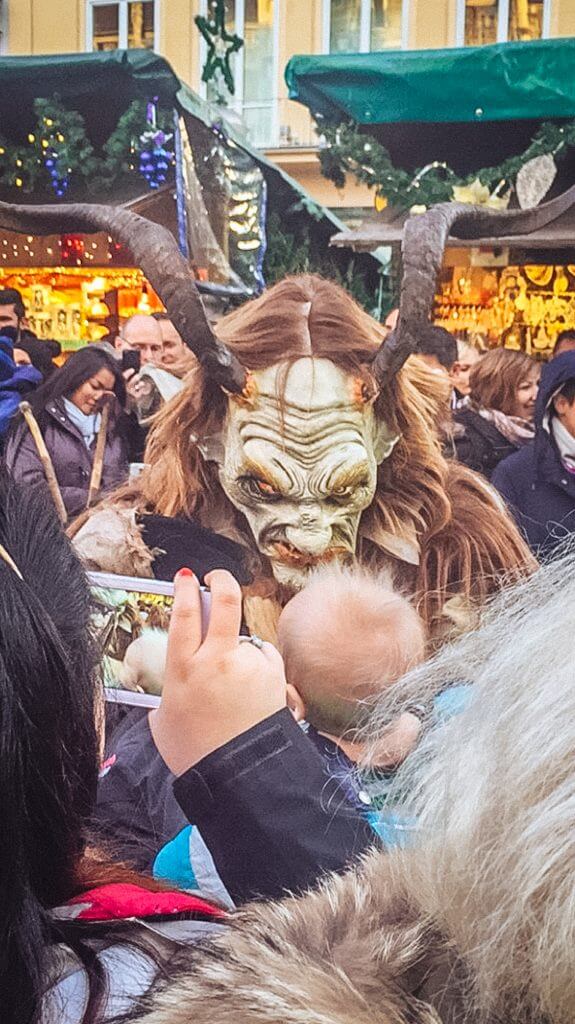 64. Get into Fasching (Carnival) celebrations!
Known up in the North as Karneval, Fasching is a spirited celebration that precedes Lent. It all kicks off with the crowning of the Fasching Prince and Princess on November 11, but the "Crazy Season" doesn't begin until January 7 (ending on Shrove Tuesday aka Faschingsdienstag).
While plenty of balls occur during the early stages of Fasching (yes guys, actual balls), it's during these last few days that the party really begins, with happy Bavarians all flocking to the streets in fun costumes and fancy dress to celebrate! You can read about my 1st Fasching experience here.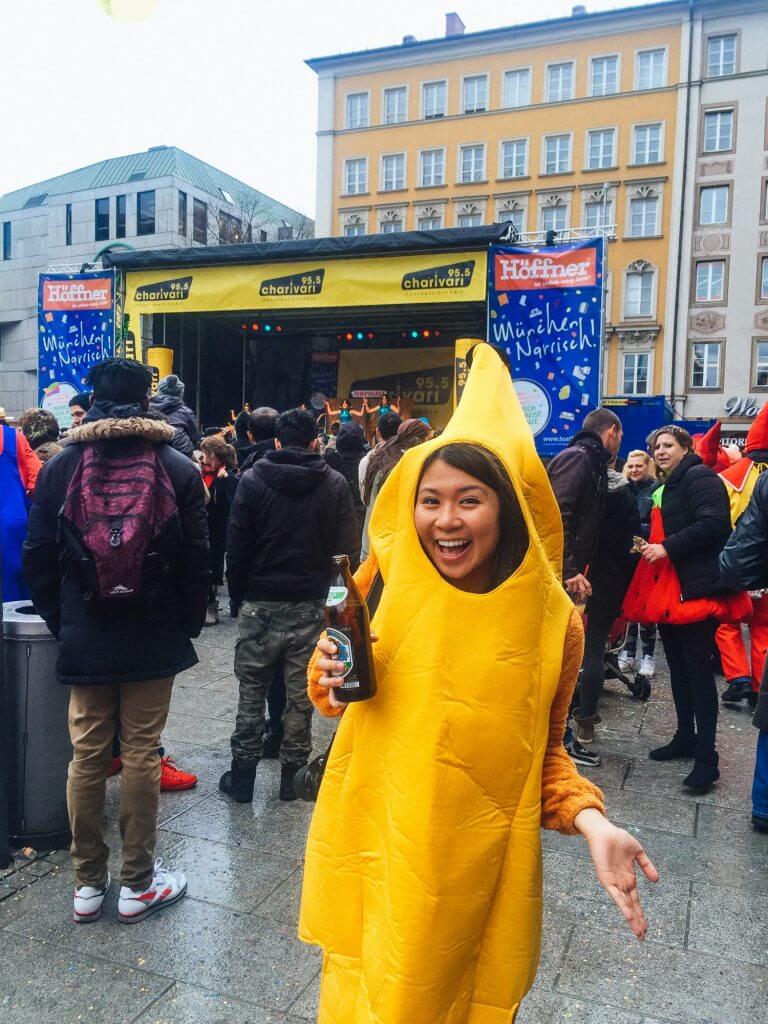 Shopping in Munich: Awesome Shopping Activities to Try
Shopping lovers looking for what to do in Munich, these shopping activities are just for you!
65. Rummage for deals at one of the city's many flohmarkts
Flea markets are a big thing in Munich, and an awesome place to snag cool knick knacks, bikes or even a decent tracht (traditional outfit like lederhosen and dirndls).
Notable ones include the annual market at Theresienwiese (which has over 2000 vendors on the 1st Saturday of the Spring Festival) and the Olympiapark Flea Market (which takes place every Friday and Saturday).
66. … or better yet, do so late at night at one of the night flohmarkts
If you fancy sleeping in, night flea markets (genius idea right?) are equally as popular, and often come with a much cooler, hipper and fashion-savvy set of vendors.
Check out both Nachtkonsum and Midnight Bazar – they put on a few events each month! There's typically a small cover charge involved, but once indoors, there will be all sorts of cool stands to look through.
67. Window shop or spend your life savings at Maximilianstraße, Munich's premier luxury street
Gucci, Chanel, Dolce & Gabana… Who said shopping in Munich was affordable?
68. Take in the pretty lights and gorgeous design of Fünf Höfe
One of the Munich sightseeing gems I always show off to visitors! This pretty covered shopping gallery is right in Munich's city centre, but most visitors miss it. Don't make that mistake!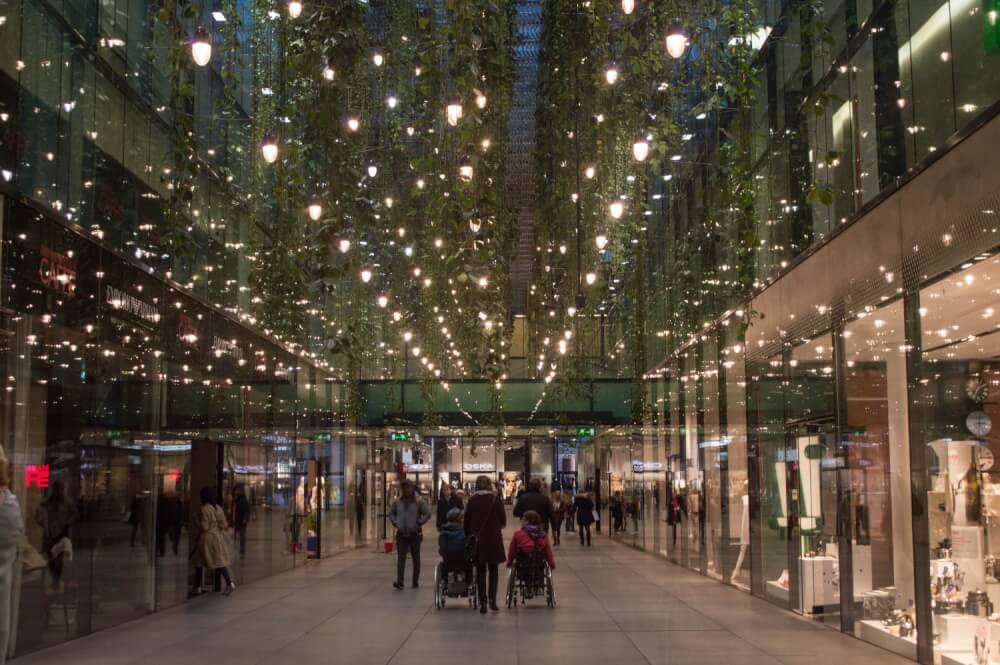 69. Stroll down Munich's busiest shopping street, Kaufingerstrasse
If I'm ever shopping in Munich, I usually find myself here. Yes, it's busy and packed with popular European retailers, but there's a reason why it's so full of people! There's plenty of stores around the area to satisfy all your shopping needs.
70. Alternatively, browse the cool boutiques at Türkenstrasse & Schellingstrasse
Hip shops, vintage boutiques and cute eateries as far as the eye can see… A better place to shop for unique pieces.
Fun, Luxurious Things to do in Munich
Known as one of the most expensive cities in Germany (if not THE most expensive), Munich is a treasure trove of luxury experiences. While I can't pretend to be an expert on these, here are some popular luxury-oriented activities you can enjoy in the city:
71. Enjoy a drink with the best view in the whole city
The China Moon Roof terrace of the Mandarin Oriental is world-famous for its incredible pool and view.
Treat yo'self properly to a drink up here and soak in the incredible view of Munich's Old Town.
72. Indulge yourself at the Blue Spa Bar and Lounge at the Bayerischer Hof
You might even bump into a few celebrities while you're here!
73. Pamper yourself at a spa
Munich is a city well equipped for those seeking luxury. Most of the city's best hotels offer incredible luxury spas, great for someone in town looking for a special experience, or a local in need of a detox after all those beers and sausages!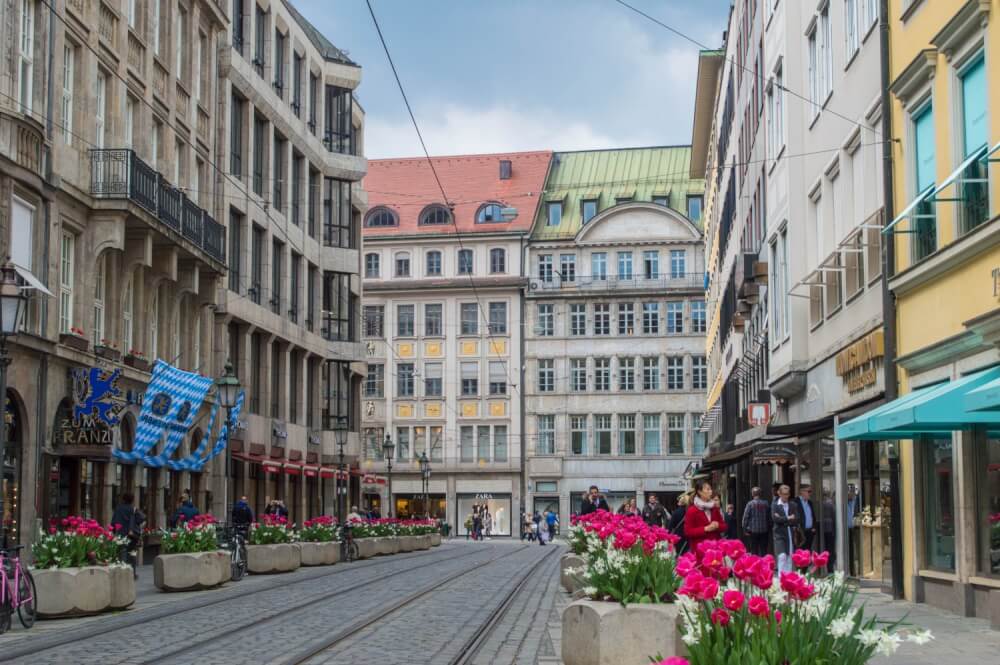 74. Enjoy 2 Michelin-star cuisine at Tantris
Located in a grey boxy building in Schwabing, Tantris is one of the city's most famous restaurants, and is equally recognized as being one of the world's most beautiful. It comes with a hefty price tag, but it's a meal you won't forget!
Good Day Trips from Munich / Things to do Near Munich
Tired of Munich sightseeing and want to get out of the city? Here are some cool options! BONUS TIP: If you plan to do any day trips, look into buying a Bayern Ticket to save lots of money on regional trains in Bavaria. For more info, you can click here for my full Bayern ticket guide.
75. Enjoy a beer at Tegernsee
Everyone has their own favourite Bavarian beer, but I can't lie to you: Tegernsee is my personal happy juice.
It helps of course that the lake by its brewery is absolutely stunning, so why not grab a beer and then go for a cool dip?
76. Hike around Eibsee and take in the unreal colour of the water
Eibsee isn't the most accessible lake to get to by public transit (it requires a train then bus ride), but wow the colour of this place is absolutely stunning.
There's a rather easy hiking trail that loops aren't the entire lake, with insane views like this: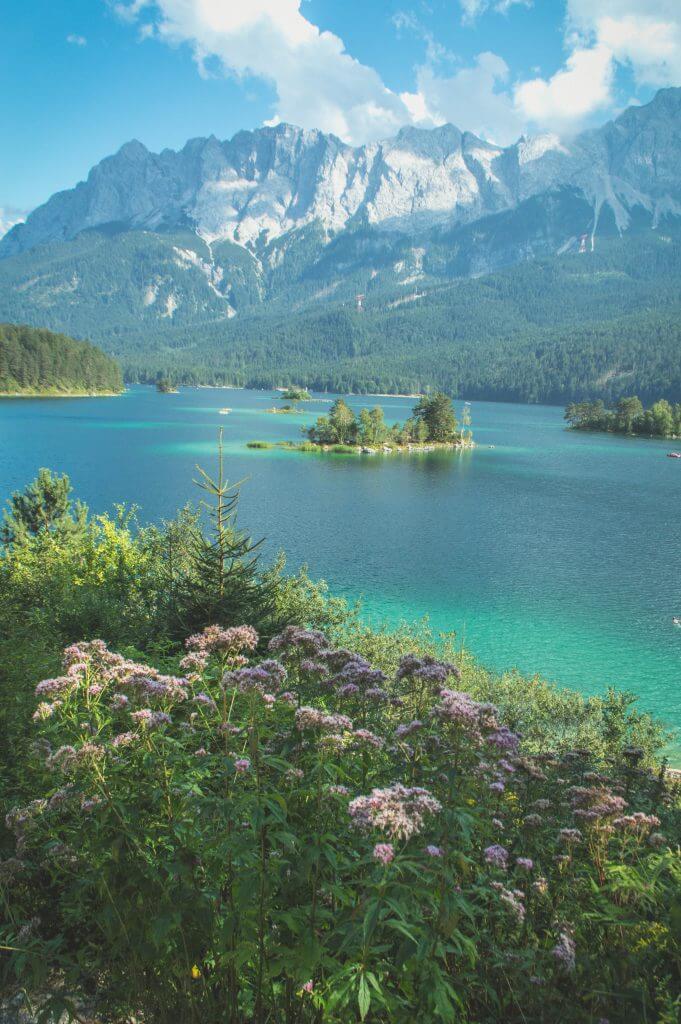 77. See Germany's 'Versailles' at Chiemsee
Schloss Herrenchiemsee was King Ludwig's lakeside escape. This gorgeous estate is found on one of Chiemsee's islands, Herreninsel, so a boat ride will be required to get there… but hey you can't complain about that, right?
Come to enjoy the splendours of the lake, or take a peek into the swishy lifestyle of Bavarian royalty through a guided palace tour. There's even reasonably priced tour packages for you lazy planners out there!
78. Try some of Bavaria's best beer at Andechs Monastery by Ammersee
Getting off the S8 at Herrsching will bring you close to the hill-top Andechs Monastery, whose brewery is home to some of the best beer in all of Bavaria.
You can take a bus up (included with a Bayern Ticket) or take a mini-hike to see it. Ammersee itself is also drop dead gorgeous, and there's plenty of cute cafes and ice cream places by the water too.
79. Experience fairytale magic at Neuschwanstein Castle
The inspiration for Walt Disney's Sleeping Beauty castle and prominent fixture in Pinterest boards all around the world! This castle, for me, is a must-see if you're ever in the area.
Click here for my ultimate guide on visiting Neuschwanstein Castle!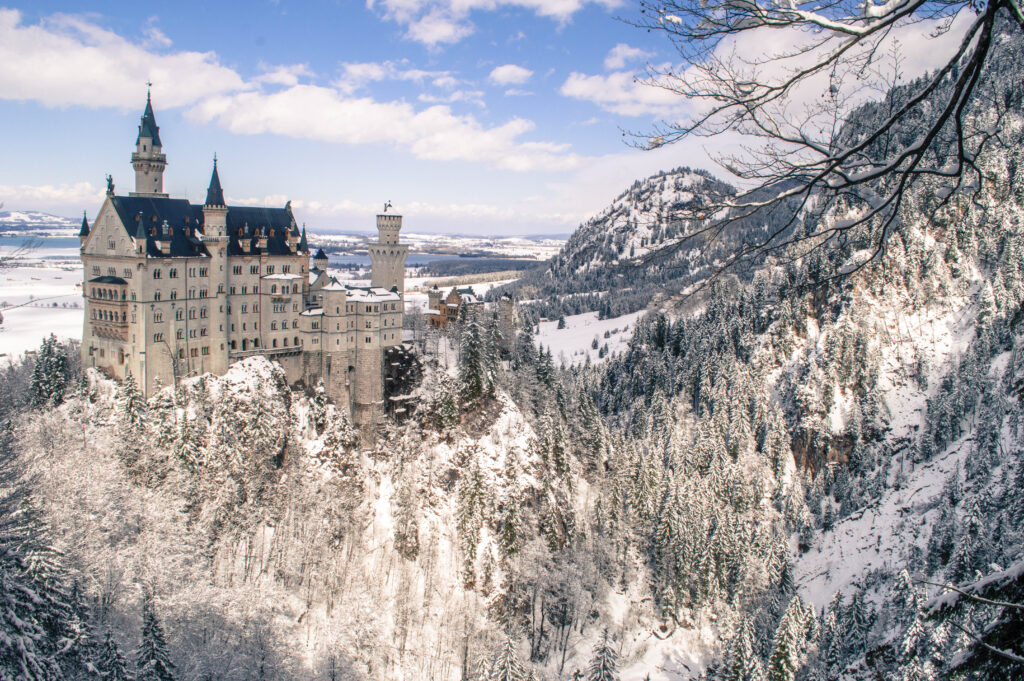 80. Do an epic hike
Bavaria is a hiker's dream. Make the most of your weekend by hopping on a train and scaling some mountains. Awesome views are guaranteed.
Further reading: The most beautiful hiking trails near Munich
81. Enjoy the views from Germany's highest peak at Zugspitze
Total badasses are welcome to hike/climb it, though to do so comfortably would involve staying overnight at a mountain hut. That said, there's a gondola to whisk us lazies up.
82. Walk through the coolest gorge of all time
One of the coolest things to do near Munich! The Partnachklamm (Partnach Gorge) in Garmisch-Partenkirchen is a 700m long crack in the mountains where you'll walk along electric blue water, little drizzly waterfalls and massive slabs of rock.
It's quite dark and slippery though, so some visitors opt to rent headlamps. For simplicity sake, you can even book a tour to get there (click here for the best deal).
You can read my full detailed guide on visiting the gorge here. You have to go, I mean… can you believe THIS is real?:
83. Take a dip in one of Germany's deepest alpine lakes: Walchensee
Walchensee is an absolute dream for swimming and watersports, with water so blue and clear that some have begun calling it the Maldives of Germany.
While I think that might be a bit of an exaggeration, I do love it here, and highly recommend it as a day trip from Munich.
There's even a cable car you can take here for amazing views of the area, or a hike if you're feeling more daring.
84. Learn about movie magic at Bavaria Film City
A taste of LA in Munich – you can even ride the dragon from the Never Ending Story here!
Address: Bavariafilmpl. 7
85. Venture into Austria for the day
Doesn't it blow your mind that you can do that? Like, no big deal, just low-key spending the day in Austria. You can take the train, drive or even look into the many cost-effective tours you can book from Munich to Salzburg and from Munich to Innsbruck as well.
All the better when the mountains are frosty! Click here for my day trip guide from Munich to Salzburg.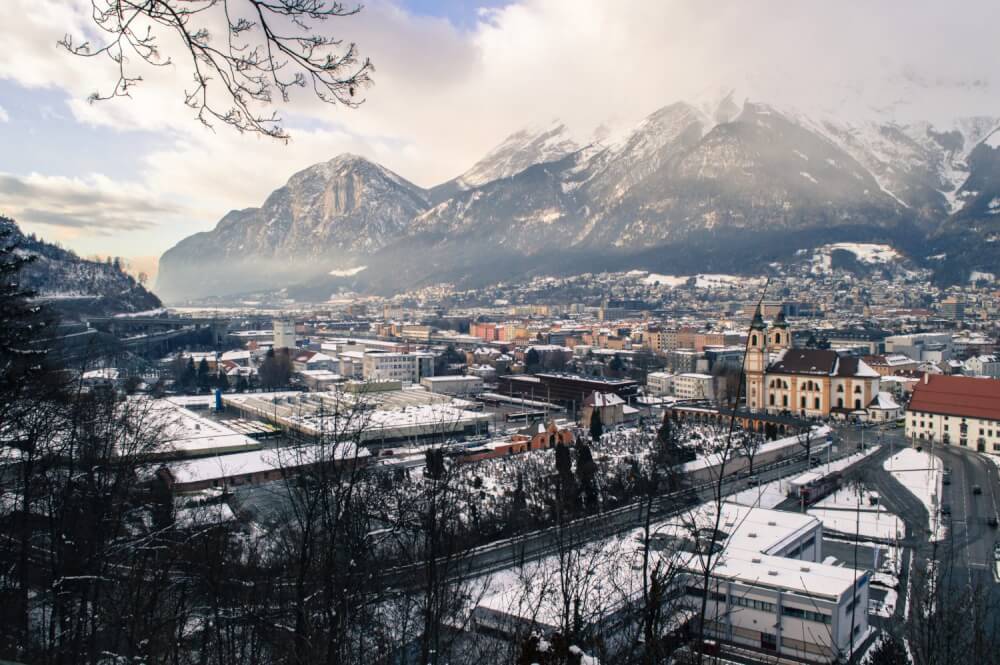 86. Tour Dachau, the first Nazi concentration camp to open in Germany
It's a sobering experience, though definitely not a pleasant one. Dachau was the first Nazi concentration camp to open its doors in Germany, and was used subsequently as a model for all future concentration camps.
You can get here easily on the S Bahn, but I highly recommend visiting with a guide to get a full idea of the history behind the camp. If you do choose to book a tour, I highly recommend GetYourGuide as they have a low price guarantee and will refund you the difference if you find a cheaper price. Here's their top Dachau tour.
87. Visit fairytale Nuremberg, home to one of Germany's most famous Christmas markets
You can get here on the train with a Bayern ticket, or book an easy tour. Nuremberg is a fascinating city that is cool to visit any time of year, but especially at Christmas when their famous Christmas market is taking place.
Interested in visiting? Here are some of my Nuremberg guides: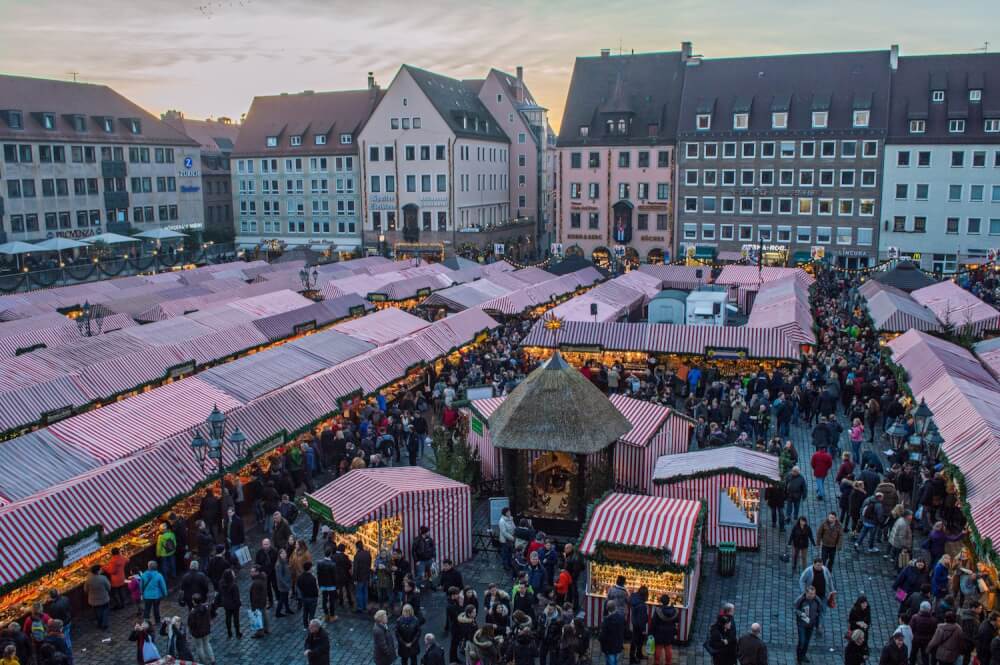 ---
Other Fun Things to do in Munich
Alright – if you're still wondering what to do in Munich after all those recommendations, hee are some final ideas for you!
88. Catch a game at Allianz Arena
In Europe, people live and breathe football (or soccer, for us North Americans). In fact, many consider football legends FC Bayern Munich to be the pride and joy of the city.

Witness true fan spirit (and beer-fuelled chants) at a live game at Allianz Arena, whose plastic panel exterior puts on a pretty fancy light show too. True fans can even book a tour to see the arena and training grounds.
Click here to get the best price online (guaranteed).
Address: Werner-Heisenberg-Allee 25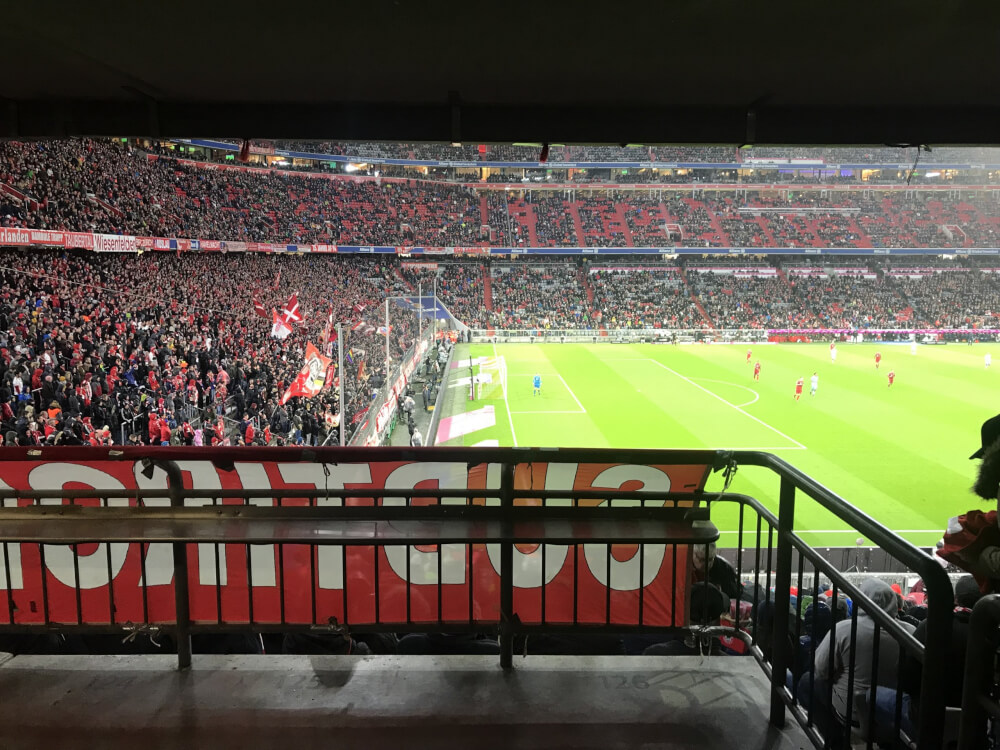 89. Enjoy one of Munich's many gorgeous bath houses
On the subject of naked people, locals also love saunas and bath houses. Luckily, Munich's got plenty of gorgeous ones. Müller'sches Volksbad is a popular favourite.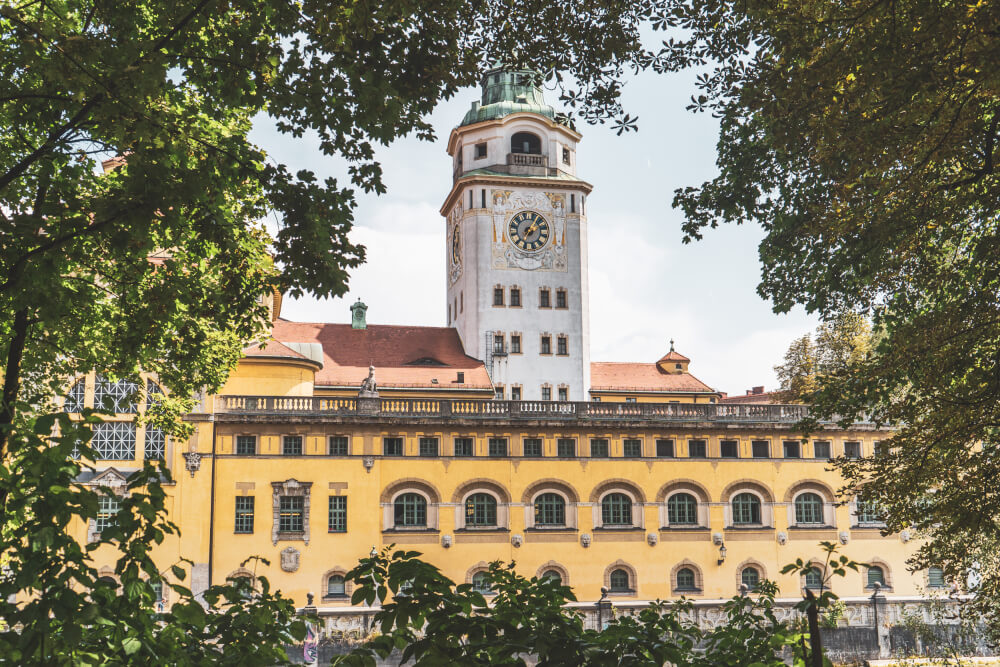 90. Enjoy a cool exhibition
The Kleine Olympiahalle in Olympiapark features a new exhibition every summer!
This past year, I got to see Star Wars: Identities, where I marvelled at Star Wars costumes, props and memorabilia, all the while creating my own character through an interactive bracelet.
Last year's was an Egypt-centric expo on King Tut. If you're in town during exhibition season, be sure to check out what they have on!
91. Frolic in the fountain at Stachus
This central square in Munich is a great place for people-watching. If you're feeling peckish, head to L'Osteria nearby and get a massive pizza for two at the cheap price of 9-12 euros! Their BBQ Chicken pizza is unreal and the ambiance is lovely, despite the affordable price tag.
PS: While Stachus and Karlsplatz are one-in-the-same, locals hate using the latter name because it refers to Elector Karl Theodor, who was (and still is) wildly unpopular. Call it Stachus instead (the name of an old pub in the area), and you'll blend in fine.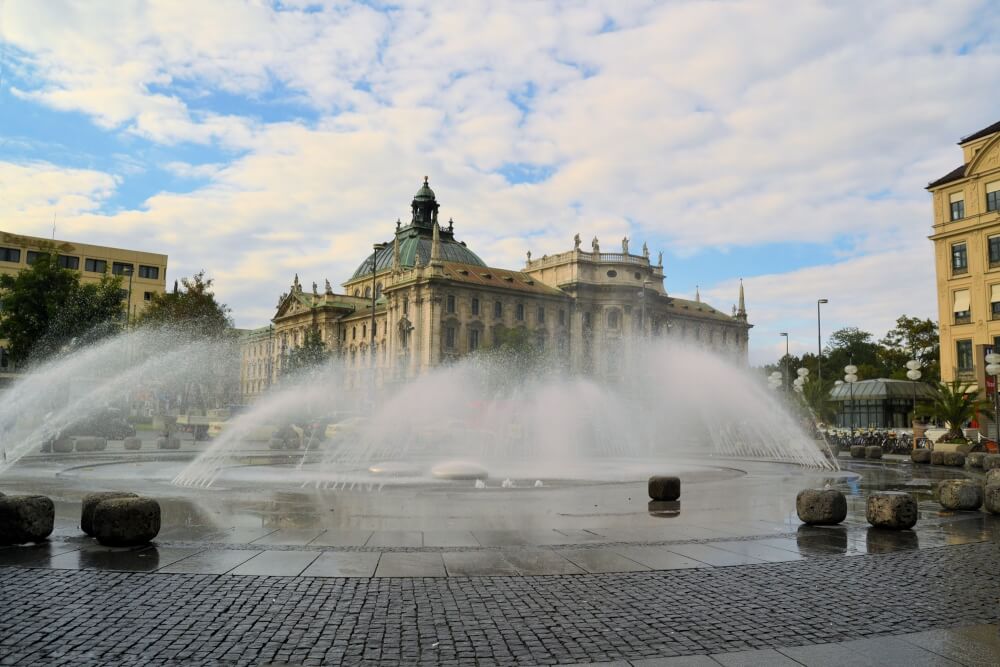 92. Visit Auer Dult!
The Auer Dult takes place three times a year at Mariahilfplatz, and it's a traditional market with tons of cool stalls and small carnival attractions as well.
It gets significantly less tourist traffic than say, Munich's Christmas markets so there's something about it that feels very local and authentic.
Address: Mariahilfplatz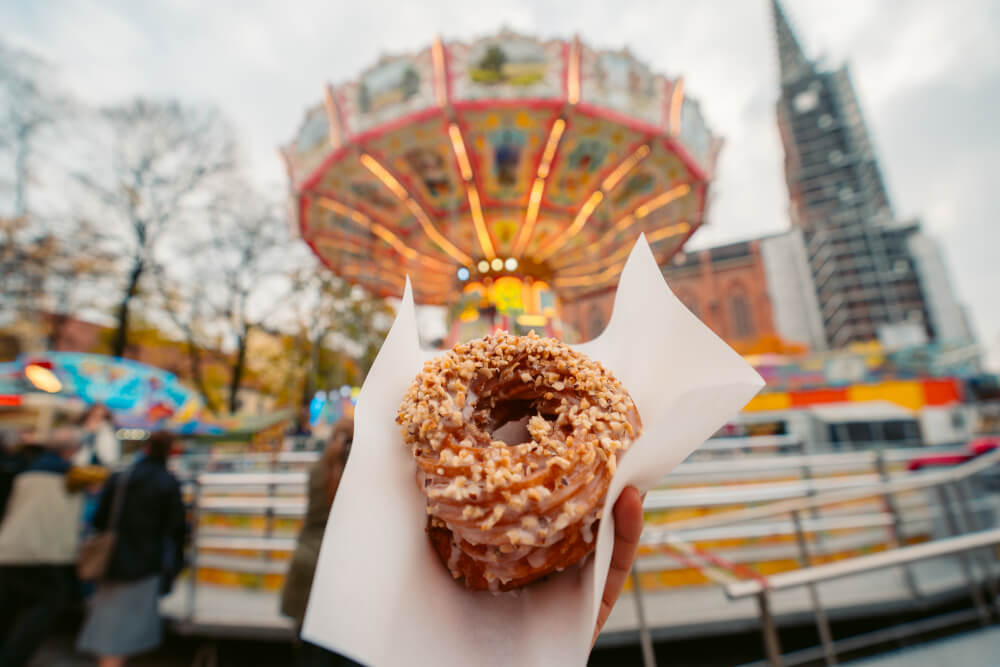 93. Have a chill night watching improv
English-speaking improv in Munich? It exists! BakeThis is a fun improv group that puts on a few different shows/events a month.
You're guaranteed a good laugh and the shows are usually quite small, which makes for a cozy experience (and more chances for you to get your suggestions in!)
94. Go crazy on a beer bike
Drinking beers on a giant group bike? What could go wrong? I'll admit I make fun of these every time I see them but I secretly wish I could try one. Embrace the ridiculousness and shamelessly pedal-chug your way through town!
Book online for the best deals. PS: Prosecco lovers, there's even a prosecco bike tour.
95. Party all night
I can't discuss fun things to do in Munich without mentioning the nightlife. Sure Munich has a rep for being traditional, but good parties can still be found all around the city. Check out this website for a nice overview of Munich nightlife options!
96. Enjoy an escape game
Escape rooms have taken the world by storm and Munich's got a fair few to offer. In simple terms, you pay to be locked in a room where you rely on your own wits and cunningness to escape.
Sound like a nightmare? Well, it's a bit like a suspenseful thriller film, except you're the star!
For escape room options in Munich, check out Escape Game Muenchen, Exit the Room and Team Escape.
97. Sing your heart out at one of the city's many karaoke nights
Karaoke is all the rage at Munich's Irish Pubs, with dedicated karaoke nights happening at different bars pretty much every day of the week. Kennedy's (by Sendlinger Tor), Killian's (by Marienplatz) and Shamrock (by Gielestrasse) are always a good time.
Not keen to sing on stage? Don't worry, after a few rounds of beer, everyone is singing from their seats anyway.
98. Glam up for a night at the opera
Doll yourself up and get a sophisticated peek at the inside of the gorgeous Munich National Theatre (home to the Bavarian State Opera).
Address: Max-Joseph-Platz 2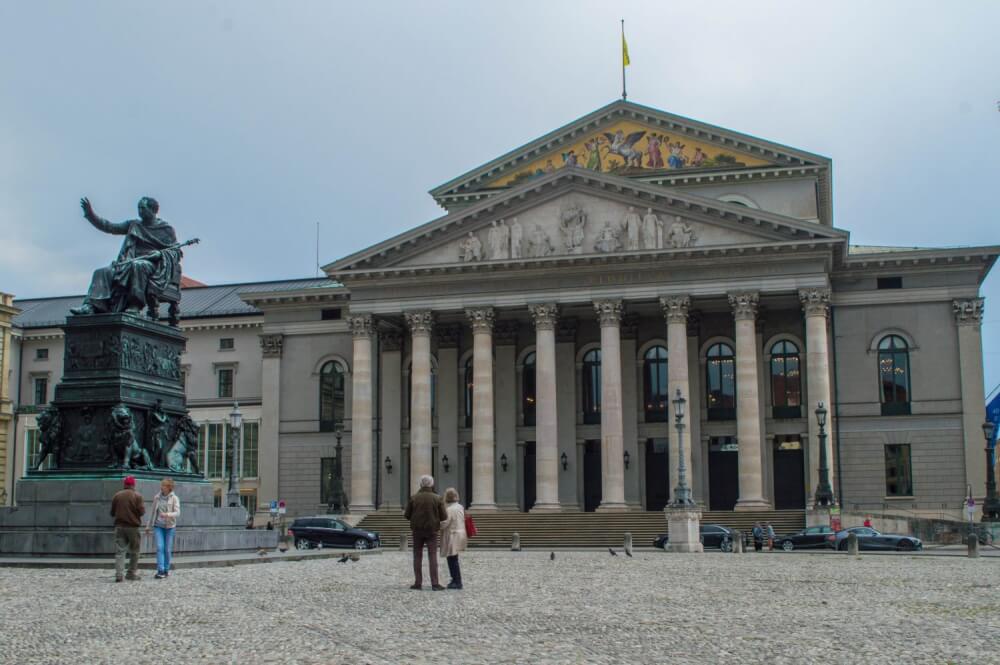 99. Catch a secret preview of a surprise mystery movie
Address: Nymphenburger Str. 31
One of the best fun things to do in Munich is watch a brand new movie at half the price! The catch? You won't know what movie it is until you get there.
Cinema Filmtheater München run a 'surprise screening' every week on Fridays, promising a half price screening of a film before its German theatrical release. Sure it's hella suspenseful, but that's half the fun! All screenings are in English.
Any other recommendations for things to do in Munich?
In case you couldn't tell from this list, there is far more to do in Munich than just having a beer. I adore this city, and I'm confident you will too. Now go out and enjoy the best that Munich has to offer! Hopefully this list will get you started. Feel free to leave more ideas in the comments too!
---
Watch my most popular YouTube video this week:
---