*FYI - this post may contain affiliate links, which means we earn a commission at no extra cost to you if you purchase from them. Also, as an Amazon Associate I earn from qualifying purchases. Check out our Privacy Policy and Disclosure. for more info.
I still remember the first time I confronted Munich's beast-like public transport system.
I was a naive exchange student, fresh from Canada, staring at a ticket screen filled with a million options and buttons. I stood there like a deer in headlights for maybe 10 minutes. I remember thinking: "why is Germany so scary".
Fast forward two years, I've grown to love the public transport system in Munich. After all, it's quick, efficient, clean, and punctual.
Admittedly though, I still find it terrifying. There are a lot of different nuances, ticket types, zones, etc. to worry about, and given that fines can be pretty steep here, I want to make sure you never get it wrong!
Save this post for later on Pinterest: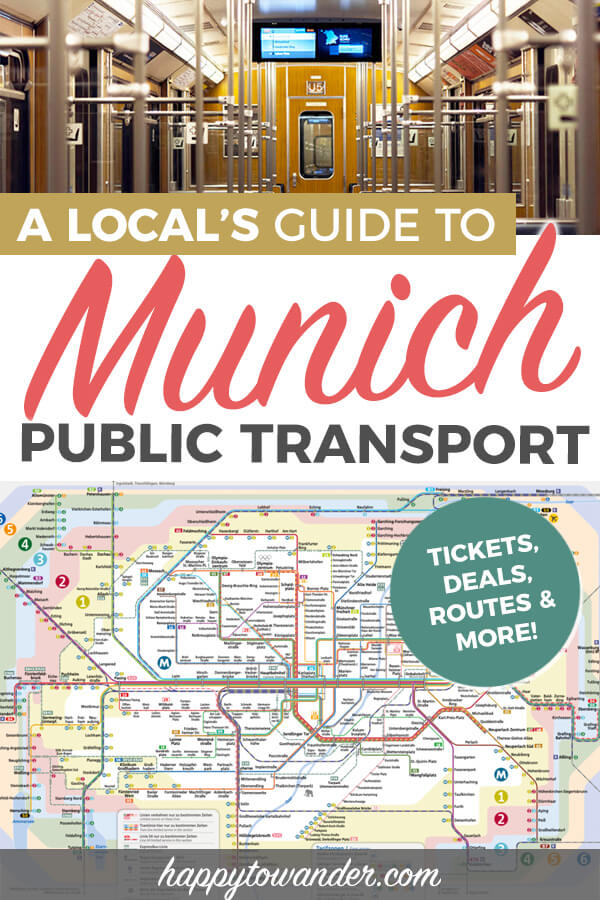 That's why I'm here today with a ridiculously thorough and intense post about public transportation in Munich, packed with tips from the struggles of a terrified Canadian 😉 In this post, I'll cover ticket types, prices, important must-knows and also cost-saving tips, so I hope you're ready!
This post was created in partnership with my friends at Omio, as part of my role as their Munich Local Expert! If you want more insider local tips for your Europe trip, be sure to join the Locals Facebook group, and click here to compare prices on the cheapest ways to get to Munich.
NOTE: Prices and zones for public transport in Munich changed DRASTICALLY on December 15, 2019, so this post now reflects those changes. To be fair, the changes have largely simplified the system, so consider yourself lucky! Anyways, if this info looks very different from something you read on a previous visit to Munich, that's why.
Pssst… Looking for more Munich travel tips?
Read my full Munich travel guide featuring tips on things to do, where to go, and more local secrets that most tourists don't know about.
Munich Public Transport: The Basics
As I mentioned above, Munich's public transport system is pretty great! Clean, efficient, safe and largely punctual (in the city center that is – suburban trains can be a different story!)
And while I truly believe that the best way to experience Munich's highlights is by walking, public transport is a very reliable and easy way to get around… so long as you understand how everything works.
This section will break down the basics of Munich public transport for you, so you're not left struggling when you first enter the city.
If you want a detailed guide for getting from the airport to the city centre though, check out my Munich Airport to City Center Guide.
Components of the Munich Public Transport System
Overall, the Munich public transport system is composed of the following:
An underground metro/subway system – known as the "U-Bahn"
A suburban train system that links Munich to suburbs – known as the "S-Bahn"
A network of buses and trams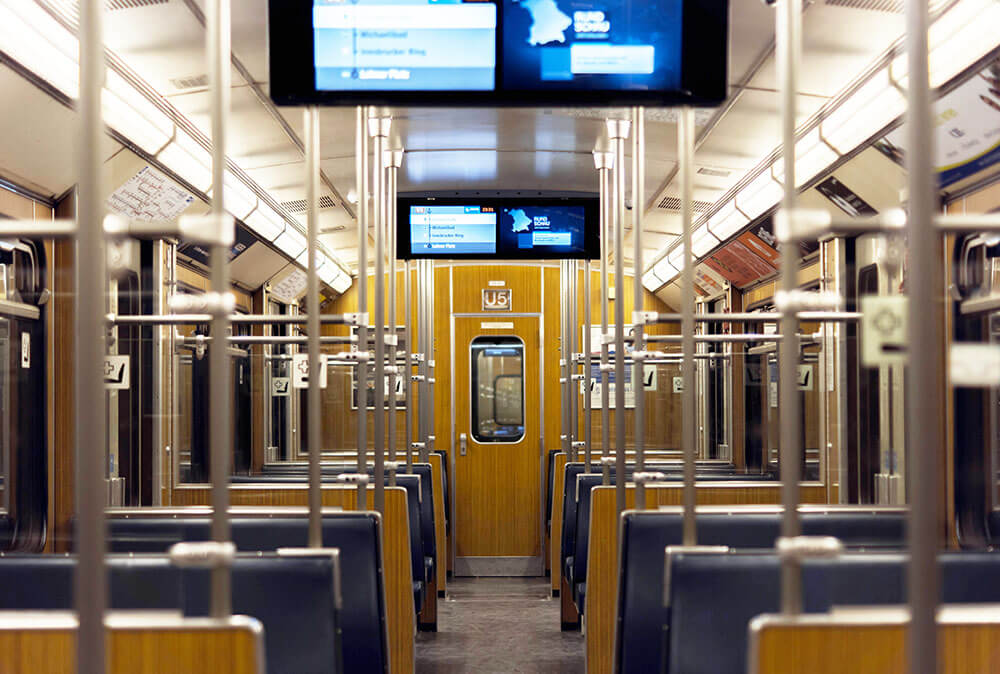 How to buy Munich Public Transport Tickets
In-person:
If riding the U-Bahn or S-Bahn, look for ticket machines in the station.
There are two kinds of ticket machines – 1) electronic ones with touch screens where you can switch languages (recommended if you don't speak German) and 2) vending machine style ticket dispensers with buttons you can press for the ticket type you want.
Remember to validate the ticket before you board!
On buses and trams, there are ticket machines on board.
If you are planning to buy your ticket on board, remember to bring coins! Many of the machines (especially on trams) don't take bills or any form of card.
Tickets purchased on board are said to be validated already, but I always stamp mine on the blue stamping machines just in case (because I am so paranoid).
Online:
If you are purchasing a day ticket (or multiple day ticket), you can buy it in advance online through the official websites listed here.
Online tickets require an A4 printout and some form of ID, so have these ready in case you get checked.
Through the MVV App:
If you're an app person, you can download the free MVV app which can be used to plan journeys, check time tables and purchase tickets.
This is by far the simplest way to ensure you get the right tickets every time because you can just buy via their trip planner which will tell you which ticket you need.
Signing up for an account can sometimes take a while (it's quite new so can be glitchy) but if you're spending more than a few days in Munich, this might be worth it so you don't need to wait in line!
IMPORTANT: Always validate your tickets and bring ID with you if you're using the app.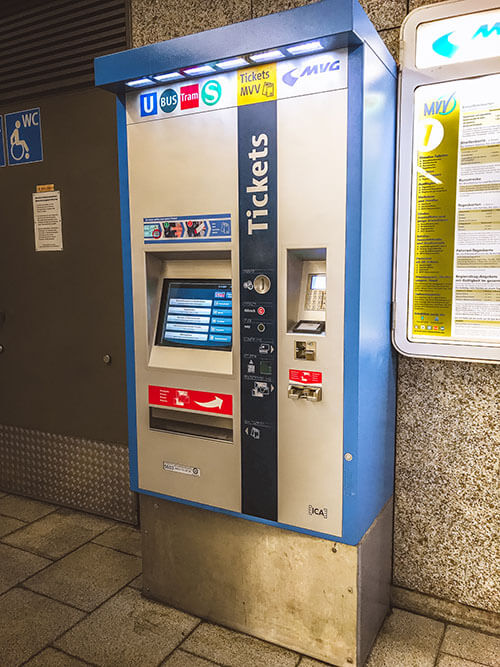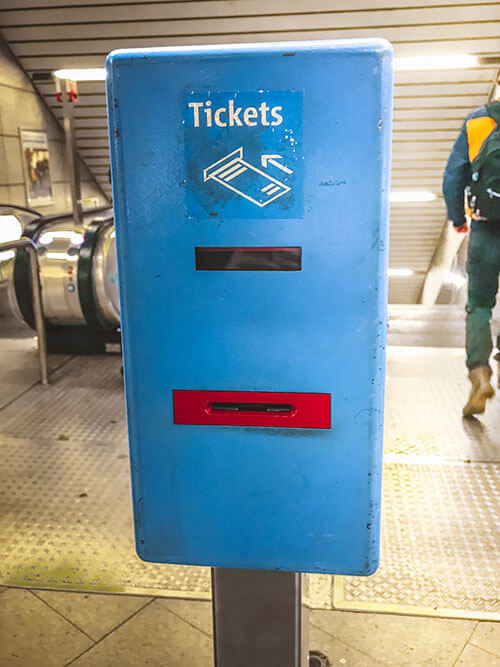 Munich Public Transport Ticket Types
Single tickets AKA Einzelfahrkarte
One ticket valid for a single trip in the direction of your final destination, meaning you can't travel roundtrip on just one of these tickets. You can however use any combination of trains, buses, trams, etc. to get to where you need to go.
The cost depends on how many zones you are travelling through. They rehauled the entire system in mid-December 2019, then raised prices again in December 2020 so click here for an updated list of costs.
For the most part, if you are travelling within the city center (AKA the M-Zone), you will be paying 3,40€ for a one-way Single Ticket.
This is the zone/price you'll most likely be paying if you stick to the city center.
The notable exception is if you are travelling to/from the airport, which is located in Zone 5. A single ticket in this case costs 11,90€.
Stripe Ticket AKA Streifenkarte
I'll be honest with you – stripe tickets still confuse me. Basically they're these long tickets that can be used multiple times by multiple people, and they have ten stripes on them each.
The number of stripes you use per trip depends on where you're going and how old you are, but the idea is that you validate it each time you use it, and for the appropriate number of stripes your trip requires.
Make sure you validate and punch everything in correctly, because there's a fine if they check you and you have done it wrong.
These tickets can be confusing for tourists, but ever since the system rehaul, it's very very worth it to use a Stripe ticket instead of single ones if you plan to do multiple trips.
The cost per ticket evens out to be 2,92€ for a one zone ticket vs 3,40€, which is just under a 0,50€ savings per ticket!
My tip? To avoid confusion, download the MVV App and use the Stripe ticket through there. Redeeming stripes electronically reduces any confusion with stamping and ensures you are using the ticket correctly.
Prices for a Munich Stripe Ticket (Streifenkarte):
1 Stripe Ticket (with 10 stripes): 14,60 €
Day Ticket AKA Tageskarte
A day ticket basically entitles you to unlimited trips within a certain area (based on which ticket you buy) from the time of validation up til 6am the next day.
That's Munich's blessing for you to party the night away 😉
These tickets are 100% worth it if you do more than two one-way trips in a day (which you probably will).
In Munich, there are two types of day tickets: single day tickets (valid for one adult aged 15+) or group day tickets.
Group day tickets have one fixed rate, so the more people you get on it, the better the deal. A group ticket can take up to five adults (aged 15+) OR ten children aged 6-14 (I know, it's a super weird system).
Basically they count two kids in that age range to be equivalent to one adult.
SO, in simple terms, if you are travelling in a group, GET A GROUP DAY TICKET. It will save you so much money!
The cost of these tickets depends on how many zones you need. Click here for more info.
IsarCard Weekly/Monthly Tickets
If you plan to be in Munich for a longer period of time (and will be using public transport throughout your stay), getting an IsarCard is a no brainer.
The name "IsarCARD" is deceptive because it's not actually a card, just another flimsy paper ticket except it's valid for longer.
You do save a lot of money with them though. For instance, an Isarcard Weekly for the M-Zone only 17,80 €, (compare that to a single journey being over 3 euros).
Group Ticket AKA Gruppenkarte
Munich loves rewarding you for having friends. I've already covered the group day ticket above…
BUT if you are planning a day trip to any nearby areas (like Neuschwanstein Castle), there is another glorious ticket you can use called the Bavaria Ticket (Bayern Ticket).
Bavaria Tickets are valid for travel throughout the entire state (for regional trains, buses, trams, etc.) which makes it the best deal ever if you're going somewhere outside of Munich for the day.
Basically with this ticket, you pay one base rate and then add a small charge for each person you bring onto the ticket (up to five adults). If you are travelling in a group, this can save you loads of money. For more info, read my full Bayern ticket guide.
Bavaria Ticket Prices:
Base price: 25 euros (this covers the first person)
Extra charge per passenger added: 8 euros (up to a maximum of five total passengers)
EXAMPLE: If you are a group of three, you would pay a 25 euro base rate + 16 euro additional (8 per added passenger). That is 41 euros total (Just under 14 euros per person) for unlimited public transport in the entire state of Bavaria for the day! Wild.

Figuring Out Munich's Public Transport Zones
Once upon a time, this was the most confusing part of the Munich public transport system but luckily, ever since the they rehauled the system in December 2019, it's a lot easier to understand.
This aggressively overwhelming map breaks down Munich's new zone system, which includes 7 concentric zones.
As a tourist, you will primarily be travelling through the giant "M Zone" in the middle, so you can most likely ignore most of the zones unless you are staying outside of the city, or are traveling to/from the airport (which is located in Zone 5).
Oftentimes I will see confused tourists staring at a map trying to figure out how many zones they'll need. I'll make this easy for you though: if you are in Munich as a tourist and only intend to explore the main spots within the city, odds are you will only be travelling with the M-Zone.
If you are staying outside of the city (approximately near the end of the U-Bahn lines), then you might need to consider purchasing other zones.
Otherwise, you won't need anything more unless you're planning a day trip to somewhere via S-Bahn or going to the airport (which, again, is located in Zone 5).
To simplify things, consider using the  MVV App to find out the routes between your two stops and how much it should cost.
Important Facts You Need to Know to Survive Munich Public Transport
Munich's public transport relies on an honour system.
In Munich, there are no fare gates or barriers that force you to buy or scan a ticket. Instead, you are expected to buy the right ticket and then sweat rigorously in fear of random checks.
These checks are honestly not that frequent, but they take them seriously.
Failure to purchase a valid/correct ticket is called schwarzfahren and doing it is a one way ticket to hefty fines and a disappointed Bavarian frown.
Tickets must be validated.
On that note, it's not enough to simply have a ticket.
The ticket ALSO must be correctly validated, otherwise you can still get fined. Some tickets are validated upon purchase, but others require you to stamp them at these little blue stamp machines found in stations, trains and trams.
My honest advice? Regardless of what ticket you get, stamp it. Stamp it just in case. STAMP IT ALL.
Munich still uses paper tickets.
Even though tickets in German = Karte, the tickets you get are not cards at all, but little pieces of easy-to-misplace paper.
Even when I had a 6 month public transport pass as a student, it was nothing more than a flimsy receipt-sized paper that was destined to fly away. Very stressful!
Bear this in mind and remember to always keep your ticket in a safe place in case you get checked.
Ticket checkers like to go undercover.
Munich ticket checkers are like incognito ninjas. Usually they'll be dressed just like you, and will then ask to see tickets when the train is moving and there's no escape.
So, don't assume you're "safe" just because there are no police or people in bright vests on board… Please just buy a ticket 🙂
Tickets on Munich public transport are one way.
In some cities, a public transport ticket will cover you for a set amount of time, meaning you can hop on and off with the same ticket for x number of minutes.
Munich is NOT like this. If you have a regular Einzelfahrkarte (single ticket), you can only use it to get from Point A to Point B – basically one trip in a single direction.
There are maximum travel times on the tickets.
Depending on how many zones you're travelling, there is a maximum validity time (so you only have x amount of time to get to your destination).
Short Trip Ticket: 1 hour
1 zone: 3 hours
2 zones and Single Ticket for children/children (6-14 years): 4 hours
Watch out for the short underground trains.
I don't know what else to call them. Basically, standard underground trains will be comprised of 4+ cars, but on quieter routes/off-peak times, there are short trains that are only 2 cars.
This means they only pull up to a certain part of the platform and if you're left waiting at the other end, then you have to run to catch it, which isn't ideal.
You'll know when a short train is coming because there will be a two train car symbol on the electronic screens stating train times/arrivals.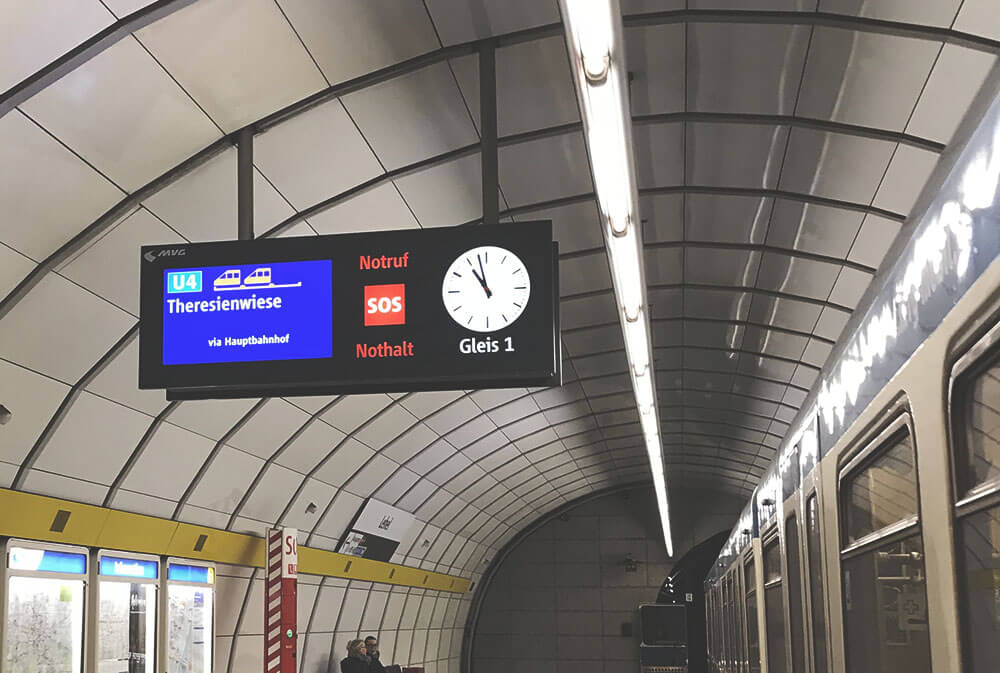 Munich Public Transport: Summary
So, before I let you go, I just want to quickly summarize the different ticket types and what would likely be best for you depending on your travel situation.
If you are only travelling a short distance of less than 4 stops by public transport (and don't plan to do it often), look into the Short Trip Ticket (Kurzschrecke), which is basically half price and allows you to travel up to four stops (2 max on U-Bahn and S-Bahn).
If you are travelling alone and think you will take less than 2 one-way trips per day, then buy a Single Ticket (Einzelfahrkarte) when you need it, or invest in a Stripe Ticket (Streifenkarte) if you plan to take multiple trips throughout your visit.
If you are travelling alone and think you will take more than 2 one-way trips per day, get a Day Ticket (or the three day option, depending on how long you're staying).
If you are with a few friends and intend to use public transport often in Munich, definitely get a Group Day Ticket.
If you are staying for a week or more, look into purchasing an IsarCard (there are weekly or monthly options).
If you will be travelling around Bavaria for a day trip or something and not just Munich, especially if you're with friends, consider buying a Bavaria Ticket.
If you intend to do a lot of sightseeing and attraction hopping, consider getting a City Tour Card. There are options for 1-3 days and it not only comes with public transport privileges, it also gets you discounts and freebies at attractions all around town.
I hope this guide to Munich's public transport was helpful!
Alright, have a hug!
I know that was a lot of information. Hopefully though, with all those precious knowledge nuggets in your head, you feel well prepared to take on the wicked beast that is Munich's public transport. Let me know in the comments if you have any more questions, and safe travels! 🙂
Not in Munich yet? Click here to search up the most affordable ways to reach the city.
My Go-To Travel Favourites: