*FYI - this post may contain affiliate links, which means we earn a commission at no extra cost to you if you purchase from them. Also, as an Amazon Associate I earn from qualifying purchases. Check out our Privacy Policy and Disclosure. for more info.
If you're travelling through Munich via bus, odds are very good that you'll at some point encounter the infamous Munich Central Bus Station.
After almost 3 years catching buses and bumming around this 10th circle of hell (oops, I mean bus station), I've learned a thing or two about what this place has to offer, what mistakes you need to avoid and horrible little things to watch out for.
Here's a guide on surviving the Munich Central Bus Station. Enjoy!
Pssst… Looking for more Munich travel tips?
Click here to read my full Munich travel guide featuring tips on things to do, where to go, and more local secrets that most tourists don't know about.
Munich Central Bus Station… or Zentraler Omnibusbahnhof München?
Depending on who you booked with and in what language, your ticket might say Munich Central Bus Station OR Zentraler Omnibusbahnhof München, which yes, melodically rolls off the tongue. Hahaha jokes – it's a tragic mouthful, which is why you'll more commonly see it referred to as "München ZOB".
So what's the difference?
Plot twist: they're the same!
In German, the Munich Central Bus Station is known as Zentraler Omnibusbahnhof München (ZOB München for short), so, just know that München ZOB IS the Munich Central Bus Station, not to be confused with München HBF (which is Munich Hauptbahnhof, Munich Central TRAIN Station).
… Sorry, yes, this country is confusing.
If you do mix these two up though, don't cry – they're actually right next to each other and only take about 10 min by foot if you're walking slowly with luggage.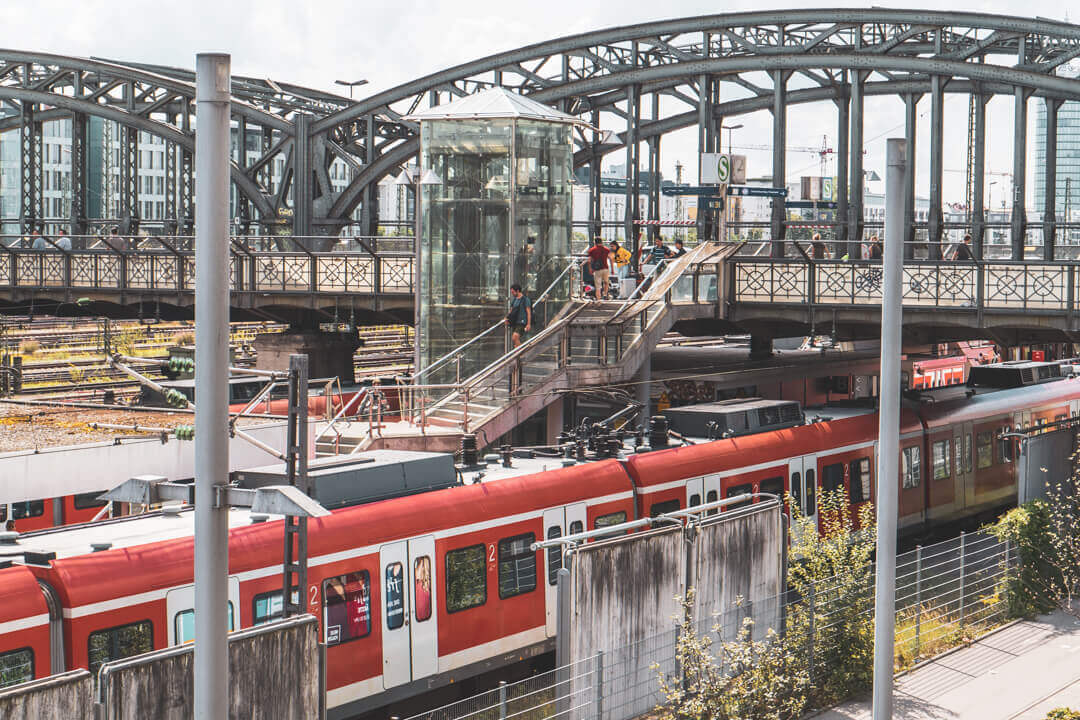 Munich Central Bus Station: An Overview
The new modern structure that houses Munich Central Bus Station (ZOB) was only built in 2009, which means the facilities are sparkling new and modern compared to many bus stations around Europe.
It consists of 29 bus terminals and a little shopping arcade thing above it.
This delightfully means that the entire thing is covered, meaning shelter from rain… yay!!
Unfortunately, the lower bus terminal (where most of the waiting happens) is open air, which means you'll be freezing your butt off in the winter months/in the evening.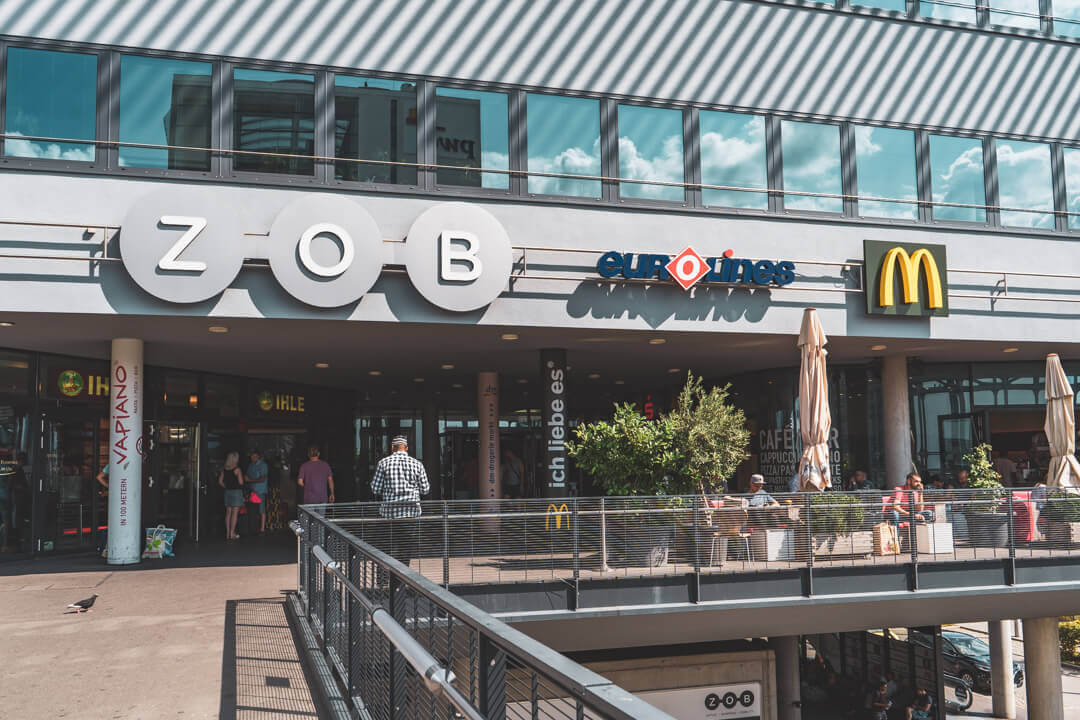 Navigating Munich Central Bus Station: Step by Step
I still remember my first time going to Munich ZOB.
It was less than a month into my time living in Munich, and I went there in the thick of Oktoberfest, which takes place not too far from the bus station.
I still remember the horrific crowds and shoving as I navigated through the mob with my giant backpack (I hadn't learned how to pack light yet). I even watched a fist fight break out, blocking the stairs I needed to go down to find my bus.
… which was (obviously) not easy.
Here's why: public transport that goes to Munich ZOB doesn't drop you off right at the bus bay bit where all the buses are. You need to find it (which is easier said than done). So here's a quick guide on how to get to the actual buses, how to find the necessary bus bay, etc:
If coming by S-Bahn
Know that Munich Central Bus Station is located at the Hackerbrücke S-Bahn station.
Conveniently, ALL S-Bahn lines stop here, so getting here is really easy.
The S-Bahn station is actually parallel to the bus station and separated by fences, etc. so you need to go up the stairs from the S-Bahn Station, cross the Hackerbrücke bridge (yup, that's where the name comes from), walk towards the big bus station structure, then go down the stairs/escalators to get to the bus terminal on the ground floor.
Yes, I agree, it's unnecessarily confusing.
Once at the bus terminal, keep an eye out for electronic signs that will tell you which bus bay your bus will be at.
Keep in mind that these signs will list out the FINAL destination of the bus, so don't freak out at first if you don't see your destination listed.
Let's say you're getting off at Strasbourg when in reality the final destination of the bus is Paris. You would therefore look for the bus that goes to Paris. Your ticket will also have the bus number and departure time, so double check with those.
PRO TIP: Give yourself a lot of extra time. The bus bay here is pretty big and it's easy to get disoriented. I think my lowest point was when there were two companies going to the destination I was visiting (down to the minute). The buses were of course leaving from opposite ends of the station, so after getting brutally rejected for having the wrong ticket, I had to run and find the other bus……. Which was miraculously delayed by 1hr so, you know. #JustMunichCentralBusStationThings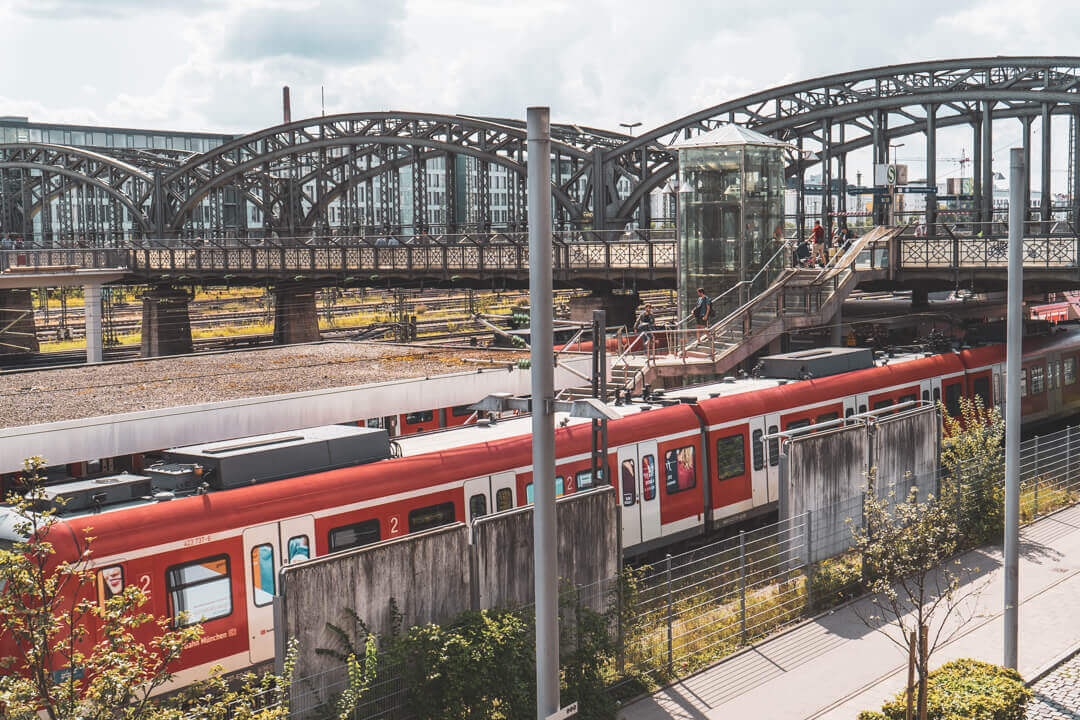 If coming by Tram or Bus 
There are quite a few trams and buses that drop you off within 5 minute walk of the bus station. If Google Maps fails you, look for the big futuristic building that looks like the photo below. The buses will be found right under it, and you can get to that level via elevator, escalator or stairs.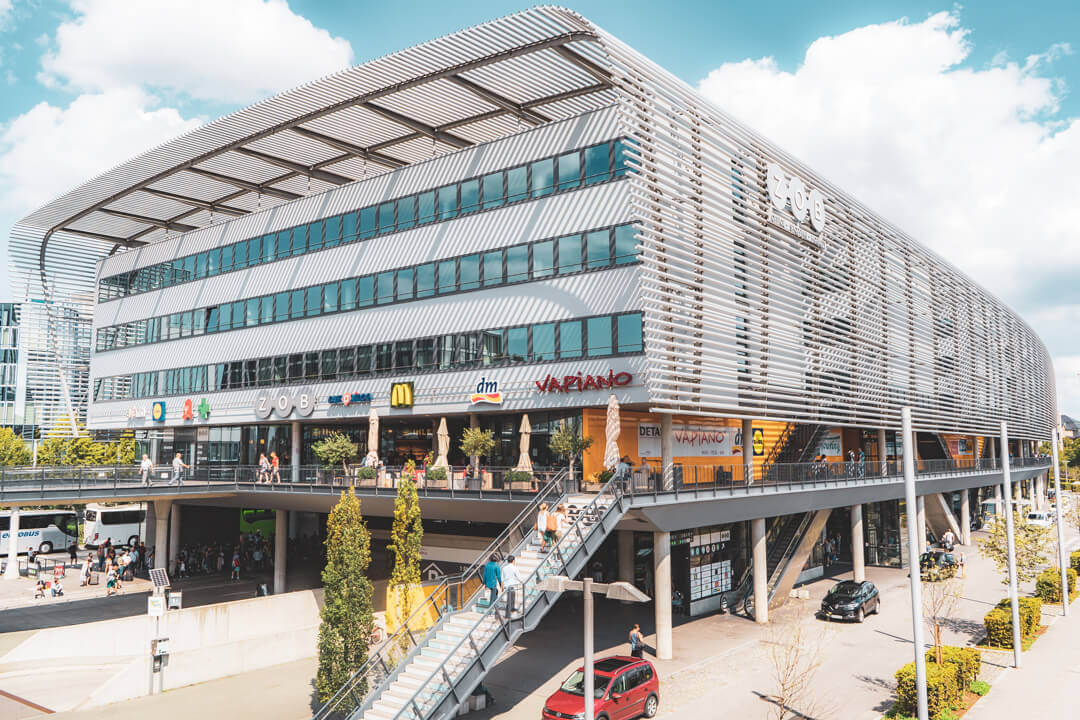 Food Options at Munich Central Bus Station
Okay, so while I've talked a lot of smack about it, I will say that one of the great things about Munich Central Bus Station is its wide variety of food options. Way more than other bus stations I've encountered in Europe (which usually have no more than a grumbly coffee machine and derelict Burger King).
Whether you're looking for an actual sitdown meal or just something grab & go, here's a list of the different food places you can find at Muenchen ZOB:
McDonalds: Good old reliable McDonalds is located in the upper shopping arcade. They're usually open fairly late (until midnight on weekdays and then until 6am on weekends), so if you want some midnight nugs for your 12 hour bus to Berlin, they have you covered.
Vapiano: If you want a sit-down meal that's good quality, there's a Vapiano right at the bus station that serves really tasty pizzas and pastas. Vapiano is a chain around Europe and their stuff is consistently tasty, but the system is a bit weird so let me walk you through it: you're given a card when you walk in and then you walk up to the different stations (there's stations for pizza, pasta, the bar, etc.). You order what you want, they tap your card, then you pay off your debt at the end. FYI, you should NOT misplace your card. A friend of mine used to work here and apparently you have to pay something ludicrous like 50 euros if you lose it.
Oliva: They do doner kebabs, etc. Yummy and filling. I'd recommend not eating yours on the bus or else everyone will hate you.
Ihle Bakery: Sandwiches, baked goods, the usual. A little expensive for what it is but a good grab & go option if you don't want to stink up the bus with the smell of French fries and doner.
Terrazza: An Italian café/bar that's usually always full. They don't have a ton of seating space but it's a nice option if you want to relax with a coffee or Spritz before your trip. They do food as well but I can't attest to the quality.
KAIMUG Box: Pretty typical Asian takeaway place.
Lidl: There's a grocery store if you want to stock up on supplies or grab some more affordable food.
U-Store: This is a little convenience store on the upper level that has the usual stuff you might find at a gas station: bottled drinks, snacks, candy bars, and a little section with baked goods and sandwiches. Honestly, if the Lidl is open, you're better off going to Lidl for all these things – it's much cheaper.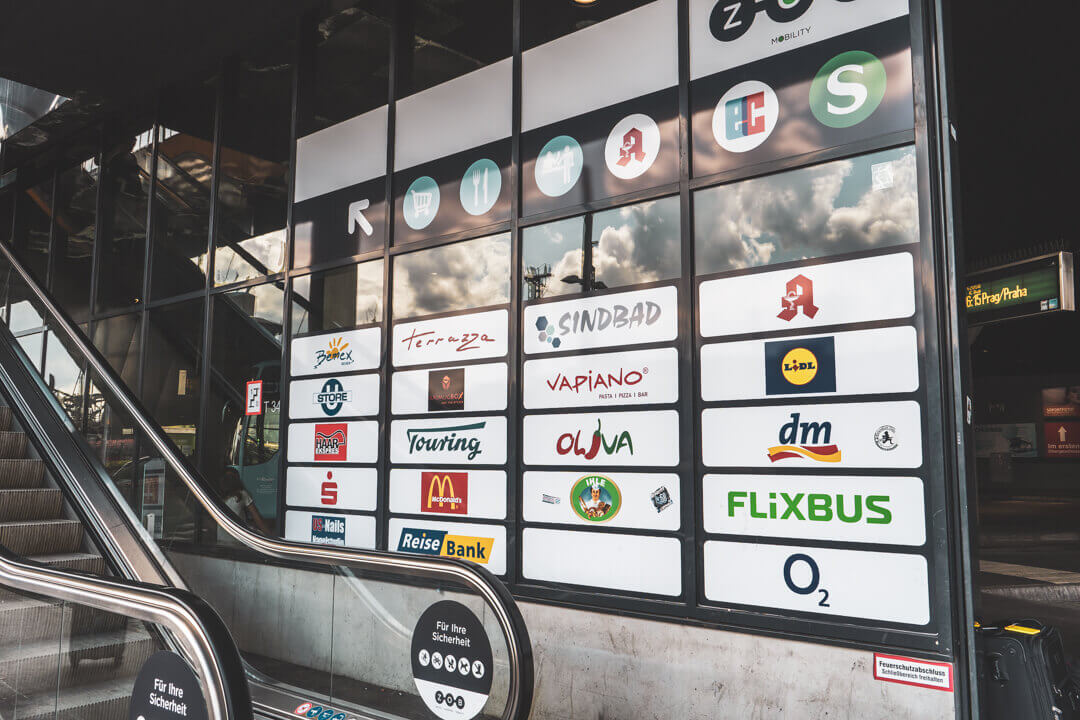 Facilities & Shops at Munich Central Bus Station
NOTE: These shops and services aren't open all the time, so expect most of these to be closed if you're leaving/arriving in the evening after 8pm. Even worse, the operating hours for all these shops are different (I know, it's confusing). If you want to check the operating hours of any specific place, I recommend looking on the official Munich ZOB website here.
Bathrooms: There are bathrooms on the bus terminal level of Munich Central Bus Station. They cost 50 euro cents, so make sure you have some change on you.
Grocery store: There's a Lidl at Munich Central Bus Station where you can stock up on snacks, drinks, etc.
Banks/ATMs: There's a Sparda-Bank ATM and a full on Stadtsparkasse.
Currency Exchange: There's a Reisebank located on the upper shopping arcade level. Come here for things like foreign currency and traveller's cheques.
Pharmacy: There's a pharmacy called Mary's Pharmacy in the upper level shopping arcade.
Nail salon?: Well, if you want to get real fancy before your coach whisks you away on the magical journey of a lifetime, there is a nail salon in the upper shopping arcade.
Nightclub: If you really want to play with fire and get some clubbing in before our bus ride (or maybe party the night away after you arrive), there is a night club pretty much on-site at the bus station. It's called Neuraum.
Lockers for luggage storage: According to the official ZOB website, Munich Bus Station lockers are available according to the following price tiers [Don't ask me why they've listed the measurements in mm – I think it's weird too]
Small (855 mm × 351 mm × 457 mm): 1,50 €
Average (855 mm × 351 mm × 620 mm): 2,50 €
Big (855 mm × 351 mm × 945 mm): 5,00 €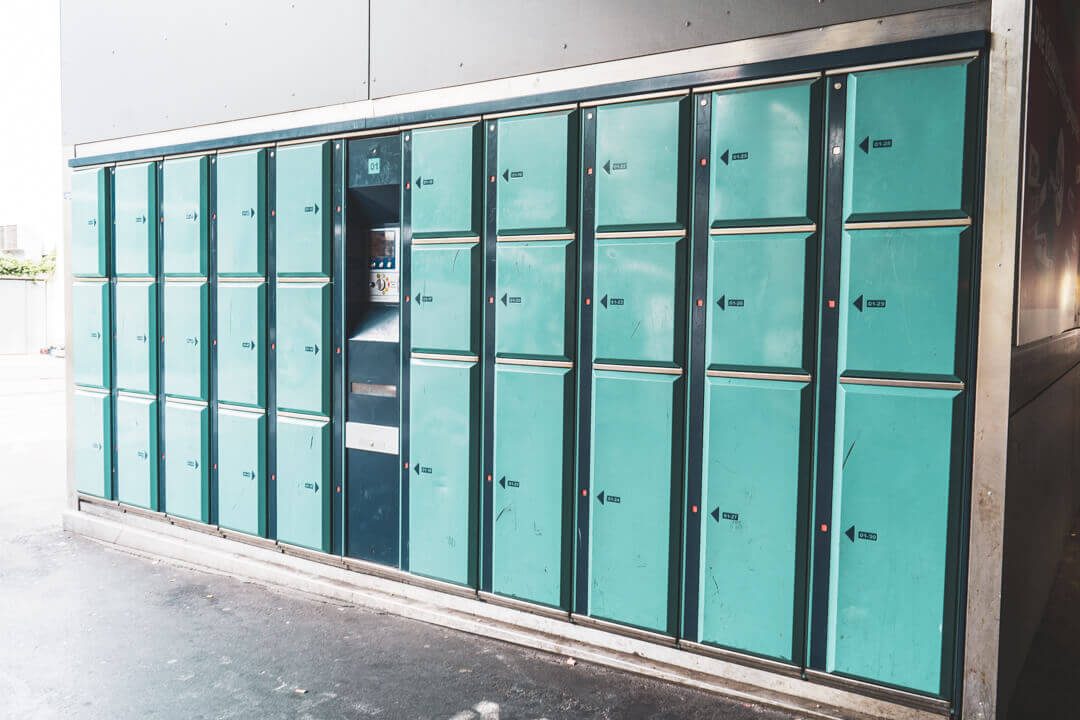 What's Near Munich Central Bus Station?
Munich Hauptbahnhof: Munich Central Bus Station is conveniently located right by the Munich Central Station (about a ten minute walk, or only one stop away on any S-Bahn train).
Hackerbrücke: You will inevitably walk across this bridge if you arrived via S-Bahn. This bridge is actually one of the most popular places in Munich to watch sunset. People climb up onto it with beers and perch on the bridge like badasses while the sky turns pretty colours. If you have time to indulge in this super Munich experience, I encourage you to do so. It's non-touristy and cool.
Augustiner Keller Beer Garden: This is one of the biggest beer gardens in the city. If you want to get off the bus and experience some of Munich's quintessential beer culture right away, then this is an easy walk from the station.
Augustiner Bräustuben: This is actually one of the cheapest places in the city to enjoy a nice cold frothy Mass. Welcome to Bavaria, where litres of beer are the standard 😉 You can score one here for €5.50, which is literally half the price of what you'd pay at Oktoberfest. This place is a very typical Bavarian beer hall, meaning you get to drink in the name of "culture" too. Yay!
Munich Central Bus Station to the Airport
NOTE: If you are planning on taking a Flixbus or some other coach company into Munich in order to then get to the airport, I highly recommend looking into other options. As you'll read in my honest review here, buses are notoriously late thanks to traffic and other issues, which puts you at risk of missing your flight. Trains are far more reliable.
If you do need a way to get from the Munich central bus station to the airport though, it's super easy. S-Bahn trains leave regularly from here, so just hop on either the S1 or S8 towards Flughafen (Airport in German).
Final Tips for Surviving Munich Central Bus Station
Buy your tickets in advance
Seriously, the customer service at this place is miserable. There are a variety of different bus companies that operate from here, and the ZOB itself isn't a travel agency, so there's no one ticket office where you can just walk up and get a ticket spontaneously. Each of the bus companies DOES have their own ticket office on-site, but they're scattered and the line-ups always look horrendous. Save yourself time by buying your tickets online. PRO TIP: You can use GoEuro to compare buses, rates and times and even book through them for convenience sake.
Give yourself a lot of extra time
The station is really large so allow yourself plenty of extra time to a) identify which bus bay you need and b) find it…
When in doubt, ask
I can't pretend to know all the mystical workings of the Munich Central Bus Station, but the amount of times that bus bay numbers randomly changed or my bus was way more delayed than normal, etc. is tooooooo dang high. In these instances, swallowing your pride and just asking someone is invaluable. Most employees will speak at least some English, so don't be afraid to ask them pressing questions such as "where the heck is my bus?" and "why does this place smell like wet cats?"
If you really want to go wild, there's a nightclub on site
It's called Neuraum, and it gets real messy. Enjoy!
One of the cheapest places to drink beer in Munich is a short walk away
Augustiner Bräustuben is a gem that you can access by foot from the central bus station. It has a classic beer hall feel, with a rooftop beer garden too if the weather is nice. This is the cheapest place in Munich for beer (that I've found so far). Yes, you can chug a whole litre for 5.50! Drink responsibly 😉
One of the nicest spots for sunset is right above the station
I mentioned this before, but the Hackerbrücke (the bridge right above the Central Bus Station) is one of the top local spots to watch the sun set. Usually people will climb up on the bridge and perch with a beer or ten to watch the sky turn pretty colours. Real romantic stuff!
Don't rely on your credit card
Many of the shops here only take cash and specific debit cards. I highly recommend you come prepared with some cash just in case because you don't want to be stranded without any way to pay.
Coming on a Sunday? Be prepared for a wasteland
Last but not least, in Bavaria, Sunday is pretty much a dead-zone where nothing is open. The same holds true for many of the spots around the Central Bus Station, including the Lidl. While there will be takeaway food options still available, your options are much more limited on Sundays, so be sure to take this into account.
Any more questions about Munich Central Bus Station?
Send them my way in the comments! Have an awesome time in Munich, and I hope you found this guide helpful.
Save this post for later!
If you liked this guide on Munich's Central Bus Station, why not hover on the upper left hand corner of that fancy graphic and save the inspo for later?
PS: If you're planning on coming to Munich, you might also like these articles:
17 Hilariously True Must-Knows Before Traveling to Germany
99 Awesome & Fun Things to do in Munich
A Guide to Munich's Public Transport 
---
Watch my most popular YouTube video this week:
---