*FYI - this post may contain affiliate links, which means we earn a commission at no extra cost to you if you purchase from them. Also, as an Amazon Associate I earn from qualifying purchases. Check out our Privacy Policy and Disclosure. for more info.
As I've made abundantly clear throughout this blog, Munich is a magical little wonderland that has harpooned my heart for many a beer-soaked reason.
There are the plentiful adult beverages. The disproportionate amount of handsome humans… the air that's crisper than a fistful of Pringles.
But wait – before you can access this utopia of greenery, booze and twisty carbs, you must first conquer your first challenge: Munich's train and bus stations, some of my least favourite spots in the city. Why? It's simple: they're busy, crowded and needlessly difficult to navigate.
But don't worry friend, I've got you. After years of frequent travel in/out of Munich, I've learned a thing or two about all of Munich's top transport hubs. So, whether you're travelling through Munich or live here, here is a comprehensive guide on the different train and bus stations in the city. Enjoy (and good luck!)
Save this post on Pinterest for later: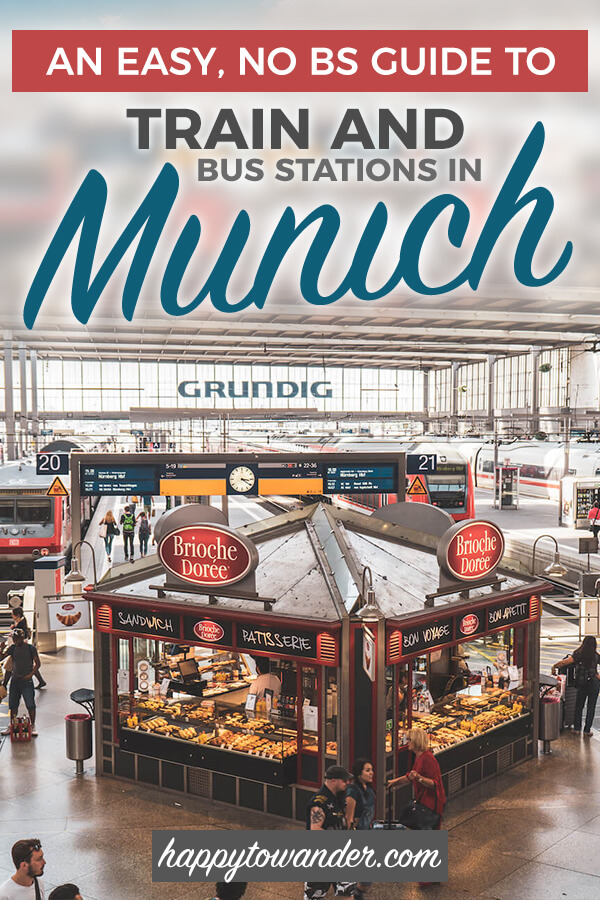 This post was created in partnership with my friends at GoEuro, as part of my role as their Munich Local Expert! If you want more insider local tips for your Europe trip, be sure to join the Locals Facebook group, and click here to compare prices on the cheapest ways to get to Munich.
Pssst… Looking for more Munich travel tips?
Be sure to read my full Munich travel guide featuring tips on things to do, where to go, and more local secrets that most tourists don't know about.
Munich Train Stations
Munich has three main train stations: München Hauptbahnhof (in English: Munich Central Station), München Ostbahnhof (in English: Munich East Station) and München Pasing. These are all easily linked via public transport.
If you're travelling to/from any international location, odds are good that you'll be using the Central Train Station, but I've outlined the main things you need to know for all three, because just like guacamole, I am extra.
München Hauptbahnhof
AKA Munich Central Station. This is THE transit hub in Munich, serving not just regional & international trains but also linking all of Munich's underground and suburban train lines (U-Bahn and S-Bahn). Here is some basic info you should know for Munich HBF:
Facilities at Munich Central Station:
Paid toilets: Welcome to Germany, where urination will cost ya 😉 There is a public restroom called "Rail & Fresh" where it's 1 euro for entry, but you get a 50 cent voucher to spend at select vendors around the station.
Paid showers: Rail & Fresh also has showers available, for 7 euros.
Luggage Storage: There are short-term luggage lockers in the station available for up to 6 hours. The cost is 2 euros for a standard locker and 3 euros for a large locker.
Wifi: Look for the Telekom network. It should provide you 30 minutes for free, but sometimes it's finnicky and doesn't work.
Food at Munich Central Station
There are a LOT of food options to choose from so don't worry – you won't starve. The only confusing thing is they're scattered around the station on different levels. Here's a quick breakdown of options for you:
On the train platform level: There are tons of kiosks near the trains selling takeaway foods like pastries, sandwiches and even healthier options like fruit boxes. If you're craving something hot, there is also a food court area with German and international options. Otherwise, there's also a Burger King, Starbucks and a Condesa, one of Munich's most popular Mexican places (located close to Platforms 5-11).
On the underground level: The underground level has a grocery store, McDonalds and all kinds of hot takeout places, from Asian classics (Asiahung is great!) to burgers.
Connected to the station: Lastly, if you want a nice meal and have time for a sit-down one, check out L'Osteria, which has a location connected to Munich Central Station. Their pizzas are delicious and HUGE. You can easily split one (around 10-12 euros) between two people.
What's close to Munich Central Station
Oktoberfest: If you're lucky enough to be in town for Oktoberfest, the Munich Hauptbahnhof is only 10 min away from the festival grounds on foot.
Munich Central Bus Station: If you need to transfer to a bus, the main central bus station is only 1 S-Bahn stop away, or maybe 7 minutes away by foot.
Karlsplatz (Stachus): Accessible by foot from HBF in less than 10 minutes, this is one of the main "squares" in Munich with a pretty fountain in the summer and skating rink in the winter. This is the also the tail end of Munich's main pedestrian shopping street (Neuhauserstr), which links you to Marienplatz, Munich's most popular square.
Pretty… much… everything: Thanks to its mega-central location, and Munich's tiny size, the Hauptbahnhof puts you in close reach of any major tourist sight, whether by foot or by public transport.
Random Tips for Munich Central Station
It's huge, so make sure you follow the signs. Signs will be your best friend here. Be sure to follow them to avoid getting lost (there's a train symbol for the trains, a white S in a green block for S-Bahns, and a white U in a blue block for U-Bahns).
Bring cash. Whether it's to use the bathroom or grab a bite, cash (especially change) will come in handy. Credit cards are not very common here in Germany, so many vendors won't take them (some may not even take debit cards) so cash is king.
For more information on Munich Central Station, check out my full guide to it here.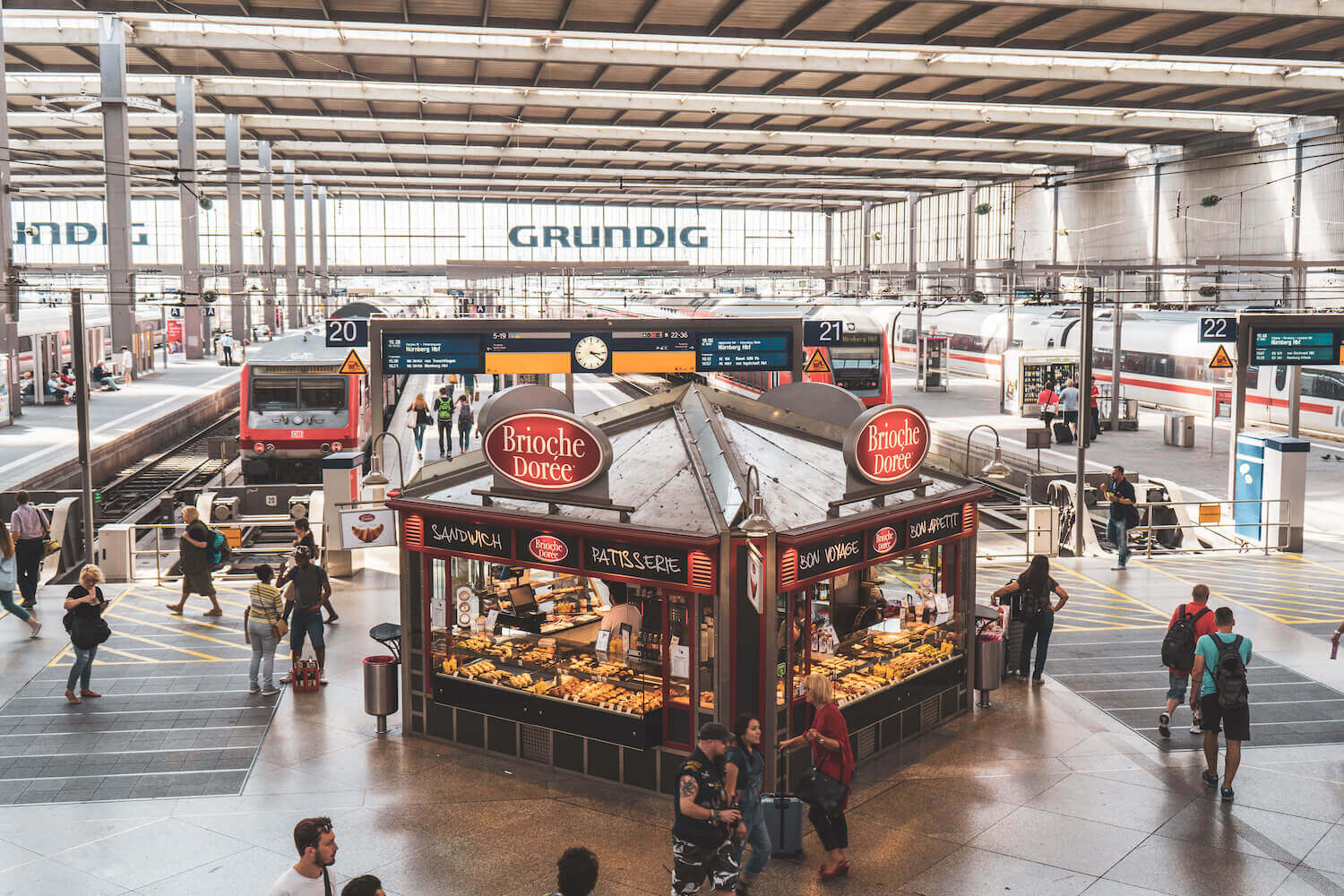 München Ostbahnhof
Munich's Ostbahnhof is also known in English as "Munich East Station" and is, of course, located in the East Side of the city.
There aren't many international trains that leave from here, but it is a hub for all S-Bahn trains and _so if you are staying in the East Side of Munich, it may make more sense for you to disembark here from the airport.
Facilities at Munich East Station (Ostbahnhof)
Paid toilets: Just like in the Hauptbahnhof, there is a public restroom called "Rail & Fresh" where it's 1 euro for entry, but you get a 50 cent voucher to spend at select vendors around the station.
Luggage Storage: According to the official MVV website, there are 112 small lockers here (W28 x H42 x D76 cm) and 120 large lockers (W47 x H61 x D91 cm) which can be rented for 24 hours each – for 3 or 5 Euros respectively.
Grocery store: Besides an Edeka being part of the station, just outside the station, you'll find both an Aldi and a Lidl (which is usually half the price of Edeka).
Pharmacy: There is a pharmacy (Apotheke) located inside the station.
Drug store: Ostbahnhof has a DM in the station that's open late (up til 11pm) so it's really handy in case you need any beauty products, cough drops, etc.
Food at Munich East Station (Ostbahnhof)
Fast food: It's mostly fast food options at Ostbanhof, with key players being Burger King and Dunkin Donuts. There are also several kiosks that serve bakery goods like sandwiches and pastries, alongside a great place that does doner kebab.
What's Close to Munich East Station (Ostbahnhof)
Werksviertel Mitte: This is one of Munich's coolest hangout spots and it's found right behind Ostbahnhof. Once upon a time, this area used to be home to a dumpling factory, but it has since been converted to an ultra-hip space with container park shops, food stalls, bars and more. If you have some time, it's definitely worth a stop.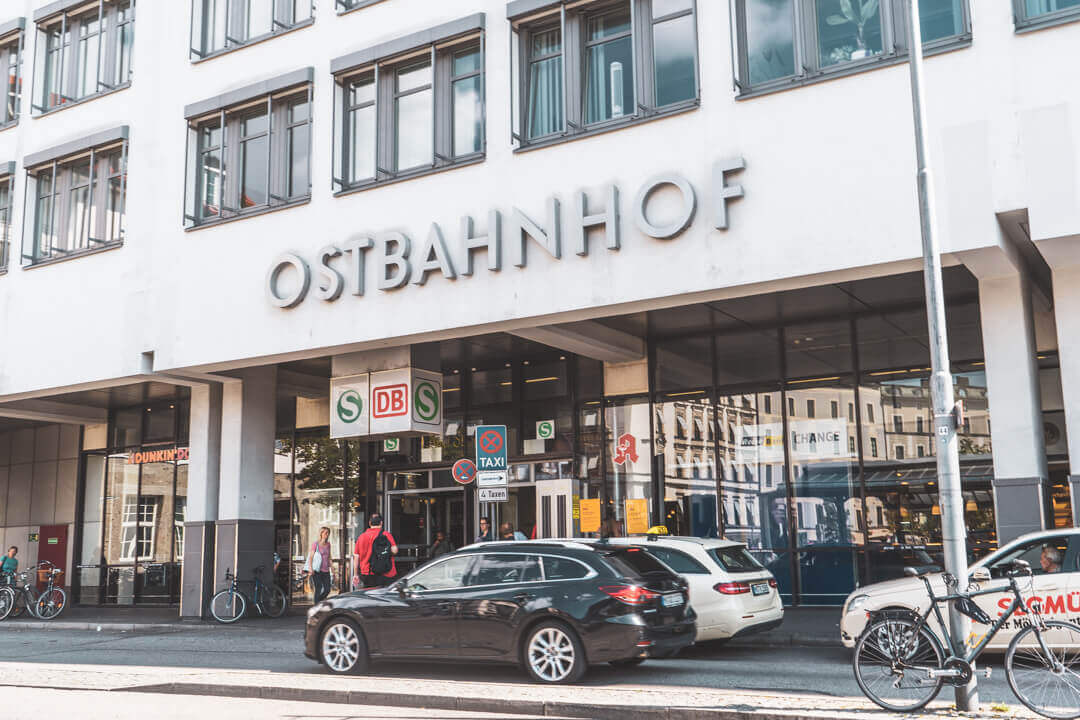 München Pasing
Last but not least, we have München Pasing station, which, is a wonderful opportunity for puns (just Pasing through) and also a lovely little train station found in the West side of the city.
While most international trains that go through Pasing also go through the Central Station, here is some key information to know just in case you end up at Pasing.
Facilities at Munich Pasing Station
Luggage storage: According to the official MVV website, Pasing Station has 24 small lockers (W28 x H42 x D76 cm) and 12 large lockers (B47 x H61 x D91 cm) that cost 2 or 4 Euros for a 24 hour period.
Food at Munich Pasing Station
The station itself is quite small, but there are a few kiosks selling typical takeaway foods like sandwiches and pastries. If you're in the mood for more variety, there are a lot of restaurants and even a shopping mall with multiple vendors just next to the station.
What's Near Munich Pasing Station
Pasing Arcaden: This is a giant shopping mall with all sorts of fast food options, including old reliables like McDonalds and Subway. There's also 100+ shops to choose from, so if you need to get some shopping done, this is a great place for it.
Munich Bus Stations
There are two bus stations that people travel through in Munich.
Munich Central Bus Station (ZOB) is where 99% of the time, your bus will be going. This is the bus station located in the center of the city, with easy access to main tourist spots and attractions.
The old international bus station is called Munich Frotmanning and is located on the outskirts of Munich. Unless you live near Frotmanning or will be staying near there, it makes most sense to go to Munich Central Bus Station (ZOB).
Munich Central Bus Station (ZOB)
Here's a quick guide to Munich Central Bus Station. If you want a more thorough guide (absurdly thorough, AKA my style) then you can read my full guide to the station here. Otherwise, here are the important bits you need to know:
Facilities at Munich Central Bus Station
Bathrooms: There are bathrooms on the bus terminal level. They DO cost 50 euro cents though, so having change is a must.
Lockers for luggage storage: According to the official ZOB website, Munich Bus Station lockers are available according to the following price tiers [Don't ask me why they've listed the measurements in mm!]
Small (855 mm × 351 mm × 457 mm): 1,50 €
average (855 mm × 351 mm × 620 mm): 2,50 €
big (855 mm × 351 mm × 945 mm): 5,00 €
Grocery store: There's a Lidl on the upper floor.
Banks/ATMs: There's a Sparda-Bank ATM and a full on Stadtsparkasse.
Currency Exchange: There's a Reisebank located on the upper shopping arcade level.
Pharmacy: There's a pharmacy called Mary's Pharmacy in the upper level shopping arcade.
Food at Munich Central Bus Station
Quick takeaway options: McDonald's, Oliva (a doner place), Kaimung (Asian takeaway)
Sit-down restaurant: There's a Vapiano connected to the bus station – they do really tasty made-to-order Italian (pasta, pizza, etc.). There's space to sit but you kind of serve yourself by ordering at the counter and bringing it back to your seat.
Grocery store: There's a Lidl and a little convenience store selling snacks and sandwiches
Accessibility at Munich Central Bus Station
There's a disabled toilet in the shopping arcade level above the main bus terminal, which is reachable by elevator. There are also handicap parking spots in the underground car park.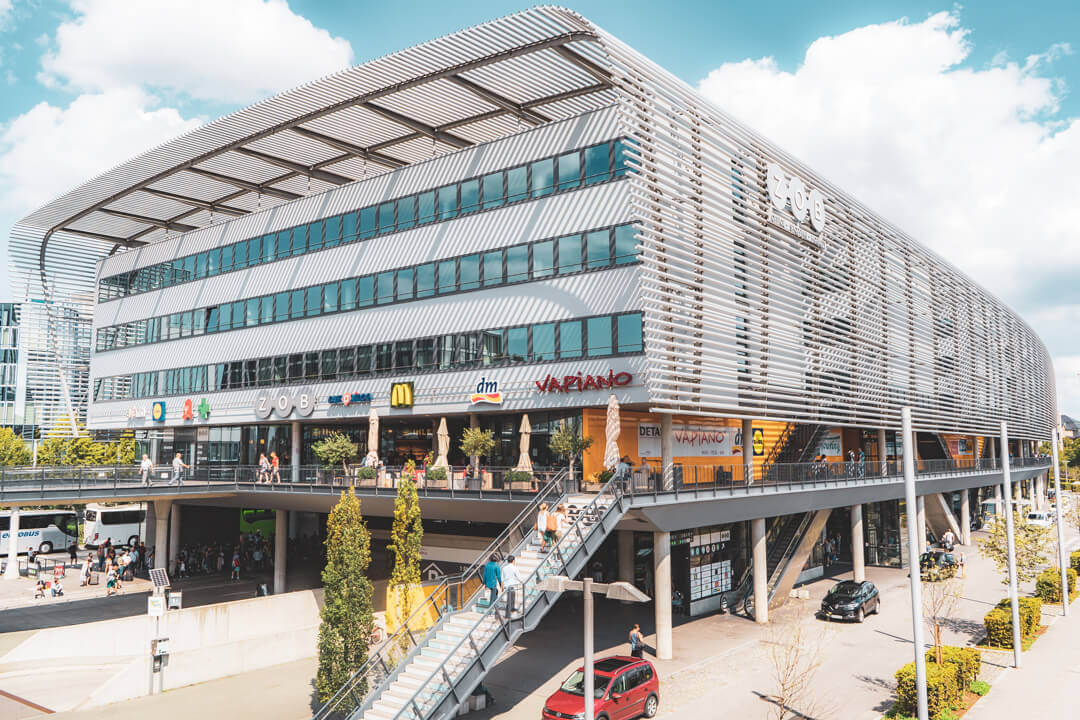 Random Tips for Munich Central Bus Station
Buy your tickets in advance
You should know that the ZOB itself isn't a travel agency, so there's no one ticket office where you can just walk up and get a ticket spontaneously.
Each of the bus companies DOES have their own ticket office on-site, but they're scattered and the line-ups always look horrendous. Save yourself time by buying your tickets online.
PRO TIP: You can use GoEuro to compare buses, rates and times and even book through them for convenience sake.
Give yourself a lot of extra time
The station is really large so allow yourself plenty of extra time to a) identify which bus bay you need and b) find it.
When in doubt, ask
This bus station can be pretty random. I've had bus bays randomly change numbers for no reason, buses randomly pull up into different bus bays than scheduled, etc. If you feel like something might be wrong, ASK a staff member! Don't rely on other people around you to know what's going on – they're probably just as confused as you.
Cheap beer and an amazing sunset are closeby
Augustiner Bräustuben is less than 10 min on foot from the ZOB and it has dirt cheap beers – I'm talking 5.50 euros for a litre. Coupled with a classic beer hall atmosphere, you won't get a better deal in this city. Hackerbrücke is also right above the station and is a preferred place to watch sunset when the weather is warm and balmy.
Cash is king
Last but not least, remember this: many of the shops here only take cash and specific debit cards. I highly recommend you come prepared with some cash just in case (especially if you intend to use the bathroom).


Any more questions?
I hope you enjoyed this mega-comprehensive guide on Munich's main train and bus stations, written in collaboration with GoEuro. If you have any more questions, feel free to fire away in the comments!
Visiting Munich? Here are some other articles you might like:
---
Watch my most popular YouTube video this week:
---