*FYI - this post may contain affiliate links, which means we earn a commission at no extra cost to you if you purchase from them. Also, as an Amazon Associate I earn from qualifying purchases. Check out our Privacy Policy and Disclosure. for more info.
Let's be real: if you're attending Oktoberfest, you need to be ready to drink.
In fact, 7 million litres of beer are guzzled down each year at Oktoberfest. That's a LOT of beer.
And while there are plenty of fun activities to try at Oktoberfest, there's no doubt that drinking is at the top of the list.
Thanks to Bavarian Purity Laws (which dictate Bavarian beer may only consist of water, malt, hops and barley), the beer here is some of the tastiest in the world, and there's no better backdrop to sip it than the world-famous Oktoberfest.
Celebrating your own Oktoberfest at home this year? Scroll to the bottom for Oktoberfest drinks ideas you can prepare yourself, or consider getting an Oktoberfest home brewing kit like this one! You can also see my full Oktoberfest party planning guide here.
It goes without saying then that understanding the beers/drinks at Oktoberfest can be overwhelming for a first timer.
I remember my first time attending, I mistakenly had 5 litres in a day (yes, you read that. FIVE) without realizing the alcohol content levels or even that there were different beers available.
Yes, it was embarrassing.
SO, if you're headed to Oktoberfest for the first time, here is an Oktoberfest drinks guide to help you understand the different types of drinks, beers, breweries and more you can expect at the festival.
IMPORTANT NOTE: I'd highly advise against pre-drinking for Oktoberfest. Yes, drinks are expensive, but even after one, you'll feel sufficiently tipsy and will prooobably order another. So on and so forth. It's a slippery slope. Pre-drinking will very likely destroy you and you'll be in bed by 2pm! Remember to treat drinking at Oktoberfest like a marathon rather than a sprint… and be sure to eat a lot of that tasty Oktoberfest food while you're at it.
Save this post on Pinterest for later: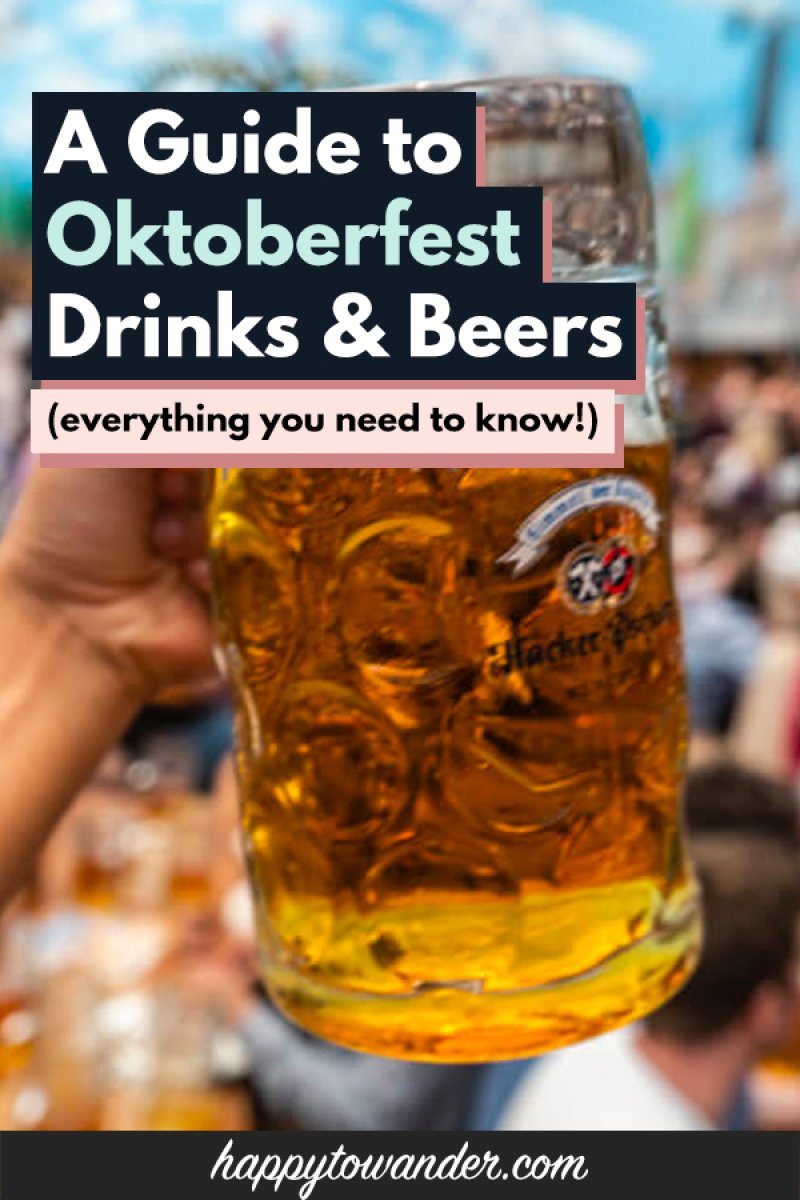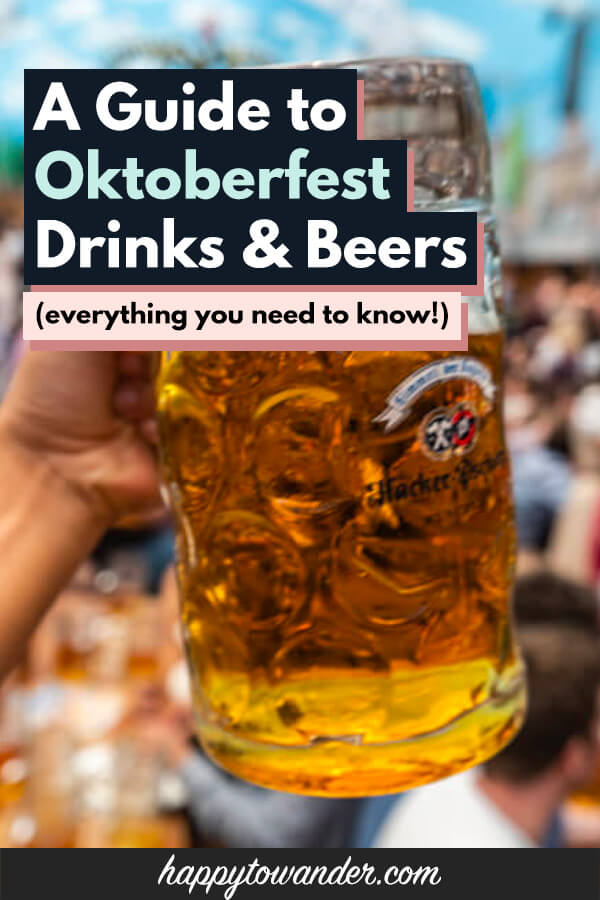 Planning an Oktoberfest Party?
If you're reading this post to get inspiration for your own DIY Oktoberfest this year, here's a full party planning guide written by yours truly.
You can also click here for a full roundup of tasty Oktoberfest recipes you can make yourself!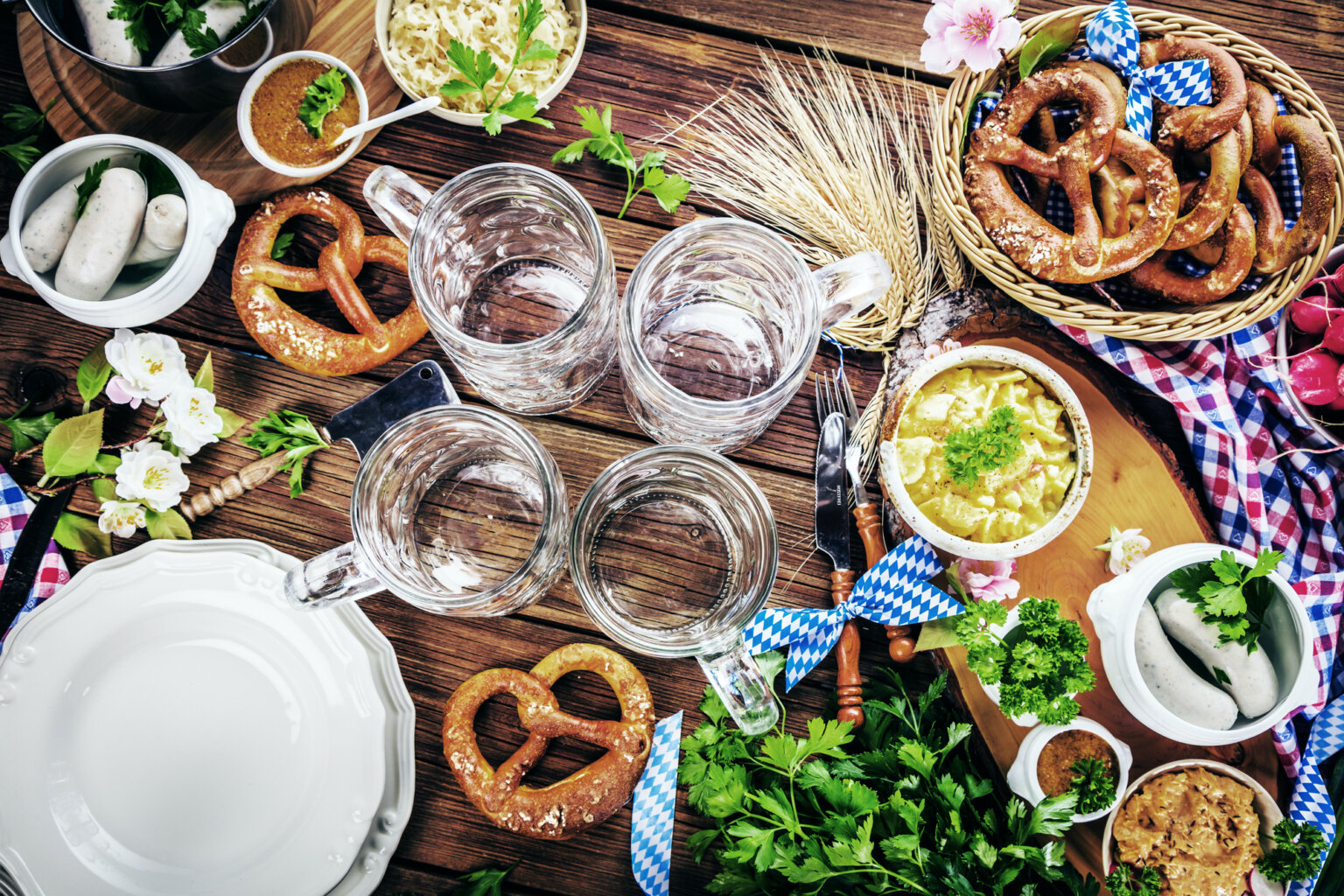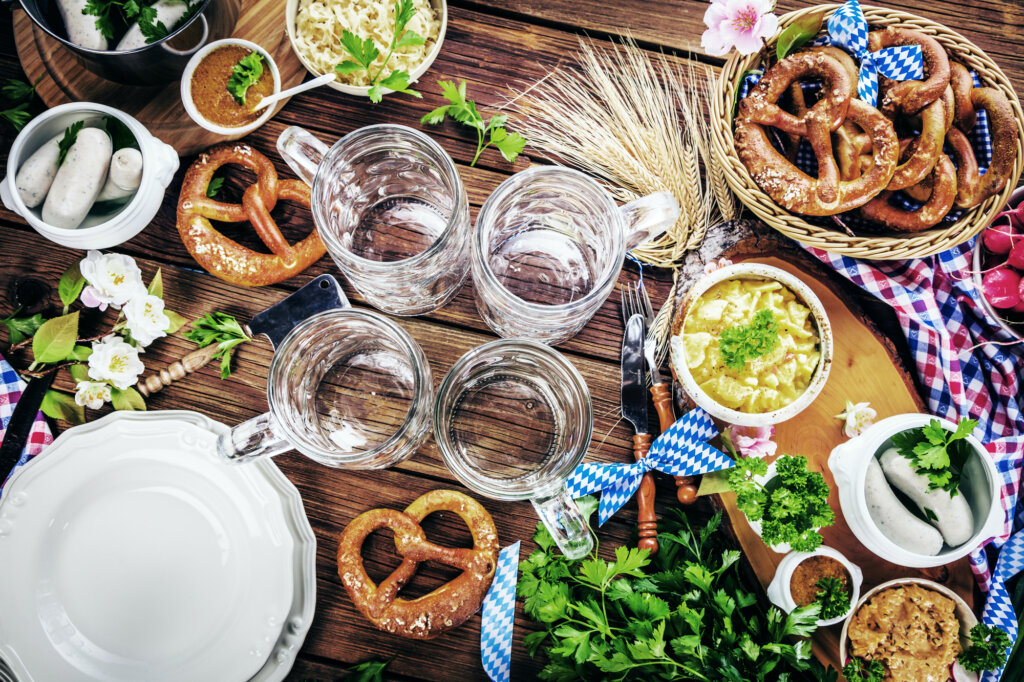 Some Basic Oktoberfest Beer Facts
What beer is served at Oktoberfest? Do Germans really drink beer and lemonade? What are some Oktoberfest drinks other than beer? I'm sure you have loads of questions, so why don't we start with some brew-dent must-knows before you go. You can also click here for my full list of Oktoberfest puns if you enjoyed that ; )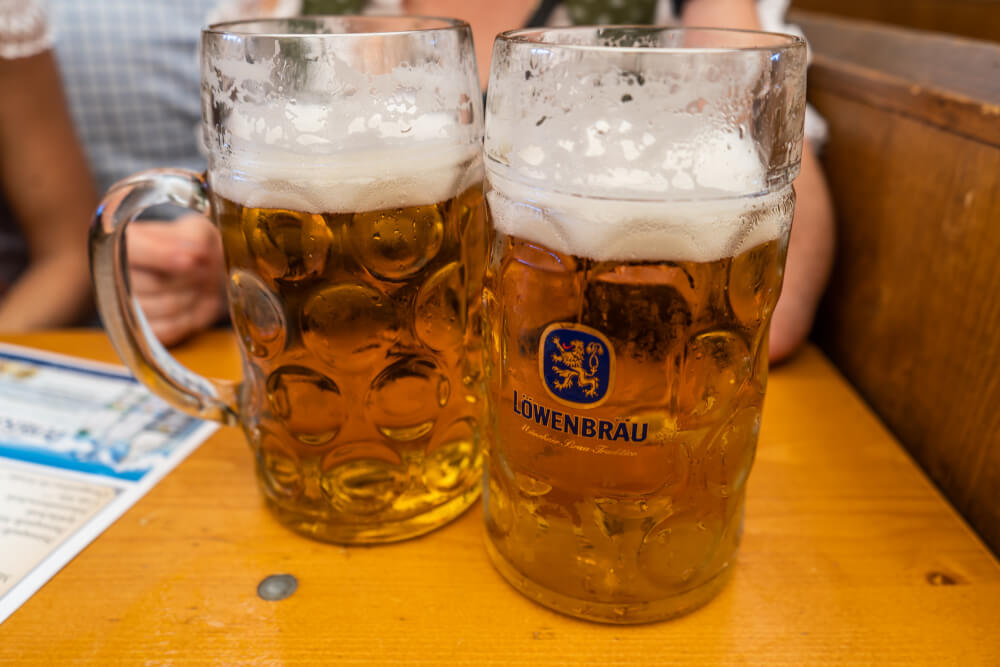 1. The beer served at Oktoberfest is special
While all Bavarian beer is delicious, the festival's special 'Oktoberfest beer' offers a unique experience you won't get any other time of year.
What is Oktoberfest beer, you ask?
Well, during the festival, each of Munich's 'big 6' breweries serves up a special beer that has been brewed specifically for the occasion.
The result? A deadly combination of deliciously drinkable beers and a stronger alcoholic content. On that note, it's important that you remember the following…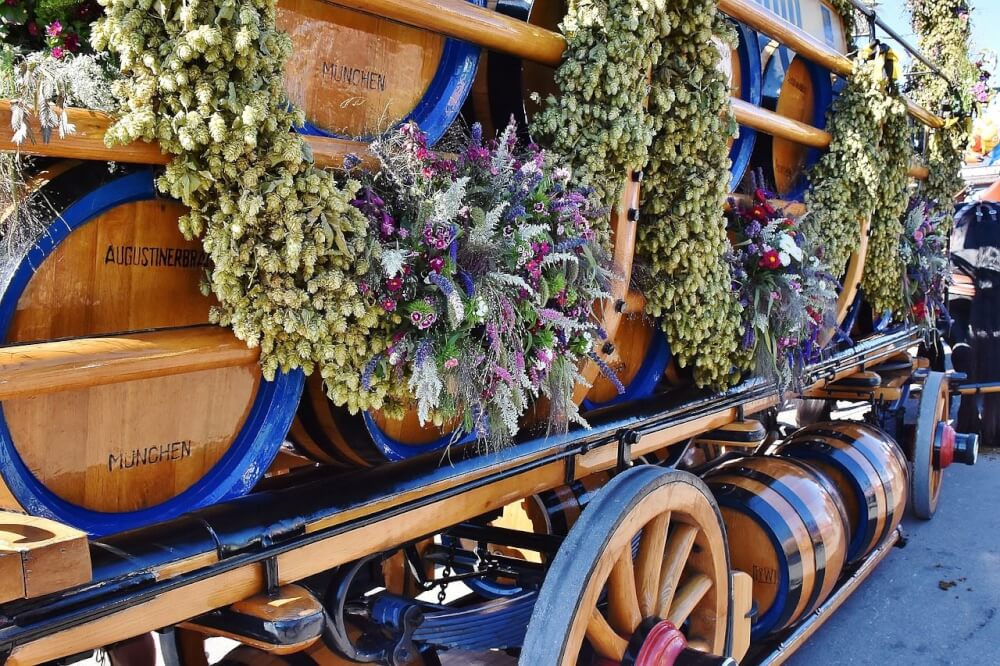 2. Oktoberfest beer is stronger than regular beer
Oktoberfest beers all clock in around 6% alcohol content, so beware!
And yes, while they ARE stronger than regular beers in terms of guaranteed buzz, they also happen to be deceptively smooth and drinkable, so pace yourself accordingly.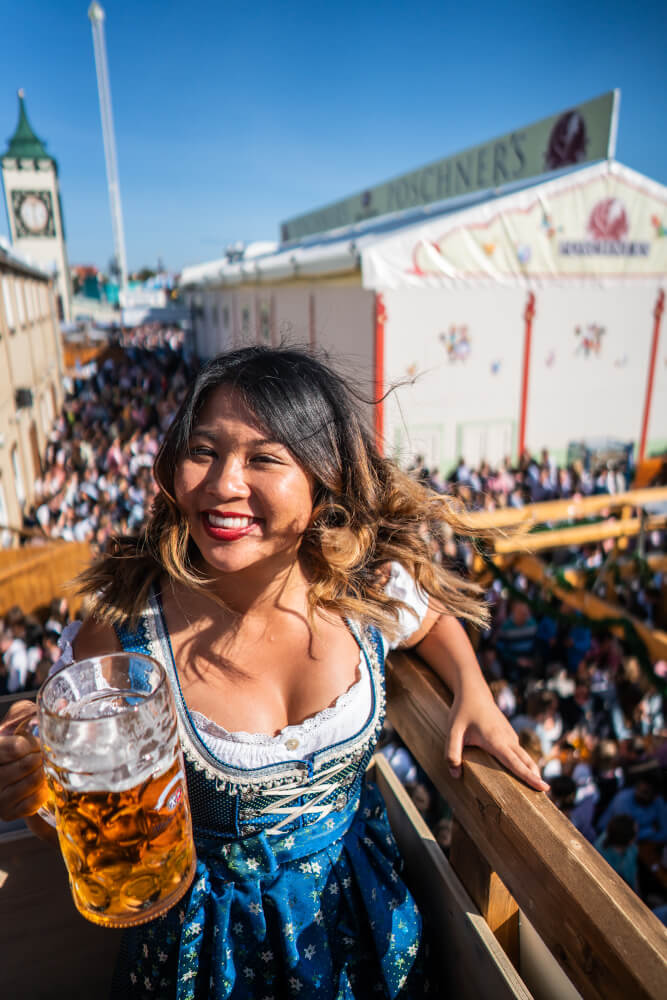 3. Different tents serve different beers
As I alluded to before, there are six breweries in Munich known as "the Big Six" that brew within city limits and dominate the local beer scene (and therefore the Oktoberfest drinks scene as well).
Everyone has their favourite, but of course you should try them all for yourself to see 😉
The friendly rivalry between these breweries of course means that you can't just walk into a tent and order all of them to try…
Each tent will usually serve beer from only one brewery, so choose carefully!
Here is a list of tents where you can find each 'Big Six' beer around Oktoberfest:
Augustiner: Augustiner-Festhalle, Fischer-Vroni
Paulaner: Armbrustschützenzelt, Winzerer Fähndl, Käfer's Wies'n Schänke
Spaten: Marstall, Schottenhamel, Ochsenbraterei/Spatenbräu-Festhalle
Löwenbräu: Schützen-Festzelt, Löwenbräu-Festhalle
Hacker-Pschorr: Hacker-Festzelt, Pschorr-Bräurosl
Hofbräu: Hofbräu Festzelt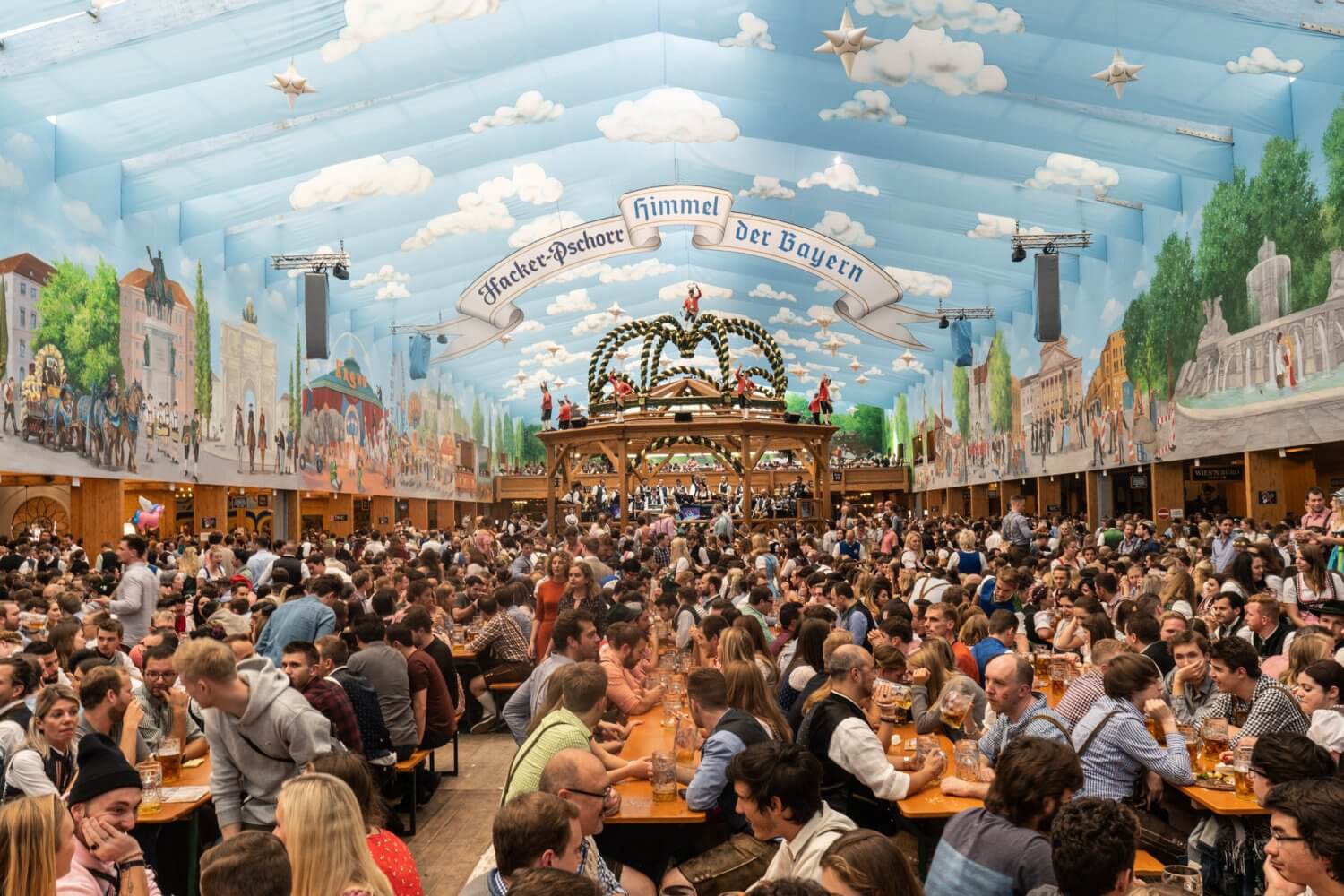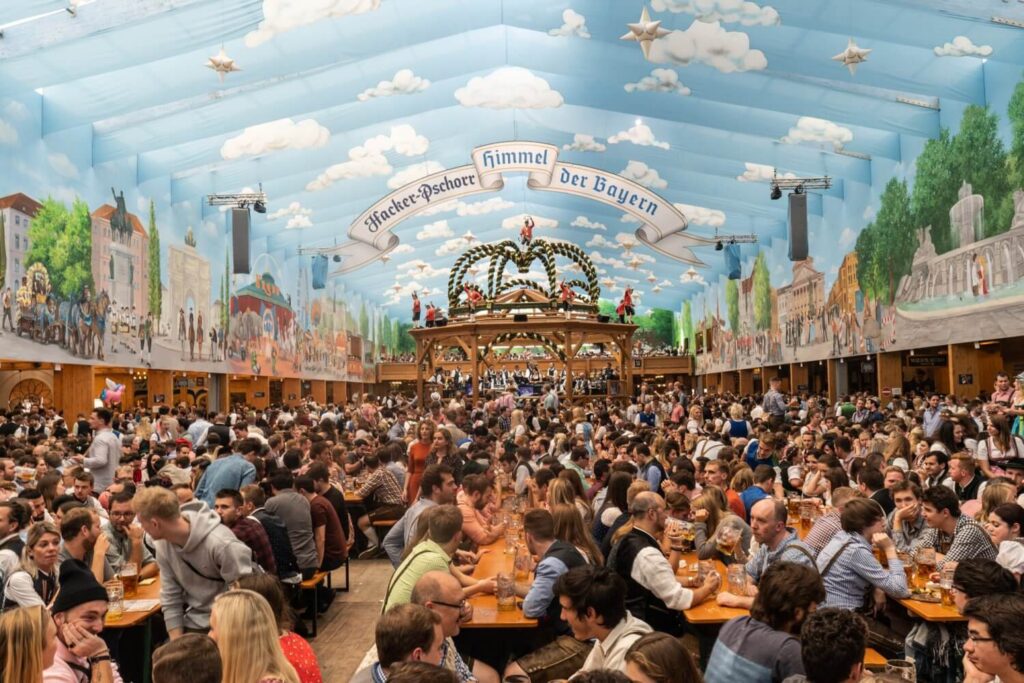 Don't expect a lot of choice and selection of beer at Oktoberfest
Bavarians know their beer, and they like to keep things simple. When you walk into a tent, your choices in terms of beer are usually limited to the following types:
Helles: Light beer, the most common one
Dunkel: Dark beer
Radler: Half helles, half fizzy lemon soda (think Sprite). Super refreshing and delicious. Often used to avoid getting drunk too quickly
Alcohol-free: Pretty self-explanatory.
Hefeweizen: Wheat beer, available at some tents
And don't expect to find any special edition Oktoberfest cider or Oktoberfest wine either.
While some tents will have a more varied drink selection, most stick with the classics, and there won't be any special spirits or wines specifically produced for the festival like the beers.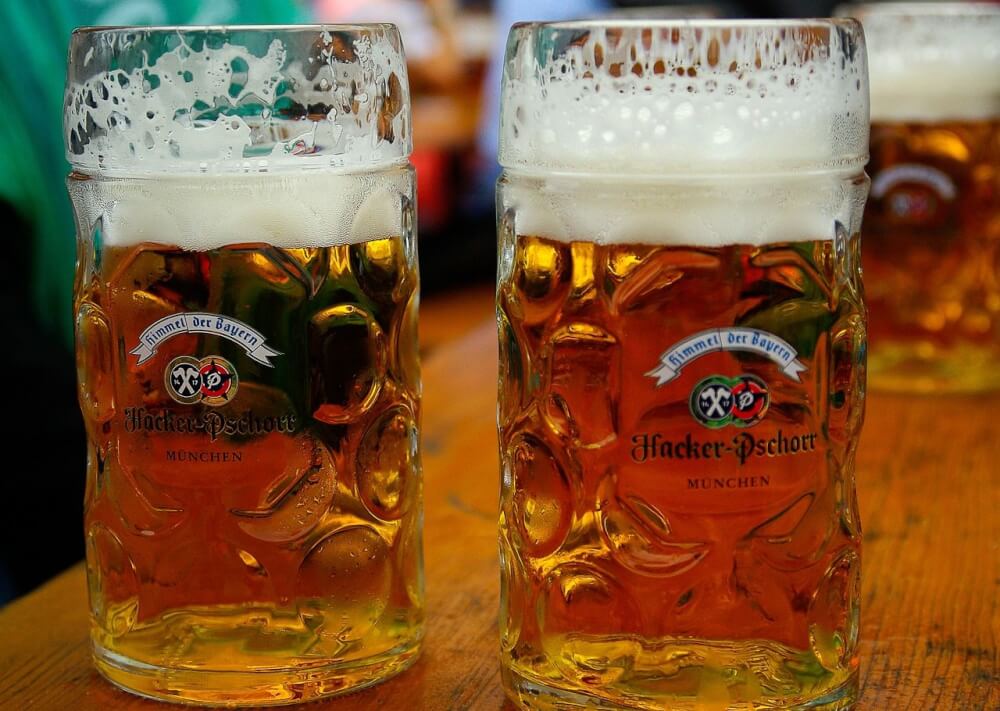 Oktoberfest Drinks FAQ: What if I Don't Like Beer?
While beer is (of course) a quintessential part of Oktoberfest, it's possible to not like beer and still have a great time. After all, you can enjoy dressing up in fun Oktoberfest clothing, take advantage all the different rides and activities, as well as eat all the tasty must-eats.
Plus there are Oktoberfest drinks besides beer to enjoy 😉 Here are a few options for you.
Option A: Visit the Wine Tent (Weinzelt)
This is where you'll be able to sniff out the best wine selection at Oktoberfest. It's not cheap, but you can get 250mL glasses of wine from 12€ – 15€, or bottles from 38€ upwards.
Note: the vibe and crowd here are very different from the rest of the festival. Do not spend all your time here if you intend on having a 'classic Oktoberfest experience'.
Some of the other tents will serve wine as well, but not all. Off the top of my head, I believe the Marstall tent has a prosecco bar, and the Hofbräu tent also has a few wine options on top of their beer selection.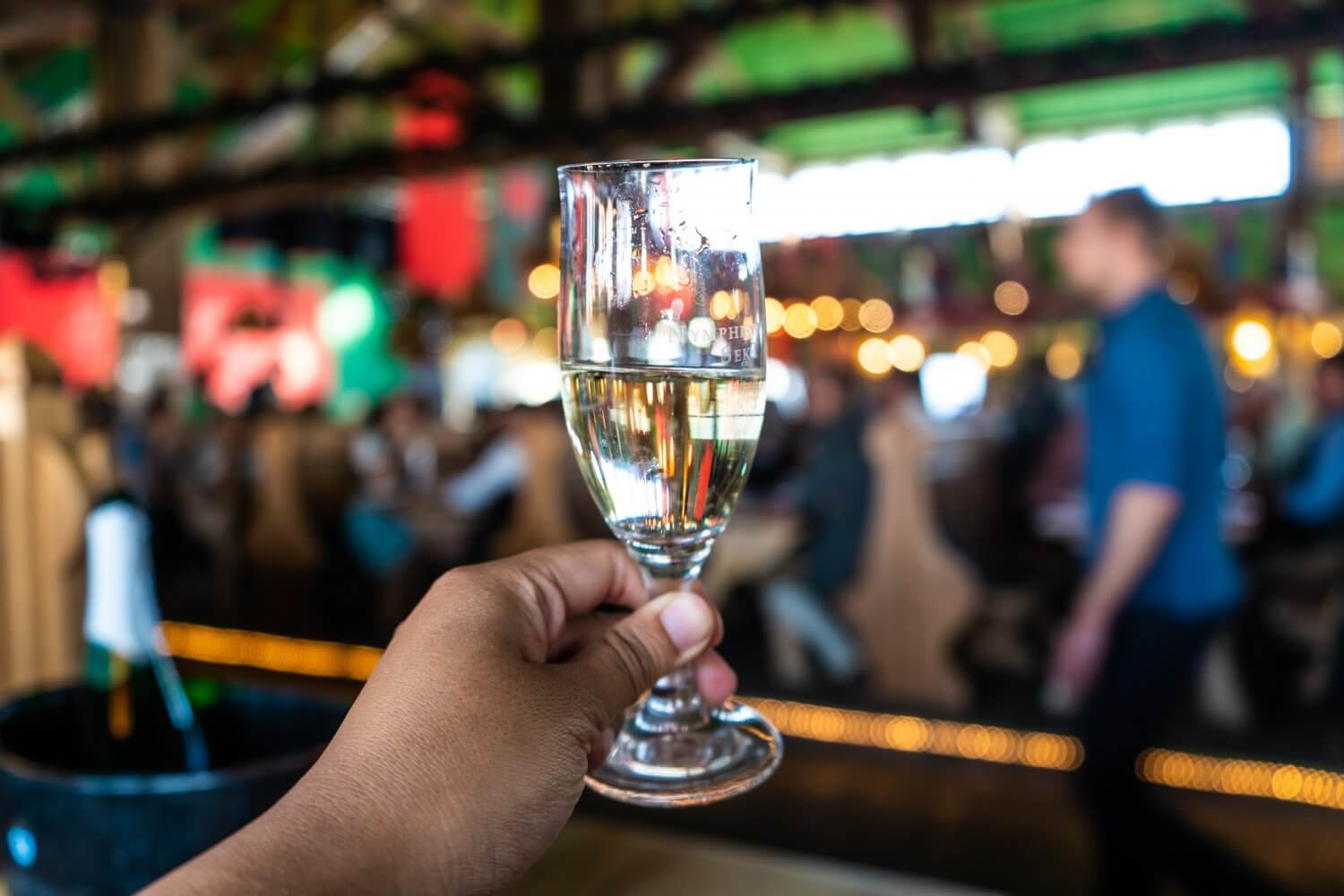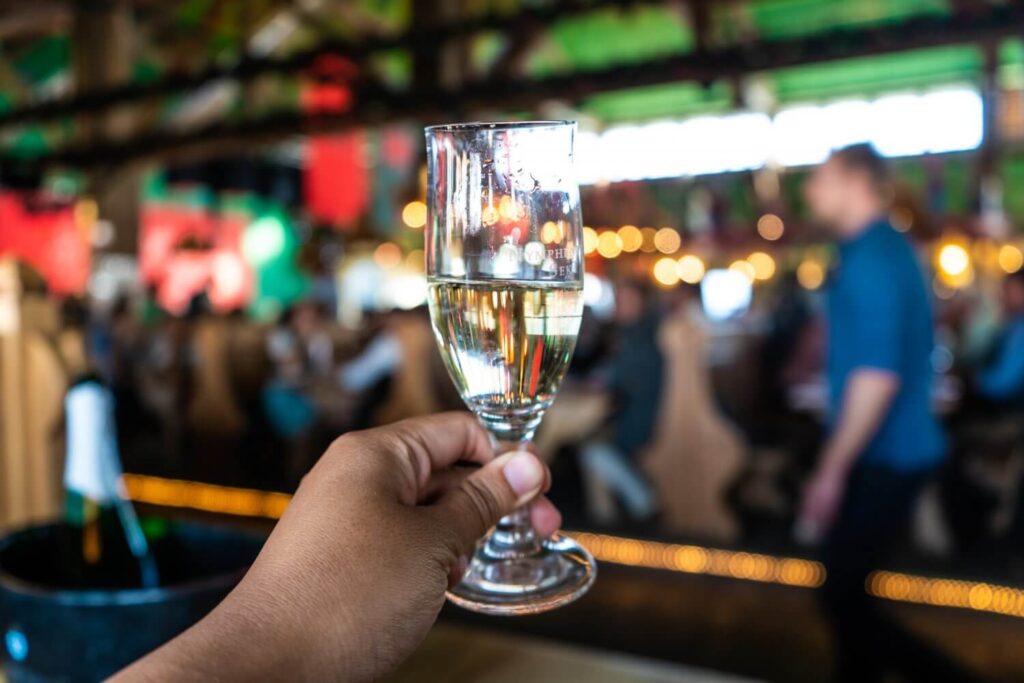 Option B: Head into some of the smaller tents/stalls
You'll find a few stalls that sell schnapps and other spirits around the festival grounds.
Schiebl's Kaffeehaferl for example is a small tent with a 100 person capacity that serves wines, spirits and is known for their Irish Coffee.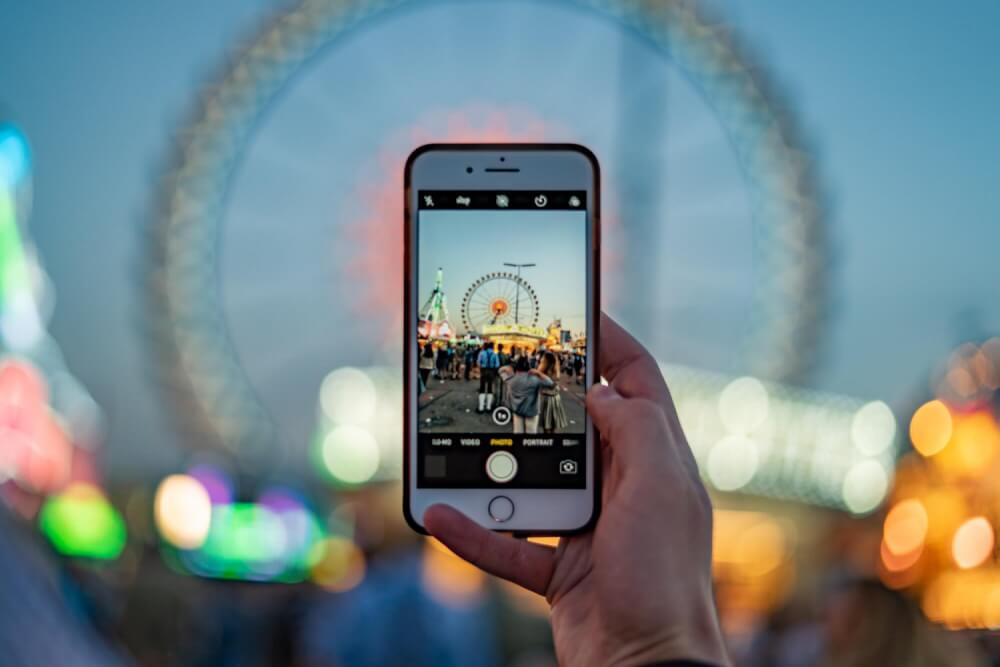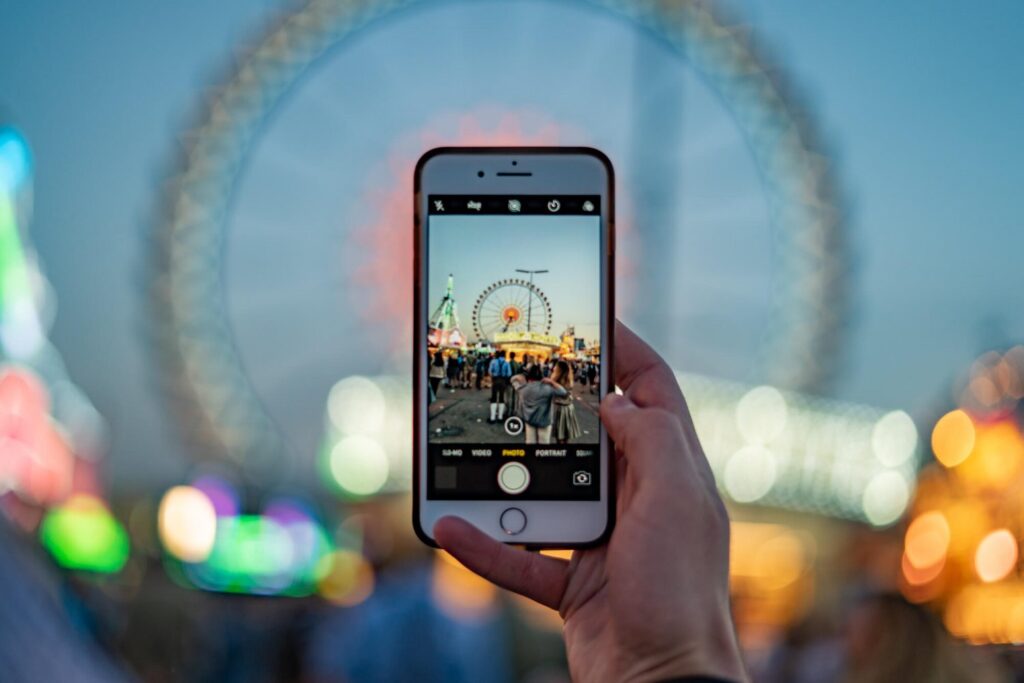 Option C: Try sipping on radlers
Radlers are half beer, half fizzy lemon soda combos that are refreshingly delicious and palatable. Think of them as a half beer half Sprite combo of tastiness.
The soda really helps lighten up the beer flavour, and is often quite well-liked by even the most beer-averse drinkers.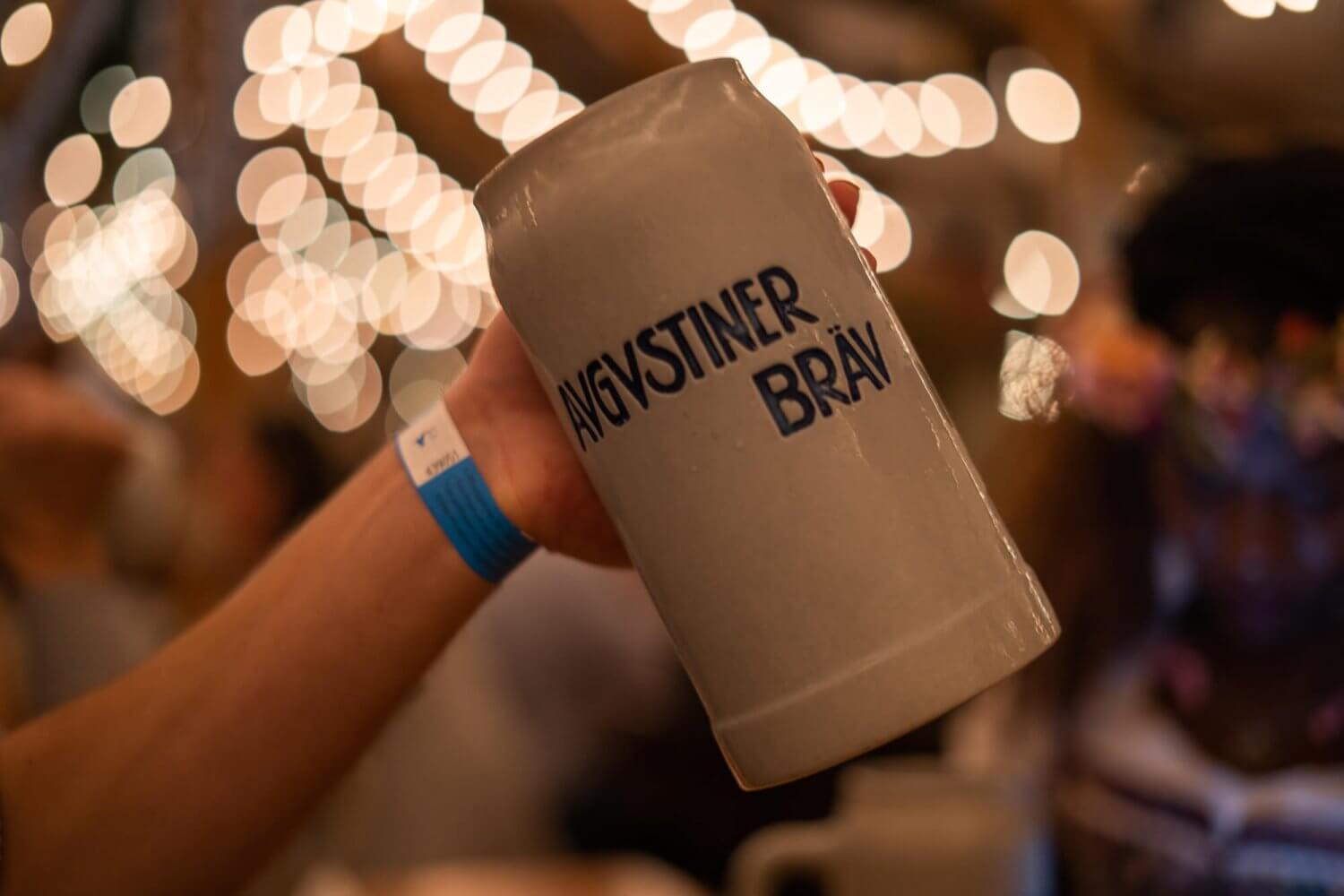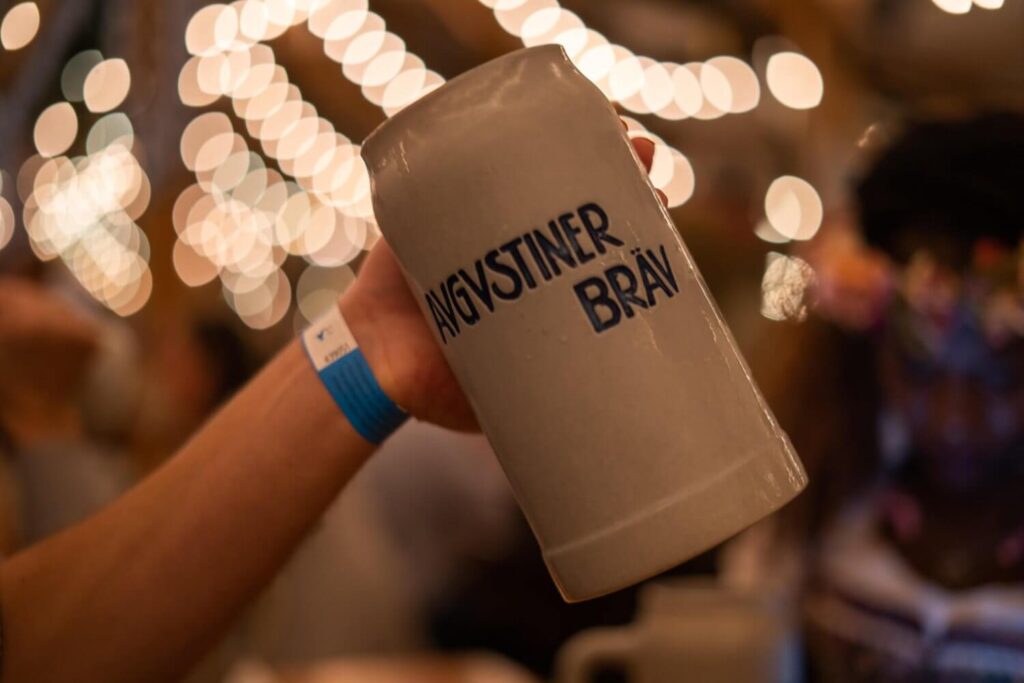 Option D: Just try some of the beer!
While you're in Munich, just try one.
I used to not like beer that much but found that the stuff here in Bavaria is just way better than what we have at home. Who knows? It might convert you!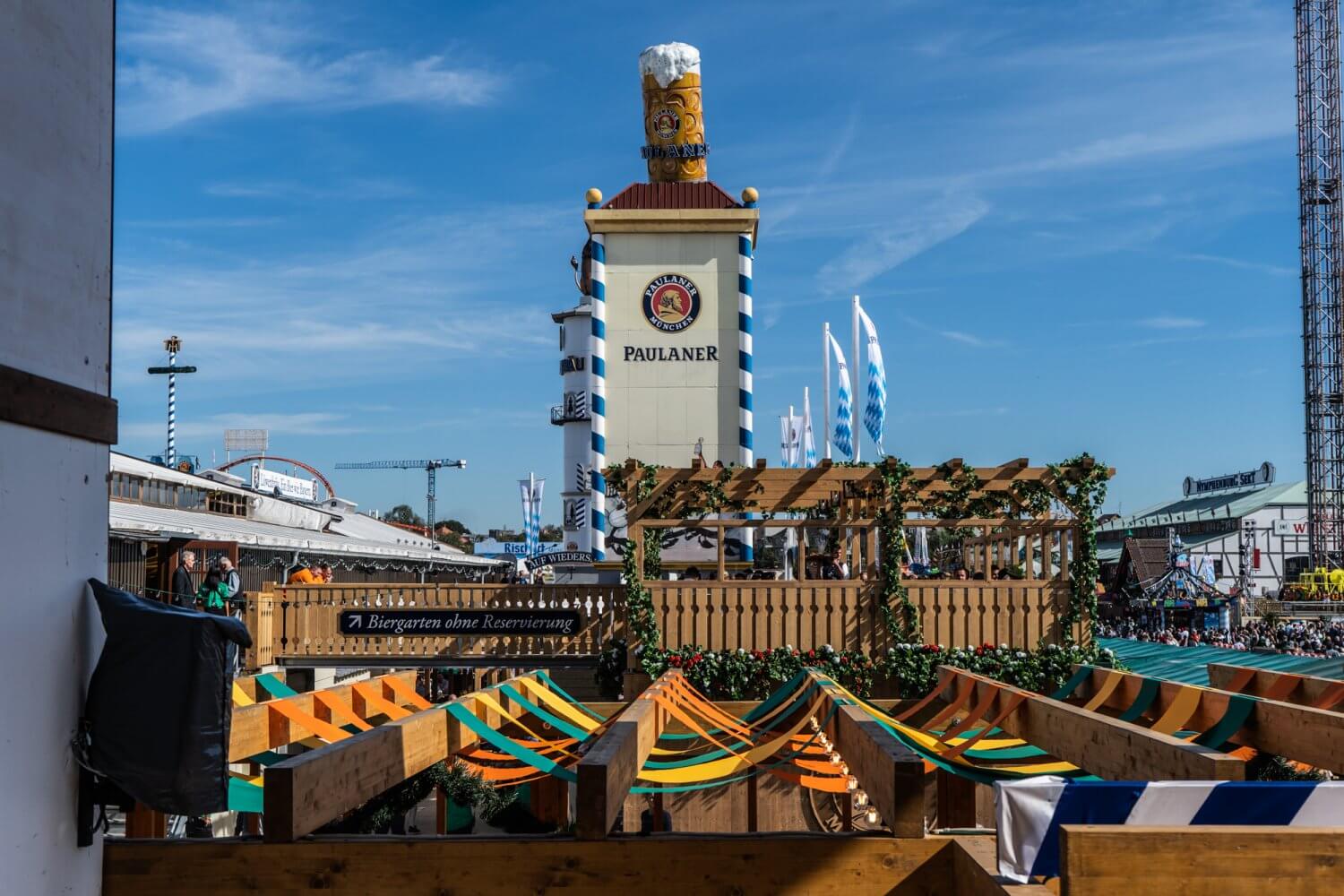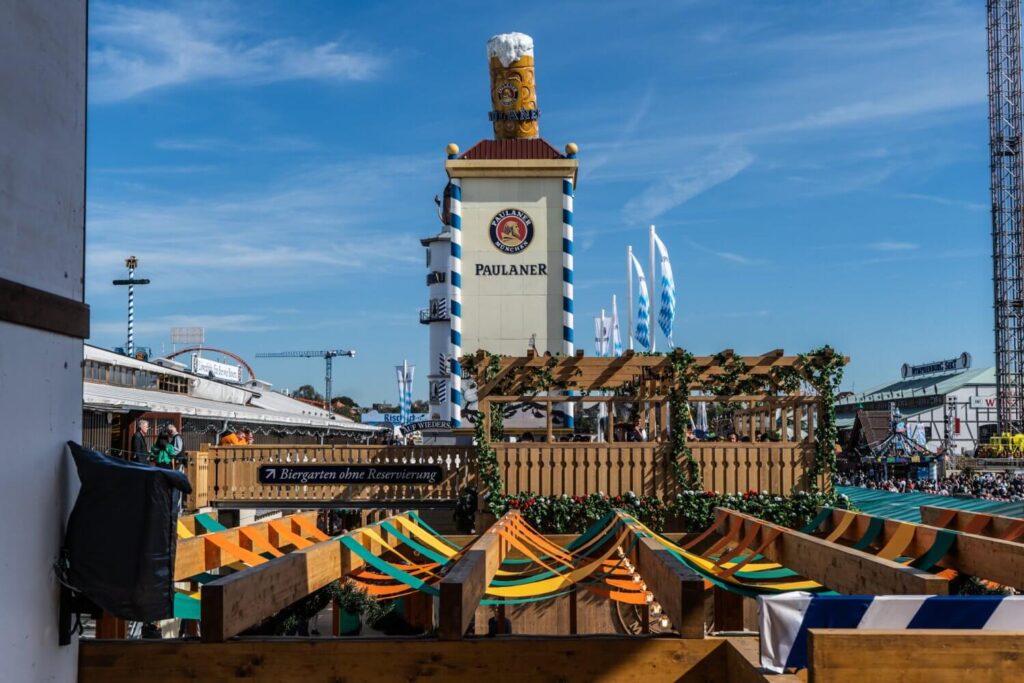 Oktoberfest Drinks FAQ: What if I don't drink alcohol?
While Oktoberfest is (at the end of the day) just a massive party, there are still some options for those who prefer to not drink alcohol. Here are a few:
Option A: Drink alcohol-free beer
This will be available at every tent, and labelled as Alkoholfrei.
Option B: Enjoy some soft drinks
Oktoberfest beverages aren't limited to strictly alcoholic ones. Every tent will also have soft drinks like soda, water and juice.
Popular choices in Bavaria include Spezi (a half Coke half Fanta mix) and Apfelshorle, a fizzy apple drink that at least somewhat resembles the colour of beer 😉
Lastly Remember: Sing, dance, and enjoy the experience with an open mind
I have to be honest with you: if you're not a laid back person, attending Oktoberfest sober will not be your cup of tea.
People will be very very drunk and belligerent, the tents will likely smell and the crowds will sometimes feel suffocating.
If, however, you go in with these expectations already in mind, and are happy to enjoy the festival as a fun experience, then you will have a great time! Plus, there are plenty of other activities and foods to try, so you'll be kept busy.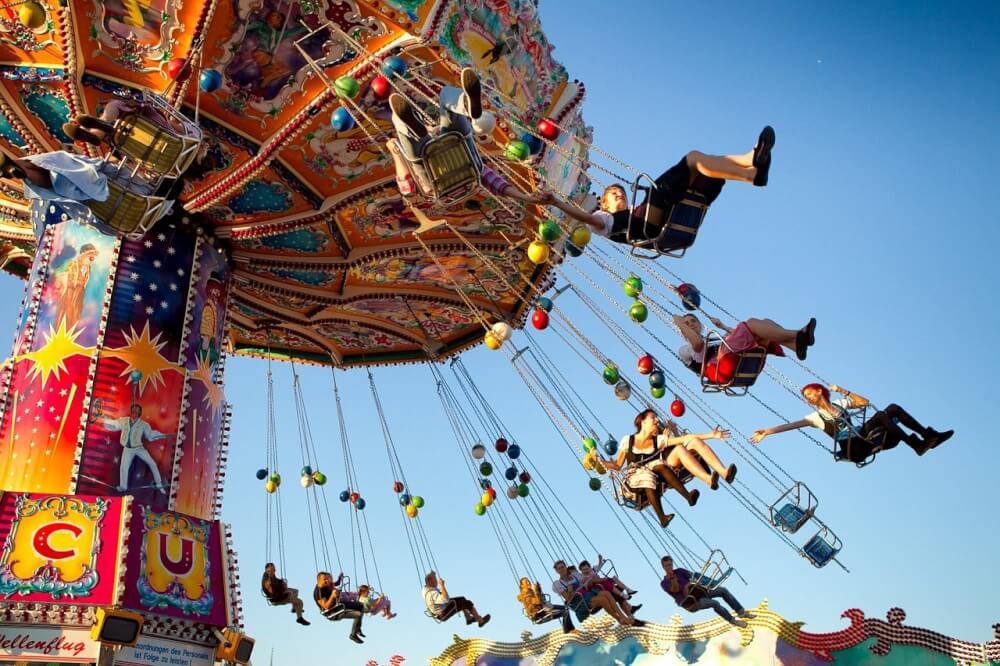 Oktoberfest Drinks to Make at Home
Whether you can't make it to Munich yourself for Oktoberfest, or the entire event is cancelled (*shakes first at 2020*), there might be many reasons you might want to prepare some Oktoberfest drinks for yourself at home.
Well, besides sourcing some Munich beer at your local shop, or brewing your own with a cool Oktoberfest home brew kit like this one, there are plenty of fun Oktoberfest beverages you can whip up for a DIY Oktoberfest or party. Here are some ideas:
Homemade Radler: Beer and Sprite in Germany form a wonderful mix called a "Radler". This refreshing beverage is easy to make at home – just combine equal parts of soda and beer! The best part is, since you're mixing with soda, you can get away with using beer that might not be up to Bavarian standards (i.e. anything you can find at the local shop!)
Oktoberfest Shots: While shots aren't that common at Oktoberfest (like, do you want to die?), Schnapps is a popular choice (and a famously expensive one, with some tents even serving a 4cl shot for over 20 euros!). Jägermeister is also a very common German digestif… but if you want the true Oktoberfest shots experience, try finding some Kleiner Feigling. These little shooters are sold everywhere around Munich.
Oktoberfest Cocktails: Honestly, Oktoberfest is not really a cocktail kind of place! There aren't any specific German cocktails for Oktoberfest that are commonly prepared, but what you'll frequently see (all throughout Munich even) is a lot of Aperol and Hugo Spritz. if you want something more stereotypically German for your Oktoberfest party drink lineup, here are some ideas.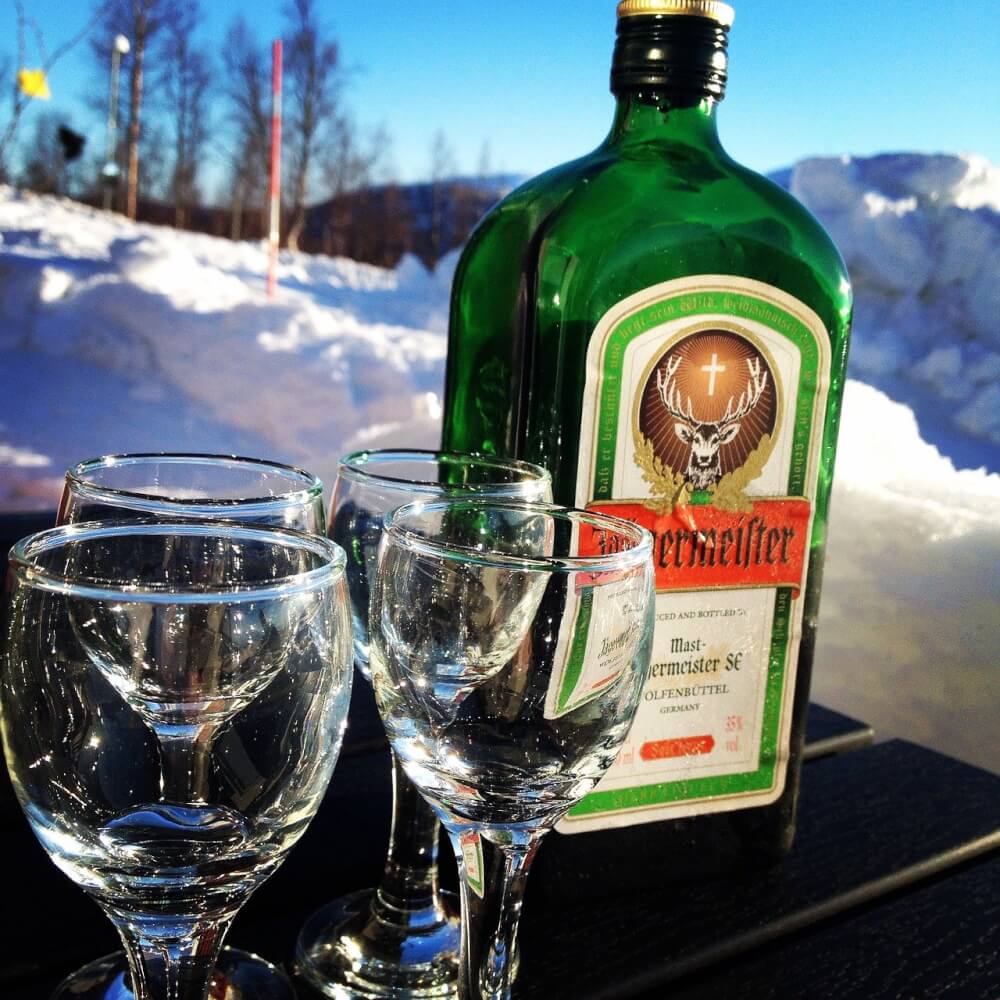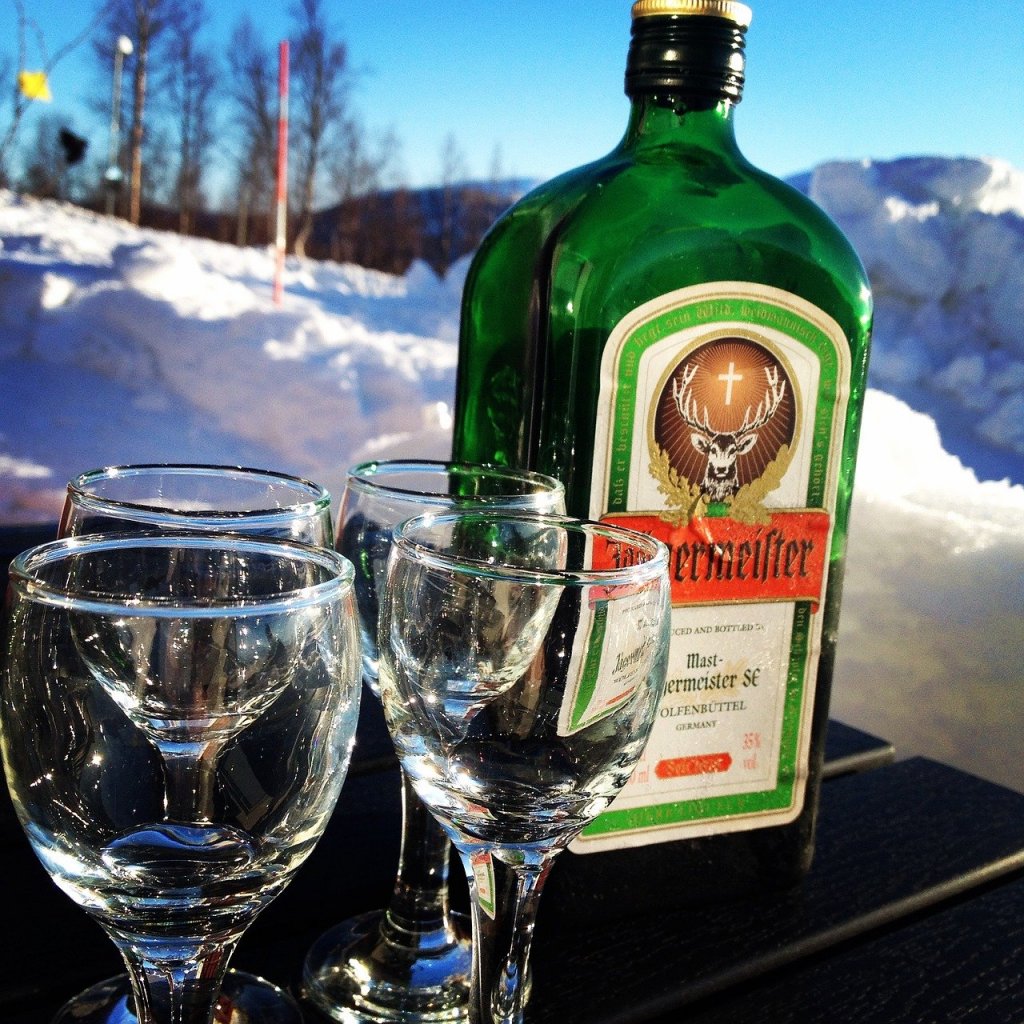 Are you ready to get your Oktoberfest drink on?
*Slams Maß on table* YESSSSSSS! Listen, there's drunk, and then there's "Oktoberfest drunk". I'm sure you'll find that out shortly. In the meantime, I hope you enjoyed this Oktoberfest Drinks guide! Any further questions? Let me know in the comments!
---
Watch my most popular YouTube video this week:
---