It might surprise you guys to know that at one point in my life, I absolutely hated Rome.
*gasp* I know, how could I? Rome? "But Gladiator was suuuuch a good movie!"
Trust me – nobody was as shocked as I was. Call me a starry-eyed backpacker, but the first time I set foot in Rome, I was ready to be swept away like the heroine of a cheesy rom com. I had all these dazzling images of Rome in my head (thanks Lizzie McGuire) and I had my heart set on loving the city as much as I always thought I would.
But, following a mucky week of thunderstorms, sketchy guesthouses, sweaty crowds and one pickpocketed purse… I was done. I shook my fist at the unfair travel gods and left in a huff, vowing never to return.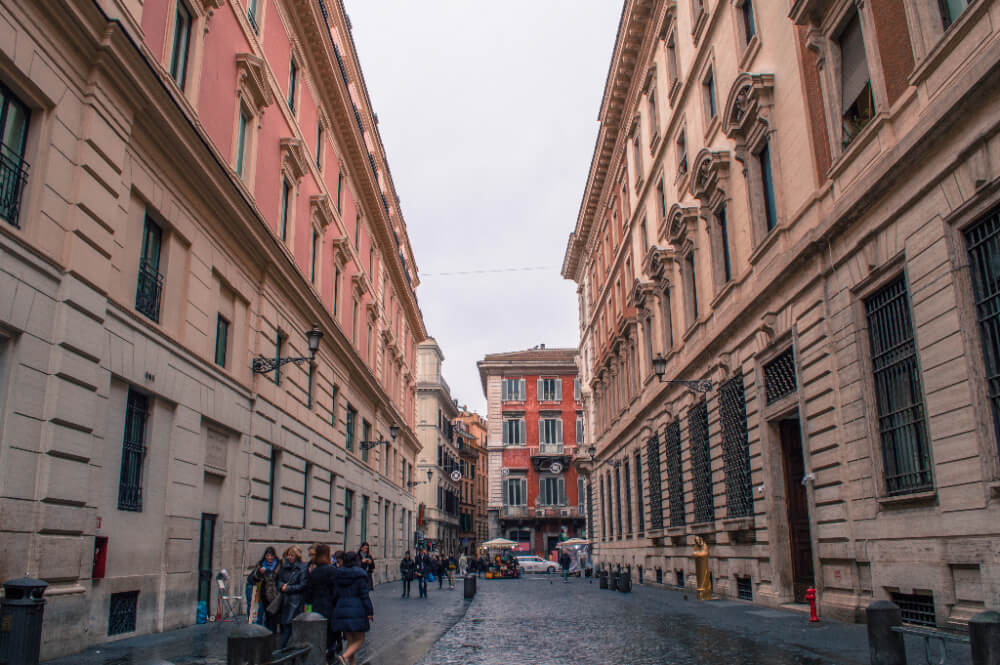 Fast forward to a few weeks ago: I was swept away in my usual 3am Skyscanner binge (#rowdyFriday), testing all sorts of dates and combos for a quick January escape. Because Munich had turned me into a walking popsicle, I craved a visit to someplace warmer. That's when a suspiciously cheap flight caught my eye.
… a cheap flight en route to Rome.
It seems my impulsivity outweighed my pettiness, and I decided that Rome was worth a second go. A week and a half later, I had recruited a travel buddy and soon found myself in the mecca of carbs and glorious architecture. And you know what? In an unexpected turn of events, Rome won my heart in four short days.
Here's how.
Visiting Rome in January was drastically different from June.
For one – you only get stabbed by a selfie stick once every few hours, rather than thrice per minute. Second – the insane heat fizzles out, and you feel much less like a melting slab of dough. For the first time, I felt like I could see Rome for what it was – a glorious city with epic history and sights, rather than a cesspool of fannypacks and tripods.
It's genuinely incredible how many amazing things you can do in Rome for free. Our first day was devoted to exploring all the tourist must-sees, starting off with the Trevi Fountain, which recently re-opened after a 2 year restoration. One of the most bitter moments from my last visit was when I trekked to the fountain, excited as a puppy to see it for myself, only to discover (upon arrival) that it had been drained out, covered in ugly scaffolding and shut down for (literally) 2 years without a word. For me, this visit was redemption time, and you know what? It was worth the wait. The fountain was absolutely stunning, and while I felt embarrassed throwing my coin in, I later learned that 3000 euros are collected from the fountain each day, and are then put towards social programs. So hey, cheesy photo opps for a cause!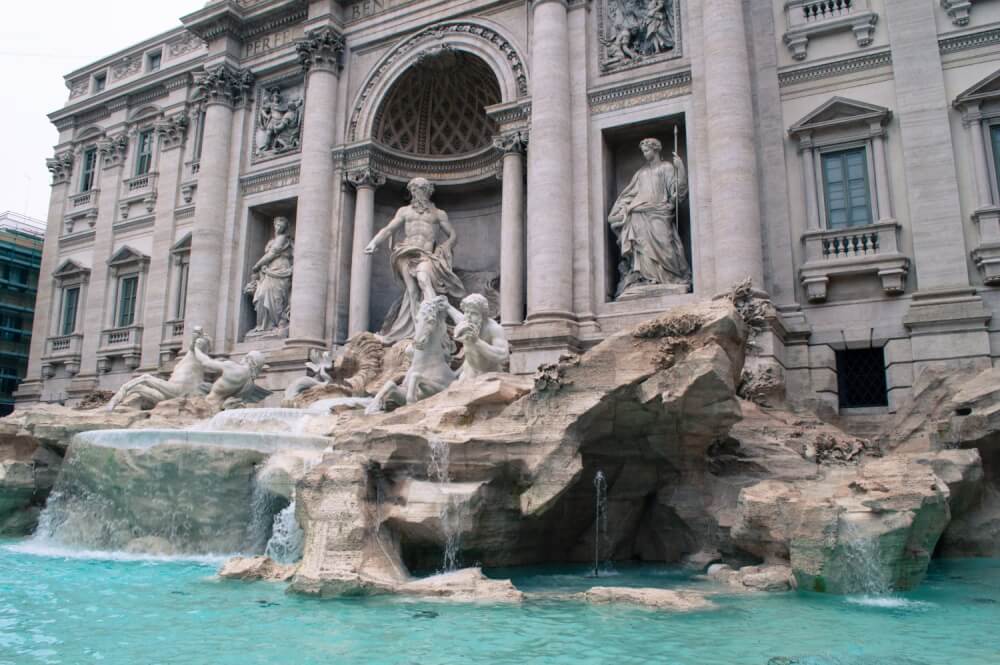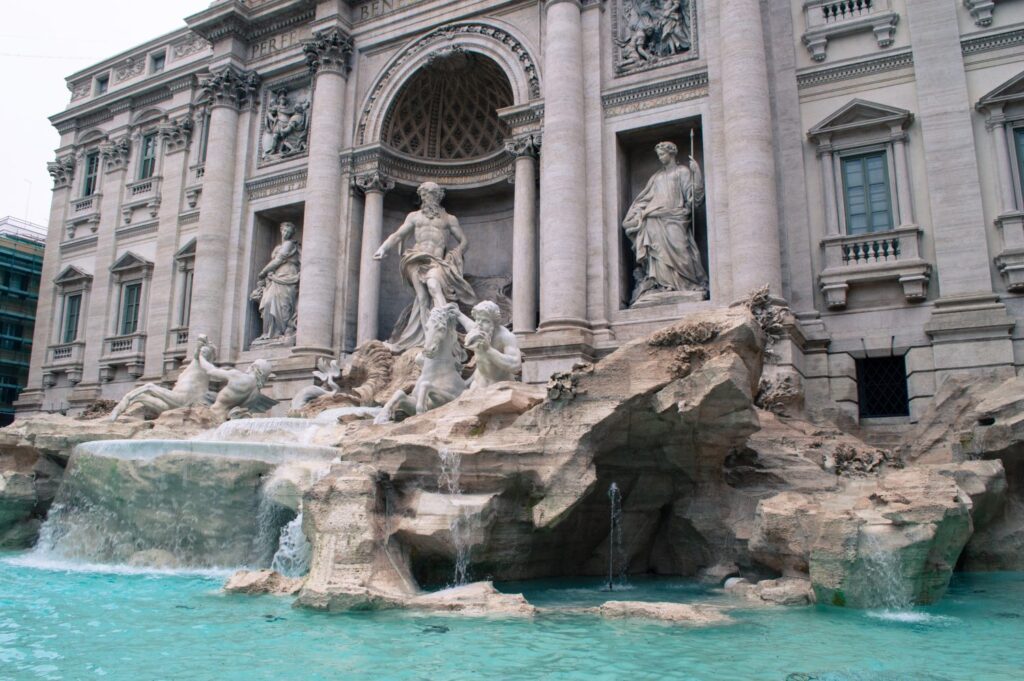 After an amazing lunch where we ate our weight in pasta, we rolled our food babies to the Pantheon, Rome's most famous temple. The inside was absolutely gorgeous, and substantially less crowded than in June. With bright light flooding through the oculus, the entire temple was lit up with unbelievable golden tones… Like an idiot, I stood there with my mouth hanging open, trying in vain to capture the beauty on camera. We lingered here for a few minutes, soaking it all in before we pried ourselves away to our next stop: the Piazza Navona.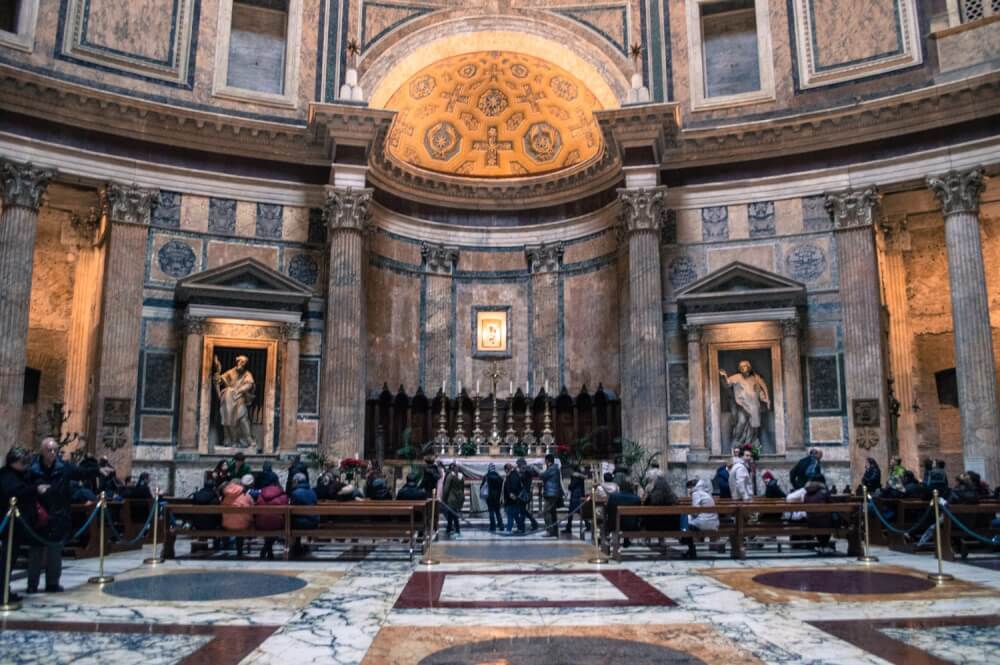 Truth be told, it almost felt like the universe was saying "yo Christina, your last visit really sucked. Have a balloon and let's make this right."
But actually though, when we arrived at Piazza Navona, it was decked out in gorgeous balloon arches (in heart form, no less) and all sorts of carnival booths with colourful toys and prizes. Coupled with kids running around having the best day ever, it was quite a different vibe to the Rome I remembered.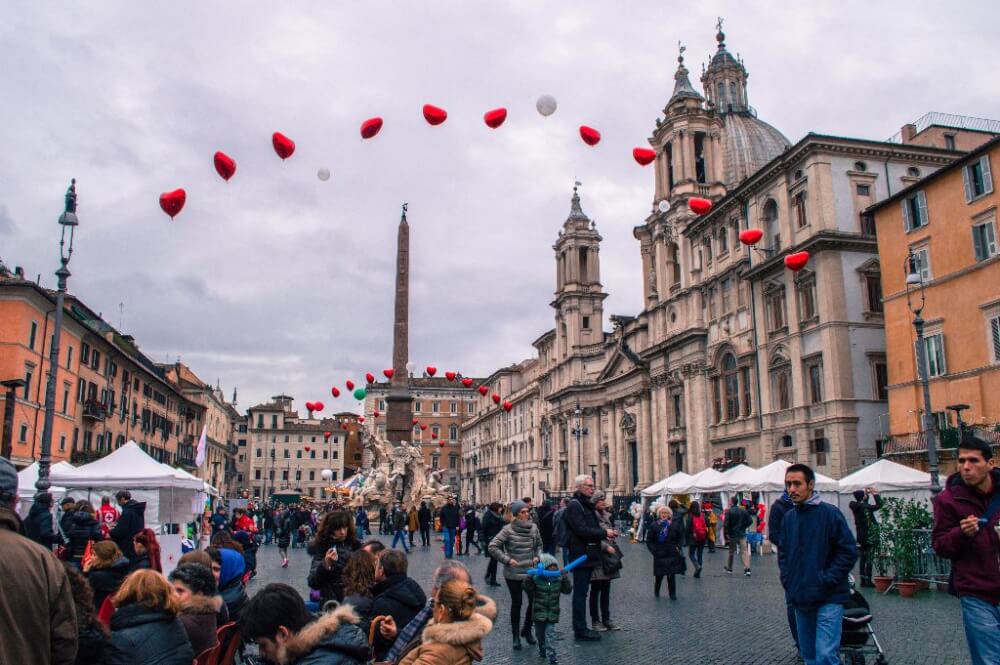 Sadly, all this hub bub wasn't actually to appease me, but rather to celebrate Epiphany, the 12th day after Christmas. My favourite bit? The live band looking dapper in their matching outfits.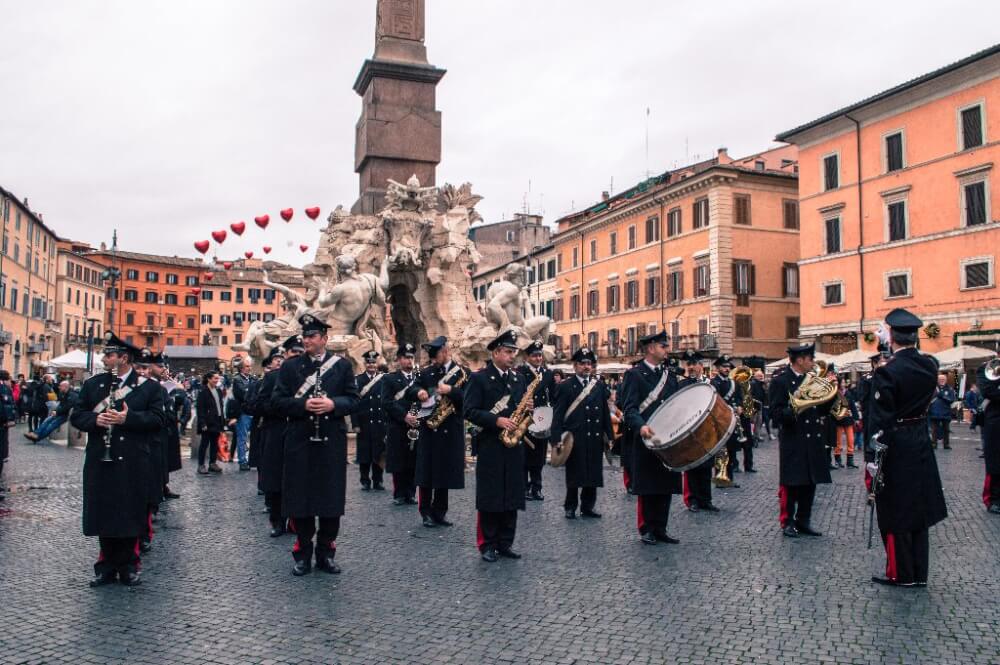 All love'd up from the buzz at Piazza Navona (where we coincidentally ran into a classmate of ours from Germany), we raced to our final stop off the day – Castel Sant'Angelo, the cylindrical beauty at the end of the Sant'Angelo Bridge. The views at this museum (formerly a mausoleum, fortress and castle) were just ok. No, I can't lie to you – they were amazing. So amazing that my SD card filled up.
When Day 2 came, I had already formed an odd attachment to the city. I just couldn't believe how much better it was the second time round. According to my phone, we logged almost 20km of walking on Day 2 alone… but don't worry – the calories lost were promptly replenished with oversized gelato cones the size of my (already rather large) face.
Our long walking day took us from Termini Station onwards to the Spanish Steps, passing gorgeous attractions like the Santa Maria Maggiore, the Opera House, Piazza di Republica and more along the way. While the Spanish Steps themselves were sealed off for restoration (oh Rome), we were able to walk up to the Villa Medici, where we got the most gorgeous view ever of the city:
As we climbed back down, we made our way past Piazza del Popolo and then to the quaint neighborhood of Trastavere, an amazing subset of Rome with the laidback vibes of small town Italy. The lovely cafe-lined streets were a welcome change from the heavy tourist bustle, so we decided to rest up in the coziest possible way – sipping foamy cappuccinos while wolfing down cups of panna cotta.
We held nothing back on Day 3, when we conquered Ancient Rome with the agility of badass gladiators. One combo ticket was all we needed for access to the Coliseum, Roman Forum and Palatine Hill. Pro tip: if you purchase your combo tickets at Palatine Hill (which usually has little to no lineups), you can then jump ahead in the queue at the Coliseum. That alone saved us 1.5 hours in line! If you're looking for an opportunity to improve your smug face, this would be an excellent one.
The logical reward for all this sightseeing was an unnecessary amount of food. On this particular day, my waistline was heftily expanded through the following events: a pre-lunch sandwich that ruined me for other sandwiches, a delicious seafood pasta lunch and a post-lunch suppli (a deep fried rice ball oozing with tomato sauce and melted cheese).
Yuh huh. It was as good as it sounds.
And rather than give into a food coma afterwards, we lugged ourselves to see the Altare della Patria (the massive typewriter-esque building that Romans love to hate) and the Galleria Borghese, one of Rome's most well-known art galleries.
And for our final day, we crossed into the world's smallest country: the Vatican. Our first order of business was climbing the dome (cupola) at Saint Peter's Basilica, a feat not suited for the claustrophobic or exercise-averse. After cramming myself through some pretty narrow passages, I survived the 551 dizzying steps up and came head to head with this stunning view: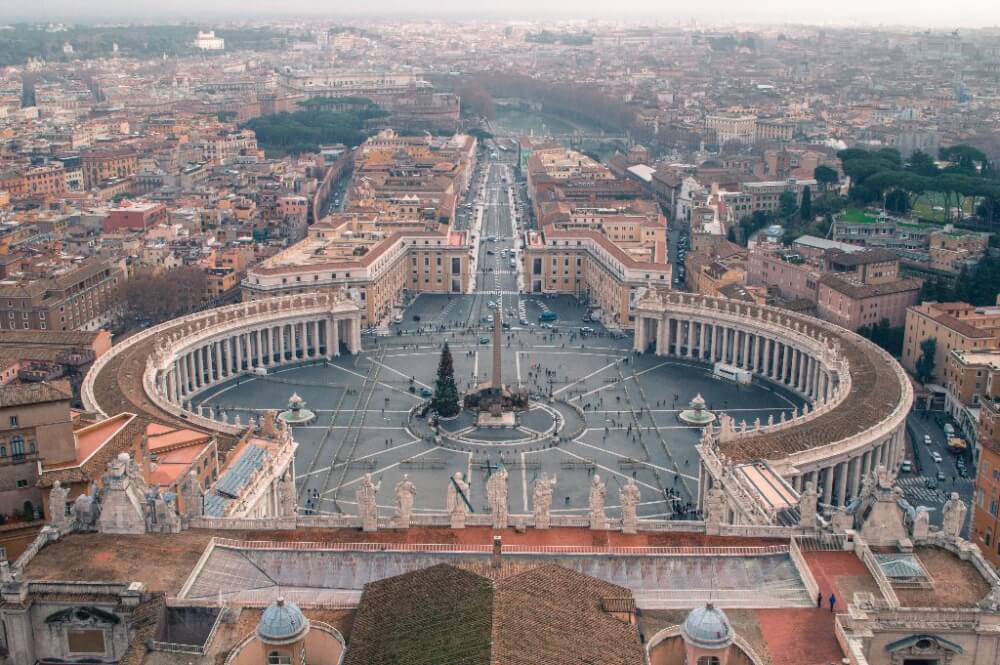 And then onwards to the impossible grandeur of the Basilica's interior…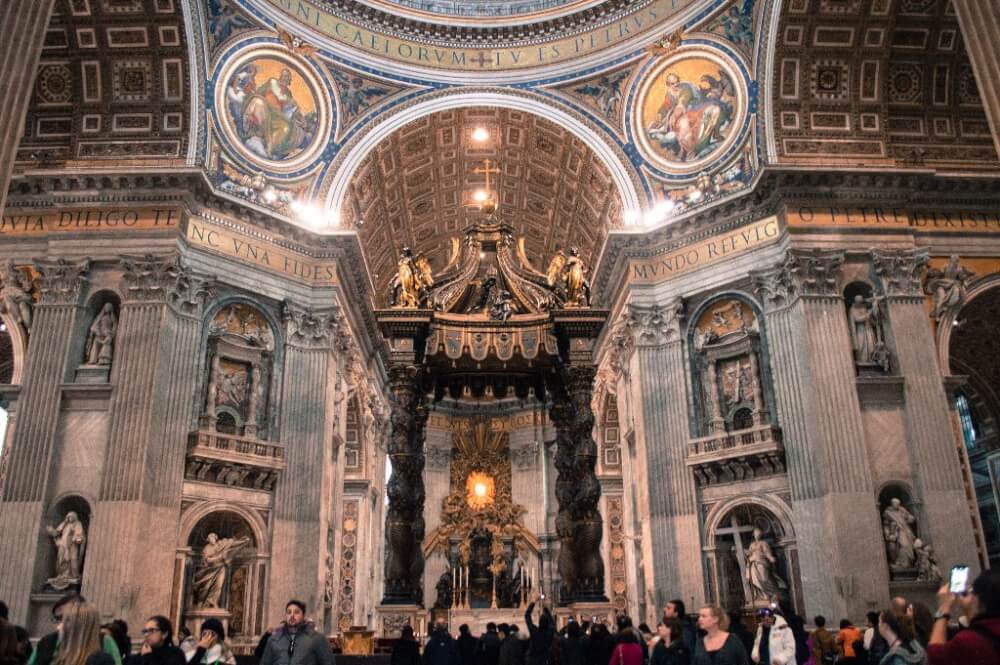 Even though it was my second time inside, I still couldn't believe how incredible it all was. For real, I was getting neck pains from staring at all the ceiling's fine details. I even saw a few people who were so moved, they were crying. If there's one thing you can't miss in Rome, to me this is it.
By 2:30pm (after a long lunch of course), we had made it to the Vatican Museum, surprisingly void of crowds. What's it like getting a massive museum like this all to yourself? Well, it was tough to resist the urge to just slide down this epic stairwell, but I assure you: I kept my cool and acted like a proper adult.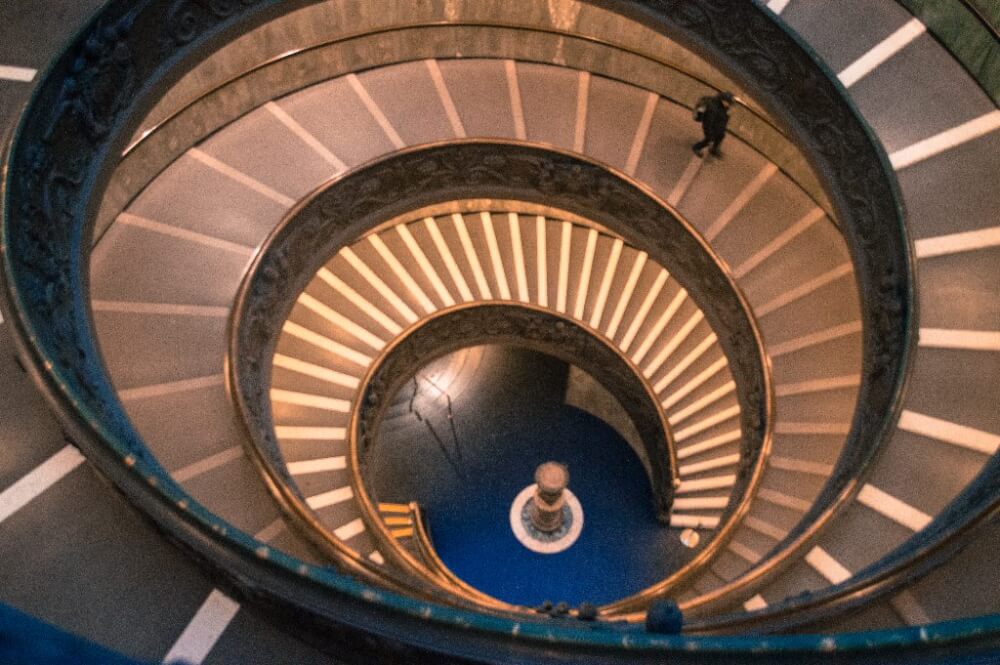 We ended our last night in Rome with a lovely outdoor dinner beneath the twinkling lights of a Roman side street. On our way home, we picked up our final scoops of Italian gelato (dulce de leche and stratiatella to be precise) and headed home, 10 pounds heavier and with the fondness of Rome I always knew I had.
And so, for those thinking of visiting Rome in the off-season, do it. Just remember to pack stretchy pants.
So tell me – have you ever hated a city but given it a second chance? What places would you love to visit again?!
---
Further reading: