*FYI - this post may contain affiliate links, which means we earn a commission at no extra cost to you if you purchase from them. Also, as an Amazon Associate I earn from qualifying purchases. Check out our Privacy Policy and Disclosure. for more info.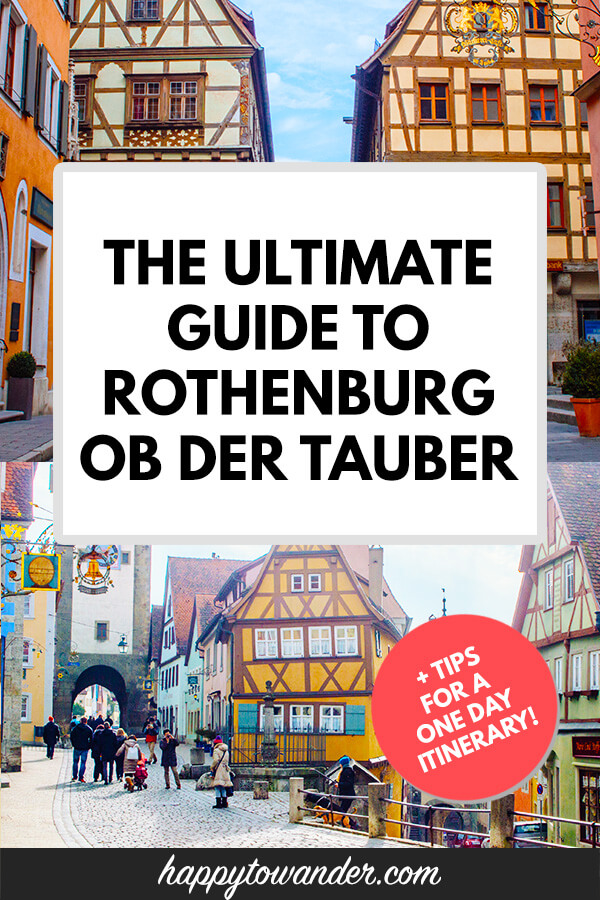 Disney gave me unrealistic expectations about many things in life… things like the bounciness of my hair, the helpfulness of birds and of course, the cuteness of architecture.
Don't get me wrong, I loved growing up in Canada, but the glass skyscrapers in Vancouver were hardly a fit for my storybook dreams. Luckily, since moving to Germany, spots like Rothenburg ob der Tauber have remedied this problem, even for just a weekend.
Now, as far as fairytale towns go, I'd consider Rothenburg ob der Tauber to be the jewel in Germany's (seriously bedazzled) crown. Commonly recognized as one of the best medieval towns in Germany, this little slice of storybook heaven will quickly capture your heart and tie it up in a big fancy bow. And while Rothenburg ob der Tauber is hardly a secret (as most critics will note), a visit is more than worth it, because while there may be heavy crowds and tourism, there is also a ridiculous amount of beauty.
Of course, in an ideal world, I would happily spend days, weeks, maybe years rolling around Rothenburg like a giant human schneeball (more on this treat later), BUT… sometimes, all we have is a day. So, here's a guide on how to make the most of a day trip to Rothenburg ob der Tauber (including a suggested one day itinerary at the end!)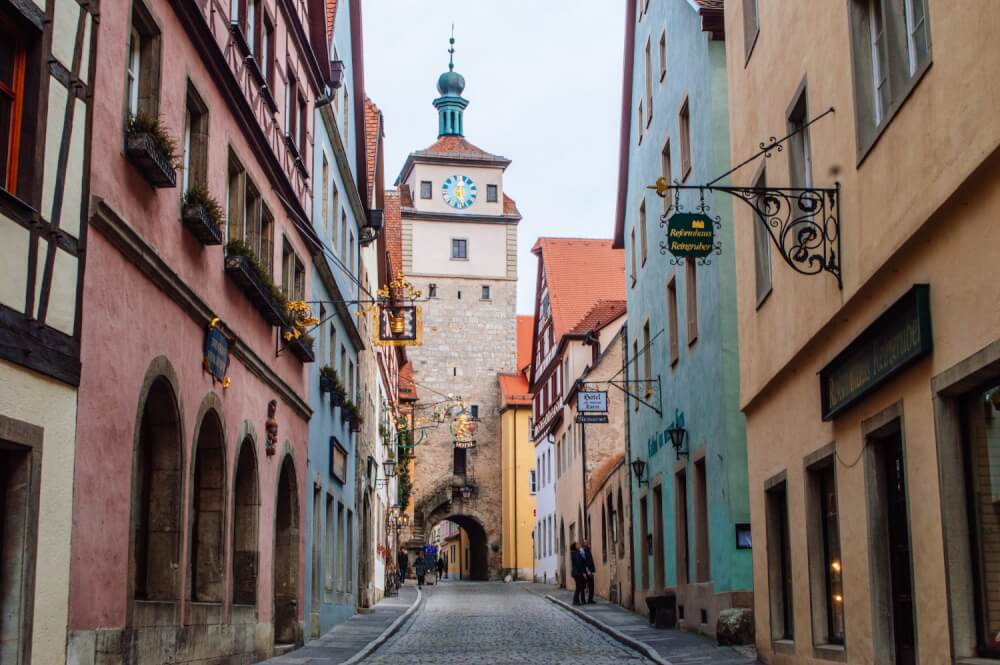 Rothenburg ob der Tauber: Know before you go
Rothenburg ob der Tauber is not the only Rothenburg in Germany! Avoid arriving at the wrong one by confirming that you are, indeed, going to Rothenburg ob der Tauber and not one of the others. You may laugh, but I drove towards the wrong one for an hour before realizing my mistake, and others have caught the train to the wrong one too!
Understand the pros and cons of on/off-season. I mean, Rothenburg is one good looking city, so it shouldn't be a surprise that it gets busy during the summer months. I went in the off-season (February) and was treated to significantly less crowds, which I loved. The flip side however was that there were reduced opening hours for the museums and less organized tours for us tourists (which start their season in April). That's the trade-off – a Rothenburg ob der Tauber winter visit is less crowded, but the weather is moodier and hours are reduced, while a summer visit means definitely more crowds, but a more visitor-friendly atmosphere.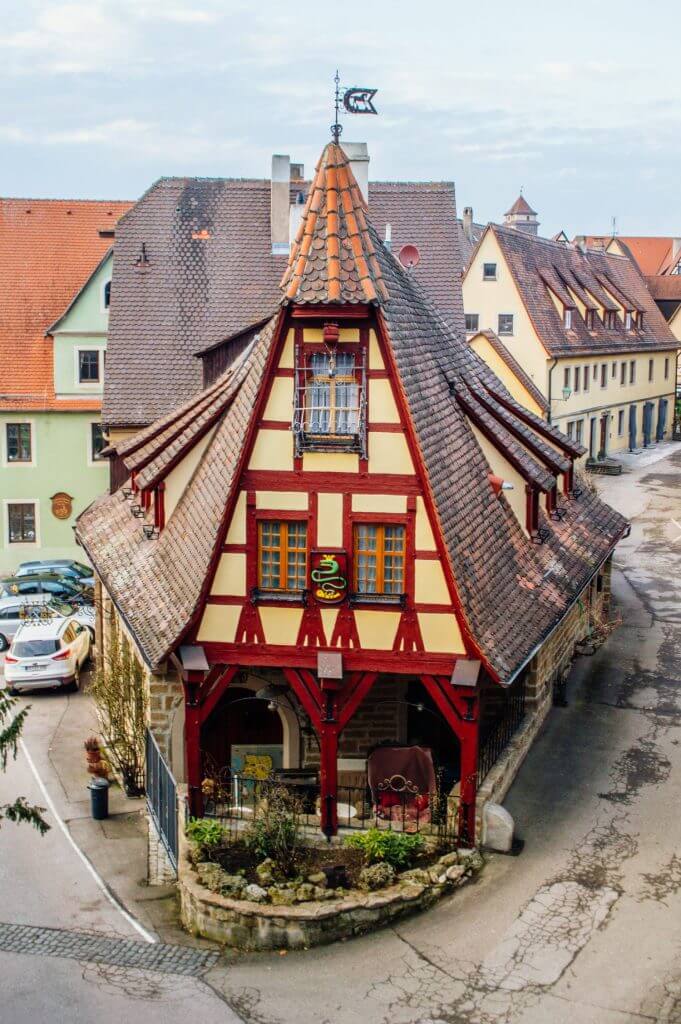 Know that on Sunday, most shops are closed. As with the case in most Bavarian towns, Sunday is a day of rest in Rothenburg ob der Tauber. This means if you're keen to go shopping, the majority of stores will be shut on Sunday. Many cafes, restaurants, museums and souvenir shops however will still be open.
Consider staying the night for a more peaceful experience. Rothenburg, in all its charming glory, is very, very popular among day trippers. If you're one to avoid crowds (like me) or just want the feeling of having this city to yourself, book a room to stay the night! The experience of walking the streets after all the crowds have gone home (or in the morning before they arrive) is just unbeatable. There's a lot of inexpensive but cozy guesthouses to choose from. Click here to browse the best deals on where to stay.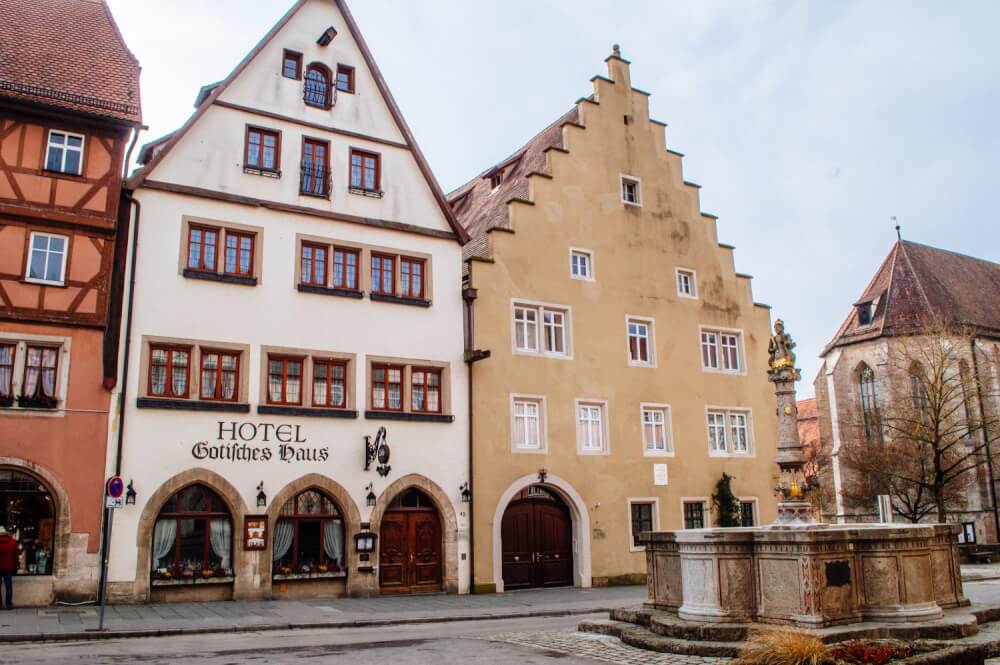 How to get to Rothenburg ob der Tauber
WITH A TOUR: The simplest way is to visit Rothenburg ob der Tauber is of course with a tour who takes care of all the transportation. Tours aren't for everyone, but if you do want to book one, I highly recommend Get Your Guide, who has a low price guarantee (meaning they refund you the difference if you find a cheaper price). That way you know for sure you're getting the lowest price possible! Here's a day trip option from Munich.
BY CAR: From the Rothenburg ob der Tauber tourism website: "Take Highway A7 Würzburg – Ulm to Rothenburg. Take exit 108 "Rothenburg / Tauber" and follow the signposts for the town center. After two kilometers you will come upon one of the car parks from which you can reach the old town on foot in just a few minutes." NOTE: If you're not staying the night at a place with parking provided, it'll probably be easier for you to park outside the city walls and then walk in. Parking isn't too easy to come by in the Old Town!
BY TRAIN: The Rothenburg ob der Tauber train station is located very close to the Old Town, so you can get there by foot very easily. Remember, the train station you want to reach is 'Rothenburg ob der Tauber', so don't get confused with any of the other Rothenburgs in Germany! Use the Deutsche Bahn website to plan your journey.
Munich to Rothenburg ob der Tauber by train: There are frequent departures from Munich's main station to reach Rothenburg ob der Tauber. The train journey takes 3-4 hours depending on which train you catch, so while it's "doable" as a day trip, I wouldn't recommend it because you would be really limiting your time in the city. QUICK TIP: If you are going with a group, look into purchasing a Bayern Ticket, which could be more cost effective as it grants you unlimited travel in Bavaria for up to 5 people in one day. The base cost is 25 euros + 7 euros for each additional person. For more info, you can click here for my full Bayern ticket guide.
BY BUS: Rothenburg ob der Tauber is a popular stop along many coach bus tours. For instance, you can take the Romantic Road Coach, although be sure to do your research because the trains might be cheaper. Another option is to book a guided tour. Here are some options from Viator.
Munich to Rothenburg ob der Tauber by bus: I would highly recommend taking the train to Rothenburg (rather than a bus), because it's more comfortable, convenient and similar price-wise. During the off-season, there are no direct buses from Munich to Rothenburg, but from April – October, you can catch the Romantic Road Coach. If you feel like adding Würzburg to your itinerary, Flixbus does have a route from Munich to there, and you can then catch a quick train ride down to Rothenburg.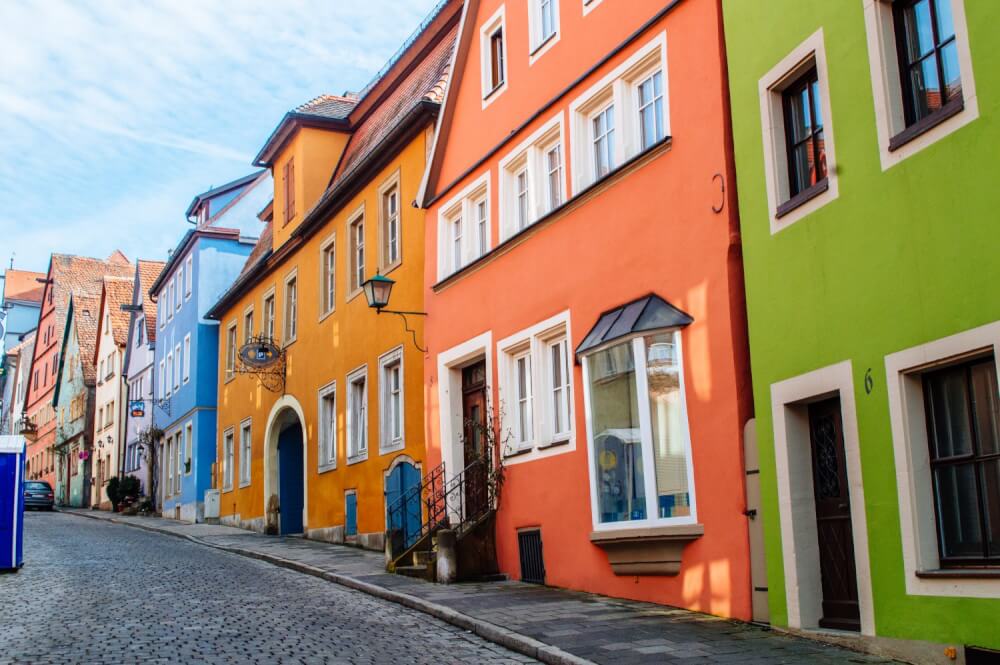 Things to see in Rothenburg ob der Tauber
The Plönlein
This little square is probably the most iconic view you'll find in Rothenburg ob der Tauber. An adorable half-timbered house, sandwiched by tall towers and perfect cobblestoned streets. Yup, it's for real and it's as close to postcard-perfect as you'll get.
TIP: Come in the morning or in the early evening to avoid day trip crowds.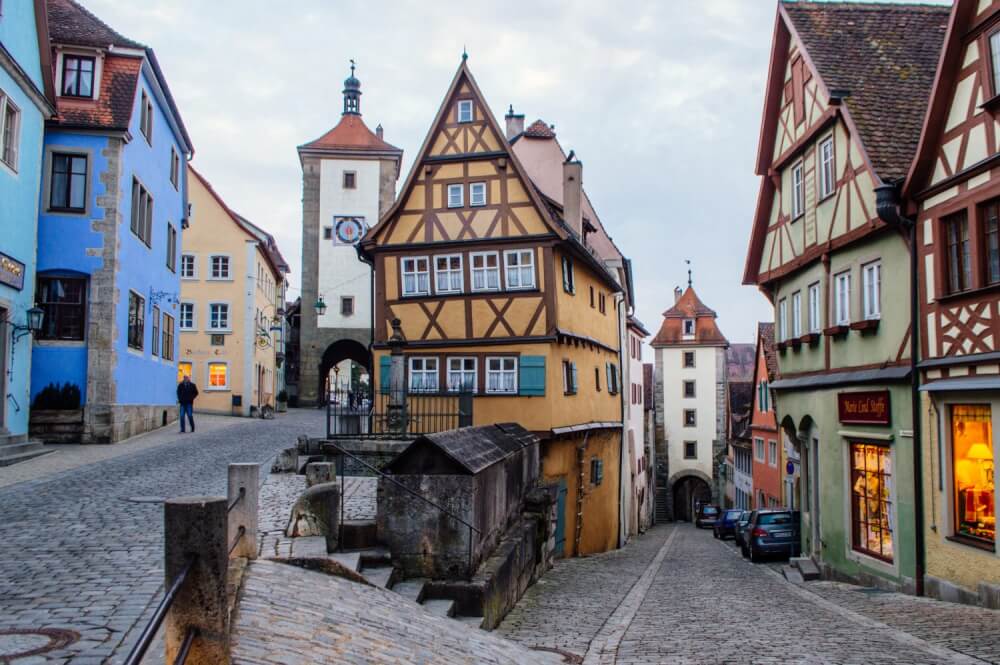 Marktplatz
This is the city's main hub, where you'll find the Rathaus (town hall), the Ratstrinkstube (Councillor's Tavern), the Tourist Information Centre and just nearby, George's Spring.
If you plan on taking any of the city's guided tours, this is where the meeting point will be. Also, when the Festive Season kicks in, it's here that you'll find the Christmas Market!!!! Giggity. *jingles some bells*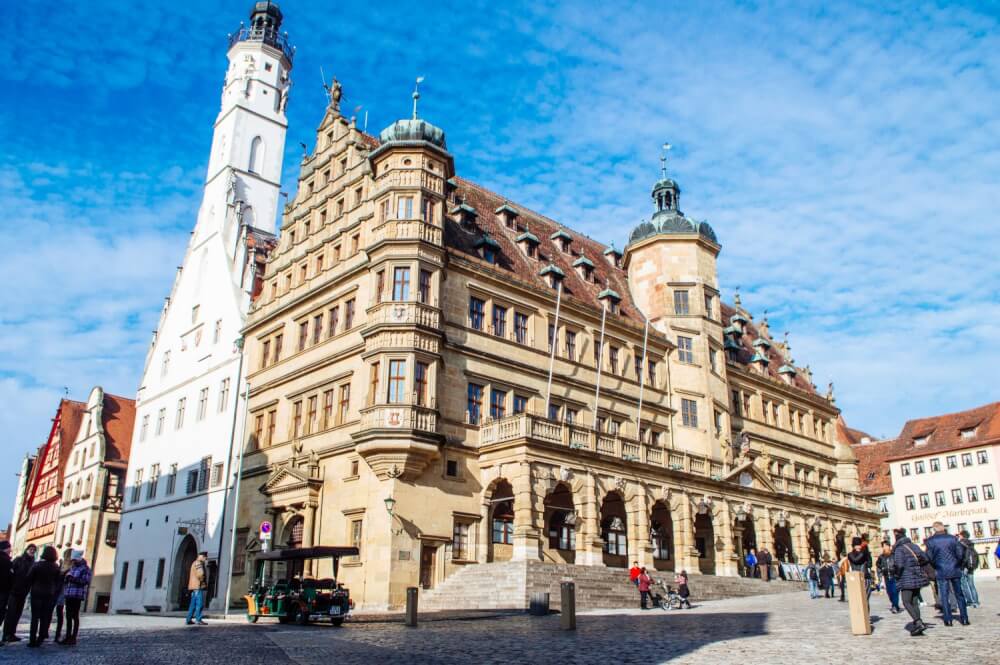 St. Jacob's Church
This is one of the most dominant sights of the Rothenburg ob der Tauber skyline and the city's main church. It carries a wide variety of religious artworks, including a main altar that is recognized as one of Germany's most important.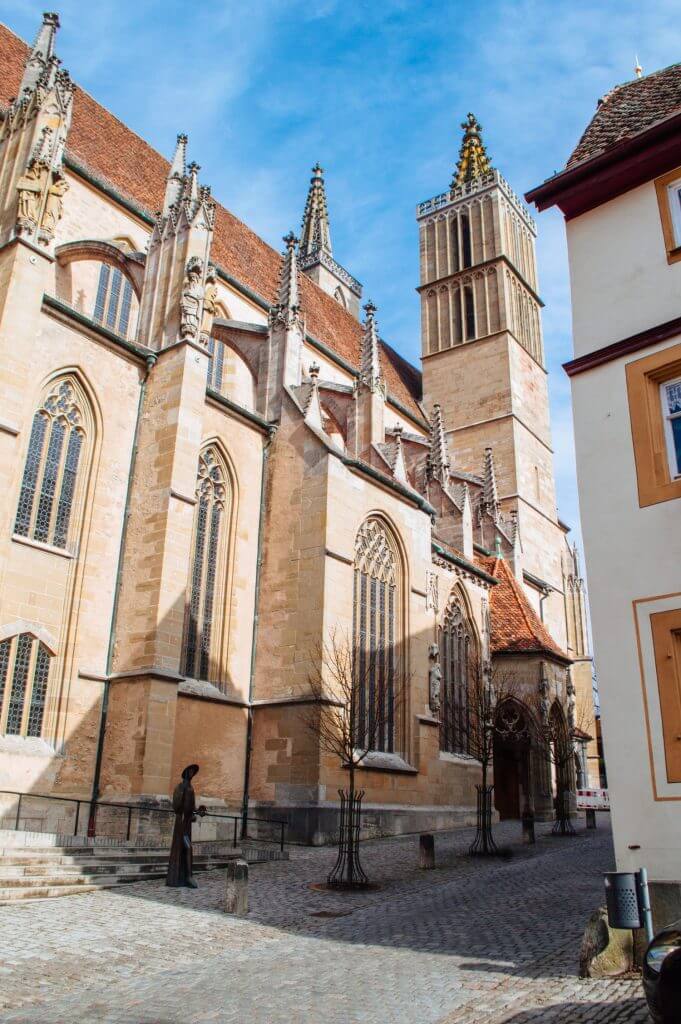 The city walls of Rothenburg ob der Tauber
One of the biggest draws of Rothenburg ob der Tauber is its well preserved walls and of course, its many awesome towers and gates. You'll surely stumble upon these as you walk through the city, but I'm partial to Klingentor and Markusturm (so don't miss them). Here's a full list from the tourism board!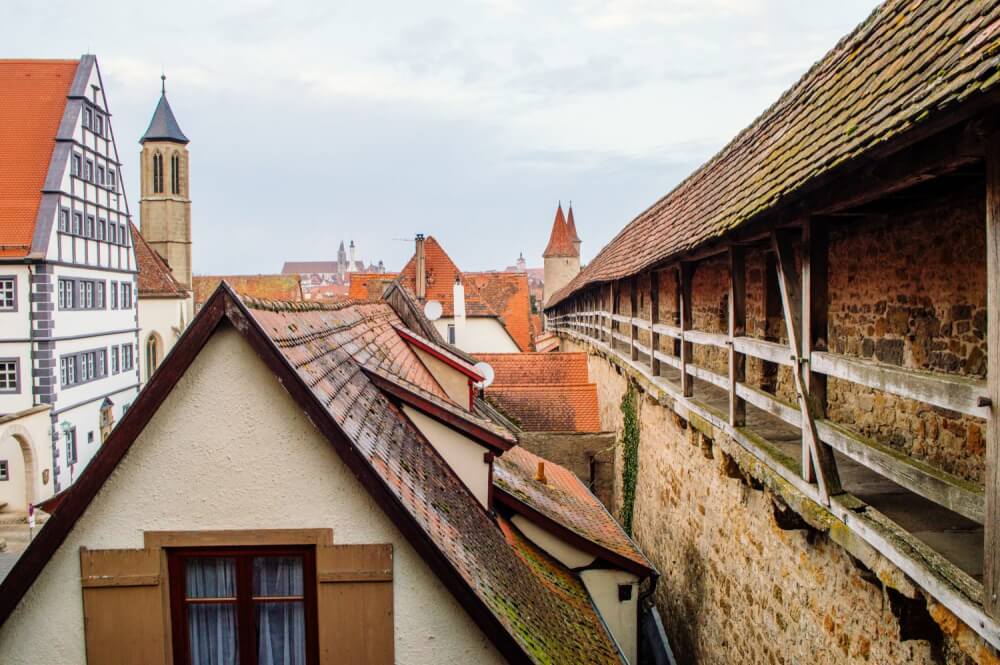 Old Castle Gardens
While these gardens weren't exactly buzzing in the winter, I can only imagine how gorgeous they would be once the flowers are back in bloom. Definitely worth a stop if you come at the right time of year.
For a more thorough list of unique and significant buildings, check out this page.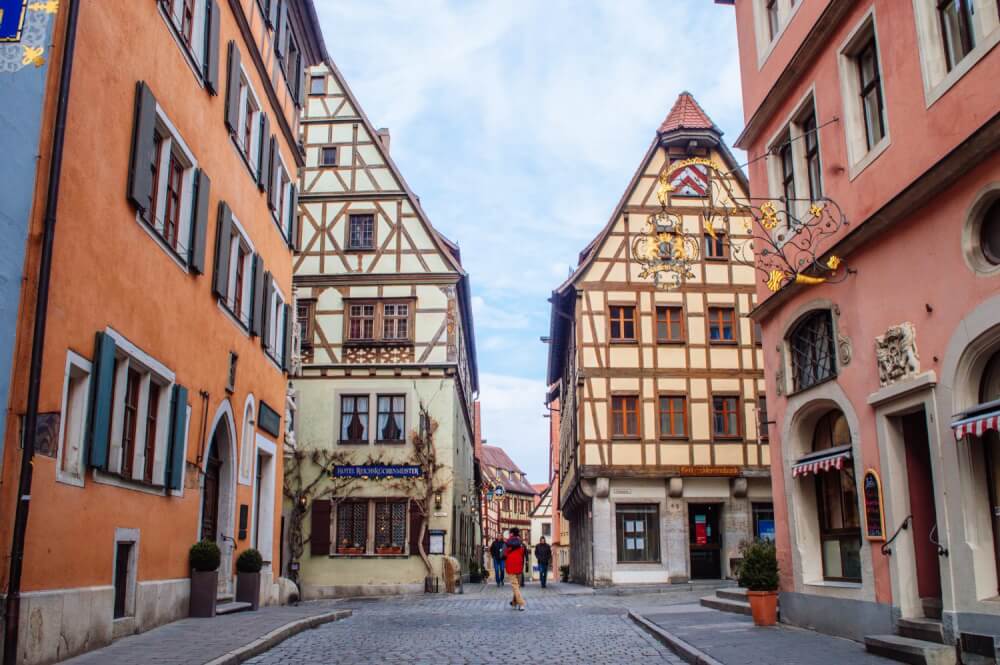 Fun things to do in Rothenburg ob der Tauber
Visit the Christmas Museum.
One of the quirkiest of Rothenburg ob der Tauber tourist attractions and well worth the entry fee! This museum is housed in a beautiful Christmas shop, and walks you through tons of really interesting Christmas history (e.g. where did decorative baubles come from, why do some parts of Germany have Christmas pyramids instead of trees, etc.) I'm a holiday fanatic, so I loved exploring this super fun little museum.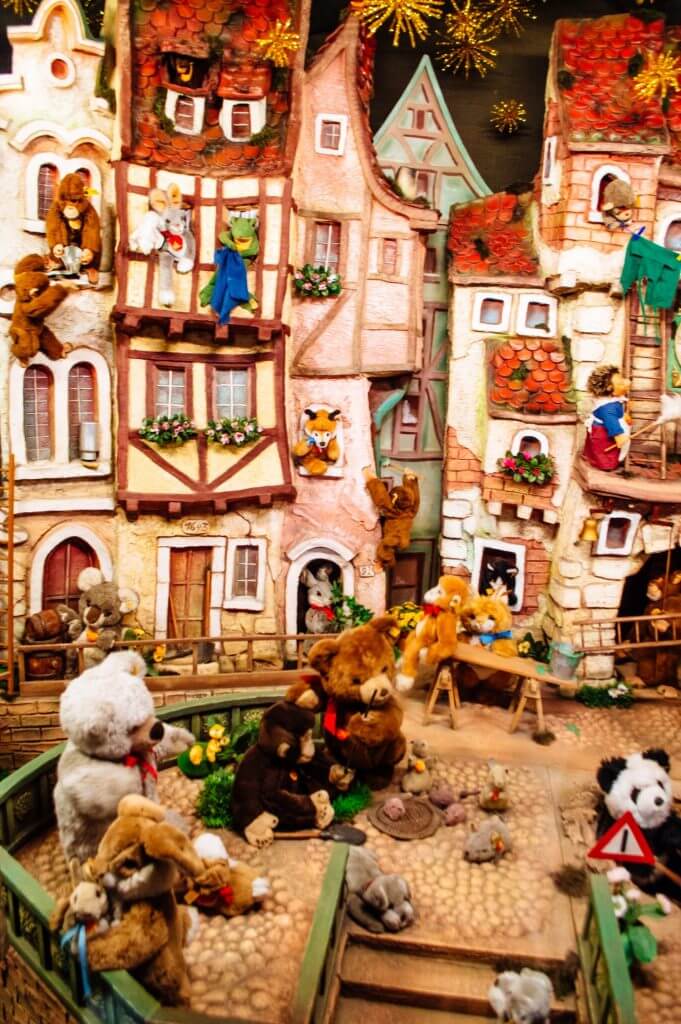 The Medieval Crime and Justice Museum.
This museum is a bit morbid, but don't miss it. (And pro tip: don't eat before coming here like I did). If you want to know the gutwrenching and bloody details of how crime/punishment were handled back in the good old Medieval days, this is your place! It goes in serious detail about what went down, and boasts an impressive collection of artefacts (torture instruments included) that will wow you/make you squirm.
PS: It is HUGE. Like seriously huge. If you plan on doing this museum thoroughly, allow for a lot of time.
Walk the city walls.
This is a must. The views are really nice, and you get a great overview of the city. The steps to climb up can be found next to pretty much any of the towers.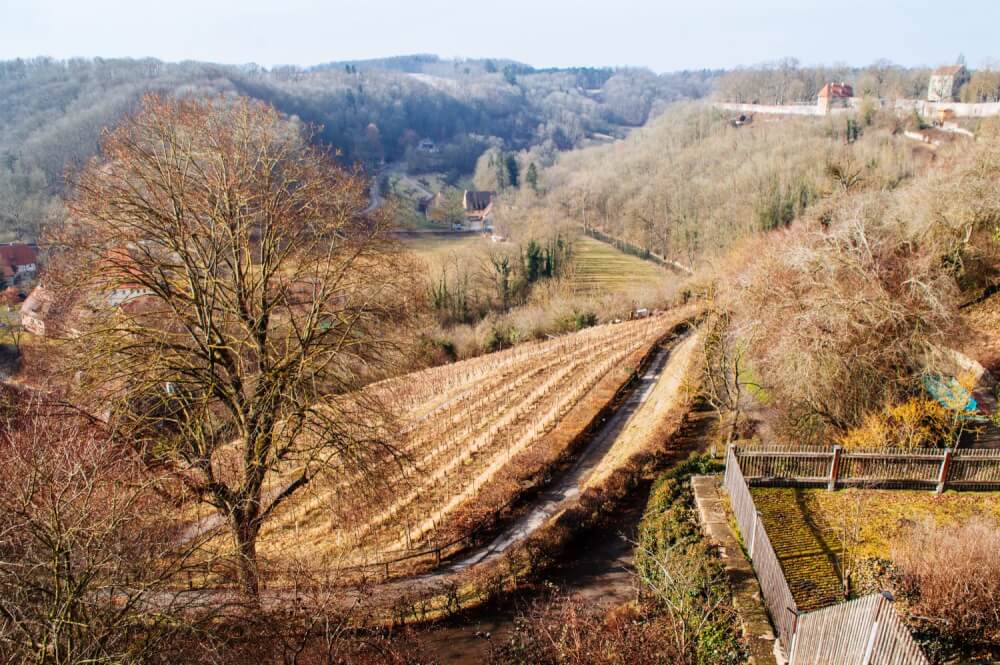 Try a schneeball.
These delightful looking treats can be found all around town, and are balls of fried pastry usually covered in chocolate and other wild toppings. I have to admit, I was a little disappointed by it, because I had such high expectations and it ended up tasting like plain pie crust… BUT to each their own 🙂 They're a specialty of Rothenburg, so try one if you're curious!
Go on the Rothenburg Night Watchman tour.
I didn't get to do this on my visit (as the tours aren't daily during peak season) but I've heard great things! It's supposedly an awesome and funny way to learn about the city's rich history, so be sure to give it a try if you're staying the night. Visit the official Rothenburg ob der Tauber website for a tour schedule.
A simple 1 day itinerary for Rothernburg ob der Tauber
Rothenburg ob der Tauber is no doubt a city best explored on foot. Here's a rough itinerary for you to follow if you want to maximize your time!
MORNING: Wake up/arrive early to visit Plönlein and enjoy the view before the crowds settle in. Then grab a coffee or breakfast at a cozy cafe, preparing for a busy day of sightseeing. If you feel like you'll need a map, head over to the Tourist Information Centre to grab one. If it's open, climb up the Rathausturm (Town Hall tower) for a great view over the city. You can view the opening hours here.
AFTERNOON: Walk around town, enjoying the picture-perfect streets. If you prefer having a guide (and are visiting from Apr-Oct or during December), there are daily guided tours at 2pm offered through the city for 8 euros.
Make time for at least one museum. I loved the Christmas Museum, but if you're looking for something darker, I highly recommend the Medieval Crime and Justice Museum as well!
If you still have an appetite after seeing all those torture instruments, don't forget to grab a hearty lunch and enjoy some tasty Franconian fare. (Otherwise, eat before museum hopping!) I adore Nürnberger Bratwursts, which are little pork sausages typically served in sets, but supposedly their white asparagus is awesome as well.
LATE AFTERNOON: Walk around the city walls for some cool views and enjoy the rest of your day shopping (or enjoying a few glasses of Franconian wine!). Try a schneeball if you're curious, but keep your expectations low, as many people don't like them.
EVENING: Catch the world famous Rothenburg Night Watchman tour for 8 euros! This is offered daily during peak season, but only on Saturdays during the winter. Check here for the schedule.
---
So, I hope you found that guide to Rothenburg ob der Tauber helpful!! It is honestly one of THE most picture perfect places I have ever been, and if you plan well, I'm sure you'll love it too.
Traveling in Germany? You can still connect with a Windows Desktop from CloudDesktopOnline.com; get freedom from your fixed desktop today by visiting www.Apps4Rent.com.
Tell me – have you ever visited Rothenburg ob der Tauber? If not, what's the most magical place you've been to? Let me know in the comments!
PS: This post contains affiliate links that come at no extra cost to you, but help me earn some commission to keep my guacamole addiction alive. Thanks as usual for your support!
---
Watch my most popular YouTube video this week:
---