*FYI - this post may contain affiliate links, which means we earn a commission at no extra cost to you if you purchase from them. Also, as an Amazon Associate I earn from qualifying purchases. Check out our Privacy Policy and Disclosure. for more info.
Doing a day trip from Venice to Burano, Italy is one of those bucket list items I've had on my list since the early days of Pinterest.
For those of you that aren't familiar, Burano, Italy is one of the most colourful places in the world.
Known for its wonderfully vibrant houses, this town is a real life rainbow happyland located about 40 minutes away from Venice.
Originally, these bright colours were meant to guide fishermen home through thick fog, but today it serves as a sizzling photographer and tourist magnet. There are some places in the world that are just as vibrant and beautiful as postcards suggest, and trust me, Burano is one of them.
This little gem of a town is an easy trip from Venice and is a place that I think everyone should visit in their lifetime.
Have I convinced you? Here's everything you need to know about planning your own day trip from Venice to Burano!
Be sure to also check out my list of things to do in Burano for more inspo.
How to Get to Burano from Venice
To get from Venice to Burano, you have two main options: either you book a tour or you do it yourself via Vaporetto.
There's pros and cons to both methods, so I'll review the options for you below.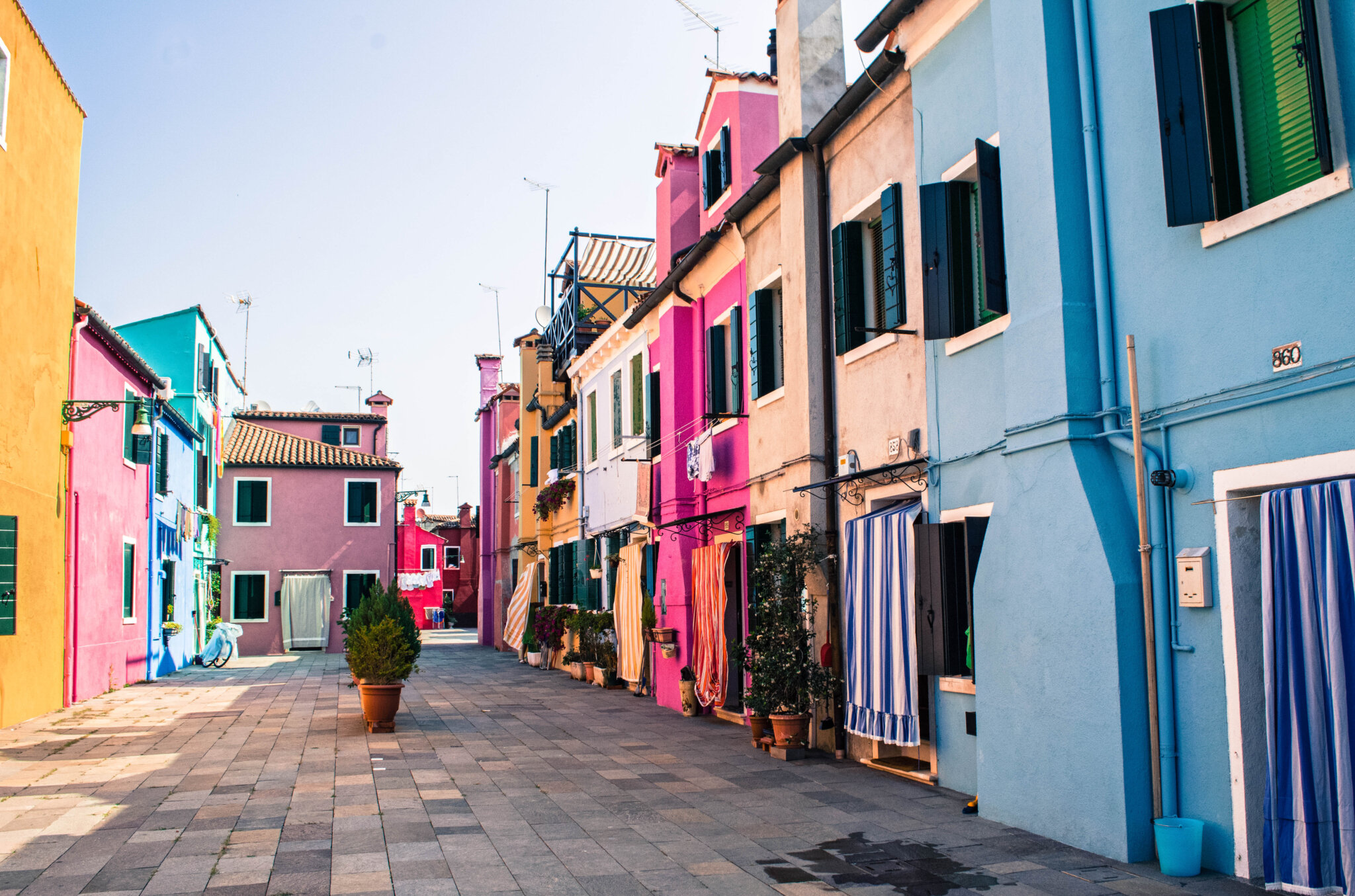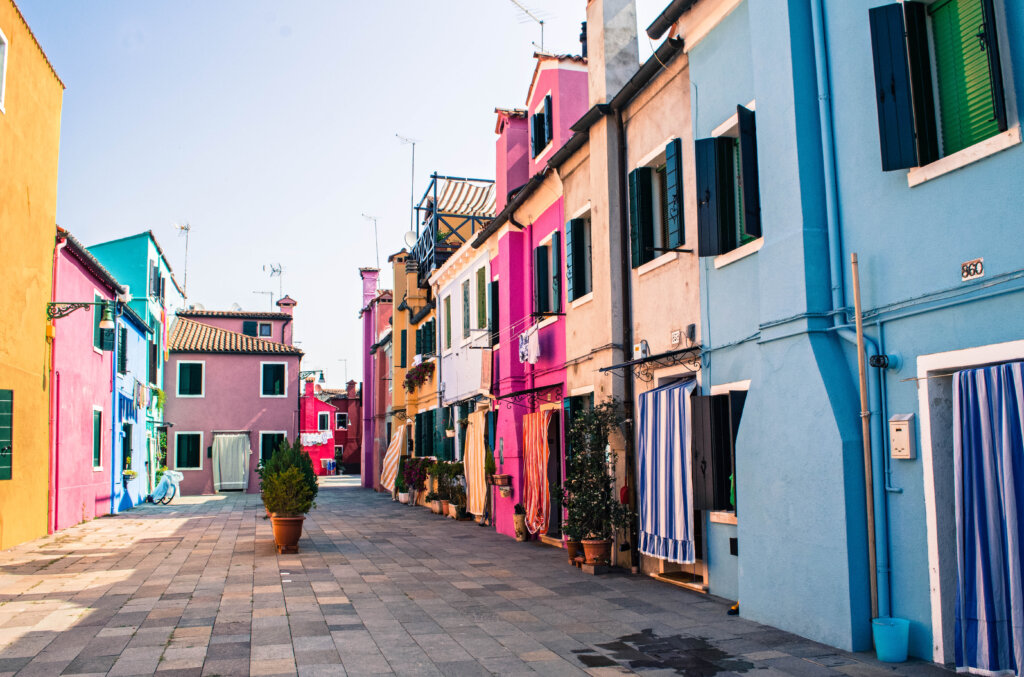 Option A: Book a Burano Tour from Venice
If money is no object, of course the most convenient way to visit Burano as a day trip from Venice is to simply book a tour.
This is especially tempting if you want to make the most of your day and also squeeze in visits to nearby Murano (home of Murano glass!) and Torcello.
Tours like this 5* one allow you to visit all three in one day for an affordable price that's pretty on par with a Venice transport day ticket. It even includes a glass factory visit in the price!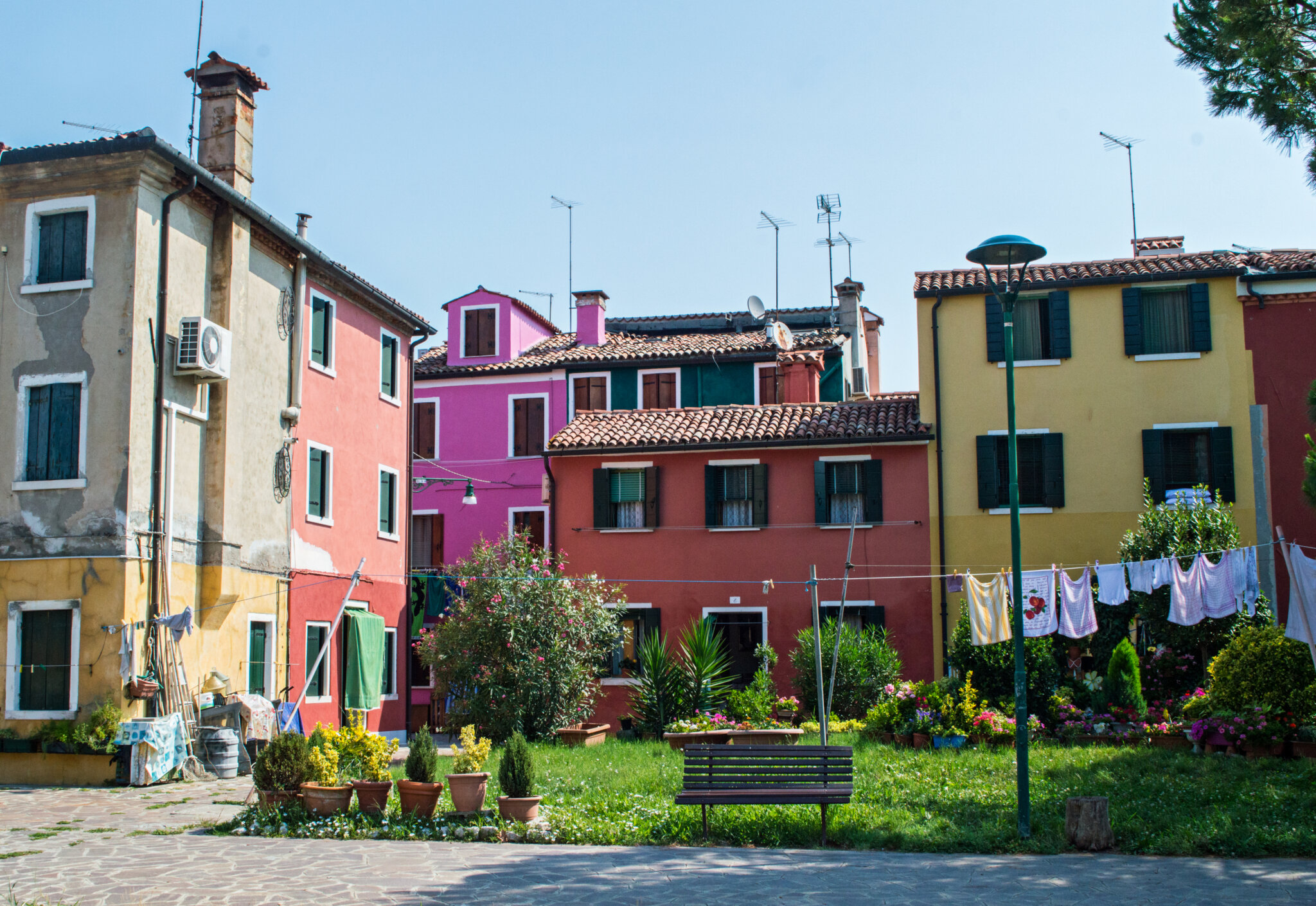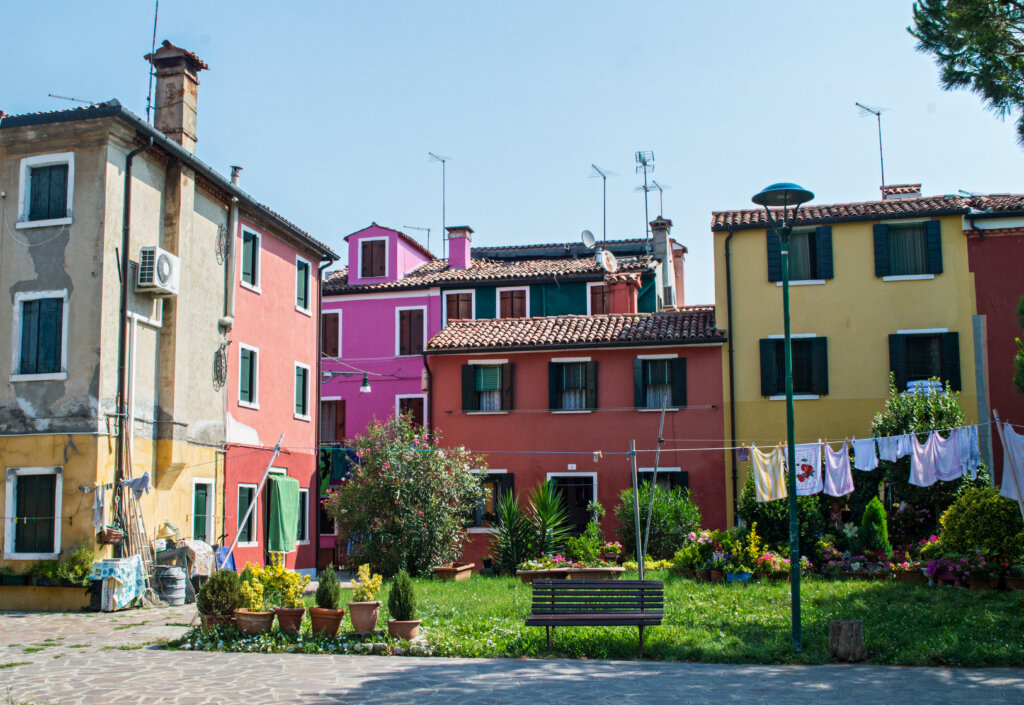 Here are some Venice to Burano tours to potentially look into: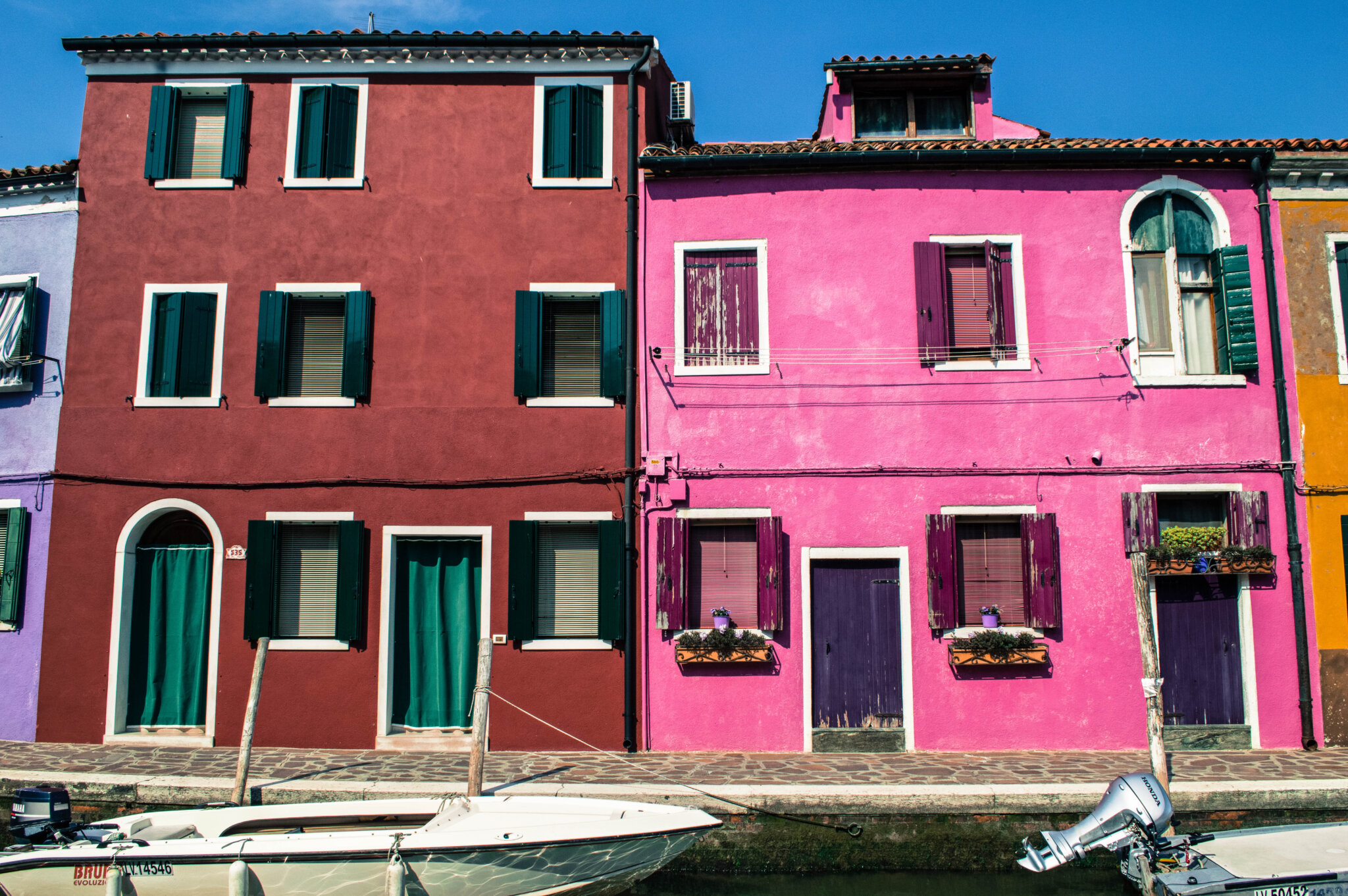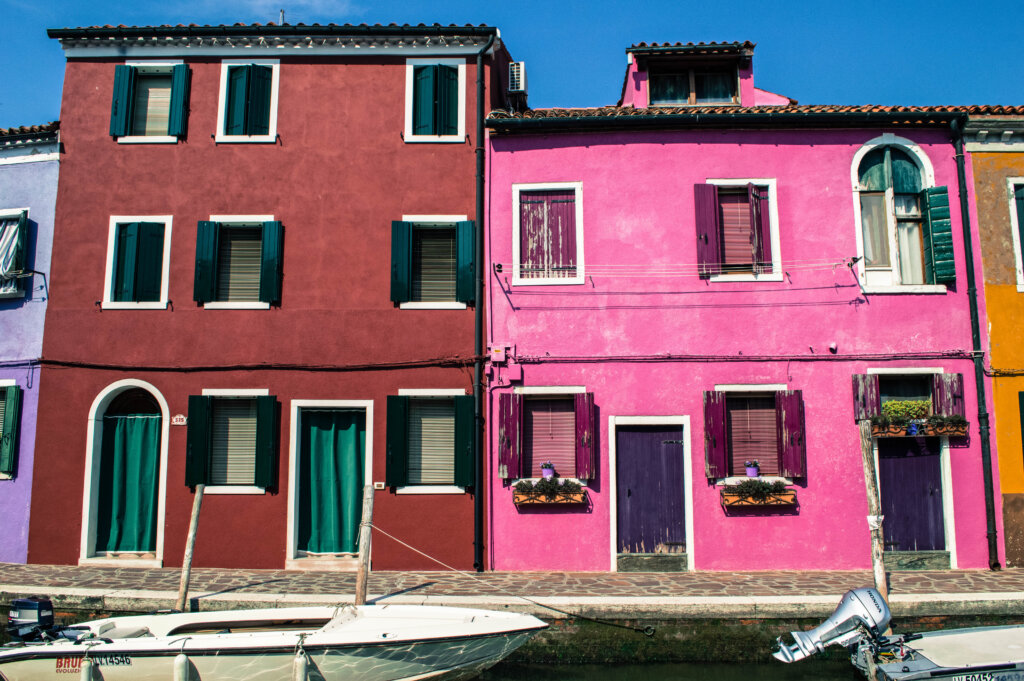 Option B: DIY Your Own Venice to Burano Day Trip via Vaporetto
If tours aren't your thing, the good news is that DIY routes are usually the cheapest ways to travel Europe anyway.
So, the more cost effective option for your Venice to Burano day trip would be to take the Vaporetto Line 12 leaving from Venice Fondamente Nove.
The cost of a one-way trip from Venice to Burano is 7.50 euros.
If you ONLY plan to go from Venice to Burano and back that day, then buying two one-way trips will be the cheapest, for a total cost of 15 euros.
If however you plan to use the Vaporetto at all (whether to visit other nearby islands, or to navigate Venice), then it will likely be worth it for you a day pass or multi-day pass depending on how long you'll be spending in Venice.
To save yourself the hassle of figuring out tickets when you get there, you can buy your Vaporetto tickets online in advance and use them as mobile tickets when you arrive.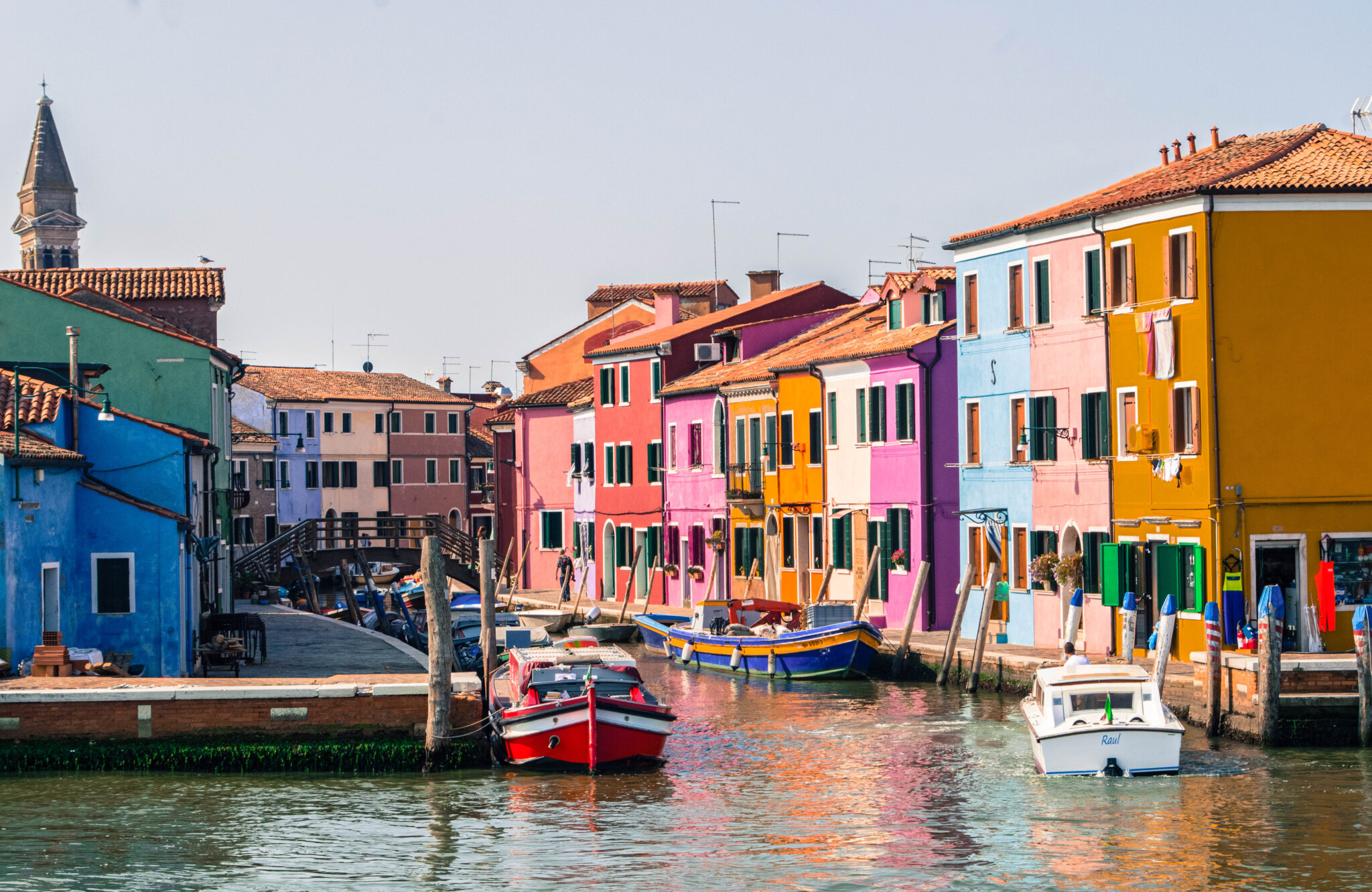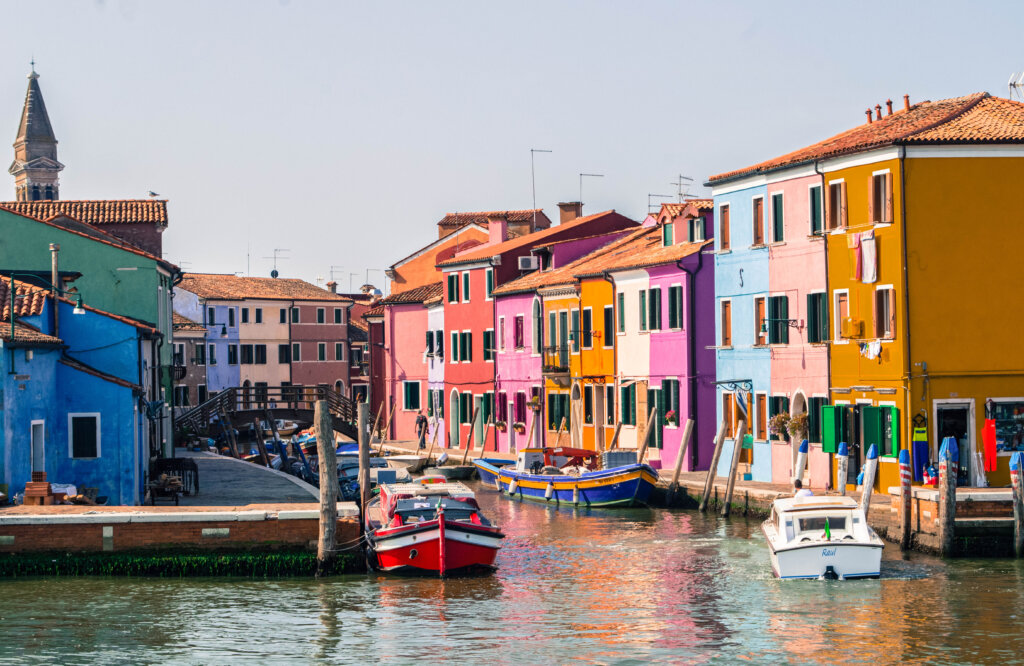 Here are some options for Venetian Lagoon transport passes that you can buy online:
1 day pass (24h access on all water buses/Vaporetto in Venice, Burano, Murano, Torcello and Lido)
2 day pass (48h access on all water buses/Vaporetto in Venice, Burano, Murano, Torcello and Lido)
3 day pass (72h access on all water buses/Vaporetto in Venice, Burano, Murano, Torcello and Lido)
Anyways, taking the Vaporetto 12 from Venice will get you straight to Burano (through Murano) and the overall journey takes about 40 minutes.
TIP: Try to snag an outdoor seat if you can, because the views you get of the Venetian lagoon are splendid.
Getting from Burano to Venice
Getting home is just as easy as the way you came.
Climb onto the #12 Vaporetto at the same stop that you got off and enjoy the rest of your time in Venice!
What to do During Your Venice to Burano Day Trip
Truth be told, Burano, while totally gorgeous, doesn't have that much to offer in terms of sights and activities (at least not compared to bigger Italian cities like Genoa and Milan).
At the end of the day, just like some of the sleepier villages of the Cinque Terre, Burano is just a small fishing village, so don't come here expecting an abundance of attractions or a buzzing nightlife.
What it does offer though is a quiet sense of charm and an absolutely darling atmosphere.
Here's a few things to occupy your time during your visit.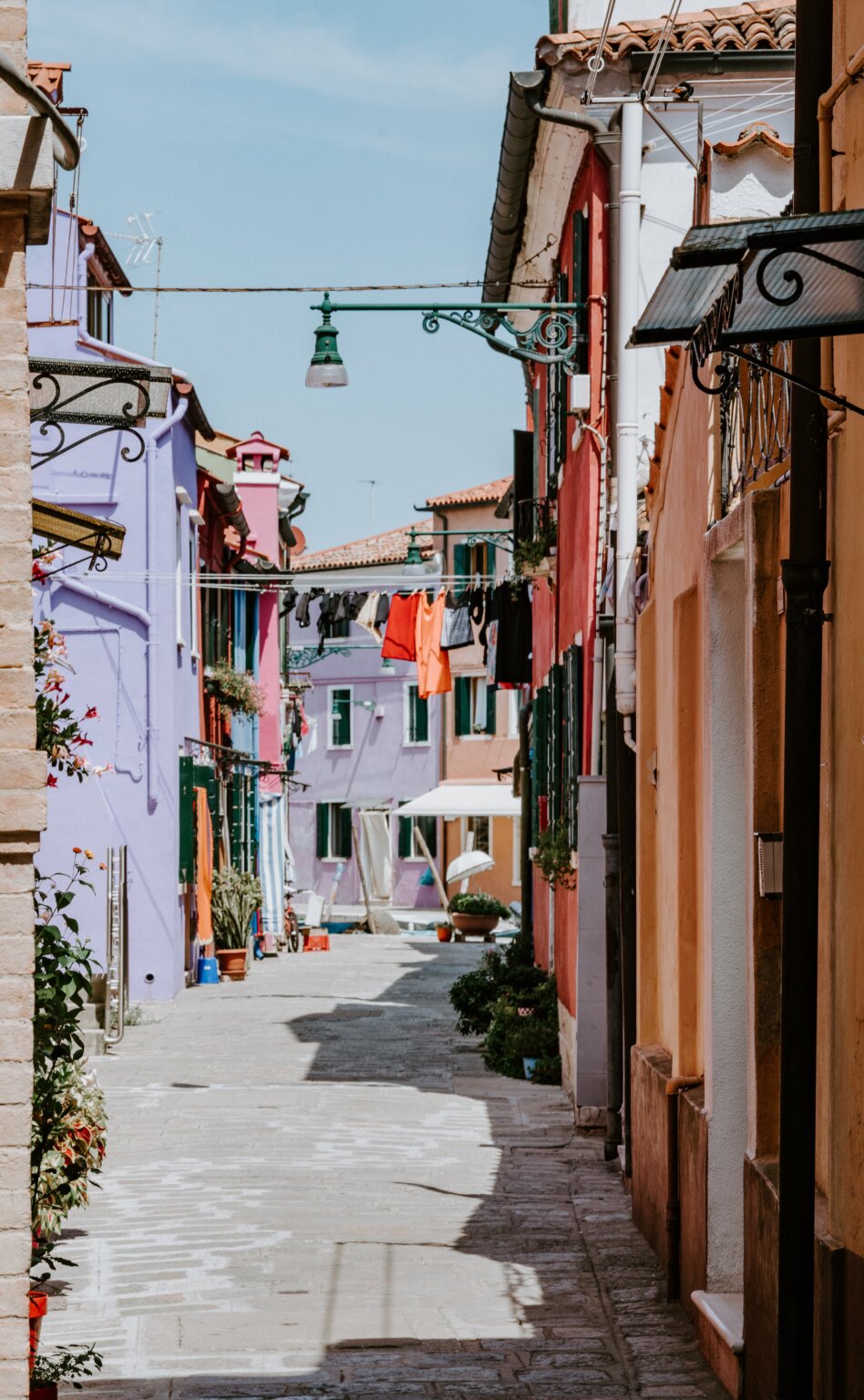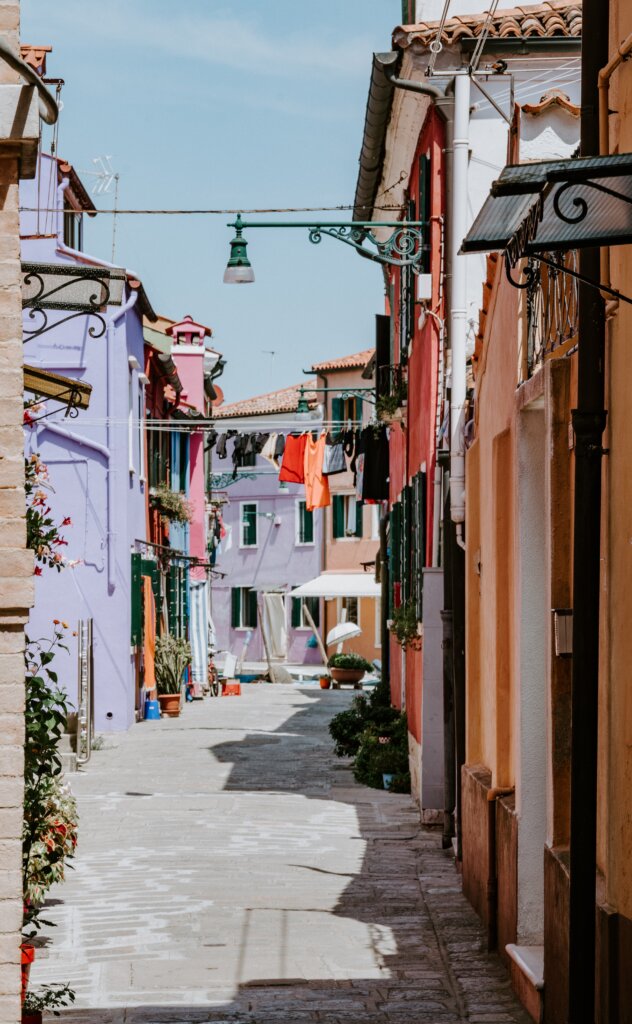 1. A walking tour of Burano with a local
If you want an insider perspective on Burano, there are now dedicated walking tours like this one from guides born and raised on the island.
I so wish this was available when I went, because it sounds like a great way to get familiar with offbeat Burano gems. The tour is only an hour, which means you'll still have plenty of time to explore independently as well.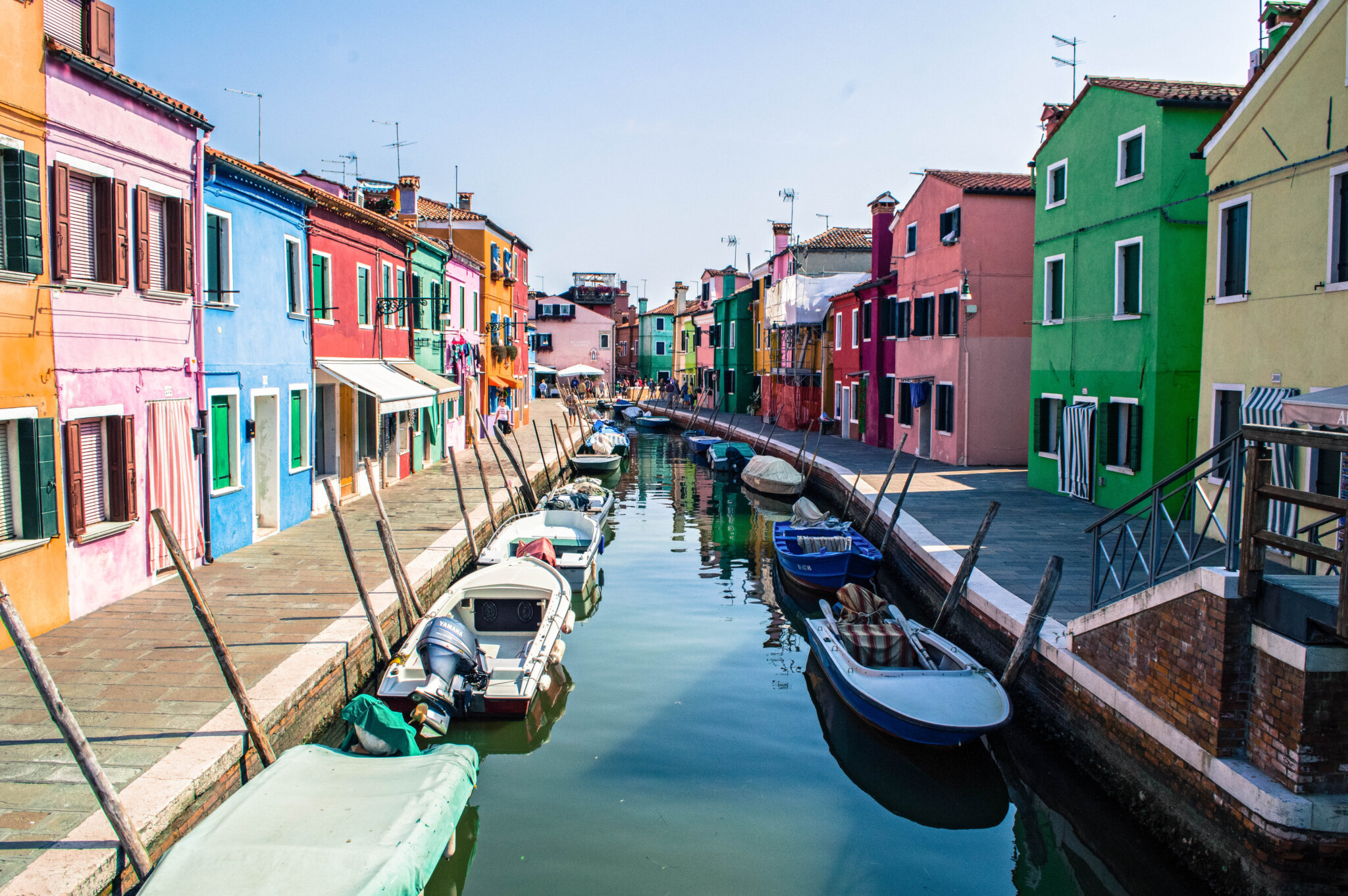 2. Enjoy a classic Burano lace demonstration (and buy some for yourself)

Burano is known for its lace, which has been produced on the island since the 16th century.
It should come as no surprise then that you'll find countless boutiques (and even a Lace Museum) dedicated to lacey goods.
If you're lucky, some of the lacemakers might even be present to chat about the process or offer a demo.
3. Enjoy local Burano food & fare
Unlike in other Italian destinations like Bologna, Burano's cuisine is far from its most famous feature (those rainbow houses are tough to beat).
Nonetheless, there are a few compelling reasons to squeeze in a meal here during your day trip from Venice.
First is freshness! Burano is a fishing village, which means fresh seafood in abundance.
The second is price. Of course, prices vary depending on where you choose to eat, but Burano is (largely) a nice escape from the over-inflated prices of Venice. Plus, can you think of a better way to enjoy the rainbow-tastic ambiance than with a giant seafood platter in your mouth?
… Didn't think so.
So what should you try to eat while exploring Burano on a day trip?
Again, the seafood here (as you might expect from a fishing village) is especially noteworthy, but other must tries include the special Bussolà cookies (S shaped cookies that are a specialty of the island), along with the Risotto de Gò, which is made with a local fish.
4. Wander and explore Burano's pretty streets
Let's be real – it's pretty impossible to walk around this town without getting distracted. Every side street and alleyway (no matter how small) beckons you with its bright colours and vibrant palette.
That's why you should take advantage of the fact that this is a tiny town and explore a bit!
It's quite fun to meander into the little streets and get a glimpse at the locals going about their daily lives (they're very nonchalant about the whole rainbow town thing).
Some must-see spots in Burano include: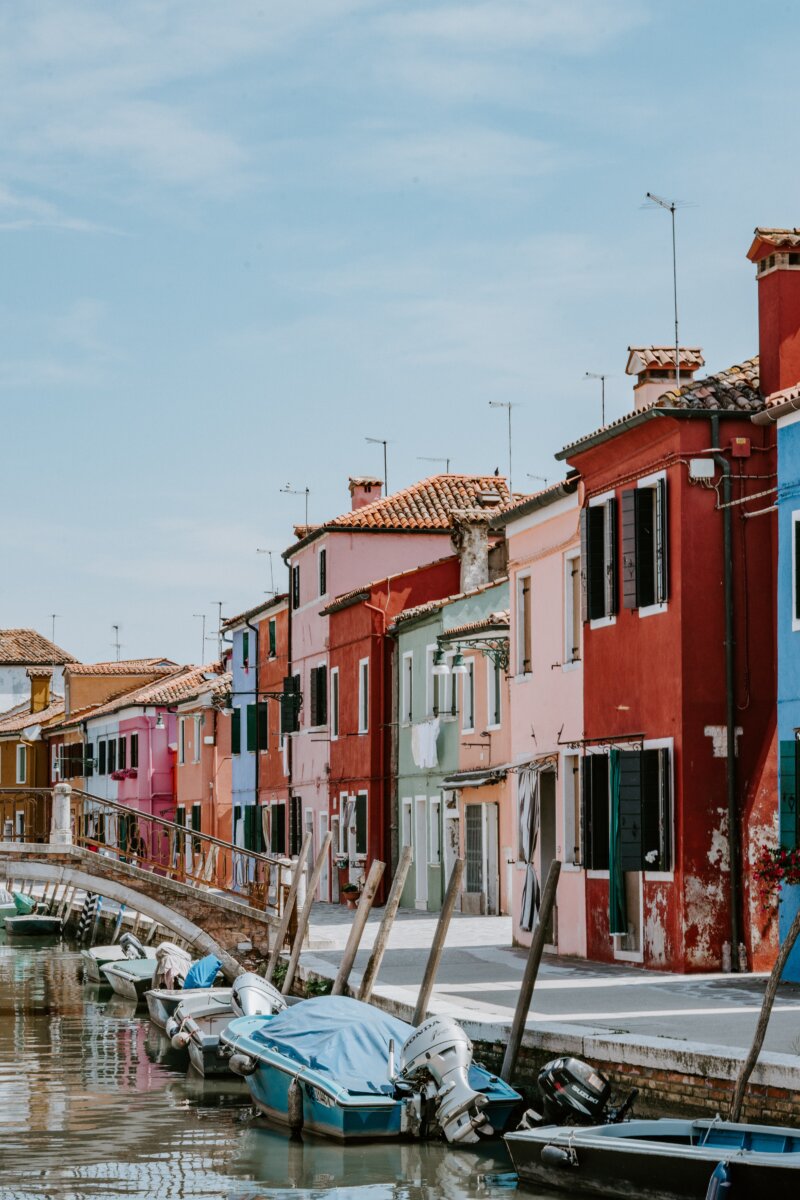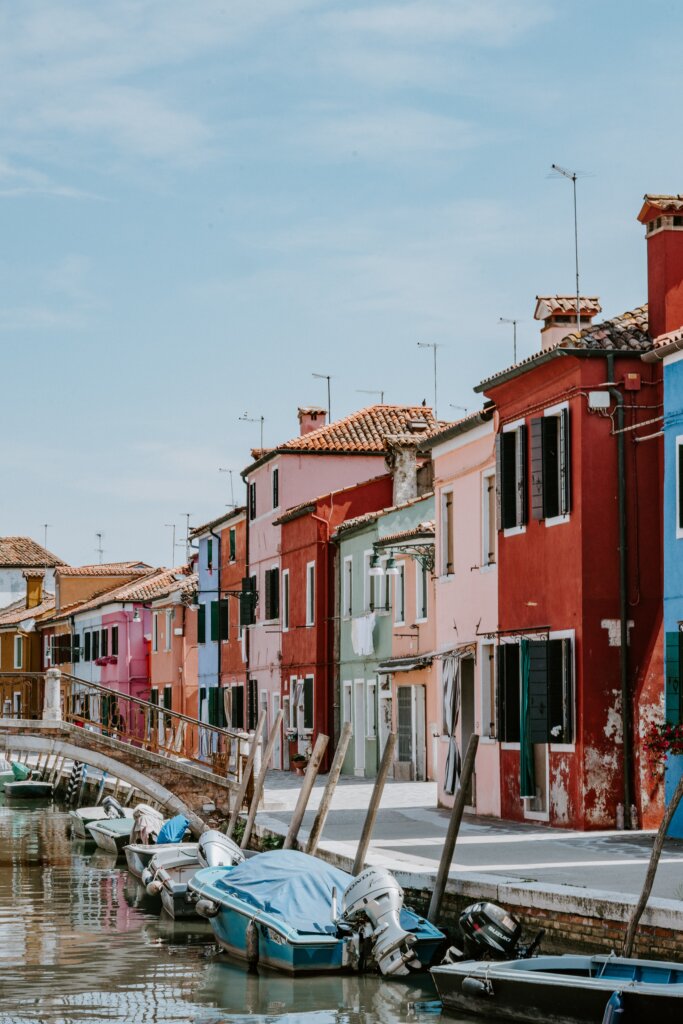 5. Take photos of gorgeous Burano

Lastly, this is a no brainer.
Burano is a supremely photogenic town that is meant to be photographed.
So be shameless, bust out the selfie stick, strike a crazy pose, do whatever… because you're in the most colourful place in the world and you are totally allowed to go a little photo-crazy.
Some must-see photography spots in Burano include:
Casa di Bepi Suà
The Love Viewing Bridge
If you have a few days in Venice, I highly encourage you to make a day trip to Burano. My first time there, I must have giggled for the entirety of my visit. I loved it so much I had to go back for a second go a few years later.
The positive energy it emanates is simply contagious, but I suppose you'll have to see for yourself what I mean!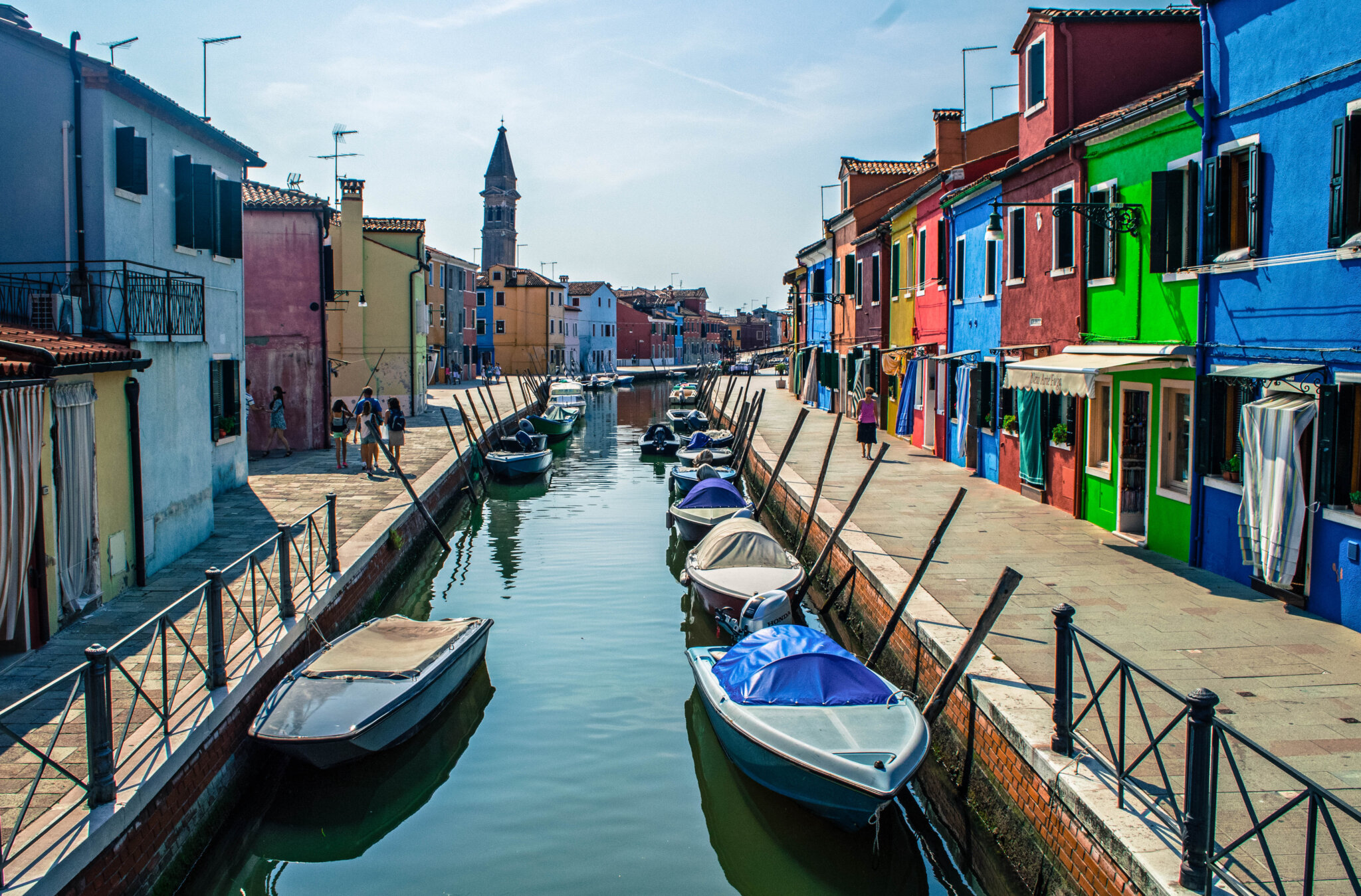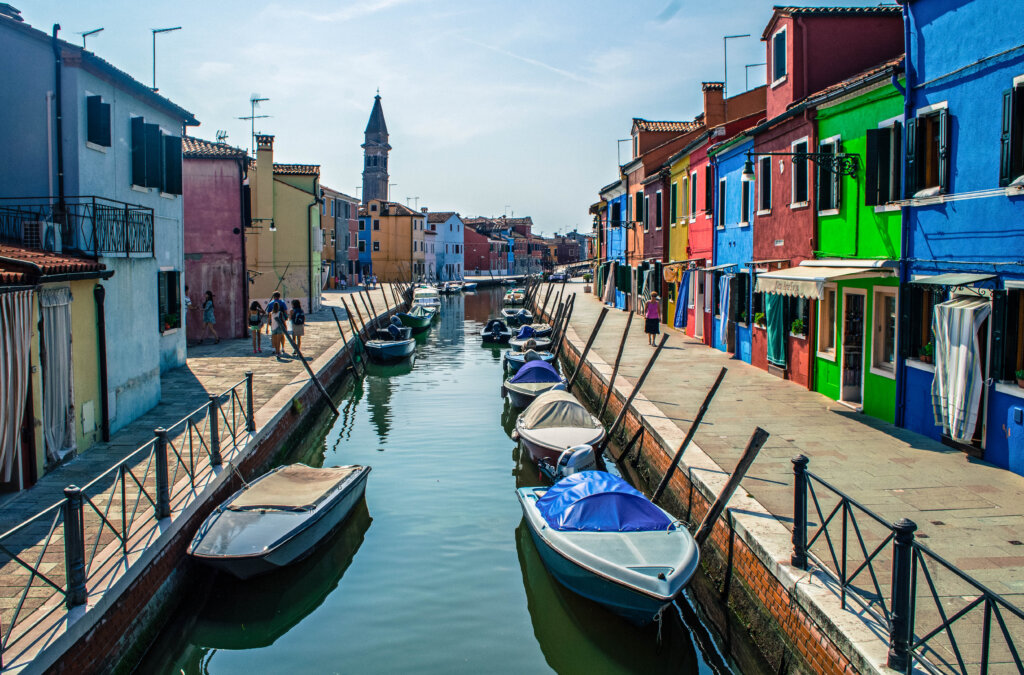 Final Tips for Your Venice to Burano Day Trip
Alright, I think I've already talked your ears off about how to visit Burano from Venice, but here are some final words of wisdom for you when you plan your trip.
Plan your Burano visit so you either arrive early or leave late
One of my best travel tips I can give you is to visit places during off-peak periods as much as possible.
In the case of popular day trip destinations like Burano however, there's not really a "quiet season". While my visit during February was noticeably quieter than my visit in July, there were still plenty of people out and about, losing their minds over the pretty houses just like me.
But if you're arriving in peak season, don't despair – there are ways to still see Burano with no crowds (or at least fewer crowds).
As is often the case in travel, the early bird gets the worm! Plan your Venice to Burano day trip for the first vaporetto out, and you'll face substantially fewer crowds than if you were to arrive in the afternoon. Likewise, if you stick around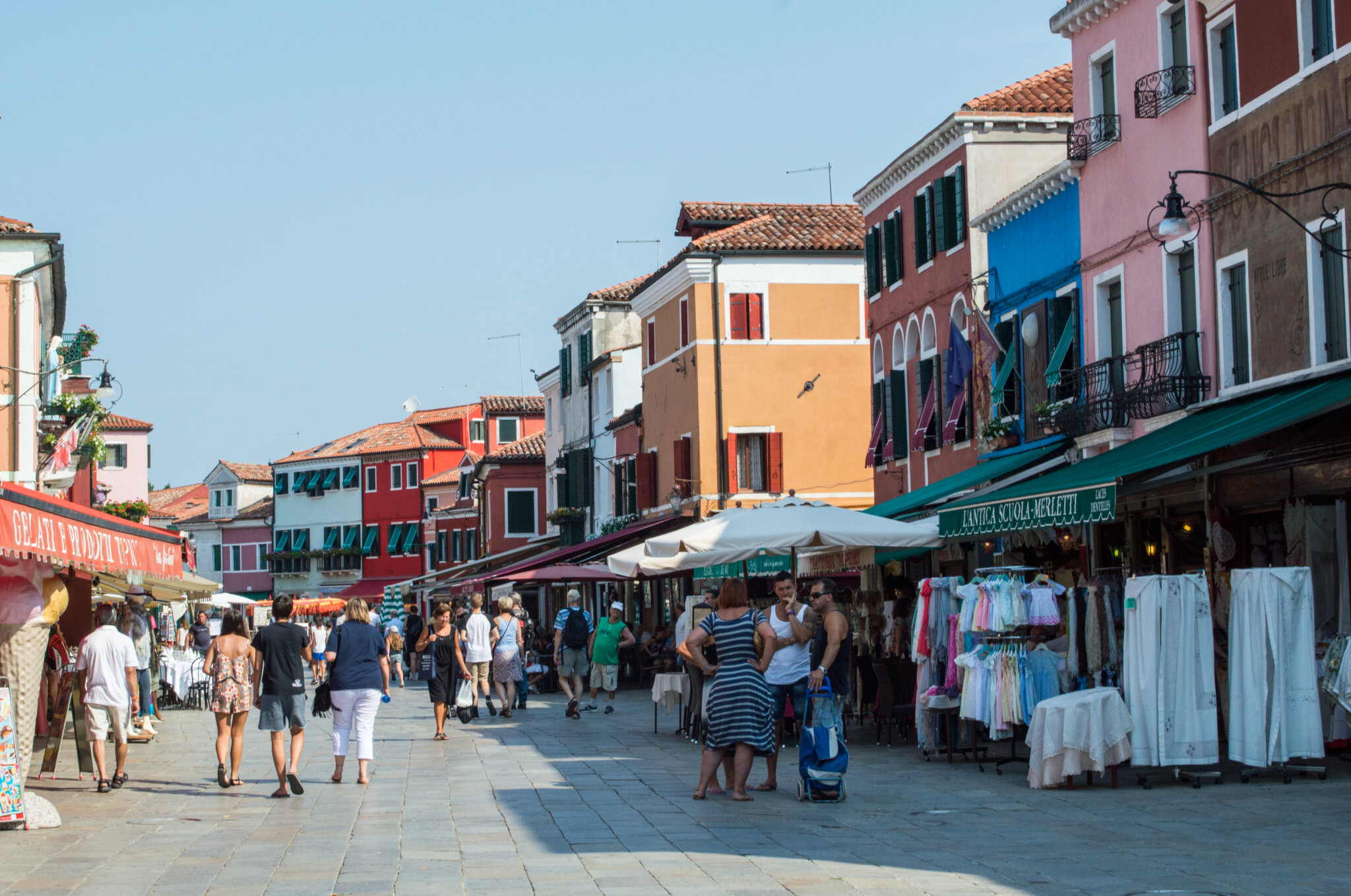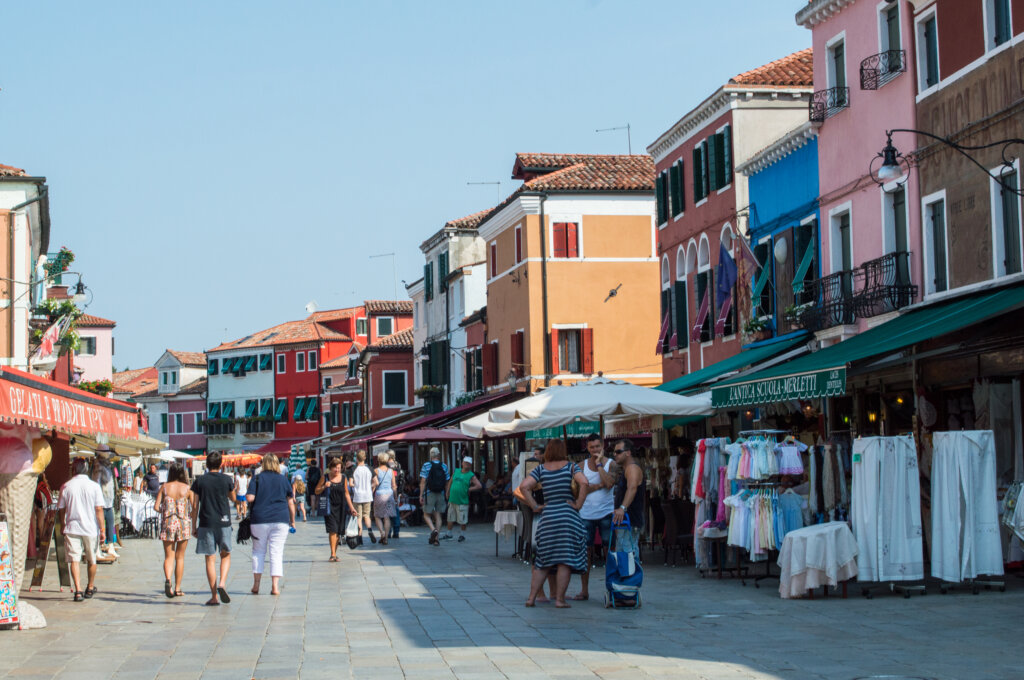 Spend a night in Burano
I know this advice directly contradicts the idea of a "day trip" but stay with me here. By now, you already know how easy it is to get from Venice to Burano, so if you travel light, heading over to Burano for an overnighter might be worth the mild inconvenience.
Why? Simple – you get to enjoy Burano without the crowds! Imagine waking up at sunrise and exploring the village before the mobs of crowds arrive… or getting to experience it at night and feeling (if just for a moment) that you have this gem all to yourself.
Worth it, I think!
Here are some places you can spend the night in Burano: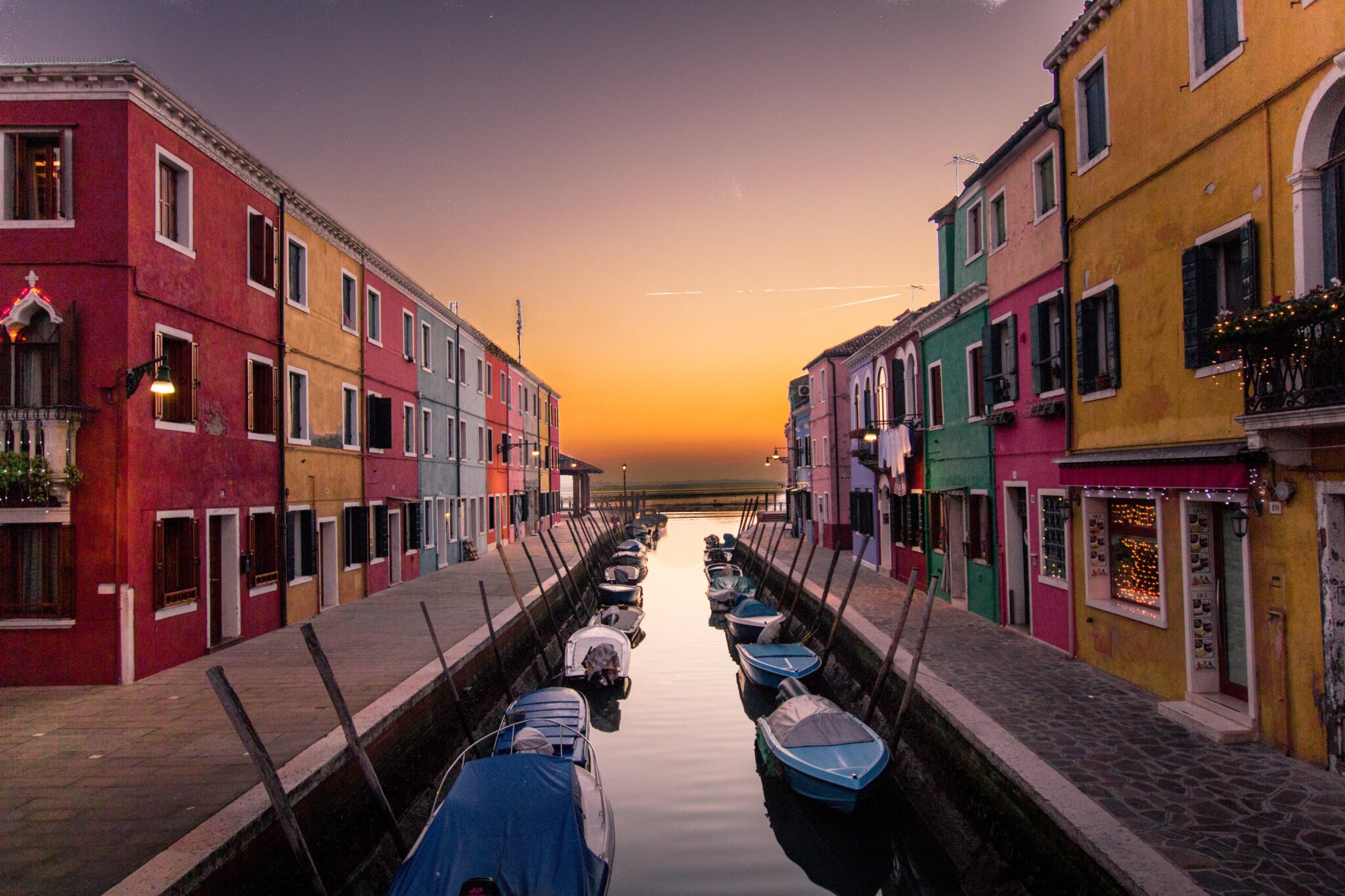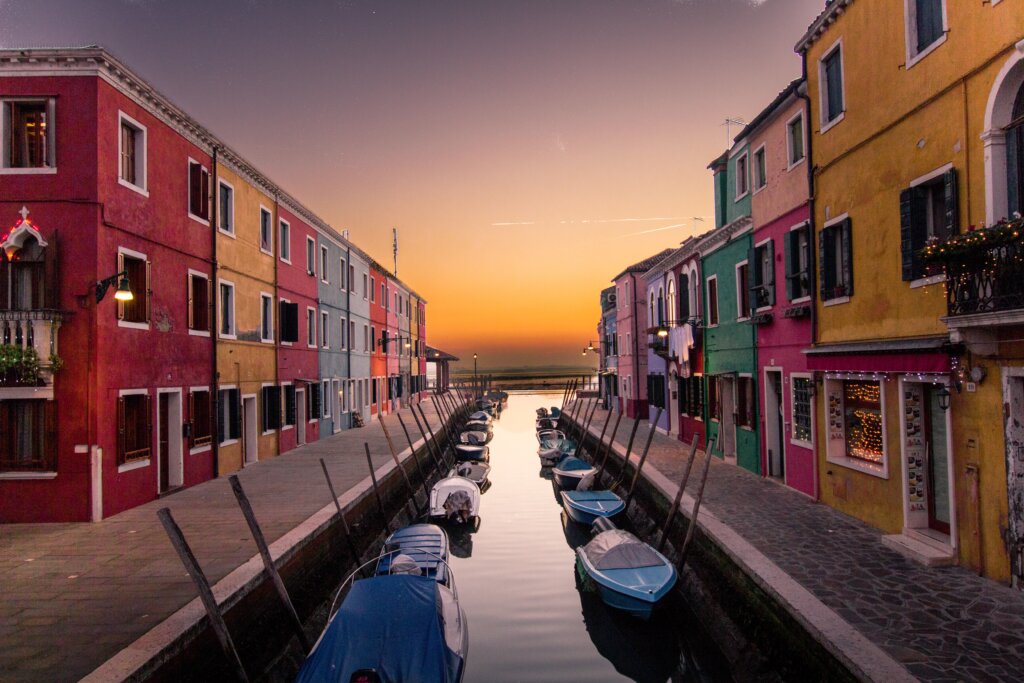 Know where the one public washroom on the island is
If nature calls during your time in Burano, you might be scrambling to find a good place to answer. That's because there's not very many public washrooms on the island!
In fact, I only know of one – located on Rio Terrà del Pizzo in a bright blue building, at the cost of 1.50 euros.
Water or snack emergency? Look for Burano's grocery stores
On the island, you'll find two popular Italian chain grocery stores: a small COOP and a Despar.
If you're in desperate need of a cold drink, water, or any other supplies, these are a handy and cost-effective solution to keep in mind, especially if you don't have the time or budget for a long sit down meal.
Lastly: remember to be respectful
In touristy postcard places like Burano, it seems manners often fly out the window… but remember, despite its Candyland aesthetic, Burano remains a working fishing village with real people who live there and call it home.
Real people – not photo props.
So, remember to always ask permission before photographing any locals, and most certainly do not invade their privacy by looking into windows, touching their doors/perfect facades, etc.
I can imagine living with all the tourists in Burano is no easy feat, so remember to be kind and respectful as much as possible!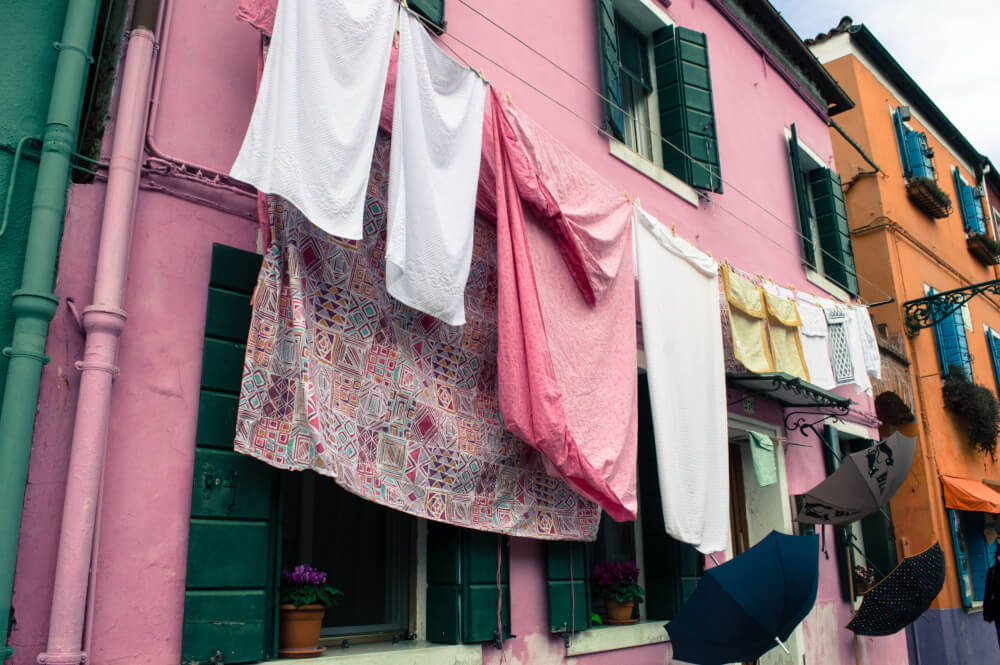 Any more questions about doing a Venice to Burano day trip?
Feel free to ask away in the comments! I hope you found this Burano day trip guide helpful, and have an amazing time.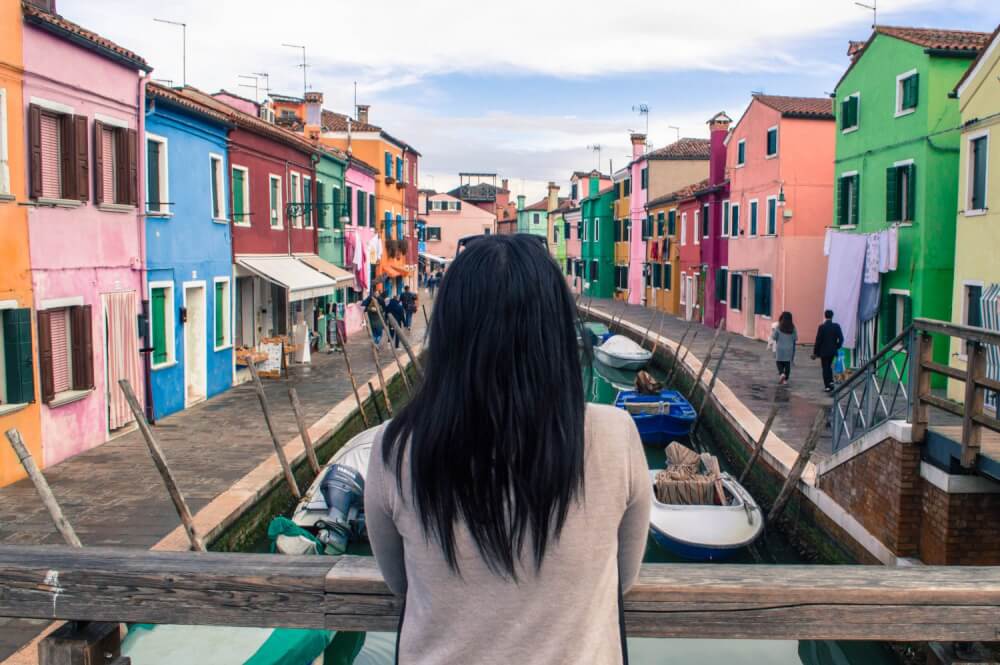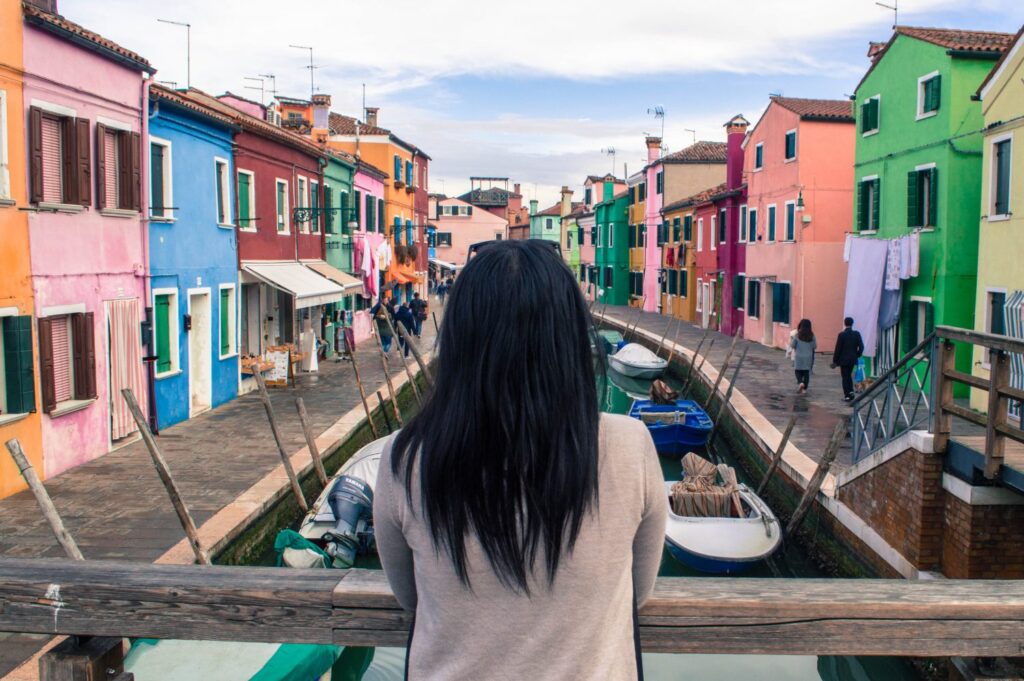 ---
Watch my most popular YouTube video this week:
---