*FYI - this post may contain affiliate links, which means we earn a commission at no extra cost to you if you purchase from them. Also, as an Amazon Associate I earn from qualifying purchases. Check out our Privacy Policy and Disclosure. for more info.
During a recent visit to the Baltics, I found my soulmate.
Annoyingly beautiful, effortlessly cool, all topped with a dash of rugged yet adorable charm…
I'm talking of course about Vilnius, Lithuania… an underrated gem of a city that deserves far more attention in the travel world.
(And yes, if Vilnius was a man, I'm quite certain I'd marry him.)
Save this post on Pinterest for later: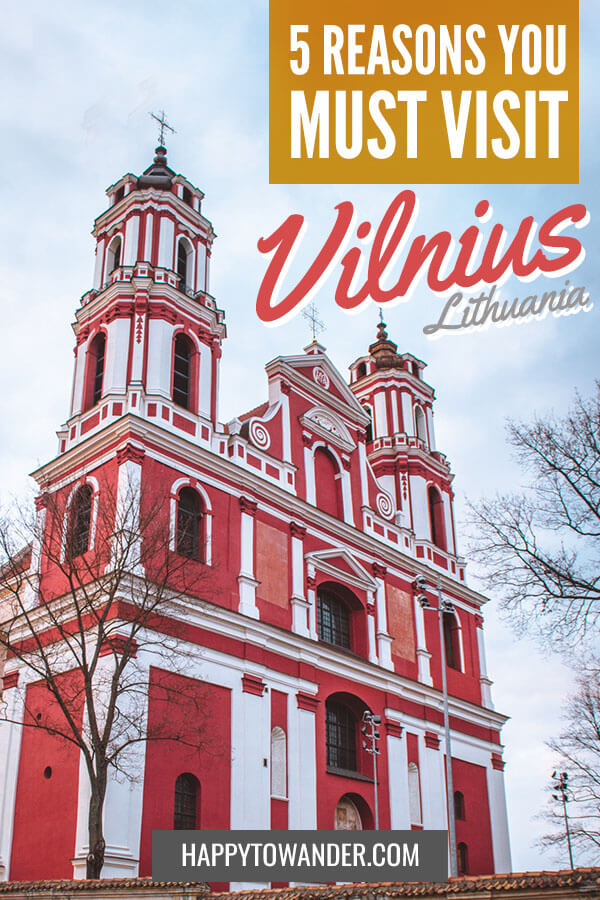 If these bold fangirly claims come as a surprise to you, then keep reading. Europe is full of awesome little surprises, and Vilnius is one of my favourite of such discoveries so far.
If you're wondering what's with the wholehearted praise and lovestruck prose, this post will spill all the beans on why I think Vilnius, Lithuania more than deserves a spot on your radar.
Let me know in the comments: Have you ever been to Vilnius, Lithuania? Or even thought about it?
My visit to Vilnius was sponsored by the awesome folks at Travel Addicts Club and airBaltic – all gushing praise however remains my own 😉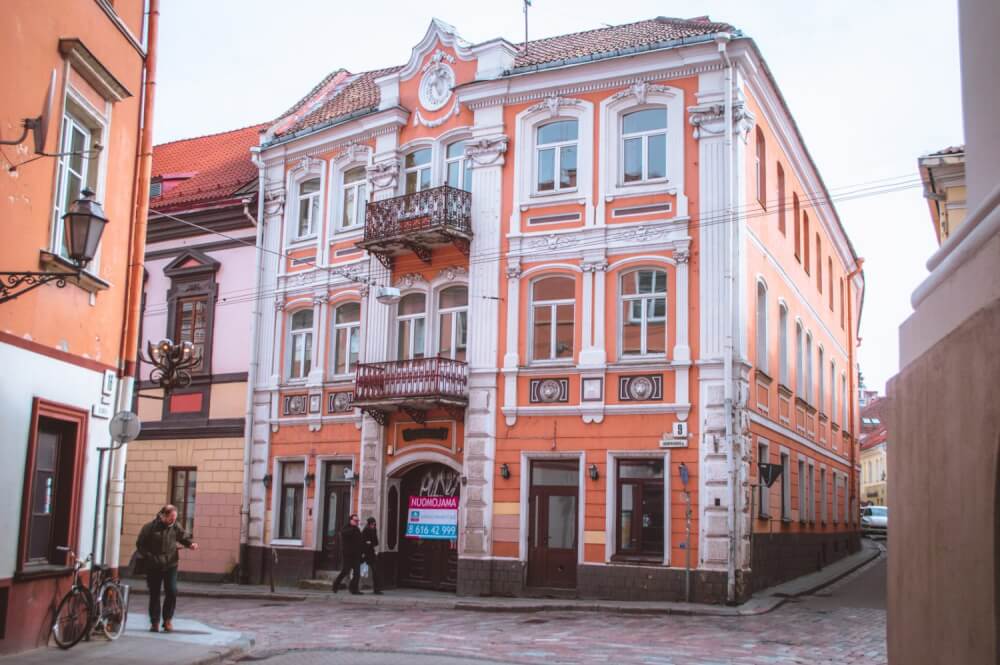 Why You Seriously Need to Visit Vilnius, Lithuania
Many people get confused when I gush about how much I adored Vilnius, and on some level, I get it.
Thanks to the Baltics' distant location from typical tourist "musts" in Europe, this underrated region gets a lot less coverage than it deserves.
But as you all know, I'm a little weird, and I have an affinity for the offbeat, especially when it involves surprising cities far flung from the beaten path.
For those of you seeking a Euro-city break that's a little less mainstream, Vilnius has everything you could ever want. Here's why.
1. Vilnius has history and beauty in spades
Point blank, I need to tell you: Vilnius is beautiful.
Think giant pink churches that look like birthday cakes, picturesque squares, pretty streets lined with a mish mash of historic architecture and of course, a beautifully preserved Old Town that has been flaunting UNESCO World Heritage status since 1994.
As one of the greenest cities in Europe (as far as open green spaces are concerned), Vilnius also enjoys gorgeous parks to sprawl out in and amazing viewpoints for days.
But what makes Vilnius truly special is that lurking beneath its beautiful aesthetic is a tumultuous history, one that dates back centuries and is plagued by wars, occupations, and all sorts of fascinating drama fit for an HBO series.
The best part? You can easily explore this history through a variety of walking tours (even a free one!)
It's this brilliant mix of beauty and stories that make Vilnius such a worthwhile place to visit.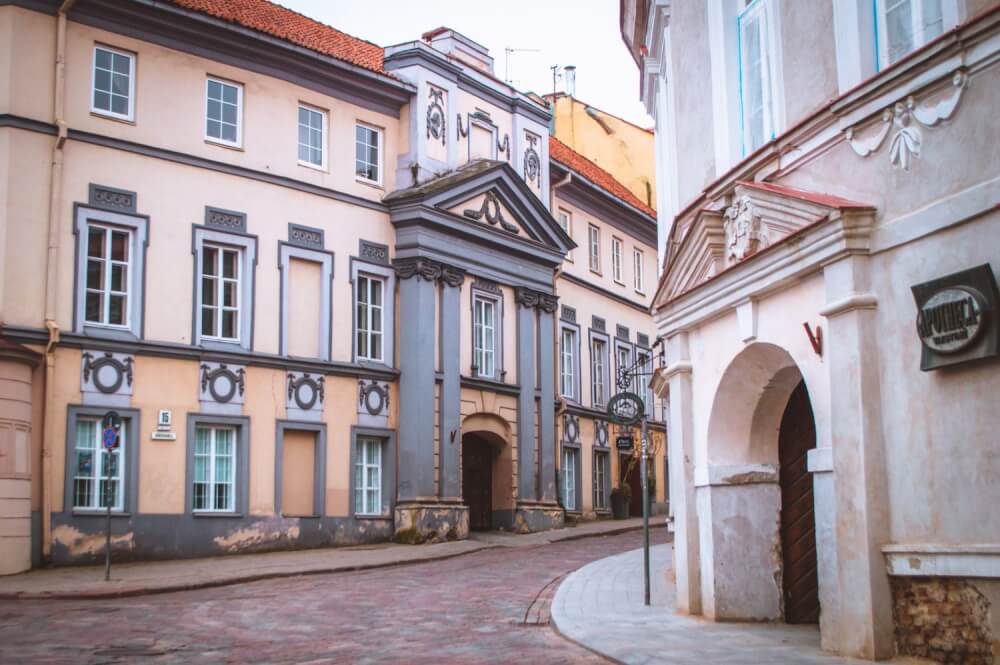 2. The food in Vilnius is just ridicul-nius
I mean, as a girl who lives in Bavaria, I'm not exactly a stranger to the starchy wiles of potatoes and meat.
Even so, Vilnius brought forth all sorts of delicious revelations that made life feel a little more complete. The best way to describe traditional Lithuanian cuisine?
Guys, it's comfort food on steroids.
Vilnius took all my most gluttonous desires, deep fried them in oil and topped them off with bacon bits and sour cream.
There's Cepelinai, a meat-stuffed potato dumpling best enjoyed with a nice cold beer, Šaltibarščiai, a neon-pink beet soup that is creamy, delicious and refreshing all at once, and of course, fully-loaded bagels (an invention from this part of the globe), an endless parade of cute cafes, and much, much more.
But hey, if gaining fifty pounds wasn't on your itinerary, there are loads of options that suit healthier and more refined palettes too, with a booming foodie scene that caters to big eaters of all sensibilities.
If you find yourself in Vilnius, I promise you'll be well-fed.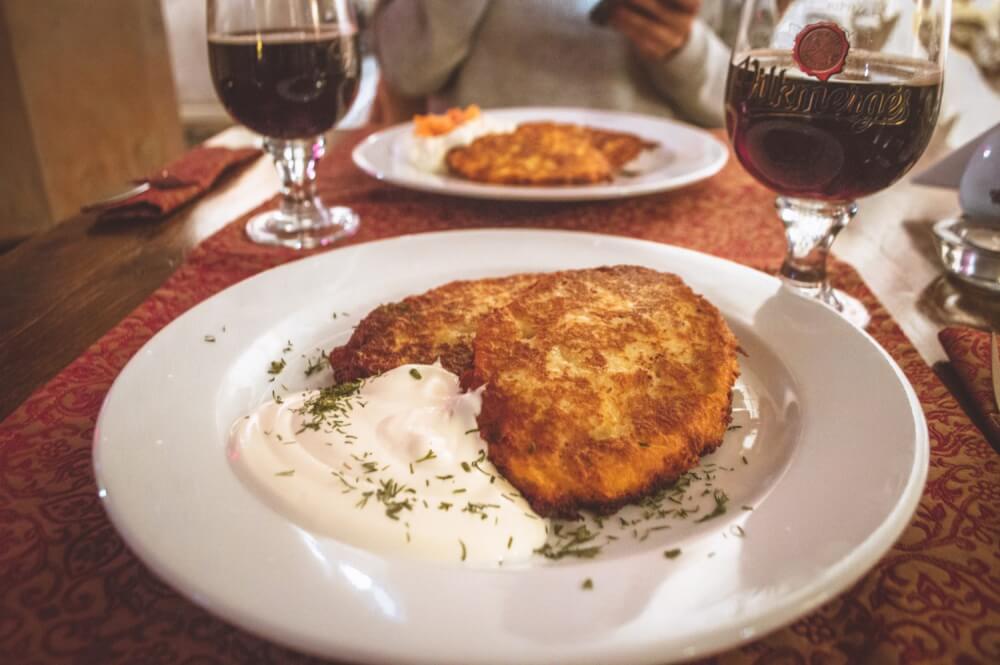 3. Vilnius is effortlessly cool
Of course, Vilnius is far more than just beautiful and delicious.
It's the city's bad boy, alternative appeal that has me especially swooning.
From a thriving craft beer scene and provocative street art to a bohemian neighbourhood-turned-republic, Vilnius is crawling with cool activities and things to do.
This city is one where during the day, you can be roaming mystical island castles in Trakai, then by night guzzling craft beers in a gritty hidden bar… In other words, you can be a princess by day and a shameless hipster by night – just a few of my favourite things.
Psst – if you're looking to get a full insider scoop into Vilnius' alternative side, I highly recommend hiring a local guide to learn all the insider secrets, like where to find a statue of Tony Soprano or the best raves in town.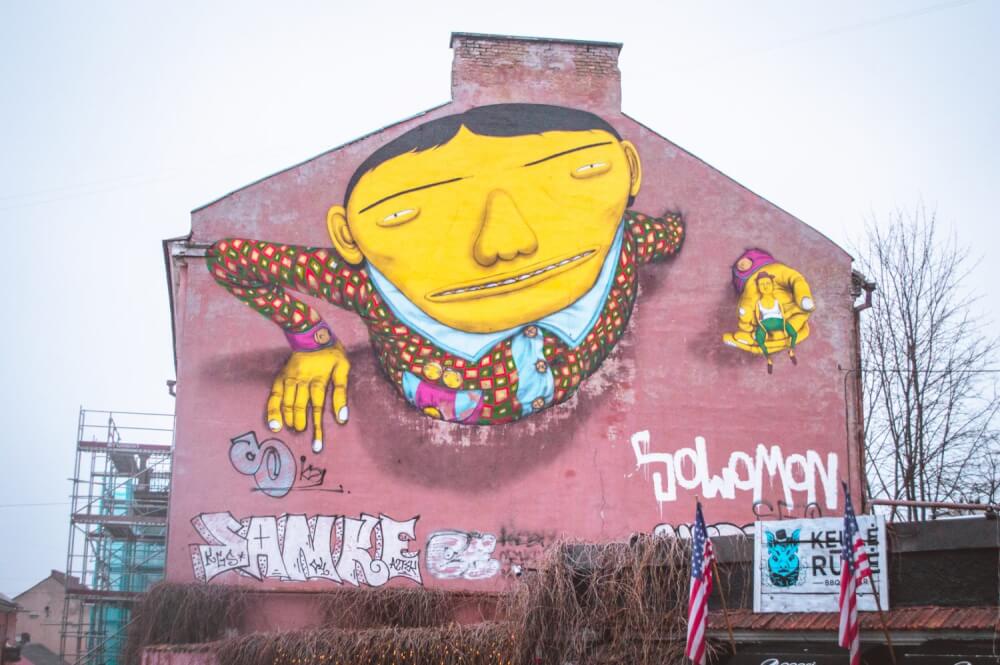 4. Vilnius an epic launch pad for amazing day trips (or further travels)
If you can ever pry yourself away from the city and all its irresistibly cool temptations, Vilnius is swimming in day trip potential.
The most popular of these trips is of course to the mysterious island castle of Trakai, an easy day out that will transport you straight into a lakeside fairytale.
For an easy, stress-free trip, I highly recommend booking a tour with a local guide. We had a great day with Paul from Travel Addicts Club, who shared all sorts of cool history and facts with us.
Trakai is filled with cool stories that you can easily miss if you travel there independently, so check out the tour we did if you're interested in going!
Beyond that, Vilnius makes an ideal base for exploring secret nuclear power plants, half-day sauna soaks, or even riding a hot air balloon over the city.
Sooo, no… boredom really won't be in the cards.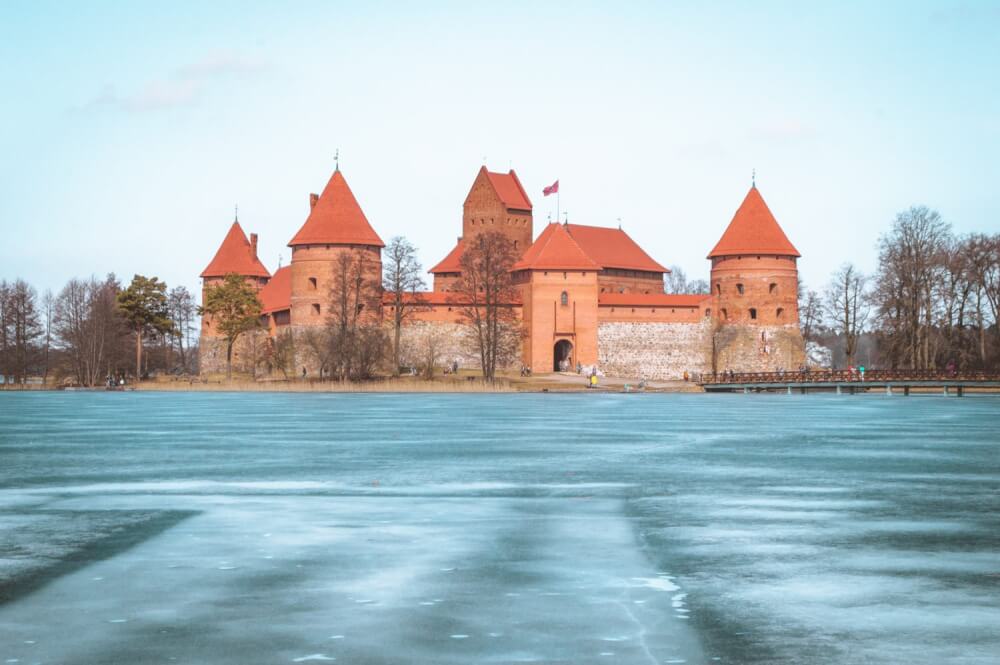 5. Vilnius is very friendly on the wallet
Once ranked as the most affordable city break in Europe, Vilnius serves up all the aforementioned benefits with a seductively low price tag.
During my visit, I regularly stuffed my face with incredible meals (and drinks), and I'd still end up spending less than an appetizer might cost in Munich.
To be frank, it made me not want to leave… maybe ever. If it's a cost-effective city break you're after, Vilnius is a place where you can stretch your euros to their furthest (and still have leftovers for beer).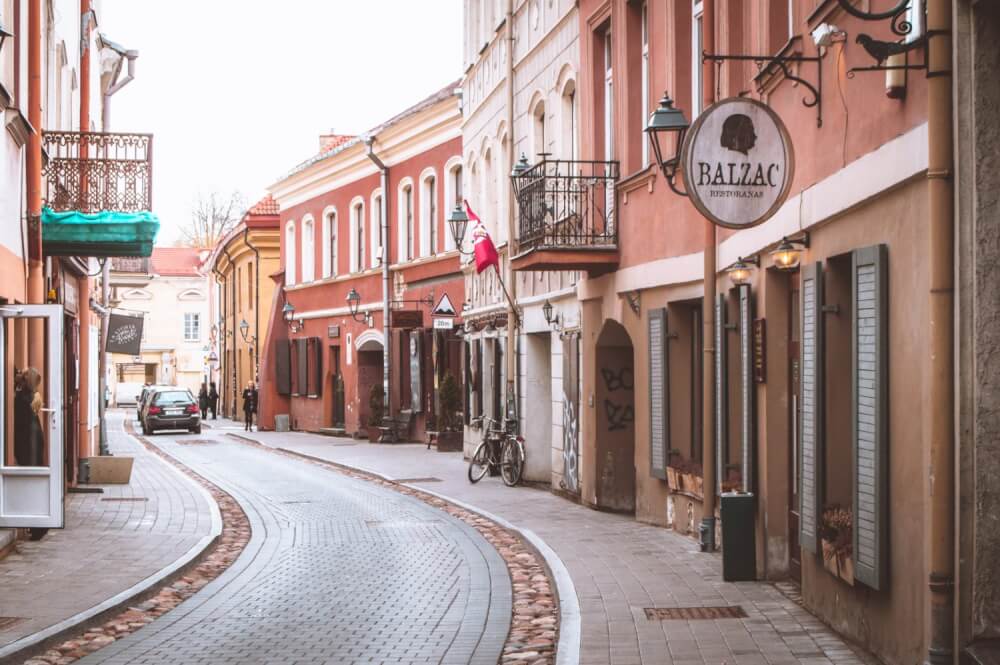 Vilnius, Lithuania: The Practical Scoop
Alright, have I sold you? If you're keen to turn Vilnius into your next city break, here are some practical details for you.
Getting to Vilnius
airBaltic offers direct flights to Vilnius from many major European cities, including Munich where they recently launched a direct route!
I got to try out their business class and it was awesome – compete a delicious meal, champagne and infinite room for my stubby legs.
Even before this, I'd flown airBaltic a few times (to Helsinki and Amsterdam) and have always been impressed by their low fares and friendly service.
I'd highly recommend them!
PRO TIP: If you have some time for a longer holiday, consider looking up flights leaving FROM Vilnius to other cool destinations too. This is how I ended up visiting the city in the first place. Flights from Vilnius to Vancouver were irresistibly cheap so I ended up booking a spontaneous visit home, while squeezing in a city break in Vilnius at the same time. I often see amazing deals popping up from Vilnius.
Where to stay in Vilnius
Thanks to our friends at Travel Addicts Club, we had the awesome Comfort Hotel Rock and Roll as our home base and we loved it.
Friendly staff, comfortable beds, and all sorts of fun, punny nods to rock and roll. If you want to stay in a hotel that's just as cool as the city itself, this is it.
They even sent me off with a packaged breakfast because my flight was too early to make the buffet. With rates starting at just over 50 euros a night, you won't find a better deal than this in Vilnius.
PS: Don't miss the big map in the lobby where guests can leave their favourite recommendations for others. It's a great way to discover little gems around the city through the eyes of your fellow travellers.
The best things to do in Vilnius
Ooh, getting ahead of ourselves, eh? I like it. If you're already digging up the best activities and must-dos, I've rounded up all my favourite things to do in Vilnius in this post here.
And so, in all my wordiness, I'll try my best to be succinct. Vilnius combines many of the elements that make travel so worthwhile.
Aesthetically, it's beautiful, its food scene rocks both the traditional and modern, it has a fascinating history and it ties up all these wonderful elements in one tidy, affordable package.
If you haven't yet put Vilnius on the list, then let me ask you: what are you waiting for?!
Again, my visit to Vilnius was sponsored by the awesome folks at Travel Addicts Club and airBaltic – all gushing praise however remains my own 😉
---
Watch my most popular YouTube video this week:
---