*FYI - this post may contain affiliate links, which means we earn a commission at no extra cost to you if you purchase from them. Also, as an Amazon Associate I earn from qualifying purchases. Check out our Privacy Policy and Disclosure. for more info.
Thinking about doing a surf camp in Fuerteventura? Read on for a peek at my experience with Planet Surf Camps.
I've always prided myself on my wild imagination.
So, when Planet Surf Camps reached out to me and asked me to take part in one of their surf camps in Fuerteventura, my mind immediately snapped to a glossy dream sequence: one where I was rocking surfer beach waves, looking badass in a wetsuit, and slaying the sea with my physical prowess.
Fast forward a few months, the day had come. There I was in Fuerteventura, throttling through the waves…… with the elegance of a dump truck.
Expectations and reality could not have been more off.
I thought after a few lessons, I would be able to surf Fuerteventura like a total boss, yet the reality was closer to a sad Fail compilation on YouTube. But regardless of the outcome, you might be wondering – how was the experience overall?! Well, if you're looking to join a surf camp in Fuerteventura, here's a little recap of my week-long experience with Planet Surf Camps.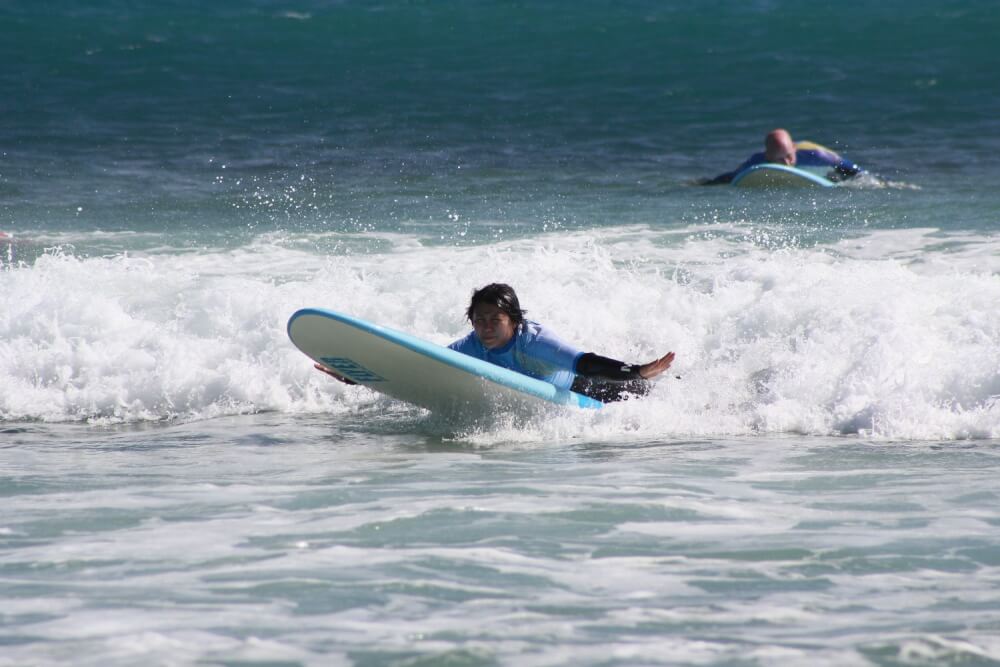 ---
A Quick Intro to Planet Surf Camps
Planet Surf Camps is a company that offers surf camps and schools all around the world, from the Canary Islands (where I went) to Morocco, Bali and the Maldives.
Planet Surf Camps Fuerteventura is based in the resort town of Corralejo, found in the Northern tip of Fuerteventura. It's easily accessible from the airport (just hop on a shuttle bus or on two public buses) and they offer both accommodations (we stayed at their surf house) and a surf school as well. While you can book a stay at the surf house just as a guest (it's basically a surfer hostel), most choose to combine their stay with a few days of lessons, which run on weekdays and happen in groups no bigger than 8.
The greatest advantage of booking with Planet Surf Camps (in my opinion) is their affordability. Packages including accommodation, rentals and lessons can be as cheap as 199 euros when they have specials, which to me is an insane deal. Of course, with a price point like that, the camp is definitely more geared towards budget travelers, but I'll recap this along with the pros and cons later 🙂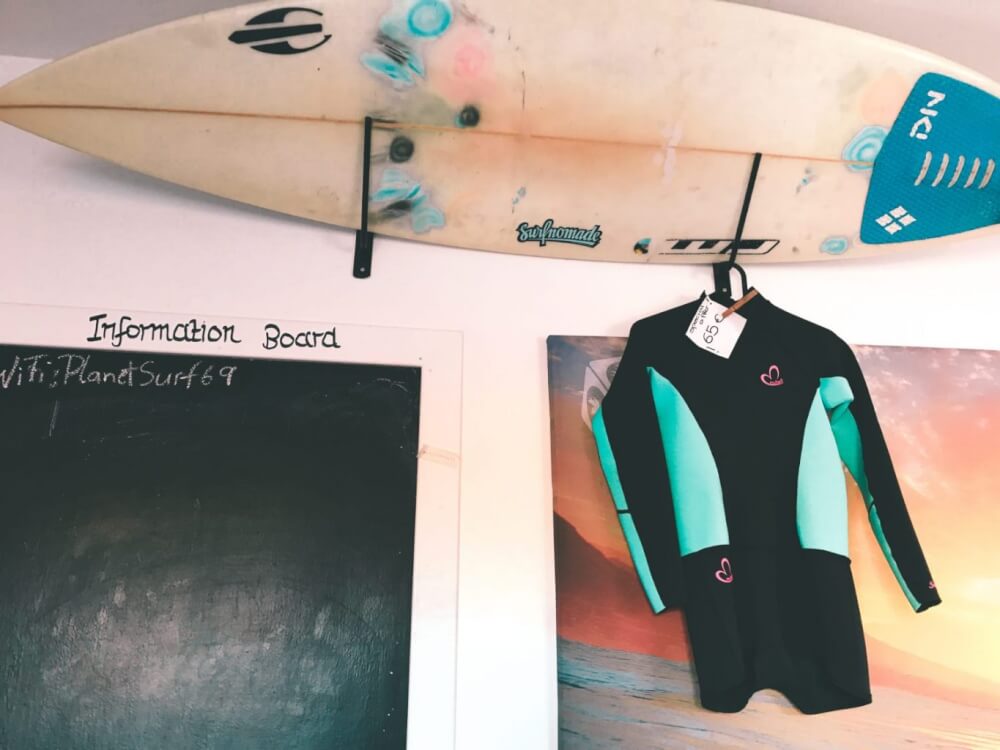 ---
The Fuerteventura Surf Life – A Summary
As a restless Type A city girl, a chilled out surf holiday is the least "me" thing I can imagine. That said, my boyfriend Sean had been talking about doing a surf camp for ages, so I figured why not? At the very least, I was scoring some sweet brownie points out of it.
Fuerteventura surf life is as simple and easy as it gets. At any given time, we were engaged in one of the following four activities: sleeping, surfing, chilling or drinking. I had so much free time I felt like a kid again (except with beers instead of juice boxes).
Surf lessons were held throughout the week (with breaks on the weekends), but these were only for about four hours a day. Outside of those hours, you can do whatever the heck you want, whether that's relaxing at the surf house (which has hang out spots, a pool table, ping pong table, etc.) or bumbling around town in search of happy hour specials (which there are plenty of).
This is what a typical day would look like:
You wake up, ready to surf! (Usually lessons are in the morning, but this depends on various factors like the weather and tide)
You pick up your surfboard and wetsuit (yours for the week) and shimmy your way into a skin tight suit that exposes all your insecurities. You then load up the van to go somewhere magical for surfing.
You arrive at your scenic surf spot and do some warm-ups on the beach, then maybe run through some basic techniques with your instructor. (Pre-surf cry is optional).
You get assaulted by waves for about 2-3 hours (it's okay to cry here – no one can tell with all that water around).
You pack up, clean your boards and your instructor might be nice and bring you to a cute cafe for post-surf treats. For me, this was comfort food for my wounded ego.
After treats, you're driven back to the surf house and given free time to do whatever you want. Some days, the surf house might host a dinner or BBQ (at additional cost). Otherwise, there's a kitchen for you to cook for yourself or a lot of restaurants nearby.
At night, you're probably going to go out. Corralejo is fun that way. You'll likely get peer pressured into it, but just let it happen. This is how we ended up at a karaoke night with drunk Germans super keen on singing YMCA.
Then, you pass out in you bed, exhausted but ready to do it again tomorrow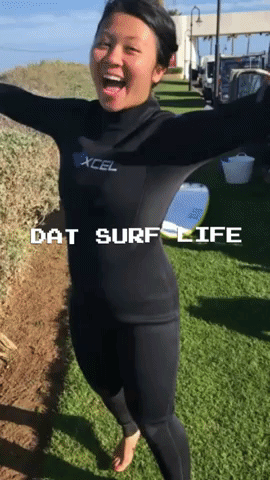 ---
Is Planet Surf Camps Fuerteventura right for you?
Overall, Sean and I had a fun week surfing Fuerventura with Planet Surf Camps.
That said, I don't think the experience is for everyone.
What do I mean by that? Well, I think Planet Surf Camps are a great fit for you if you're easy-going and willing to go with the flow. Because the camp is more oriented towards budget travellers though, there are certain shortcomings that might be hard to overlook if you're used to a certain level of comfort/treatment. I admit I was in a slightly princess-y mood as I came to this camp straight off the heels of one of the most luxurious trains in India, so there were a few things that stood out to me as needing improvement. I need to say that overall, it was a great experience, but nonetheless here are some pros and cons.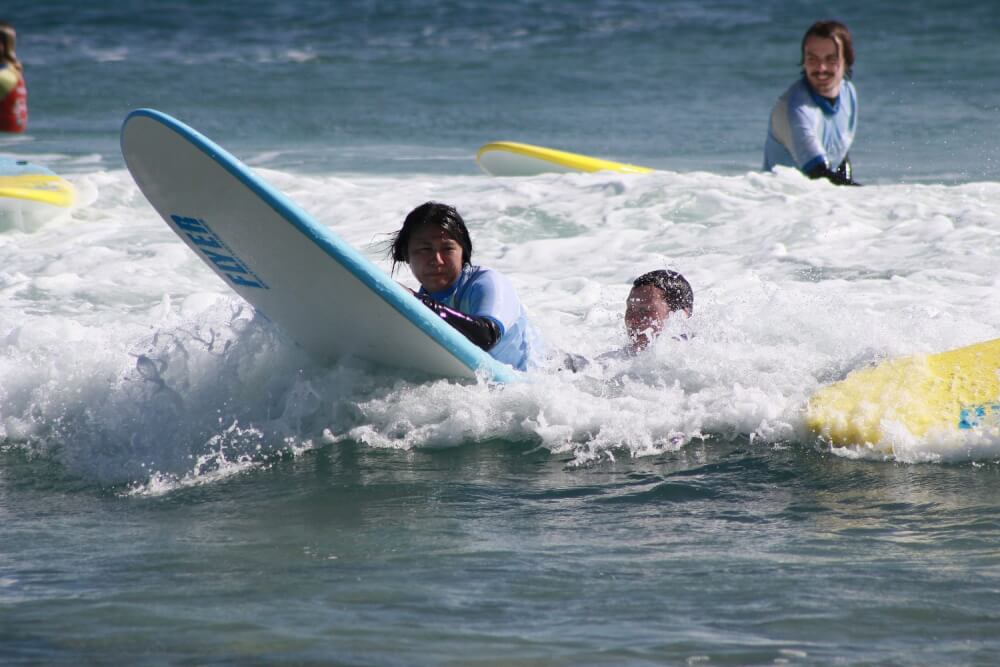 ---
Planet Surf Camp Fuerteventura Pros and Cons
I should stress that (as with any hostel), often the experience is what you make of it. I can readily admit that I wasn't as social as I would have been had I been travelling solo. I definitely skipped some group dinners in favour of date nights, which I think contributed to me not getting the "full surf camp experience", but nonetheless, here's a quick overview of my pros and cons.
Pros:
Affordability: Considering you get accommodations, rentals and lessons included, the price you pay is super low and it's excellent value for money.
Nice location: While not located in the town center of Corralejo, everything you need (a supermarket, restaurants, bars, etc.) is easily accessible by foot. Plus, you can easily walk to the main strip in Corralejo – it's a lovely walk.
Beautiful beaches: You really can't fault Corralejo or Fuerteventura… I mean seriously, the Canary Islands are stunning!
Chilled, clean surfhouse: The surf house itself is very bright, airy and clean. A nice place to return to after a long day surfing (or stumble back to after an aggressive amount of happy hour drinks).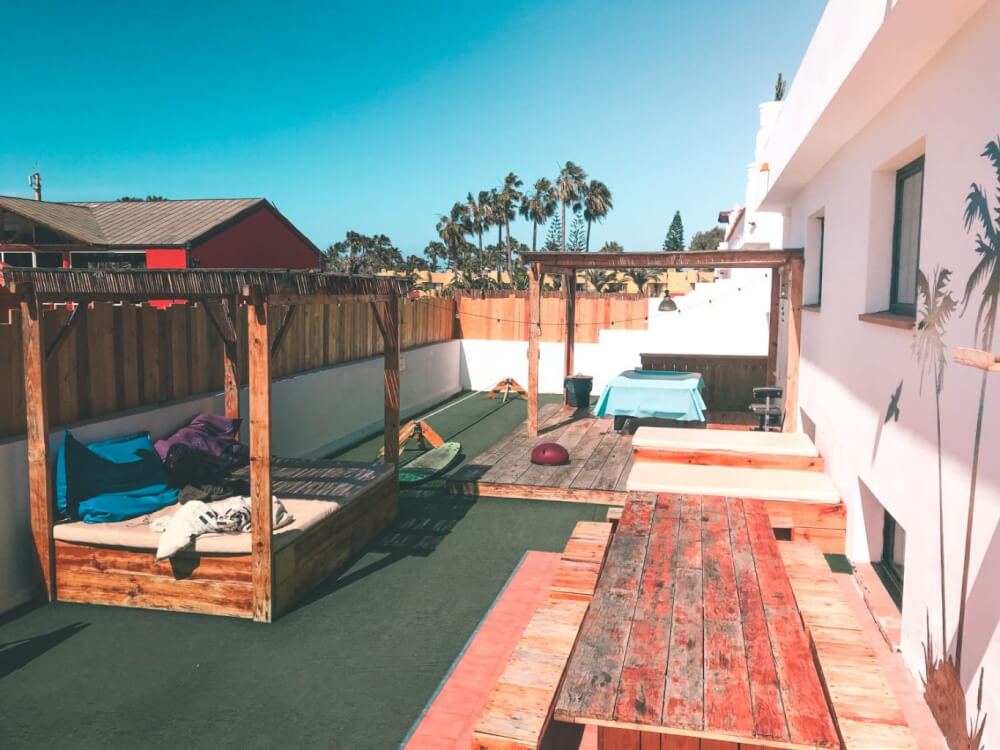 Cons:
Basic amenities lacking: I'm no stranger to hostels, but my biggest gripe with this surf house was that it didn't offer some super basic amenities, like hand soap or toilet paper (which we were told we needed to buy from the local supermarket). Granted, it was really cheap but something like that feels like it should be included, you know?
No lockers: This is usually a massive dealbreaker for me, since I travel with an expensive camera and laptop. There are no lockers in the rooms, just cupboards to put your stuff. For what it's worth, the surf house felt really safe and I didn't have anything stolen, but this feels like a basic thing that a room should have.
Lessons weren't as in-depth as I was expecting: This could have been because I joined mid-week or because I was a hopeless cause anyway, but I honestly didn't feel like the lessons helped me improve my technique as much as I thought they would. The two instructors I had throughout the week were both nice, but weren't as hands-on as I hoped. Then again, I have the athletic capability of a potato, so maybe I was just immune to their teachings.
There wasn't an outwardly friendly vibe: While the staff were all nice enough, Sean and I both had the same feeling that the environment wasn't as warm and welcoming as we were expecting. Staff were pleasant but didn't go out of their way to make us feel welcomed or chat with us outside of the typical formalities like check-in. We felt the same way about the other guests, who were a little standoffish (though that's not the fault of the camp, and of course would vary week by week).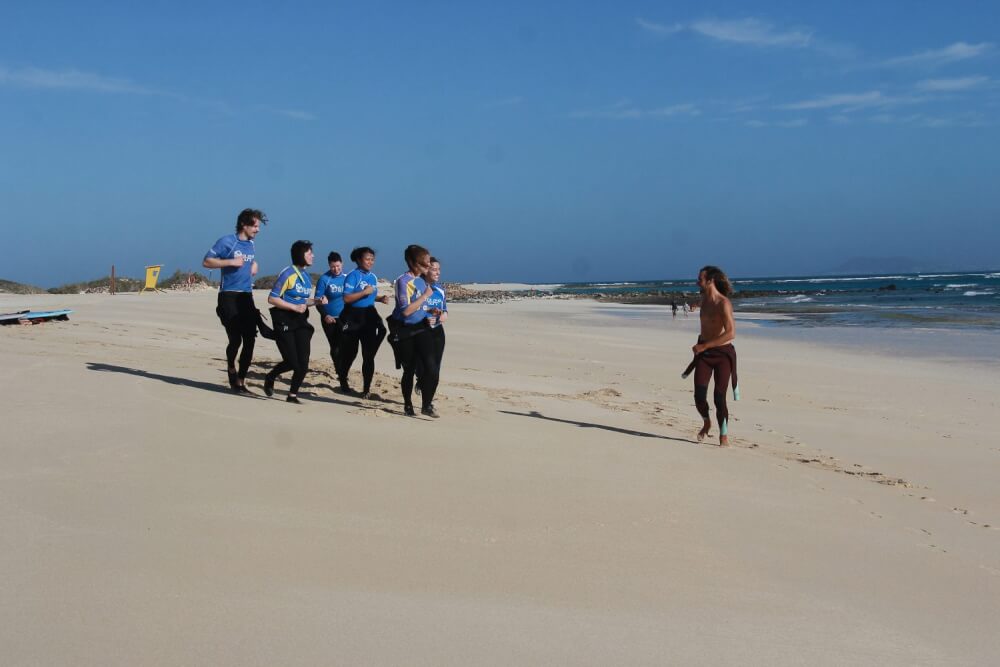 A few important considerations:
To provide the fairest review possible, I want to throw in some further considerations that played a role in my "cons". Honestly, many of them are easy fixes, but I felt they were worth mentioning:
We joined mid-week
At Planet Surf Camps, you can jump in and join lessons whatever weekday you choose to arrive. Joining mid-week was a little weird for us though because a lot of our classmates had already formed friendships and gotten the basic skills down, whereas I was starting from zero. I really think I could have benefitted from those foundational first lessons, because I did NOT do well on the first day at all. SO if you're able to organize your trip around starting lessons on Monday, that would be ideal.
The weather wasn't incredible
While Planet Surf Camps offers surfing in Fuerteventura 365 days a year, the weather isn't stunning all the time like I assumed. We weren't greeted by the balmy temperatures I was expecting, in fact – a windy storm on the first day meant lessons were cancelled. They did reschedule lessons for the weekend to ensure everyone got what they paid for, but the cloudy/windy weather definitely took away from the experience a bit. This is obviously not Planet Surf Camp's fault, but a good warning if you plan to come in the "off season" like I did in early March.
We were there as a couple
I love staying in hostels solo, but this was my first time staying in a dorm as a couple. The surf house does have private rooms but they were booked out by the time we decided we were coming. I thought we'd be able to suck it up for the week but I'll be honest – the lack of privacy and the bunk beds got grating after a week. If you are going as a couple, or really value privacy, I think booking a private would make a massive difference.
Our week was… super… German?
This is definitely not a con, but a funny observation. I would say 90% of our surf house was German the week we were there. We joked about it, and many of us speculate that Planet Surf Camps has somehow SEO'd their way to #1 on German Google. Anyways, because the vast majority were German, this created a sort of divisive vibe as most of our housemates would just chat in German, and have (seemingly) zero interest in getting to know us English speakers. Some of our classmates were super nice though and we went out with them a few times, but overall the vibe wasn't super communal and friendly to us non-English speakers, though I can't say whether or not this is a regular occurrence.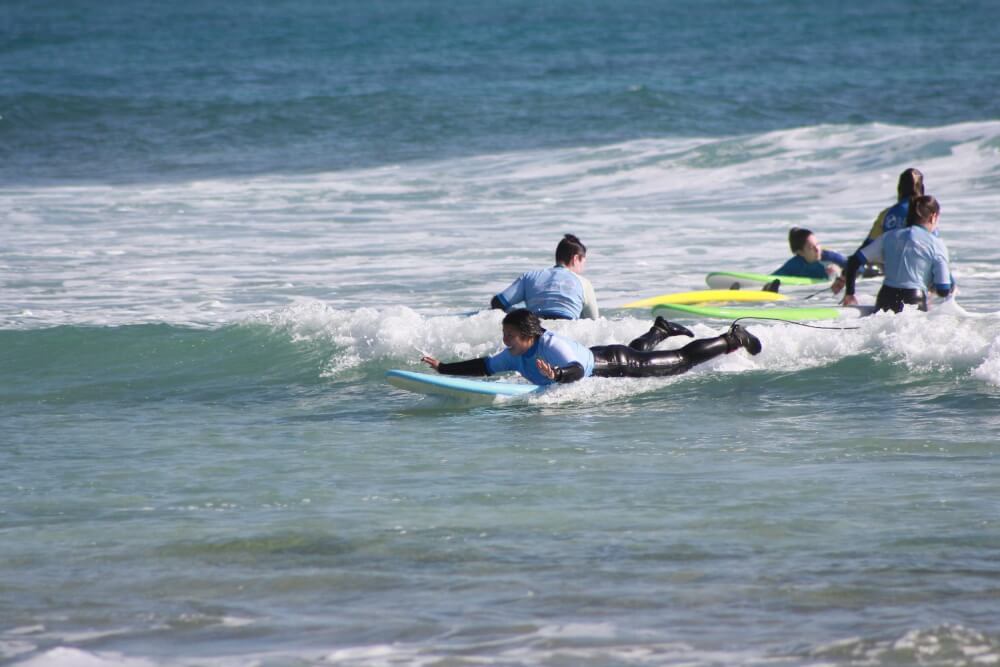 ---
In conclusion…
The wise Yoda once said "Do or do not, there is no try" – but it's a phrase I must now debunk. My friends, I most certainly tried surfing Fuerteventura, but successfully "doing" was unfortunately not in the cards. The closest I came to standing on a surfboard was a mediocre kneel, but hey, better luck next time right?
Overall, if you're looking for a surf school in Fuerteventura that is budget-friendly, chilled out and fun, then Planet Surf Camps might be a great choice for you. Given their crazy affordability, some cutbacks are to be expected, but hey, at the end of the day you're still surfing in Fuerteventura, so what is there to complain about? 😉 You can learn more about bookings and details on their website.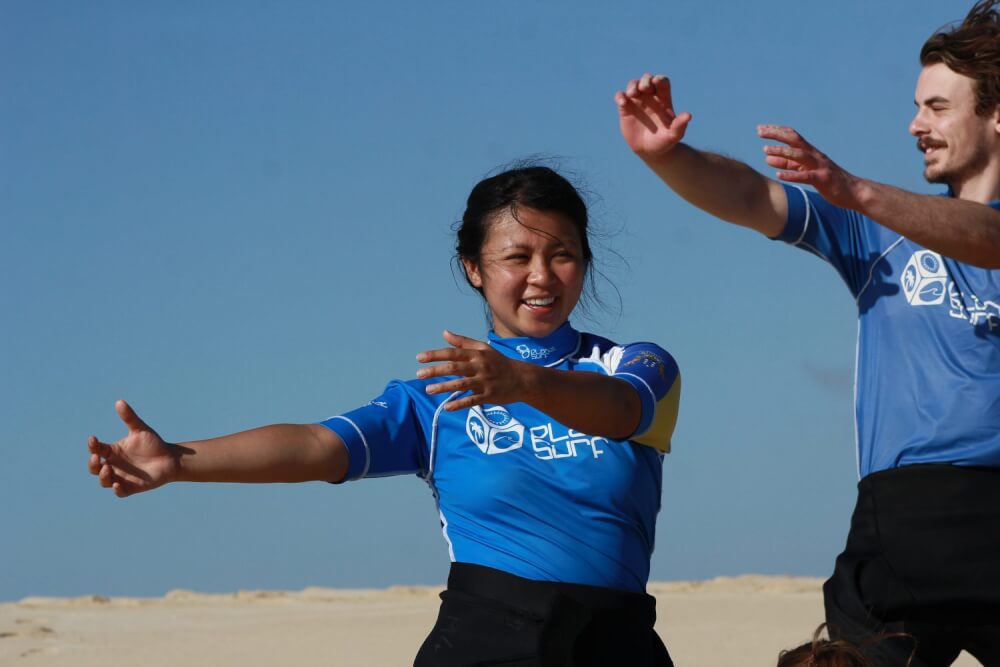 ---
A huge thanks to Planet Surf Camps for hosting me and my boyfriend Sean for a week! This post represents an honest account of my experience, but feel free to reach out in the comments if you have any questions.