*FYI - this post may contain affiliate links, which means we earn a commission at no extra cost to you if you purchase from them. Also, as an Amazon Associate I earn from qualifying purchases. Check out our Privacy Policy and Disclosure. for more info.
If Venice and Hobbiton were to conceive a photogenic baby, I'm quite certain it'd look a lot like the beautiful village of Giethoorn in the Netherlands.
World-renowned for being one of the most magical places in Europe (especially in Spring), it's no surprise I schemed my way into spending a night there while exploring the Netherlands in search of tulips and yes, I can confirm: it is as cute as you've always imagined.
The houses here are ripped straight from the pages of a storybook, with thatched rooftops lining winding canals linked by over 170 wooden bridges.
Every house is unique, and if you pay close enough attention, packed with endearing details like heart shaped carvings in the shutters and perfectly planted bushels of flowers, adding pops of colour to an already perfect postcard.
Giethoorn village takes curb appeal (or canal appeal, maybe?) to a whole new level.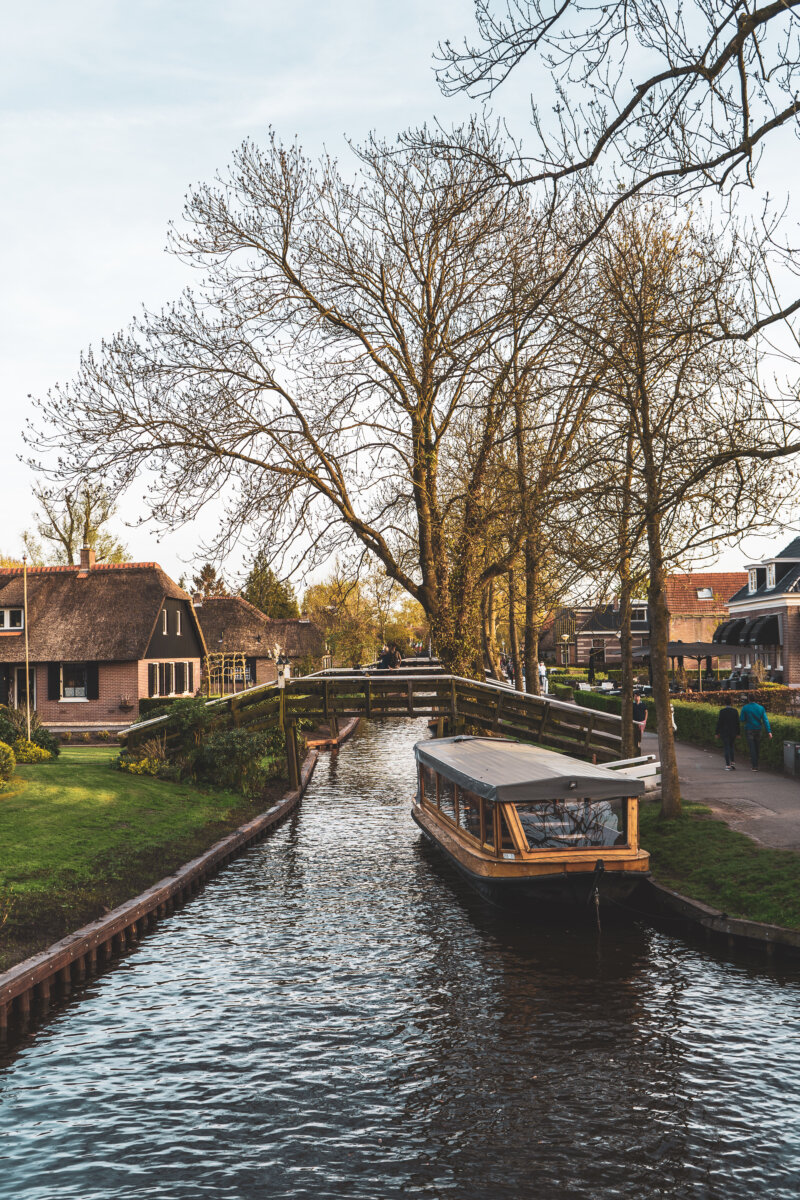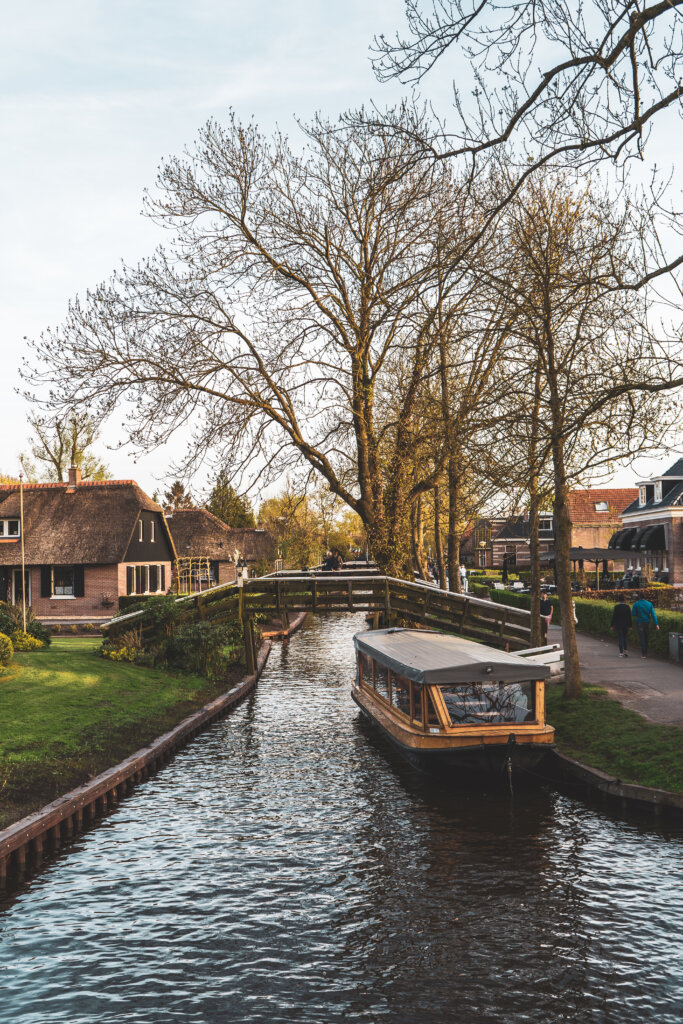 Of course, as with many of the incredibly beautiful destinations you find around Europe, Giethoorn is hardly a secret, with countless travelers stomping its scenic grounds every day… approximately 800,000 each year.
Considering the micro-proportions of this tiny village, that's a lot.
The village is especially popular among Chinese tourists, where there is a cult following for the village so severe that they managed to get Giethoorn a spot on the Jubilee edition of Monopoly.
But while touristic, it still has to be said that Giethoorn is an amazing place to visit.
This Giethoorn guide will walk you through everything you need to know, including how to make the most of your trip in spite of the crowds!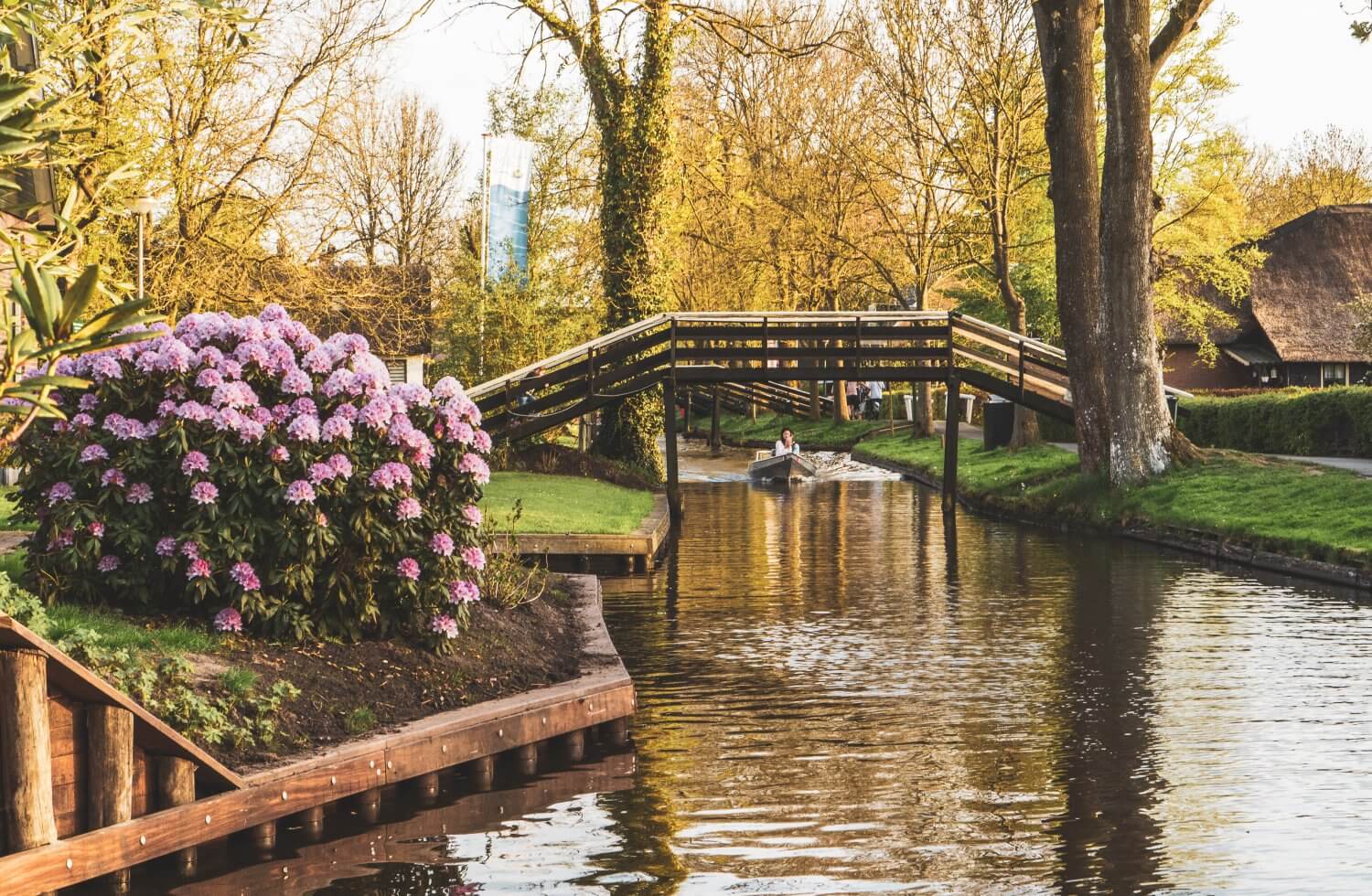 Getting to Giethoorn, Netherlands
Getting to Giethoorn by car:
Before you commit to driving, remember that the very center of Giethoorn isn't accessible by car (that's kinda why it's so cute) although there's parking spots just outside and you can easily reach the best bits of the village on foot.
This website is awesome for planning road trip routes – it's free and shows you different options and approximate fuel costs. From Amsterdam, the drive is approximately 1.5-2 hours.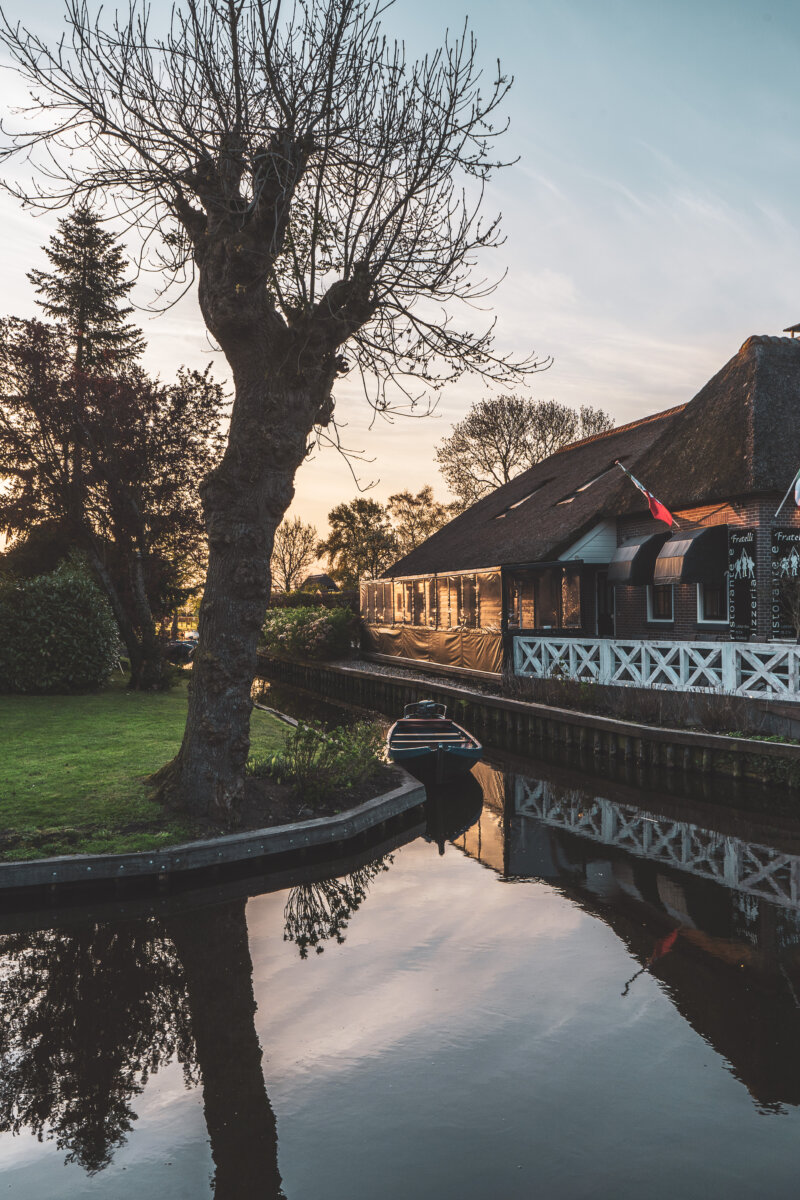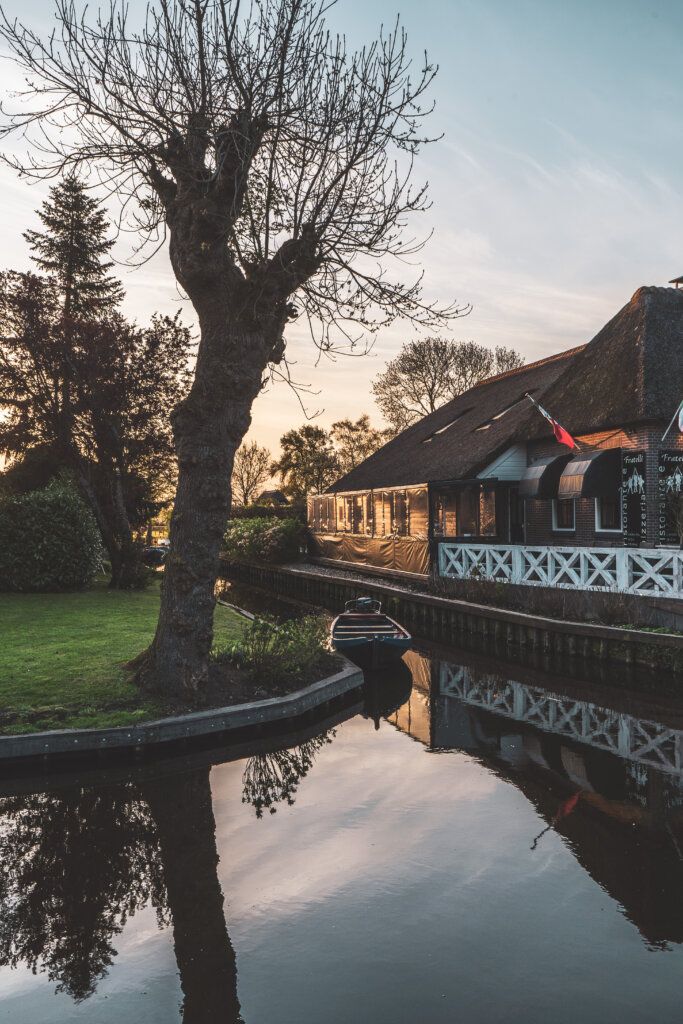 Getting to Giethoorn by public transportation:
Coming from Amsterdam, I took the train to Steenwijk and then the 70 bus straight into town.
The bus ride cost 4 euros and I was able to buy the ticket on the bus. Alternatively, you could also take the train to Zwolle and catch the 70 bus from there.
I used this website to plan my route and it was accurate and super easy (it even tells you how much the trip should cost!)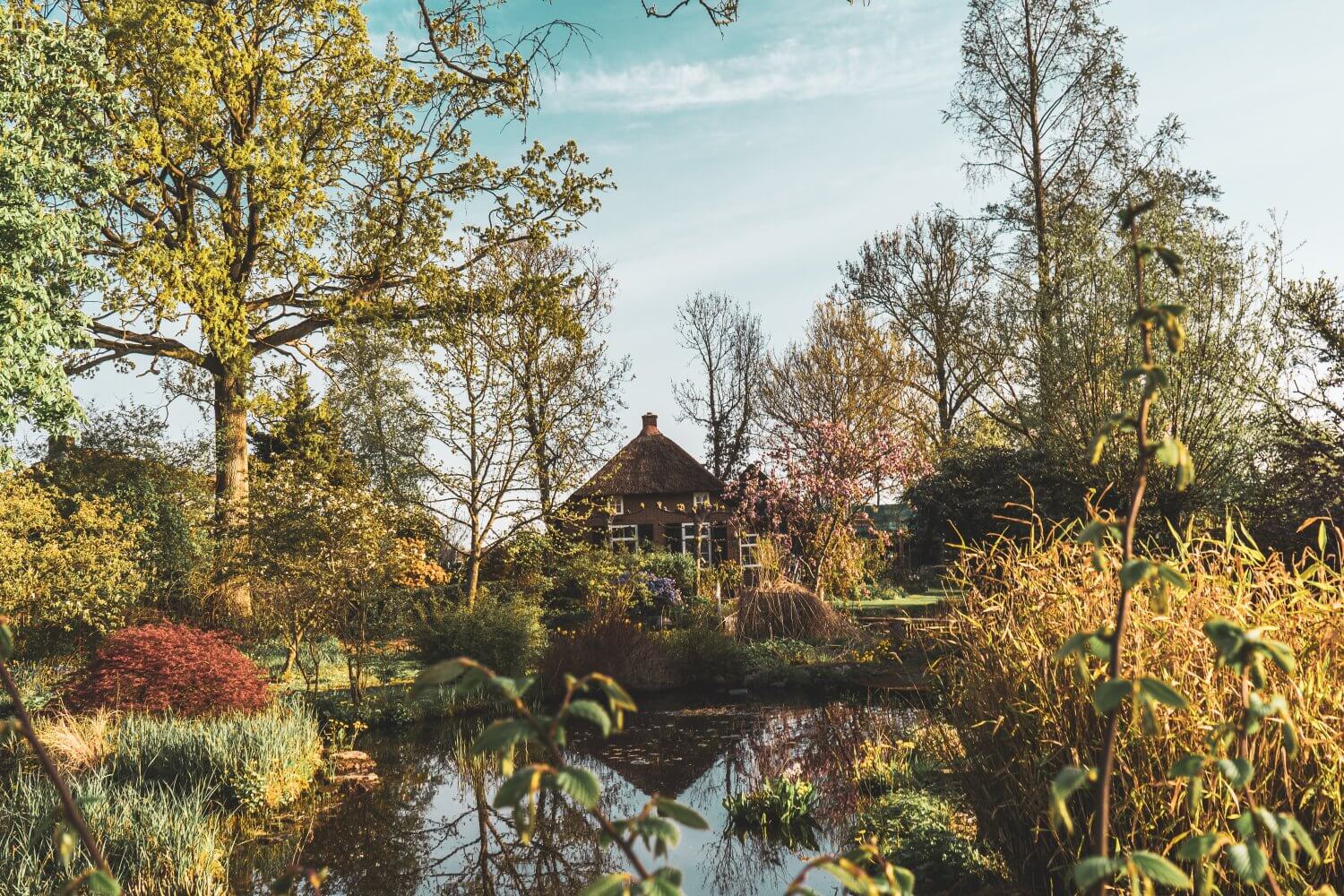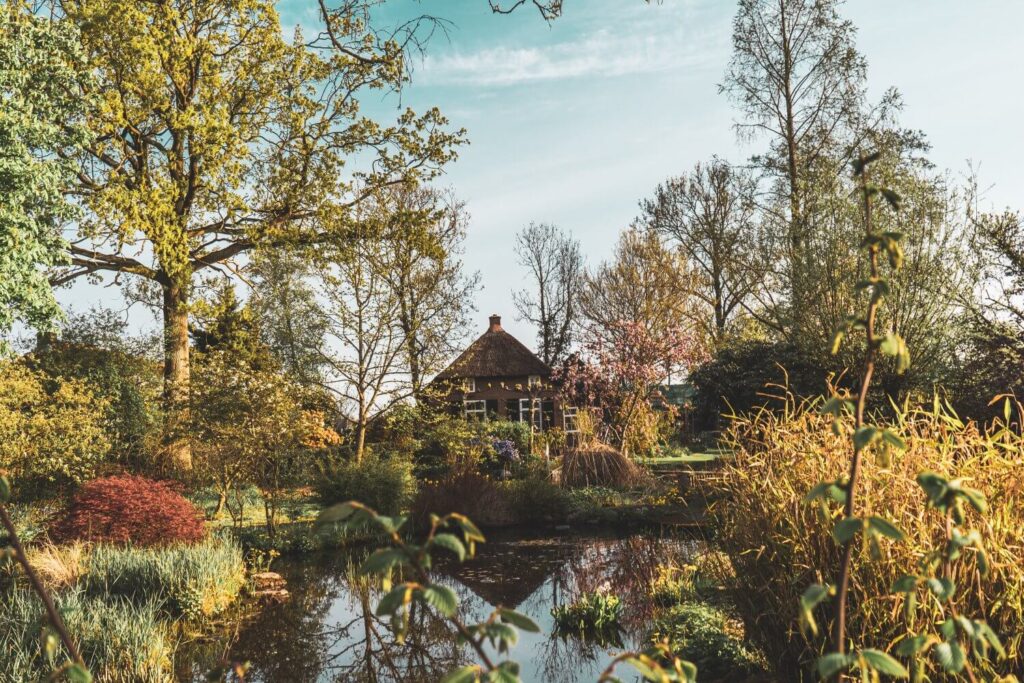 Things to do in Giethoorn, Netherlands
Wondering what to do in Giethoorn? I can't lie to you, given its petite size, there isn't a huge abundance of things to do in Giethoorn. That said, here are a few of the activities you can use to fill your time:
1. Foam at the mouth while photographing all of Giethoorn's gorgeous houses
This is why you're here right?
Quaint little houses, picture-perfect canals…
Let's be real: admiring all the pretty houses is probably the top activity to do in Giethoorn.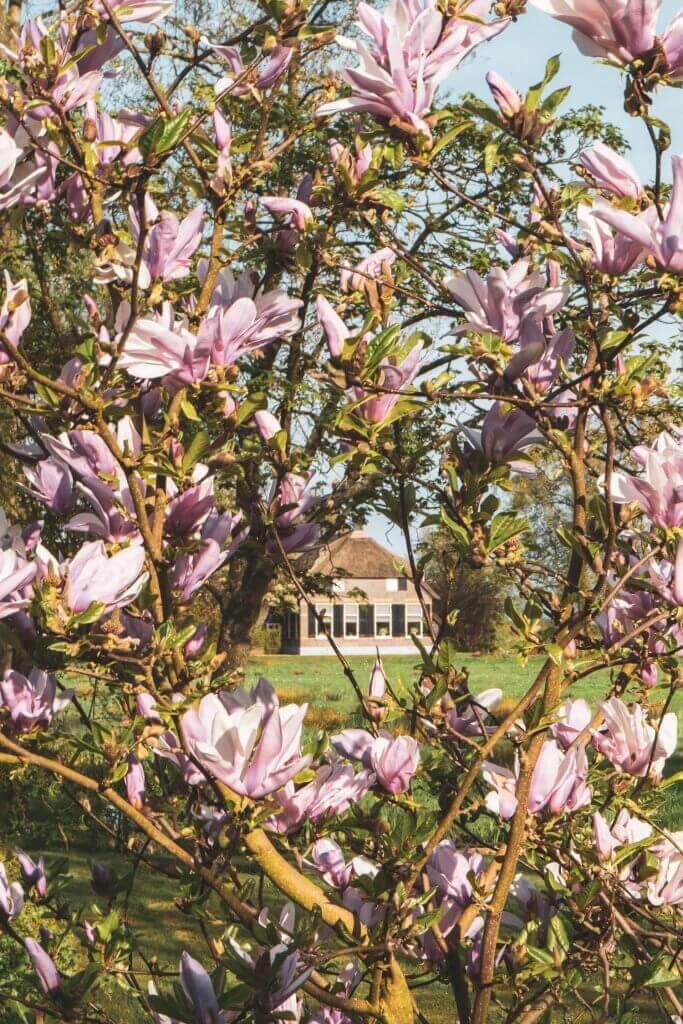 It can be difficult however when there are so many crowds, which is why I highly recommend staying the night.
This has two main perks – 1) you get to see the town at golden hour, at which point most of the day trippers have already gone home and 2) you can wake up in time for sunrise, which is probably the only time you'll feel like you have this whole magical place to yourself.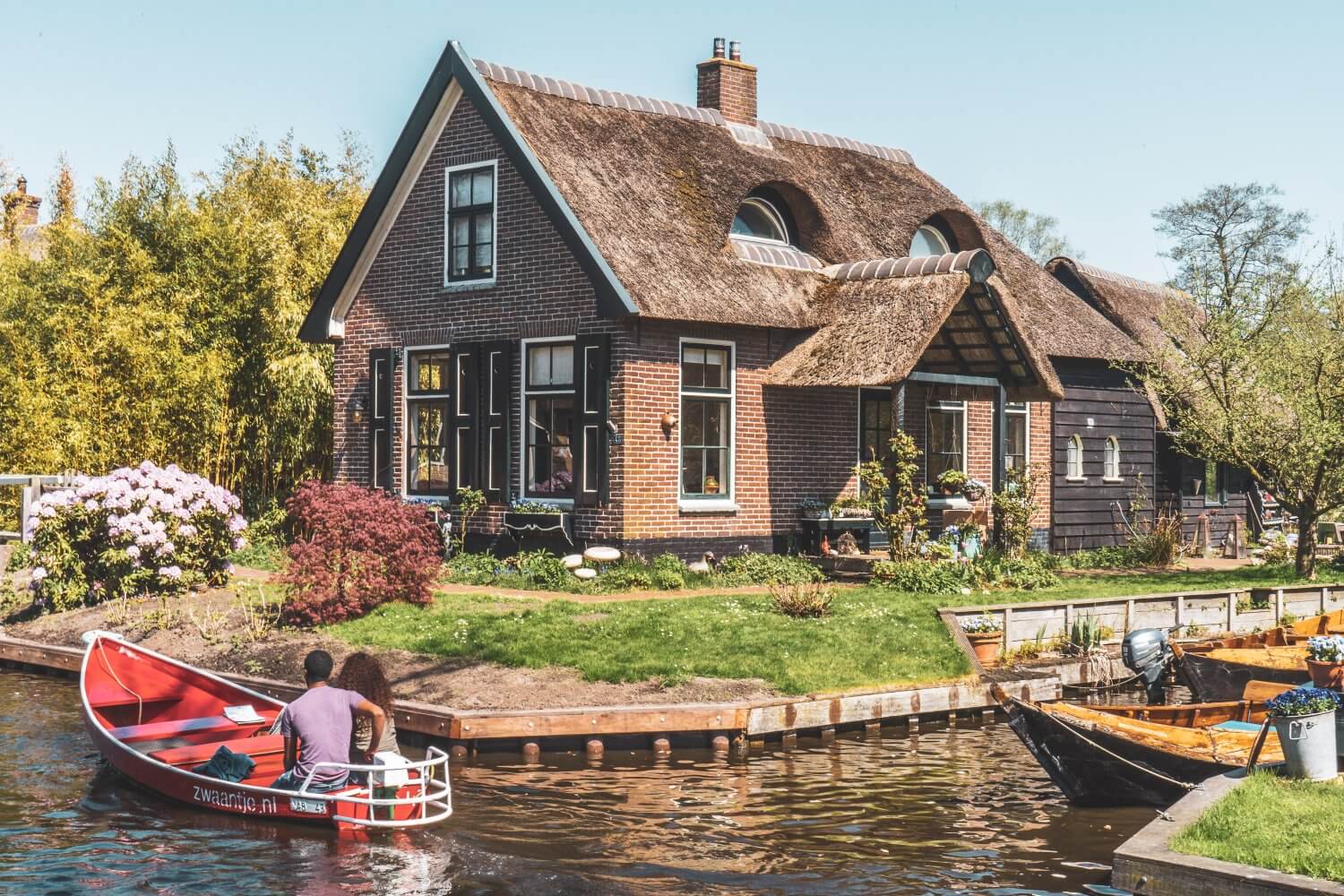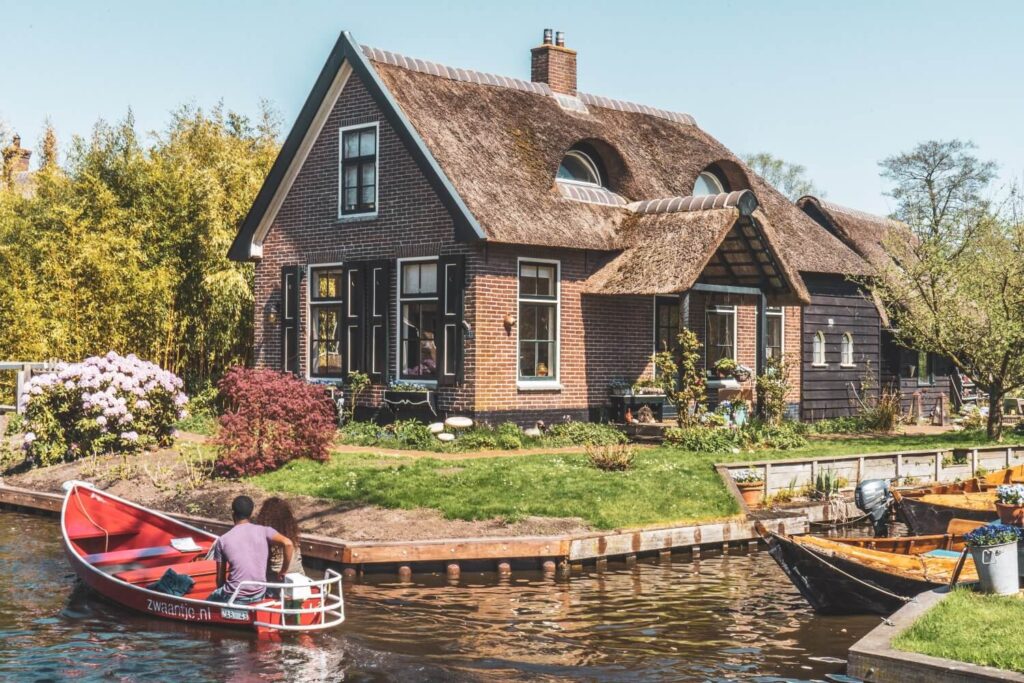 2. Conquer the canals by boat
With canals being a starring feature of the village (starry-eyed tourists don't call it the Venice of the Netherlands for nothing!), it's no surprise that exploring by boat is one of the top things to do in Giethoorn.
The good news is, you don't need a boating license or anything to rent a boat in Giethoorn.
The downside to this is of course that you'll be sharing the water with……. a million boats steered by clueless unlicensed boaters. I can't lie to you, I saw a lot of awkward collisions.
But anyway, there are a lot of different options in terms of exploring Giethoorn on the water.
You can easily rent the boats on the day of, but if you want to be safe and reserve yours in advance, check out this website.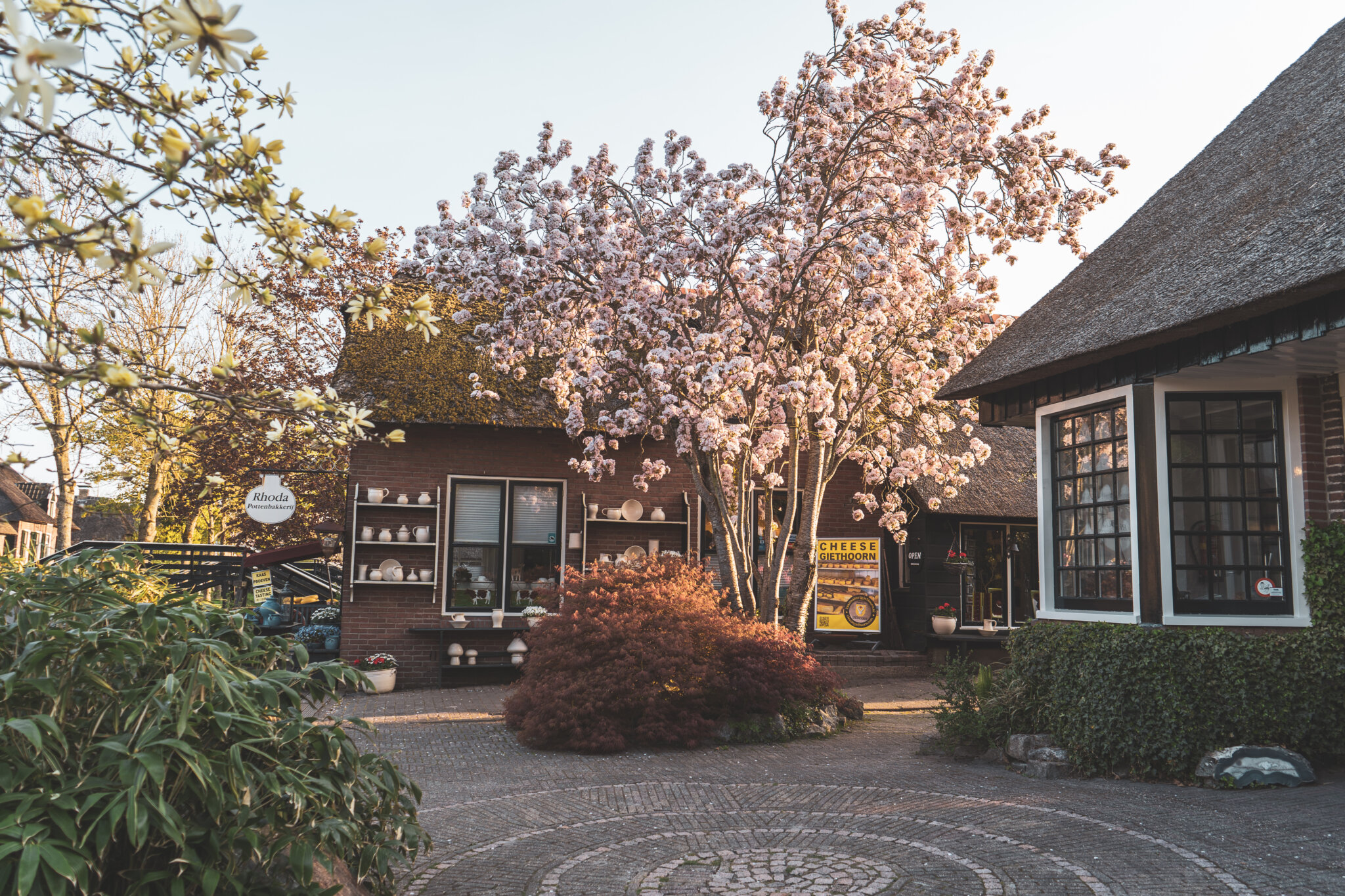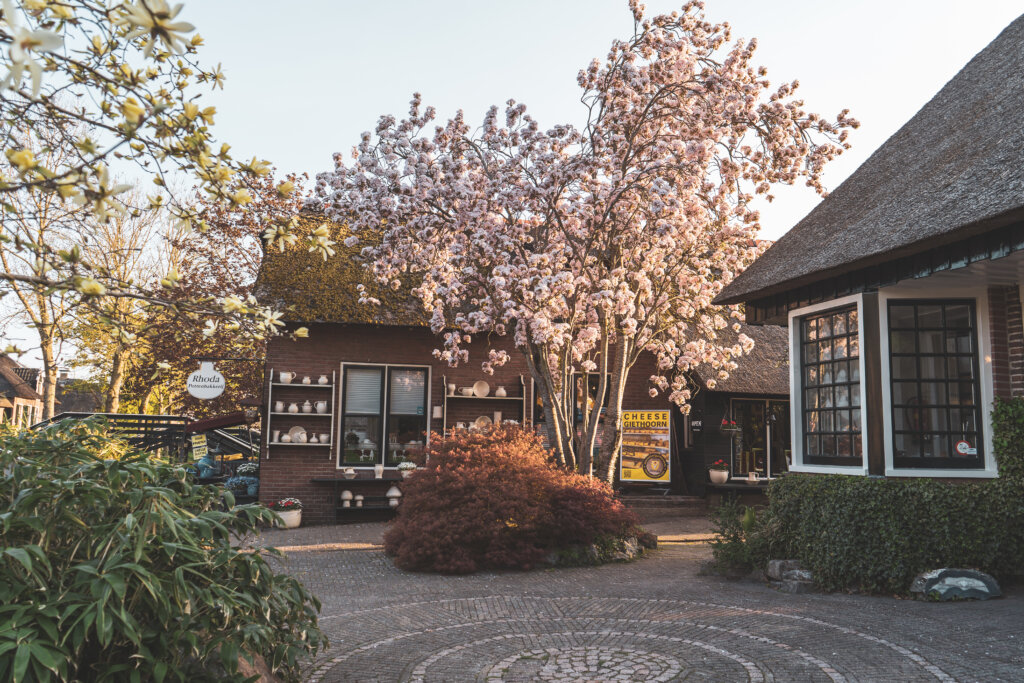 Here are some of your options if you want to rent a boat in Giethoorn:
Traditional whisper boat – these red whisper boats are the most common and you will see them everywhere on the canals around Giethoorn. Their sexy name (whiiiiisper) comes from the fact that they have silent electric motors. A standard rental is for at least 2-3 hours.
Sightseeing canal cruise – if you fancy just sitting back and not having to worry about manning your own boat, there are also bigger, sightseeing canal boats that whisk you through the highlights of Giethoorn in 1-2 hours depending on the Giethoorn tour you choose.
Canoe – If you're super old school and want to glide through the canals of Giethoorn with the elegance and grace of a swan, there are also canoe rentals.
NOTE: I highly recommend doing this as early in the day as you can because the traffic/congestion on the canals got really bad by mid-afternoon.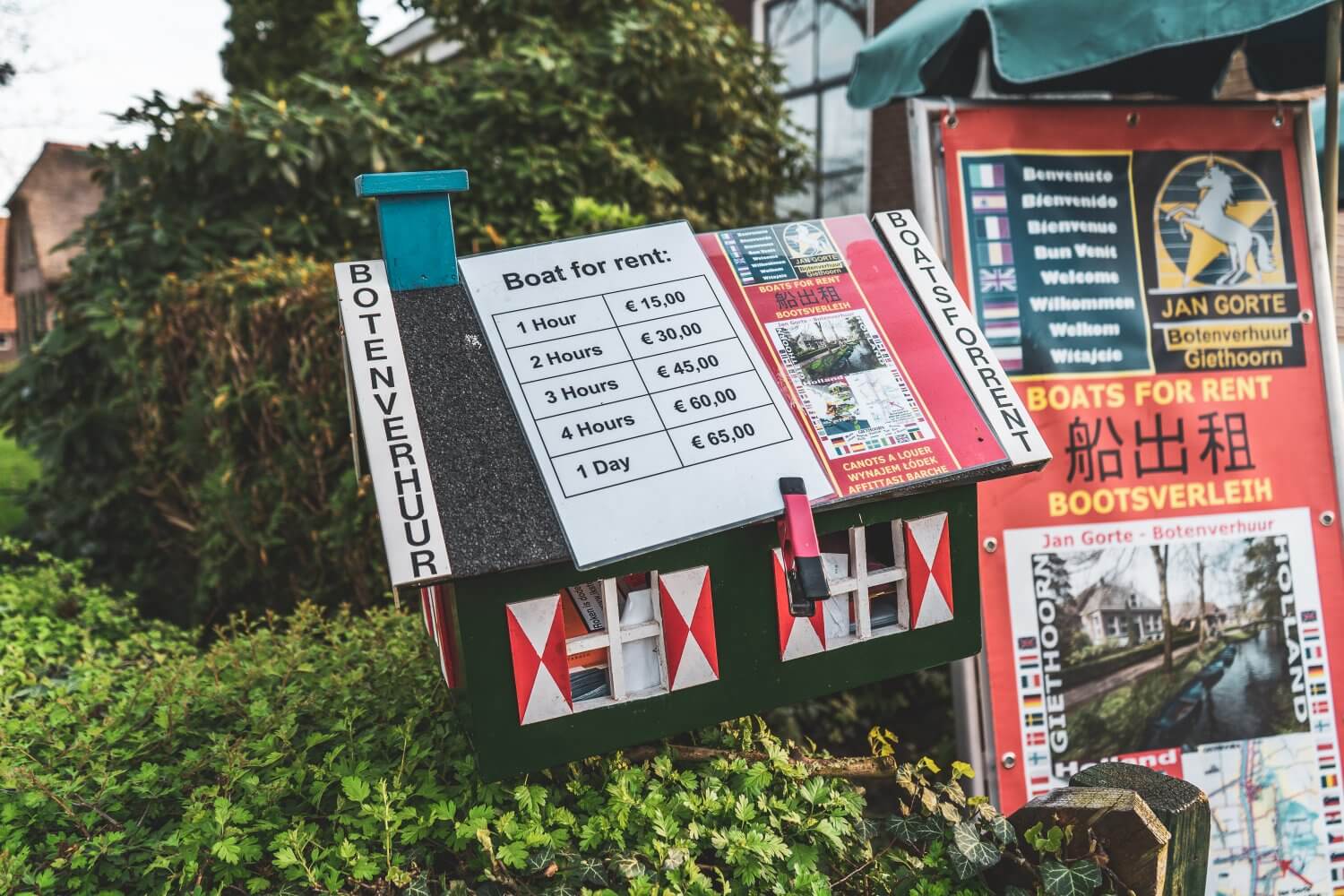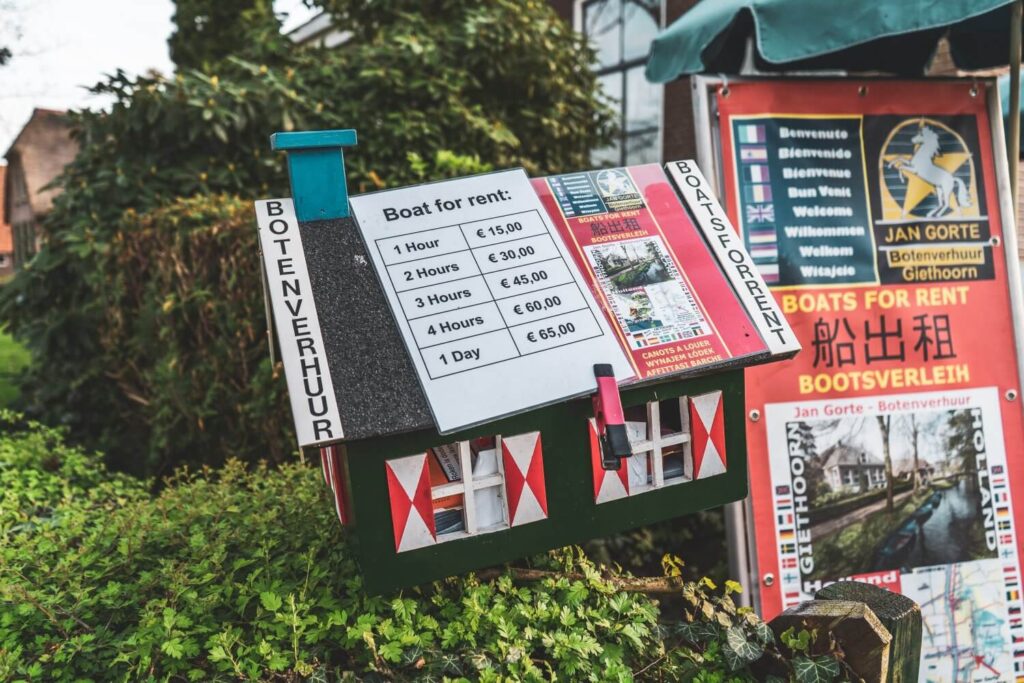 3. Sleuth around a museum
Nobody ever talks about the museums in Giethoorn. Everyone's probably too busy going gaga over the gorgeous houses.
That said, if you find yourself stuck with some bad weather (or just want to explore Giethoorn's museum scene), there are a few to visit if you're so inclined.
"Het Olde Maat Uus" Museum: A traditional museum set in a farmhouse that details the history of Giethoorn and shows you what life was like here in the 20th century.
Museum de Oude Aarde: A museum packed with gemstones and minerals, for those who admire shiny objects as much as I do.
Schelpengalerie Gloria Maris: If the Little Mermaid had a museum… Features shells, corals and a changing exhibition that takes inspiration from the sea.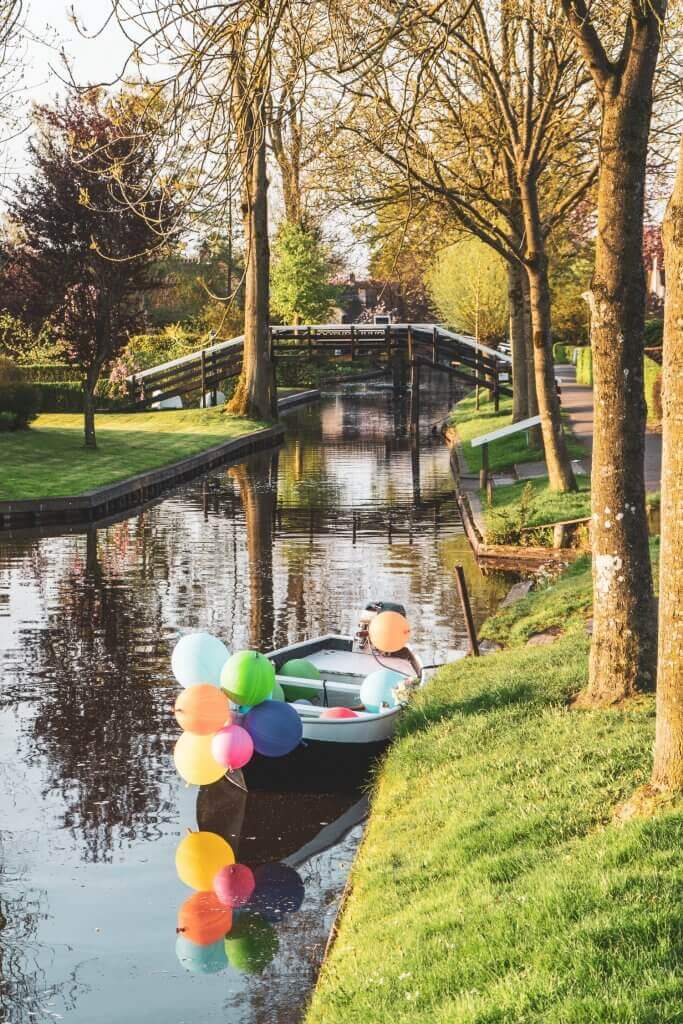 4. Booze up by the water
The canals in Giethoorn are lined with restaurants which means if you want to sit down and people watch for a while, there are many brilliantly scenic spots to grab a drink.
Ristorante Fratelli had an awesome terrace that was packed with people every night.
Beachclub Bodelaeke, which was tucked away from the main canal circuit. After a short, scenic walk, I was met with buzzing terrace and beautiful views over the water.
5. Enjoy the most scenic picnic ever
A tourist destination often means tourist prices, and Giethoorn is no exception.
If you want to have an affordable lunch (and soak in all the magical vibes of this little village), consider packing yourself a picnic and enjoying it on a bench or on a nice spot along the canal.
This would definitely be one of the most cost-effective Giethoorn things to do.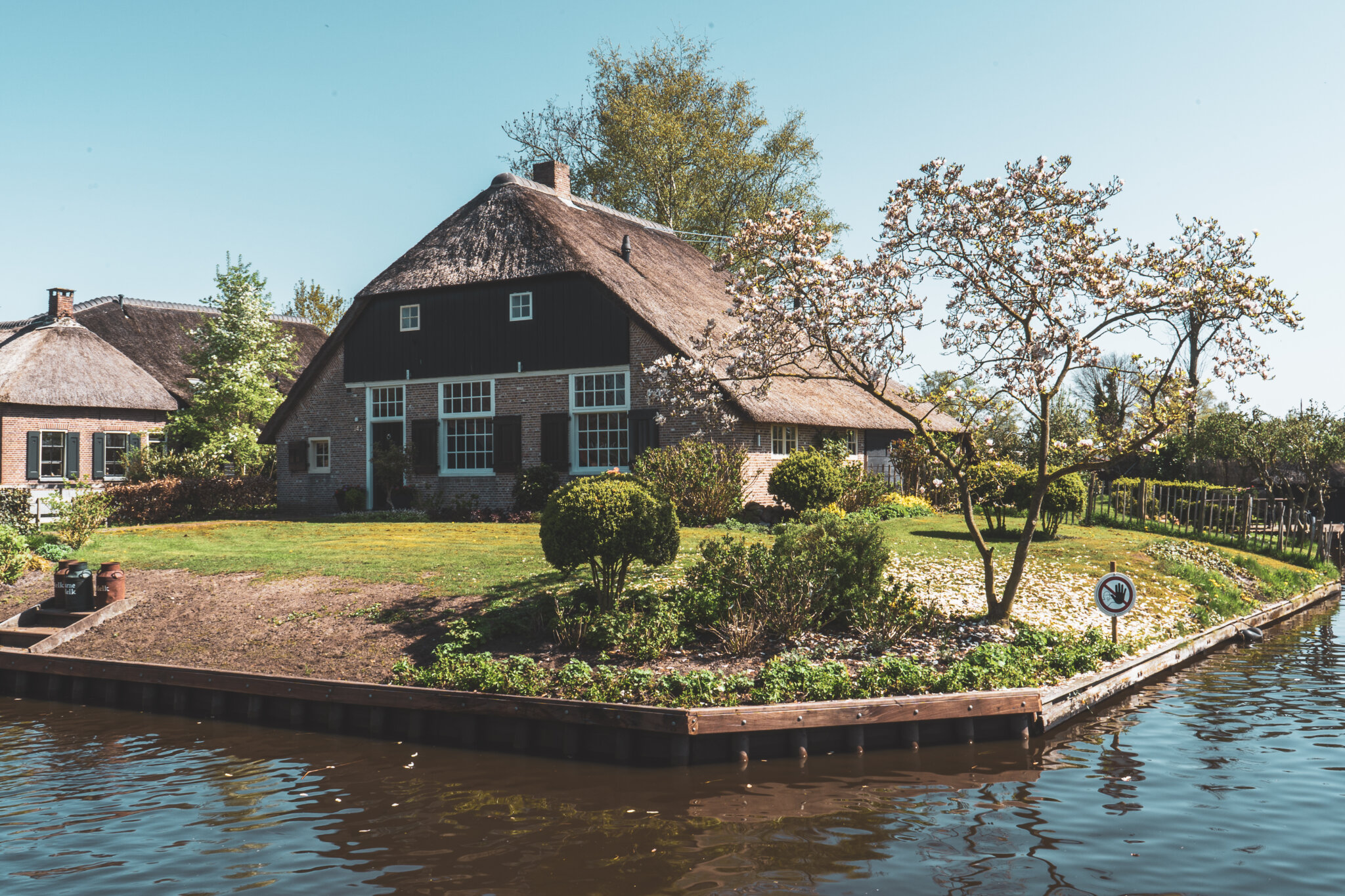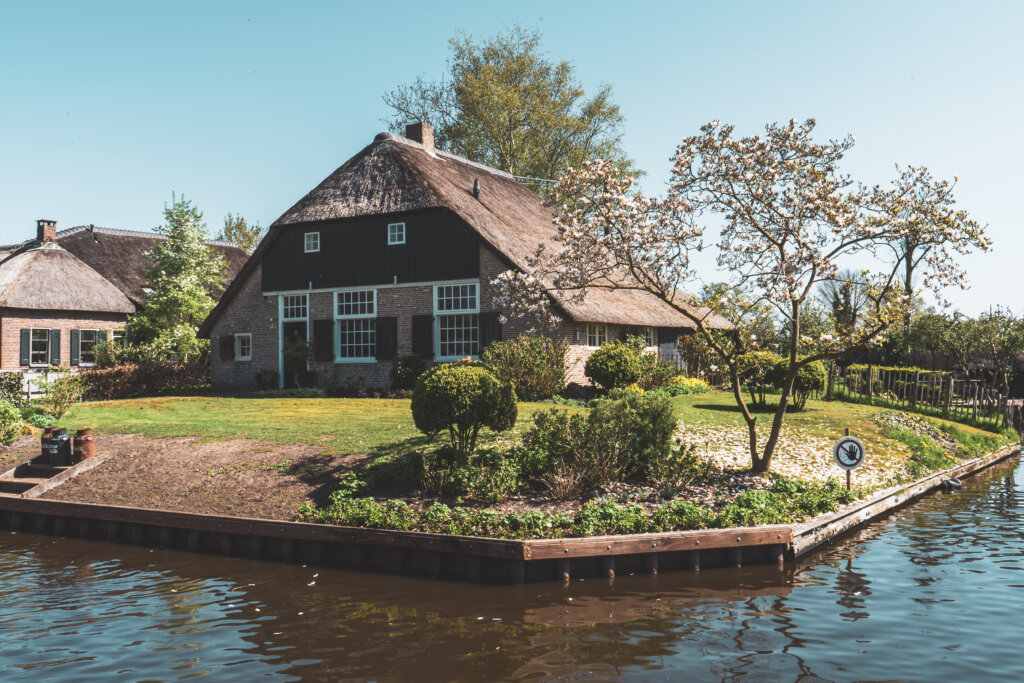 6. Go for a mini hike
If you have a little more time to spare, and are looking for ways to burn off all the calories from your stroopwafels and fries drowned in mayo, I've heard great things about the Giethoorn Walking Route (15.3 km).
You can get more info about the route here.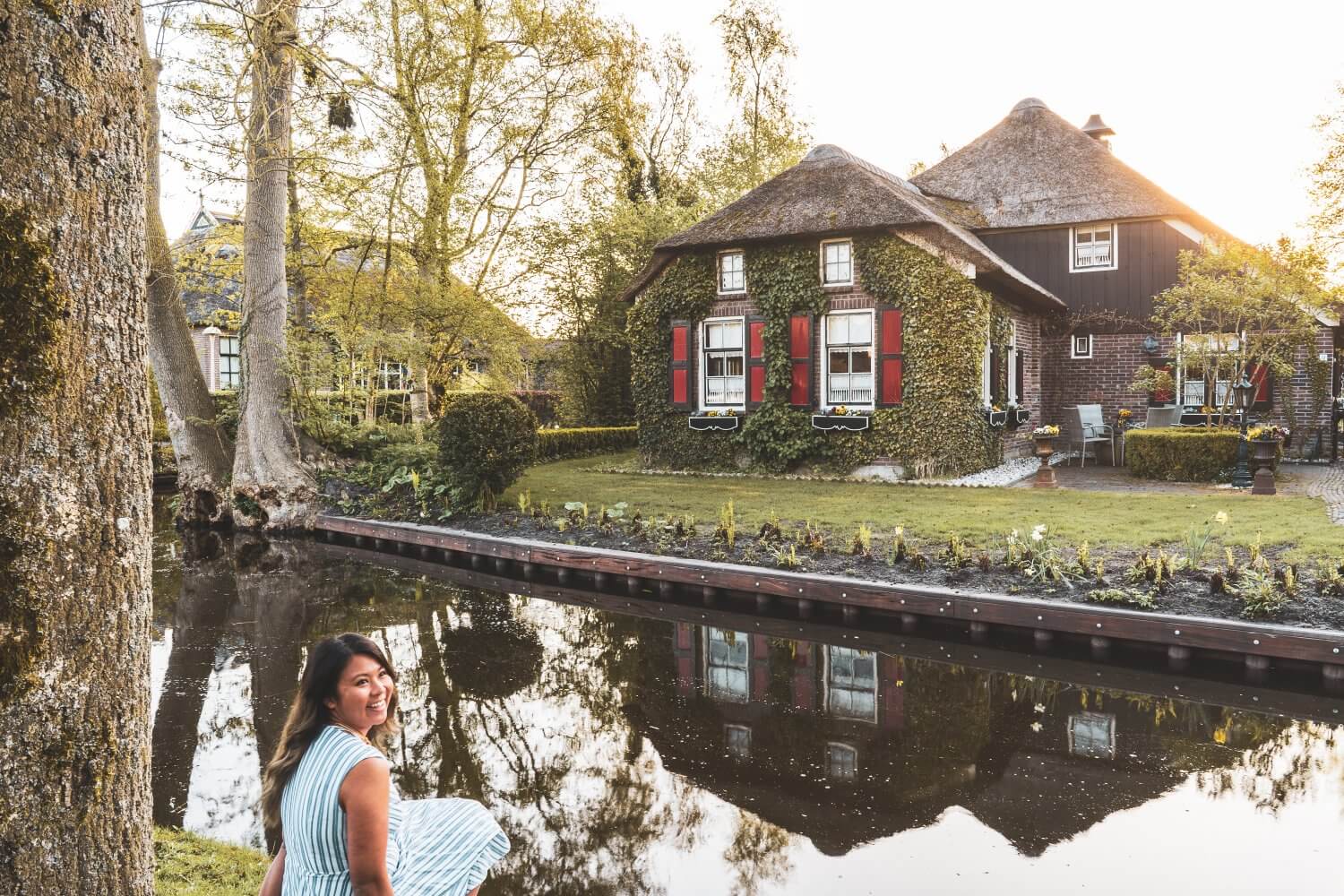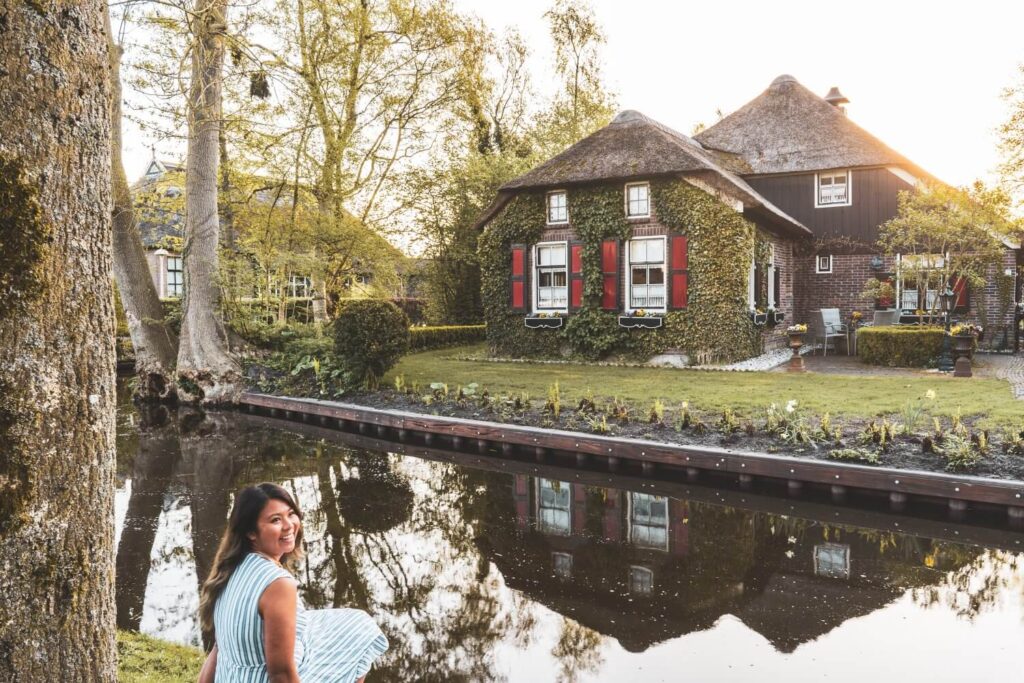 Where to Stay – Giethoorn Hotel & Hostel Options
You can check for the best deals and availability on Giethoorn hotels and hostels here.
If you follow my sage advice and choose to stay in Giethoorn overnight, here are a few recommendations:
Black Sheep Hostel – I booked really last minute so ended up at this hostel, which had really reasonable rates! This place had very comfortable beds, really friendly owners and the breakfast was also quite good. Overall, the facilities were really clean, and the hostel was in an easy walking location to the center. The only downside was that it didn't have the most social atmosphere but it great for a one night stay, especially if you're on a budget.
De Olde Smidse – I've heard great things about this hotel. Its main draw is that it offers free parking and is also close to the nearest supermarket in town. While not in the very center of Giethoorn, it's within easy walking distance of the prettiest canal walking route.
Where to Eat – Giethoorn Restaurants and Food Options
NOTE: Due to the small size of the village (and its evident touristic popularity), Giethoorn restaurants can be on the pricier side.
If you're travelling on a budget, it might be smart to bring some additional snacks/supplies (like water and drinks) to ensure you don't break the bank.
That said, here are some places I got to check out during my time in Giethoorn.
De Sloothak – a very peaceful and charming little restaurant (and hotel!) with a beautiful outdoor patio. With the sun shining and birds chirping, it was impossibly tranquil and wonderful – plus their burger was super delicious.
Grand Cafe Fanfare – Some friends I met raved about the food here. I walked by several times and saw that the terrace was gorgeous and always packed. Sadly, I didn't get a chance to eat here but many people vouched for it at my hostel 🙂
Gelateria Venice – I had a caramel iced coffee (which, admittedly, was about 50% whipped cream), but I'm not complaining about it!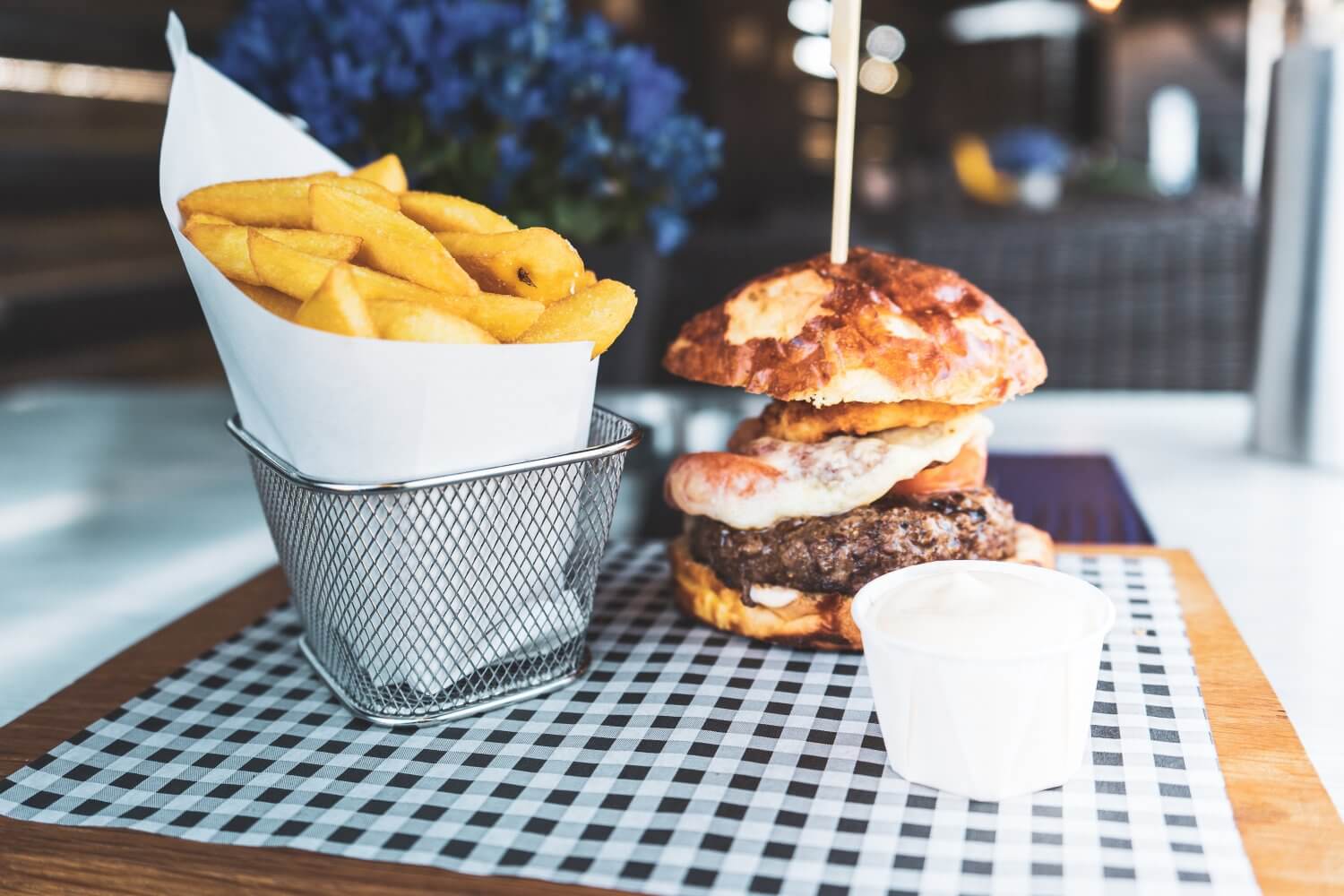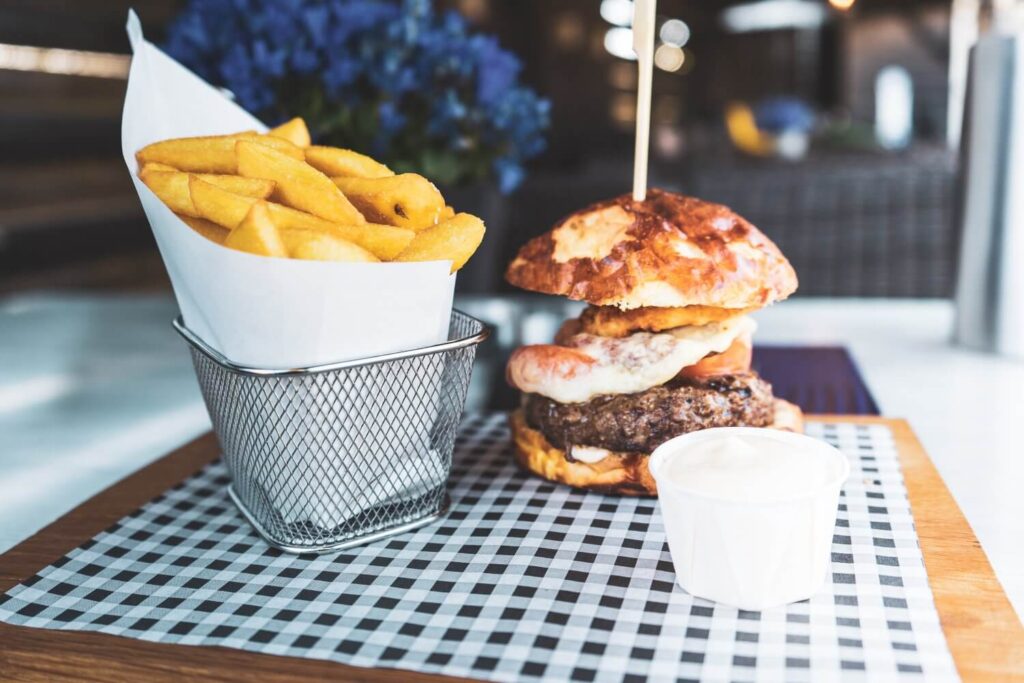 Additional Giethoorn Tips for Visitors
Do consider staying the night
If I had only done Giethoorn as a day trip, I am positive I would have hated it.
Why? It was insanely crowded.
I can't sugarcoat it, during the day, it was so extremely busy that there was practically a traffic jam on some of the bridges.
The times when I got to enjoy and appreciate Giethoorn most were around sunrise/sunset, when the large majority of day trippers were gone, which meant I got to explore this beautiful village on my own.
It made a massive difference, and I highly recommend that you spend a night here so that you can take advantage of the quieter hours.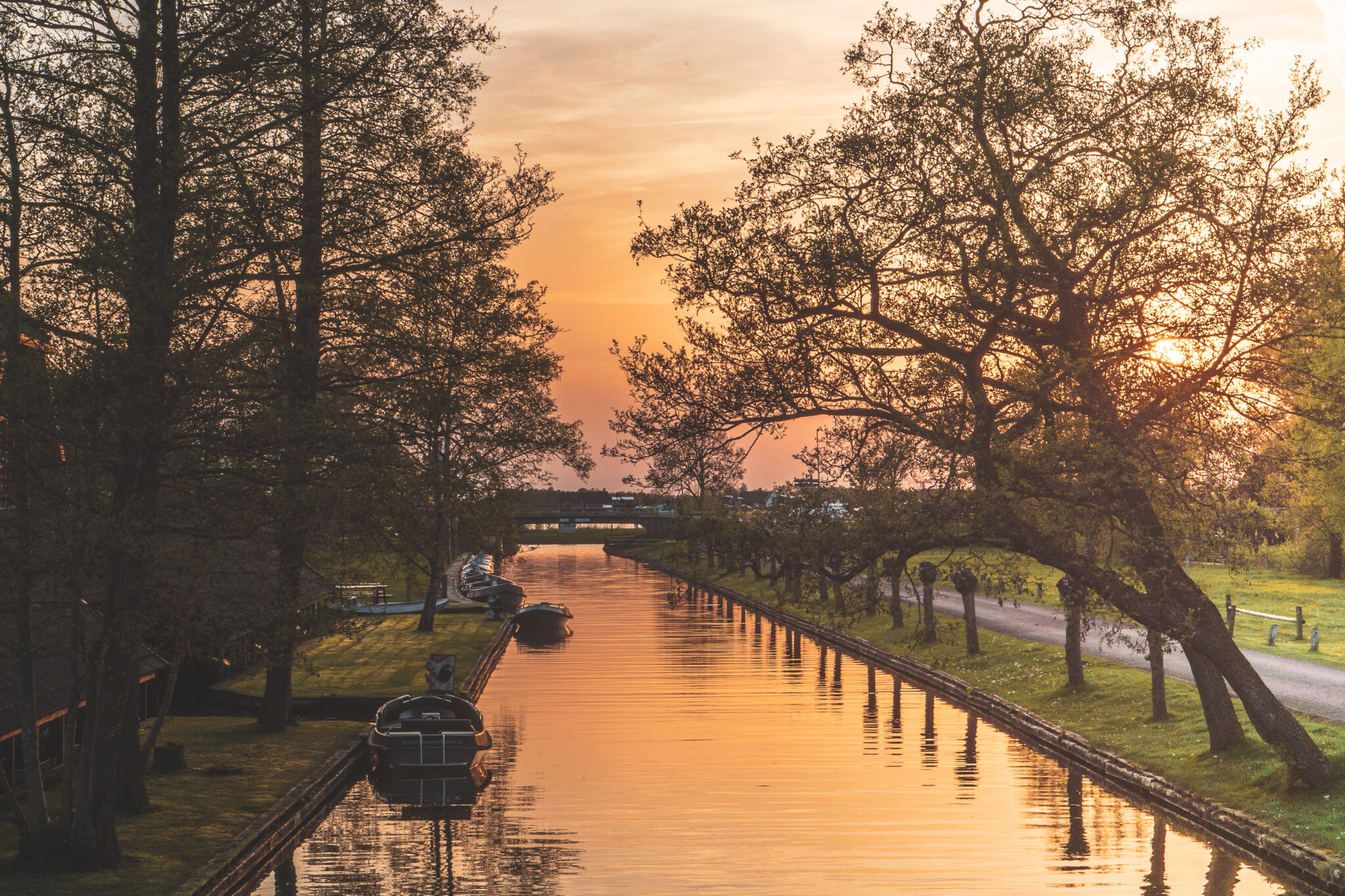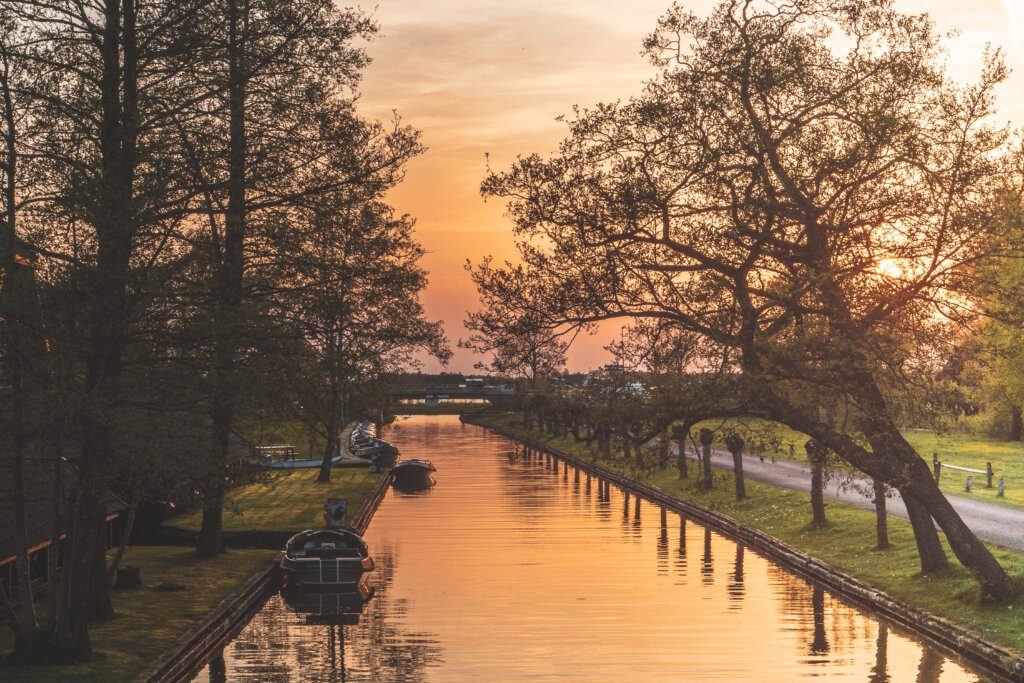 Pack some picnic supplies
Because Giethoorn is such a tourist-heavy village, you can of course expect to pay tourist-heavy prices.
The restaurants here aren't tourist traps necessarily (the food is actually tasty!), but meals can come at a steep cost.
If you're looking to have a really magical experience (without breaking the bank), consider packing some picnic supplies like bread, cheese, etc. to have a cheap lunch.
There is a SPAR Supermarket on the outskirts of town, but it might be easier to just bring your own rather than make the trek.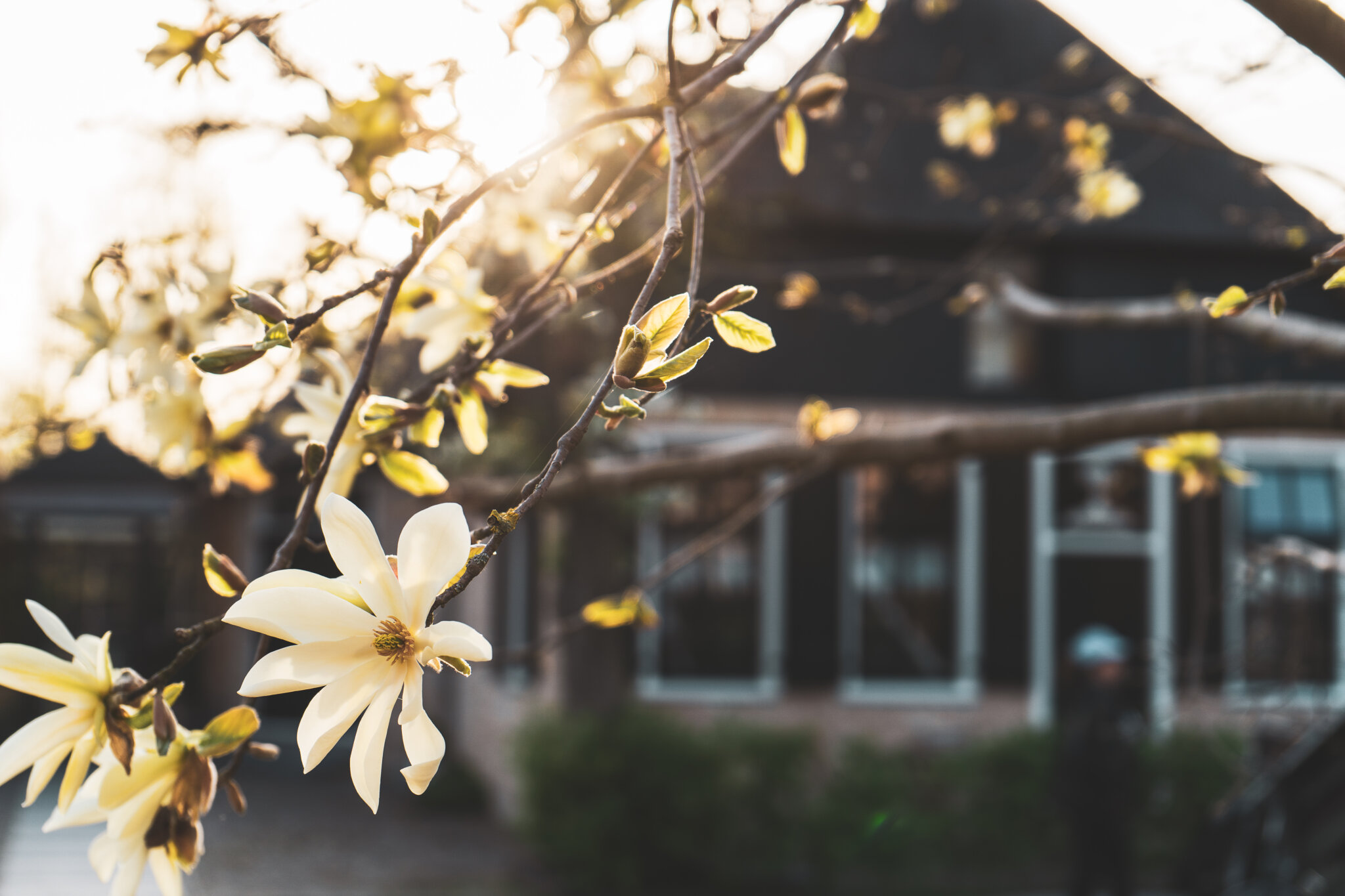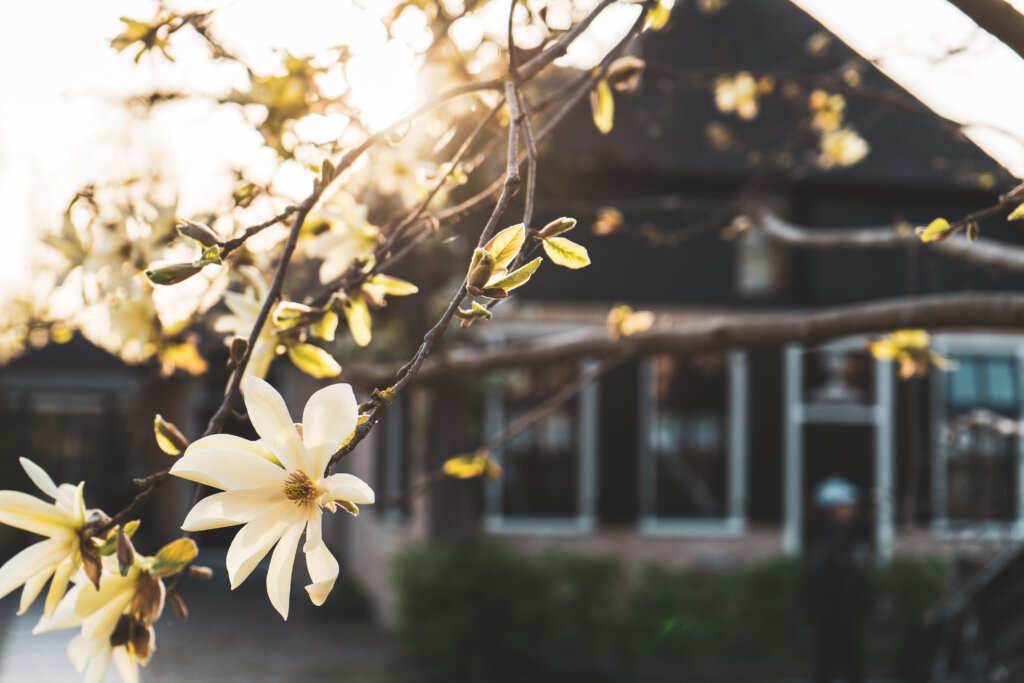 Know that you'll hear as much Chinese as you hear Dutch (if not more)
This is a bit of a random one, but I wanted to include it as I thought it was hilarious and surprising.
As I mentioned in the intro, Giethoorn is insanely popular among Chinese tourists.
The origins of this national obsession are a bit murky – some say it's due to a famous documentary that shot there, but who really knows.
Regardless of the reason, Chinese tourists make up a large majority of the visitors to Giethoorn, and of course the town has adapted accordingly, with tons of Chinese signs, menus and *dun dun* tour groups.
Much like in huge tourist cities, where English is present more than the actual country's language, Chinese here is ubiquitous as well – a funny contrast to the prototypical Dutch setting.
Obviously, getting by with English is no problem, but it's just something to keep in mind.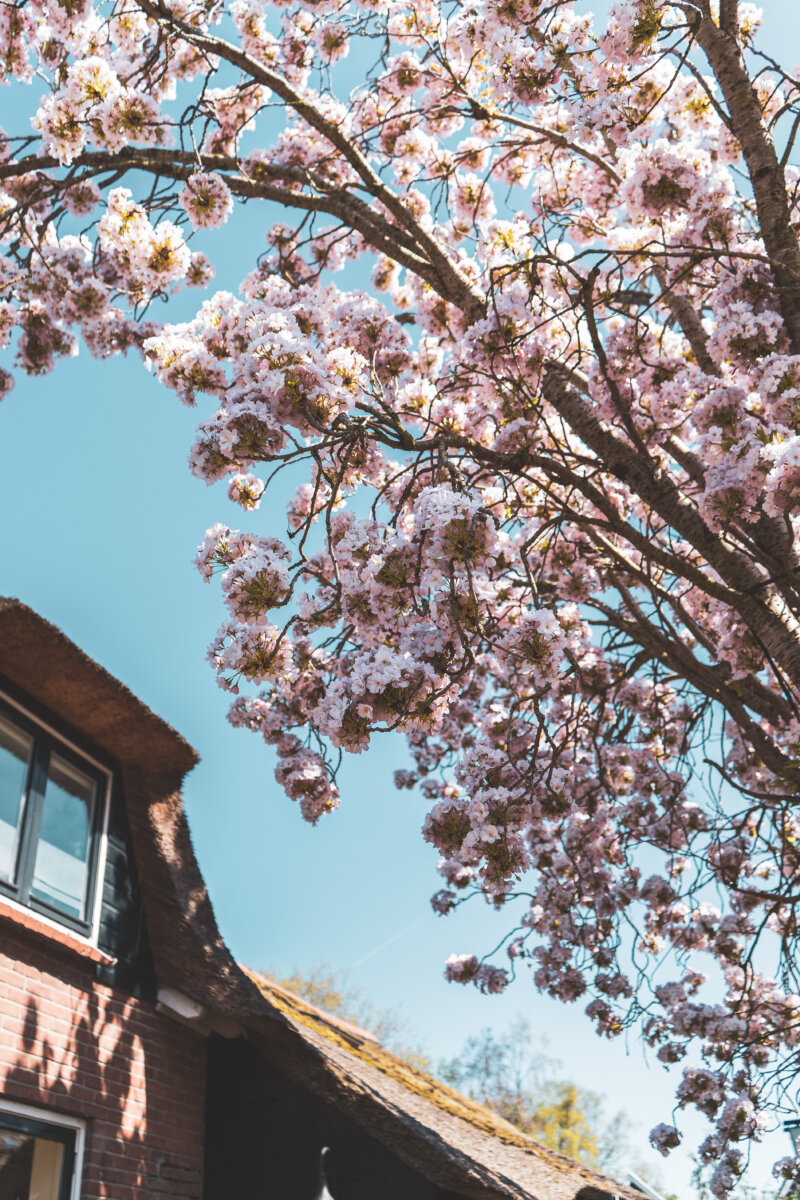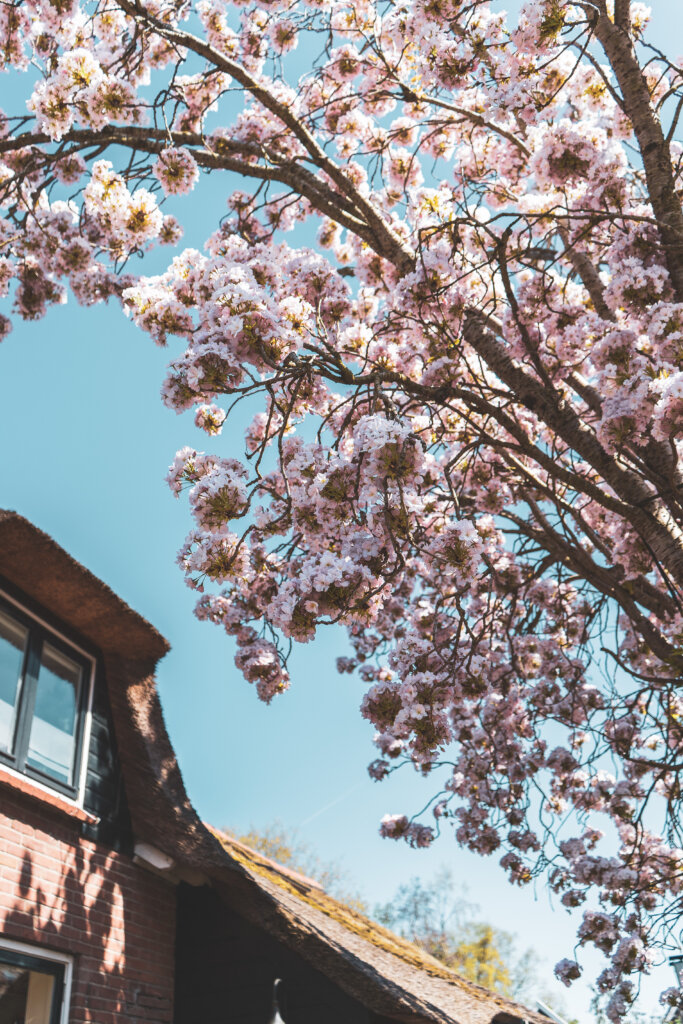 Last but not least, be respectful
Remember, at the end of the day, Giethoorn (while of course, absurdly beautiful and Instagrammable), is still a place where people live.
Never trespass on private property, obey the fences/gates and signs that say No Trespassing.
I hate that I need to remind you of this, but I saw way too many people trying to open the gates for photos. *facepalm*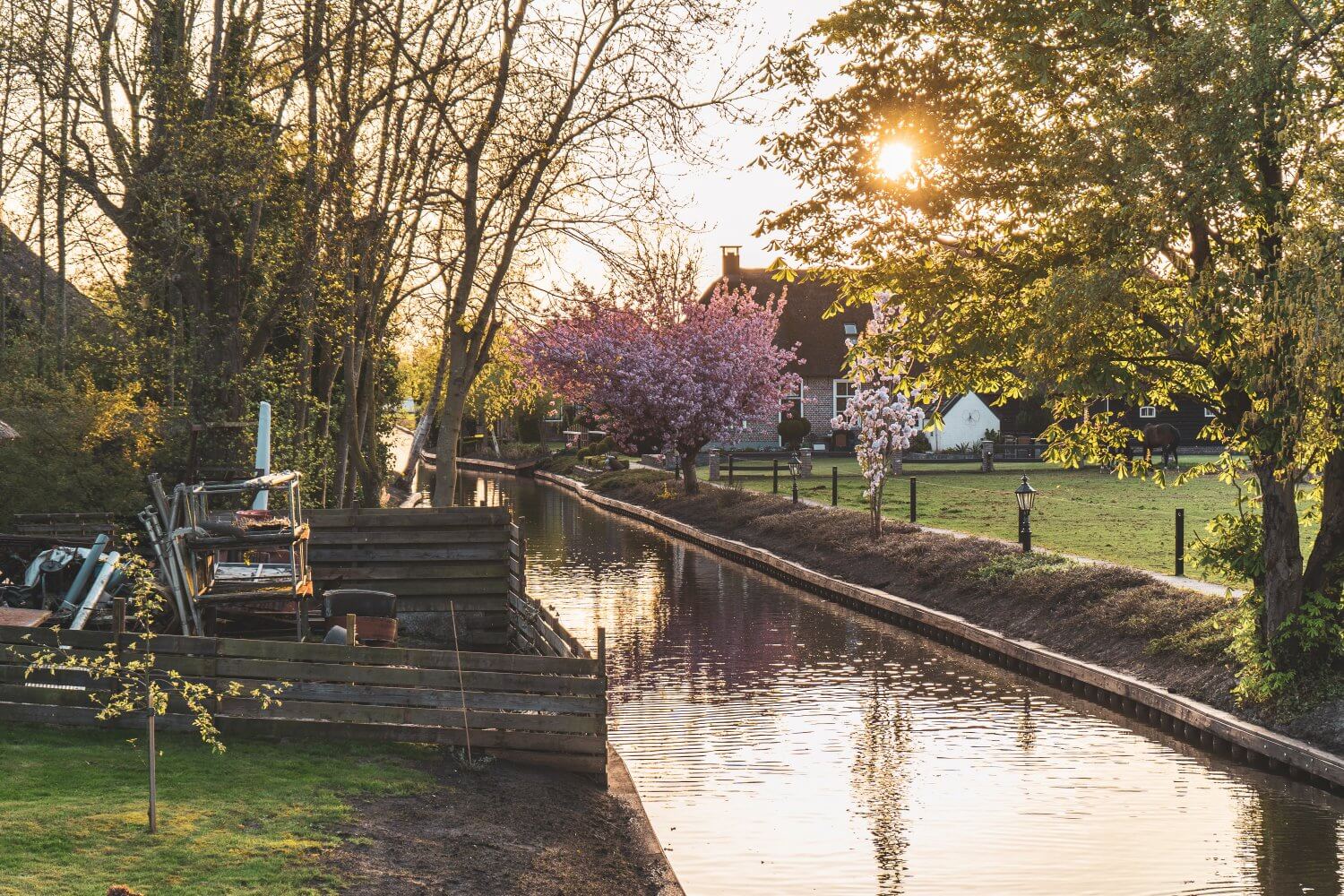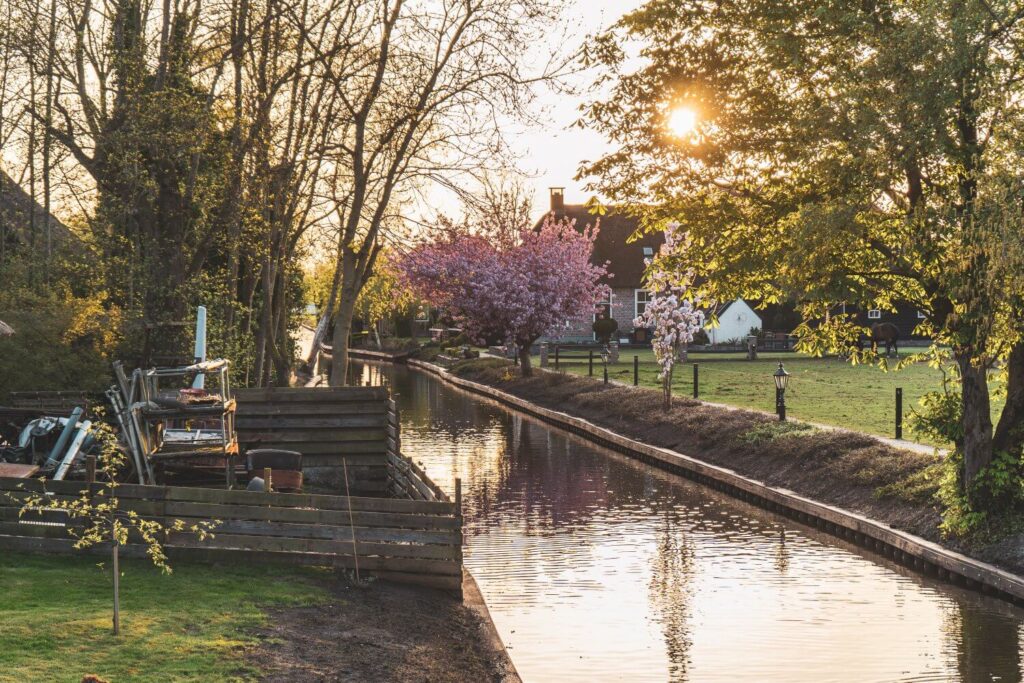 I hope you enjoyed this guide to things to do in Giethoorn!
So, tell me: have you ever been to or heard of Giethoorn? Regardless, I hope you enjoyed that guide! Feel free to ask in the comments if you have any questions 🙂
---
Watch my most popular YouTube video this week:
---