*FYI - this post may contain affiliate links, which means we earn a commission at no extra cost to you if you purchase from them. Also, as an Amazon Associate I earn from qualifying purchases. Check out our Privacy Policy and Disclosure. for more info.
As many of you have seen on Instagram, I recently came home from the most luxurious train ride in South India, soaring through the country on a purple glam-mobile that put the capital O on opulence.
But before you assume I've found a winning lottery ticket or clumsily robbed multiple banks, you should know that all this was part of a massive blogger campaign organized by Incredible India, who invited myself and 14 other bloggers on board the Golden Chariot to raise awareness for luxury train travel in the country.
For a week, I got to test drive the fancy Indian high life, and I gotta tell you – it has been tough to re-adjust 😉
After all, life on board the Golden Chariot is one where the toughest question of the day is what kind of tea you'd like your butler to fetch for you, or whether a second dessert would really be "pushing it" – all in all, the most decadent of first world problems.
But, having had a month now to digest all my experiences (and new curry weight), today, I'd like to give you a full rundown and review of my experience on board the Golden Chariot train, by far one of the swishiest and most luxurious travel experiences I've enjoyed to date.
If your goal is to see India with comfort and pinches of glitz and glam, a luxury train like this might just be the way to do it. Here's my full review of the Golden Chariot experience, including details about the cabins, itinerary, costs, amenities and service.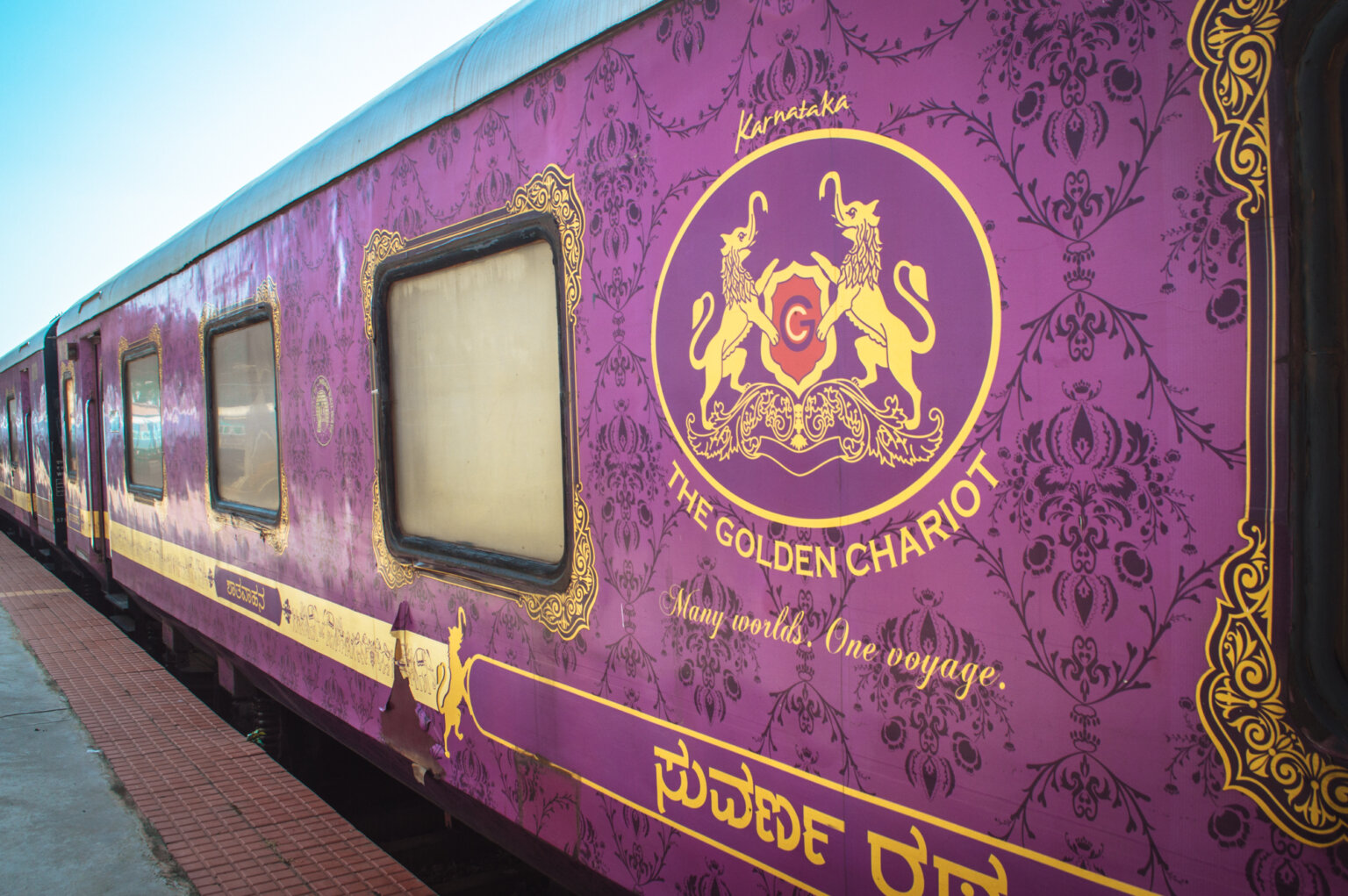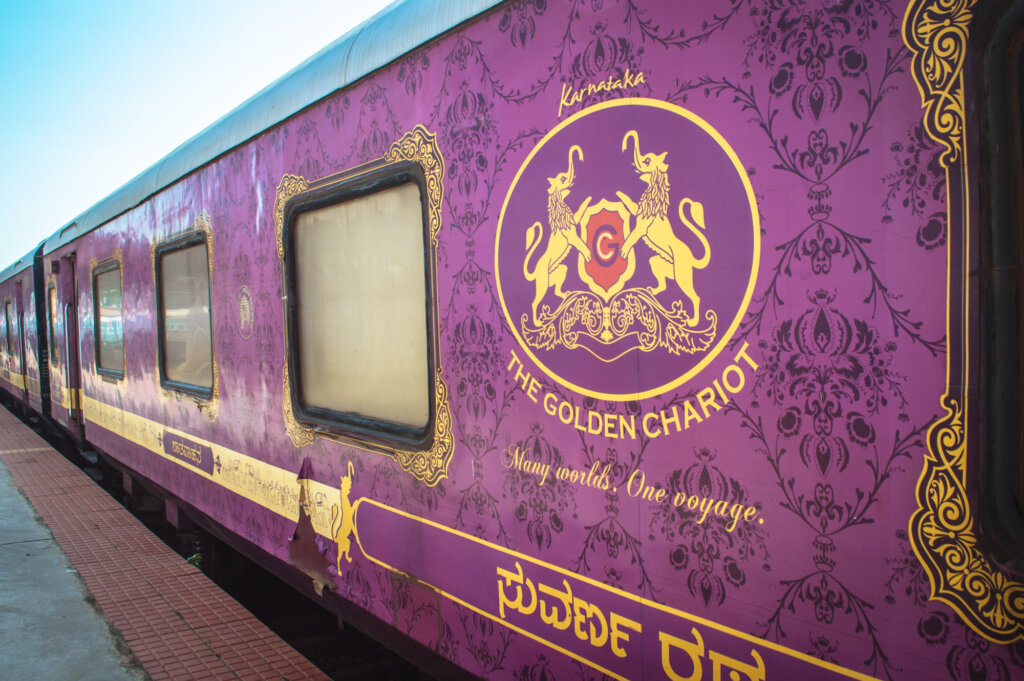 What is the Golden Chariot?
The Golden Chariot is one the top luxury tourist trains on offer in India.
Named after the iconic Stone Chariot in Hampi (unsurprisingly one of the highlights of the itinerary), this train is one that has numerous awards under its belt, including Asia's Leading Luxury Train at the World Travel Awards.
The ride is roundtrip, starting and ending in Bangalore, and lasts a week in total. Where you go however depends on the specific route you choose.
Generally speaking, the Golden Chariot operates in South India, and takes you through a variety of touristic highlights. There are however two different routes that you can choose from (which of course cover different destinations).
The Pride of South route (which is the one I did!) goes through the provinces of Karnataka and Goa, whereas the Southern Splendour route goes to Karnataka, Kerala and Tamil Nadu.
You can catch a more detailed itinerary breakdown below!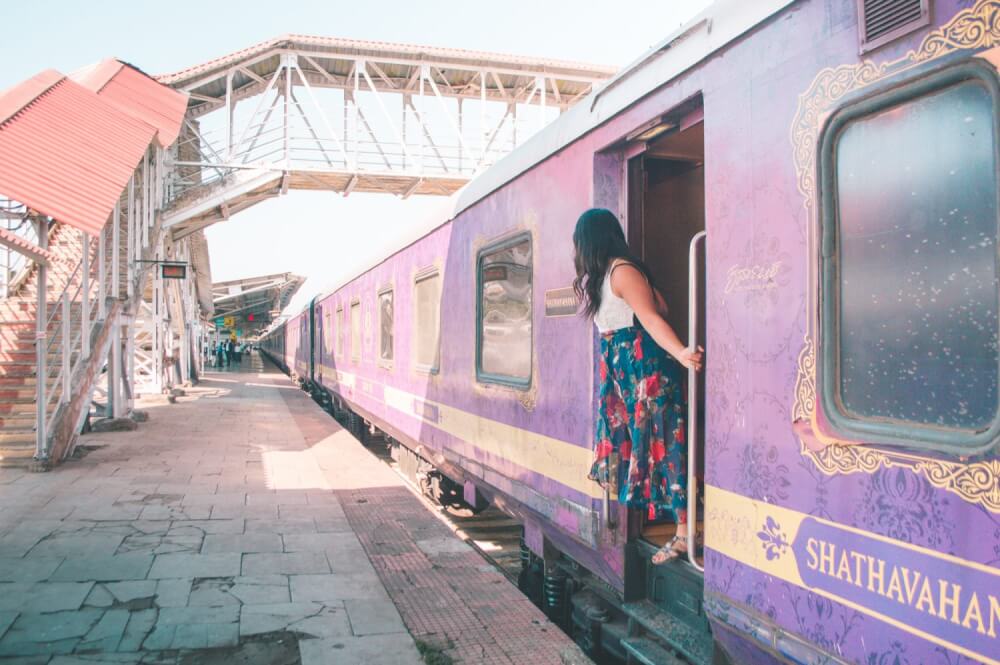 Golden Chariot Cabin Overview
On board the Golden Chariot, you'd sooner see a monkey on board than encounter cramped sleeping quarters and bunk beds.
Here, the sterile and utilitarian sleeping quarters often found on trains are cast away in favour of comfortable bedding, hot showers, a fully decked washroom with all necessary amenities and of course, a nice big window to watch the world go by.
The best way to describe the cabins on board the Golden Chariot would be to call them micro hotel rooms on wheels.
While the cabins aren't huge, there is still enough space for a comfortable bed (or two singles depending on your cabin type), a foldout desk, a little closet, TV and a fully-equipped bathroom – one per cabin.
Overall, the décor is nice, though a bit dated (given that the train has just wrapped its 10th season).
Rather than the sleek, modern kind of luxury that is so "on trend" these days, the luxury on board the Golden Chariot is more classic and refined, reminiscent more of Belle Epoque type luxe, rather than cutting edge "cool" luxury.
By train standards though (after all, remember we are talking about a TRAIN here), it's the fanciest I've ever encountered by far.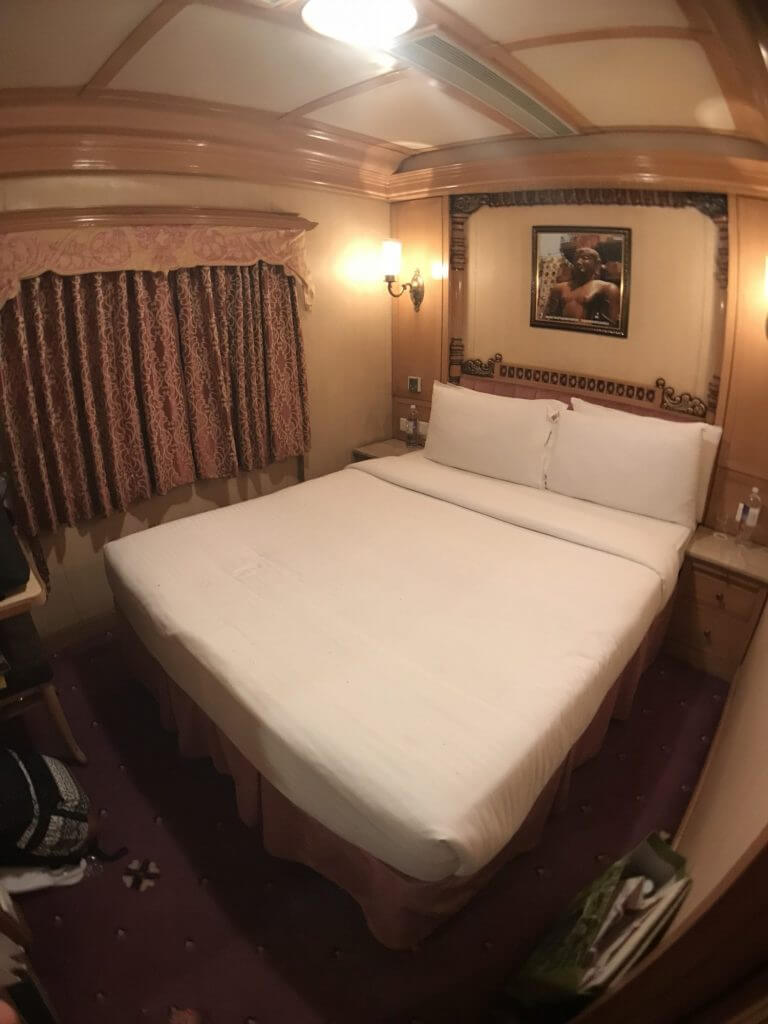 Golden Chariot Train Itinerary
As I mentioned, when booking the Golden Chariot train, there are two routes that you can follow – both offering a packed itinerary of highlights from around South India.
There's the Pride of South route (the one I did!), which goes to the provinces of Karnataka and Goa, and the Southern Splendour route, which goes to the provinces of Karnataka, Kerala and Tamil Nadu. Both board and return to Bangalore.
What's brilliant about both these routes is that they take you through some of the more offbeat and unknown gems that India has to offer.
While for many international visitors, India is all about tourism heavyweights like the Taj Mahal and palaces of Rajasthan, the Golden Chariot is proof that India has many more diverse sights to offer.
I for one was met daily with absolutely jawdropping destinations that I had never heard of before (like the ruins of Hampi!).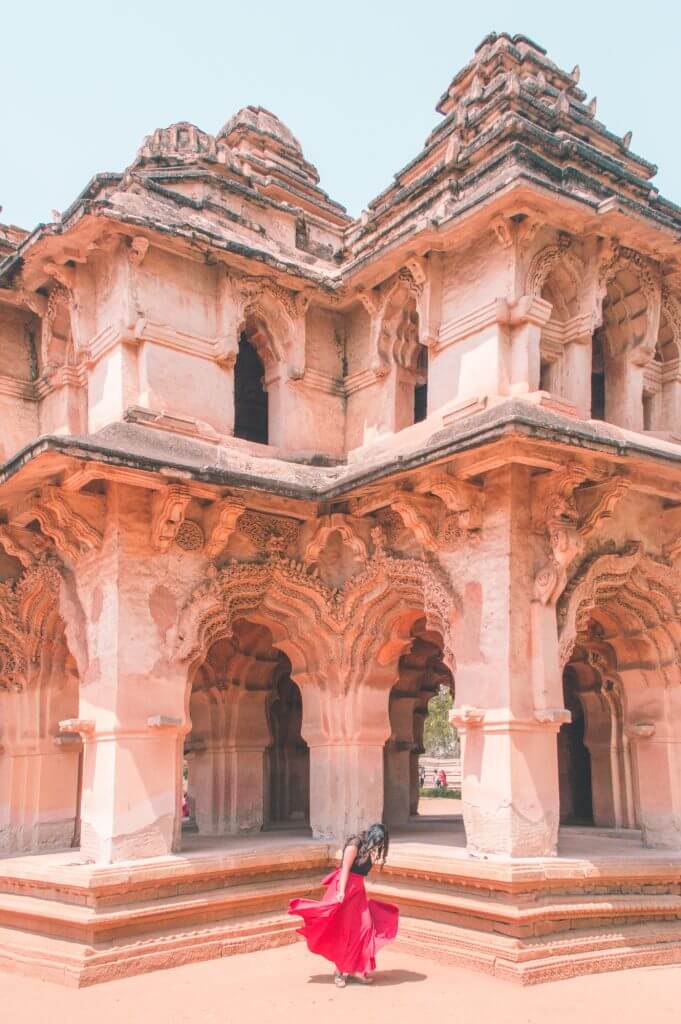 If you crave a more offbeat alternative to the Golden Triangle, a journey with the Golden Chariot might be exactly what you're looking for.
Here's how the journey works: after boarding, the train works its way through a set itinerary, arriving in a new destination (usually) each day.
The majority of travel time is at night, so you'll often wake up to a new destination different than the one you fell asleep to.
Then, at each stop, the Golden Chariot team provides buses that will transport you to the main sightseeing spots for that day, whether it's an impressive palace or cool set of ruins.
The exact schedule varies day by day, but you can expect to be out until the evening, at which point you're transported back to the train via bus, excited to do it all over again!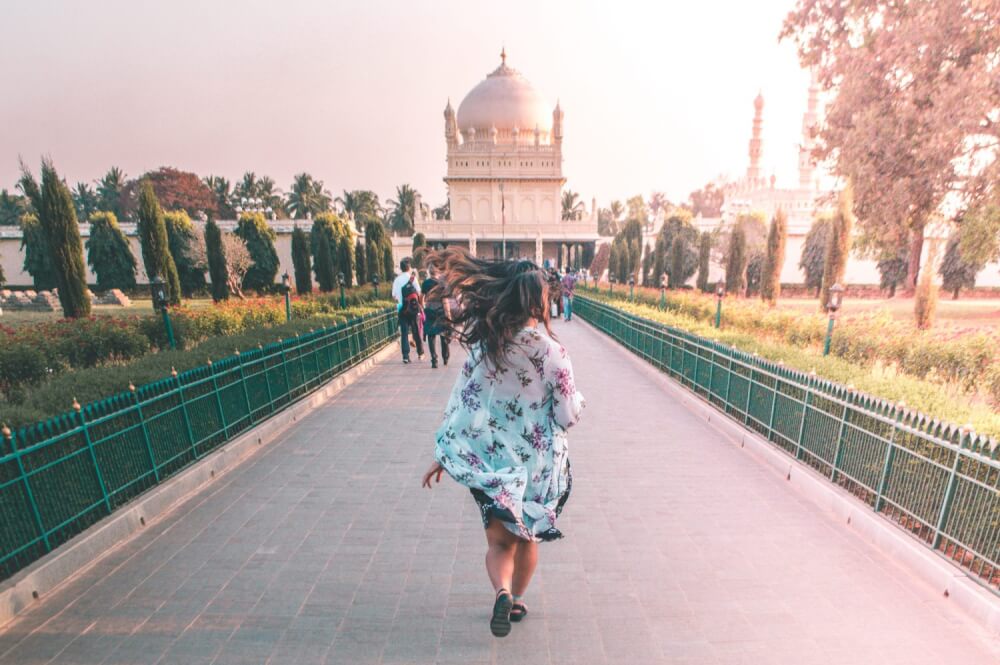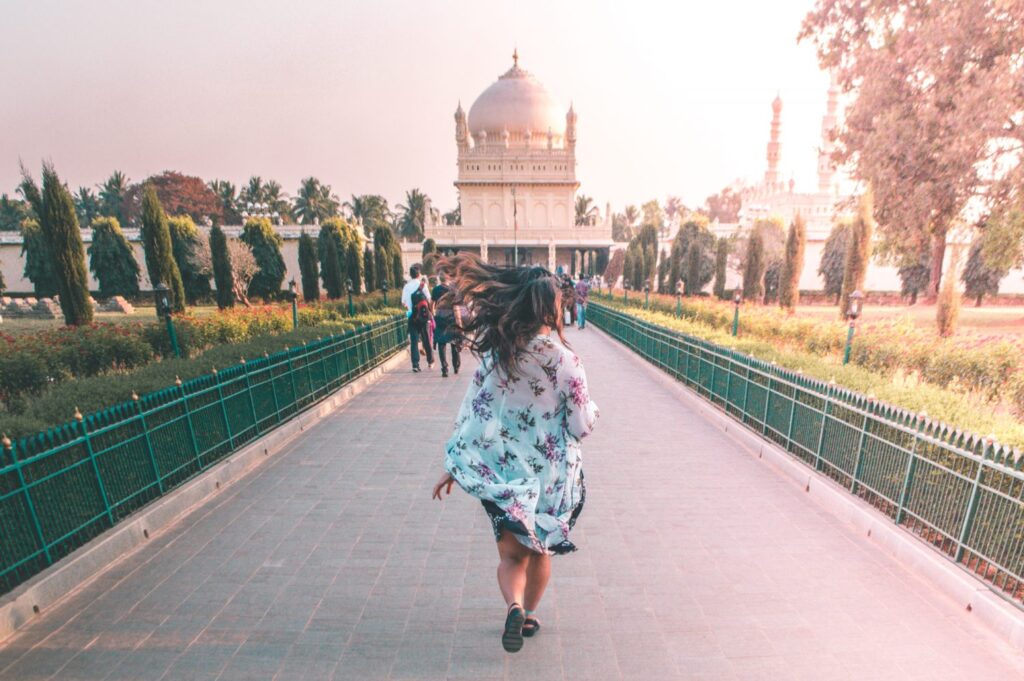 Golden Chariot Pride of South Route
Again, this is the route that I did during my trip!
You can read the full schedule from the official Golden Chariot website here, but be mindful that certain adjustments might be necessary depending on the dates of your trip.
For instance, we had to omit one temple visit due to a religious ceremony that happens only once every twelve years (if that's not bad timing, I don't know what is!)
Overall, the trip doesn't cover a lot distance-wise, which means short journeys between stops (usually overnight), but it still covers a lot of ground in terms of sights and destinations.
Day One: Train check in + welcome party at the swishy Taj West End Hotel, followed by a cultural dance performance, temple visit and then (red carpet) train boarding at 8:15pm.
Day Two: Explorations around Mysore, including the stunning Mysore Palace, followed by a drive to the Indian jungle (yes, really) for some safari time. We stayed at the K Gudi Wilderness Lodge overnight and did a sunset safari.
Day Three: One last sunrise safari before departing to Mysore again for more sightseeing. Highlights included the beautifully detailed palace – Dariya Daulat Bagh and the Tipu Mausoleum (known by some as the mini Taj Mahal).
Day Four: [This was an amended itinerary due to a religious ceremony taking place at one of the temples we were meant to visit] That morning, we set off to Chikmagalur by bus to tour the lush coffee plantation at the Serai (a beautiful luxury resort with an amazing lunch buffet!), then off to explore some impressive temples in Belur.
Day Five: The stunning ruins of Hampi (yes, this 100% required a full day. It was incredible!)
Day Six: Exploring more beautiful temples in Pattadakal (known as the cradle of Indian temple architecture) and then the Badami Cave Temples (which are insanely detailed temples carved into stone).
Day Seven: Goa!! Some exploration around Goa's famous churches and then off to the beach.
Day Eight: Return to Bangalore station, AKA endless tears.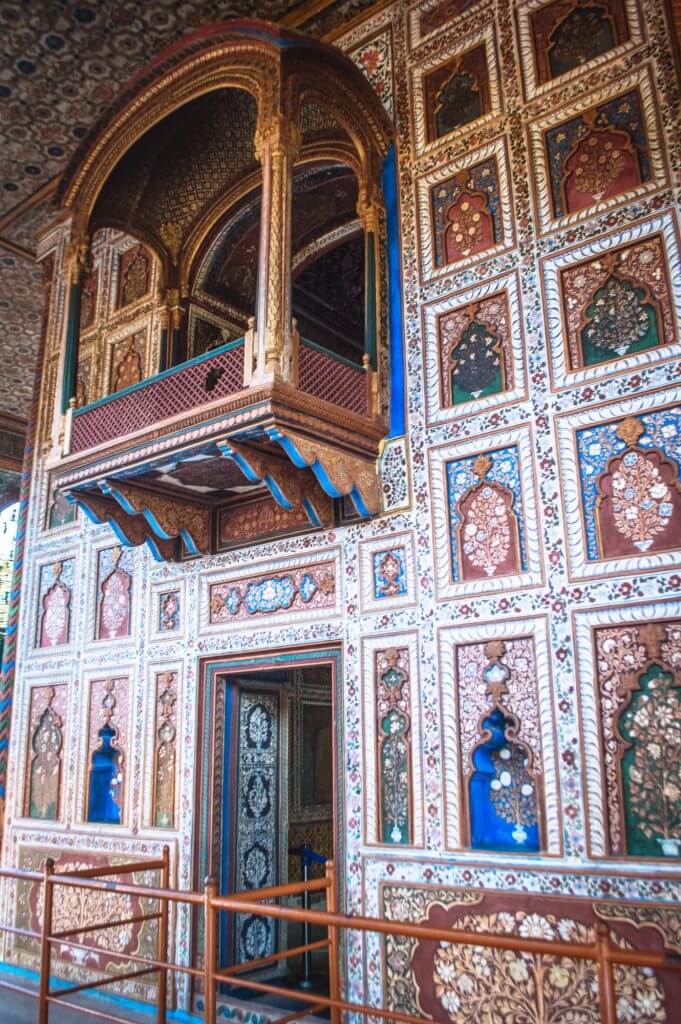 Golden Chariot Southern Splendour Route
I didn't do this route during my trip, so the following itinerary is paraphrased/summarized from the available schedule on the main Golden Chariot website.
Day One: Train check in + welcome party at the swishy Taj West End Hotel, followed by a cultural dance performance, temple visit and then (red carpet) train boarding at 8:15pm.
Day Two: The Golden Chariot arrives in Chennai. Highlights of the day include Santhome Cathedral and Mahabalipuram Beach. Passengers are driven to Pondicherry (where the Golden Chariot will be waiting!)
Day Three: Explorations around Pondicherry and Auroville Ashram.
Day Four: Splitting the day between Thanjavur and Trichy, with highlights of the day including Brihadeshwara Temple complex and Sri Rangam Temple.
Day Five: A day spent in Madurai, with highlights including Sundareswarar Temple and an evening visit to Thirumalai Nayak Palace (where there will be a light and sound show).
Day Six: Sunrise at Kanyakumari (the southernmost tip of Peninsular India & where the Bay of Bengal, Indian Ocean and Arabian Sea all meet). Afterwards, explorations around Padmanabhapuram Wooden Palace and some leisurely beach & resort time at Kovalam Beach.
Day Seven: A leisurely day cruising the backwaters of Kerala at Punnamada Lake on a traditional house boat, followed by explorations in Cochin.
Day Eight: Return to Bangalore station, AKA endless tears.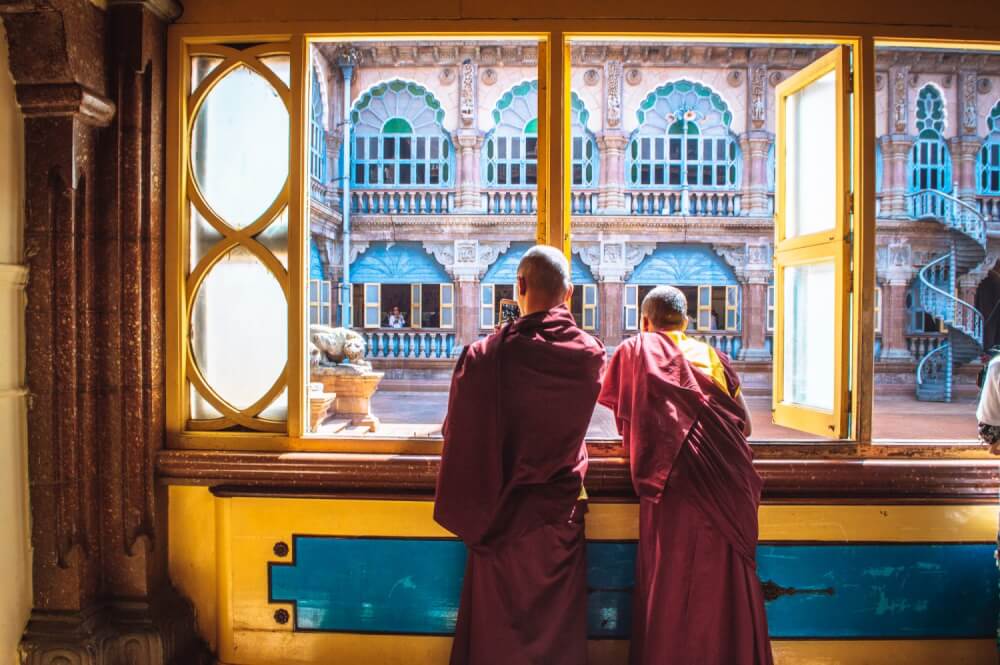 Golden Chariot Fares and Costs
With words like "butler" and "on-board spa" liberally sprinkled through this review like the most casual of humble brags, you might suspect that a trip on board the Golden Chariot is one that comes at a steep cost.
I can confirm that yes, this level of comfort is one that you'll need to pay for. You can find a full list of prices on their website, but generally speaking, you'll be spending about $6100 for single occupancy, and about $10,000 for double/triple occupancy.
What's included:
This coveted purple ticket does of course come with all your meals, accommodations, experiences and excursions, which helps justify the cost. The overall experience (and associated cost) provide a convenient done-for-you package ideal for those keen to simply just sit back, relax and enjoy (without the stress of planning).
What's not included:
Sadly, the Golden Chariot doesn't come with an open bar! Trust me, I asked. … and asked…. and pleaded… and cried. Alas, the privilege of getting tipsy on a moving train does come at an additional cost. As do certain on-board amenities like the spa and laundry service. Gratuities/tips are also an additional expense.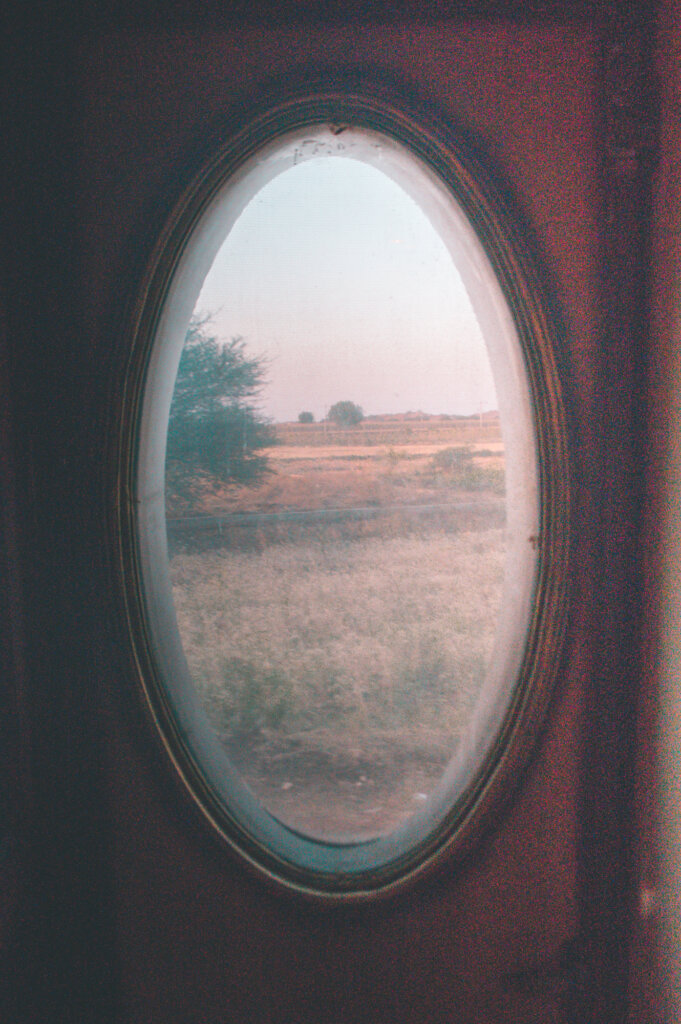 Golden Chariot On-Board Amenities
While free time on the train isn't all that plentiful, there's still a wide variety of things to keep you busy on board the Golden Chariot.
Not including food comas and afternoon naps (my hobbies of choice), your time on board can be spent at…
The bar: Need I say more? The most popular and buzzing carriage on the train is of course the on-board lounge bar, where you can treat yourself to a variety of refreshing beverages (alcoholic and otherwise). These drinks do (sadly) come at an additional cost, but when you consider the potential consequences of an open bar on board a moving train, such a limitation makes abundant sense 😉
Two on-board restaurants: Both serve up the same menu, but offer differing décor and colour schemes if you're keen to switch things up.
Small fitness center: I might have a laughed a bit when I heard there was a gym on board. Of course, the gym is small (equipped with only three machines) and did I ever see it in use? No, I did not… still, the option is there for those with far better discipline and self control than I.
Movies: Every cabin has a TV with a wide selection of films – Bollywood, Hollywood and otherwise.
Business center: For busy bees looking to get work done, there is a small business center with a computer available, conveniently (and perhaps not coincidentally, located in the same carriage as the…)
Spa: Massages on board a moving train? Sounds like it would rock your world (literally).
Laundry service: And lastly, an amenity that is far less sexy than the others – laundry! Knowing full well that this is a common concern among travelers, I felt it necessary to include. (NOTE: Laundry and pressing services come at an additional cost).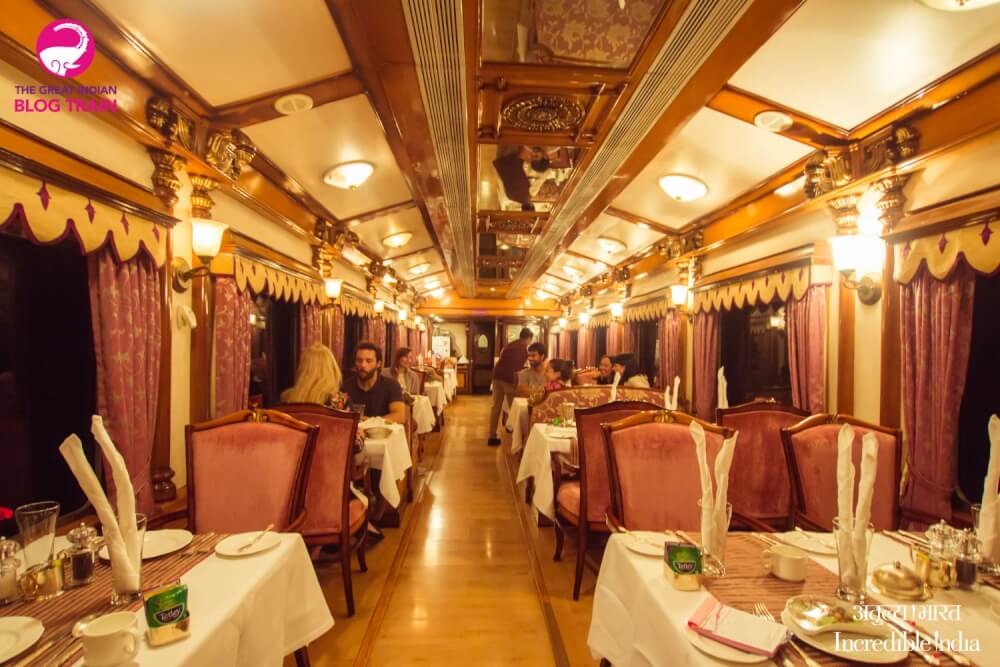 Service
In my opinion, what truly makes the Golden Chariot a luxury trip is the level of service and attention you receive from on-board staff.
If travelling on board a swishy train wasn't enough to make you feel like royalty, the kind of attention you receive from staff surely will.
Besides having your own room attendant/butler (available at a moment's notice thanks to a calling bell in your room- seriously not making this up), you are also pampered daily by friendly staff in the restaurant carriages and throughout the day on excursions.
While there can sometimes be a language barrier, staff are always kind and willing to help you out with a smile.
For instance, when I discovered my newly bought dress had a risque leg slit I never realized, it only took a few minutes for my butler to fetch me a safety pin to save the day (after showing him a photo of what I meant, of course!)
Oh, and there are always staff to make sure you're well fed.
Chilling in the lounge cart? Here, take some appies!
Enjoying dinner in the restaurant carriage? Here, try a sample of ten more things you didn't order.
It's not a mystery why I practically had to be rolled back to my carriage every night.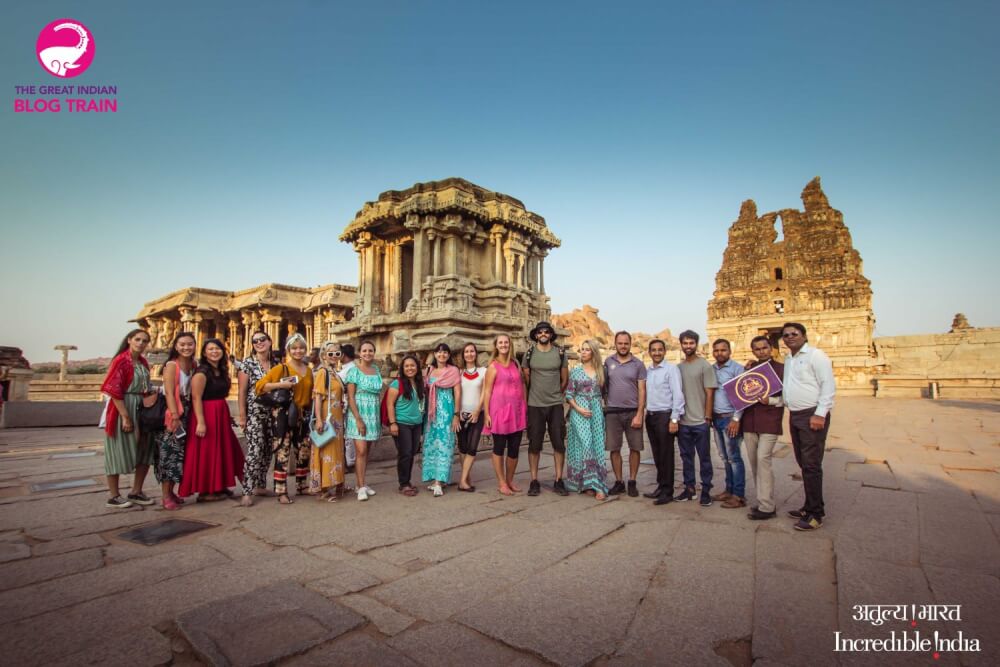 Overall Pros and Cons of Riding the Golden Chariot
I'm sure by now you're like "okay, we get it – the train was great… now what?"
I always strive to provide a balanced review, so I want to round this off with a consideration of the Golden Chariot's good and bad points.
Of course, I don't think this type of trip is suitable for everyone, and there were a few things I would change moving forward. Here's a summary of my thoughts!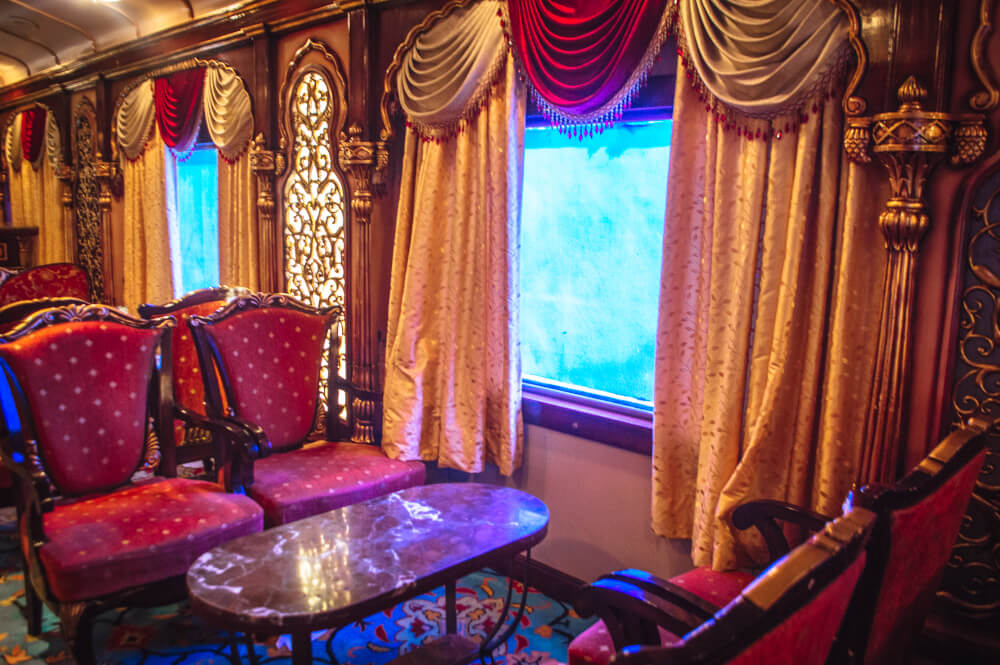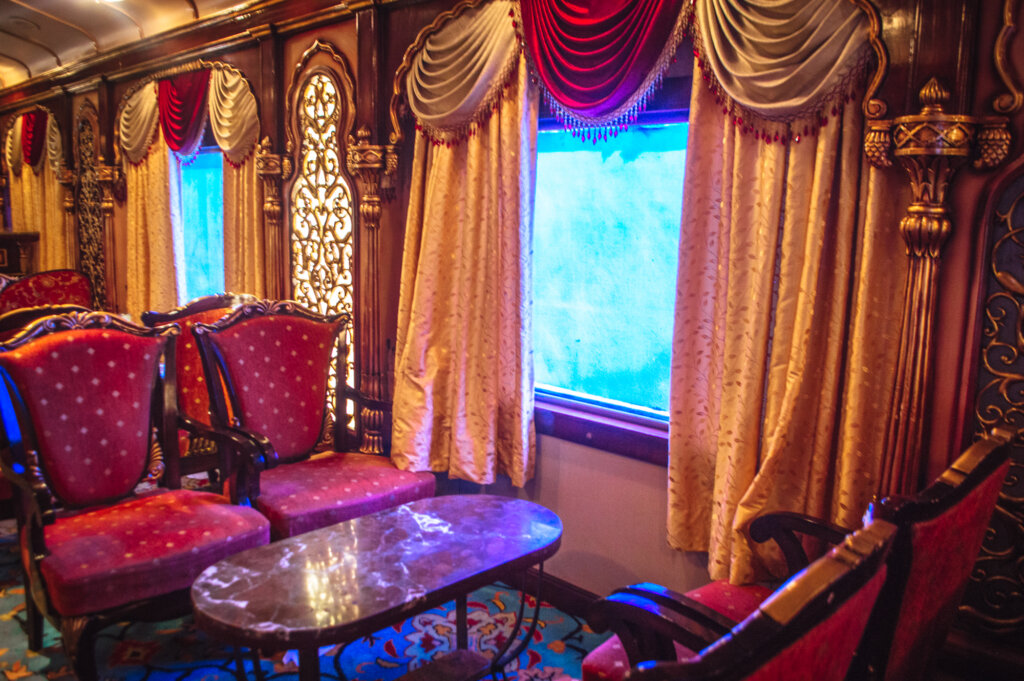 Golden Chariot Pros
Convenience: The ability to unpack once and enjoy the rest of your holiday stress-free is invaluable, and probably one of the best perks of travelling by train.
Because your accommodation, transportation and experiences are all handled in-house, you can enjoy everything stress-free.
Incredible service: I really can't fault the staff. They were so great, in spite of occasional language barriers. You could really tell that they wanted the best for their passengers, which was clearly reflected in their work ethic and attentive care.
Comfort: I've done many train trips in the past but none can match this level of comfort and luxury. The full double bed I got to enjoy was just as comfy as the one I have at home and the shower was consistently hot. NOTE: I am a very heavy sleeper, so I wasn't bothered by the train's movements at night. That said, some other passengers reported having trouble sleeping due to the shaking and noise. If you are sensitive to such issues, make sure to take that into account, as the train does have a tendency to rock back and forth quite a bit while moving.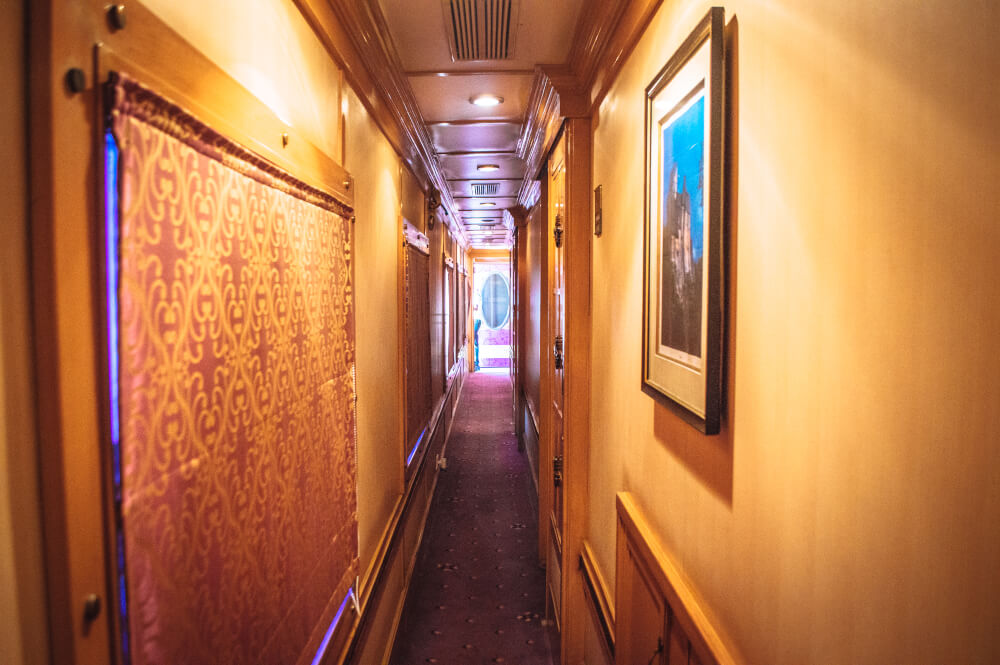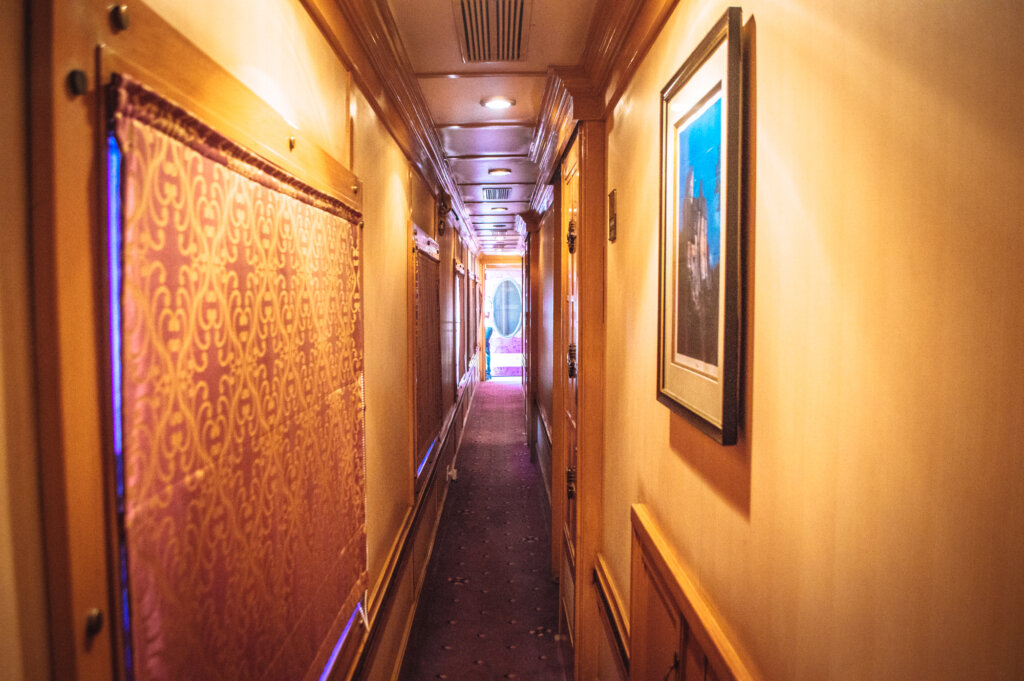 Golden Chariot Cons
Tight schedule: This won't be a slow-paced holiday! Often we would leave the train by 9am and not come back until 12 hours later.
Whether because of the heat or packed schedule, you will 100% be exhausted by the end of the day, so consider that if you're on the hunt for a leisurely paced vacation.
Lack of freedom: Because the itinerary is already set in advance, with hired guides already in place, there is not a lot of freedom or wiggle room for independent exploration. If you're as antsy, curious and restless as I am, this can be a bit of a pain.
Lack of time on the train: This might be a personal con, as some other passengers actually preferred to spend more time outside as opposed to on the train, but for me one of the biggest draws of train travel is having time to enjoy the views and relax on-board. Because of how packed our schedules were however, we didn't have much time to enjoy the ride. In fact, most of our travelling was done at night, which meant the train would move as we slept (which made for a few rocky nights) and also a real lack of views.
Obstructed views: Last but not least, the windows in the bar lounge and restaurant carriages were all covered with a coloured decal for privacy reasons, which really limited my "wistful staring out the window" time 😉 That said, the Golden Chariot team has been made aware of this limitation, and are actively seeking ways to mediate it for the next season.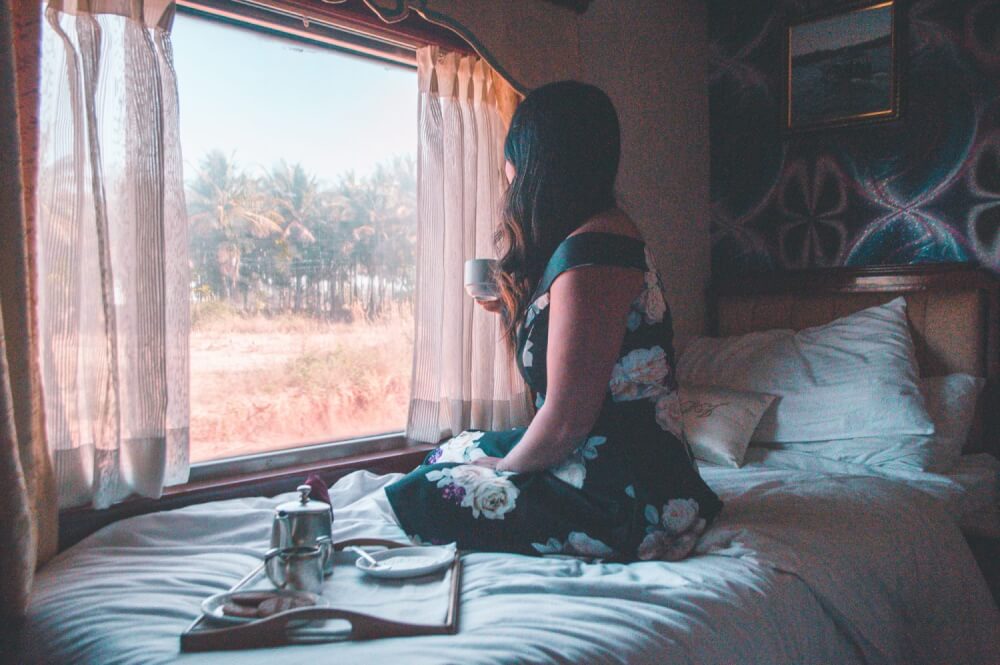 My Golden Chariot Experience (in Photos)
If you asked me before this trip what I thought of train travel in India, my naive mind would have likely spiralled into mental images of sweaty carts touting passengers crammed like sardines, slow chugs along rickety rails and brave passengers dangling out of carriages 3x past capacity.
In all likelihood, I would have told you not to do it.
But because travel loves throwing curveballs and lessons, let me tell you: train travel in India can be so much more than that.
I mean on board the Golden Chariot, I was basically whizzing through the South of India like Beyonce on rails.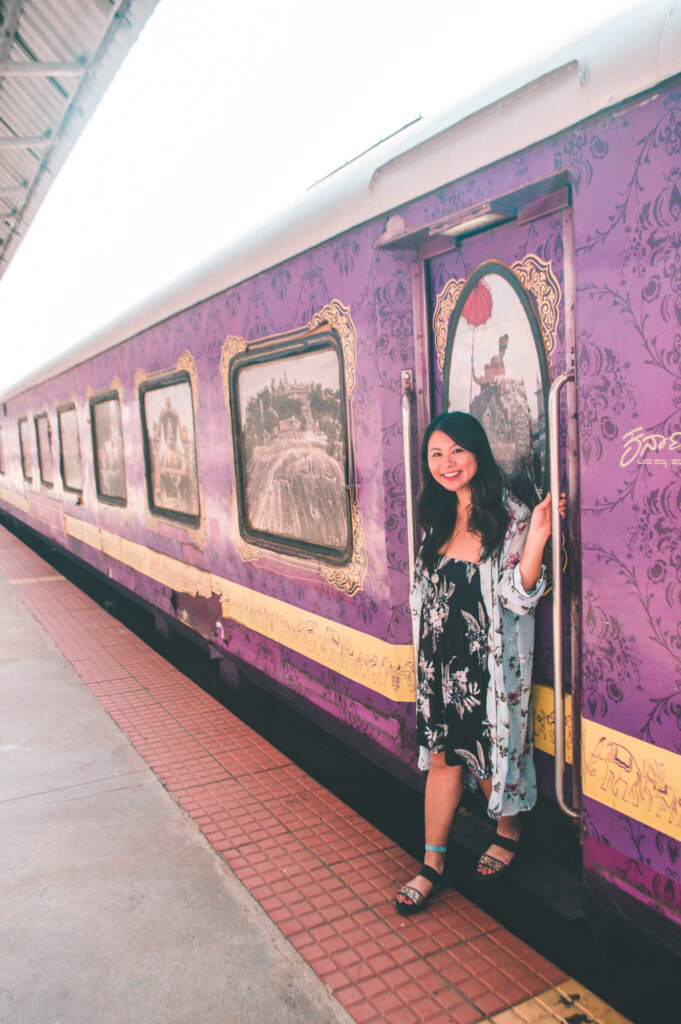 To paint you a mental image: imagine a long purple train covered with golden accents, concealing inside a glitzy set of carriages coated in royal colours and fancy-pants décor.
From day one, a red carpet leads you into a swishy on-board bar decked in red and gold, where a glass of bubbly is in your hand quicker than you can 'gram the place.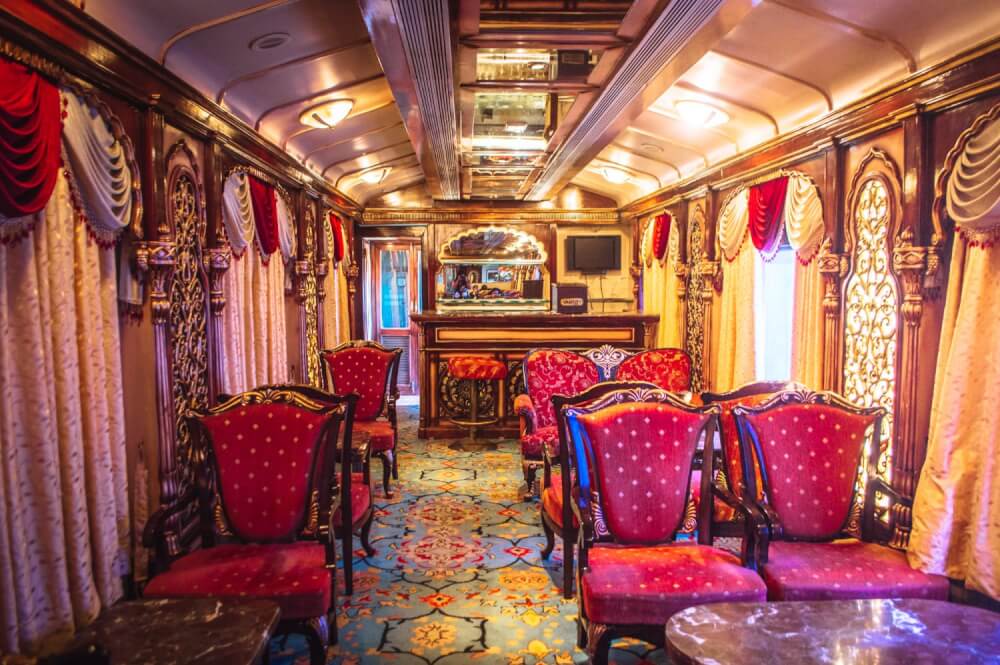 Soon enough, you are fed a non-stop parade of appetizers and led to your own private room by your butler. Yes – your butler.
In many ways, the Golden Chariot is a dreamy fantasy world, a week long escape where masala chai flows like champagne, where your every whim is attended to by doting staff and where overnight, you're whisked away to your next stop – like a luxurious teleportation device that also makes an excellent curry.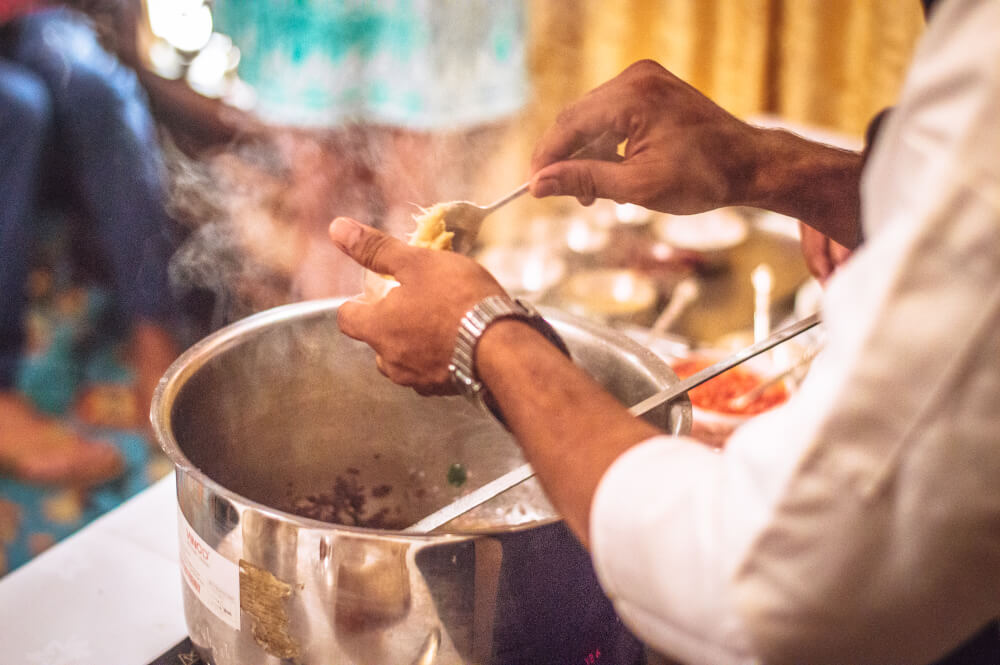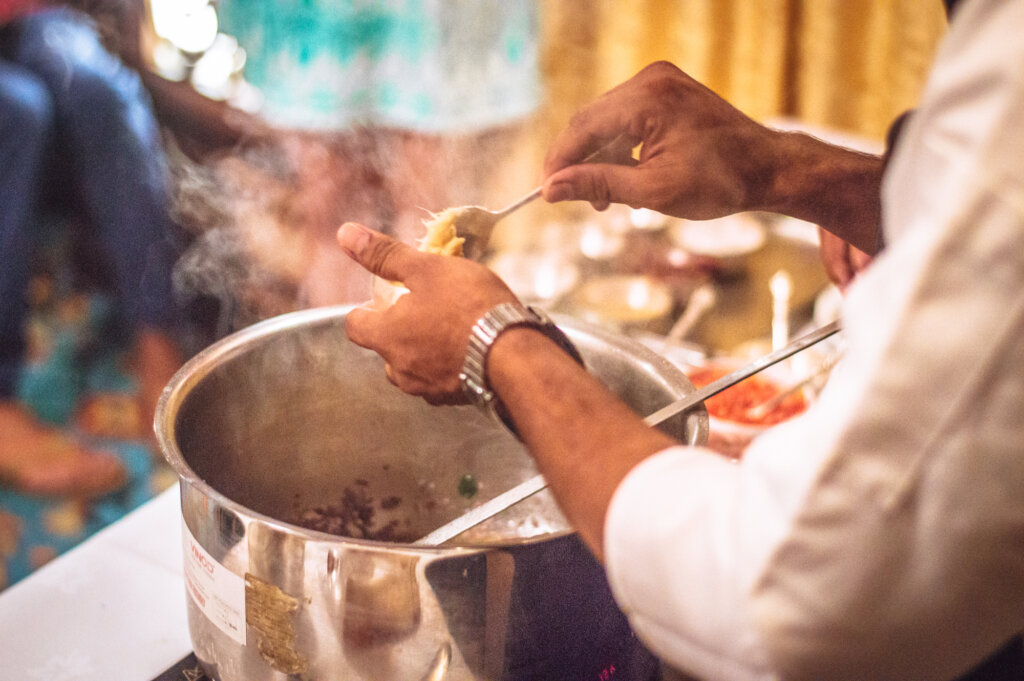 Here's what it's like: every day, you wake up in a new destination, a packed itinerary prepared in advance for you.
One day, you might be scouring temple ruins like Indiana Jones, the next, touring a lush coffee plantation set at a breezy luxury resort. It's as exhausting as it is exciting.
Stepping off the train is an instant recipe for a non-stop whirlwind day, but just as certain is the comforting welcome back on board, pioneered by your butler serving up a cool welcome drink and refreshing towel.
Our week-long journey took us from bustling Bangalore…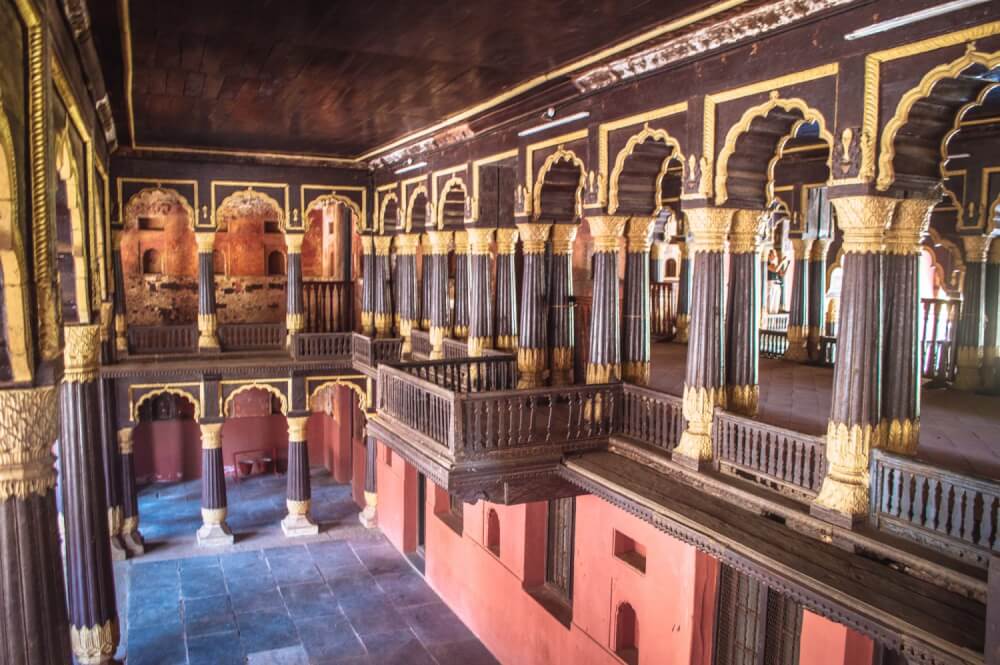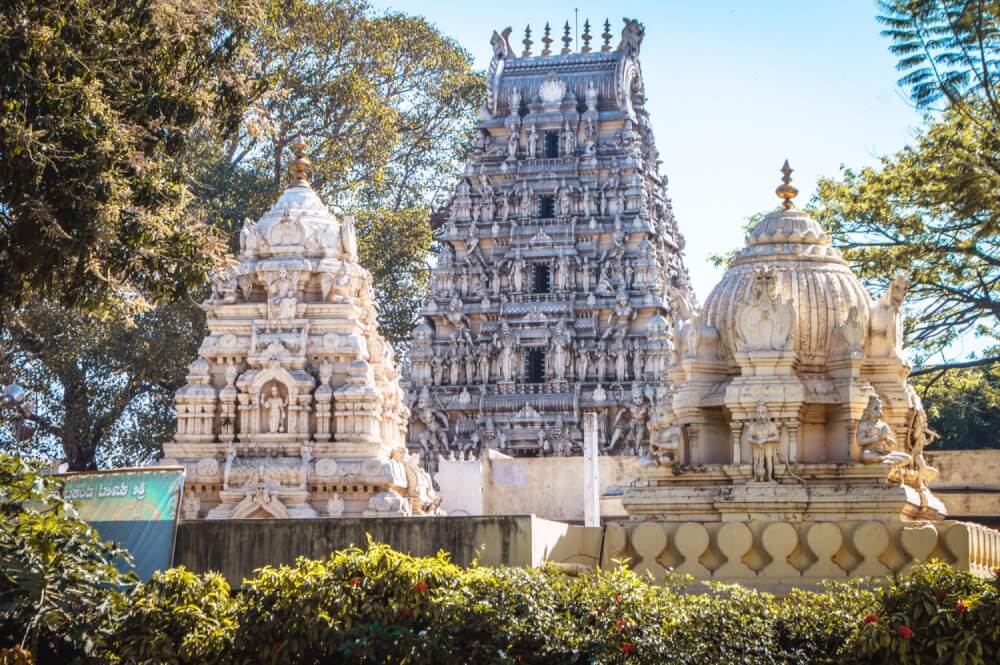 … to the grand palaces of Mysore.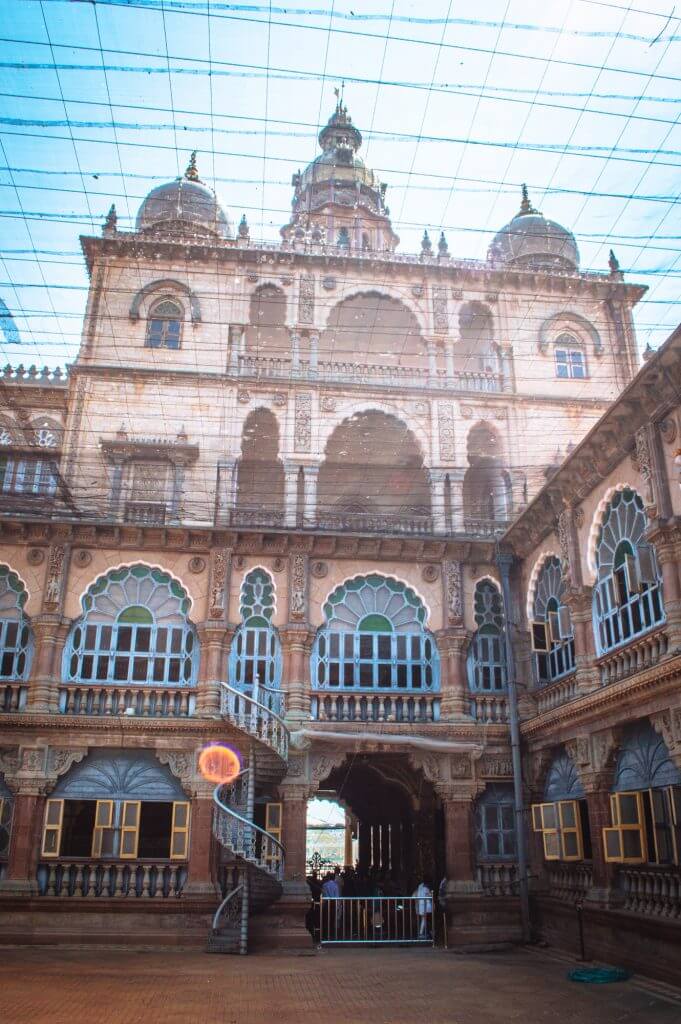 Straight through the Indian jungle (in search of tigers).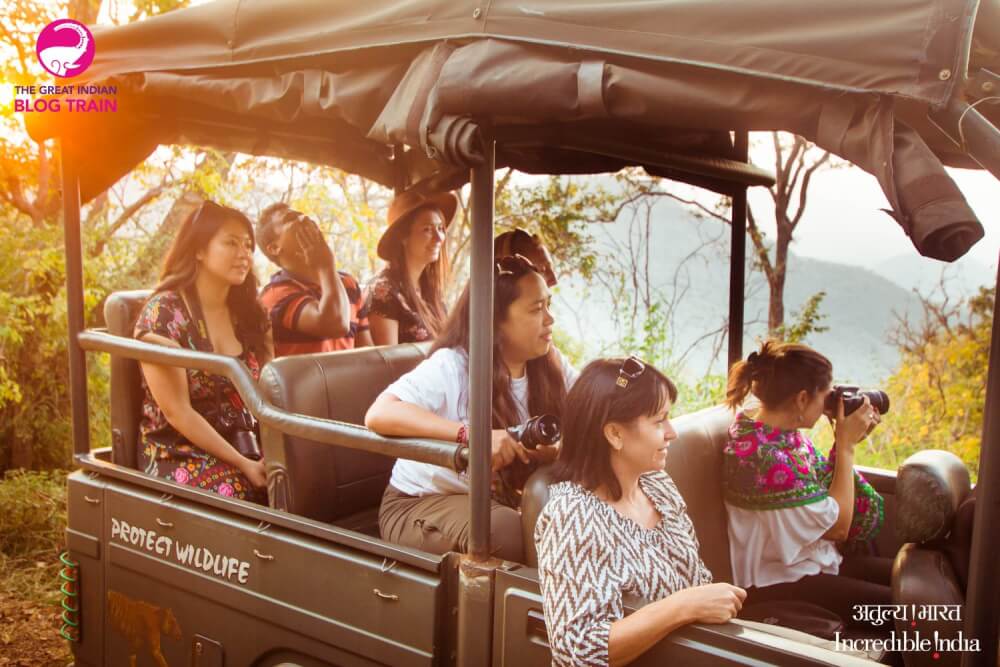 To spectacular temples…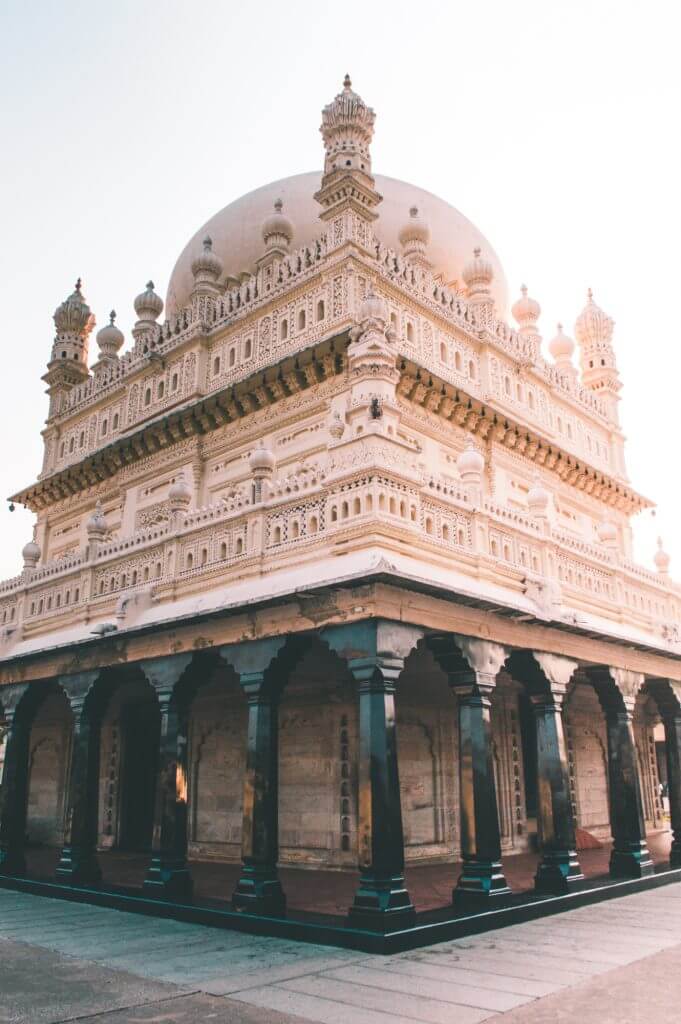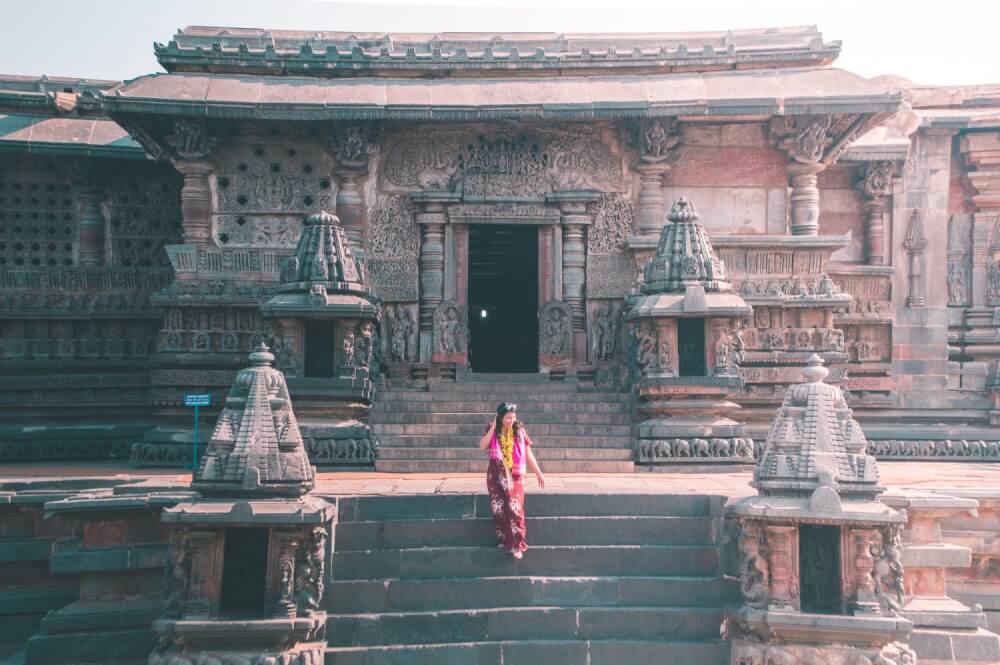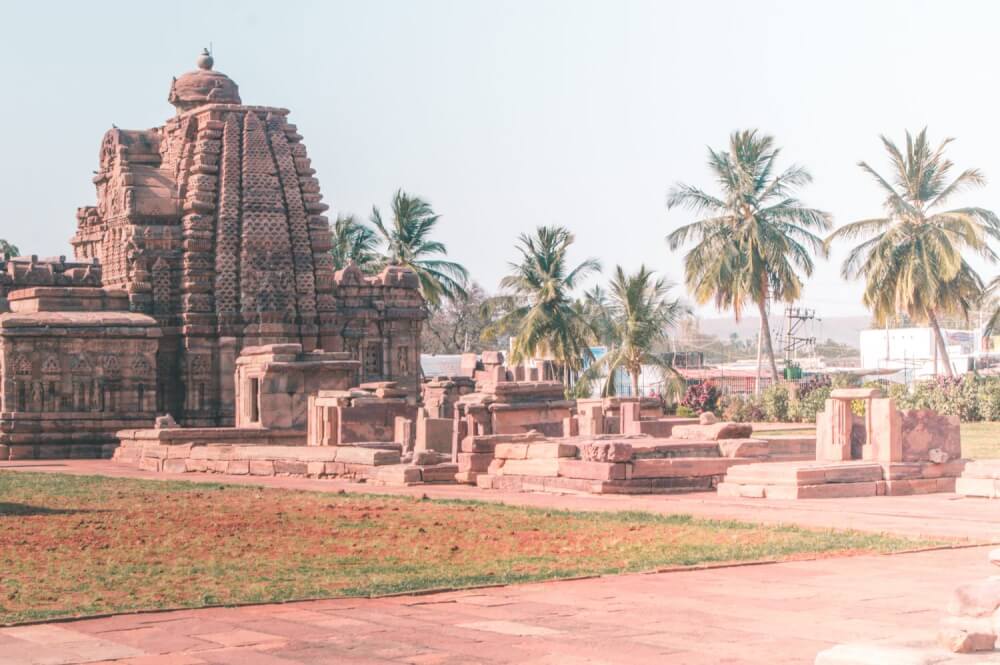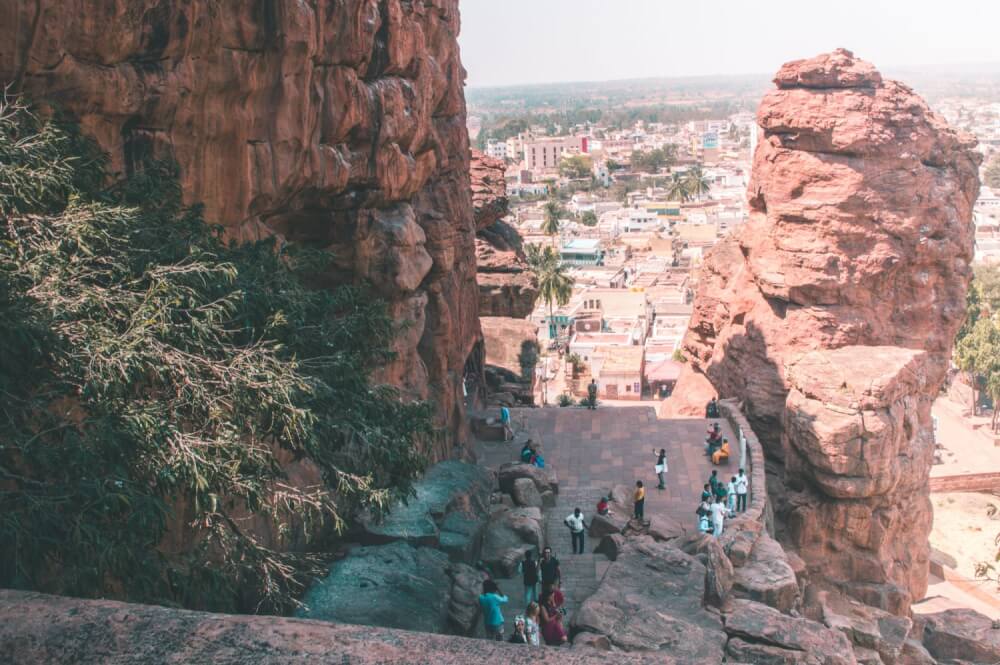 Through the coffee haven of Chikmagalur…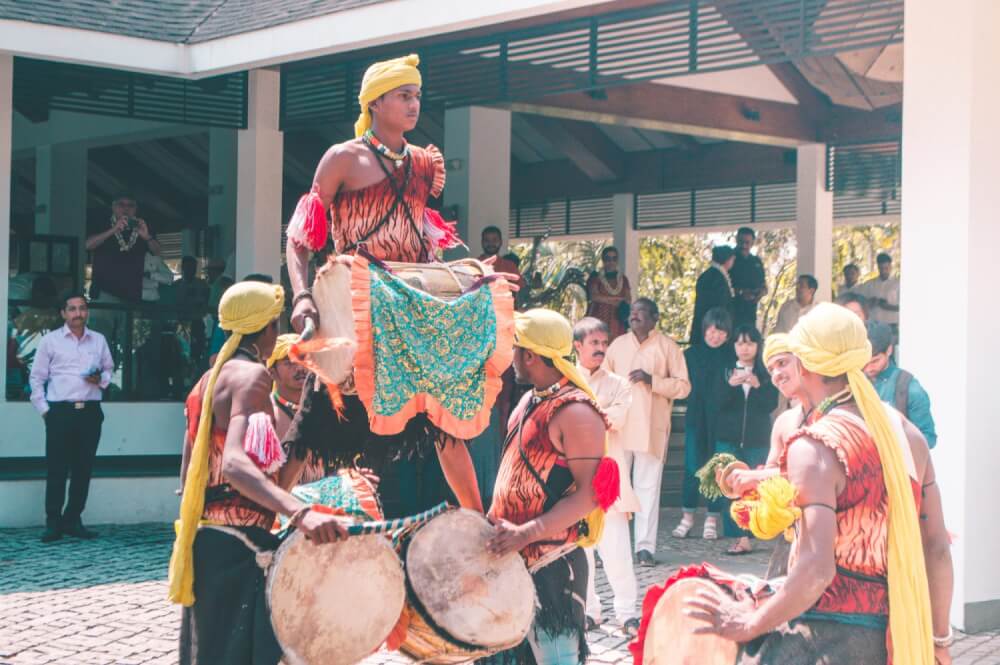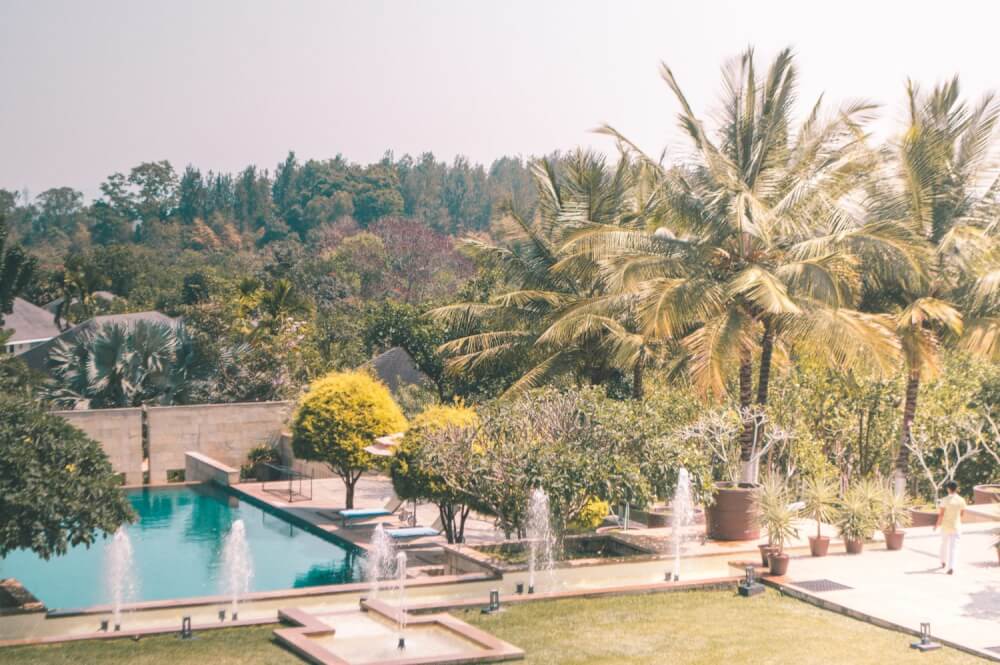 The mindblowing ruins of Hampi…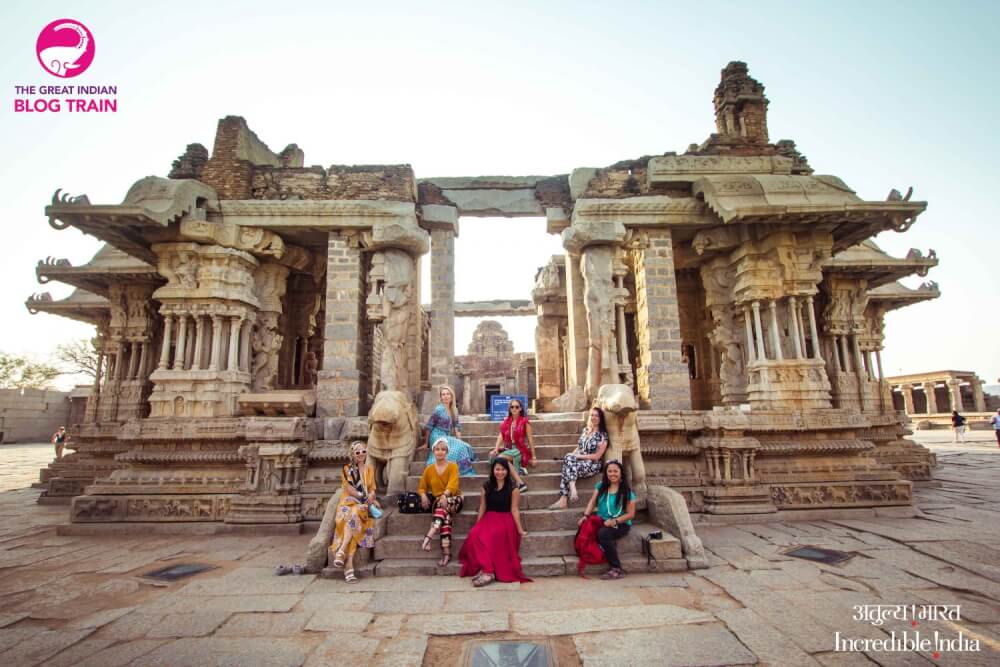 And of course, the sun-drenched beaches of Goa…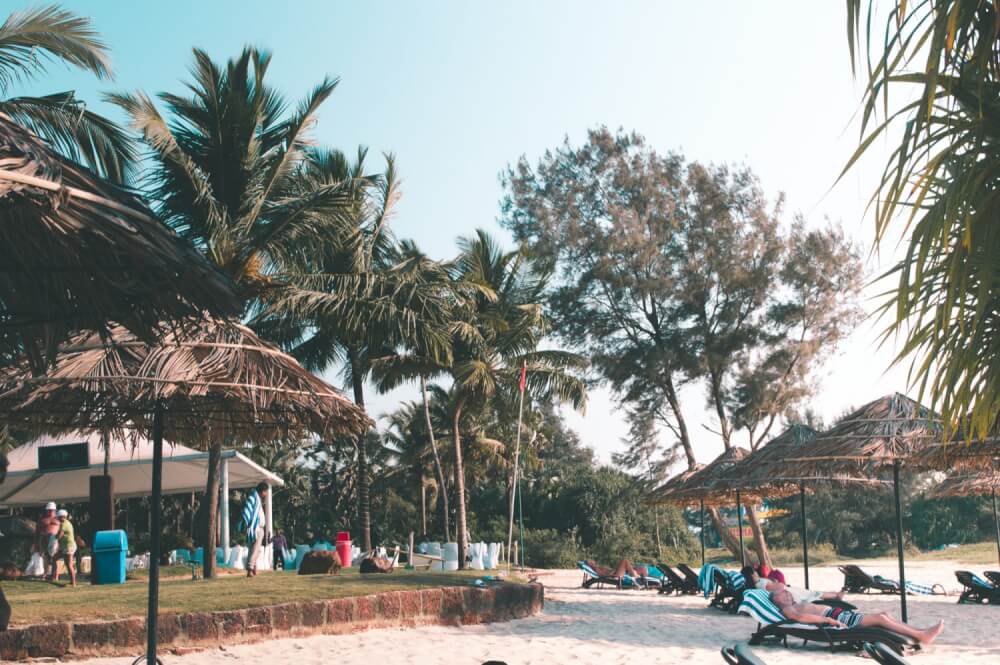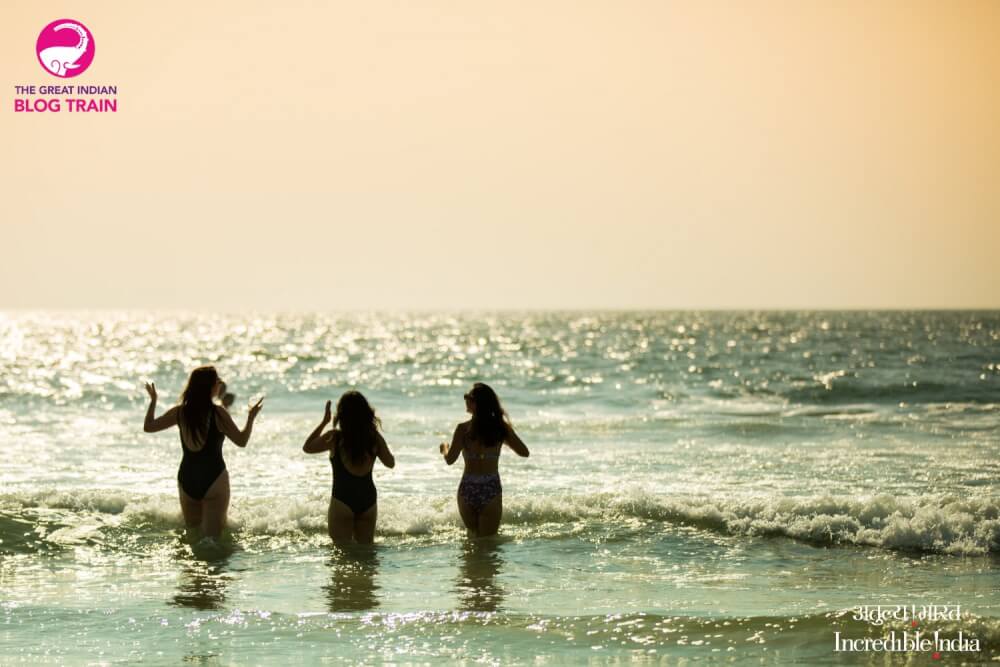 And as arduous as it is to hop from sight to sight, senses overwhelmed and dazzled by the scenic slew of temples and palaces from that day's itinerary, there is a task still more strenuous – finding precious stomach space for the food so liberally paraded in front of you.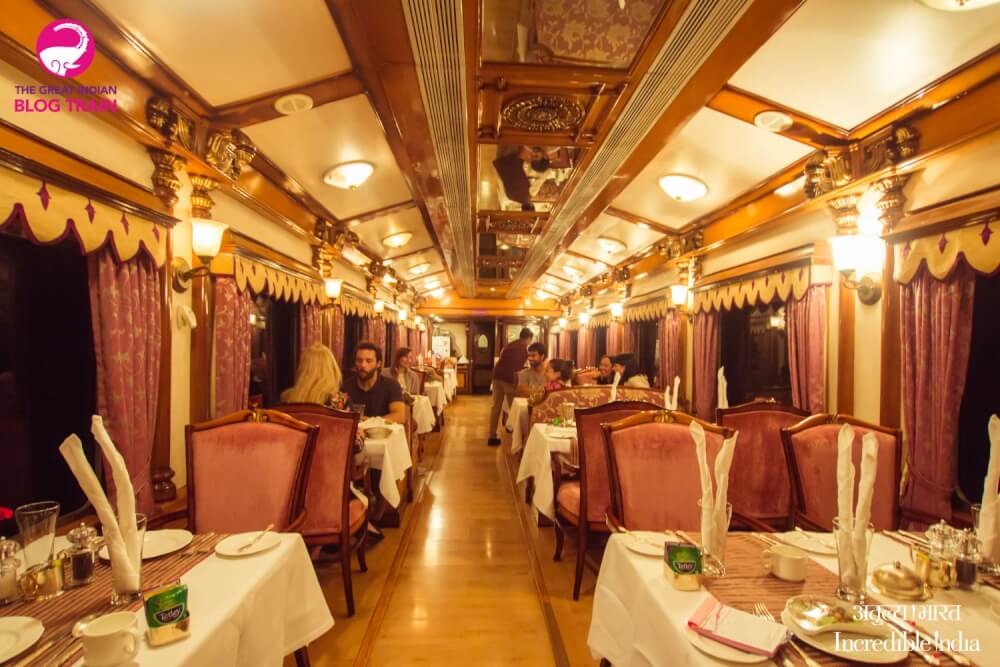 Dining on board the Golden Chariot can perhaps be considered a marathon in itself.
Every meal on board is lovingly created by a team who provides a surprising variety of options catering to both Indian and Western palettes.
Whether you go for the Vegetarian or Non-Vegetarian option, you WILL be well-fed… with a keen chef who comes through the restaurant, prodding you to make a liiiittle more room for one of his proud creations (or often, all of them).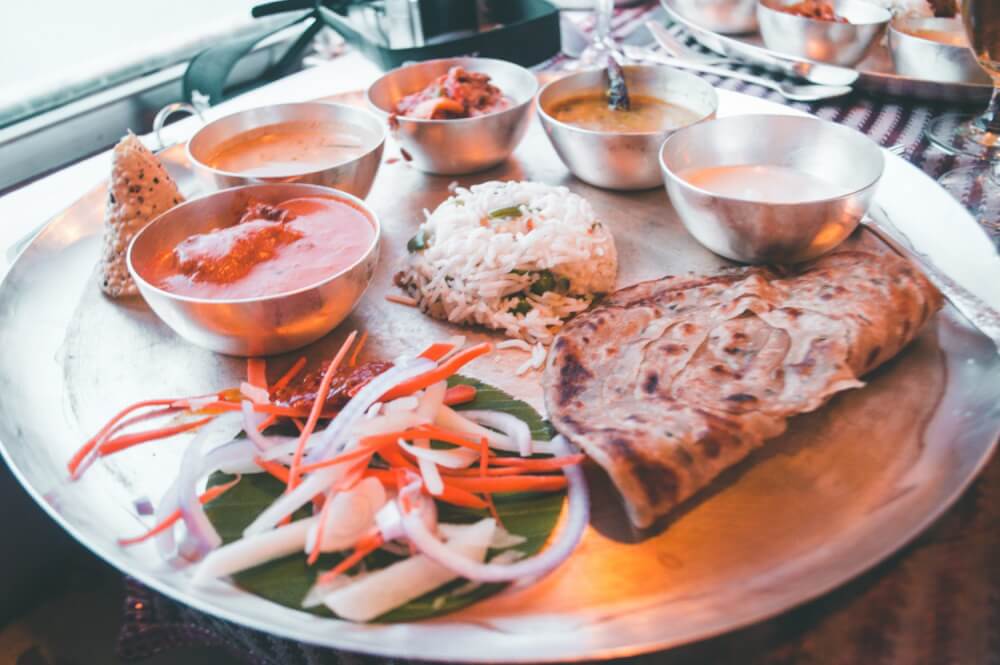 My personal motto was of course "chef knows best", which might explain why I went to bed with a 3 month food baby every night.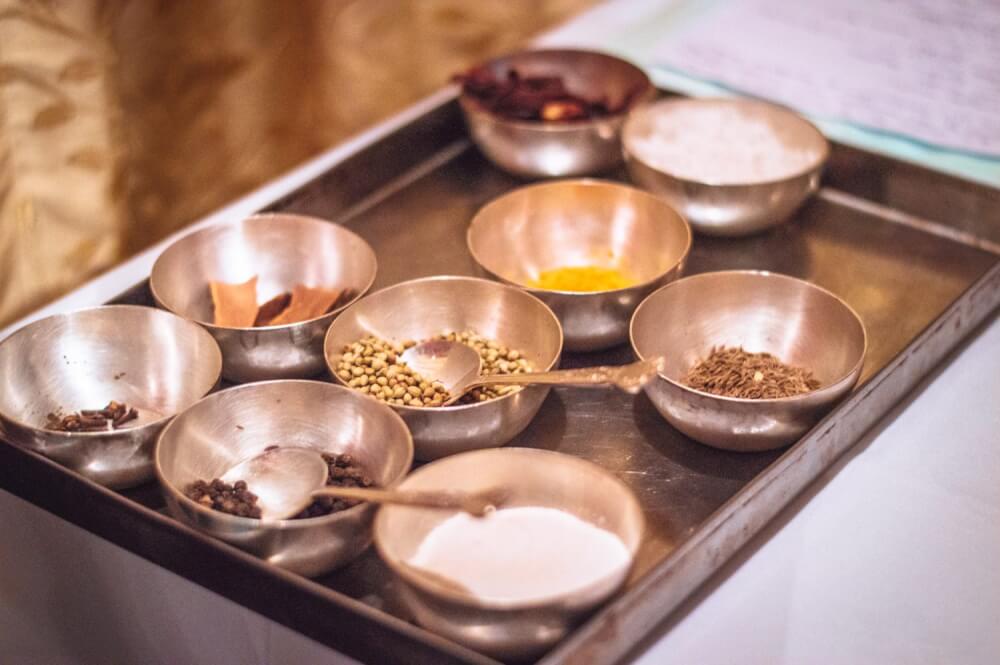 If it wasn't already obvious from my prior ramblings, this Bangalore to Goa train ride is far more than a way to get from Point A to Point B.
Besides the obvious perks of seeing India by train (like the breezy views), moments on board are thoroughly packed with activity too.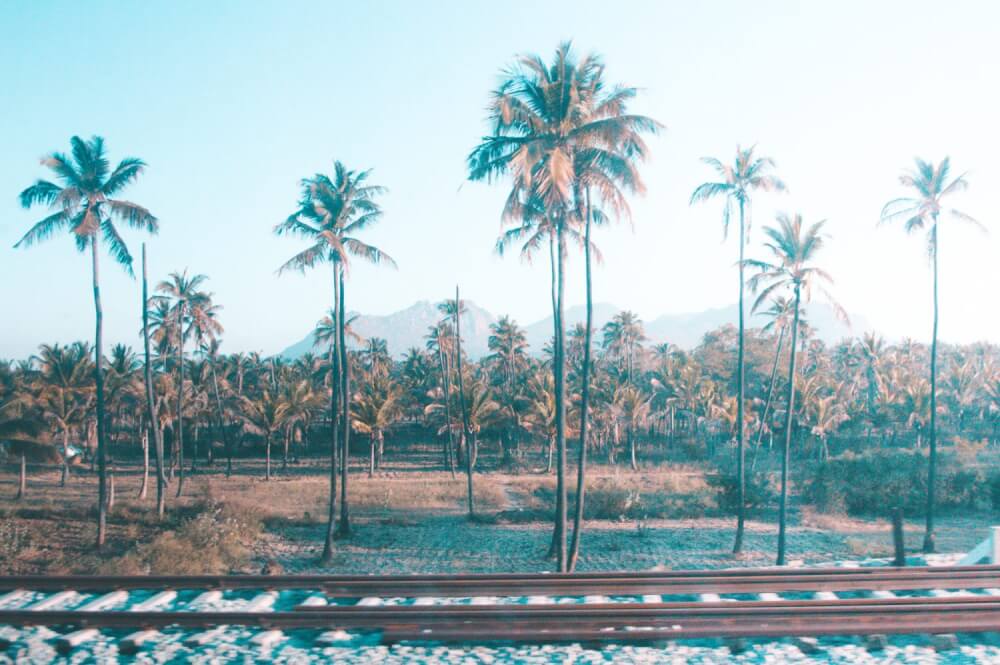 Henna one night, a bumpin' disco the next. This whirlwind of a trip will leave you with many things: a full SD card and plumper waistline among others, but one thing's for sure: boredom is not in the cards.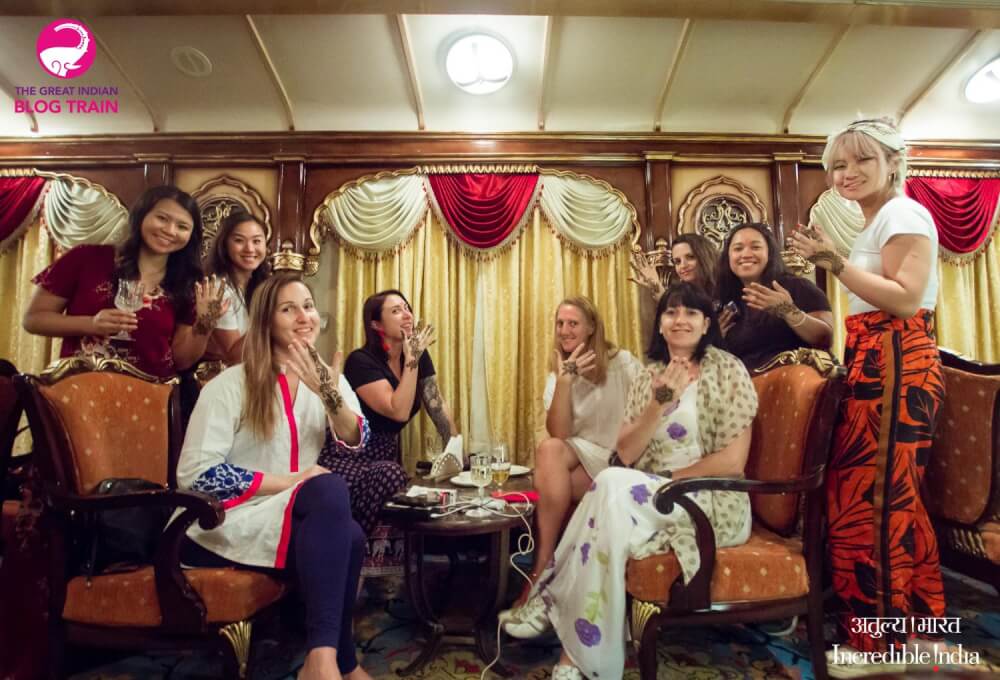 Is the Golden Chariot Train Right for You?
Whether or not you should book your own trip on board the Golden Chariot comes down to a (perhaps not so simple question): what kind of holiday are you looking for?
As a first timer to India, I thought this was a great first introduction to a country often known to travellers as overwhelming and challenging to navigate independently.
I got to pack in a great deal of sights in a stress-free manner, all while savouring a familiar sense of comfort and luxury.
That said, I think if you're more of an independent traveller keen to immerse yourself in local culture, traditions and daily life, this might not be the best fit for you.
It did at times feel like we were watching India from within a fishbowl, for the most part observing the country from within our comfort bubble.
We got to see the sights, but I did wish there was more time for independent exploration or more experiential excursions and local interaction.
It was a great "first taste" of India, almost like a little Costco sample that lures you in for more.
If you're looking for an easy, convenient and comfortable way to travel across South India, I don't hesitate in recommending the Golden Chariot.
Overall, I wouldn't trade this experience for the world. It was a truly unforgettable once in a lifetime trip. Now the only question is: when can I come back?
Once again, a huge thanks to Incredible India for hosting me on this trip. All experiences, stories & honest opinions are my own.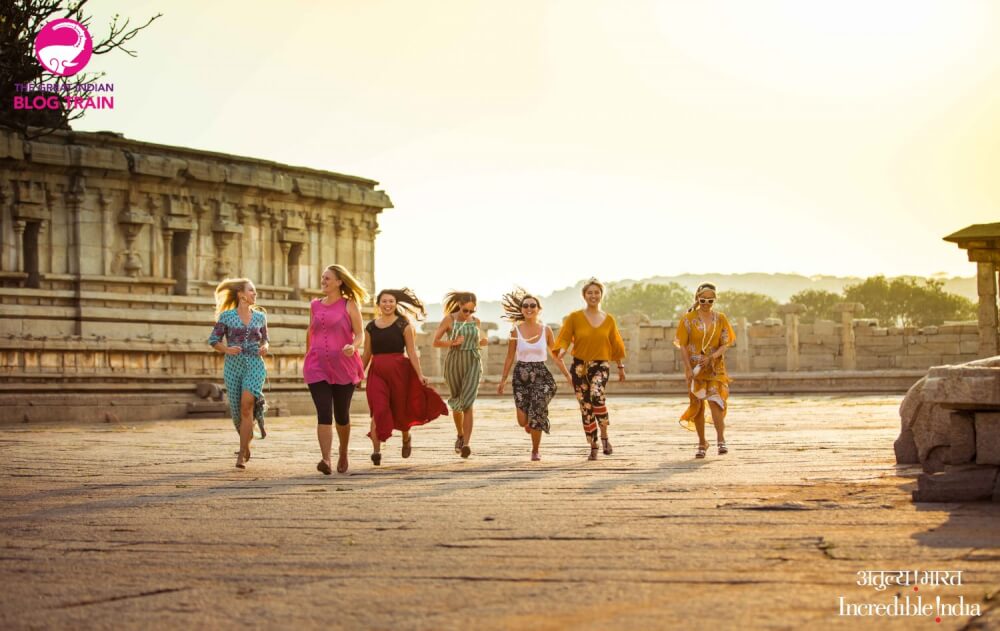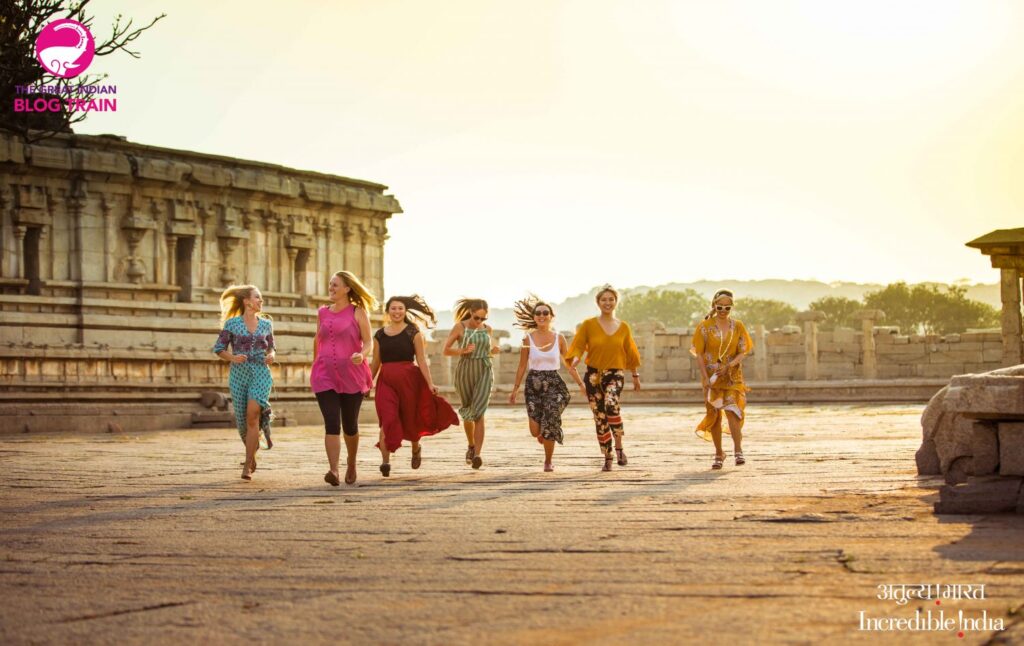 ---
Watch my most popular YouTube video this week:
---