*FYI - this post may contain affiliate links, which means we earn a commission at no extra cost to you if you purchase from them. Also, as an Amazon Associate I earn from qualifying purchases. Check out our Privacy Policy and Disclosure. for more info.
Ahhh, Eltz Castle… Just one look at it and you'll see why it's one of the most adored castles in all of Europe.
I mean, if I could throw on a ballgown and pose in front of any castle, I think this would be the one.
Sure, Burg Eltz (in German) or Eltz Castle (in English) is one of many enchanting castles that you'll find in Germany… but (as many travellers will confirm), there's just something uniquely magical about it.
It could be that it's one of the best preserved castles of its kind in the world or that it's hidden deep in the forest, atop a 70m high rock.
Or, perhaps it's the intriguing history of it, and how it was never destroyed or overtaken. Yup – the Eltz family still owns it today, as it has for over 800 years.
Regardless of the reason, it has to be said: you need to visit this place!!
The following post will be a straightforward guide on how to see the beauty of Burg Eltz Castle for yourself. BUT, if you're looking for a chuckle, you can read about my visit here, as part of a (semi-disastrous) German road trip.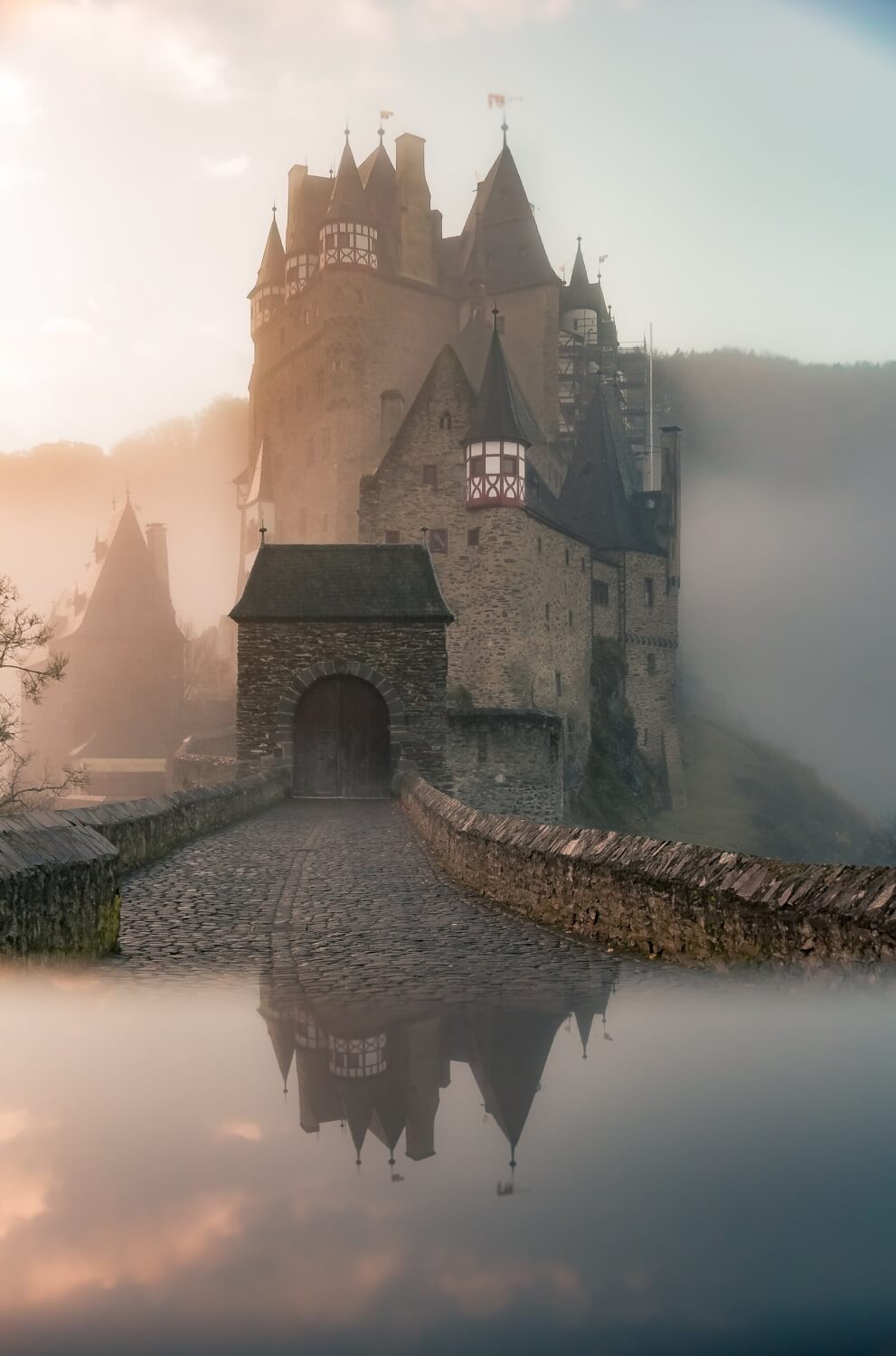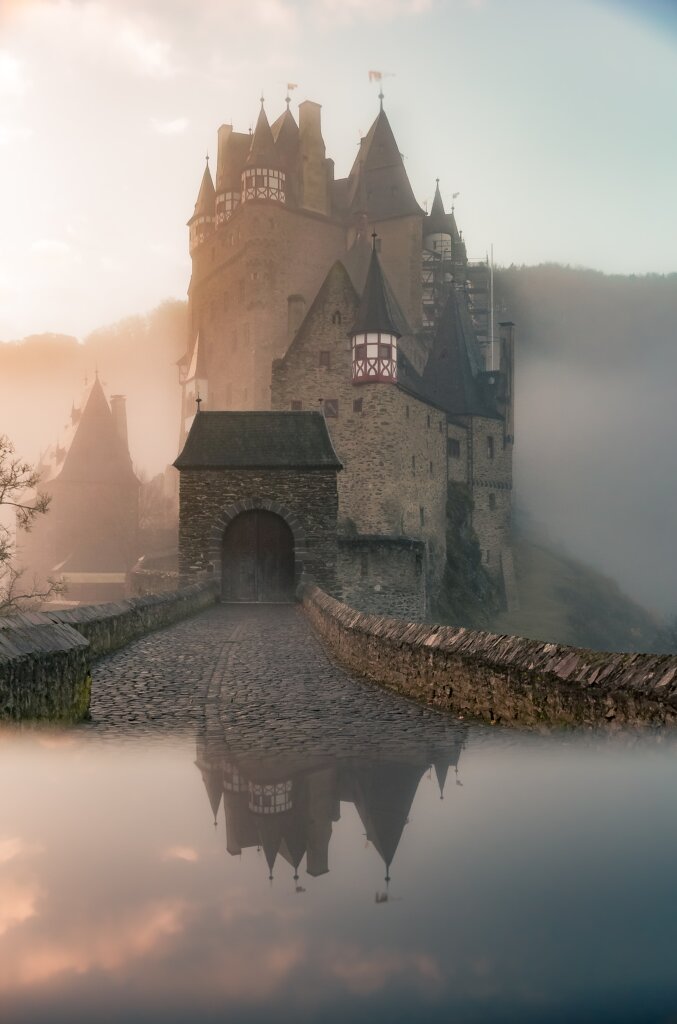 Burg Eltz (AKA Eltz Castle): A Brief History
I always think it's nice to have a bit of context before I visit a location, so here's a quick digest of the castle's history.
As I mentioned before, the same family has owned it for over 800 years.
The prime construction period was between the 11th-13th century, with various additions made throughout the years.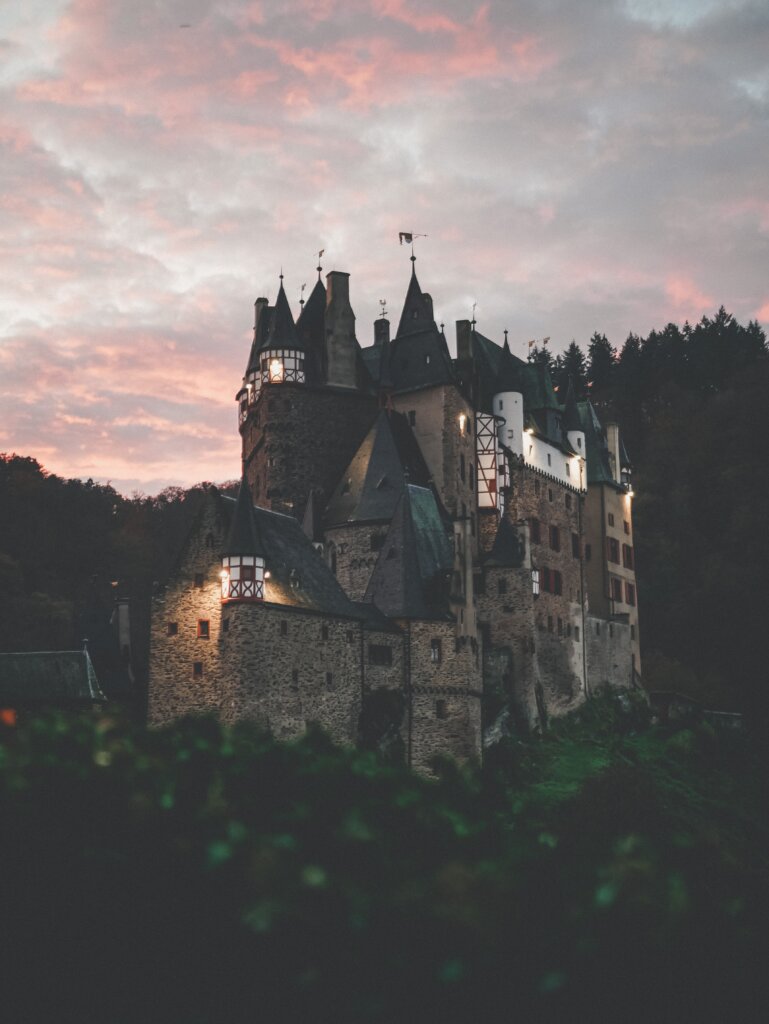 While several of the Rhine region's castles were destroyed during the Palatine Wars of Succession in the late 17th century, Eltz was spared thanks to two main things.
Firstly, a high officer in the French army who managed to get the castle off the "destroy list" at the time.
And secondly, the citizens of Müden who once (during a raid) saved the castle by "[luring] the marauders into a ripe cornfield and then [setting] fire to the field with their unwanted visitors."
Gosh, history is awesome.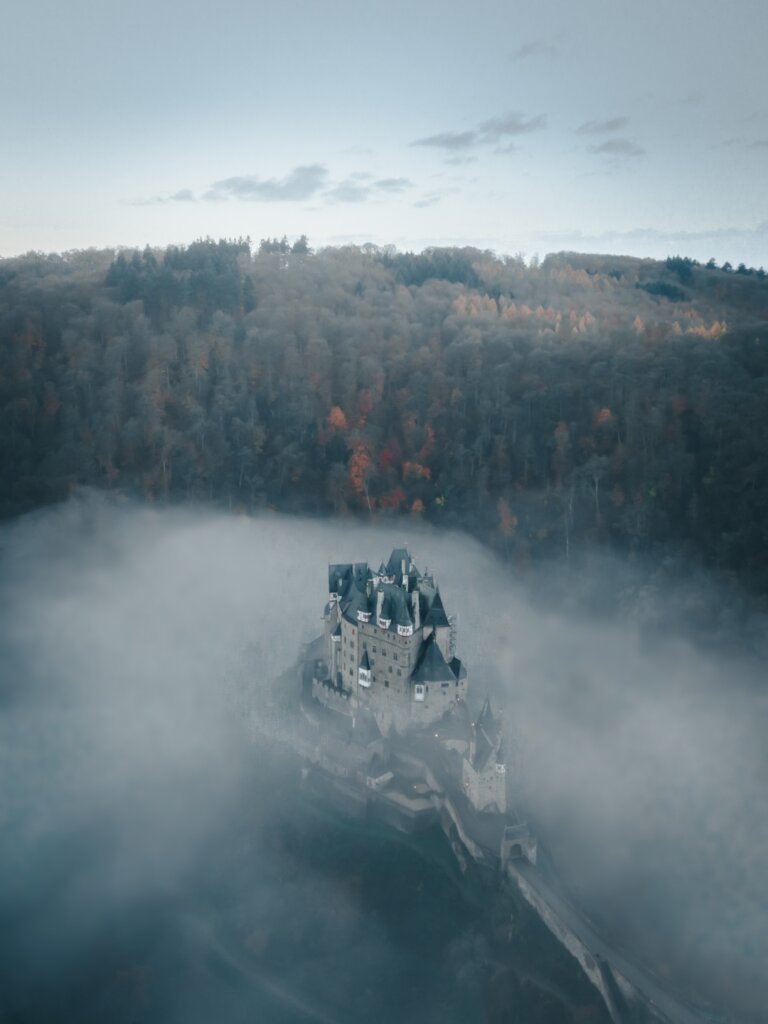 Anyways, restoration of the castle began taking place in the 19th century, under the orders of Count Karl zu Eltz, a resto job which had the price tag of what today would be 15 million Euros!
More restoration work took place in 2009-2012, and the castle stands tall and pretty today for all of us to gawk at.
You can read a more thorough historical record on the castle's website.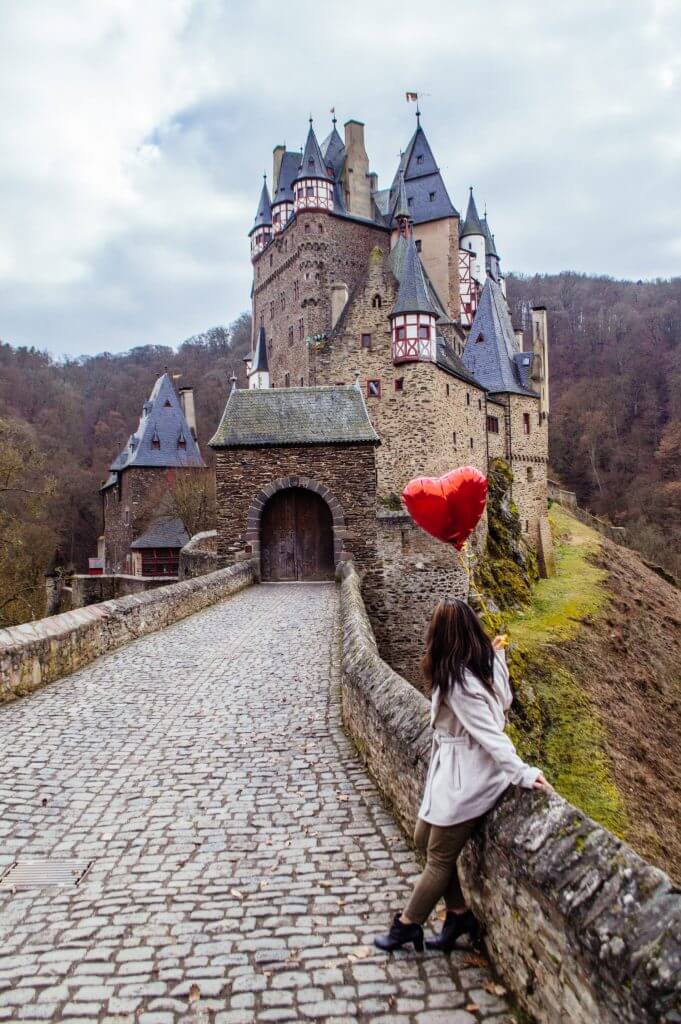 Burg Eltz (Eltz Castle): Know Before You Go
The castle is only open for tours from April 1 – Nov 1. You are free to visit the castle site any time of the year, but you'll only be able to tour the inside during these months. I went during the off-season, and still had an awesome time, so don't worry!
The castle is hidden deep in the forest (magical hey?) and from the parking lot, you can either reach it by 1) walking or 2) taking the shuttle bus (which costs 2 euros each way and only runs from Apr – Nov when the castle is open for tours).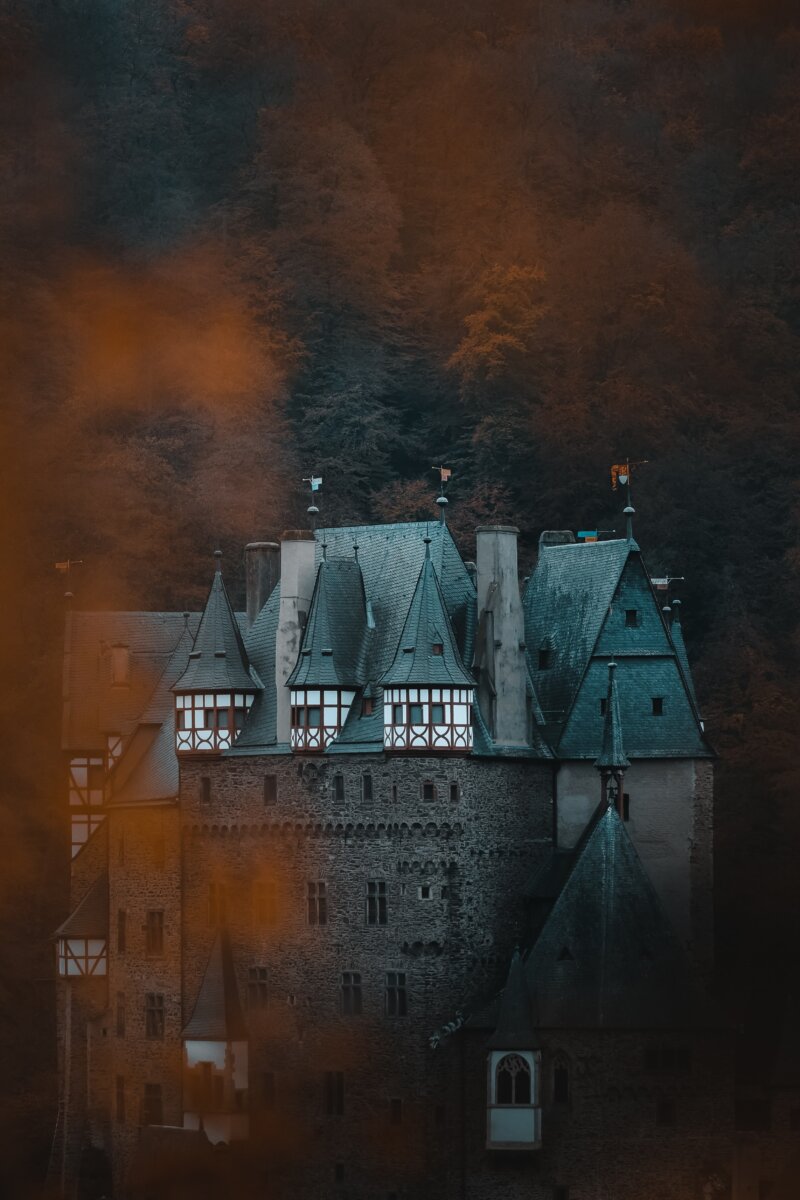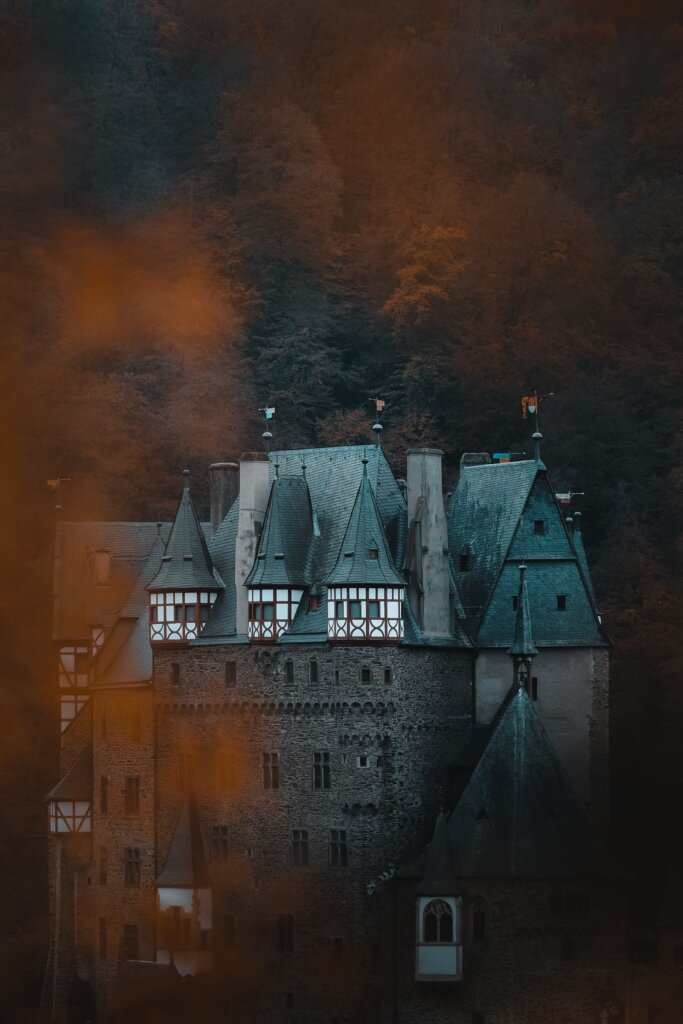 There are two options to walk to the castle: a quicker, steeper and less scenic route on the private road (that the shuttle bus drives on). This is the stroller-accessible route. The second option is a less steep walk through the forest on a footpath (that takes a little bit longer). This was the path I took and I thought it was super easy and relaxing.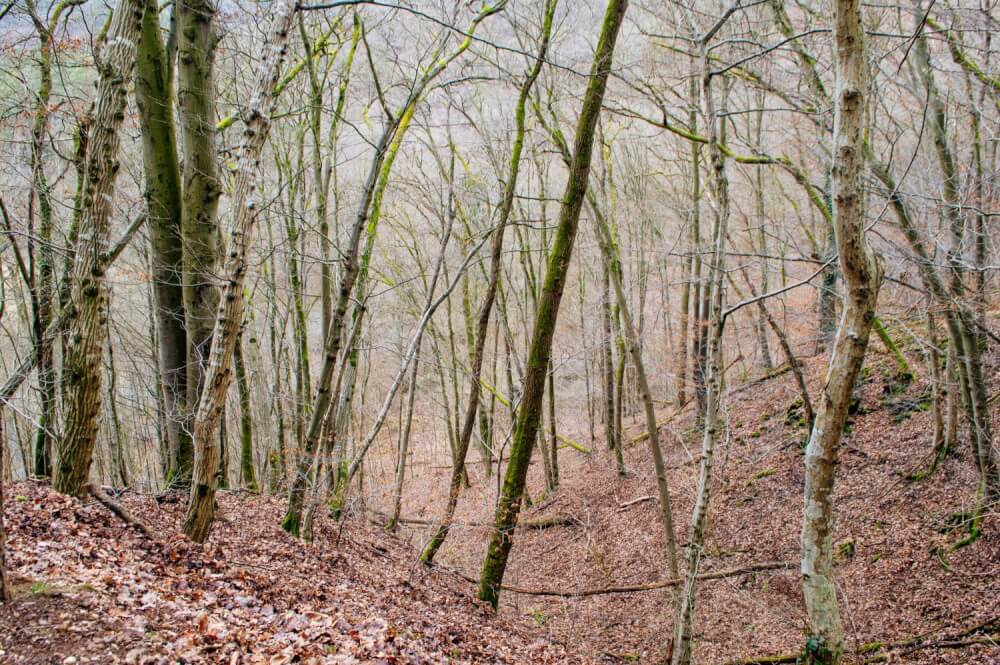 There is a cost to entering the castle! Adults will pay 10 euros for a ticket, with discounted prices for groups (9 euros each for 20+ people), students (6.50 euros) and a family pack as well (28 euros for 2 adults and 2 children).
FUN FACT: The castle was featured on the German 500 Deutsche Mark note for over 25 years.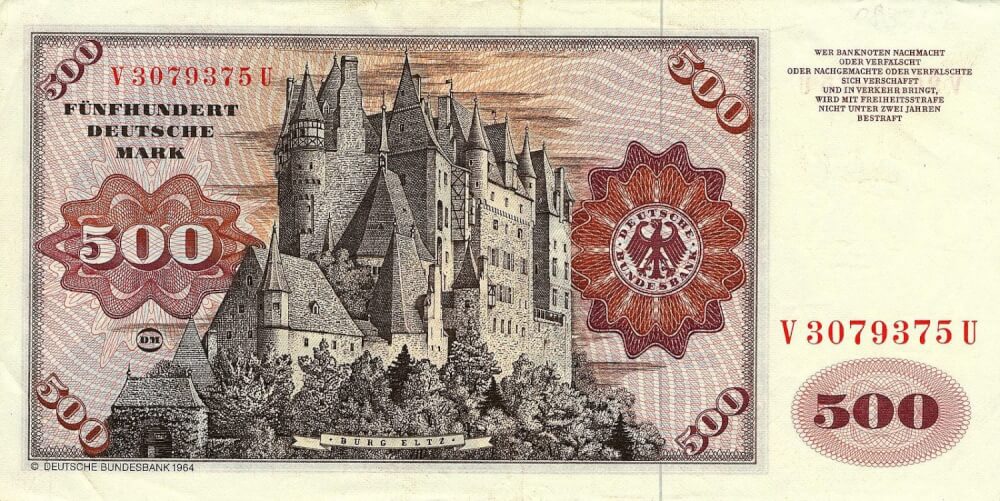 How to Reach Burg Eltz (Eltz Castle)
Given its mystical, fairytale appeal, it's probably no surprise that Burg Eltz Castle isn't in the middle of any city.
Luckily, there are a number of beautiful cities nearby that make a great base for visiting.
Koblenz is the closest (about a 40 min drive), but Trier, Cologne, Mainz and Frankfurt are all less than 2 hours away as well, meaning it's possible to do a day trip from any of these spots.
NOTE: Trier might not be as well known internationally as the other cities listed above, but it's a short trip from the castle and packed with fascinating Roman history. Definitely stop by if you get a chance!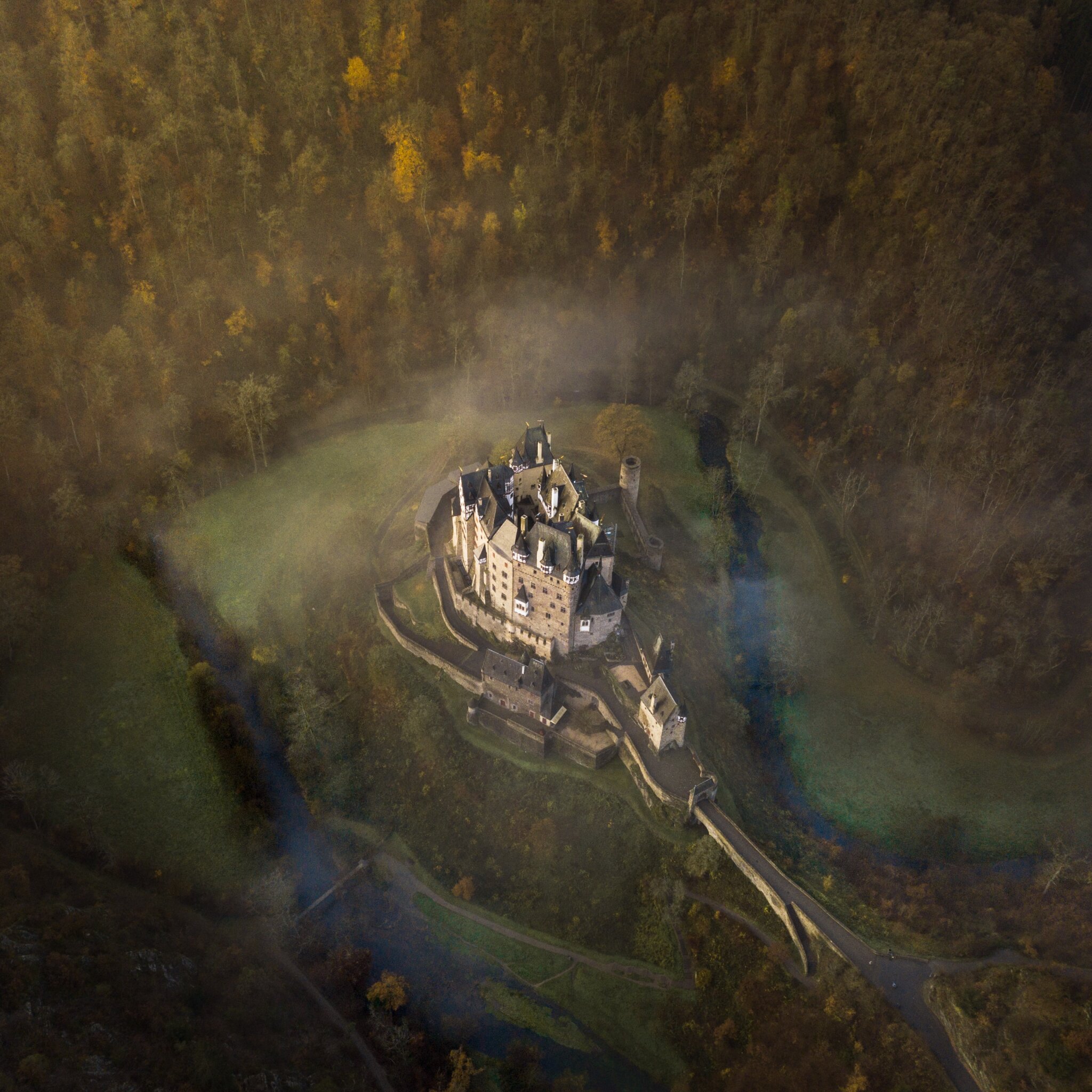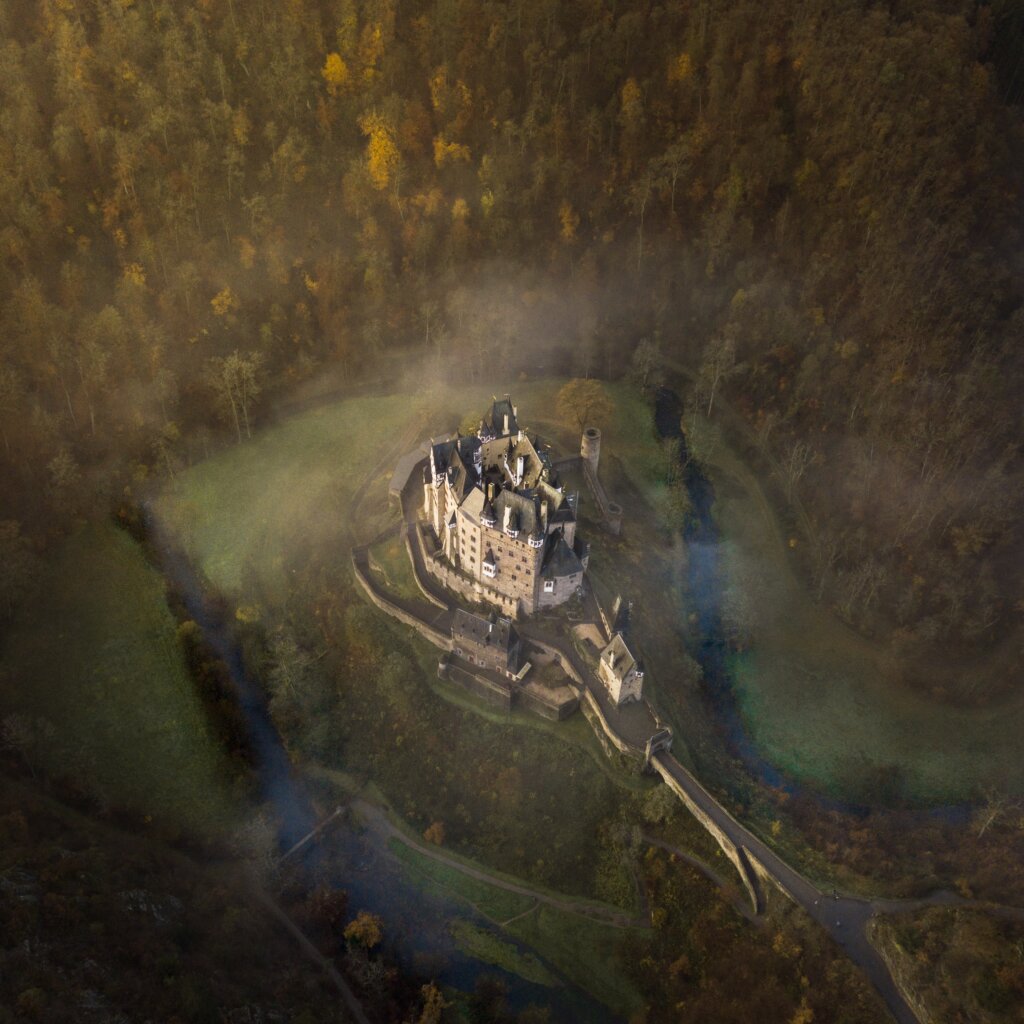 SO, once you're in the area, how do you get to the actual castle? There are tons of options:
(The most convenient way) BY CAR: As previously mentioned, there's a car park near the castle where parking is 2 euros (or 4 euros for larger cars w/ trailers, camper vans, etc.)
BY TAXI: If you don't have a car of your own, you could hire a taxi to drive you to the castle.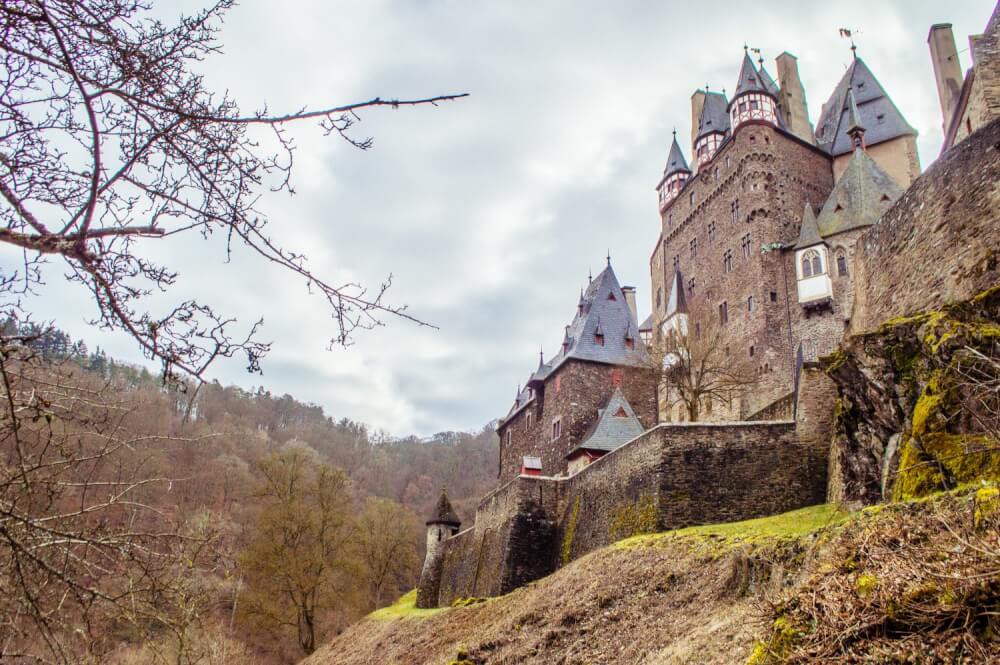 BY TRAIN: During weekends and holidays from May – October, you can get off at Hatzenport or Treis-Karden and then catch the Burgenbus (Castle Bus) to the car park. You can use the Deutsche Bahn website to plan your journey. If visiting in the off-season, the closest stop to the castle would be Moselkern, and from there you can make your way by taxi or by foot (about a 5km walk).
BY PUBLIC TRANSPORT: On weekends and holidays from May to October, there is a special Castle Bus (Burgenbus) that leaves from Treis-Karden, Mueden, Moselkern and Hatzenport. More details here.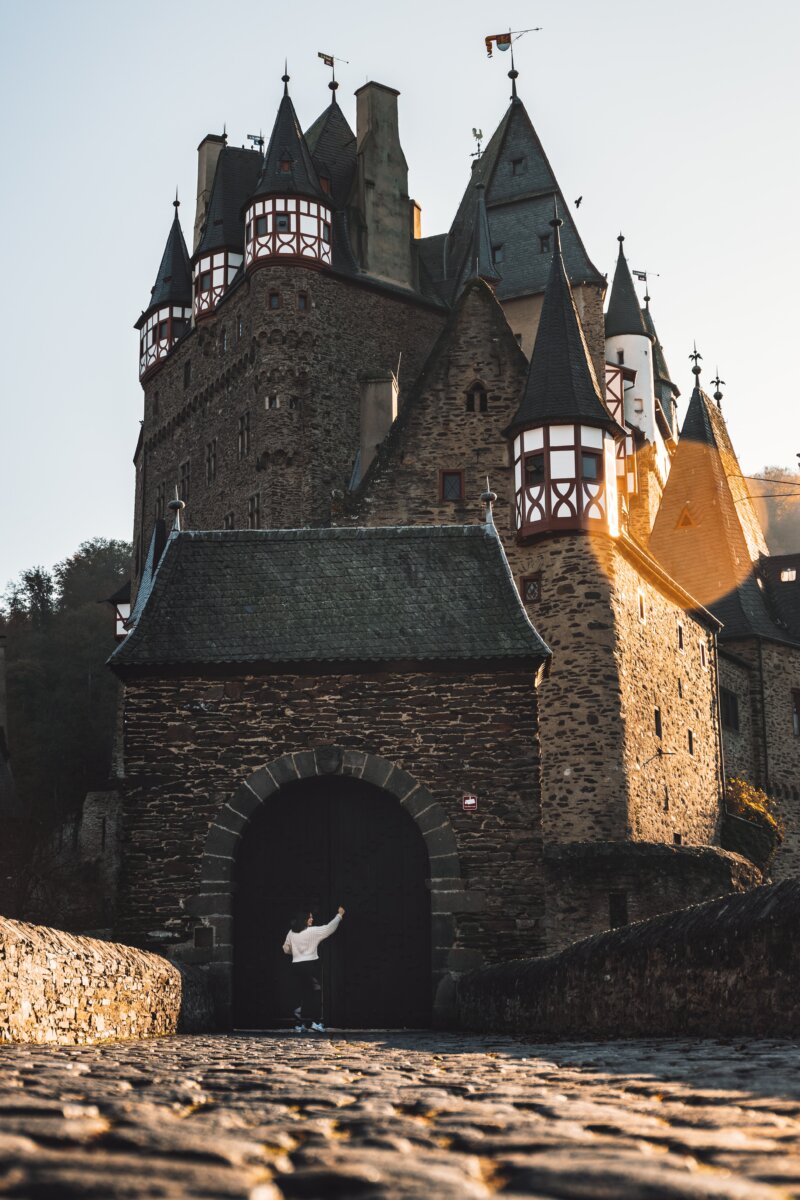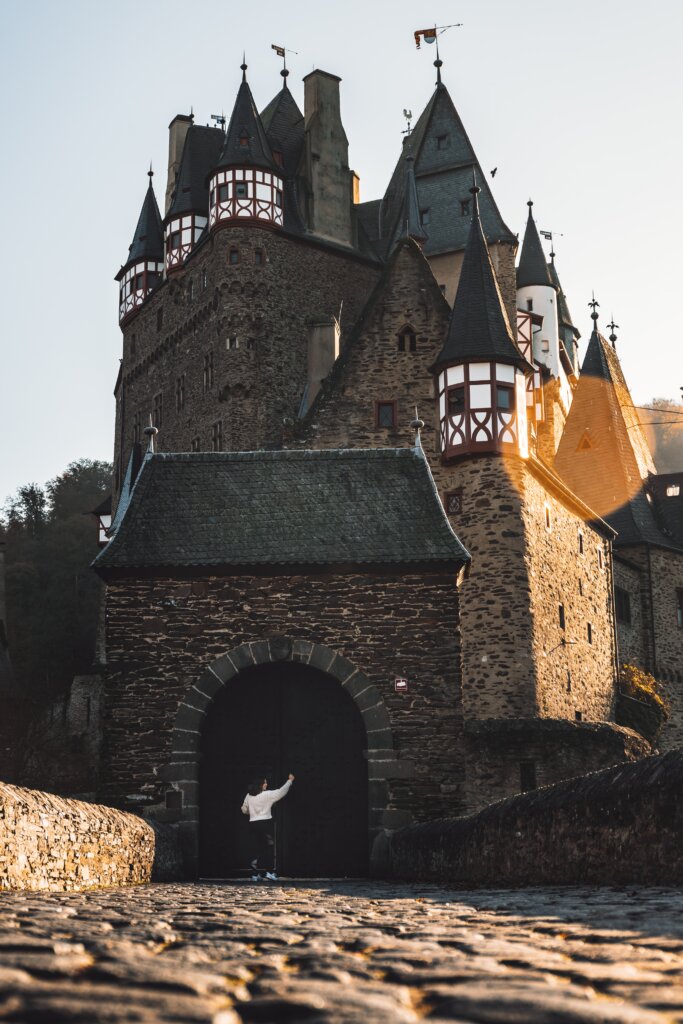 BY BIKE: If you want to explore the area by bike, here are some popular cycling routes to Burg Eltz Castle. Don't worry, you're able to bring your bike on the Burgenbus and on the train too (in case you get tired!)
BY FOOT: When the weather is cooperating, many people choose to hike to the castle! There's a huge selection of trails that vary by length and difficulty. If you'd like to work for your view, here are some trails to consider.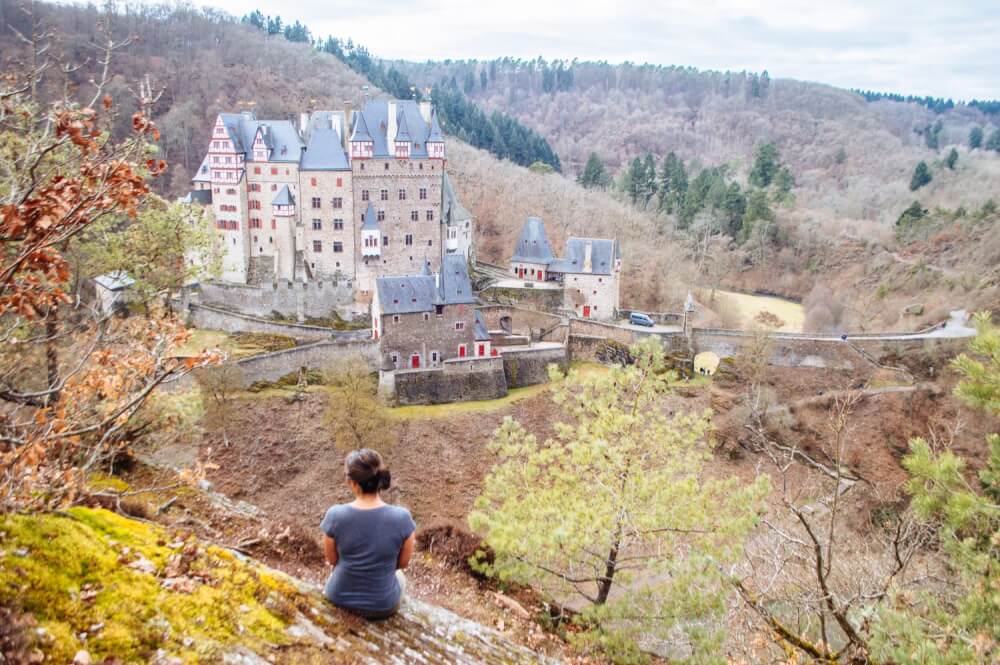 What to do at Burg Eltz
Alright, so you've made it to the castle, you've wept your tears of joy… now what? Well, here's how you can spend your time at this oh so beautiful spot…
(YEAR ROUND) Admire the gorgeous facade
When the castle's closed, I have to be honest: you're a bit limited as to what you can see.
Don't fret though – I went during off-season (which meant I wasn't able to tour the inside), but I still had an amazing time.
The castle is just genuinely that beautiful. Plus, you're also able to…
(YEAR ROUND) Hike around the area
As I mentioned before, Burg Eltz Castle is hidden in the forest, which means it's surrounded by lush greenery and trails.
To explore a bit, take the stairs just off of the castle's main path and you'll find loads of cool viewpoints, like this one: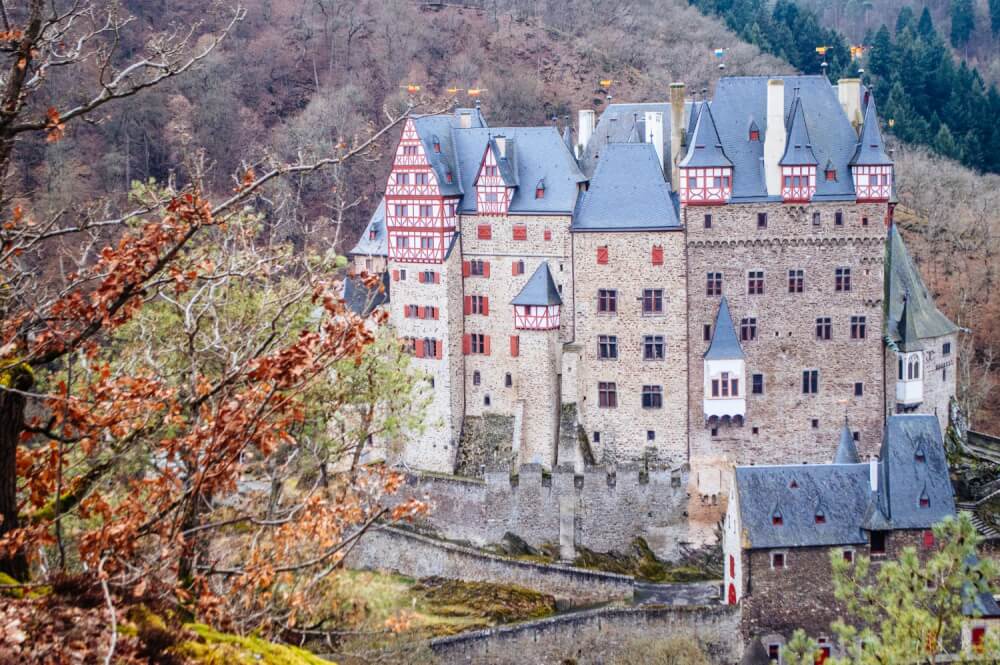 PS: When at the castle, keep your eyes out for some castle ruins in the distance. This was the Trutzeltz, a siege castle erected by the Archbishop of Trier in the 14th century, and where he supposedly besieged Eltz Castle with many catapults and heavy stone balls. Medieval feuds, hey?
(APR – NOV ONLY) Tour the castle
When it's open for the season, Burg Eltz Castle hosts guided tours that last approximately 45 min.
Be sure to clarify the tour times/languages when you arrive!
Many tours will be conducted in German, but they do English, French and Dutch tours as well at specified times.
If you don't want to wait and feel like tagging along on a German tour, they also have translation leaflets for a variety of languages.
(APR – NOV ONLY) Visit the Burg Eltz Castle treasury
A guide is not required to visit the treasury – all you need is your valid ticket. NOTE: The displays are in German but keep your eye out for English flyers with translations.

(APR – NOV ONLY) Grab a bite to eat at the castle's restaurants
There are actually two restaurants on-site, where you can grab some hearty eats with an impressive view. According to TripAdvisor reviews, the food is apparently super delicious.
(APR – NOV ONLY) Shop for souvenirs at the castle shop
This is where you'll find (of course) the typical souvenirs, but also a wide range of medieval goods and fun replicas too.
Any more questions about visiting Burg Eltz?
SO, in case I haven't made it abundantly clear: Burg Eltz is a real must-visit!
After all, it's gorgeous, architecturally impressive and well.. just plain magical.
I hope you found this article helpful, and that you can see this beauty for yourself sometime soon!
Let me know in the comments if you've ever been!
My Go-To Travel Favourites: