*FYI - this post may contain affiliate links, which means we earn a commission at no extra cost to you if you purchase from them. Also, as an Amazon Associate I earn from qualifying purchases. Check out our Privacy Policy and Disclosure. for more info.
This post was originally written in 2018, but pretty cherry blossom locations in Vancouver should still be more or less the same. I'm updating the post now as I visit locations in 2022, so bookmark this page to stay up to date!
It's the most grammable time of the year, folks.
Finally, the incredible cherry blossoms in Vancouver have begun to bloom, adding pops of pink to dreary Greycouver.
Of course (as you'd expect), your girl here is on the front lines of battle, clashing tripods and clamouring over street space with the city's most aggressive iPad photographers. Needless to say, this is one of my favourite things to do in Vancouver.
But I mean really, if taking a million identical cherry blossom photos is wrong, no part of me wants to be right.
Plus, it seems like fate that I timed my visit home so perfectly to catch allll the blooms.
So, if you're keen to get 'avocado toast level' basic with me this Spring, here's a guide on where to take the best cherry blossom photos in the Greater Vancouver Area.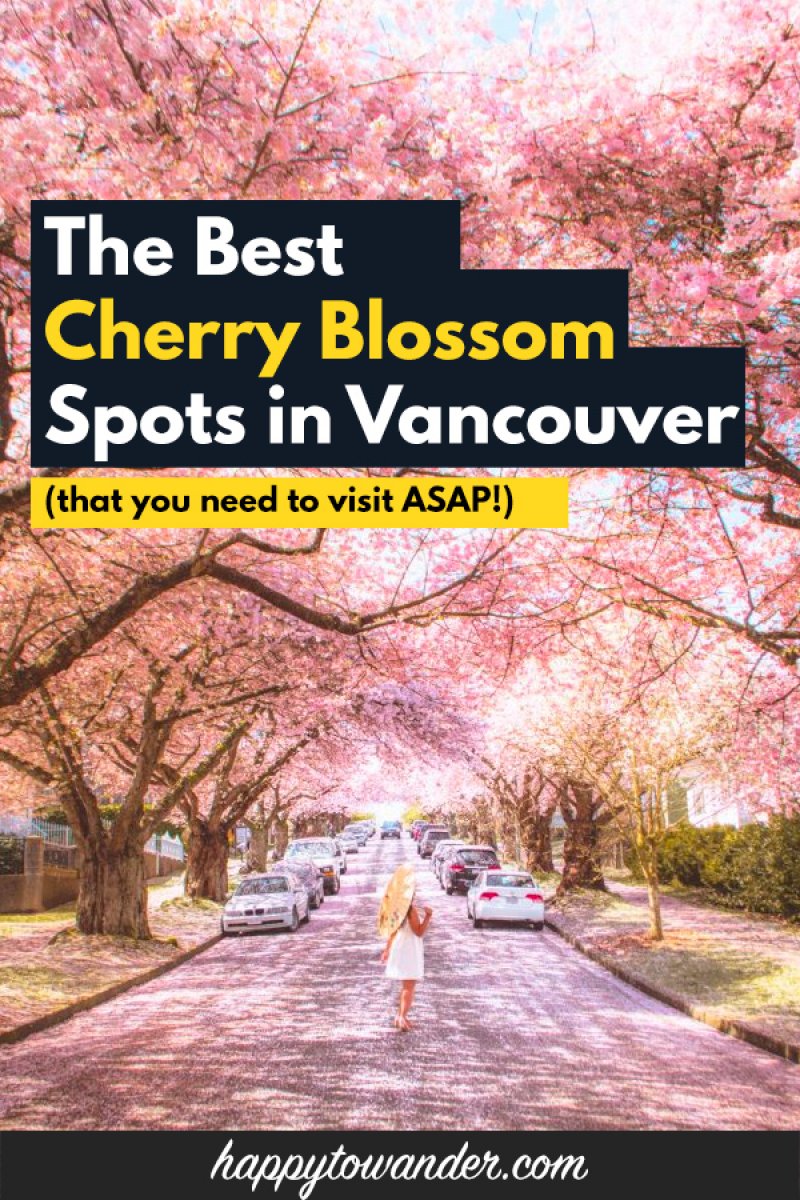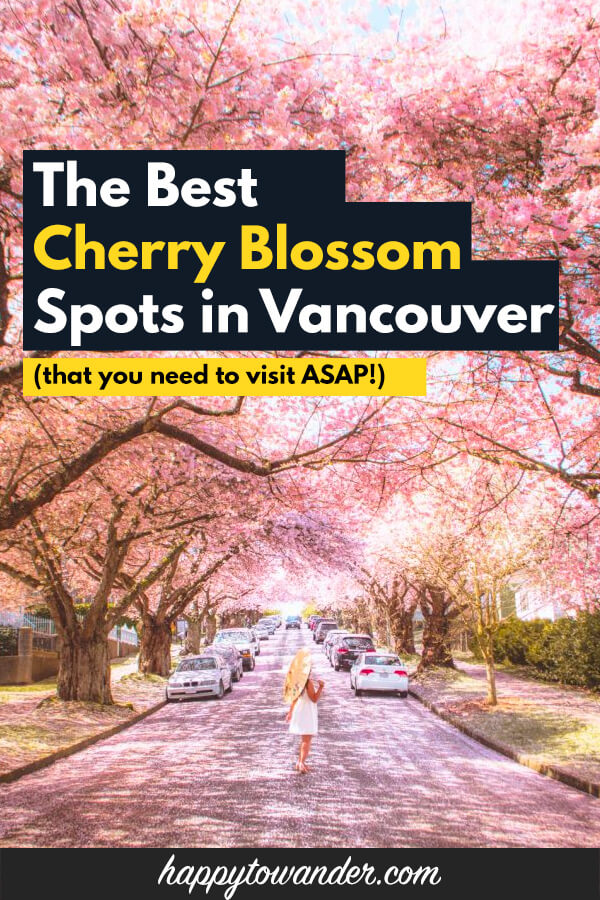 Save this list of Vancouver cherry blossom locations for later!
You'll be very glad you did.
Apart from a small handful, I've tried to avoid residential streets because there are too many good ones (and photography there is hard with all the cars running you over and stuff).
Anyways, juice up those memory cards, get those wistful stares ready and let's go – we have some candids to fake.
PS: This list is by no means exhaustive, and as I'm sure you know, cherry blossoms are fleeting (that's kind of their whole "thing") and cherry blossoms in Vancouver are no exception.
I apologize in advance if some of these blooms are gone already, or if they don't look as fluffy in the photos. I wish I could make them last forever! I'm basically outside every day though searching for more, so keep an eye out on my Instagram Stories.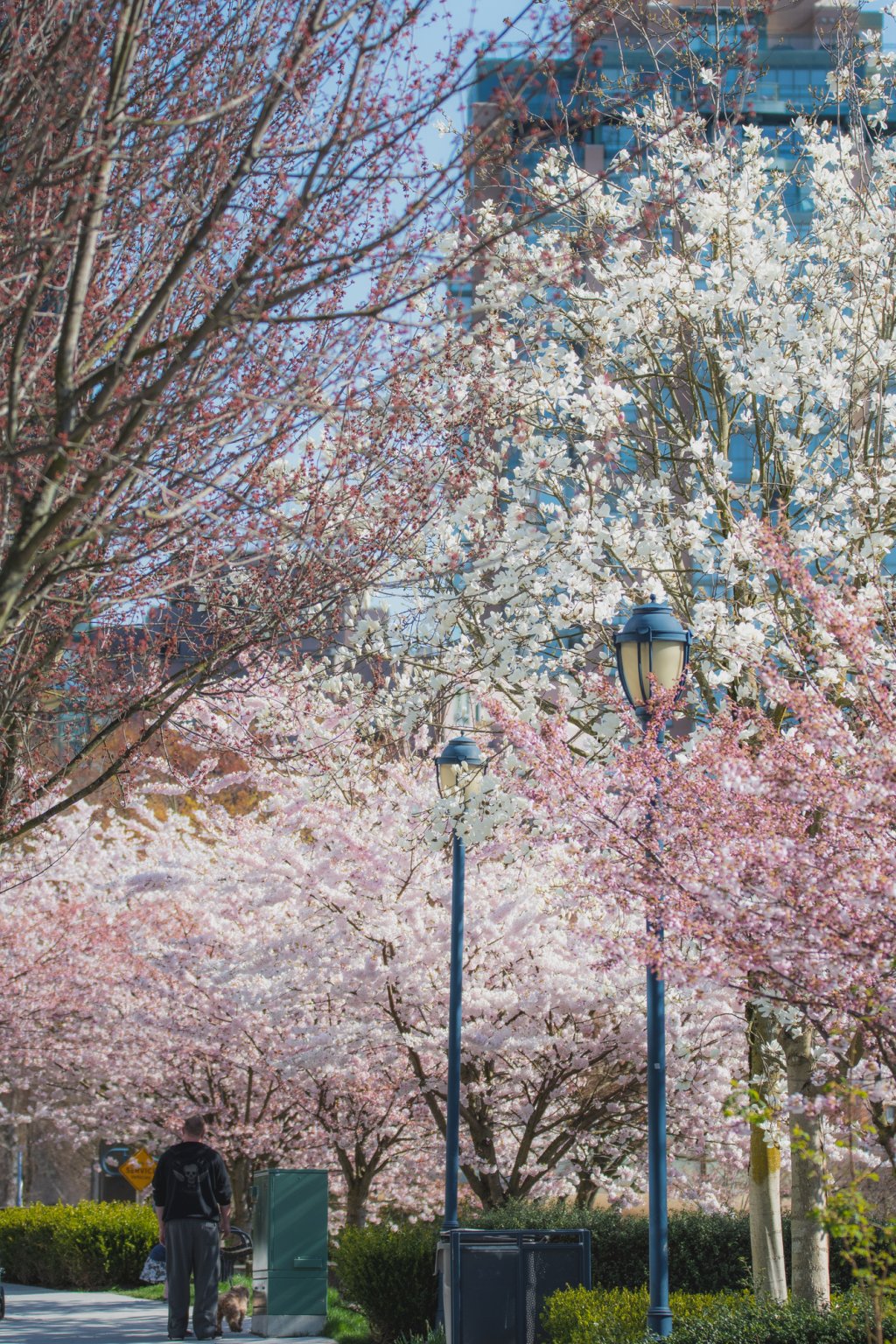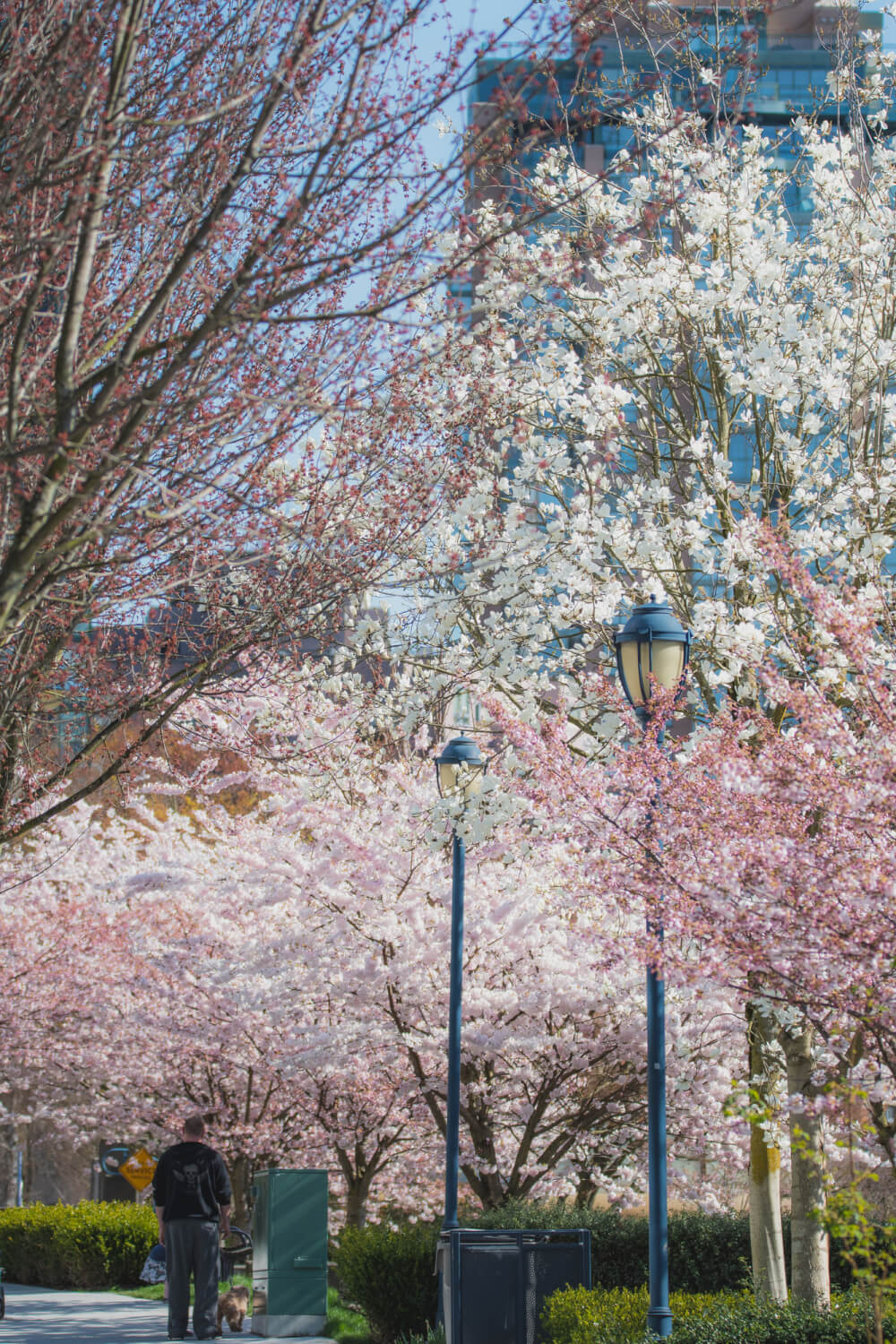 Graveley Street (at Lillooet)
2022 UPDATE: As of March 24, the blossoms are getting close to full bloom, but there is construction work happening right on the street, which is a bit of an eyesore for photos.
If Instagram is any indication, the section of Graveley St between Lillooet and Rupert is THE "it" spot for cherry blossoms in Vancouver.
This two block stretch of blooms is gorgeously magical, with towering cherry trees creating a pink canopy overhead (and beautiful white blooms on the Rupert end).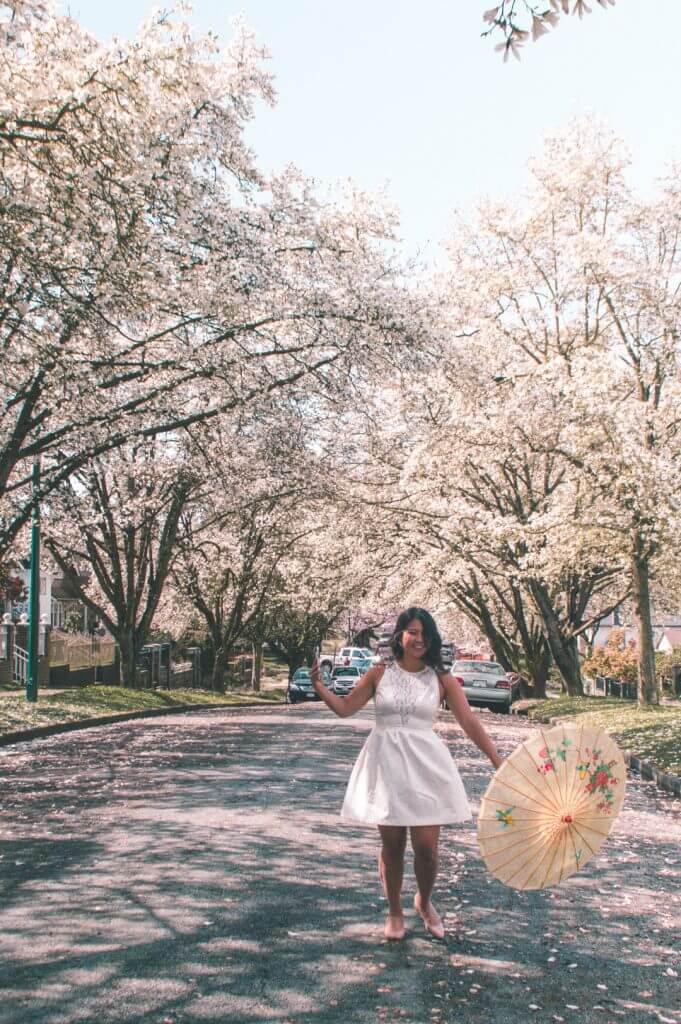 Remember though, this is literally just a residential street, so get out of the way when cars are trying to pass.
The amount of people I witnessed almost getting run over made me embarrassed for humanity. Oh yes, and let's not forget that people actually live here, so keep the excited hollers to a minimum.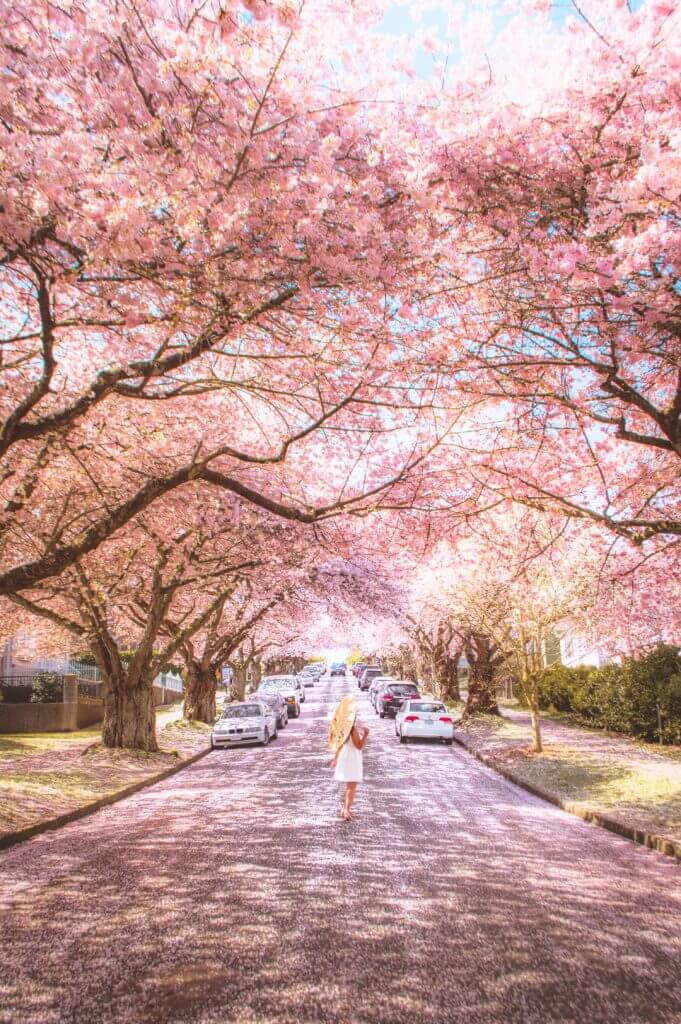 If you are visiting in 2022, do note that the street currently looks like this due to road work: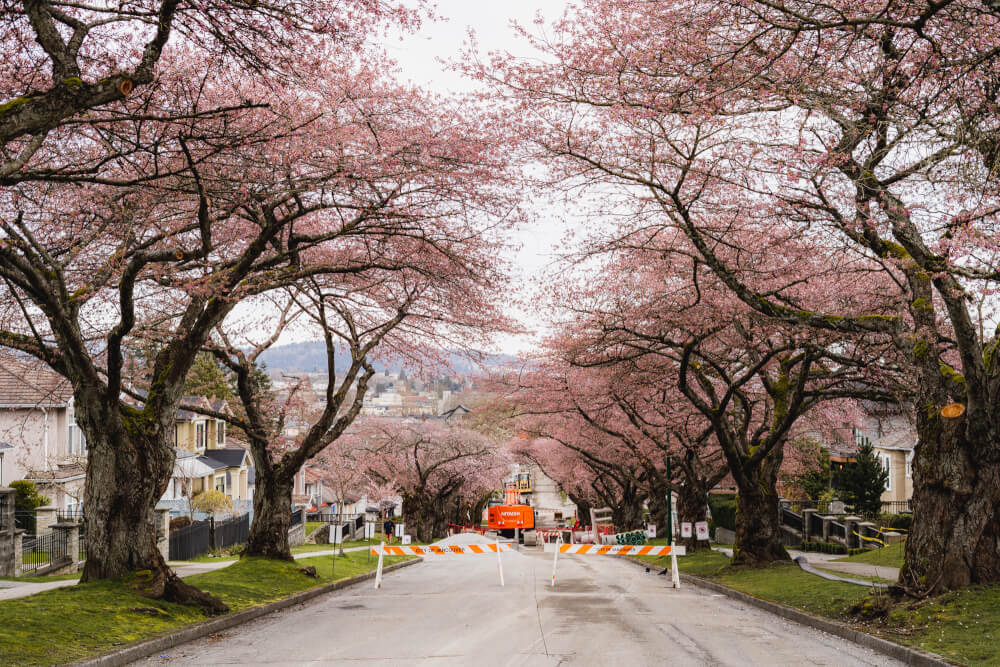 East 3rd Avenue (between Rupert and Skeena)
In full bloom as of my last visit (March 24, 2022)
This gorgeous tunnel of blossoms spans for two blocks, and perfectly frames the golden globes of the Akali Singh Sikh Temple (and some of the rapidly developing Burnaby skyline).
It's by far one of the most photogenic places in Vancouver for cherry blossoms, but be mindful of cars when you're on the road trying to ace that perfect shot.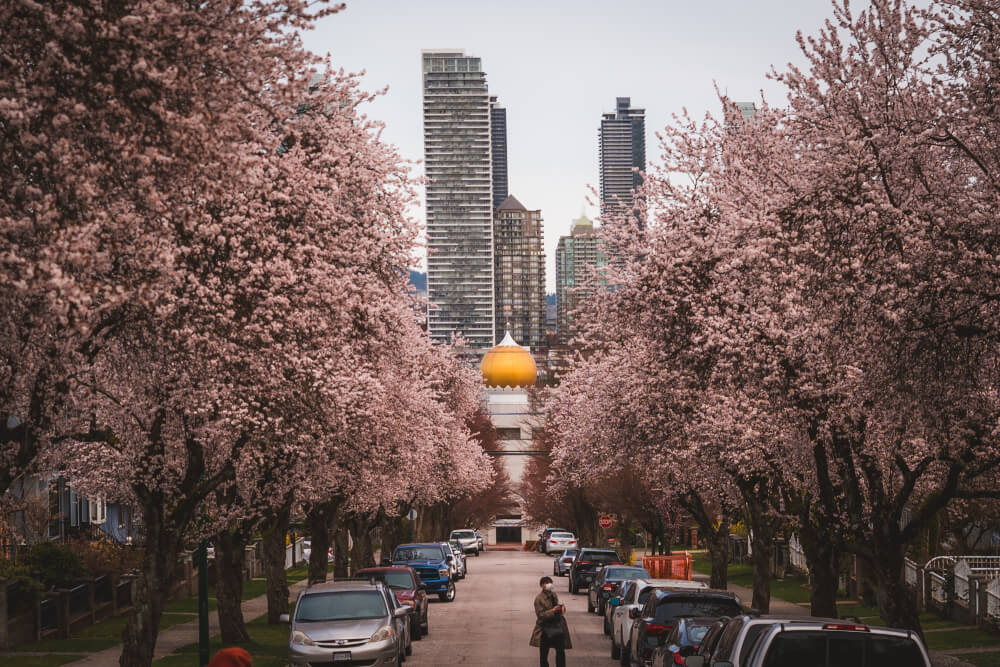 Queen Elizabeth Park
Ah Queen E Park – the city's "go to" date place, prom pic place, wedding pic place, spy on doggos place, etc. etc.
It's a no brainer then that this park is also one of the best places to find cherry blossoms in Vancouver, and it's taking its role veeery seriously.
Queen Elizabeth Park is also often the site for many Vancouver Cherry Blossom Festival events, including a giant pop up picnic and Spring Lights – a once-a-year soiree where illuminations are projected directly on the blossoms.
I don't use this term often, but it'll (actually) be lit.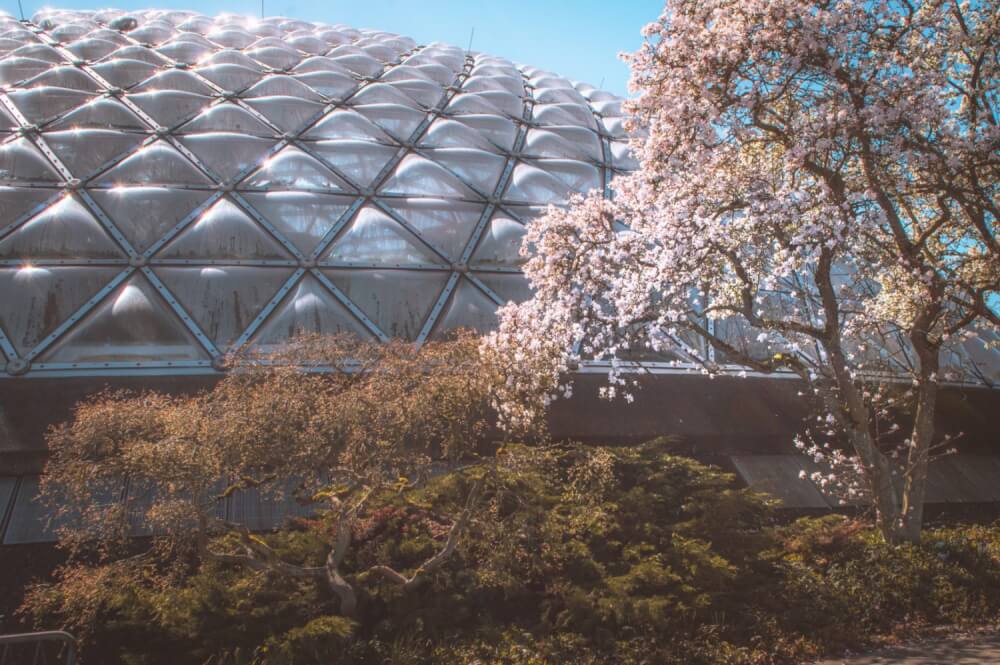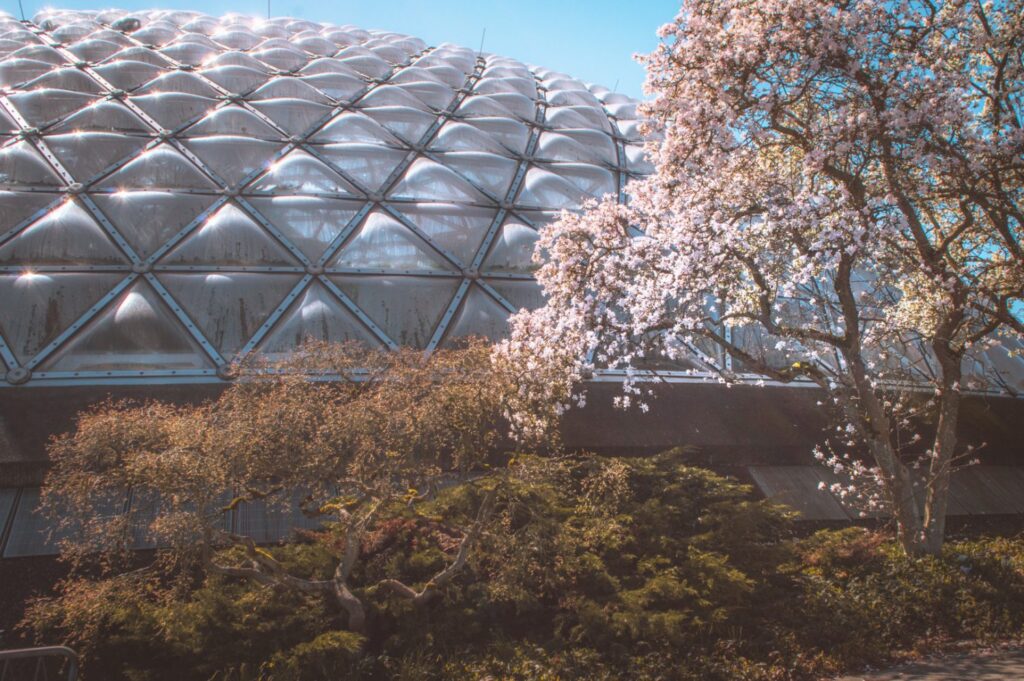 Burrard Station
In full bloom as of my last visit (March 20, 2022)
If memory serves me correctly, these bad boys are often some of the first blooming cherry blossoms in Vancouver every year (or at least, some of the first that people notice).
Adding some bright pink pizazz to the business district, these beauties are impossible to ignore AND impossible to photograph poorly.
Try to avoid peak times like lunch and pre/post work unless you like getting trampled by men in suits. (No judgement here)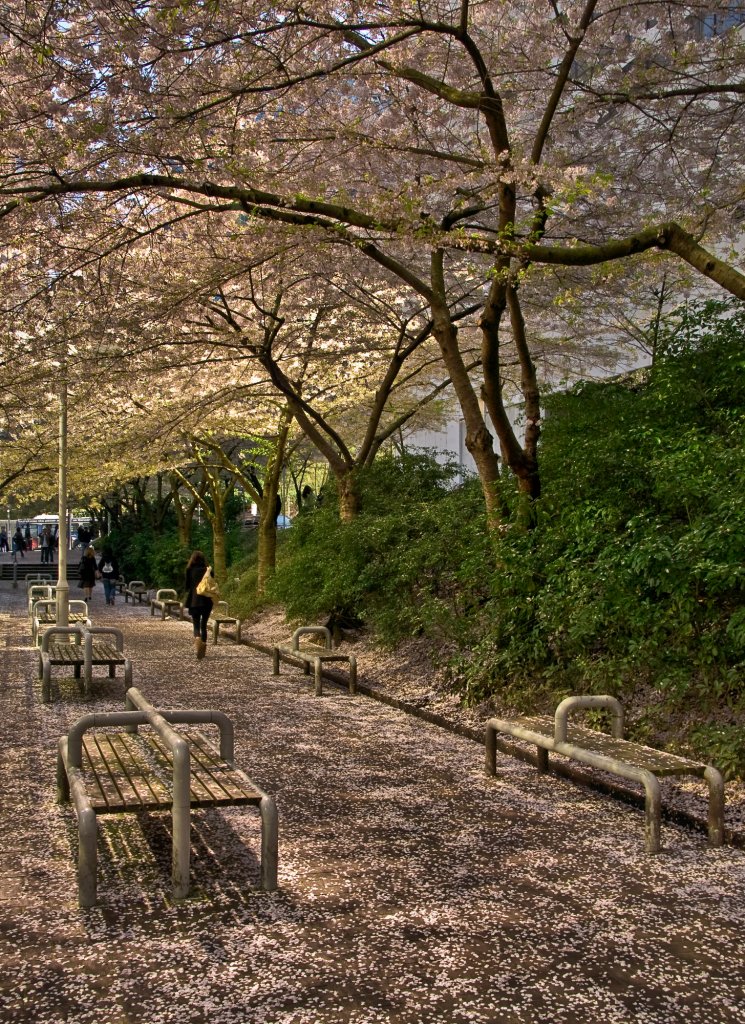 Yaletown
In full bloom as of my last visit (March 22, 2022)
Yaletown is one of my favourite neighbourhoods to explore anyway, but come spring time, there's the bonus magical treat of cherry blossoms everywhere.
David Lam Park is the place to go if you want to see a bunch of them with Vancouver's signature glassy skyline, but there are plenty of beautiful cherry blossom-lined streets all around the neighbourhood, especially if you're walking along the Yaletown Seawall.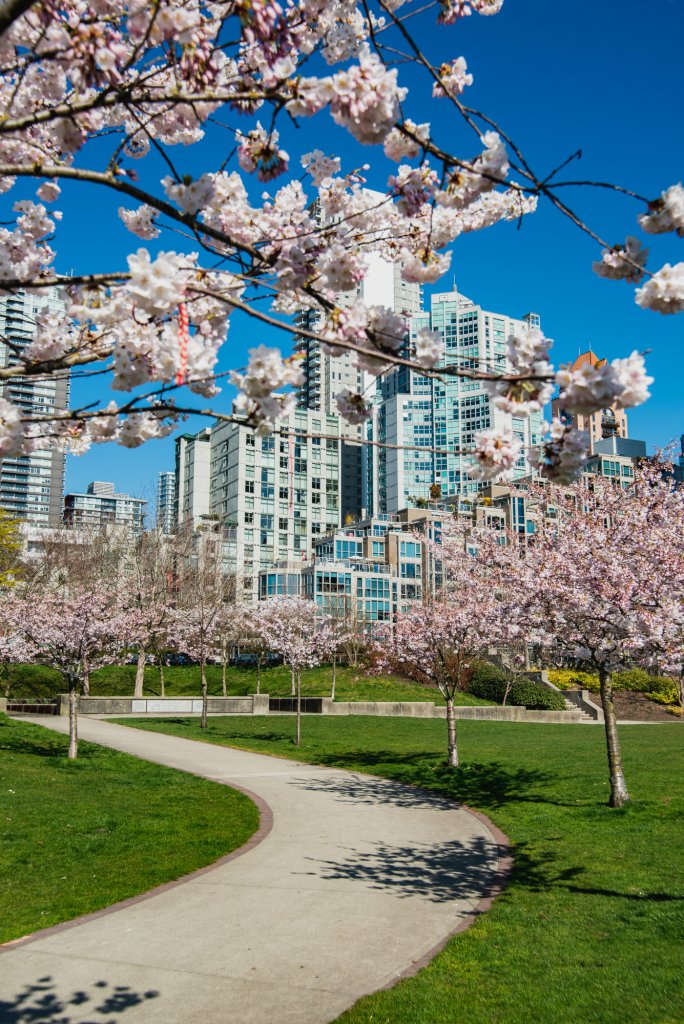 Garry Point Park
Okay, so it's technically Richmond, but how could I NOT include this place? Garry Point Park is a scenic walk any time of year, but when the cherry blossoms explode, that is some next-level magic.
You'll feel like you've been transported to Japan for real. I even spotted a group of people in kimonos having an actual picnic (as in, they brought a table and decorations), so if you fear being judged for "extra-ness", I think you're safe here.
I mean, look at me: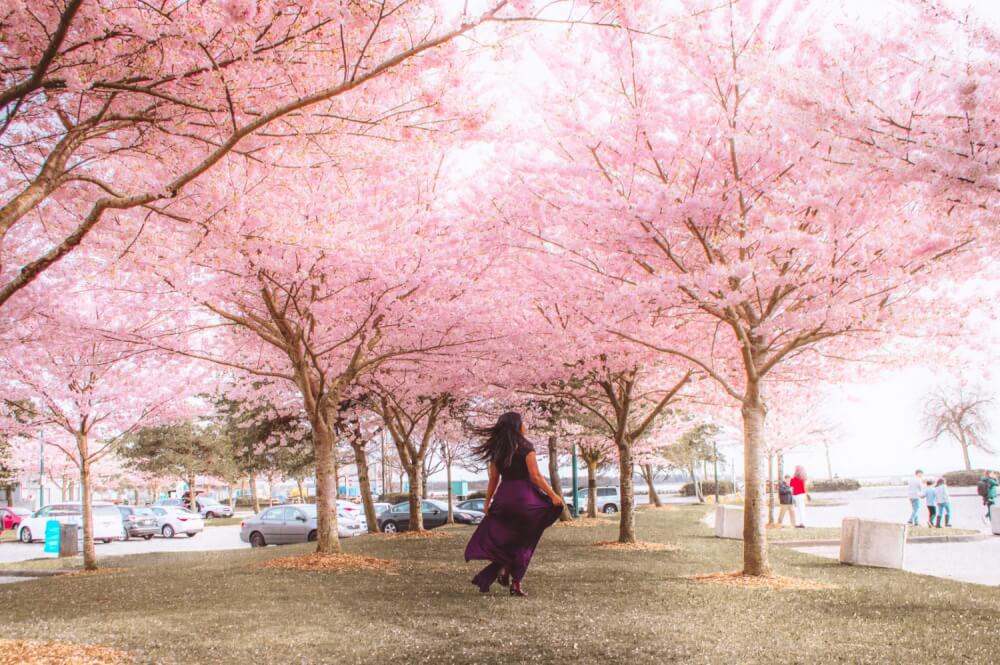 Other Amazing Places to Photograph Cherry Blossoms in Vancouver
I wish it was socially acceptable to make million word blog posts, because there are so many other incredible places for cherry blossoms in Vancouver (and the greater Vancouver area, really).
Here is a short list of ones I couldn't source photos for, or ones that haven't bloomed yet (or were already gone) by the time I went. Keep these on your list though – they're epic.
West 22nd Ave (between Arbutus and Carnarvon):
I'm devastated that I haven't been to this spot yet, but the photos speak for themselves.
Block after block of beautiful cherry blossoms, with some hills so you can get cool vantage points. The cherry on top of this photogenic cake is of course that you get great sunsets too!
Stanley Park:
One of the most beautiful places in Vancouver, and it only gets better in Spring!
There's quite a few cherry blossom trees scattered throughout the park, but the prime photo opp is along the seawall (where there's a few sprinkled around). This allows you to get some of that classic "City of Glass" skyline in the shot 😉 Swoon.
Vancouver City Hall:
The pops of pink in front of the (ordinarily drab) Vancouver City Hall provides a refreshing sight for sore eyes.
Maybe I just love the contrast, or maybe I love that my favourite tacos are nearby (shoutout to my La Taqueria homies) – either way, this spot takes a reaaaal pretty picture.
Granville Square Plaza:
This little plaza in front of the Granville Square building is one of my favourite spots in the city.
Located right by Waterfront Station, this is THE perfect place to scope out views of the iconic Canada Place sails and the sweeping North Shore mountains – all the better when the cherry blossoms bloom and add a pop of pastel pink to the scene. This is THE quintessential Vancouver snap, so get to it!
And a few shoutouts for Burnaby:
Burnaby Mountain Park:
Not only does this park offer some of the best views in the Lower Mainland, the cluster of trees lining the path near Horizons restaurant is ridiculously pretty and picturesque.
SFU students, come here for a brief respite from the terror of finals.
This little park at Buchanan and Rosser: 
In full bloom as of my last visit (March 24, 2022)
This super symmetrical and pleasing little square is filled with rows of cherry blossoms, and has become so well known for them that its name on Google Maps is simply "Cherry Blossom Park".
You'll find this gem super close to The Amazing Brentwood, so easily accessible by Skytrain if you don't mind a short walk.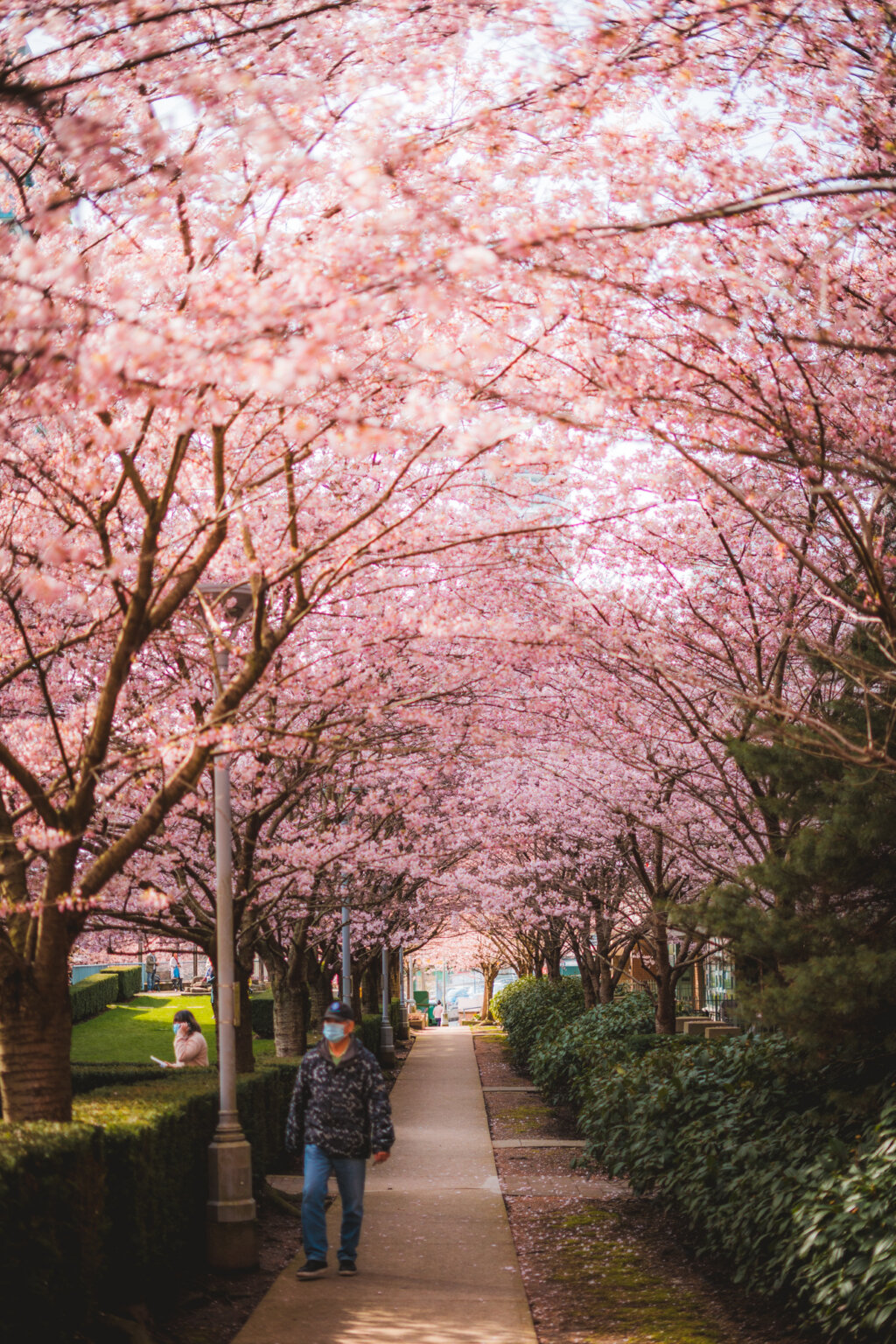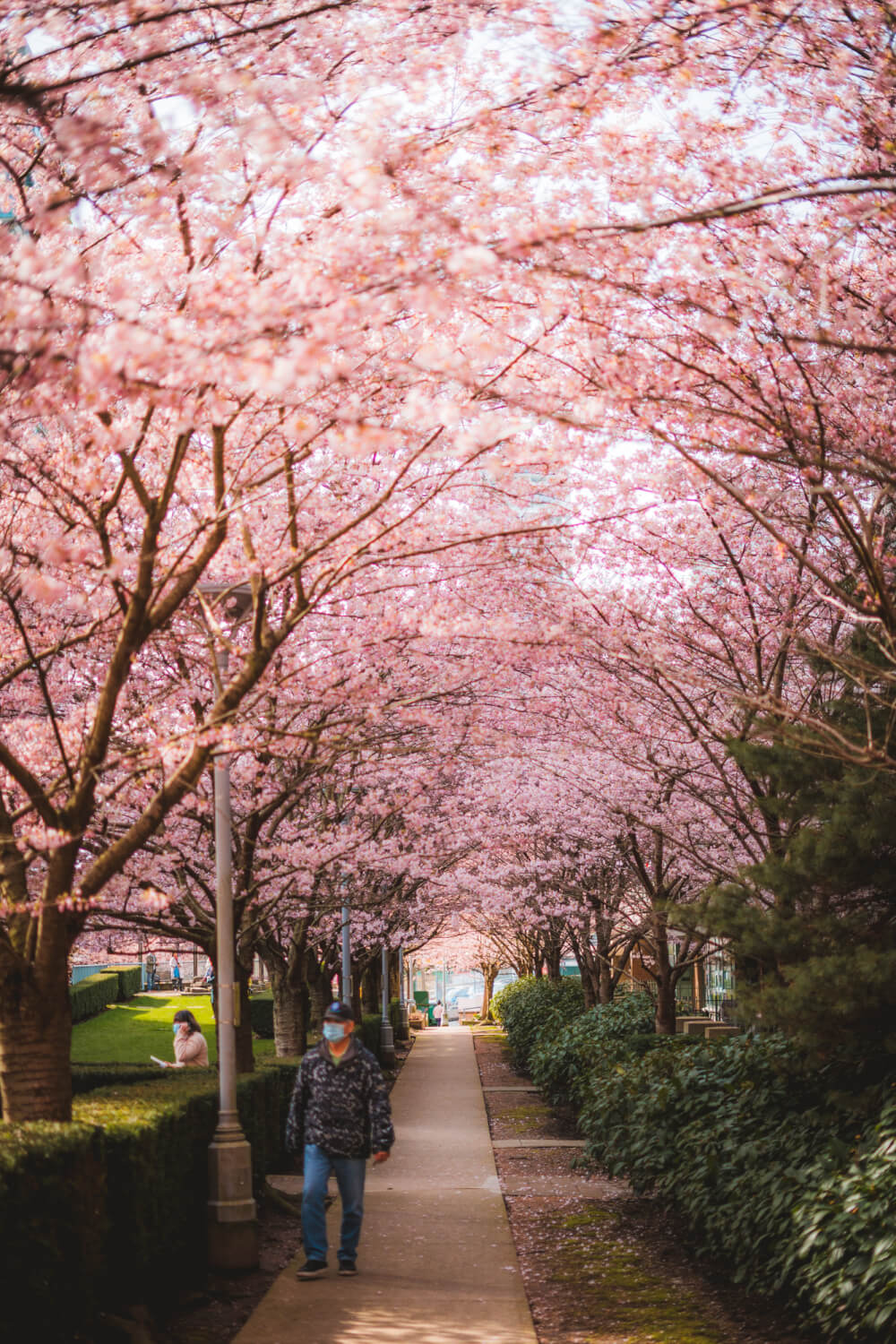 Westridge:
Found this spot completely by accident so keep it on the DL 😉
Located just off Hastings right by Burnaby Mountain, this little neighbourhood is seriously CRAWLING with beautiful blooms, each street more picturesque than the next.
There's also the Burrard Inlet right there, so a gorgeous backdrop too. Basically all the streets along North Cliff Avenue are stunners, but Belcarra Drive was the best (in my opinion).
Westridge Park itself also has tons of pretty trees.
Again though, this is a quiet residential neighbourhood, so please be respectful while you photograph this perfection: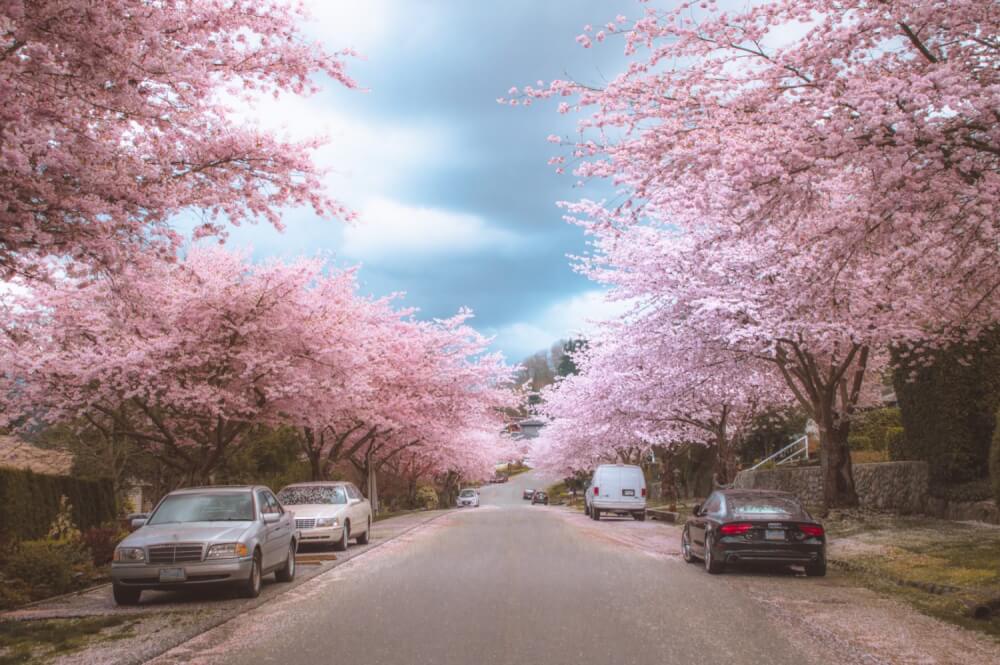 Last but not least, I have to say – honestly if you keep your eyes open, there are beautiful cherry blossoms to be found ALL over the city.
Take some long scenic drives, keep your head up during Skytrain rides and *gulp* maybe even go for a walk or something?
There's tons of gorgeous cherry blossoms in Vancouver – I trust your Insta-senses will find them.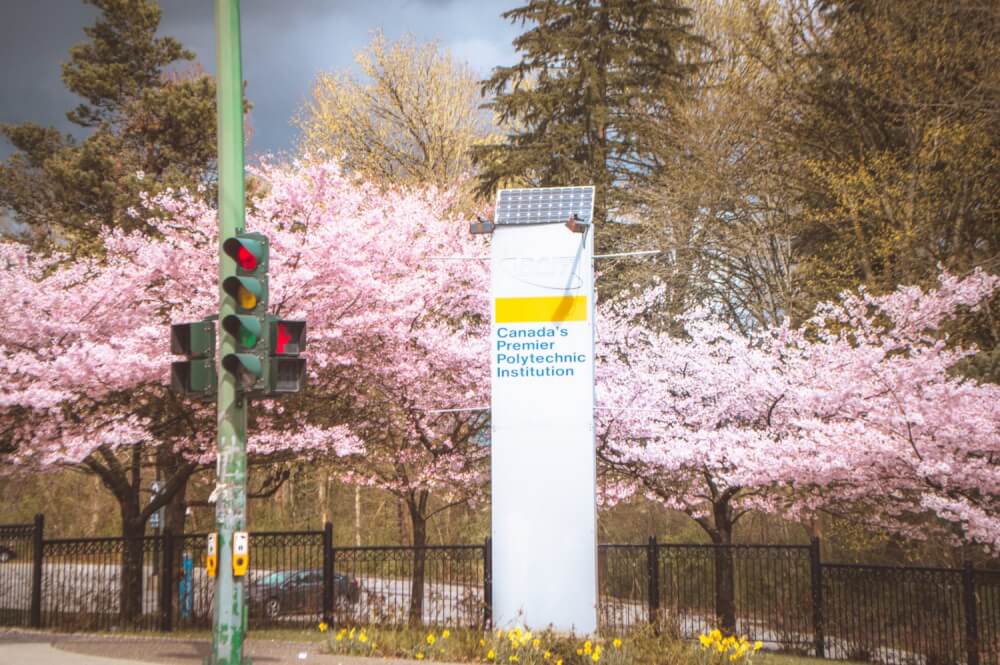 Vancouver Cherry Blossom Map
If you're more of a Type A planner, the Vancouver Cherry Blossom Festival has put together an aggressively detailed map of all the best spots in the city (with details on which are currently in bloom).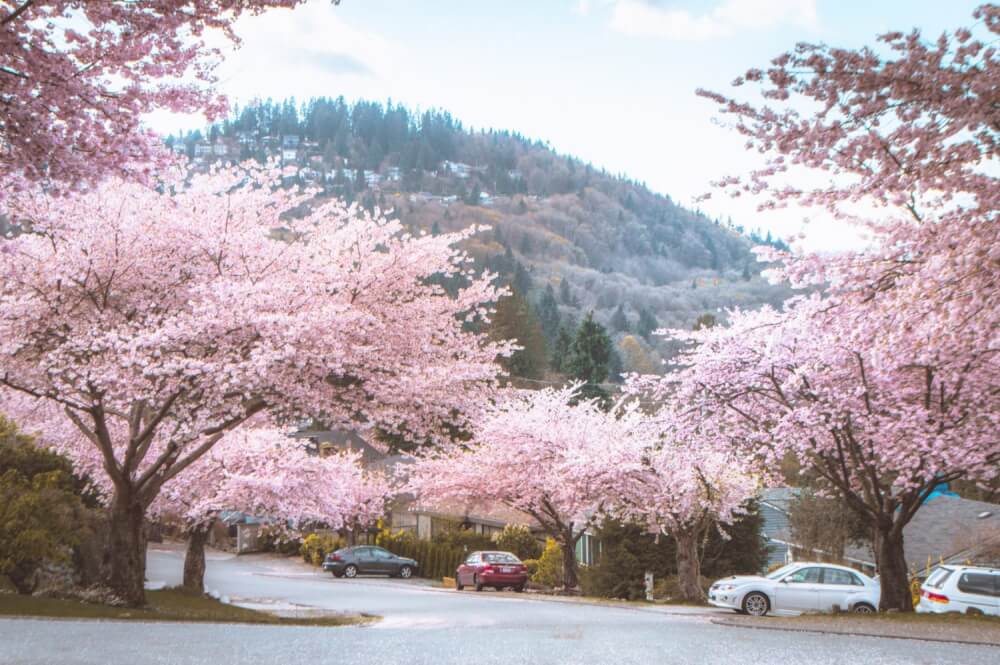 Any more recommendations for where to find cherry blossoms in Vancouver?
And so, I hope you enjoyed the guide to the most photogenic spots for cherry blossoms in Vancouver this year.
Please: help me add to this list! I'm not superwoman and I know there's a ton I've missed. Let's make this the most thorough resource for blossom spotting online 😉
My Go-To Travel Favourites: